With the Ben Avon snow tunnels trip being a good outing, I planned another similar one to Beinn a Bhuird, but this time as a bike-assisted single-dayer, heading out from the Cairngorm Club's Muir cottage where I'd spend a day helping out at the maintenance weekend.
Friday saw me allocated the task of servicing the bikes, they are all old bangers so it was a case of twiddling rim brake alignment, cables, and gear indexing, before a wash and hosing down. In the evening I thought I'd have a stroll to look for a cave of old legend.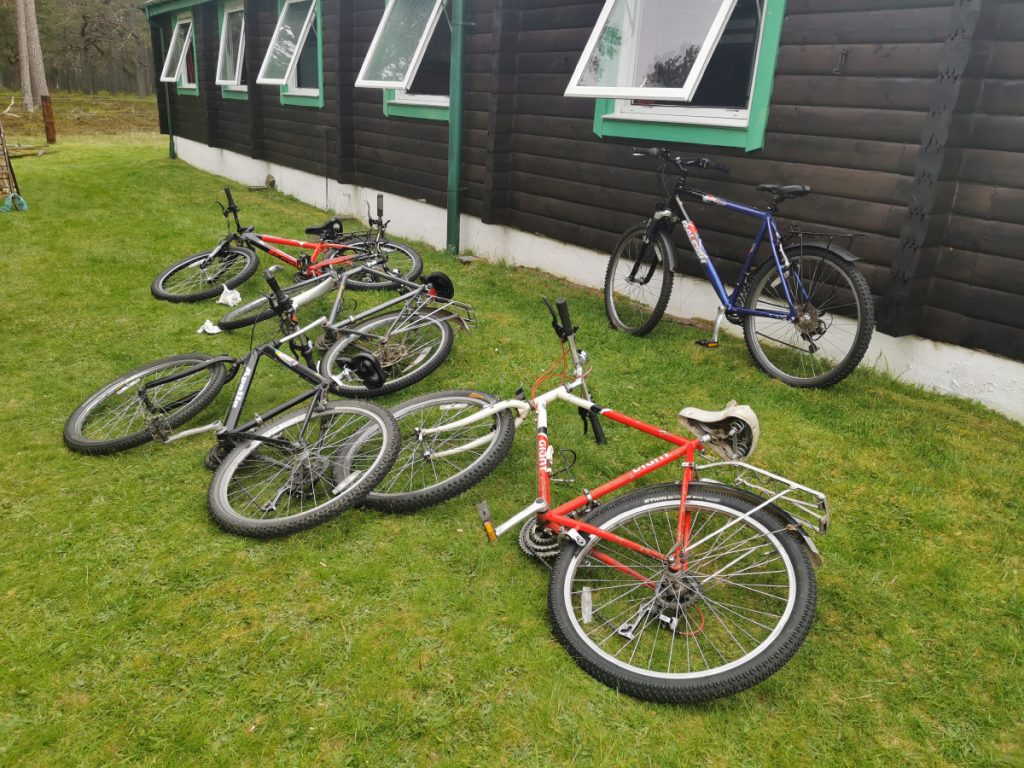 Up the track from Little Inverey into the forest, where I'd skied earlier in the year, but this time following it higher up towards Carn na Moine. When it left the woods at some zig-zags, I cut NE along the edge of the woods under the rocky outcrops of Creag a Chait, where there's a faint path. Eventually I headed a bit higher and past the cave's location on the map, then down and back to avoid some steep drops and lumpy bits.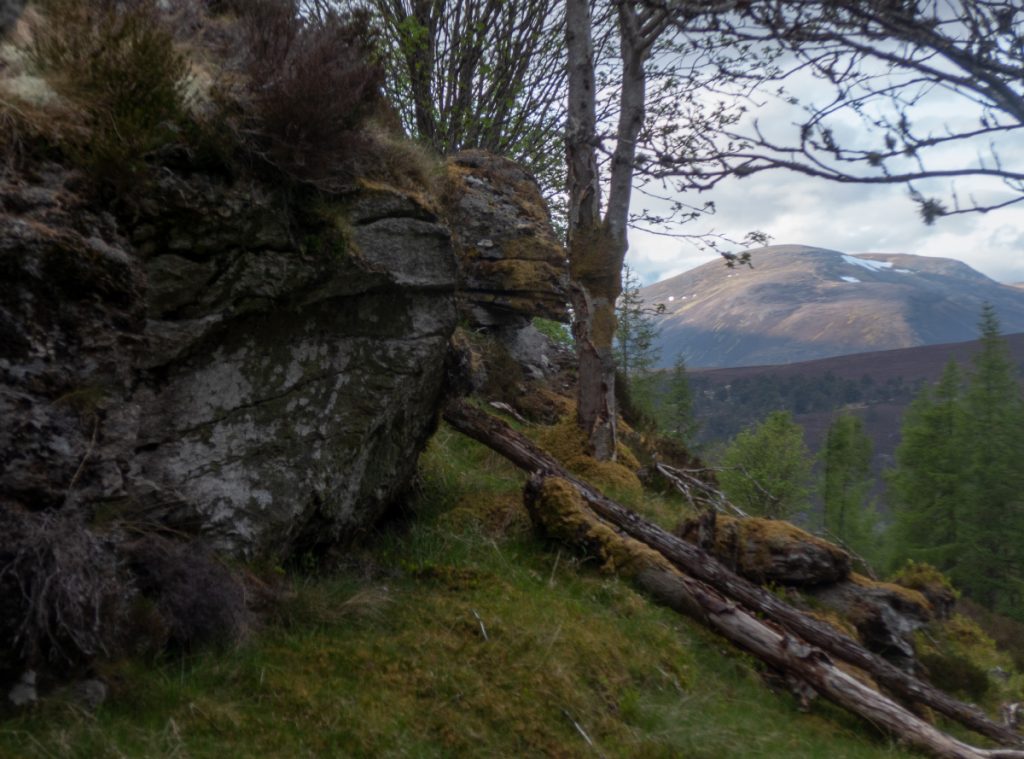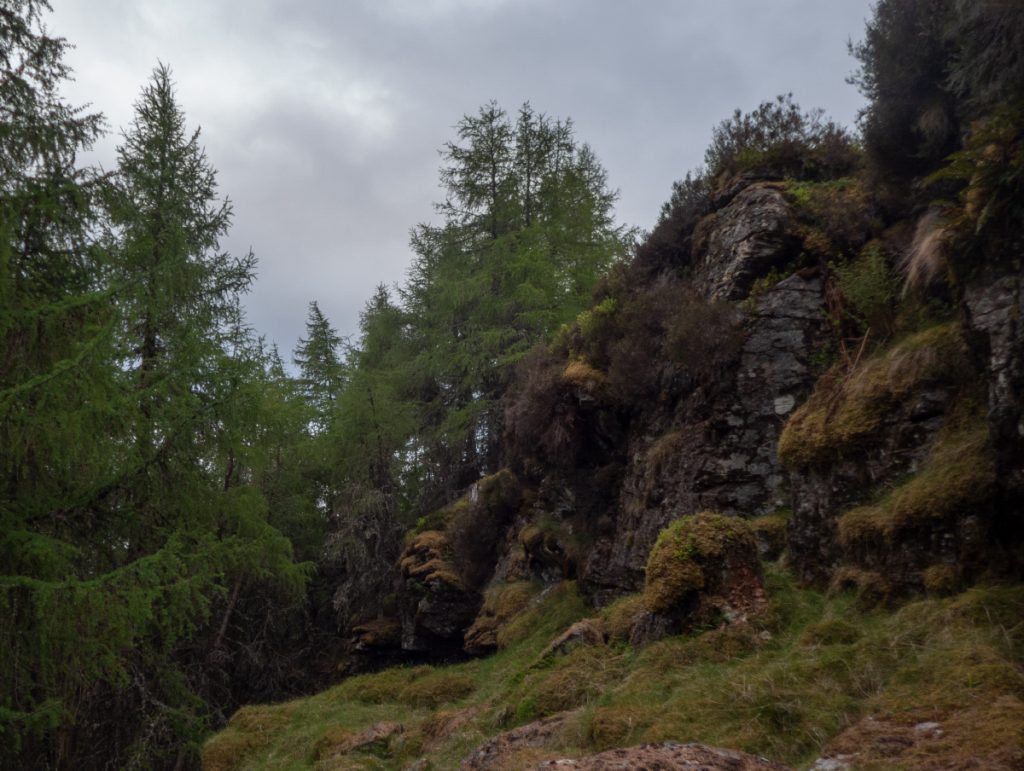 The Colonel's Cave is more an overhang than a cave, but there is room to lie down reasonably sheltered with a bit of a wall built around the bottom. Around 1689, the Jacobite fugitive, The "Black Colonel" Farquharson, would have watched his home being burned nearby at Inverey by the troops of William of Orange, likely without the adjacent forestry plot of a more recent age blocking the view. Further up Glen Ey is of course the more often visited Colonel's Bed in a gorge on the river.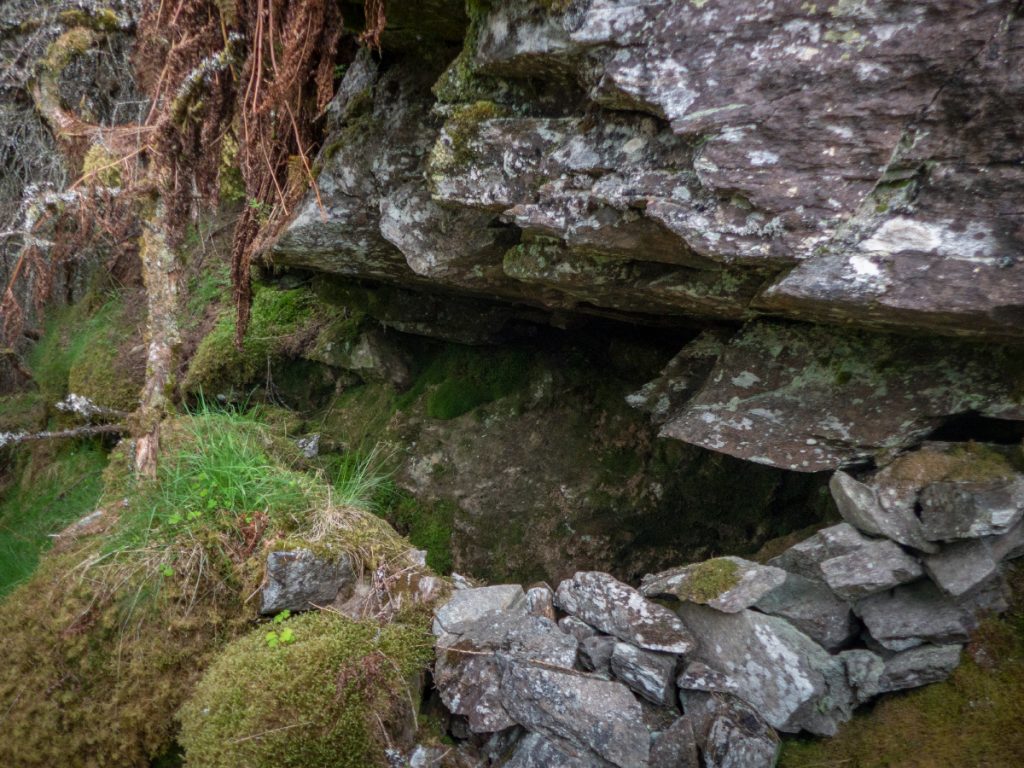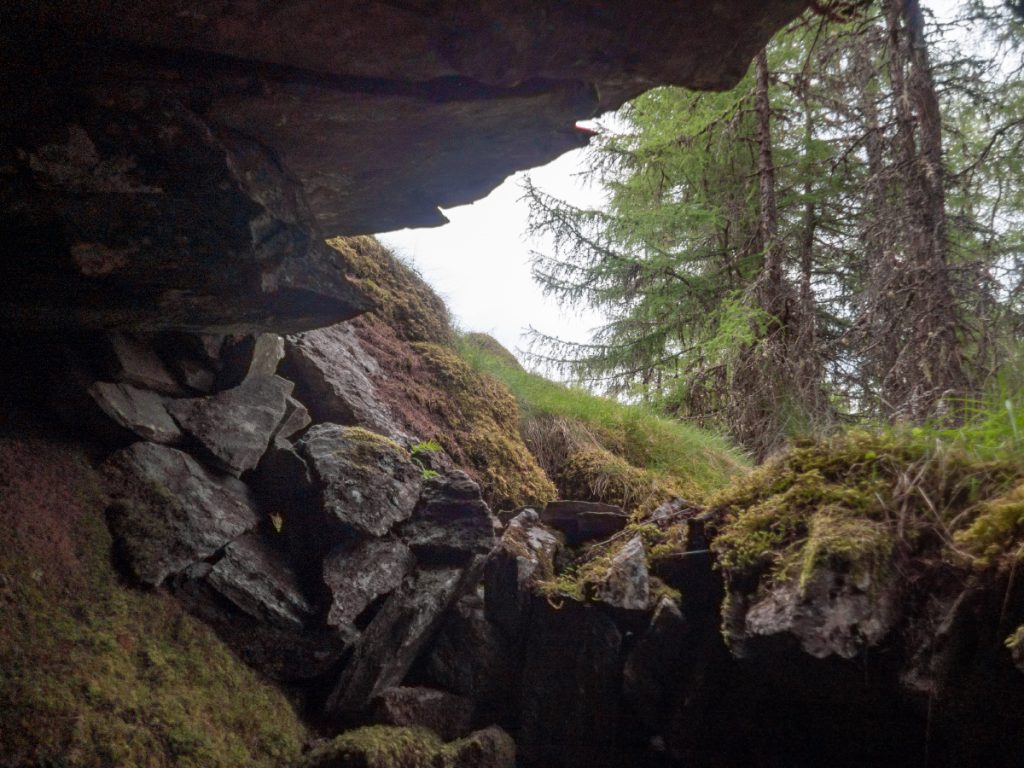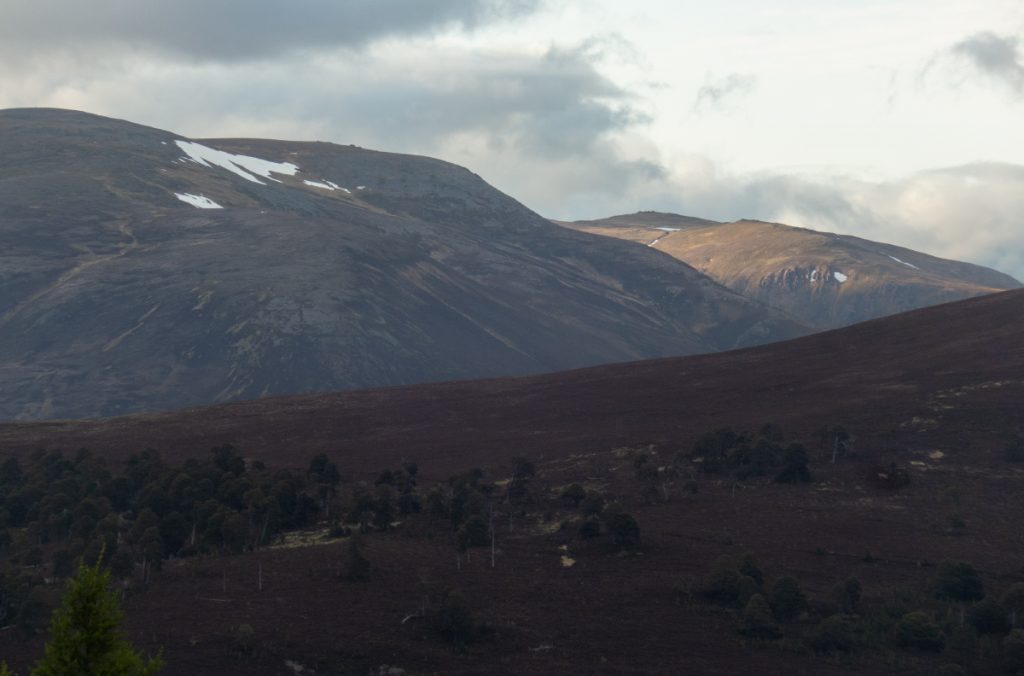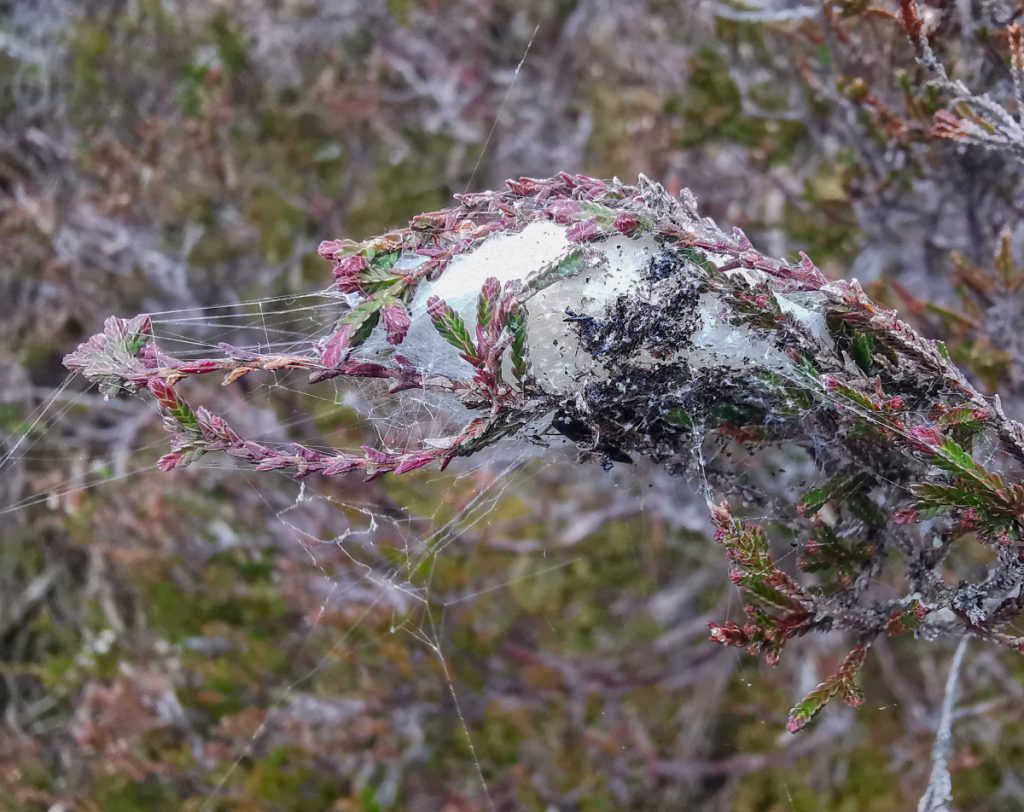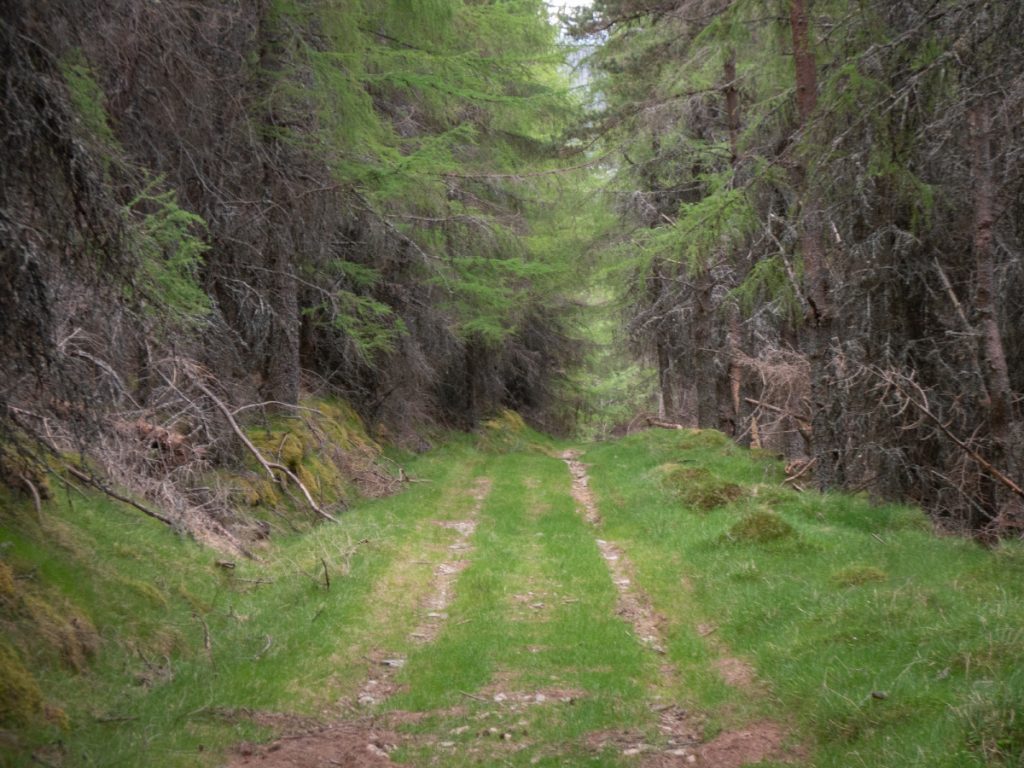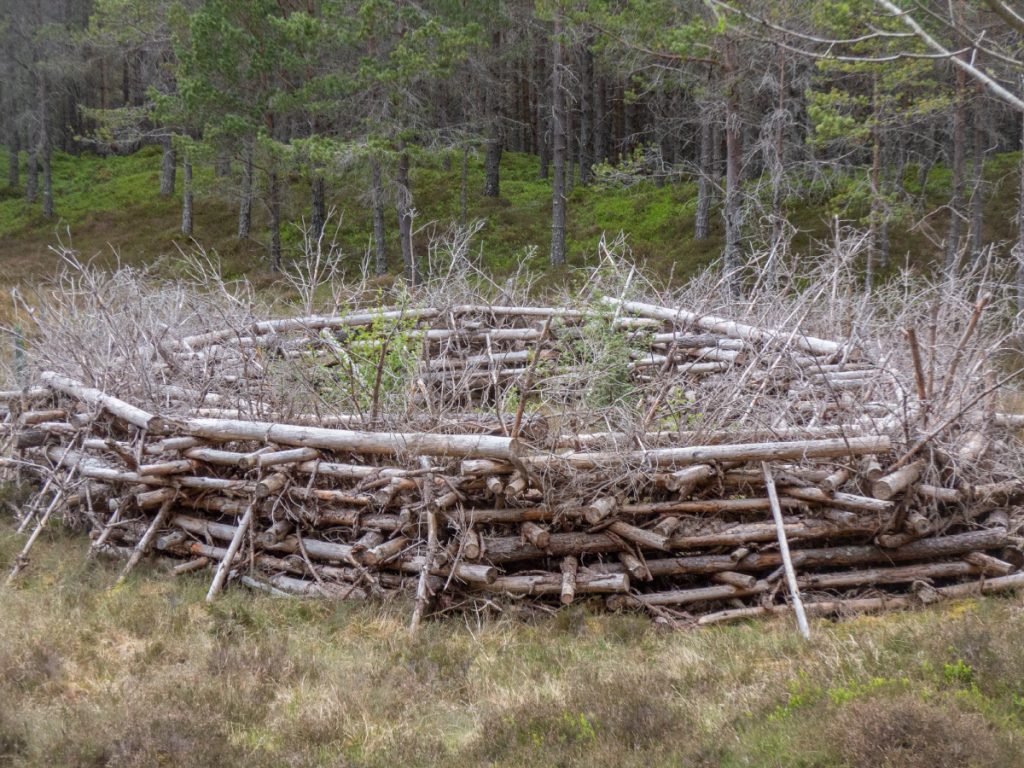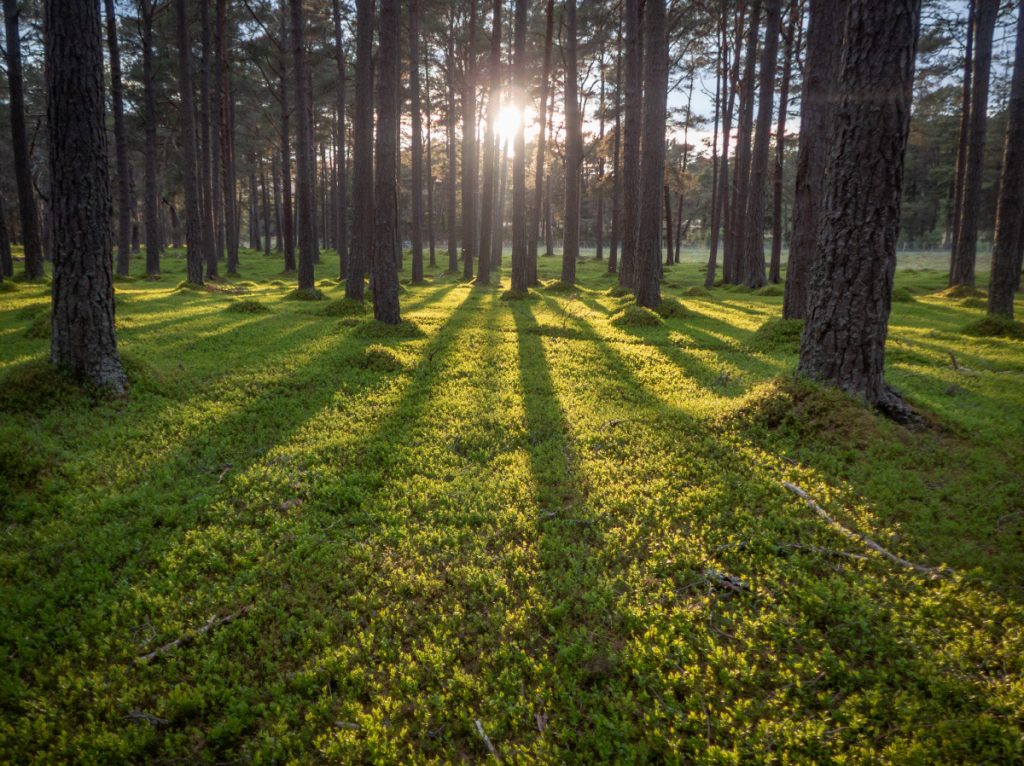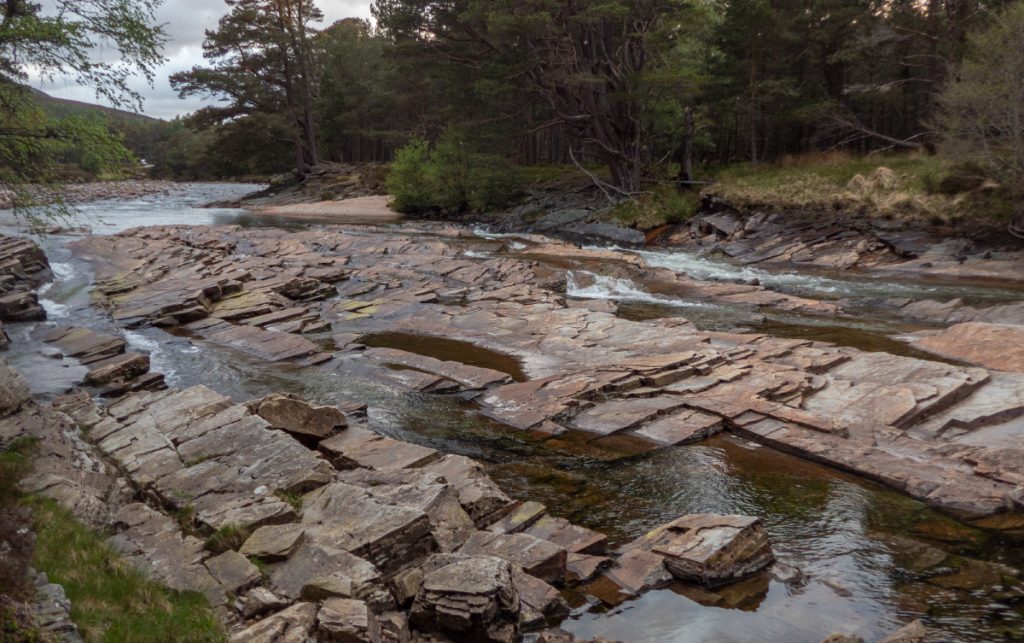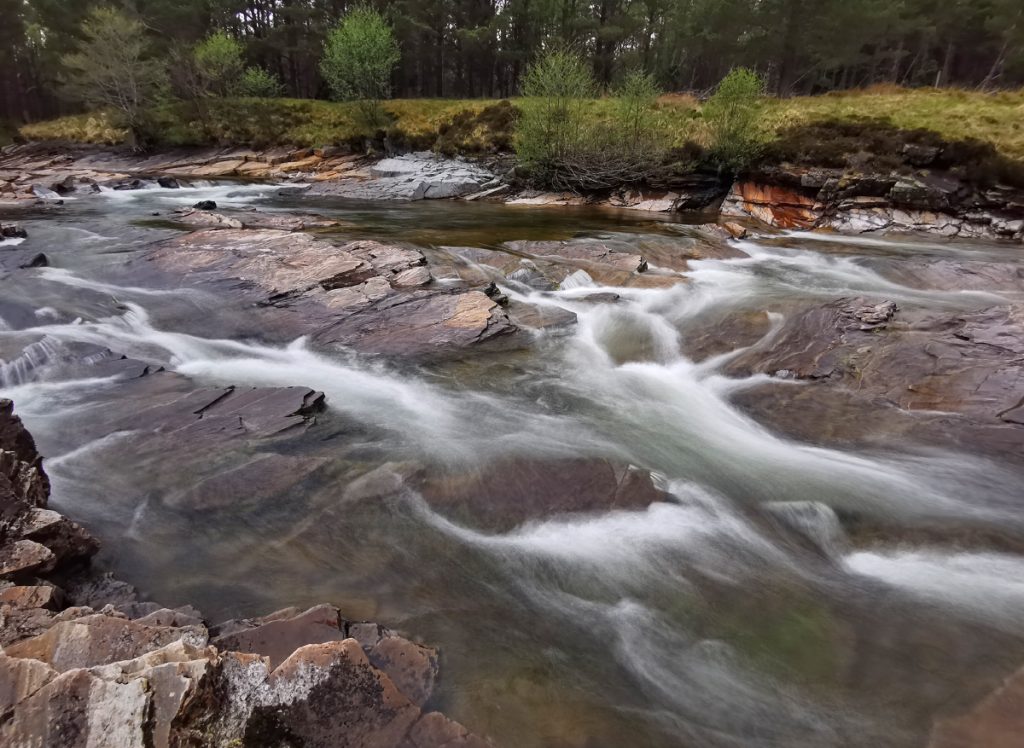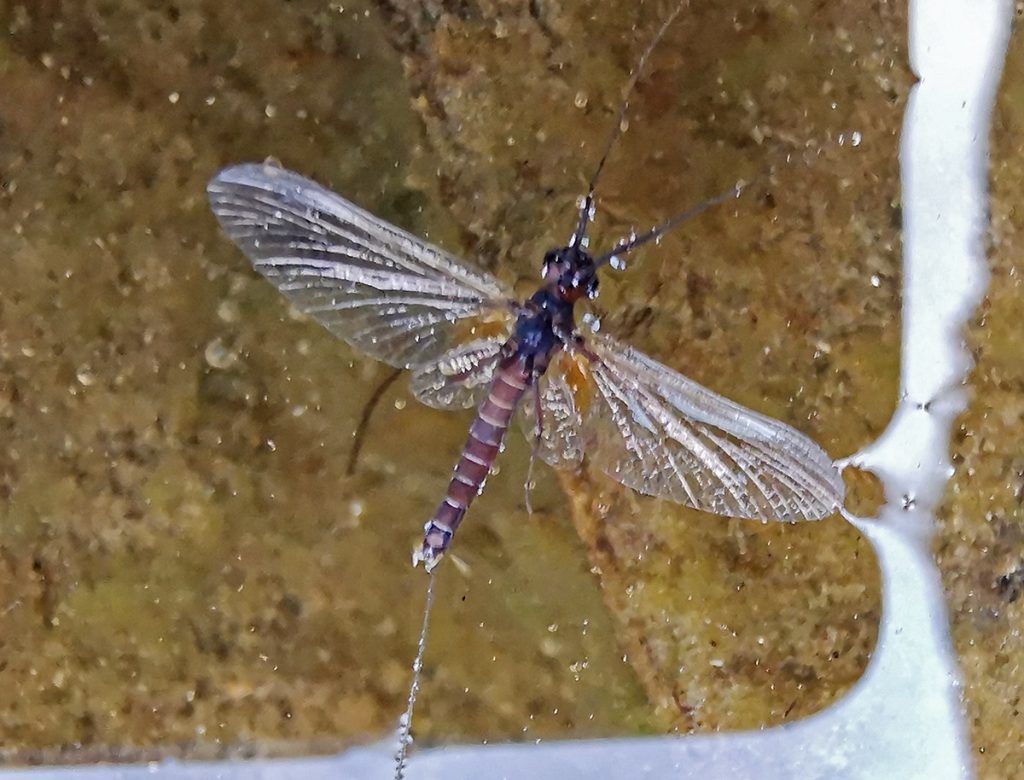 The next morning it was off and rolling through a sun-dappled Glen Quoich, enjoying whizzing along until "Mount Fucksake" (nickname given to the ridiculous uphill bit of track that 'repaired' a section lost to the river)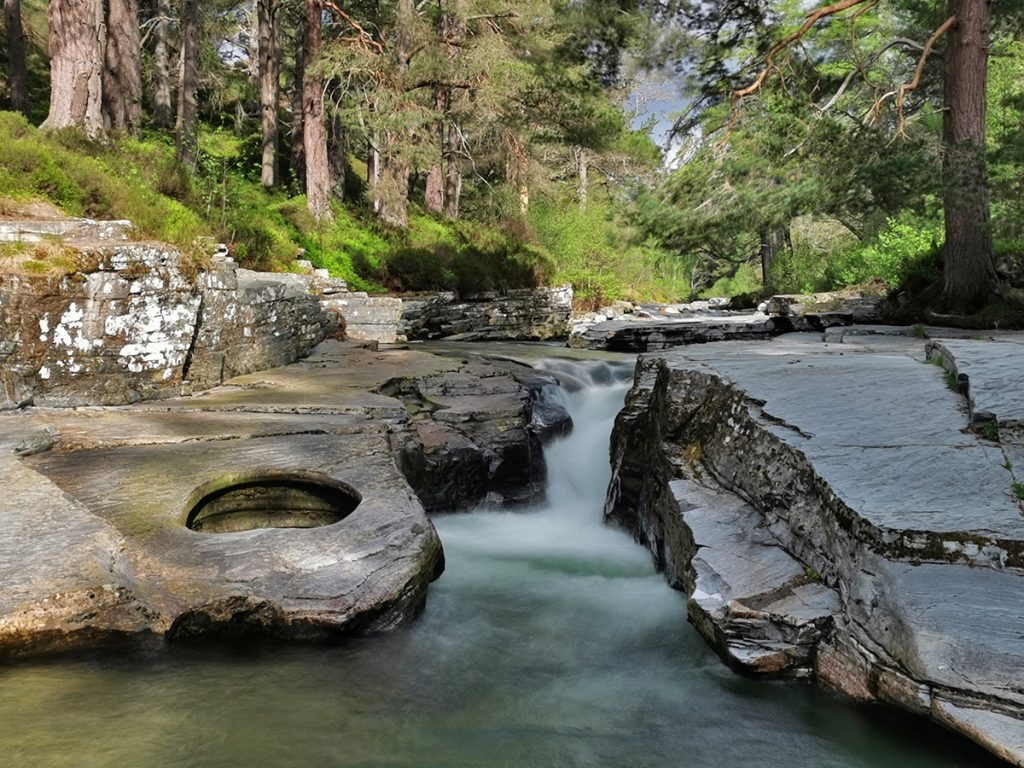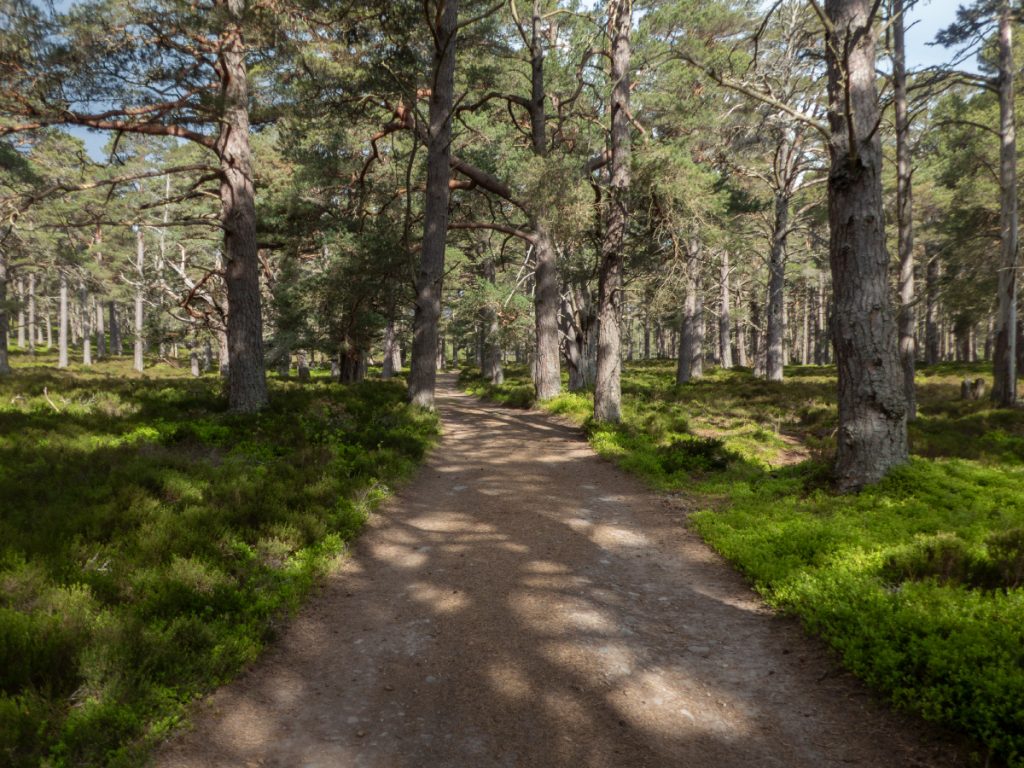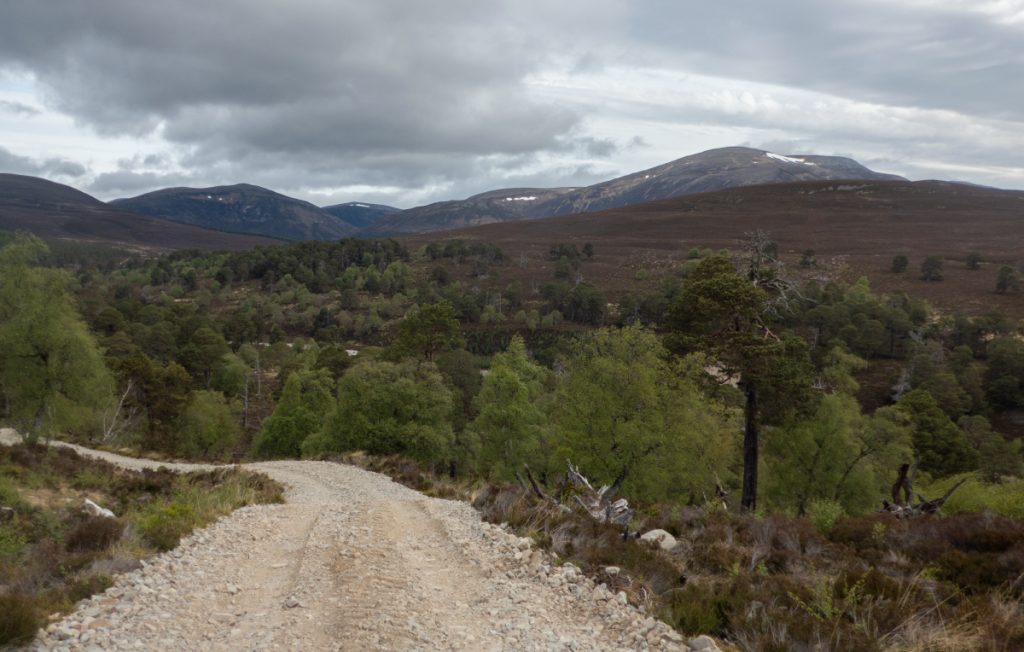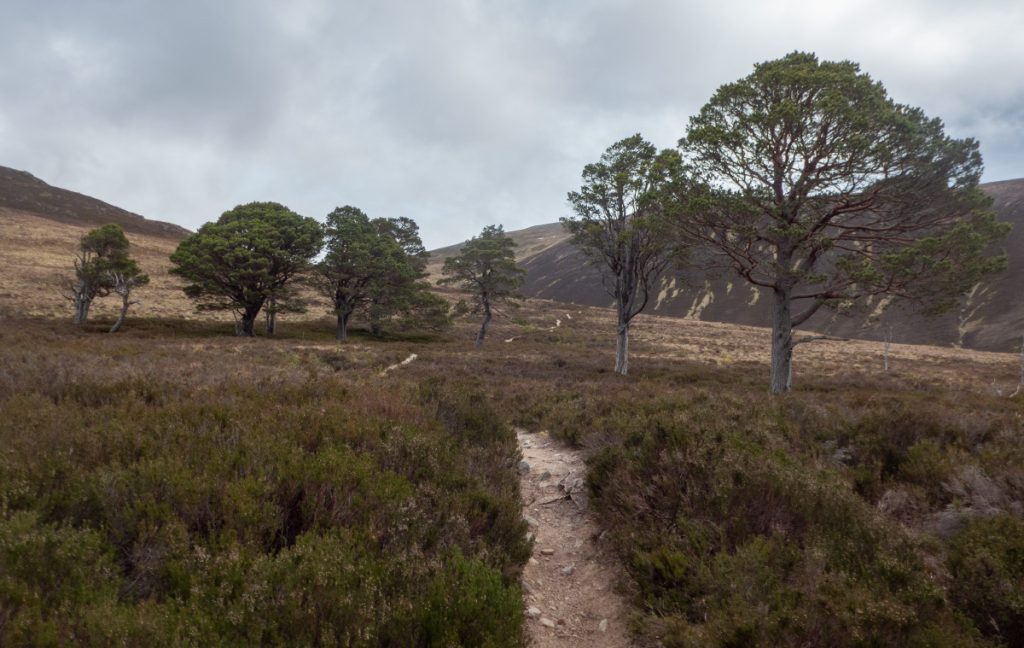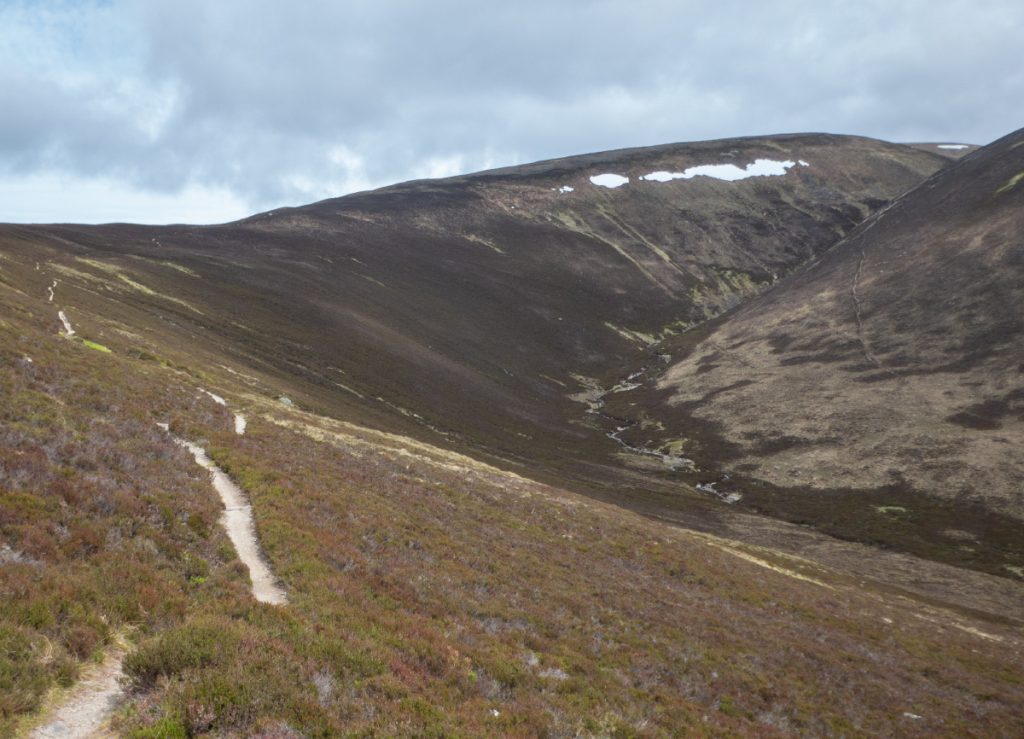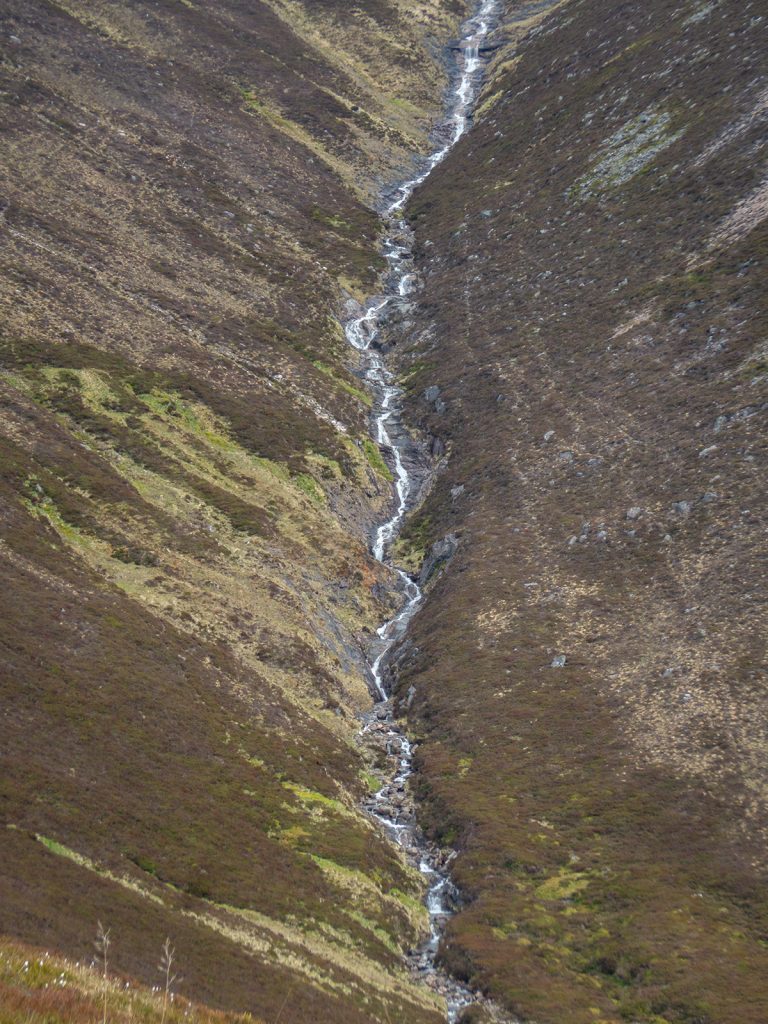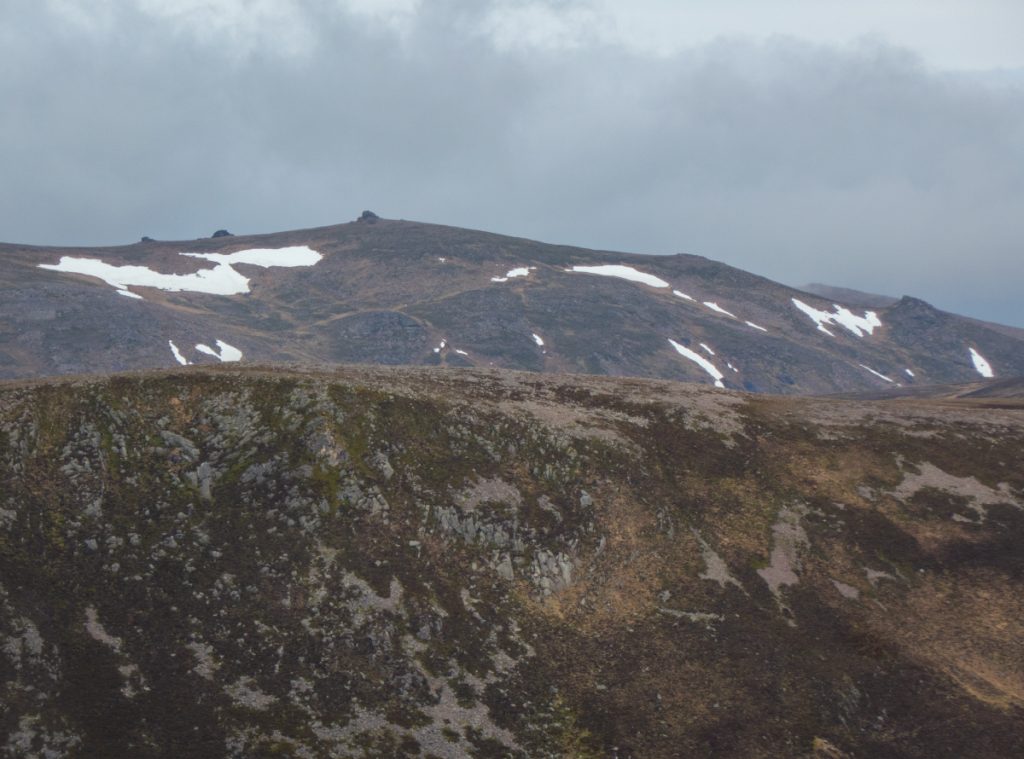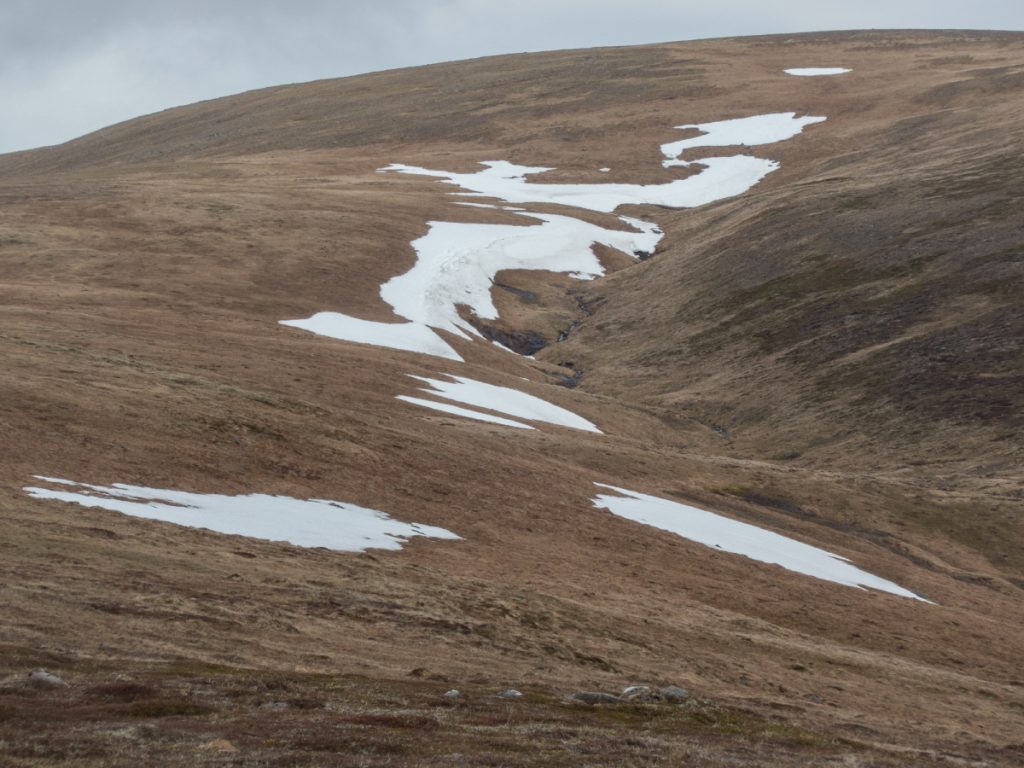 I diverged from the path to have a look at 2 shelters, the first beside the path at An Diollaid, the second higher up and further off-path being a cross-shaped structure.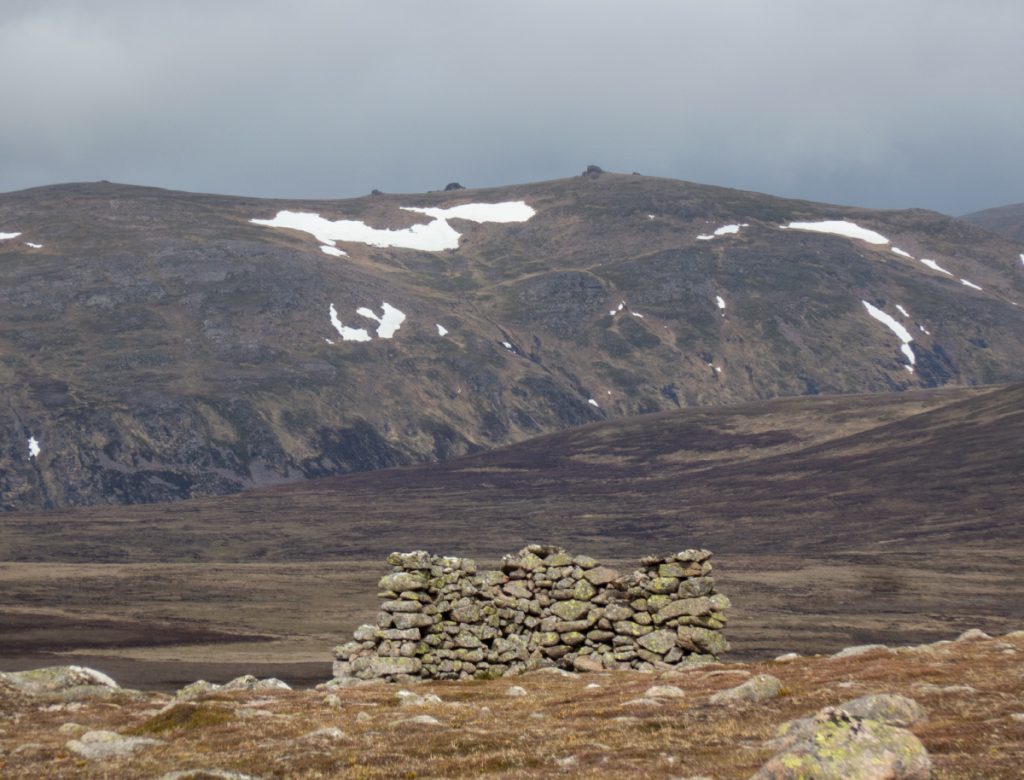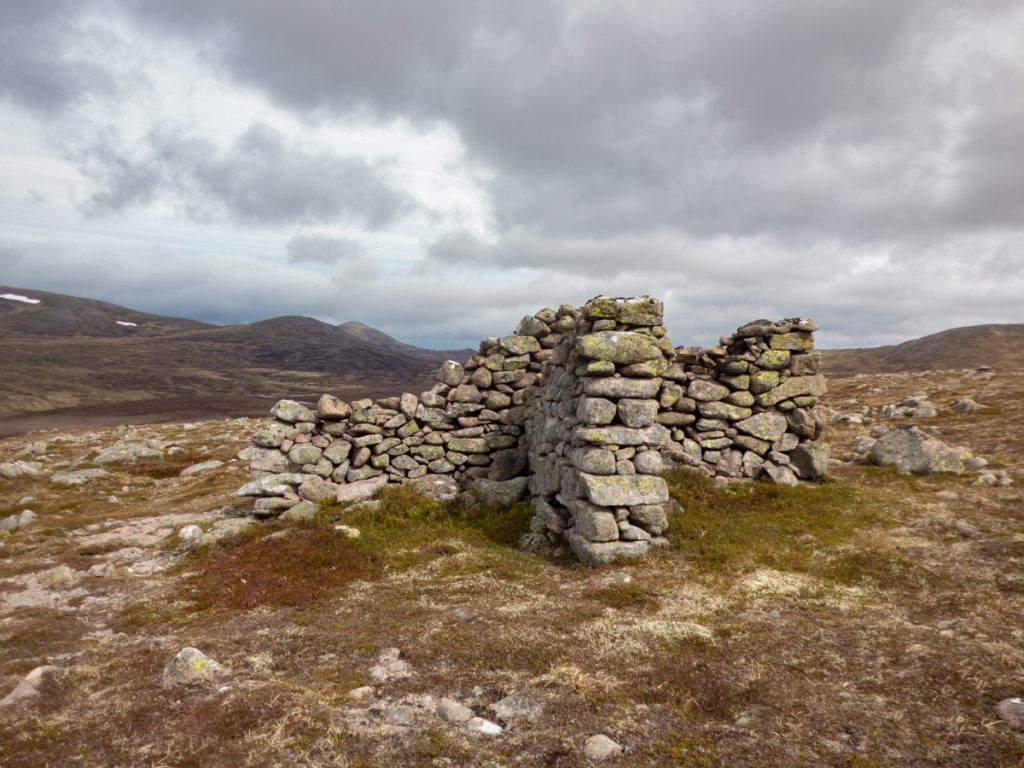 The short heather here was speckled with colour – trailing azalea in bloom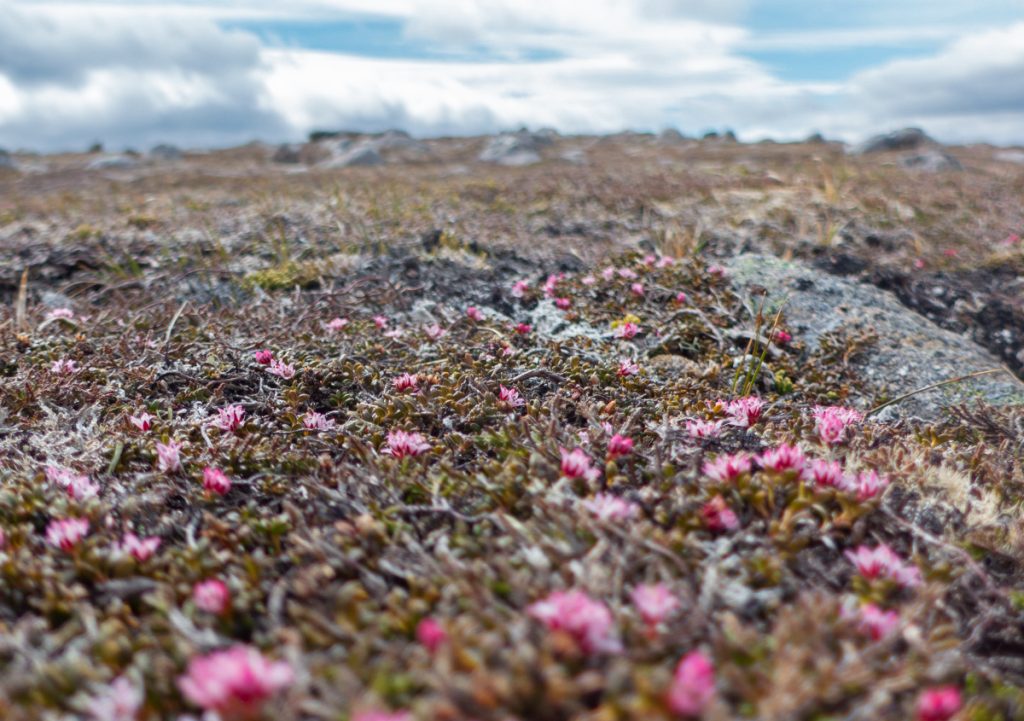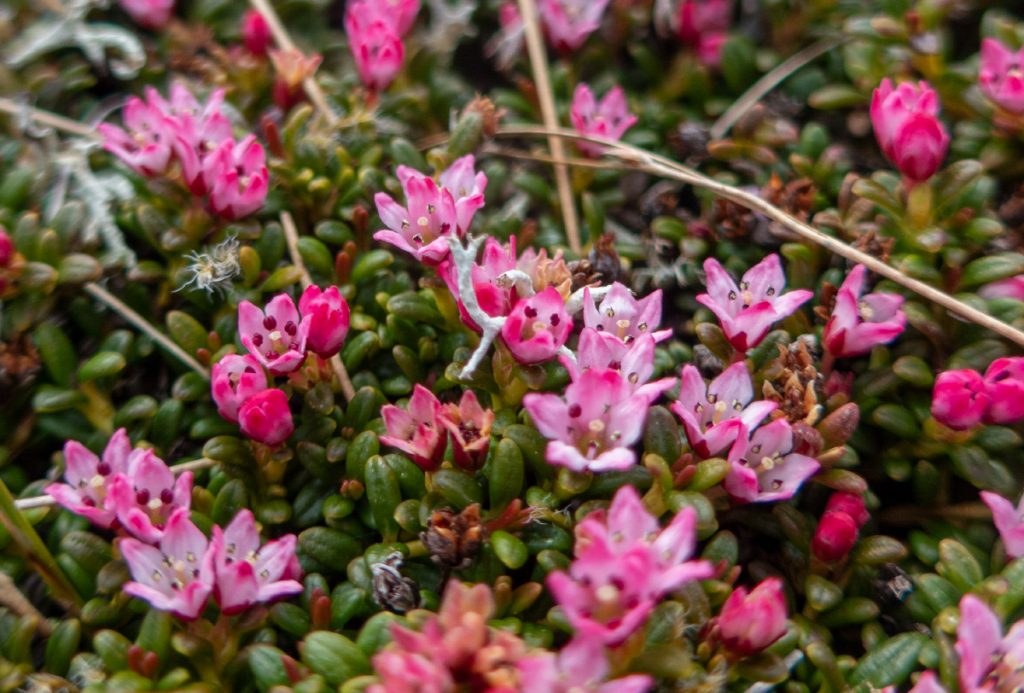 I headed back across to the burn and got in amongst the snow, too gentle contours to allow for any tunnels of note, but hiding a ptarmigan which I almost stood on (it gurgled disapprovingly)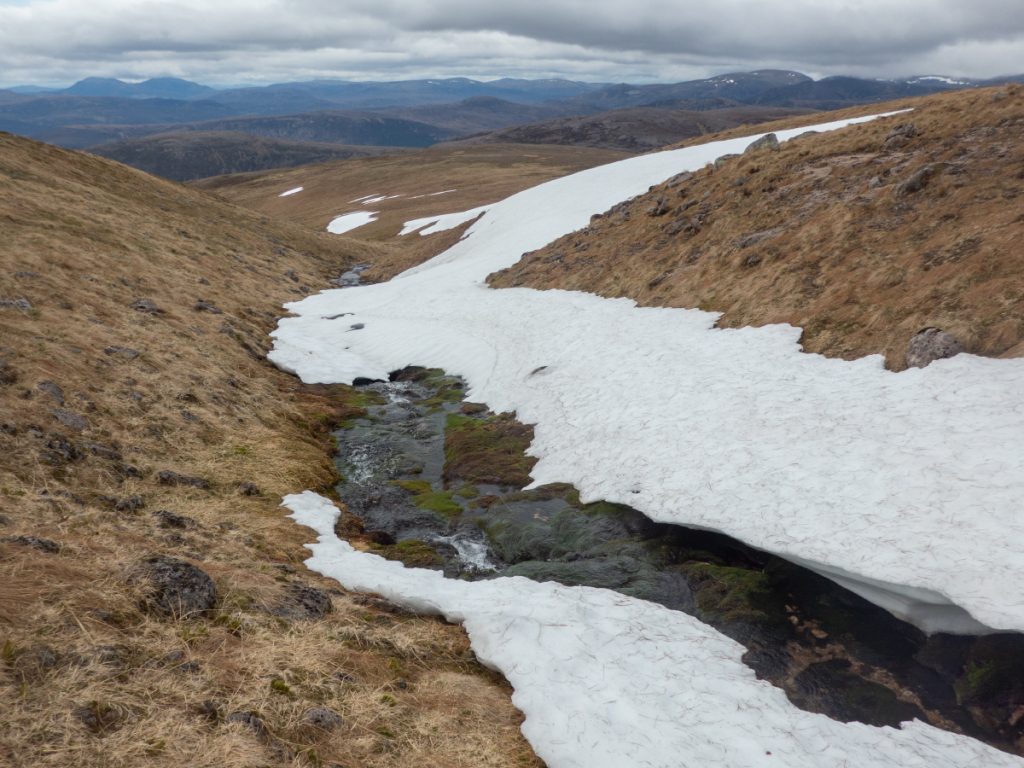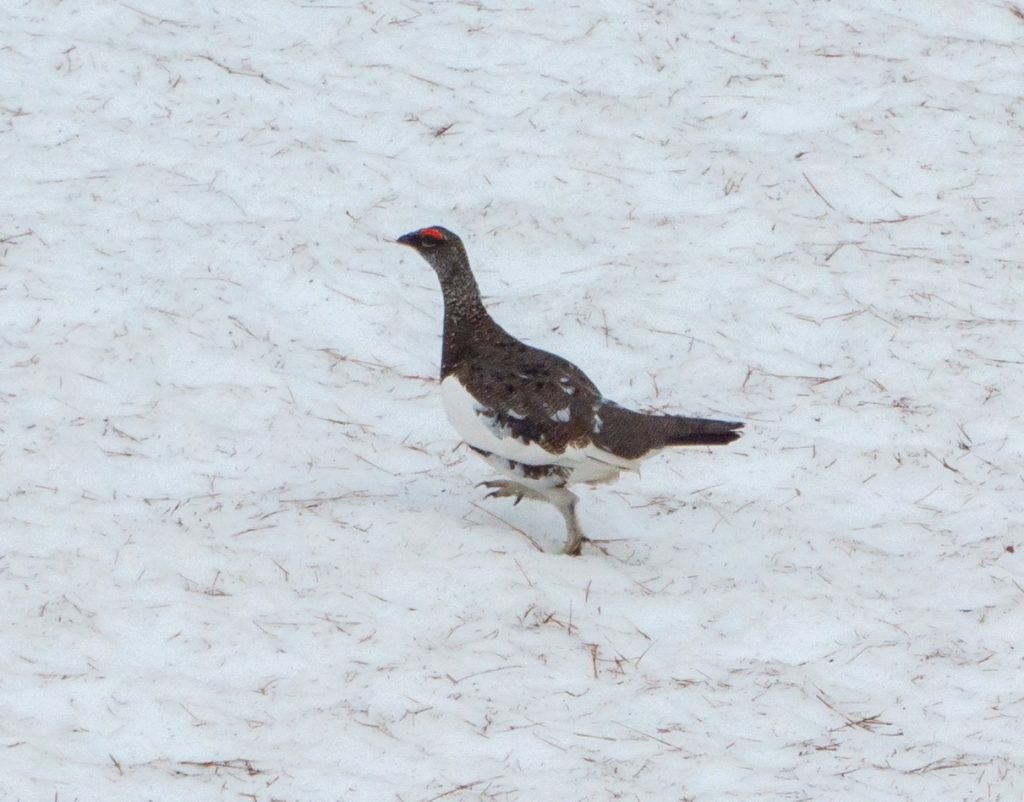 I rejoined the 'tourist path' and made my way around the corries, promising to return below and explore them soon (far more interesting than the flat plateau). I expressed this view to a hiker from down south who popped up suddenly at the top (embarrassingly so as I was making childlike tweeting noises to some snow buntings there) and who was ticking off this and Ben Avon but was unimpressed; I rolled my eyes as there's a lot more to both these mountains than the 'walkhighlands' path of least resistance.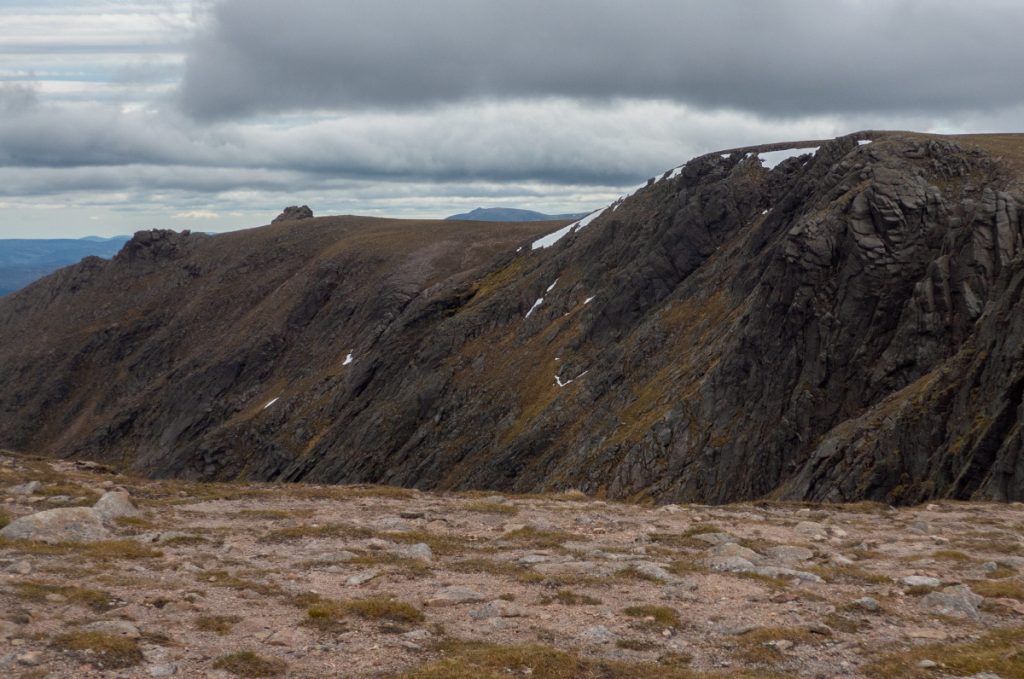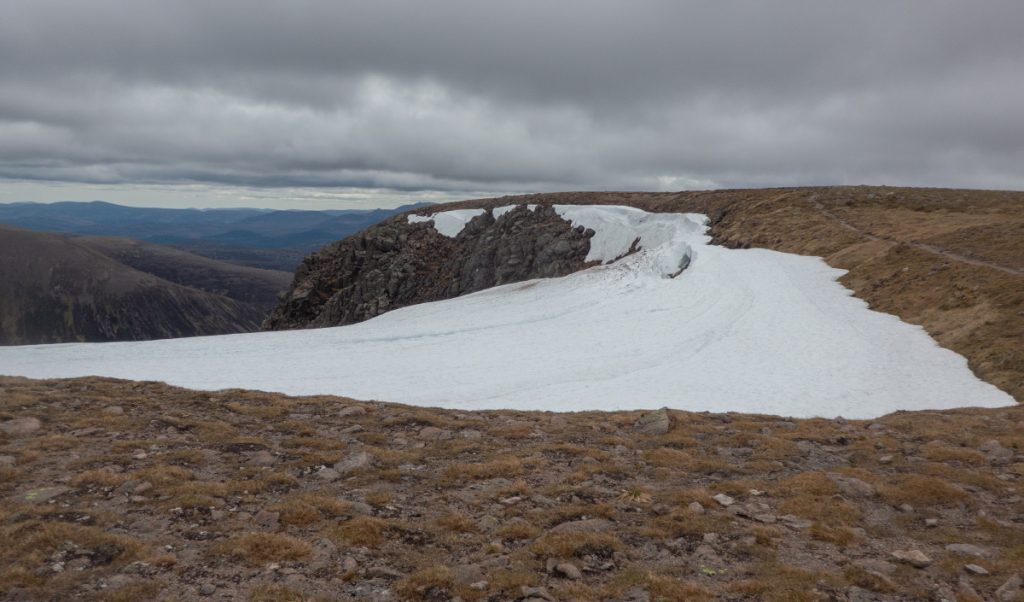 Wandering north had me in some gently curving terrain of Coire Leum an Easaich, large snow patches present but again not enough angularity to form tunnels.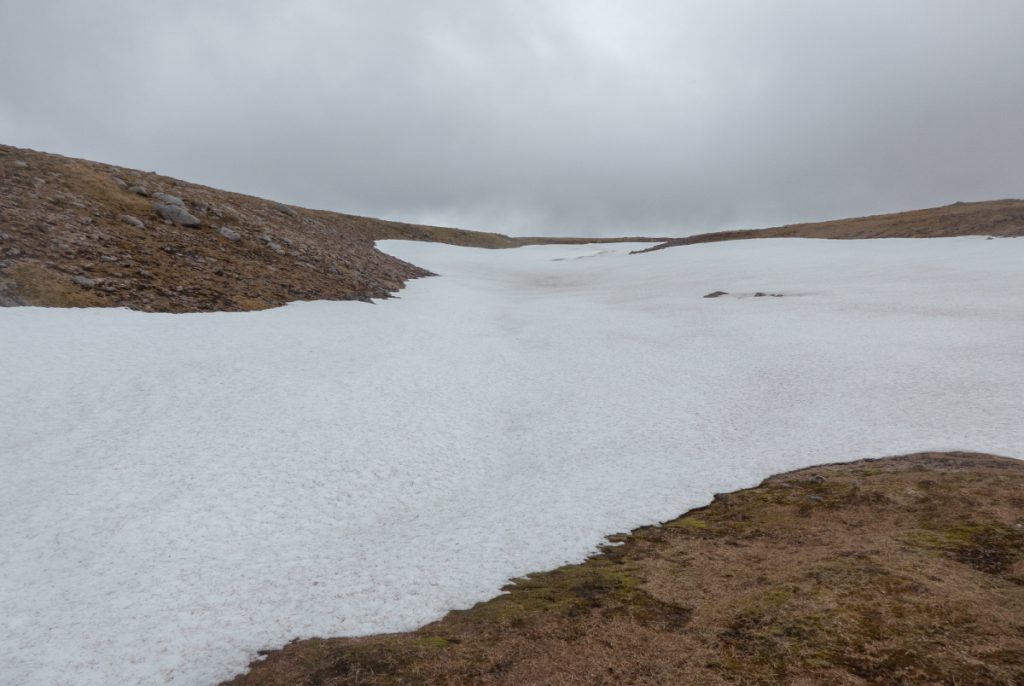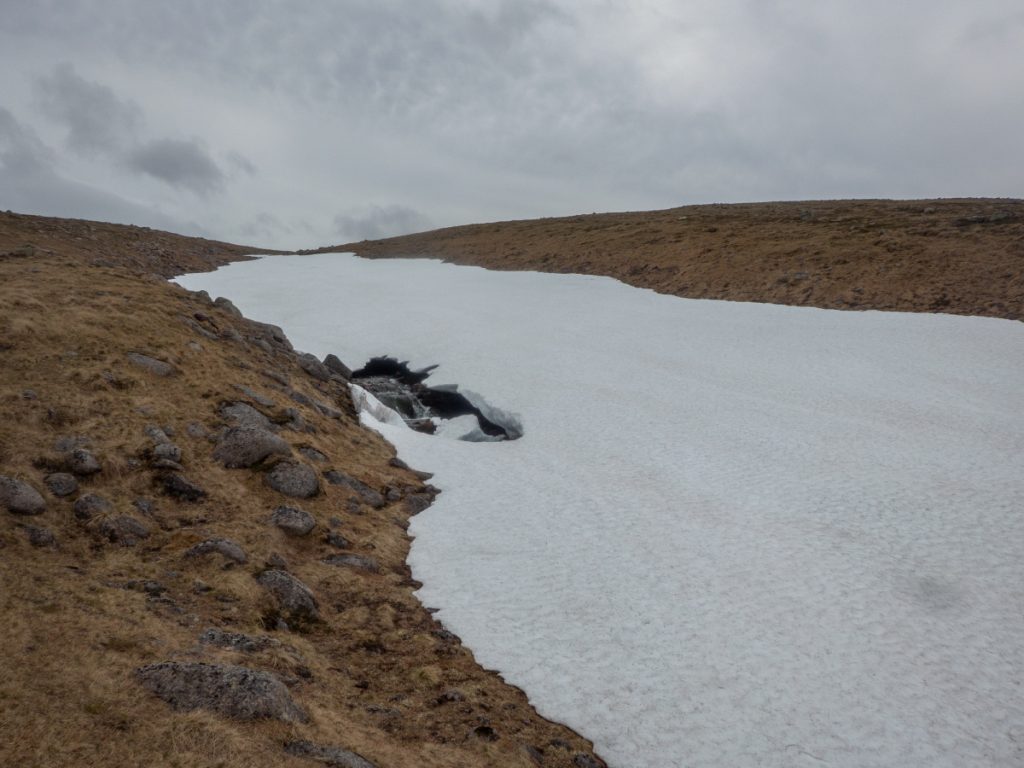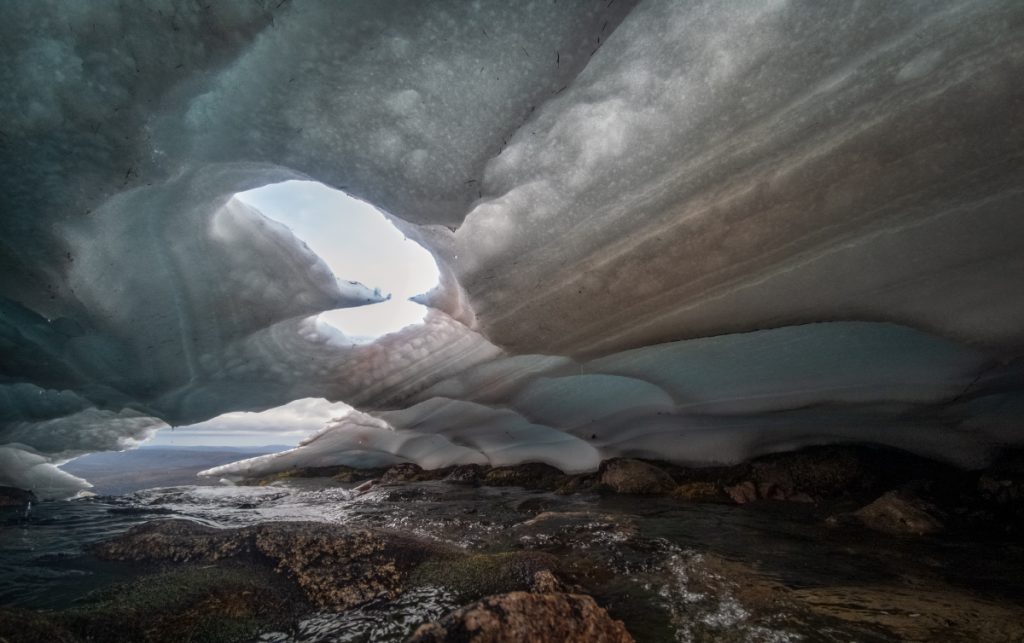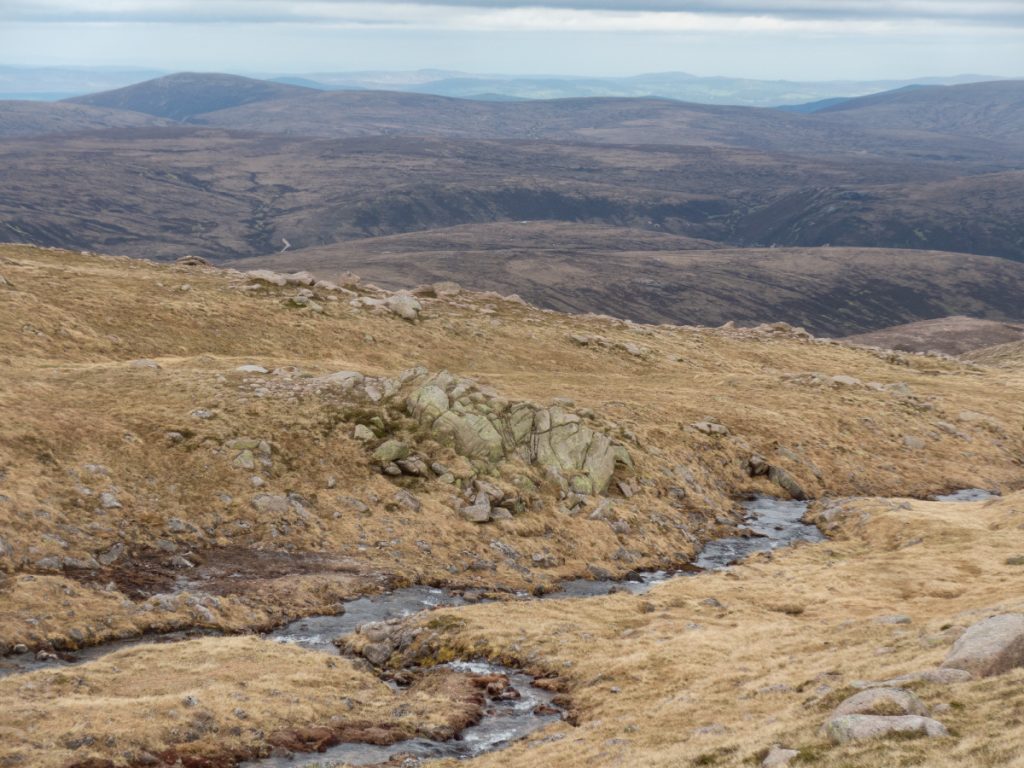 I contoured around to Allt Stob an t-Sluichd where things got more interesting, the burn was in a more defined gully and steeper, and the occasional ceiling hole in the snow or break in cover allowed some careful access to some quite big chambers.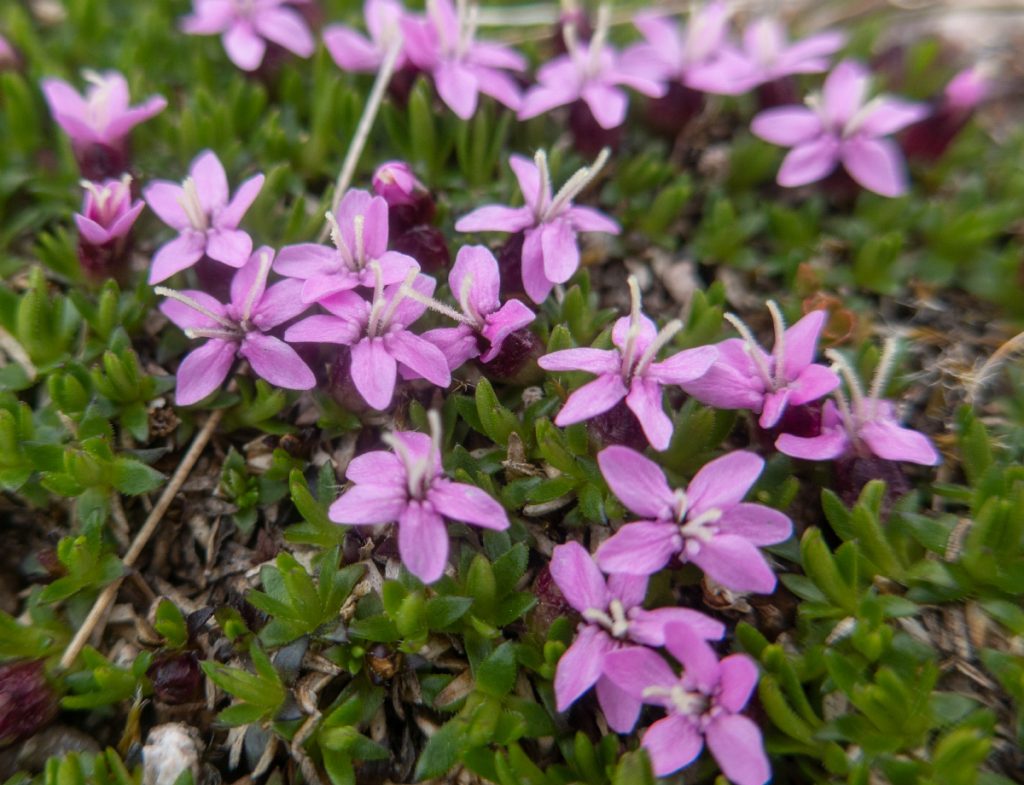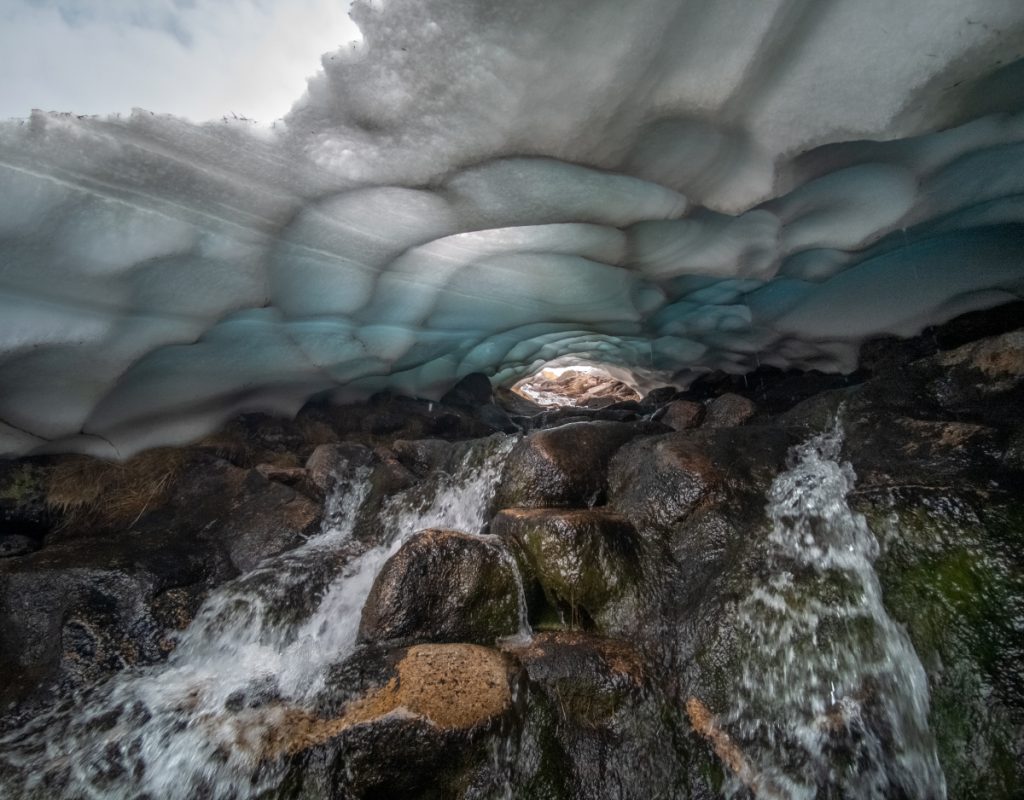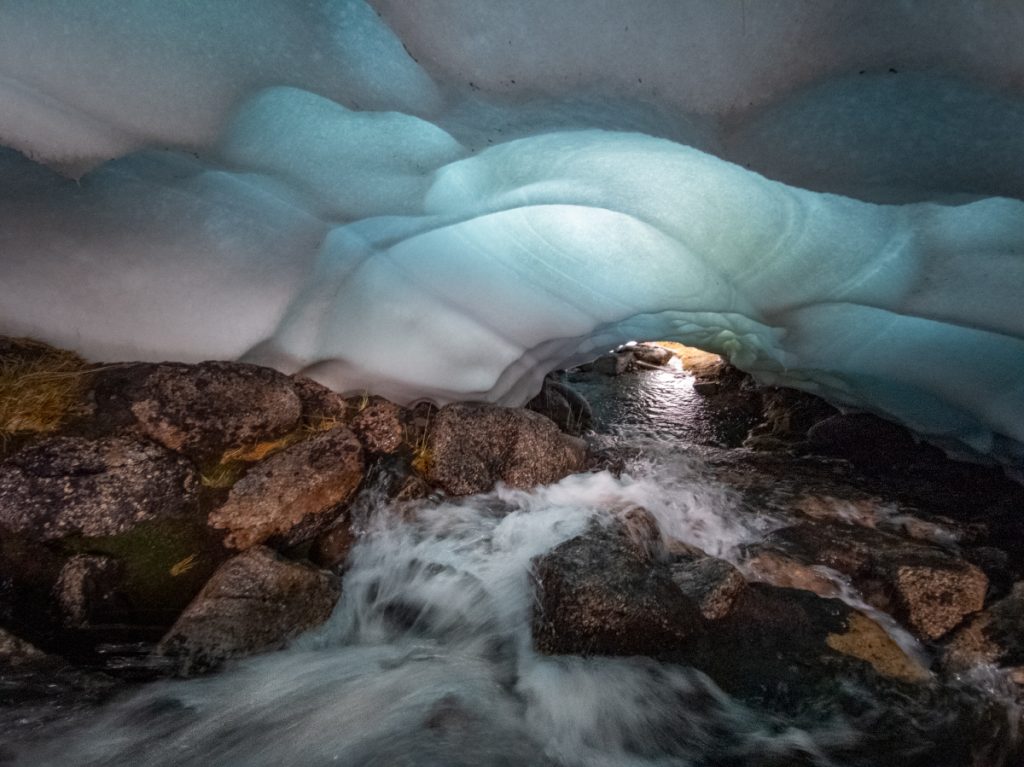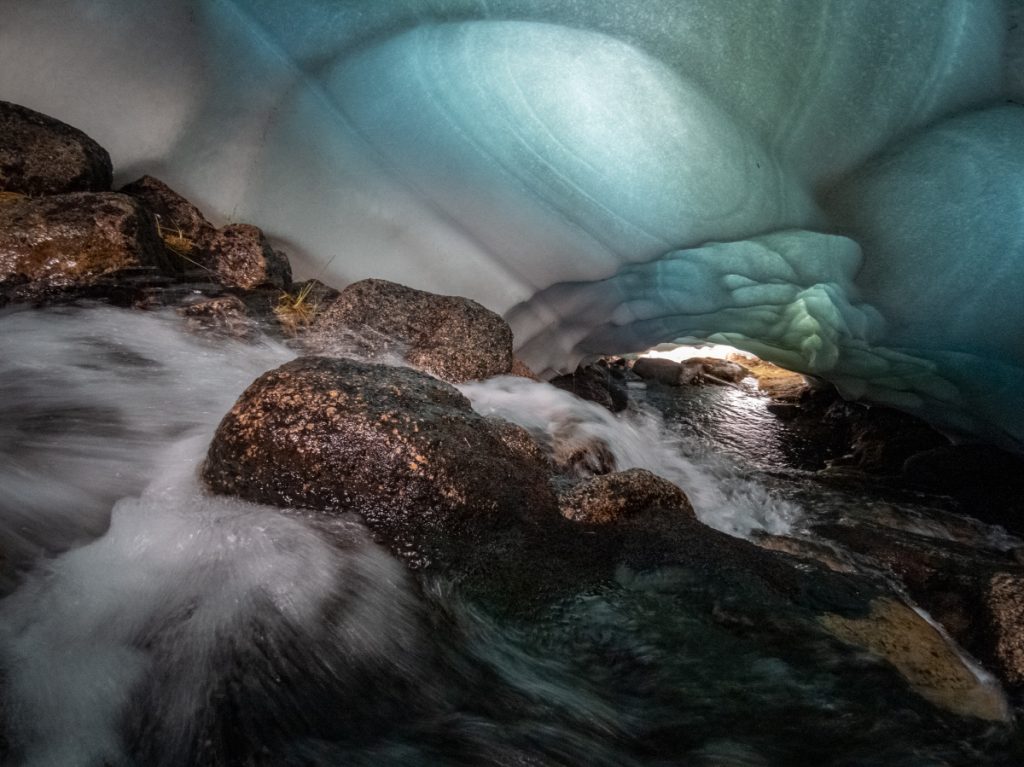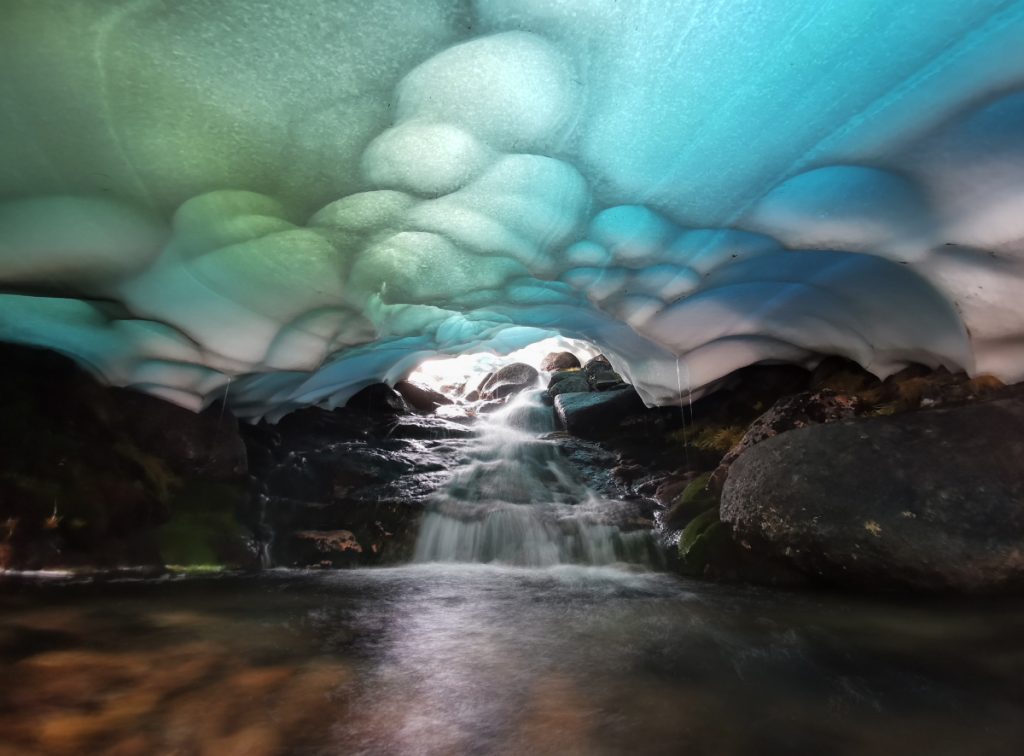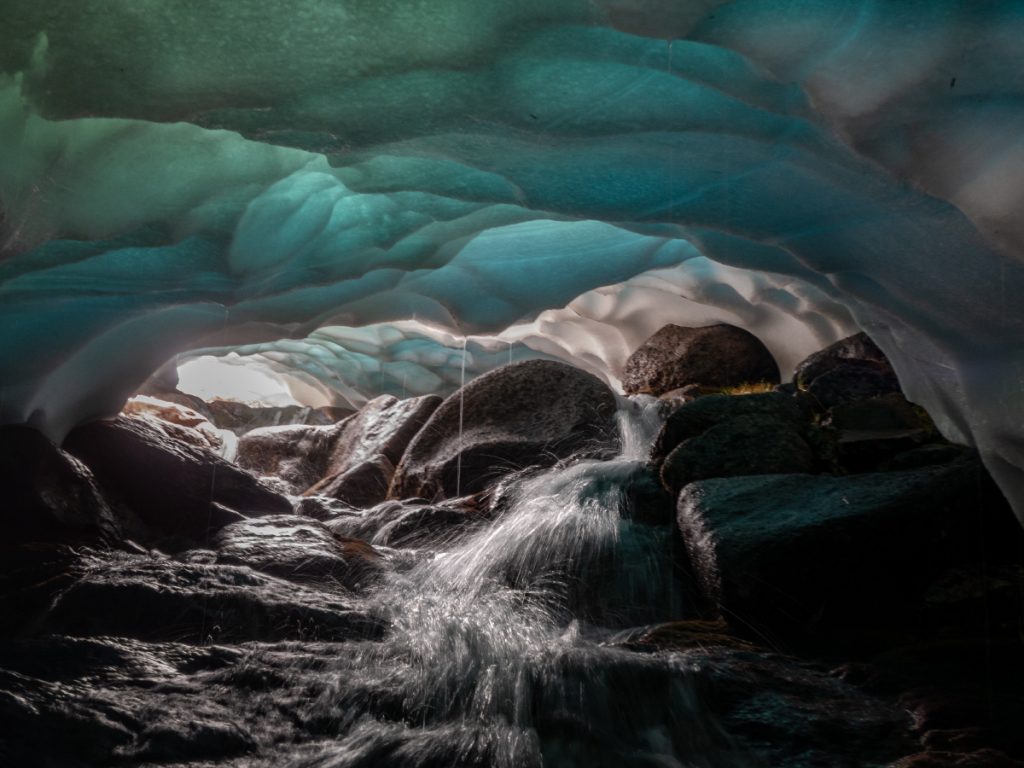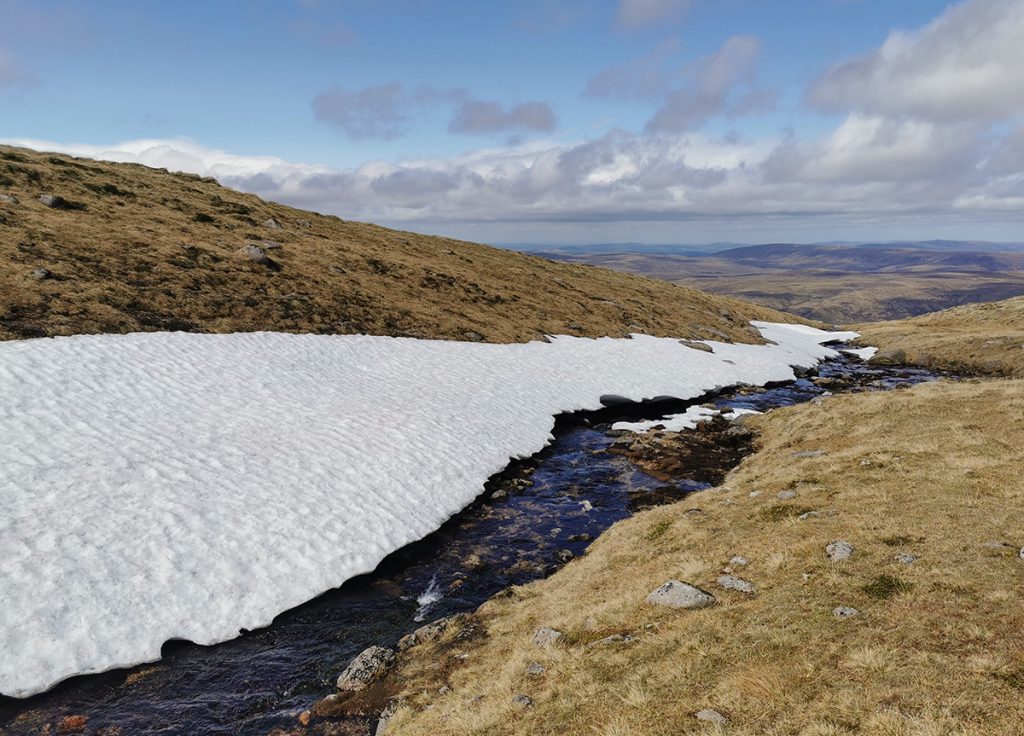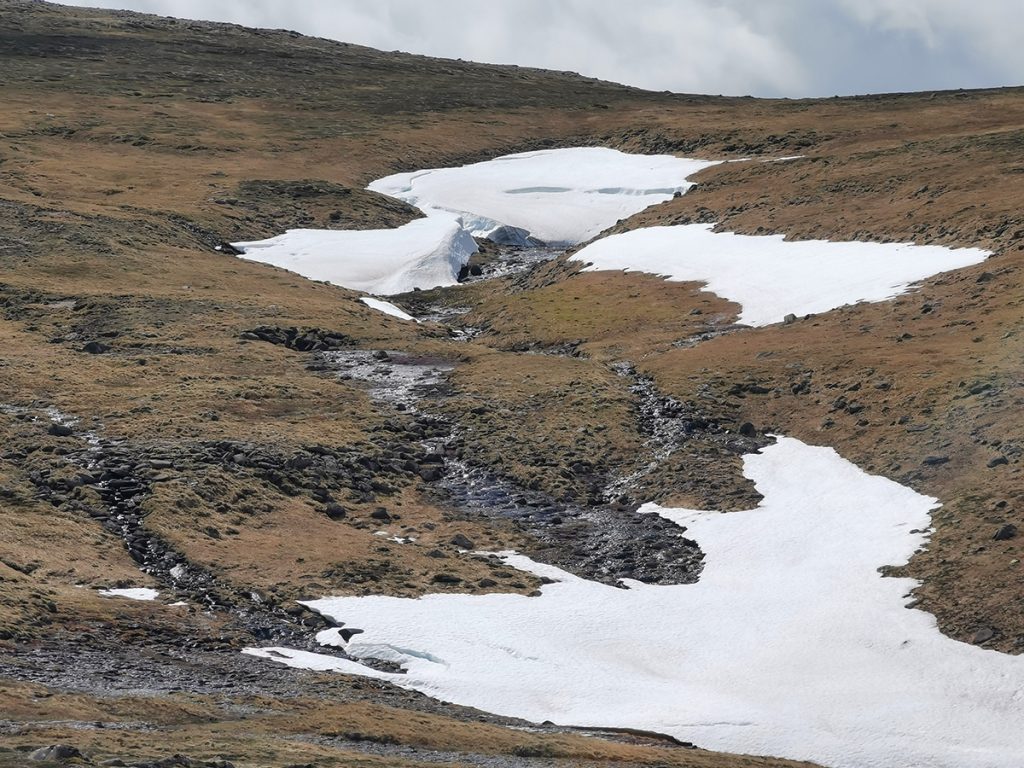 A stiff climb up the side of Stob an t-Sluichd in the blustering wind soon had me dried out, but also teetering on the boulders at the top. I followed the row of tors south and came across a spread of wreckage from an old air crash. There's a plaque nearby noting this sad event of the past, the plane had crashed in winter but had not been found for many months such is the remoteness of the area; it had claimed 5 fatalities with one initially surviving the crash but succumbing soon afterwards.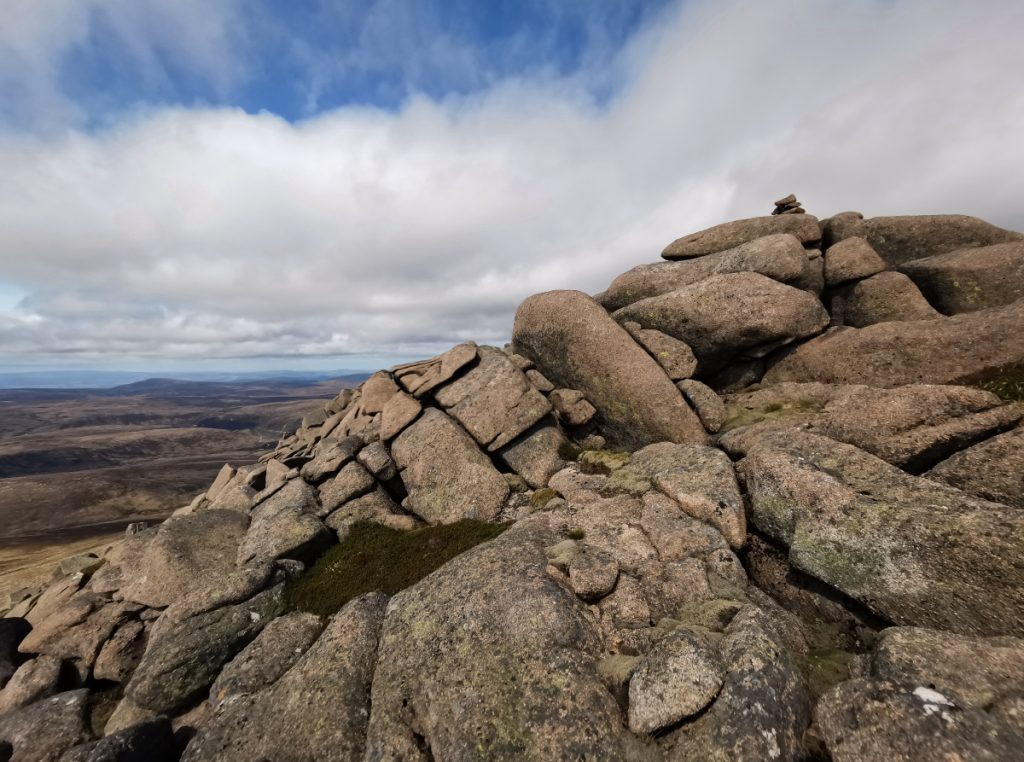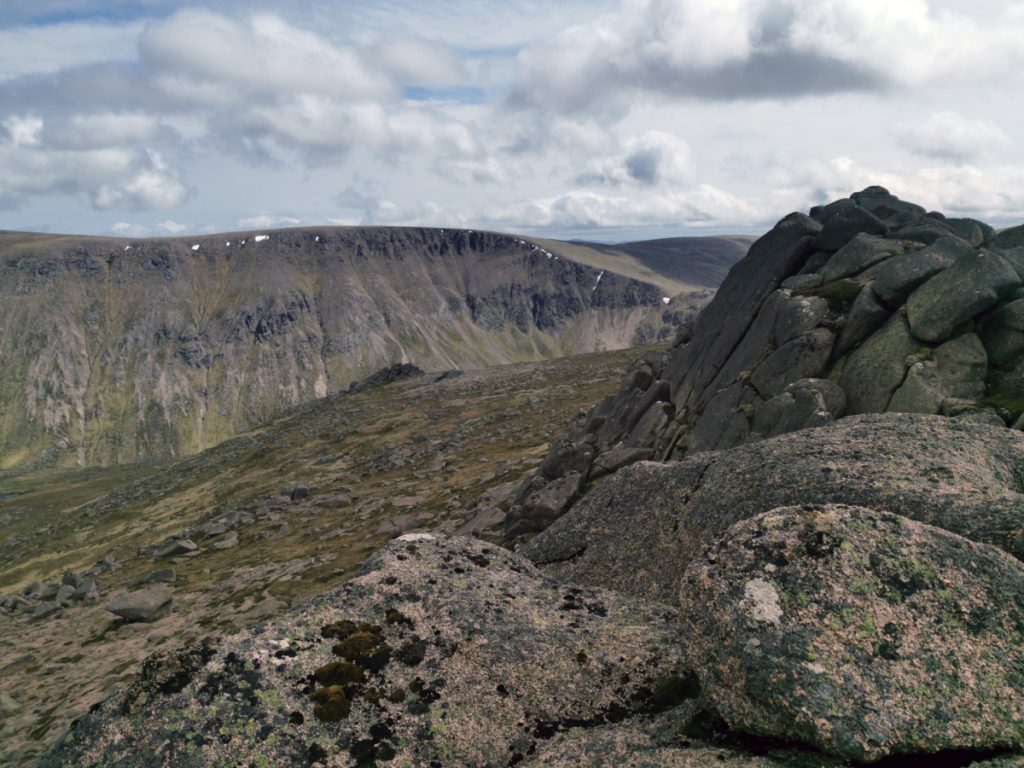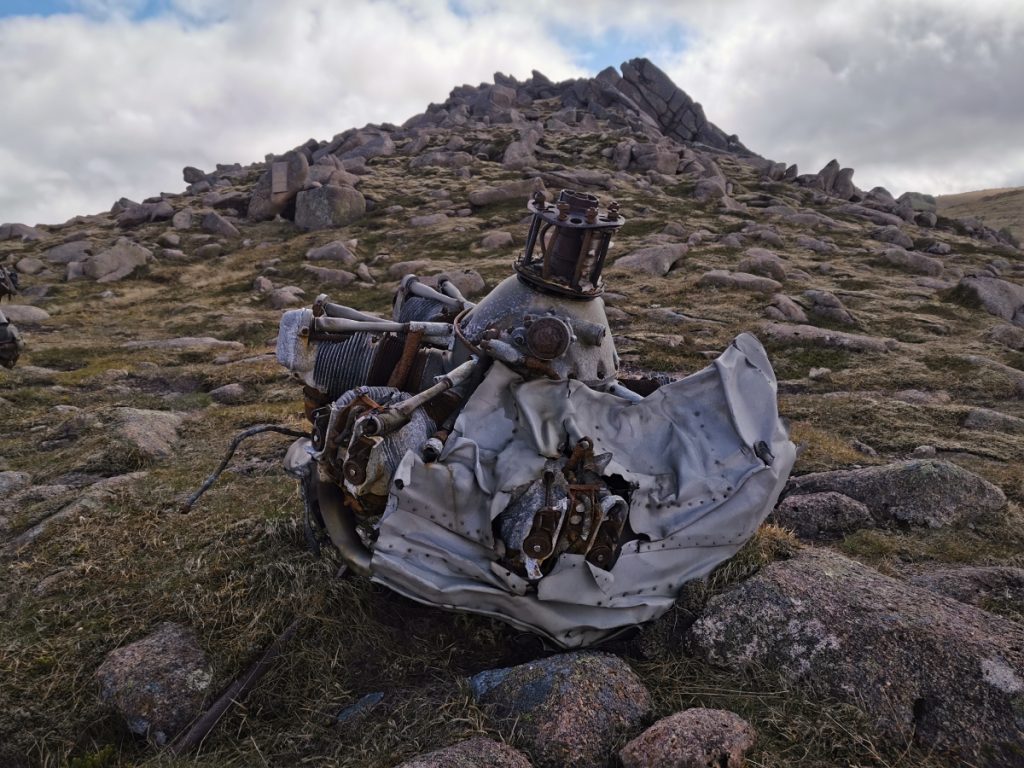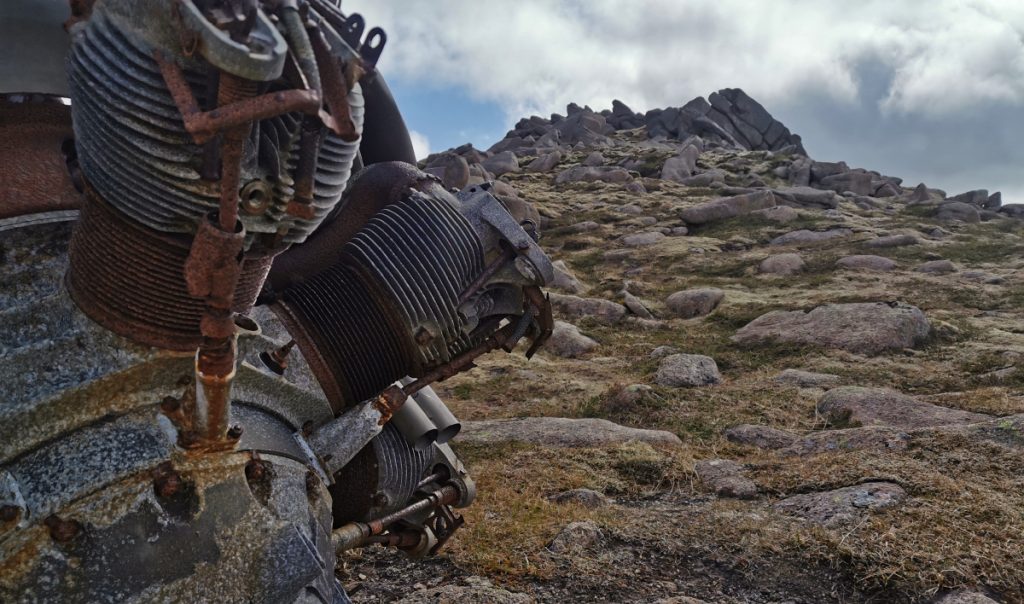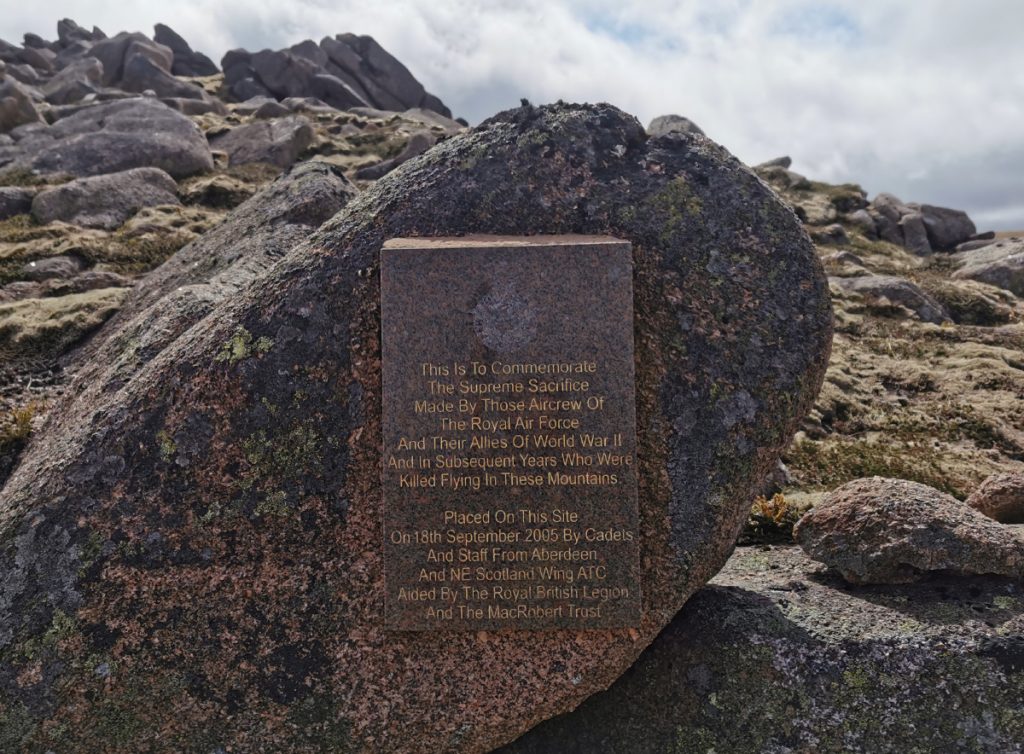 Surprisingly I bumped into another stravaiger out for a long day out from Tomintoul, he had time to spare and a decent DSLR with him: I directed him to the snow tunnels nearby. I hope he found them and wonder if he got some cracking results with that camera (get in touch if that was you).
Onwards south I headed past Cnap a Chleirich where a burn tips over into the corrie, there's a hollow here that in winter I'd noticed had a huge cornice, and sure enough into summer it still held deep snow. Today it wasn't accessible to enter but would likely be so in a few weeks (re-visited and spectacular, 3 weeks later). I also had a look the gentler east fork which had some good flowers blooming in it's marshy surrounds.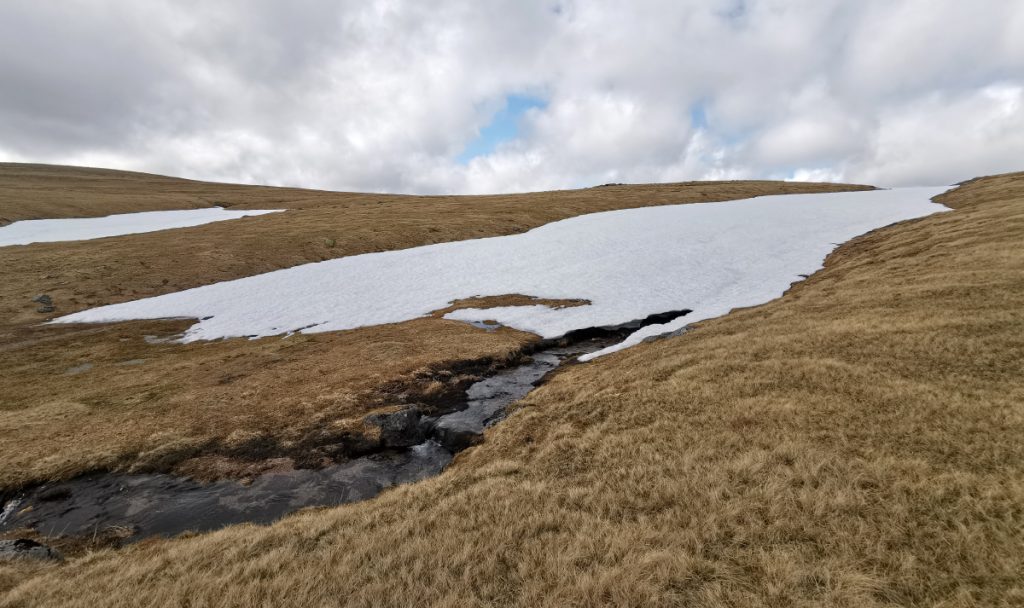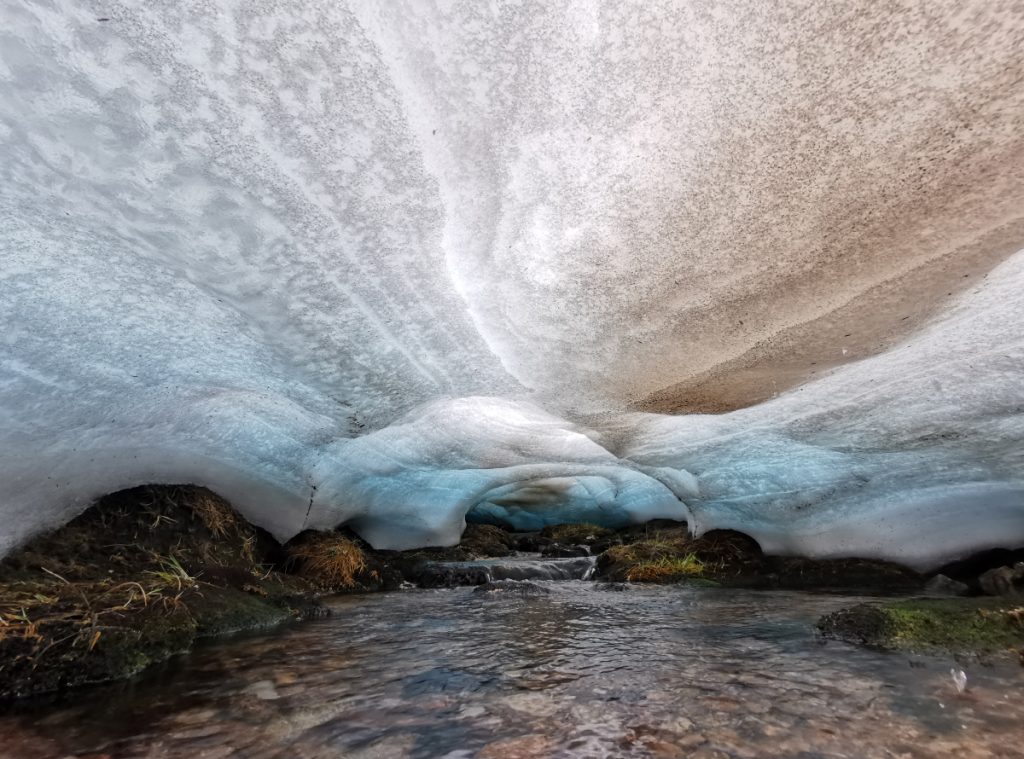 I wasn't sure if following the burn down the steep side was a goer, but it was ok, rocky/gravelly and the gradient opened up caves into the snow albeit precarious to access at times.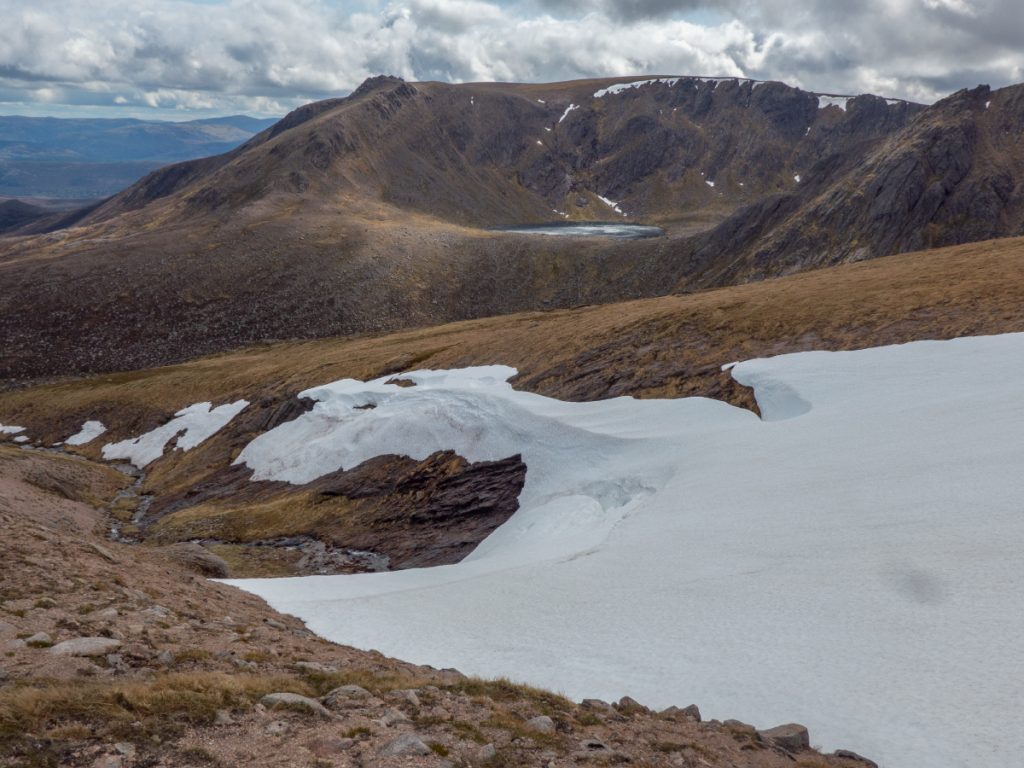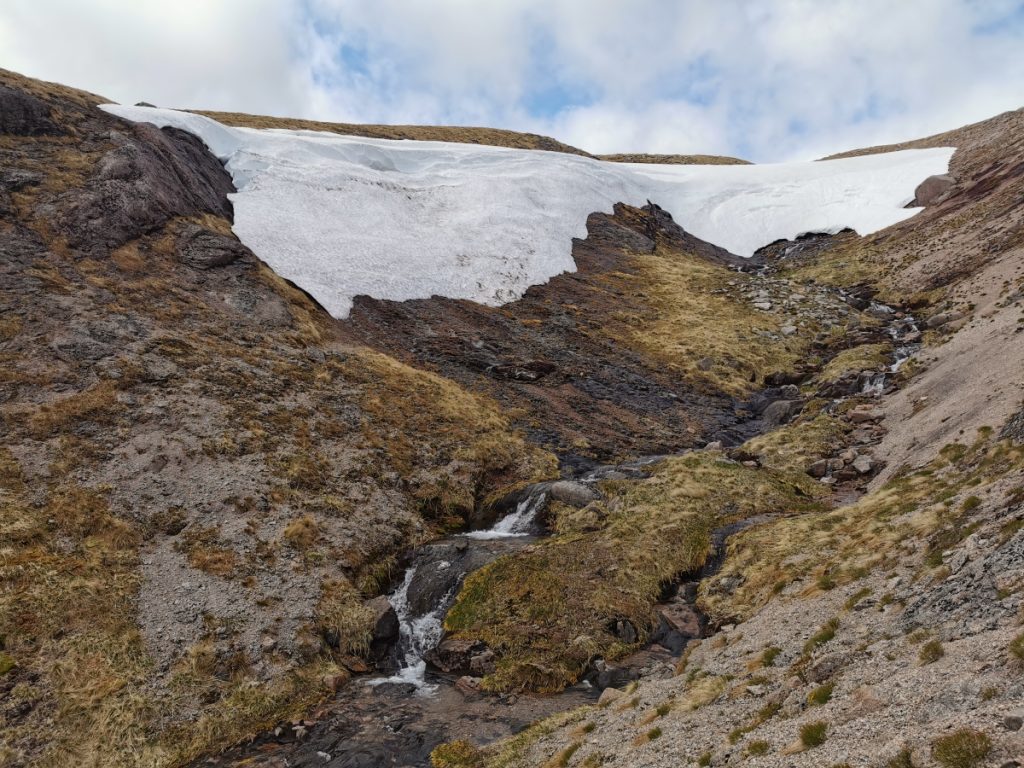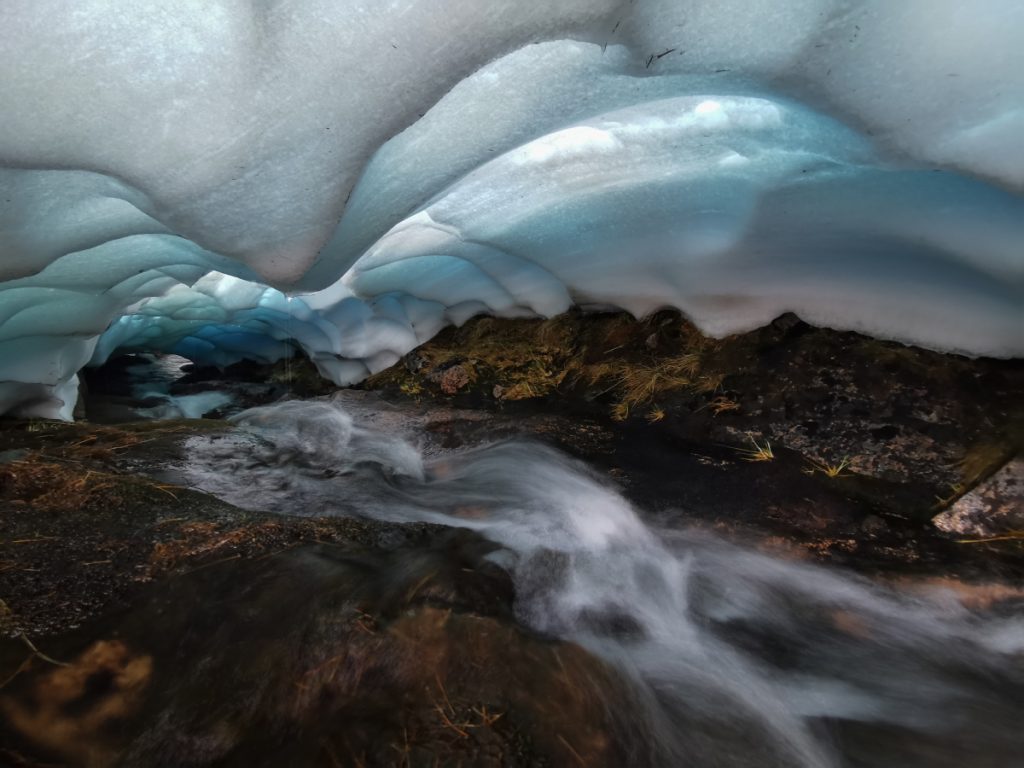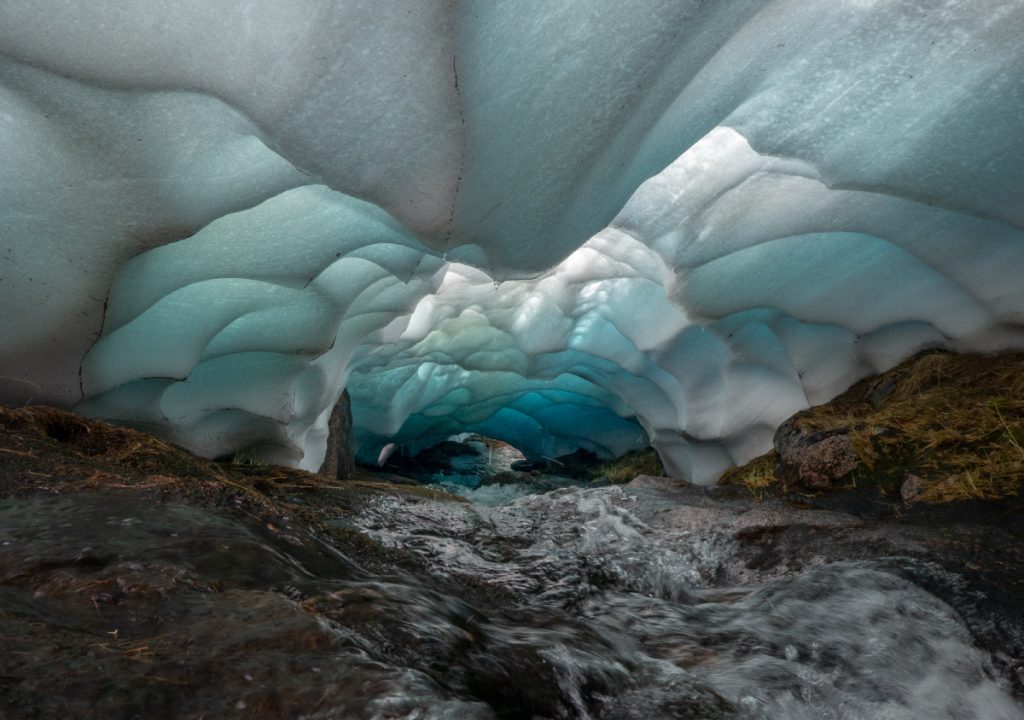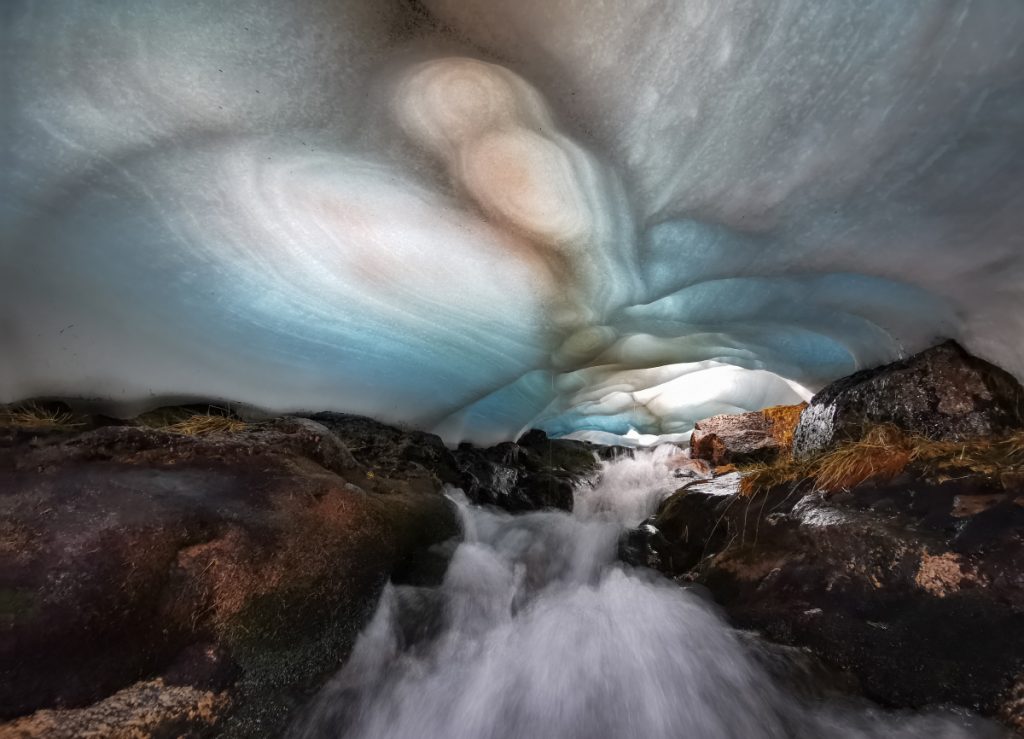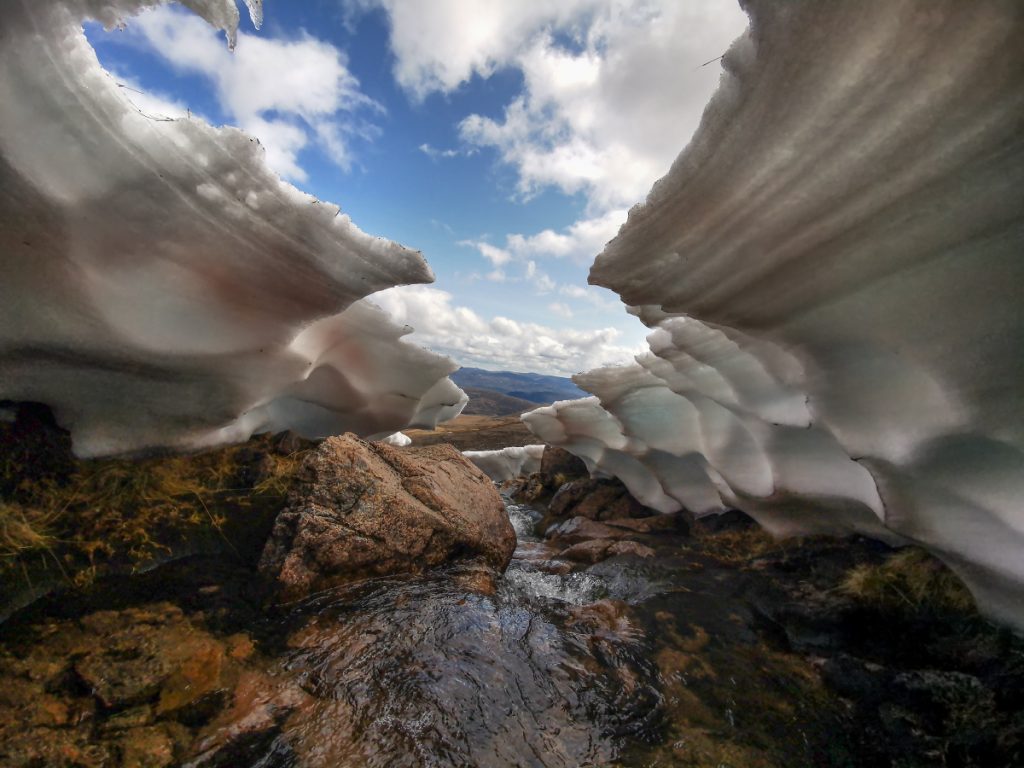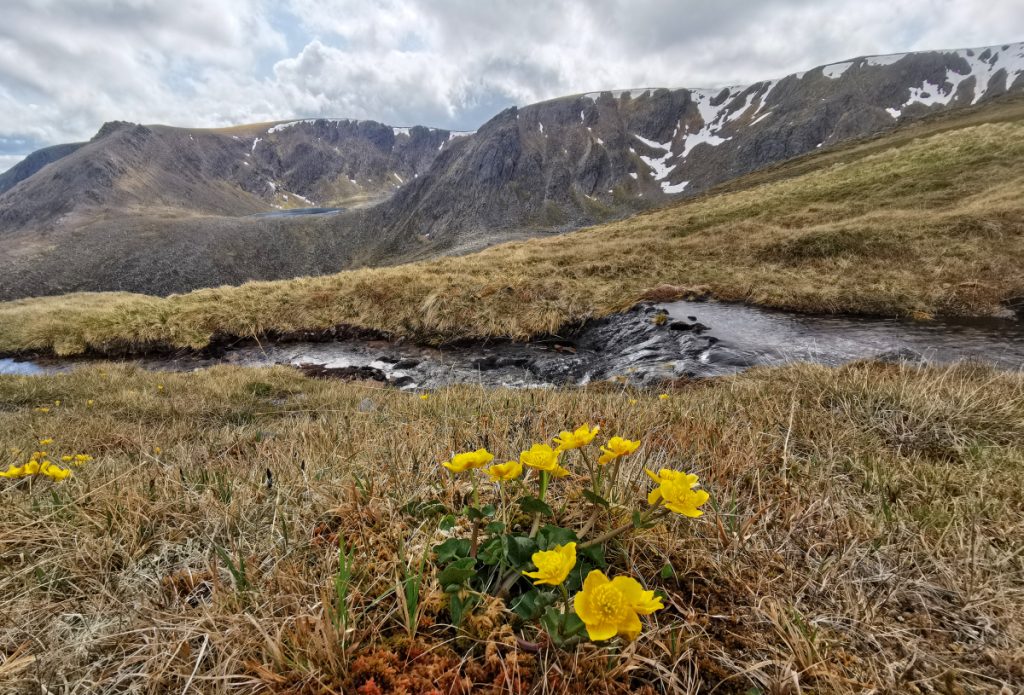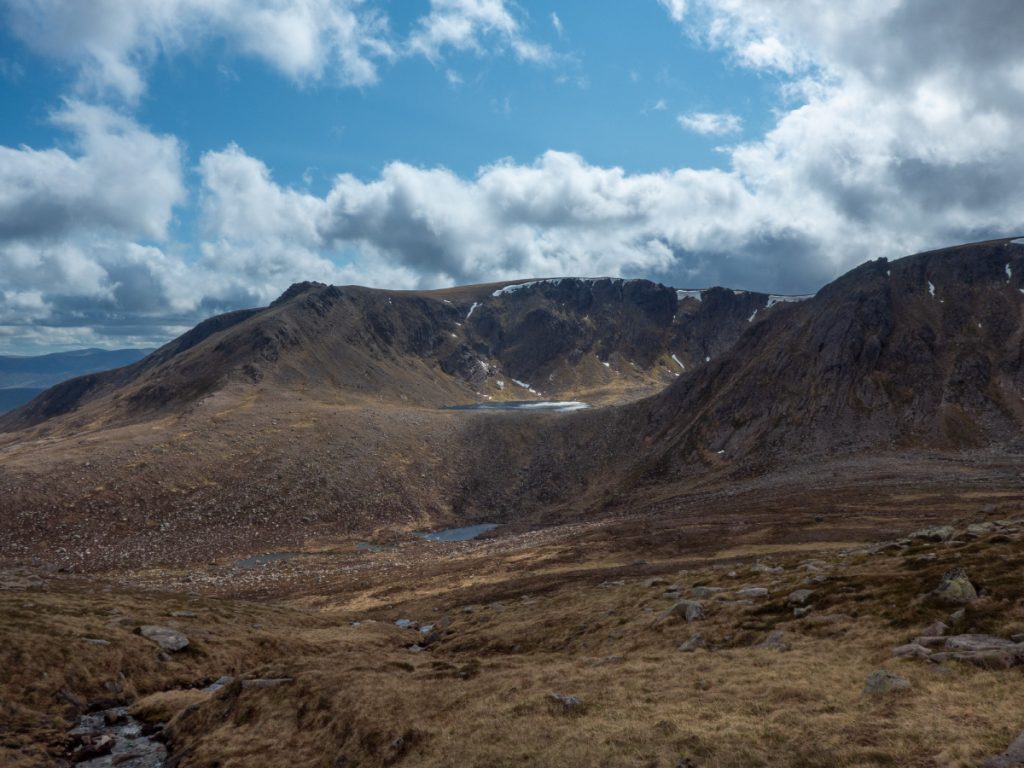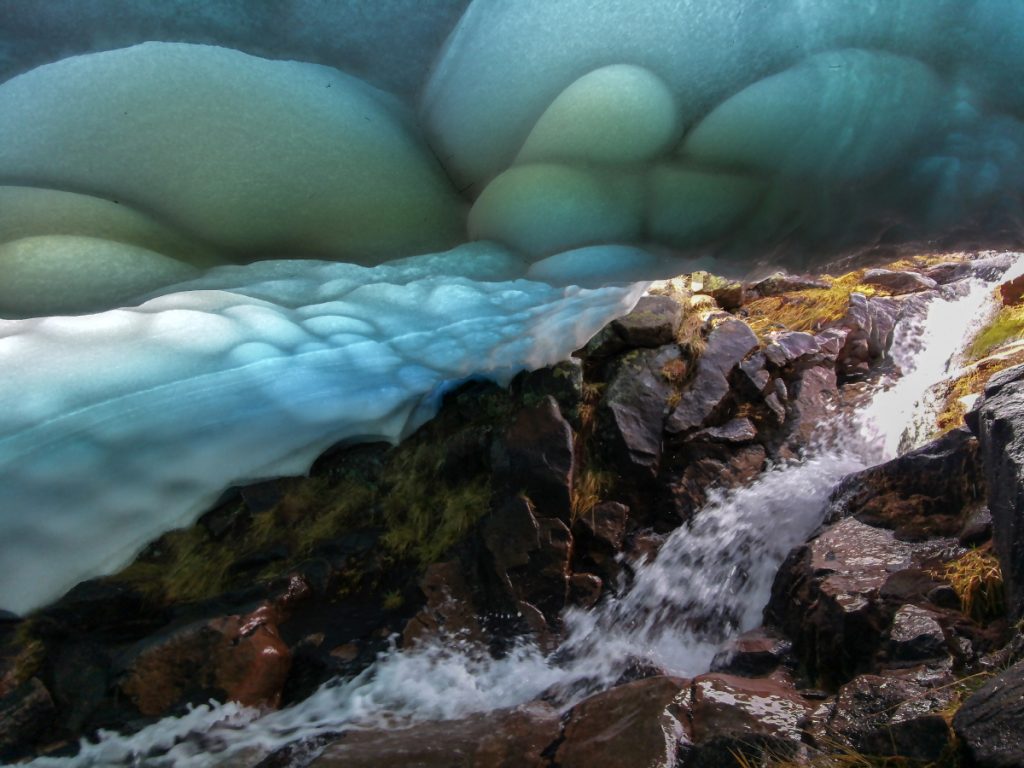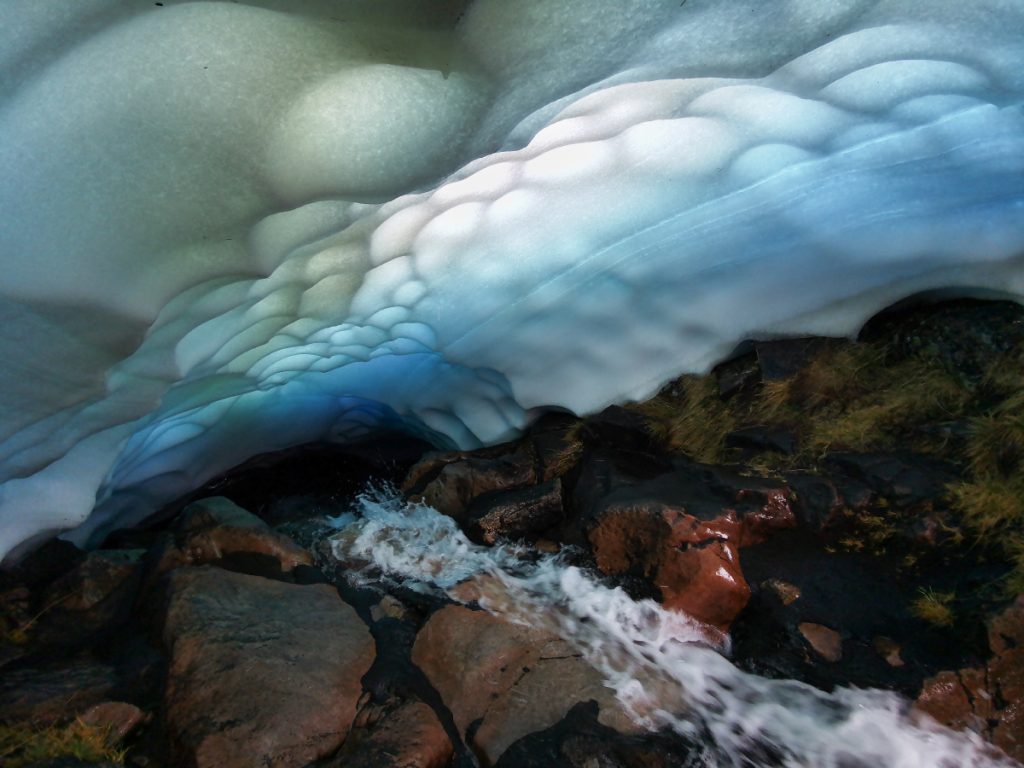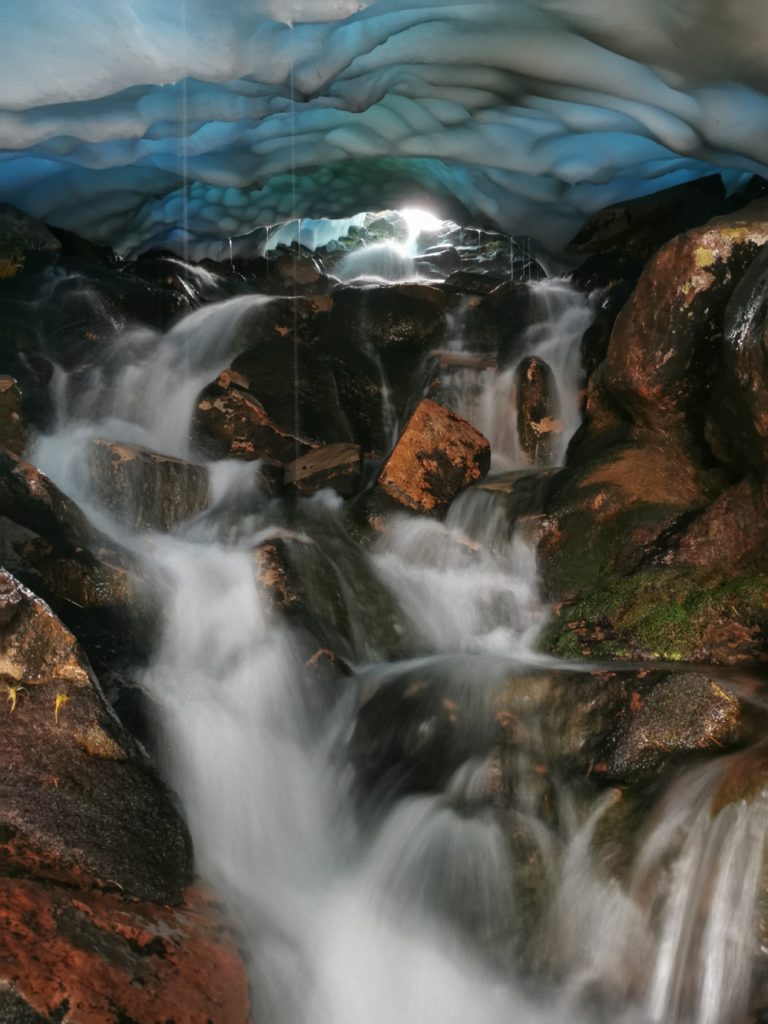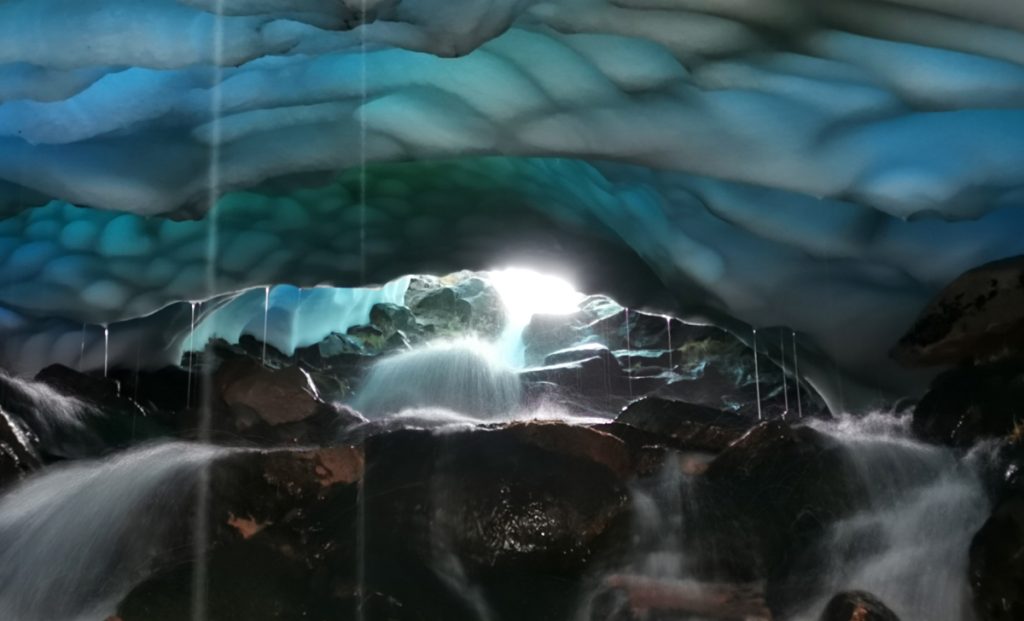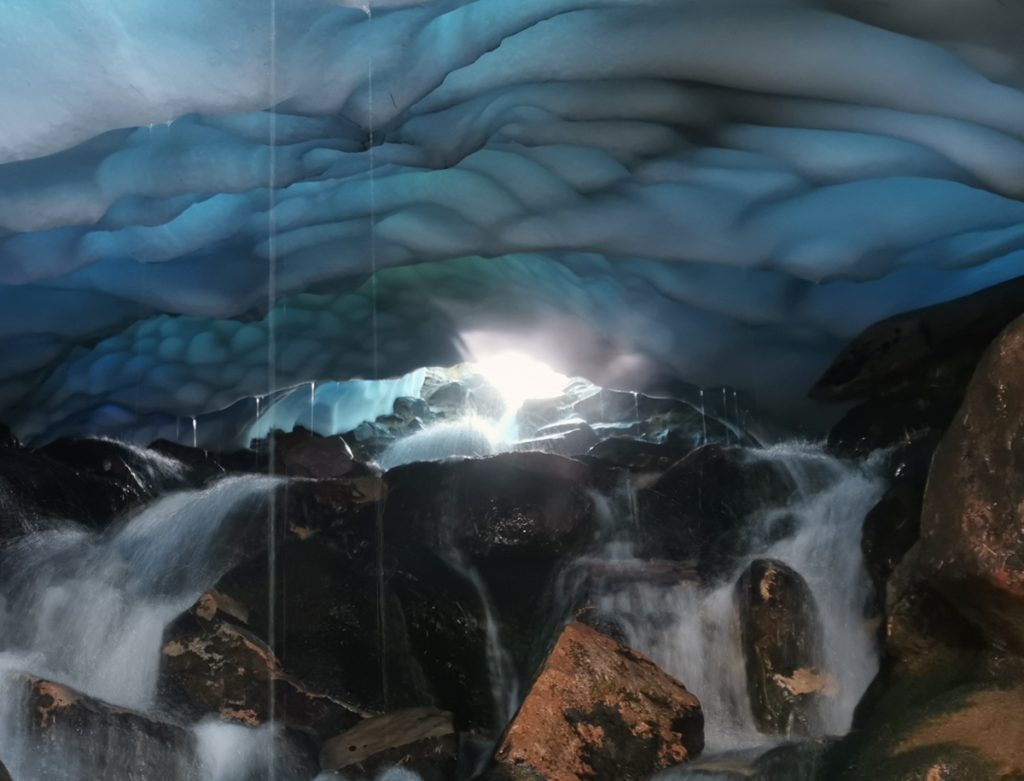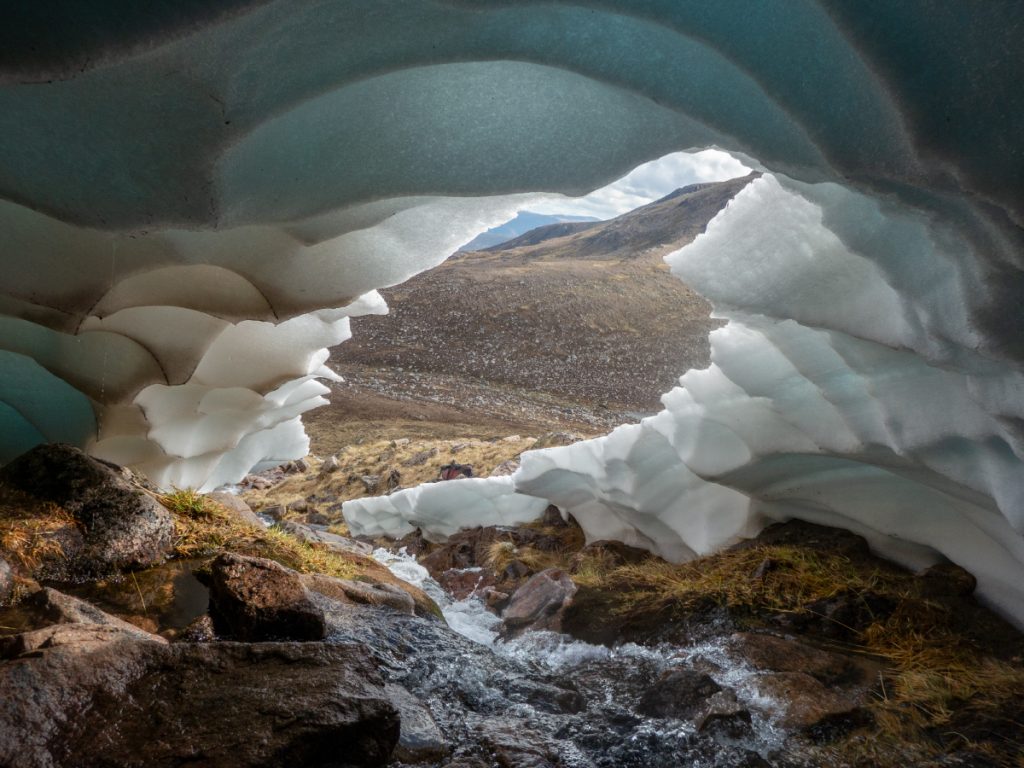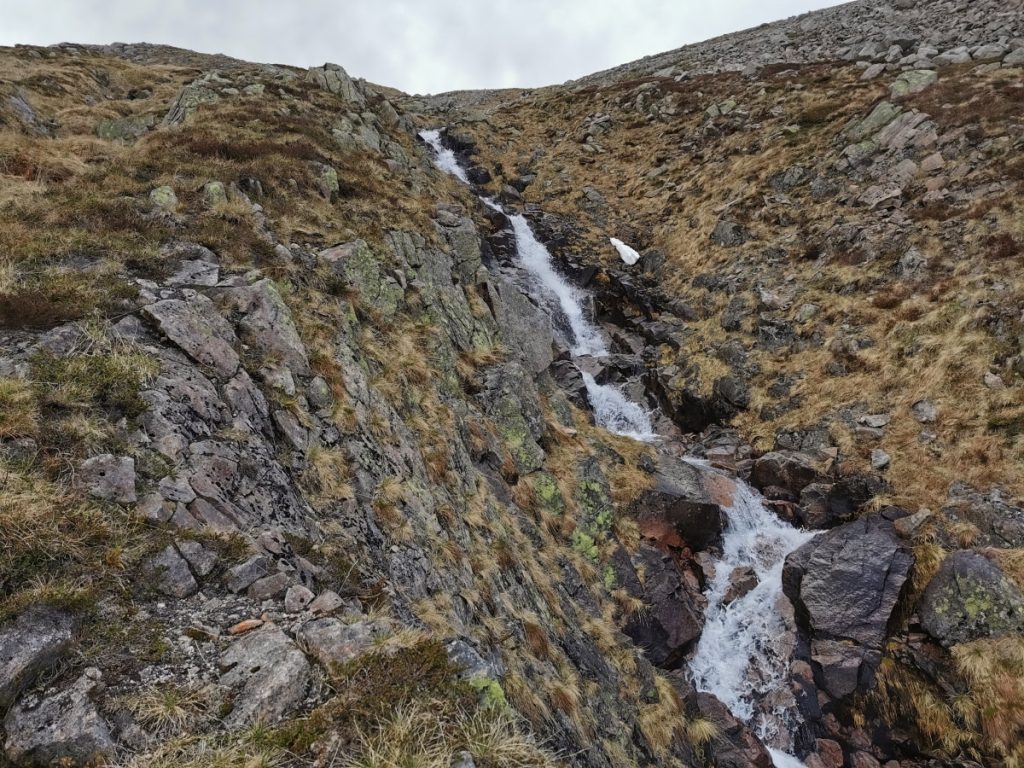 I headed down the path from Clach A Cleirich, then west under Carn Fiaclach, chatting to a chap who'd just seen a harrier hunting. I could see above that Allt an t-Sneachda had some good snow and likely tunnels but I wasn't going to ascend more today.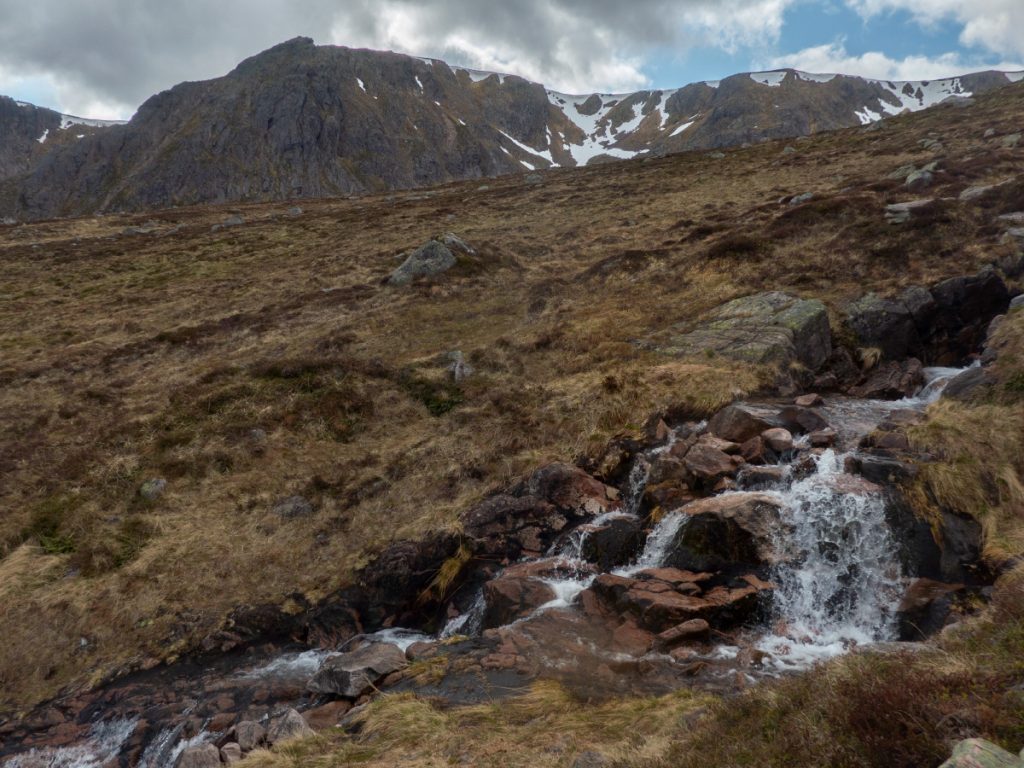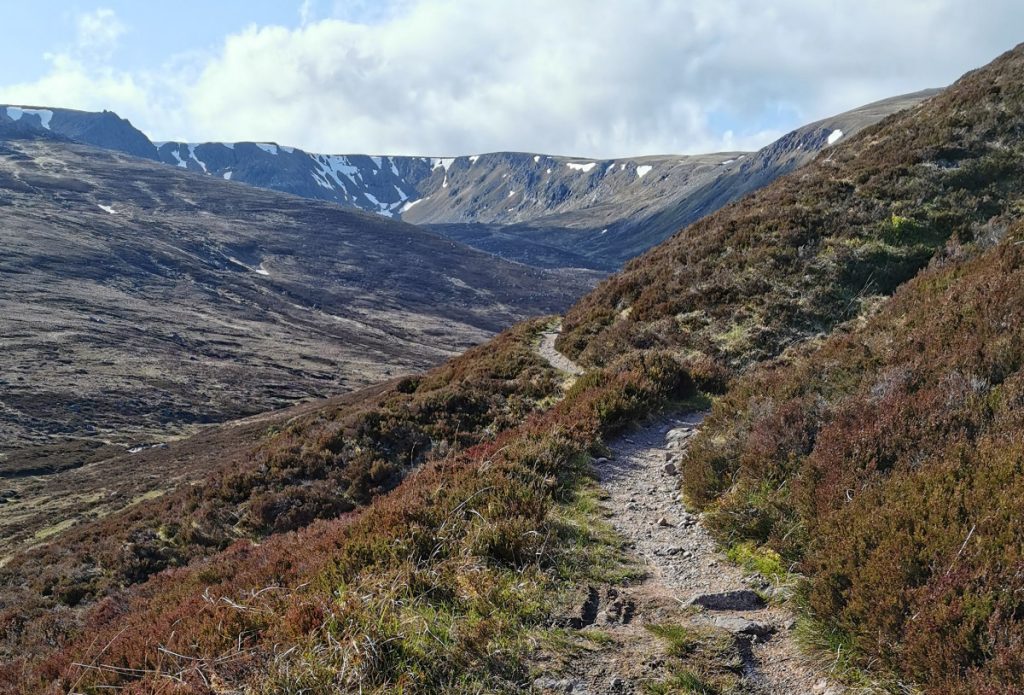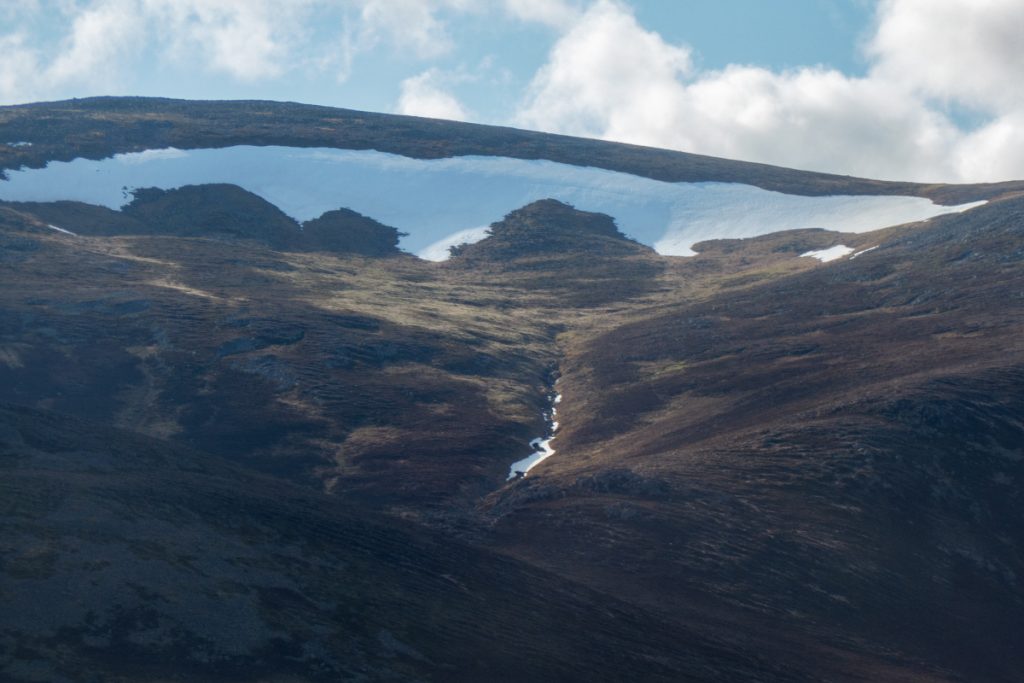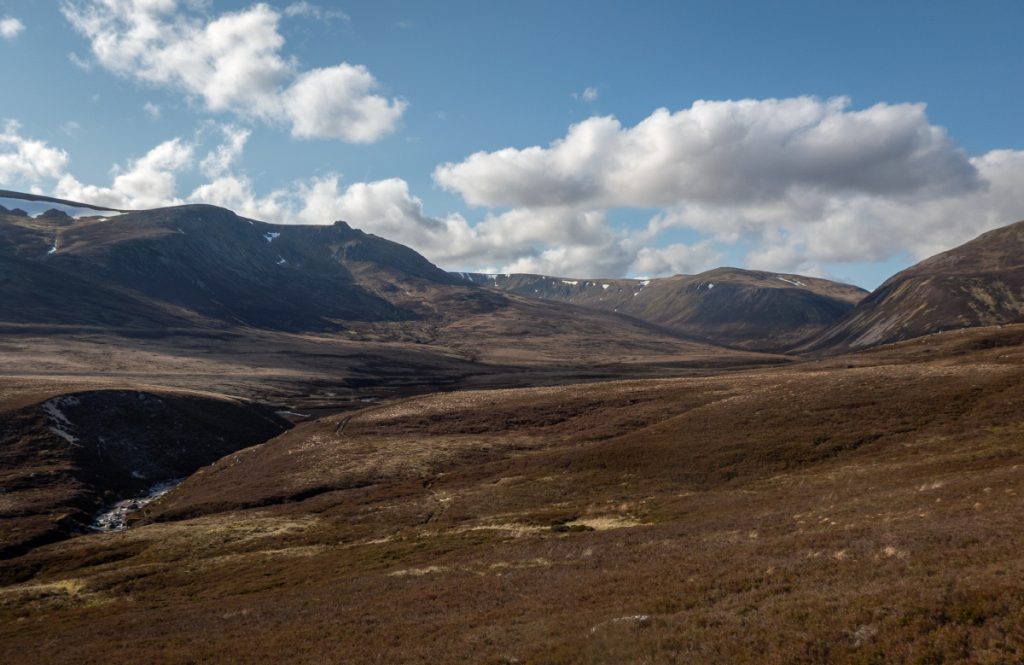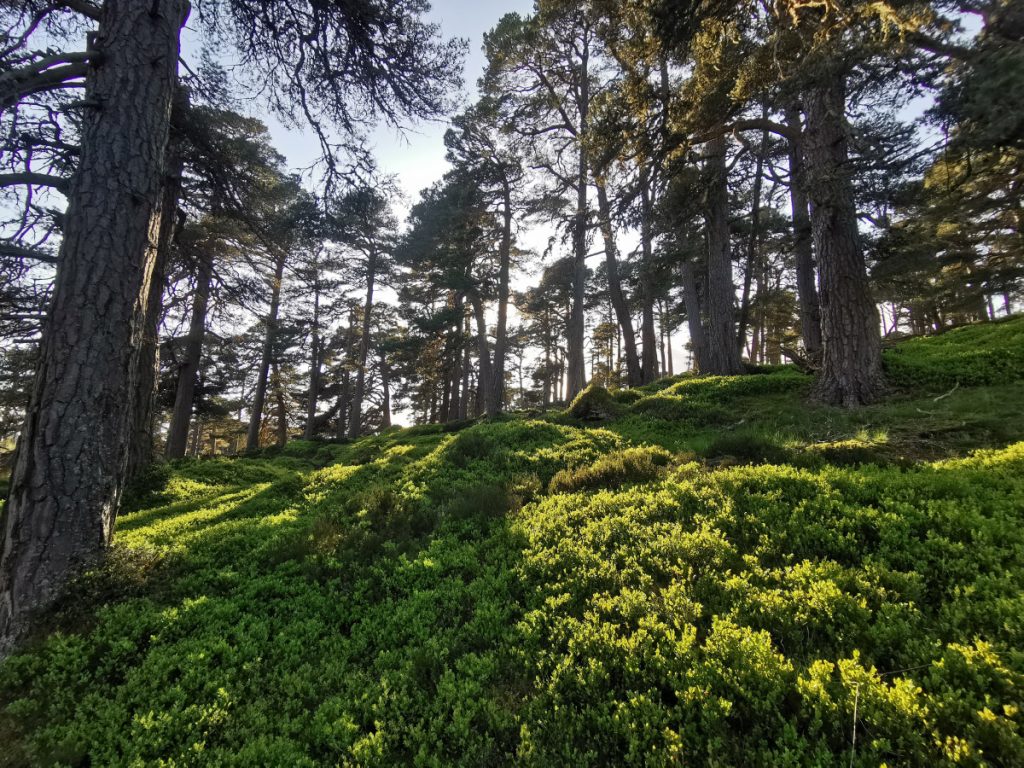 I collected the bike and rolled down the sparkling Quoich, and back to Muir, a long day at 51km but a major step forward in getting to know locations of snow tunnels in the east Cairngorms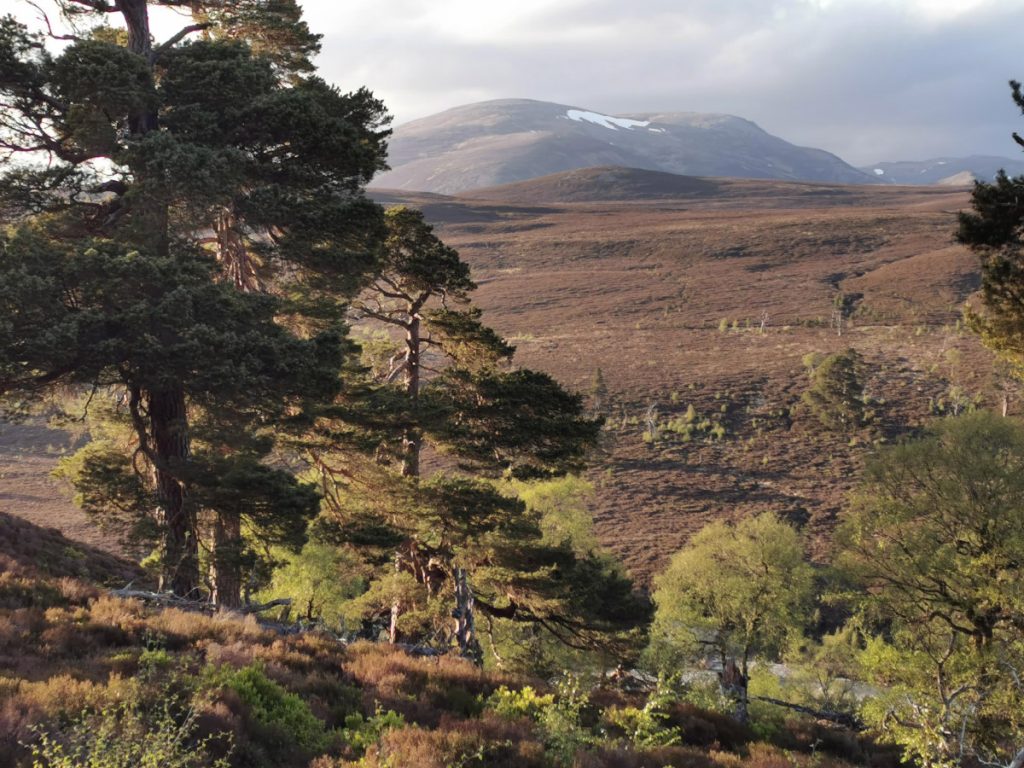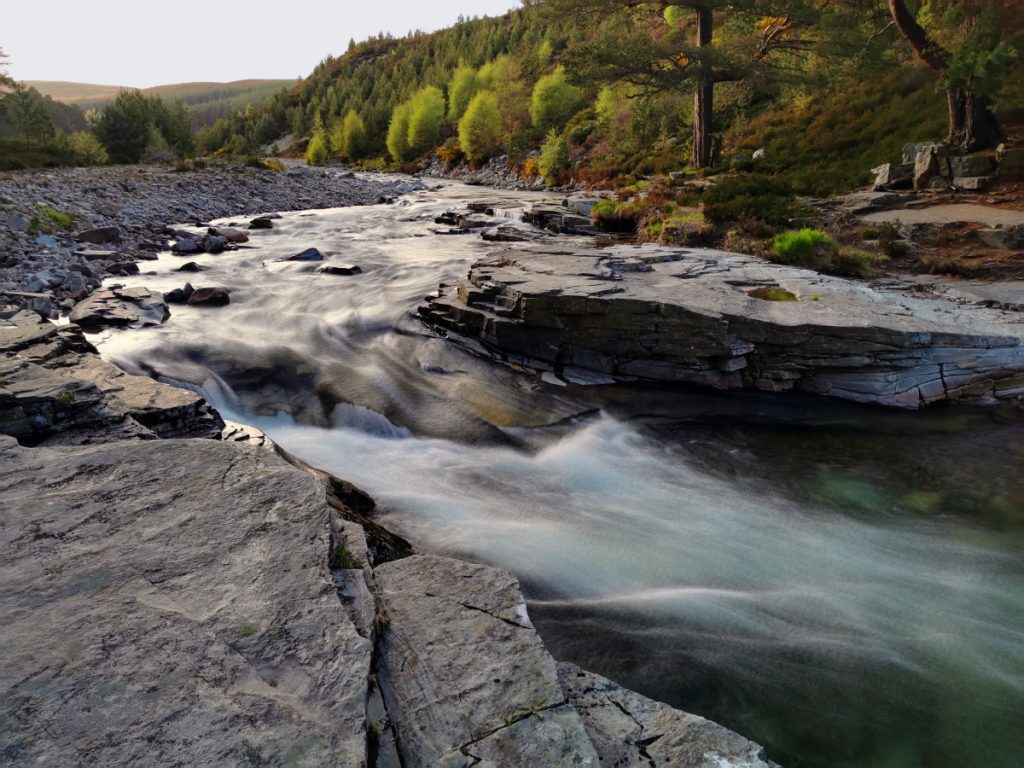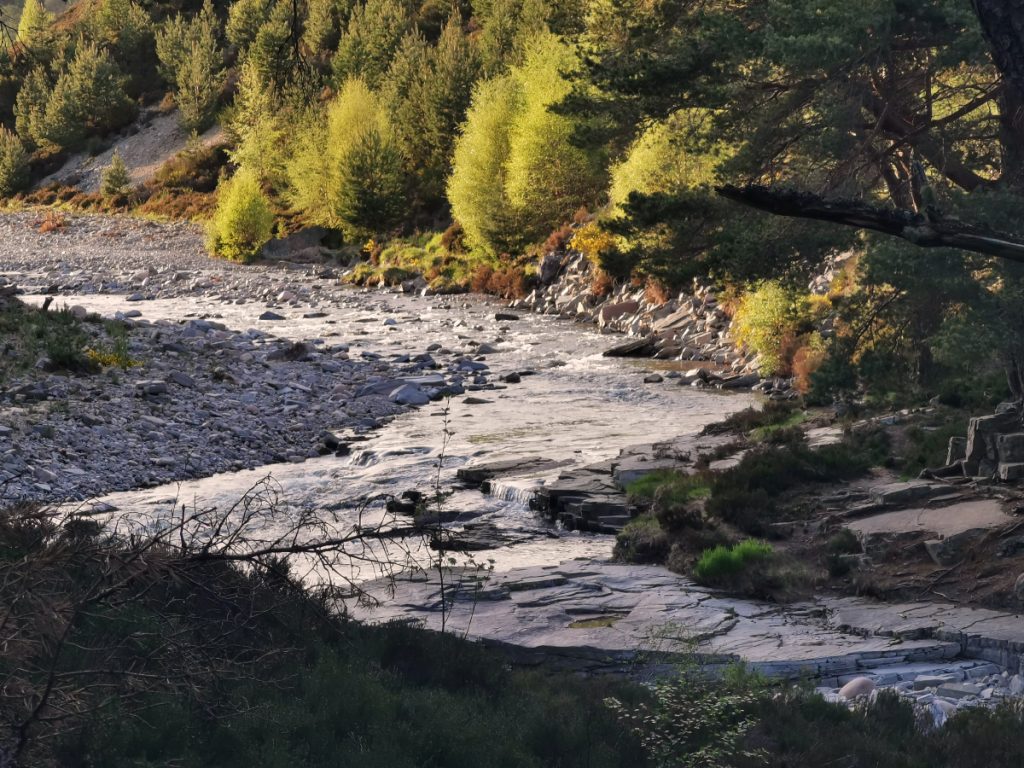 Walking back to Braemar, I noticed this old memorial/well? beside the road. I hitched a lift as far as Aboyne with a fellow camper, nice to chat on the way back.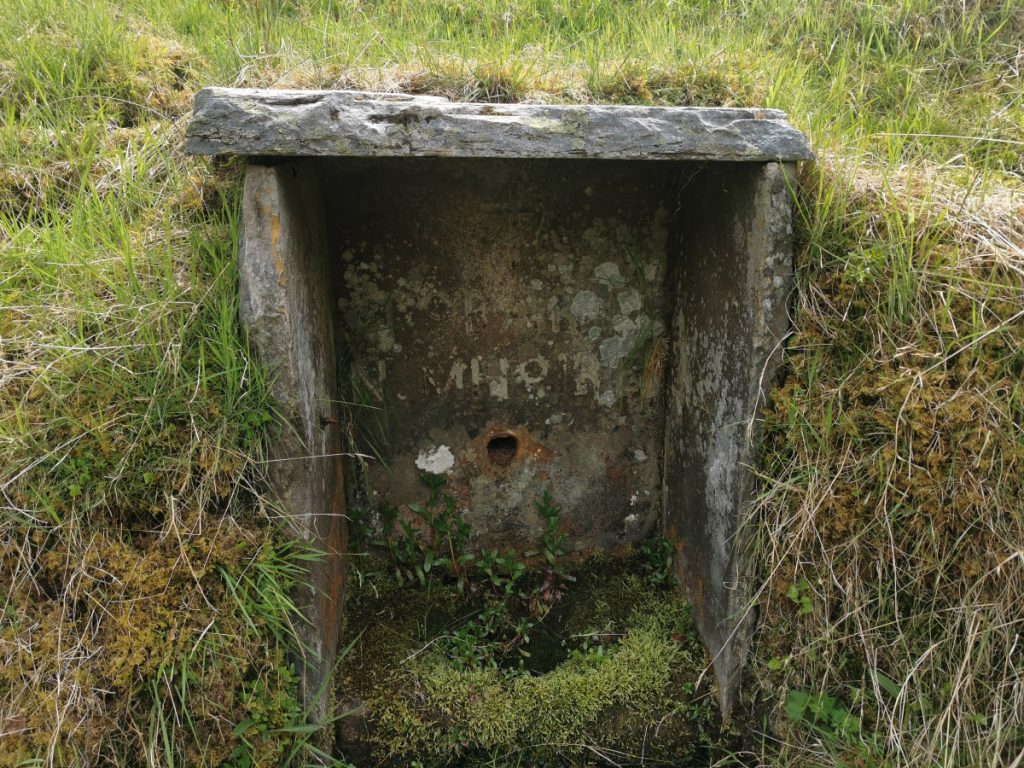 Further info on the "Toba Mhoire" well: canmore, Aberdeenshire council