I'd visited Glen Ey earlier in the year but not summitted any hills; an Aberdeen Hillwalkers coach trip allowed an opportunity to do so and explore a few nooks in the area. The forecast was for rain and gloom, but when heading out was alright; autumnal.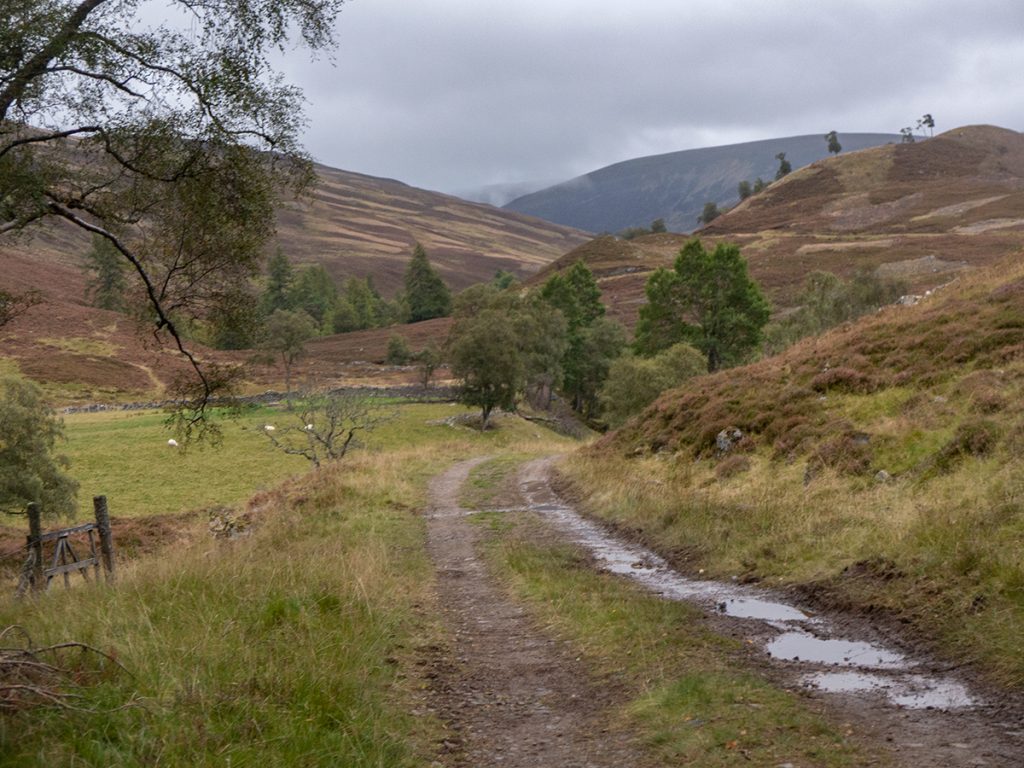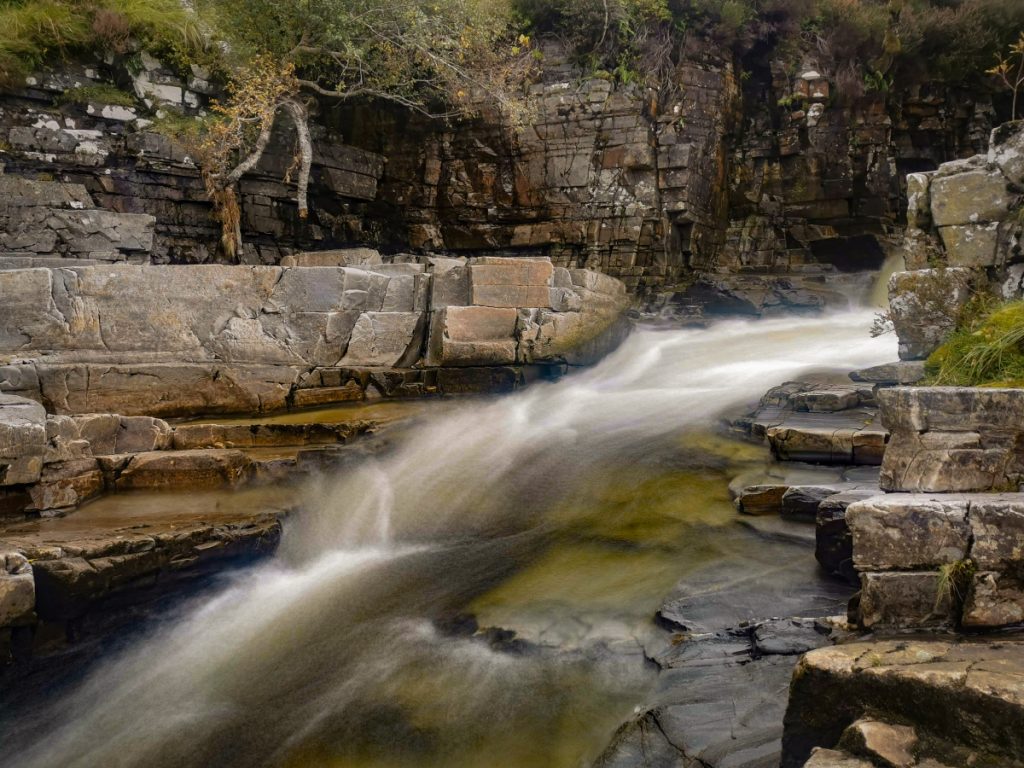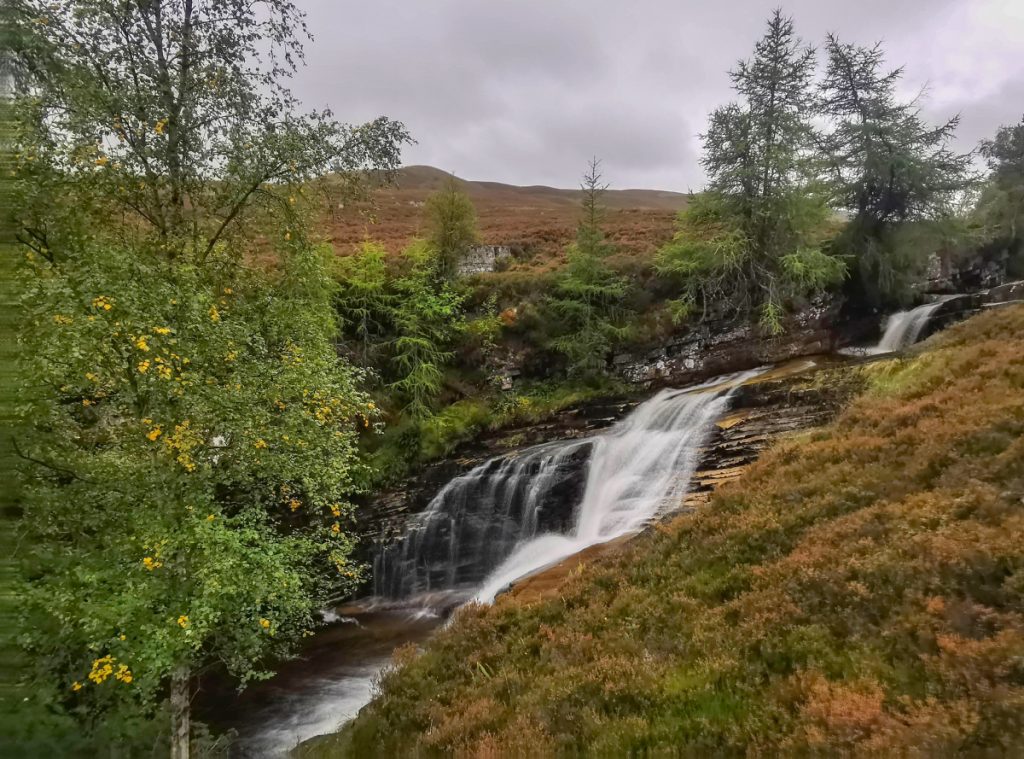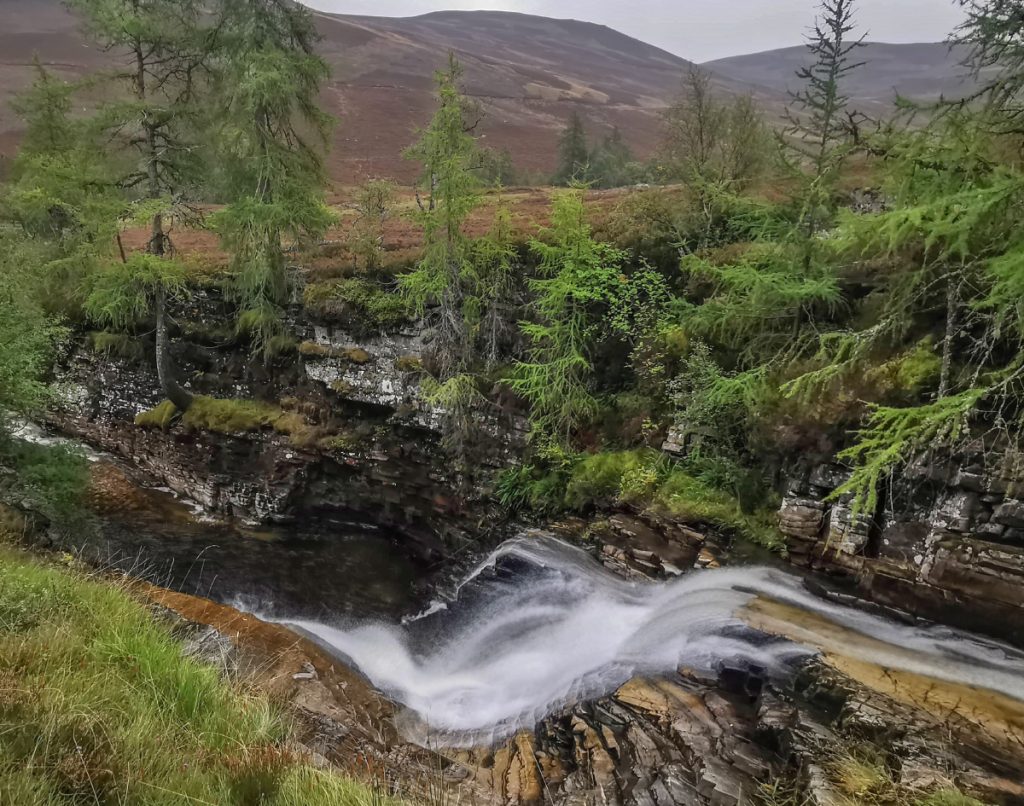 I made down to the falls for a better shot, and almost slid slowly into the drink along the wet and slippery slabs that decanted downwards, fortunately halted by the metal tips of my poles; it'd have been an unfortunate start to the day, phew!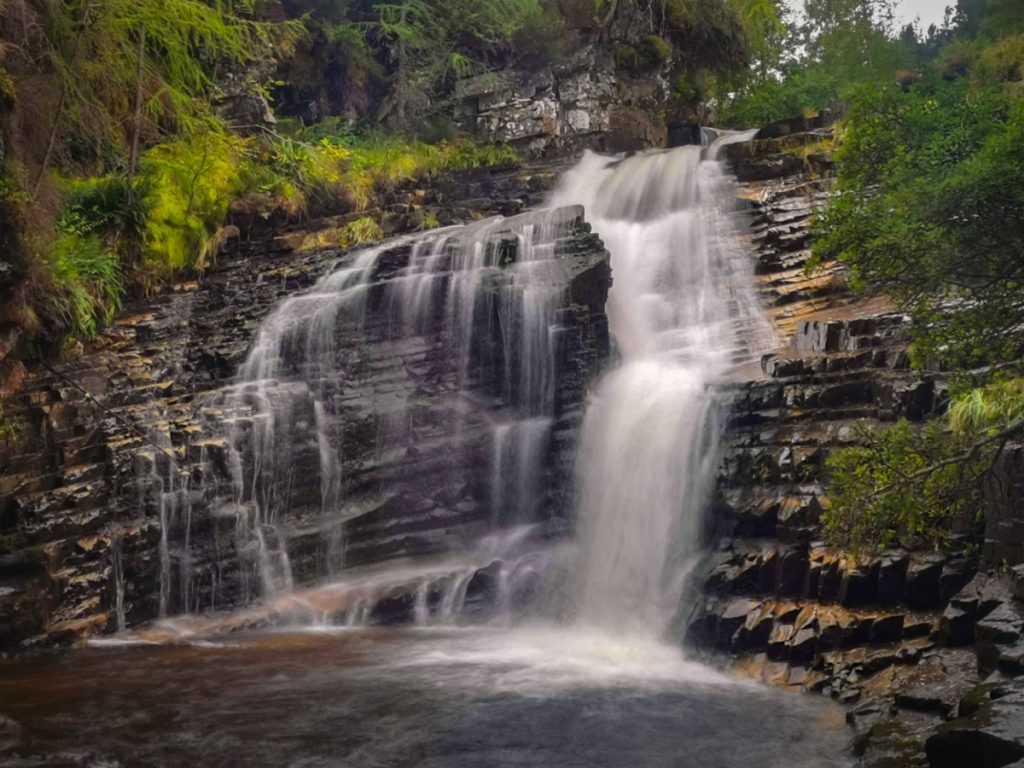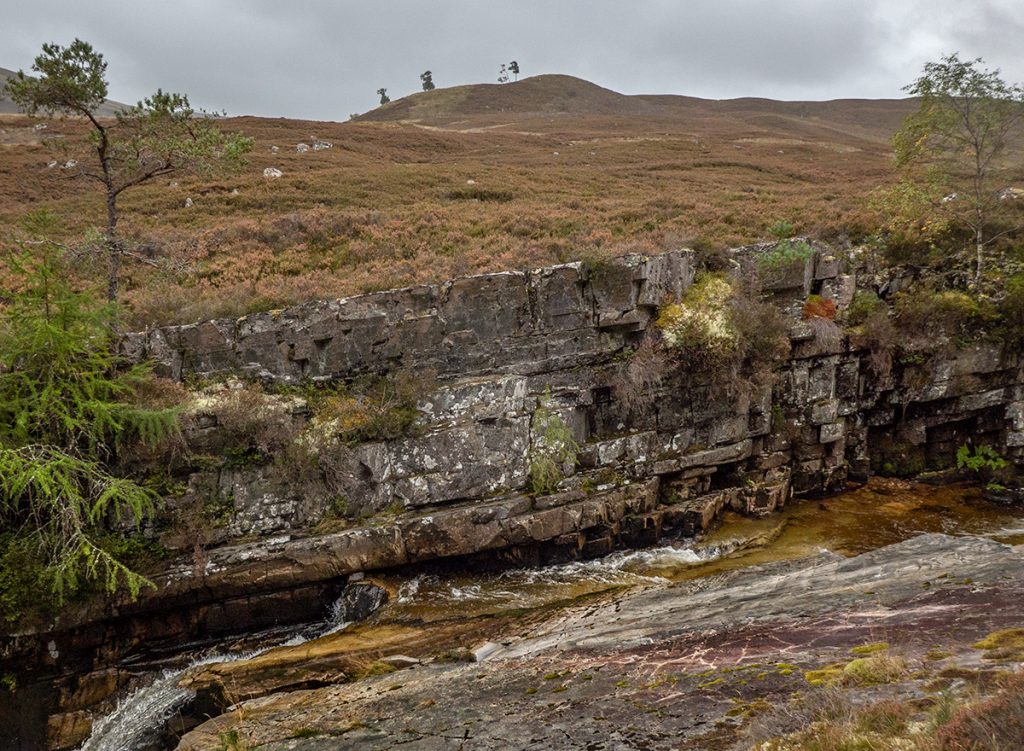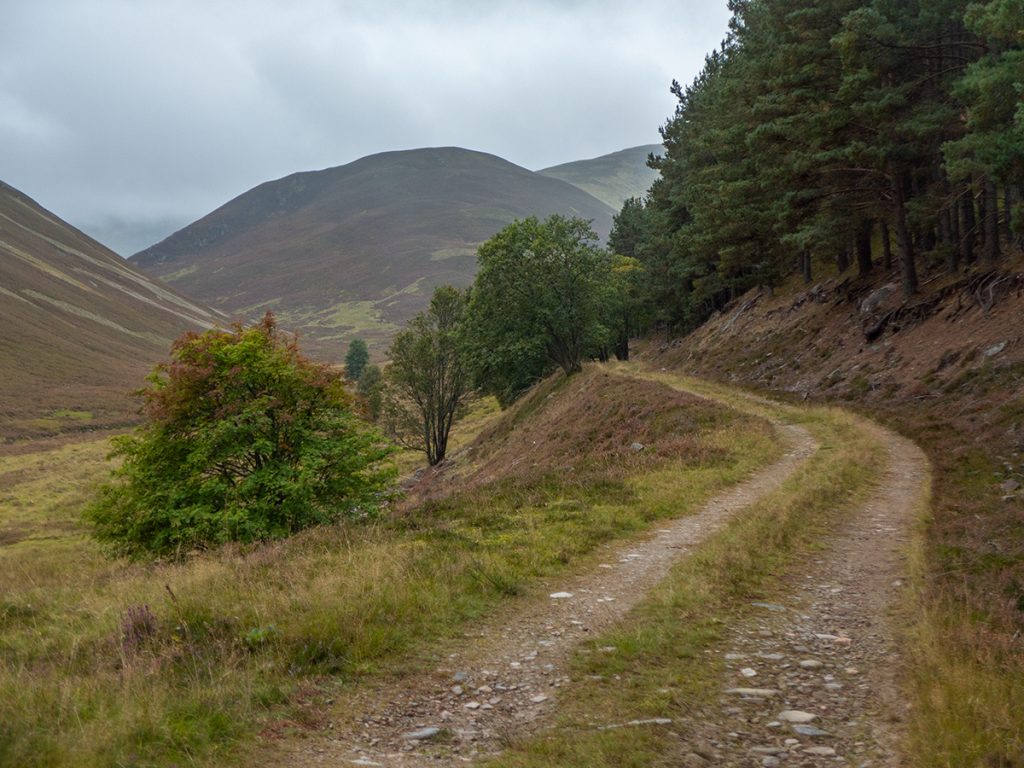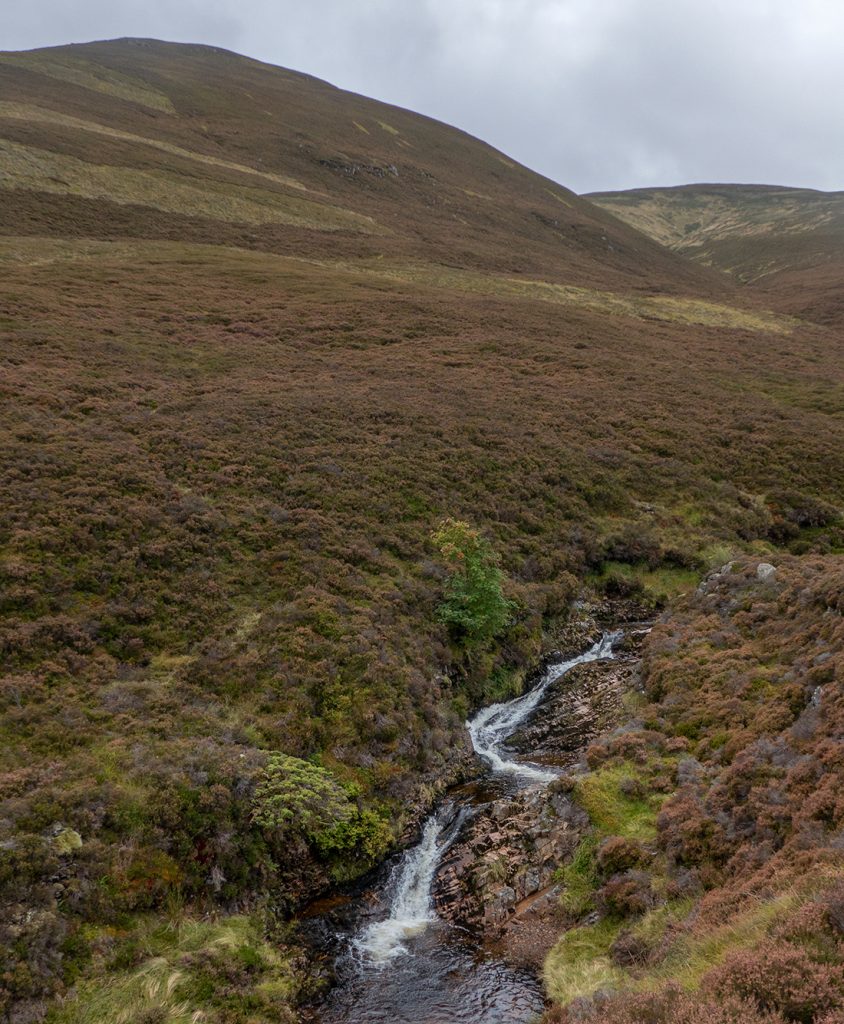 Passing the oddly named hill "Top of the Battery" some deer watched from above, approporiate to it's alternative Gaelic name, Carn Damhaireach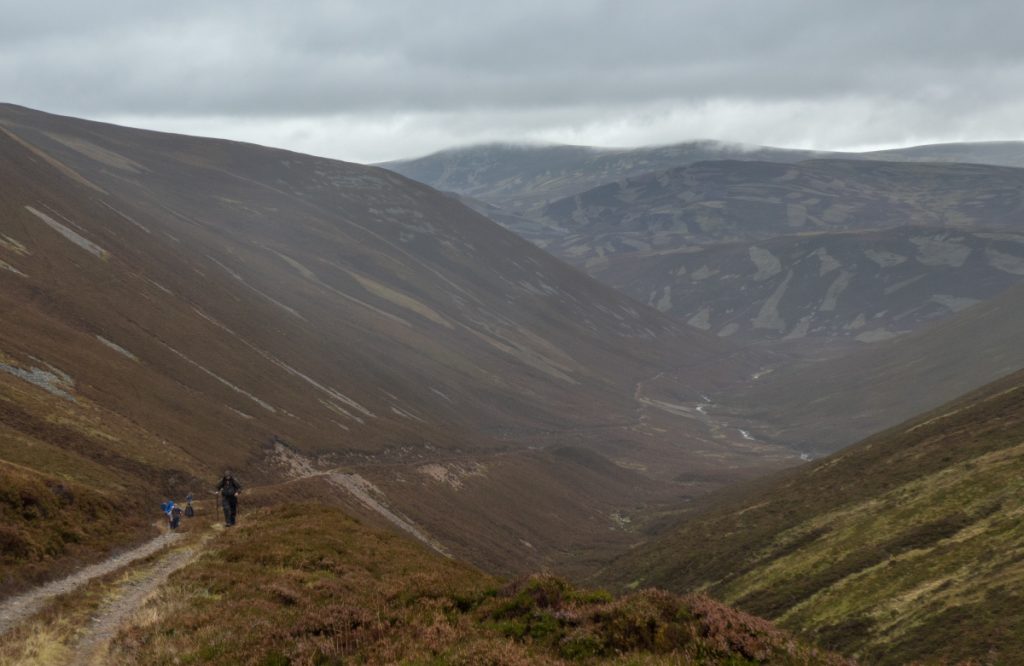 At Carn Liath, I headed south off of the good track on to faint paths through bog. Somewhere here is the grave of Sgt. Davies, an unfortunate chap murdered in 1749, but I couldn't find it and with the rain persistent and the going underfoot dank, headed onwards along the rounded ridge heading towards Geal Charn.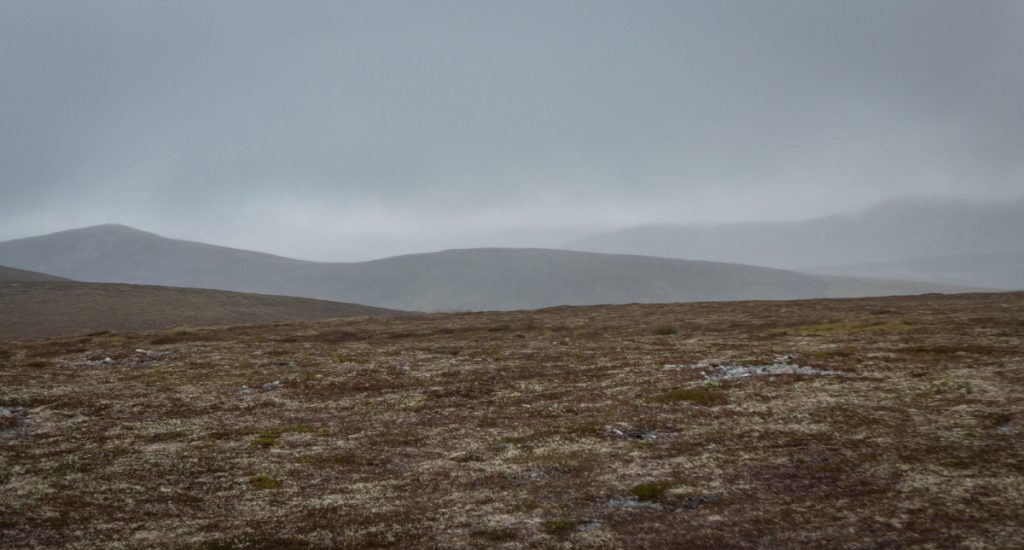 The ridge between Carn Liath and Geal Charn has a reputation as a great viewpoint but today wasn't the day with limited visibility through the drizzle. The short-cropped heather is mostly easy going, but with short sections of boggy ground to pick carefully through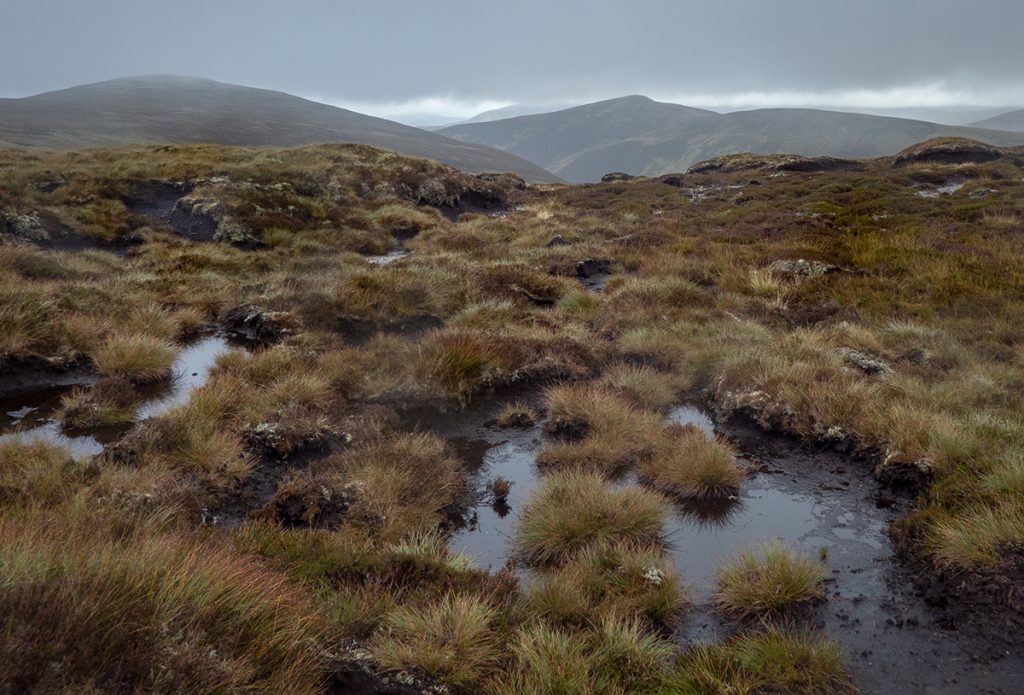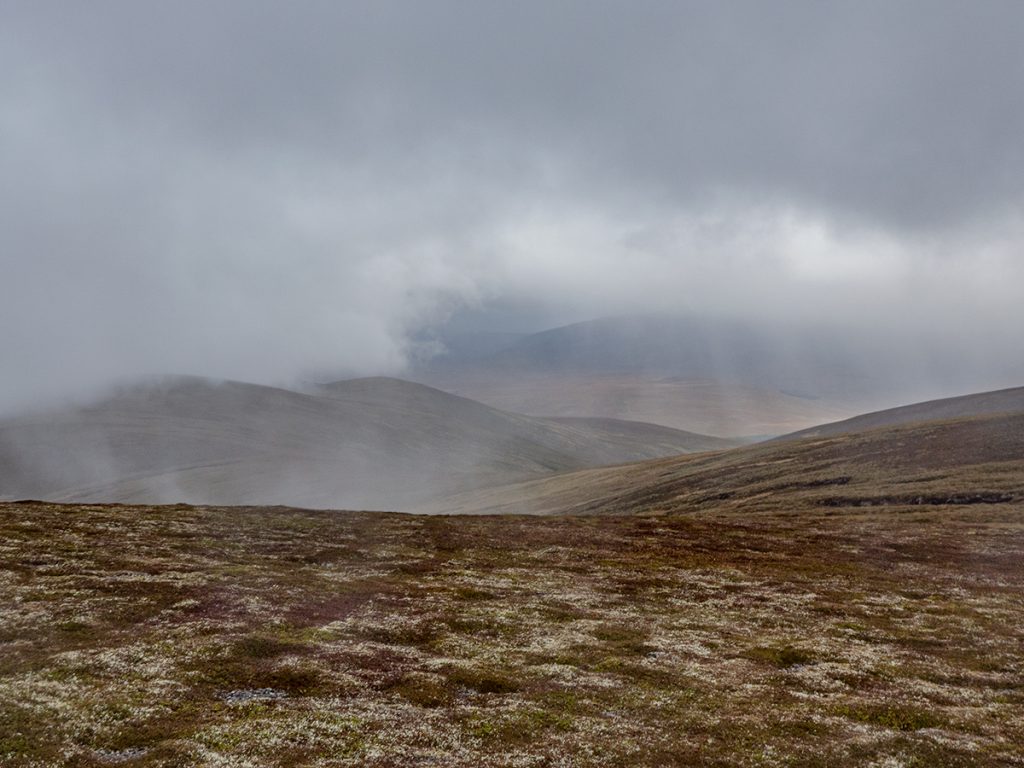 At Geal Charn I took a short lunch break in the shelter, it was fairly miserable and better to press on.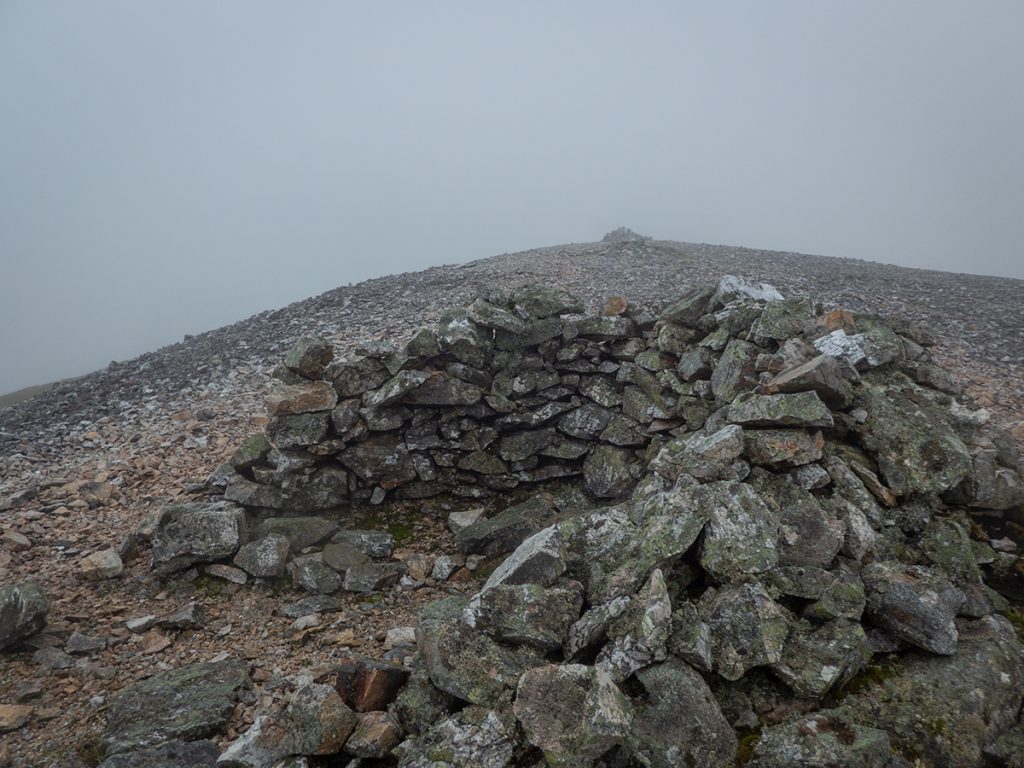 On a better day I'd have went over to Carn a Butha and back to have a nosey at the ruin there, but made do with heading off-track near point 894 for another. It's a remote place and high up to have a building: perhaps a "Colby camp" where surveyors had to stay for months to get conditions for measurements of distant peaks.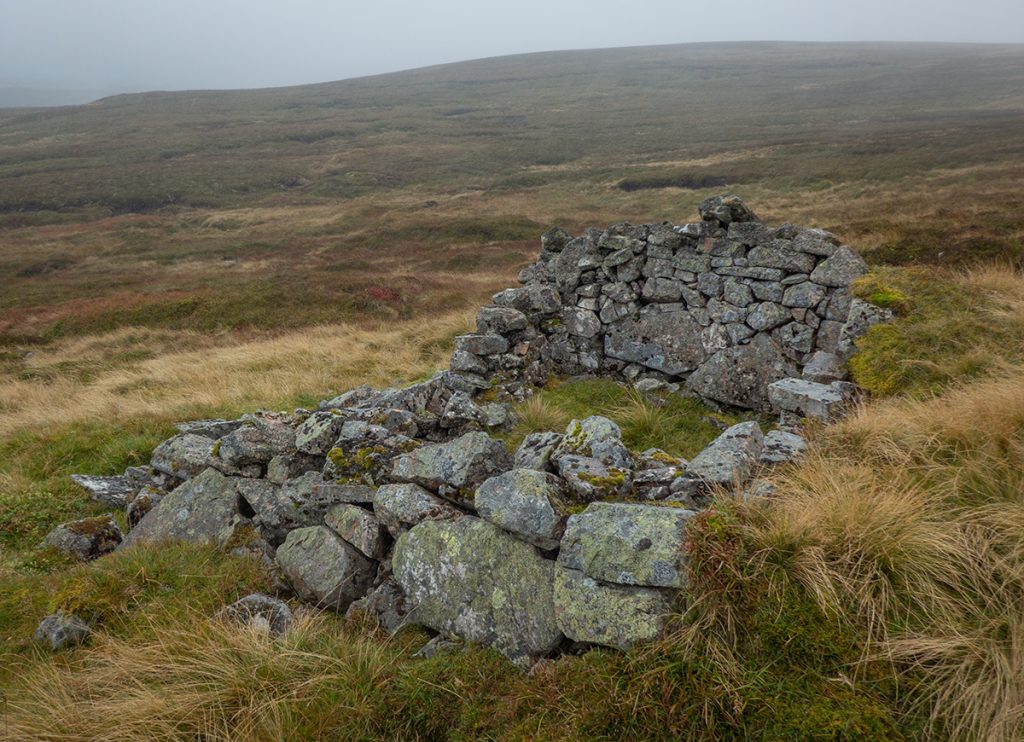 The rain came on heavier and I started the final ascent of Carn Bhac, the top having a few cairns and a small shelter which my now waterlogged camera barely captured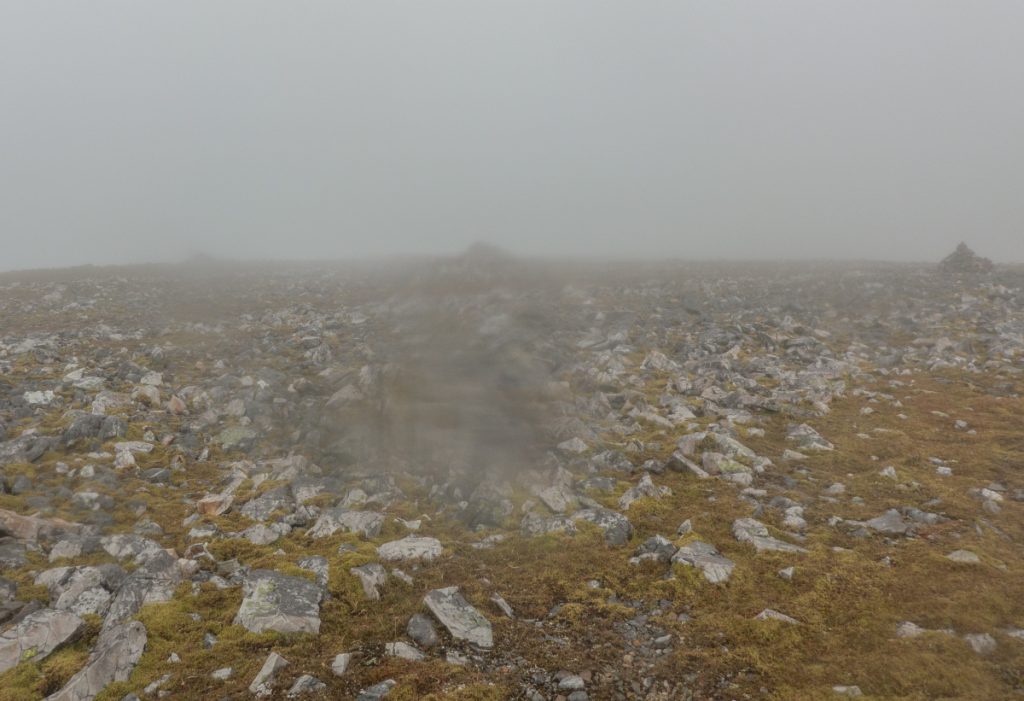 A new gadget I'd been testing today – a Garmin Fenix 6 pro – confused my next bearing and I wandered around a bit randomly while trying to suss out what it was indicating. I'd bought it primarily for extra battery life recording activities, but also for it's capability to display maps which I thought might be handy as a backup in a whiteout during winter when fumbling with devices with gloves on is tricky. More practice was required to get this operating smoothly, but best to find out now rather than the depths of winter conditions. As I bumbled around, another trip member appeared out of the gloom, and after conferring we headed off following the correct bearing east to Carn Creagach, down some rough terrain. It turned out he had the same watch, and usefully gave me a few pointers on how to use it.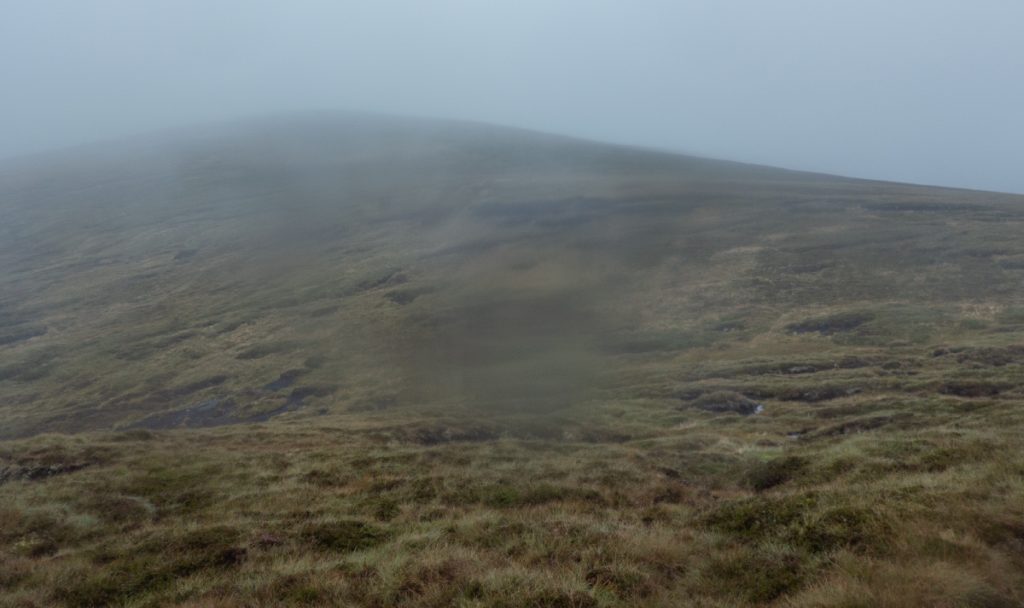 Coming down from Carn Creagach and below the cloud, 2 spots of bright colour appeared which upon squinting showed to be 2 diggers in an unlikely place. Getting closer, I could see they had very wide tracks and that the boggy ground although it had been traversed hadn't been churned. There was evidence of dams and pools being built: peat bog restoration in action.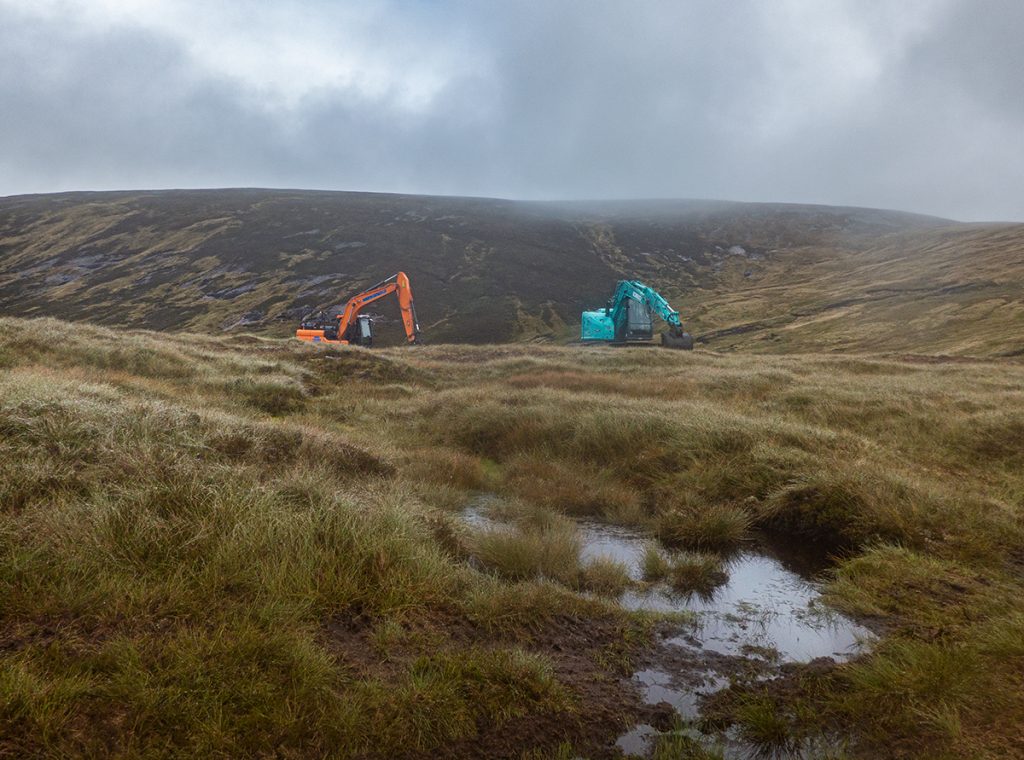 Although welcome, it's a reminder of how Mar Lodge is limited in the scope of how much ecological conservation and restoration it can do, by the terms of the estate purchase – a donation was made to the purchase fund by a large landowner tied to the hunting establishment, but with strings attached that a huge chunk of the land would remain managed for deer stalking. This is referred to in the Mar Lodge plan as the "moorland zone" as opposed to the much smaller "regeneration zone". Due to the high level of deer, regeneration of trees isn't possible in these vast areas. Climate crisis what? Nah, the indulgences of old rich guys stuck in the past continues.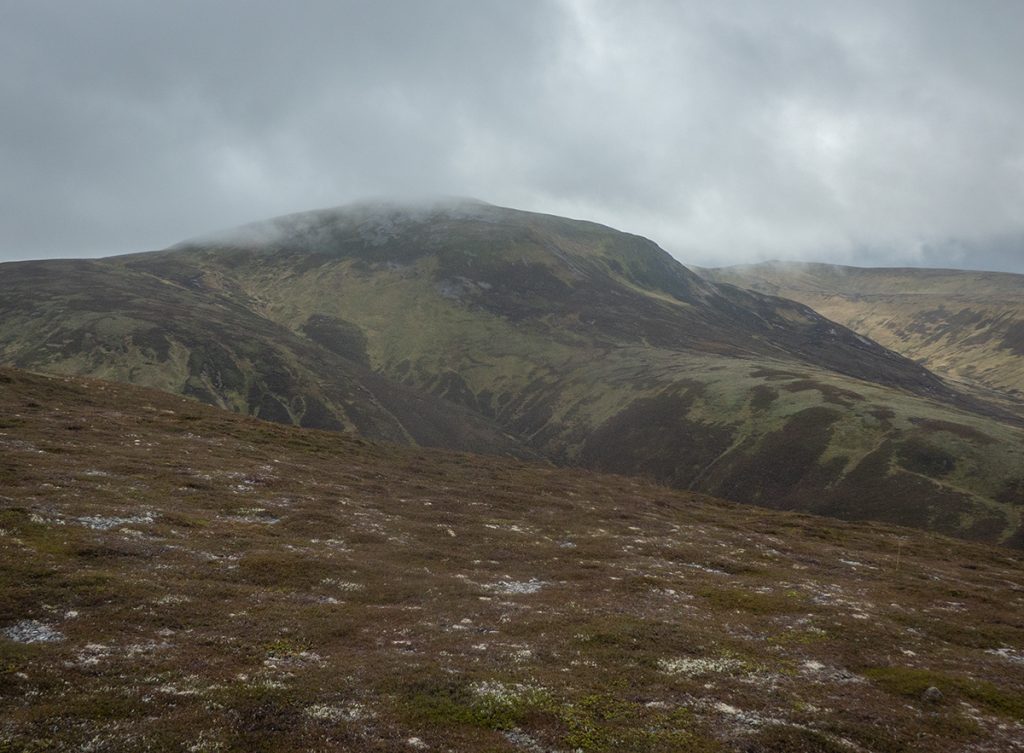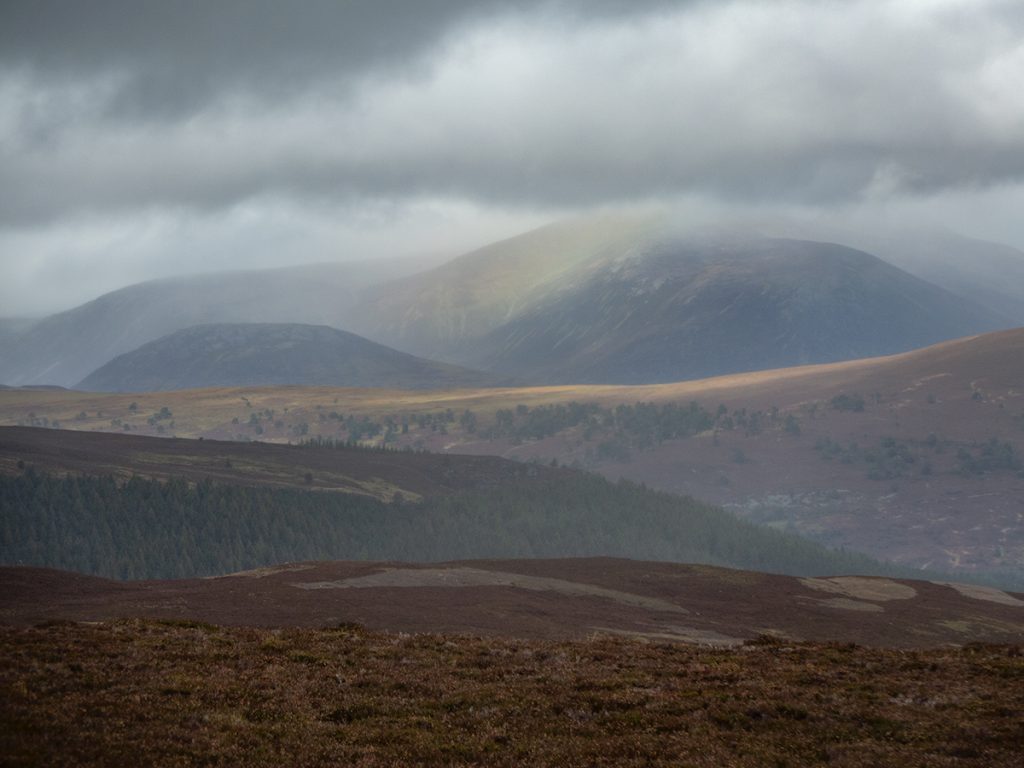 We rejoined a good track and it was easy going down to the ruins of Auchellie where it joined the main Glen Ey track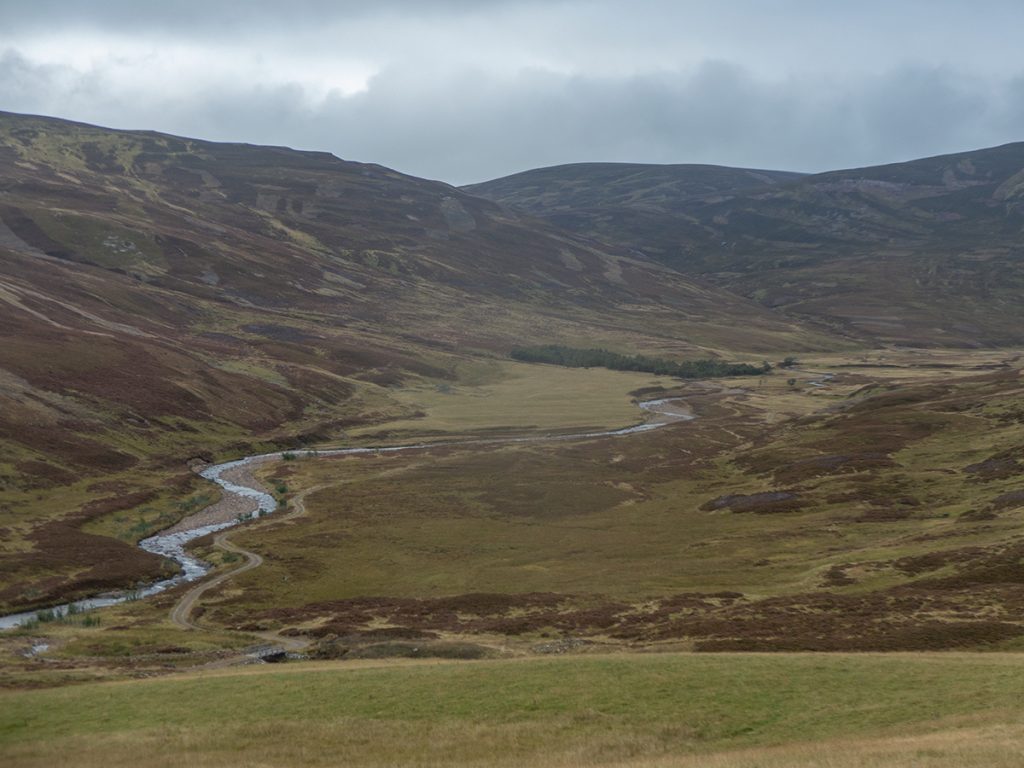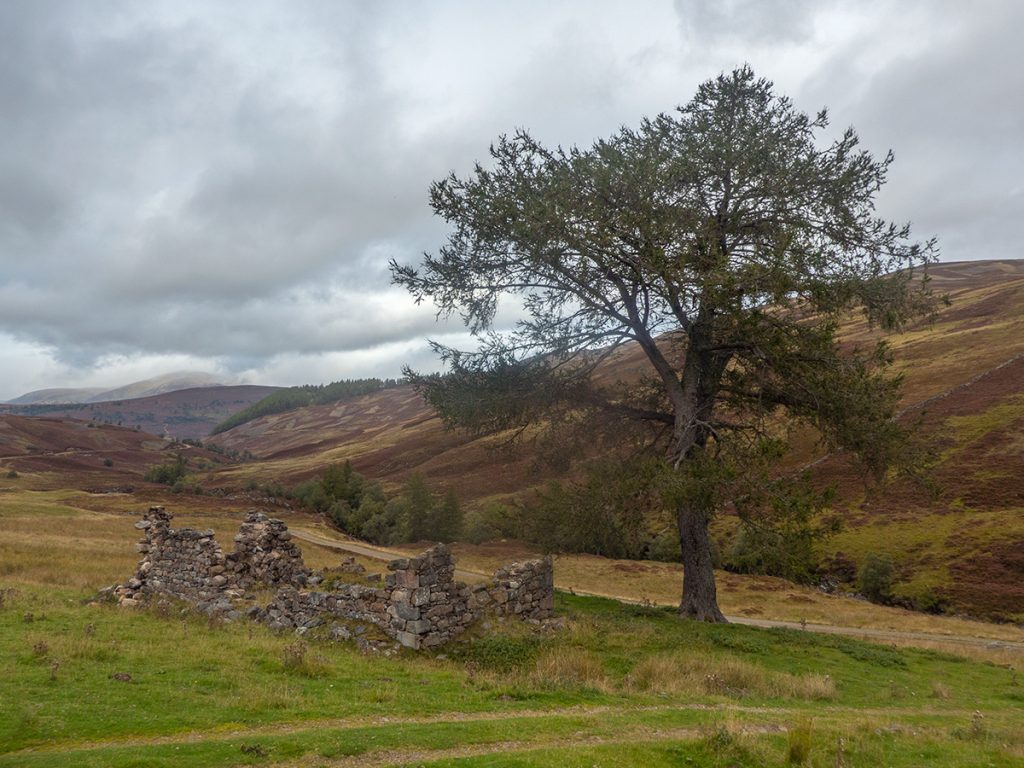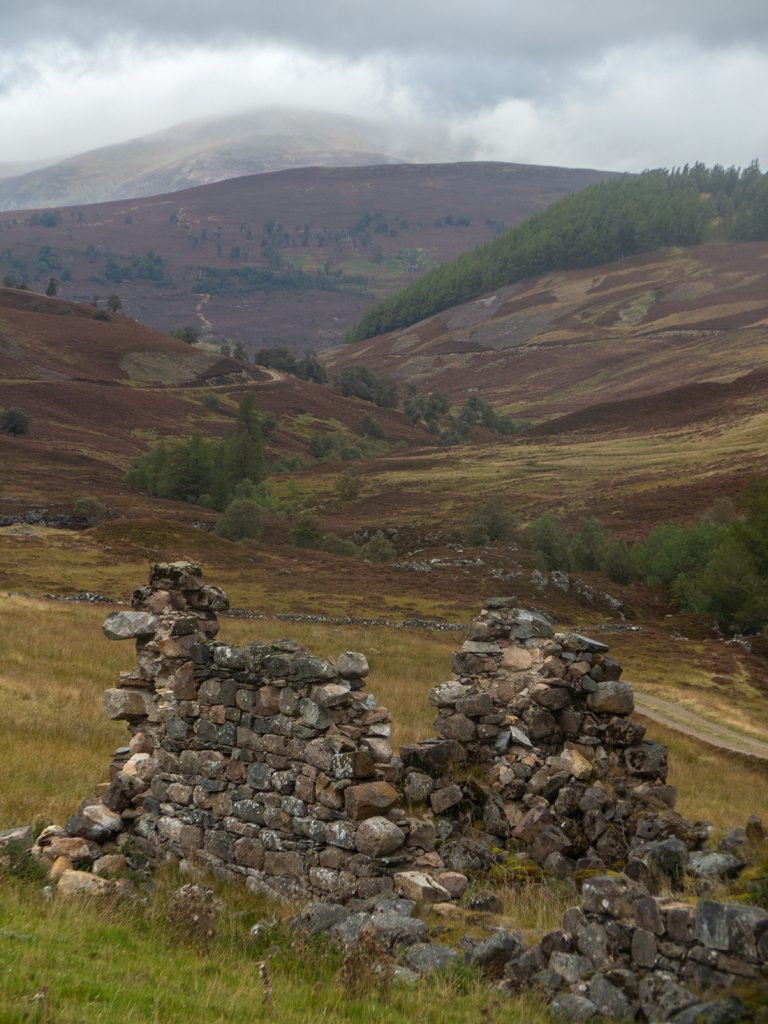 The chap I was walking with was new to all the terrain here so we headed down to the Colonel's Bed after following the top of the gorge along (and finding an assortment of interesting bolete mushrooms)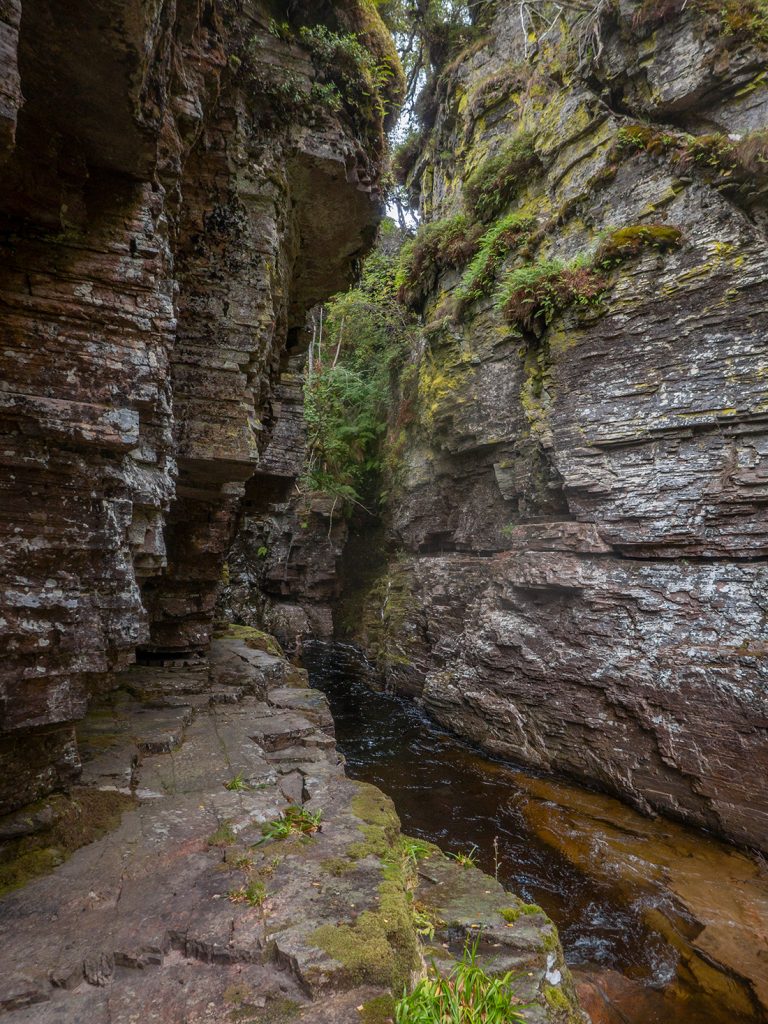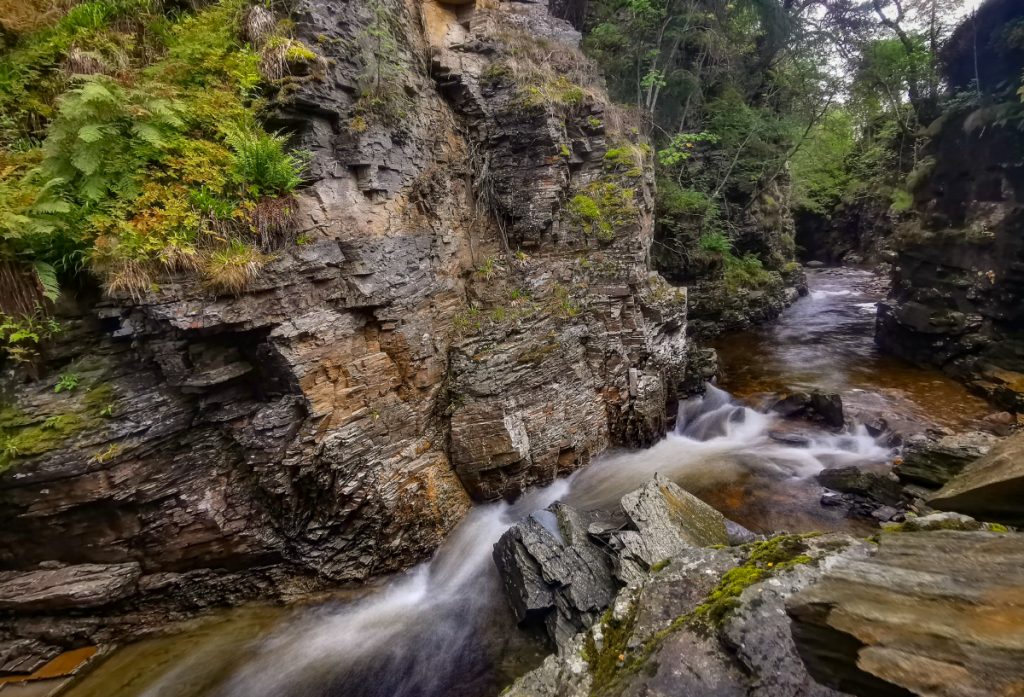 This exploration allowed the rest of the group time to catch up and we followed on back to the bus; a swift pint was had in Farquharson's in Braemar before heading homeward