The Cairngorm Club's annual snow hole expedition happens at the end of March each year, and after a successful one last year (they've about a 50% hit ratio of holes actually being slept in) I was back in for more.
Last year we'd lucked upon half-dug old holes in Ciste Mhearad on Cairn Gorm that had made things easy, this year while we knew this location had an almost certain chance of sufficient snow depth considering the general wind direction for the last few weeks, it was discussed whether we could find anything on our southern side of the Cairngorms that would negate a longer drive to Aviemore.
With this is mind, I set about an initial foray of photo/map scouting, checking maps and contours, and searching online for evidence of others' snowhole trips in the area. As it turned out, snowholing isn't that common, and certainly not any distance away from winter-skills training centres such as Glenmore. When investigating maps (ordnance survey online) looking for east-facing gully walls, and then looking for more detail (contours are surprisingly coarse even on 1:25k e.g. Ciste
Mhearad , a fairly large hollow, barely registers on the 1:25k contours) I switched to aerial photography view and zooming out realised this was ideal. The photography looked to have been taken in late spring, perhaps early summer: throughout the mostly brown and grey, was the very occasional blob of white – places where snow had persisted. [202`1: the aerial photography has since been replaced and was taken in summer so this useful tip is no longer useful currently]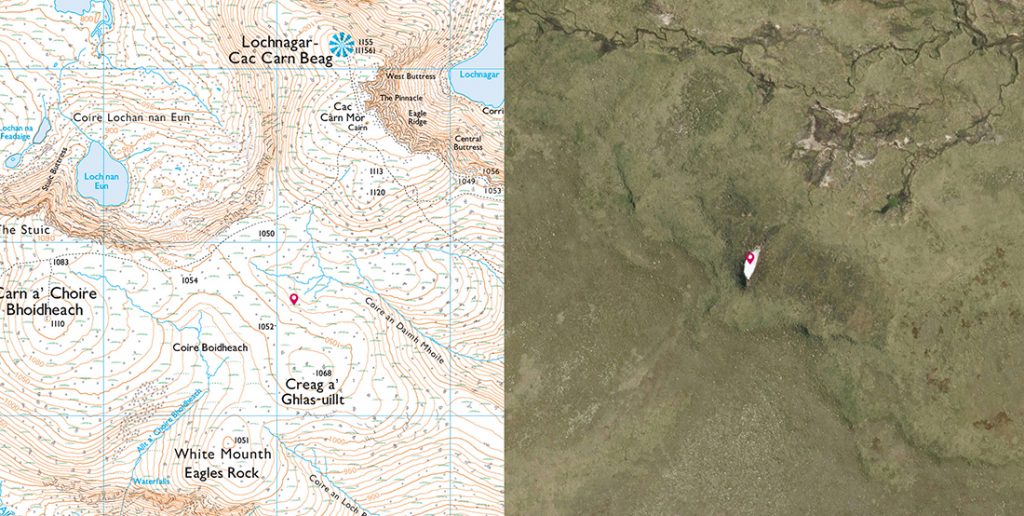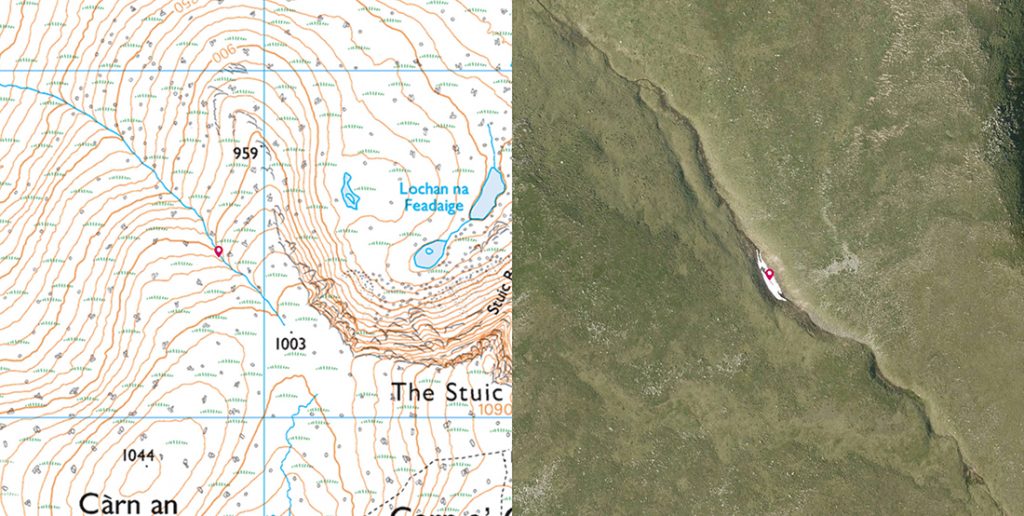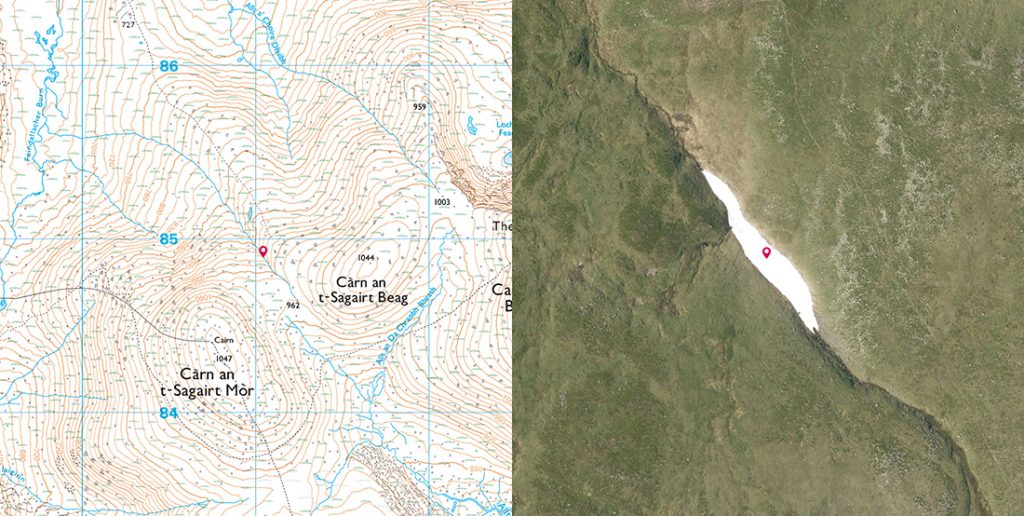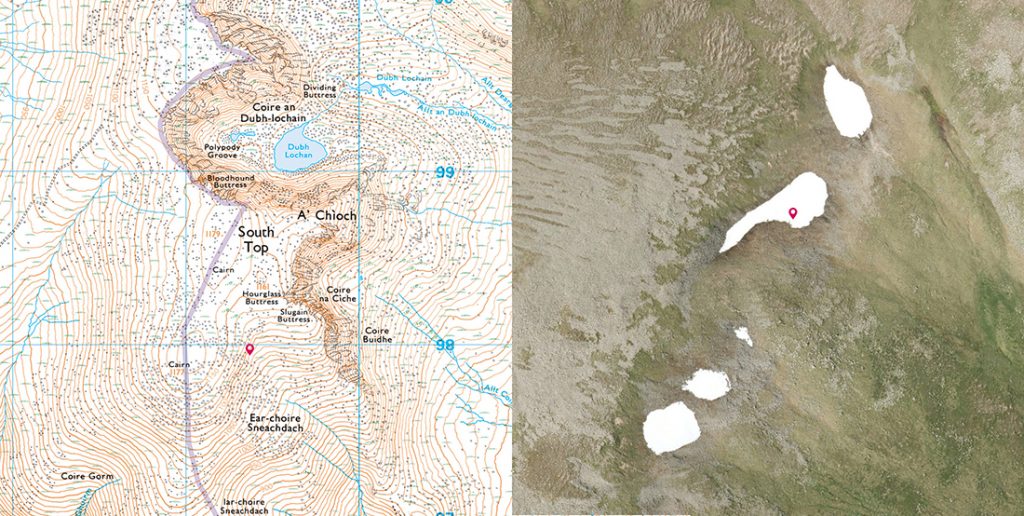 In addition to those above with obvious snow retention, other sites to investigate were identified from looking on OS aerial:
Some hollows a few 100m E of Fafernie
Coire Uilleim Mhoir E of Cairn Bannoch
Coire an Loch Bhuidhe E of Eagle's Rock
Coire Boidheach E of Carn a Choire Bhoidheach
A plan was hatched to go and scout some of these locations in the run up to the main event, myself and two others would stay at the Glas Allt Shiel, and spend 2 days scouting. A new hazard had entered the world, and was growing: COVID-19. At this point, it seemed something far-off and although we'd heard of no instances in our community, nonetheless we met and touched elbows rather than shook hands as we headed to Ballater. The walk in from the car park wasn't too bad albeit with a large 80L rucksack weighing me down, not only the winter sleeping /cooking kit but some digging kit,shovels and a probe.
We dumped stuff at the bothy and headed onwards into the mountains, a bit later than ideal so restricted ourselves to a shorter exploratory route: Dubh Loch, Loch Buidhe, Eagle's Rock and back by the falls.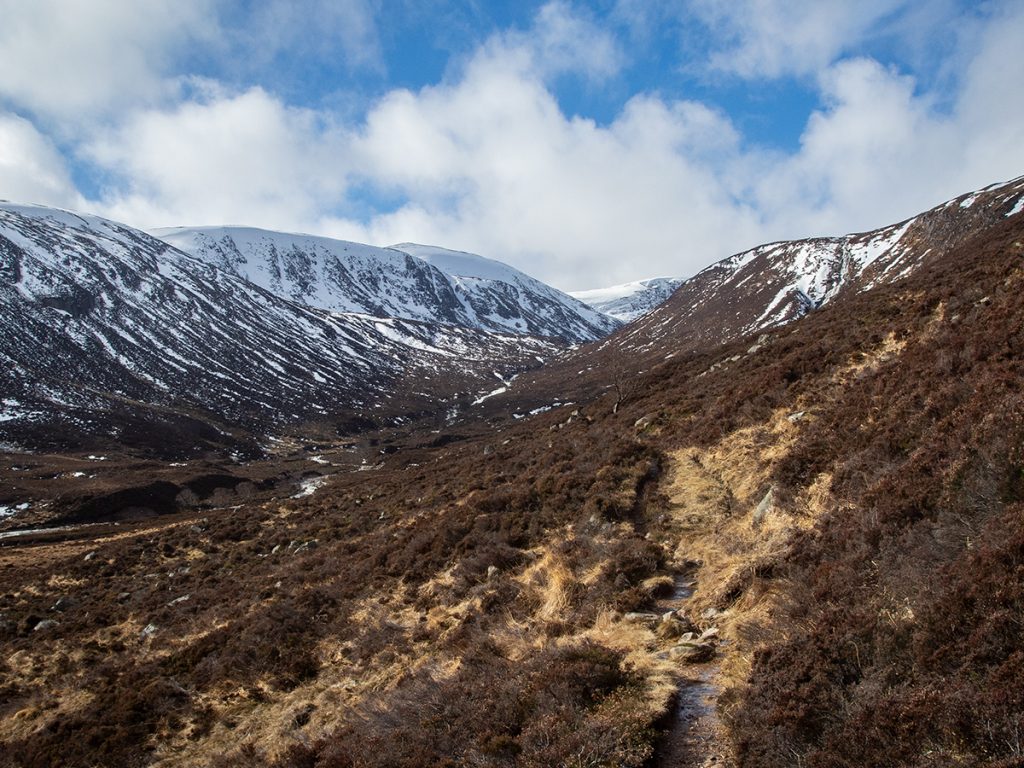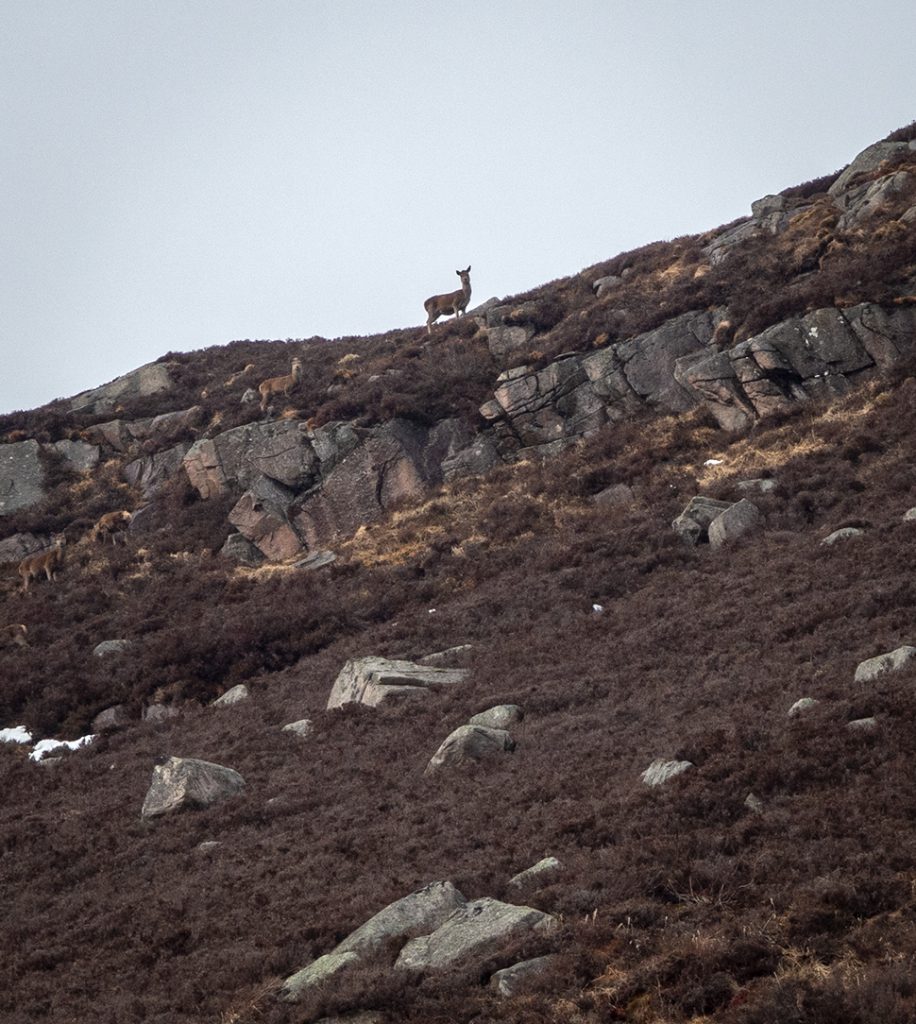 There are a few gullys come down on to the Dubh Loch path, and in times of heavier snow there'd possibly be opportunities here, while they did have a filling, there was not enough to build a sufficiently large hole. With Dubh Loch just in sight, we climbed up to Loch Buidhe. It was frozen over, and there are some rocks above it. A burn heads north west towards Eagle's rock, and with the right lie and altitude we thought this might have potential so followed it up. Just to the north east of the crags there was indeed a large bank, but we pressed on to get higher.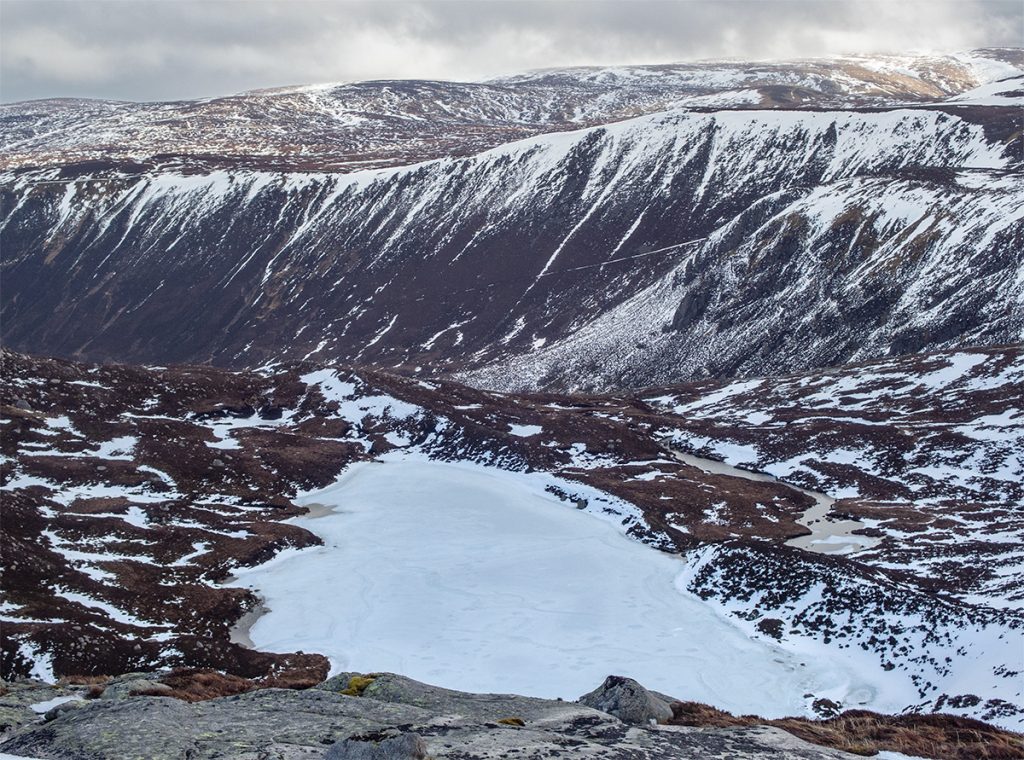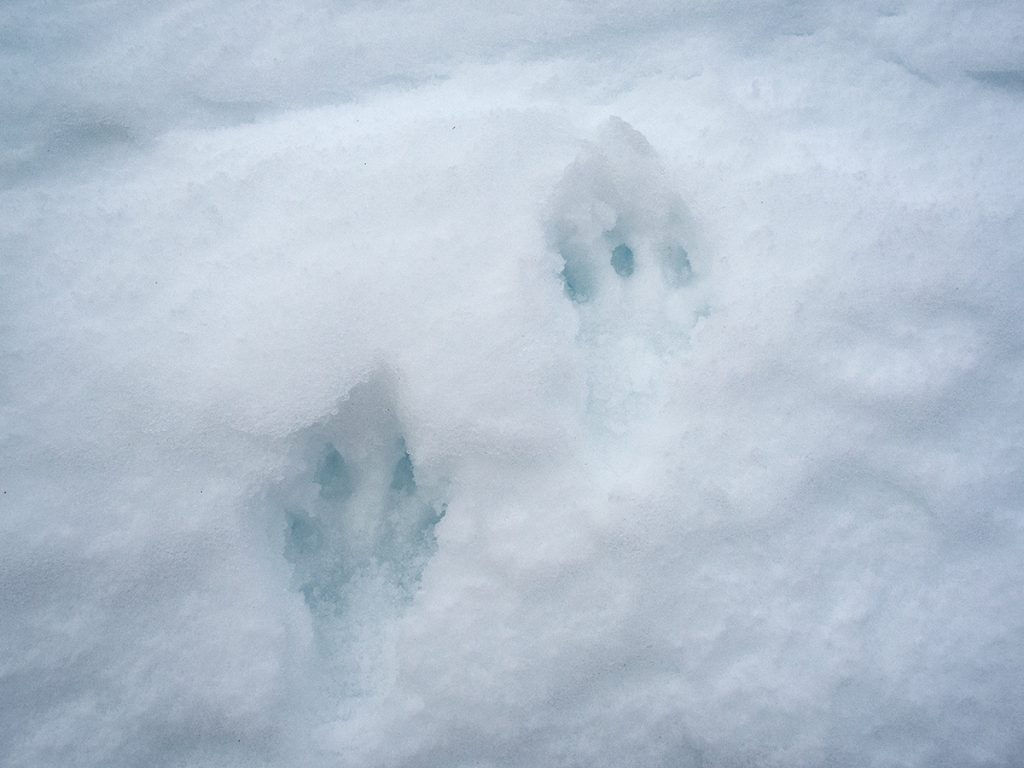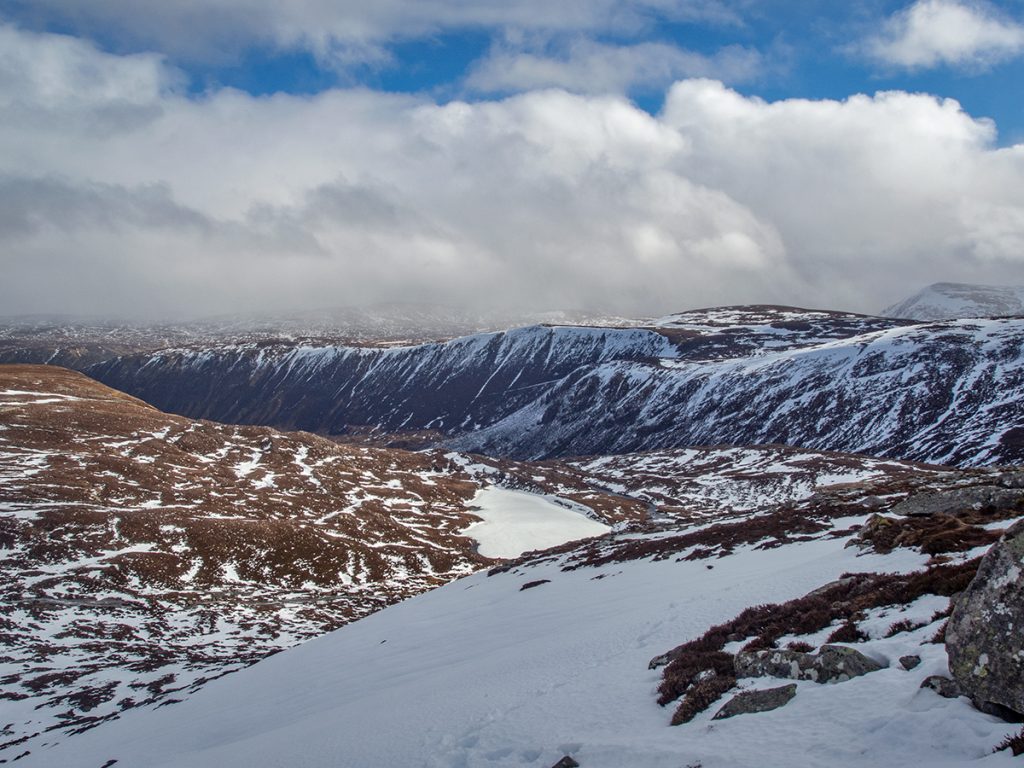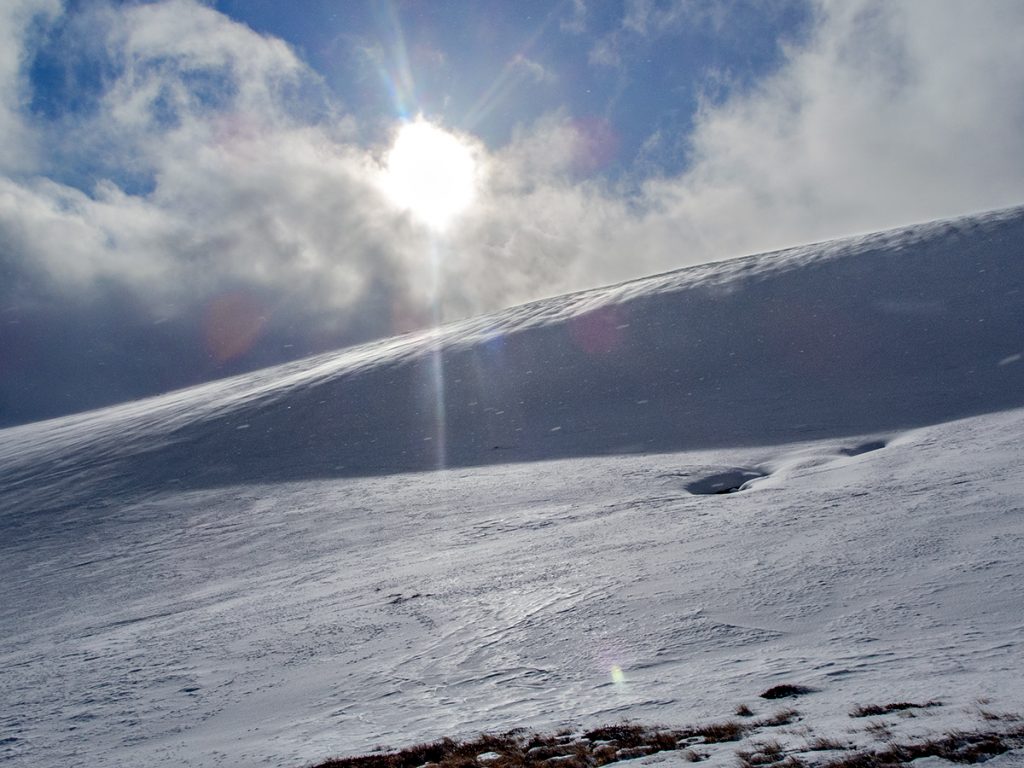 As we got towards the top, the gulley tightens and steepens. I could see cornices on the left – not what you want (likely to collapse) but just in the last few hundred metres it looked ideal about 50 feet of 45 degree bank, no cornices, question was how much depth, we needed the full length of the snow probe at least. I dug a small pit about a metre deep and back and stuck a probe in down and also back. Both fully extended – clearly plenty snow here, it would seem at first attempt we'd struck it lucky.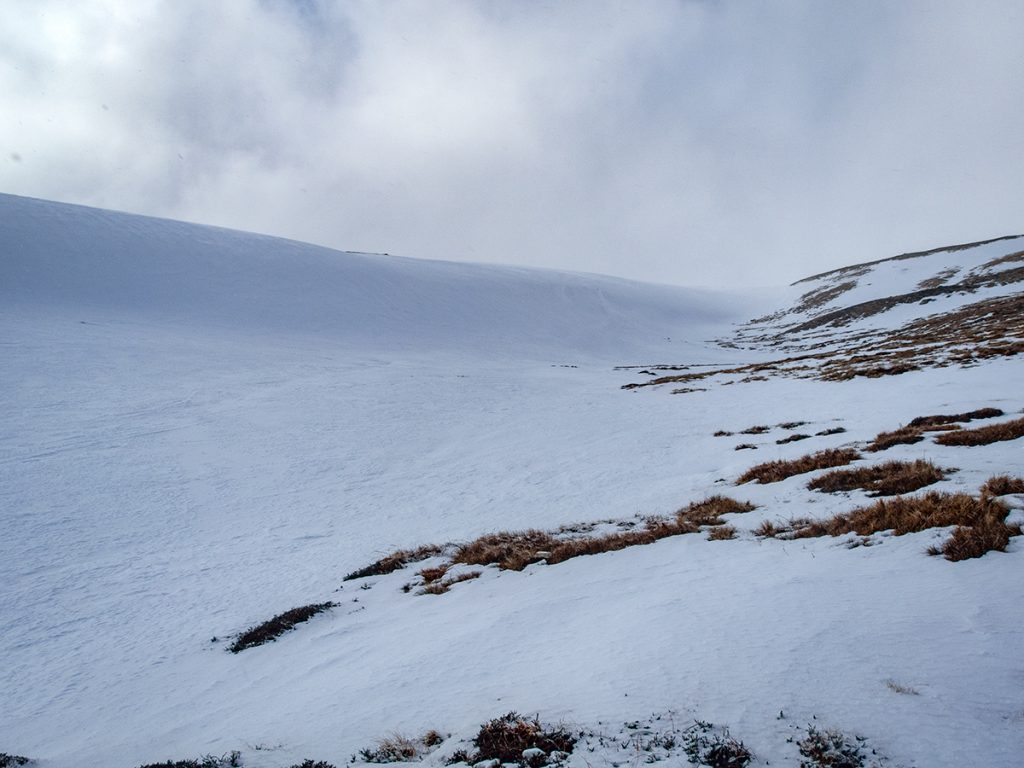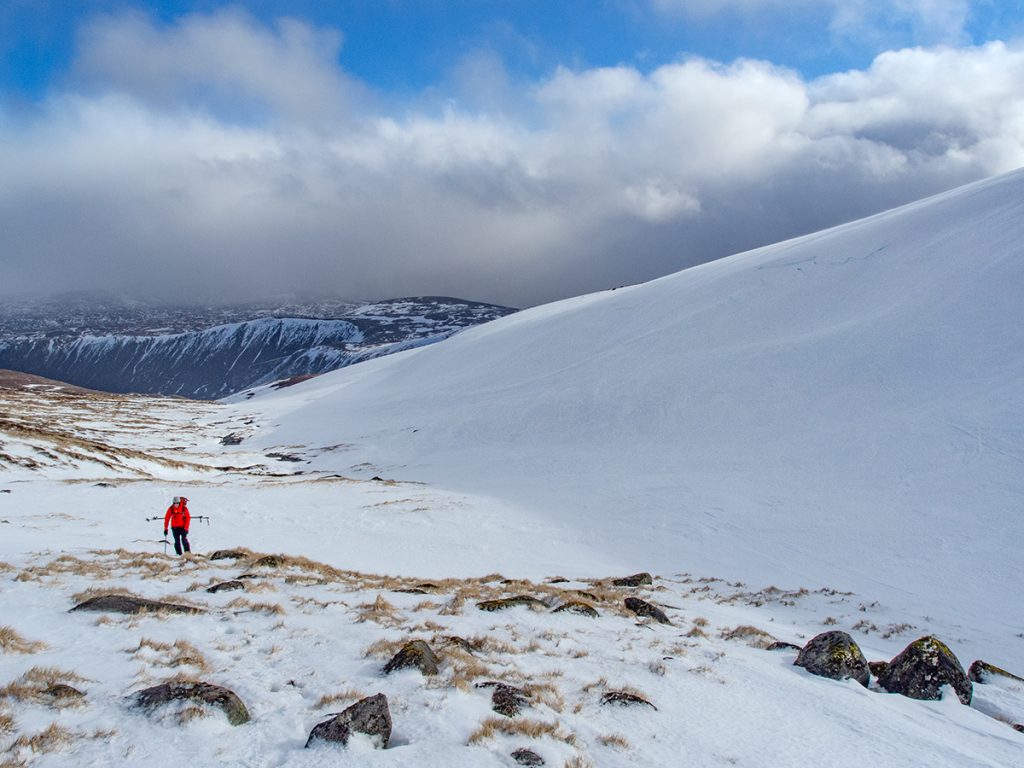 We headed onwards to look at a spot higher on the plateau to the north. On aerial, it showed a pit perhaps 30m in diameter that held snow, but on getting there any sign of it was buried under a gentle slope, again I dug a pit and tested – fully extended downwards. This might be a location for when there's less snow, but today we were none the wiser, the gentle slope would make for a longer entry tunnel so we moved on.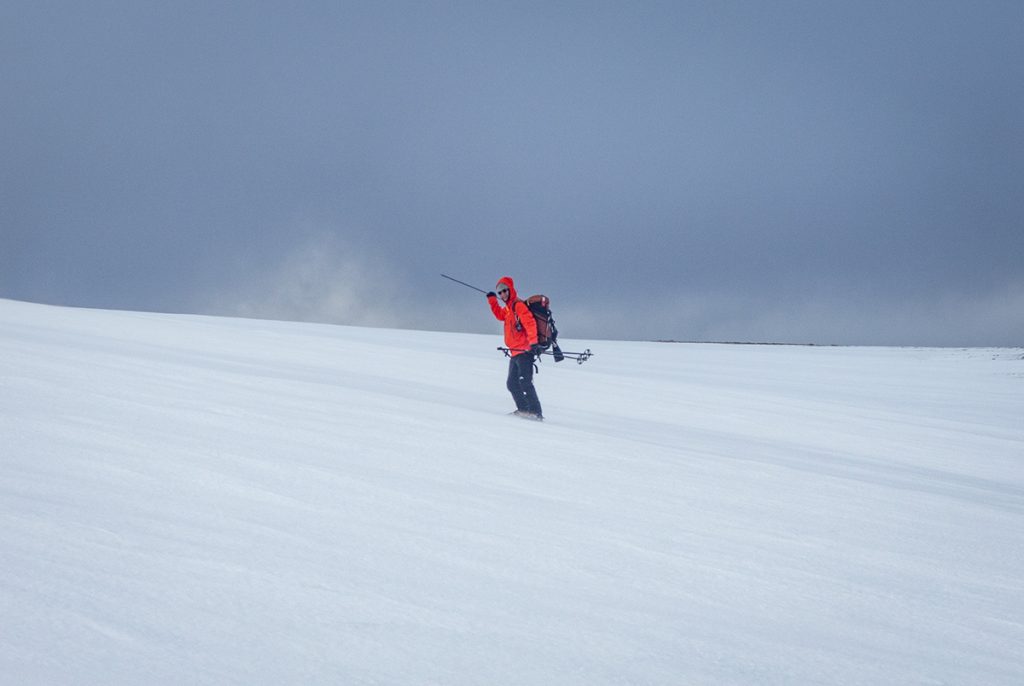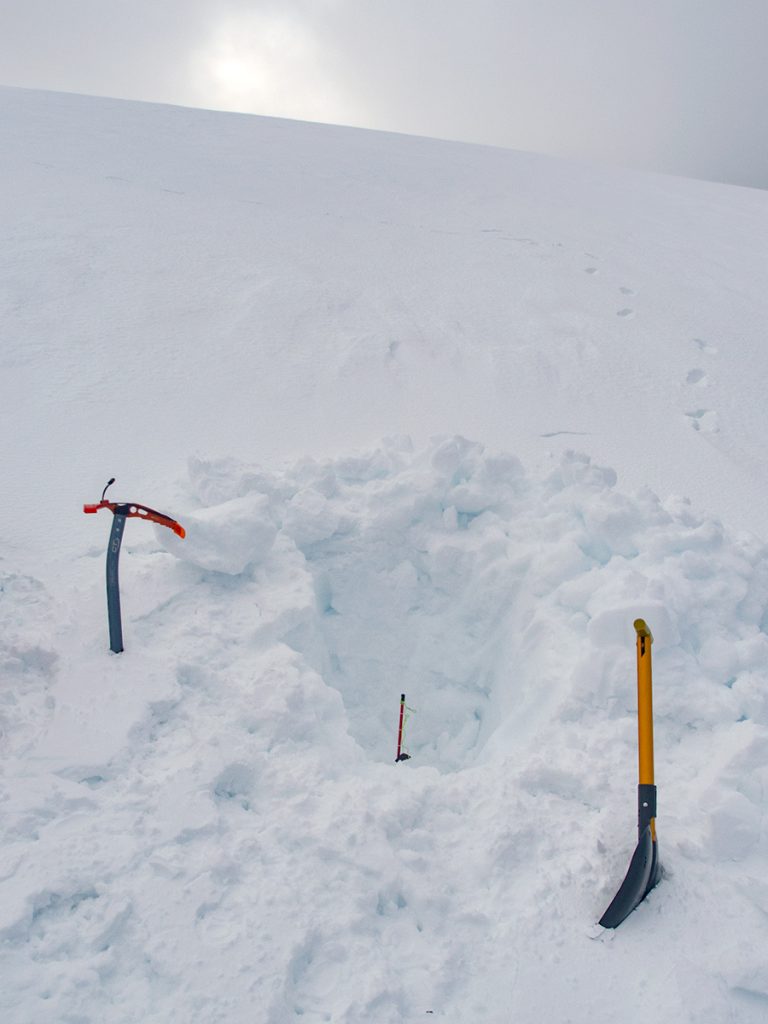 We headed over Creag a Ghlas Uillt where crampons went on as it was refrozen ice that had been scoured of snow, then headed towards Coire an Daimh Mhoile which we'd cross and follow down, keeping an eye for any other deep snow spots. Just as well visibility was reasonable, as we headed down we spotted an edge that could only just about be seen, was it just the convex curve of the slope, or a drop? We decided on caution and skirted round, then on the other side looked back – oocha. A massive cornice jutting over the gully bottom, with perhaps a drop of twenty feet. We made our way towards the Glas Allt path, jumbling through snow and heather.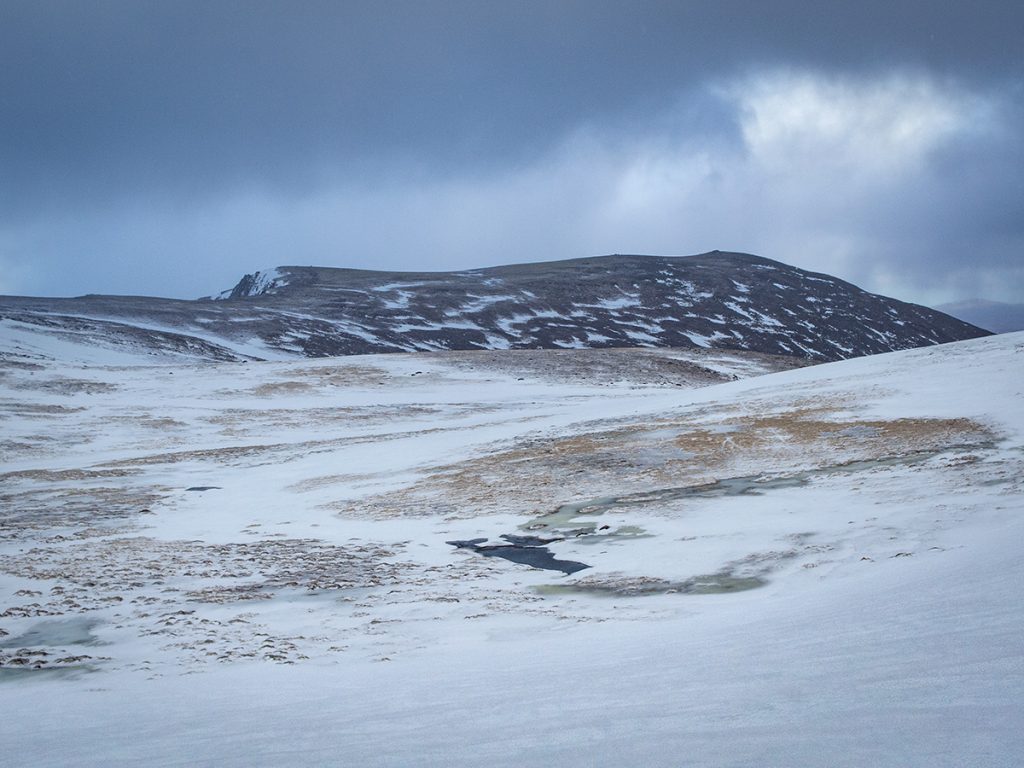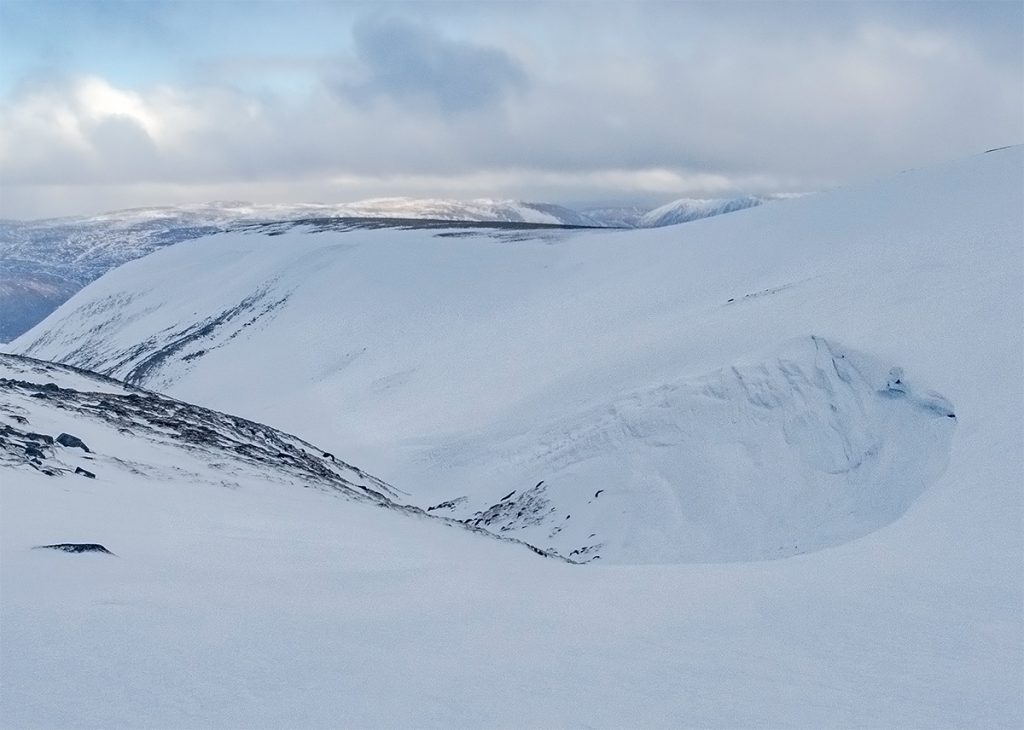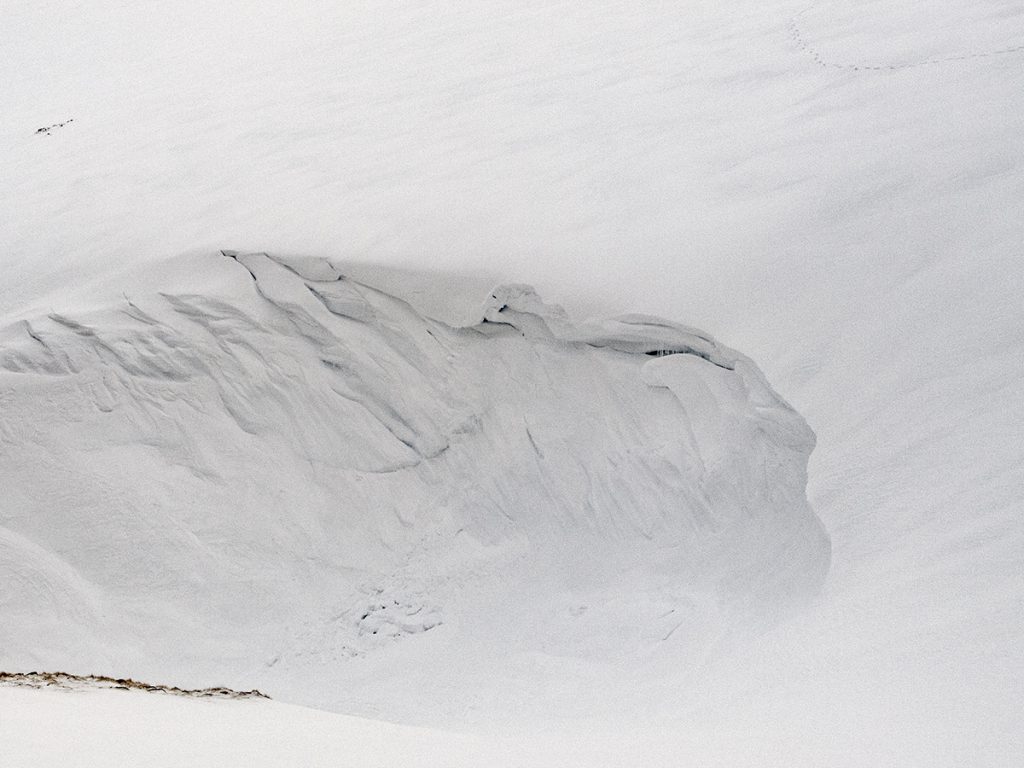 [subsequent note: see how this patch of deep snow fares into summer, forming snow tunnels – June 2022]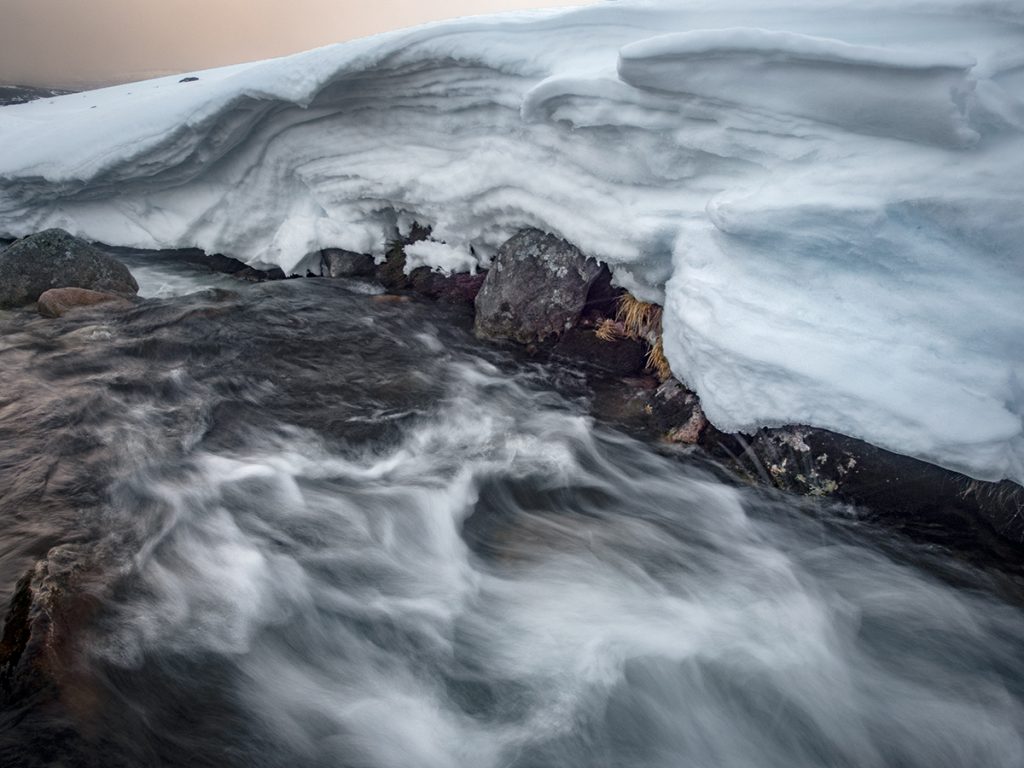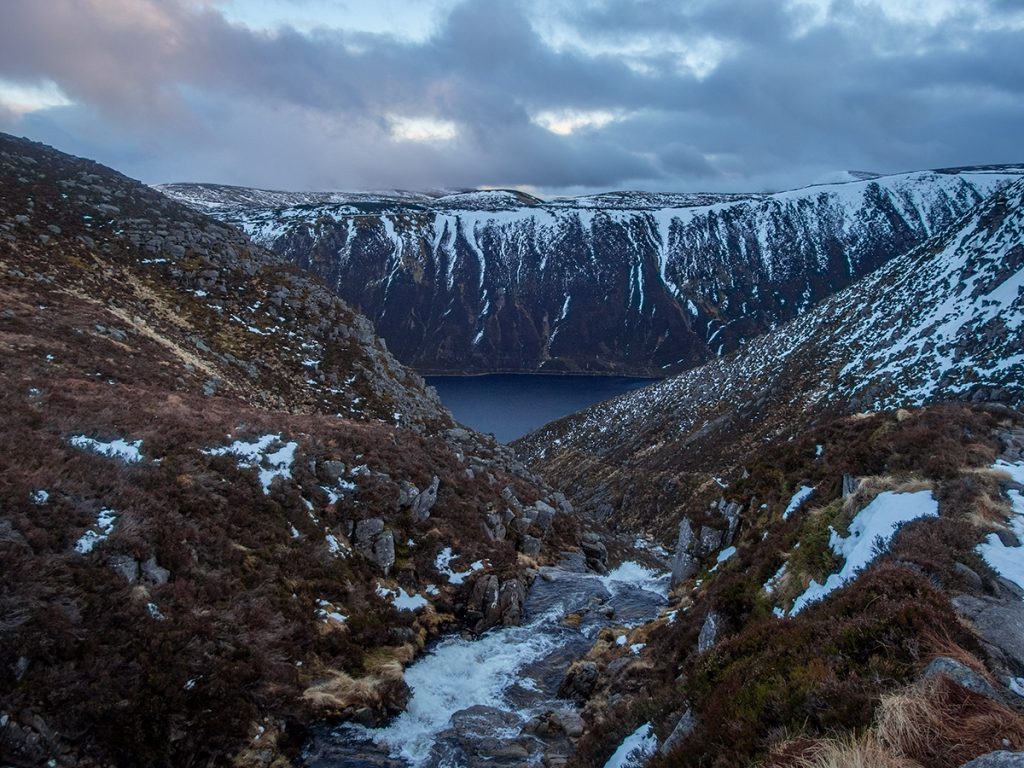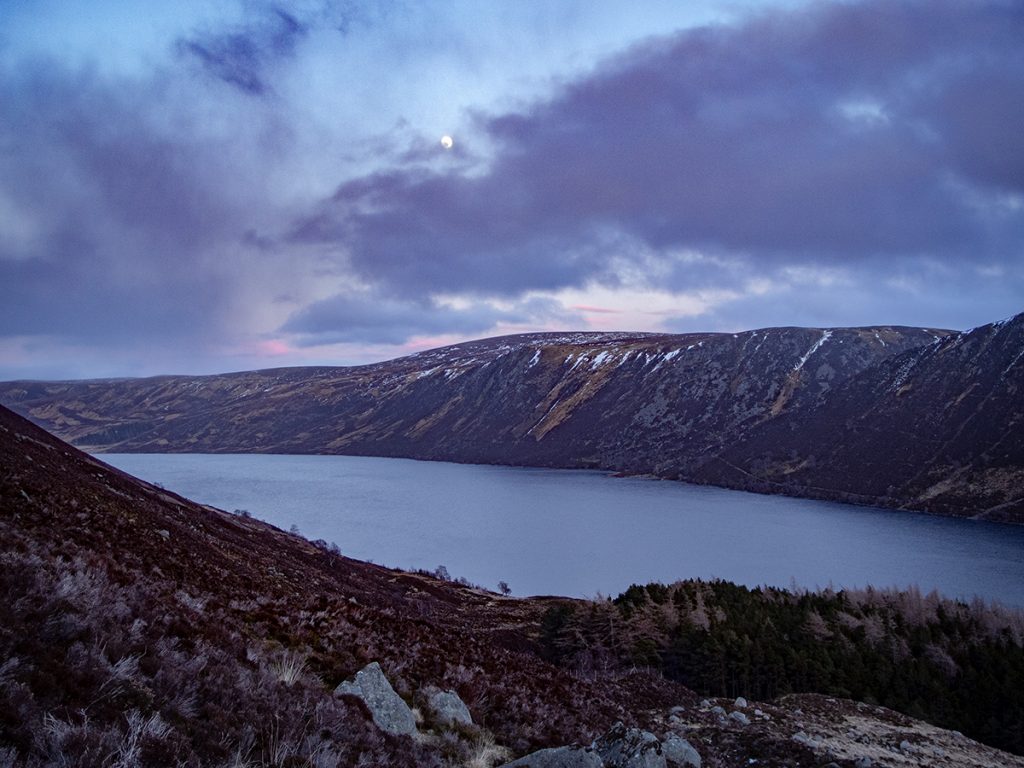 Back down at the bothy we found 3 chaps from Northhampton who were up for a few days of walking, and had stayed at a few different bothys. They'd got the stove going, we cooked and had some banter and card games (interesting game called 'communism'). Naturally, we discussed the impending coronavirus pandemic, we wondered how it would impact on days out like these.
Recce Day 2
Up early the next day, although we were pretty sure we'd cracked the primary mission to find a snowhole site, nonetheless we headed on to look south of Dubh Loch, a longer route.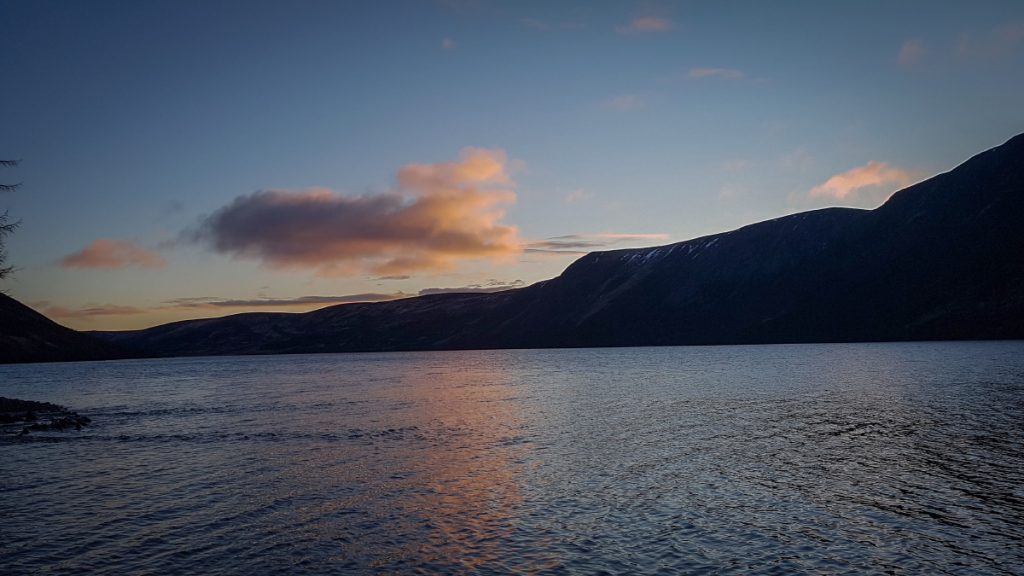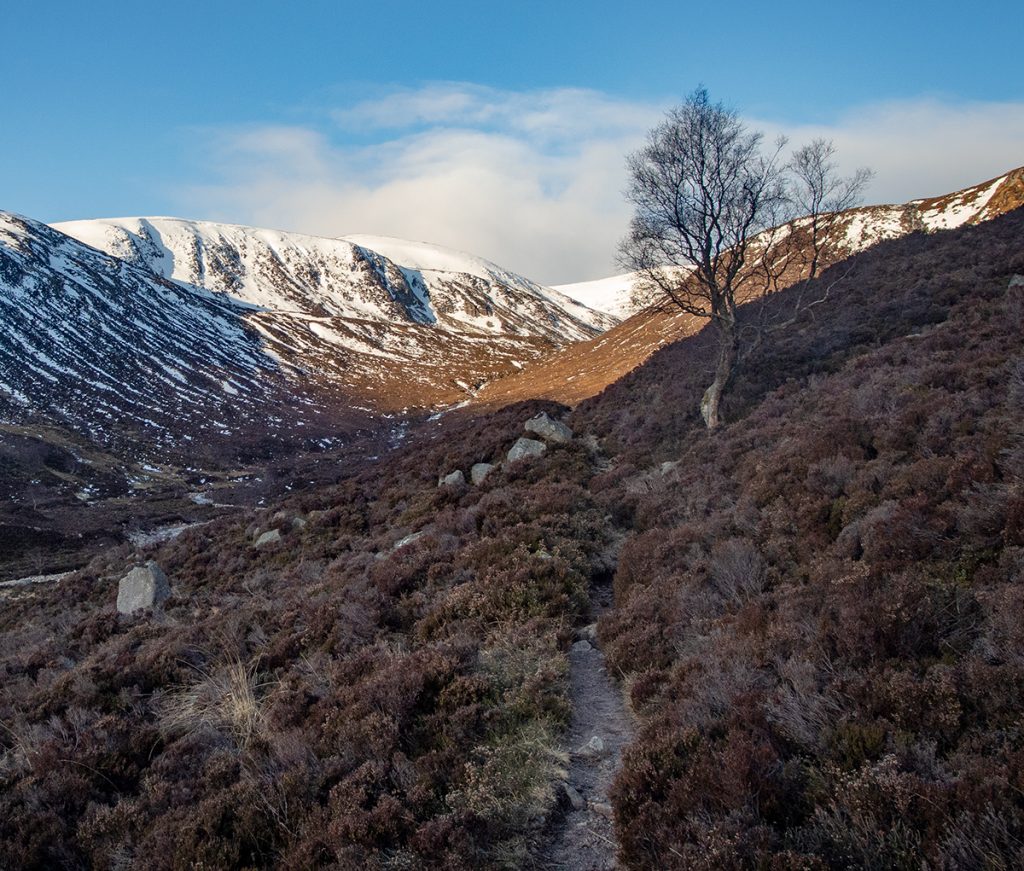 We headed up past the loch, met two climbers who were heading back from the crags beside the loch (apparently the route they wanted to do was not 'in' i.e. not enough ice/snow)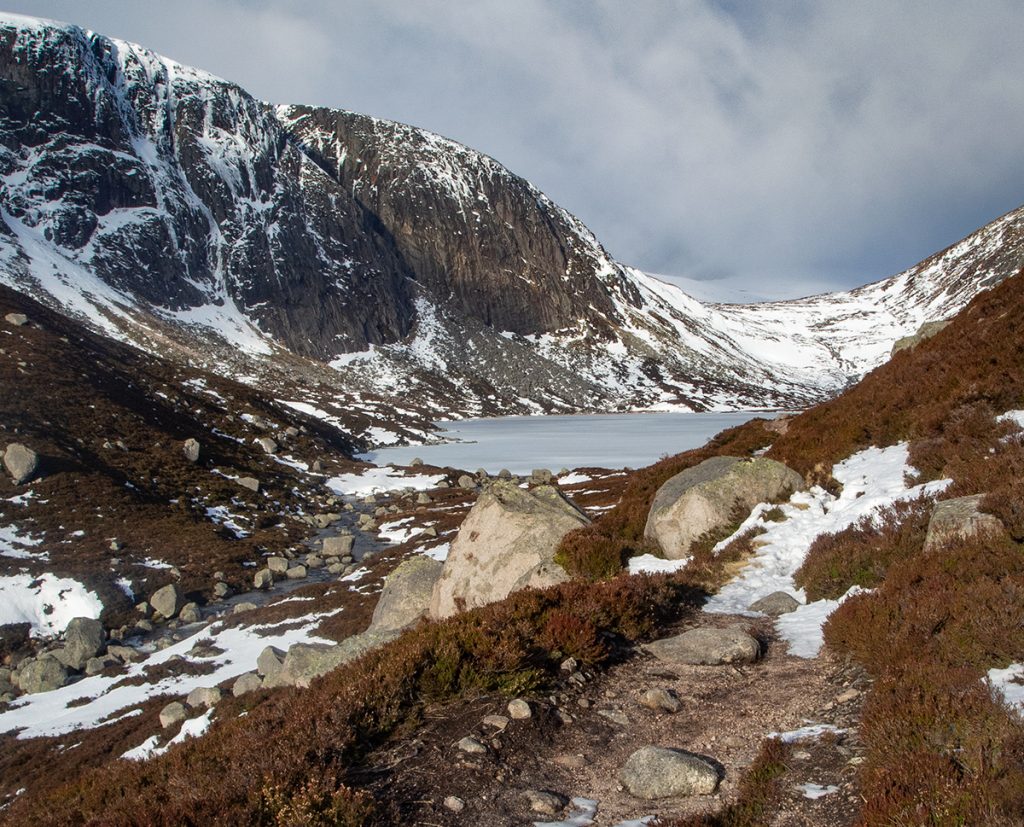 The loch was frozen and thankfully as the loch side path fizzled out, and we'd cleared the boulder field, most of the boggy bits further on were frozen too. We were soon back on good snow, and while most of the crags to our right were fairly clear of snow, some small cornices had collapsed sending small chunks of debris down.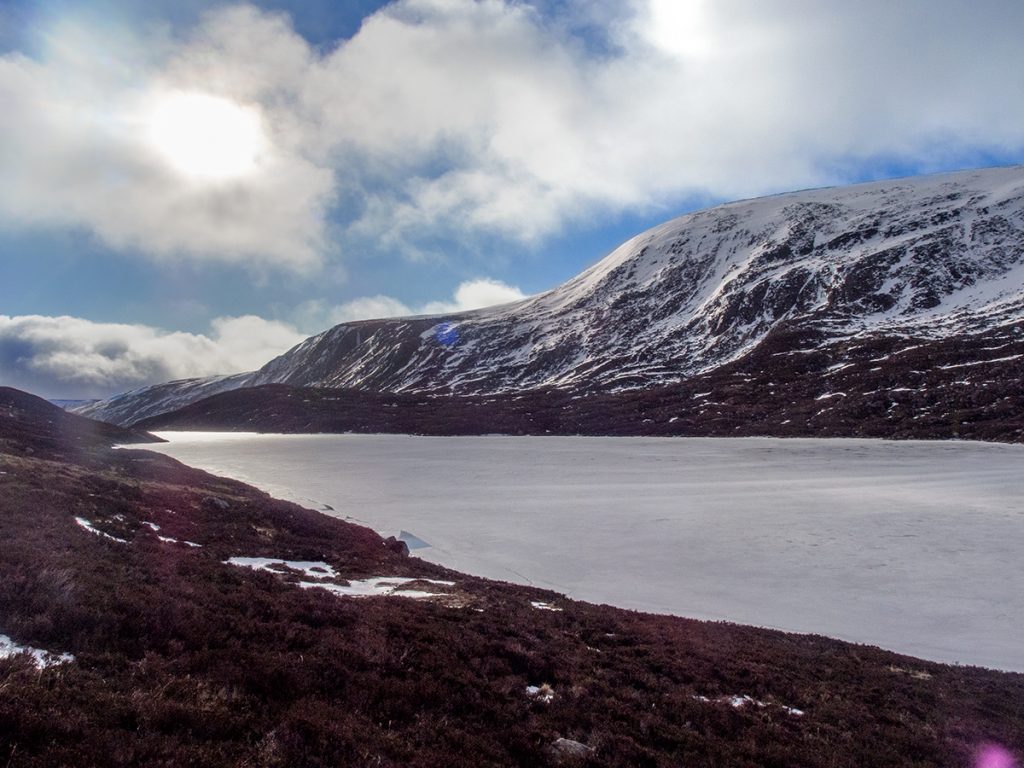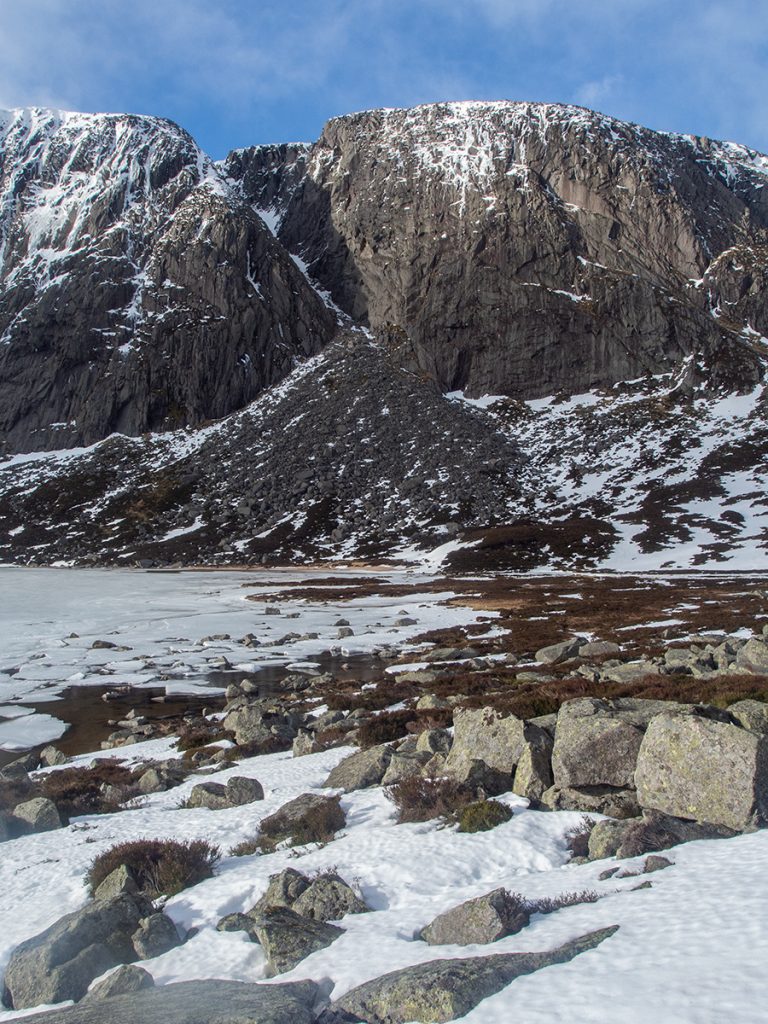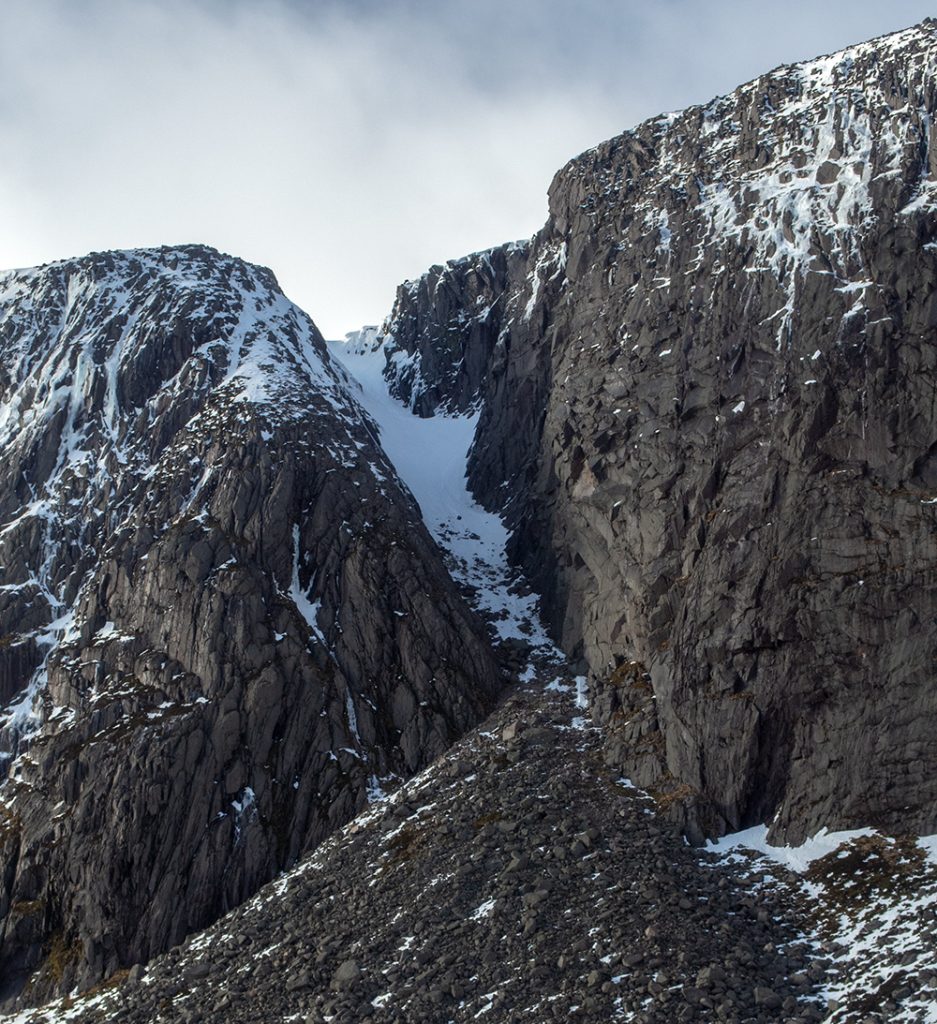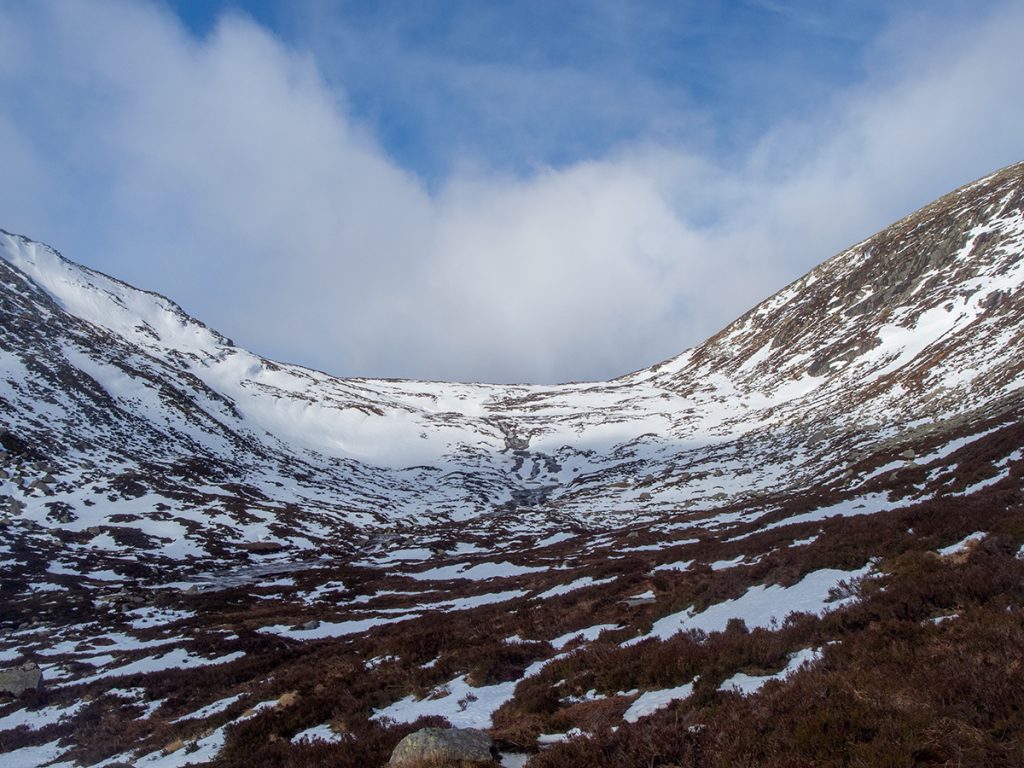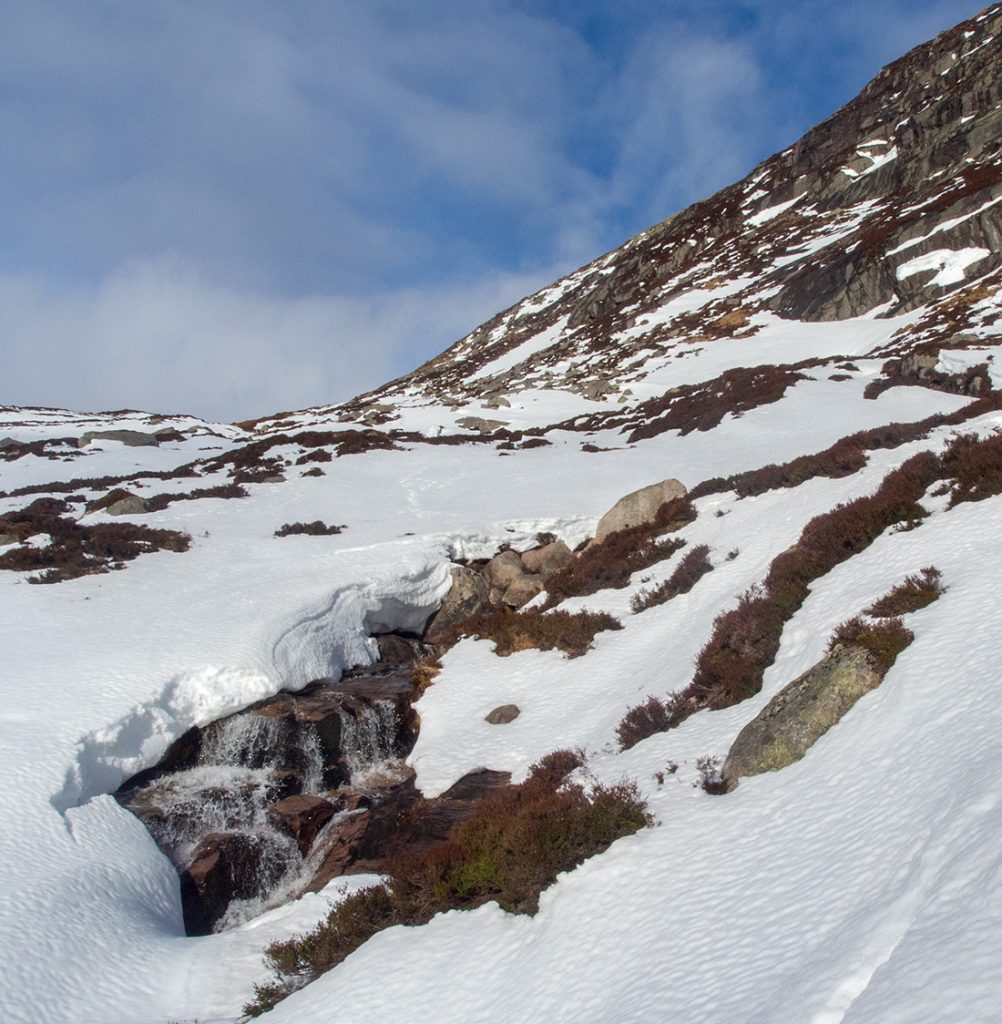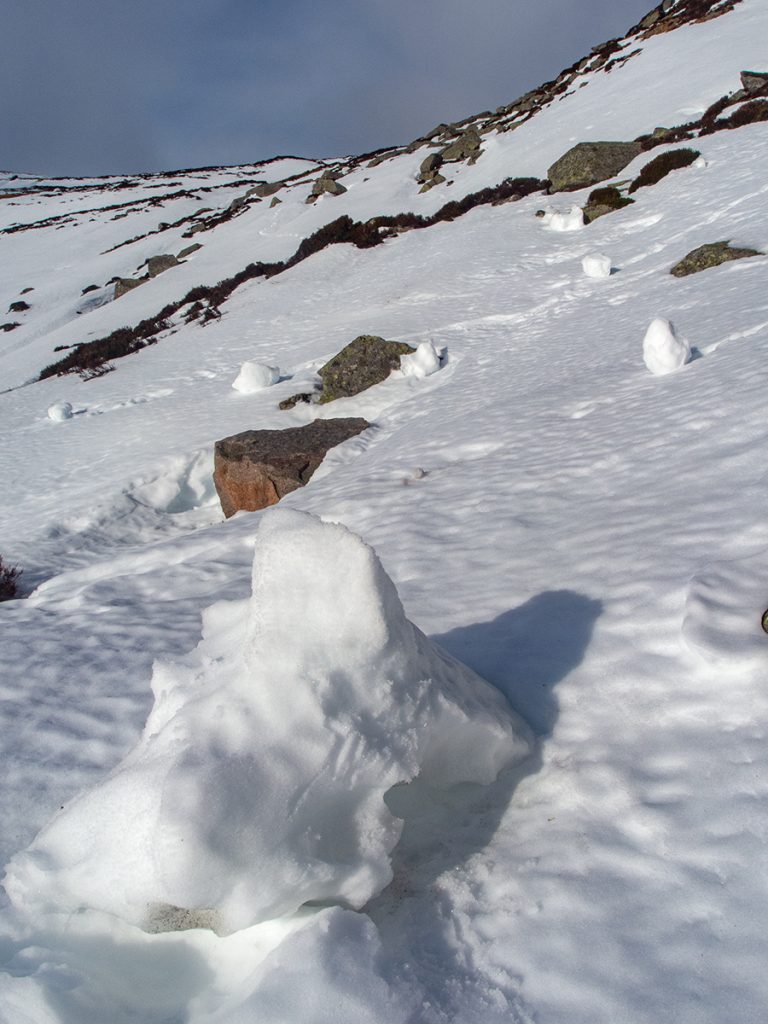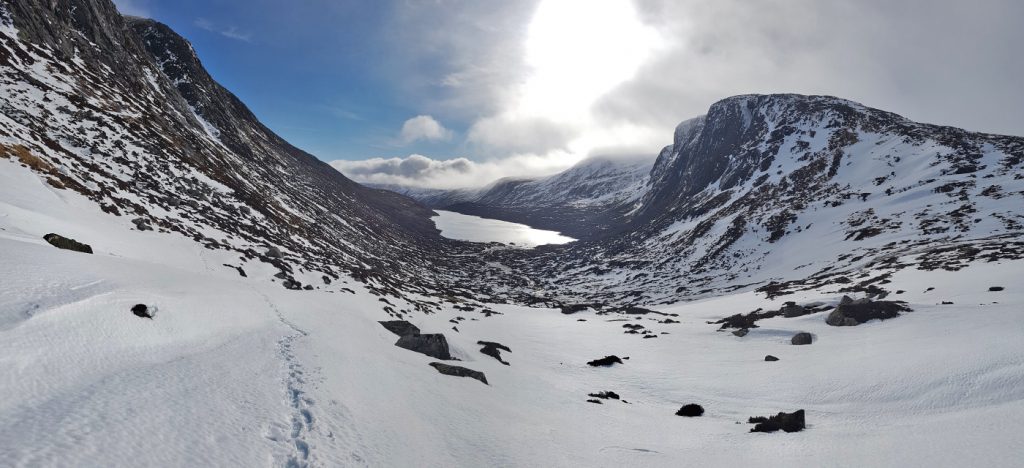 There's a huge truck sized boulder and the drift trailing from it was impressive and would have been a possible spot for a hole if we hadn't already had a better option. We traversed to the other side of the burn heading for NO 2152 8375 our next test site, a bank above a burn SE of Carn an Sagairt Mor. The blue skies in evidence earlier now disappeared as we entered cloud/spindrift and we didn't spend much time in low visibility checking it out.
We headed along the white mounth path to Cairn Bannoch for a bit before diverging south to get a view on ground closer to Fafernie. With the weather not great we decided against a close inspection of near the burn of Fafernie and headed towards Cairn Bannoch.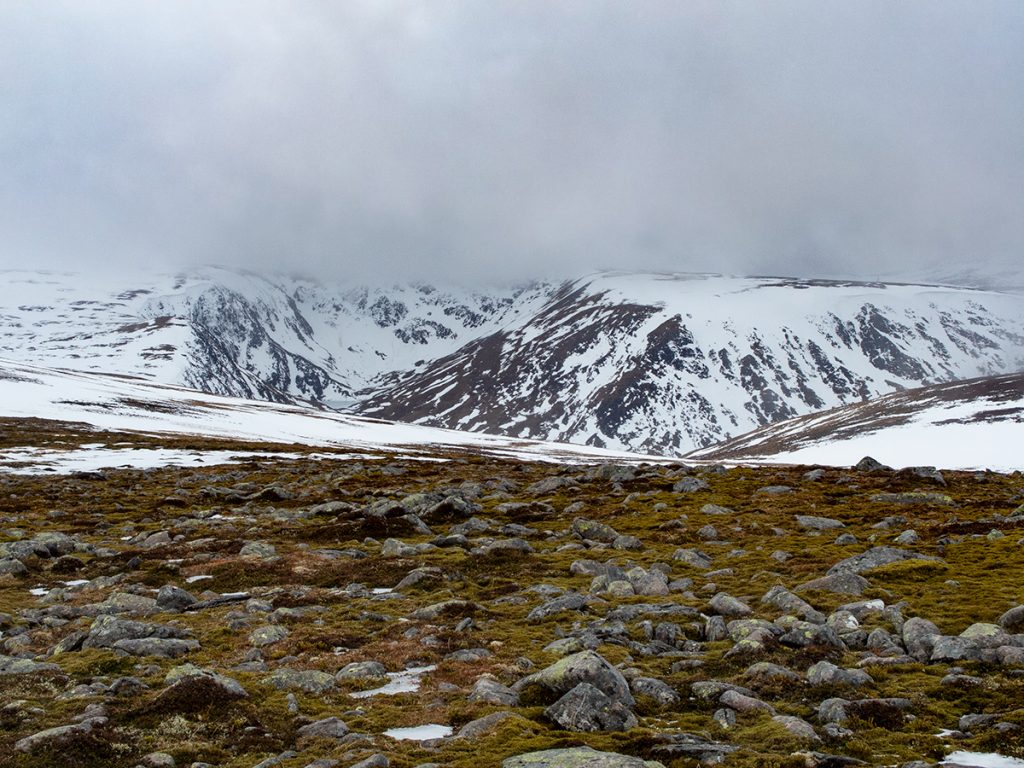 From here we'd take the right side of Broad Cairn to avoid as much boulder field as possible. Looking towards the east side of the Shank of Fafernie there were cornices and a lot of snow in a bank, perhaps one for future exploration.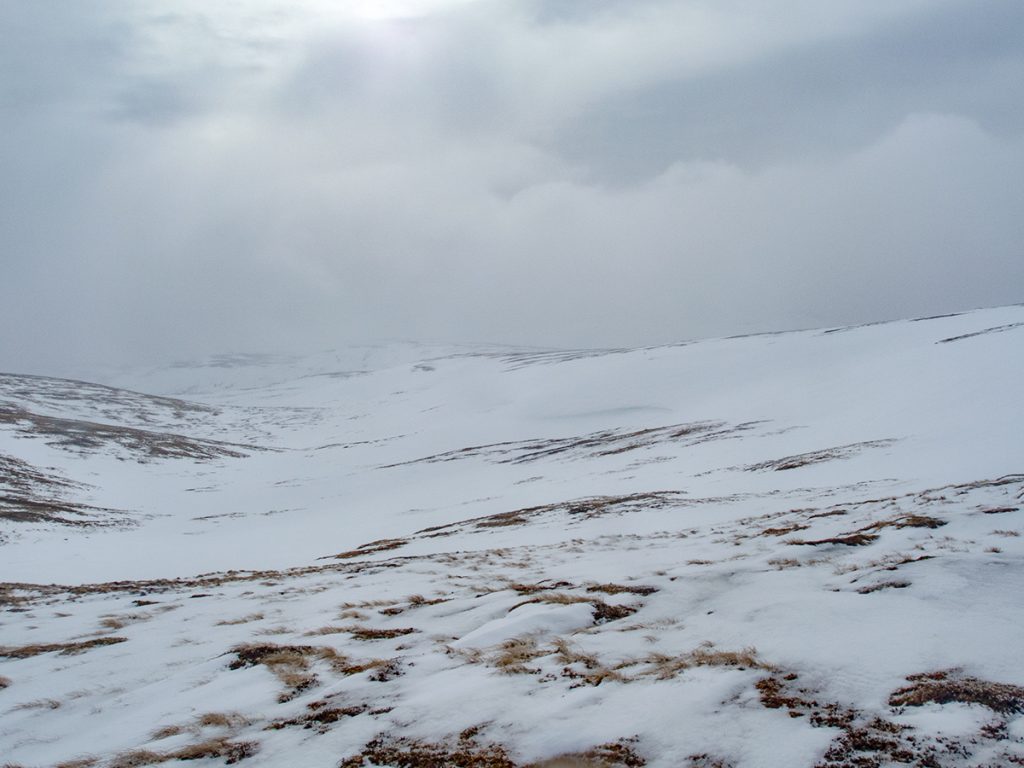 There's a path round the side of Broad Cairn (barely a scrape) but we eventually found it via dint of some small cairns. Good views from this side towards Glen Doll.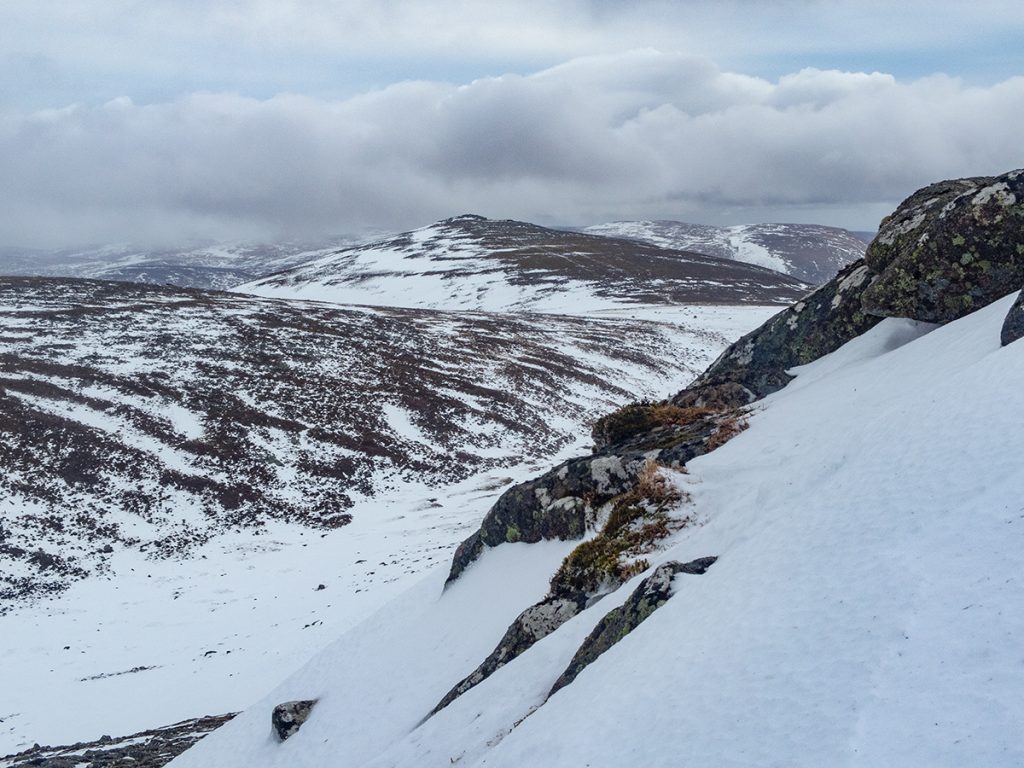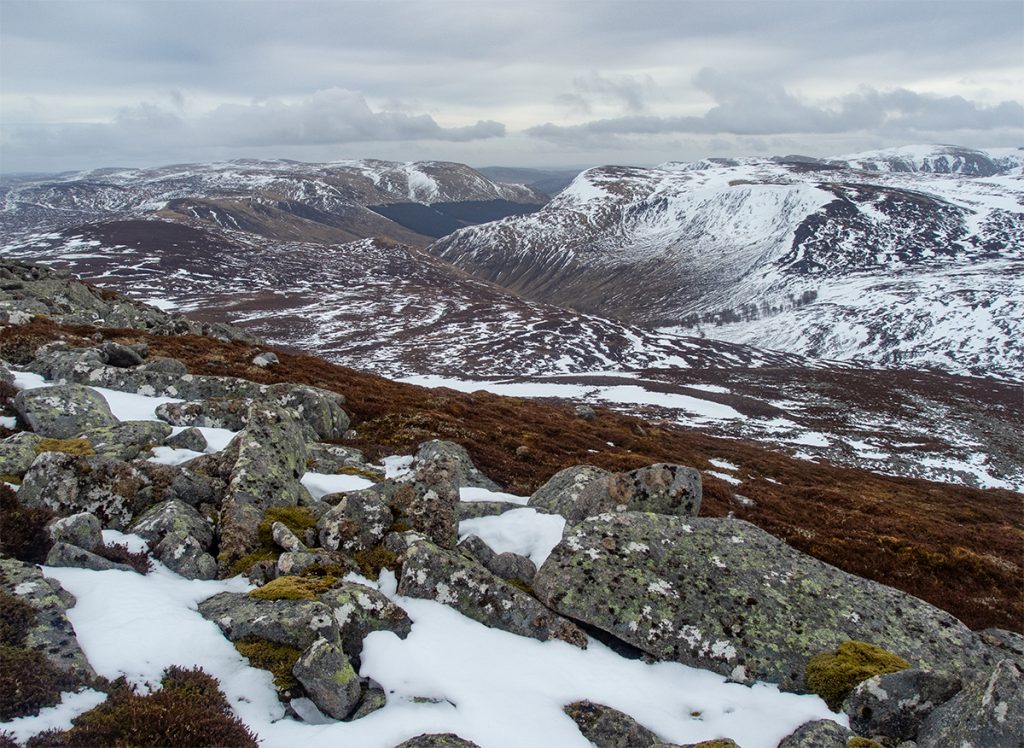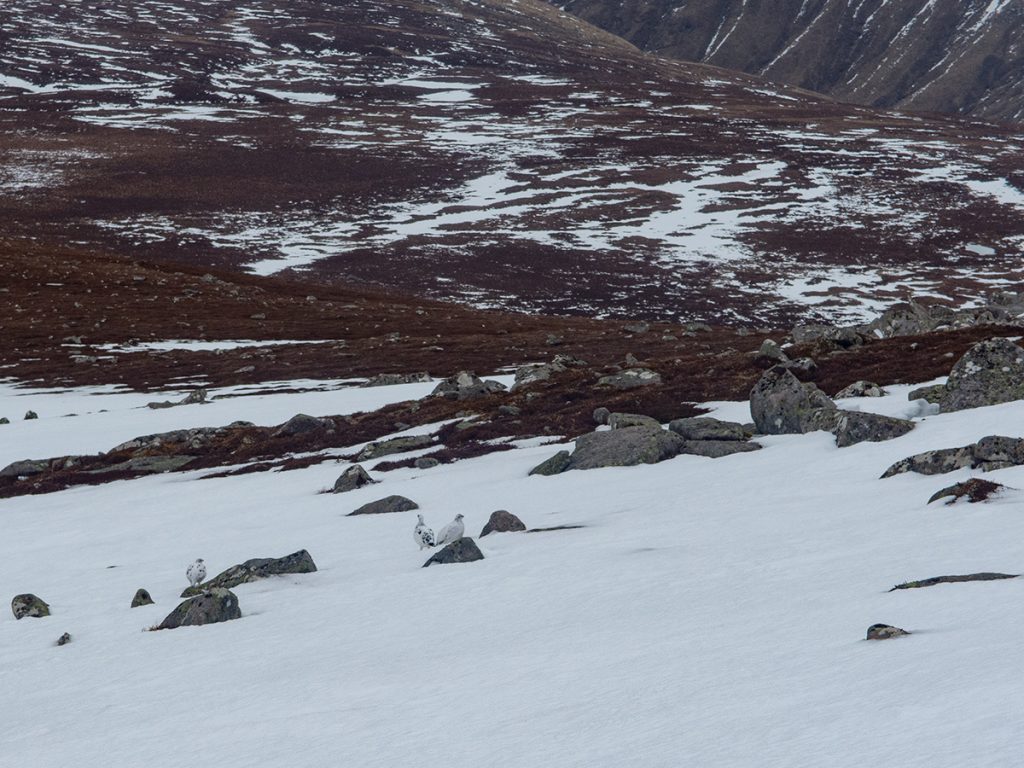 Arriving at the goat shed after joining and smushing down the very gritty new path, we were joined by a family from Montrose and they kindly shared some coffee, we used our shovels to cut seats in the drifts inside the shed. They'd been travelling around the coast of the UK during summers, documented here.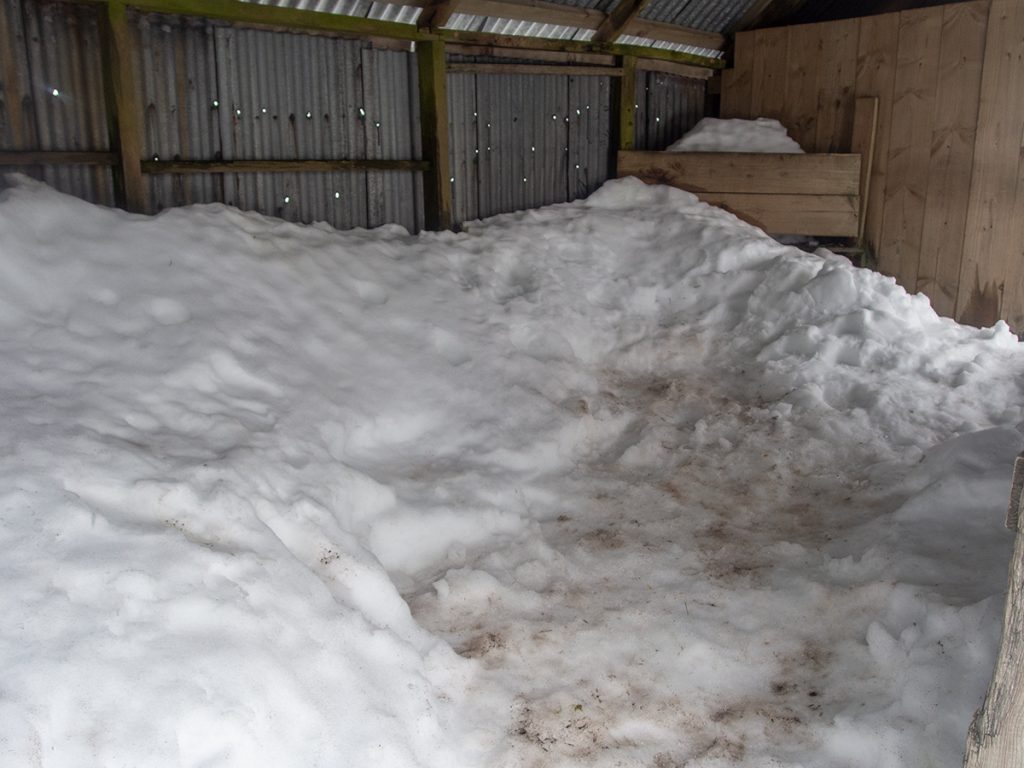 We'd heard from the chaps in the bothy the night previously tales of having to front point their way across the streak of lightning path down to the loch, due to it being banked out with snow. This narrow path clings to the side of a slope, and isn't generally hazardous, but sure enough today it was buried underneath a slope heading a long way down: the jumble of boulders down below didn't make a slide down wise, and we donned crampons and axe. As we were readying ourselves, a chap turned up without any such kit, took a look and decided against it.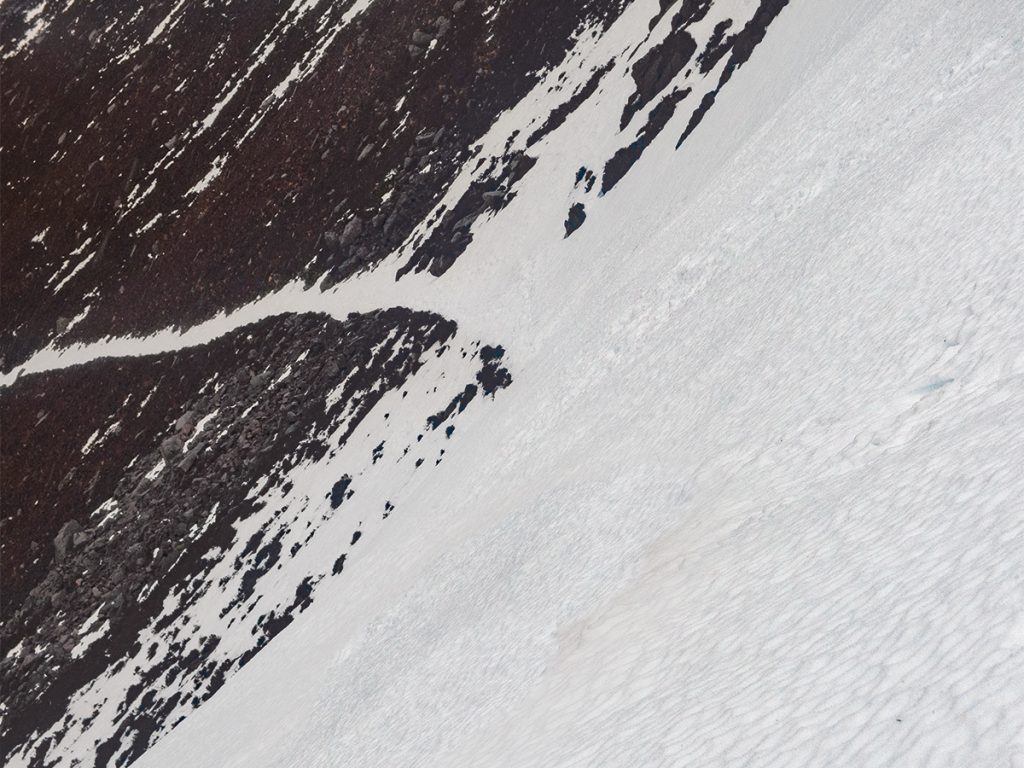 We began slowly edging across, it's an awkward angle with one leg higher yet you need to be careful to not snag crampons on the other foot. The snow was reasonably soft so grip was easy enough. The slope began to steepen, I decided to ladder down a bit to see if it eased off a bit further down, nope, back edging across again. Probably only 100m to cross before the path reappeared, but 10 minutes to cover it. Once on the path proper again, we made our way down to the loch and back to the bothy.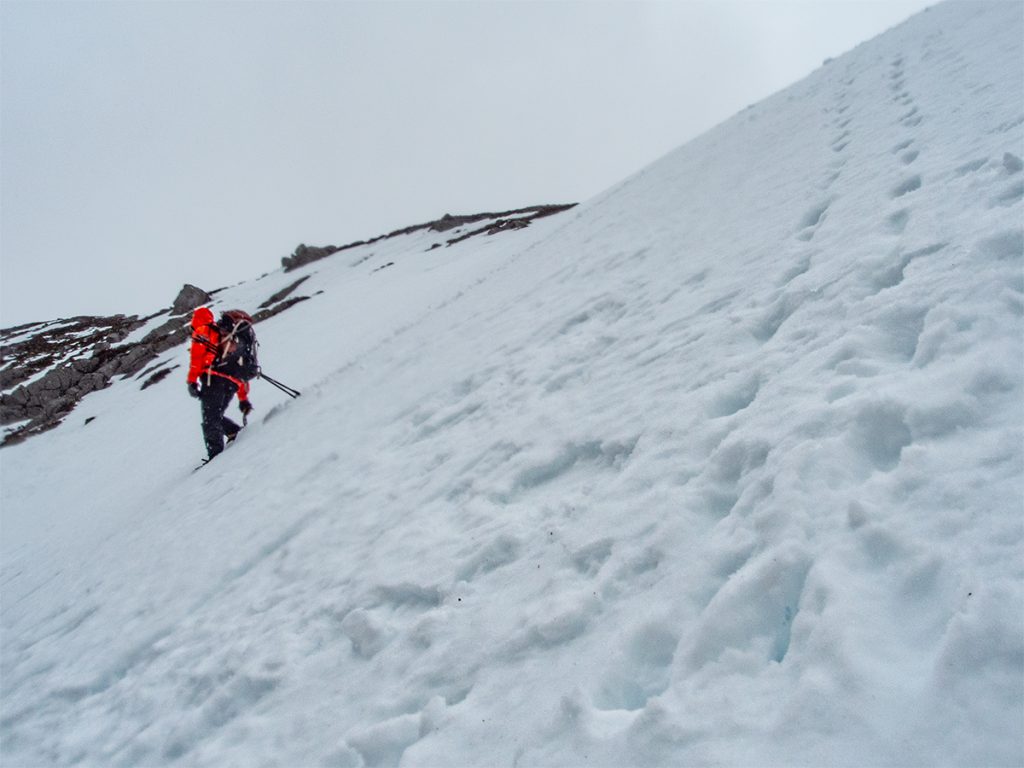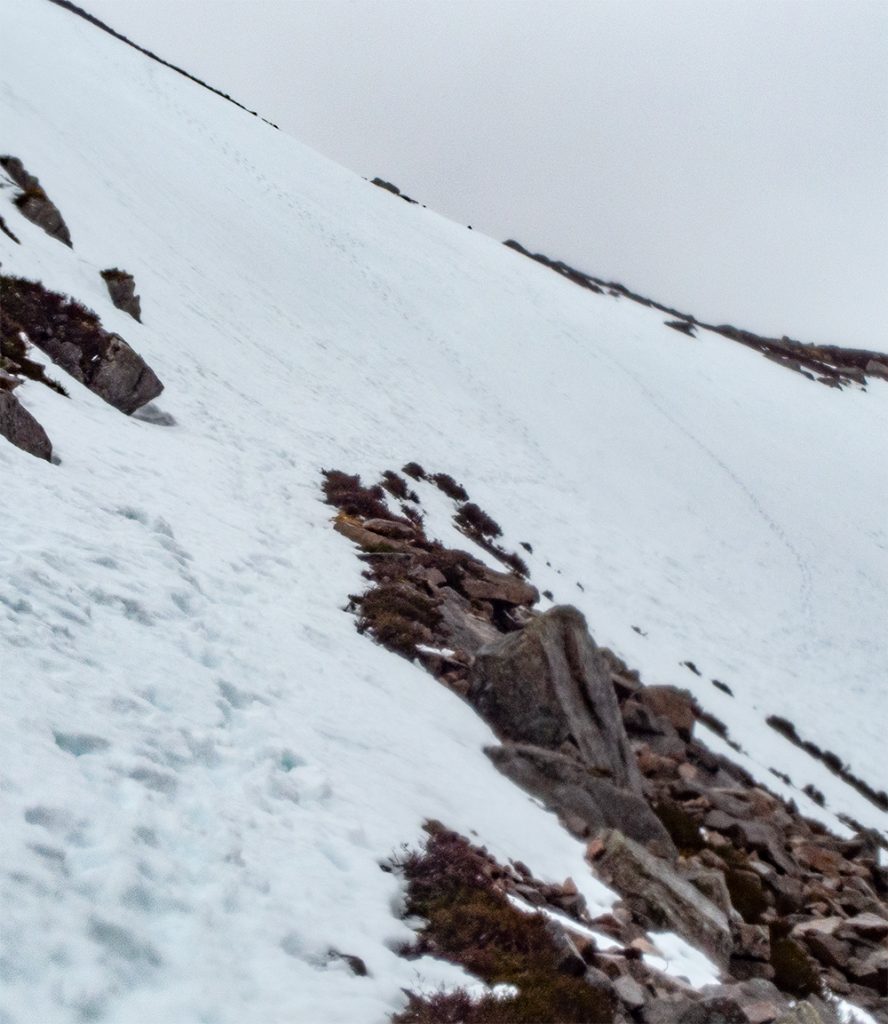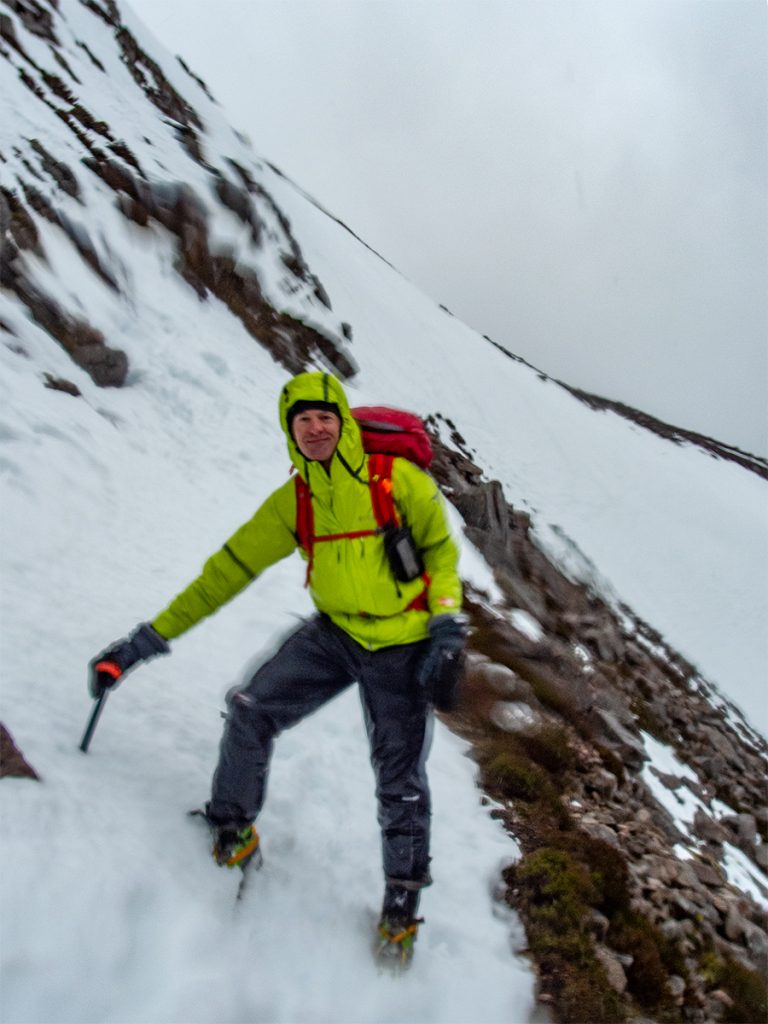 We loaded up and started the slog back to the car park, with sleet and rain fortunately at our backs. Main goal achieved, we now had to hope the next 2 weeks would remain cold and keep enough snow for our return.
Back to make the snowhole
Two weeks had passed since our recce to find snow hole locations, and the intervening weather had stayed reasonably cold in the mountains, so it mostly looked OK for the snowhole trip to proceed. However, those weeks had also seen the progression of the covid-19 pandemic, and many folk were abandoning any trips or travel, so the numbers attending dwindled away. 3 of us decided that we'd proceed, that the infectivity risk of spending a night far away from the masses up in the mountains was lower than heading to a supermarket. It was no longer a club trip as they'd cancelled all official events. We were proceeding at the judgement of our own circumstances and risk. We had a plan B (bothy) and C (boathouse) if we got up there and there wasn't enough snow remaining.
An inkling of the impact on society was apparent at Ballater: their supermarket which had opened at 7, was closed for a couple hours to restock shelves after an early-morning wave of panic buying. We arrived at the car park, got our large rucksacks on and headed onwards, following the same route as the recce along Loch Muick, up towards Dubh Loch then Eagle's Rock.
At the far end of the loch the streak of lightning path was still banked out, although the snow didn't reach quite as far down. Likewise ascending to Loch Buidhe. Round the shoulder of the boulders above, a steeper slope provided an opportunity for some ice axe 'front-stabbing' to assist a quick ascent. There was a dusting of fresh powder above crisper snow and as the gully narrowed, guarded by a lone hare, we could see there was still plenty snow.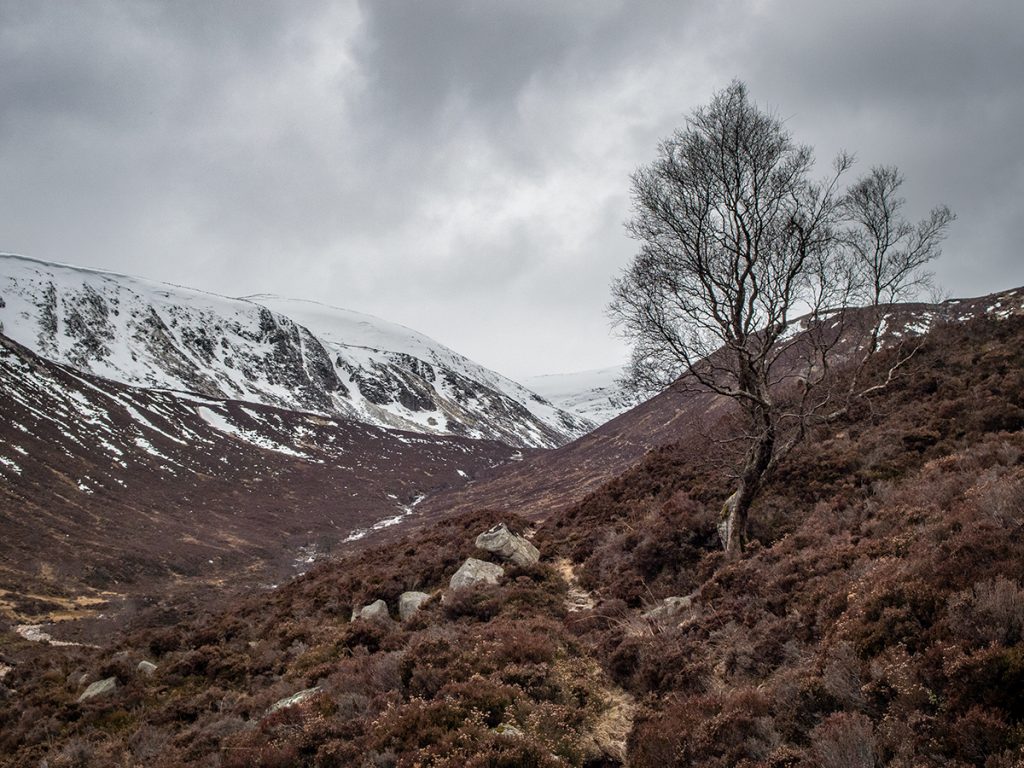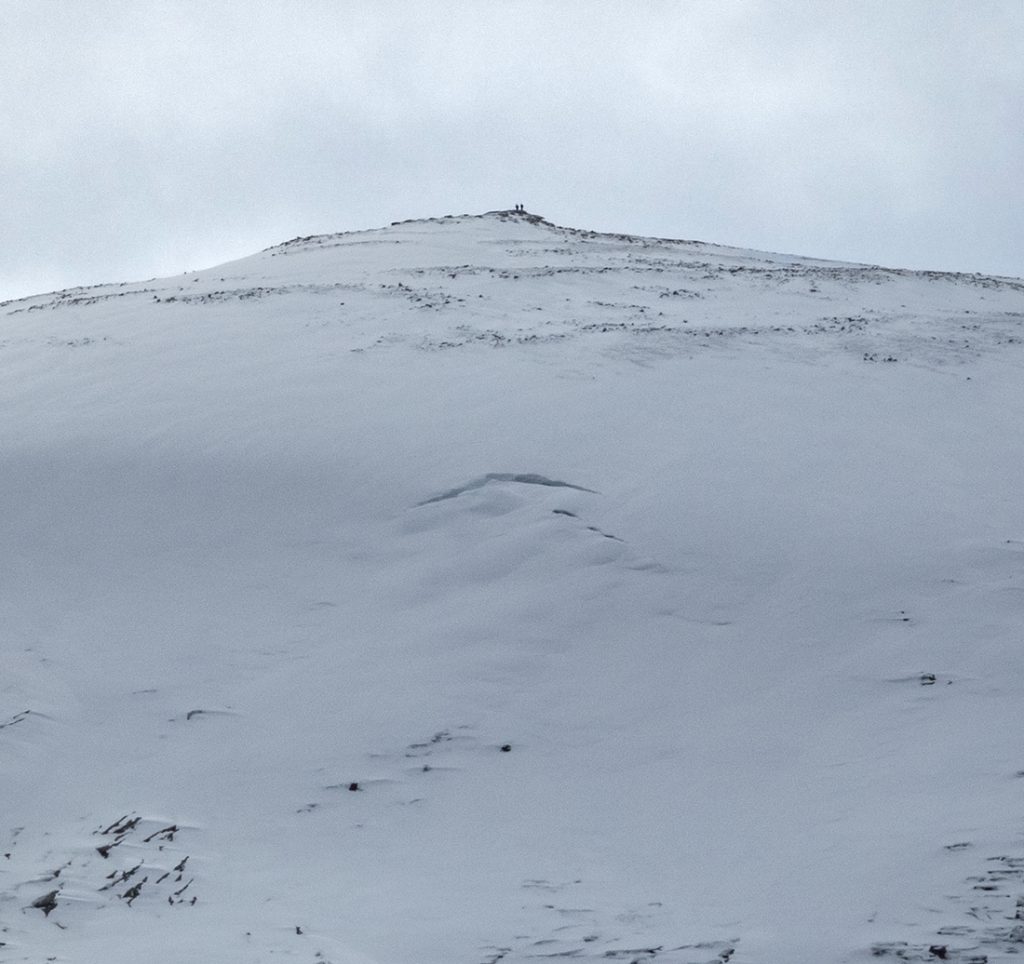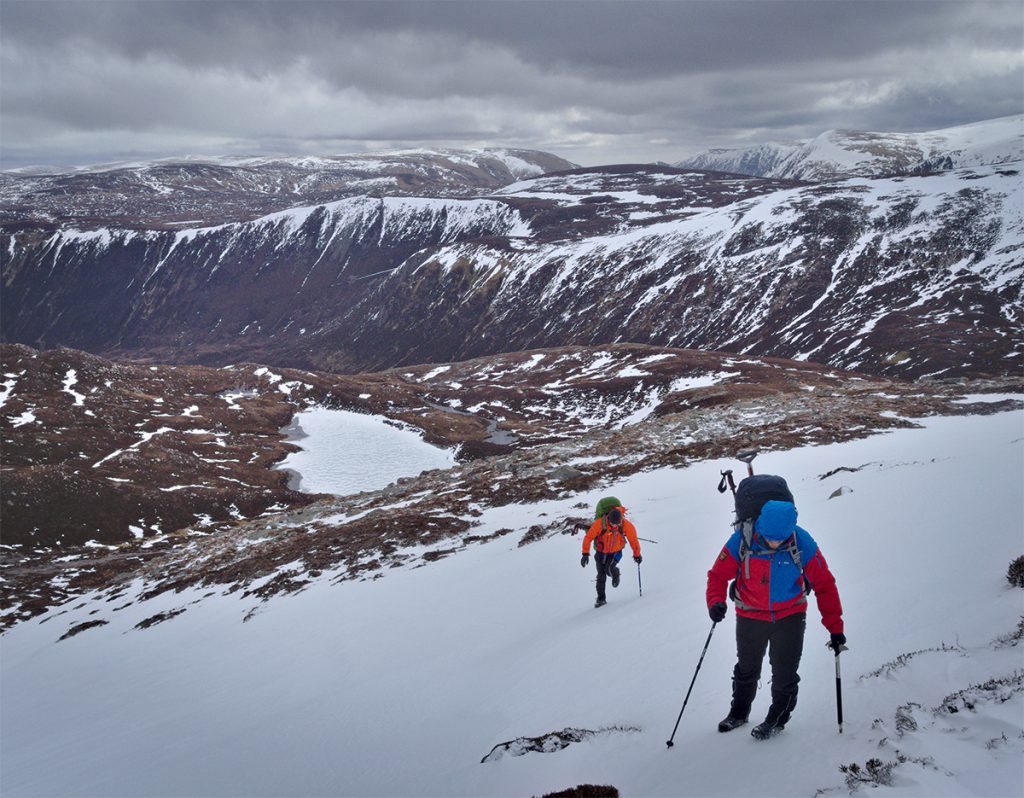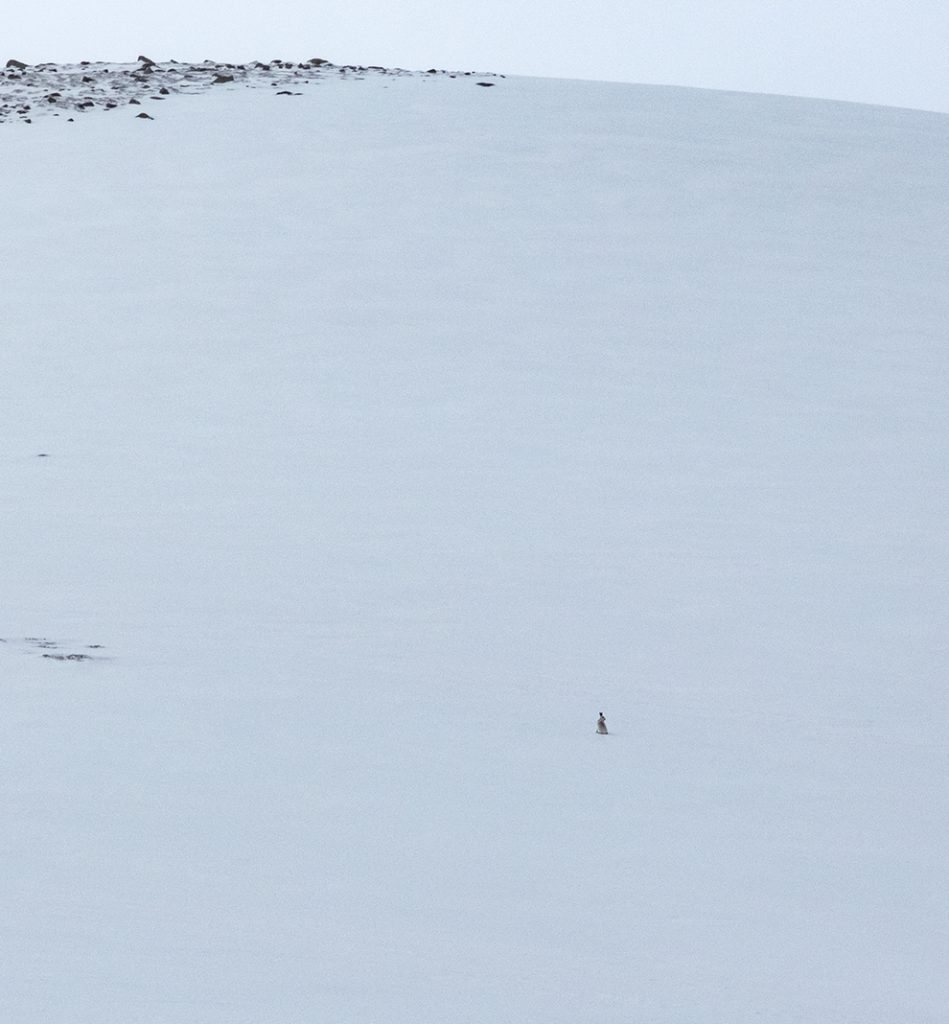 Arriving at the designated spot we decided on a dual entrance approach rather than a classic T shape. The idea is that by having initially 2 'doors' once into the bank you can turn towards each other and 2 people can work simultaneously, whereas with a T, only 1 can work until you get quite deep.
The initial excavation started well, with a few metres being excavated quite quickly. As we got deeper, a combination of constricted space, and layers of harder snow, made for slow progress. We only had one saw too. I could sense doubt and fatigue creeping in to one of our crew, Steve, who'd not done this before, he began to mention a retreat to the bothy.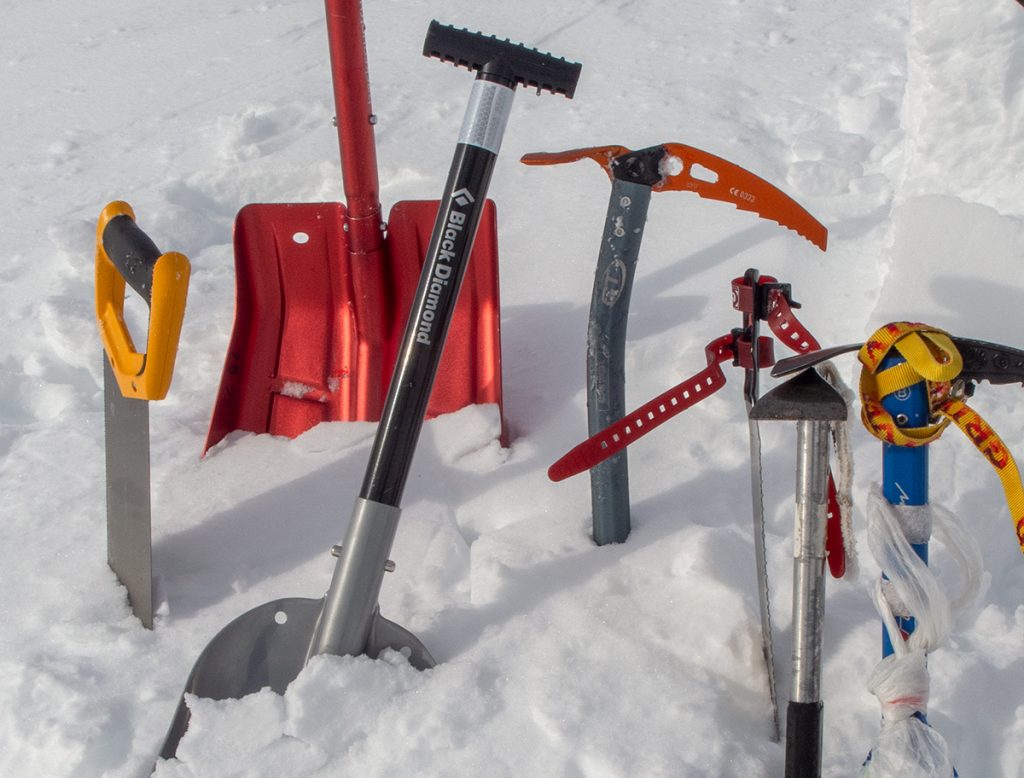 I suggested to give it another hour, it would be shame to have worked so hard to fail. I set about really giving it laldy – now that I'd turned inwards and had a bit more space, I could get my shoulders turning and apply more weight to the gouging, grunting chunks of neve loose. This effort though was at the cost of sweat, something you don't really want when you're going to be staying overnight in a cold environment.
Left and right tunnels first glowed with a bit of light as they neared and duly broke through, with a 'channel tunnel' handshake through the hole. We began enlarging the space as light was fading: there'd been talk of cold sumps and ledges, but ultimately this is about digging a hole, you gotta have enough space to lie down first and foremost, then finesse can come later. One of the entrances was blocked off, and the other had it's height closed down by cutting lintels.
Outside was bitterly cold, and unlike last year when we'd had enough time for both a daylight stroll and a quick night outing, this time we were happy to just get our cook on, pretty tired. I was cooling down from the excavation and now feeling how damp I was, my big down jacket went on, but my hands in particular were suffering: the mitts had filled with snow debris and were now soaked, fingers very white and wrinkled, I got chemical hand warmers cracked open and put in the mitts (should have done that earlier takes a while for them to get going). Due to my rucksack being pretty full I didn't have another pair of 'full warmth' gloves, only liners. Once I'd had a XL portion of tortellini (need big calories on these kinda days) I began to feel better.
I pumped up my vaude norrsken mat (great insulation, and the faffy pump guaranteed to generate extra heat from the exertion) and noticed our new snow hole colleague only had a foam roll mat – uh oh! He'd be cold on that, fortunately he had a good bag. I'd rolled up my own sleeping bag already within a cheapo bivi bag figuring (rightly) there'd be little room inside to unfurl and twiddle with kit (karrimor x-lite bivi bag reviewed in some depth here.)
Saturday nights didn't use to be like this, a beer (singular, very chilled), a book, and an early night. My one beer (a limitation of weight, but also one doesn't want to have to dress and fumble outside into a blizzard for a piss) a northern monk 'great up north' a fine pale ale, embelished with a few sips from a hip flask of unknown spiced rum, and the book, written by a friend about quirky tales of inner city London.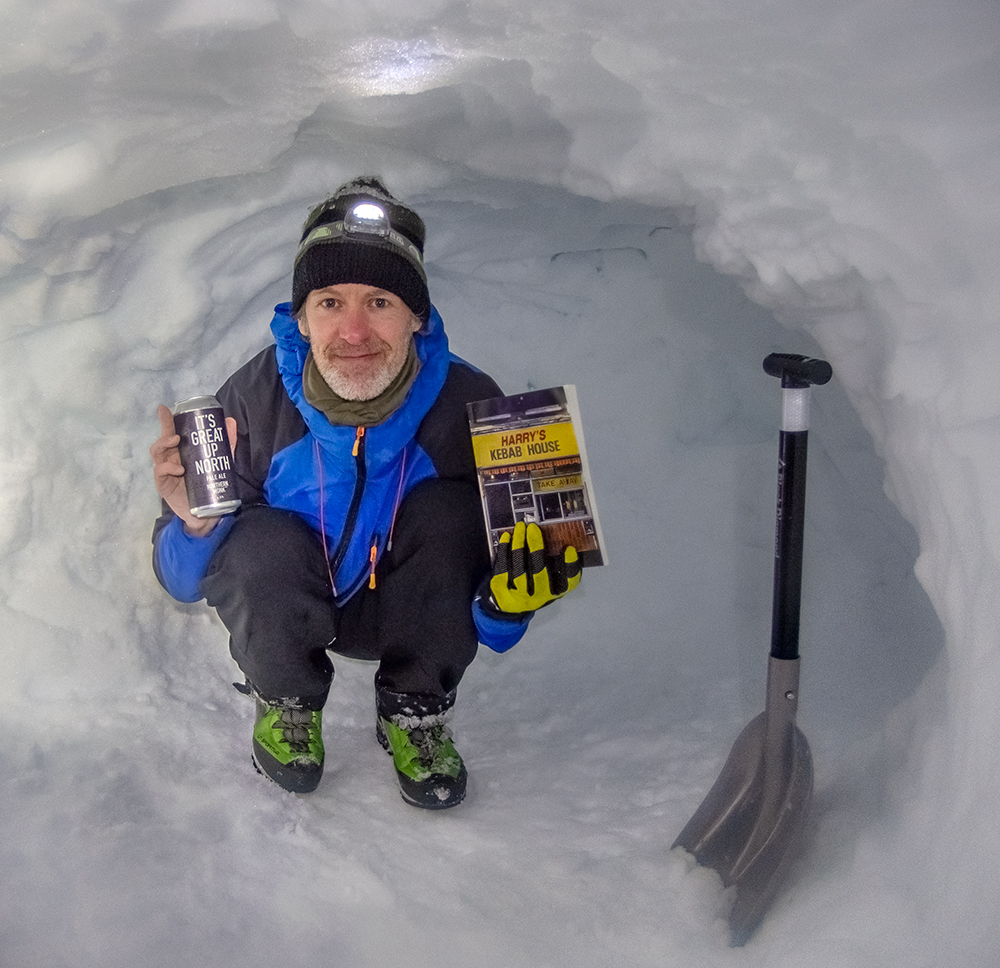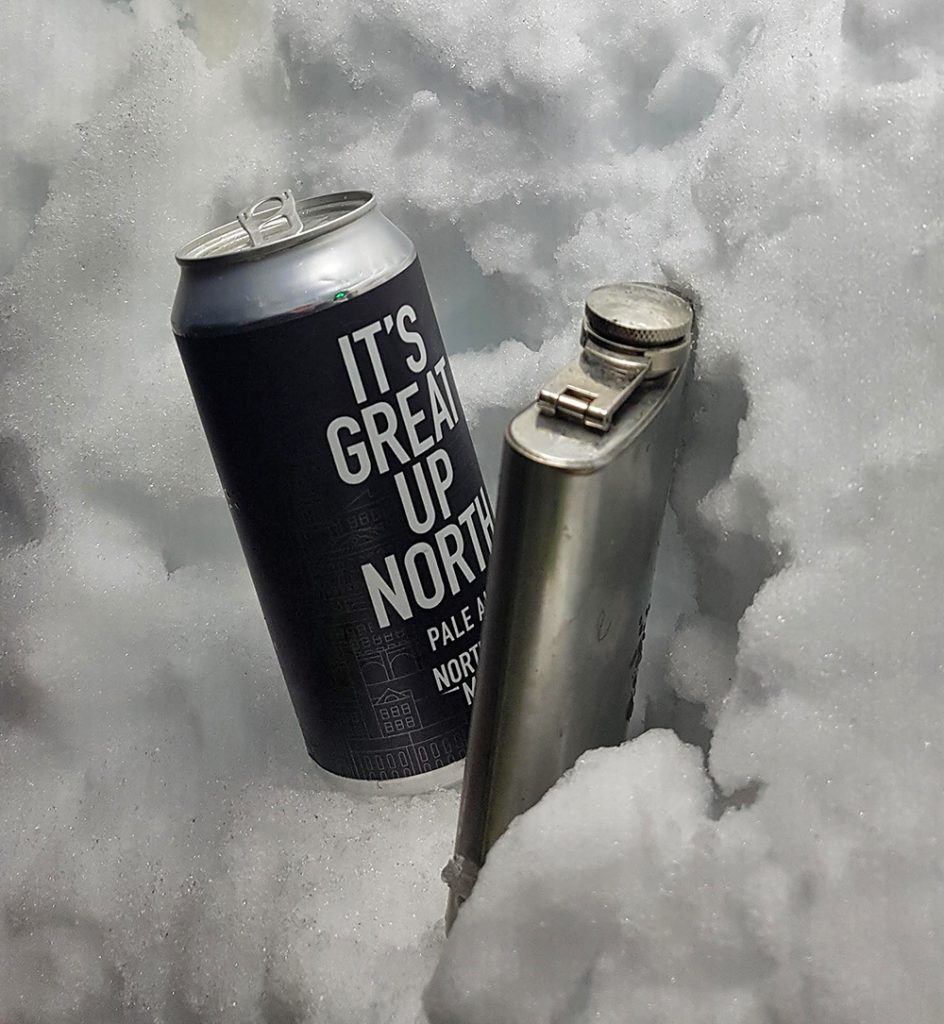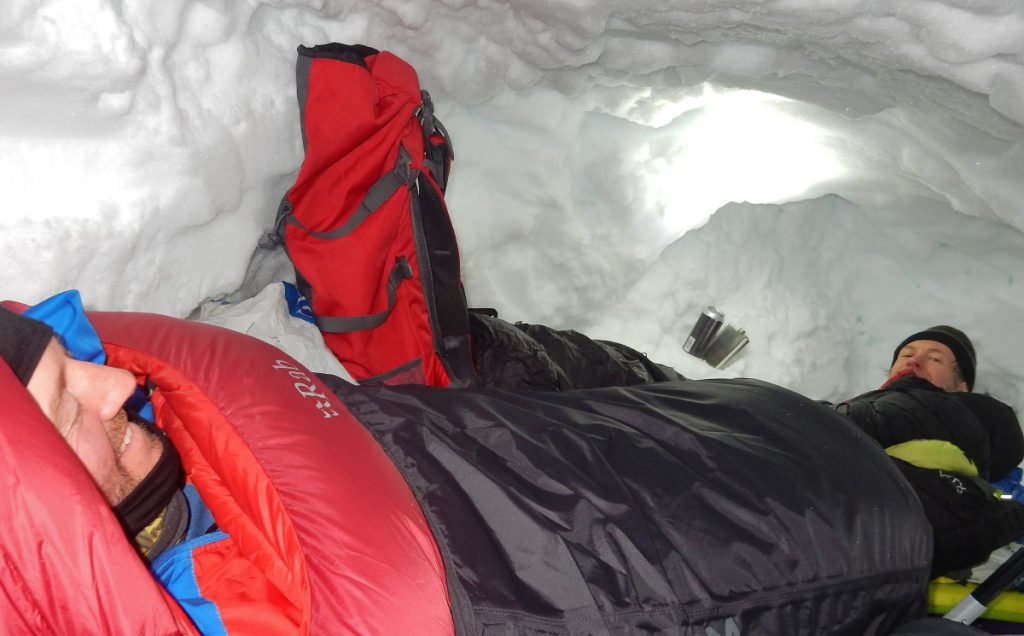 Only those who sleep like a log will ever have a seamless night in a snowhole, I'm a light sleeper, but nonetheless I had a reasonable night, awaking a couple of times feeling a bit cold despite wearing my jacket in the bag: my damp base layer didn't help and the closed off second door where we'd left a vent blew an icey breeze towards my face. I planked (planked!)/ and stressed muscles to generate a bit of heat before drifting off again.
Morning saw the hole lit blue: there was brightness outside. I'd missed sunrise (6am or thereabouts). Steve was keen to head home not having had a great sleep. I was keen to make the most of what looked like great conditions, and our other inhabitant was keen to do some training for his future winter leader assessment. I suggested a compromise: it was an easy trip of 2 miles over to Lochnagar and we decided to do that. Thinking about the descent with the big rucksacks, we decided rather than clamber over boulders heading down to Meikle Pap or Glas Allt, we'd be better dumping the bags at the hole and doing a lightweight trip to Lochanagar then returning and loading up for the relatively straightforward descent the way we came up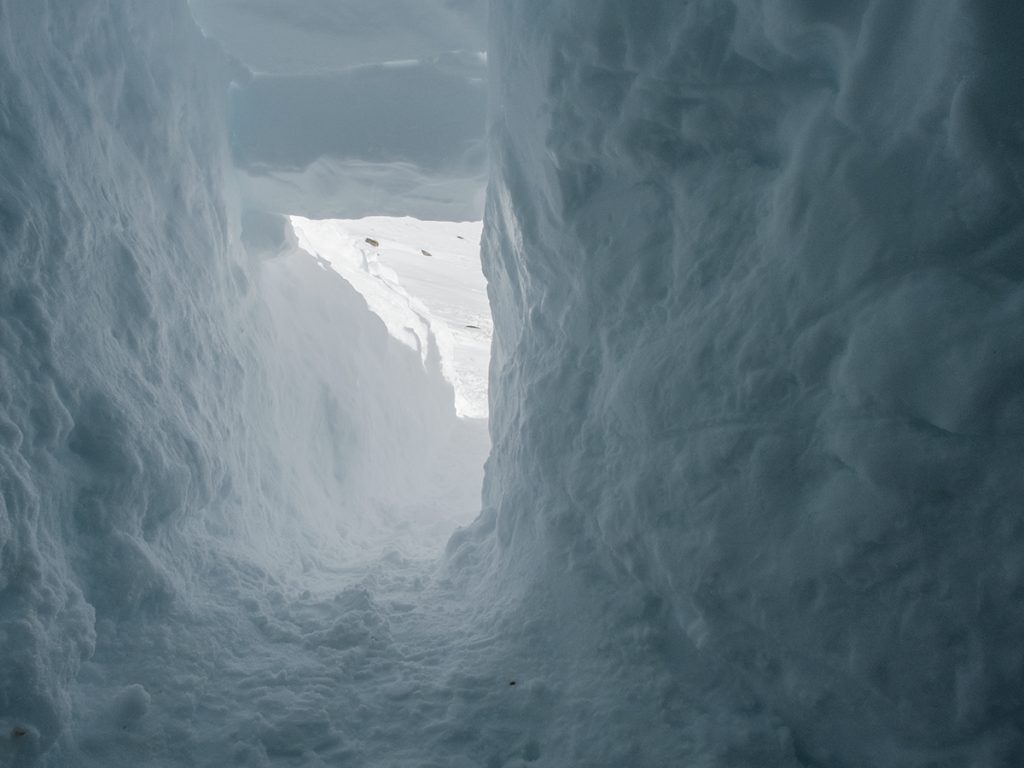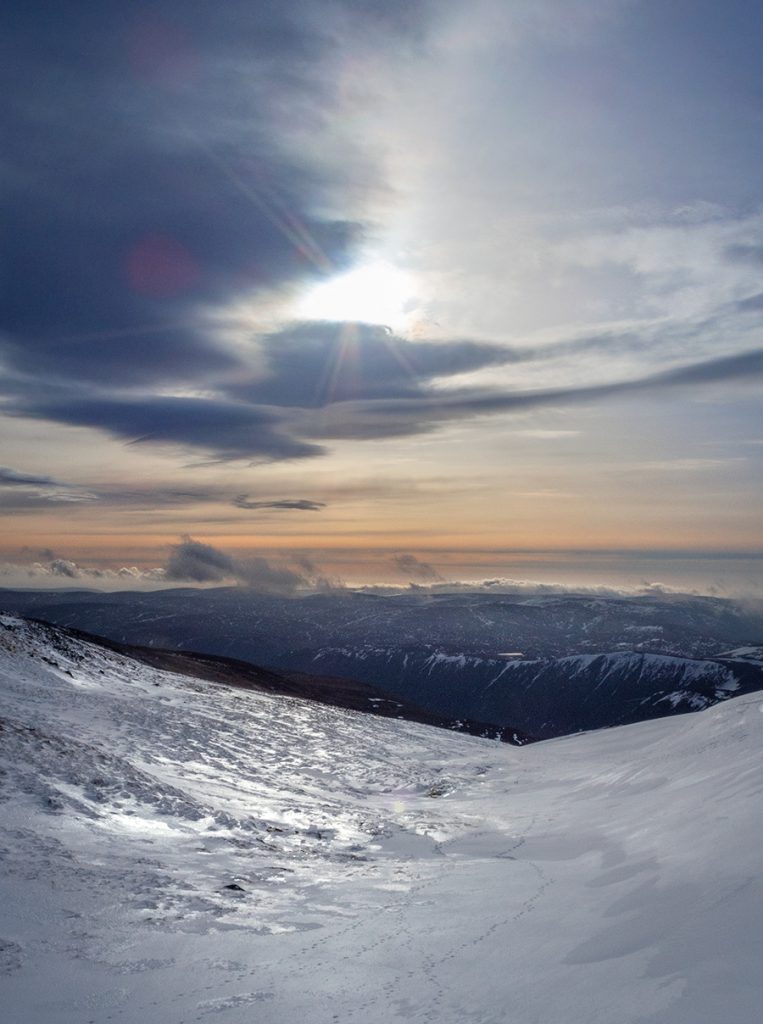 First some food: I had a bag of sandwiches which I'd kept in the sleeping bag to stop freezing and they were indeed soft if a bit squashed. A mug of hot chocolate to wash them down. On inspection of my sleeping and bivi bags: a lot of damp inside the bivi though given my very damp underclothes I'll reserve judgement on the bivi until a less extreme outing. Packed and tidied, our rucksacks were ready for our return.
We set off across the snow and crampons were soon on, one minute powdery snow the next icey. The dawn hues across a snow covered plateau are always special and the efforts of yesterday were soon forgotten. A sea of snow waves headed to the horizon, underfoot patterns and swirls, the sun was out the wind very low, sheer winter magic.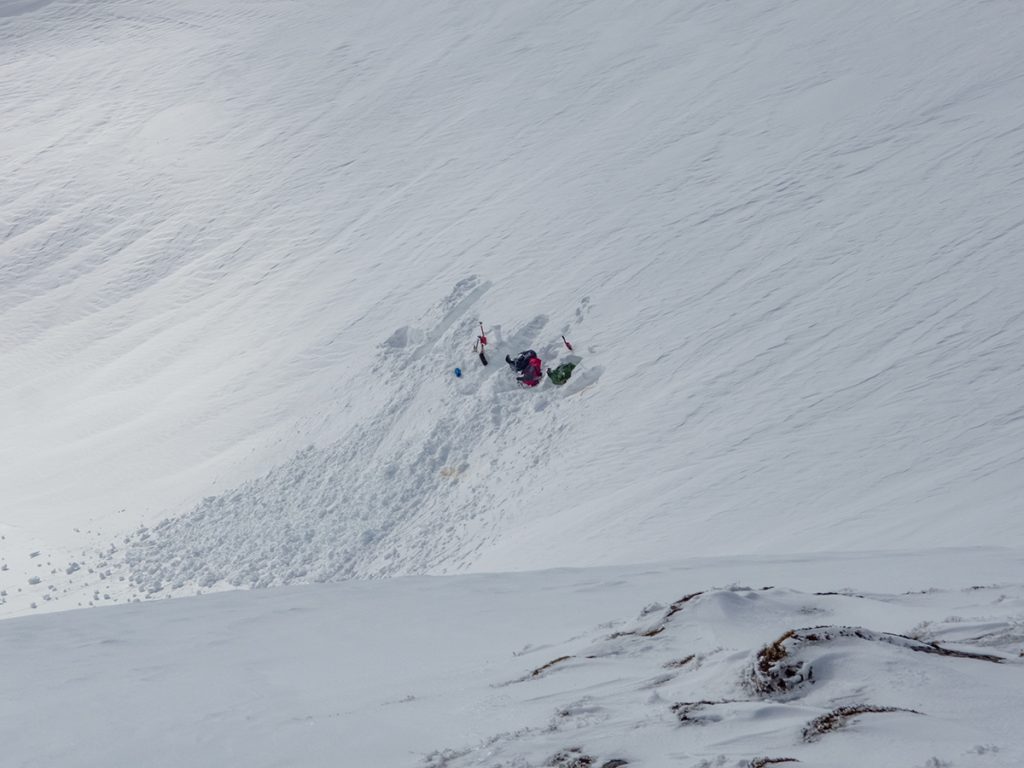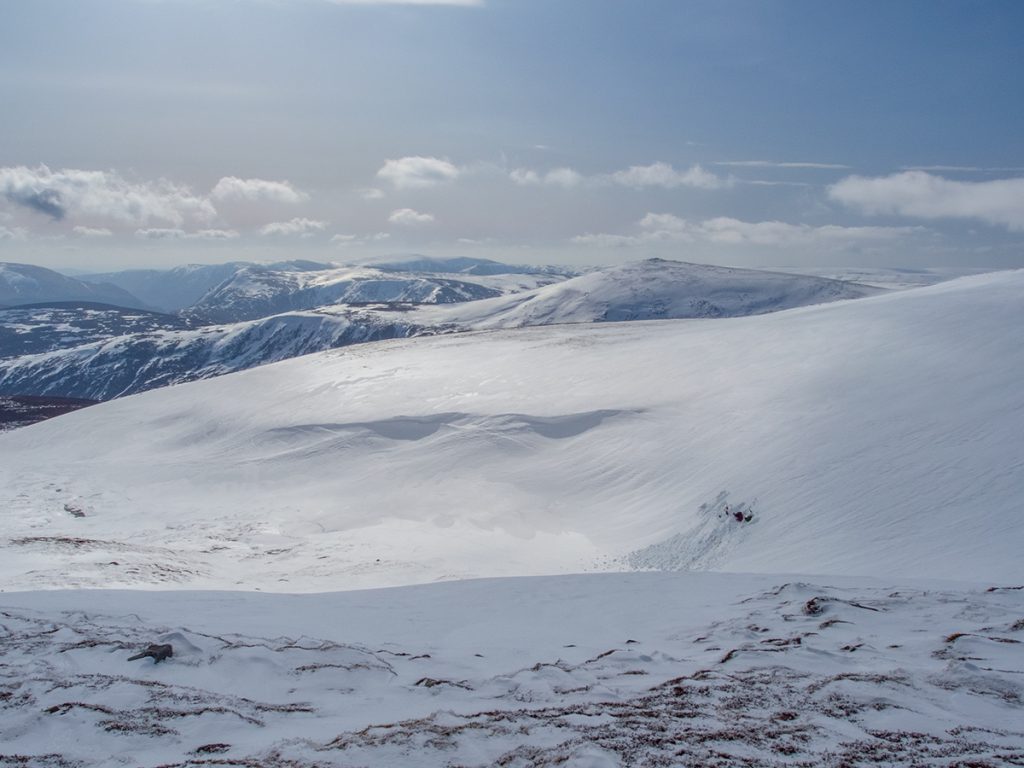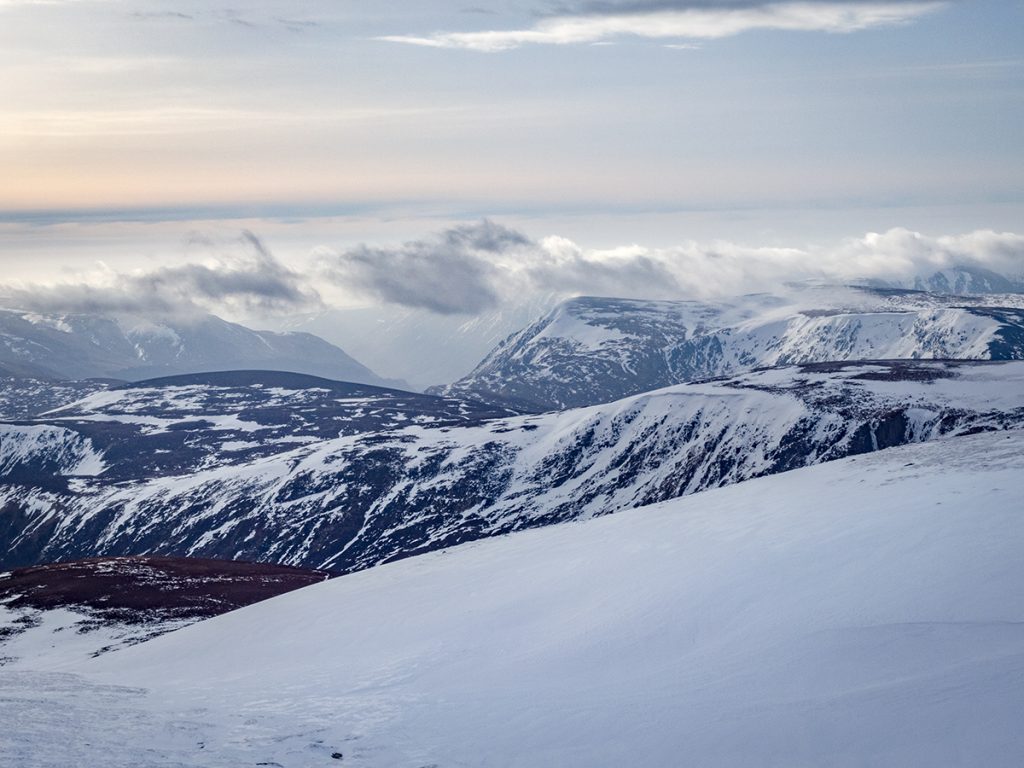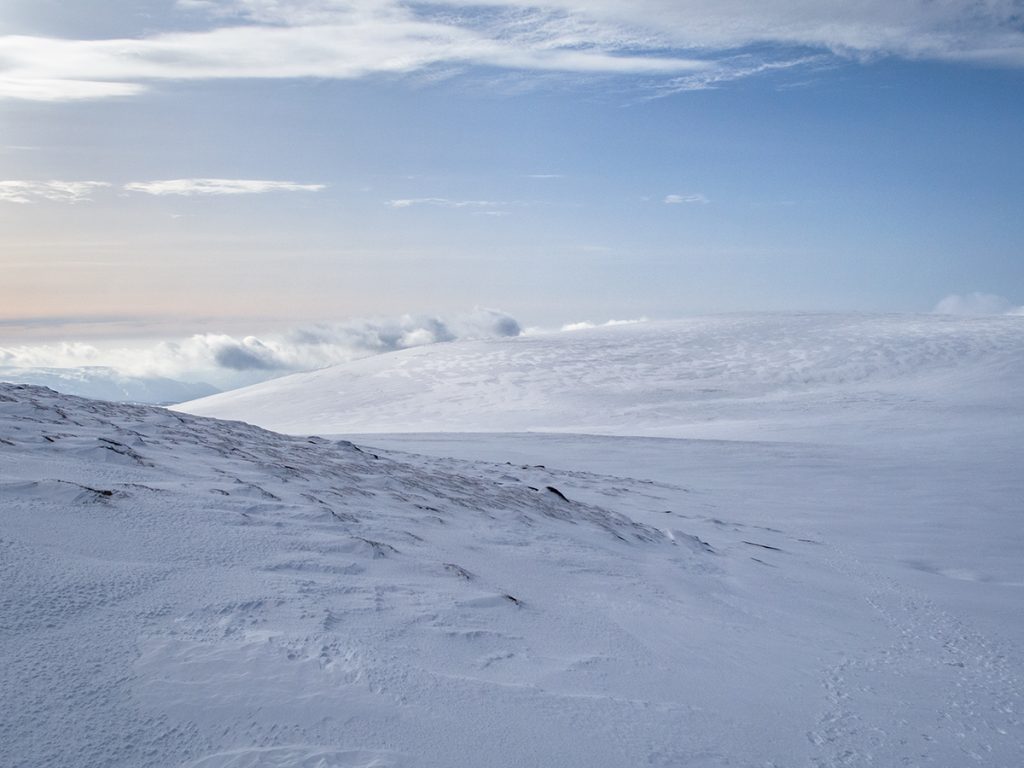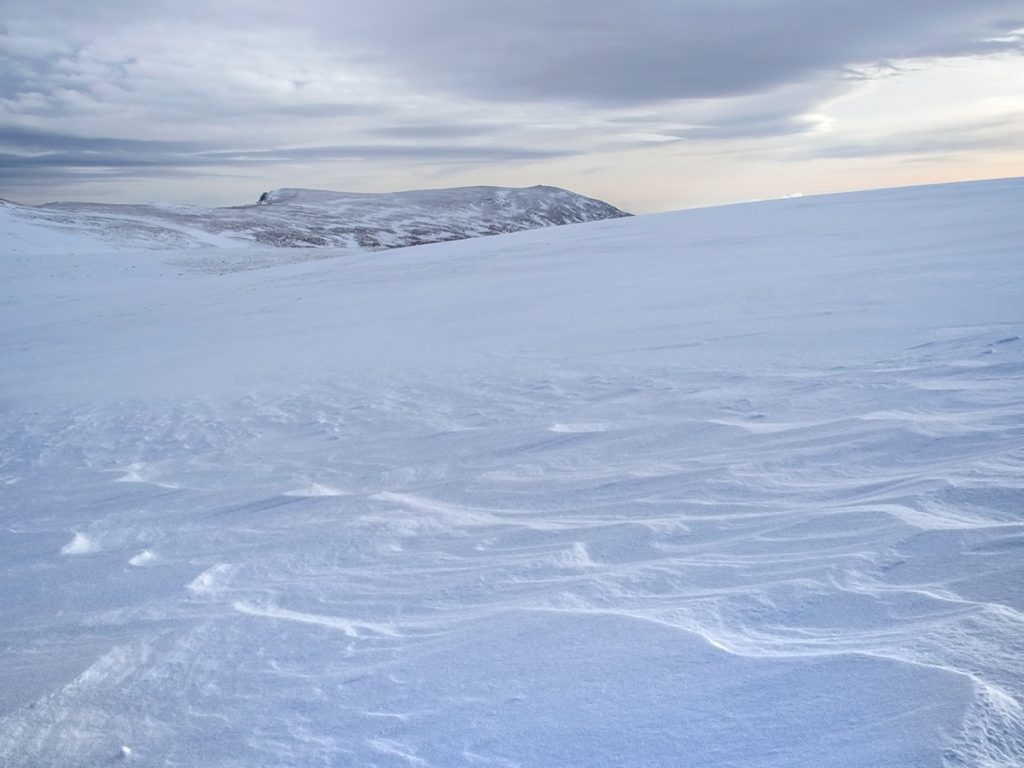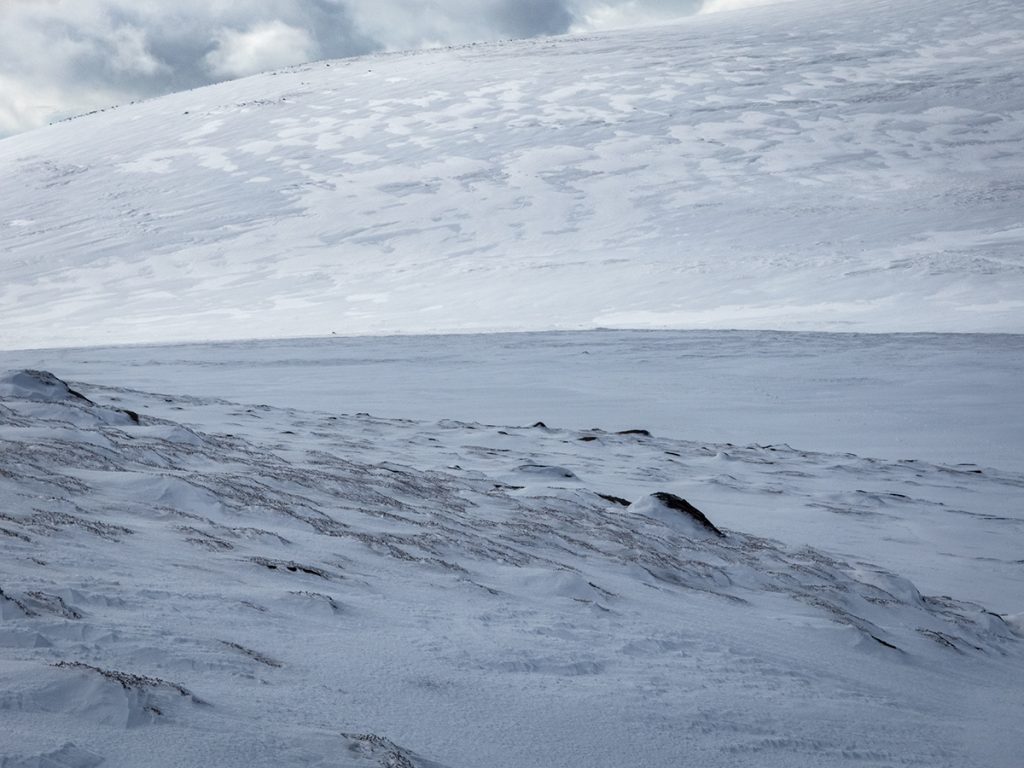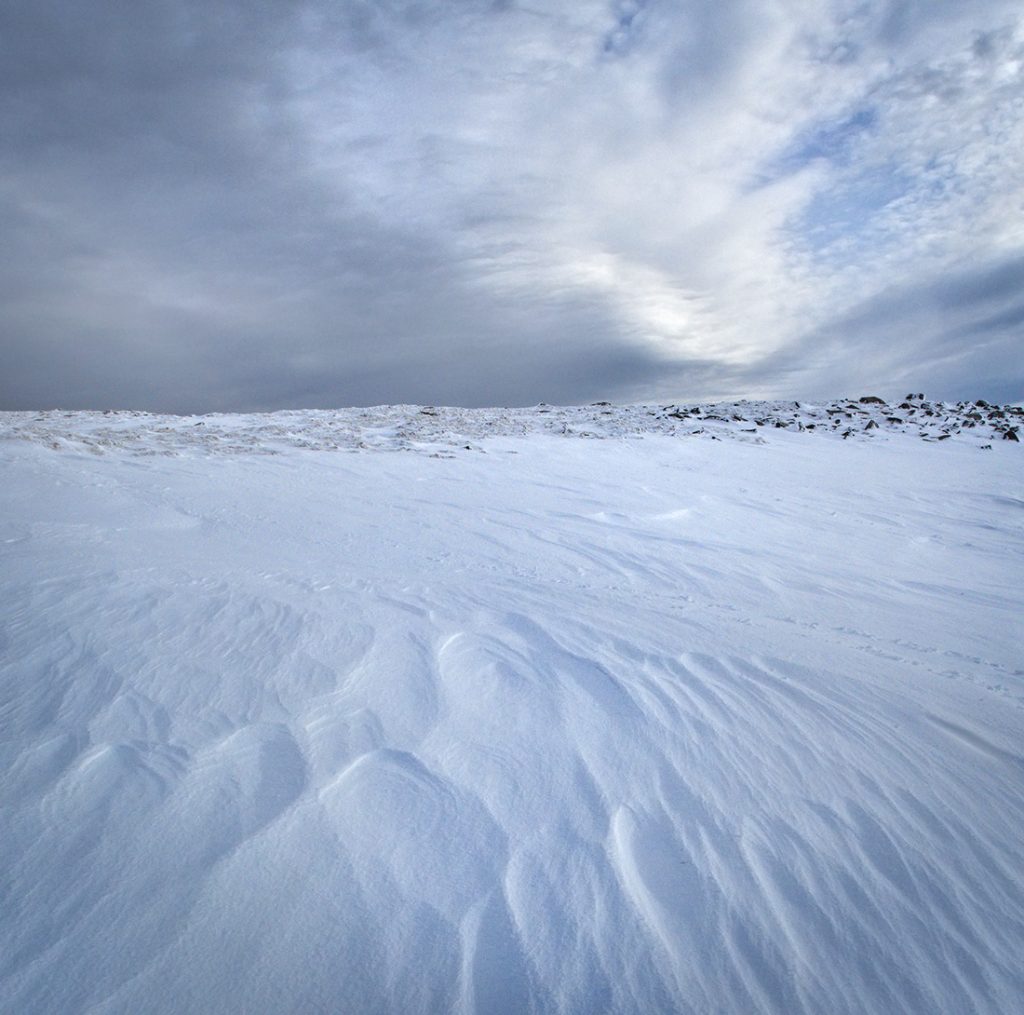 As we approached Cac Carn Mor, the sky was cut with shards of clouds blown asunder, and the wind picked up now we were prominent from the surroundings. We chatted briefly to a hardy runner at Cac Carn Beag, then began heading back, the wind chill too brutal to hang about.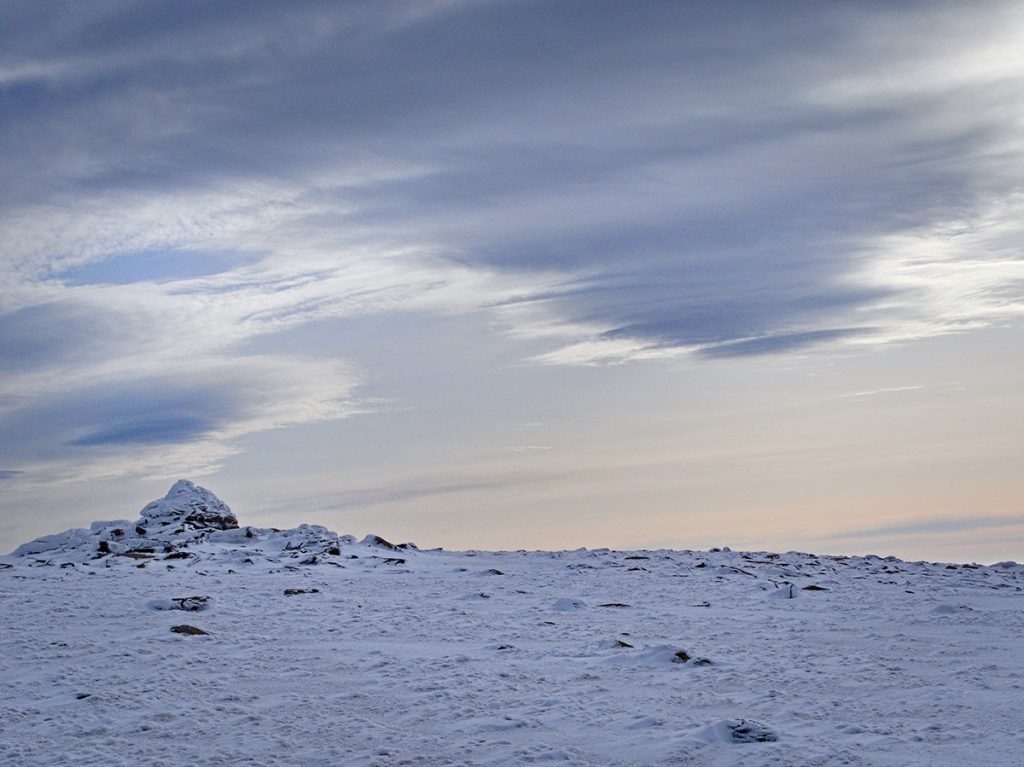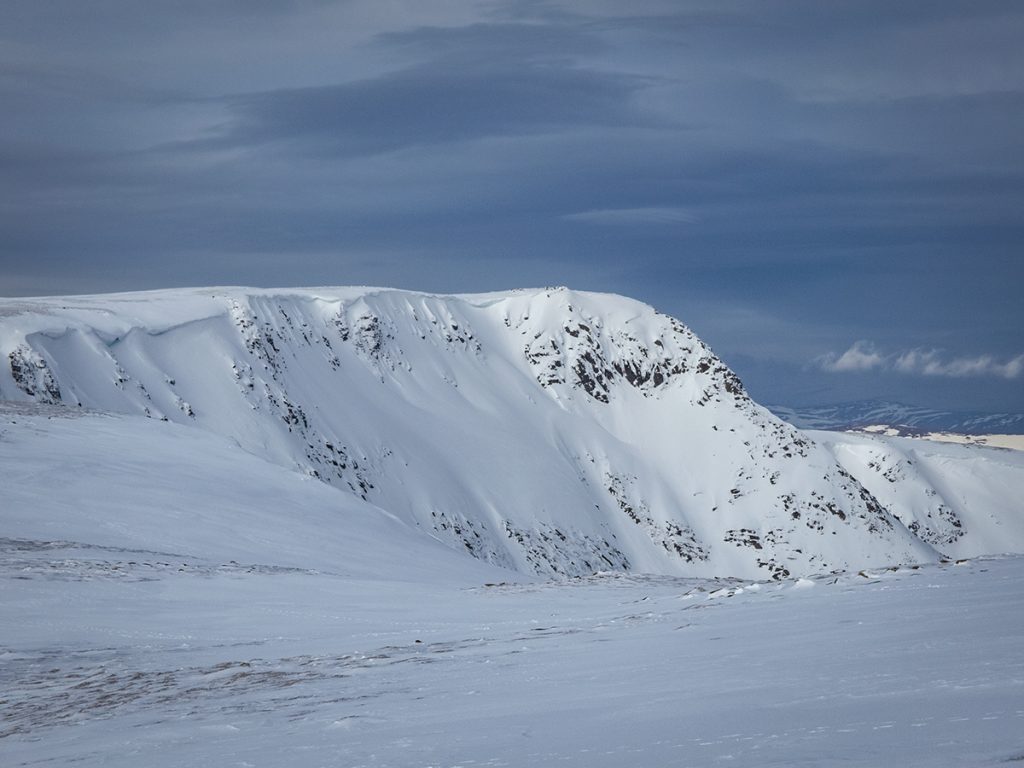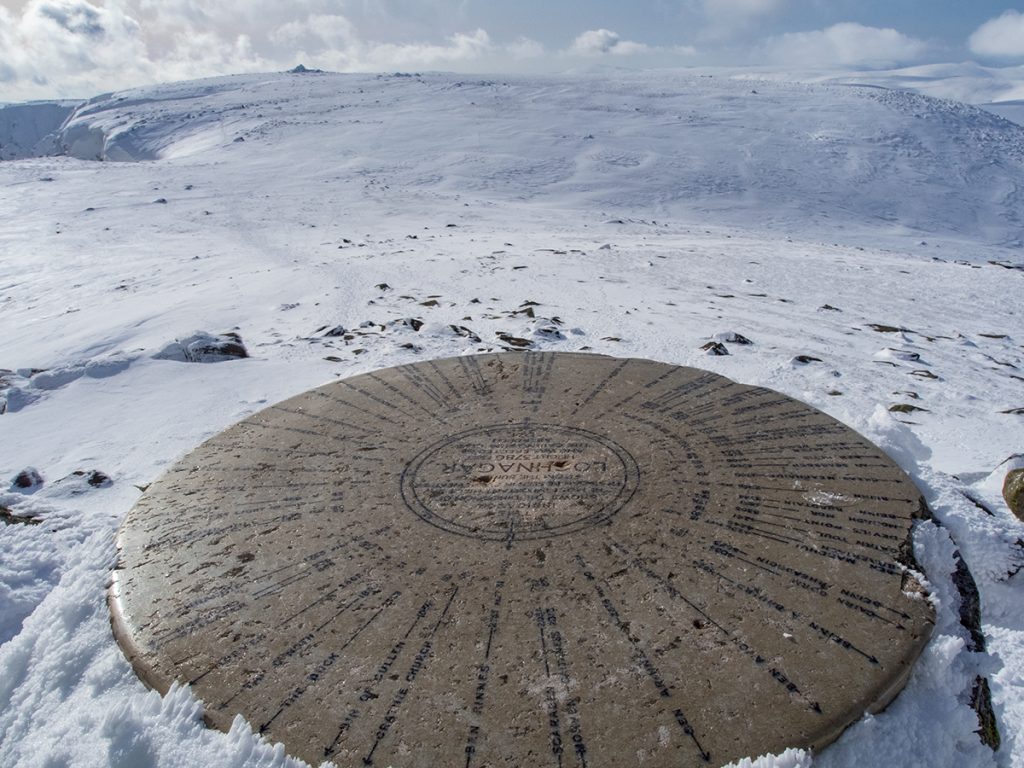 The long white view across the plateau was only broken by cloud shadows rolling up and down the pale curves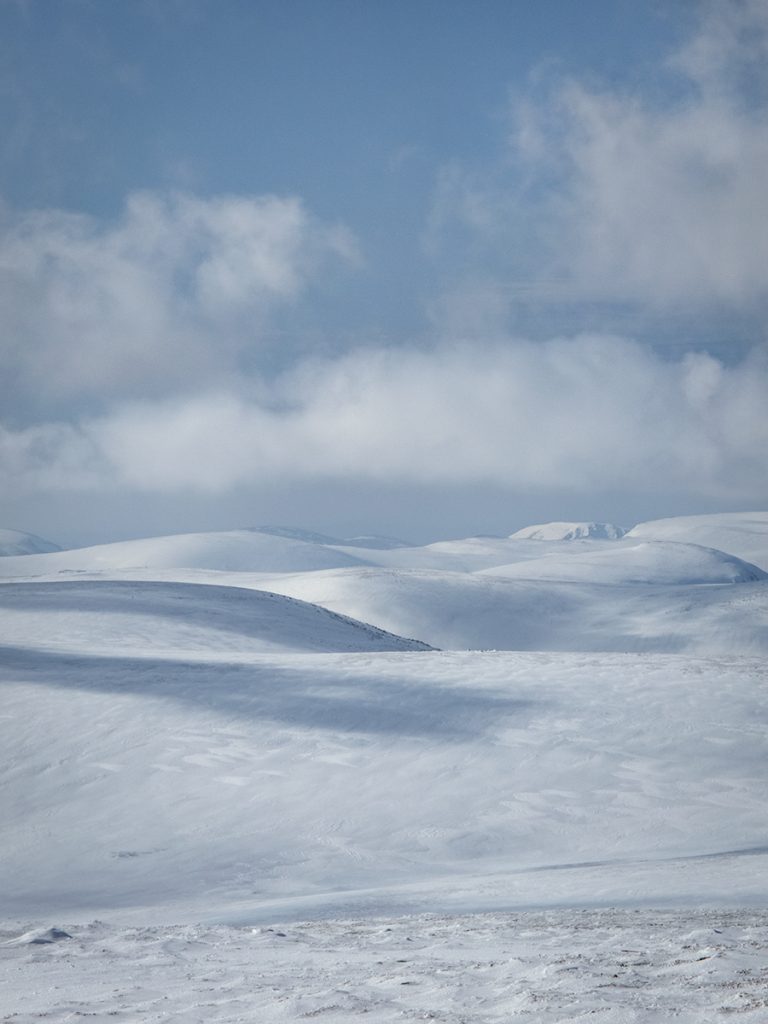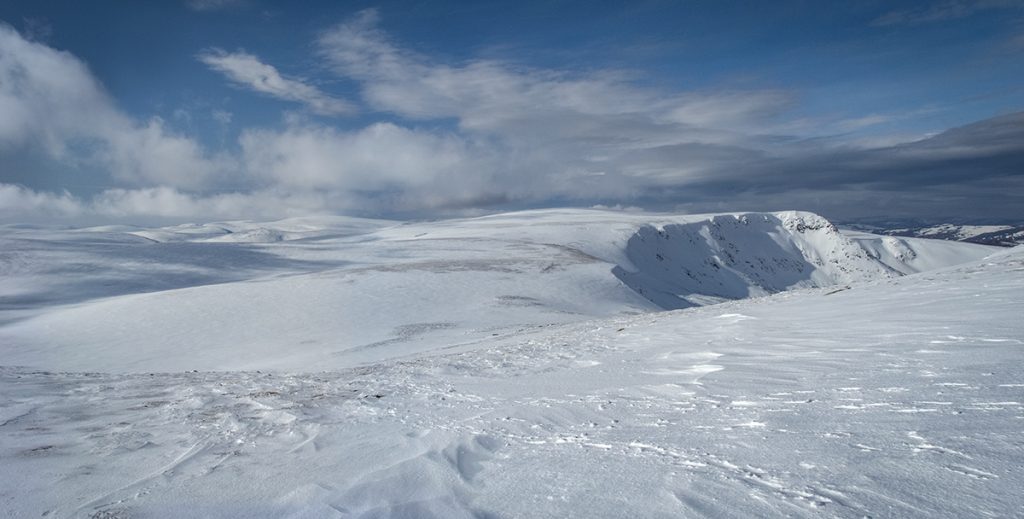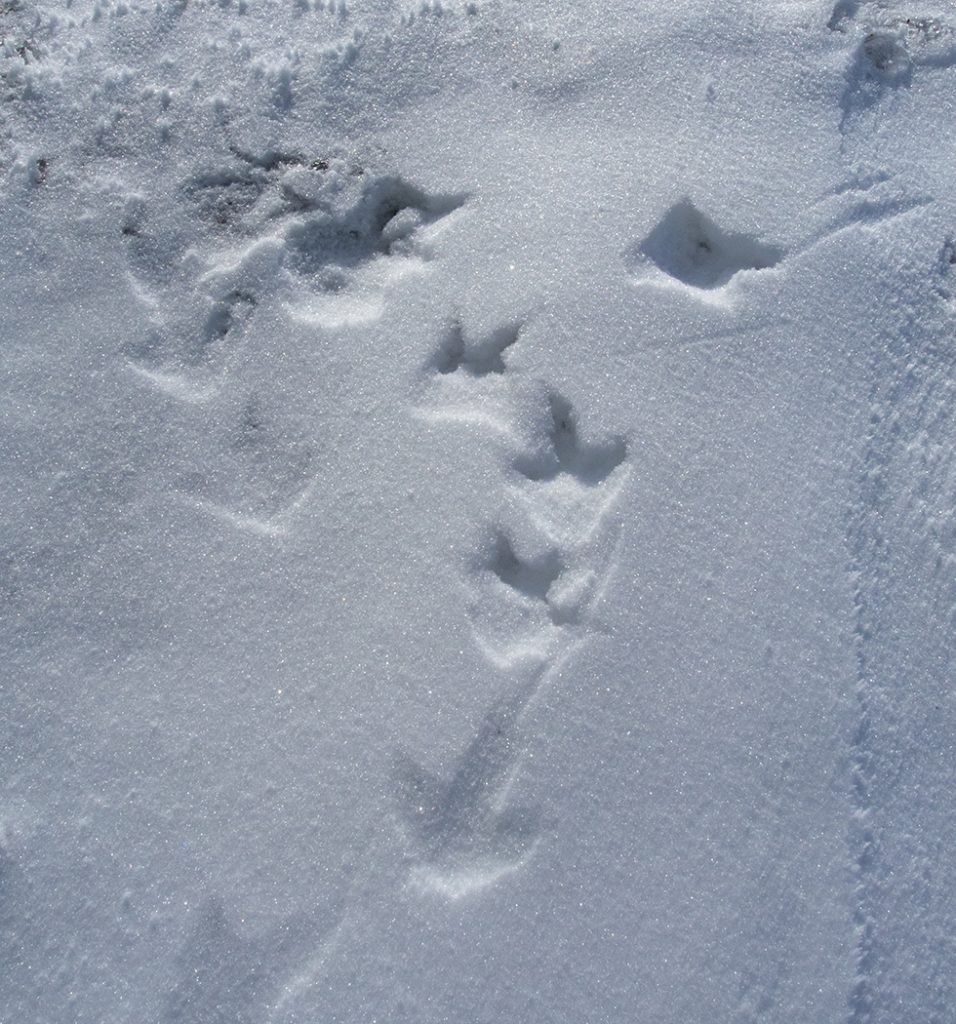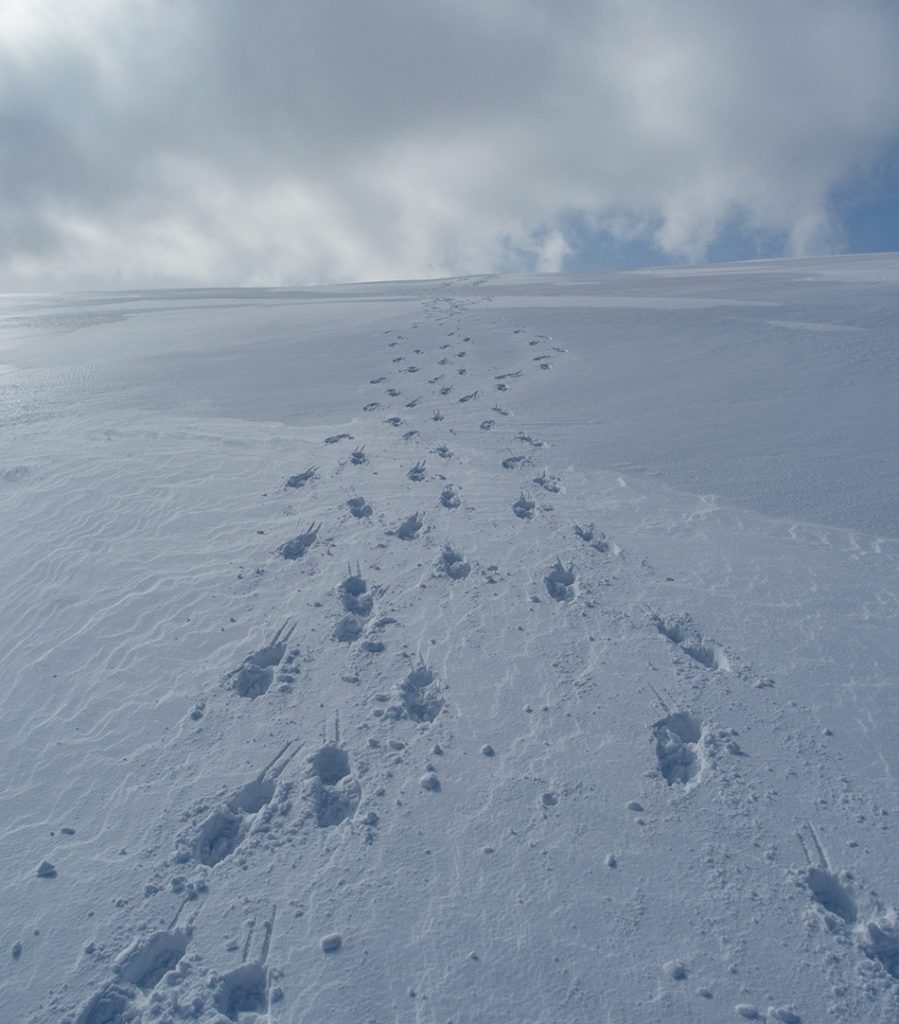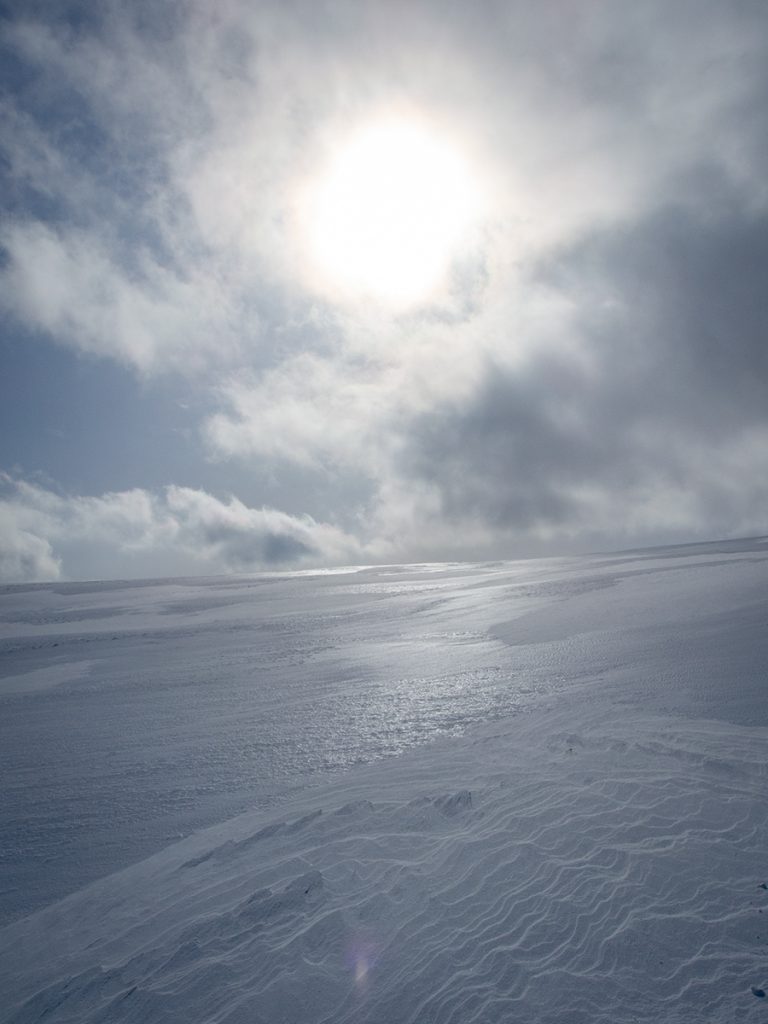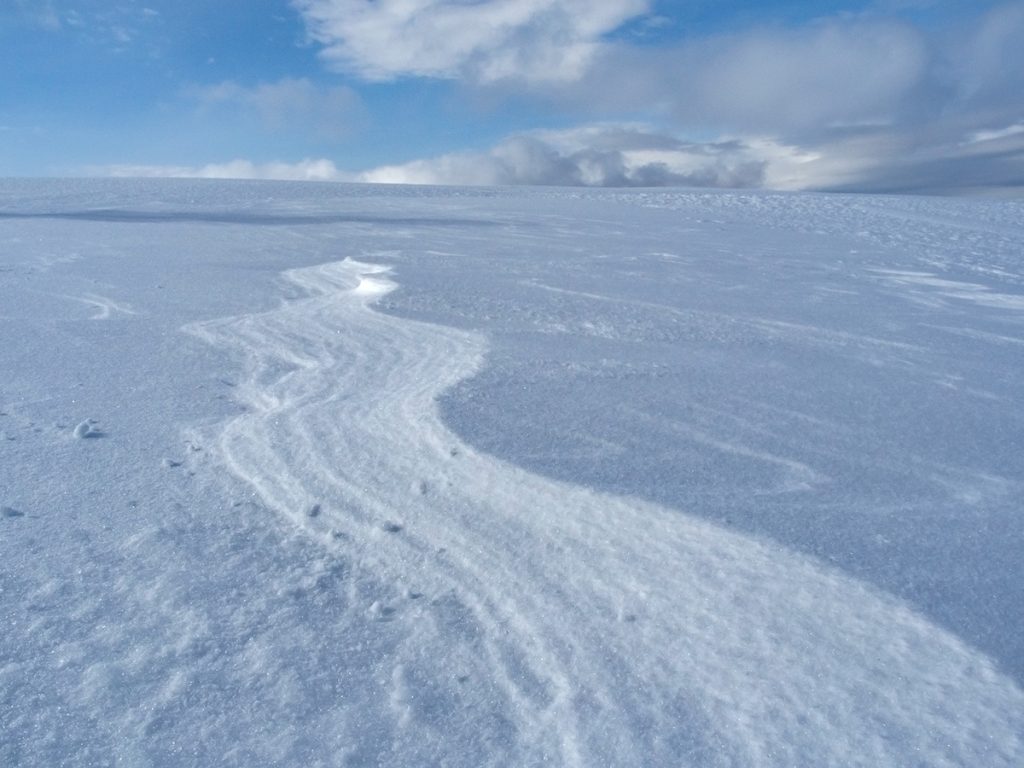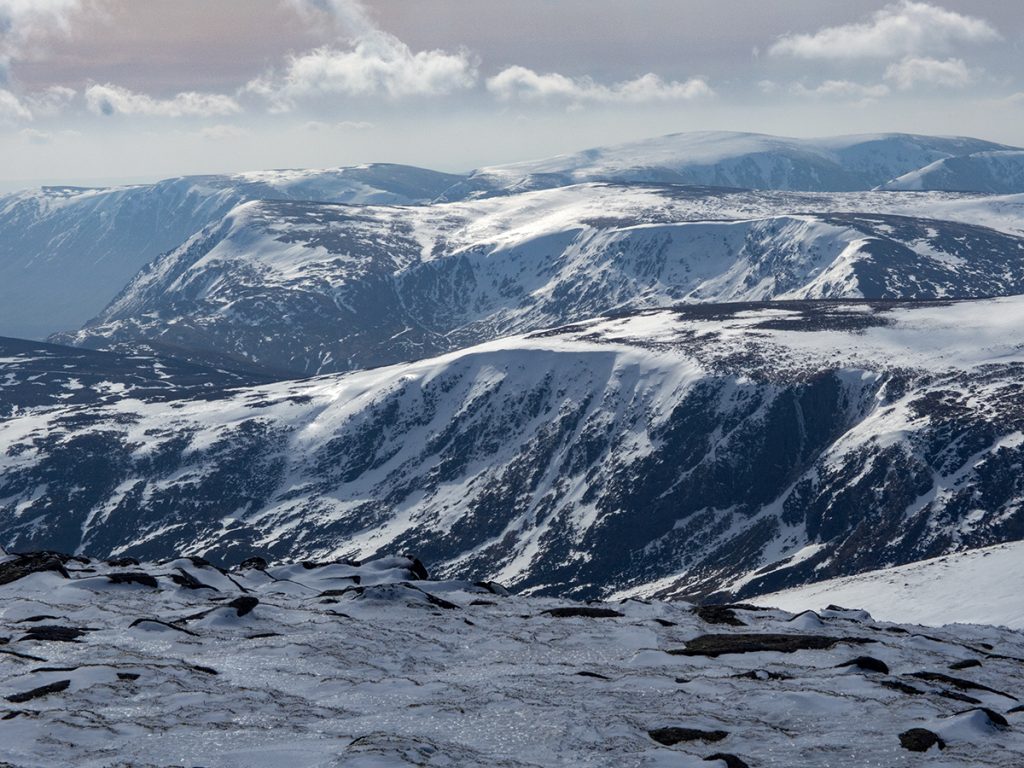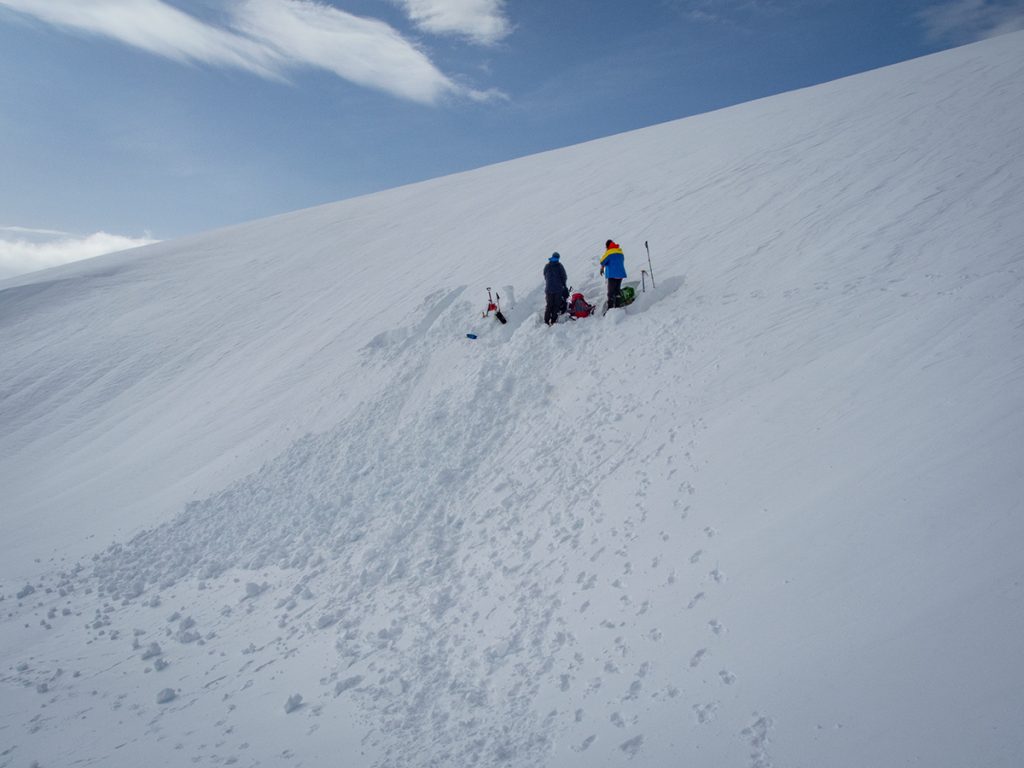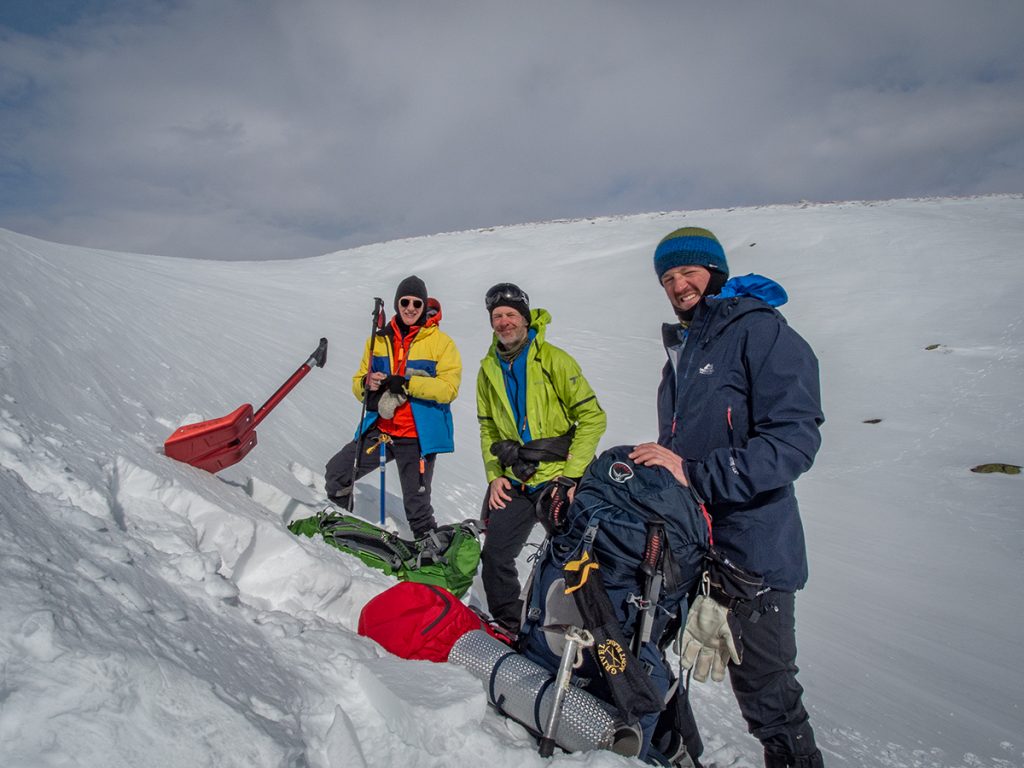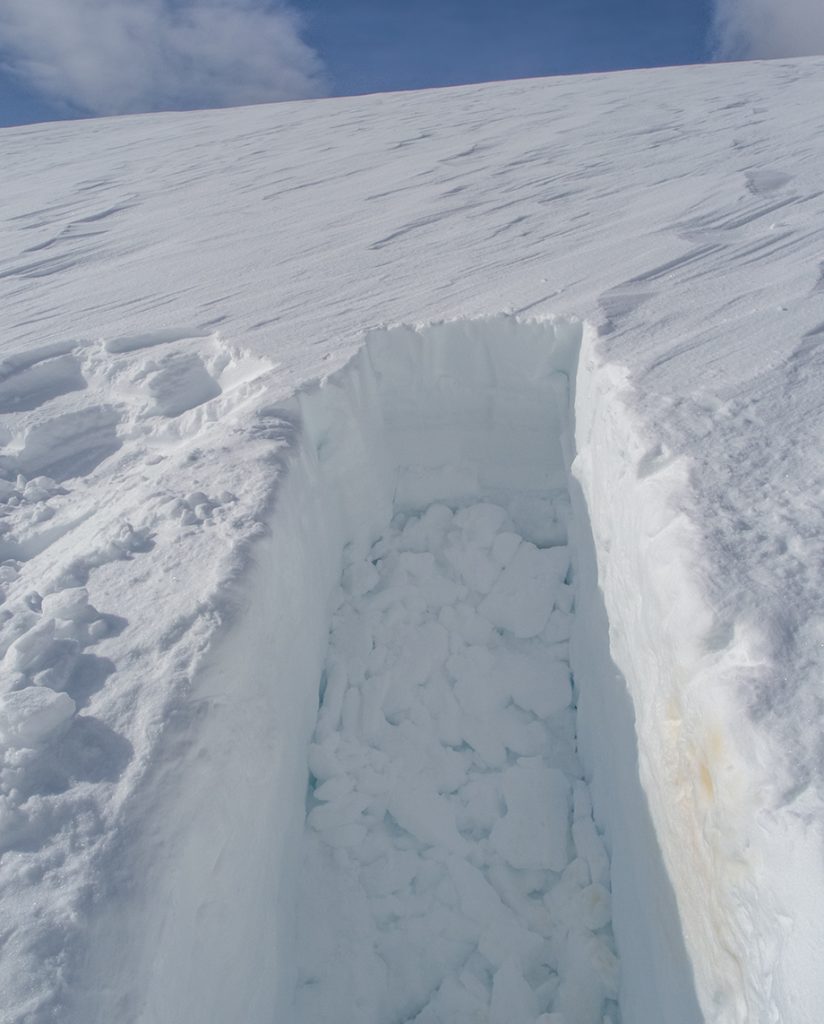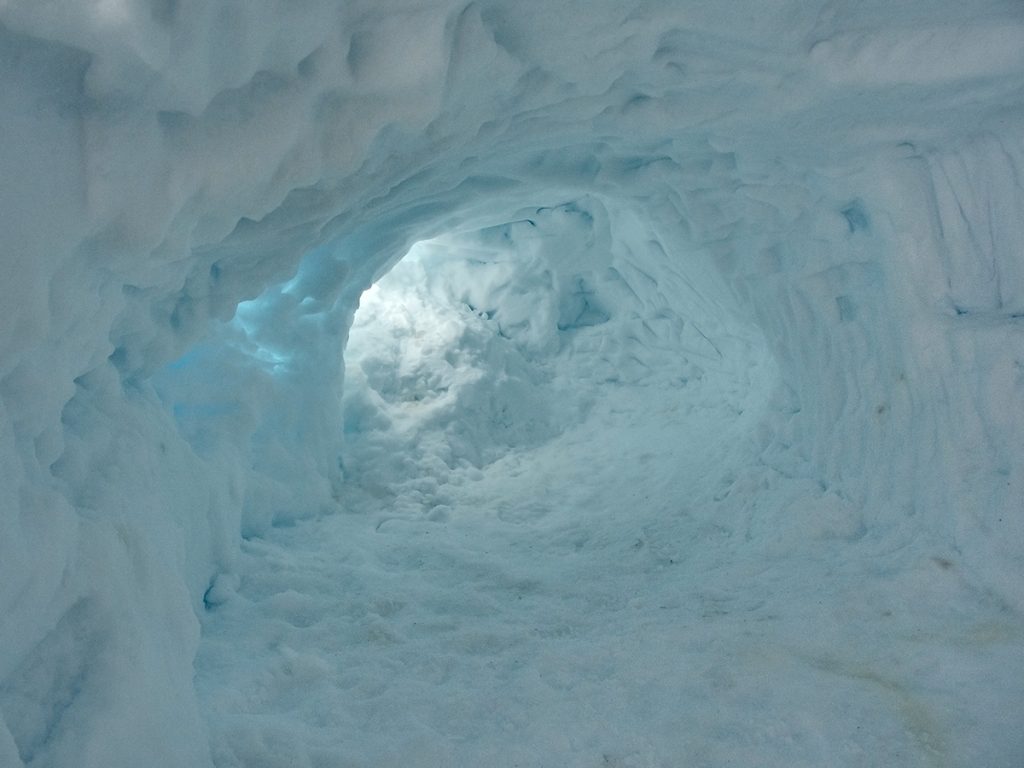 Back at the snowhole we packed up and got our heave on, first a short climb up over our snow bank to take a slight detour to get a view over Dubh Loch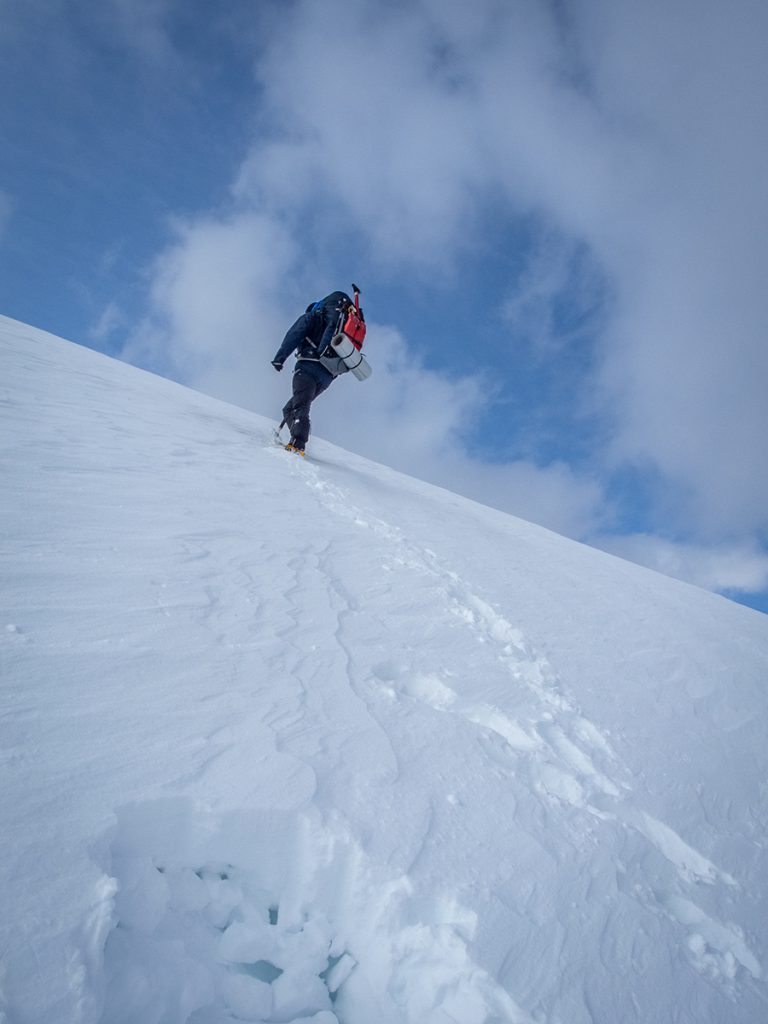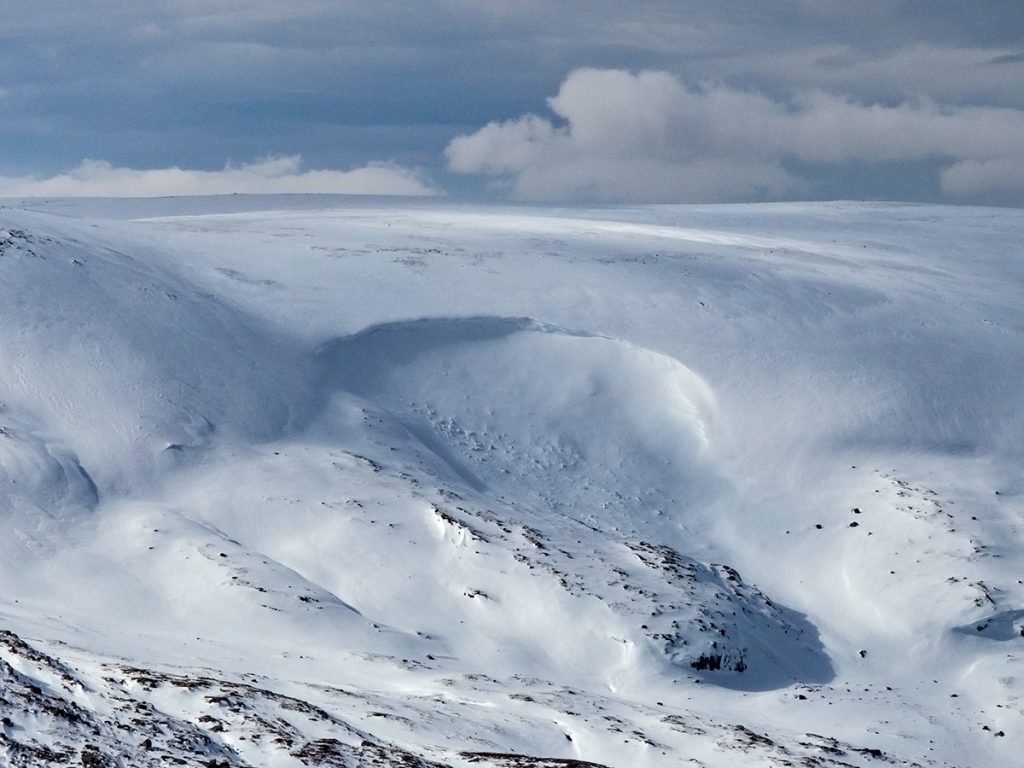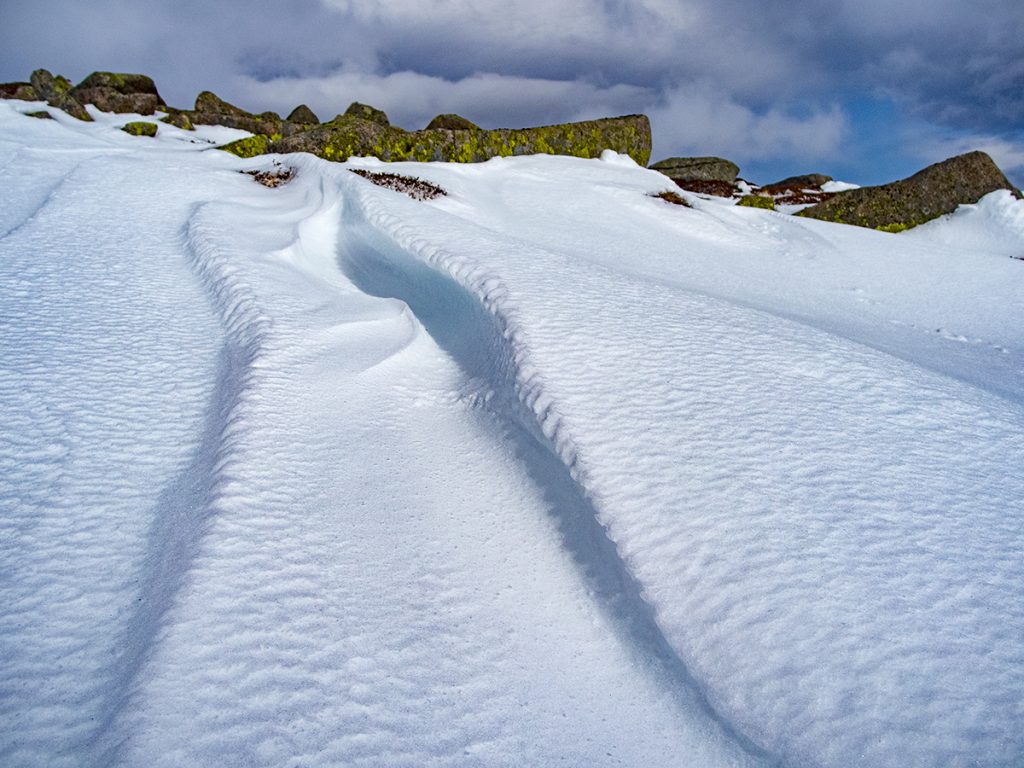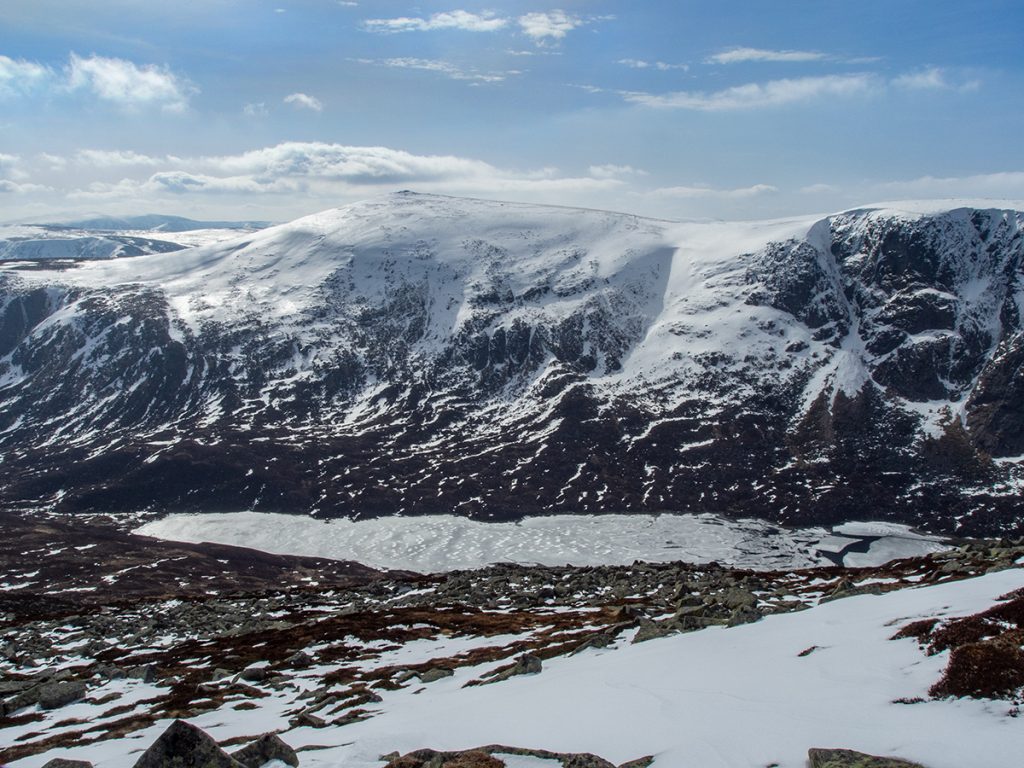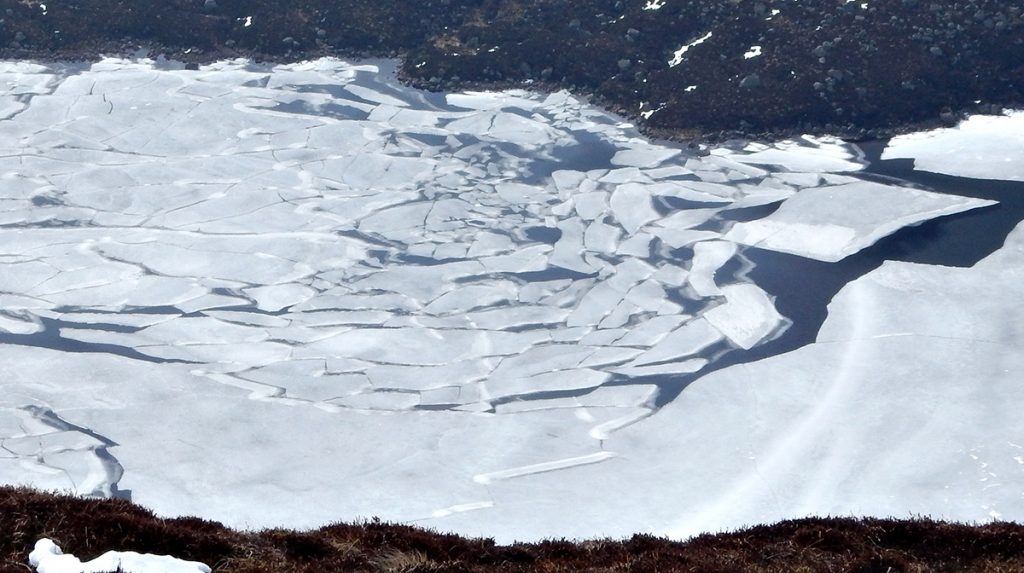 We headed below the snowline ducking in and out of the interesting rock formations above Loch Buidh, and then it was heather bashing down to find the trail.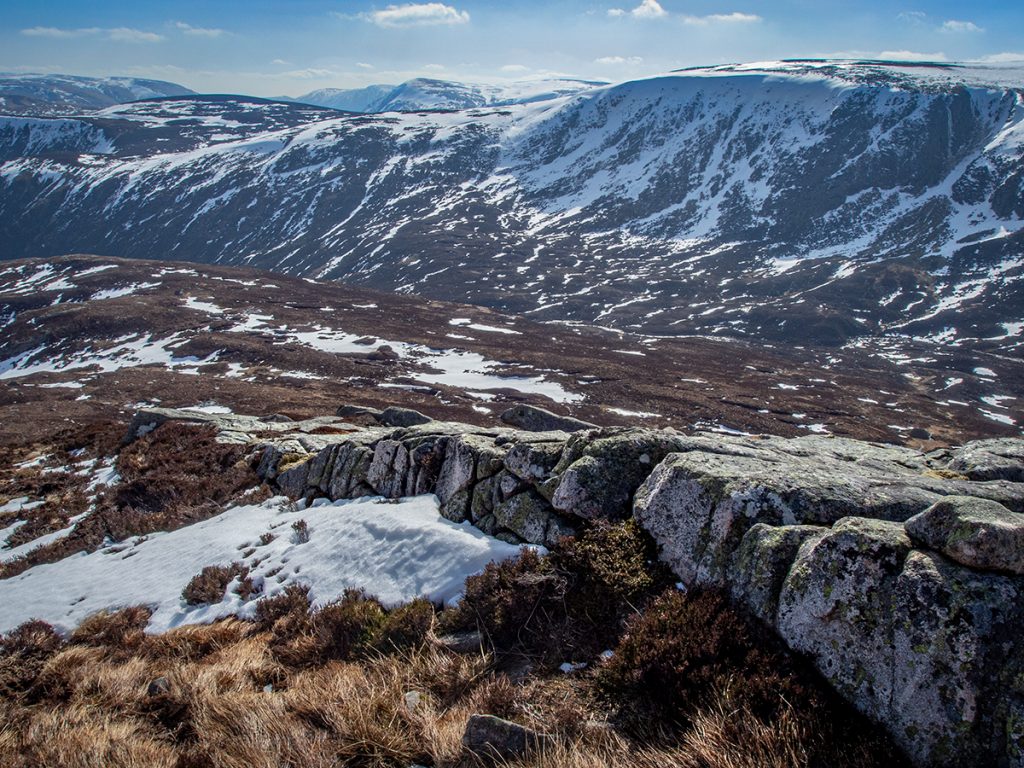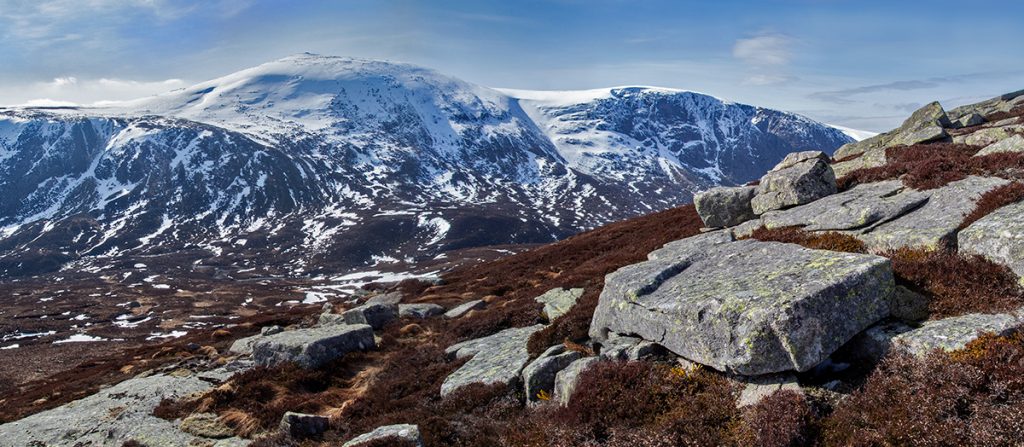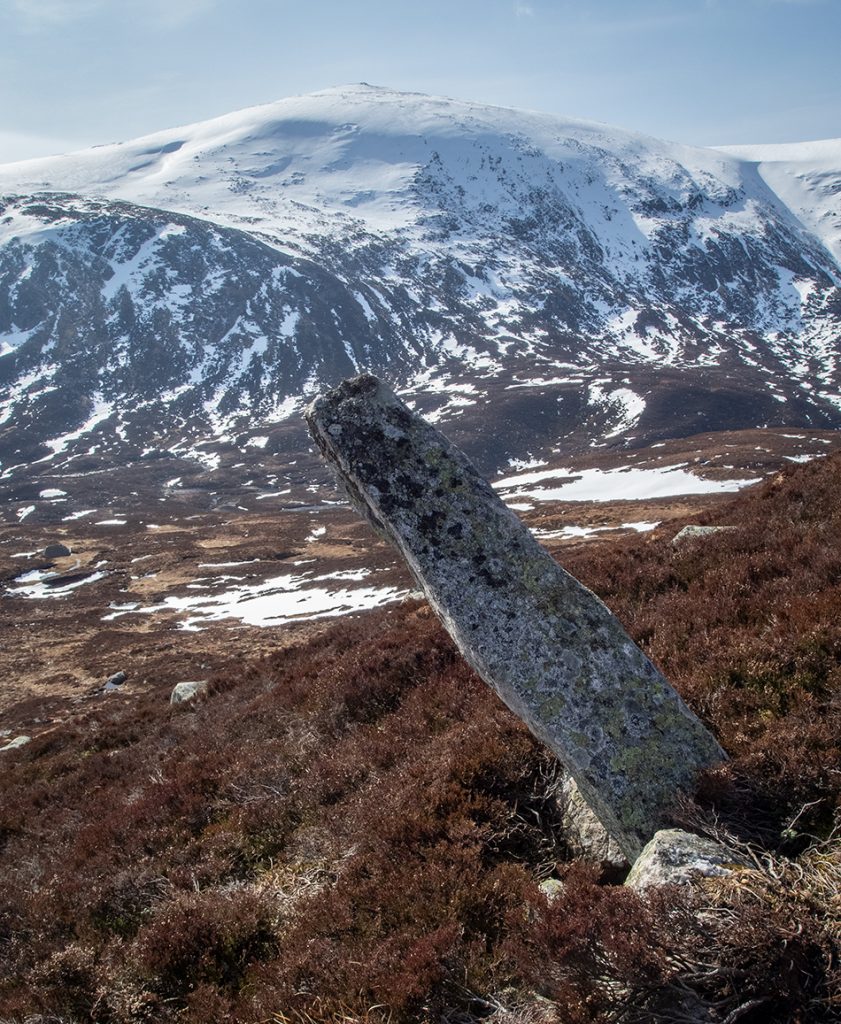 Noticeably warmer on the trail, delayered a bit and took a brief stop at the waterfall. I wondered if the lower part of the falls out of sight behind a mound hid anything interesting, so quickly climbed said mound to see – indeed there's a nice wee pool there – a great location for a paddle on a scorching summer mountain run of the future perhaps.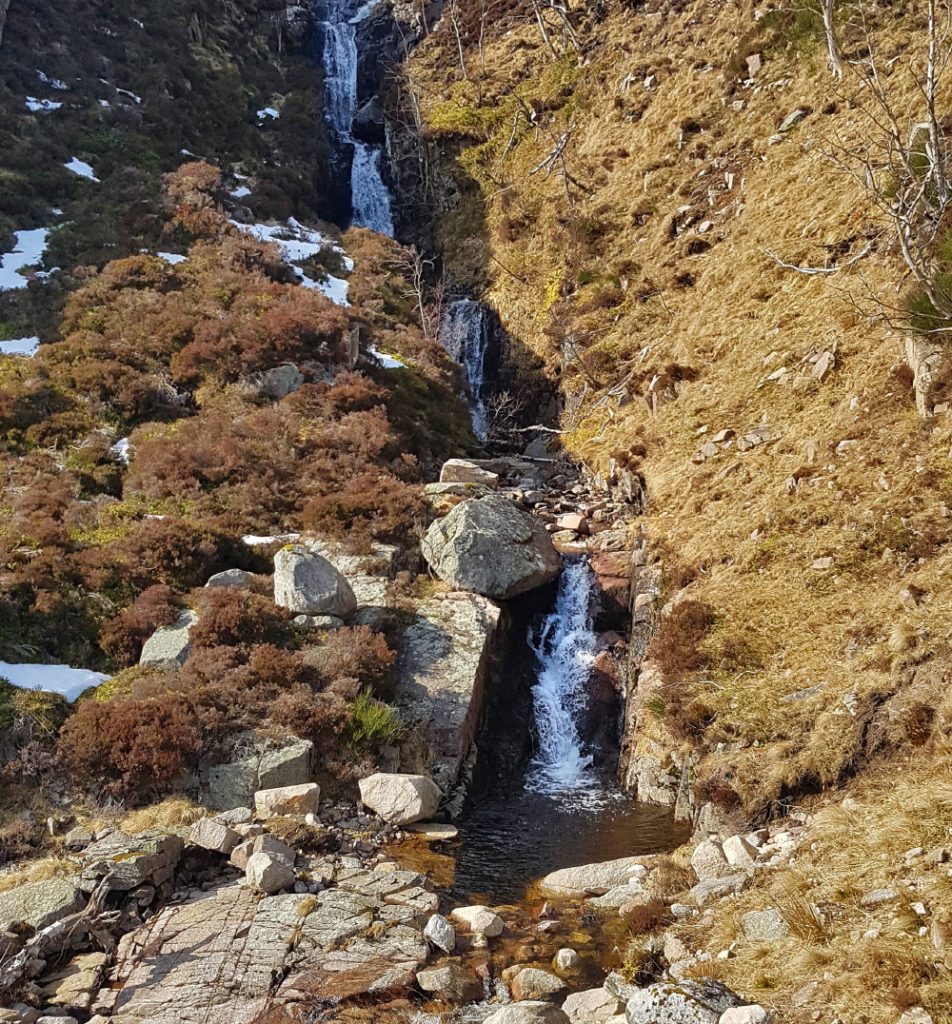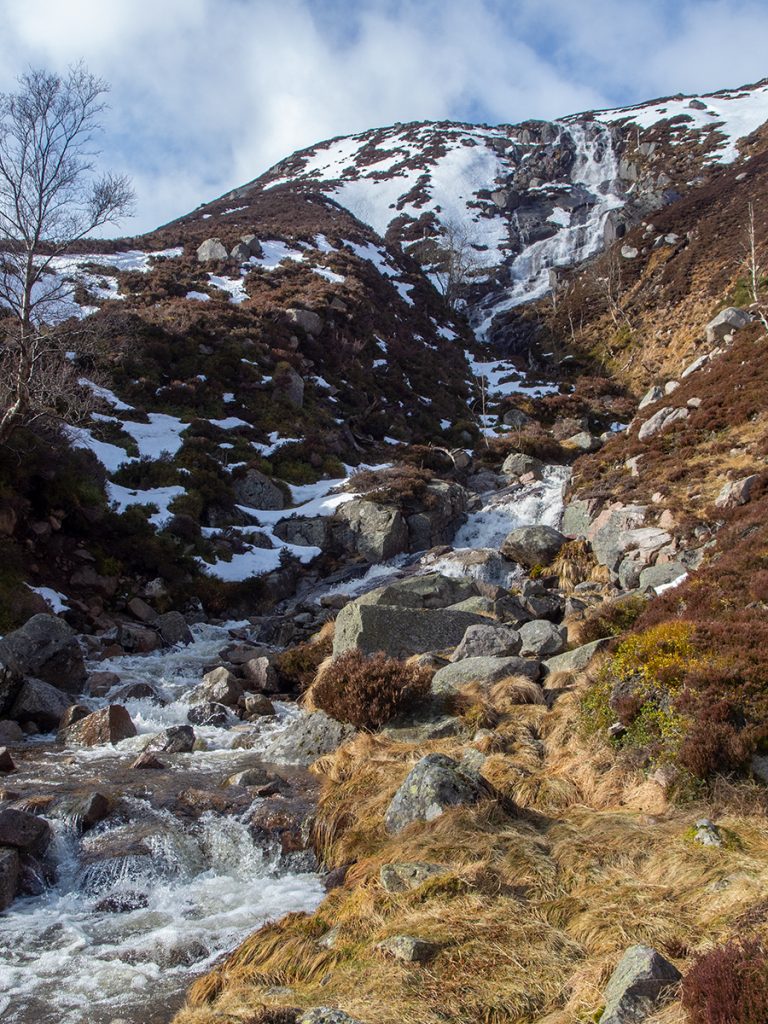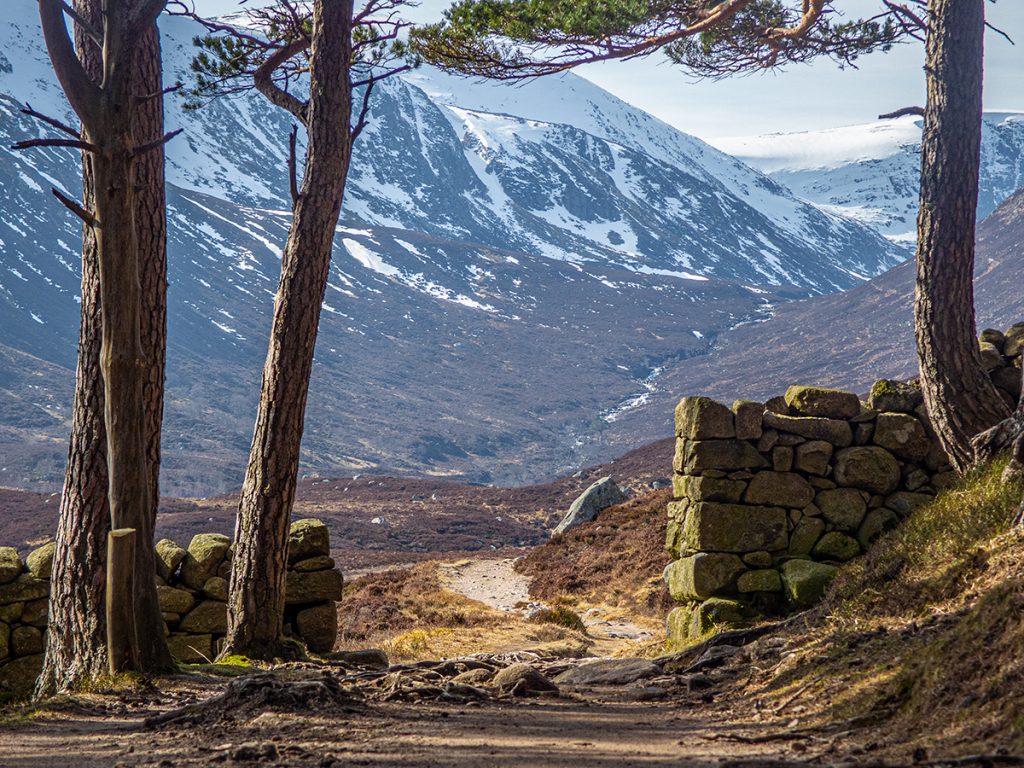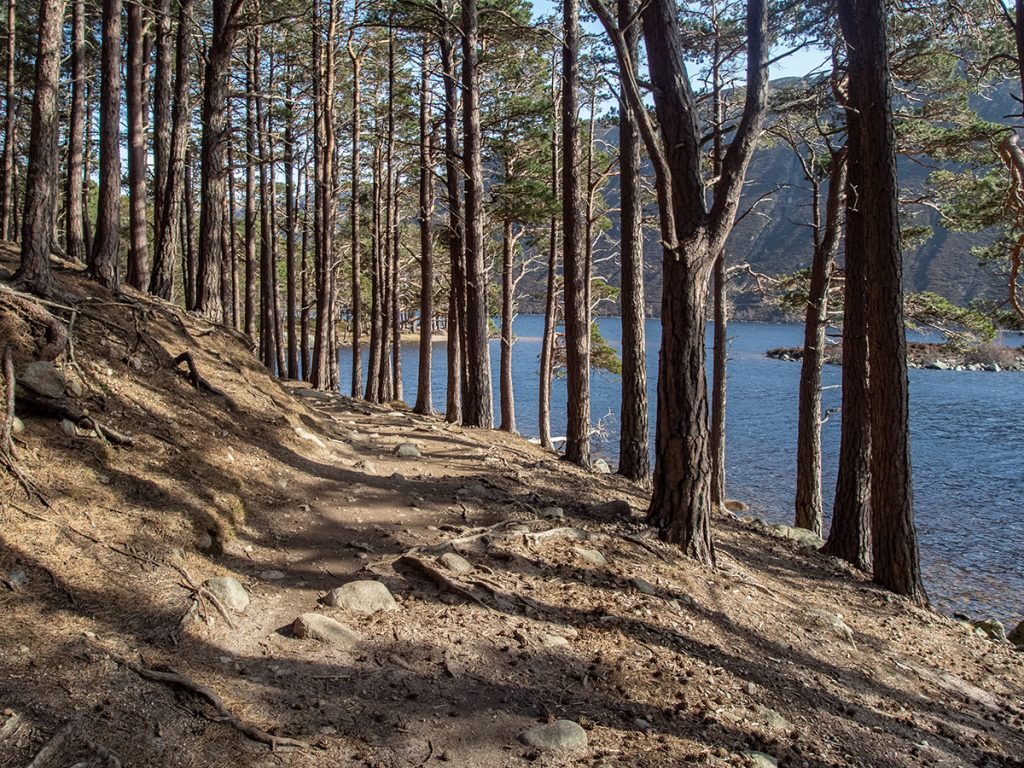 Down at the bothy, it was almost summery, and a lot of folk were out for a stroll. The day-trippers must have wondered what these odd fellows were doing with ice-axes and large rucksacks. It's always a trudge out along the loch, but at least it was sunny.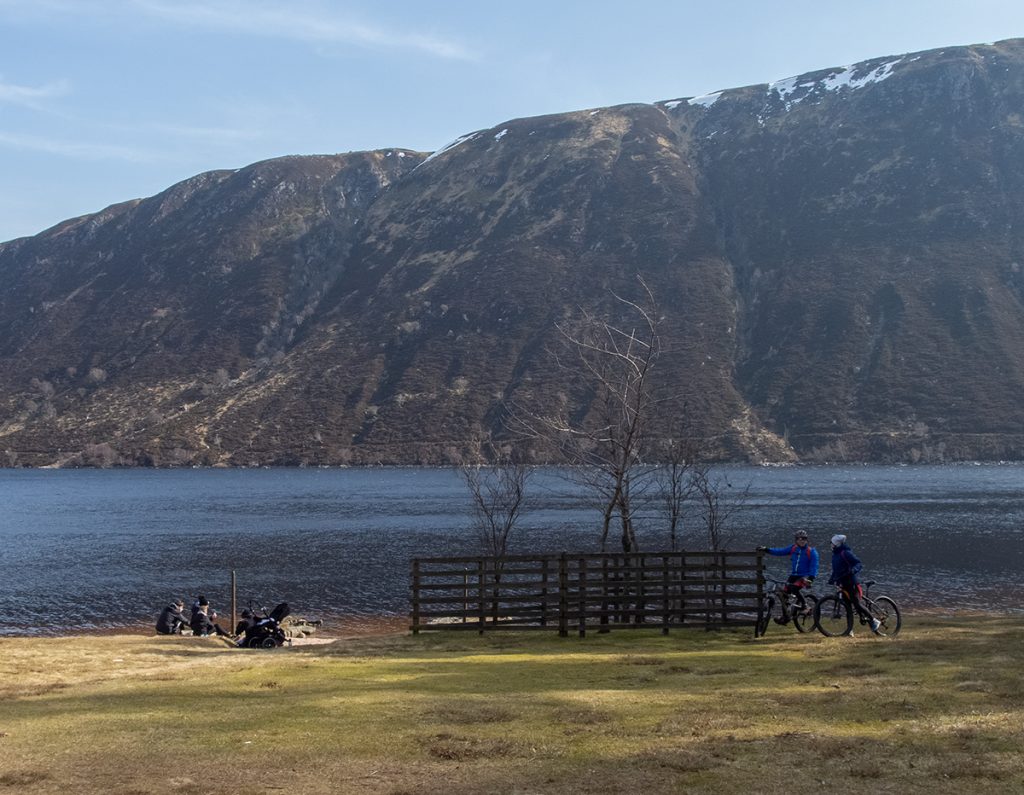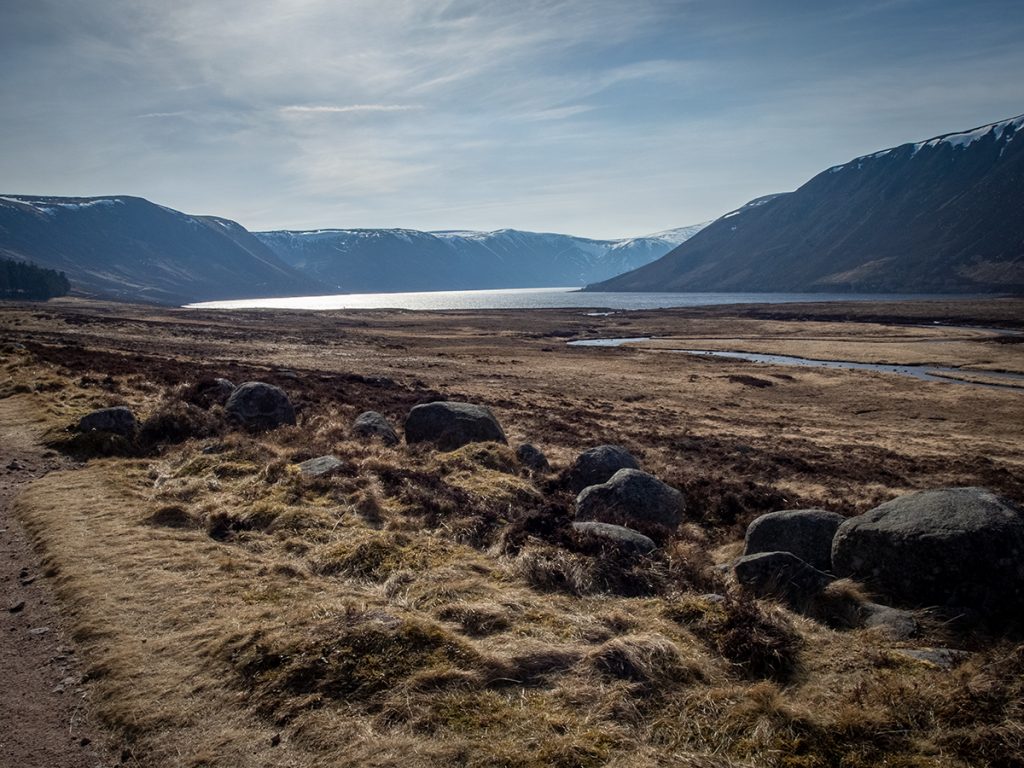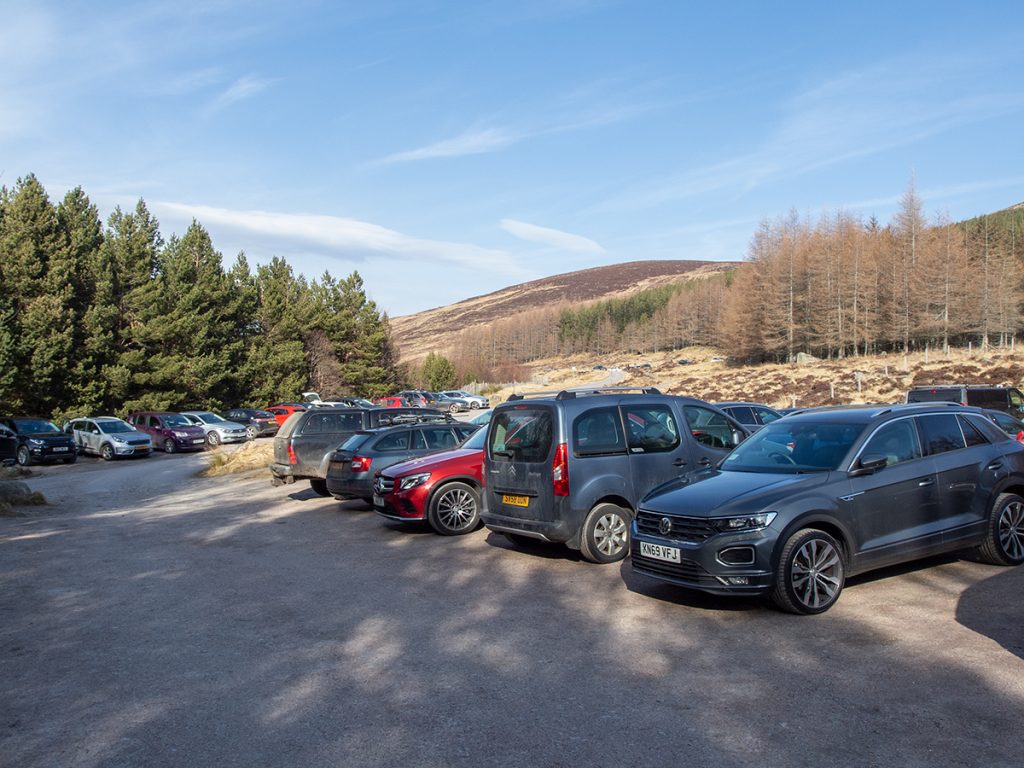 Back at the rammed car-park, the police arrived and were enquiring; they'd been sent to investigate gatherings, which warned that something was afoot: lockdown was imminent. 2 days later, it was enacted, and adventures were put on hold for the foreseeable future. I was glad to have signed off with a worthy trip into the mountains, I'd likely not now see the snow-capped peaks of the Cairngorms until next winter.
Things to ponder from this trip:
It's a lot of work to build a cave from scratch in one go, perhaps we should have started excavation on the recce trip.
Alternatively, make the trip a couple nights (maybe bothy it first night) to make it more worthwhile/ less 'excavating all day'.
Need to be more careful about getting too sweaty.
I wonder if it's possible to construct half cave/ half igloo? Hard to get everybody involved while still making initial tunnels as no space to work
'Ignite' hand warmers earlier. Must take spare base and gloves.
Make sure everybody has sufficient kit: extra saw, proper mat.