I'd been on the Cairgorm Club's annual snowholing trip previously, but we'd not made a snowhole having not had enough snow depth, but it was useful practice in extreme camping. I hoped for second time 'lucky' – who doesn't want to spend a night deep in the mountains in sub zero conditions, buried 'snugly' under 'ground'?
This trip had had a bit of reconnoitering occurring in the weekends leading up to the date, and some 'inside' info from winter-skills teachers who'd been out, so the 7 of us thought it possible to find deep snow.
We headed off the short but steep climb up Cairn Gorm from the Coire Ciste car park, heavily loaded as a winter night out demands, but also with snow-shovels, saws, and fuel for our plan-B (head to Faindouran bothy)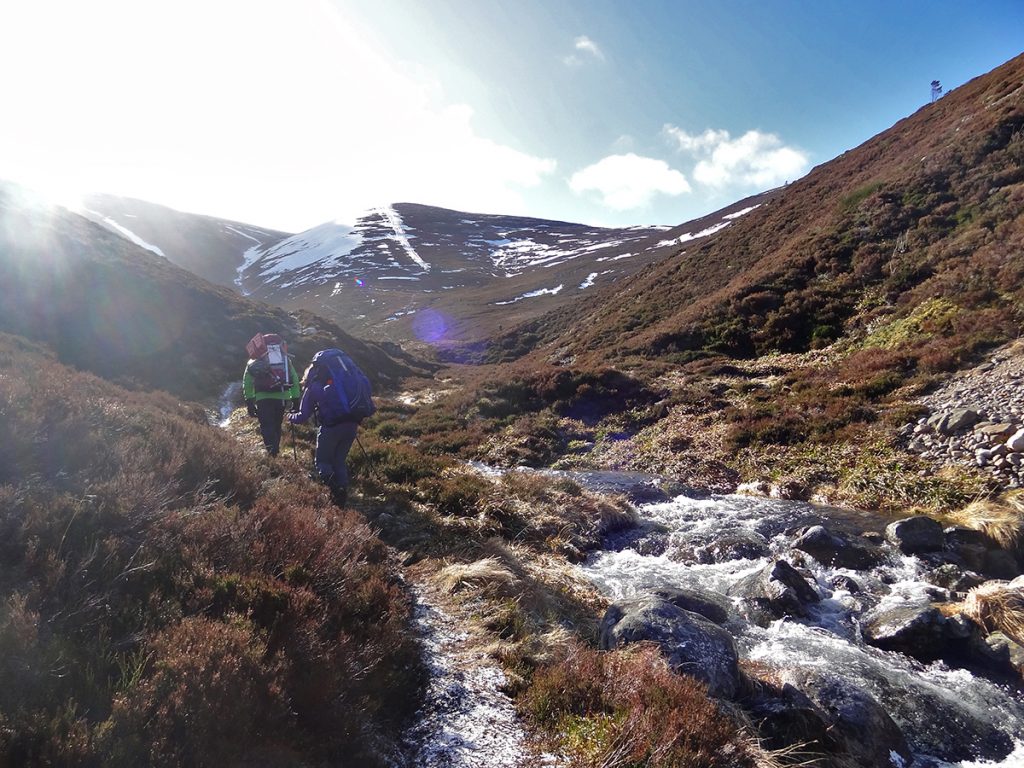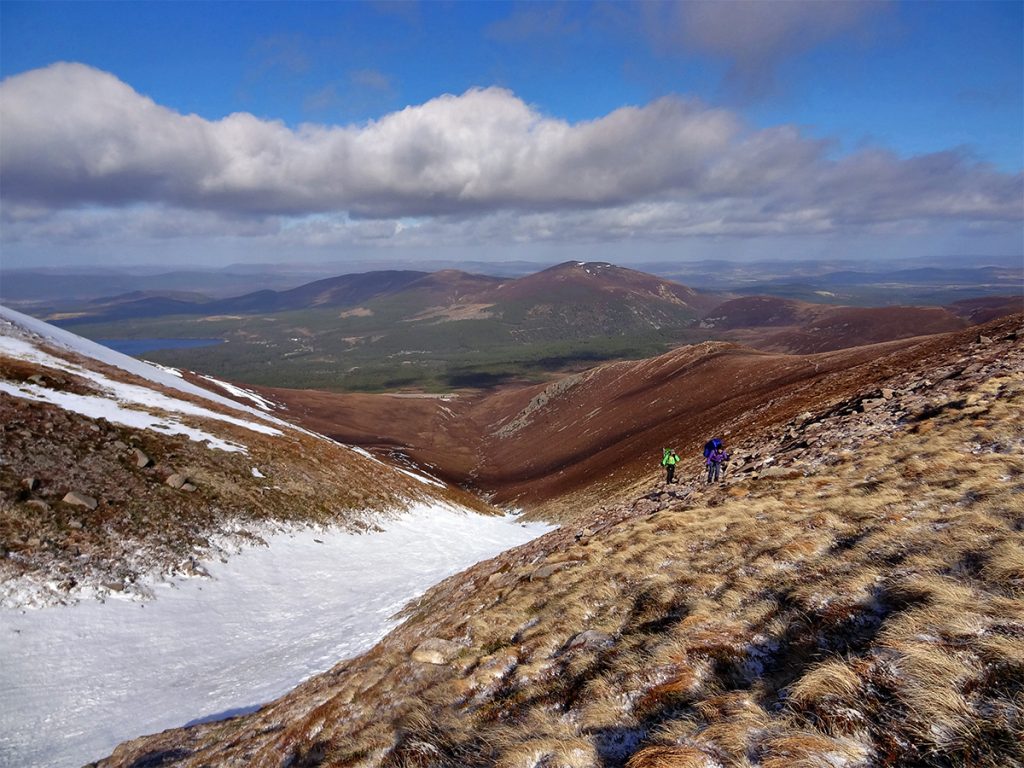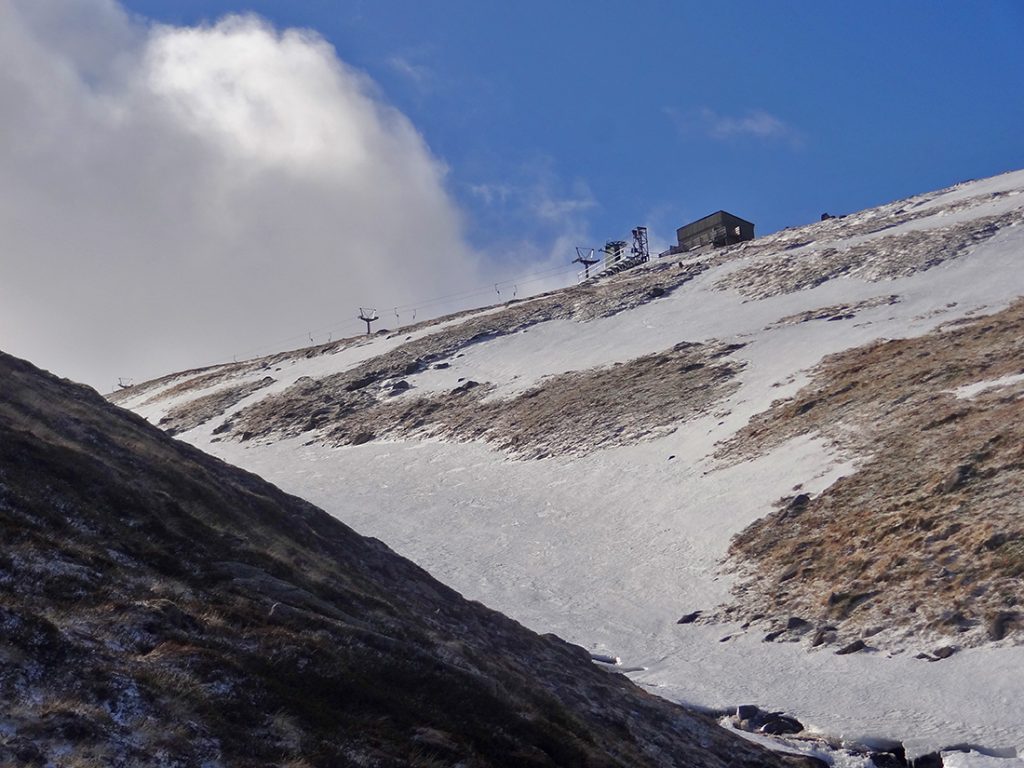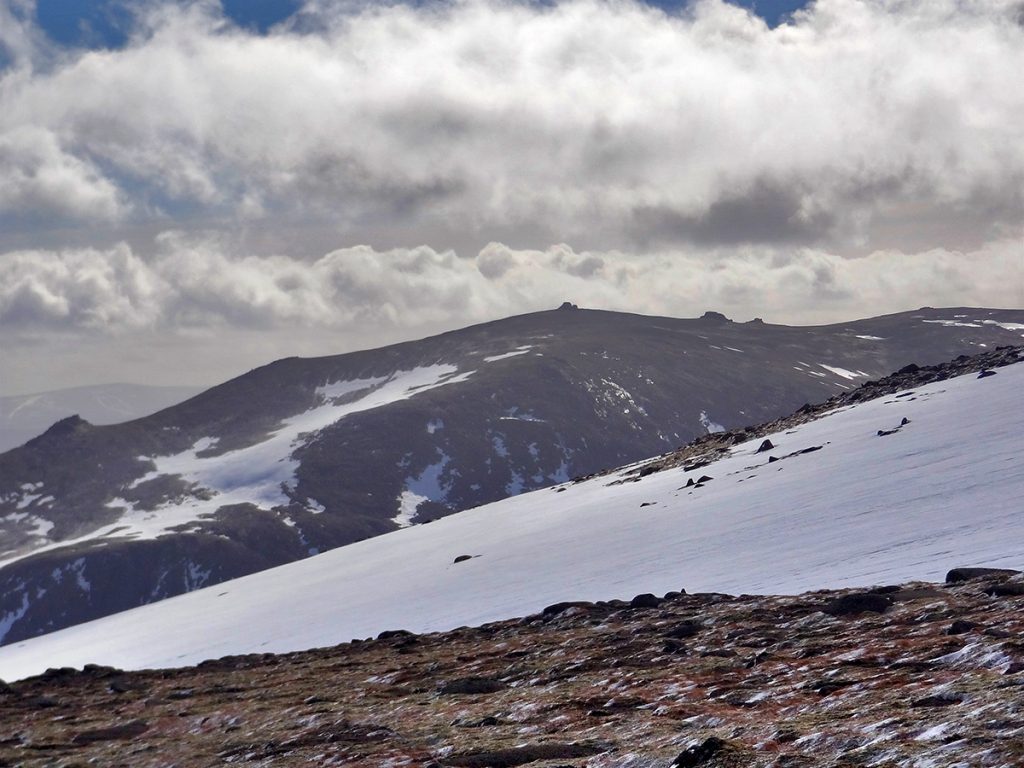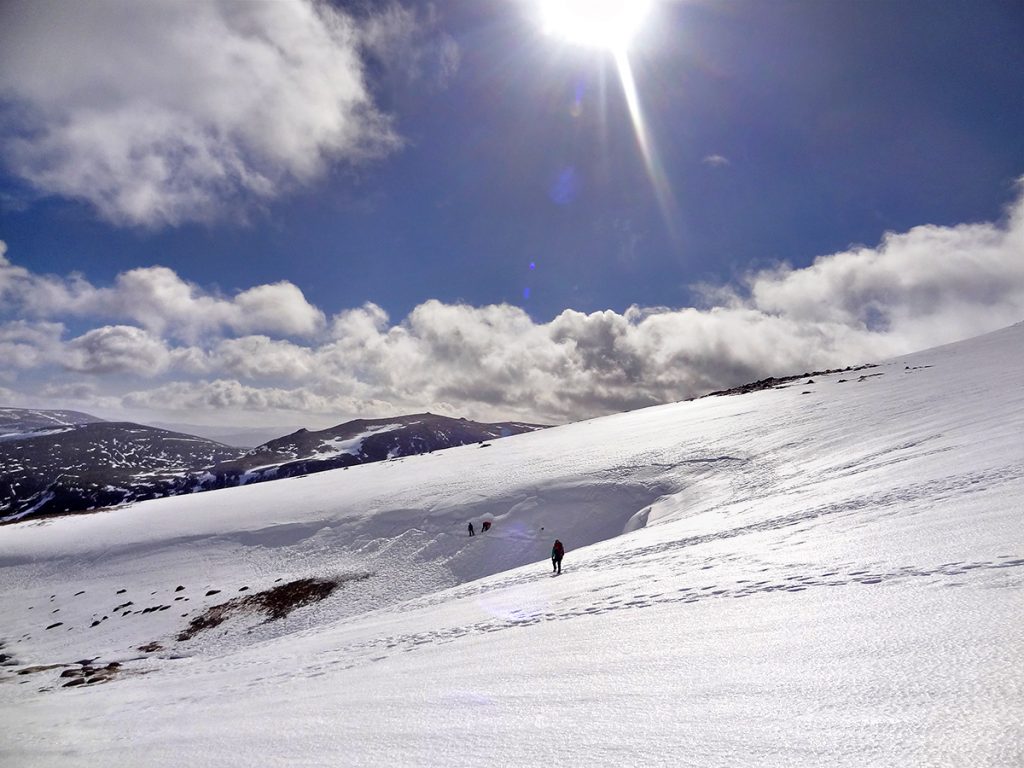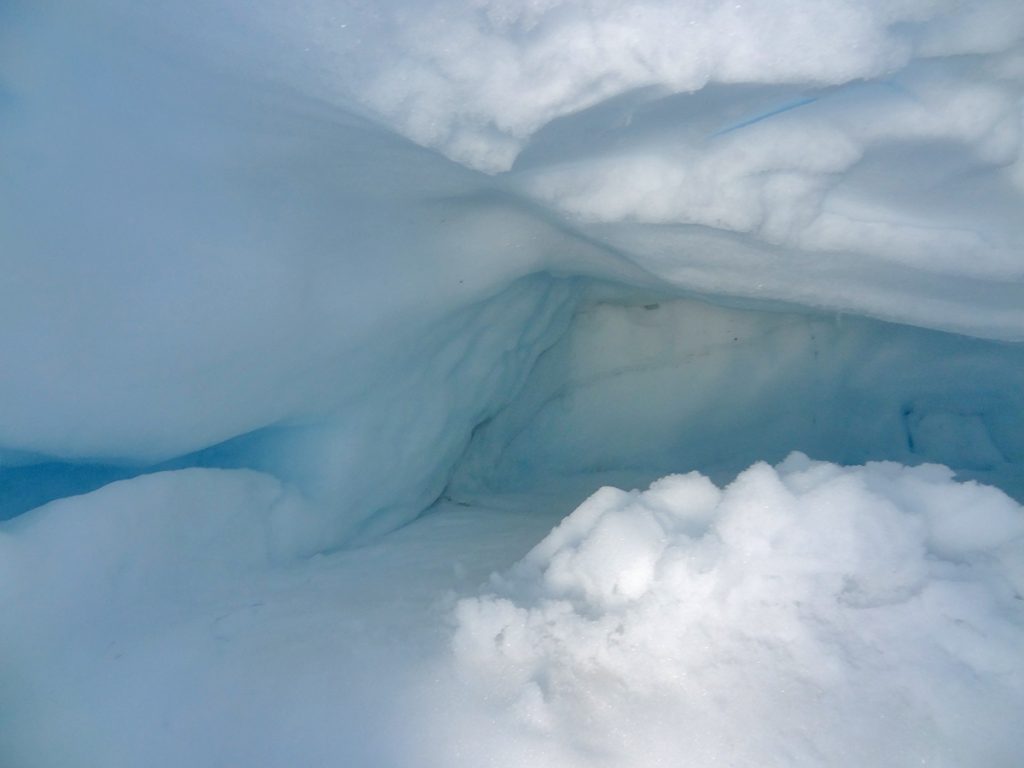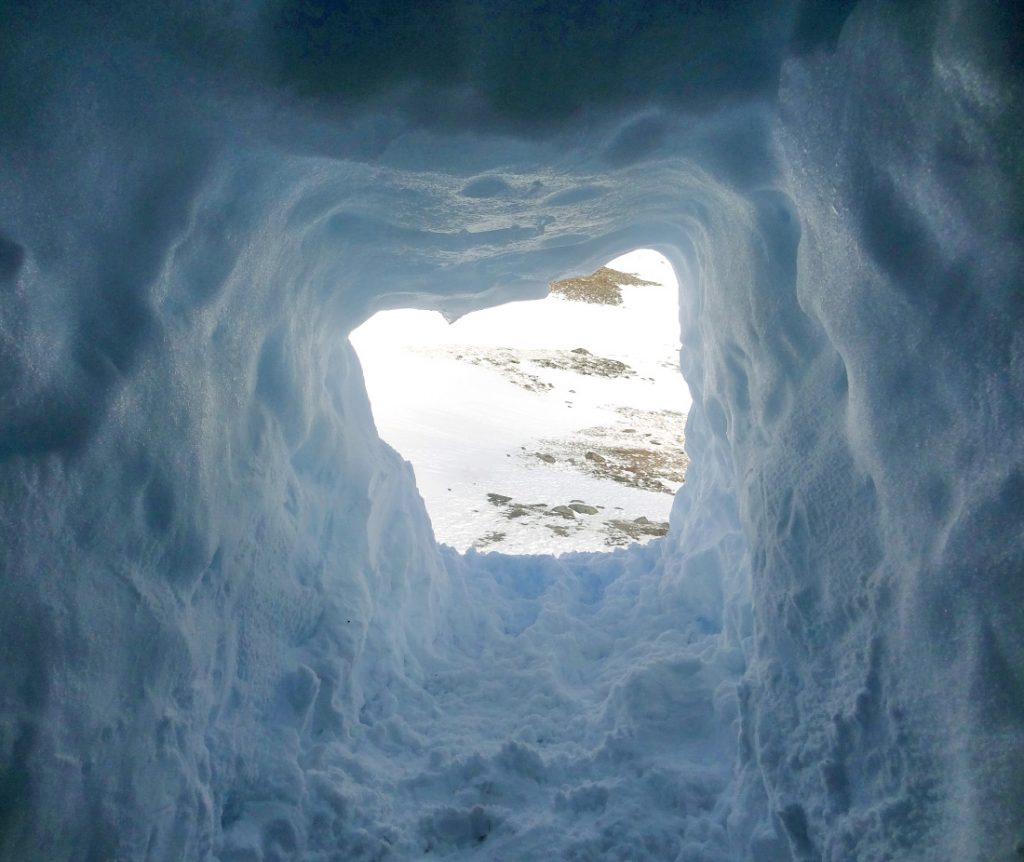 Snow shovels deployed, we have at it. We split into two groups, mine is just the two of us, the other 4. One chap is going to pitch tent. Excavating is really good fun, the snow is just right in texture, and after digging out the tunnel, move on to creating 2 raised platforms either side, and creating more height in the main chamber.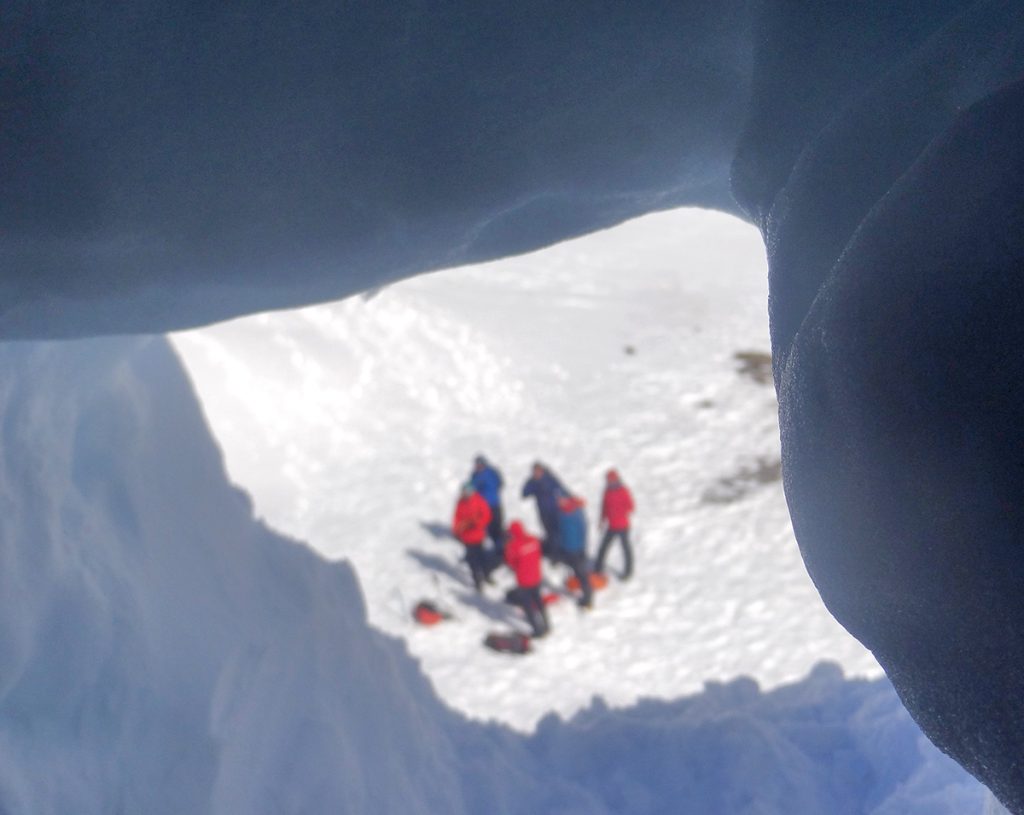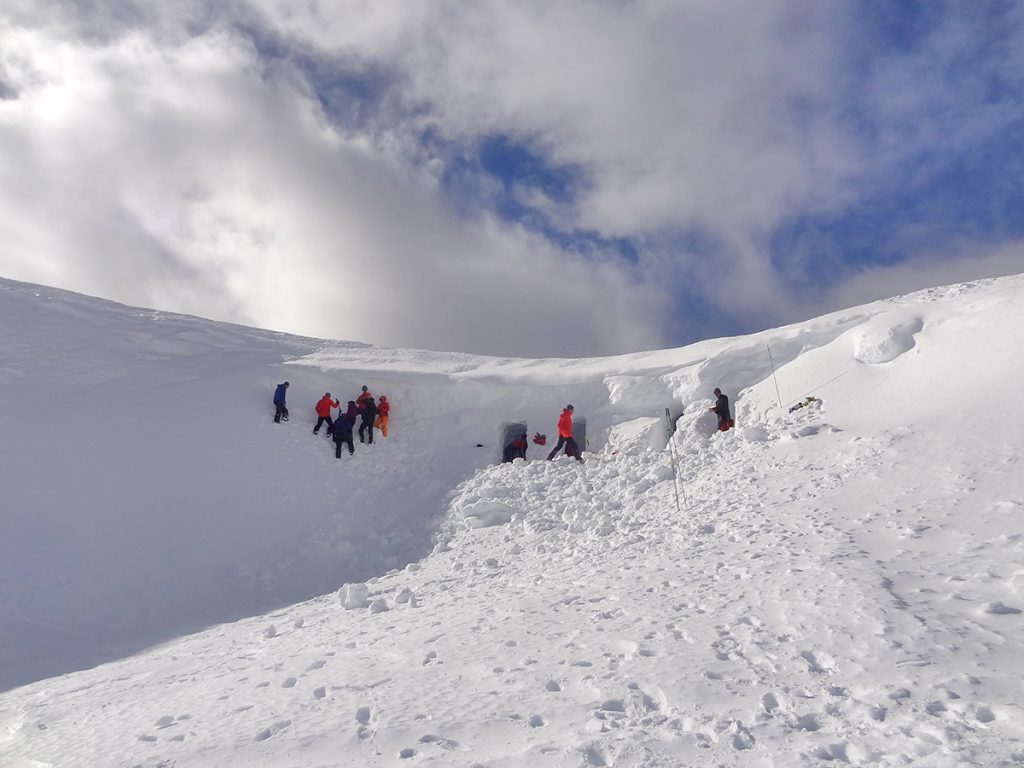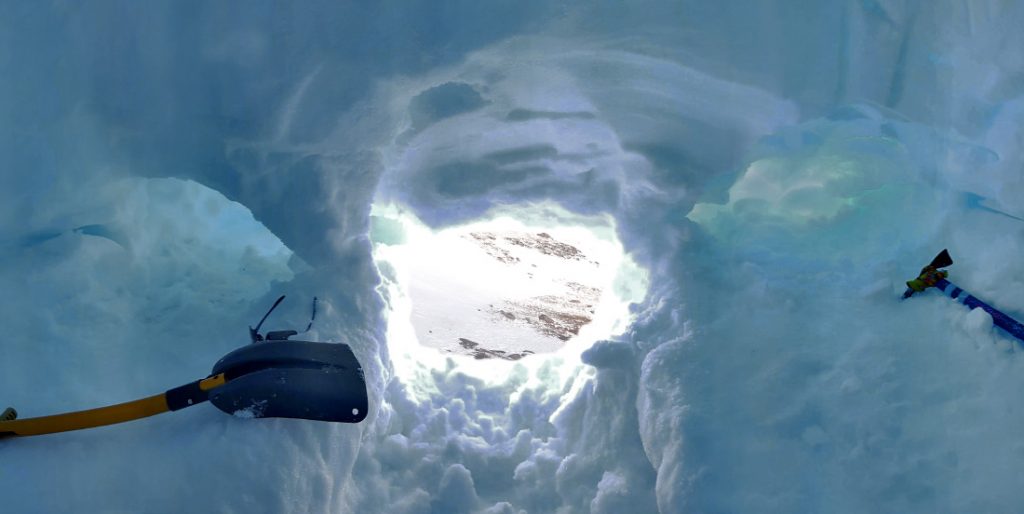 I'd been a bit worried that the hole might be a bit claustrophobic, but right now it's a joy to be in, glowing blue and surprisingly 'warm' from both the digging effort and shelter from the wind chill. Also very quiet. The game is on and everybody is happy to stay here tonight and abandon the trip to the bothy.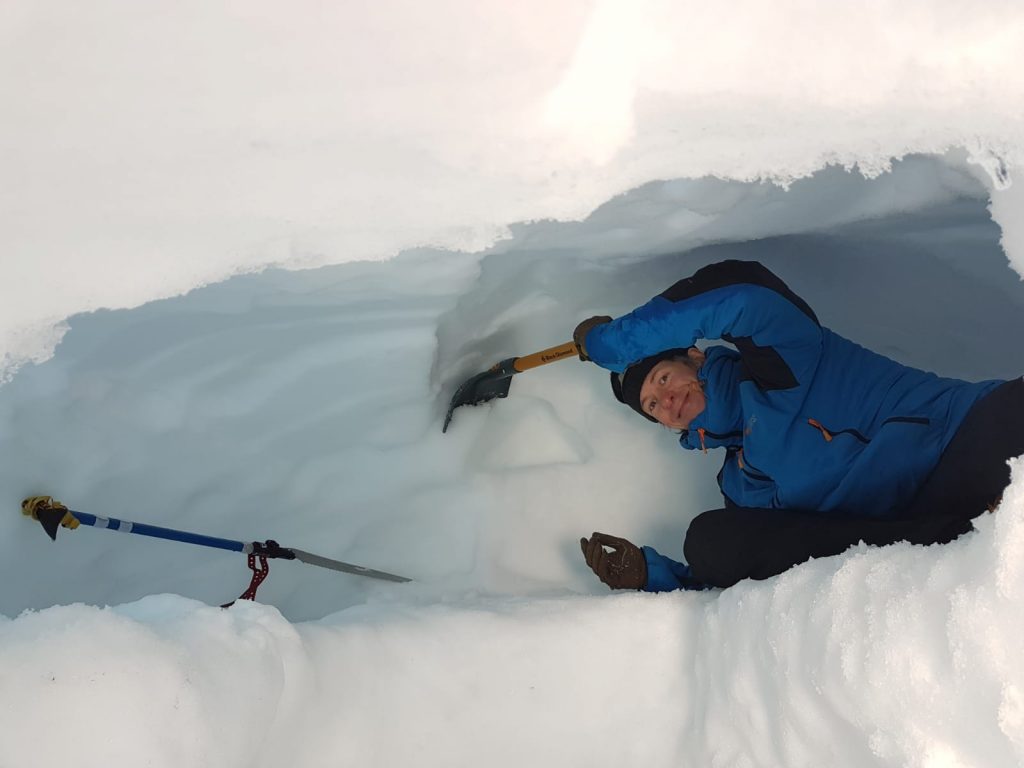 I have a nosey in the other half's hole, and am unconvinced with their different build strategy. They've not bothered creating more headroom, they're going to sleep head towards the entrance tunnel, crammed in like sardines with the snow a foot above their head. I definitely prefer my more palatial accommodation.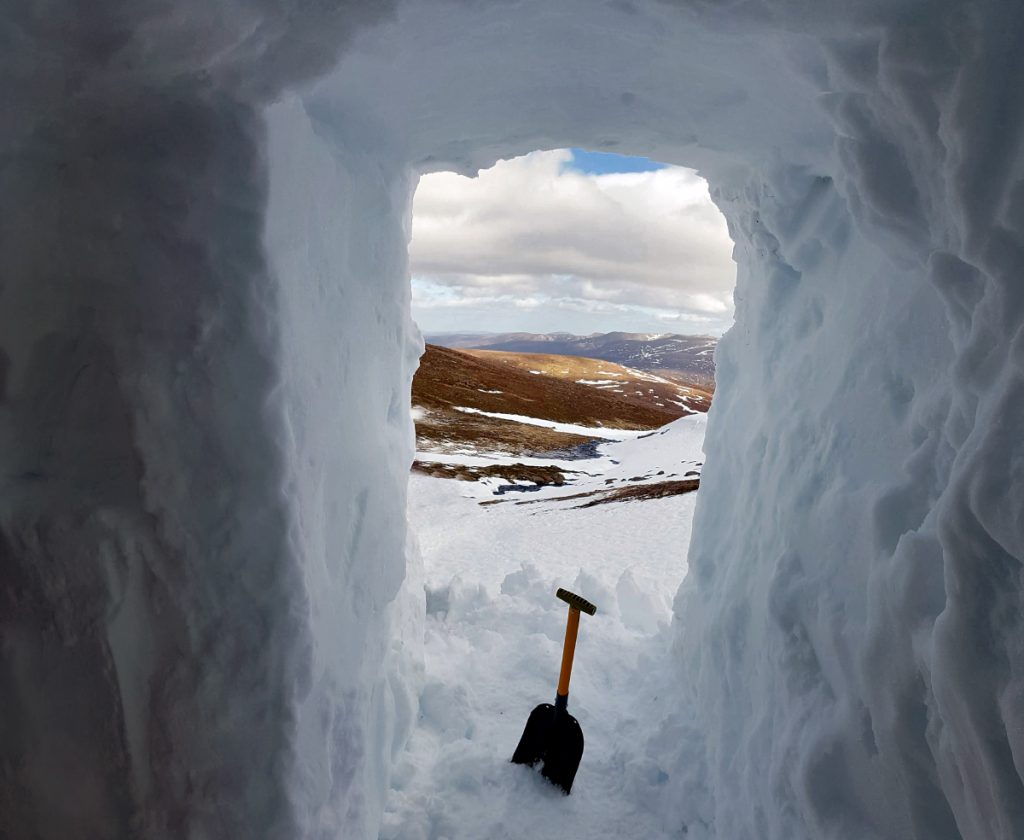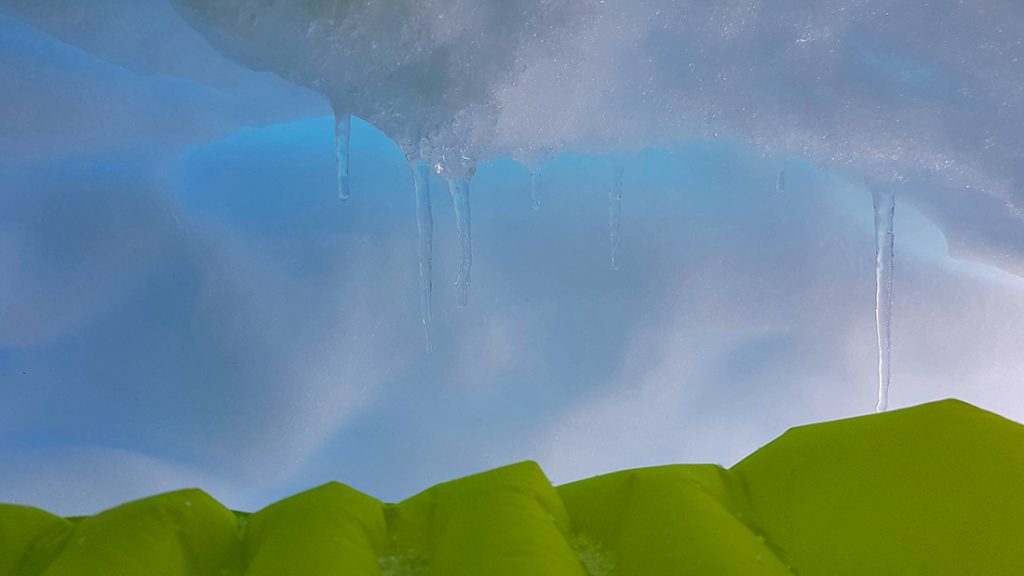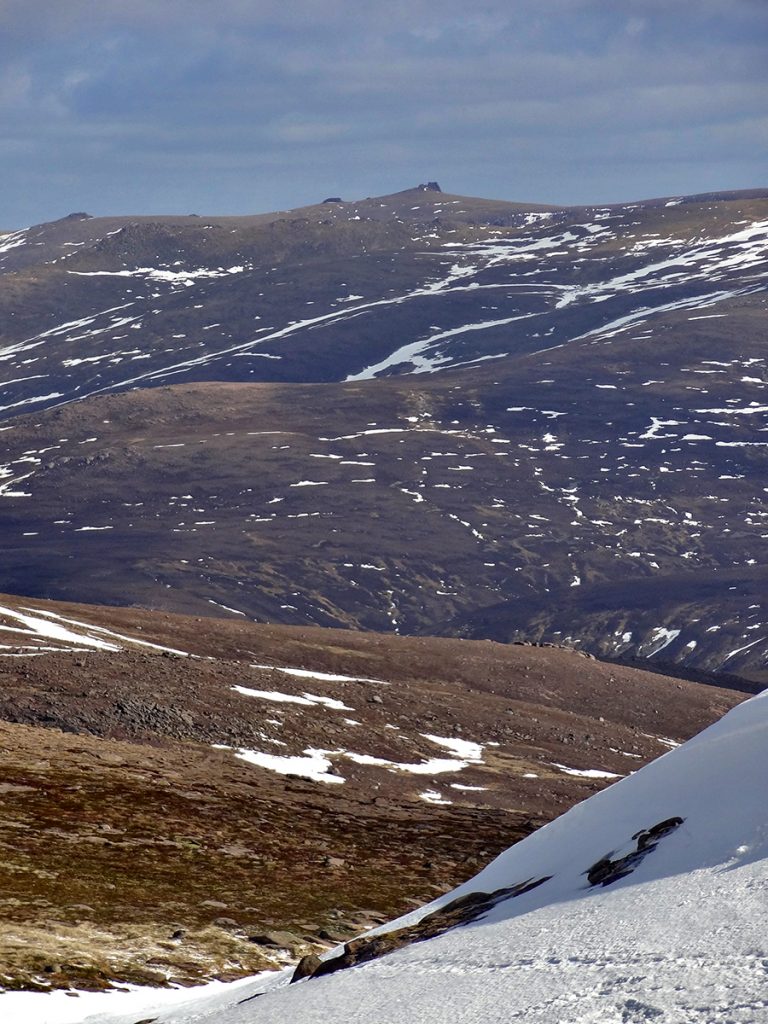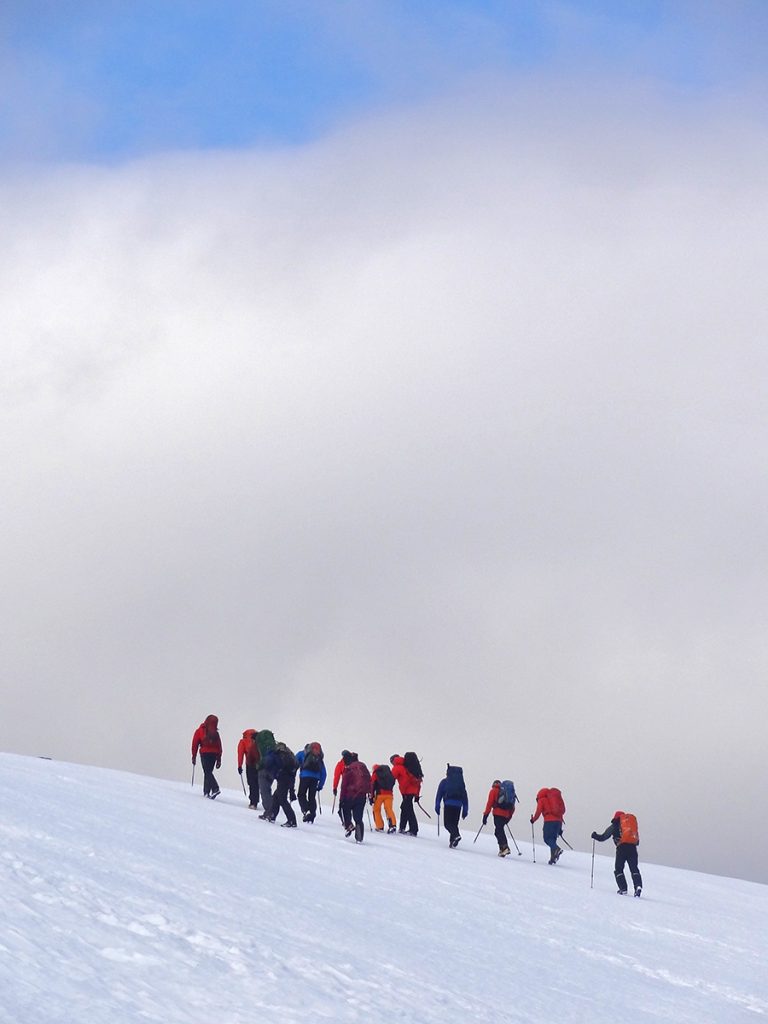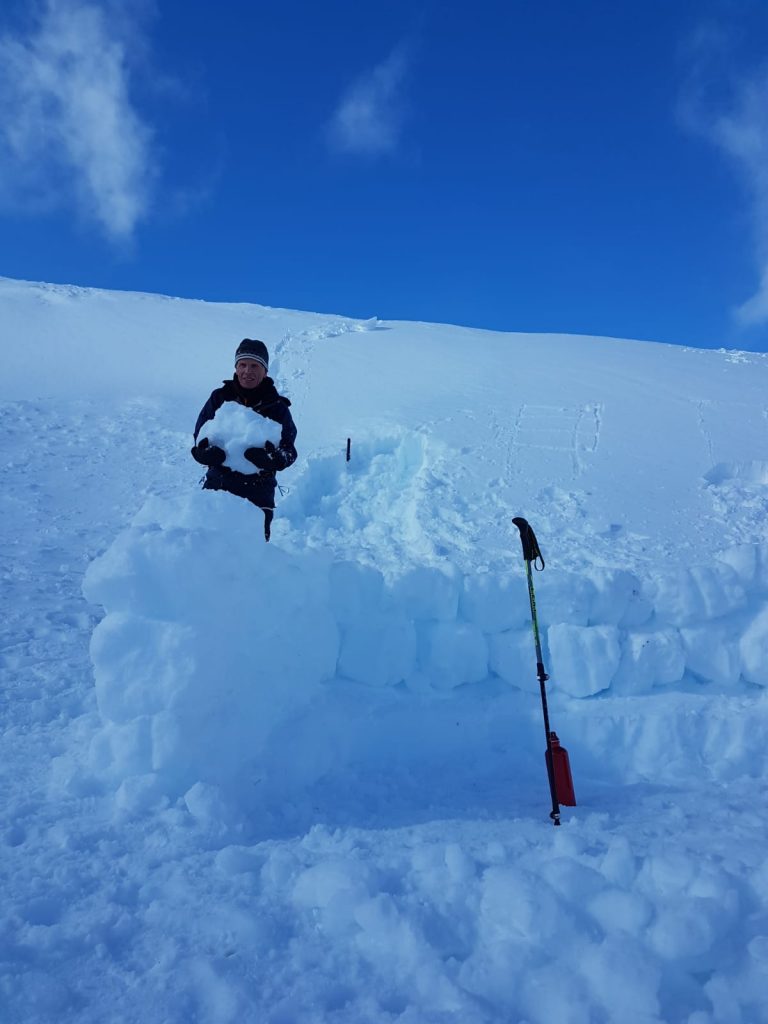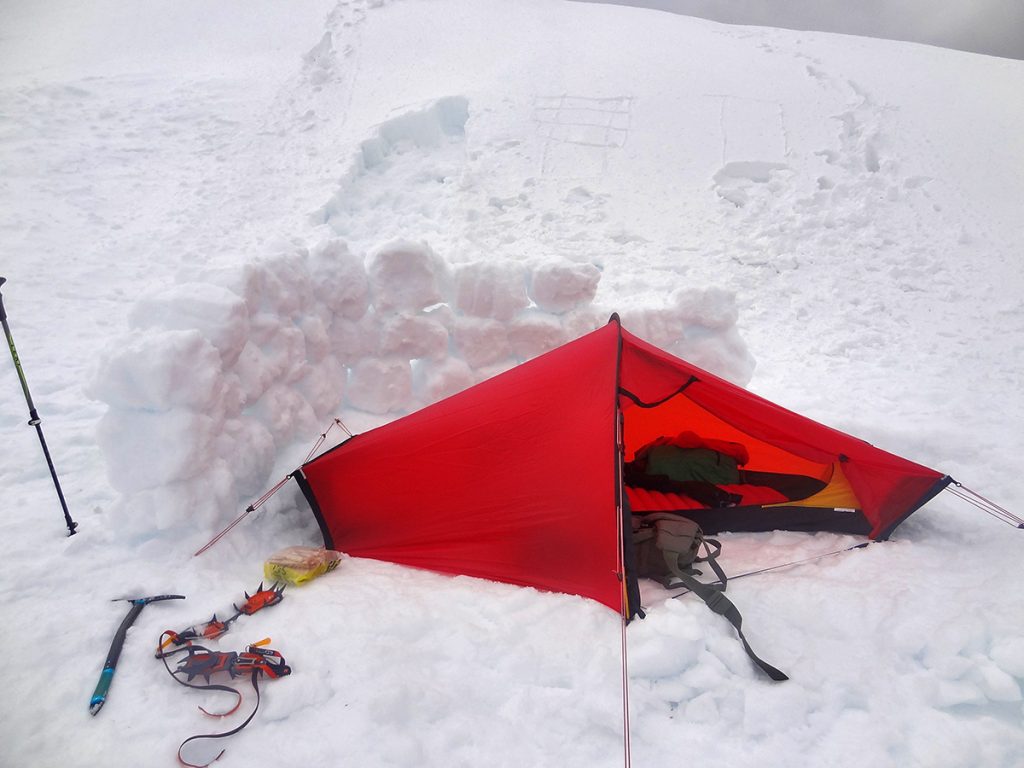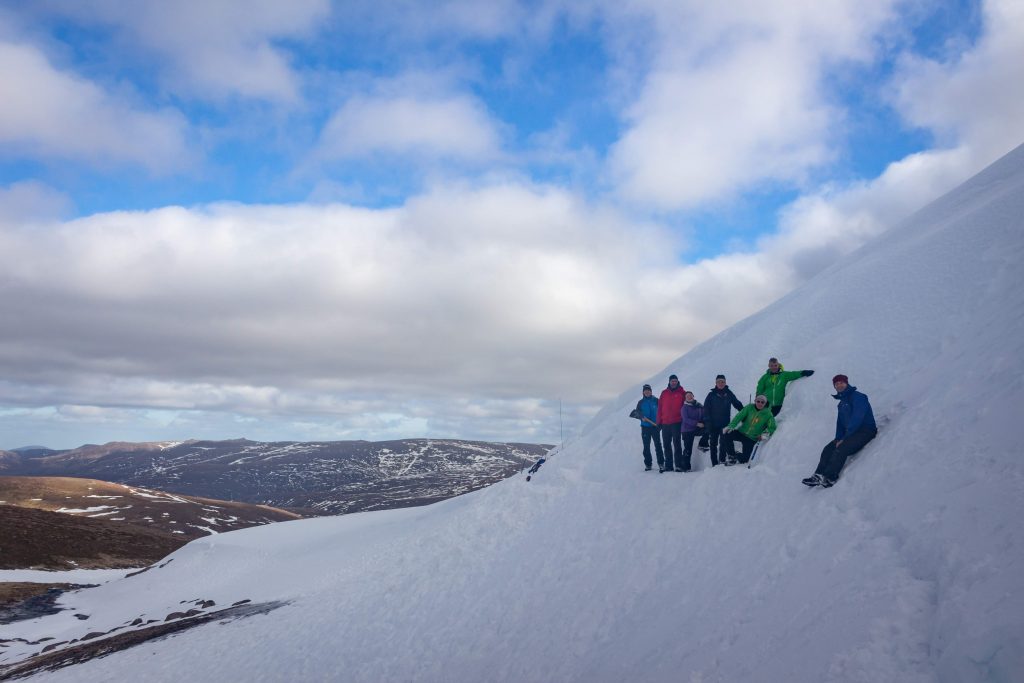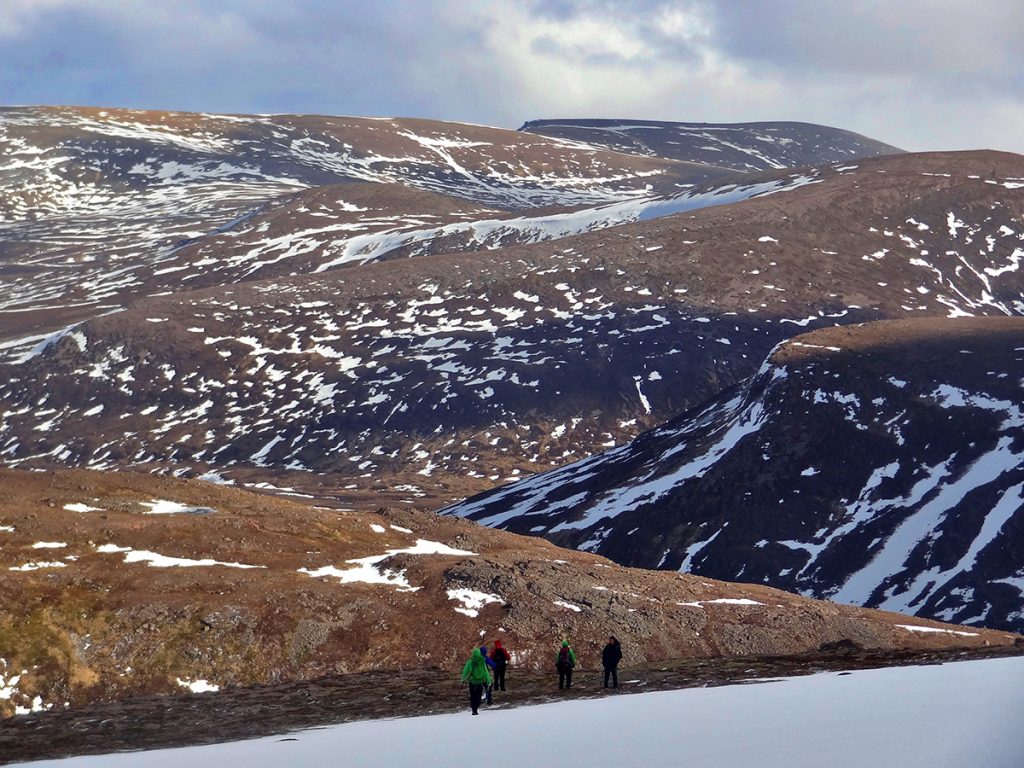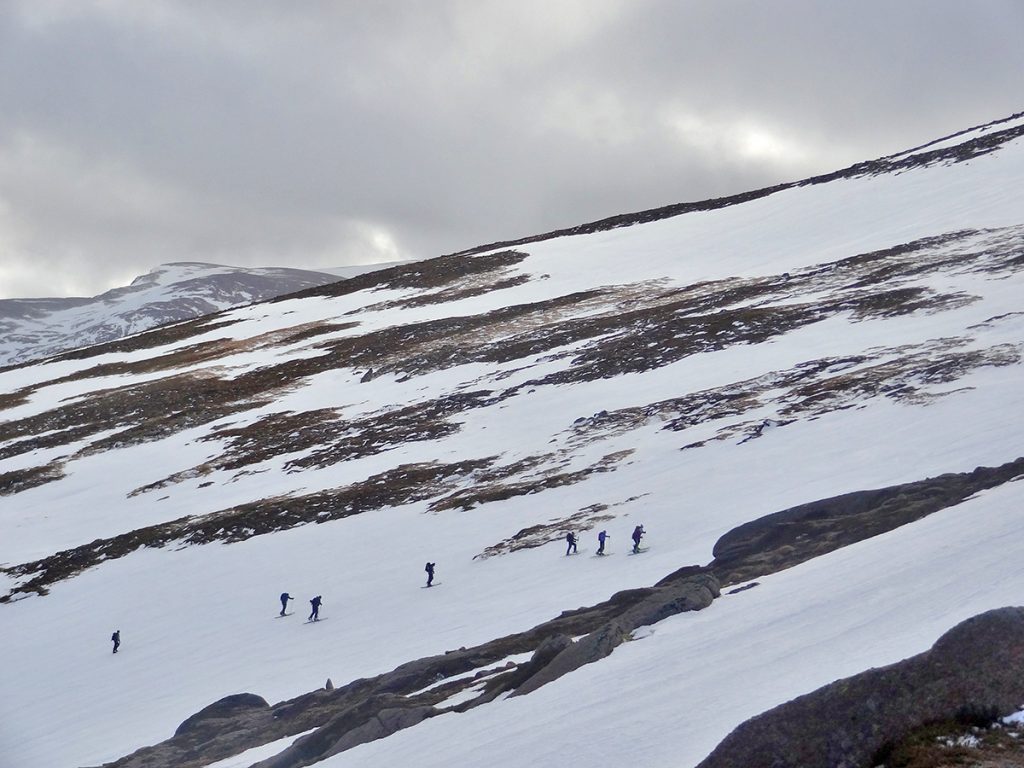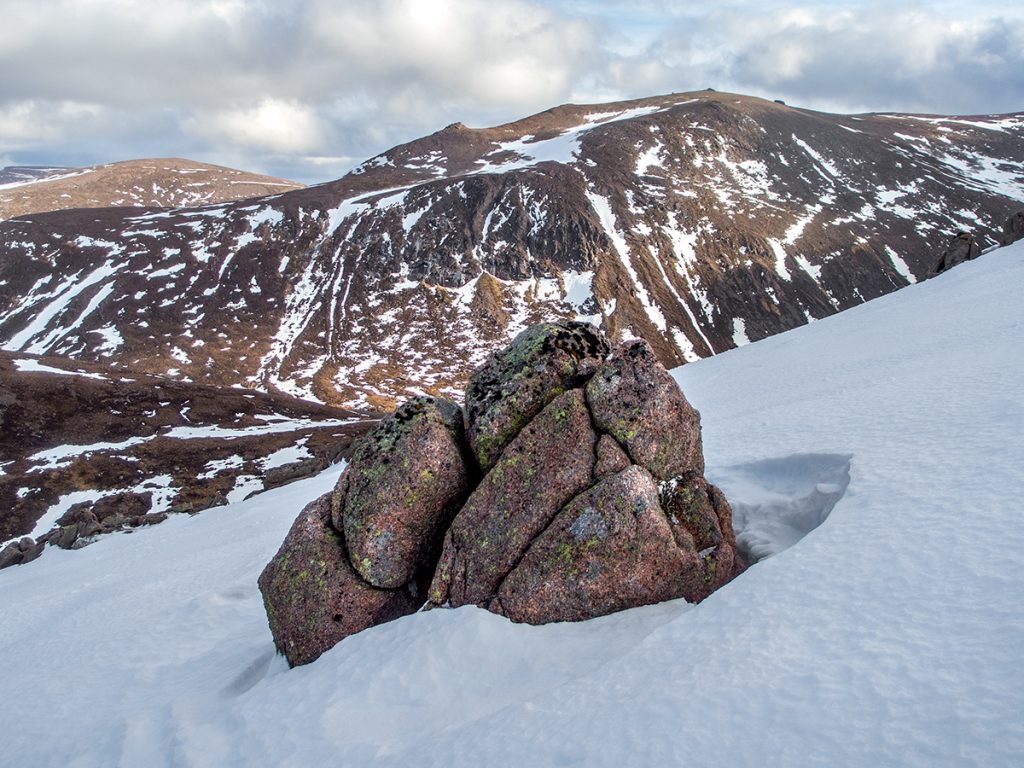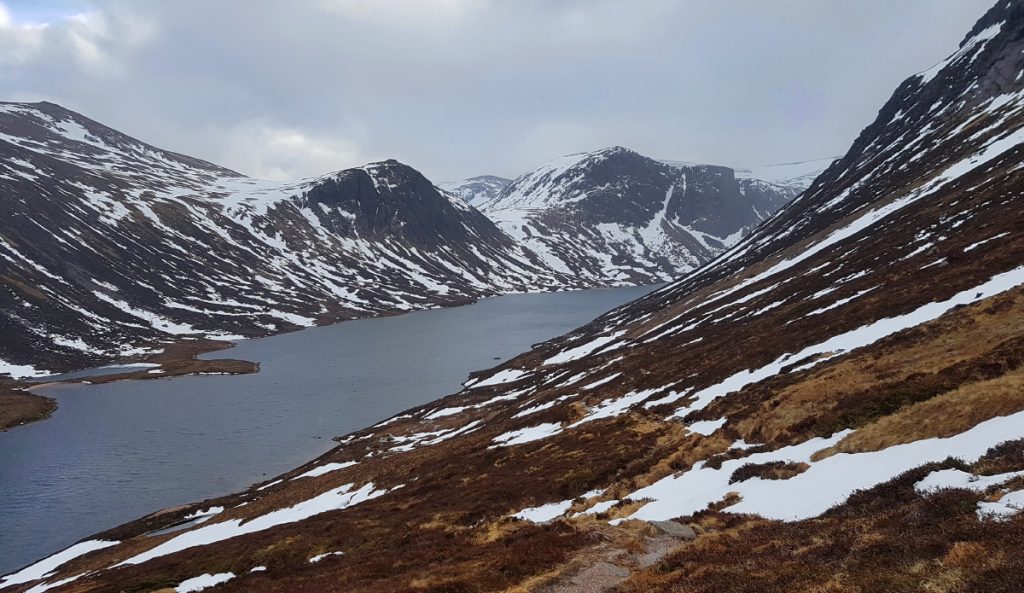 We decide to head north up Coire Raibert. Some of us stick with the right side of the burn, steep and gravelly, some cross over, also steep and more snow.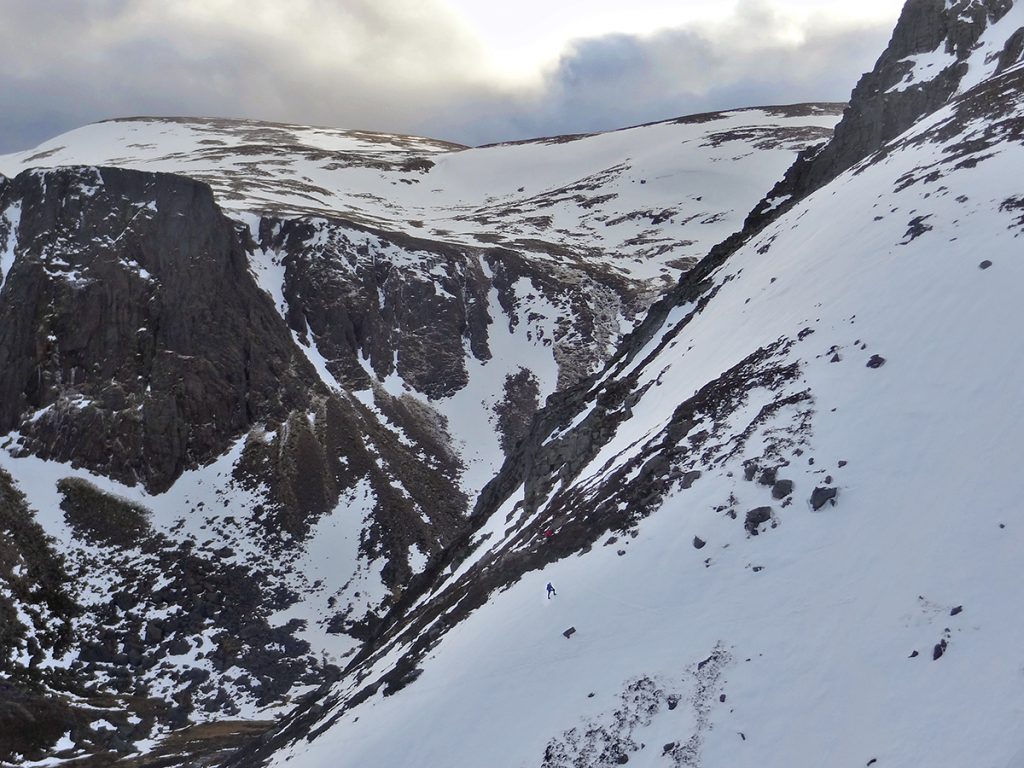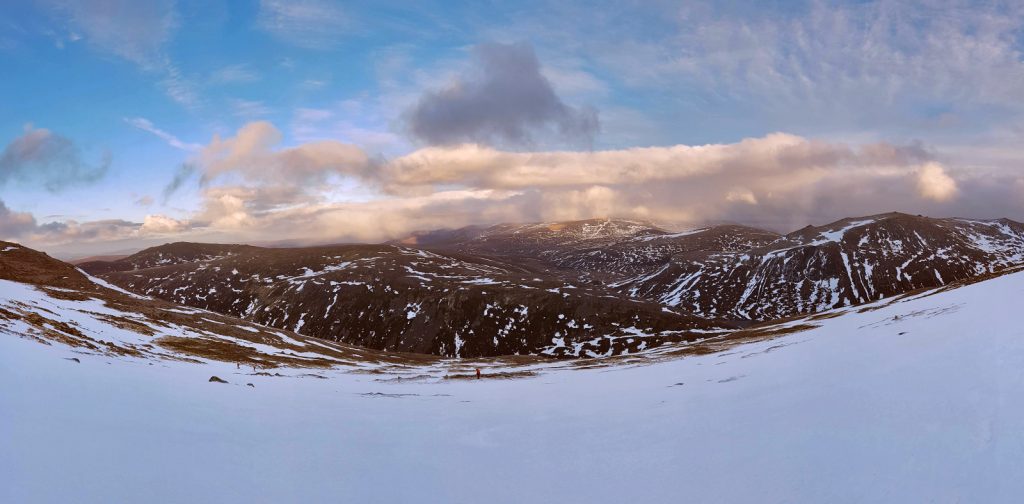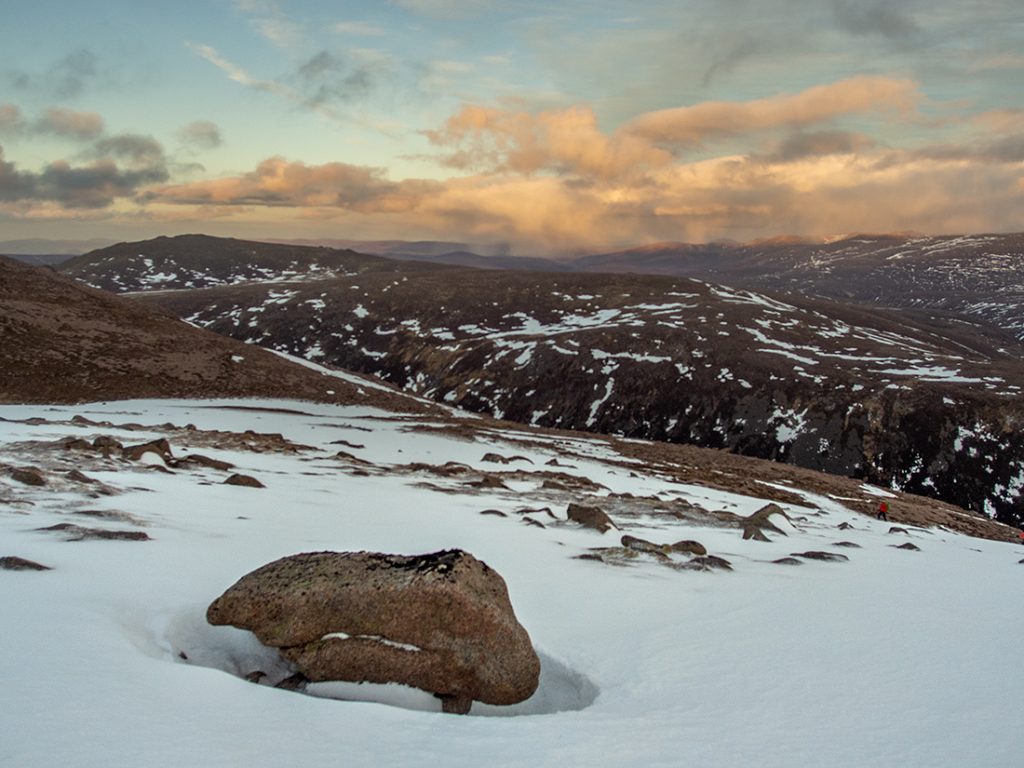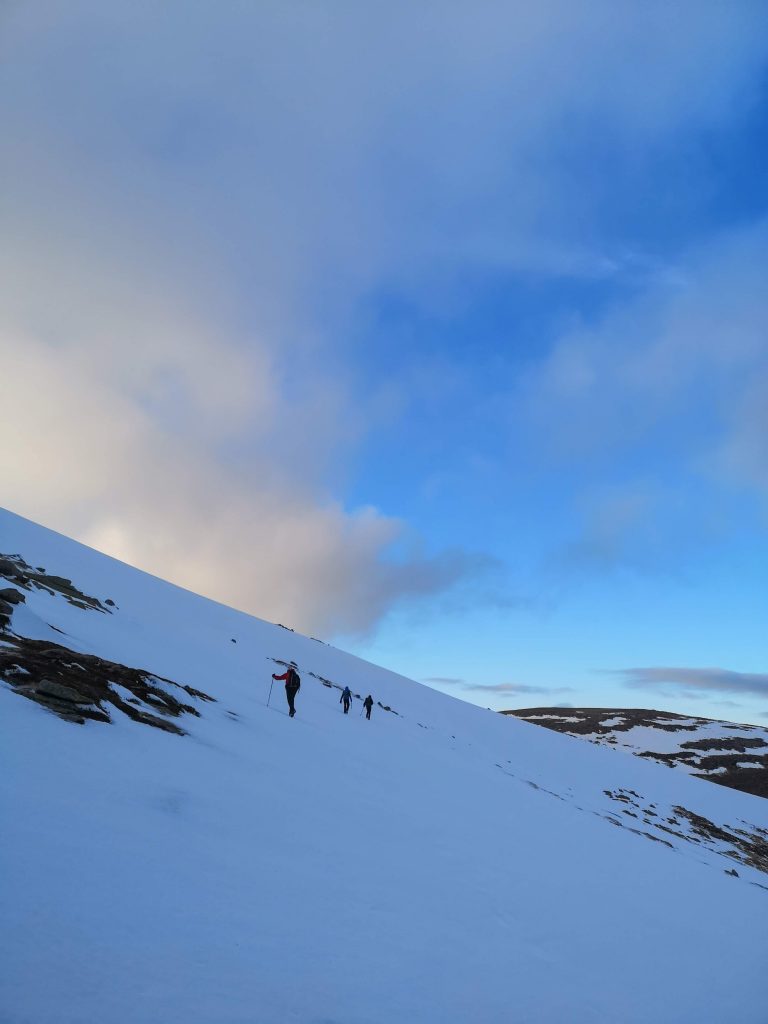 Crossing this slope, the snow steepens and is quite hard.. half way across we decide to don crampons (should have done that earlier). One person briefly lets go of his rucksack while fastening, which sails off downhill for a few hundred metres. Whoops.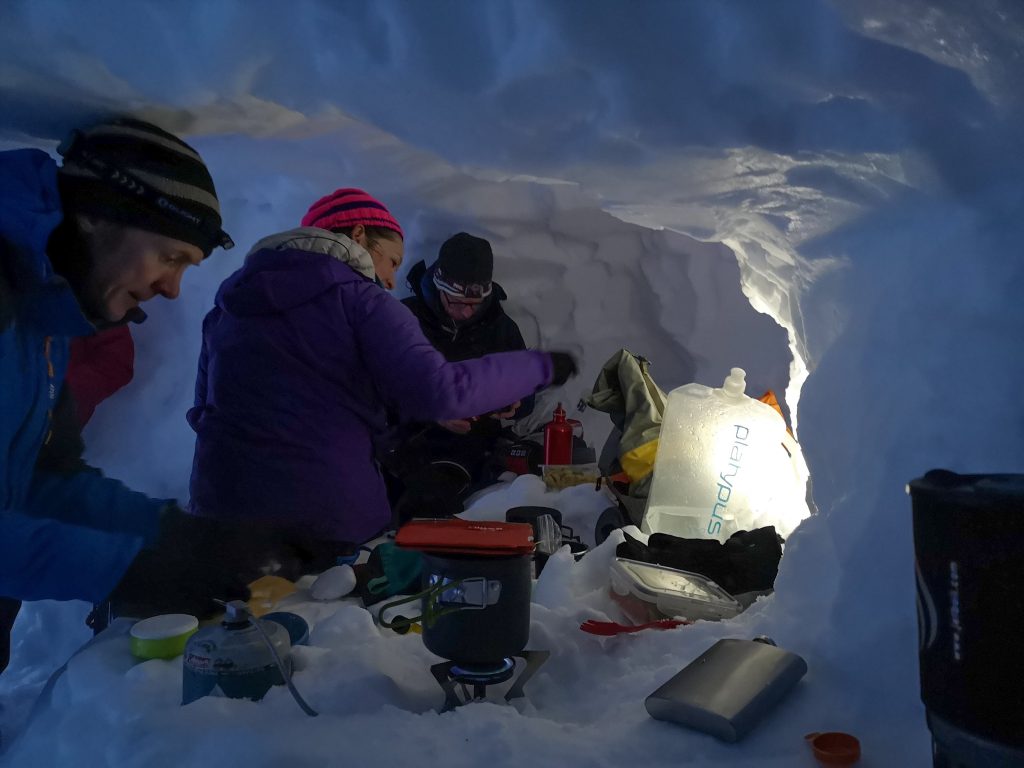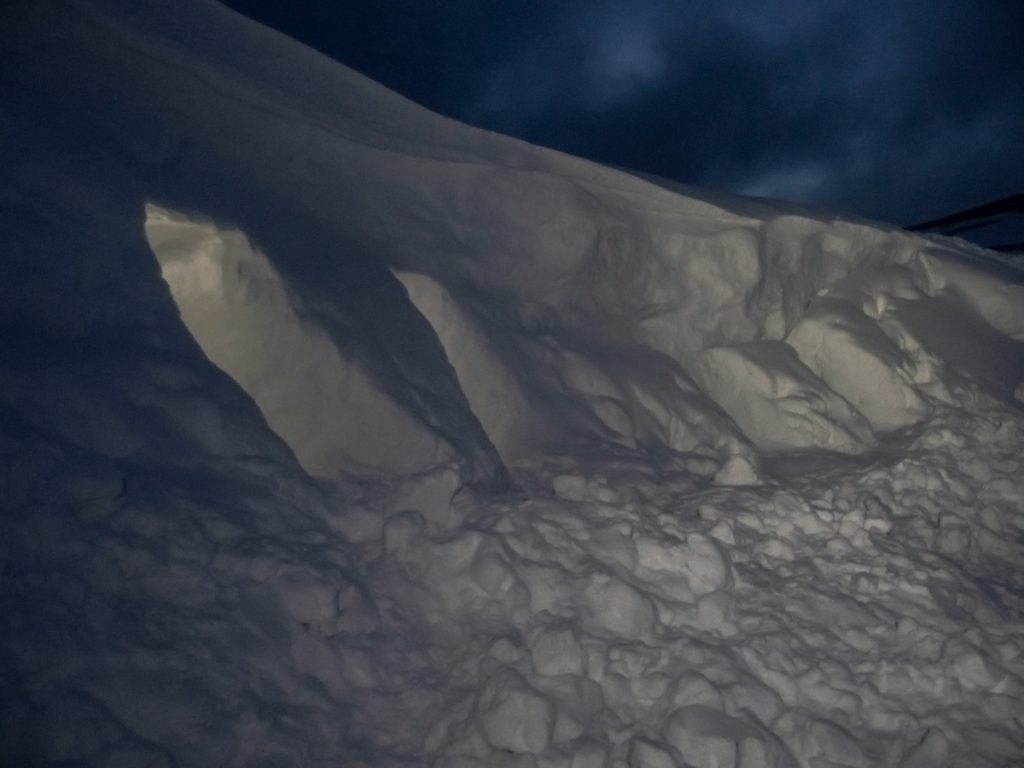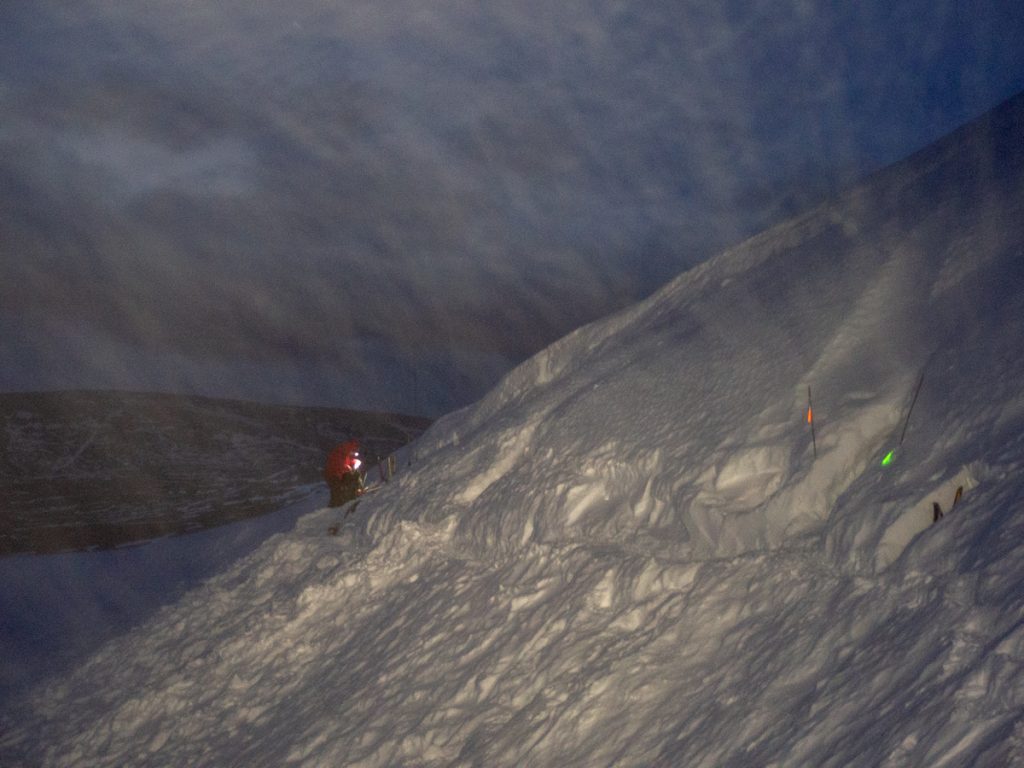 Myself and another head out on a night mission: we're going to travel a few hundred metres to the top of Cnap Coire na Spreidhe to get a view north and hopefully see the forecast northern lights. We're perhaps a bit blase about such a short trip. Reaching the top, conditions are brutally cold, and visibility poor so we quickly abandon to head back down. Having not taken a bearing accurately we get back but can't see the snow hole.. we've diverged and are heading in the wrong direction. A brief clearance in the spindrift shows the glow of the cave to our right about 100m. As we head towards it the light goes out.. somebody else has switched it off heading to bed. The glow sticks aren't bright enough to penetrate the visibility. We're now back but could have ended up wandering about for ages, more care needed in navigating in these conditions, no matter if a short stroll.
Back in my hole, the difference in chill is immediate, and the howling wind muffled to nothing. Nonetheless it's still by no mean toasty, the occasional change in wind swirls spindrift inside and on to my face.
In light of the possibility of roof collapse (though I have deliberately pressed my back up against the roof to smooth and compress the snow when we were excavating) I've slept with my clothes on inside my trusty vango venom 600 in case of emergency evacuation. It's also free extra insulation (as long as dry), I don't subscribe to the unscientific 'sleep bare is warmer' bullshit.
I've stuck a emergency foil over the top of the bag to catch drips and reflect a bit of heat [ turns out not a great idea: a lot of condensation forms on the underside ]. After a reasonable if sporadic sleep, morning approaches and the white glow turns pink at the now quite small opening. Too cosy, I ponder too long to get up, fortunately somebody else a bit less embedded manages to catch the brief beauty.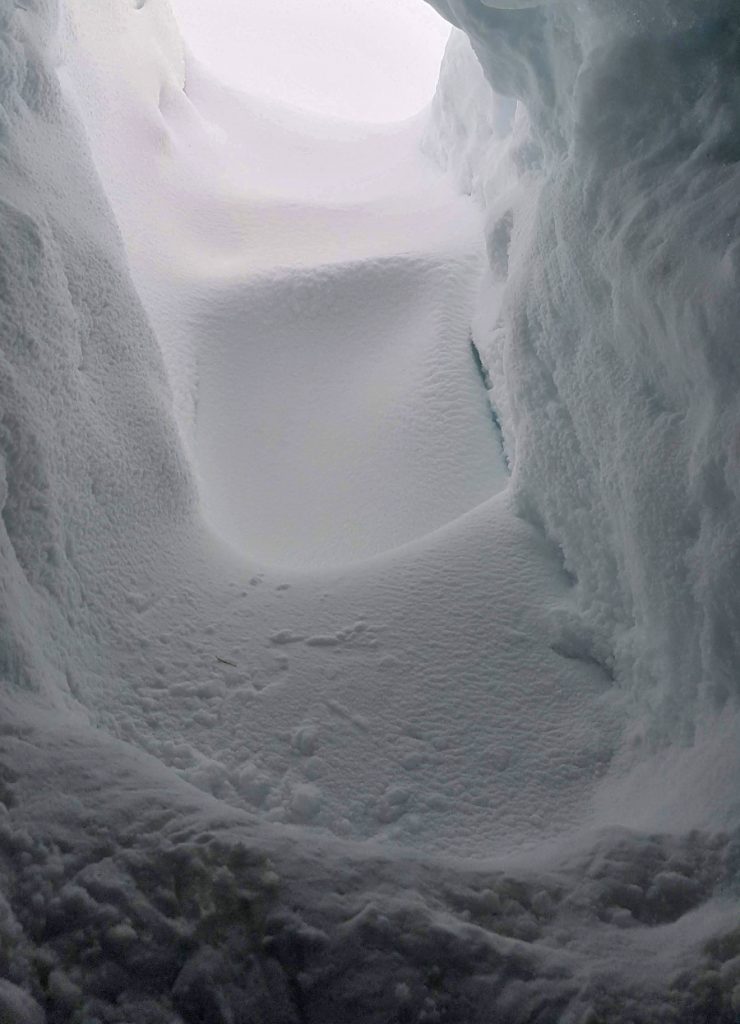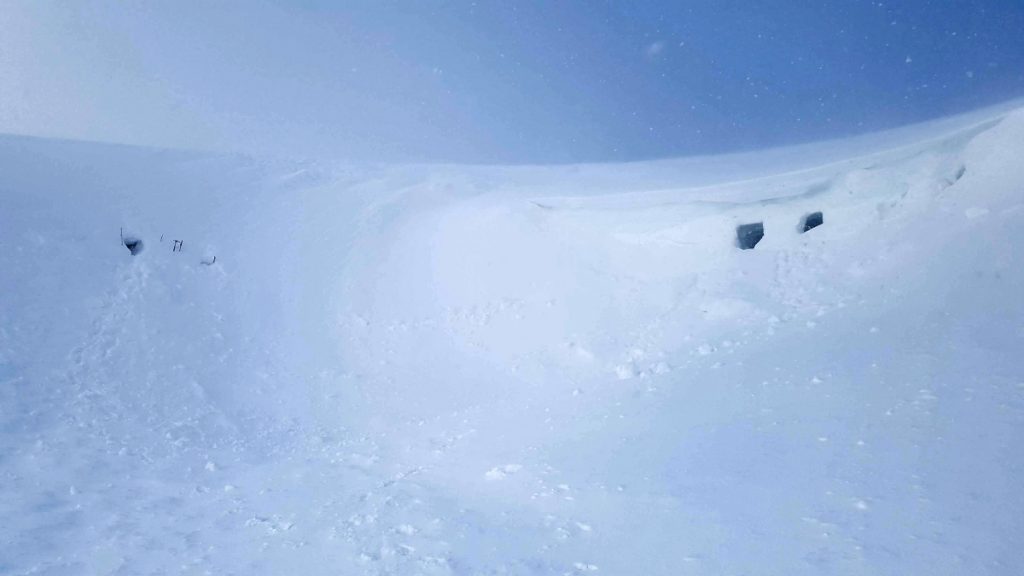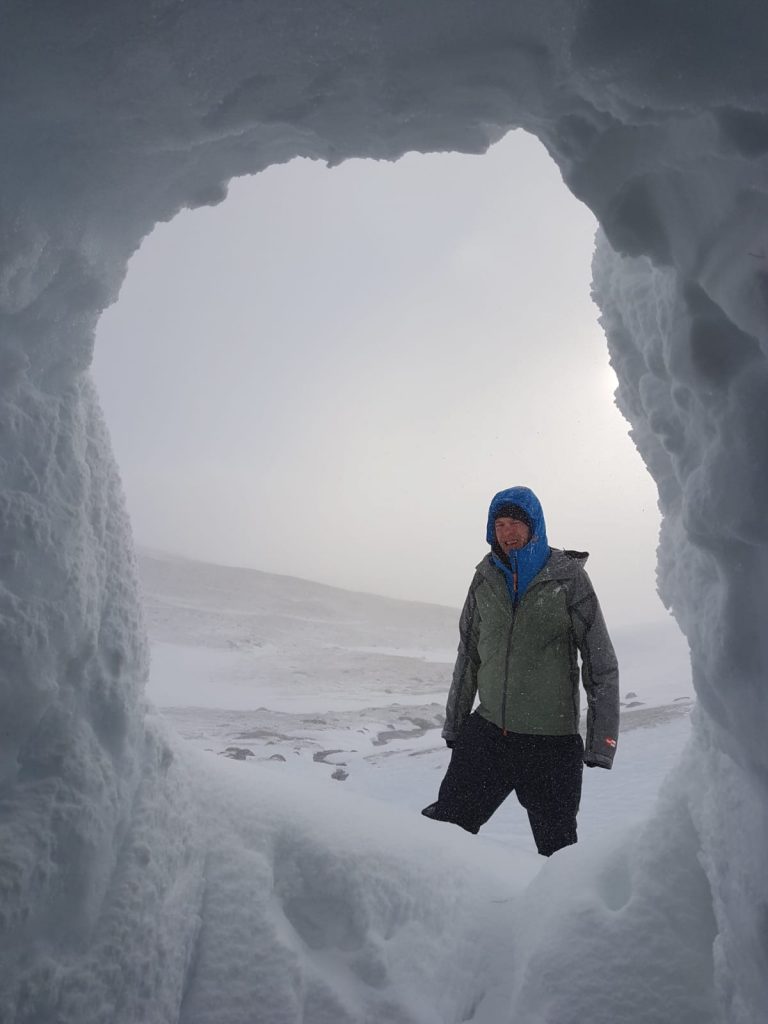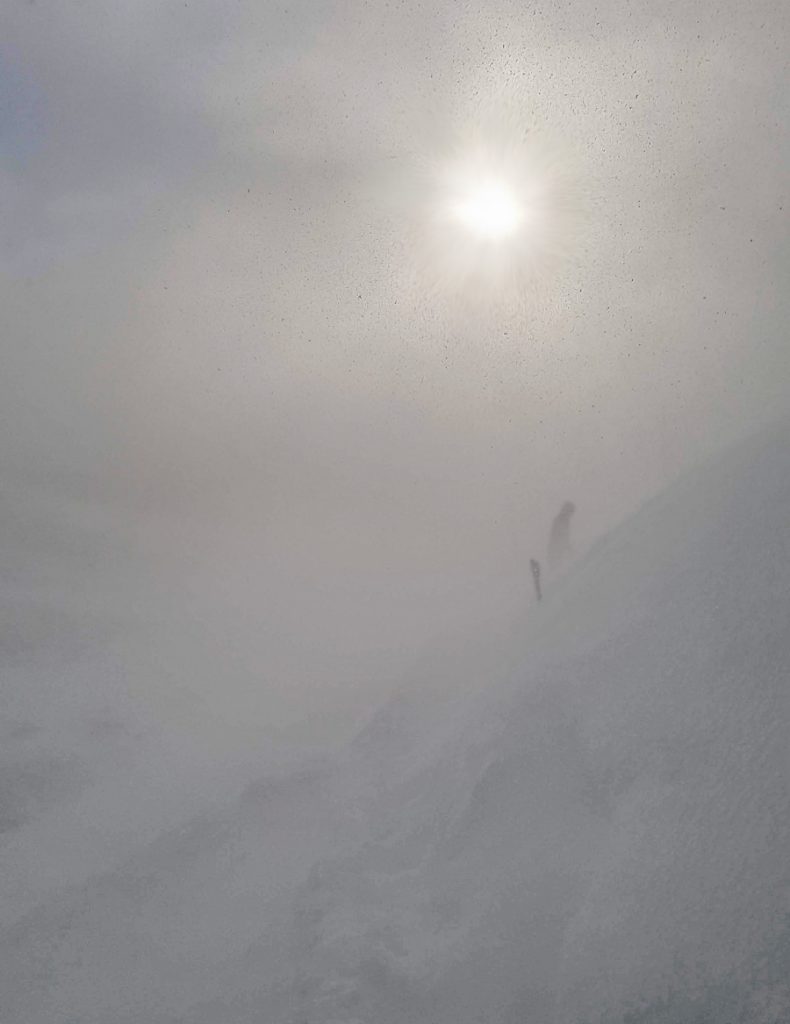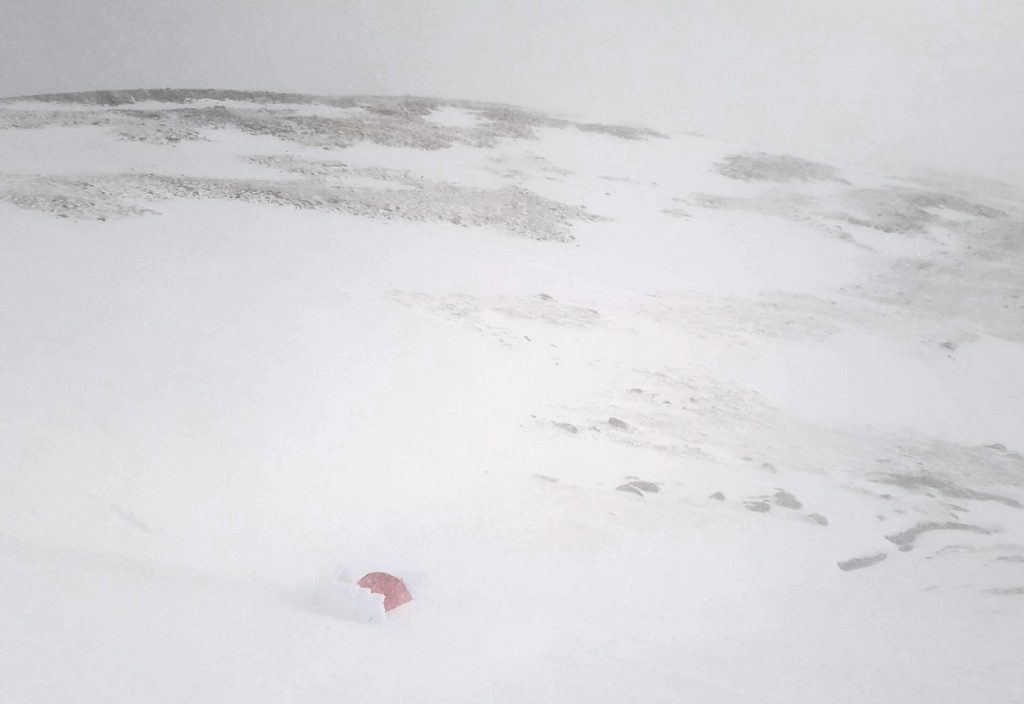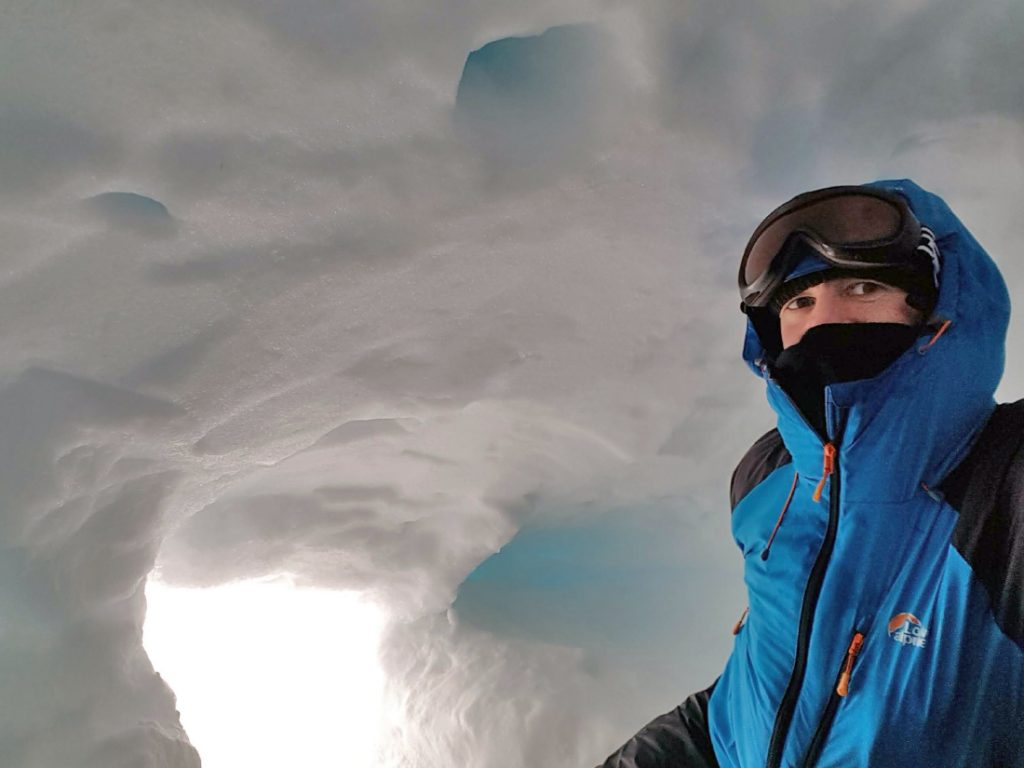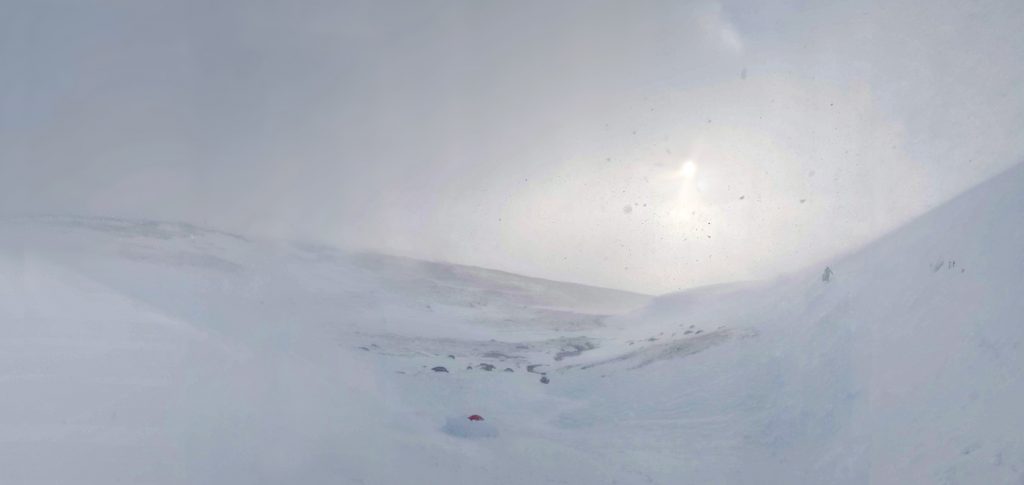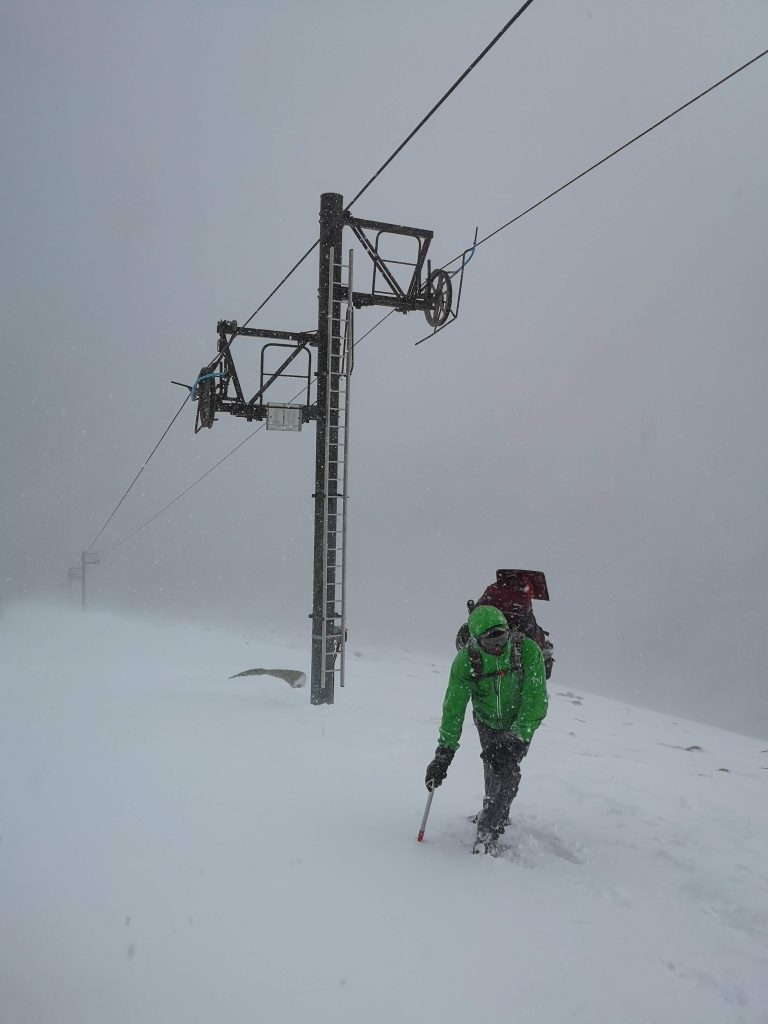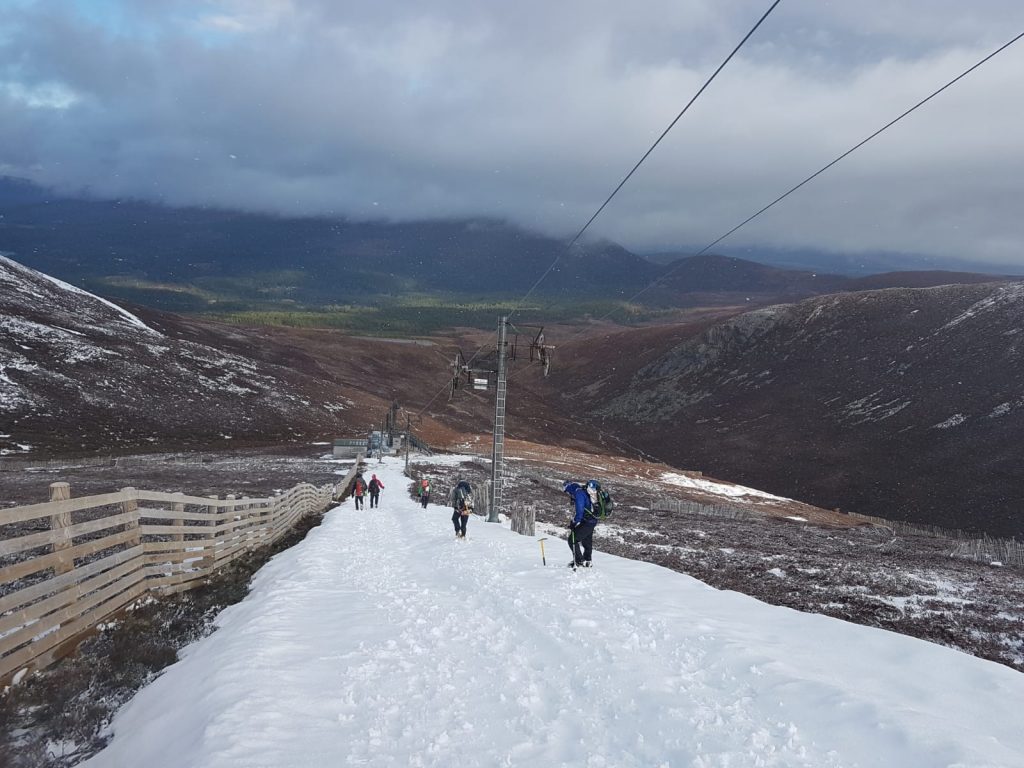 A stop at a cafe in Aviemore much savoured before the journey home, all told a great adventure. It's shame there's not enough snow consistently to be able to go out and rely on being able to build one.