The day's trip was to Moray with Aberdeen Hillwalkers, doing a stretch of the Dava way, mostly sedately curving along an old railway line. To spice things up a bit, I'd be diverging from that after a couple km, and heading along trails following the nearby River Findhorn, which cuts it's way through gorges as it makes it's way to the sea.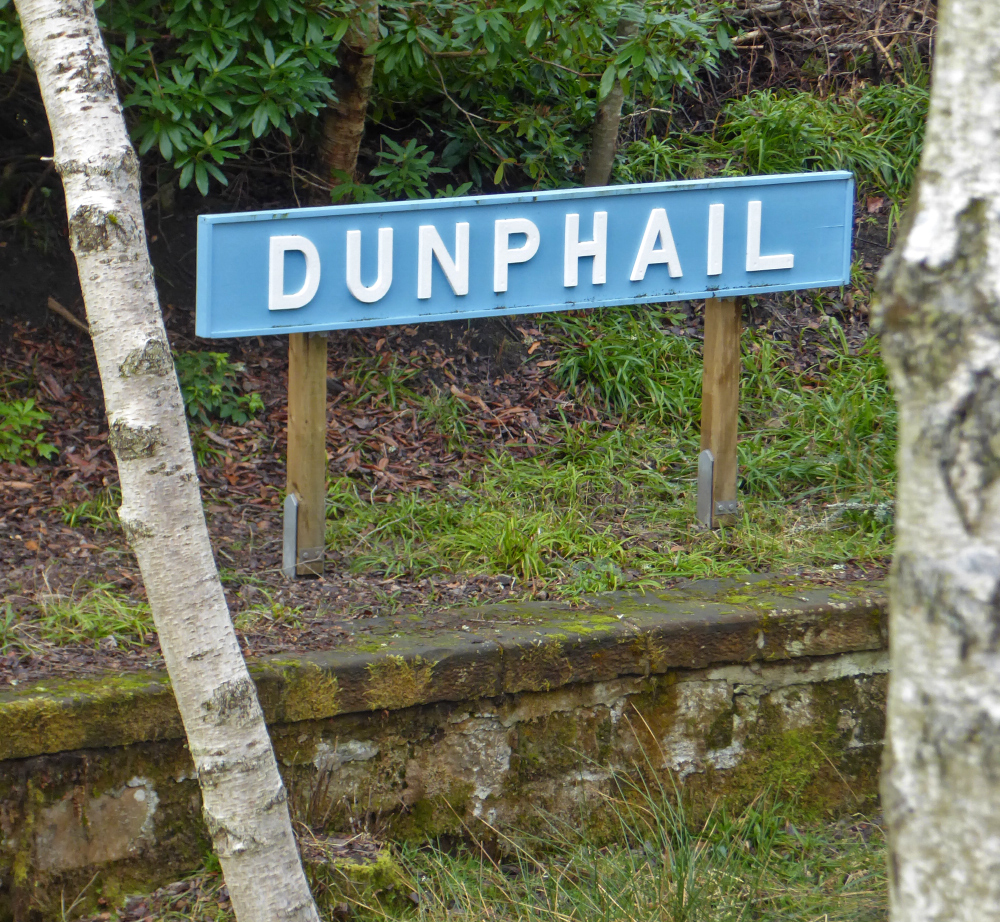 We started off at the old Dunphail railway station. The rest of the group began heading north, but I went off south to my first point of interest for the day, I'd return to the Dunphail area later, but further west along the river.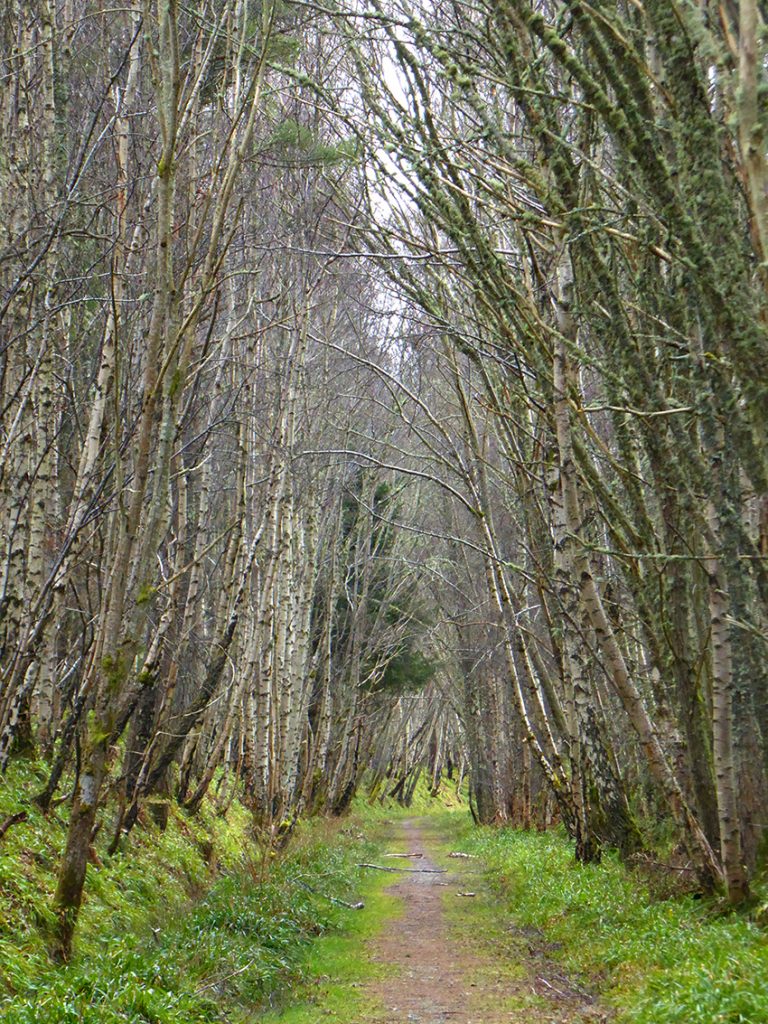 I headed down the incline from the path into a field then under the fine arches of Divie Viaduct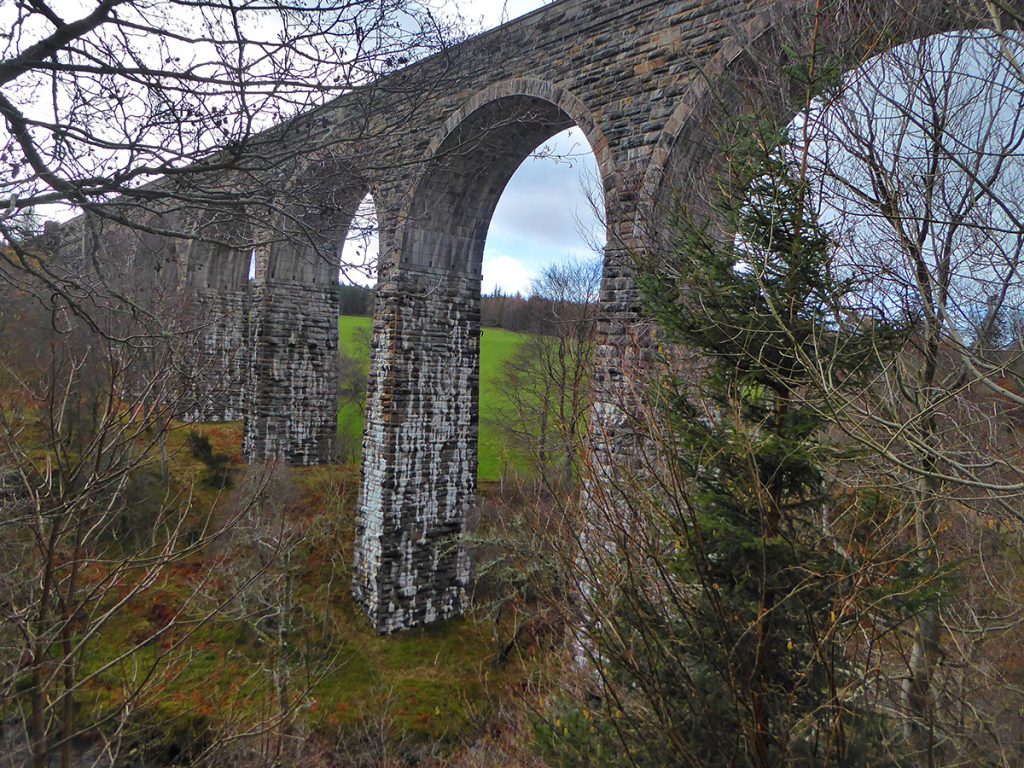 Then doubled back north on the other side, following a track along the river, where there are some fine tall trees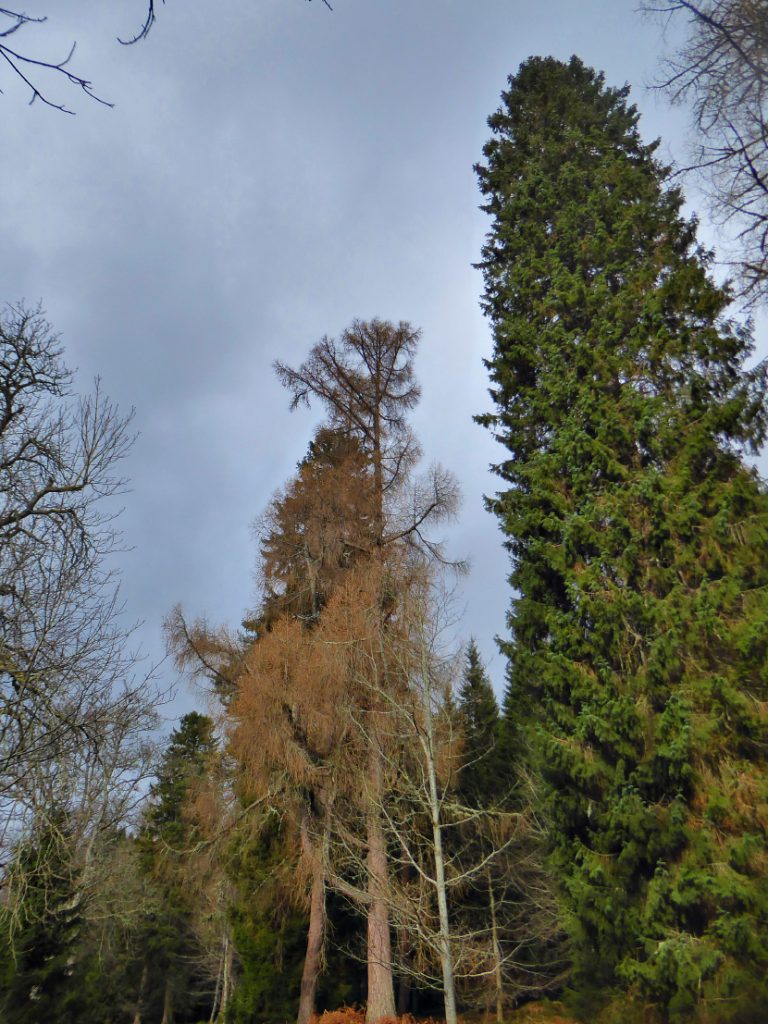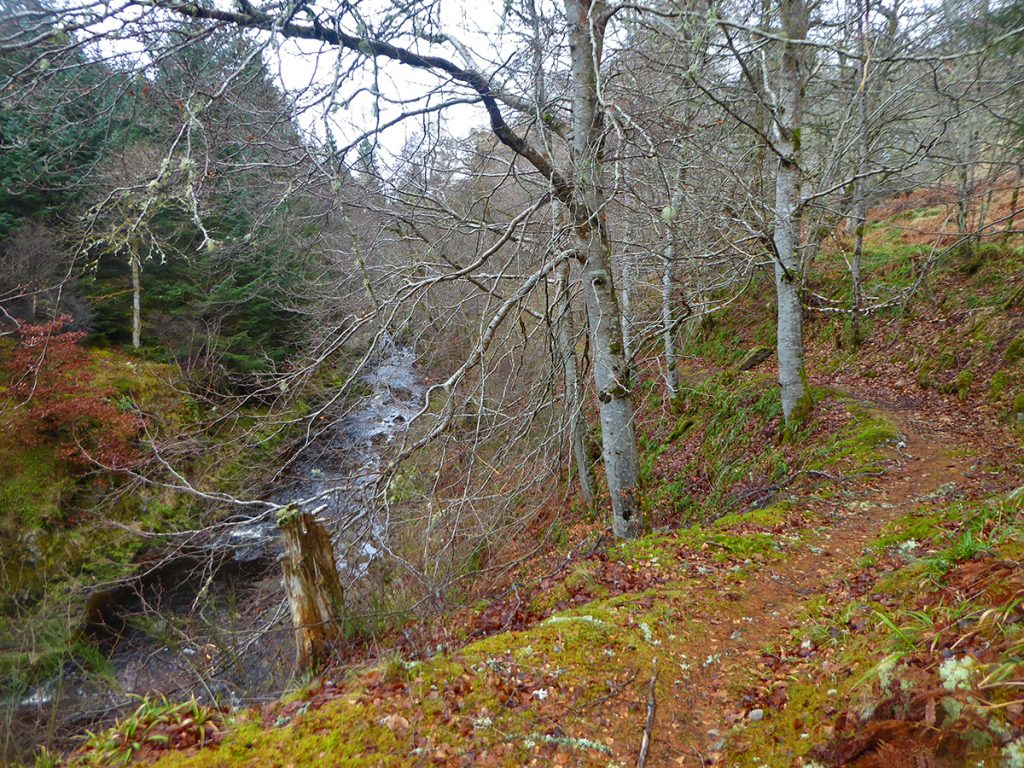 The river Divie has some unusual rocky strata exposed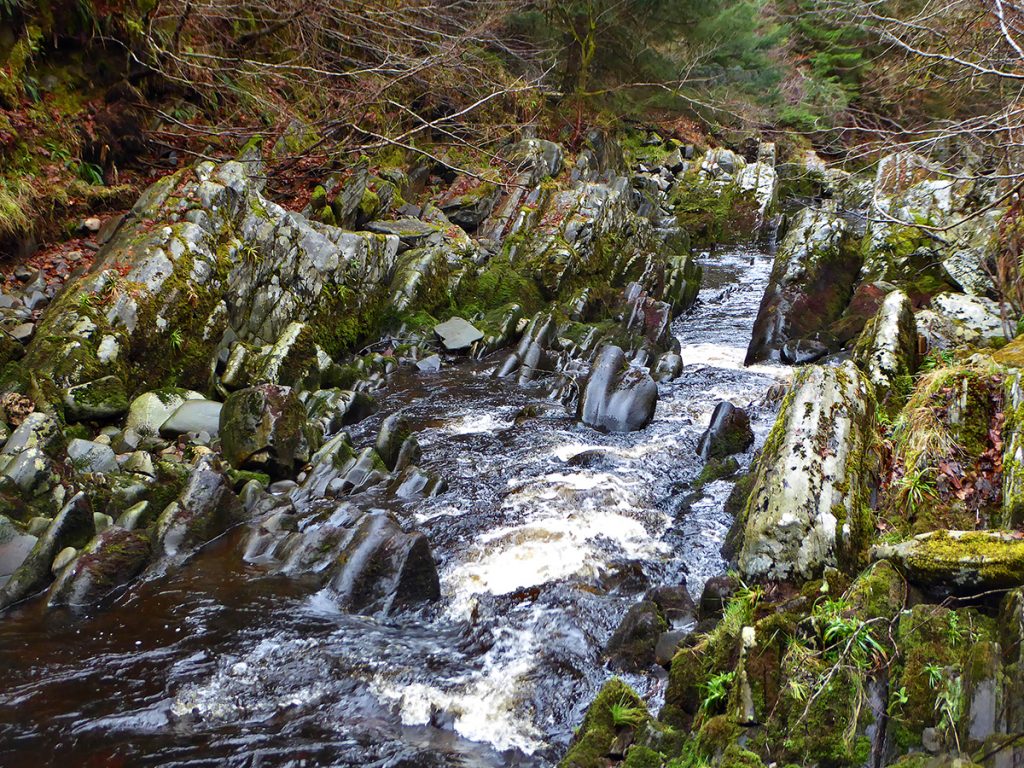 The first of a few footbridges, this one isn't looking in great repair, I stuck to this side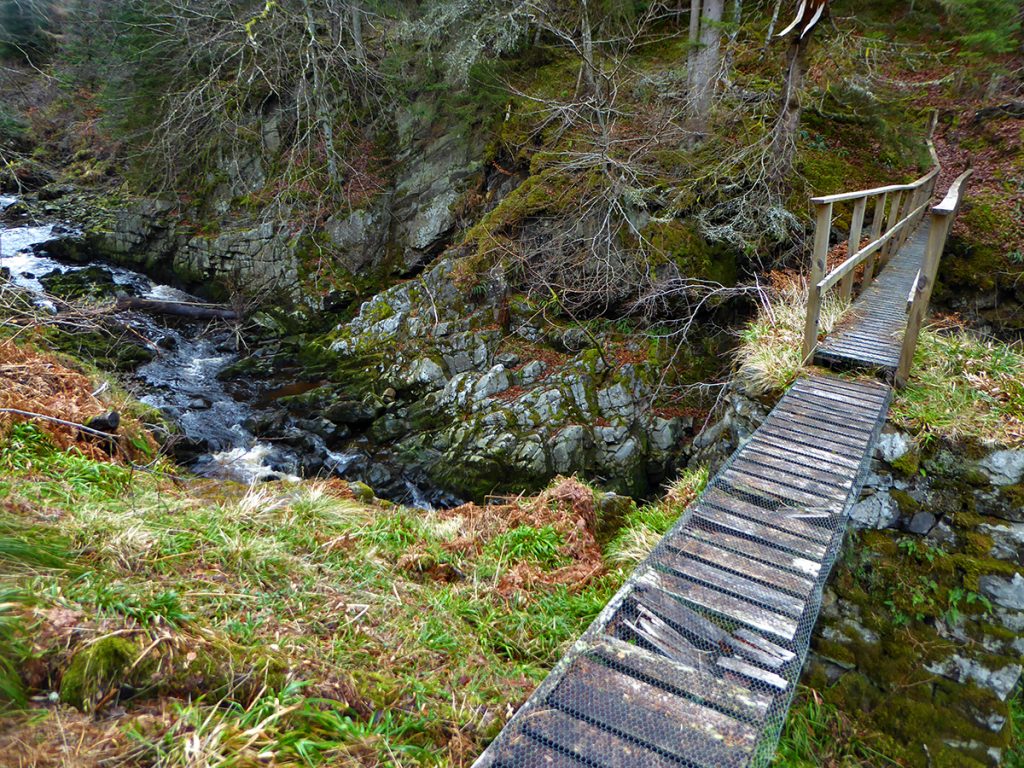 More whispering ebony deeps bit through by moss-capped rocky clefts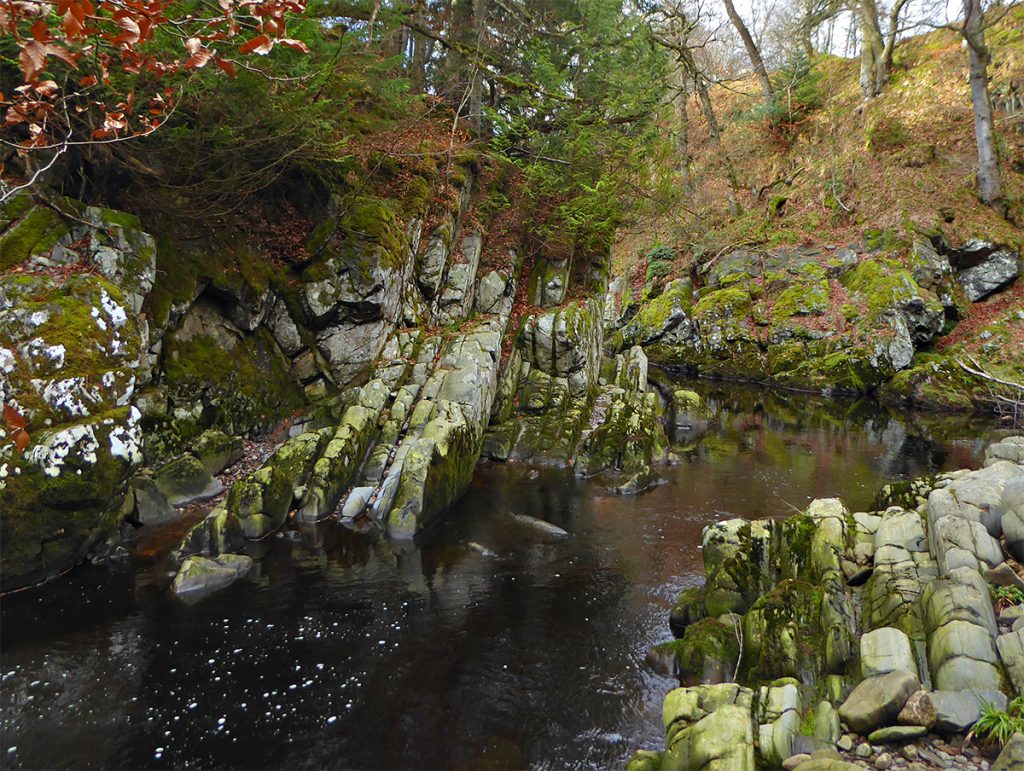 I crackled happily along pine-needled stripes through green velvet carpets.
I crossed to the west side, primarily to avoid going through the grounds of Dunphail house, a large mansion which the prim and extensive surrounds suggested an unexpected peasant may not be welcome. The track on this side rose high above the river in a rollercoaster, and eventually fizzled to steep, precarious and slippery leaf-mulch, requiring some buswhacking to get back on track
From my precarious perch opposite I can see that Dunphail house is a fine stack "A category A listed italianate design with roman doric columns and a neo-georgian fanlight" but my favourite association is that the estate was once nourished by Alexander Grant, inventor of one of my favourite biscuits, the digestive. He is also more widely remembered for many acts of philanthropy both locally and around Scotland in general.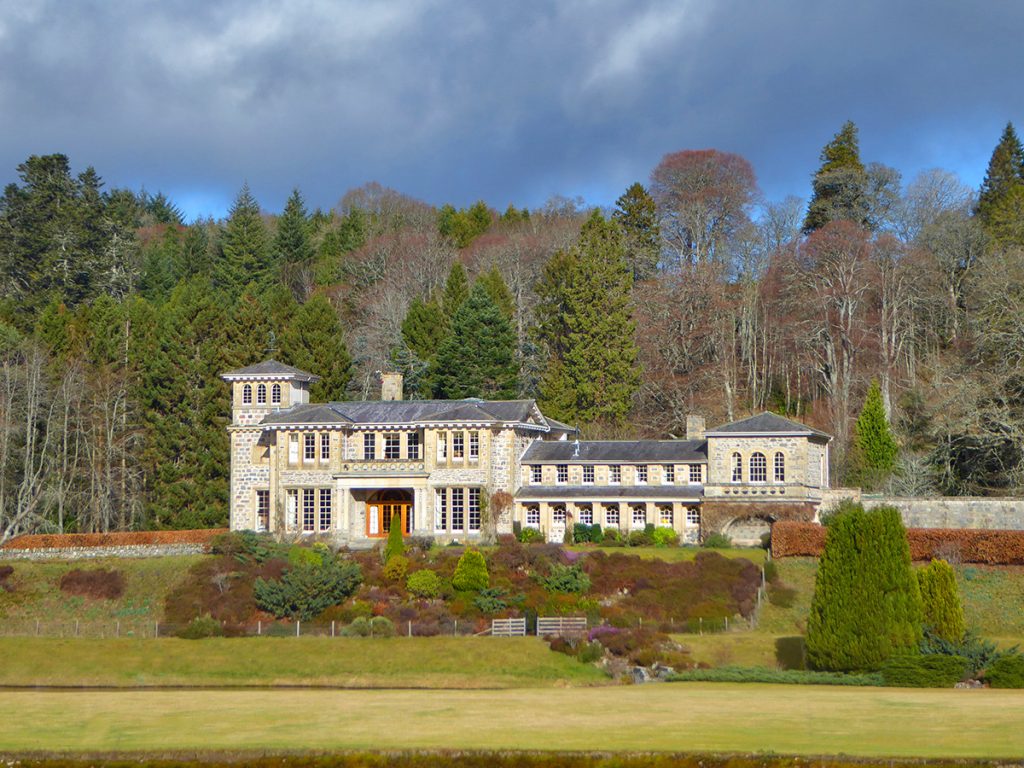 An estate track bridge allows a crossing of the Divie to the east side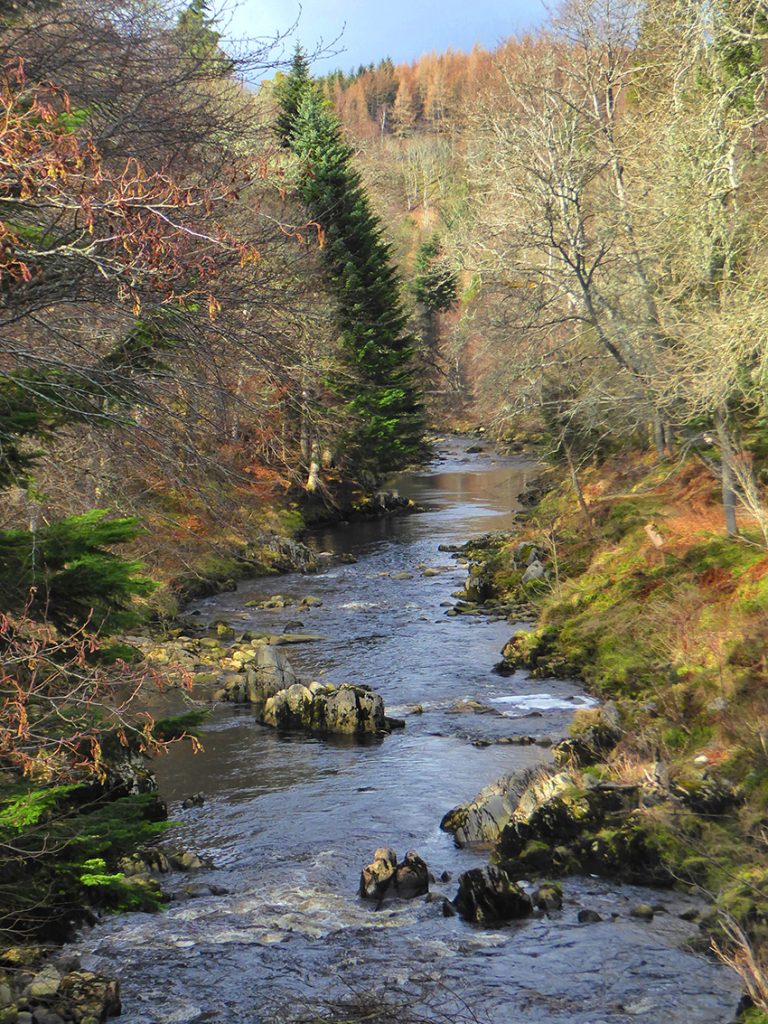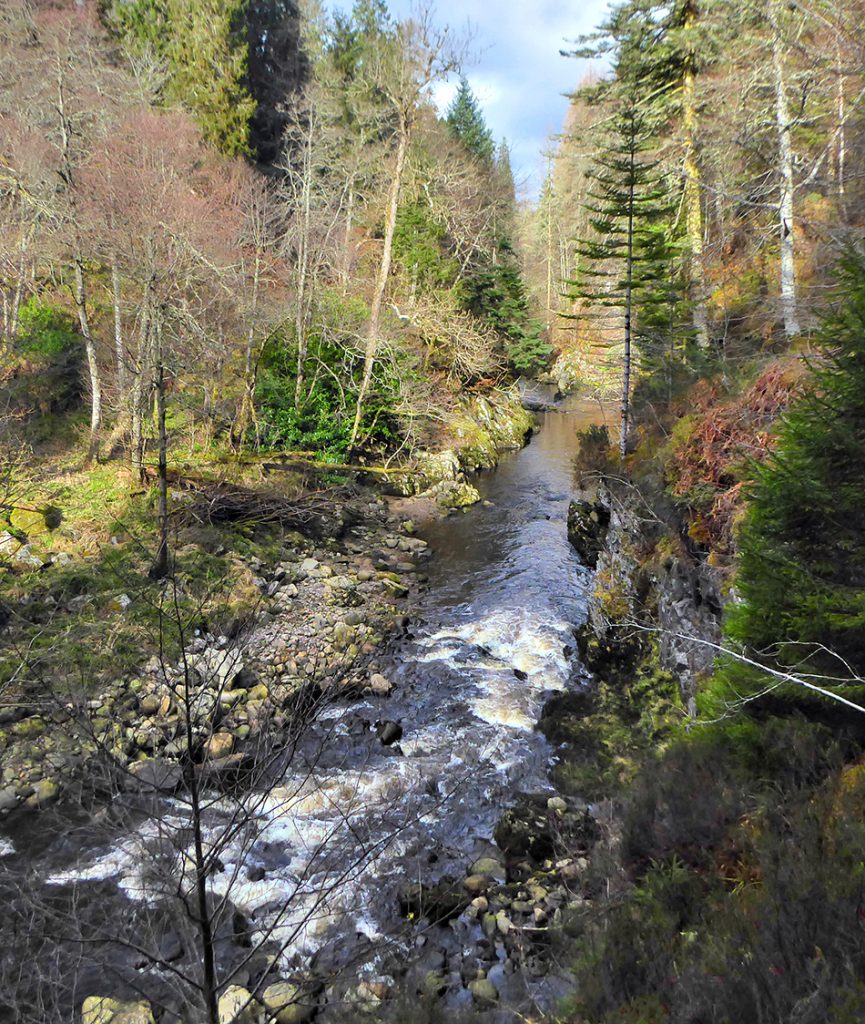 Back on the east side, a gully opened up to the right with a pond and some landscaped paths: somewhere up on the high banks above lies Dunphail castle ruin, and I set about clambering up and quartering back n forth in the woods looking at various mossy rubble piles without success, had it been knocked down and removed? (turns out I'd looked in the wrong bit – left and behind the pond, it's up to the righ). With a fair way to go and other things on the explore list, I had to move on.
In researching today's route I'd found an old book, The tragedy of Dunphail, written in the 1800s which dramatises tragic events of violence in the 1300s.
The unfound castle had been a scene of siege and cruelty, with heads removed of the occupant's son and allies who had been caught outside, and then the grisly evidence used as a taunt. Nonetheless, the book describes many of the places nearby in eloquent prose, more suited to today's peaceful scene, I've used some quotes below.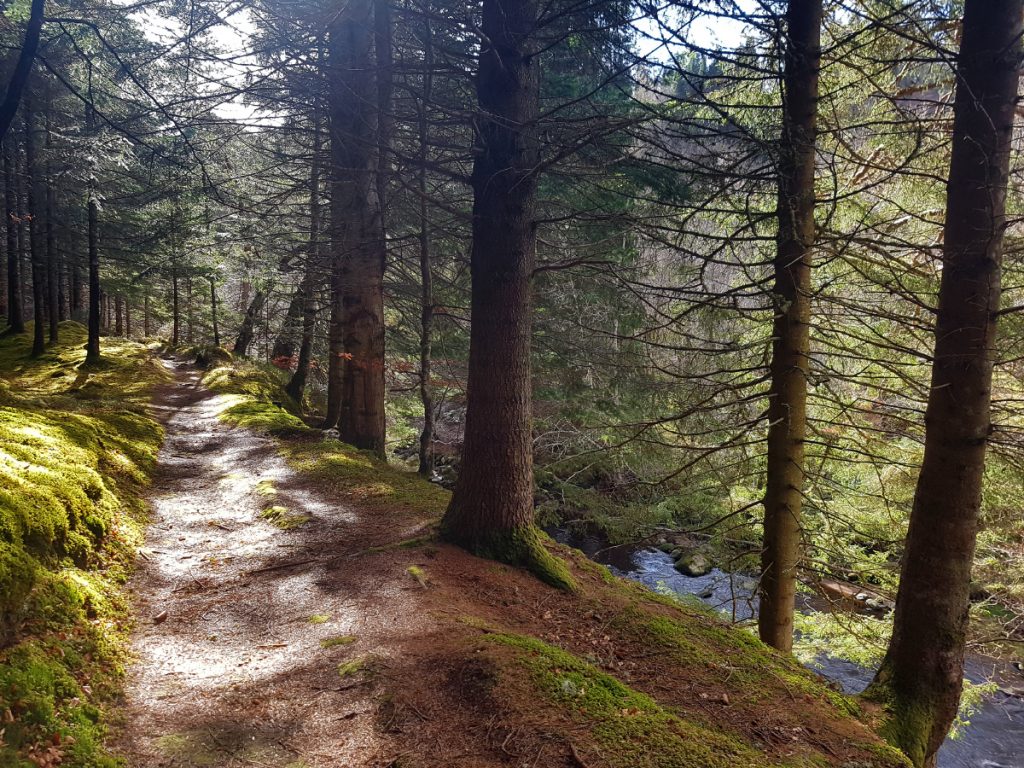 "But once again, there, by thy varied flow
Musing, those haunting raptures surely know,
And watch thy waters, downward rolled
In fused sardonyx, blent with liquid gold."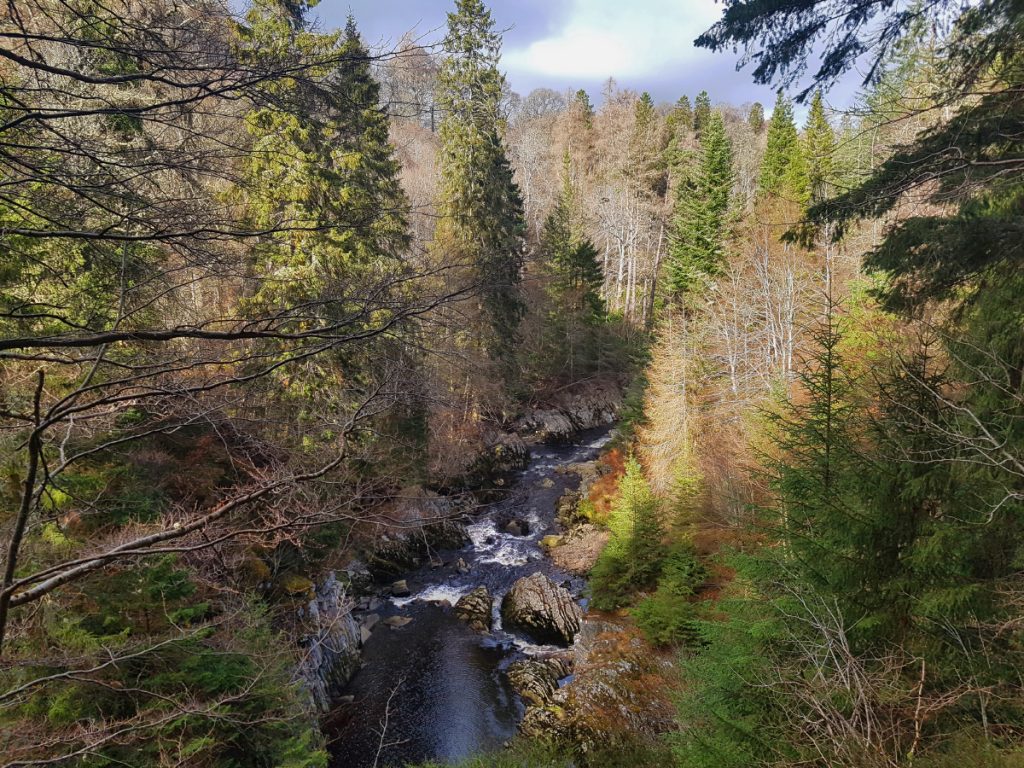 The next excursion is down a barely visible path heading into another gorge on the right known as Slag Innan (possibly derived from Sleoch-nan-ceann: hollow of heads), that then deepens into some rocky crags, within the confines of which is a cave marked on the OS map ("Bain's cave"?) I'm not sure whether or not I found it, there's a few coves and crevices, all very overgrown and rarely visited by the looks of the deep pathless vegetation, one has some remnants of rusted metalwork (maybe a fence to keep people out?) but nonetheless a worthwhile nook to clamber through.
Then would I choose, to lull in soft delight
My jaded sense on Mother Nature's breast, —
A rocky dell I wot of, cool and deep,
Mossy and bowered o'er ; oh, such a dell !
Haply a faery country, hemmed about
With boulders, monstrous to the miniature
Of all within.
No eye could scan its deep
From the above, because the pathway wound
(The footway of all wild and haunting things
That wonned there), wound in dense and devious way,
Now right, now left, then sudden dropped adown
To a rare spread of green and amber moss ;
Nor there did cease, but split to many paths,
Twisting among the granite blocks, that wild,
In heaped confusion, strewed the place around.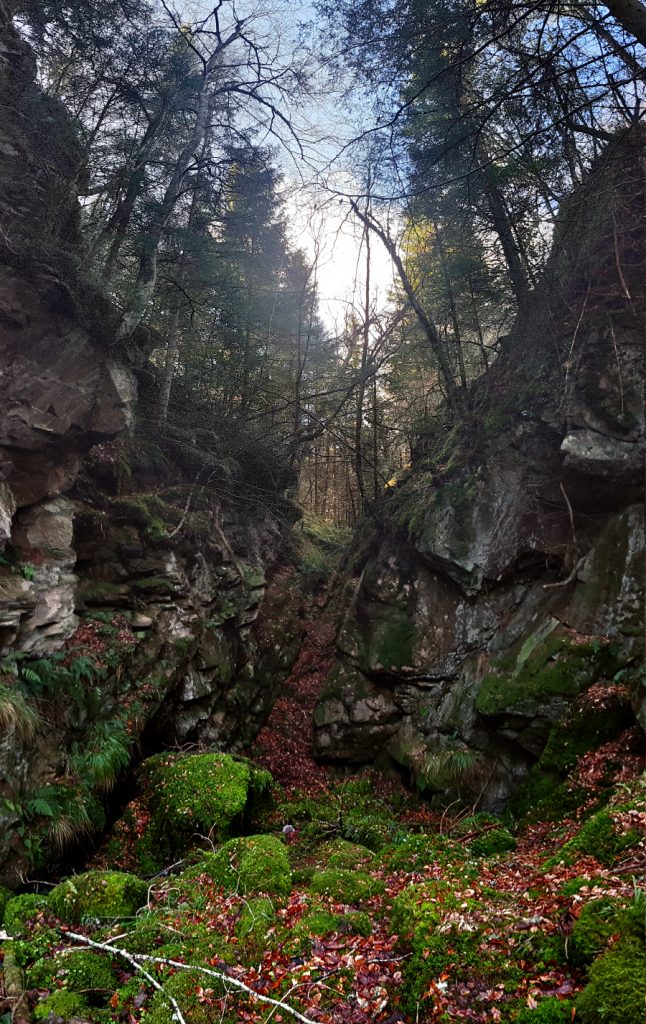 Fair, ferny plumes clustered in every nook,
And many-tinted lichens on the rocks
Drew dainty pictures, vague and various.
No unsubdued and rudely peering ray
Might cleave in summer the o'erarching boughs ;
But daylight glided in all softly green,
All soft in mystic tenderness of gloam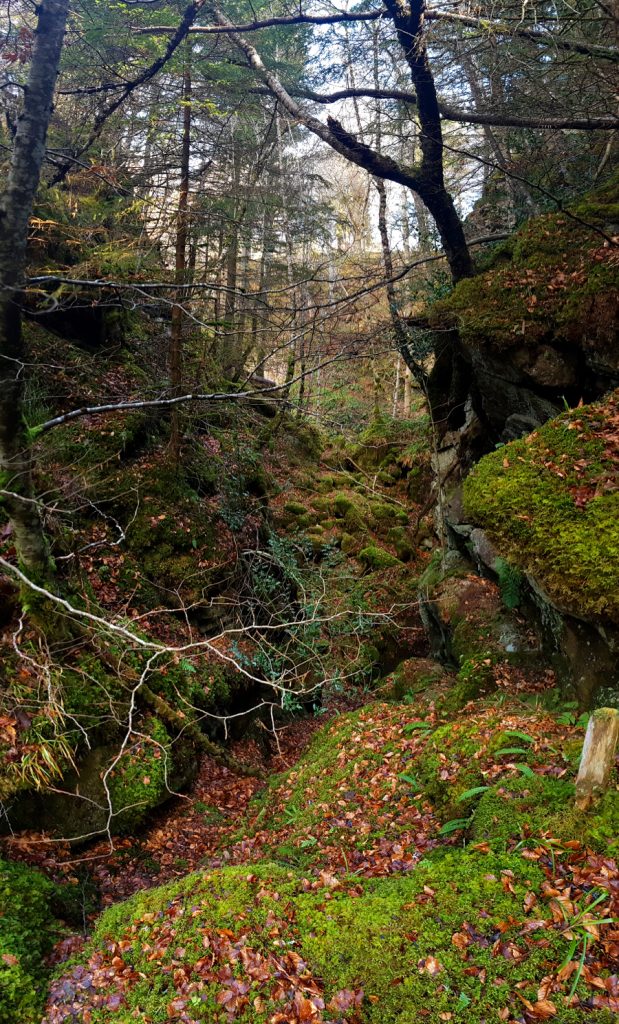 The cave held a few who had escaped defeat in battle, by crossing the 'leap' (visited later) but ended up trapped in the cave by their enemies and were smoked to their deaths and beheaded. In some ways I'm glad that I didn't find it.
There, where the rocks
Brake through the land, and tumbling down its steep,
Vexed with their chaos the ravine's descent
Half hid by matted verdure, and by crags
Jutting, o'ershadowed – gloomed a sombre Cave.
From entrance strait, that barely might admit
One burly wight ; in gradual decline
The dark den widened, till its last profound
Might house perchance a score, with scanty room
Time to return to the river
And dream harmonics touched the attentive air,
Whisp'rous of musical waters wandering near.
Still sang the music, and a gentle curve
Now in full radiant sunlight soon revealed
Its origin, the rich and sombre flow
Of Divie's tide, that lingered 'neath the bank
(So lover 'neath his mistress' lattice lurks)
As loath to leave Slaginnan's loveliness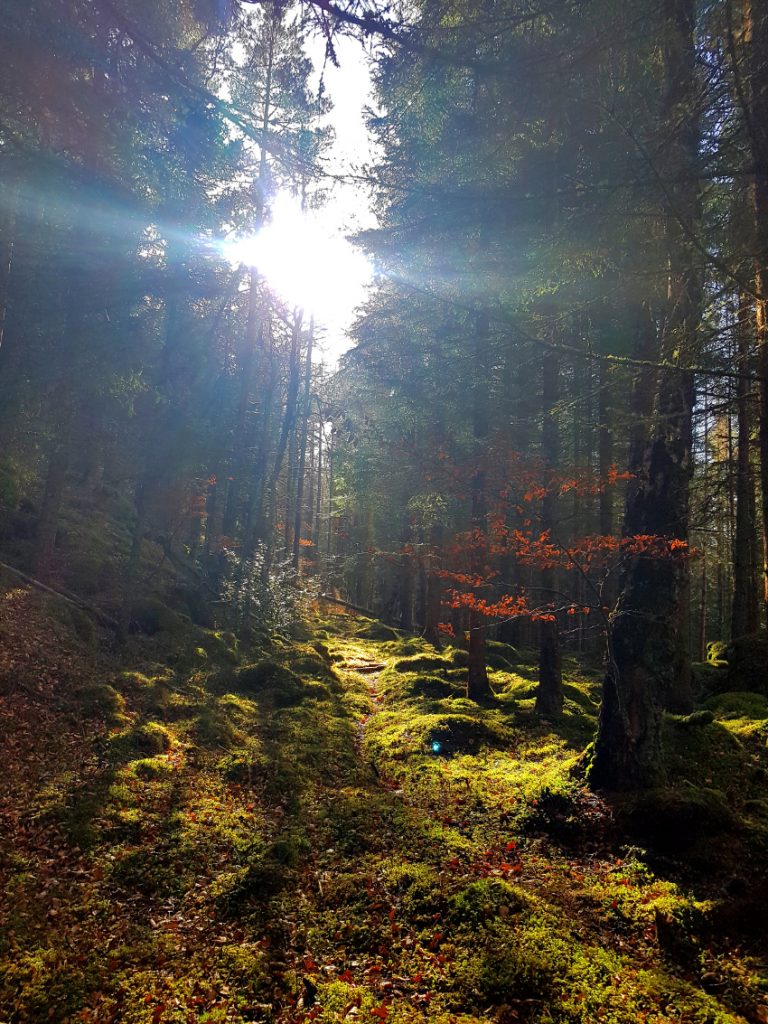 Another footbridge appeared, in a more readily maintained and ship-shape state, and this should have been a clue to where the wise majority were heading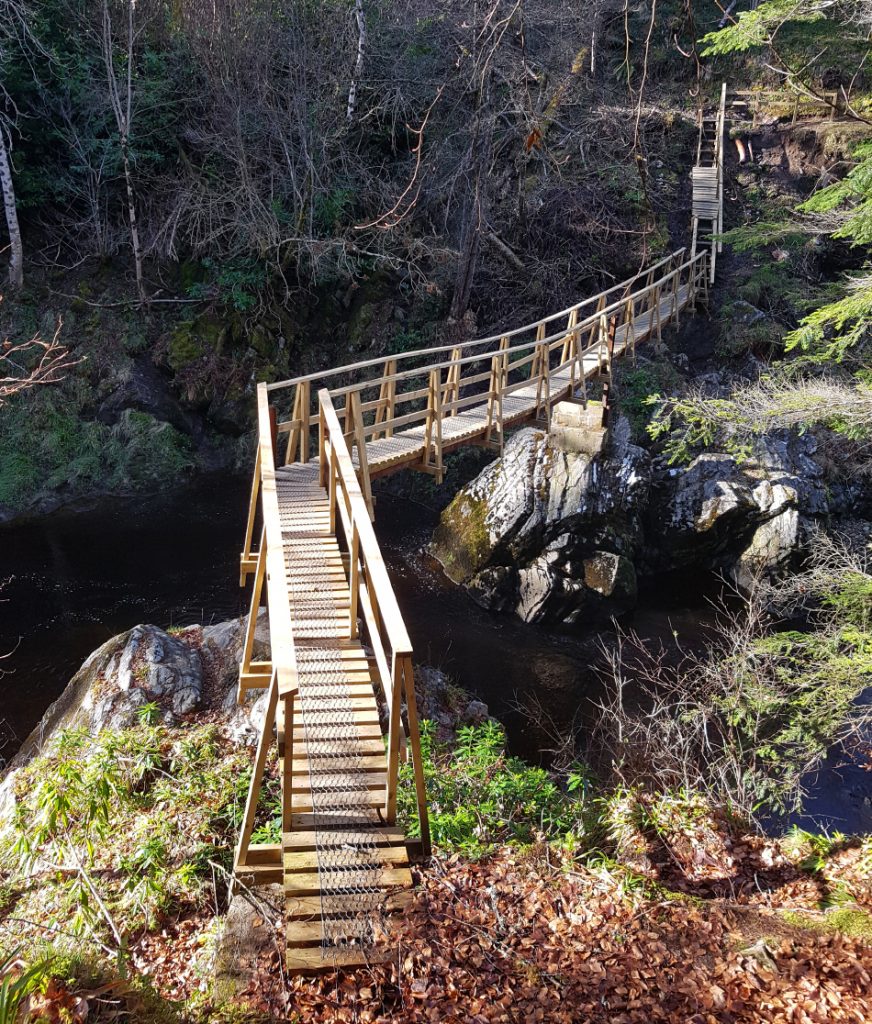 I continued east-side, the path becoming less worn as it crept precariously higher above the river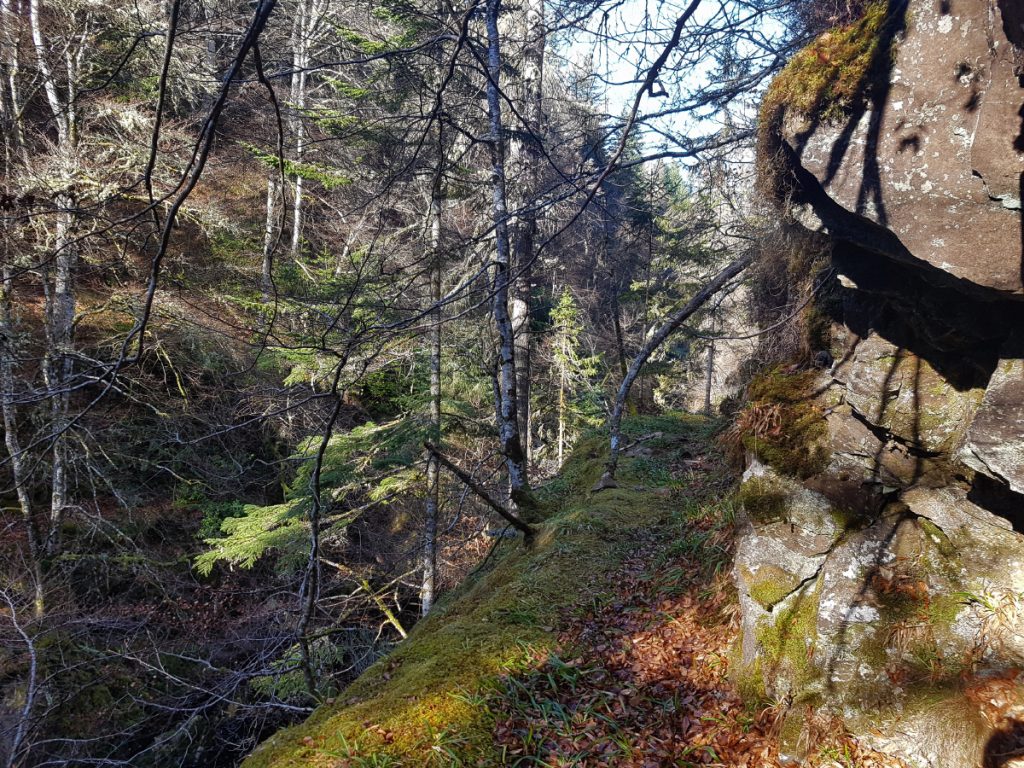 Few passed along here except the foolhardy: the path overgrown and teetering, a bit of broken and slimy planking, creaked from a rusty cable mocked the adventurous, inviting doom. I crept along keeping all 4 planted cautiously..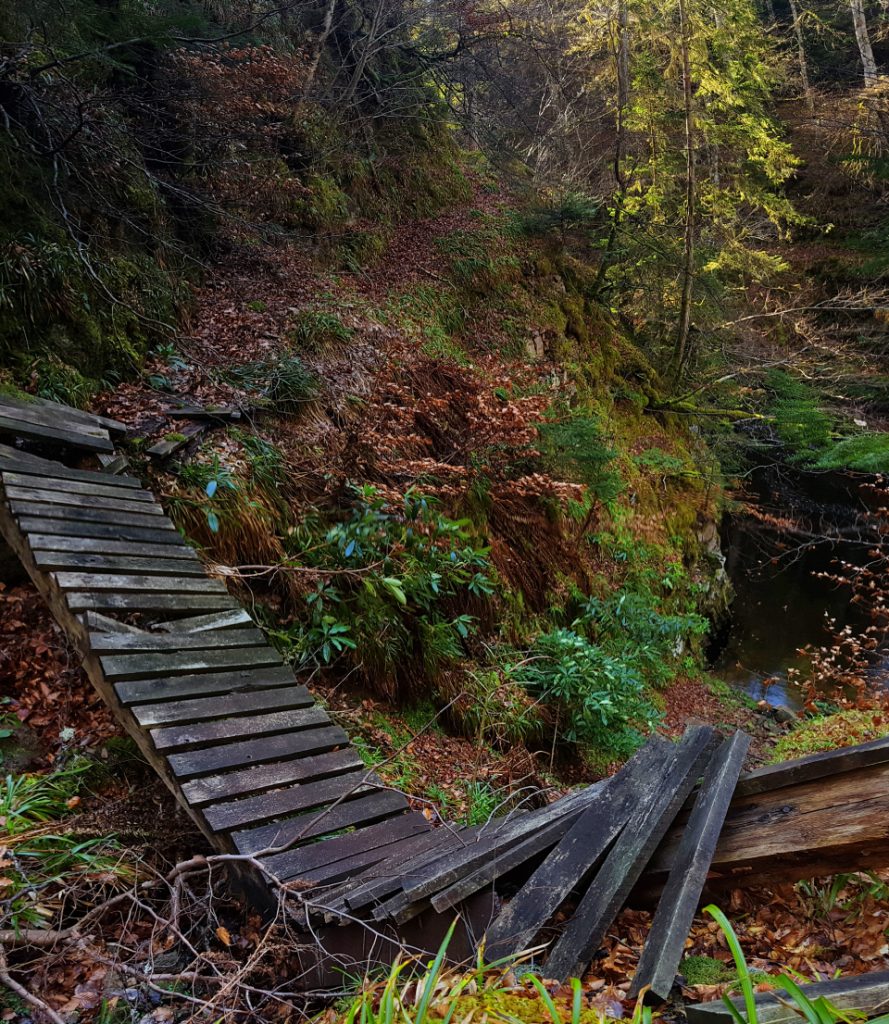 Eventually the slope overhead tailed off and I could make my way up arriving at the bridge of Logie. Here I crossed over to go have a look at touristy hotspot, Randolph's leap (should be called Alastair's leap)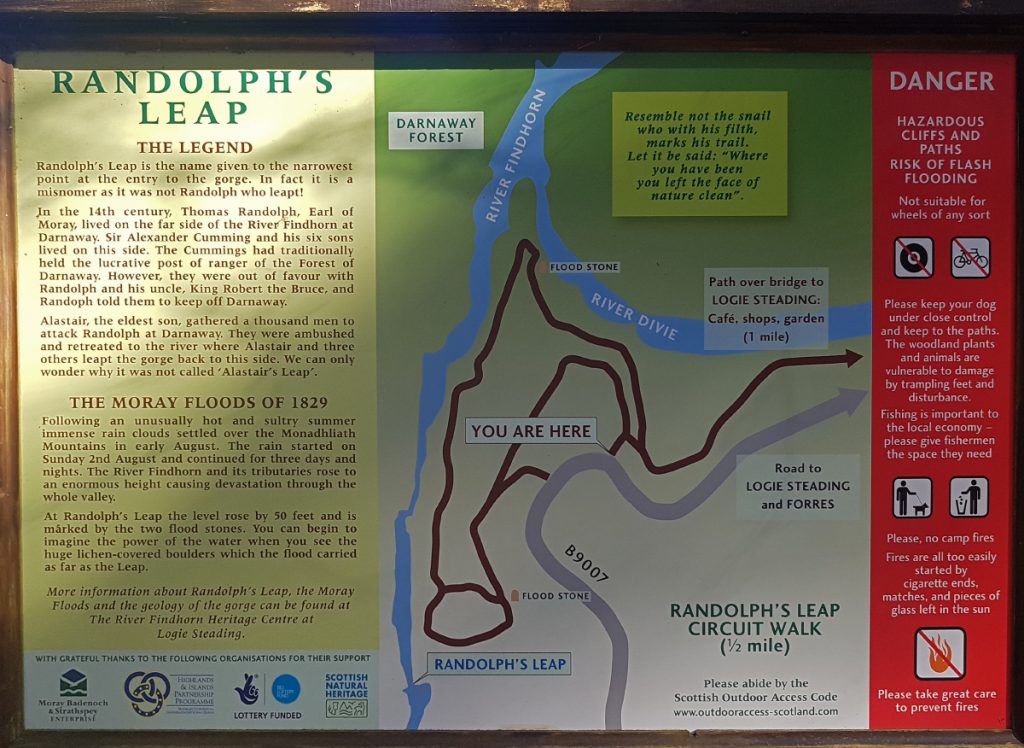 Another path clinging to a cliff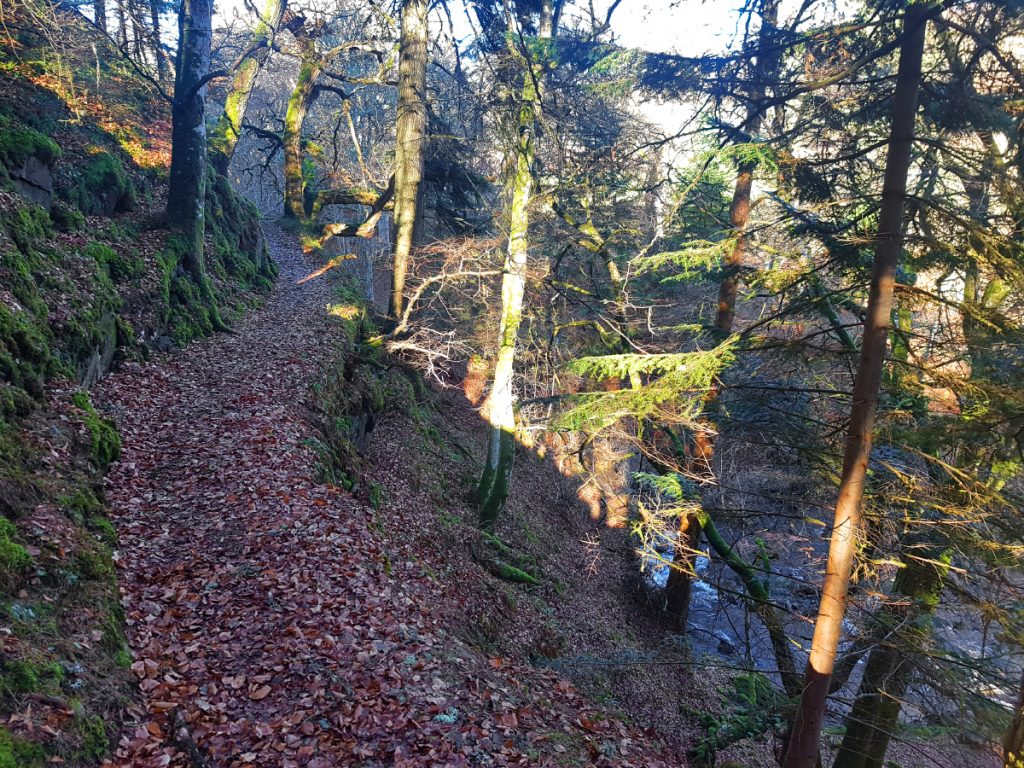 Down below the River Findhorn churned and boiled through the rocks, wouldn't fancy your chances of leaping that today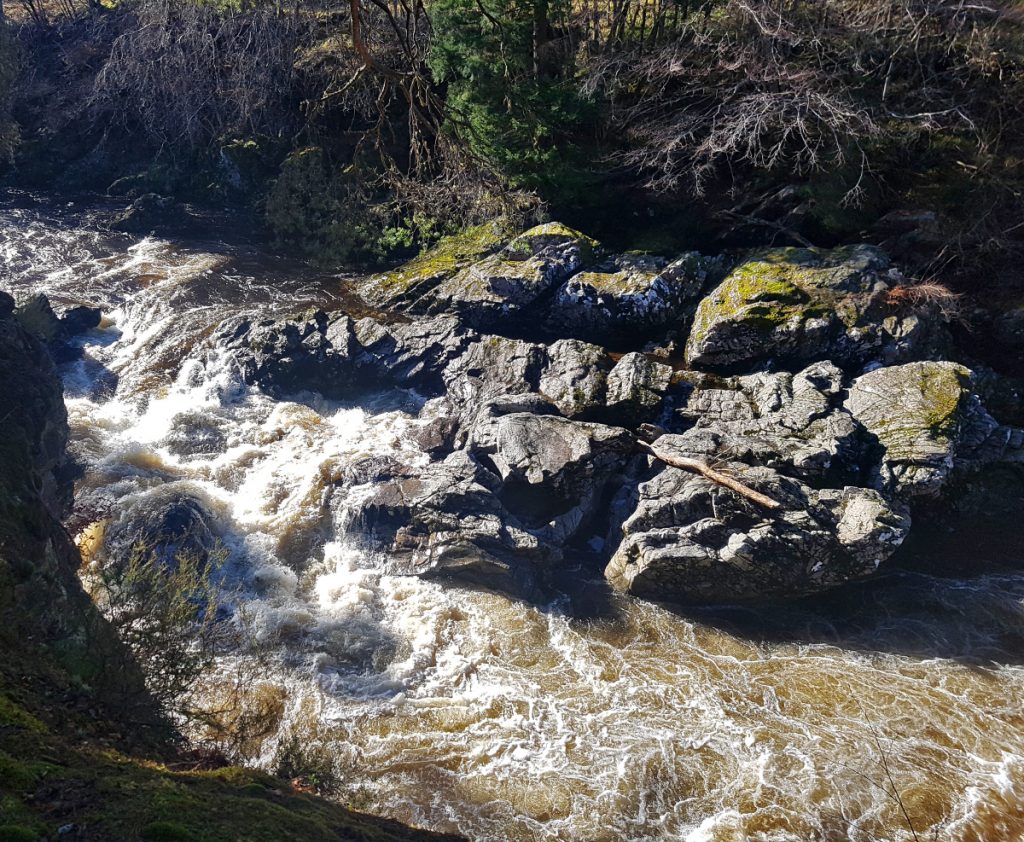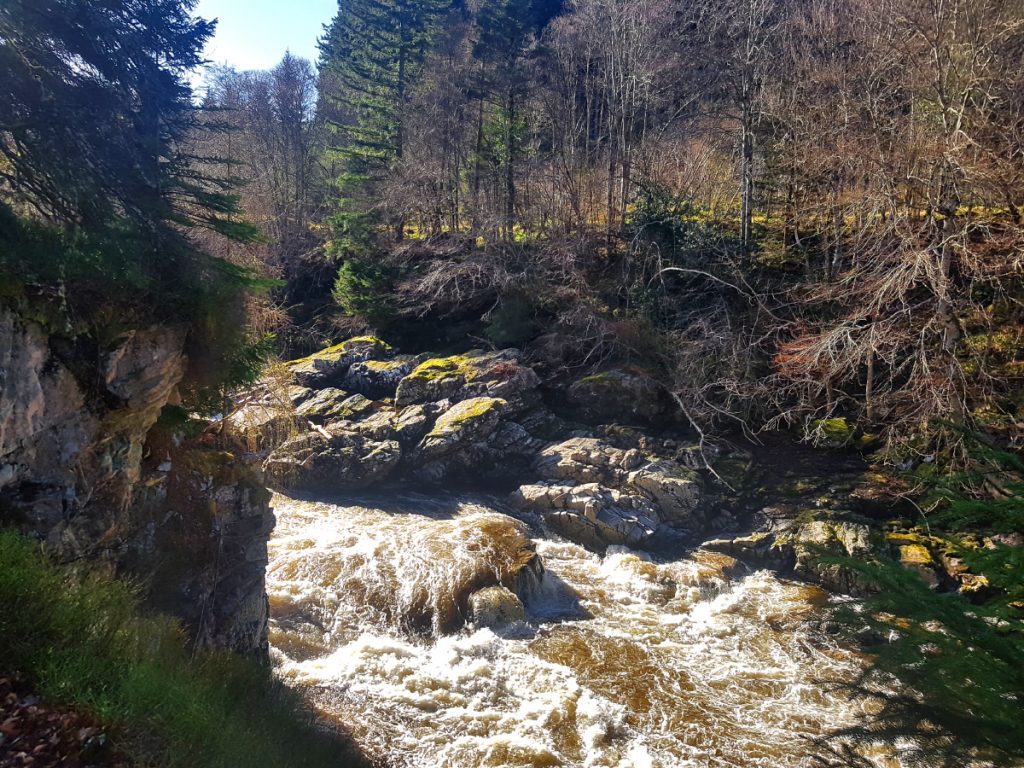 This stone marker I think marks a biblical flood in the 1800s that devastated the area, it lies 50 feet above the normal river level!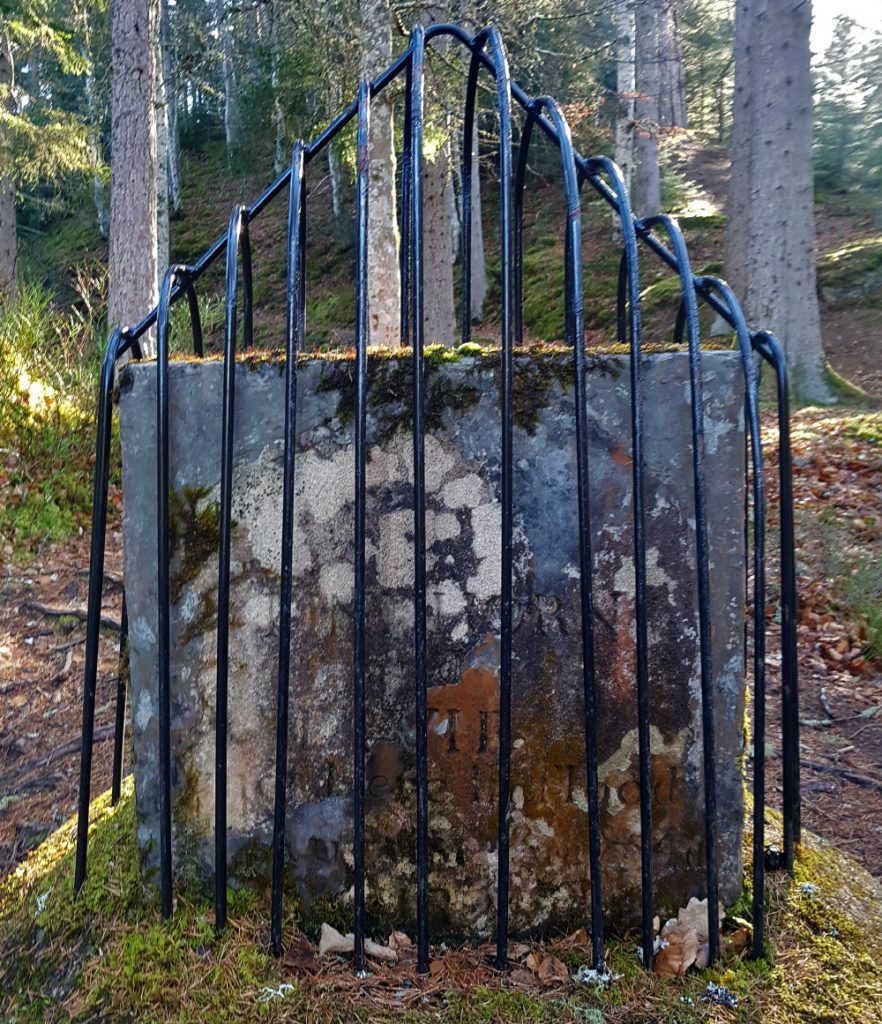 I continued downstream where the river widens and becomes placid.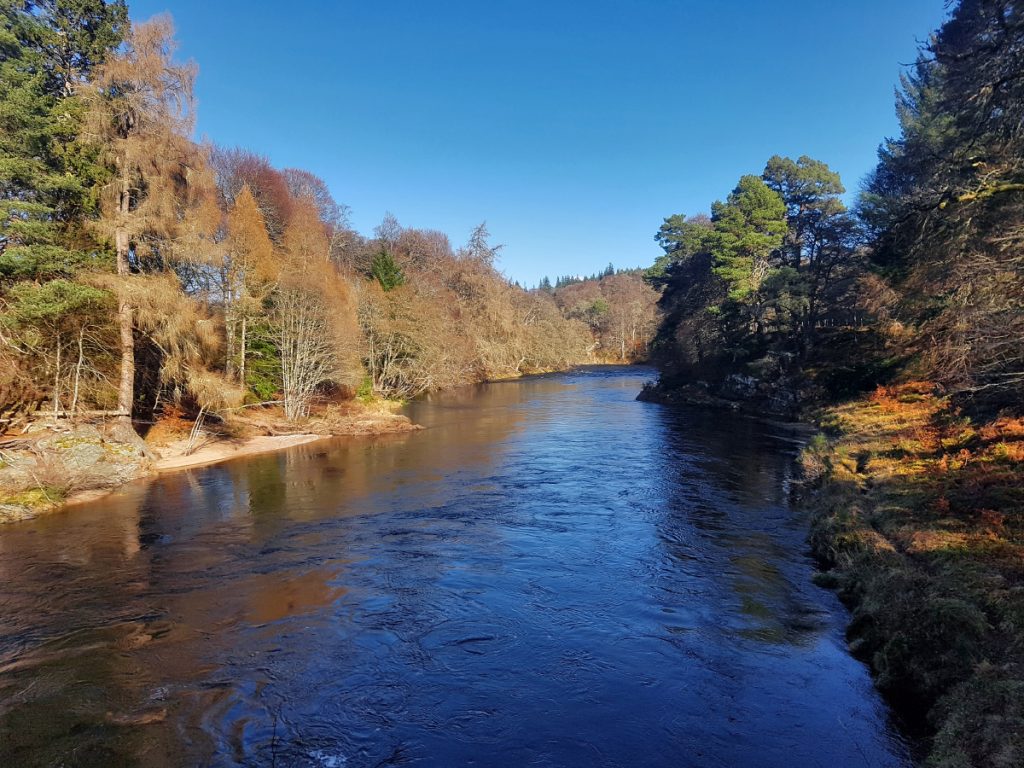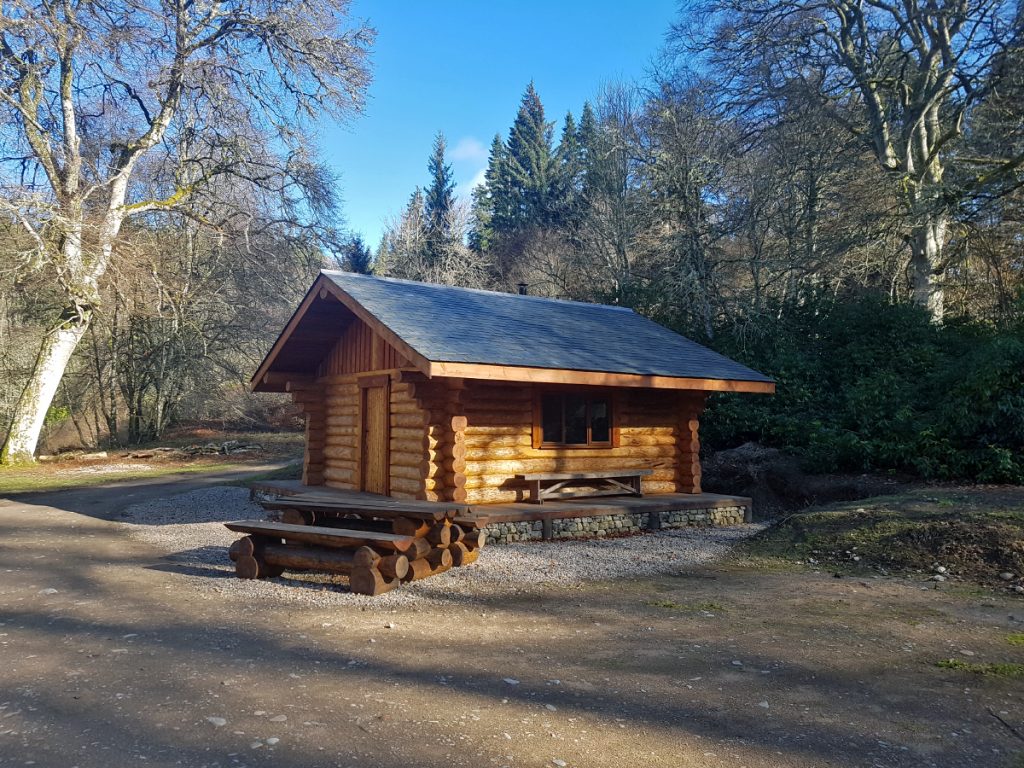 Nearby is the Logie home farm steading which has artisan local produce and a cafe: the temptation for a tea and scone stop was high, but I had to press on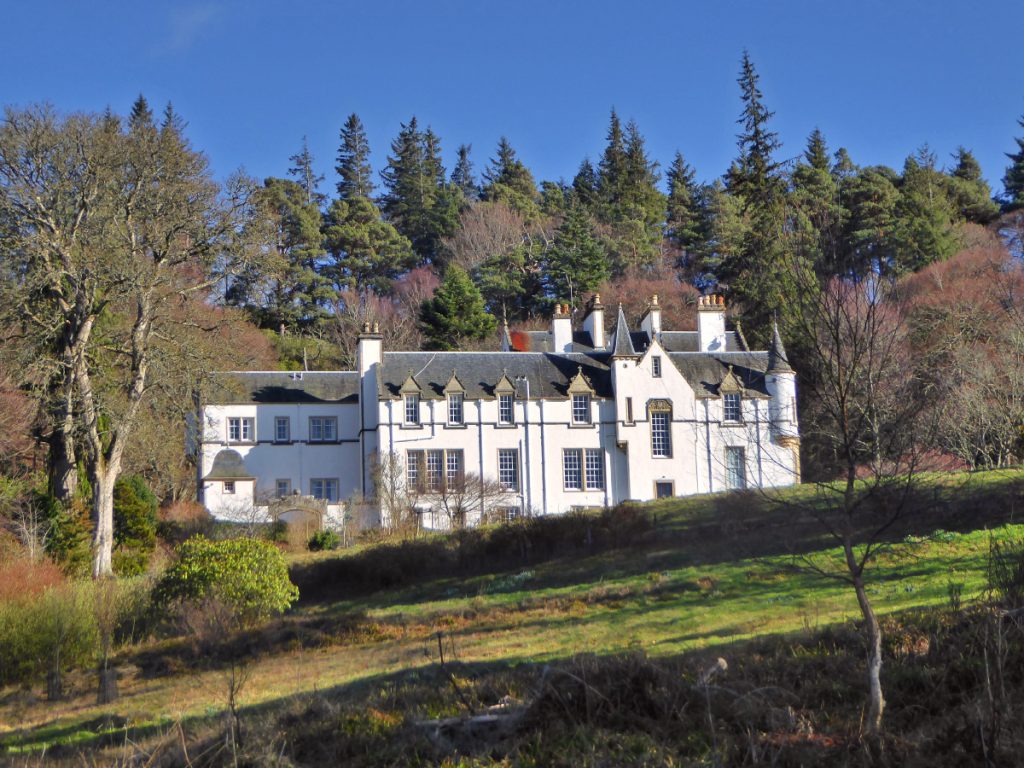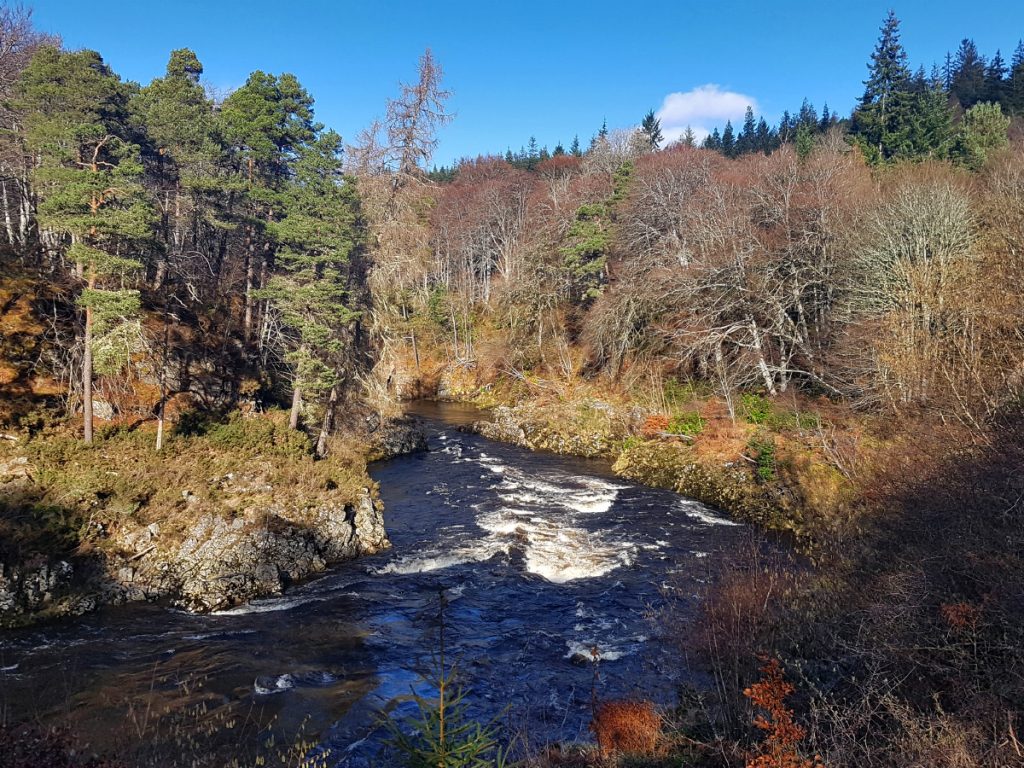 A ruined building has an inscription regarding the flood and where it reached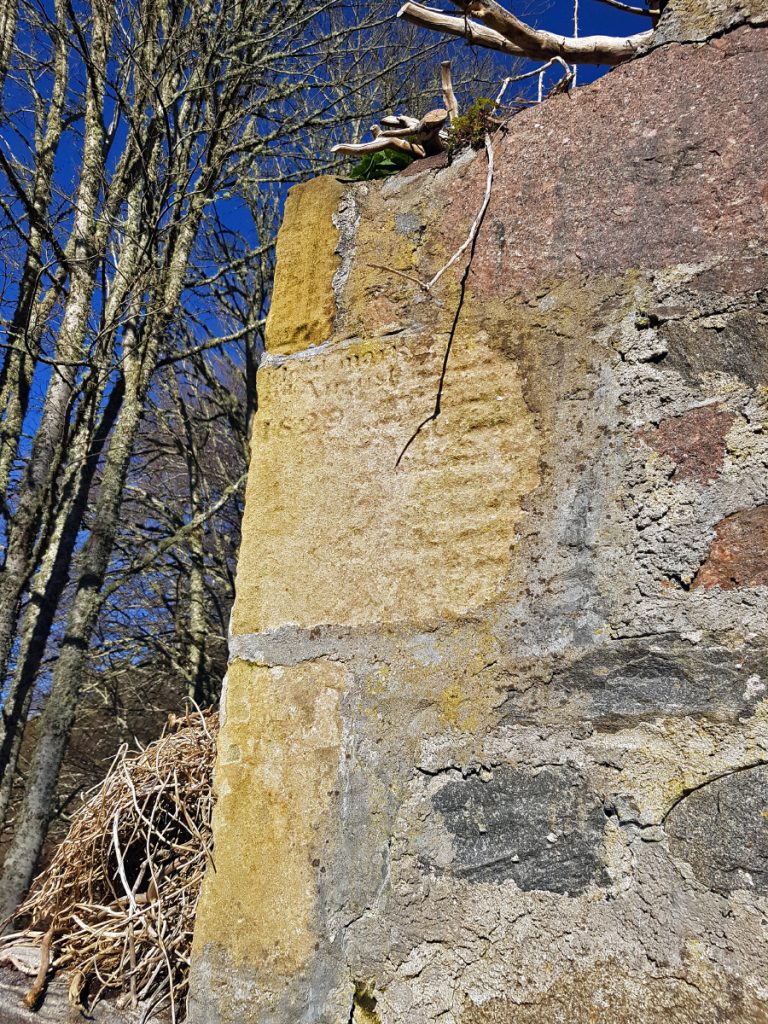 The path climbed extremely high above the gorge afterwards: I'd be hesitant to take a bike along here at points, one slip off the rooty singletrack and you'd have a very long fall. No photos, concentrating on my feet! At Sluie, the path comes back down to the waterside and cuts through layers of sandstone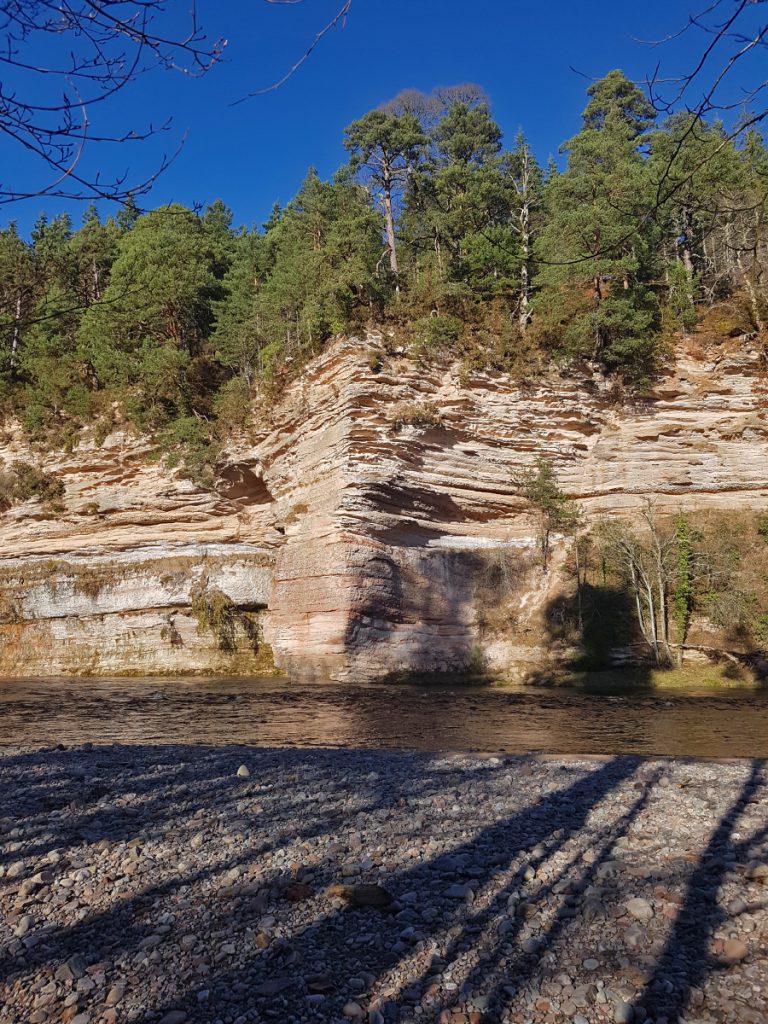 I stopped for lunch at this lovely spot and chatted to a mountain biker here, warned him of the hazards to come as he headed upstream.

A boulder nestled like an egg between tree root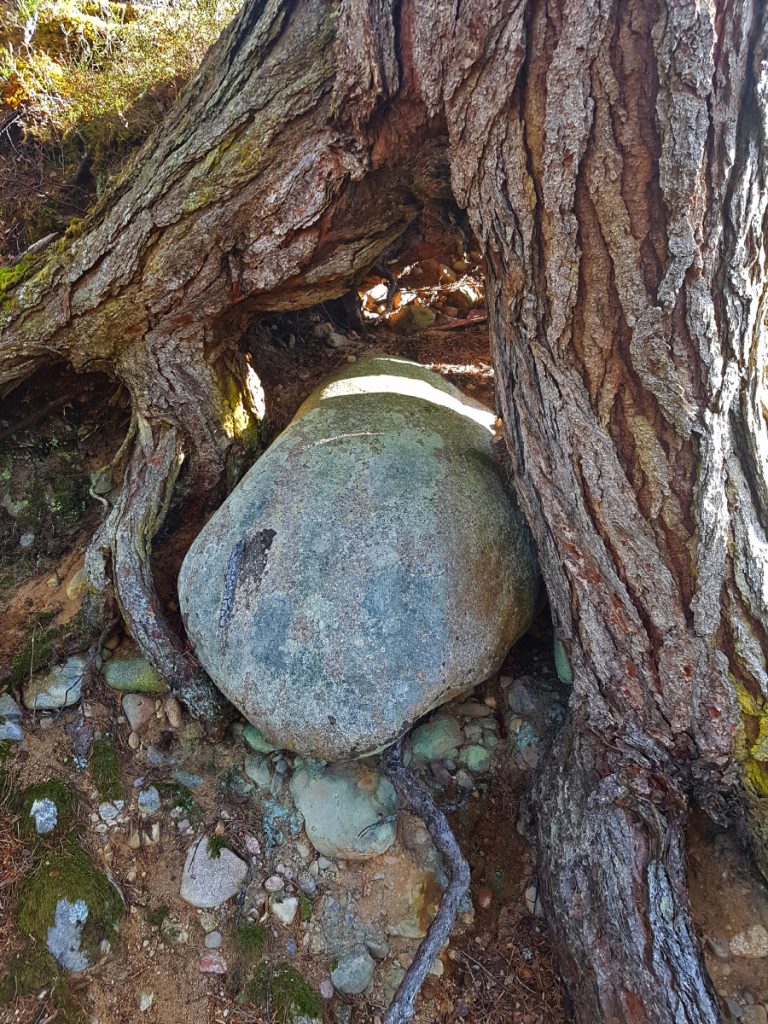 At Scur pool, I left the fine trail along the river and decided to head inland to see some more points of interest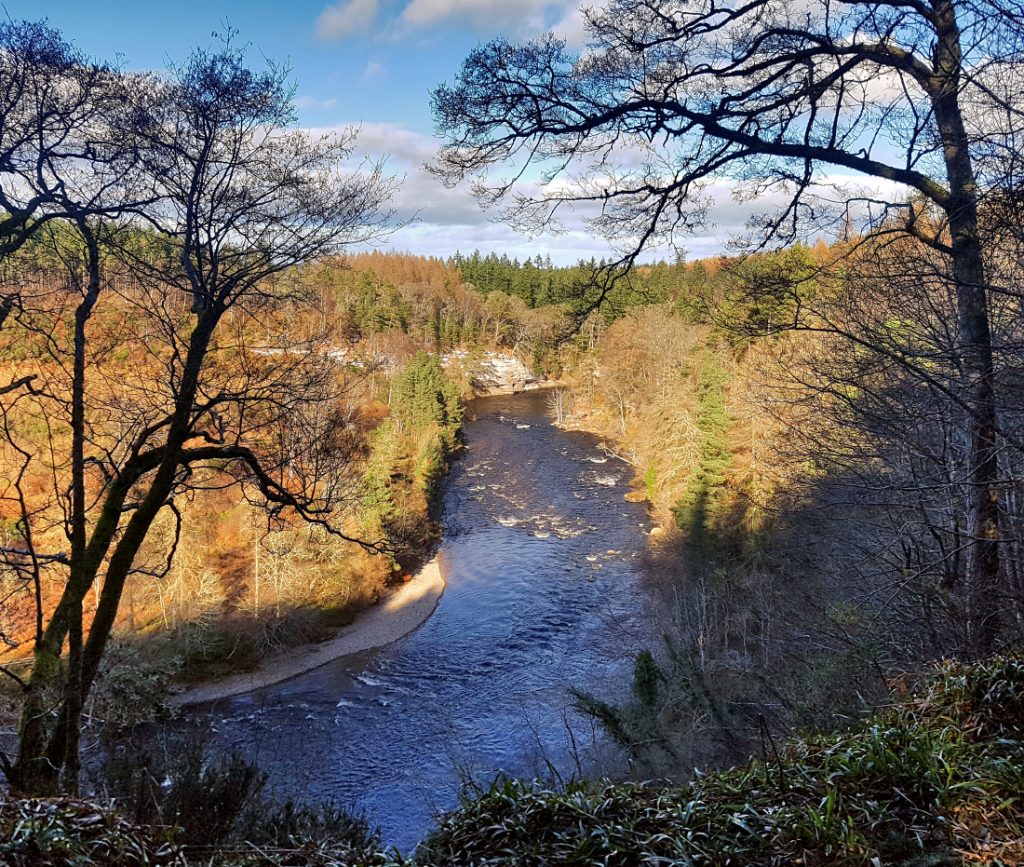 First up, Blairs home farm, built in 1834, looking like something out of a western, but actually is now part of a rural campus for Glasgow school of art.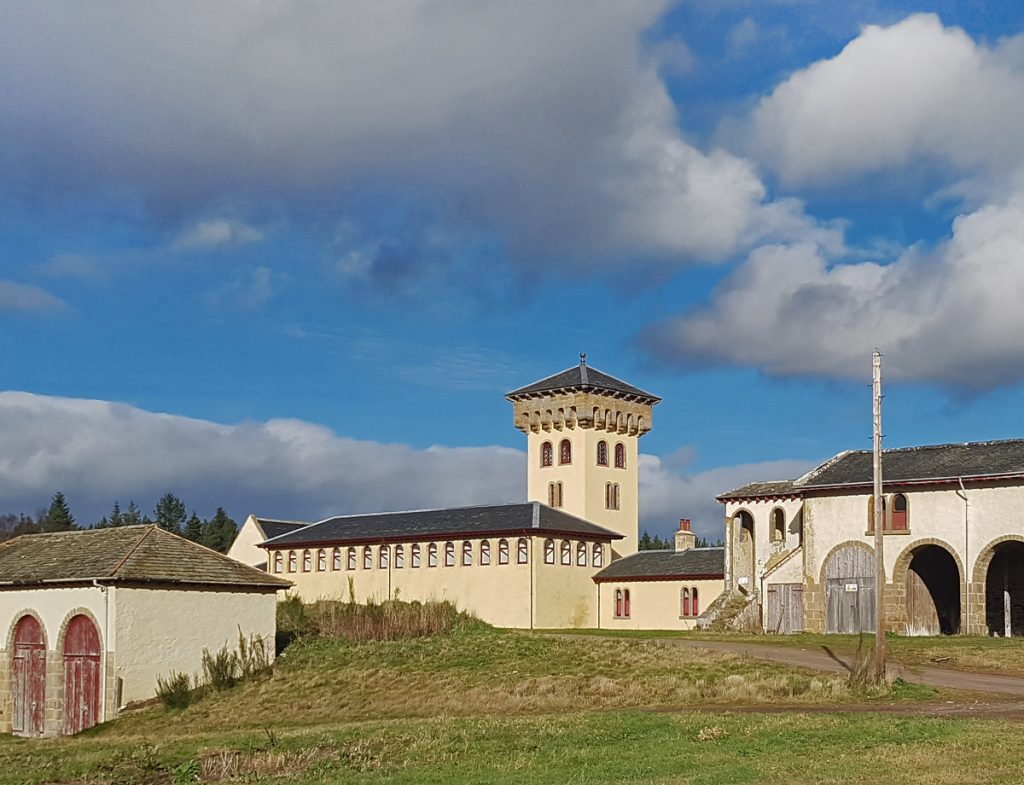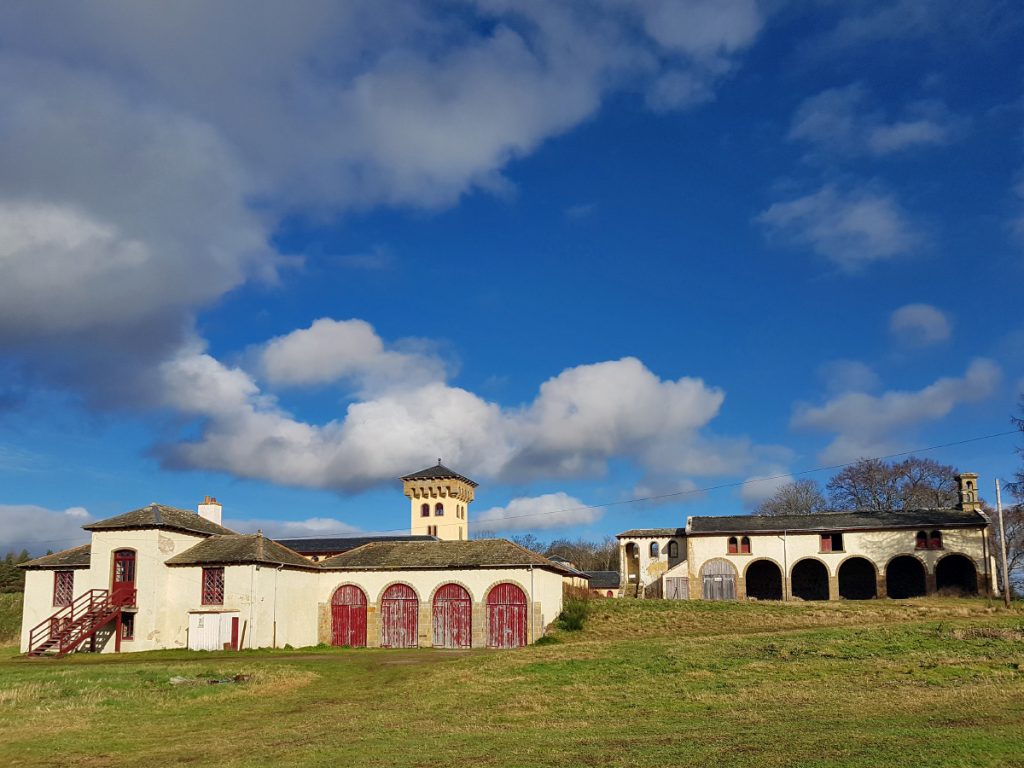 A small kirk nearby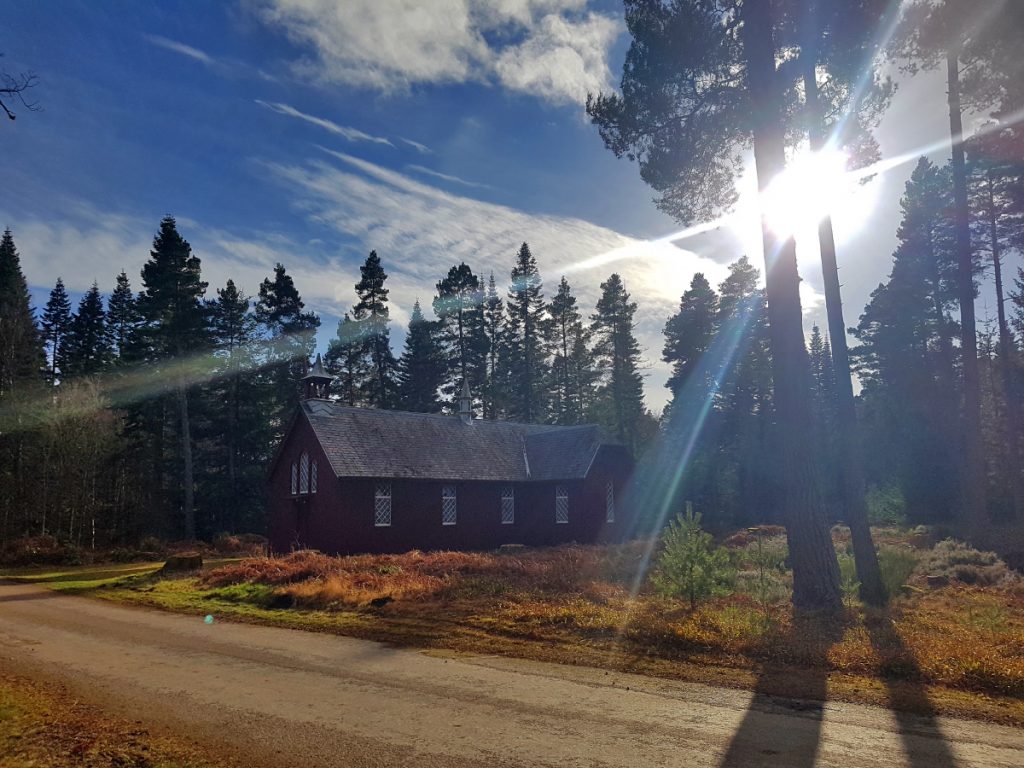 I cut past the Loch of Blairs where many swans were enjoying it's glassy stillness. A path had been chopped through dense rhododendrons enabling passage onwards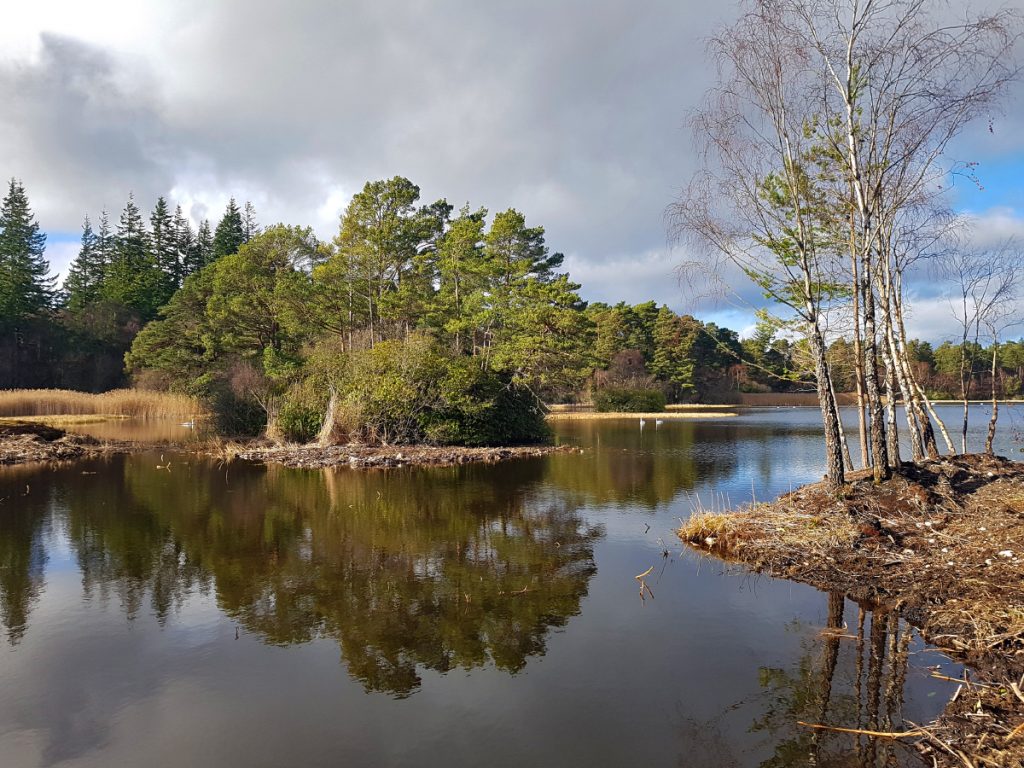 To rejoin the Dava way and catch up with the walkers, I headed through the pristine grounds of the Dallas Dhu distillery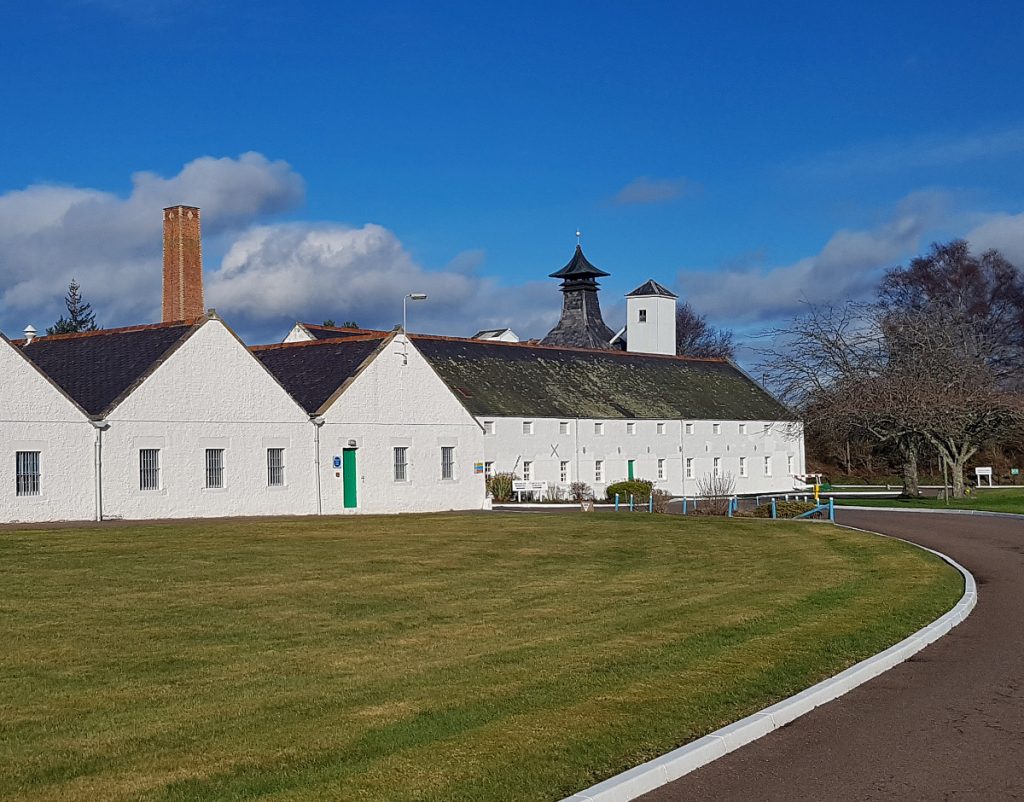 So I'd missed out the section of the Dava way between Dunphail and here, but I think I got a more rugged adventure along the river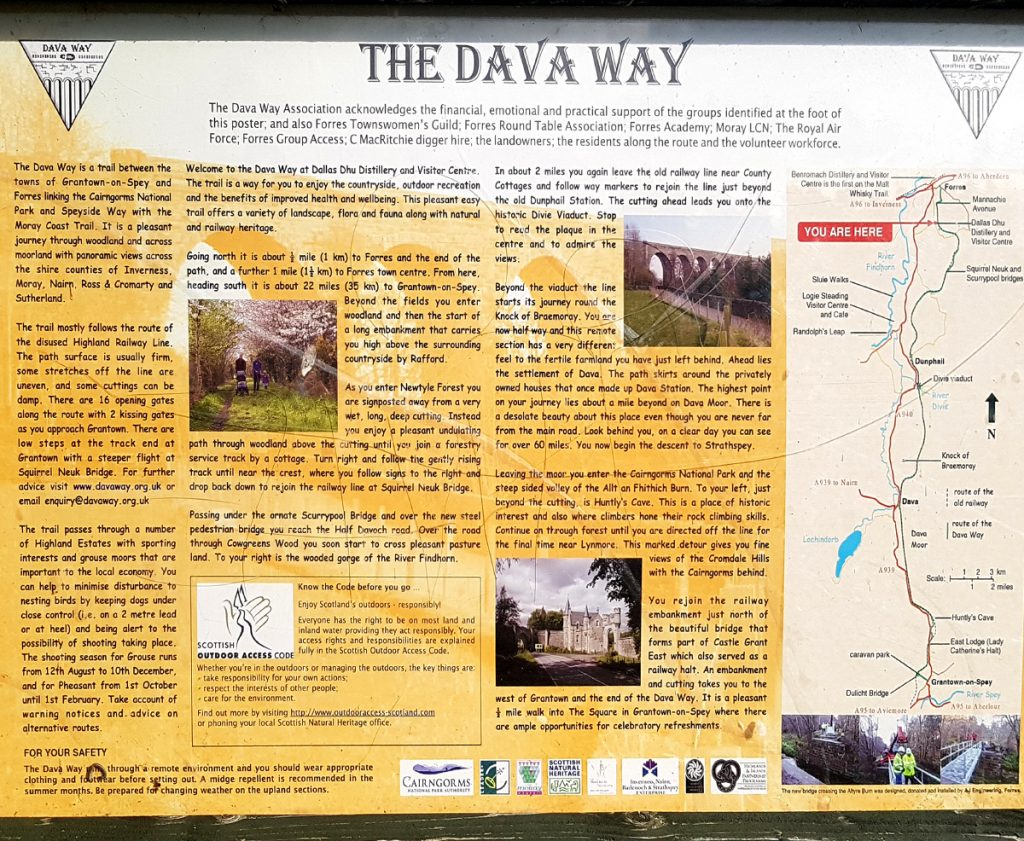 Entering the outskirts of Forres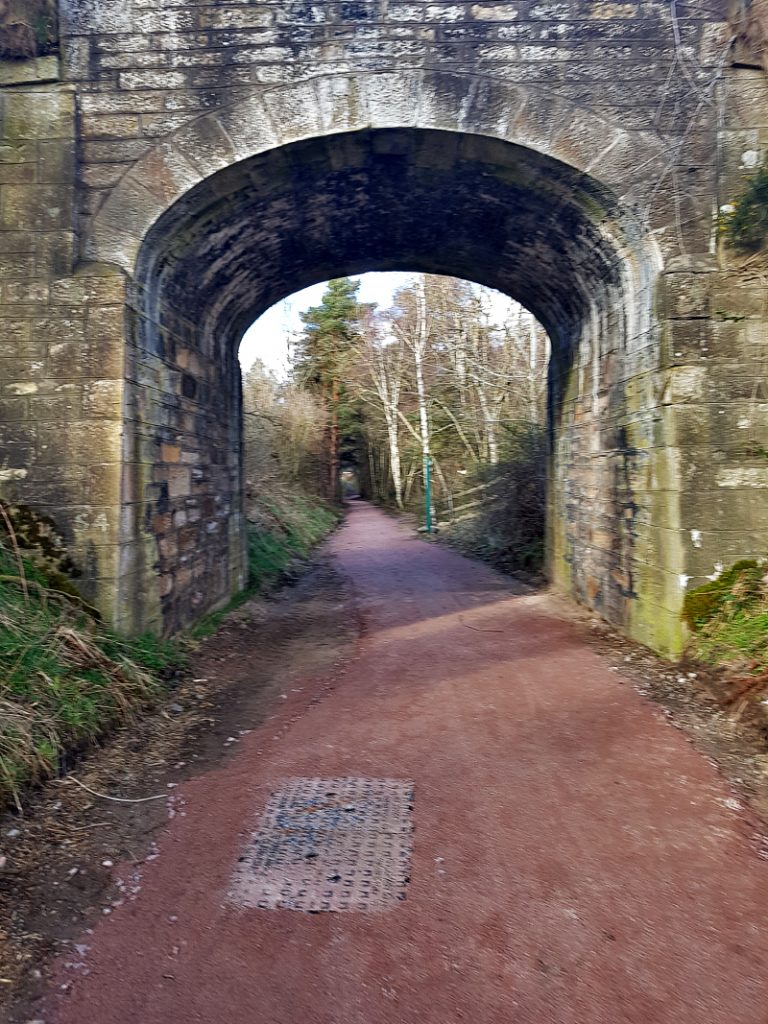 I tried to keep to parks and back lanes, first past Sanquhar Loch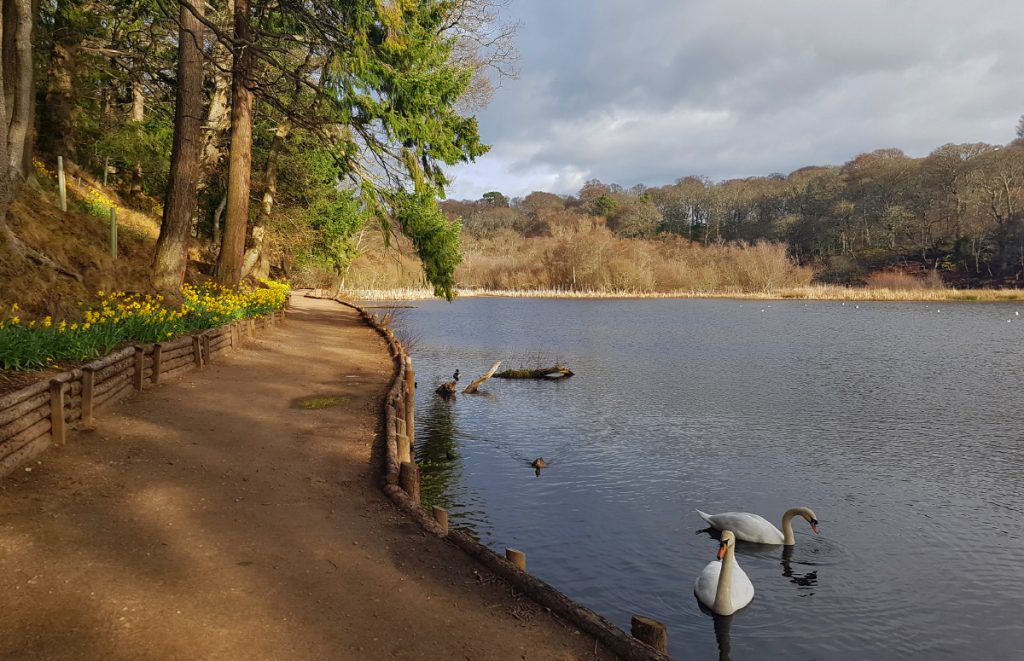 Then up the wooded slopes of Cluny hill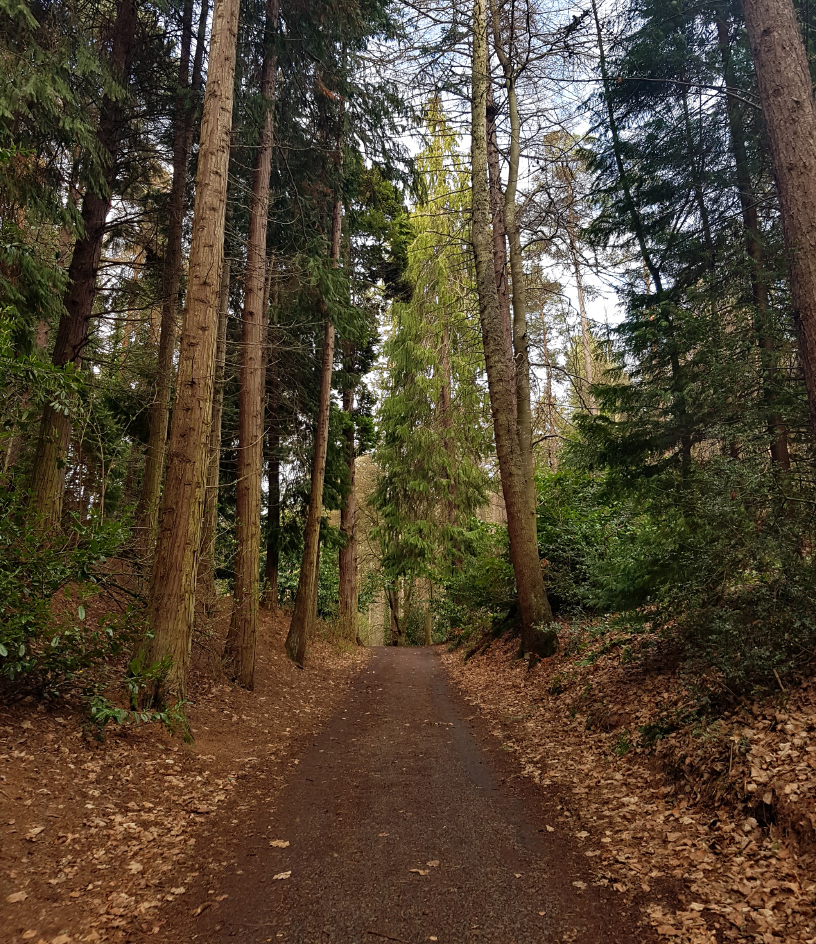 At the top is Nelson's Tower, built in 1812. Today it wasn't open but it is generally throughout the summer.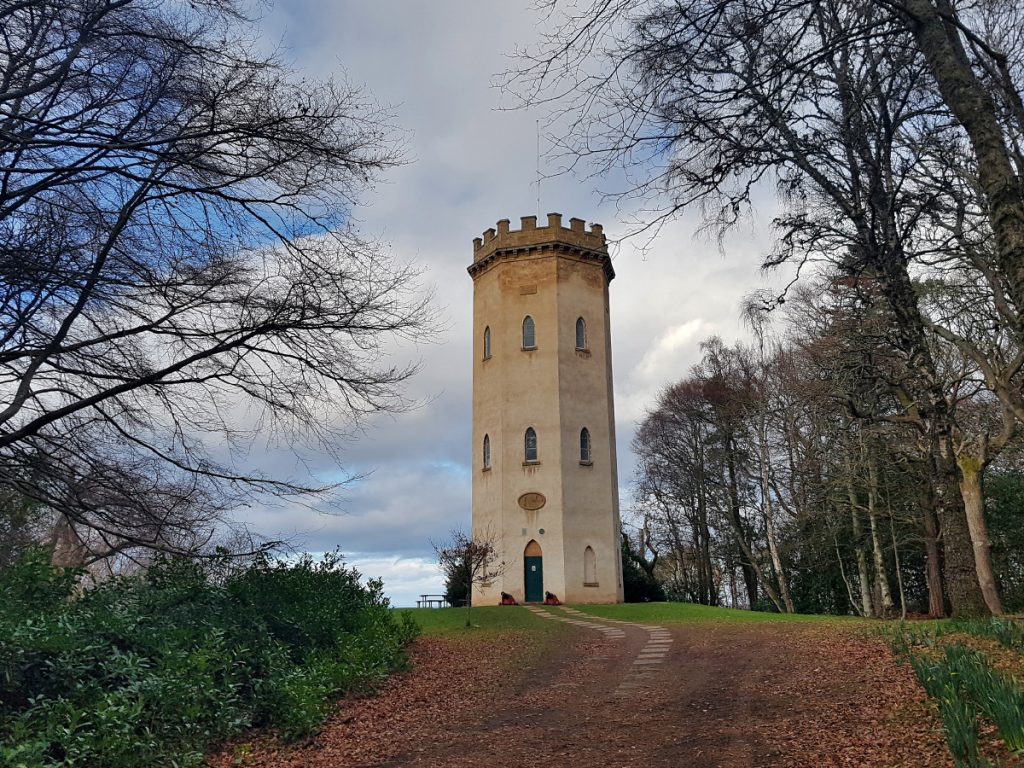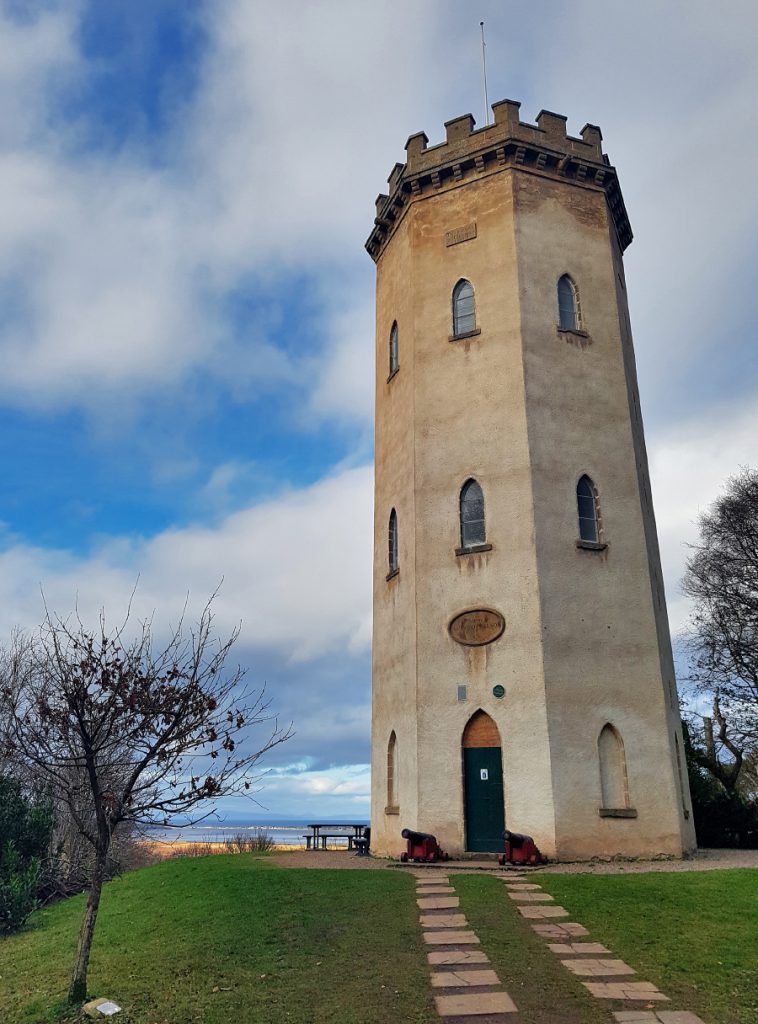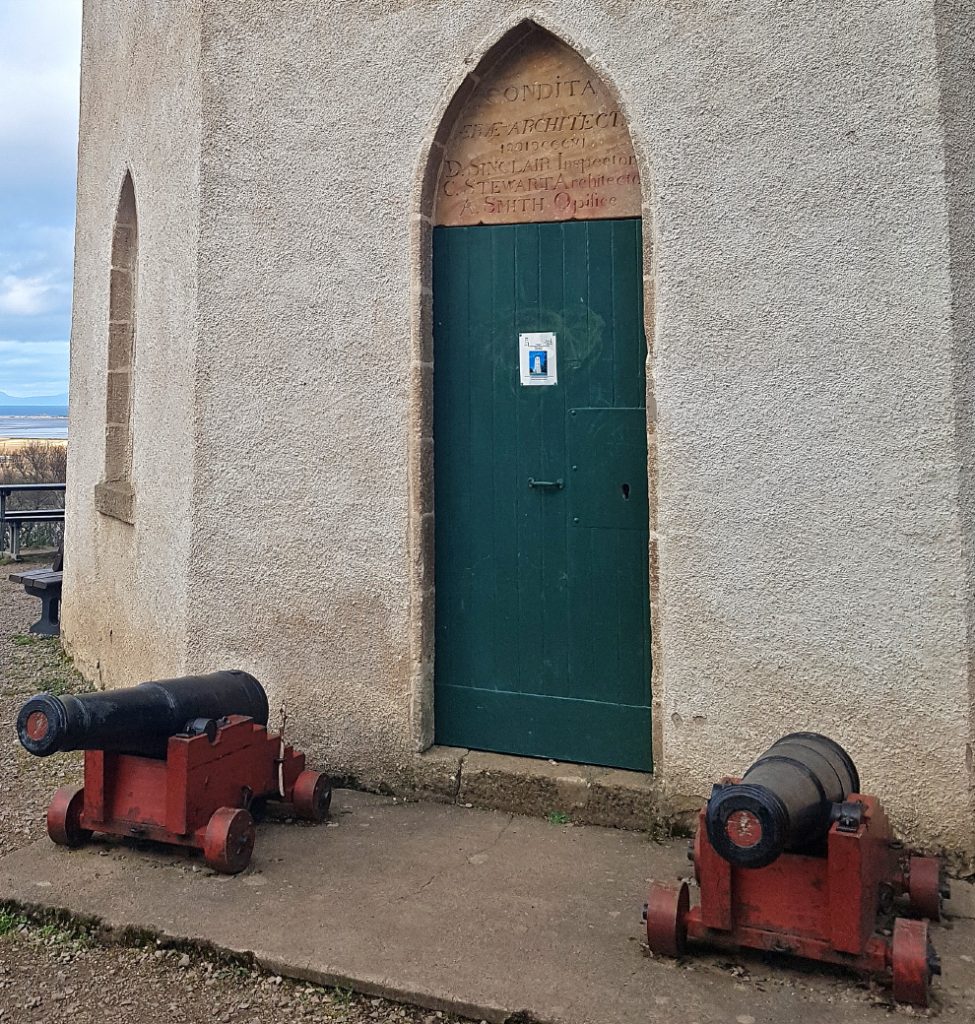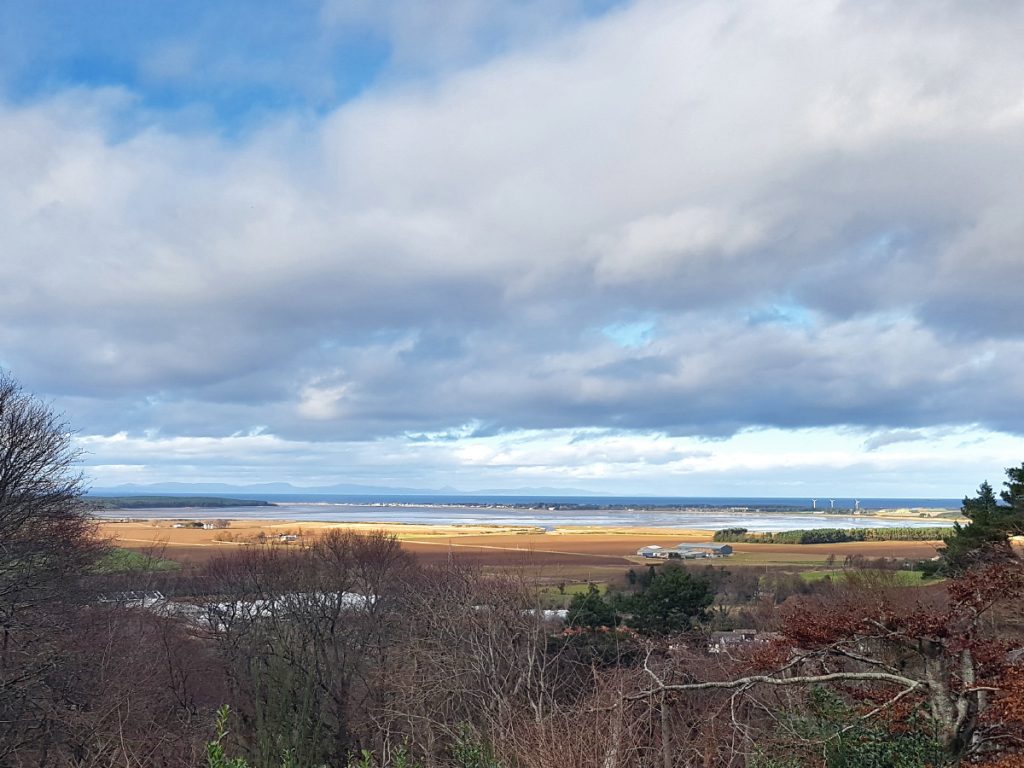 I yomped down the other side, now quite tired with 27km in the legs, but one last stop had to be made – the largest Pictish stone in Scotland at over 7m high – Sueno's stone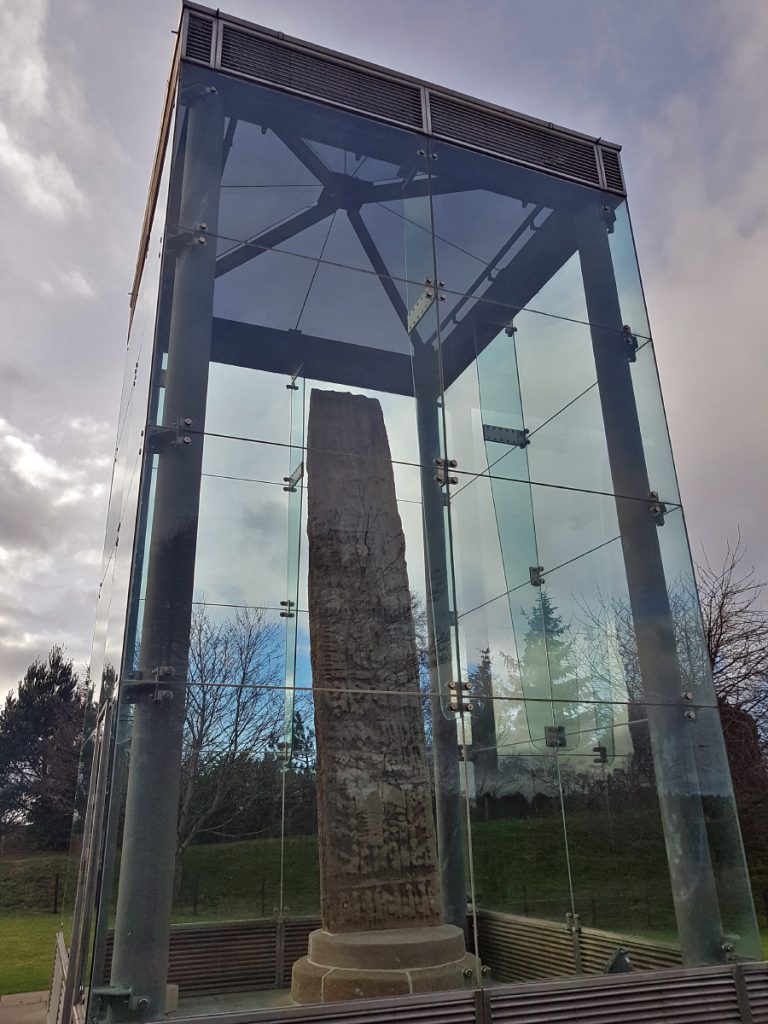 It's encased in glass so one can't get a good snap of it but nonetheless it's an impressive ancient work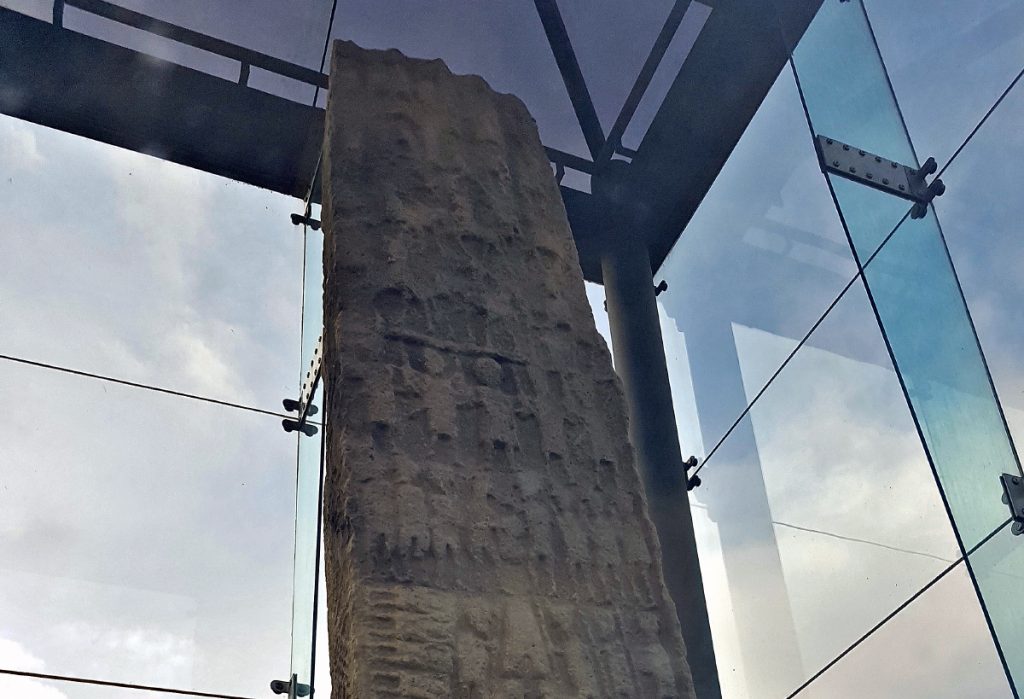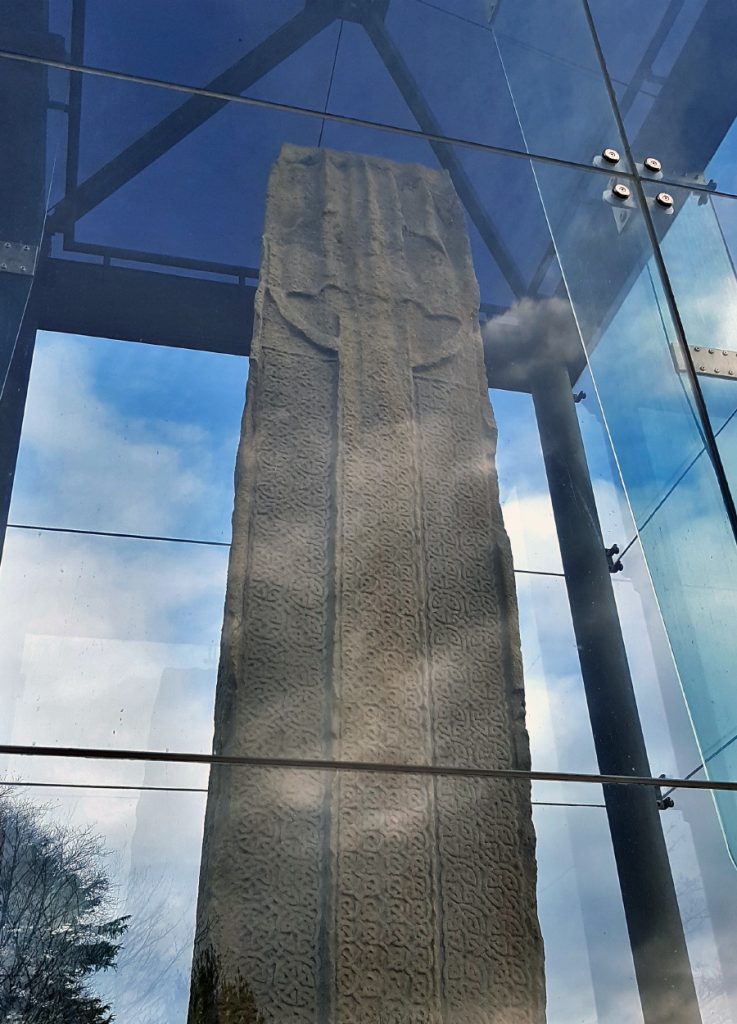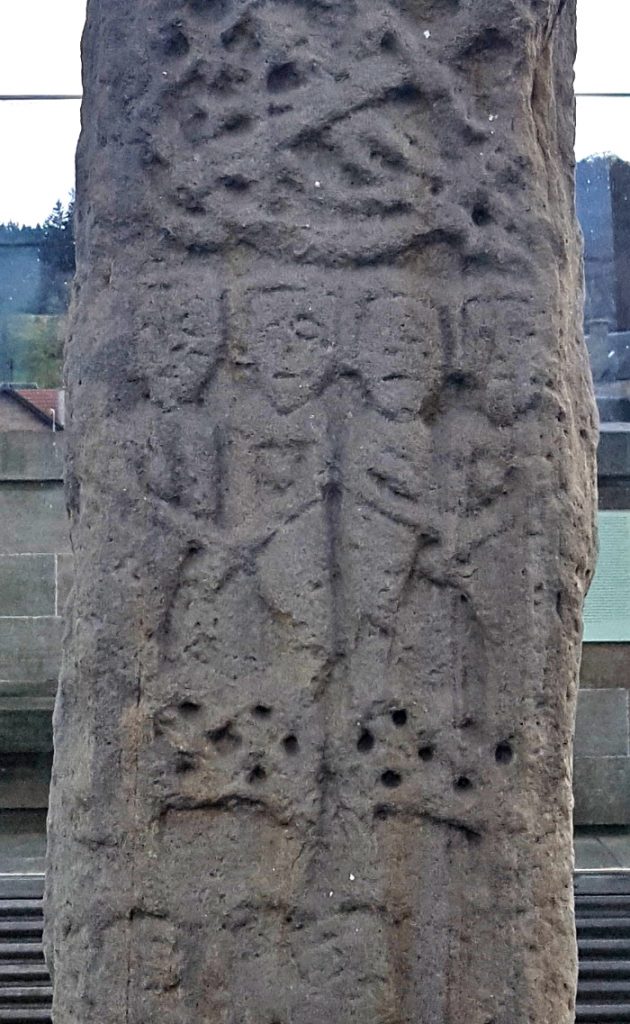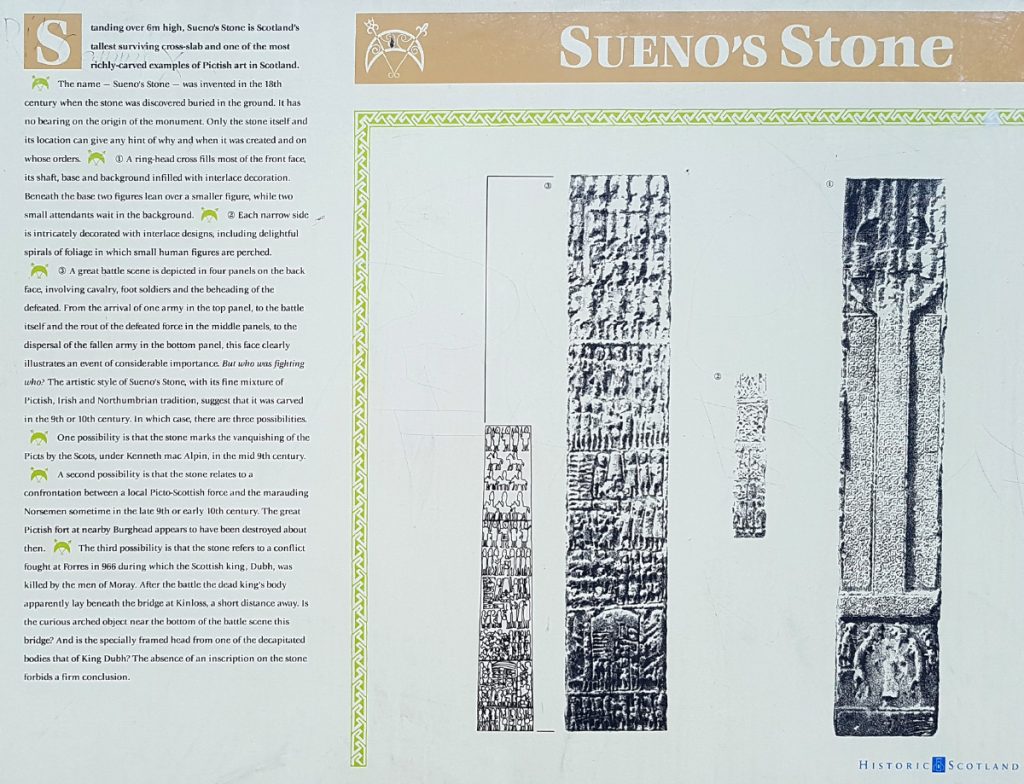 A good day of exploration at an end, time for a swift pint before the long bus home