A chance post on meetup regarding a winter camping trip had me randomly heading out, with somebody I'd never met before, for a camping trip into the Cairngorms. Other than a few folk in the Cairngorm Club, winter camping was widely spurned as a step too far by all other outdoor folk I knew. Winter however, can provide stunning sunrises, sunsets and alpen-glow snowy vistas, all without the dreaded midge. If you can camp in winter then all other camping is gravy, easy street. Winter was running out, and I'd not had an overnighter. A plan was hatched.
Introducing ourselves on the long drive to Ballater, I hopefully convinced them I wasn't mad, or if so, was infected with the same kind of madness as them: they wanted to practice navigation, off the beaten track, which was fine by me. We disembarked at Lochnagar car park, but unlike everybody else there heading up the munro, we headed off to the south east. The plan was to ascend on to the plateau of moorland, then turn north east to Fasheilach, then across to ascend Mount Keen and camp in the vicinity.
One forgets how heavy a winter camping rucksack is; my osprey aether 70L is a beast at over 2kg empty. With a vango venom 600 sleeping bag, MSR nook tent, some cooking kit, down jacket etc load was perhaps 12kg. It was a slow march for a mile, heading upwards following the hashin' and dashin' waters of Allt Darrarie.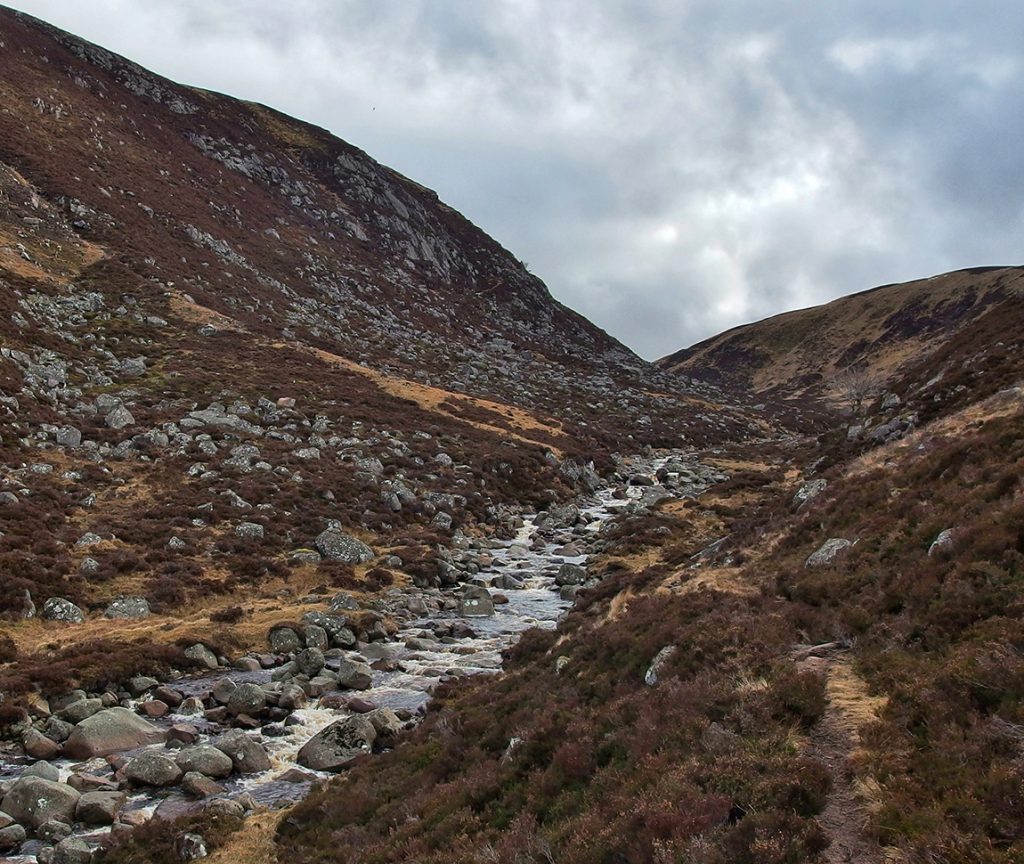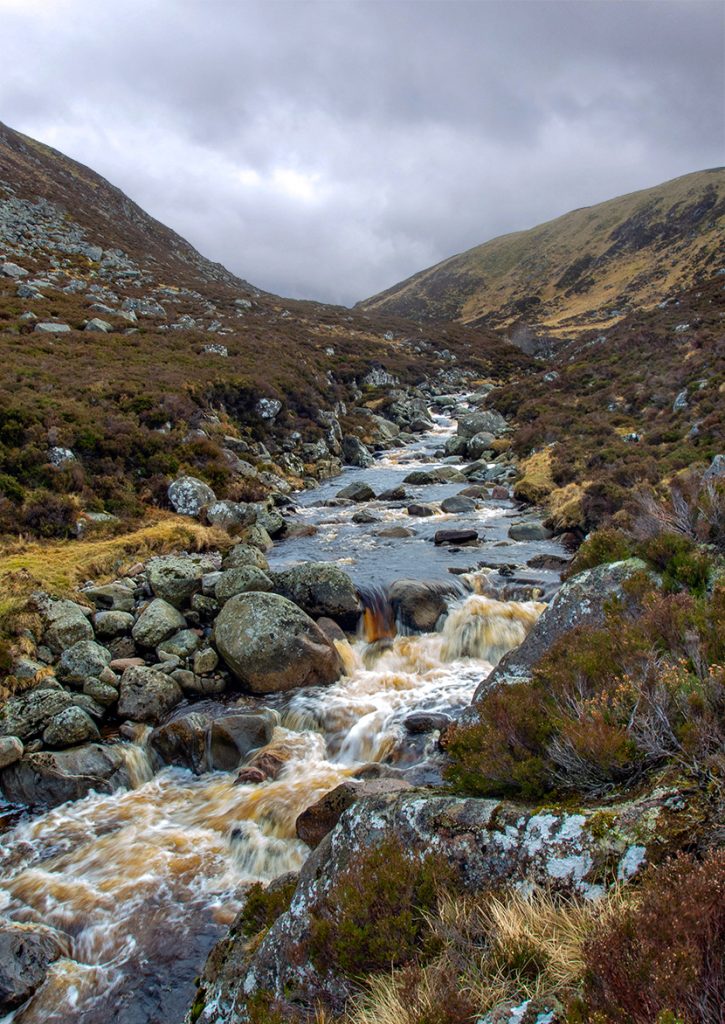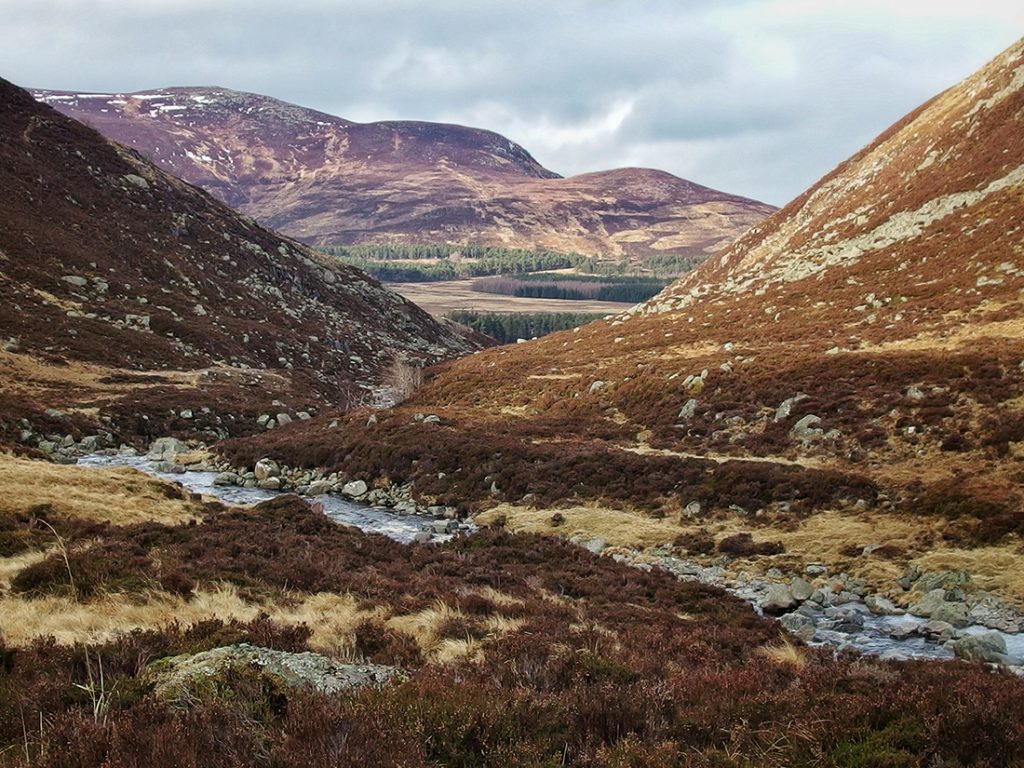 The river forks and we took the unlikely named Burn of Mohamed before reaching the top. We could now get a view around, Lochnagar, it's top shrouded in cloud lay to the north west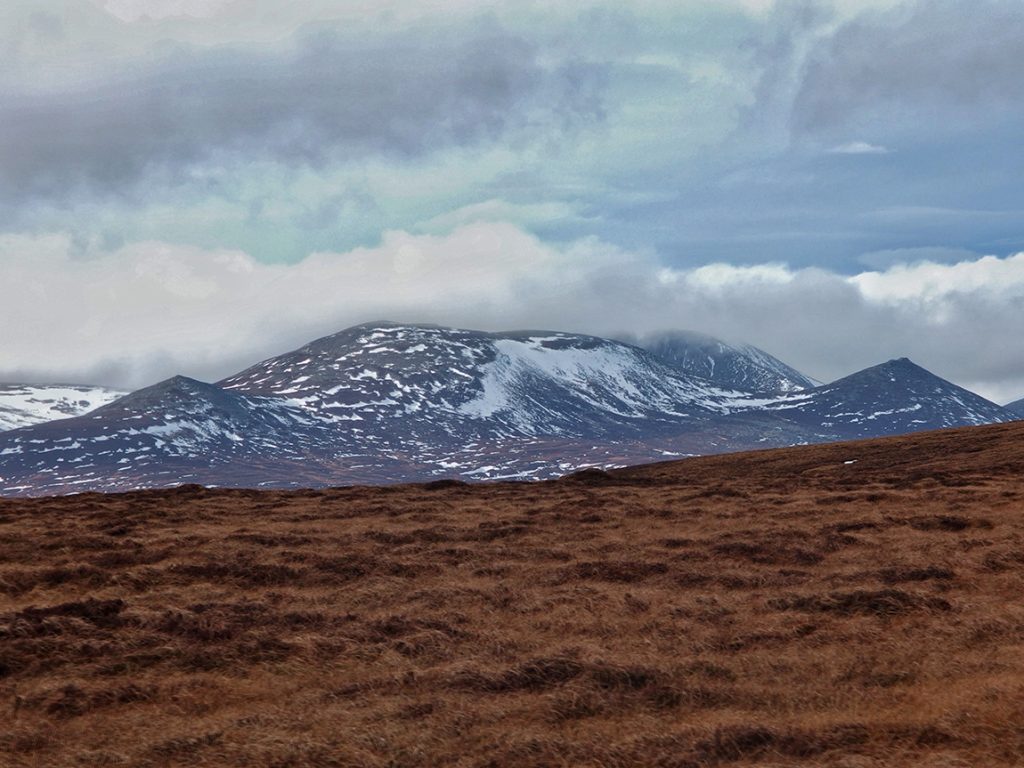 The land around stretched out in gentle waves of tussocked moor, punctuated by pools in the peat hags. Although there was only tiny pockets of snow at this level, the pools were mostly frozen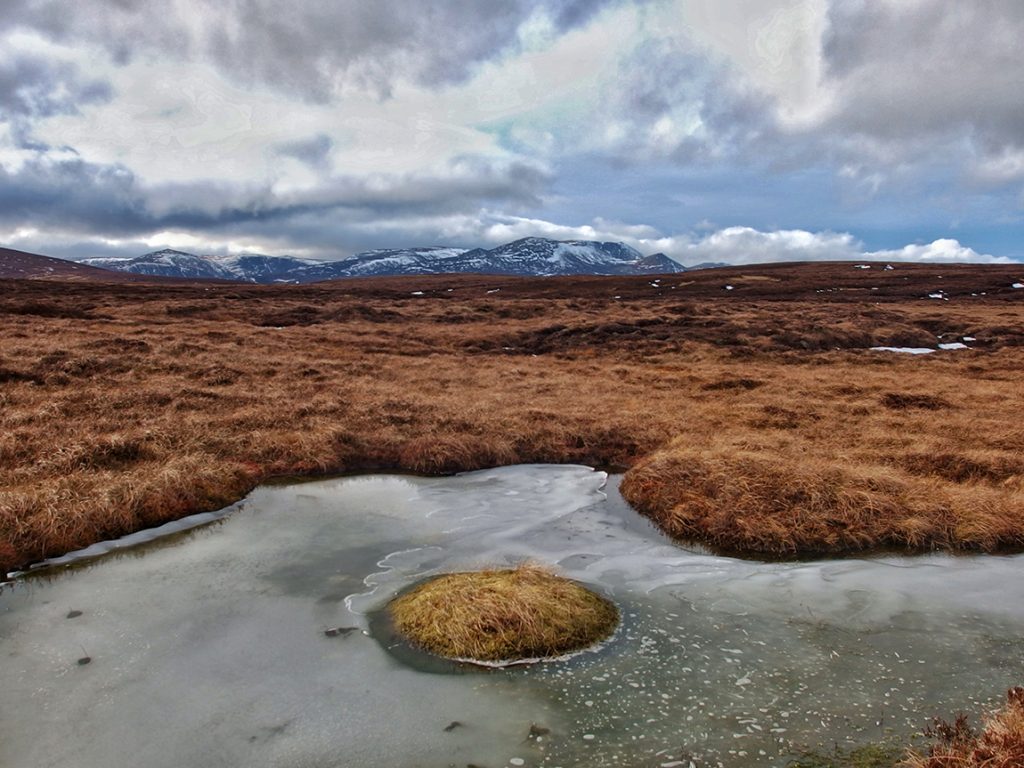 Ahead lay our target, not looking too far away but distances can be deceptive on the gentle slopes and flat ground with little other points of reference. This would be a tricky area to navigate in low visibility, the meandering path caused by the bog makes counting paces for distance uncertain, not much to aim for on a bearing (the odd patch of snow makes for a marker here and there)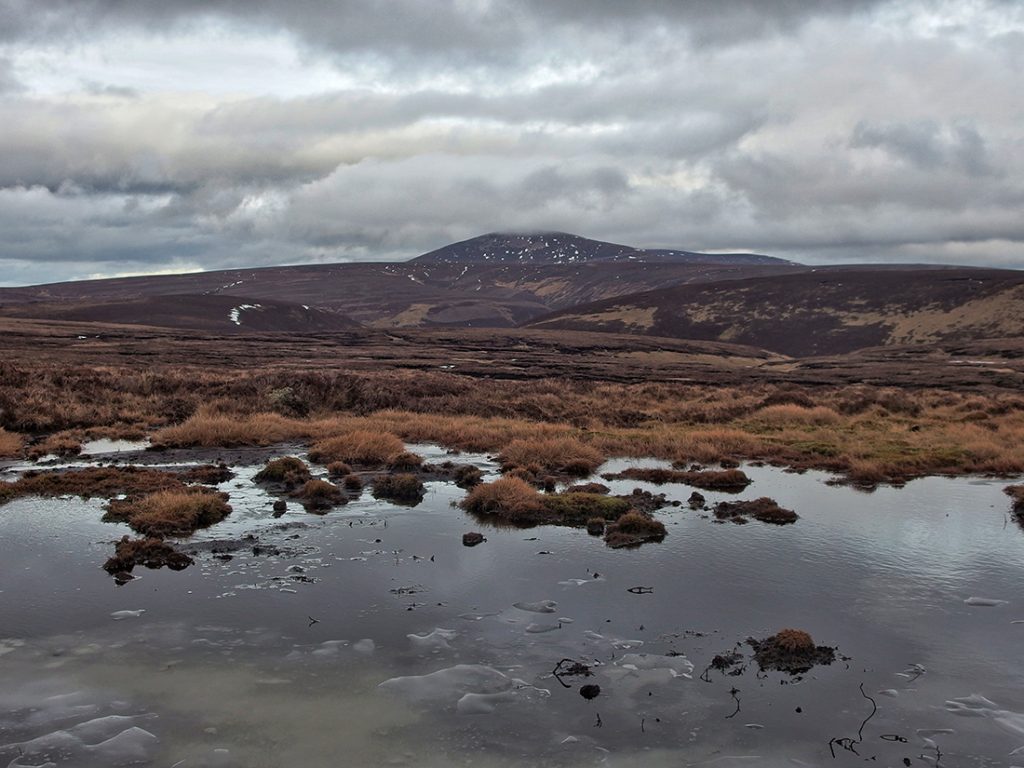 We scattered the odd white hare, and on the horizon a herd of deer watched us intently before disappearing over the brow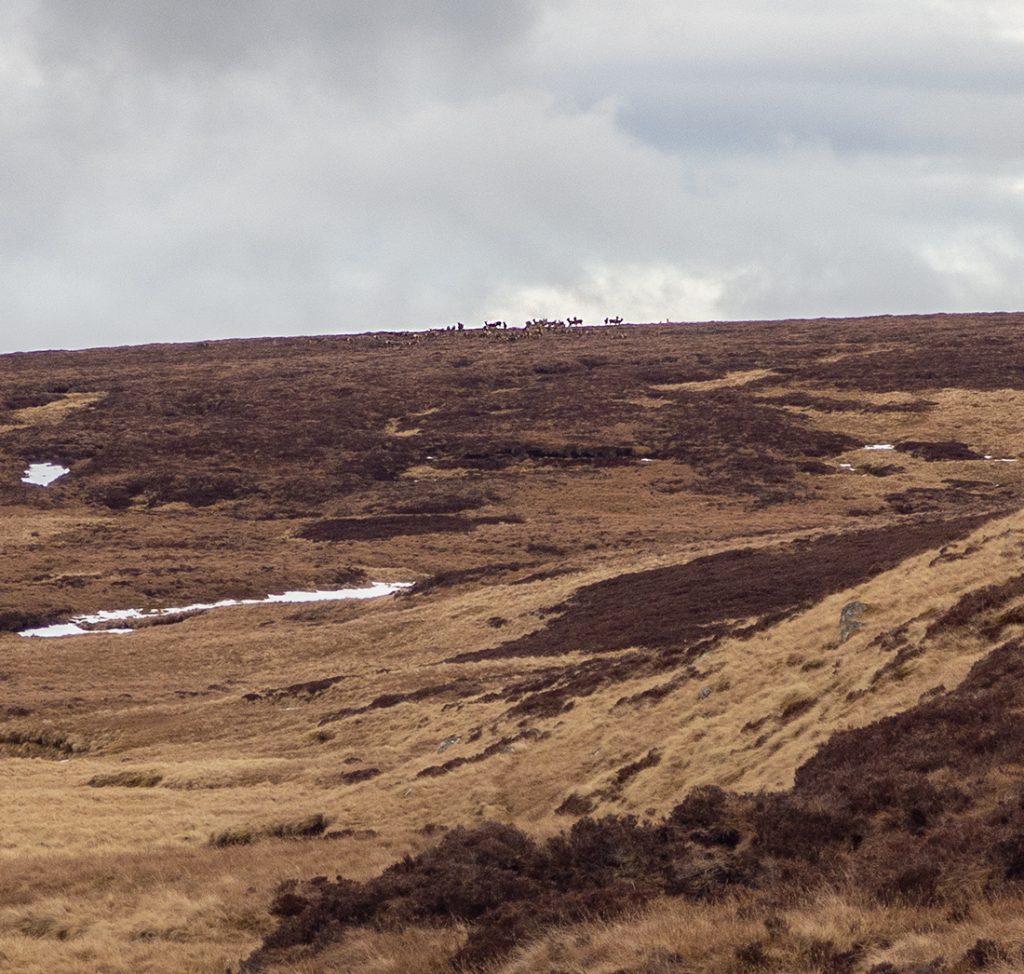 The meandering route around the peat hags, and the heavy packs, had slowed progress – a map check and some calculations showed we'd be unlikely to make Mount Keen in time for sunset. There was a brisk wind and it was reasonably chilly, a plan B was formed: we'd make towards the River Mark, where the valley might provide some shelter, and there'd be flat ground. If we needed to, the Shielin O'Mark bothy would be within reach.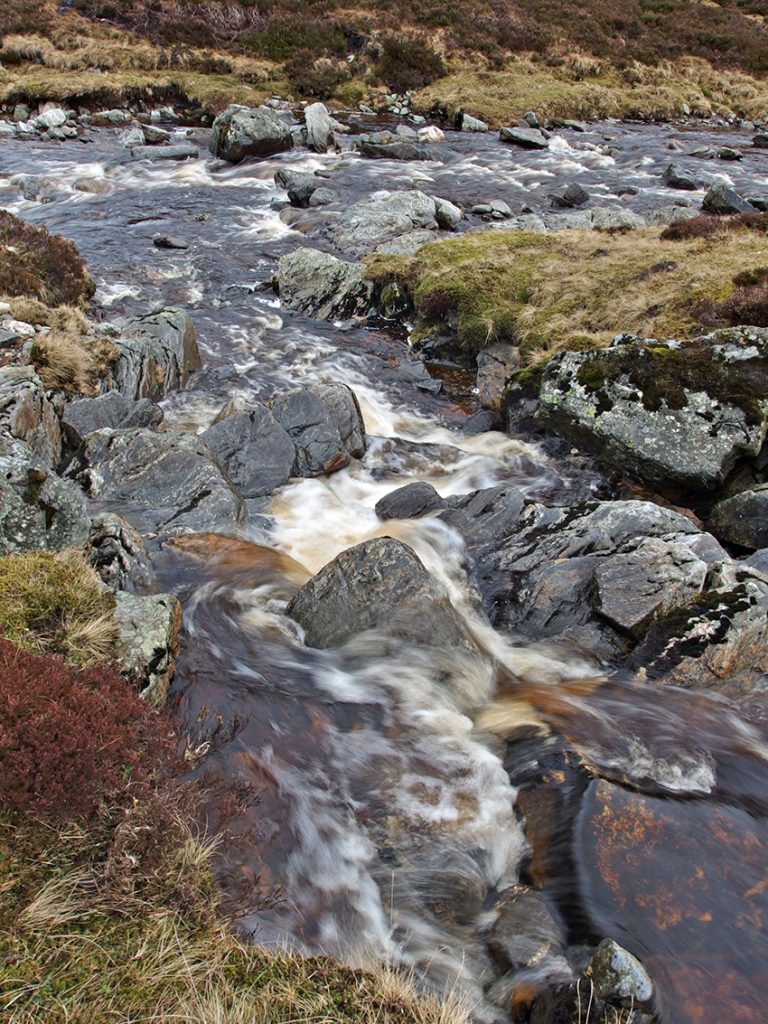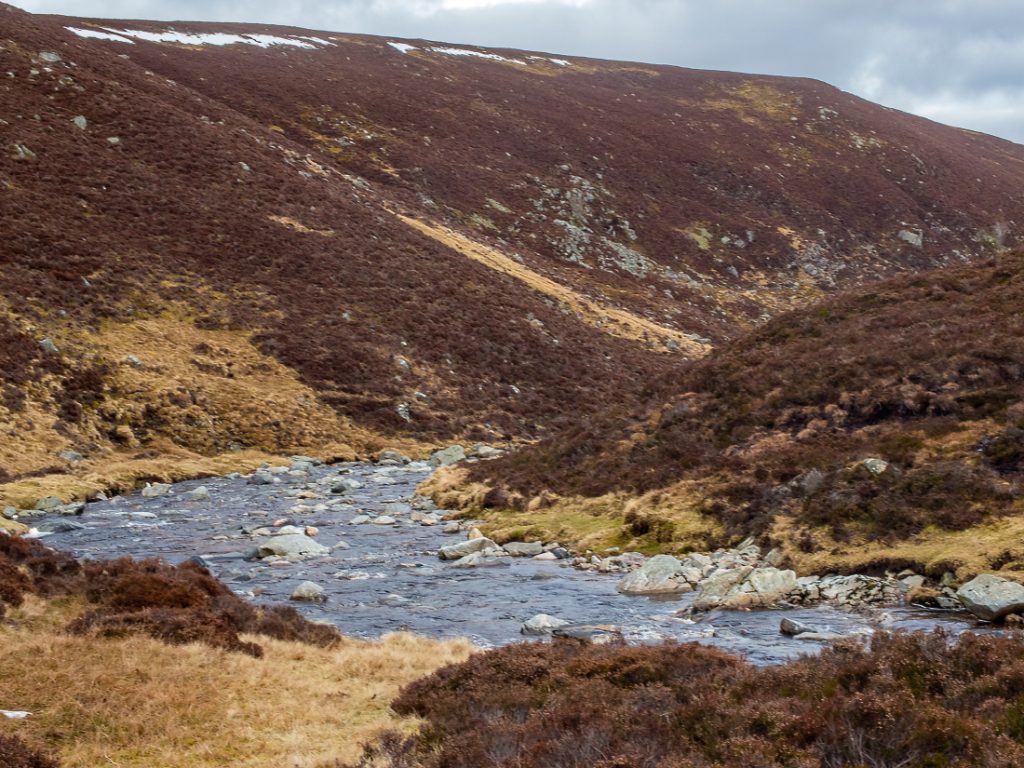 The going is fairly easy alongside the north side of the river, with flat grass verges. At one point though the sides steepen and it's necessary to climb up to continue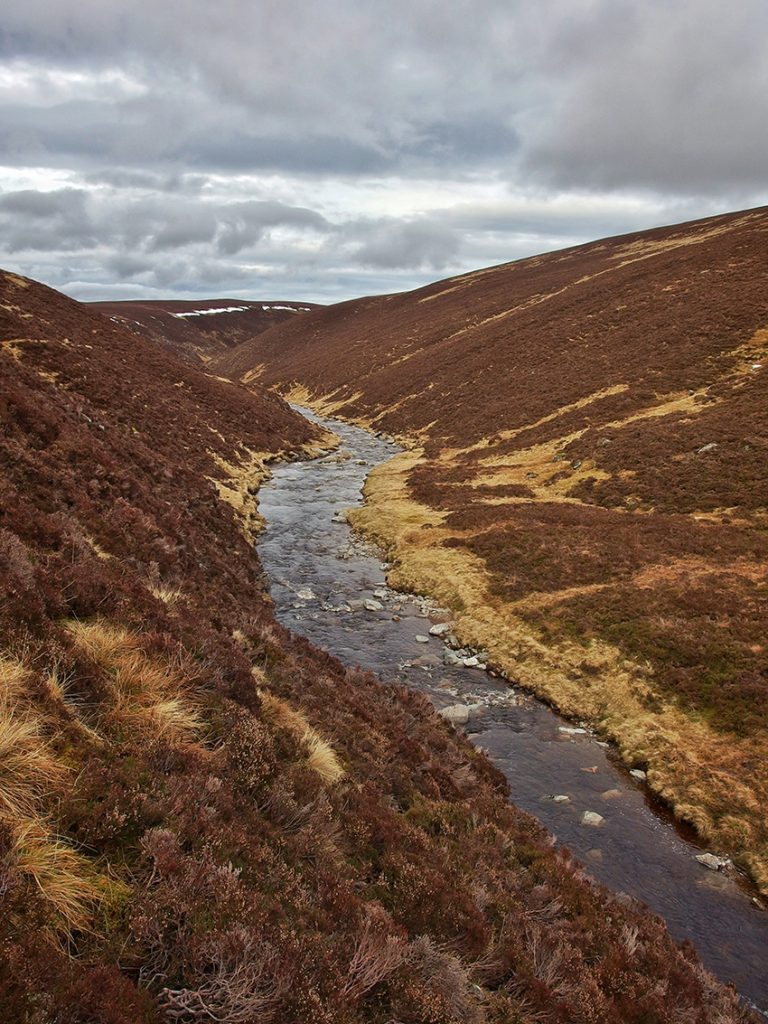 With the light now fading, we chance across another herd of deer, these less watchful to our closer approach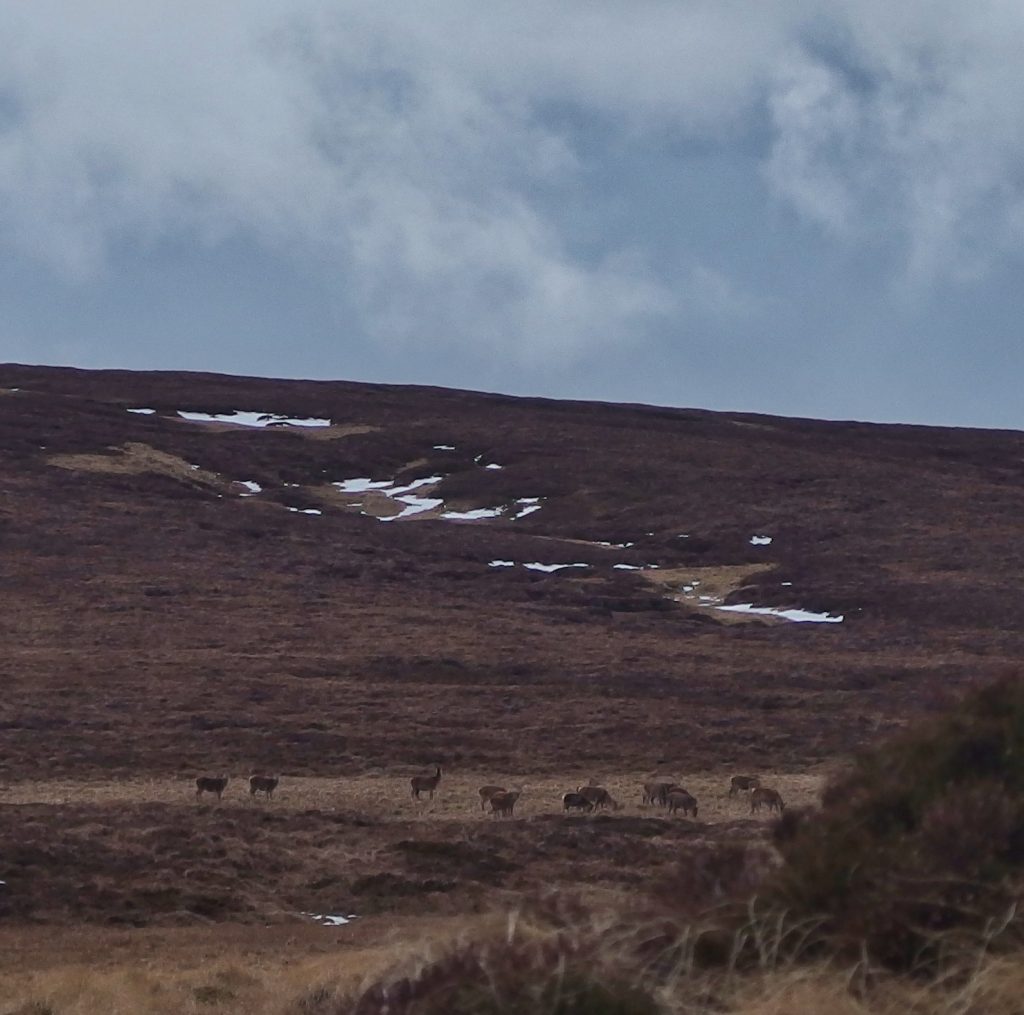 Past the meandering river, there are quite a lot of flat grassy banks, that'd make a great pitch for a tent, however in winter much of it was waterlogged. Eventually a location was chosen and the tent unfurled: uh oh, I've forgotten the extra guy ropes for the sides and the tussocky grass proves difficult to get a solid peg hold in. There's a strong blustery wind. My colleague has an ultralight cuben fibre tarp tent that will also be challenged by the conditions.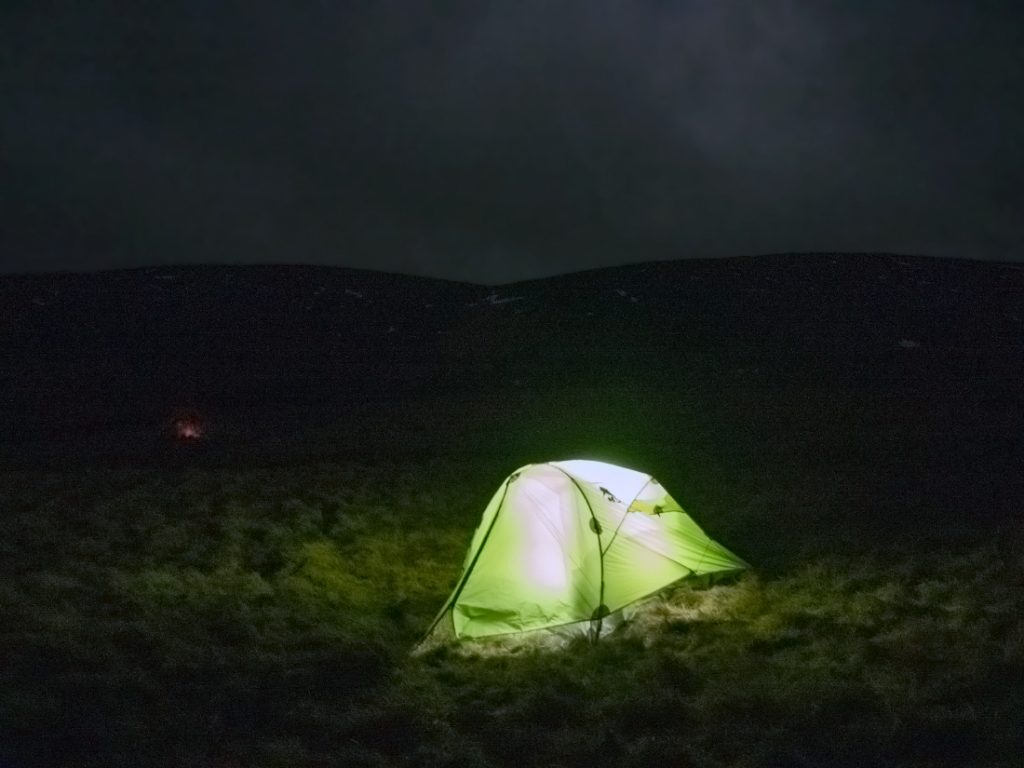 After an hour or two of being buffeted like a crisp bag in a tumble drier, a peg pulls out and the tent folds. I leave the warmth built up in my bag to go out and re-pitch. Hmm. Another collapse 10 minutes later has me weighing it up: a probable sleepless night of fighting the tent, or do I admit defeat, abandon ship and head to the bothy. I peep out and the other tent has already packed and left, choice made. Carefully I pack it up, taking care not to let go else it flies off into the void to never be seen again.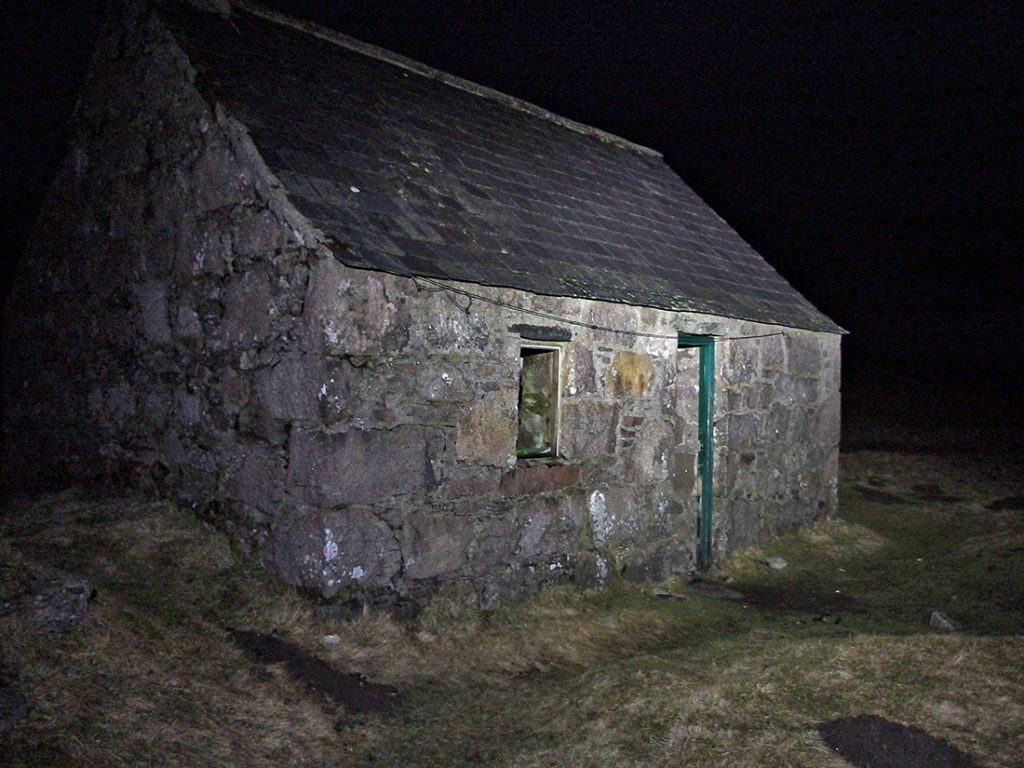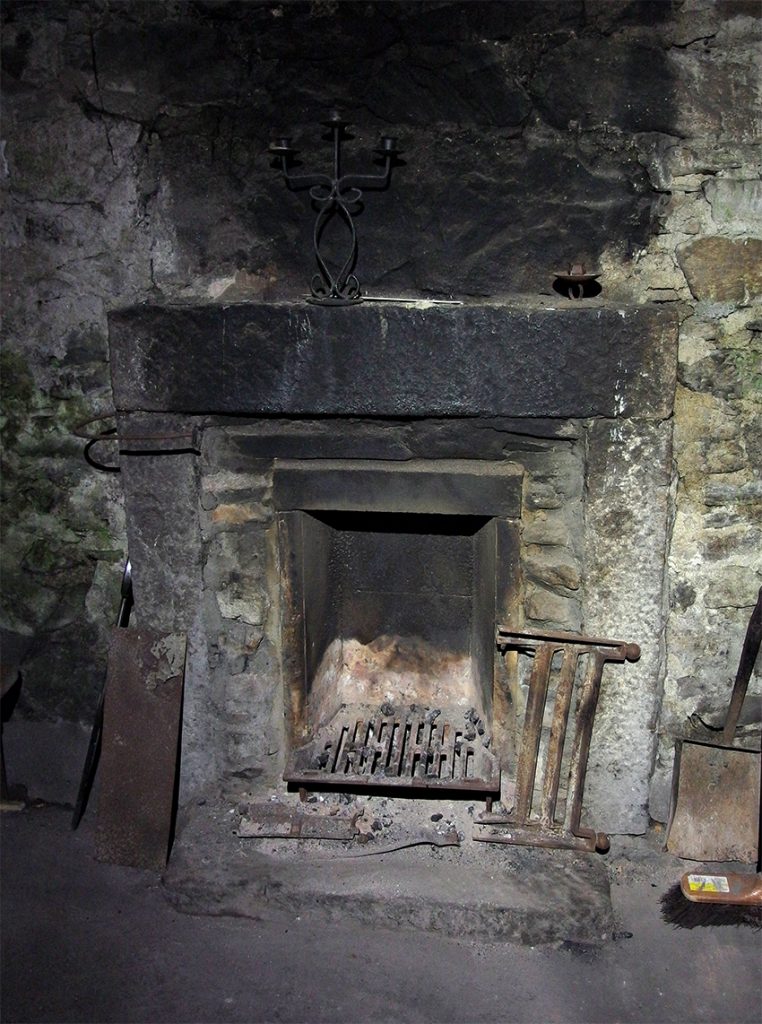 Alarm set for sunrise, time to try and grab some shut eye. The bothy may be small but the shelter is sound, and sleep comes easily. When the alarm sounds, the effort isn't rewarded, a wall of grey is outside the window: back to bed.
The next time I woke, it was time to properly pack the crumpled mess of a tent, cook some food and hot foot it back off the mountains.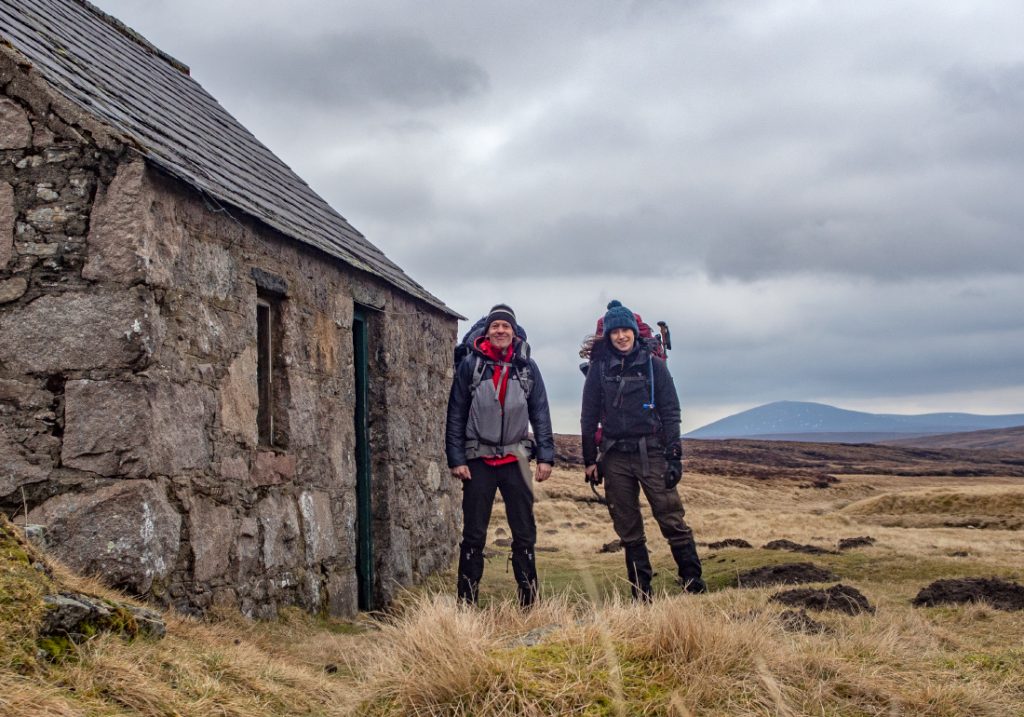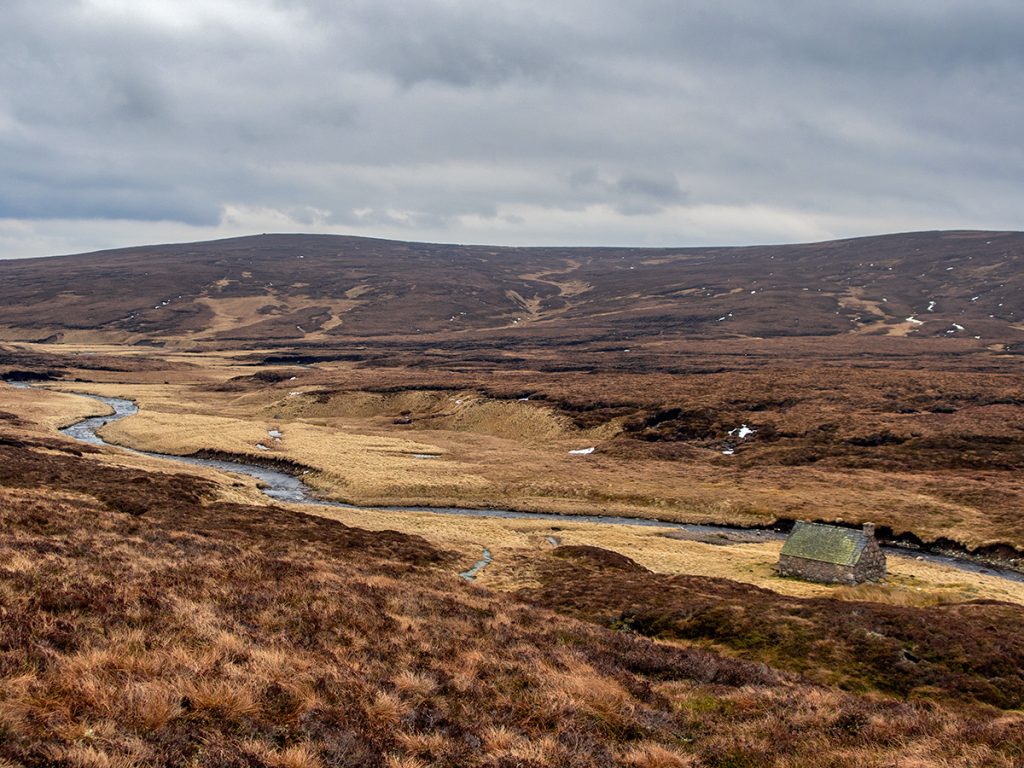 There's a faint scrape of a path heading up from the bothy, but we either miss a turn or it fizzles out as we end up mazing round bog again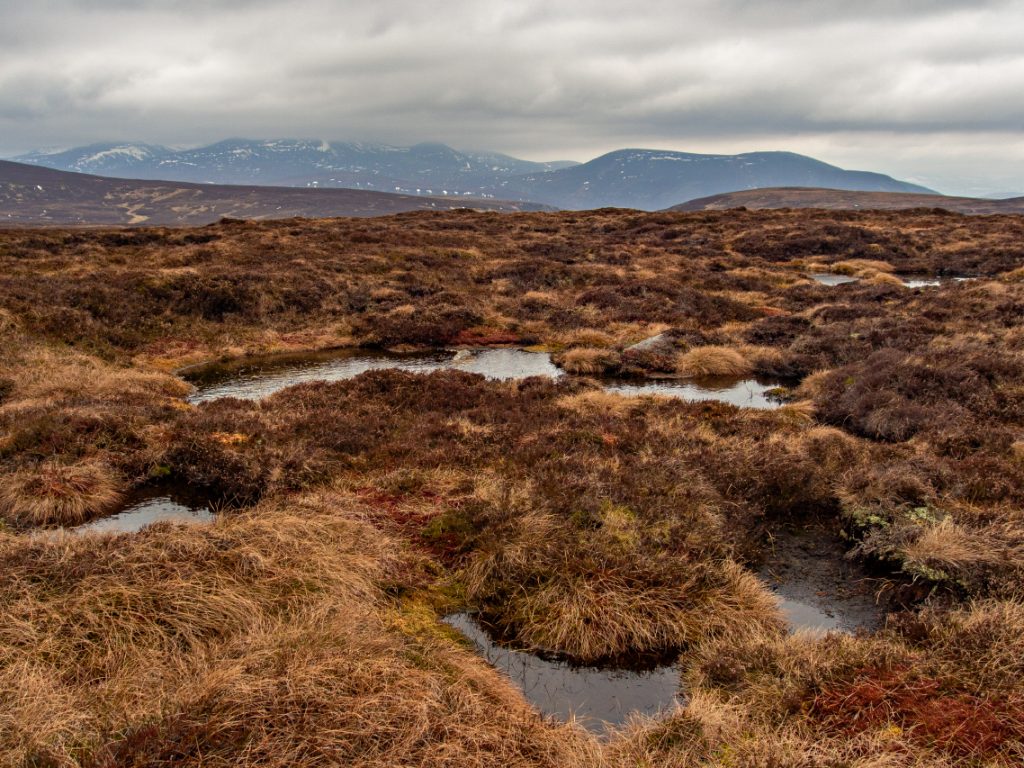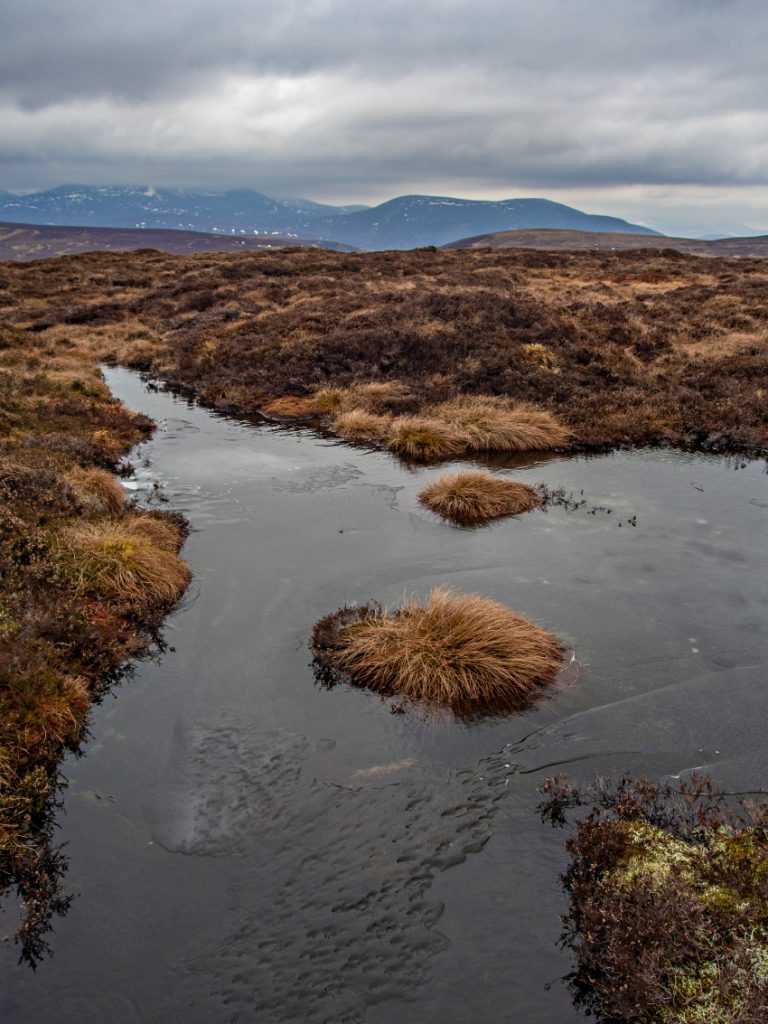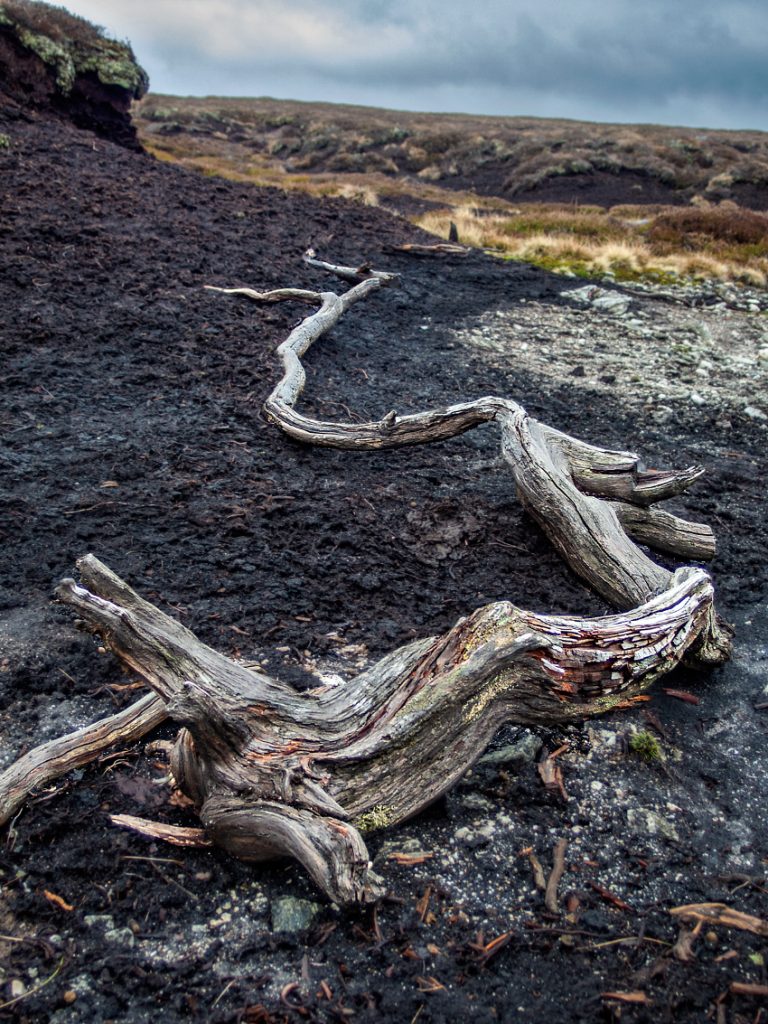 It's a grey day and chilly, but we soon get a bit of shelter from the sides of the burn gulley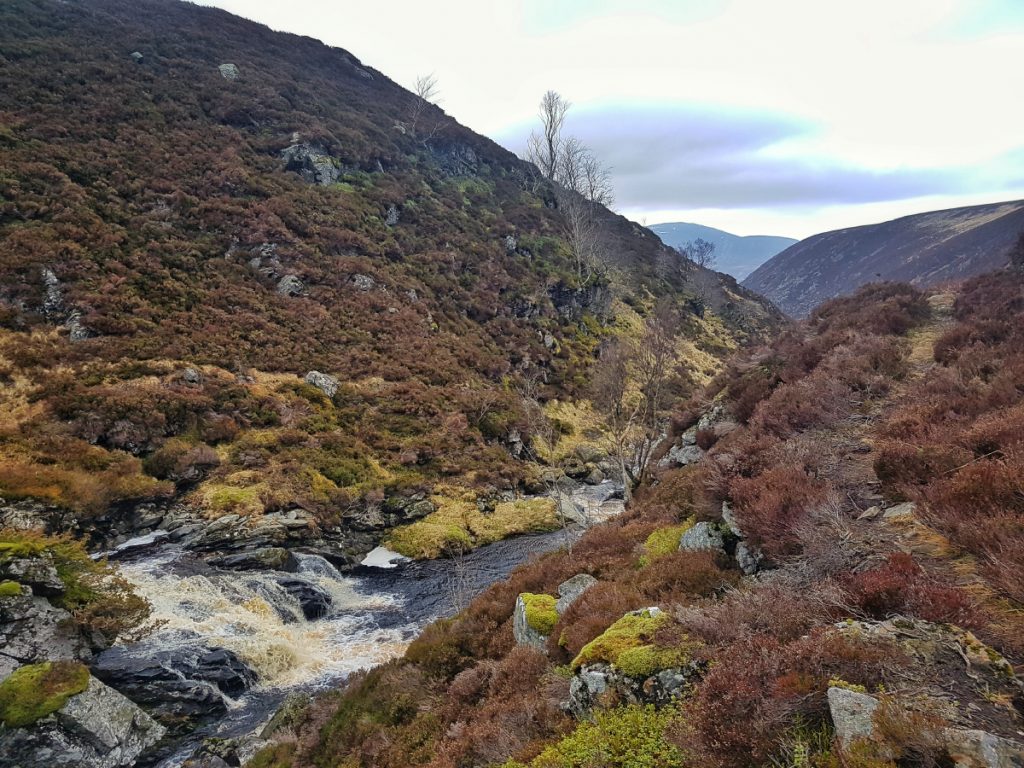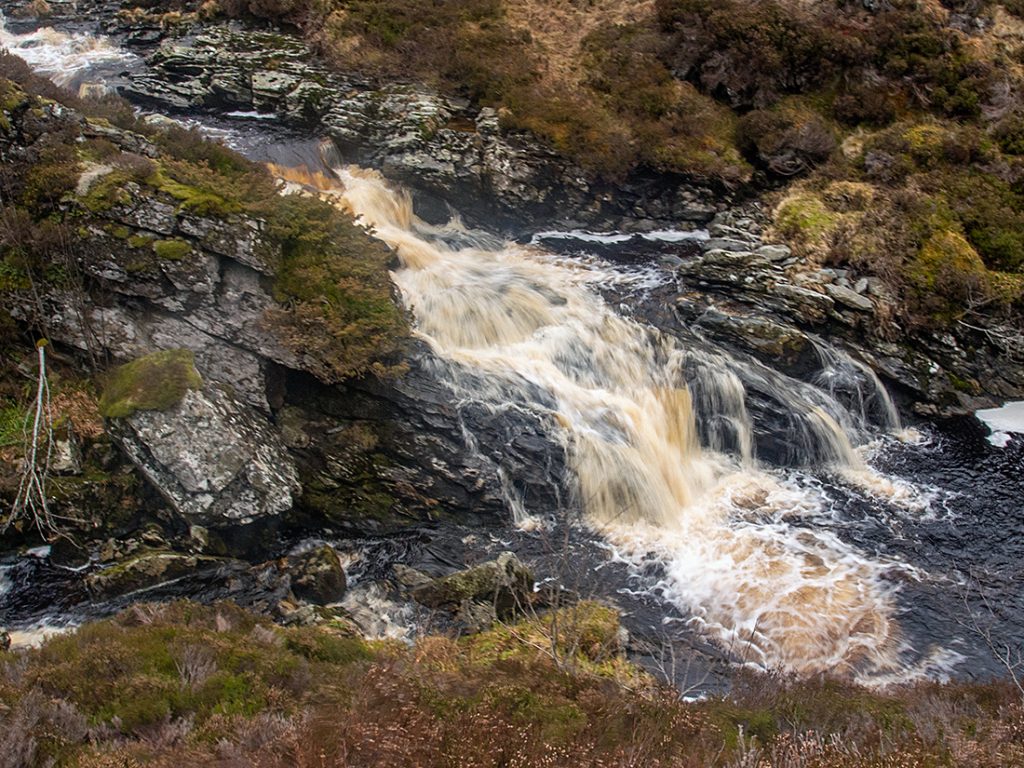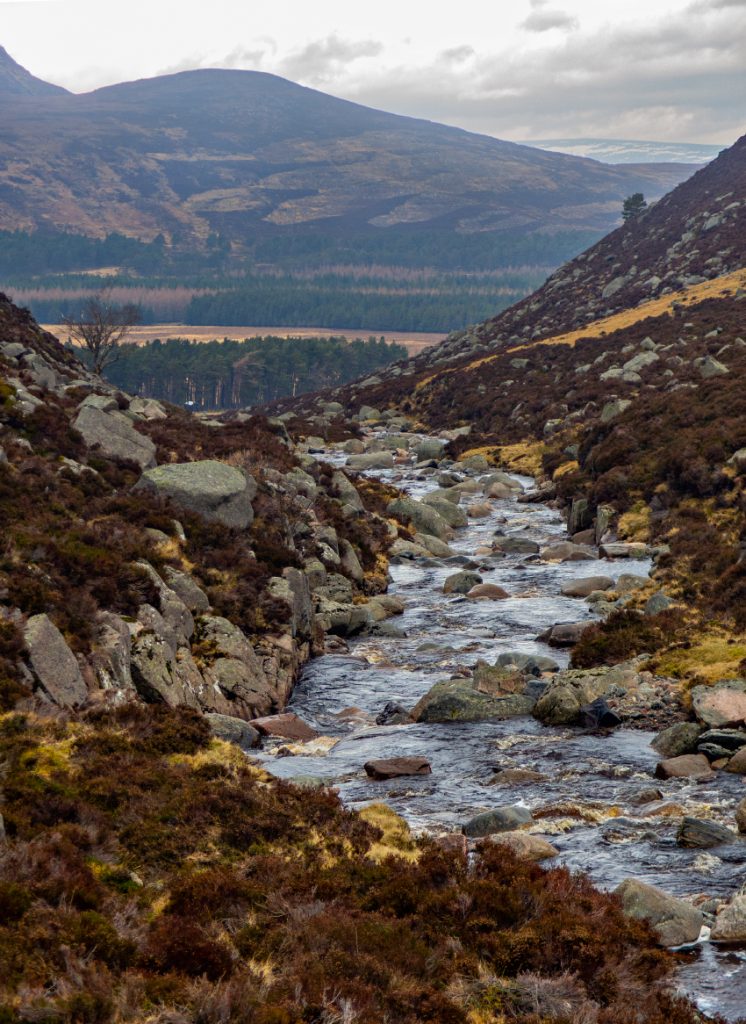 Back down to the car park safely. Not the most scenic expedition, but useful navigation and a bit of camping practice, and plenty 'big rucksack' exercise, fresh air and good company.