With the COVID wave subsiding in July, restrictions were being lifted, including only being allowed to travel 5 miles for leisure. No doubt a pent-up desire to hit the hills would make the popular spots very busy, England had lifted restrictions slightly earlier and it had been a unseemly frenzy: beaches and beauty spots overrun, folk shoulder-to-shoulder, cars clogging verges. With that in mind I thought I'd take an uncommon route past Lochnagar, avoiding the top, but a testing long run for legs that hadn't felt a mountain climb since March. I timed the route such that I could do a second run hopping on and off the bus on the way back.
On the bus I met some fellow Aberdeen hillwalkers who'd had the same idea but thankfully the bus was quiet. Getting off at Keiloch, I got started on a fine summer day.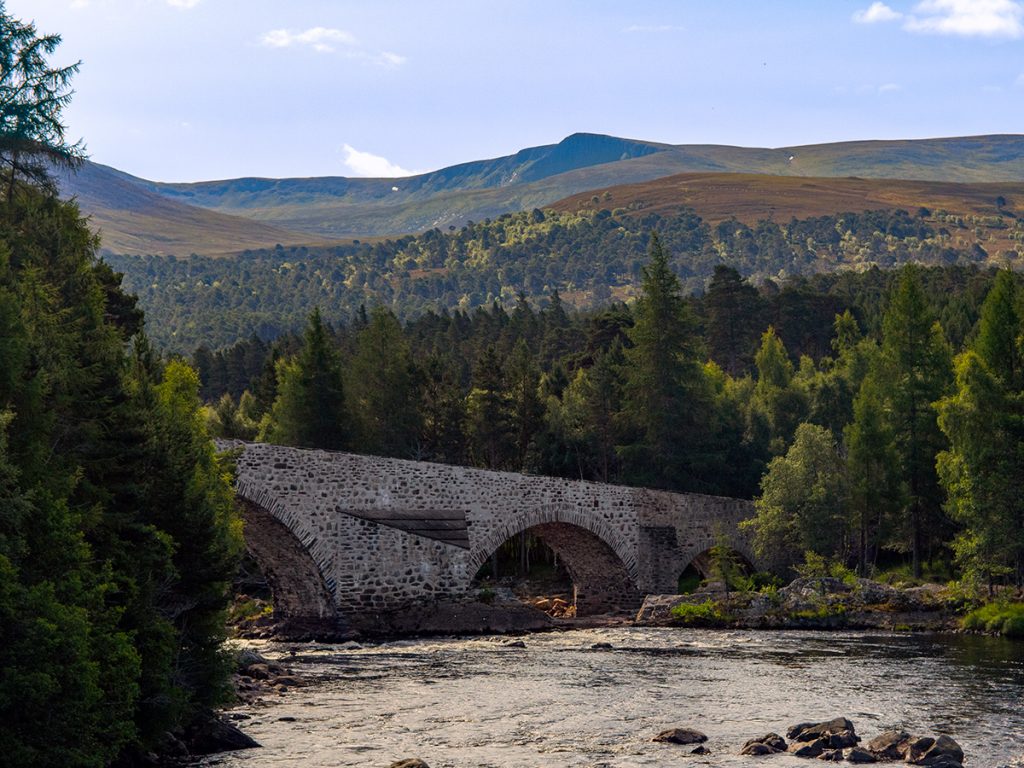 The forecast was for 'feels like' -1 at the top, but straight away in the sheltered confines of Ballochbuie forest I was roasting, care would be needed to keep hydrated. First stop was at the Garbh Allt falls where the blazing sun sparkled on the water.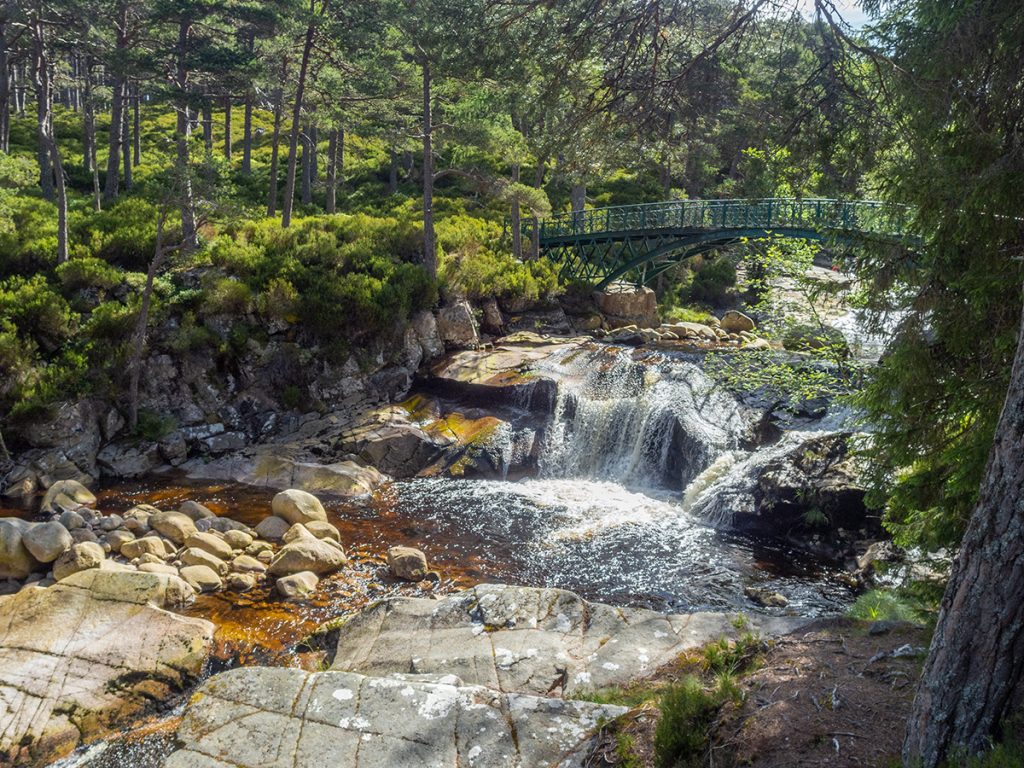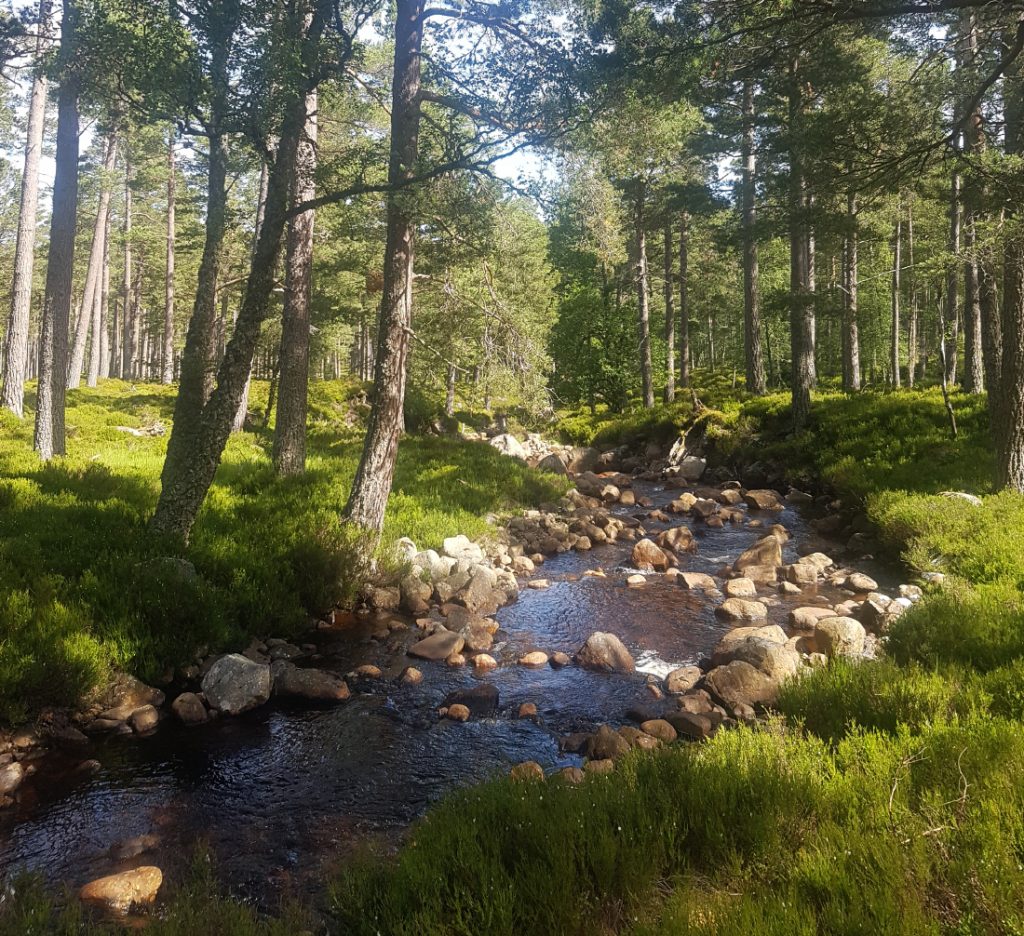 On and climbing higher the occasional bright sparkle of large dragonflies zipping past caught my eye, leaving the trees a welcome breeze cooled me.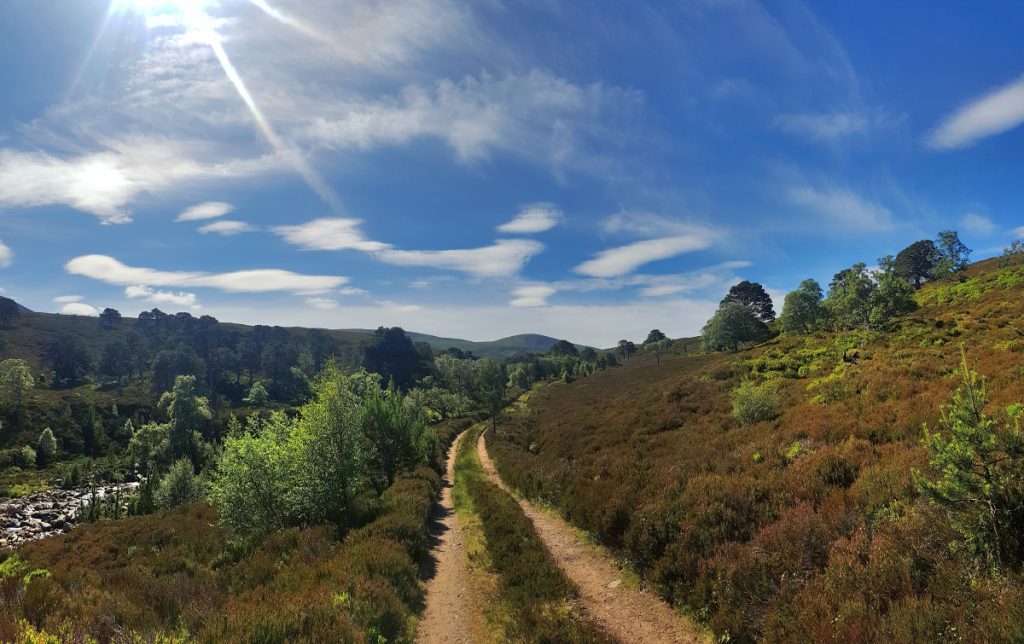 Having crossed the Feindallachar Burn and ascended a bit further over the grassy lower slopes of Carn an t-Sagairt Beag, I could see some of the surrounding hills. Only tiny scraps of snow to be seen: I'd hoped there might have been a chance to see hollowed snow-patch tunnels as the melt runs under them, but looks like a few weeks too late. I'd also considered if it was possible to see how the patches identified from March's snow-cave mission had fared, whether they were all contenders to keep deep snow, which would be useful to know for winters with less snow.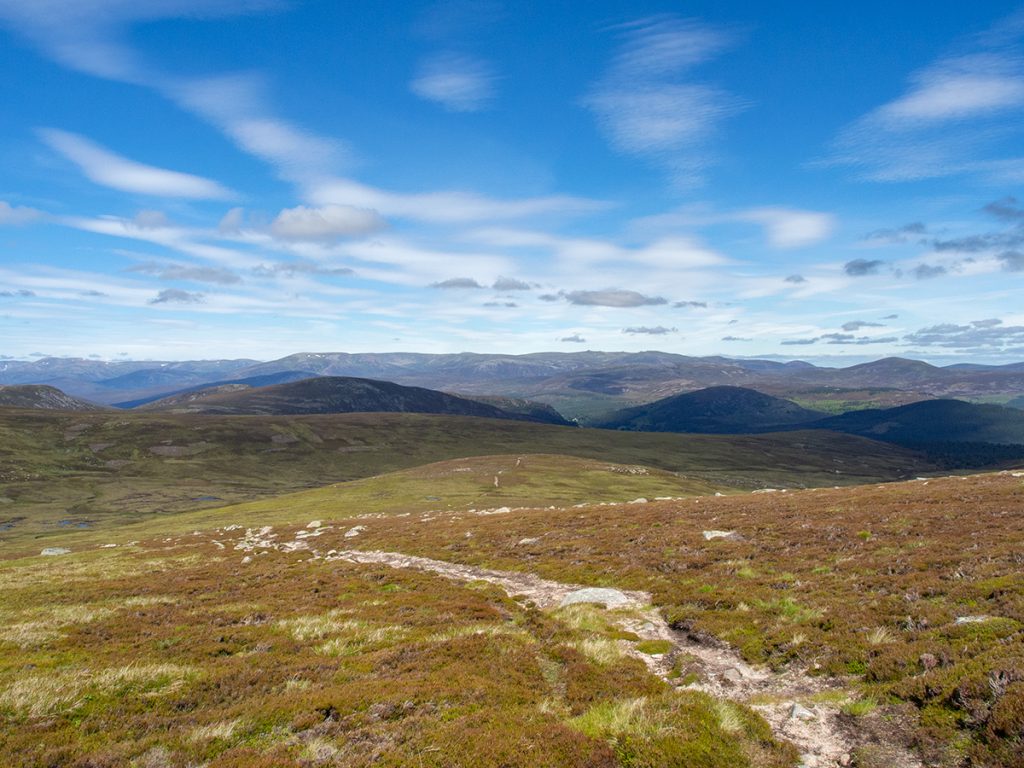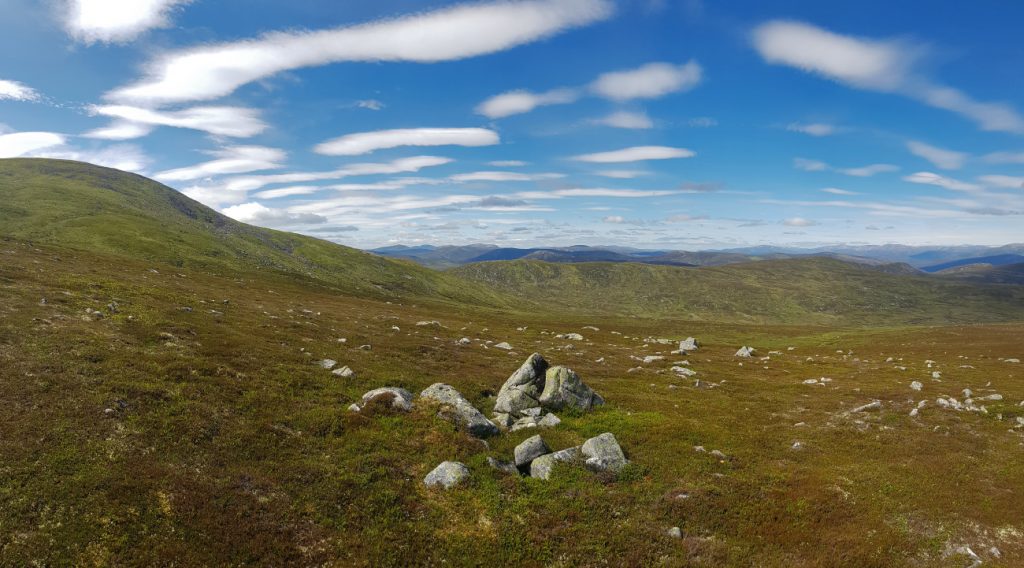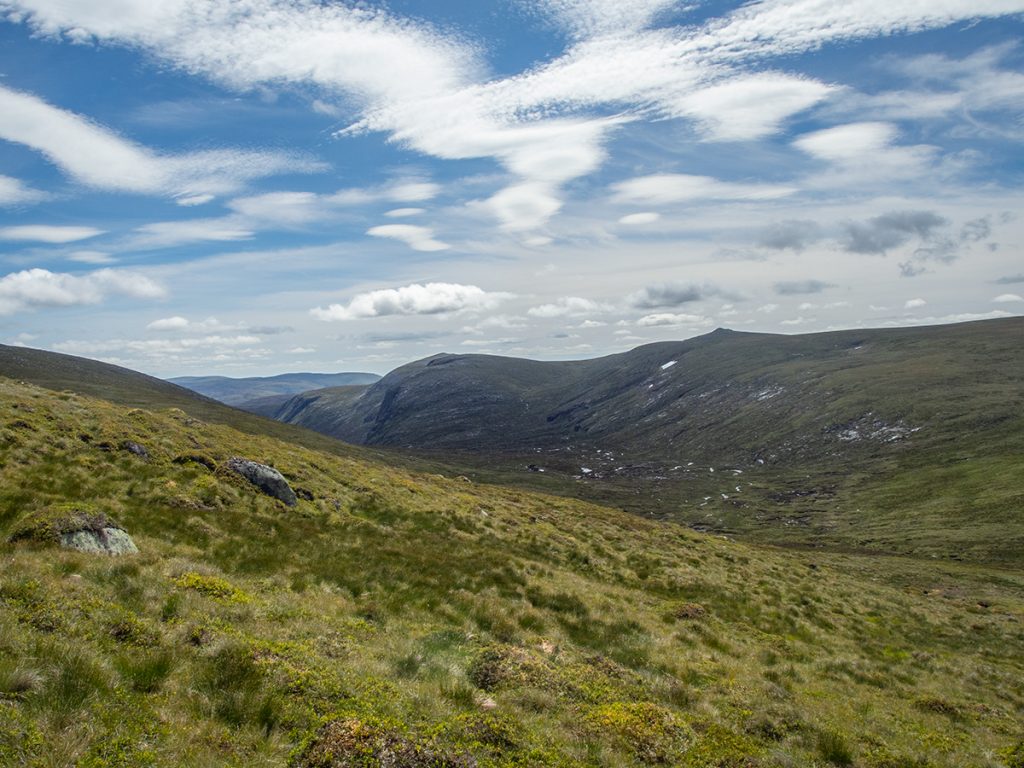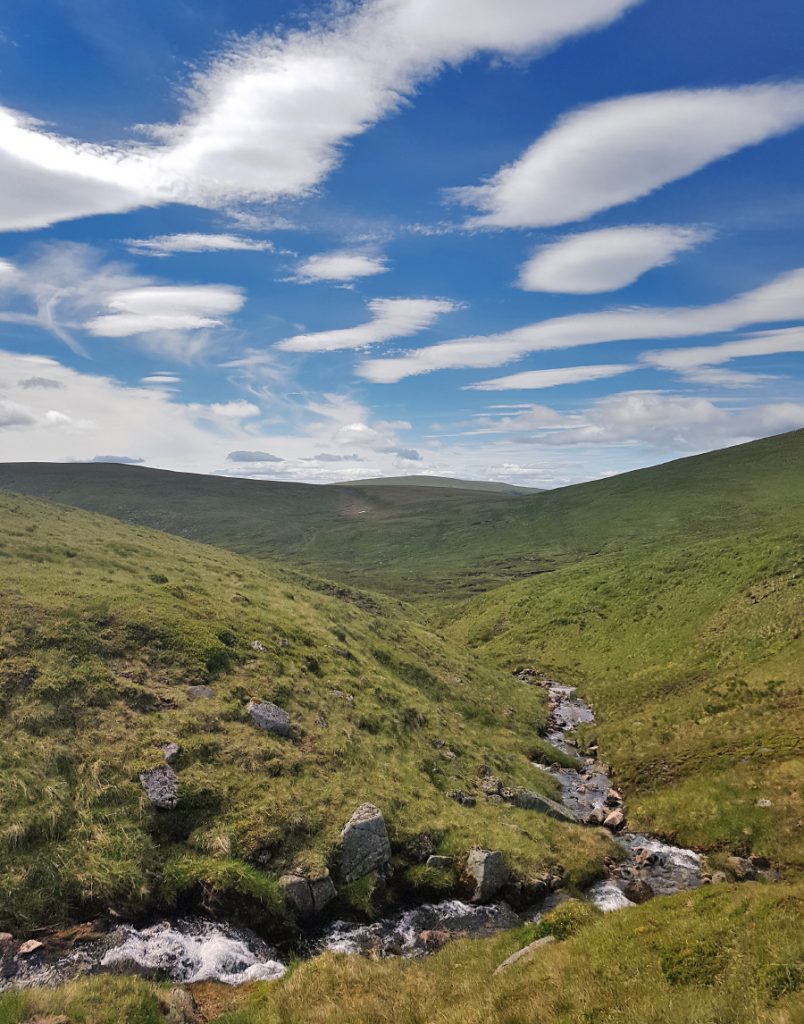 Contouring around this first hill, I looked down to the Allt an Da Chraobh Bheath which is crossed on the white mounth circuit, normally a place where I'd be surprised to see anybody. Scanning towards Cairn Bannoch and up towards Carn a Choire Bhoidheach, over a dozen folk scattered in 2s and 3s, clearly the first weekend of good weather since travel restrictions were lifted had spurred many into action.
I chatted to a couple who had camped overnight near a snow patch nearby (looking over it was one of our targets that we'd dismissed in March) and suffered from unexpected cold, stuff had frozen so sub-zero. On clear summer days it's easy to forget how quickly temperatures can drop overnight. Their bag 'comfort' rating was nowhere near sufficient.
I climbed up on to the plateau passing more walkers and a couple runners; on the left the crags of the Stuic and the lochans below. I'd fallen behind schedule a bit as the heat was limiting exertion, but looking right I could see a snow patch a the upper limit of Coire an Daimh Mhoile, this was another target investigated, but was discounted as a shallow slope. Now that the many meters of snow had disappeared, I could see the small depression of maybe 15 extra feet had kept snow. It was a welcome break to feel it's cool, and make a unlikely July snowman.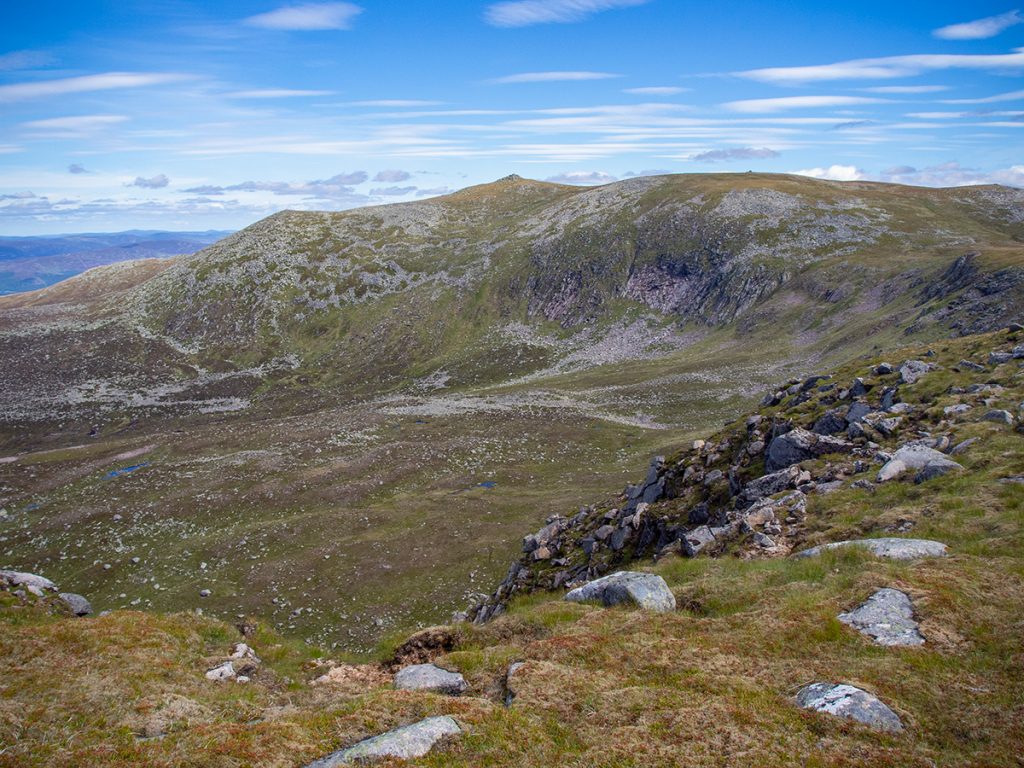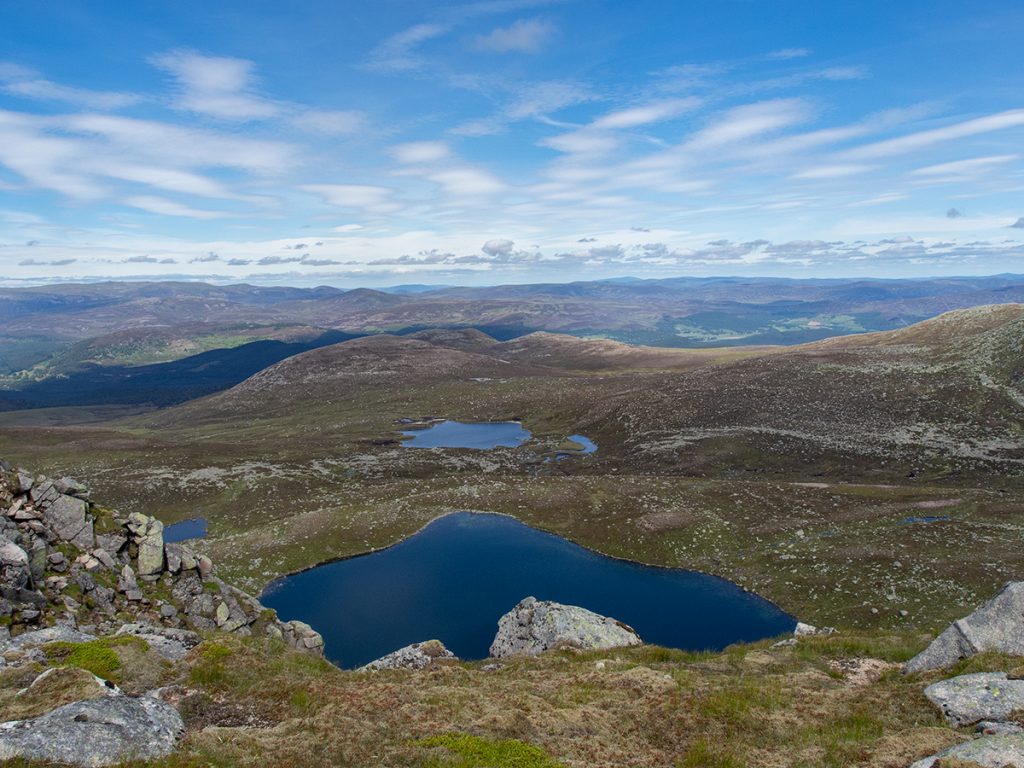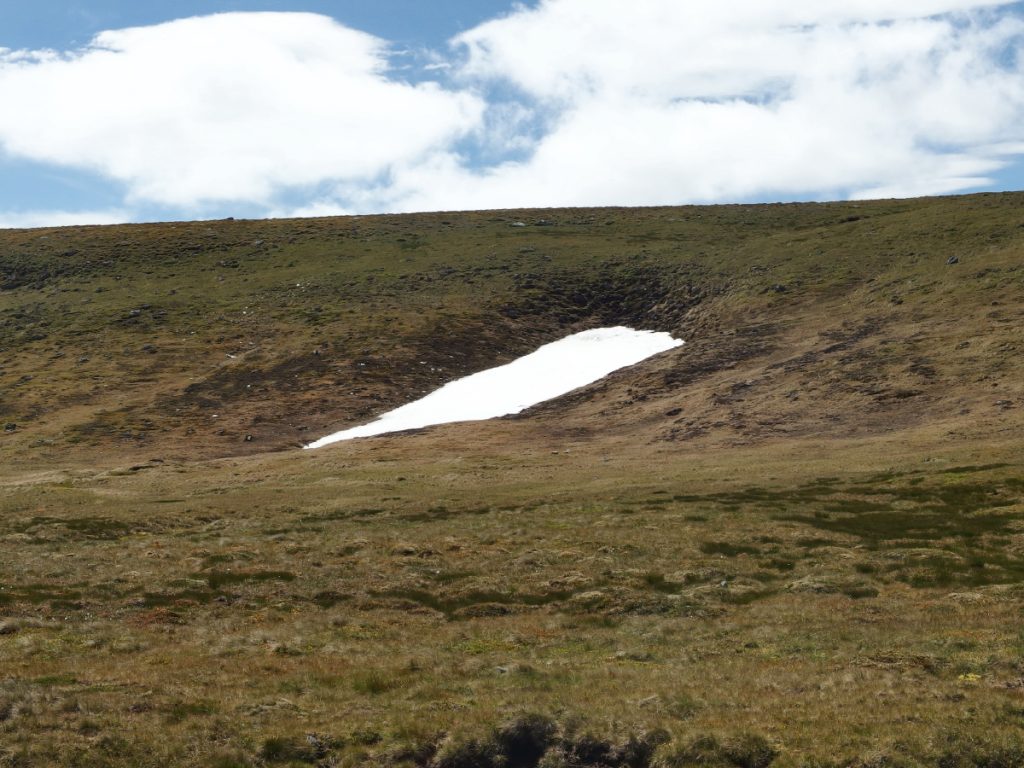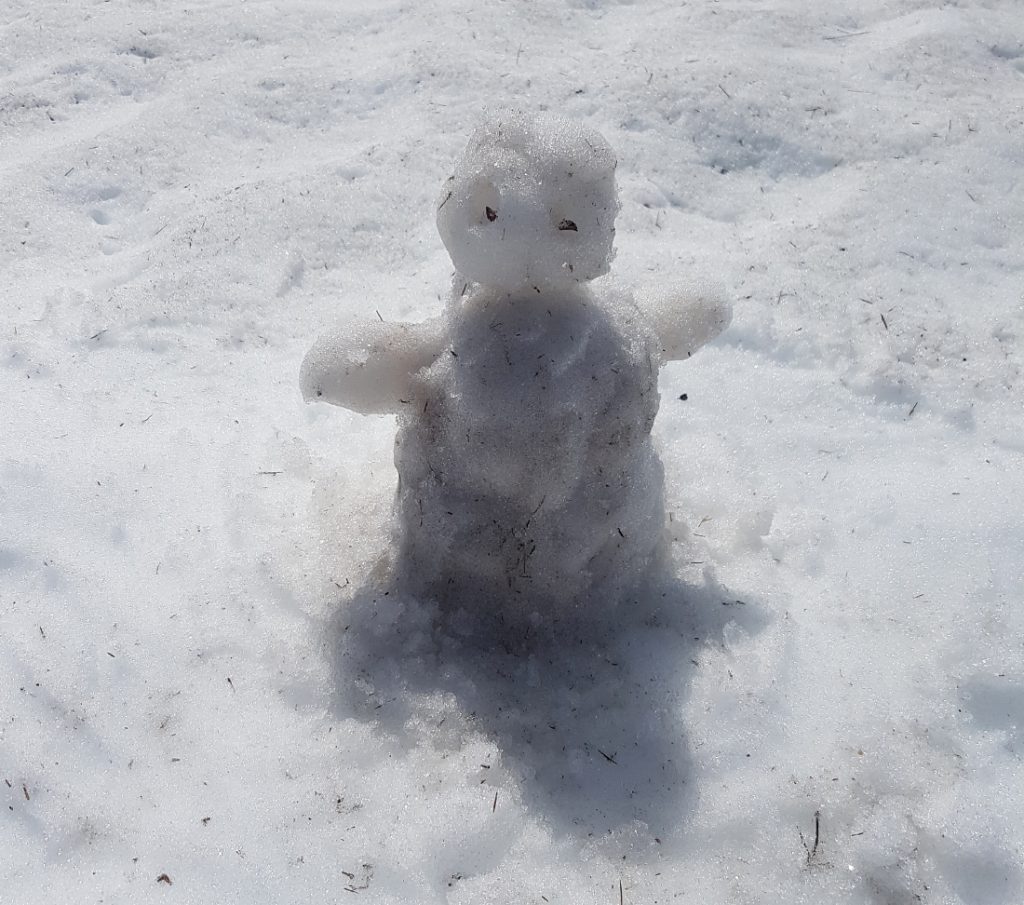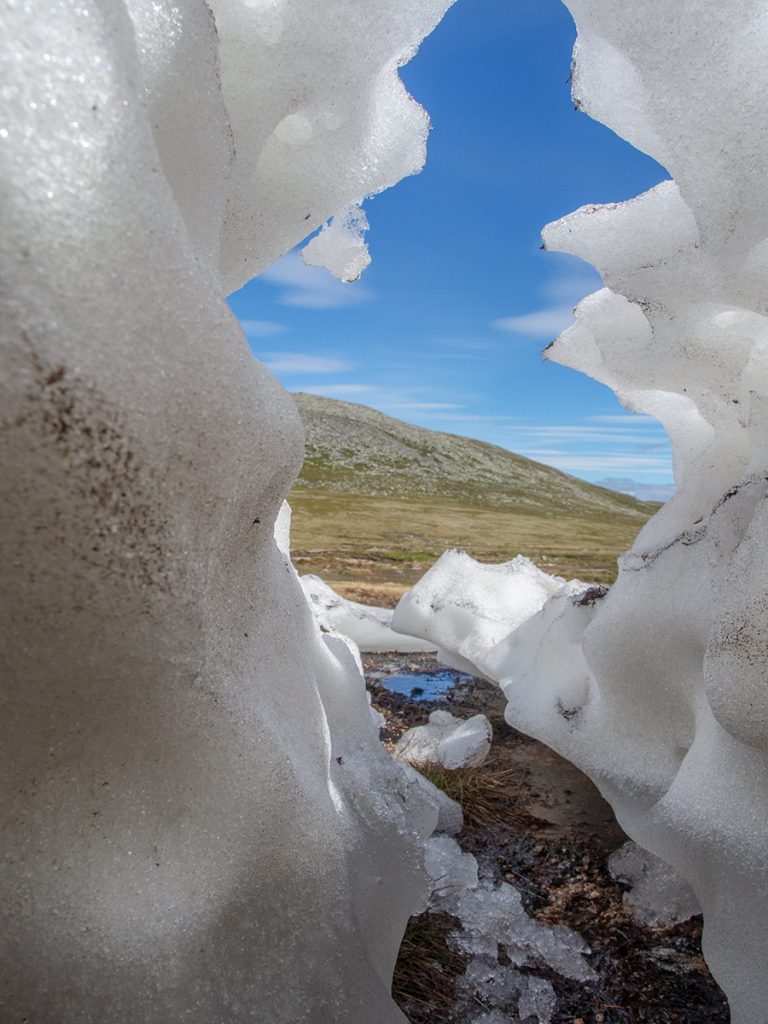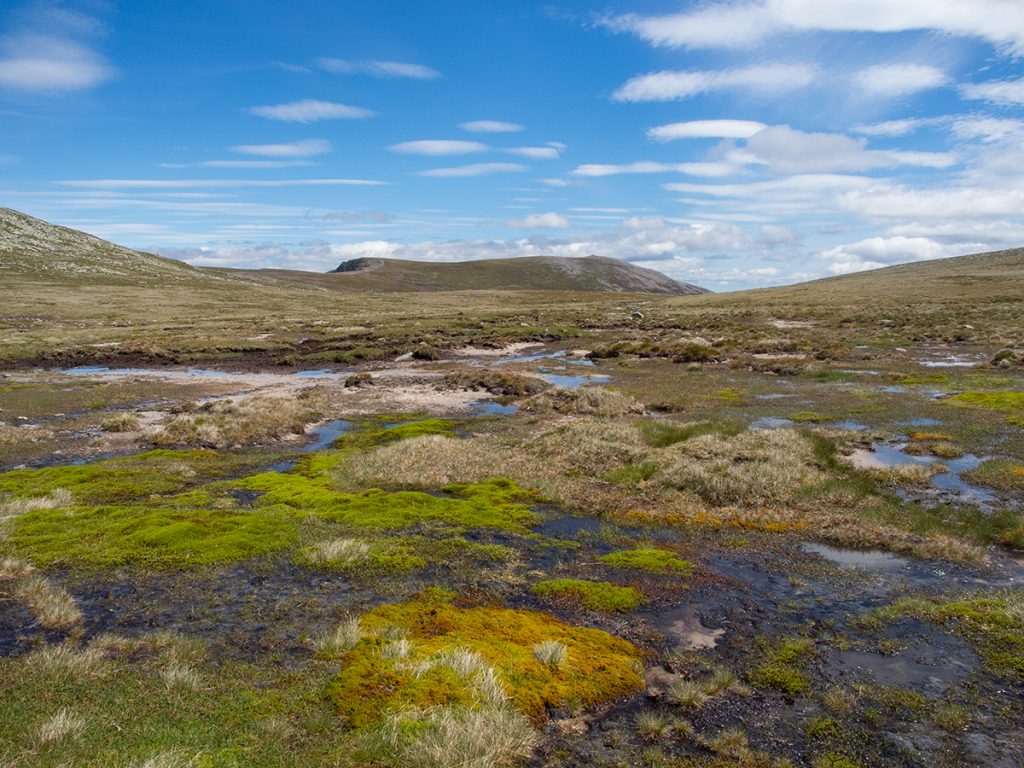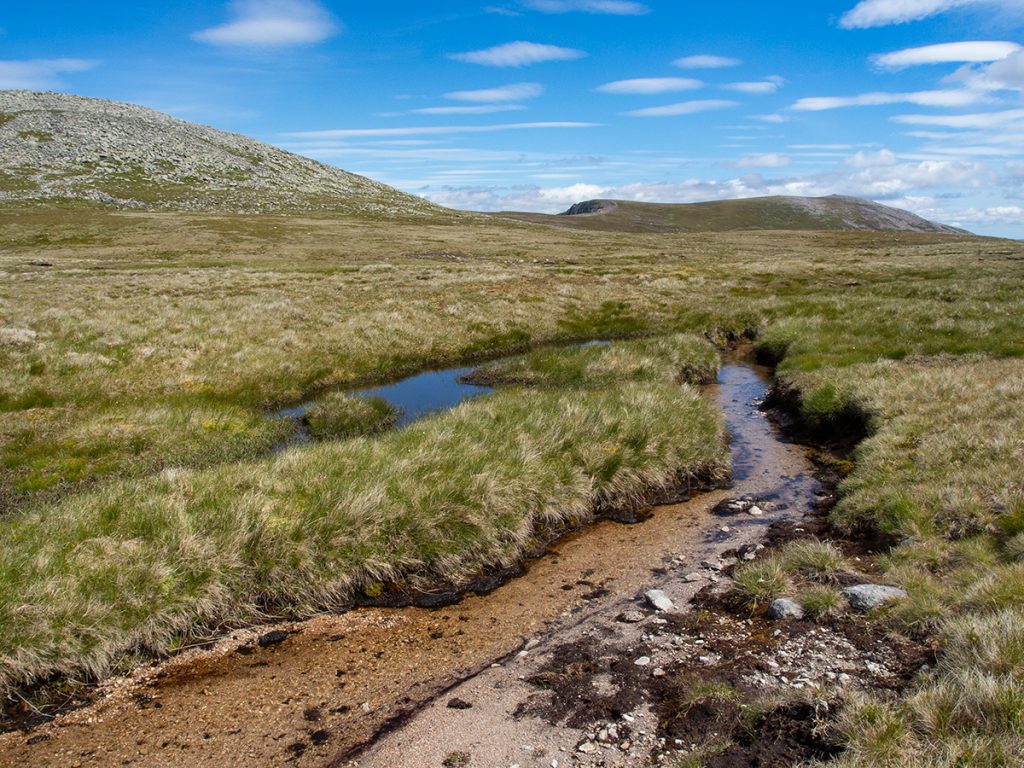 Time now being short, I bypassed the throng at Lochnagar's peaks of Beag or Mor, making round the corrie. I passed a few serious Aberdeen hill runners making their way up, sweltering in the heat. After a snack break at Conachcraig's foot (overheard a group here, late on the way up and struggling at this point.. hmm you've still got the hard bit to go) it was time to hammer down the landy track towards Balmoral.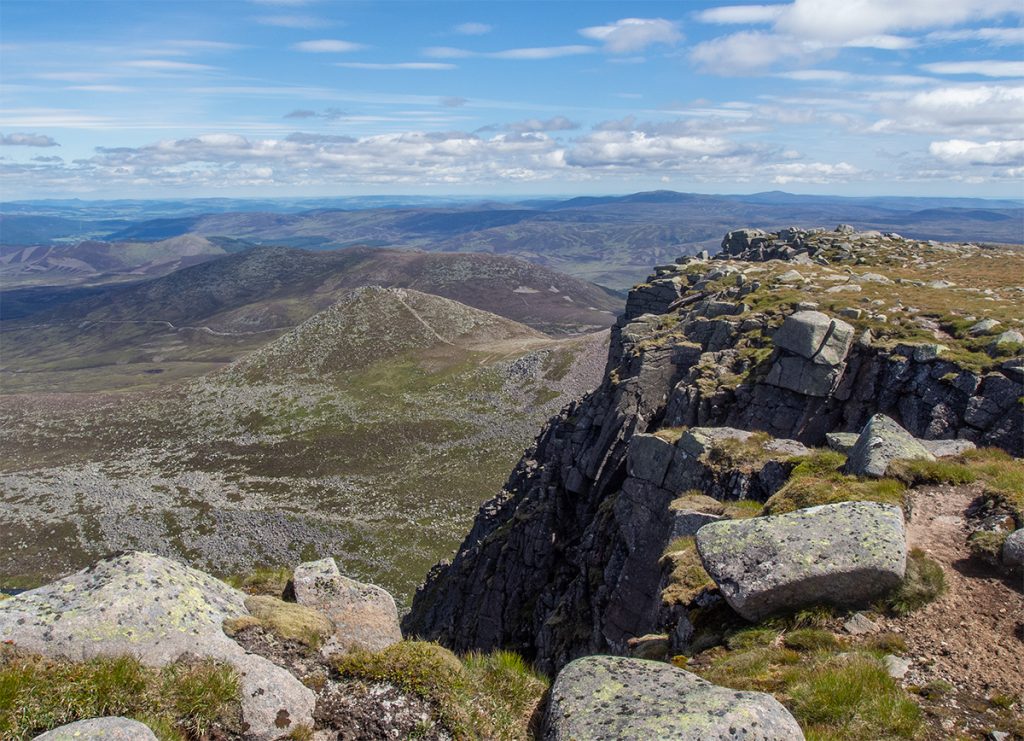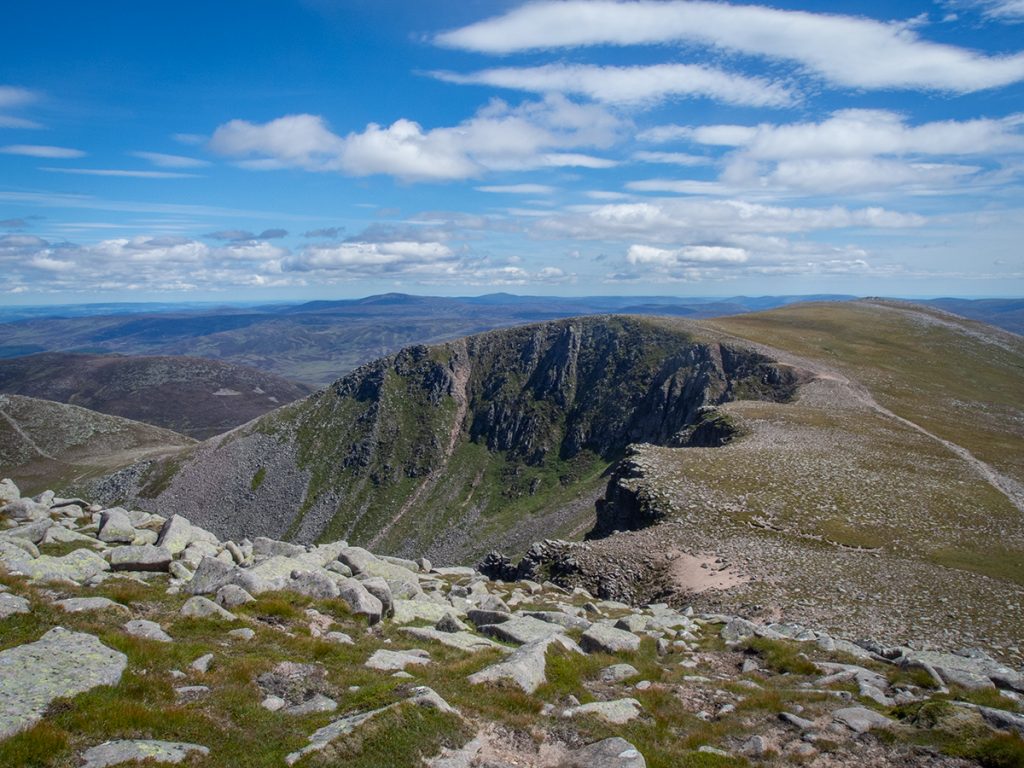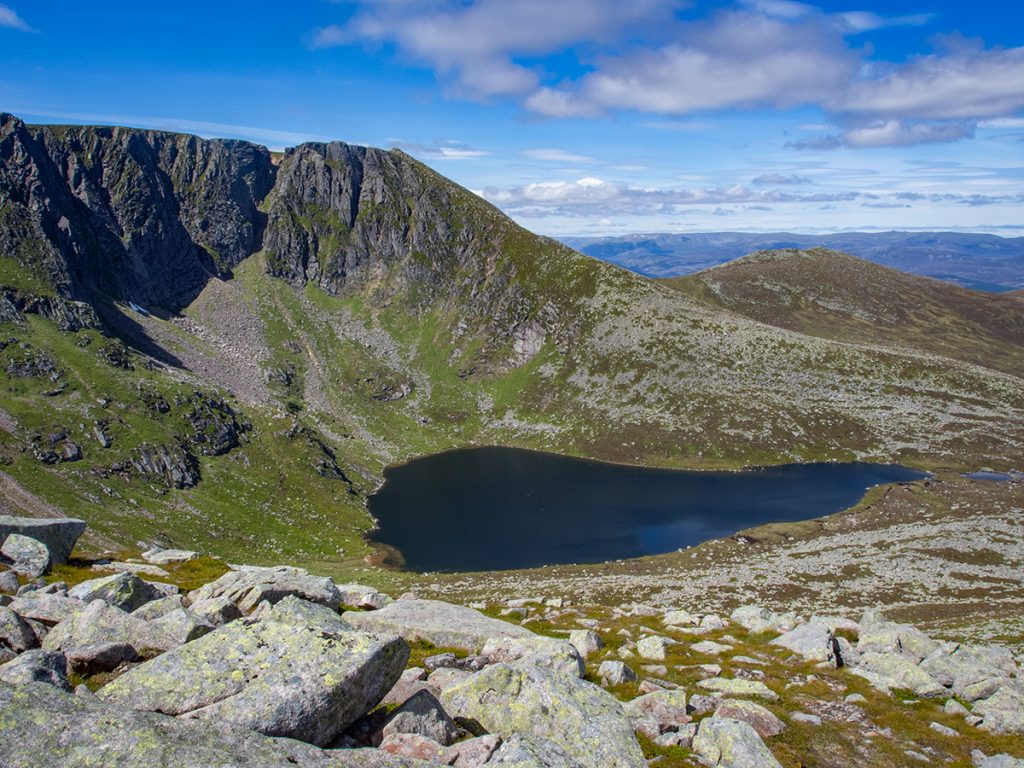 The heat rose and it was time to dunk my cap in the streamlet beside the trail; I walked occasionally to cool off, despite being aided by downhill. The heather was in bloom, a haze of purple in the sunshine and the air was thick with it's scent.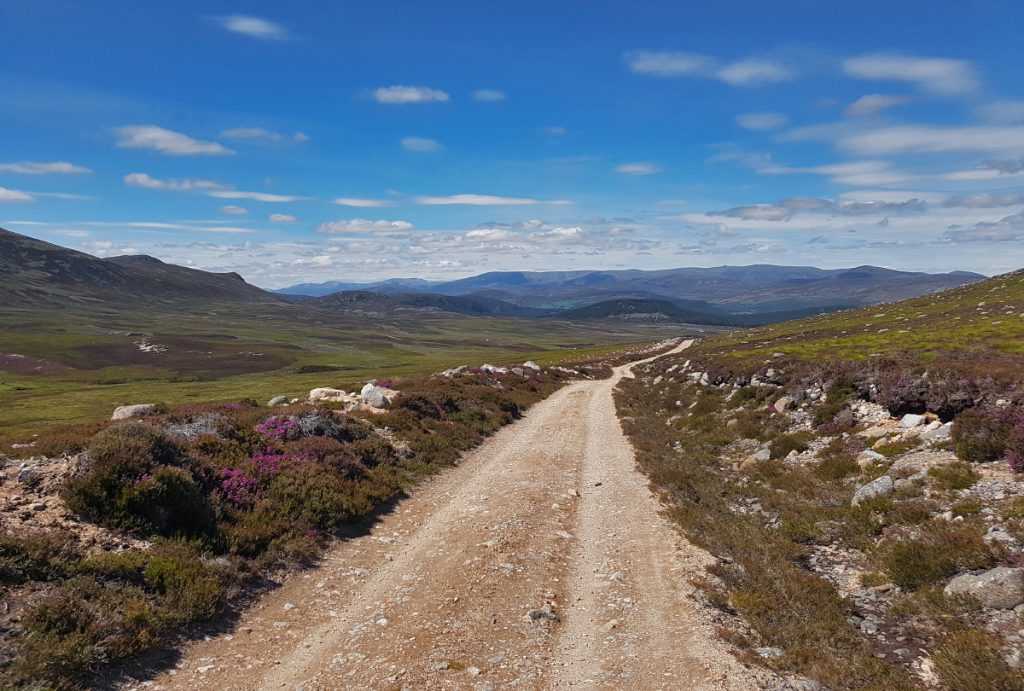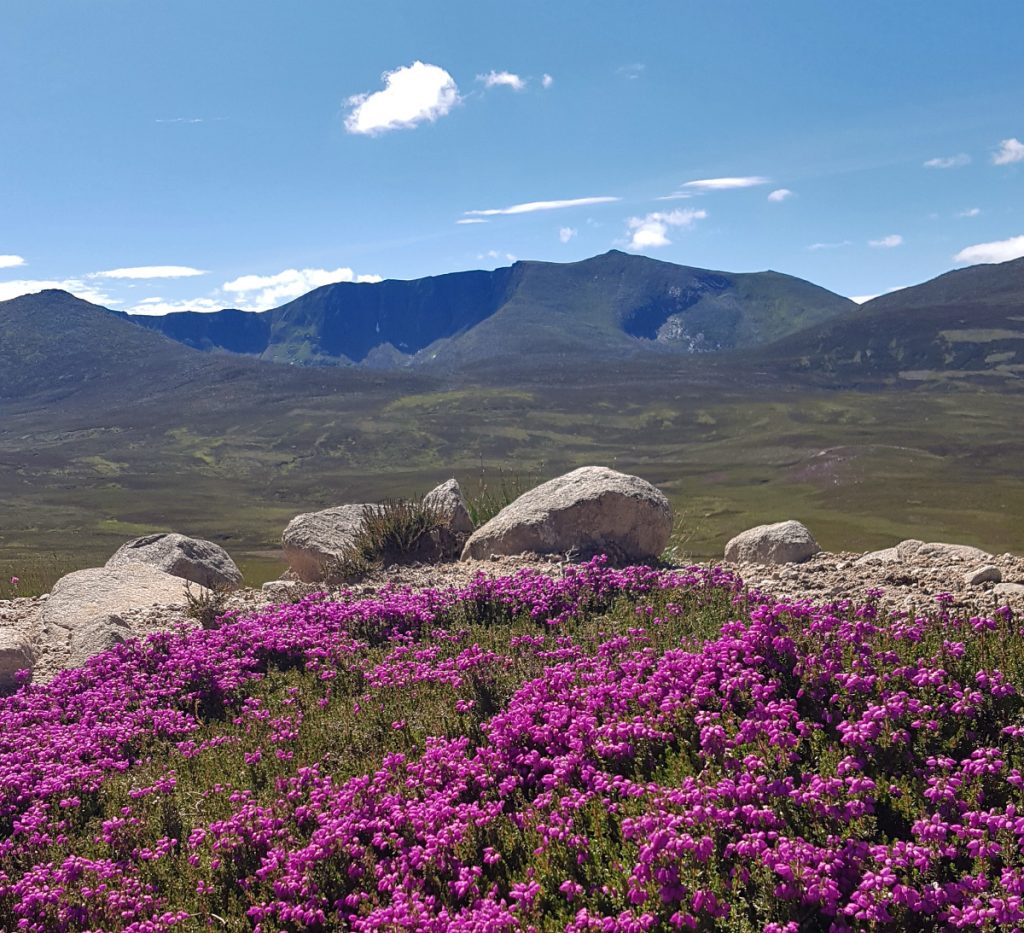 I thought to walk once entering the woods at Balmoral and the shade; within moments though I was swarmed by aloud buzz of flies and creaked back into motion, upwards to the cairns on Creag an Lurachain. The dappled pine-clad steeps were a treat for the eye if not the legs, soon enough I pounded down the other side whisking past the day-trippers making hard work of this tiny hillock.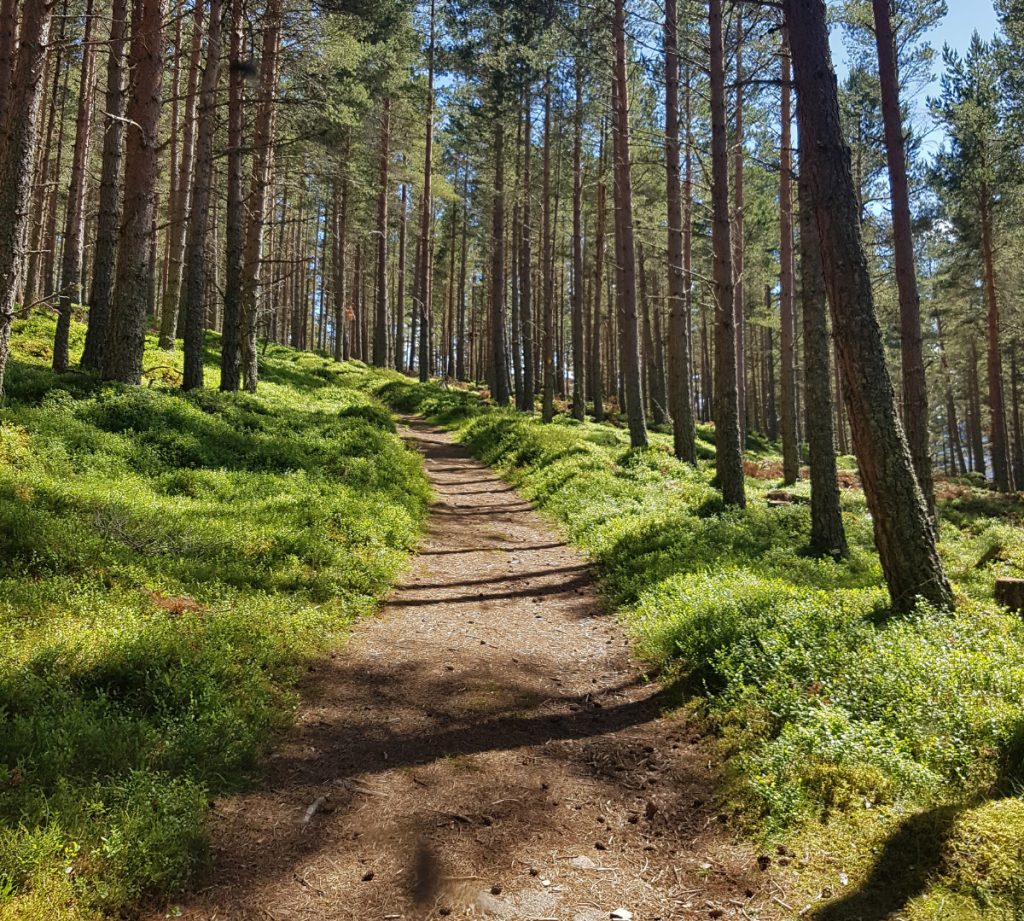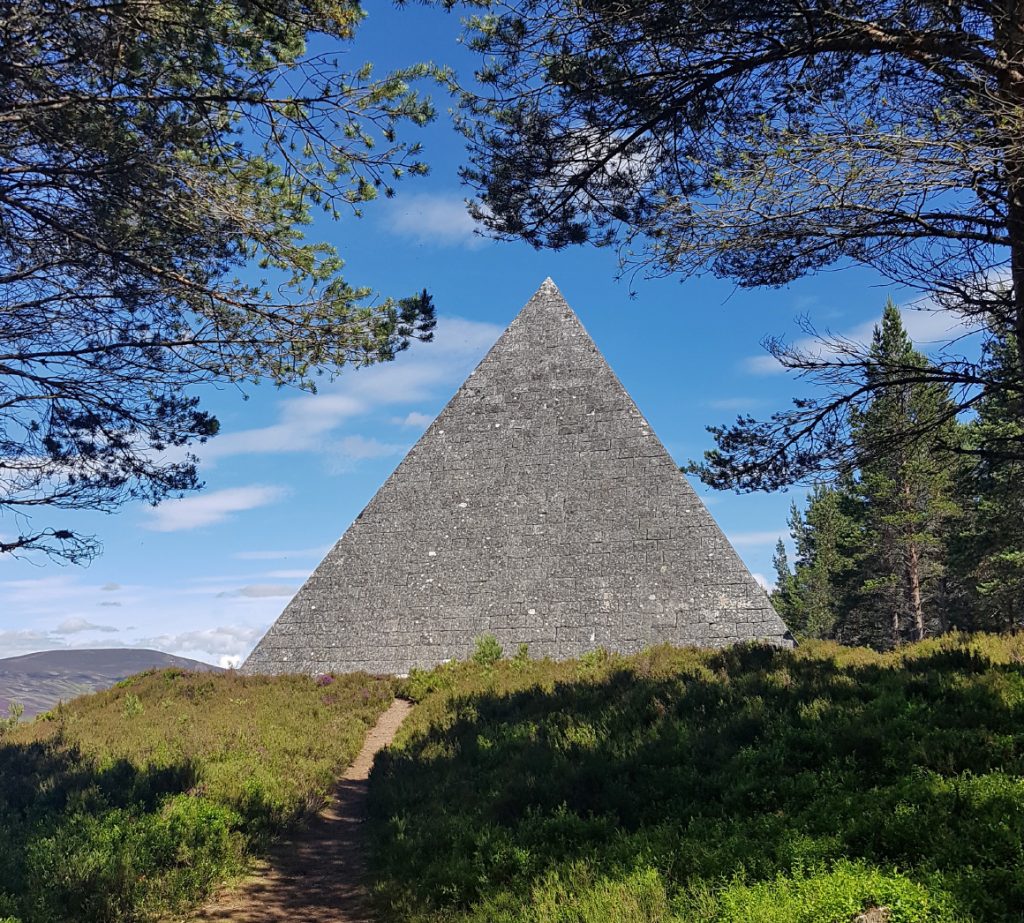 I'd figured I had barely made the bus time (an unnecessary hurry as had noted it wrong) but ended up waiting in the heat for the better part of an hour, rehydrating and munching hoping to refuel for a second trip of the day, between Cambus O'May and Dinnet. The feet and legs felt sore, but I hoped they'd recover before disembarking.