It was getting to the point of the year for snow tunnels – gullies with deep snow can have water flowing in a stream below sculpting them out into abstract works of art. Rather than return to Lochnagar, I thought I'd have another look at Ben Avon's east side where the topography looked likely, do some exploration and go and check the gullies I'd spied on a recent traverse where I'd ended up on the mountain's south east corner.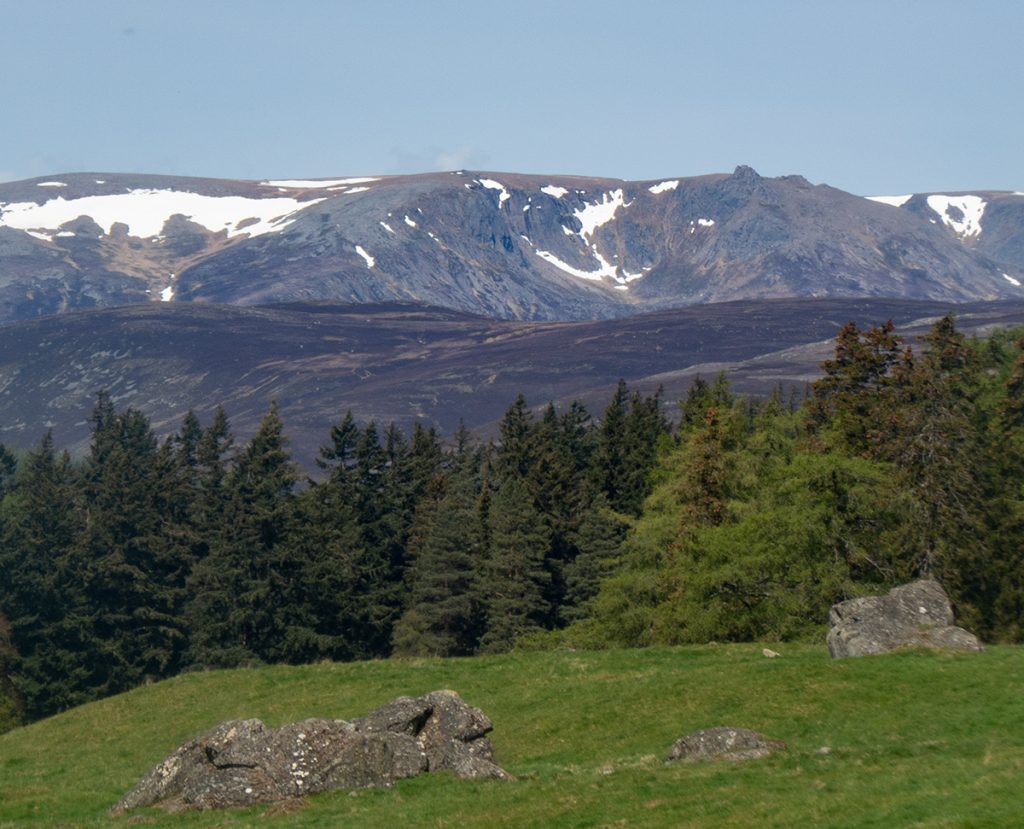 I headed off from Keiloch under blue skies, and enjoyed the trip up through the forest with assorted butterflies and insects flitting around, and the ground peppered with spring flower splashes of colour.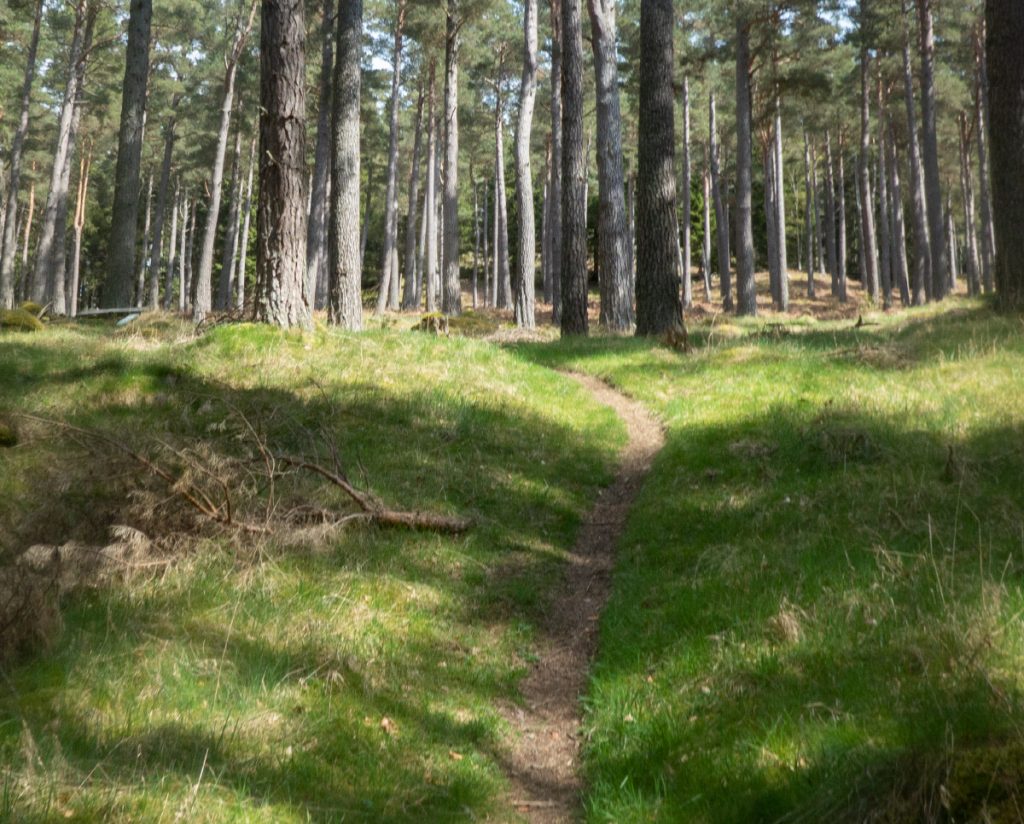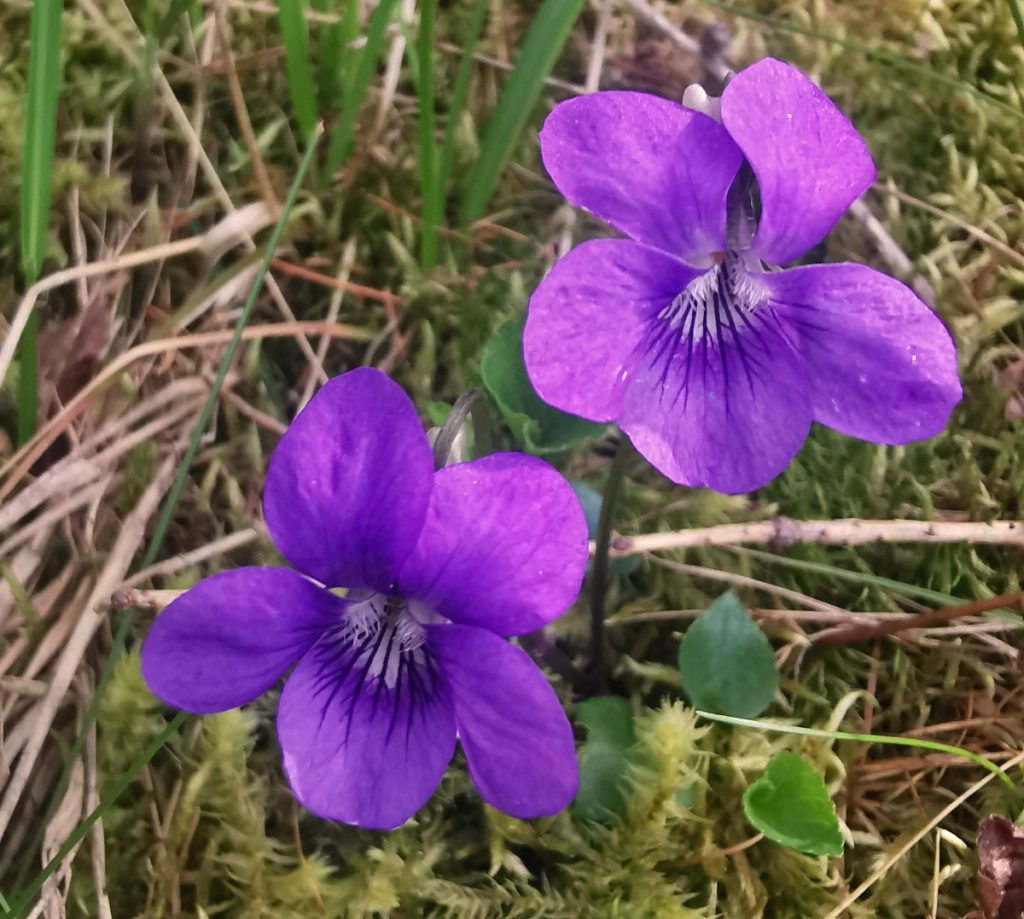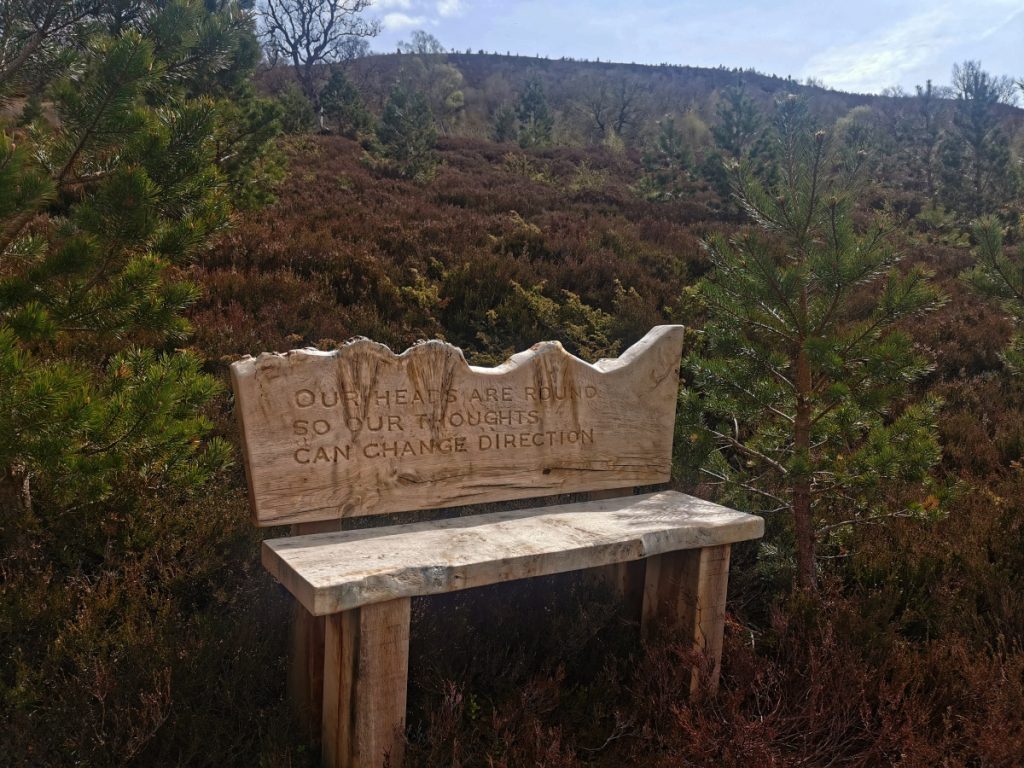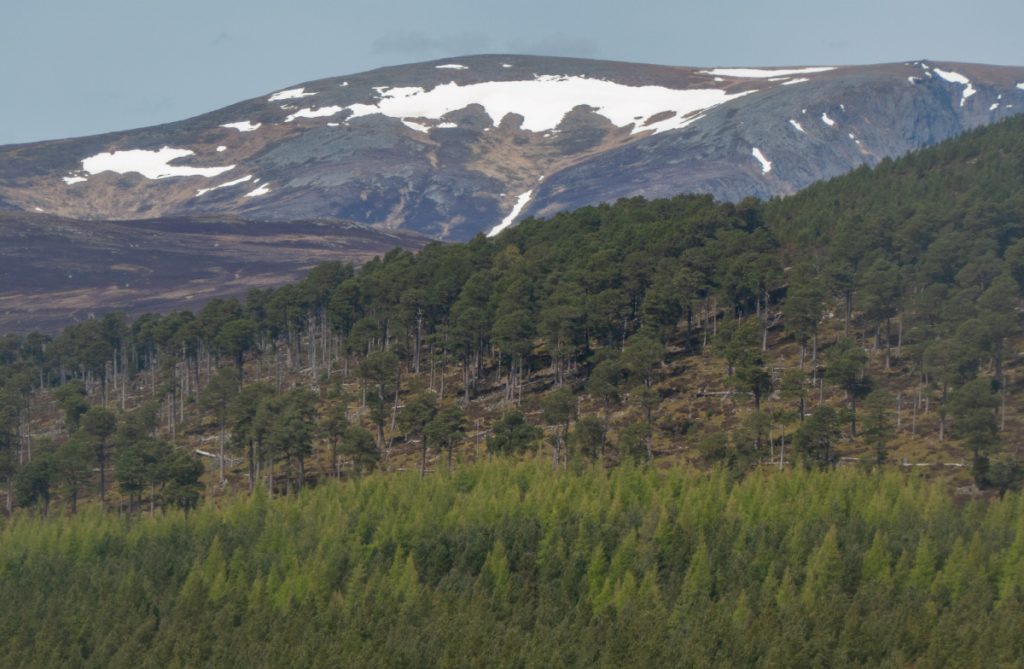 It was hot work tramping the Culardoch 'road' and either side there were fresh patches of burned heather, the stench of recent burning acrid to the nose, the soot-clogged ditches draining downstream. A hidden trap contained a congealed mess of fur and bone. Invercauld are a horrible estate, obstinate in their Victorian cruelty.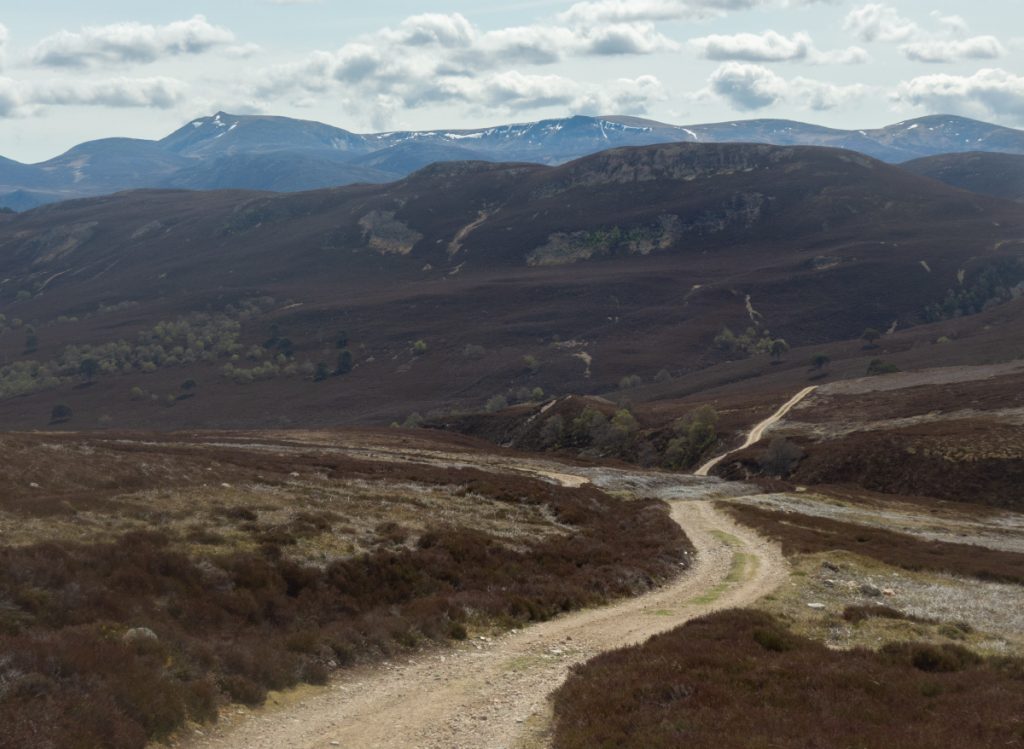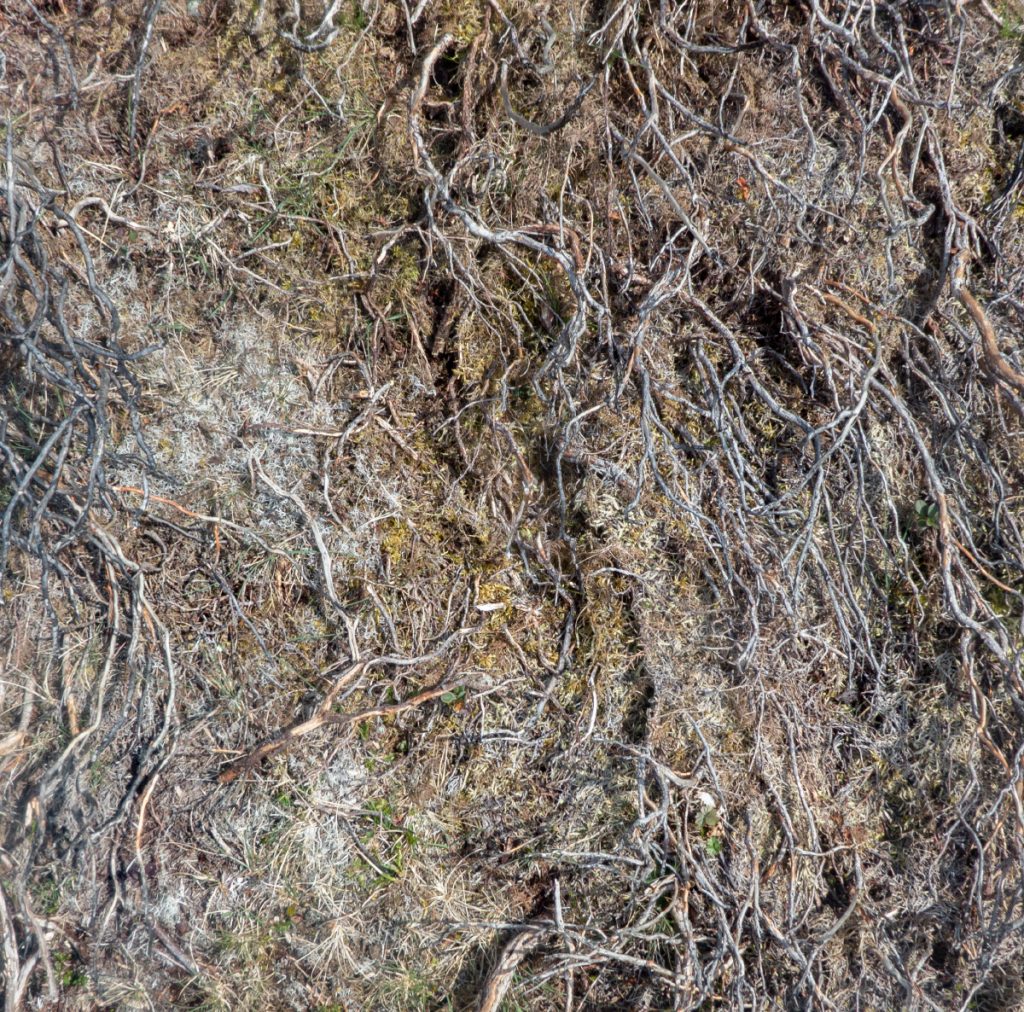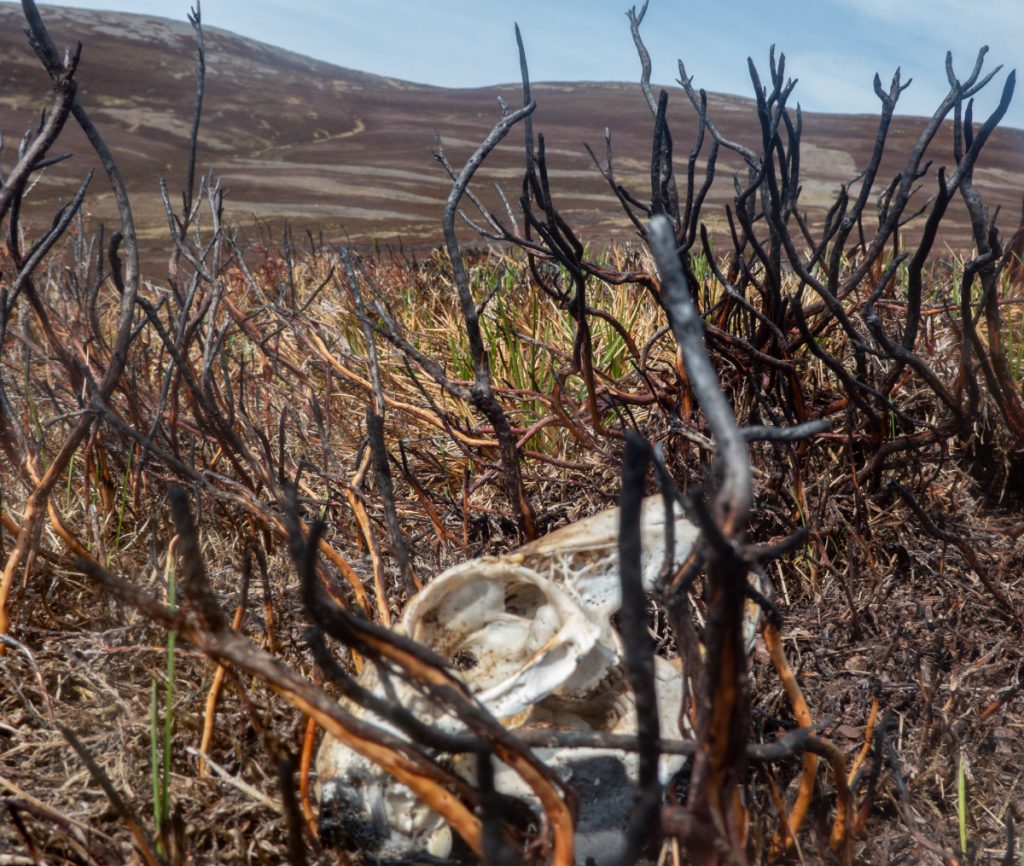 I turned down the Allt na Claise Moire, it's wilder and there's barely a rough path but avoided another 70m of height gained sticking to the main track before it turns downhill towards the River Gairn.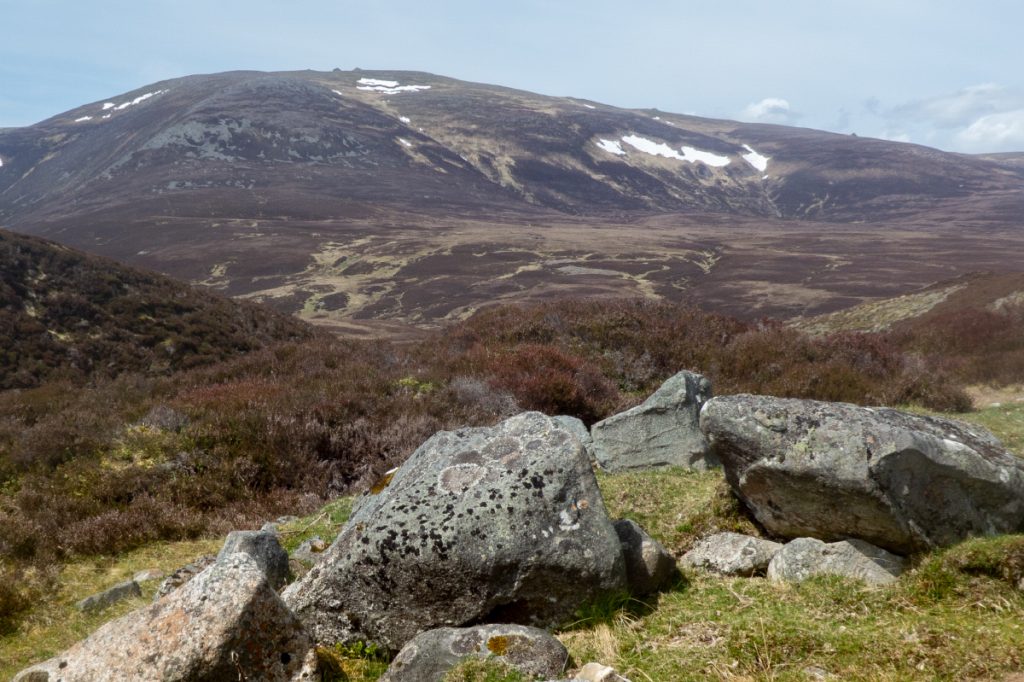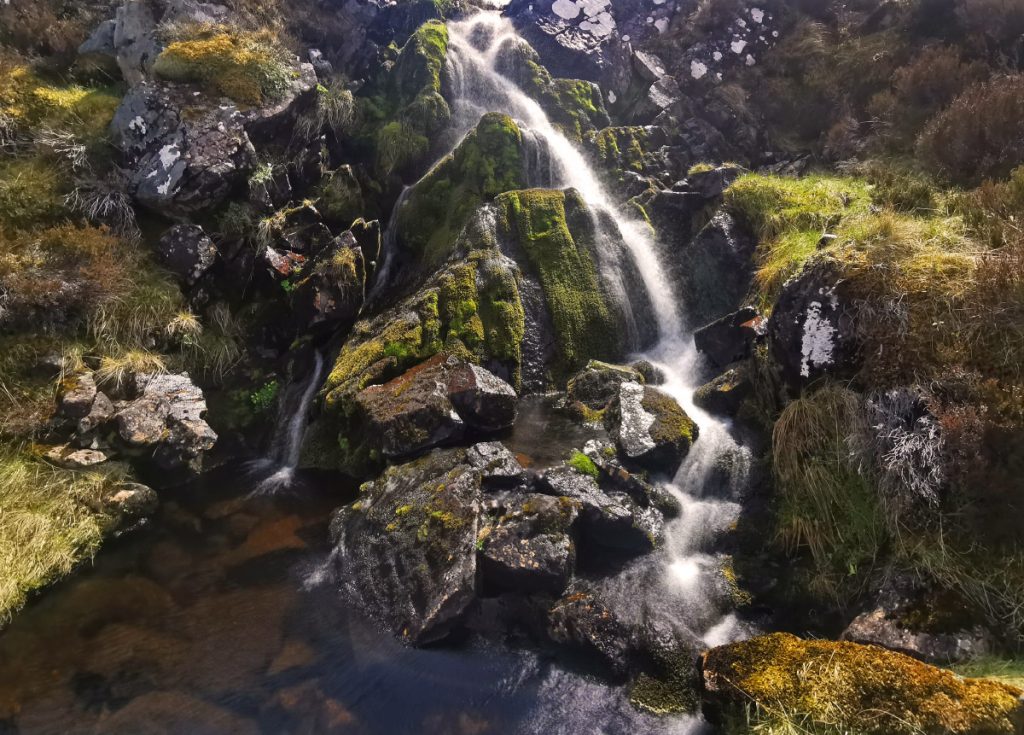 Across the River Gairn, I hid my main rucksack with camping kit, and proceeded with a lighter run pack. The planned route was quite long so saving weight would help expedite proceedings, there'd likely be some scrambling and confined tunnel creeping which would be hindered with a large pack.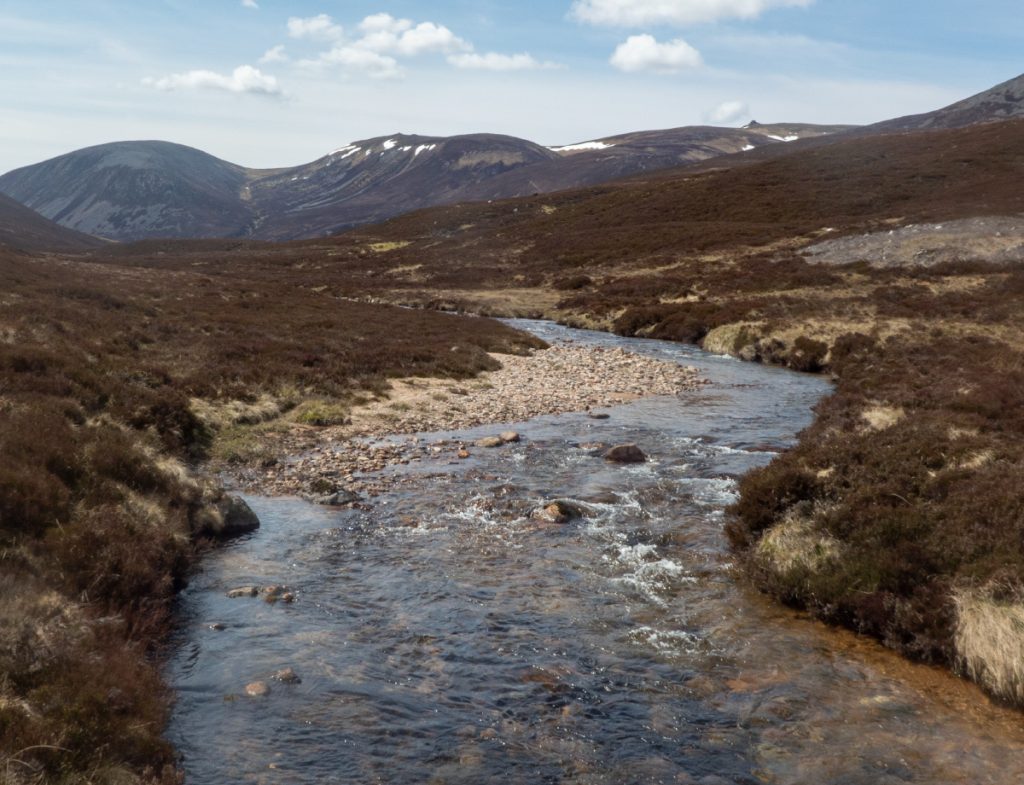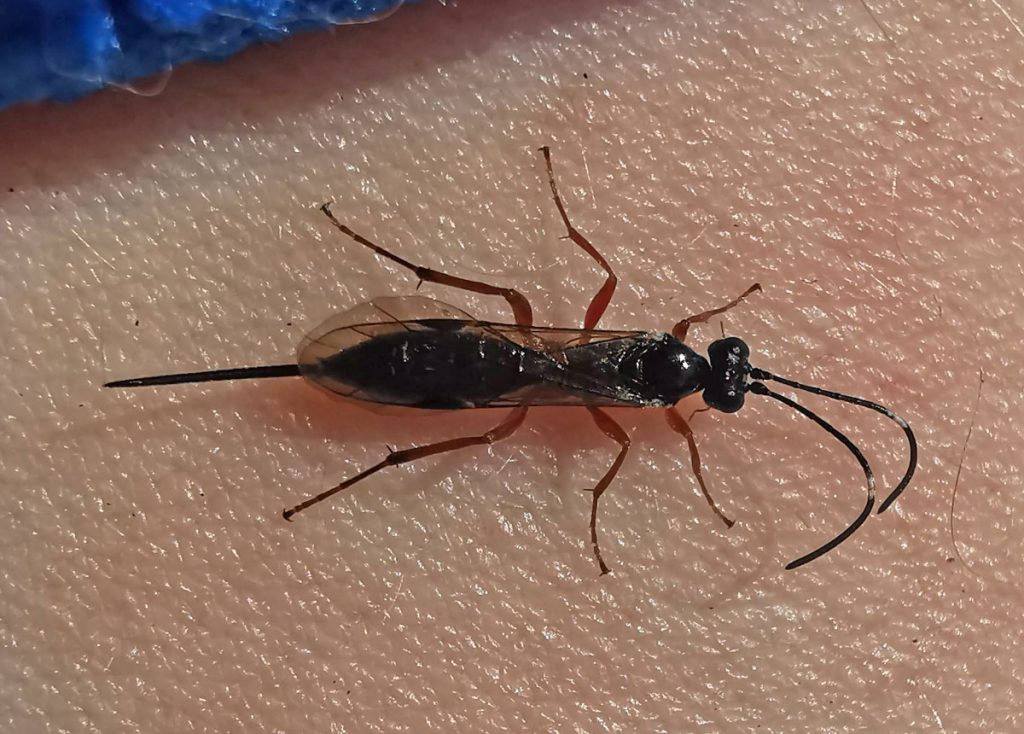 Looking up to the mountain I could see some of the snow patches were 'speckled' and a closer look through the monocular revealed large herds of deer getting relief from the midday heat.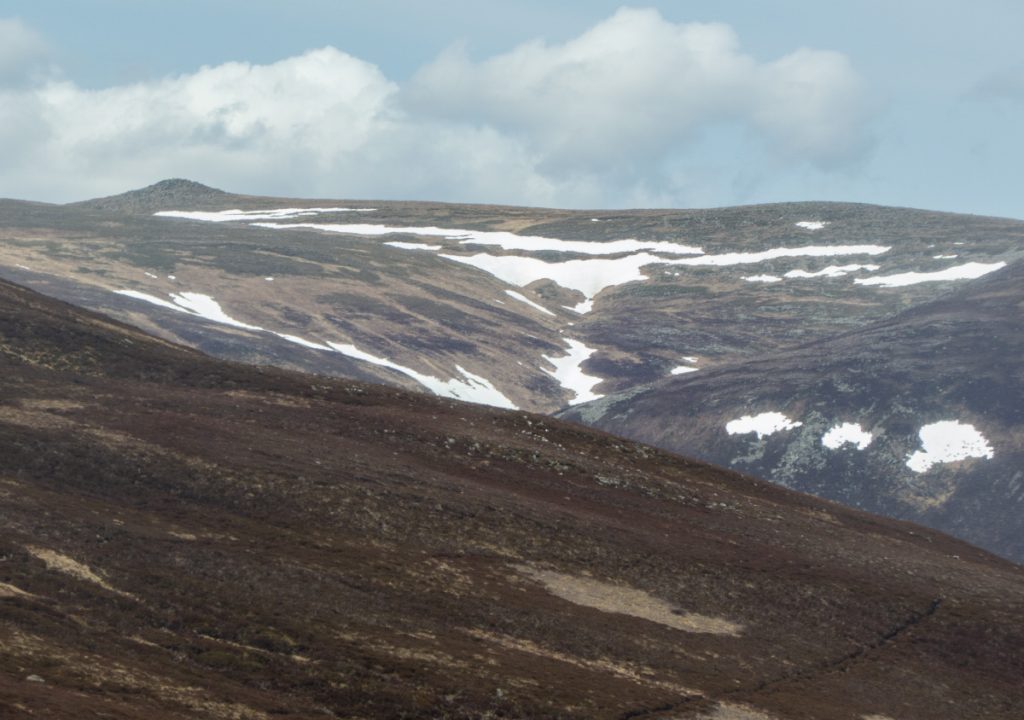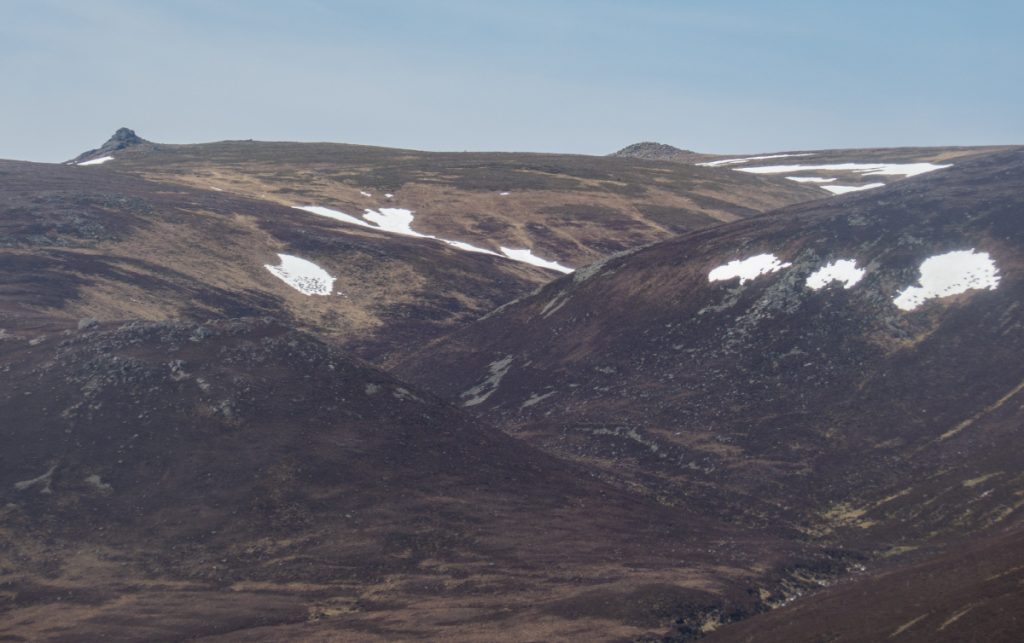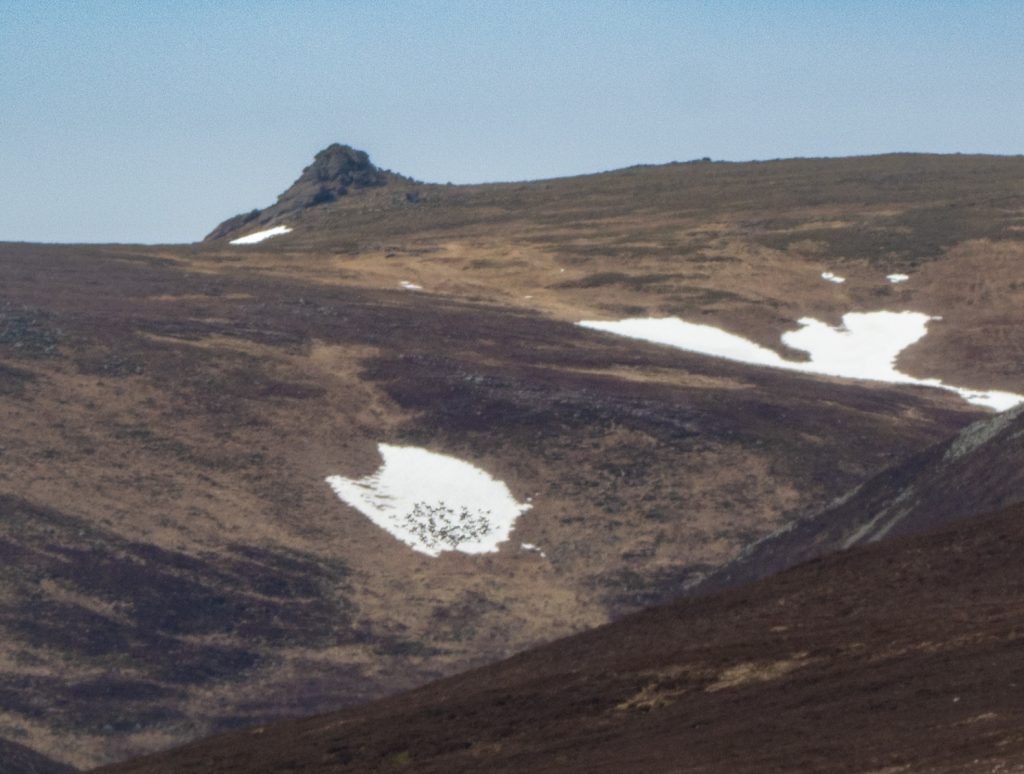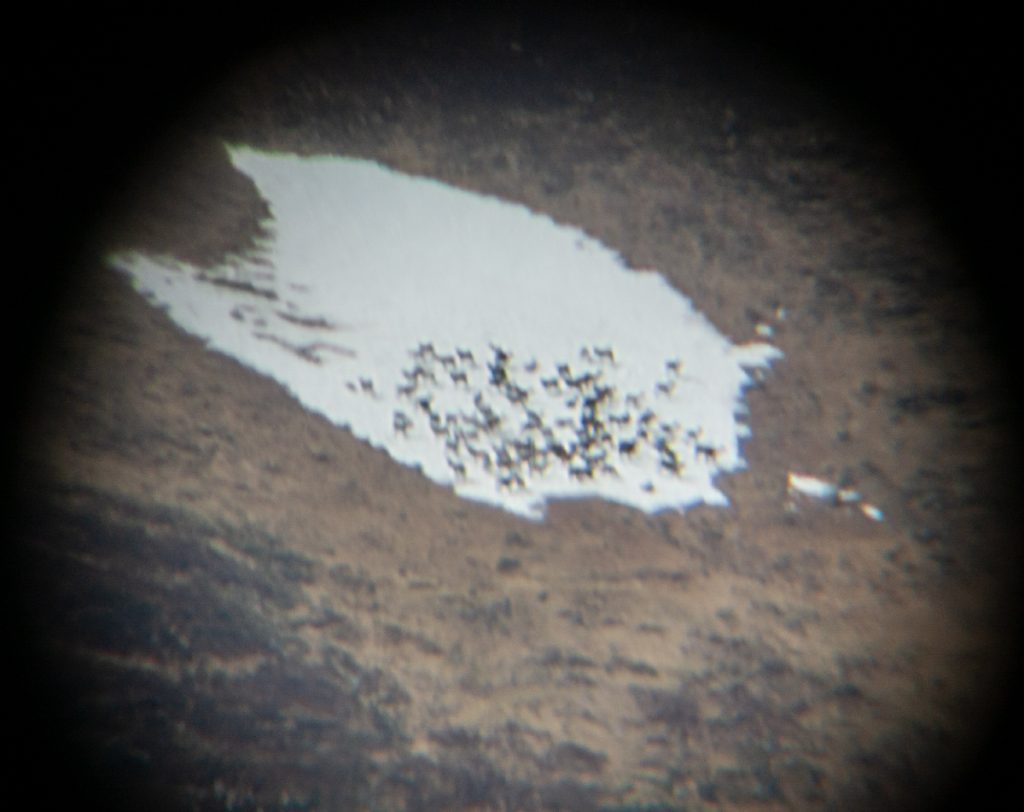 I headed east and meandered off-path amongst some small glacial mounds and old ruins of presumably shielings.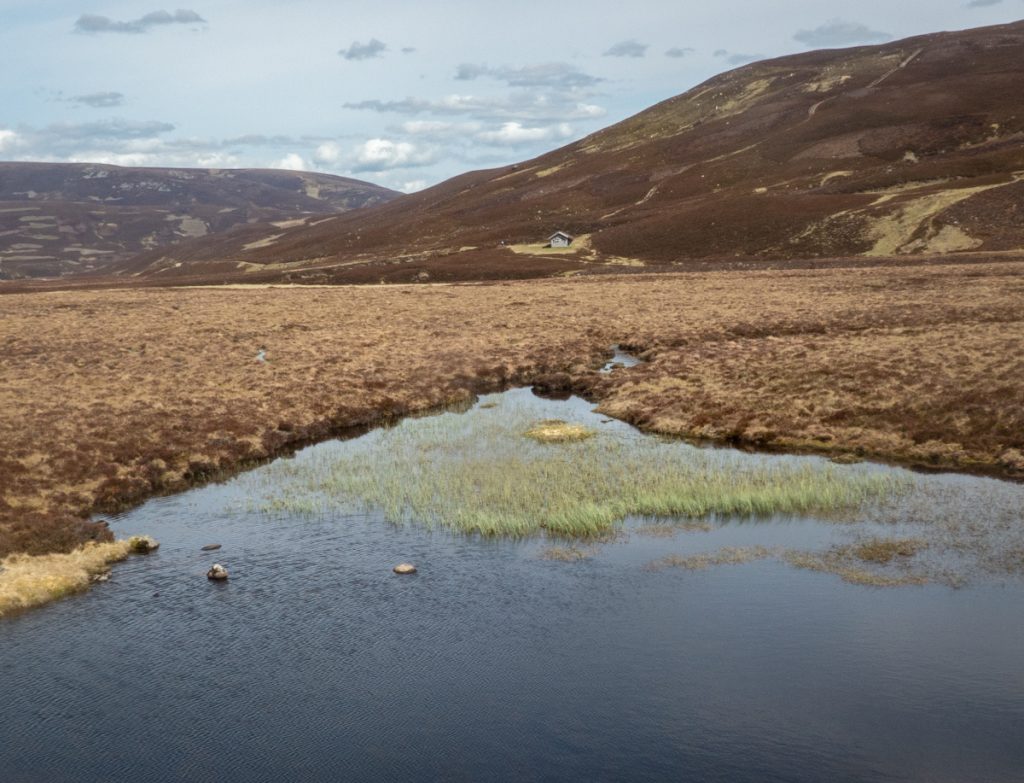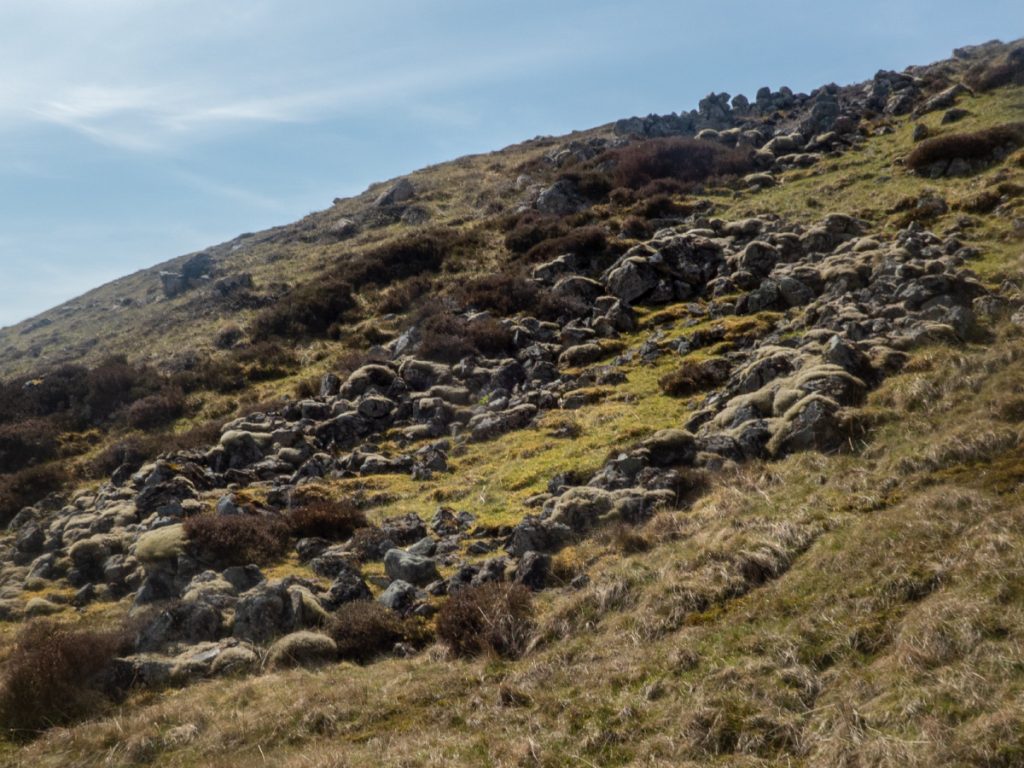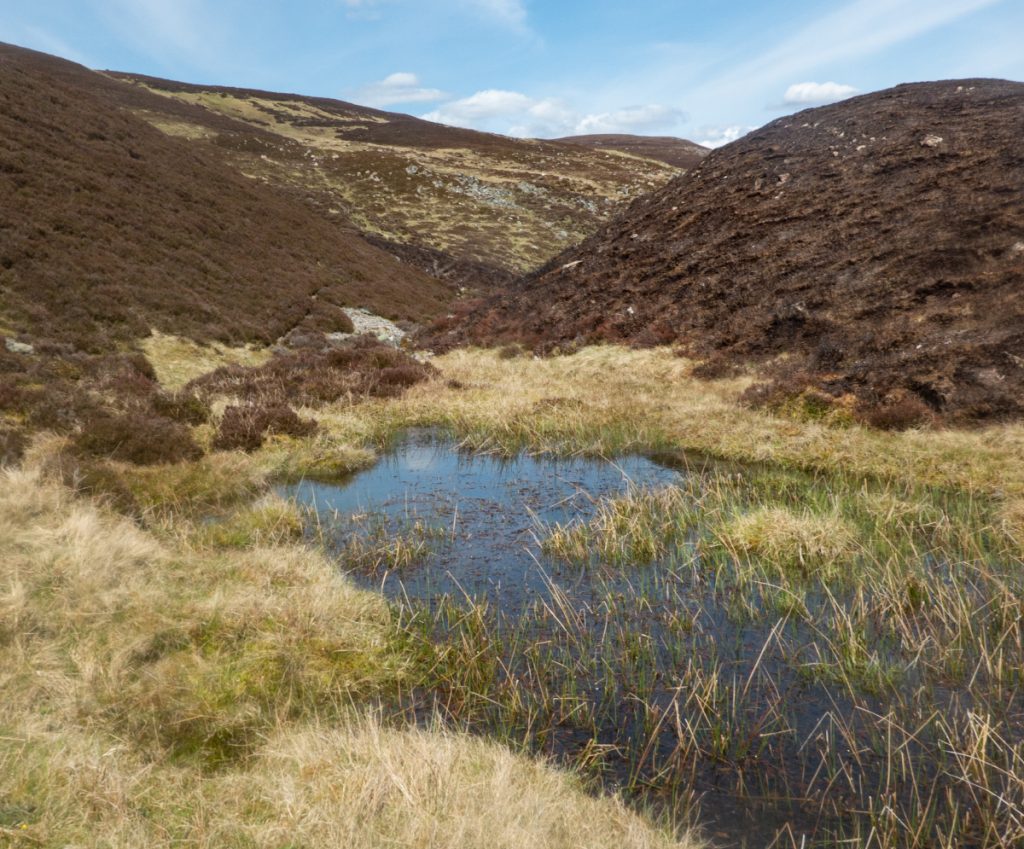 The first gully target of the day was the Allt Phouple, from a few miles back I'd seen it still had a good chunk of snow. There's a landrover track to it's right but I thought it'd be more fun to follow the stream, and after a short impassable steep sided section at the bottom with some waterfalls, it becomes pleasantly grass-banked with some deer paths and occasional side-hopping I made my way upstream. Getting closer, I got a look inside the Allt Bad a Mhonaidh and could see there was some snow left there: an inspection via the monocular, a check of the watch showed ahead of schedule, so I departed the Allt Phouple for the time being.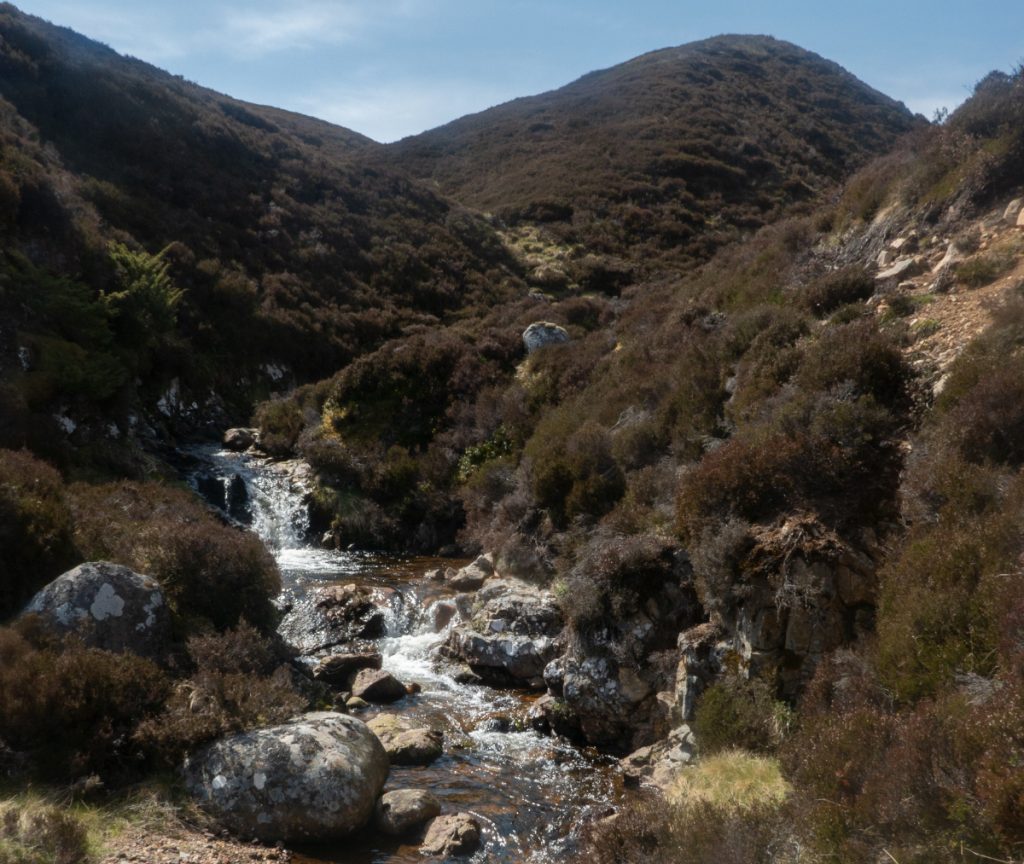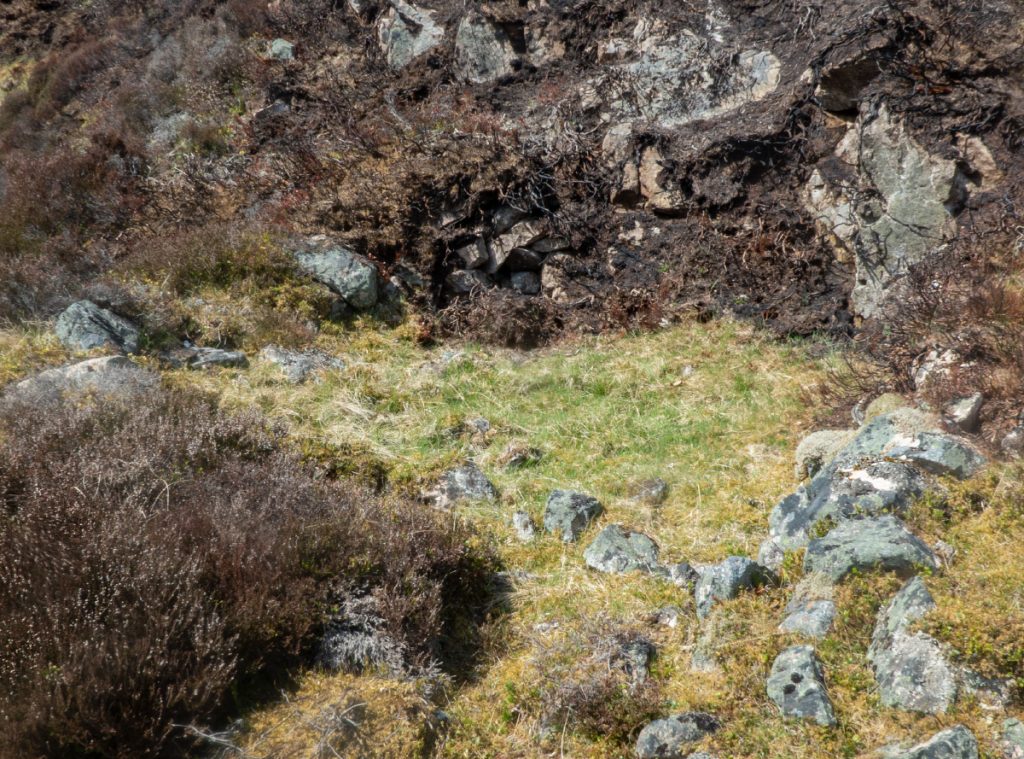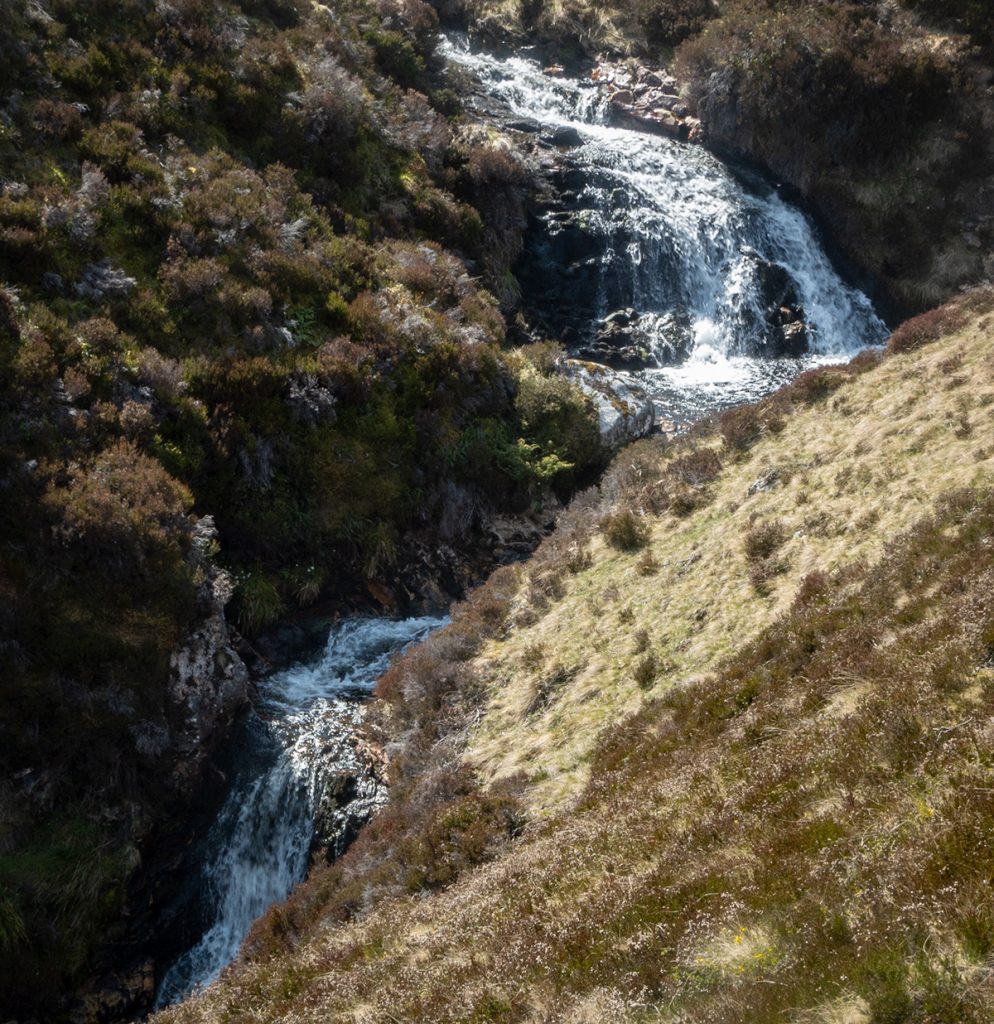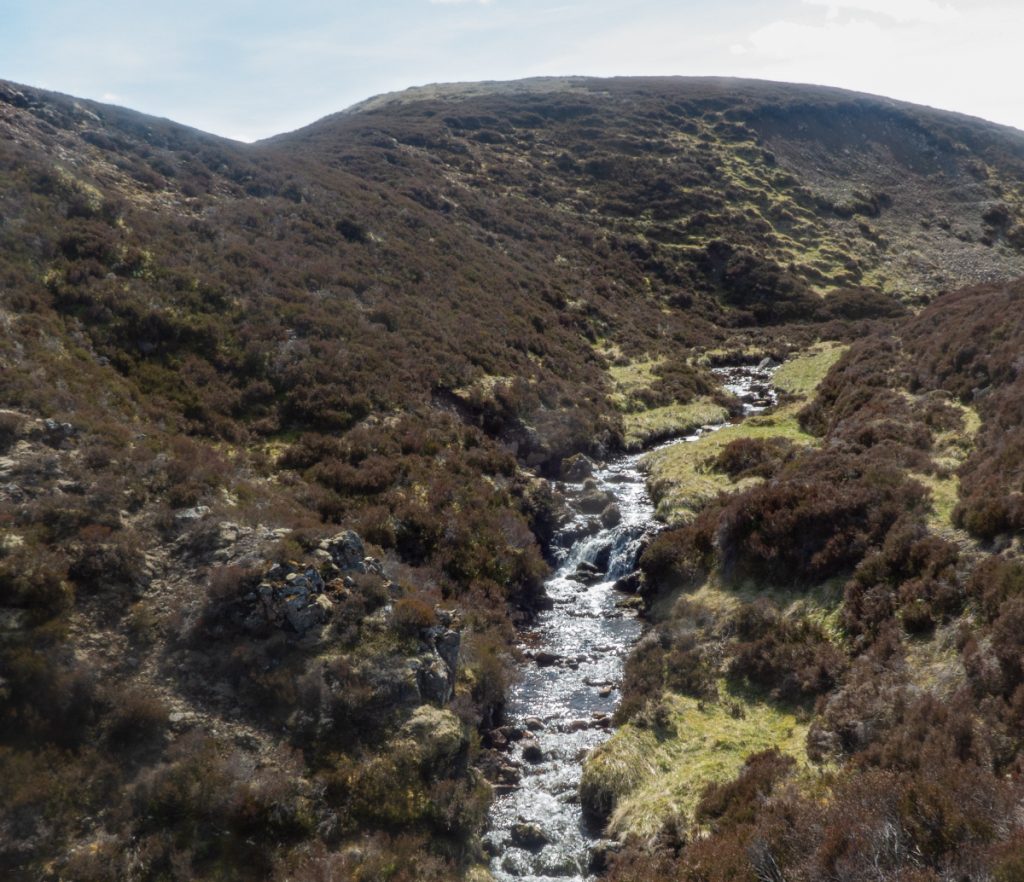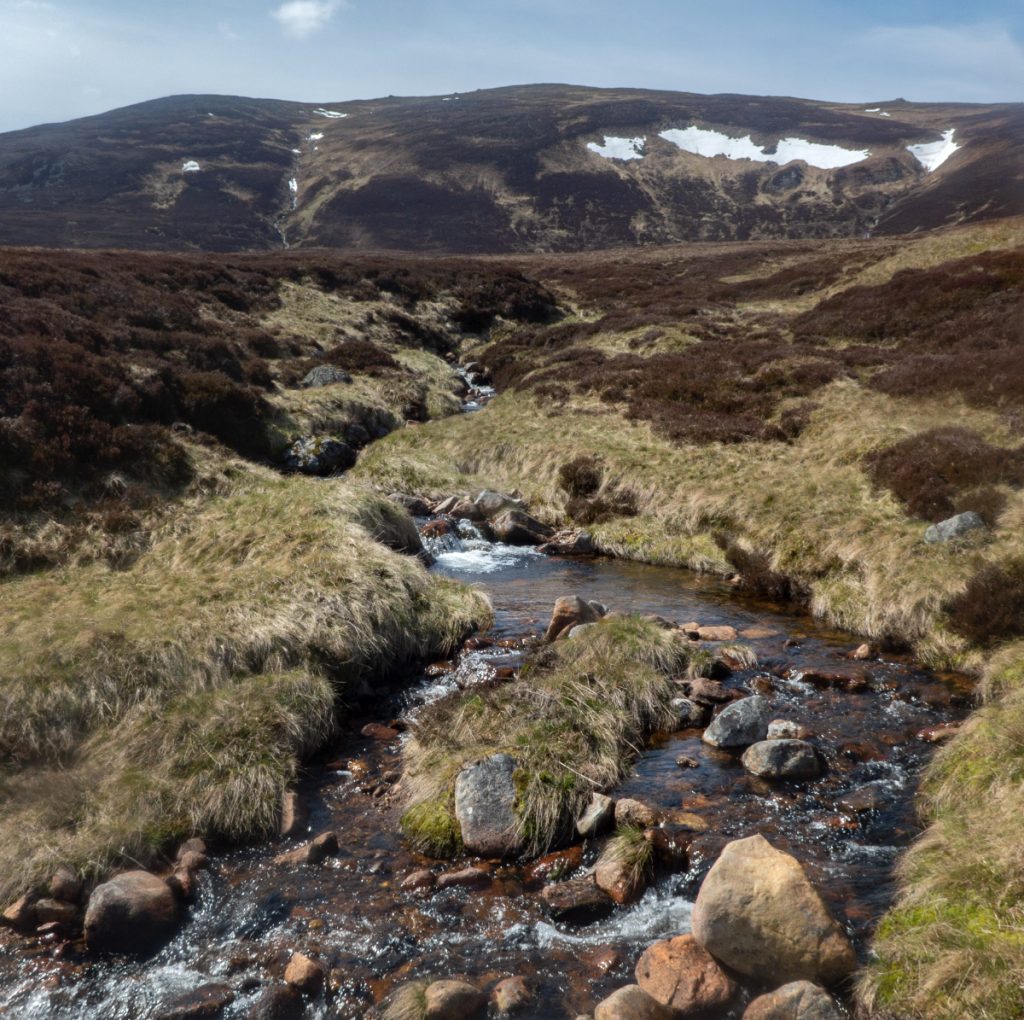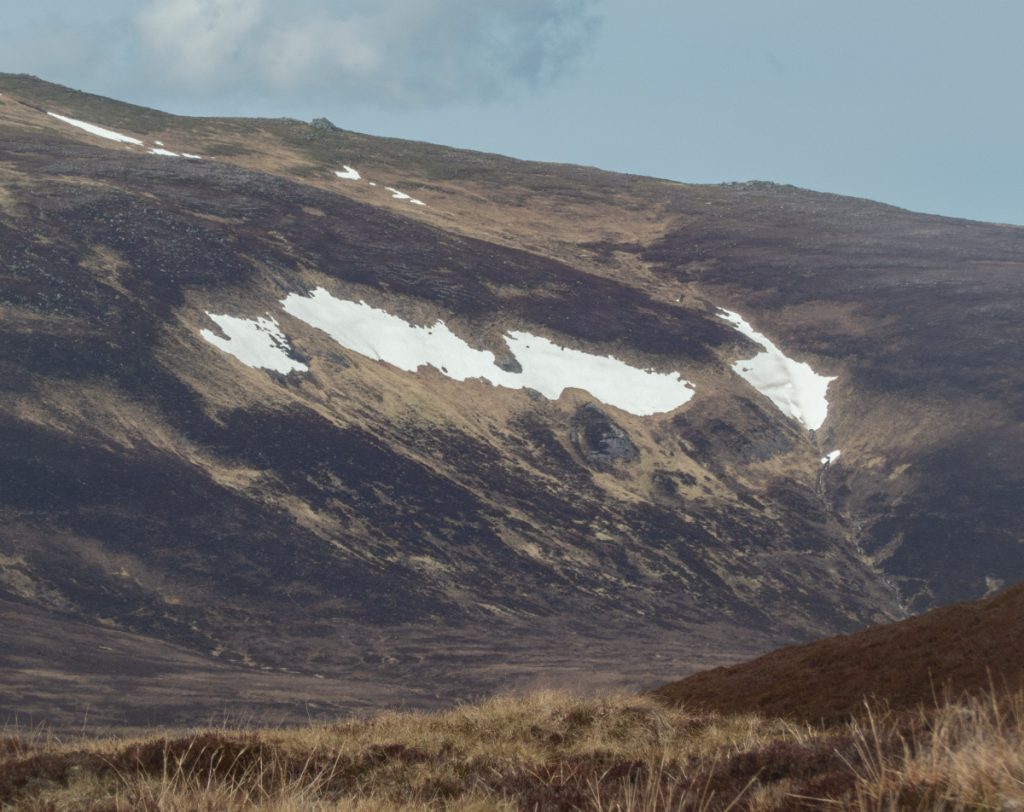 The stream tumbled through waterfalls and I scrambled steeply upwards, leaping from bank to bank to avoid slabs and sheer sides, before reaching a holed snow tunnel with the water splashing past refreshingly, I'd seen this just in time with it likely to be only a few days before the structure crumbled.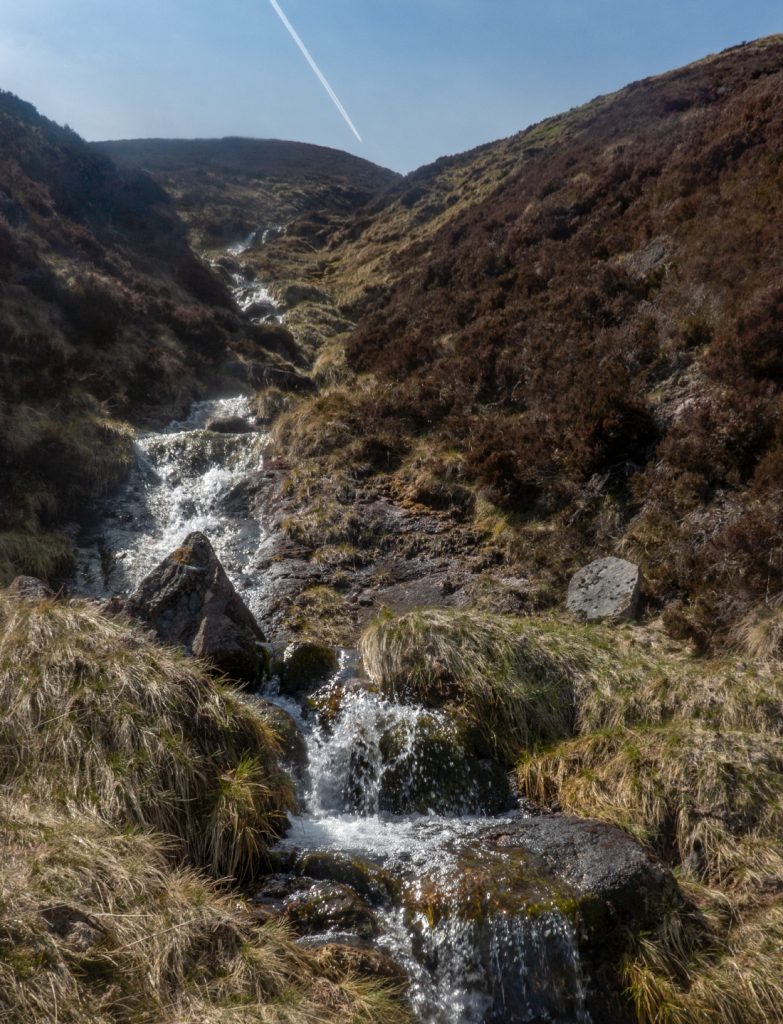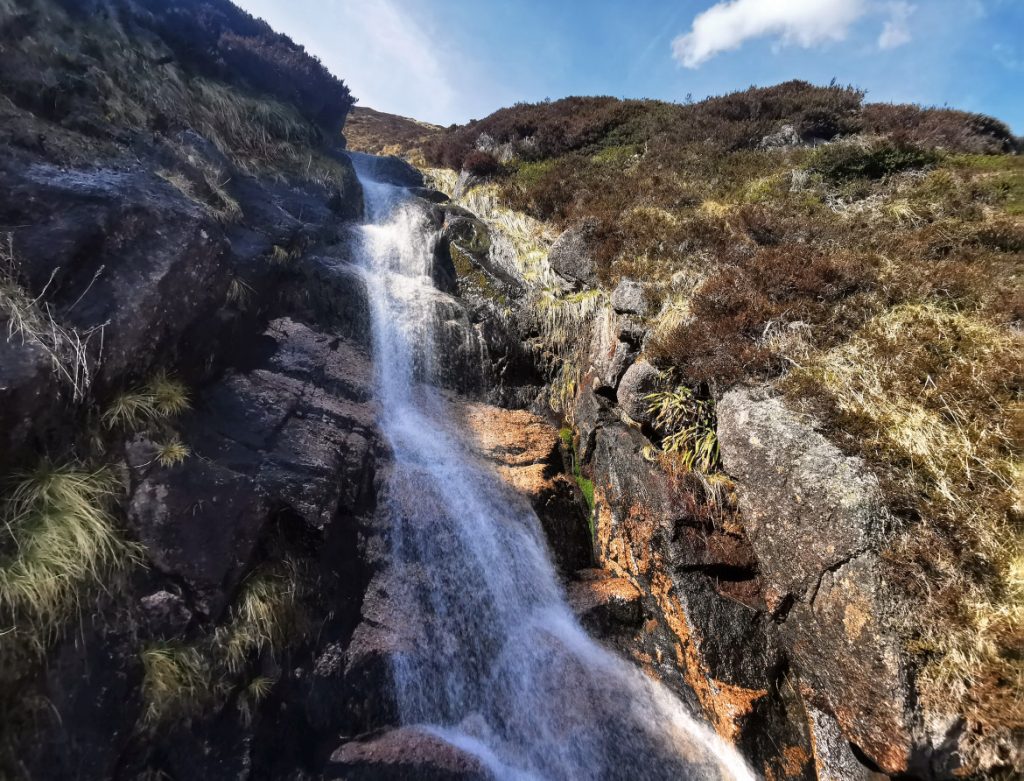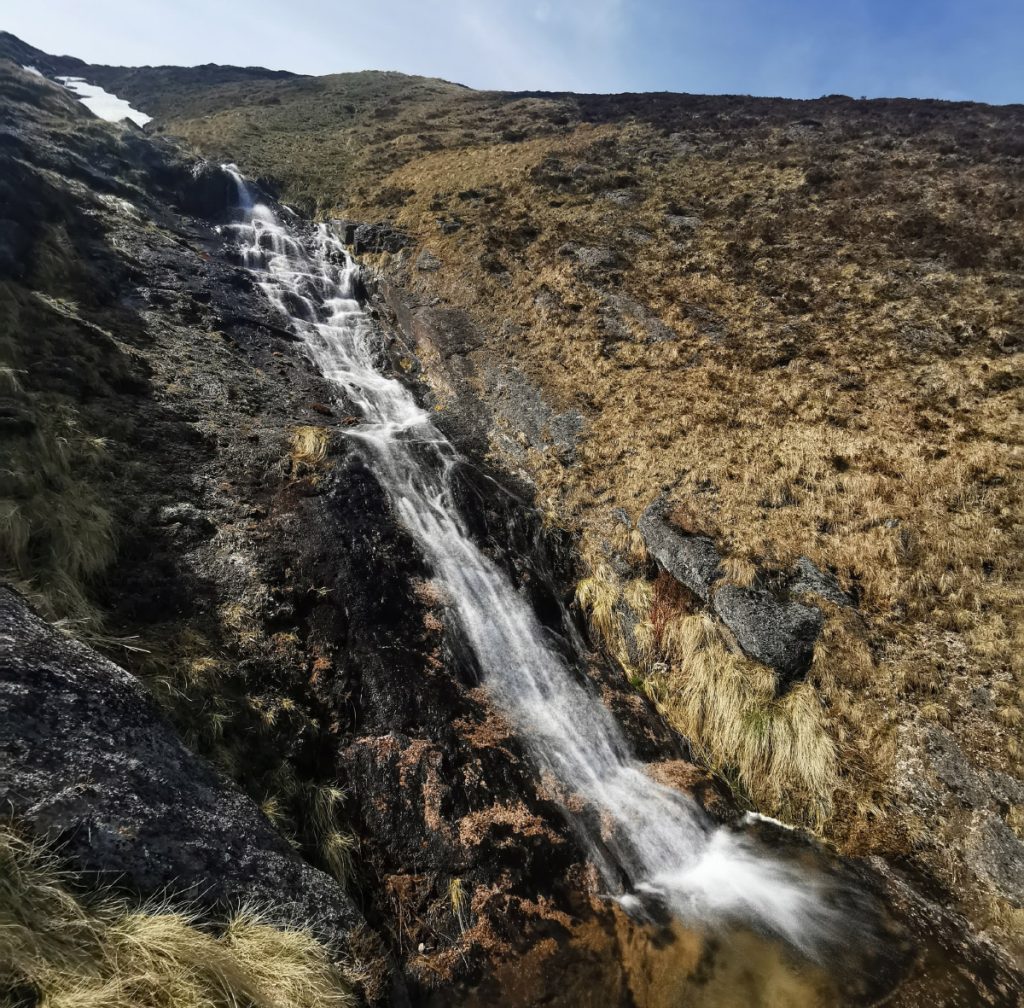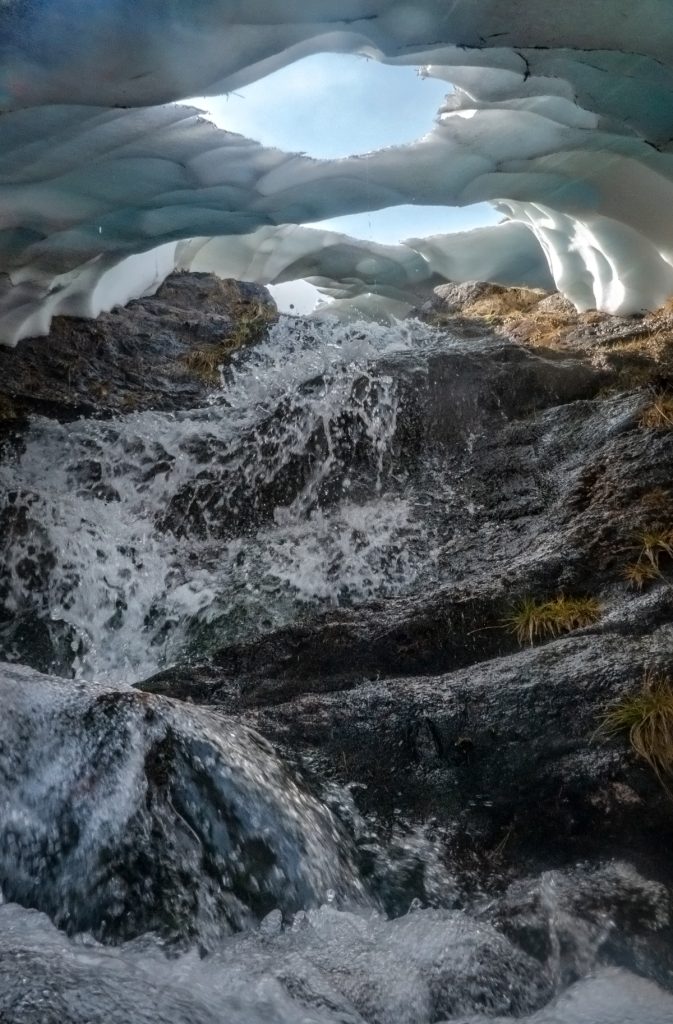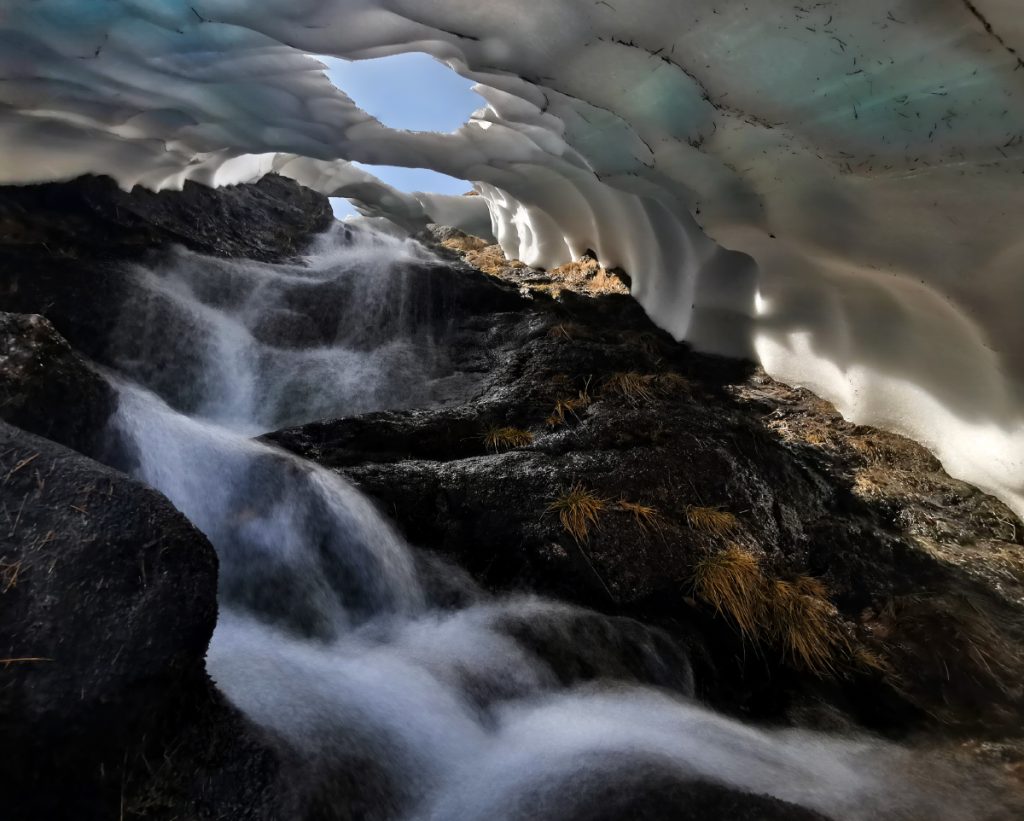 I contoured back across to the Phouple, underneath "the barns" snow patches on grassy terrain where I saw a lizard scampering into the undergrowth.
Reaching the bottom of the Phouple snow patch, this was a far deeper deposit and the tunnel inside was dark and exhaled fog: no go. I followed the bank up on the grass and rocks to the side, although I could have kicked steps in the snow one would be wary to fall through into tumbling water below.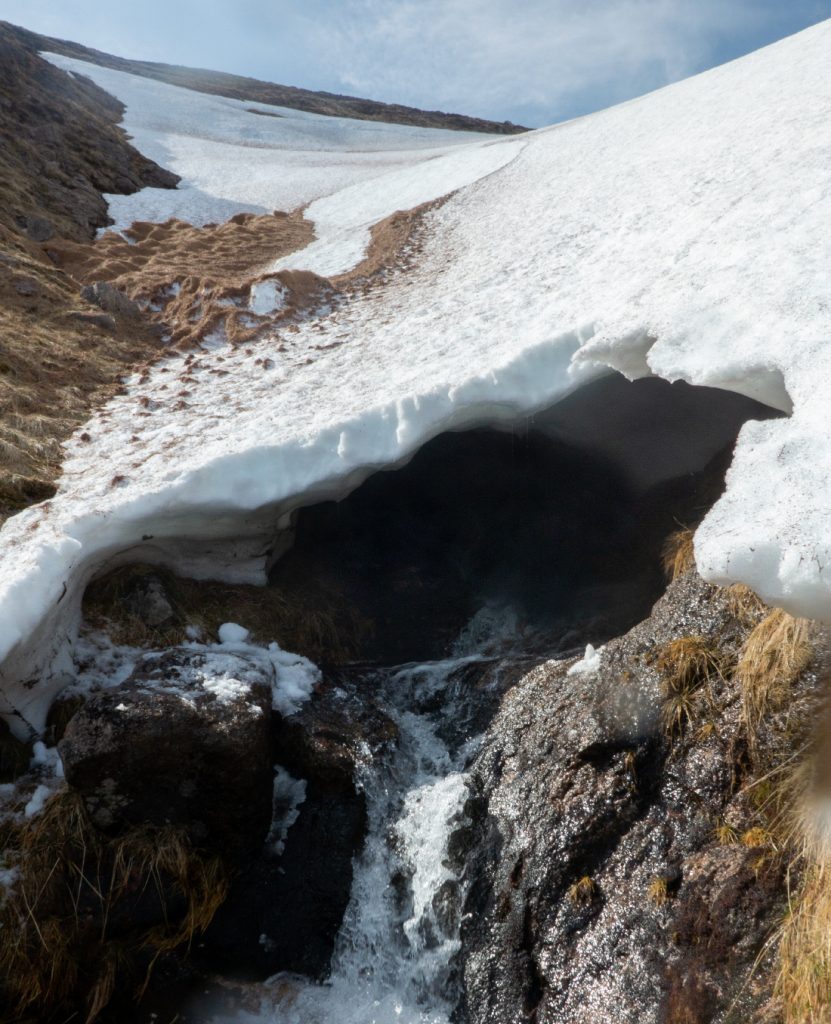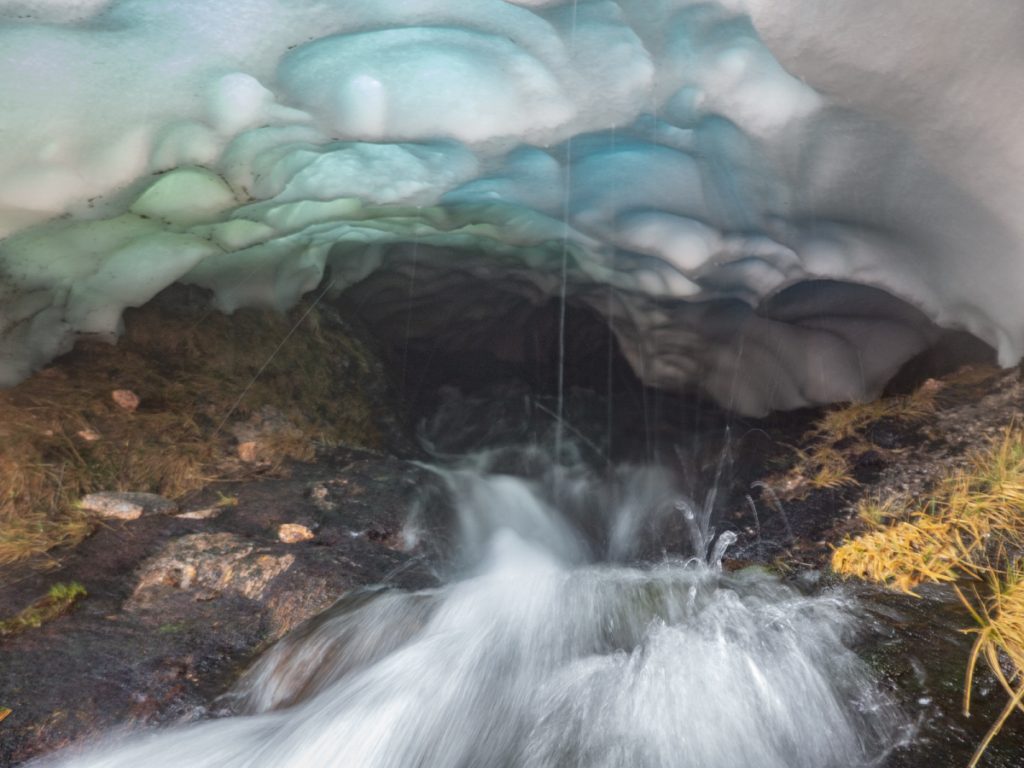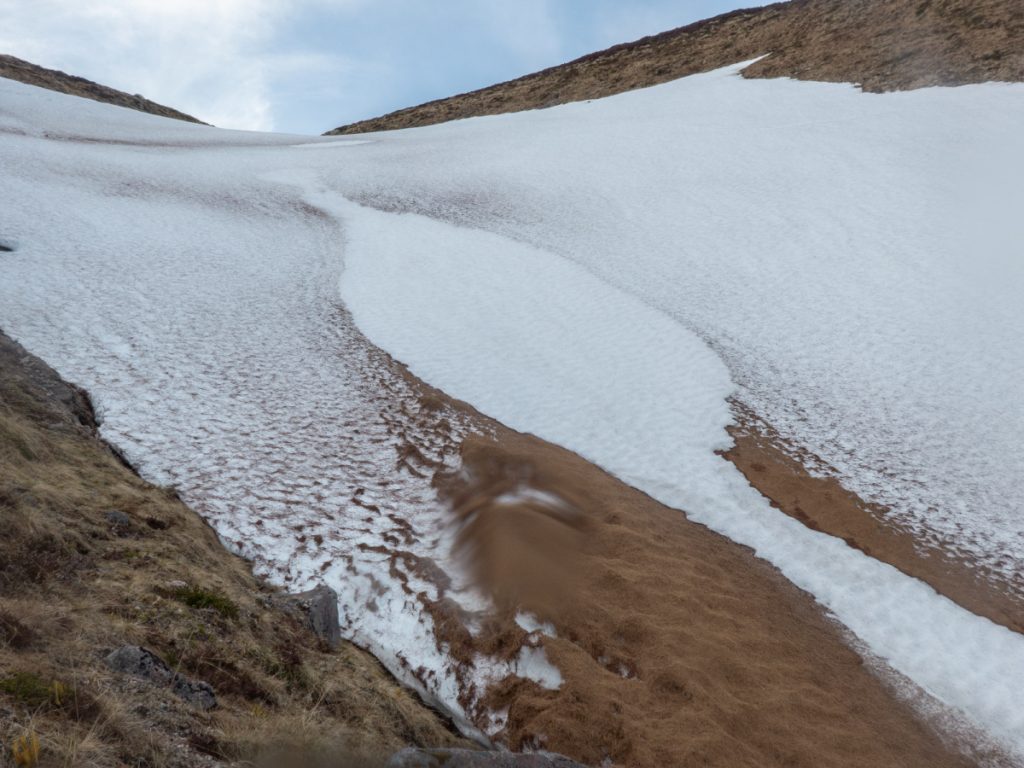 At further ceiling holes I got another look inside albeit with not much space I got a bit of a soaking both from water dripping from above and the stream splashing underneath. I'd taken an ice axe and between that and an elbow smashed out some larger entry points.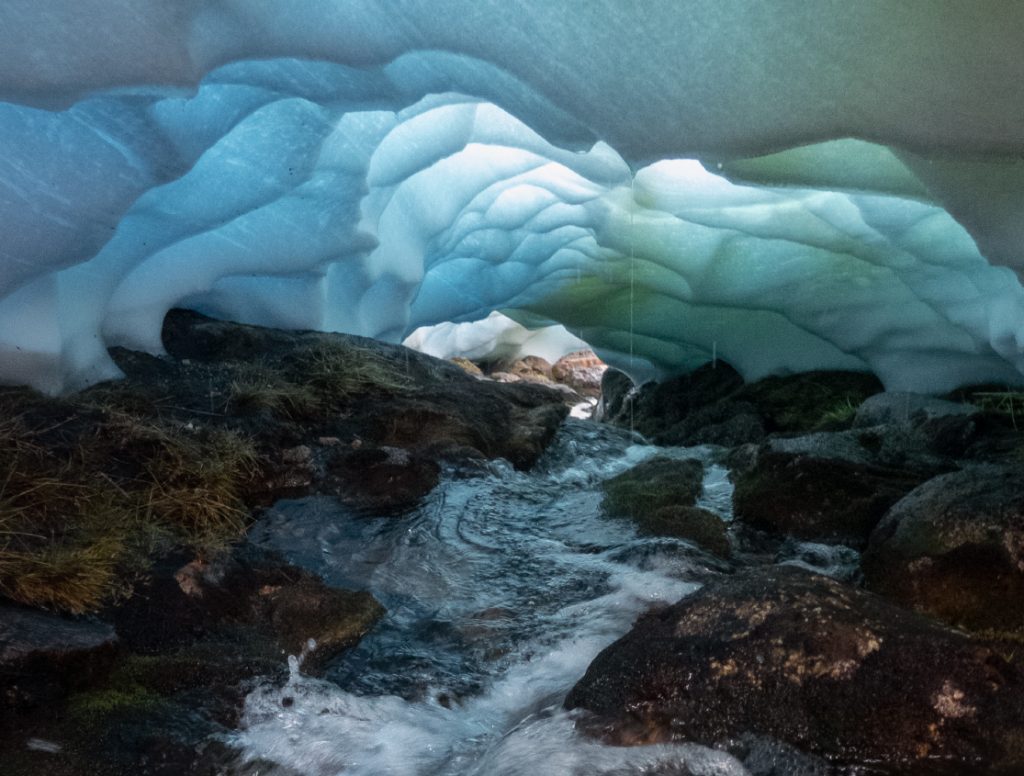 Leaving to climb upwards, I noticed a small movement at my foot: another lizard, which I'd apparently managed to step on amongst the grass: unfortunately it stopped moving and possibly expired (although later research has revealed lizards can 'play dead' to avoid predation and I really hope this was the case) which allowed a close up inspection. It looking entirely undamaged and I lay it down in a sunny spot if there was any chance for it to recover.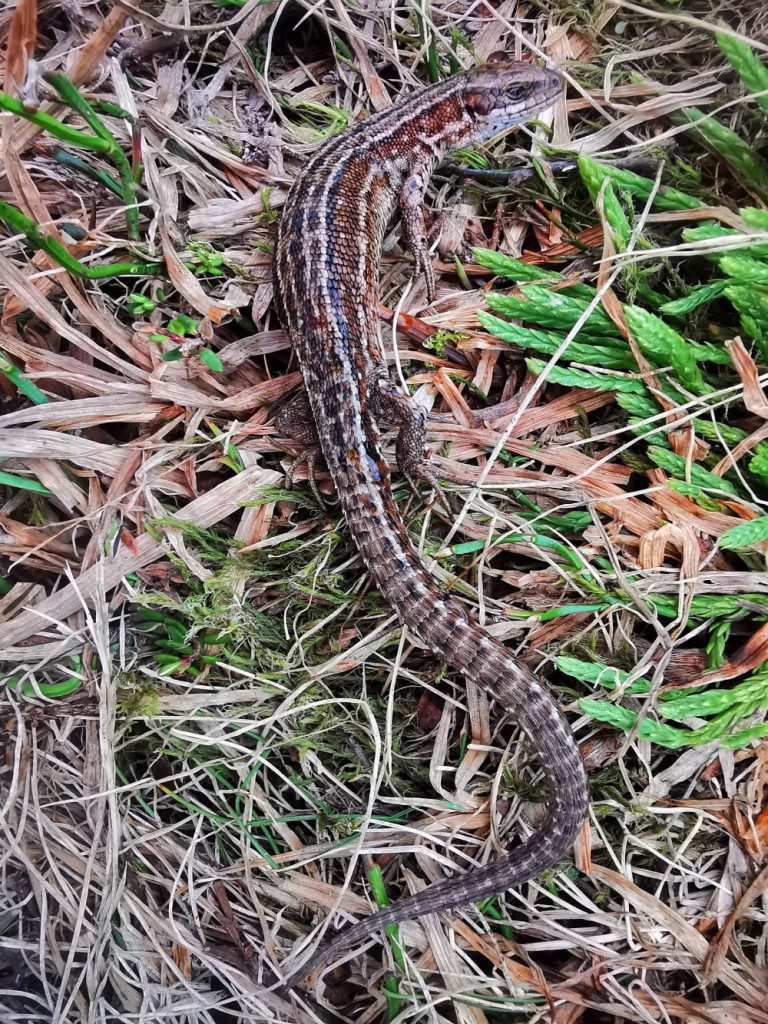 Reaching the upper reaches of the Allt Phouple I headed across the plateau past the small tor of Clach an t-Saighdeir and made towards Sgor Riabhach which being a large eastward cleft into the plateau where two deep stream gullies meet before plummeting downwards, was a likely large tunnel location.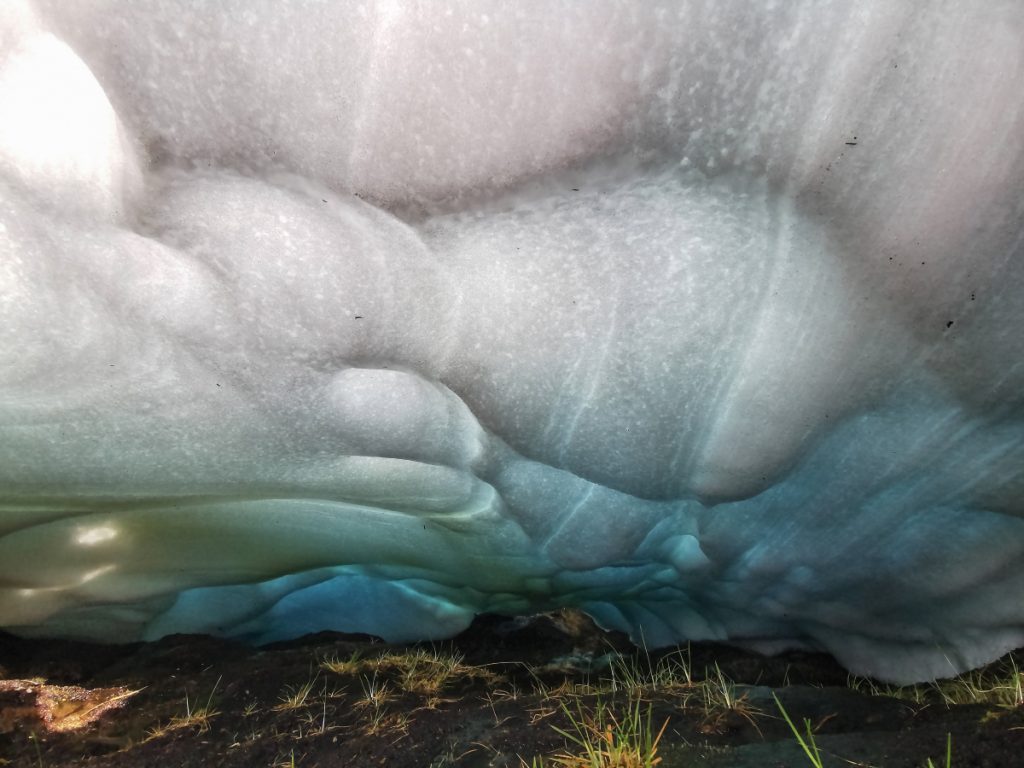 Crossing the Allt an Sgoir Rhiabhaich, it's steep walls had me detour upstream and then loop around to the northern fork and follow that gully bac around from the head which started shallow and then deepened, and as expected held a lot of snow. Some gaps in the side of the snow allowed a look inside: some large tunnels but very heavy overhead, and the stream plunged deeply into black depths; not a place to take chances.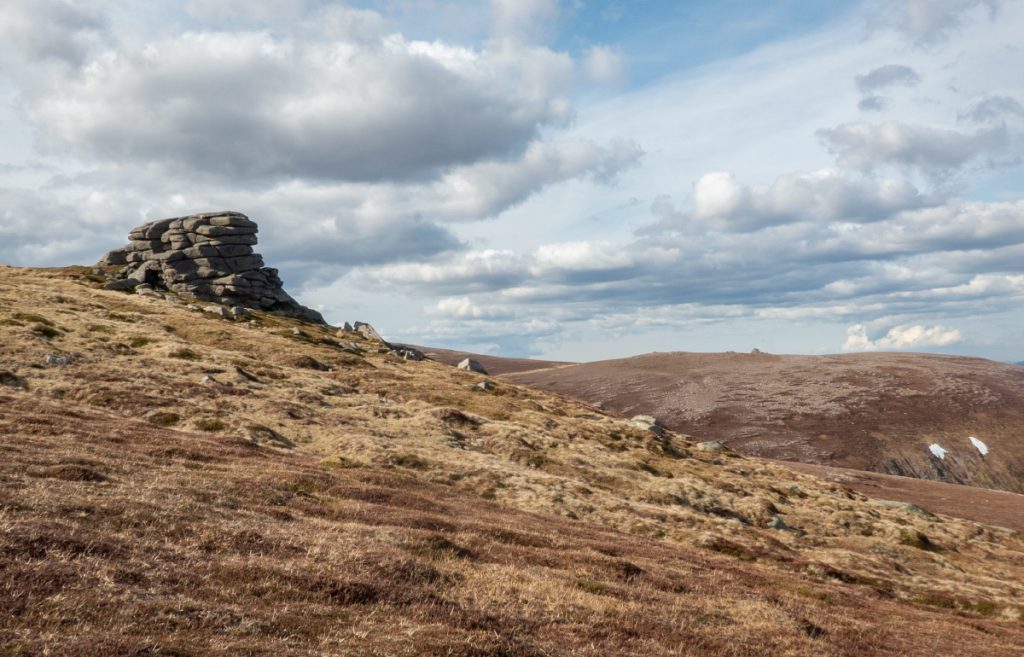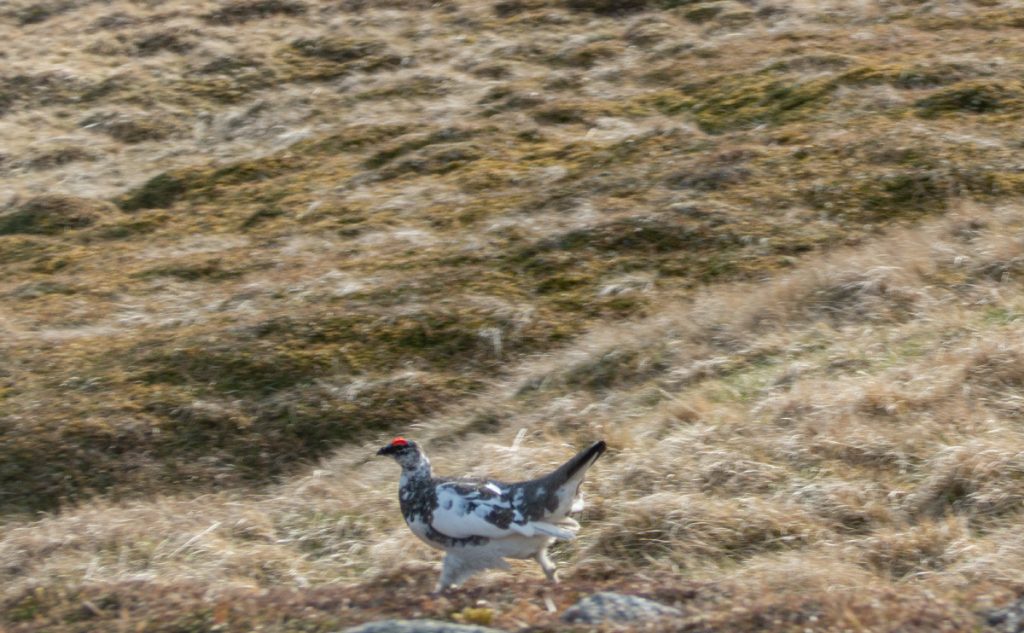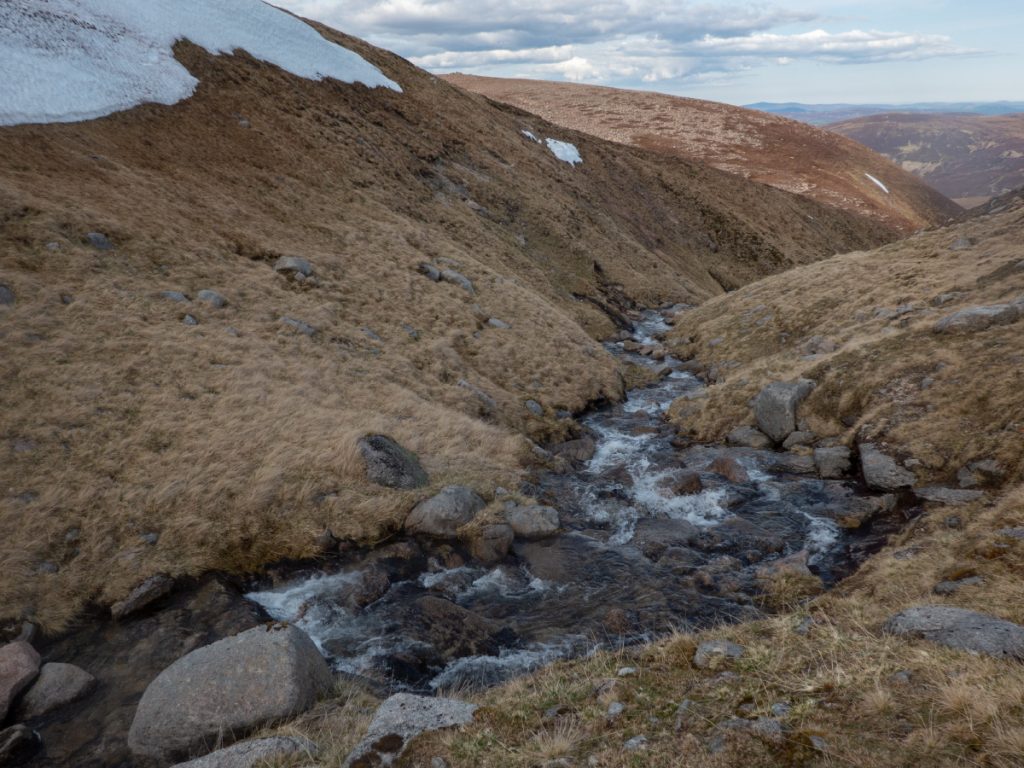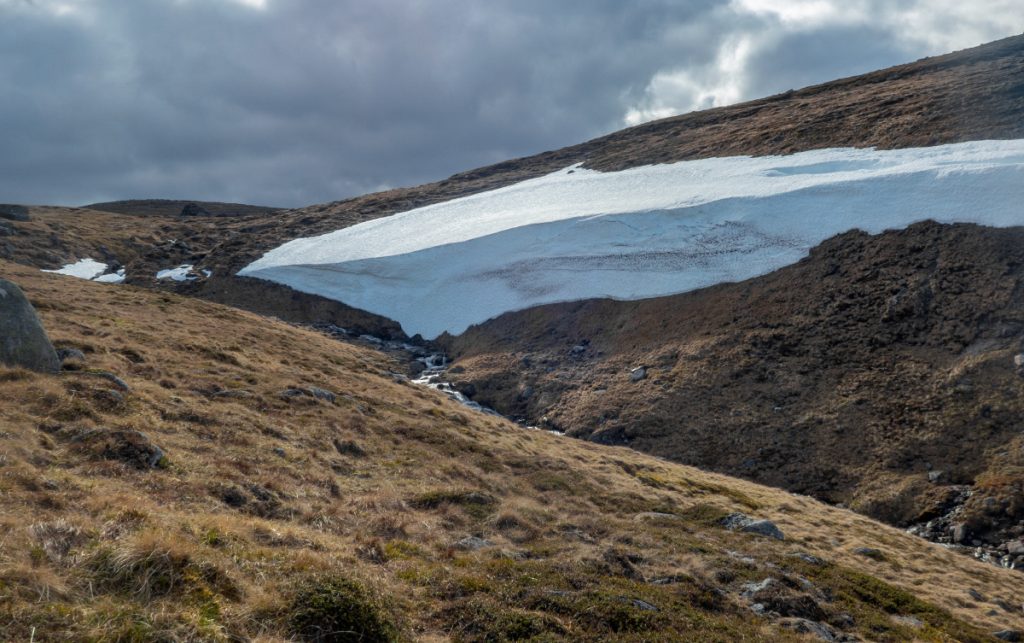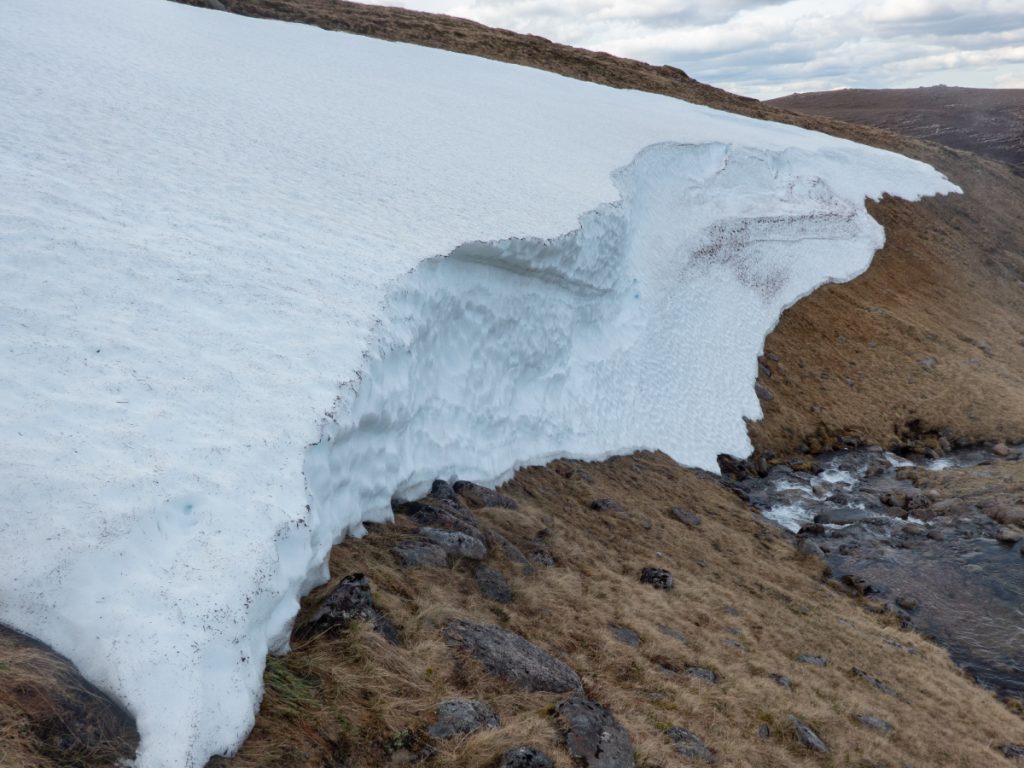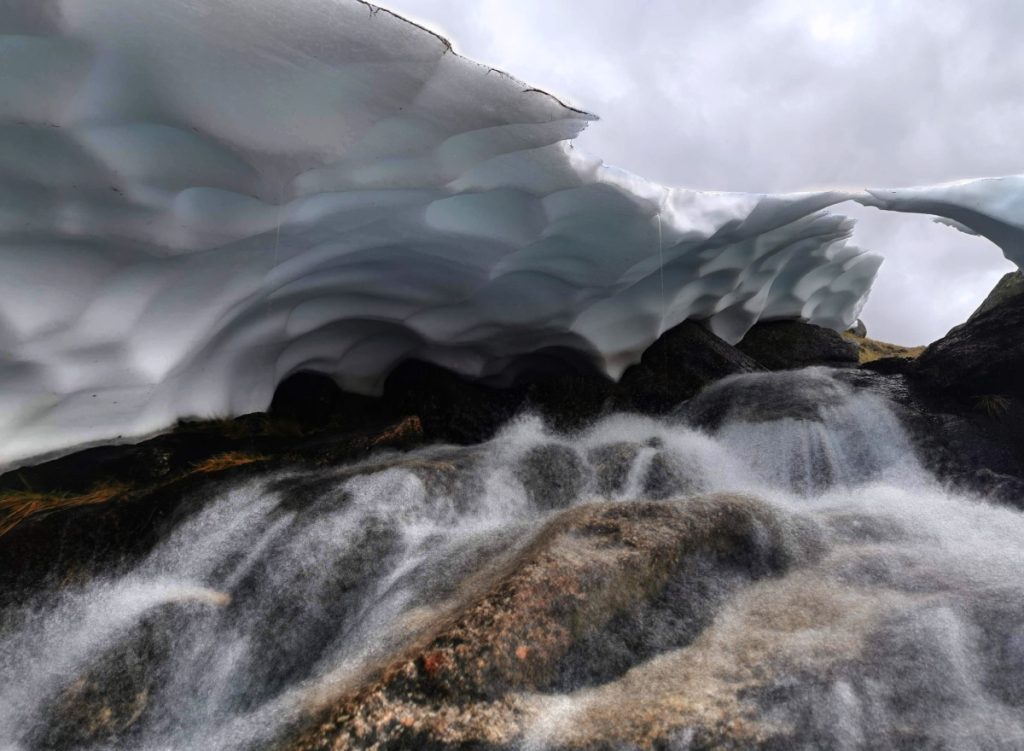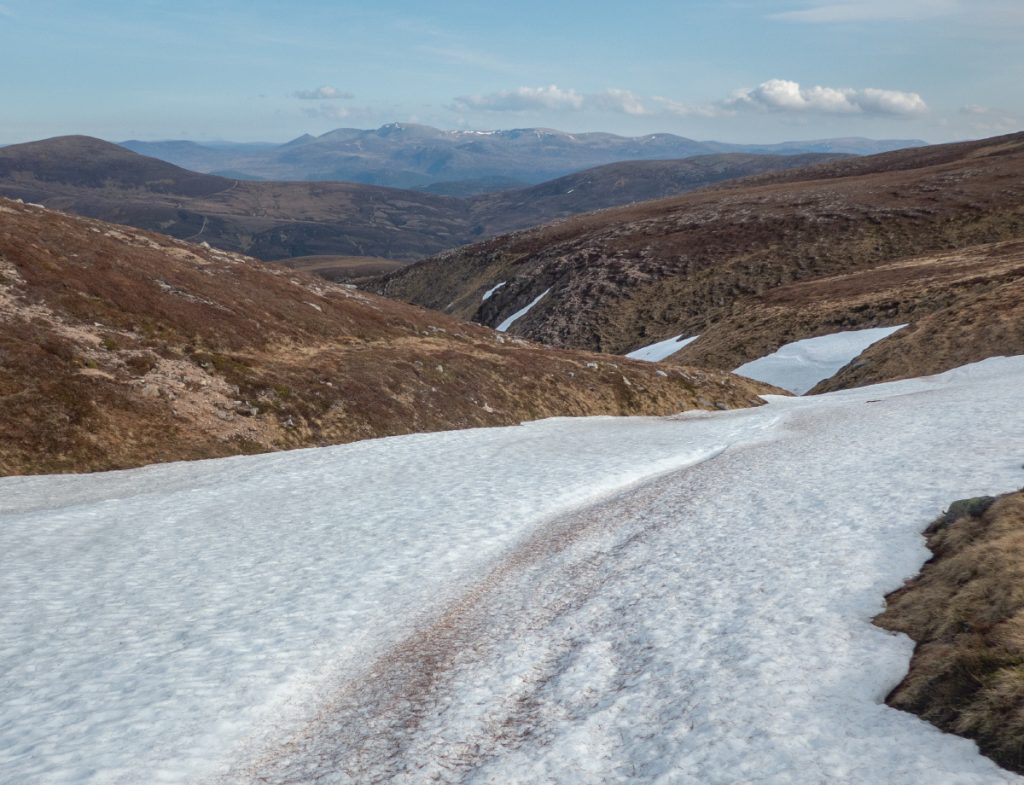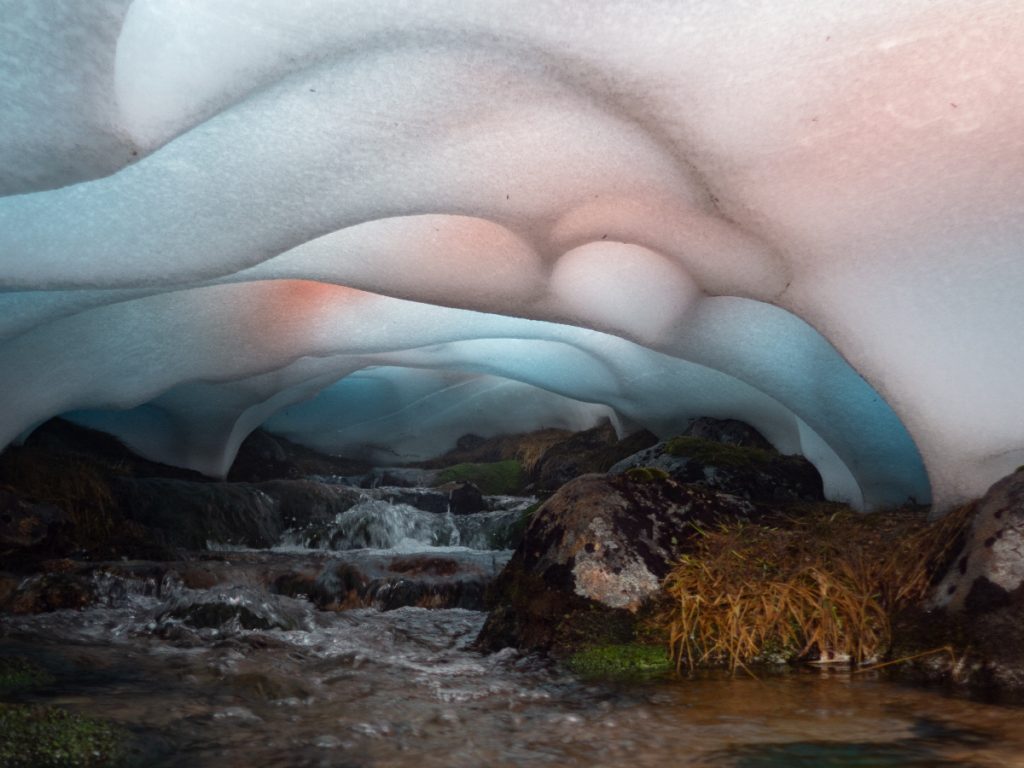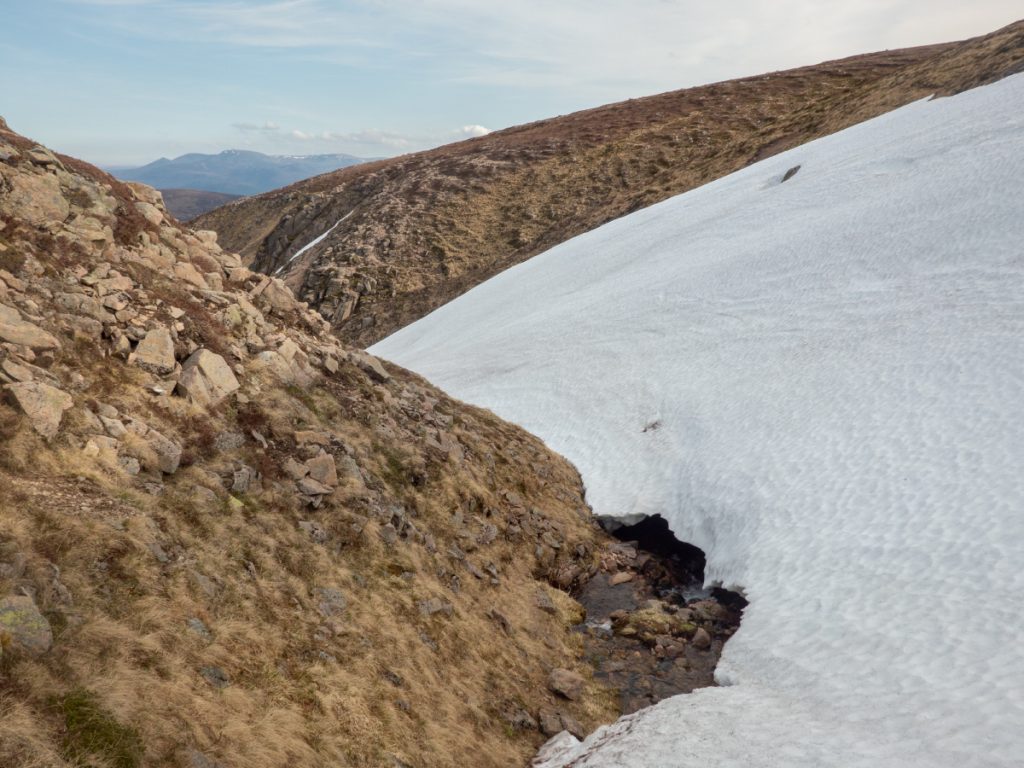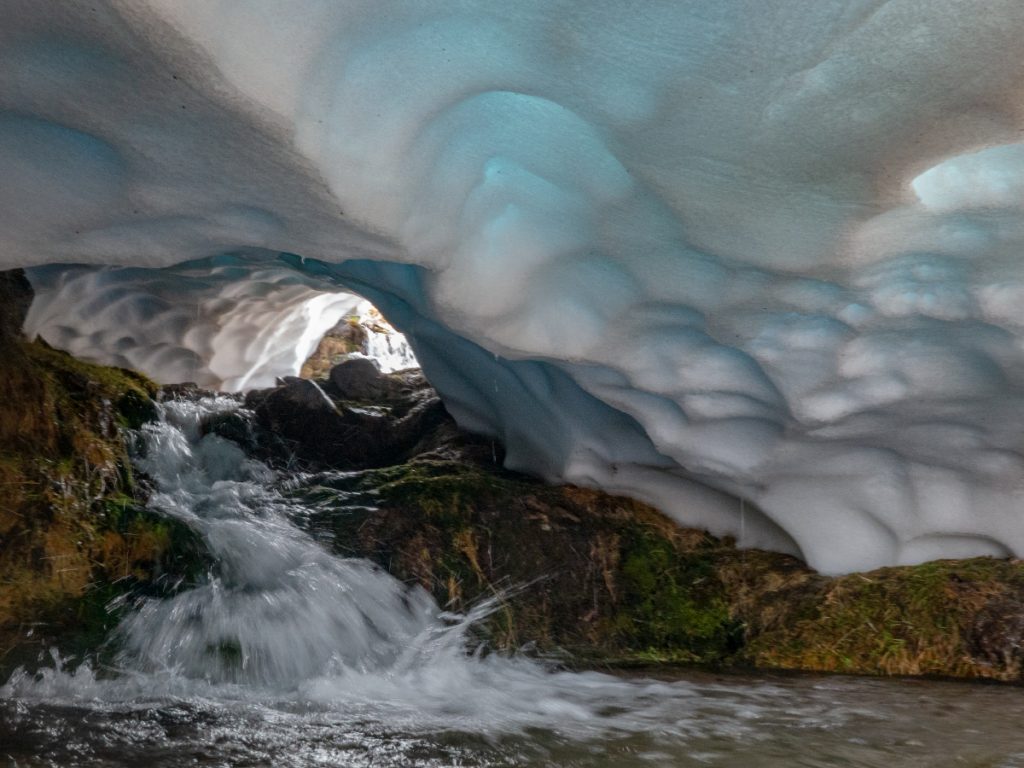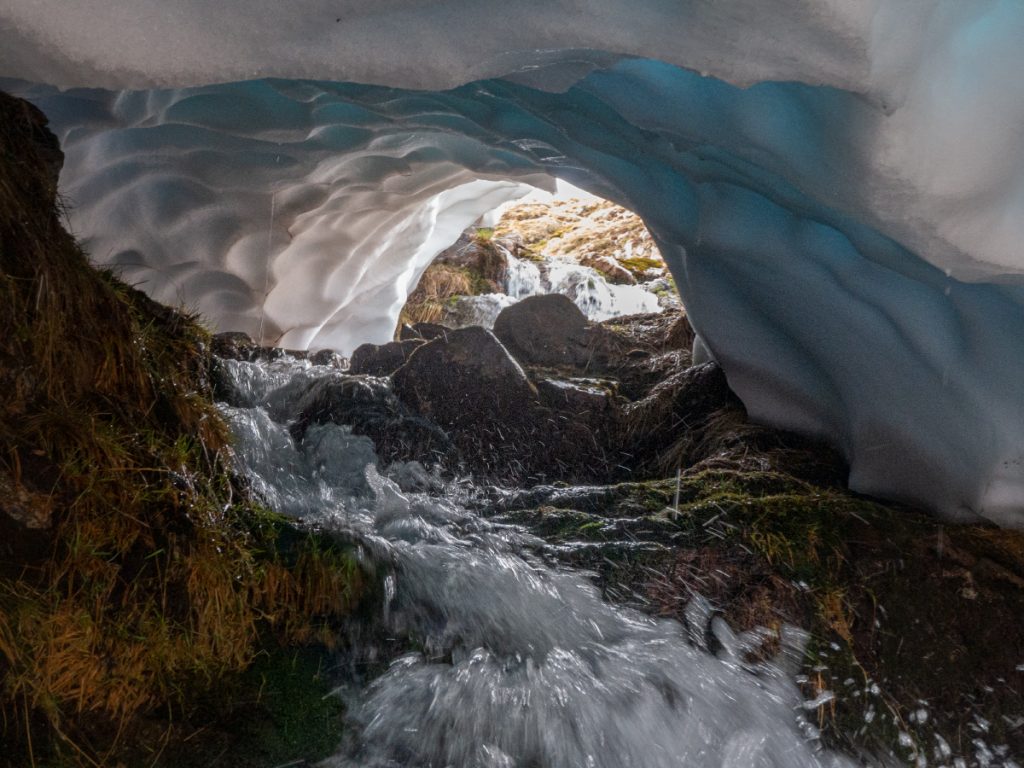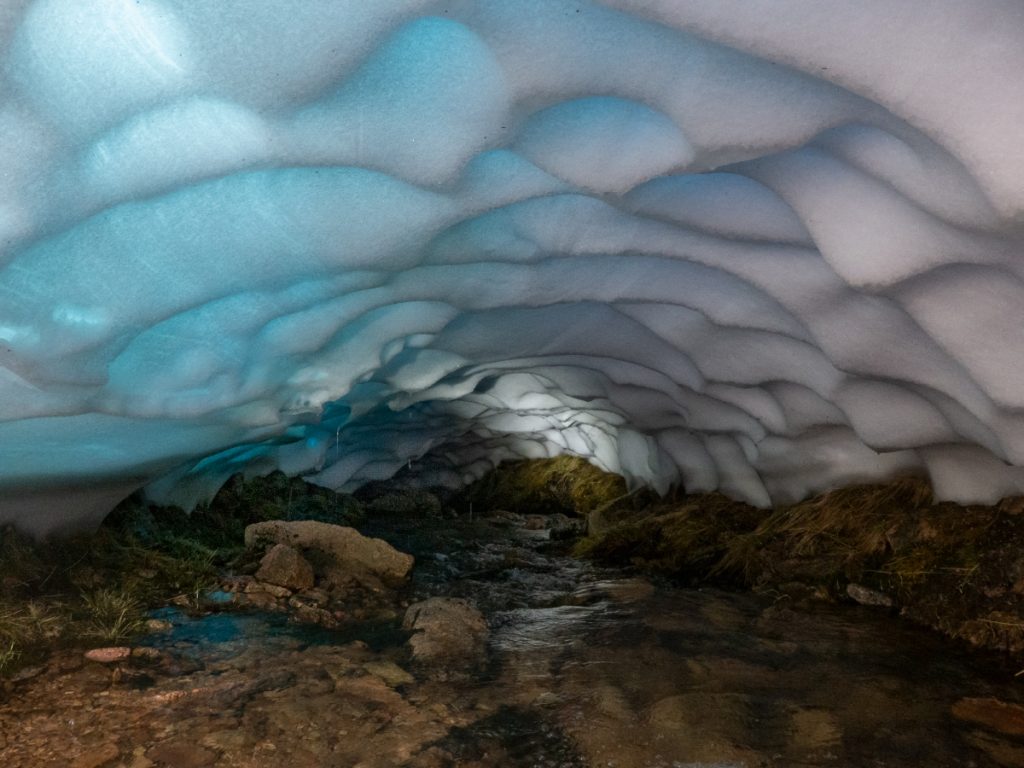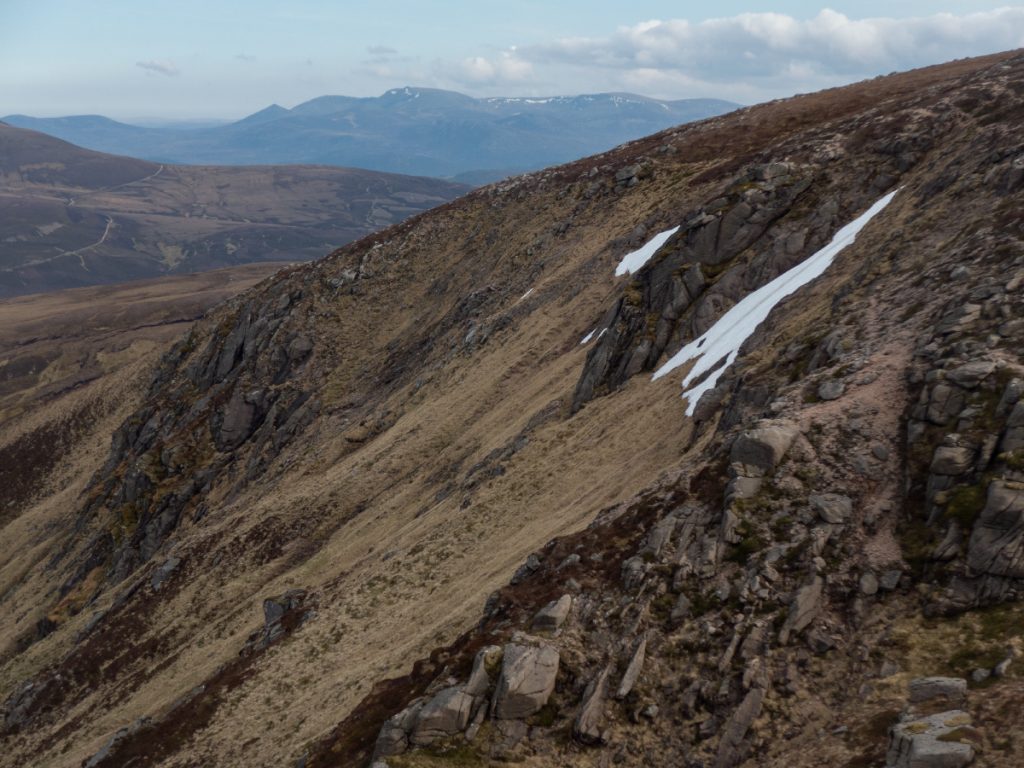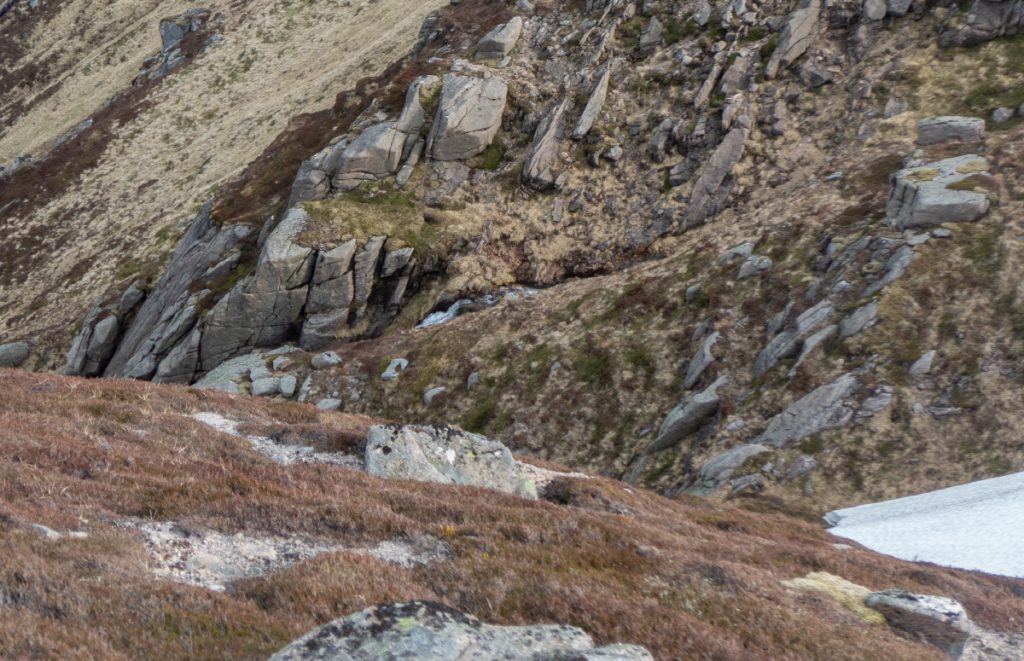 I wonder if it's possible to scramble up the steep outflow from below, one for exploration on another day.
I was behind schedule now so made my way over to Clach Choutsaich, wanting to have a nosey down the Allt an Eas Mhoir and also look for an old ruin.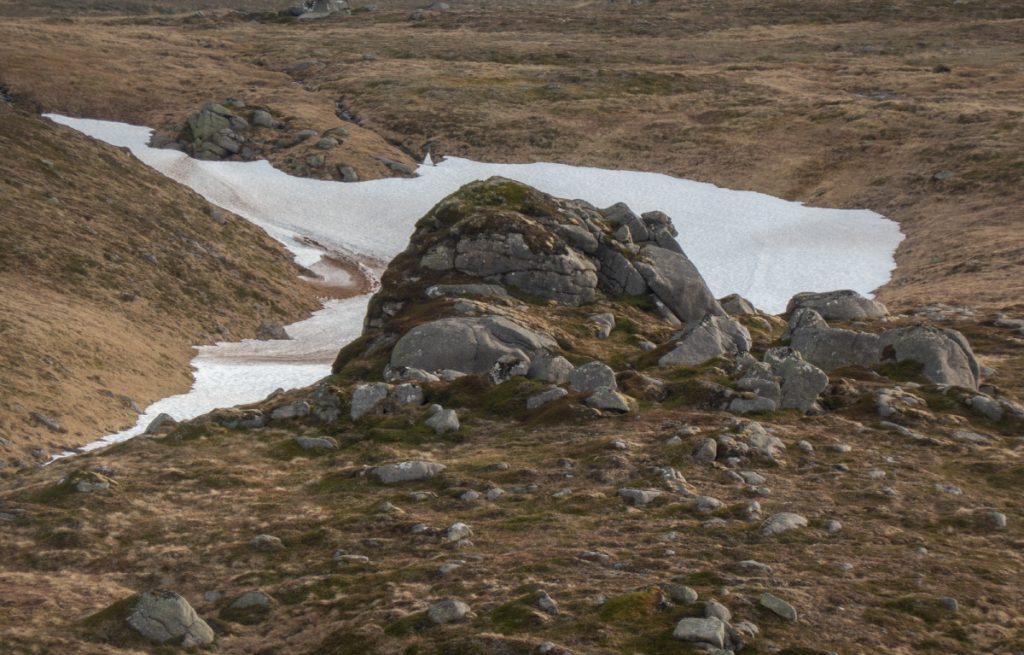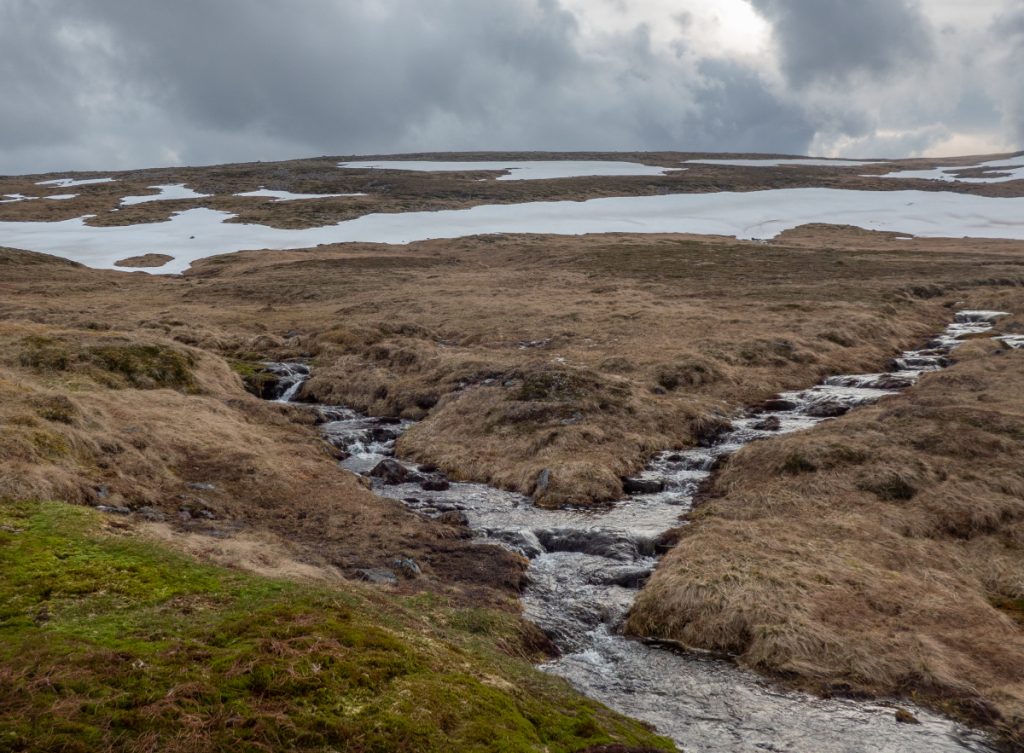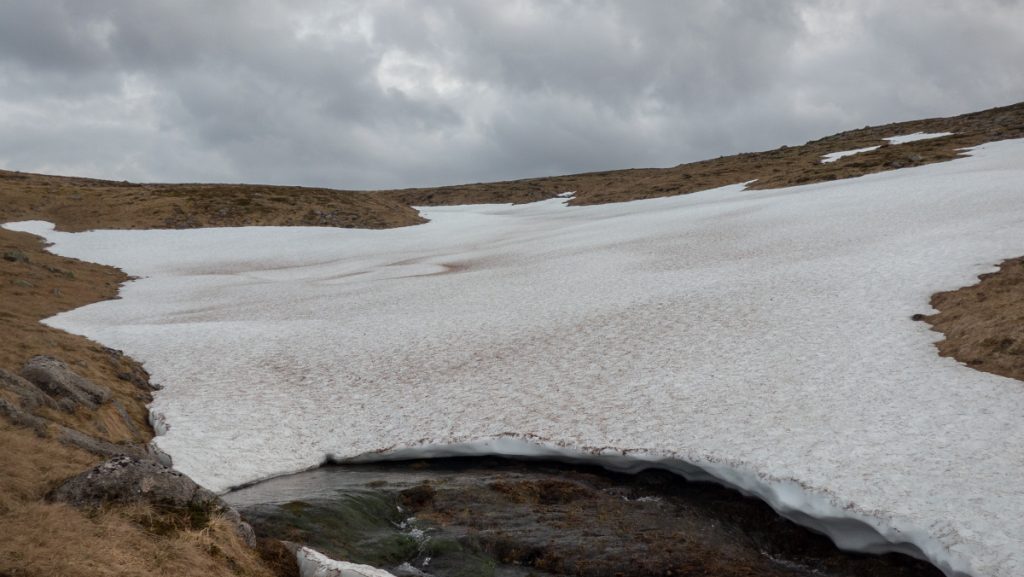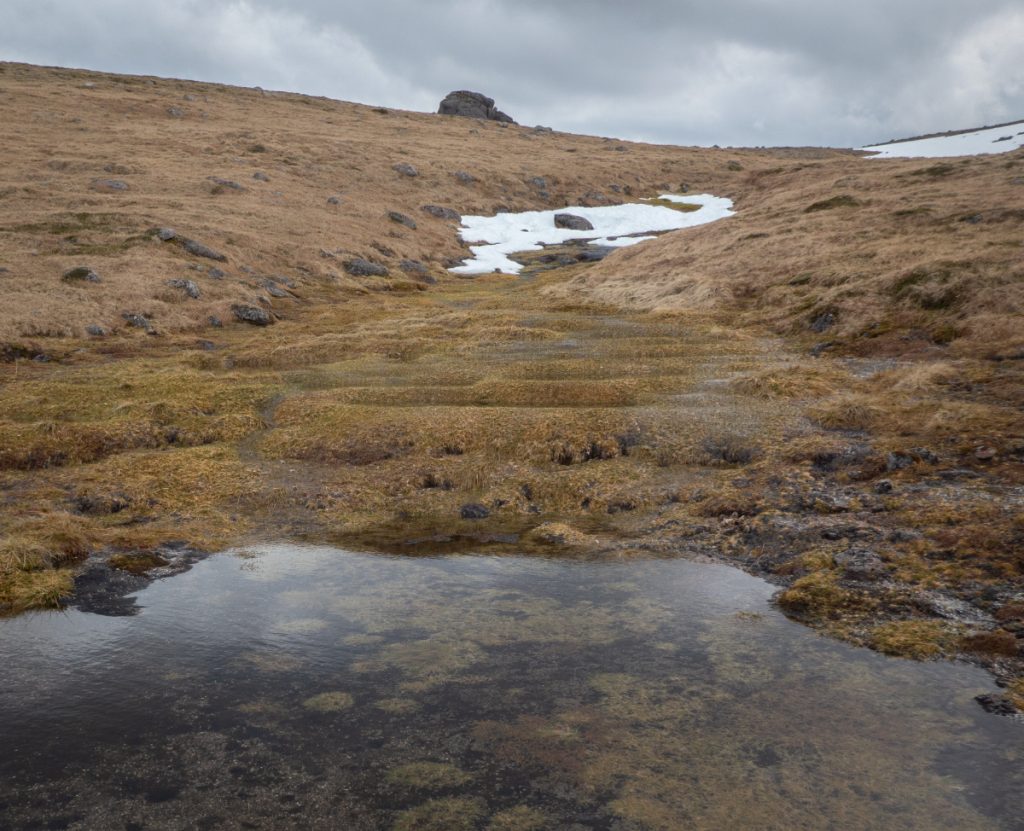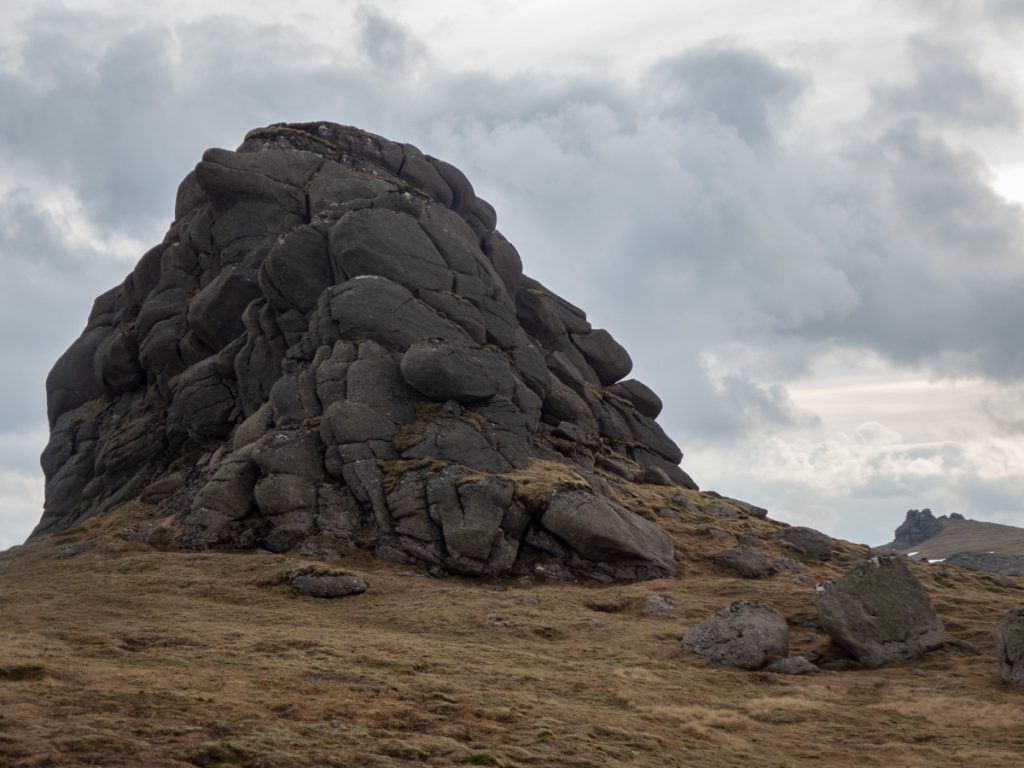 There was a big bank of snow terminating at the burn, and I followed it down looking into the odd side streamlet hole, before ascending the other side and contouring around to north of Stob Dubh an Eas Bhig, where despite a large snow wall there wasn't much happening tunnel-wise.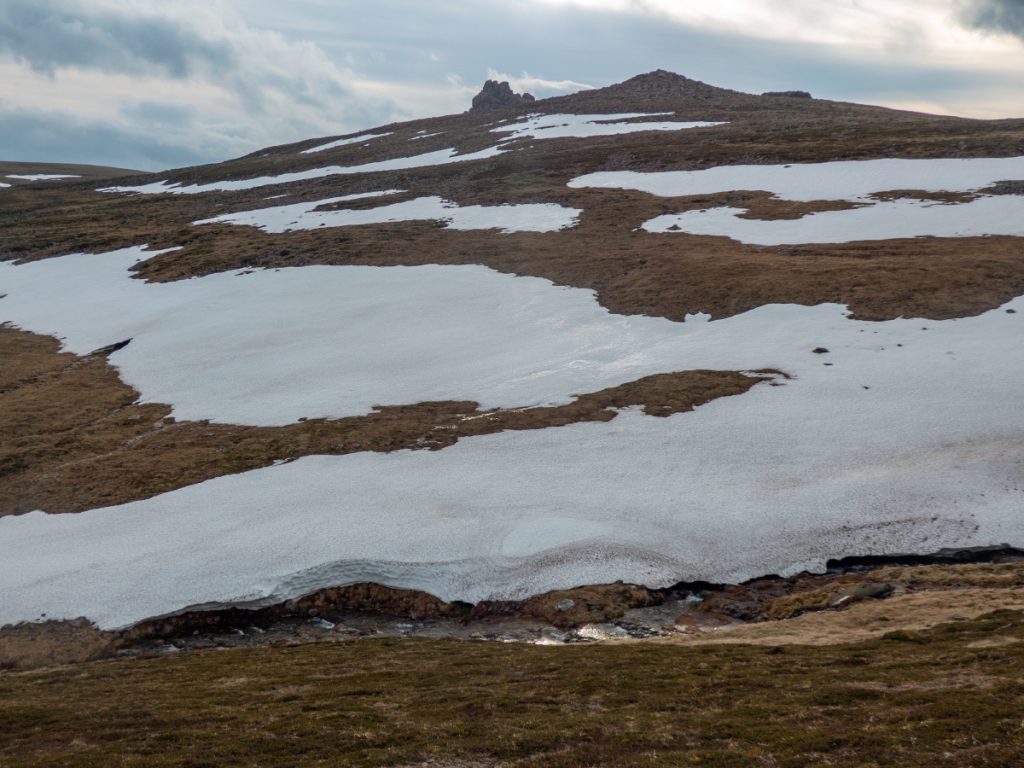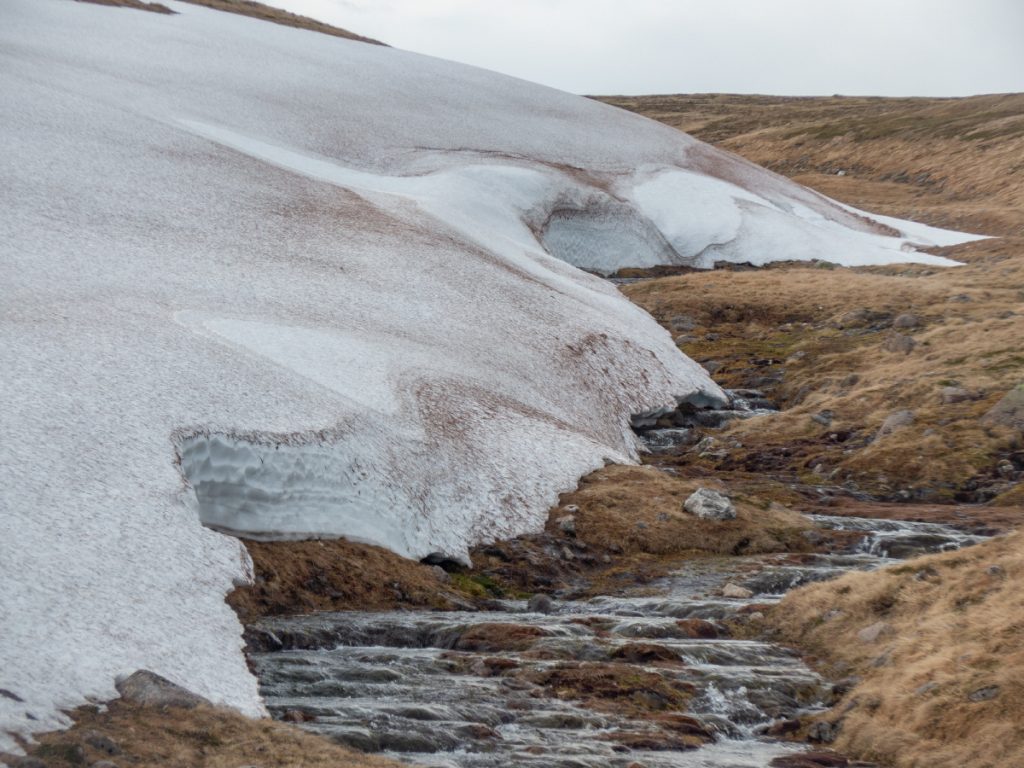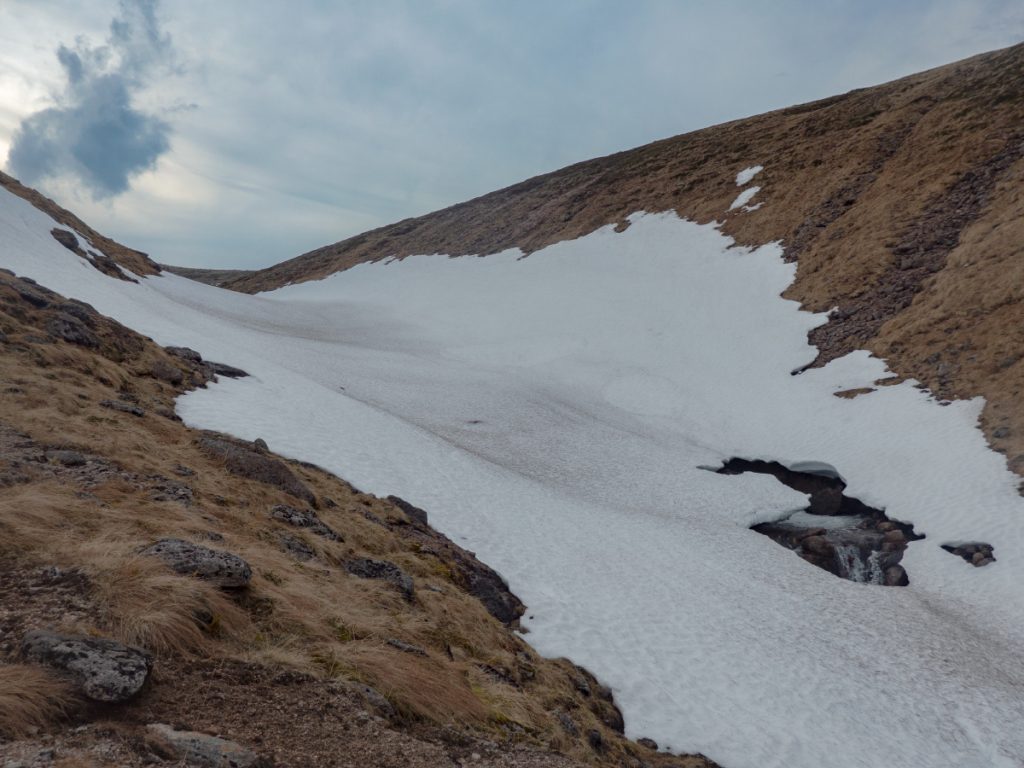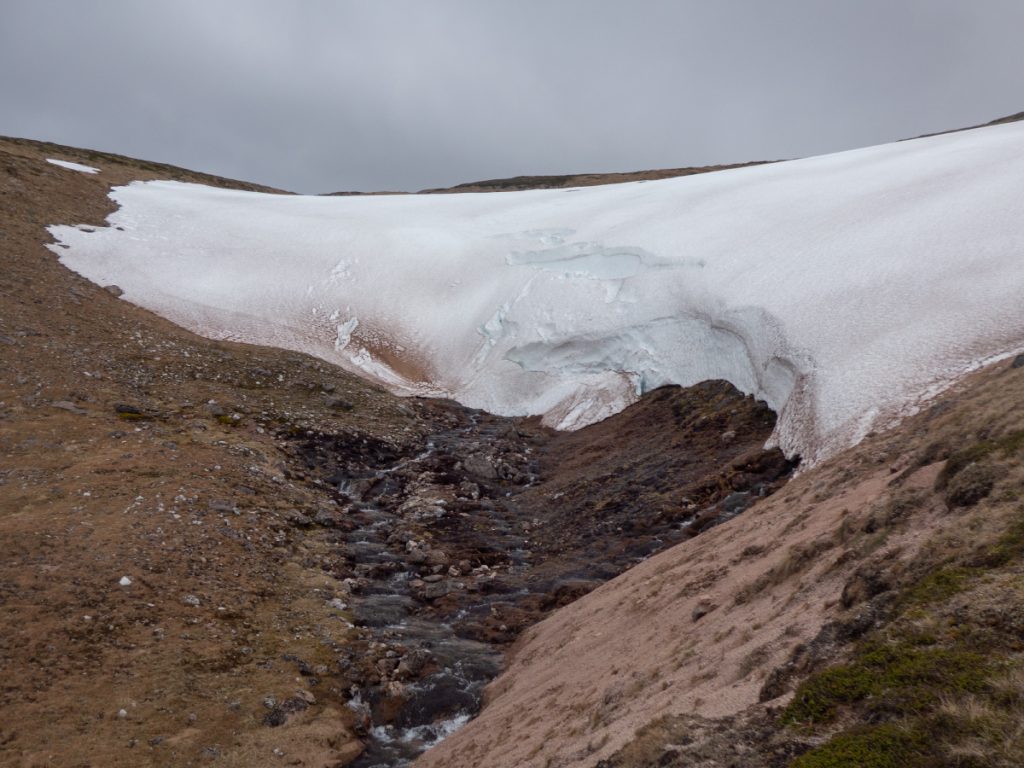 Following a side stream down again, I happened upon the ruin I was looking for around the 950m contour at NJ 1380 0066. I'd read somewhere that this may have been a shelter for Victorian gem-hunters. It's certainly an isolated and high location for a shieling.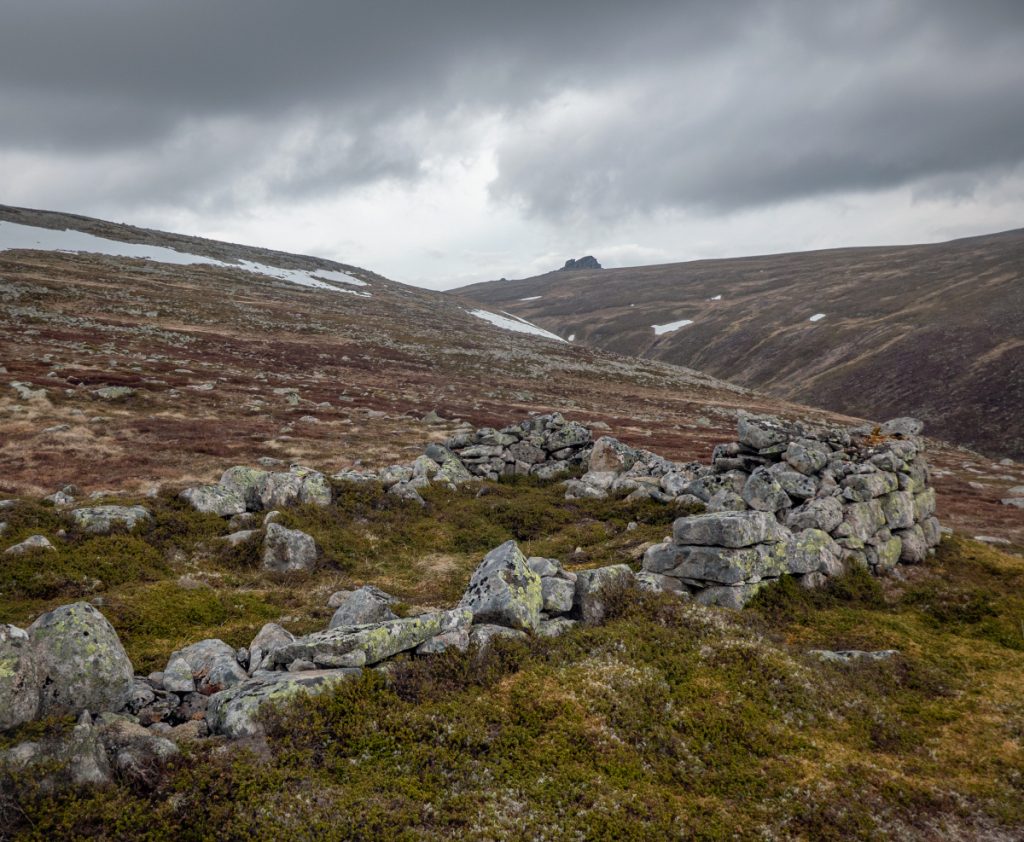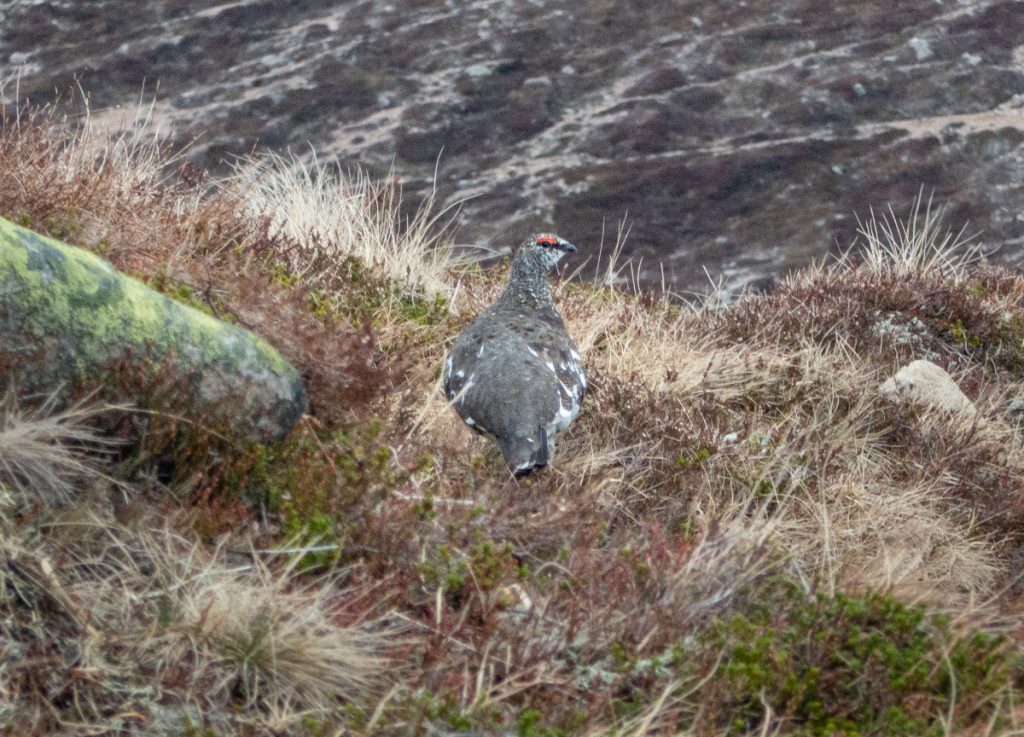 I rejoined the Allt an Eas Mhoir and headed down to the Gairn. I was beginning to run out of daylight but also becoming tired and the thought of setting up camp, having my food and a beer, extinguished thoughts of investigating the Allt an Eas Bhig.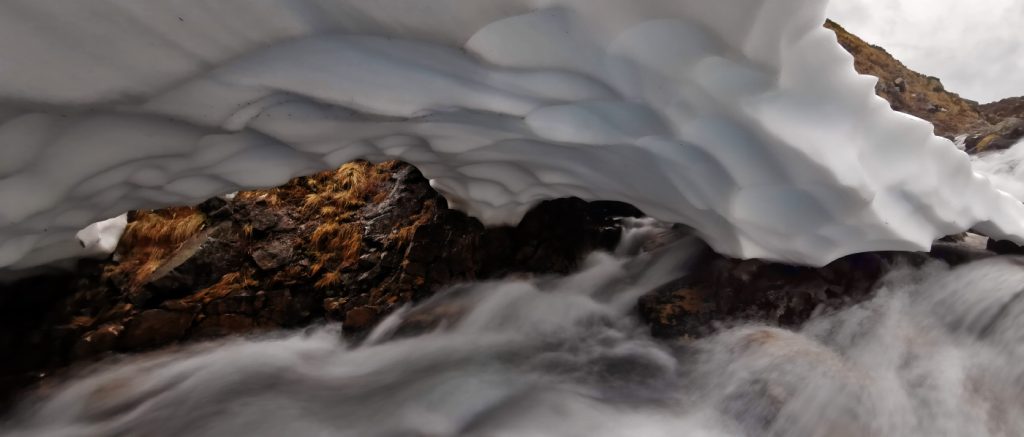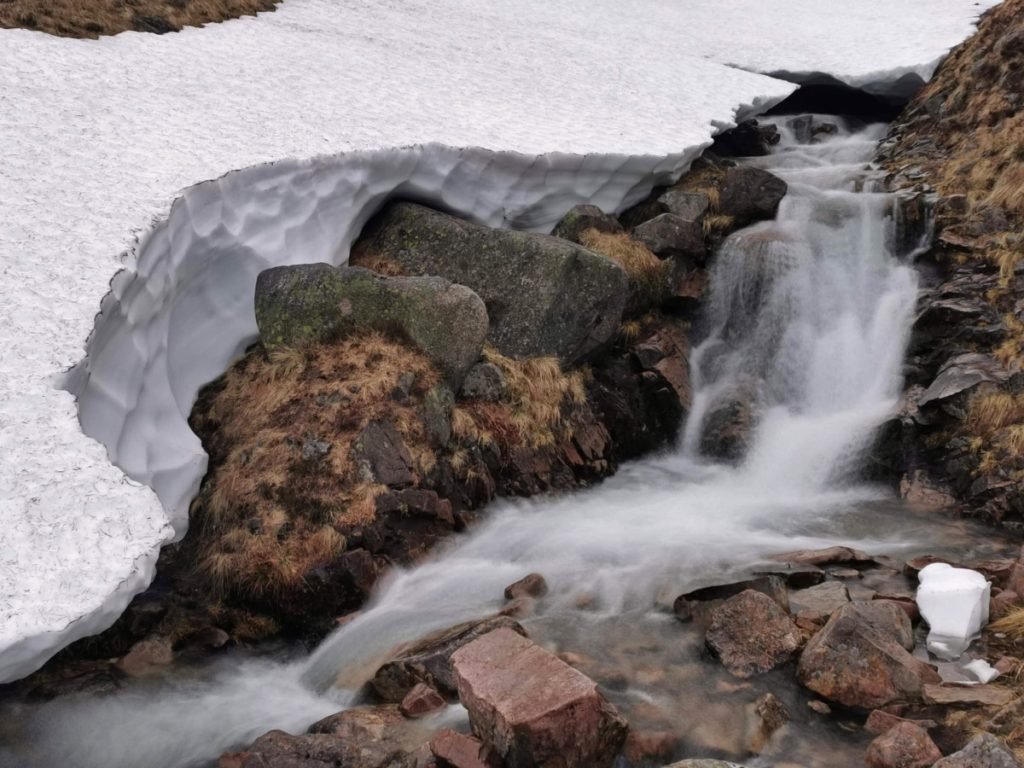 I collected my kit, crossed over The Gairn and unpacked at Allt na Claise Moire where there's some good flat grassy spots.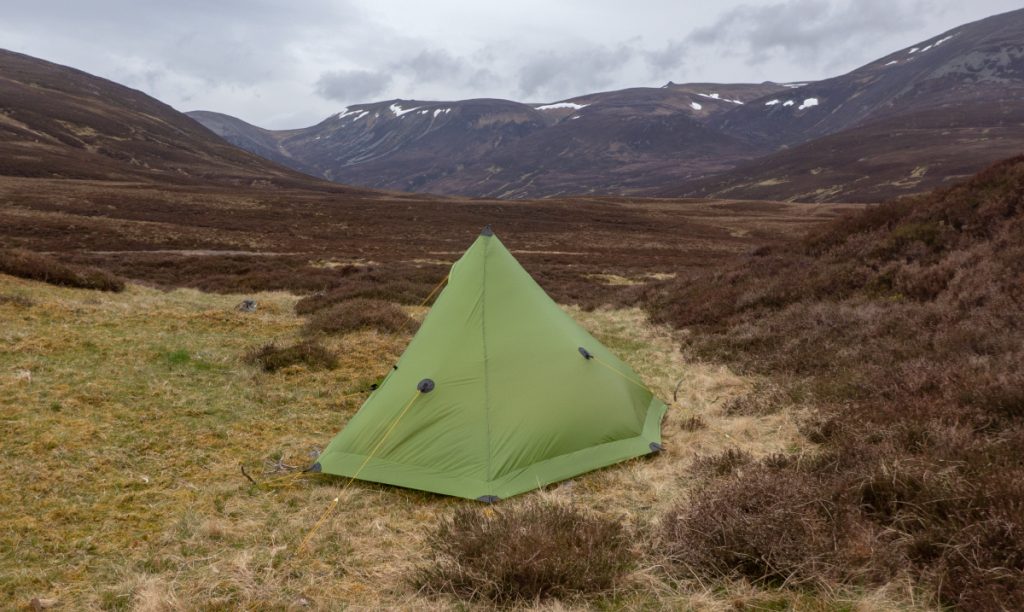 I'd made a rooky error: the pegs were missing! The lanshan is a pole supported tent that needs pegging out, so I was almost resigned to staying in a flappy nylon bivi, when I had an idea: I gathered some stems from a nearby muir-burned heather patch, then using a walking pole prodded guide holes in the ground that would then accept twig entry sufficiently far without snapping. The tent was up, a bit shoogly but barring high wind would do. Phew.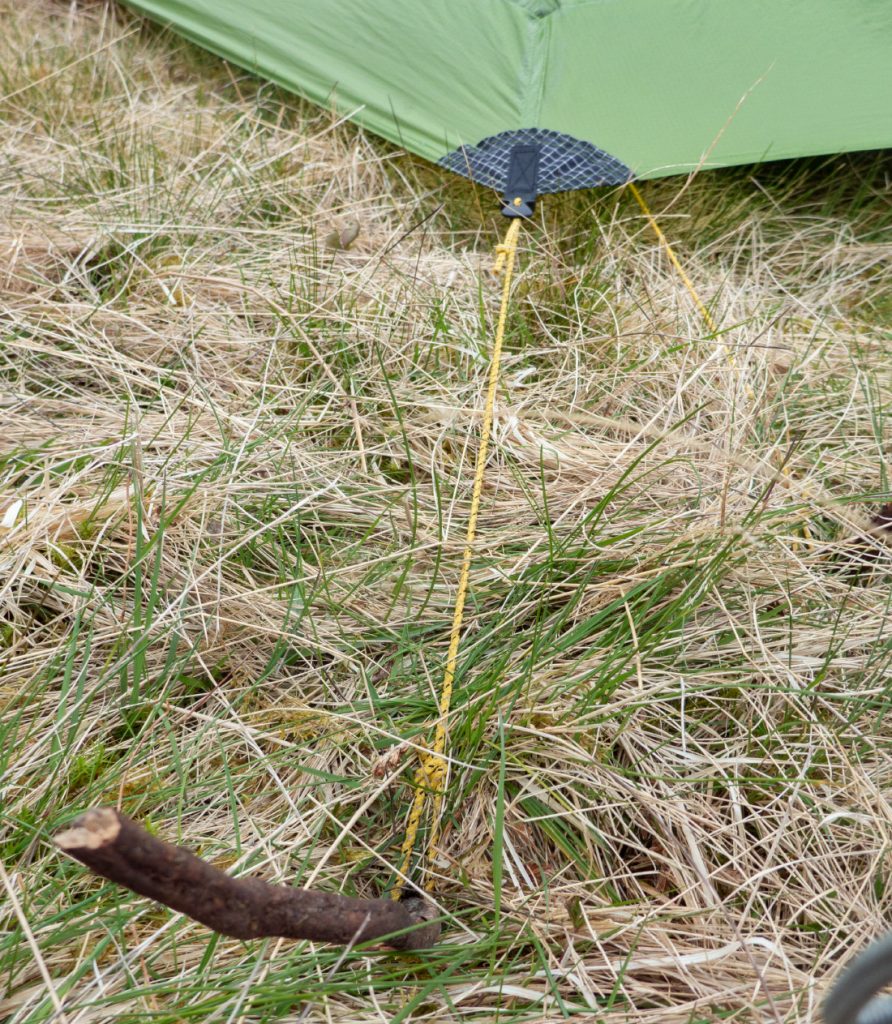 In the morning, it began to drizzle but I thought I'd explore a bit more before heading back and headed up Carn Liath to have a nosey at what had looked like 'caves' from afar.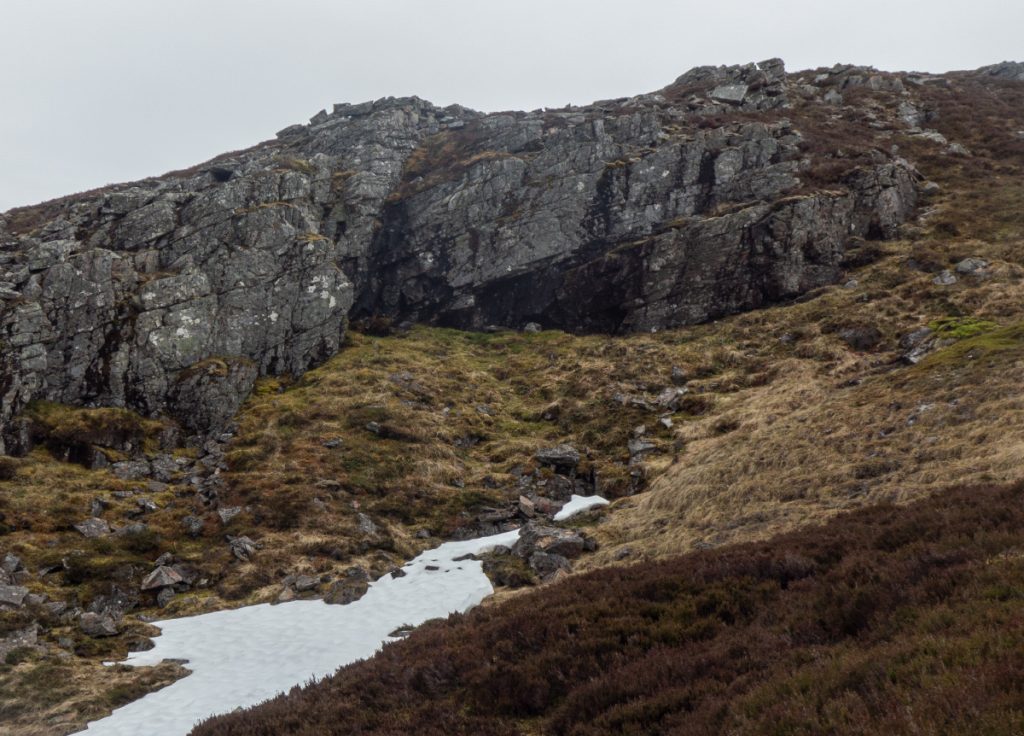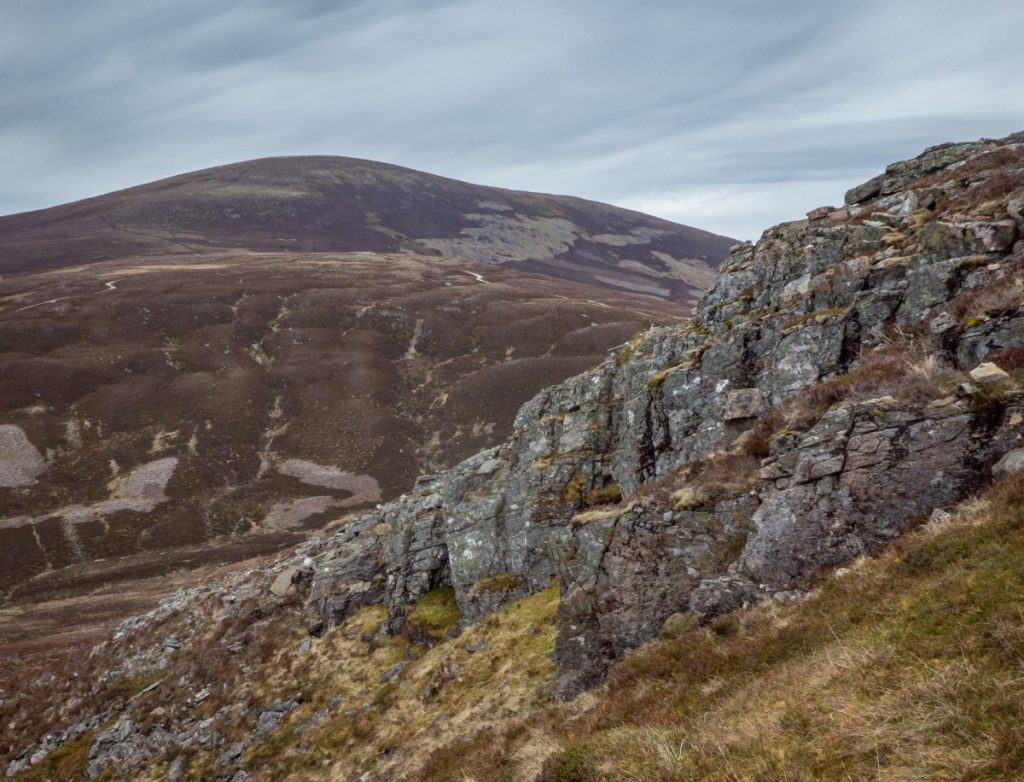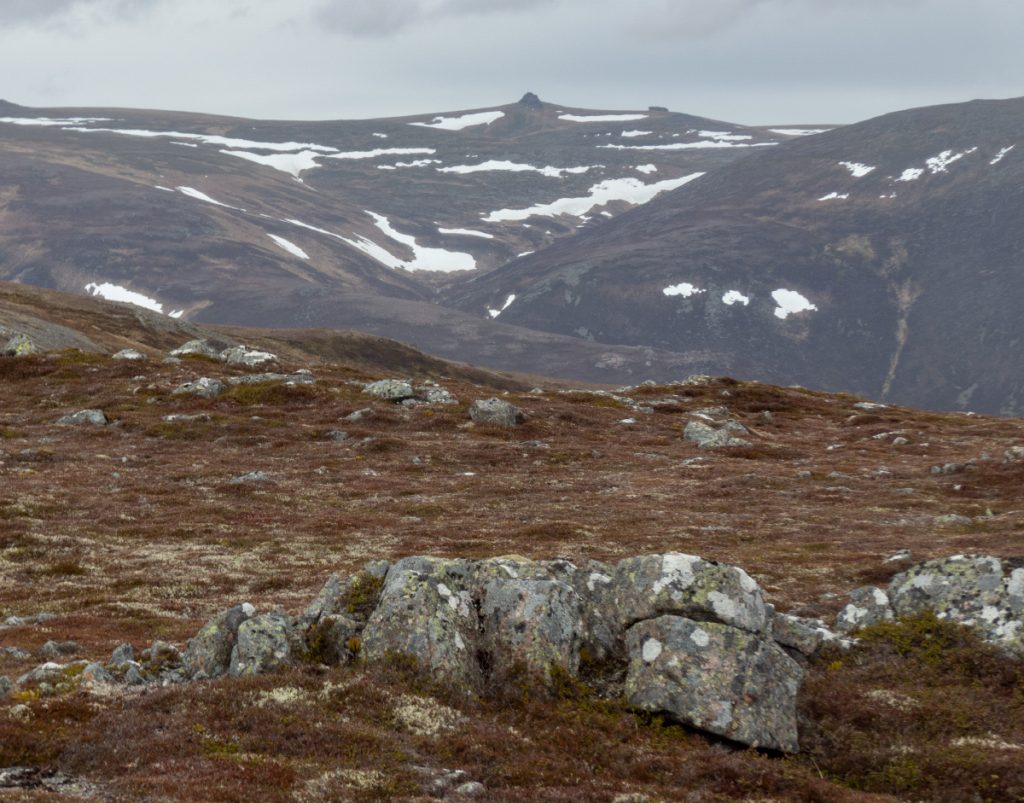 Carn Liath is no longer a corbett having been demoted for a slightly higher mound nearby, but the real tip of Carn Liath nonetheless deserves a marker at it's highest point, and having reached that and checked with GPS, and it having no cairn, I thought I'd spend 10 minutes constructing a small one so that the hill may be conquered correctly and not mistakenly the nearby outcrop which is slightly lower.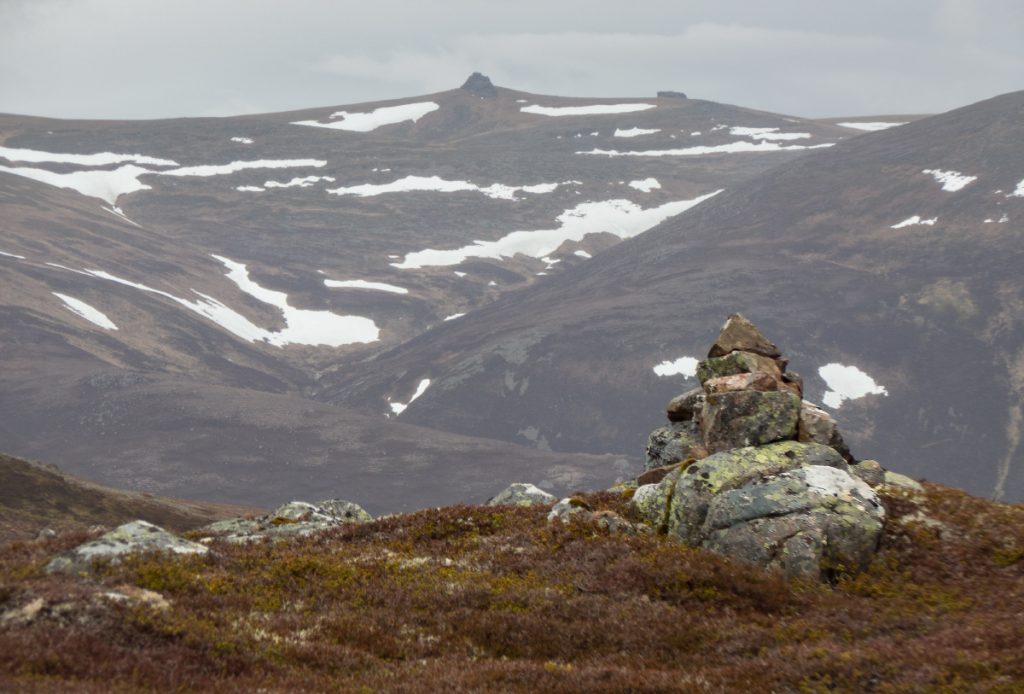 Heading down across a patch of muirburn I encountered this drainage ditch. The Dee Trust are desperately trying to improve conditions for salmon in the head waters as temperatures rise, planting trees along riverbanks, but for every mile of that lower down there's another hundred like this out of sight, scorched and bare and feeding warm dirty water downhill, the same estates unwilling to contemplate that intensive grouse activity doesn't make for good hydrology or aquatic ecology.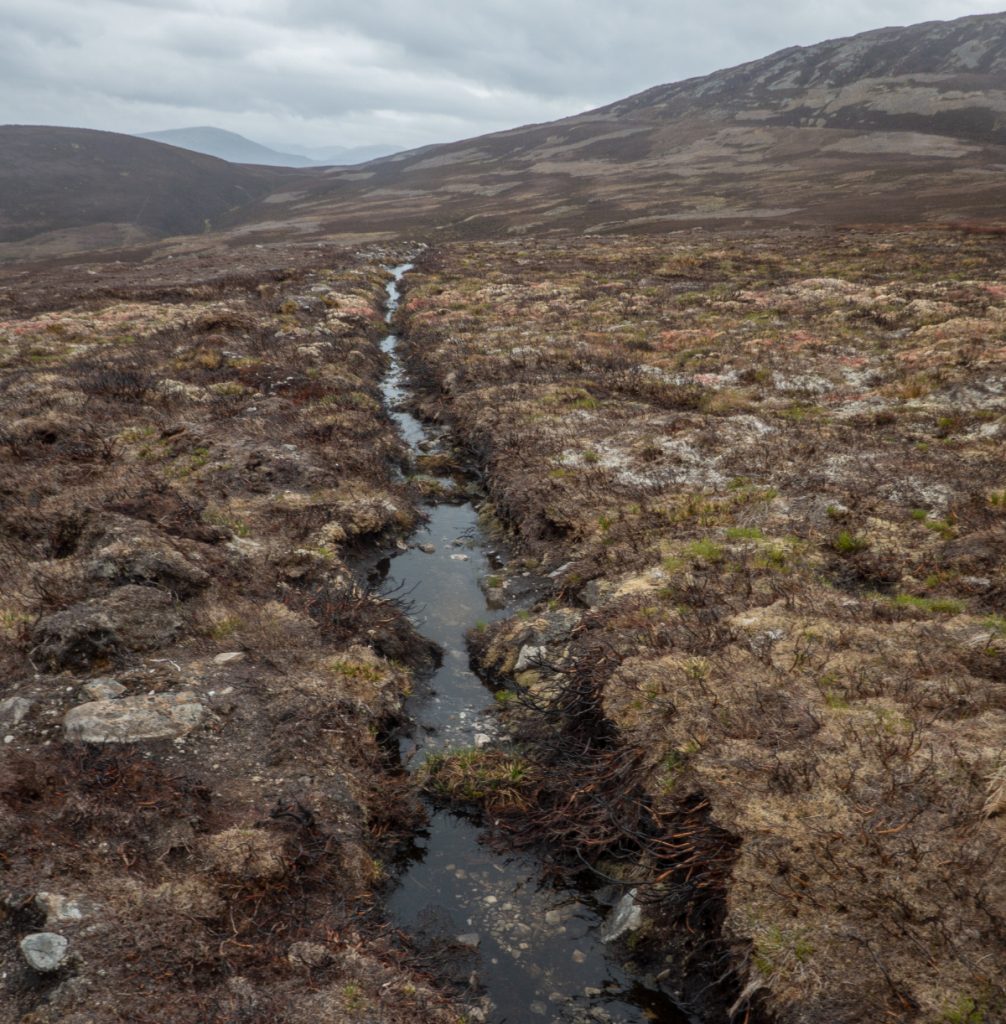 Down then the dusty road to Keiloch, with some on the hoof calculations indicating I'd miss a bus, allowing a further detour of a couple hours. I headed east behind Craig Leek on the trail before venturing across some outcrops and fields to see a ruined village. The geology here is limestone which is why the fields are very green and grassy.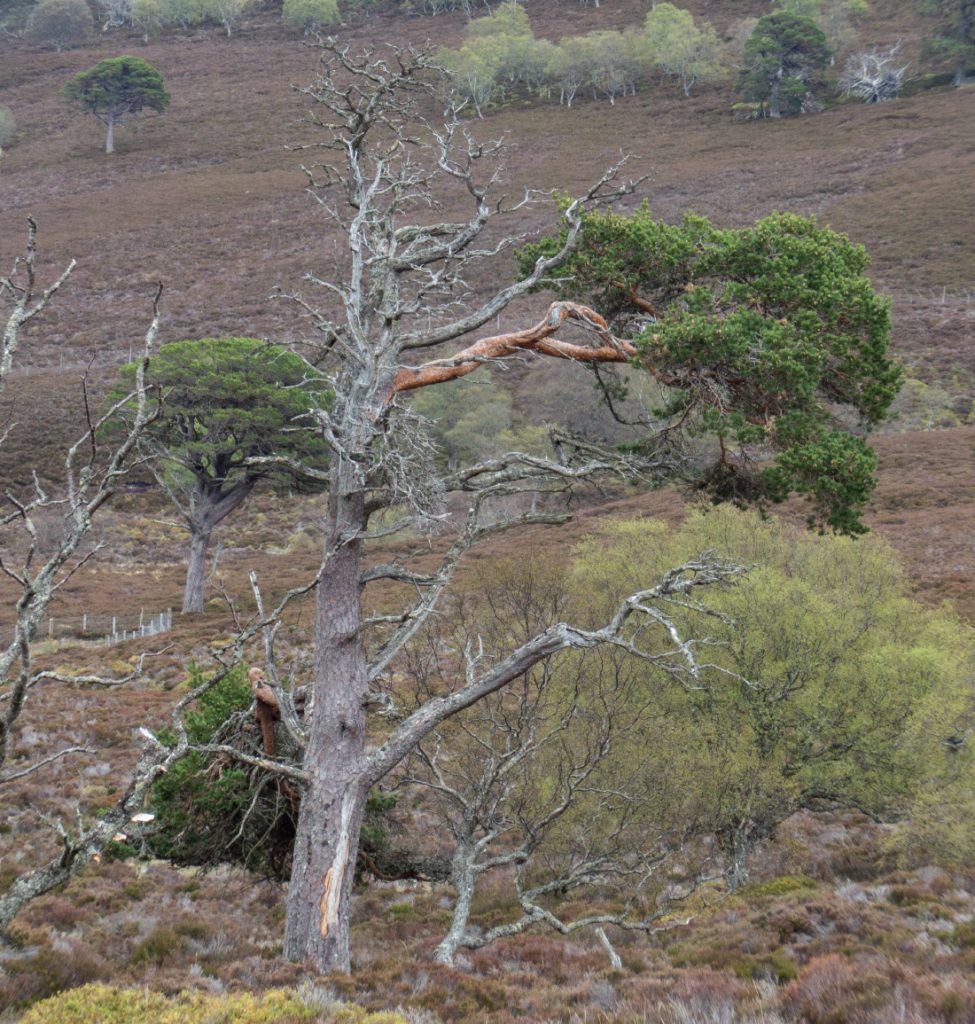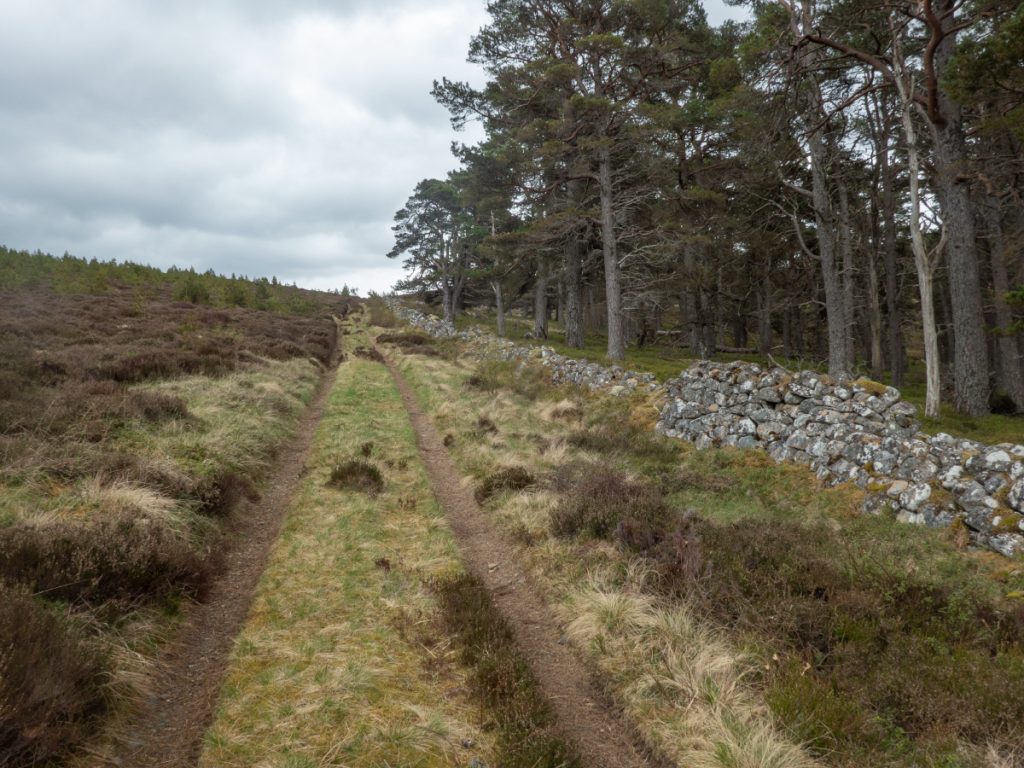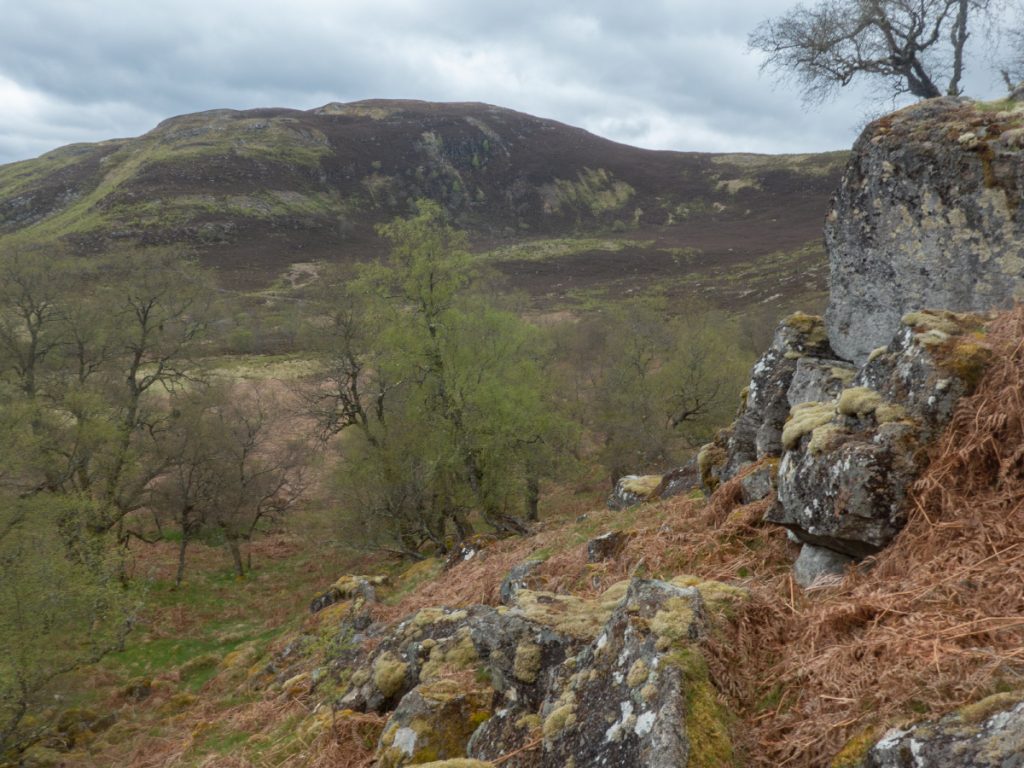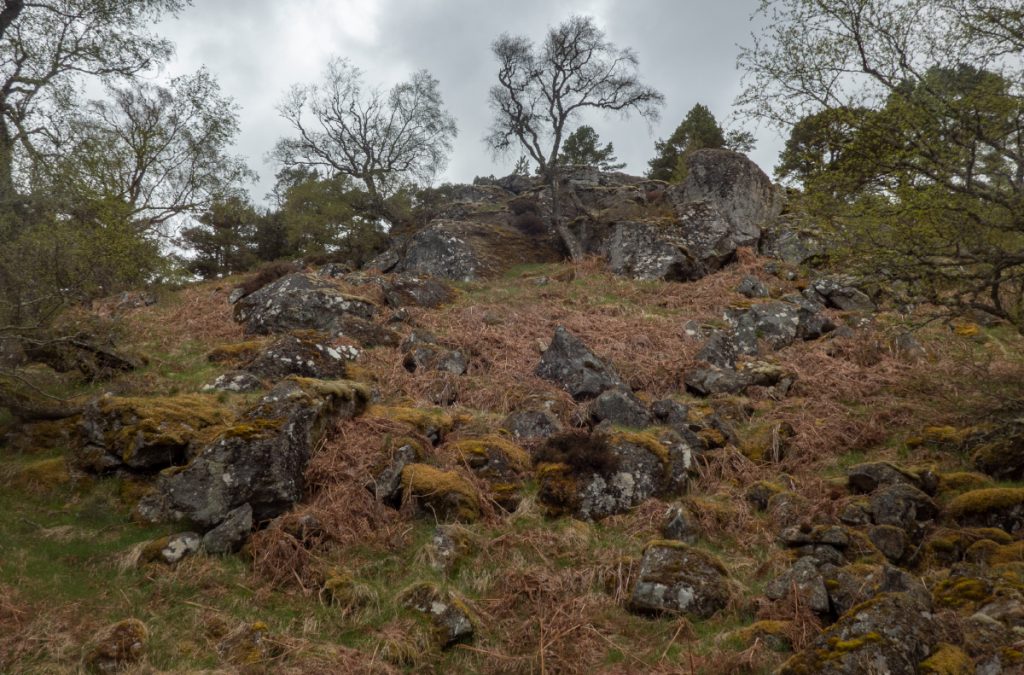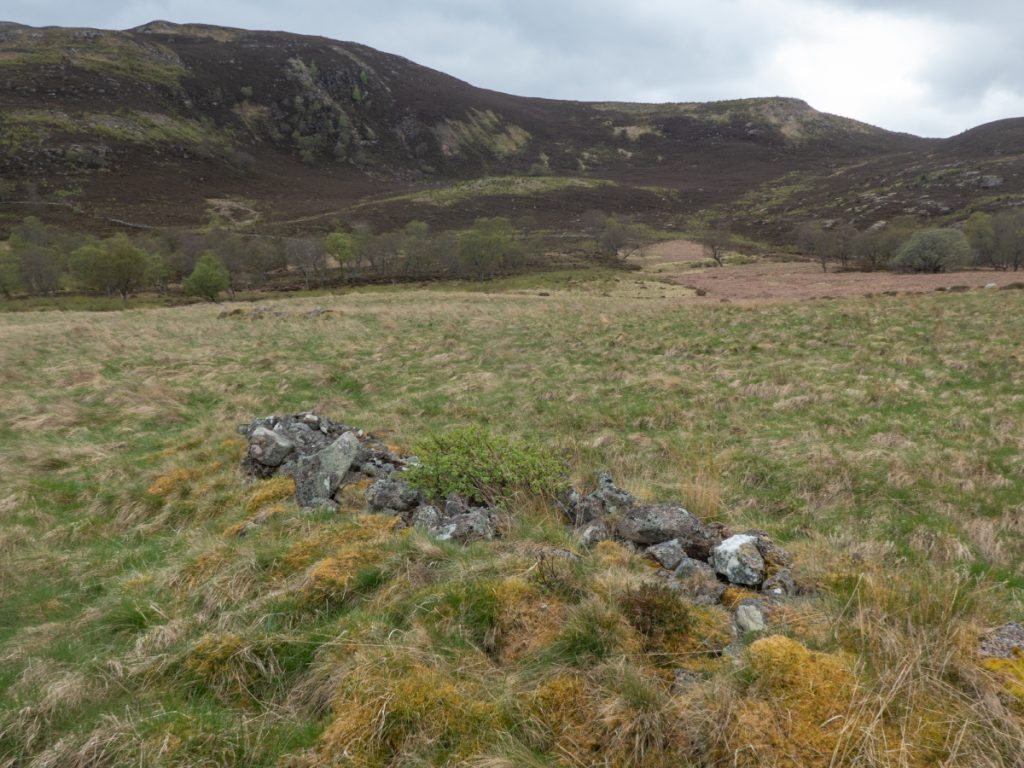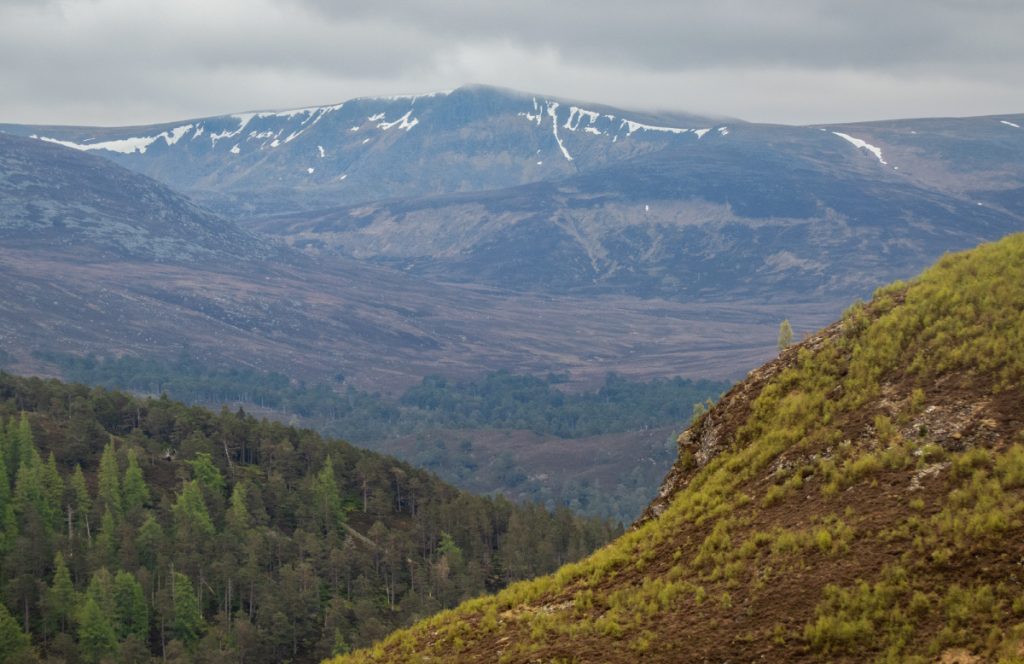 First stop was what Canmore describes as a "water mill" though I suppose it could be an illicit whisky still. Following downstream, many ruins appeared in the fields; this was Balloch, a settlement of over 40 buildings who according to Cairngorm Club description was "of the late 18th century who were weavers; the estate didn't approve of them, possibly because they were Catholics and continually harassed them and their priest who had to flee. The 30 families living here decided to leave and emigrated en masse to Canada."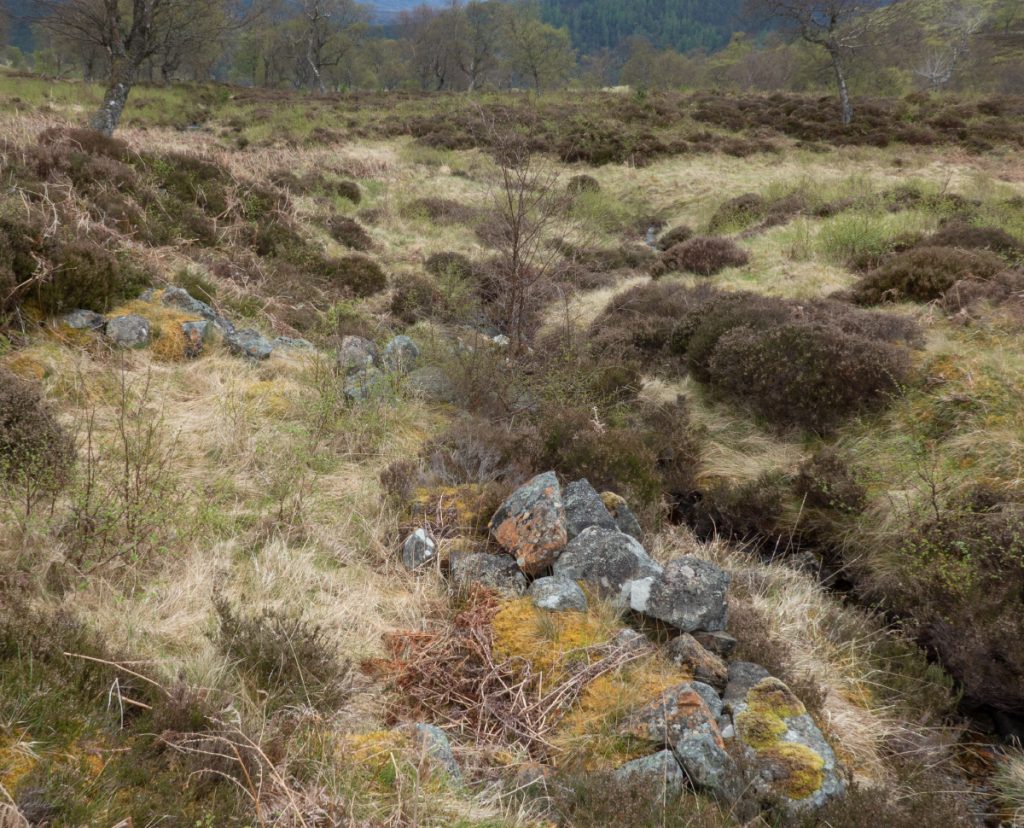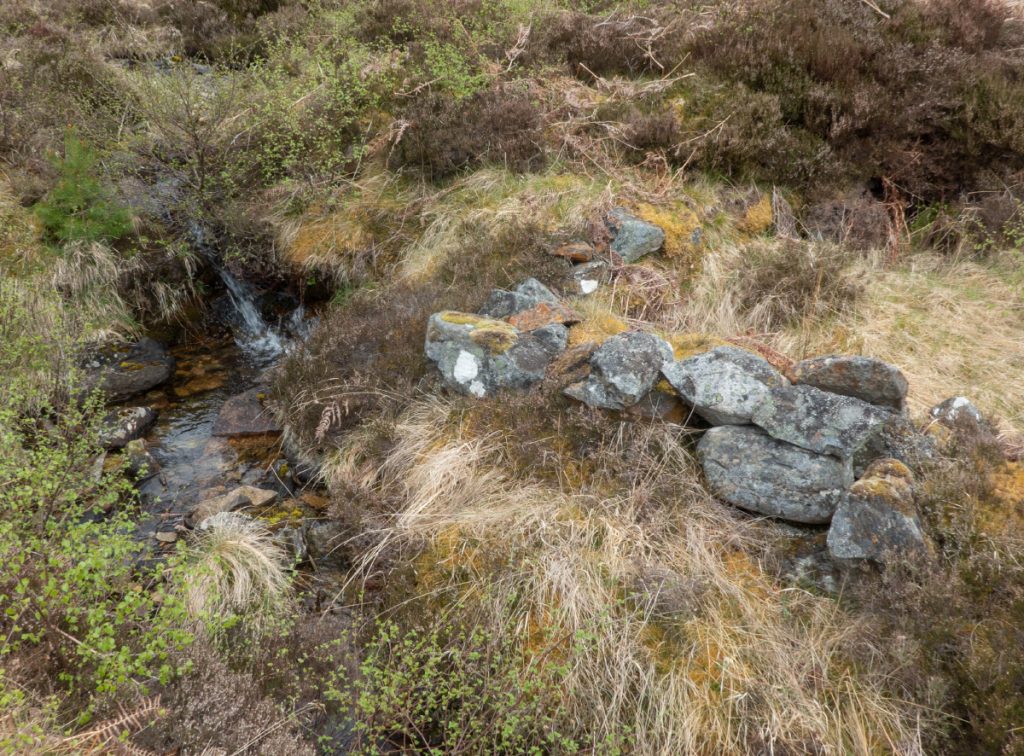 Now a ghostly remnant, inhabited only by a flutter of pippits, a rabbit or two and no doubt sheep on occasion.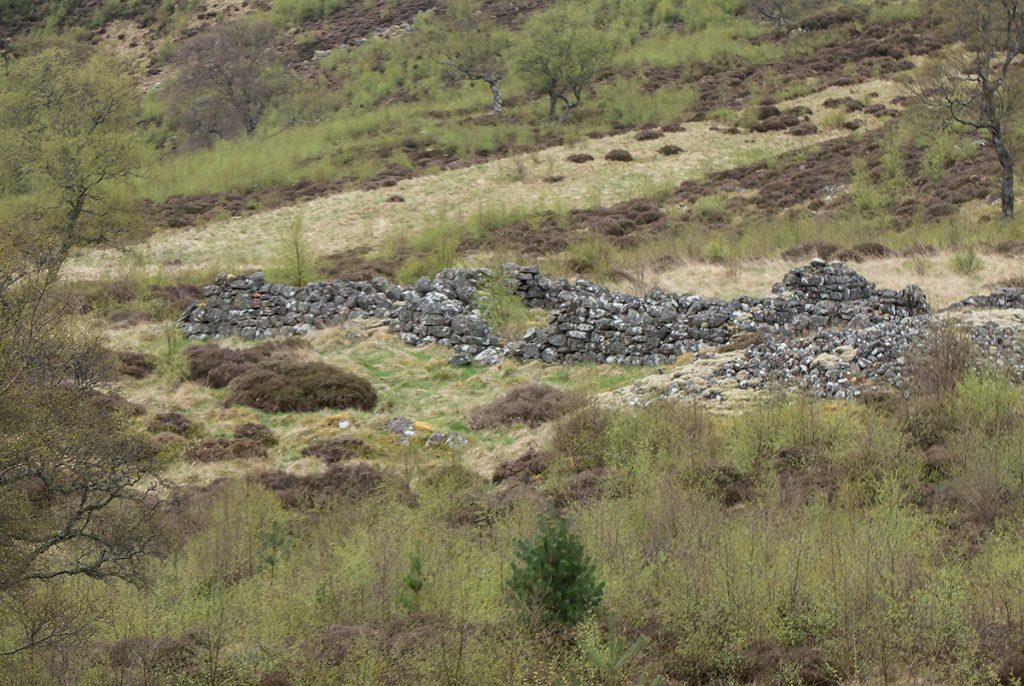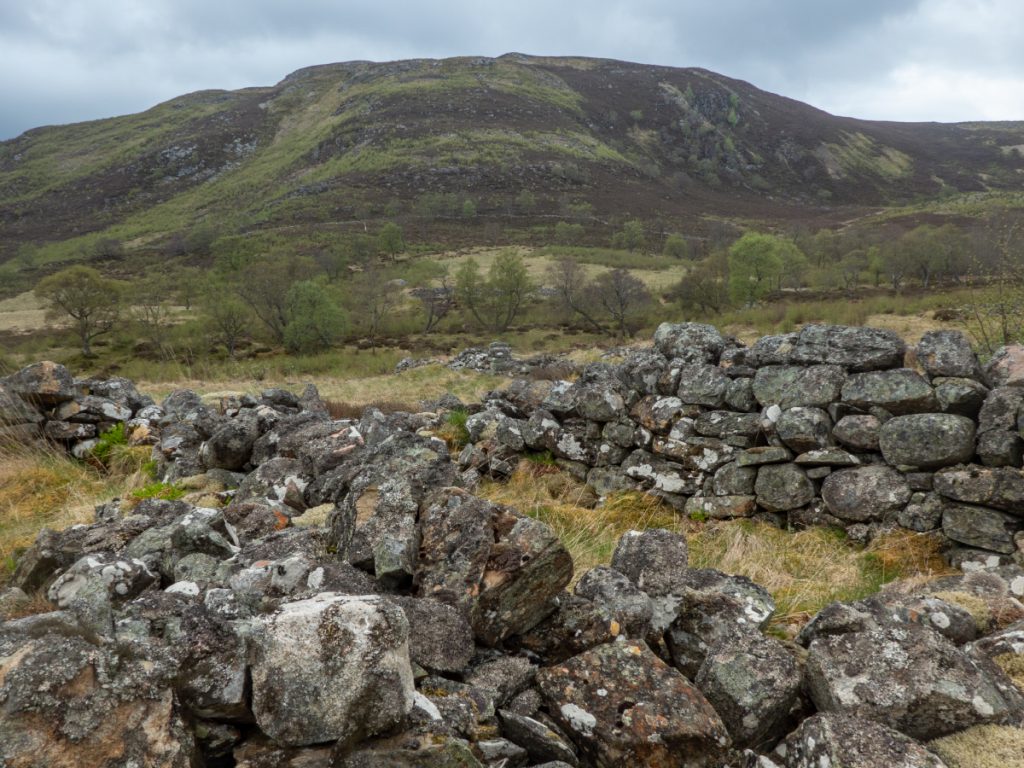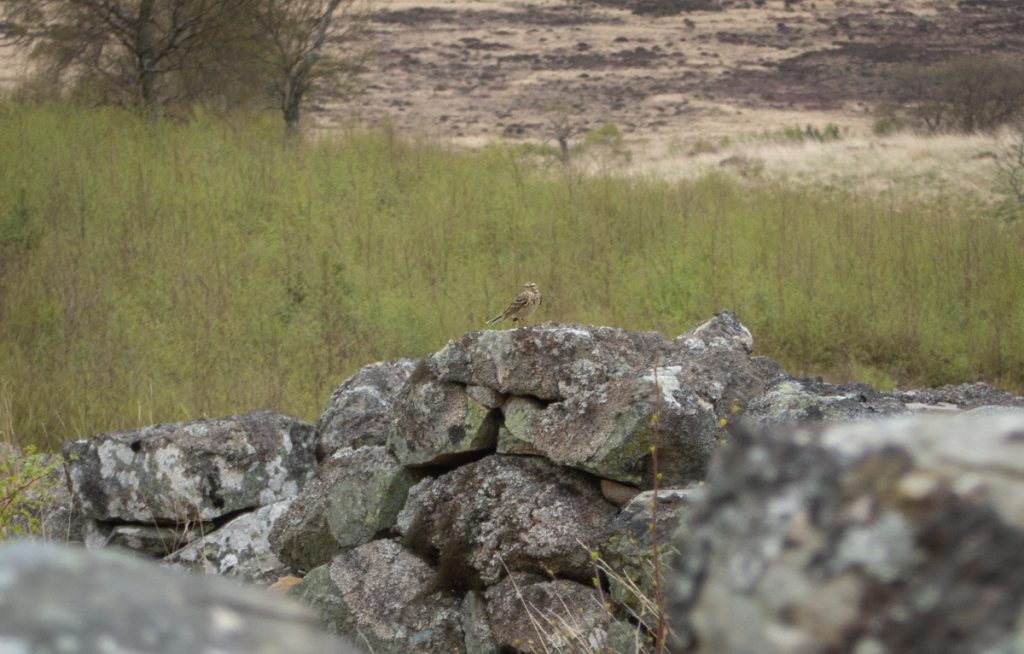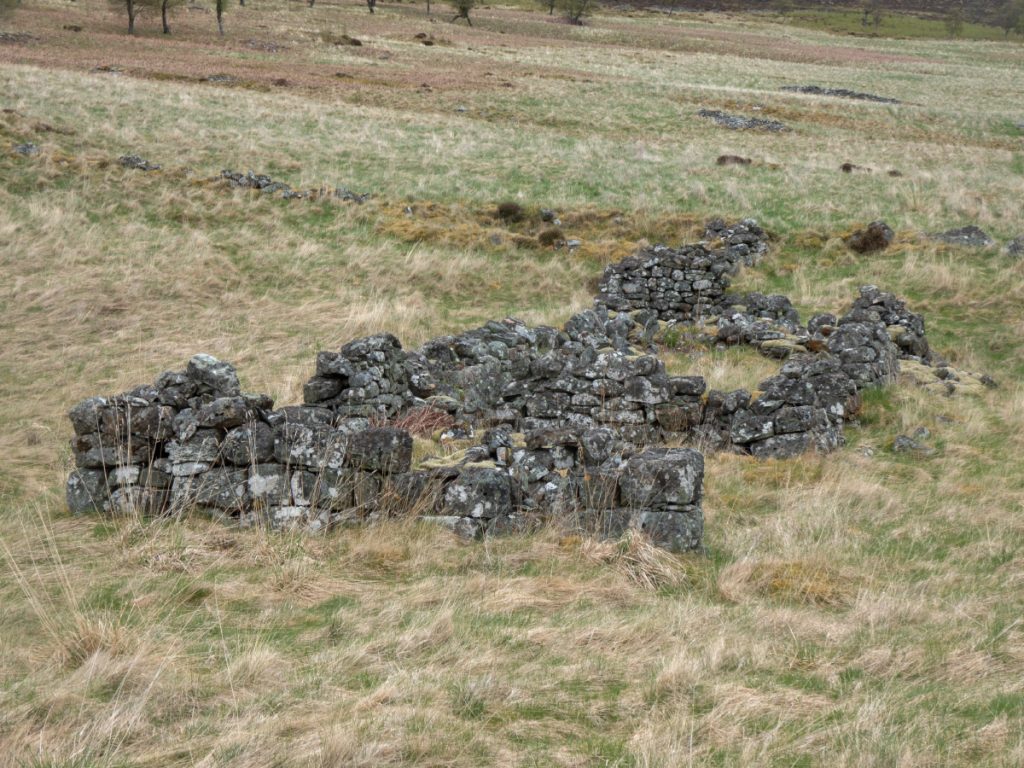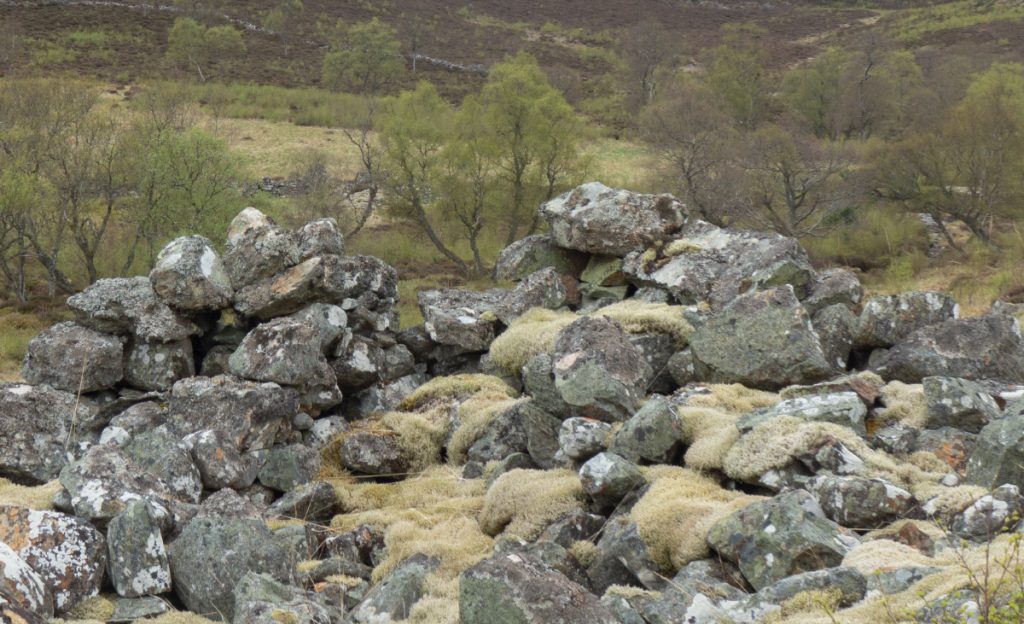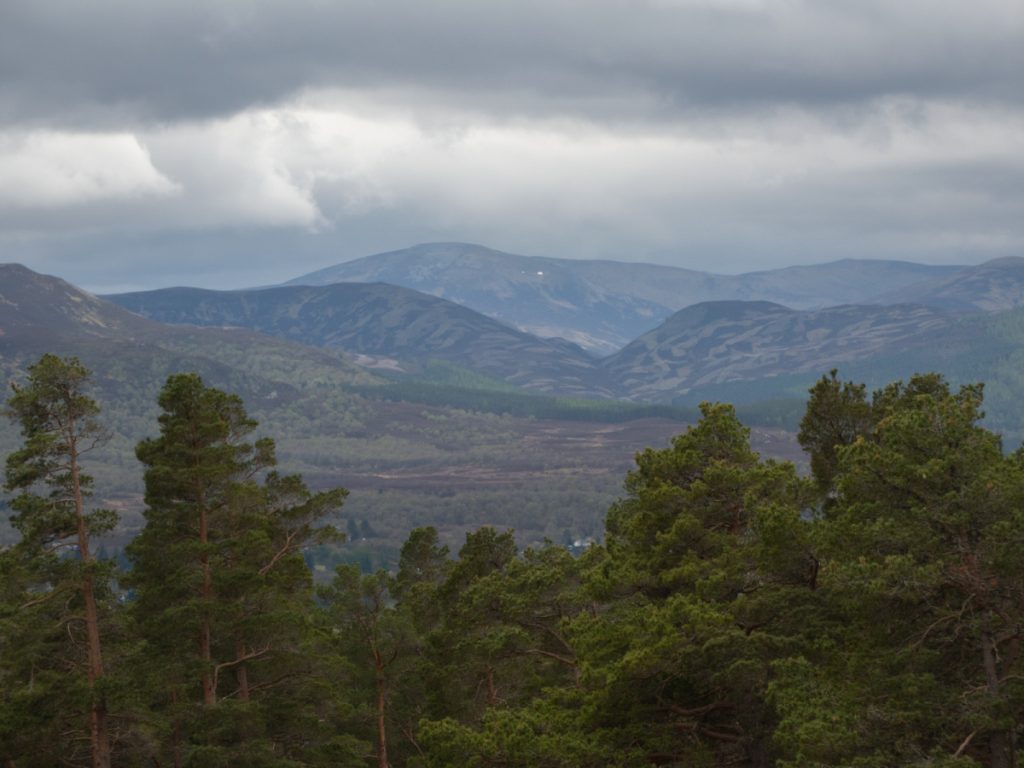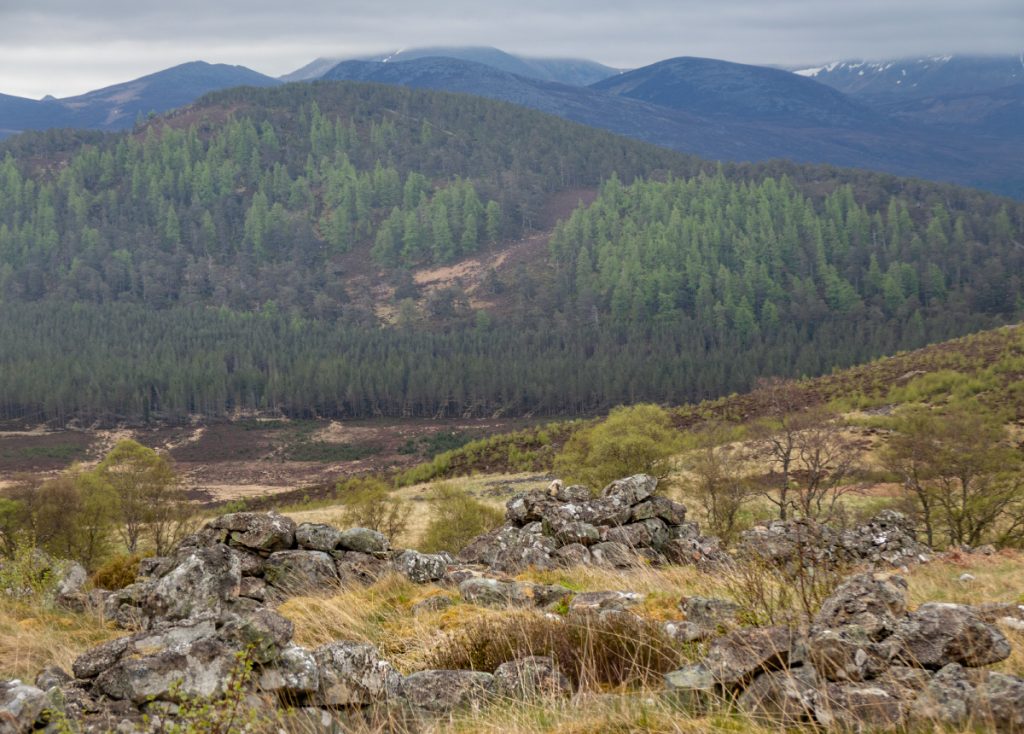 Across the Felagie burn, overlooked by the retree'd crags of Craig Leek, I made it back onto a track and then across the bog flat, tramping to Keiloch.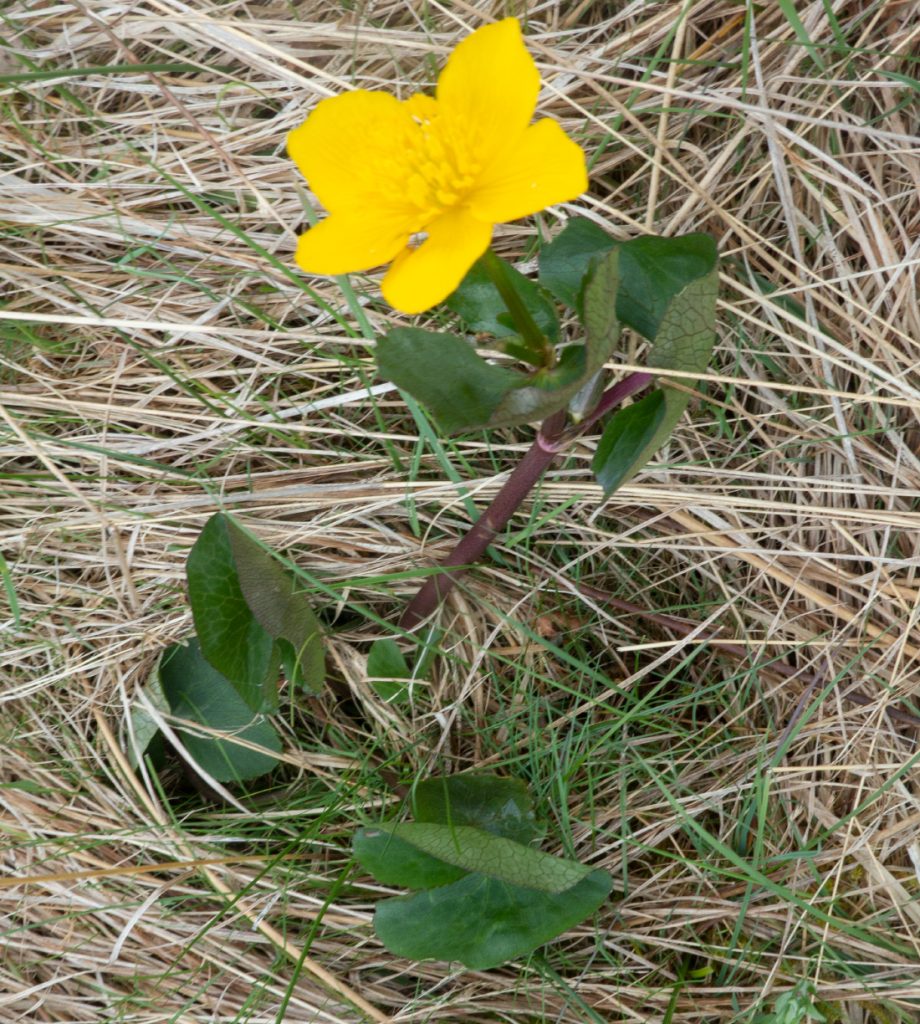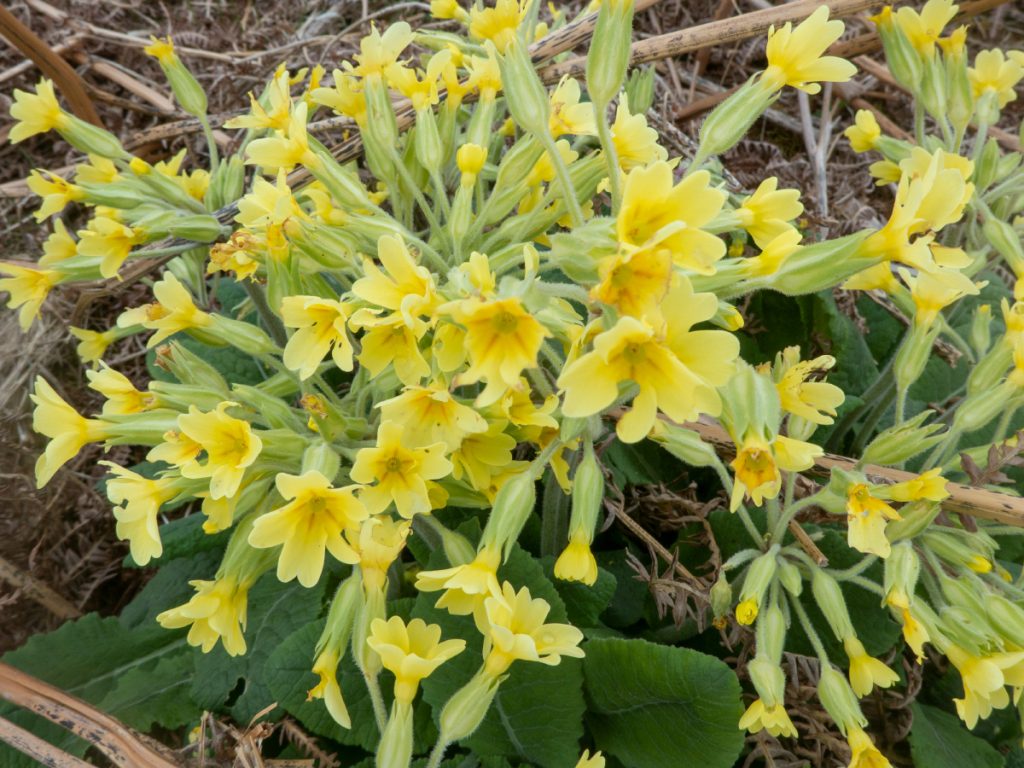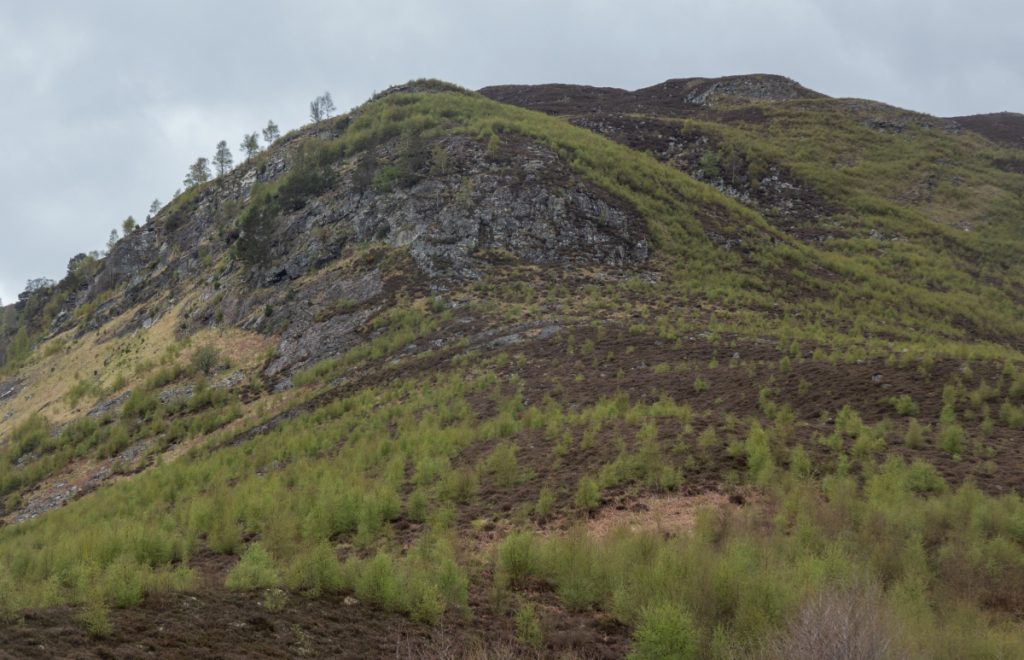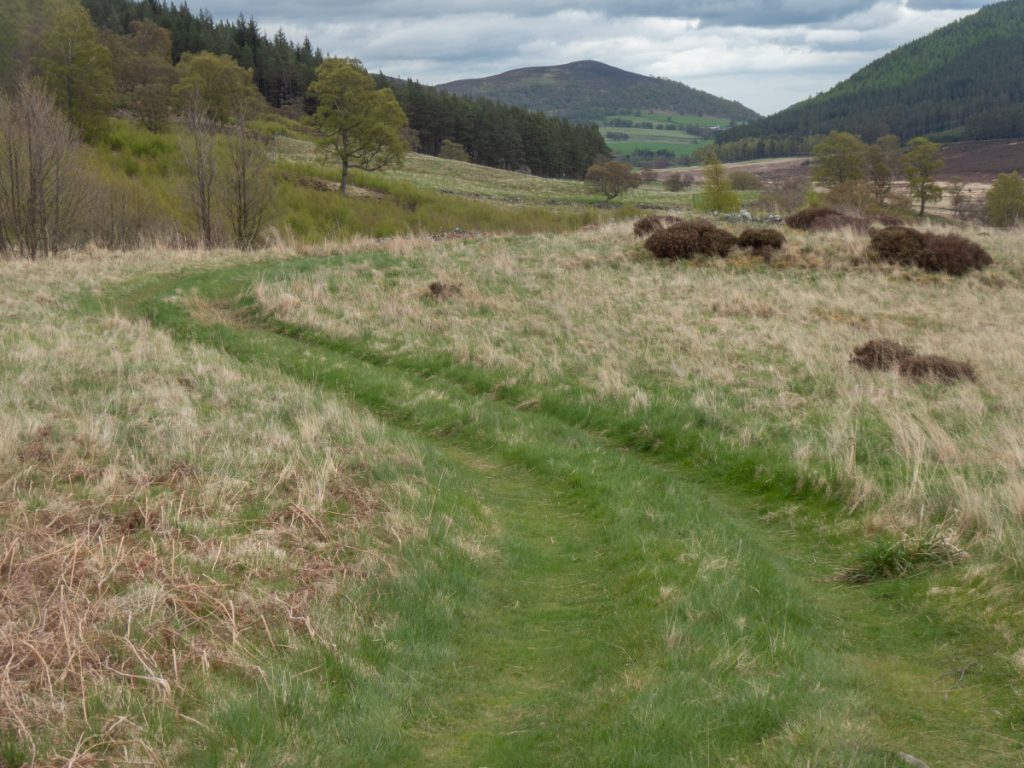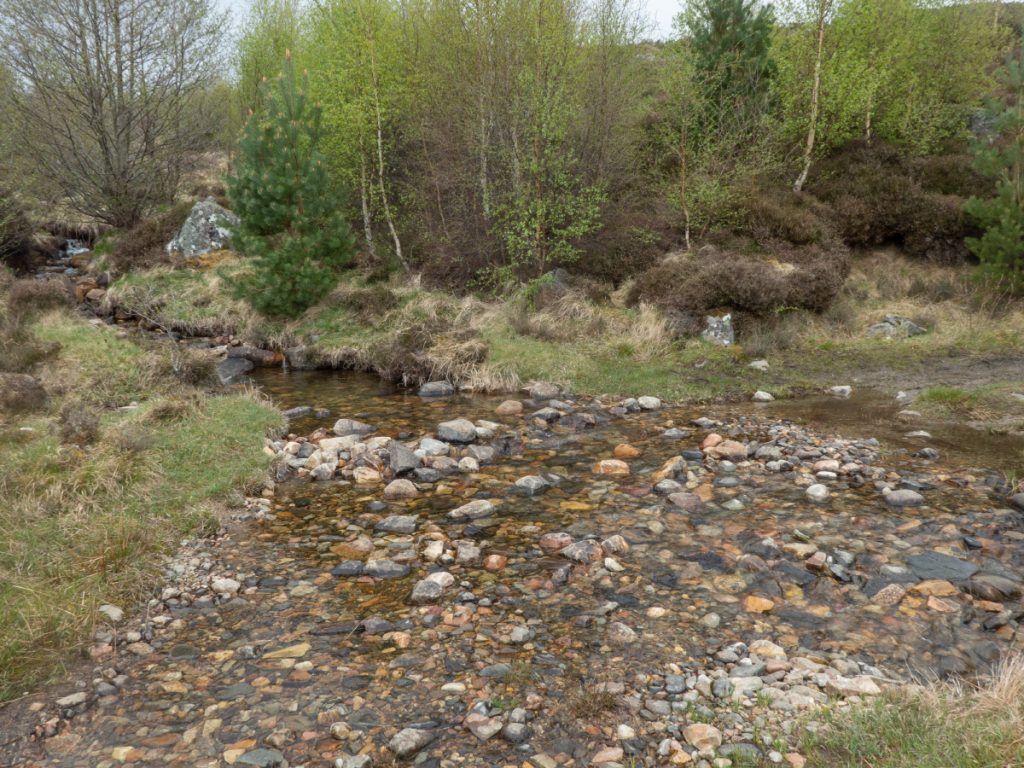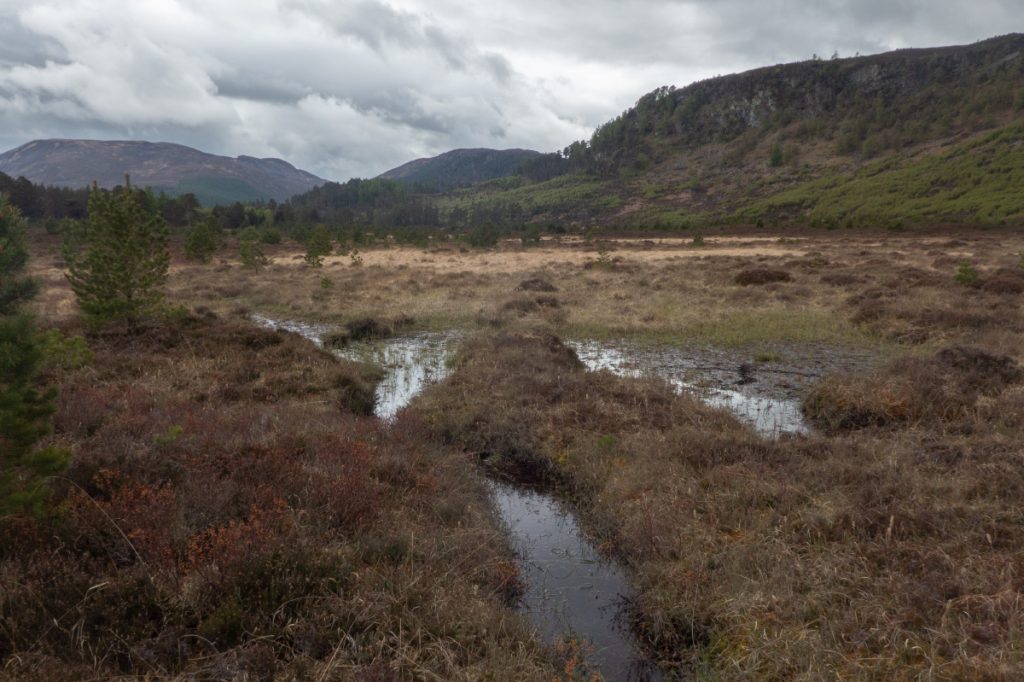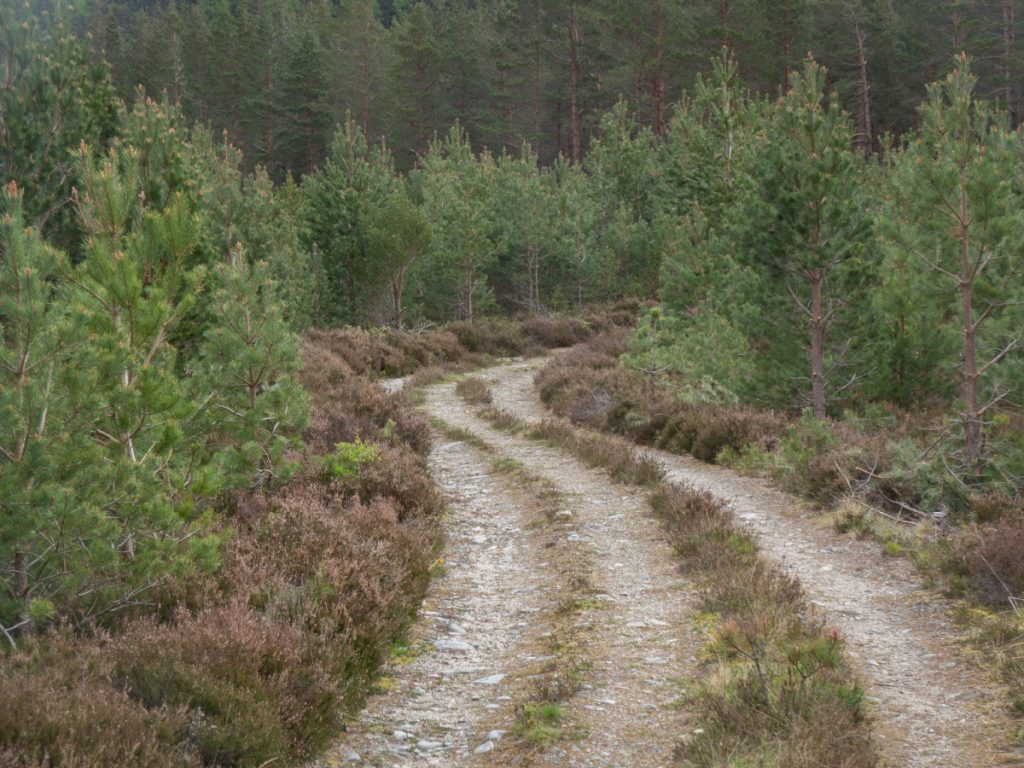 Nearing the end I still had some time on hand so pottered: first around Felagie then scouted for camping spots in the woods near Keiloch (one day I'll miss the last bus)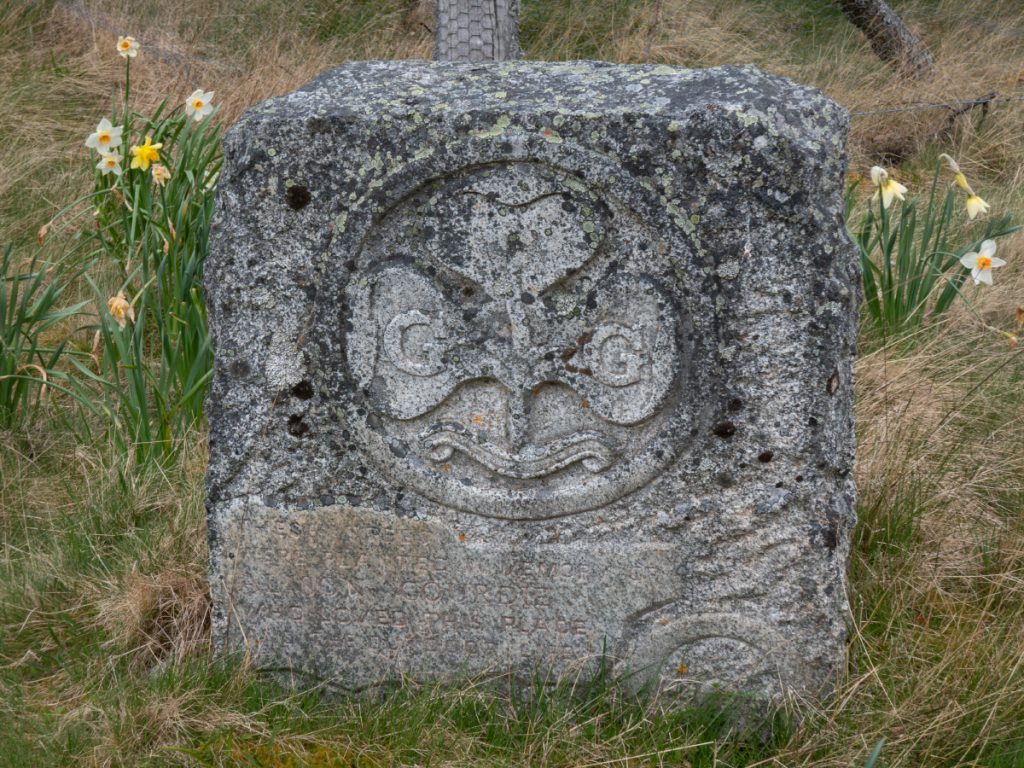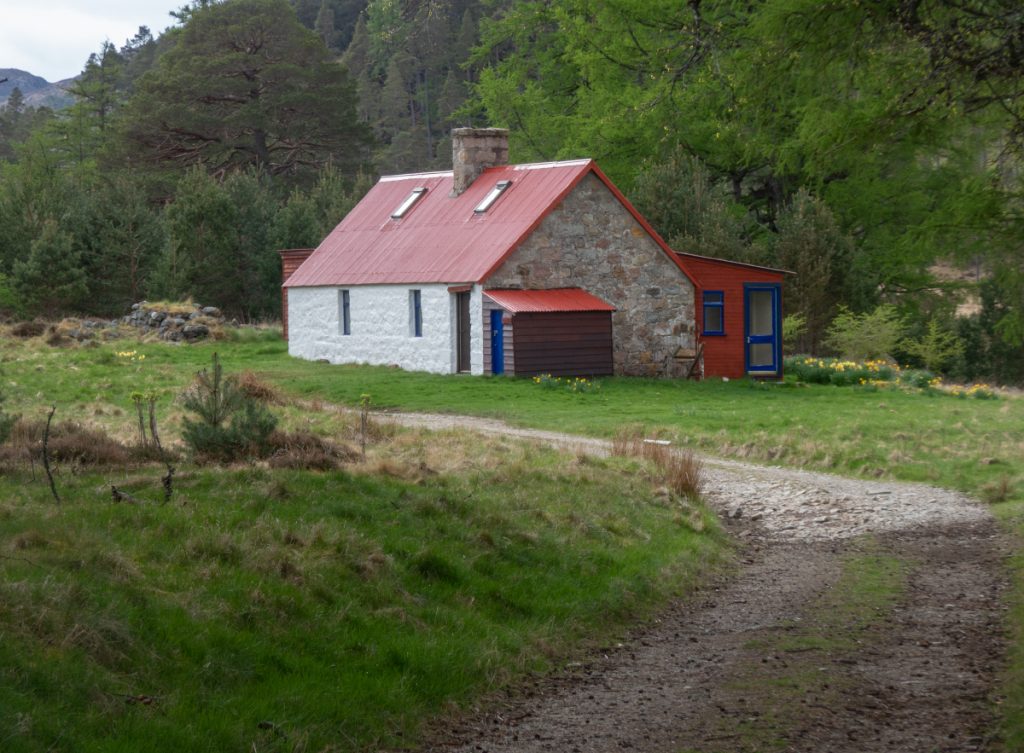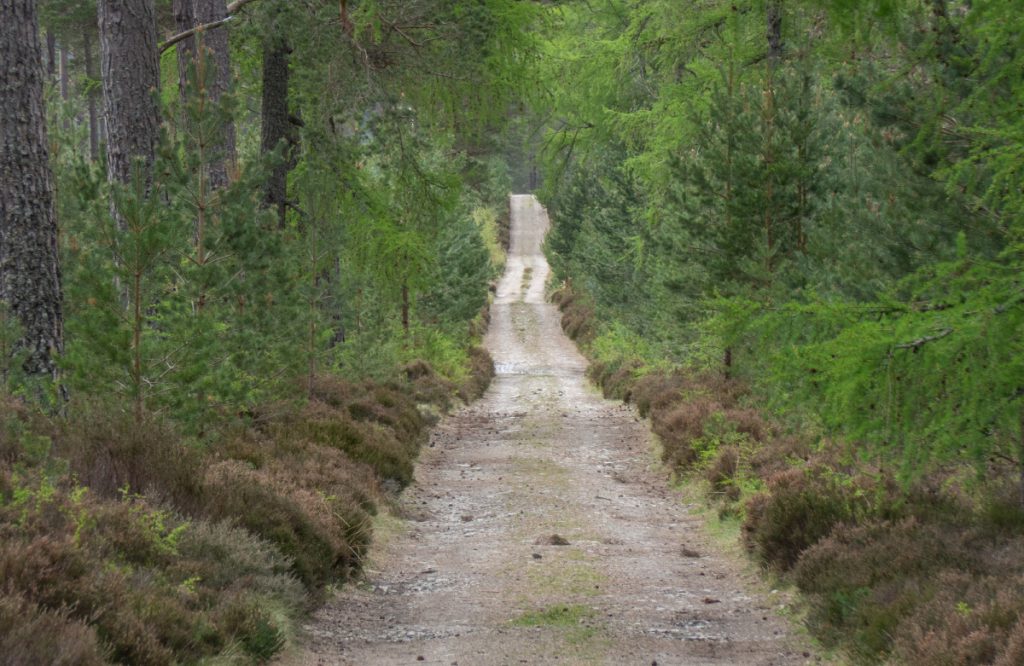 A lot of the woods near Keiloch are very hummocked so not much flat ground but did find a couple spots that could be used at a pinch to pitch a tent. There was also a pond with some small islands and 'bridges' and old hides, probably for local gamekeepers to shoot ducks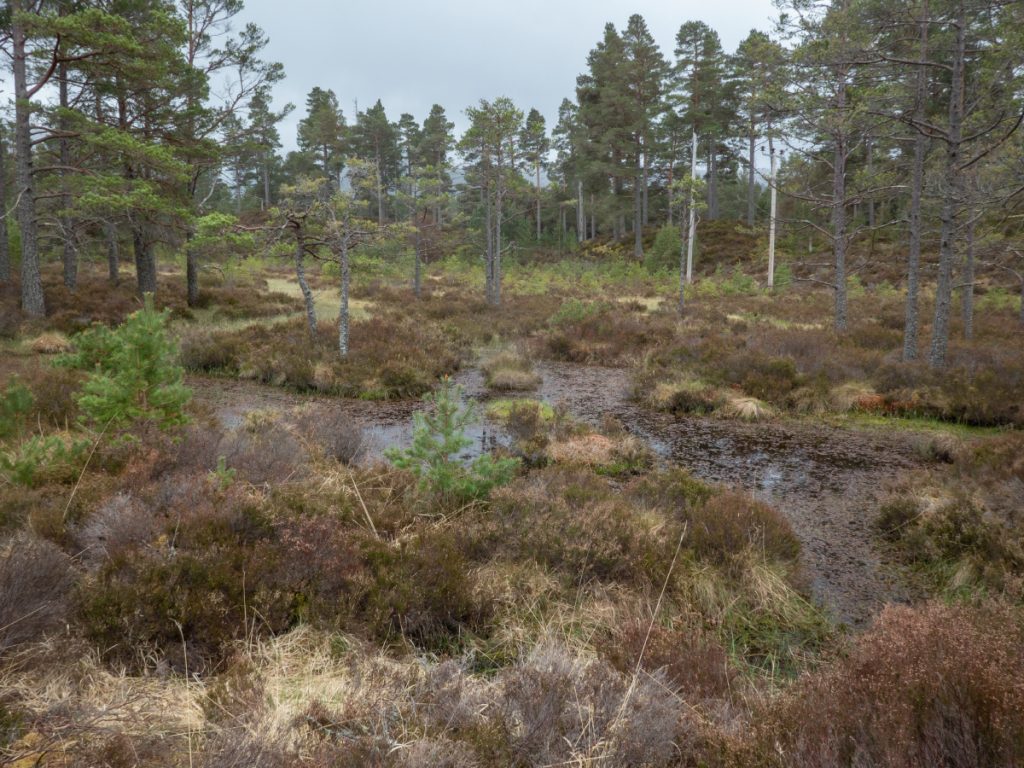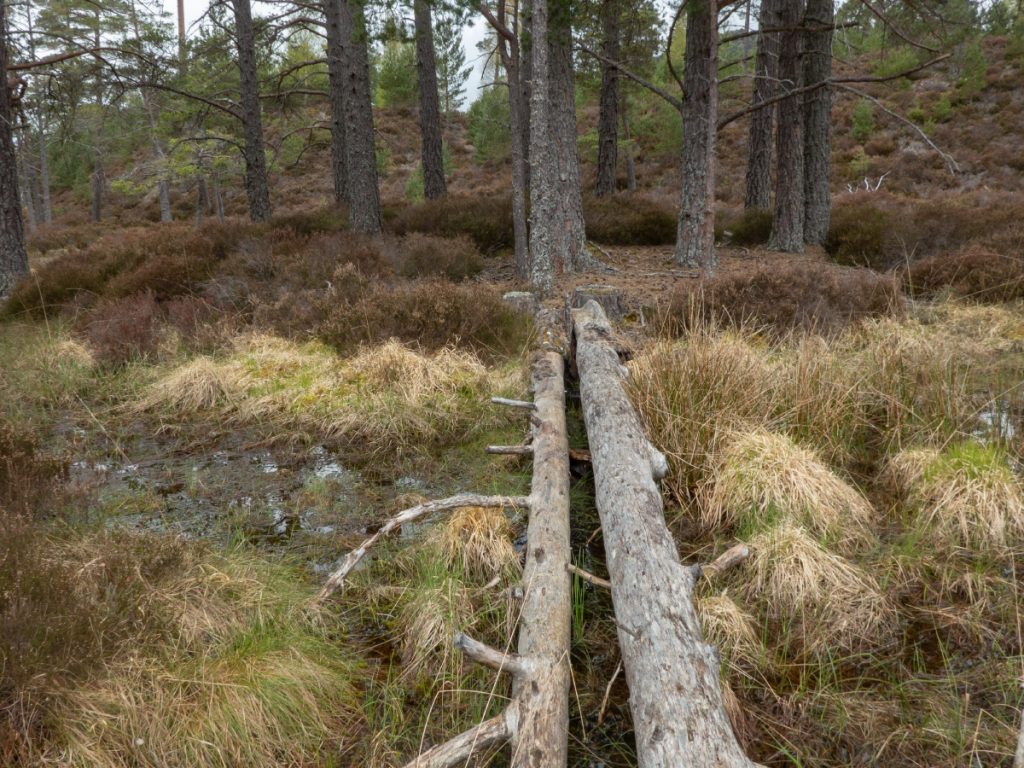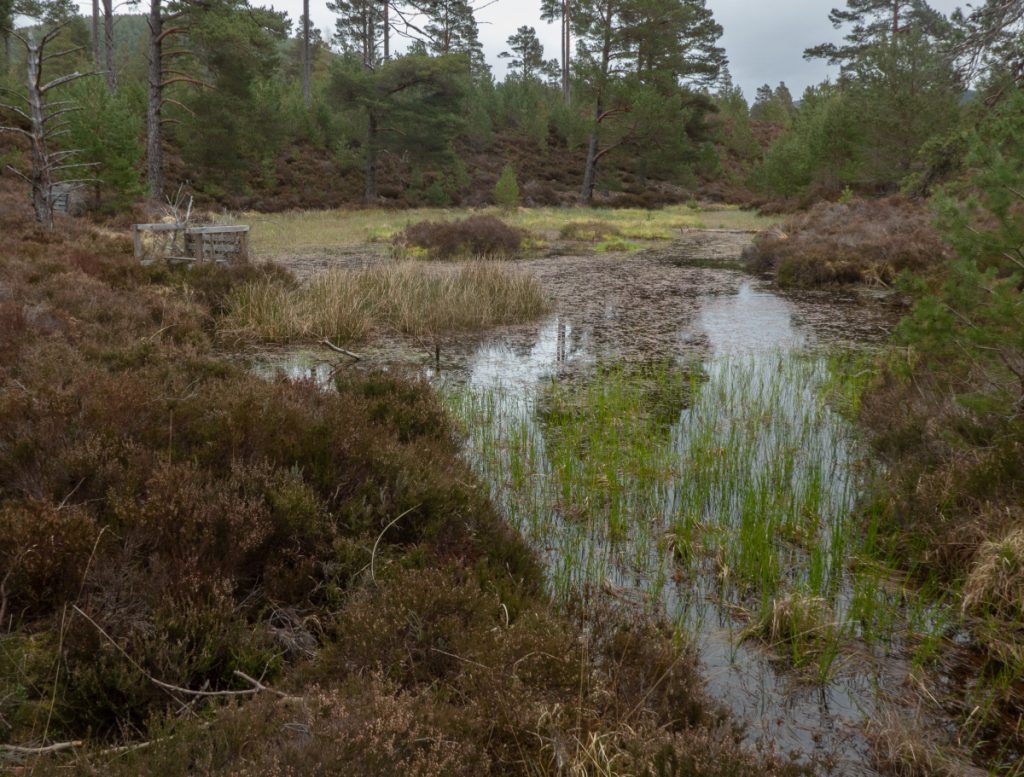 A good variety of terrain explored, although I'd not quite seen everywhere I'd wanted to so I reckoned I'd be back soon for another look.