I hadn't been to Beinn Bhreac since 2019, when I did it as part of a 3 munro run. It's an unremarkable mountain albeit with good views of more impressive peaks around. The Cairngorm Club had it pencilled in as their May day walk. Initially there'd been talk of extending the route for the faster walkers to Beinn a Chaorainn, but at around 30k was a tough ask within the time available. I decided to stick with the main party mostly, with a couple of sorties to find interest in surrounding nooks.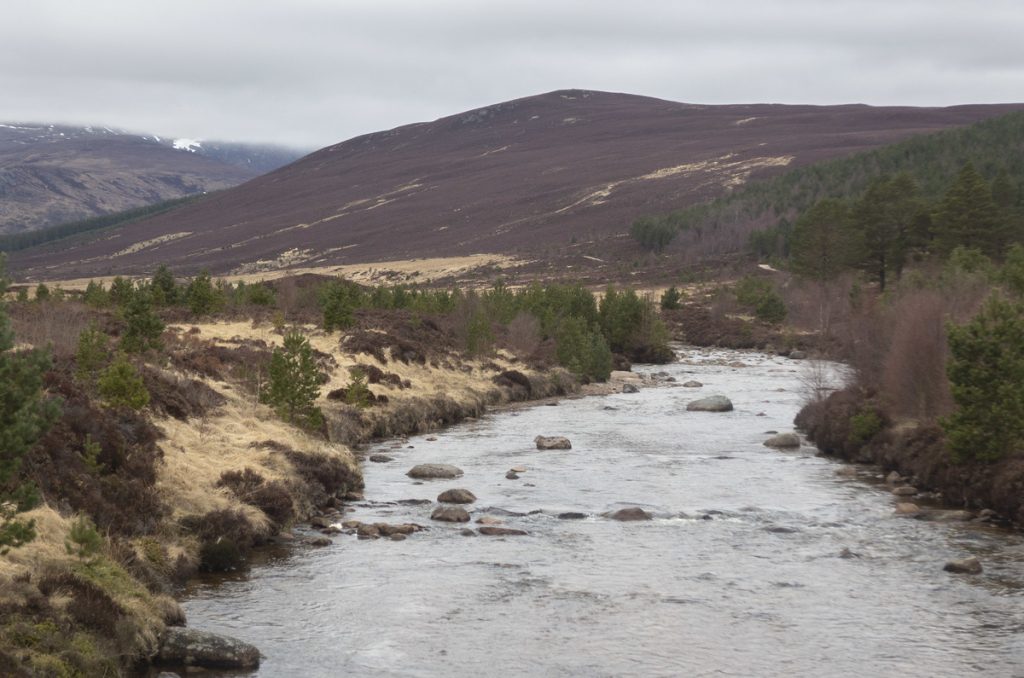 Chatting to another walker, I mentioned an ice house seen on a recent trip to Cullen, and he said there was one beside the river Lui nearby, in the side of a mound. Directly after Black Bridge to the north, there are 2 knolls along the river poking above the flood plain. We split up to investigate: he found what he'd remembered in the nearer smaller one. On initial thought, it may have made sense for Derry Lodge to have an ice house, however on inspection it's neither deep nor side-entry, and too close to the water.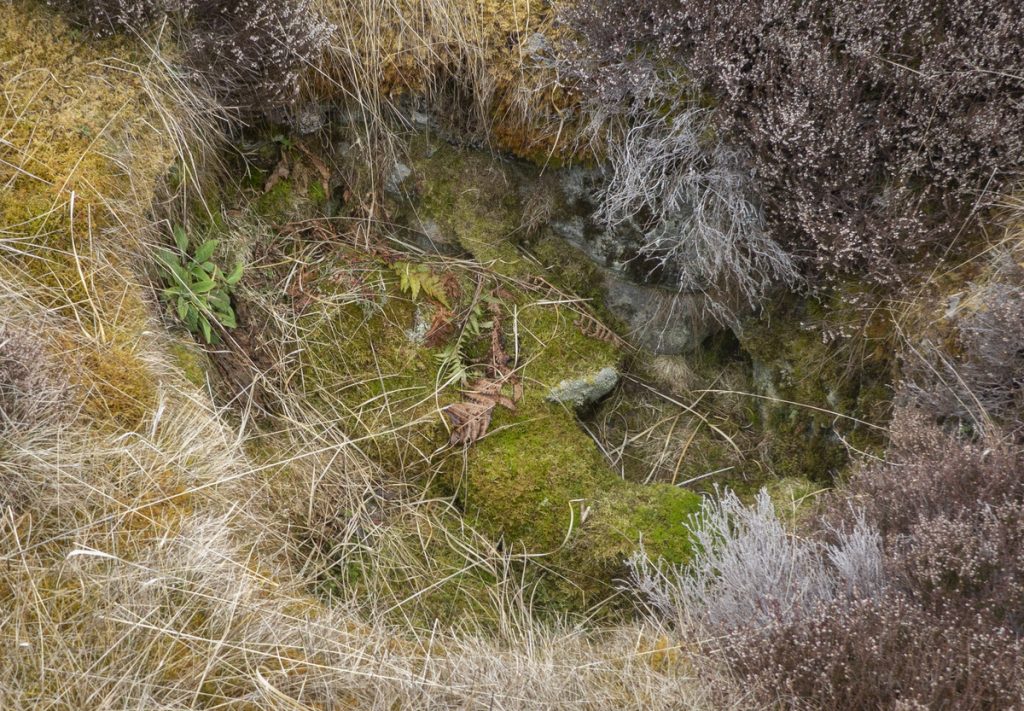 Subsequent investigation on canmore has mention of both lime and corn-drying kilns for a settlement here, and this seems a more likely explanation.
We rejoined the group and headed up the path to Clais Fhearnaig, before crossing the Allt a Mhadaidh. On previous trips to the Clais, I'd peered into the rugged gully of the stream and pondered if it hid any old illicit whisky still ruins, or other mysteries, and with the knowledge that the main party was travelling reasonably slowly and I could catch them later, I decided to strike out alone and explore the gully.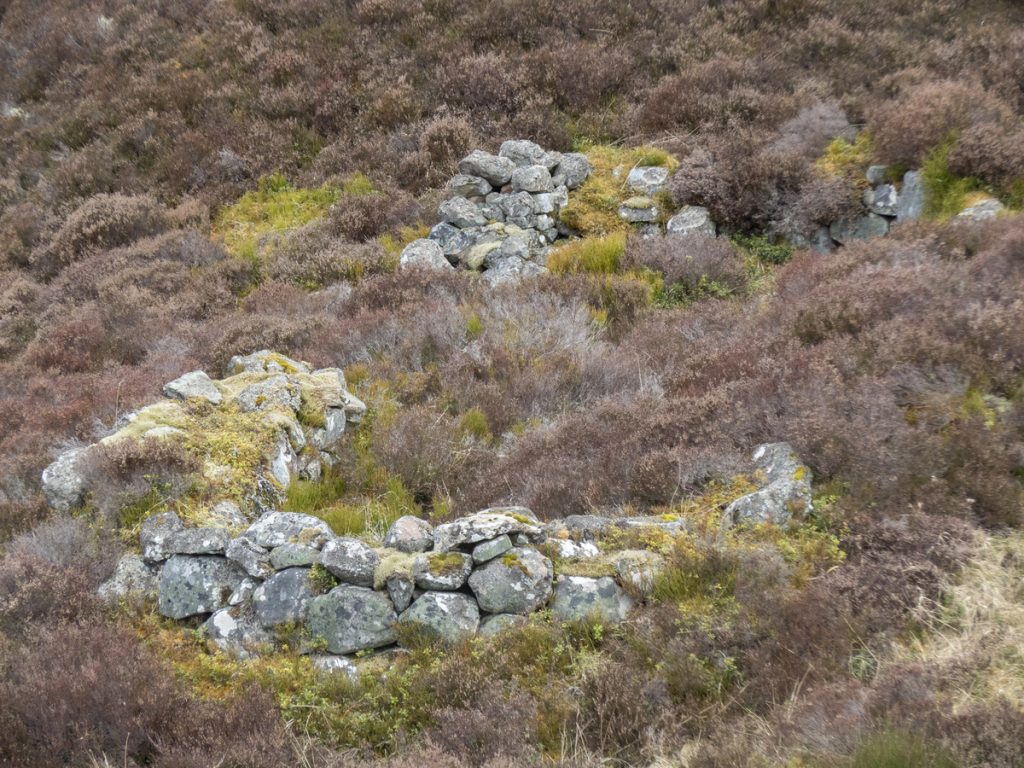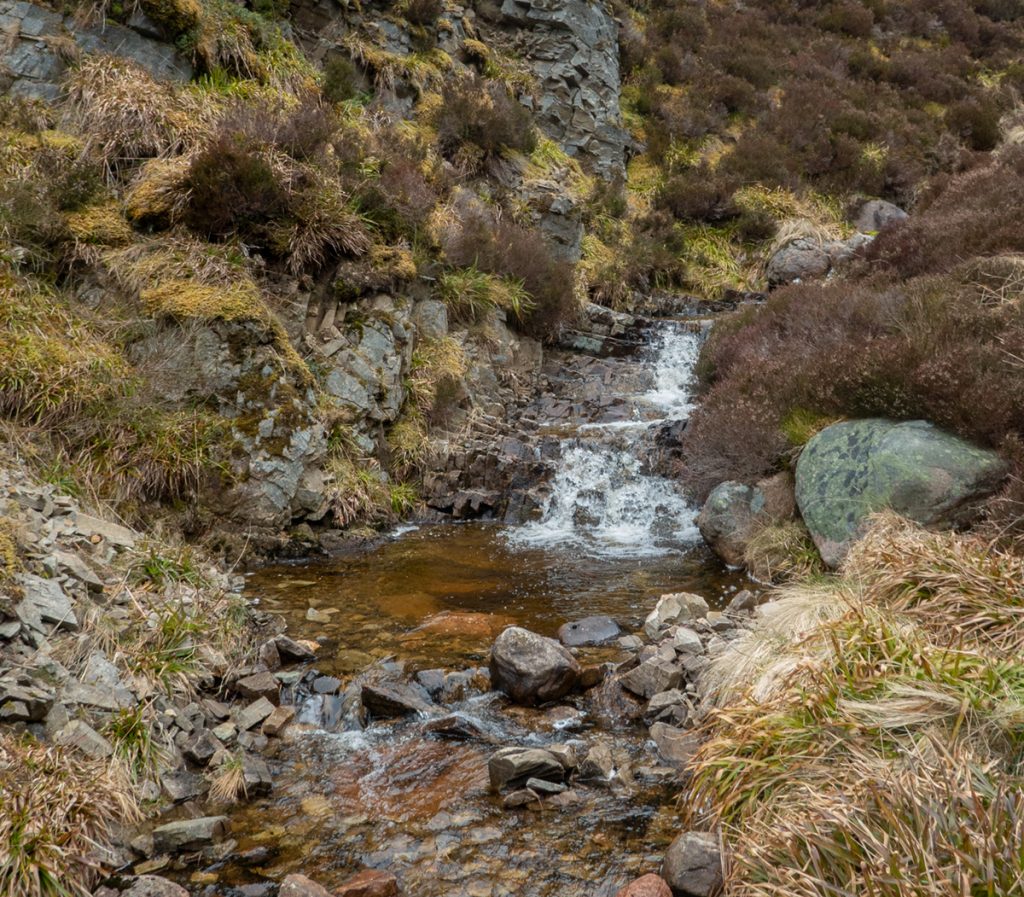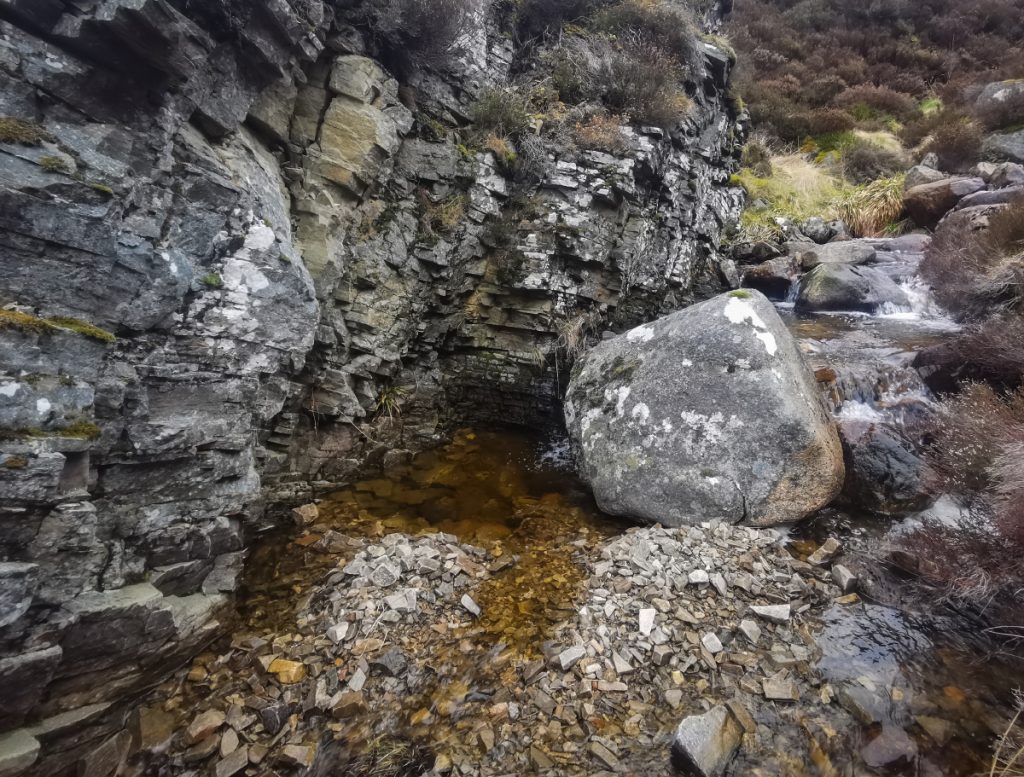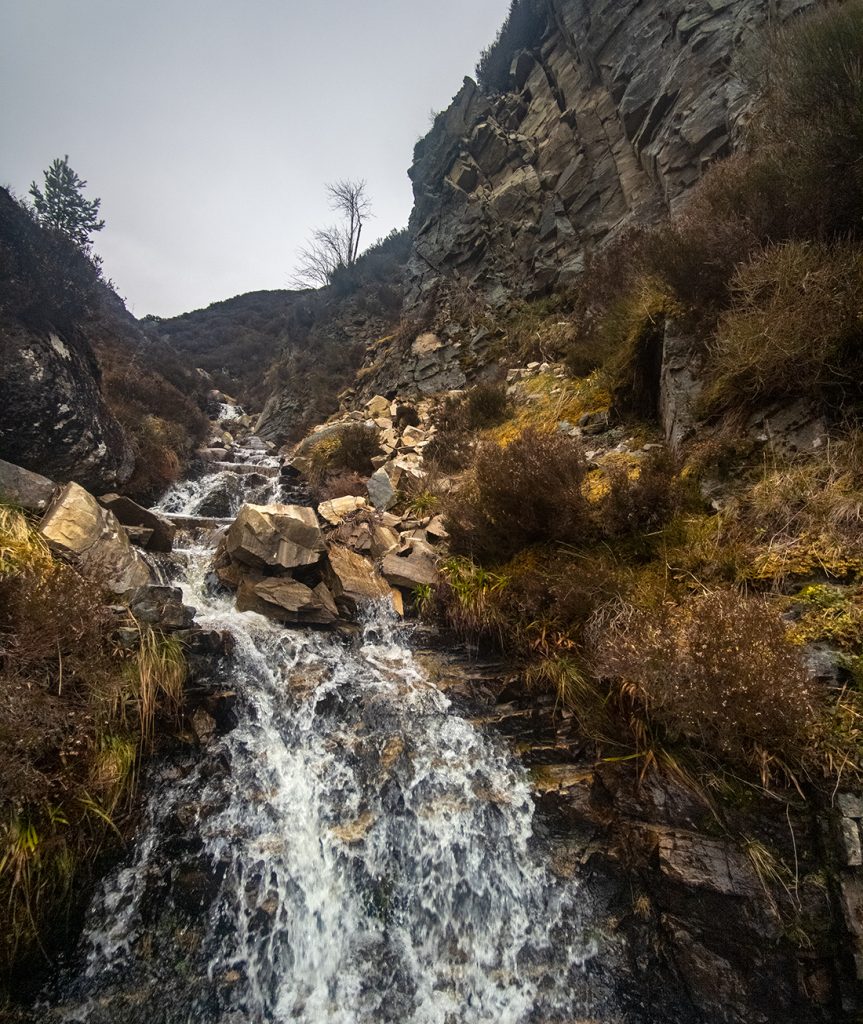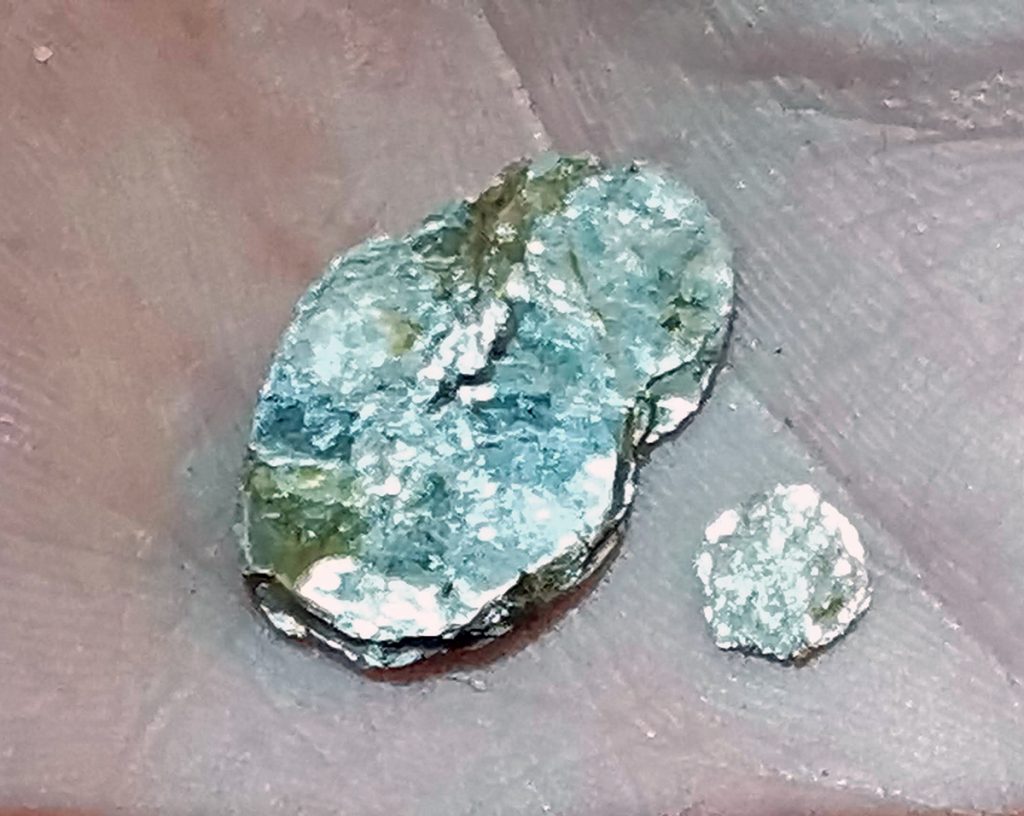 Initially I hopped back n fore across the stream finding one side or the other easy going, then it narrowed and there were a couple points I barely squeezed past, with deeper pools below waterfalls and slippery off-camber rocks either side. The rocks are crumbly and loose; I don't imagine many folk ever go up this way. A glimpse in one of the pools revealed some shiny stones: some form of quartz or mica, crumbled out of the surrounding angular rock layers.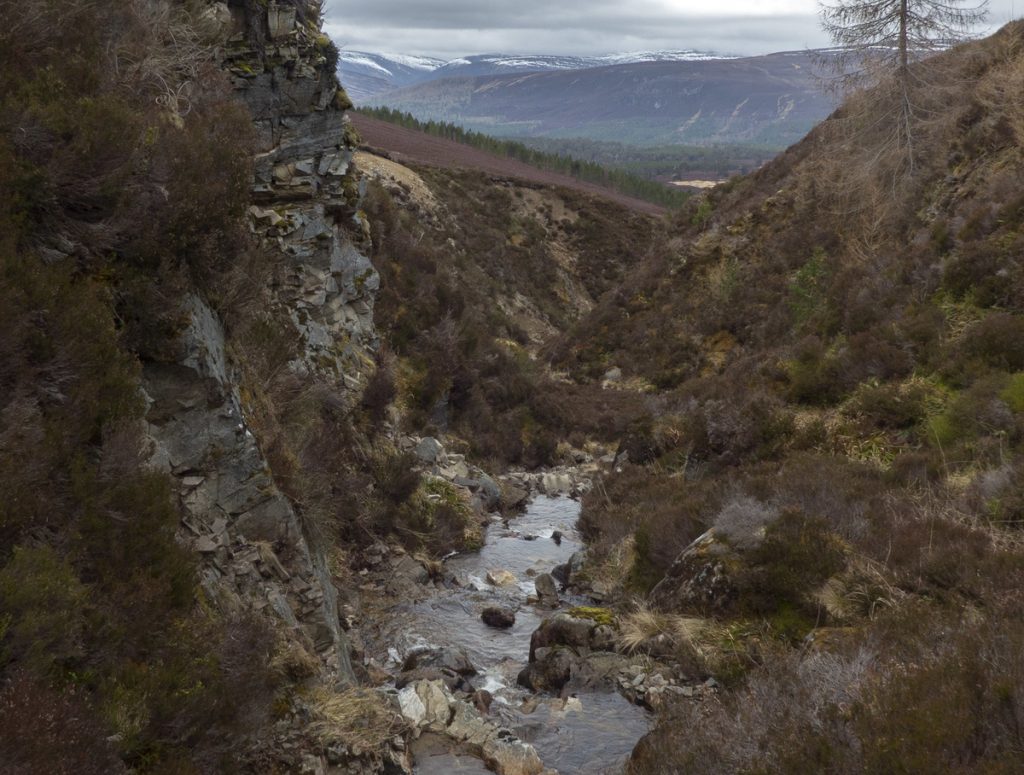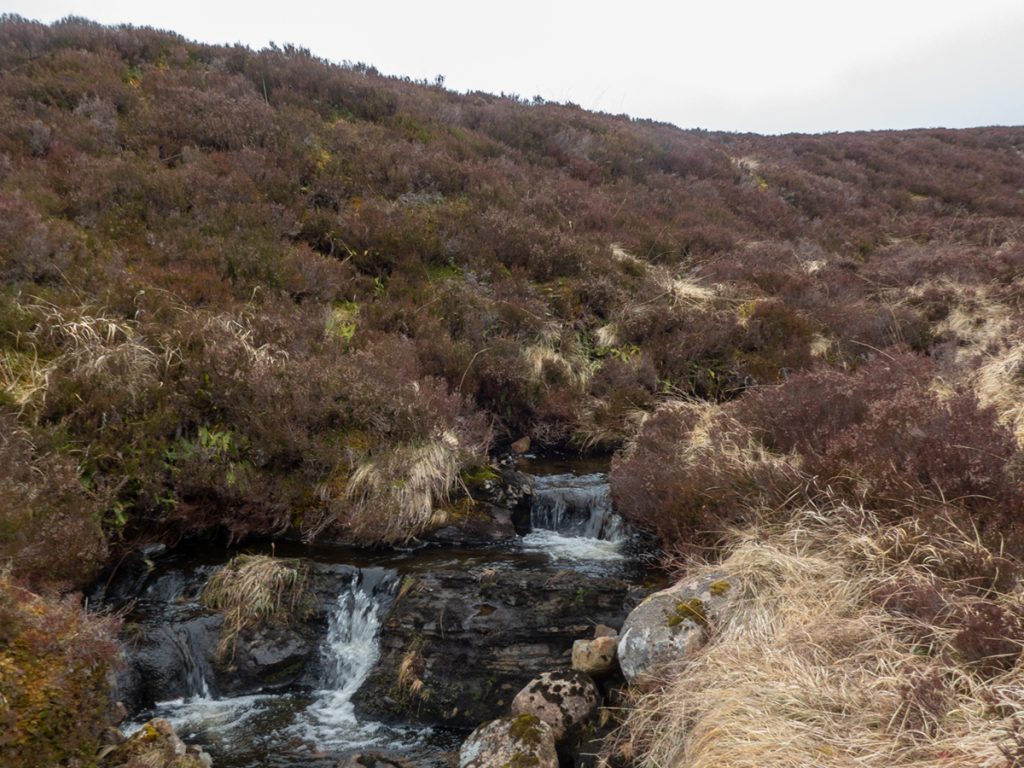 Leaving the gully as it began to meander into boggy ground, I expected to see the group far ahead, but they'd made slow progress through deep heather and I quickly joined up with them again on Meall nan Eun beside a cairn, where there are good views up and down Glen Derry, albeit hindered by the cloud level today.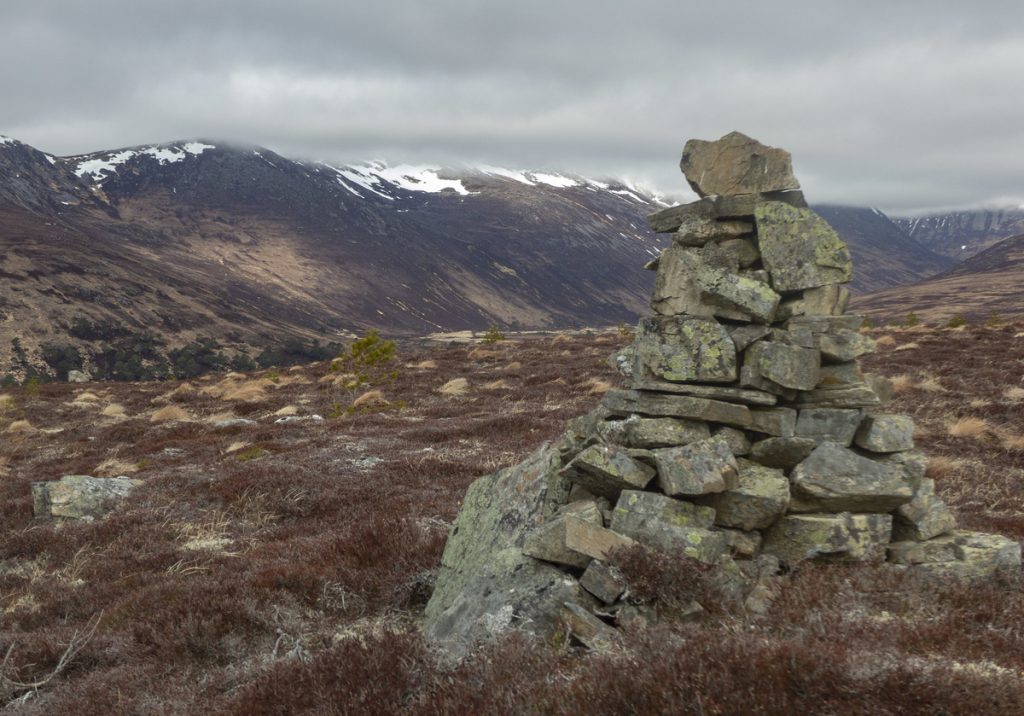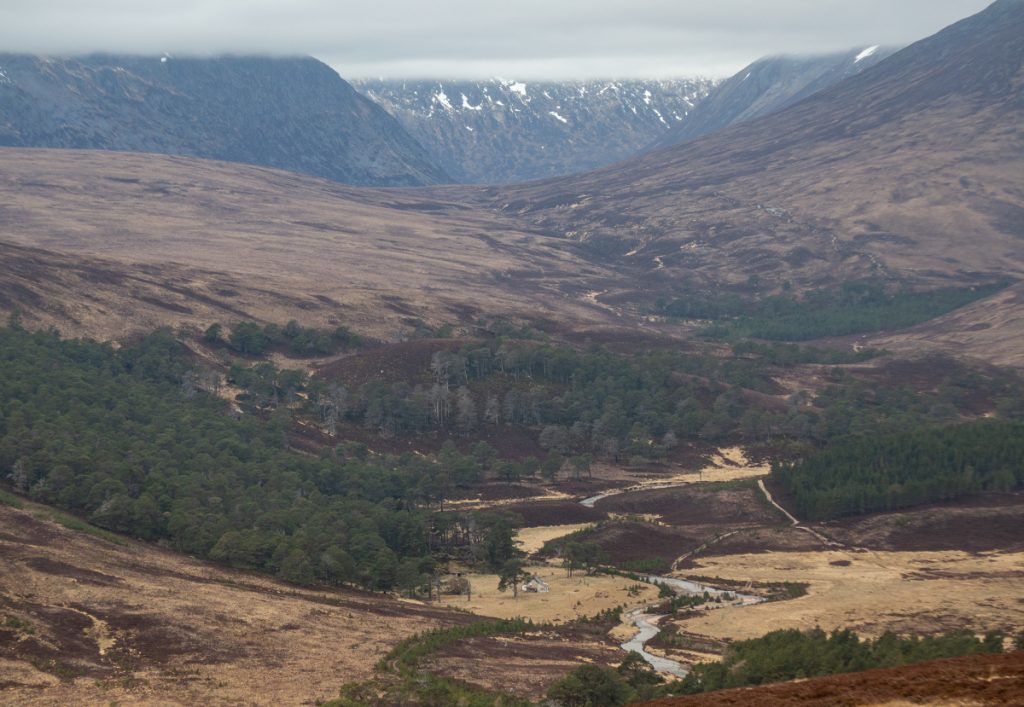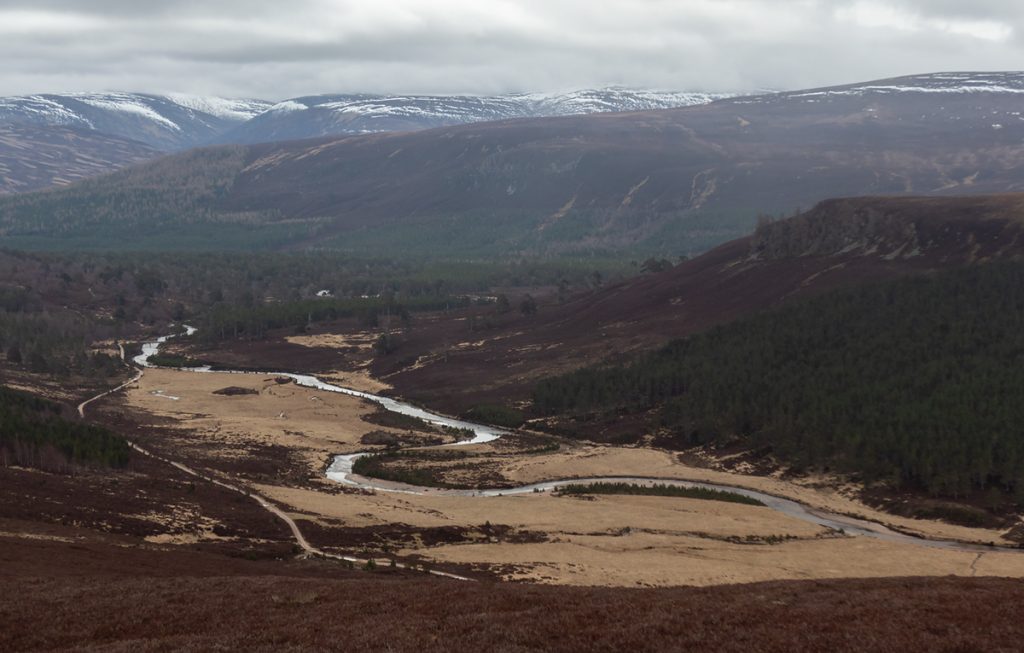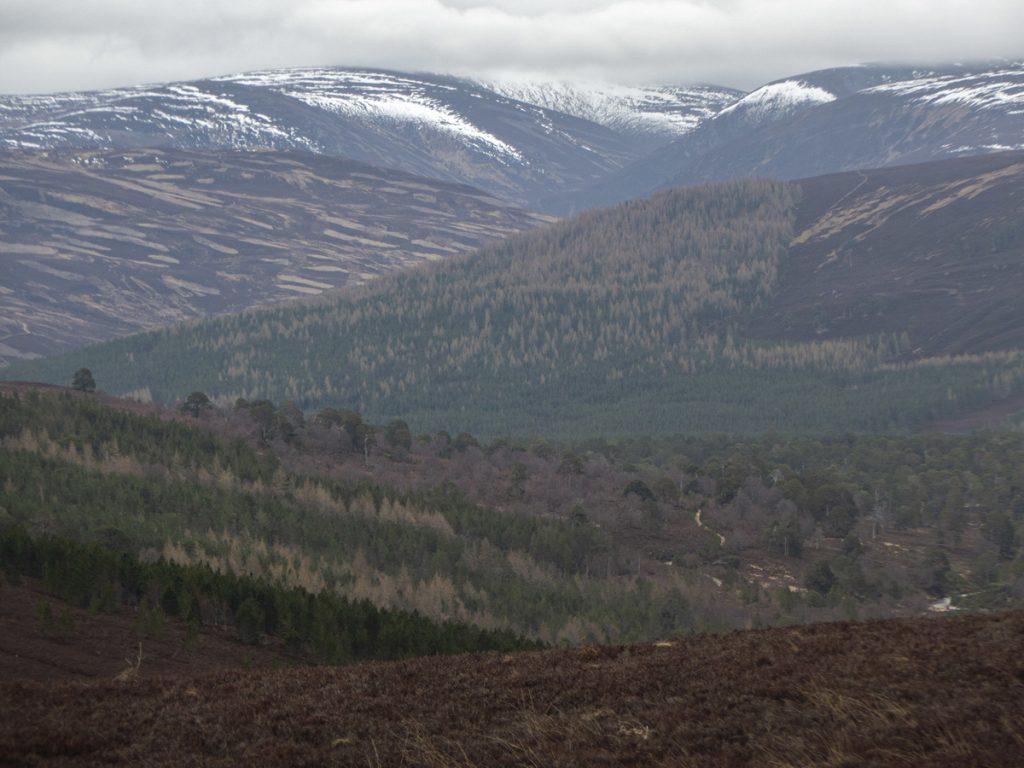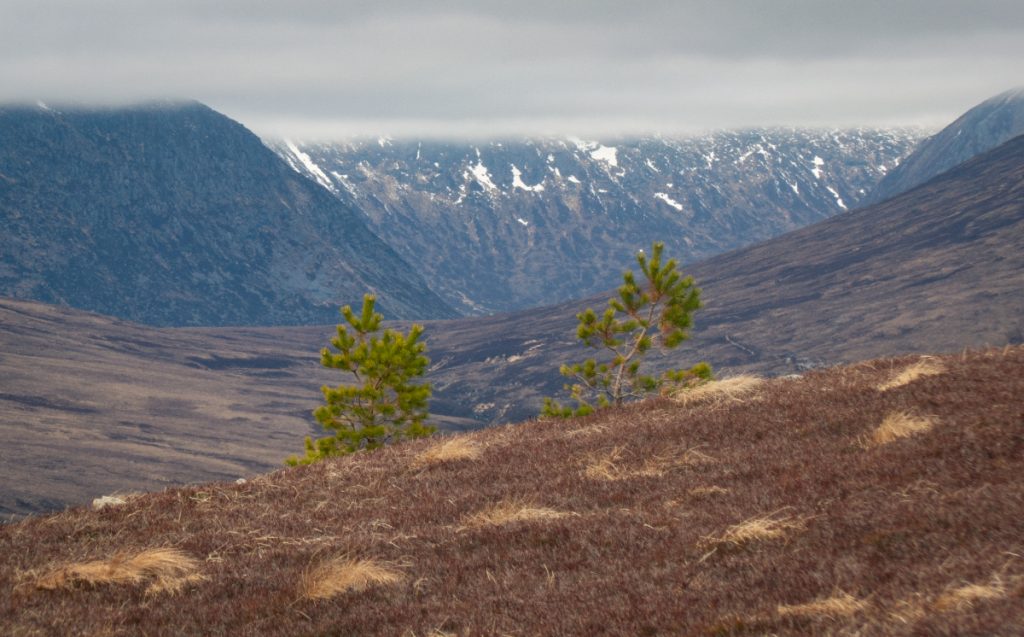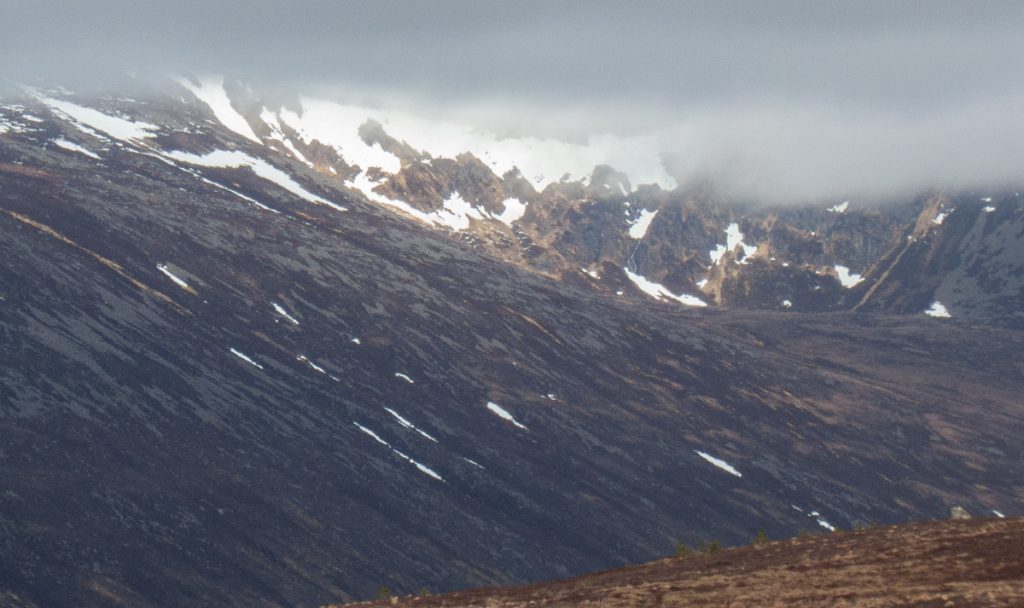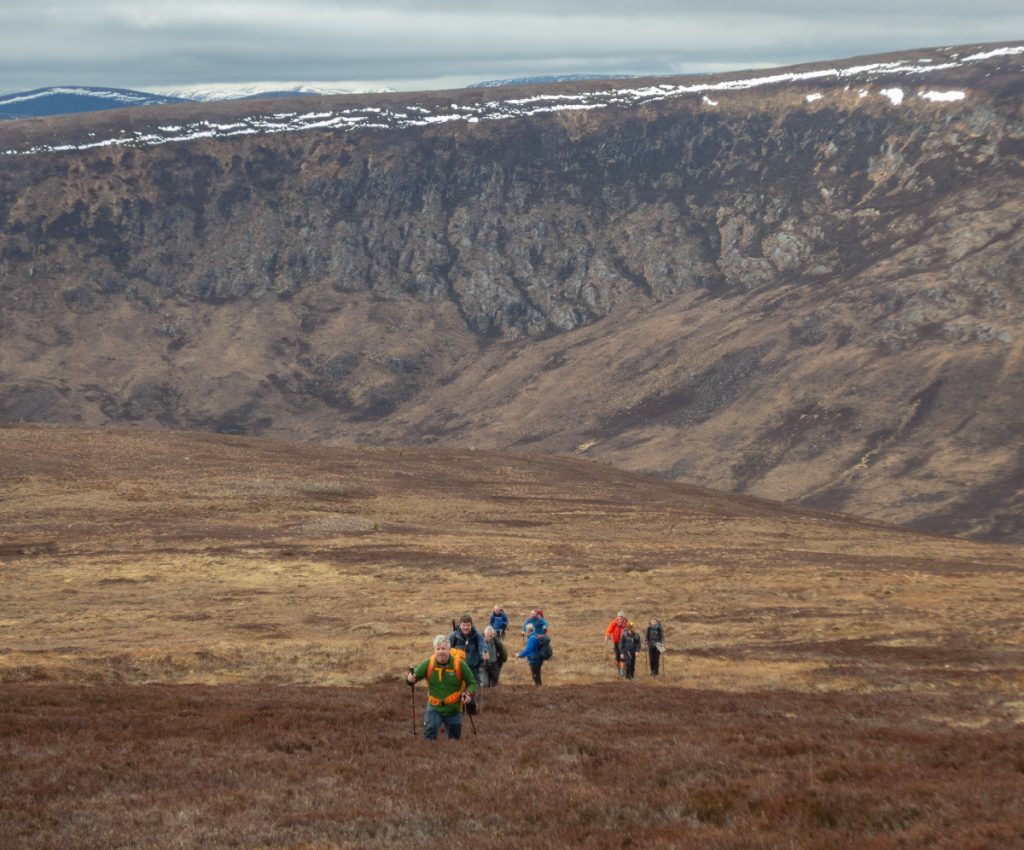 We contoured around Meall an Lundain and made for Poll Bhat, a pool in a glacial outflow channel breaking through from Glen Derry to Glen Quoich. Nearby there are lots of glacial moraine hummocks.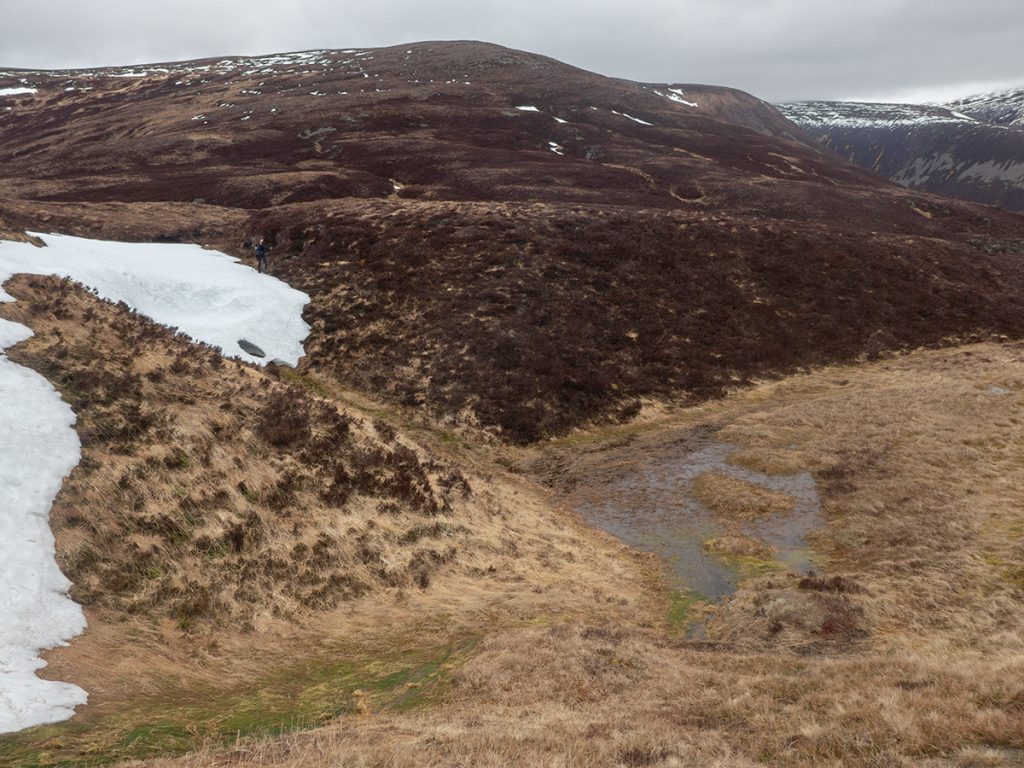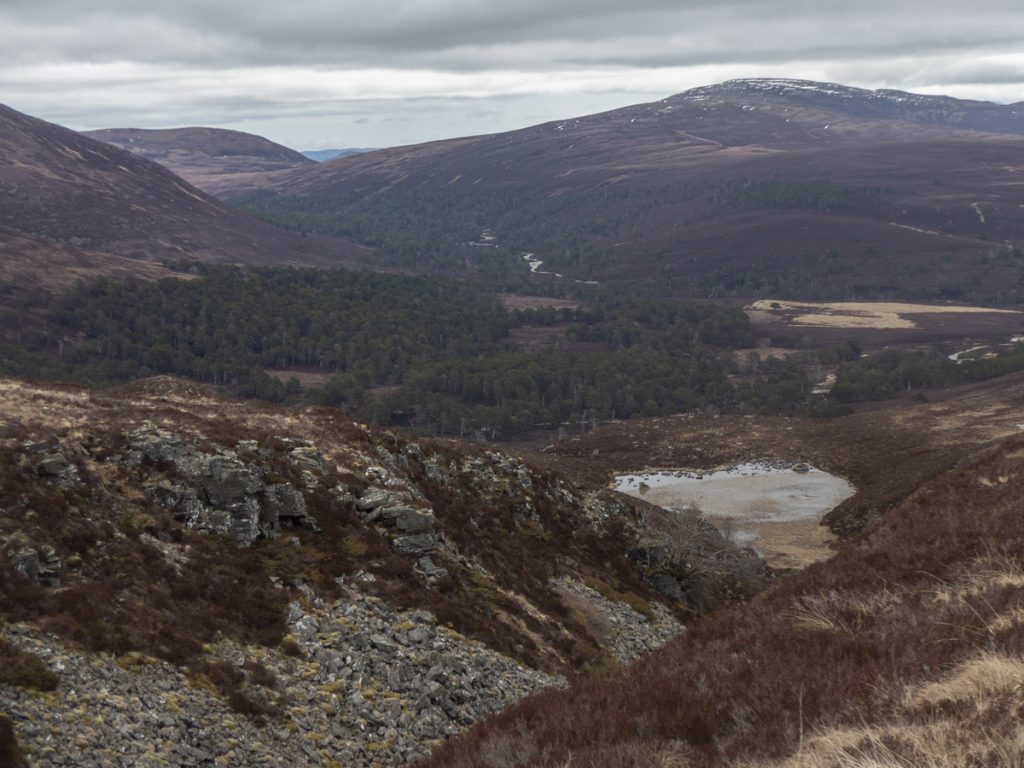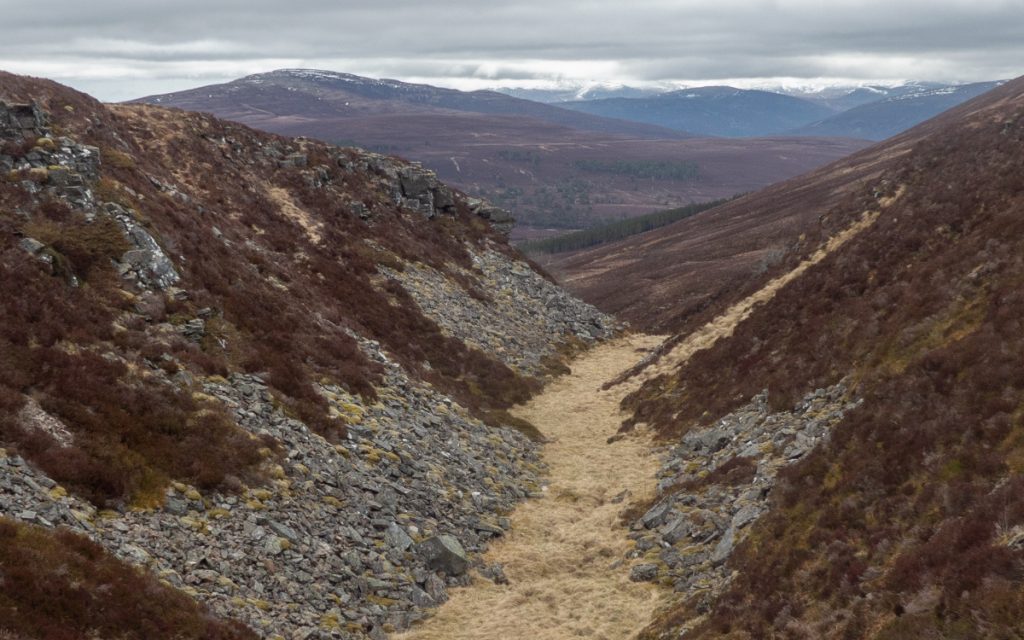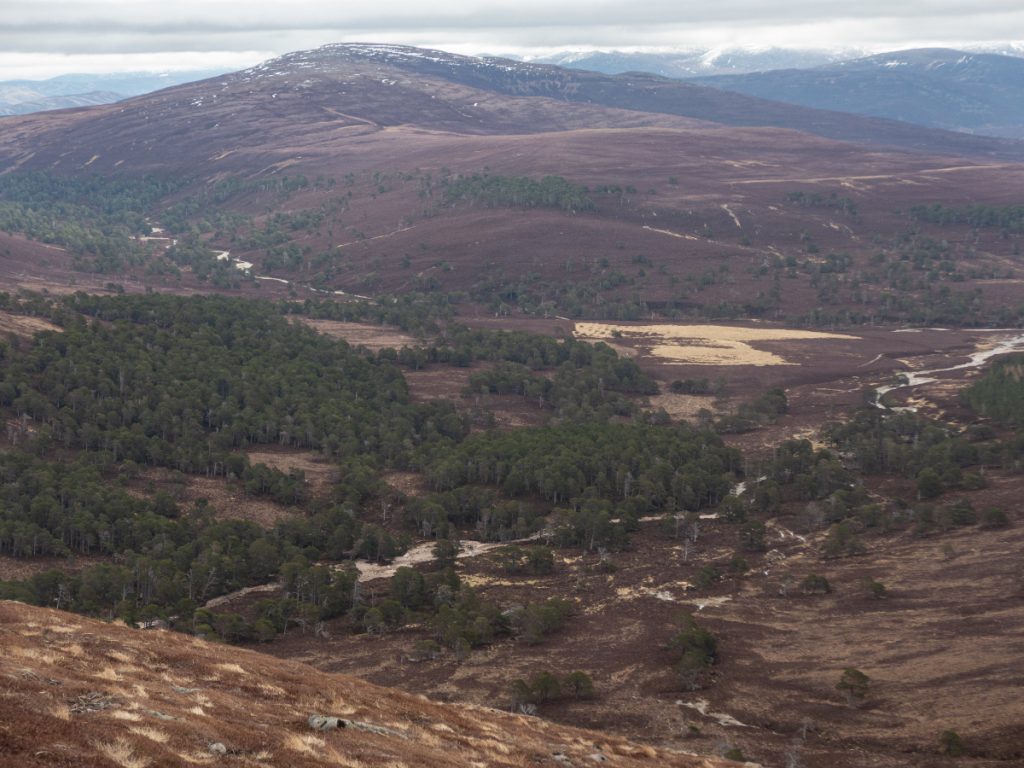 Poll Bhat gully crossed, it was on to the final ascent of Beinn Bhreac, and zig-zagging up the the scattered rocks it's easy to see why it's called the 'speckled hill'.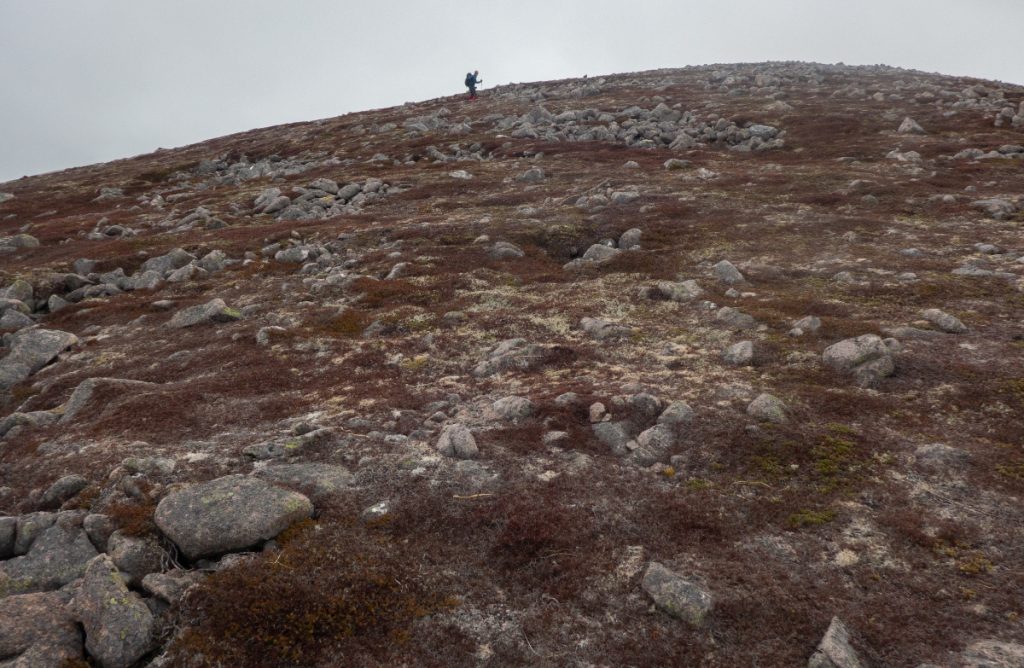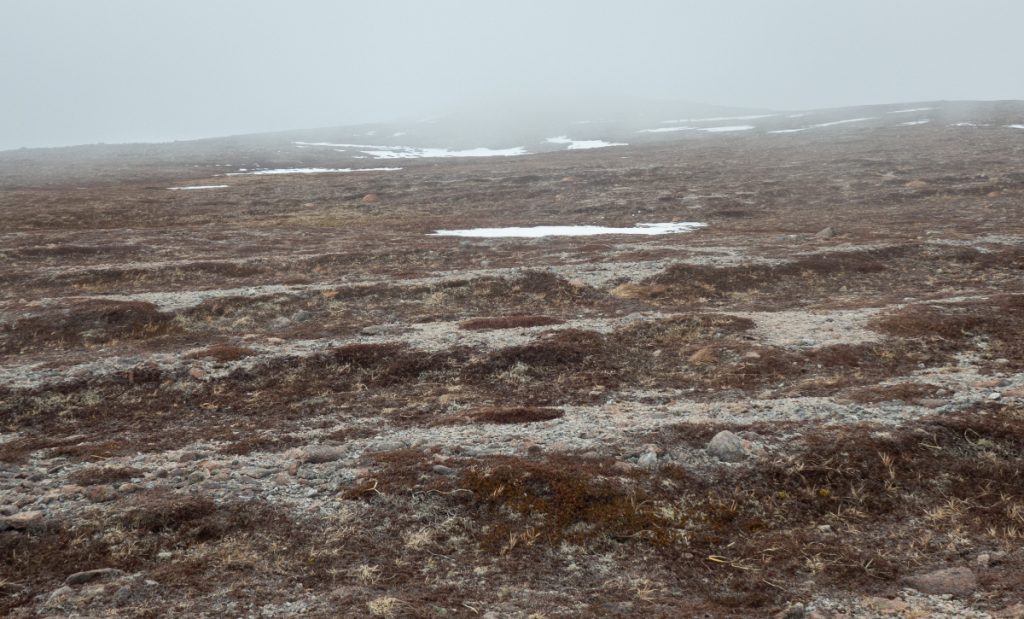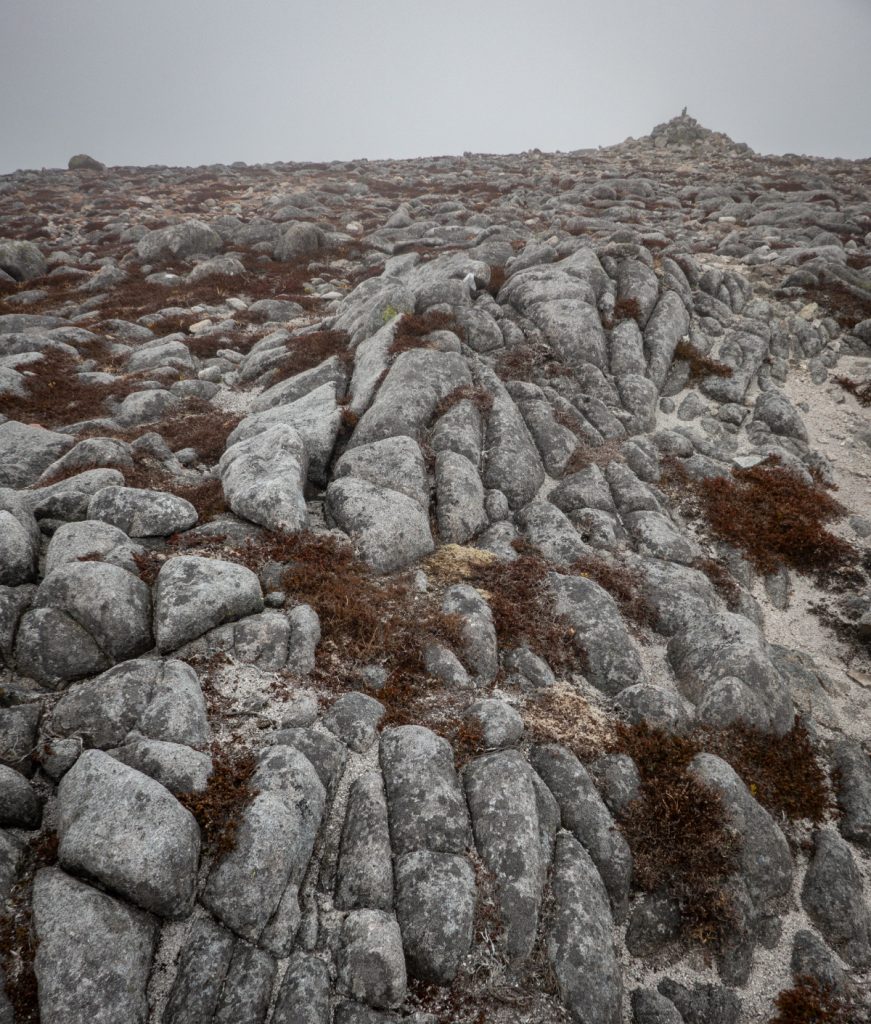 We'd entered cloud and there wasn't much of a view for lunch. I mentioned how I wanted to explore further north, and a few others joined me rather than returning back down to Poll Bhat and then to Glen Quoich which was the main plan.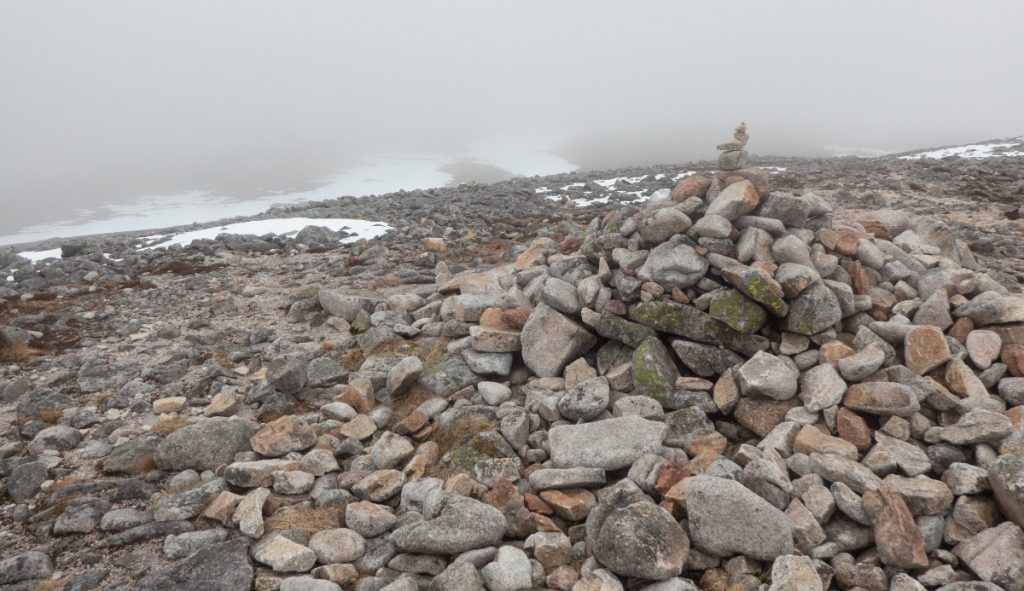 To the north of Beinn Bhreac the stream The Allt Clais nam Balgair tips from the boggy ground between it and Beinn a Chaorainn, into a steep rocky tumble. I wondered if it had snow tunnels, and whether it was a useful route down. Crossing a few snowfields, we peered over and there was sufficient snow-free terrain to make a safe descent. Although nothing much doing in terms of snow tunnels, it'd efinately be a contender in years of more snow later in the year. There were a couple spots but too precarious to reach.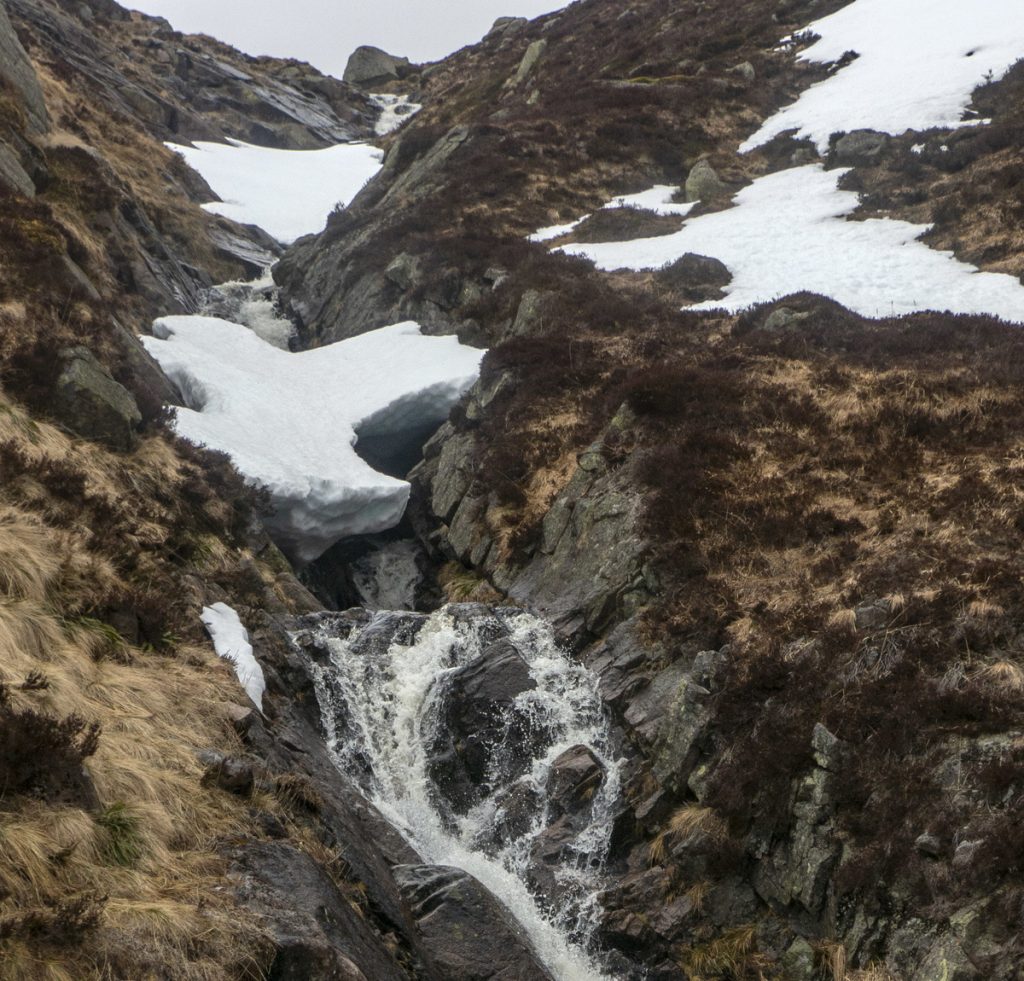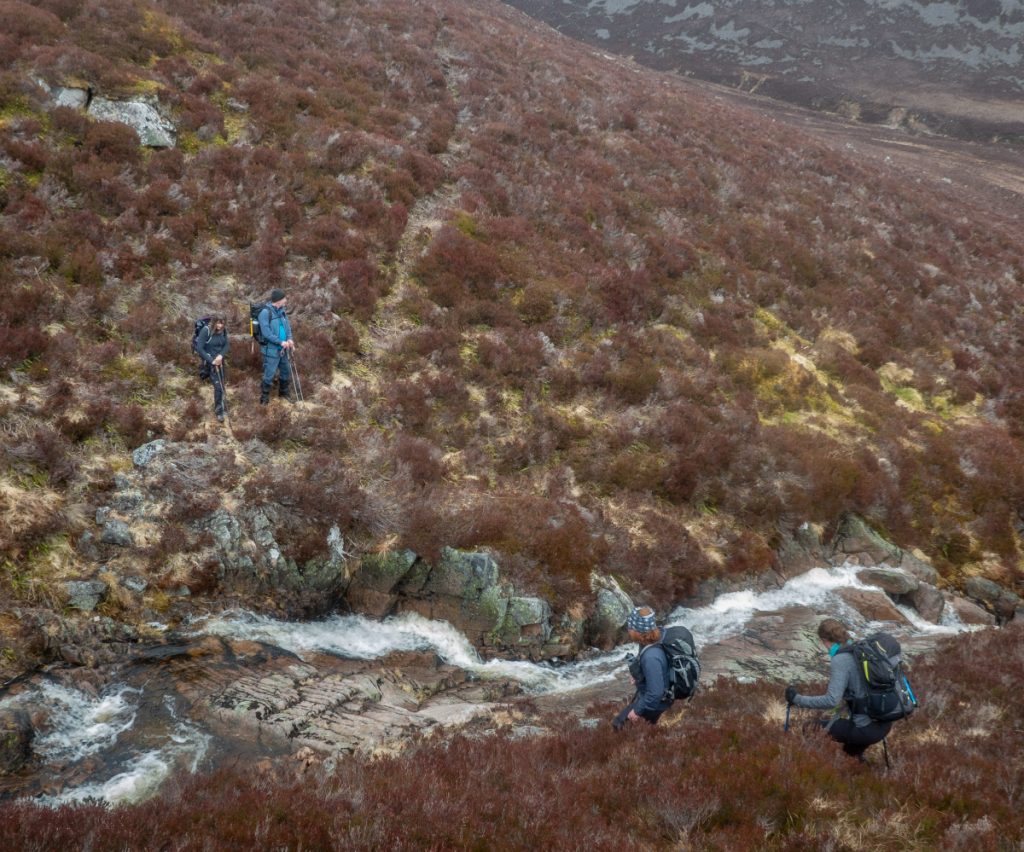 In the book 'Walking in the Cairngorms' by Ron Turnbull, he mentions a gully scramble route up to Beinn a Chaorainn via the Allt an Agiadh Mhilis, and this was nearby and I was keen to have a look for future reference. The deer path invited us towards it.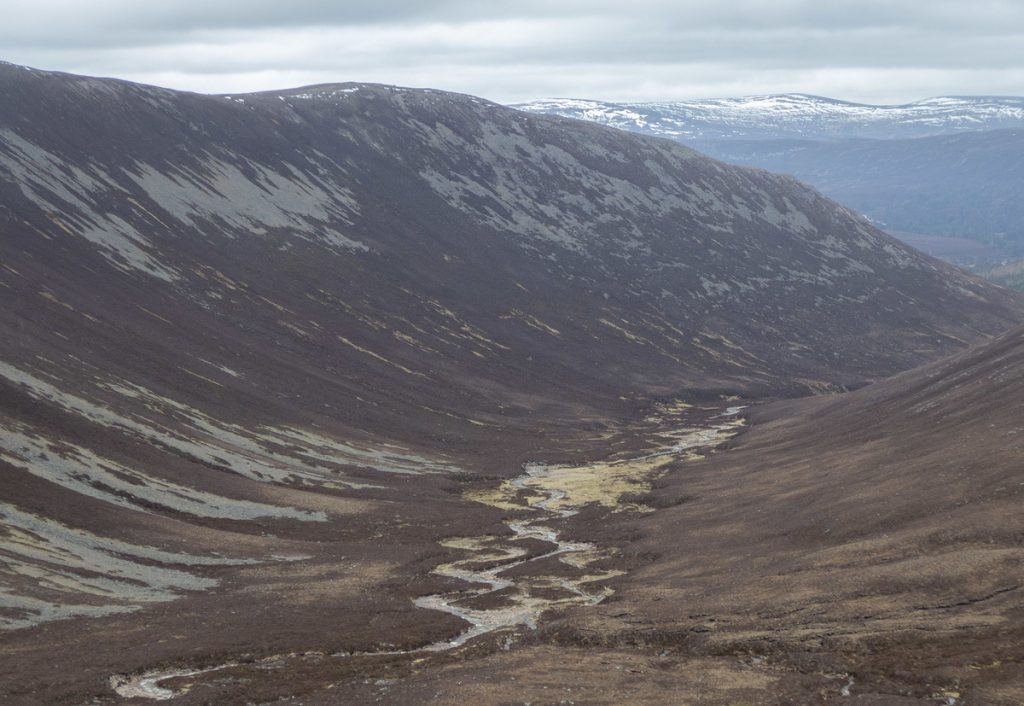 You can see the top of the crag peeping over, but it's only once close and heading down you see it's full extent: it's a very substantial gorge with sheer sides on the east, and steep slabs on the west. There's a narrow spur ridge to the south-west of it with a deer path teetering on top, from here we could see that there's some high waterfalls and overhangs: not a trivial way up, and one for low water in summer. We needed to begin our homeward journey so didn't venture further down into the gorge.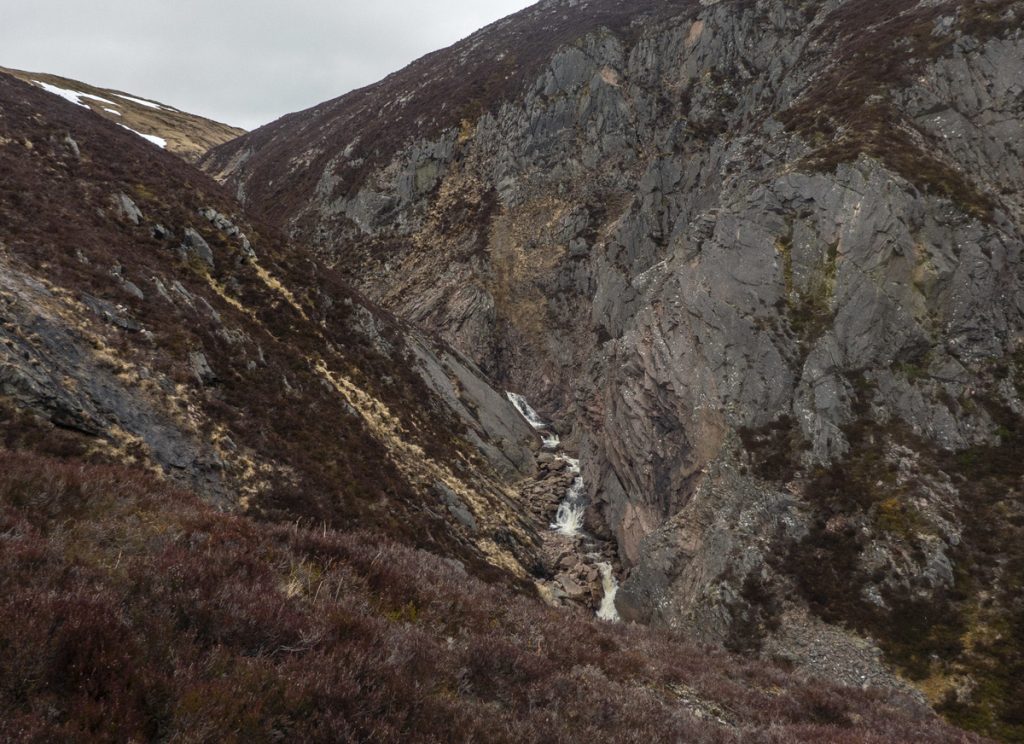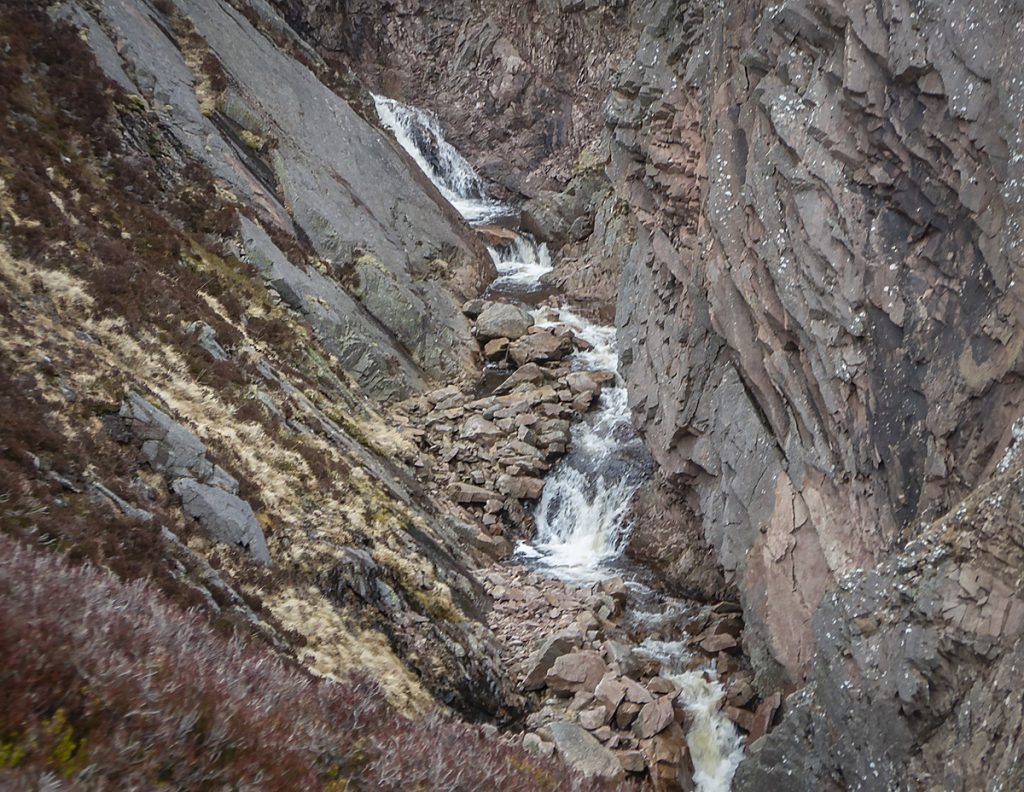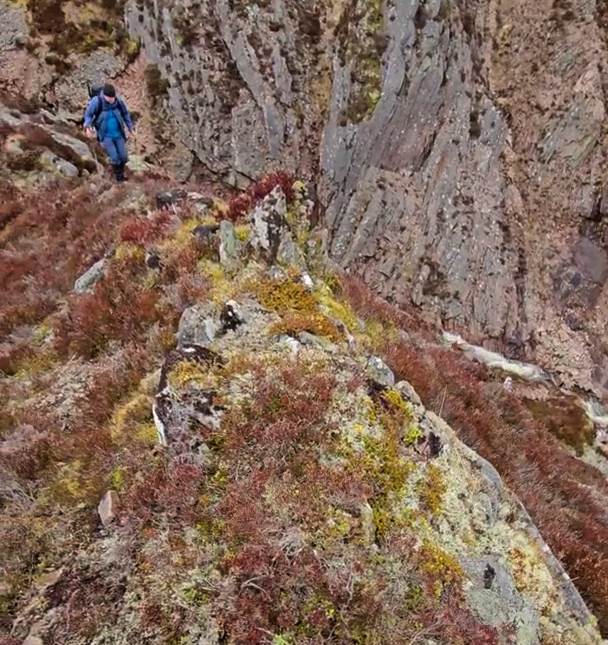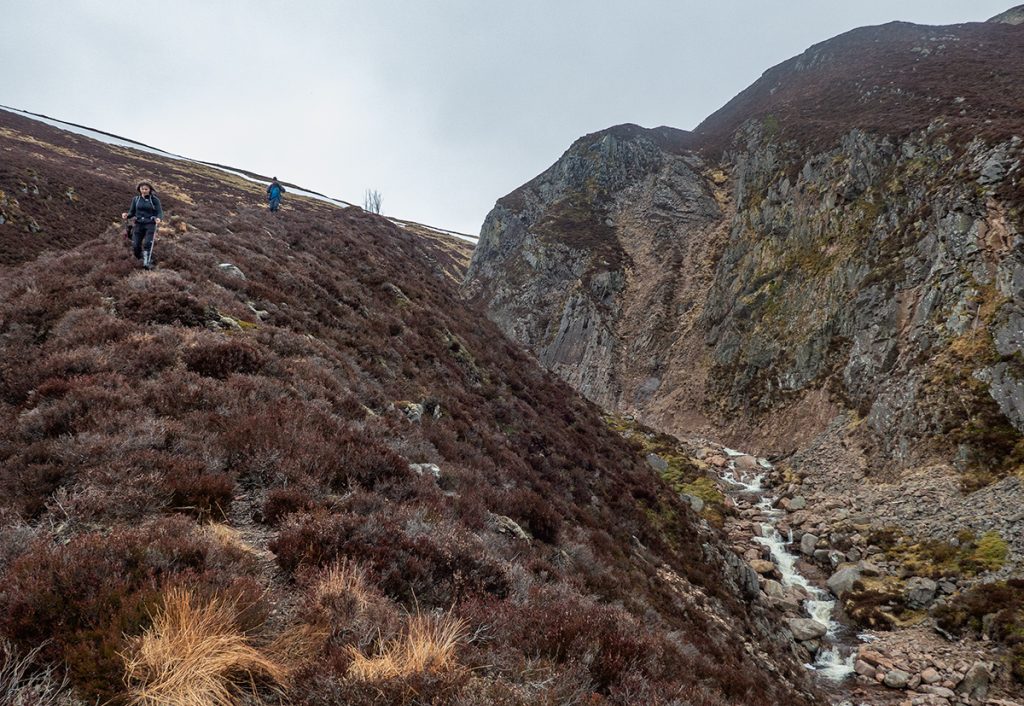 Below the gorge the river joins another tumbling stream, the Allt Coire Ruairidh before mellowing through flatter terrain, with a scrape of a path on the west bank, and then winding through old pine woods where the path peters out and the ground becomes boggy and tussocked.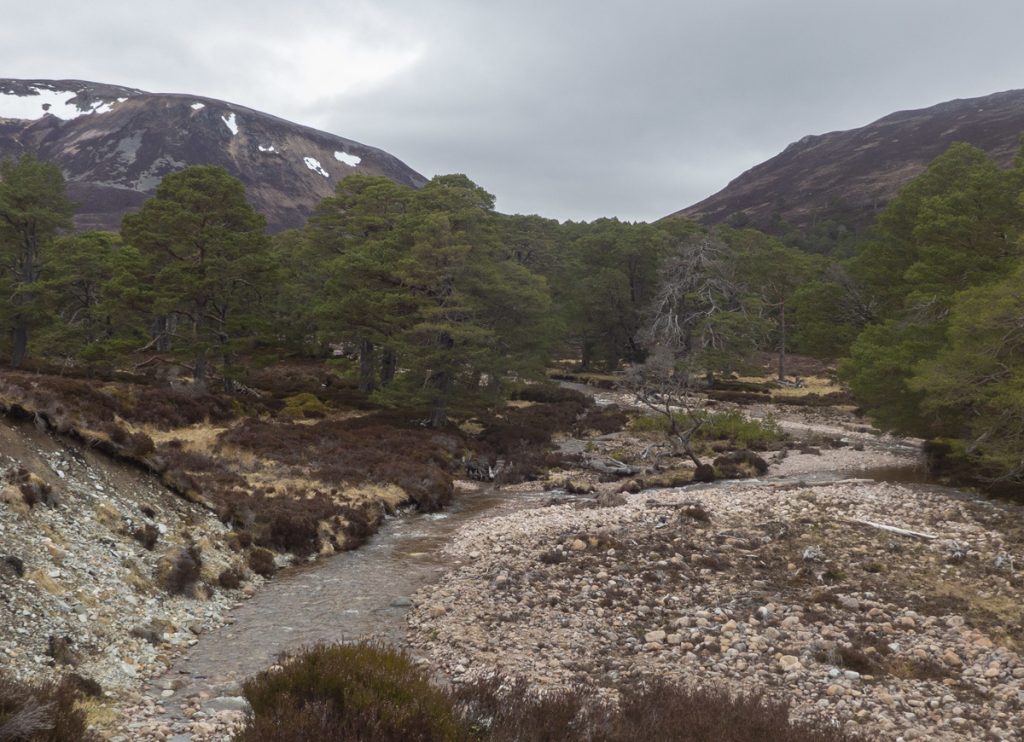 Below Meall an Lundain, there's a plantation and a boggy forestry track appears, before long we were onto the Glen Quoich 'road' with it's questionable new climb section snaking uphill. With time running out (we'd arranged tables at a Braemar pub for food), we put the hammer down rejecting the superior west side of the Quoich to stay on the road an catch the main group who'd descended earlier.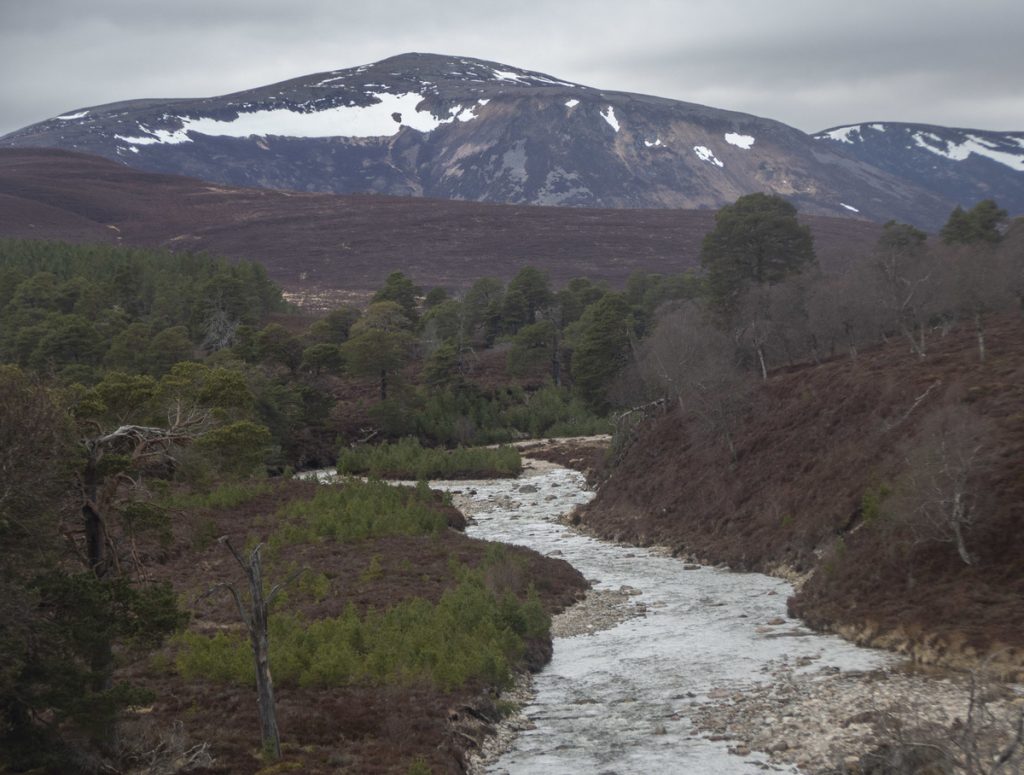 A quick detour to the punch bowl, then it was all aboard the minibus for food and drink in Braemar. Some useful recce offshoots today, a few new nooks explored.