I've been neglecting two wheels in favour of two feet recently, so time for a long overdue bike expedition. Despite a prevailing Southern wind, I'd head roughly towards Stonehaven then inland for some forest action on the way back.
A beautiful day for cricket in Duthie park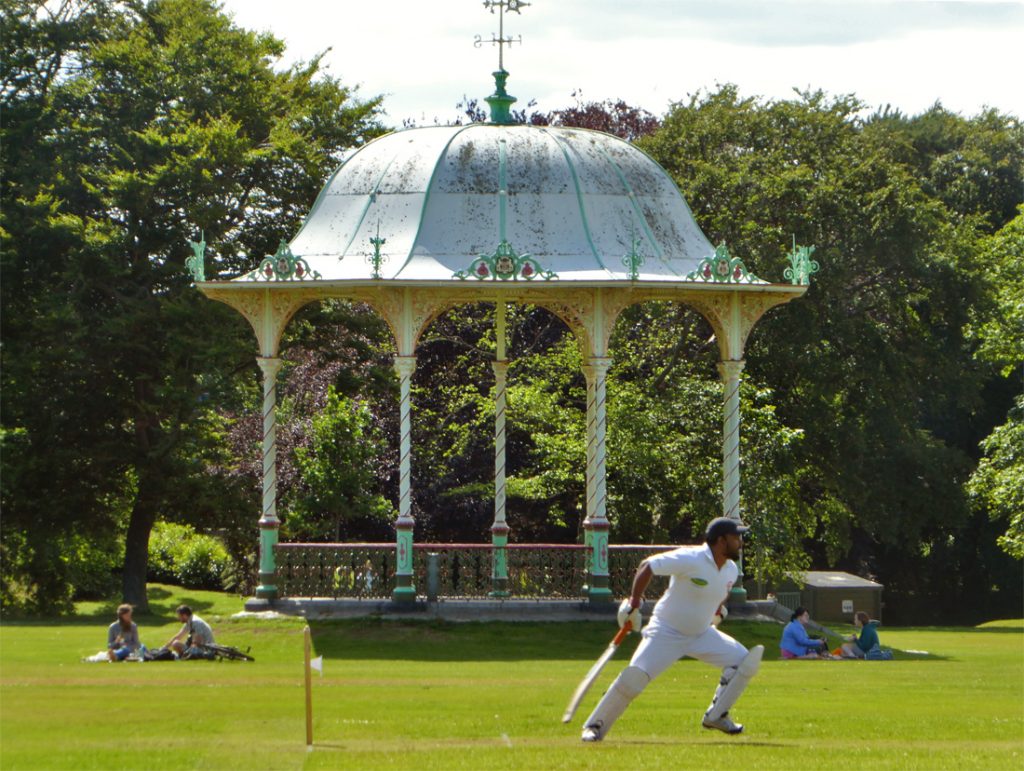 I'd heard rumblings of destruction about Loirston Loch with iminent development encroachment, but not much evidence as yet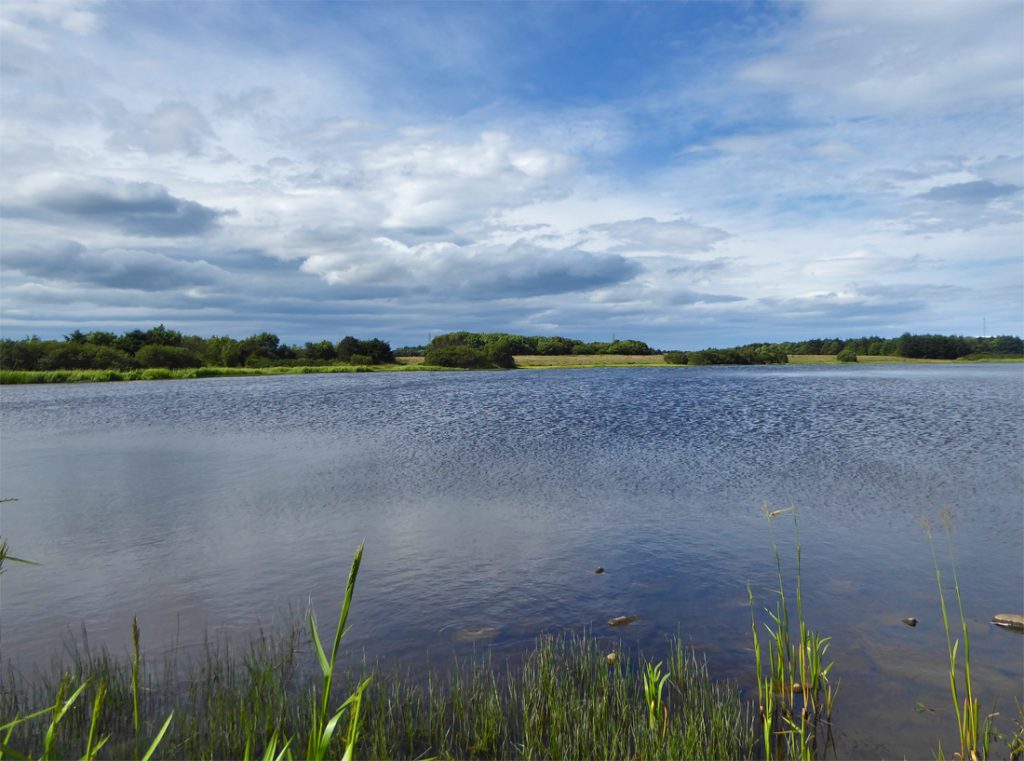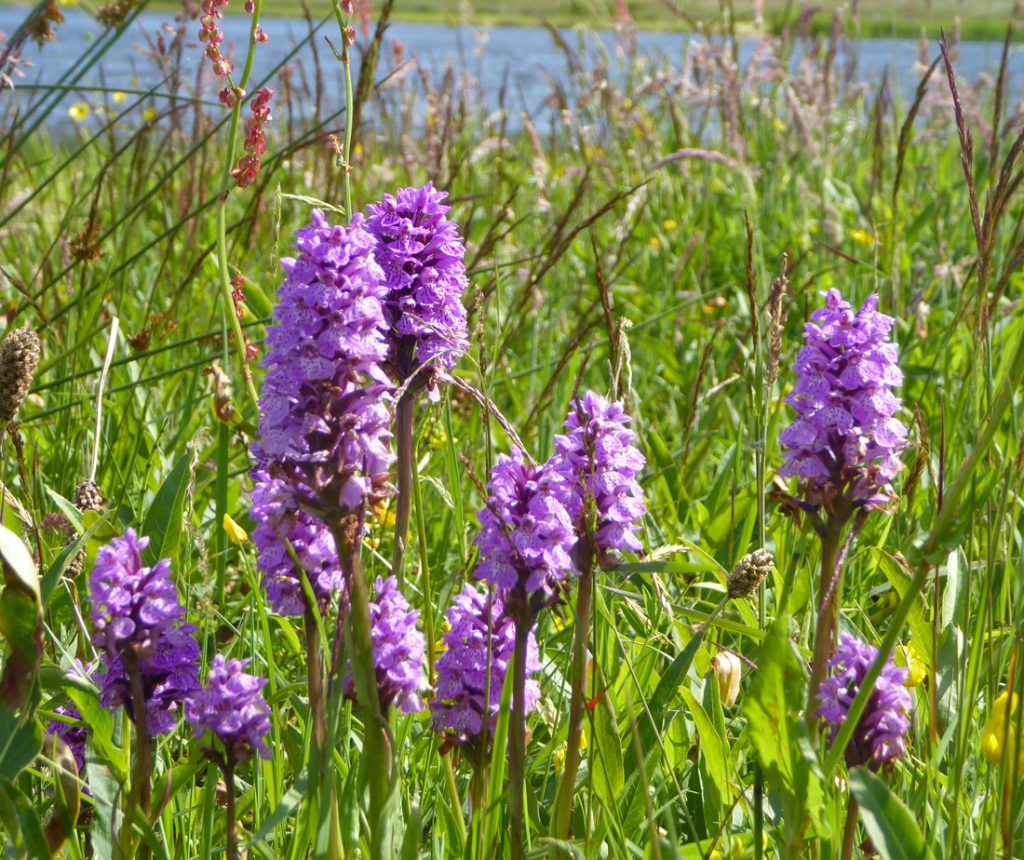 Ambling through the abundant plant life, there doesn't seem to be much happening on the wind whipped surface of the loch. There appears to be a small gathering opposite and a chap fishing.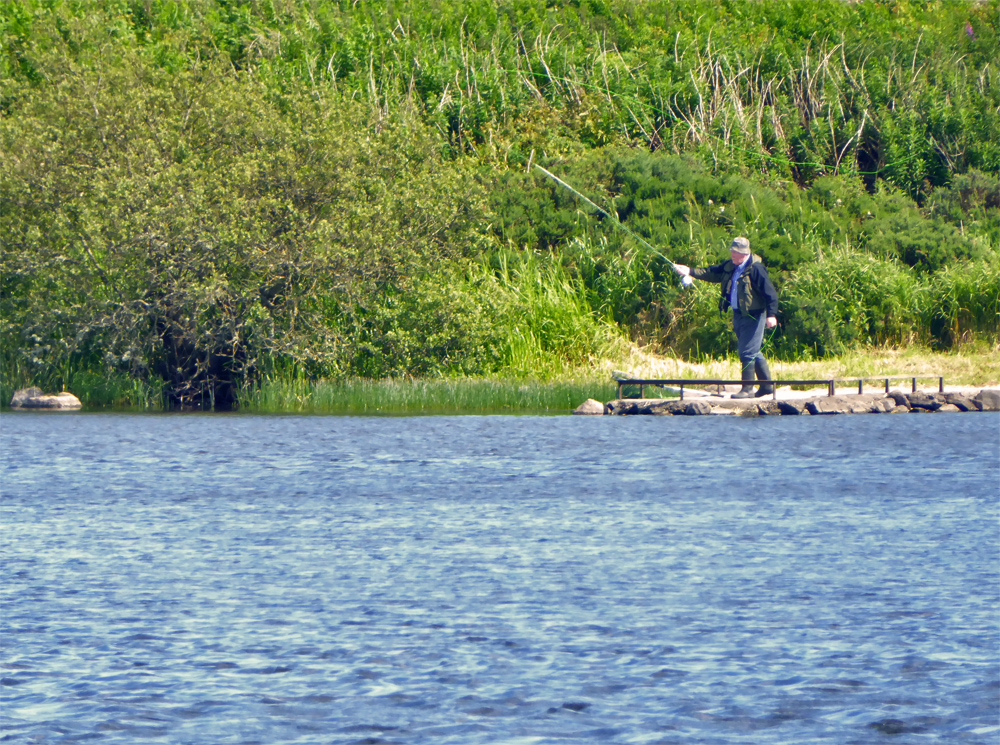 After squishing through the back of the loch, I stop for a chat with the fisher, who asks if I saw the osprey catching a large fish, and then struggling to get airbourne…. the assembled photographers saw it and have just left. Kicking myself to miss such a rare opportunity through a lack of attention :-/ Nonetheless a good chat with the fisher about wildlife and the surroundings, they're always tuned in to the environment, spending deep time immersed there.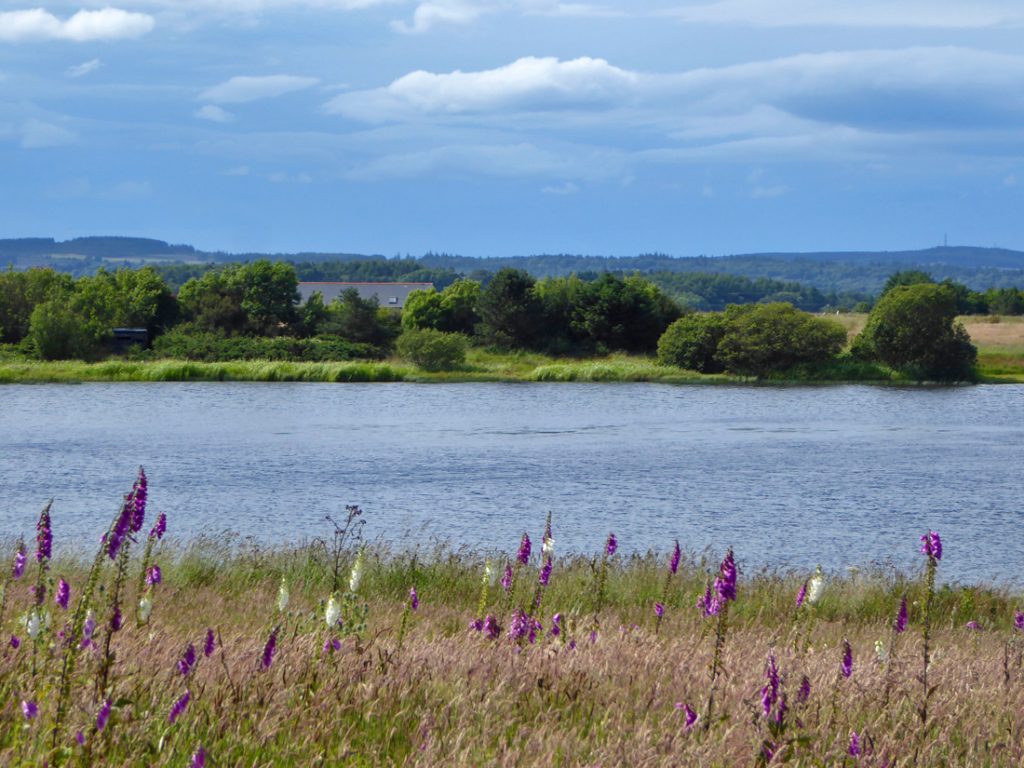 After negotiating the dreary suburbia of new portlethen, time to embark on following the ancient route called the Causey Mounth. So called because a causeway of rocks was built over Haremoss bog, and tolls collected at causeway port. It's the most Easterly of 12 passes through the 'Mounth' hills. Over the ages, the Roman army, Edward III, Oliver Cromwell, Dr Samuel Johnson and Robert Burns have all trod this trail.
http://www.megalithic.co.uk/article.php?sid=17932
Near Berryhill house, the OS map has the track entering woods, but I can't see an entry or wish to pass in front of the private house. After crossing the road to a gate I bushwhack SE through a boggy and overgrown field with hopes of joining it after the woods, meeting a fox on it's rounds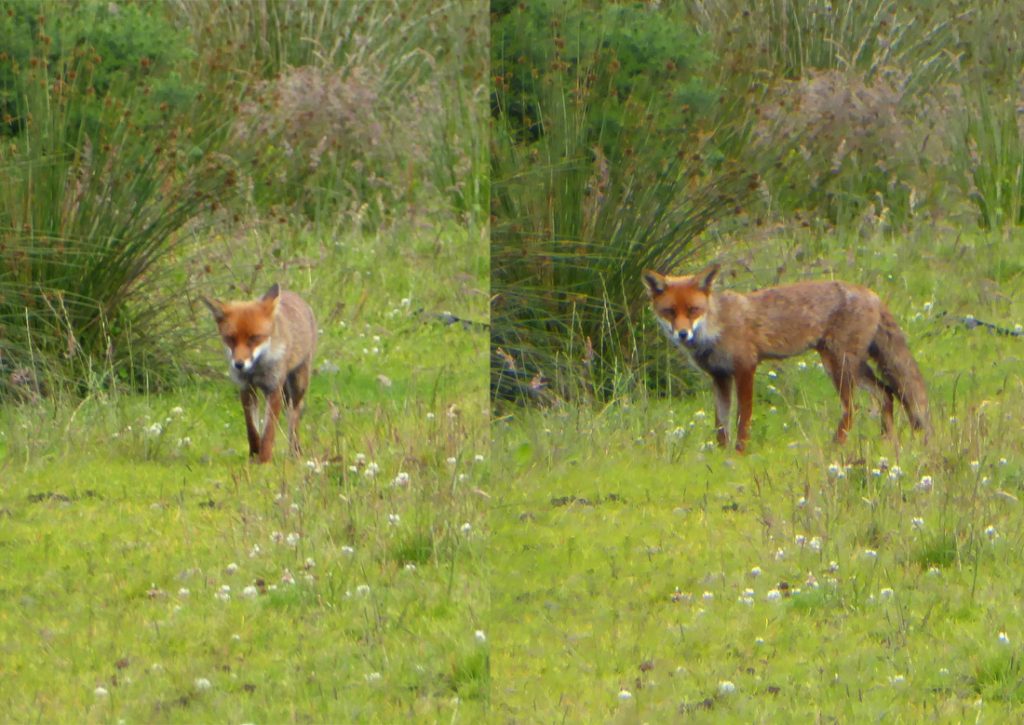 The next field of pasture has an electric fence and carefully limbo'd provides onward passage to the route proper, but first I notice a stone: later investigation will show it to be 'Hilton of cairngrassie standing stone'.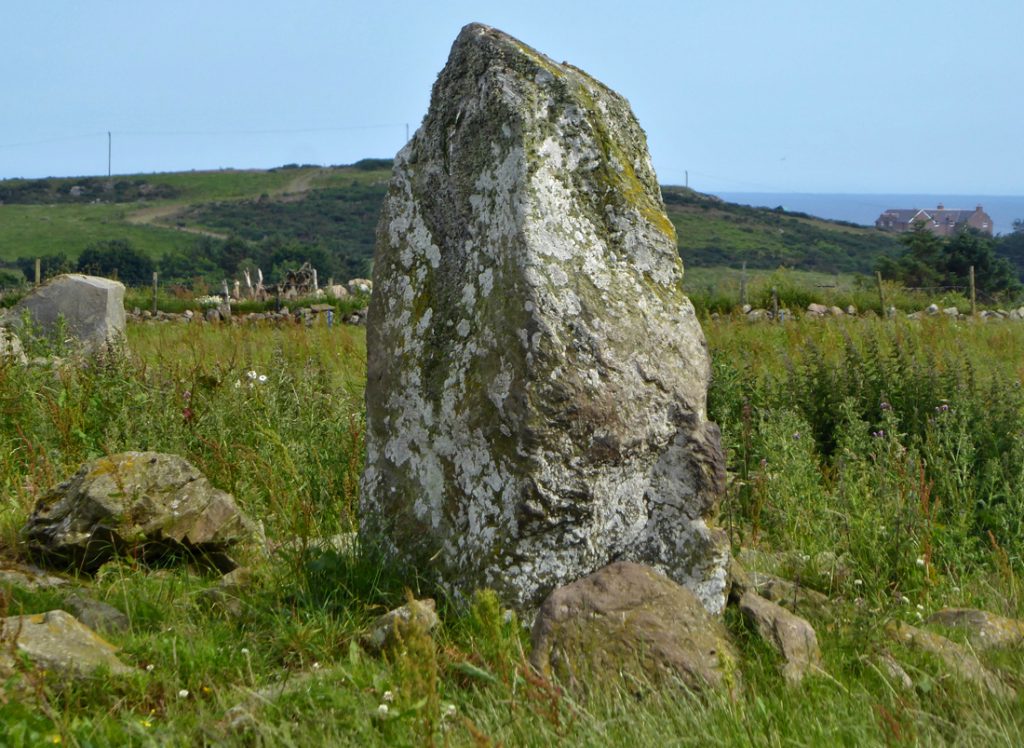 The field near the stone. Fortunately the coos stayed the far end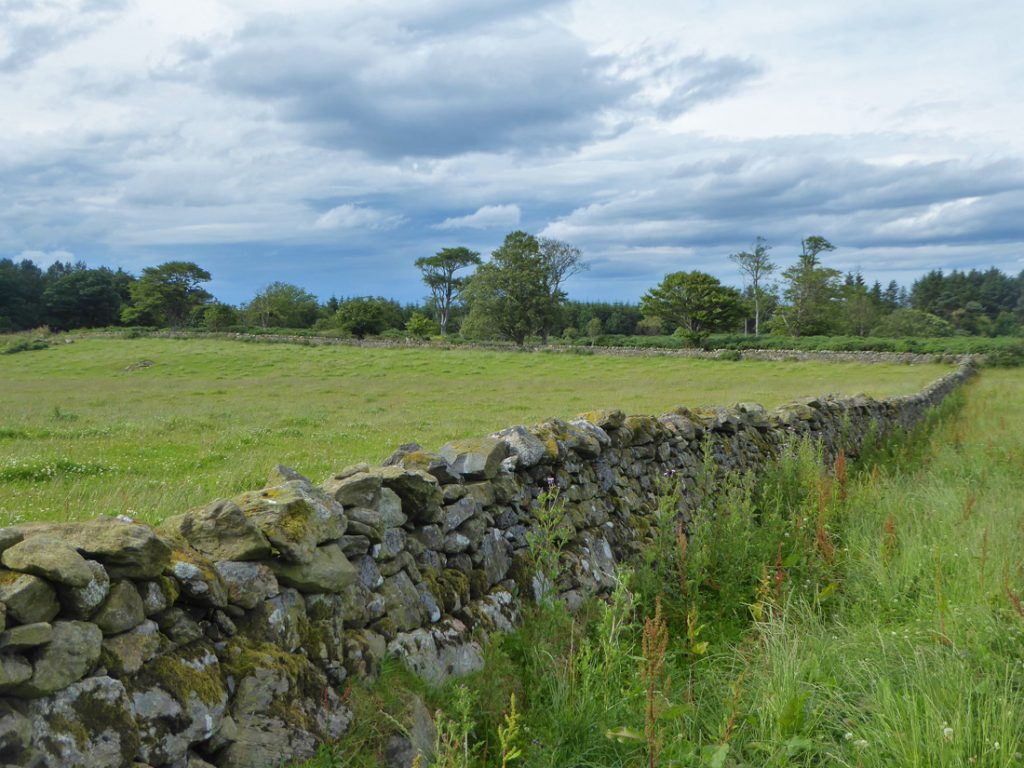 2 unexpected discoveries is fair exchange for 10 minutes of bushwhacking.
Over a fence the trail reappears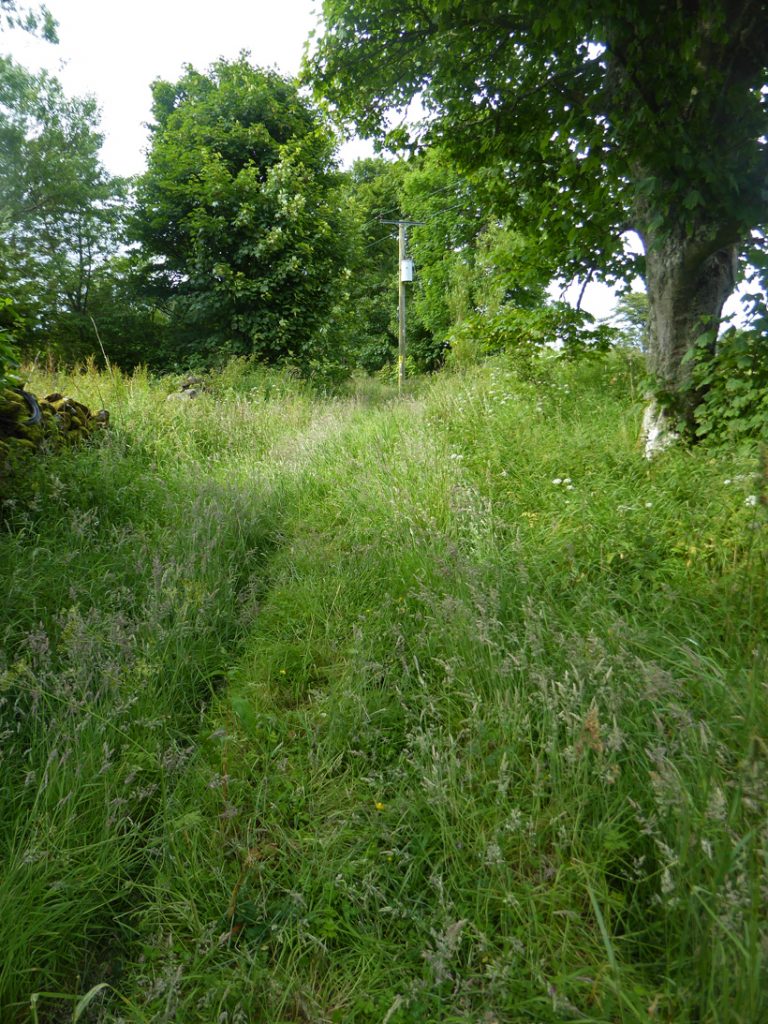 A quick snack break had at the farm ruins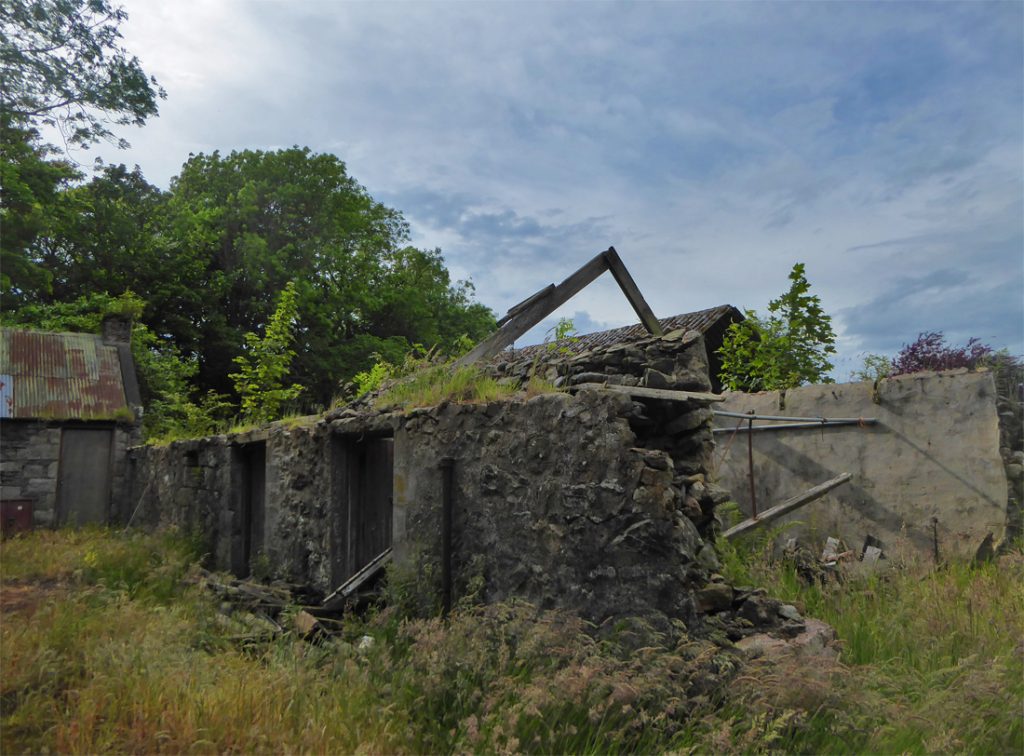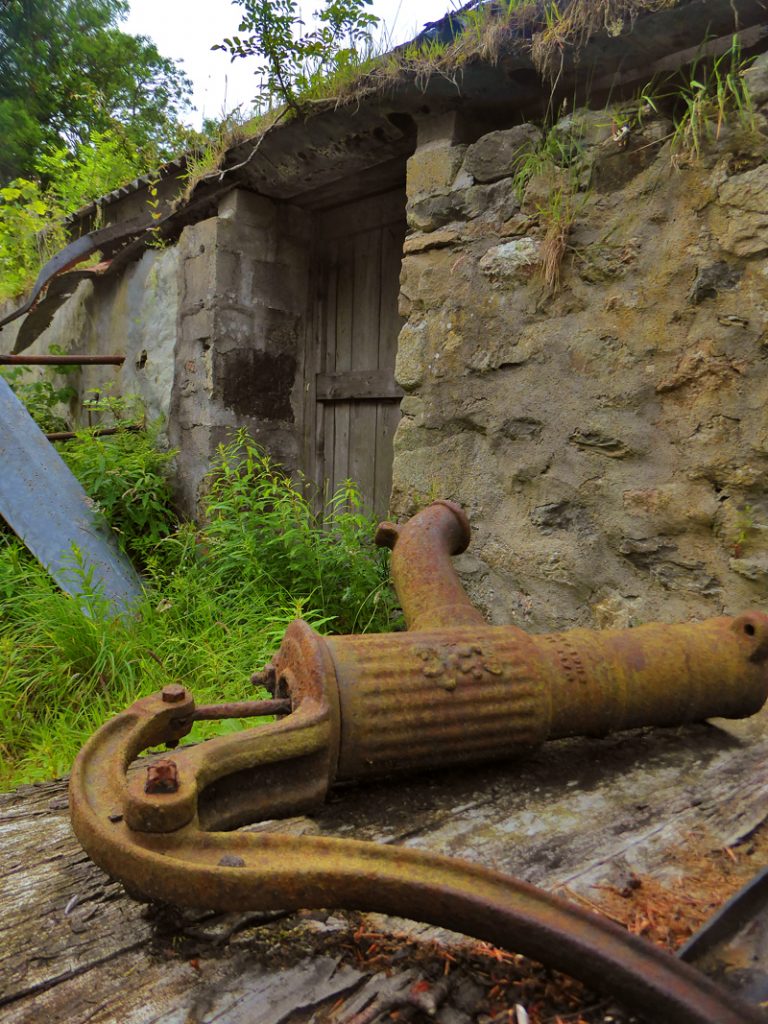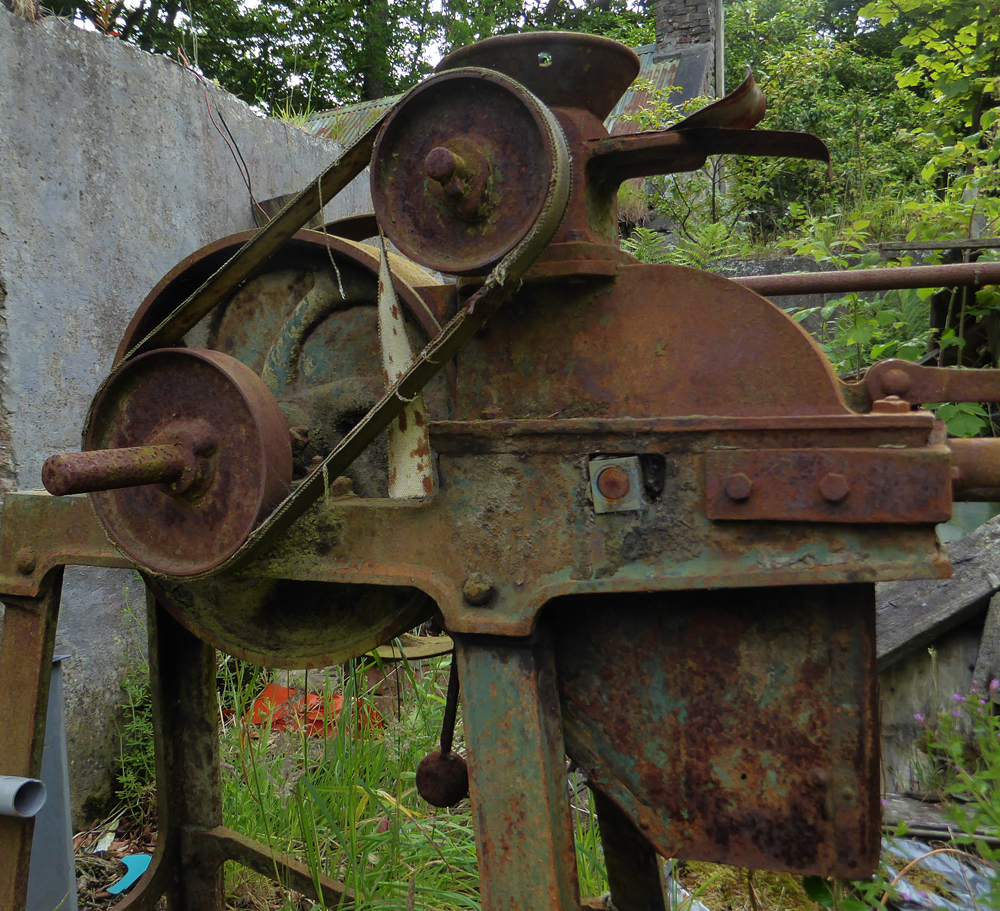 Onwards down the Causey Mounth – both lang and stracht and well surfaced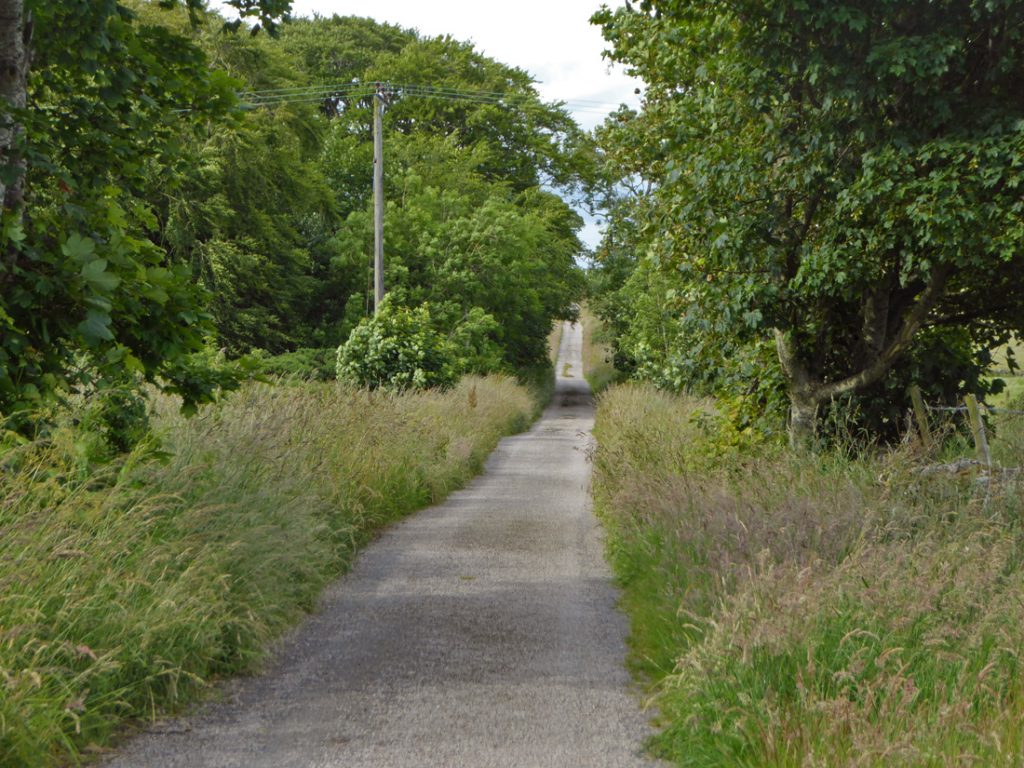 New cottages pepper the roadside, ensuring at least part of the route will remain open. Opposite, a tree with rocks resting aside for some unknown reason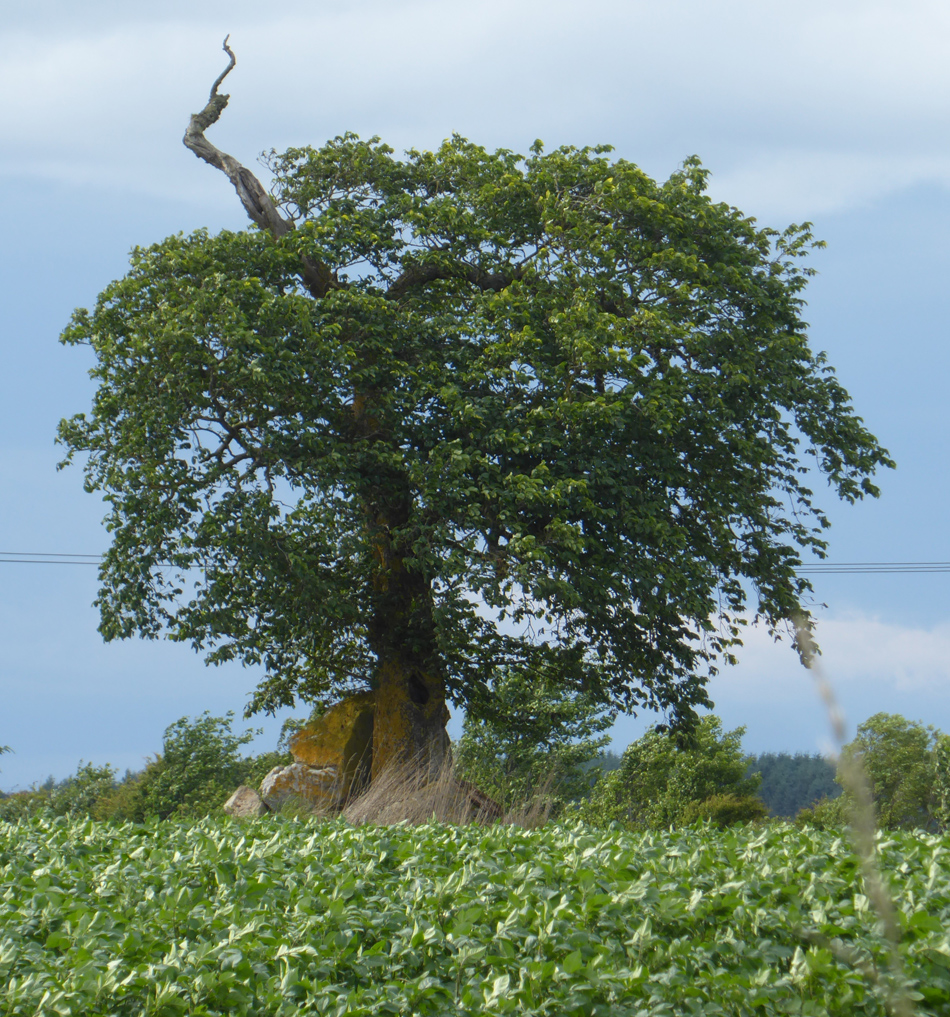 Climbing up to windyedge, the track becomes rougher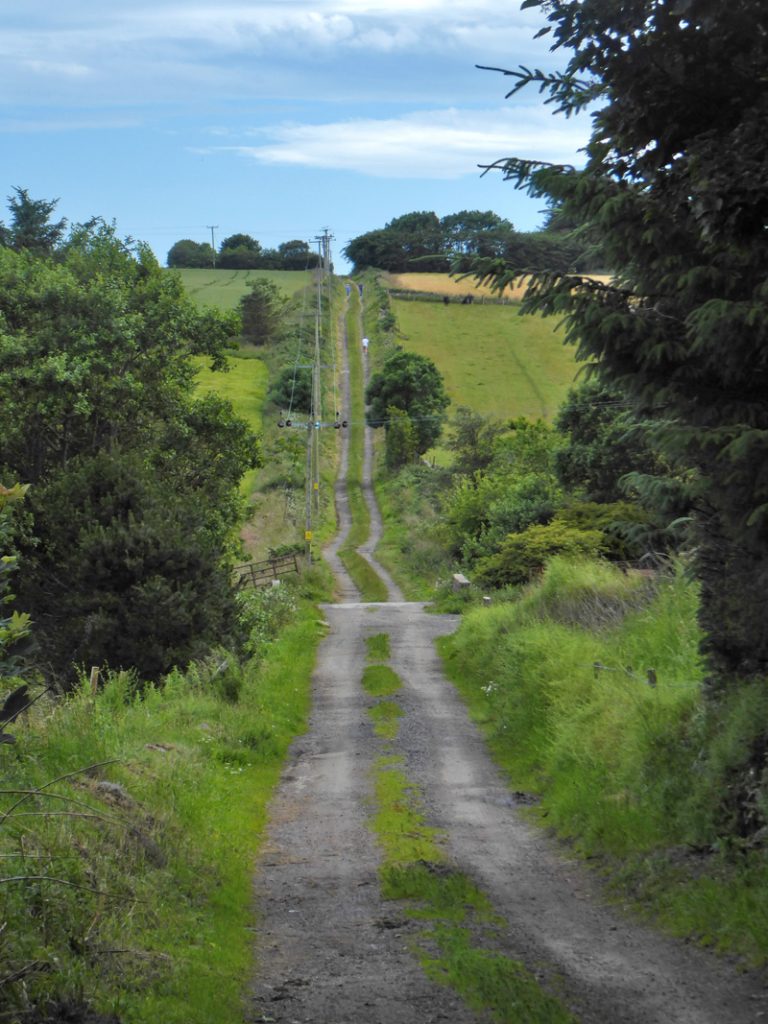 Approaching nether cairnhill, the sterile white boxes of the new Chapelton of Elsick mega development of 4000 houses edges out on to the otherwise contentendly unkempt rurality. The narrow feeder road is rude with shop-zombies returning to their lairs, hungry to deparcel after another Saturday spent in the city mall-gawping, a-quiver with withdrawal from Moron Island (or whatever passes as the latest must see reality TV rubbish) on their 50″ shrine, resigned to another evening of slouched remote-poking.
One wonders if the shallow ford burbling past Nether Cairnhill, with a thousand years of wetting the weary feet of travellers and beasts alike, will not see another decade before being sanitised into a plastic pipe, to save offending the soulless denizens nearby. A few muddy soakings of Business mom's kids' precious designer trainers, or a splashing of Mr Golf's car-waxed Audi once too many times may seal its fate.
Past Parsonage the route dissipates into a field before reappearing briefly at Muchalls Castle, but I leave to travel inland via Burnorrachie, Fishermyre and Glithno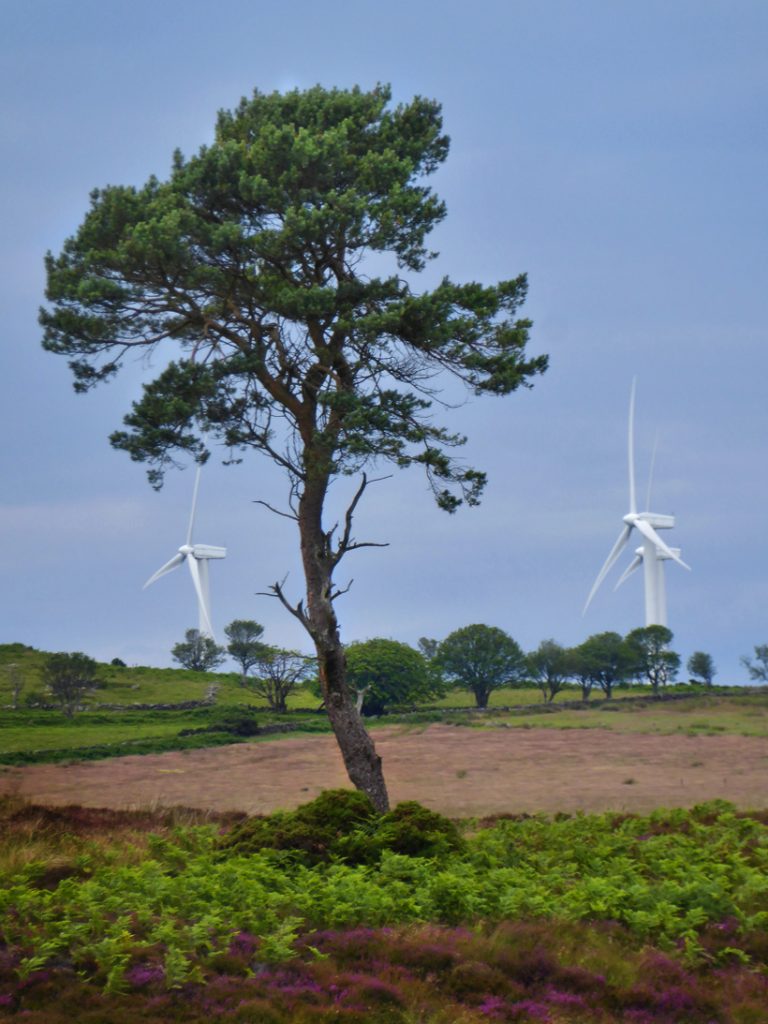 Looking to cross country to the isolated Houff of Ury brings the 2nd bogwhacking session of the day, around a field, across the Houff burn, soaking up squishy bog, scattering deer. Over a couple of fences and 'gunshots' have been growing louder, worried I may intrude upon a shooter but concluding that the single bangs regular period, and proximity of new sprouted crops, means the source in another copse by the Houff is some automated bird scaring device.
Through the gloom of the copse the howff emerges, a resting place of generations of the upper echelons of landownery for many miles around.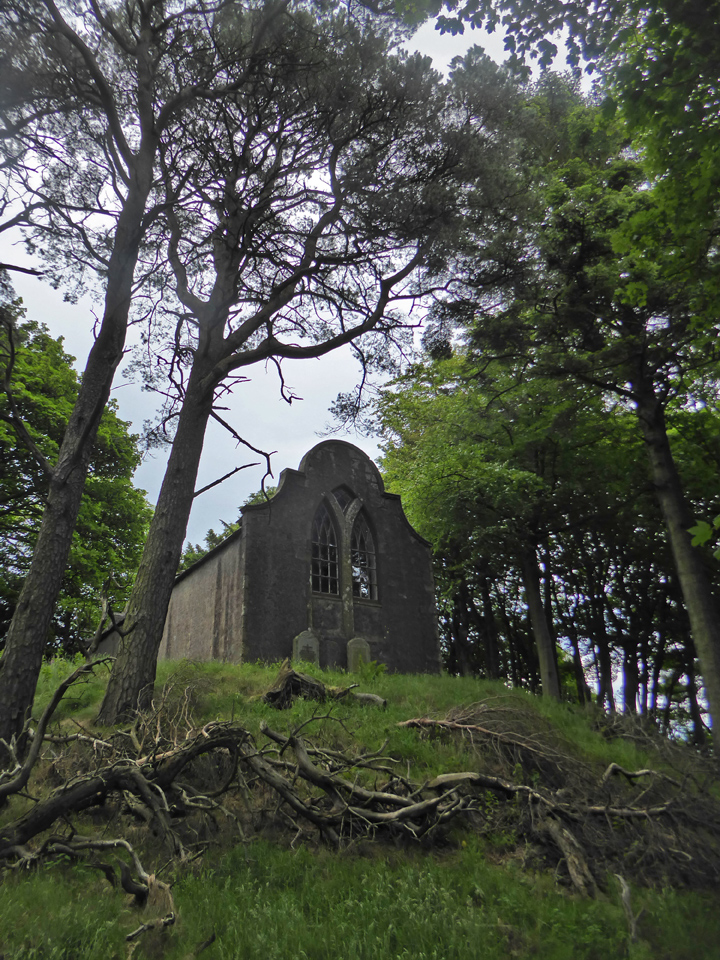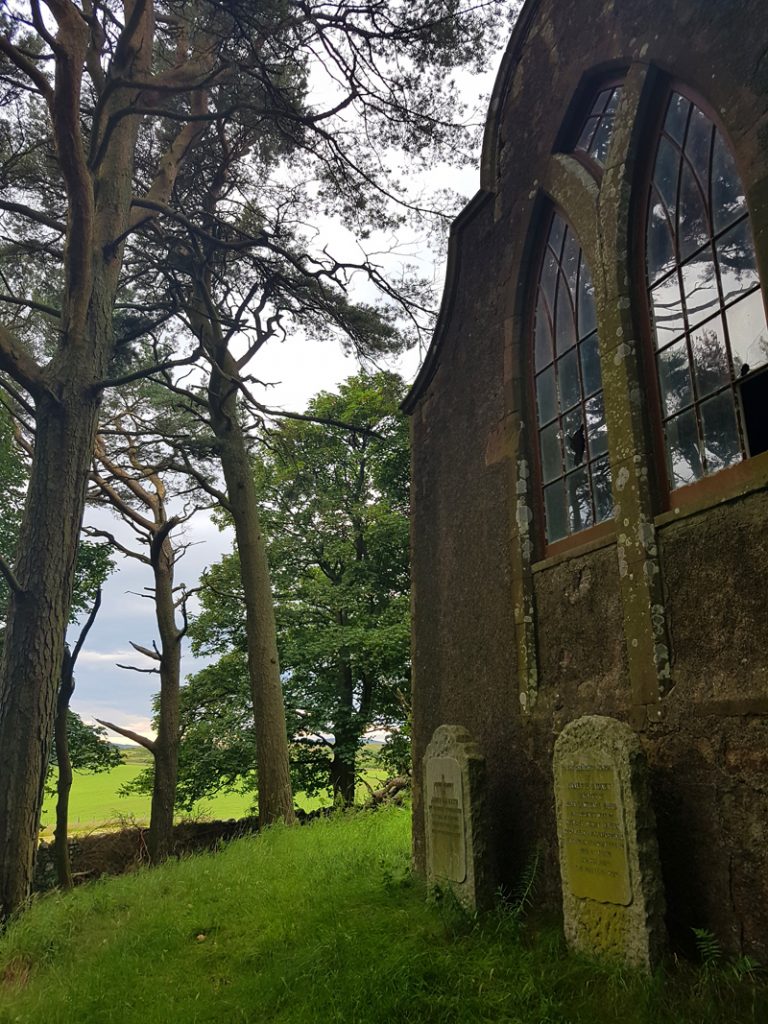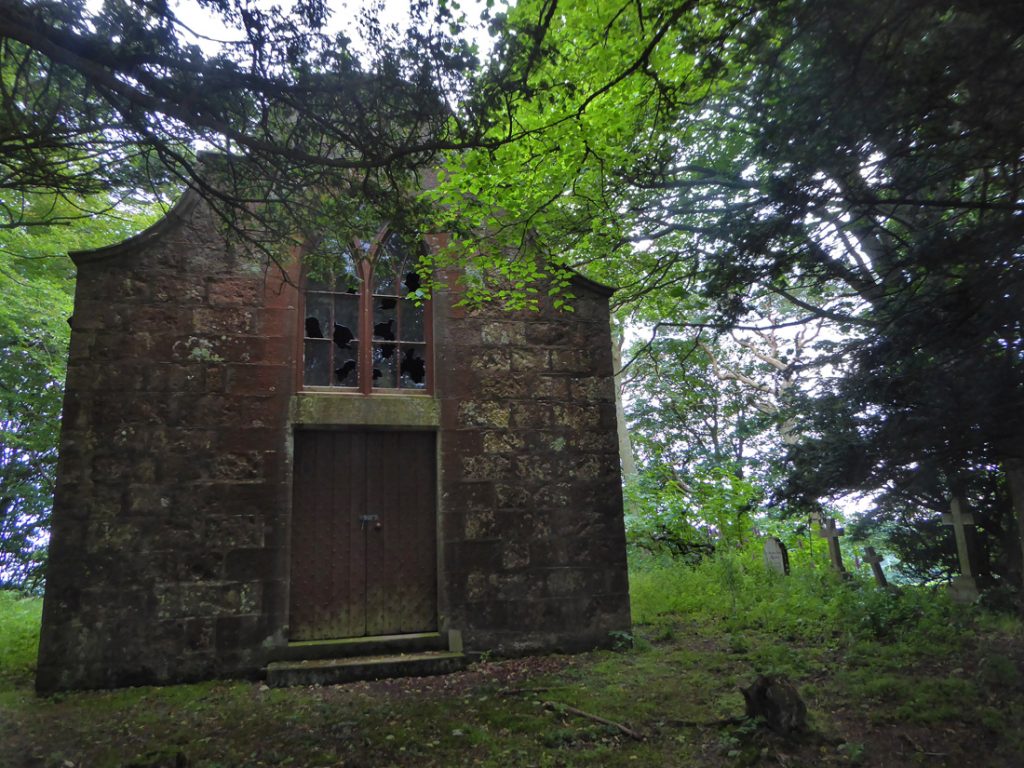 Unfortunately vandals have had their way with panes but overall the building is quite sound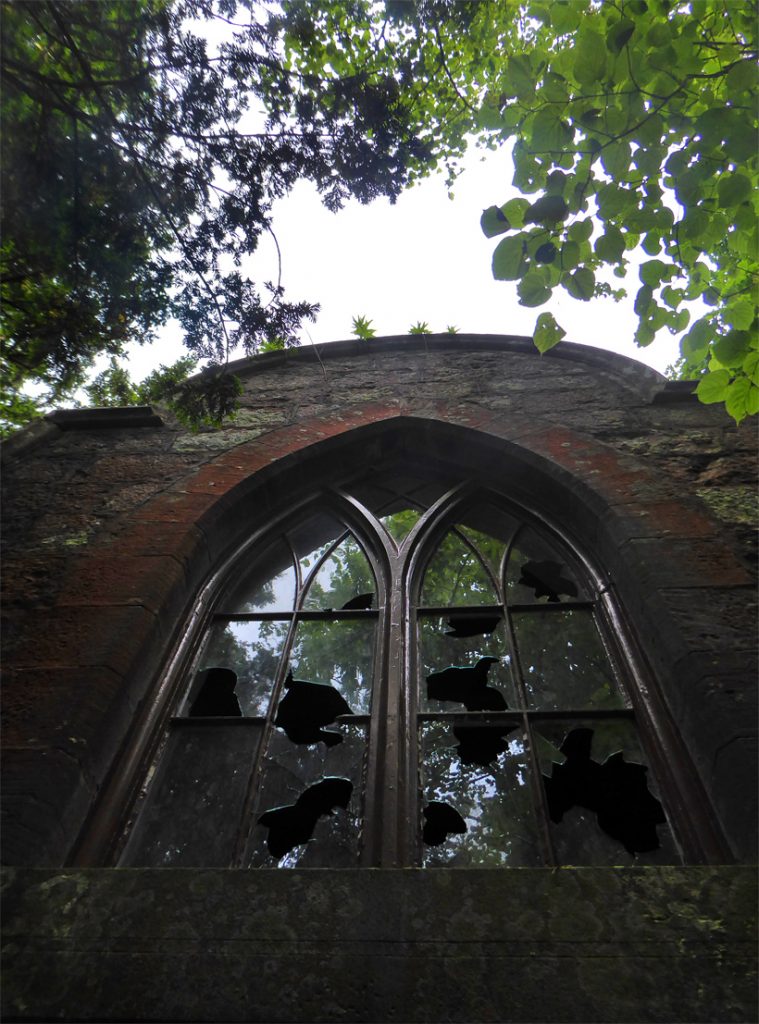 Locked with a twig, it is possible to enter.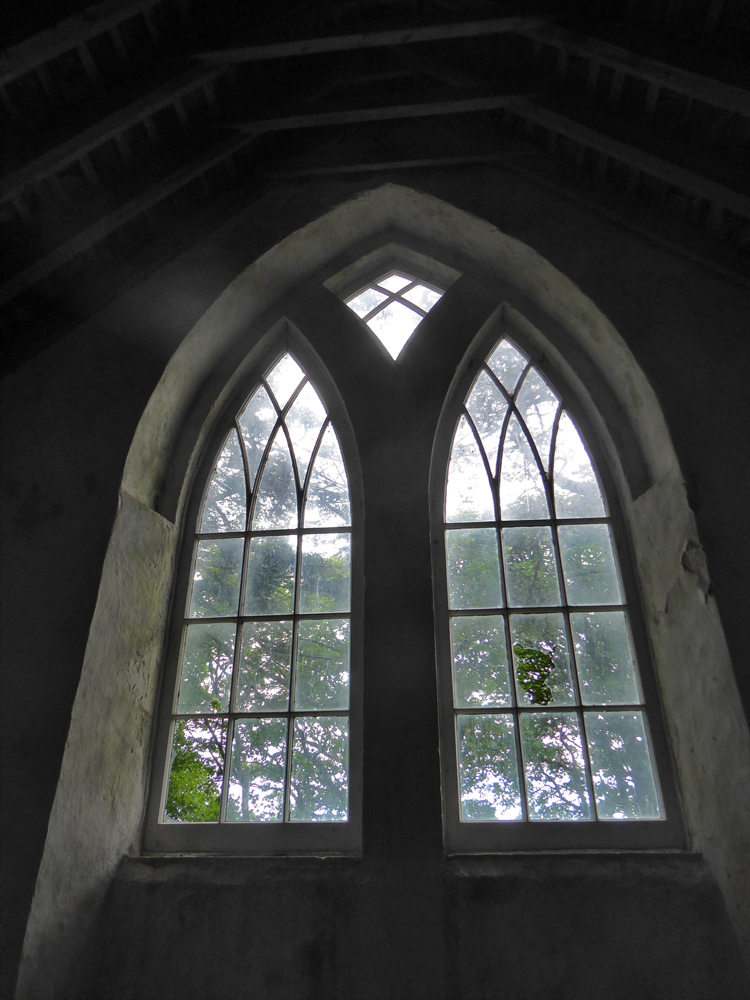 There are shields of memorial going back many centuries, the southern section for the Barclays, and the newer Northern section for the Bairds.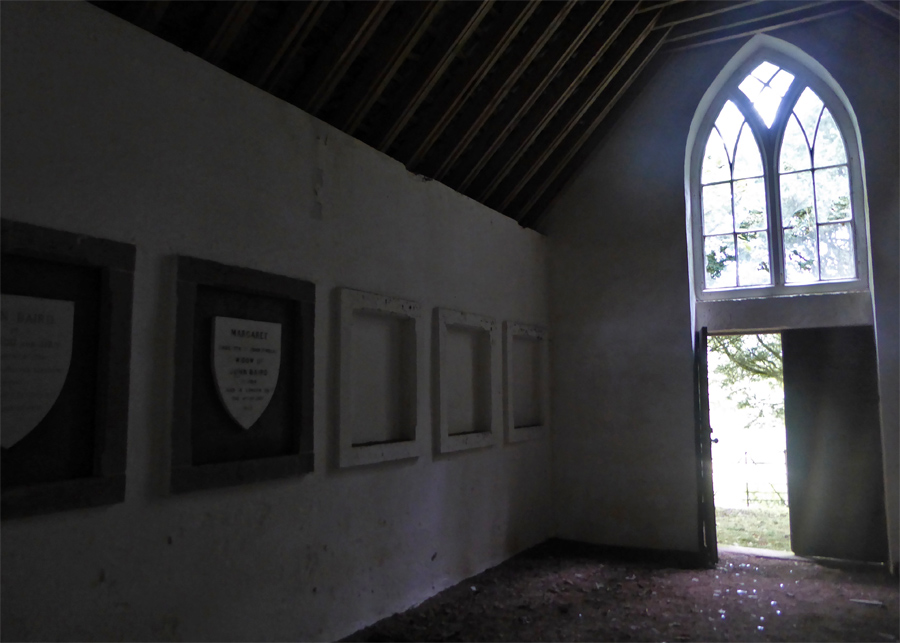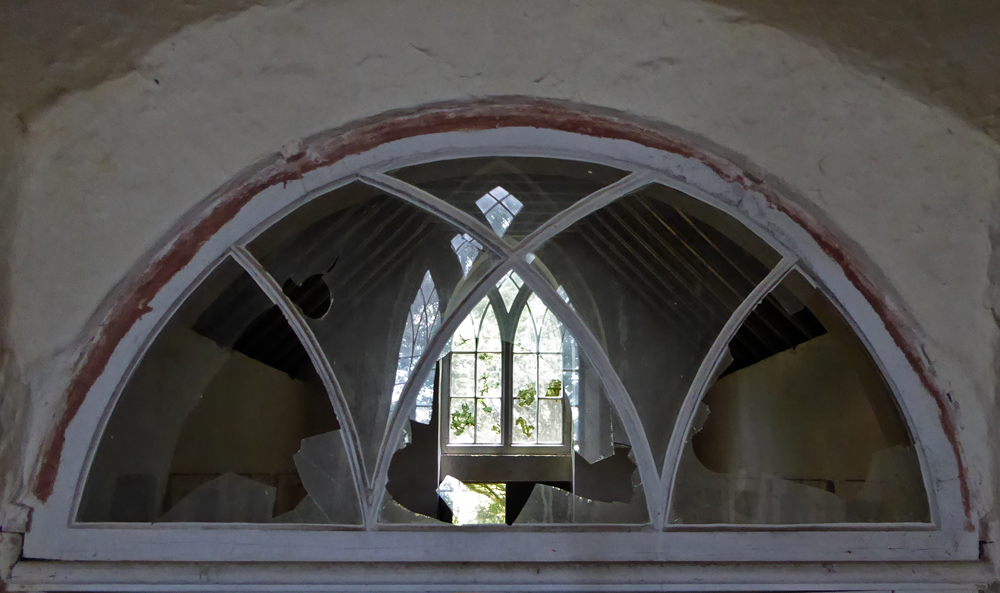 An interesting plaque covering tales of nearly a millennia, a hard read without breaks, but a long time to fit in a short space. The inscription is the same as is here, starting with "Theobold De Berkeley born A.D 1110 lived in the time of Alexander the first and David the first, kings of Scotland..".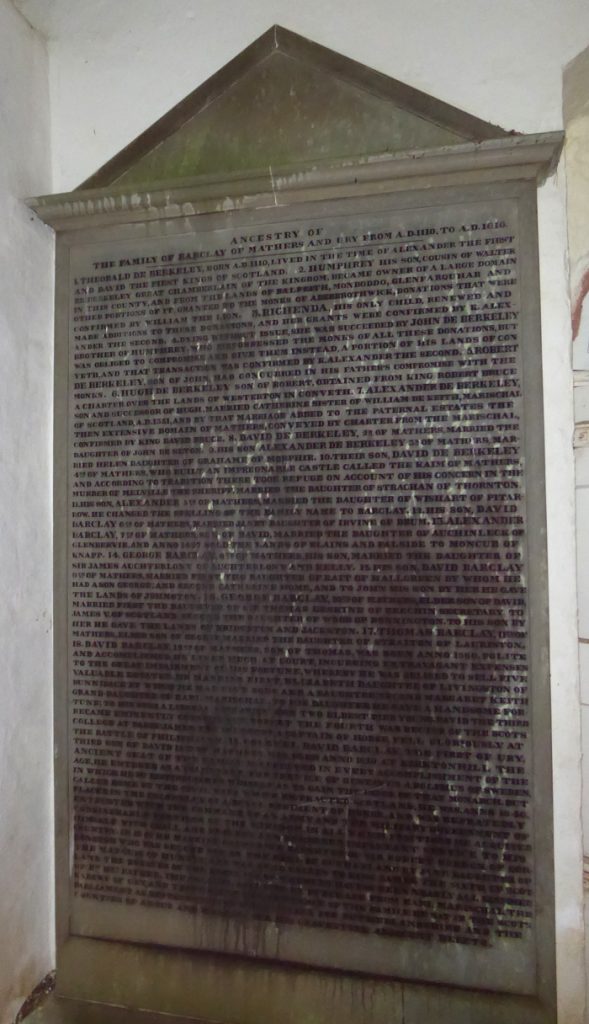 It's pretty much the tale of any and every land; a long time ago massive swathes of land were handed to a few, who then charged the occupants for the privilege and grew rich. They then bought each others land or stole it, coalescing into bigger piles of wealth, continuing to this day. As Honoré de Balzac said, "Behind every great fortune lies a great crime"; if you go back in time far enough pretty much every grand estate is a result of somebody fucking over the little people by one sweep of a pen or sword.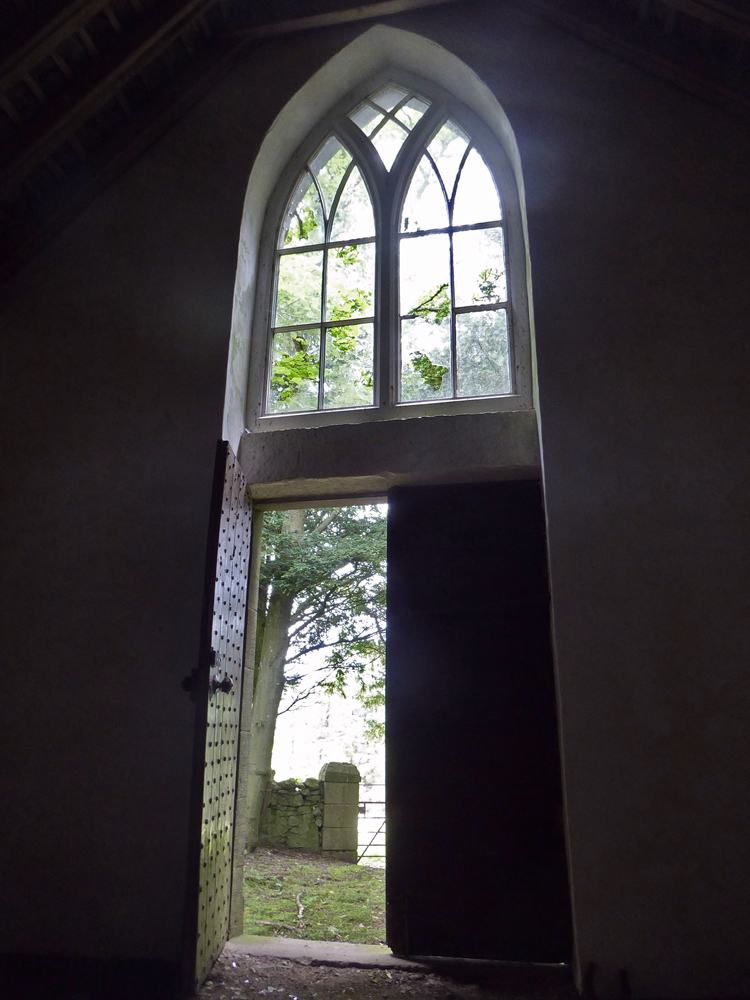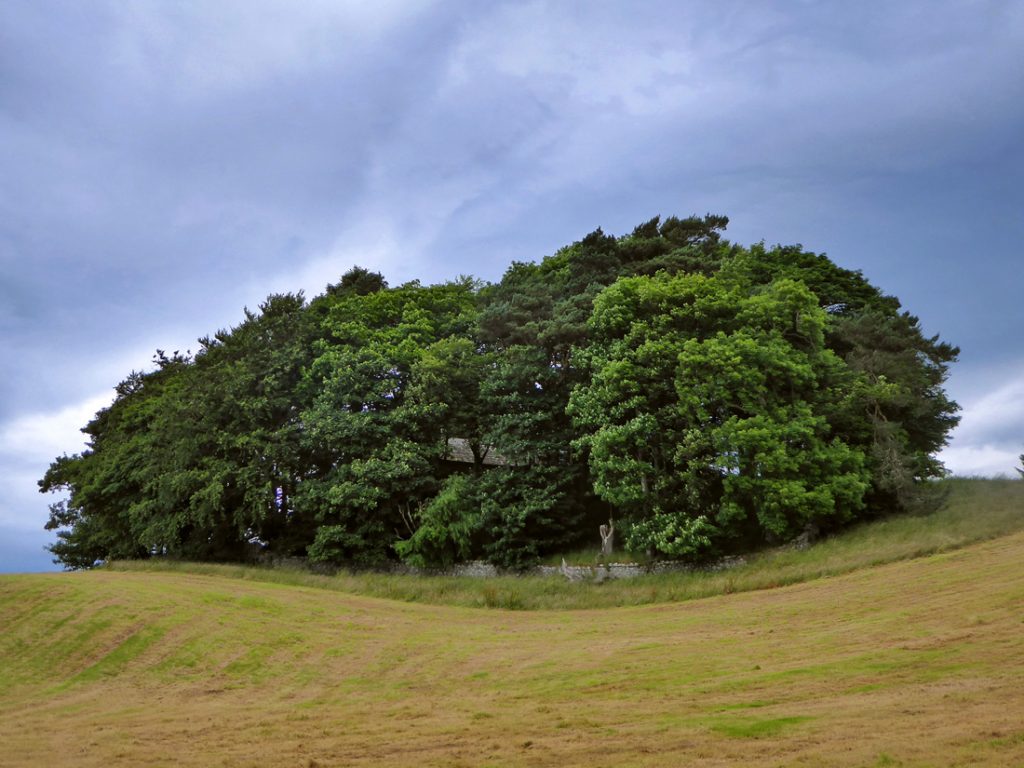 A soaking and muddy exfil around woods and field fringes only interrupted by an ashamed cat, caught betraying his predatory duties, sitting happily amongst rabbits. Future visitors to the Howff would be well advised to take the track on the East side of the burn which turns West across the burn, up from Glen Ury.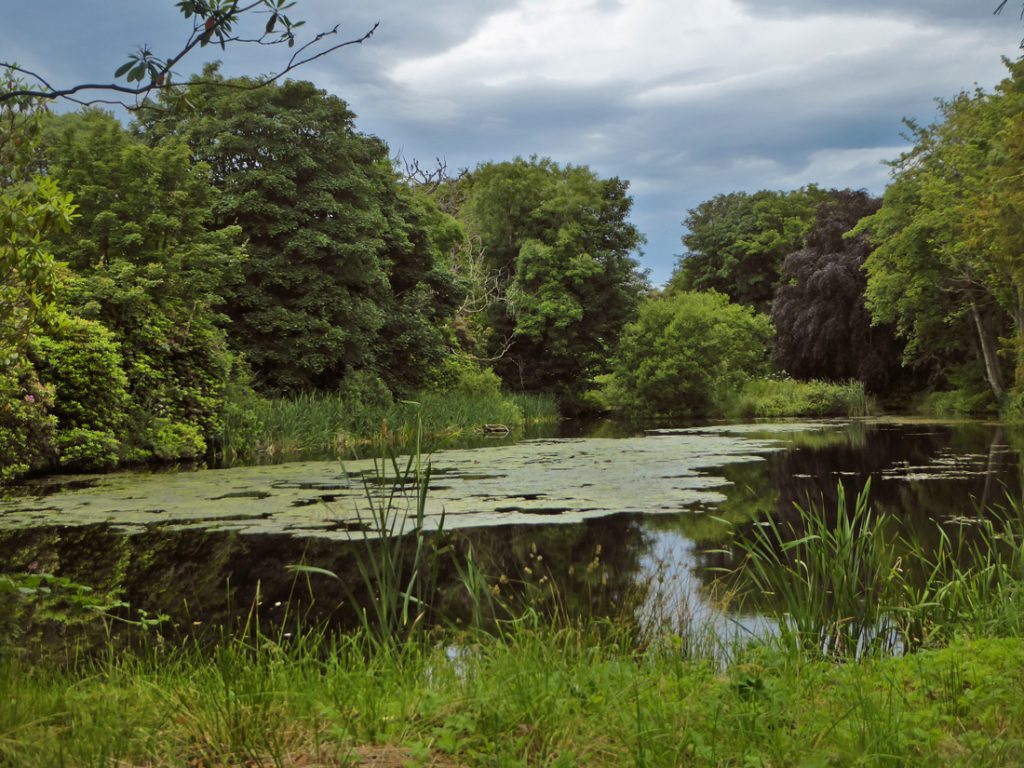 I rejoin a grassy path along the Ury burn in the tree lined Den of Glithno, descend past the luxury dwellings around a coot-paddled pond, and from the North a first glimpse of Ury House, one that got away in the realm of ruin exploration. After many years of neglect, for the last few years it's been under active redevelopment, passed from one hungry developer to another wailing at planning restrictions, but roofed and scaffolded and heading towards a tedious future of luxury golf wankery, its beauty and that of the surroundings to be cleansed to lure fat, entitled and unappreciative old men, folk that are happy to put money in the likes of Trump's pockets. I pass another mtb'er enjoying the trails, I doubt we'll be welcome in future.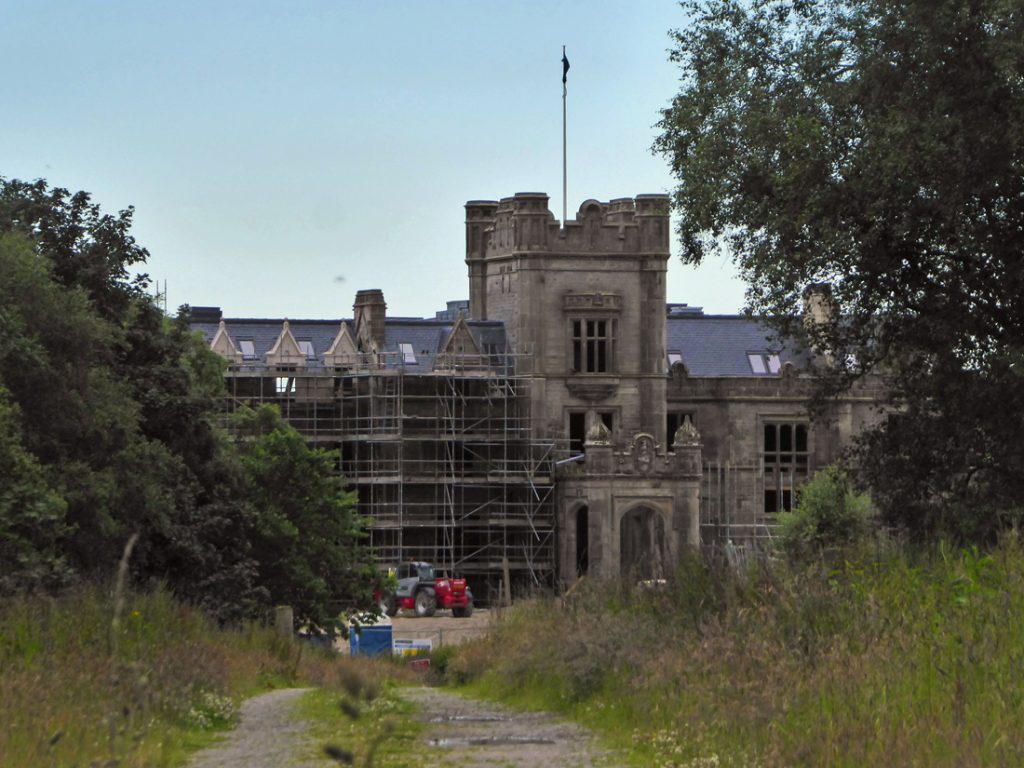 Further downstream over the Ury then following the Cowie upstream to the West along a rubble trail provides a better view of the house's Elizabethan grandeur of it's third incarnation of 1885, by one of those beshielded in the howff, Alexander Baird.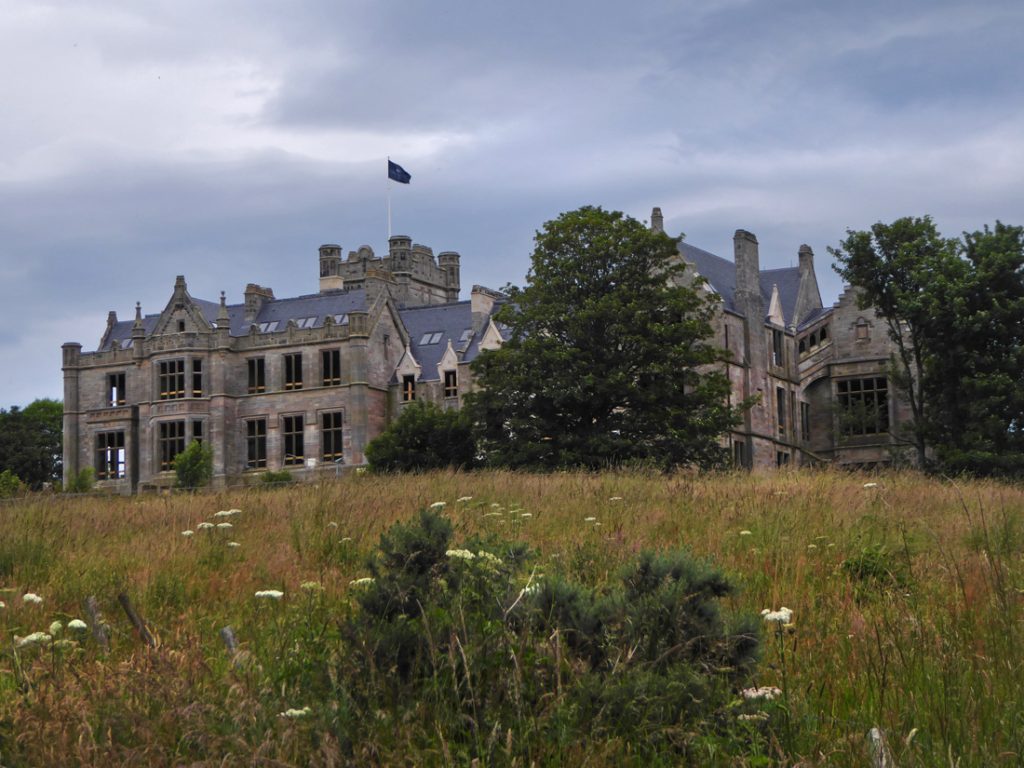 Some grey poking out of bushes catches my eye, which turns out to be part of the WW2 'Cowie line' anti-invasion defences, a 'type 22 pill box'. (map of other bits + more info)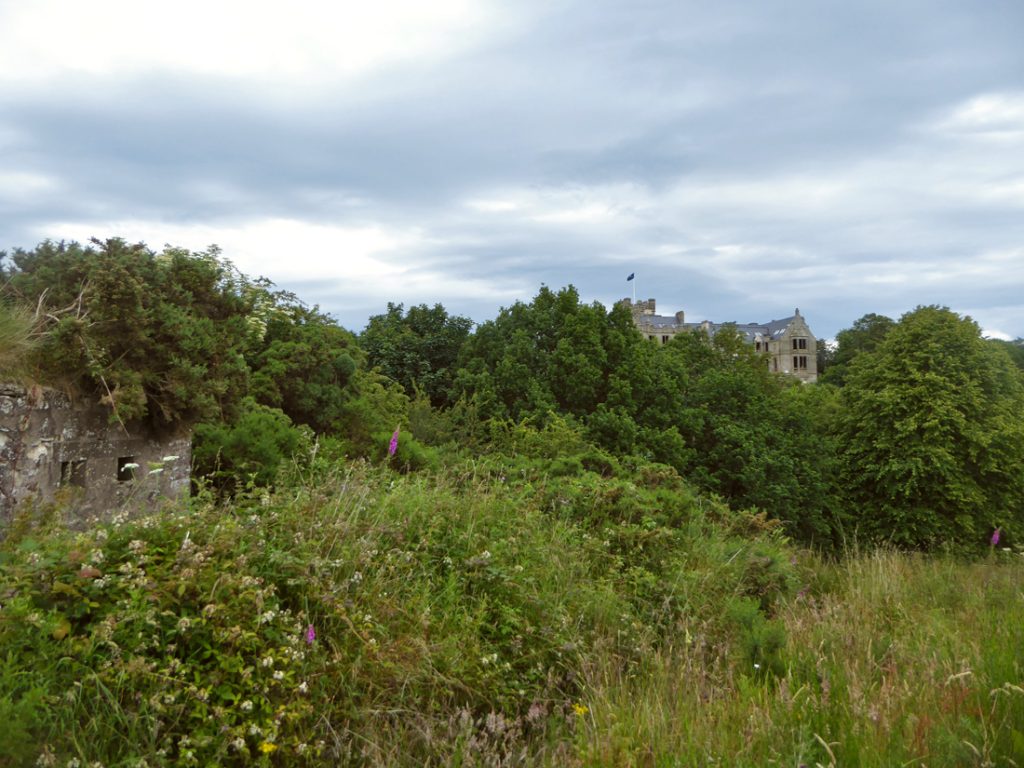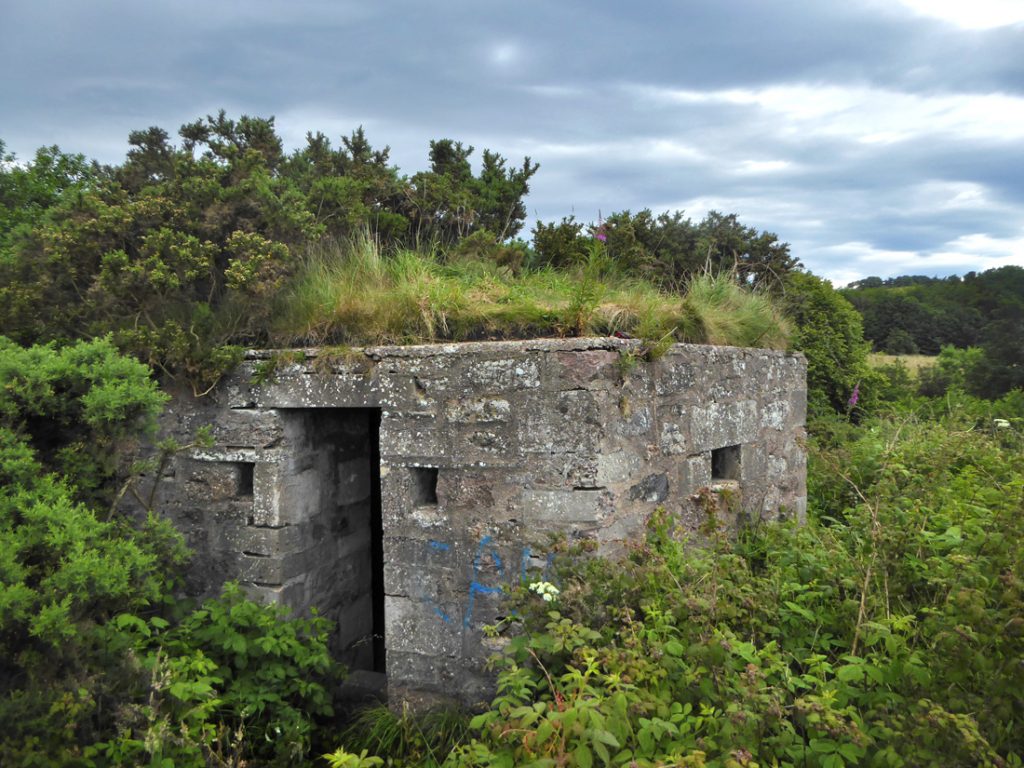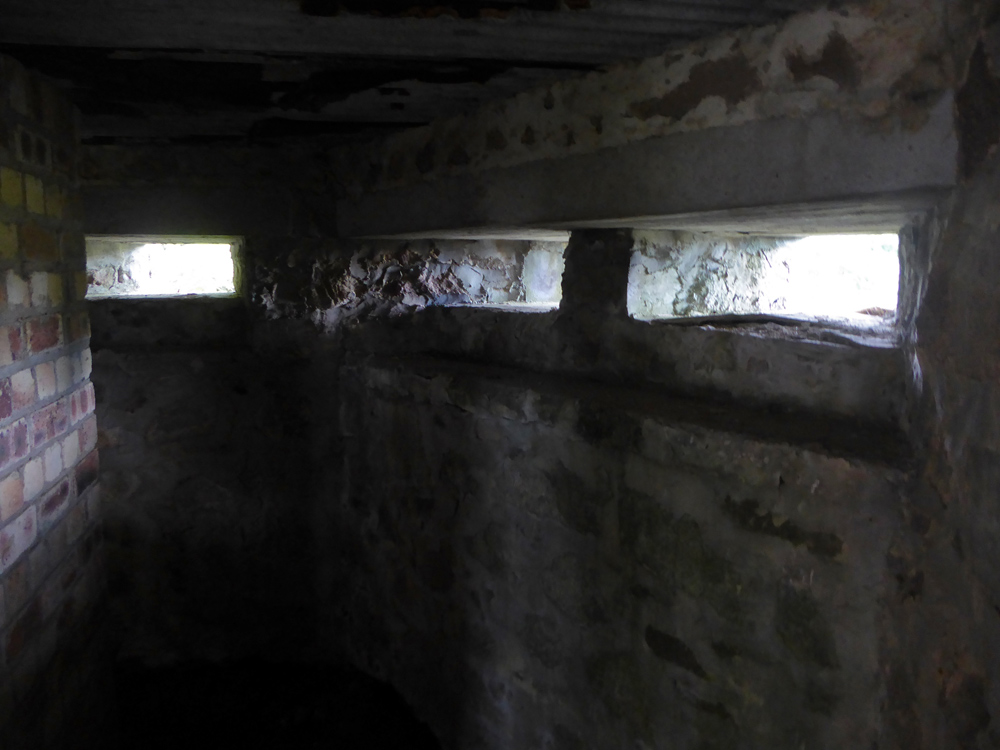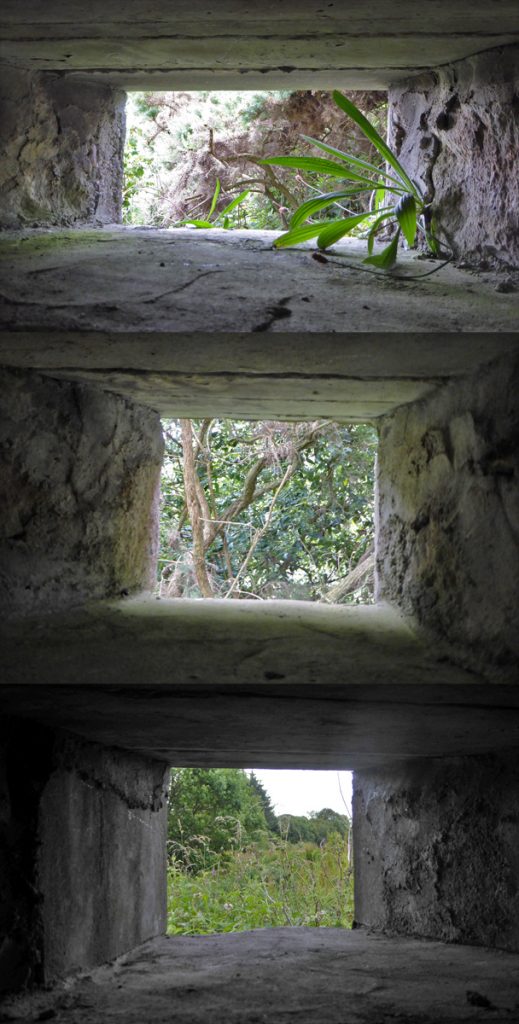 Through the trees of the glen I catch a striking high arch – Ury House Viaduct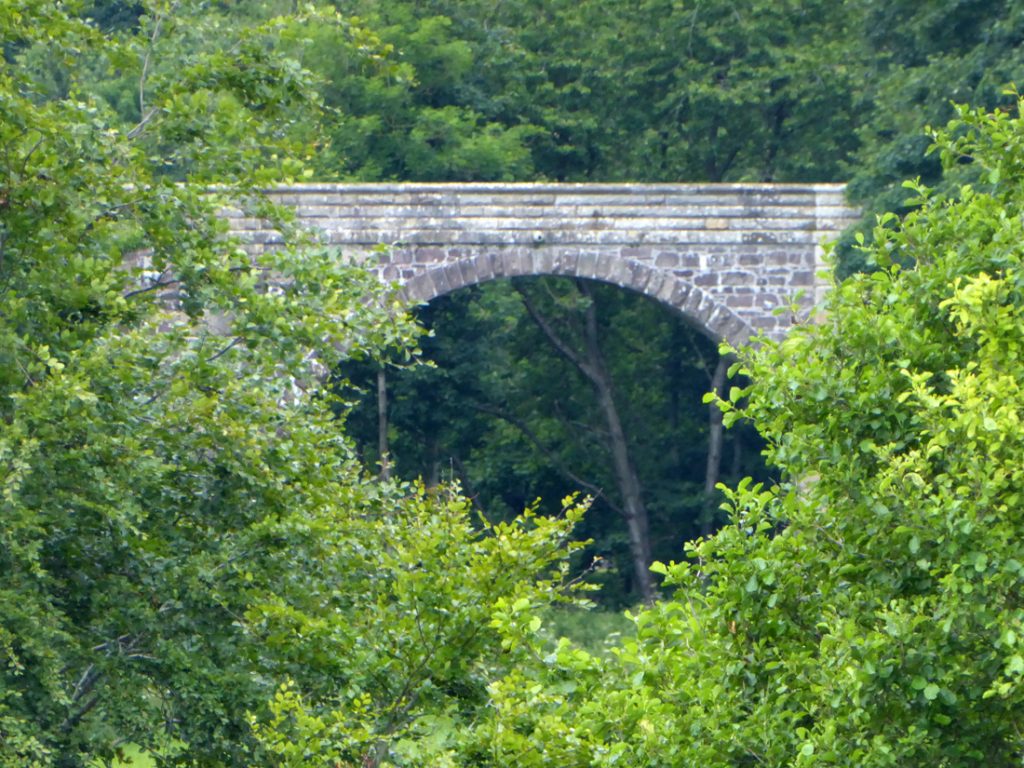 It's construction date of 1855 coincides with the building of the new Ury House, designed by John Baird of Glasgow, for Alexander Baird the new owner of Ury Estate
Over one side another grass laden 'baby' bridge, dating 1821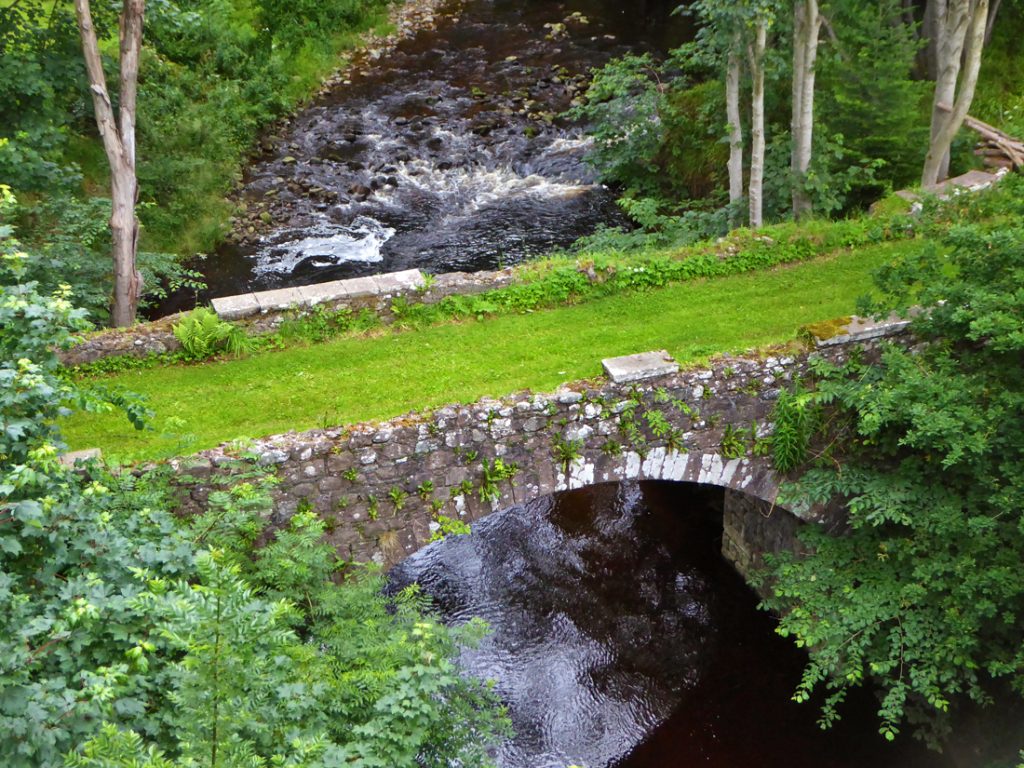 A scramble down a steep bank to have a look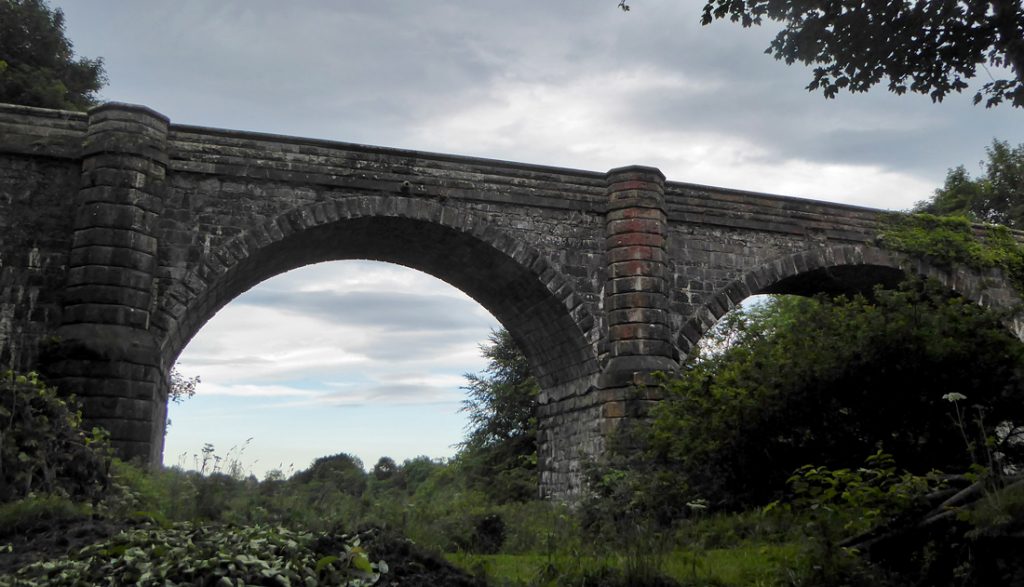 upstream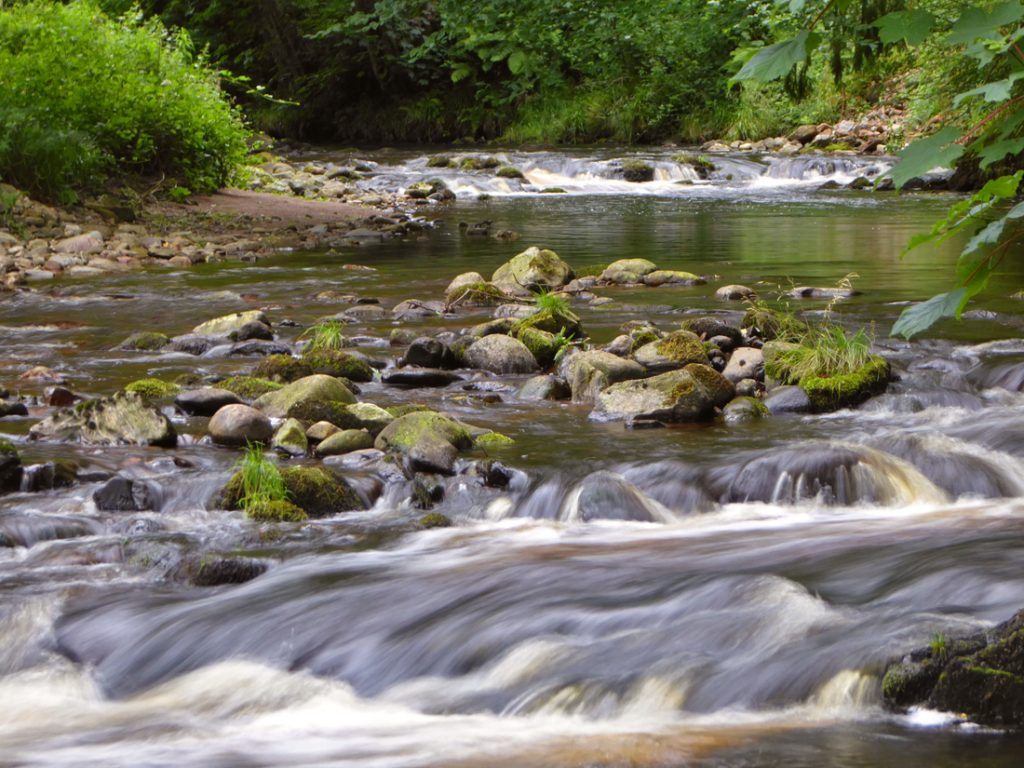 underneath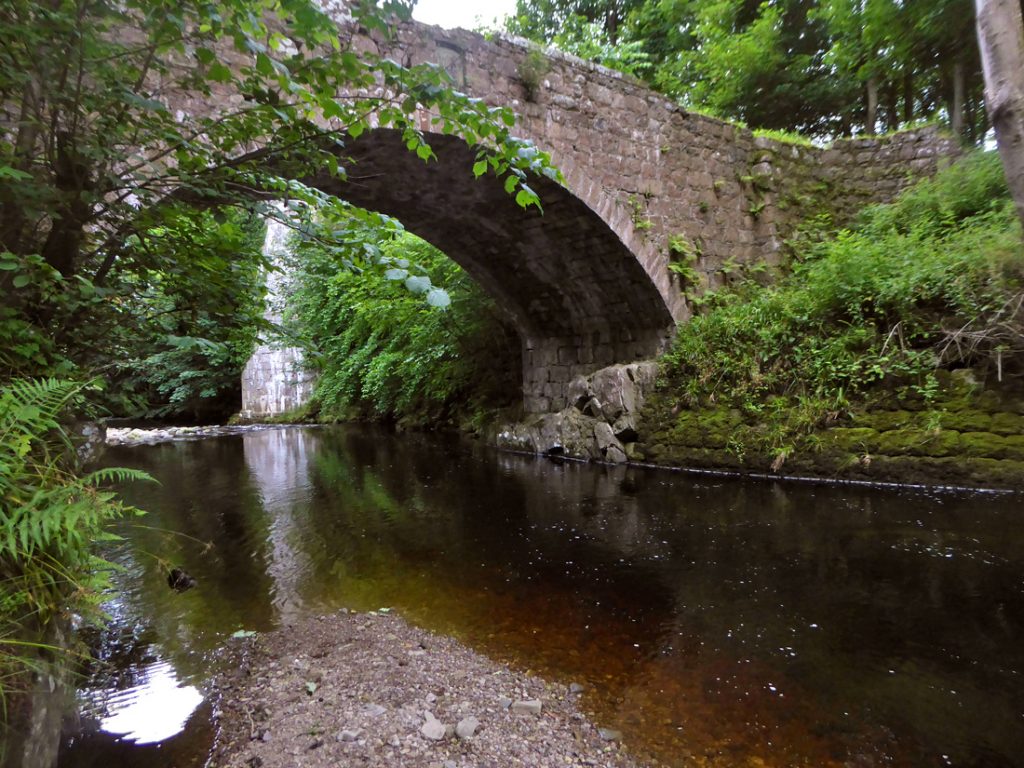 Hmm can't quite get both in view..
..socks off, in for a wade..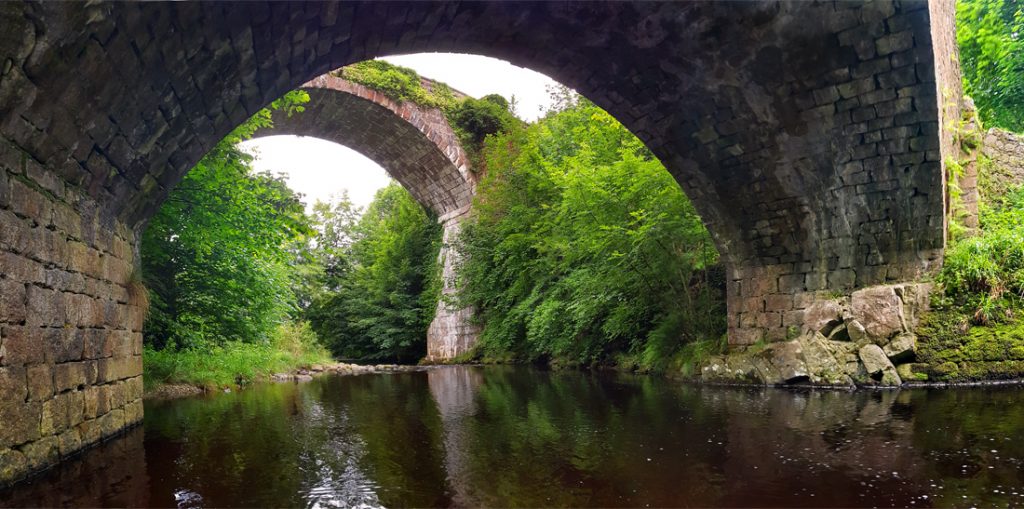 There's a plaque on the north face of the smaller bridge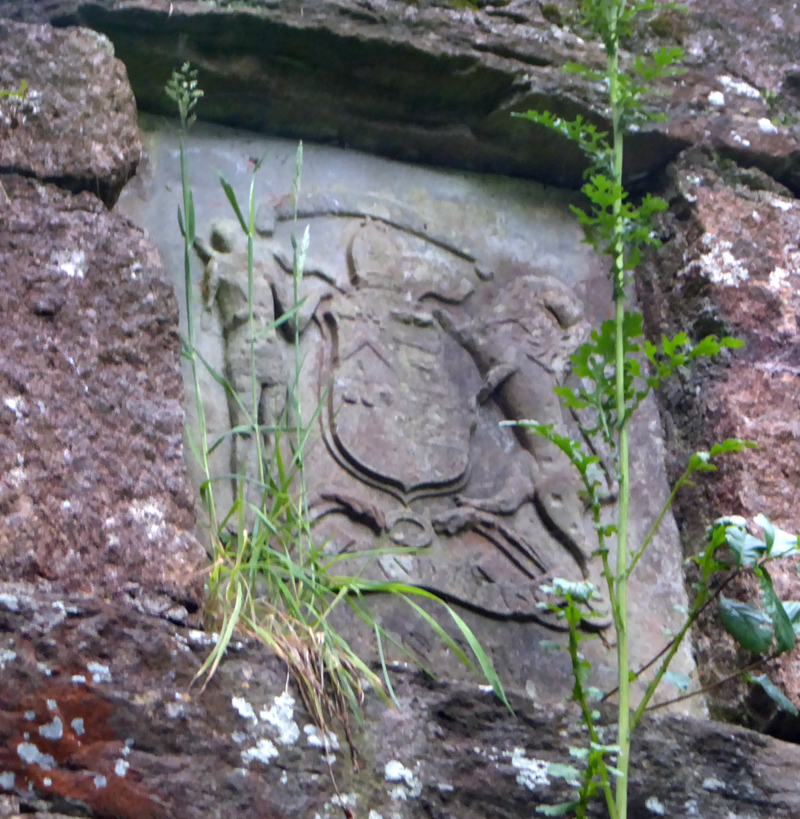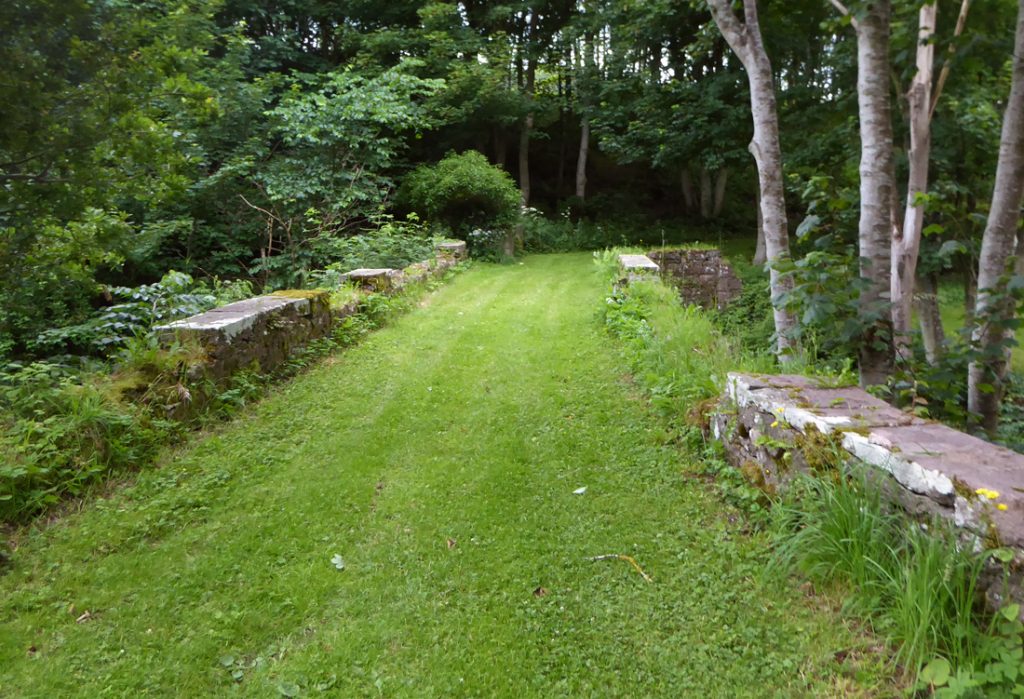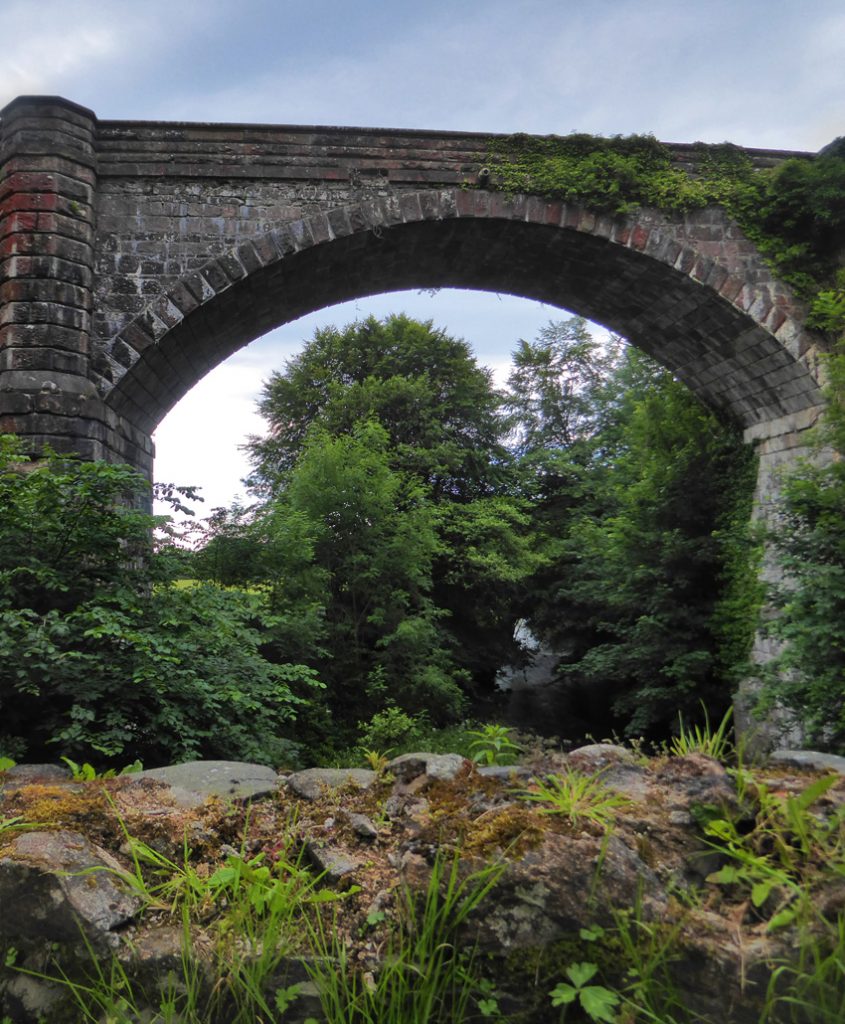 A scramble up and down the other side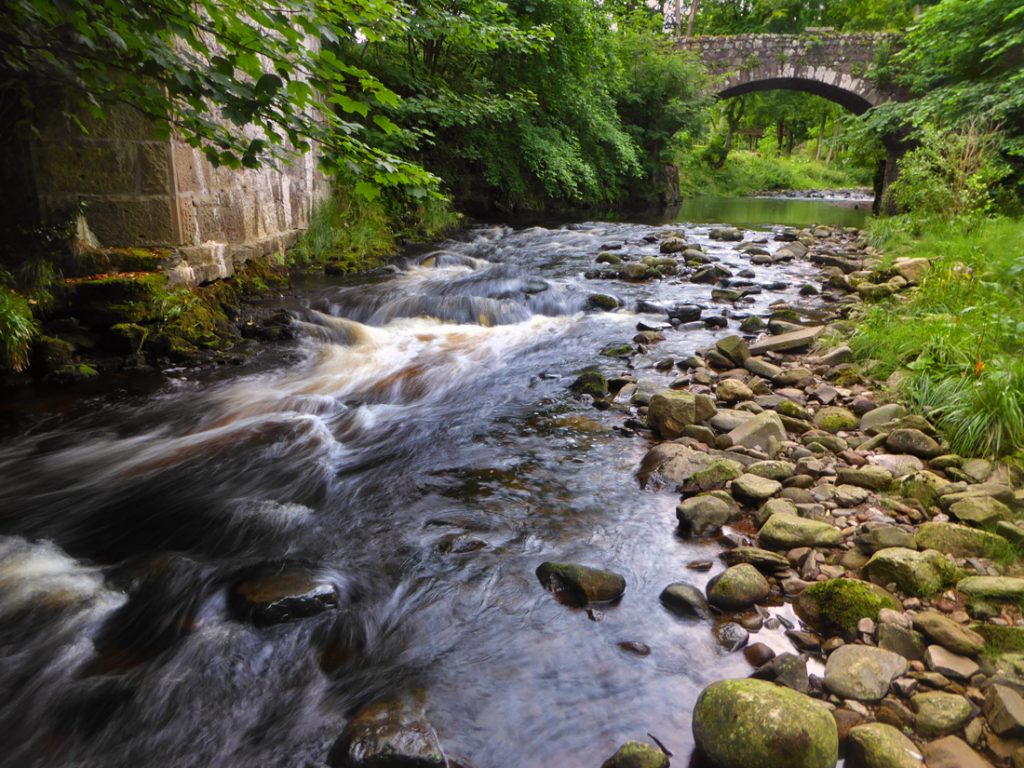 "Three arch viaduct carrying a road over the Cowie Water, built c.1855. Constructed of squared and coursed rubble, bull-faced to piers, parapets and voussoirs, with ashlar band courses and moulded droved coping. The bridge has broad segmental arches springing from piers with rounded outer faces extending into polygonal pilasters and refuges, and curved approaches with polygonal outer piers." map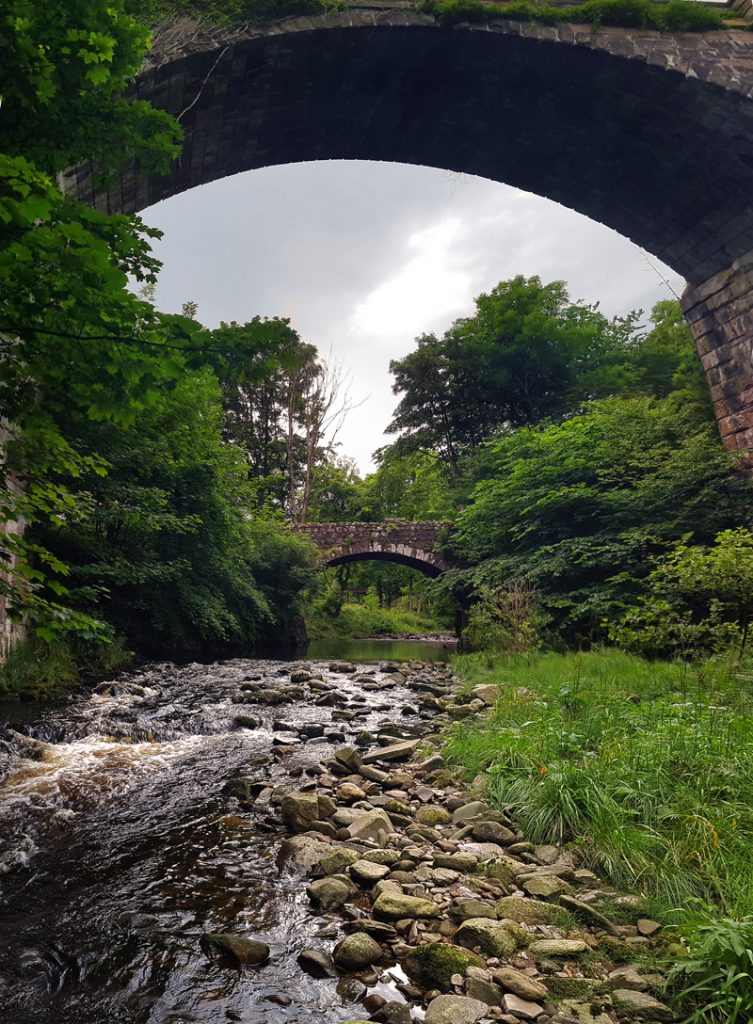 Onwards and a wrong turn South and a shelter under a tree from a shower provides a brief diversion from a friendly Pheasant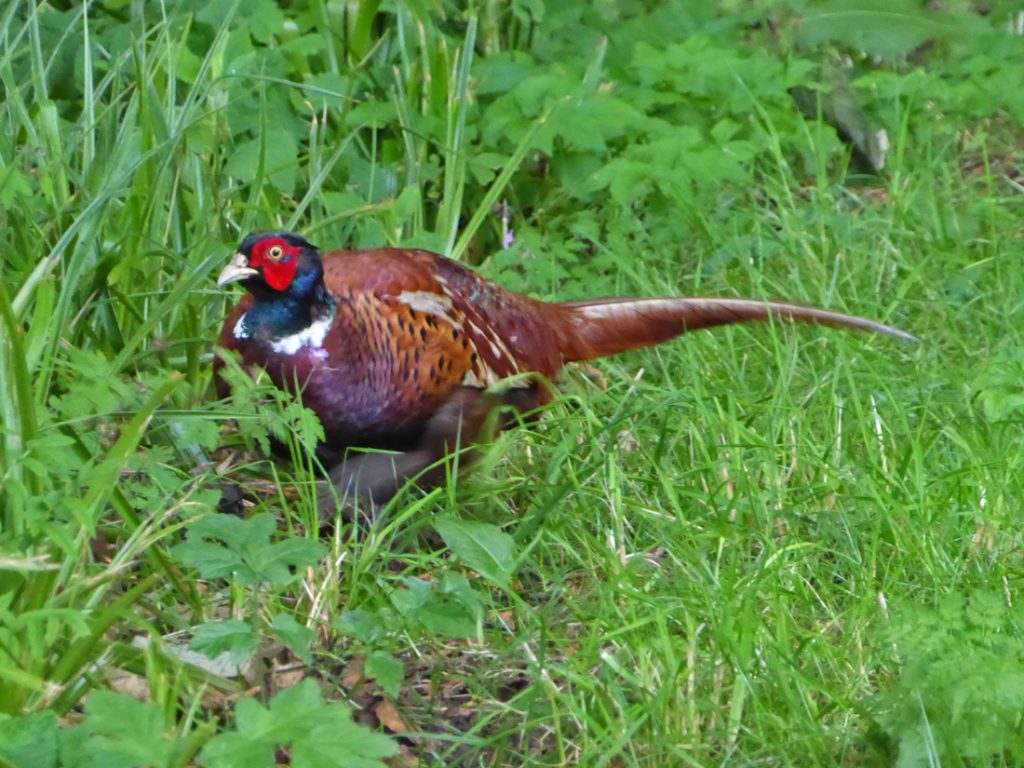 My OS map shows trails following the Cowie glen upstream. looks ok..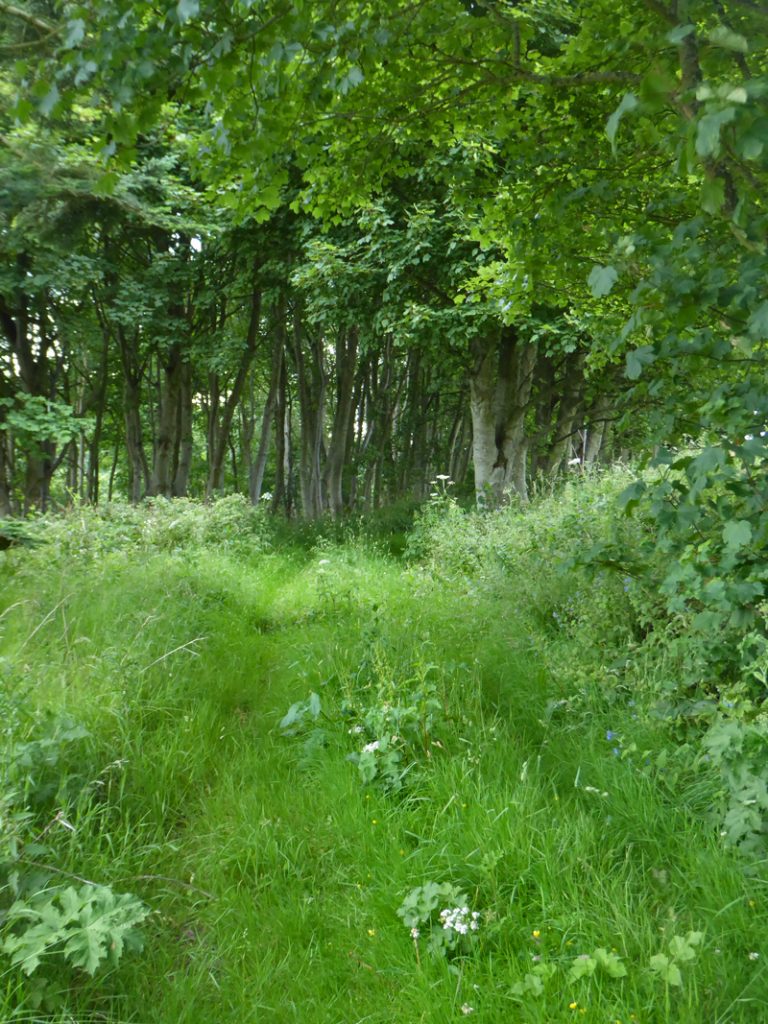 ..But it quickly gets overgrown and the trail disappears into jaggy invisibility, my legs and pedals acting as a strimmer until I'm shoulder deep in a sea of stingy plants, pedals and wheels festooned and jammed with weeds. I should turn around and groan and thrash back uphill but am committed at the bottom of the valley, and what is stung is stung. The 'meadow' at the bottom is tangly hell, I shoulder the bike and I wonder if anybody has ever died from a 1000 nettle stings, my bushwhacking gaiters have went on too late.
An abandoned 'bridge' acts as one marker across the sea of weeds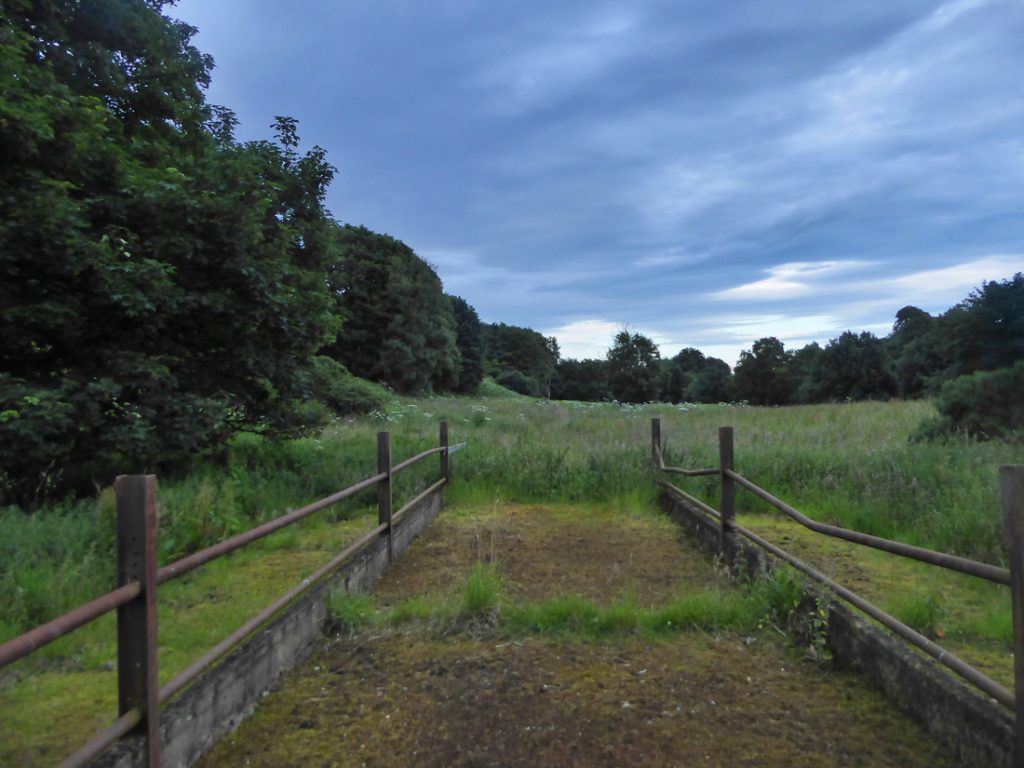 An abandoned shed another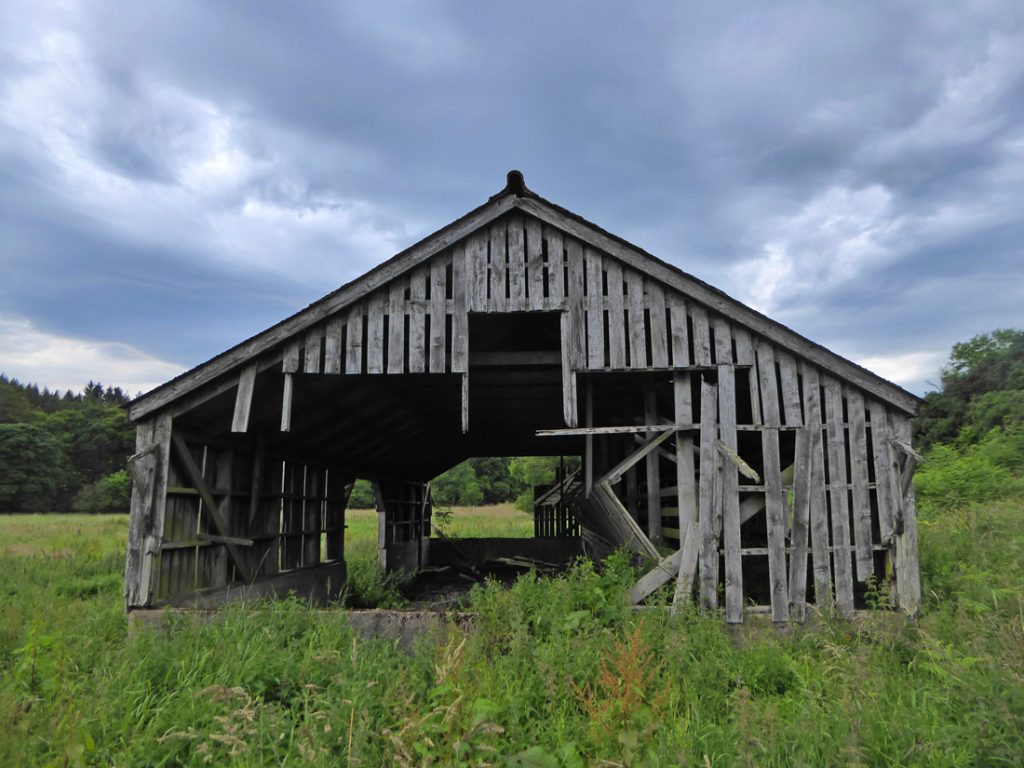 A small local resident cares nothing for my woes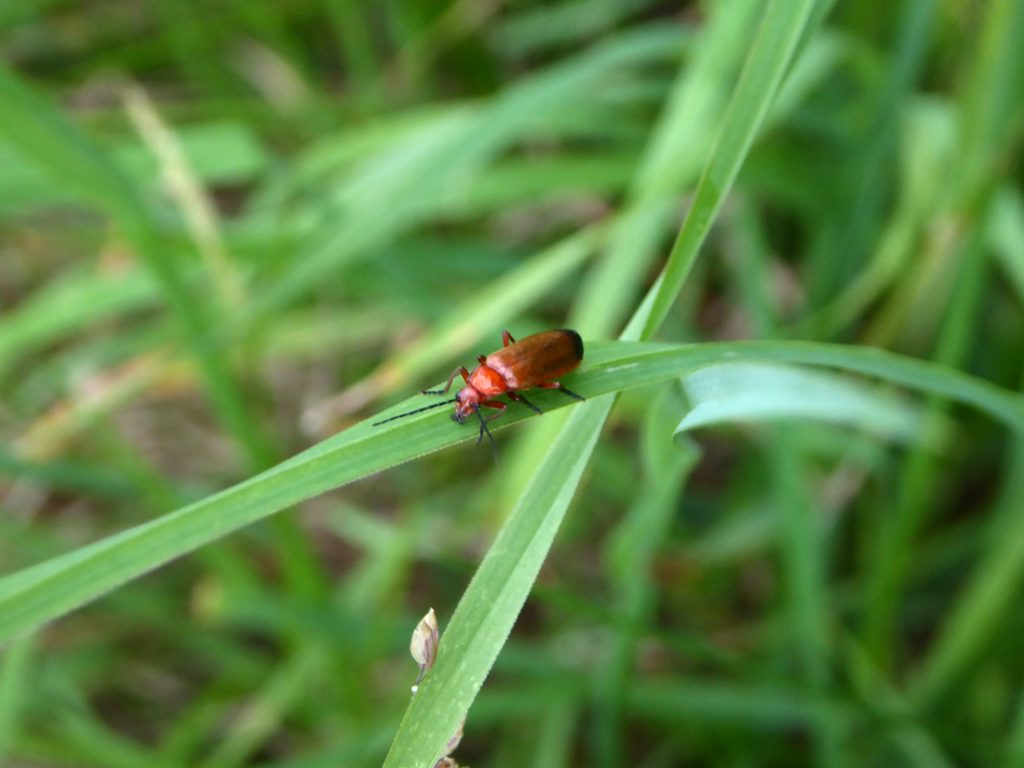 All this will eventually fall under manicured greens of the golf course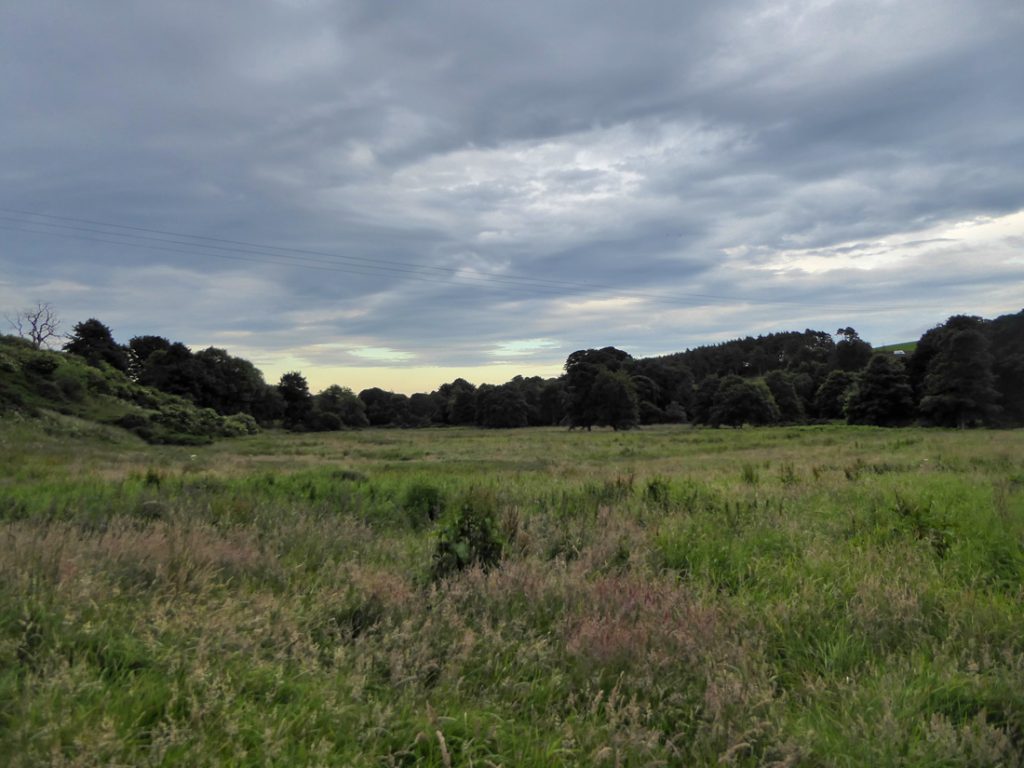 Eventually a faint thread arises under deep tree cover, the game is back on.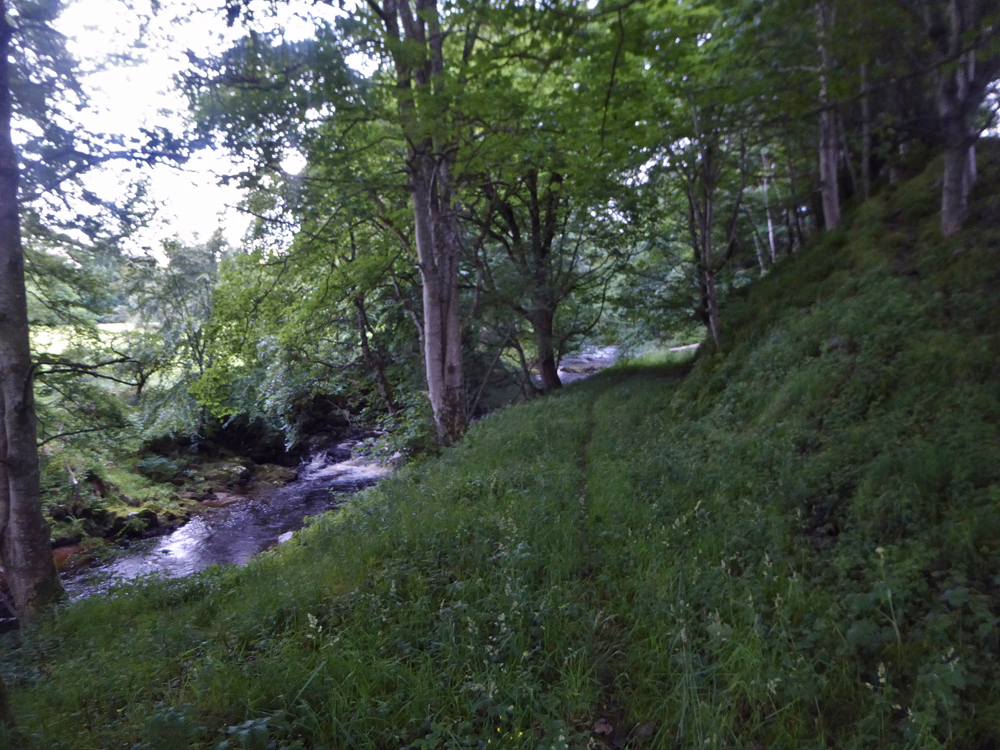 But first glug down my bottle and get a refill while the chance presents.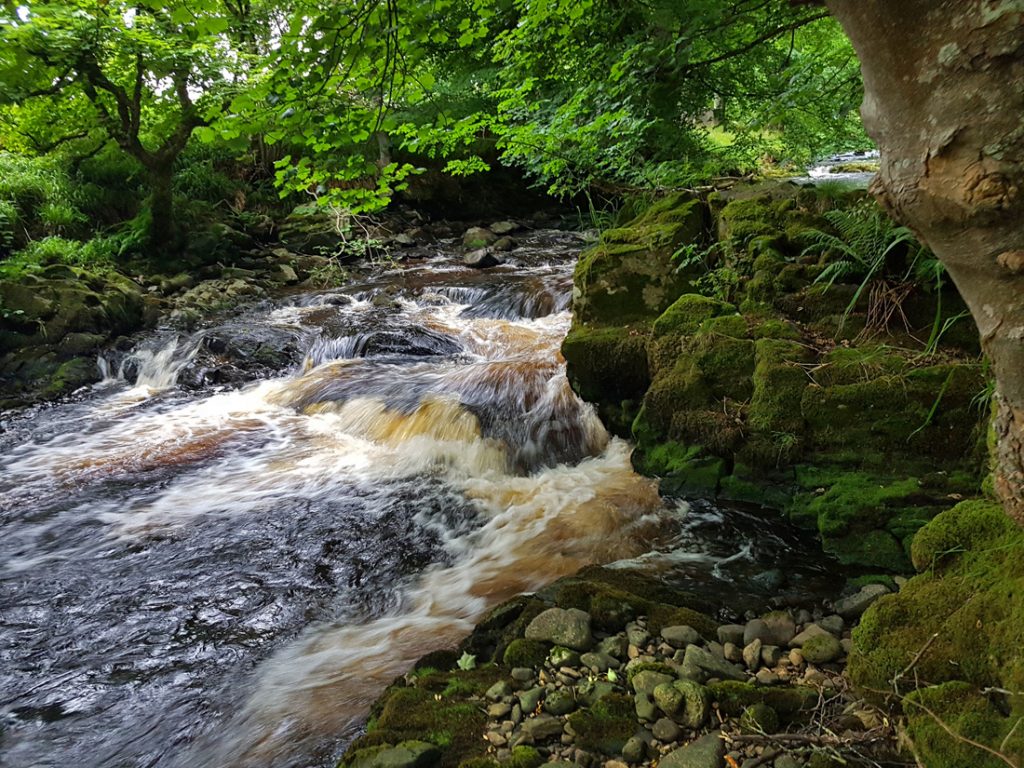 Some very nice rapids, and a rocky alcove. A great spot for a picnic.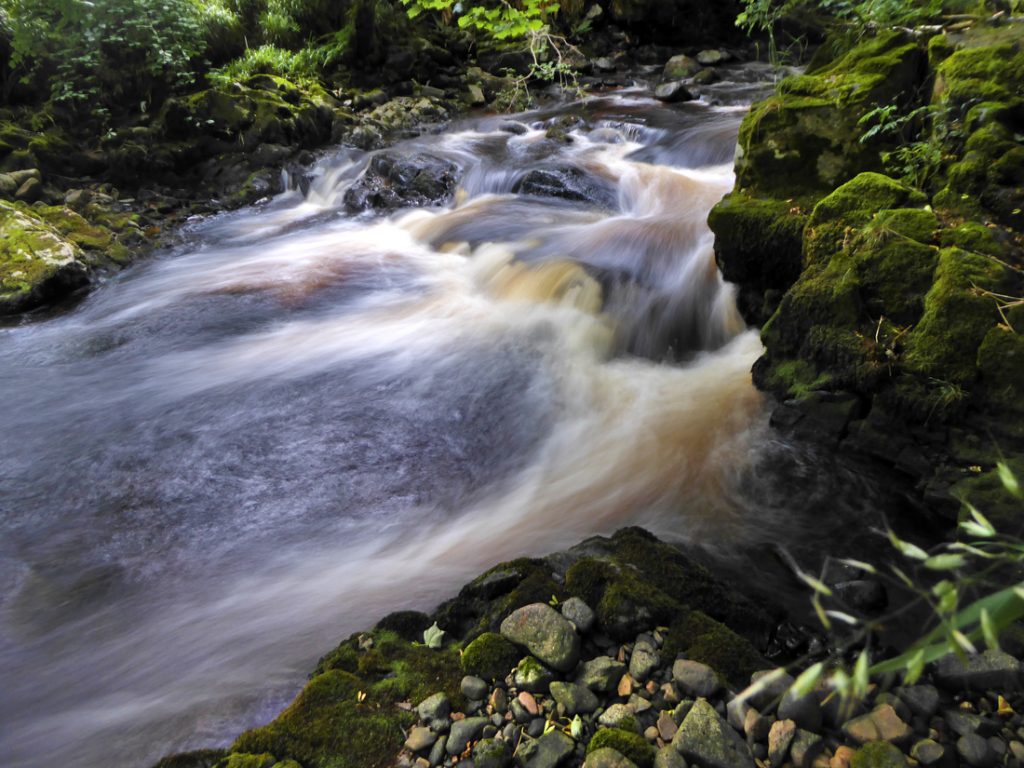 On the other banks more blocks from the Cowie Line – picnics kept safe from panzer attack, if not nettles or wasps.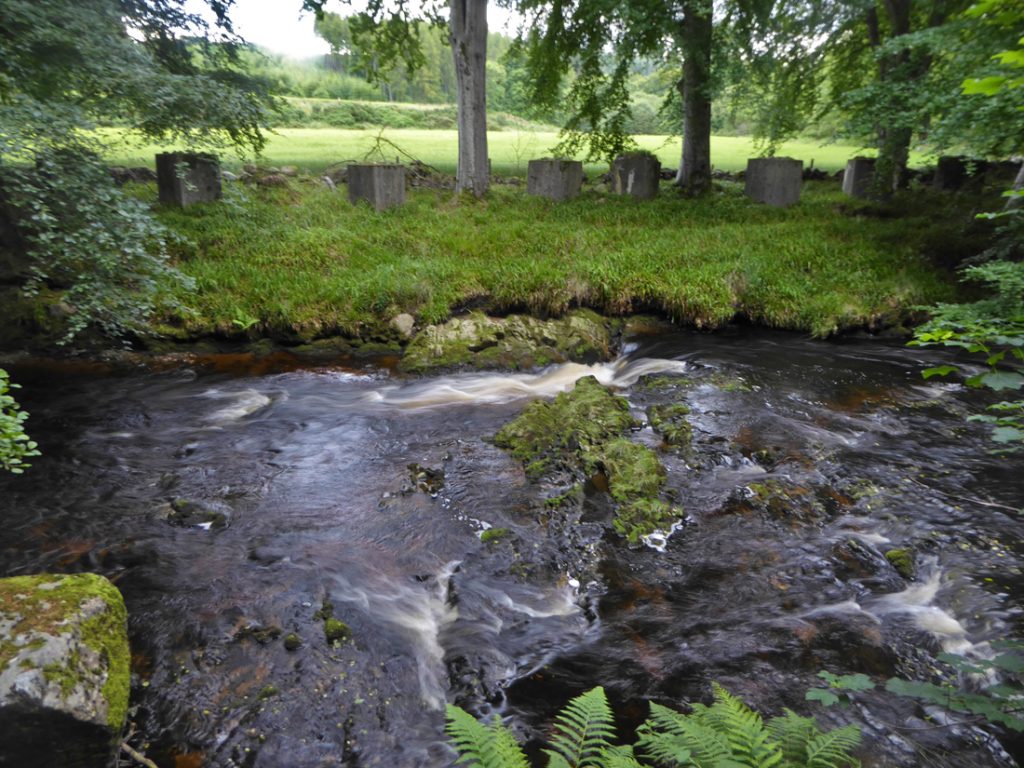 The track emerges through a rusty old gate on to the slug road at Findlaystone bridge, which is also known locally as 'the ink bottle bridge'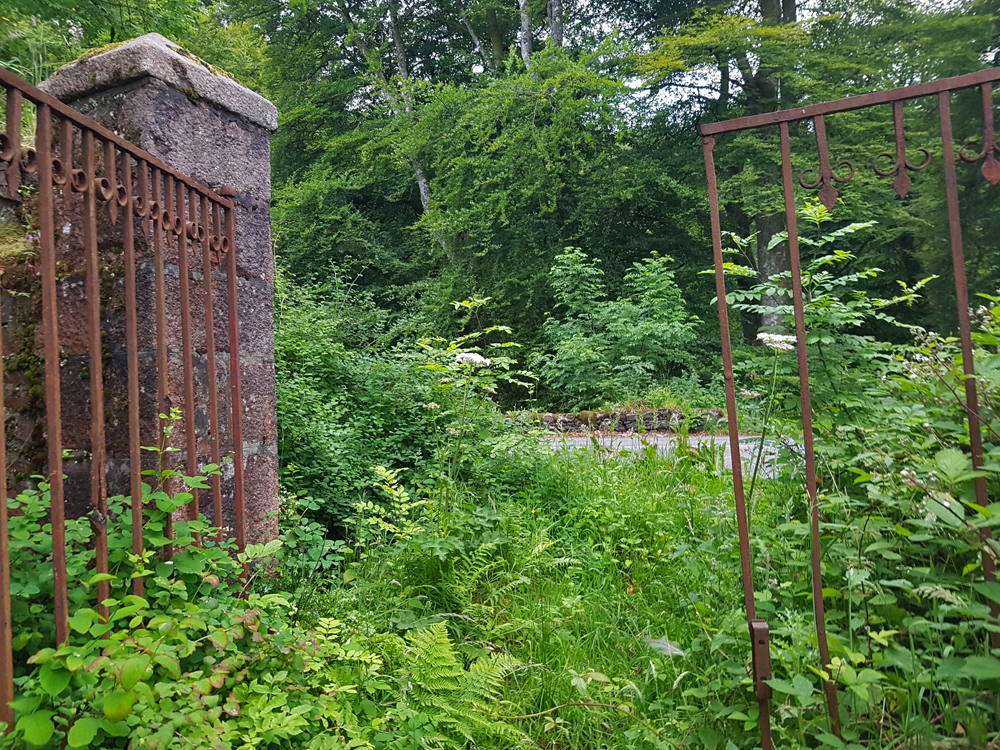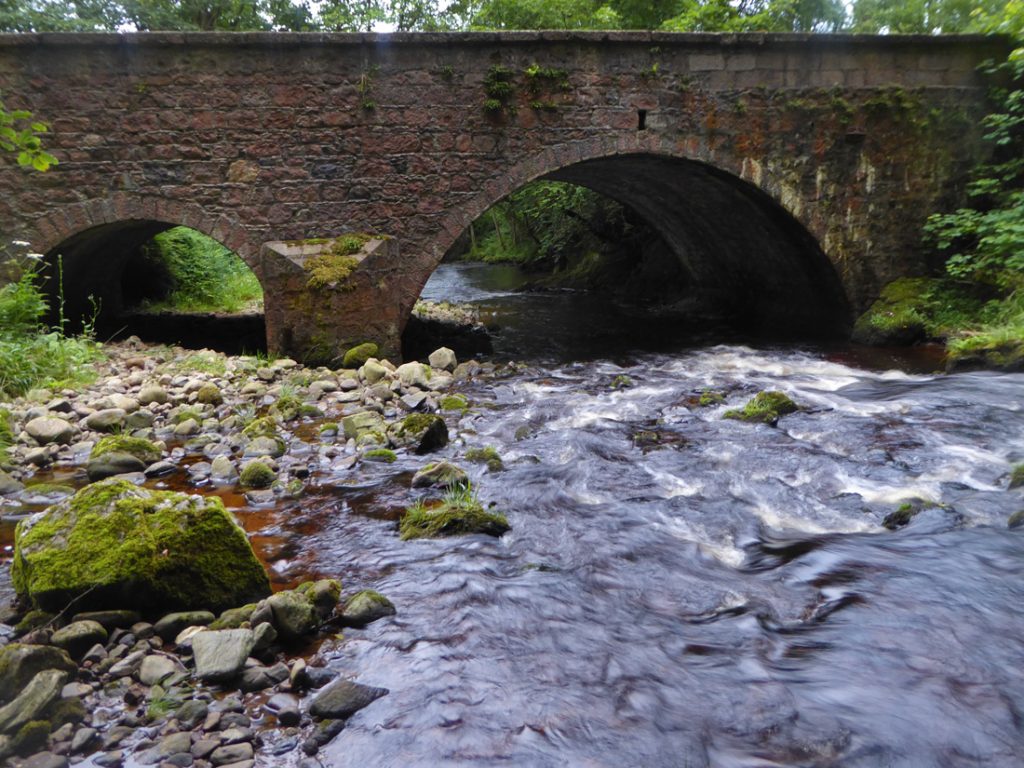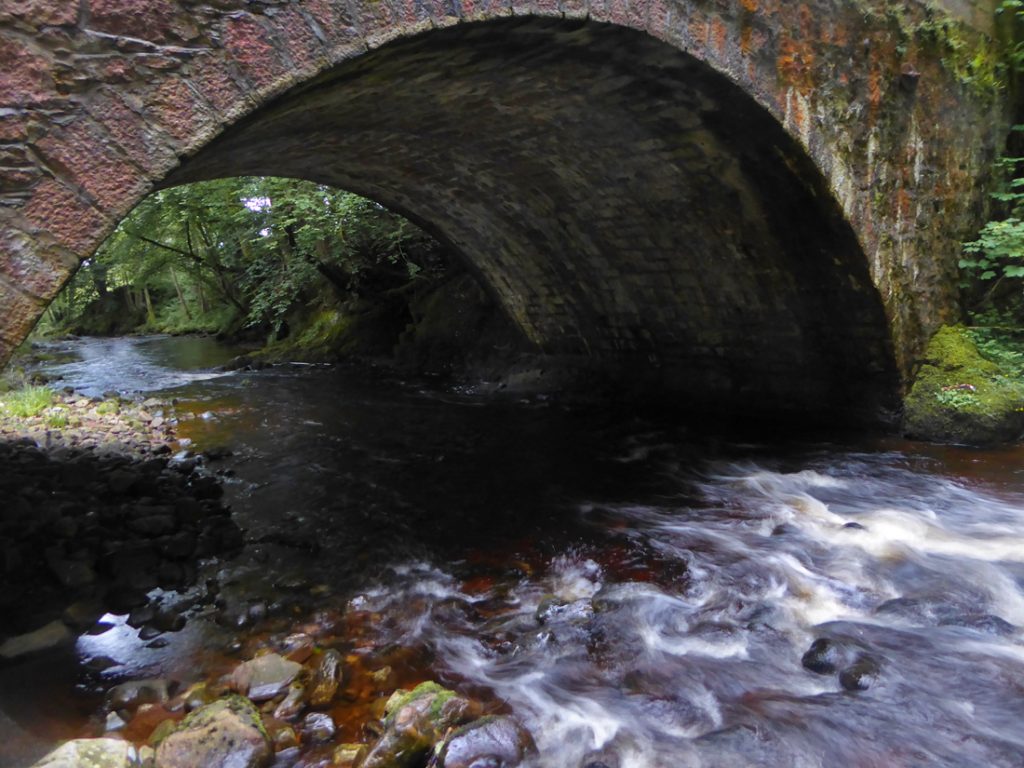 I'm half minded to head directly home on smooth tarmac but a sign for Elsick Mounth taunts me again, I have 20 miles to get home; they might as well be fun exploratory ones. Up the hill we go.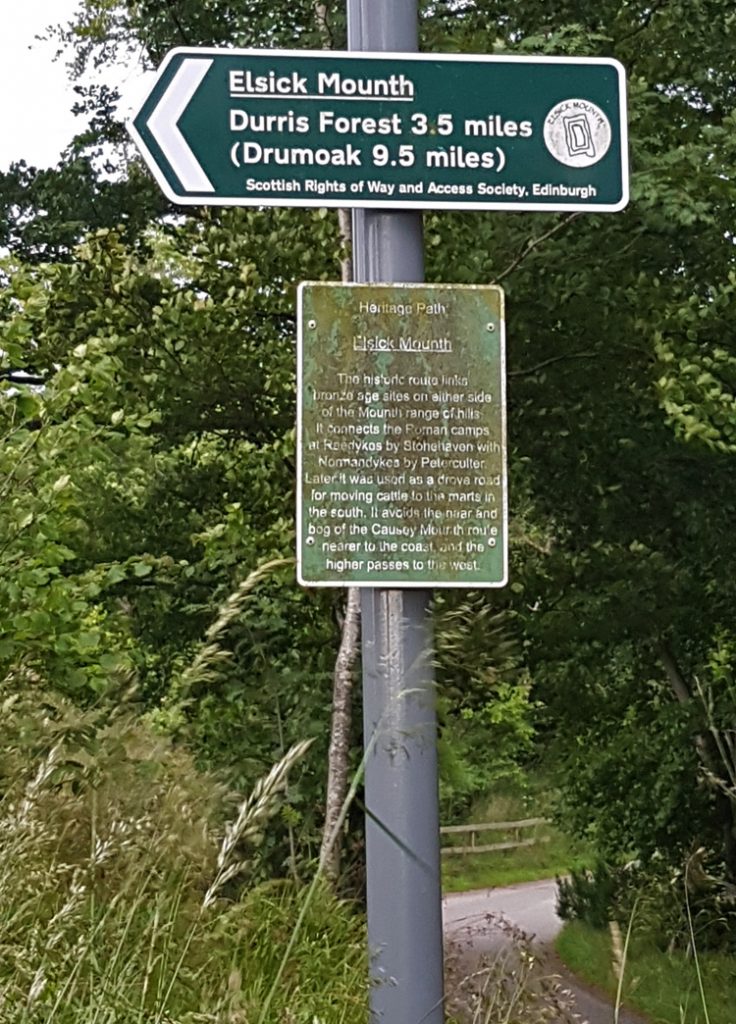 Slightly further a sign with more detail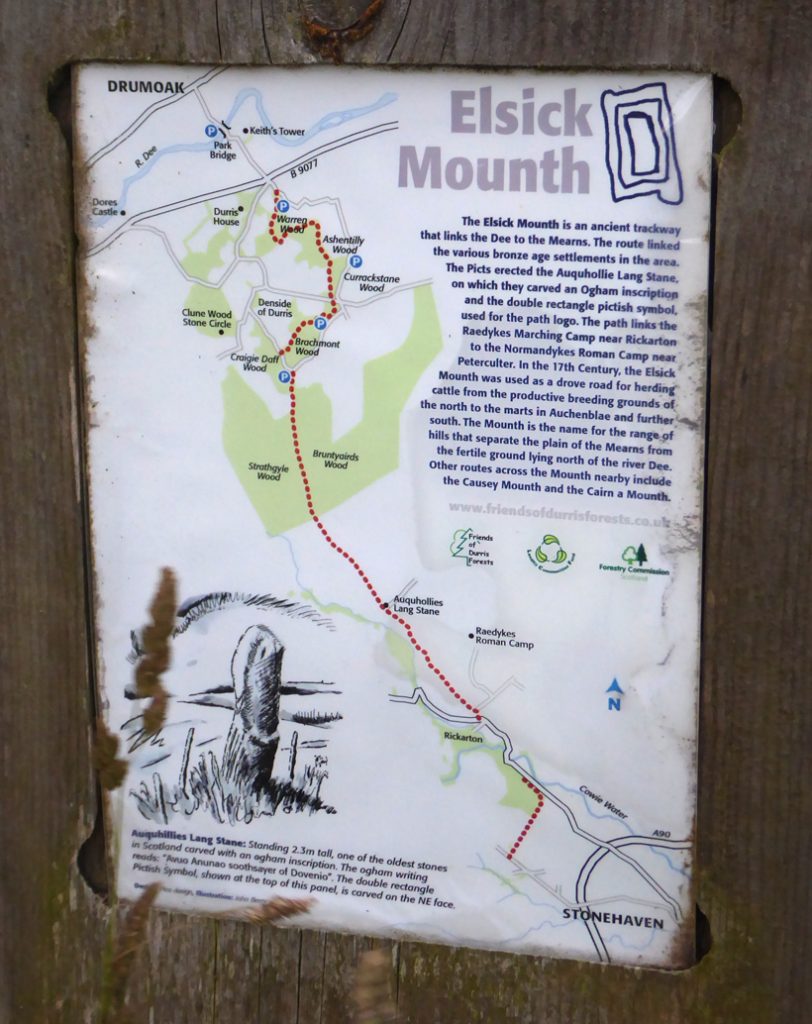 Not far in we pass a very old pillar overlooked by more modern ones, with the Lang stane of Auquhollie; overhead electricity pylons and on the hill behind Meikle Cairwe wind farm intruding on the megalithic aura. The stone has markings; the horizontal ones are ogham and apparently reads: "Avuo Anunao soothsayer of Dovenio". A double rectangle Pictish Symbol is carved on the NE face but I couldn't make it out – it is the source of the symbol used on the Elsick Mounth signs.
"AVUO ANUNAO UATE DOVENI"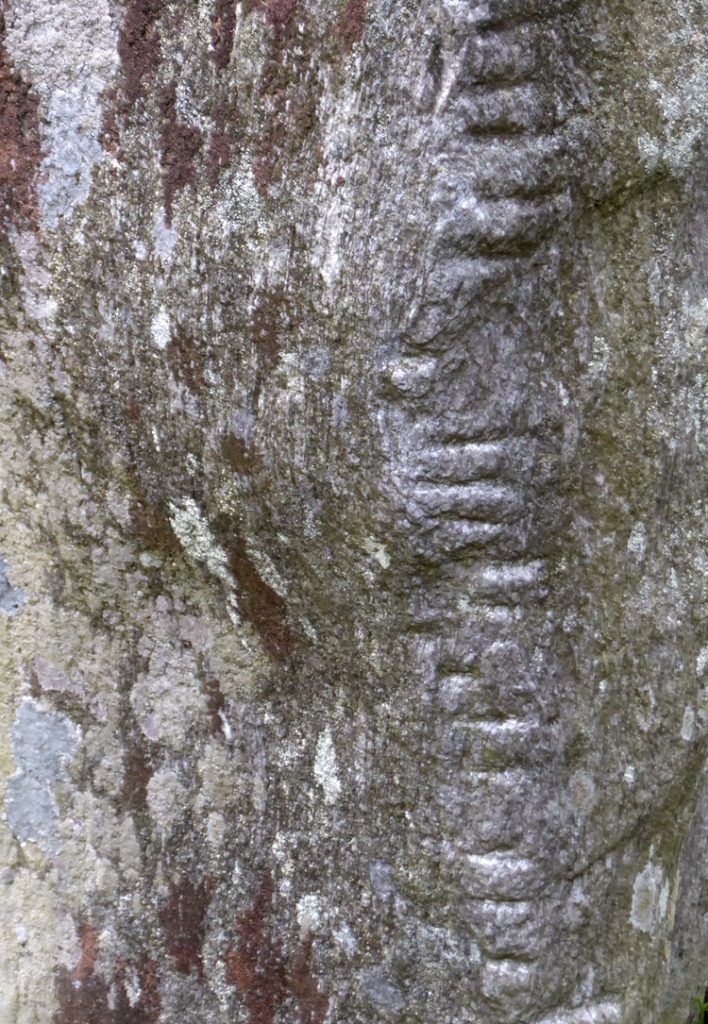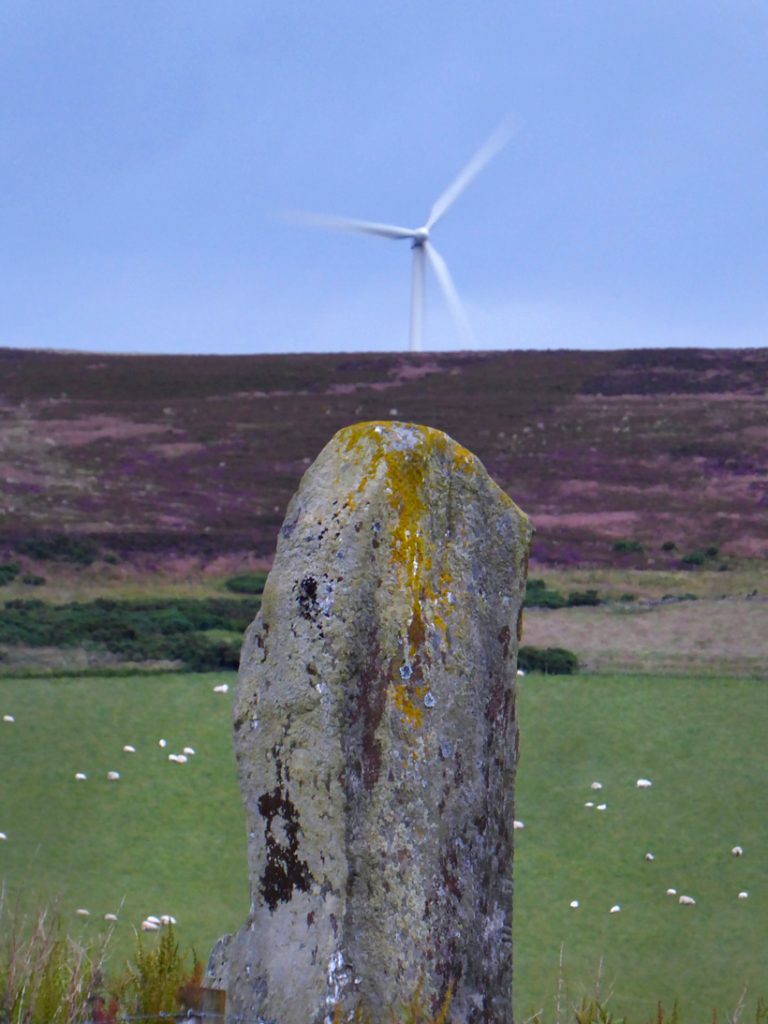 Climbing further now through farm land, rocky double track, gates, sheep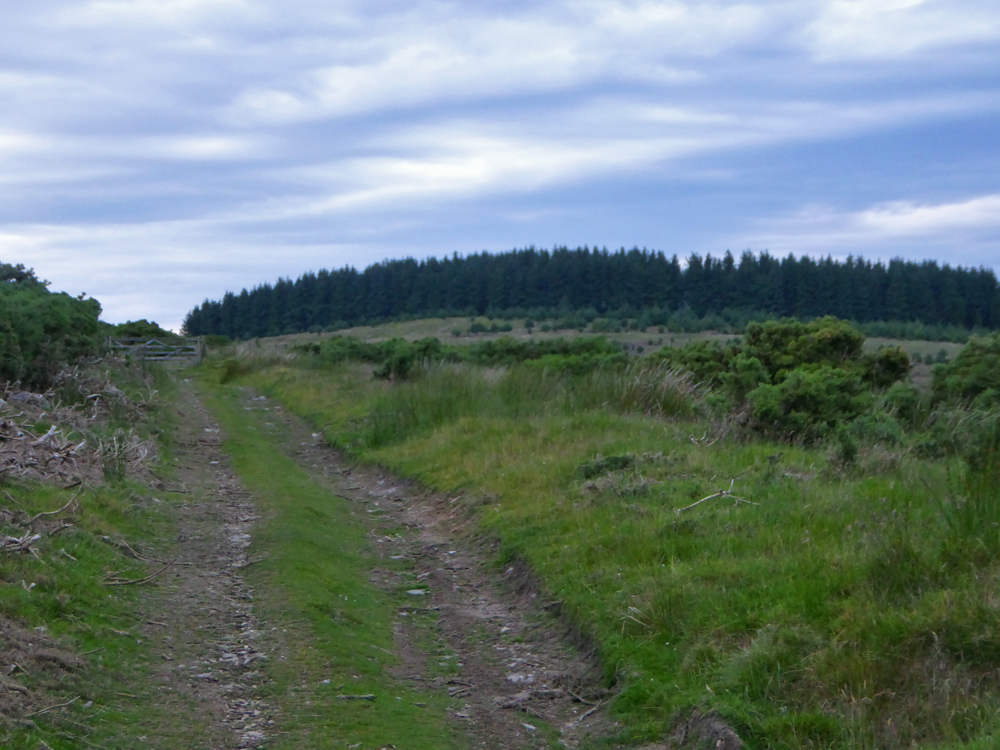 The occasional metal band on a post has the Elsick sign ( the aforementioned concentric squircles)
Old farm ruins dotted amongst the green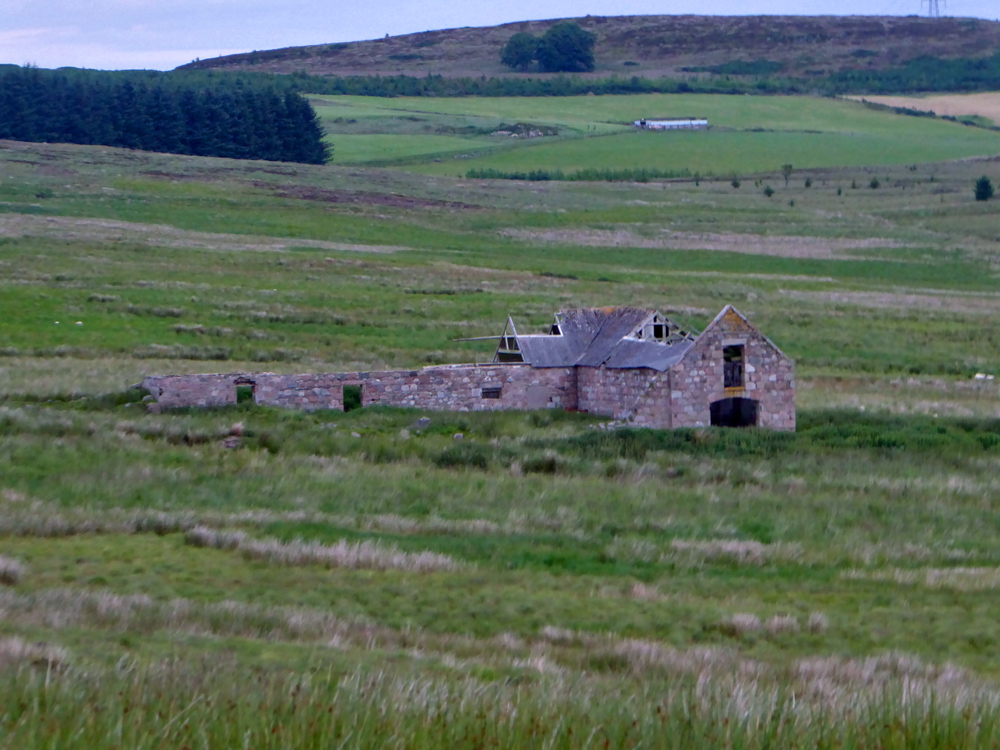 With Durris forest at hand near the top of Bawdy Craig, the now faint singletrack across the moor scrub passes a brick platform, that may have held a post at some point, perhaps another information board. It cause me to stop and look, and also glance back which I'm glad I did : from this height the sea is now visible, and the moon has just risen over it glowing red and appearing huge (though it isn't really)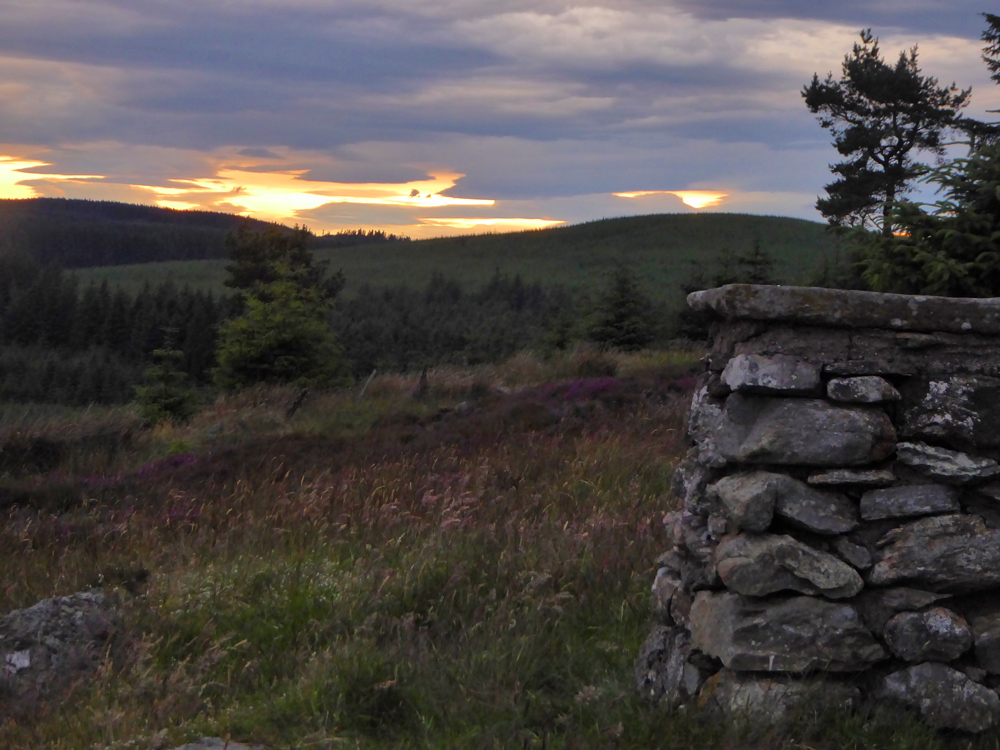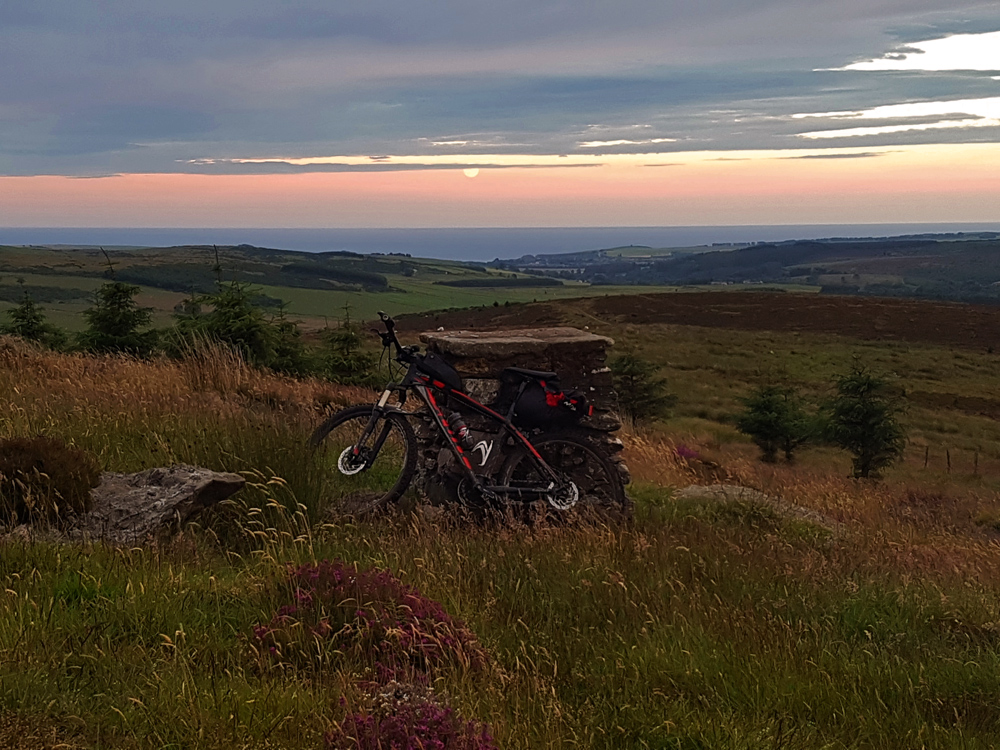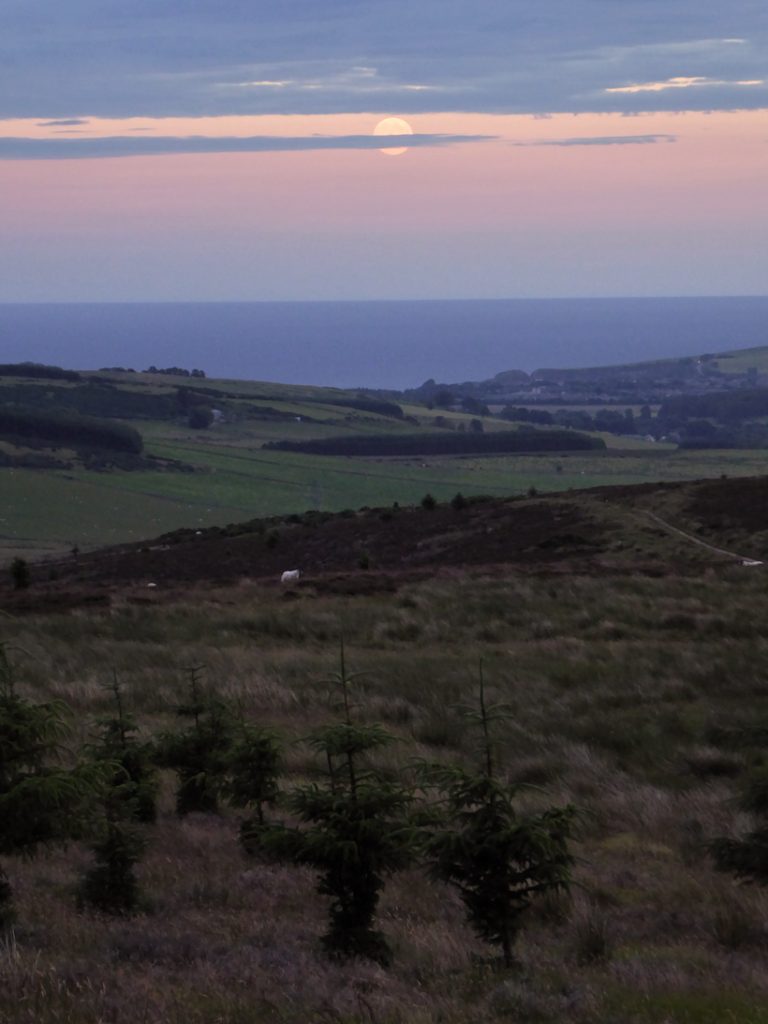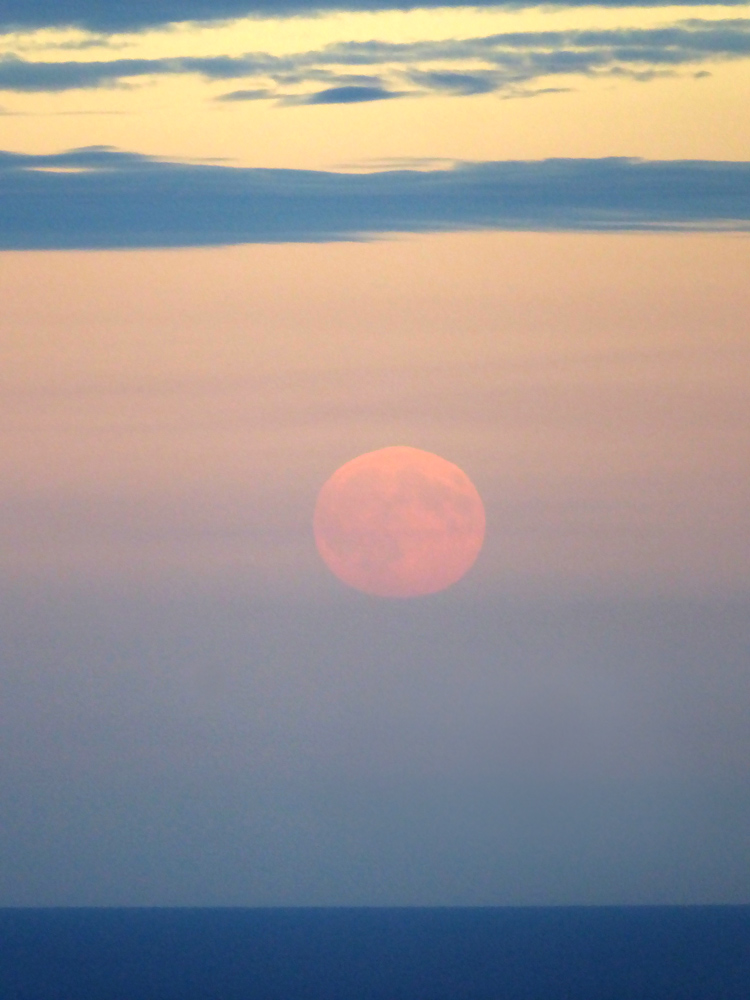 To the West — another turbine forest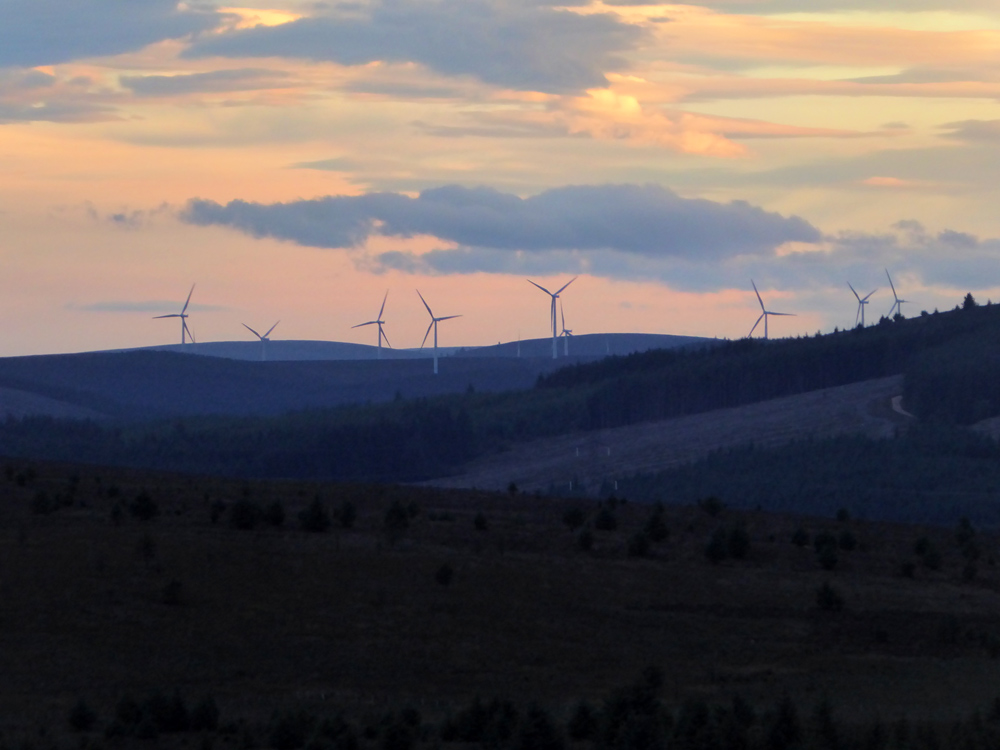 The path becomes quite overgrown with wet straggles of heather and tree shrubs, twirring cooly against my shins and soothing my nettle-glow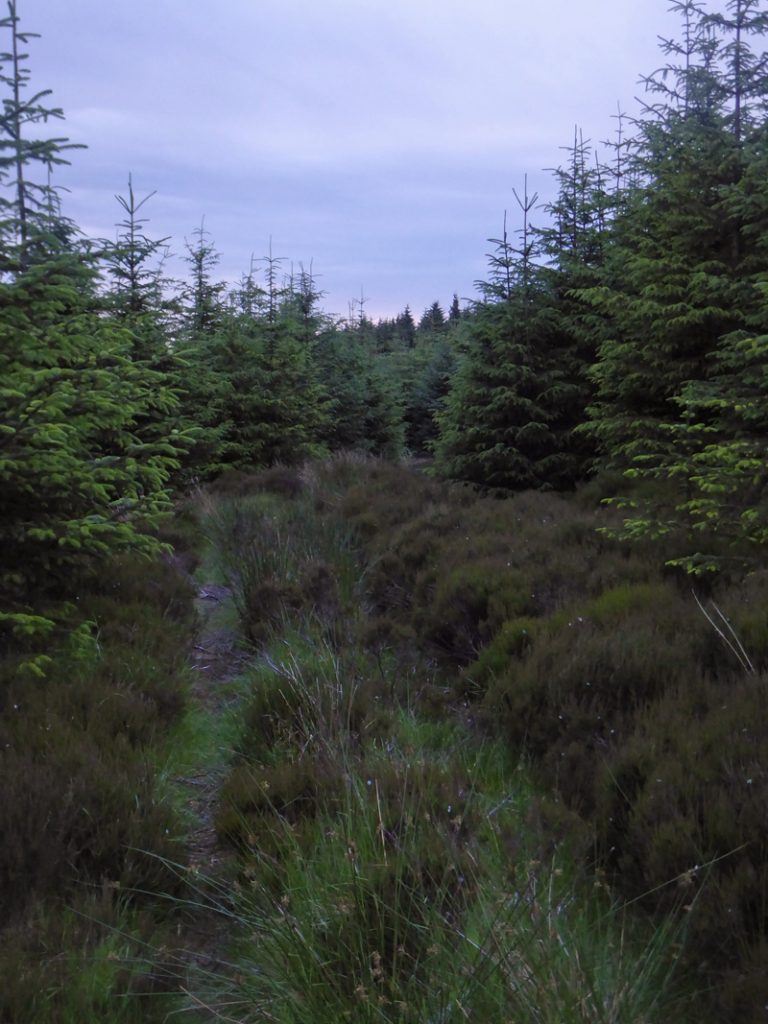 Night has arrived in the dense plantations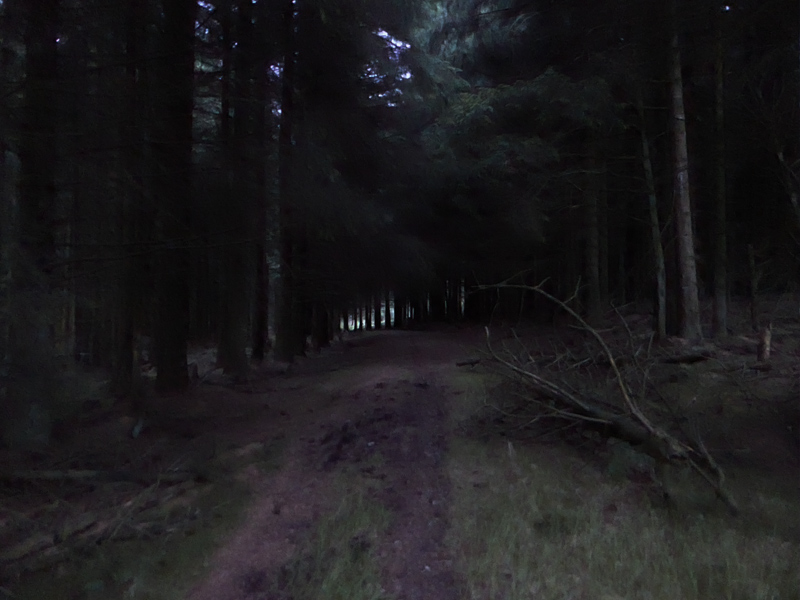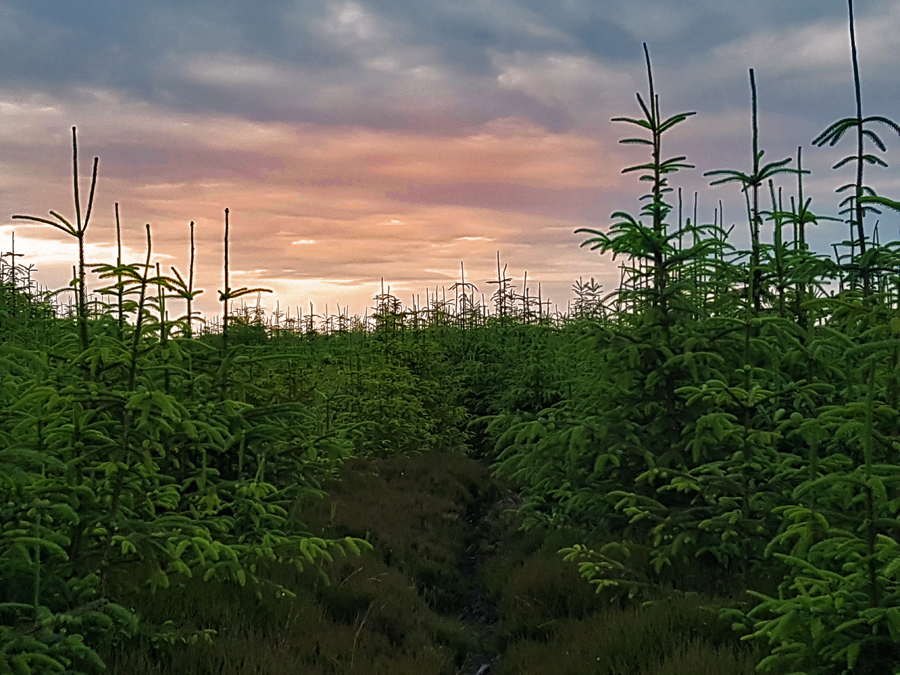 After finding connections across perpendicular forestry roads, further climbing getting rooty and rockier I glimpse flashes of light through the branches, and suddenly in front of me the hill drops away and the trail frames a perfect sunset glow punctured by the unmistakable silhouette of Bennachie; it's an eye feast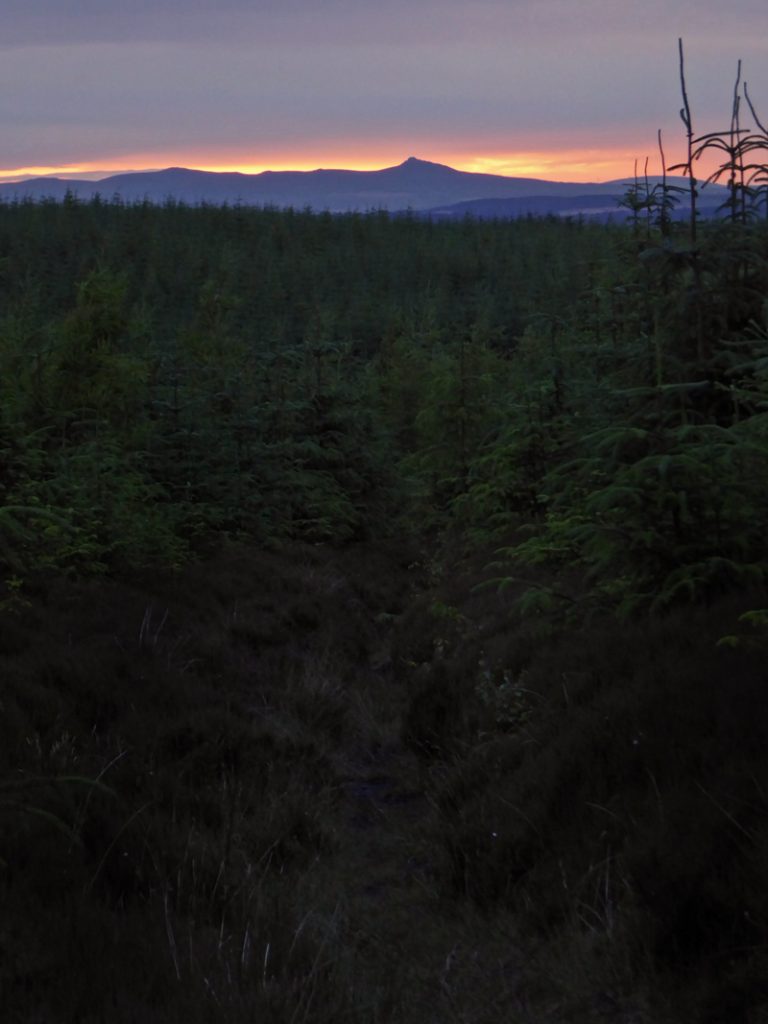 I stop to savour the last gasps of sunset, but not too long; what goes up must go down, the path steepens, the descending darkness hides breaky rocks, puncturey stumps and over-the-handlebar-hollows, I have limited light-battery and will save for night fall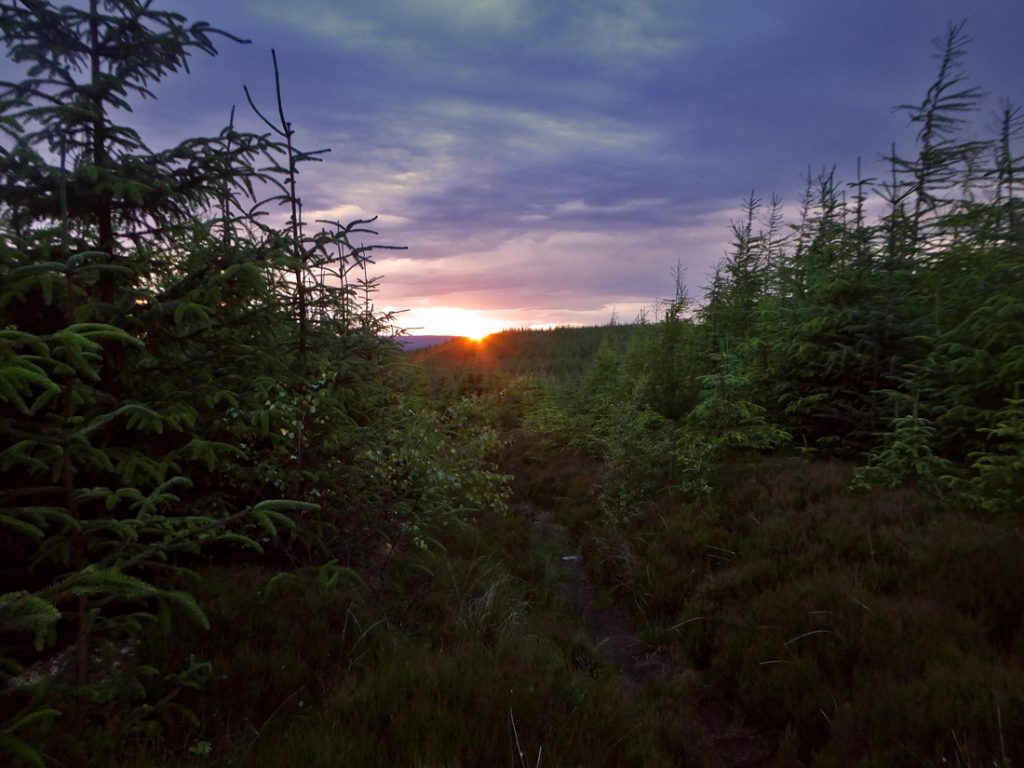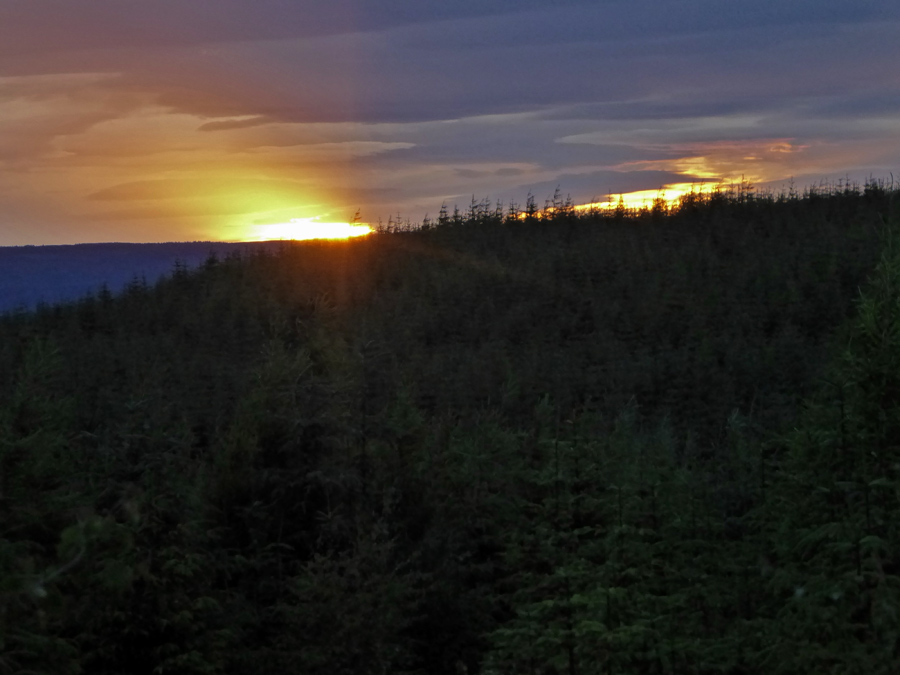 The descent is fun, I'll need to revisit in daylight (or eat more carrots). I conclude The Elsick mounth is best done this way round on bike, S to N, climbing smoother; descending rougher; it'd be more hike-a-bike t'other way. Past – road and whizzing down through the more familiar Ashentilly and Warren woods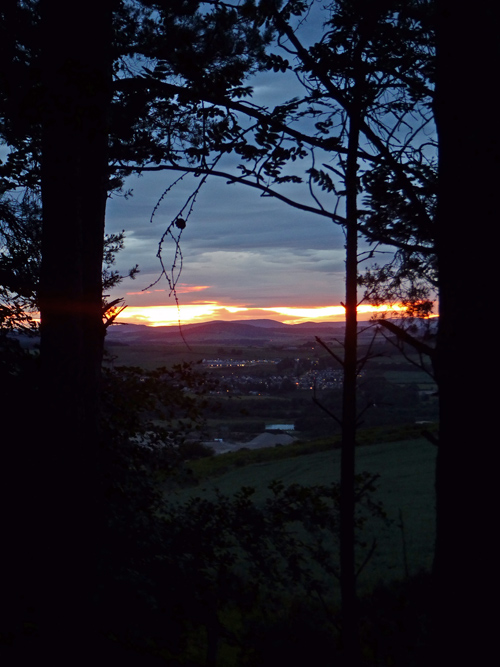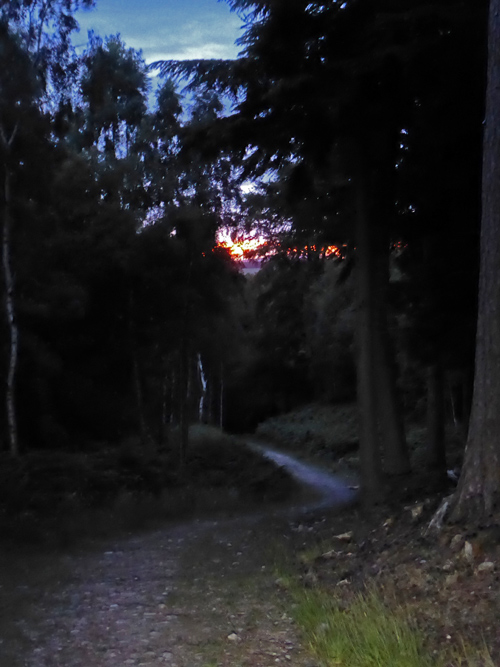 Exit woods, whoops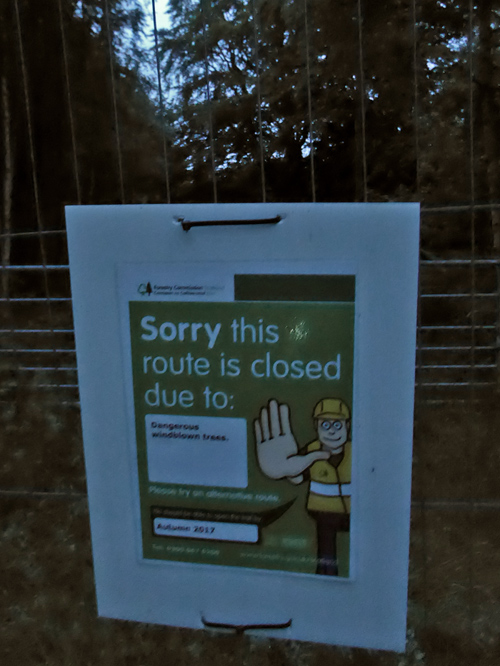 All that remains is to accompany the bats on the Deeside way, an hour of smooth path and a well earn cuppa, 70km in the bag