Today is my first outing with Aberdeen Hillwalking club. They've got a really good website, you can book online and they do a wide range of walk styles; not always hills. They have a big coach so it'd be a rare trip there wouldn't be room. Arriving at Glen Effock, there's no hanging about; everyone is off like a shot; I'll no doubt catch them as soon as there's an incline.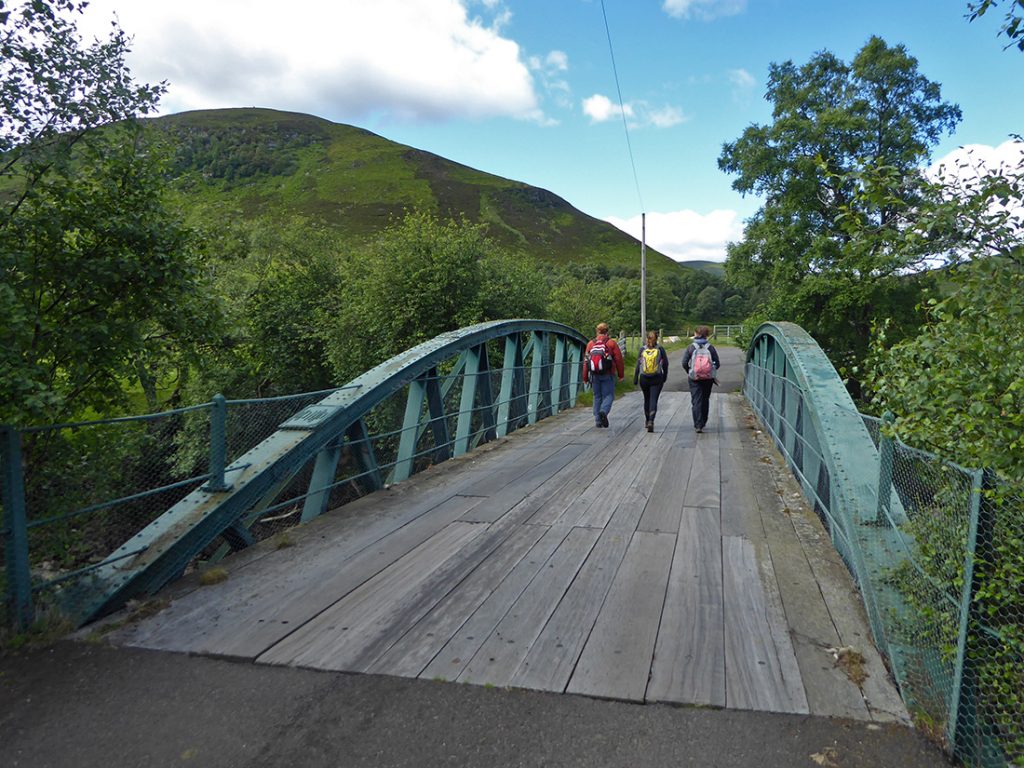 Gleneffock bridge, 1887 wrought iron from Clutha Ironworks Glasgow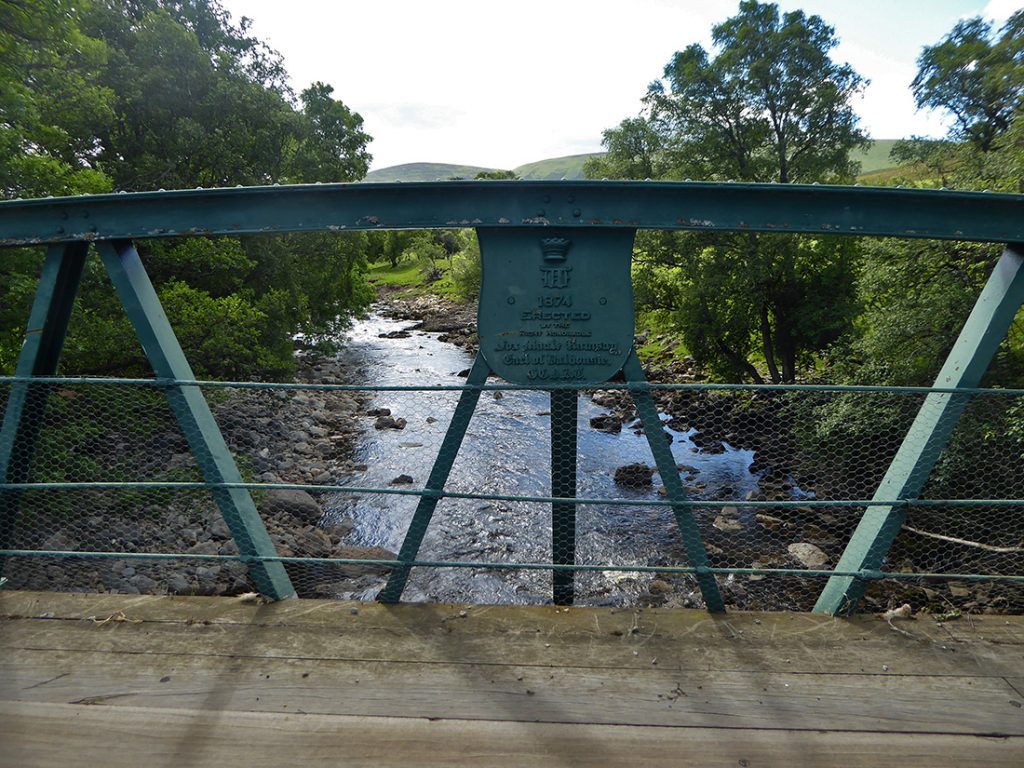 Shetland pony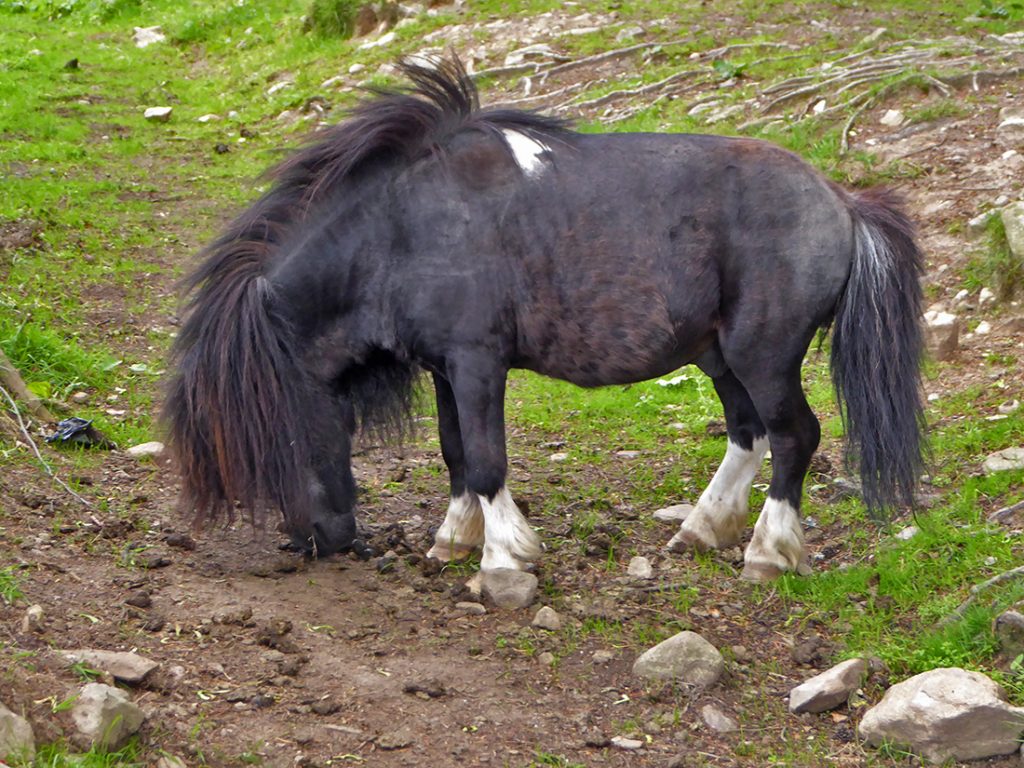 Lapwings tootling and wailing about the fields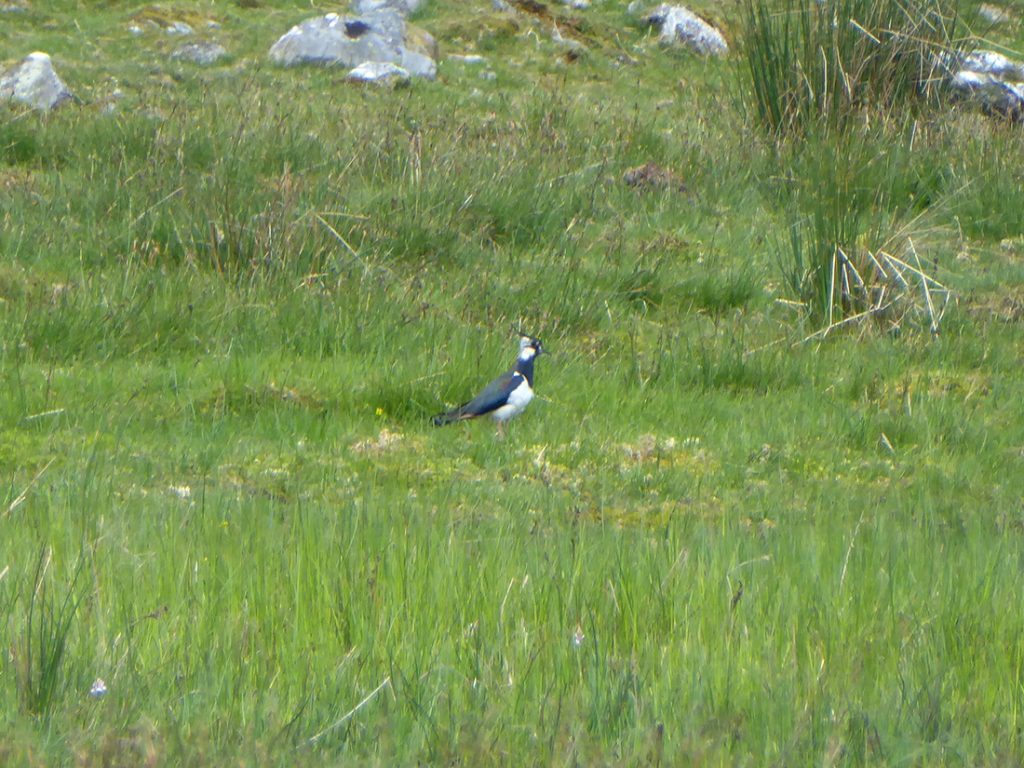 Climbing up the first slopes of Cairn Caidloch, the Maule cairn becomes visible
More bird life. The skies are whirring with plenty activity, but always hard to get shots against the sky. Thanks Oystercatcher for standing still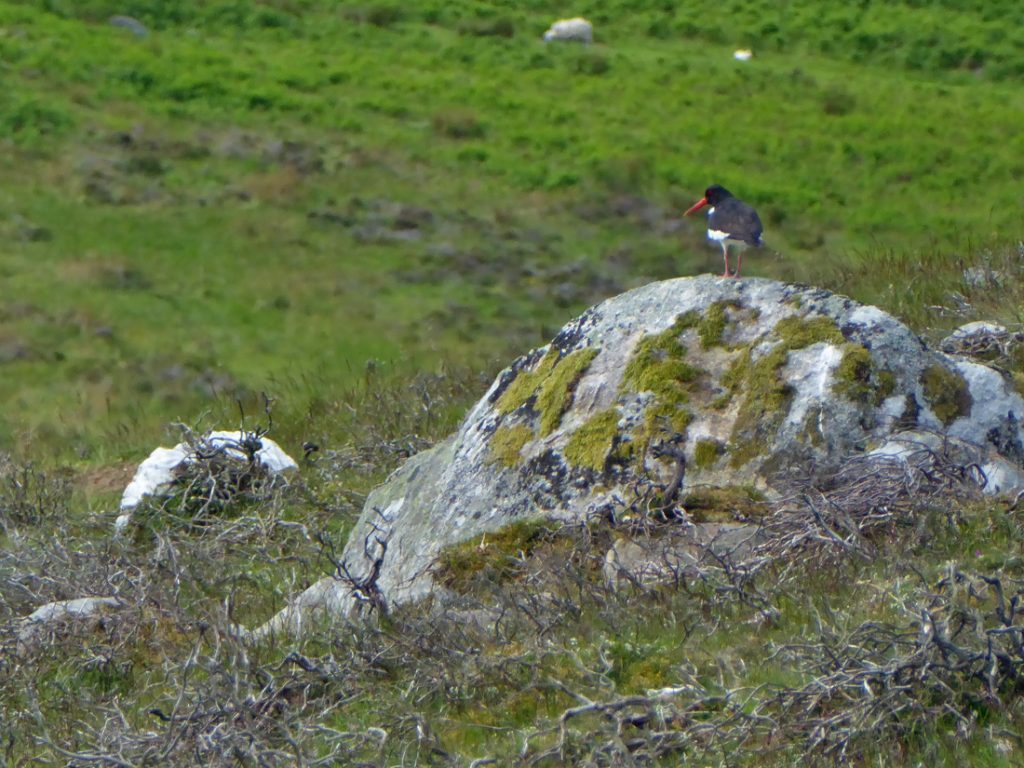 The crags of Easter and Wester Cruys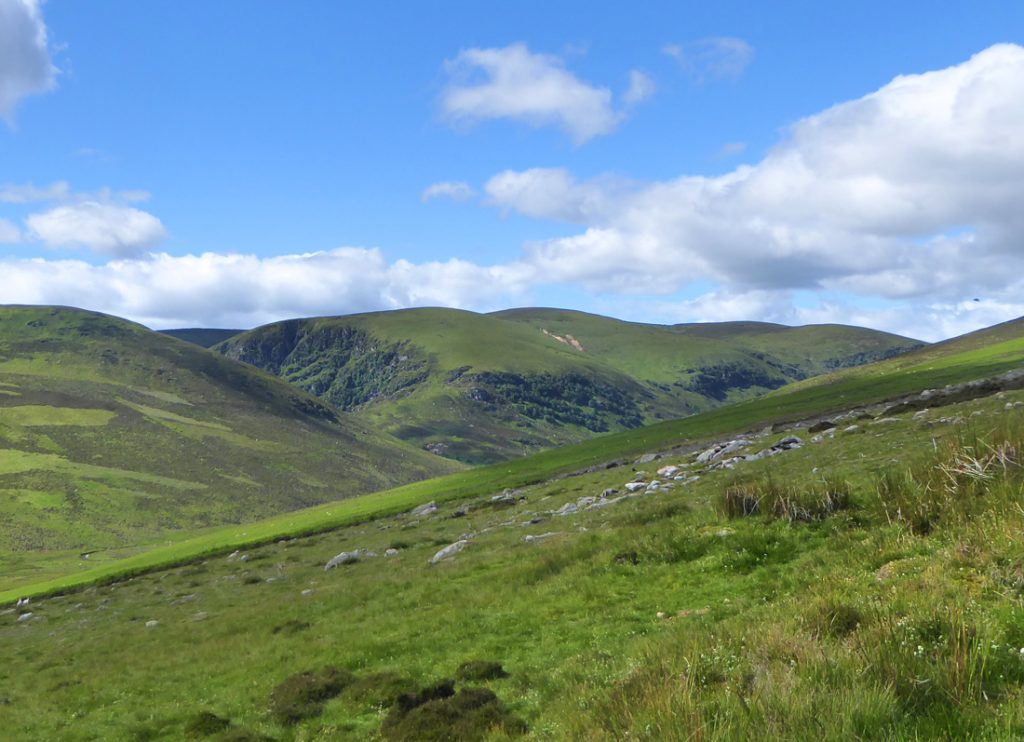 Zoomed in past a stacked cairn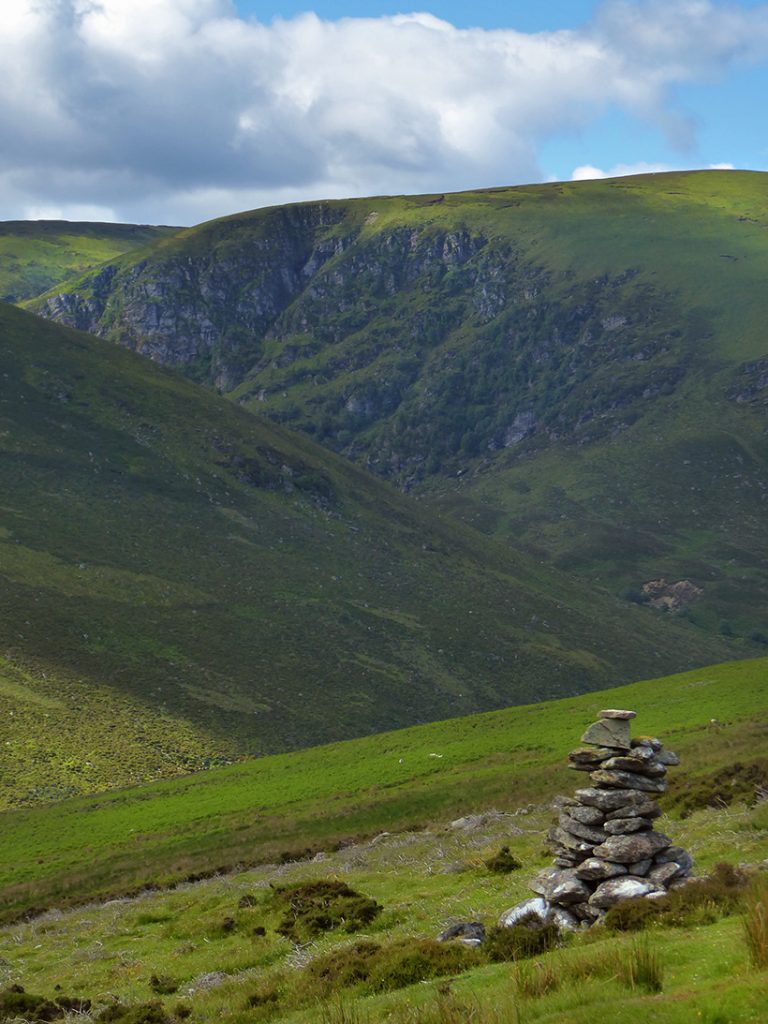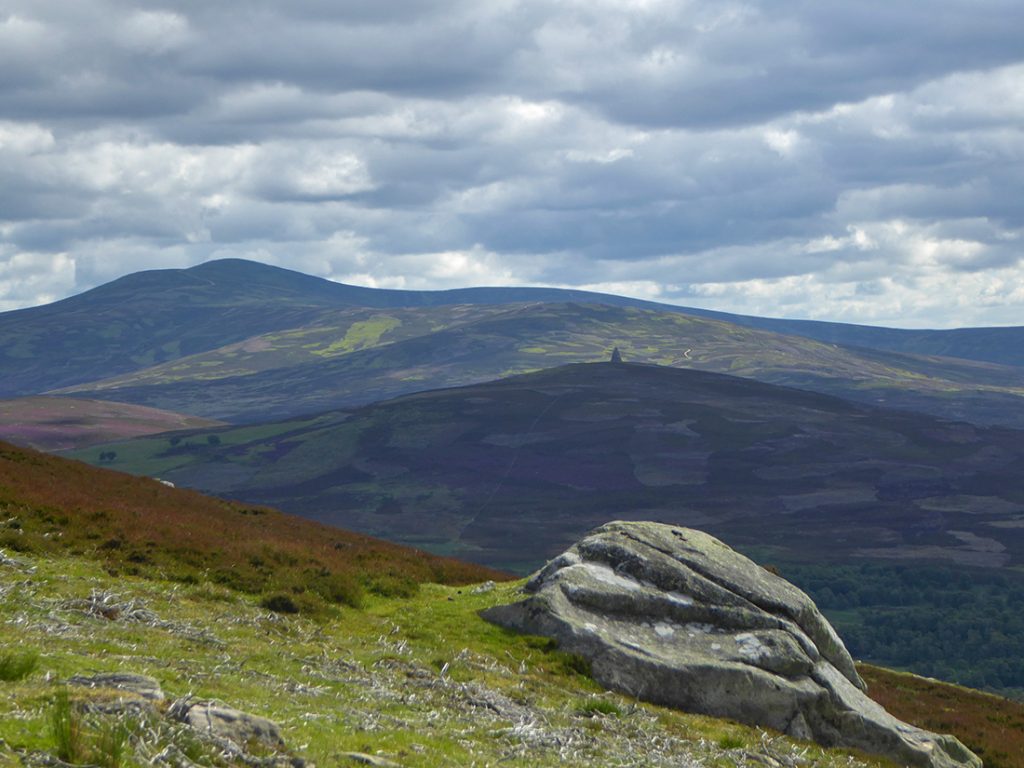 Zoomed in down to the Water of Lee valley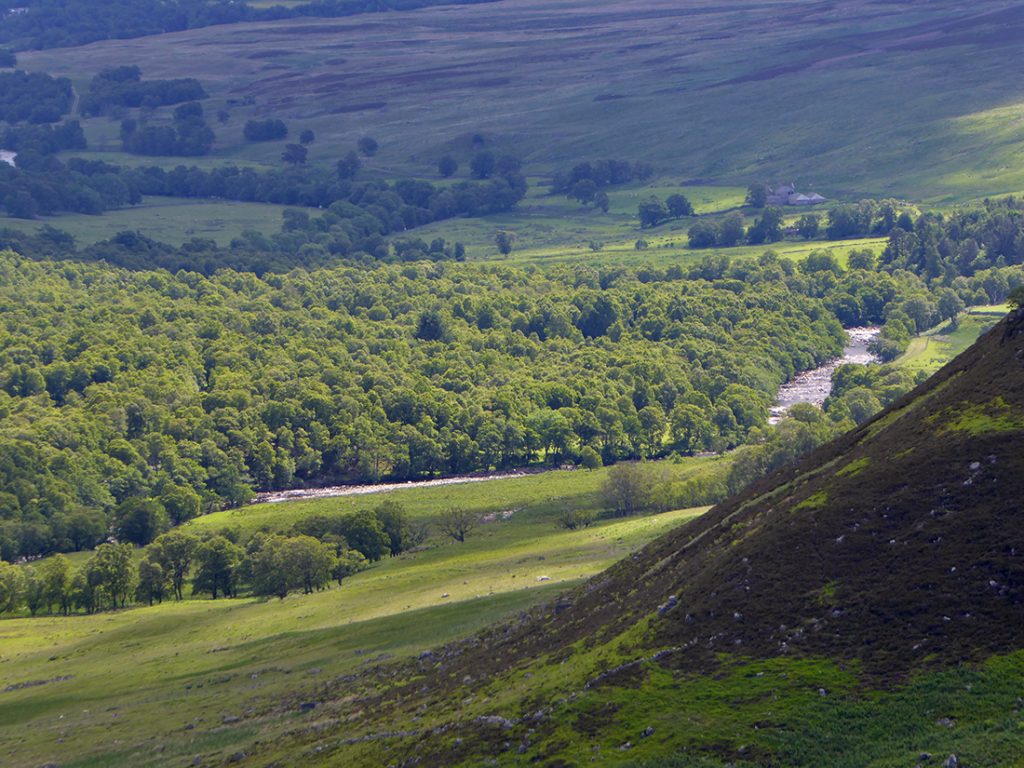 The Maule cairn on Hill of Rowan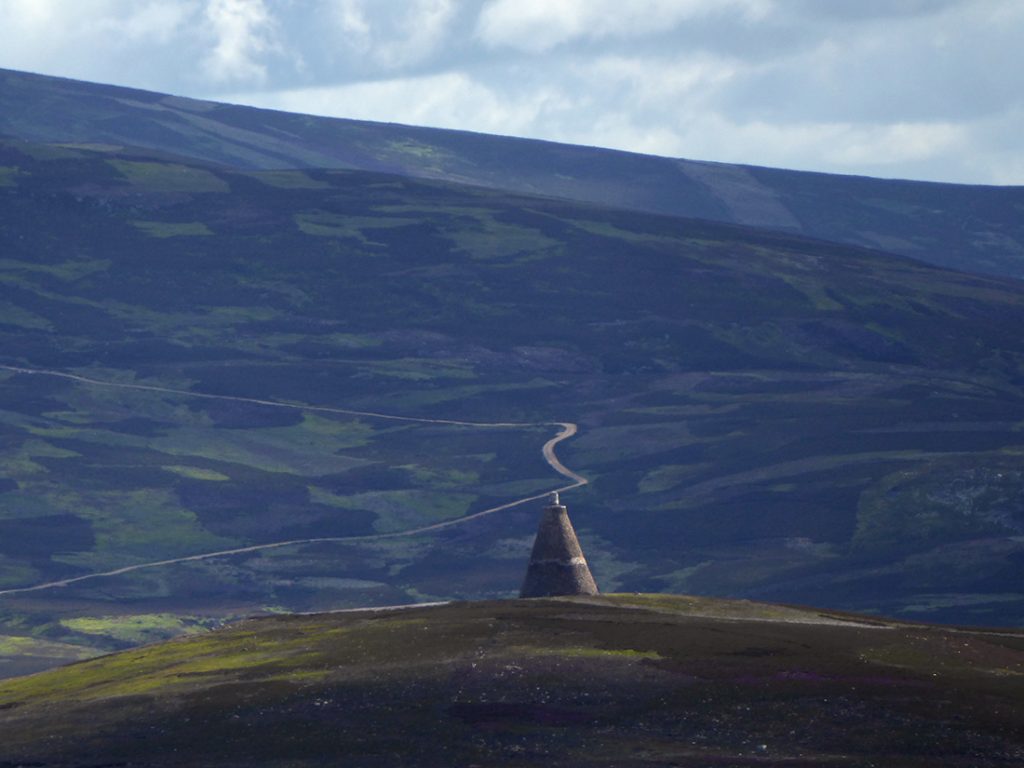 Lapwing aloft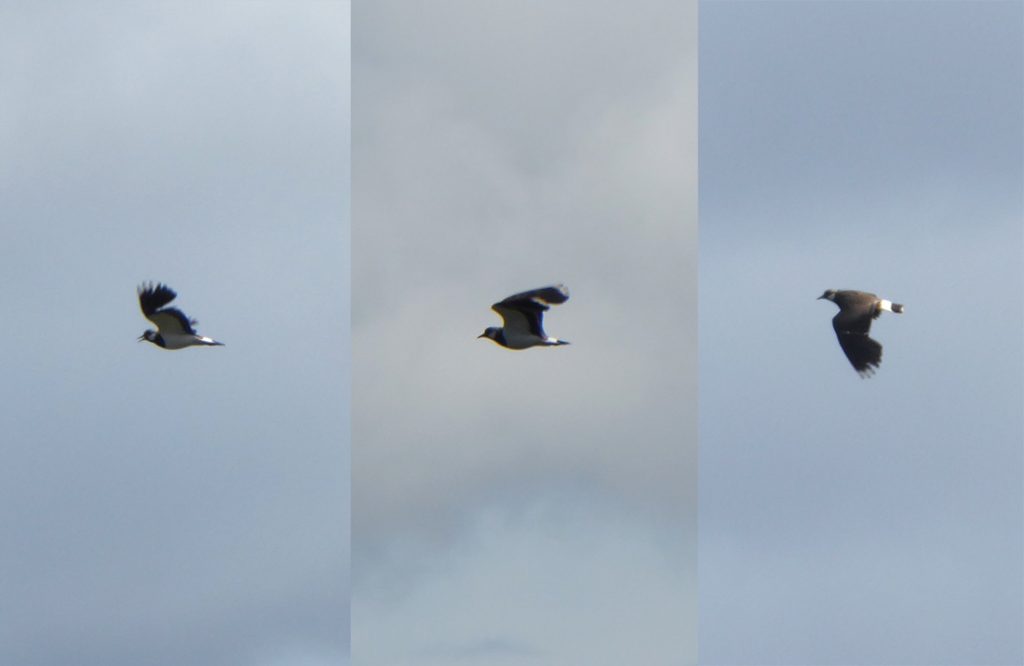 Further up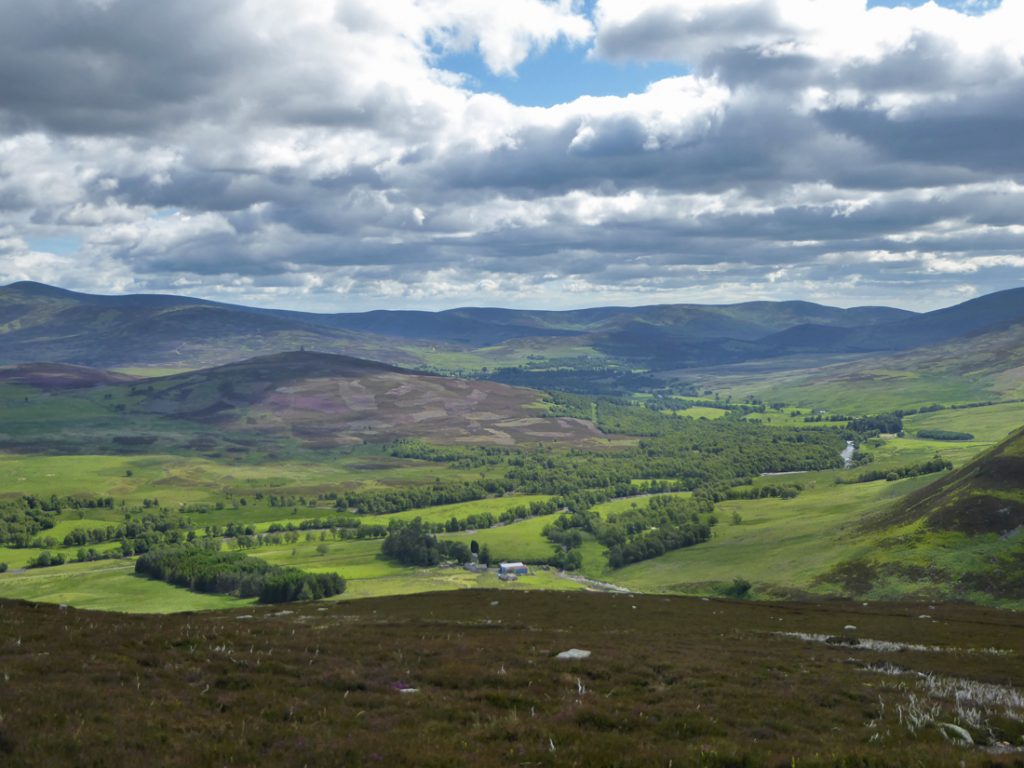 First peak of the day, Cairn Caidloch 647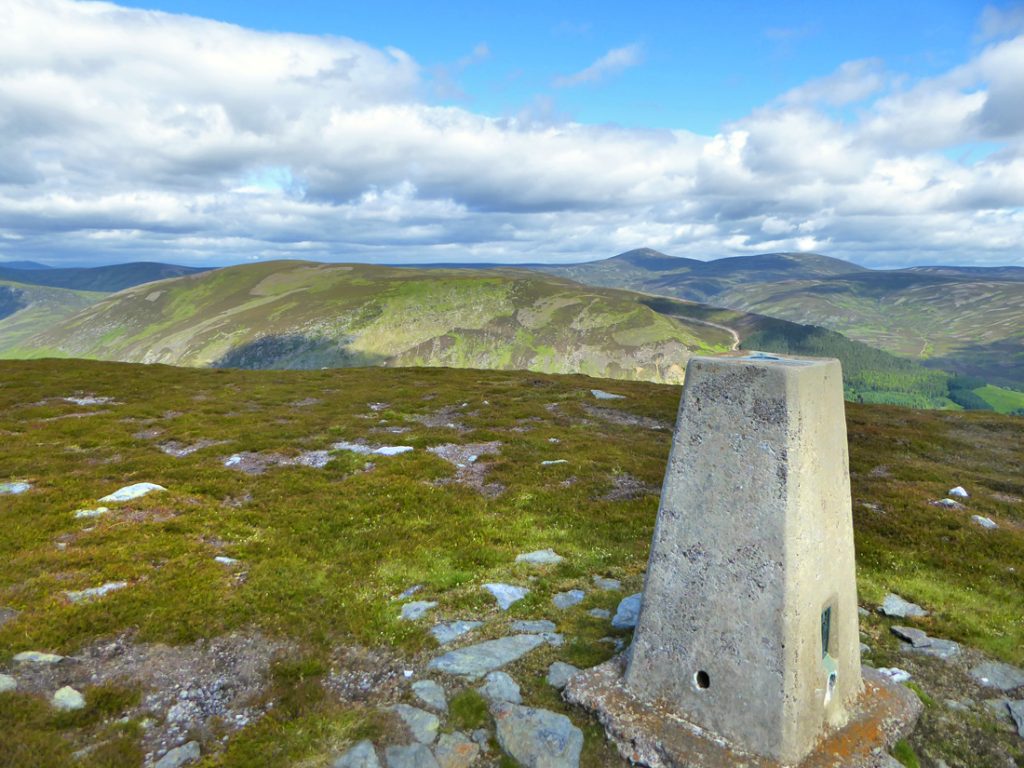 The water of Lee upstream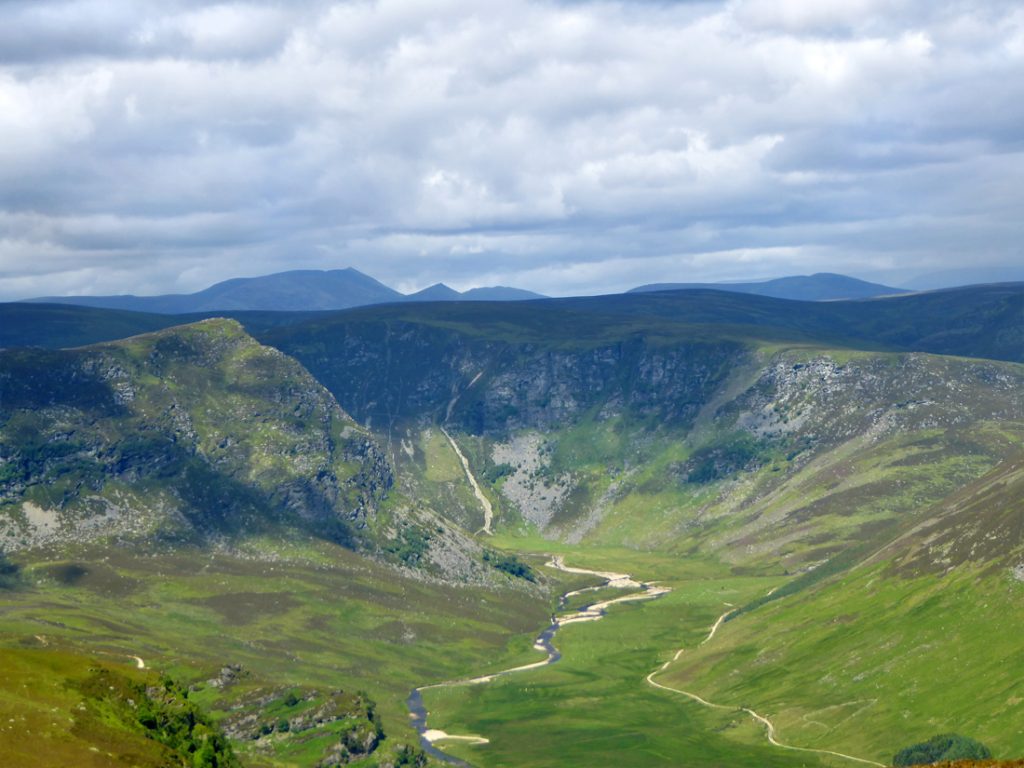 More cairns
There's lots of cloudberries up here, not ripe yet though (they go orange)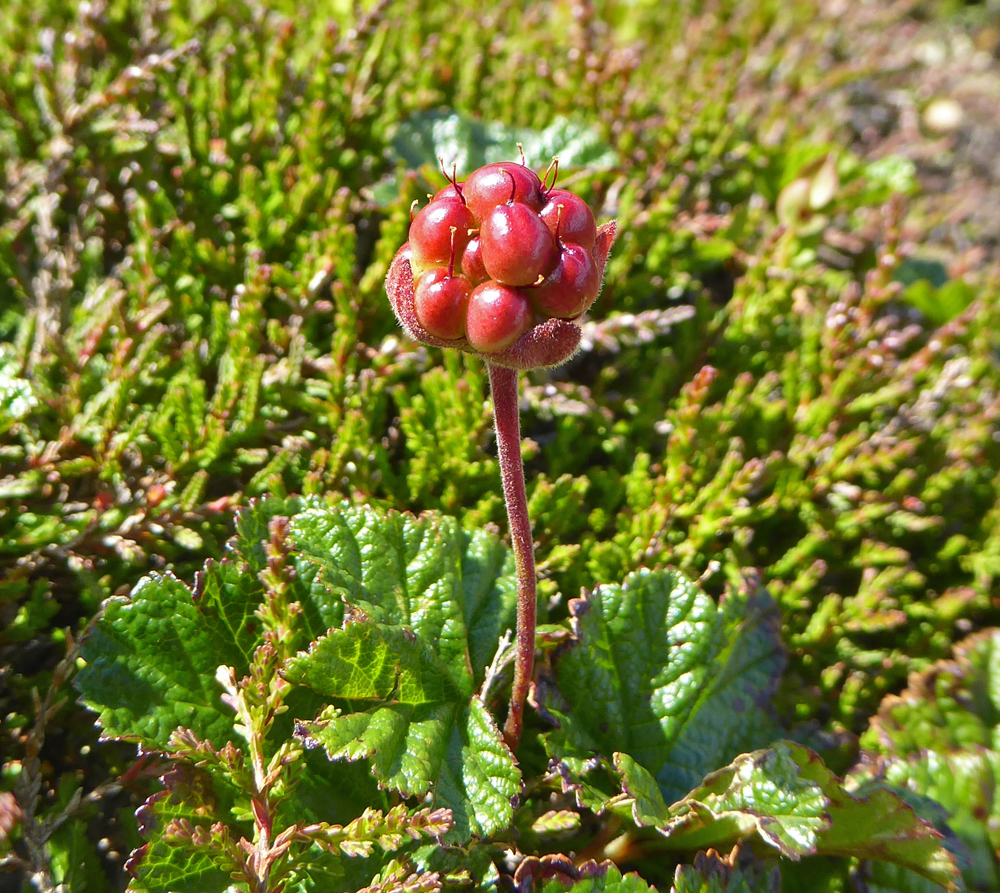 Trail heading towards Burnt Hill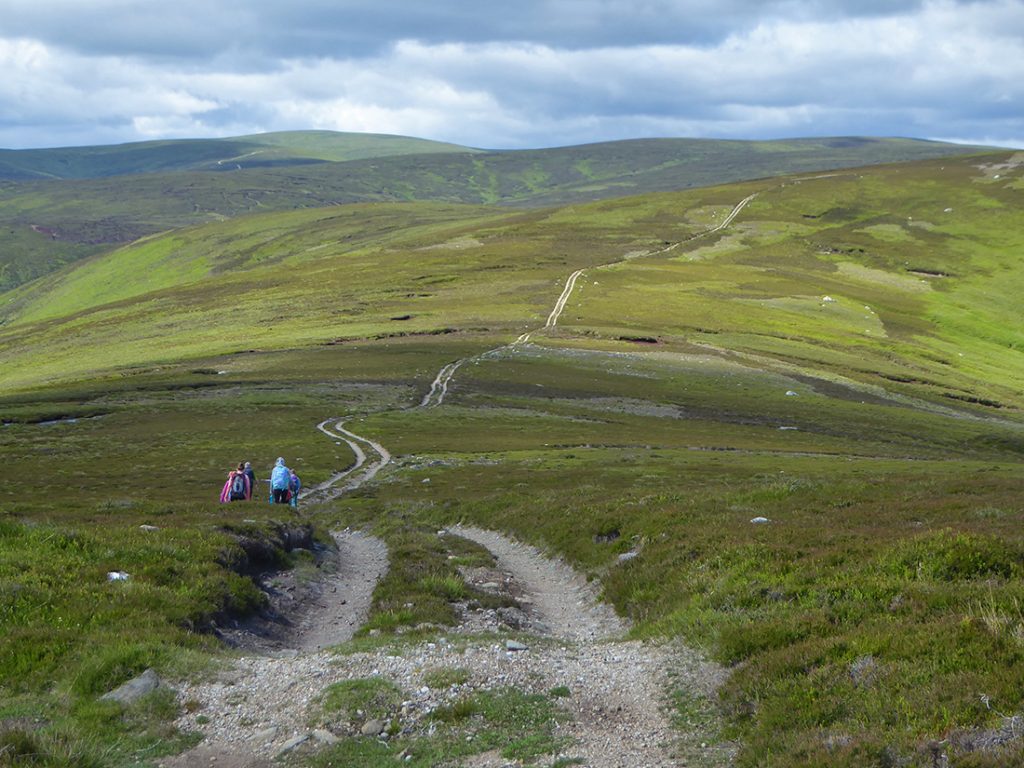 Rather than following the path North to Craig Turner which involved a fair chunk of descent to re-ascend, we decided to go cross-country at 615 towards Skuiley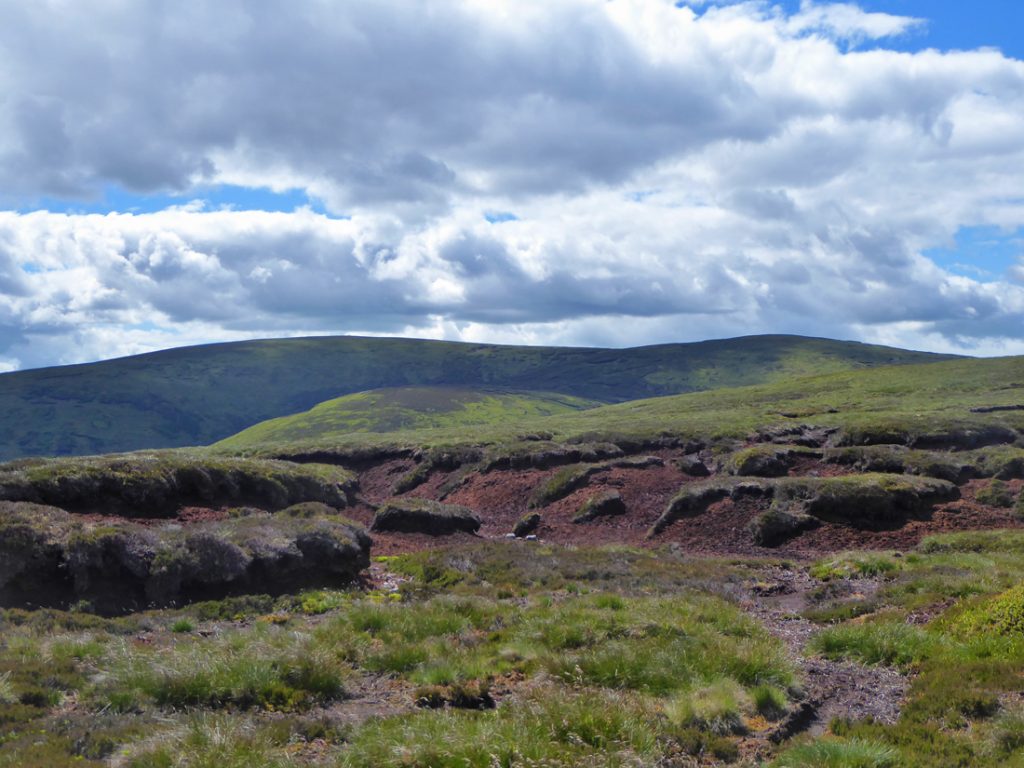 It's heathery n haggy but reasonably easy going. Loads more cloudberries n wee flooers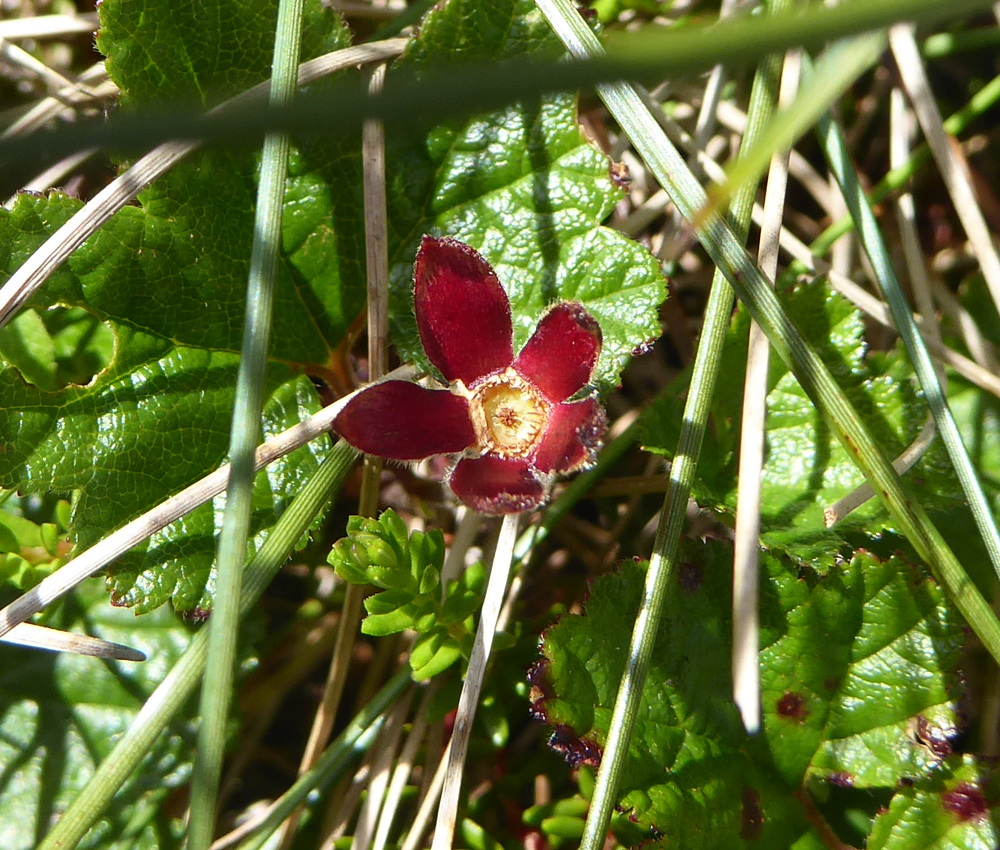 Looking North over a pool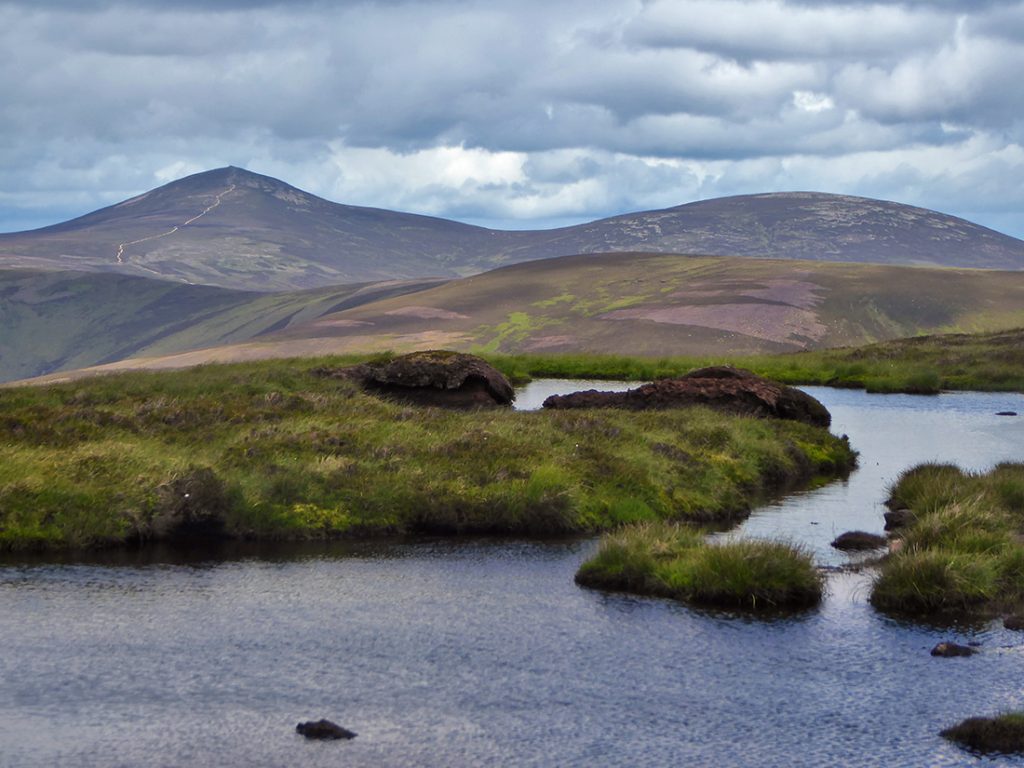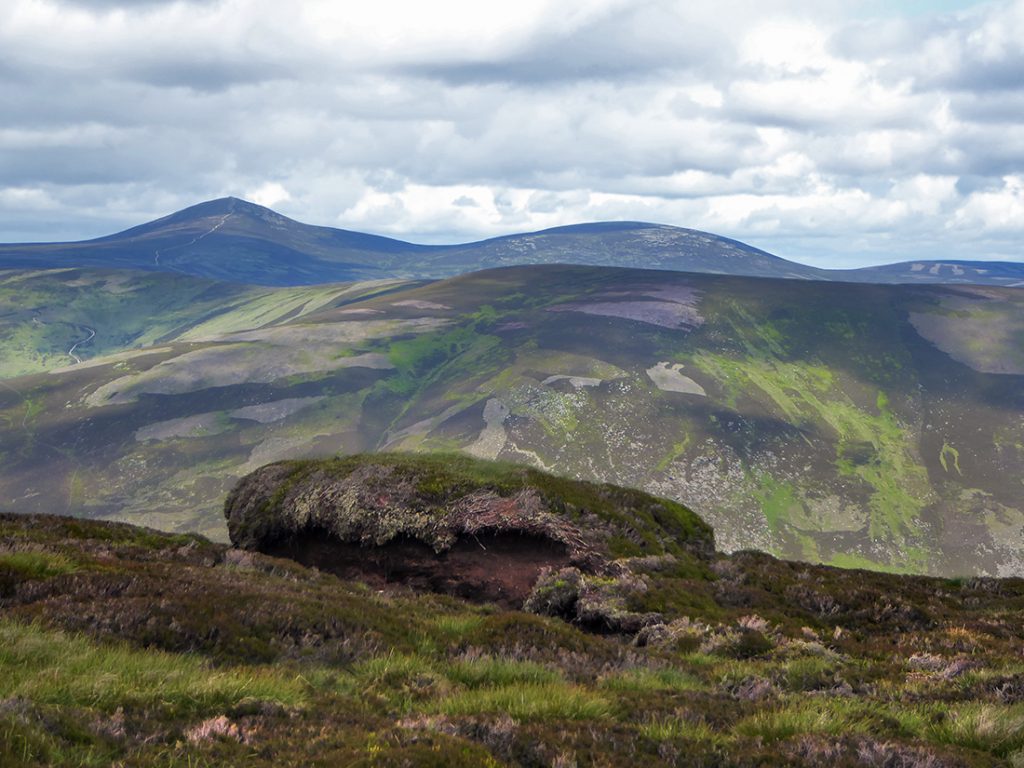 Mount Keen with a very visible track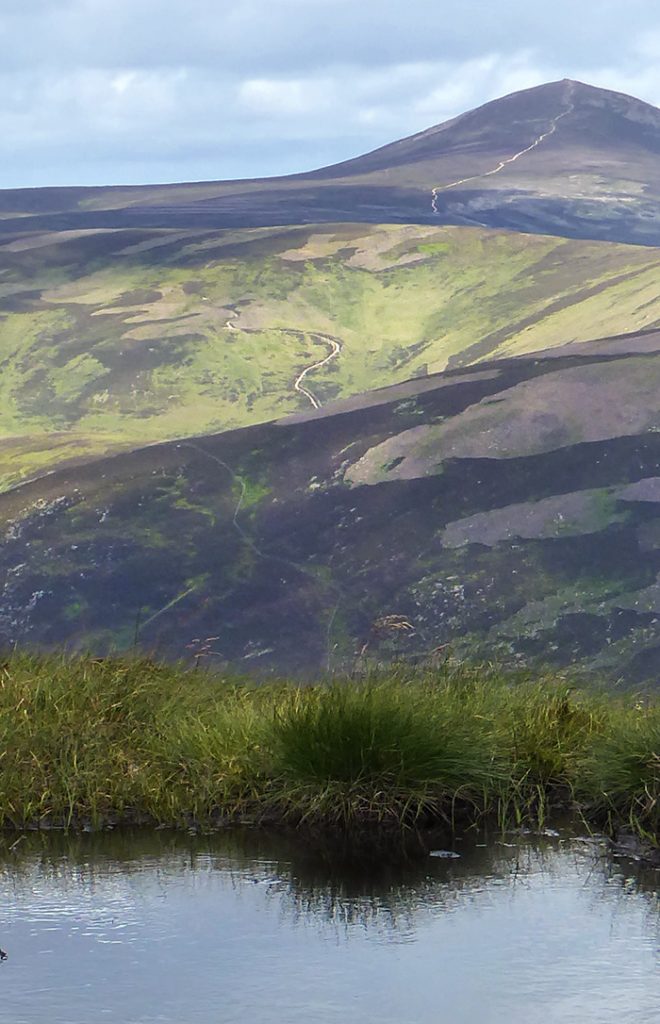 Blue skies but breezy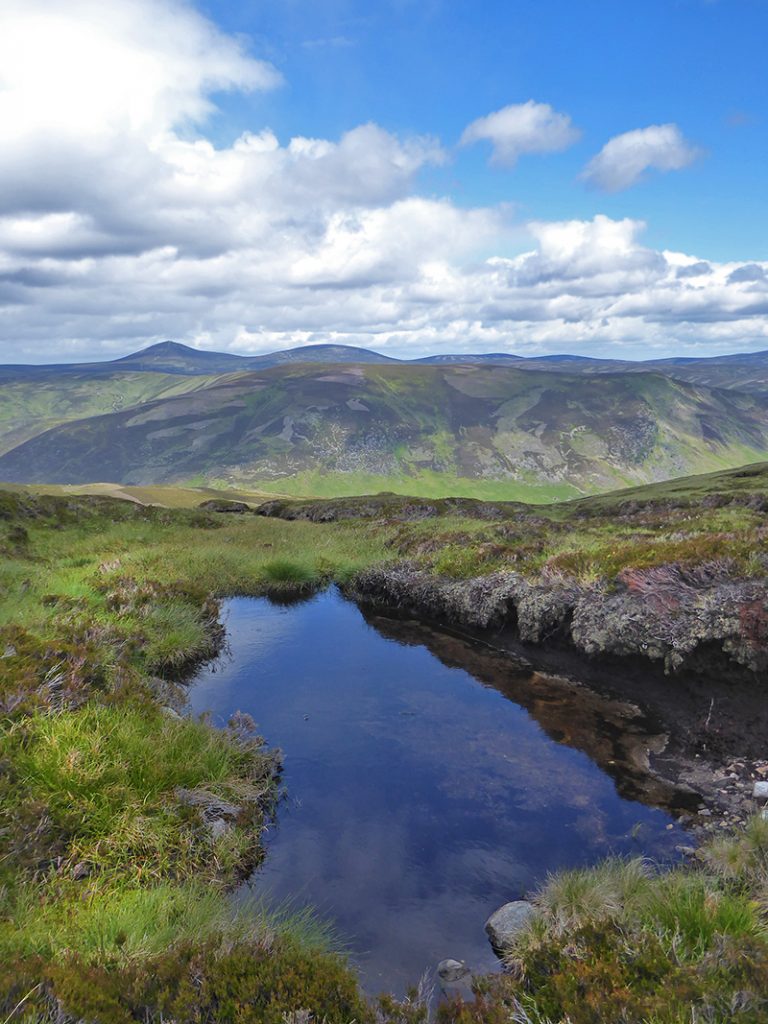 A peep of Loch Lee in the valley below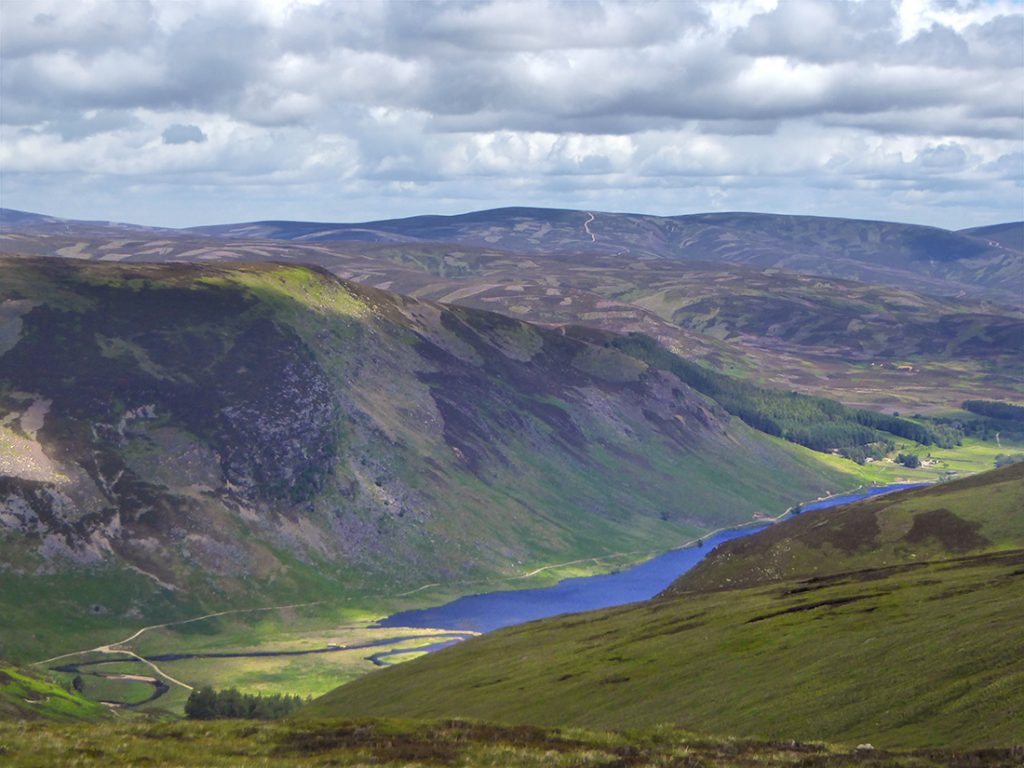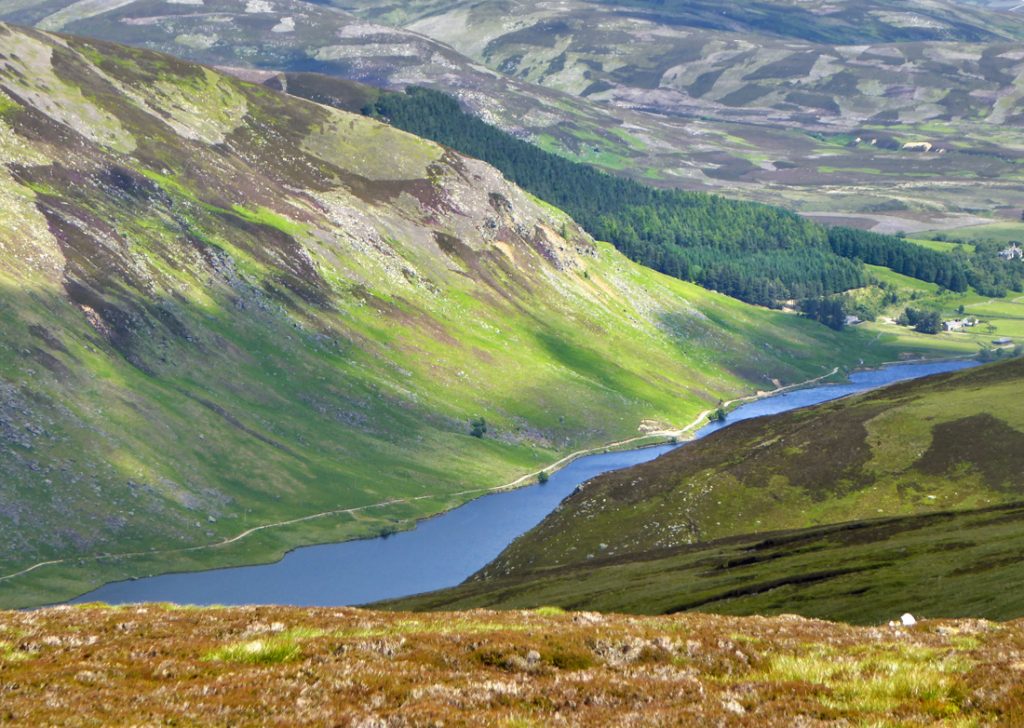 A quick spot of lunch sheltered from the prevailing wind slightly, before cresting Wester skuiley 736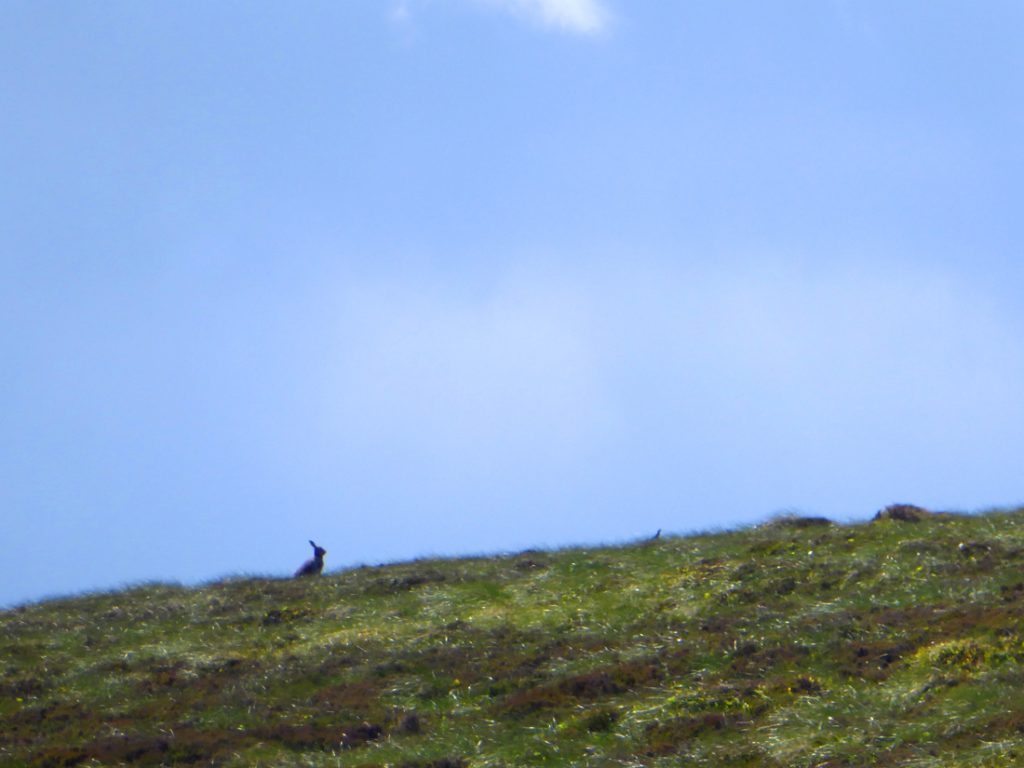 Looking back at the hags we have dodged in and out of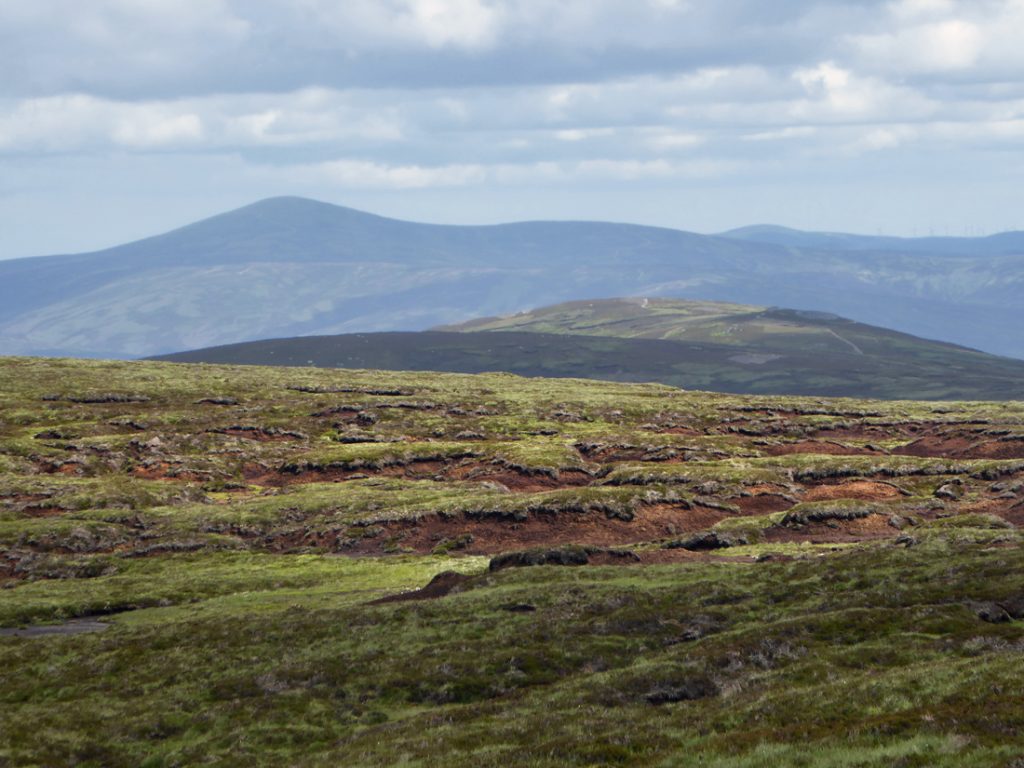 Nice skies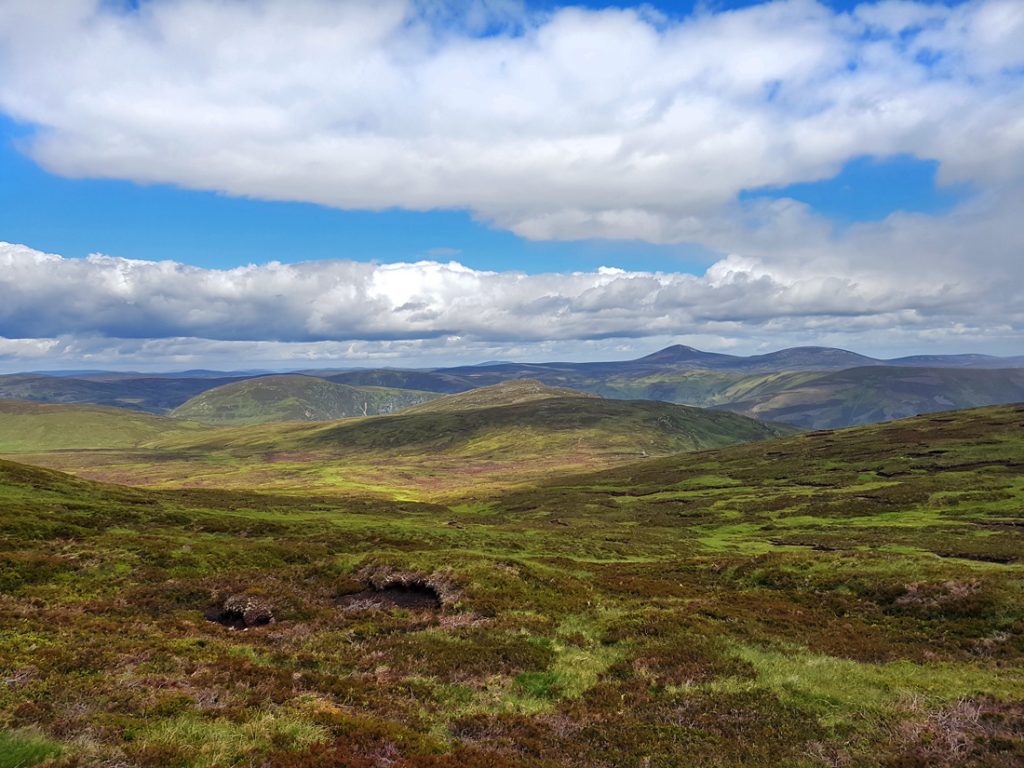 I imagine the other side will be quite busy today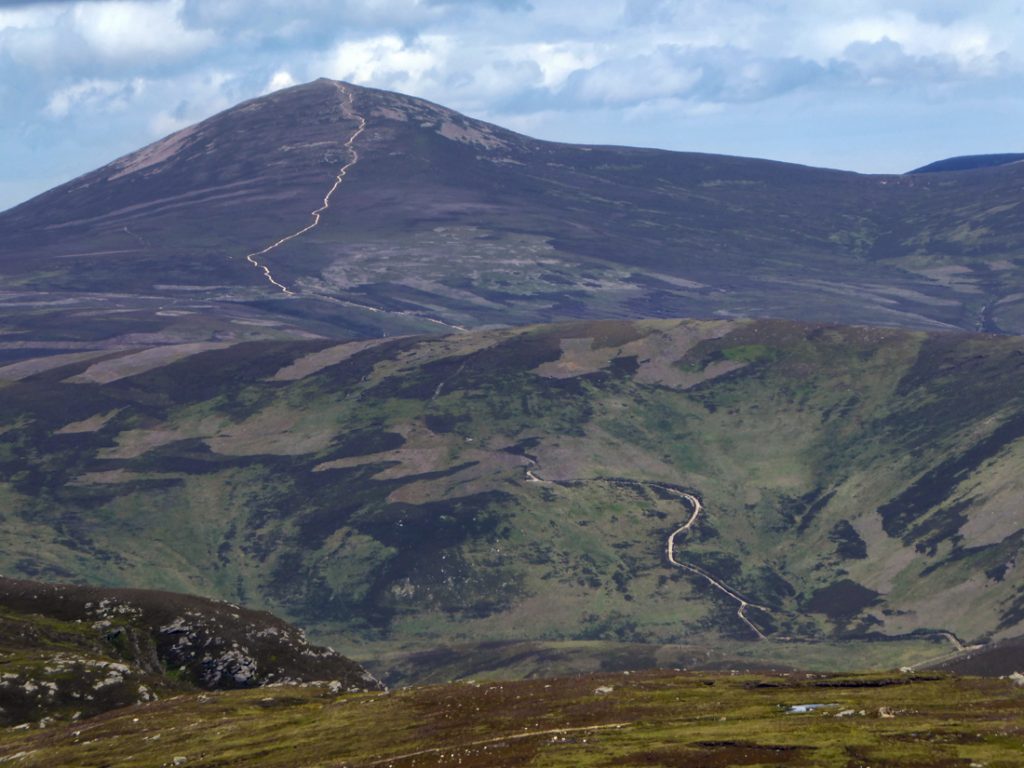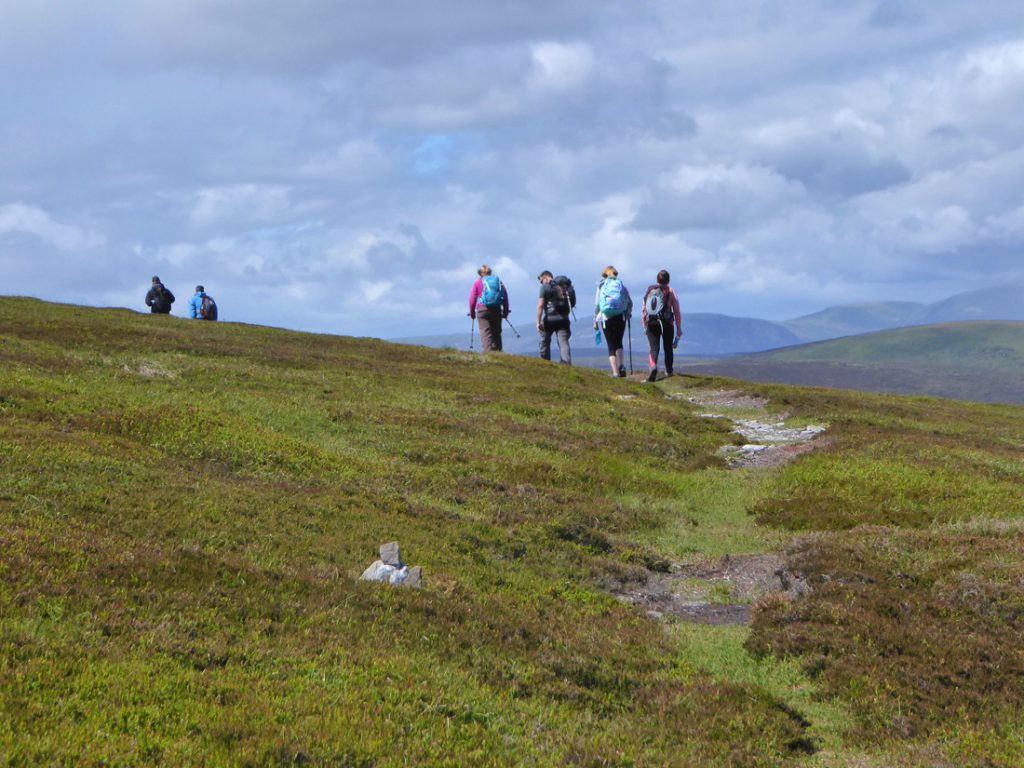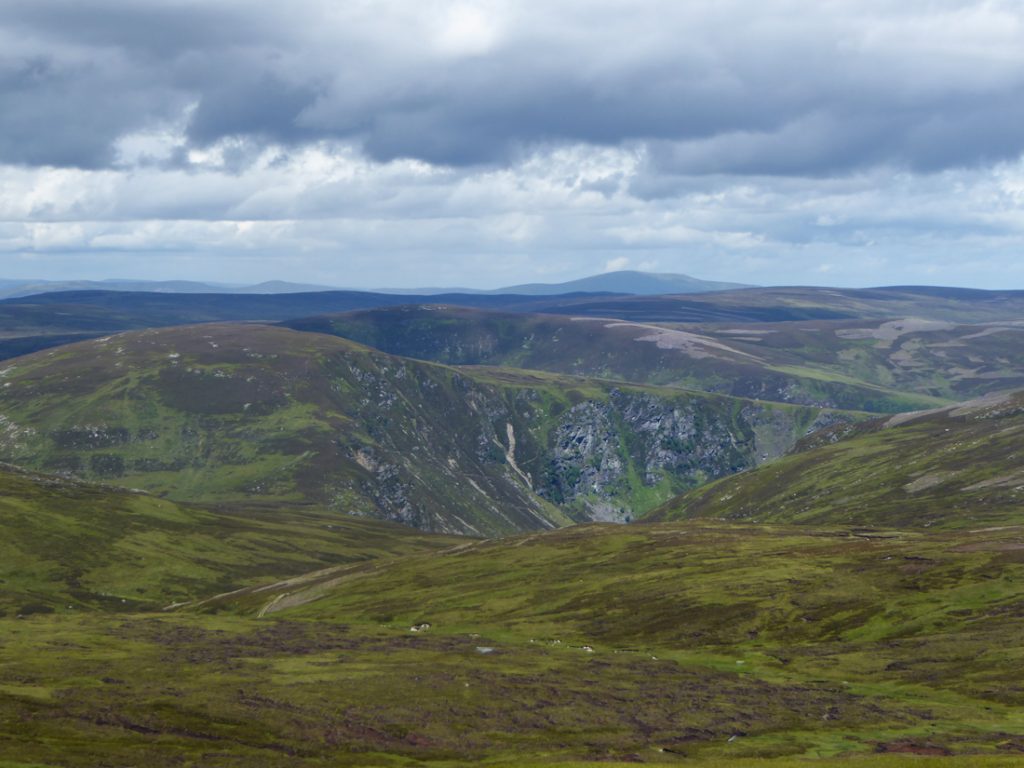 I go off route on a sortie to find some wreckage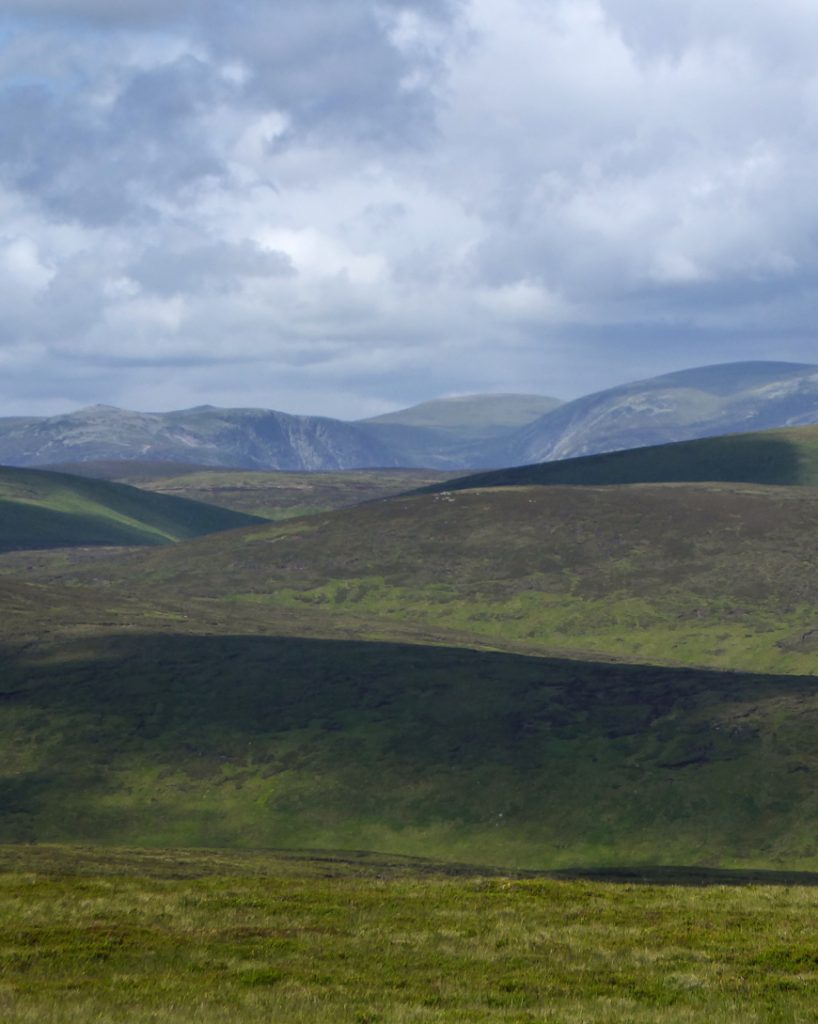 Not found, but worth the detour to get some views not afforded if you stick the path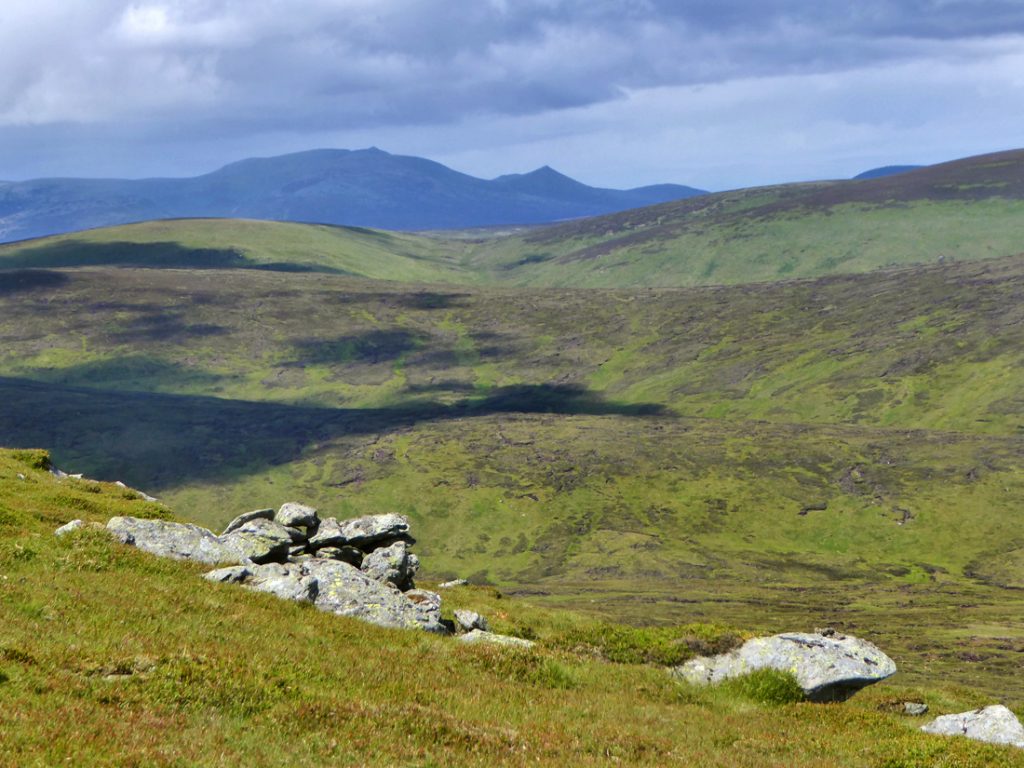 Massive shadows sweeping across the landscape, should have shot some time-lapse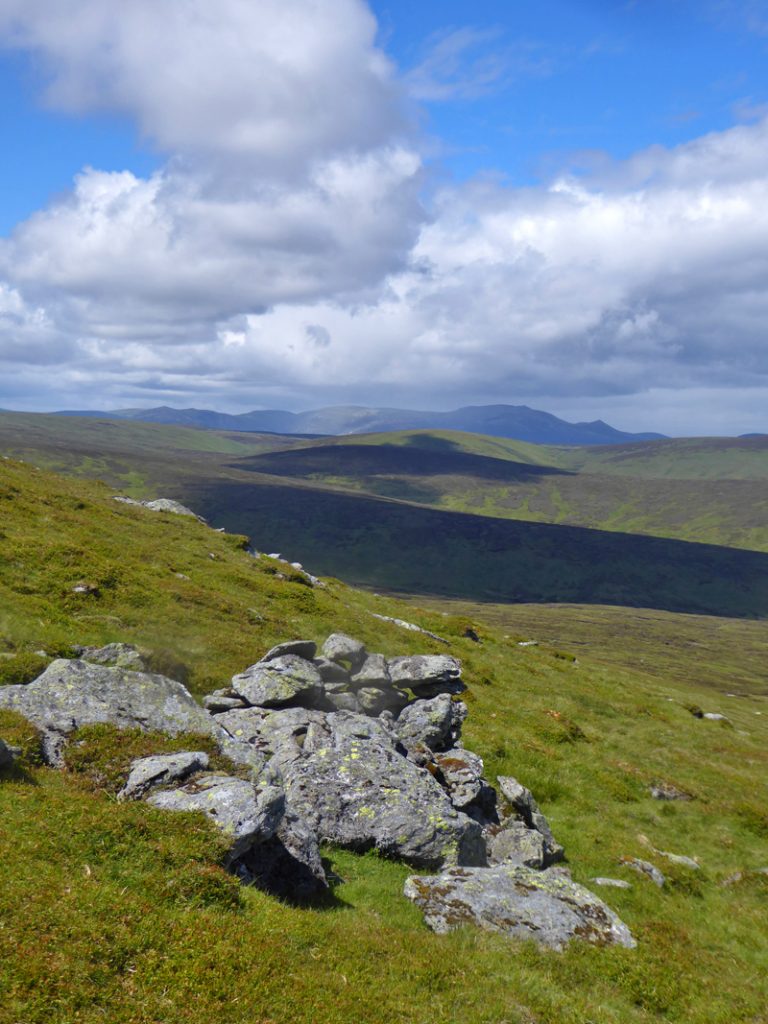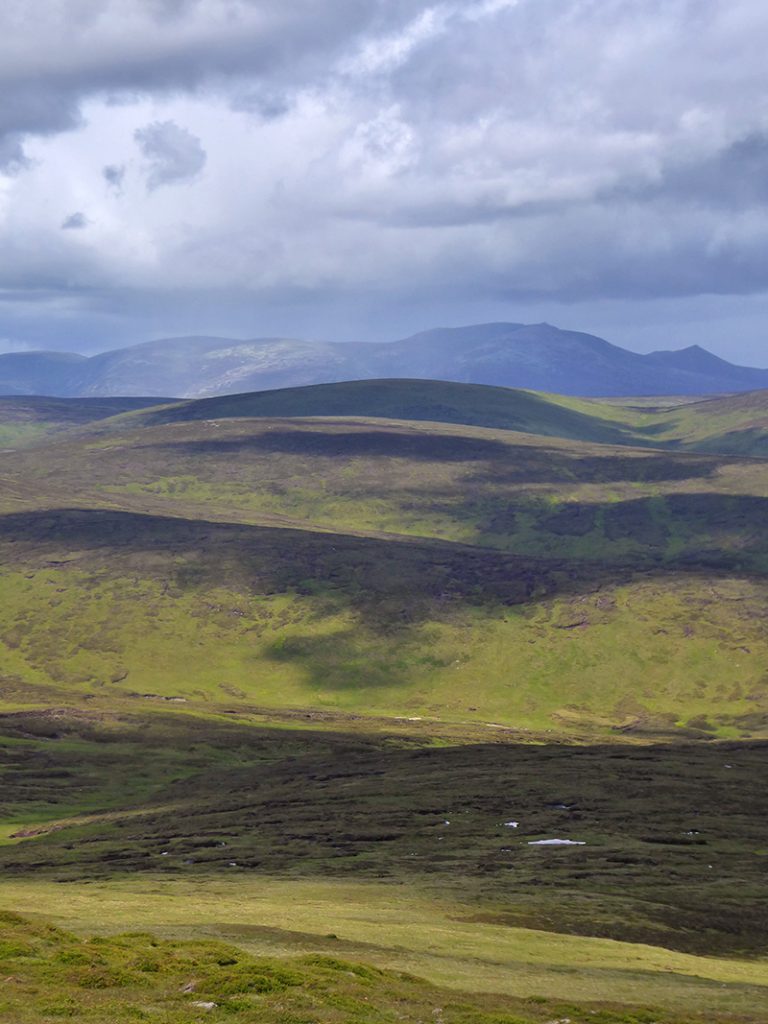 Another set of co-ords and no wreckage here either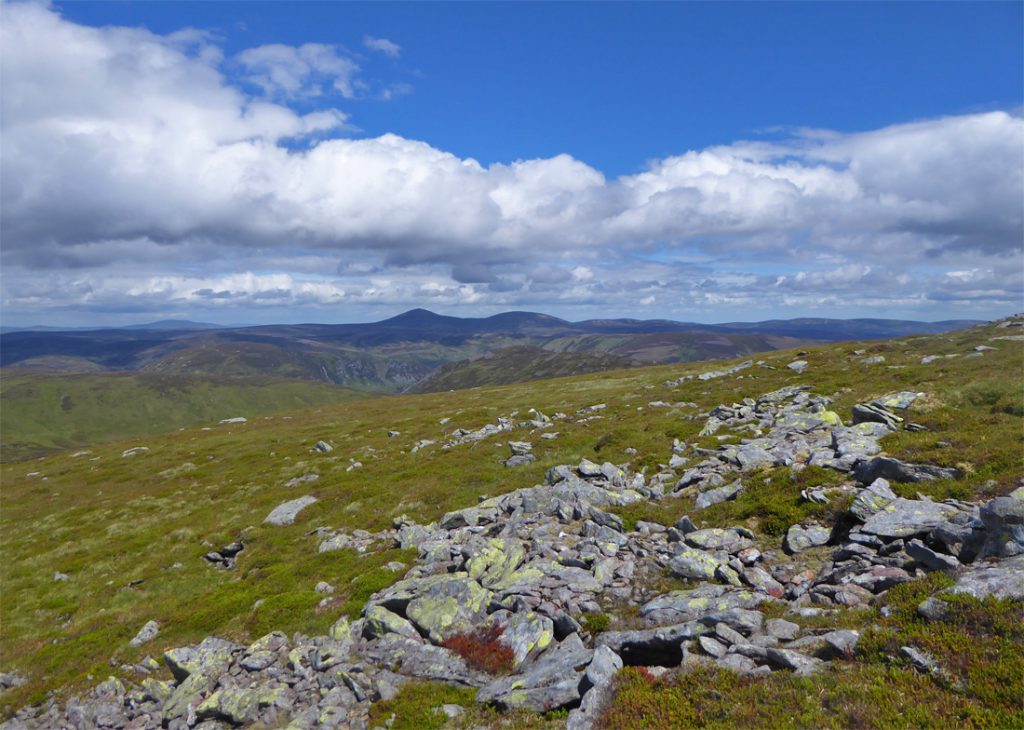 Big skies and rolling plains though
A snipe I think?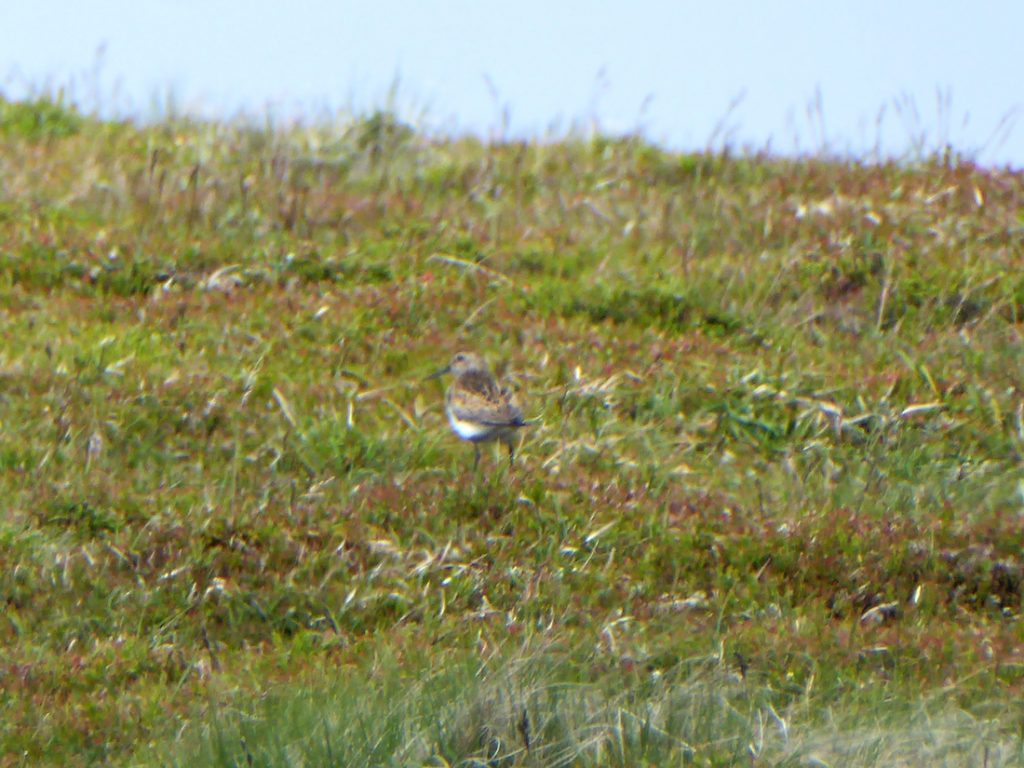 My stravaiging has uncovered an unmarked cairn / ruin North of the path. I rejoin the others on path shortly afterwards. They must think I'm a feil running hither and tither exploring on untrod ground when there's a path to follow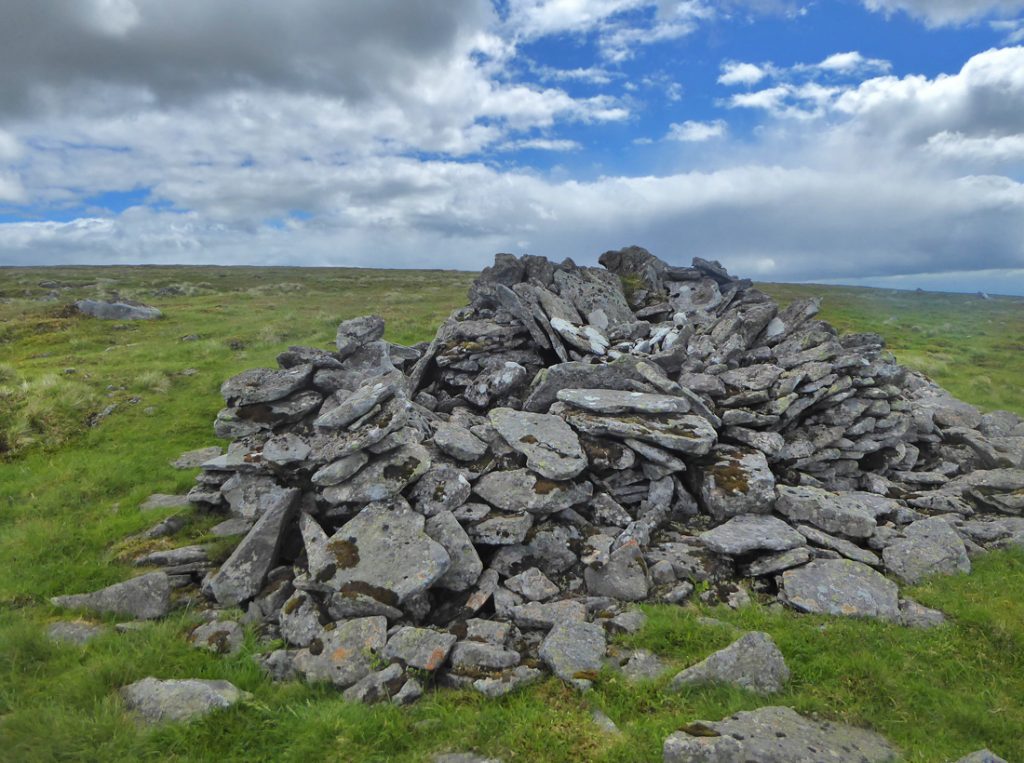 Wouldn't take much to turn this into a stealth-bothy. Don't think you can see it from the path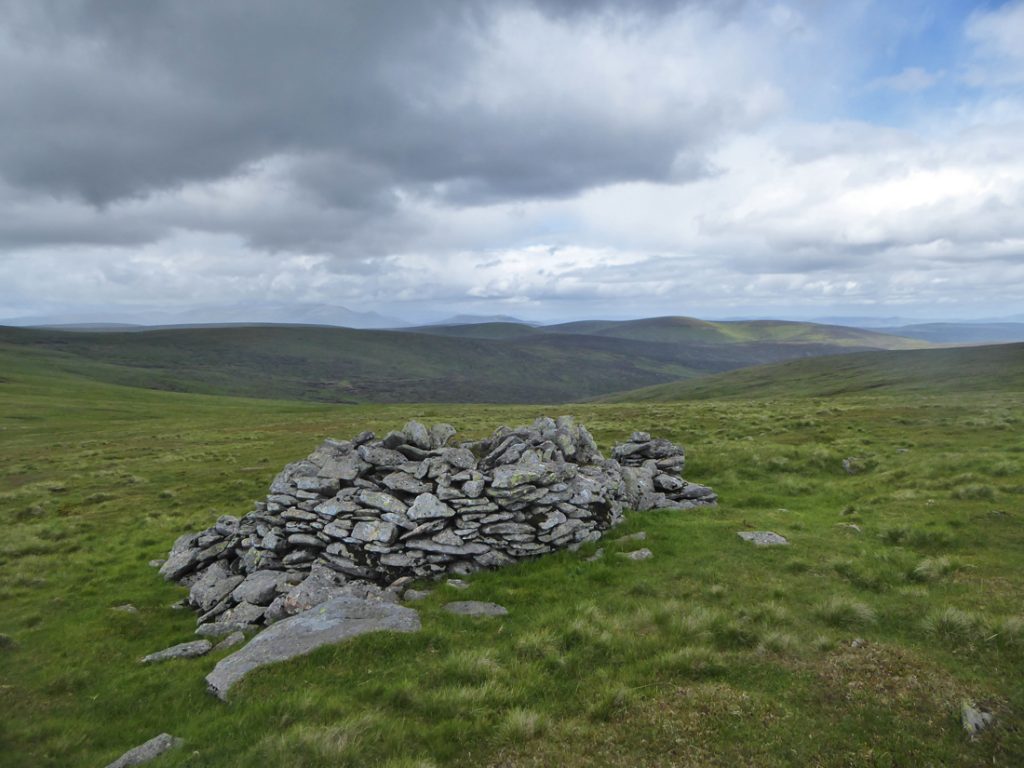 Can't have blue skies all day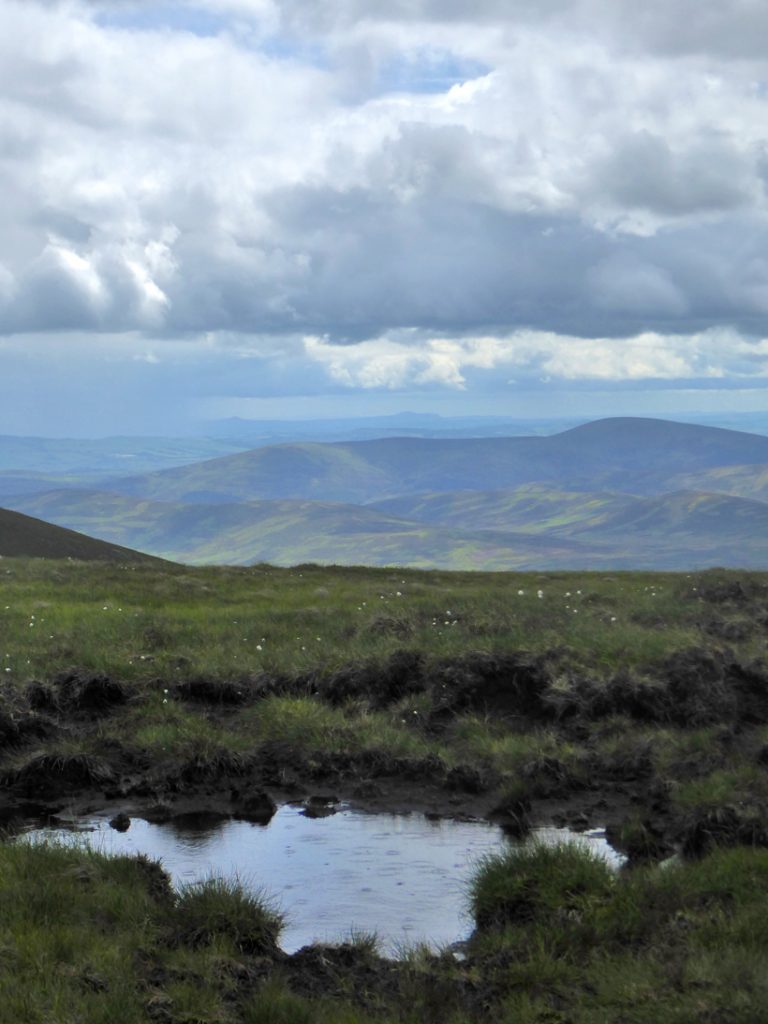 Putting on the waterproof jacket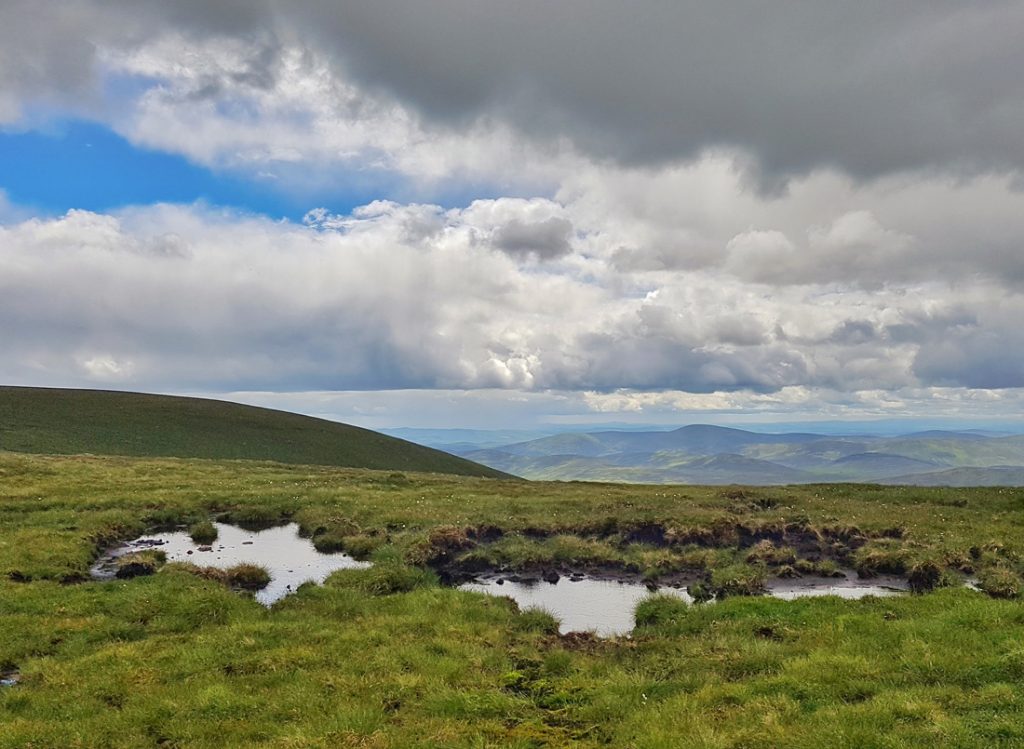 .. of course, this tempts the sun back out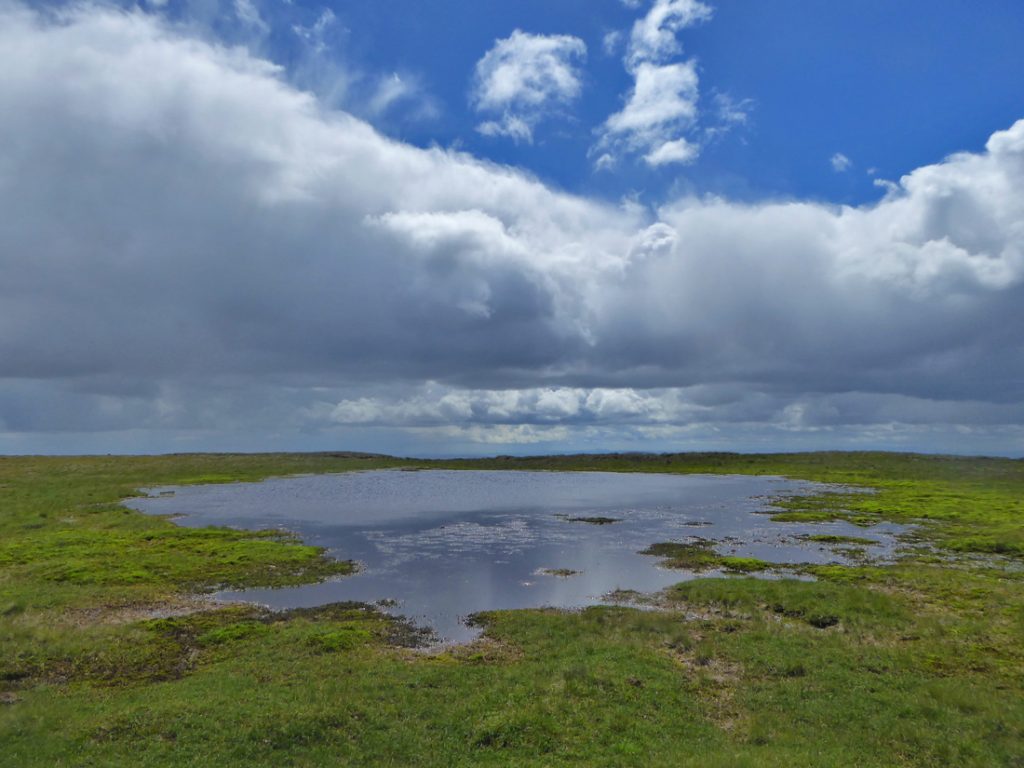 This pond is popular with the locals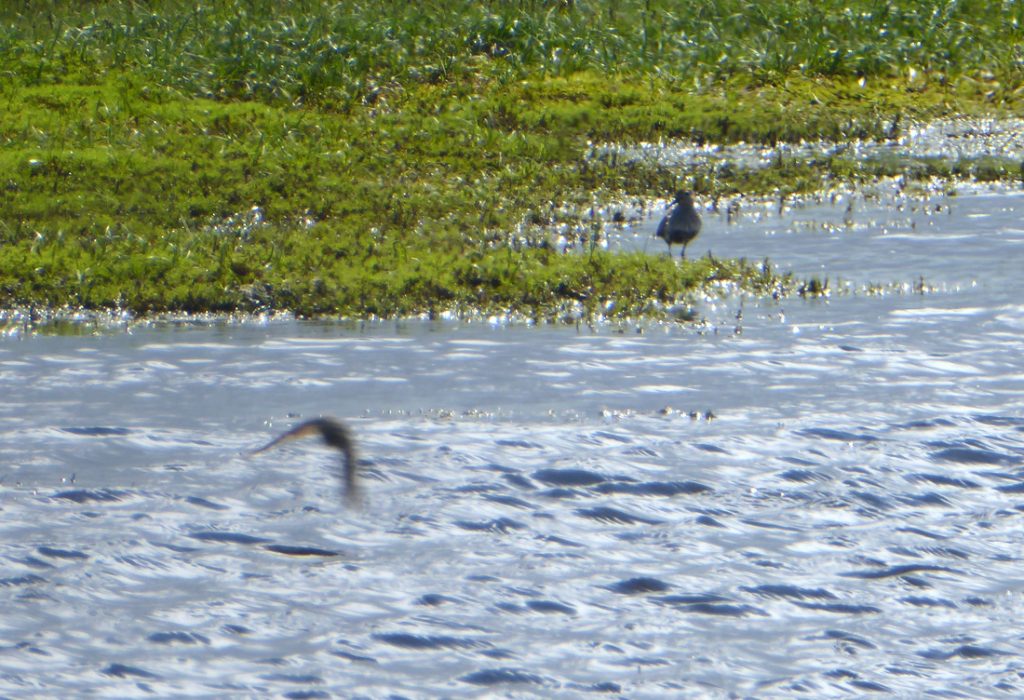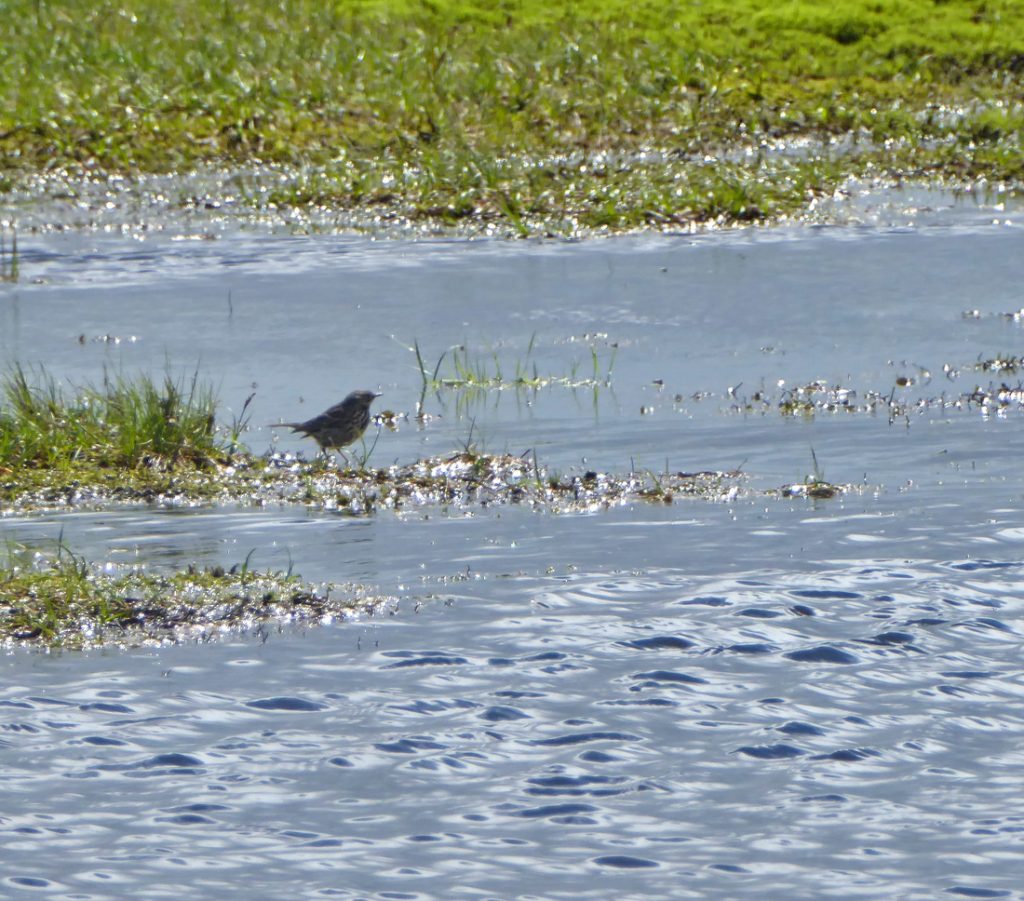 Think we've reached the highest point at about 850. Better shot of a snipe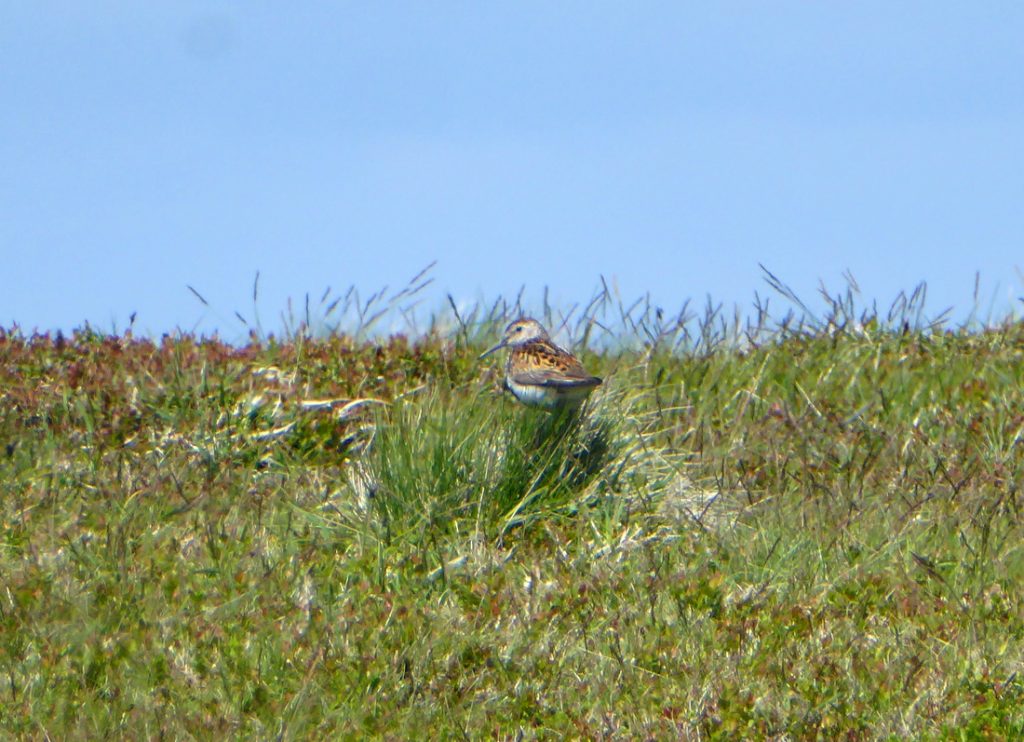 To the South layers of mist and haze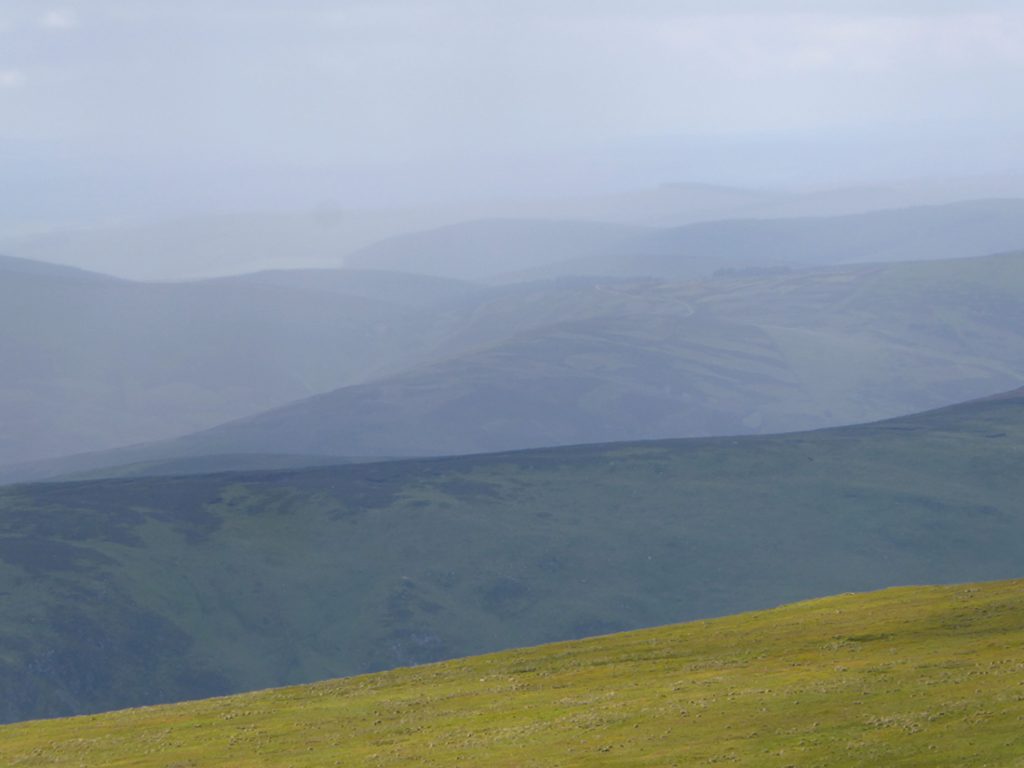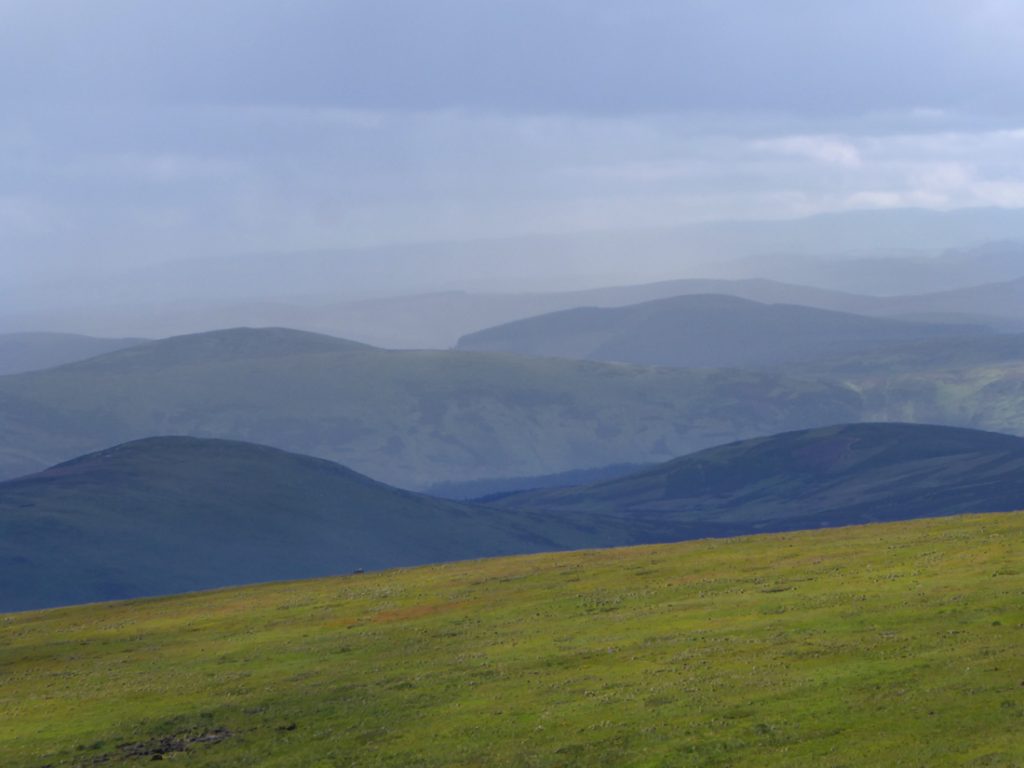 Golden plover peeps 'me me me' photo too plz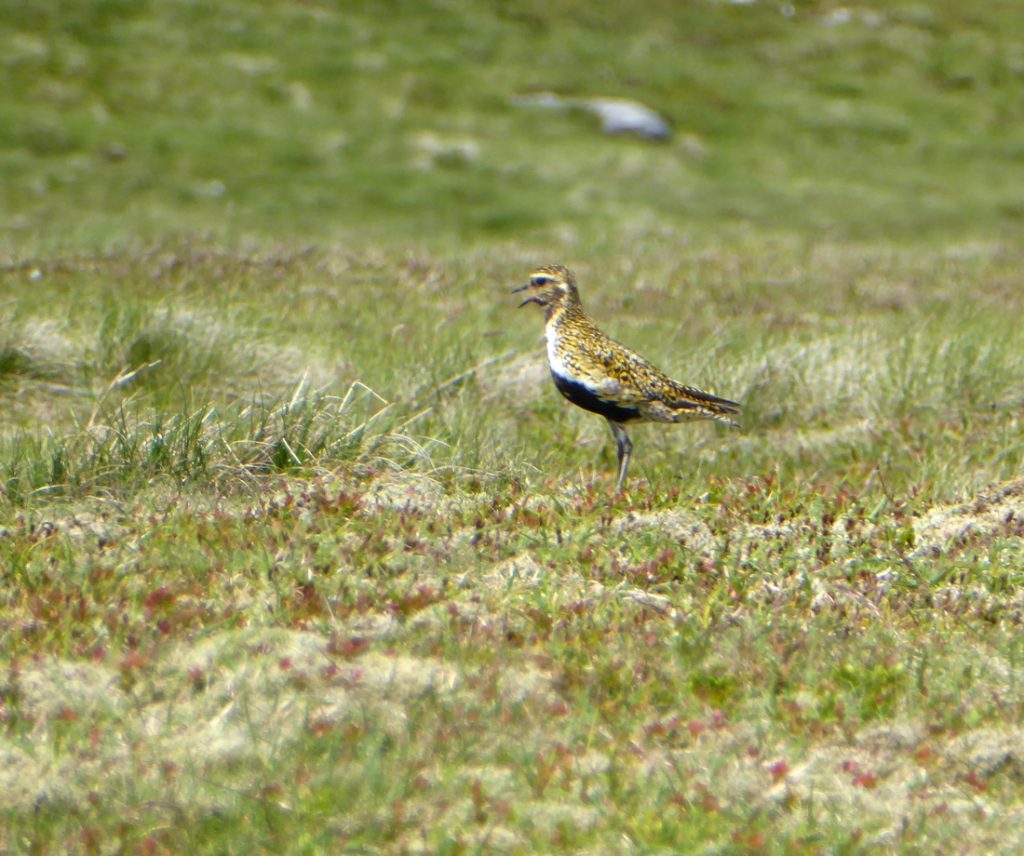 There ya go. Looking splendidly golden in the sun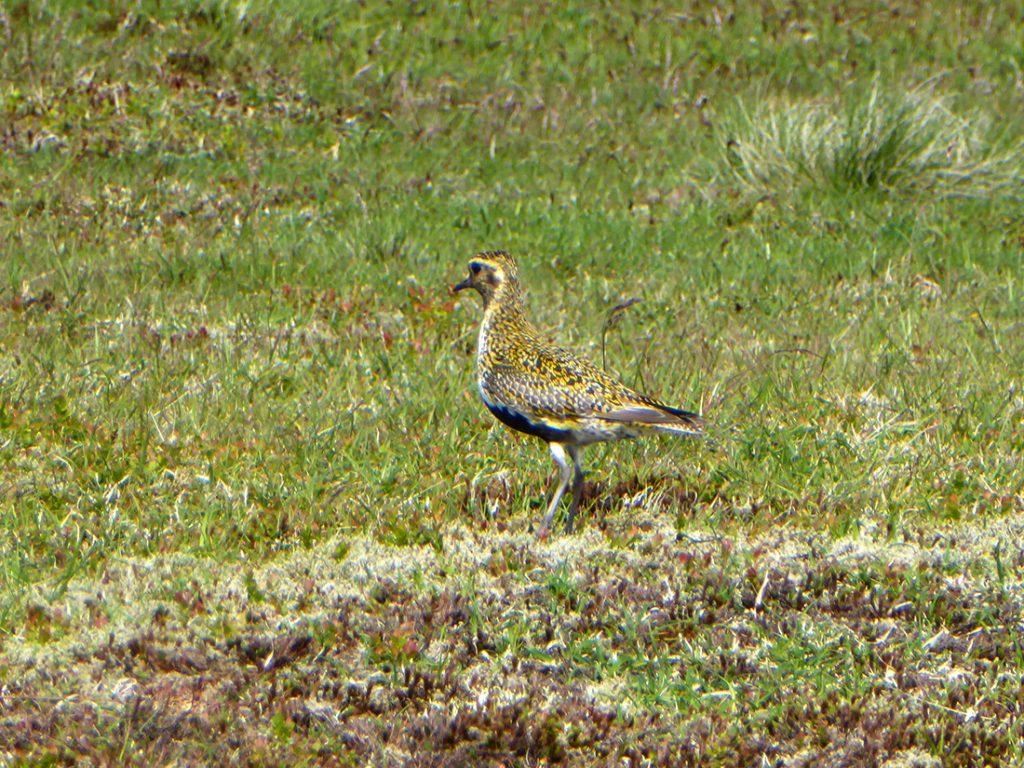 Drawing closer to Glen Clova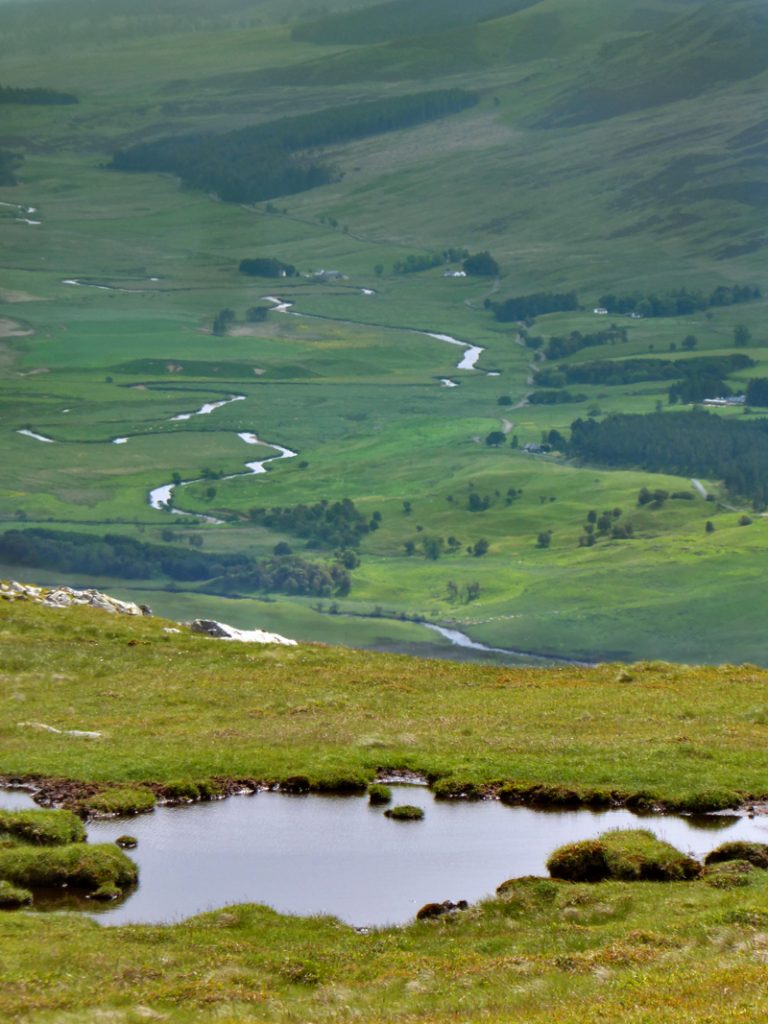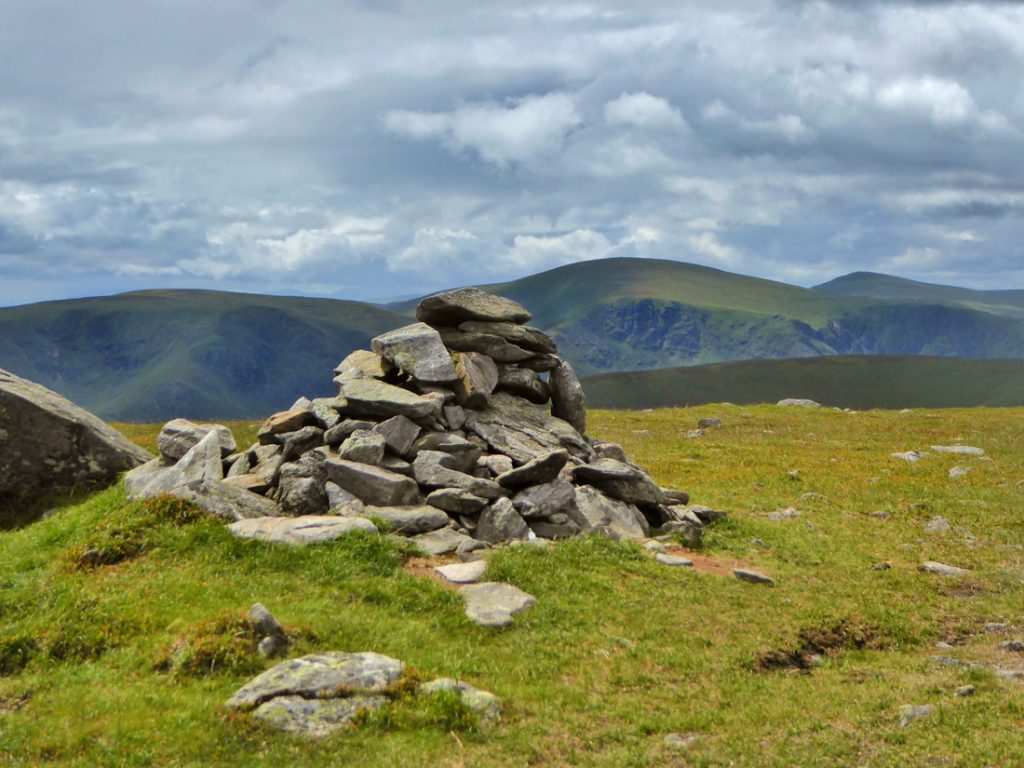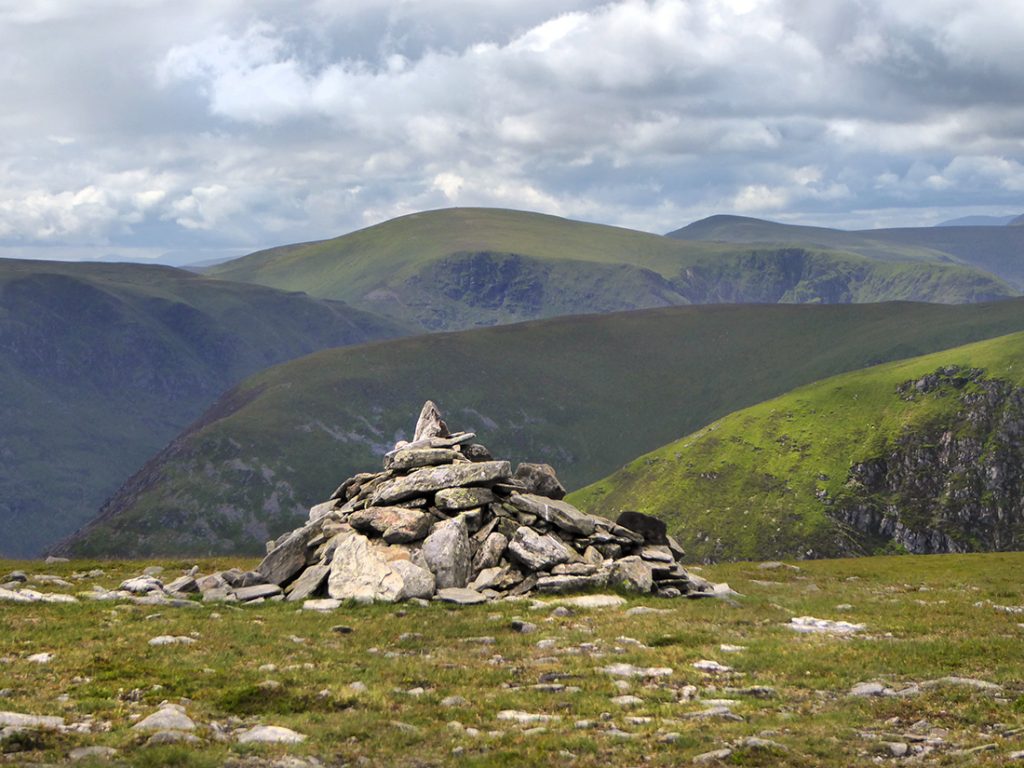 First glimpse of the Craigs of Loch Brandy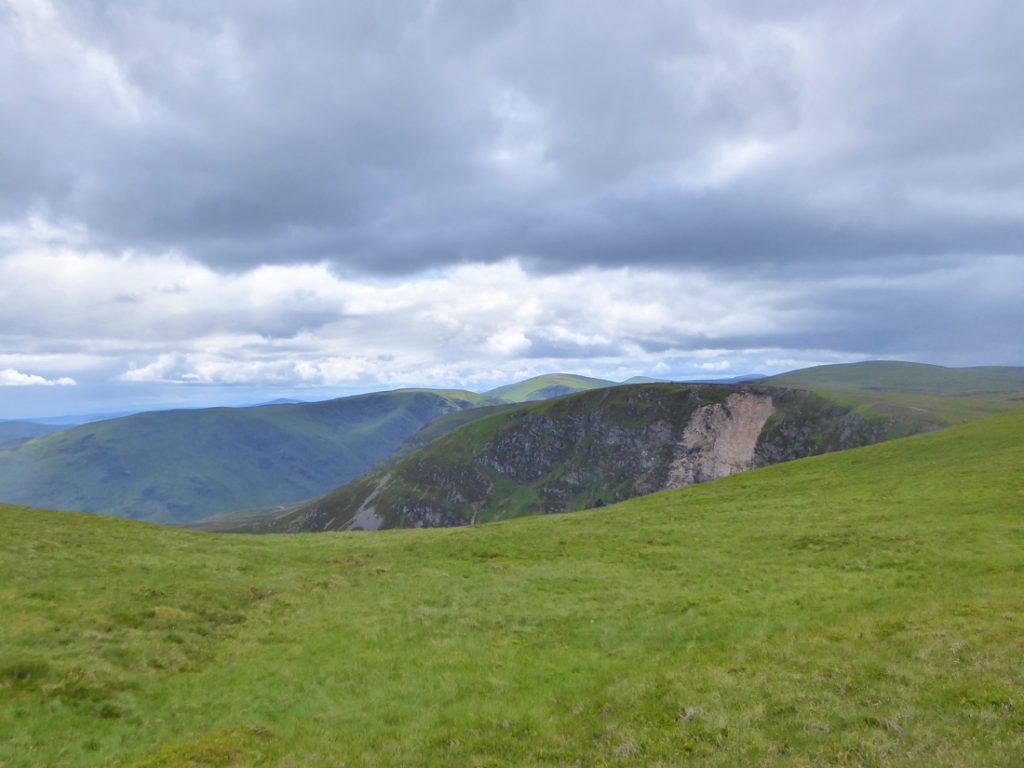 There's a pale gash in the cliff, not sure if this is recent landslide activity, or years, decades even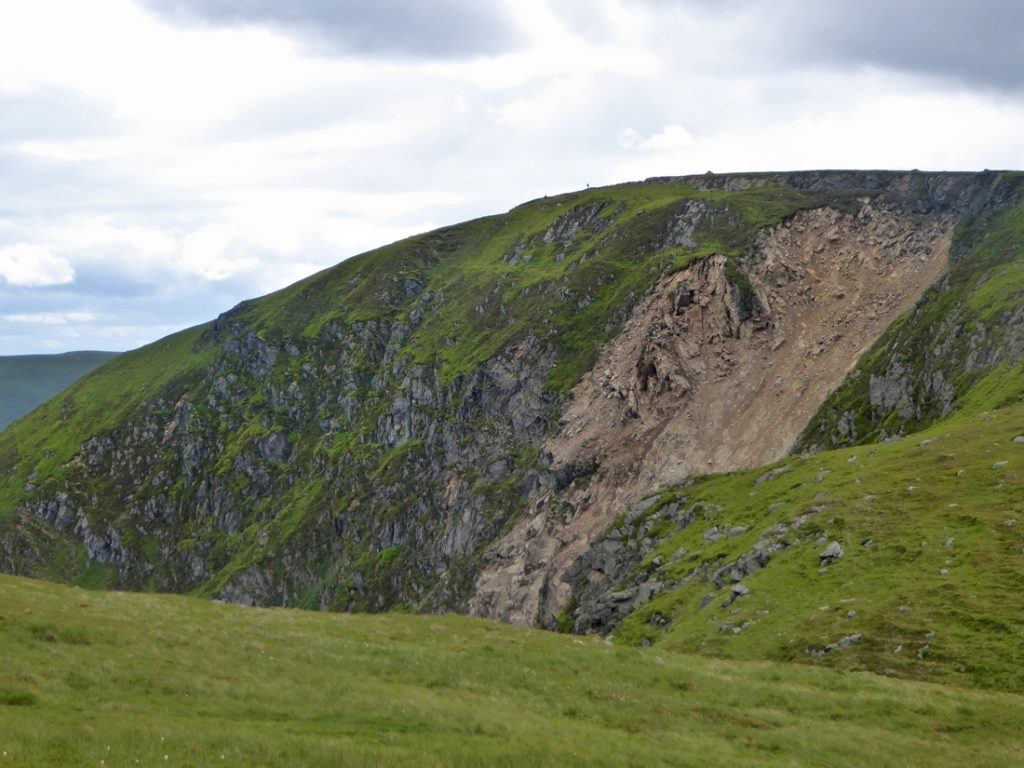 A quick peek down the burn at the ford
It's banging down rain now and slippery so not going to get too close to the overhang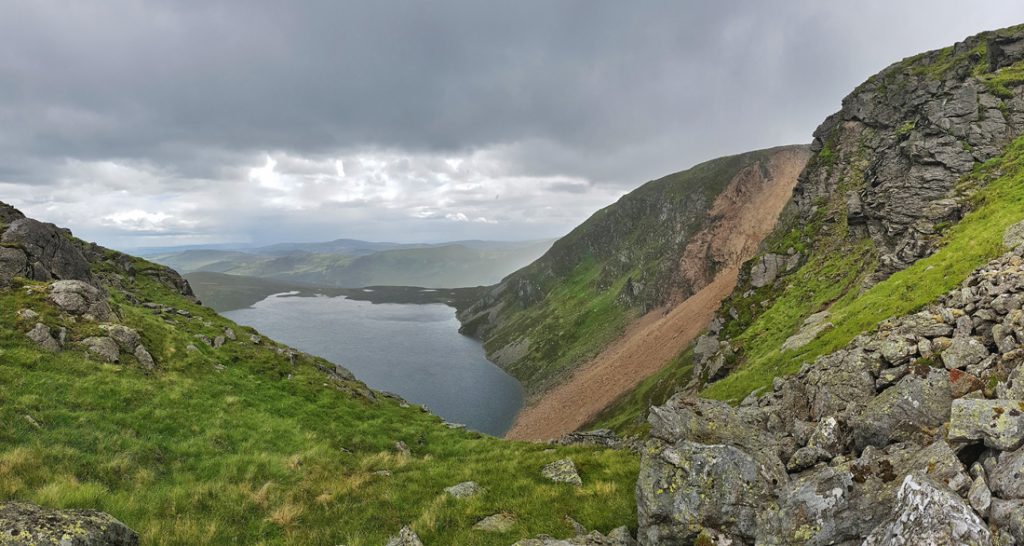 Likewise along the ridge heading to the snub, staying well back from maybe-recent-landslidey edge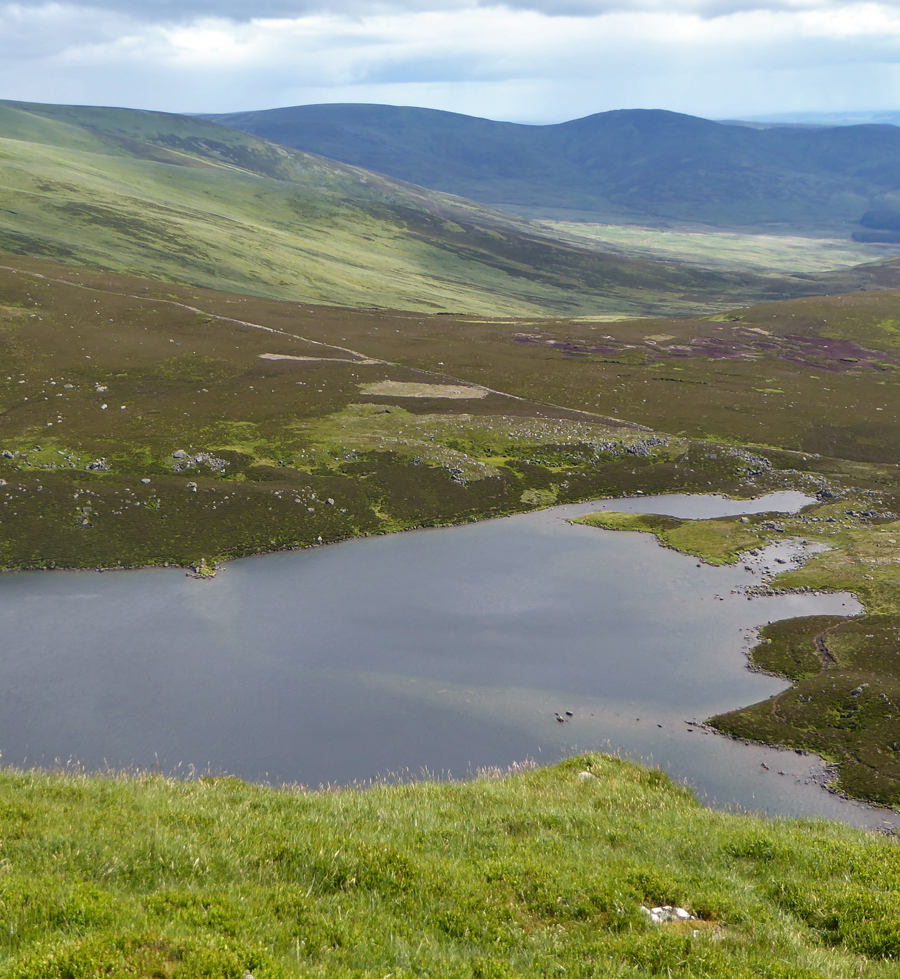 Looking below to the Loch, you can see 'the causeway' it's unclear whether this is purely geological (a "pro-glacial recessional moraine"?) or was some human endeavour of ancient times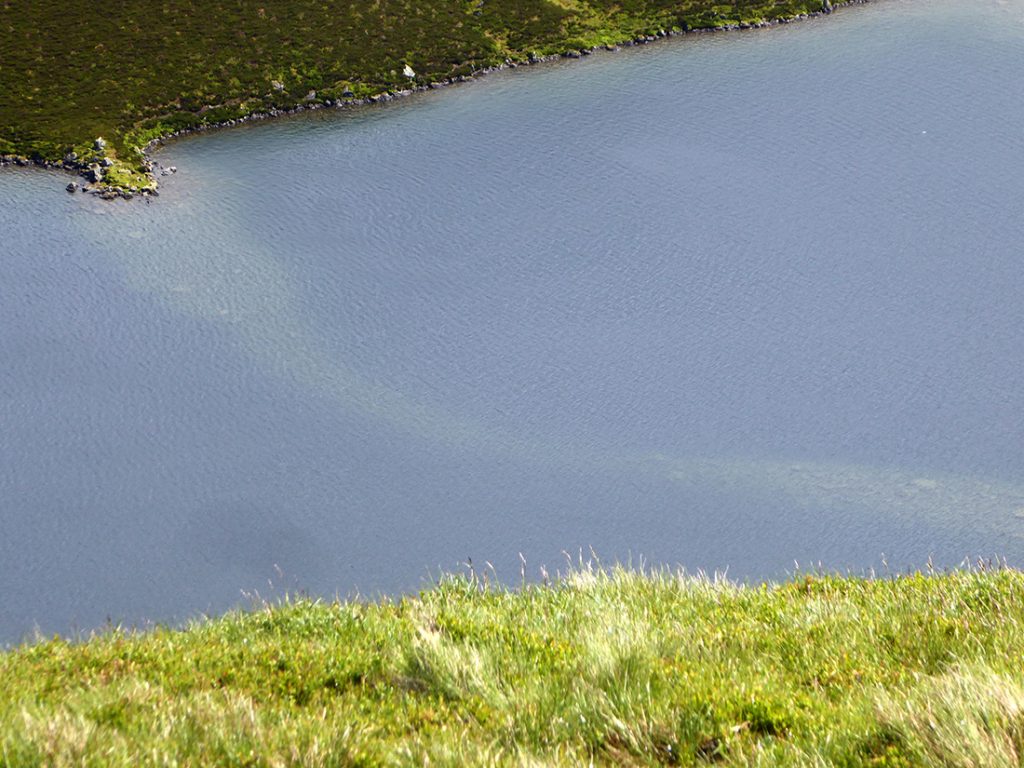 A great view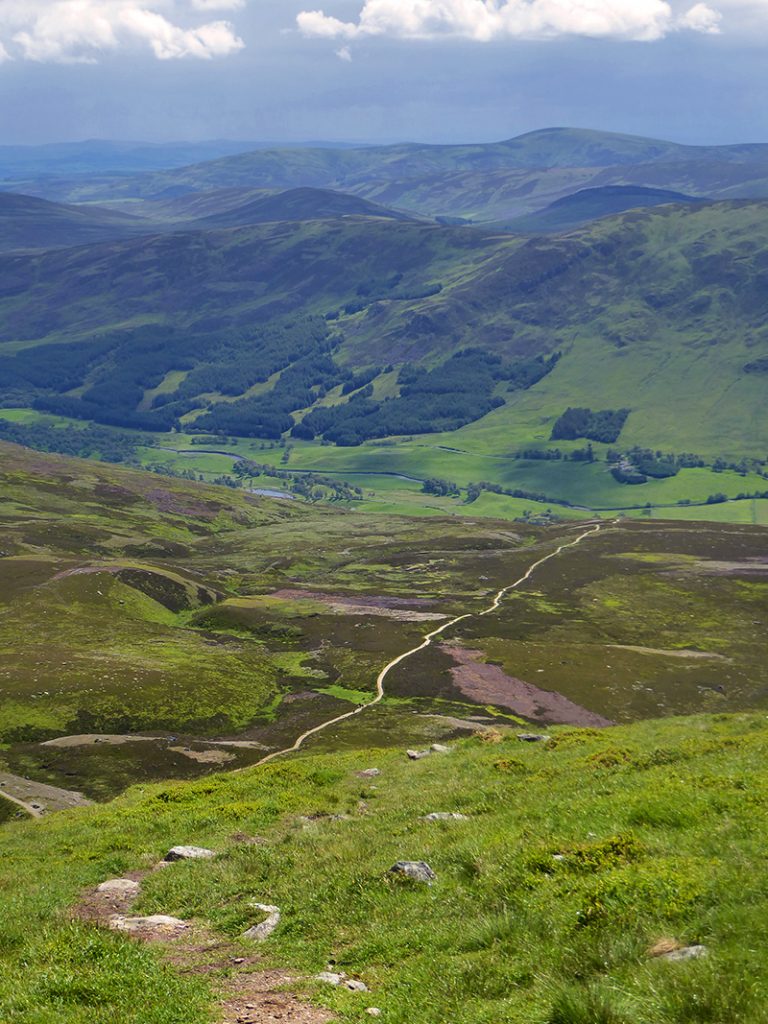 The stairs down are rocky and steep. I doff my hat to the unknown labourers of old who hewed this out of the hillside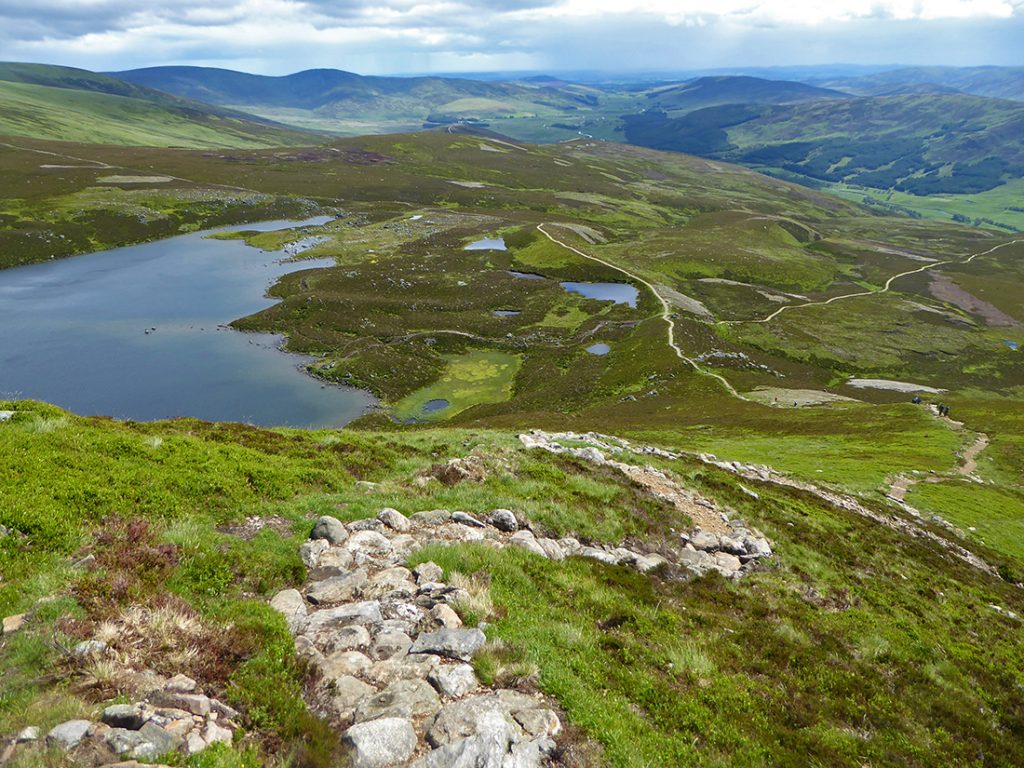 A few minutes of careful step-picking later
There are a couple auxiliary pools beside Loch Brandy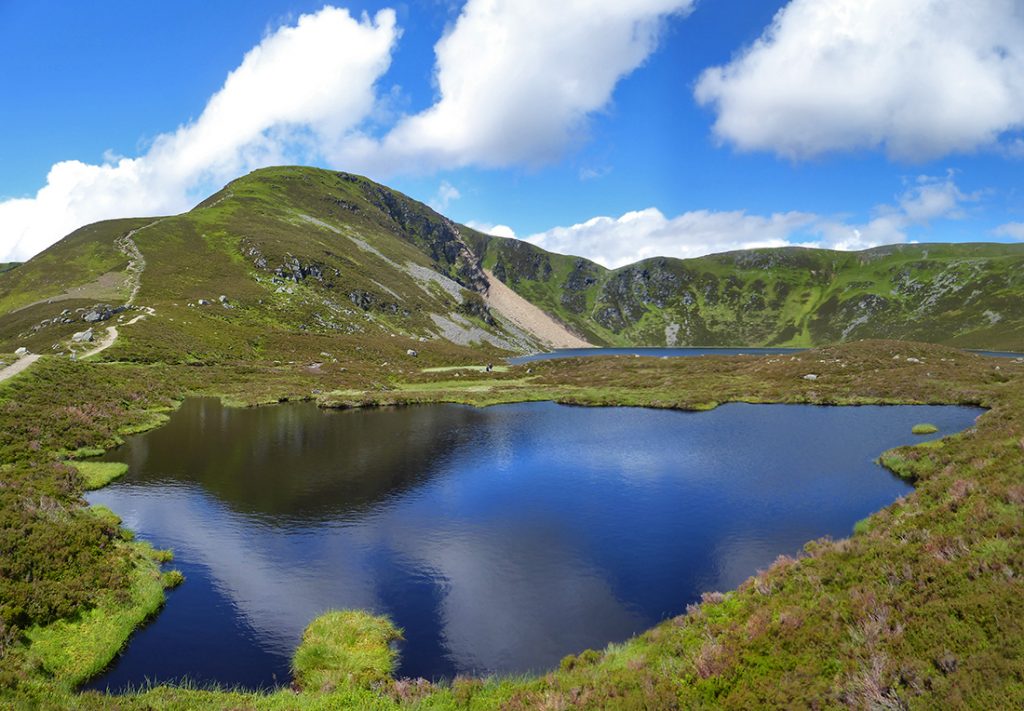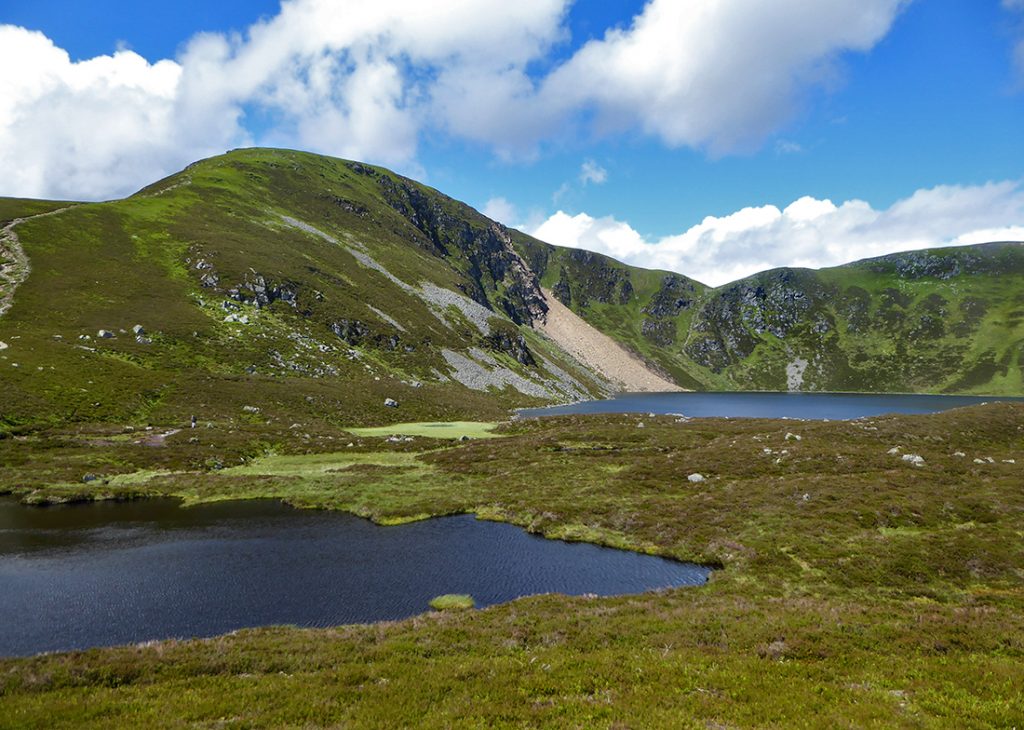 Should have probably inspected it for a bit longer, or have kept a picnic snack for here. A lot of folk come up from Glen Clova here as there destination


Final leg down to the awaiting bus in the glen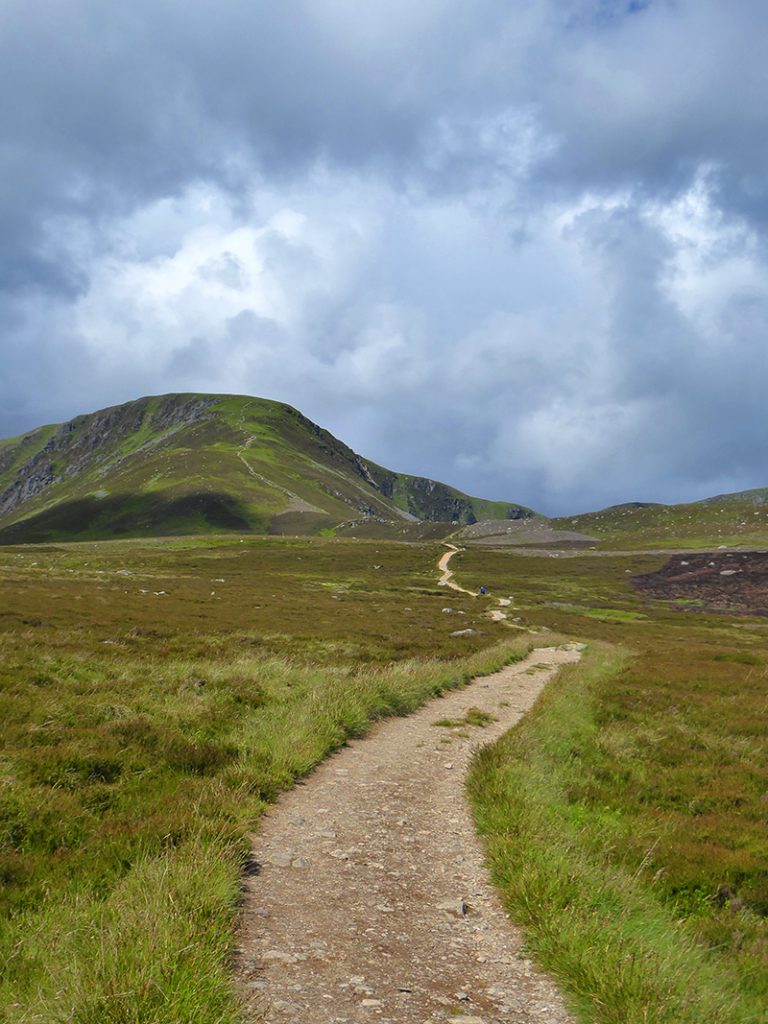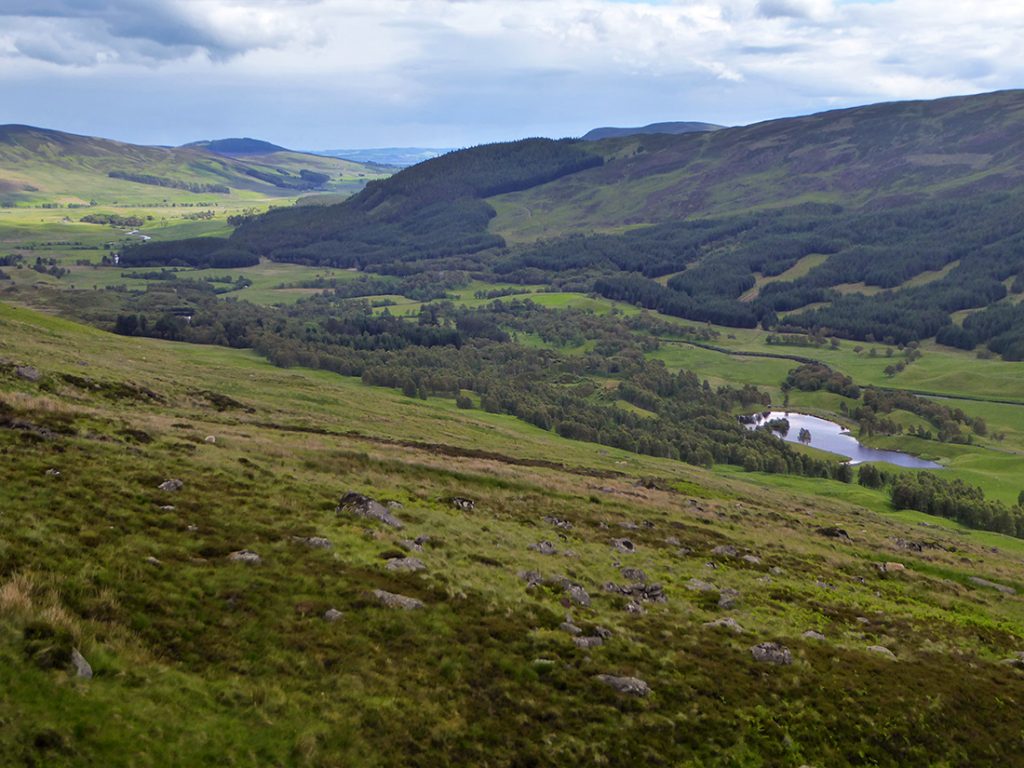 I'm down well ahead of schedule. One of the party is well behind so like this swallow i'm going to have to wait and entertain myself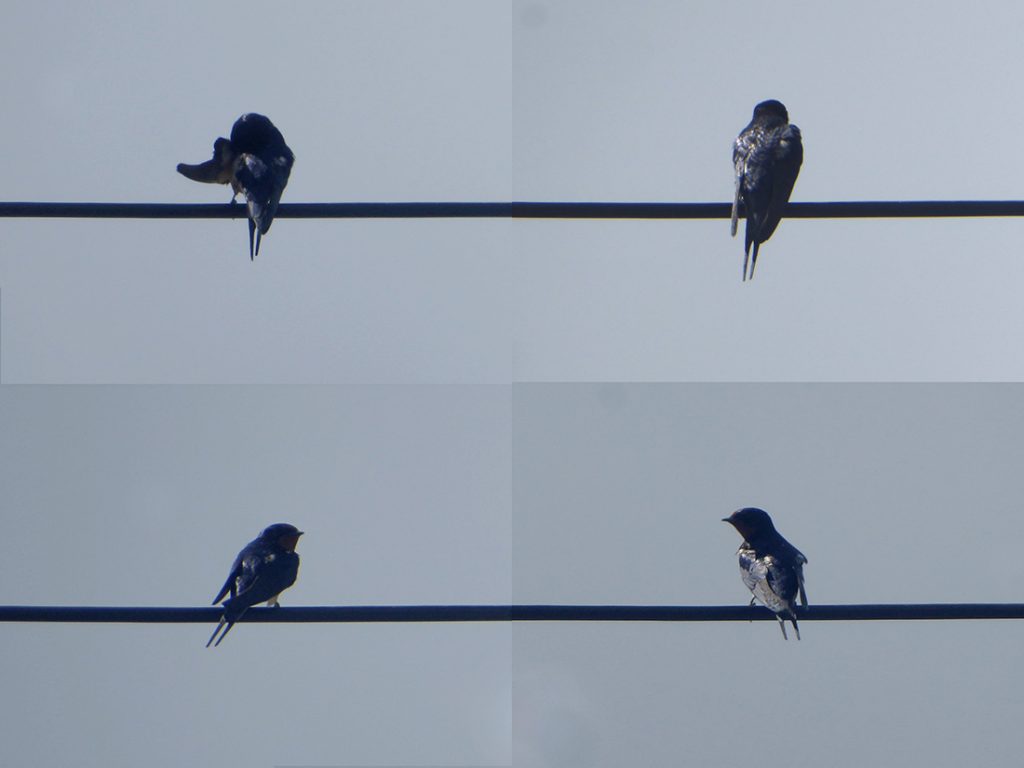 Thankfully there's a nice pub/hotel. The sheep being herded along the street look longingly across for a pint
As the trip info on the website said 'no pub stop' I've only pocket change so after a pint and a slice of cake, I'm skint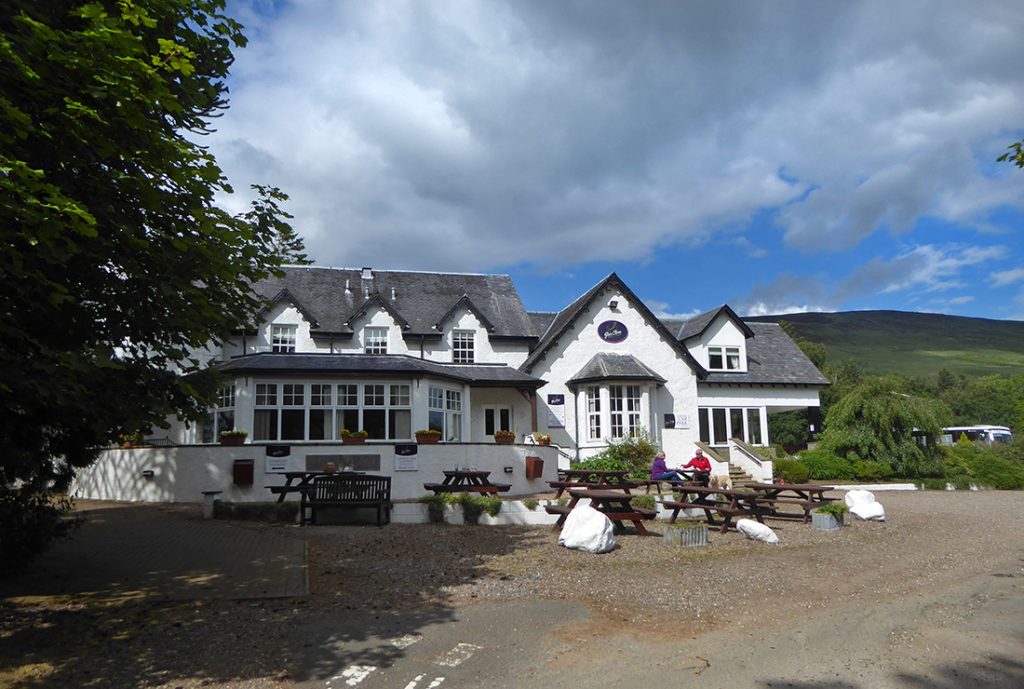 Take a wee wander down to the nearby burn. There's an old kirk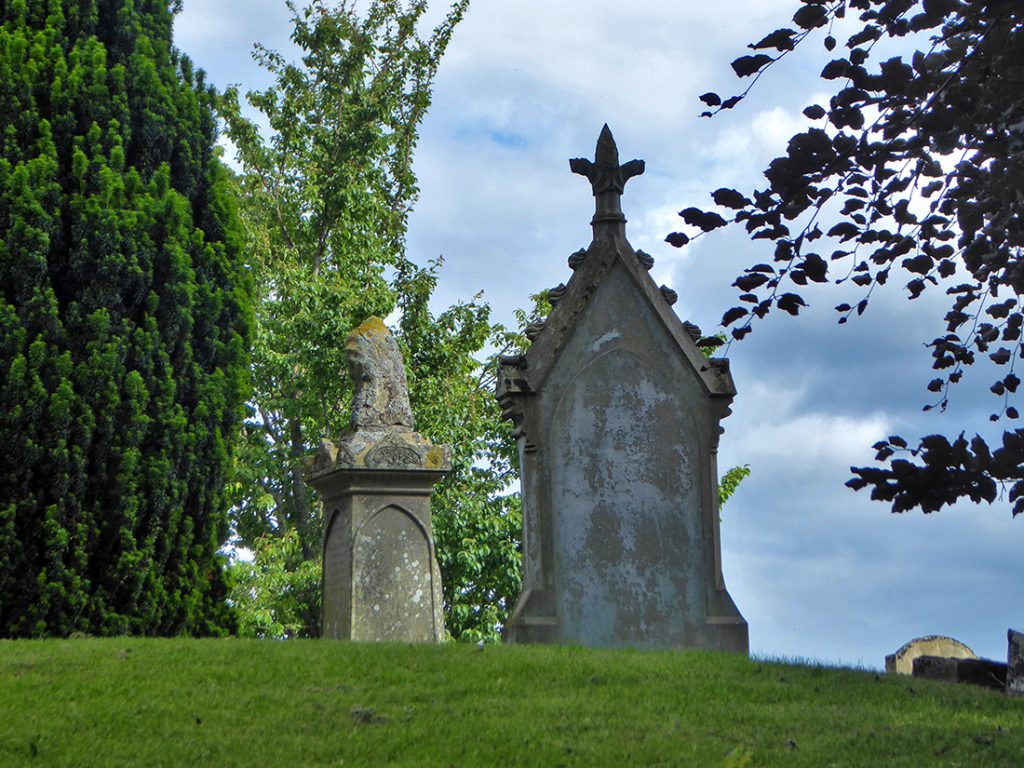 The River South Esk downstream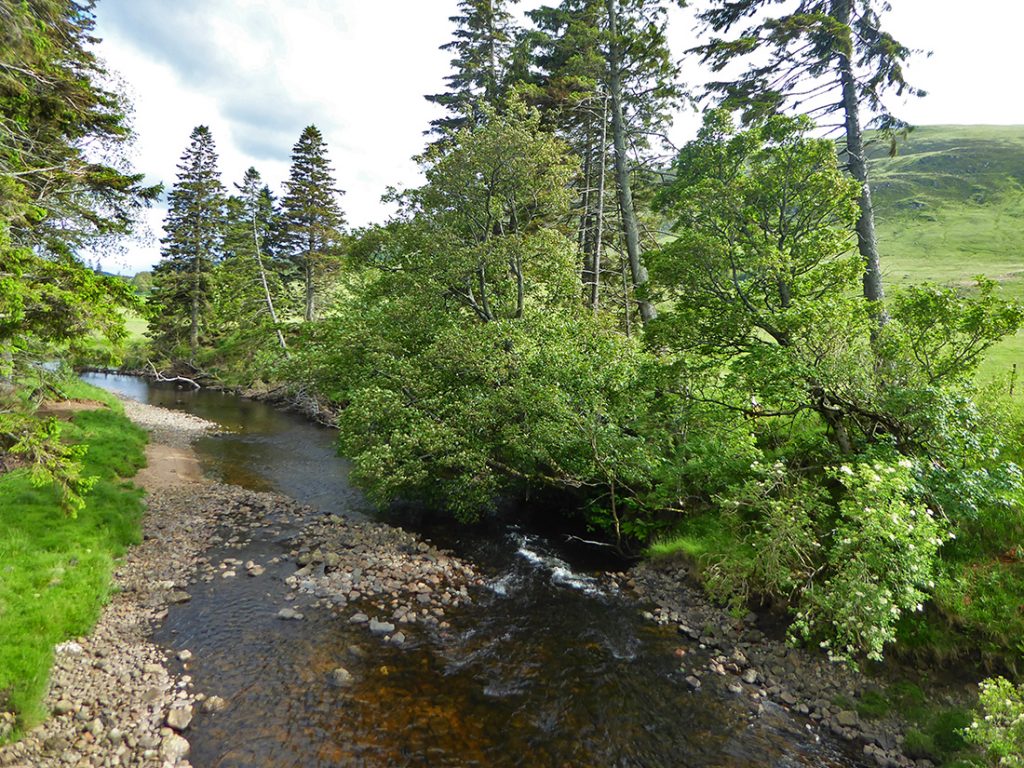 Upstream looking further up the glen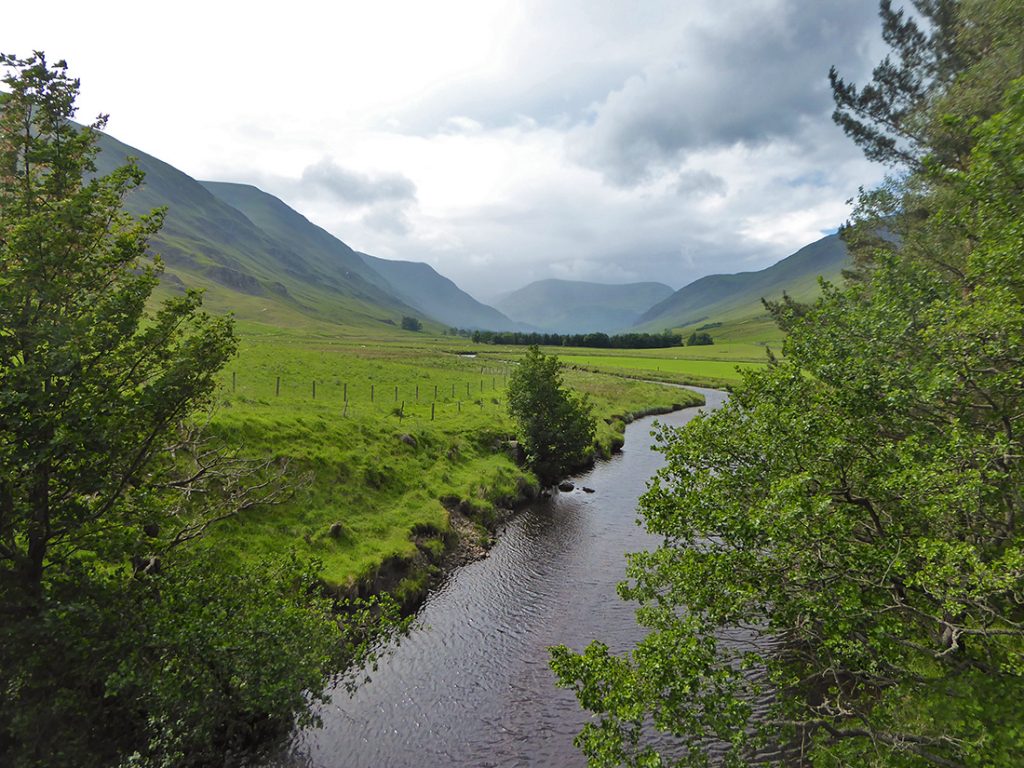 'Rusticated red sandstone voussoirs' apparently on the Gallows Knowe Bridge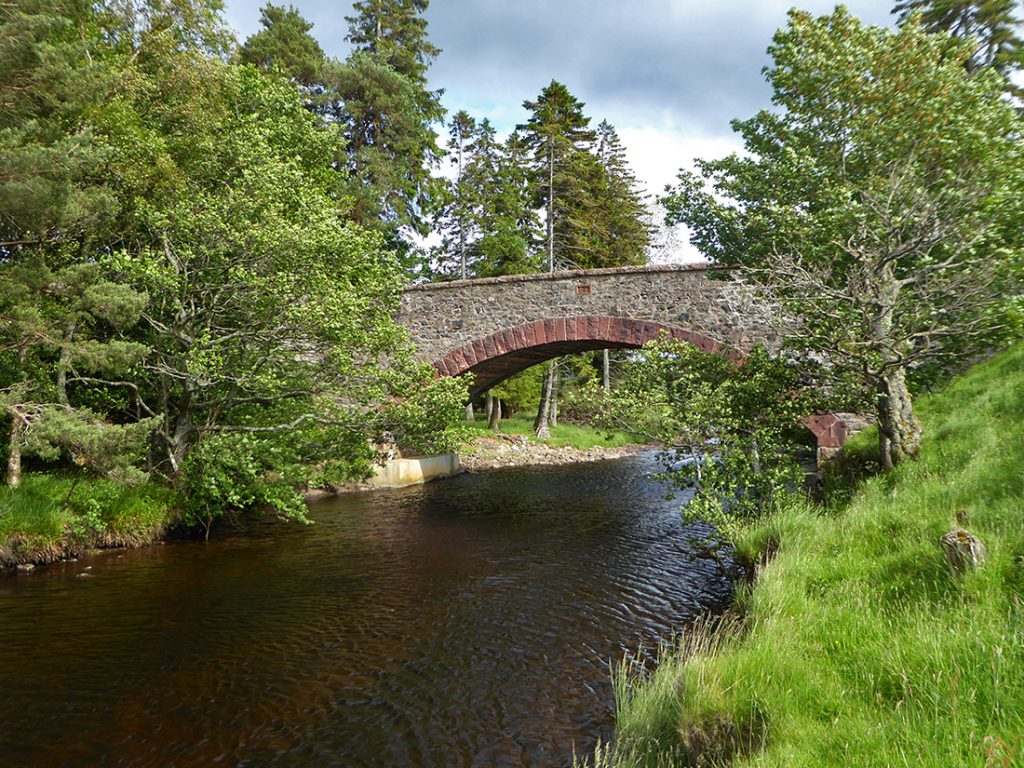 Tablet says 1898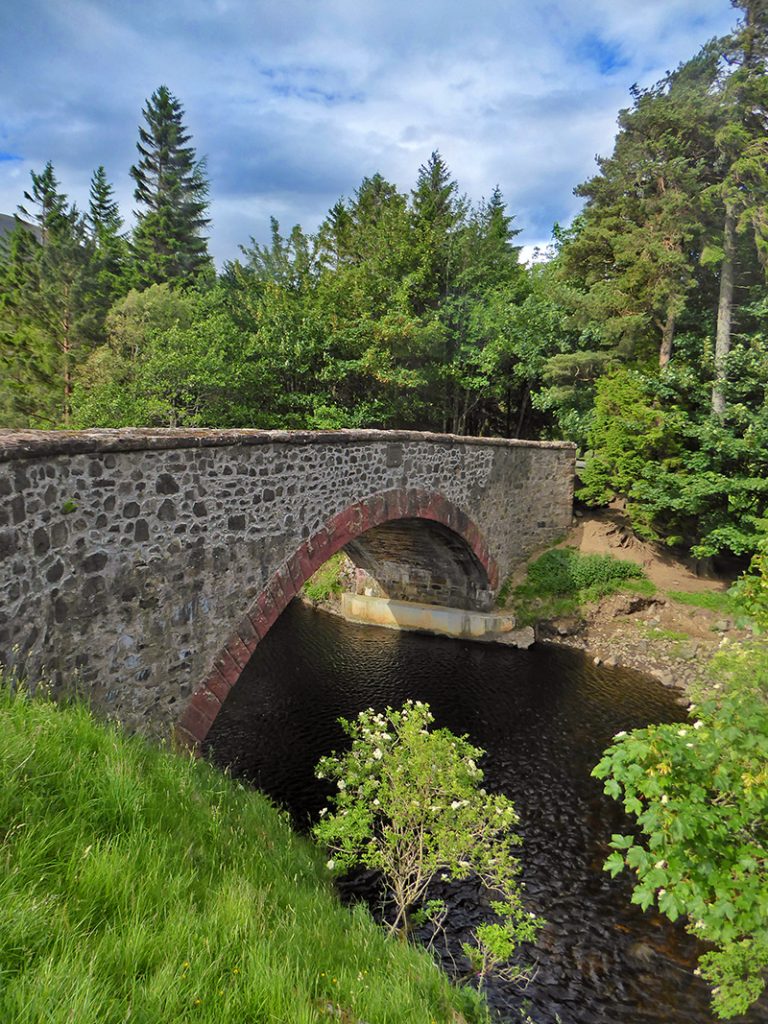 Better get back and not hold up proceedings. Past the kirk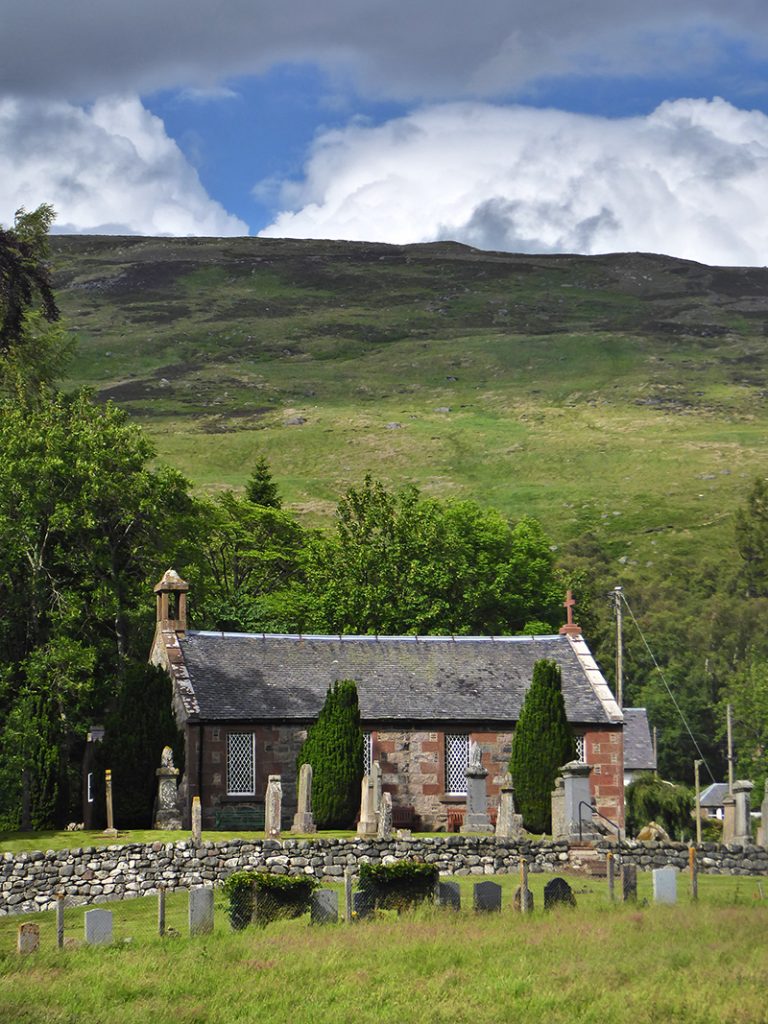 Sitting in the pub garden, watching swallows skimming the meadow. Essence of summer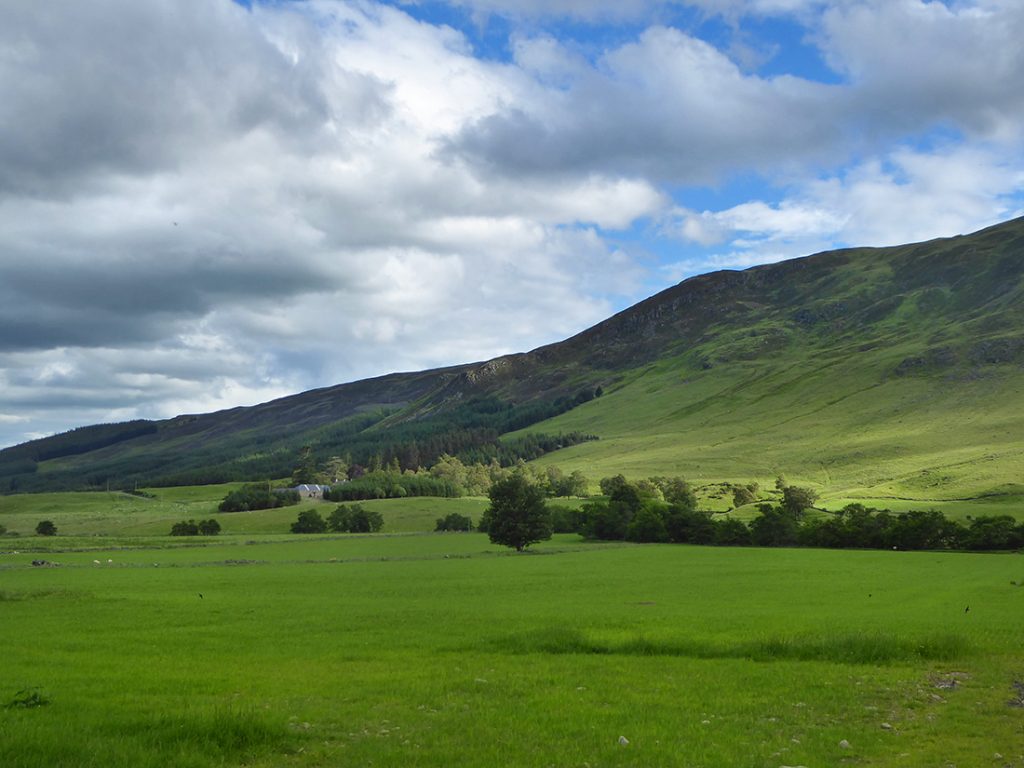 Locals have eyes on our crumbs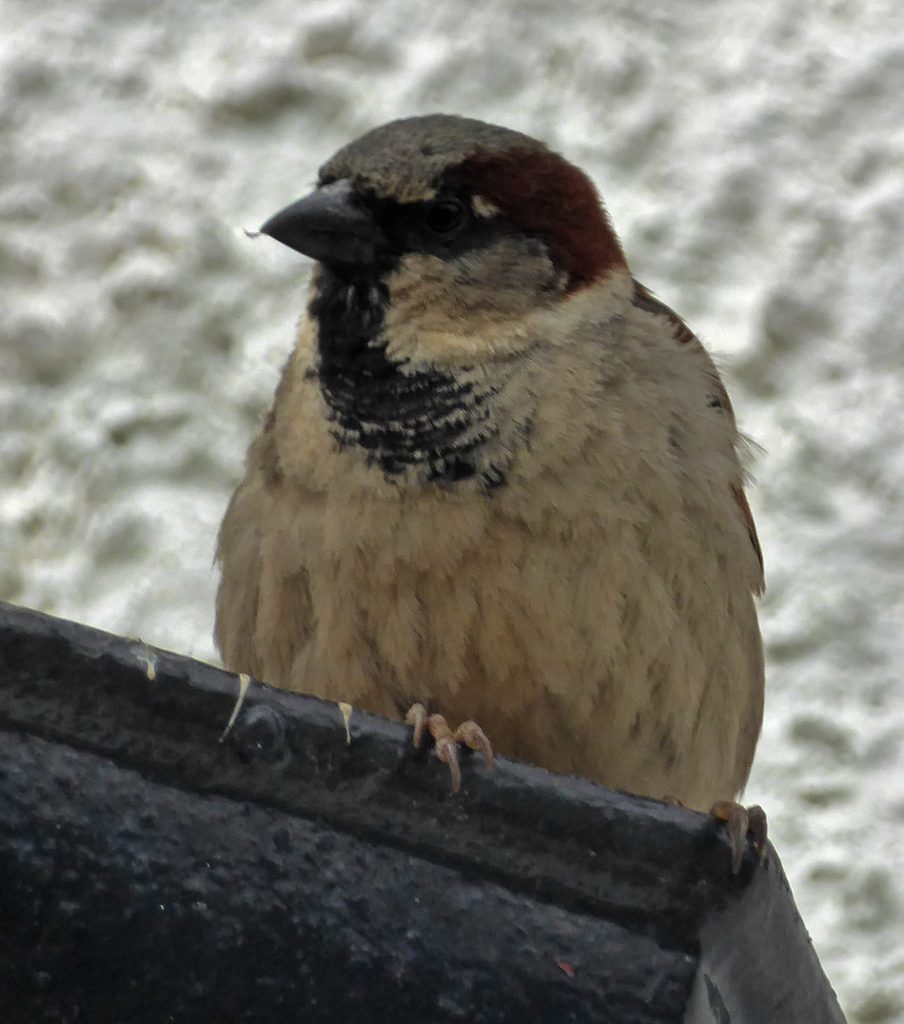 Pounced within seconds of standing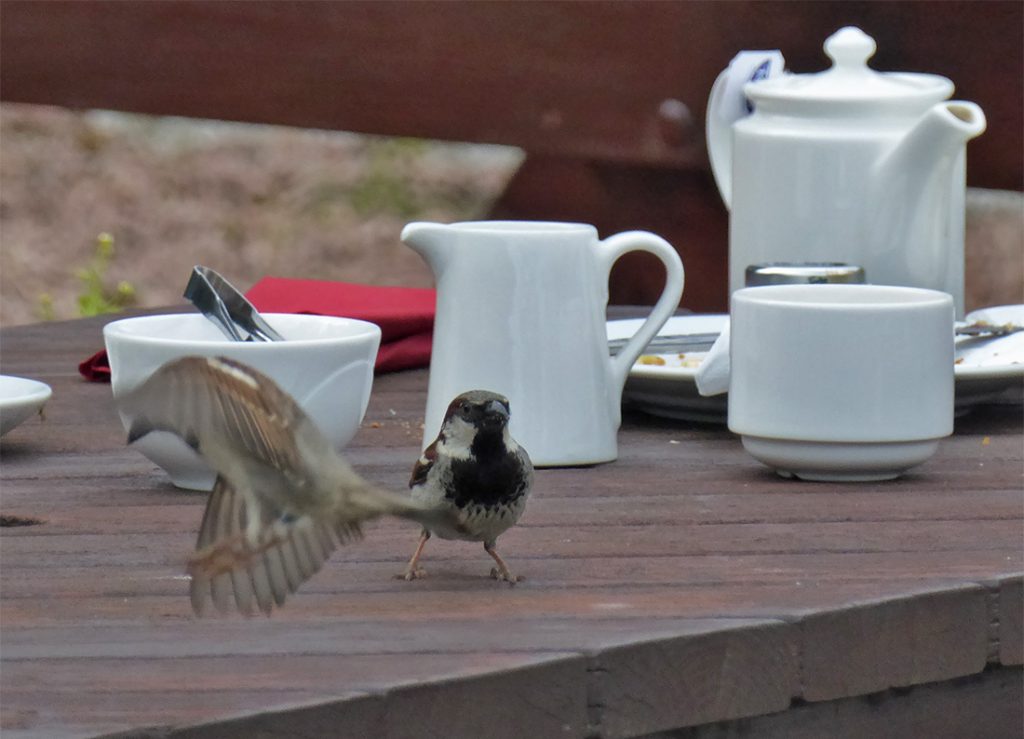 Don't drink and fly little sparrow!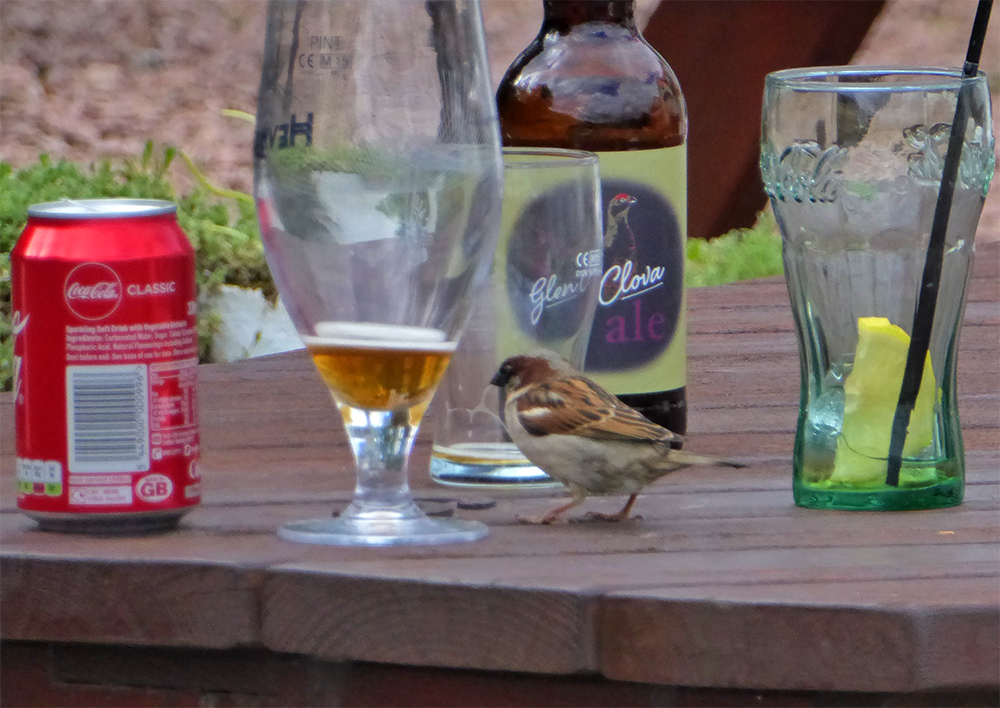 Everybody now back on the bus, and on the road, past the distinctive shape of Airlie Monument