I've always been sceptical of the rise of 'tough mudder' type races; one of the things I like about running is it's purity and simplicity, and the hoopla, lad-ismo, stop-start queuing of these type of events didn't really appeal. They've become a victim of their own success too, a big cash cow being shamelessly and expensively hyped and milked with massive hordes; overcrowded by the undertrained. The increasingly wacky obstacles, electric shocks and other silliness makes it seem to me they've not so much jumped the shark as bludgeoned it to death with fancy dress accessories and group high-fives. </cynic>
Nonetheless, I was assured by a friend that the local small event the Ythan Challenge in Ellon was primarily trail running and the obstacles were sparse and easy. I do like the river side paths of Ellon, a flip through the previous years photos looked good, and it was raising funds for local charities so I thought what the heck – last minute entry in on the day it closed.
I'd not really been training much, awaiting the build up to the Aberdeen half in a few months time, but a couple reasonable climby offroad 10k's and fast road 5k's in the fortnight preceding indicated I'd not do too badly.
Up at 7am to get a Sunday bus out, the 20C+ heatwave was holding, weather looked great. I spotted another chap on the bus with an Ythan Challenge T and a bag of gear, he'd entered it years previously and was down from Shetland. On the walk from the bus stop to the sports field had a good chat about what to expect.
On arriving at the sports hall I picked up my timing band, got my number and it penned on my arm and then went to the changing rooms. One of them has a few lockers, handy to stash the change of clothes but only if you arrive early. Ate some of my reheated pasta out of the thermos, and put some vaseline on my feet, then out to the sports field to meet a friend also competing, and glug down plenty drink for what was sure to be a very hot run.
I'd planned on taking a gopro with me to click a few trail snaps but had forgotten it..so this post is thin on photos :-/ I've swiped a few lo-res stills from some videos off youtube to give a rough indication of the course
Choice of feet-weapon today was my new Inov8 roclite 280s, knobbly but 'flat-knobbly' so good grip and mud clearing but still reasonable hard-surface performance as not too 'gappy'.
I'm a regular size 9 and the web-says-buy-one-up purchased size of 9.5 is good in length but a bit loose, a quick warm-up run has me in a last second panic of relacing tighter, double-tying and tucking the loops; wish they had salomon quick-laces.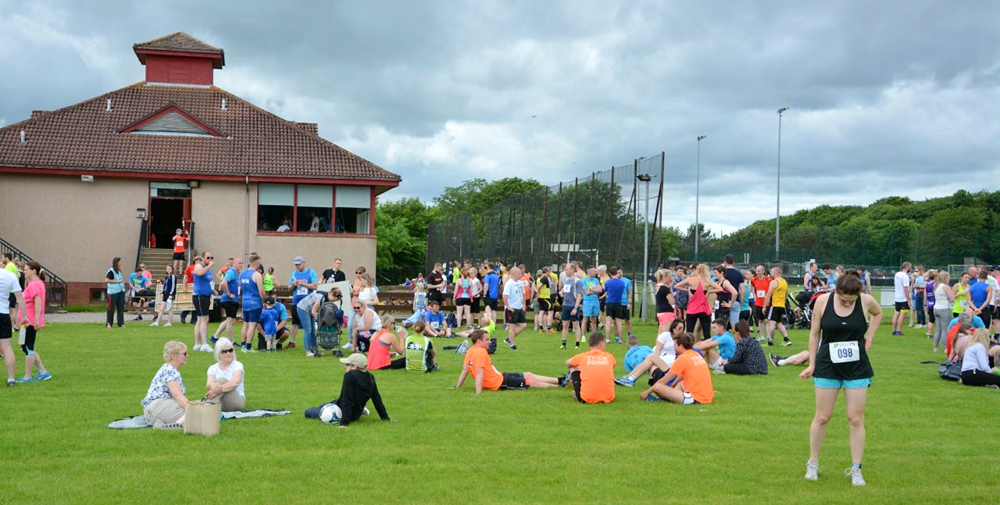 Lining up for the start, at the 2nd flag pole, a last second announcement says they will go in two waves instead of the expected one – choice needs to be made quickly whether to flip into 1 or stay 2, all of sudden over the tannoy "3..2..1", bollocks to it, we're underway in the tail end of phase 1.
The first section is a footpath along the Ythan, it starts as tarmac but rapidly narrows to overgrown singletrack, I pootle along at 4'30m/km, wary of the heat
Crossing the old rail bridge, you get a nice view from up high back and forward of the stream of runners. Now we head down a farm trail and past the first water stop through into the woods. Pace was falling a bit. I look back but my friend has dropped back out of sight. The first taste of real offroad with grassy trails and tree log jumps, time to throttle up a bit and begin to make a few passes and see what I can make of the race
Back out into the open near Esslemont house, our first real obstacles – one double height bale stack, and then a series of single round bales. Can't say I've climbed over bales since I was a kid so I'm looking at those ahead of me to see how they approach, some have a good sideways roll, others clumsily climb. I'm wary of a pull or a fall so don't attack them aggressively, easy does it. Plus, I'm on drone cam (there are a few throughout the race). I duly wave to the robot eye in the sky and hope I make the final cut
Back offroad through some stiles, and into deeper woods the course gets tougher, ribboned lanes zig zag up and down a steep wooded slope; cautious descent is much in evidence and I pick my moments carefully to burst past folk. First signs of walking brought on by the climb up rough terrain; roadies who went out fast are now gasping through the undergrowth.
In places the track now gets ferny with slippery thick grass, and tangly overhanging branches; I lose my cap to one and almost trip somebody behind me retrieving it; due apologies are made.
Reaching the furthest point West, we're back on to a stretch of farm track but soon back into the woods. More obstacles come into play – tyres to hop over (haven't done those since school football days) and squeeze through (I climb over the top as somebody is blocking the way and am scolded, but hey toot toot beep beep)Down a leaf-mulchy steep slope, the chap in front slips, tumbles and rolls.. perfectly under a tree trunk blocking the way. It's like a ninja stunt from an action movie, we have a chuckle at his good fortune as he wipes mud from his face. At the bottom more mud.. a big deep pool of it. One doesn't want to a) faceplant or b) lose a shoe to suction here; it's a photographer hotspot; they encourage us to splash through it vigorously; I'm glad I took care tying and tucking my laces
After a wheat field interlude, the track undulates along broadleaf steep climbs and descents, in places rocky, or mulchy, the roclites do well and I snag another few places as folk with less grip climb slower
There's a wooden frame to climb over, followed by a suspended net; I begin to flail my arms overhead to clear it before realising you can just slide through – running bent over waist height, head dipped and arms down; it slides over your back
A final bit of wood is a dark and dense plantation, the pine needles are soft underfoot but there's quite a few stumps and straggly branches to watch for. Back out past the water station, from here on it'll be pretty much flat. For the last 10 minutes the course seems to have thinned of competitors, I'm still gradually overhauling folk, but it's getting tougher as I guess I'm mostly amongst the more 'serious' runners now.
Back at the old rail bridge, under rather than over so only a few k to go, the riverside path now has the odd dog walker to avoid, oblivious to the race. Looks like there's not going to be a river crossing today..
Approaching the South road bridge I see specs of colour in the Ythan.. in for a dip after all! Plunging in, it quickly rises to chest height and while pushing through *crack* I smash my shin off of a boulder lurking in the deep, then scrape across it and expect to regain feet but go under, the bottom has dropped away and I'm paddling across.. deeper than expected!
Reaching the middle island, the channel the other side is shallower and after sloshing downstream for a bit and up the muddy bank, I'm back under way, squishing water through the trainers and trailing quite a lot of blood from what appear to be quite a gash on the shin.
The pace is still about 4'20 and making any more places is going to require some real graft, soon I can hear the announcer in distance, under a k left. There's one chap about 20m in front and I'll try and reel him in.
Just before reentering the finishing field, there's a wee climb up a grassy slope covered in a tarpaulin sprayed with a hose, with a rope. I try and accelerate up it sans rope but slip, grabbing the rope I haul over the top but the loss of momentum has now opened a gap on the chap in front and I'm not going to catch him now with 200m to go.
On the final straight a few bales (have sussed a technique.. use the central gap and then either side provides hand stands and you can almost pull the trailing leg through) and and one last frame to climb, and it's over the line for a time of 1'04:34. I'm 29th overall and 9th vet, out of about 360 participants, so another top 10% finish which for a first attempt at this race I'm pretty happy with.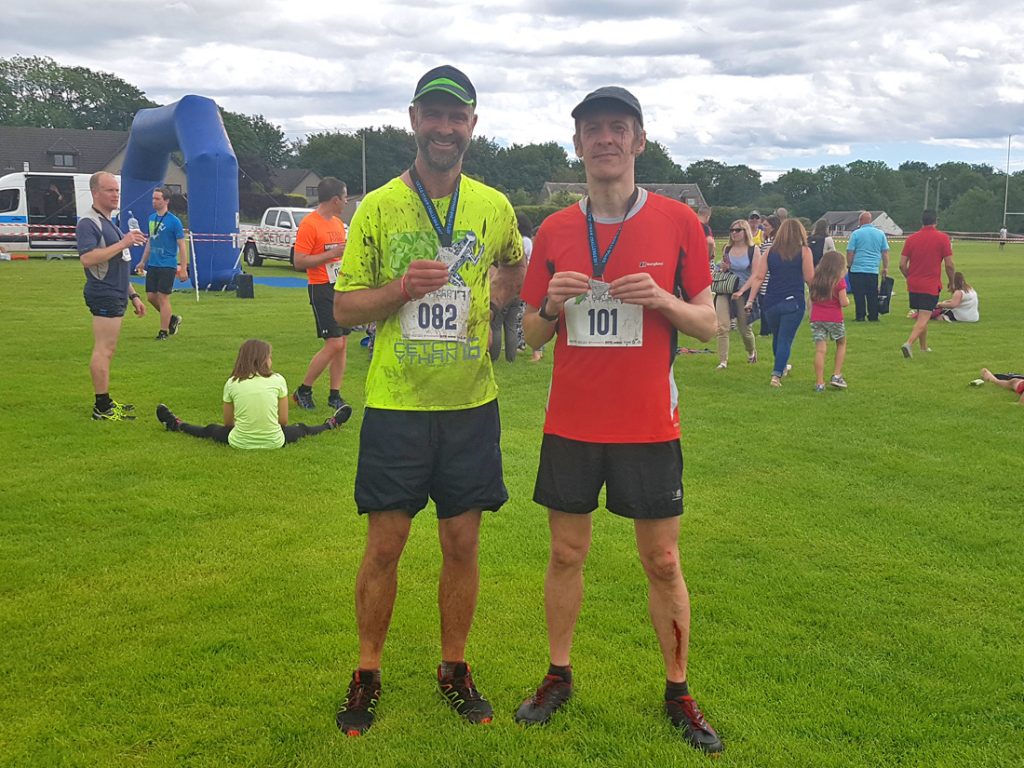 In the shower afterwards, clearing the mud off my shin shows the gash to be a lot deeper than I thought, so a quick visit to the first aid tent before catching the prize presentation, and then to the food tent for a well deserved burger before the skies open and time for the bus home.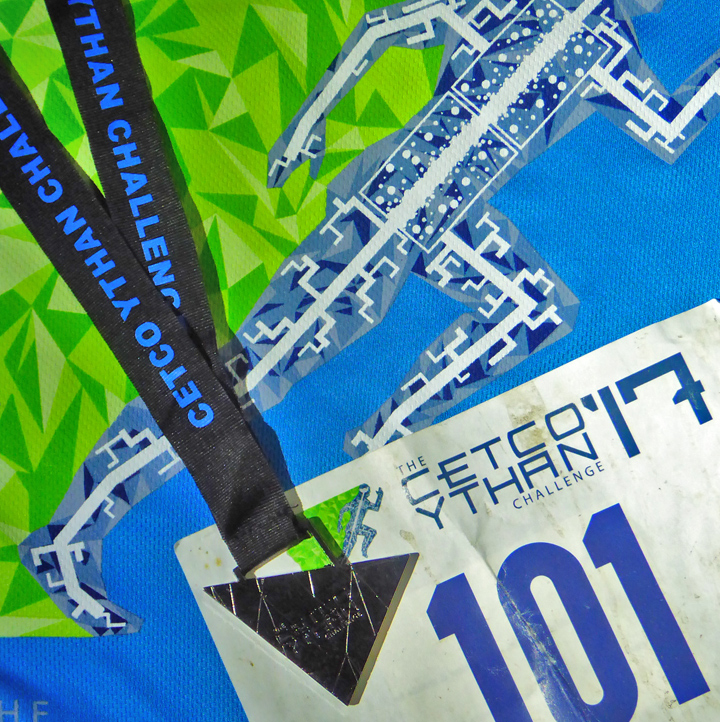 I really enjoyed the variety of terrain it's a bonny area and the obstacles were fun without being too obtrusive, all in all lucky to have this nice wee race nearby. Looking forward to the next time