This year the Aberdeen running calendar has been given a large boost by the arrival of a Great Run event – they started doing a half marathon in Newcastle (Great North Run) that is now the most popular half in the world (and biggest running event in the UK), and now do them at many cities across the UK.
Being right on my doorstep it was the perfect opportunity to do my first ever road half marathon (having done the illuminator trail half last year)
I met regular race buddy Fraser at the bag drop; staying a few 100m away from the start I had nothing with me. The town centre, much of which had been pedestrianised for the day, was already buzzing for the first race (10k) which had been under way for a while, I managed to cross the road through a gap in the runners and headed down to a stage set up in Union Terrace Gardens. Caught the 10k awards ceremony then time to get ready. When registering, I'd been given a green number for the third (of four) phases which I thought odd given a predicted time of 1'45 – fortunately there was a customer service stall at a local running shop the day before and I managed to get it swapped to the first phase – this was going to be a tough enough run without having to battle past hundreds of slower runners.
Heading down on to Union street the lined up runners tailed back as far as the eye could see, in the front after about 50m of the first phase, there was a separate small section for the really serious folk. The weather was great, blue skies and only a light breeze, if anything I was concerned about the heat. A pace of 4'45 or so would see me to a target time of 1h 45, it's a pretty flat course so later on I'd see if I could push it a bit faster.

And we're off! I thought we weren't that far from the front, being mid-first-phase, but those in front concertina out to specks in the distance within a minute, and as I turned down off the Castlegate, Marischal street was already full side to side and being exited at the bottom, a bit of pavement flanking thumping downhill made up some places.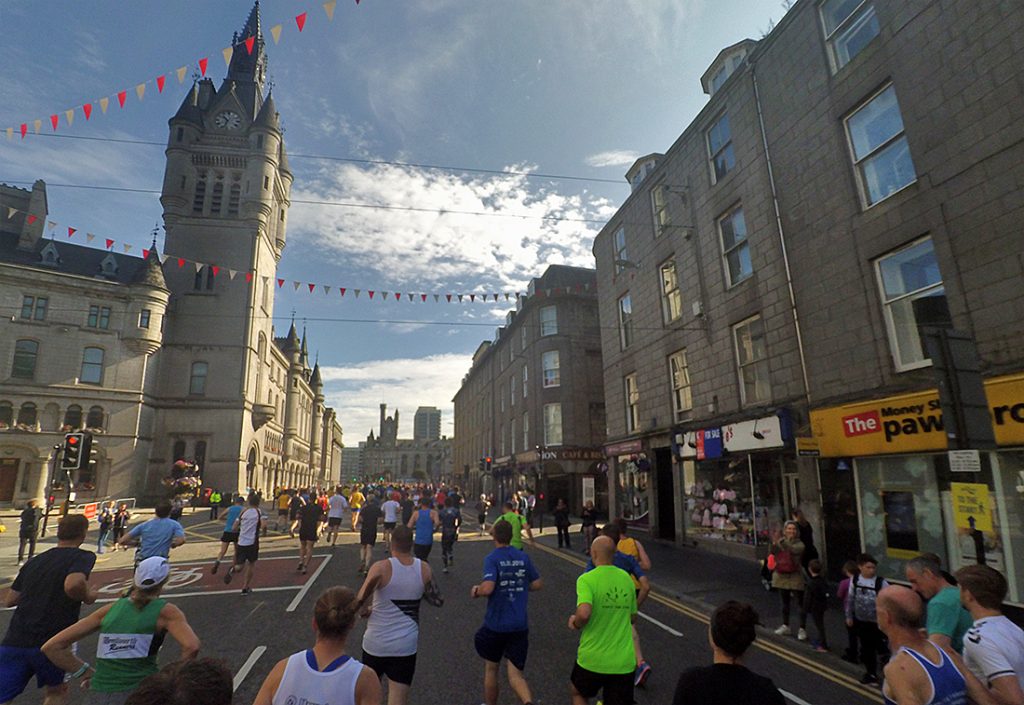 Out of the docks to the beach, there was hardly a breeze, and the first water stop was doing good service. The long straight provides an opportunity to settle into race pace, a few folk who have started further back start to make their way up, and the pack begins to stretch out. A sound system pumping out some funky beats near the Don bridge provides a wee lift.

Heading up to the exhibition centre, we passed the front runners coming back the other way, I cheered on a friend who was clearly smashing it but looked quite hot and bothered. A bagpipe player in the central reservation provided musical entertainment, I kept wide to try and grab some shade.

At the picturesque Brig O'Balgownie, our first foray on to cobbles; the narrow confinement didn't create a choke point as I thought it might, the race was spread out enough by this point, but further back it'll be crowded here.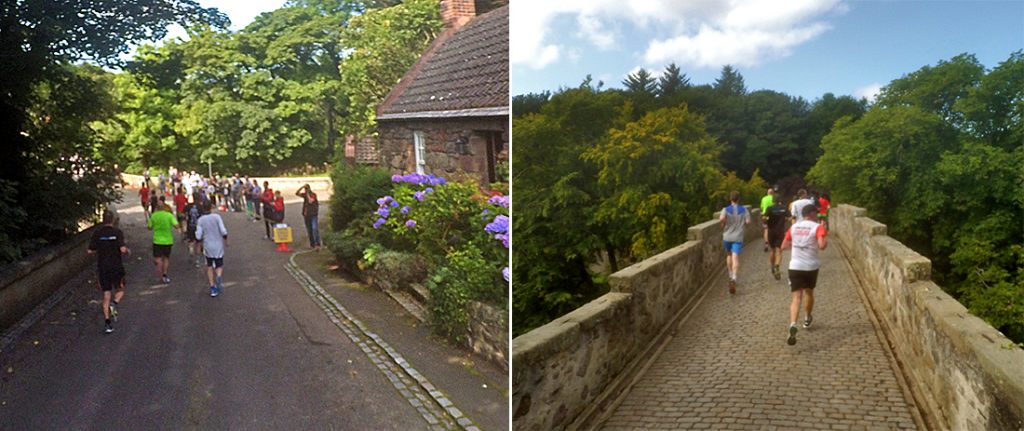 A stiff wee climb up past Hillhead, and another water stop. They're using bottles which are easier to grab and use than cups but I do hope they get recycled, most folk take a couple gulps before throwing, it's pretty wasteful unfortunately. I scoosh heaps on my head and down my back, an extra bit of cooling.
Along Don street and more cobbles, there's not much spectation here, so some folk stream down the narrow pavements which are smoother, I reckon there must be some trips once the main body of runners comes through. This is roughly the half way mark, so far so good. Through Old Aberdeen, but a shame it's not quite past the splendour of King's down Meston Walk.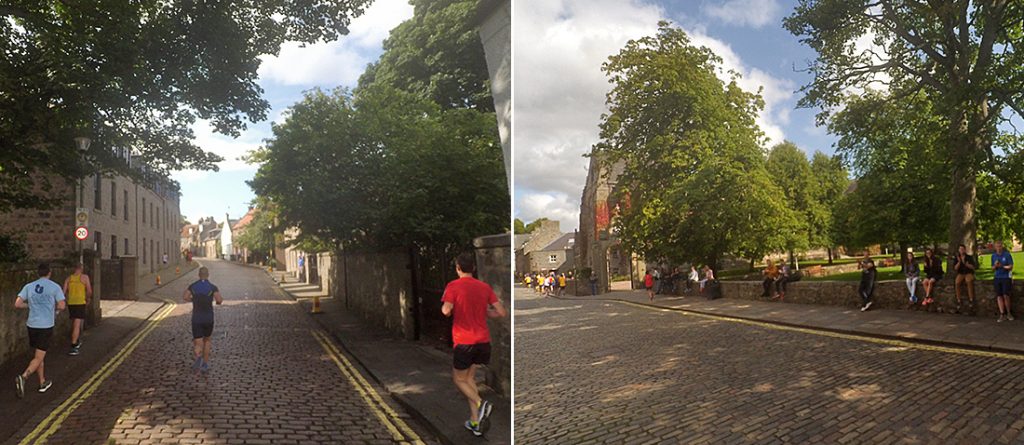 Back on to King St, and an unexpected treat – a run through water spray – like a big car wash – pretty refreshing! Hope my action cam I've taken with me survives. I reach in a pocket for some jelly babies.. not there, must have fallen out grr. Will need to keep an eye out for a sweetie stop (saw one earlier)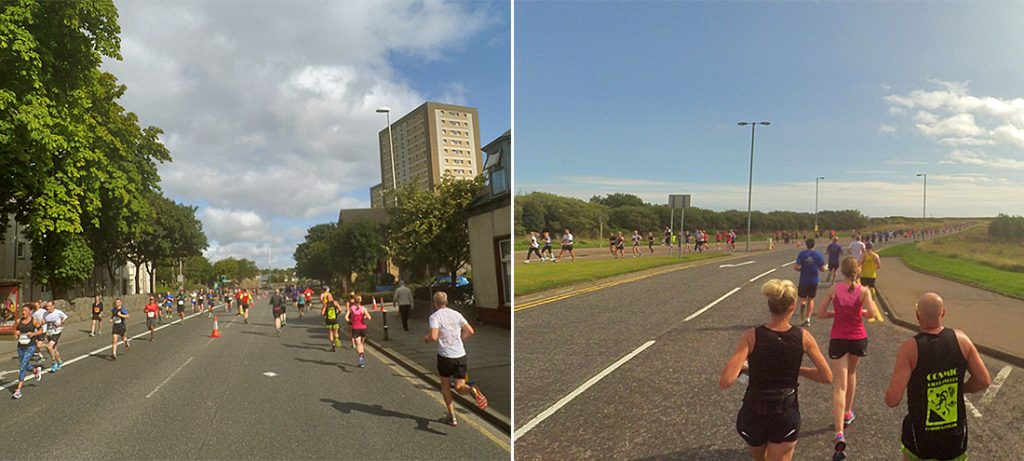 Heading back on to the beach the other side has masses of folk still heading out, on my side it's thinning out. I start to look for targets to tail and overhaul gradually; as I tire this counteracts my tendency to slack off and slow down.
Past Pittodrie on the way back out I pass Fraser who's just heading in – he cramped back at Old Aberdeen, but still in the running not having lost too much time.
On the gradual climb to Mounthooly roundabout, I notice that another chap 20m in front has also been consistently keeping distance but also reeling folk in and passing them, hopefully I can get up to him and use him as a pacemaker to the end.
Past Marischal and along Schoolhill crowds are out, I'm keeping good (above target) pace behind 'Gordon' (seems to be a very well known chap loads of folk cheering him on). It's a nice stretch to run past: Education, Salvation, Damnation as it's known locally (the adjoining fine buildings of the library, church and theatre)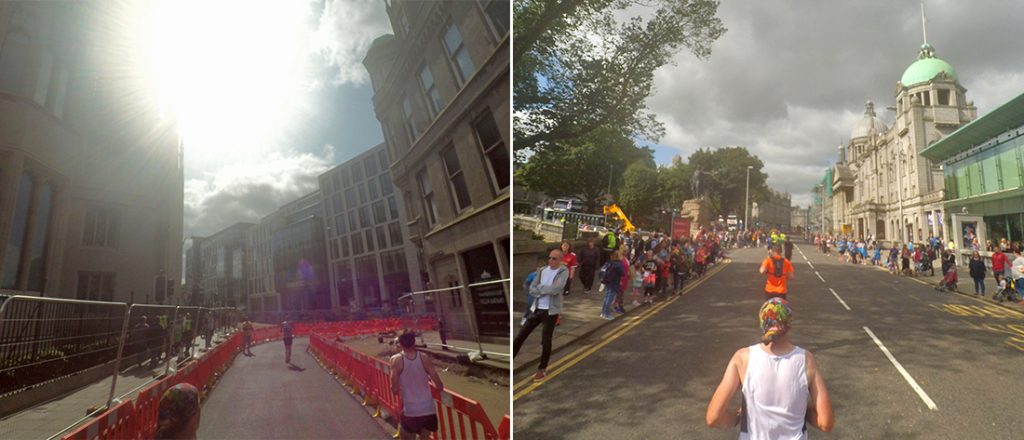 Into the west end and the final push. I'm tired, but no major twinges in the feet (had issues with blisters in the run up) or pre-cramp stiffness. A party of folk in their garden playing music have 'eye of the tiger' playing, I give it a fist pump which raises a cheer.
Turning back East from Carden Place into the leafy straight of Albyn place, I know there's about 1.5km left, all slightly downhill. Time to start emptying the tank and throttling up; I feel guilty leaving my 'pacer' behind – he's unknowingly dragged me along for the last 20 minutes or so. Pace now jumps from 4:40 to my 5k pace of 4:00. Unfortunately my xiaomi yi battery has given out, so no more snaps.
On to the wide open straight of Union Street for the last 600m and I can see the finish .. the big gantry clock is showing 1-thirty something, sub 1'40 is still on.. really weird to be running down the middle of what's normally one of the busiest streets in town, with crowds waving and cheering. I crank it up to breaking point, sprint speed whizzing past folk coasting in (in retrospect I should maybe have done the same and soaked up the atmosphere) and career across the line and stop the clock at 1'38'12; and then hang on to the barriers gasping for a few minutes, properly spent, oocha.
After collecting my goody bag, t-shirt and medal, and a burger, we head down to the nearby Union Terrace gardens to chill, there's some bands on, have a blether with friends and then the awards, the winning times are amazing – basically sustaining my 'sprint' speeds for the whole race.
All in all a throughly enjoyable day, and a welcome addition to the race calendar, it takes in a lot more of town than the pretty dull Baker Hughes 10k route does. Good to see so many folk in the crowds out supporting (though I suspect a more typical Aberdeen day of weather would curtail the blue sky enthusiasm on display today)
Official time 1'38'12, 274th / ~3400
My target of top 10% for all races this year remains on.. one more hurdle (and the toughest) the next race will be the Illuminator trail 25k..