Another weekend another scorcher. Heading out the Deeside way I don't think I've seen so many folk out running (Baker Hughes 10k soon) and cycling. My bell and brakes are working overtime politely tinging, slowing to almost standstill, greeting, and whizzing back up to pace. Good to see folk enjoying the outdoors and not spending such a great day buried in a mall. Only out near the city limits does the path clear.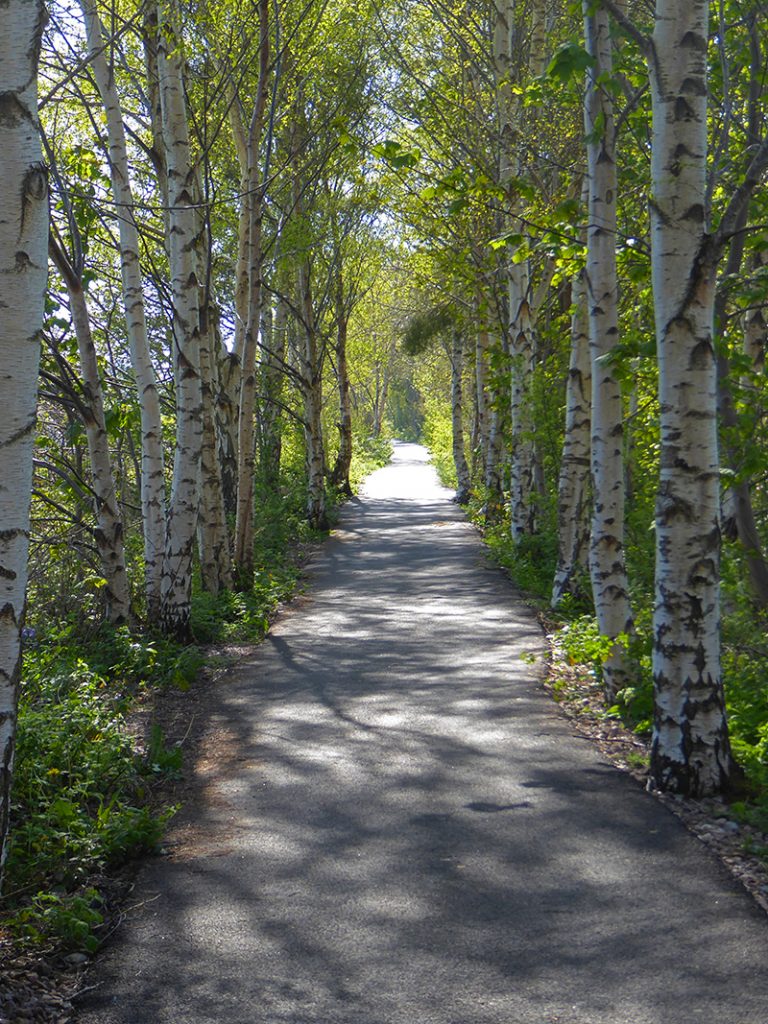 Daffodils covering the old road over the railway at Peterculter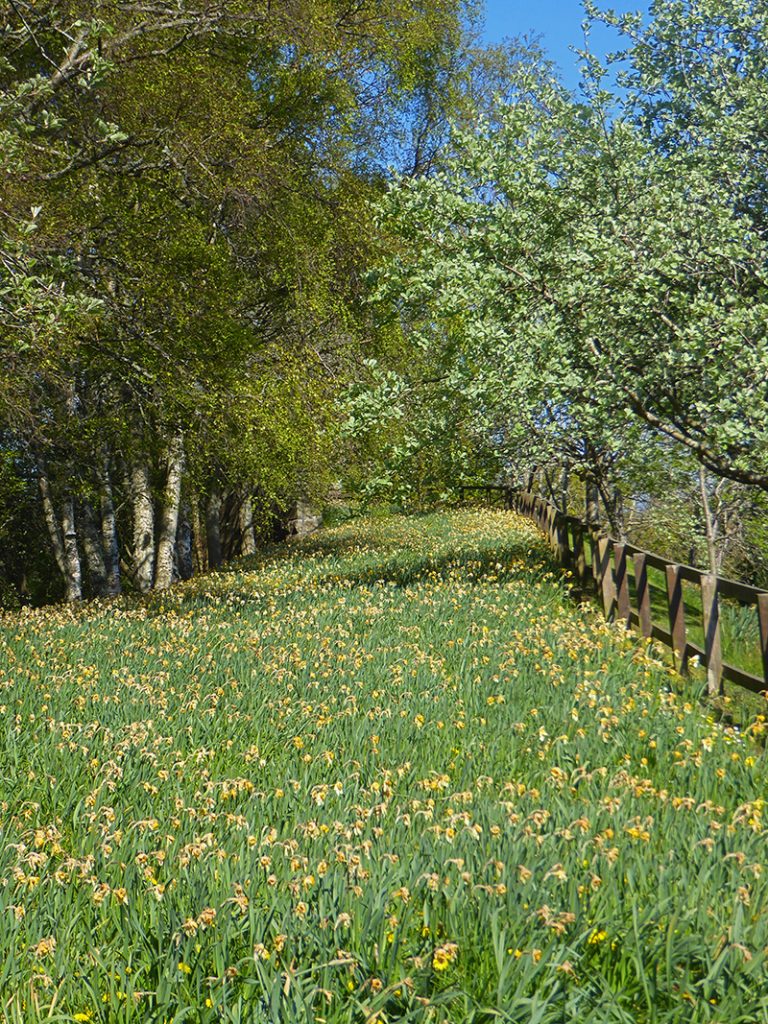 Loads of baby rabbits out enjoying the sunny fields near Drumoak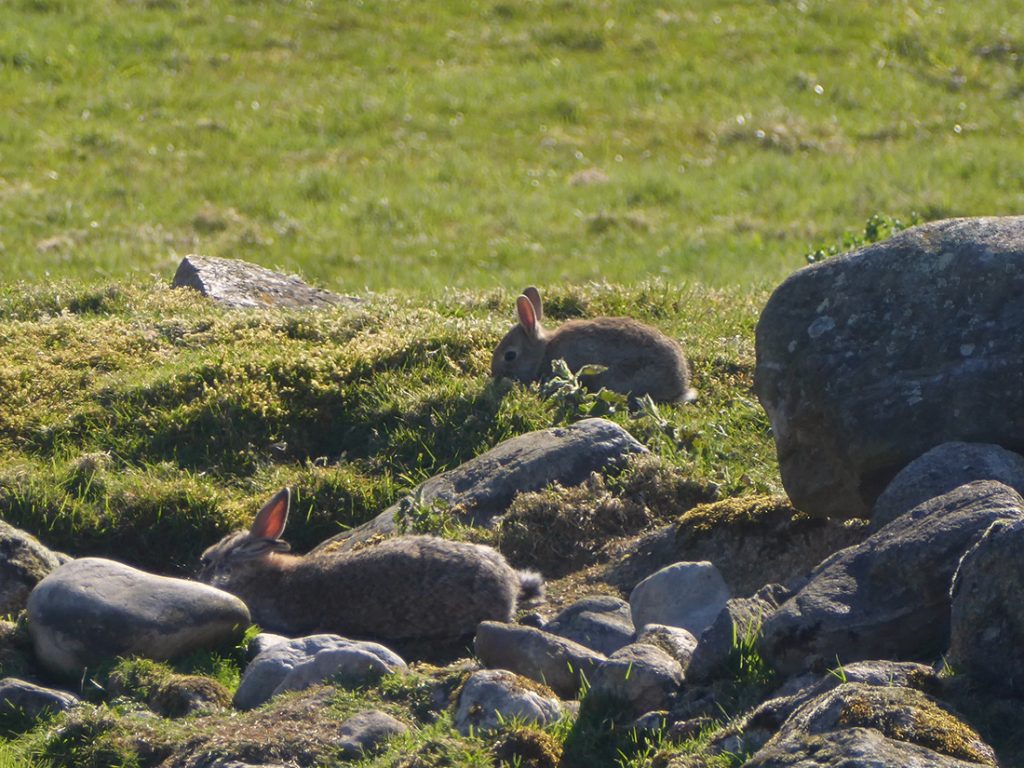 Popped over Park Bridge to have a look at Keith's Tower again. The normal route to it along the track beside the bridge, now has a forbidding "ger-orf-moi-land" gate and fence, plus today also a van of surly looking camo-dressed folk, means I try around the back. There's another fence here too and also a ruined cottage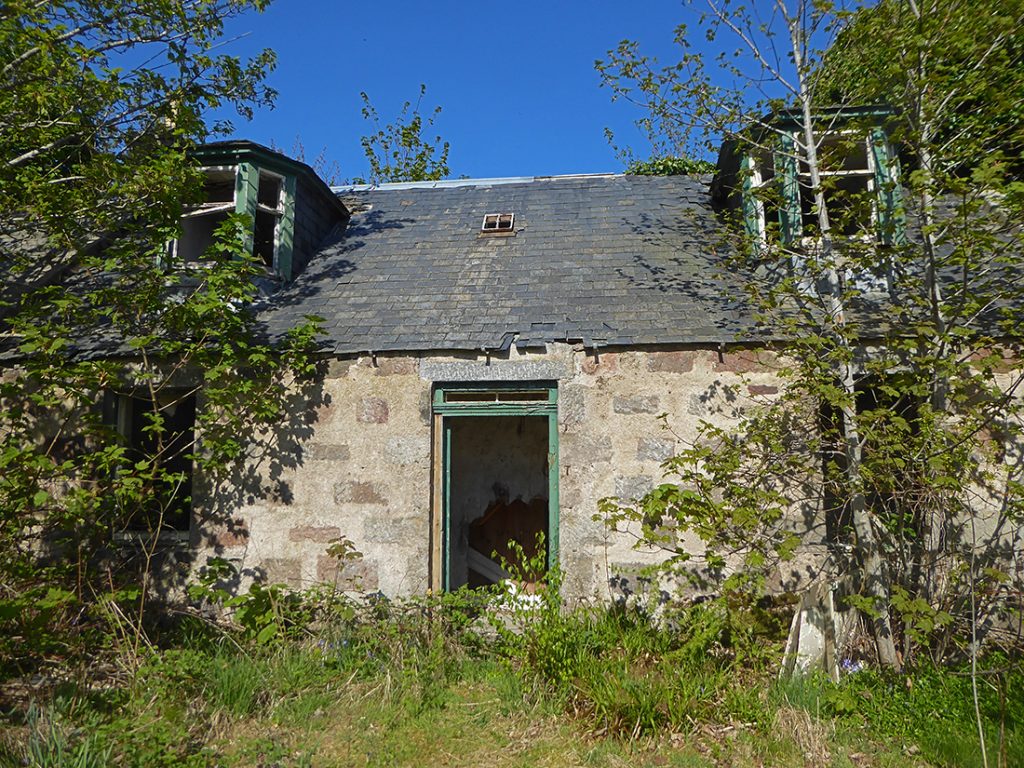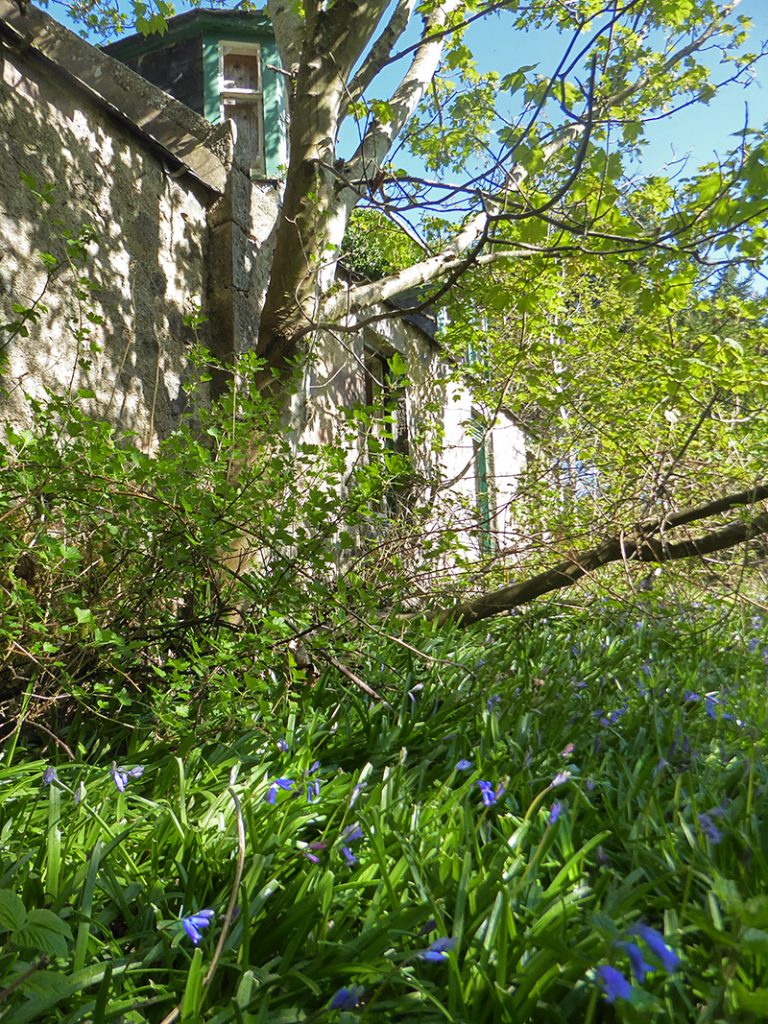 Gradually collapsing into the trees and bushes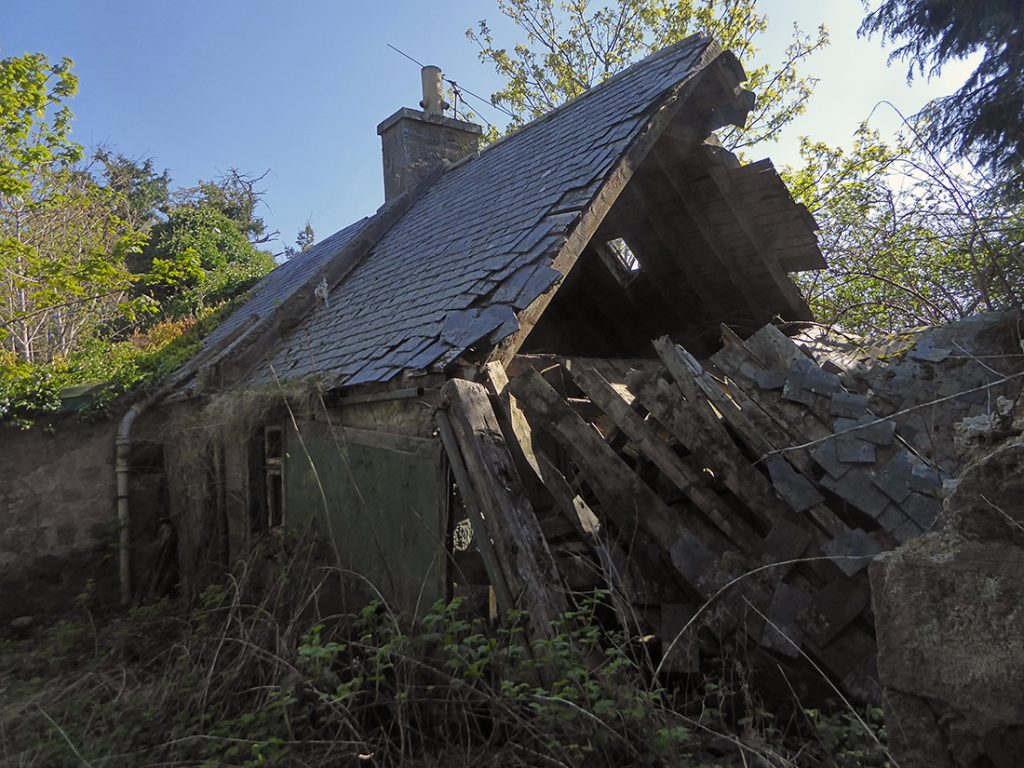 Rusting in peace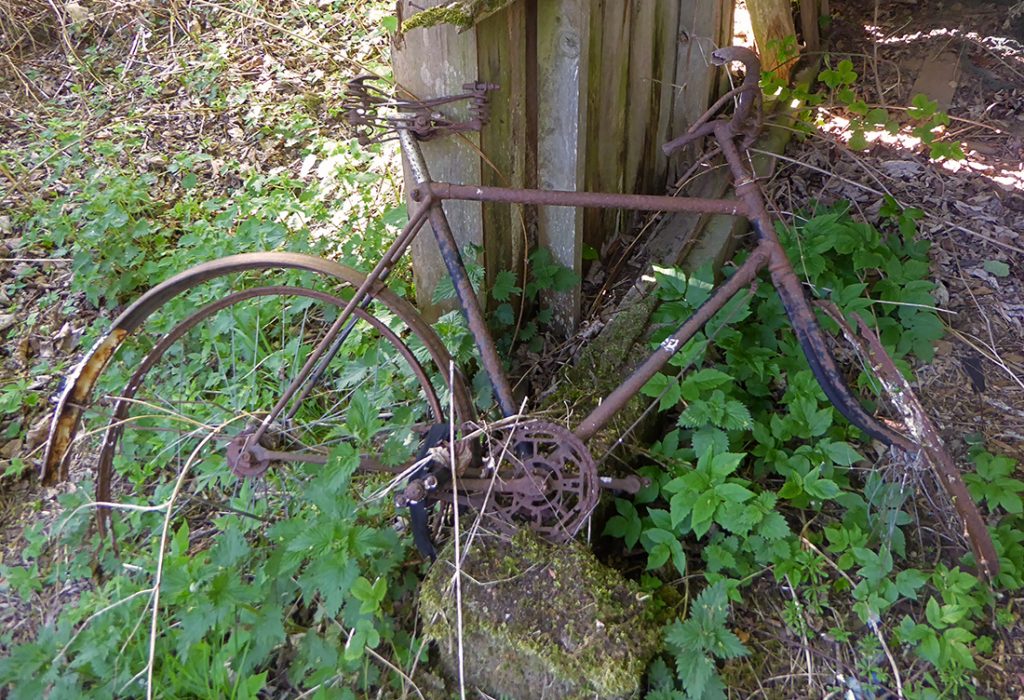 Nature is slowly reclaiming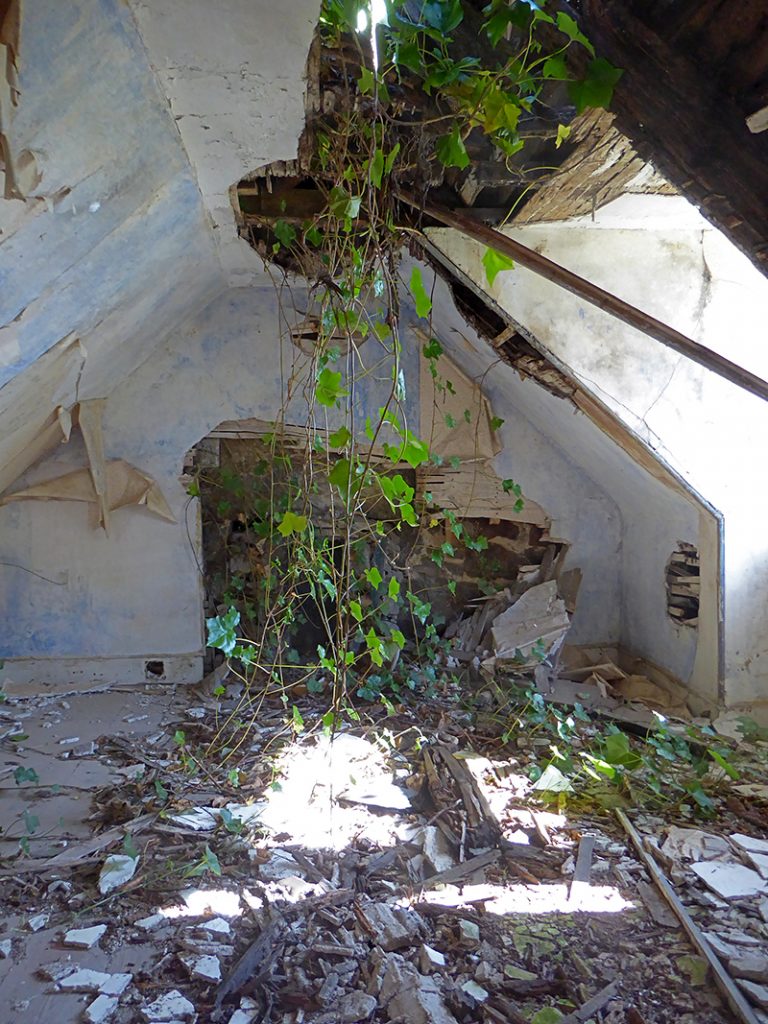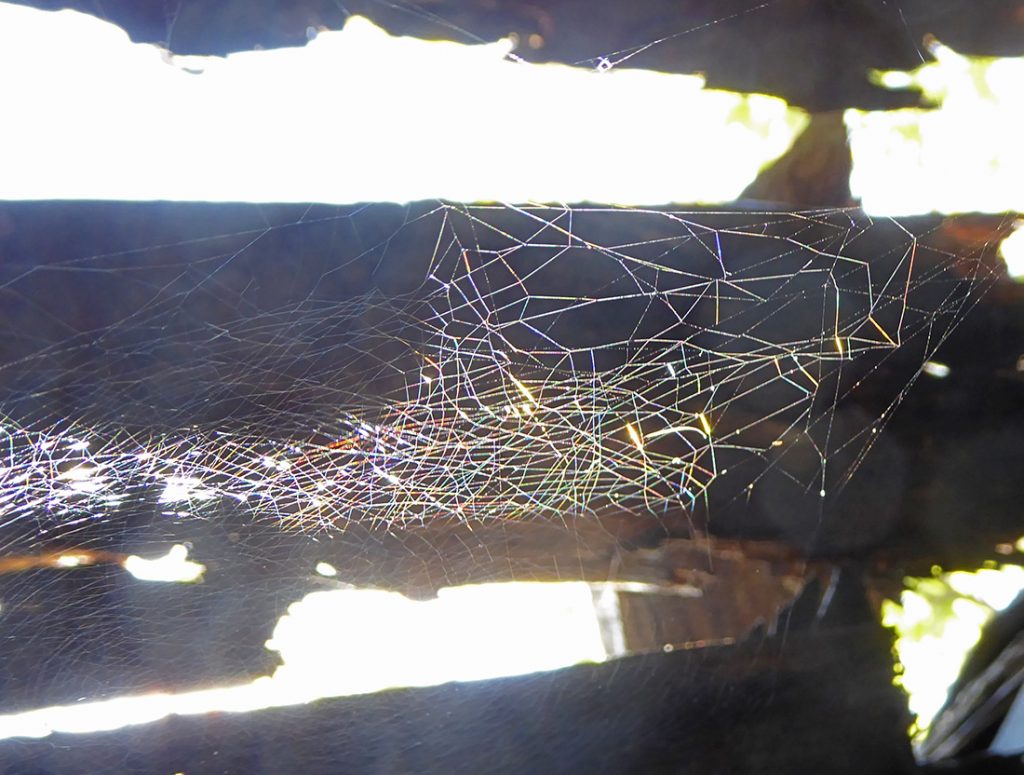 The bike shed has it's first visitor in years. Testing out a bikepacking saddle bag today – Kada Pak Ratt. It's robust, not particularly light, and like many similar bags suffers from 'sway' when giving it laldy standing up. It is however good value relative to the prices of some bags which makes one wonder whether they're tailored from magical unicorn hair. I may look into modding it to see if I can reduce sway.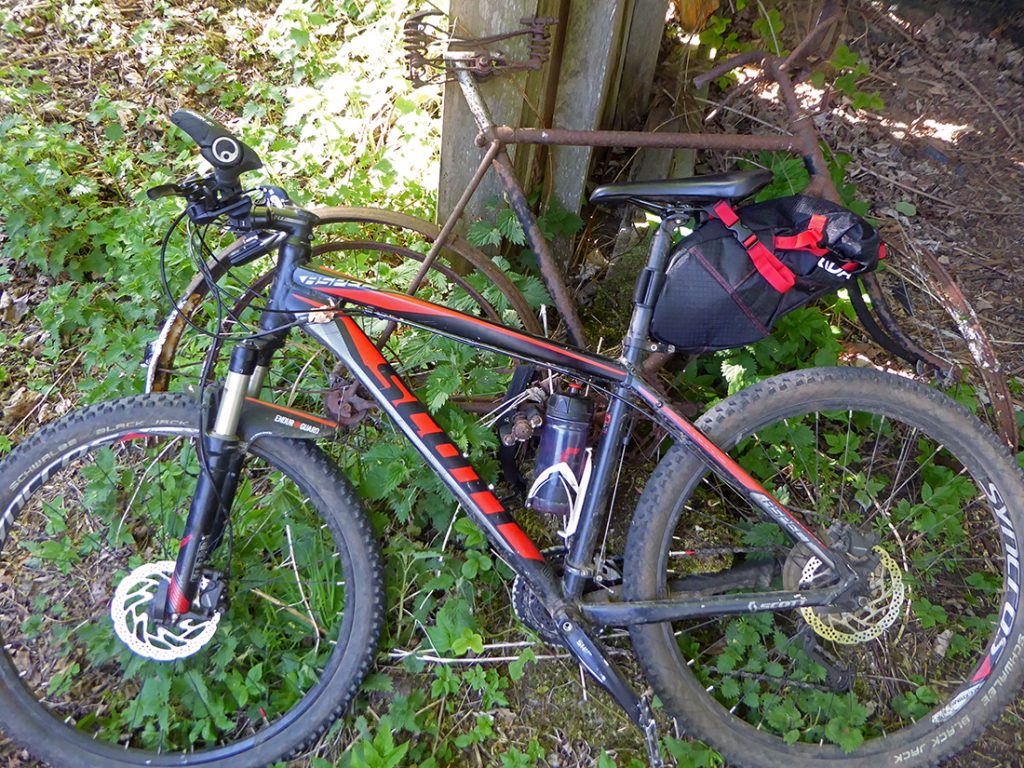 Above the cottage, the tower peeps through the spring foliage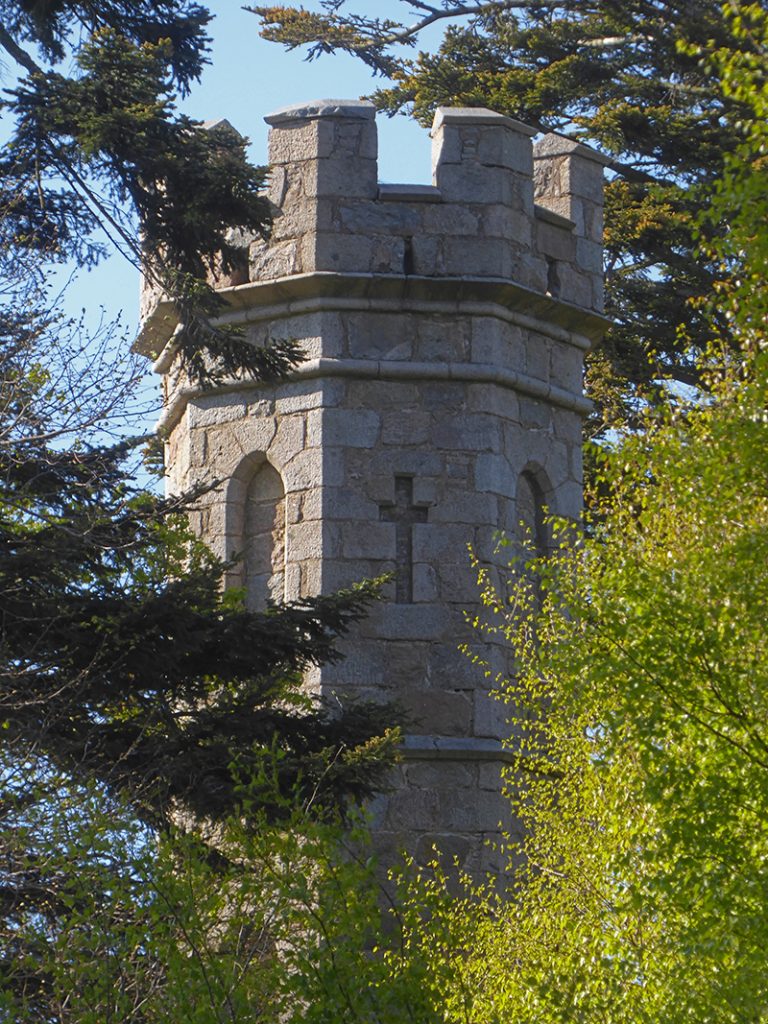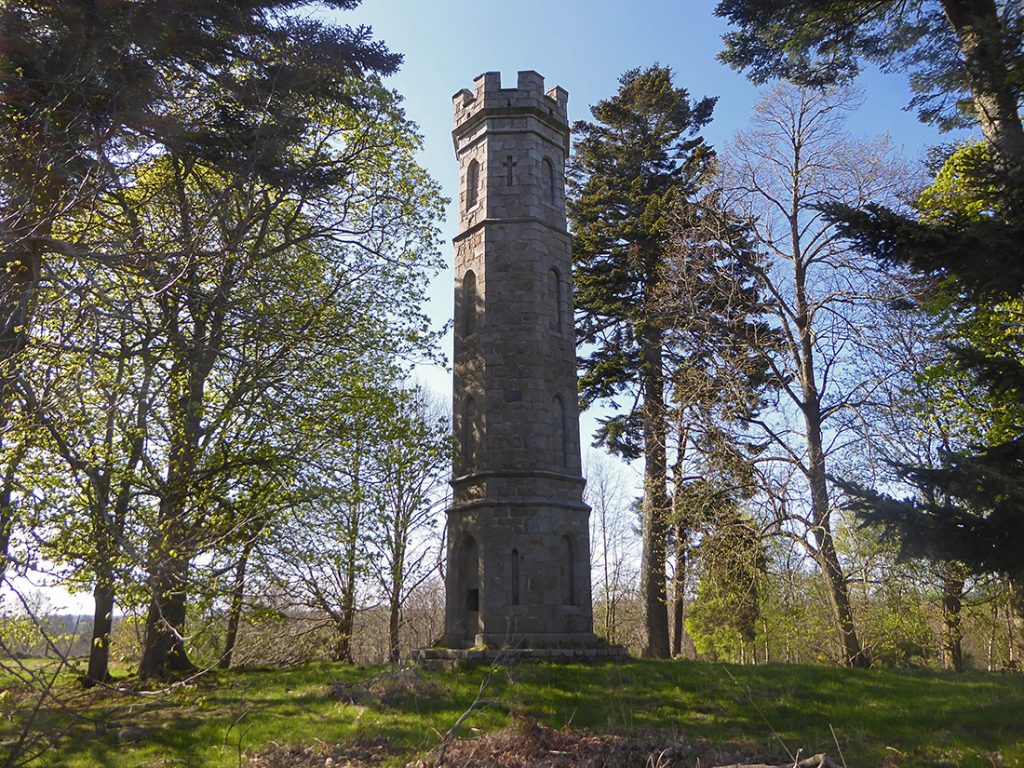 Last time I didn't venture inside, this time.. going up. The lower steps are covered muck making it precarious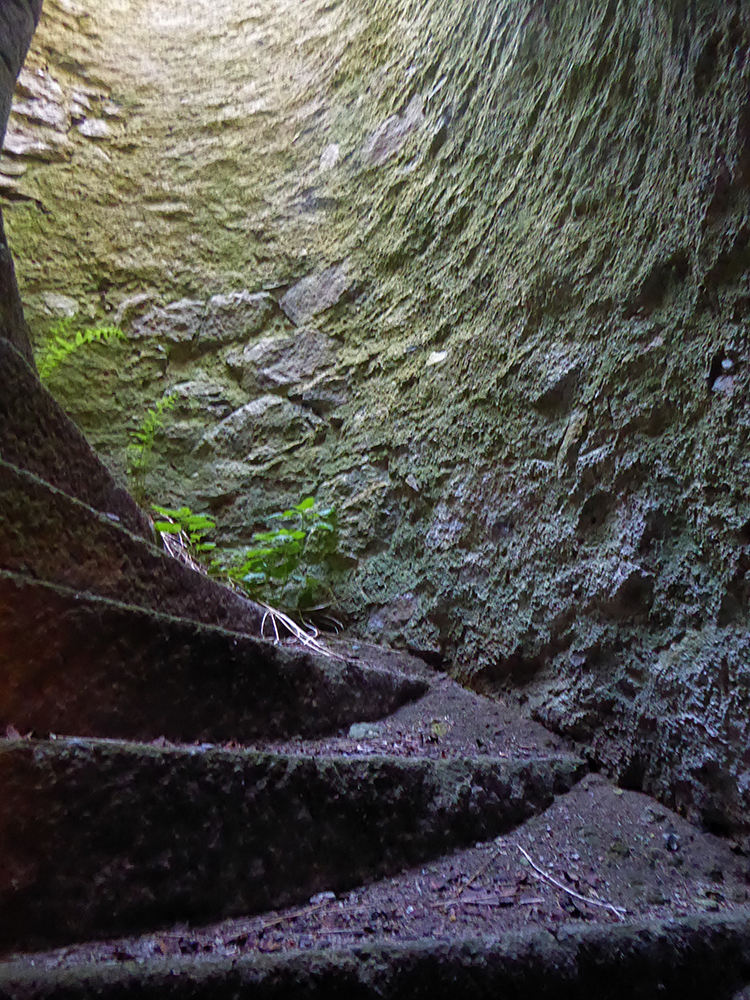 You'll need a torch to navigate through the darker winds of the stairwell, leading up to.. well you can't quite get to the top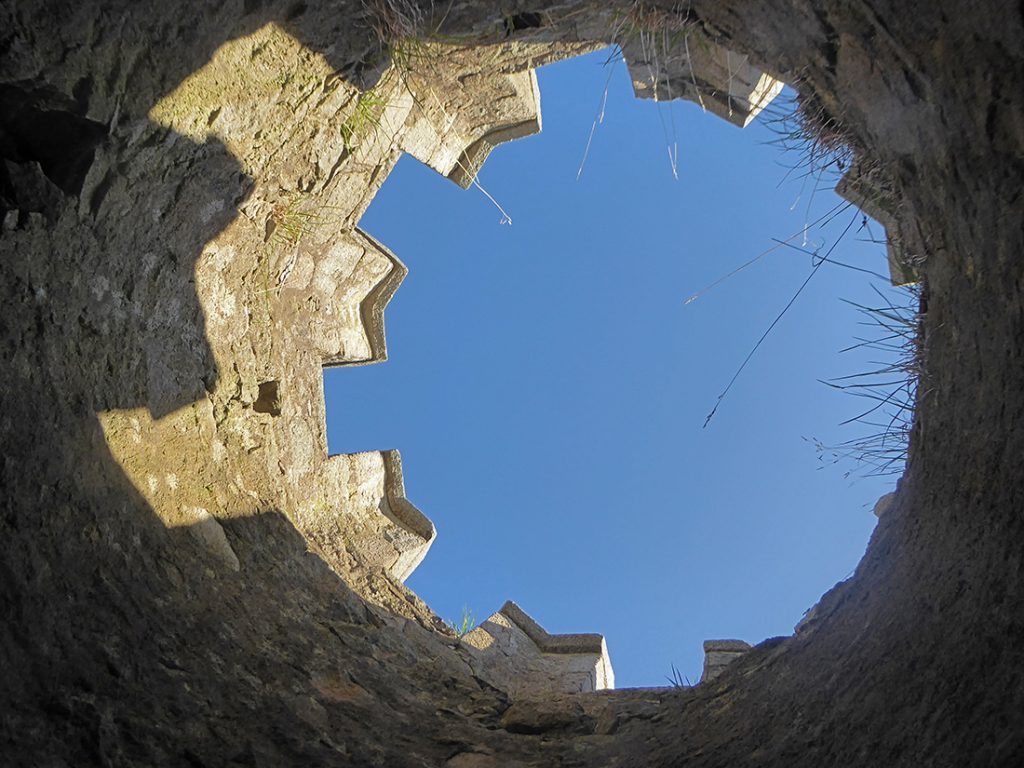 Back out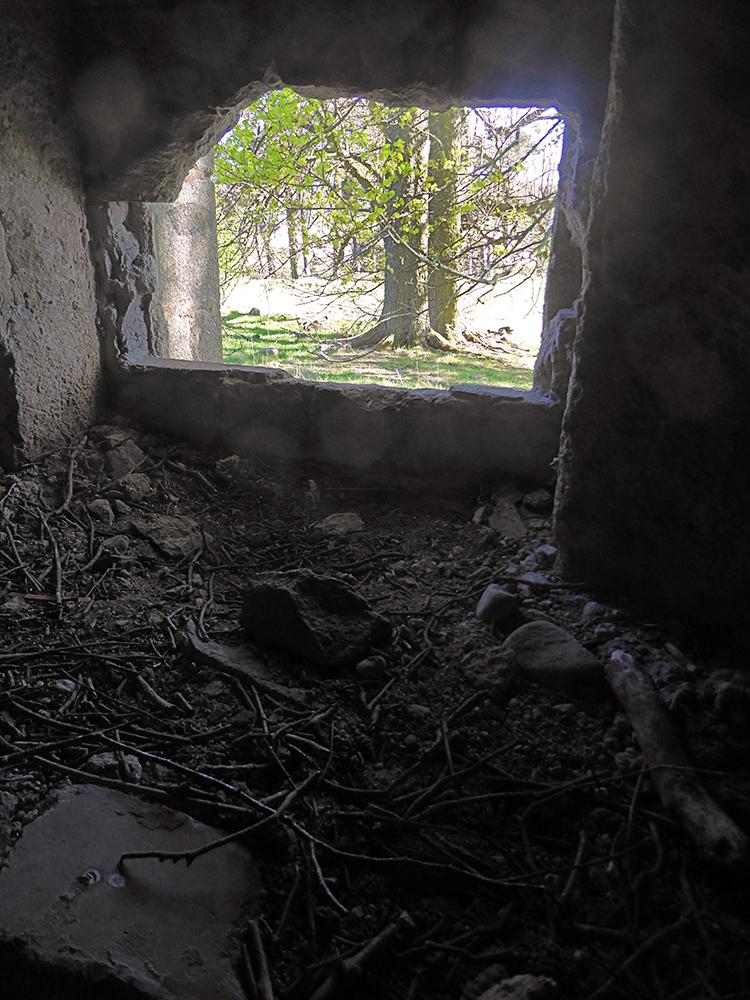 Trout pond nearby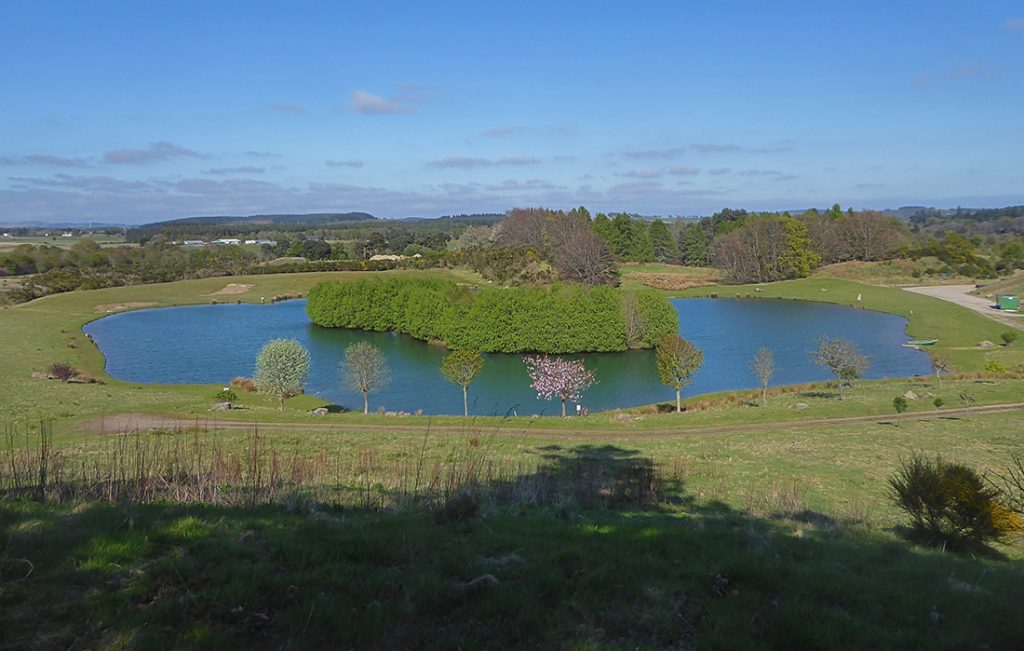 Iron dog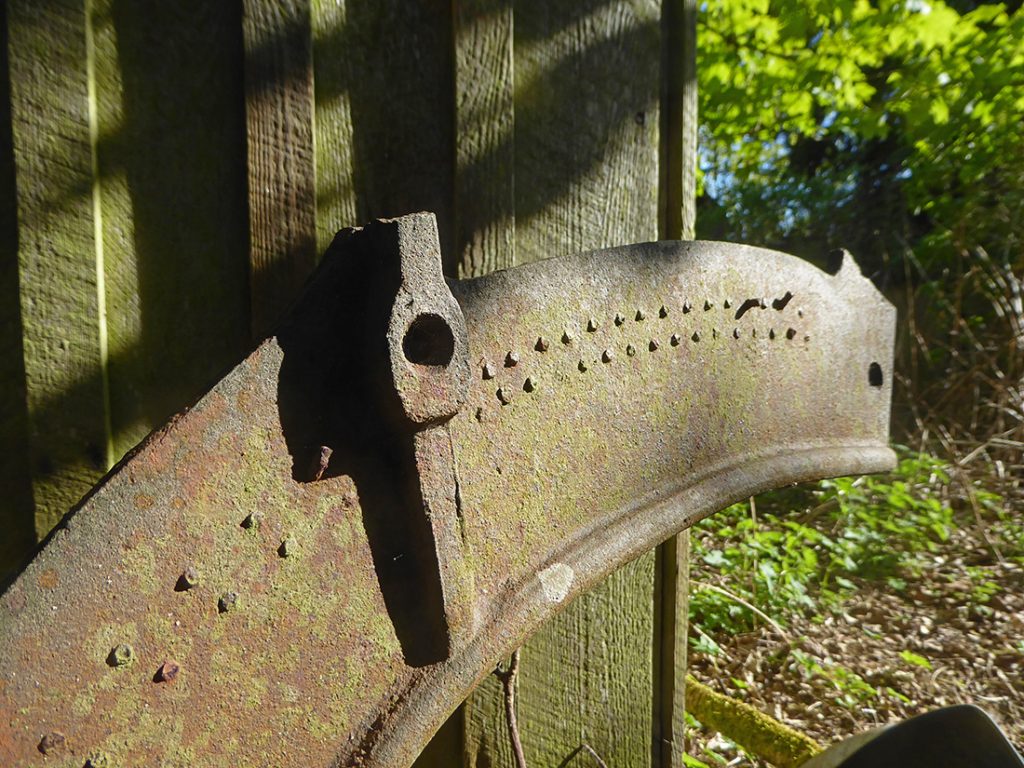 No amount of oil will unseize this chain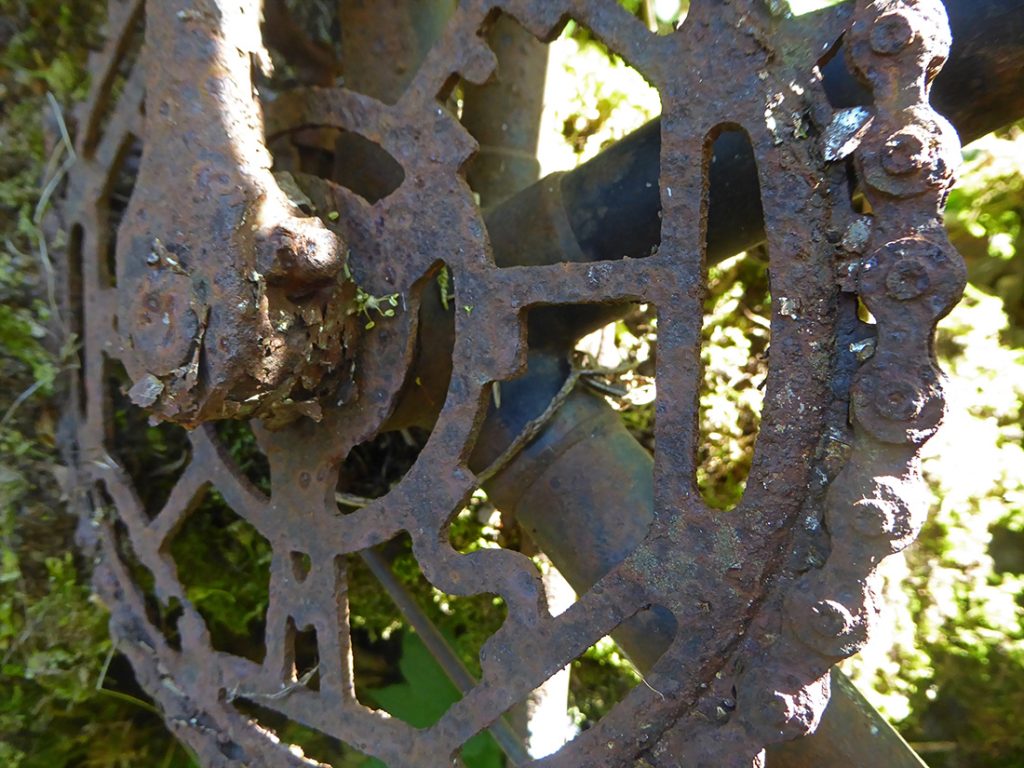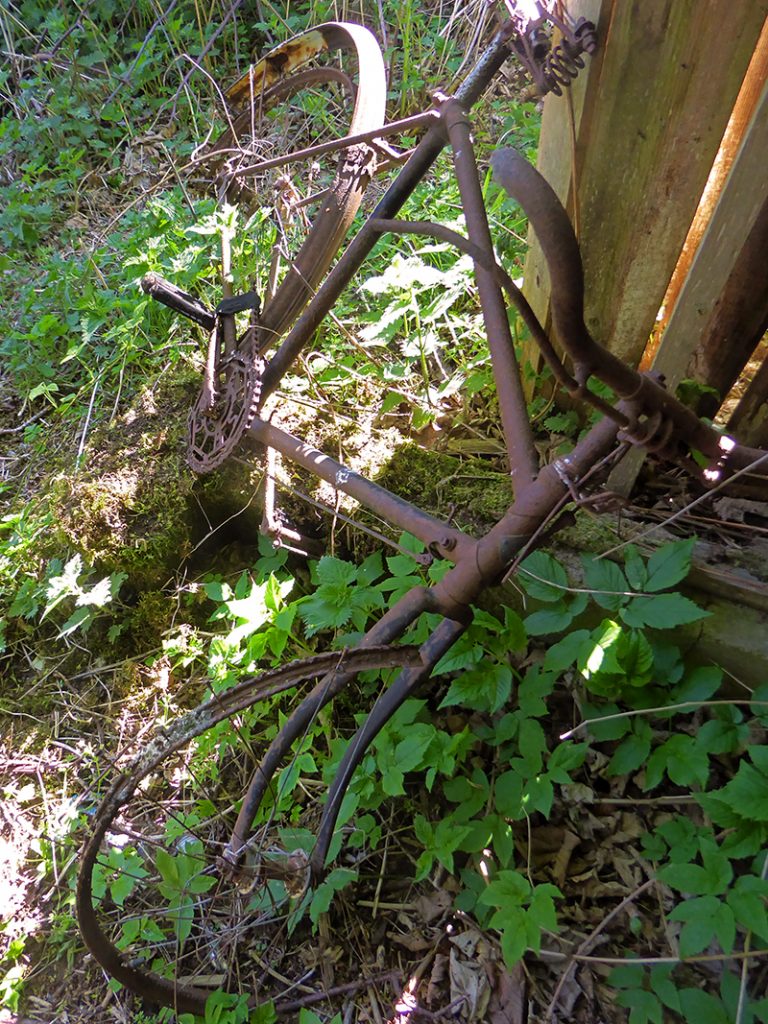 On towards the Park house surrounds near Drumoak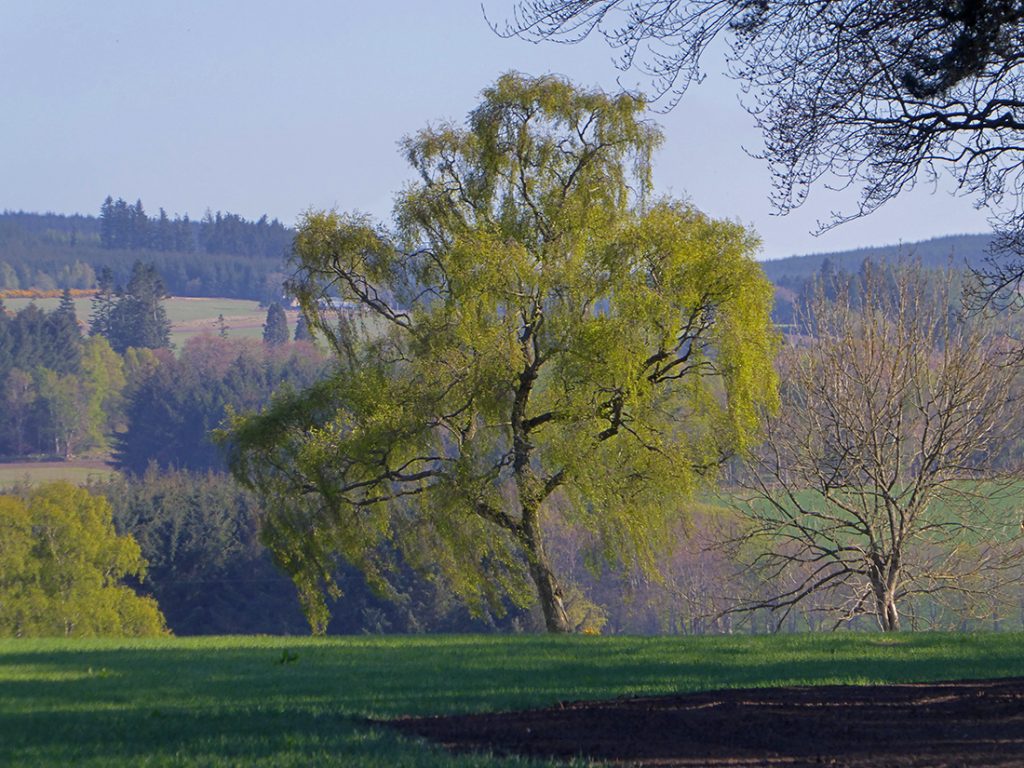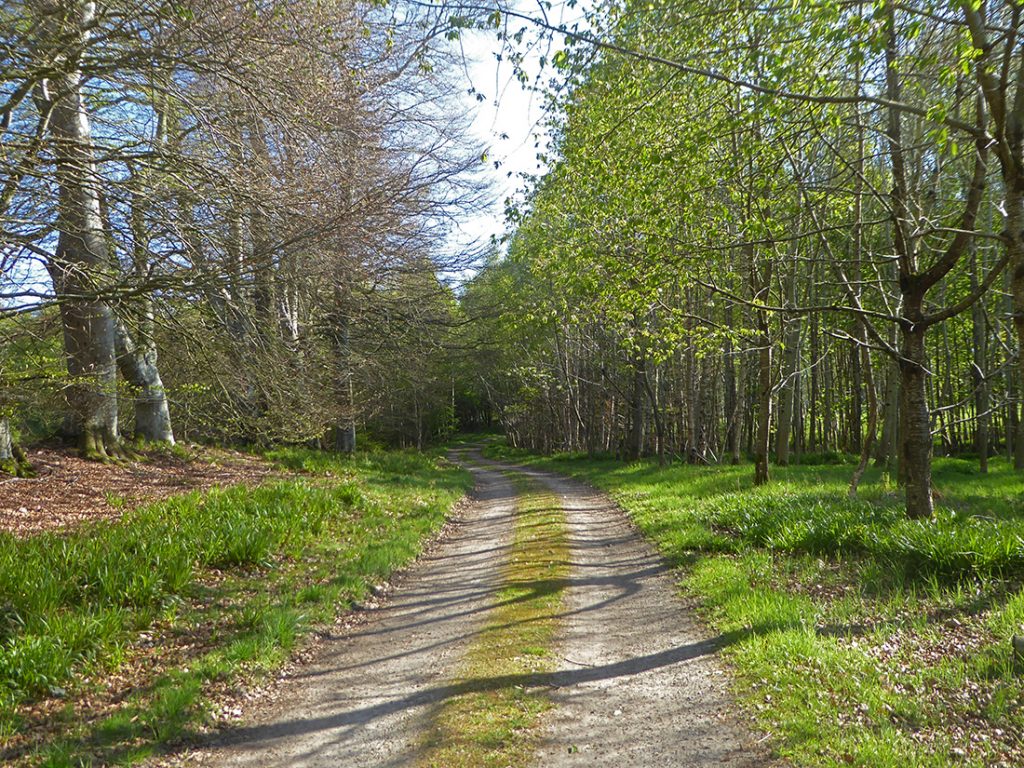 A tree with a beer belly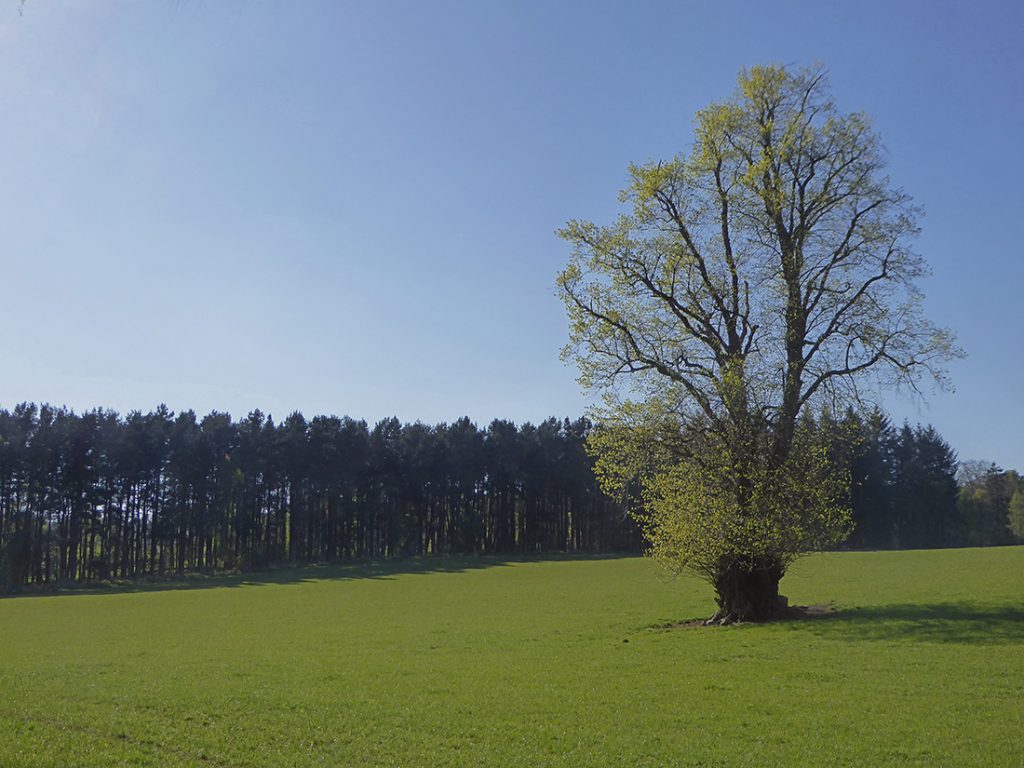 Through the leafy glades, the greek oddity I've seen previously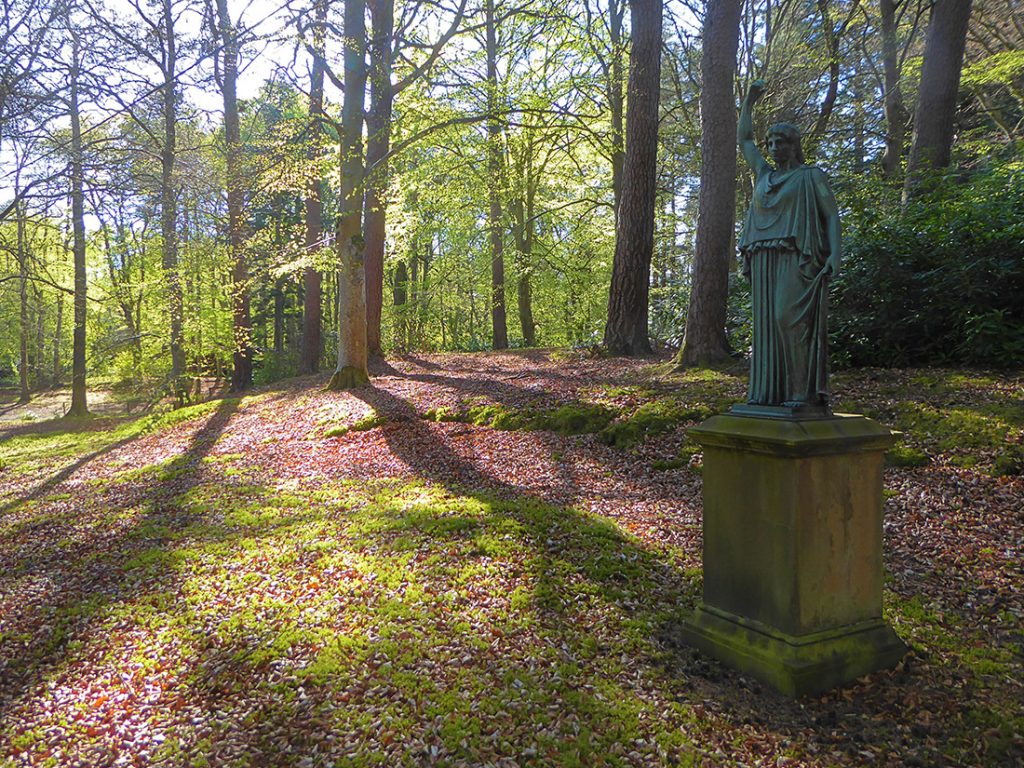 Park house is described as "two storey, eleven bay Neo-Greek house designed by Archibald Simpson and built in 1822" here, so I guess why not have Greek influence in the surrounds.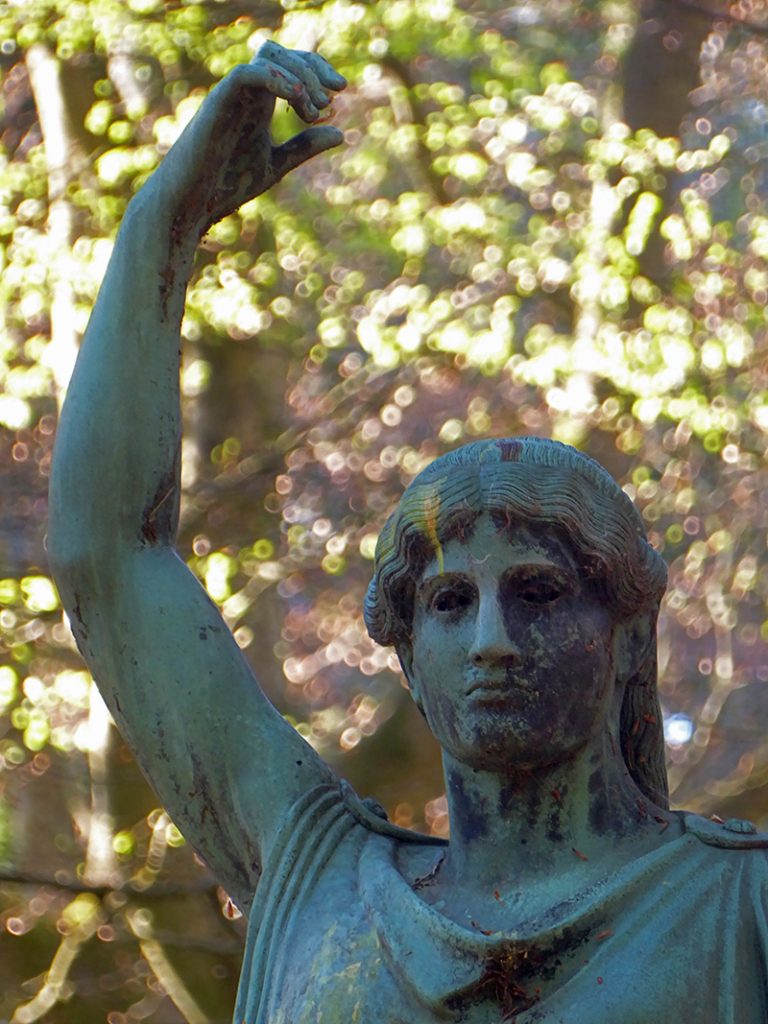 An odd pose. Perhaps a Greek doing highland dancing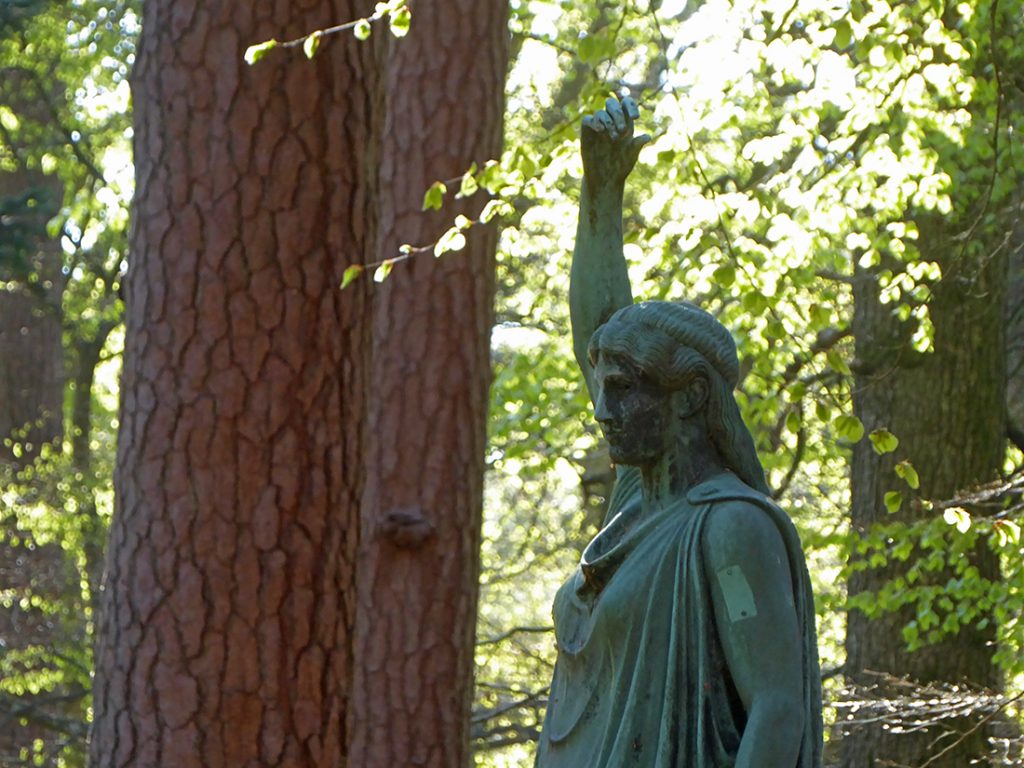 There's a walled garden here too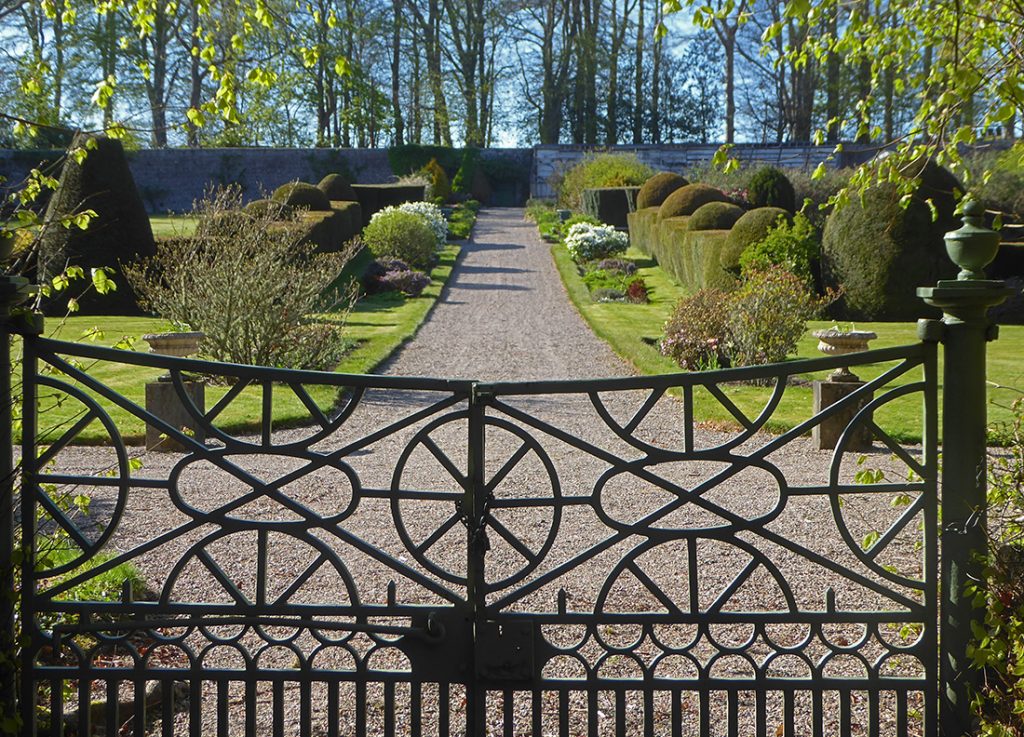 I've read there's a pictish stone on nearby hawk hillock, but this is likely it. The top half is worn and original, the bottom supporting half presumably a modern interpretation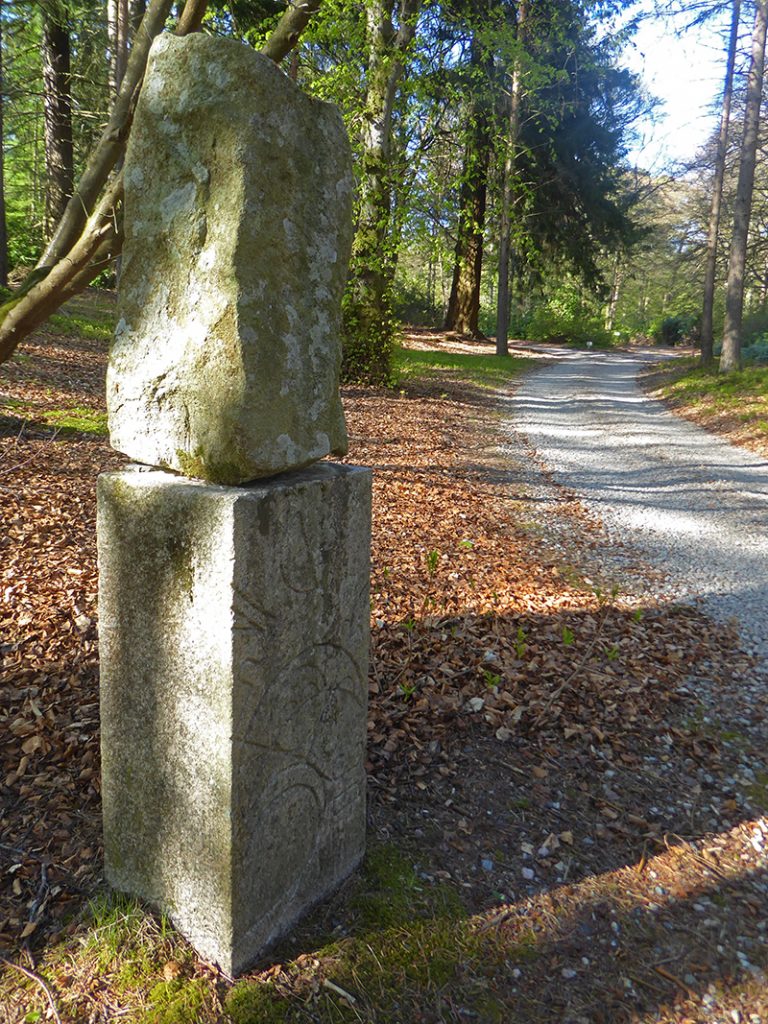 While pondering it, a car pulls up, I ignore it but an inevitable "Can I help you" rings out in a polite but insistent and very posh accent, that's really an invitation to leave. One wonders if any mansions in Scotland are actually owned by Scots. It'd have been nice to have asked more about the stone/statue but I don't feel it'd have been a welcome enquiry.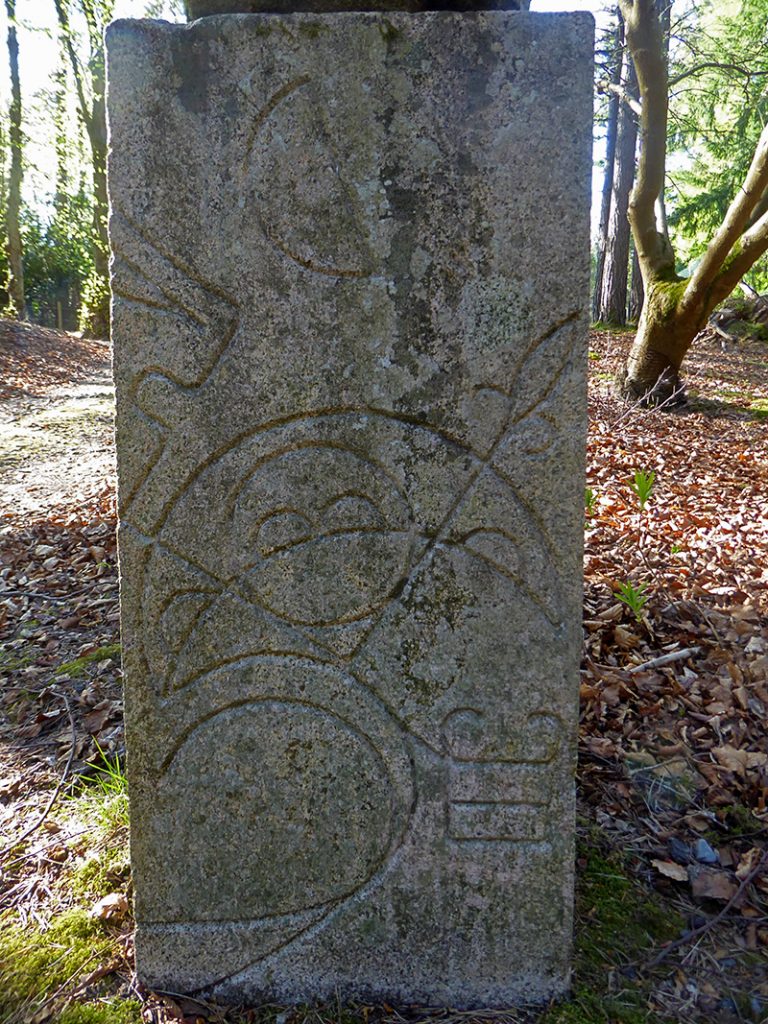 Two of the four bridges next to one another at Milton of Crathes
Loads of 'jack in the hedge' beside the stream here, free salad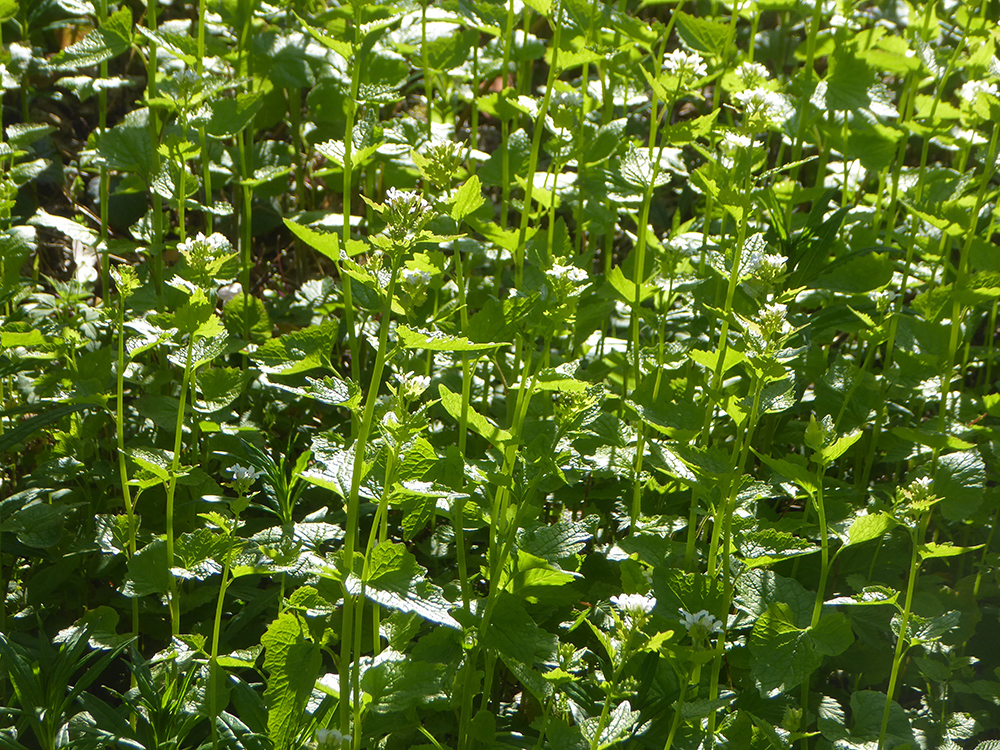 I've never paid attention before to the Deeside Way logo. It's a cheery and innocent little design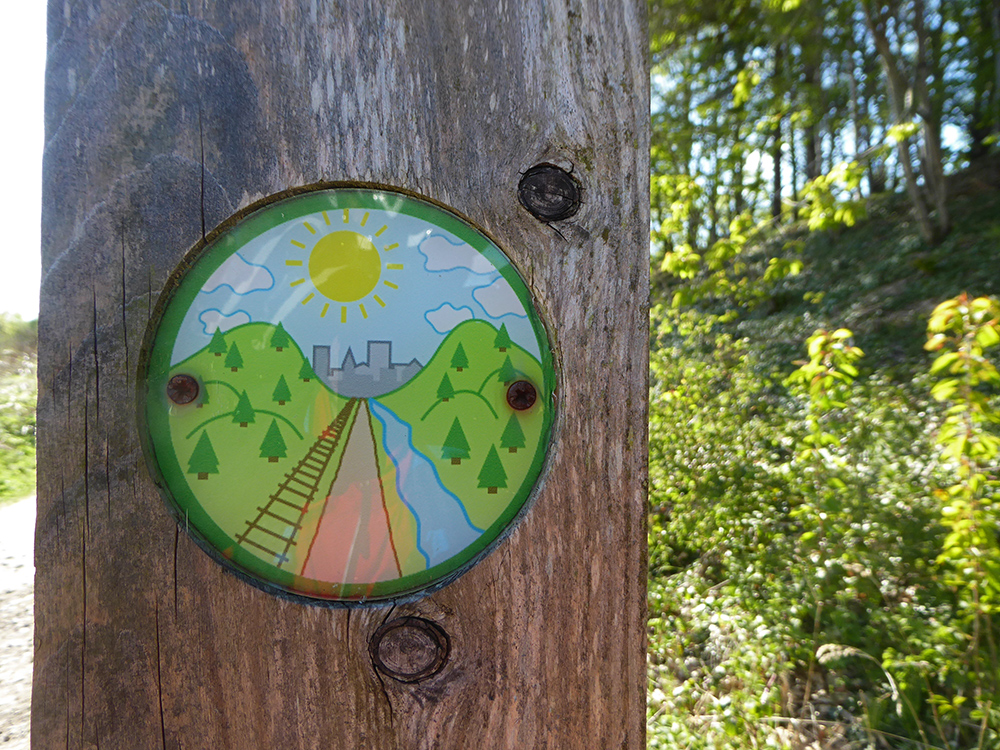 Pond at the gate to Drum estate without a ripple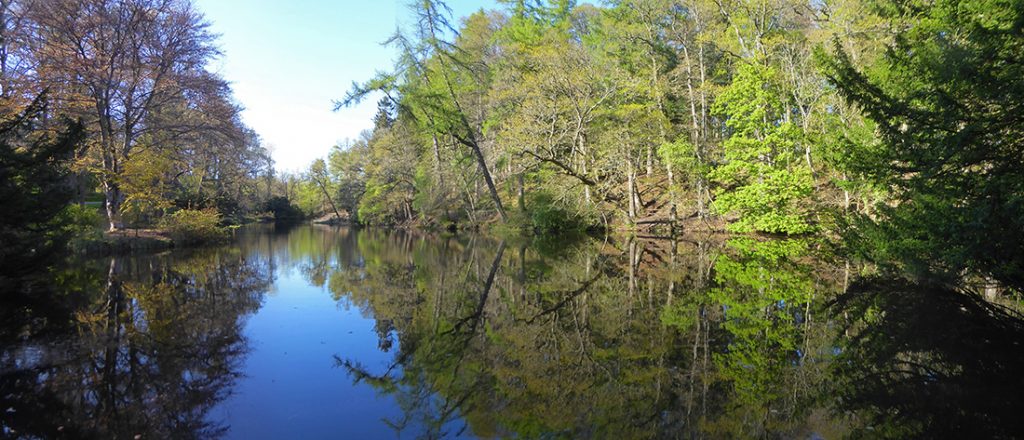 Blossomy komorebi
The castle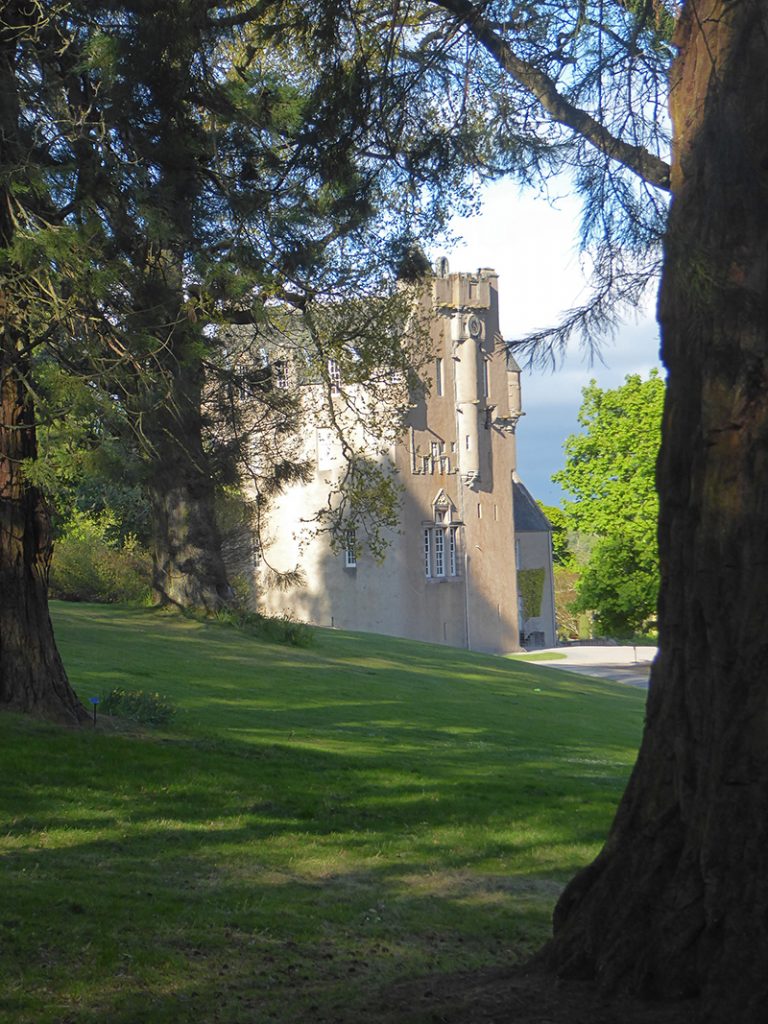 Like most castles there are interesting trees in the surrounds. I like this one it's roots almost melting into the rocks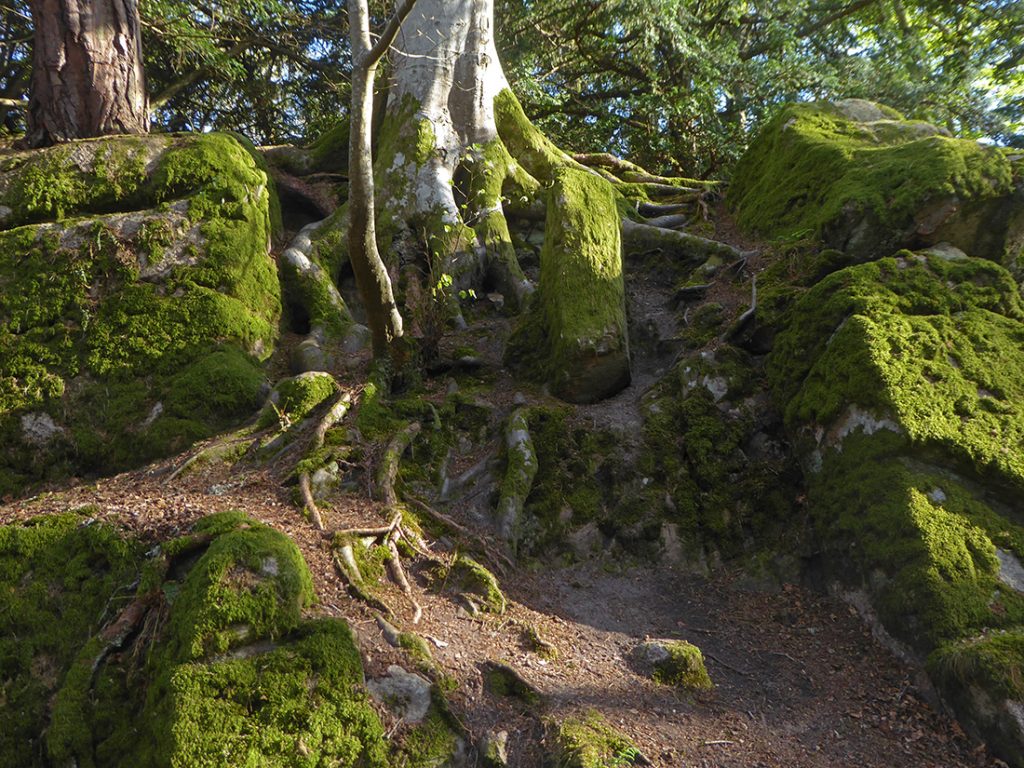 An old yew happily grasps this rocky outcrop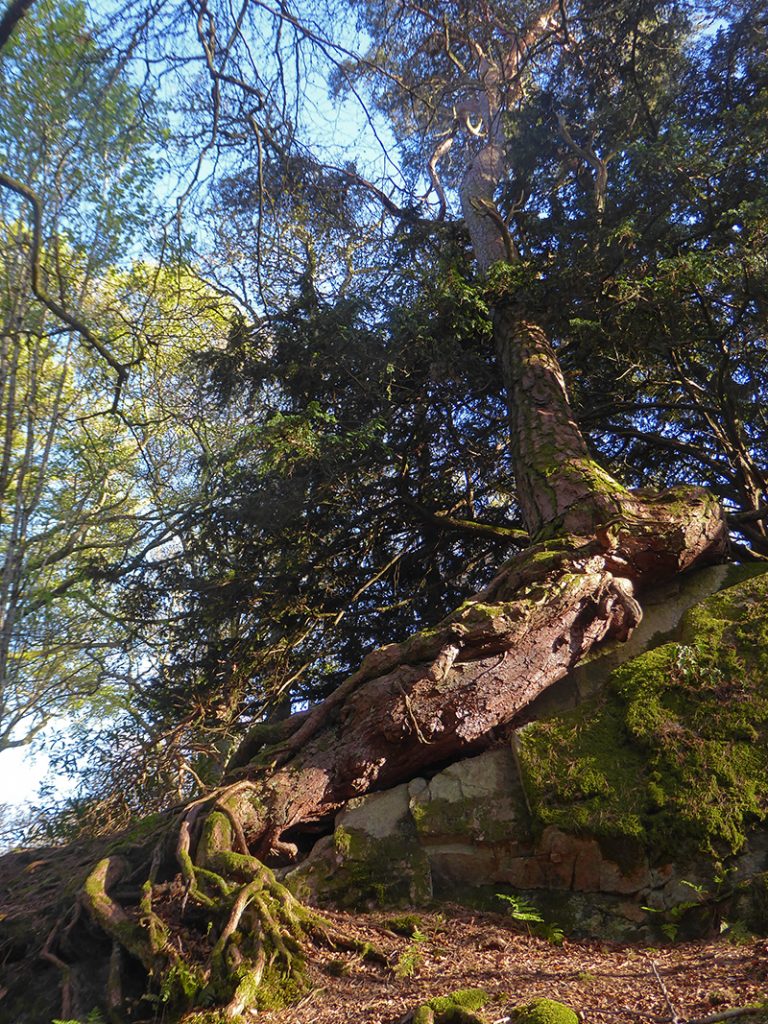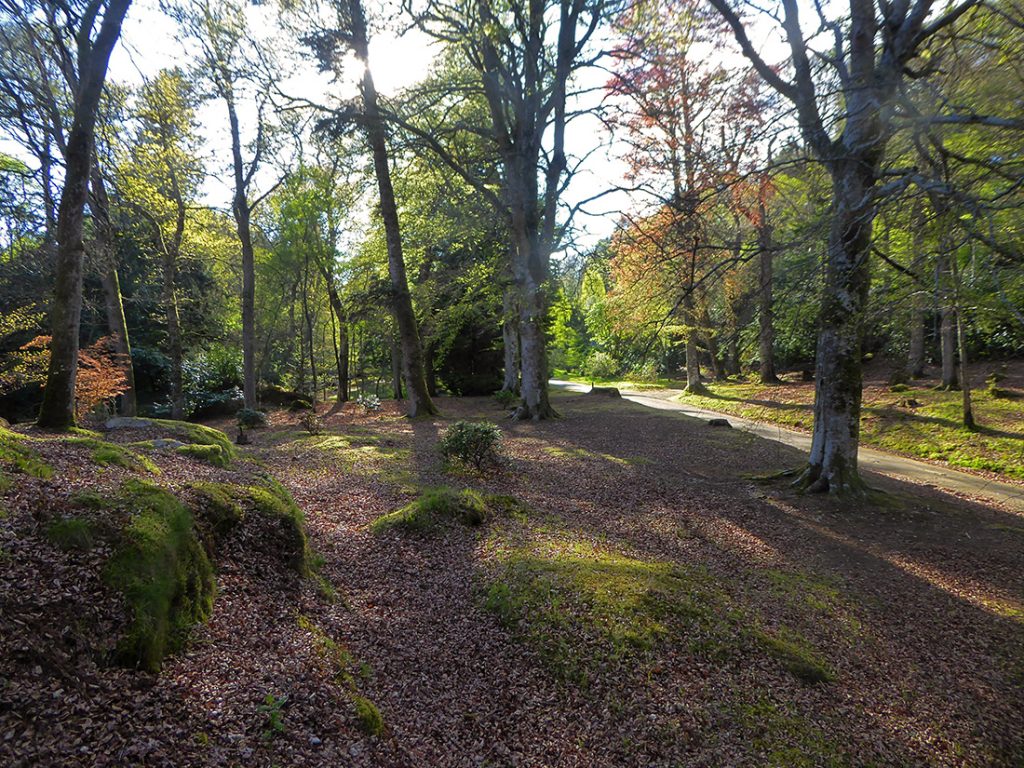 Leaving the estate on the outskirts of Banchory and down a wee path through Heugh Head wood to the river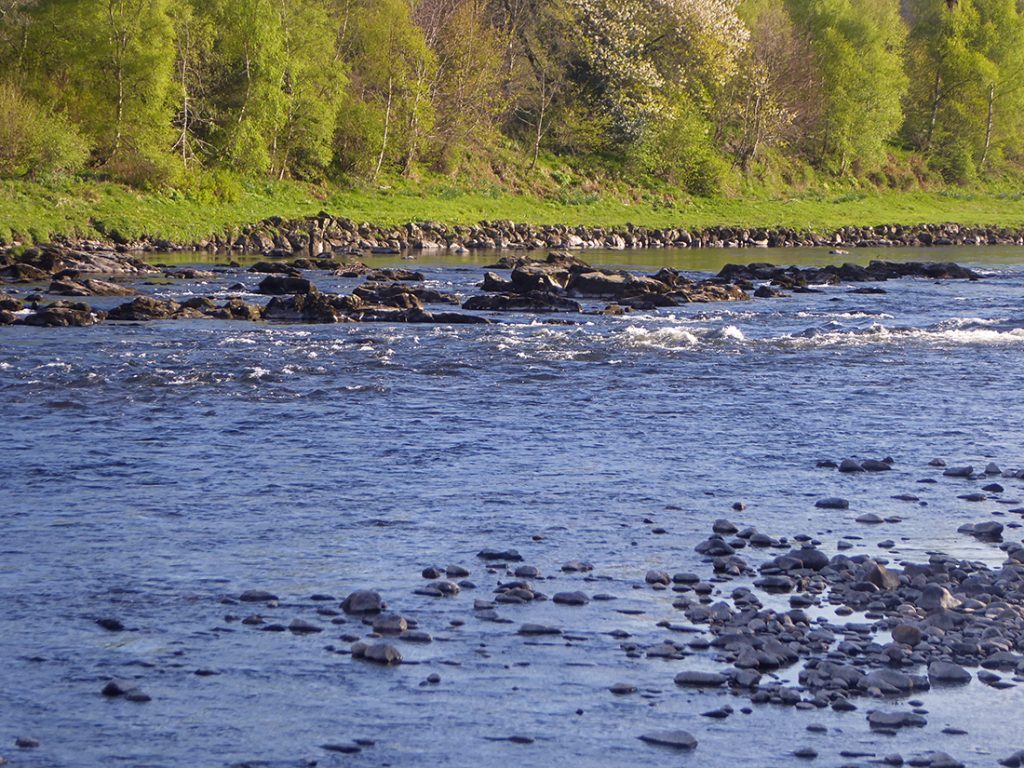 Past the 'platties' wall, across the main Dee bridge and down a lane to get riverside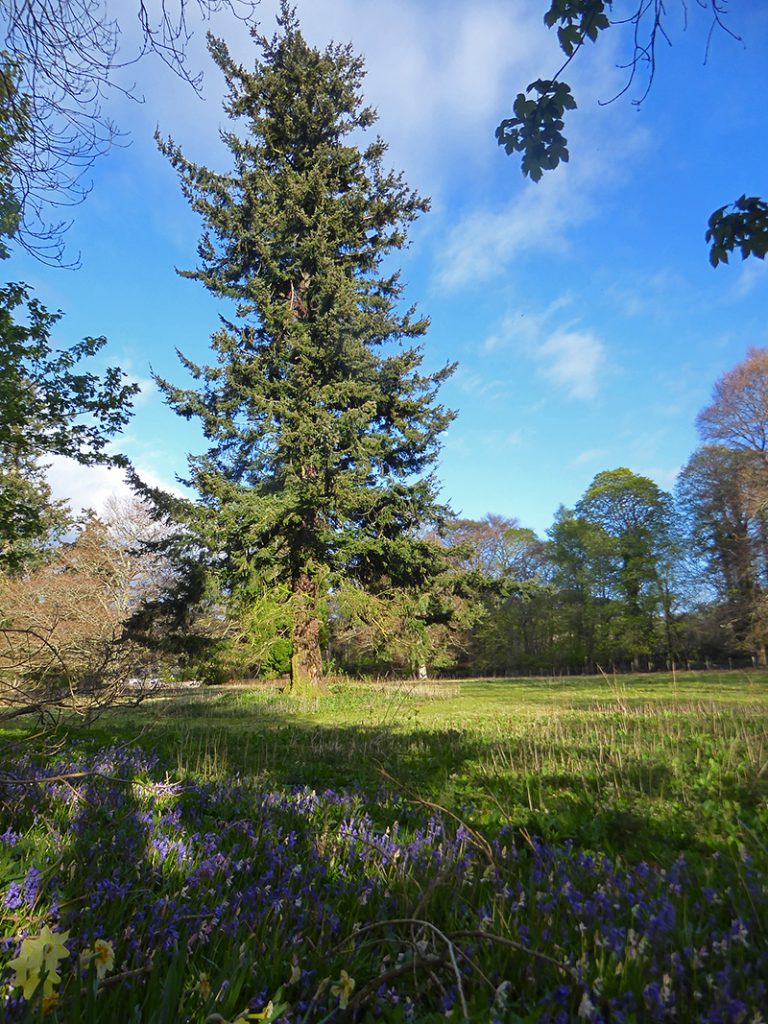 Switch back to have a look at the bridge
Upstream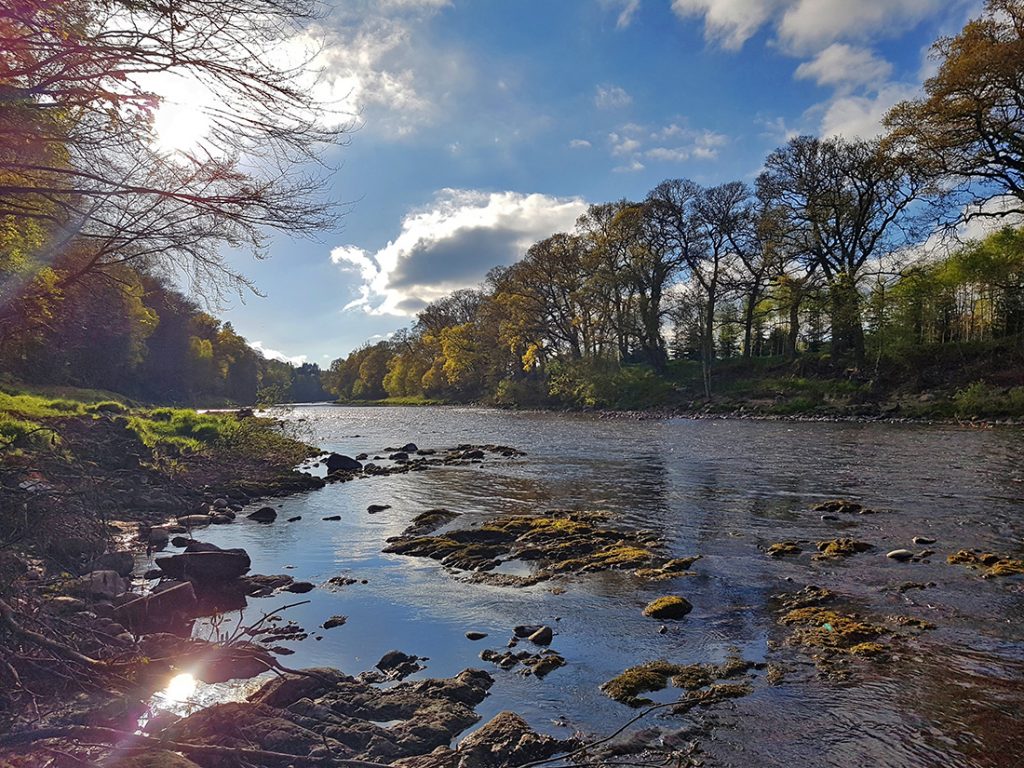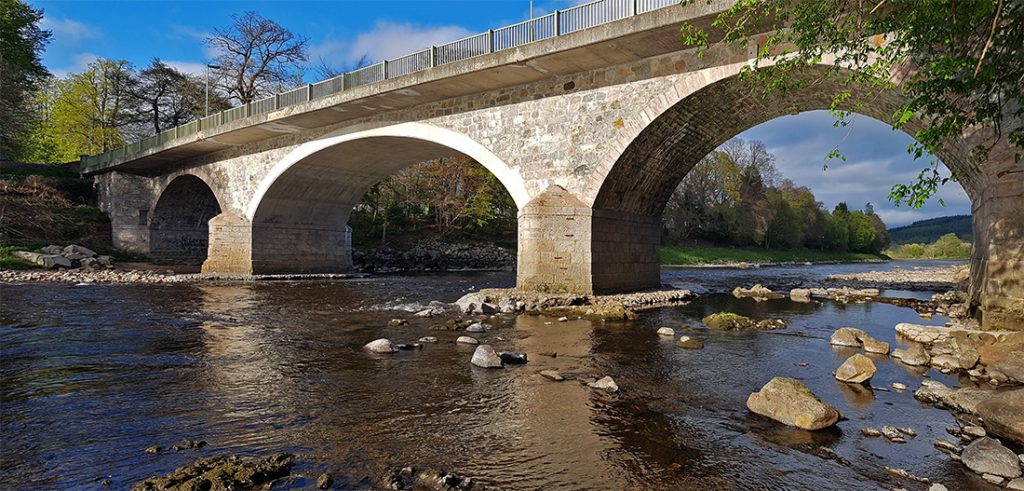 There's a lane goes to the derelict Riverstone house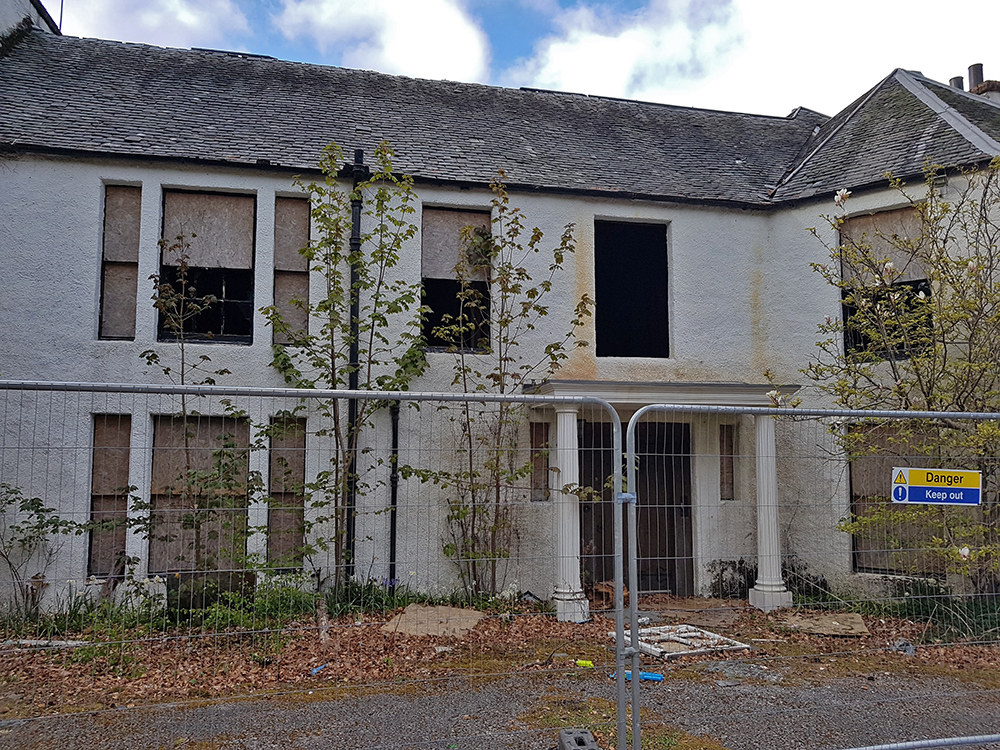 Through its garden one can get downstream of the falls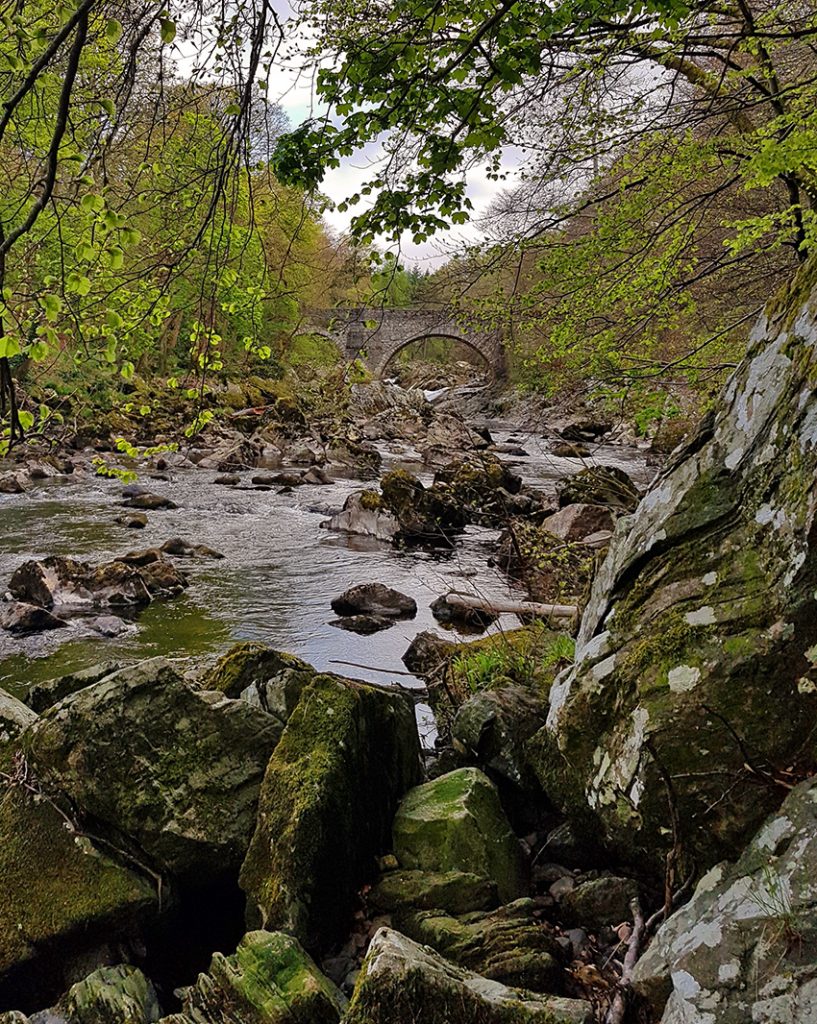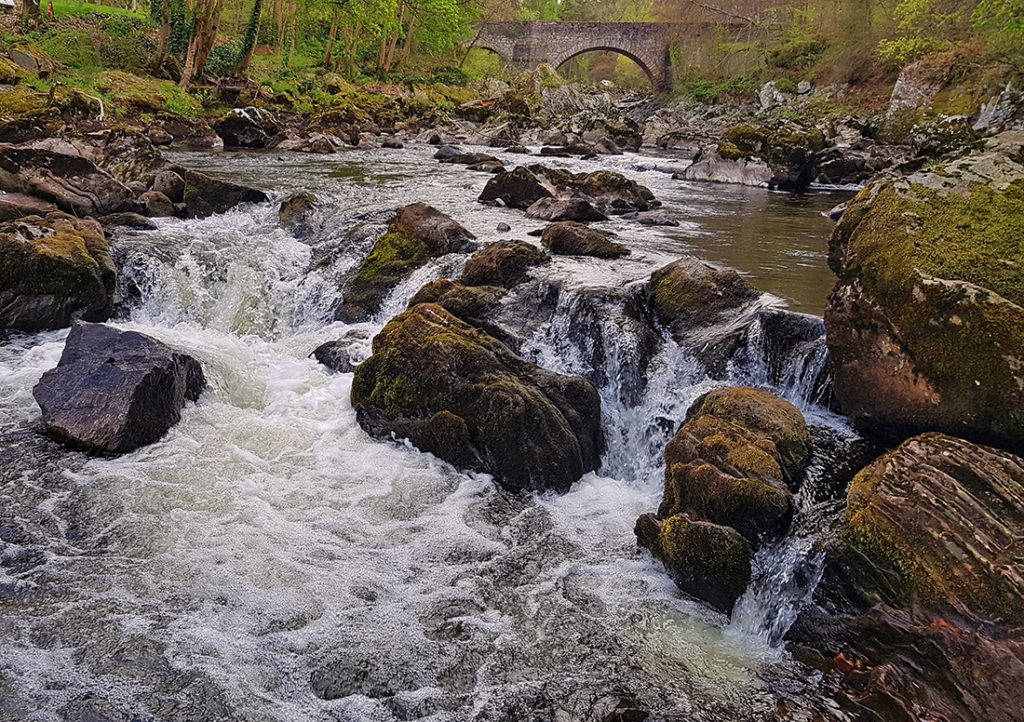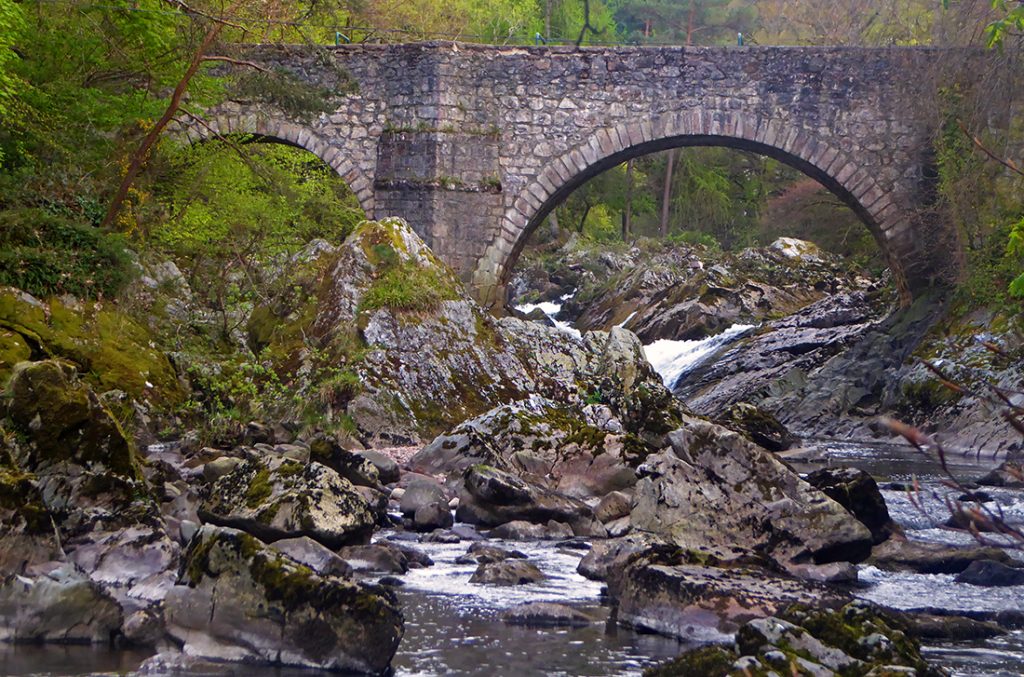 A path goes along the bank, there are dilapidated roped fences and floodlights. This would've been a nice stroll for the house residents back in the day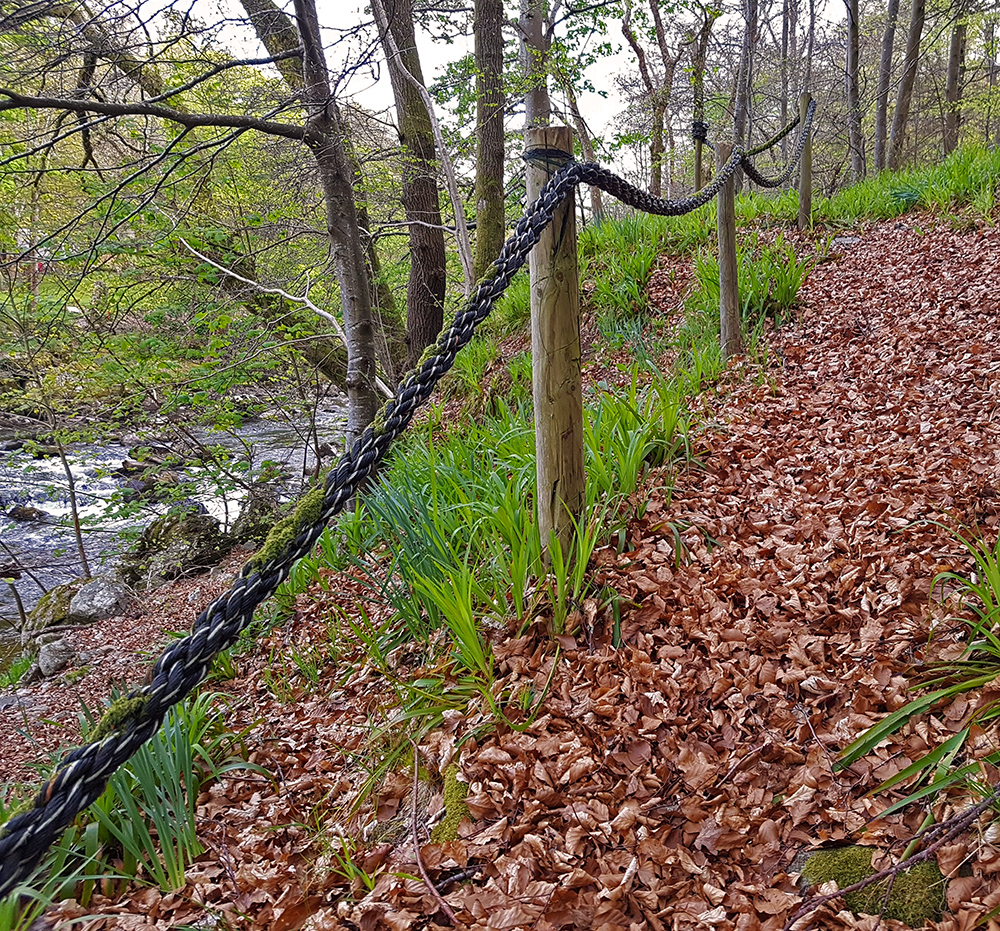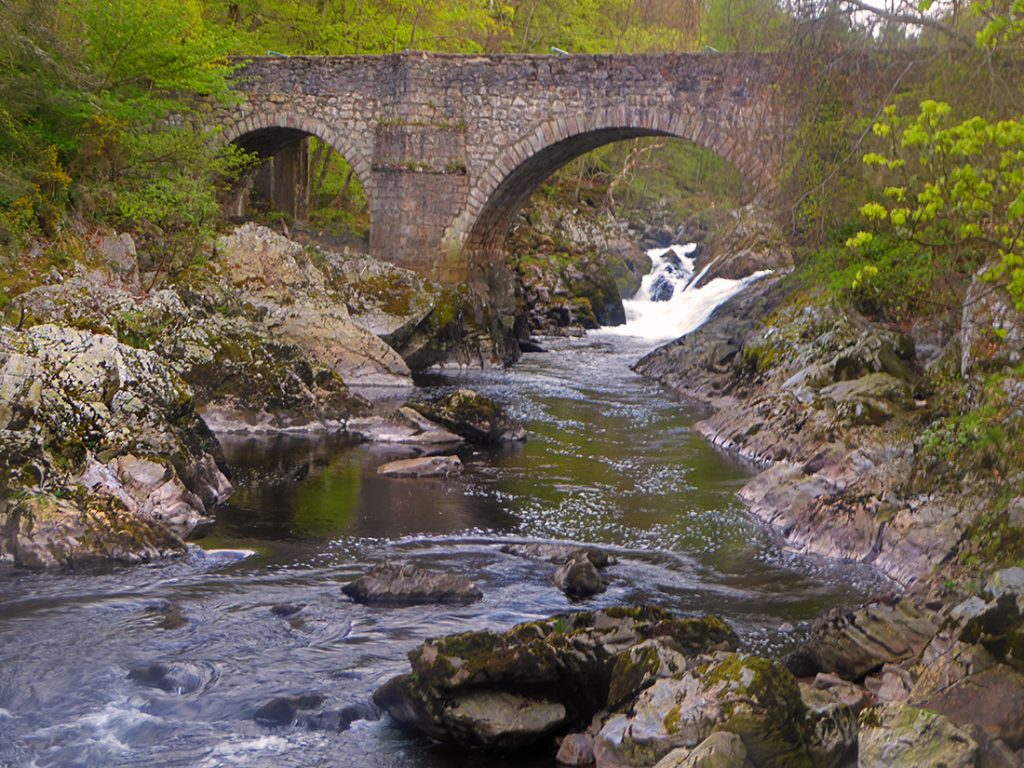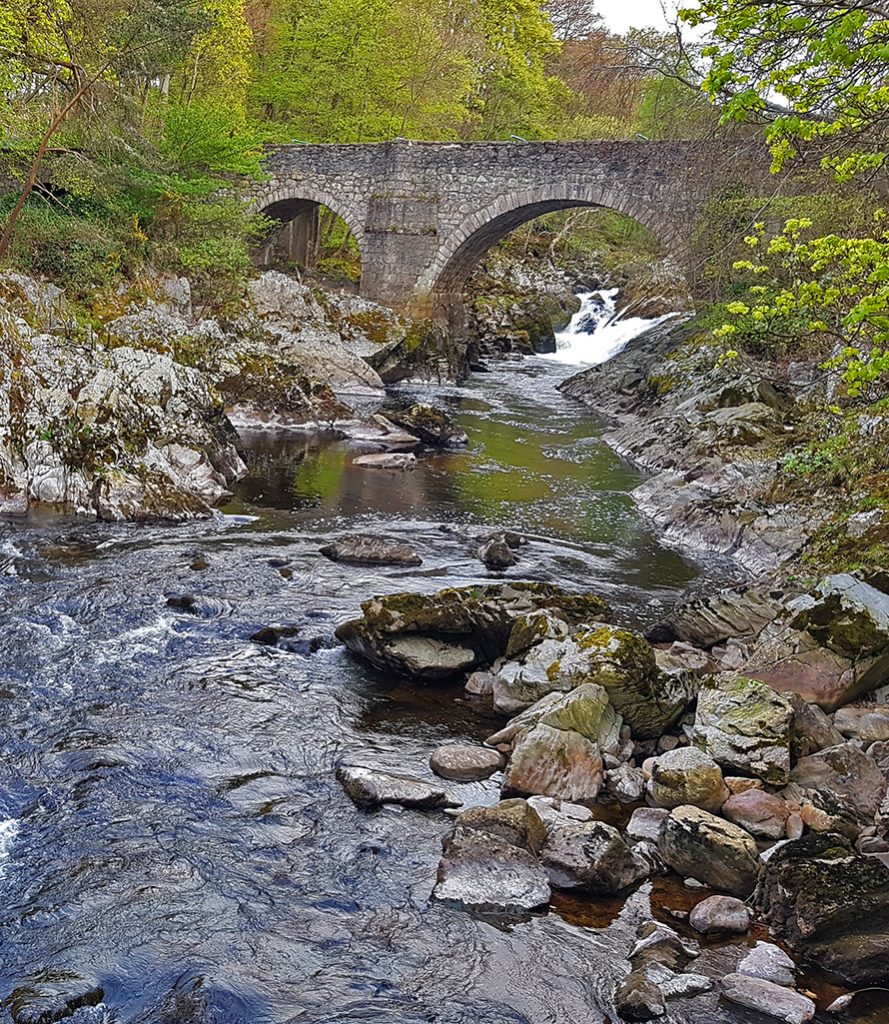 The rock on the bank is worn into smooth curves by the torrents that frequent this gap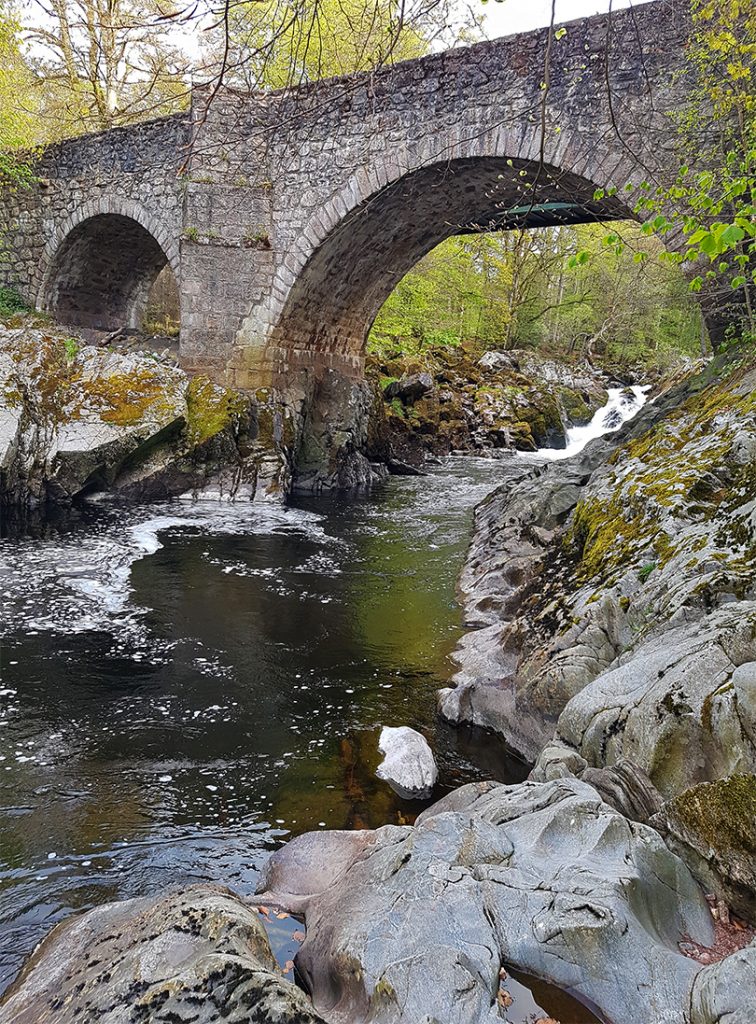 The path concludes right beside the bridge but there's a fence so one can't easily enter/exit here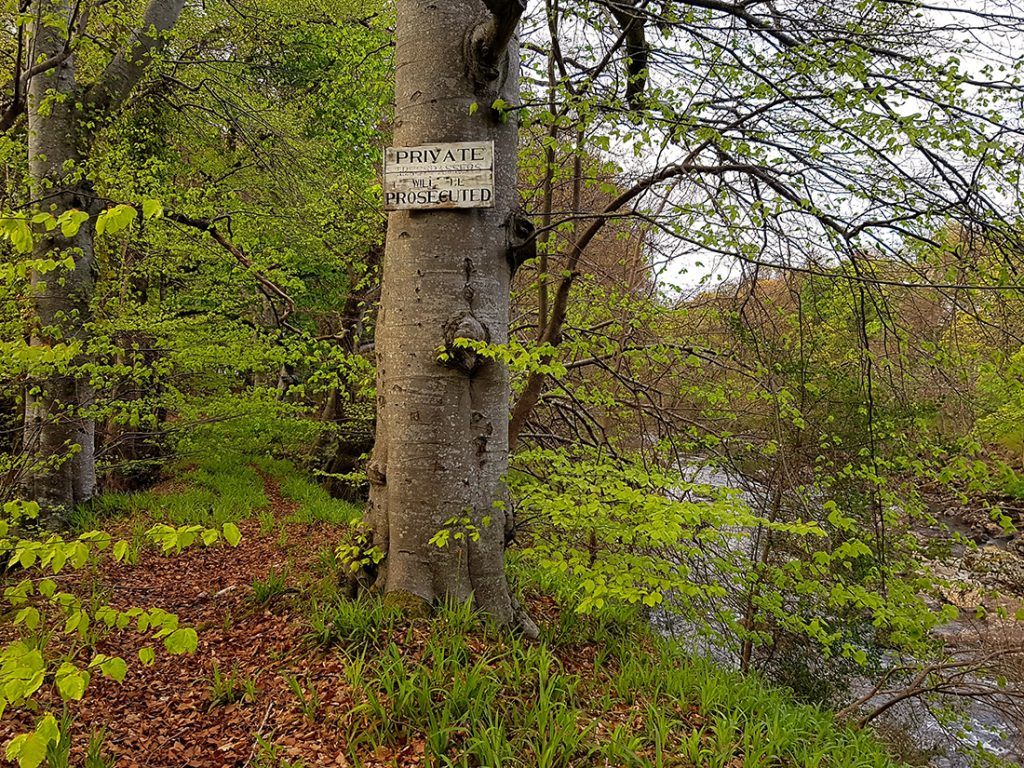 There are stairs now in a state of disrepair that allow access under the bridge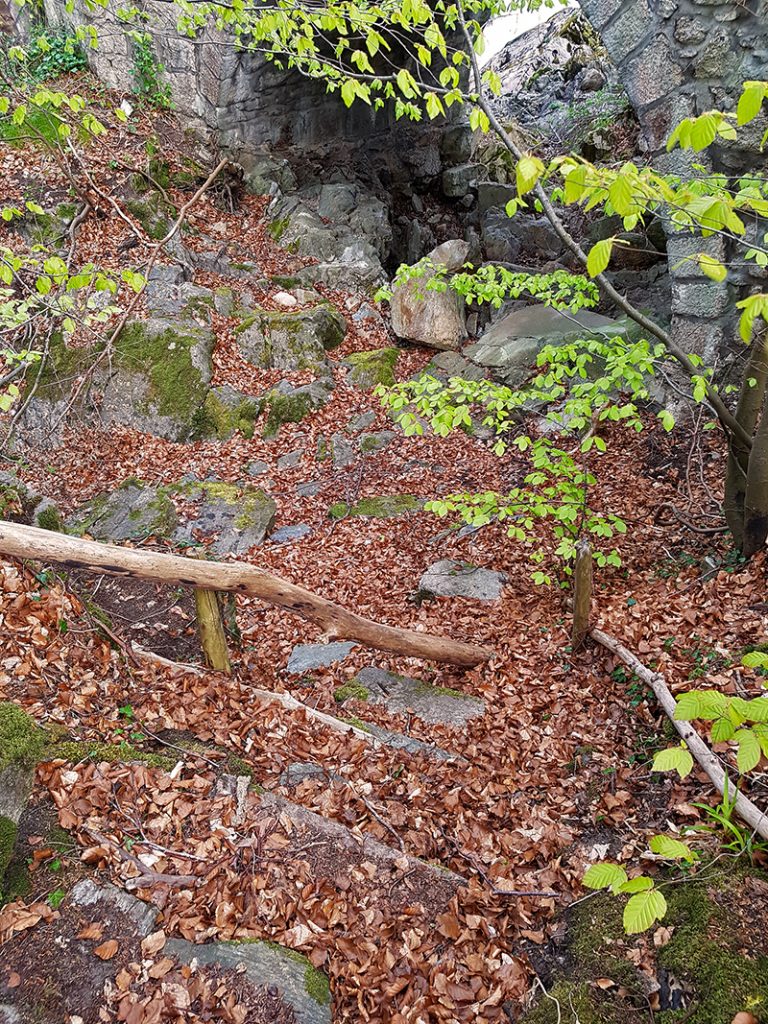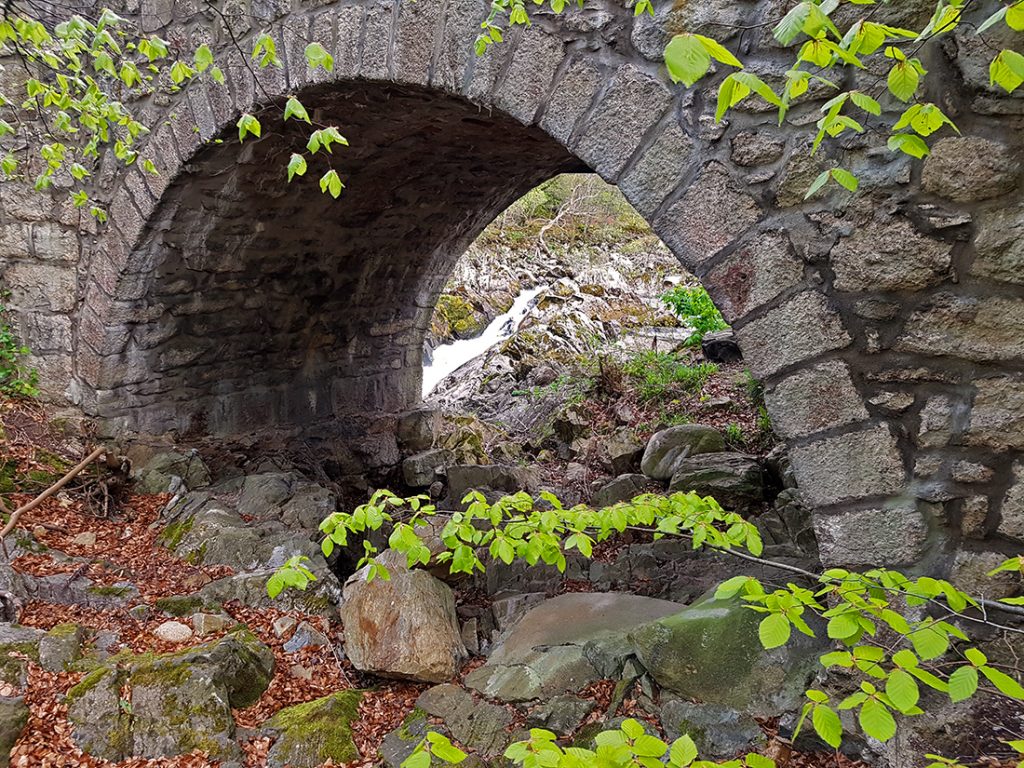 Looking downstream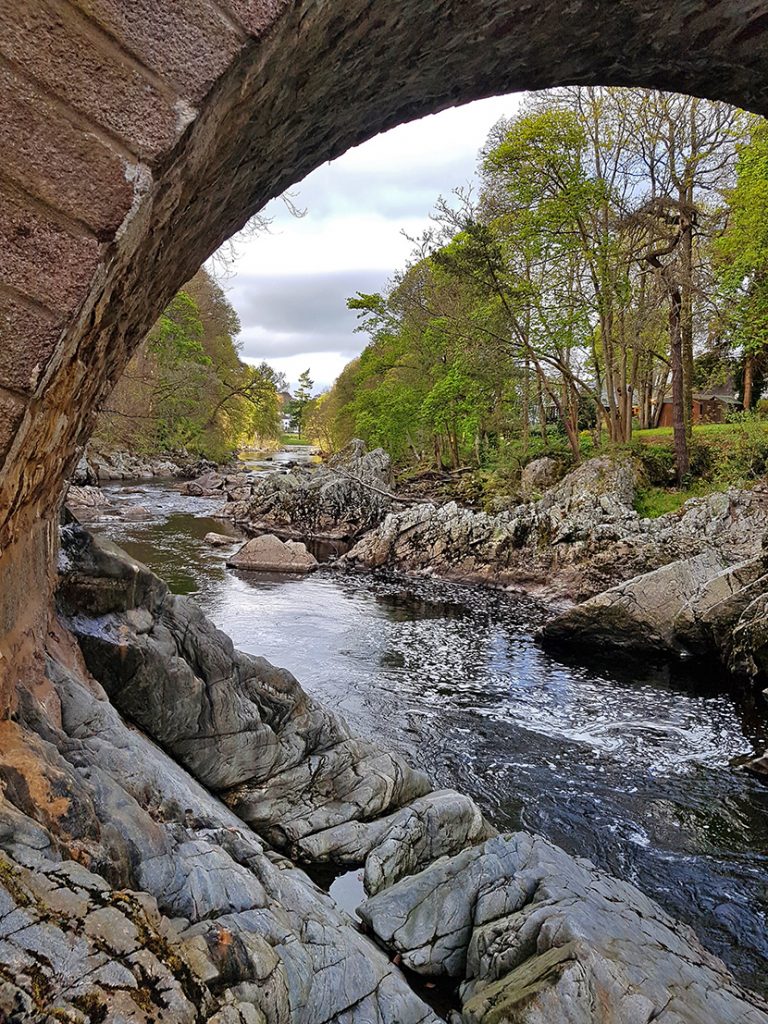 Wavy wibbly rocks below the bridge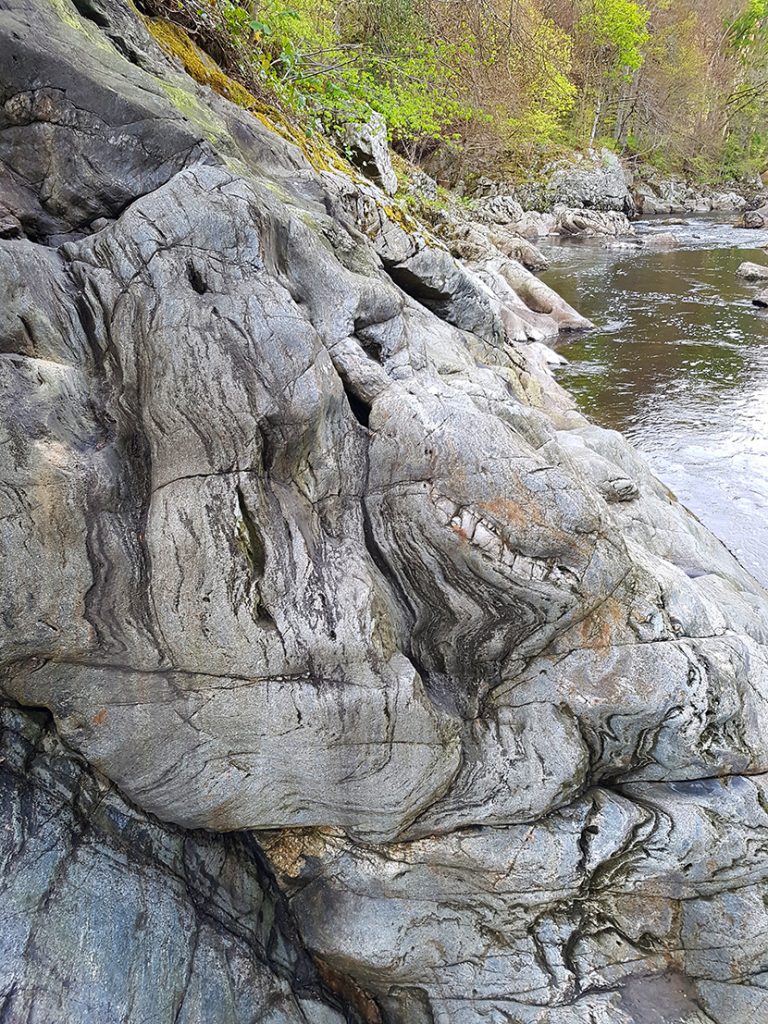 The falls viewed from below the bridge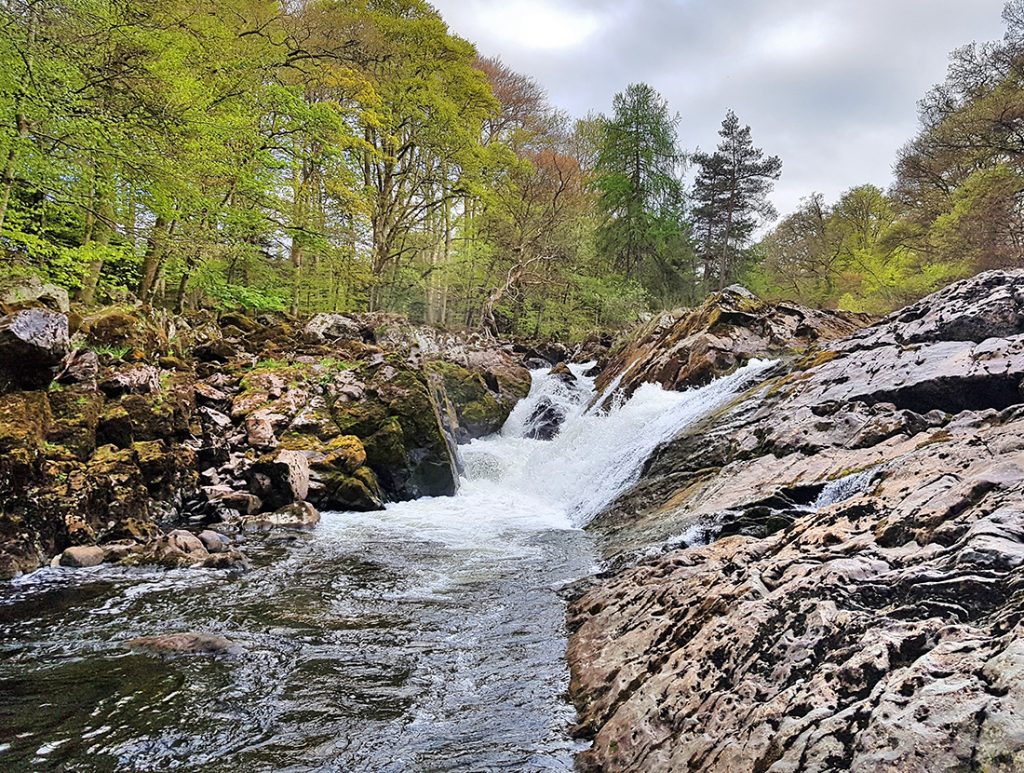 Enough falls and river for the day, back out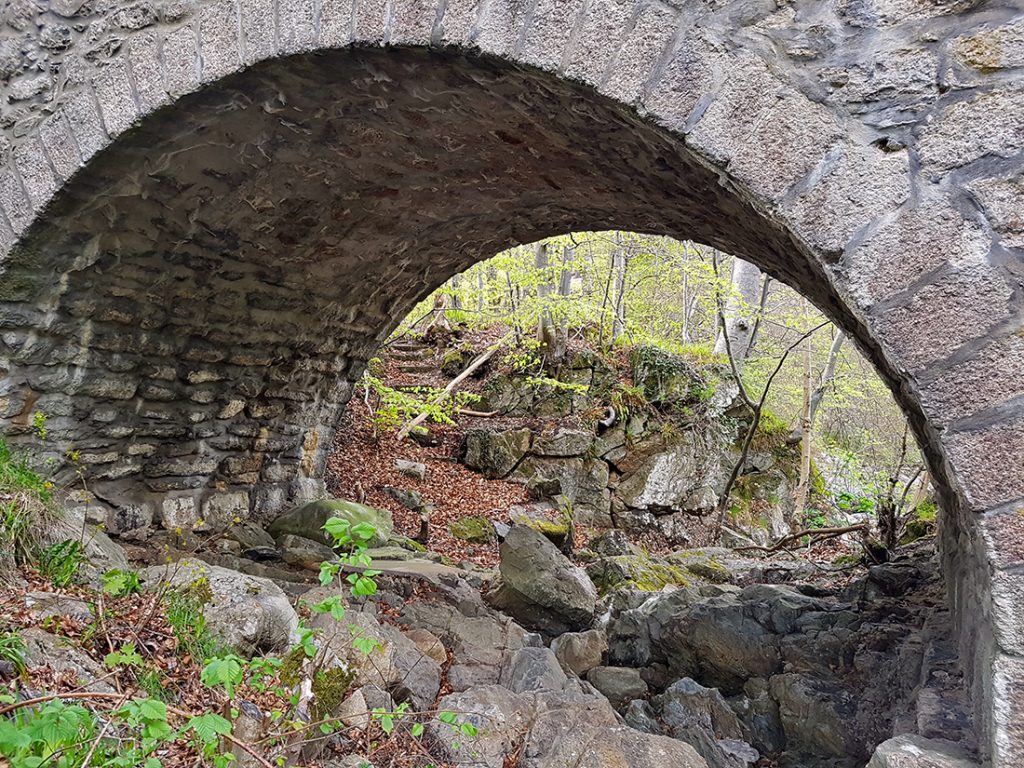 and across the pedestrian bridge alongside, view from above. Very gentle water today, when it rains it thunders through here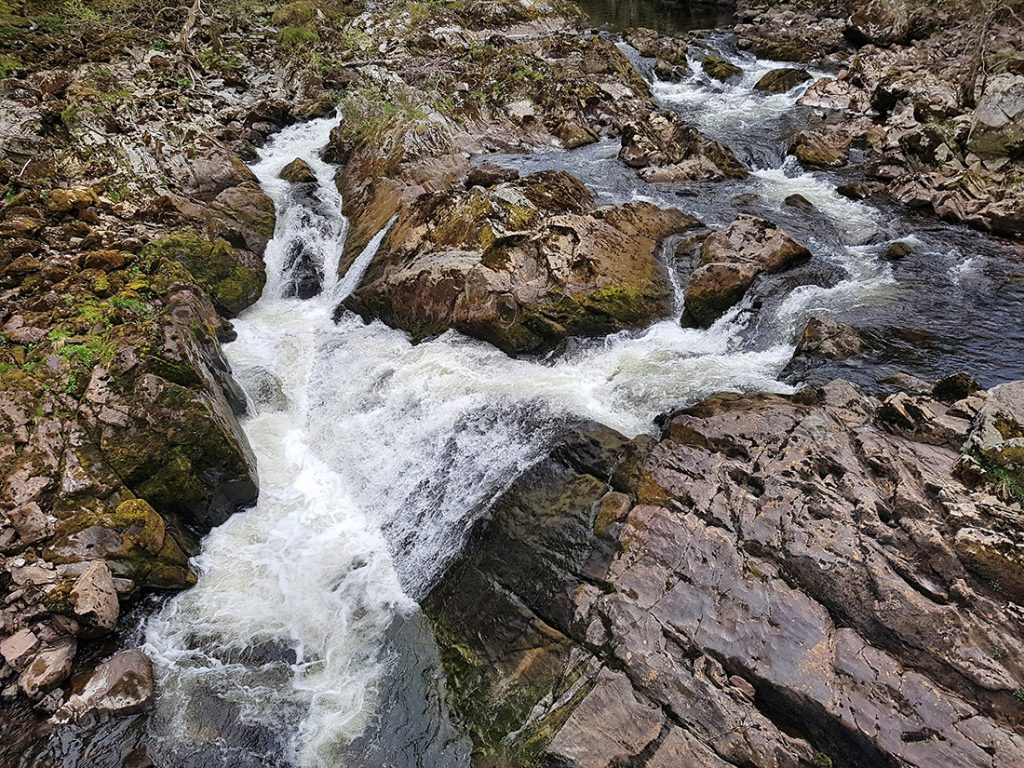 The bridge has an info board about salmon, nothing about the late 18th century bridge itself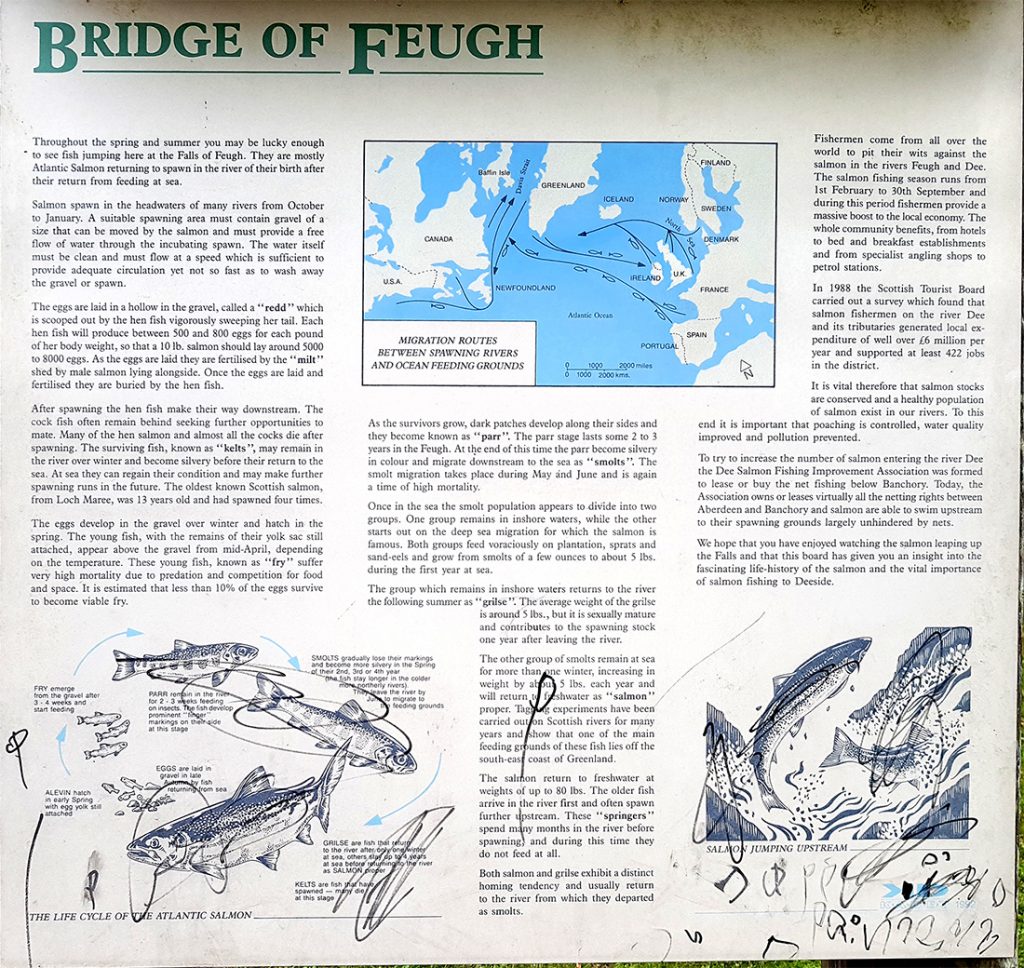 A quick snack at the bridge's car park and benches, then rather than take the most direct route following the Dee, I avoid the B9077 South Deeside road, which although a 'B', being fairly straight and level it's a magnet for impatient countryside speeders. There are a load of small roads mostly parallel that wind along the higher reaches of the valley South, and are more scenic too, if requiring a bit more legs.
This beast caught my eye peeping out of the undergrowth on the Slug Road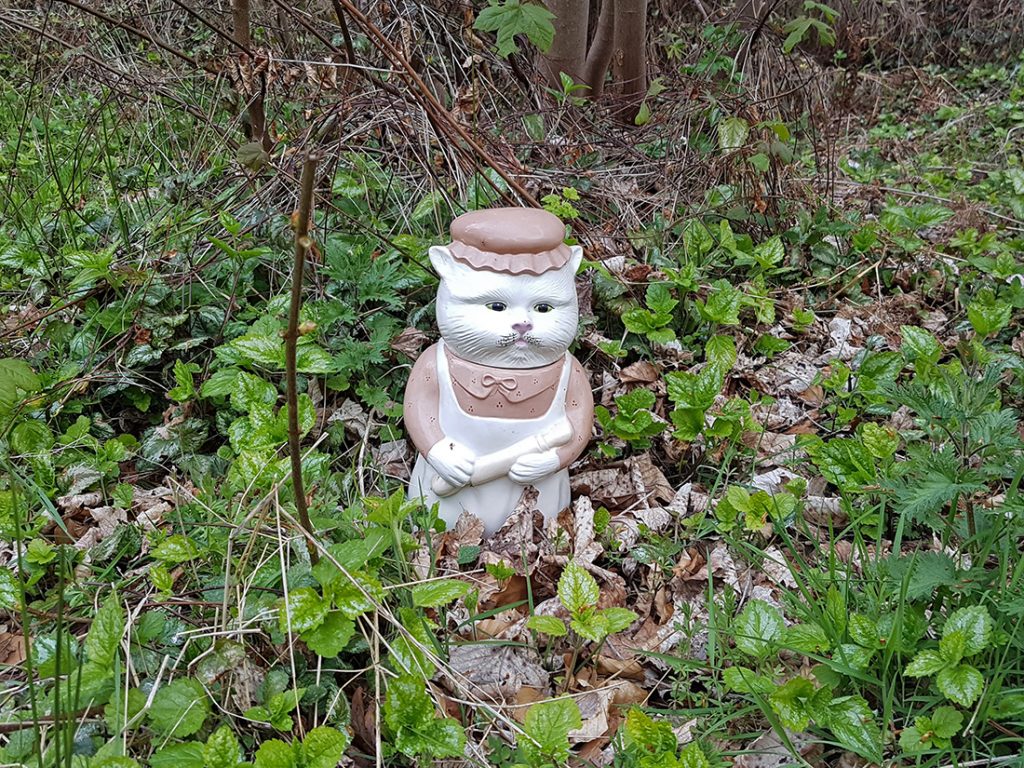 Across the Burn of Sheeoch at Balladrum bridge, there's an old cottage ruin. Been here before but a quick snap anyway. As nettly as it was last time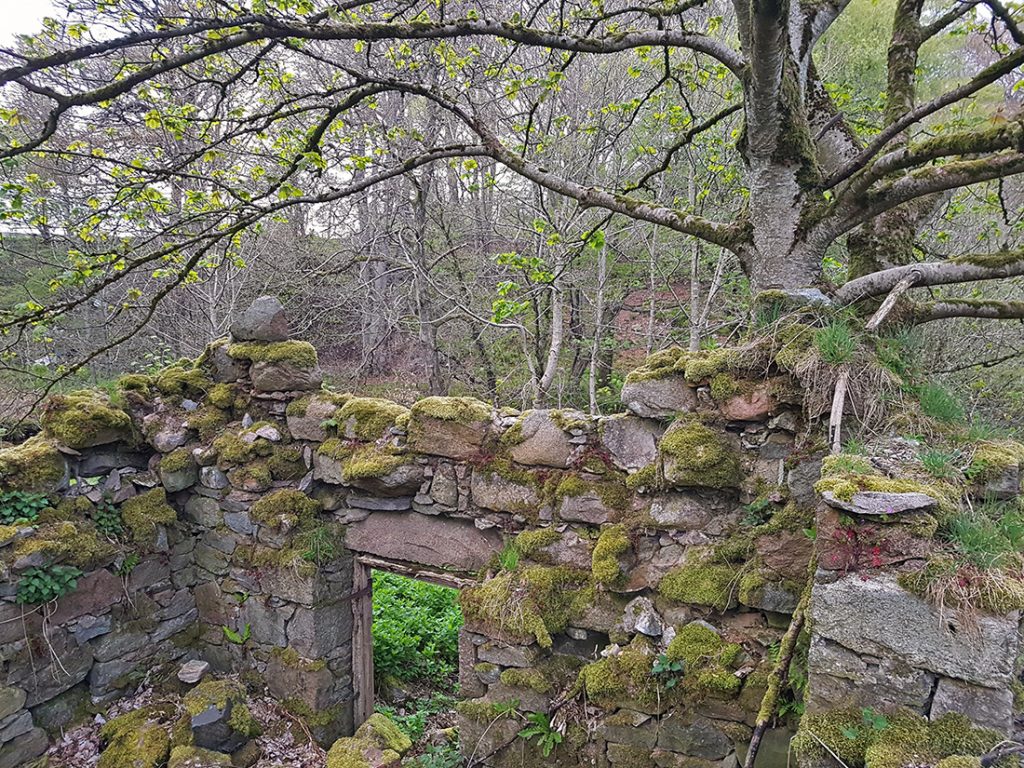 At Denside between Ashentilly and Brachmont Woods, I noticed a sign post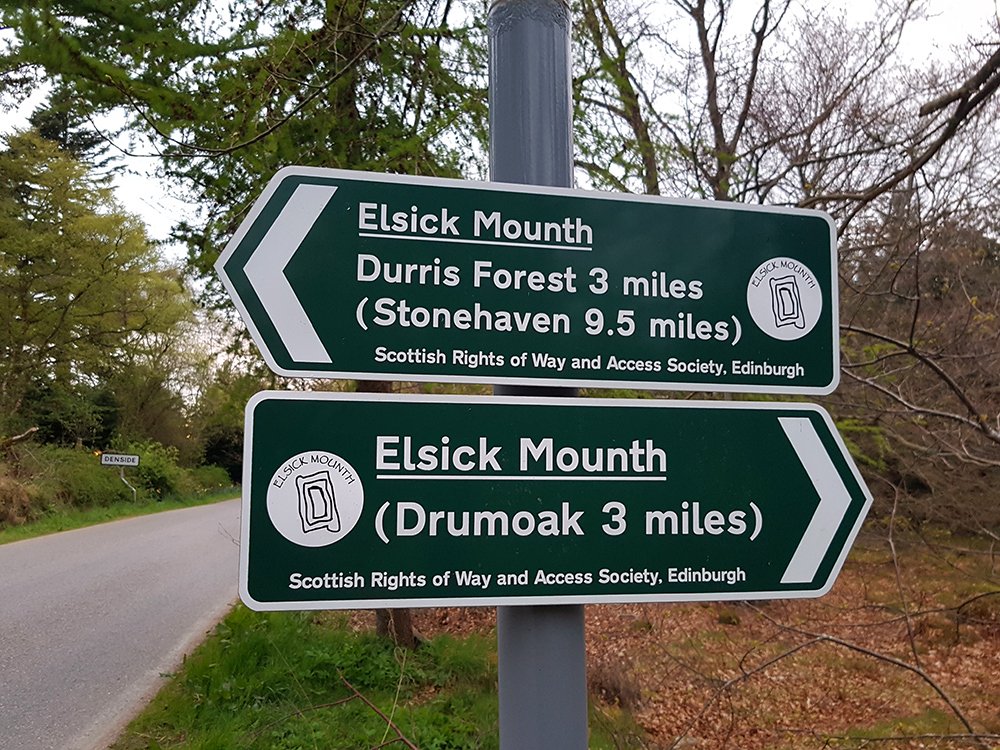 The Elsick mounth is an ancient route used for over a thousand years from Stonehaven to the River Dee, possibly between the sites of two old roman camps. Route map
Another board lurking further into the trees has a map of sorts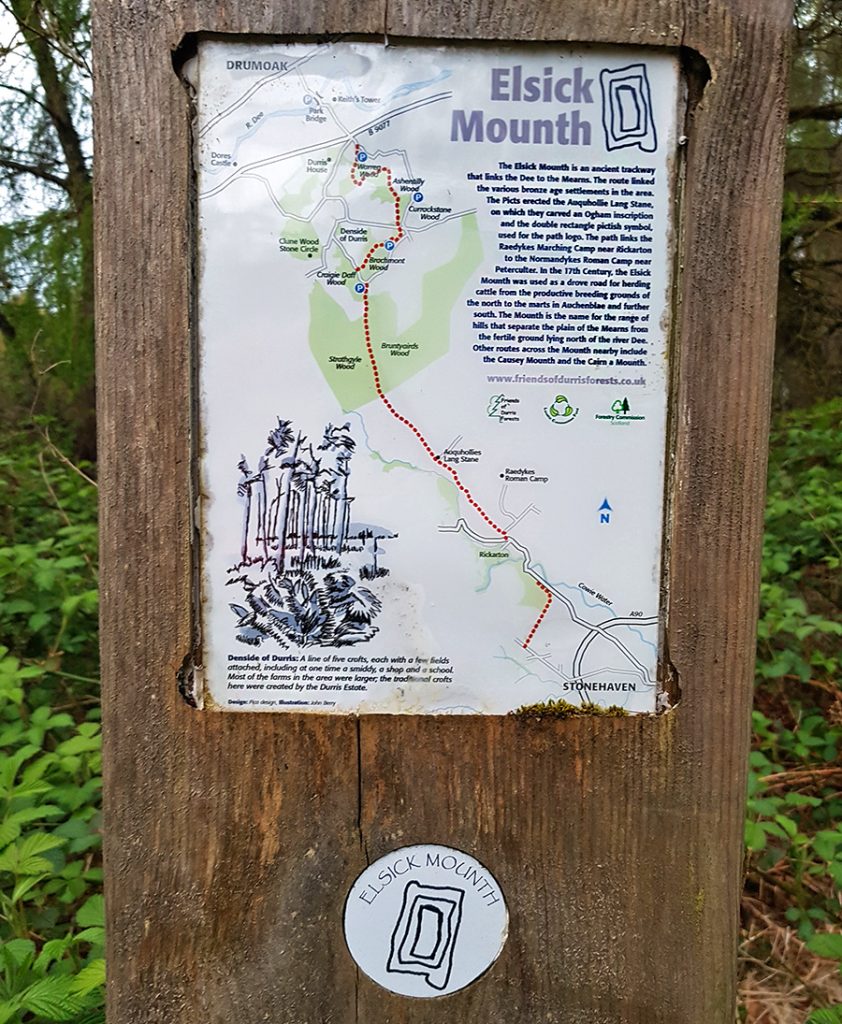 With the sun going down I'd pass on a quick exploratory segment of it today, but definitely one for a day out at some point (UPDATE: now done).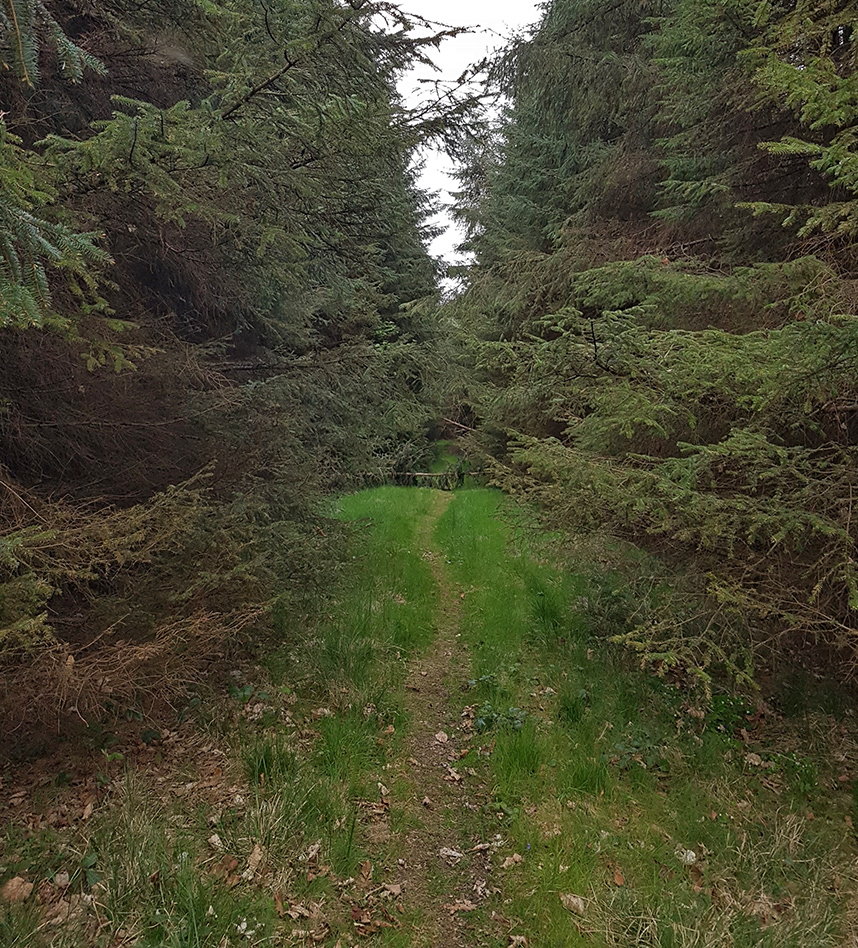 Near NO 79341 95766 beside the burn of Durris I can see some more ruins 30m off the road. Stop for a quick poke about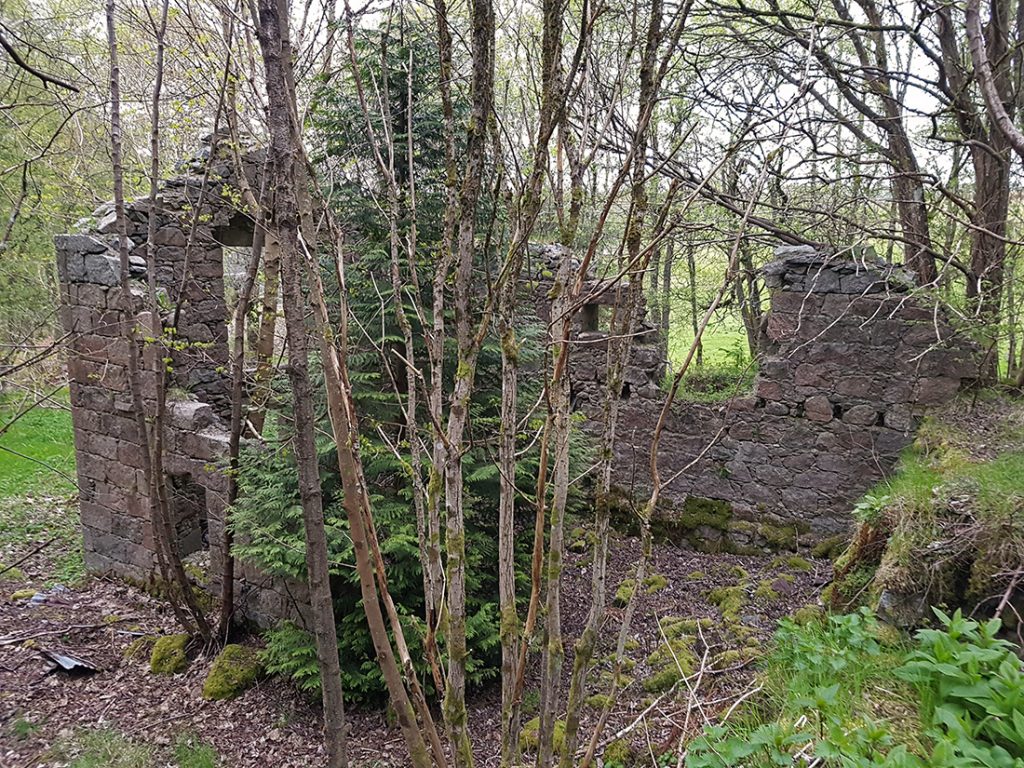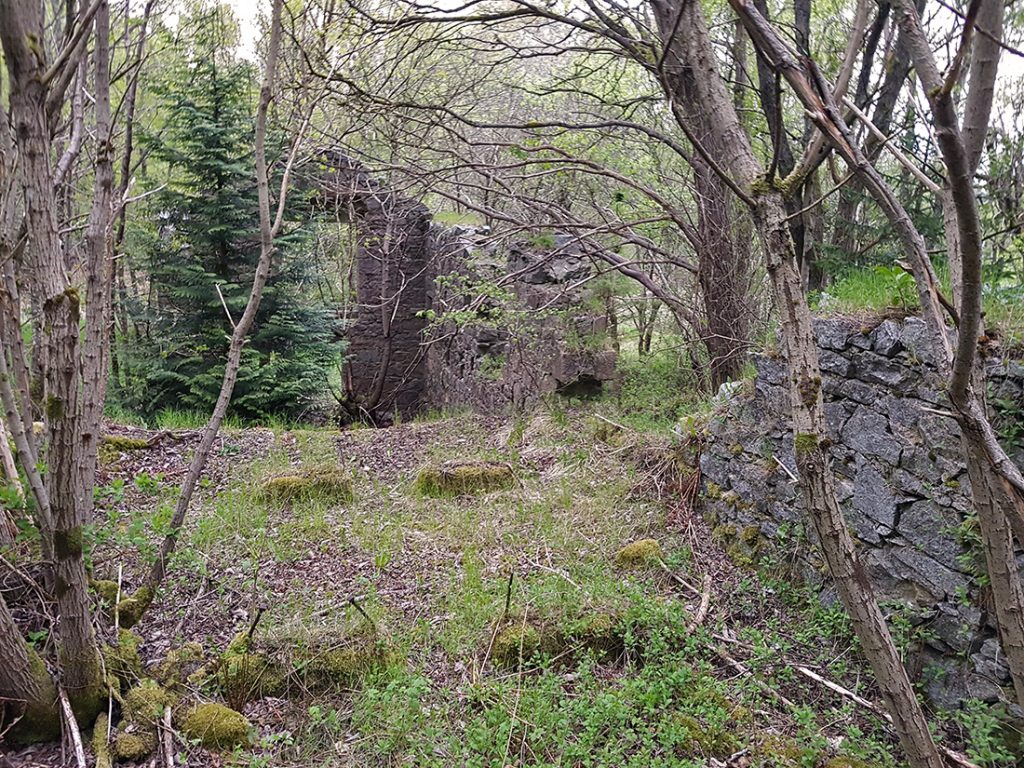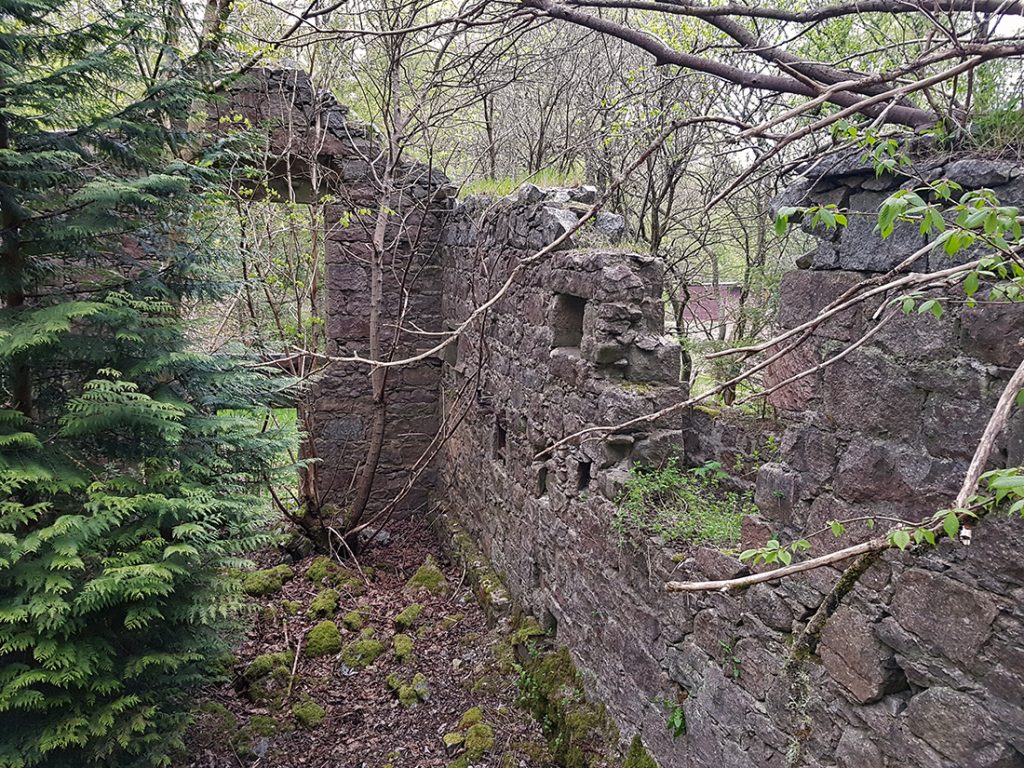 Quite a deep pit round the back beside a wee burn. Presumably some kind of mill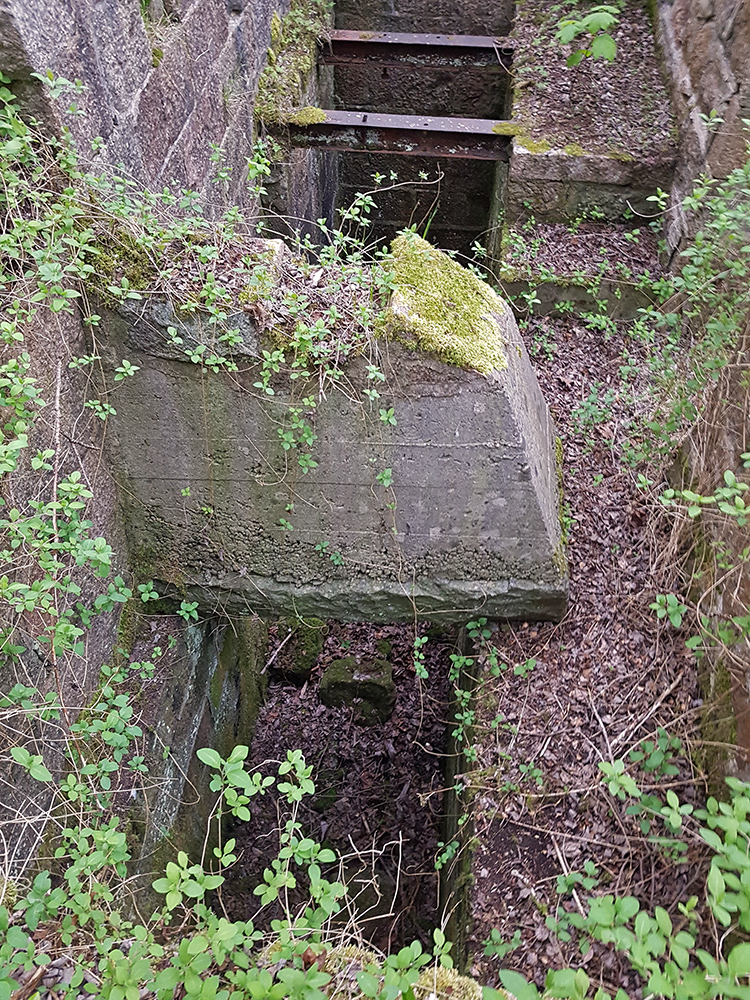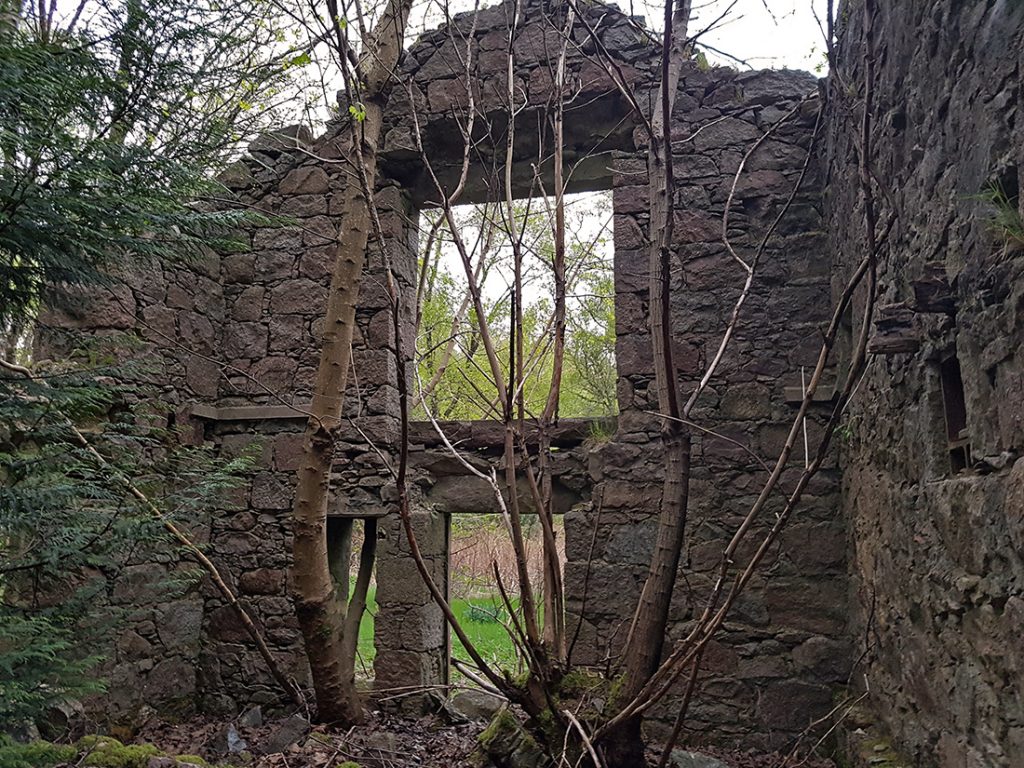 The main bearing for the water wheel I guess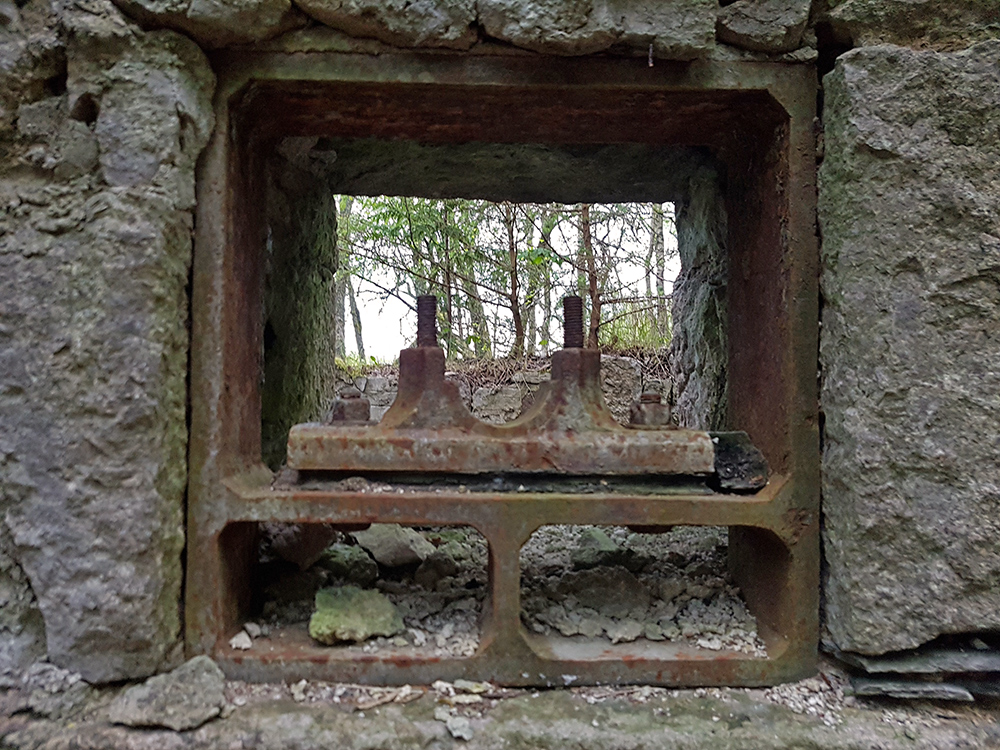 Reckon from this page this may be remnants of 'East saw mill'
Nearing town passing Altries, I see the dismal sight of a massive sawn trunk of what used to be a huge 100+ year old pine beside the road. A paddock has been enlarged past it; they could have left this grand old tree in the middle, but that's not the 'range rover' set's way of doing things; nature is just another serf to be treated with contempt and bludgeoned and torn apart like foxes. My probably unfair suspicion that "horsey" folk are a ruthlessly cantankerous mob is nonetheless reinforced.
Fortunately there's a lovely crepuscular-rayed sunset to bring a bit of beauty to the end of a long day on tour.