The previous week's sortie had proven a workable level of post-lockdown hill fitness, so with another good weather outlook, it was time to try a less common route to a popular mountain, with bit of off-path exploration thrown in. Most people tackle Mount Keen from the south (shortest) or head west from Aboyne (long and gentle approach), but I'd head south to cross some smaller hills that lie between it and Ballater (longish, steeper).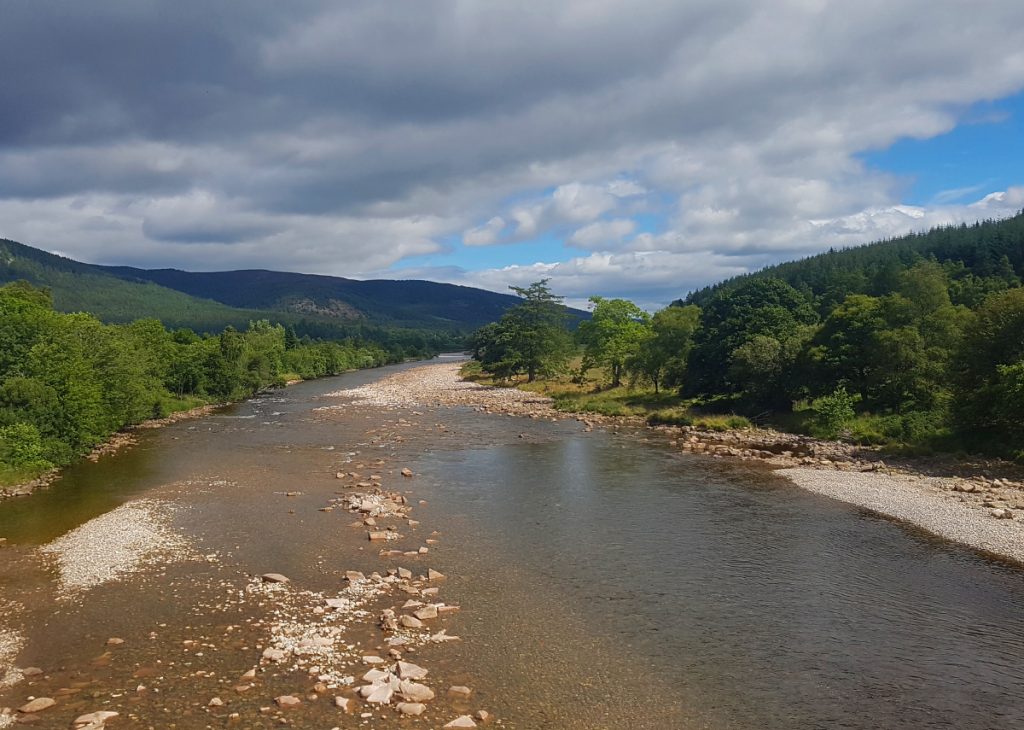 After a brief section of road, I joined the track past Balintober, up through woods aglow with foxgloves. As I neared the edge of open ground, the track was flittering with butterflies, have rarely seen so many.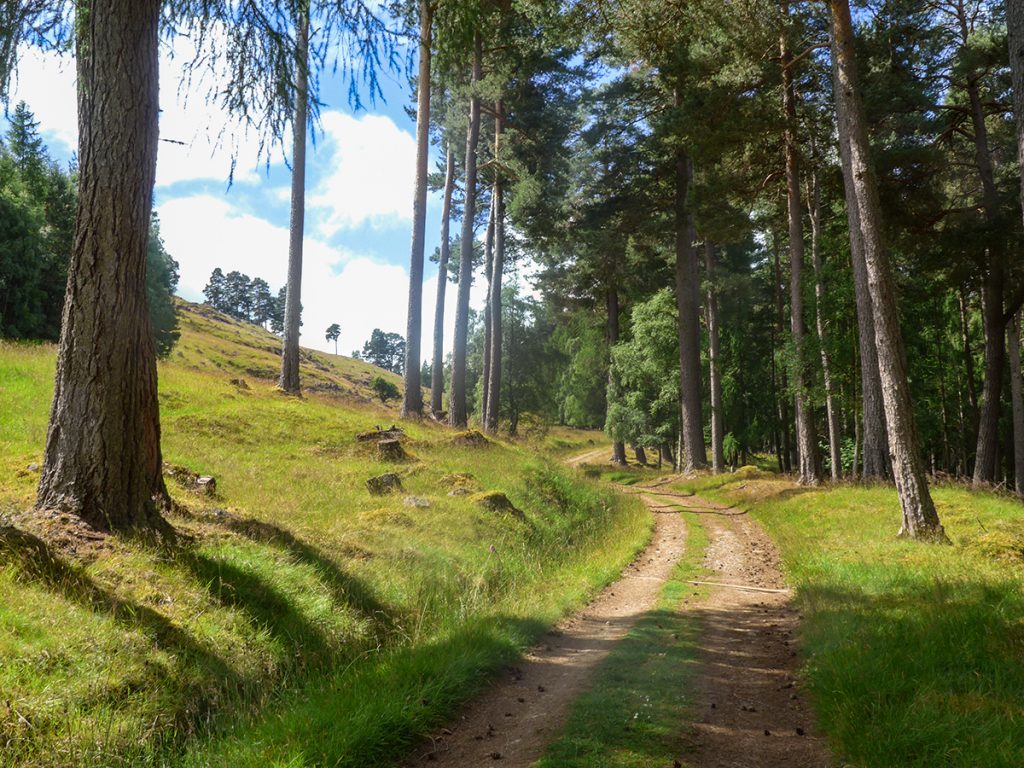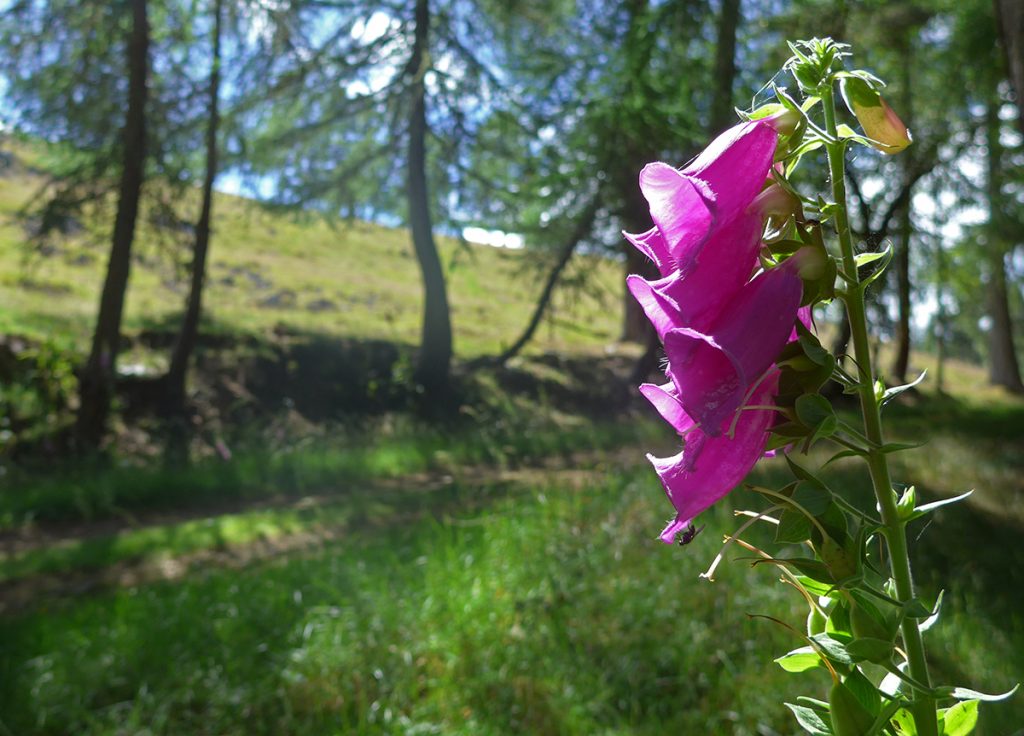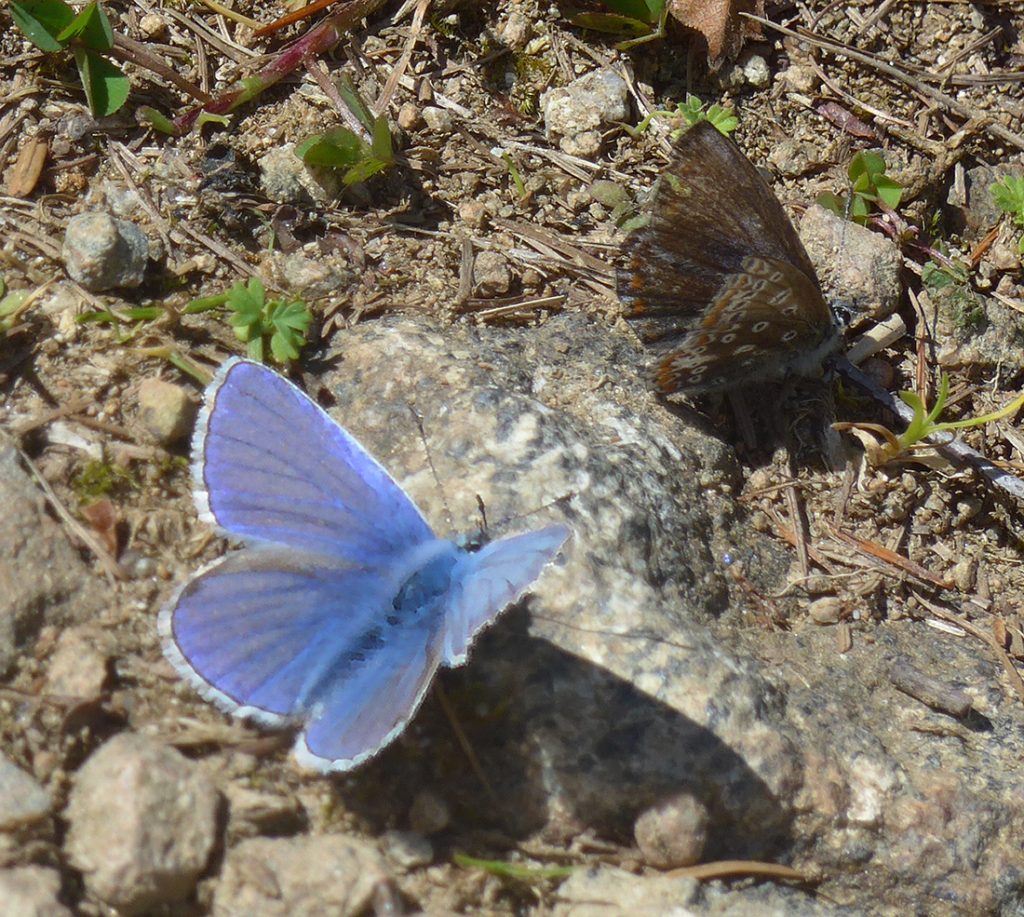 The track winds and climbs upwards, about 400m in 4km past Craig Vallich, a stiff climb on a warm day. The hills are criss-crossed with tracks, so a few signs point the way; I've no doubt folk have got lost up here on low visibility days. Rather than take the 'Mounth Road' direct route (I would do that on the return leg), I headed further up past Cairn Leuchan, and got a view of the main target and another point of interest.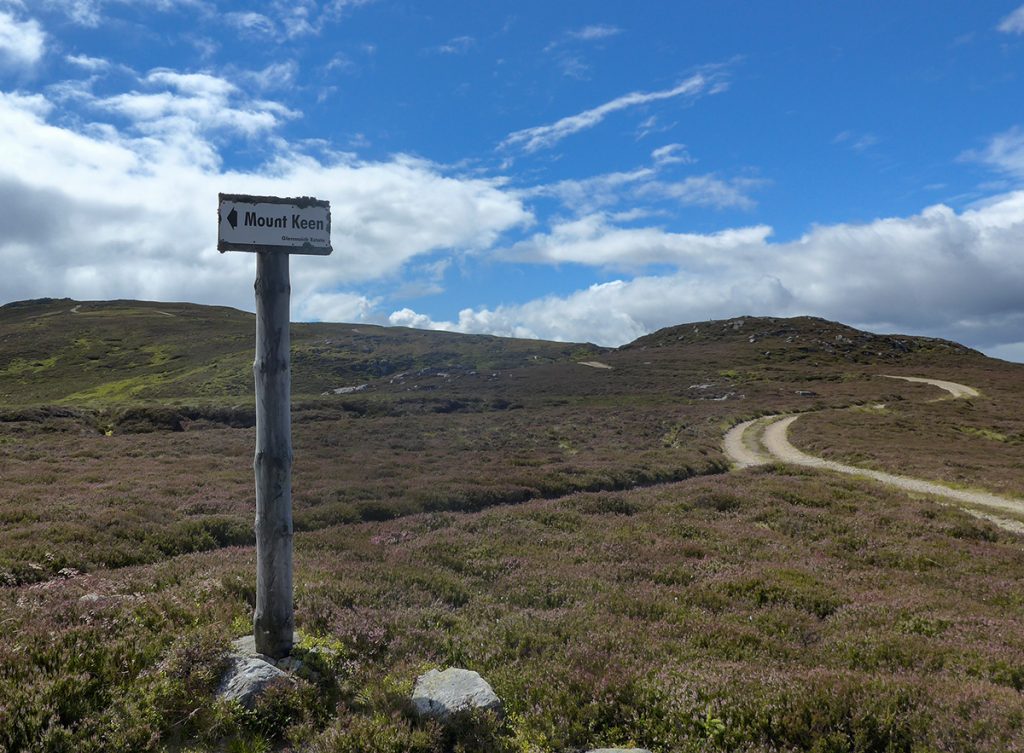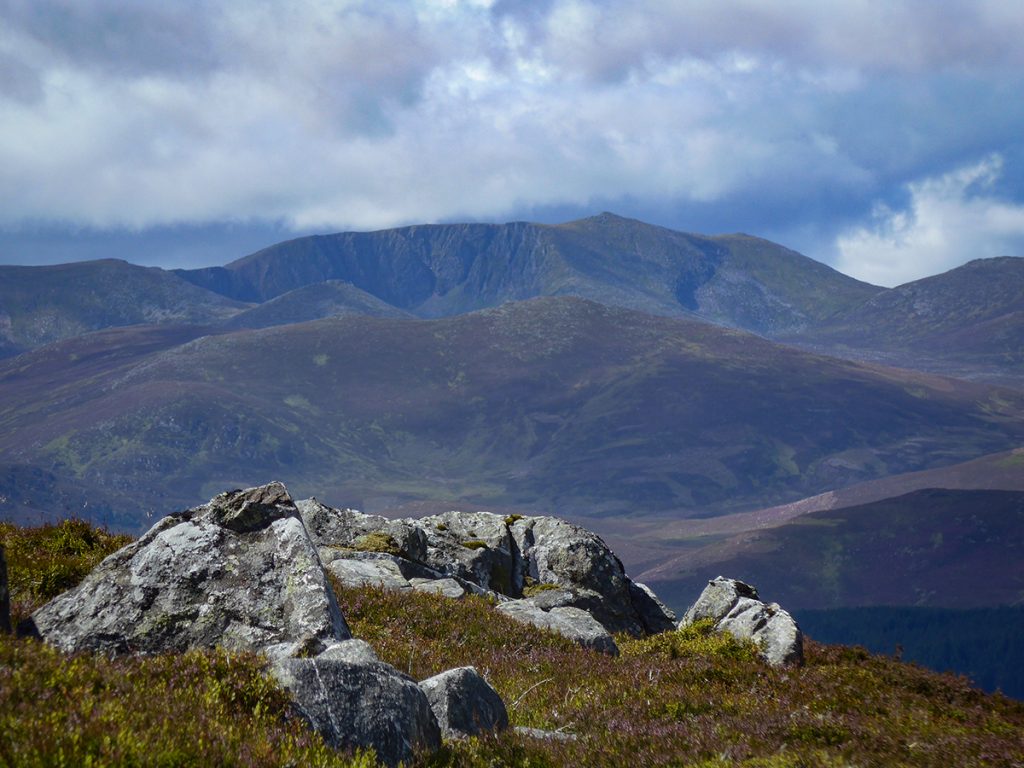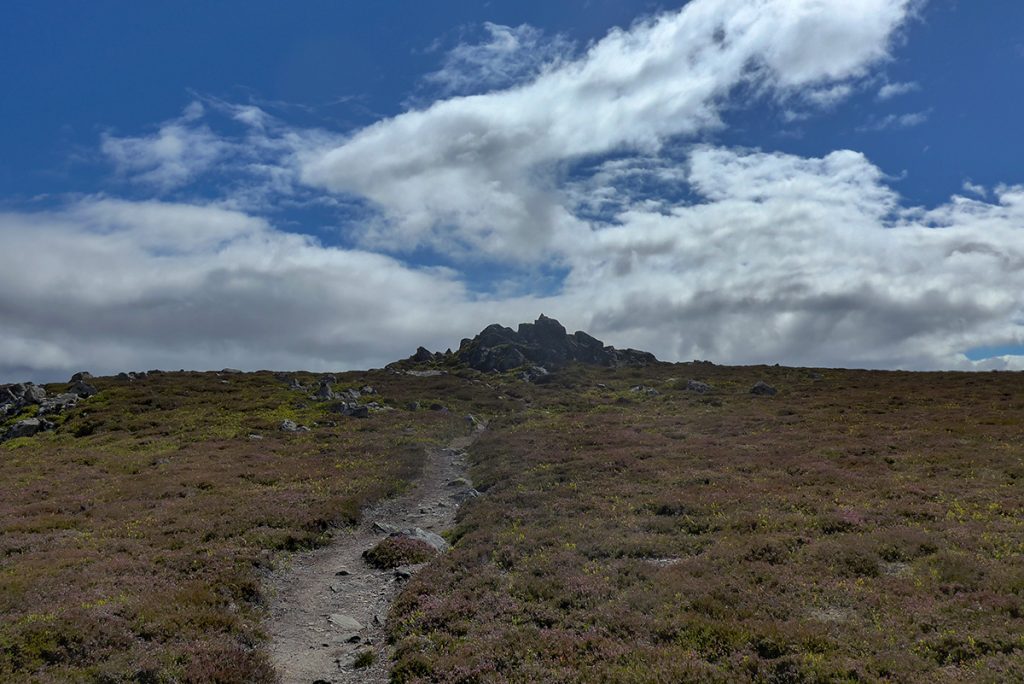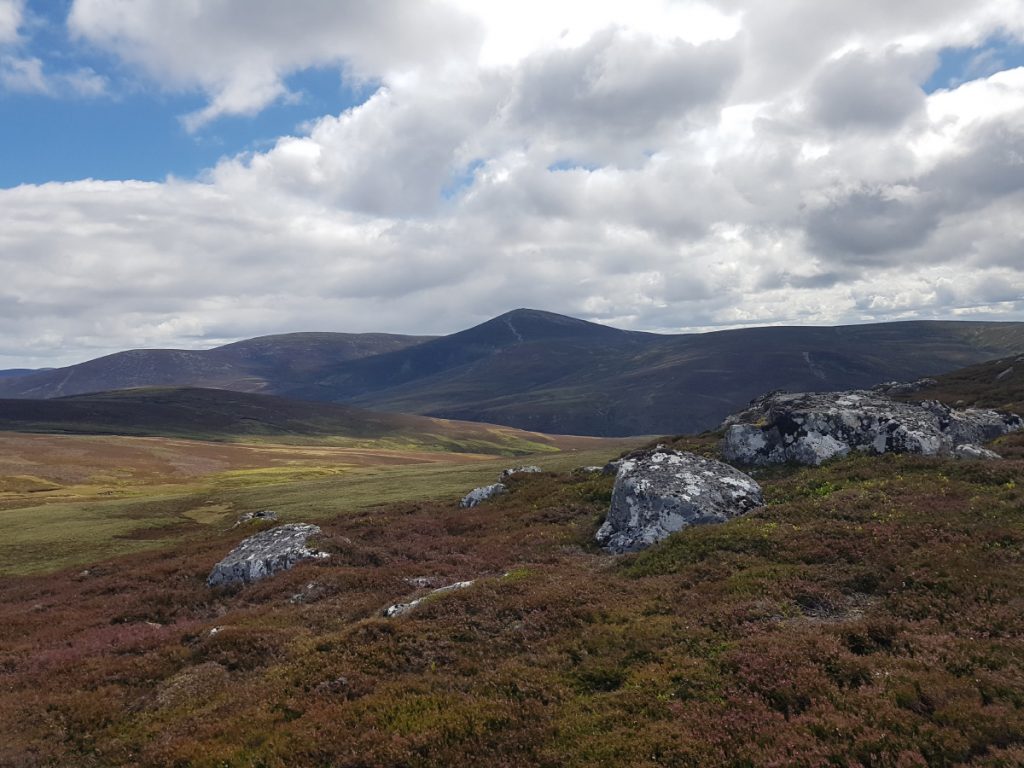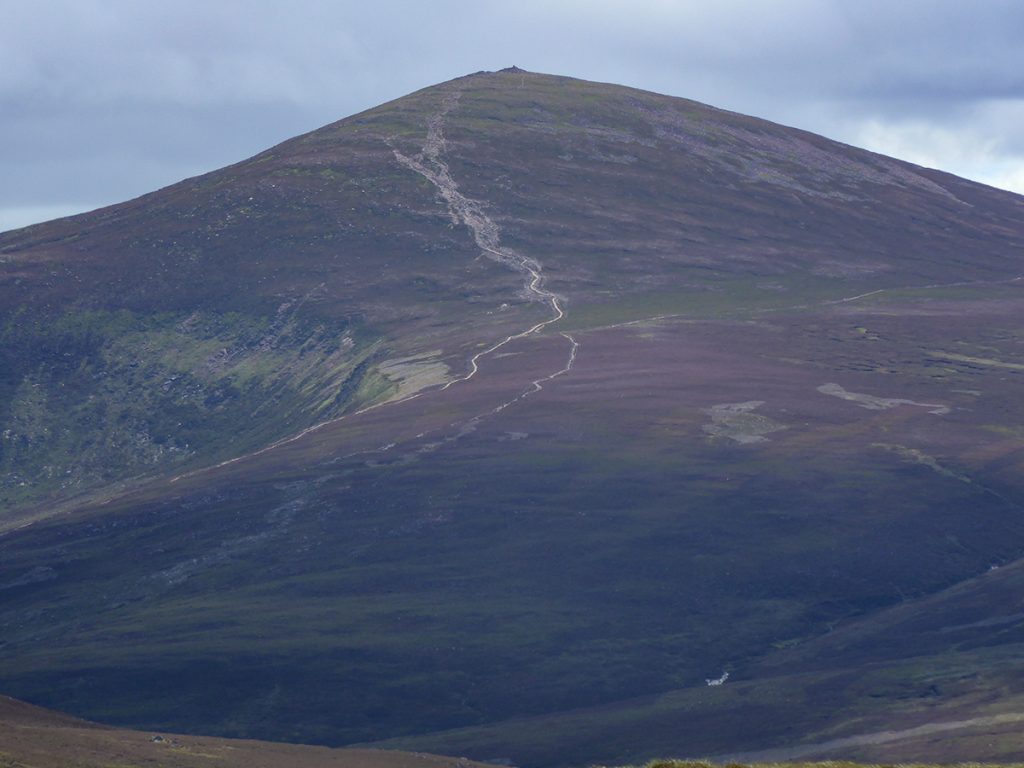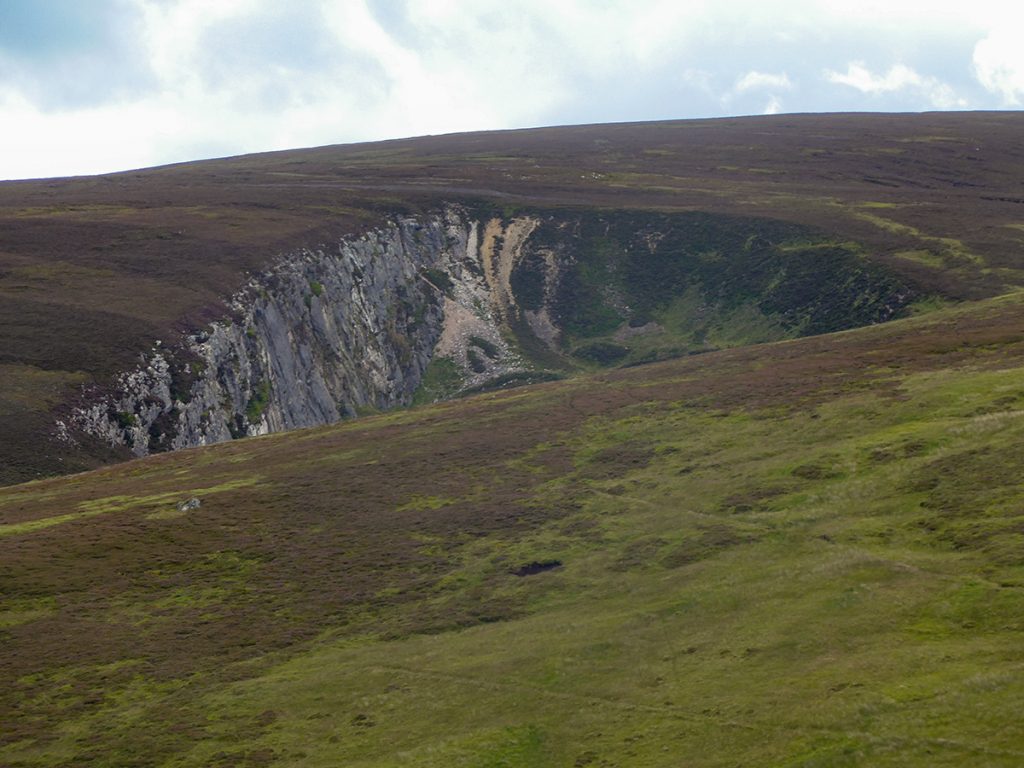 Next I began the descent down to the Water of Tanar. At the bottom there's a bridge, and assorted 'out of sight' shooting junk, what looks like a target range, fortunately not pointed down the glen towards the Glen Tanar tourist track.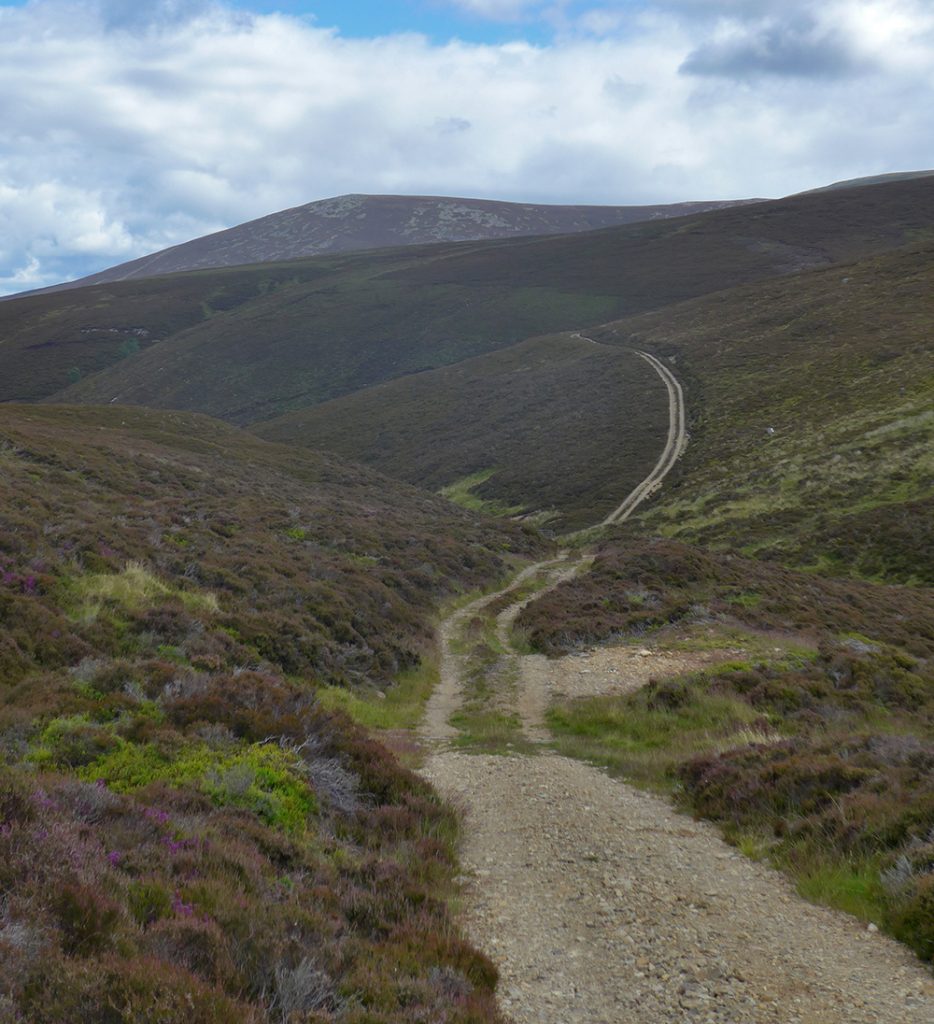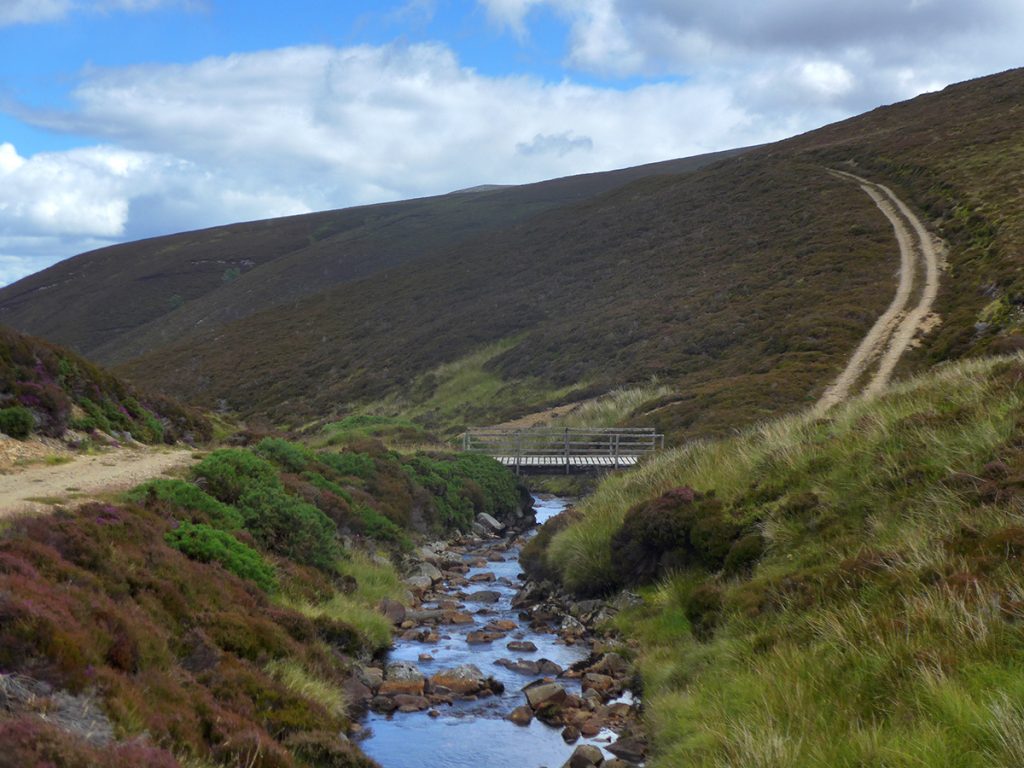 A scrape of a path headed east from the bridge towards my first place to explore, but quickly fizzled out and I thrunged through deep heather until I crossed the Allt na Conair burn cutting through the hillside. Amongst the barren sweeps of heather all round, this turned out to be a delightful cleft of greenery. A burble-stream bounced down through rocky tumbles, past mossy alcoves, speckled by wild flowers. A worthy lunch spot.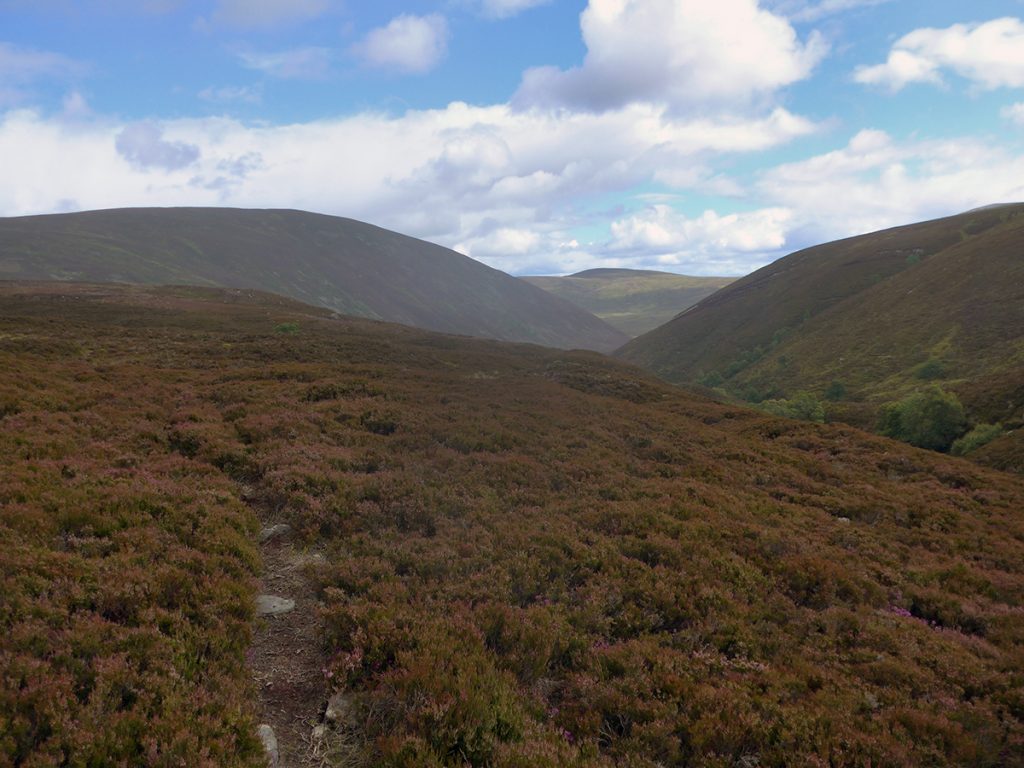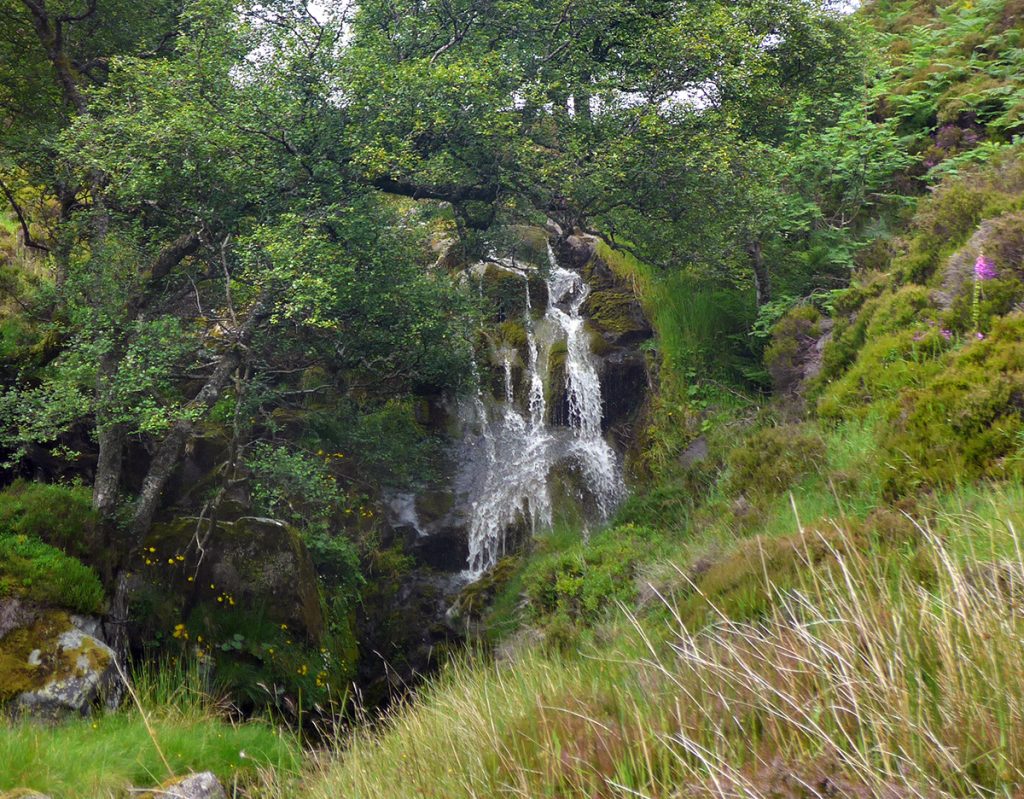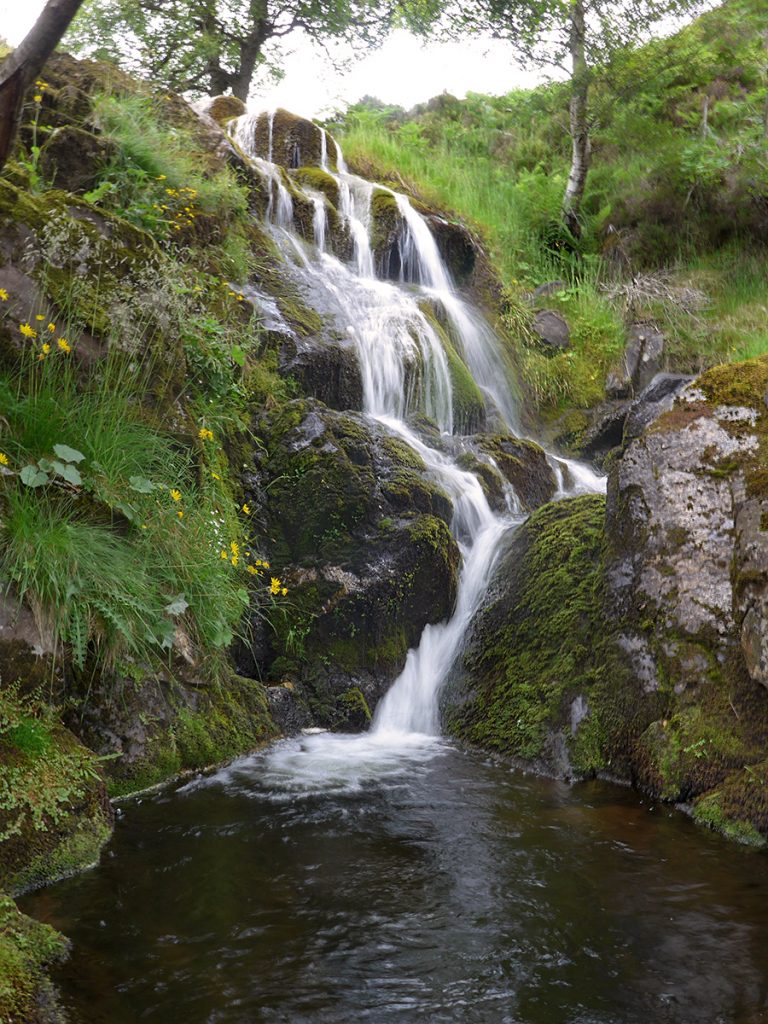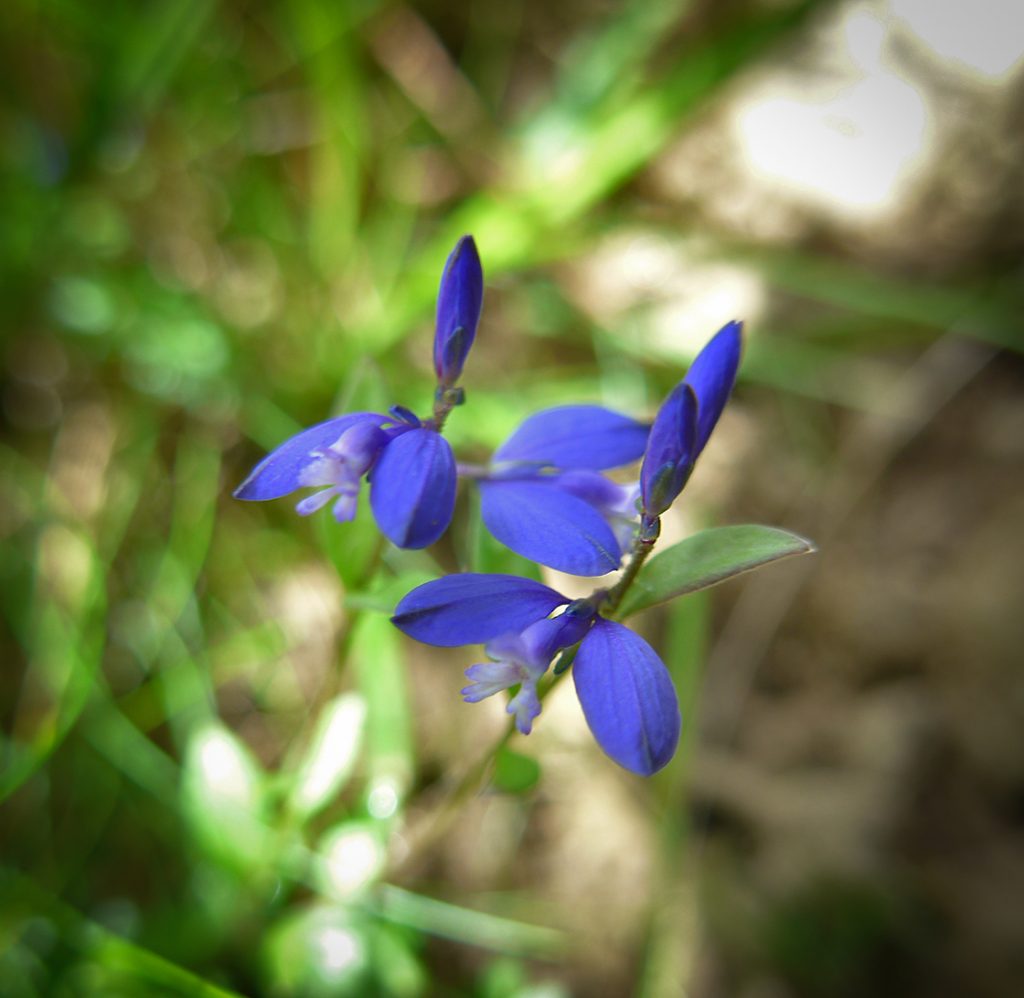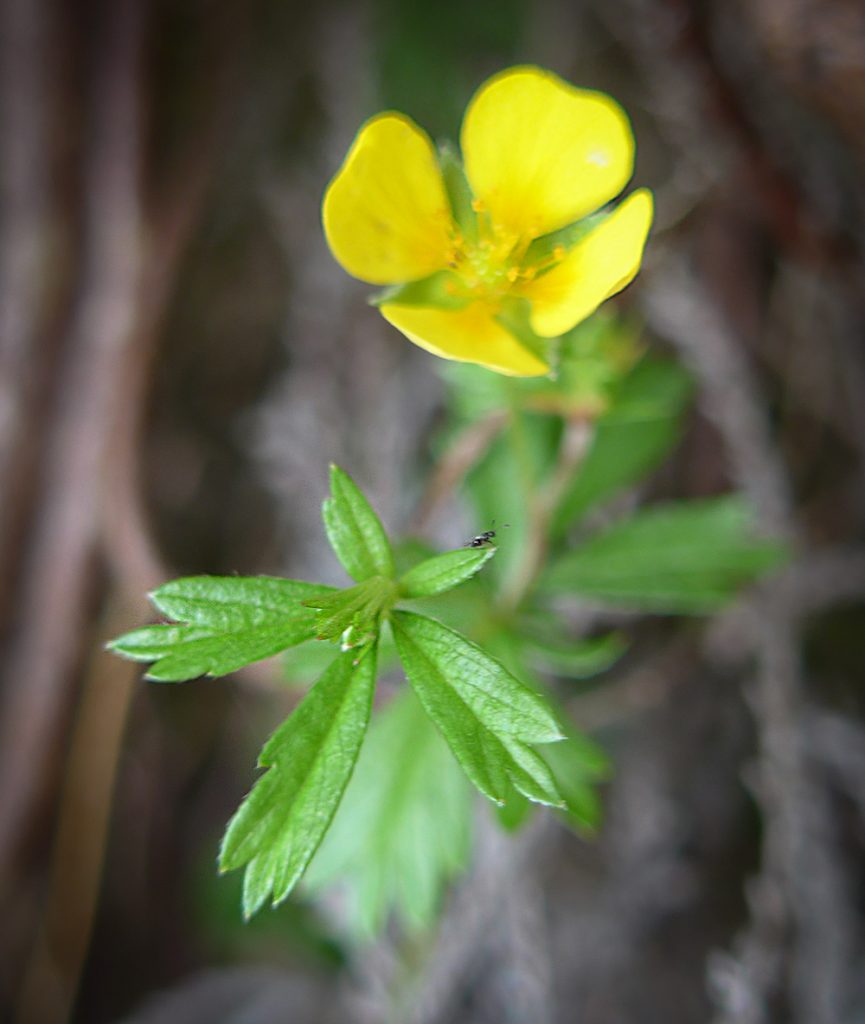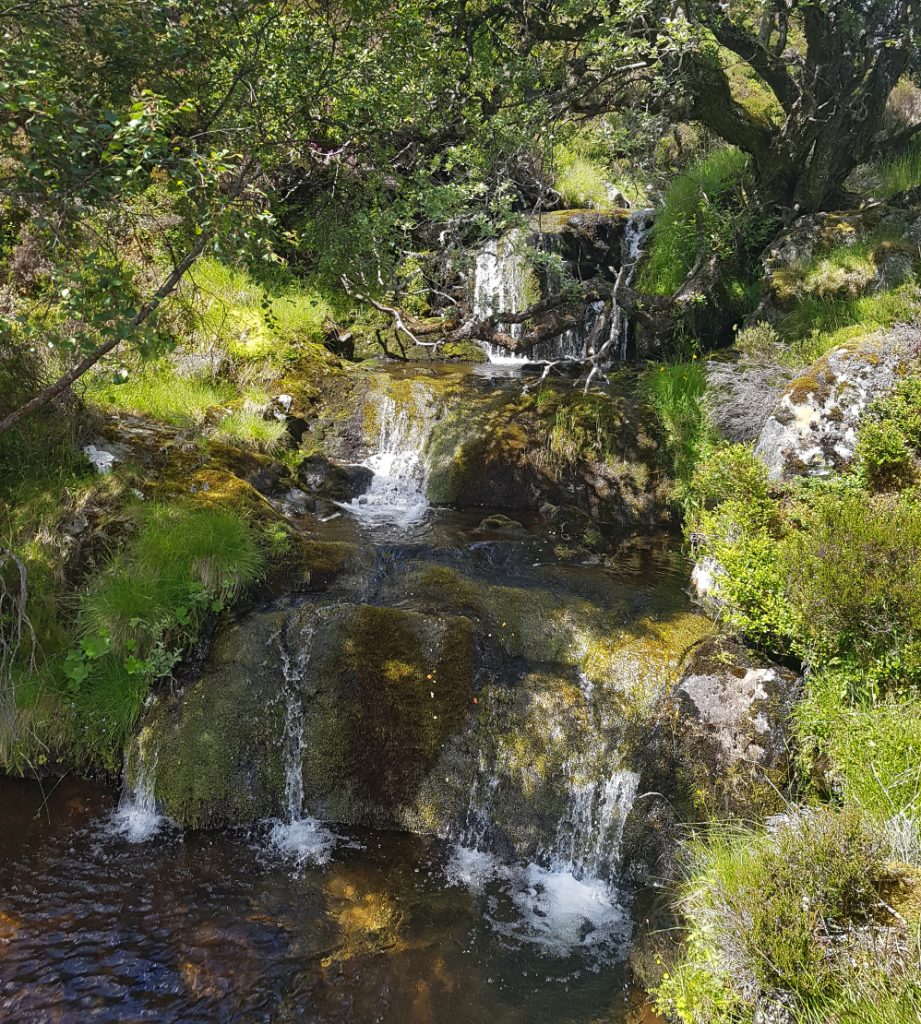 Refreshed, I made my way around and down into the alcove where the little-known but fine waterfall, the Linn of Tanar is. Summer had seen it surrounded by thick bracken which made me doubt my previous thought that this would be a great camping spot.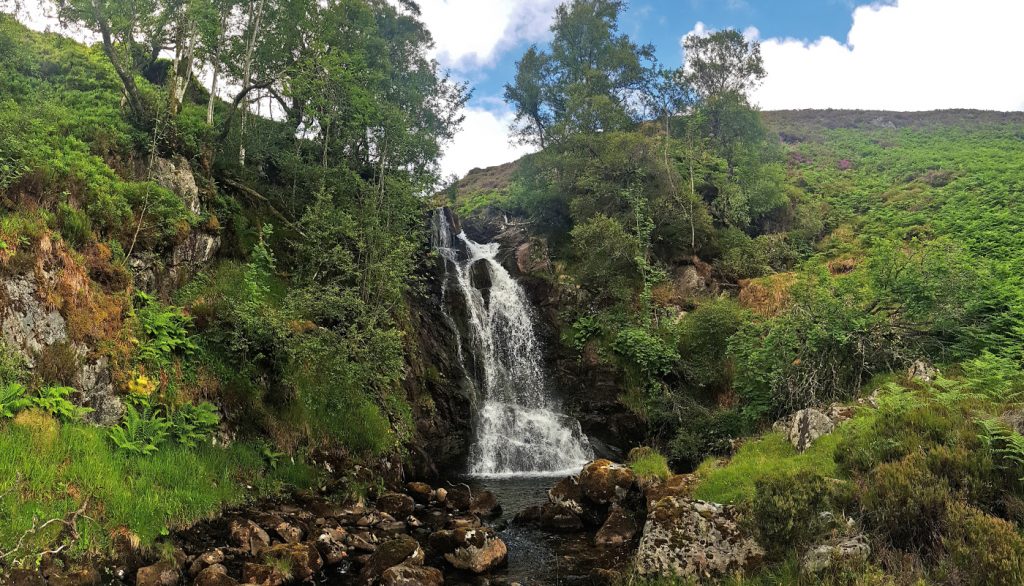 Today I had a new camera with me, a Panasonic DMC-LF1, bought primarily to get more zoom, less weight and size compared to my Olympus XZ2. It's also got a viewfinder, handy on bright days but no ND filter which I missed to give a bit of water blur to the obligatory waterfall shot.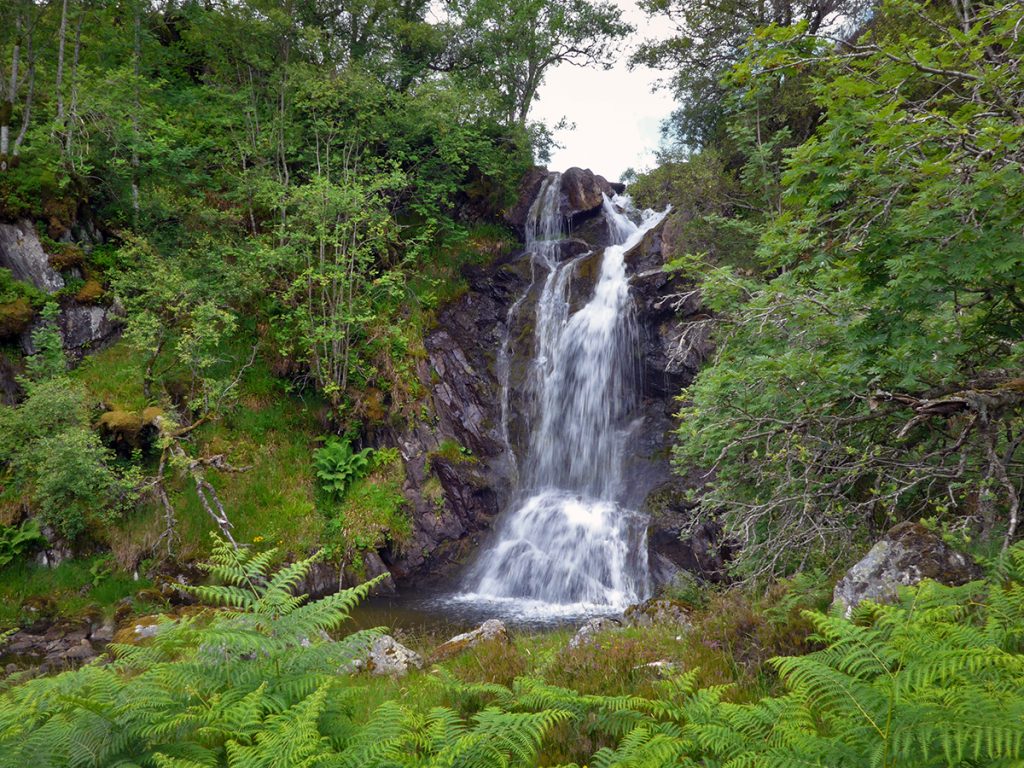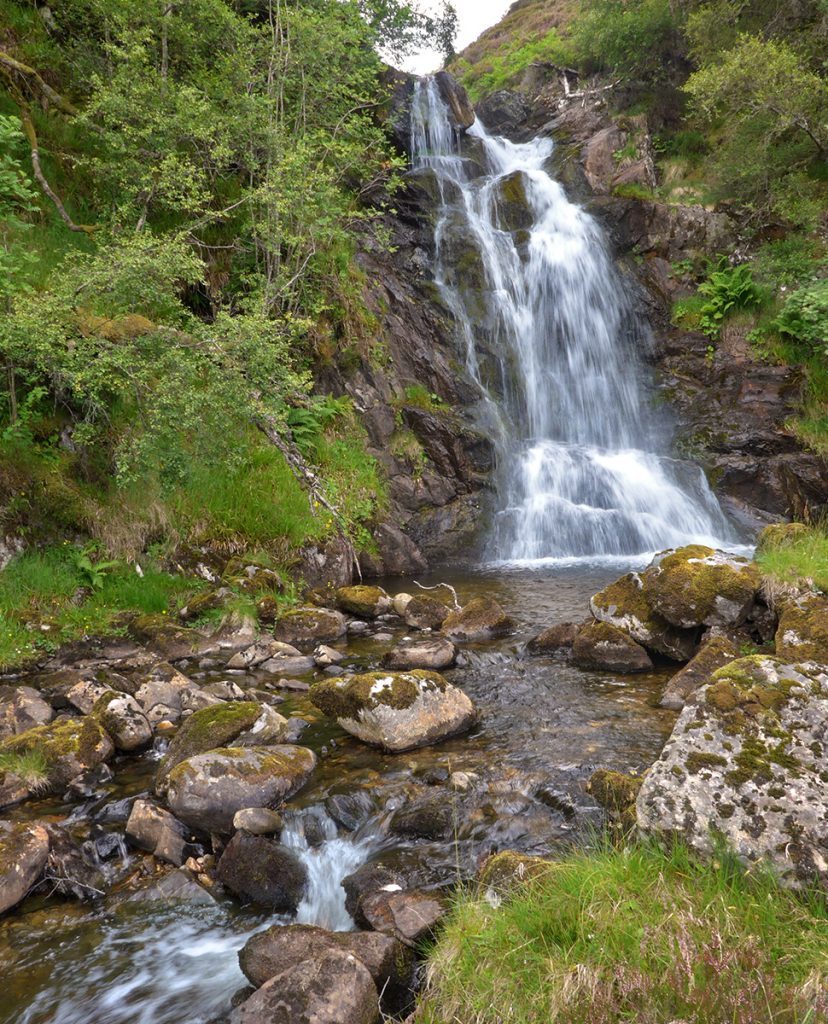 I crossed the burn and headed up a tributary of the Tanar, the Allt Deas, uncertain of it's navigability. It's steep sided with rank heather, but eventually I found a deer path that made the going a bit easier. The next port of call, Quartz Cliff, peeped over the top and much as I wanted to follow the burn further upstream, I stuck to the plan and headed away from the gully.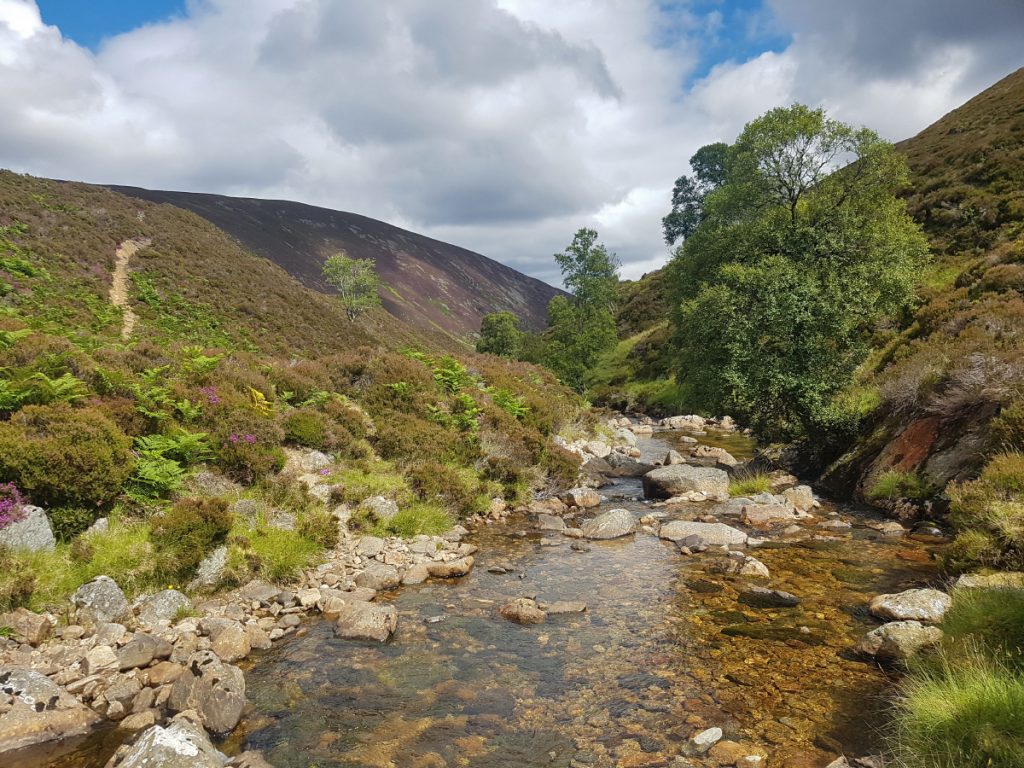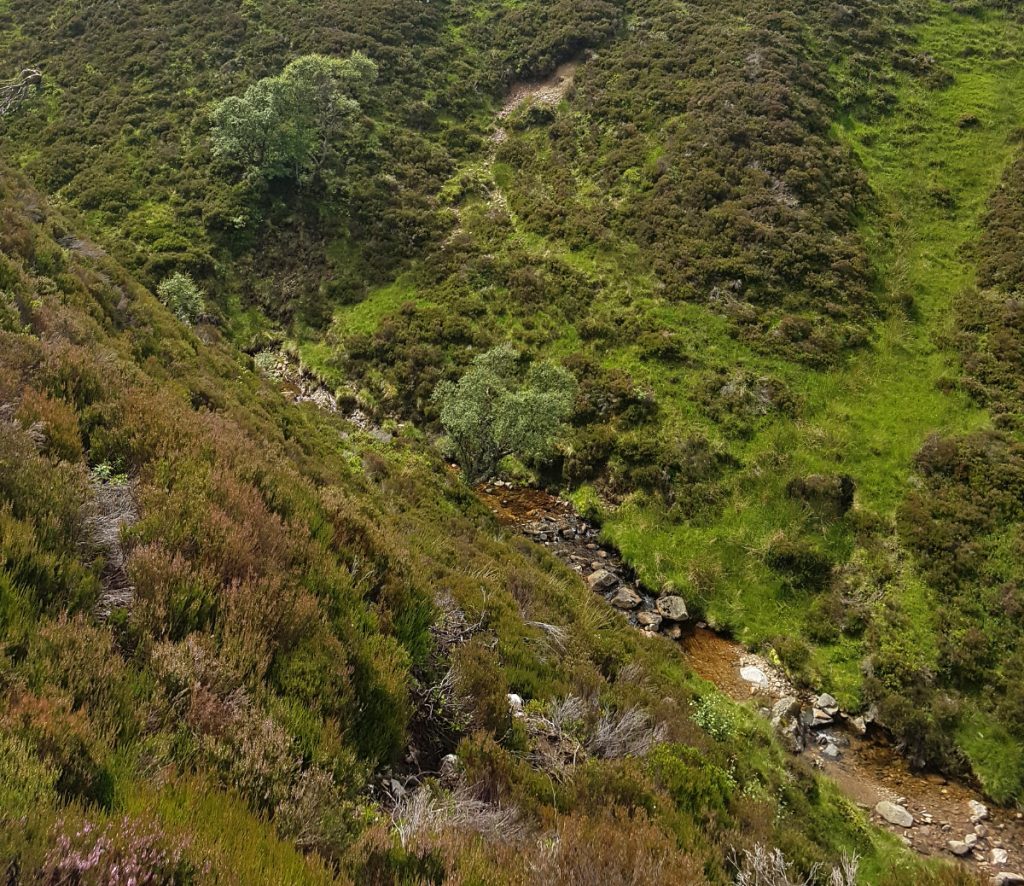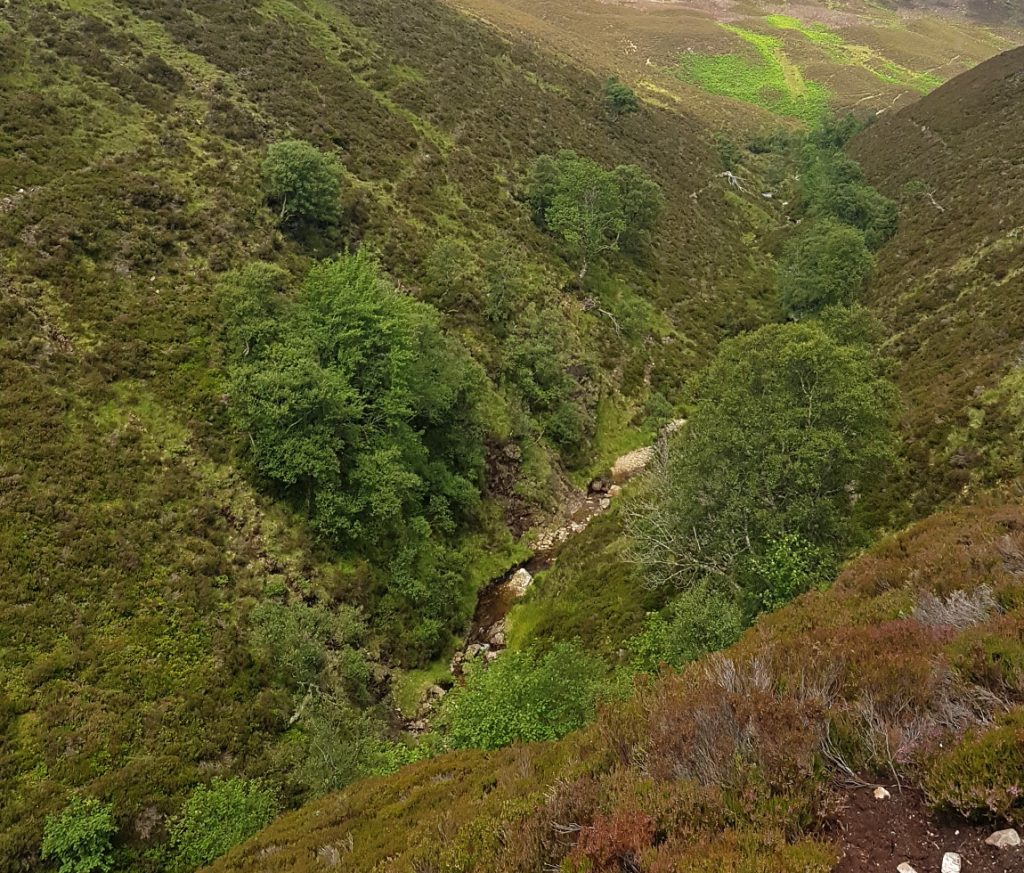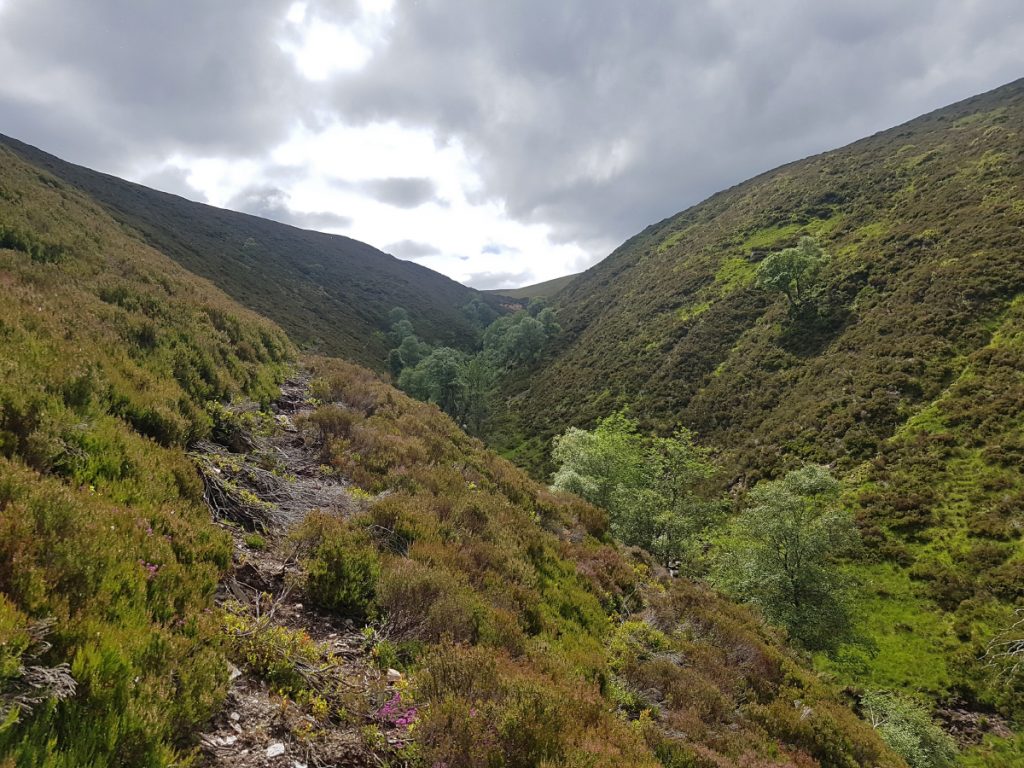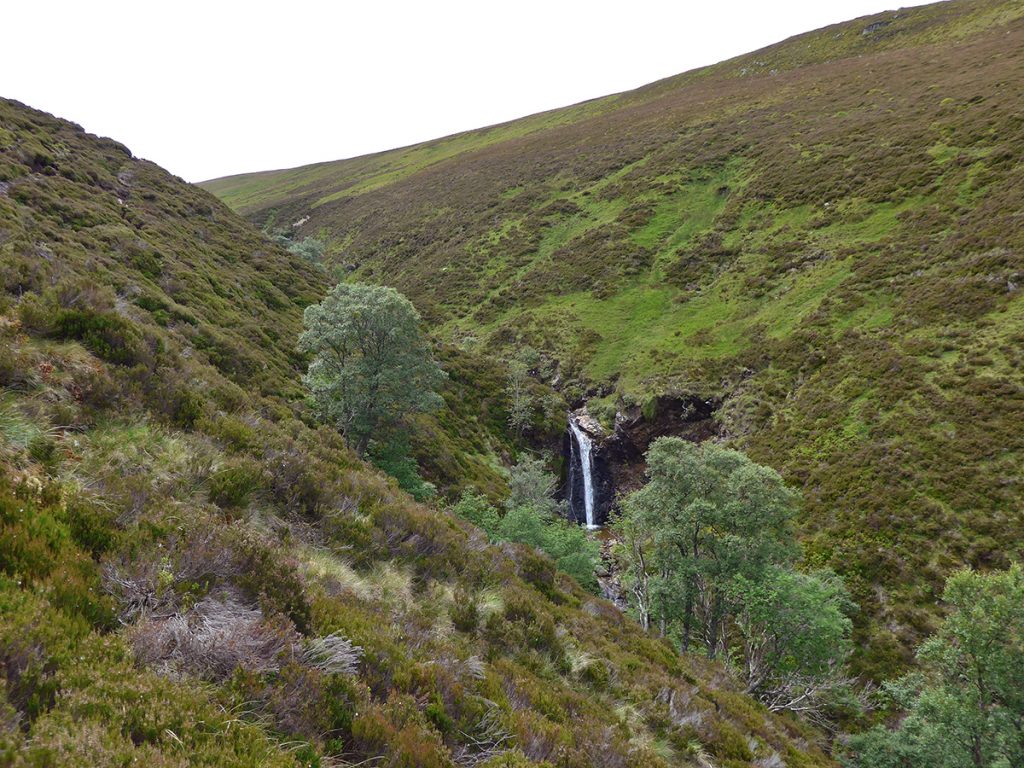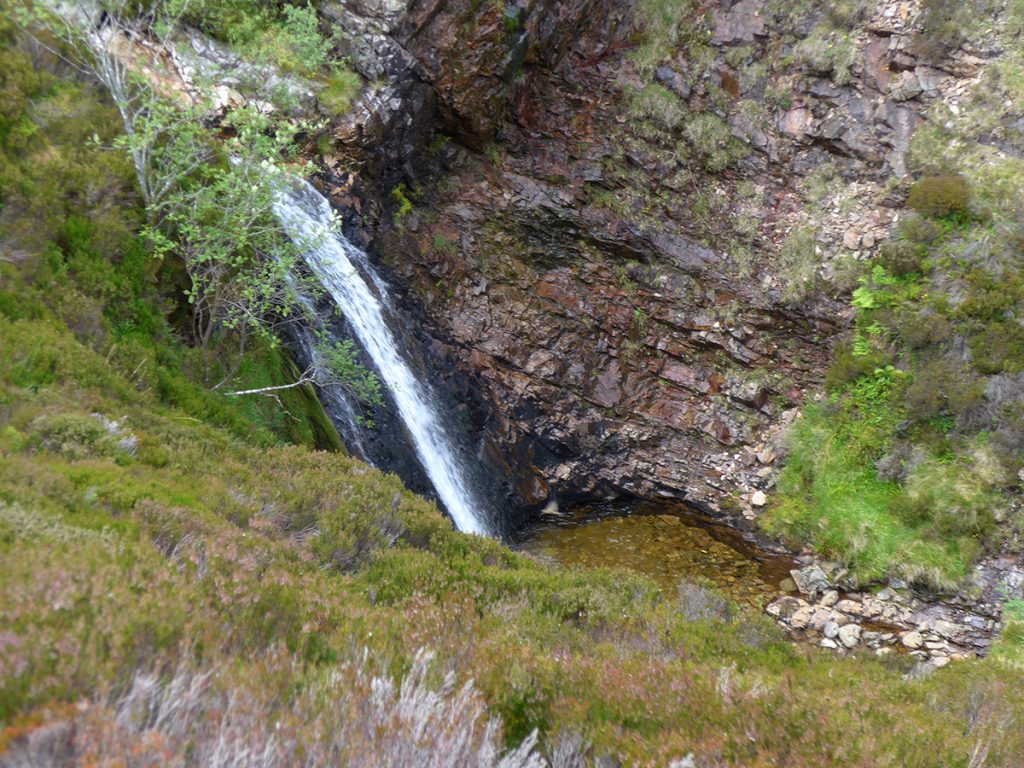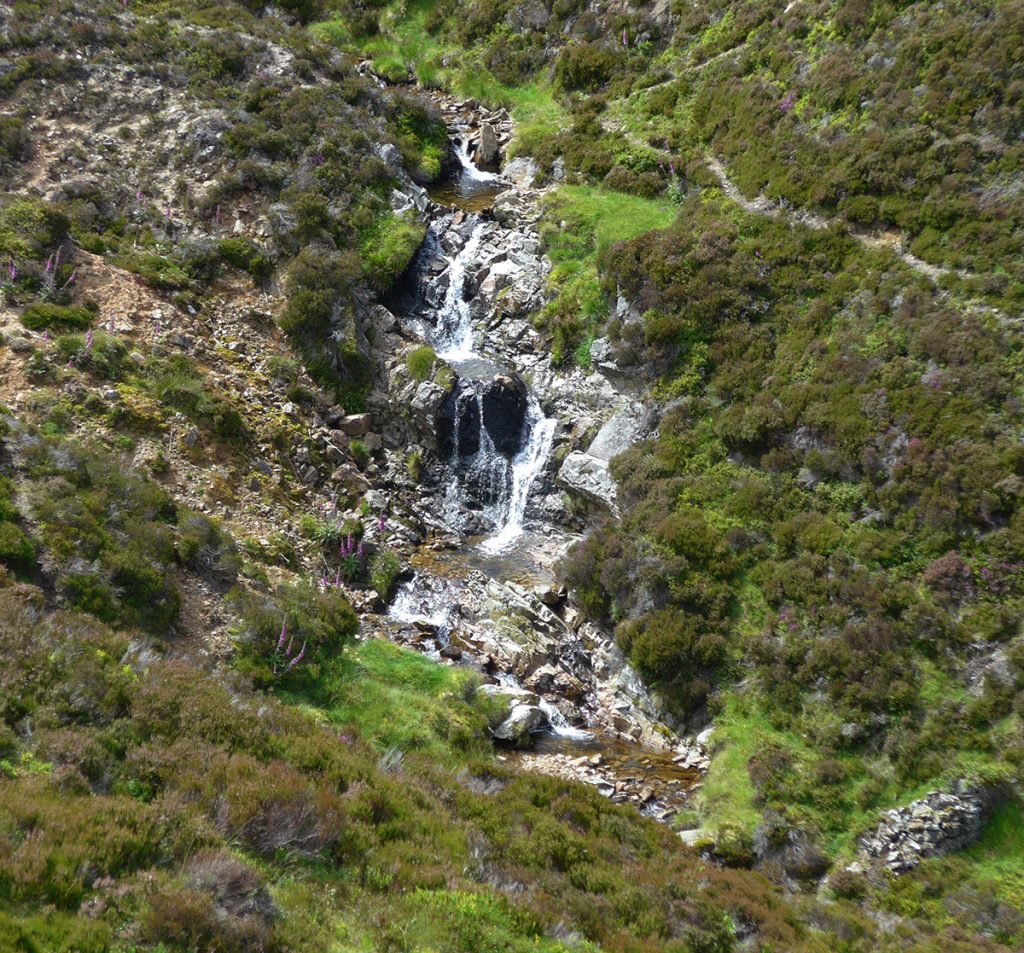 The Quartz Cliff, an ancient landslide site, is a big bite out of the hillside, footed by a jumble of white boulders. I climbed out of it's corrie on a steep heathery side, noting that there appears to be more recent erosion and rock collapse. Not sure if folk climb here or if it's sufficiently stable to do so.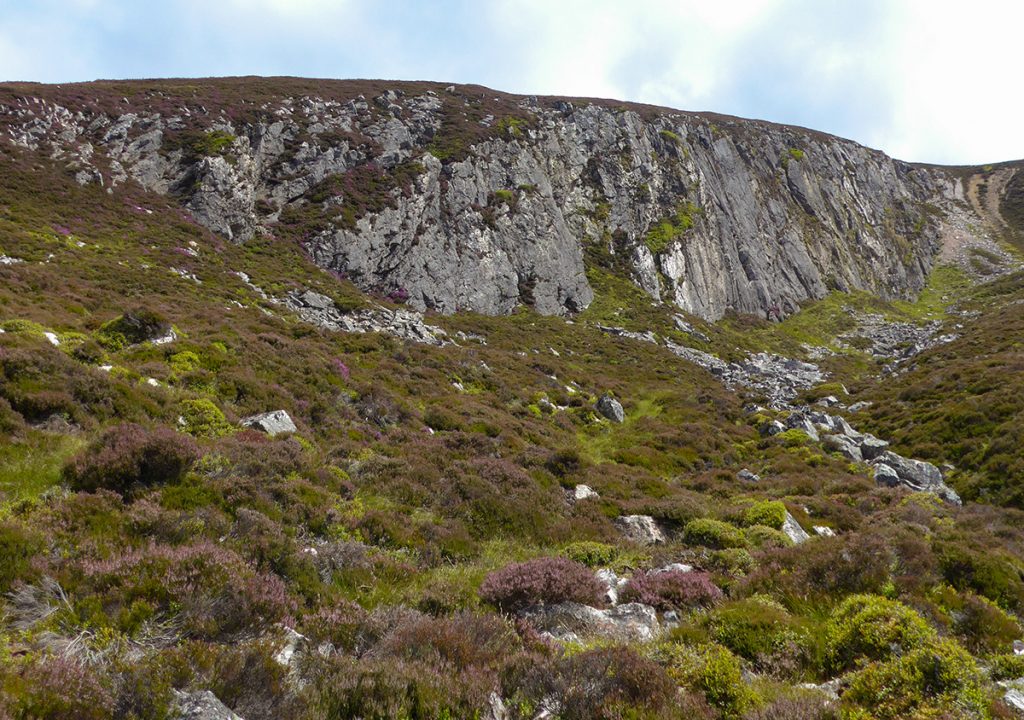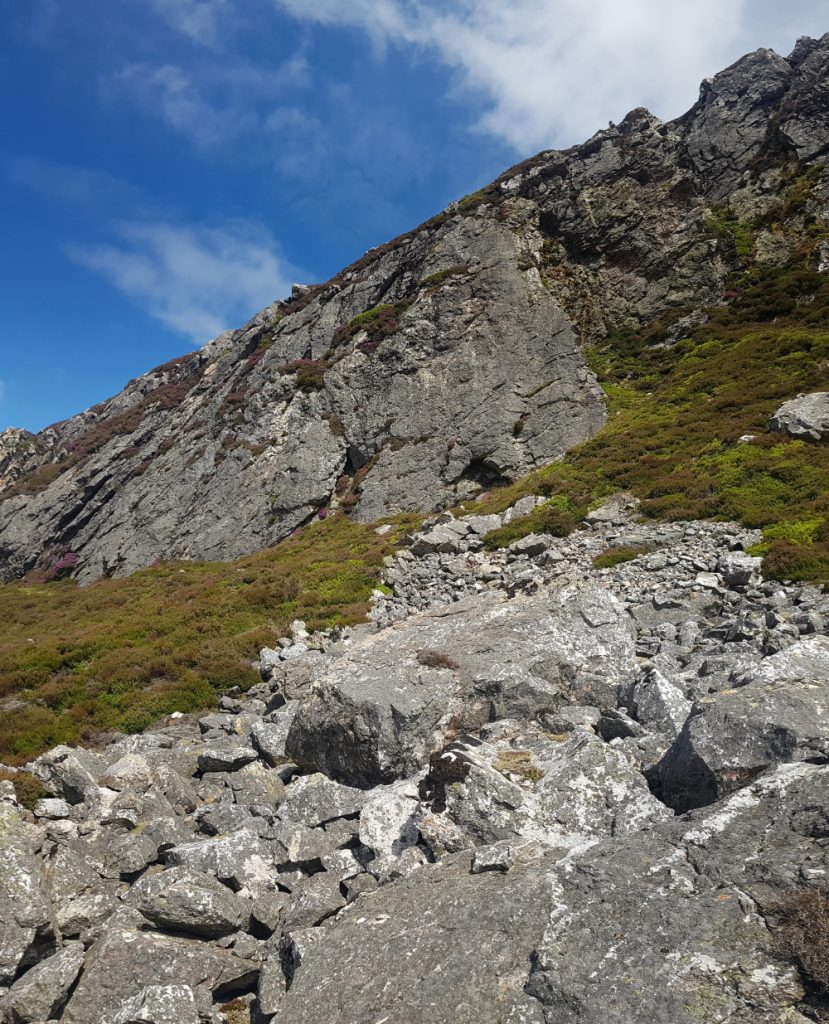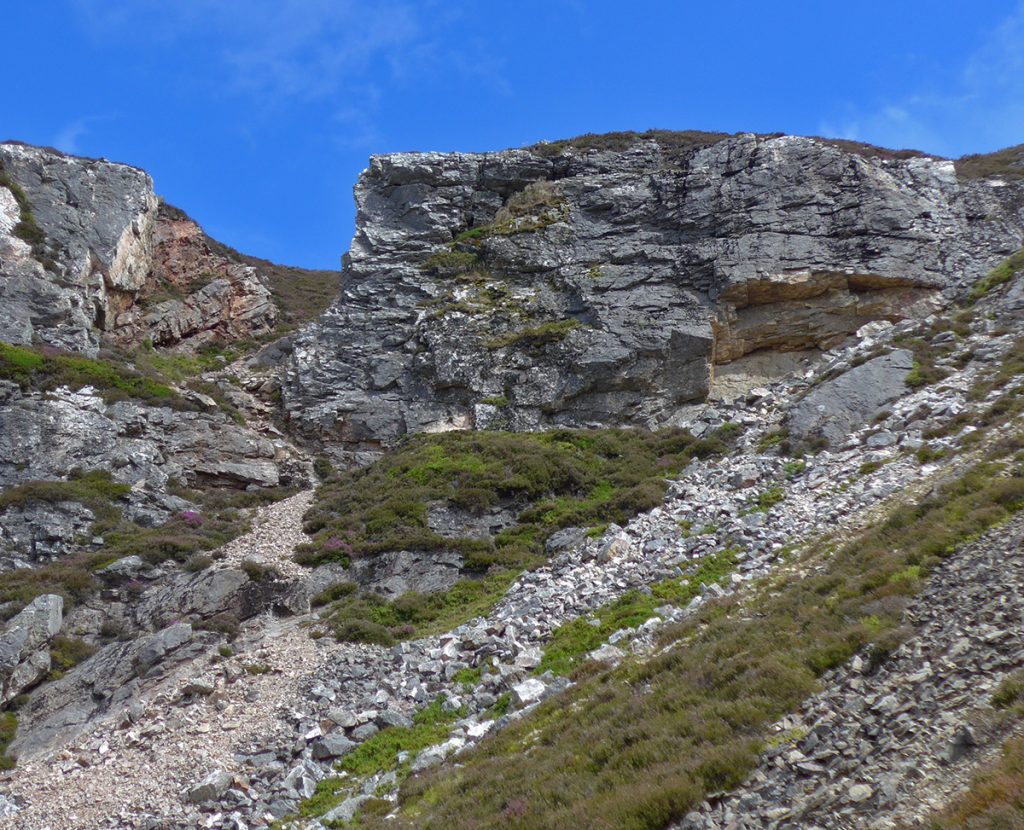 Beyond the top (it'd be a hazard in low visibility, probably just as well it's away off the beaten track) it's back on to swathes of moor, interspersed with peat hag and bog. Other than a small cairn (odd place for one) and some deer flighted, nothing to report until reaching the foot of Mount Keen.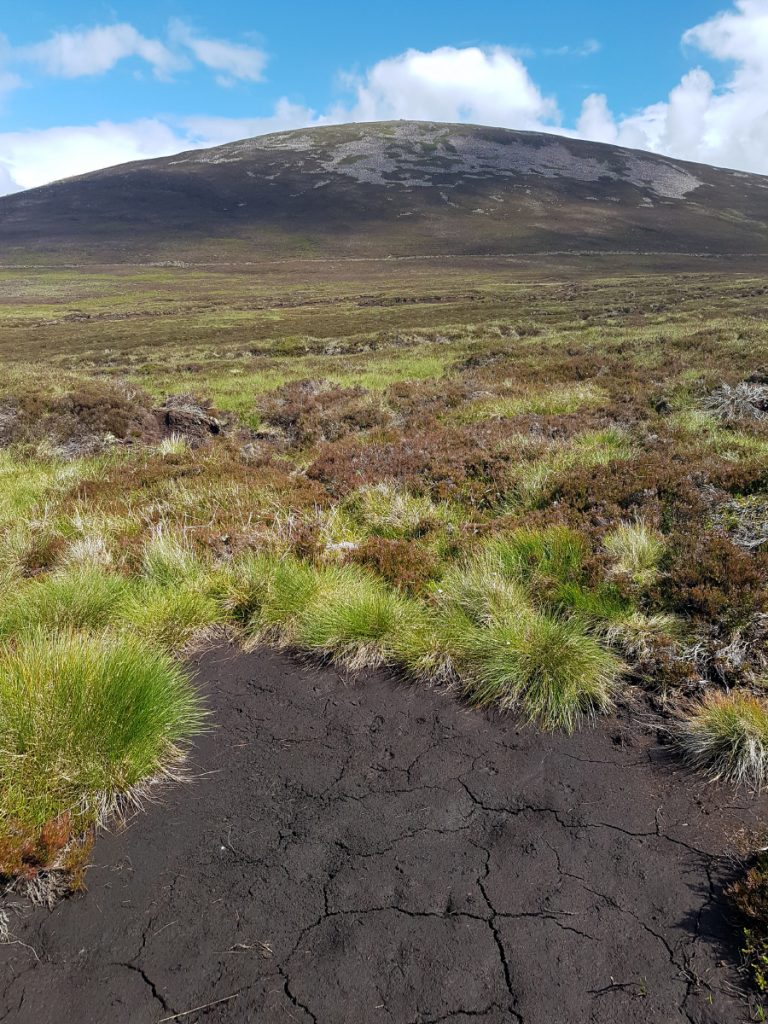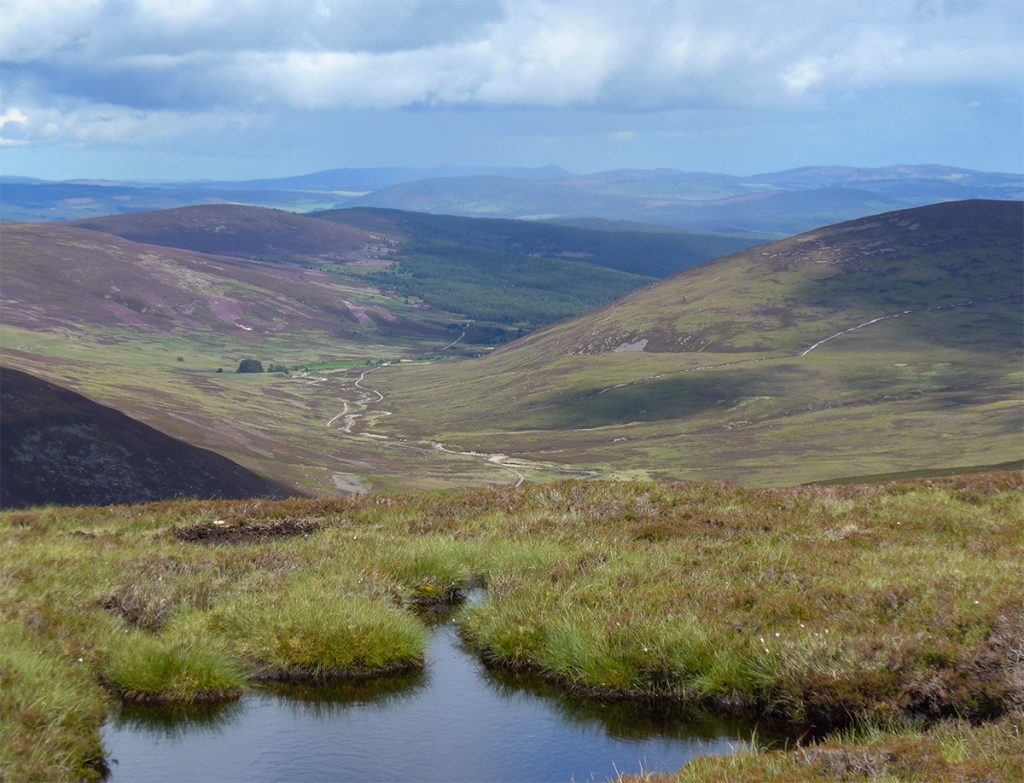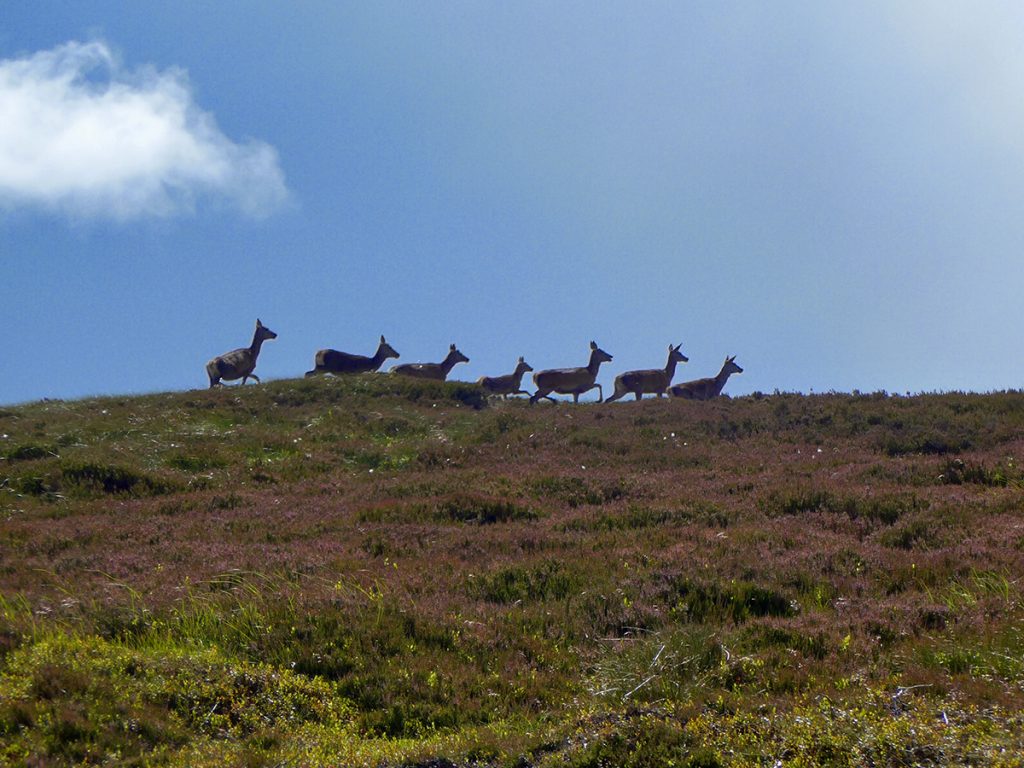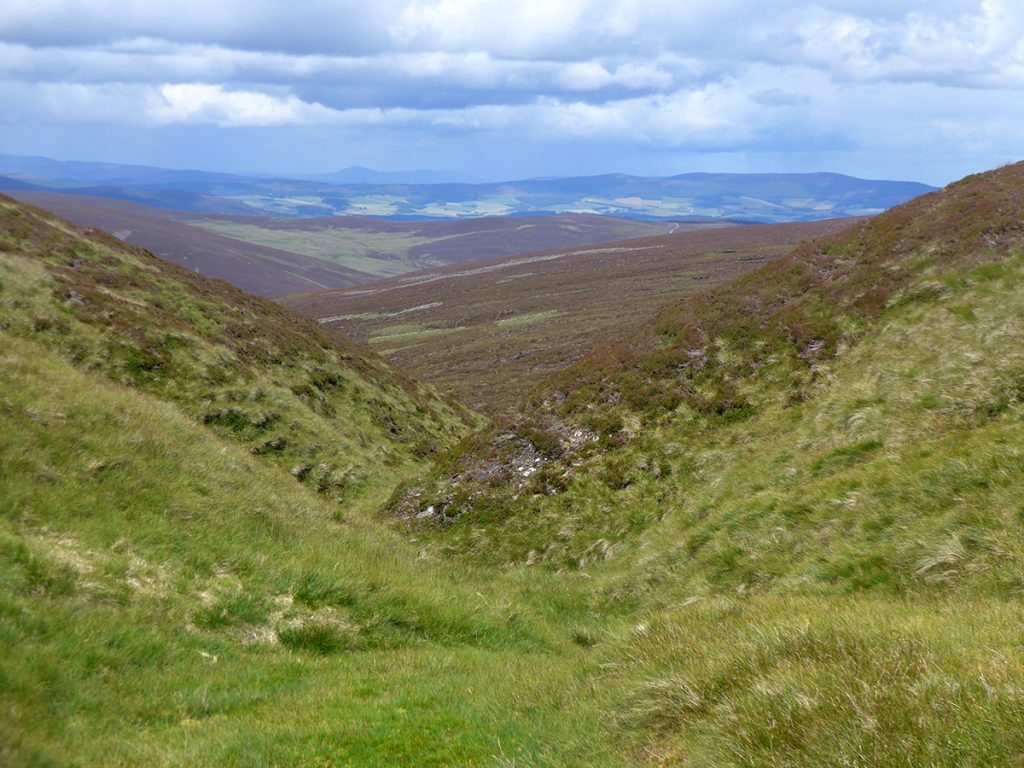 Crossing the bypass path, I could have went round to rejoin the main path but hey ho, up the side we go. Steepish and a scattering of boulders, loose by lack of footfall, and tinged with an odd red covering, maybe algae.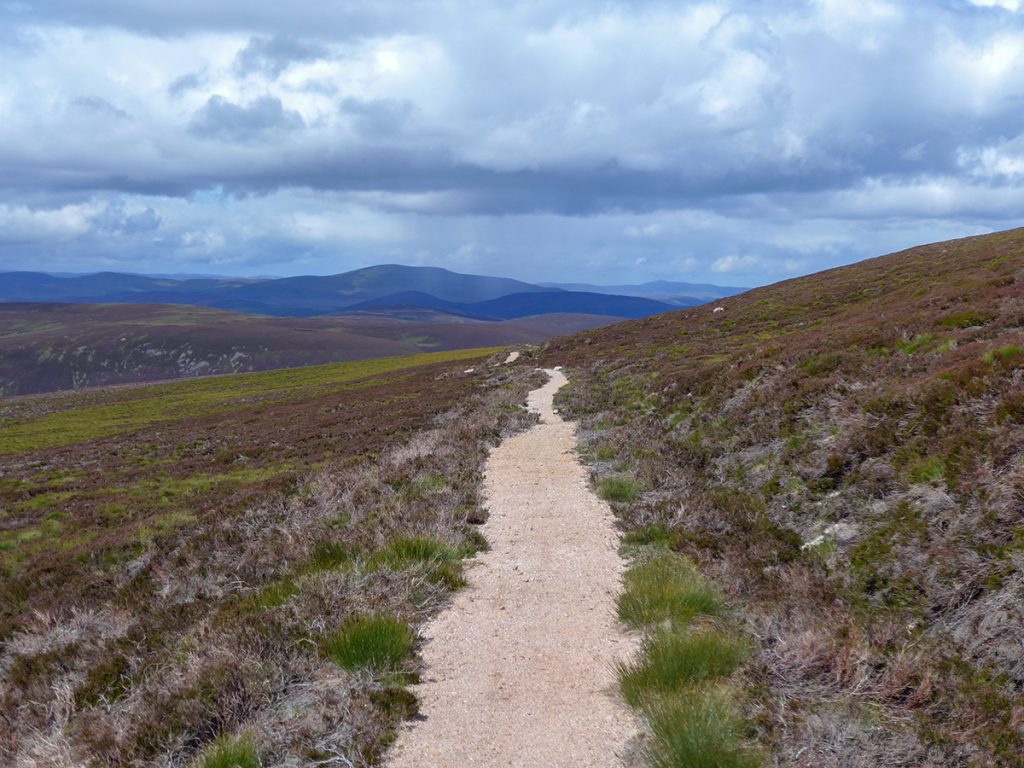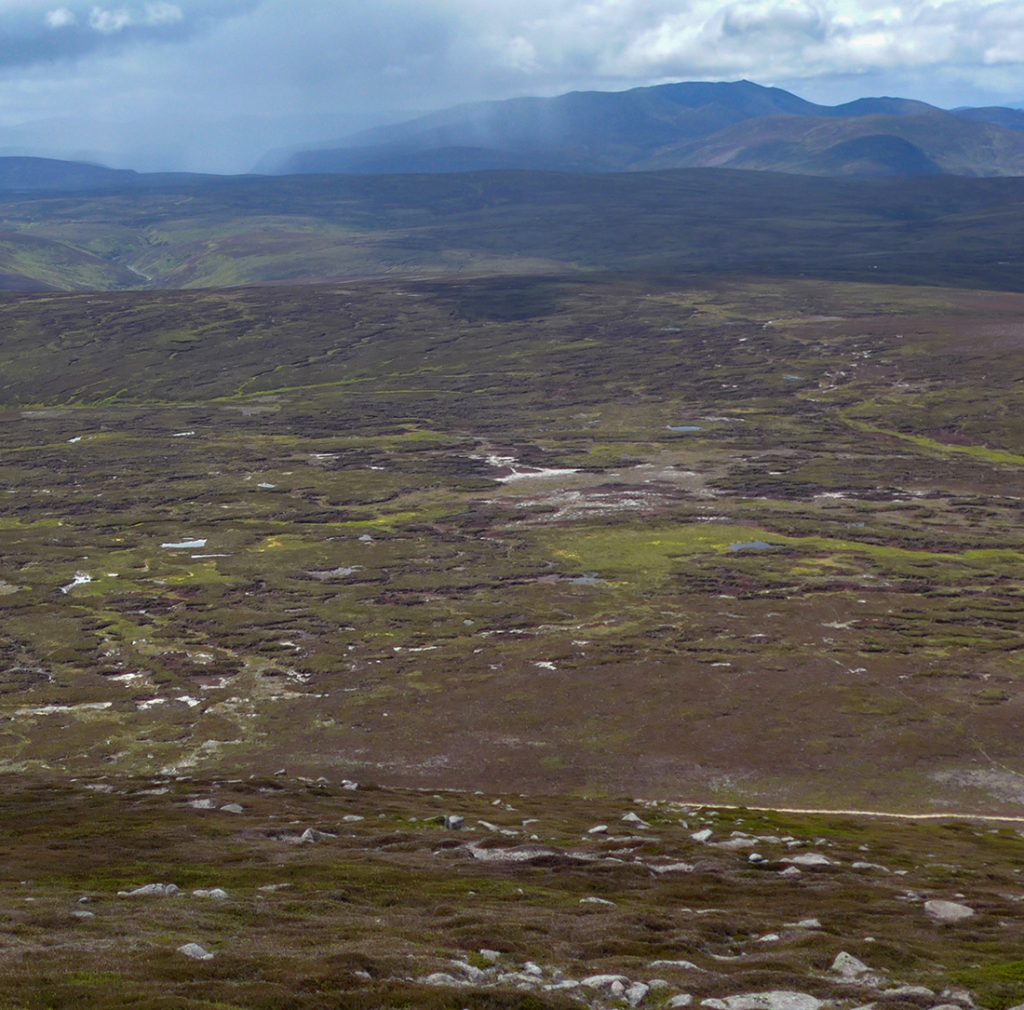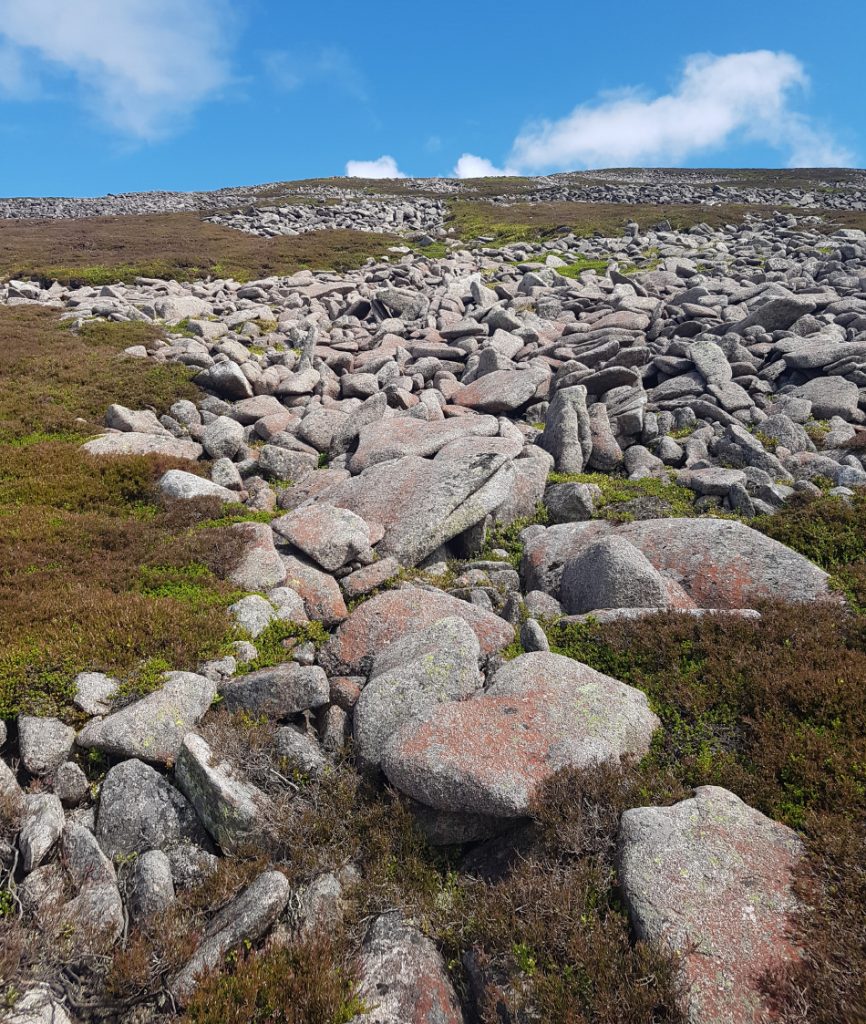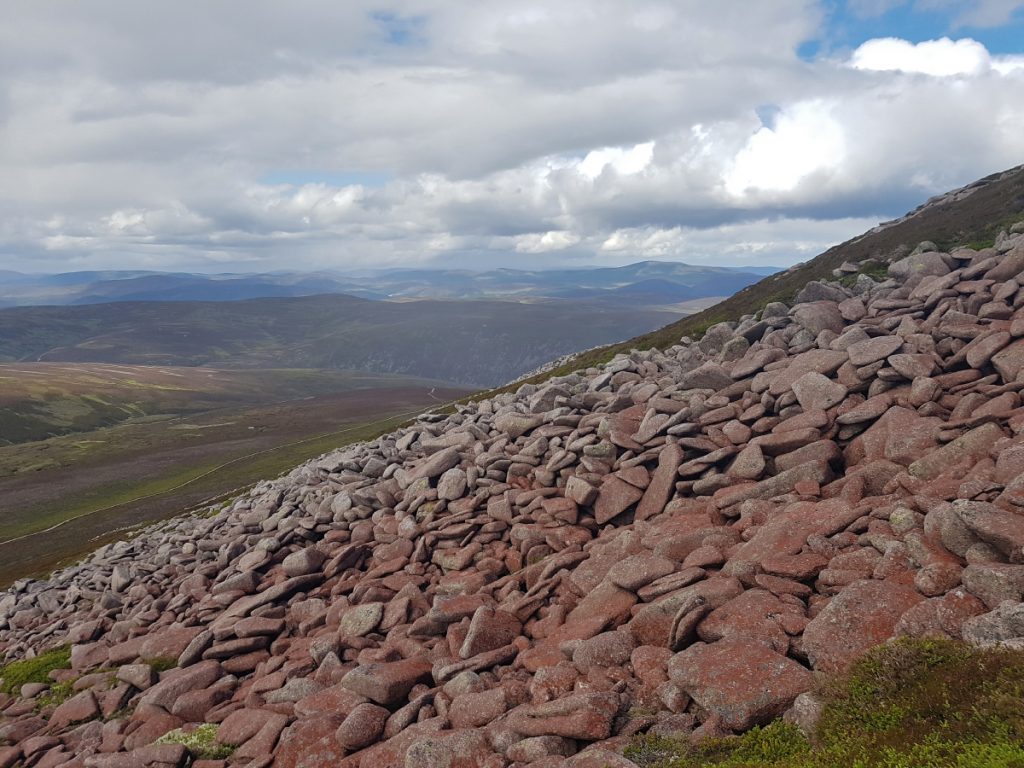 Reaching the top, the expected throng was in evidence, perhaps 20 folk sitting around mostly in the lee of the cairn: the breeze had some bite to it; I had a quick snack and started the descent, skipping over steps and boulders further up, then swishing the bright sandy streak of the refurbished path lower. 20 minutes later I got a water refill by the bridge where many bikes were locked, before pondering the next ascent.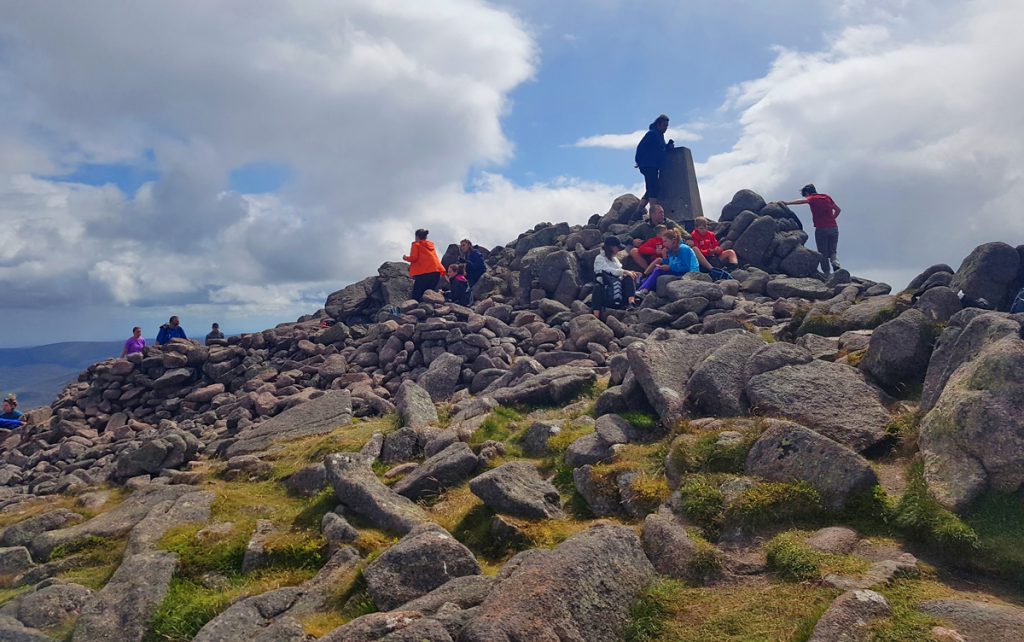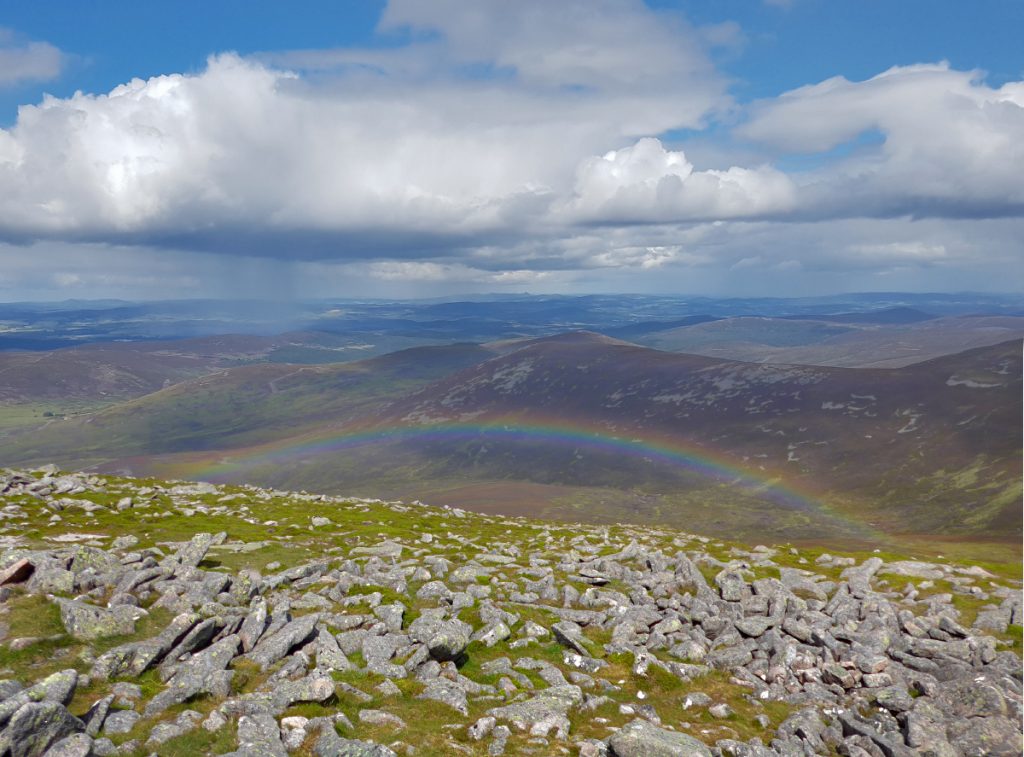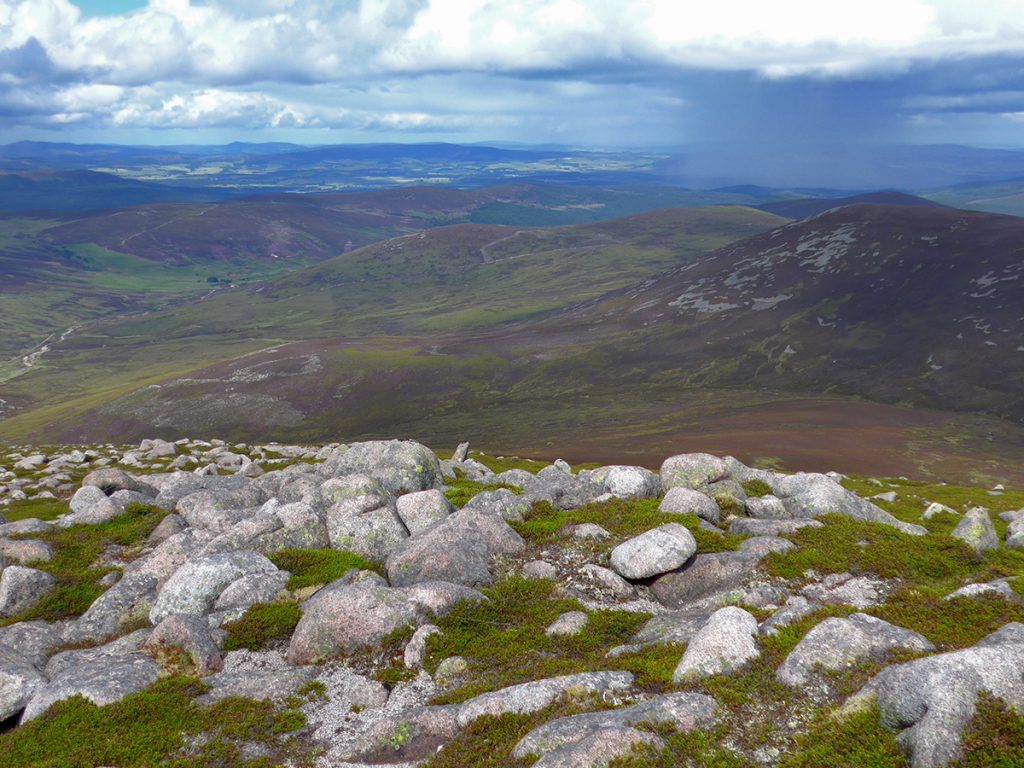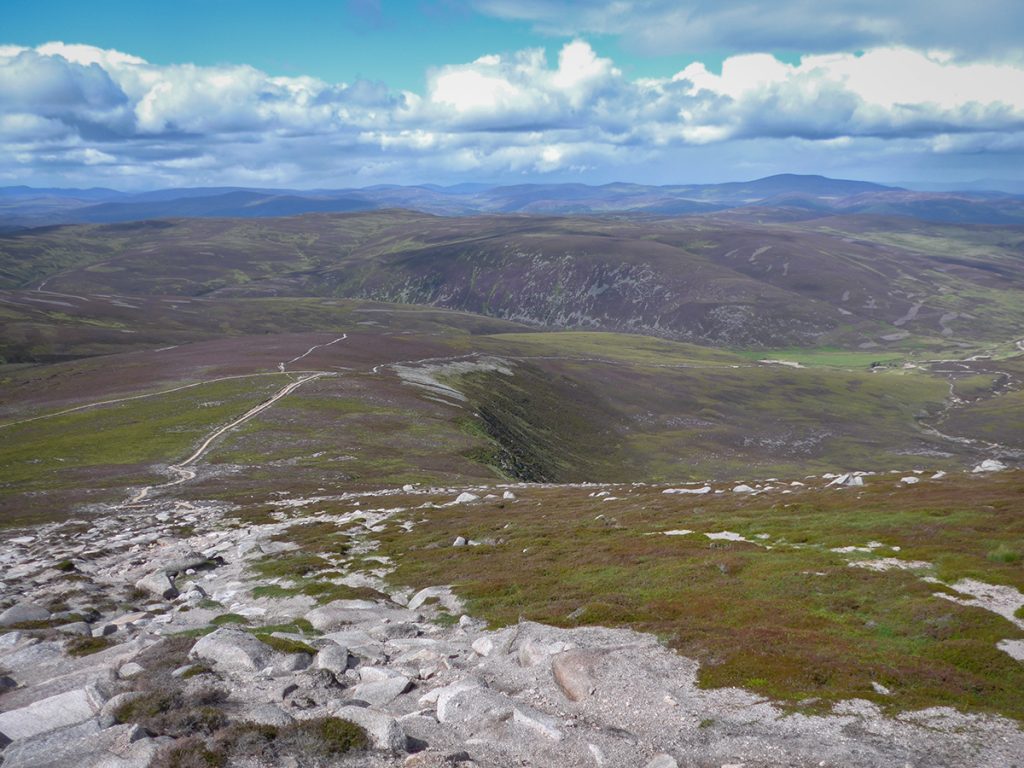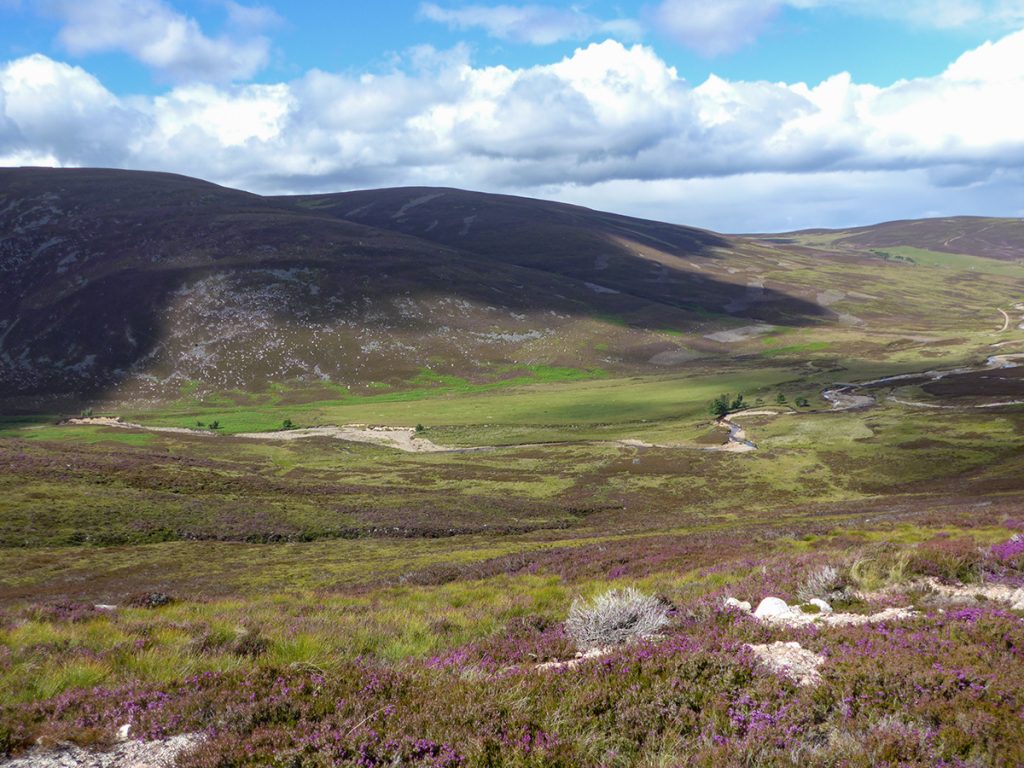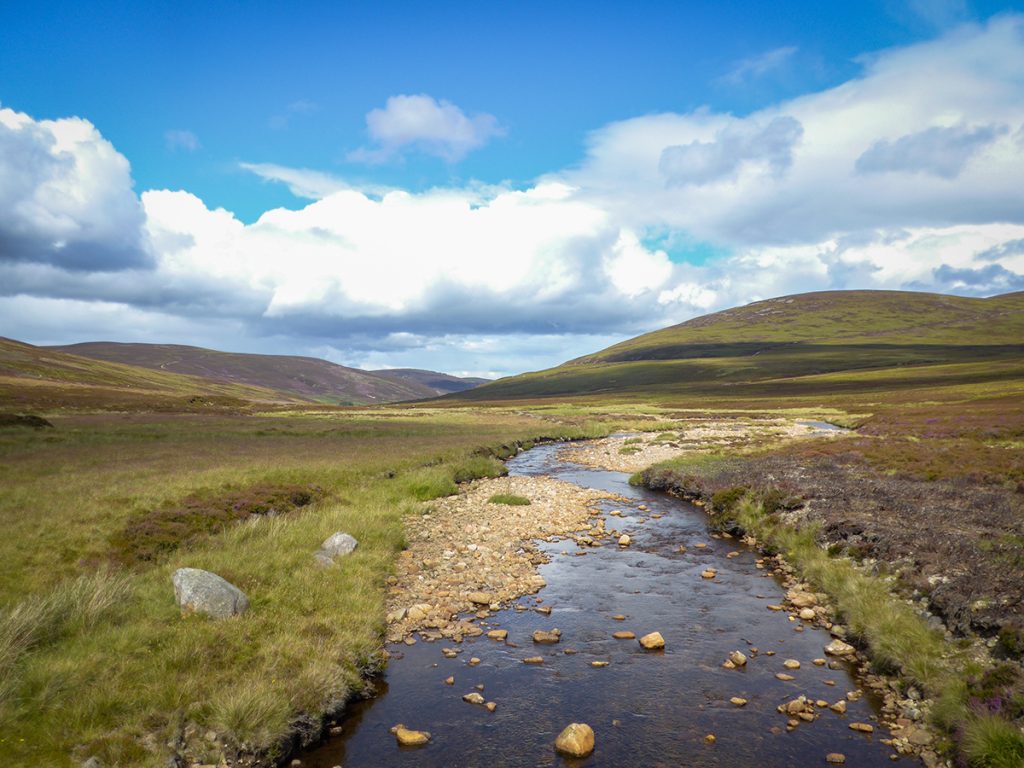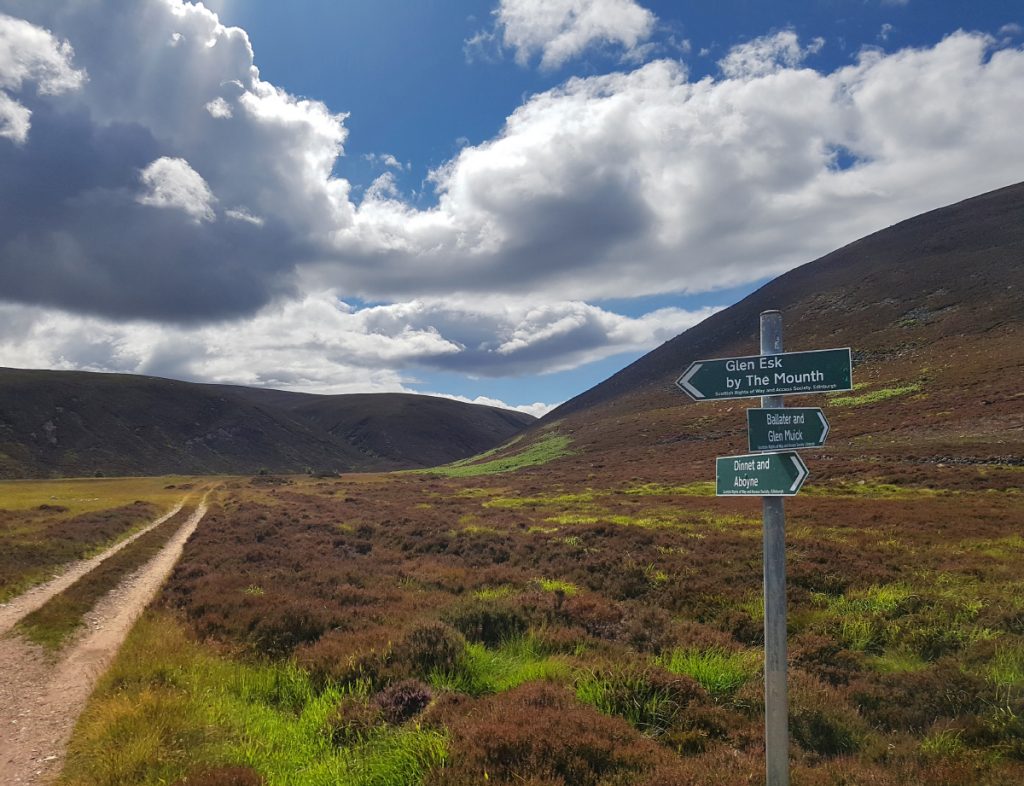 The 'Mounth Road' looked to be a barely visible scrape to start, but cut narrowly through grass, heather and the odd bit of bog until rounding north where it began to fade out.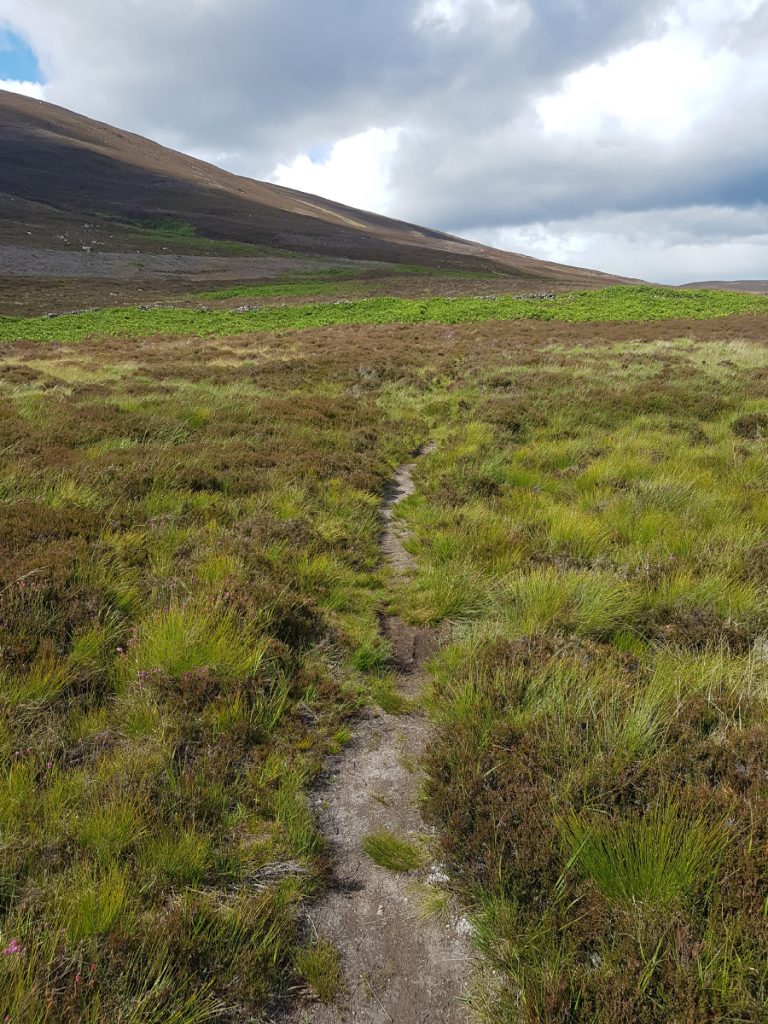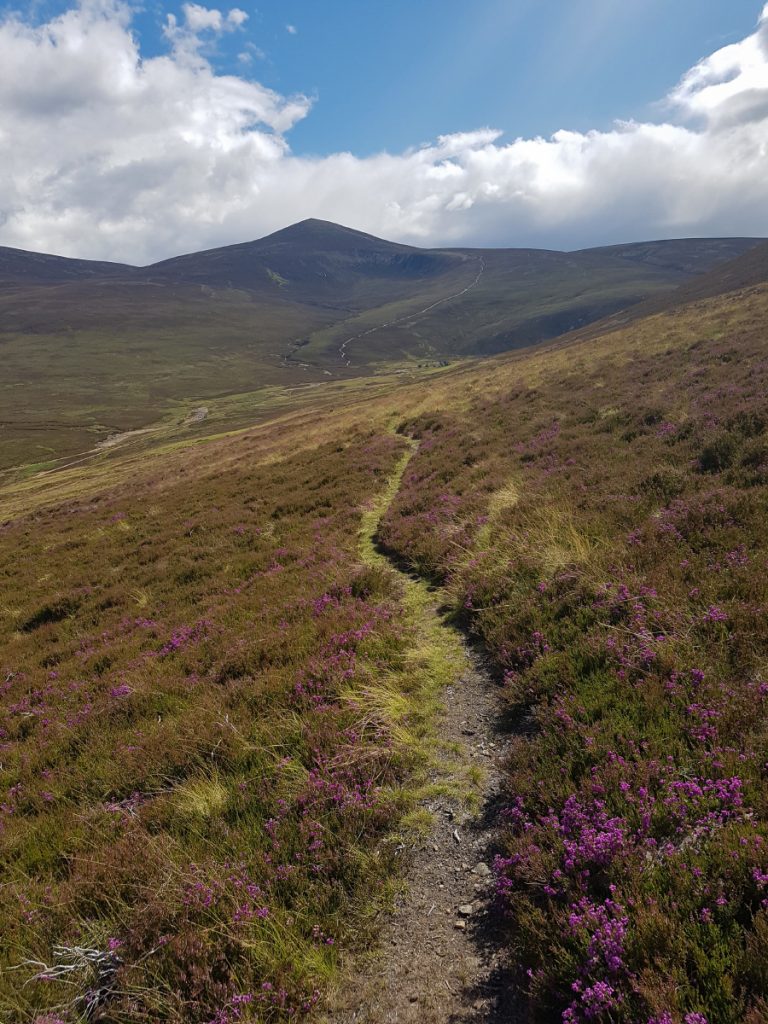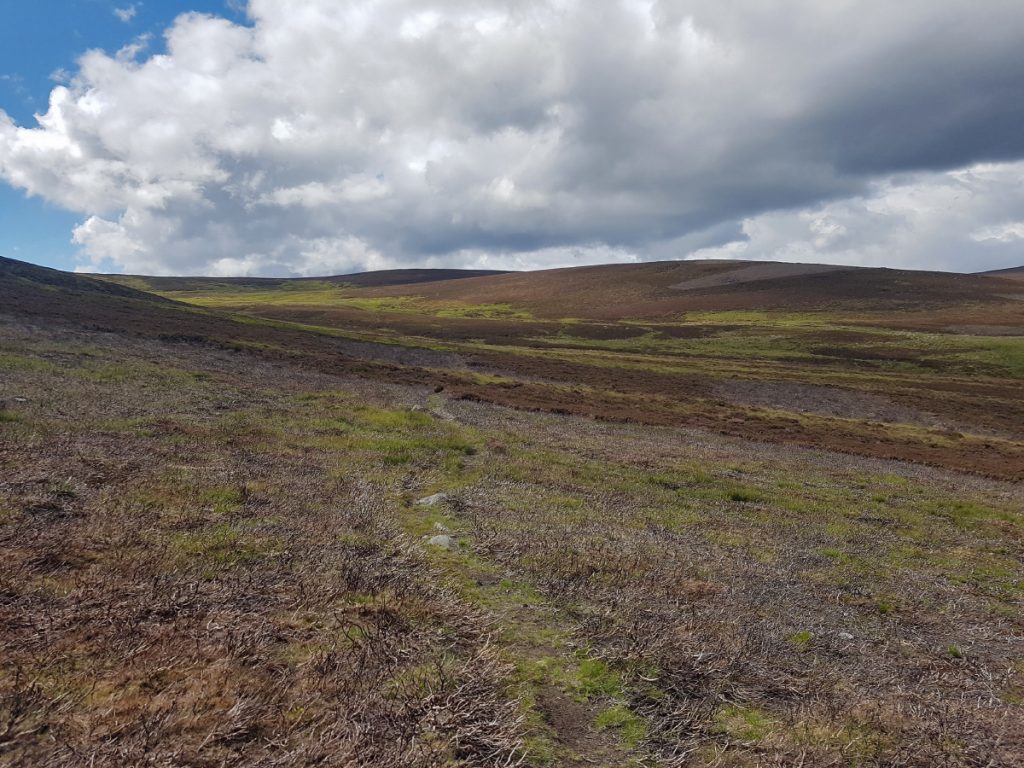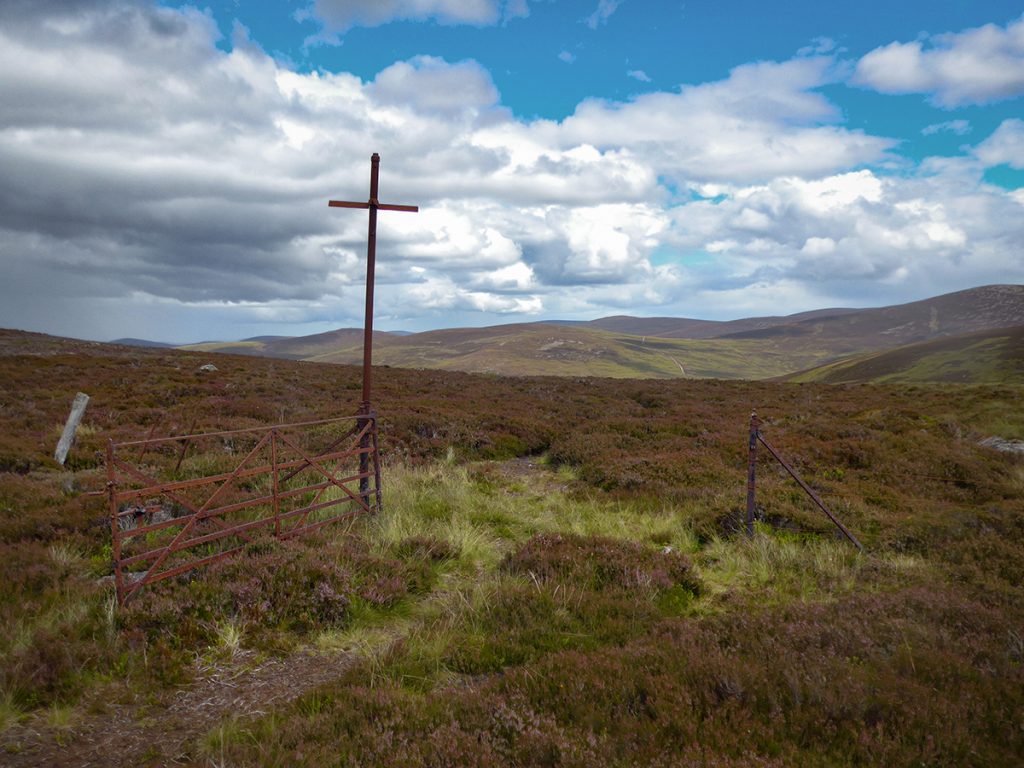 I lost the path's thread crossing a burn in long grass. Some old posts poked through here and there showing the way, and kept me heading the right way. Clearly this isn't a well used trail; I could see a few bike tyre prints (hopefully they were descending, it'd be a pisser of a climb on wheels) but it needs more traffic to keep it worn in.
Eventually across a meadow I had lost it entirely, but could see a signpost where the 'path' rejoins the network of estate tracks. From here I headed north towards Pannanich Hill, some of the track in good nick, some quite rutted. These are part of a loop to ascend to Pannanich from where popular MTB trail 'Heartbreak ridge' is accessed.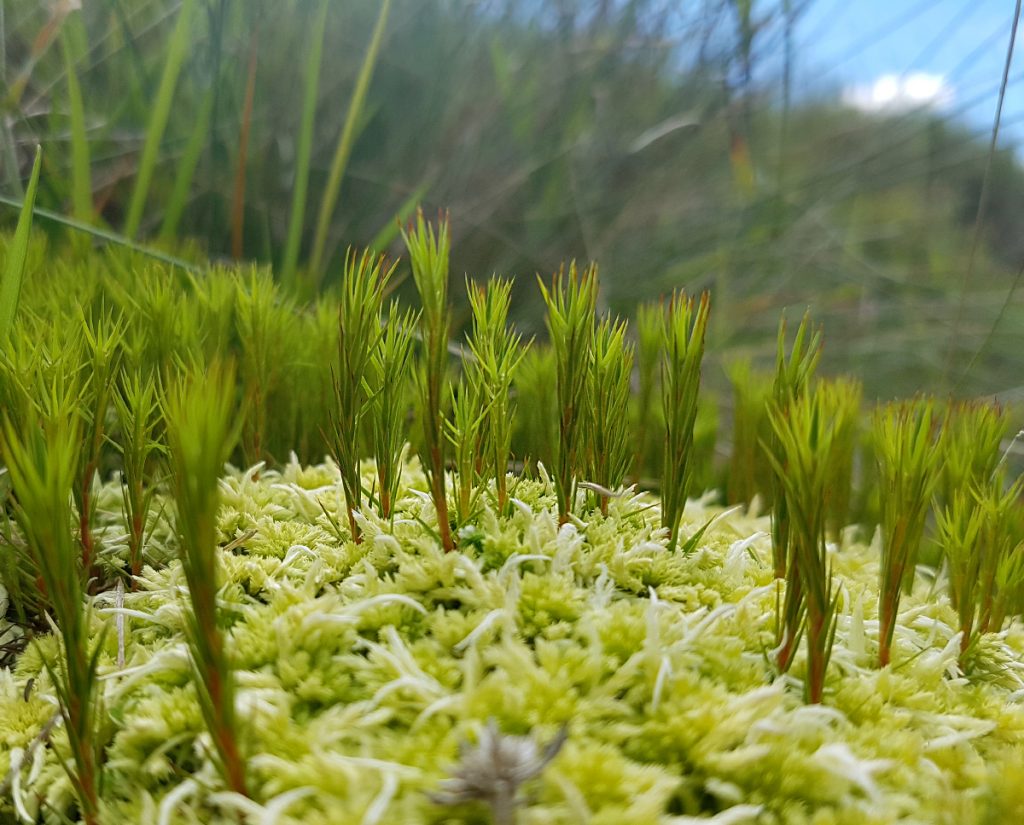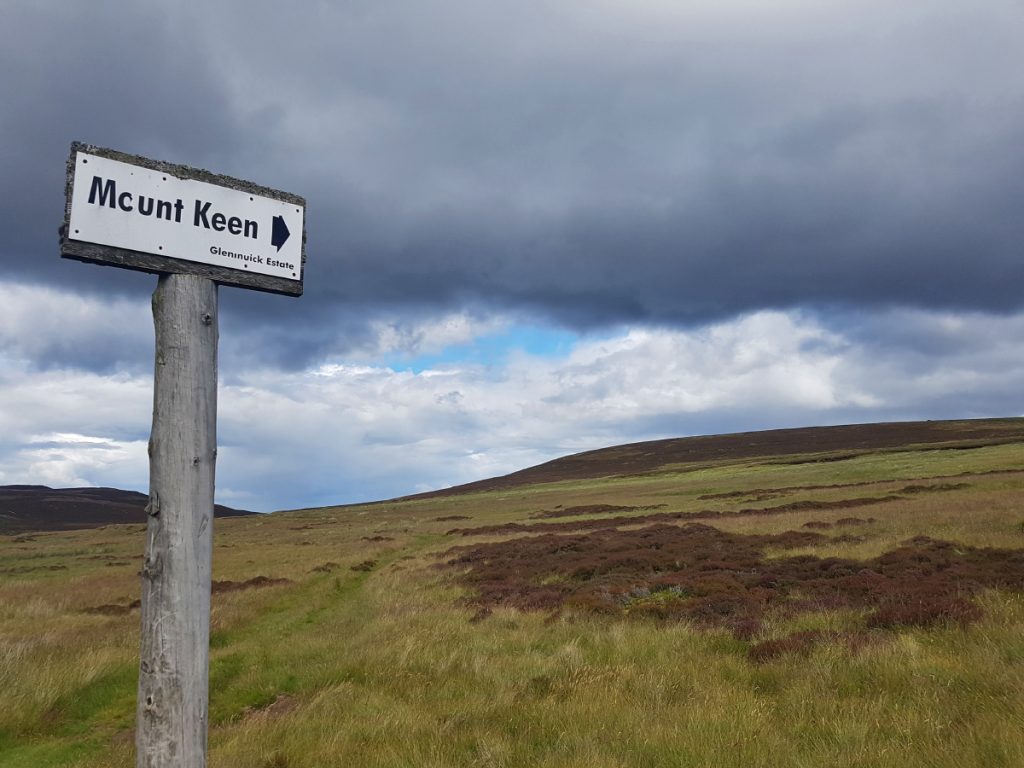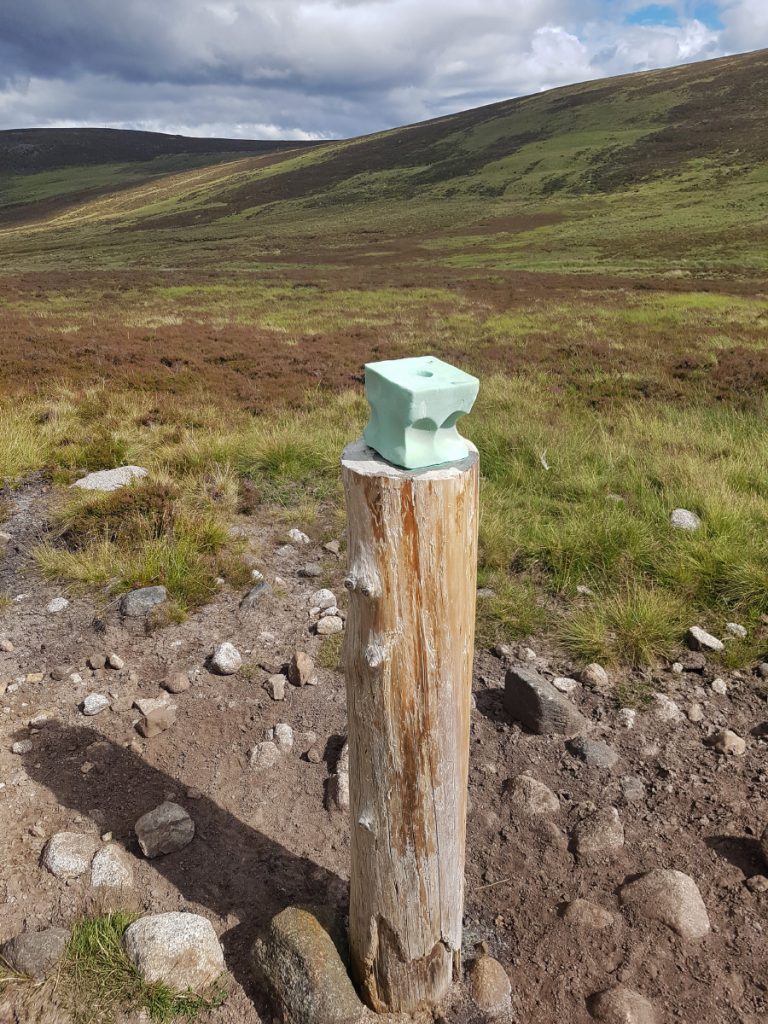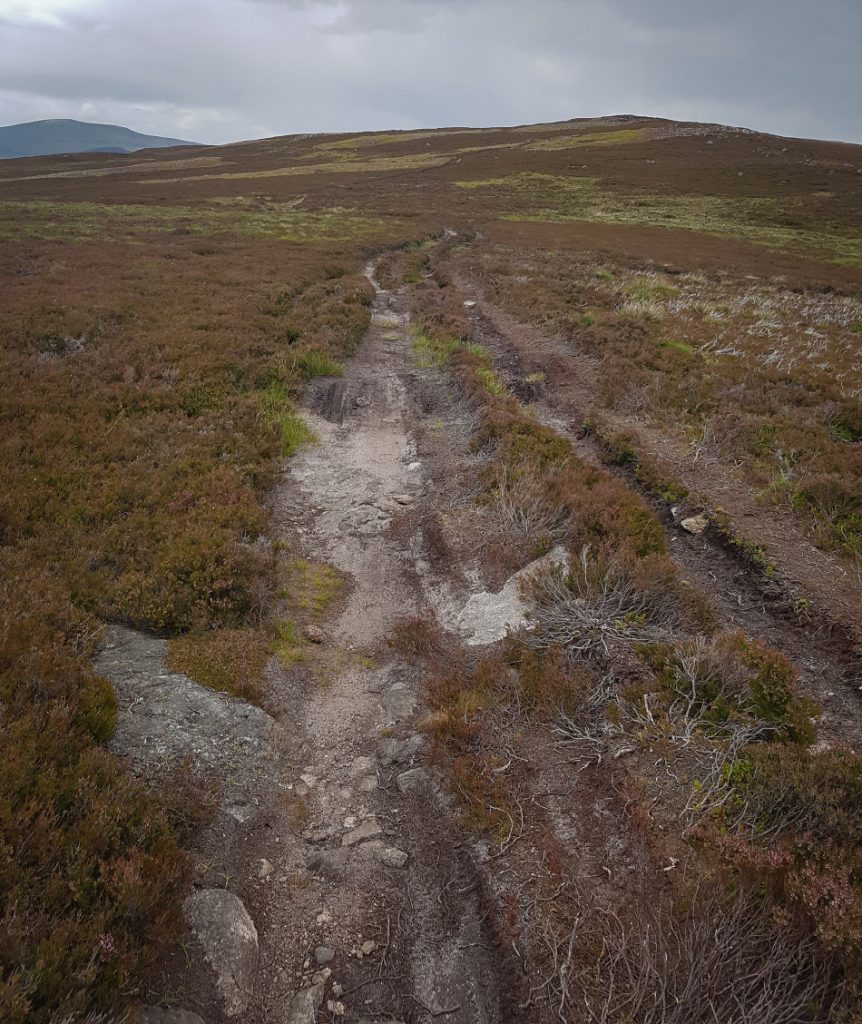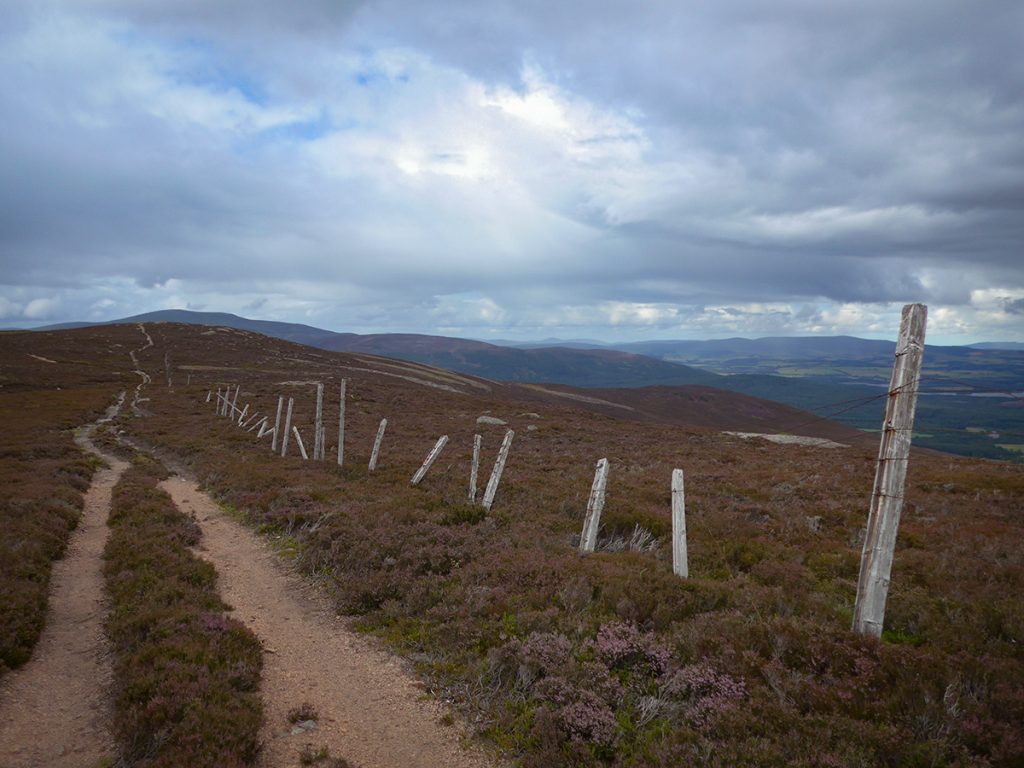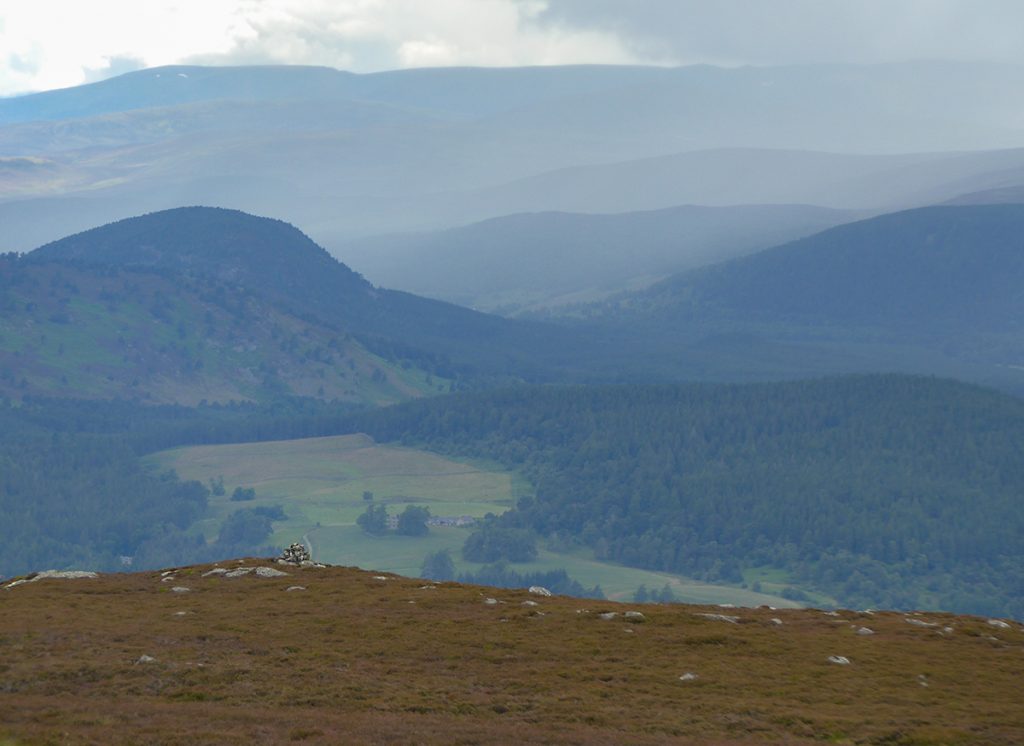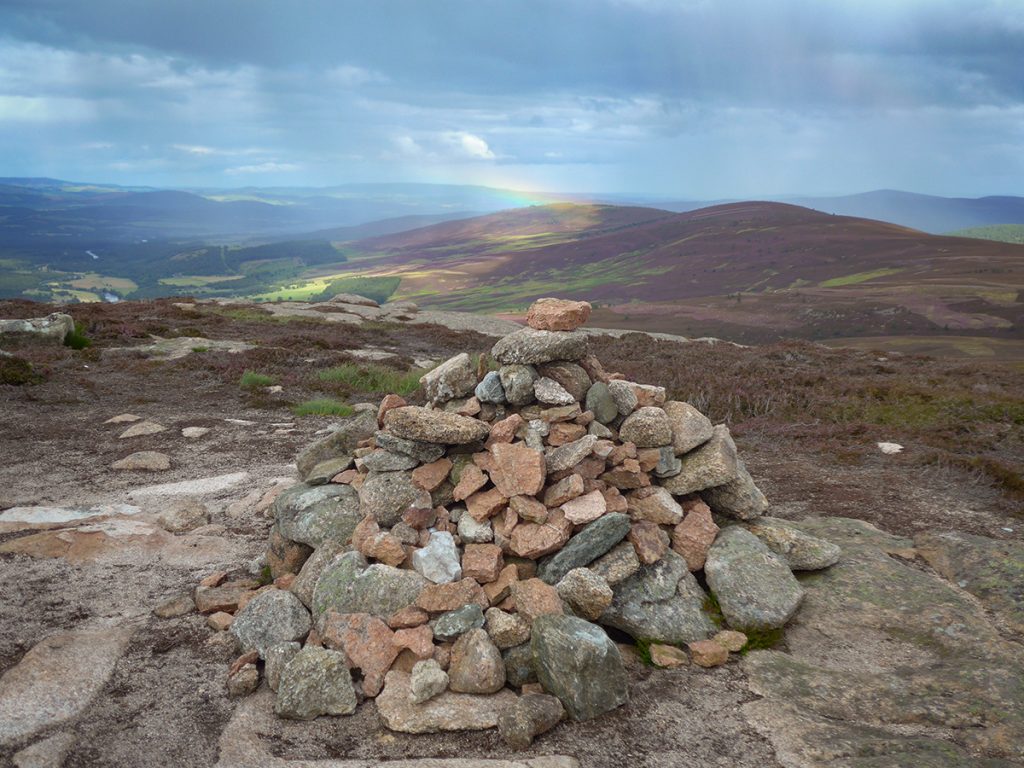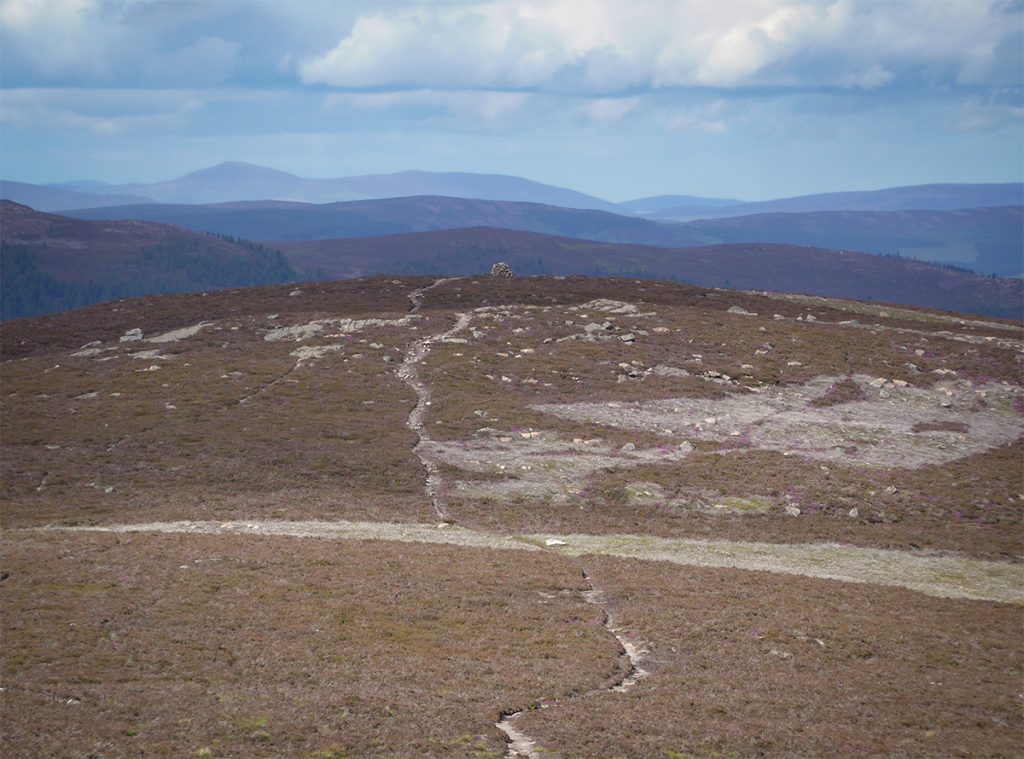 Reaching my descent, I passed a MTBer pushing up the short but very steep route, "almost there mate". I thundered downhill, aware that rain burst clouds which I'd avoided all day were now imminent. Past the plastic hare and the dam (seems to have had a bit bulldozed off the top to lower level) I entered the woods as the rain began to fall.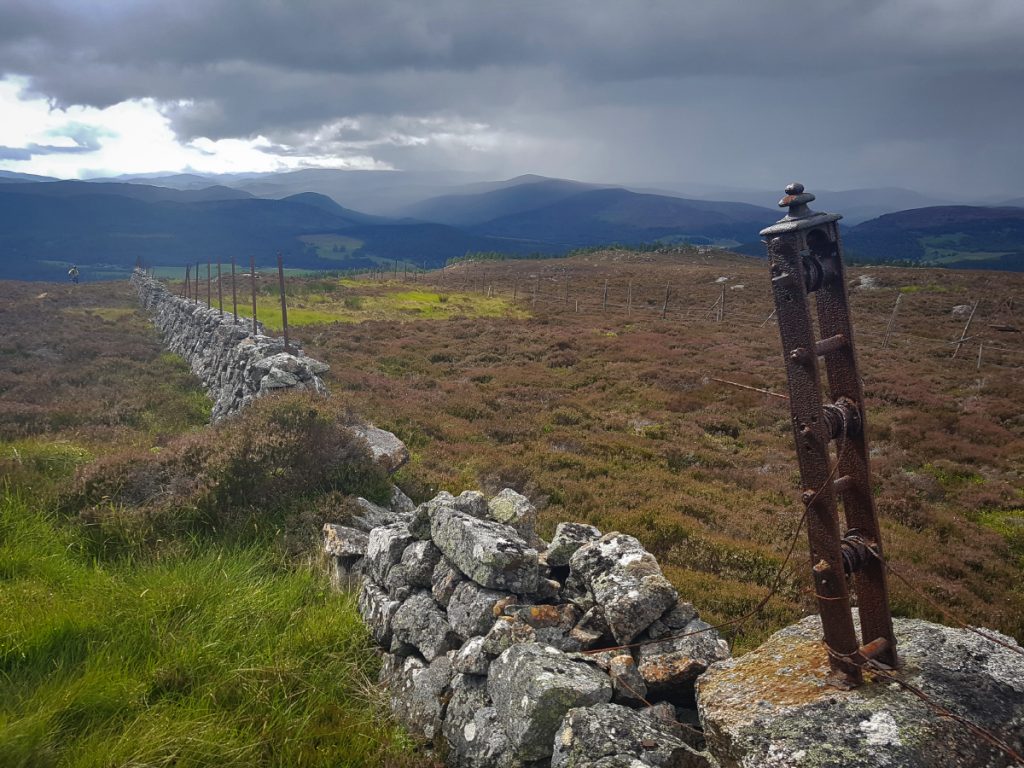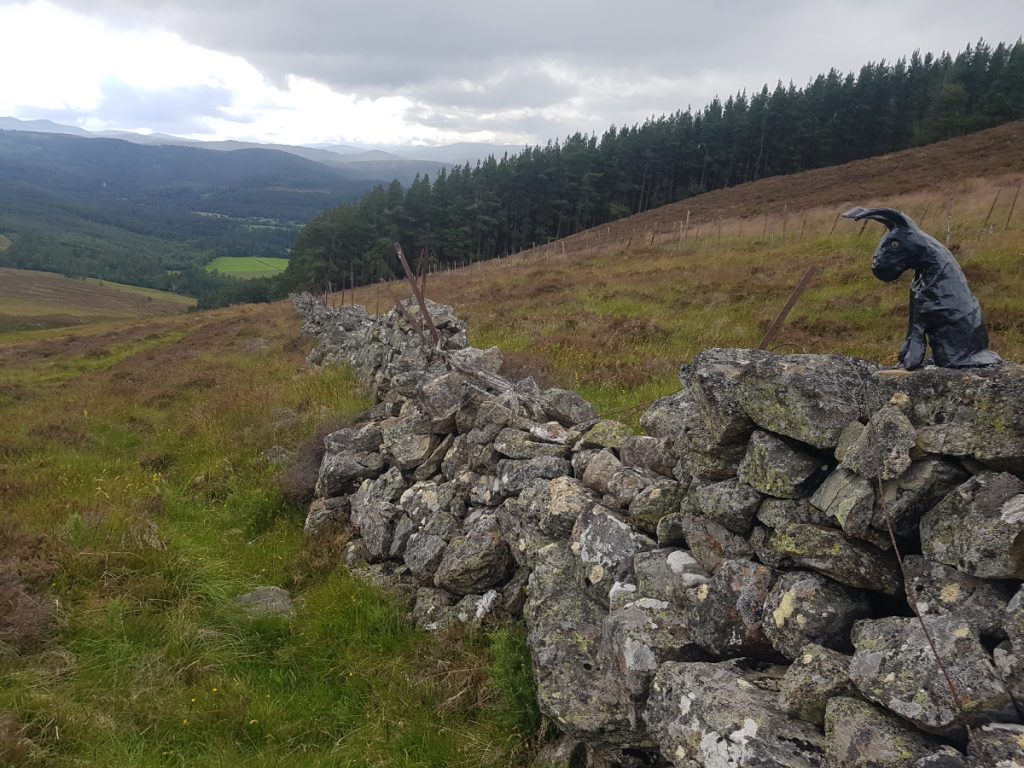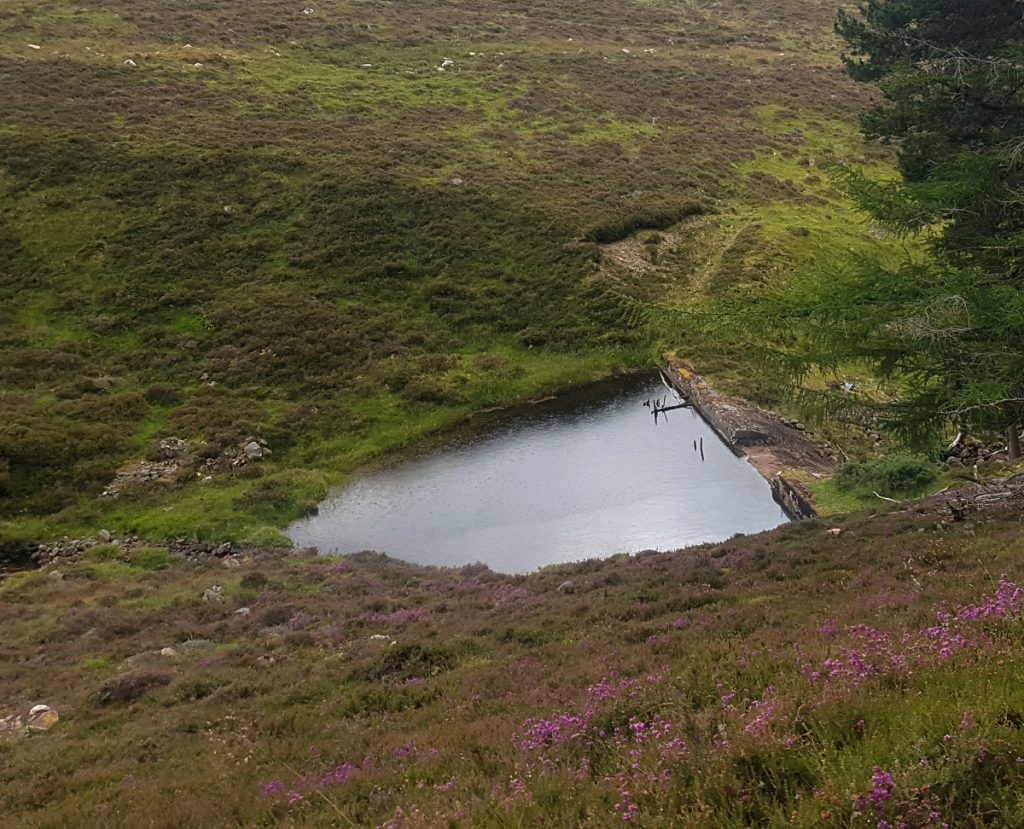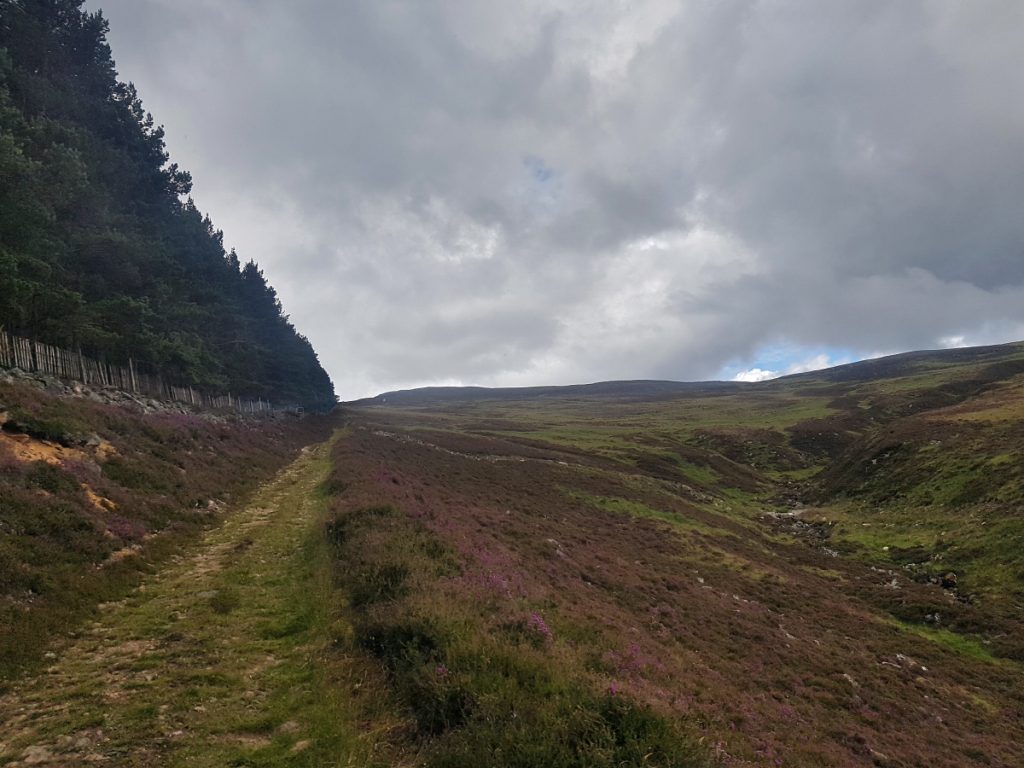 The path through to Ballater is a nice ribbon through lush greenery, a shame to have dark greys overhead now, but back in town just in time to get a tub of ice-cream before the bus home. On the bus I met the same 2 walkers as last week, and had a good chat about the day's efforts.