I really enjoyed the Ythan Challenge in 2017, a 12km trail run with some obstacles and a river crossing. A second bash at it was on the cards; hopefully putting in to practice a few things gleaned from last year's attempt, and hopefully another year of running in the legs would push me up the rankings a bit.
In the run up, a very hot holiday where I got bit by a dog, and an assortment of football injuries meant I'd not really achieved much consistency or structure to training, a quick look on strava on performance versus a year back did indicate an overall improvement, with that in mind and a better idea of what to expect and an improved strategy I set my target as finishing under an hour and maybe even a top ten finish. It'd need an improvement of 7% to do that.
The early morning bus ride showed similar conditions to last year: blue skies and hot. Grabbed a locker and got the kit on: salomon 2 in 1 shorts, inov8 roclite 290's with their clip-on ultra gaiters (stops trail debris getting down the side, and thrashing through the woods and mud pits there'd be plenty of that). Hilly twinskin socks. Couldn't find my usual cap so wore a buff on the head.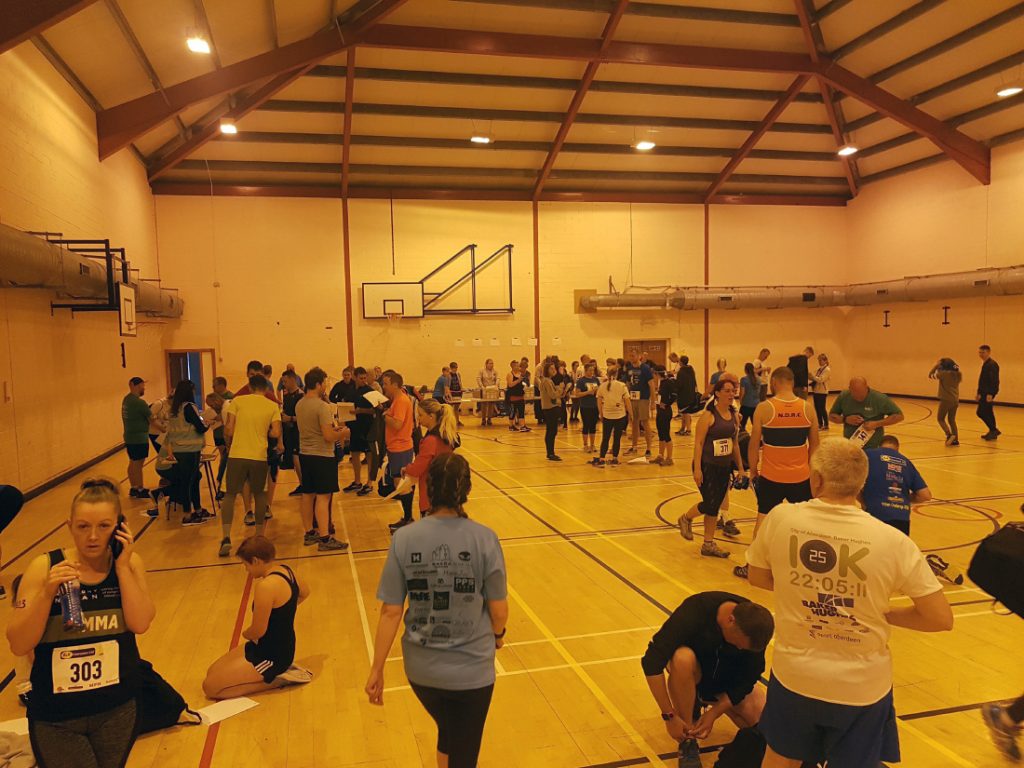 Lining up at the start, I put myself in the first 20 or so, there's a stretch of narrow trail along the river where you'd struggle to overtake: best to be around where I planned to finish.
(Most of the following course photos were taken on a post-race stroll back along the river)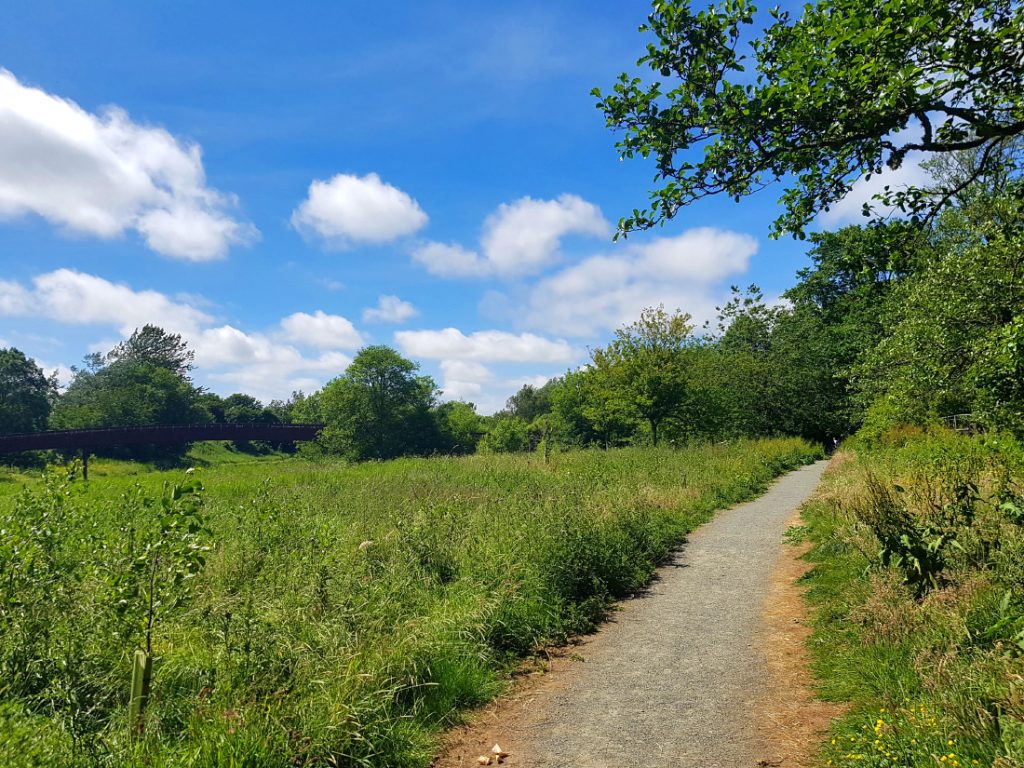 With the race under way, straight away half a dozen were off the front at a pace well under 4m/km. A small group of perhaps half a dozen formed travelling at 4ish, I'd try to stick with this until the bridge crossing at least and then see where we were relative to last year's time.
If anything, the path was more overgrown than last year; it's been a lush summer.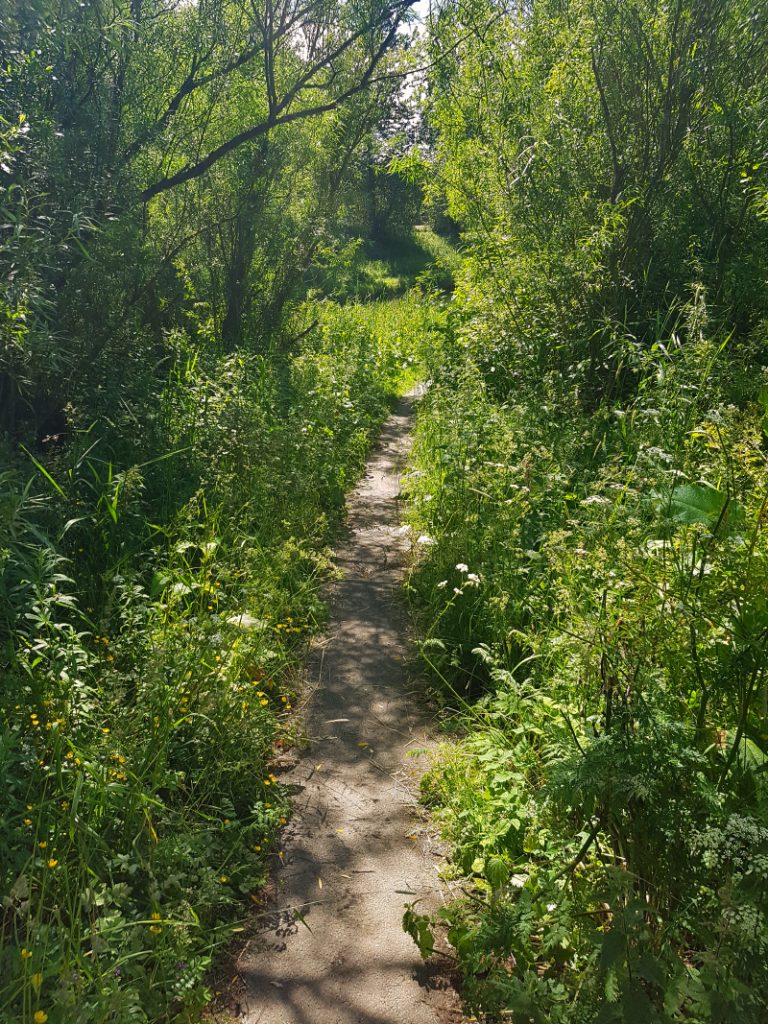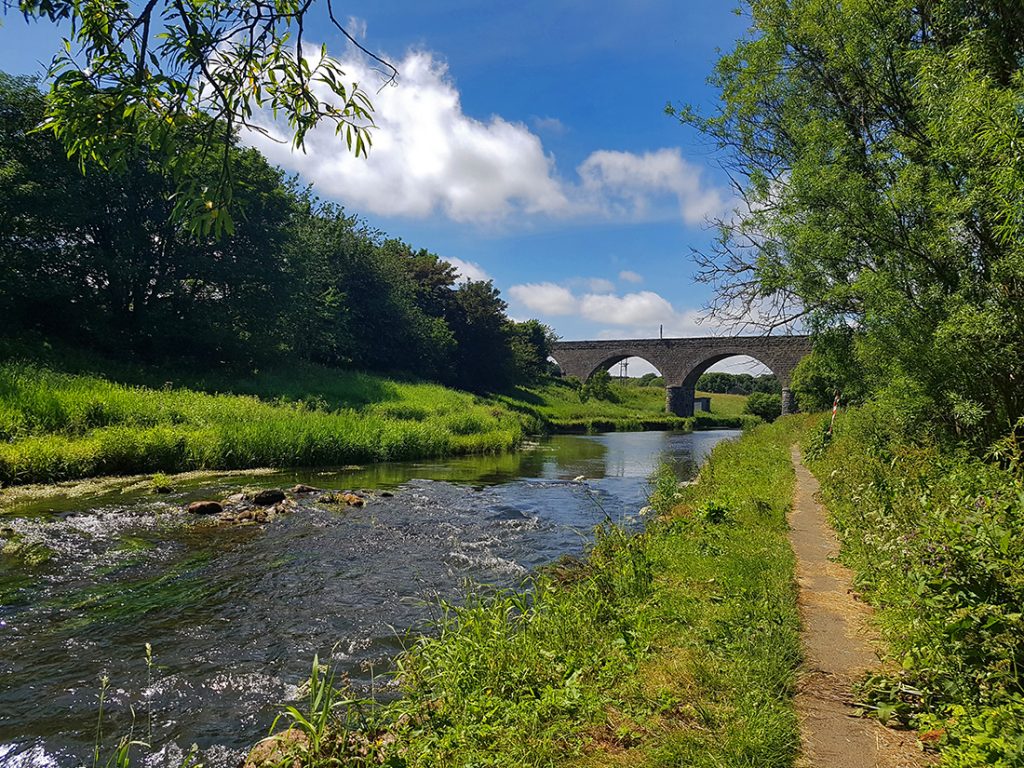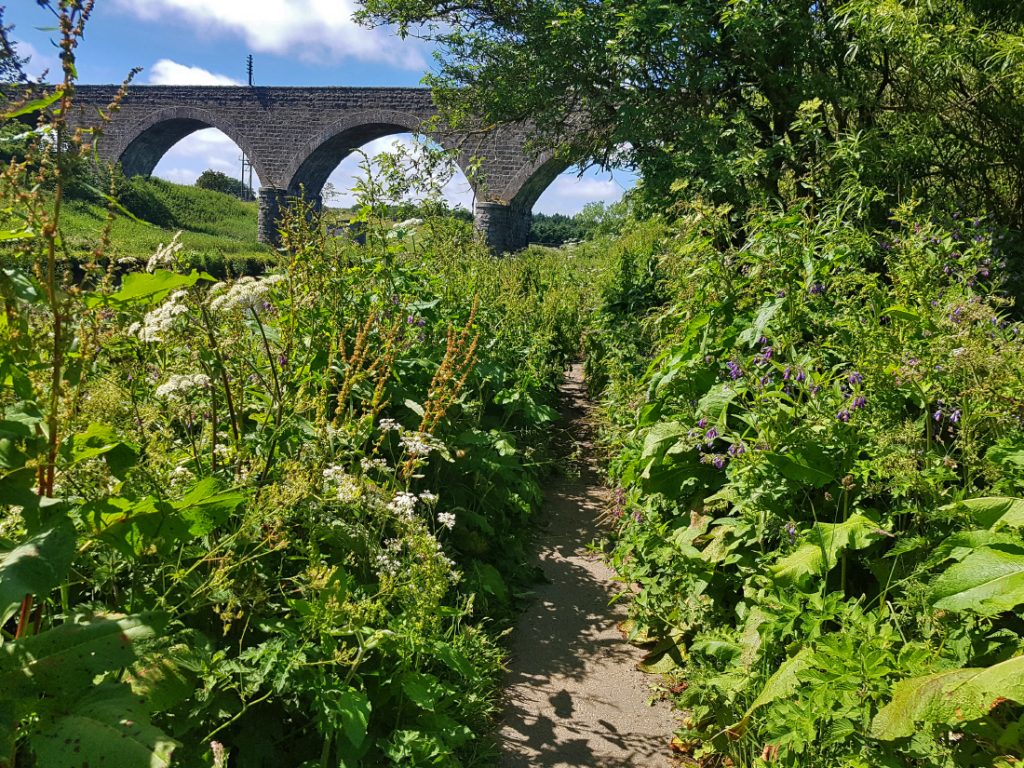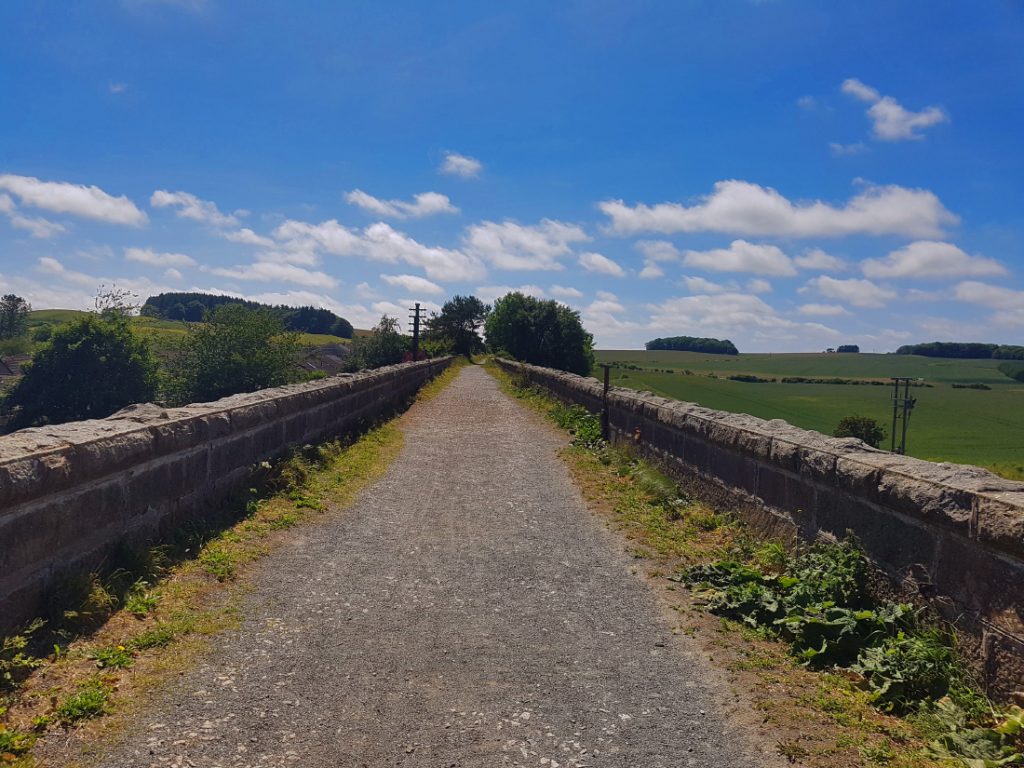 Arriving at the bridge at around 12m this was inside my target time 12'30 (last year (13'30)
Into the woods and some welcome shade. It seemed to be a different direction than last year; we were soon going along fields where the tracks was very grass-tufty; I heard the occasional grunt from behind as folk clunked into hidden holes.
This time there was a triple mud splash; went through it nice n easy, no point risking a face plant; fortunately it was followed by a nice water hose spray.
In the 5th km we moved uphill through the woods, the first steep climb: coming out into a field heart pounding already – they had 3 sets of hay bales to stick the knife in.
This took a bit of wind out of the sails of a few in our group and I passed a few and ended up with one chap who was still cracking on.
Reached the turn back at over 6km at 30m – 2 mins ahead of schedule but hard to say with the different route whether this was sufficient to break an hour.
For the next few km there was mostly lush woods, with the occasional dark and dense plantation tunnel: just about lost a contact lense to twiglets in the face
There were a few obstacles: gates, tyres, climbing frame, net (whizzed through this head down as others unnecessarily flailed with arms). A set of tunnel tubes saw me unexpectedly crawl out in front of the chap in front.
I hadn't been counting where I was, but fairly sure around the top dozen. The effort was beginning to hurt a bit, coming out of the woods the trail is crossed by some quite high fallen logs, trying not to make any cramp-inducing stretches jumping them.
At the 10k mark, back into the open on the long straight track back to the bridge, the next guy in front was perhaps 30m out. Got the attendants at the water station to slosh it iver me for cooling rather than drink any.
Keeping up with him and perhaps slightly reeling him in at a pace of 4'10ish we headed back into town with the attendant Sunday dog walkers; some oblivious (or just not caring) to the race.
Approaching the river crossing – this time slightly downstream (the rock of last year wouldn't get a chance to get me again). Made my way across; and then back in a zig zag; although shallower than last time, the current was stronger at this point and just about slipped; while trying to concentrate on my footing I didn't realise immediately to cross back again: lost about 10 seconds – any chance of catching next chap now gone, and the guy I passed earlier was right on me again. Whoops.
Coming out of the water the cold on my leg muscles was uncomfortable and hard to get pumping again: a look on the watch showed very little margin of error to beat the hour; time to grit the teeth and give it max.
The 12th km was done in a quite reasonable 4'09; I could hear the claps of watchers doubling up on somebody near behind, the race wasn't over yet.
Away to tick into the 59th minute aaaahhh..this time no tarpaulin up the bank: just stairs; a final bale or two and a frame; looked like I'd be caught but threw myself through the final hurdle (bouncy castle filled with foam) like a maniac and crossed the line… 59'30 oocha!
A quick convo with a few others reckoned under 10 in at that point – printout confirmed 7th; extremely pleased to have first ever top 10. Perhaps I might be in with a chance of top 3 vets..
Waited for 2 mates to finish and then there was a while to go before the prizes so got changed and grabbed a burger from the barbecue. They waited until everybody had finished to do them which I though was a nice touch; hats off to everyone who did it no matter what speed they go round: it's tougher than the average race and a long time out in the baking heat knowing there's still obstacles to climb and a river to cross.
This year's winner David Barclay was a first timer in a similar time 55'31 to last year's , the female winner Victoria Bailie has won it now 6! times. Coming to the age categories, they surprised me by announcing me as first vet! As it turns out the overall winner was vet age, but as the overall champion doesn't count in the age category prizes; very pleased to get my first ever 'podium'. Also unexpected, my friend Greig was 3rd Super Vet, his first award too.
With a while to kill before the next bus back to Aberdeen, I rewarded myself with an ice cream and went for a leisurely stroll back along the river section of the course.
So all told everything went well:
Went out fast, stayed fast, overtook a few, didn't blow up
could improve: Nothing really..
(well to itty bitty nit pick) – could have made more of the short steep downhill trail sections (but need to be right on somebody's shoulder before a descent); the  river crossing: pay more attention to how many times to cross; training in the run up: play less football in the run up to these things, less injuries and interruption
Oh, and my tits. Yes, tits. Nipples were very sore afterwards, shoulda put a blob of vaseline on them, not sure whether the top/ heat/ wet caused that.