My first race of the year was a new one: a fellow runner had told me about Kilomathon in Edinburgh, an unusual distance of 13.1km along footpaths and through parks, and a rare chance to have a stadium finish. My dad stays in Edinburgh and I hadn't visited him in a while, so good chance to catch up and also get a race under the belt in 2018.
I hadn't been particularly training for this race, but had set new 5k, 10k and 10 mile PBs in the fortnight before, so was reasonably confident that I'd manage a top 10% finish based on the previous year's results.
However, as the weekend started, I began getting a tickly throat, then a sniffly nose; a cold was coming on. I barely slept the night before through coughing and feeling a bit feverish. When the alarm went off at 7am I staggered up feeling rotten but thought what the hell, in the worst case I can abandon and catch a bus. A cuppa, a bowl of shreddies and a blast of vicks nasal spray for breakfast, and off we went.
Today's kit: Berghaus vapourlight shirt, Gore running 2-in-1 shorts, hoka one one vanquish 2's, hilly twin-skin socks. Running belt for the phone and a couple jelly babies. No hat as I feared fevery-excess-sweatiness.
We made our way to Ocean terminal for the early start at 8.30 (presumably the shopping centre there doesn't want to inconvenience mall-zombies too much with roads closed at a later stage of the day)
Approaching the area, lots of participants were jogging the last half mile to warmup – but also it transpires this is a better option if you have somebody dropping you off). The parking in the centre was rammed, we had to go up a fair bit, and then there were massive queues for the toilets too; I was in need of a no.2 and barely made it the 300m across to the start with a minute to spare.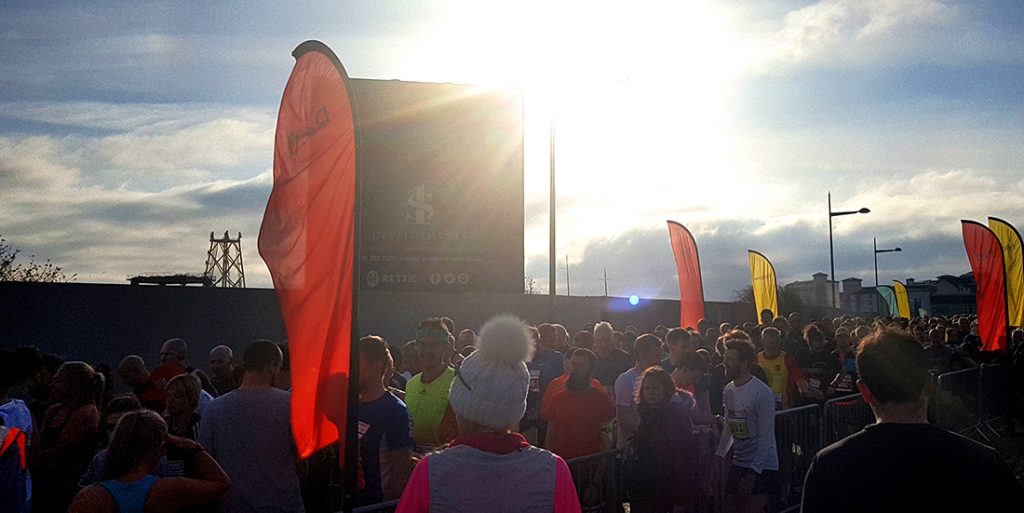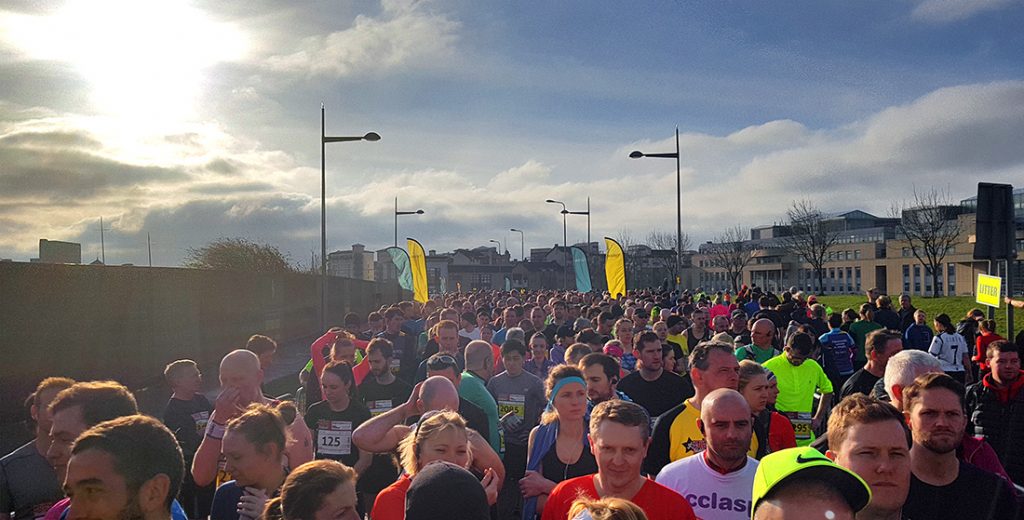 My estimated time of 1 hour had put me in the third wave; white for a couple dozen elite folk, then maybe a hundred in red. I reckoned on being in the top 10%-ish so last year being about 1100 participants, front of yellow was fine.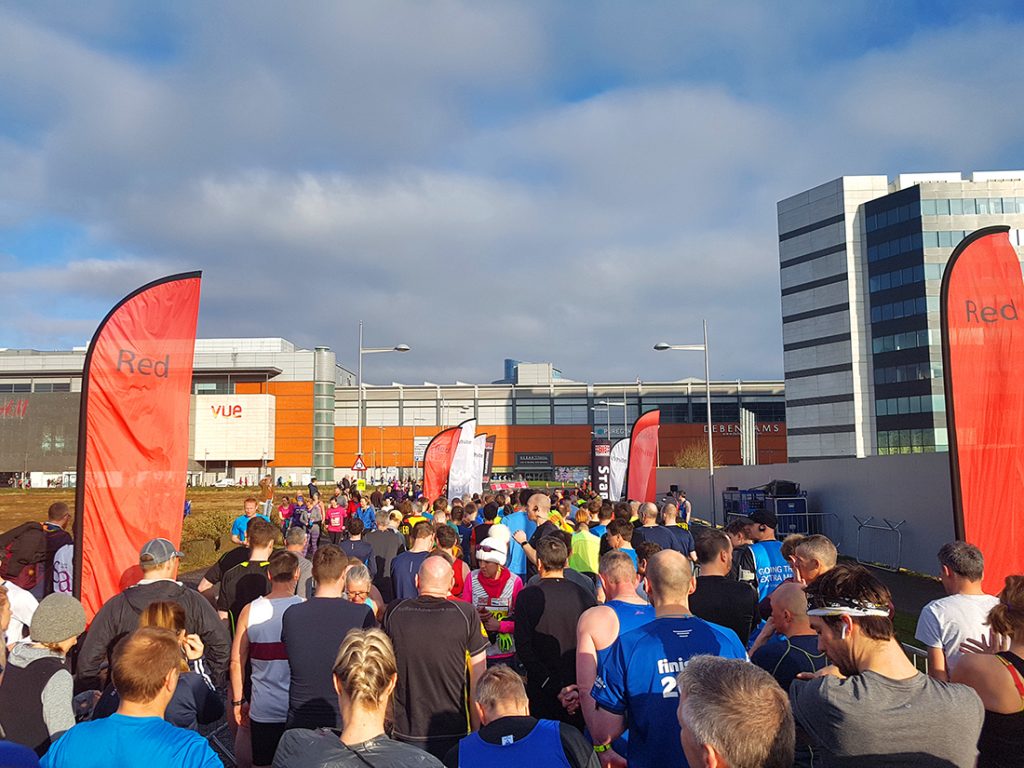 Dappled blue skies overhead, about 8c with a light breeze – conditions were perfect as we made off, the earlier threatening gloom on the drive over had entirely disappeared thankfully. There's about 10-20 seconds between phases, none of this big delays some races have. Round the back of the centre and past the royal yacht; I just about went over my ankle – although I've dispelled my original notion that today's hoka one one vanquish 2's are slow (albeit as they've gained miles I've probably tempered their ample cushioning with some compression) the stack height inevitably snags occasionally. No harm done, phew.
Initial pace after the starting 'excitement burst' was a comfortable 4'30m/km. I didn't want to push too hard until I'd sussed if the cold was having any adverse affect. The route mainly follows an old railway track now converted to footpath, and a pleasant track it is – trees n leafy goodness, birds loudly cheeping 'yay spring'. Pretty flat (although a very slight climb all the way heading West). A few k in I started feeling better, the exertion was clearing the sinuses, coughing had subsided, only had a bit of a dry mouth.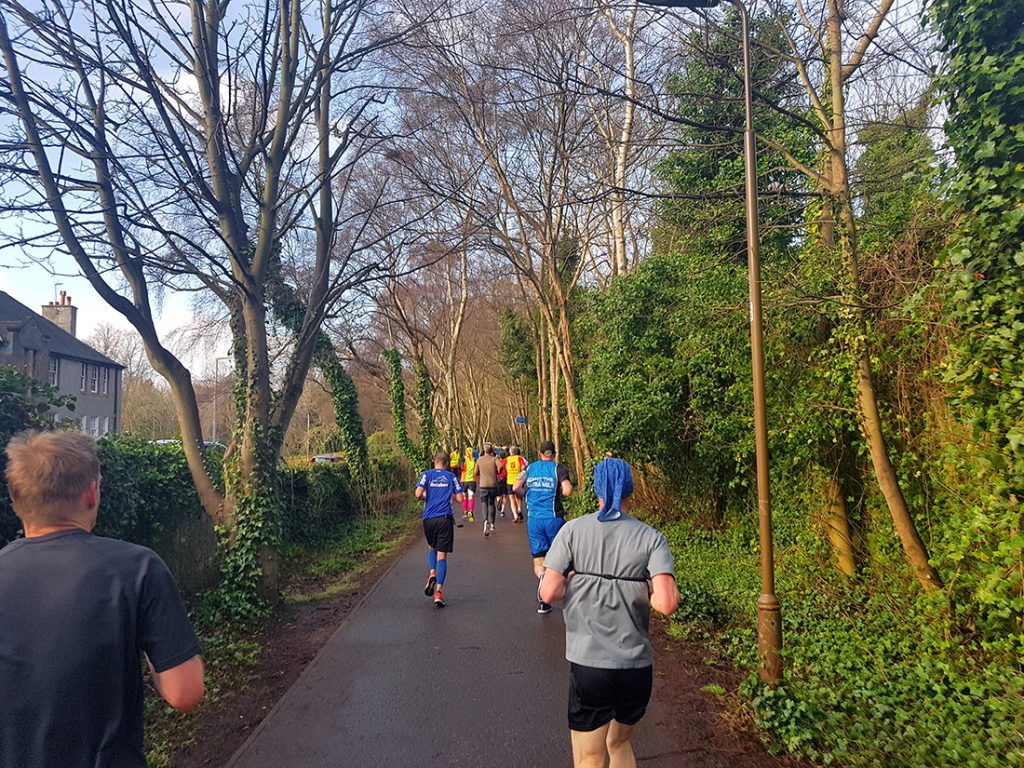 Being a footpath, there's limited width so sometimes I was stuck in a pack; in general I was very slowly overhauling folks, with the occasional pass, 4 in 1 out. There were no major gaps just a nice continuum with always somebody to aim for as the next target.
As I would be meeting my folks at the far end; to such an end I had my phone in a running belt in case I missed them in the throng; I had thought of using my mountain hardwear singletrack vest, but as an untested new bit of kit stuck to the "no new stuff on race day" rule. But I perhaps should have, the phone was bouncing around in the belt (normally been ok) I couldn't quite get to sit despite fiddling with the buckles. Fuck it, phone in hand. I wonder whether phone (or other thing such as one of those hand bottles) in hand affects you much. Whatever, I was now bounce free, and on the plus side I could snap the odd photo without breaking stride much.
At Victoria Park, the route properly quarters it rather than straight through, so you get a good view of the runners in front and behind at various points.
The only water stop is before half way, around 5.5km, there's toilets there too. I wouldn't generally bother with water on a shorter race, but a dry mouth, and with possible dehydration from my overnight sweating in mind, I
glugged a few mouthfuls from a collected bottle. Always feel a bit guilty of the waste of a bottle, but as a generally persistent re-user of plastic bottles n bags, I guess an occasional transgression is allowed.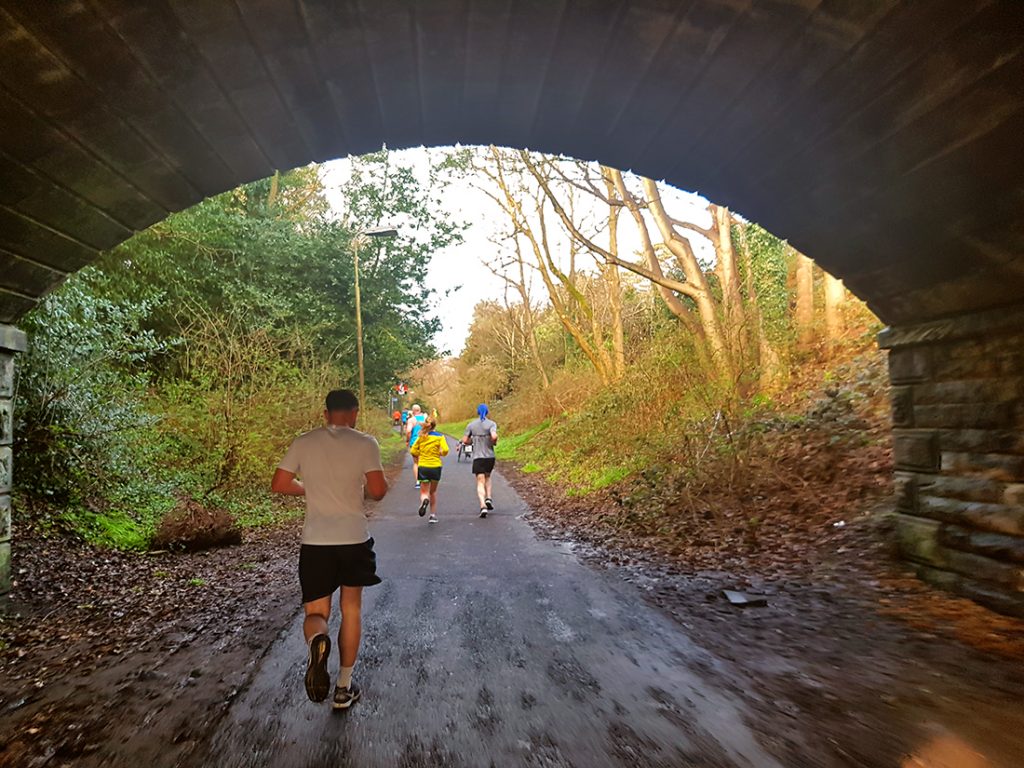 The route passes under quite a few bridges; some of them have a brief slope as they duck under, at almost every one of those I passed a few folk who don't lengthen pace when gravity assists (always surprise me how many runners don't speed up going down).
At one path intersection, a rattling noise above made me look up; a woodpecker 'cheering' the race on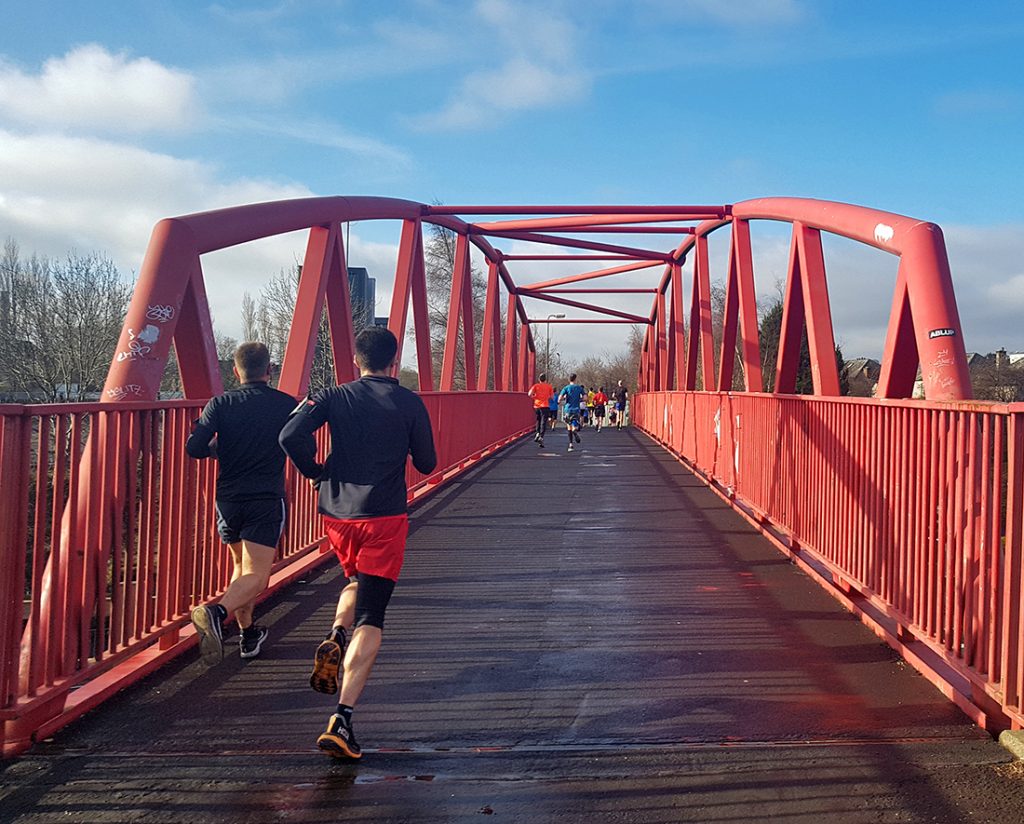 At around the 10k I noticed three things; I was getting a blistery twinge from my toes (I'd chosen hilly twin-skin socks today that I've never had an issue with previously hmm); the numbers on my watch put through my feeble run-math suggested I was cutting it fine to get under an hour; crossing a bridge high above the water of Leith I get my first sight of the final destination – the impressive geometric framework of Murrayfield
I crank it up towards 4m/km and start pushing. The route now ducks off the footpath and goes along a brief section of road, fortunately there's a lane coned off as it's quite busy with heavy traffic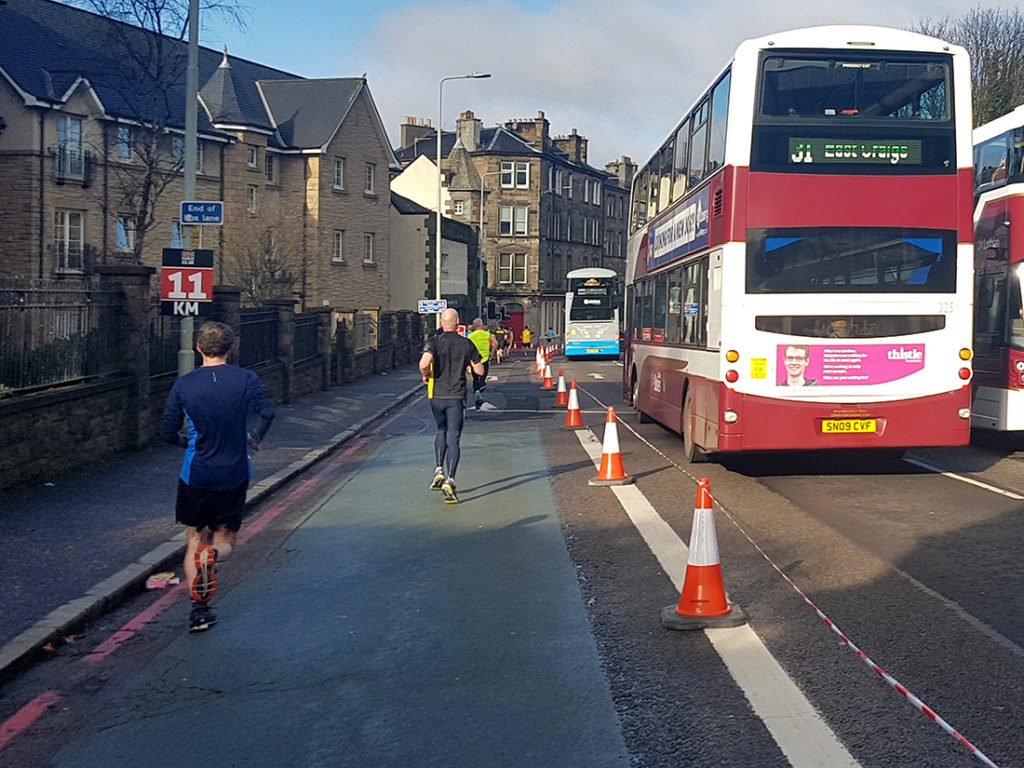 Entering the grounds of the stadium I double took on my watch, it looks like your within a few 100m but the watch was saying still 1k to go; the path indeed curves back around the stadium before switching back. At the far end of the stadium an unusual touch: there's a group of 100 in a choir singing; "with or without you" by U2 being the song at the moment I pass.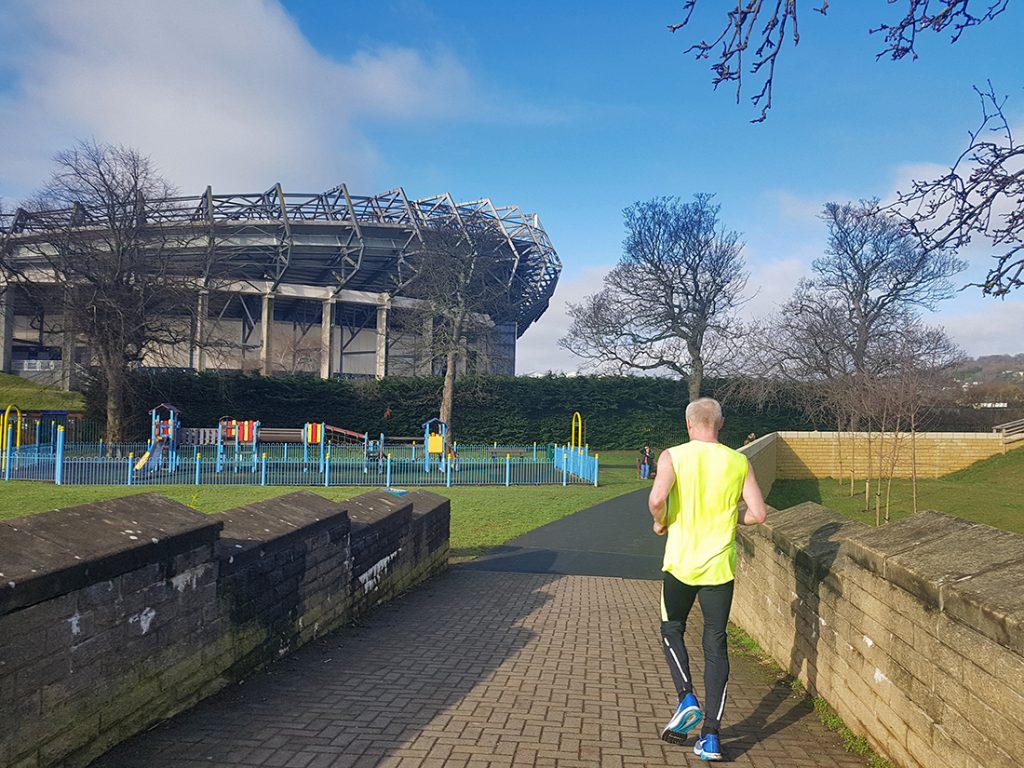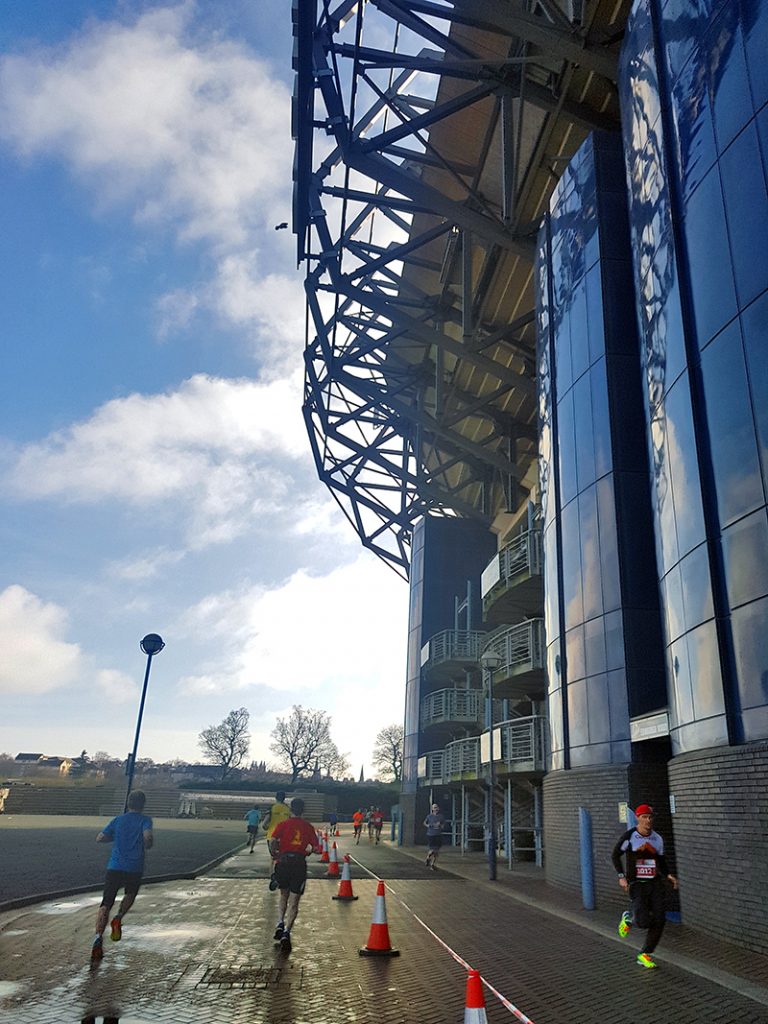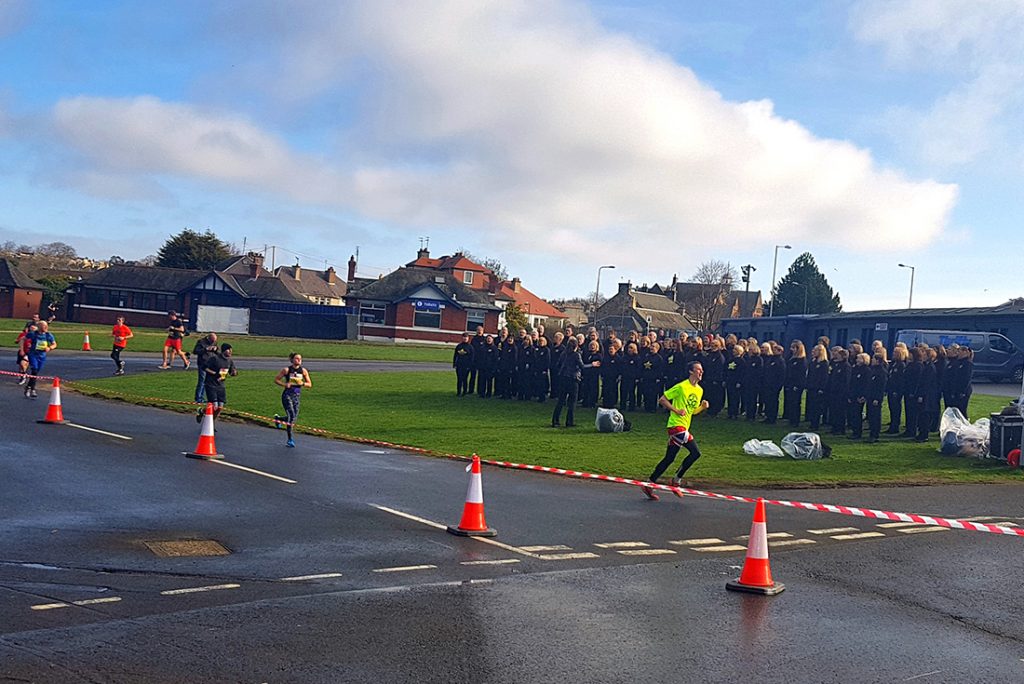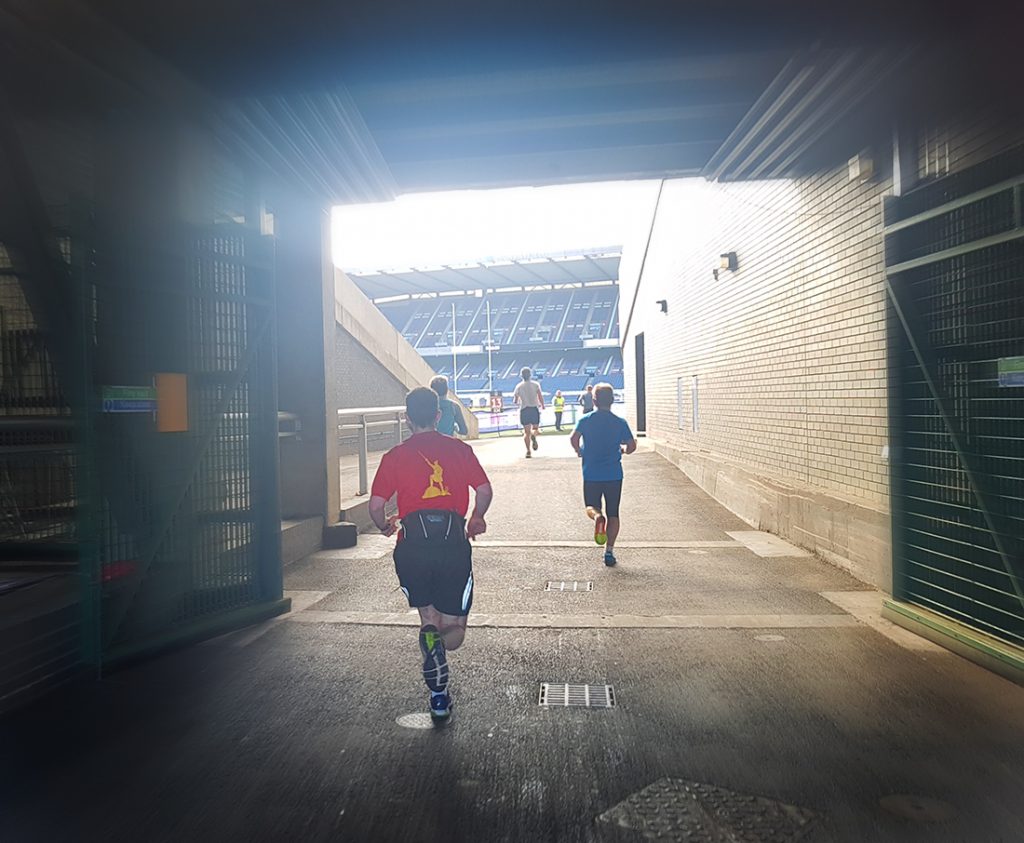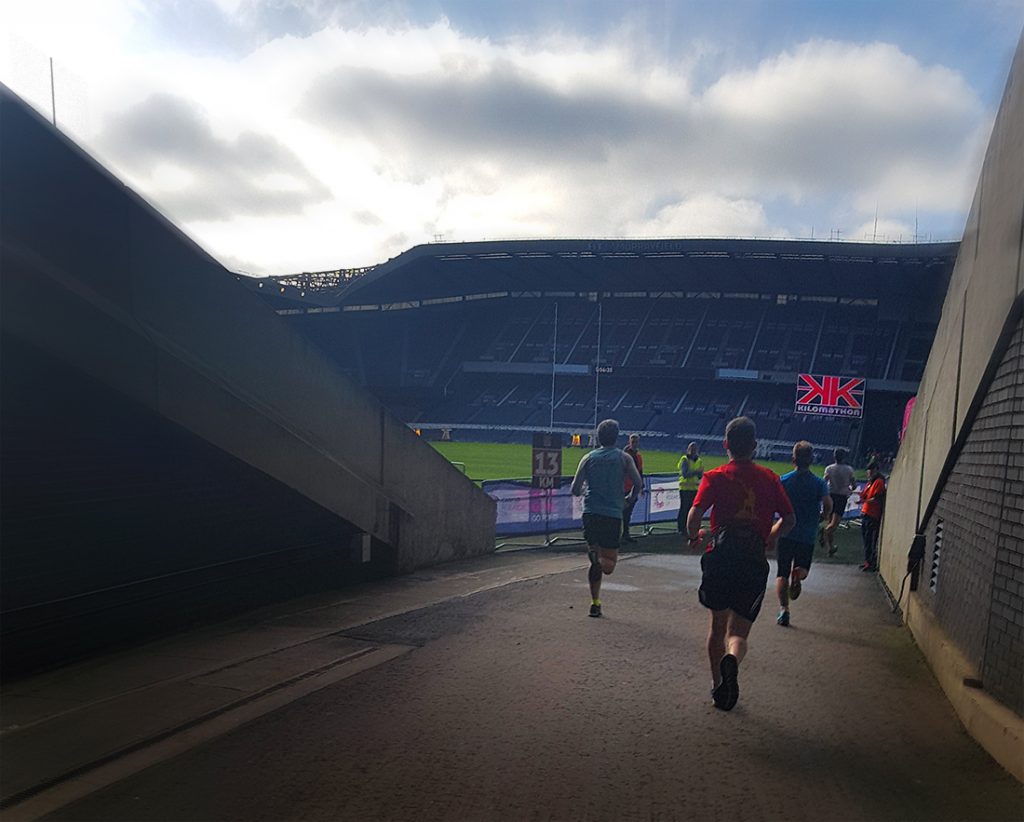 Approaching the tunnel that leads through into the inside, I've a few minutes left before the hour; coming out of the dark tunnel the stadium explodes into brightness; on the right a section of the stadium is full of spectators, without really thinking I open throttle and give it absolute LALDY sprinting the last stretch at light speed (ok well 2 mins/km) like I've intercepted an English pass and away to dive for the try to win the 5 nations. Sufficient effort to warrant a mention on the tannoy as I woosh past a dozen folk.. KABLAM over the line! The crowd roared approval 😉 (in reality somebody probably frowned "check that walloper" , another pointed "who's that fanny")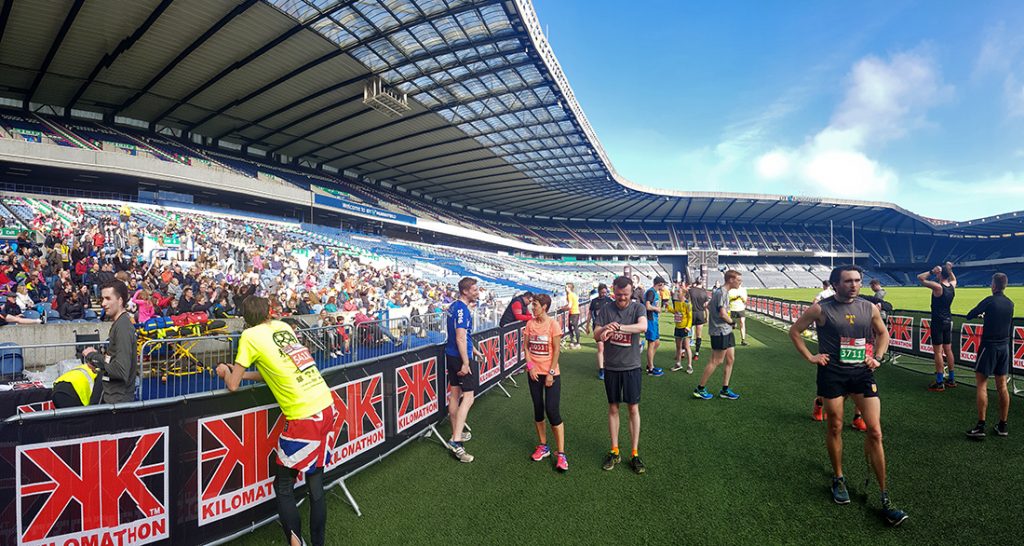 Final time 56 minutes 20 secs: 78th overall out of 1960, 11th in my age category (out of ~120). Pretty happy with that in light of the cold and being my first crack at the event. After a few snaps inside the stadium and an abandoned selfie (shoulda worn a hat, post race hair was awful), went through to collect the medal and pack and find the folks. Also scooped a new strava 10k PB (still a good bit off the year's target of 40mins though)
In retrospect, I considered whether the final straight in such a fine finishing location is better appreciated more sedately.. sipped rather than gulped. All told, if you can give it 'laldy' at the end, you haven't pushed hard enough throughout the race.
A look at the feet after: right enough a couple of blisters on the toes: looks like I'd hauled the socks on too tight; my toes stuffed into the ends were then pressed together a bit tight. Pleased with the gore shorts, snug without being tight (not a fan of the LOOK AT MA PACKAGE look of "serious" athletes) not too drafty or flappy. Probably a bit warm once it goes beyond mid teen centigrades. Wish they had a small front pocket, those jelly babies fought like hell to stay in the tiny back pocket "heeeelp donnn't eeeaattt meee") just about dislocated my arm fishing them out.
In conclusion: thumbs up for Kilomathon: a great course in a fab city, an interesting distance, a spectacular finish, all organised smoothly.
Featured image courtesy of James Armandary Photography