With a week's walking of The Rob Roy Way ahead, I took the opportunity to head down an evening early to go and check out a photo hotspot near the start of the route before meeting with the rest of the group.
The Devil's pulpit (otherwise known as Finnich Glen) is a small but picturesque gorge which had slumbered in peaceful obscurity for eons until it's use as a location for the TV series 'Outlander', and then viral amplification across social media, had made it a 'must see' for all lovers of scenic photography.
Unfortunately this popularity combined with it's relative accessibility (being within 20 miles of Glasgow) has led to all manner of numpties visiting, folk that are neither considerate, respectful or safe to be visiting a place of beauty (with steep slippery sides), and there's been an onslaught of accidents, littering and anti-social behaviour.
With this in mind, and it being a Friday evening in summer I'd be heading down, a stealth-mode wild camp and then crack-of-dawn exploration were planned to get in and out before the Saturday wallopers arrived. I'd checked out maps and info as much as possible online. Nearest point of public transport was Killearn 2km away, a short hike but loaded with a 70L rucksack with the week's walking gear + tonights camping stuff.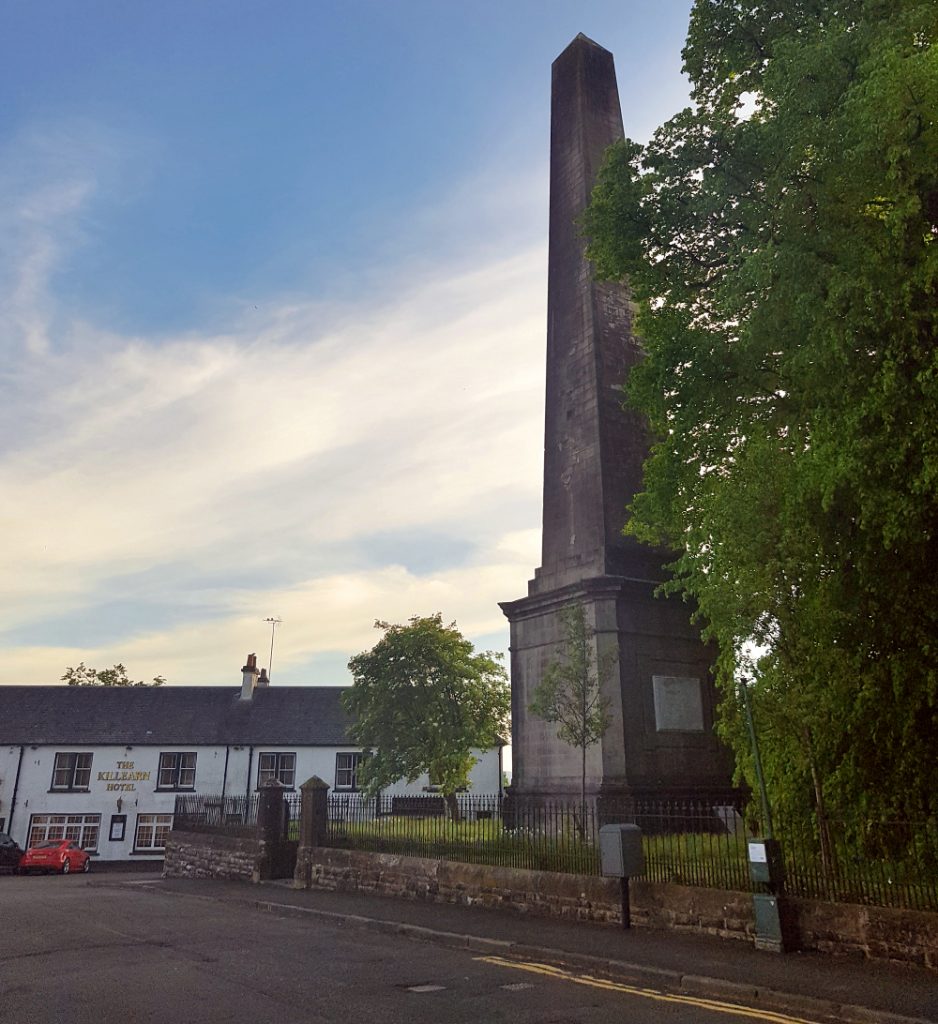 First stop would be another osbcure photo opportunity: Dualt Spout waterfall lies 1km SE of Finnich Glen, I followed some overgrown tracks through woods, surprising some fox cubs, and past what appears to be shambling paintball huts and structures, up Dualt Glen. Getting close to the falls required a small but quite muddy climb down.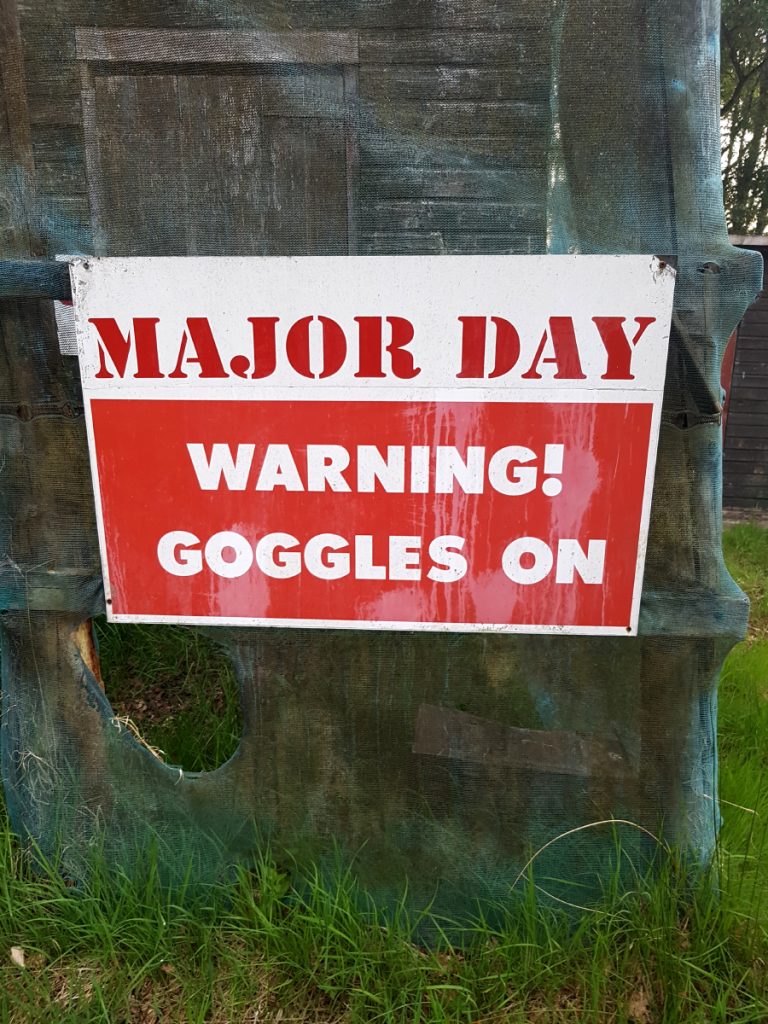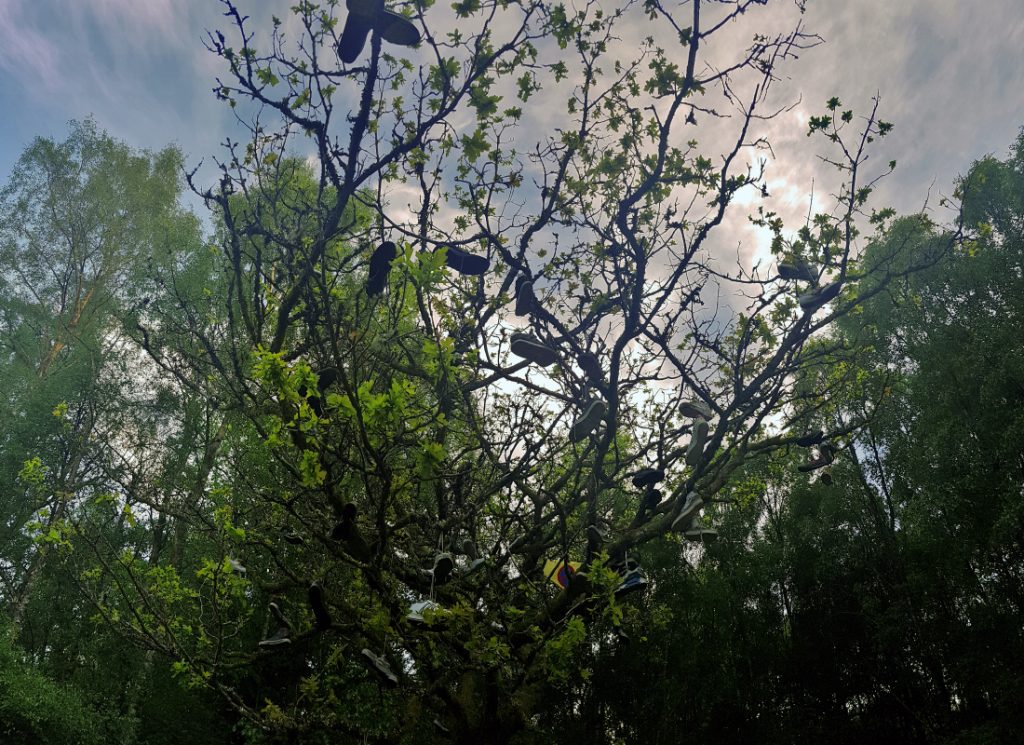 The still and sticky summer evening had flies swarming but I made a few long exposures before heading off. It'd probably look better with a bit more rainfall to give it a bit more woomph.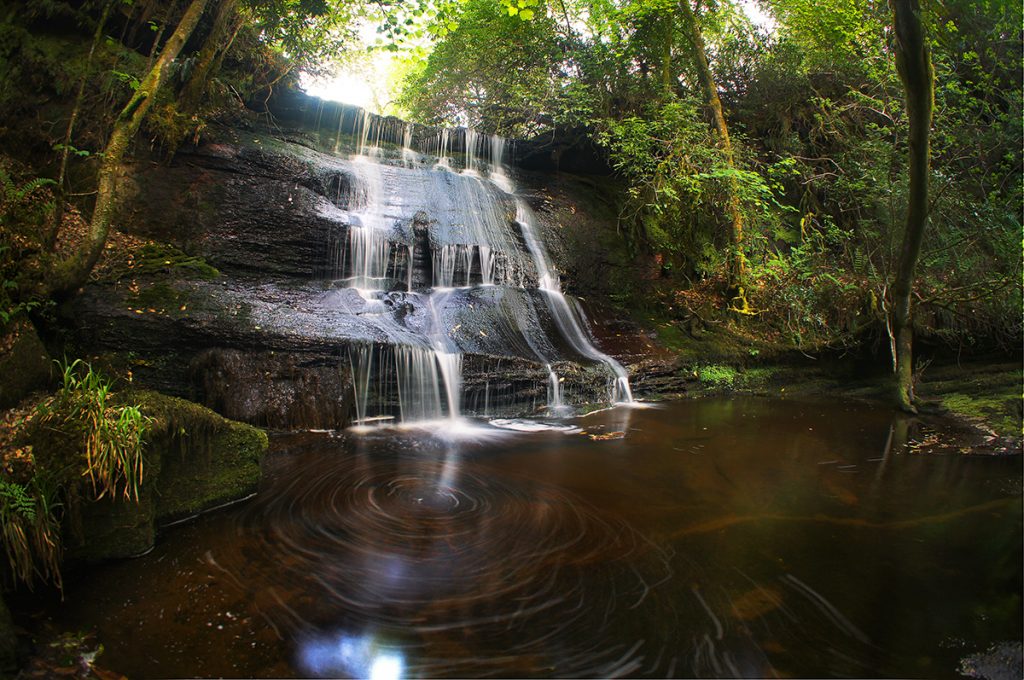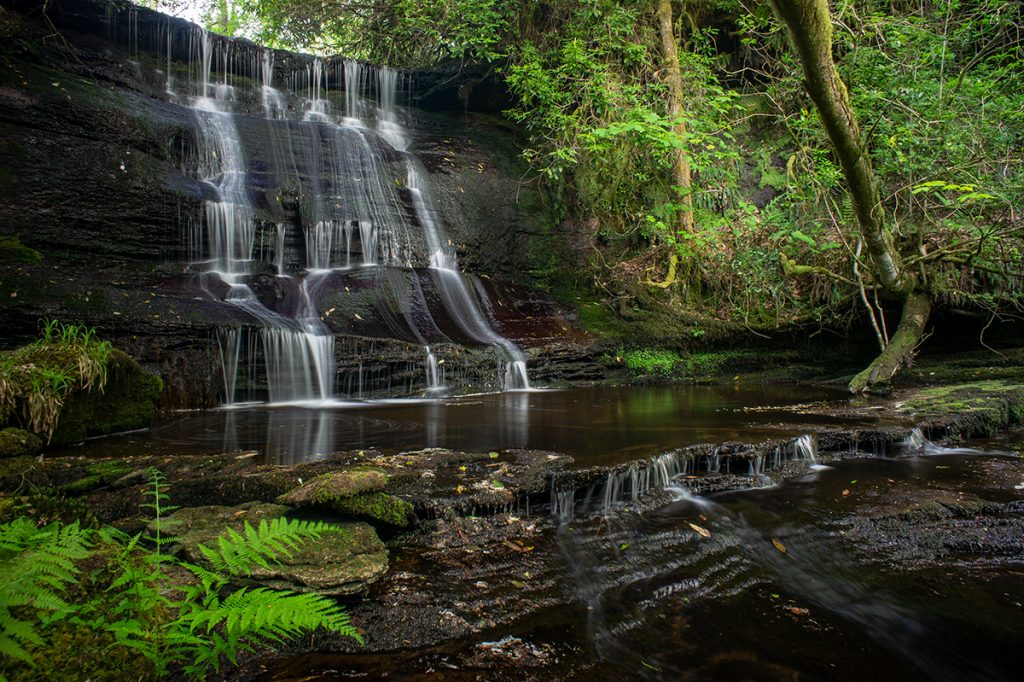 I'd planned on cutting through Craighat woods to Finnich Glen, but inpenetrable rhododendrum had me hacking back to the nearby main road, heading around what seemed like a rough caravan park. Unfortunately a door opened and two angry alsations came roaring out, one biting me on the leg. There wasn't much I could do weighed down by a 70L pack, the owners came out, and were equally disagreeable: rough scum not keen on strangers. Some battles you can't win, bleeding from my leg I made a slow exit. Not a great start to a week's holiday.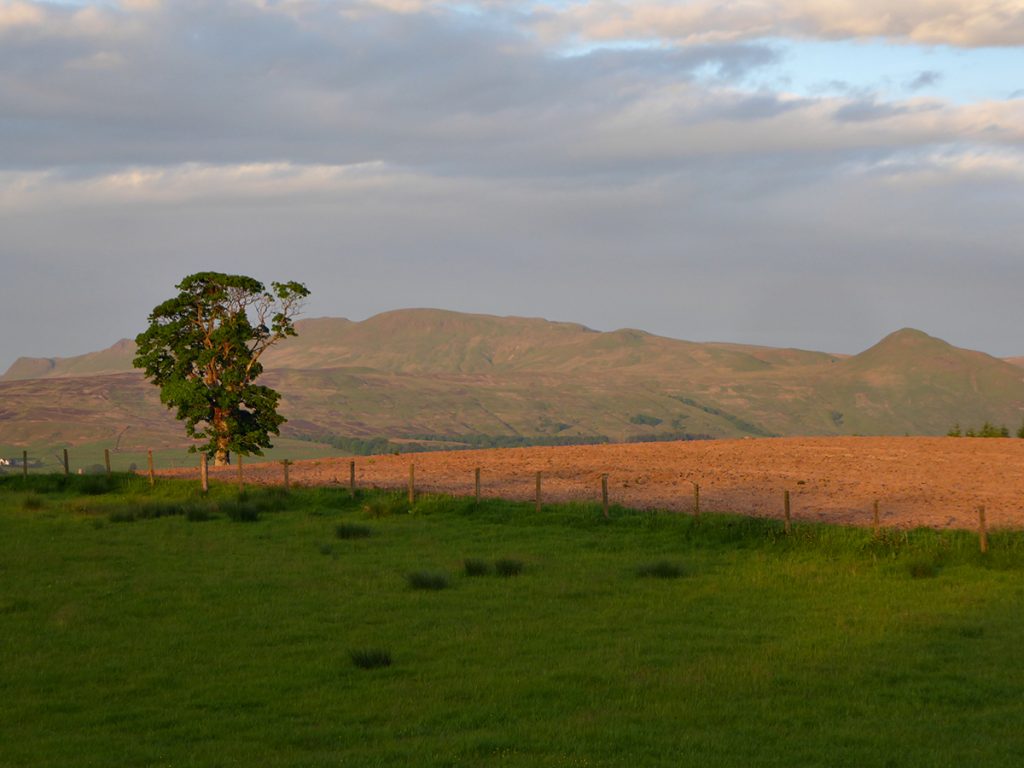 15 minutes later I arrived at the glen with the light fading, I could hear the odd person still there down in the gorge, so made my way to the lower end ( a path follows above the gorge on the south side) then onwards downstream to where there's some woodland and a bit of cover near to a field, and pitched tent. I inspected the wound: bruised and bleeding from fang punctures, I broke open an insect sting pen (contains ammonia) and sloshed that on (eye watering) but a necessity of disinfection, considering I had a week's holiday ahead without ready access to any proper medical treatment. Turned in early, I could hear sounds of people up to god knows what, still in the gorge at midnight.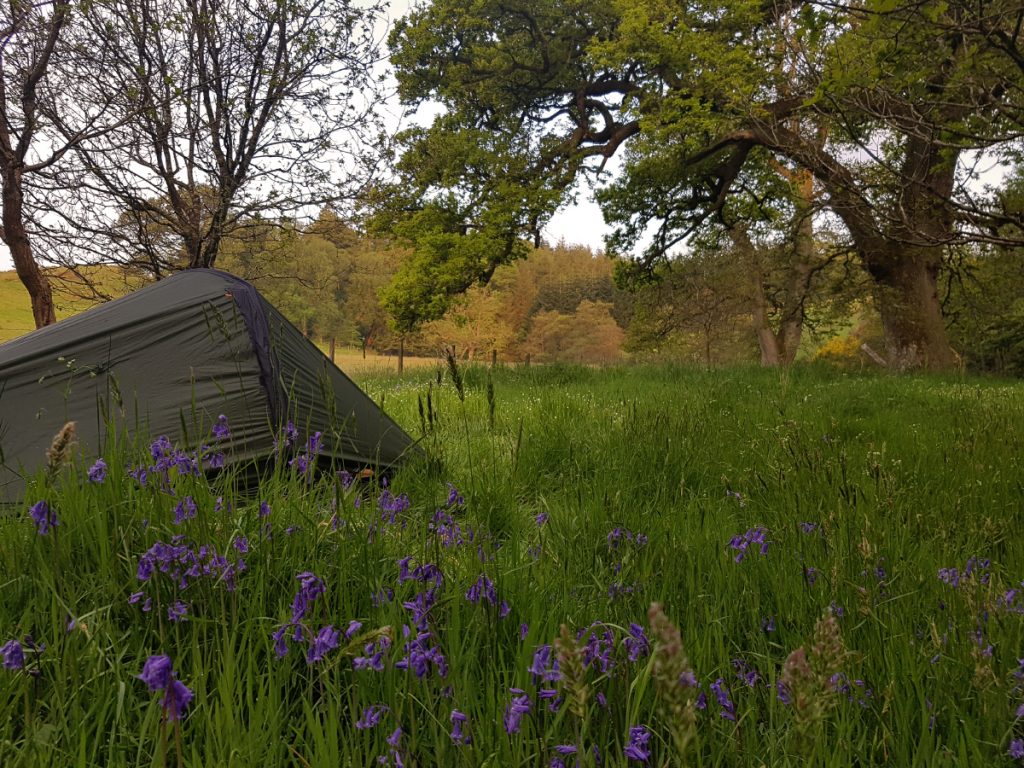 Up at 5, a perfect still and silent summer dawn, I swished through dew covered grass, and headed for the downstream end of the gorge where the stream enters. The nomal 'entry' is a steep set of 'stairs' (pretty much a muddy channel) half way down on the south side. I'd already rejected that as a back-up infil point, I'd hopefully creep along the edges and do some shallow wading from the bottom. The stream is wide and very shallow, and then gets deeper as the sandstone gorge rises overhead, but you can clamber over boulders to your left.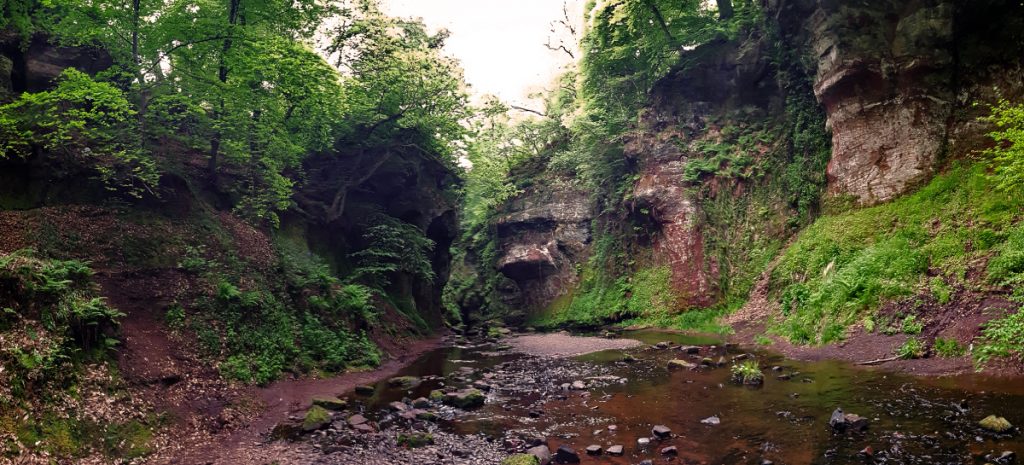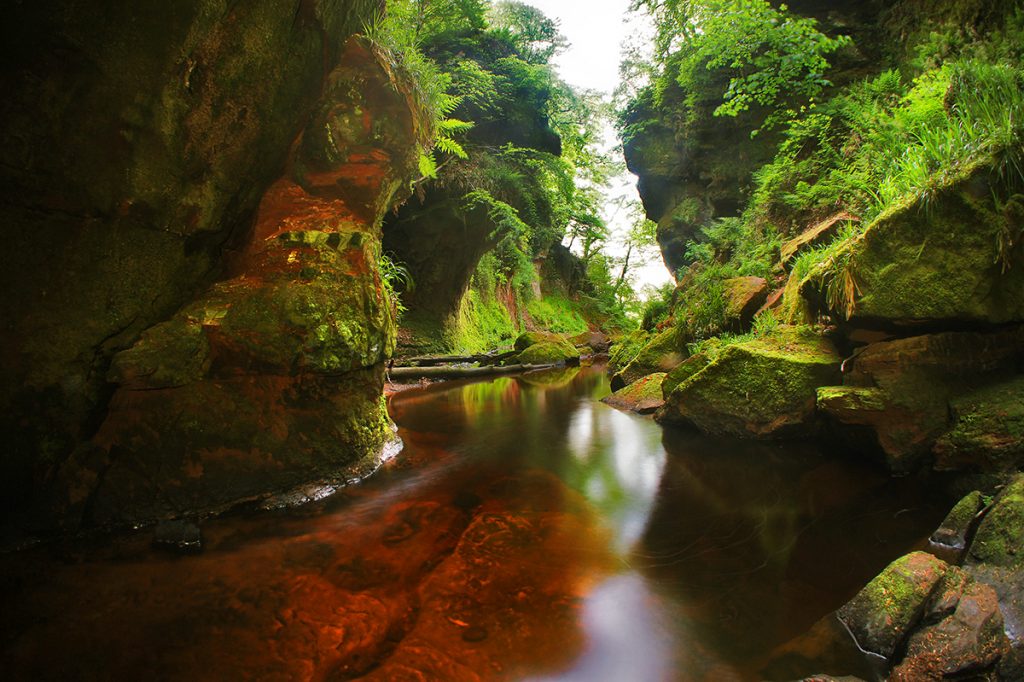 Overhead, in the lush canopy, some local bird life crawed and cackled eerily at the invader to their place of sanctuary, adding to the atmosphere of natural wonder. The red sandstone, water carved and curved, was awash with fronds of mosses and ferns. The water looks like dark blood oozing past due to the red rocks, I forgot my own bloody bite, and was immersed totally in the dawn tranquility. I waded upstream, each step reshaping the lush view in the narrow confines of the gorge.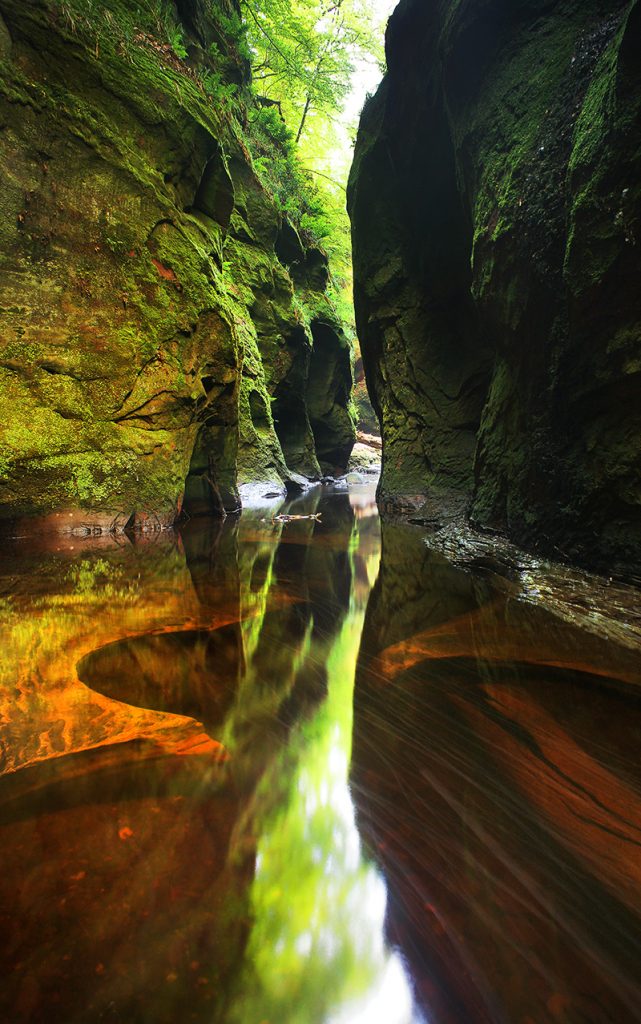 I kept mostly left (south side) where the water was less deep, nonetheless reaching thigh deep. I'd worn a pair of trail runners, glad of a bit of grip and protection on the slippery soft rock and pebbles underfoot. Here and there I dropped tripod letting the water gurgle past underneath it and shot camera, the click stark against the soft whispers of nature.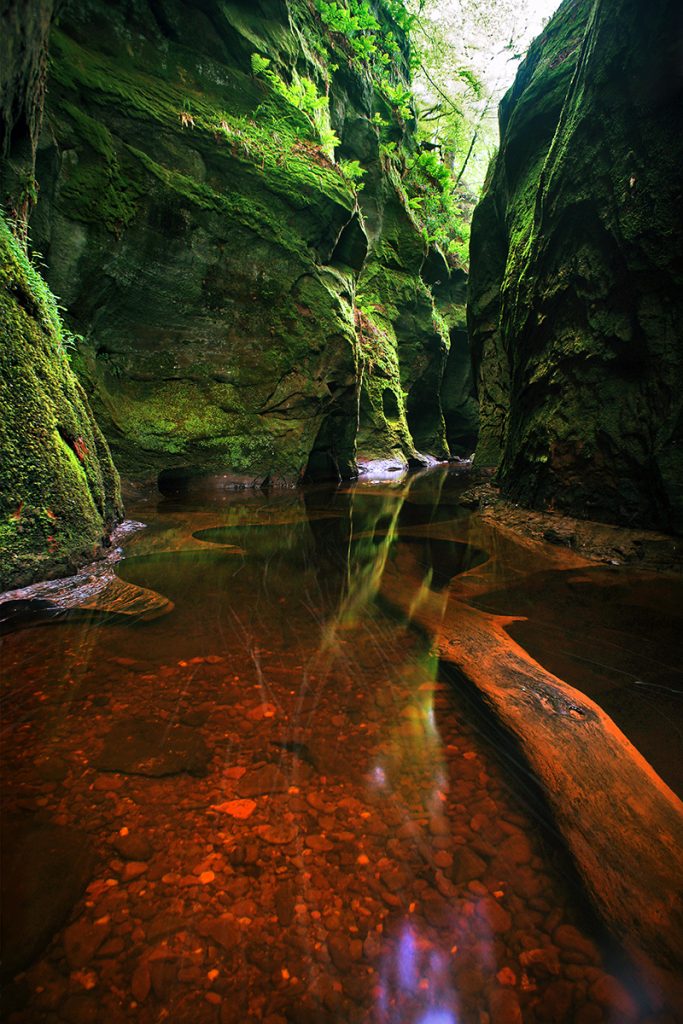 Carefully hurdling some slimed waterlogged trees, I made it to the main chamber, camera still dry. In front is the Devil's pulpit itself, a mushroom shaped protrusion amid the gorge. One could see on it the toll of feckless tourism: an edge cut into the soft rock so somebody could climb more easily atop for a selfie: now an edge to accelerate erosion.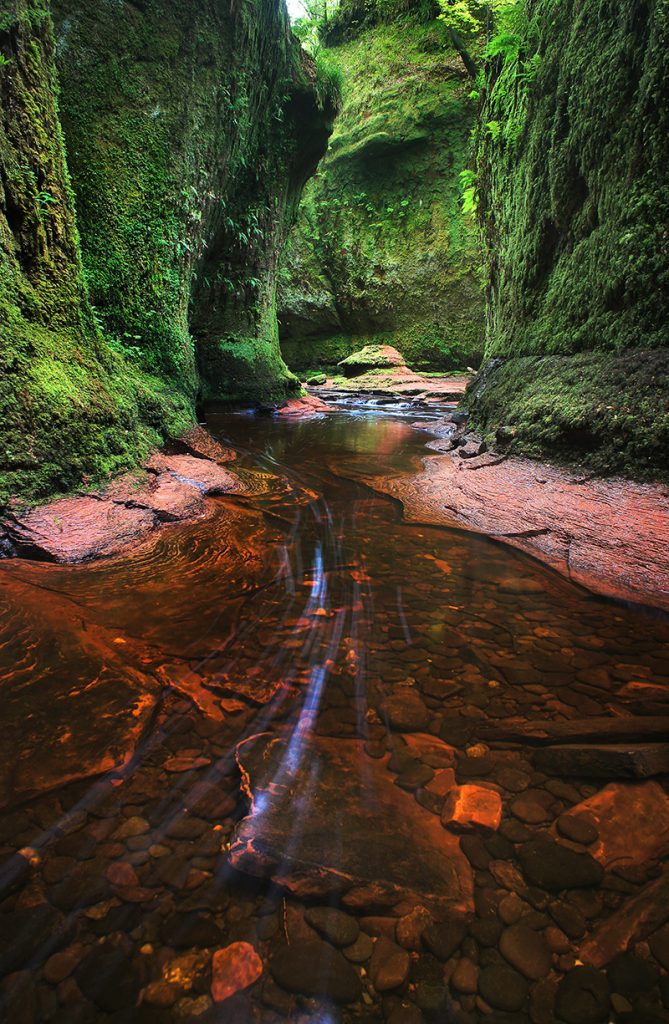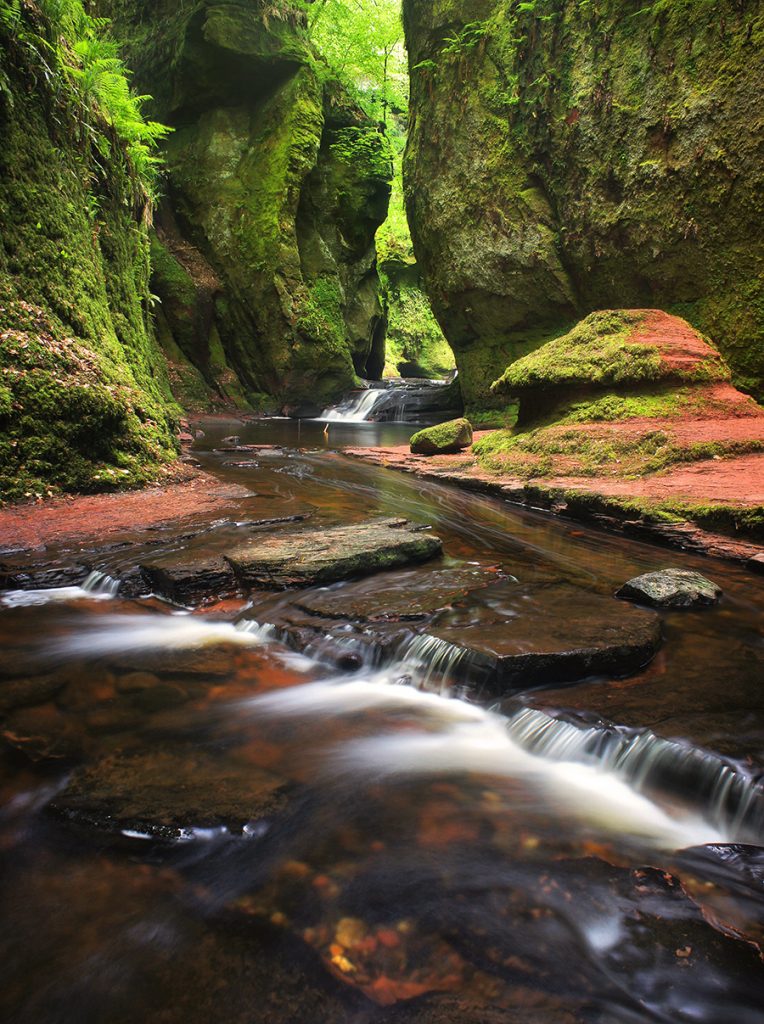 Here at the main chamber I went and had a look up the 'stairs' pretty steep and slippery: there had been those without good footwear that had became trapped when the water was high and needed winched out by mountain rescue.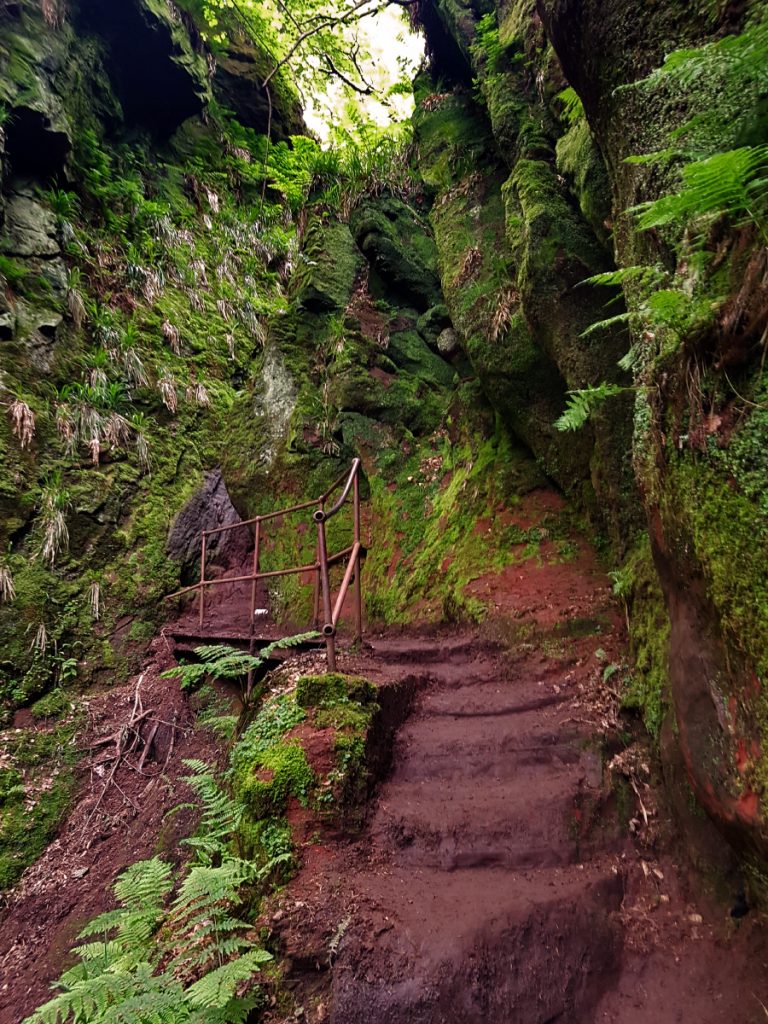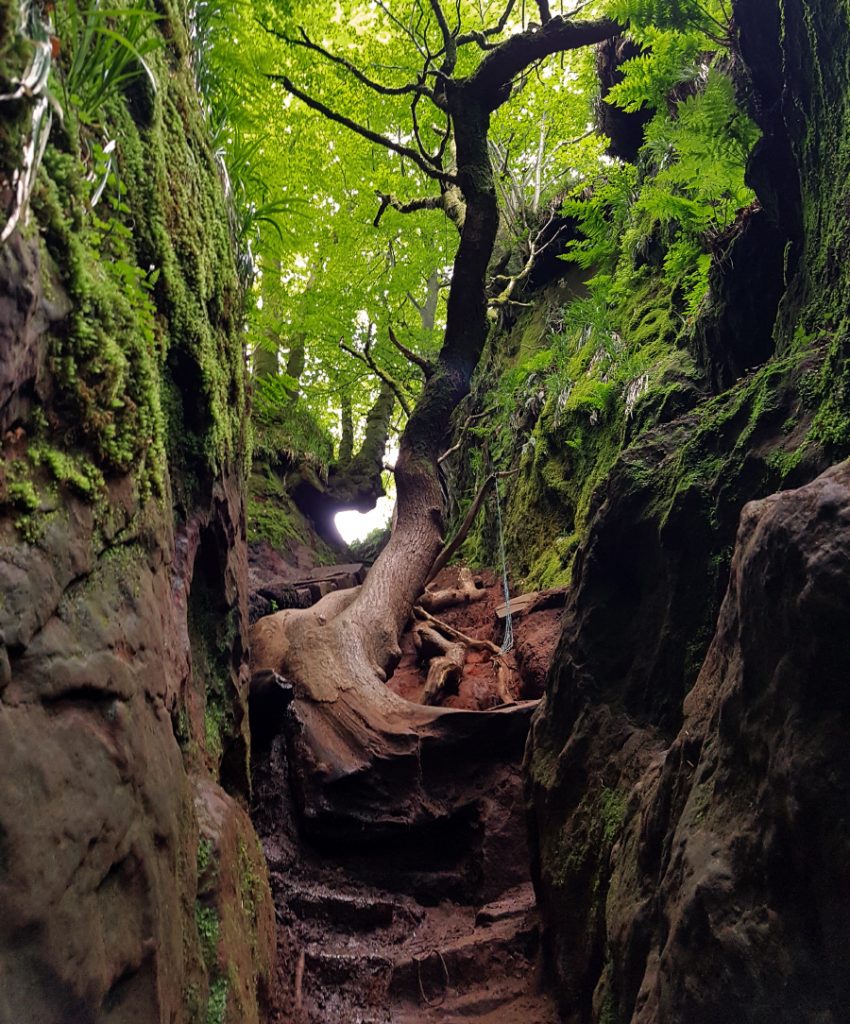 Upstream lies a waterfall over a deeper pool; I considered teetering around the slimy black edges, greedy to see past and perhaps climb up and head further upstream, but on my own caution took sensible hold.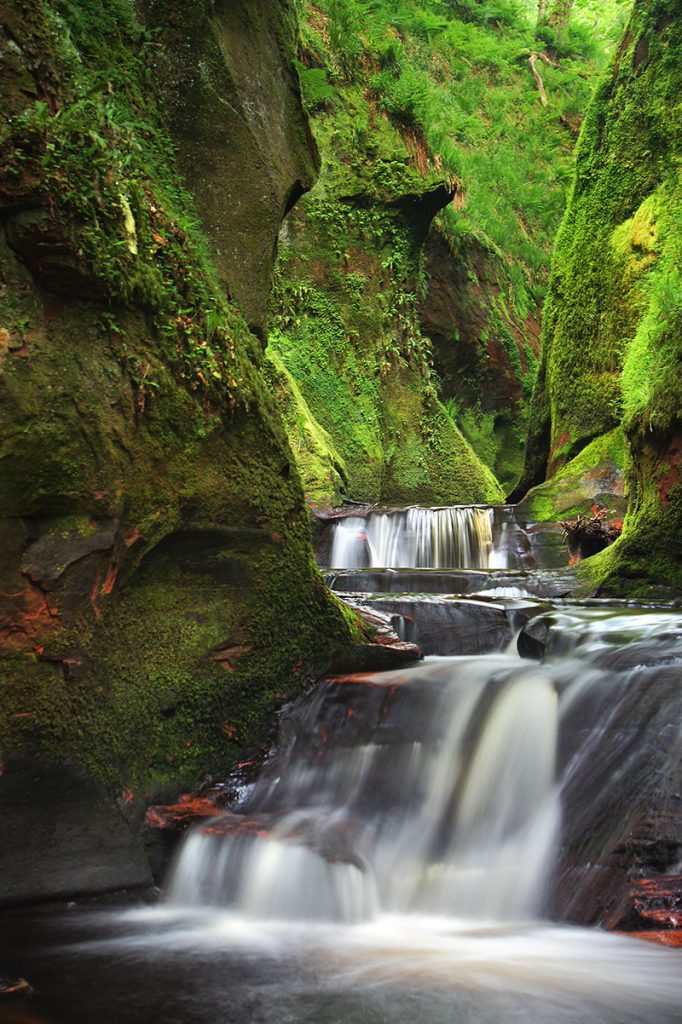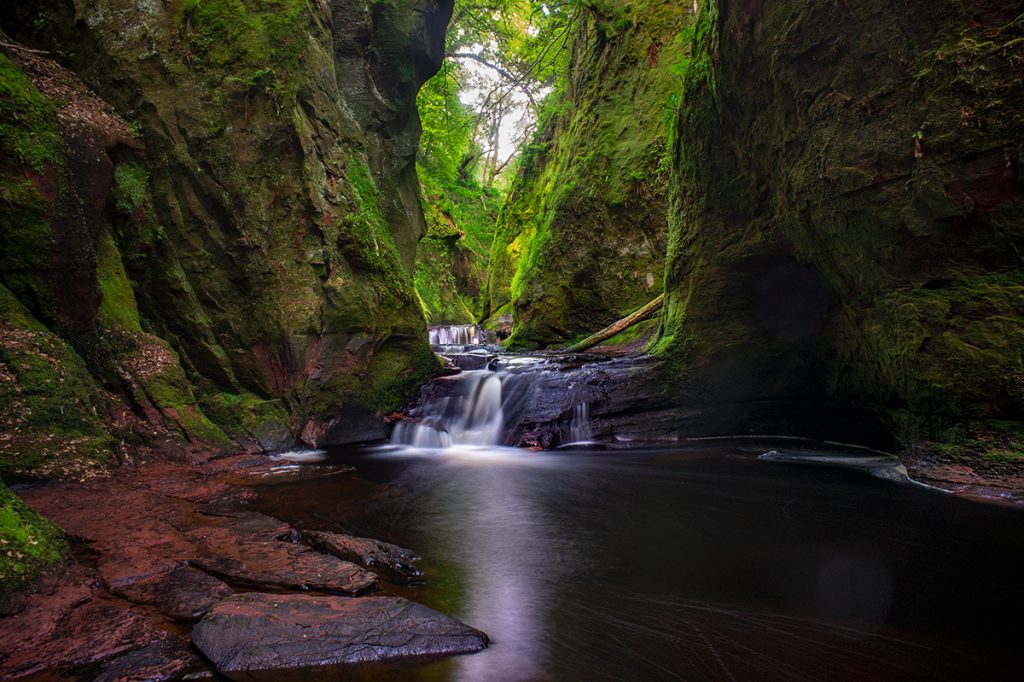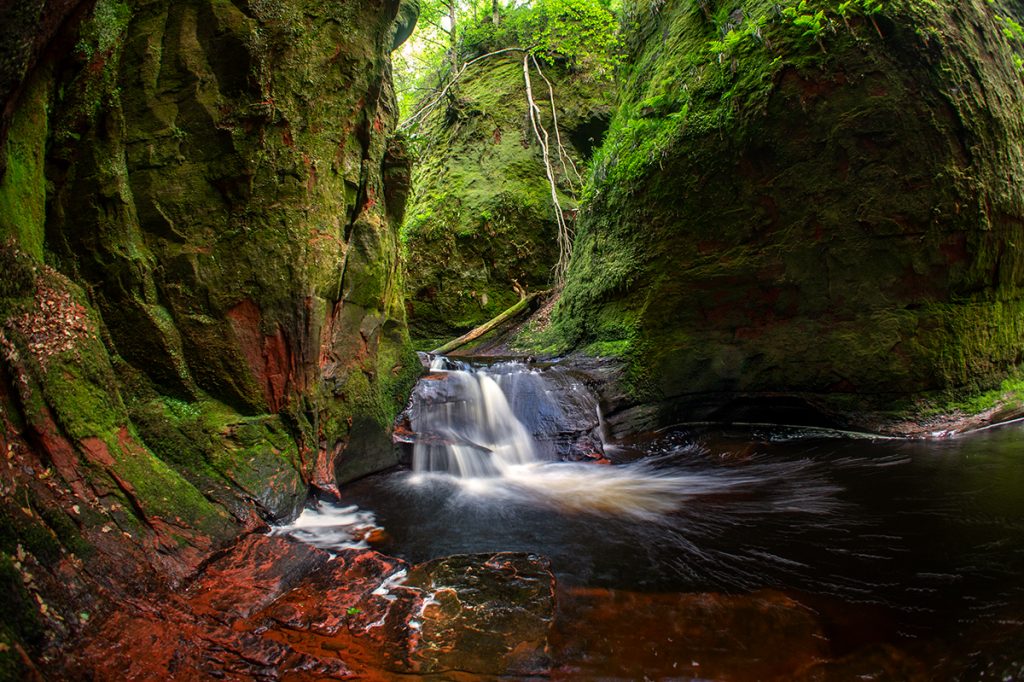 Having now seen the limits of today's exploration I waded back and shot some more. The spell was soon broken as another flying creature of the gorge crept up on me, this one not croaking but buzzing: not fluttering but flashing. A drone signalled the end of dawn and the imminent start of the frenzy; I said my hello's to a couple other early photographers teetering down the mudslide to the chamber, wished them good shots and then I waded off back downstream to leave them clear field of view, my camera having taken it's haul of booty.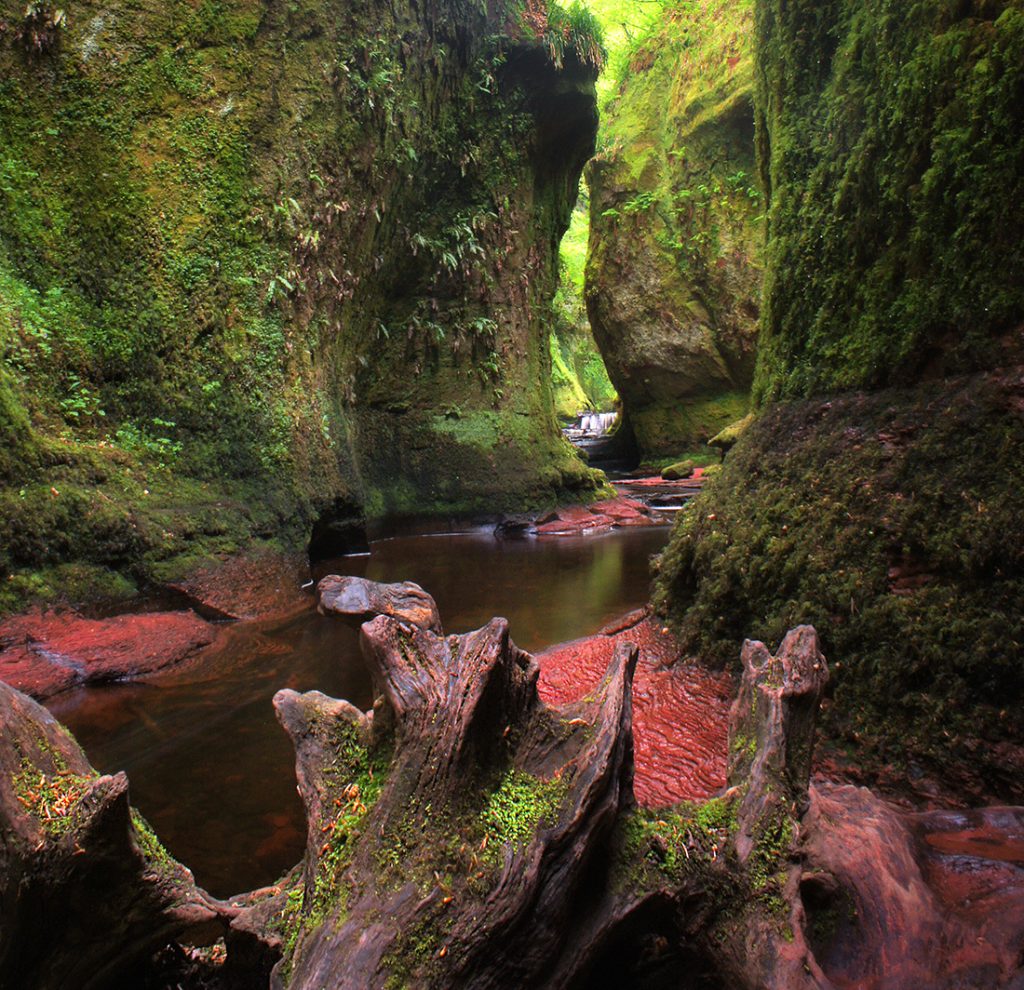 Packing my tent, the roar of an engine turned my head: a 4×4 patrolling the edge of the nearby field had spotted me. The farmer that owned the land was initially a bit gruff, but once I'd reassured him I was a 'leave no trace' kinda guy and I was indeed leaving and showing him a bag of litter I'd collected, we chatted about the glen and it's happenings. I had sympathy for him: a sudden flashpoint for drama had been created amongst his many miles of pastoral bliss, a bubbling pot of city-flippant carelessness; dogs off leads, fire, abuse, vandalism.
As I made my way back along the tracks above the gorge, they came. The too-late photographer with a big box of gear, pursued by flip flop waddler, shouty dog-off-lead bumbler, tin-foil barbecue family. The busy road side had a couple spaces, but more squeezed on the mashed-up verge. There's another small car park a few hundred metres north at the junction, incoming picnic-gangs brushed brambles as A-road traffic whizzed past. I was lucky to have experienced the true peaceful nature of this mysterious place of beauty.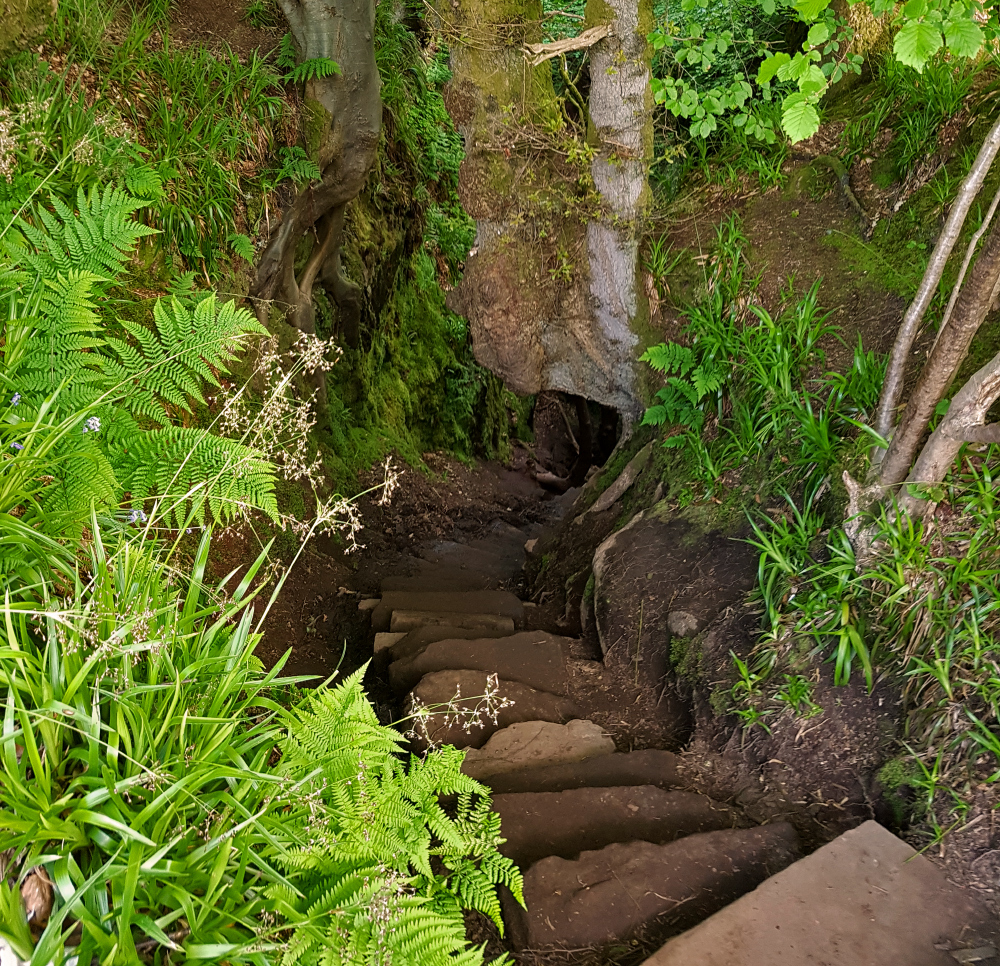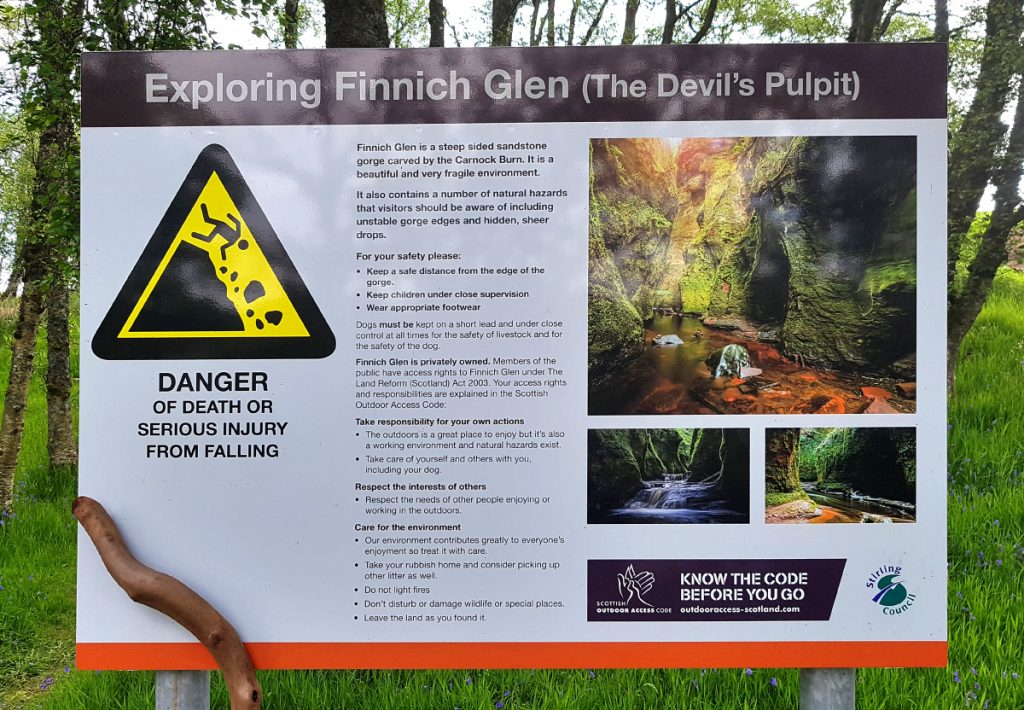 A mile back and I was on part of the west highland way heading north to Drymen, and the start of the Rob Roy way.
Safety notes: I would hate it if anybody came to harm visiting this place encouraged to visit after reading this article, so a few notes:
The gorge is through sandstone, a soft, easily broken and slippery rock when wet. I wouldn't recommend standing peering over the edge from above, the vegetation makes it hard to see where the true edge lies, and it could give way.
The 'stairs' (more of a muddy channel) are steep and slippery and there's not much to grab on to in places. You want a good grip on your soles if heading down it (and want to get back up).
As it's a narrow gorge, water levels can rise fast, be aware of the weather and rainfall in the region if attempting to wade – I waded in summer in a period of low rainfall, don't bet on being able to do that otherwise. A walking pole is handy to have for balance if wading.
I had half a dozen ticks that I discovered the next evening, make sure and check yourself after visiting if you've waded through any vegetation there.