The day's outing with Aberdeen Hillwalkers was a through route starting in Tarfside, then heading 20km north to Aboyne using The Fungle Road, an ancient drover's route that links Glen Esk to Deeside. I decided on a run to help keep my endurance fitness up.
I started slowly, passing clumps of walkers and stopping to chat. It was a really hot day, and I didn't want to work up too much of a steam too early, particularly as 6k of ascent lay ahead.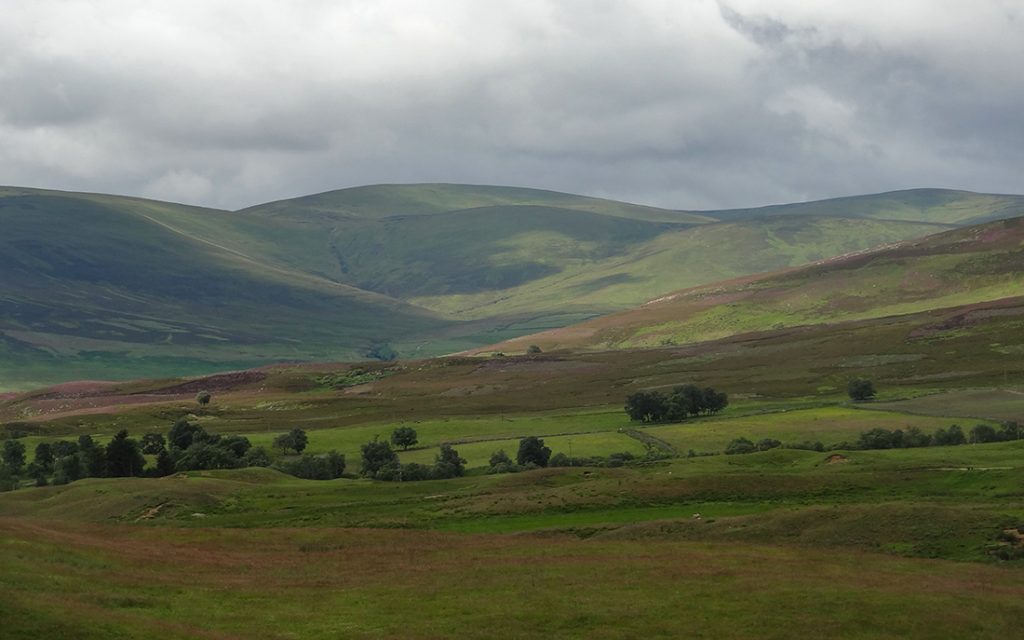 After a brief shaded interlude with the gurgling Water of Tarf alongside, it was out on to open moorland, with a good view back to the Maule Monument atop the Hill of Rowan.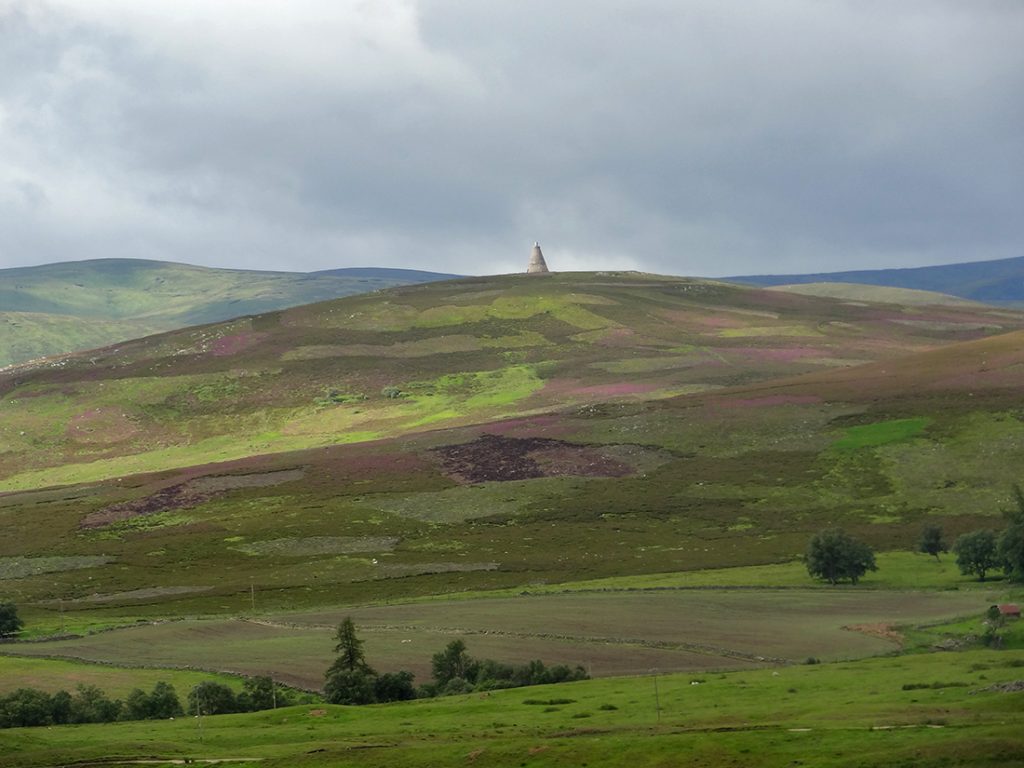 Most of the route here is rubbly landrover track, and I was joined briefly by a squad of young grouse.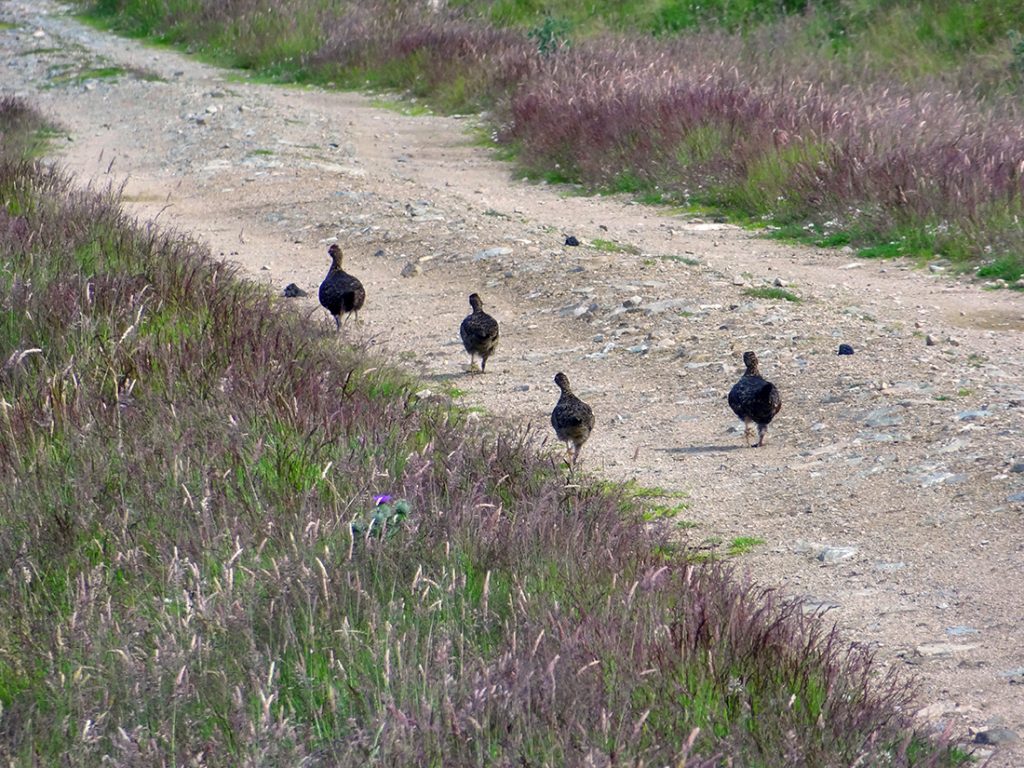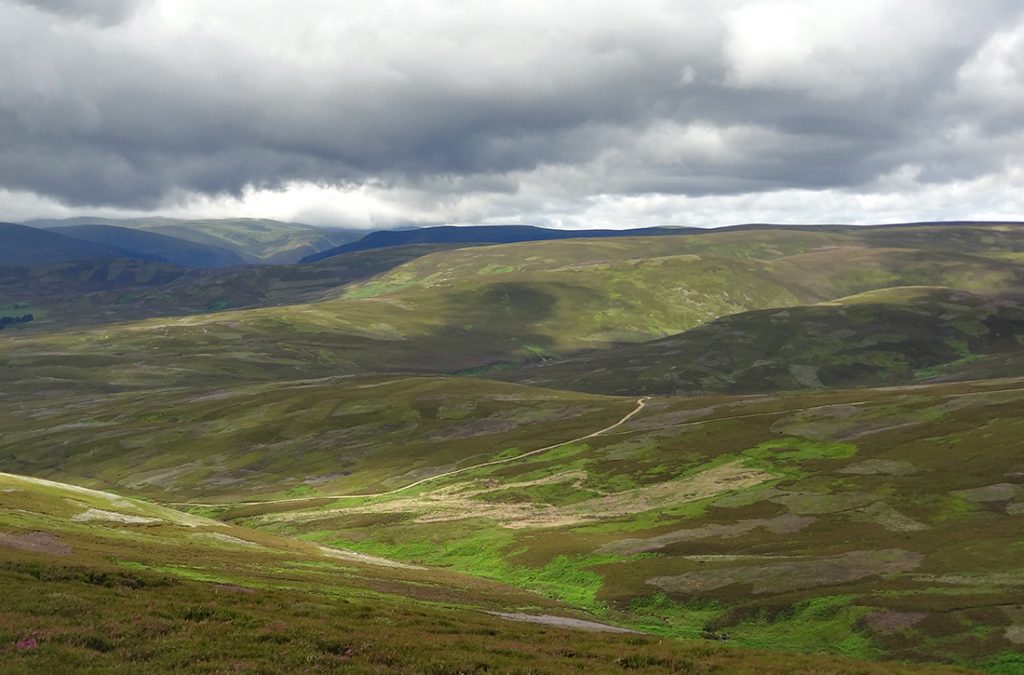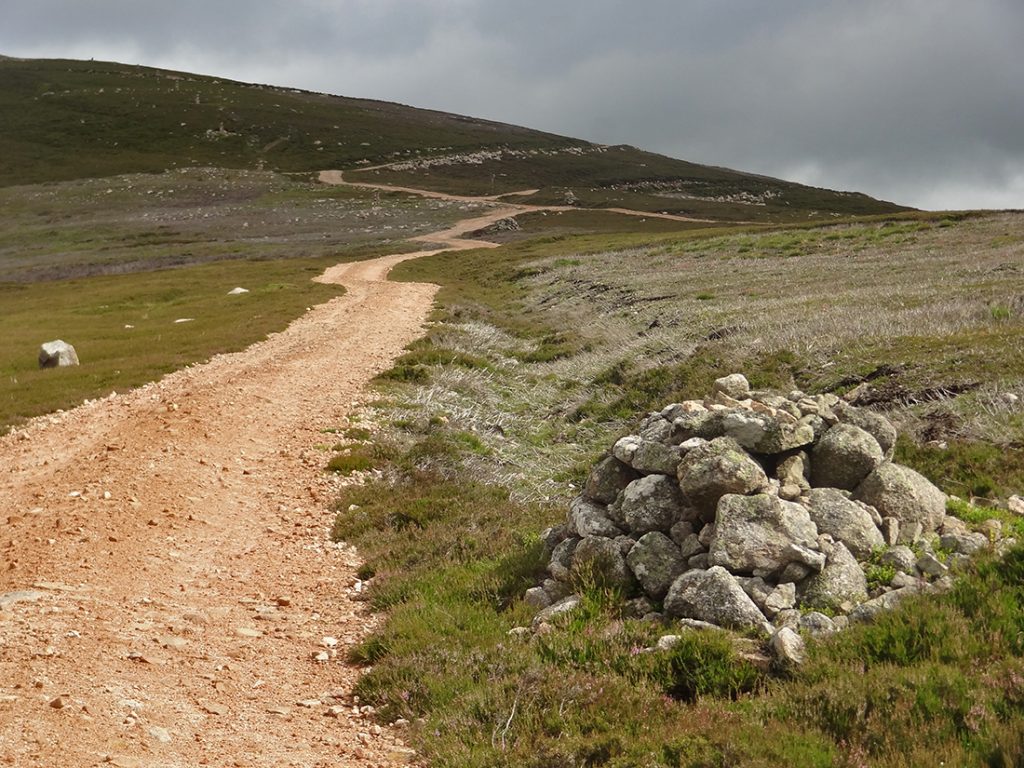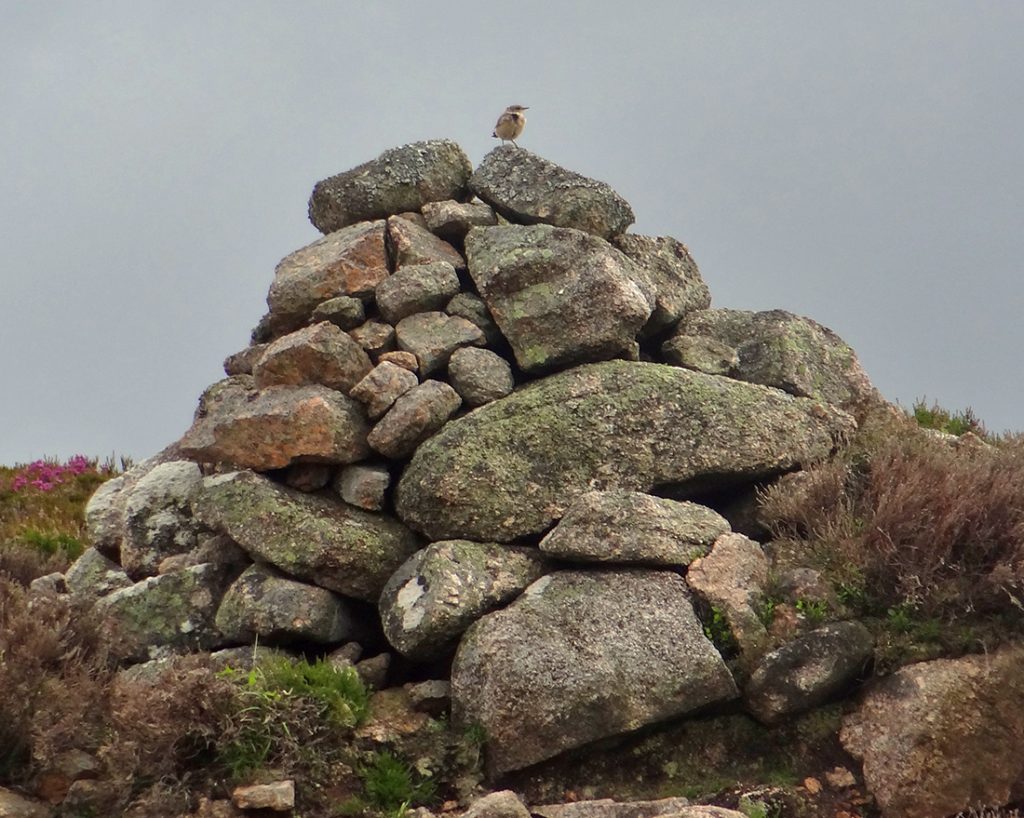 There are quite a few signs on these types of 'right of way' routes, this one however was in need of a lick of paint, I wonder how many mapless walkers have made a wrong turn here.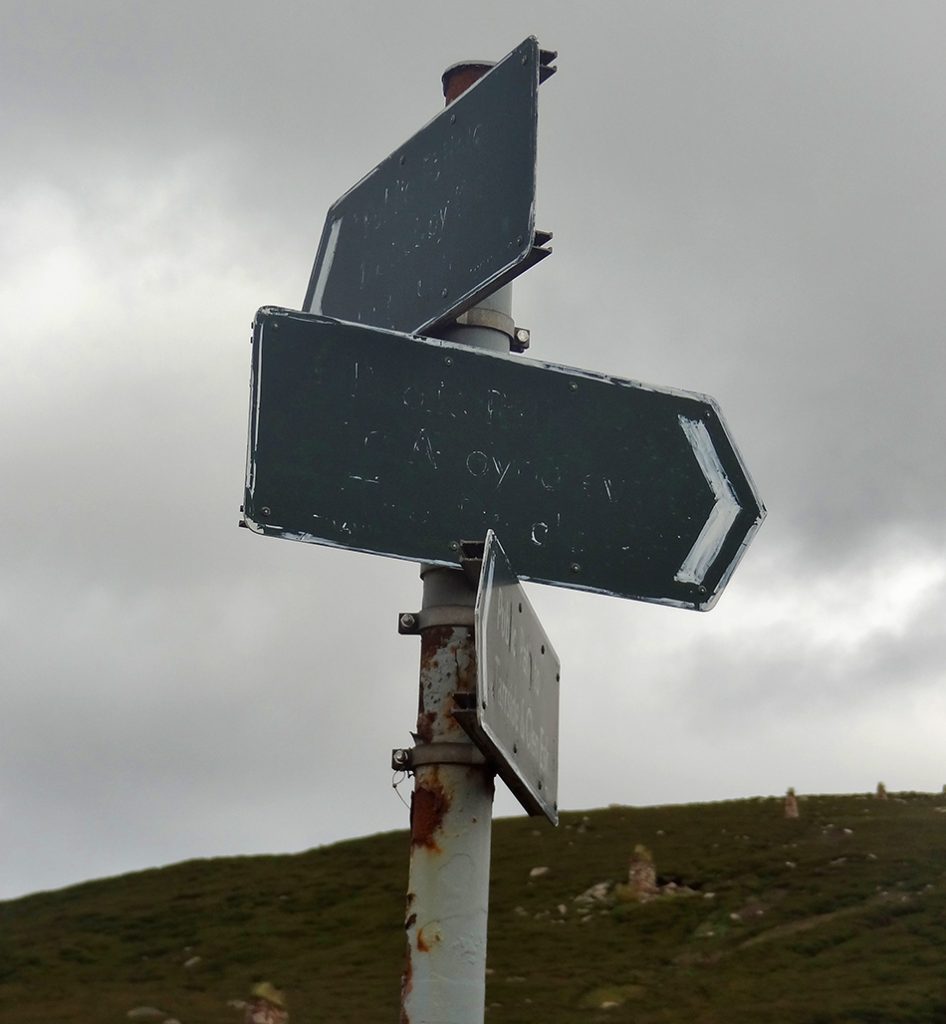 A row of elaborate grouse butts follows the fork heading up over Tampie hill, I did ponder going to the summit, but the heat was oppressive for another 150m or so of ascent.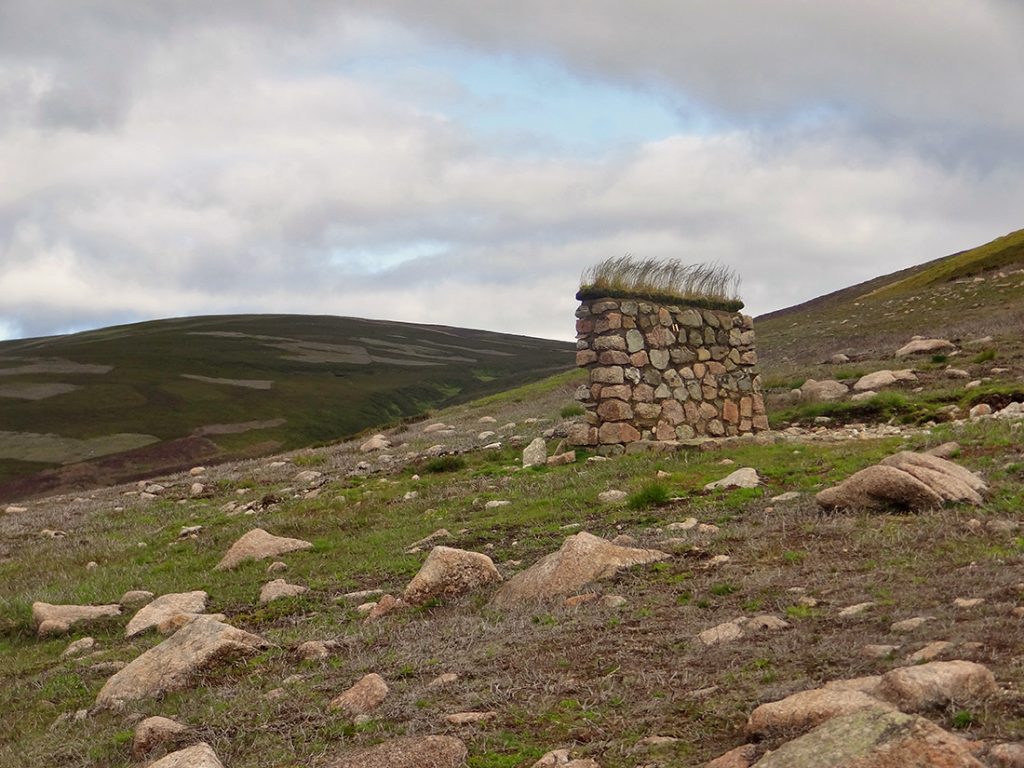 A look back over my windward shoulder confirmed the decision: rain in the distance. I headed through the pass between Tampie and Mudlee Bracks, at about 600m this would be the highest point of the day.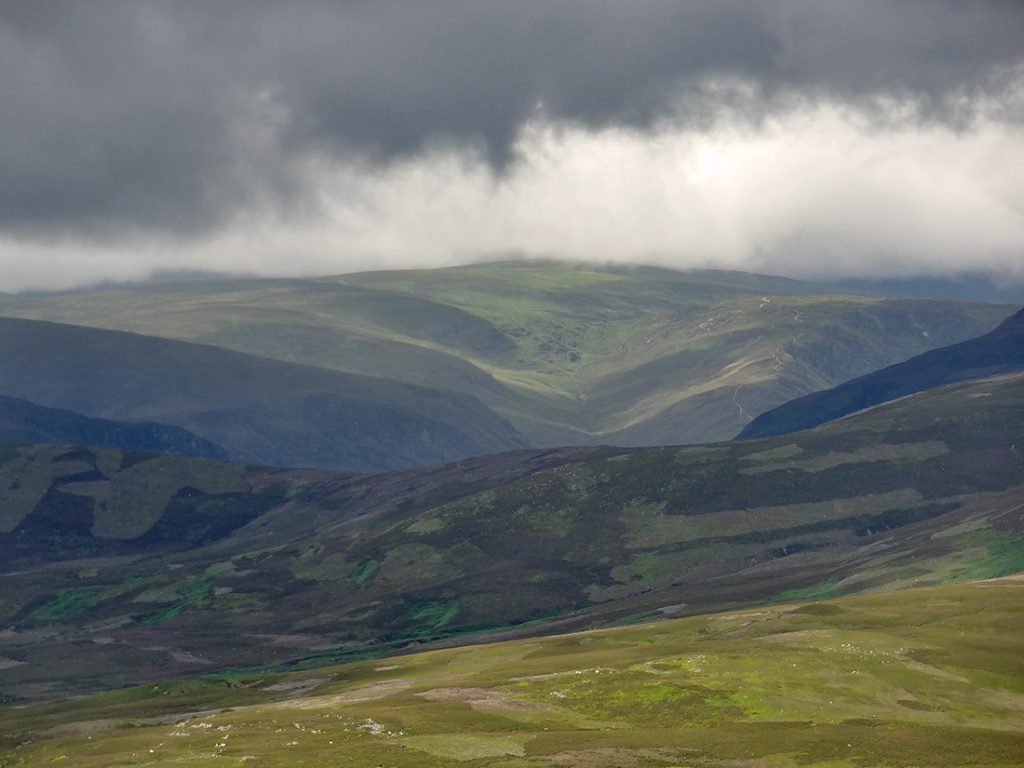 The well built landrover track came to an end at a fence and beyond lay a stretch of rough old track. I'd rather this in wild places though, there's far too much road-like track, bright scars driven deep in to the hills and visible from miles away, because bloated shooters are too bloody idle to walk more than 30 seconds.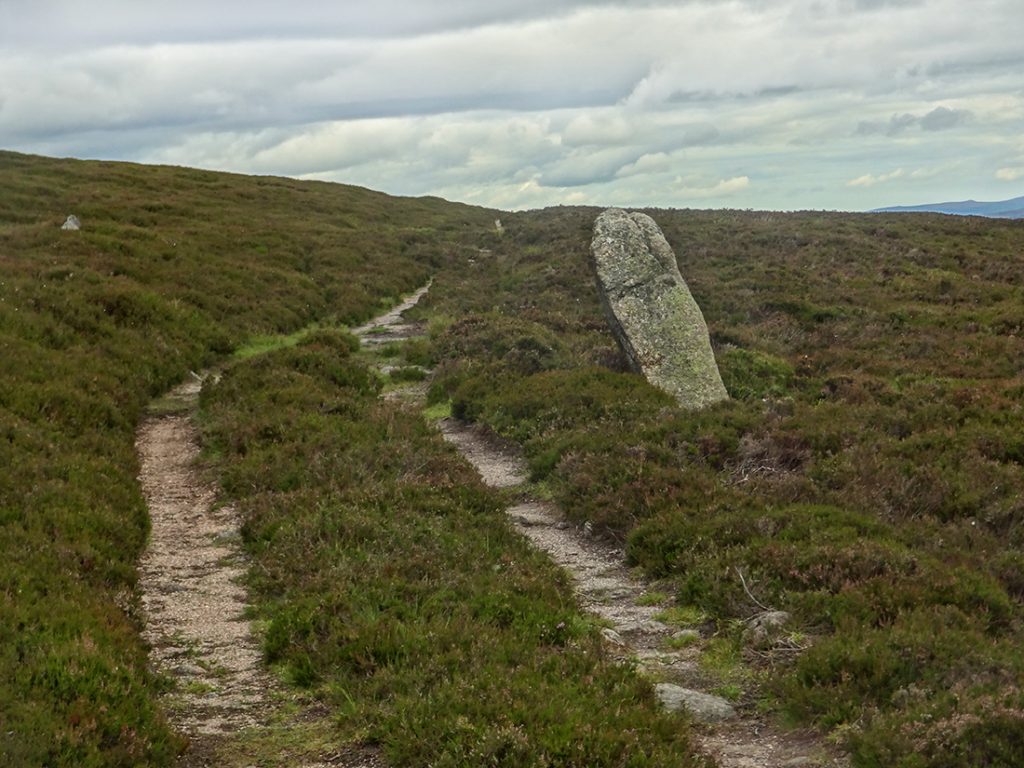 The rough track was only a brief respite; after a short stretch it's back on to bright gravel, heading down the other side. This does however facilitate me getting some speed up, recording a sub 4 minute km.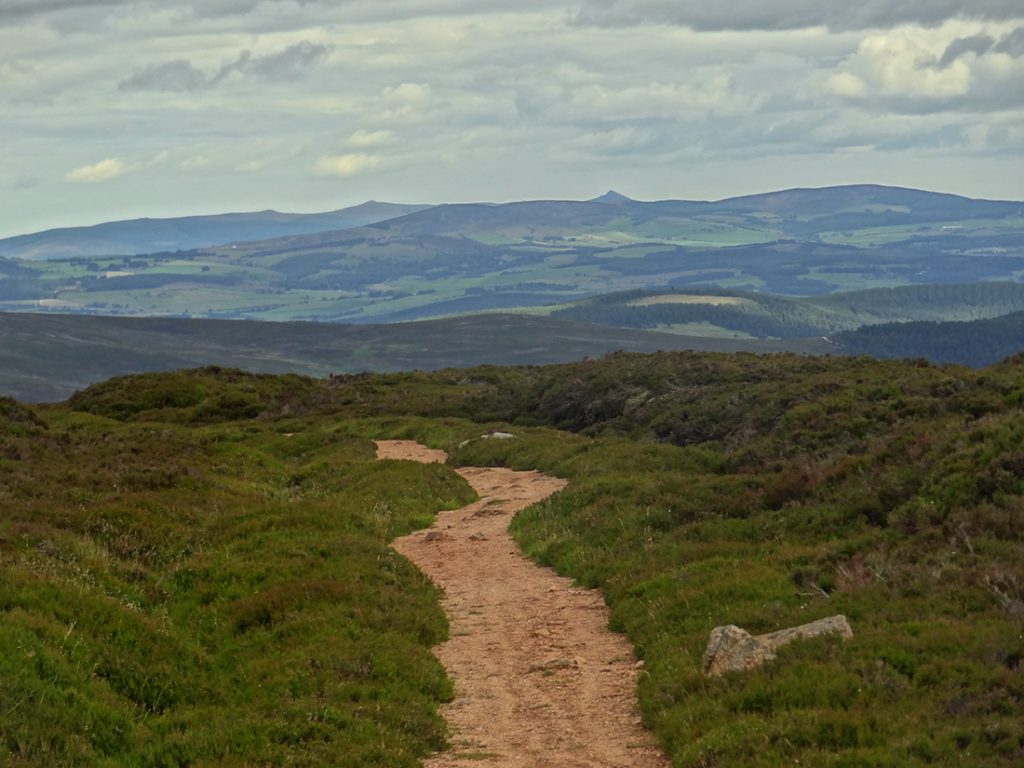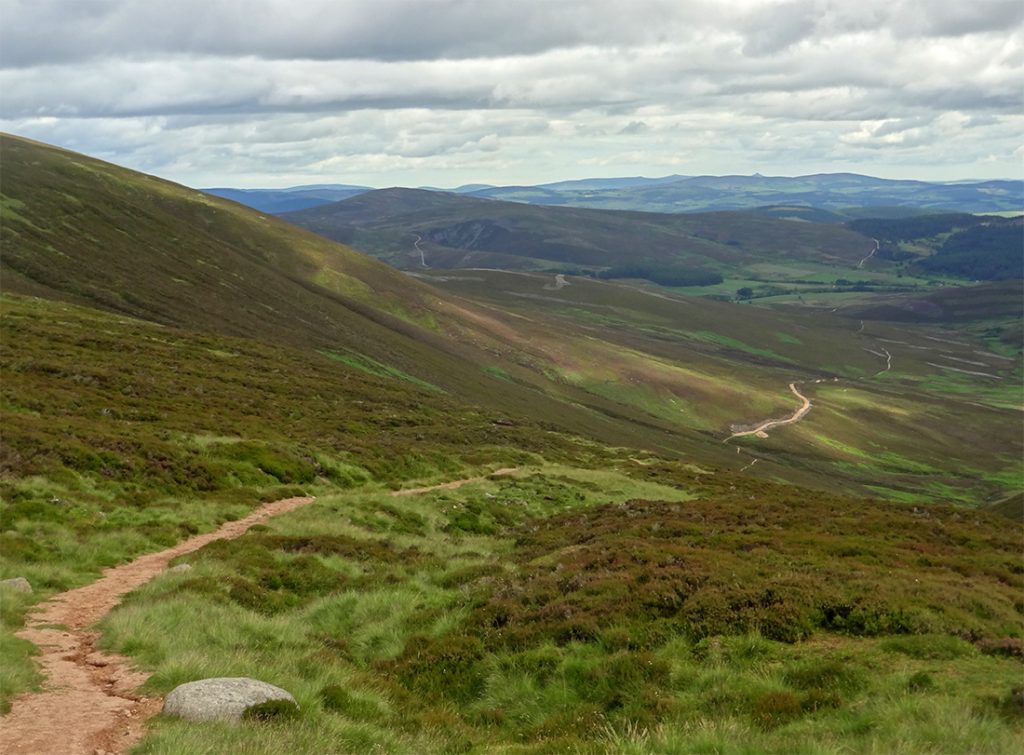 My descent was punctuated by a few stops, a chat to a roasted bikepacker pushing up to the top in the stiller lee side of the hill; she had a long way to go but would thankfully soon be on the downhill side; a few cap-dousings scooping cool burn water to splash on to my head to sooth the heat.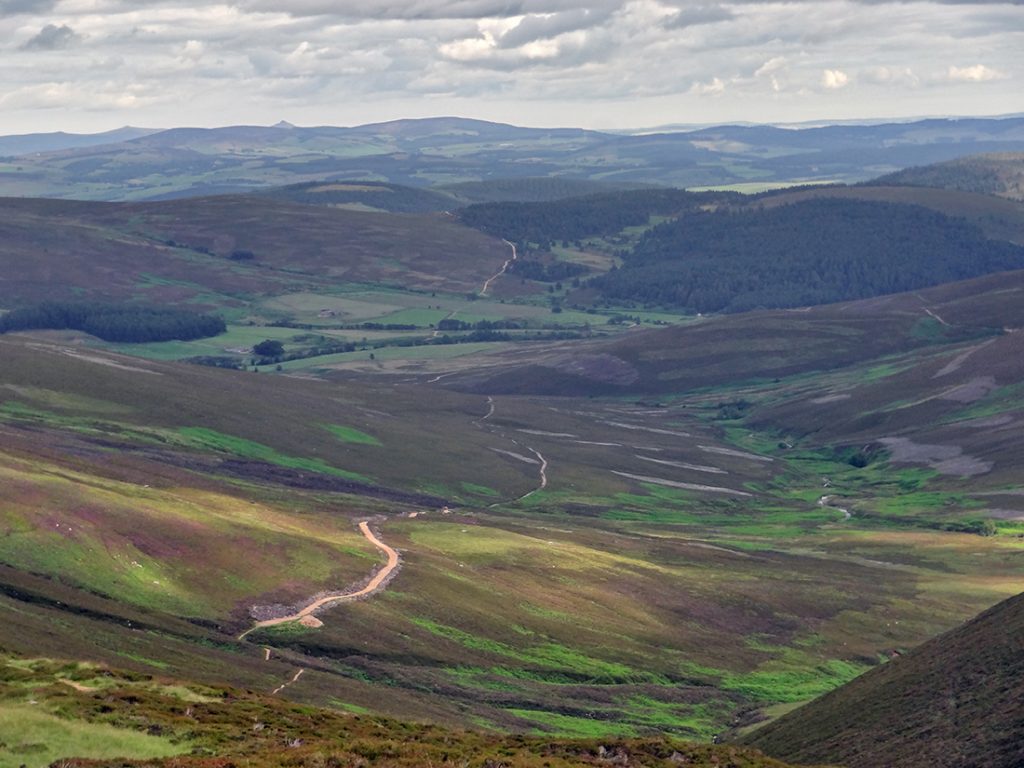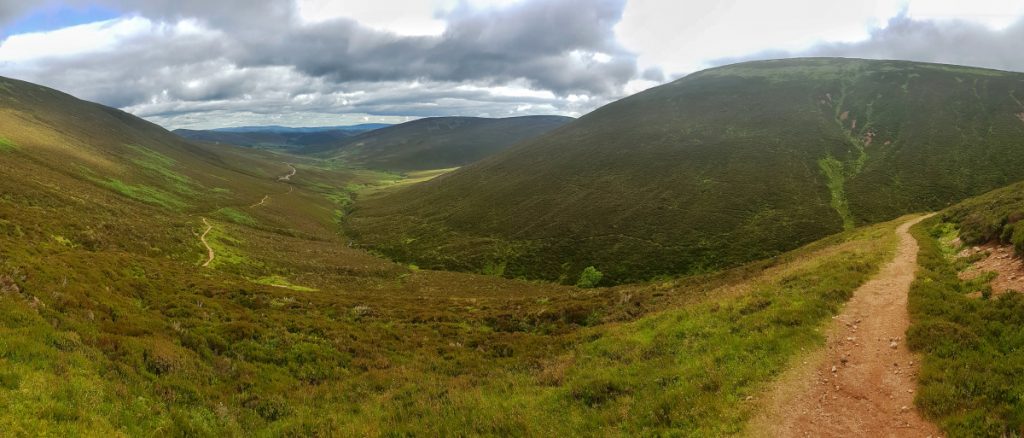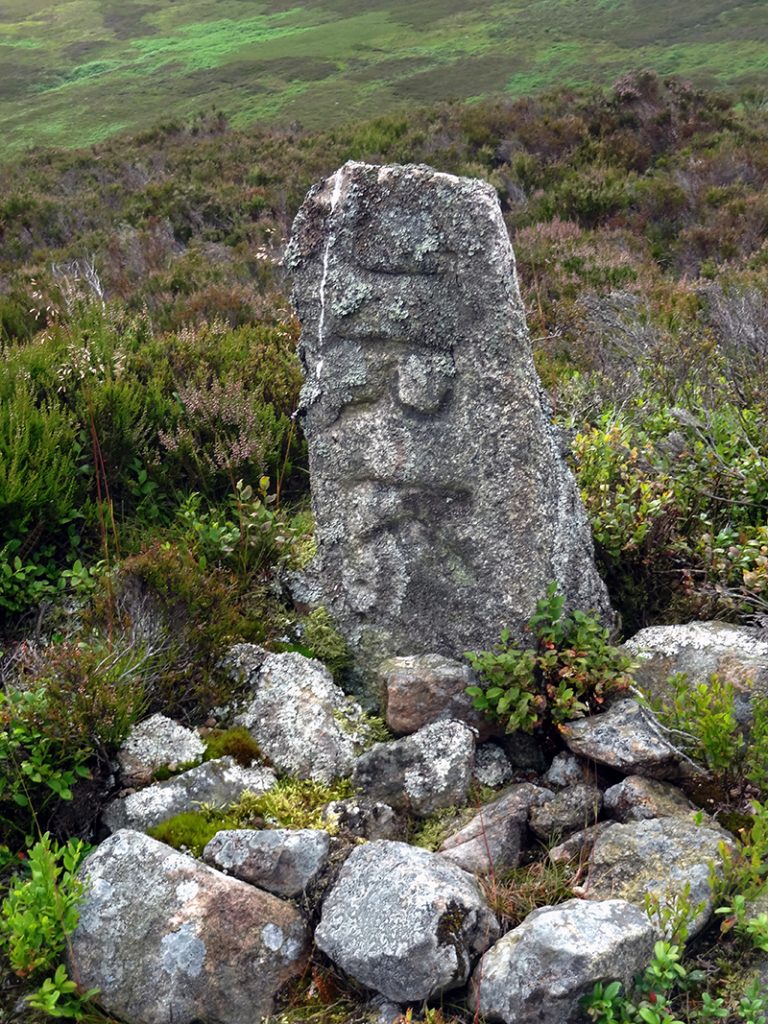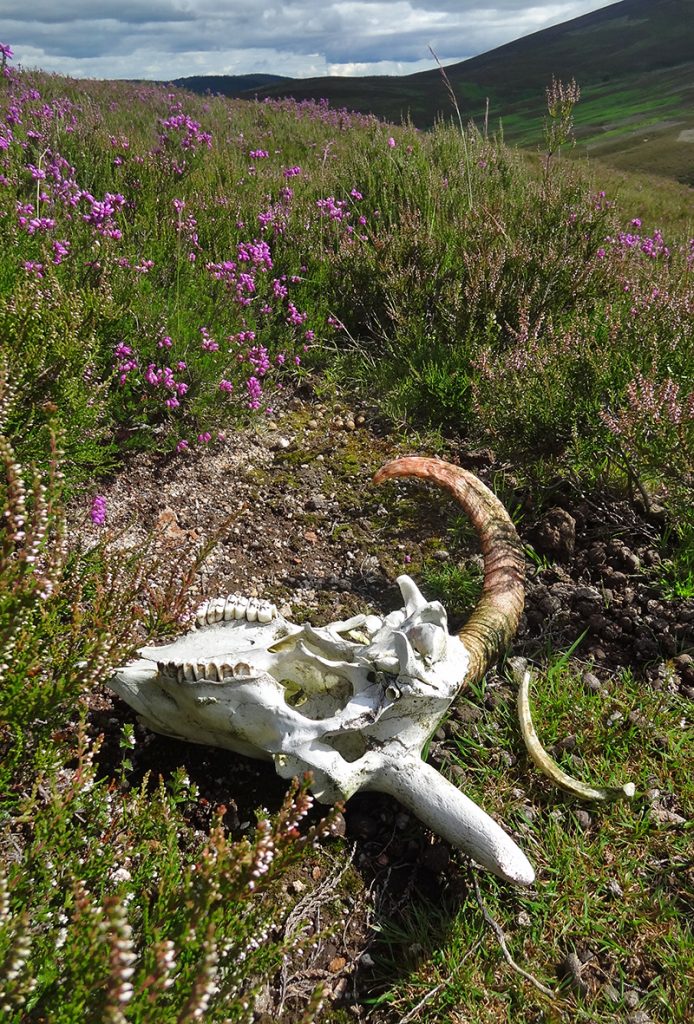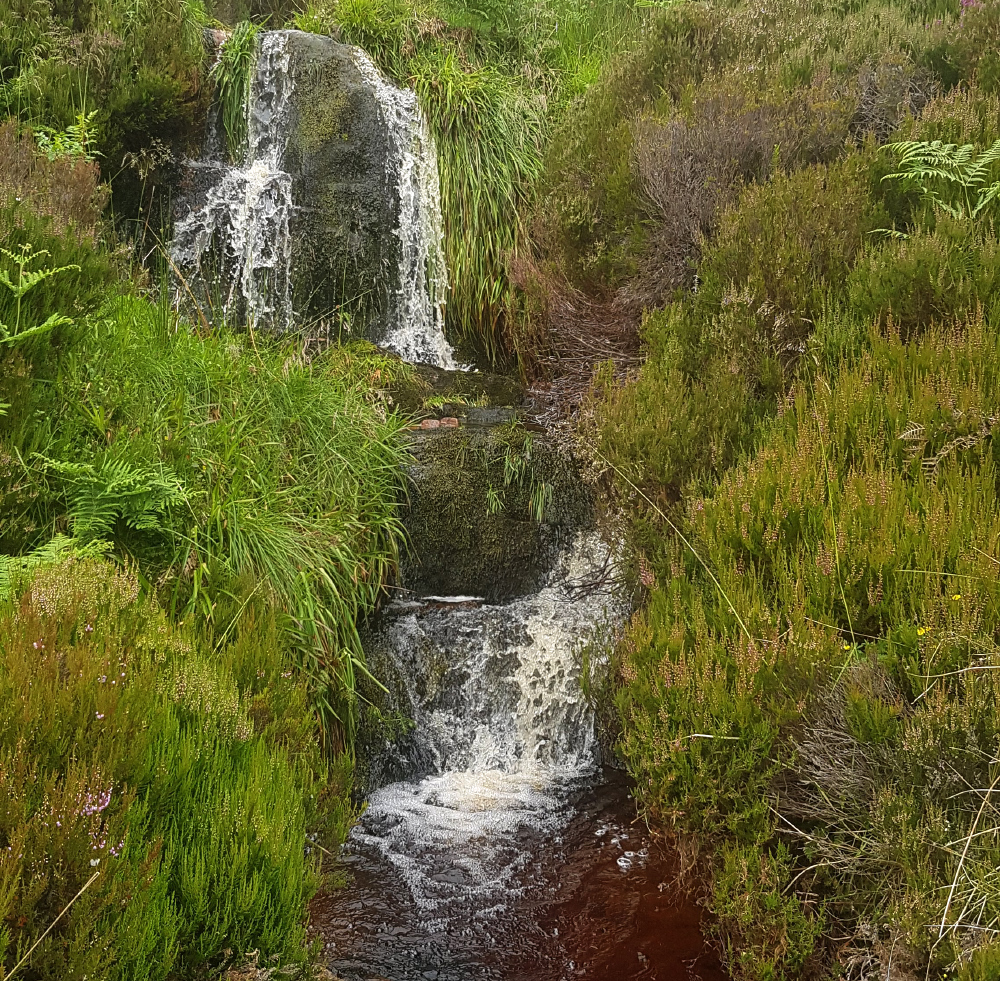 After 5k heading downhill into the Feugh valley , the breeze dwindled and heat intensified as Birse Castle came into view. The track used to go by it, but landowners being landowners, they rerouted it in the modern era to keep the riff raff at a distance.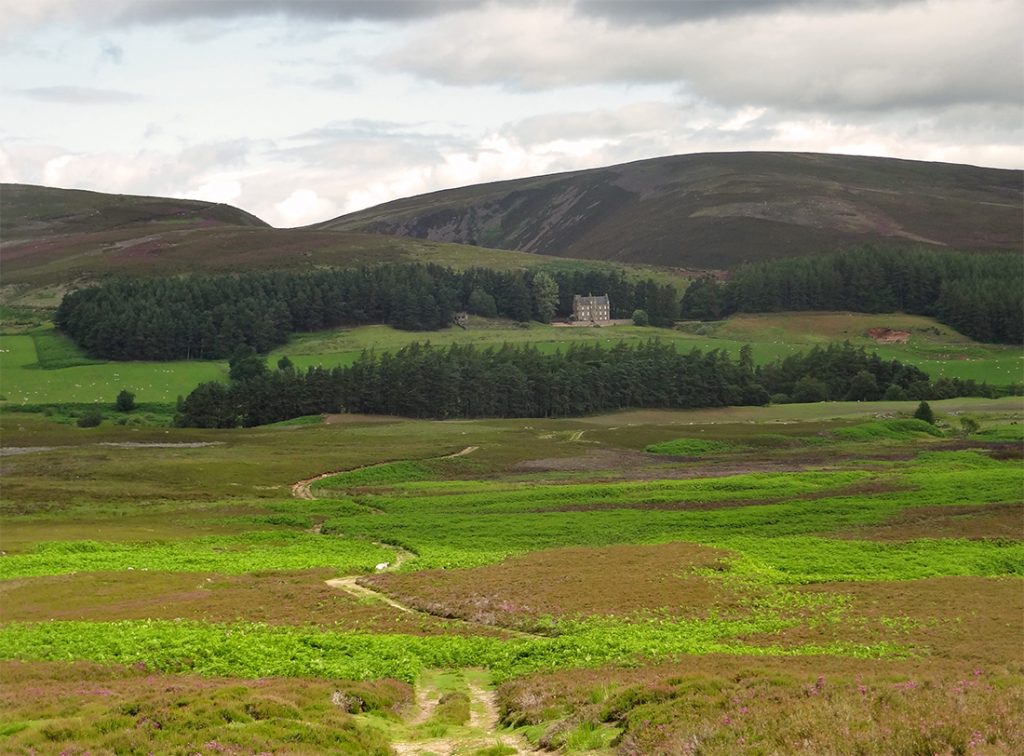 The climb begins again towards The Gwaves, a deep plushly vegetated gully nestling the Burn of Auldgarney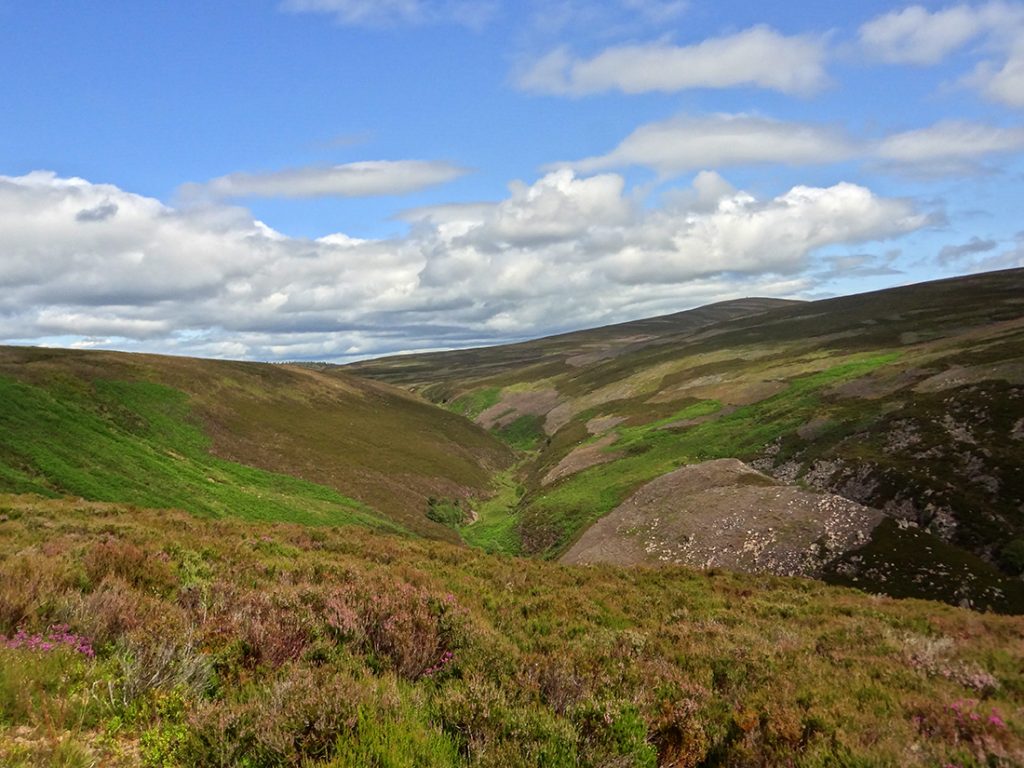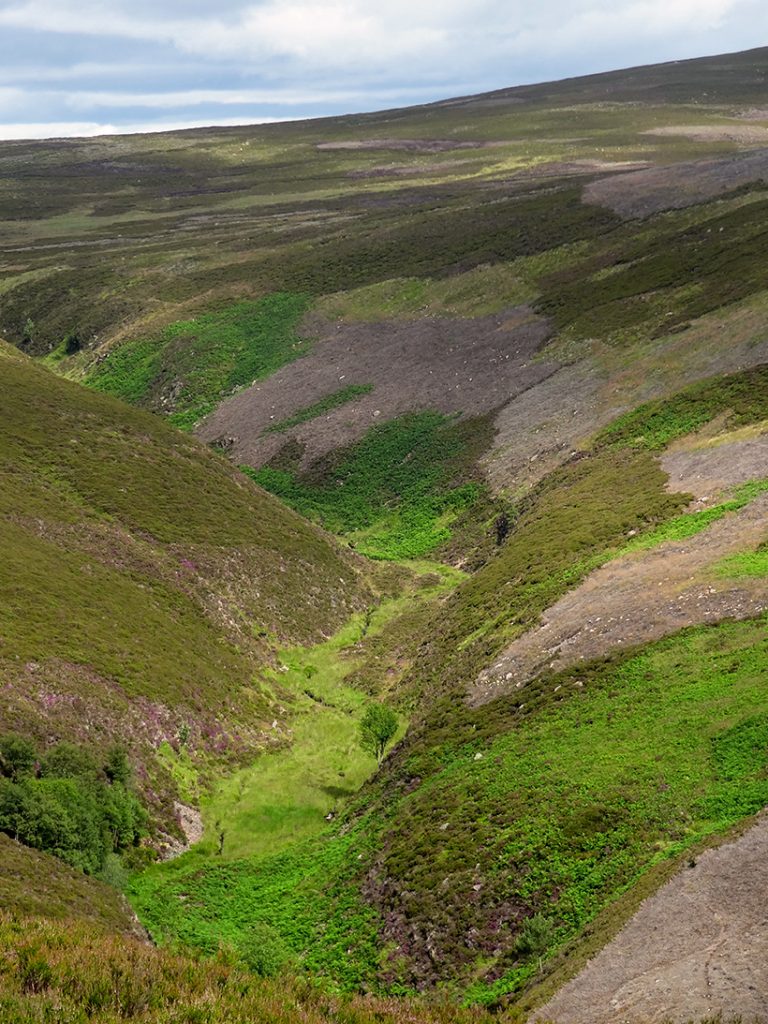 Past the hunting lodge, a brief descent before the next quarry: a brief diversion off the fungle to Carnferg at 525m.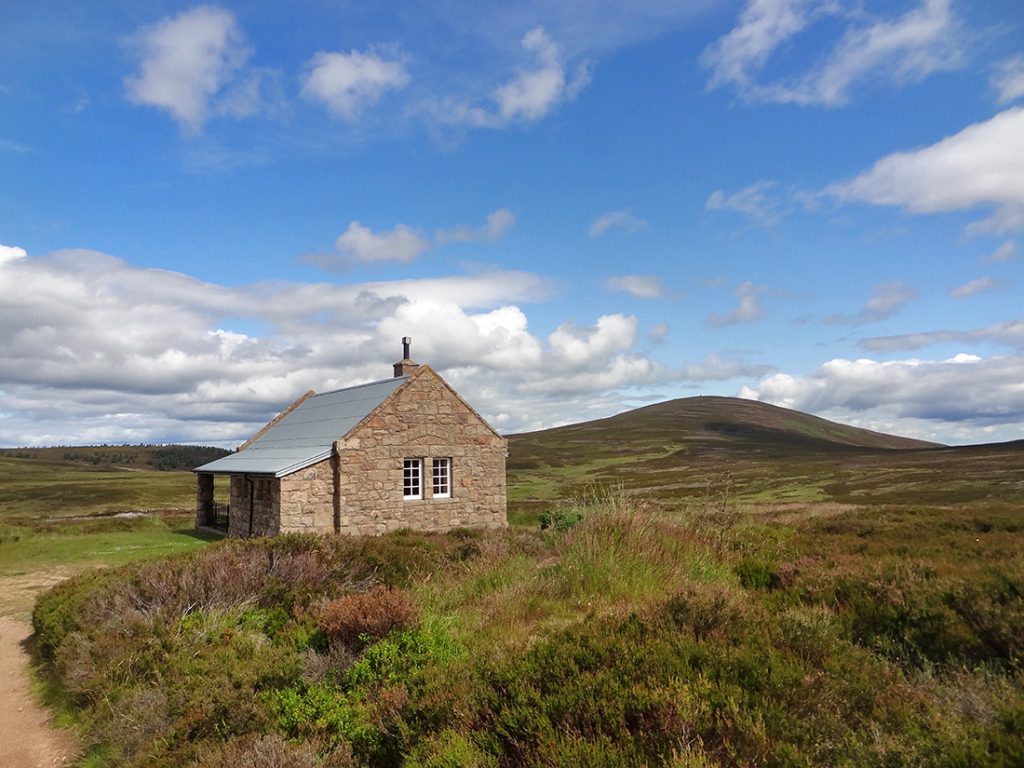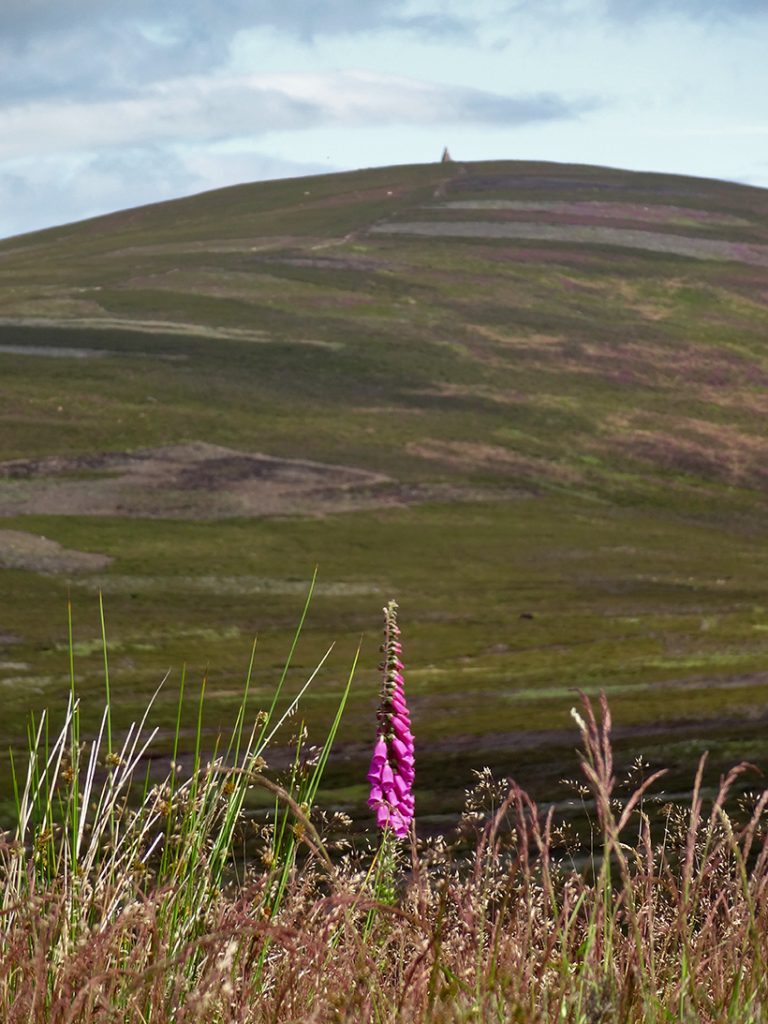 I'd take a wee break at the top and enjoy the view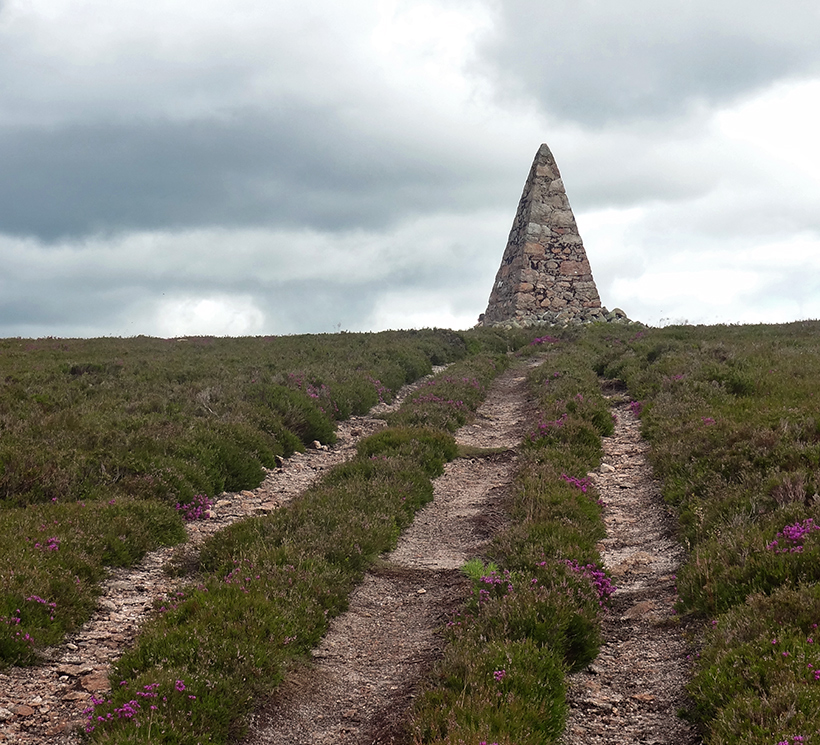 I ended up chatting to a chap who like me doesn't own a car: we discussed wildlife, the distant peaks visible, and routes and locations that are good from a bus or train. I should have got his email to share a bunch of route maps I made for another sans-transport trail runner I know from America. *makes mental note to create some blog posts/ section on the site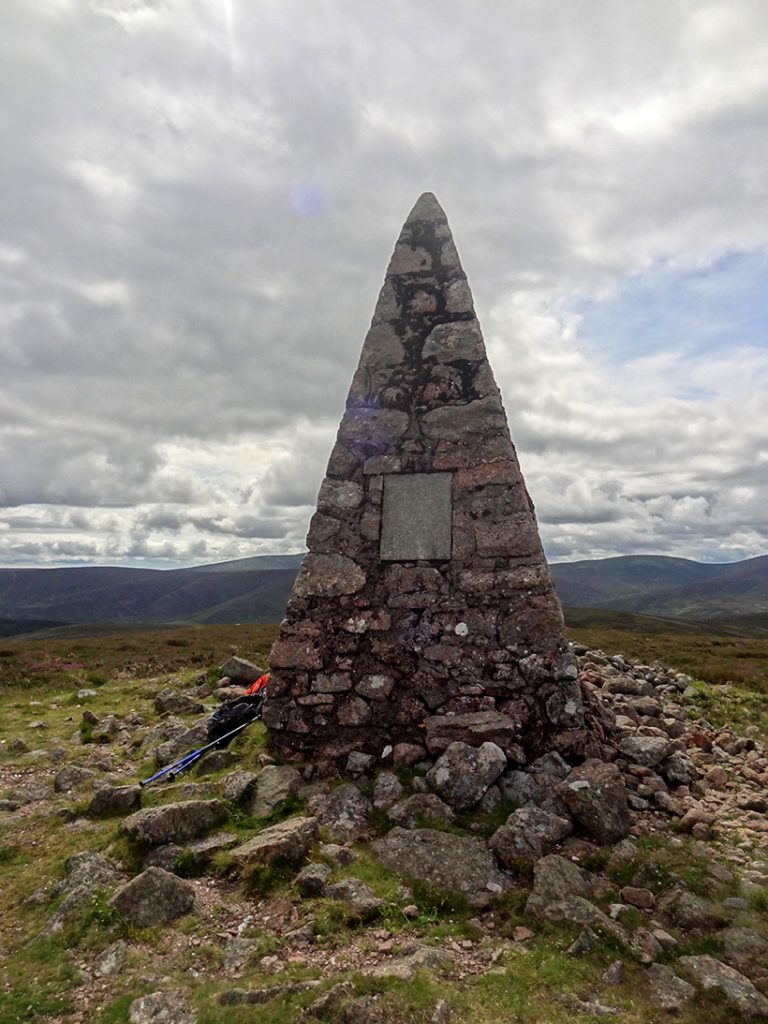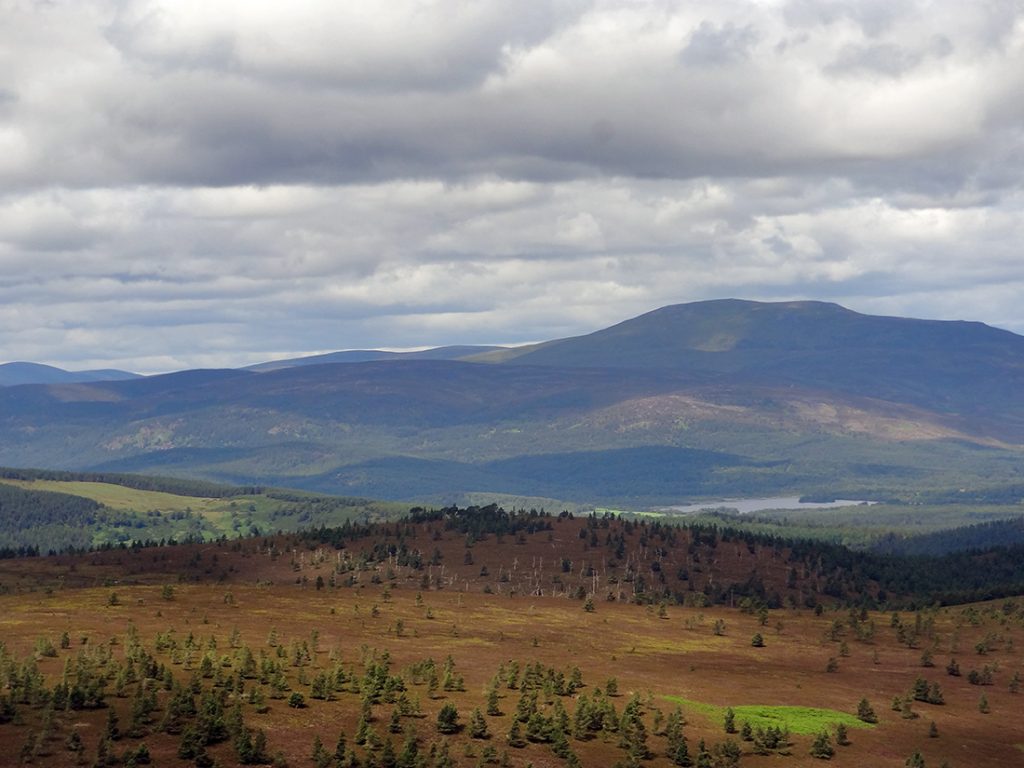 To head down, I followed an unmapped path roughly north west; it fizzled out and I had to thrash through heather to regain the top of the singletrack down through the forest.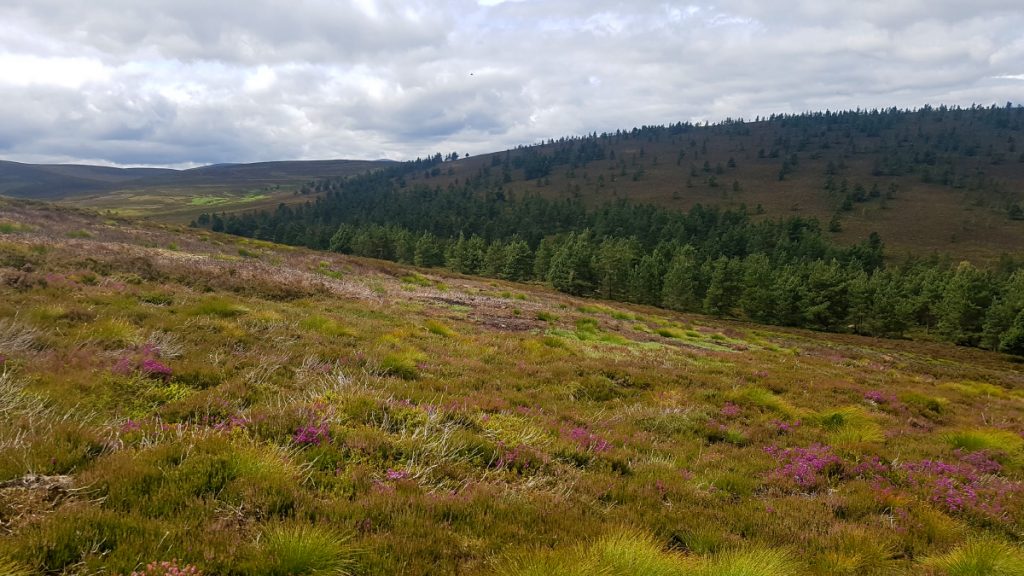 This section of singletrack is great; swishing and swooping through trees. Admittedly more fun on the mountain bike (I half expected on a Sunday to be overtaken a few times) but good on foot too (barring the muddy churned up bit before the stream crossing)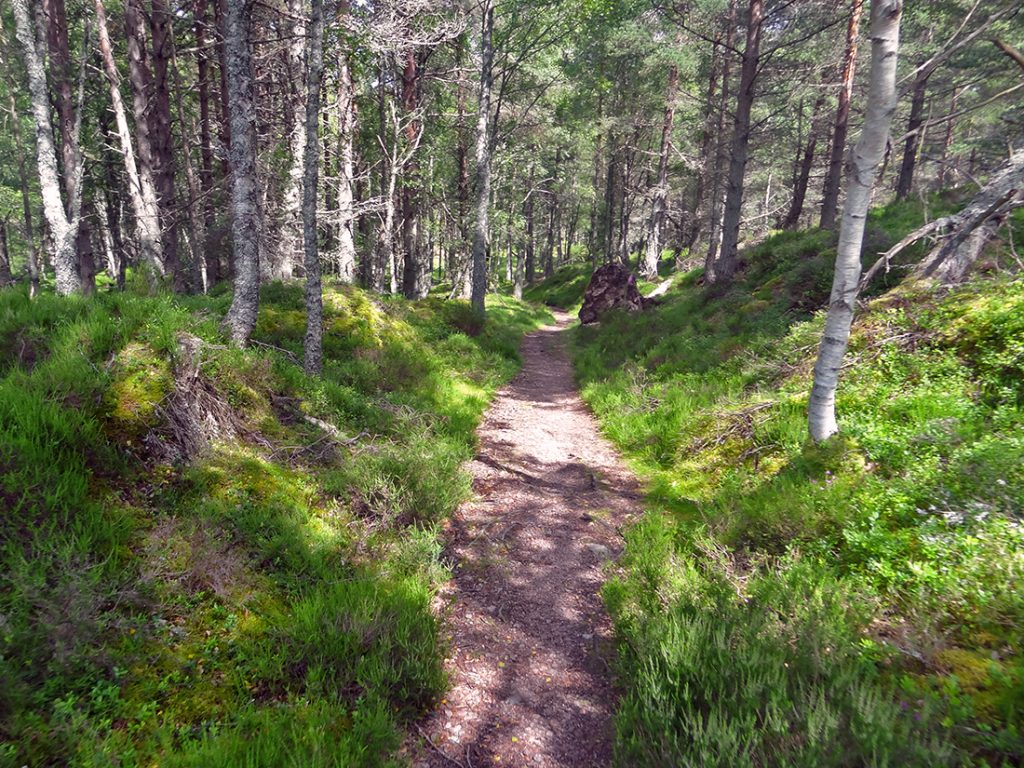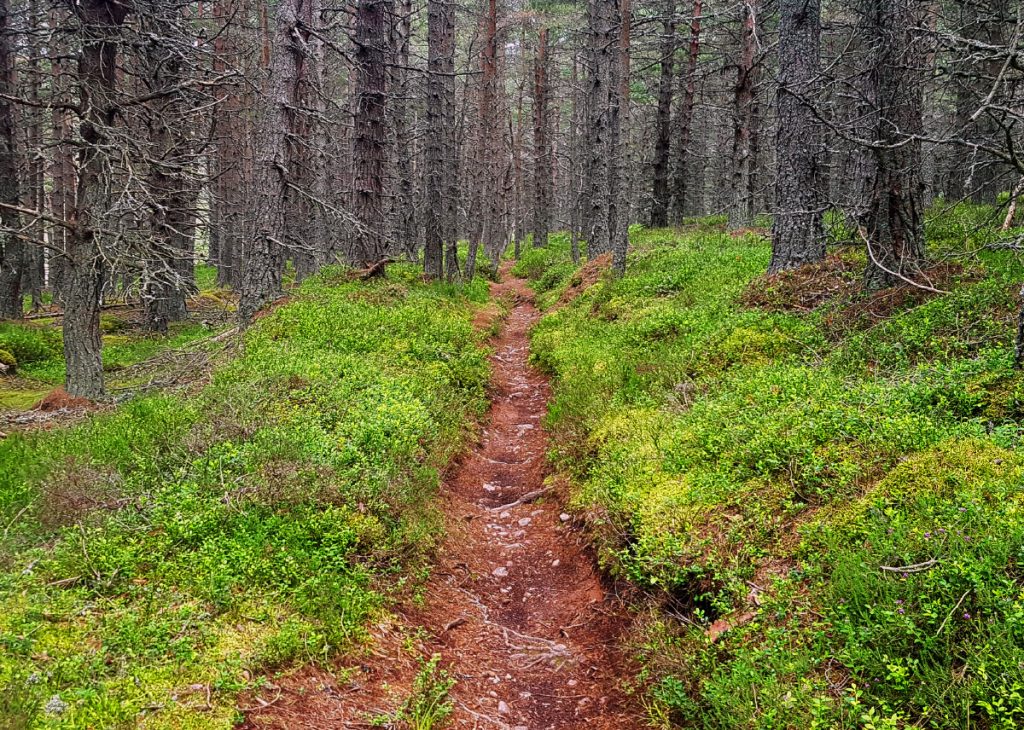 Another chat with a mountain biker at The Guard (looking for the enduro trails to the east) before heading on past one of eccentric 19th century laird, William Cunliffe Brooks whimsies: 'the rest and be thankful' no rest though as it was buzzing with clegs.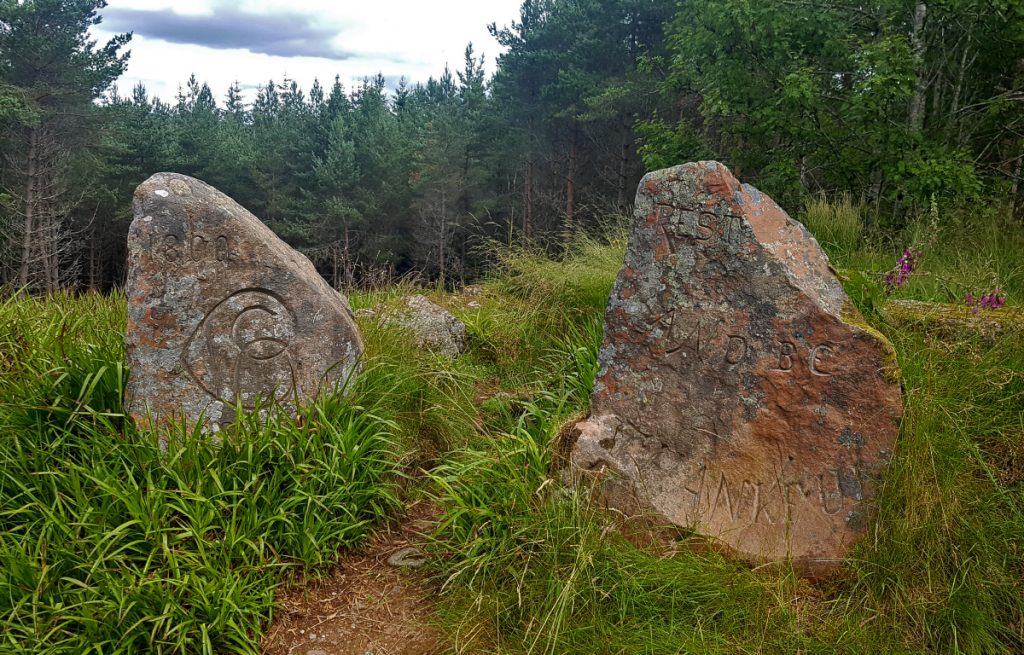 A brief detour was made to the placid mirror of Birsemore Loch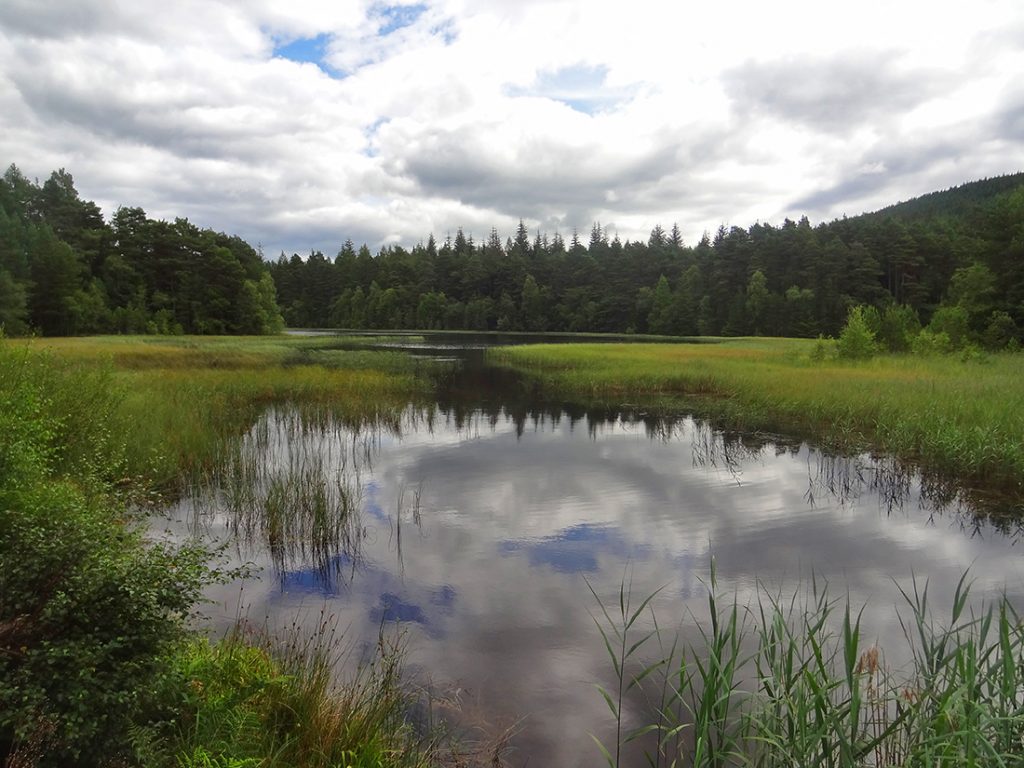 Overhead, 4 buzzards wheeled, patience eventually framing two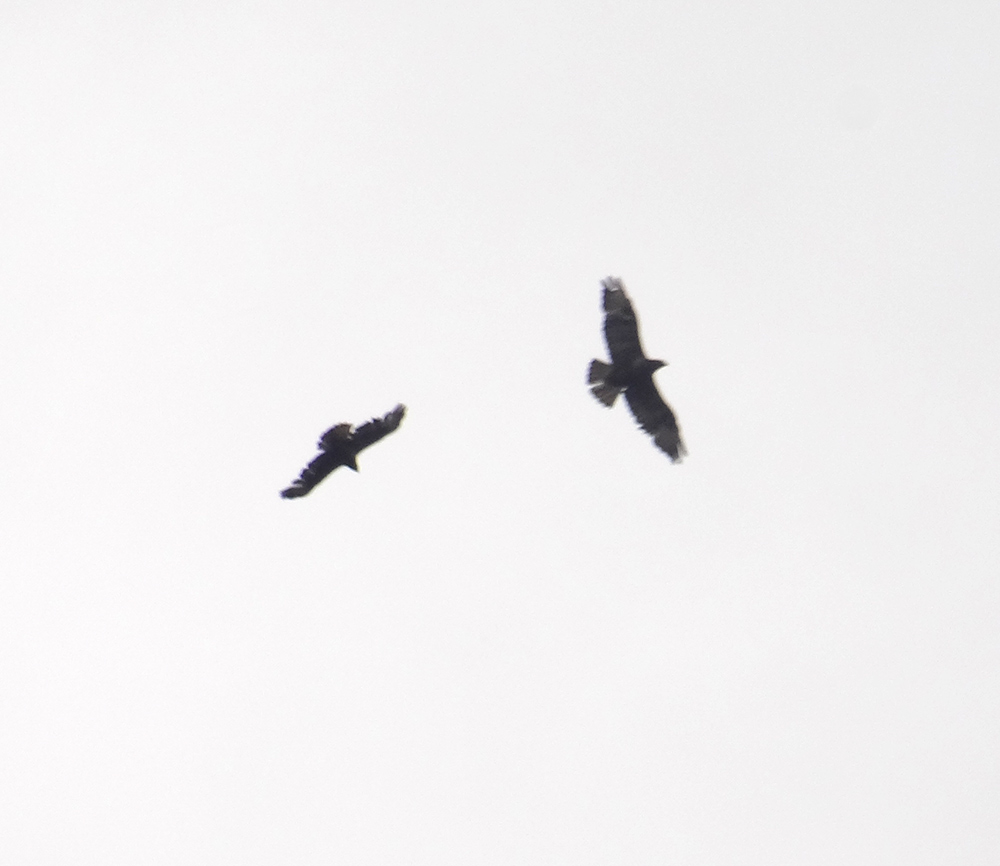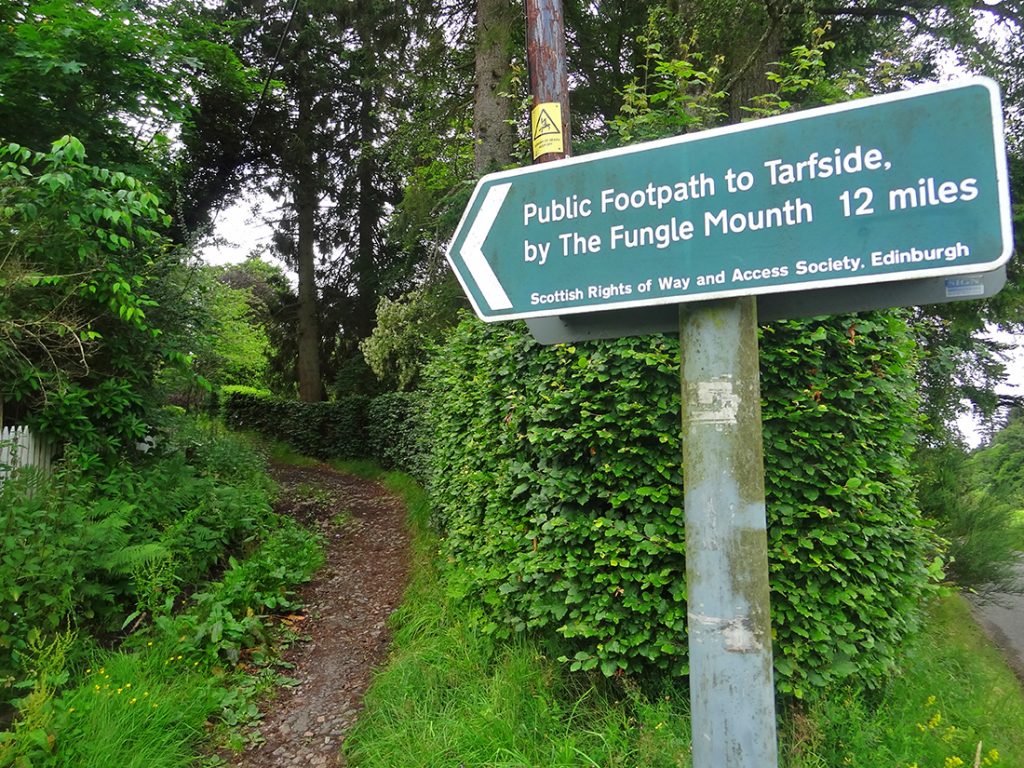 Back at Aboyne, I had a few hours to wait until the walkers reached our coach outside the Boat Inn, so ambled into town to the 'Spider on a bike' cafe for brunch. Who knew avocado on toast could be so delicious (they'd spiced it up with a peppery dressing, top notch).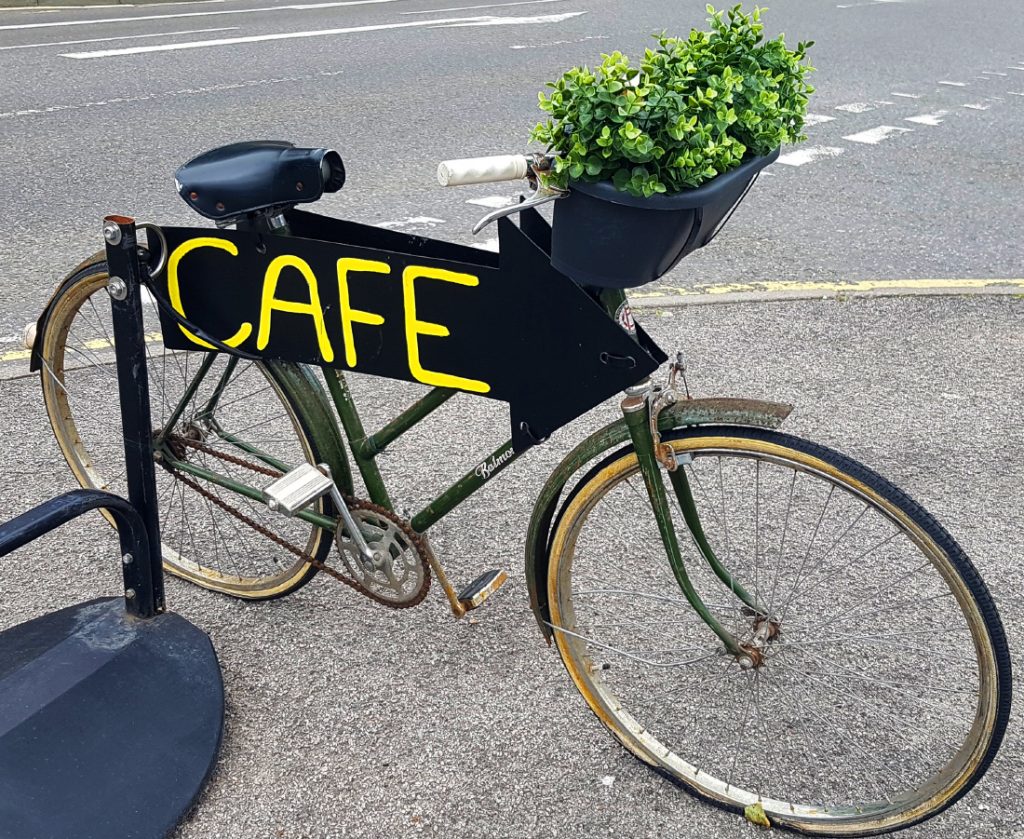 I decided to go for a wander in the woods north of the main road, and find the stone circle. The woods are crisscrossed with lots of thin paths, and are nice and lush.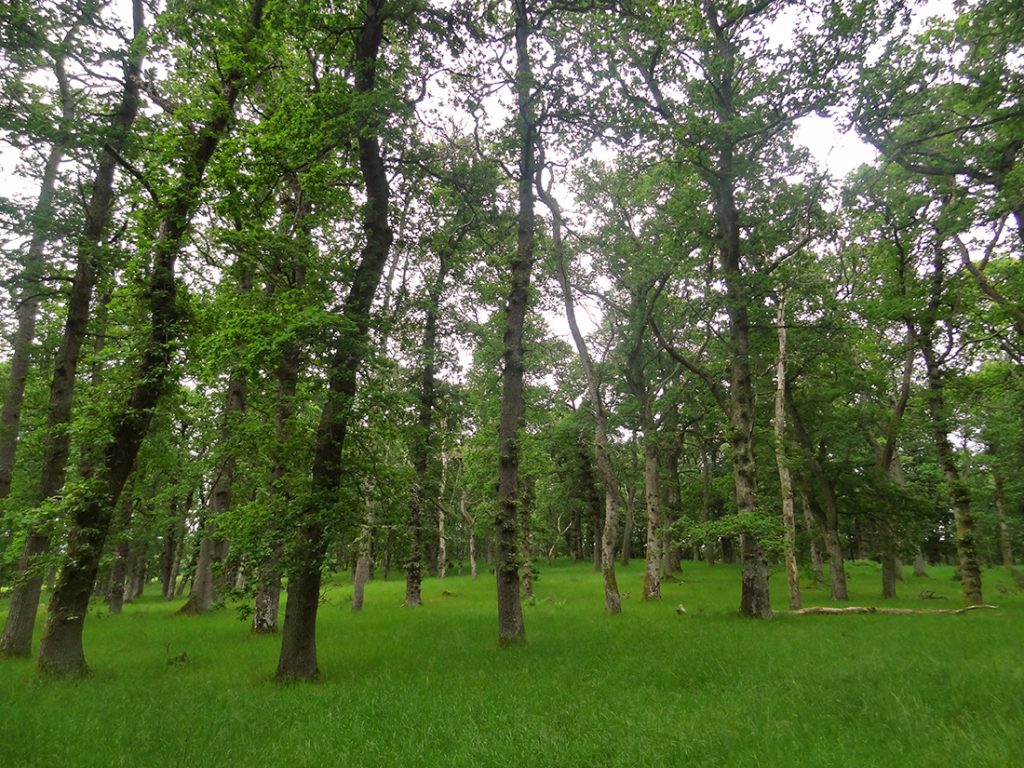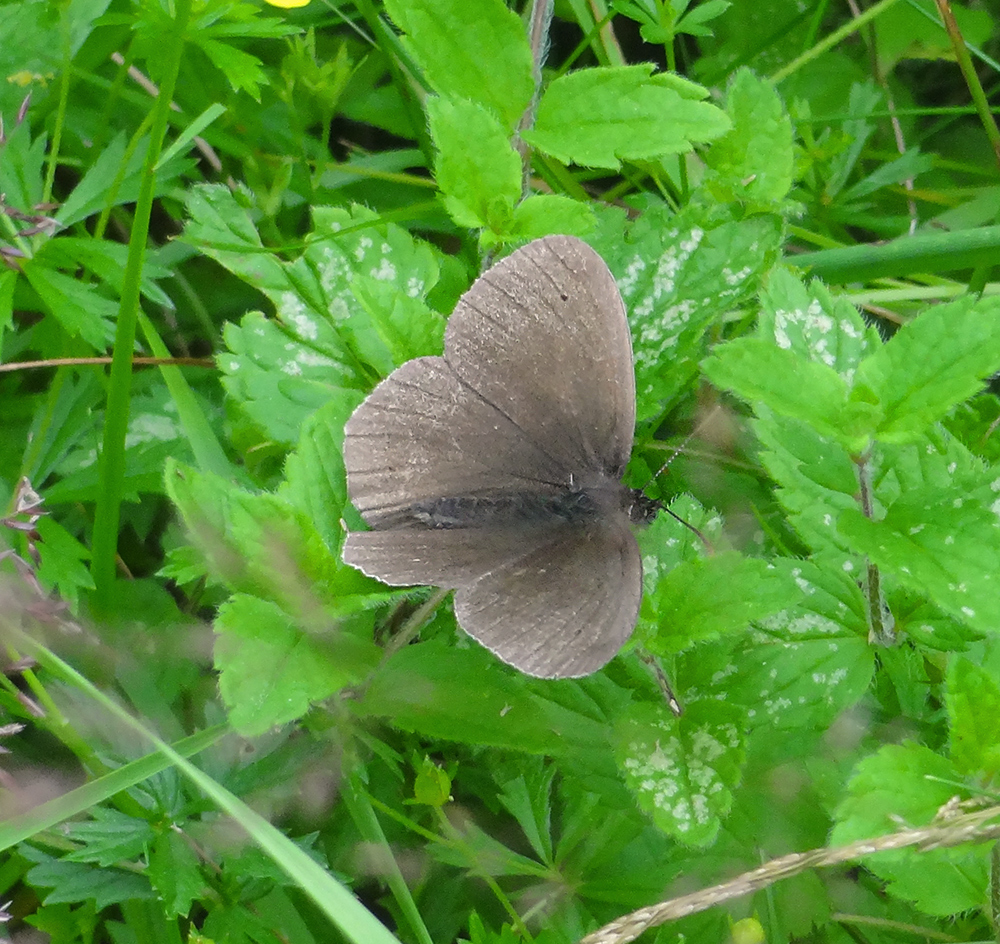 Eventually I found the circle, then also a kid's 'gang hut' and swing. The swing had to be tried of course, first checking there were no other grown ups nearby to laugh at me. The woods were alive with butterflies and mushrooms, but thankfully not clegs like earlier.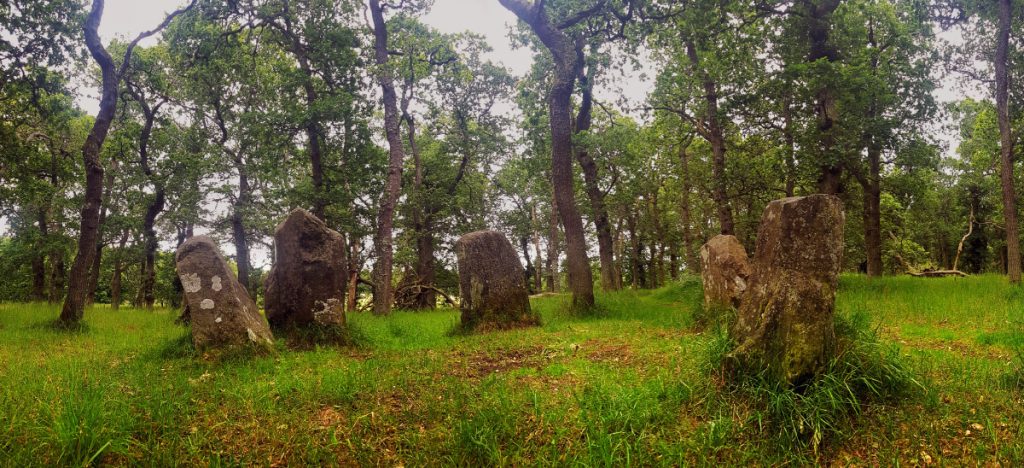 With the allotted time of finish approaching, I wandered back to the pub for a cold pint and a chat with some of the walkers who'd now arrived before heading off home.