3 trips up Lochnagar in a month or so: Part 1 December 1st
After my last run past Lochnagar, the weather had been grey, rainy and dull, but a sudden clear weather window appeared. The game was afoot.
"Away ye grey landscapes, ye gardens o' roses
In you let the minions of luxury rove
And restore me the rocks where the snowflake reposes
If still they are sacred to freedom and love"
I wasn't the only one to notice this opportunity – I had 2 friends on the in touch, each looking for a day out in the hills. One is a runner, the other not, but with there still snow on the ground making a run a difficult task for those not committed to such deeds, we collectively decided on a walk up Lochnagar – it was going to be blue skies, cold and still.
Arriving at the car park the temperature read -8ºc, and everything was coated in frost. With hardly a breeze it shouldn't be too bitter up top. Cold weather gear was a brynje mesh base layer, fleece and polartec alpha jacket, big down jacket in the bag for the top. I had a battery pack for the phone which went in a runner's belt around my waist to keep it warm and working.
Setting off on the tourist path I zoomed in to catch Lochnagar's peak catching the sunrise, and click.. nothing: I'd forgot the SD card for the second time in a few weeks….noooo! Switched to internal memory and low resolution.. I could take only a dozen snaps or so, other than phone shots (didn't want to have it out too much in the cold). Ansel adams would have approved.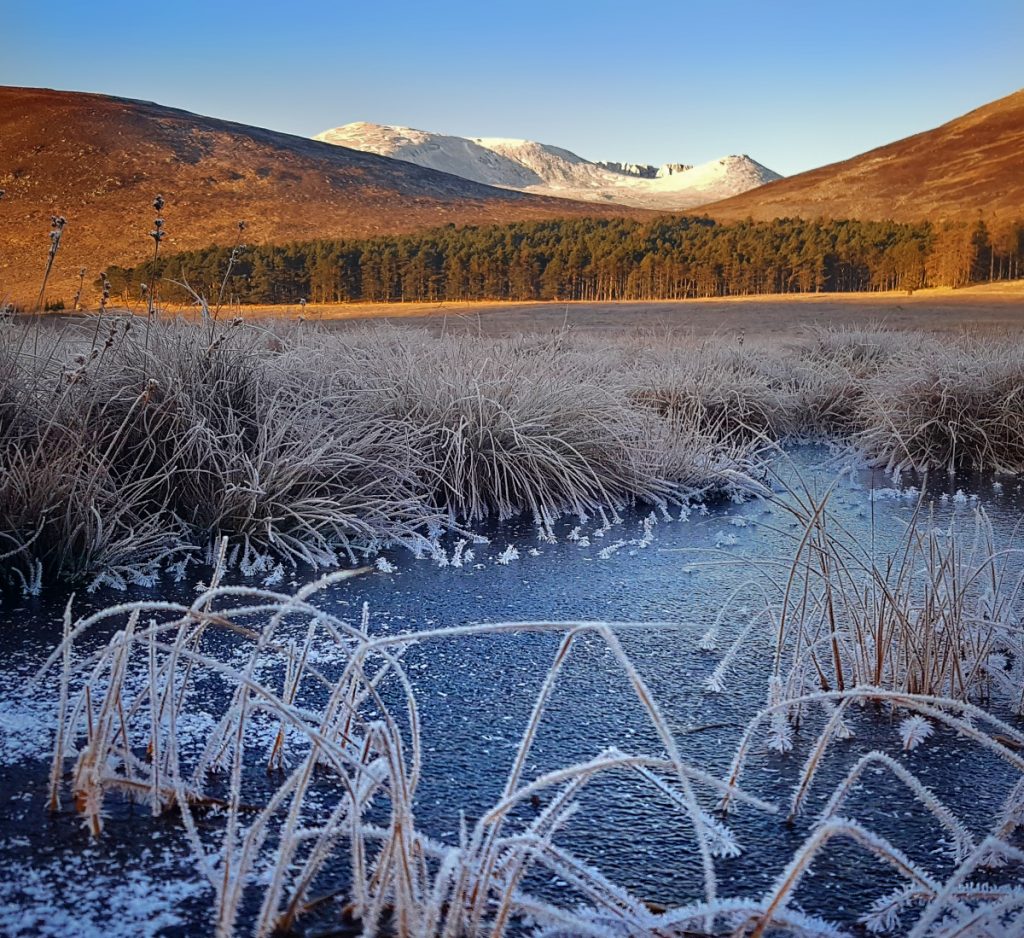 We made good progress up to the stream crossing, but the boulders to step on were coated in verglass and incredibly slippery. I made my way across using only submerged rocks.
As we climbed further the path was largely slippery side to side where the foot-compacted snow had now melted to ice, so the heather verges and centre ridge were needed to make steady progress. The snow cover was much thinner now, an inch or two versus the foot or so a couple weeks back, but had hardened.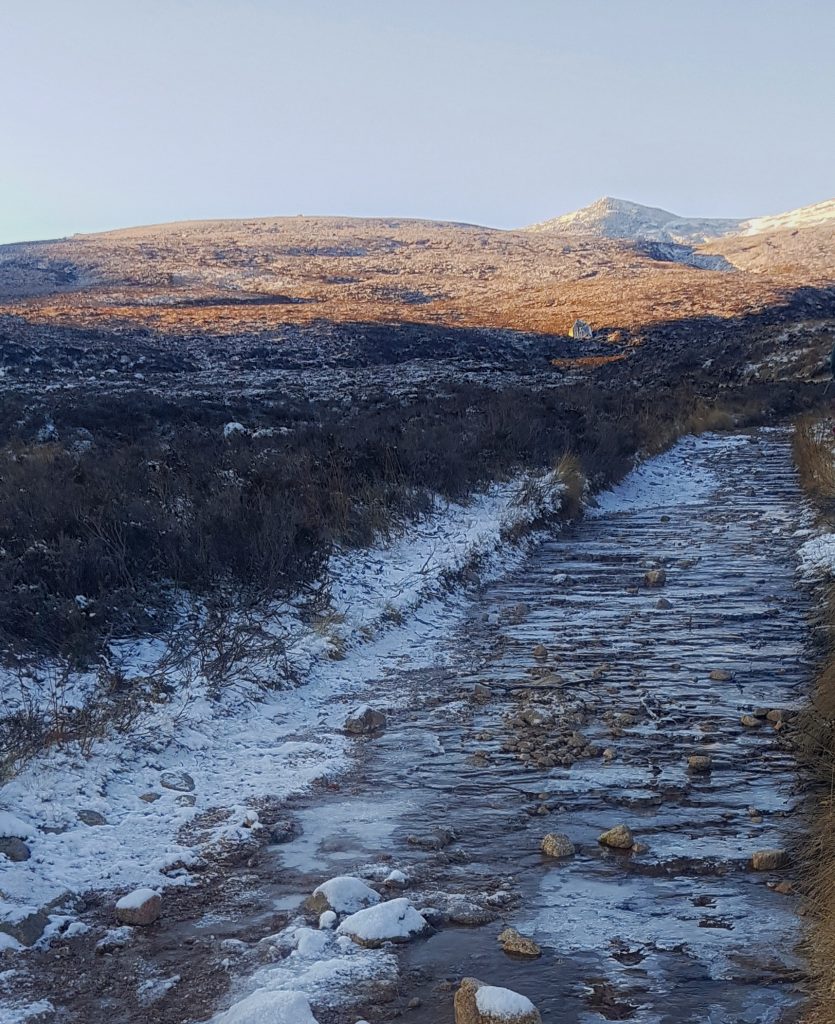 We had a quick detour up Meikle Pap to get a better view of the corrie, before starting the ascent around the edge.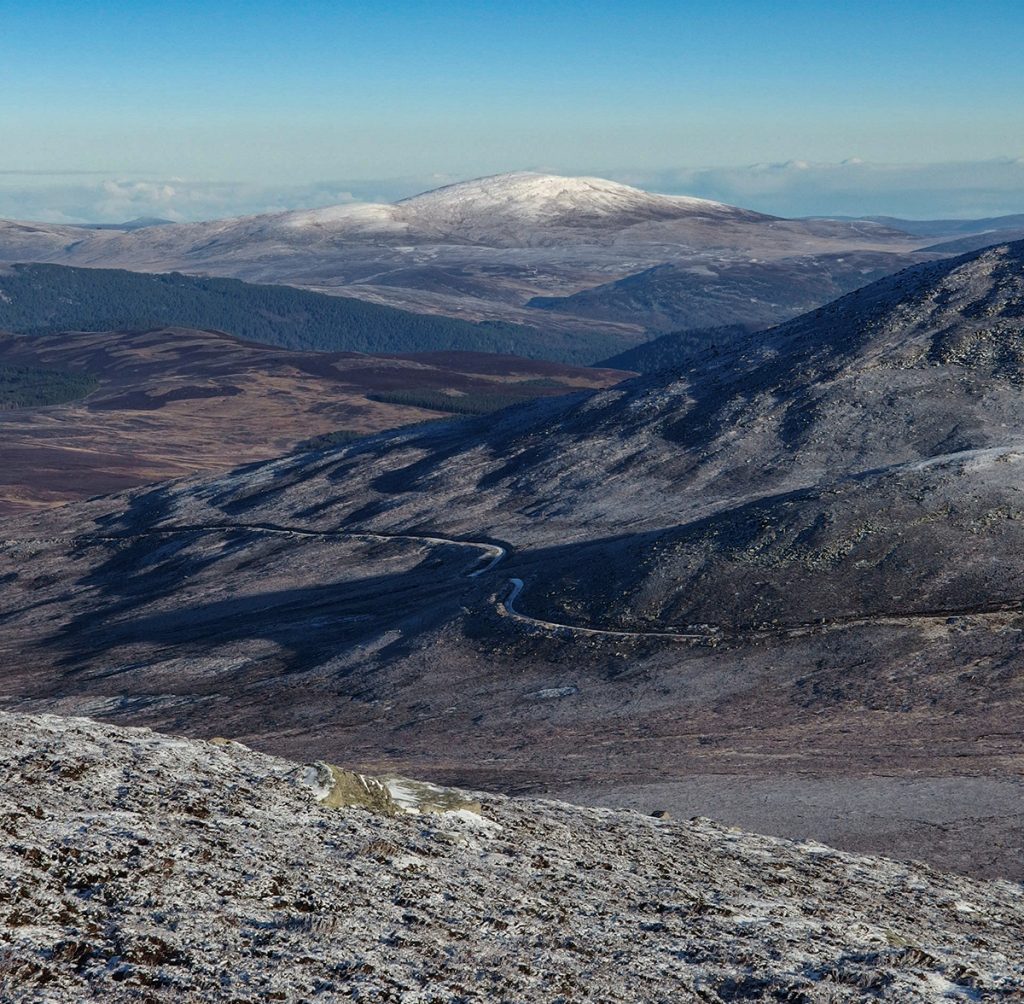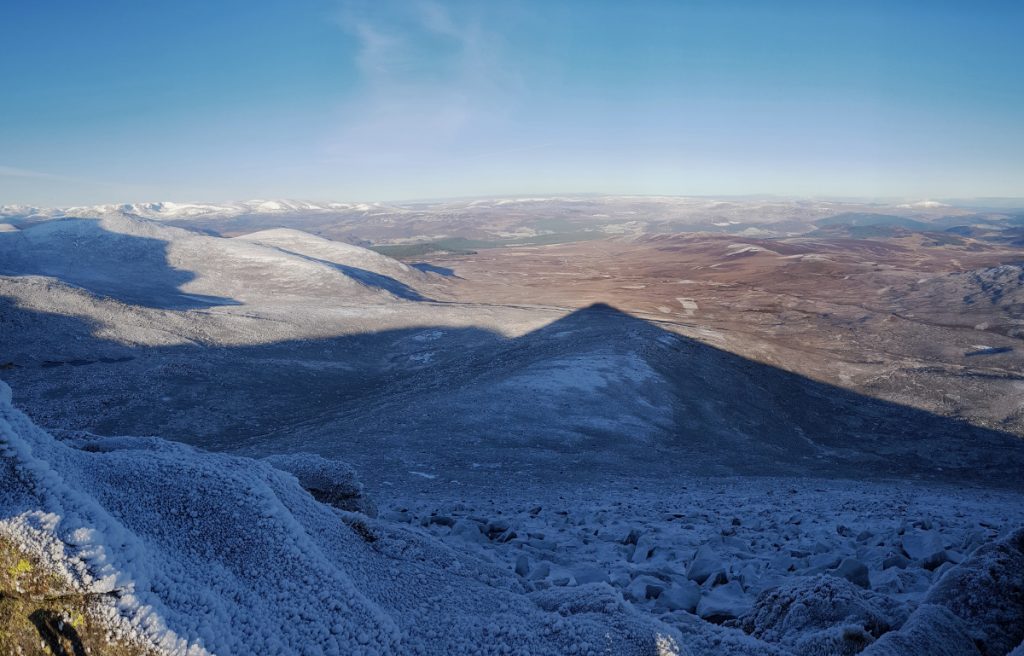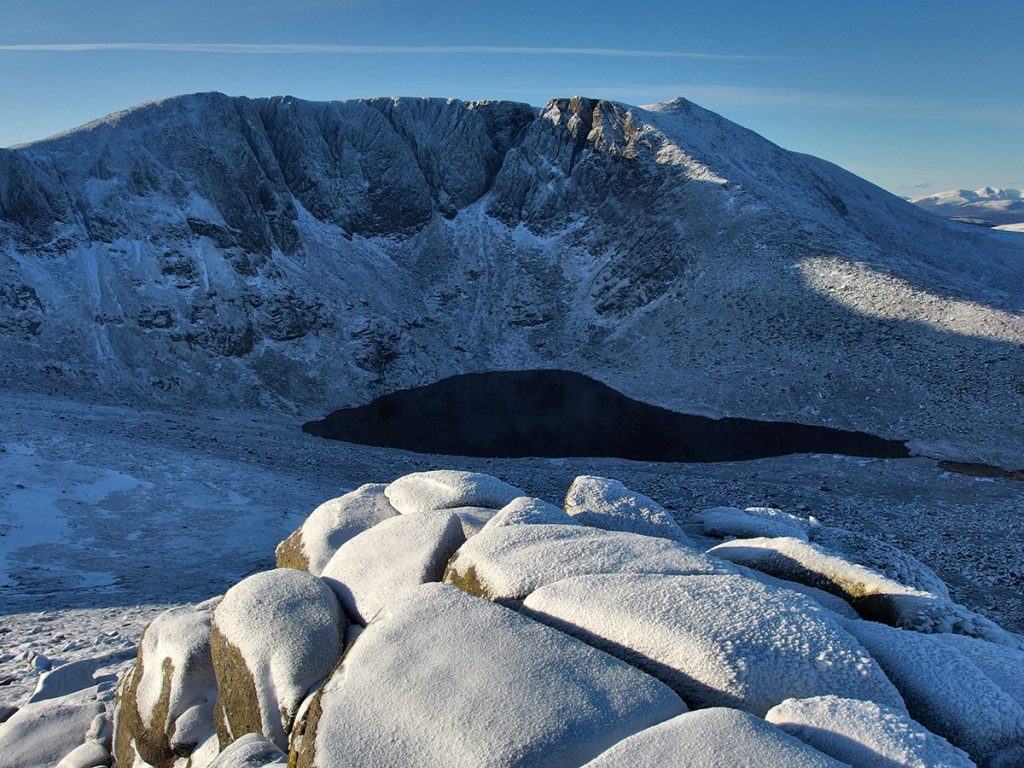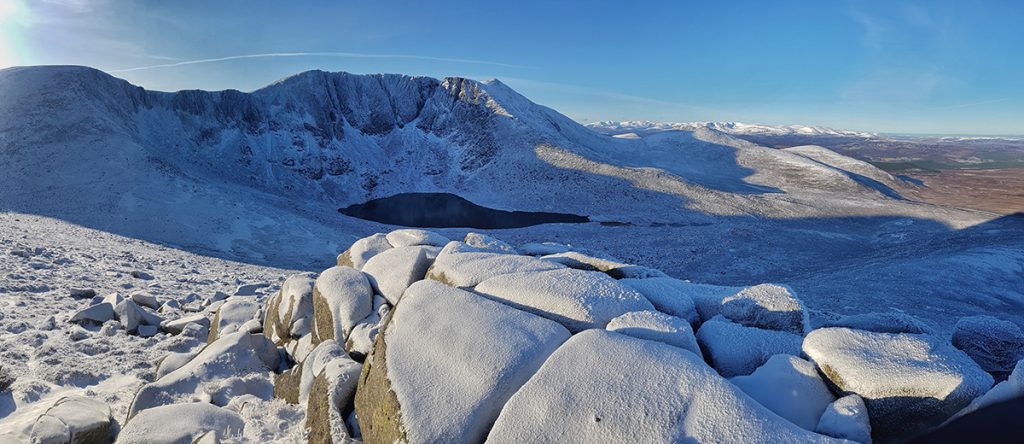 As expected on such a fine day, there were quite a few others on the mountain, and we watched some chap demoing ice-axe arrests to his kids, safety starts young! For one of my friends, this was his first winter munro, so was a useful intro to winter hill-craft.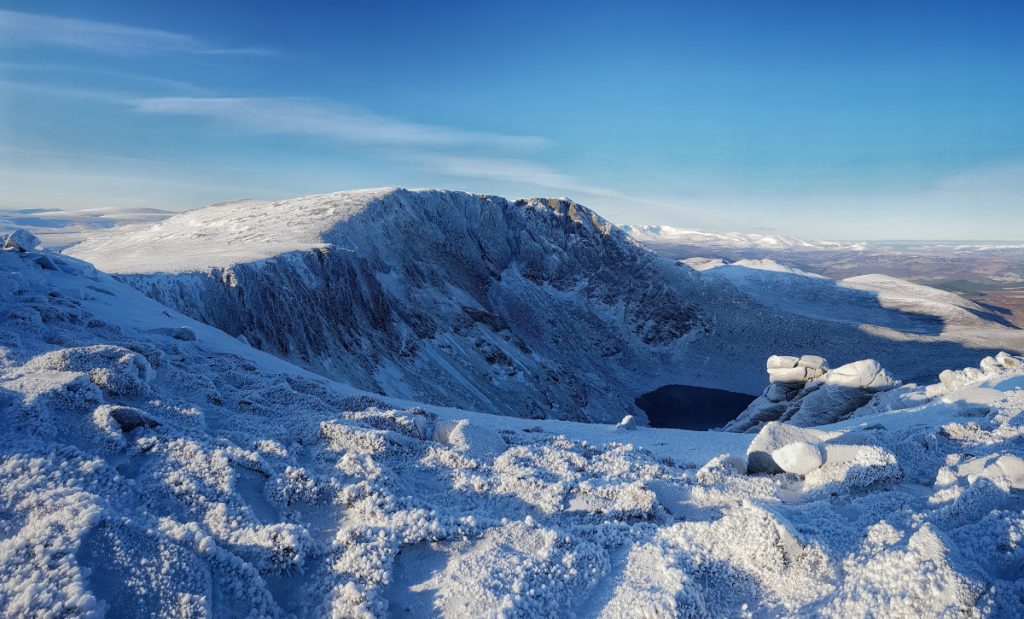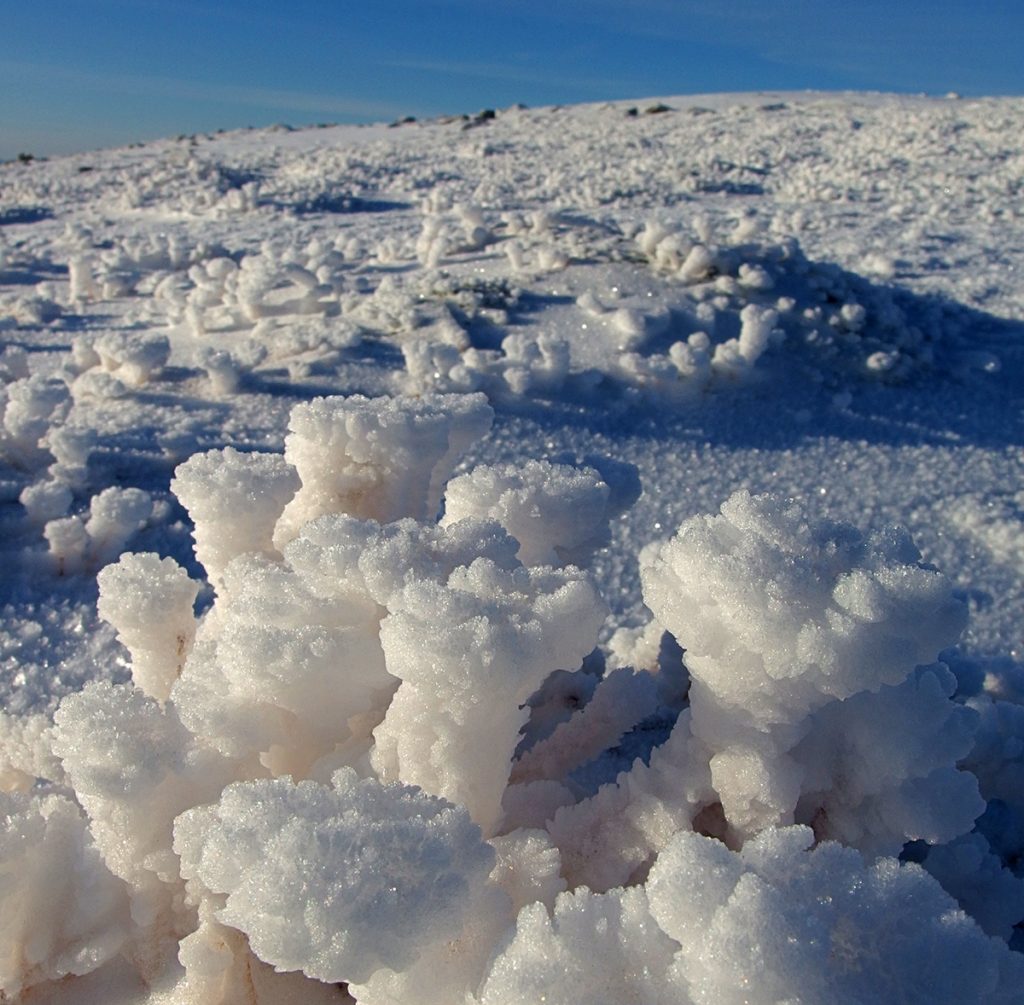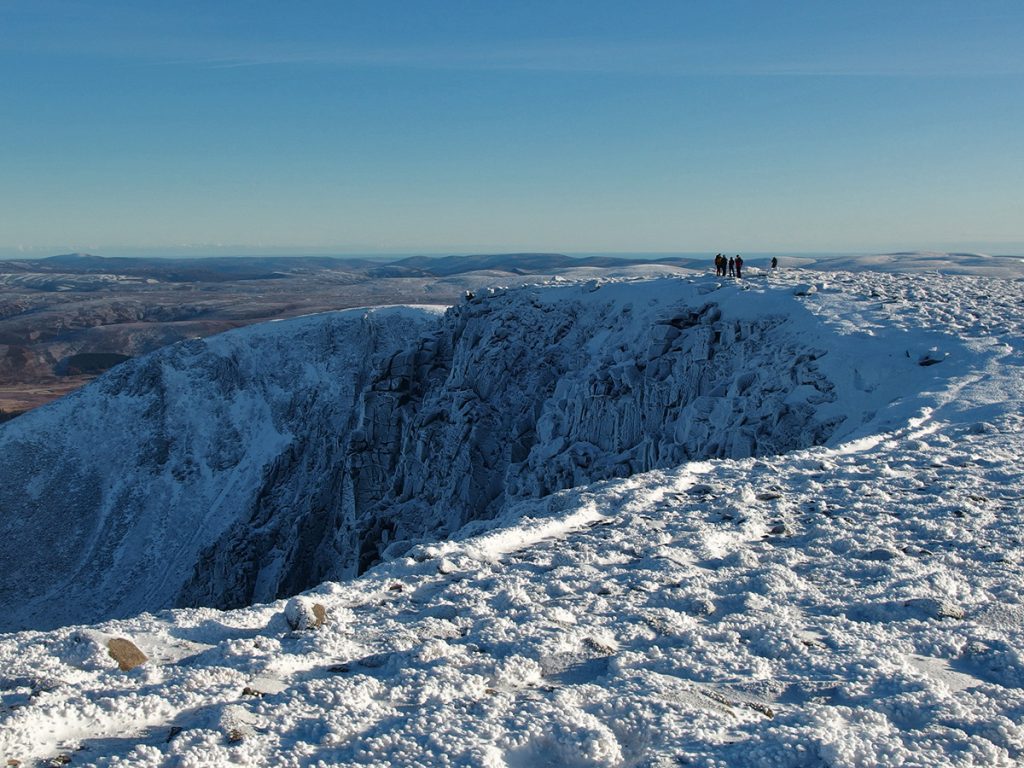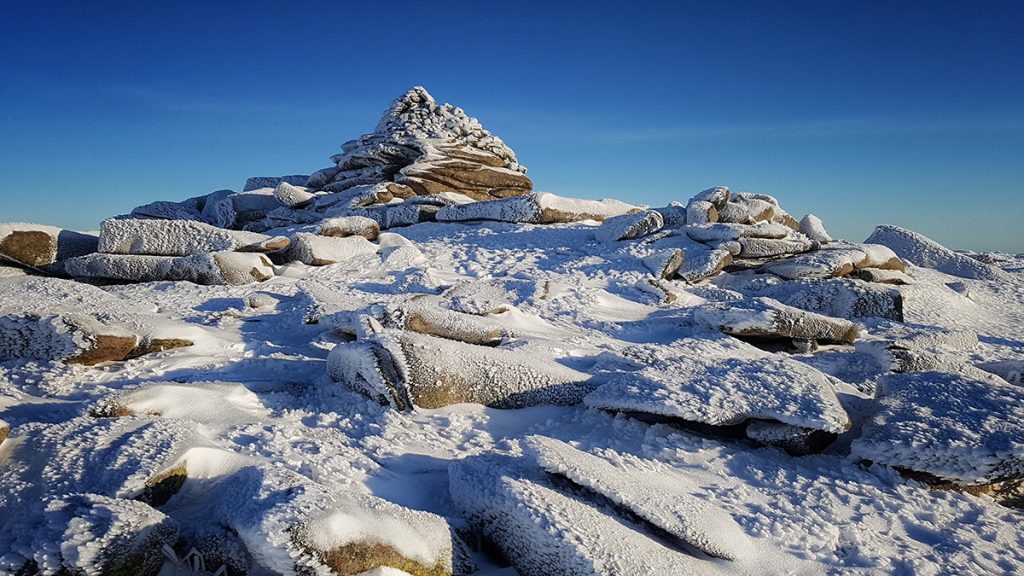 At the top, we stopped for lunch and I was glad I'd taken my box-wall down jacket (total bargain, s/h Bergans Sastrugi off of ebay for £20). The visibility was great and we discussed what a range of distant mountains were. One prominent peak – was it Beinn a Ghlo, or even Ben Lawers? The lack of a strong breeze made the cold bearable with little wind chill.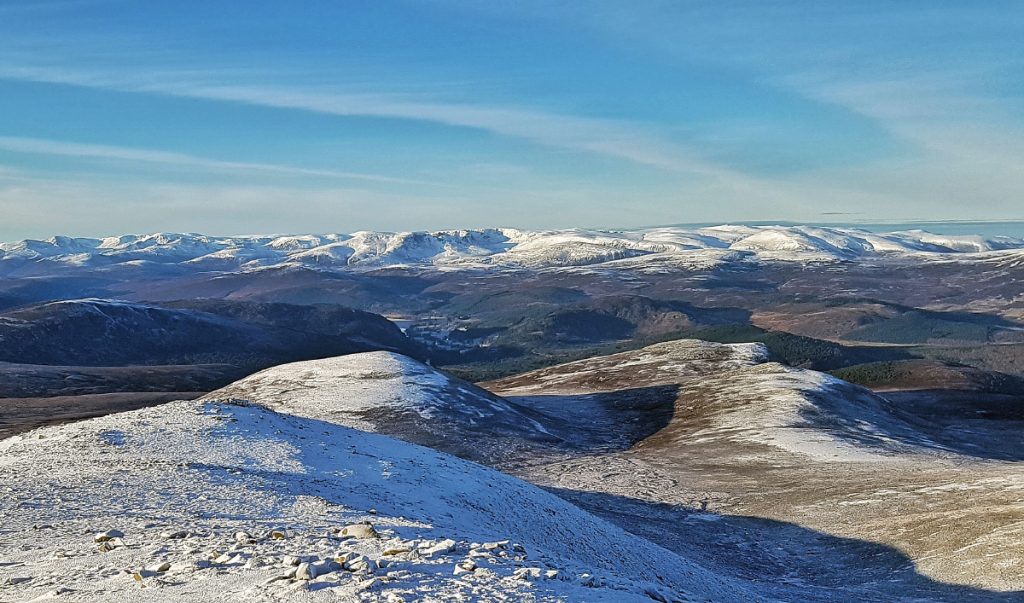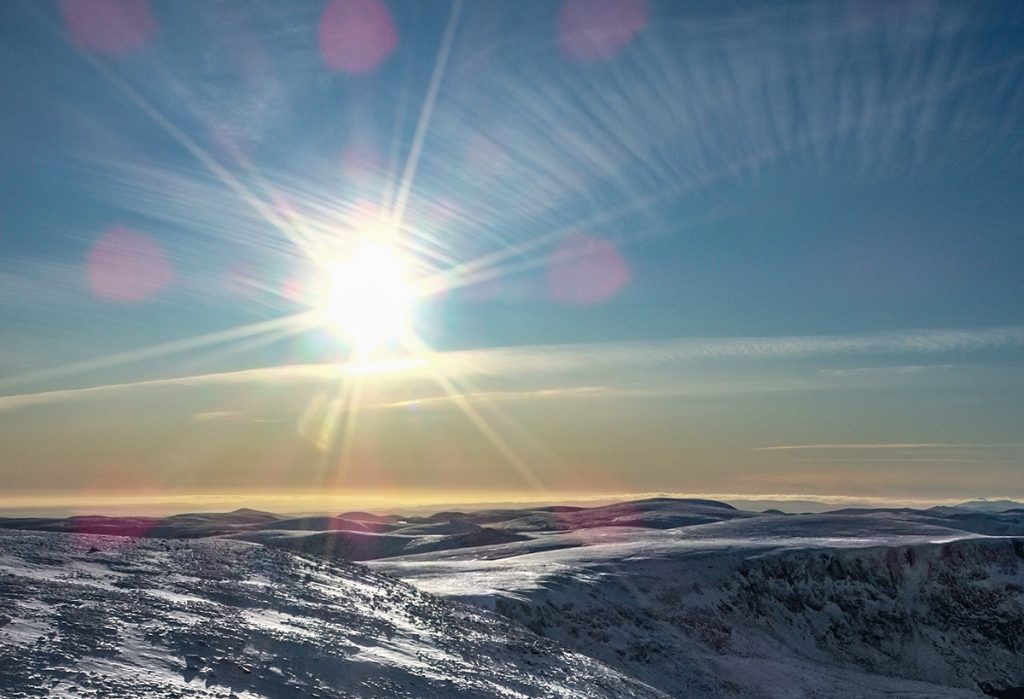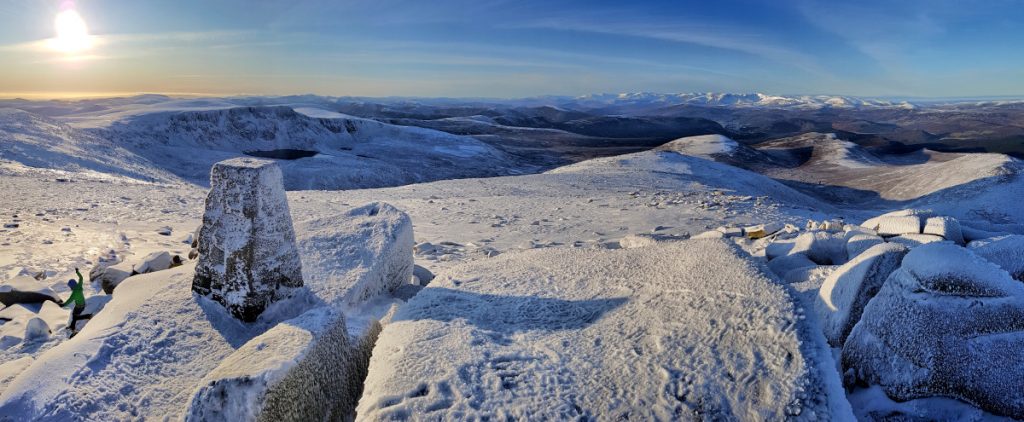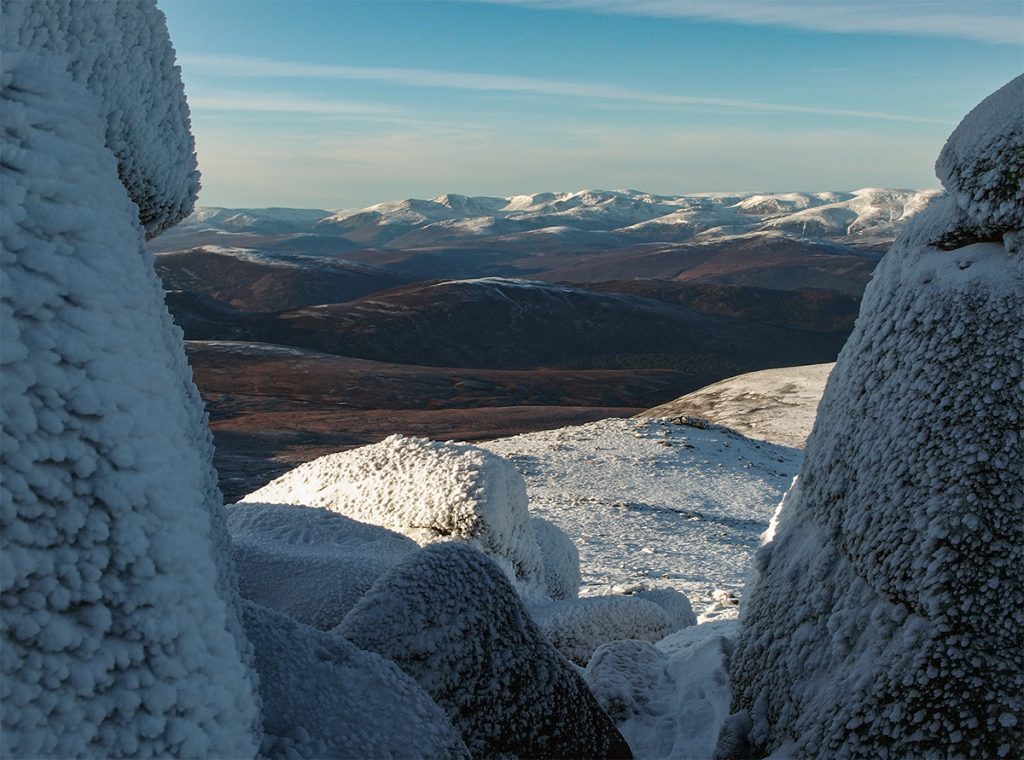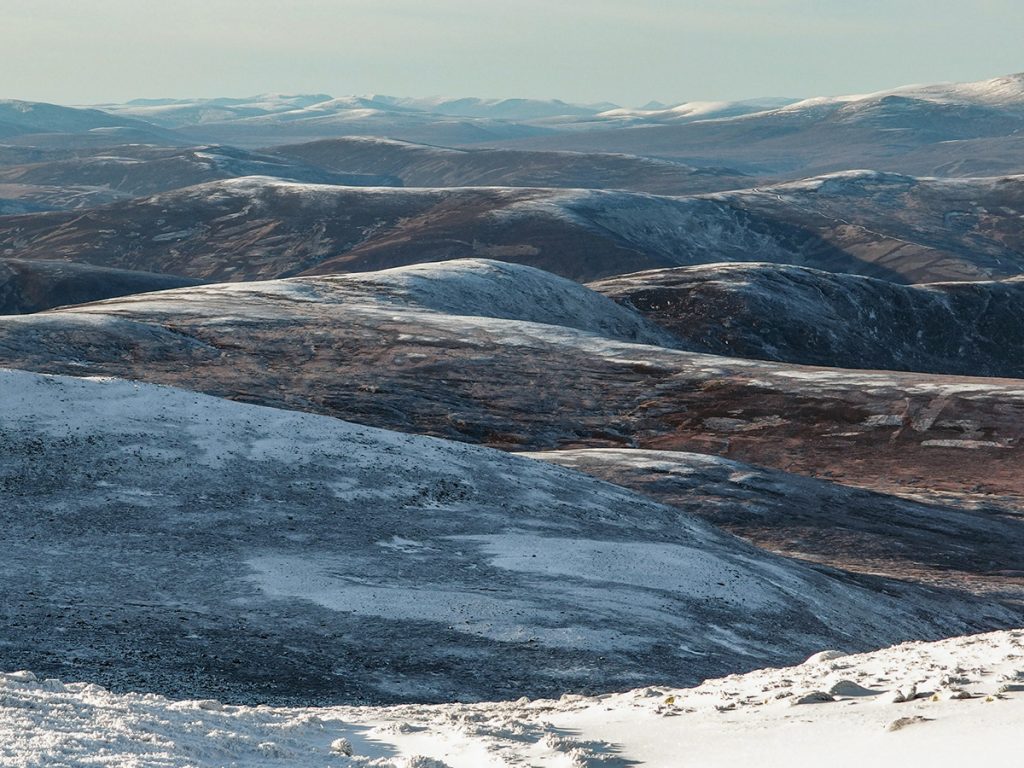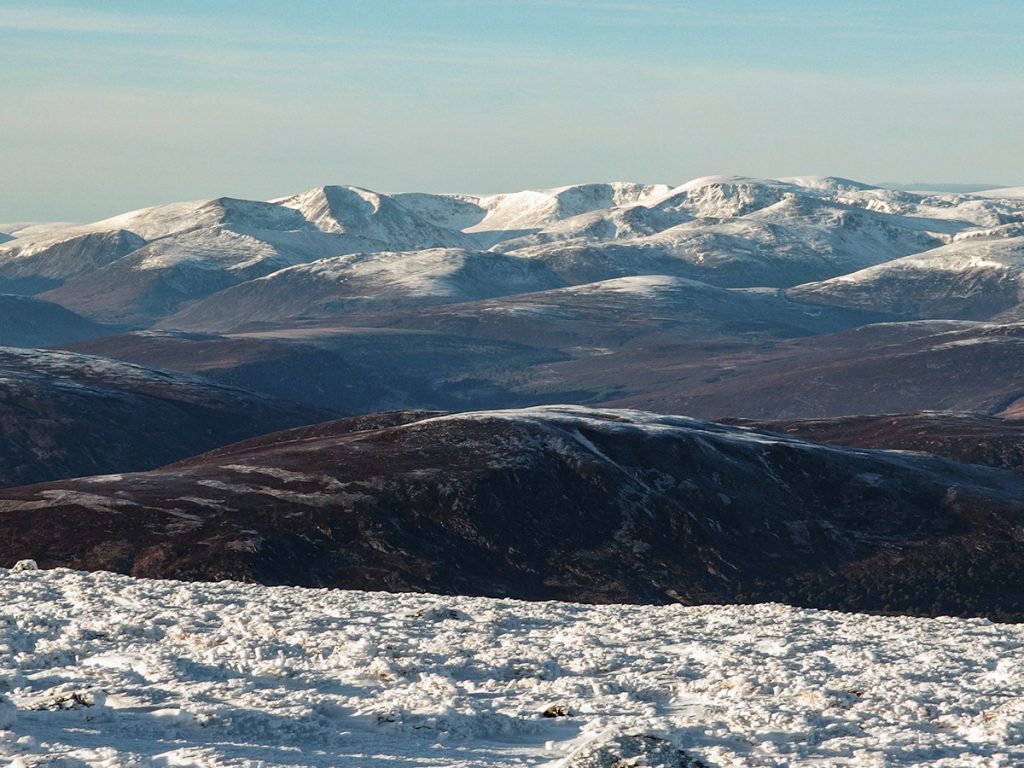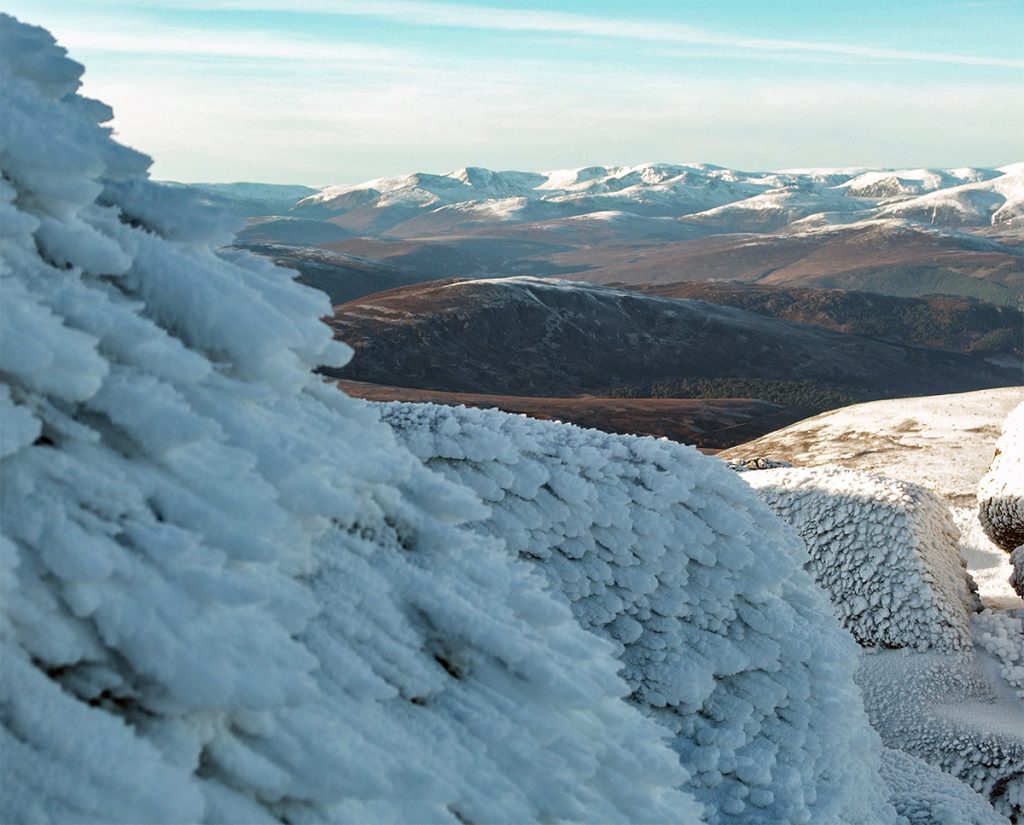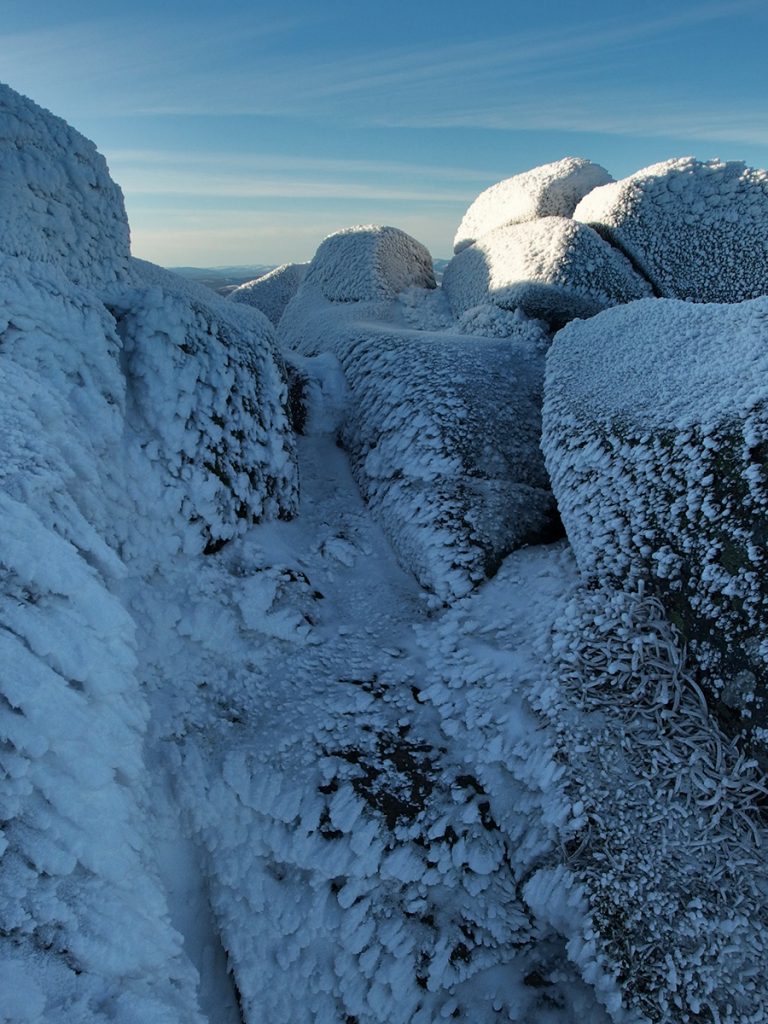 Subsequent investigation – using OS online maps 3d view and a line plotted to match the photo, passing the end of the lochan, does indeed confirm it as Ben Lawers, almost 50 miles away!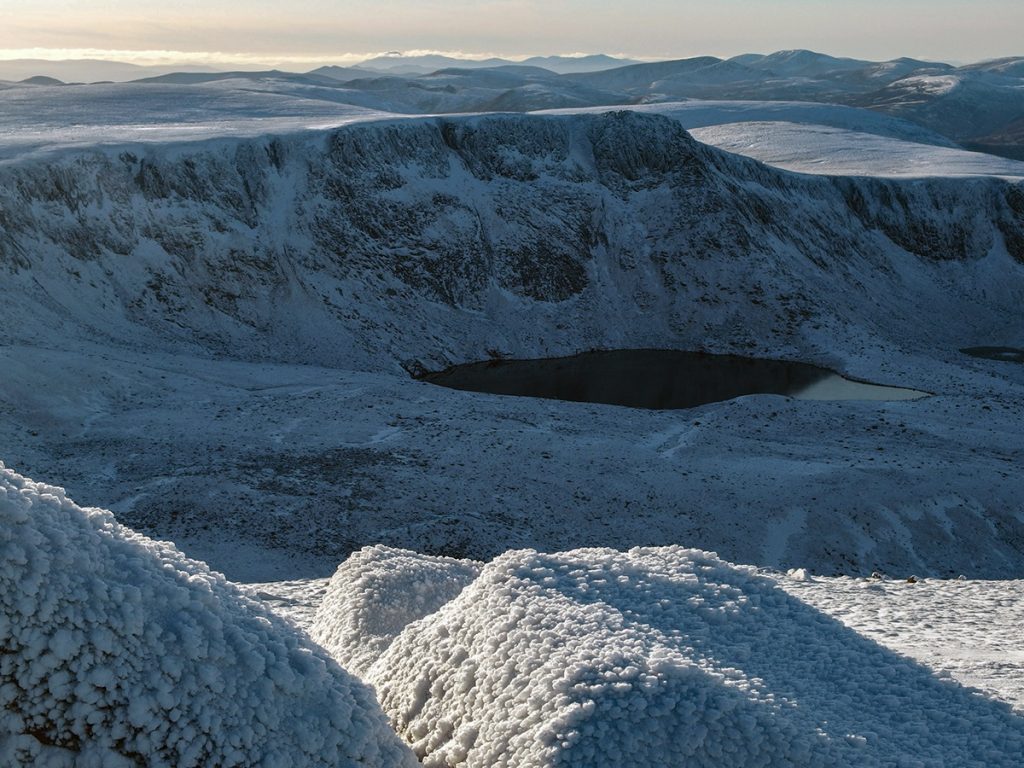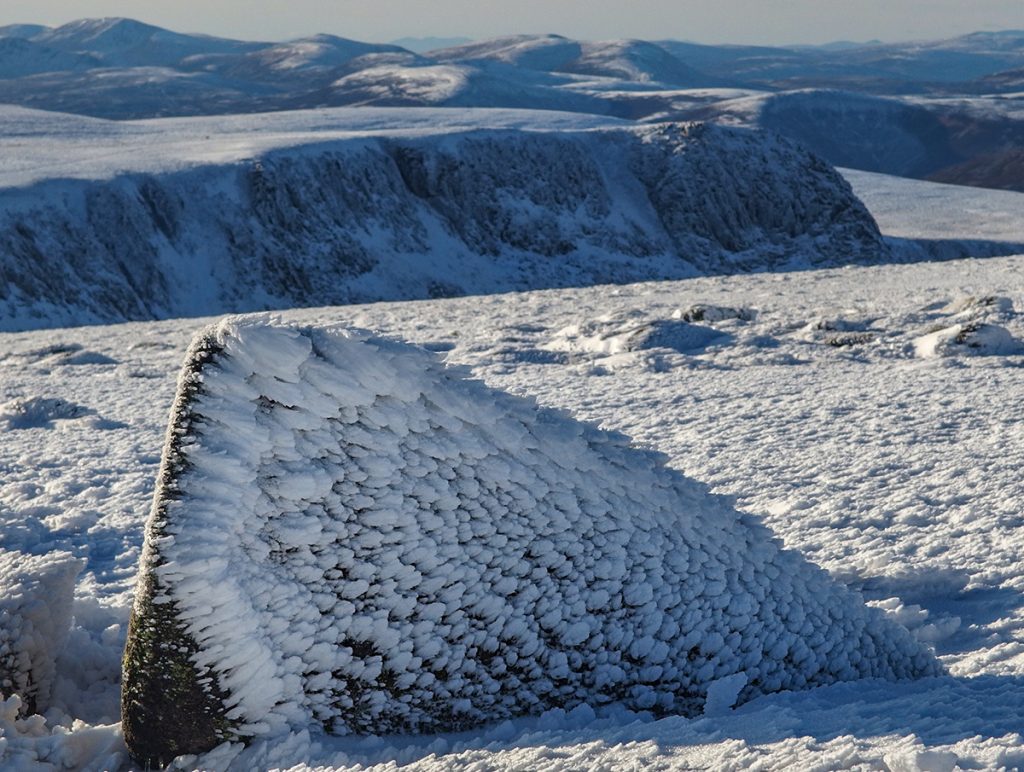 We'd pondered a longer route on the way back, but hadn't made good enough time so stuck to the waterfall path to the loch.
As we made down to the burn and encountered steep and hard snow, it was time to get some additional grip put on. I'd taken crampons plus 2 sets of micro-spikes in prediction that my friends may not have any (one had yaktrax coil things) . I'd just bought a set of 'snowline chainsen light' in an effort to reduce weight for winter running – 250g versus the 500g of my other pair.
These proved just the ticket allowing them to proceed downhill with far more confidence. Along the burn, there was large stretches of ice, and then at the snowline the patchy dry/ rocky/ icey trail was a clunky pain in crampons. Fraser had a pair of yaktrax which he put on allowing me to have the microspikes back, they handle this mixed terrain far better.
The burn had a great display of icicles and verglass on the boulders, but we'd dallied a bit much and the sun was beginning to set. A brief look at the glas allt falls, and then a small stretch of icey and rocky trail wound round the valley side to carefully traverse while still light. I'd though this bit would be a potential hazard (often very icey) and wasn't wrong. Fraser had lost a yaktrax – they do have a reputation for not being hugely reliable and are more suited to urban use.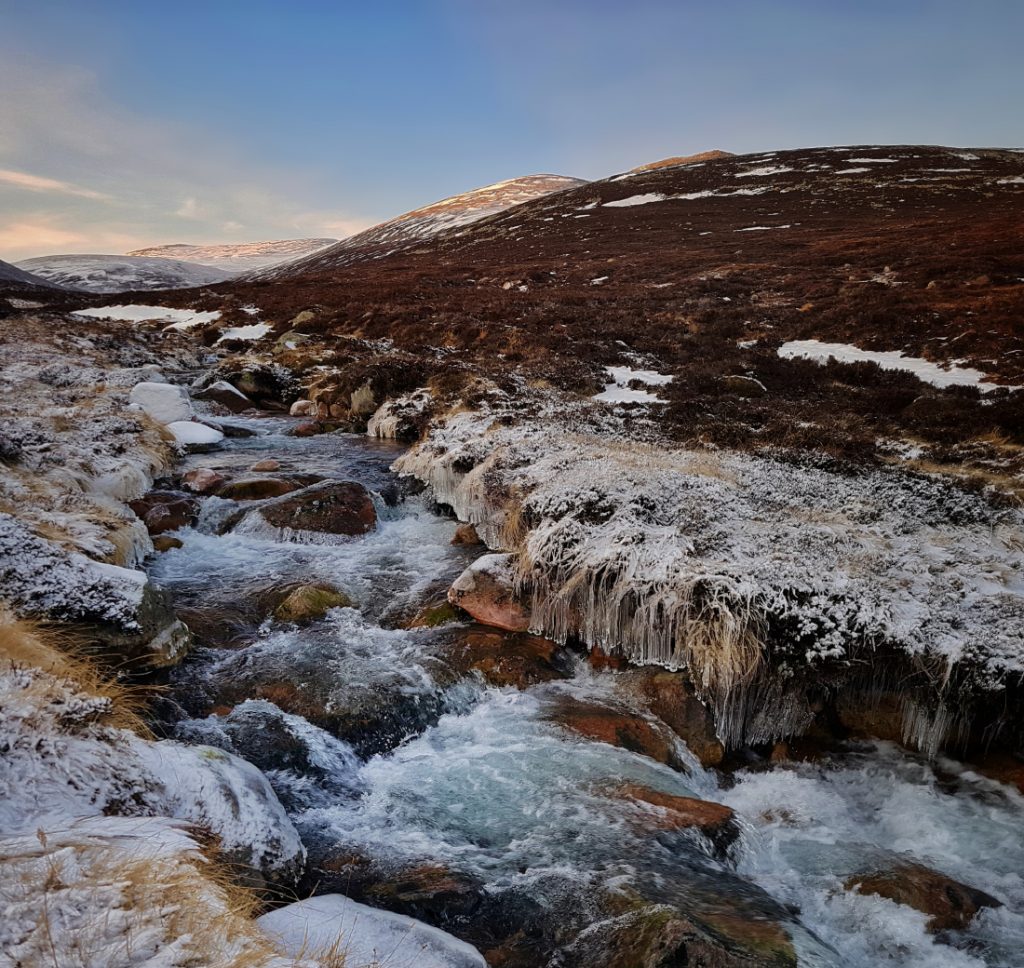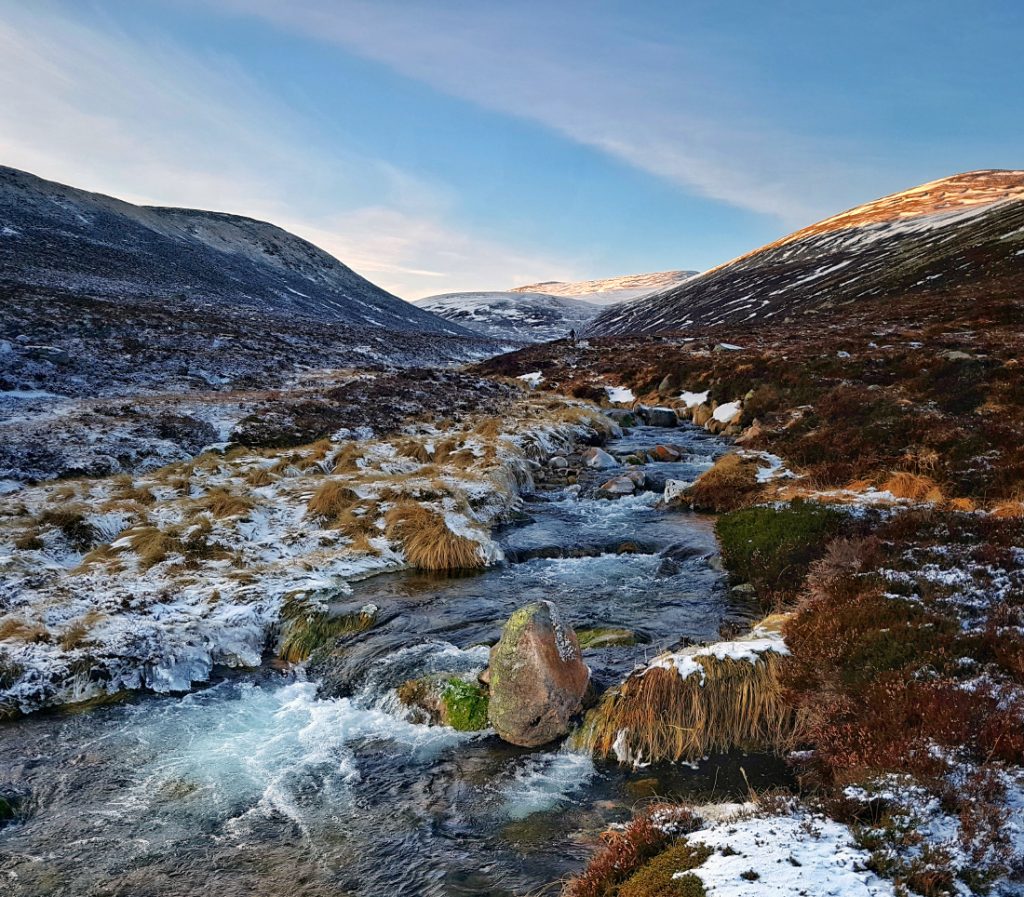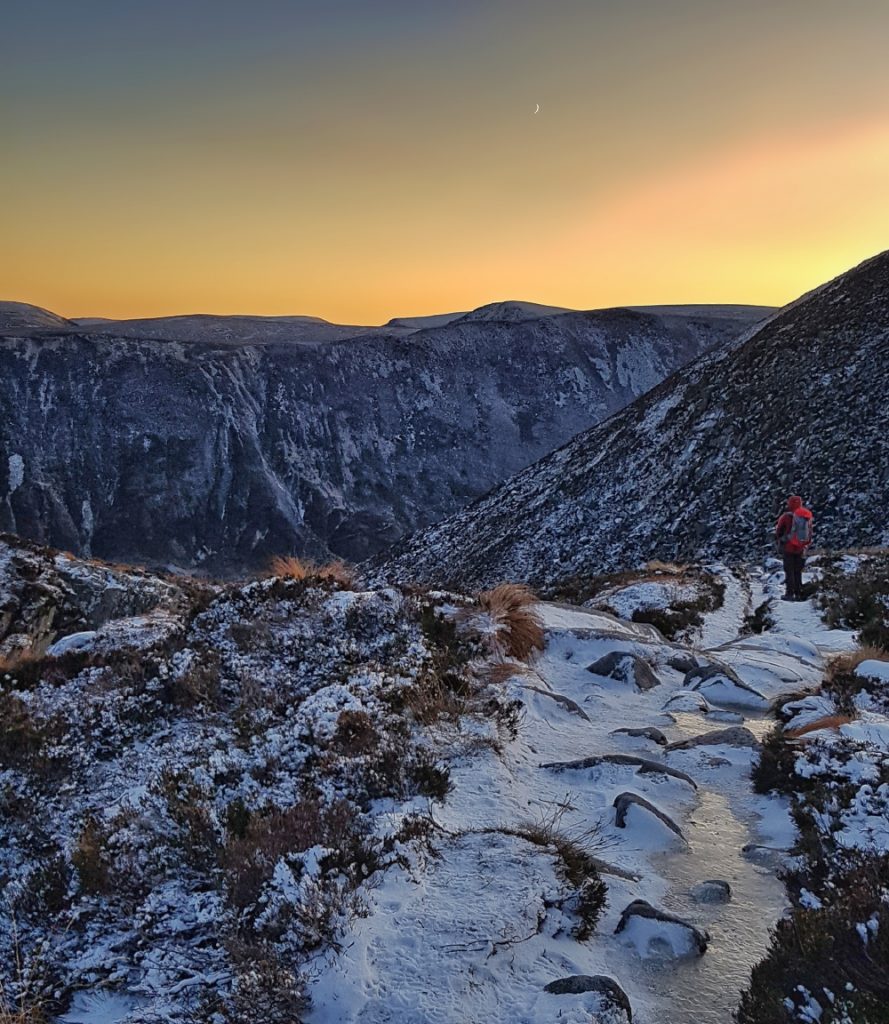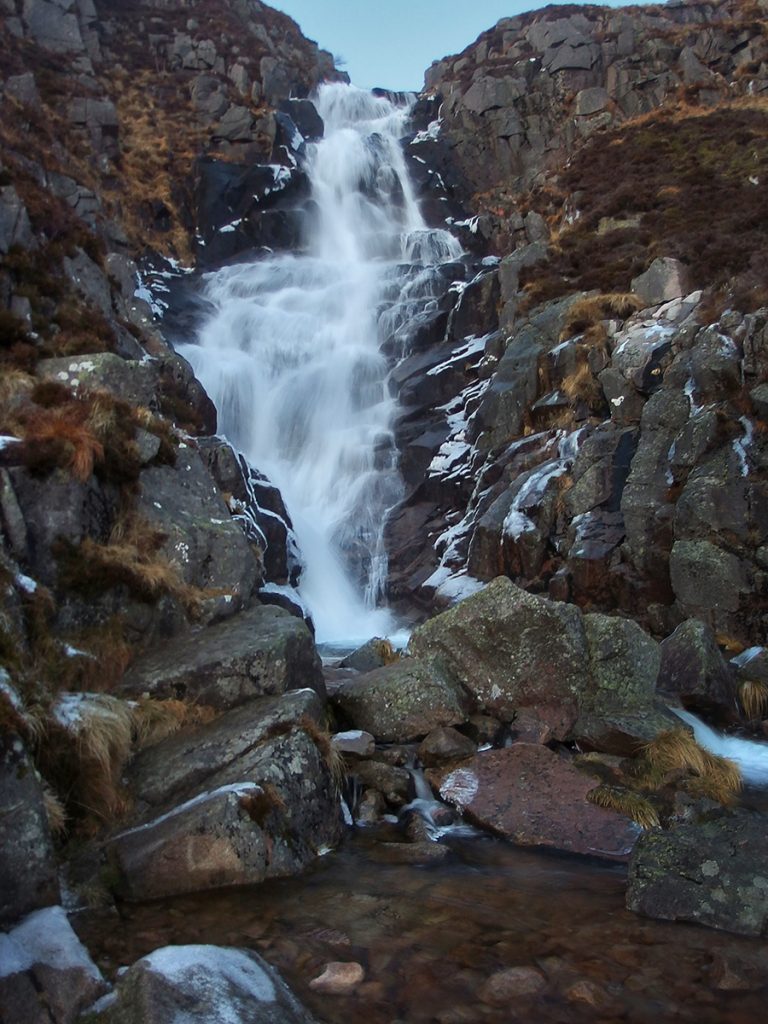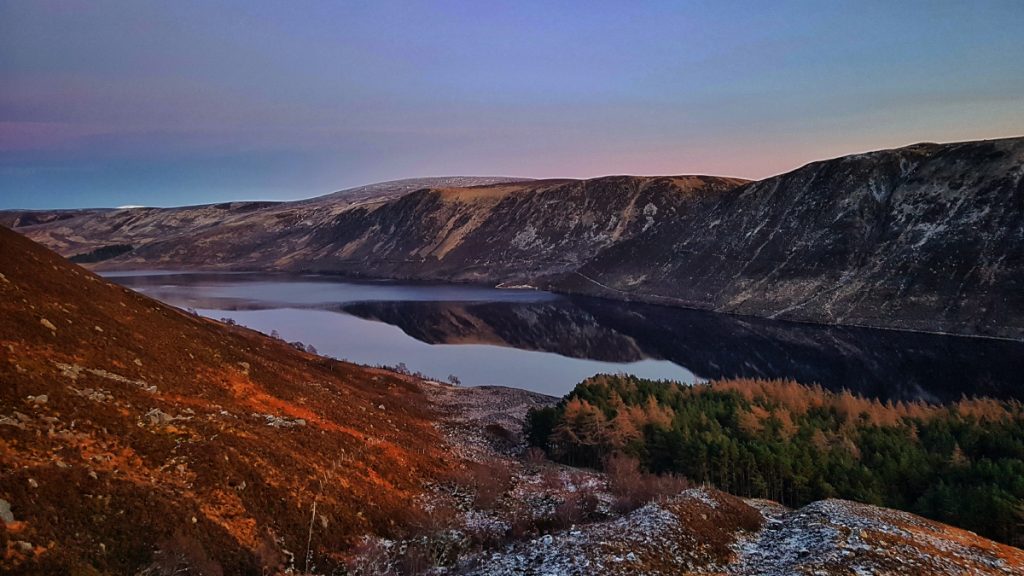 Down at the lochside it was now dark; anybody still higher up without grip or light would have a challenging trip down (we'd seen a few still heading upwards when we were descending) – a reminder of the importance of getting an early start, knowing the timing of a trip and having the right kit when on winter walks. Fortunately we all had headtorches to light the long (and now rapidly getting very cold) walk back along the loch. I'd being using the phone to take more photos than normally and ran it down, but a combination of keeping it and the battery pack warm had worked well, plenty juice still coming out of the pack.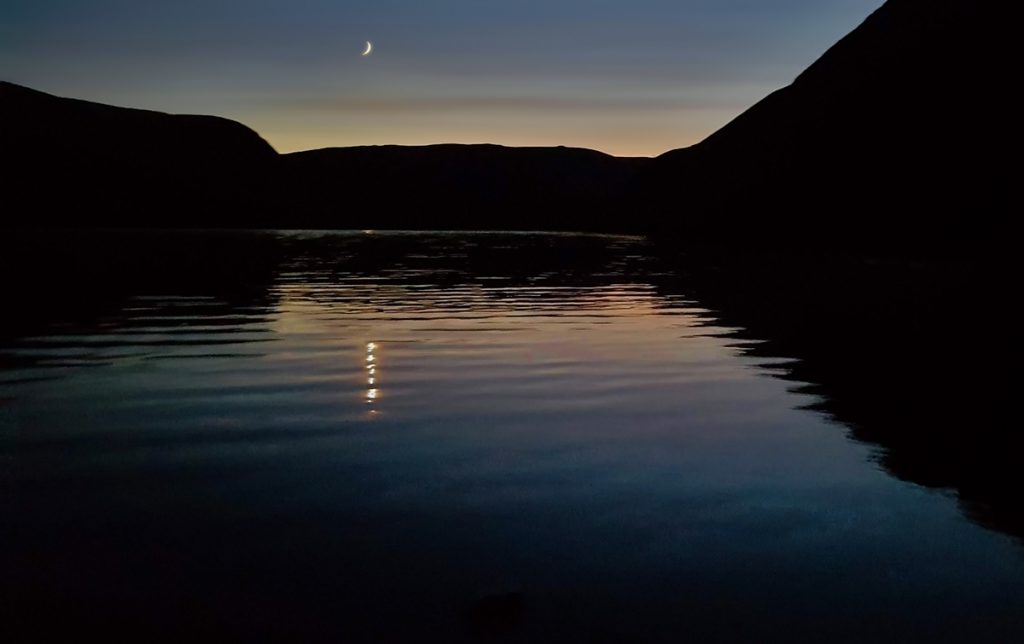 The sharp cold of night had chased us back to the car, we escaped it's clutches with the heating on at full blast, leaving it's sparkling blanket of frost behind covering a great day out.
Part 2 :December 14th
A friend got in touch who was doing a combined walk, and swim (!). I was up for joining the walk part, but as my swimming extends to basic paddling, and certainly not in ice-cold water, I'd go for a run at that point instead.
We'd set off a bit later than ideal for the short days, so a quick re-jig of the plan was necessary: we'd be staying overnight at Glas Allt bothy so had heavy rucksacks with sleeping/cooking gear. I thought that with the time available, we'd likely be descending around sunset, and that the path down to Glas Allt which had been very icey on the last trip wouldn't be great with a massive rucksack – particularly for one of our party who hadn't done winter munroes before. Instead, we'd ascend light and without the camp gear, head back to the car park, pick up up the extra stuff and make our way to the bothy – this would be longer in distance, but meant the heavy lifting, and most of the walking in the dark would be on the flat and safe track around the loch.
We set off in good conditions – not as clear (or cold) as last time, and more breeze that would make for a lot of windchill higher up.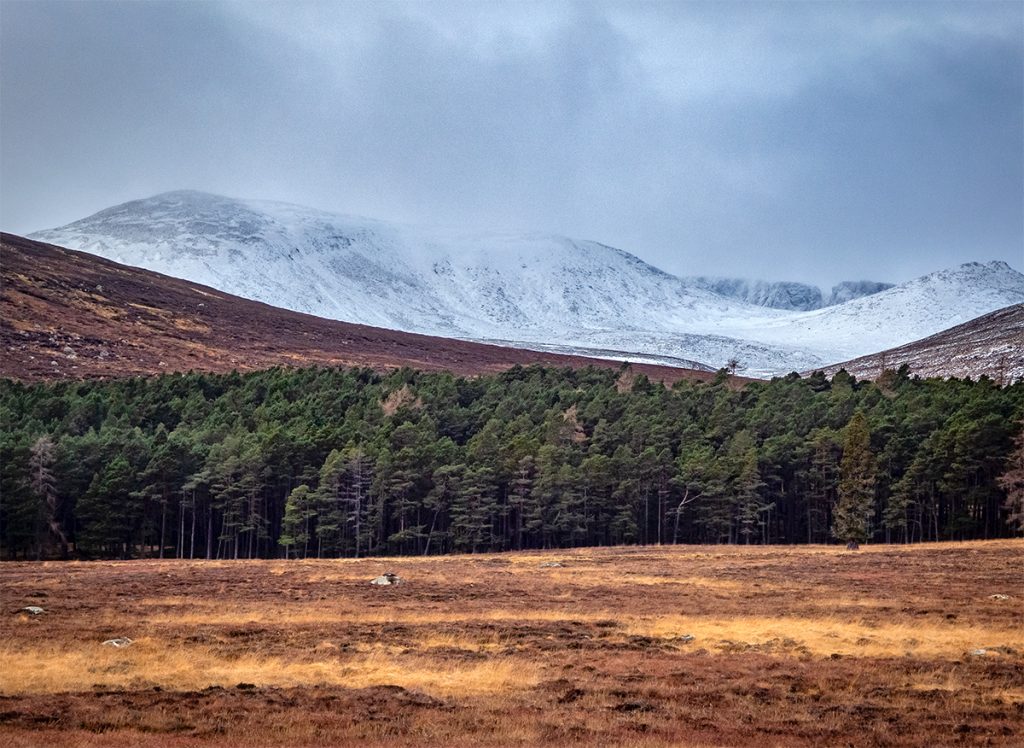 The burn crossing and tourist path weren't as icey as last time, and we made reasonable time as we headed higher. We'd pondered turning back at the lochan, but would continue onwards until an agreed 'turn back' time that would ensure we'd negotiated the trickier bits of descent in good light.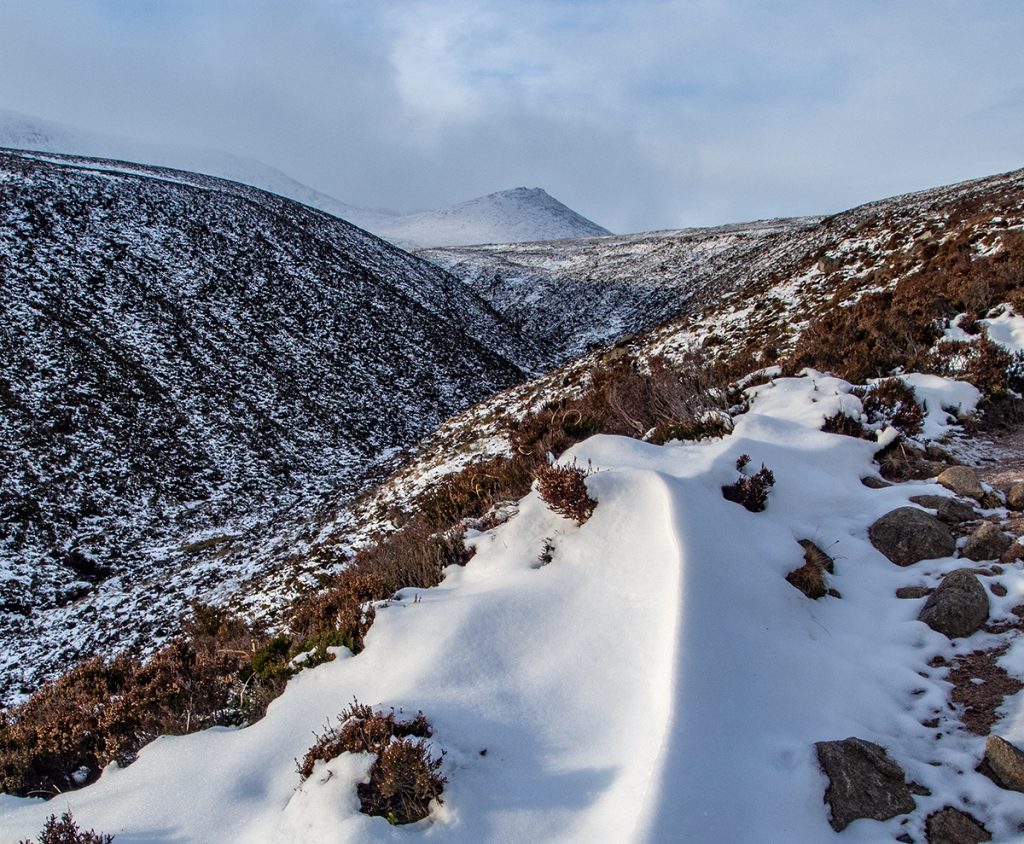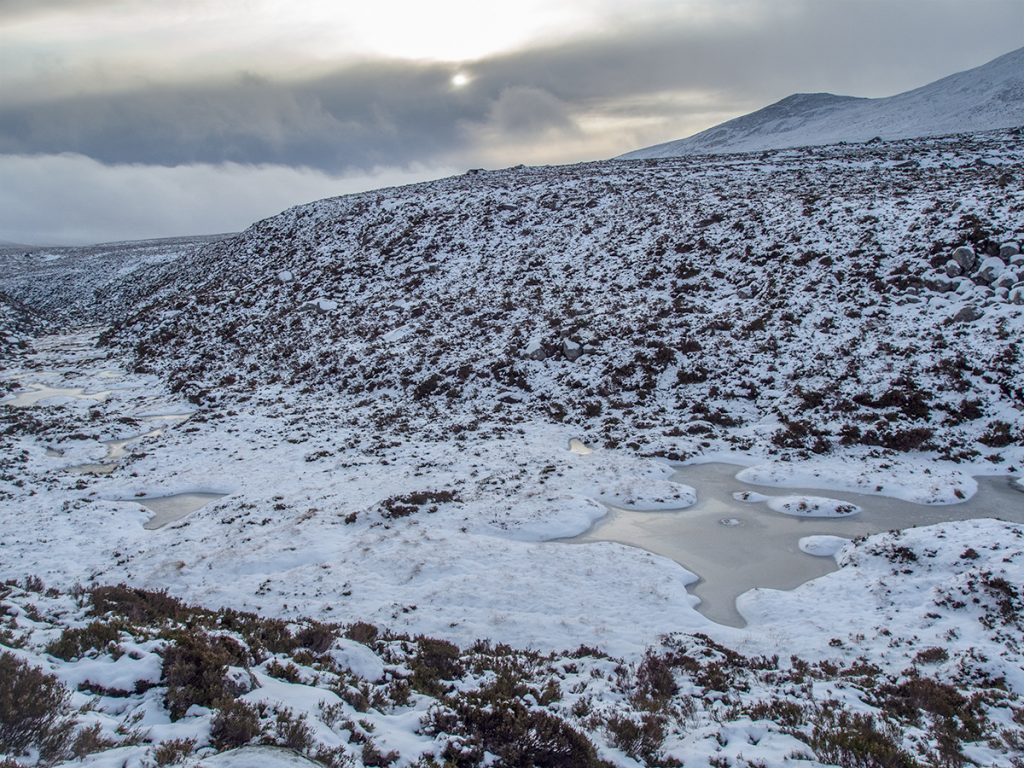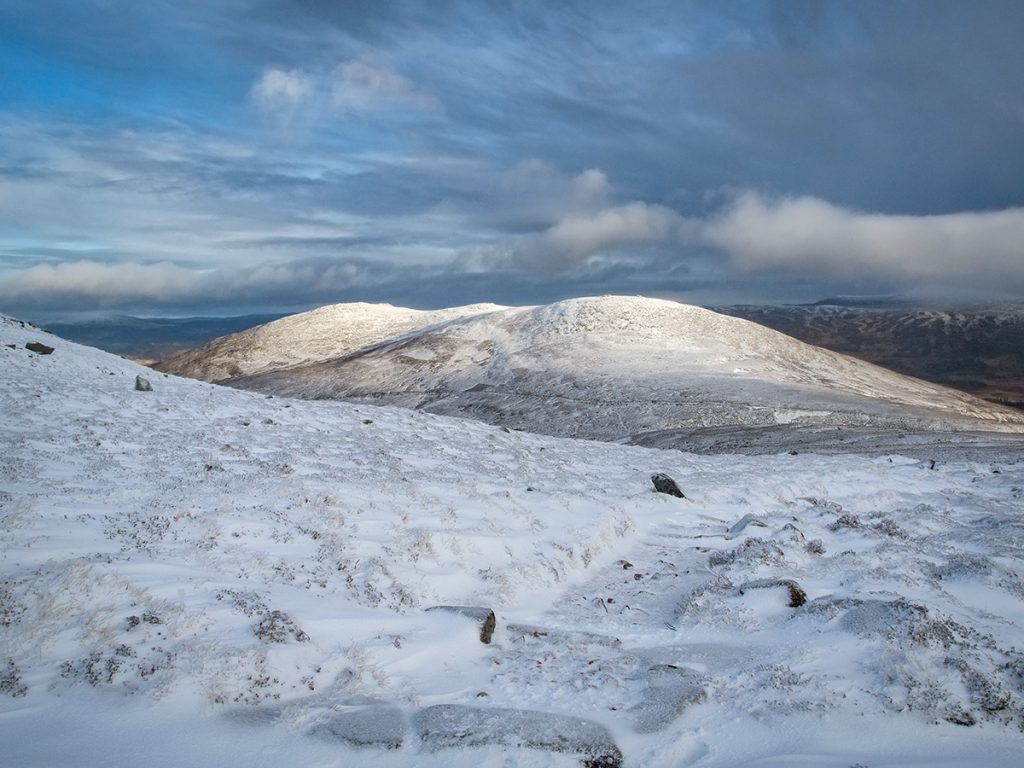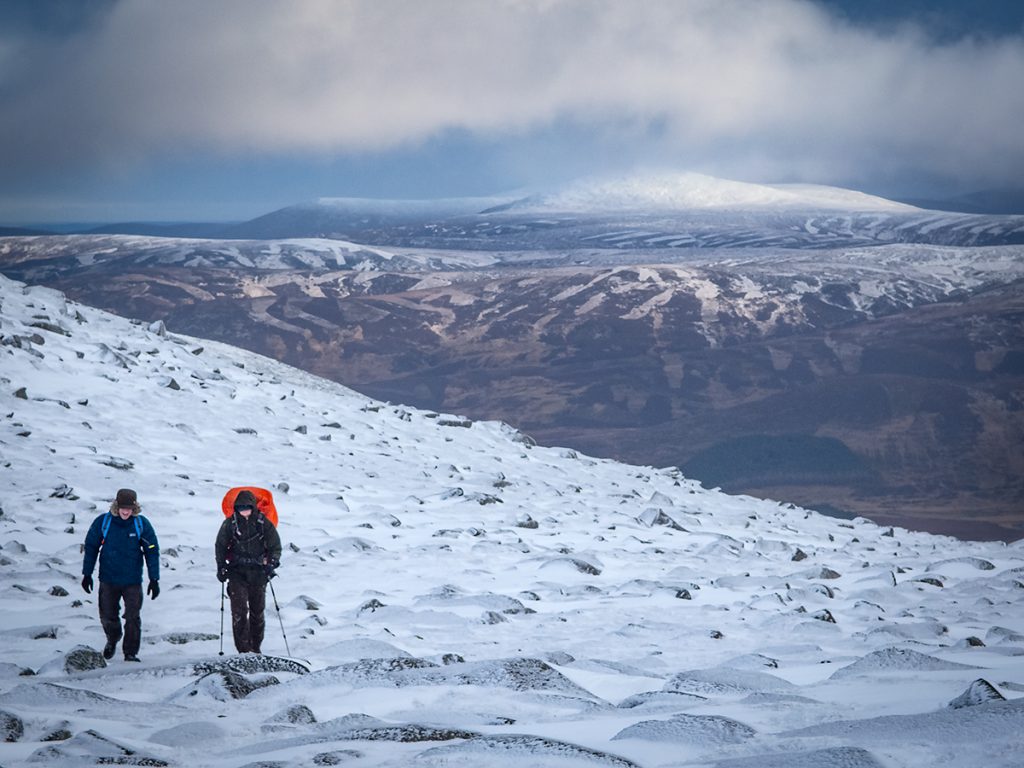 A few folk descending warned the wind was strong on top, so far we were in the lee side until the lochan, and then heading left clambering up the boulders it began to whip past: although the thermometer read -3, it felt brutally cold with the windchill.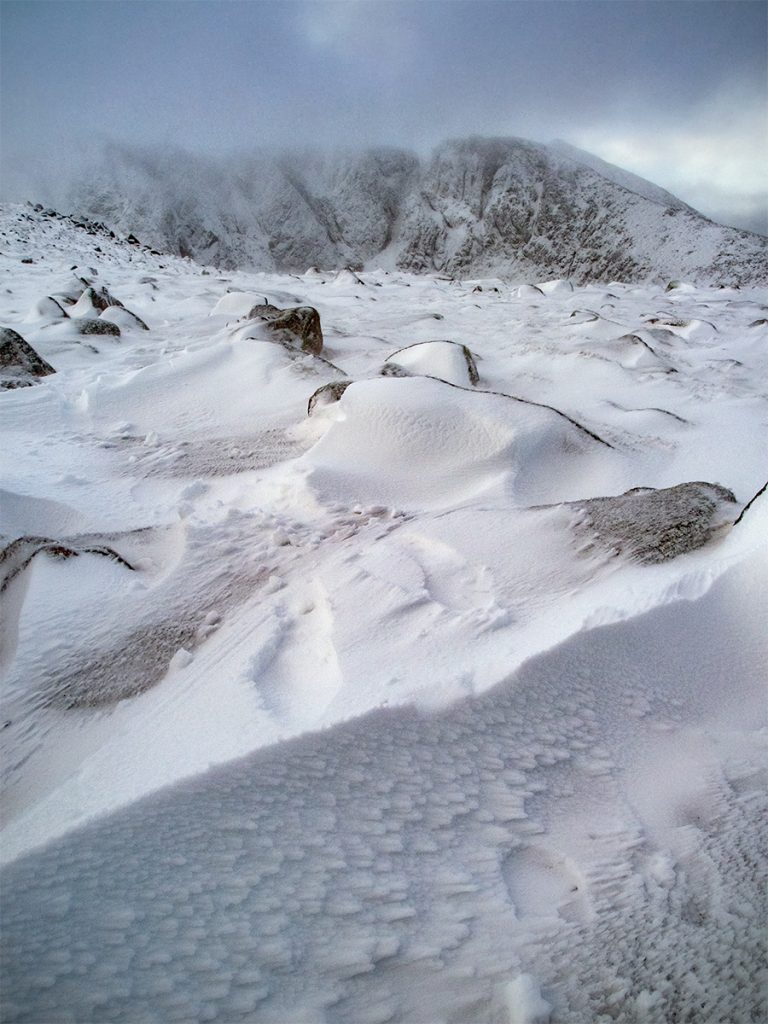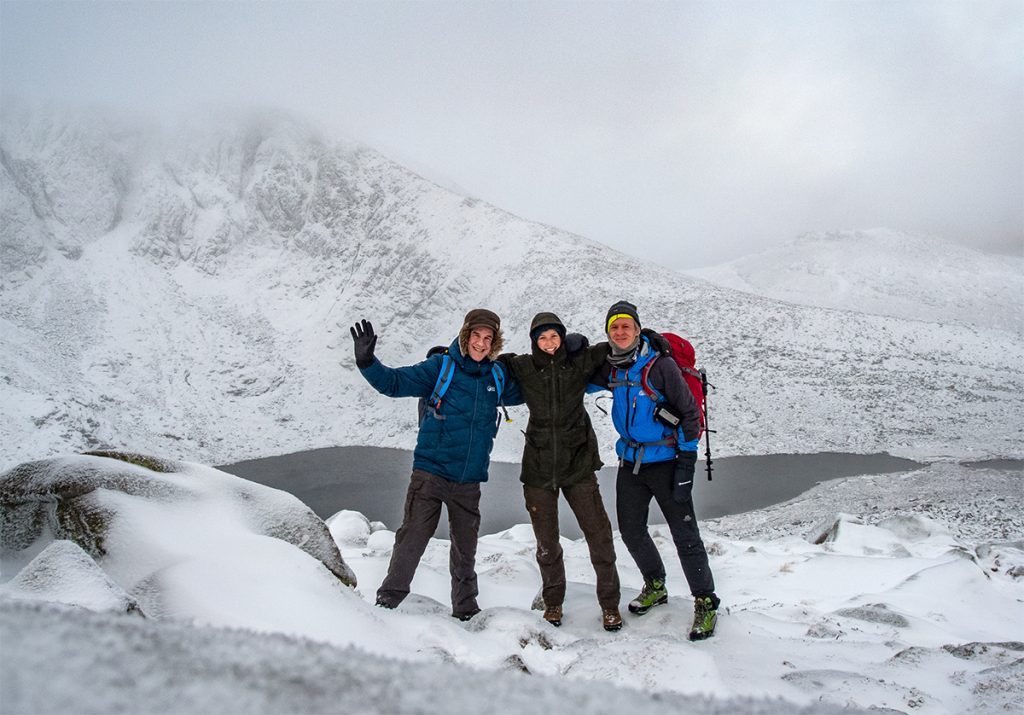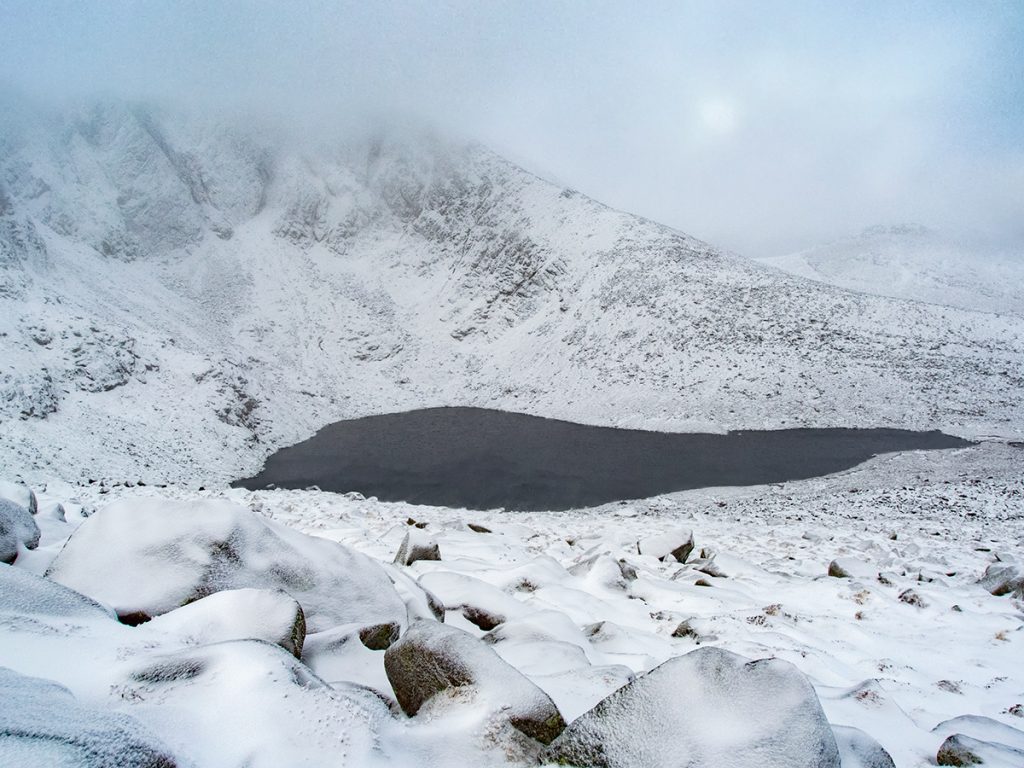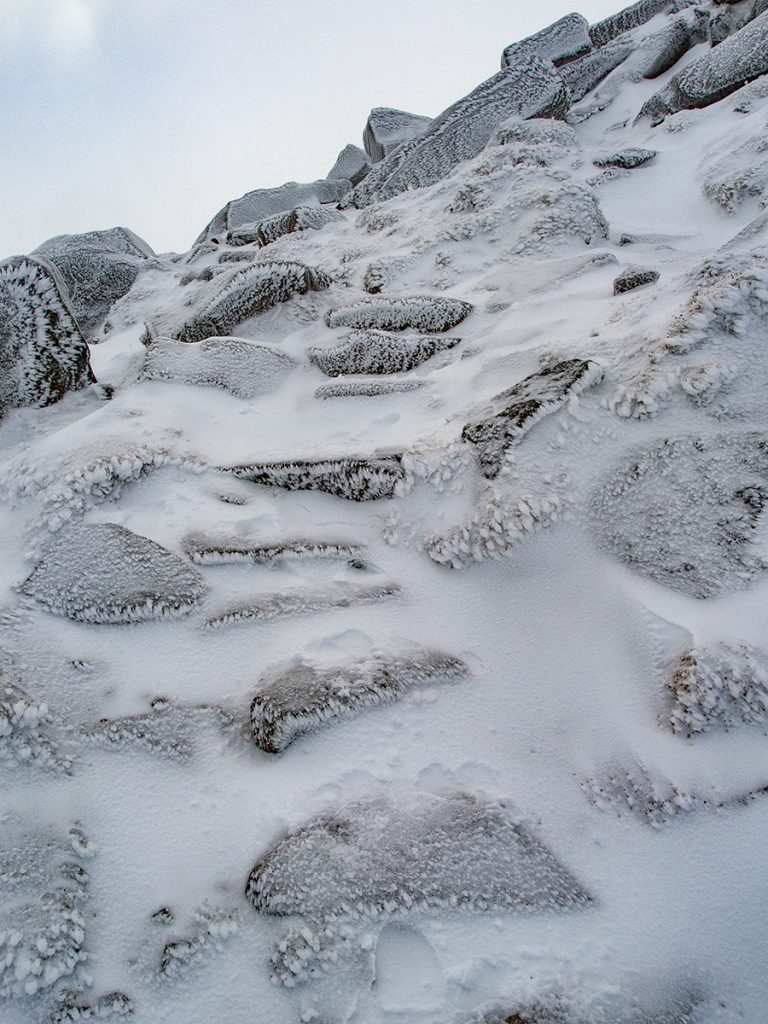 On the plateau visibility was up to about 100m, not enough to get a decent view of the cliffs around the corrie. Spindrift whipped past along the ground, with the occasional snow devil spinning past.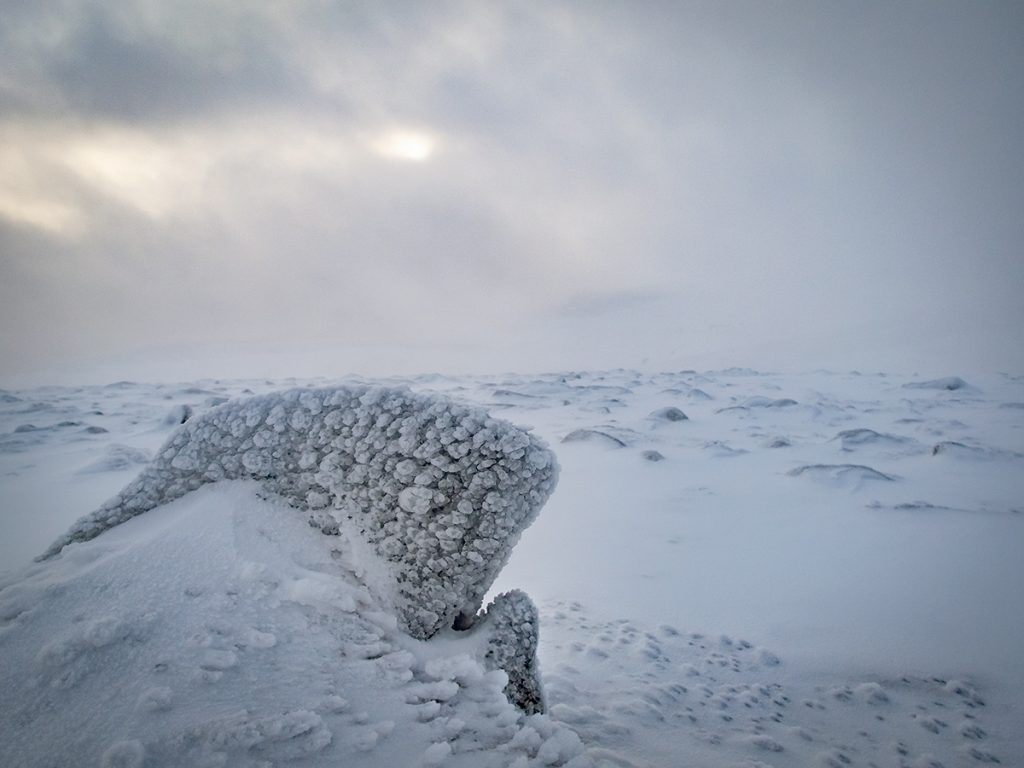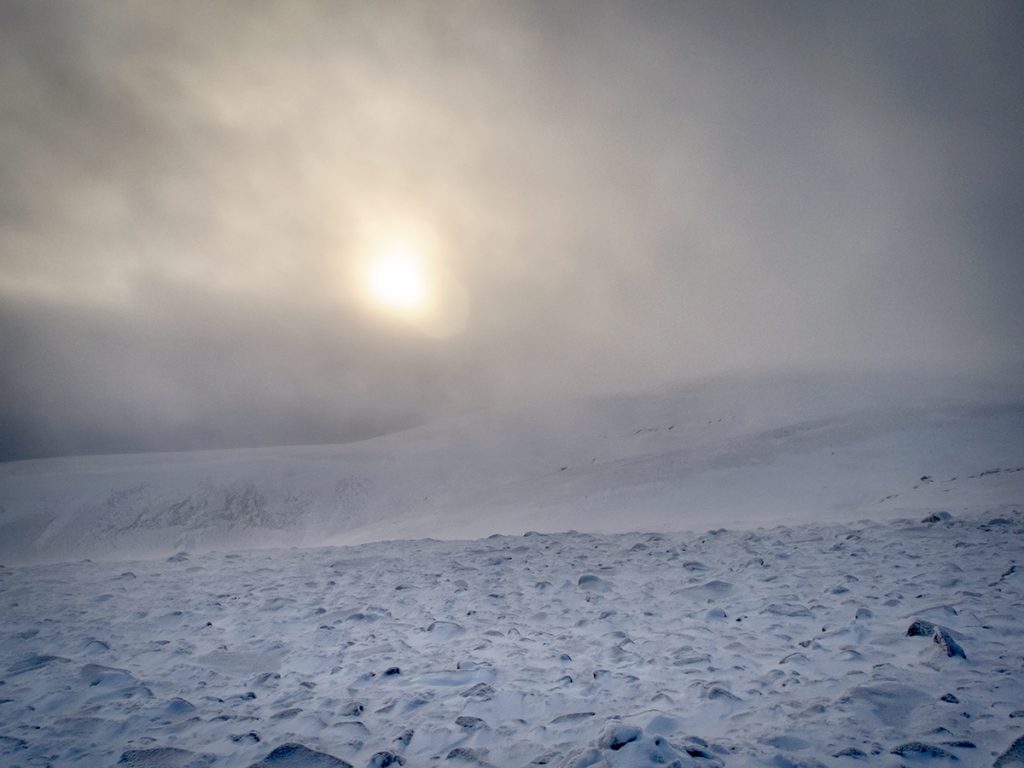 We made it to Cac Carn Mor, had a quick bite to eat as much as frozen hands could quickly facilitate, then with turn-around time upon us headed back rather than continuing to the main top.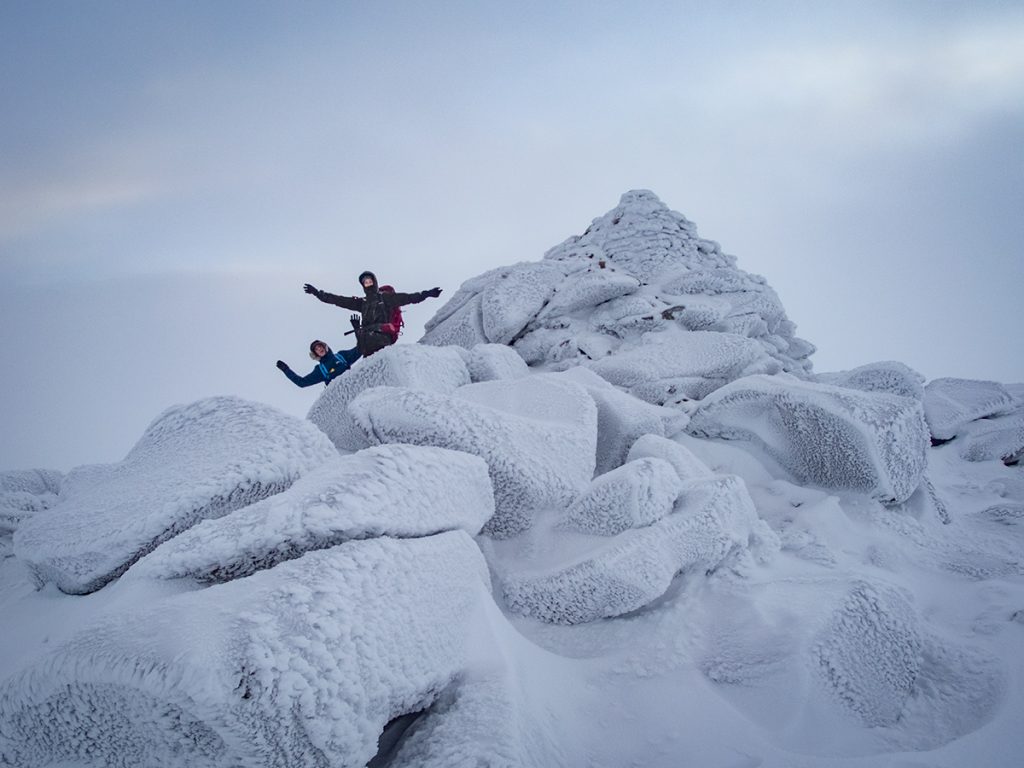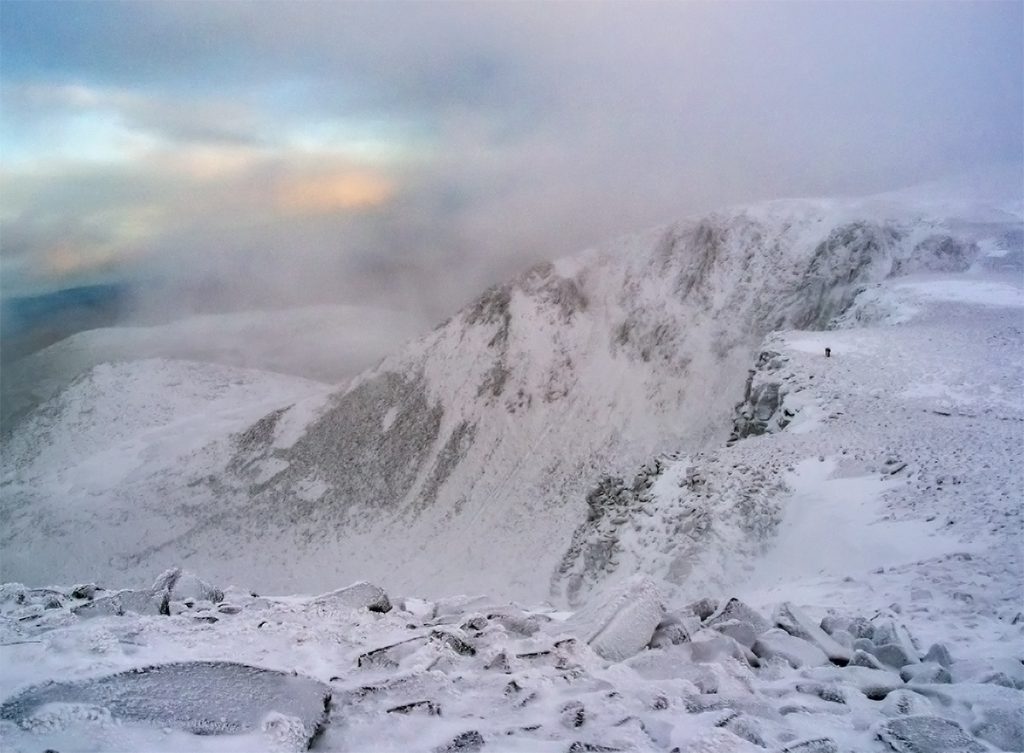 As we rounded Meikle Pap, the darkening sky got some decent sunset hues and by the time we were past Clais Rathadan, darkness was on us and we were glad of microspikes to thrumble downhill over the ice and rubble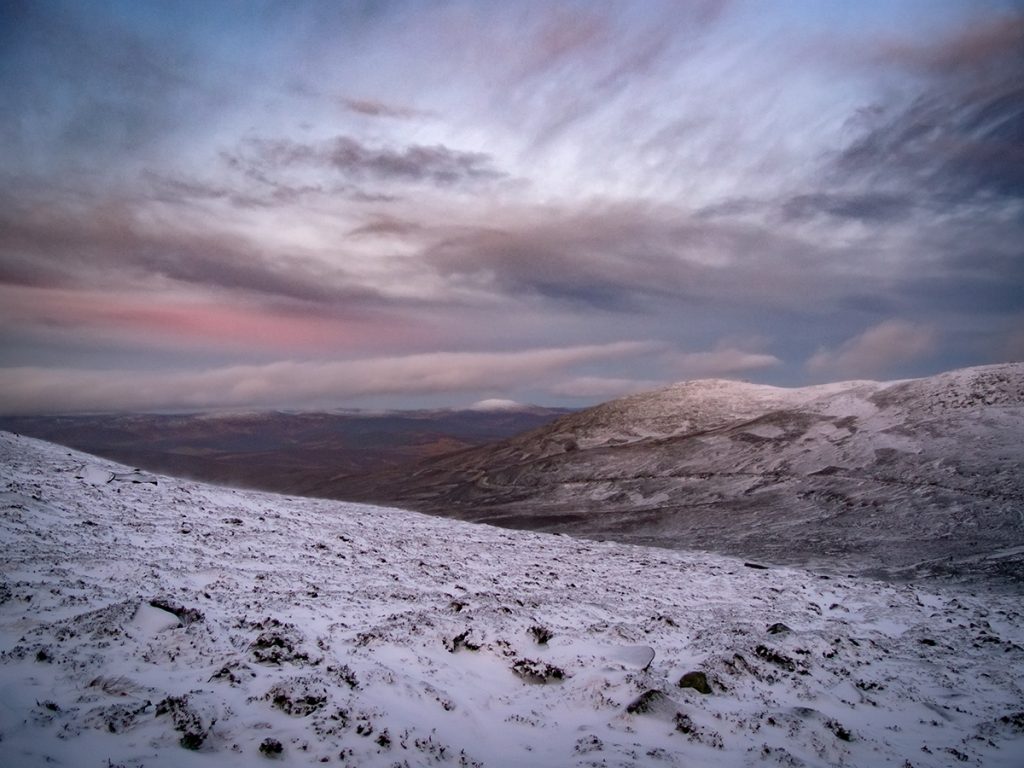 Back at the car, I was glad to change out of my stiff-soled winter boots into a pair of trail-running trainers, but not so much to heave a 70L pack on to my back, with the knowledge we now had about an hour's walk in the dark to the bothy. We set off into the pitch black mountain night, wind howling in our faces with flecks of snow.
Arriving at the bothy, we entered to a cosy glow as some climbers were already there and had thankfully got the stove on. Glas Allt normally has some wood available supplied by Balmoral estate, to deter users of this relatively accessible bothy from chopping wood from the surrounding forest.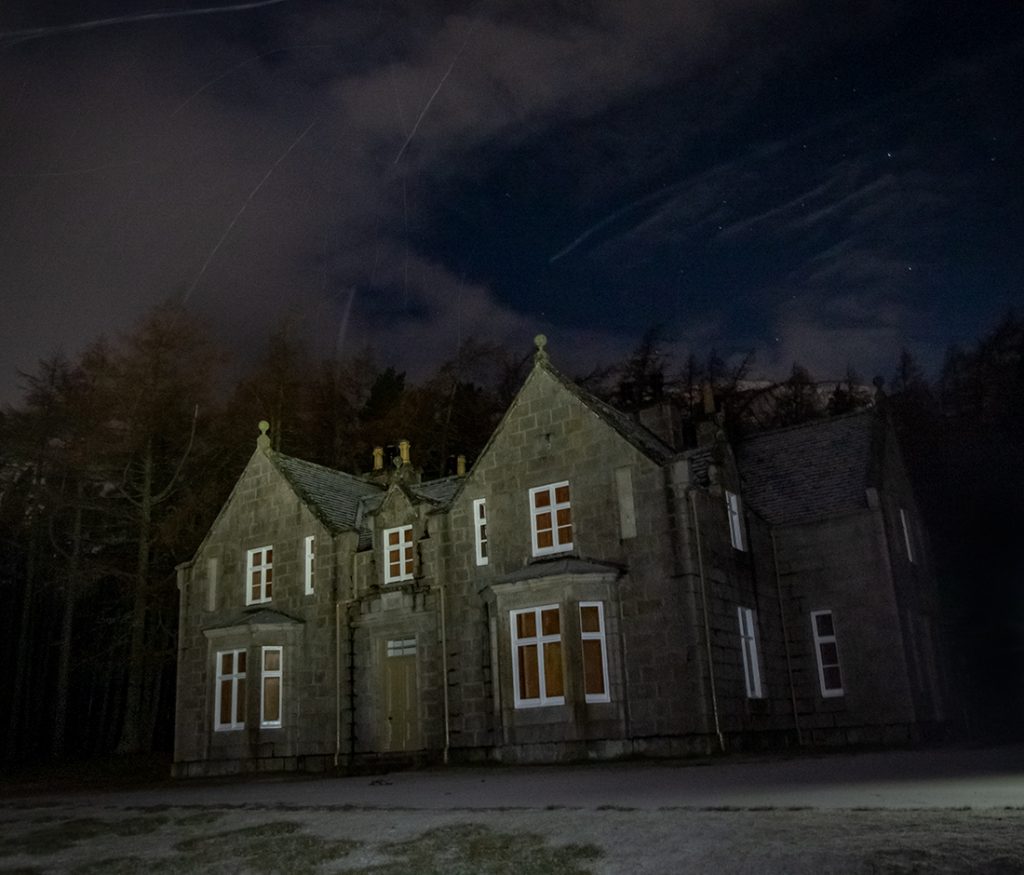 They were glad of some amiable company, the previous night had seen a 'ned drinking party' from Aberdeen in (who drives all that way to just have a bevvy..jeez?) with folk throwing up and generally being lairy. Fortunately we had great craic late into the evening, along with a couple more climbers who turned up.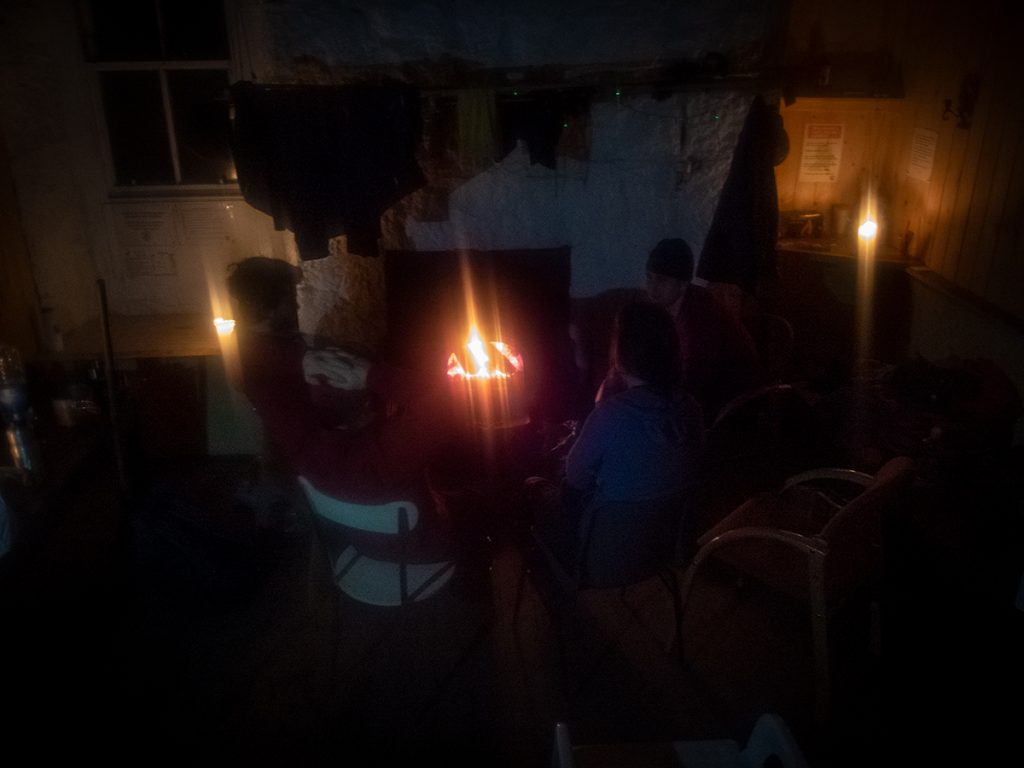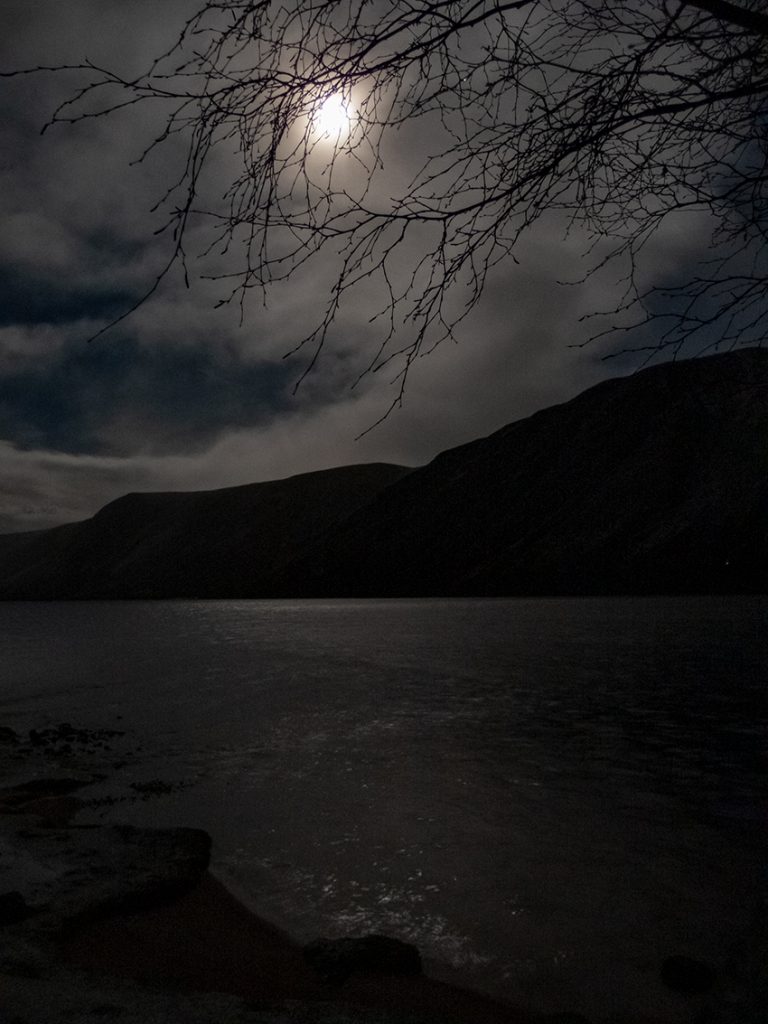 Up early, my friends began preparing for their swim, they are both proponents of 'wim hof' training and began their routines which would precede the swim itself (Dutch extreme athlete who uses cold-water immersion, meditation and breathing exercises) , I got my kit on and headed out as the sky began to lighten and fill with the lush colours of a winter sunrise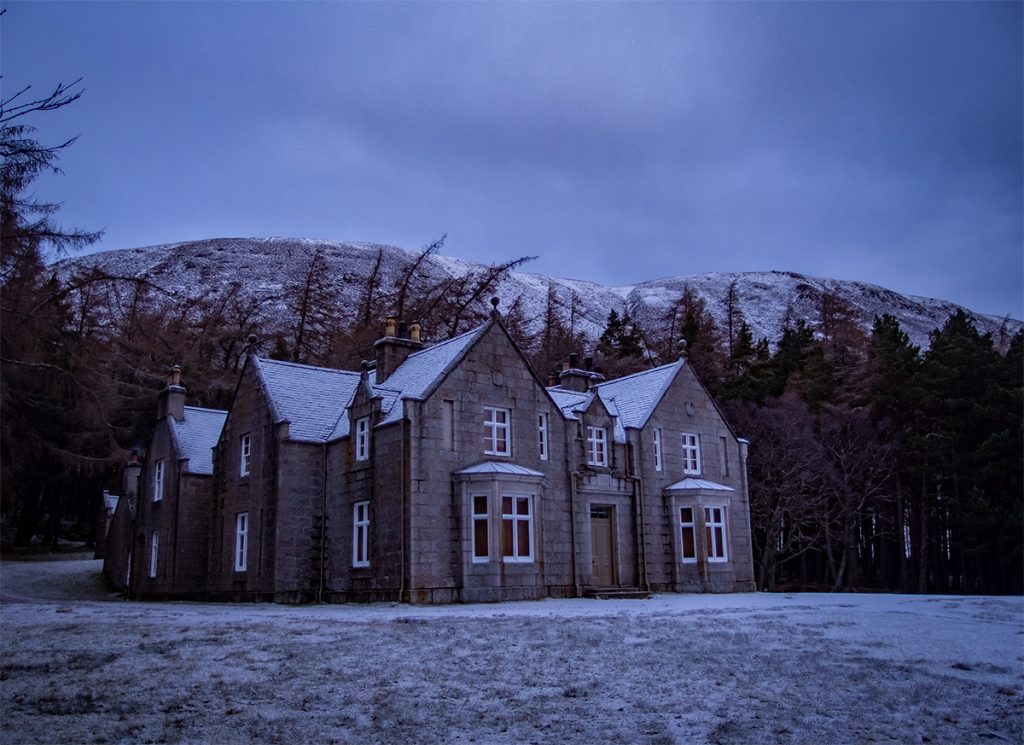 I was only going to do a short out and back route, exploring west up the valley at the top of Loch Muick where a trail winds along the side up to Dubh Loch where crags tower above. I'd thought this might make for a good scenic alternative on the white mounth circuit.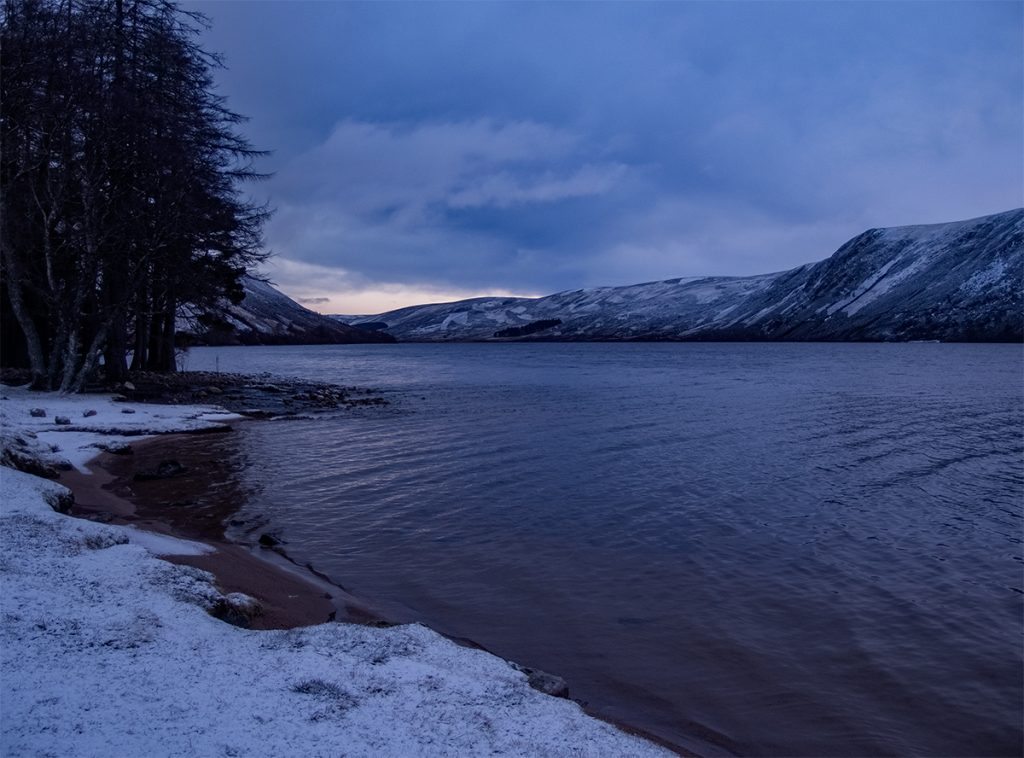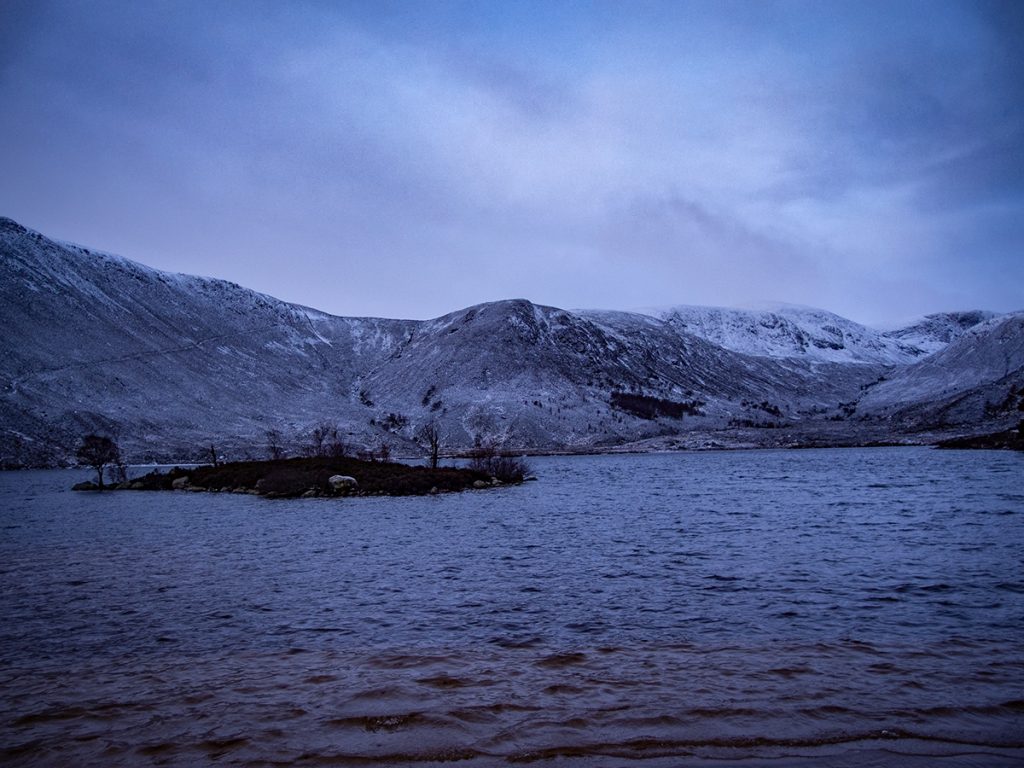 The path had had little footfall so although icey in places had a good dusting of snow. It's a steady climb ascending 250m from Loch Muick to Dubh Loch in about 3km. The still of Loch Muick had disappeared rapidly, with the valley funnelling a brutally cold breeze in my face, 'refreshing!'
The snow brightened and hue'd pink as the sun crept further up, looking back was pure eye candy, but had to press on as had limited time to get up and back.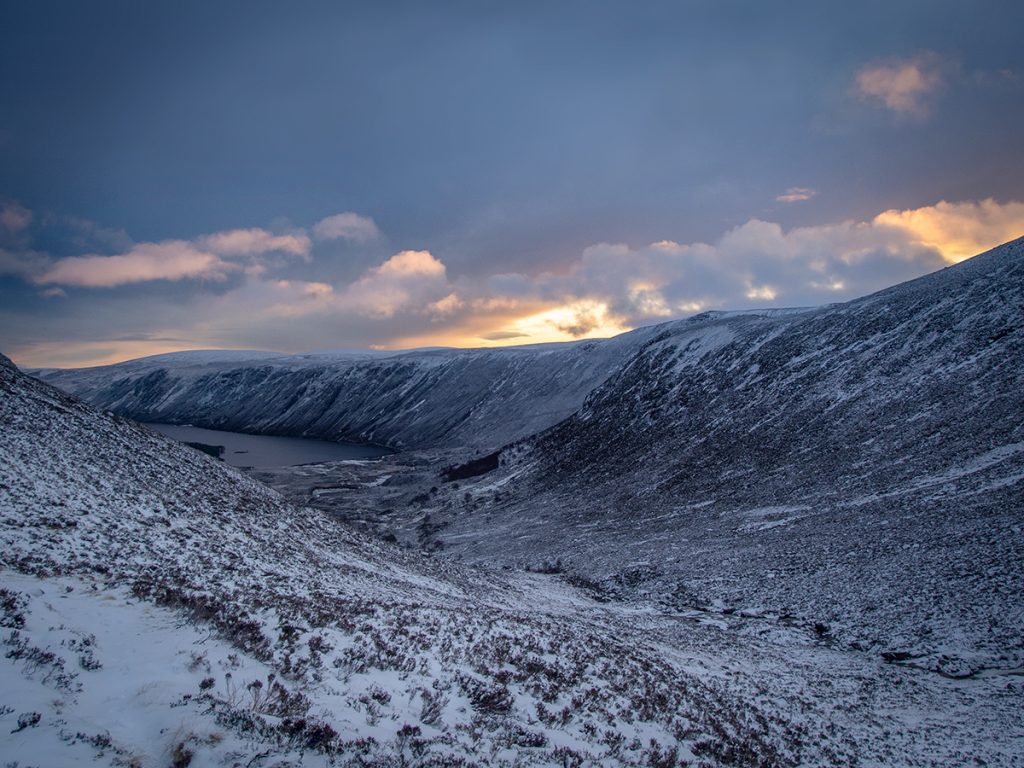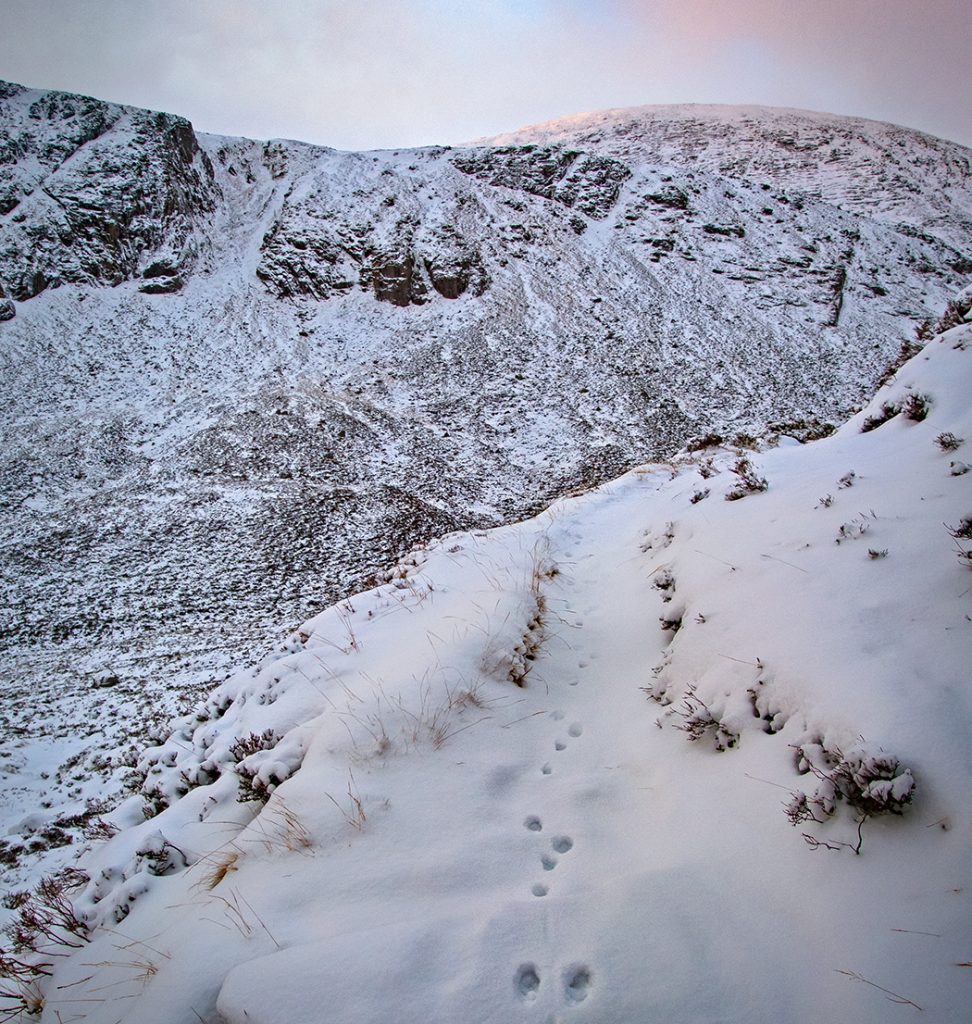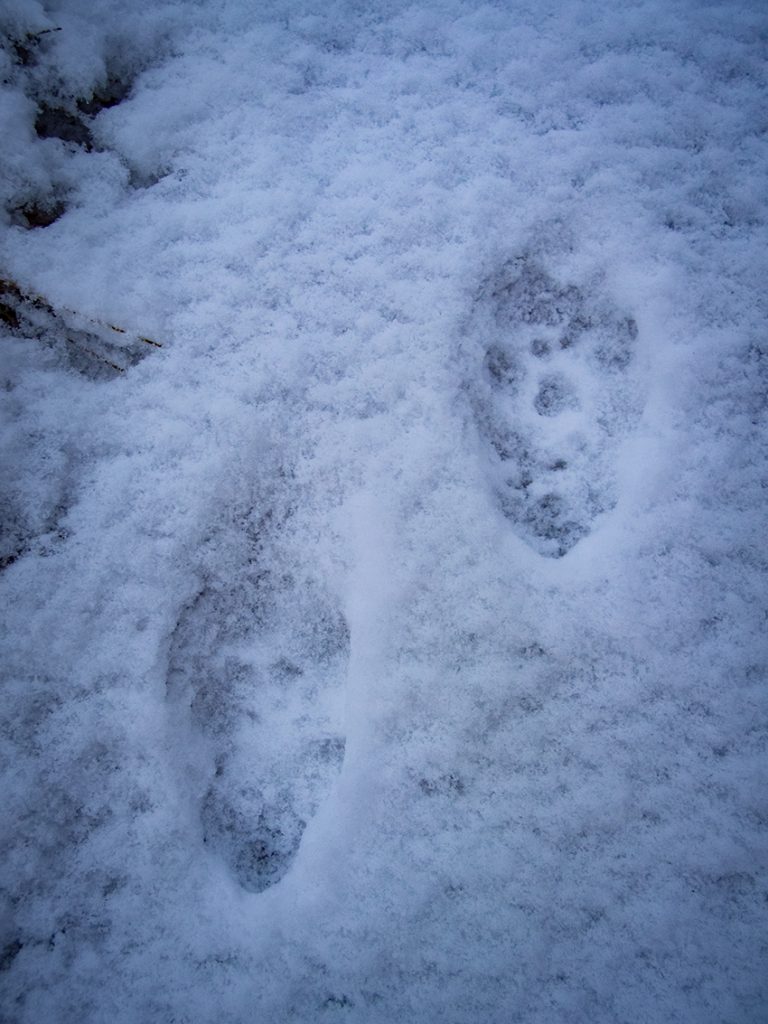 Getting closer to Dubh Loch, the path ducked in and out of drifts as the snow deepened. I'd planned making it to the far end of the loch, and check beyond where the path stops on the map, where the burn tumbles down from Carn an t-Sagairt Mor, but was out of time and happy to now reap the wind on my back, and the lush colours of the sunrise in my eyes all the way down.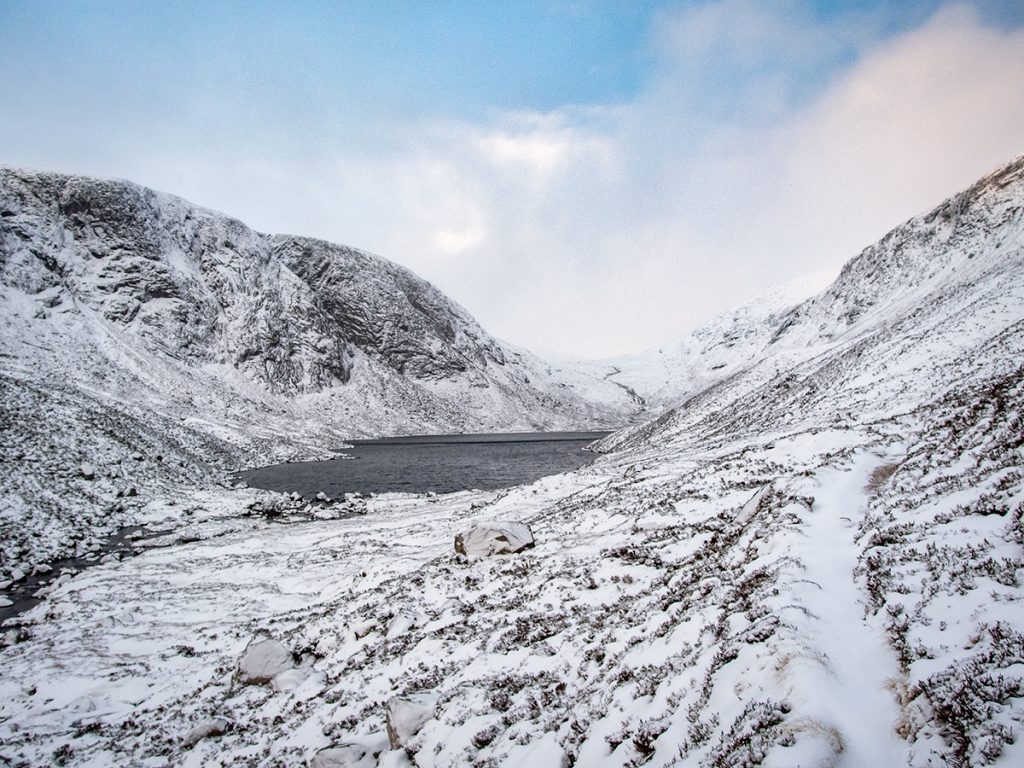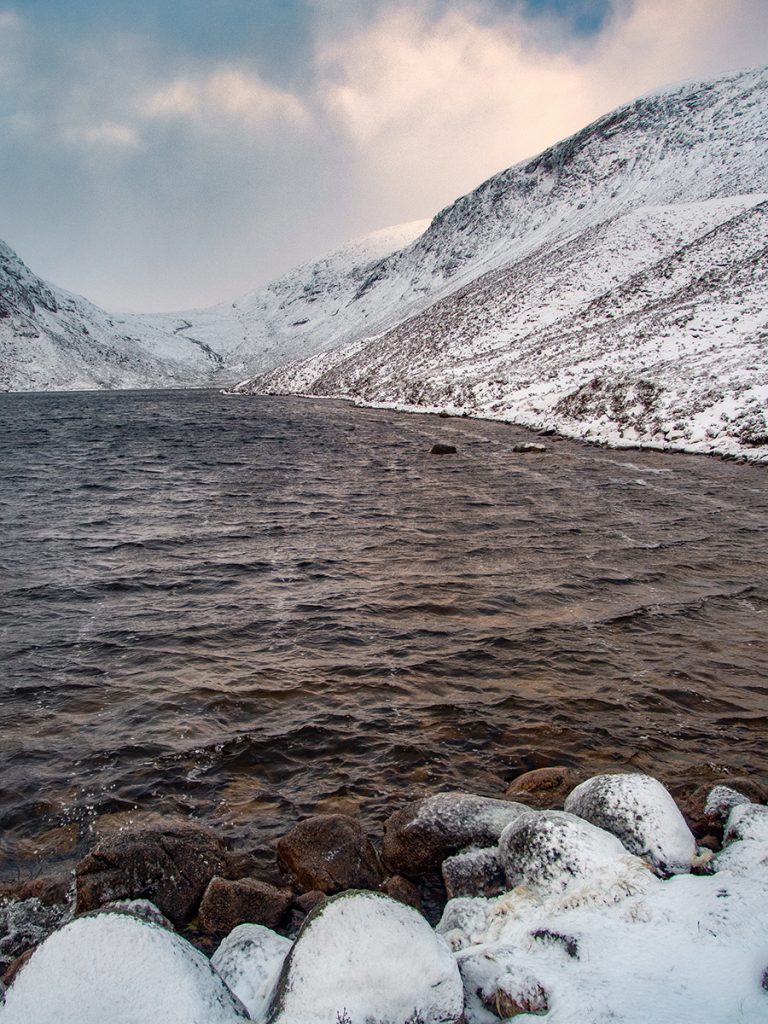 It's a lumpy and twisty path, but sheer trail running joy even in these conditions. Jazz feet skipping, slipping and occasional heather thrunging to avoid ice, above a pink blue n white mountain spectacle, most definitely an epic trail. A careful tippy-toe across rocks below the waterfall, and soon to be back below the snow into the forest.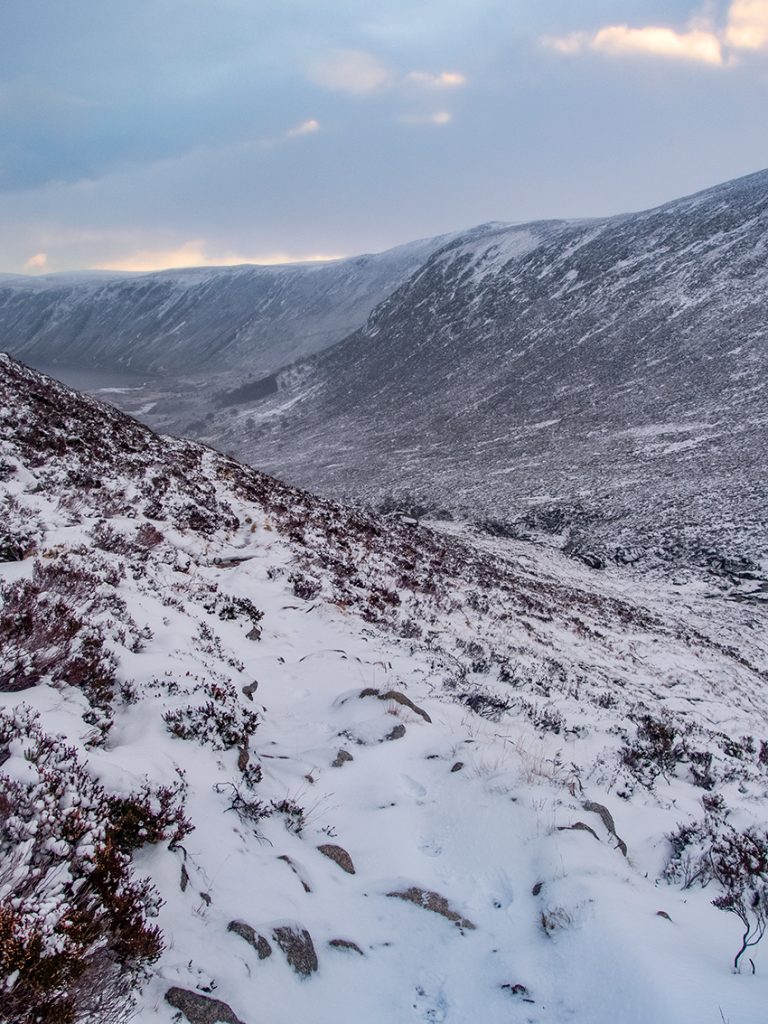 Back at the bothy, I got there just in time to see the swimmers embark into the freezing water – oocha, according to the thermometer the water was just above freezing. After the prescribed 5 minutes they were out to warm up by the stove, no doubt buzzing from the intensity of the immersion.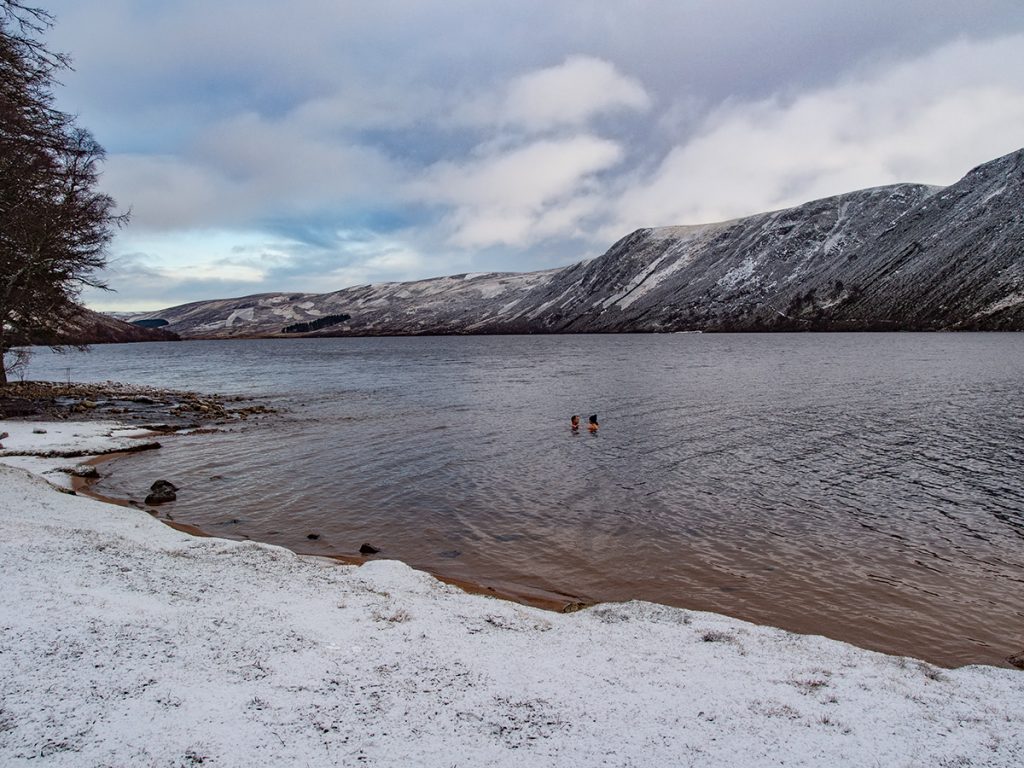 Back along the loch with the wind at our backs and sun up, the Muick miles weren't so bad even with the big pack. Another winner of a trip into the hills done.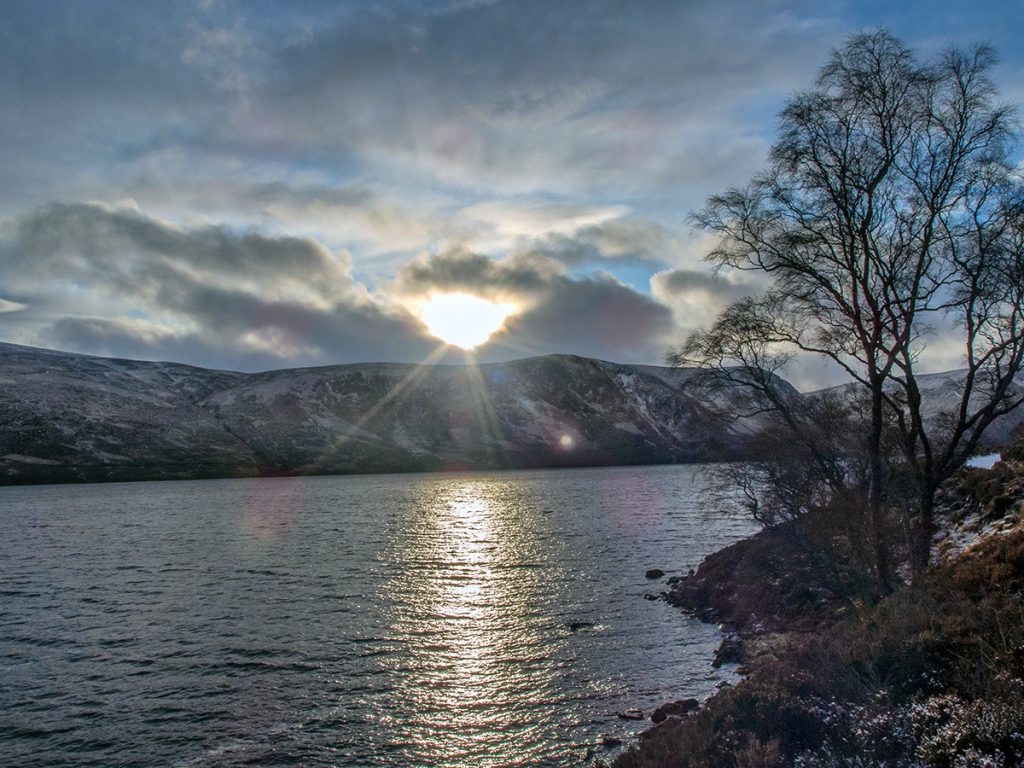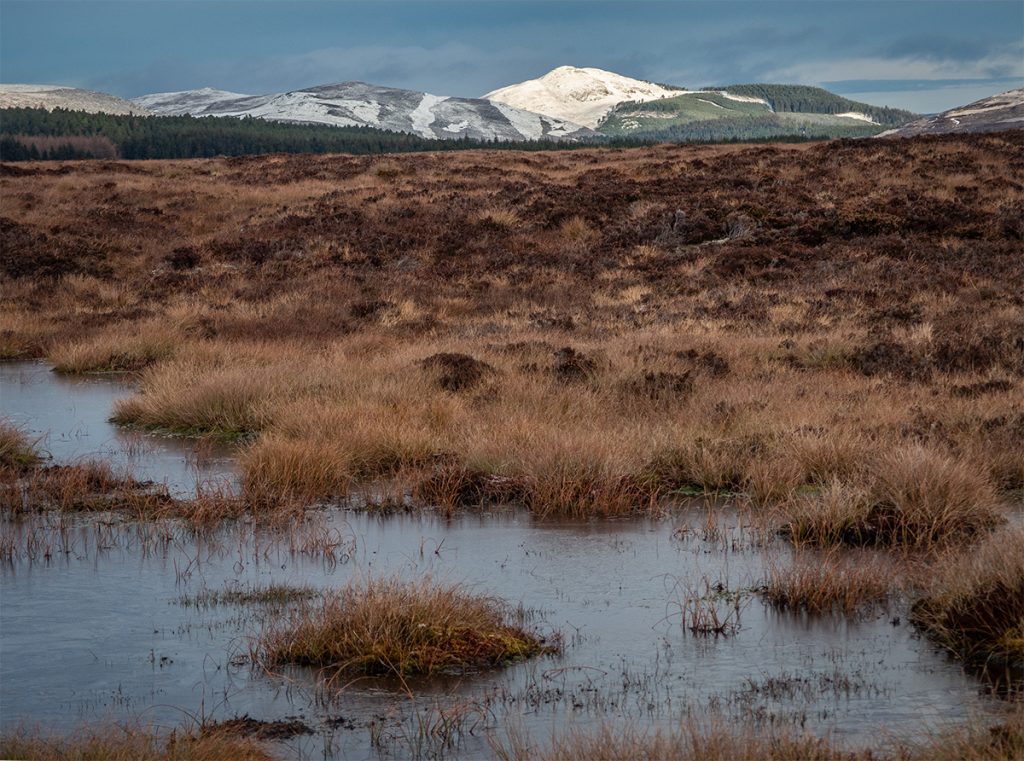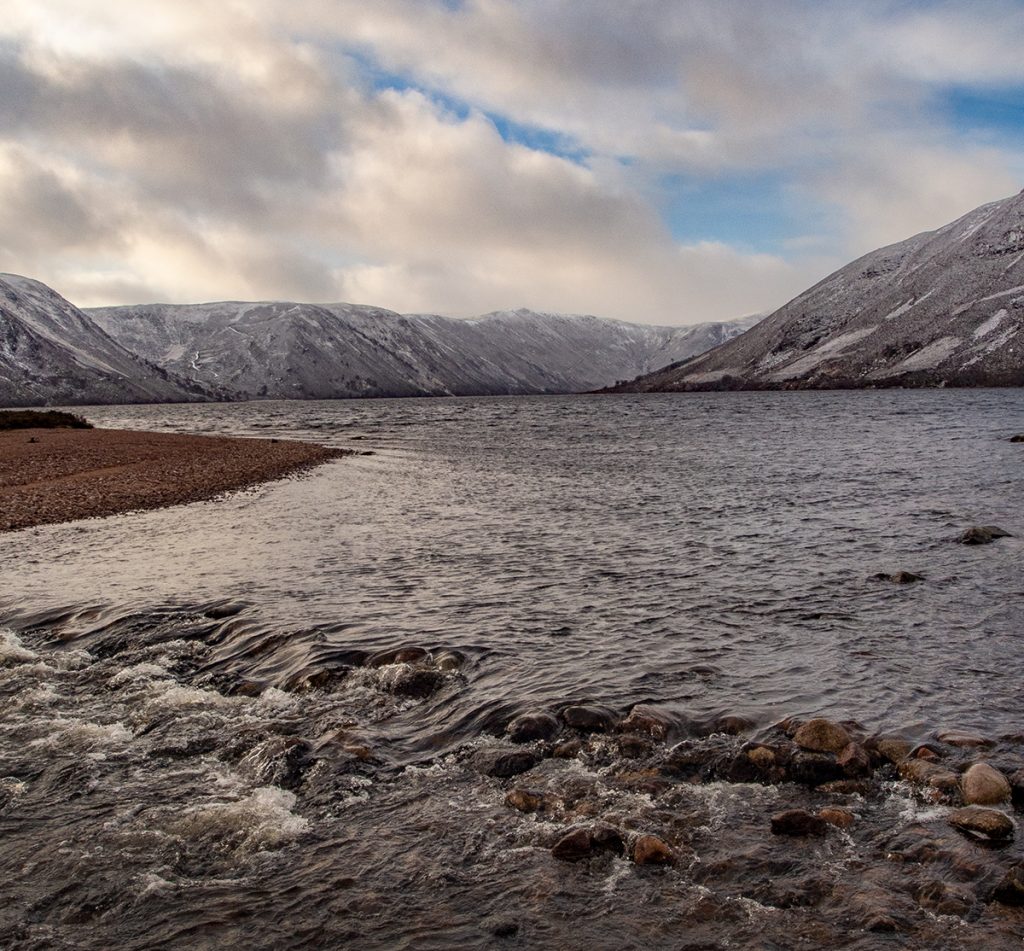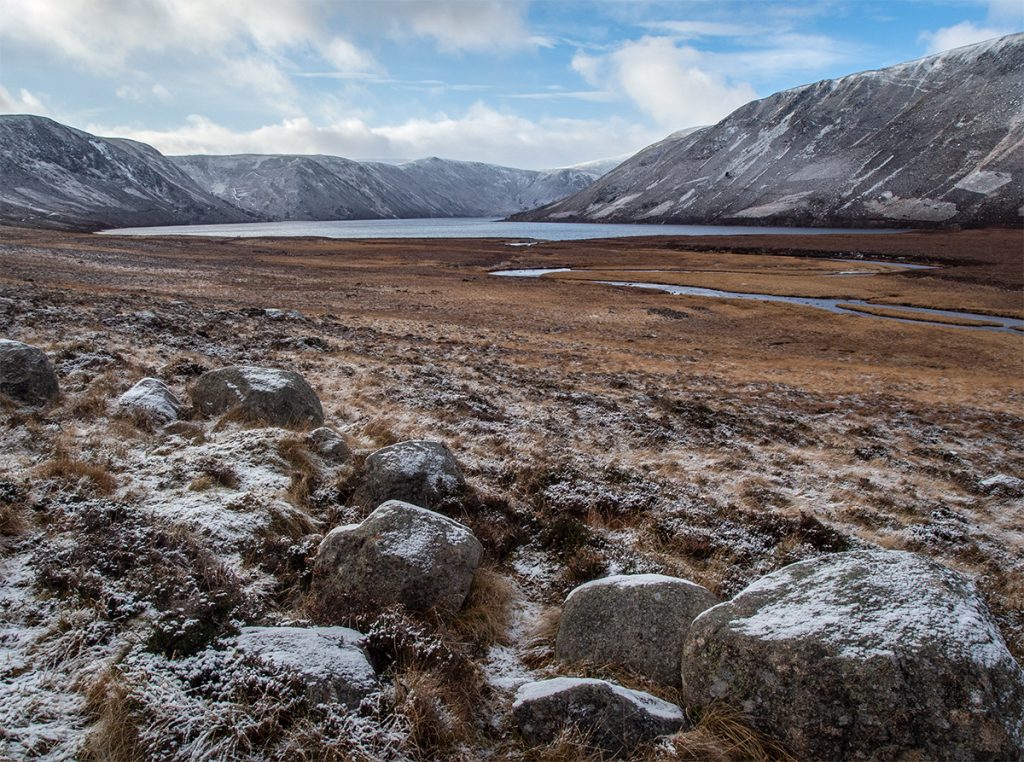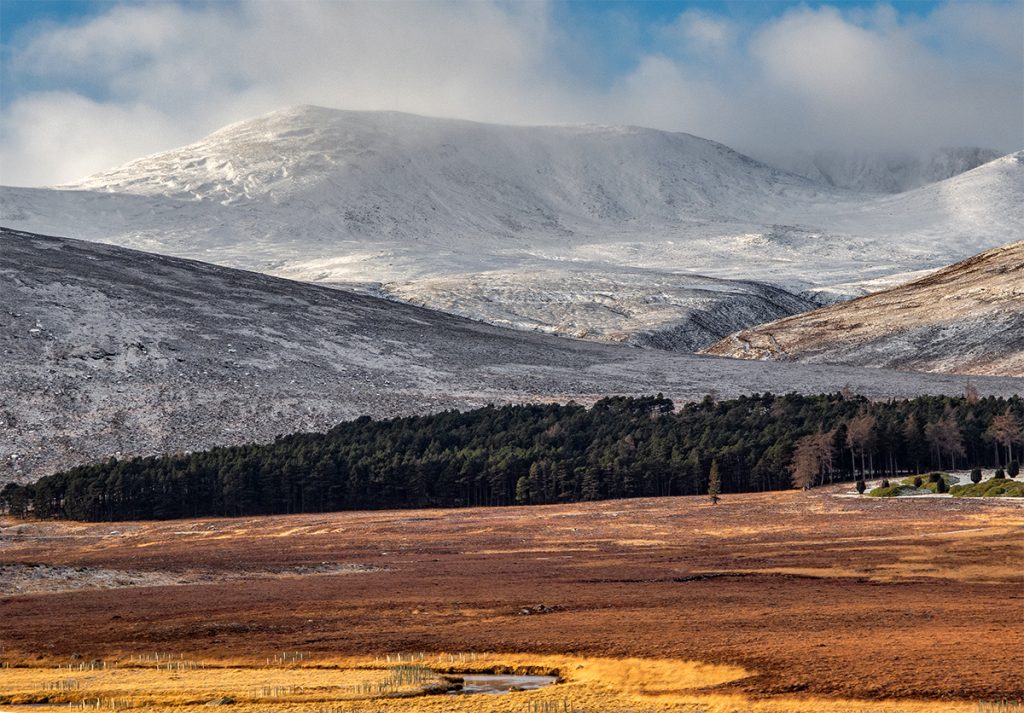 Part 3 : January 12 2020
My first hill walk of the new decade, the traditional Cairngorm Club start of the year trip up Lochnagar, lucked upon more blue skies but we were expecting a mountain denuded of snow by an unseasonably warm preceding fortnight. Temperatures dipped just in time to get a night or two of light dusting, enough to whiten the ground but provide no barrier to progress. With all the gullies empty or with a scrape of slush, none ventured forth to climb and 11 of us stuck to the standard loop.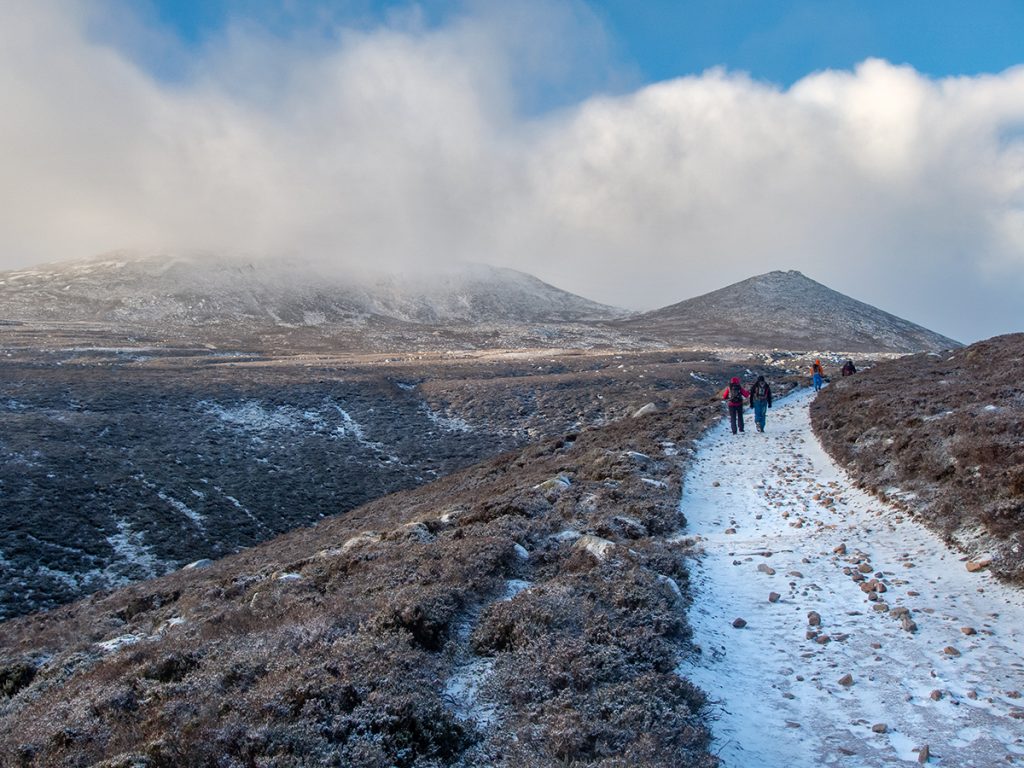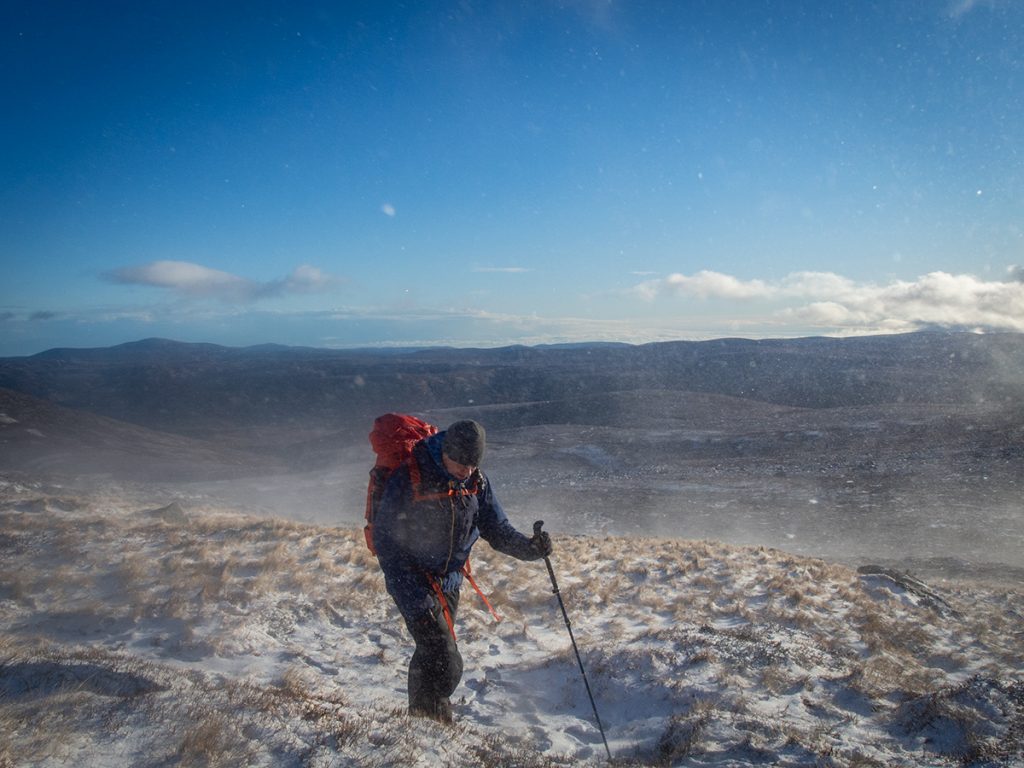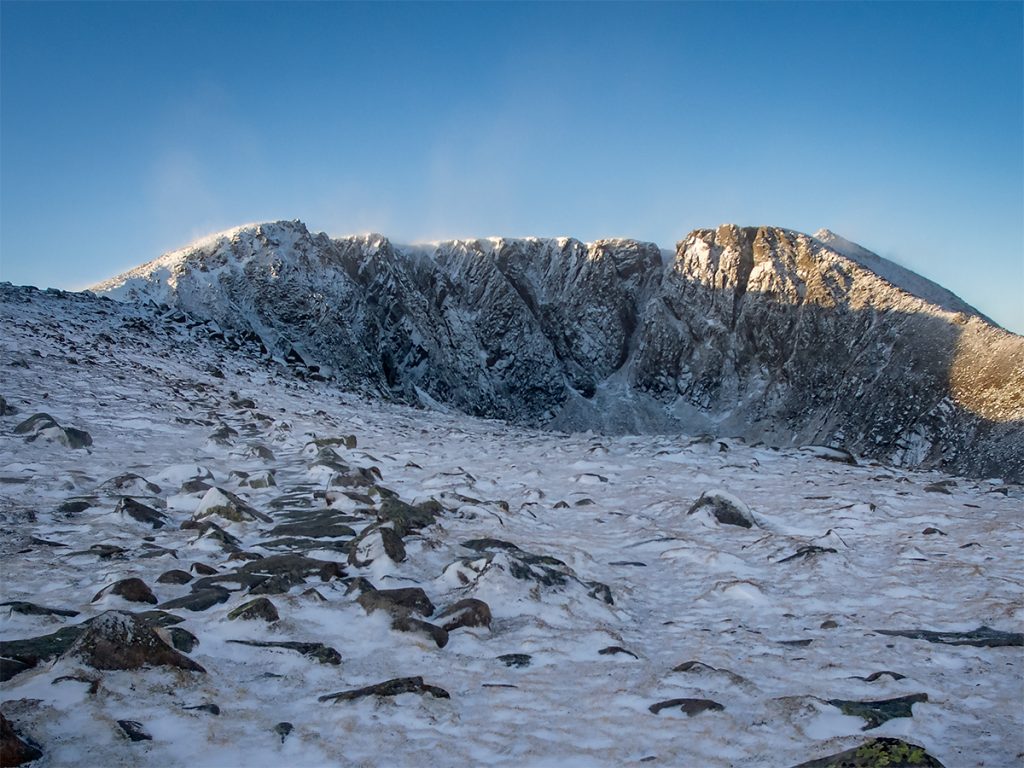 Arriving at the Meikle pap col, the forecast gale force winds began to make themselves felt, immersing us in blasts of spindrift
On top and moving around the corrie, the ground towards Cuidhe Crom was a beautiful moving sea of white curves, closer to hand the fronds were less friendly, gritty sparkles stinging any exposed skin. I'd remembered to take some chemical hand-warmers for the mitts, and once deployed I could dare to take my hands out briefly for photo duties before plunging them back in to revive.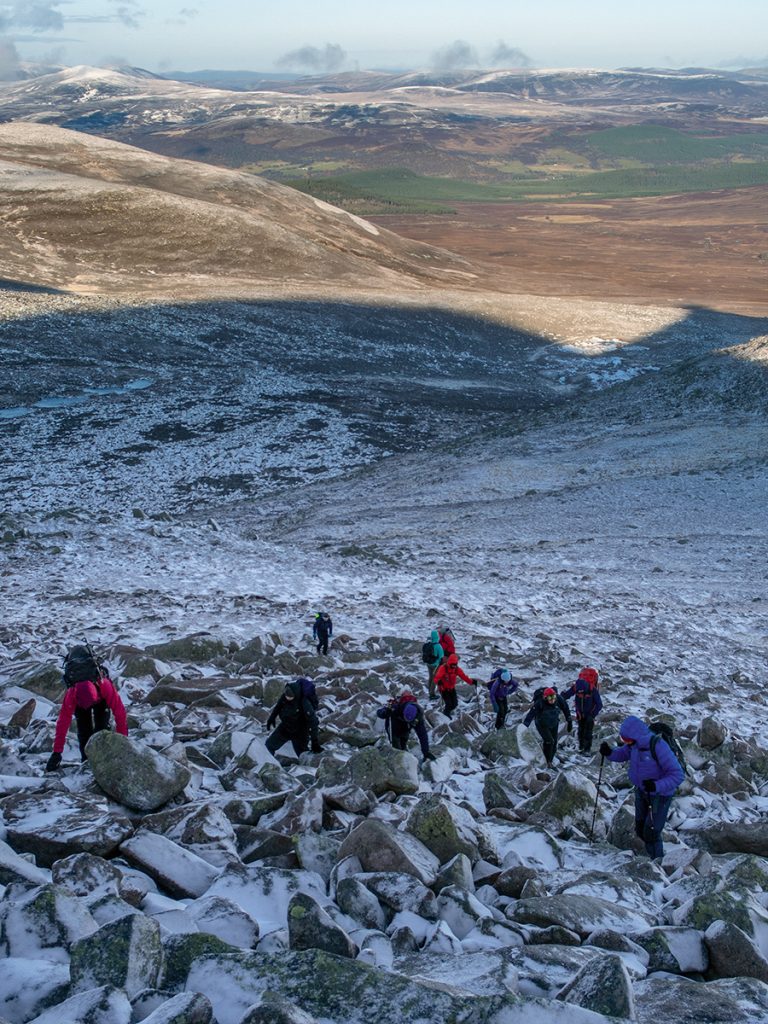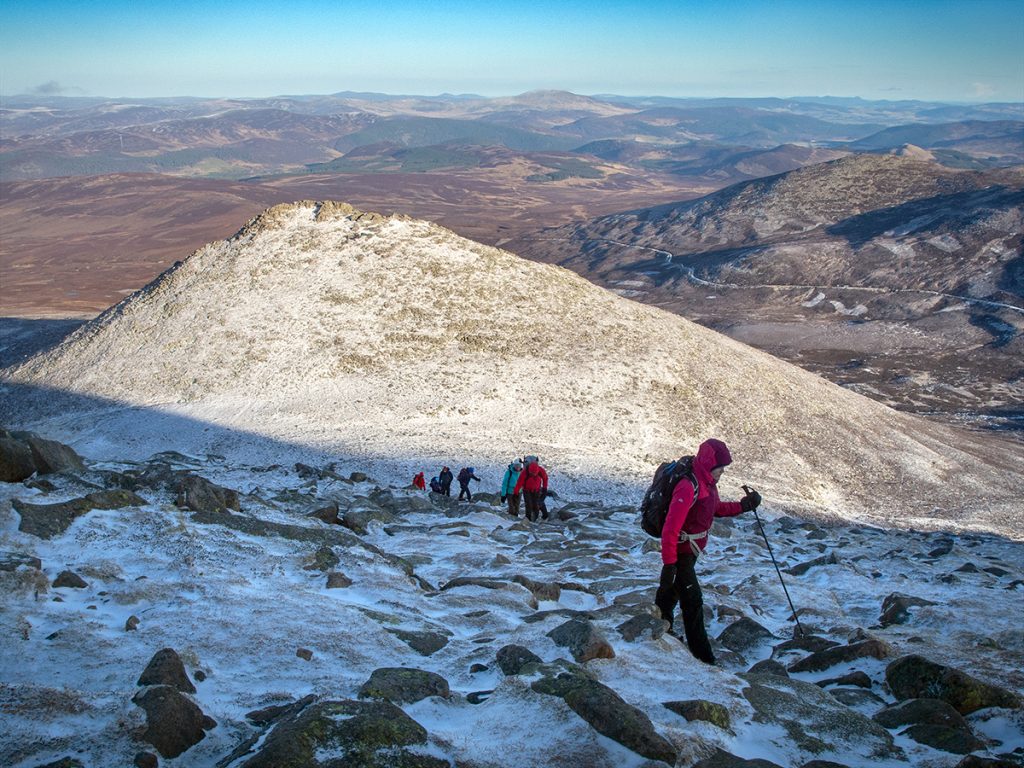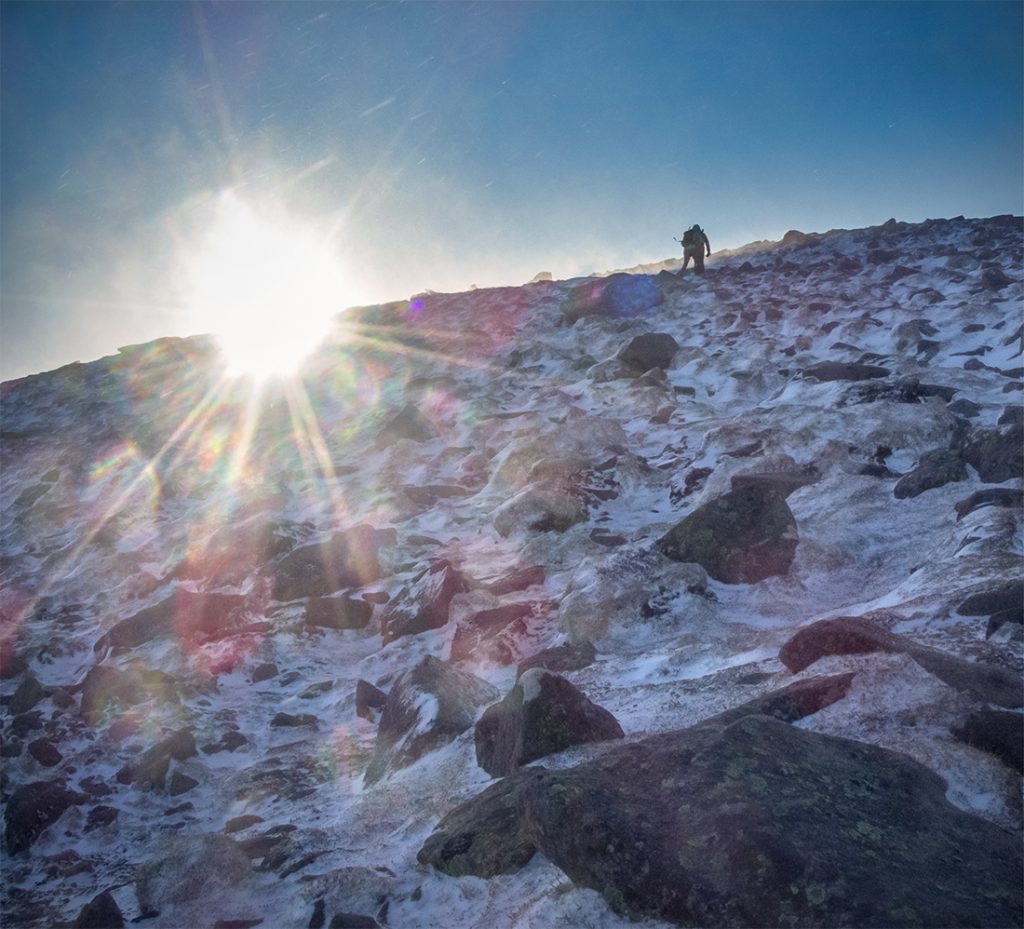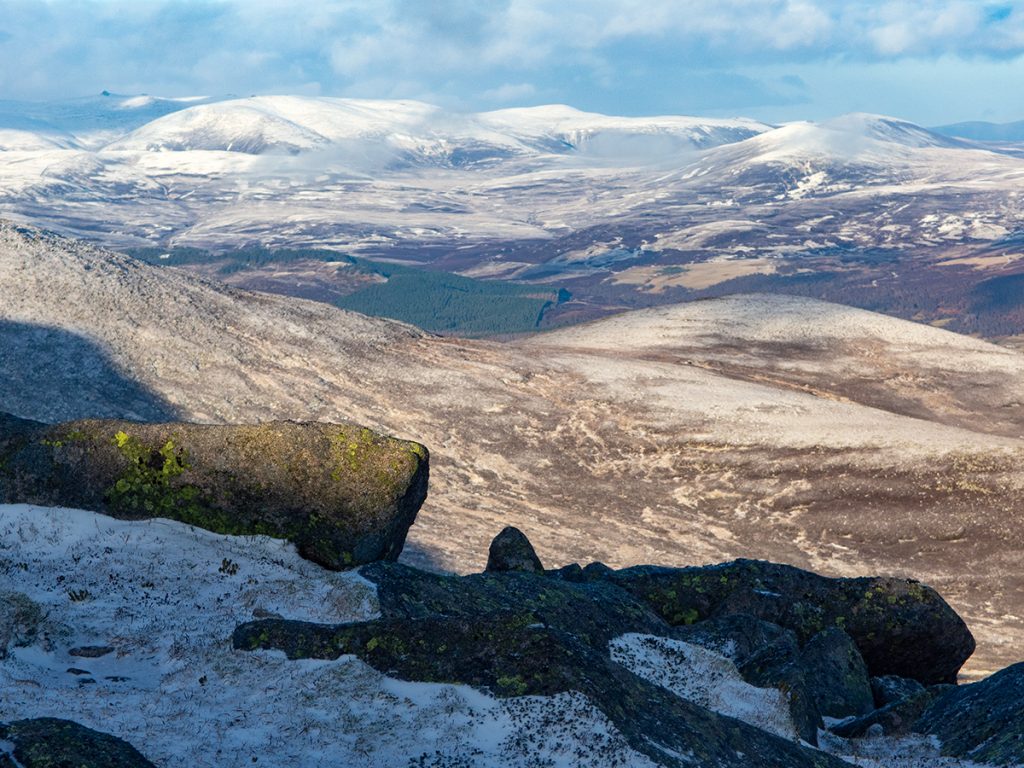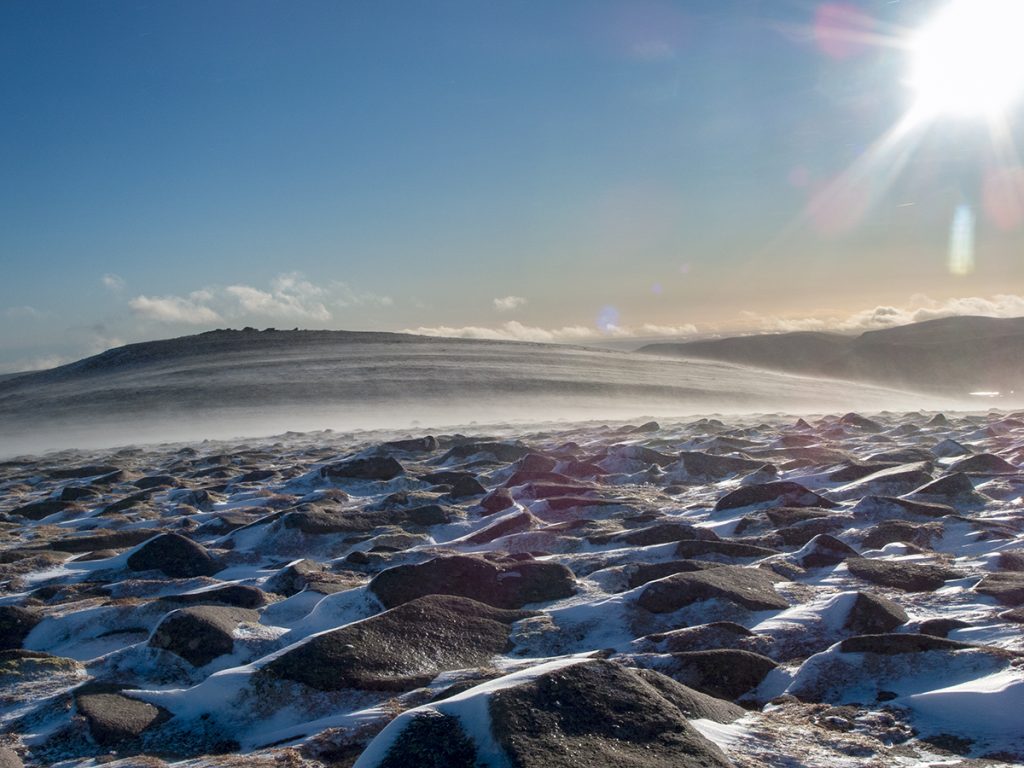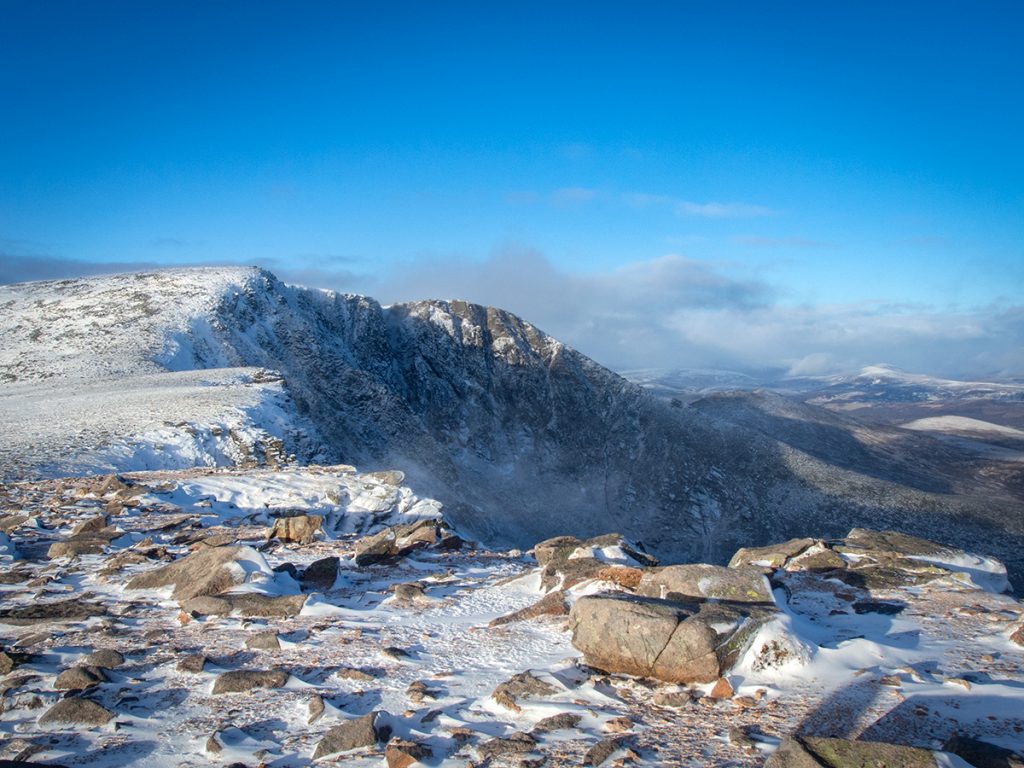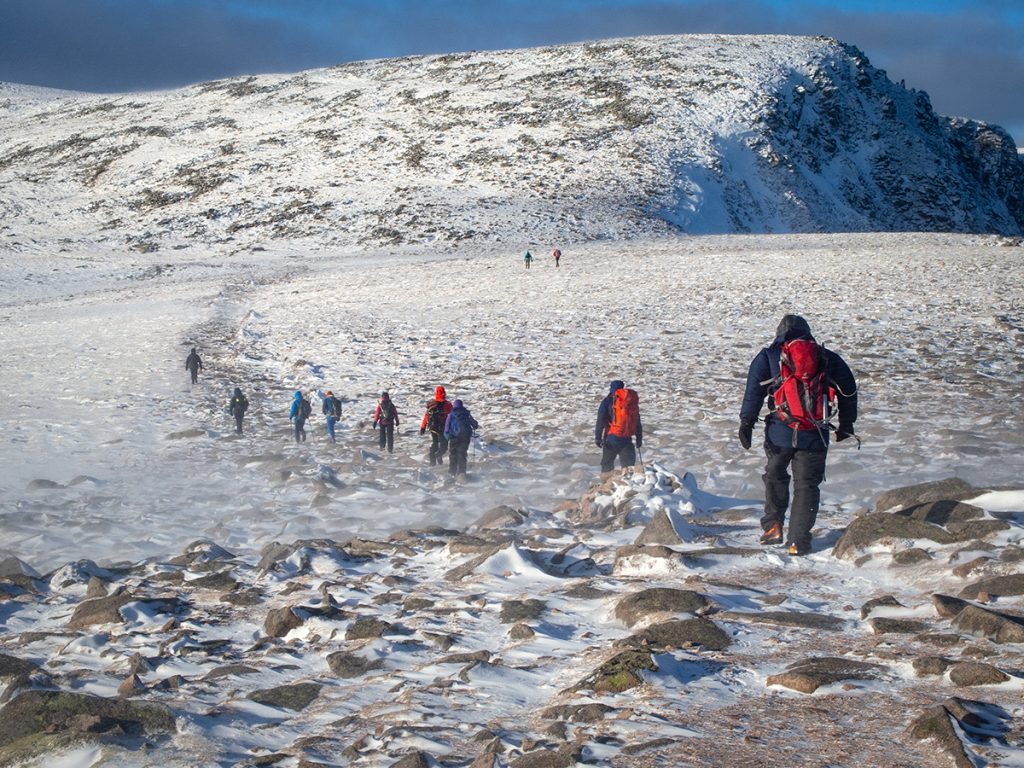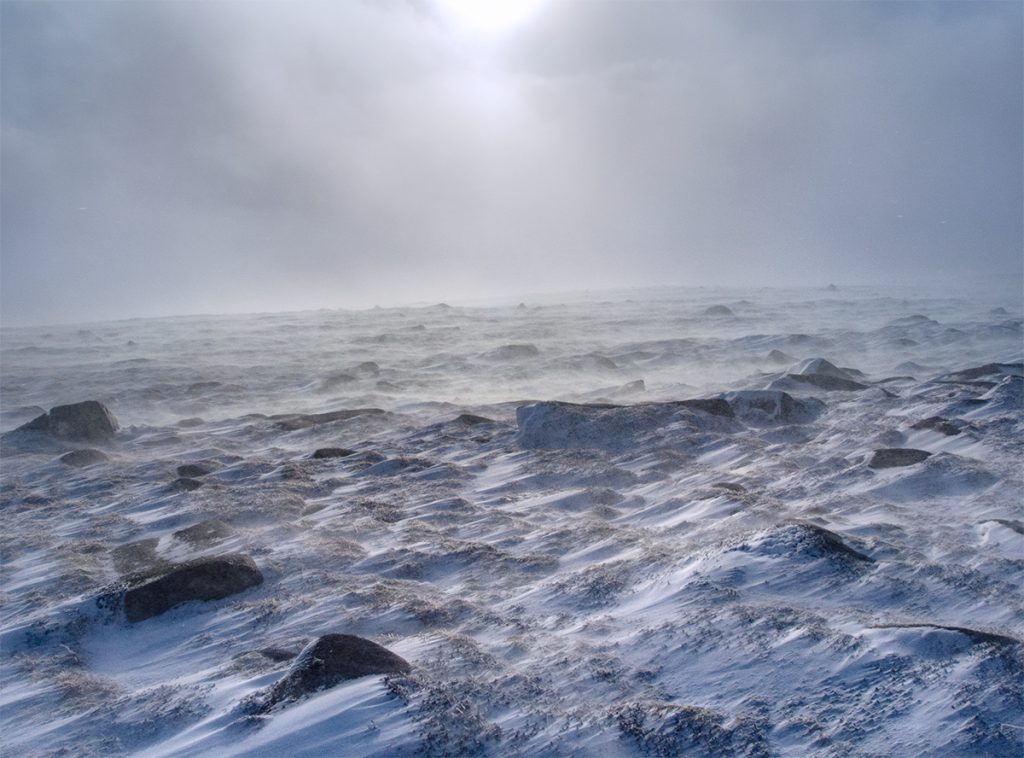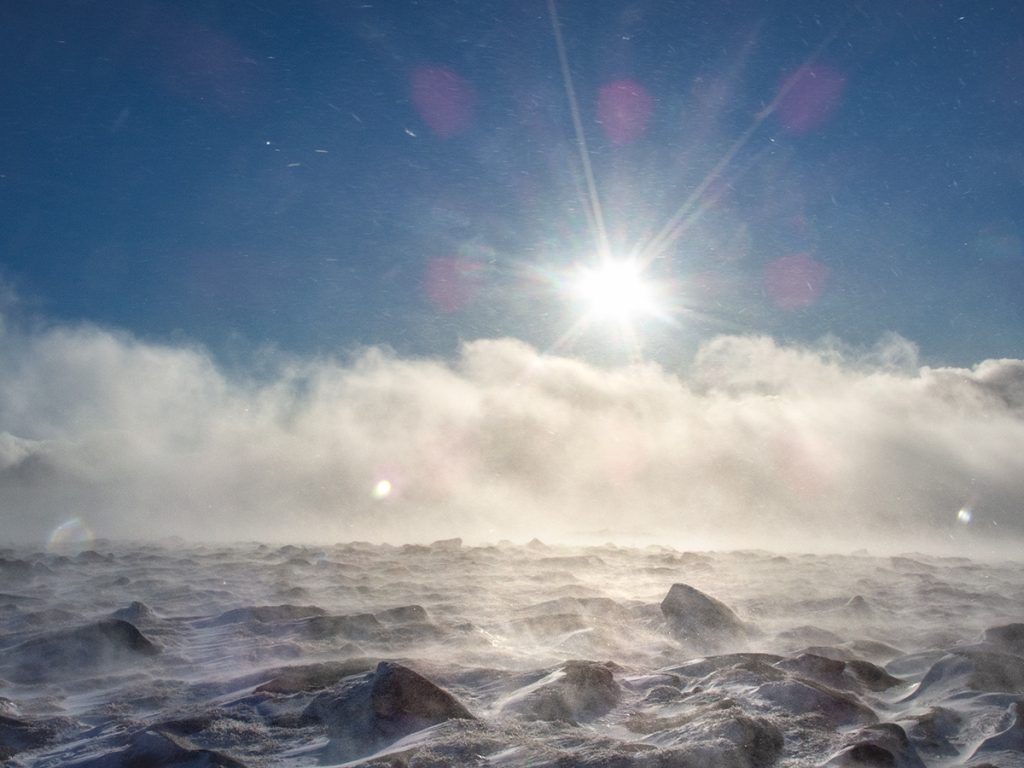 Visibility at the top came and went as clouds zoomed past, leaving us with some brief brocken spectre activity as we concluded a quick lunch.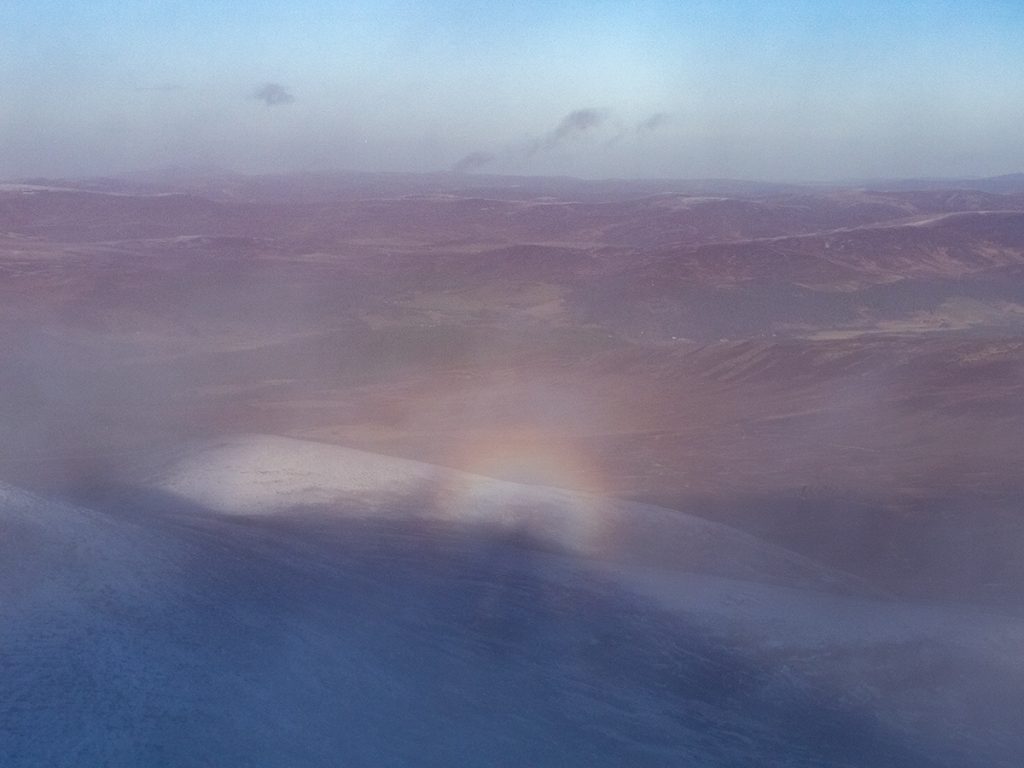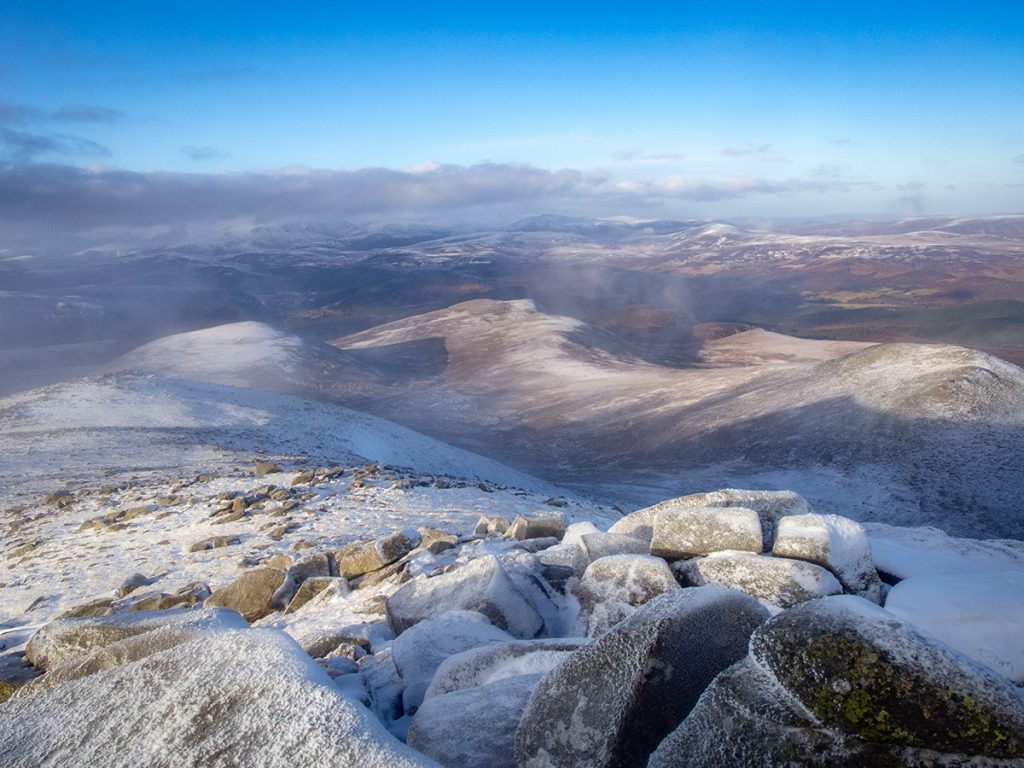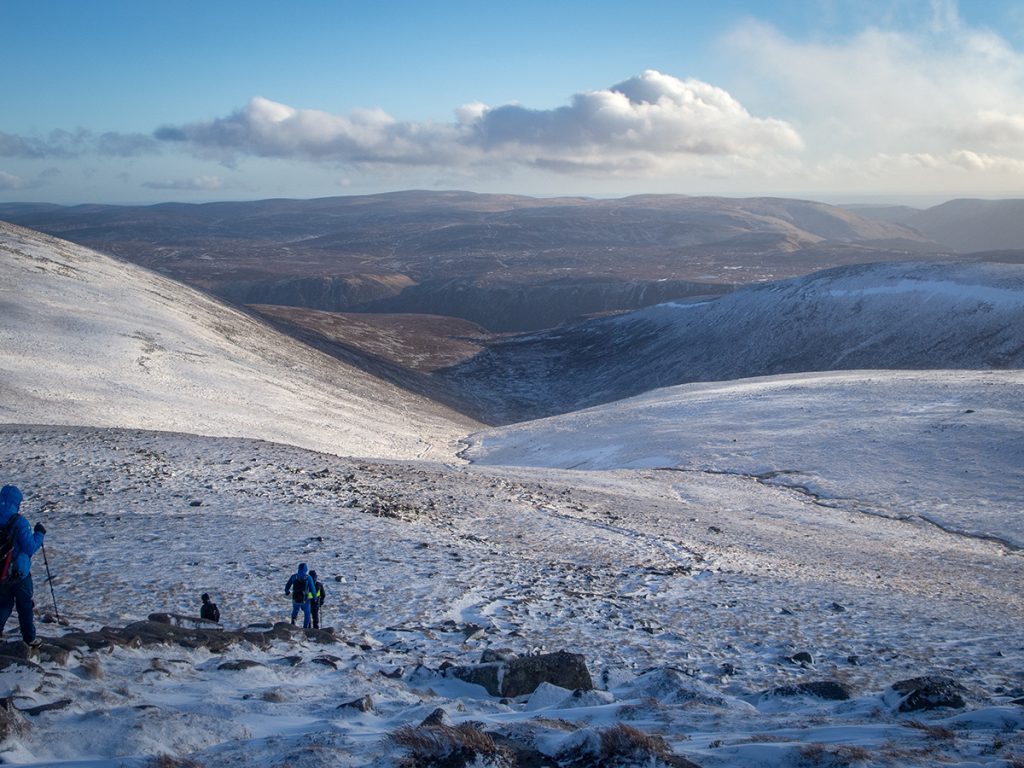 The trip down past the waterfall was straightforward, not as icey as previously though still hazardous to those without spikes. We stopped at the bothy for a quick tea-break before heading back, and rounded off with high tea in the pub at Aboyne, beer, fish n chips, and cake, calories well earned.