A free weekend with no advance plans, fresh fallen snow appearing in photos from the mountains, and a favourable forecast had me up early on a Saturday, to pounce on the first bus out from Aberdeen, and head west to the hills for a snow day. The quickly assembled plan was to run 2 munros, starting at Crathie, and ending up in Braemar with 34km in between. There was a useful 'decision point' where I should be able to evaluate conditions, with a fork to a plan B route that would be mostly lower level if needed. I'd estimated various time checkpoints, and had a useful buffer of time as a safety margin before sunset.
Off the bus at Crathie, and the ground was frosty, wind low. Away to take a photo.. uh oh no memory card for the camera. Whoops great start. (all photos today taken on the phone)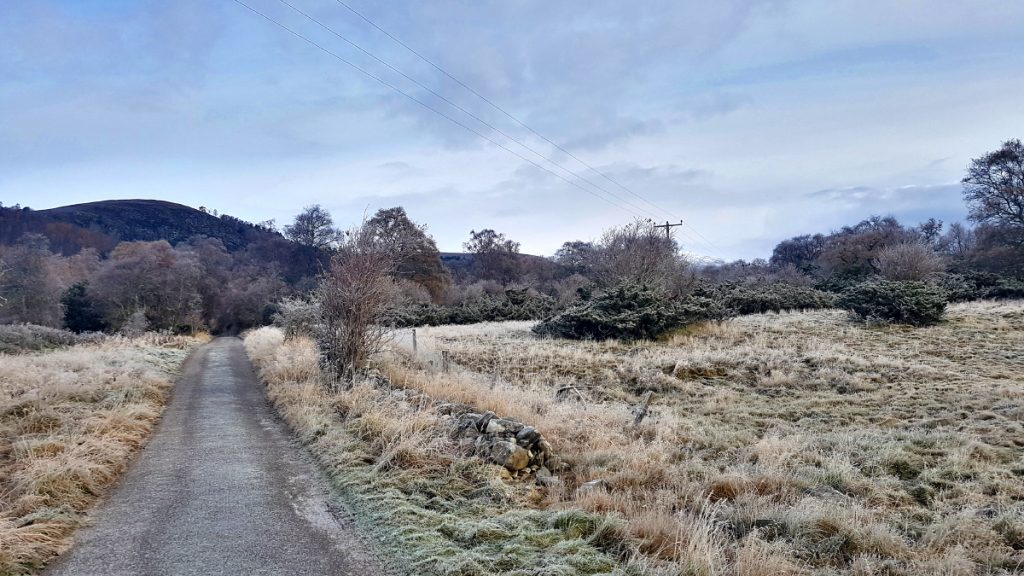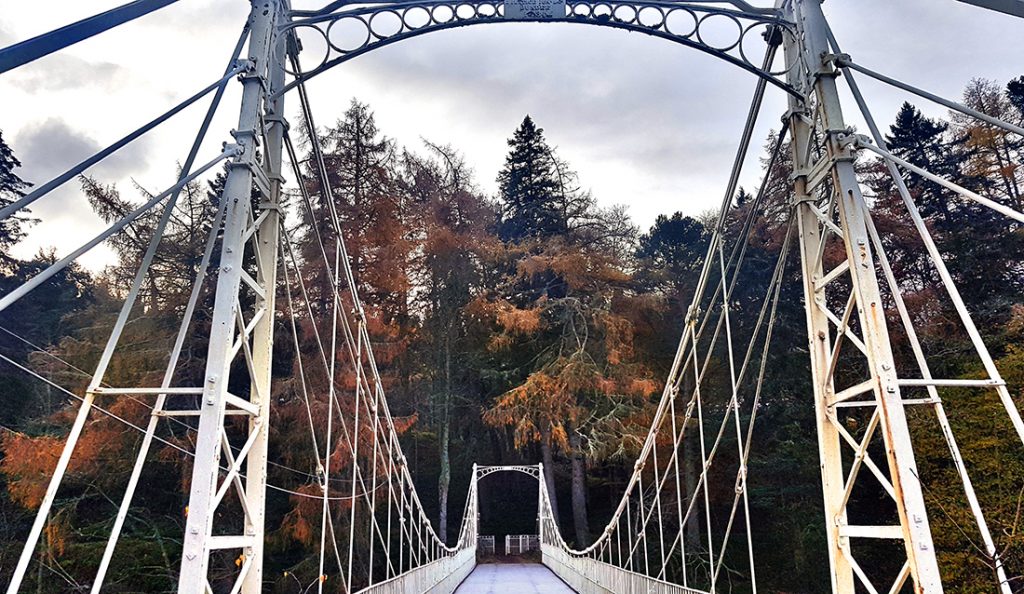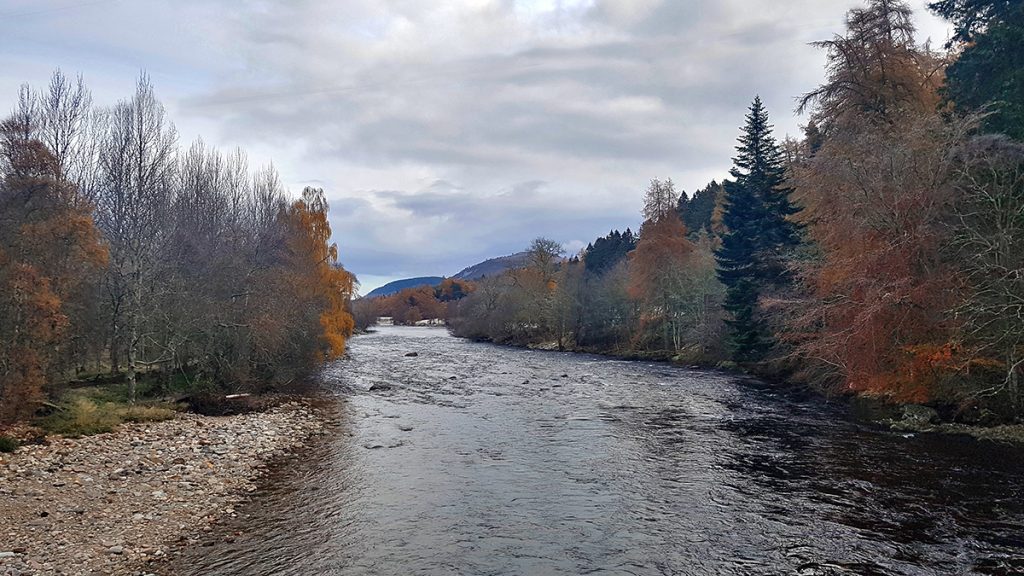 I made my way up through the woods above Balmoral, looking back I could see a snow cap on a distant hill.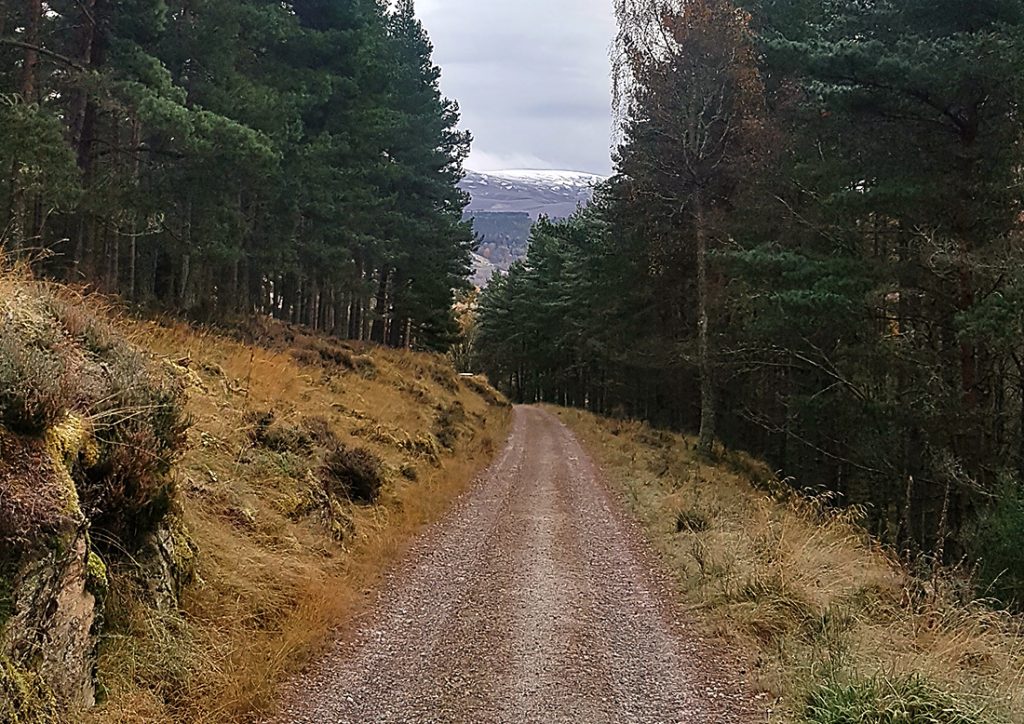 Once out of the woods to the moorland, I could get an idea of what lay ahead, Lochnagar peeped through gaps in clouds, with a fair bit of snow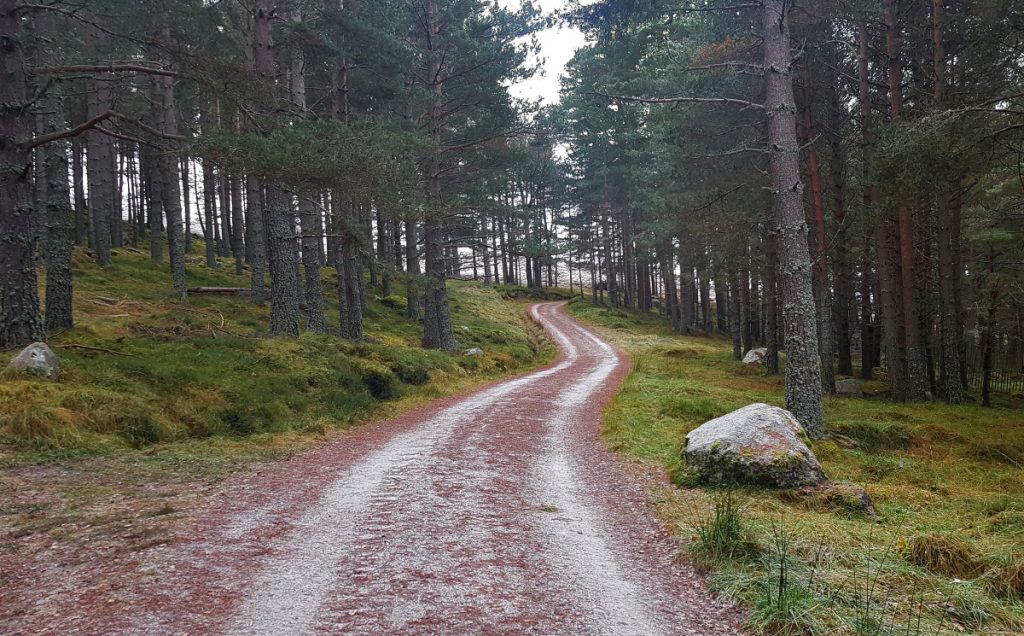 At the turn off to Gelder Shiel bothy, it was decision time: blue skies with some thin cloud and not bitterly cold, nearly 10 minutes ahead of schedule, I continued onwards with plan A. The landy track had a scattering of snow but going was good.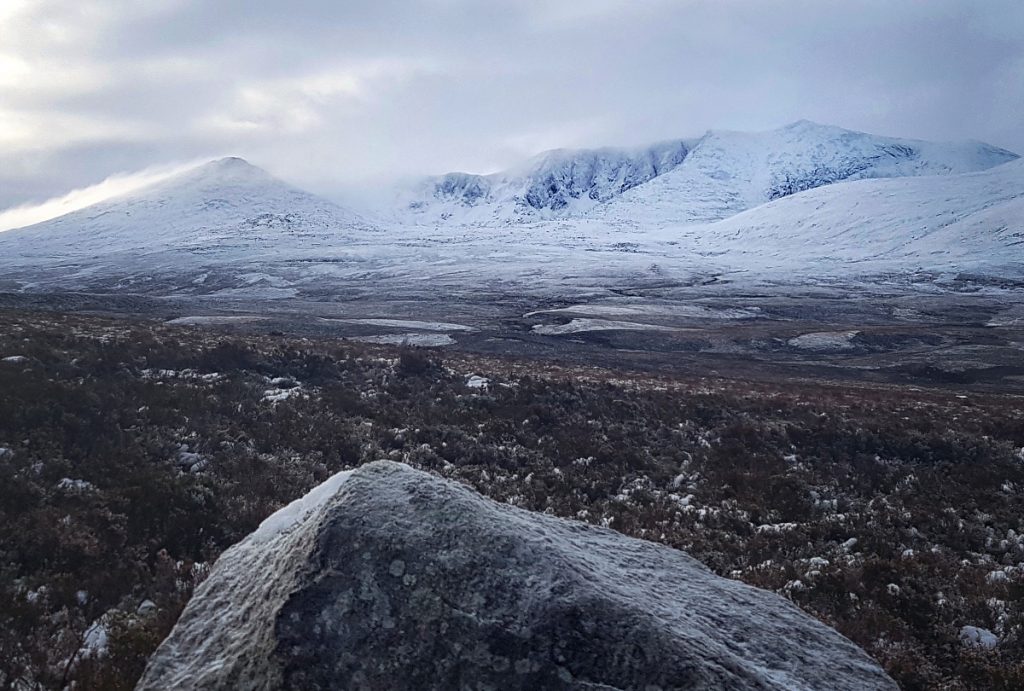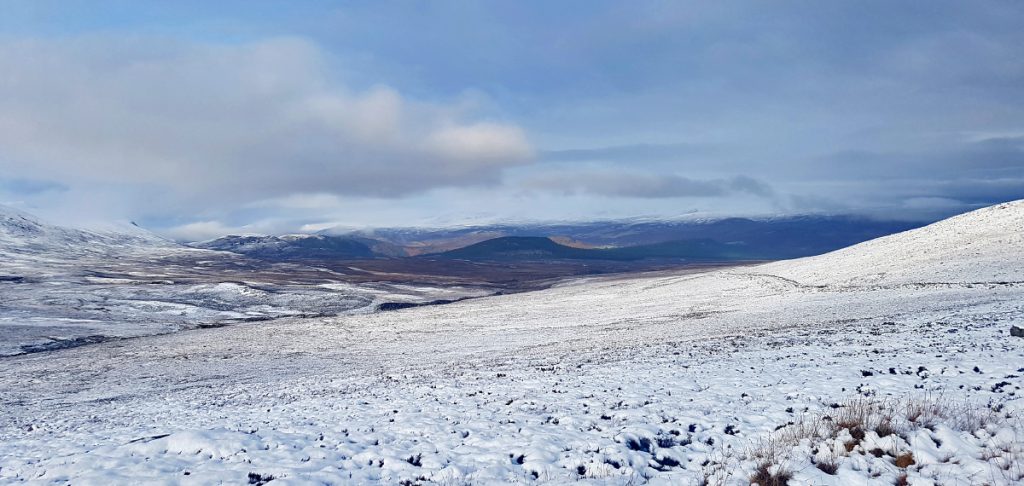 Nearing Lochnagar, the verges deepened into globs of snow, but the hill mostly remained free of cloud cover, hopefully it would stay that way to expedite traversal of the hills.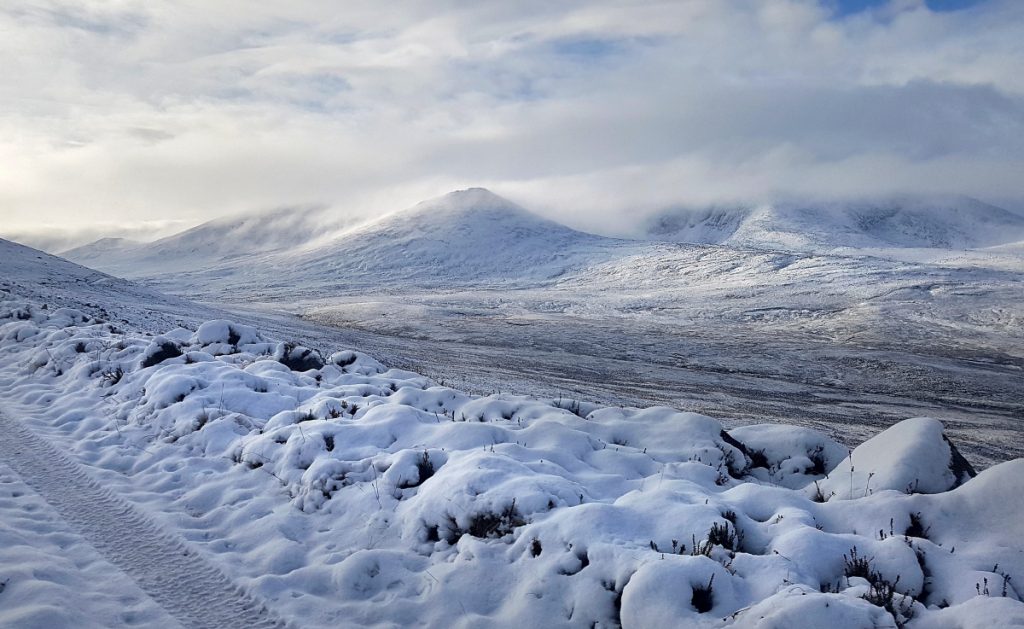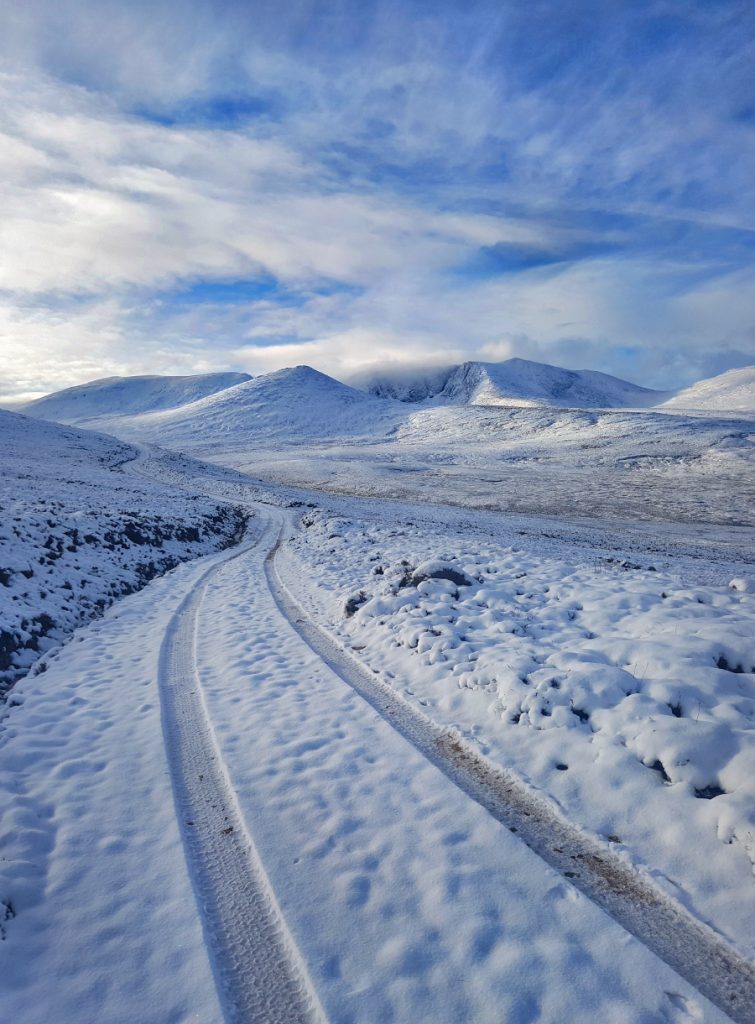 Joining the tourist path, the snow was compacted and slippery on steps but mostly ok. I took it easy rather than hammering it, keep it safe.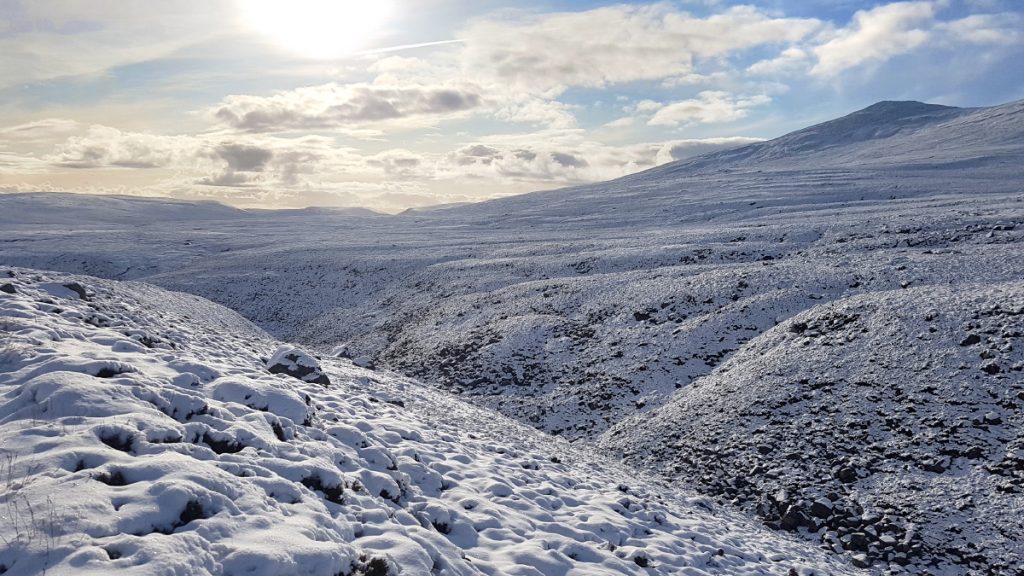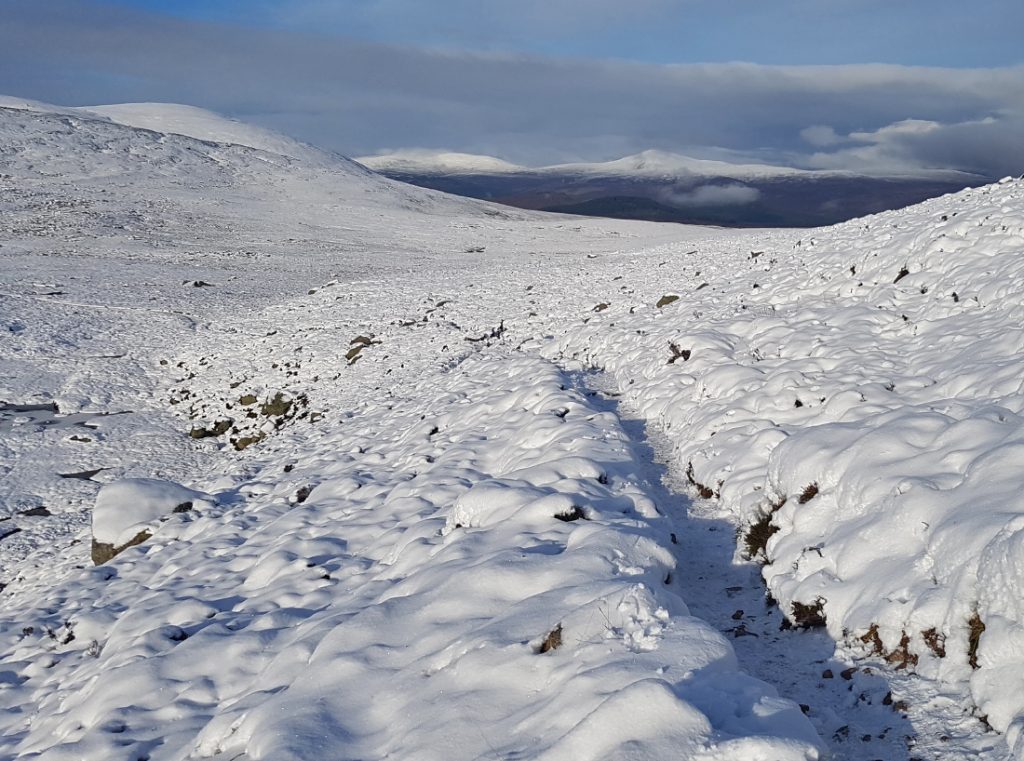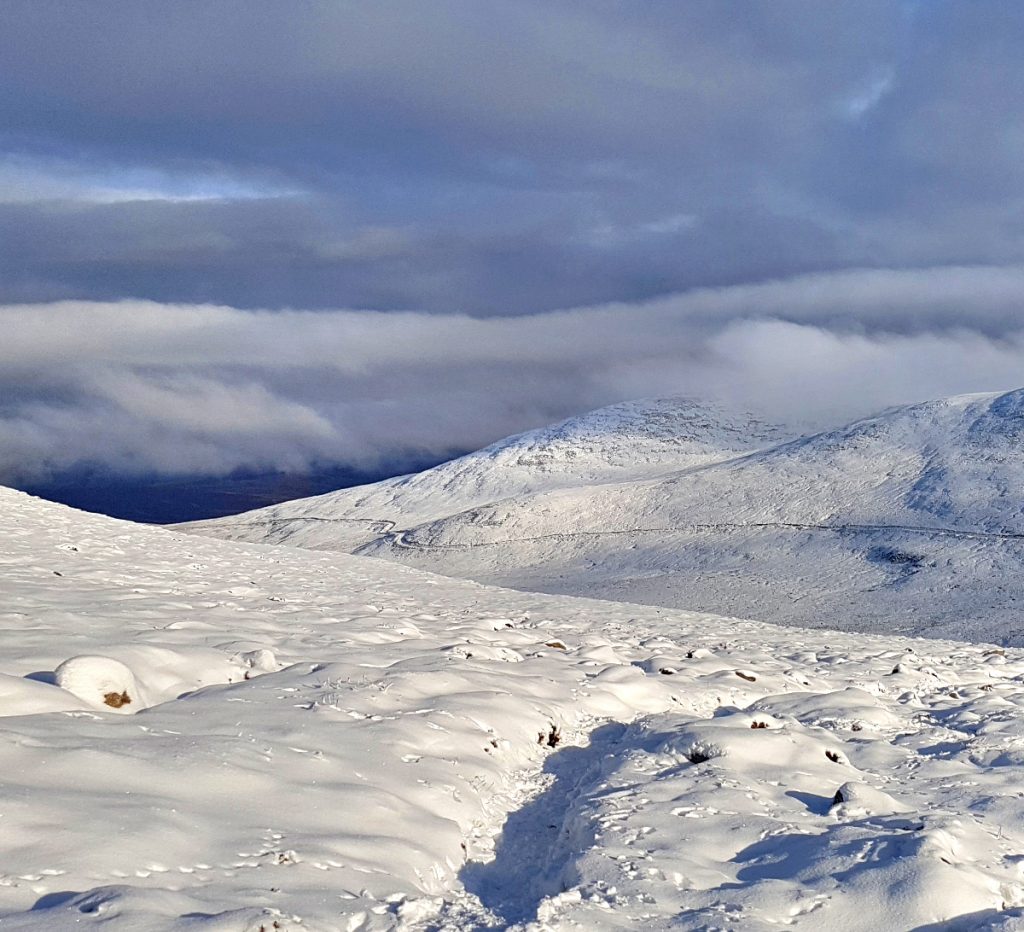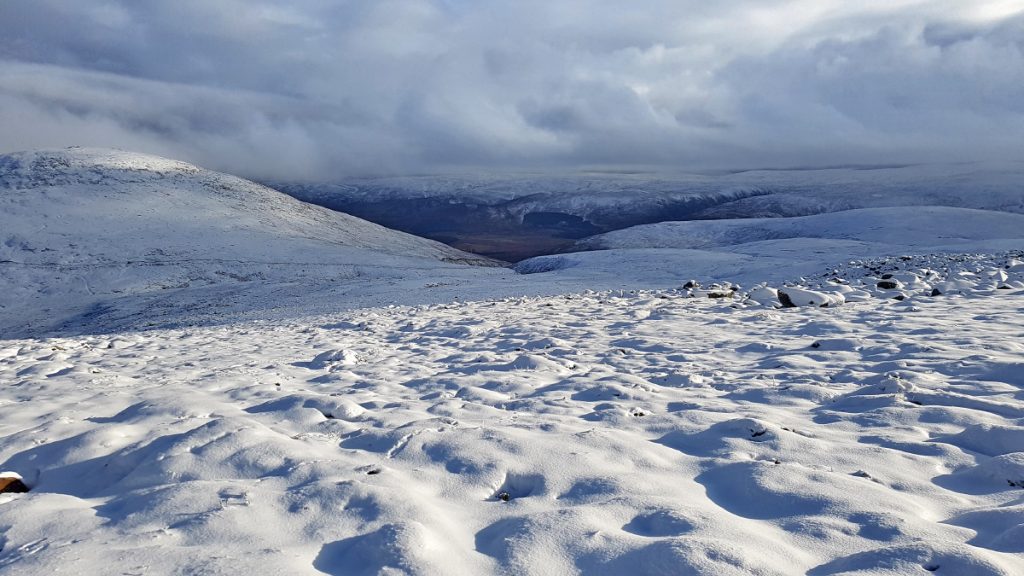 I reached the lochan, and climbed a bit up meikle pap to get a better view of the corrie. The snow off-path was foot to knee-deep. Time to put on my new gaiters (vaude albona) these are ultra-light, water resistant rather than fully waterproof but hopefully breathable and sufficient to keep the snow out of the sides of my adidas terrex trailmaker gtx shoes.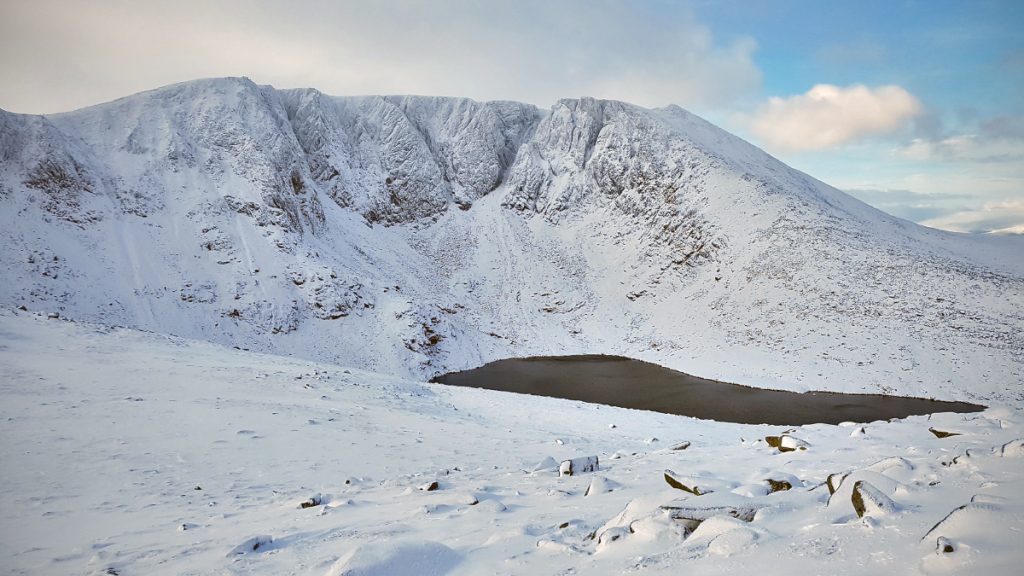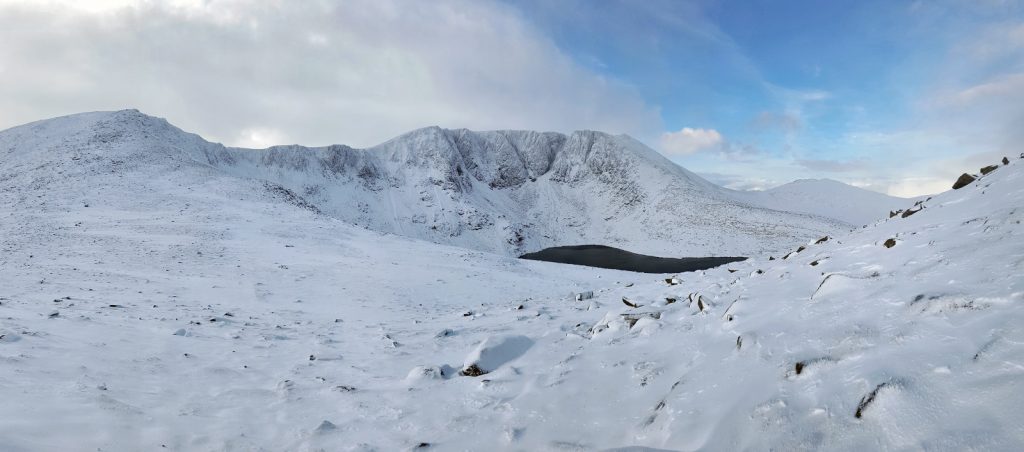 No sooner had I put these on and cloud swept across and enveloped the hill, with a sprinkling of hail and snow. Another new thing: outdoor research shiftup balaclava/buff combo was deployed to keep the chill off my face and head.
The climb over the boulders to the plateau was tricky with the snow filling gaps, around the corrie I overtook a few 'casual' walkers looking a bit out of their depth, up here now it was full-on winter conditions. At Cac Carn Mor, even though I was still on schedule, clearly if I was to continue further progress would be delayed by the deepening snow. I decided to head onwards to the next munro, saving a bit of time by not visiting Lochnagar's main 'top'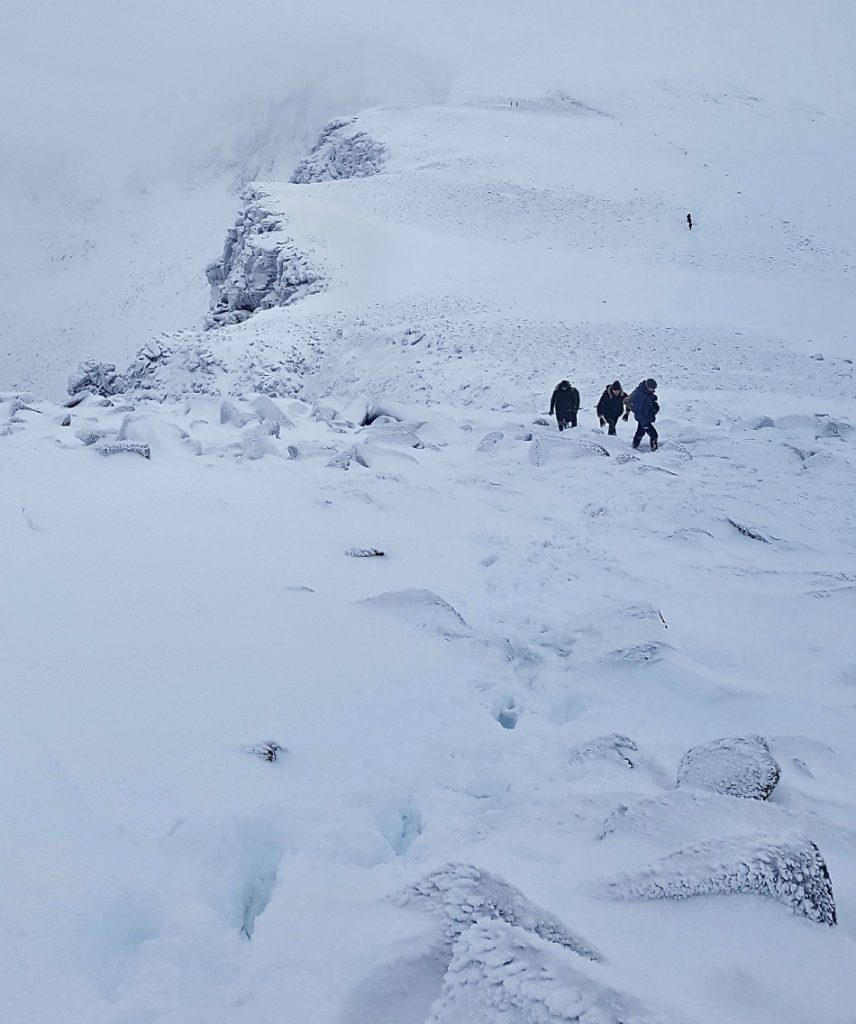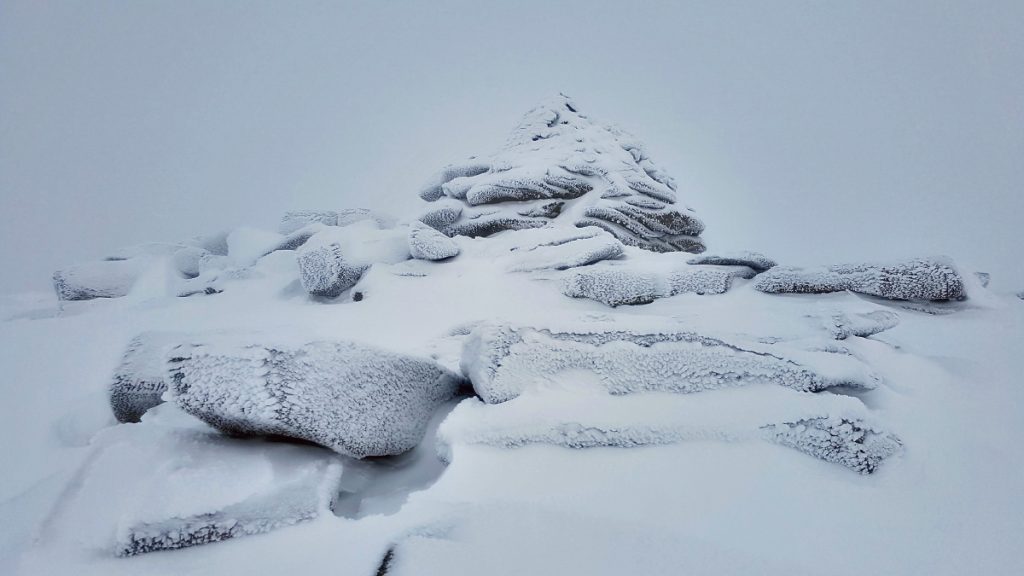 Once away from any crags, cairns or other features, I was in the void, the plateau visibility down to a dozen metres, with no sign of the path or much of anything, the odd protruding rock or bog patch. Navigation was slow, and slumphing through the snow tiring: I walked mostly, with the very occasional burst of a run when I found shallower firm terrain.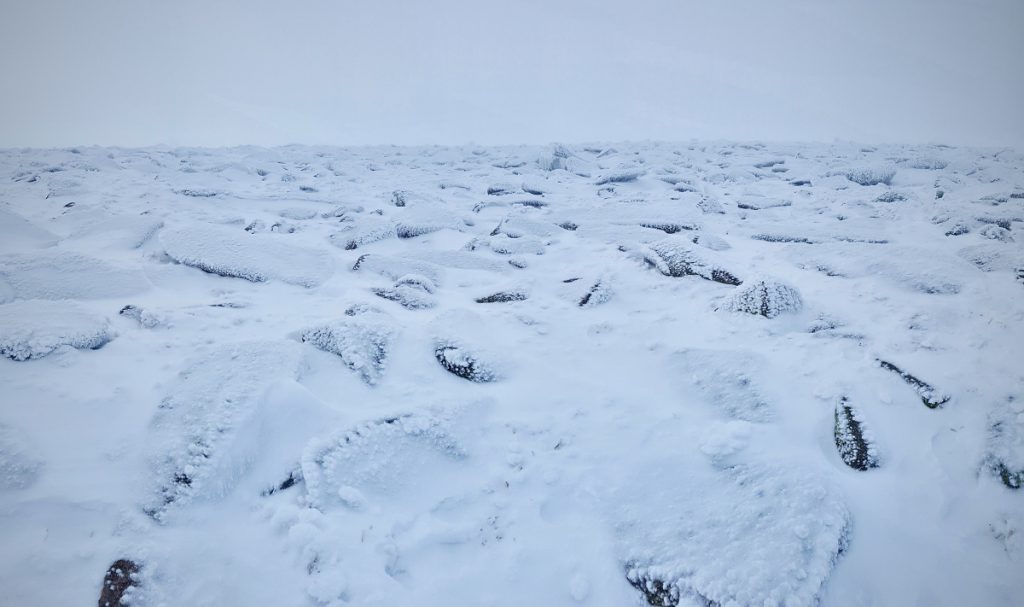 Occasionally, a hint of distance would taunt me, perhaps able to see a few hundred metres, and a fuzzy ghost of the sun appeared through the swirling whites and greys. You are truly on your own and dependent on resolve and capability in such an environment, and the occasional doubt of sanity in being there is natural, but was tempered by the knowledge I'd been this route plenty before and knew how one curve of land led to the next, albeit when clad in greens and heather purples. My compass was buried in my mitt and grimly watched until the white void was split by a dark burbling streak, the burn below Carn an t-Sagairt Beag.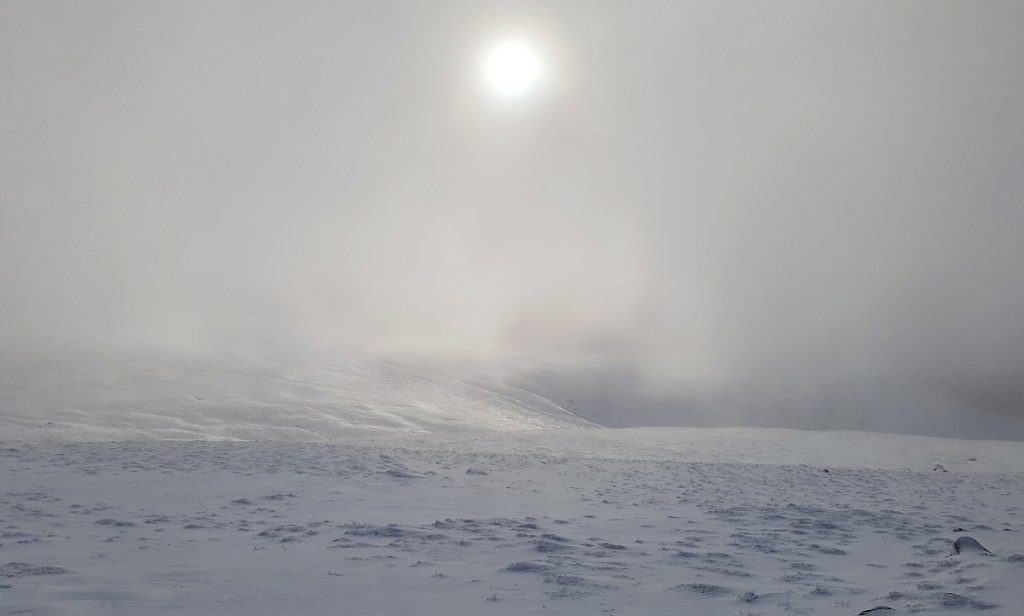 After having a snack break (shoulda kept my stoats bars closer to body: cold and stiff) I crossed the burn and saw a hint of blue, but beginning to contour around Carn aSM I noted that I'd begun to slip behind schedule and decided against heading over the top, a lot of extra effort while gaining no view.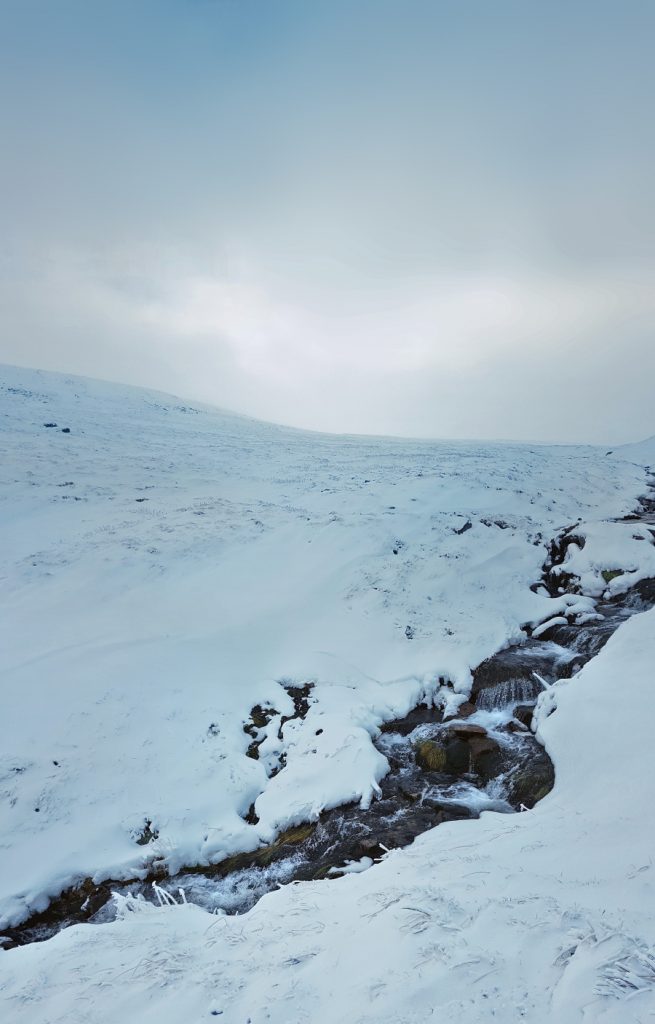 A faint crack formed on the horizon, a tantalising hint of a parallel universe of colour and shape, and as I pondered this apparition into my world of soft white conformity, the rift suddenly grew and exploded outwards, clouds ripped asunder into a veil of cotton shreds beyond which lay an infinity of blue. Jeez! Woah! My retinas crackled with the visual overload after hours of void. The visibility was startling.. snow capped hills from large to tiny many many miles away, drenched in rich blues and yellows of a low autumn sun. Outstanding! I stopped and soaked it all in, wishing badly that I'd remembered my camera memory card.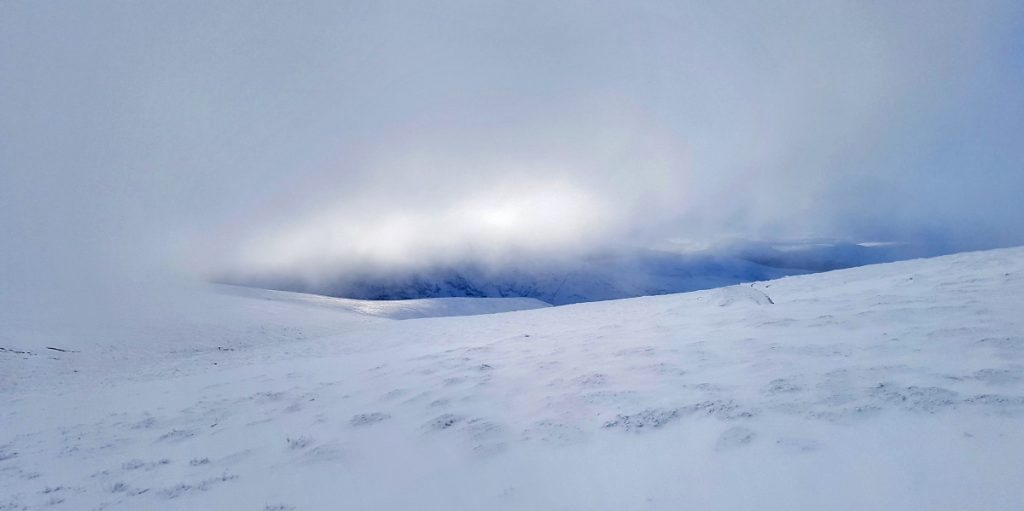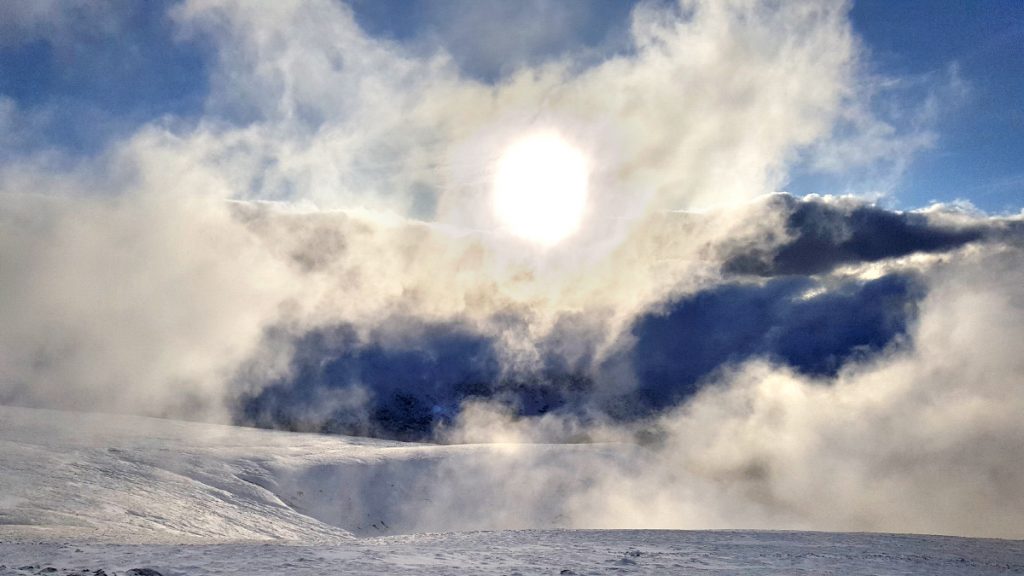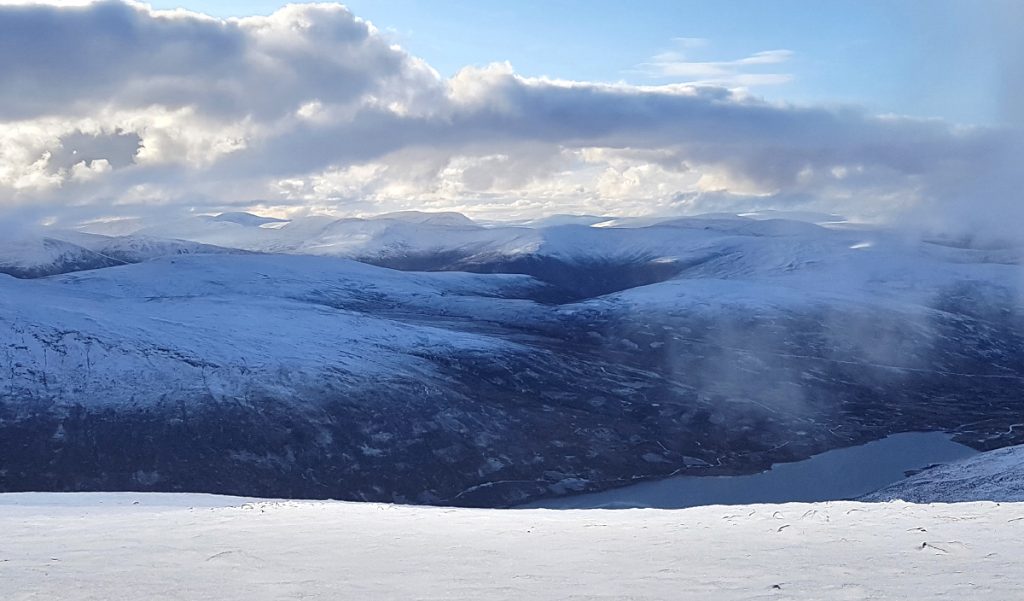 Another sensation filtered through.. warmth. Earlier, my garmin bluetooth thermometer (clip-on thingy that hangs off rucksack) had reported minus 2, now it soared to a balmy 12 in direct sun.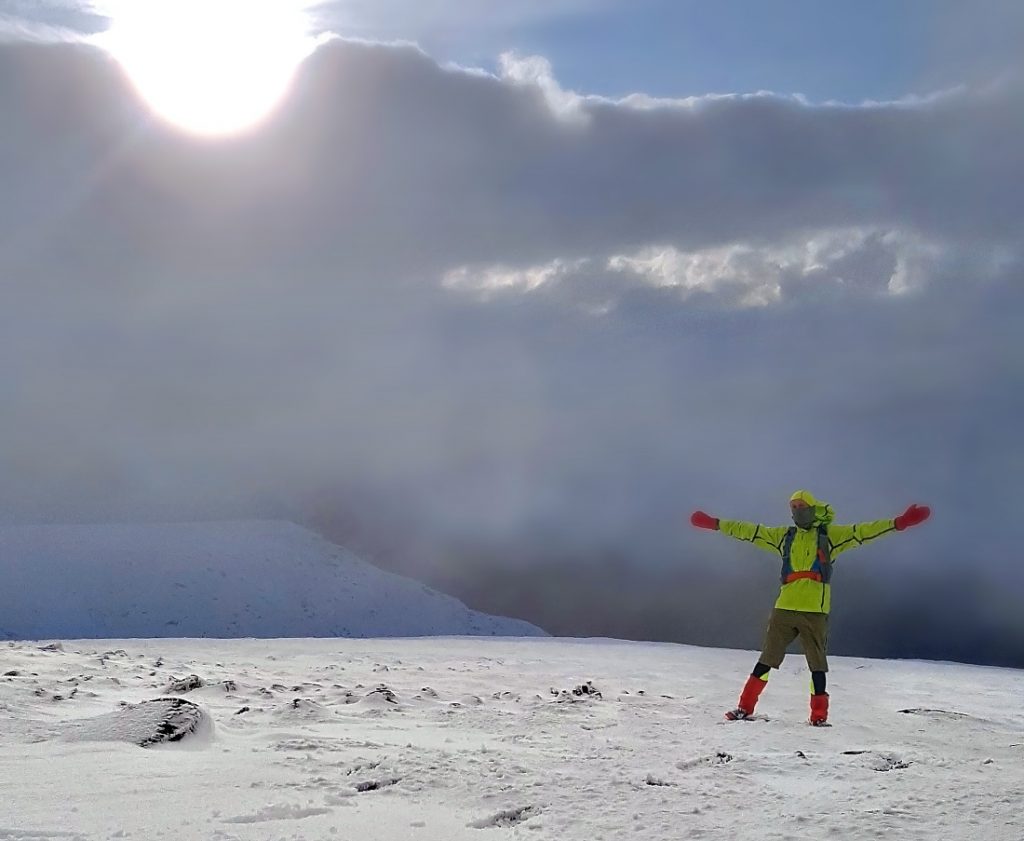 Having lost any path below snow, the next obstacle was a boulder field, which initially looked harmless, but I soon post-holed into a few deep crevices and holes, scratching my shins and clunking ankles, after which I proceeded more cautiously, nonetheless occasionally ending up waist deep in snow. A few mountain hares, still brown, skittered away from me, one zooming past me from behind, surely to taunt my clumsy progress.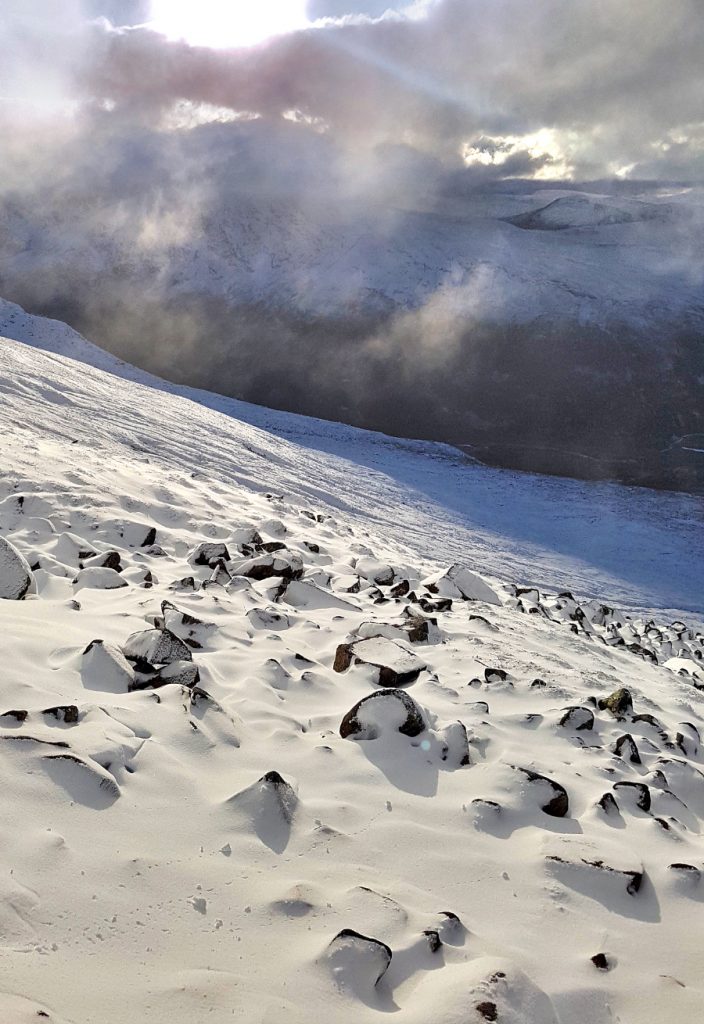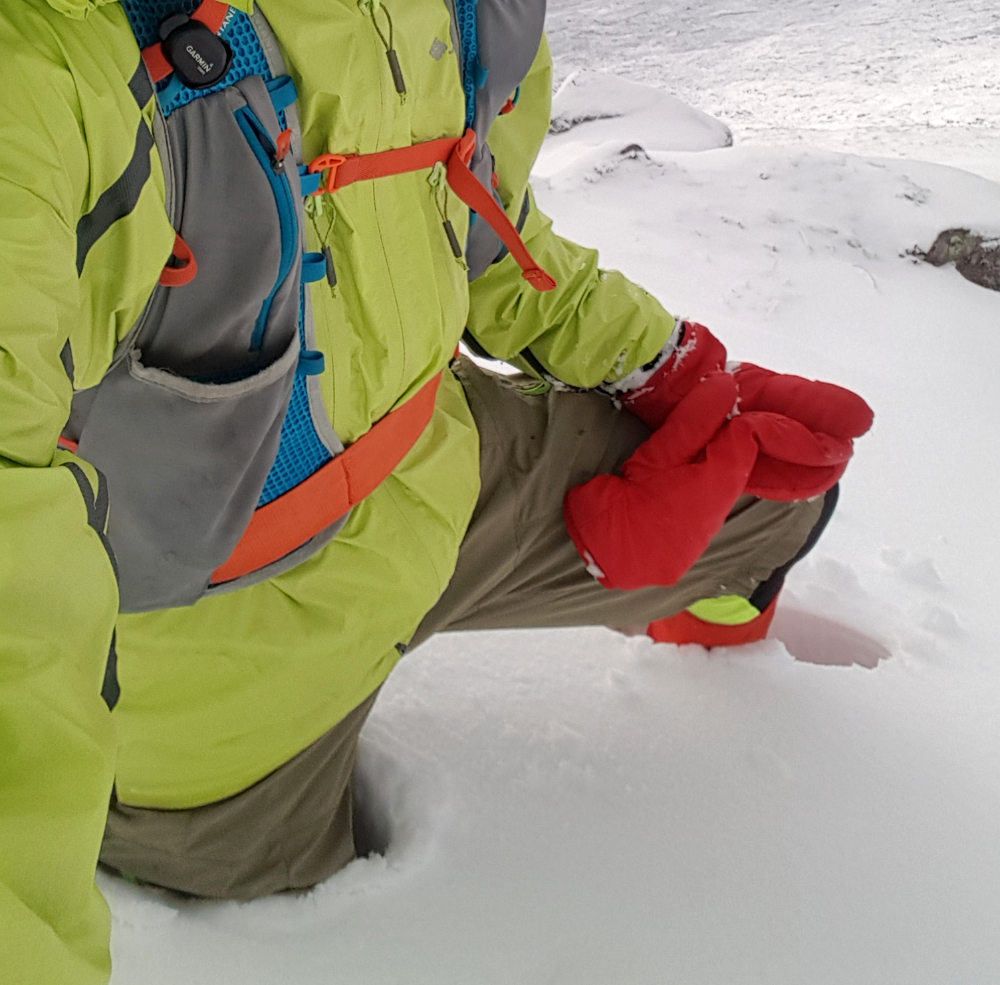 Also watching were the more suitably winter-coloured ptarmigan, who from a rocky perch observed this strange day-glo creature lumbering through their patch.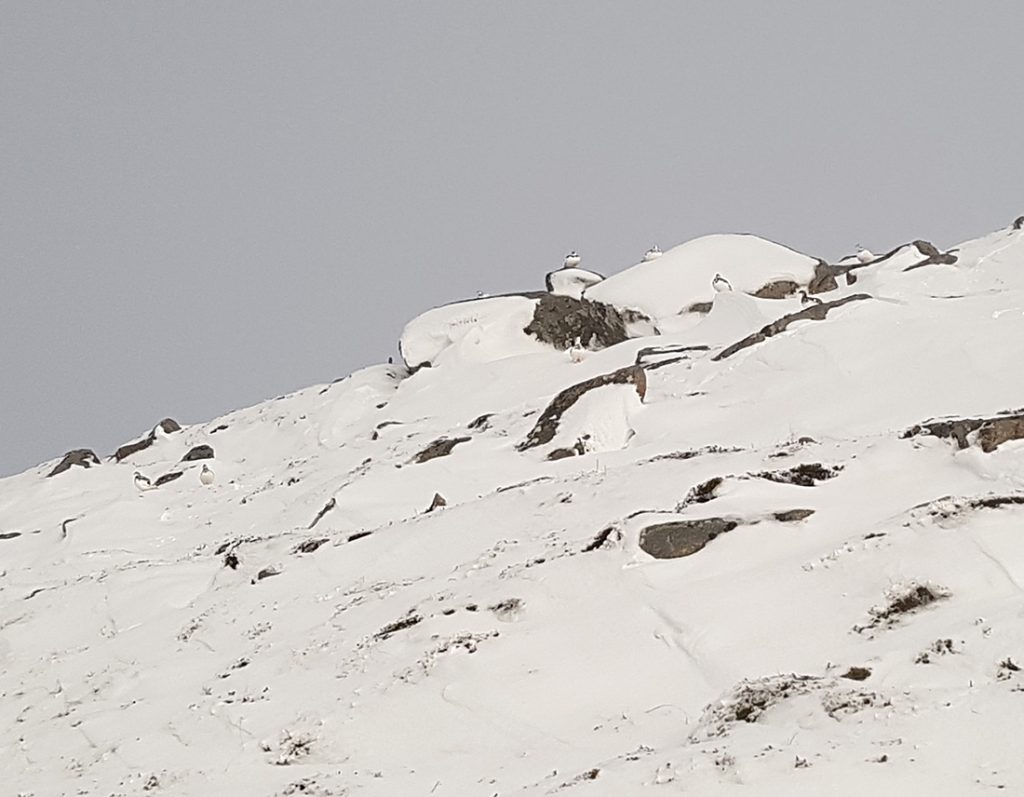 Boulder field crossed, I descended to the col below Creag an Loch, and looked to pick up the path, although behind time, I hoped to make good progress once below the snow line.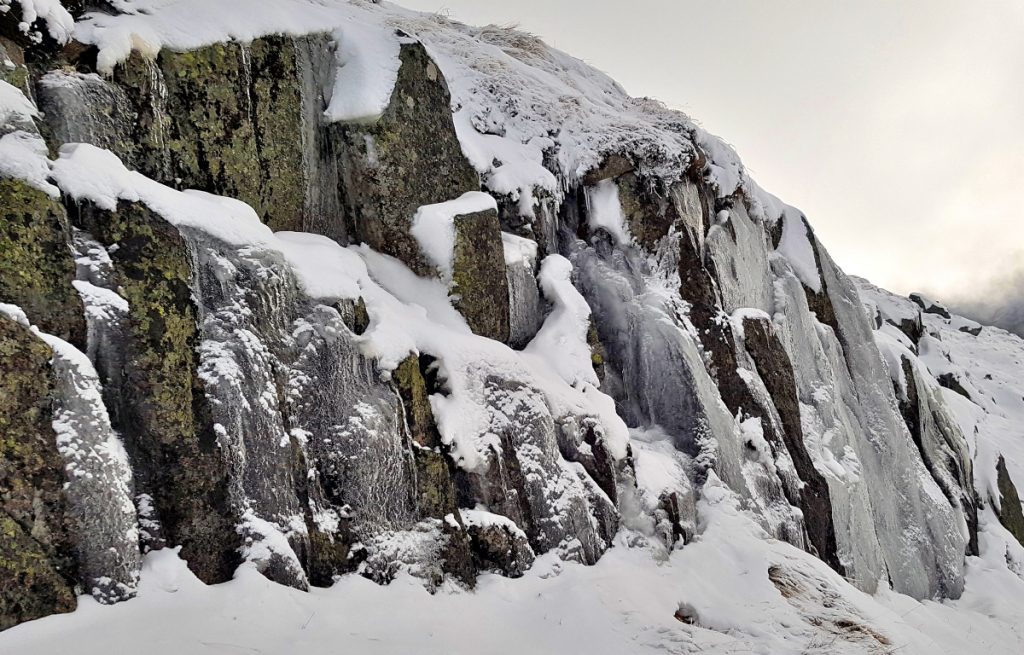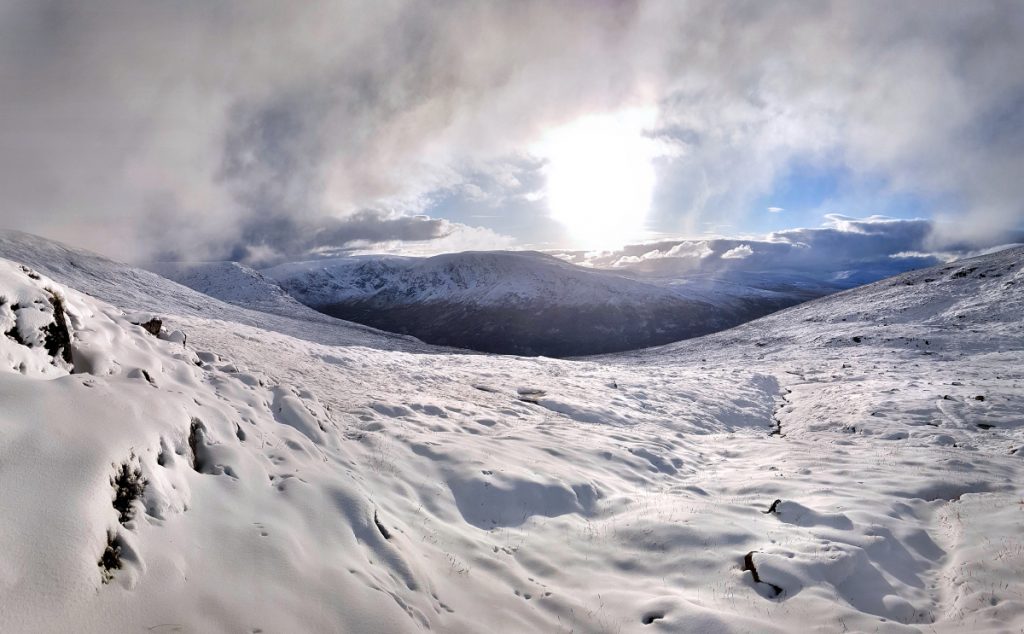 The path was icey with pools of water and there were bits of flood damage and deep ruts that I don't recall from the last time, that'd be real pedal-tanglers on a bike. I skipped along enjoying the view, it's a great scenic bit of trail.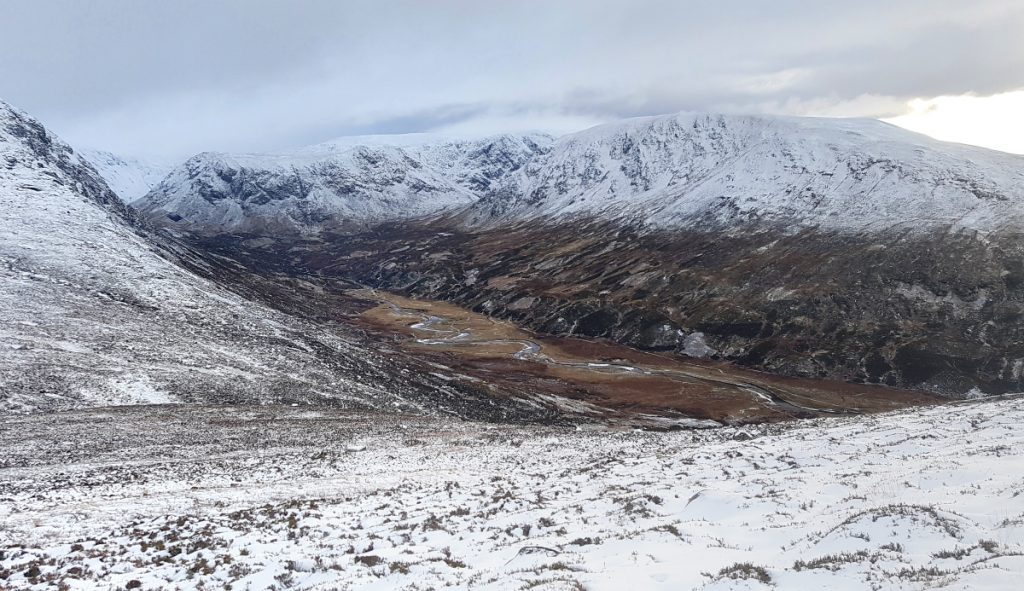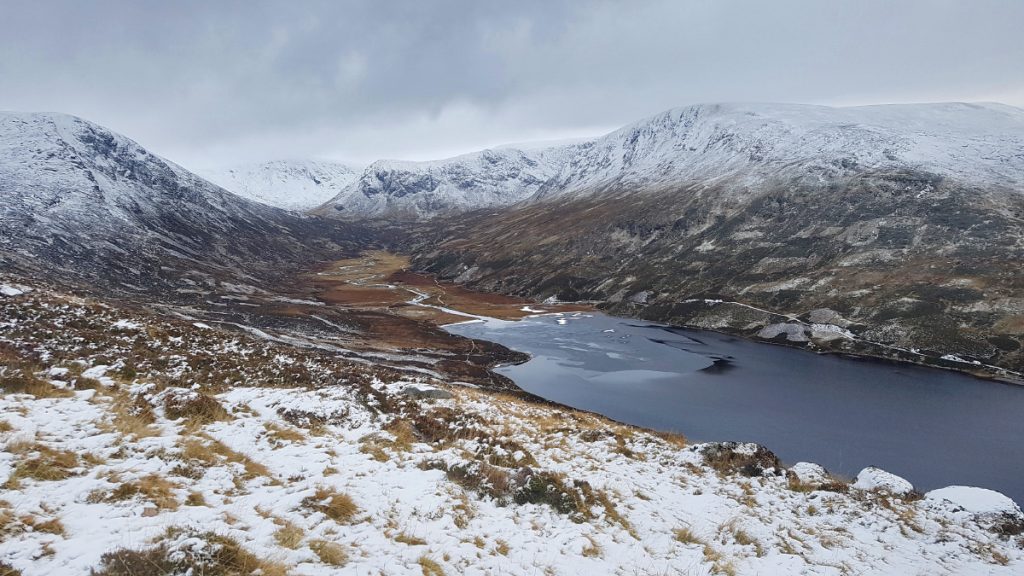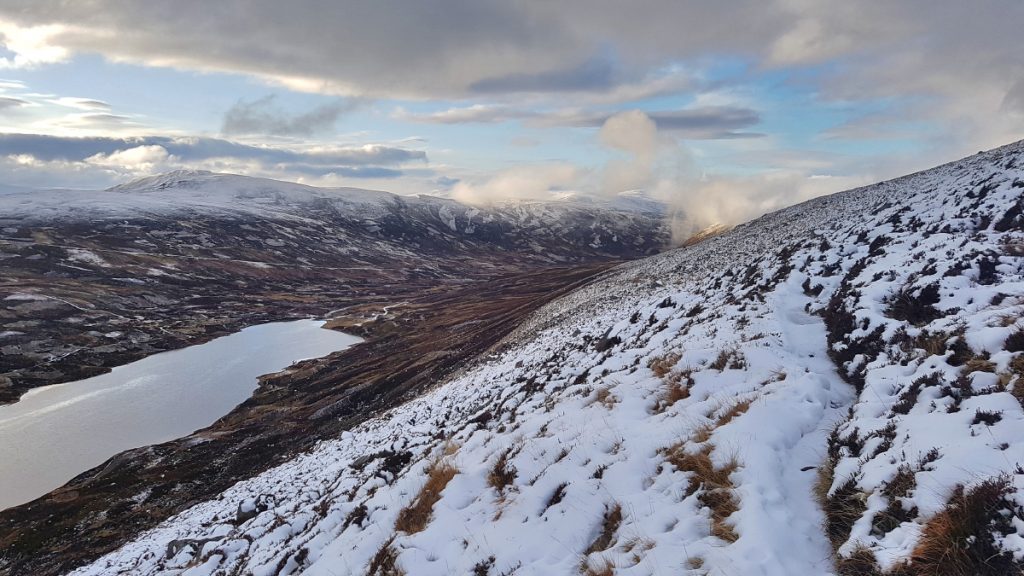 Down at the Callater bothy, I took the opportunity of a moment of shelter to change socks, they'd been squishing away for the last hour or two, thankfully never freezing, as any 'gloves-off' operations had to be brief due to the cold. The gaiters had funnelled snow down when post-holing deeply (perhaps needed to cinch the top a bit tighter), and then the goretex doesn't let out the melted snow water. I munched the remaining food, a cold jam sandwich and oat bar, dreamt of hot pots of tea and steaming fish and chips. There was still 8km to go..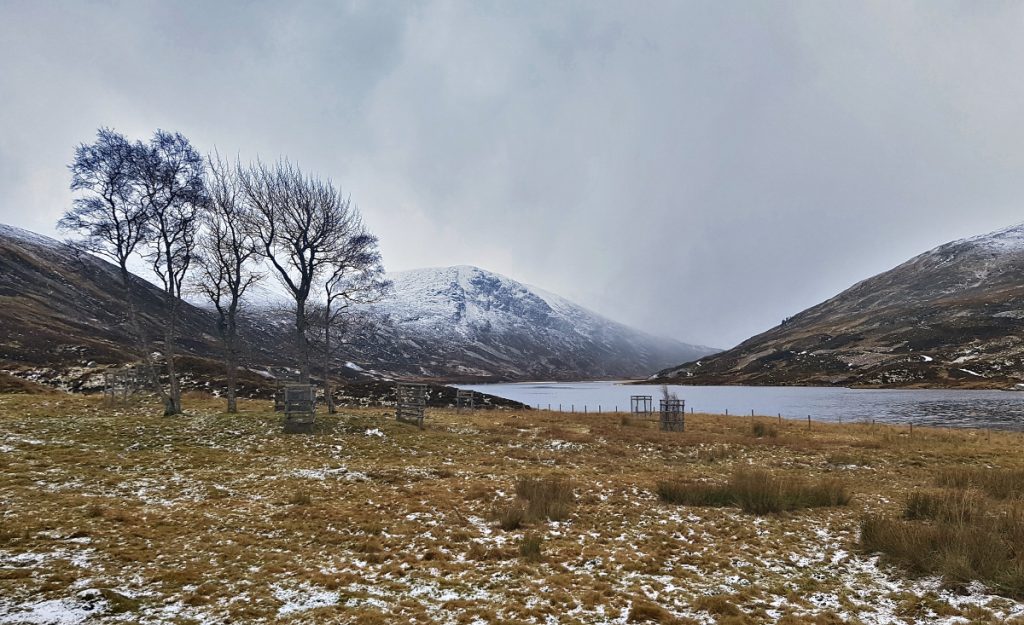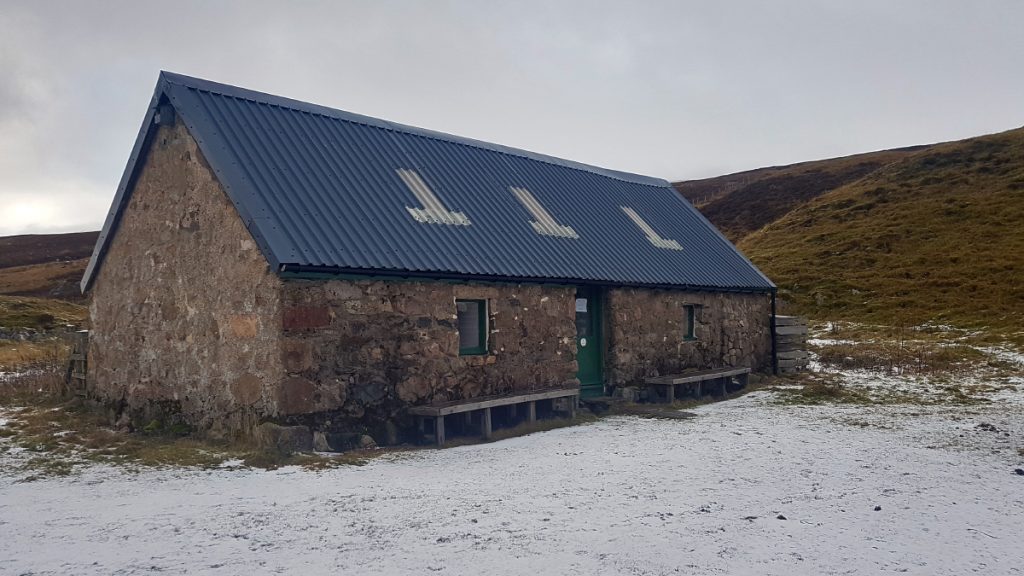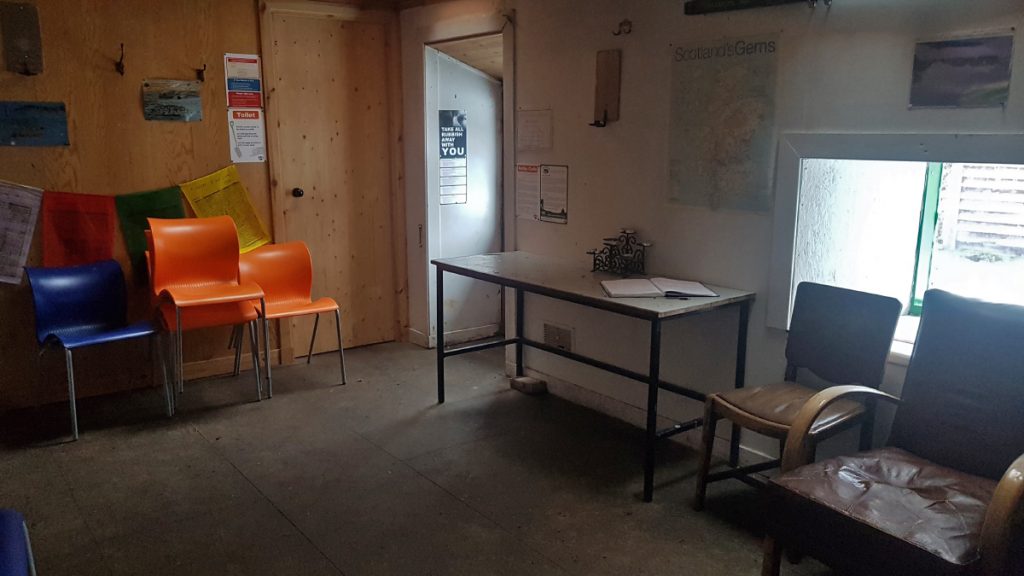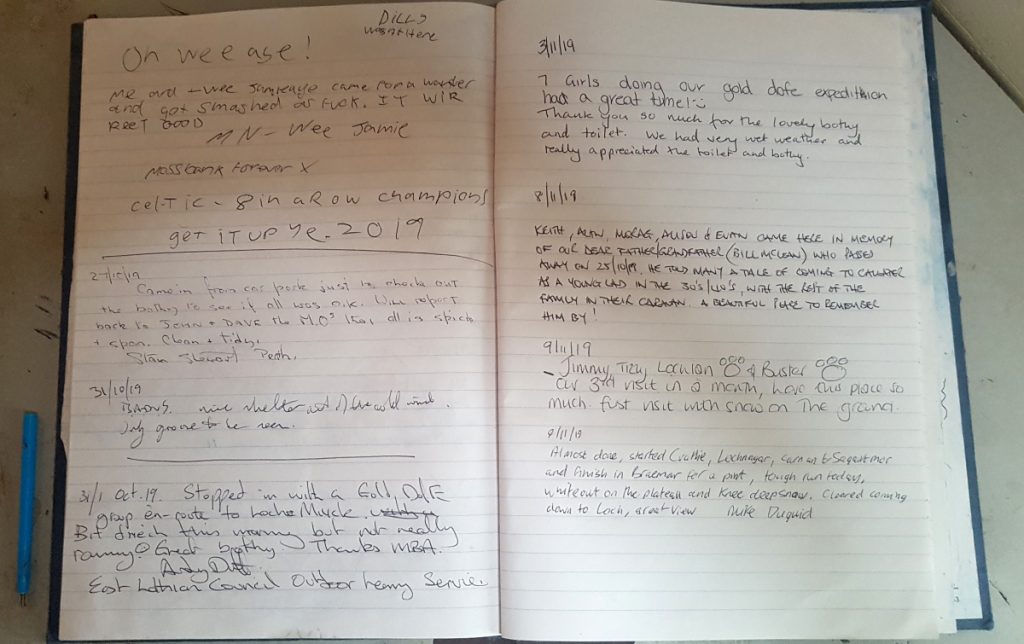 Back outside, the snow had come on and decided to blow face-wards for the next few miles. I put on my sunglasses such was the chill in my eyes and focused on a blurry patch of landy track, I was struggling now and had to walk spells.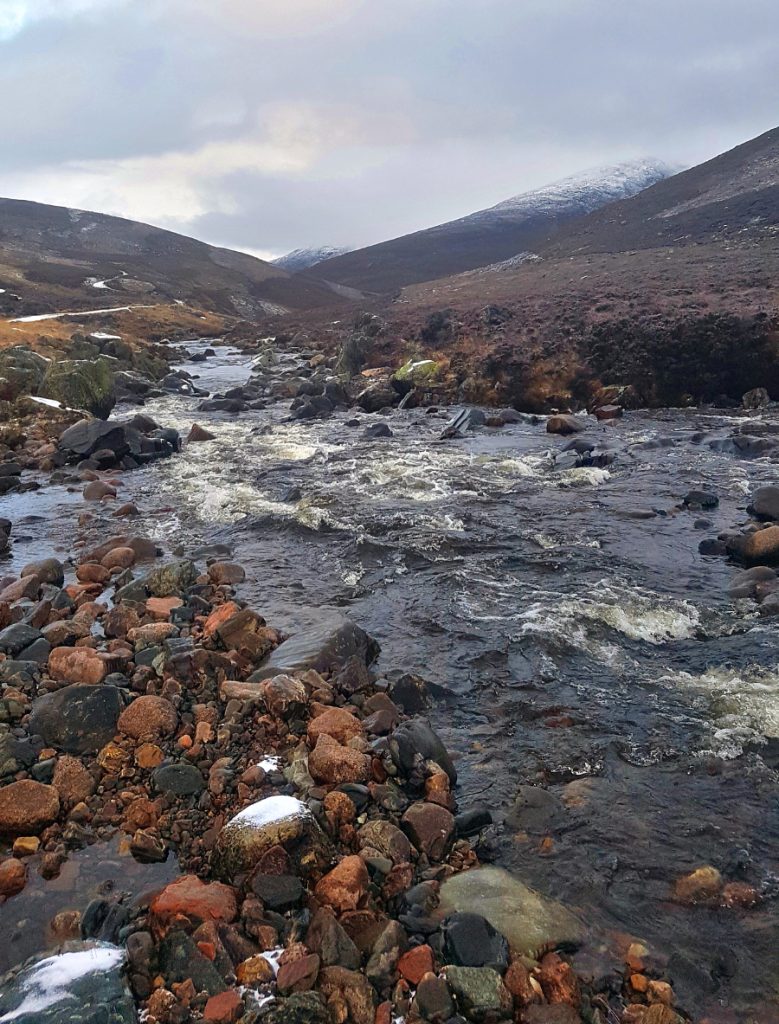 Even with the light beginning to fade, the lower stretches of Glen Callater looked great with a nice bit of colour. I crossed the footbridge over the Clunie water to avoid A-road tarmac, and lumbered the last few miles with the only obstacle being a boisterous flock of ducks.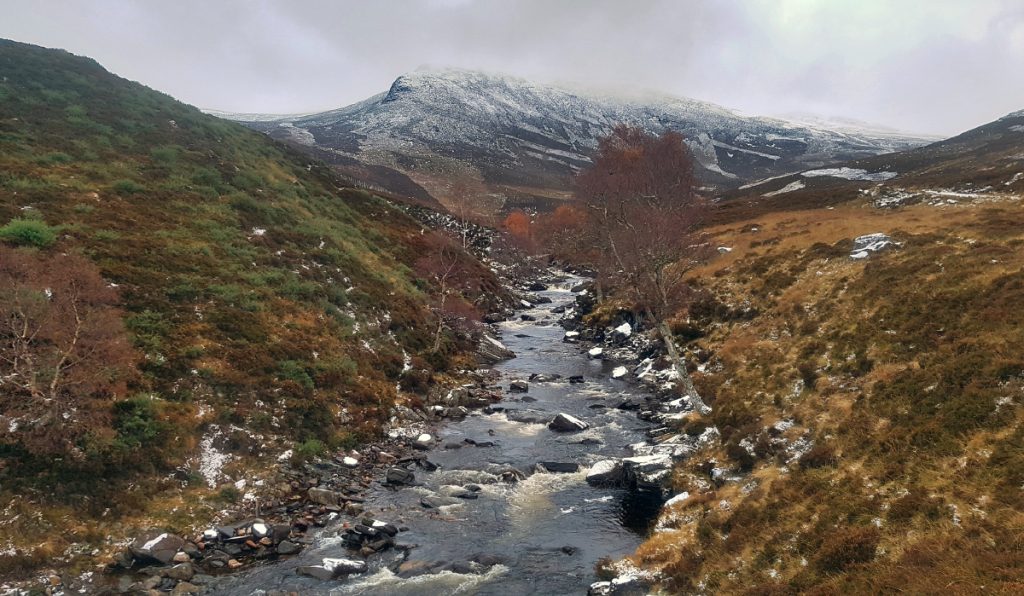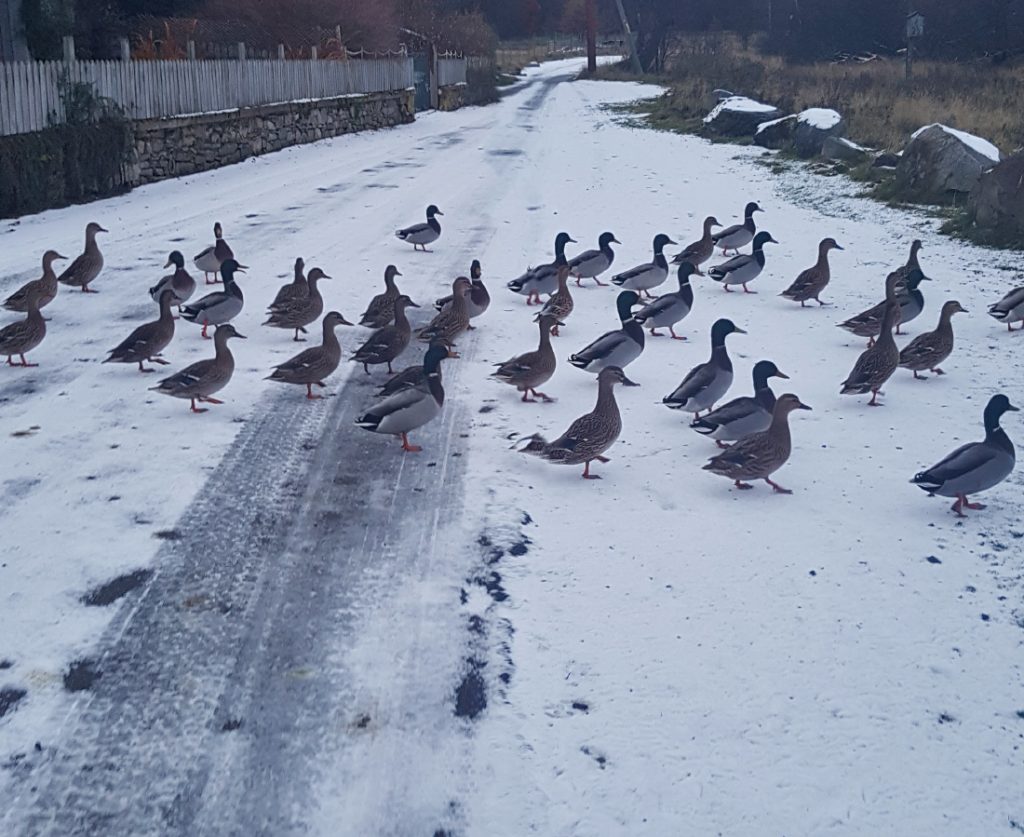 I arrived in Braemar at an inopportune moment: delayed just sufficiently to not leave enough time to sit in the pub and order food if I wanted to make the next bus home, so I wandered to the fish n chip shop to find it.. closed, then as the snow came on again, meandered to the co-op for cold fare unworthy of such an epic.
No beer, no pie, just a deep sigh
No cosy seat when I was beat,
No propped up battered feet,
Just a dark bus-stop on a winter street.
But inside, a-glow from ventures true
Through mountain skies of white and blue
Ach well, one must suffer for their craft now and then