November's day trip with The Cairngorm Club was from Glen Muick through to Glen Clova. The forecast wasn't brilliant with what looked to be potentially a long wet day, and the route involving off-path heather bashing, I'd escaped these kind of days all year and was overdue one.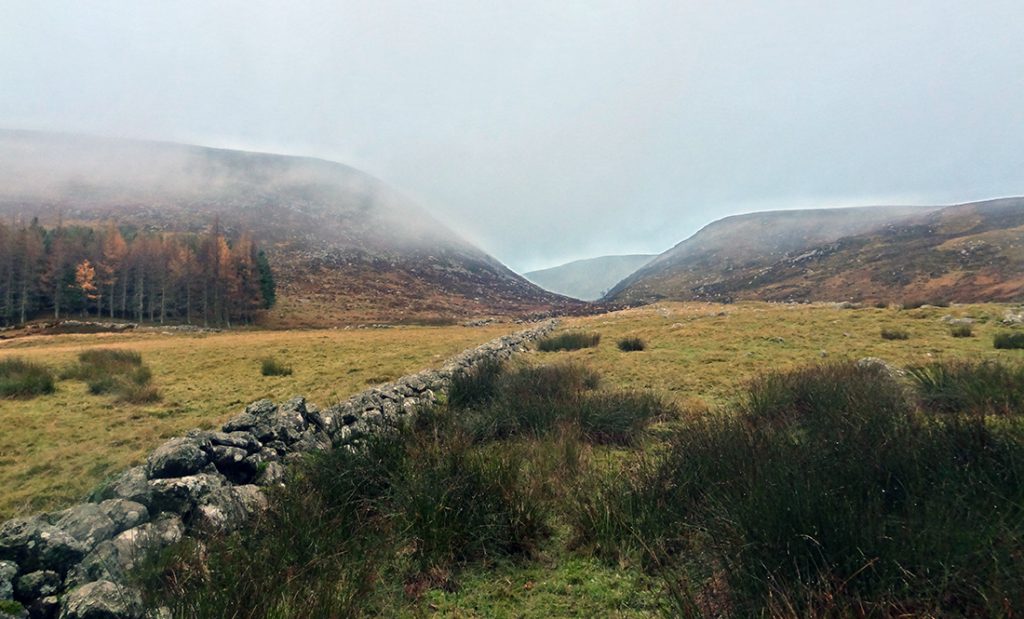 Heading up from the car park, low cloud hung dreich in the gullies.  As we neared Loch Muick there were quite a few deer and a lot closer than you'd expect there – whether they were exhausted by the rutting season, or just plain hungry for lowland fodder, who knows. Later on we'd discover one good reason to not be up higher.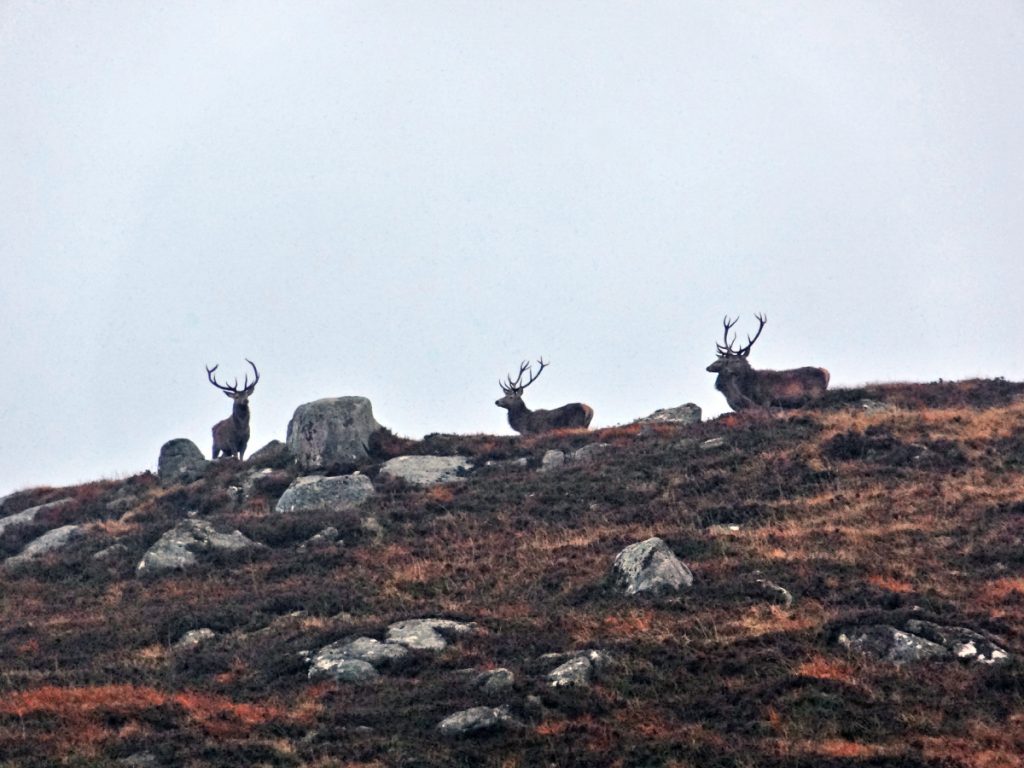 I noticed one guy creeping across the heather to a few that were 50m away, he must have got to maybe 10m away from them or less. I don't agree with unduly disturbing wild animals for a snap: buy a long lense if you want close ups. Perhaps this guy was another 'phone-only' photographer; there's loads of assholes at the Ythan estuary nowadays that illegally enter the protected seal haulout area and disturb their rest, because they want a cute seal pic on their phone and to hell with causing them aggravation. They'll never get close enough but it won't stop them being dicks in trying.
Anyway continuing along the path there were plenty deer within my limited 16x range of a sony compact. I also had my sony nex + pancake with me in hope of resolving a better landscape photo or two in what might be gloomy conditions.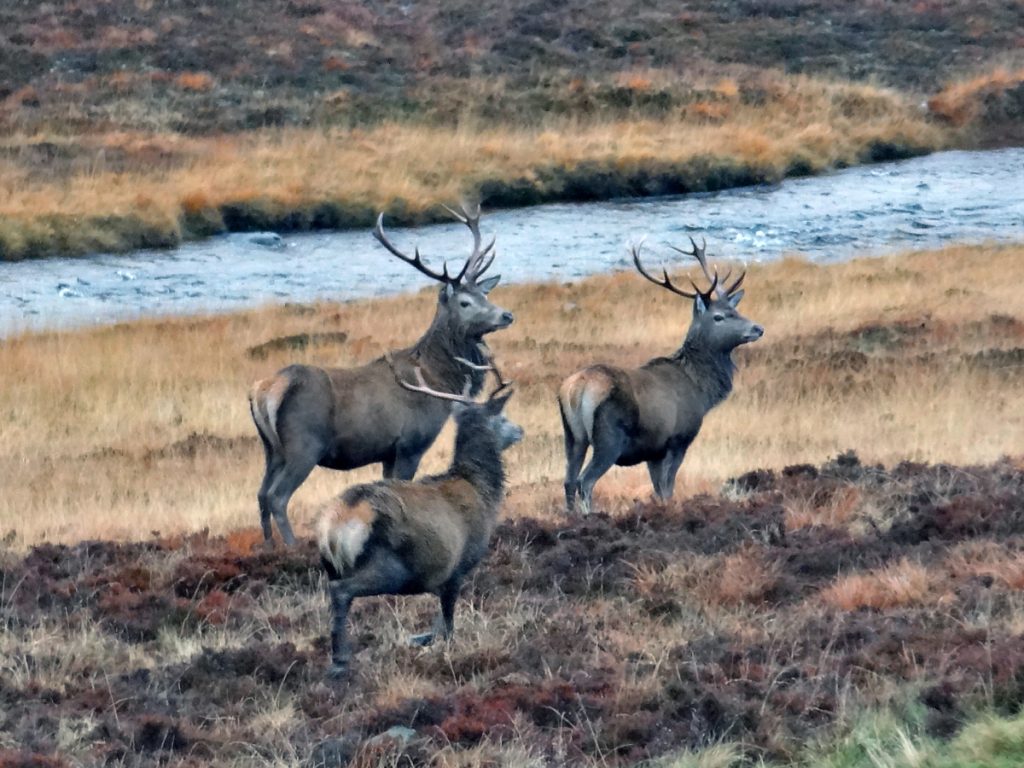 As we headed up along the Capel road there were moody views along the loch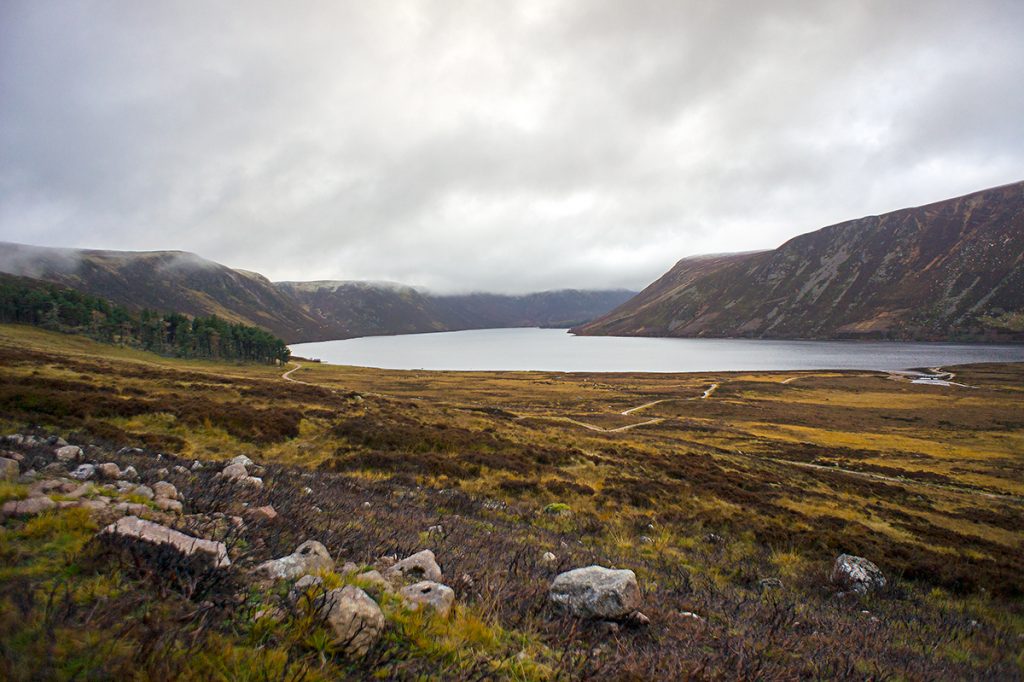 And looking back to the Allt na giubhsaich bothy too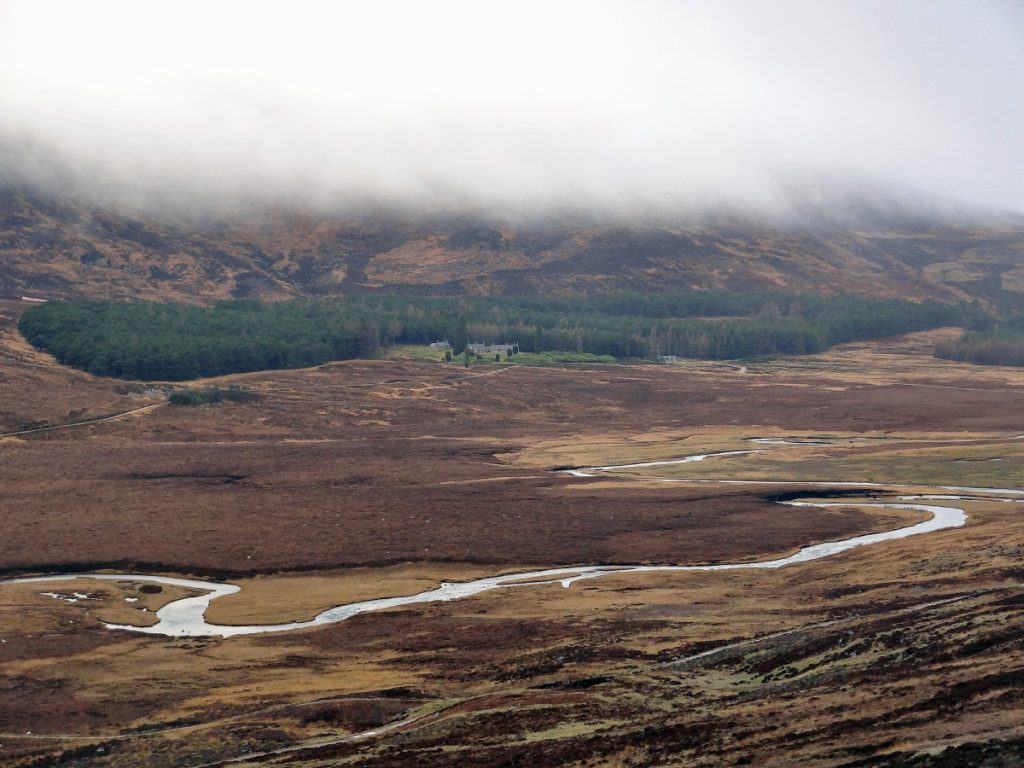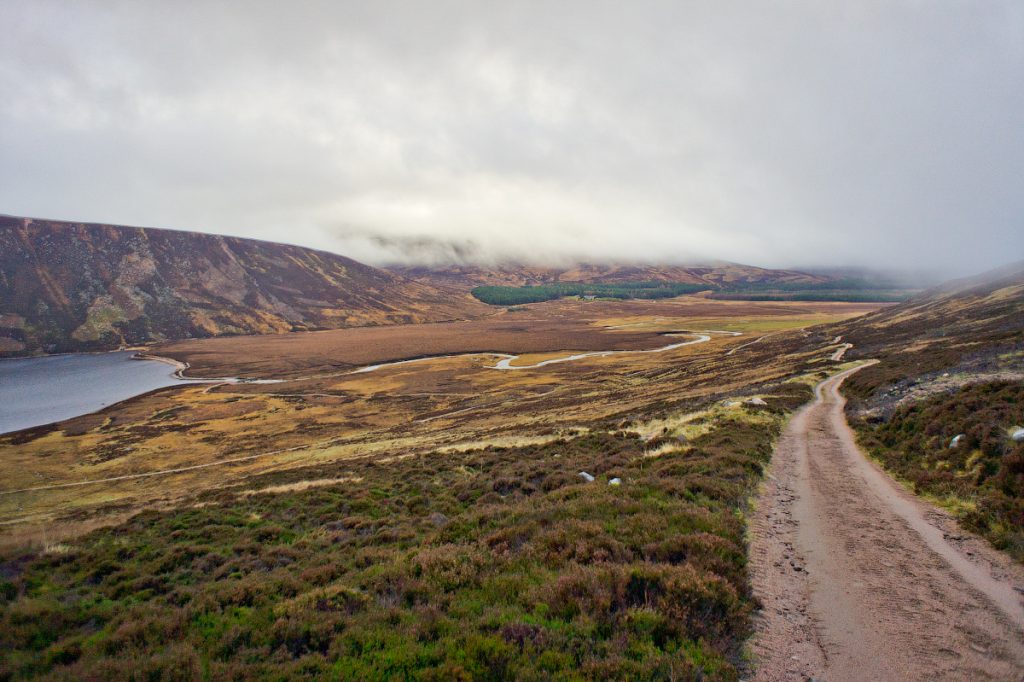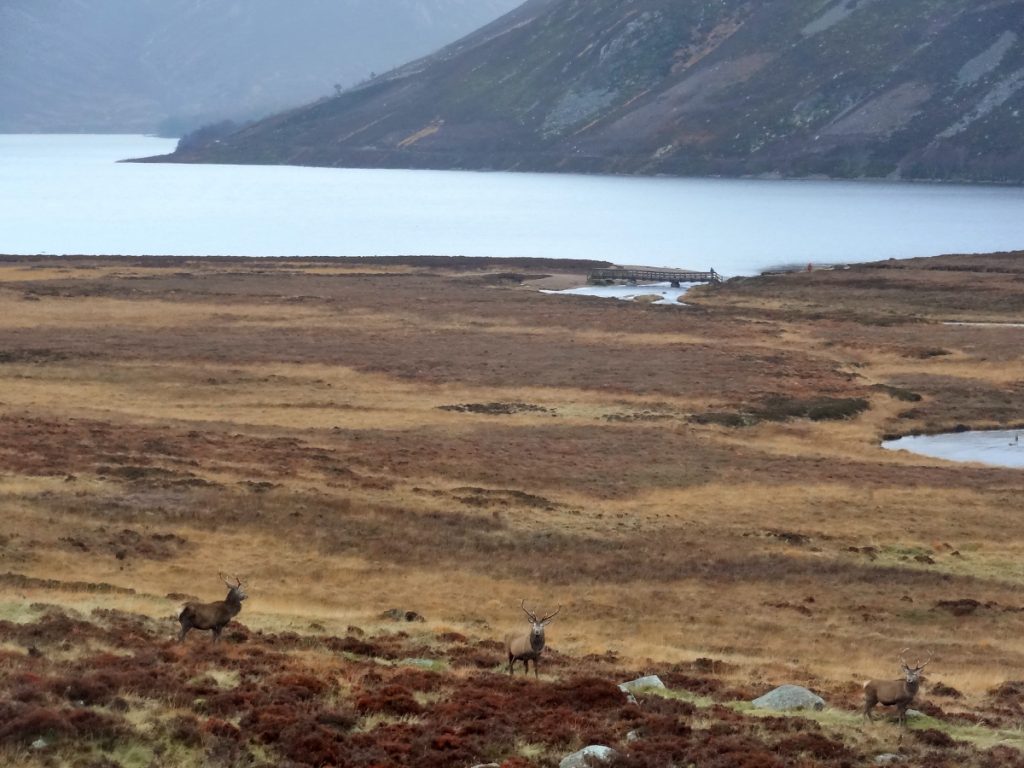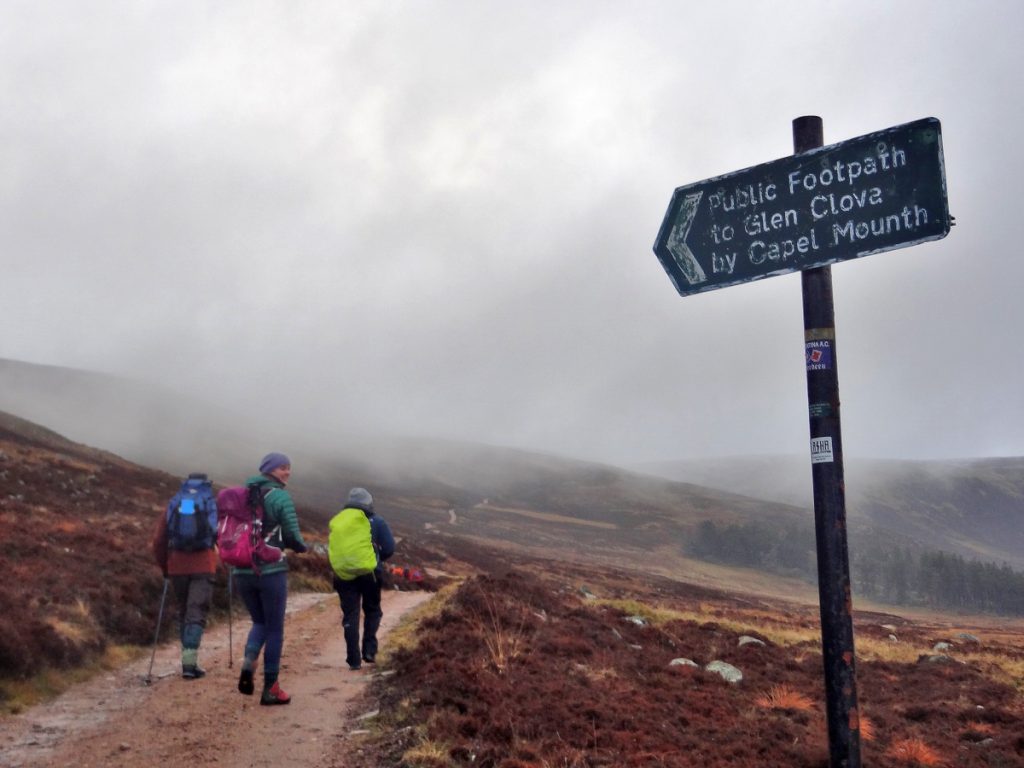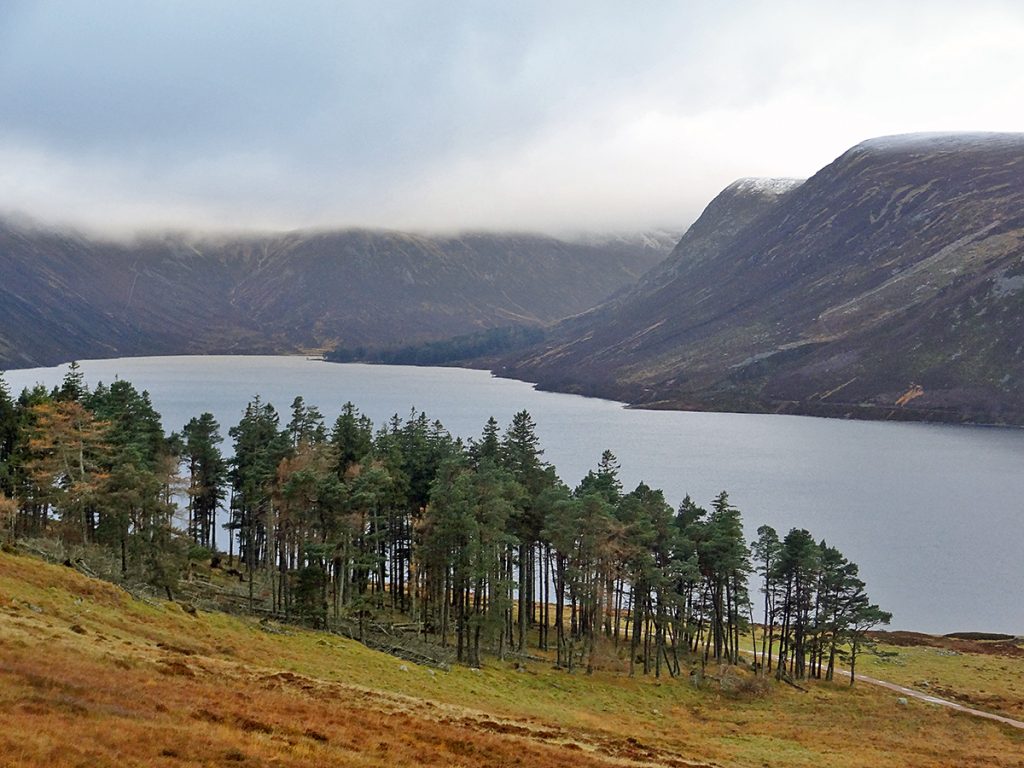 It didn't take long to enter thin and freezing cloud, but was surprised to see a scattering of snow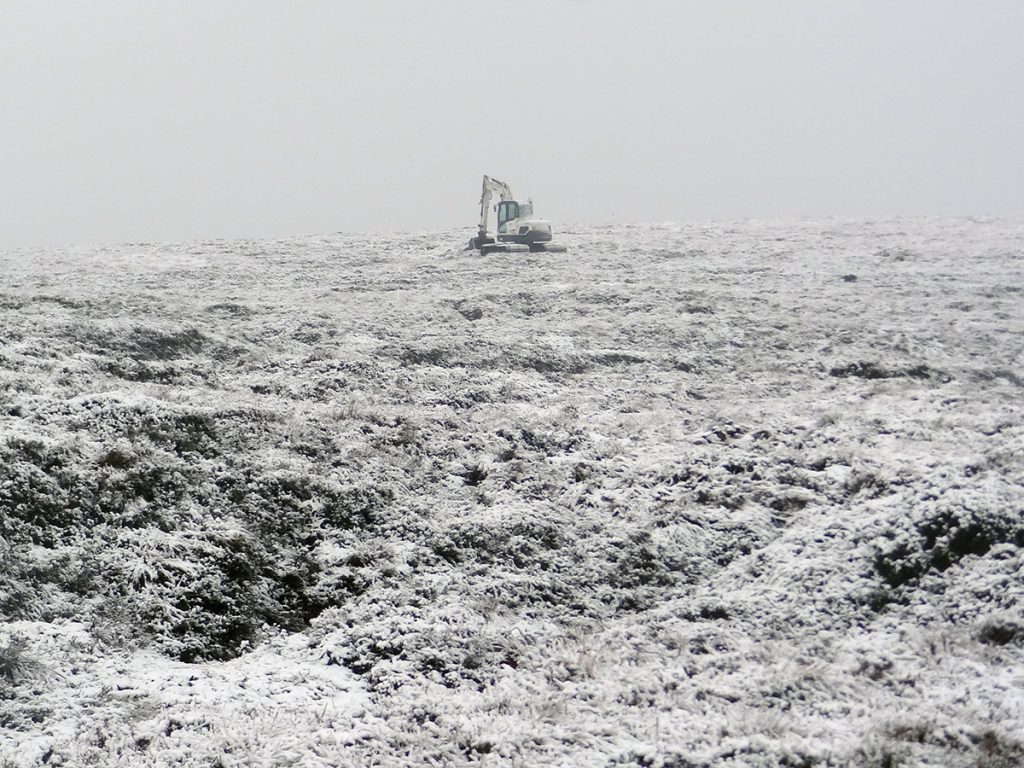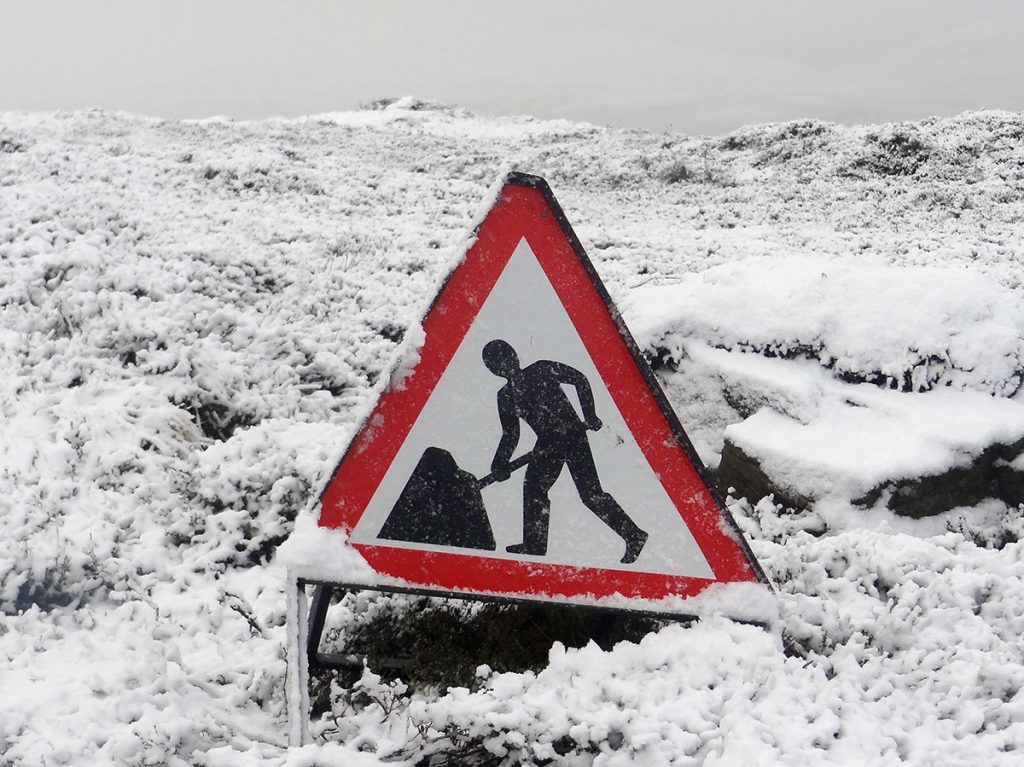 Heading further along the track the snow got deeper. Nobody working here today (folk reckoned this was bog restoration rather than yet another hill track for lazy shooters)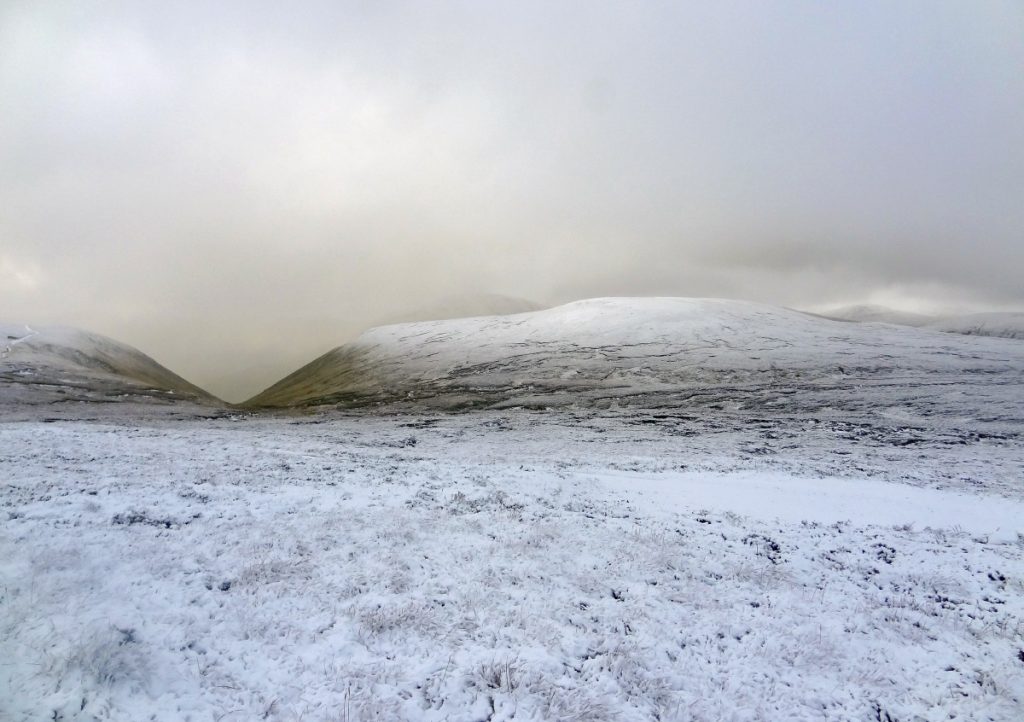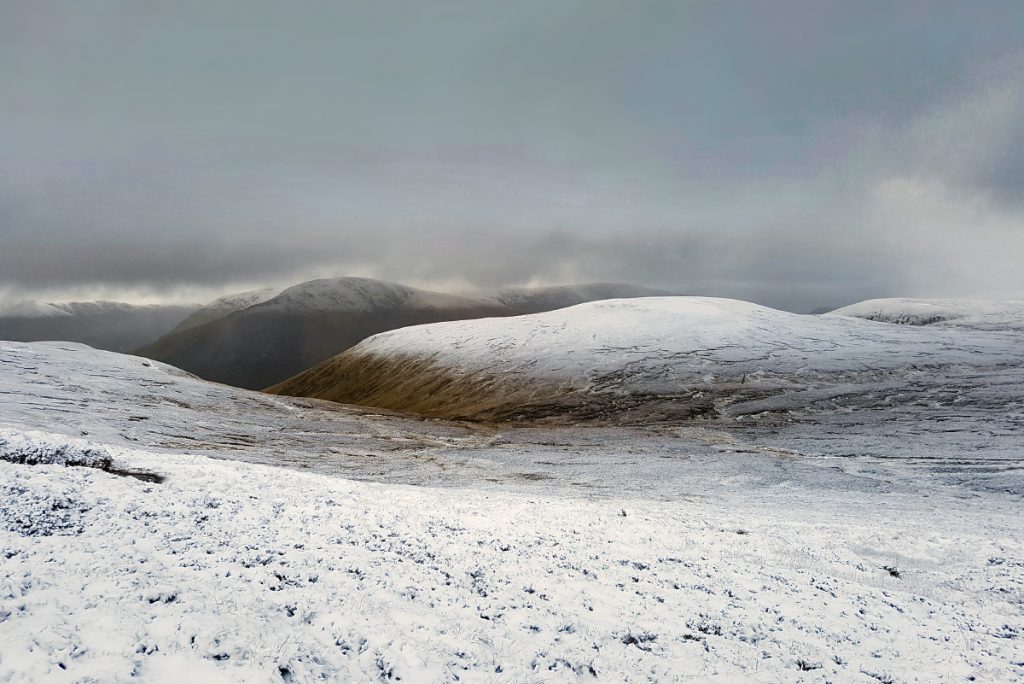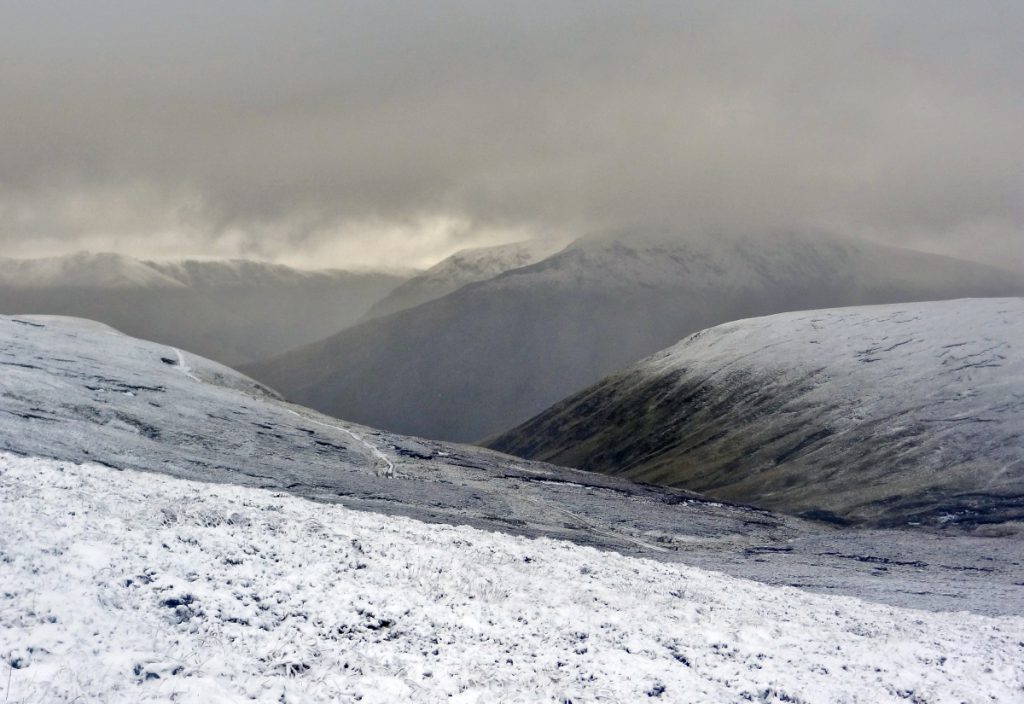 The road has a few fords a bit more swollen than normal. To the south, the cleft in the plateau where the becomes visible, a dark gash in the white surrounds where the capel mounth heads down to Glen Clova
After passing the track that goes up watery hill to a shooting hut and head off track to the east, picking a path uphill towards Ferrowie. The snow deepens but the going is reasonable; I'm thankful of the effort as it's pretty chilly, maybe heading into minus double figures with wind chill taken into account.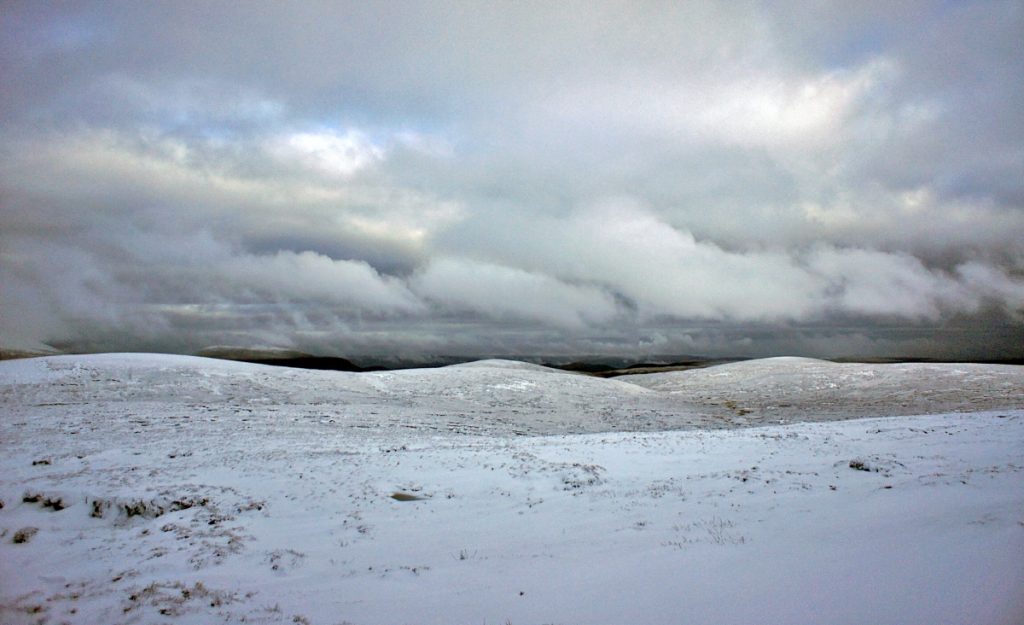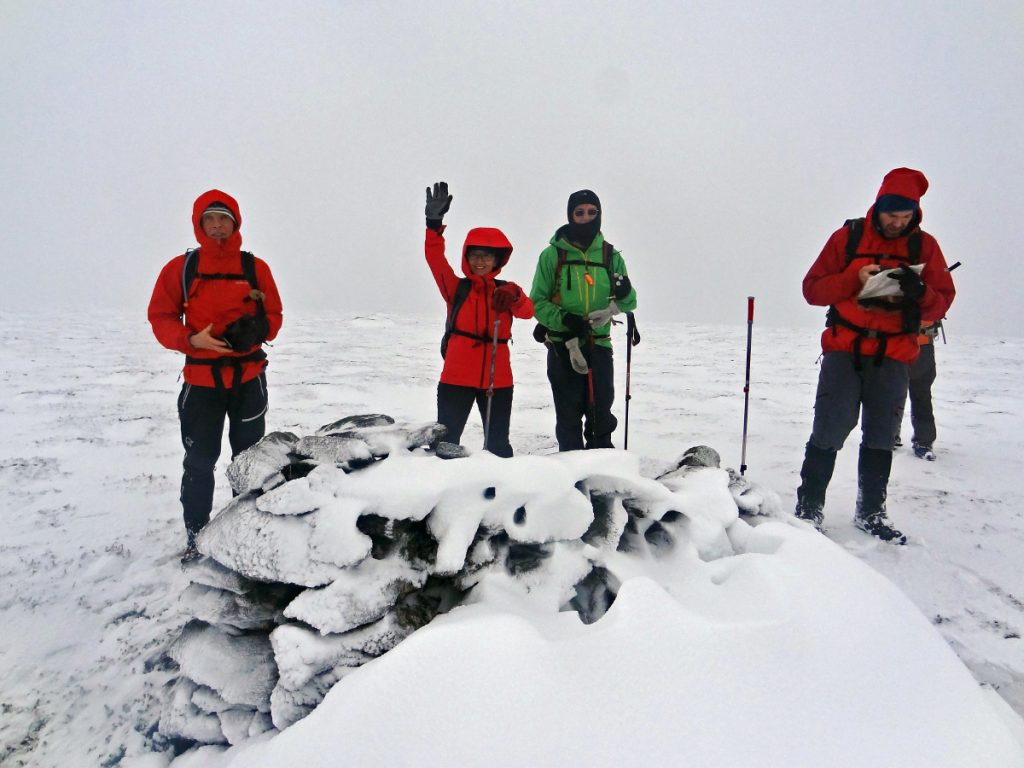 Sufficiently cold to get the buff up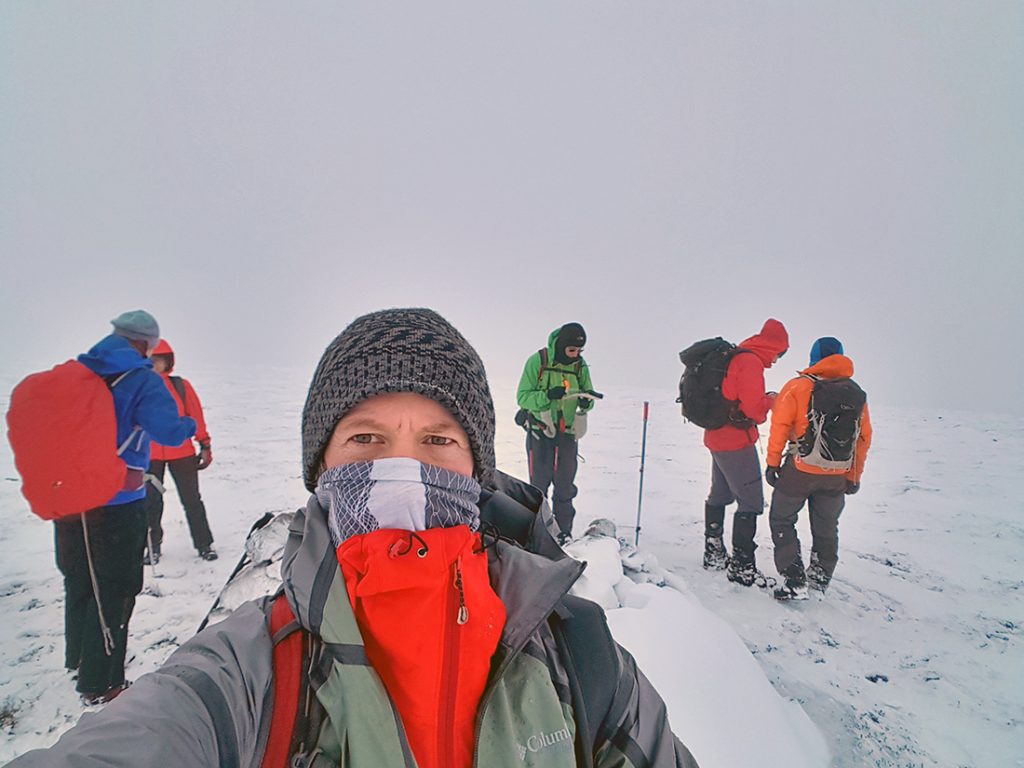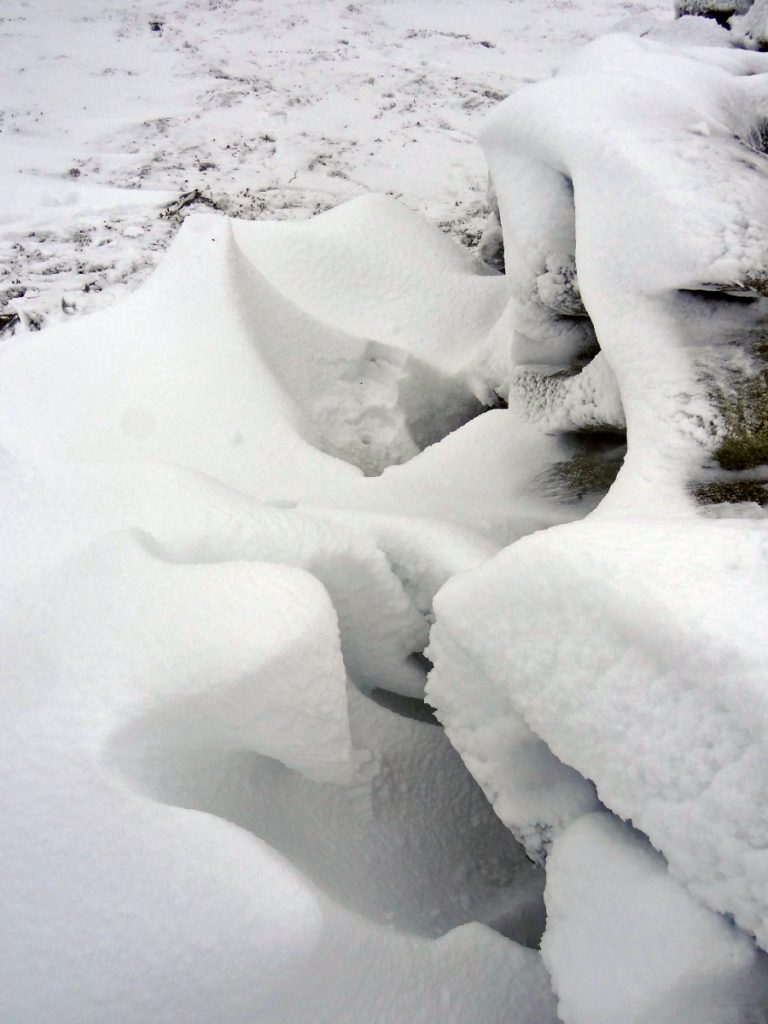 After reaching the summit of Ferrowie we descend off the back into rough country split by peat hags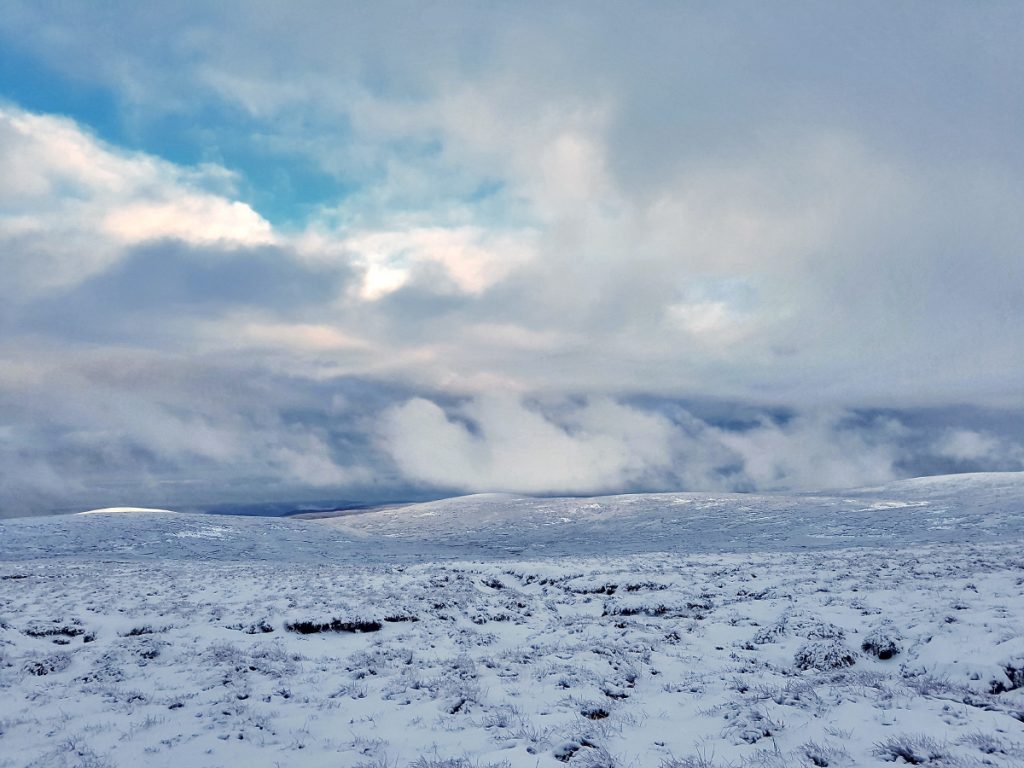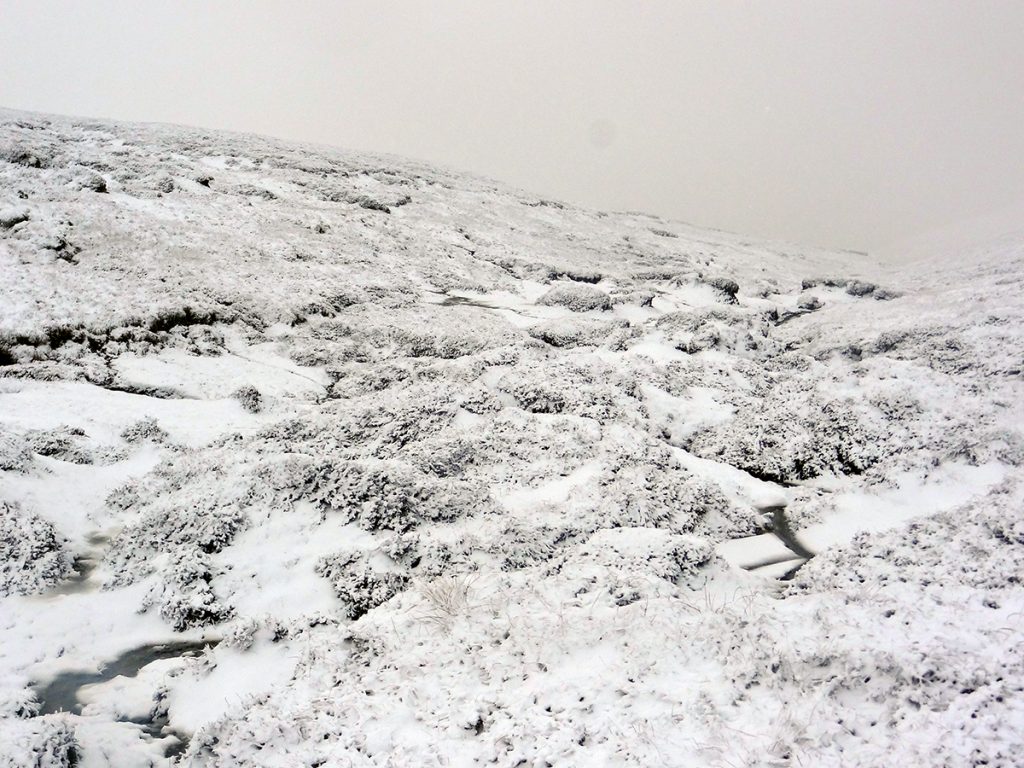 Care is needed with foot fall lest breaking through the snow into a concealed puddle pool or even stream; we stop for some of the party less fortunate to wring out socks. I don't imagine many folk pass this way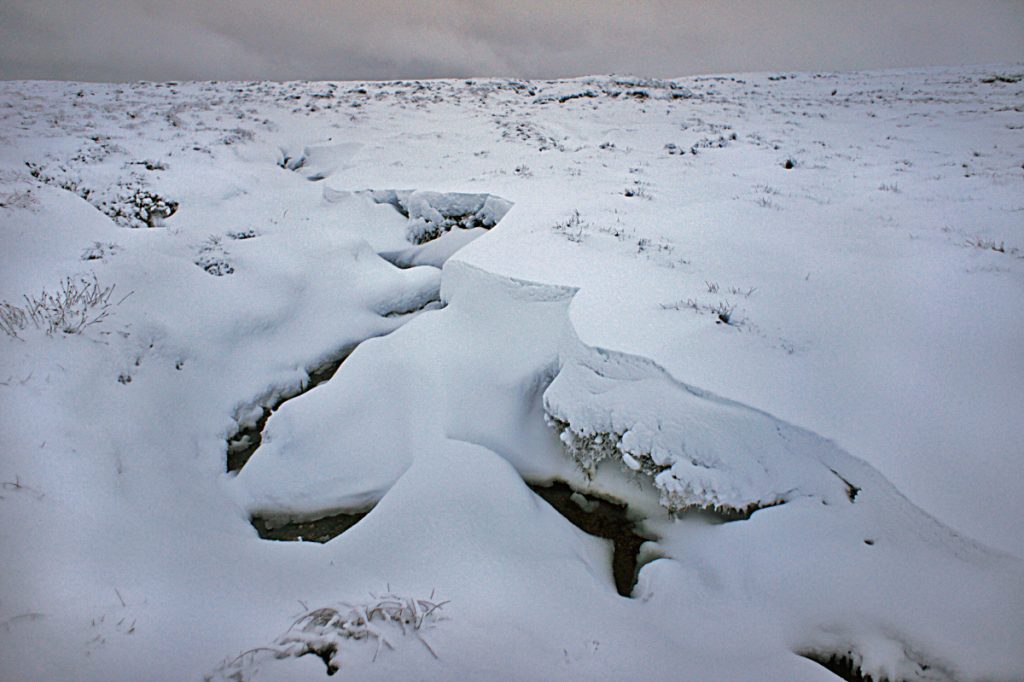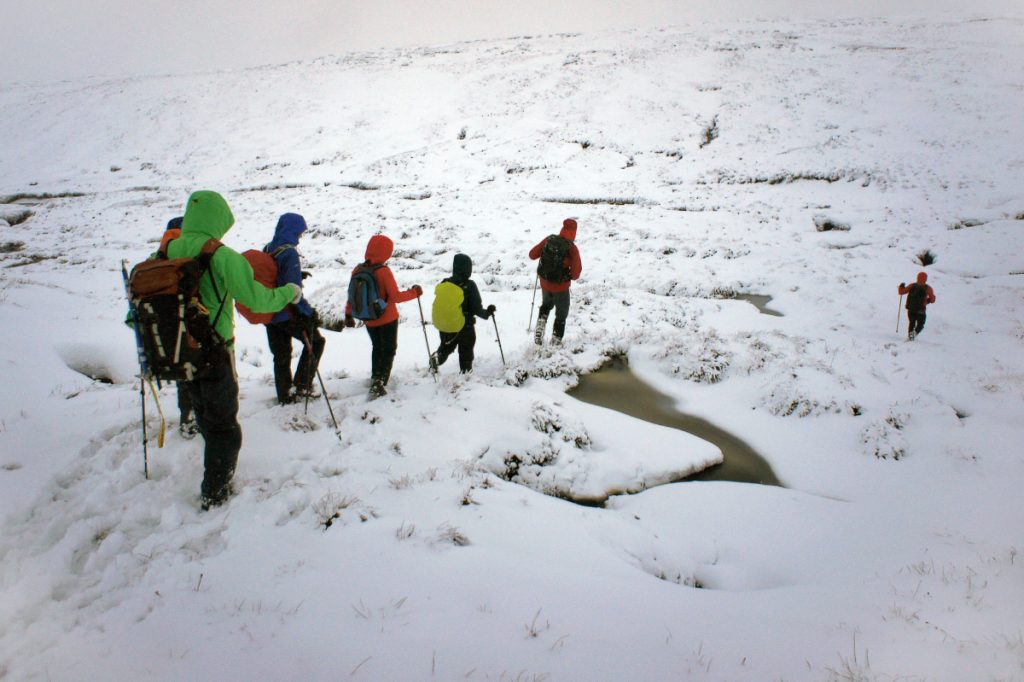 Quite deep in places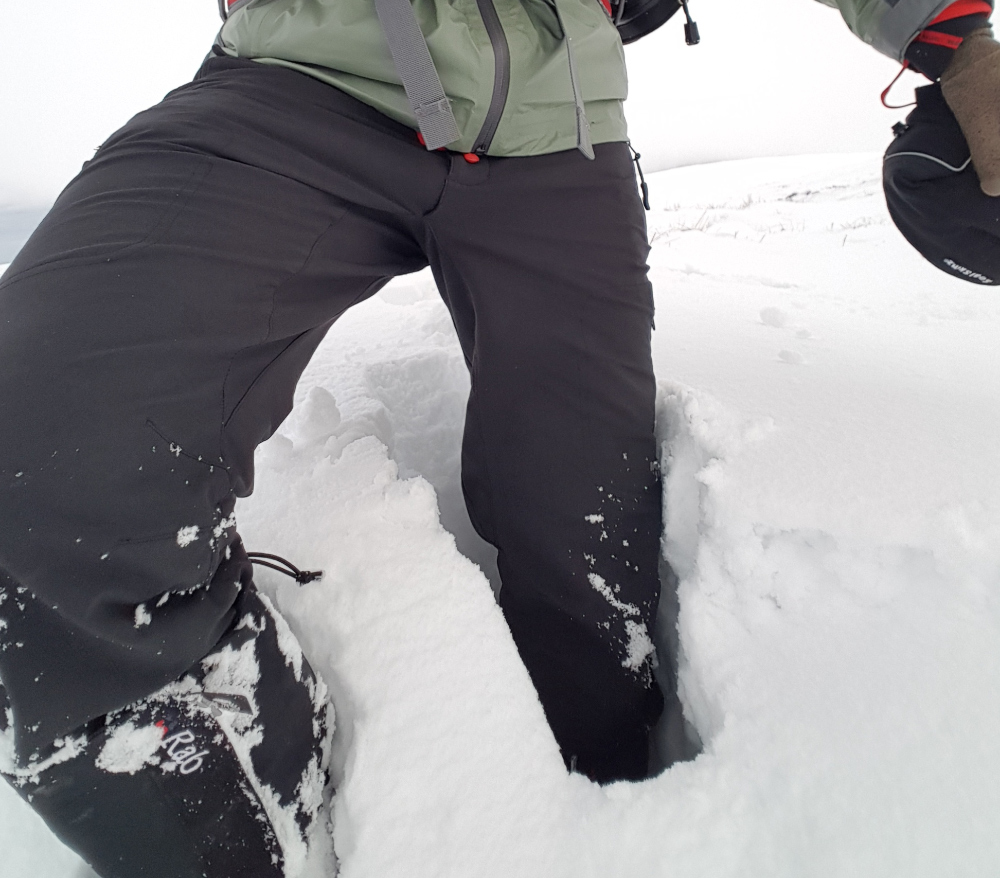 Snow-beetles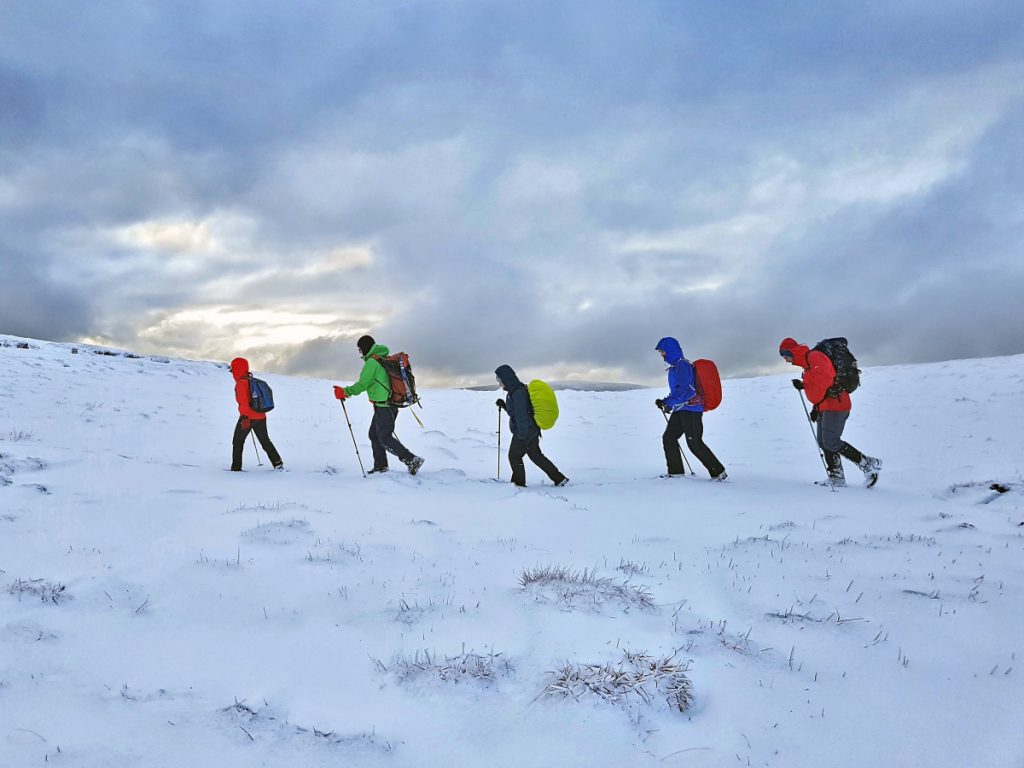 The occasional break in the clouds opens up views into the hills; gotta love the muted winter colour tones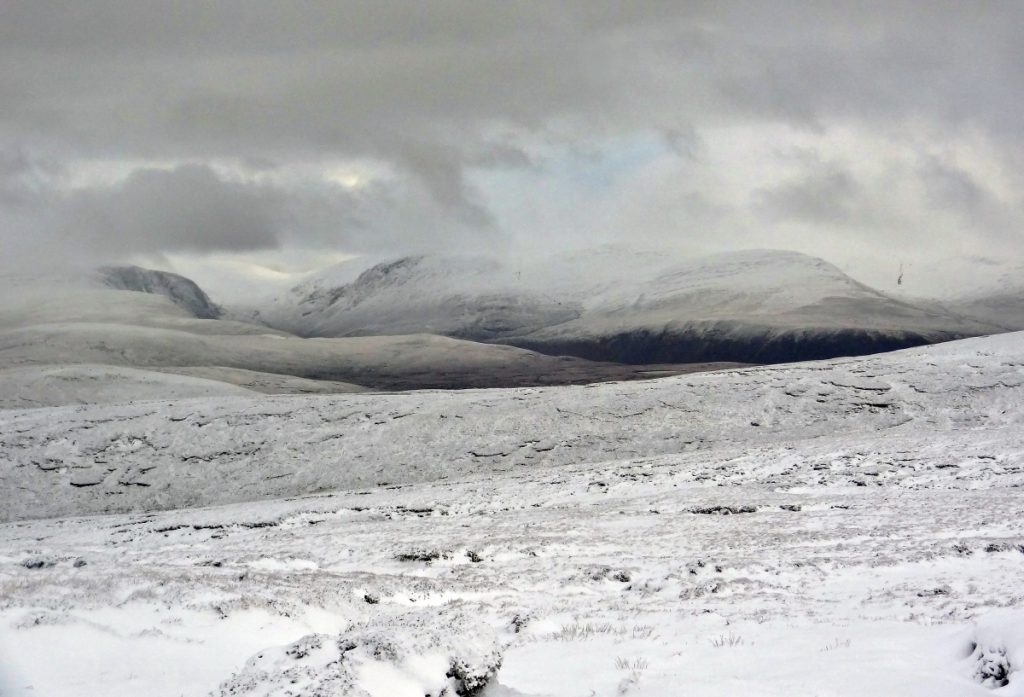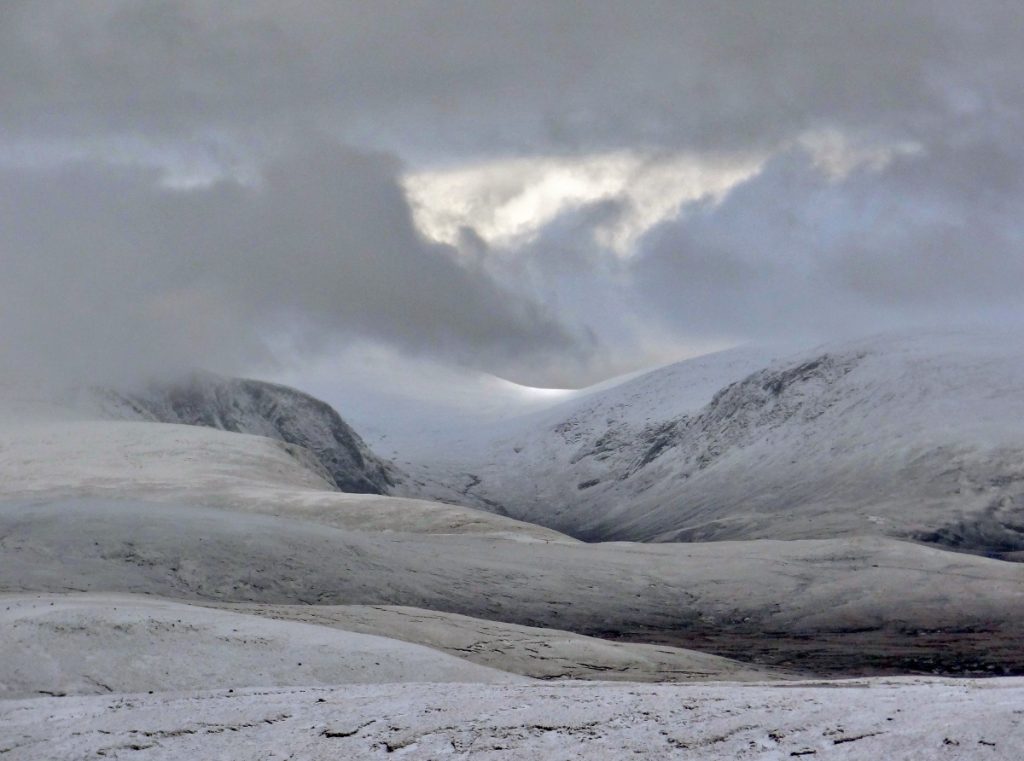 Our next peak is Lair of Aldarie. We don't stick around for lunch, fingers would freeze quickly holding a sandwich. Somebody does manage a quick snowman though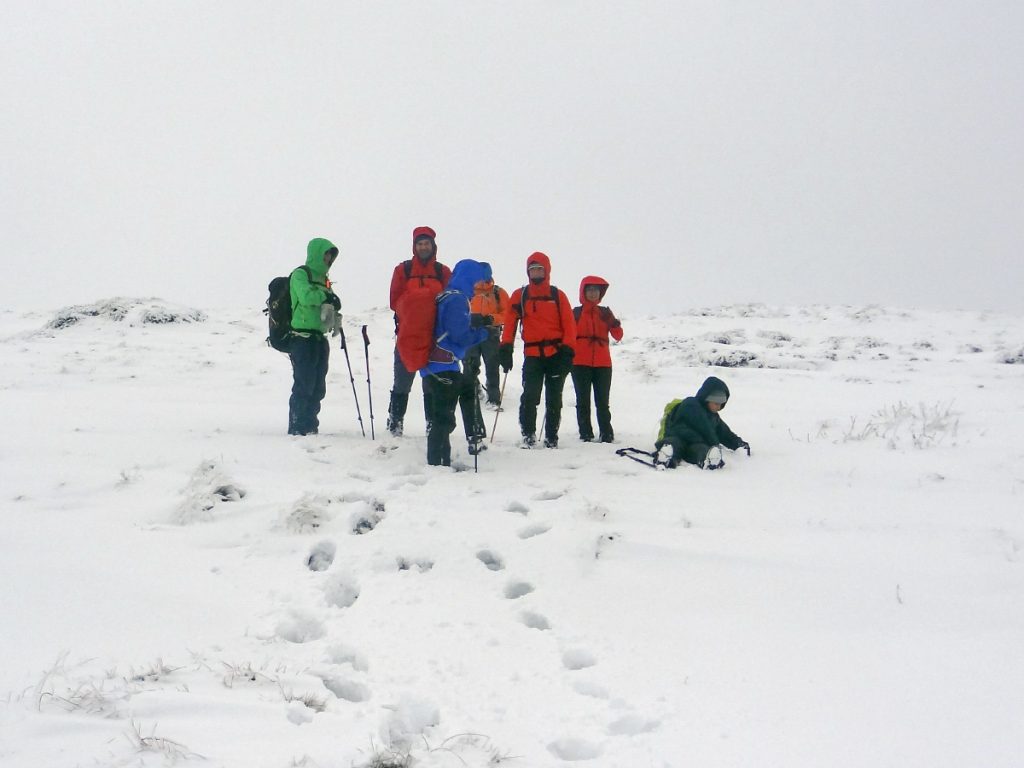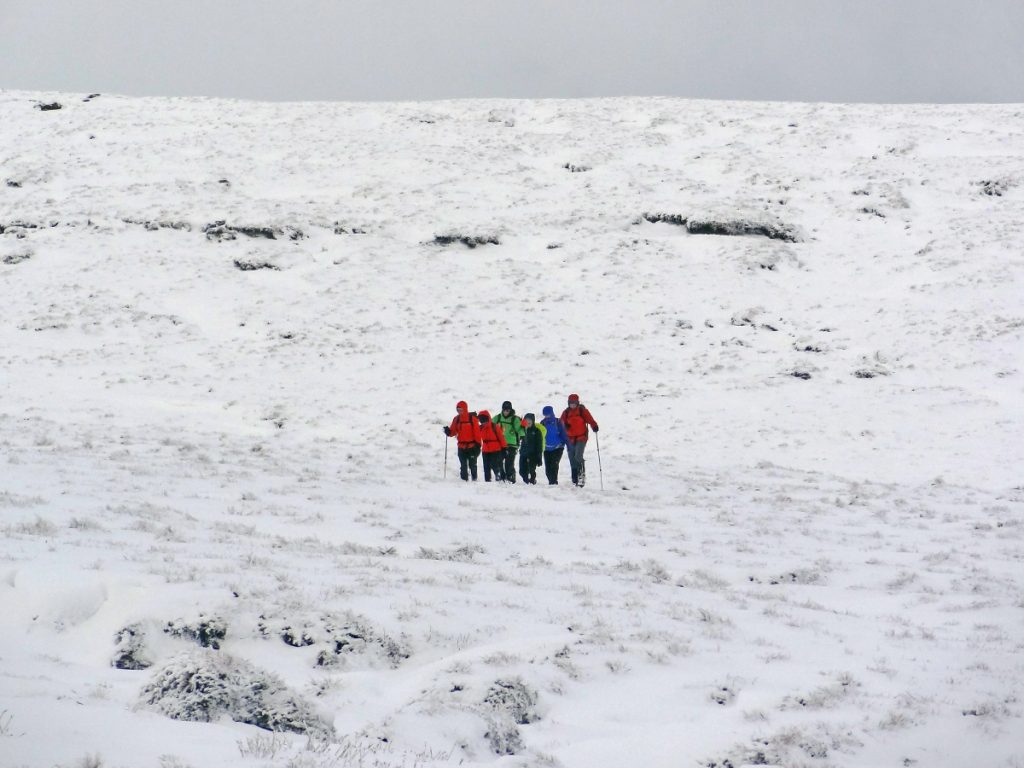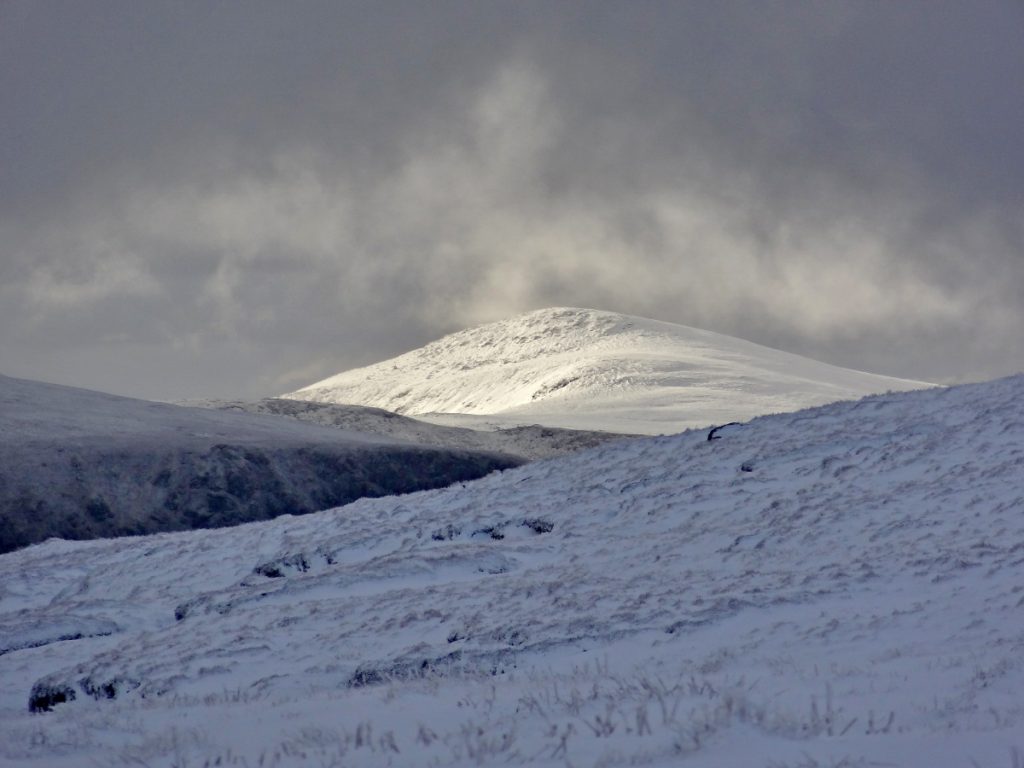 We begin to near Glen Clova, I can see there's less snow over the hills to the south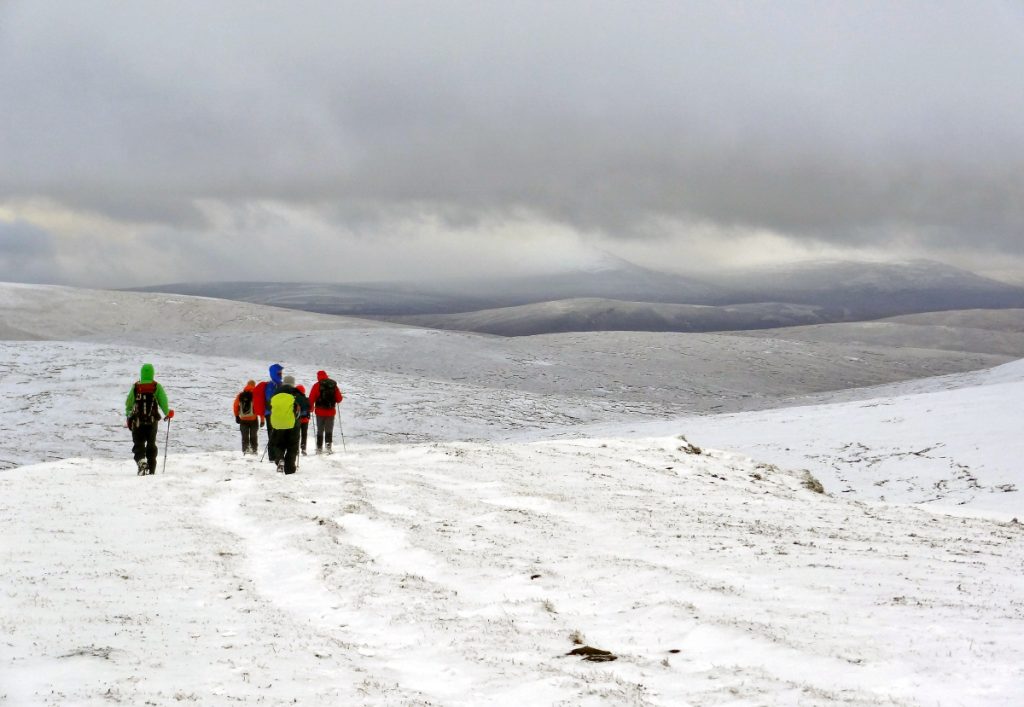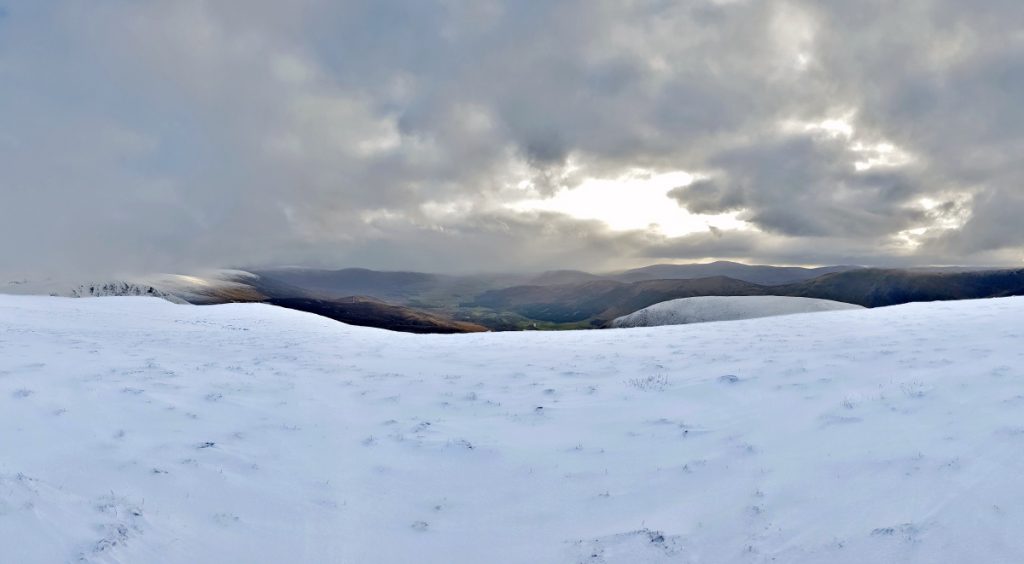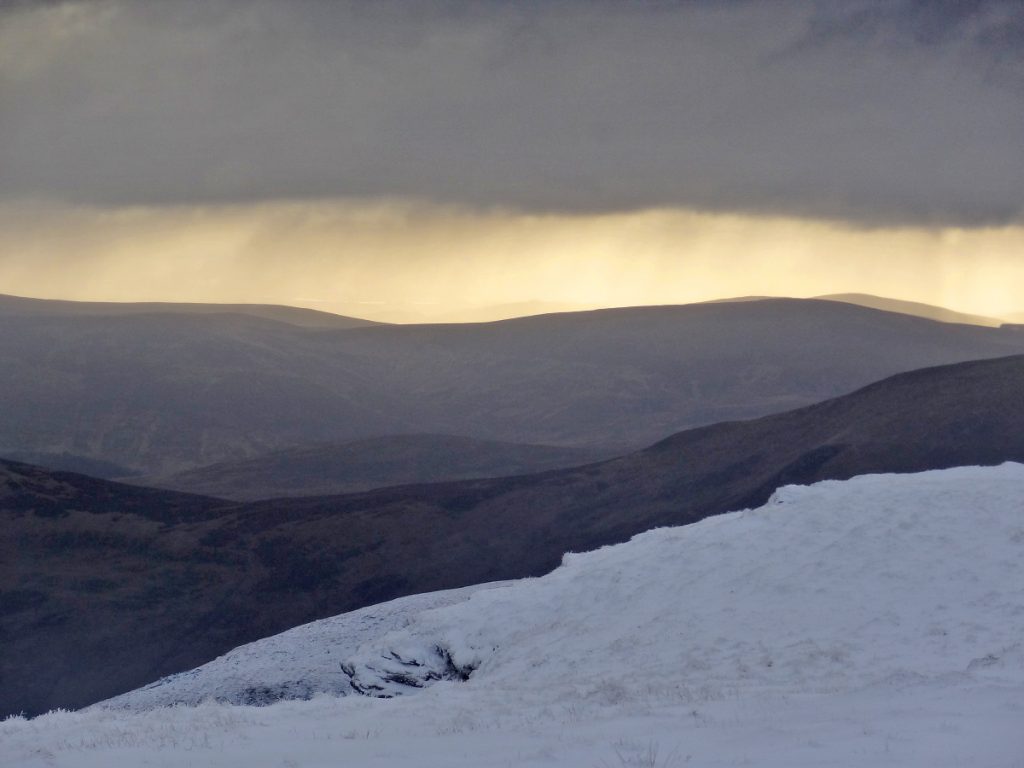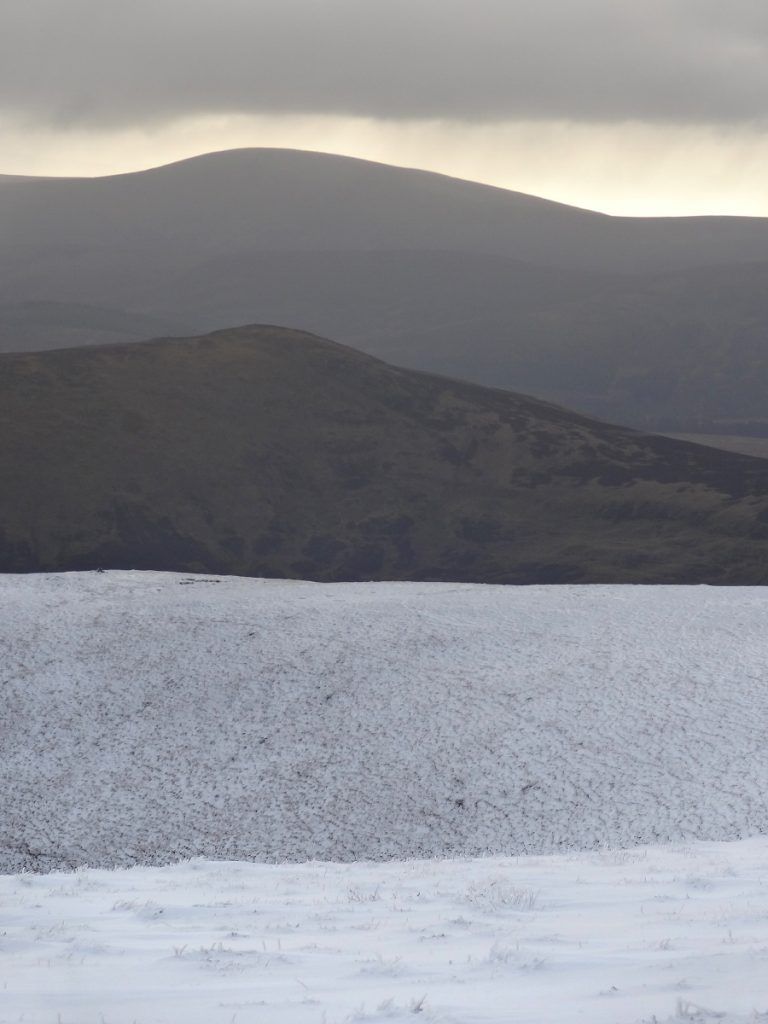 At the next hill, Lair of whitestone 862m, we can now see down into the glen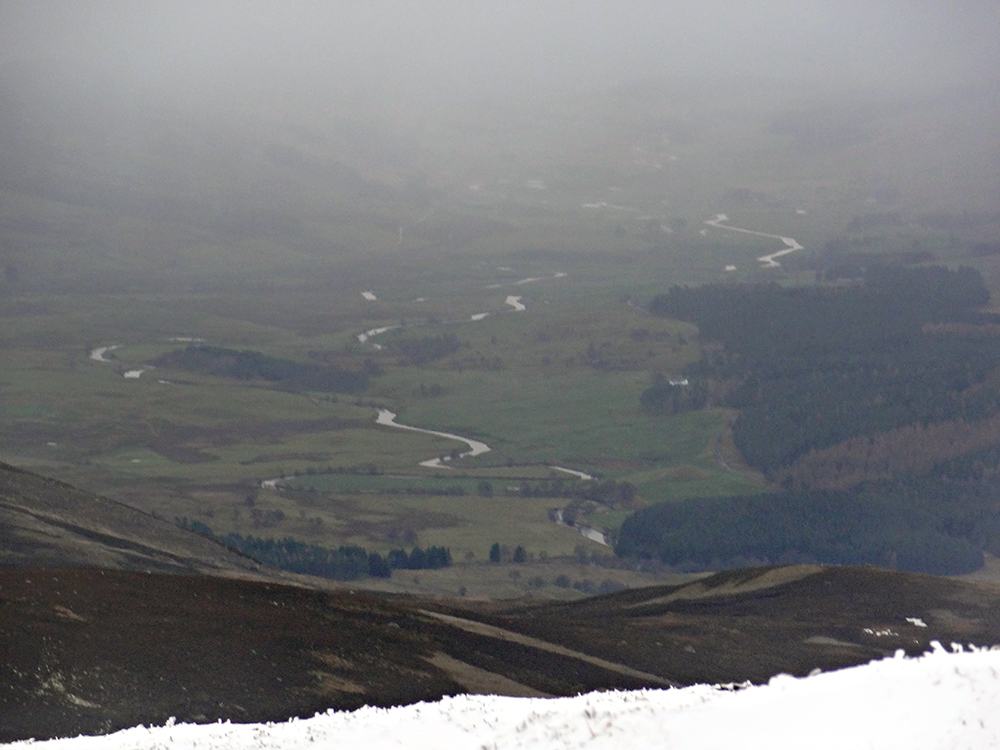 Passing Boustie Ley is the highest point of the day at 876m.  We overlook the fine corries of Bonhard and then Clova, making our way round to The Snub.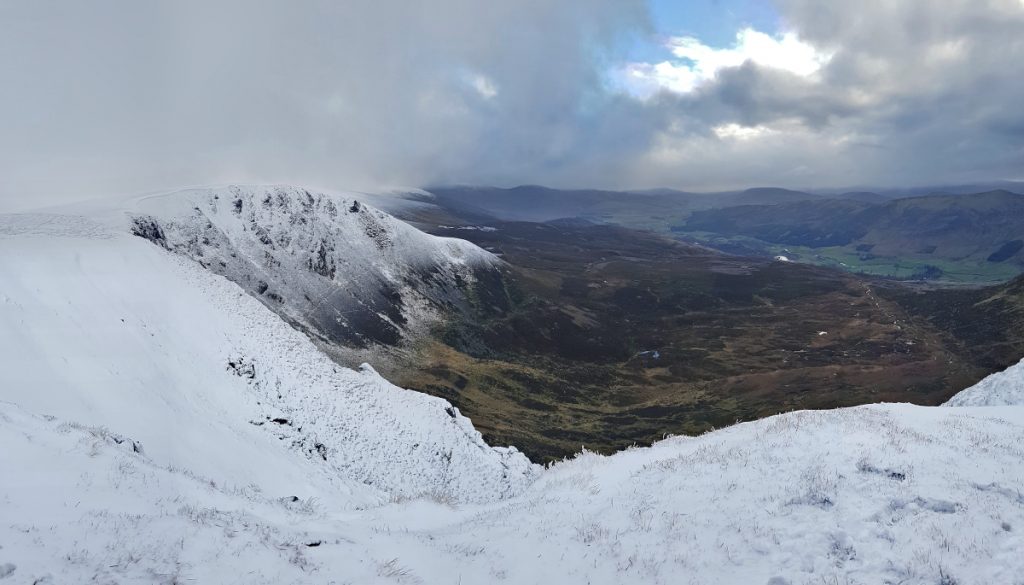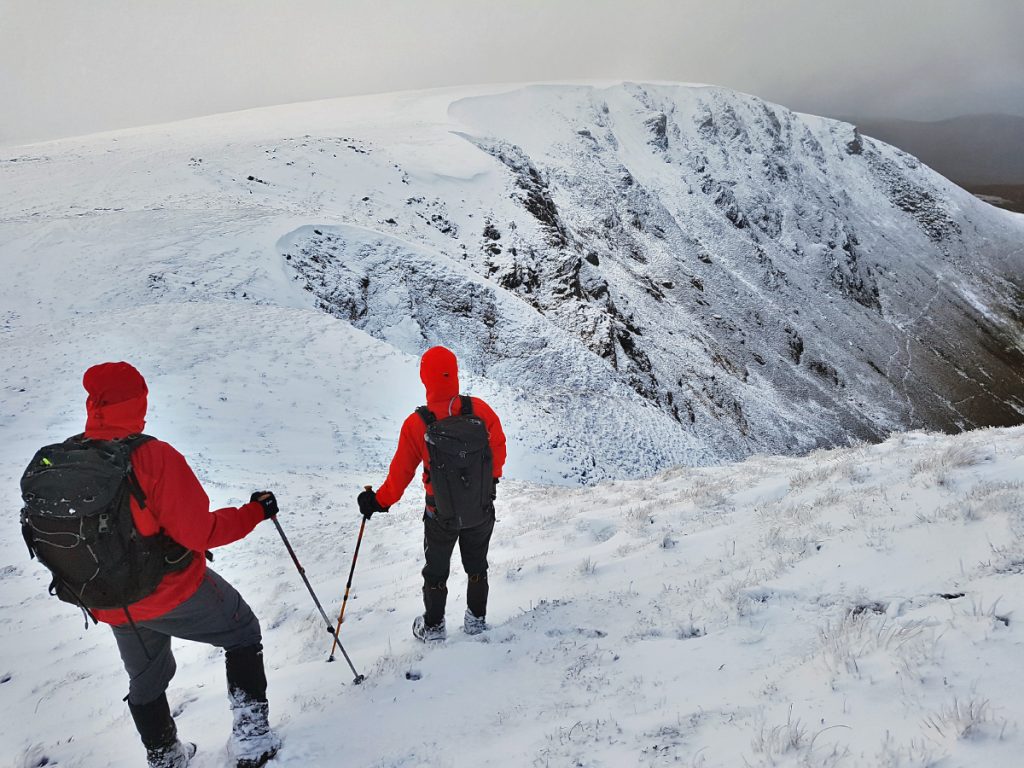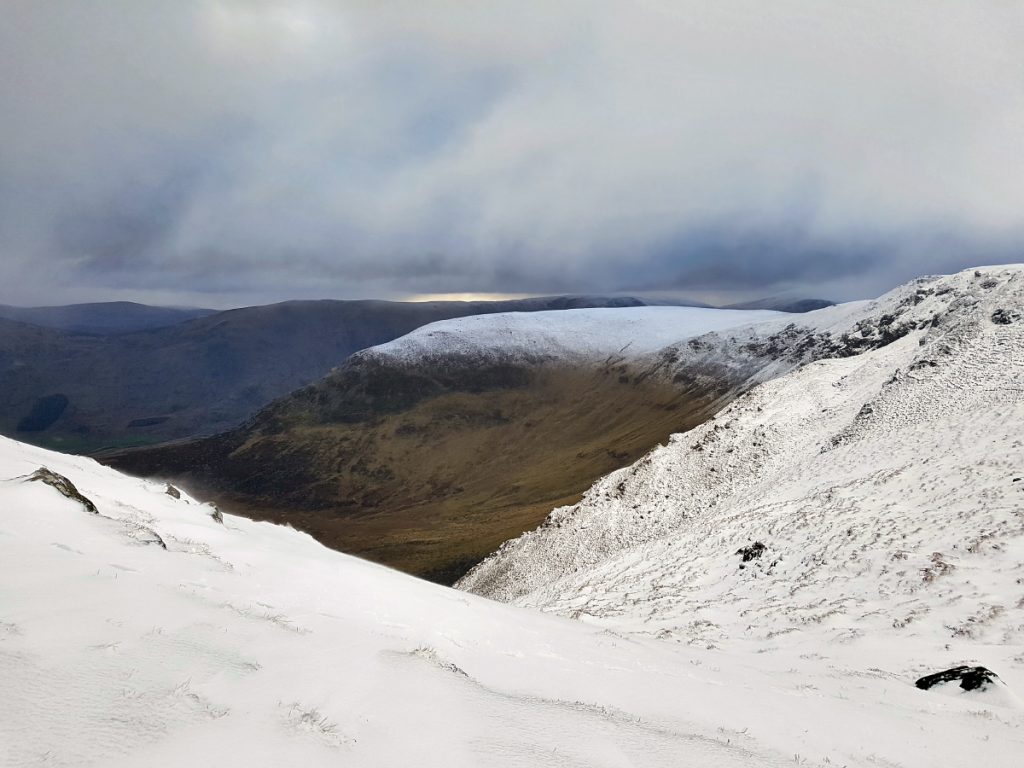 You can descend a steep set of rocky stairs here, but in the conditions we decide to go round to the far side of the loch. We had originally planned on going further to the next loch along (Loch Wharral) and Ben Tirran , but with a few members flagging and not much daylight left (and the temptation of a snug pub close to hand) we decide to make Loch Brandy our end point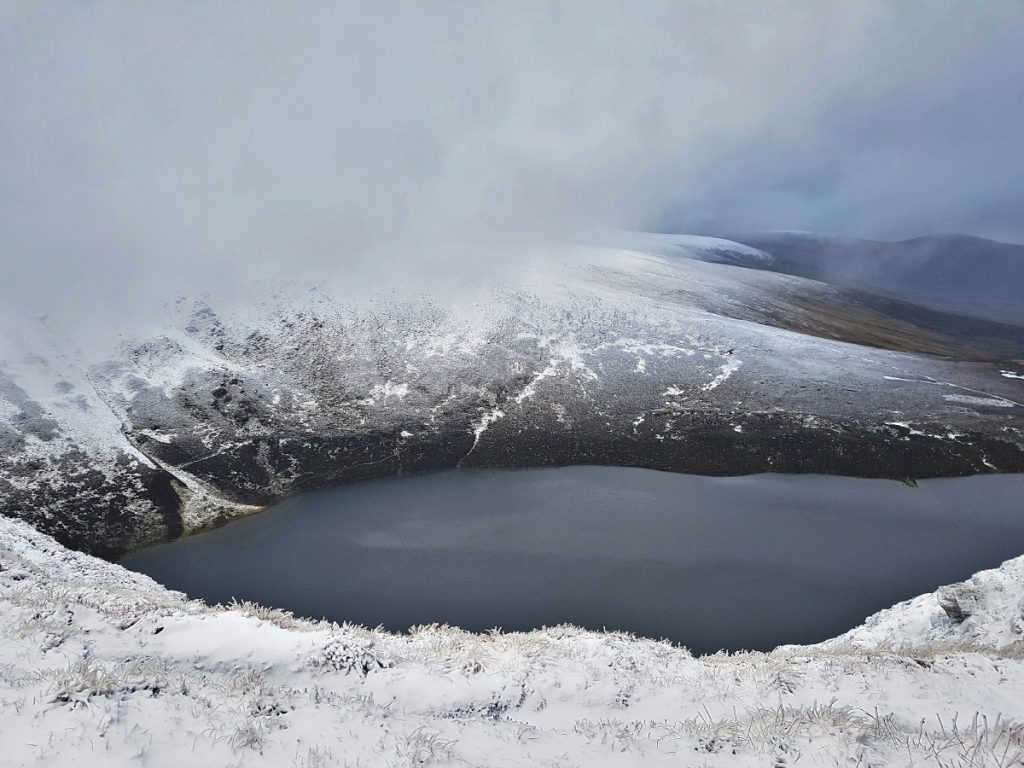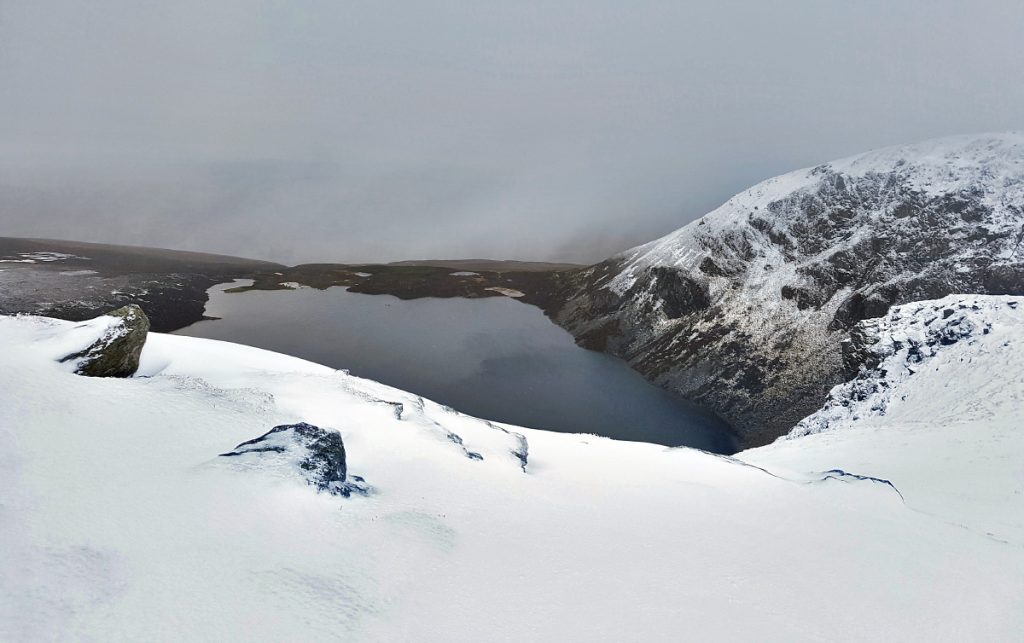 From the snub we can see substantial cornices around the edge of the crags, won't be walking close to the edge then.
The snow is already consolidating firmly on the wind swept rim here, not quite crampon time though.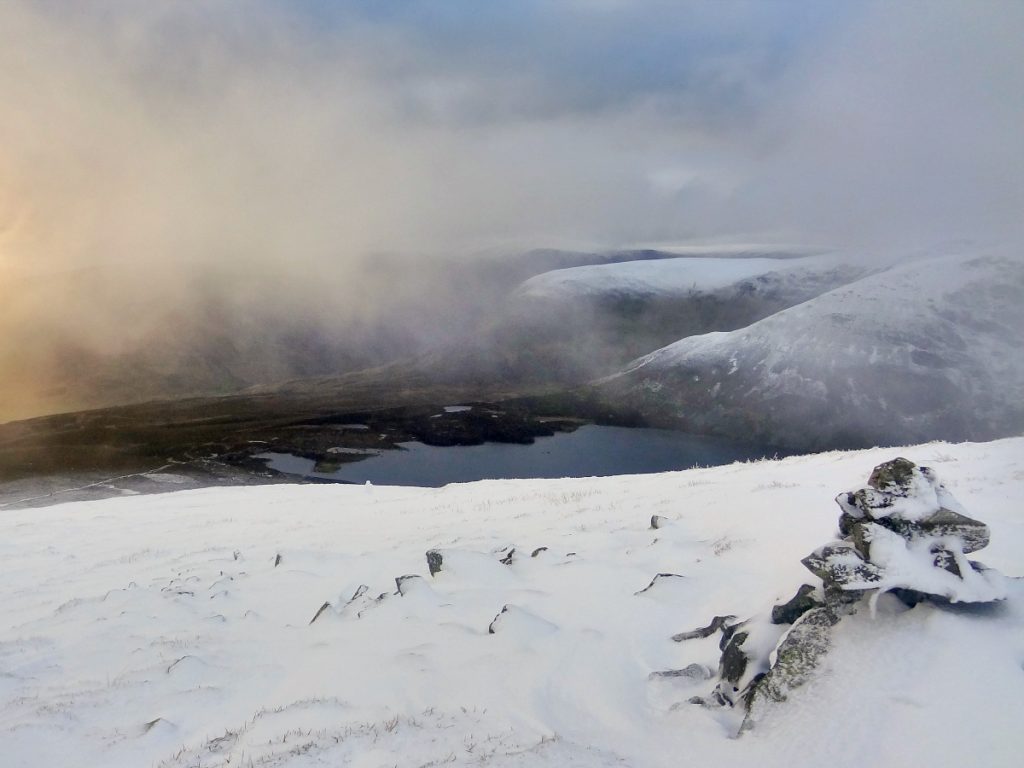 A last look back into the hills before we head down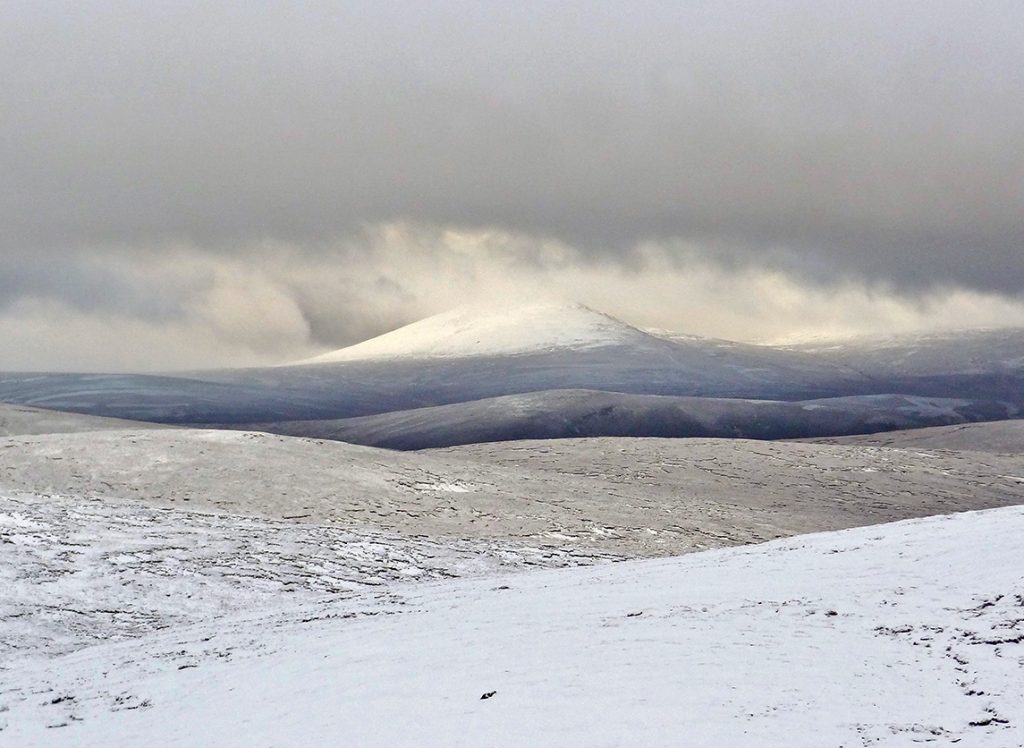 As we near green hill the low sun breaks through the clouds to the south, creating long rays, spectacular but with a dynaic range not easily captured on the compact camera (the sony nex having frozen dead by now)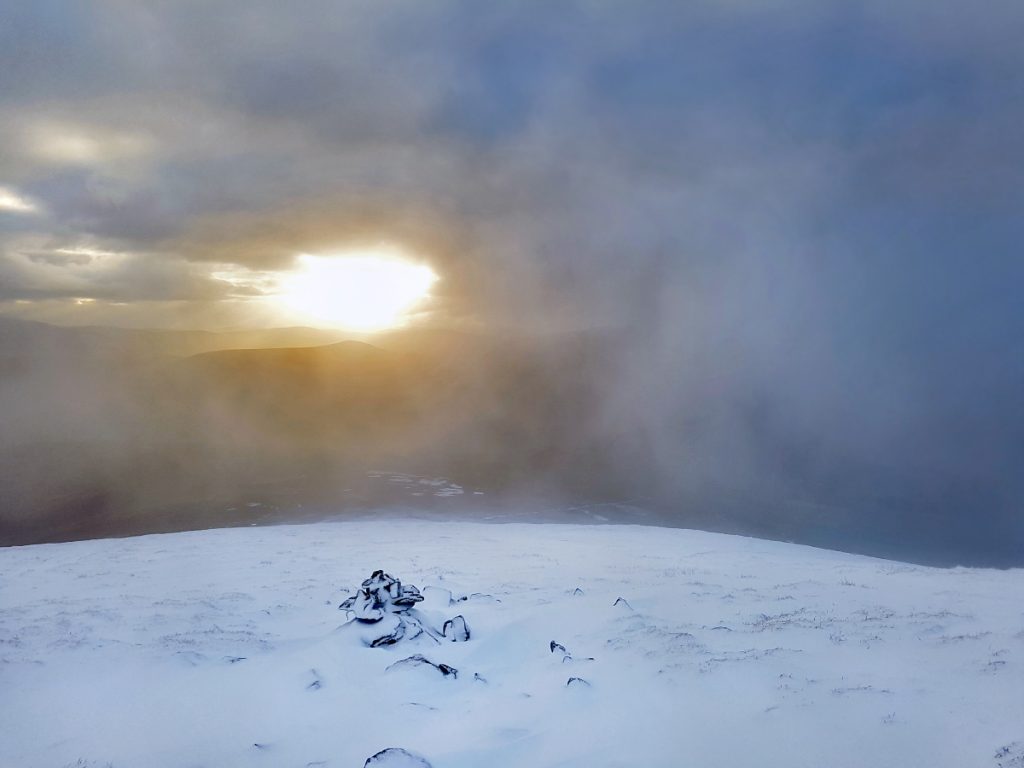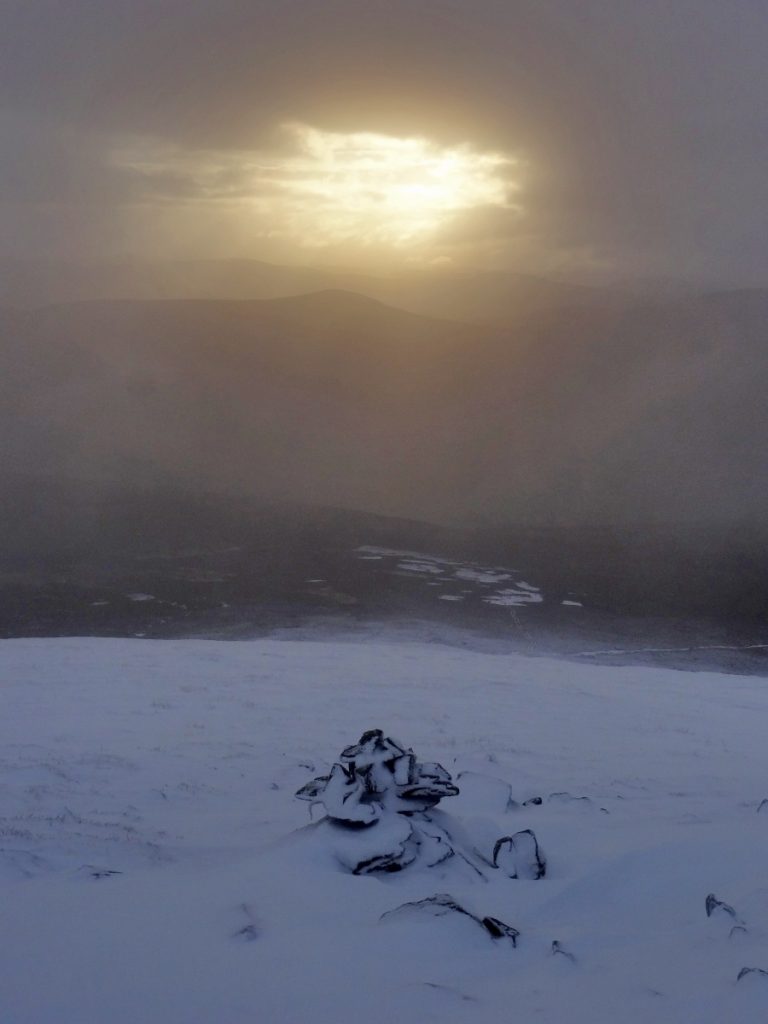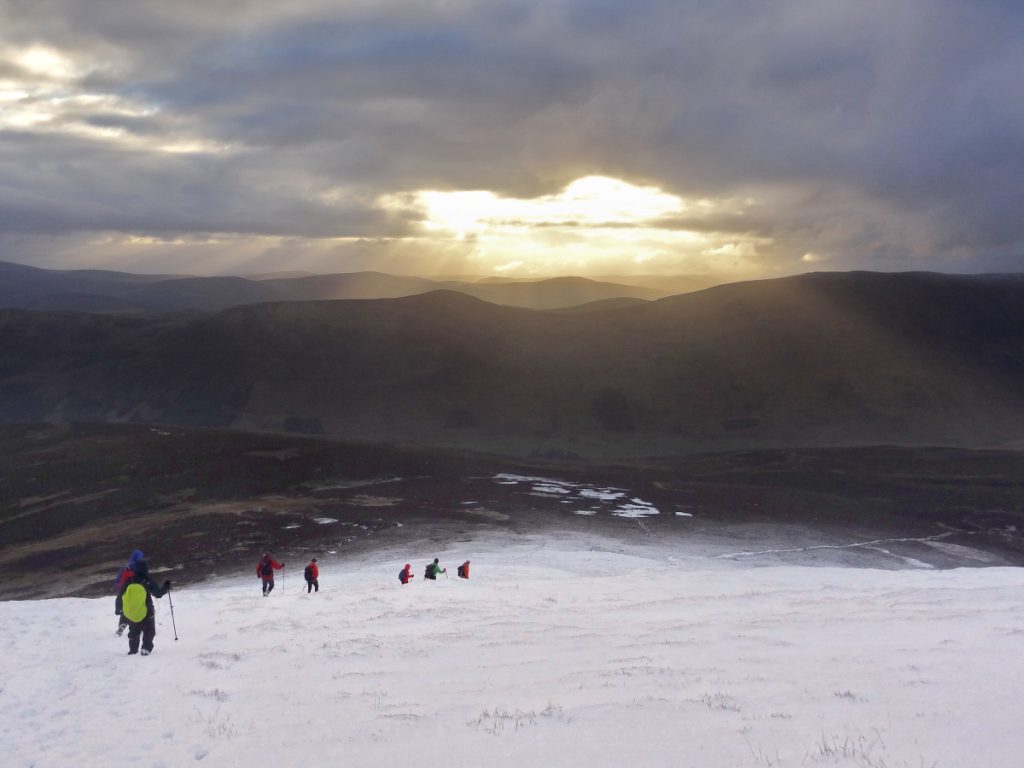 We eventually find the path of broom shank as the snow thins as we descend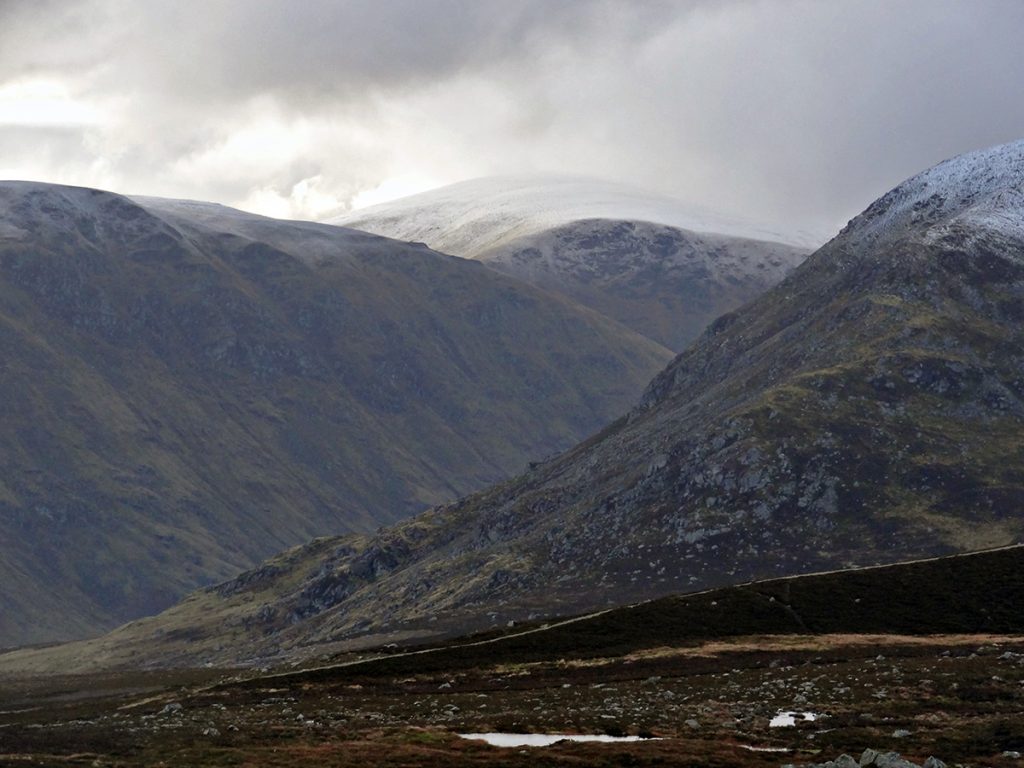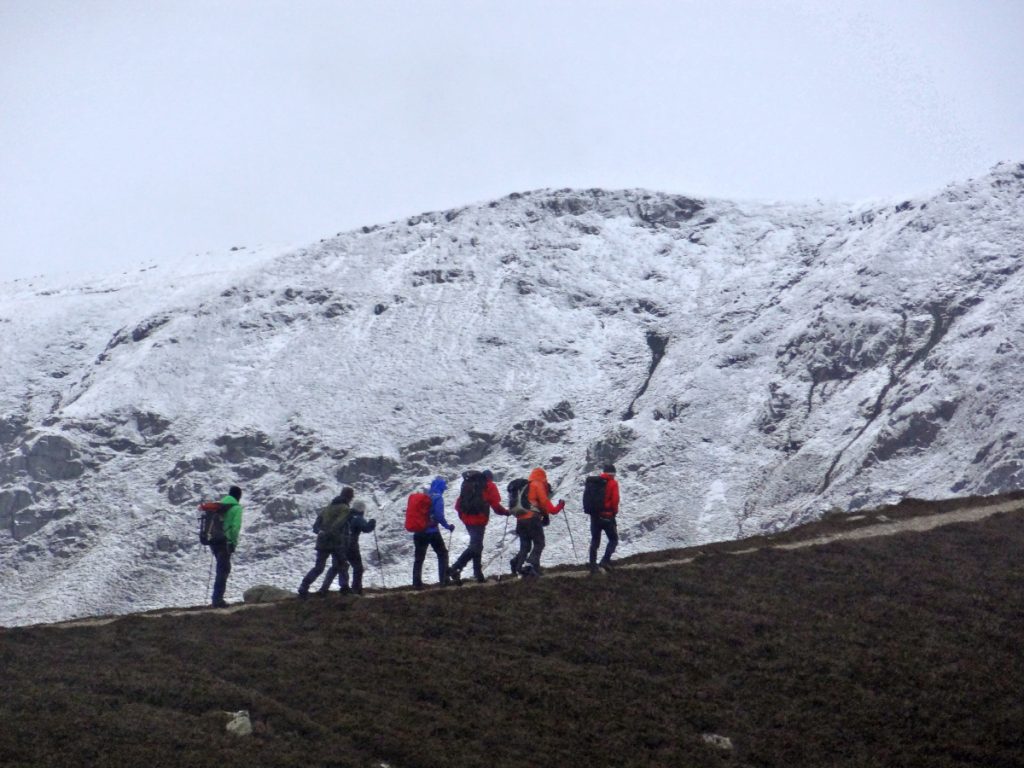 Down at the Loch Brandy outflow we're now clear of snow on the ground but get a blast of sleet to hurry us towards the pub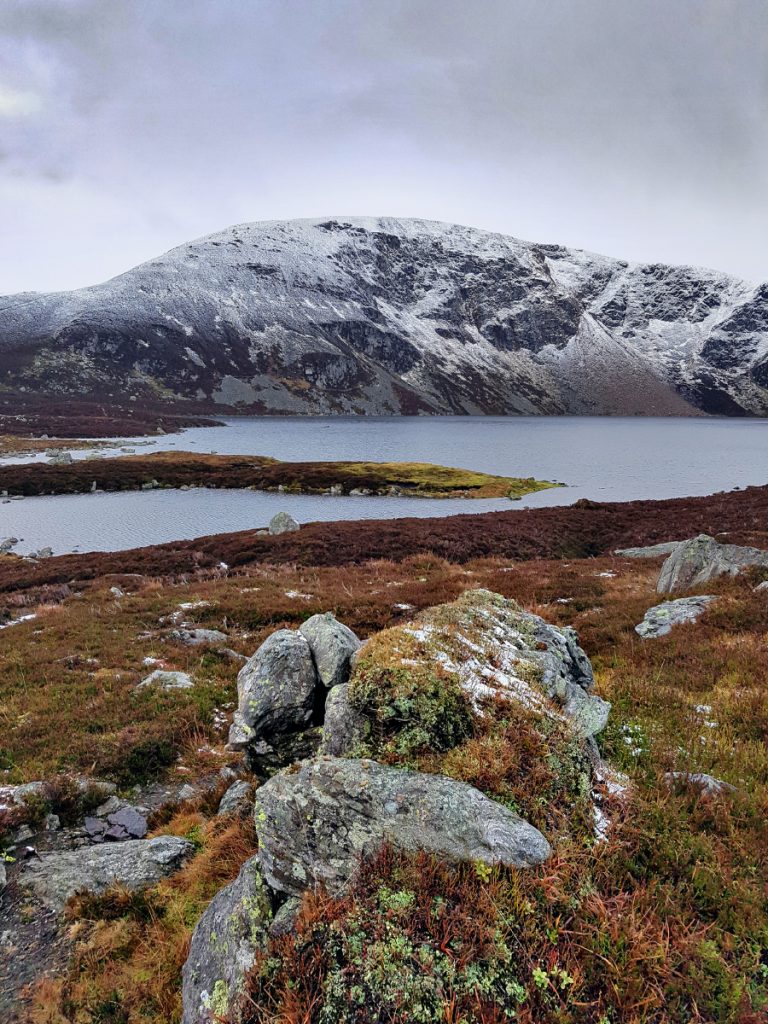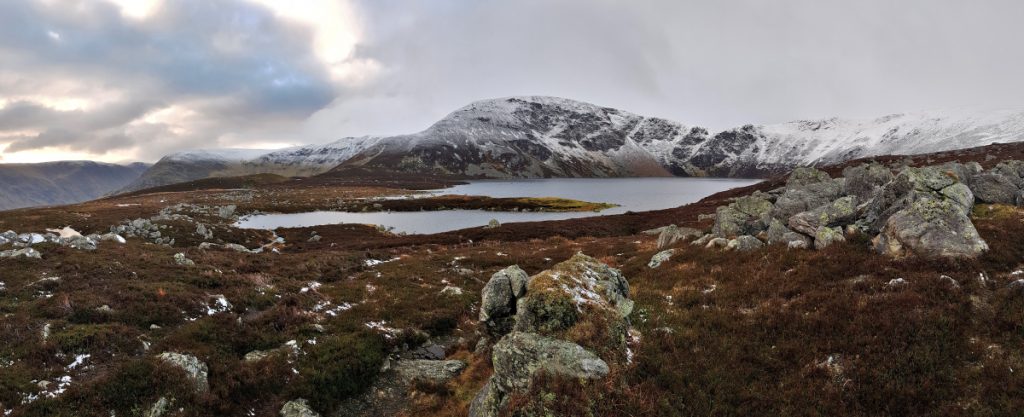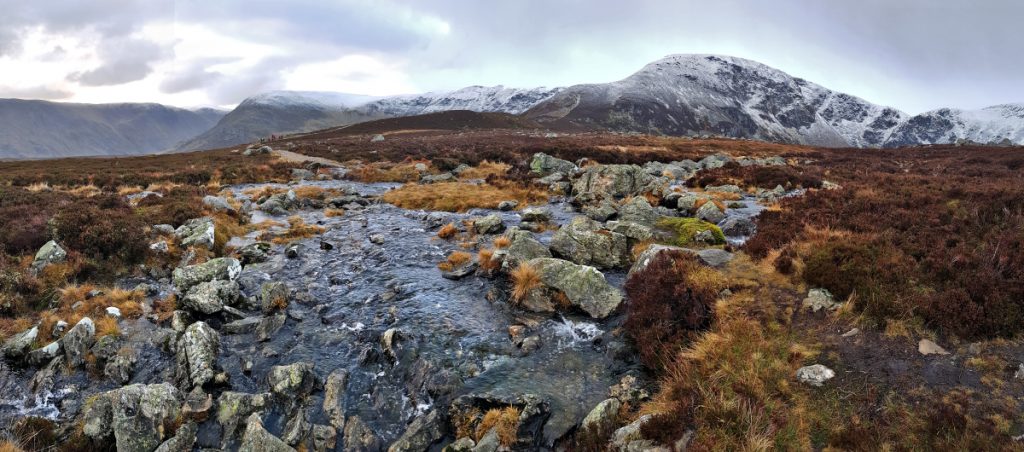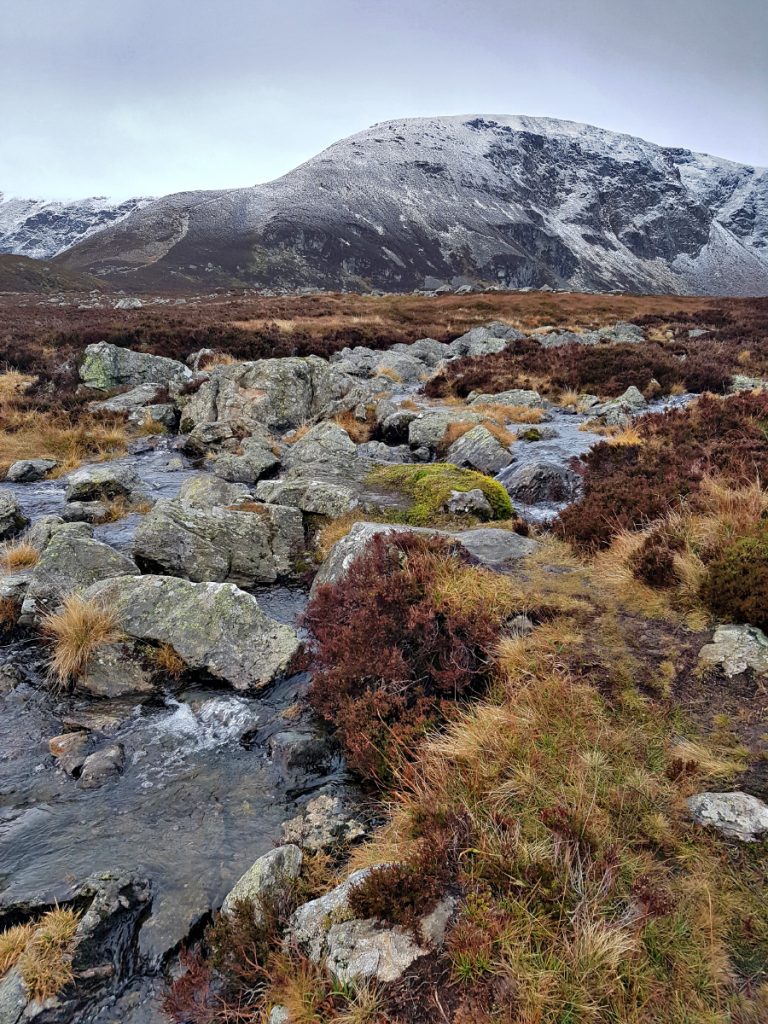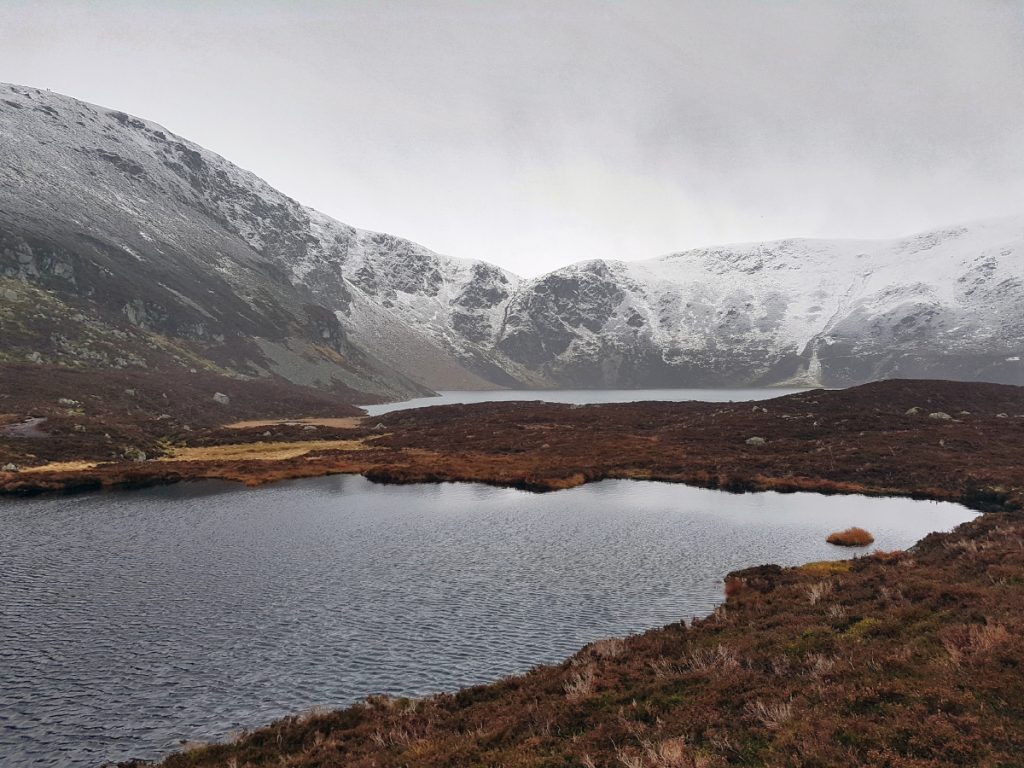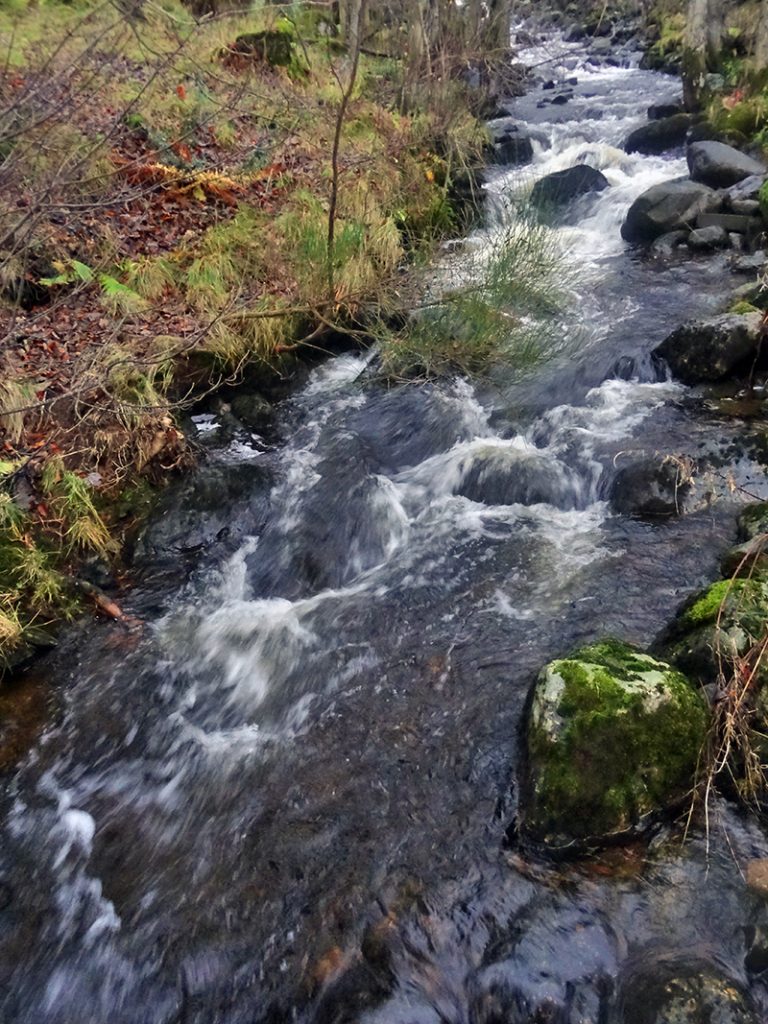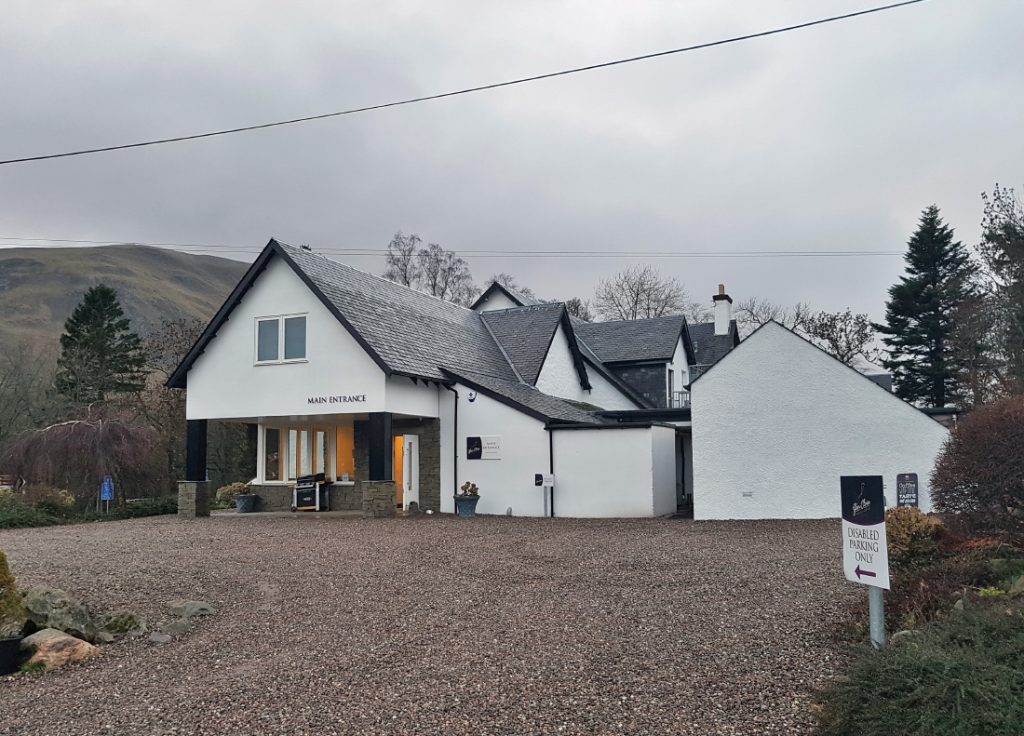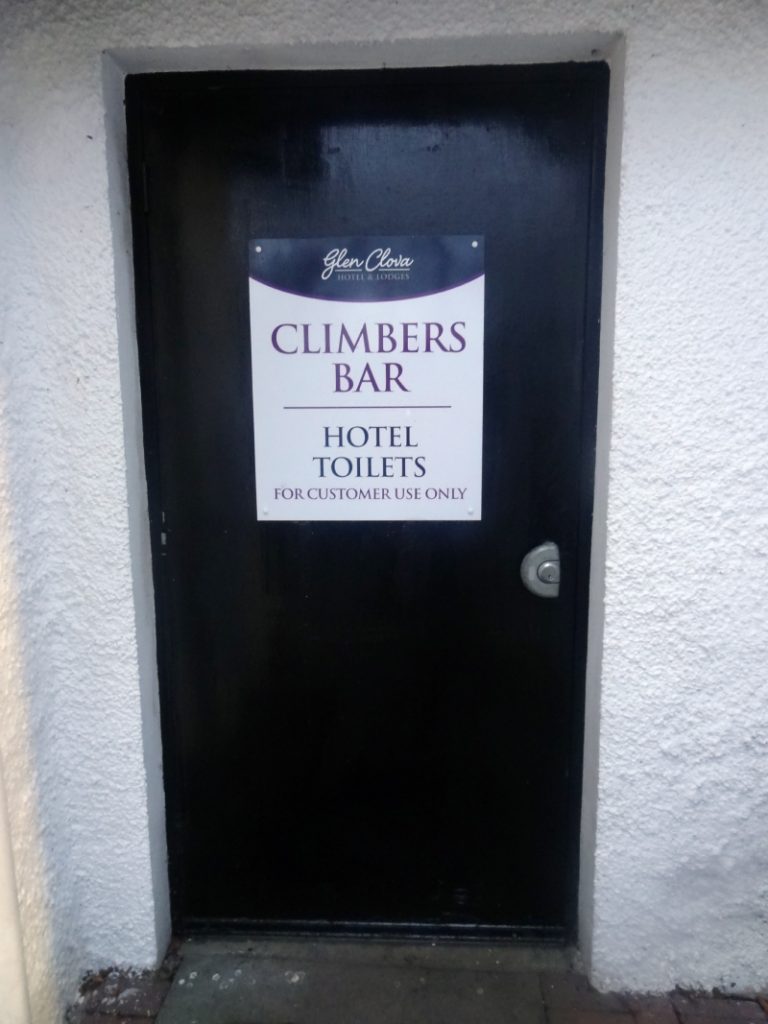 As instructed, walkers take the rear entrance at the clova hotel. A pint and a large slice of cake are duly consumed. Good to see old mate Gus working behind the bar here