The bike had been getting a bit neglected recently, but an Aberdeen Cycle Explorers trip ticked boxes: a combined bike/hike to Ben Avon. I'd been there a month back, but a different route would provide some new exploration, and on bike would be less arduous. An early snowfall (as viewed from Glen Callater the week before) would also add to the challenge.
Come the day, much of the snow would have proven to have thawed, but the forecast gale force winds above 700m meant consideration of a plan B focusing more on lower levels.
We set off along Glen Gairn (another recent visit) from the track to Blairglass.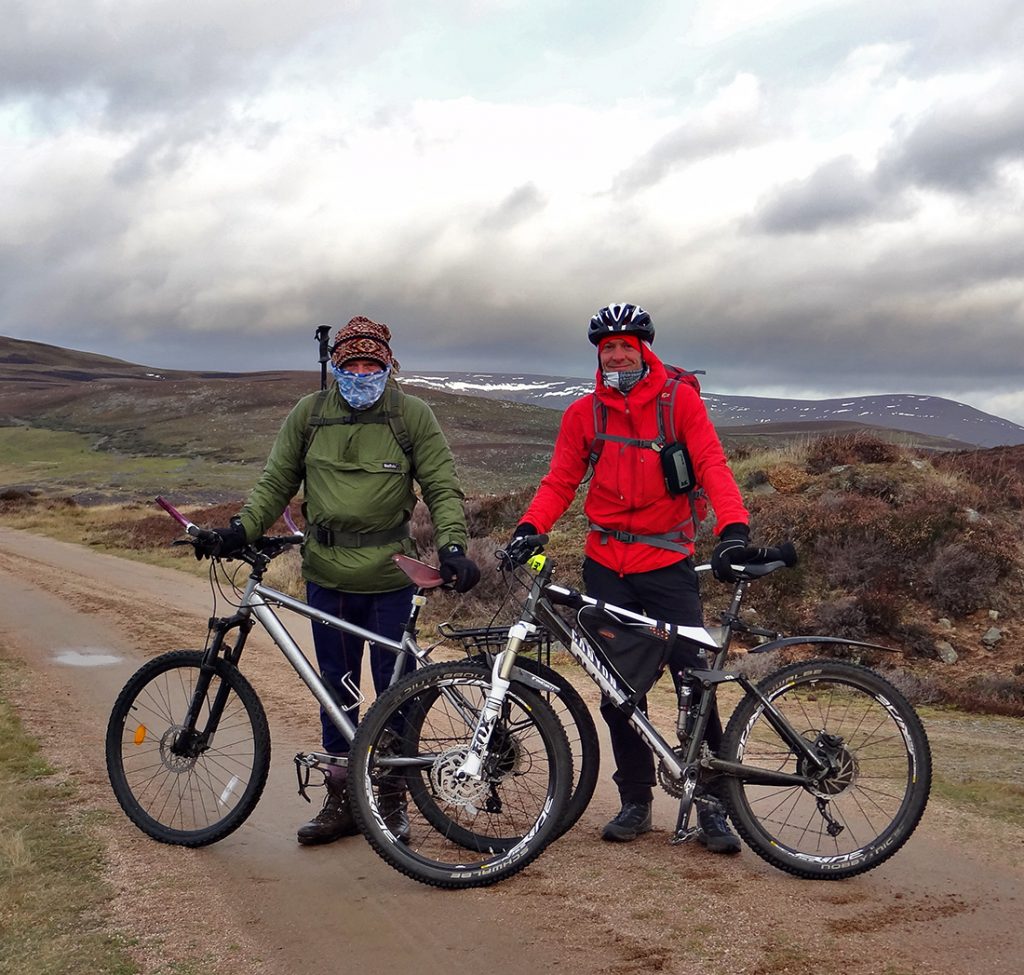 We quickly whizzed along the track, past Blairglass cottage and ruin.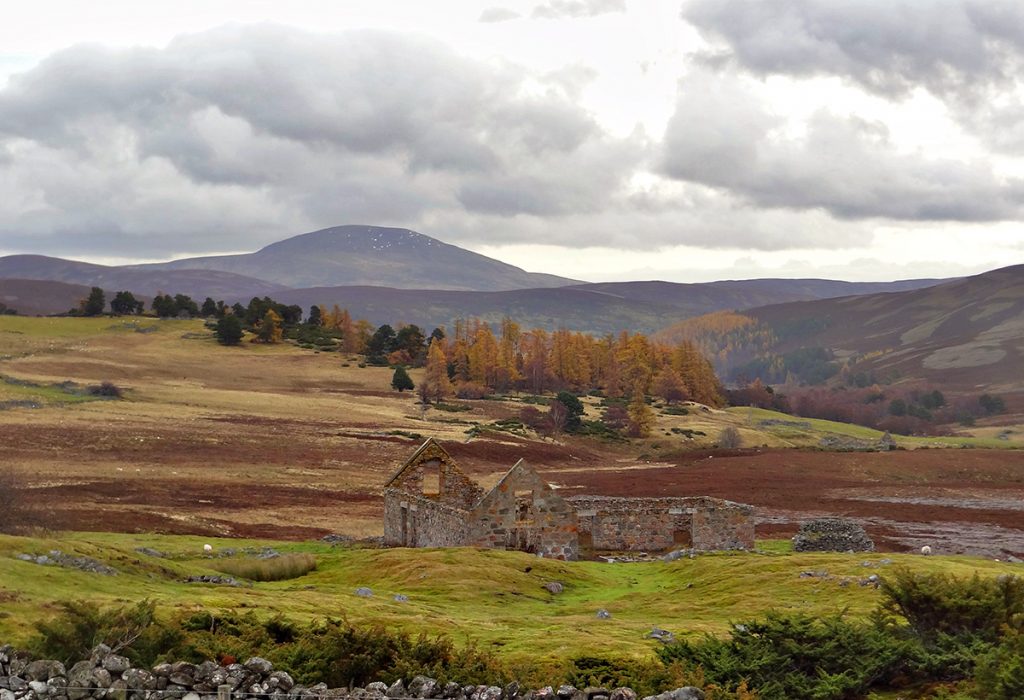 Coming round Meall Odhar, the view along Glen Gairn opens up and we head west towards the mountains. We could see that the snow from 2 weeks ago has mostly gone, with patchy cover up on Ben Avon, there should be no bother with ice or snow on the trails.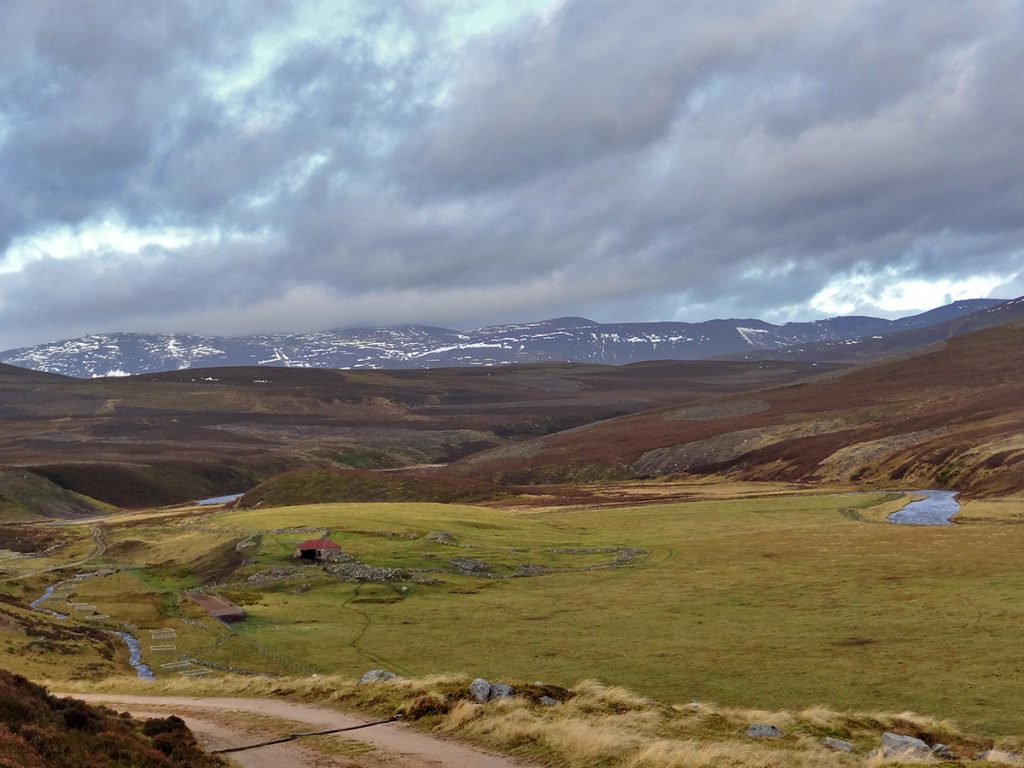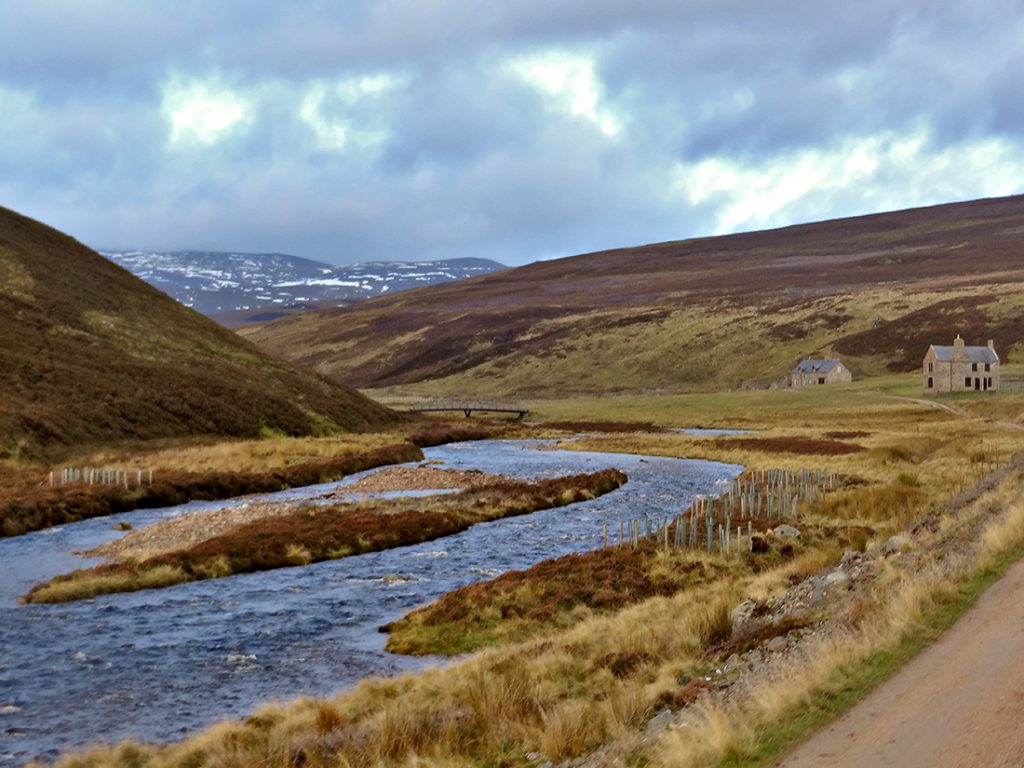 We stopped for lunch at Corndavon lodge. The burn was quite high with snow melt and we carefully picked a spot to climb over rather than wheeling through the ford risking an early foot dunk and wet feet for the rest of the day. There'll be quite a few more of these to negotiate further on. As we set off onward, a glance backwards saw a large bird soaring nearby, possibly an eagle (without my ailing panasonic tz71 and its 30x zoom, no snaps other than a tiny blob are captured)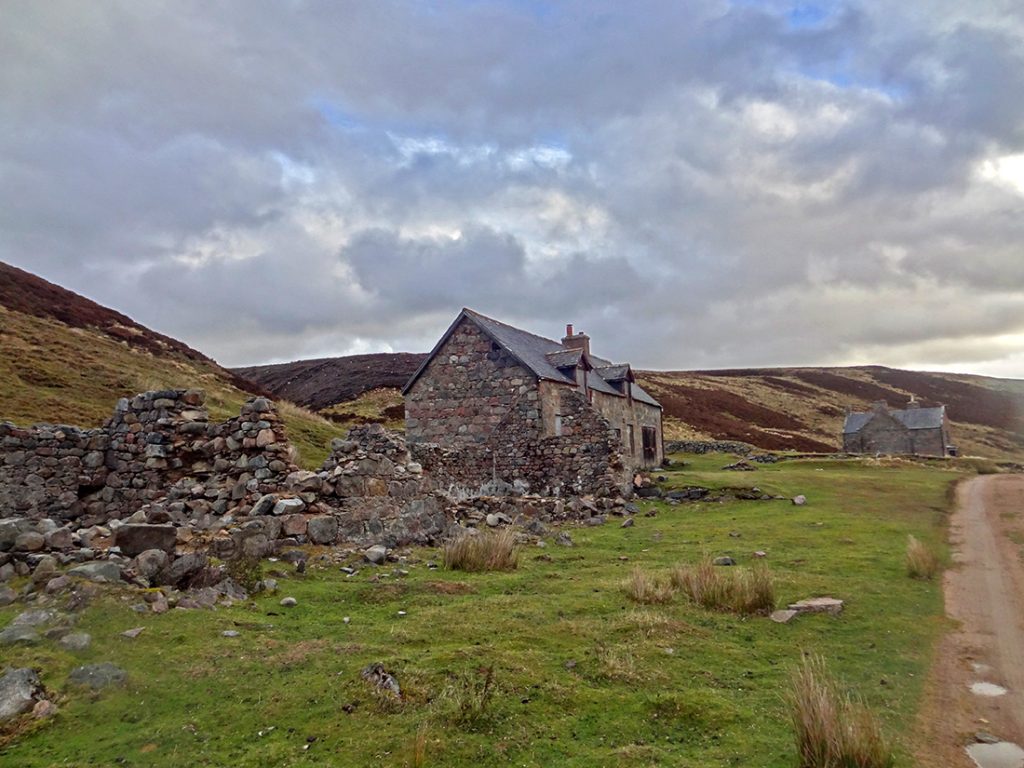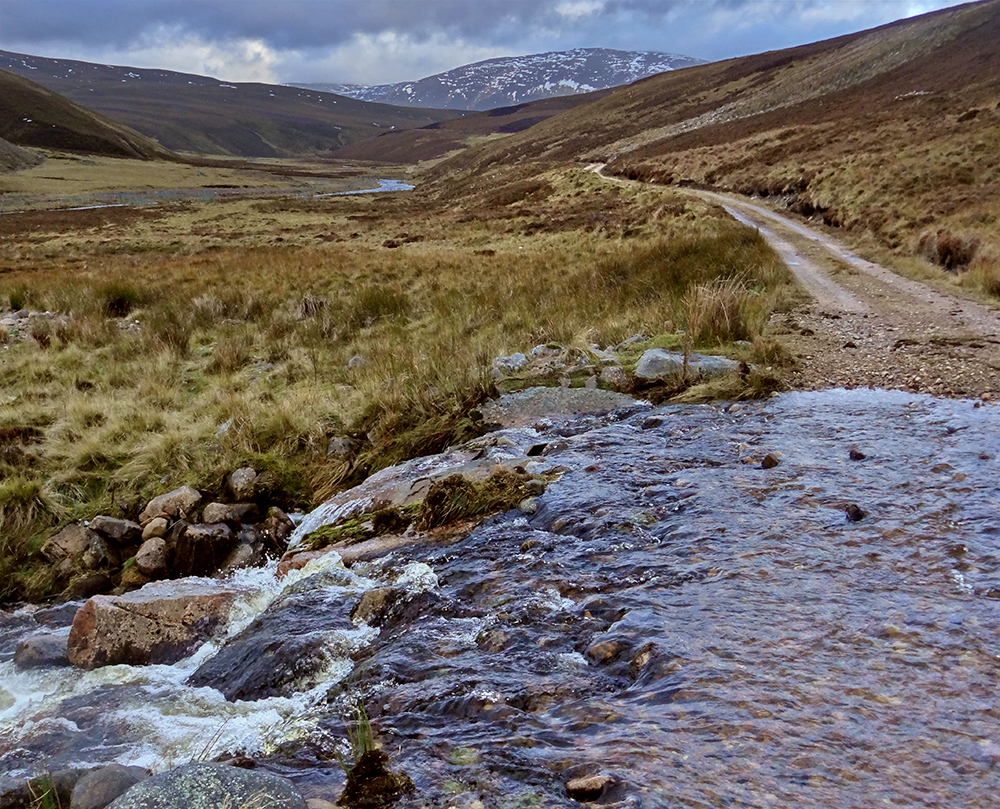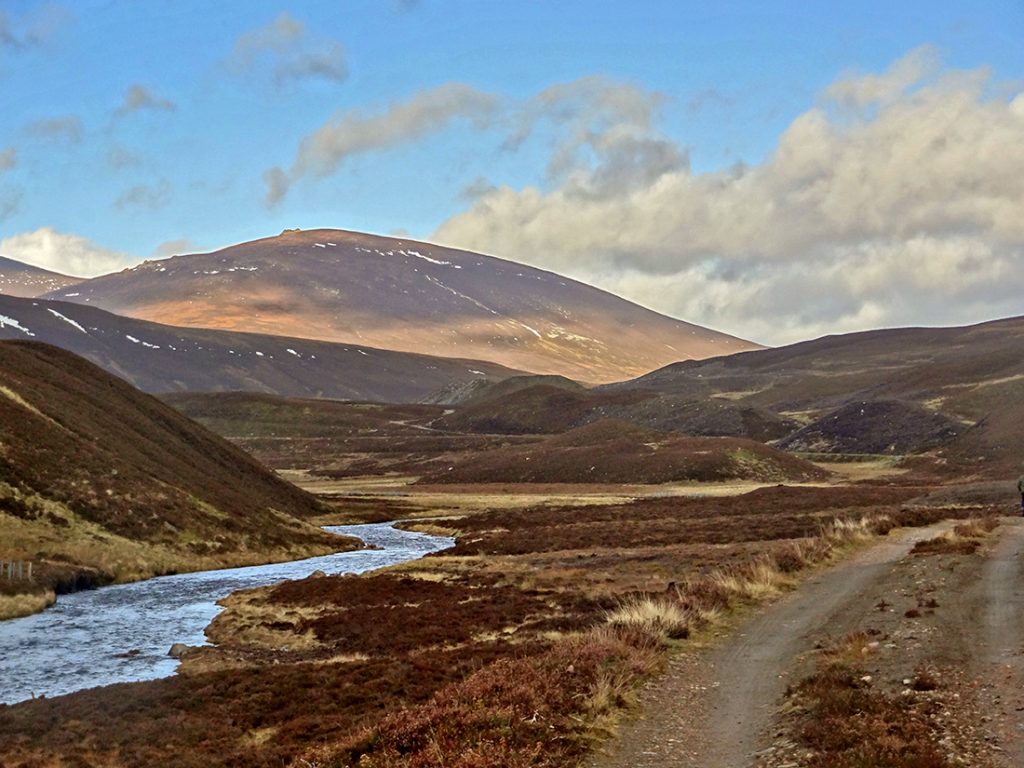 There's a few glacially formed mounds ("fine examples of hummocky moraine") to navigate past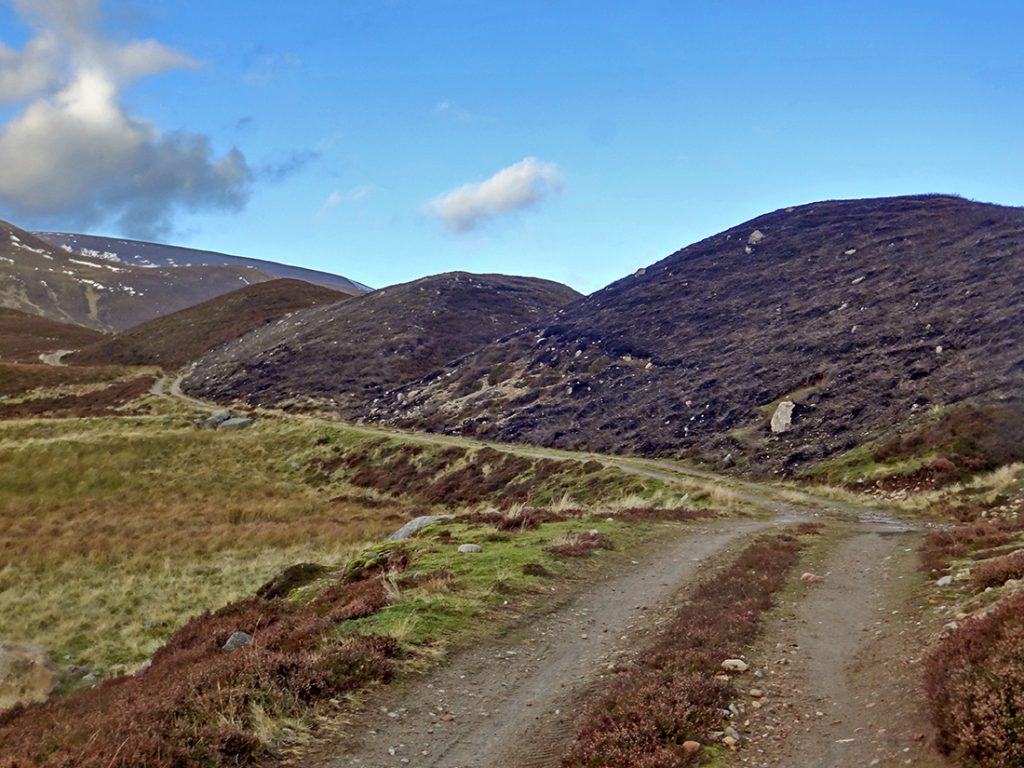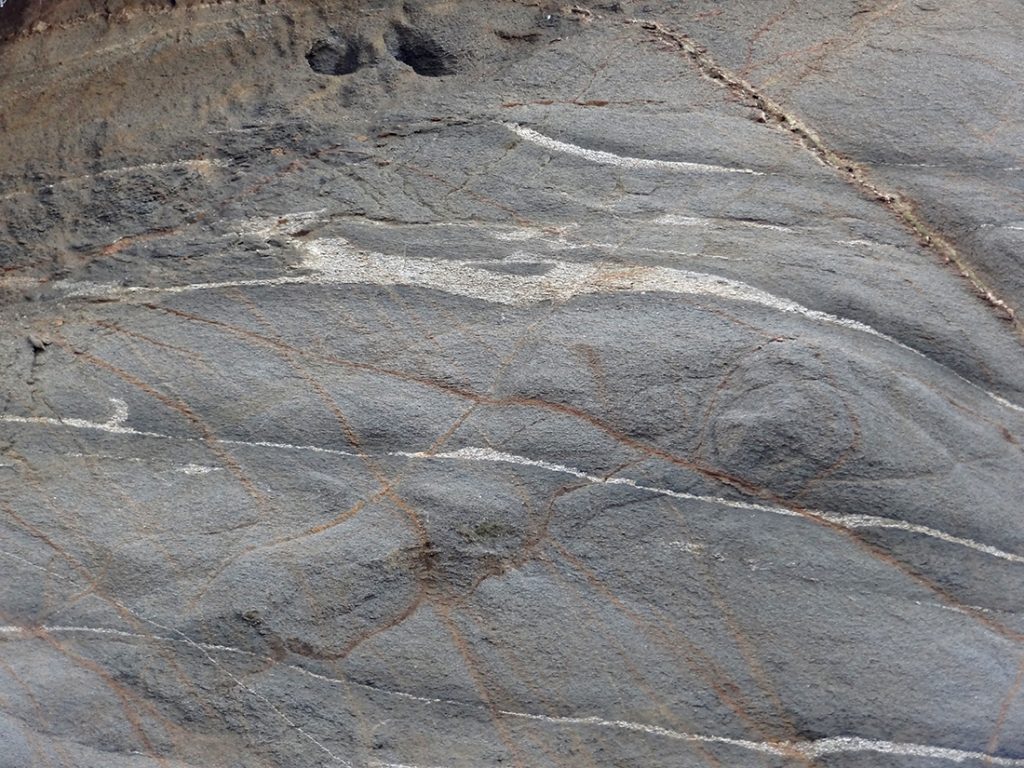 Passed some small lochans (Furach and Oir) that proceed the far grander Loch Builg. A chap that passed us earlier had parked his bike beside the fence to ascend Avon, that'll be a tough gig in today's conditions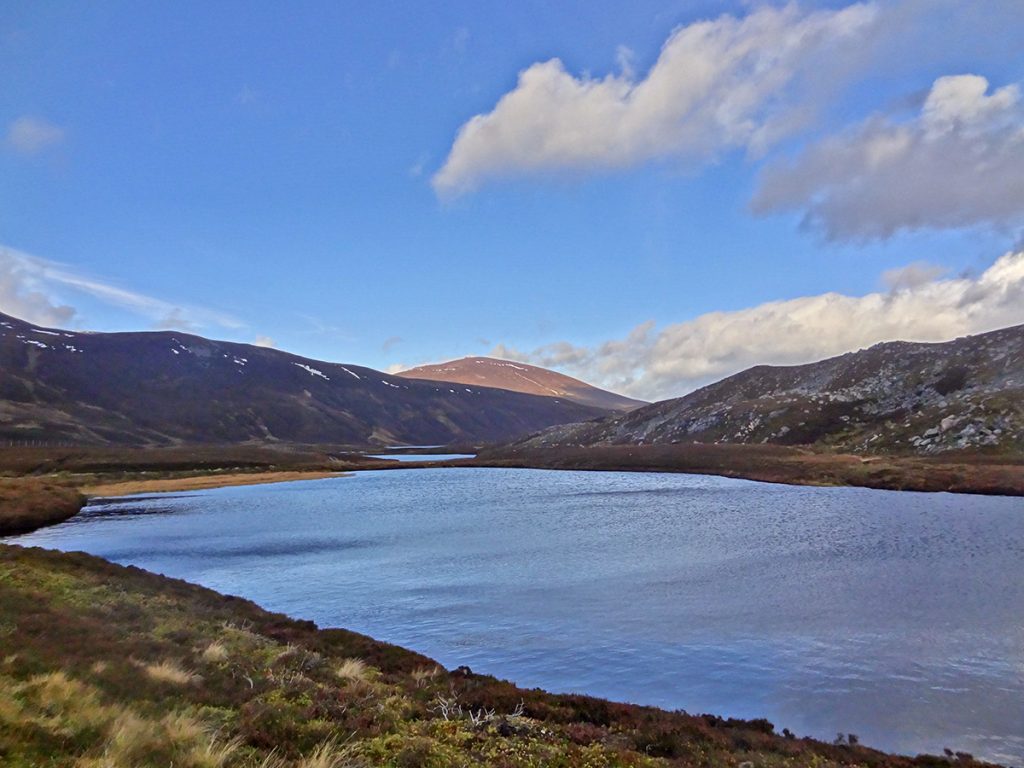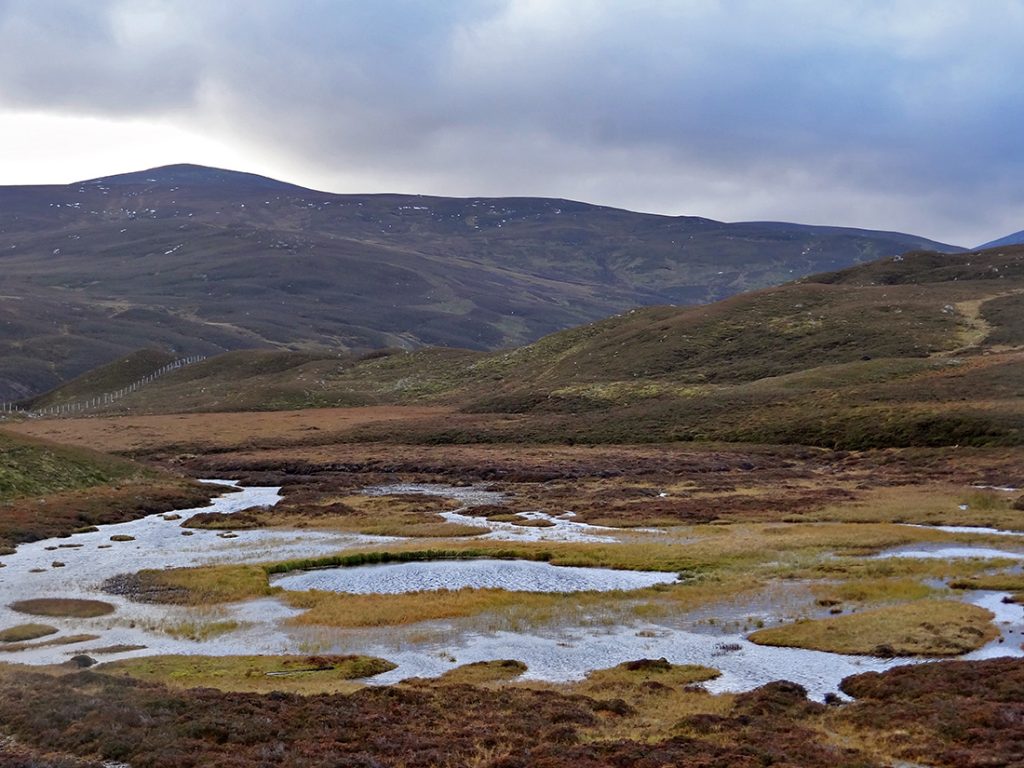 The ruined lodge where the path ascends to Ben Avon. No sign of the boat house on the map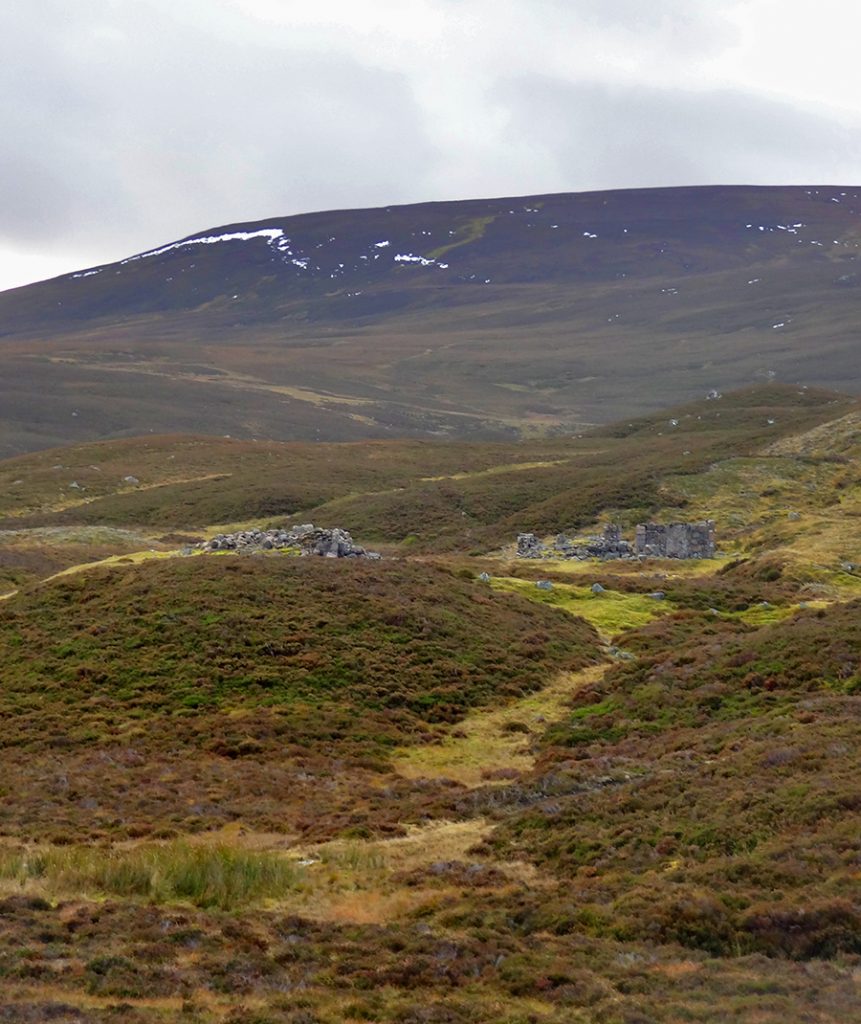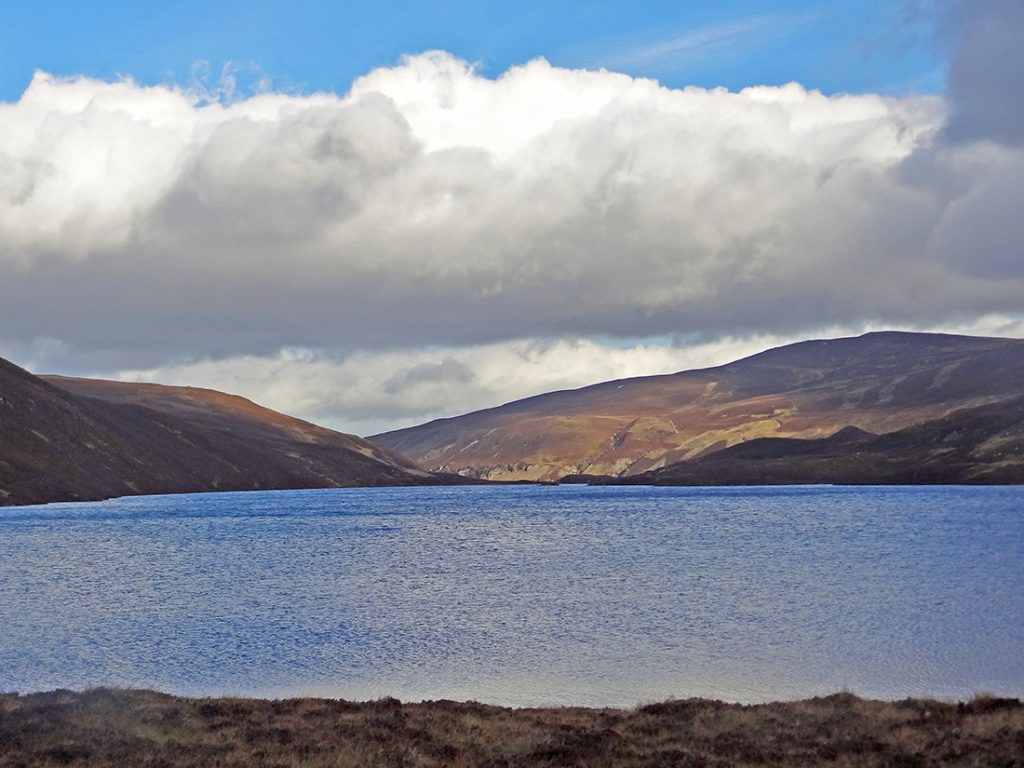 We decided against Ben Avon; it was fairly breezy even at 500m; we'll try for Culardoch nearby which totals a perfect 900m, then decide whether to retrace or head further south.
Crossing another sturdy bridge (I'd been led to believe there were few out here as some had been washed away but his doesn't seem to hold true, bridges present and correct as shown on the map)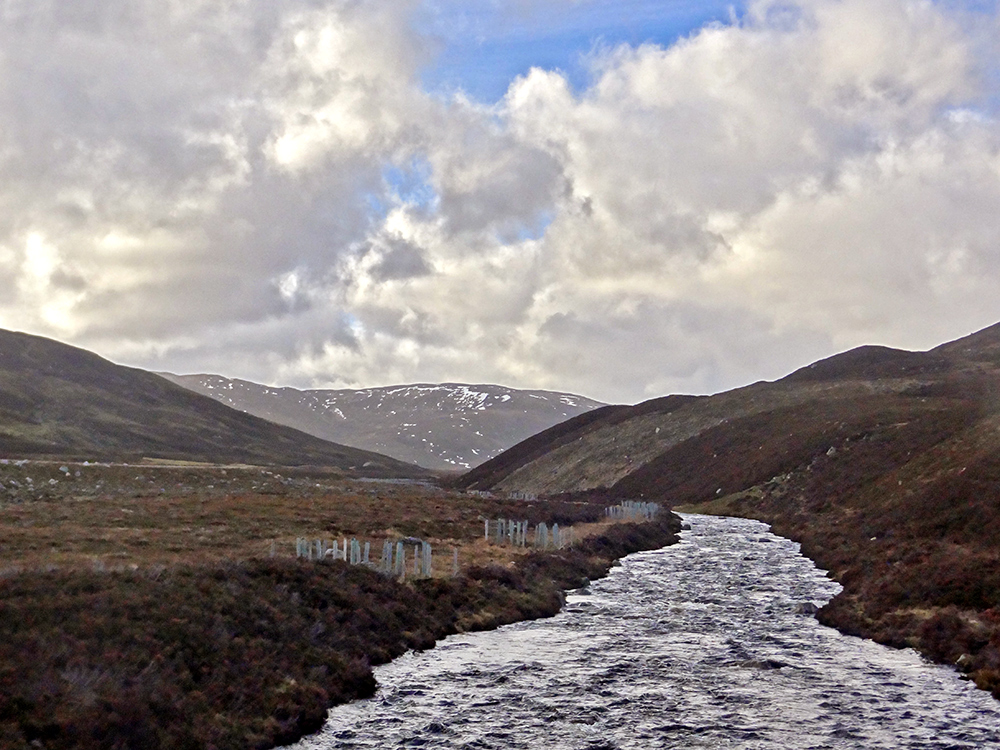 You can see more tree planting here, to improve the river environment. There are also wooden structure elsewhere in the water to emulate the effect of fallen trees and the micro habitat that provides which improves biodiversity.
Before the climb proper starts around the shoulder of Culardoch, we spot a fine turf-roofed and tastefully windowed hunting hut (locked against the hoi polloi of course).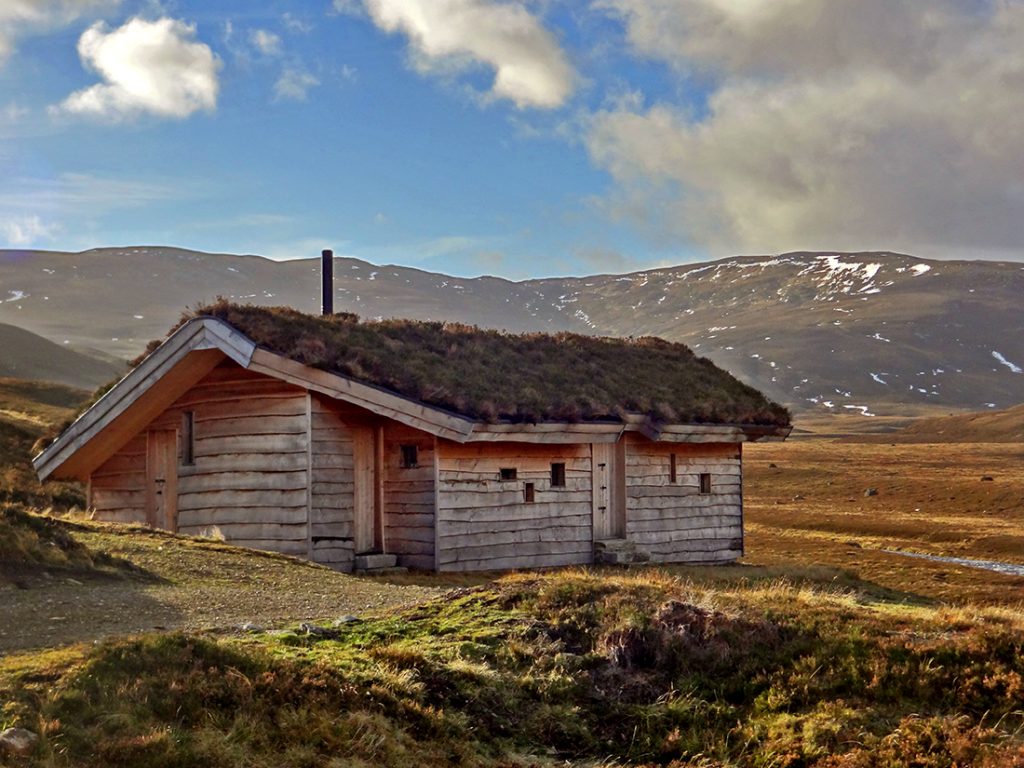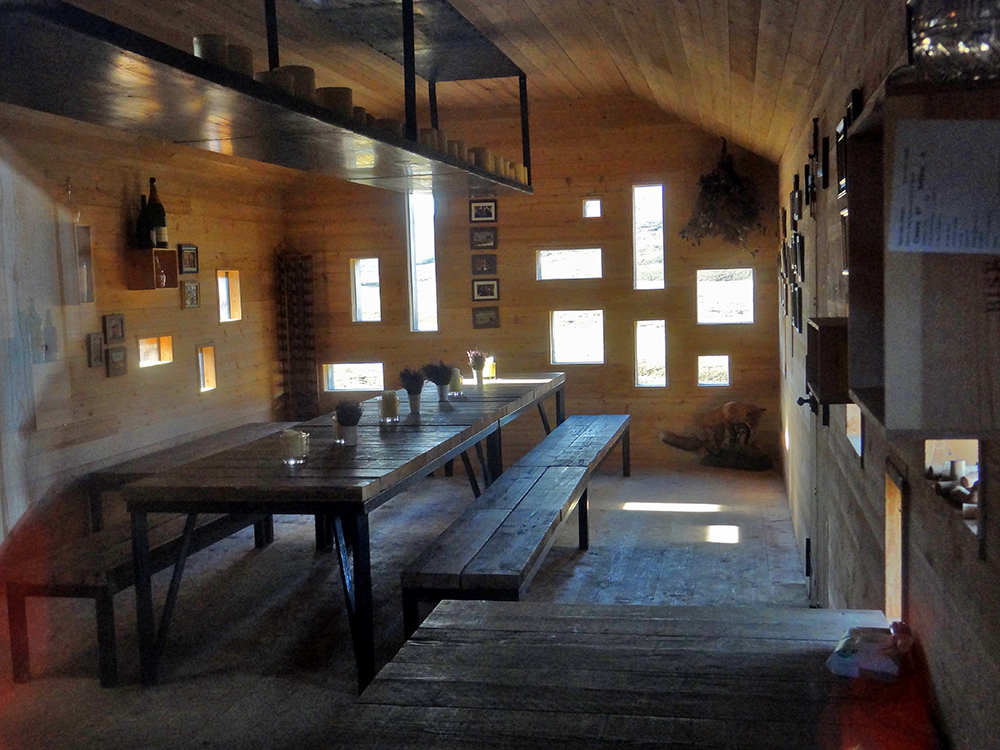 The stiffening gradient, loose rubble and a strengthening wind make for slow progress and the odd spell of pushing, but a fine view is developing to the north. Blue skies n wild mountain landscapes, get in.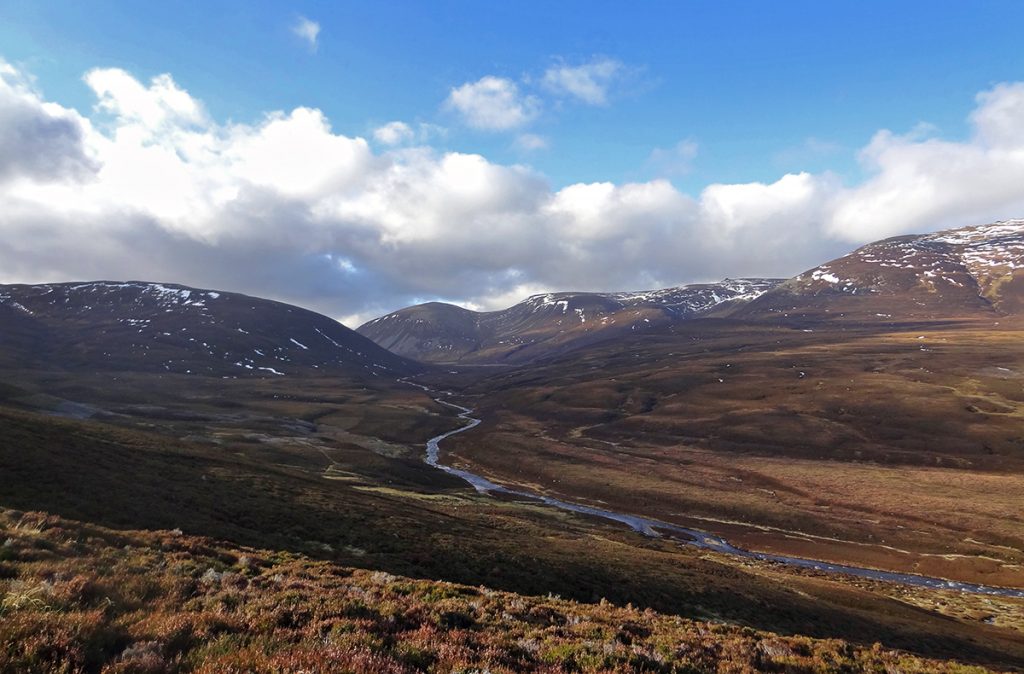 Grinding up the hill slowly another look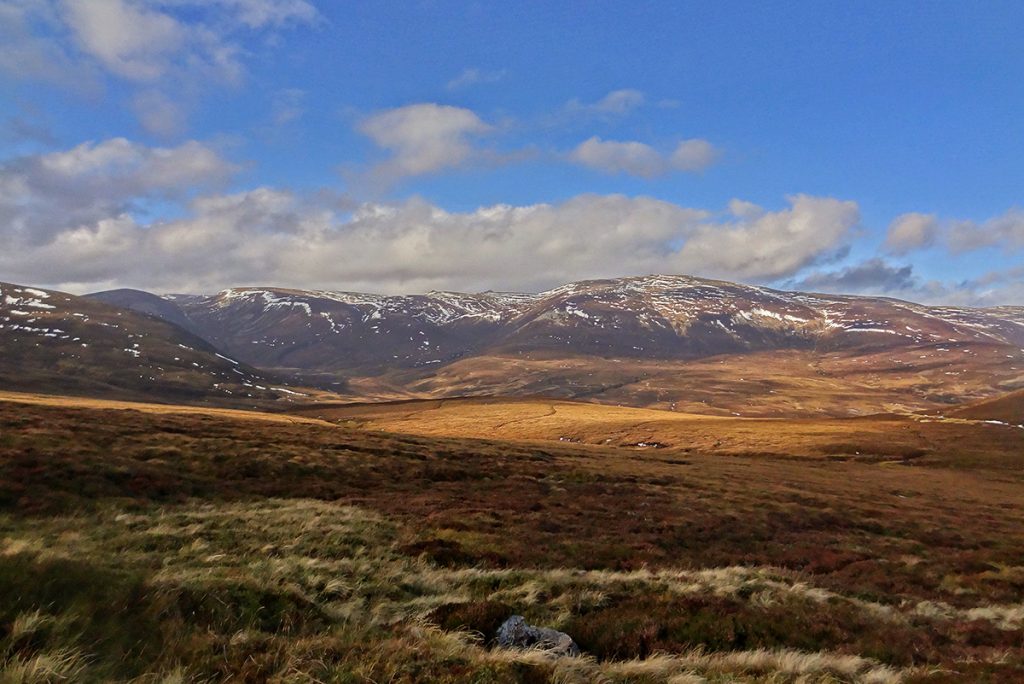 At 730m the highest point of the track is reached, the top is 1km away and 200m further up; we dismount and get on with it, the wind is screaming past, but being from the south not too chilling. Glad though of a buff and sunglasses. There's a couple scrapes of unmapped paths that wind round the side but we plow ahead directly across the thin heather.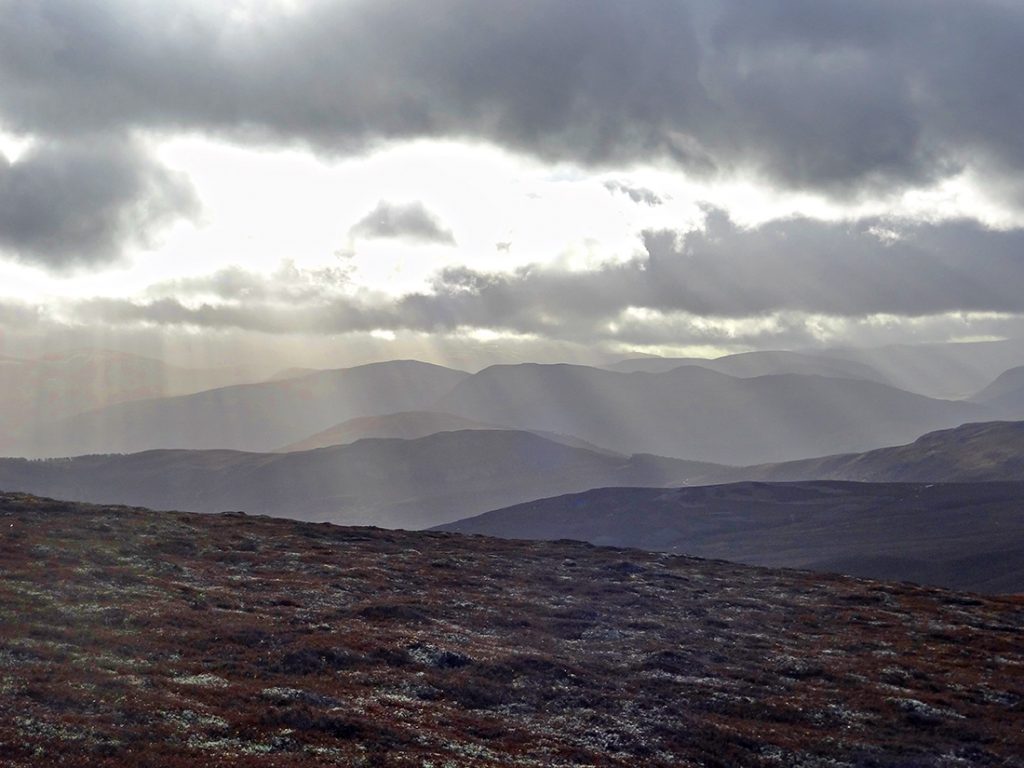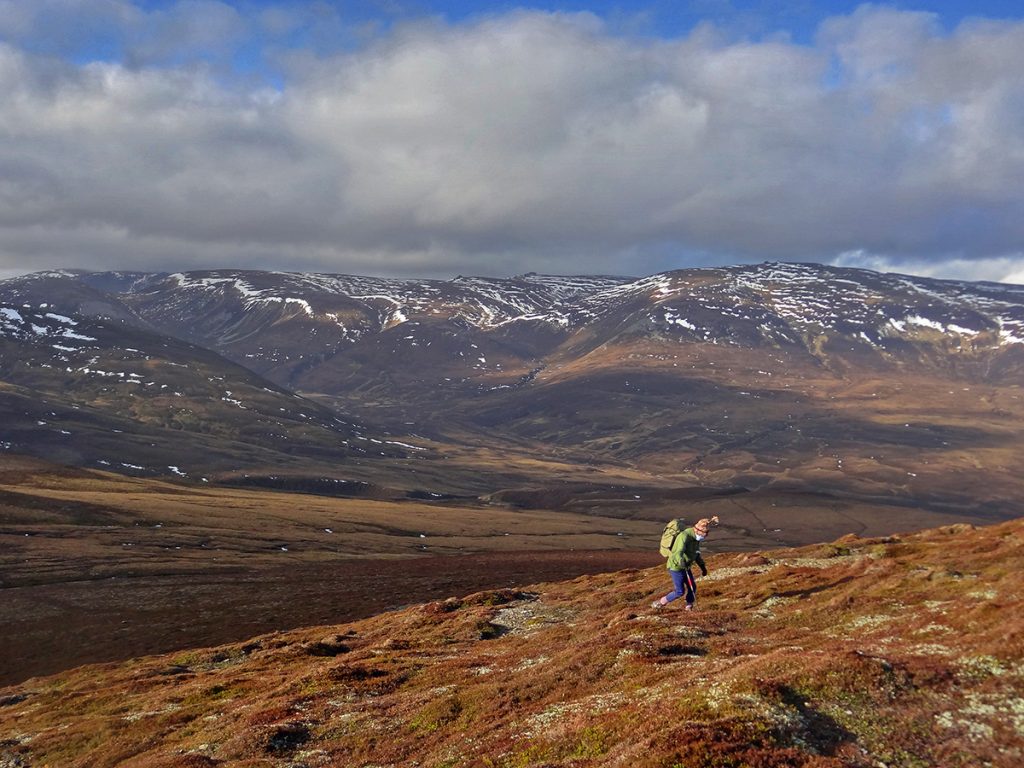 At the top the wind is now full force and bloody difficult, I can barely stand steady to take a shot. A timer shot balanced on the flat of the trig requires a chunky rock to act as a wind shield for the camera.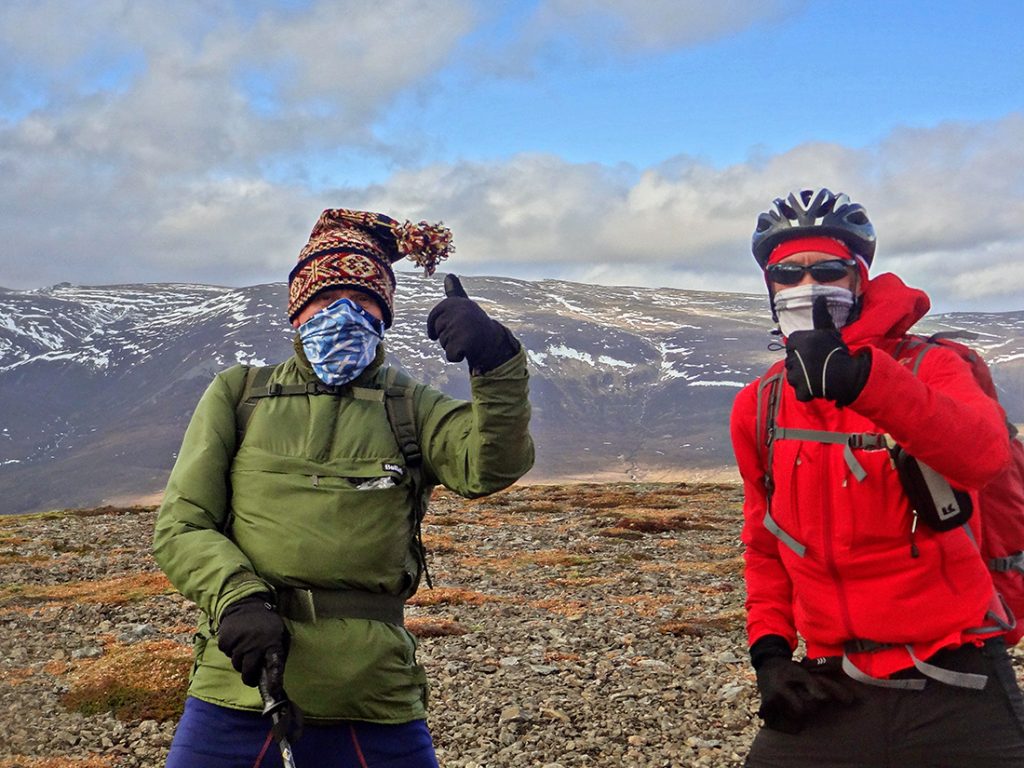 A gravelly and desolate sweep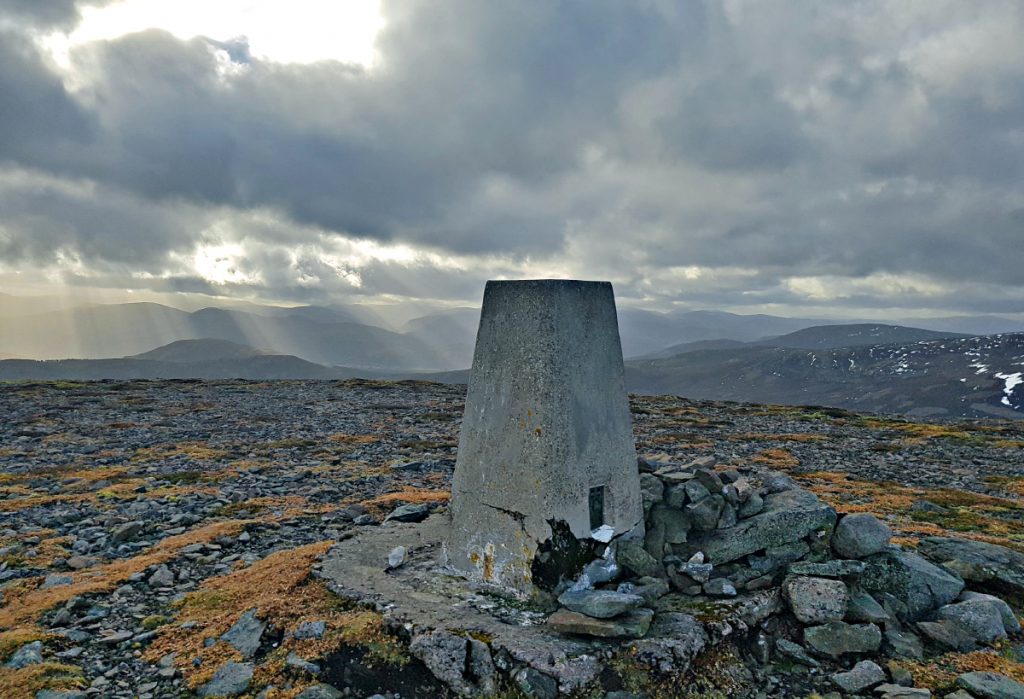 Looking across to where we could have been, the tors of Ben Avon 200m higher and probably blown away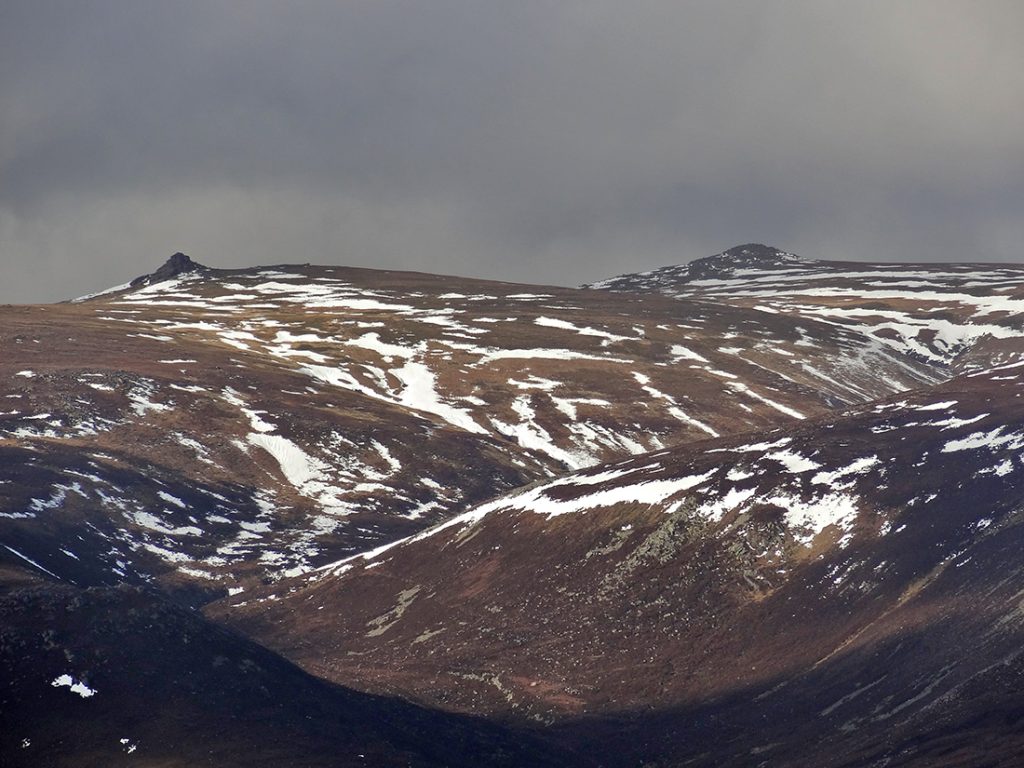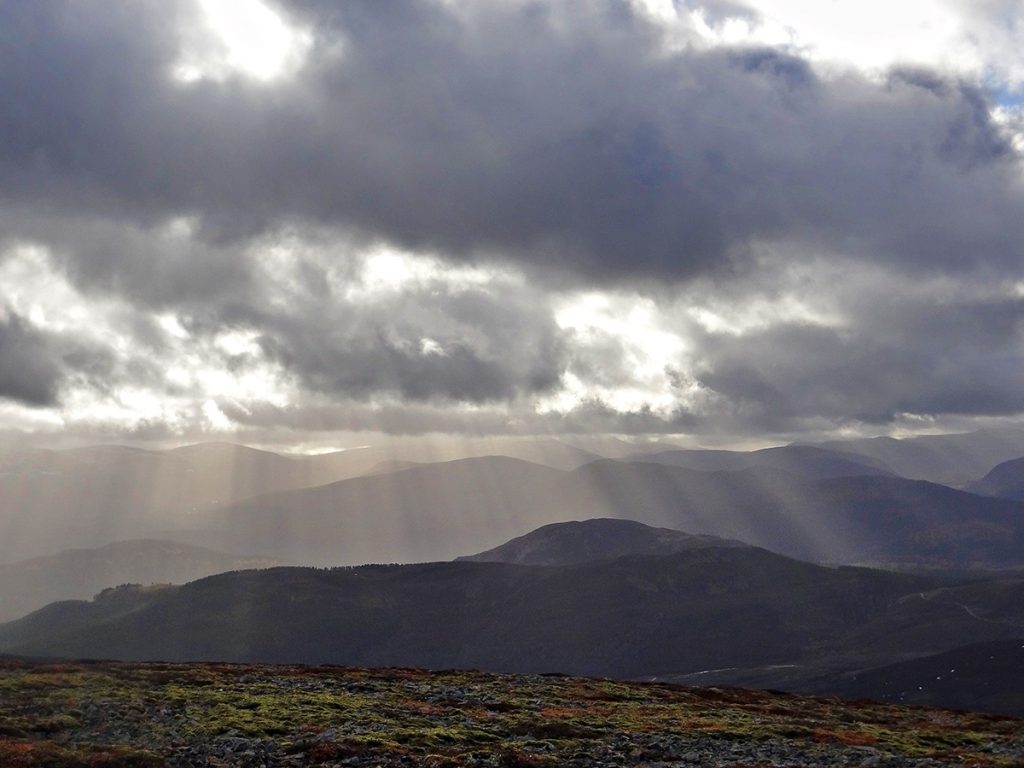 Lunch is not partaken on the summit as per usual, sandwiches would be blasted out of hand and tea vaporised. We beat a quick retreat back to the bikes. I've spotted a shiny anomaly back down below to investigate when we proceed along the trail in a few minutes.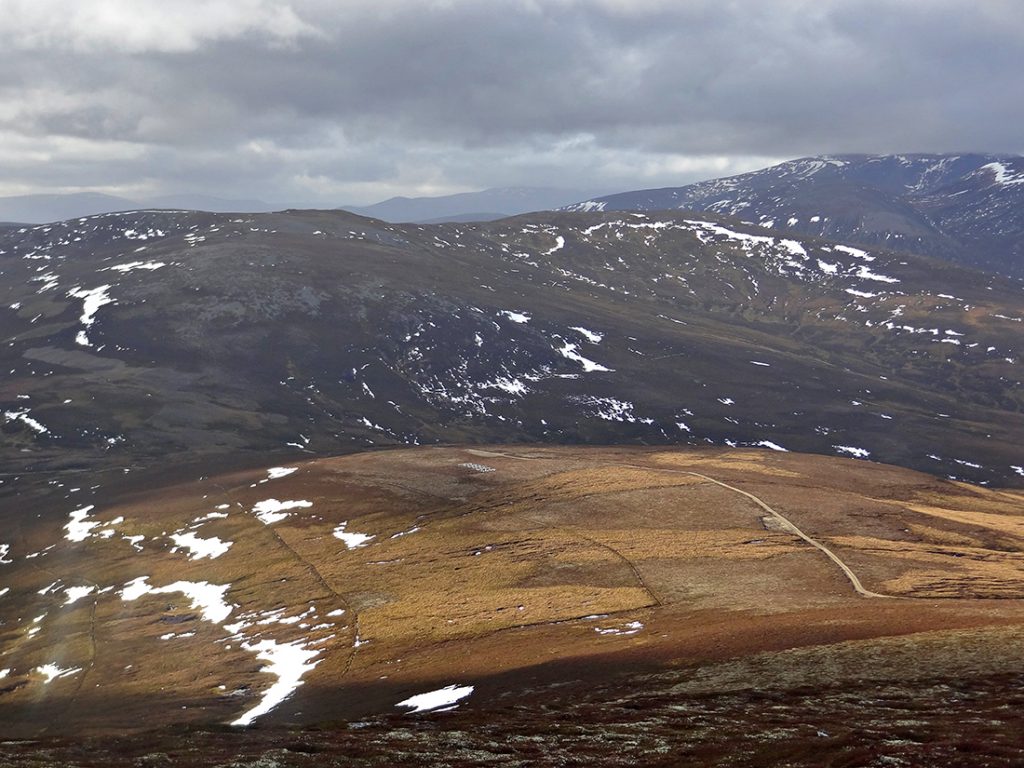 Underfoot, some pleasing deep purple velvety lichen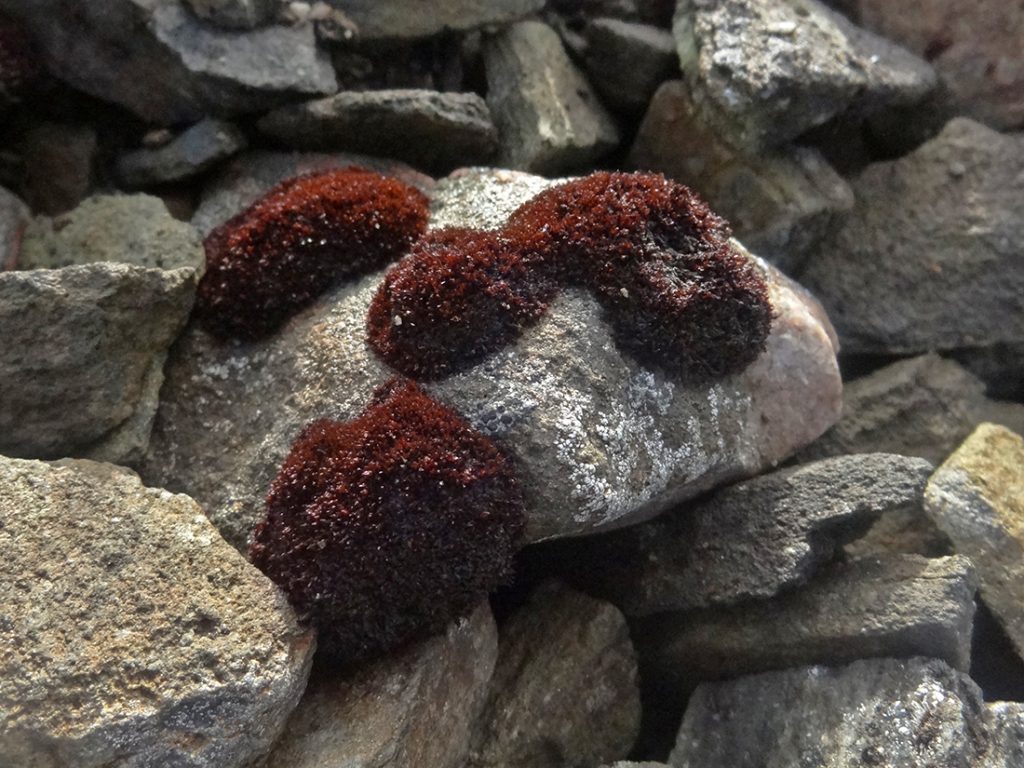 A peak in grouse's eye view, they're not keen to fly off today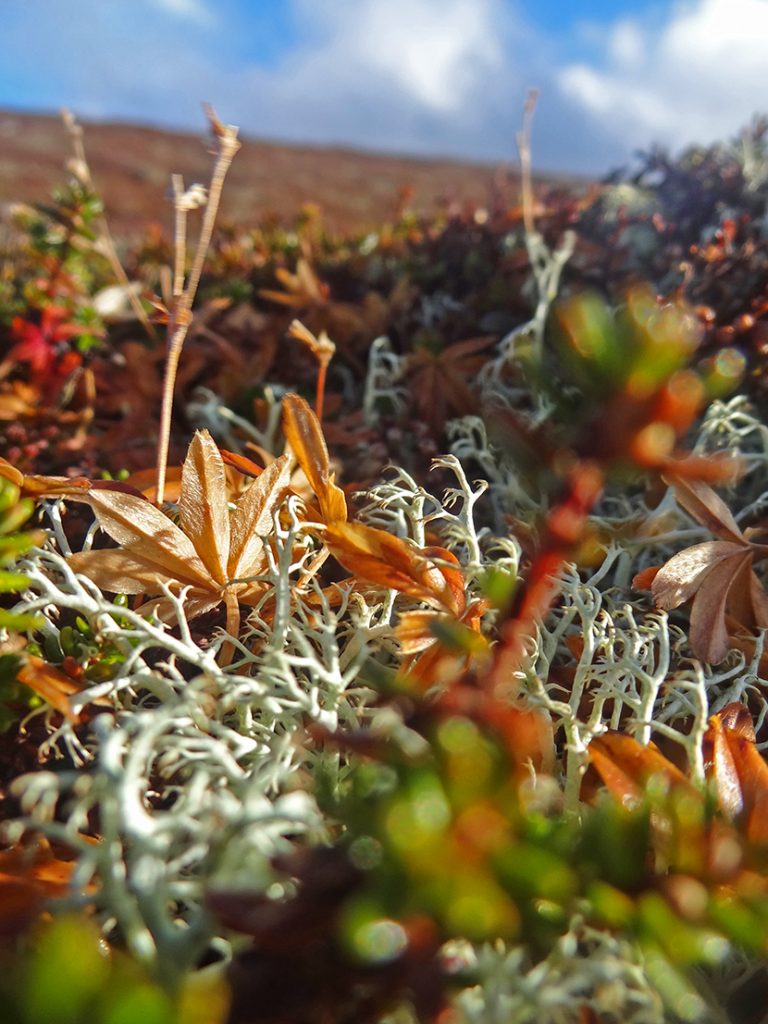 A glance back at Loch Builg from above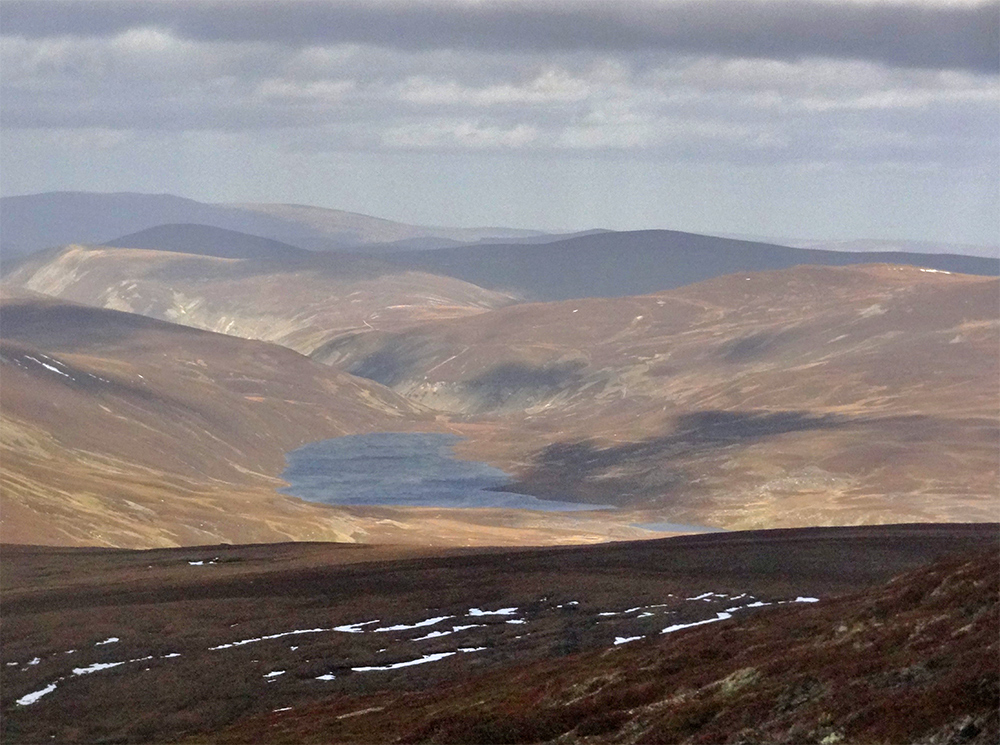 Hills in the distance to the south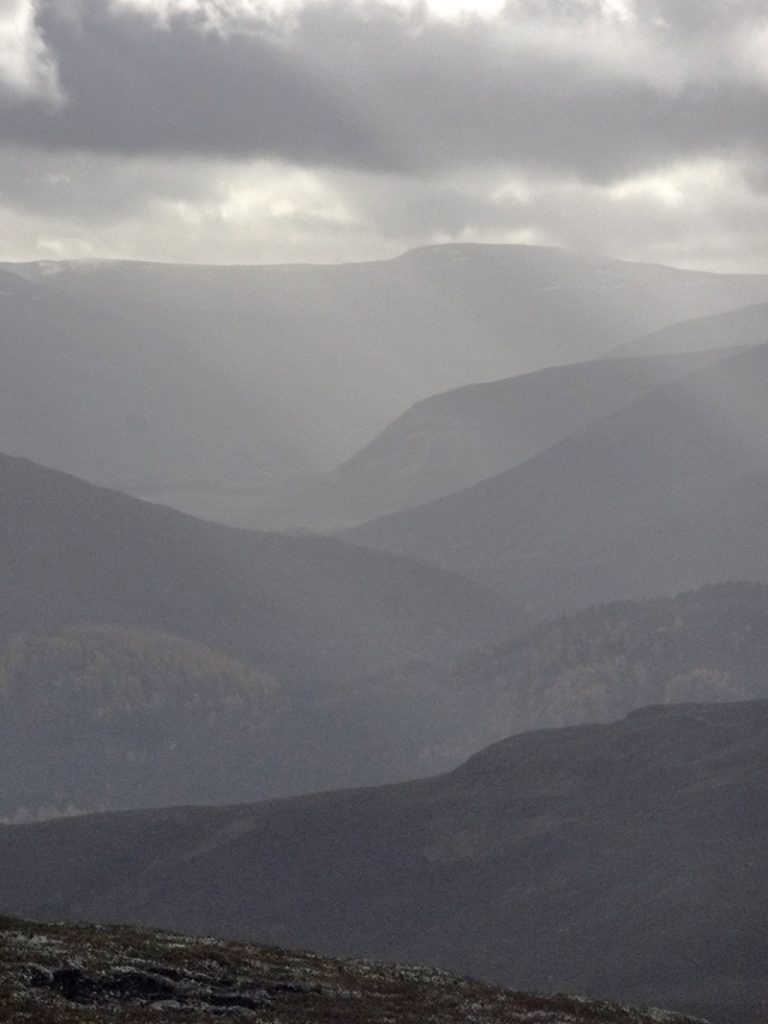 Arriving at the anomaly, an unusual collection of metal and perspex, alien to the barren moor. Closer inspection reveals nothing of obvious difference inside the enclosures – though I think I recall somebody mentioning it previously –  heather research station?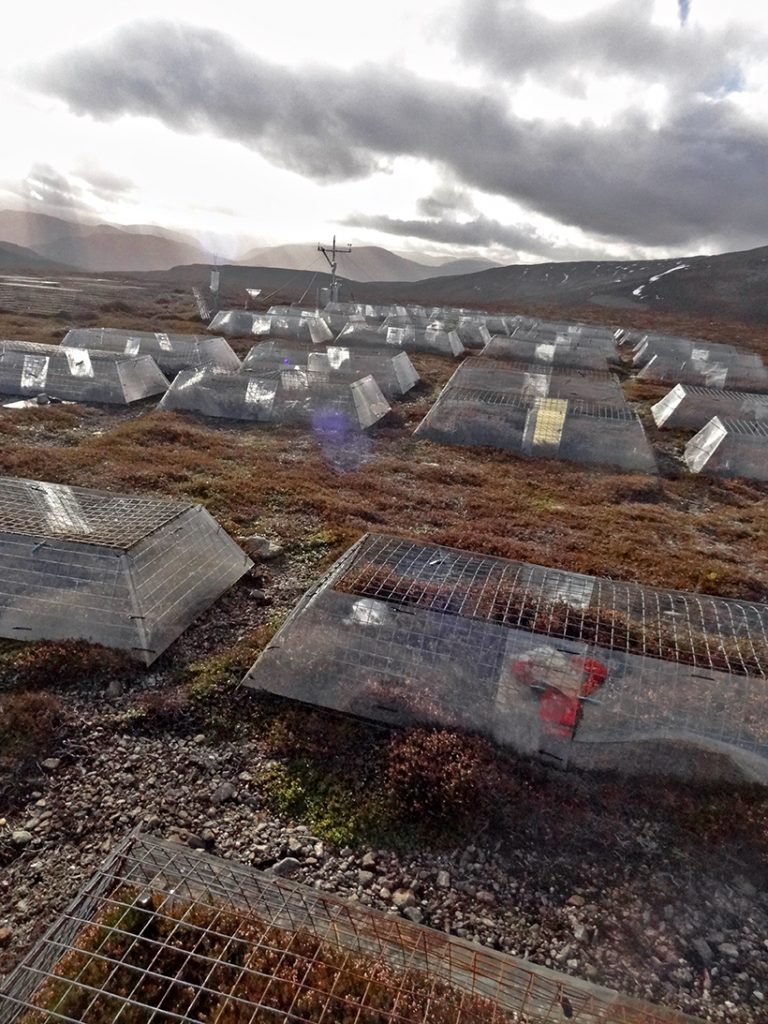 Looks sciency. Whether nether heathers never wither in weathers to leather, shrivels or dazzles in drizzle, may puzzle and baffle boffins?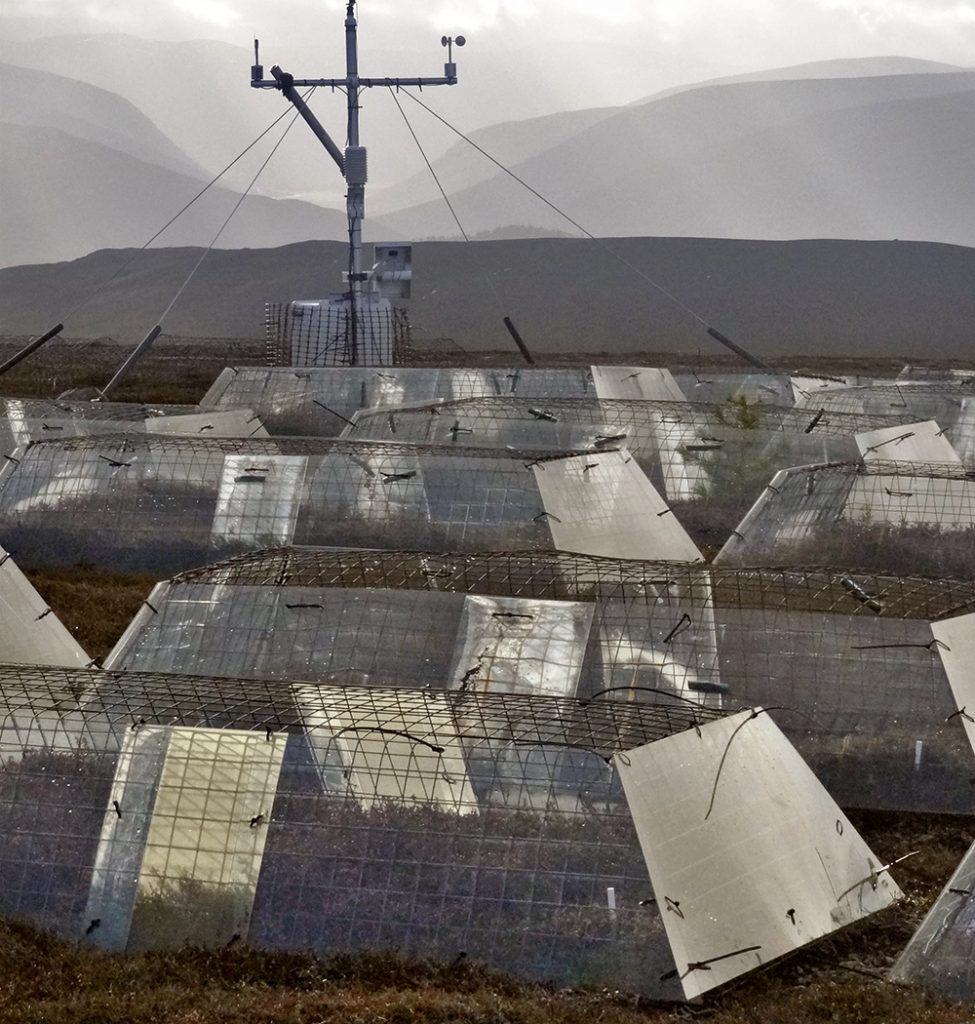 Building speed and rattling down the rubbly trail I'm glad to be on the full sus today. We quickly leave the bleak moorland towards the treeline under Meall Gorm.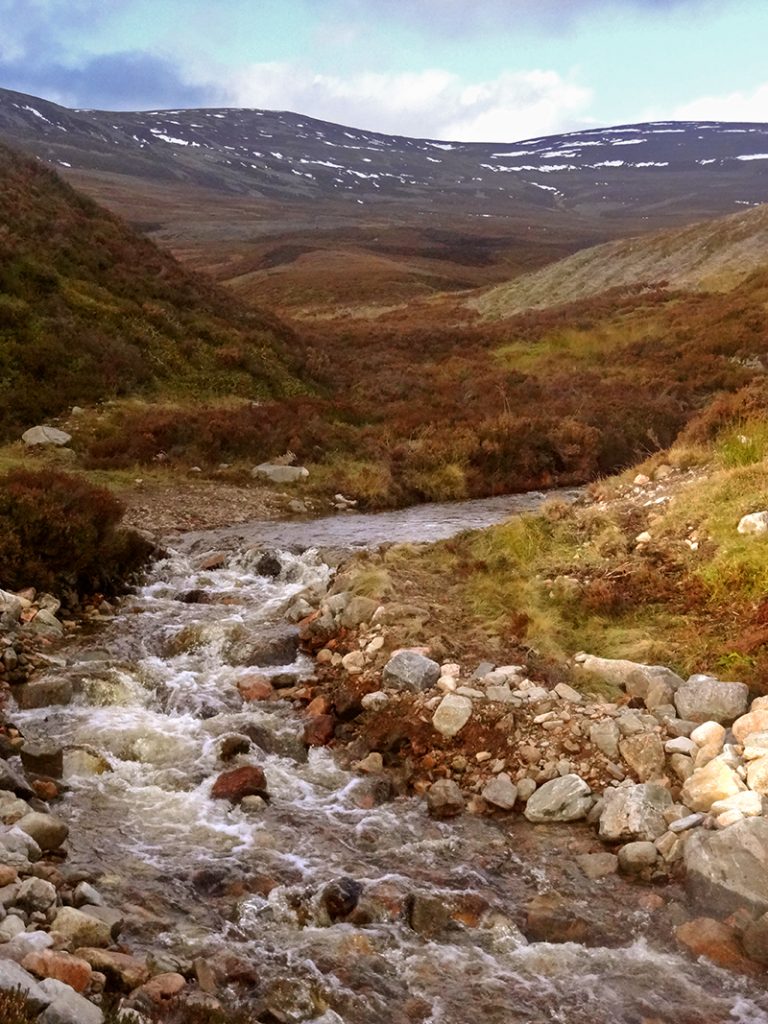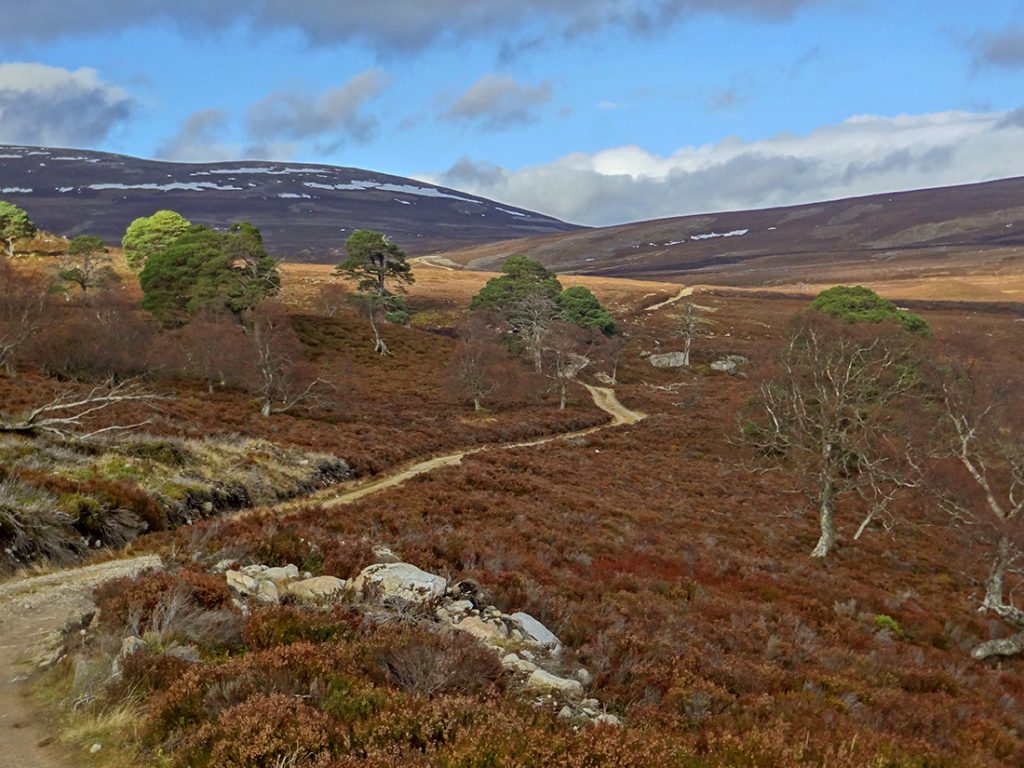 Swishing through the woodland trail, lushly pine-needly and aglow with golden larch is a joy. The gloves are back in the pack and the roaring blast of the mountain top seems like yesterday.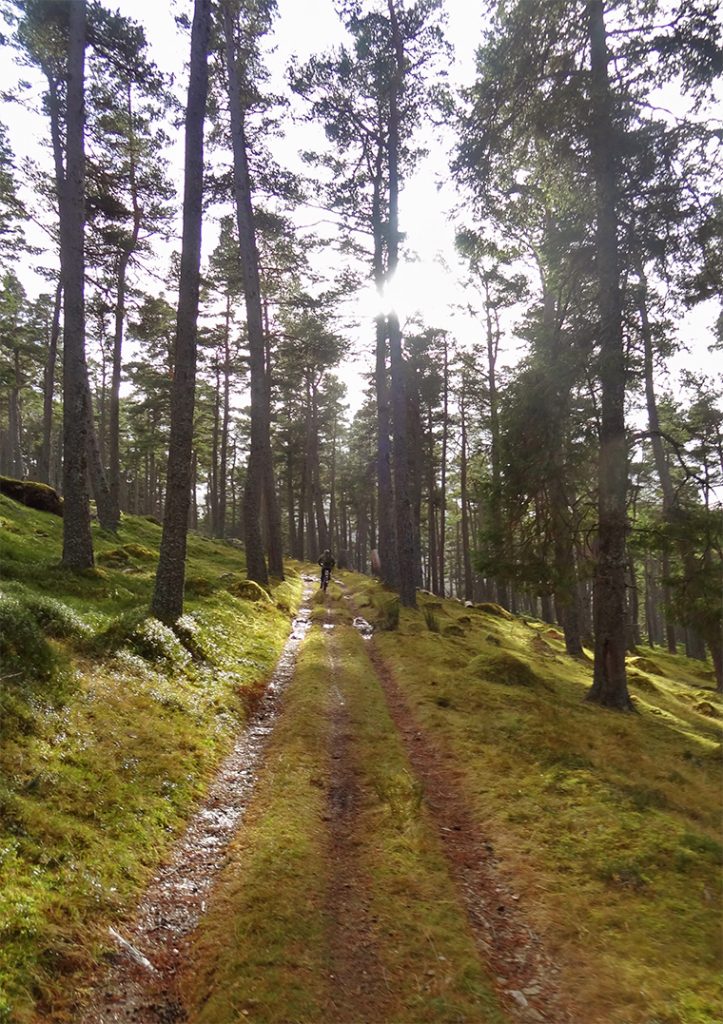 Autumn is rocking it's hues on overwatch of the Dee meanders.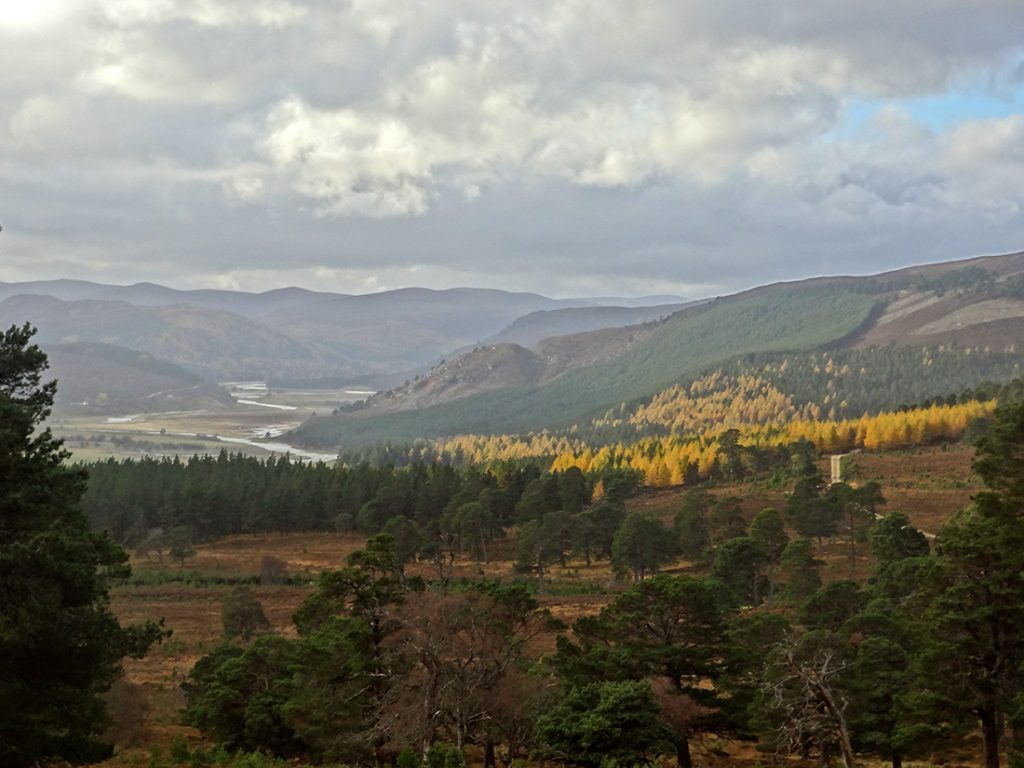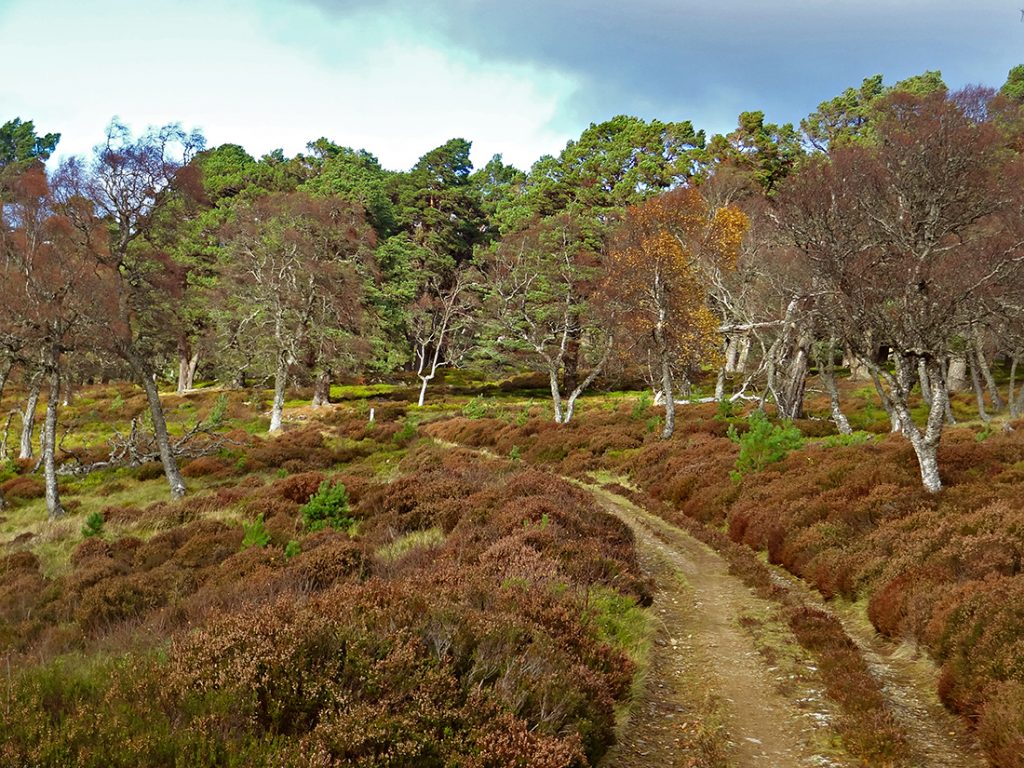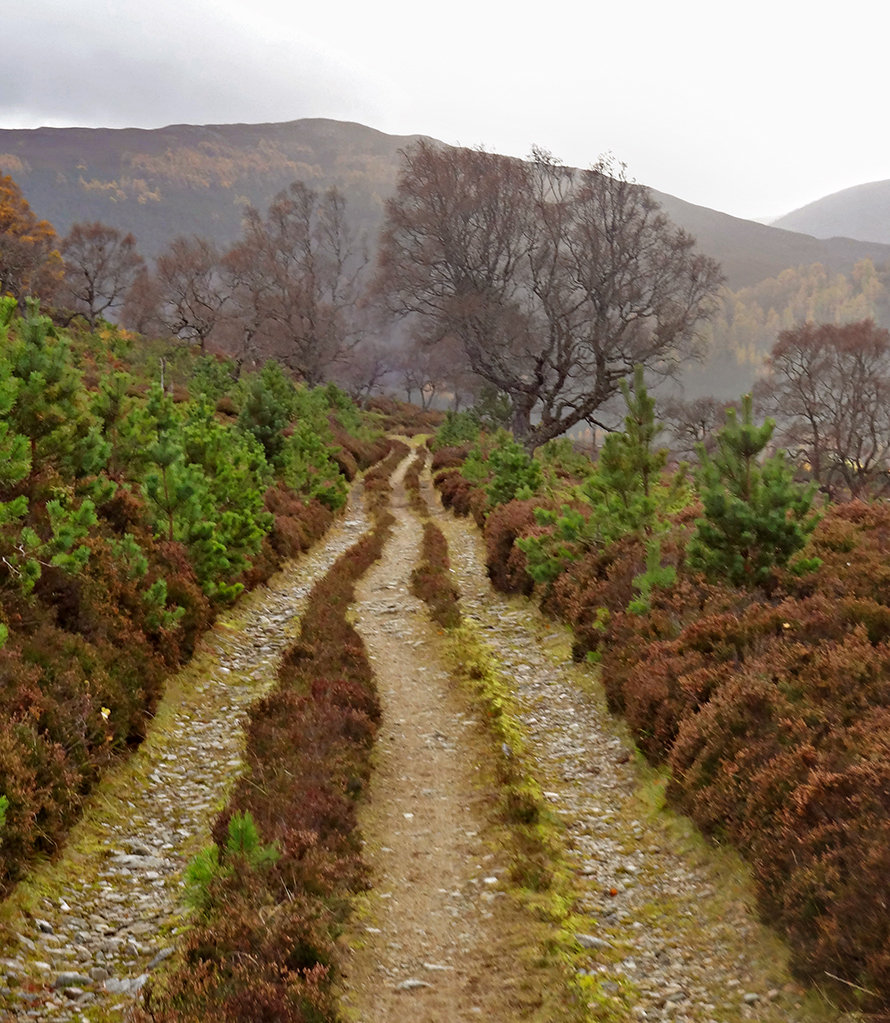 Golden larch-lit trails. Decent
A wee bit further through Invercauld estate, tummy is rumbling..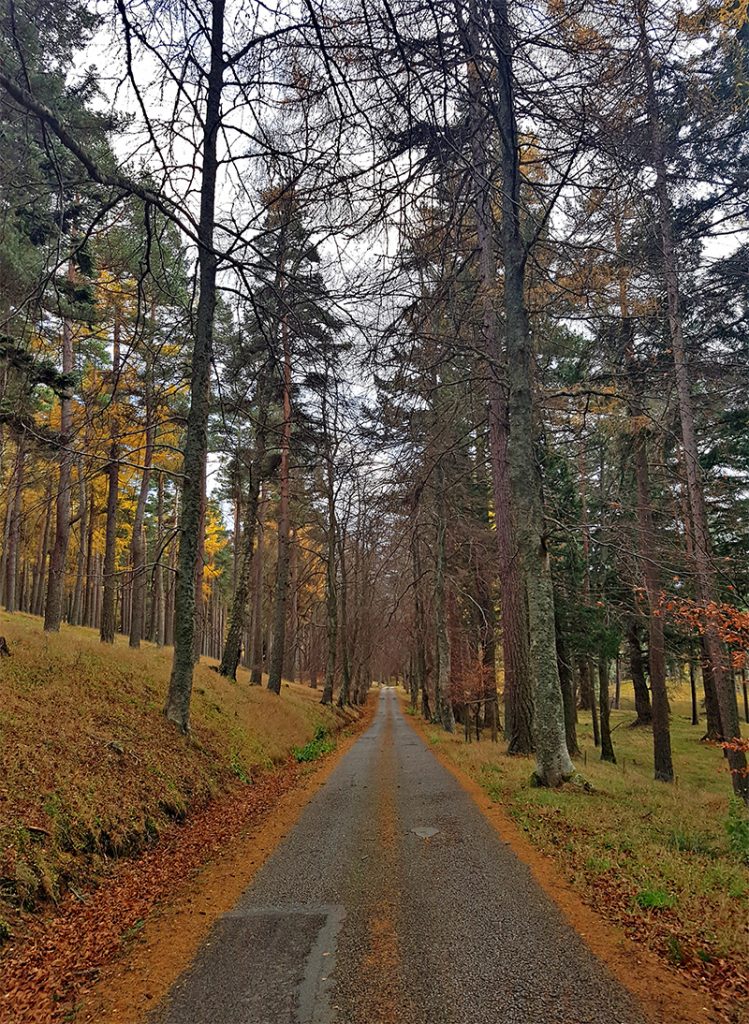 Lunch is finally taken at a fine riverside bench with a view: Old Invercauld bridge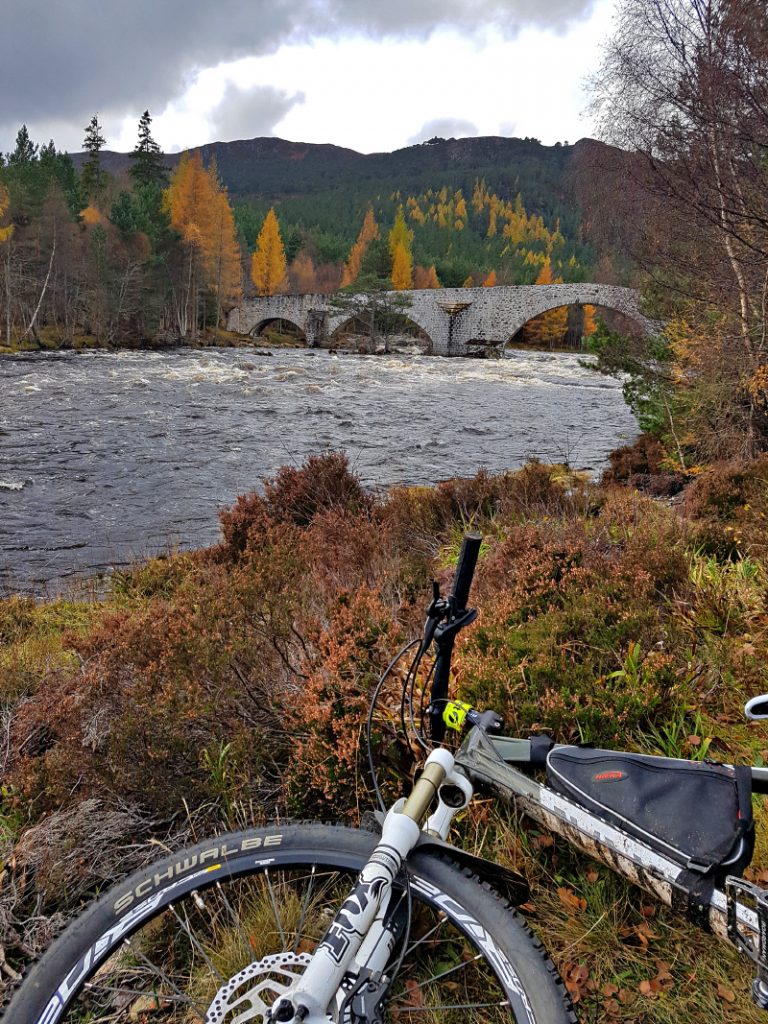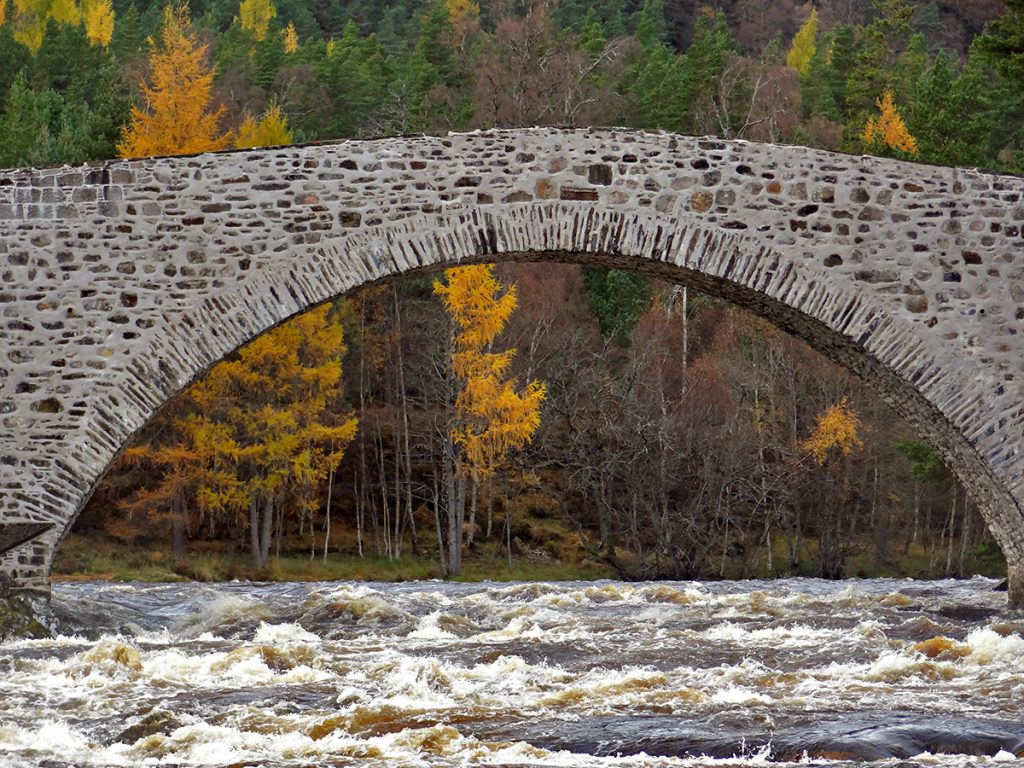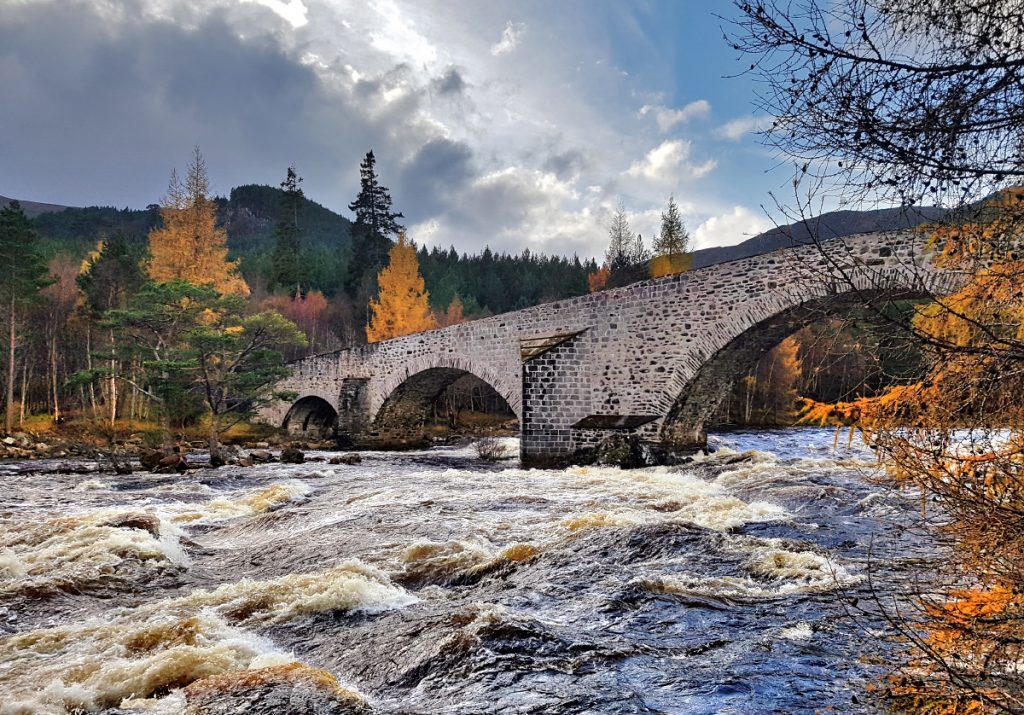 The return leg will be a more sedate affair: following the Dee downstream through Ballochbuie forest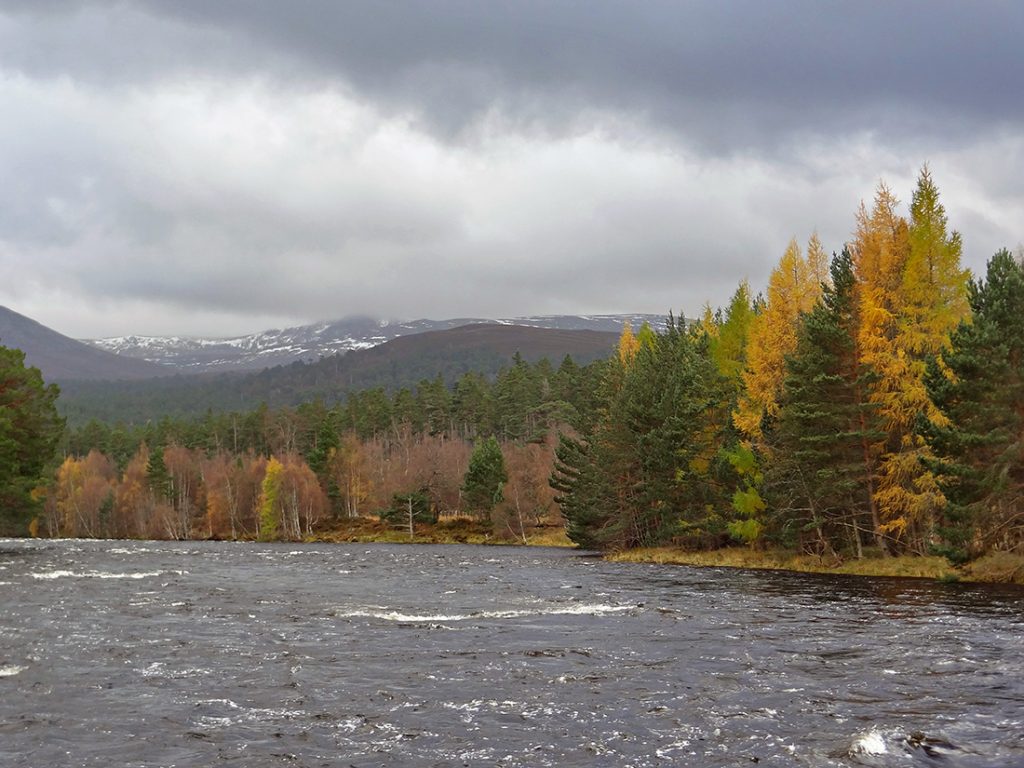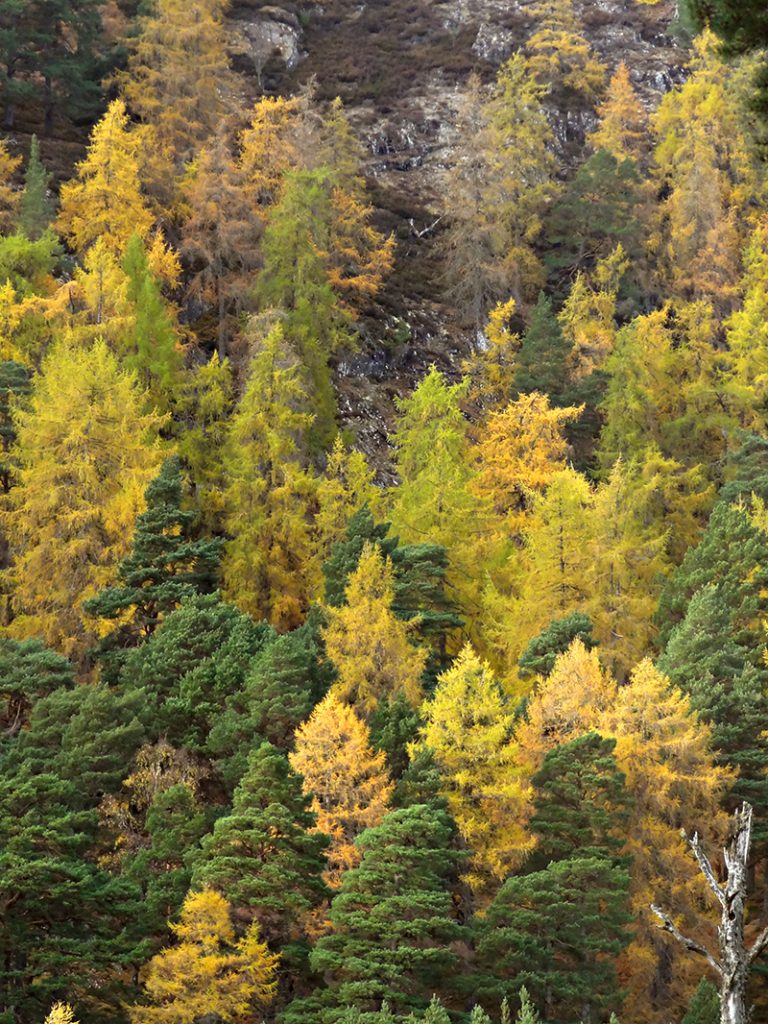 A quick stop to test the elegant victorian steel of the Garbh Allt Shiel footbridge. It's a wee bit wobbly underfoot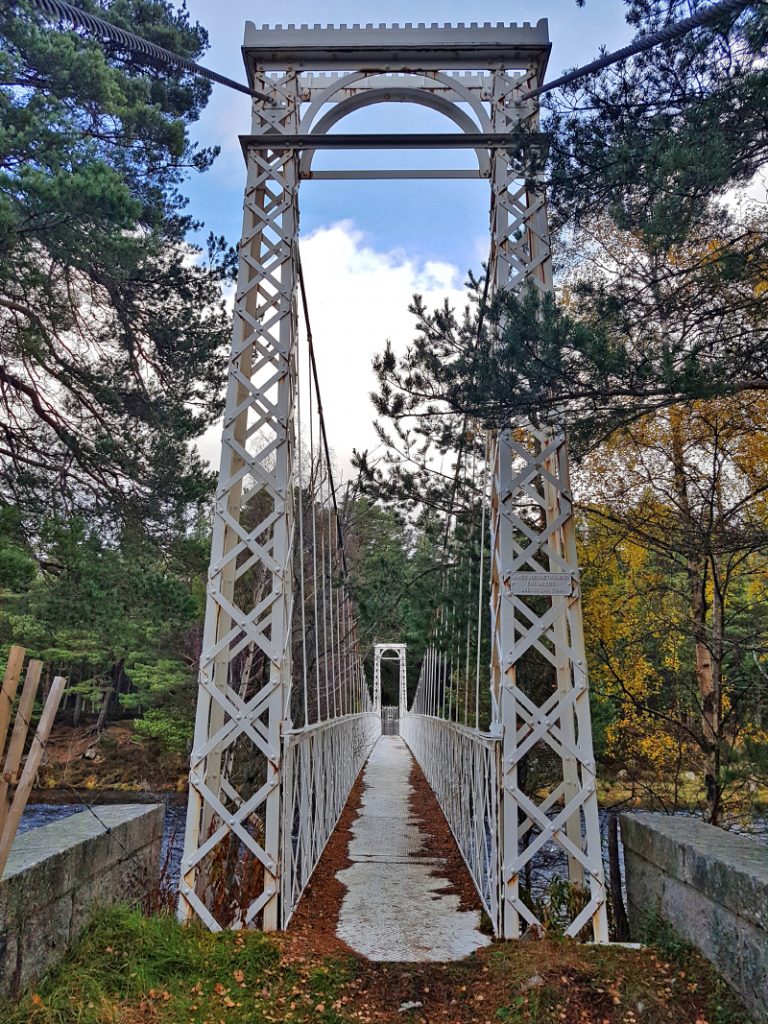 This chunk o rust keeps those elegant spans aloft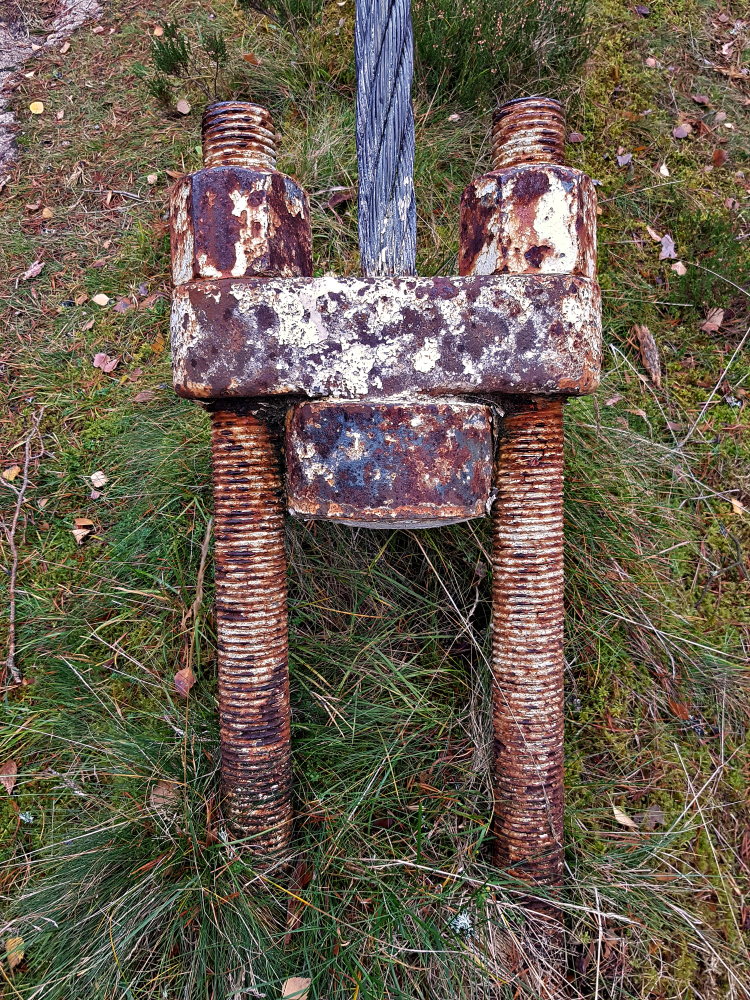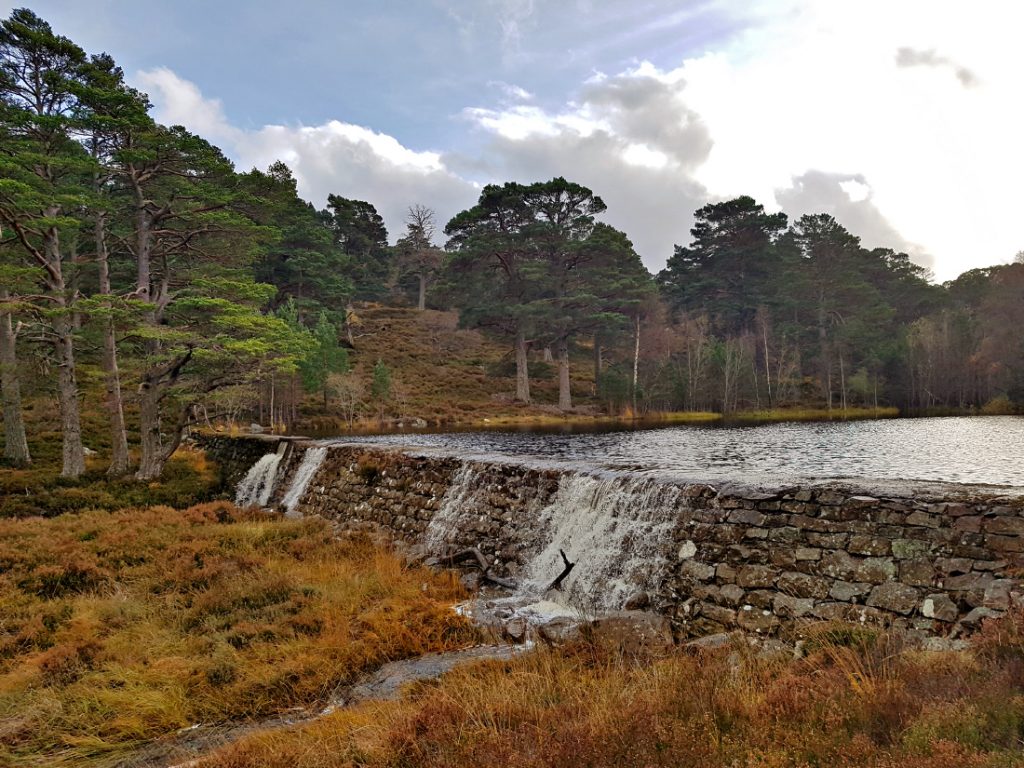 More larchtastic views across the river to Creag na Sroine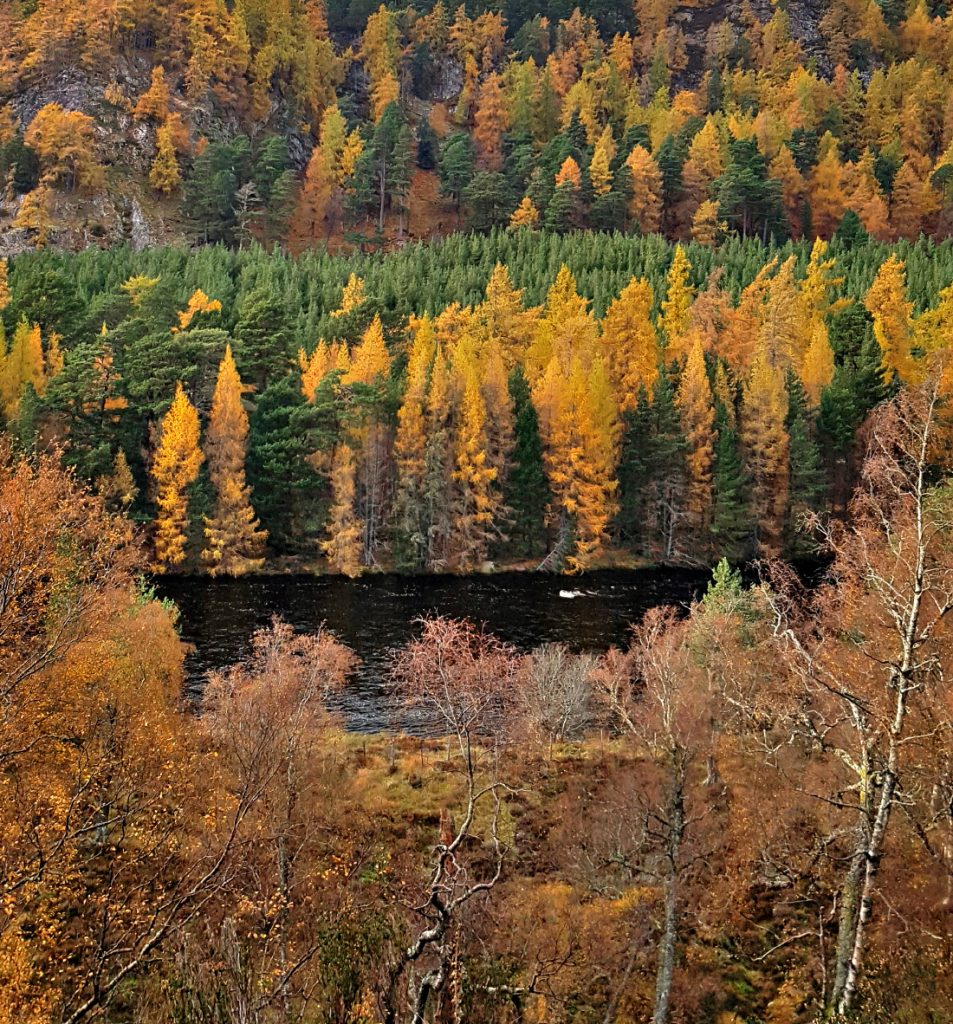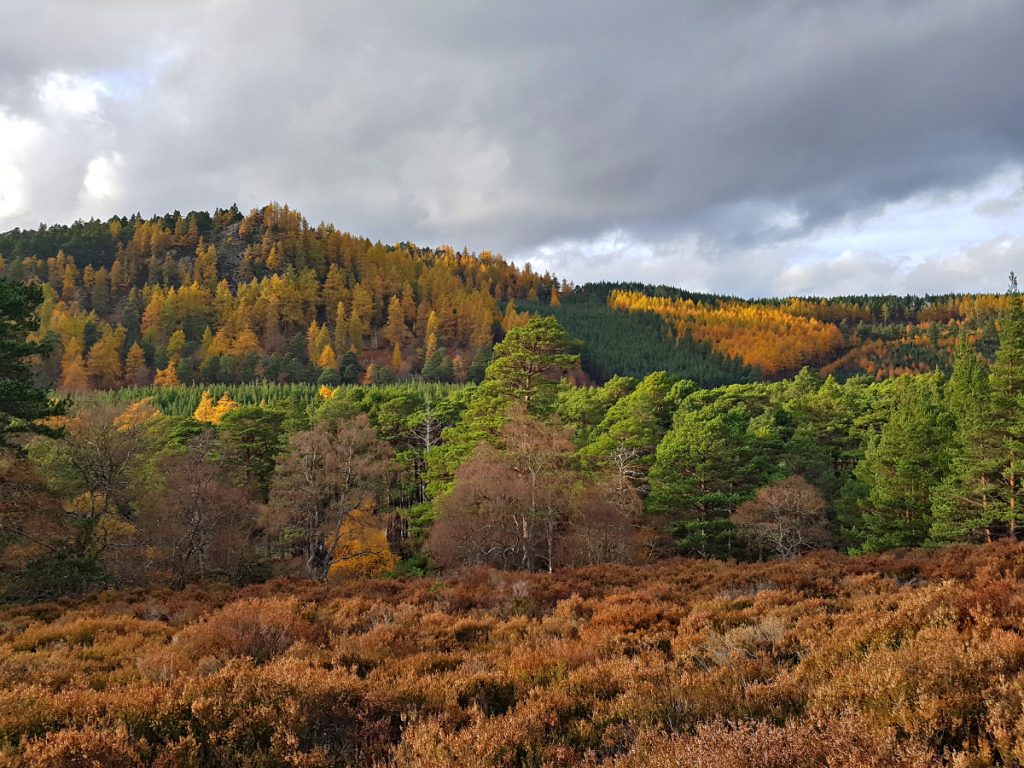 We pass a the Prince Battenberg memorial at Connachat cottage, a fine engraved 10 foot tall slab. Can't quite make out what is said but apparently from the interwebs says "Brief Life! In sport and war so keen, morned by these winds in heath and fir as where the falling breakers stir the pains that crowned thy closing scene"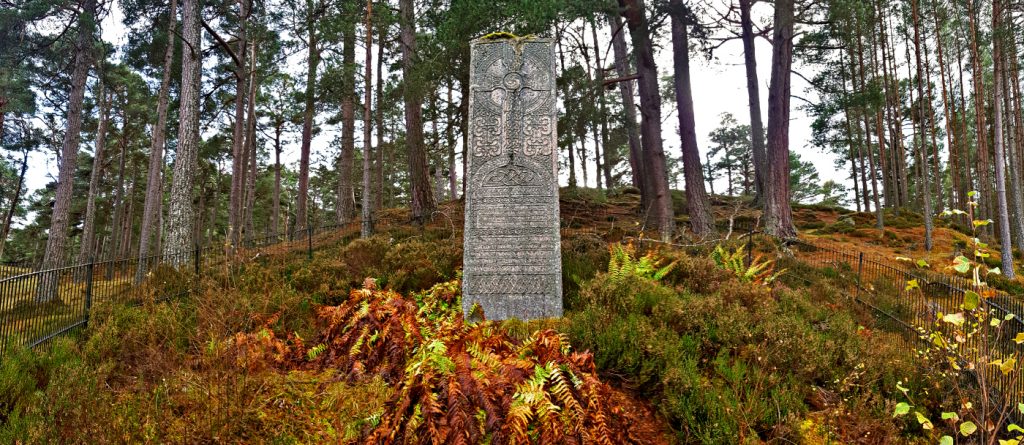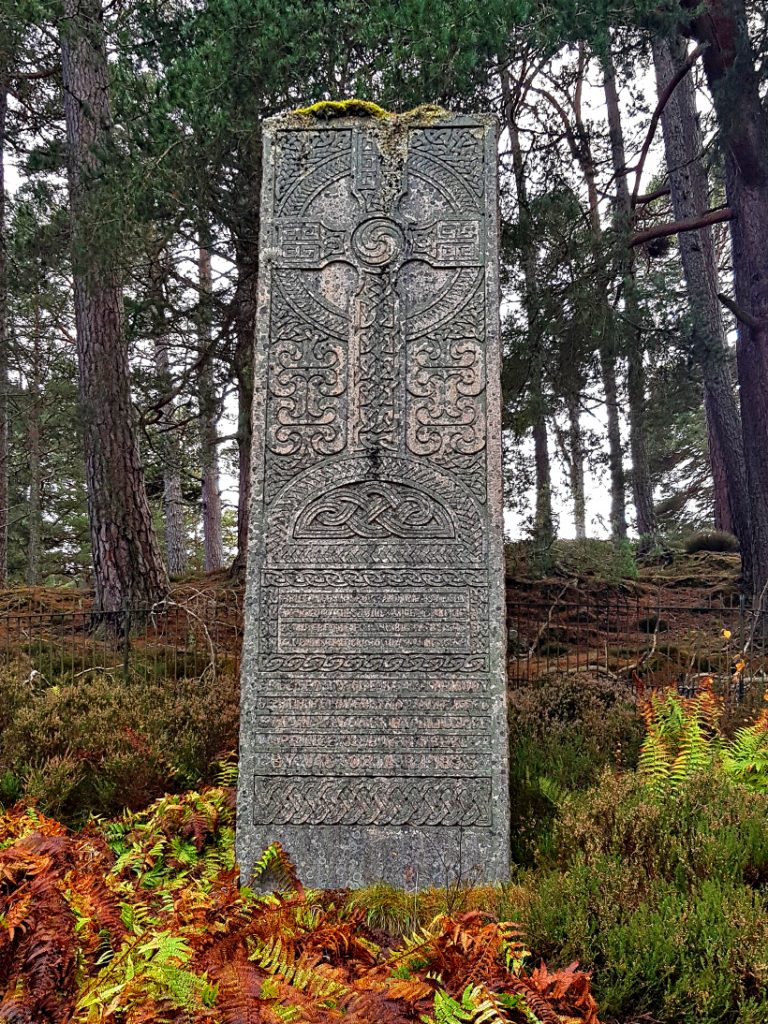 Another cairn is passed, there are many across the Balmoral estate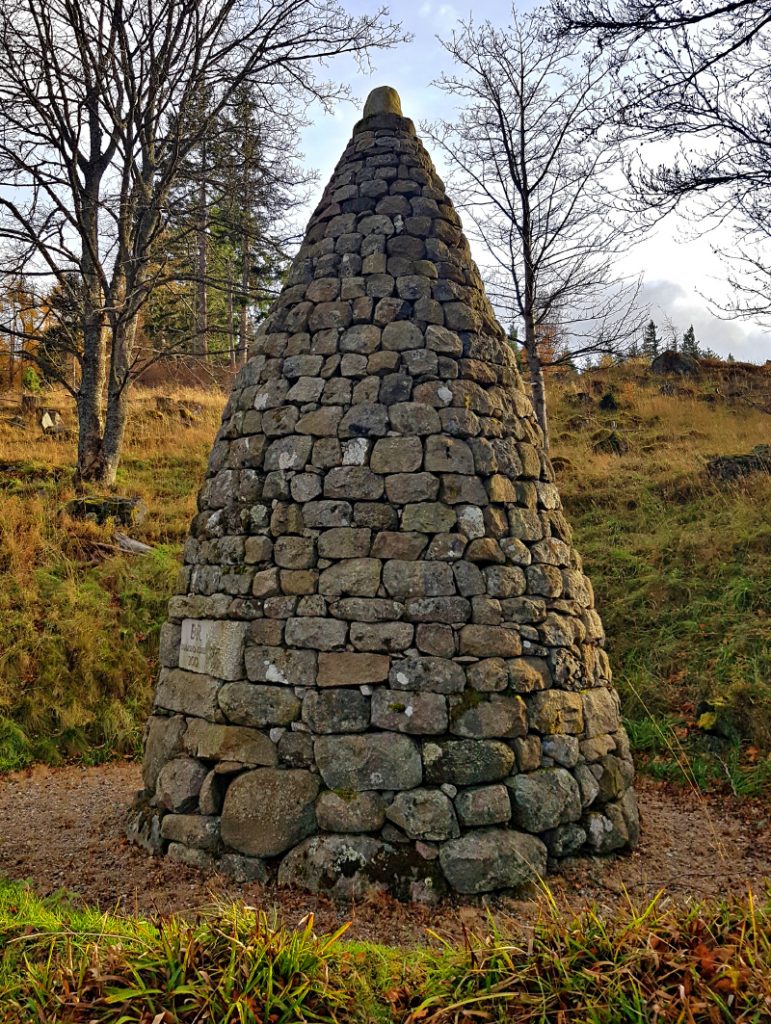 Past Balmoral Castle taking a higher road lest scruffy mtb'ers offend any royal sensibilities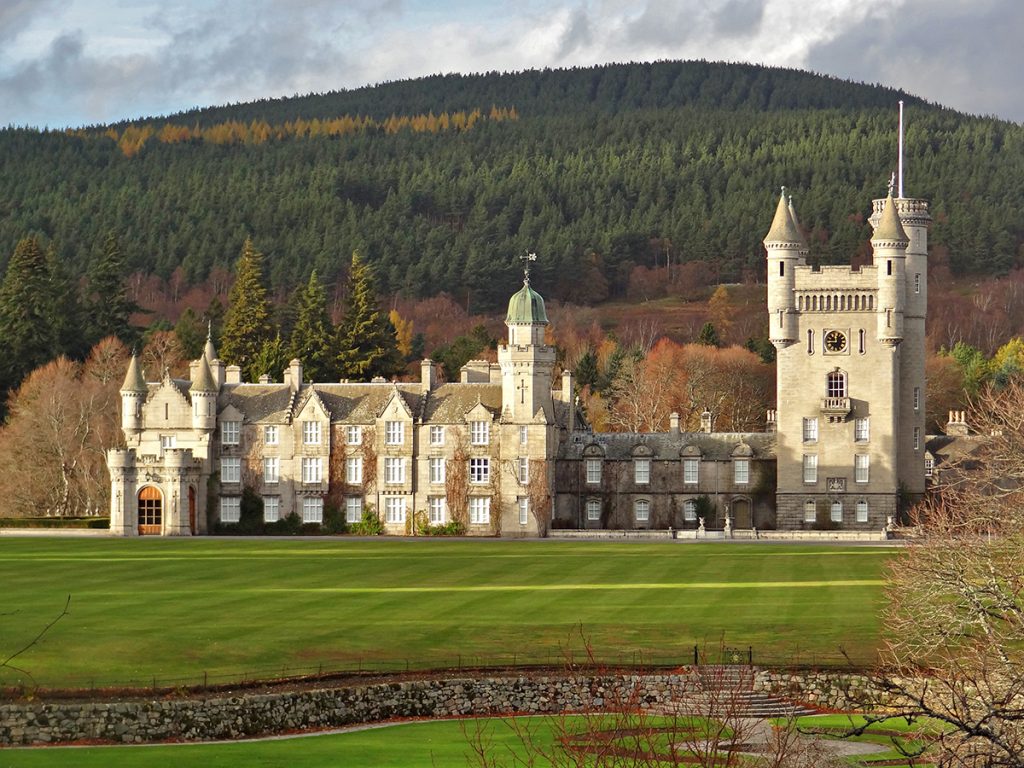 A route conundrum is solved by a mysteriously (automatic or monitored?) opening gate.
At Crathie, across another fine suspension footbridge from 1834.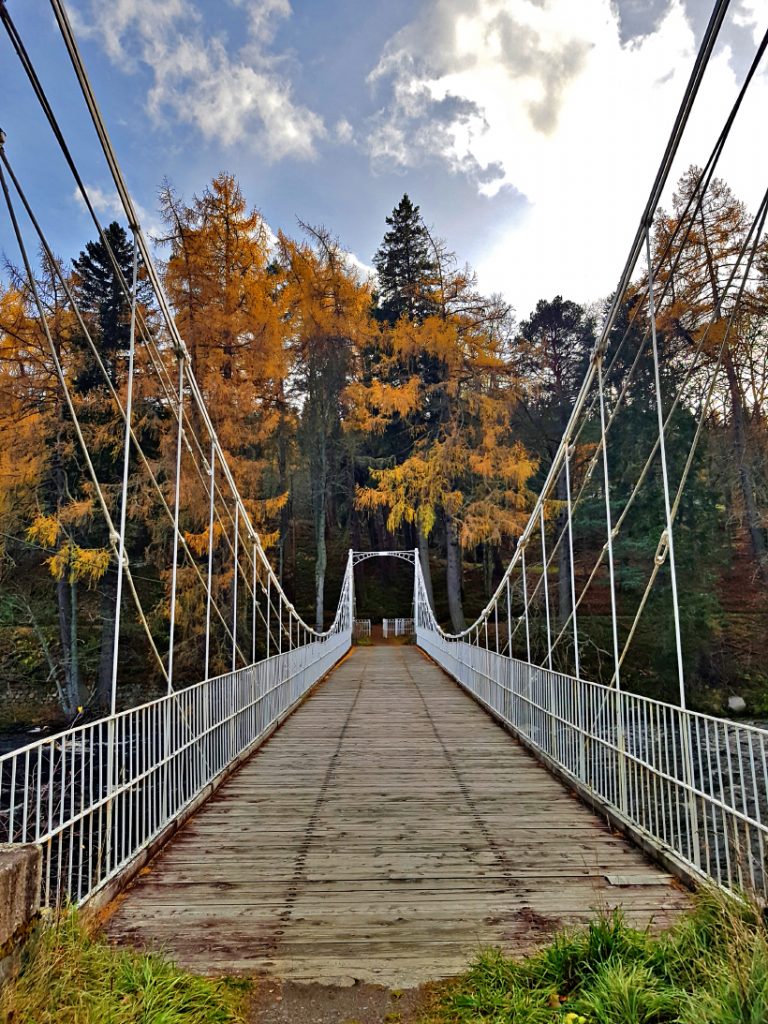 Lochnagar broods through the clouds o'er the valley, awaiting it's winter coat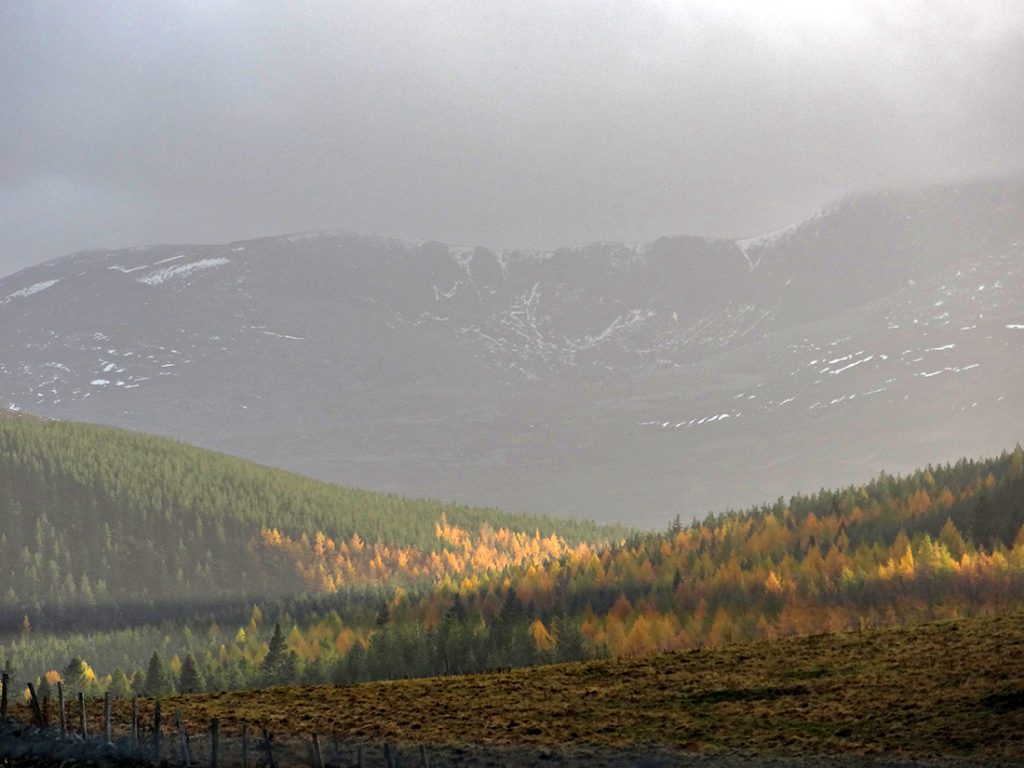 From Crathie it's only a few miles back to the car, but a few hundred metres up a winding tarmac stream.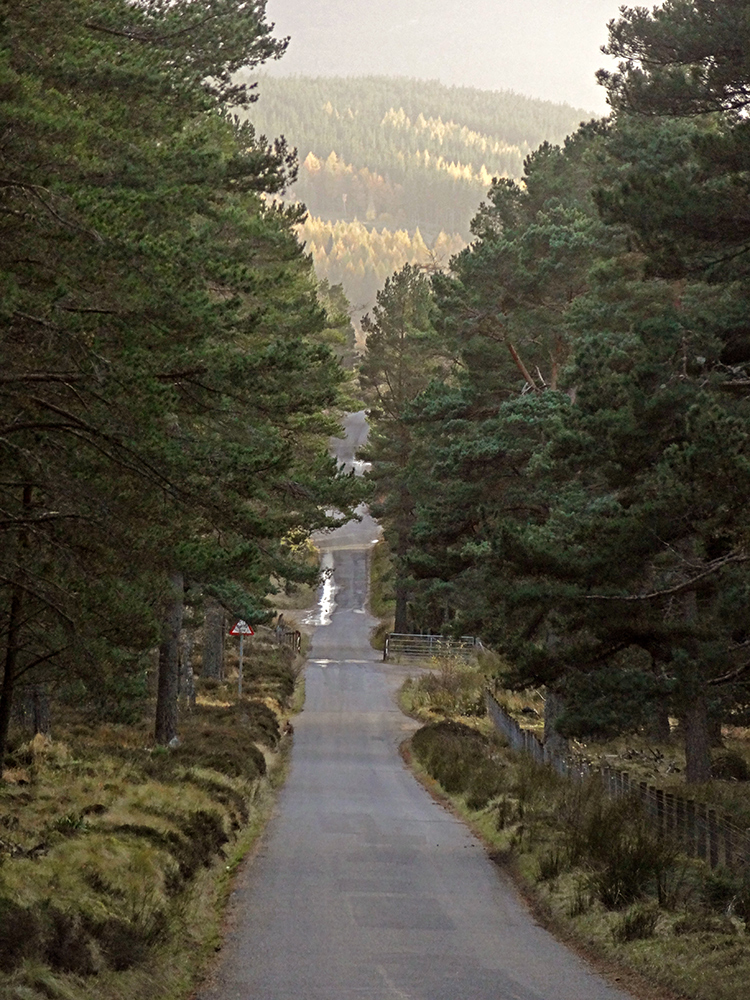 The projected tail wind is nowhere to be felt, and overhead a few buzzards wheel easily, mocking our struggles with gravity.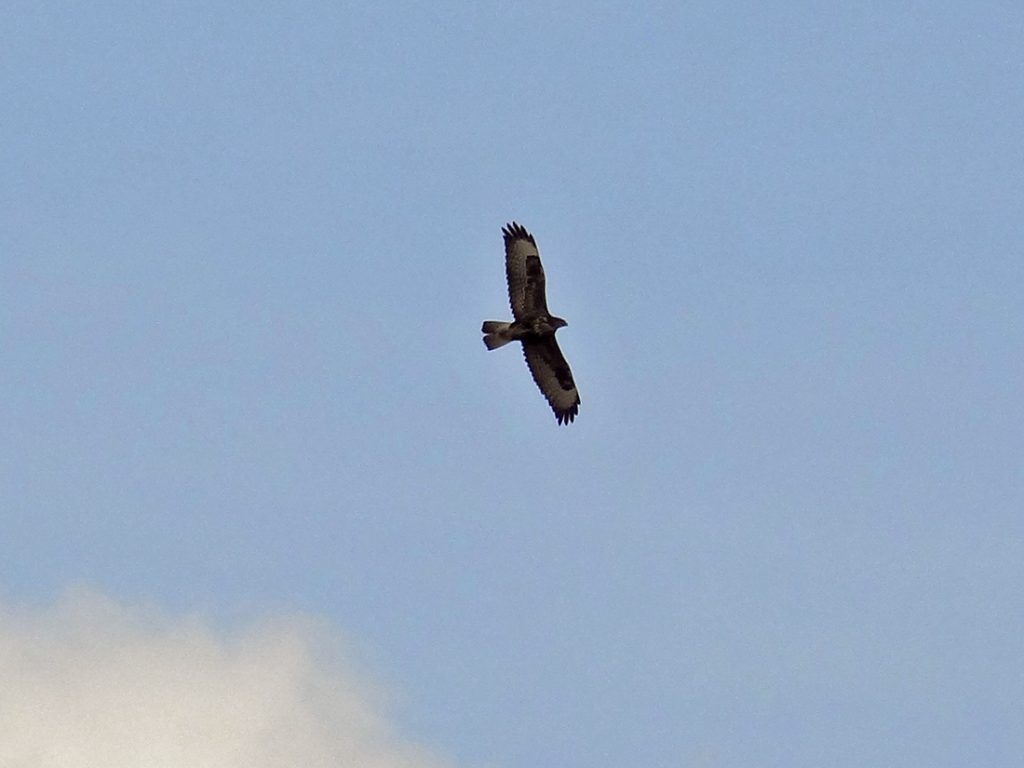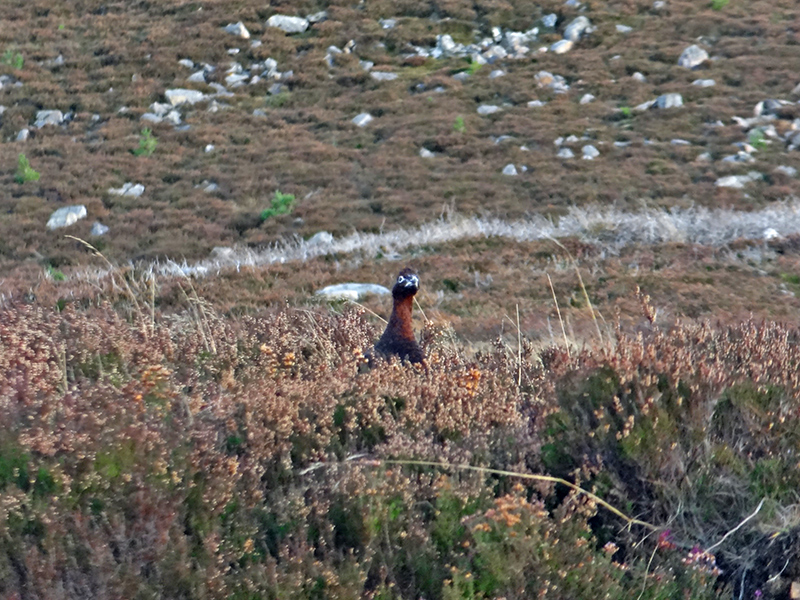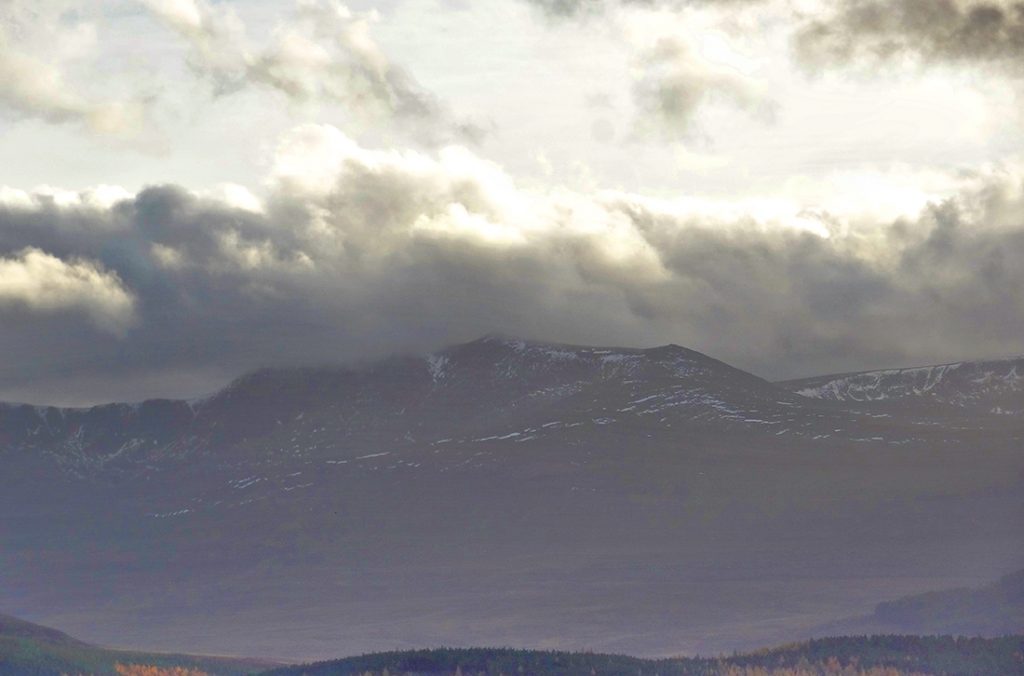 The end of a great day out and another winner from ACE.
---
Today's kit
Montane Dyno Stretch soft shell. A good blend of breathability versus wind resistance, fairly light and a bit of warmth
HH merino blend base layer. Better wicking than pure merino when more active, but still pretty warm
Inov8 390 gtx lightweight boots. The lightest ankle boots I have, light enough to not offend when pedalling up and down all day, but enough grip and length to tramp heather, scree and bog. Saved a change of footwear.
Lowe alpine crag attack 42 rucksack. Needed the volume for winter gear, but this is still pretty light at ~800g. Protruding winter buckles, are easily gloveable. no air mesh makes it a back-sweater when warmer, ok today.
Mountain Equipment ibex mountain trousers – don't normally wouldn't wear trousers on the bike but like the montane top, a good compromise for the hike, with breathability, weather proofing and mobility. Didn't notice any flapping or snagging, sweating / cold.
Sony compact hx something. Not as good as my panasonic tz71 (Looks like it's days are numbered: a sticky/crunchy zoom means I need to turn the thing on and off to reset an error. Soon for the box of unfixed compacts retired over a decade), worse 'hdr' no viewfinder. Need a better compact camera..