Heading into the hills South West of Aboyne, the weather looks a bit more promising this time out as we embark at the car park near Glen Tanar home farm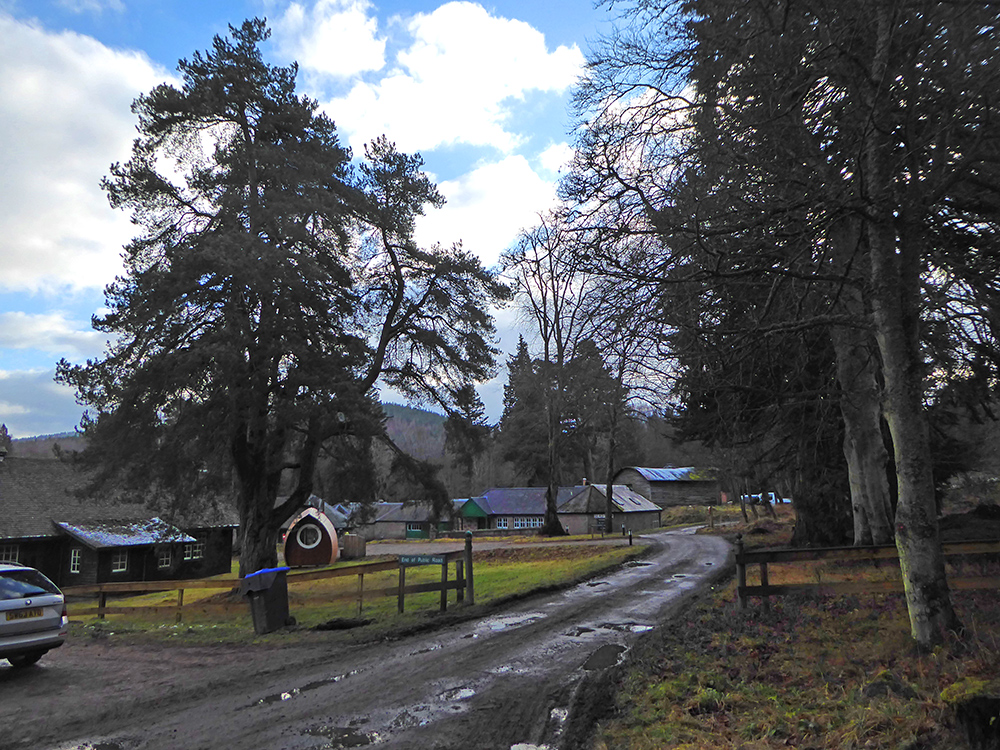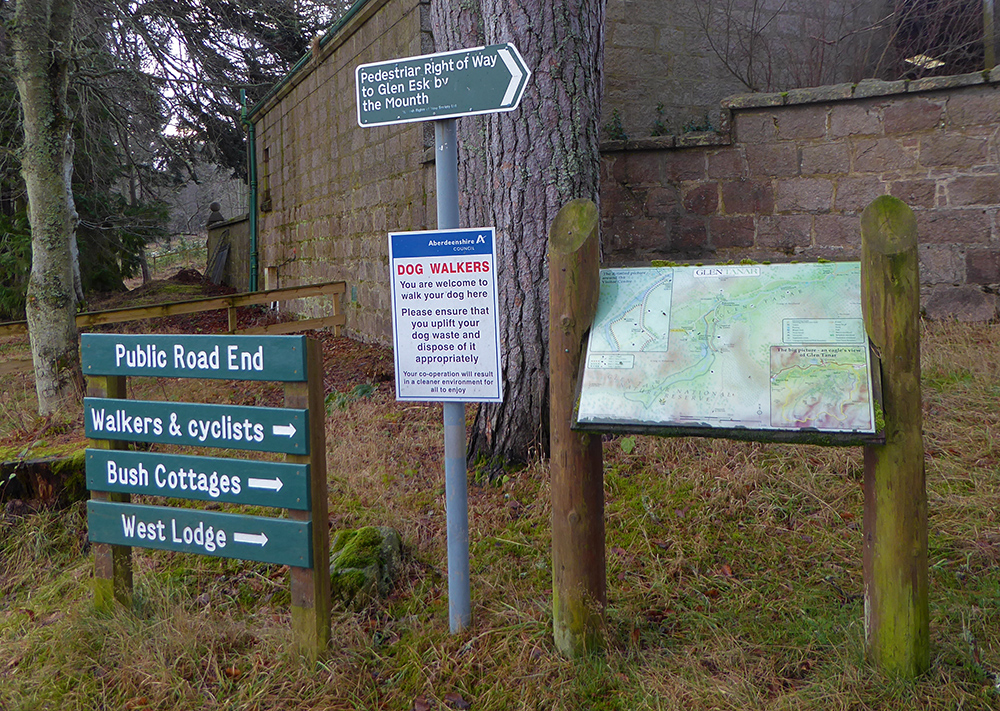 We'll be doing a roughly anti-clockwise loop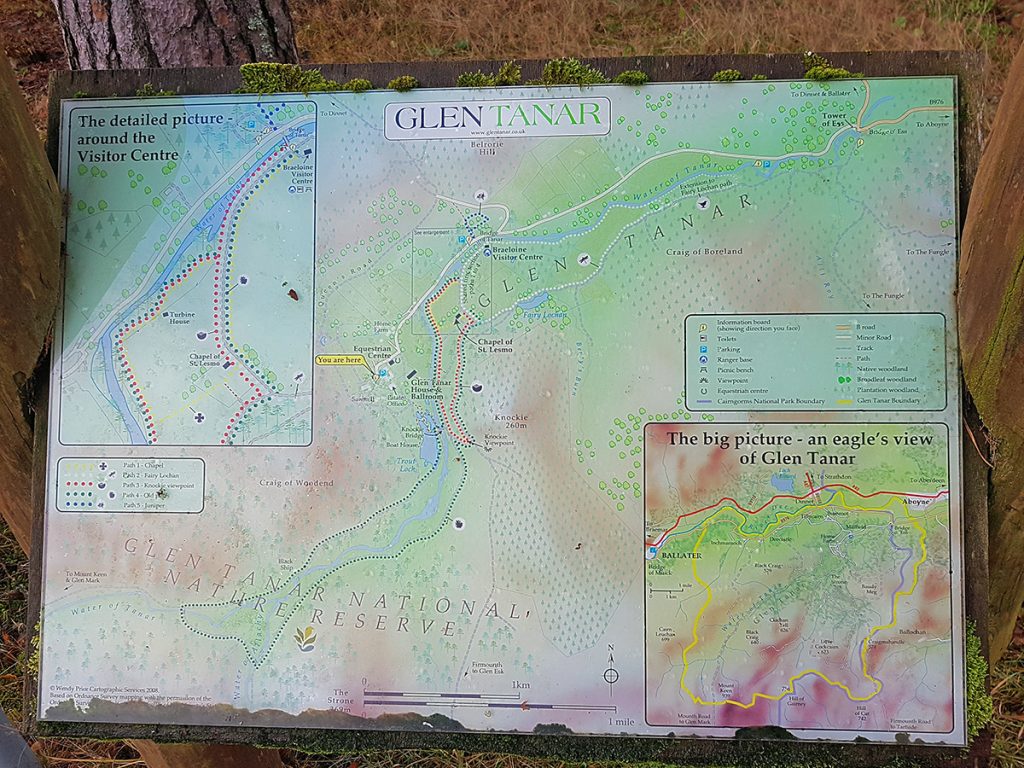 Bursts of Sun break through along the track heading alongside the Water of Tanar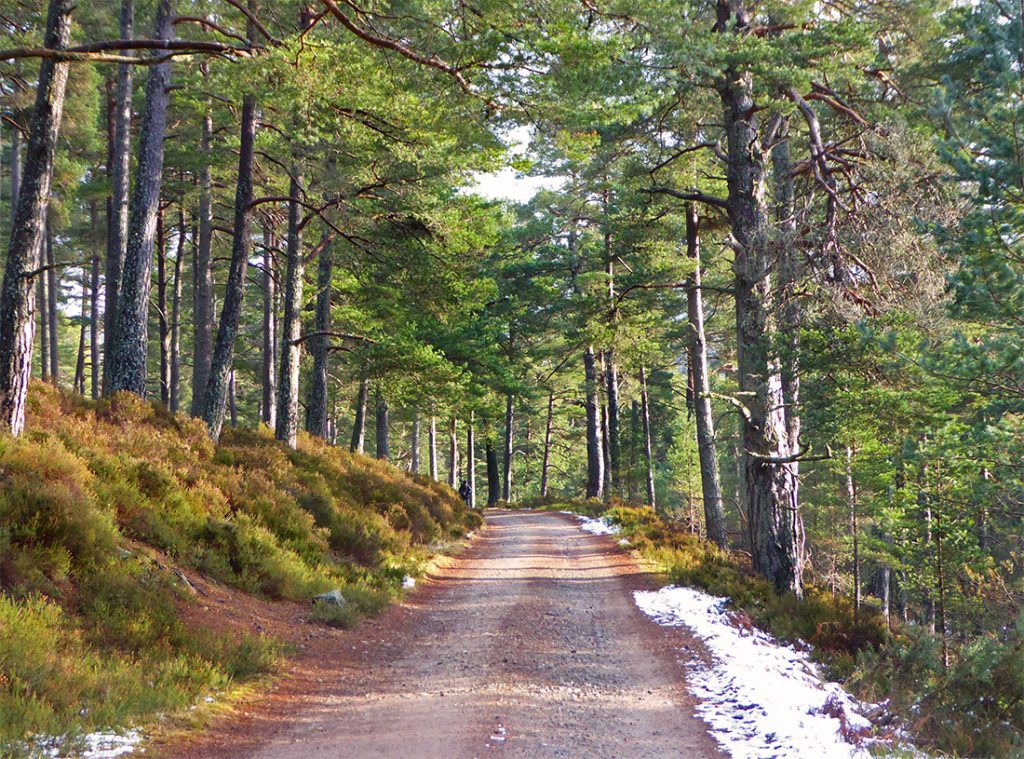 Past the estate trout loch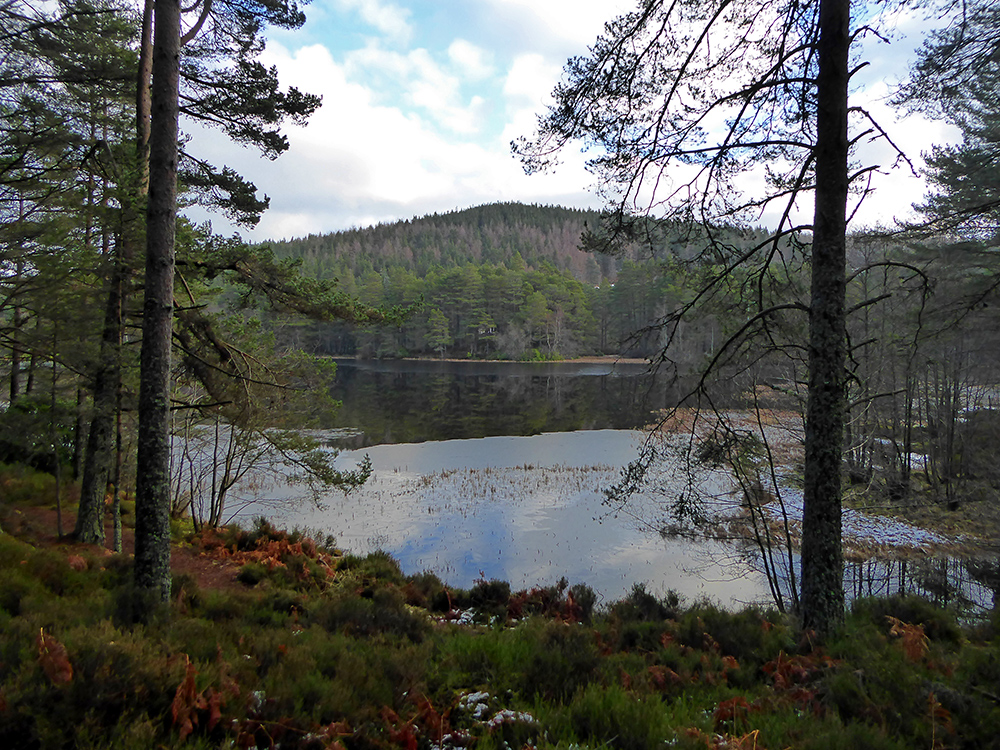 Down for a quick scope. Very still, the trout are still sleeping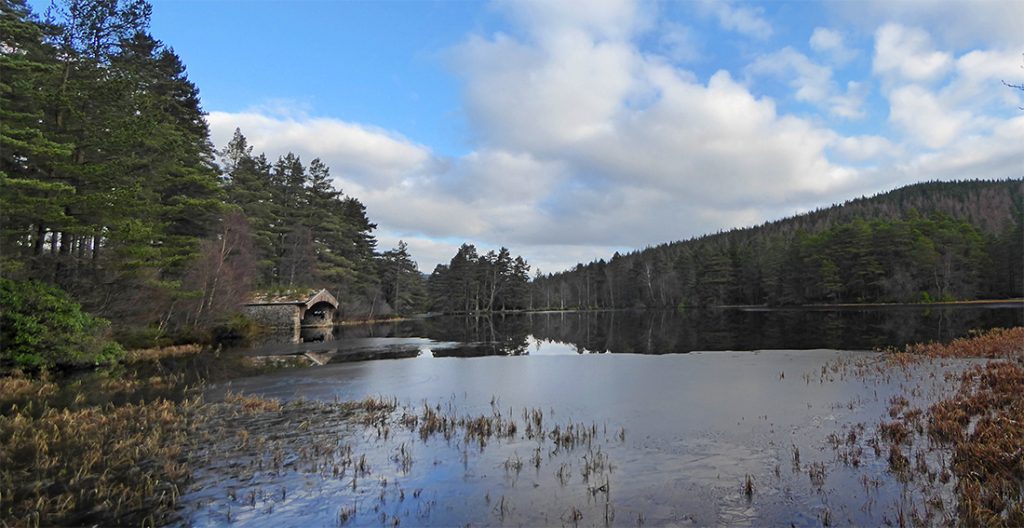 Is this a weather beaten sign, a swatter for extreme forest-midges, or perhaps a fire beater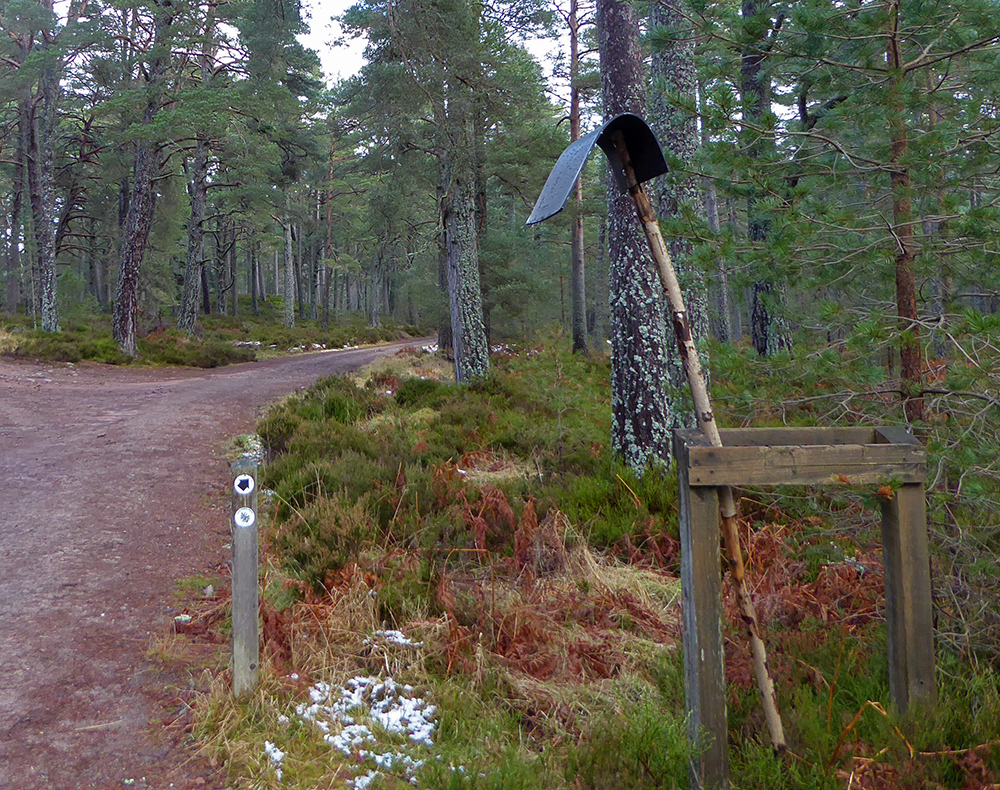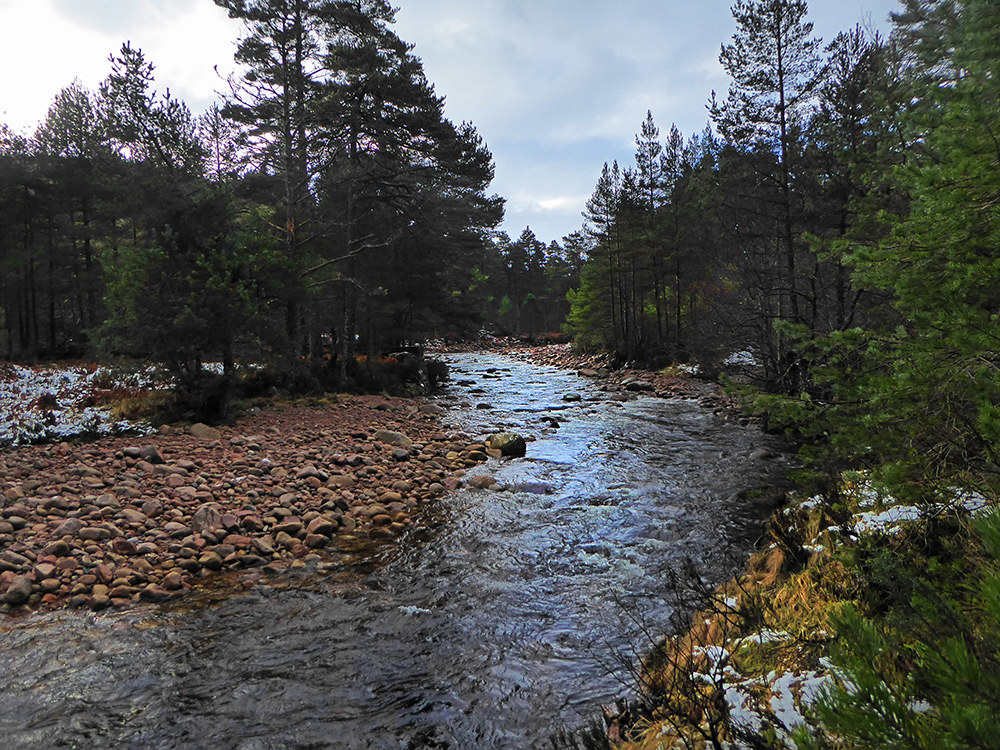 An old hunting hut for hanging game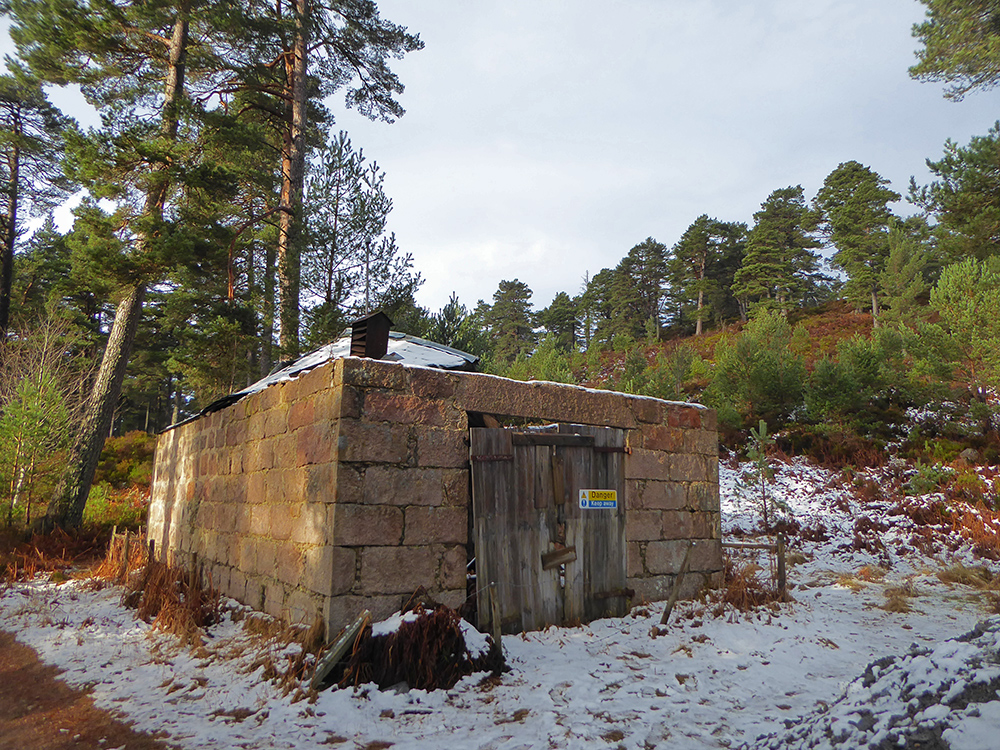 Crossing back over the water on the Porphary Bridge a quaint wee span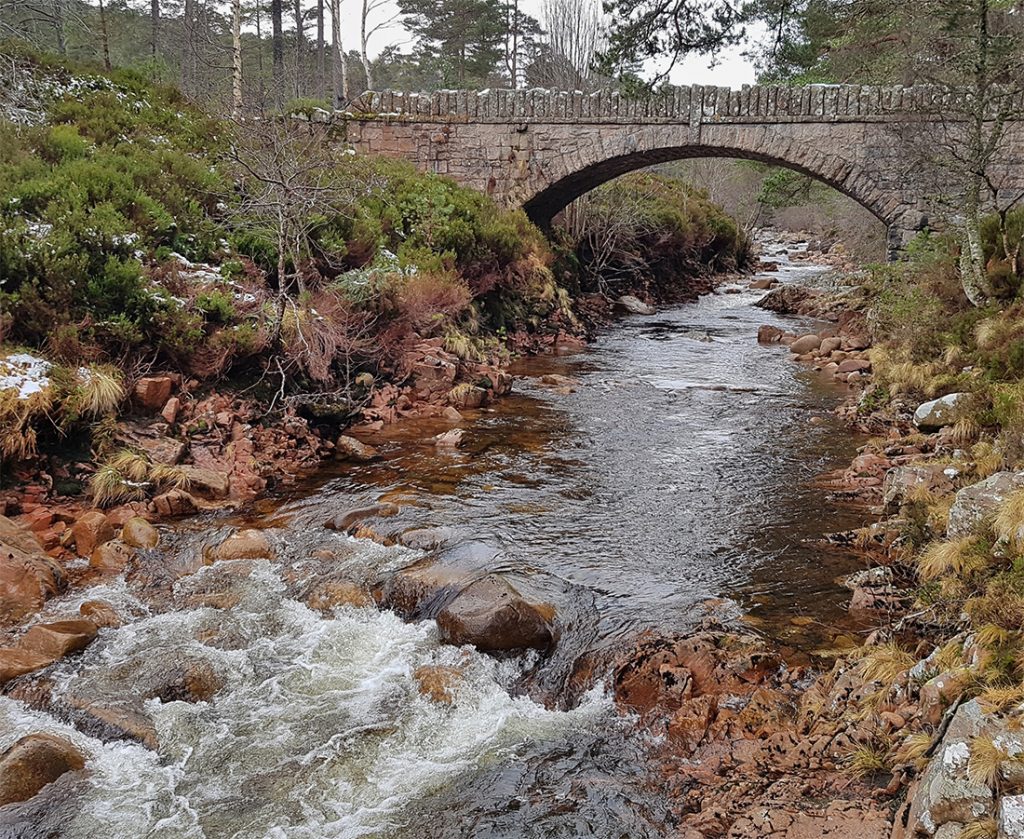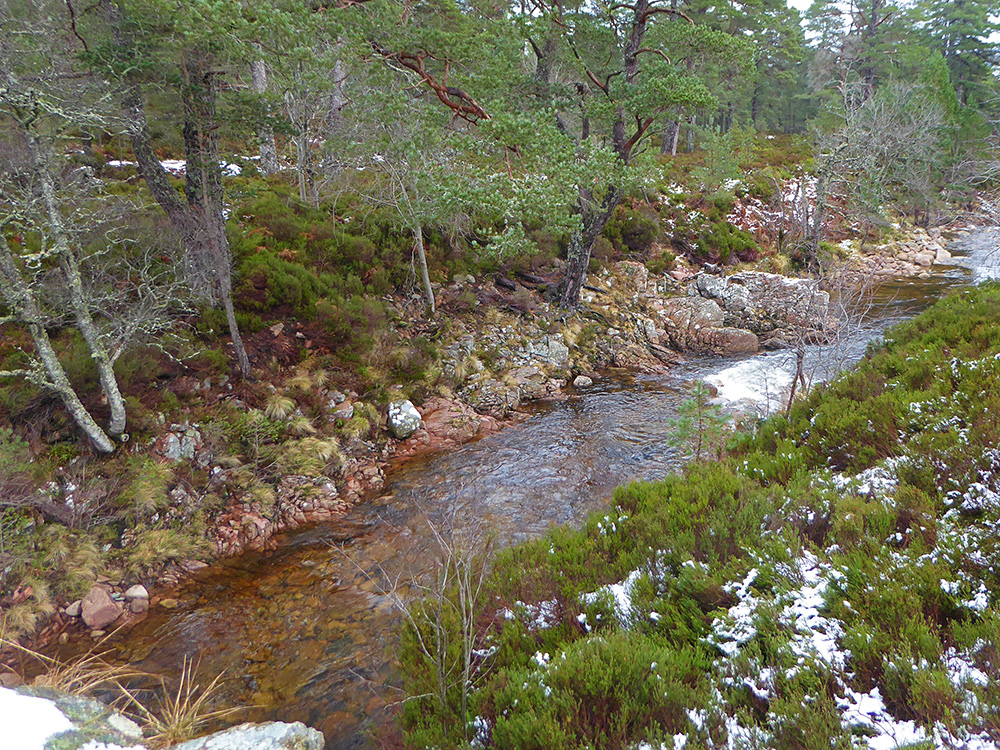 Not much further on another almost identical bridge crossing the Water of Allachy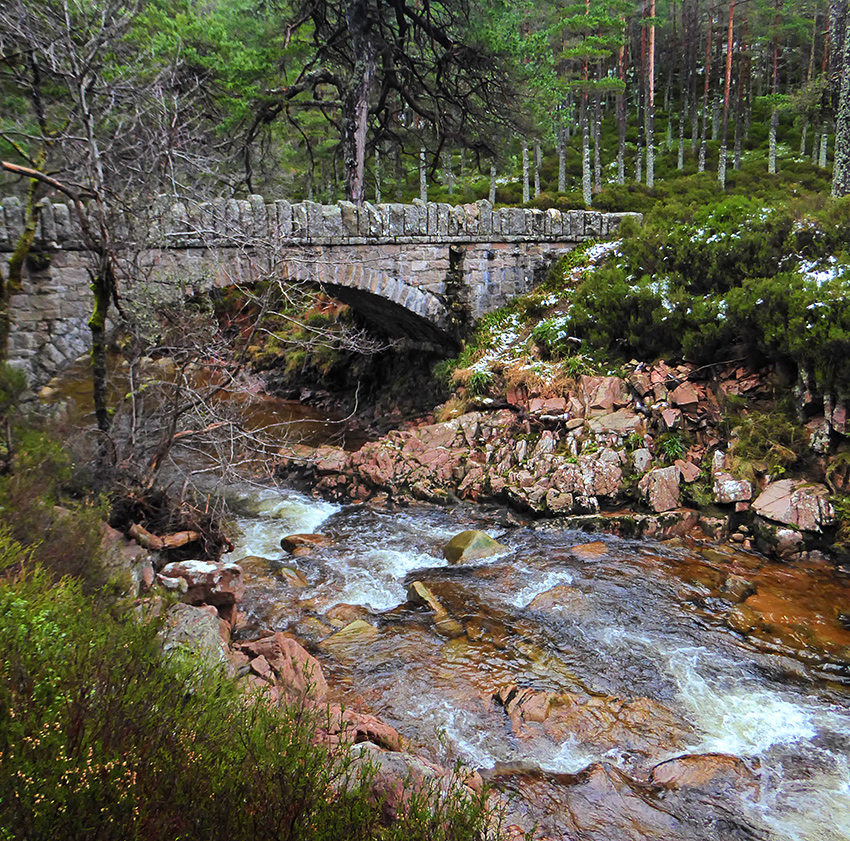 Underneath The Strone, a sign warns against a resident that may likely take umbrage at our passage.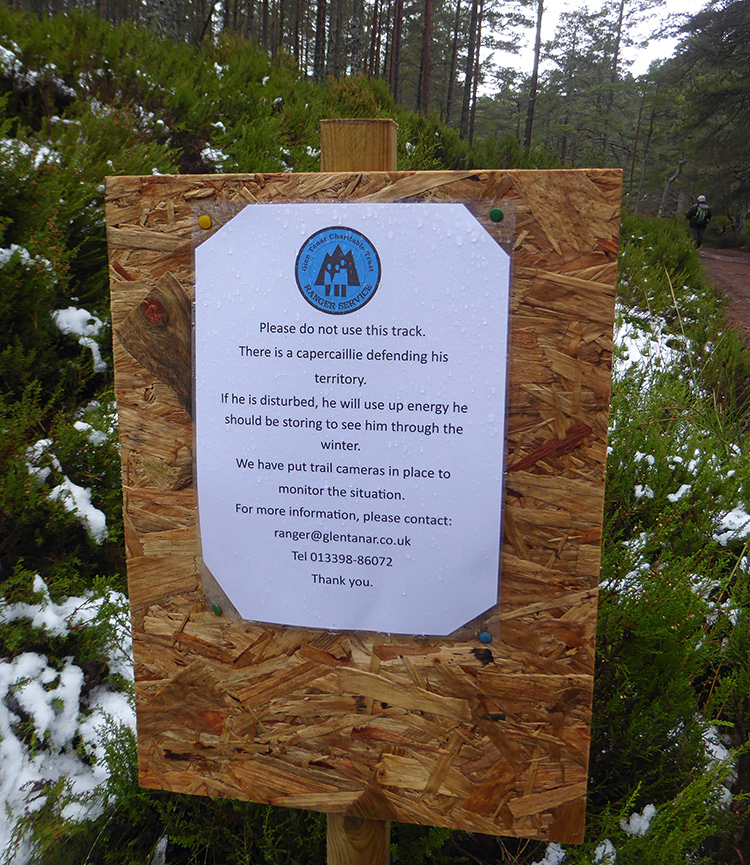 Planting the camera in the fork of a branch is sufficient to get a slow-shutter smoothed capture of the rushing water of the glen against it's sharp salmon pink rocks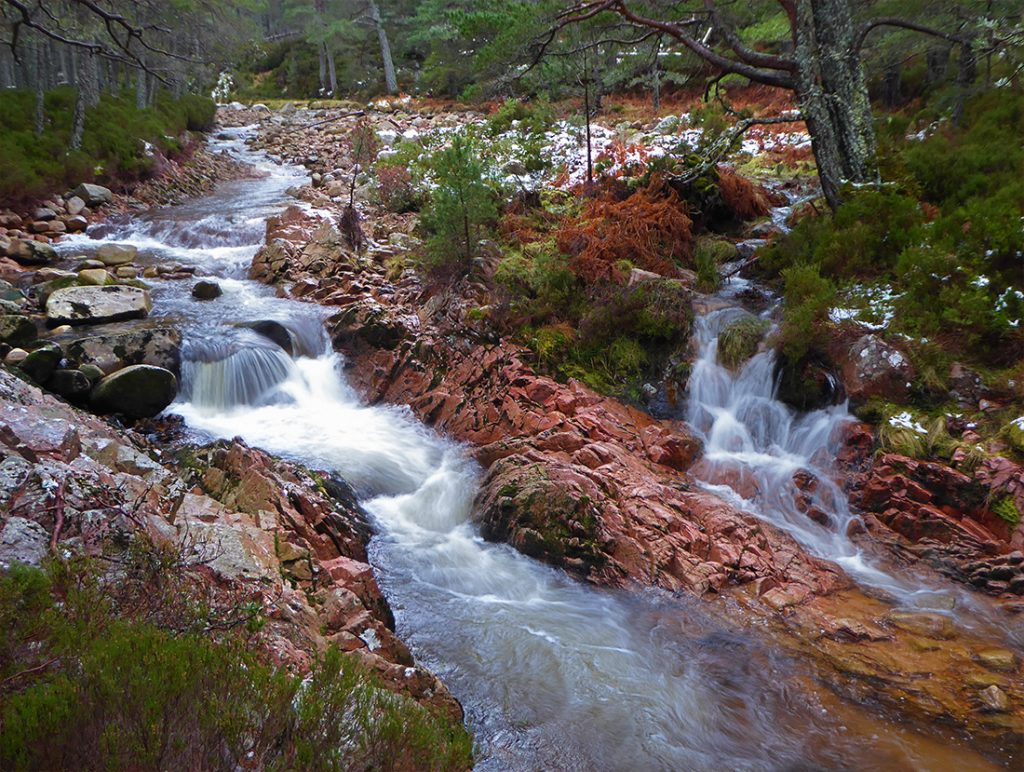 A ford affords affordable Ford 4x4s a crossing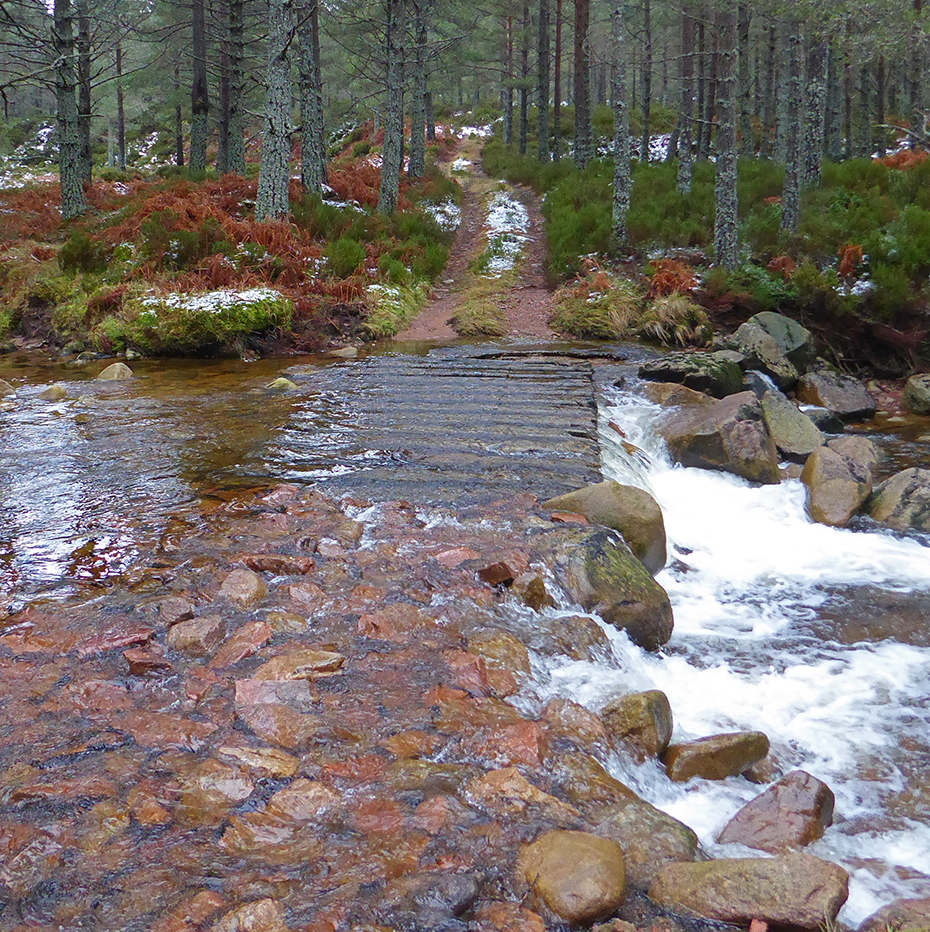 One suspects the ford was a better option to cross than this rickety contraption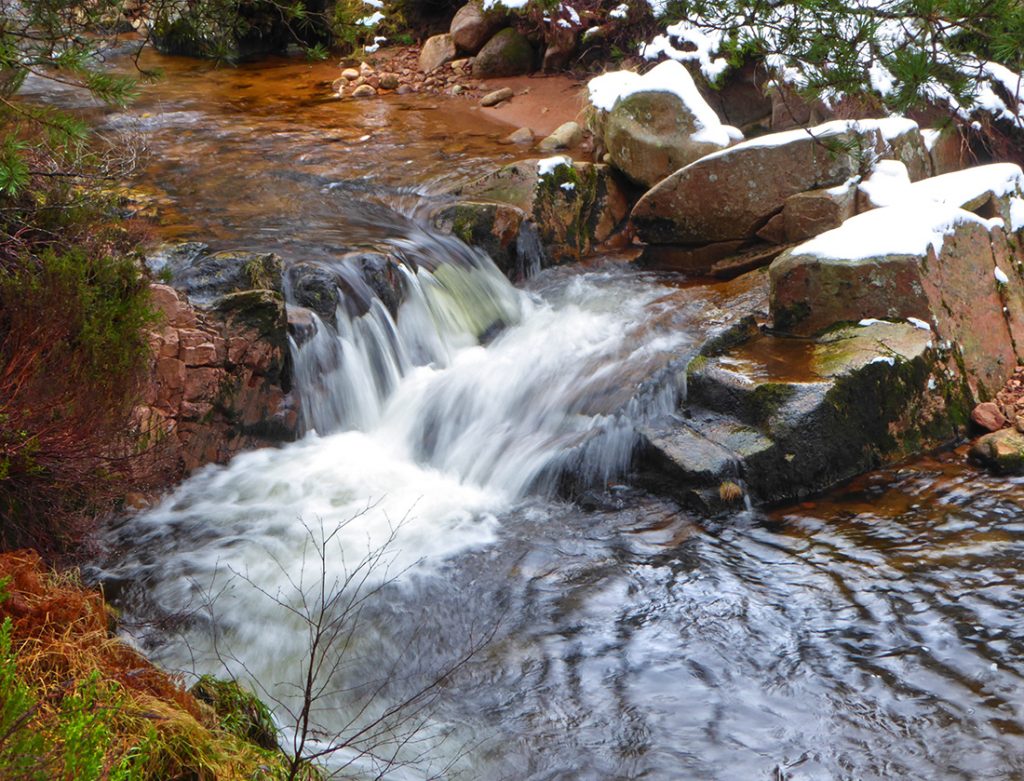 Water of Allachy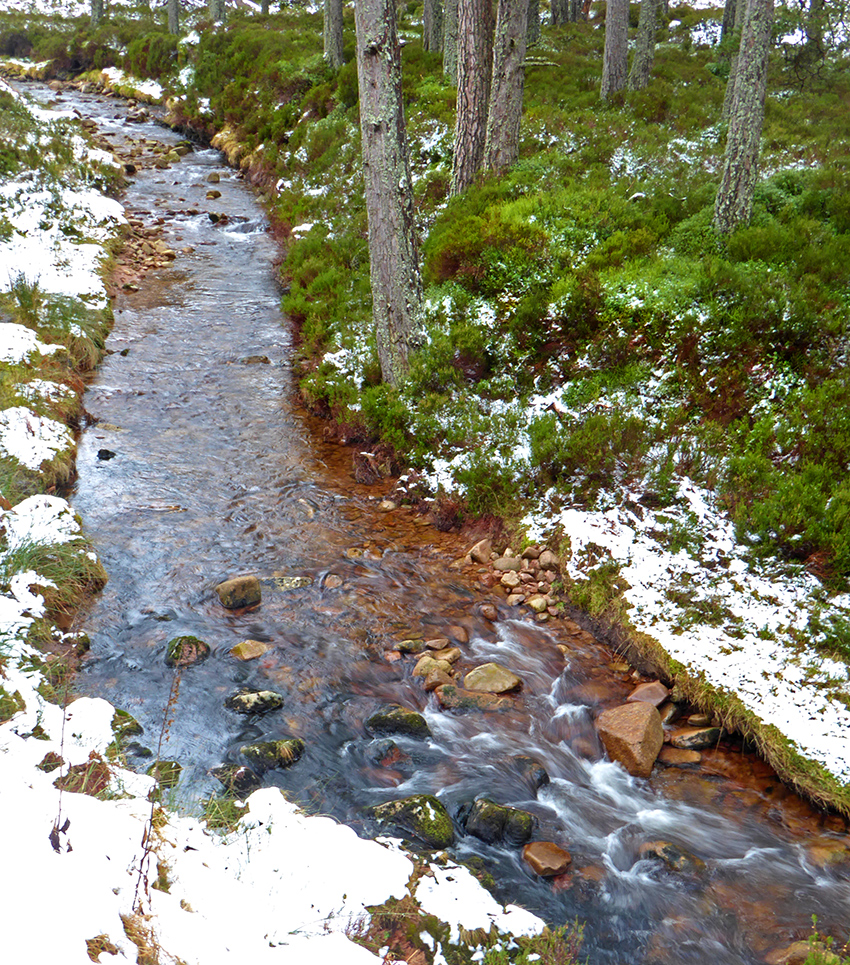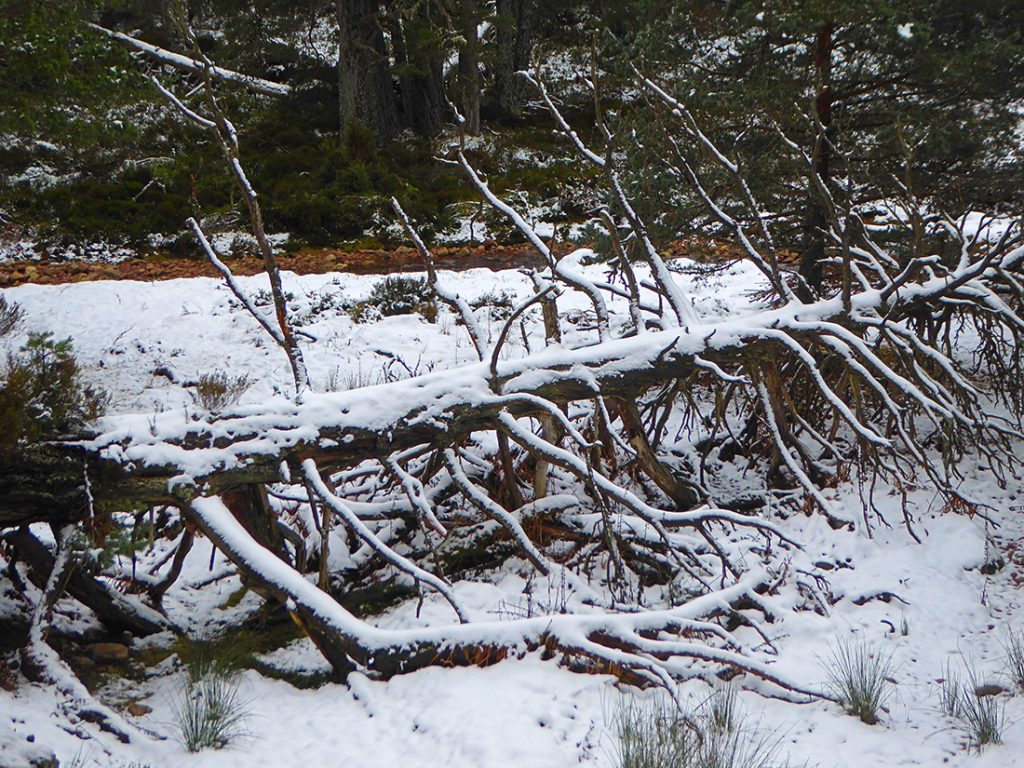 Taking the East fork of the path we head upwards towards The Drum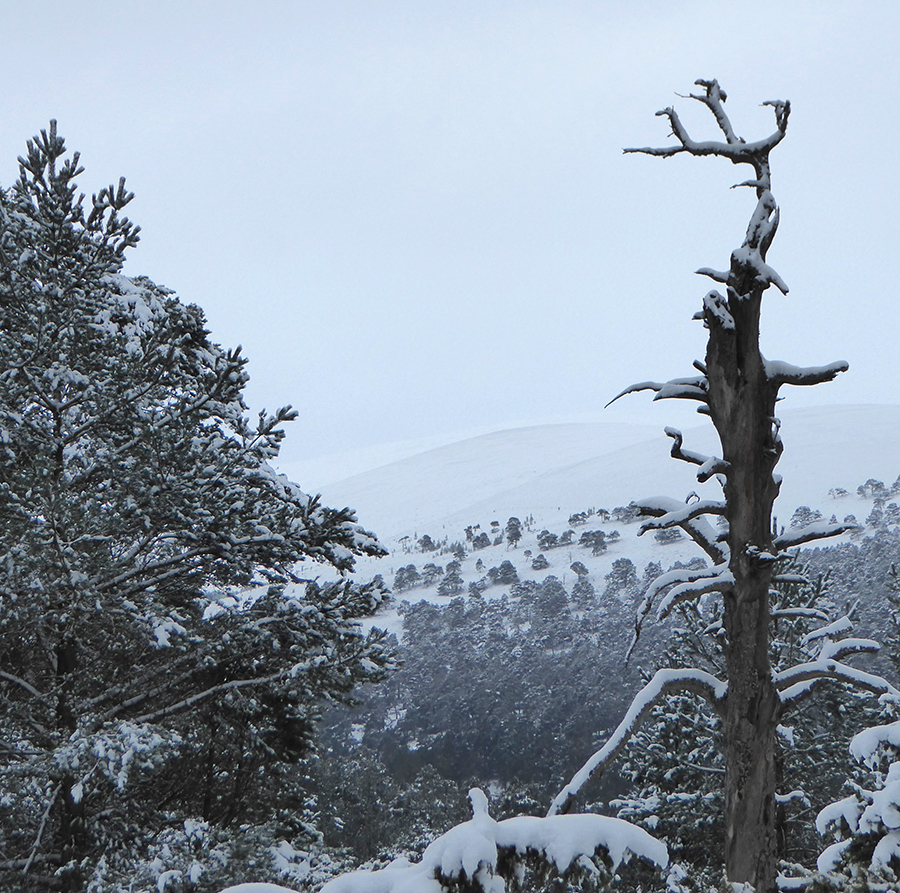 At another fork a flat and sheltered piece of ground invites a lunch stop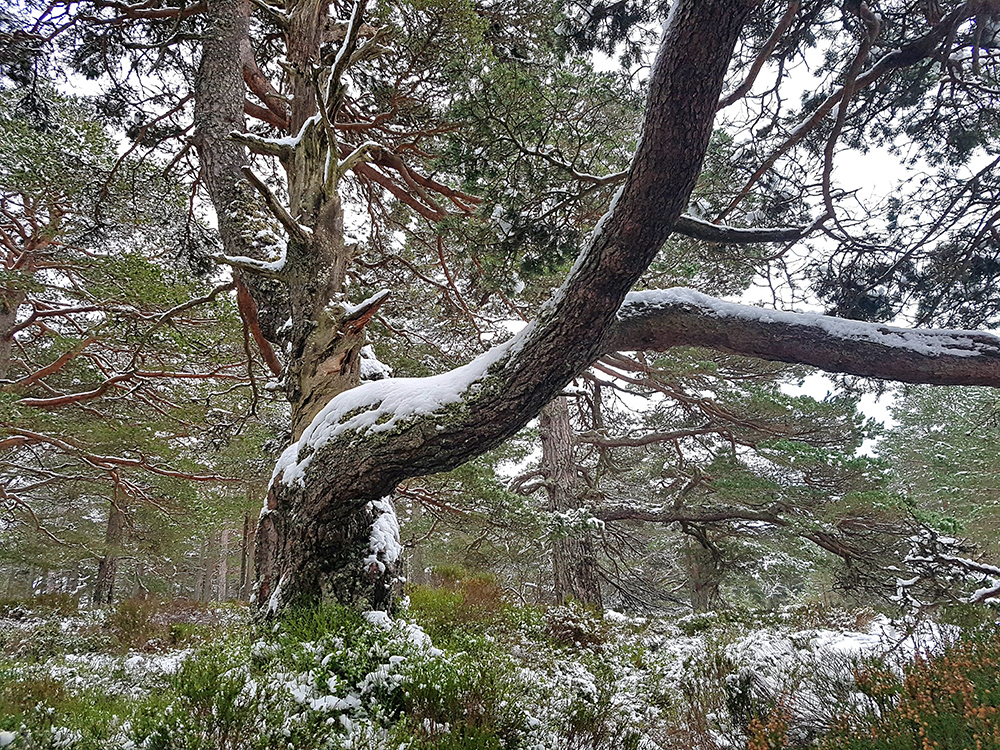 The snow lies thicker now and crumps perfectly underfoot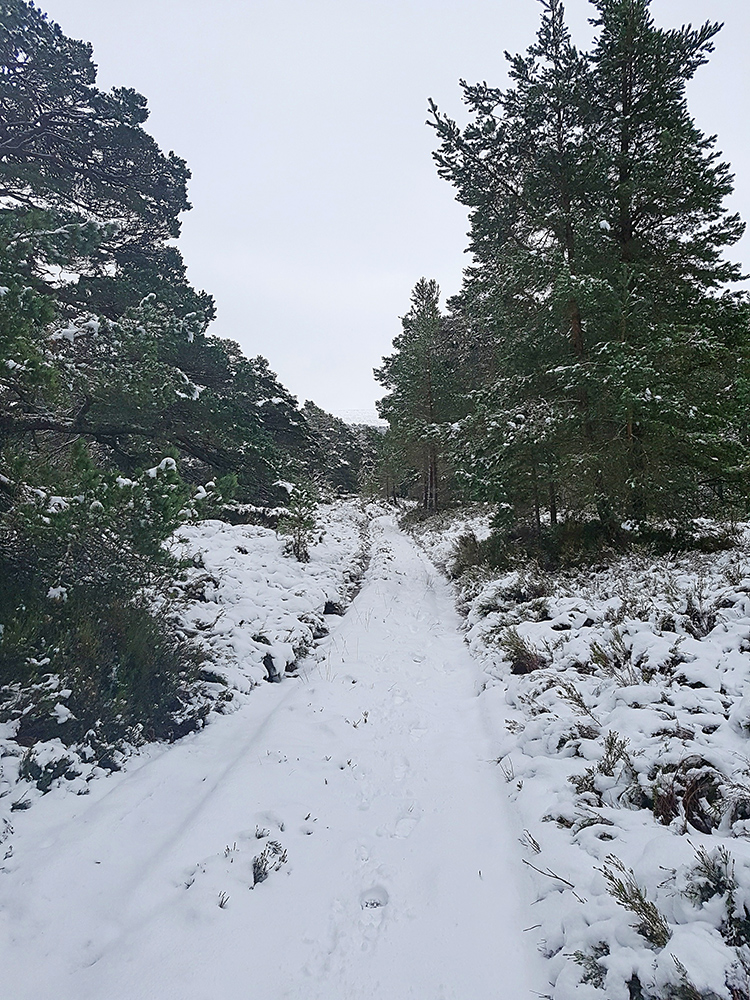 A glimpse through the woods shows it'll be good snow cover up top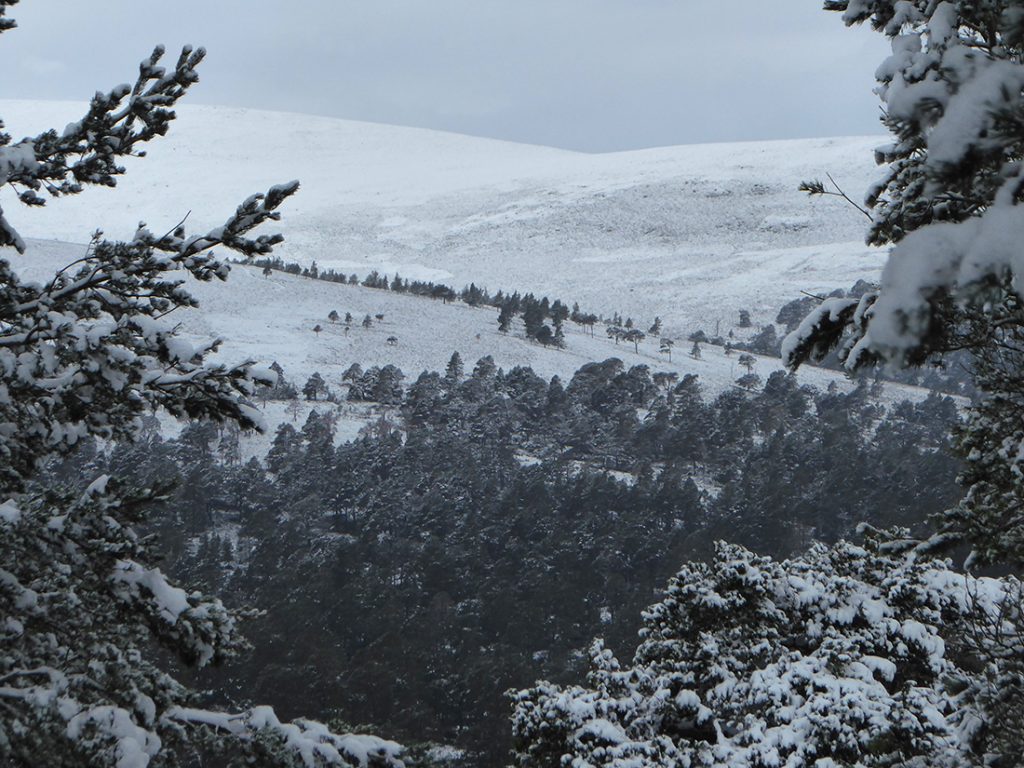 Incredibly still in the snow covered woods, not a bird cheep or call to be heard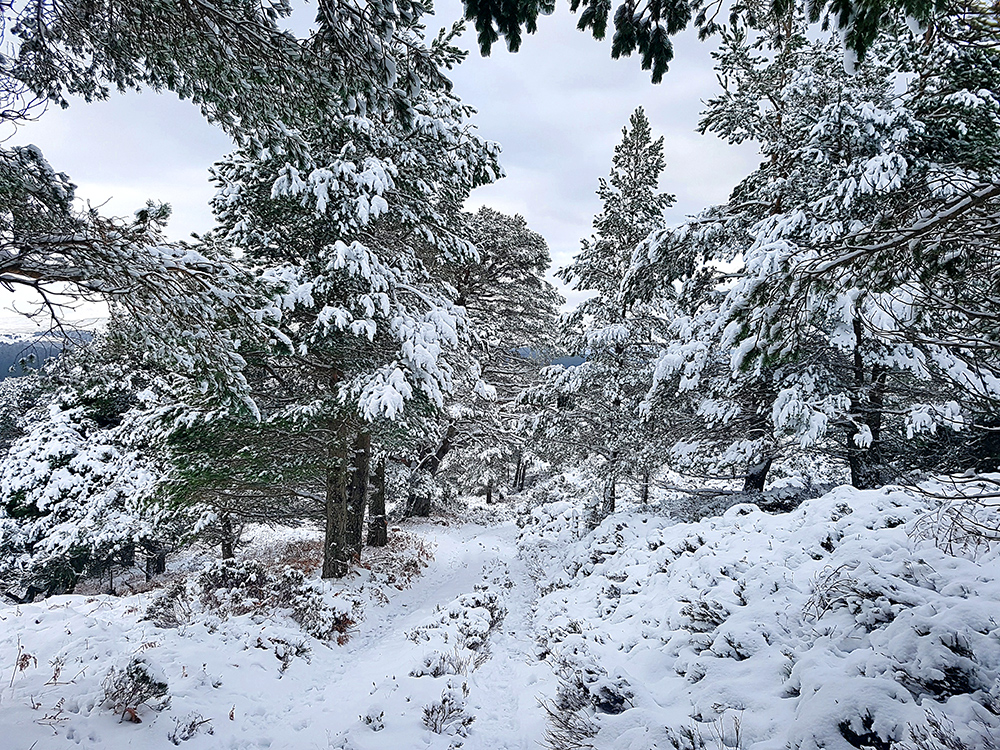 Though there are definitely other creatures up here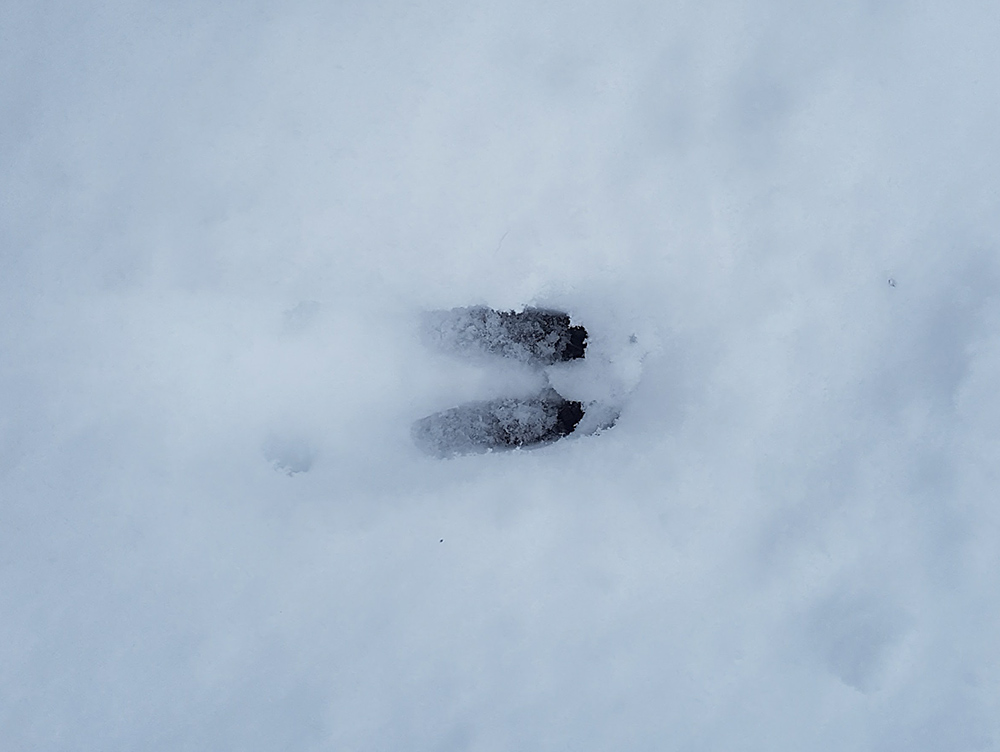 At the edge of the treeline I sweep snow from a board to see what it says, but being blank I leave my own indicator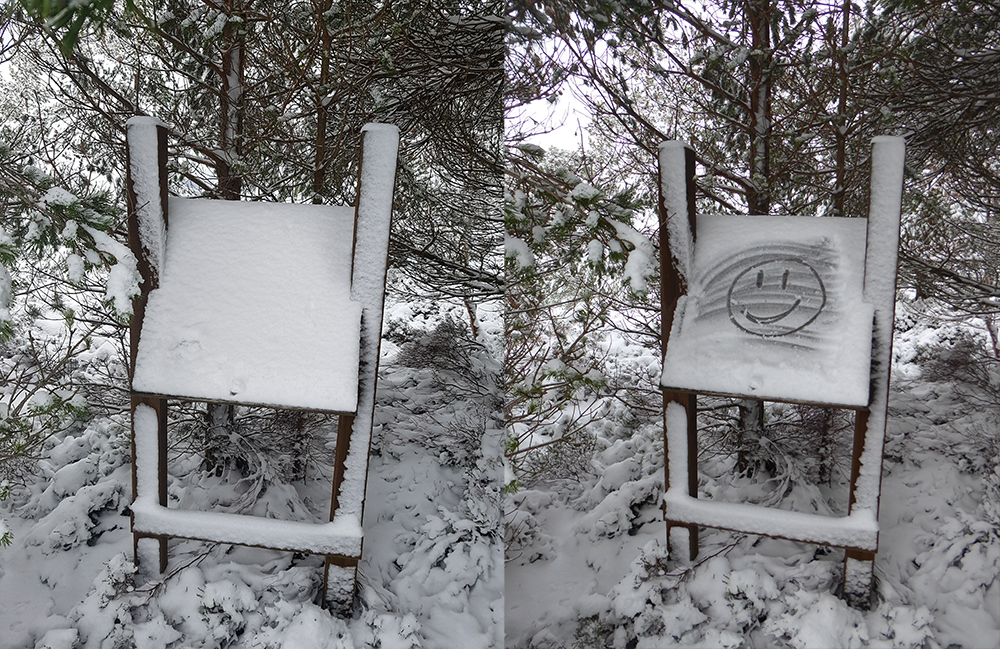 Making sure this week to keep my waist strap on and my shoulders less weighted. Glad I remembered the gaiters, with the snow often knee deep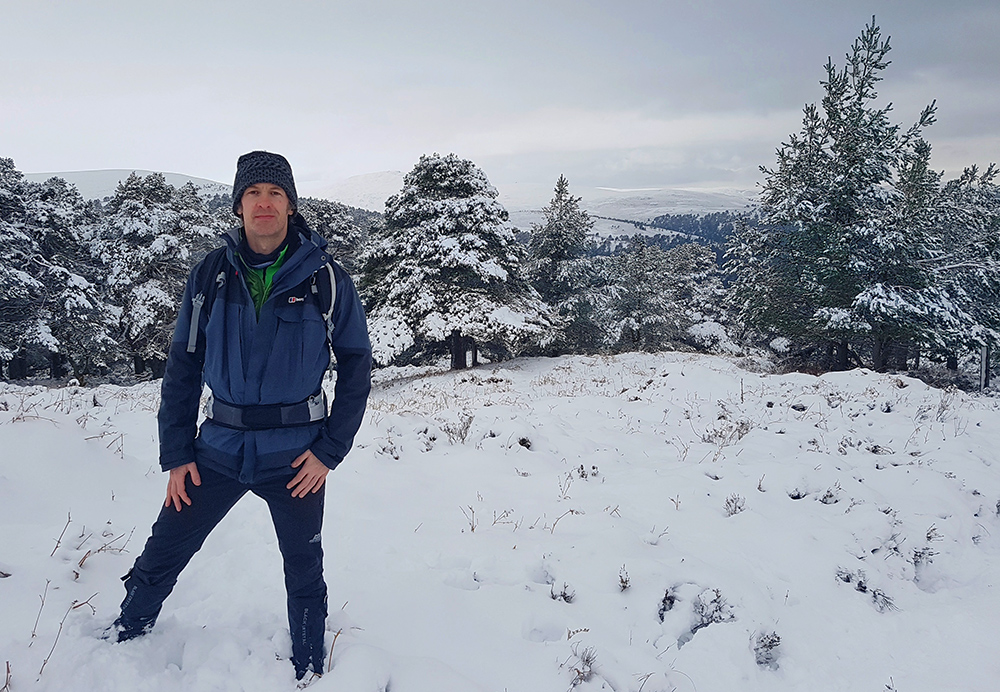 View back North at the tree line

One tree is a rebel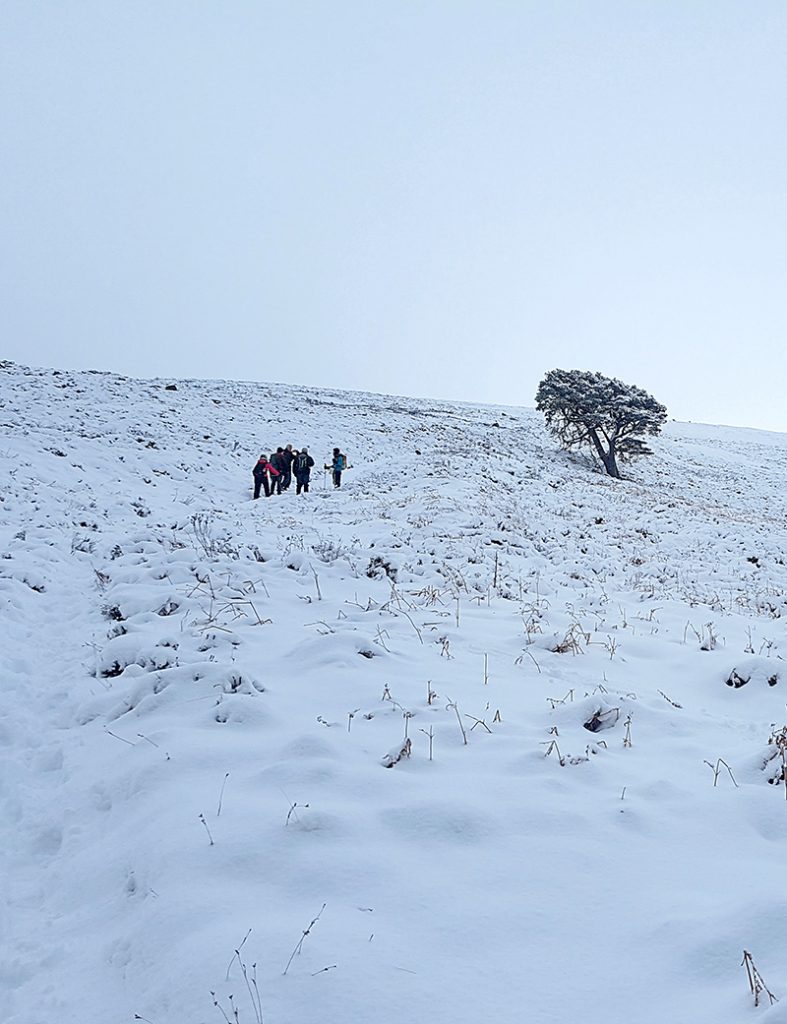 Gaps in the clouds send bright waves sweeping across the hills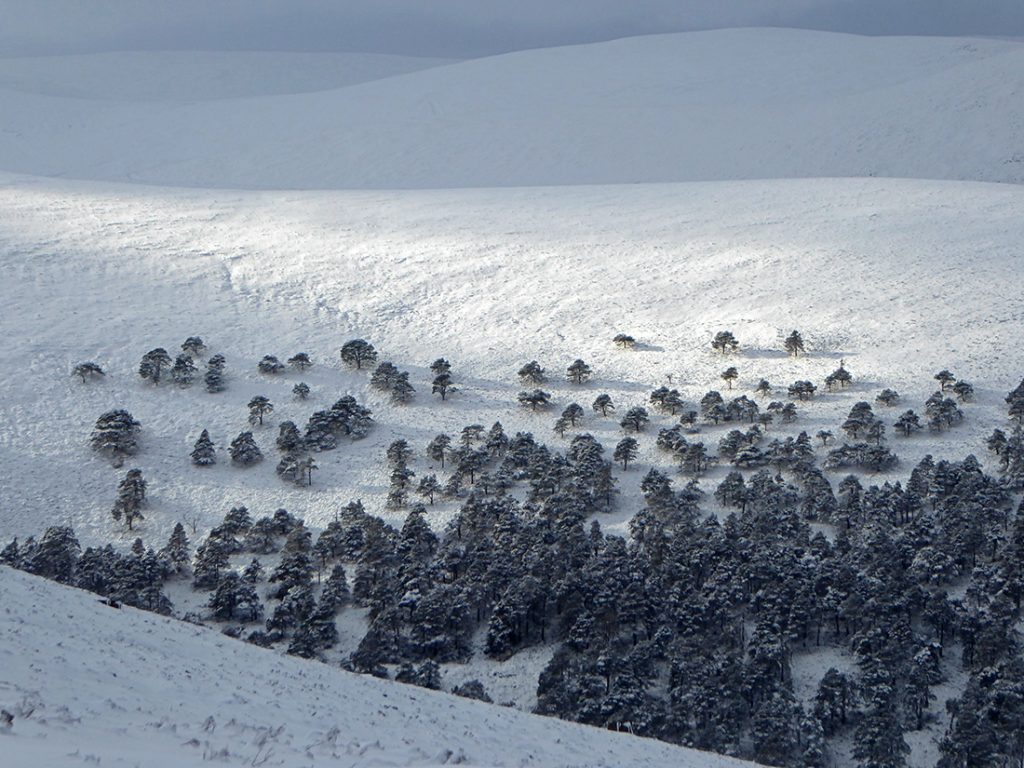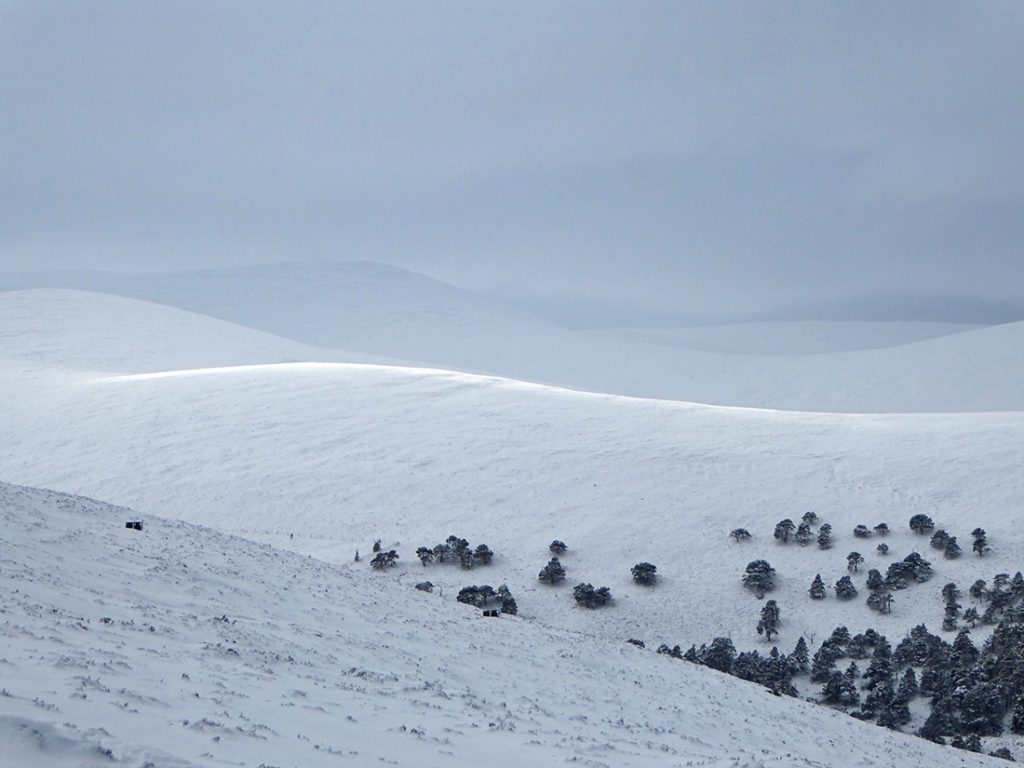 Looking into the distance to the East is like a sea of white waves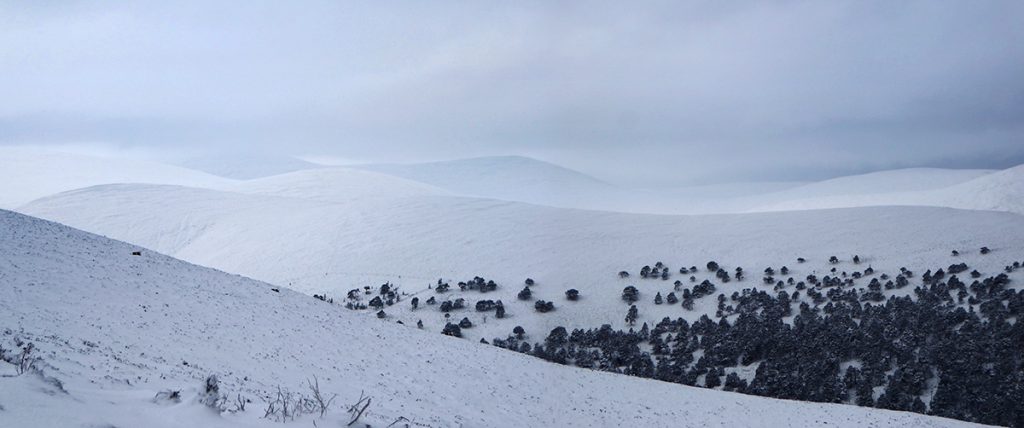 To the West, the sun picks out a small feature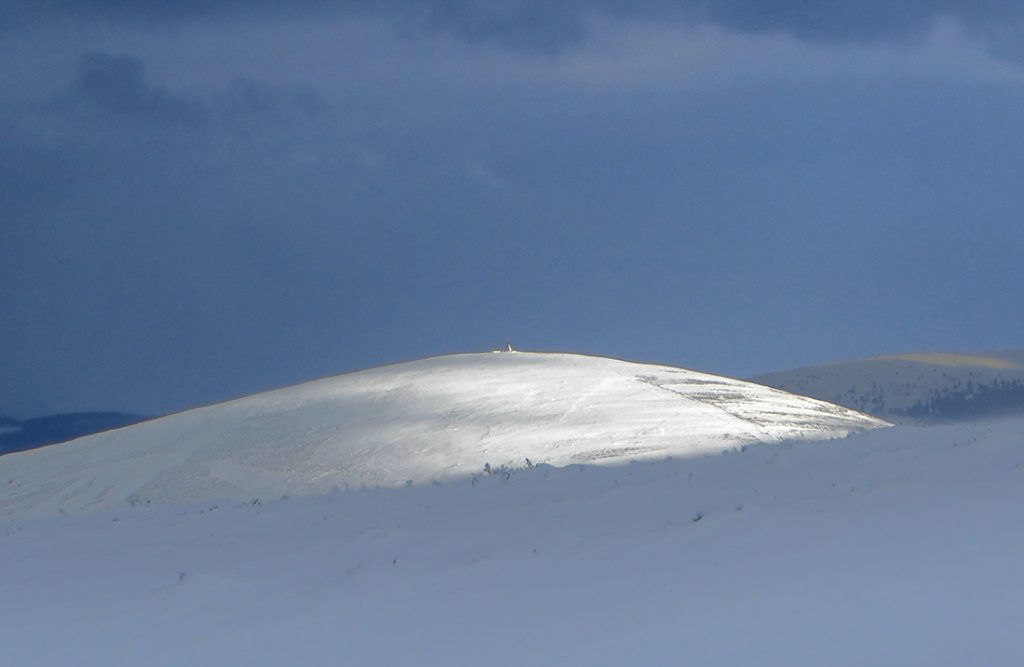 The pyramid shaped cairn on Carnferg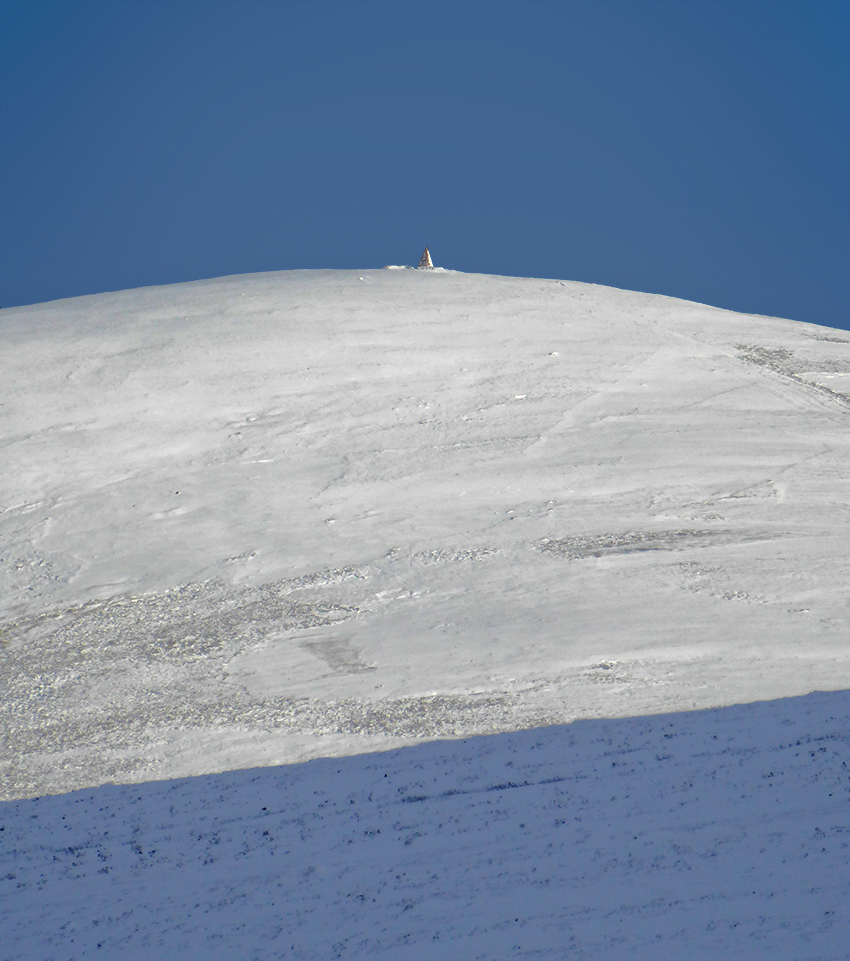 Blue skies again momenetarily. It's chilly and the wind is blasting across the hill top but visibility is pretty good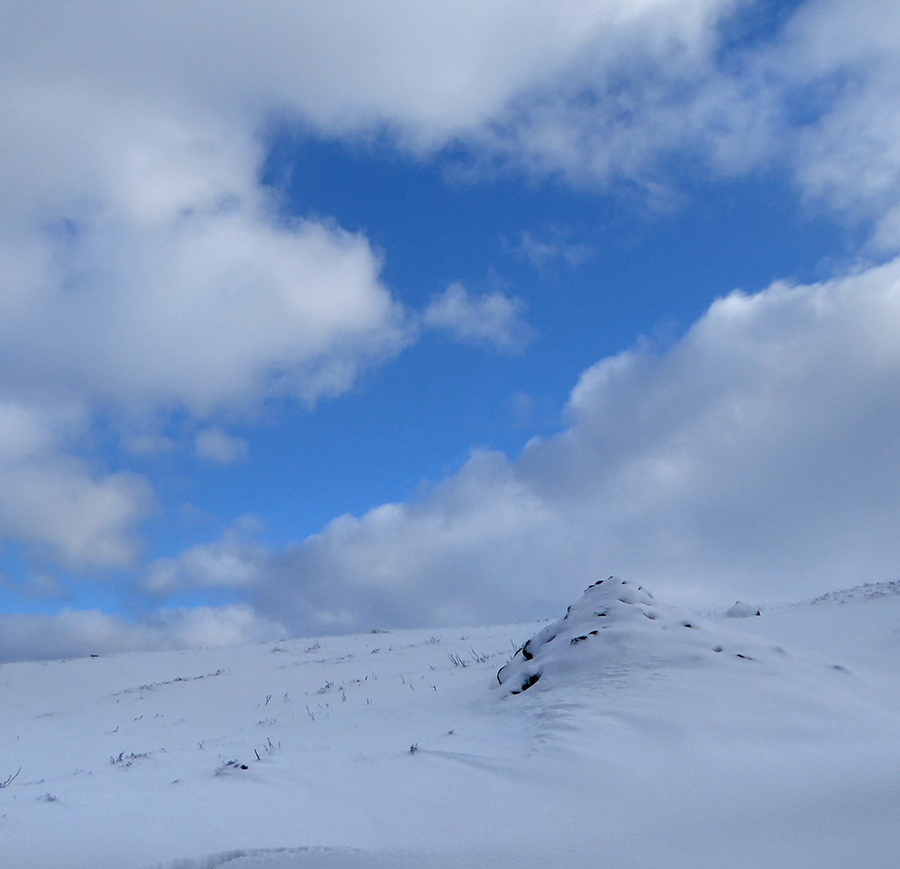 A drift has come adrift from this old nature reserve sign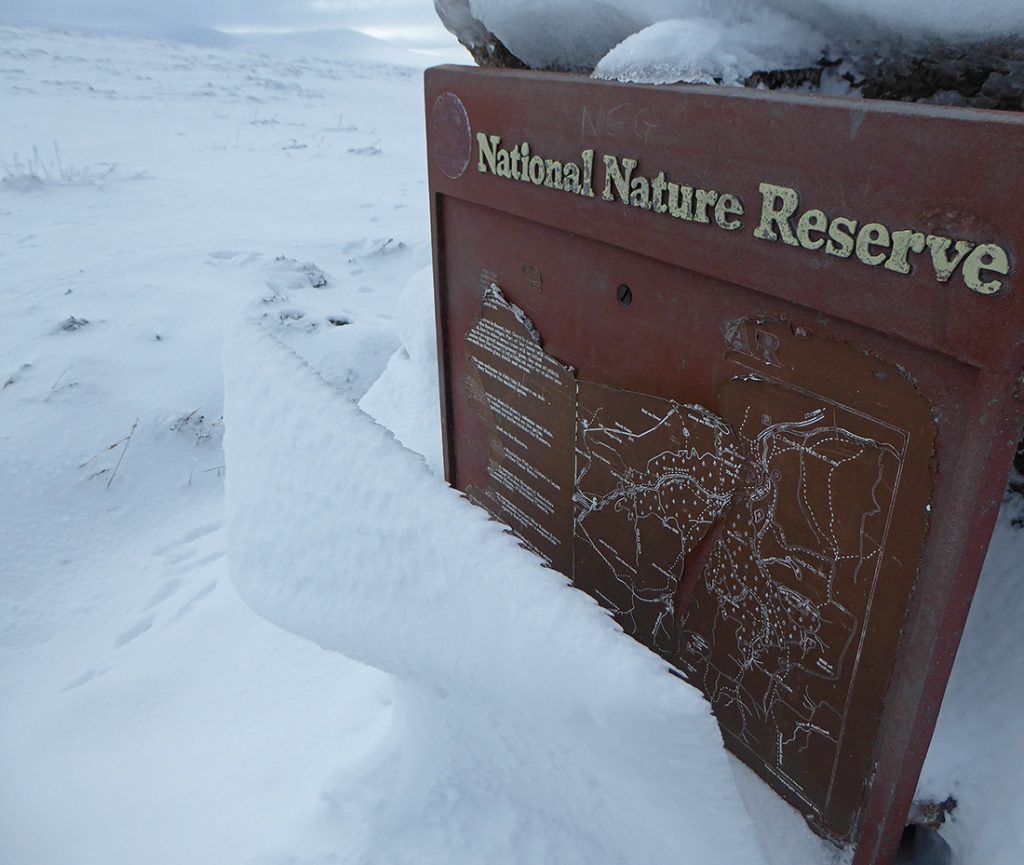 This board is in better nick. Not much moor to see today. We do scatter the occasional hare skipping across through the spin drift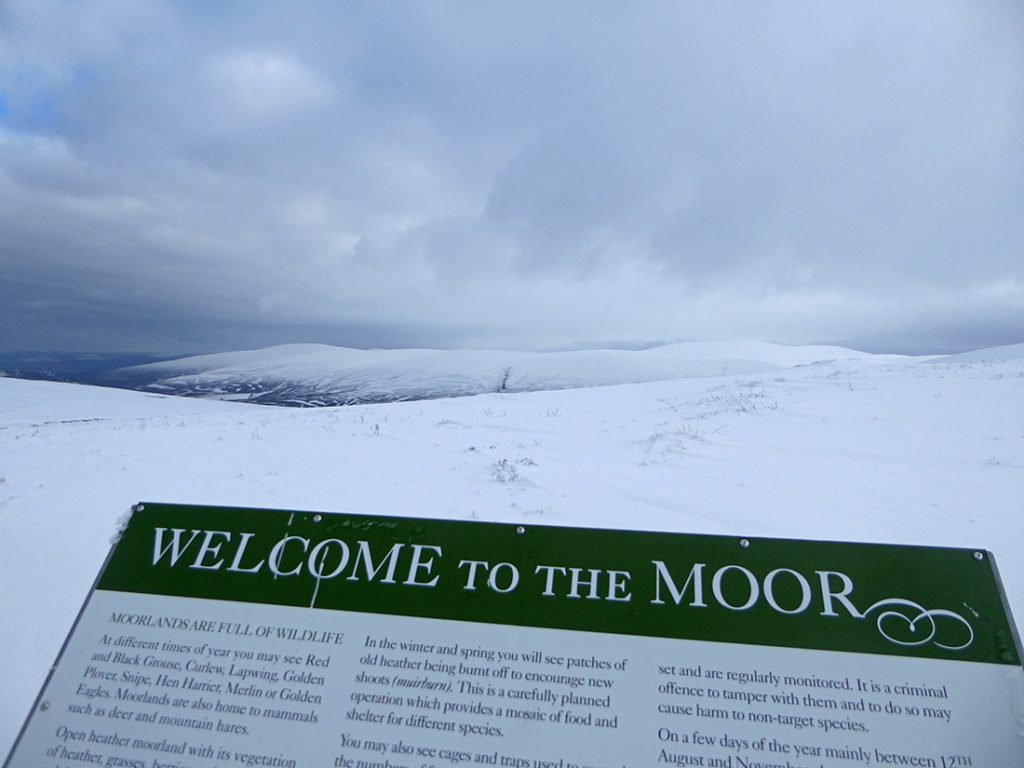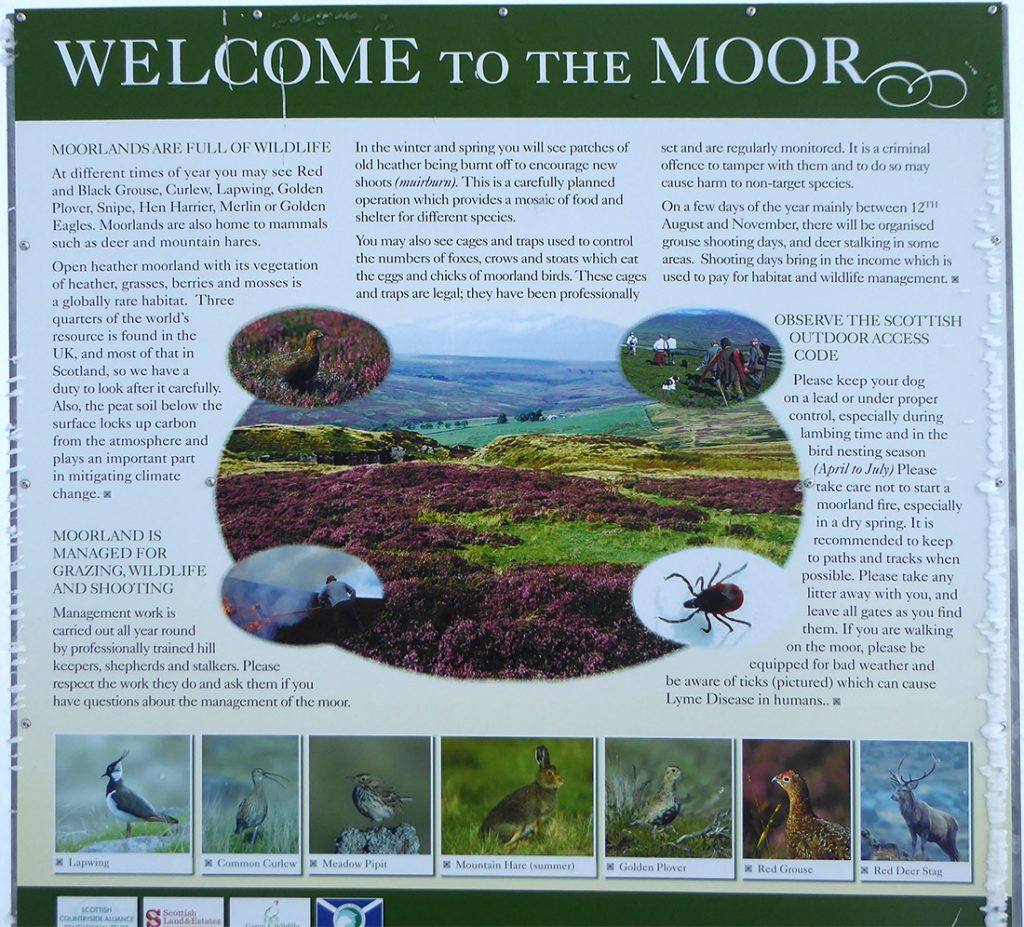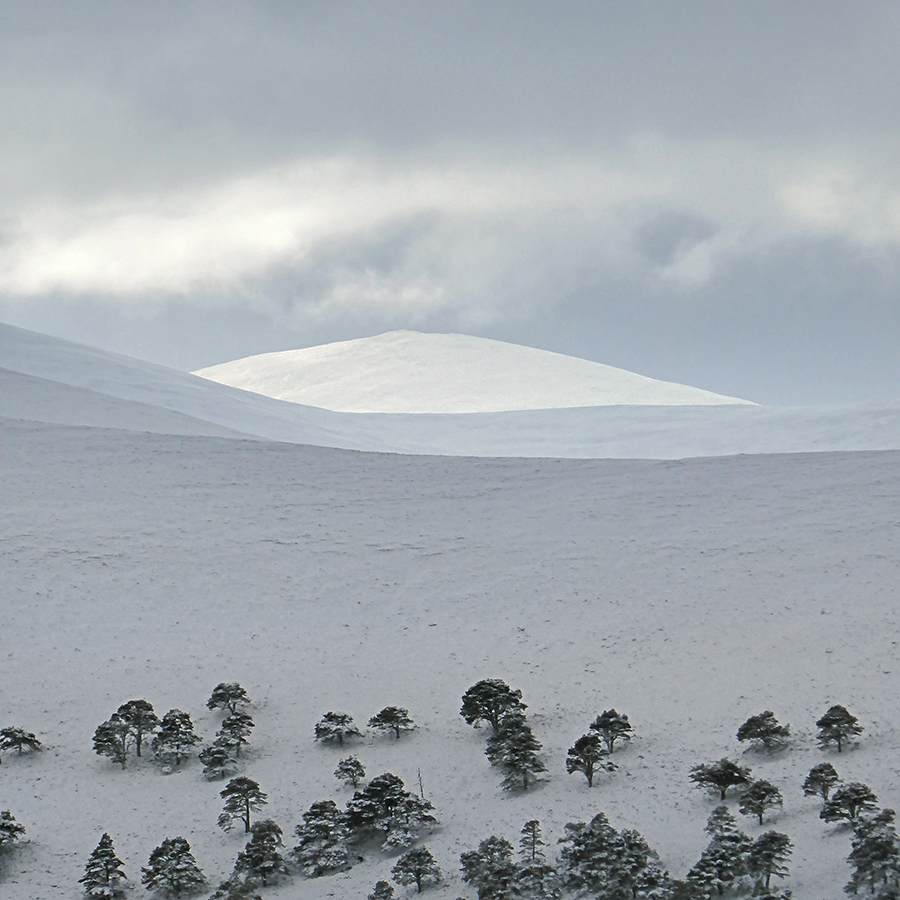 Subtle waves of snow, sky and shadow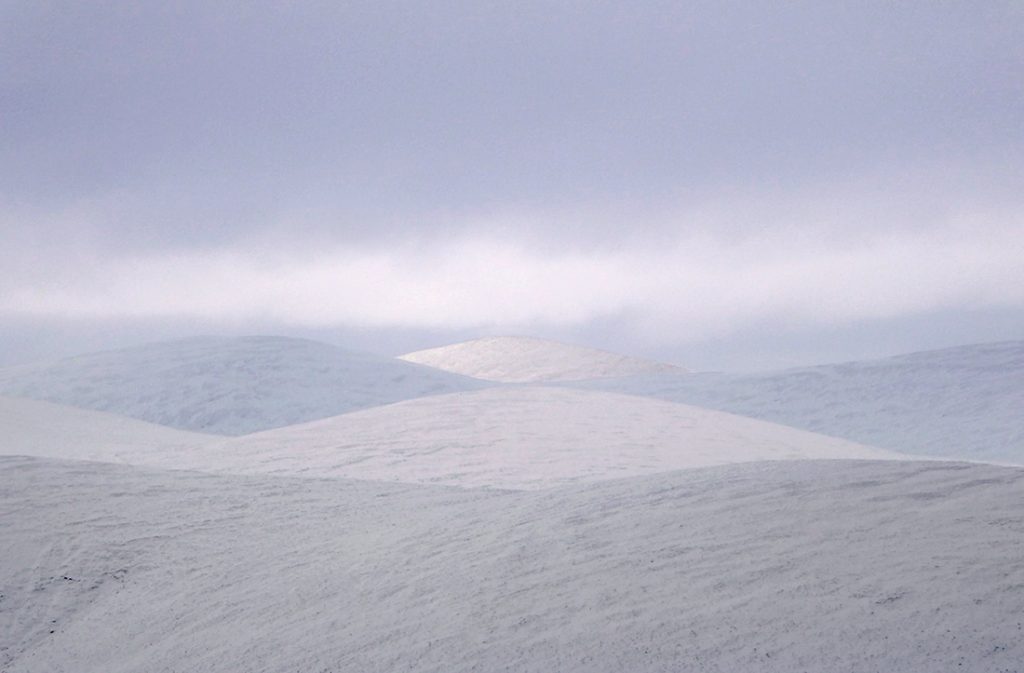 Looking South it's a white haze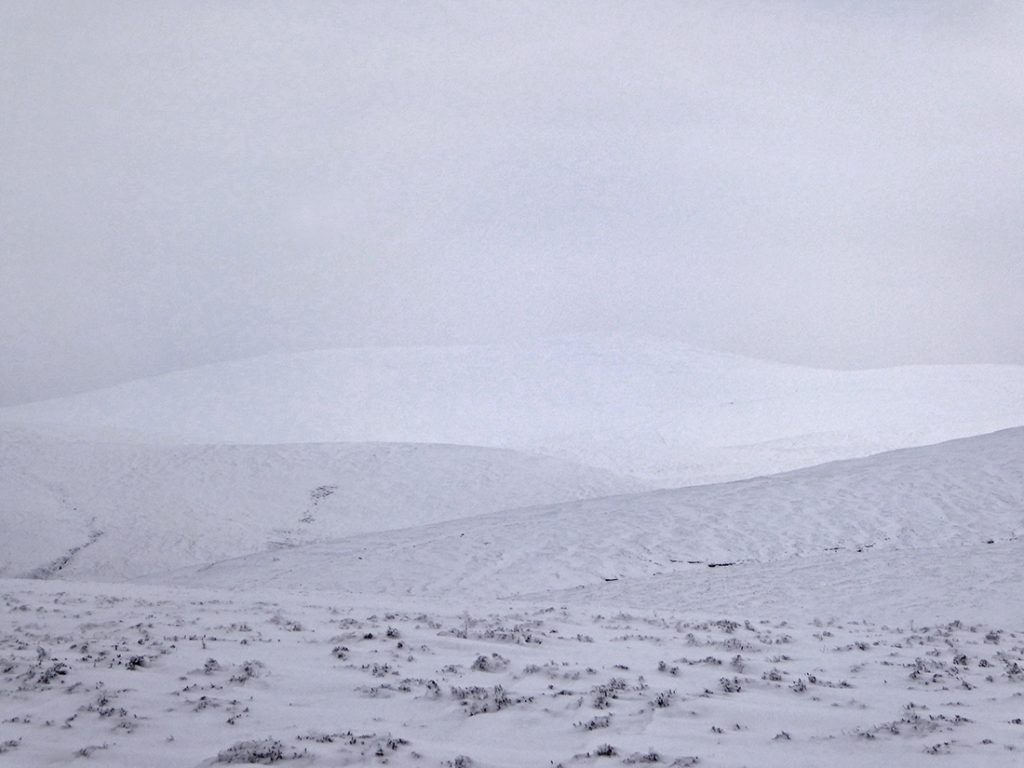 The party follows an old fence line towards the GPS peak, there's no cairn. Next time we should take a rock each to make one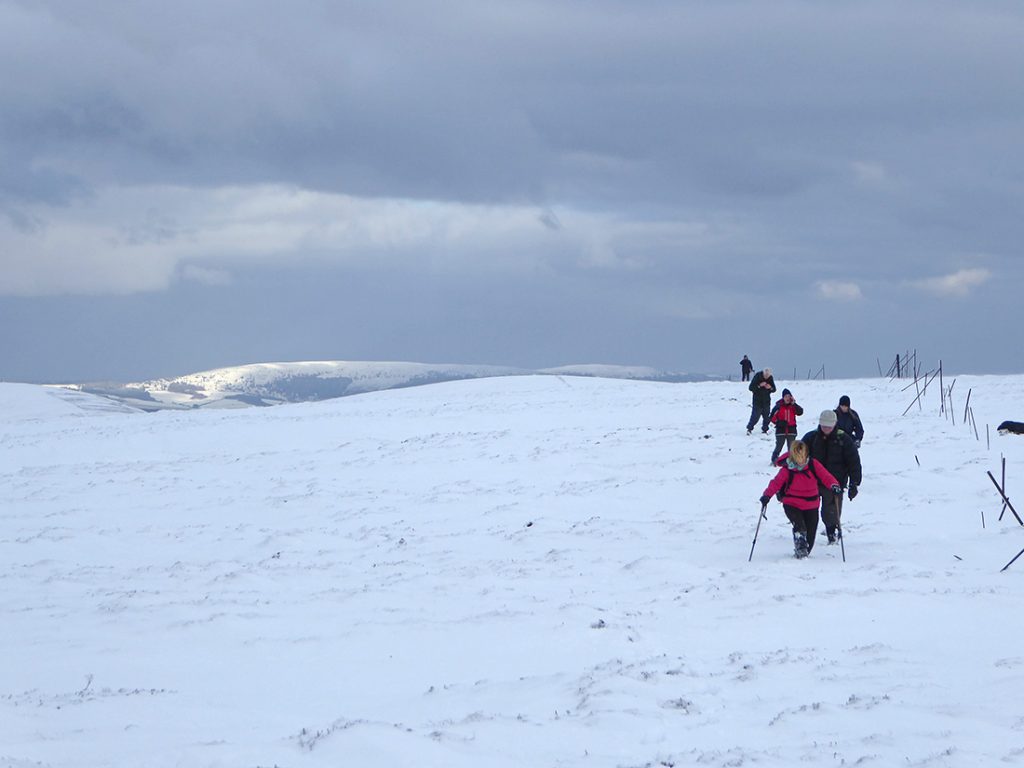 We begin our descent. Although it's not snowing, within the space of perhaps half an hour, our previous tracks are almost covered purely by the wind whipping spin drift across the surface. A reminder to never rely on retracing footsteps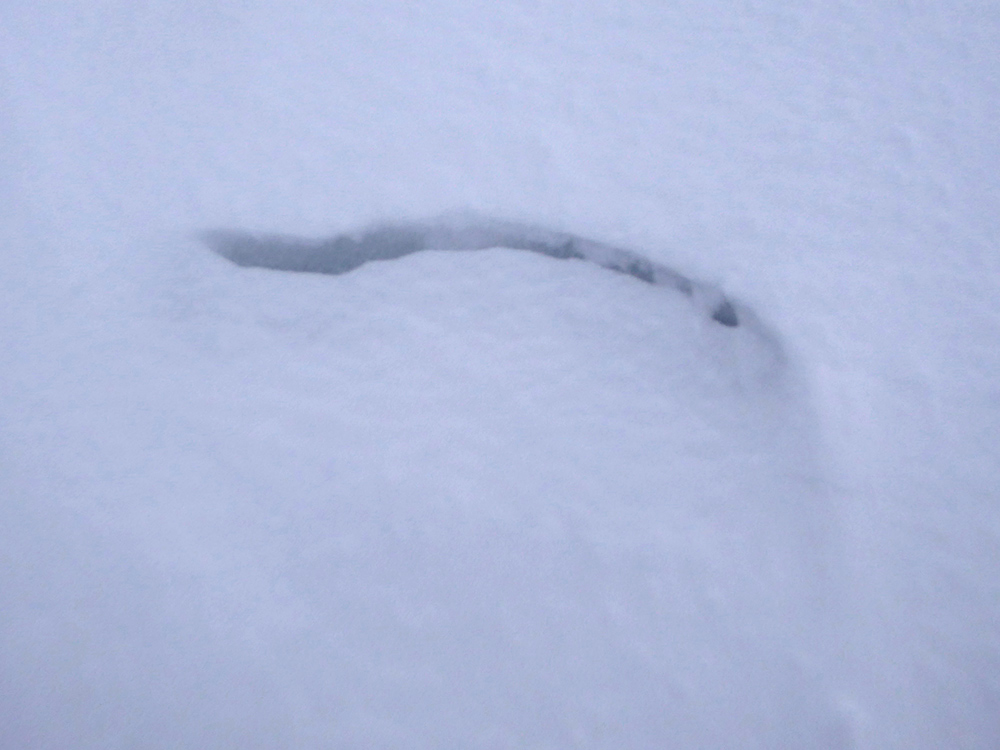 One of the party requires digging out after losing a boot deep in a drift, we don't hang about and make our way back downhill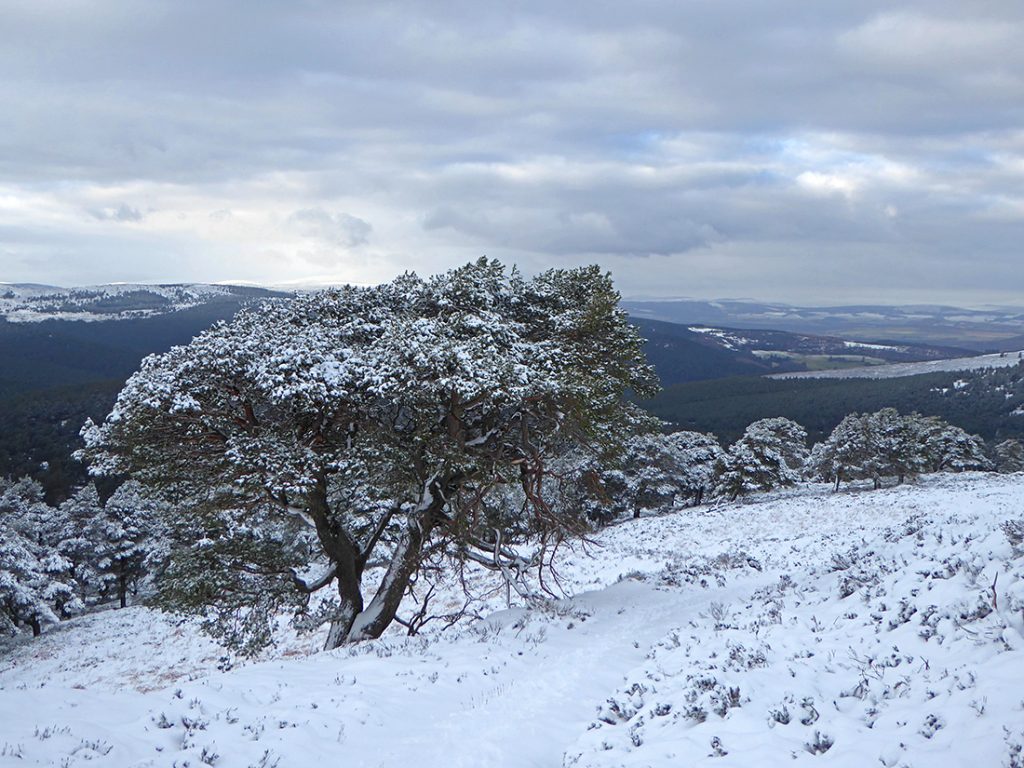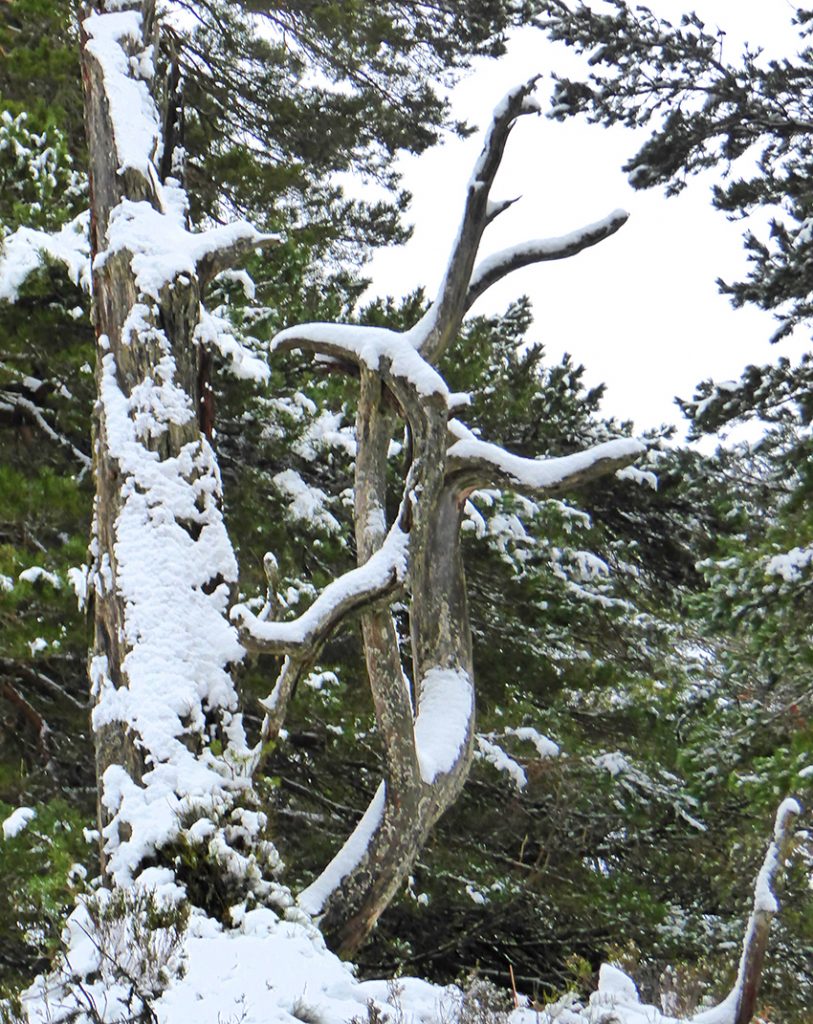 We take a different route back North, along the Firmounth Road. I'm intending having a quick look at some points of interest beyond the start point so power on ahead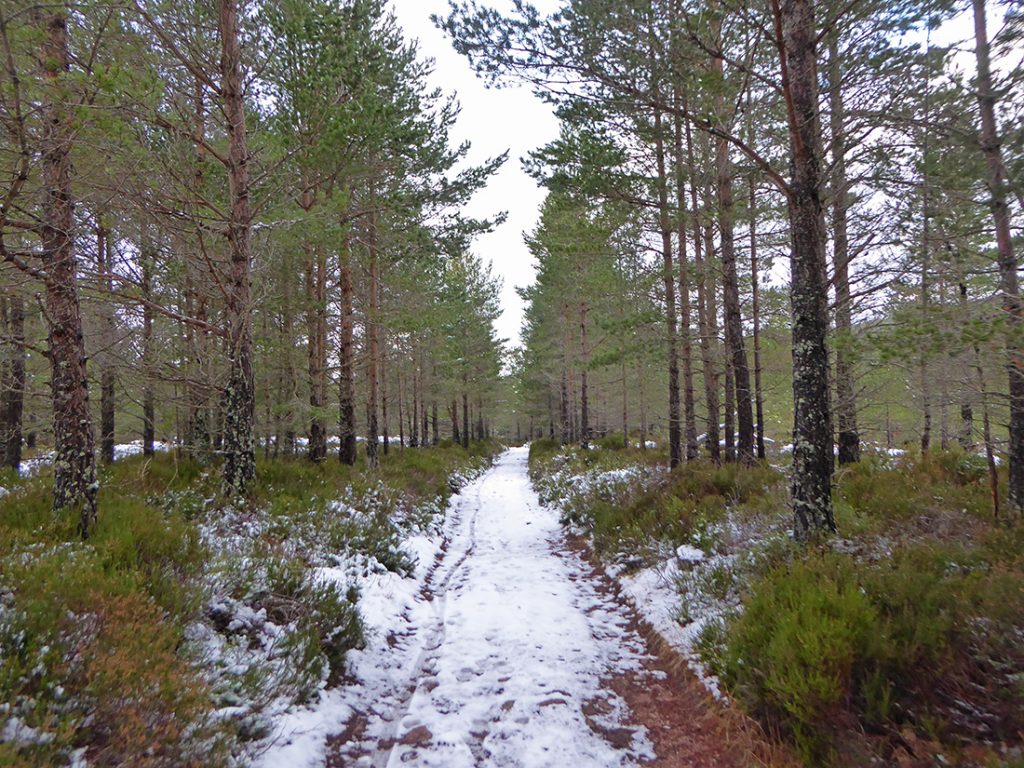 Past a wee dam on the East Burn of Drum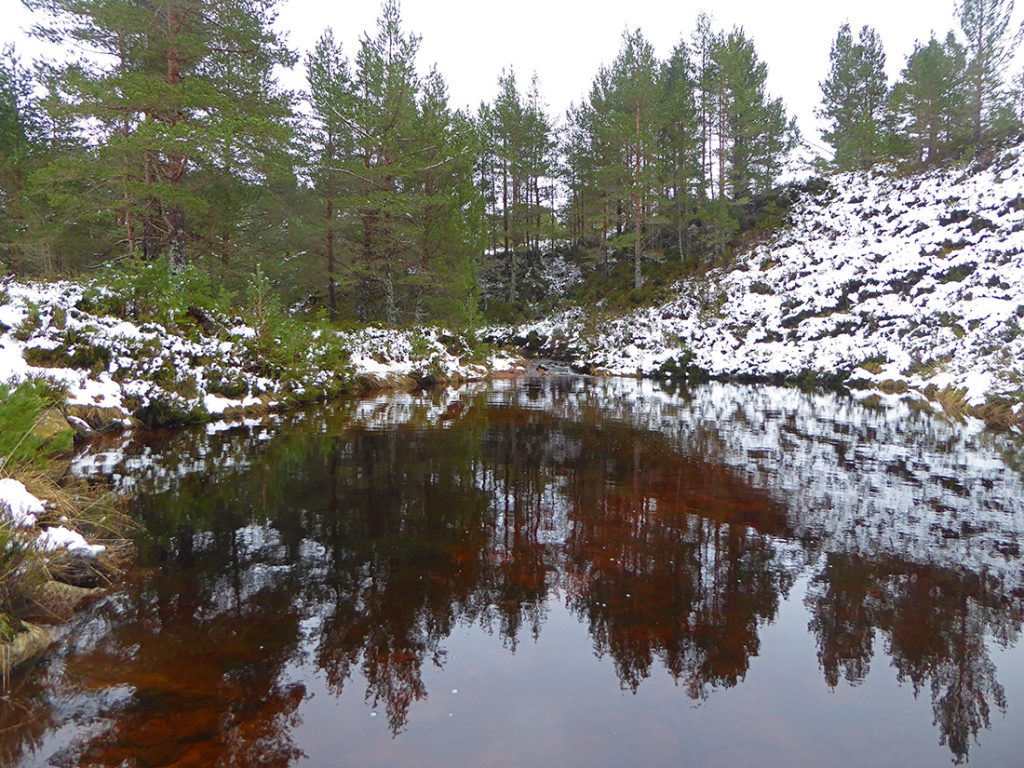 There are a few of these carved stones in the area, apparently made by an eccentric 19th century laird, William Cunliffe Brooks. This one is II 853, what that signifies is unknown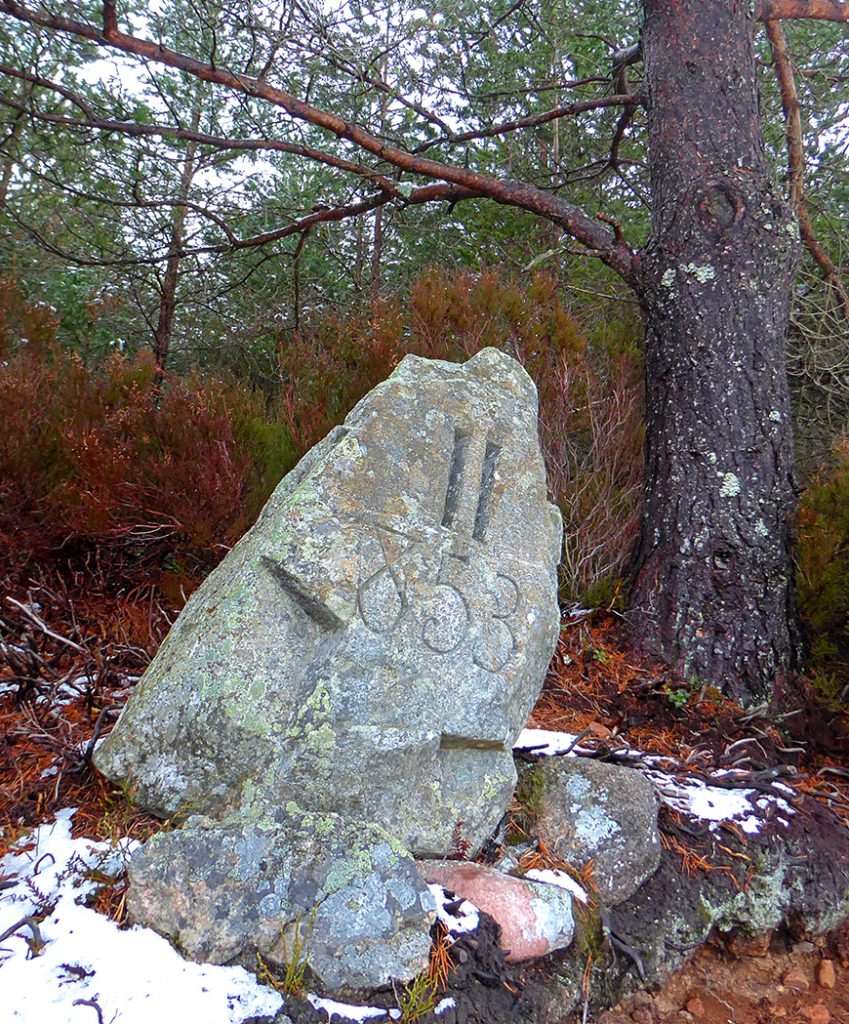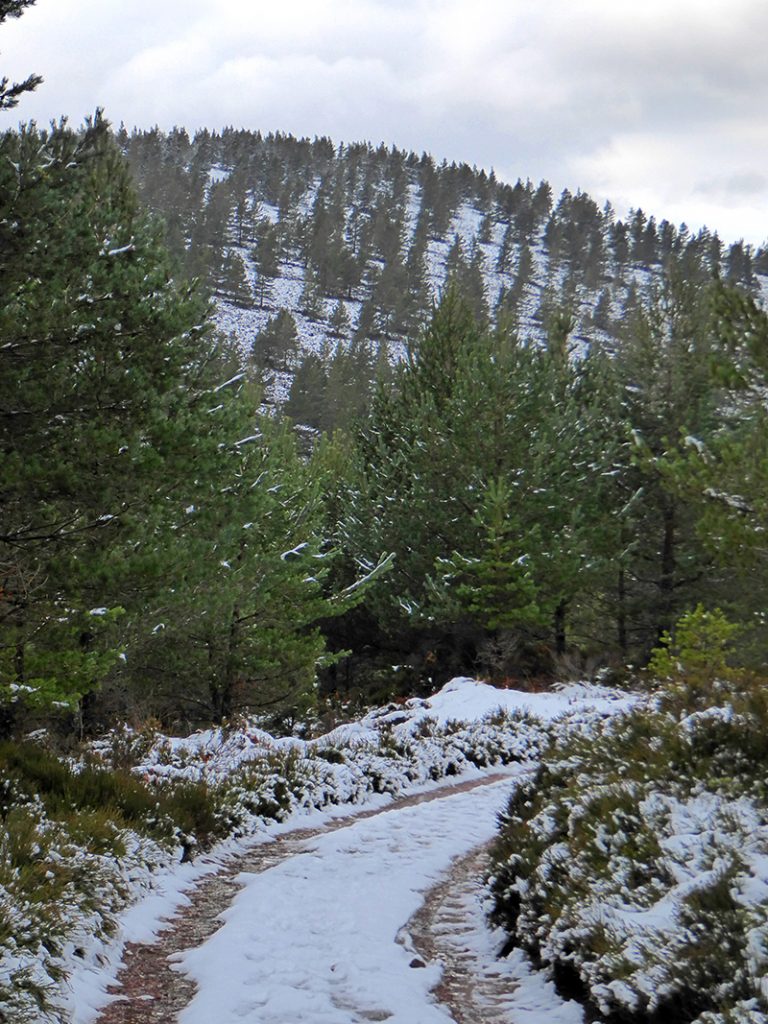 It's a long sweeping path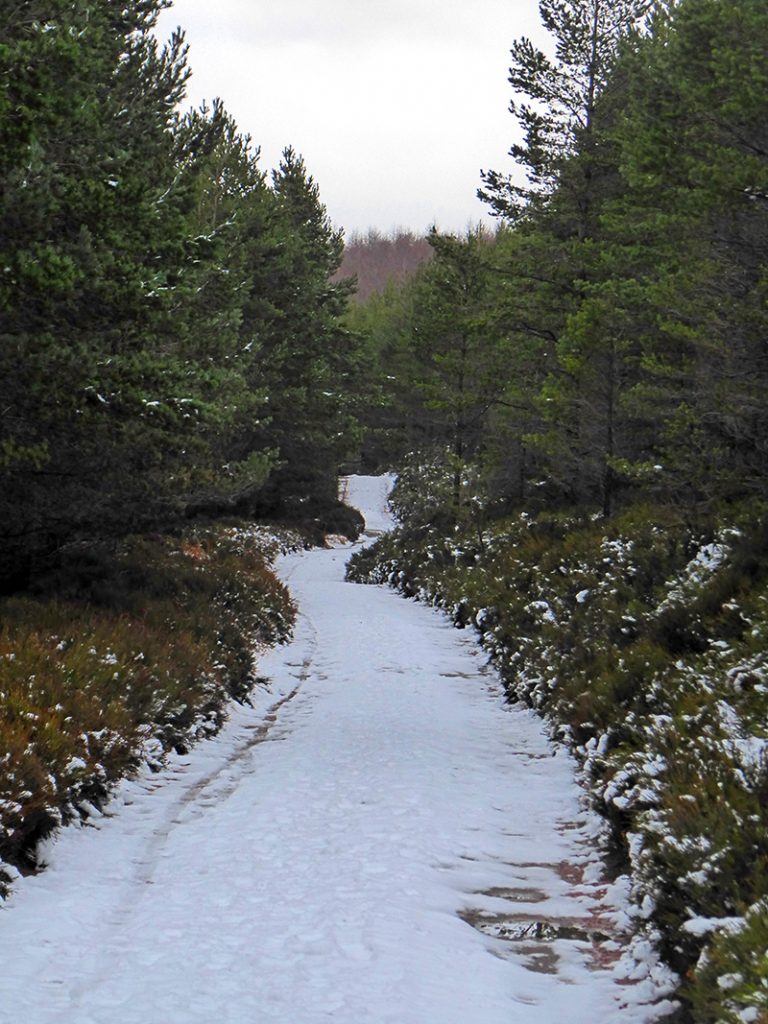 A rare open area with this big old tree alone, surrounded by an iron fence. A tree of importance I guess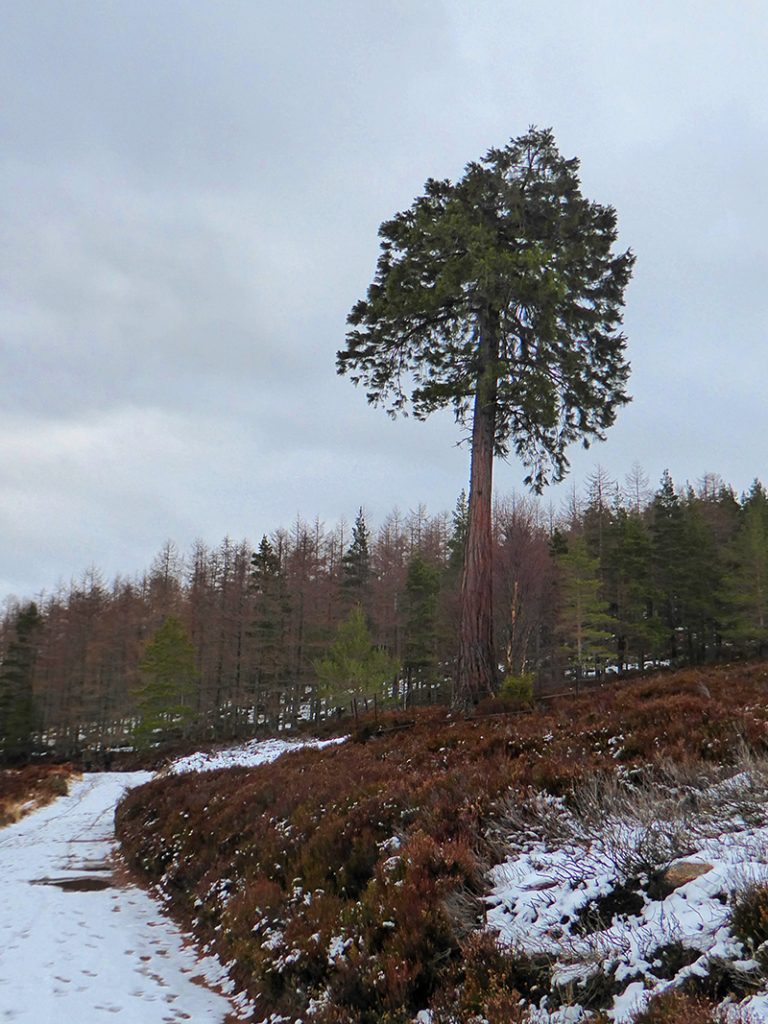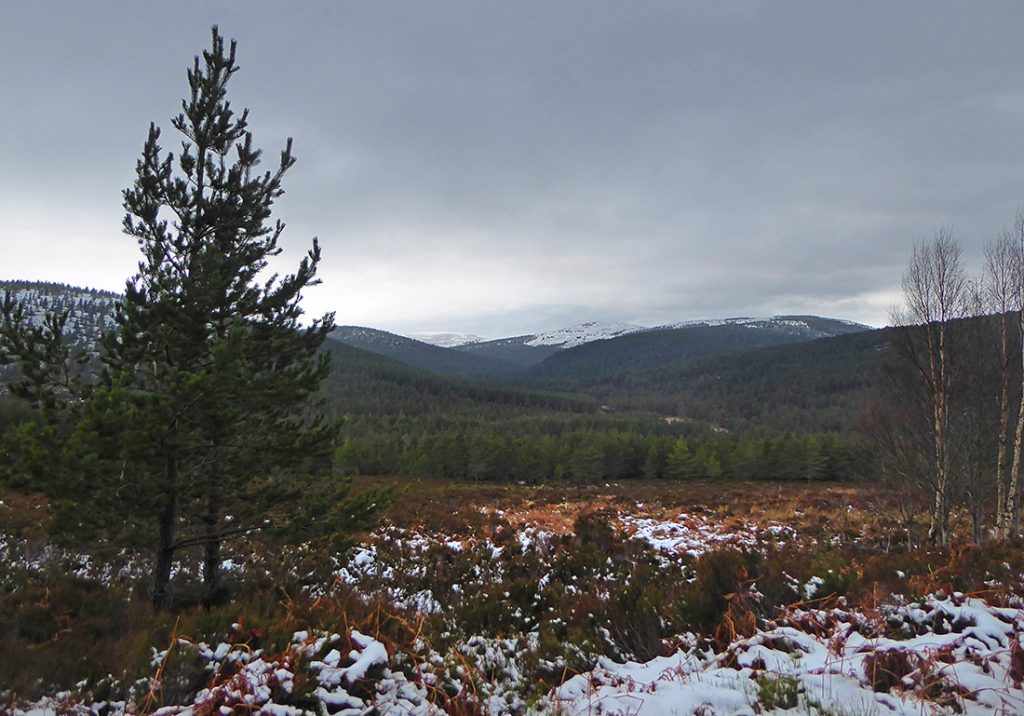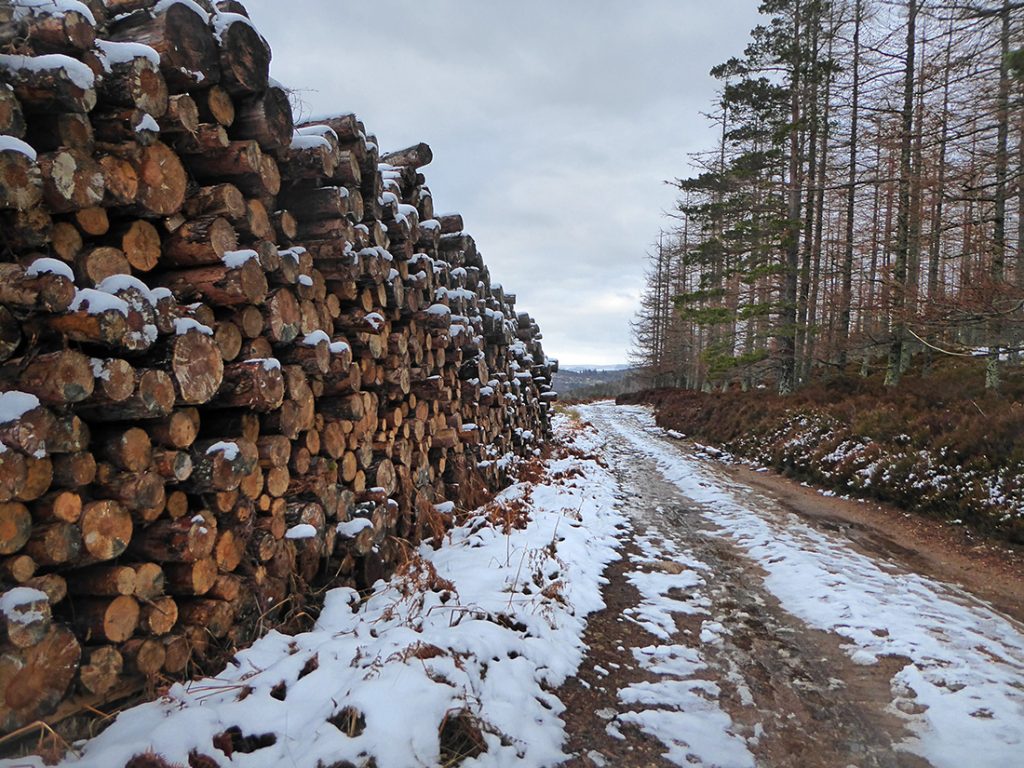 Heading back down into the glen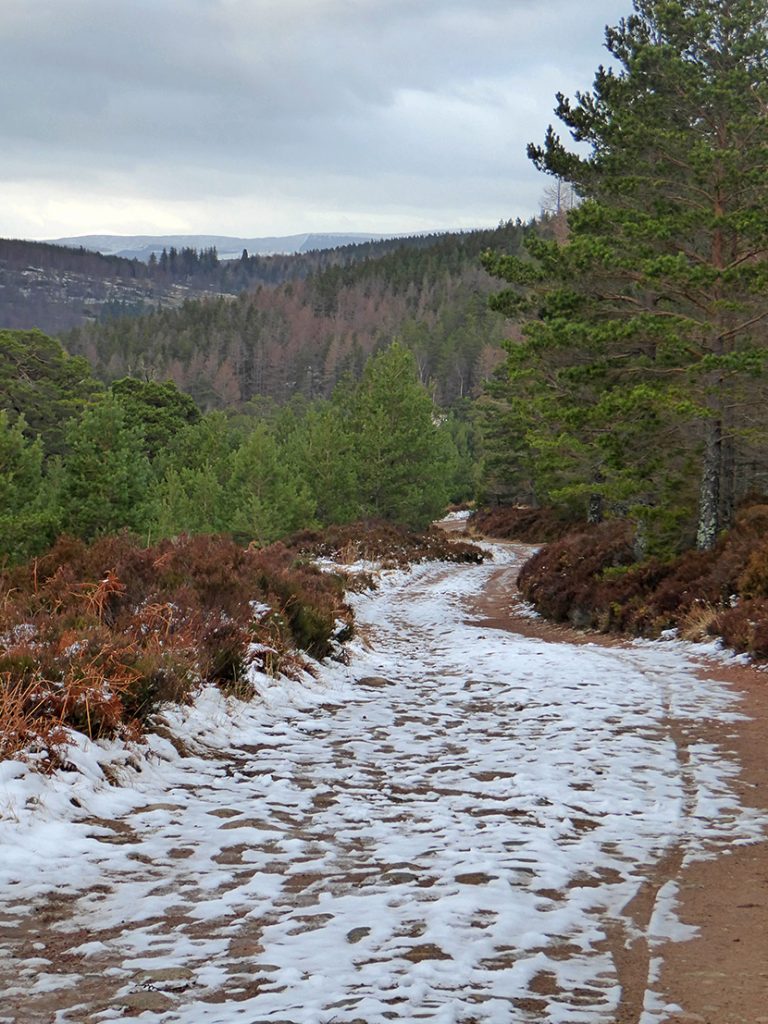 From across the valley I can see the boat house on the trout loch from earlier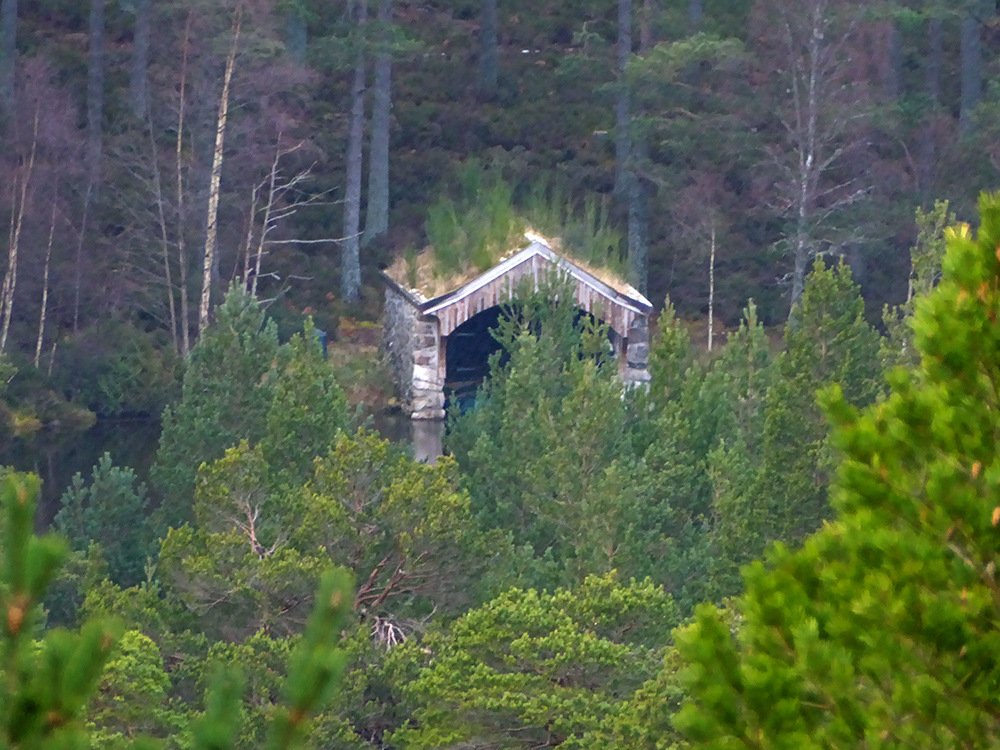 Another carved stone , "Let Well Alone"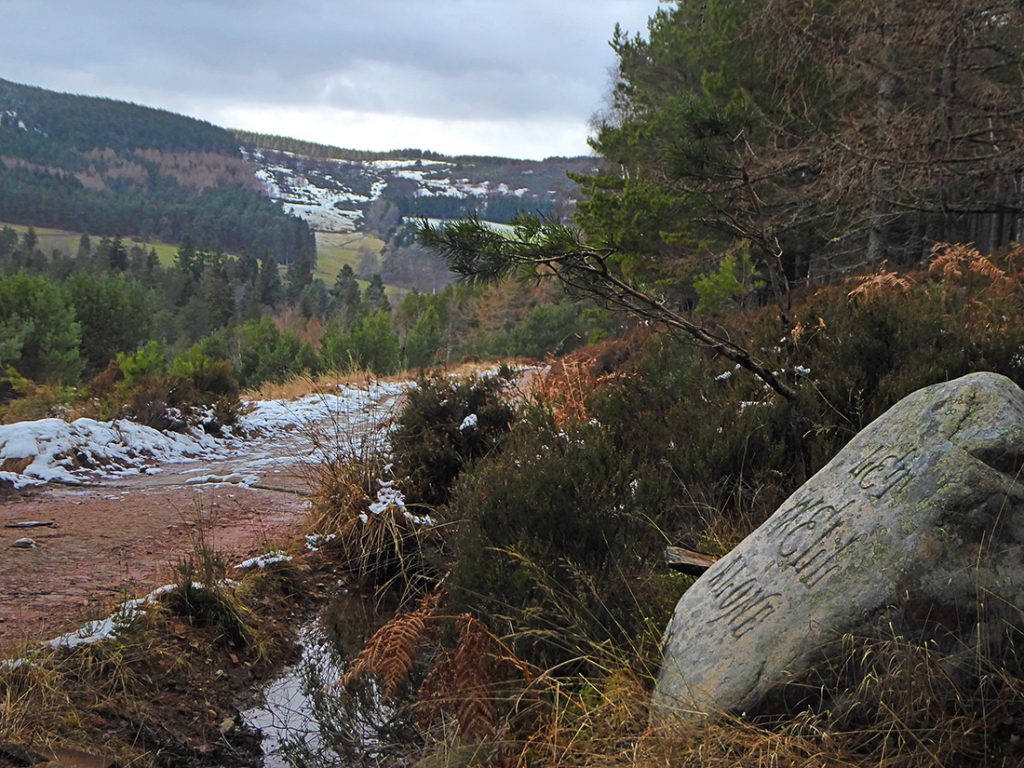 I do like the 'olde world' type. One to perhaps convert to a digital font one rainy day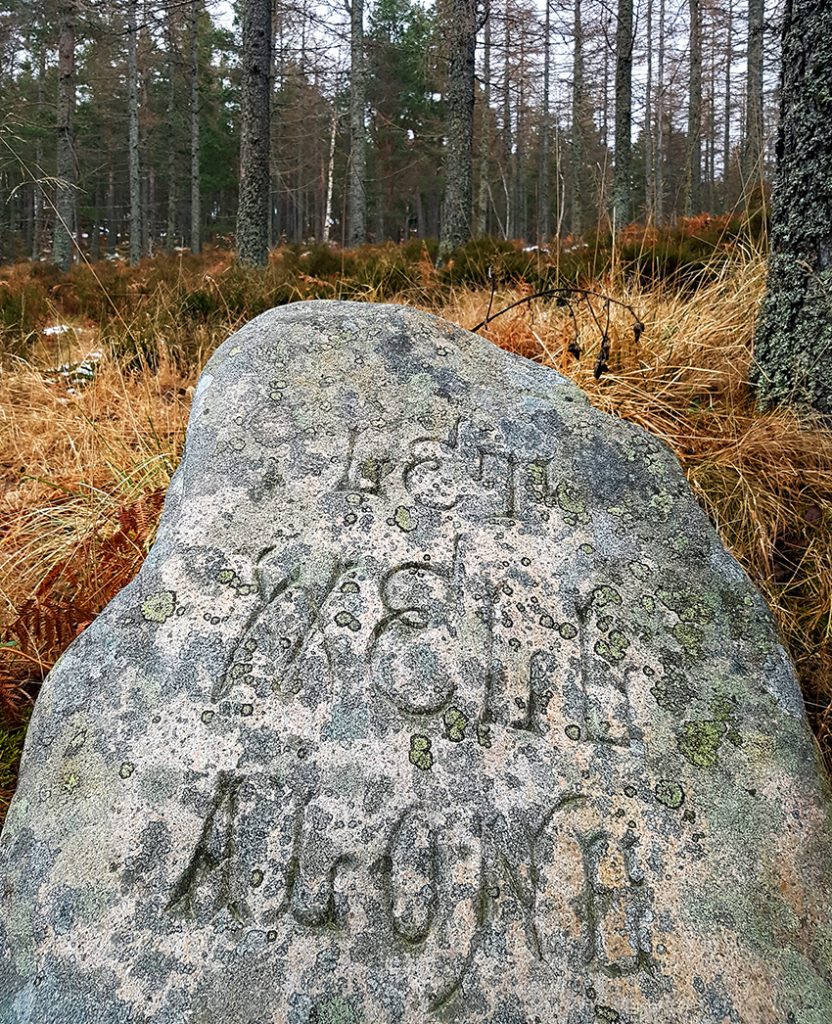 A picnic spot and viewing point, today's only occupant: remnants of one small snowman
Headed down to the river instead of along the higher path. Looking upstream to the Knockie bridge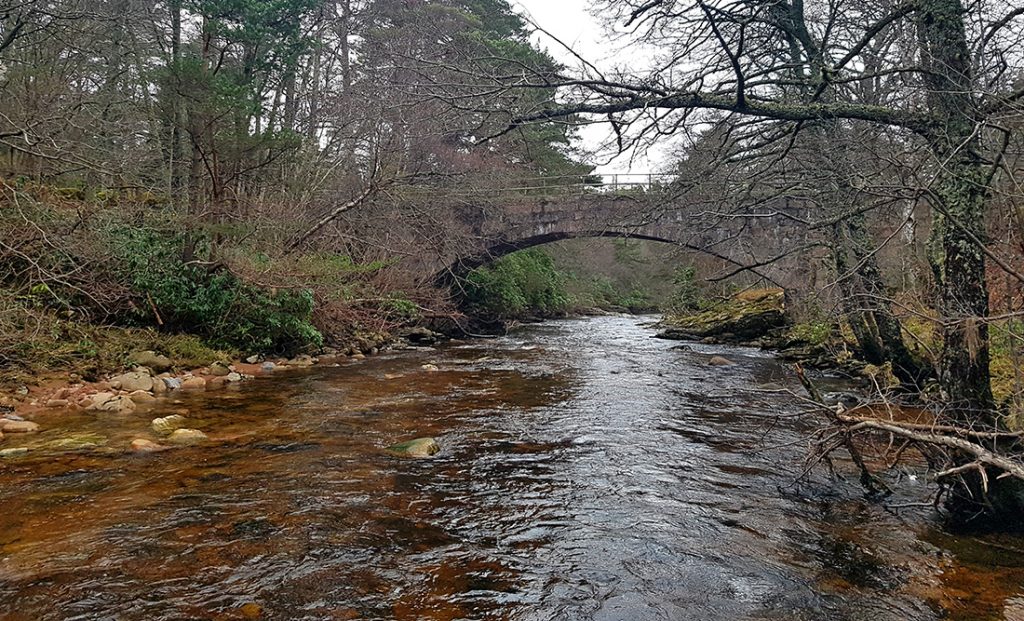 Quick check underneath for trolls, nope none.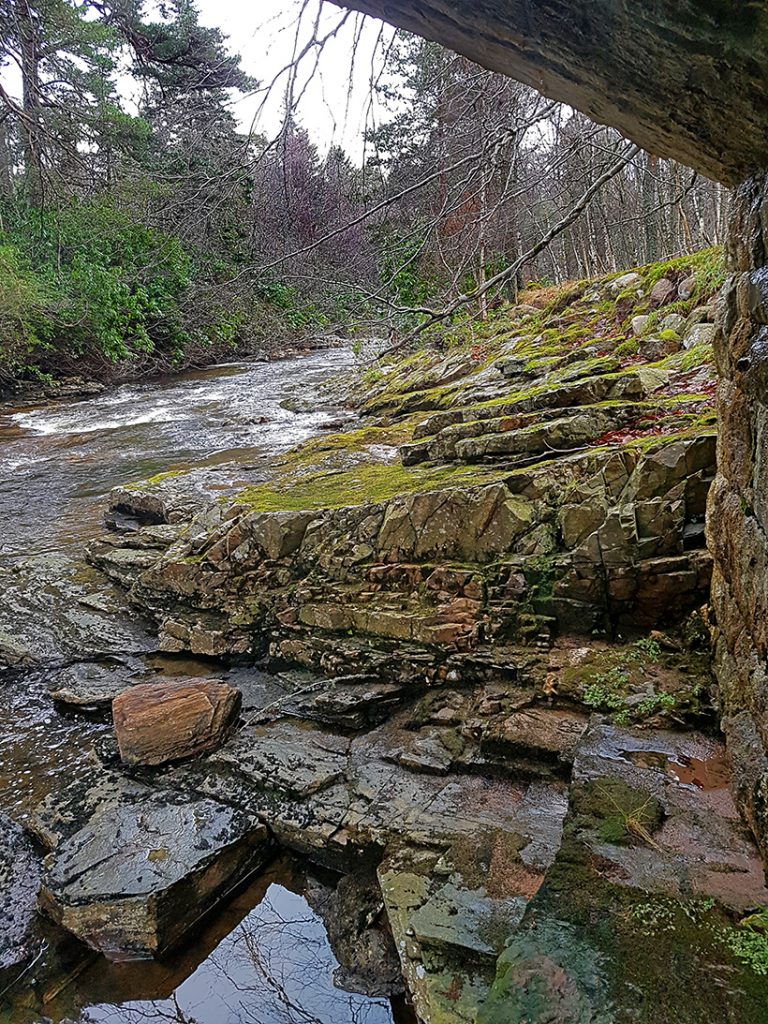 The mounth runs parallel 9k West of Firmounth, crossing Mount Keen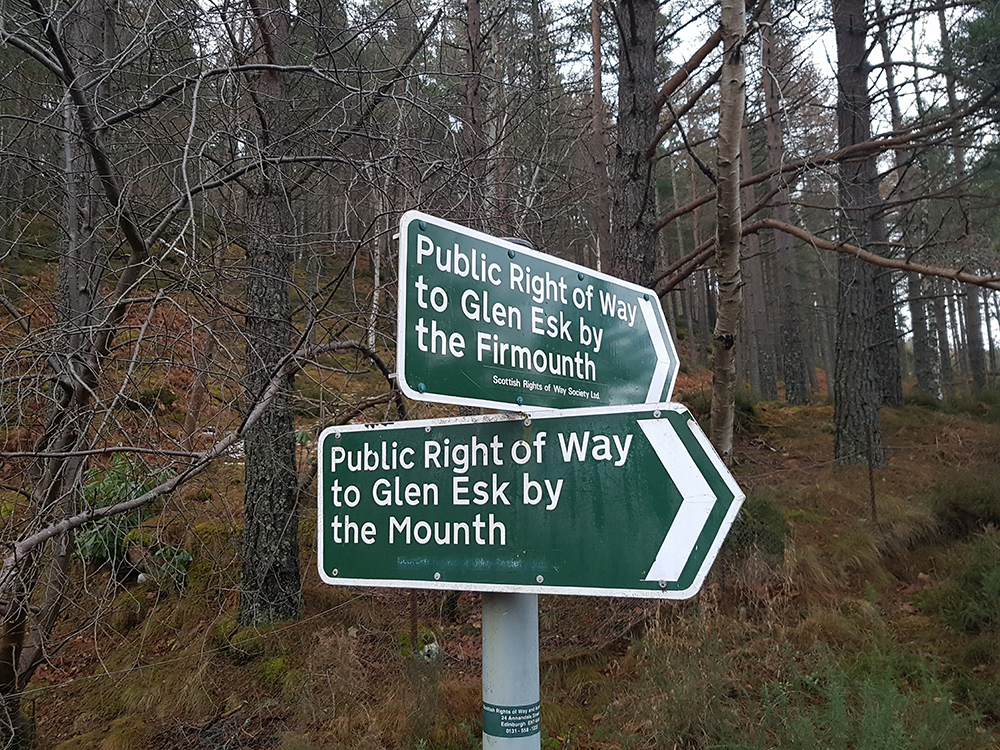 Heading downstream this footbridge catches the eye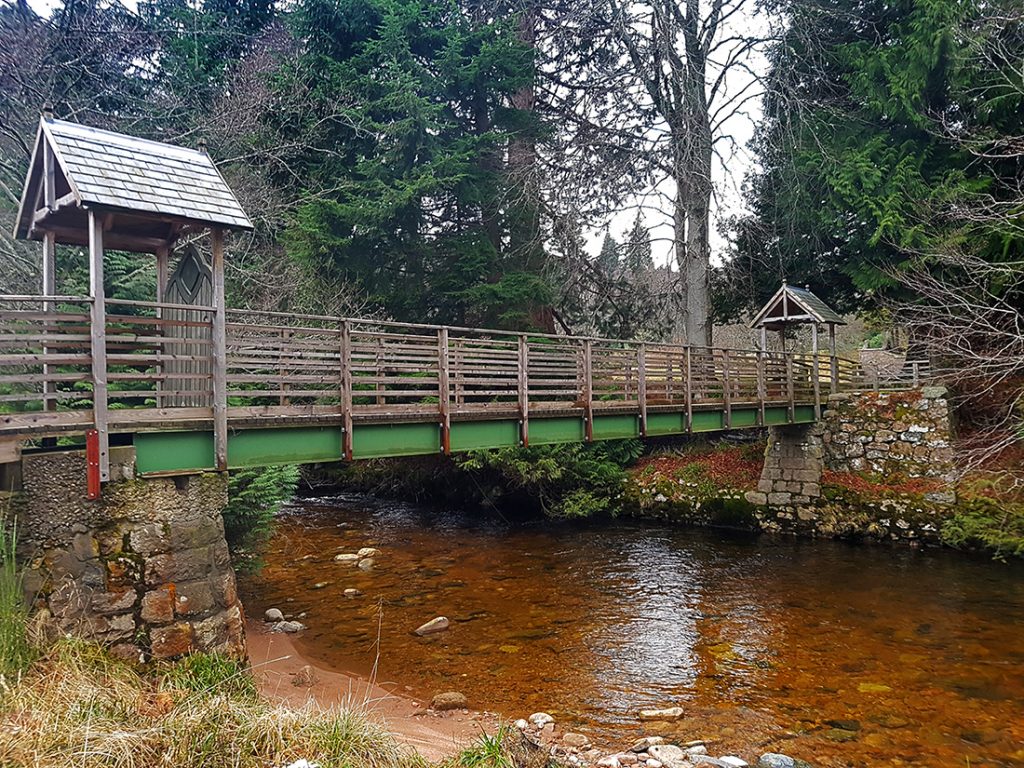 Quaint little gate houses, I wonder if it's open?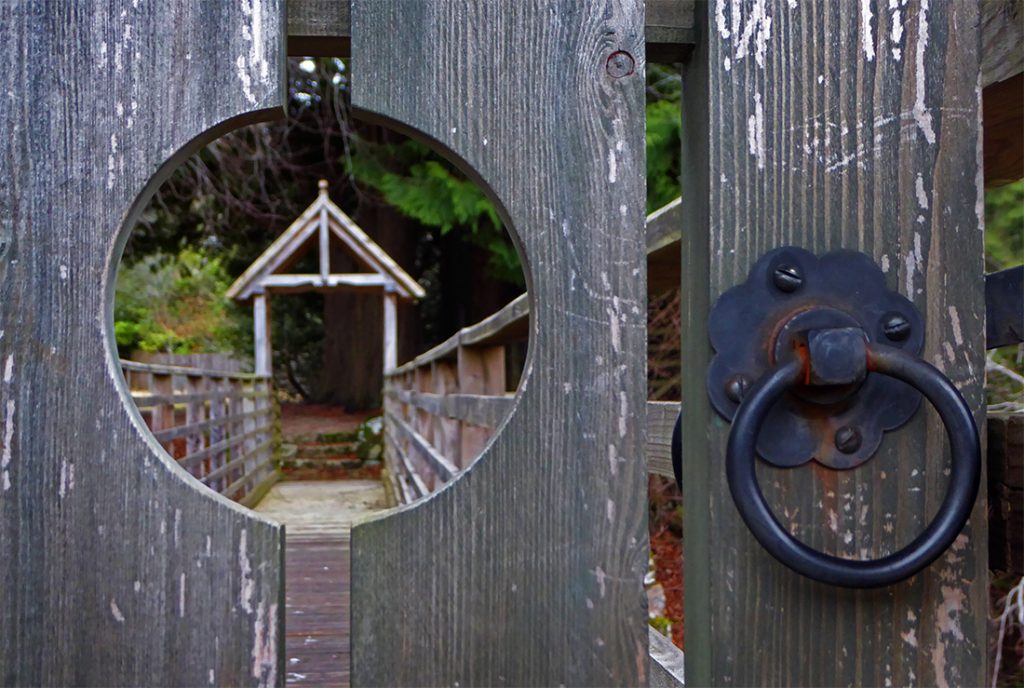 It is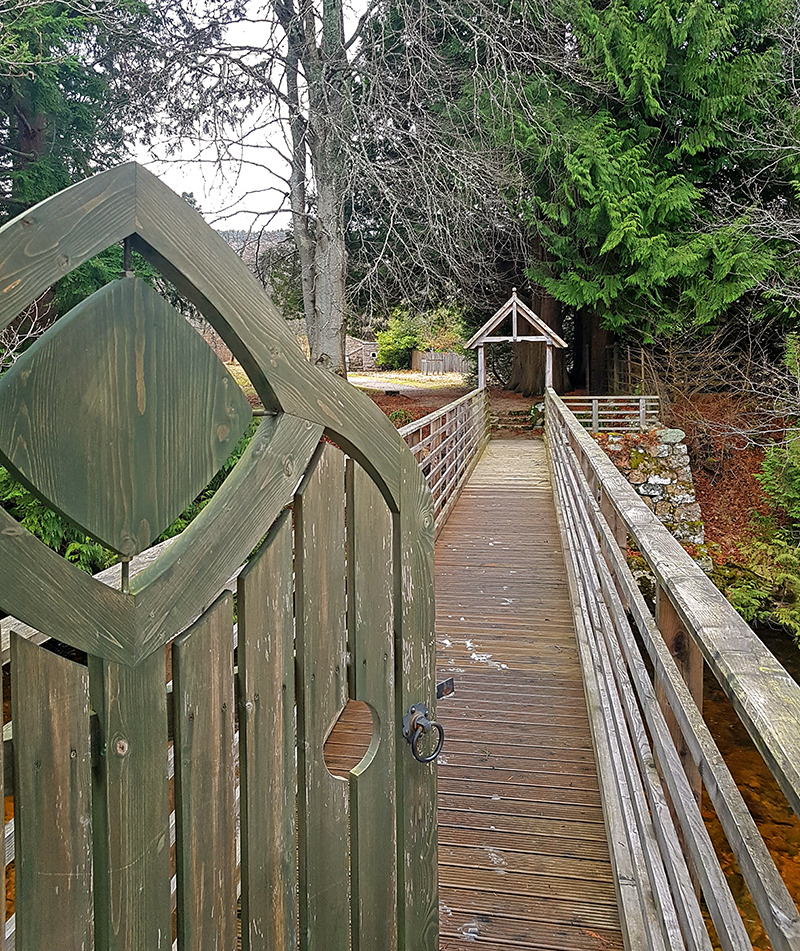 Looking back and enjoying the geometry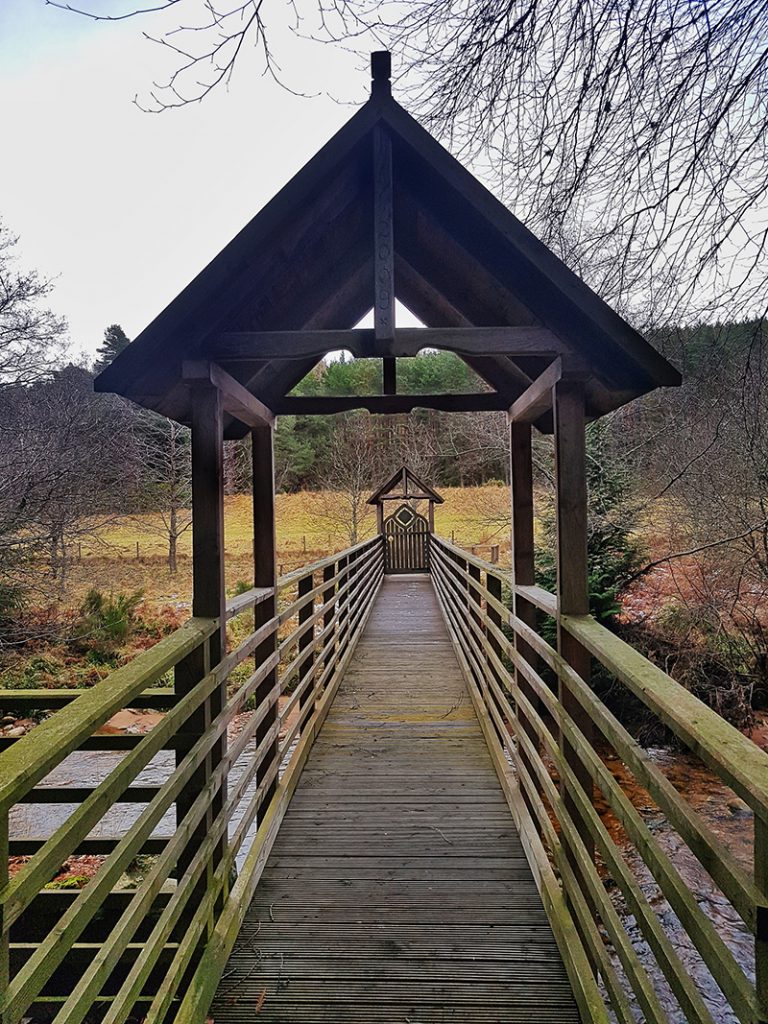 It leads to the back of the Glen Tanar house. I don't venture further, and now wish I'd taken a look through the curvy window. Next time..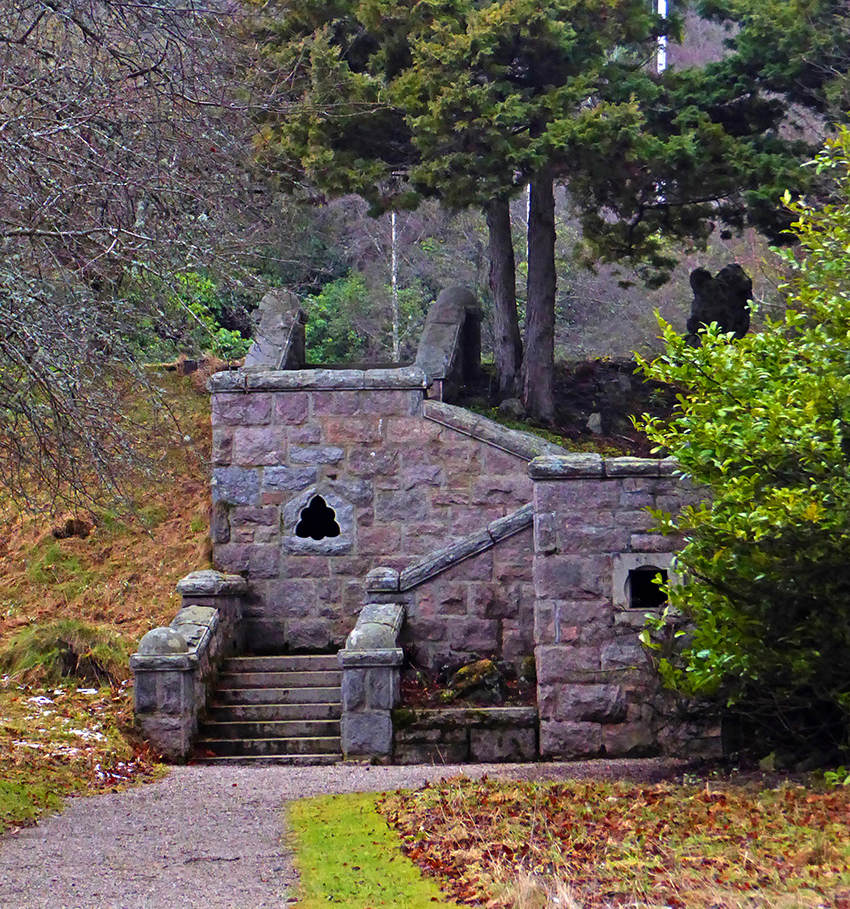 Back across and onward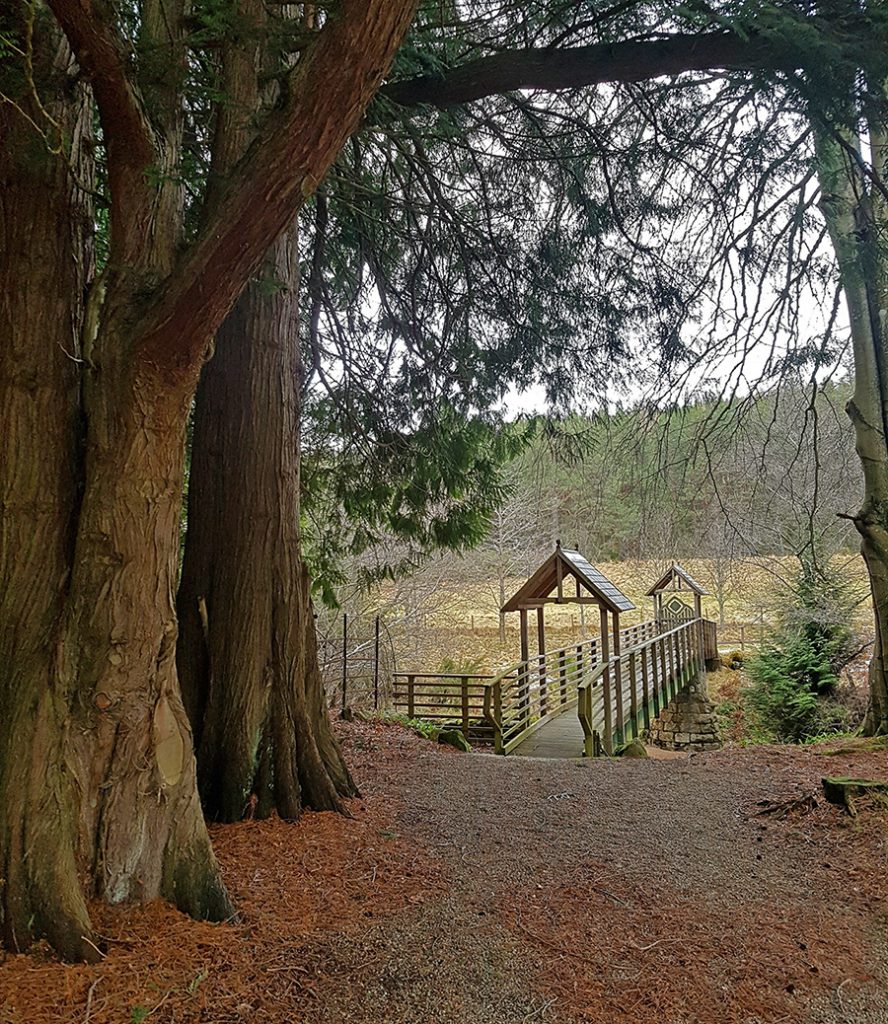 Running out of time so get my jog on, although never easy with hiking boots on. Next up, Chapel of St Lesmo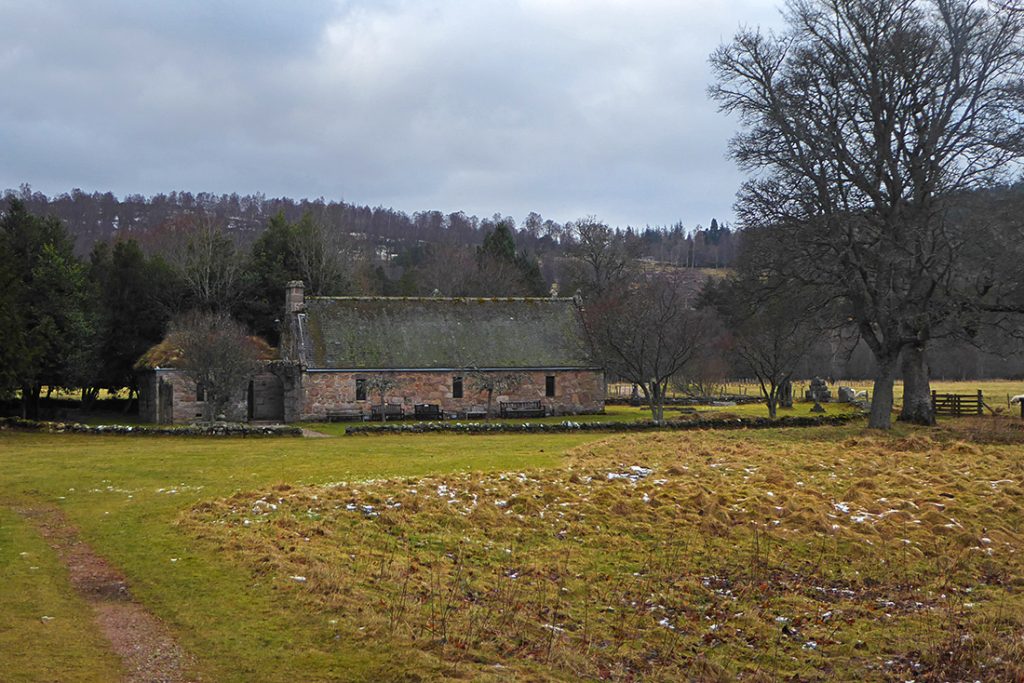 Alongside, a probable ruin of Braeloine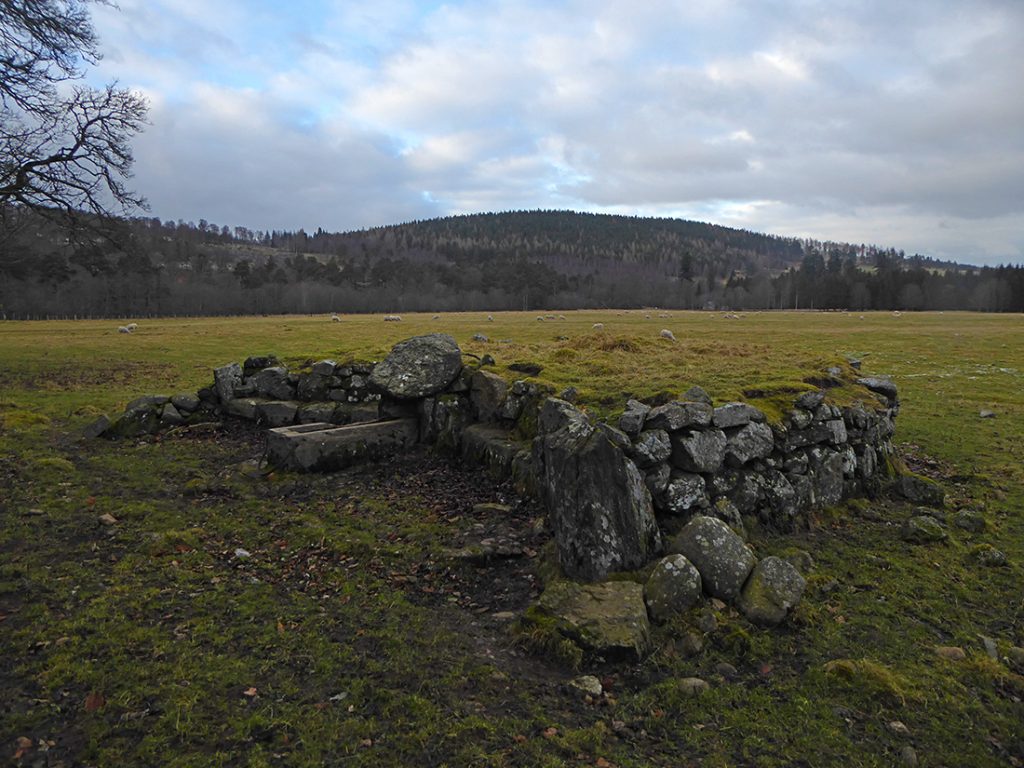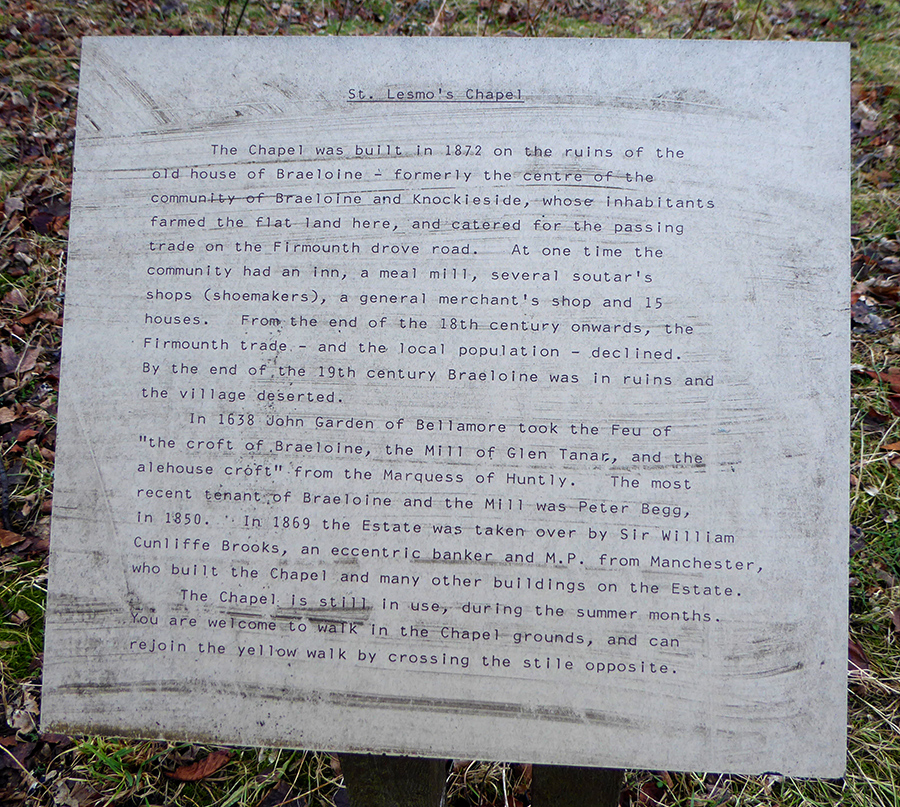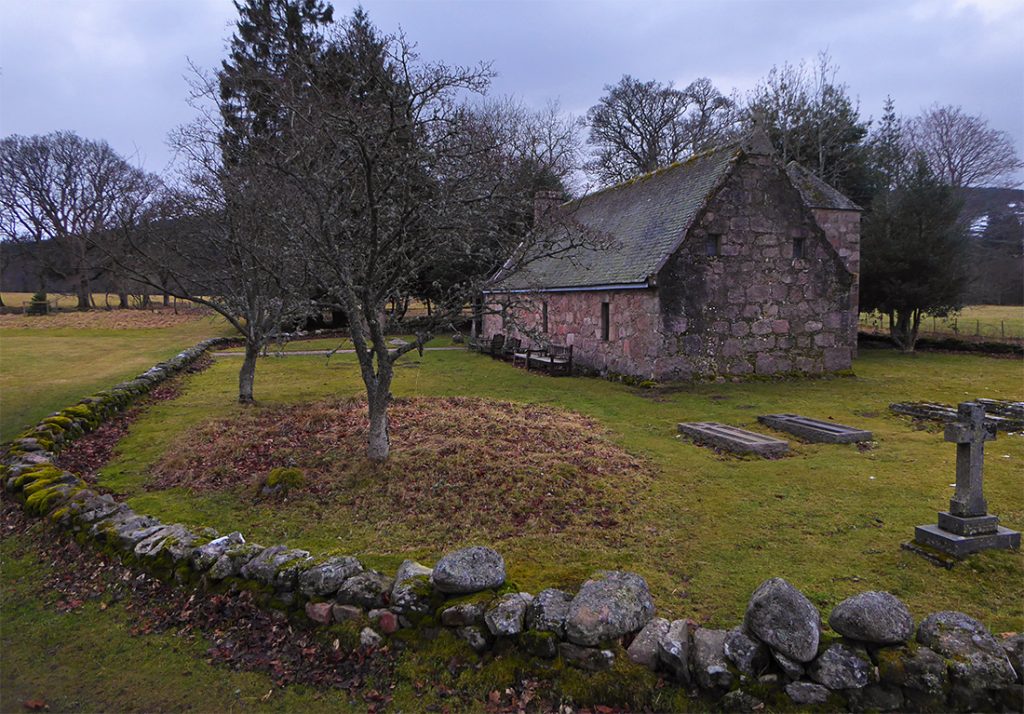 This looks almost like a standing stone, but could be a well weathered grave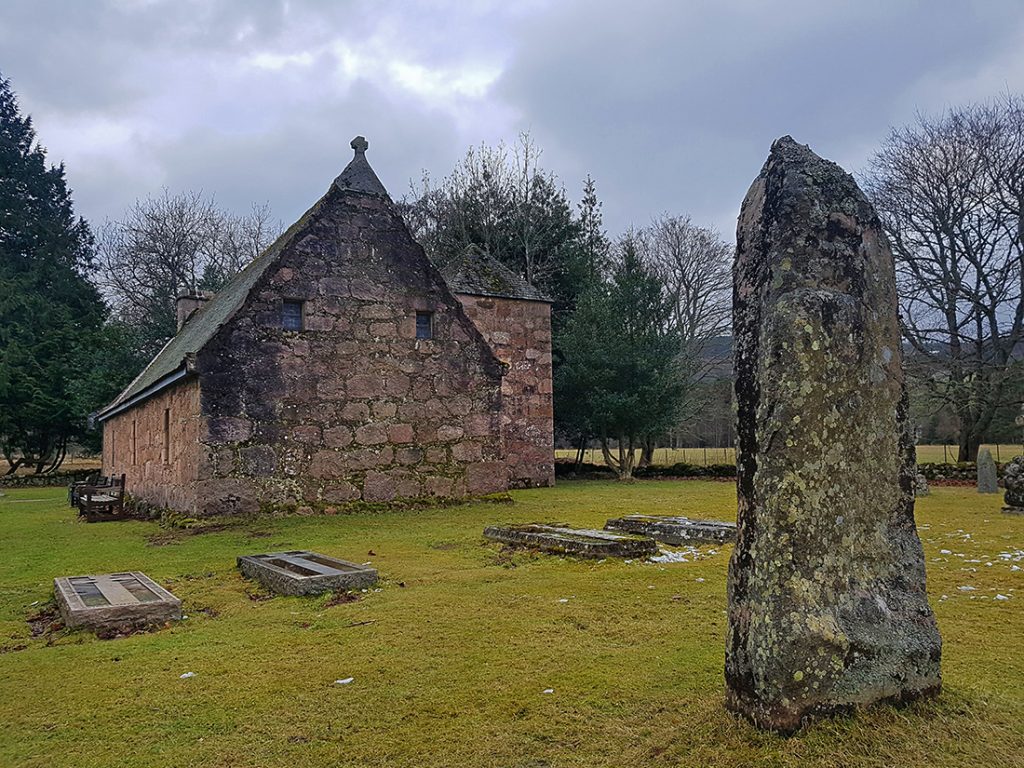 This chunk of chapel looks a bit older. Nice iron work. Inside, the pews are apparently clad with deerskin.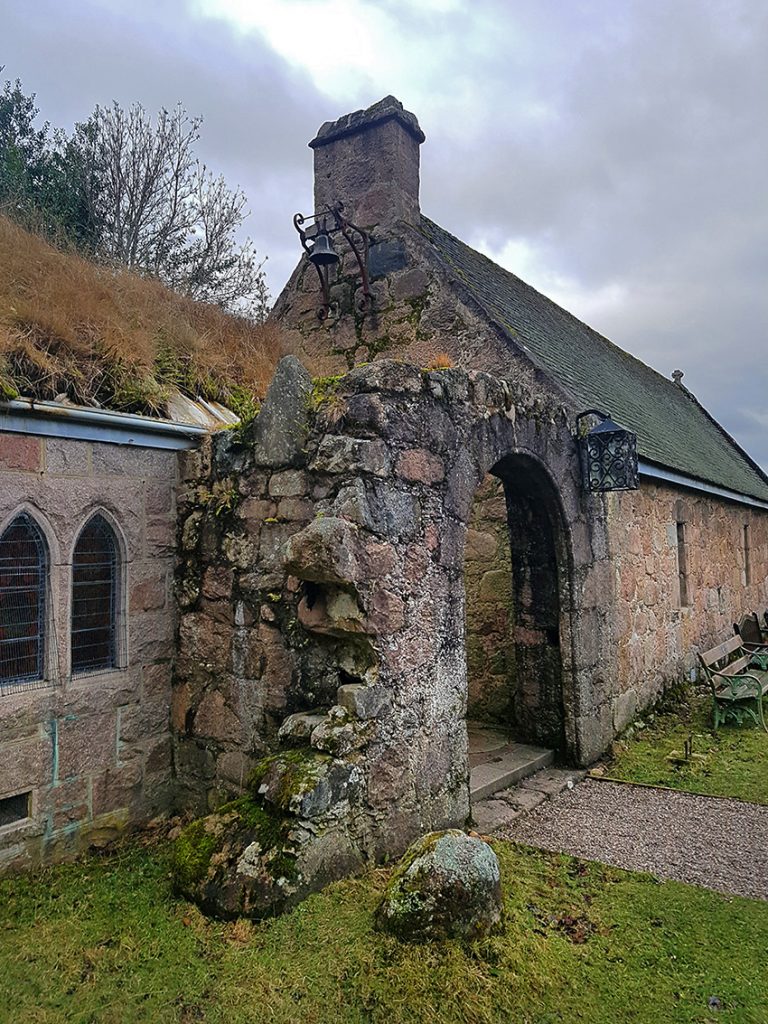 And nice mortar detail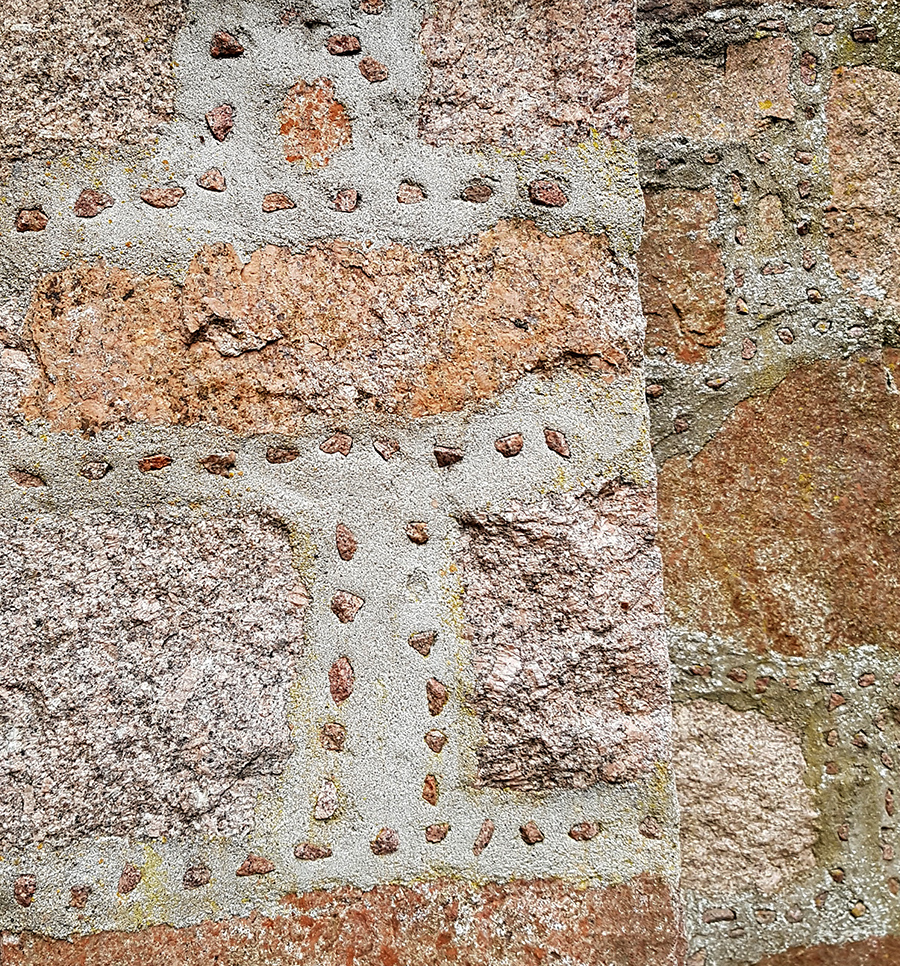 Heading towards my final stop of the Bridge of Tanar, an unusual shape stands by a field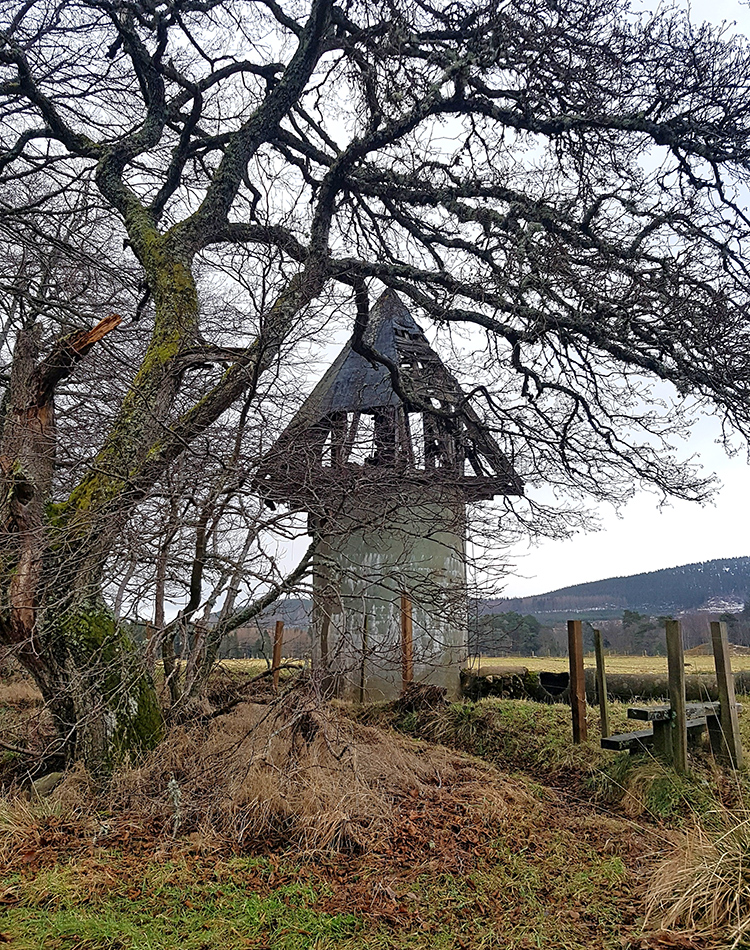 From a distance I though it might be an old dovecot but close up it's a construction of concrete with some rusty old industrial metalwork inside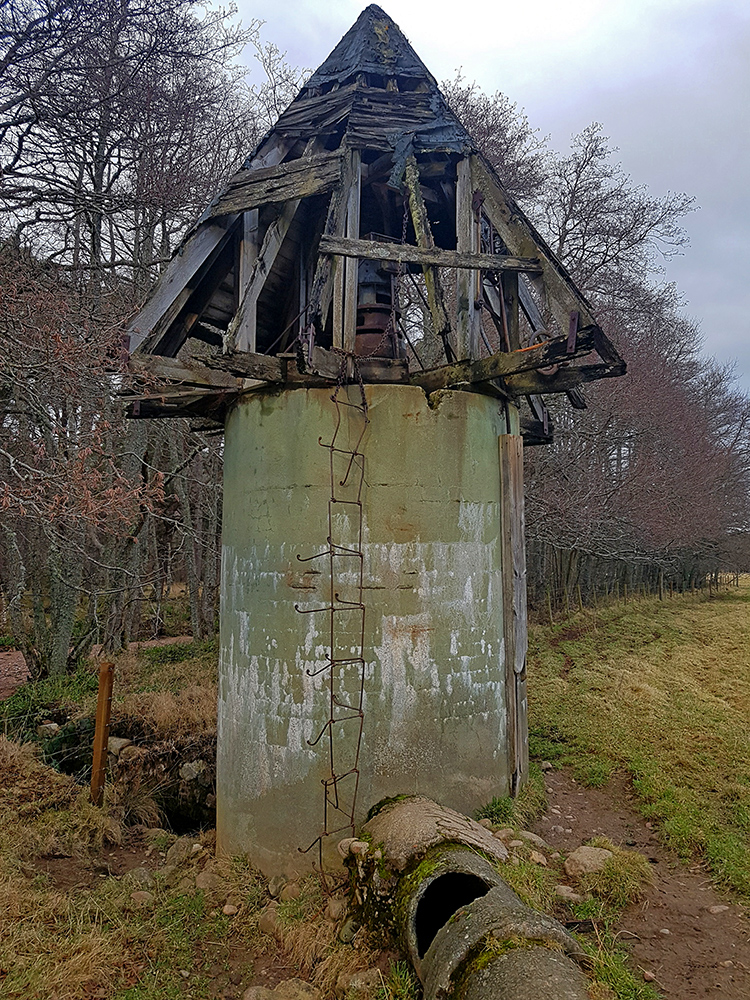 I test these creaky rungs gingerly.. and think better of climbing up for a closer inspection. I've a few km to cover at pace yet and a crocked ankle wouldn't do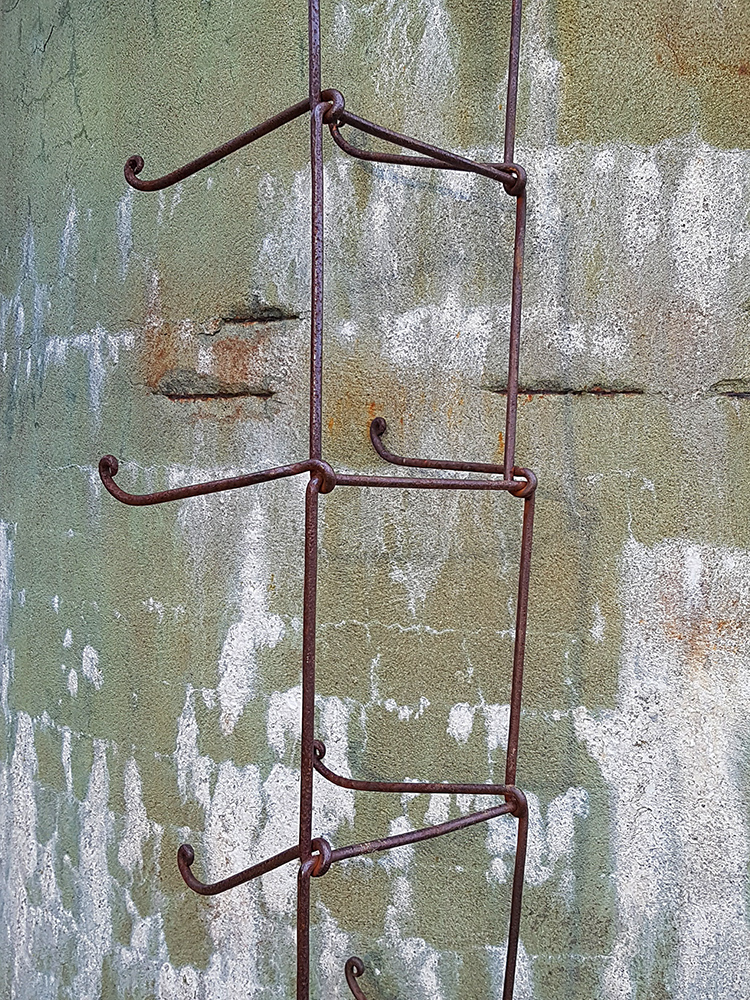 Poke the camera high up over the side for a nosey. Later discussion informs that this is a turbine. Unsure where it would get sufficient pressure to drive, unless piped from far off in the hills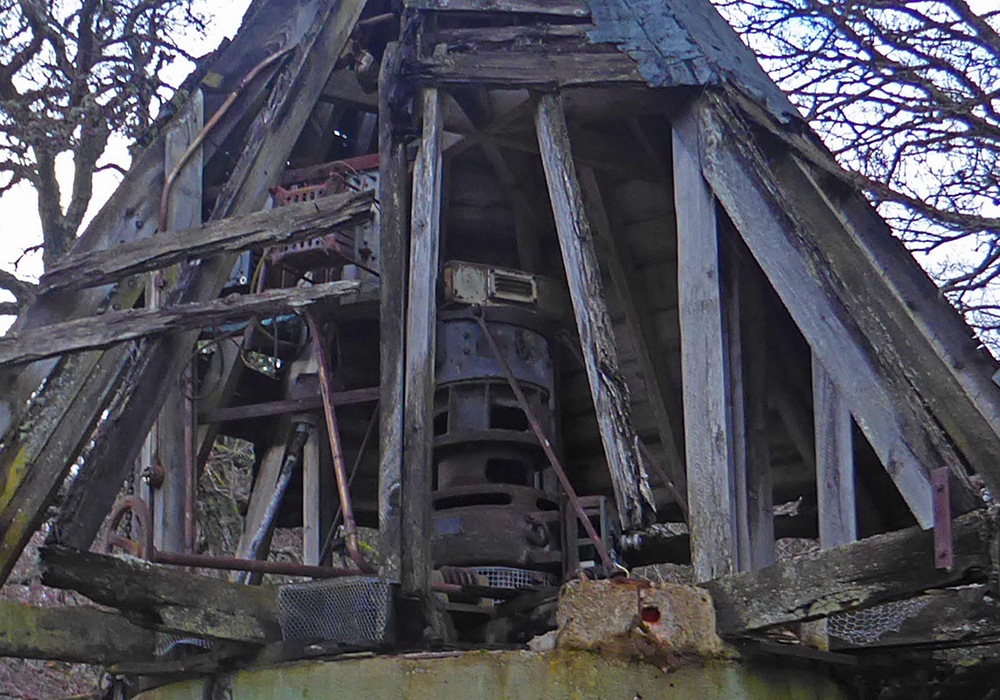 There's a pipe duct with a date? scrawled into the cement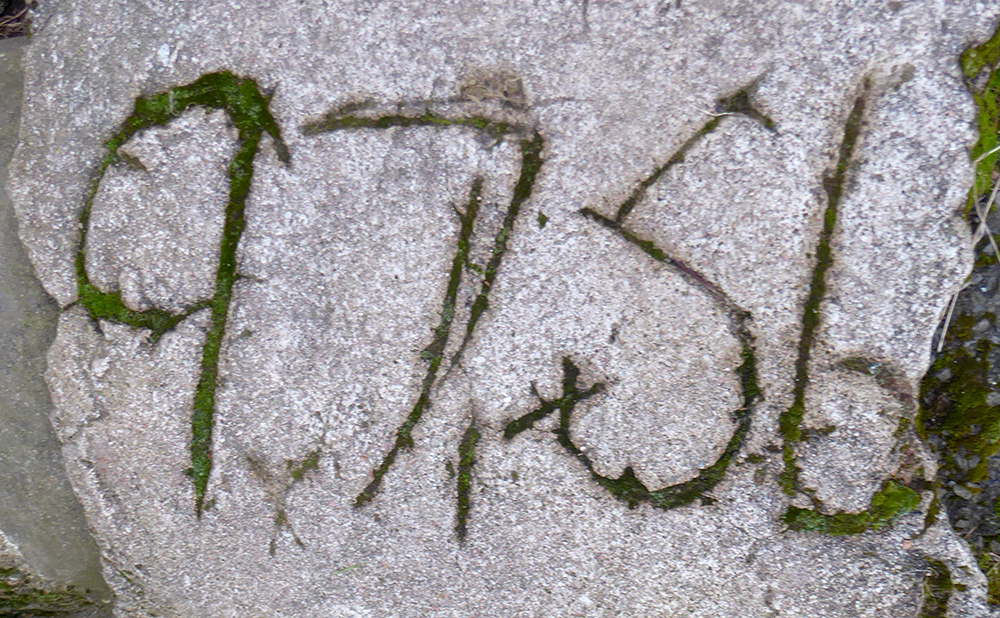 The Bridge of Tanar is a military construction of the mid 18th century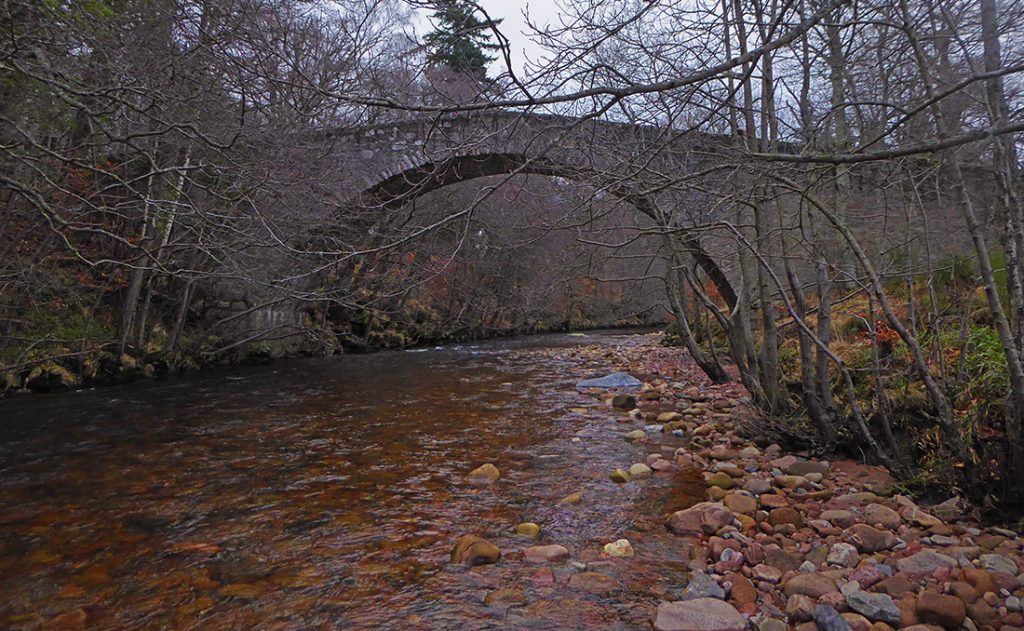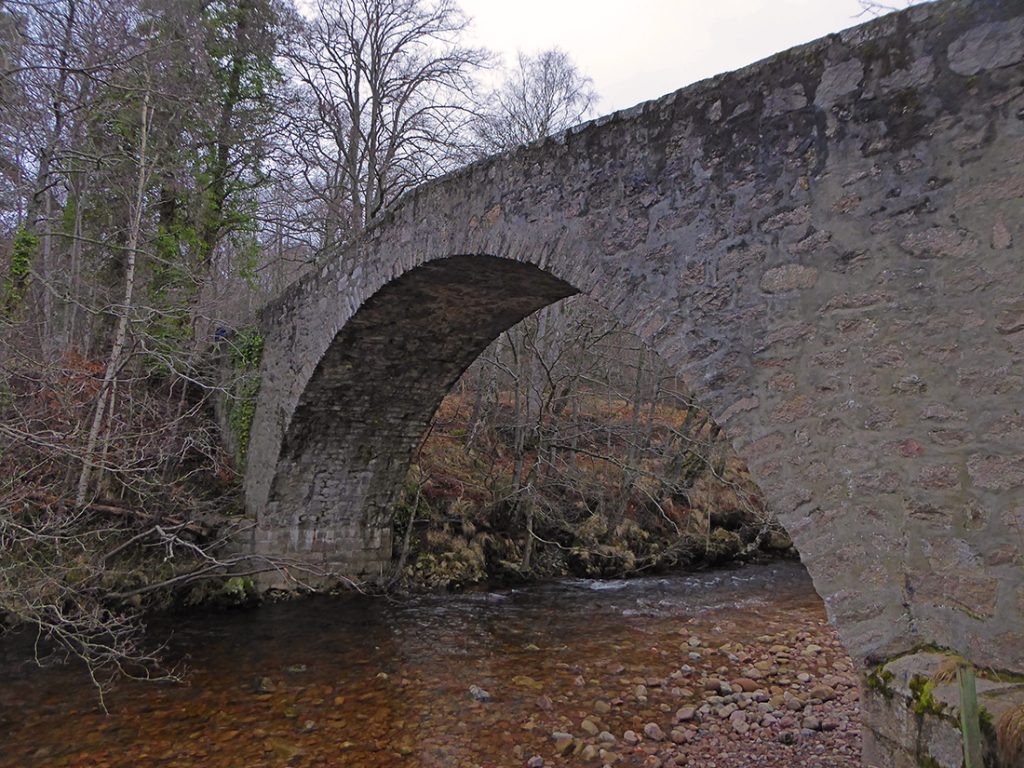 The only sighting of the capercaillie today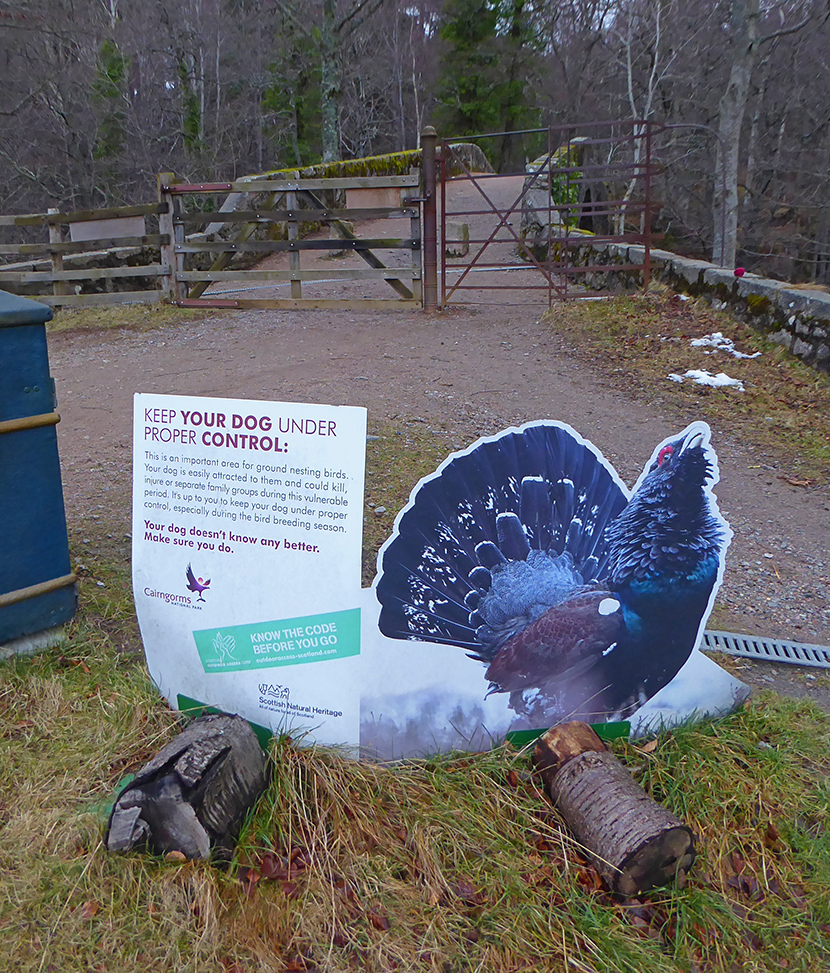 Back on to the North bank of the Water of Tanar in time to be picked up by the minibus home