A few times when I've been heading for the Coyles of Muick, I've looked down to the glen below to the west and thought it looks pleasant, a track winds along above a river. The glen doesn't head to any notable hill though, nor is it a useful navigational route so it had remained unvisited by me, but today's intended run to the Coyles I'd take in the lower part for some exploration before heading onwards and upwards.
Heading off from Ballater along the Deeside way, a stiff breeze in my face gave warning of winter, but the sun was out, and forecast was benign.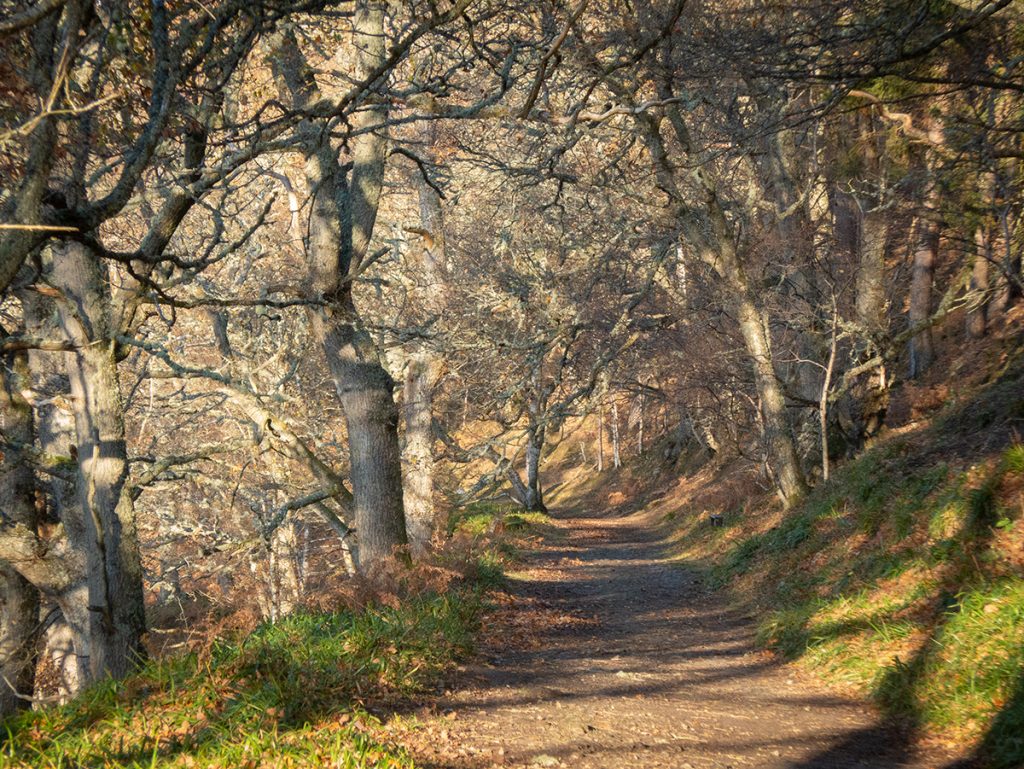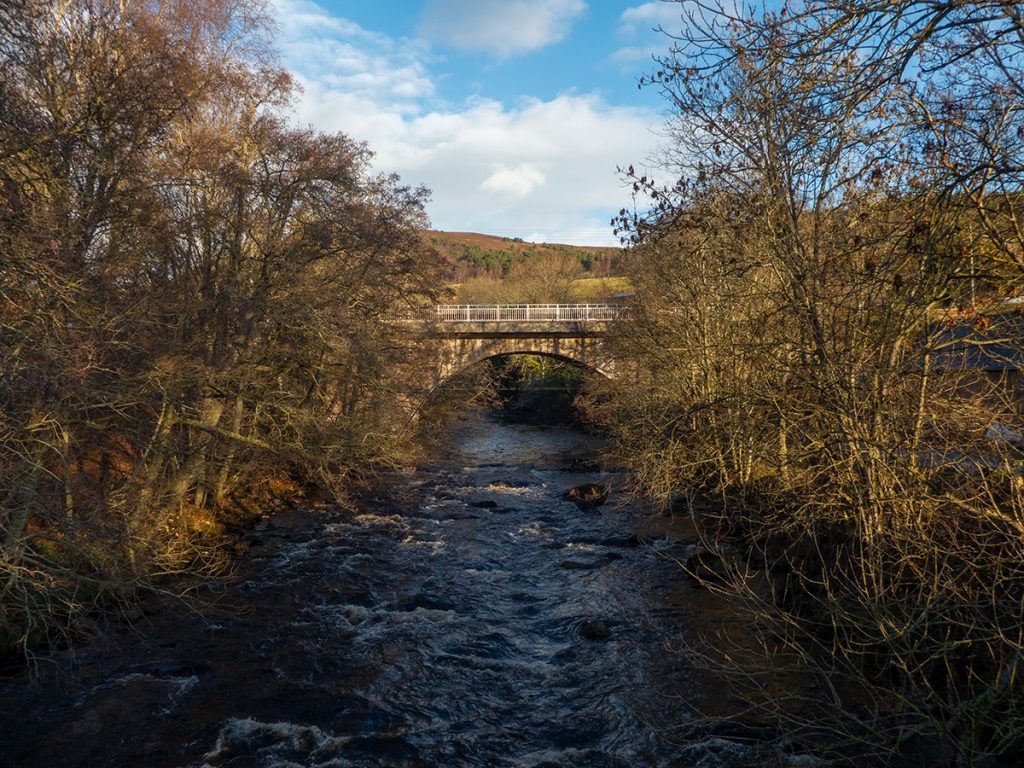 Across the now-fixed bridge at Polhollick, I pondered a sortie into the enticing paths leading into Dalhefour wood, but that could keep for another day.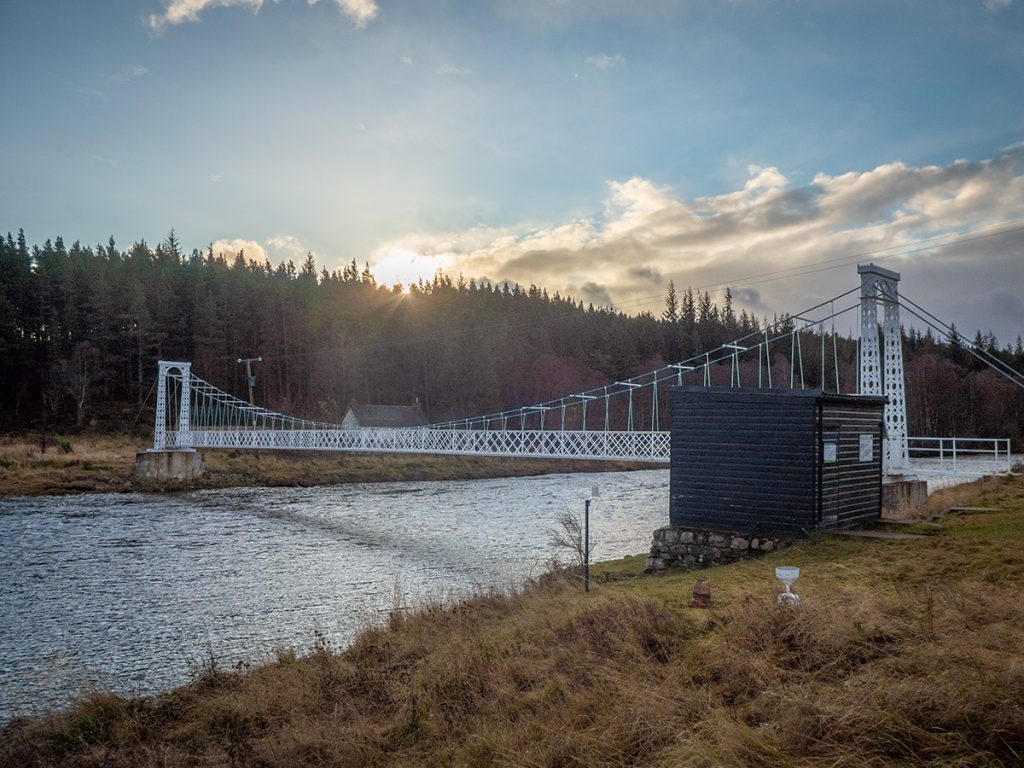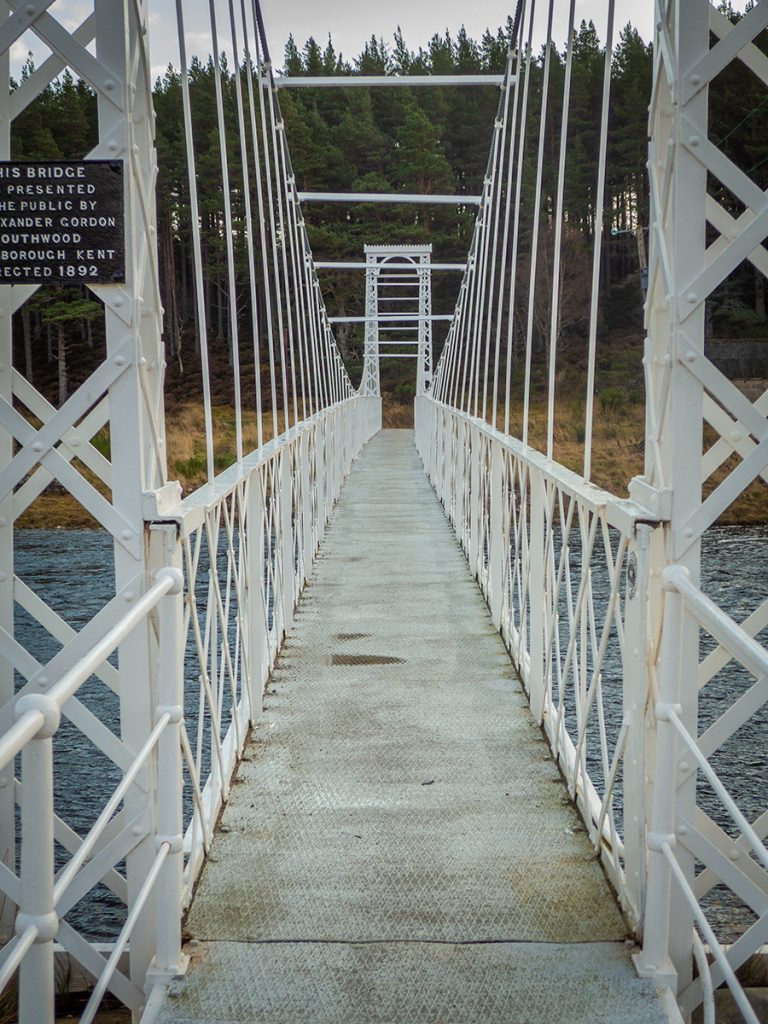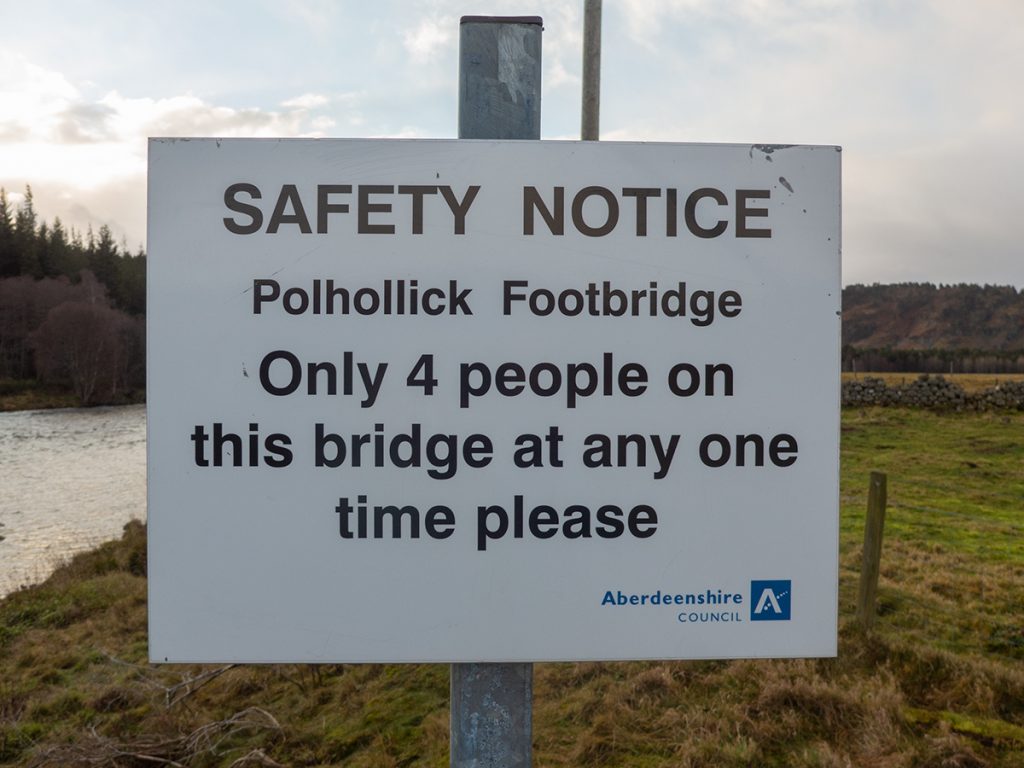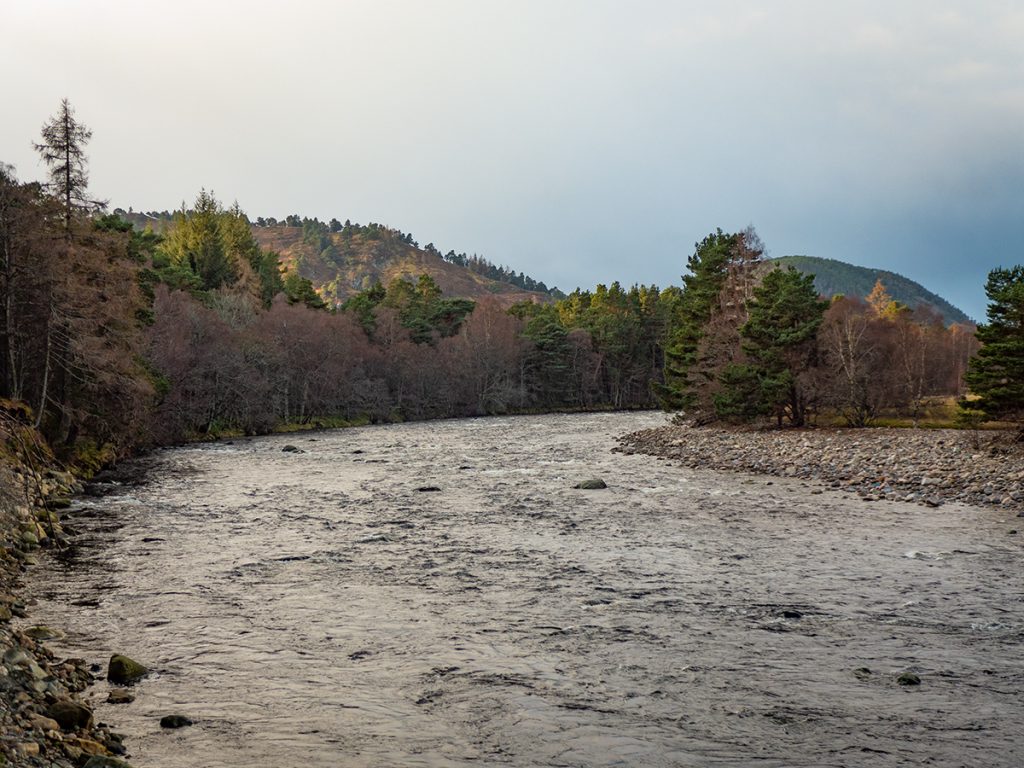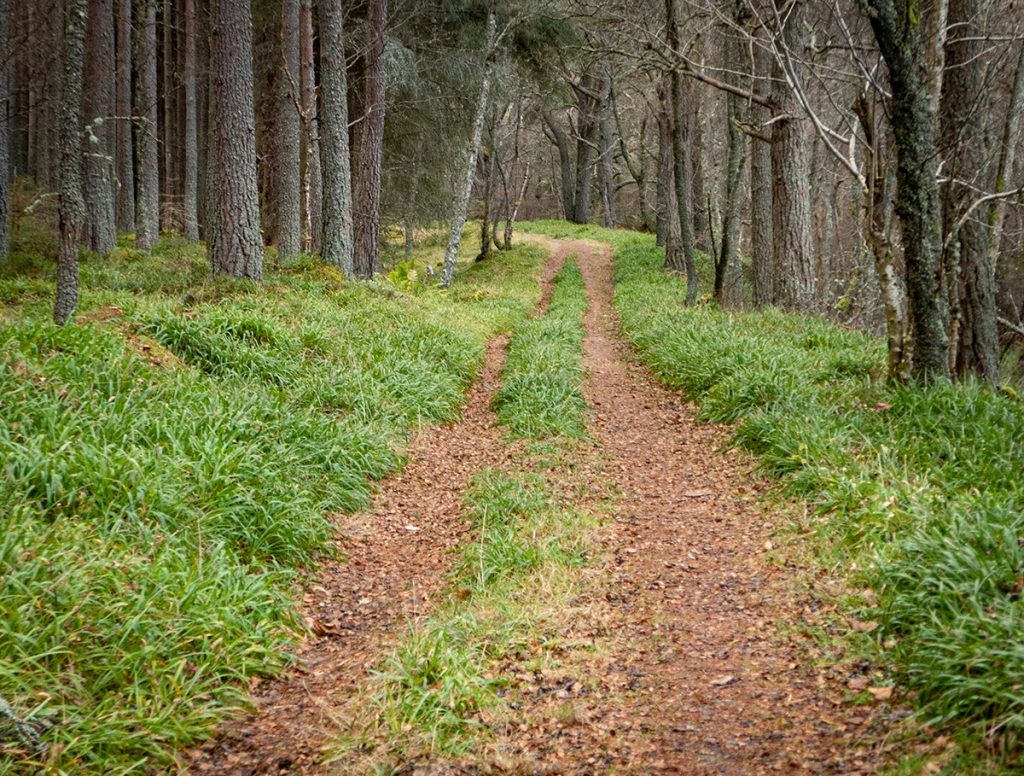 A short section of road, accompanied by the occasional rumbling 4×4 but also more gracefully overhead, and I was into the glen along a farm track through woodland.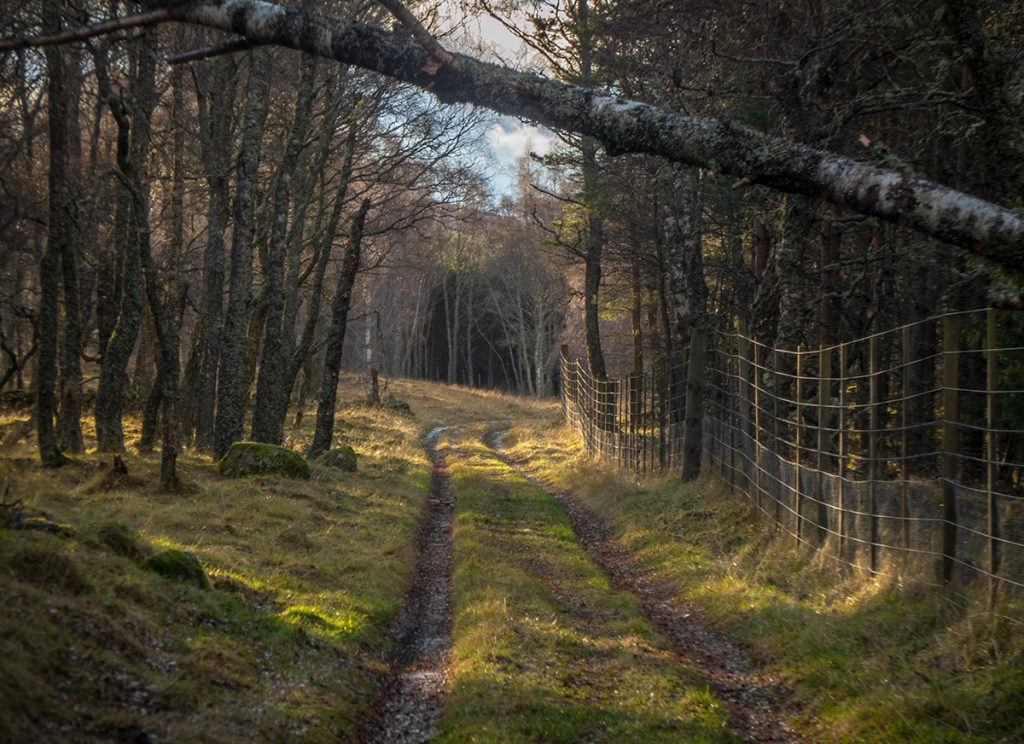 Slowly gaining a bit of height, it wound along the river and some good views opened up.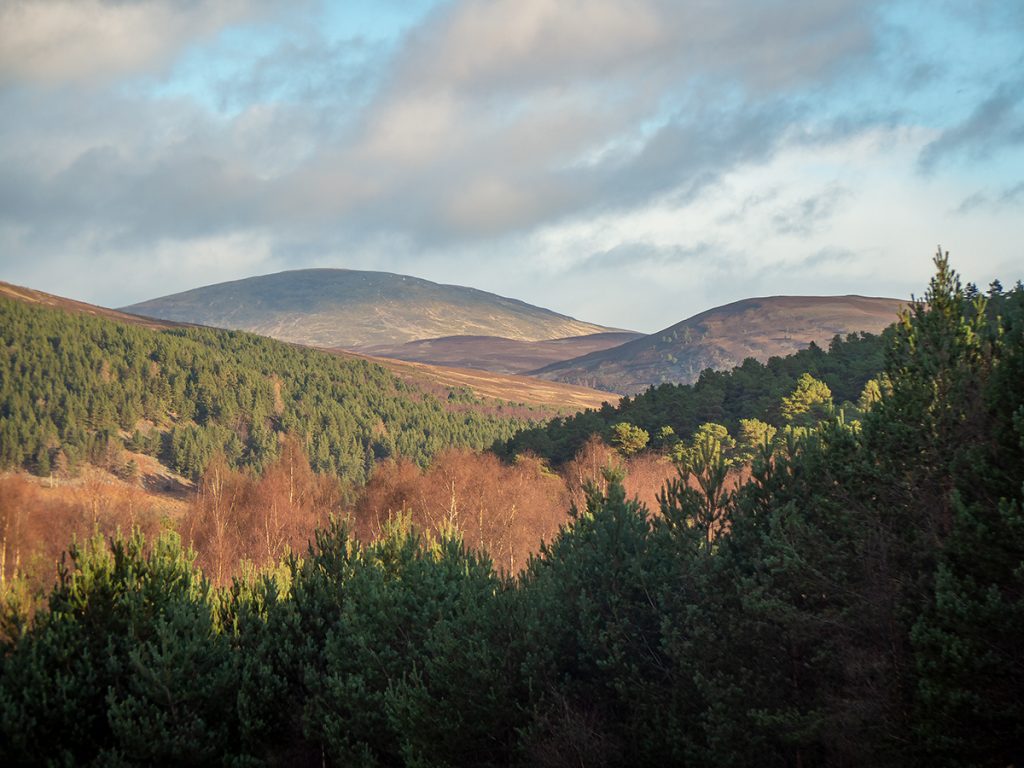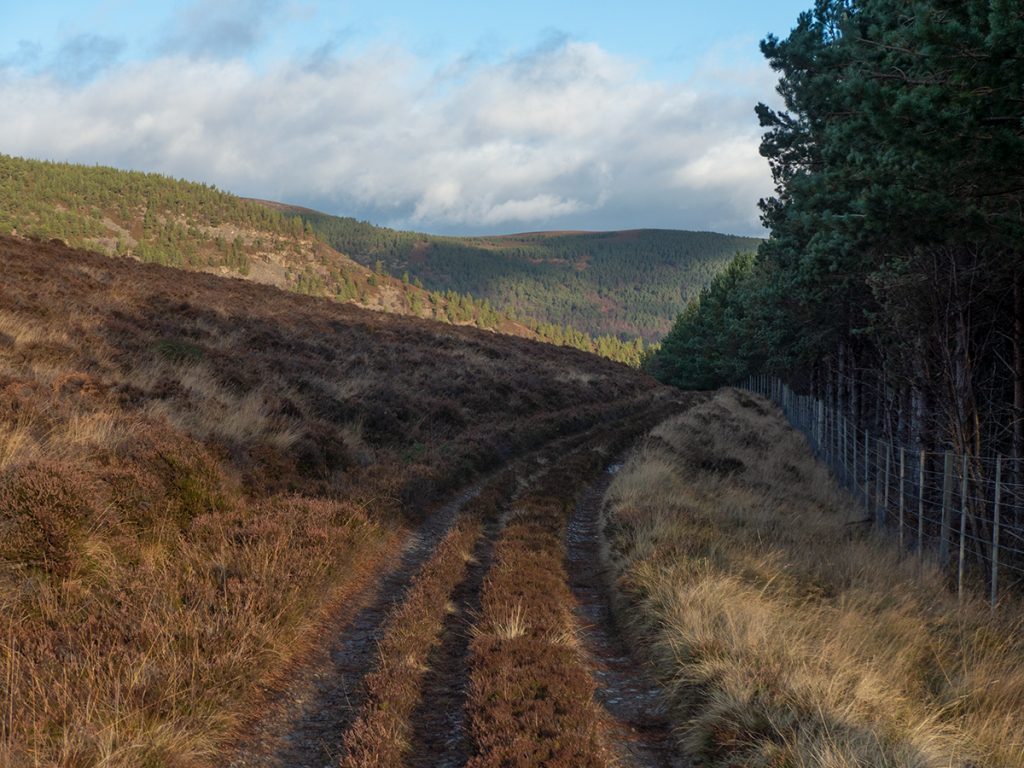 At Loinveg, there was a deserted farmhouse and some ruins. I pondered a nosey inside; it didn't look like it had been inhabited in years. Boarded up but not blocked: the front door ajar.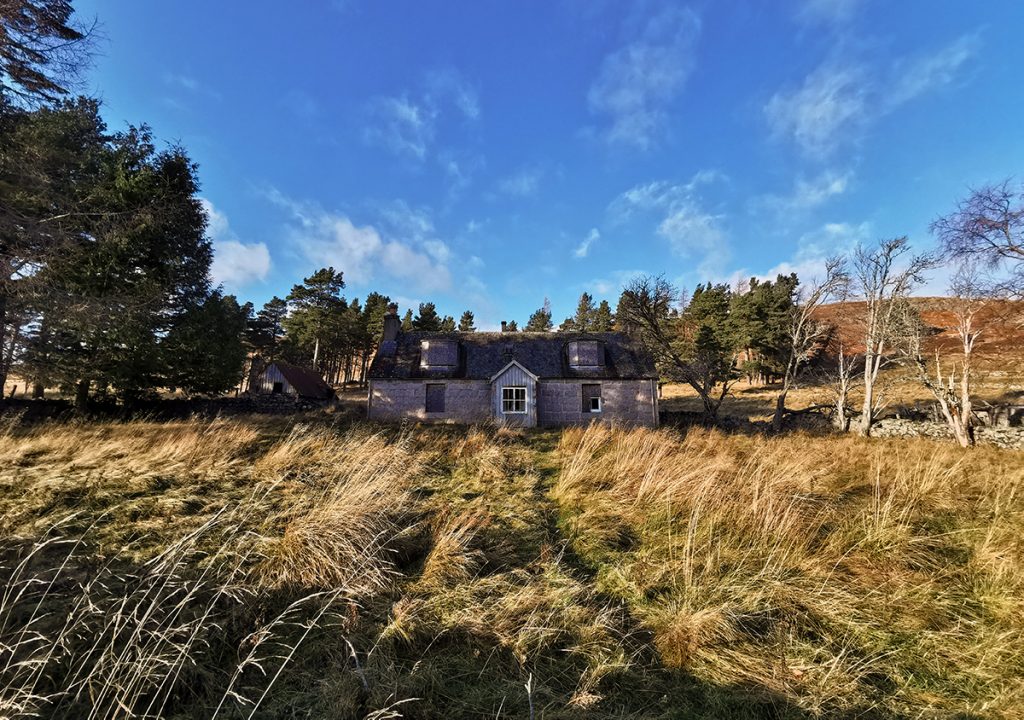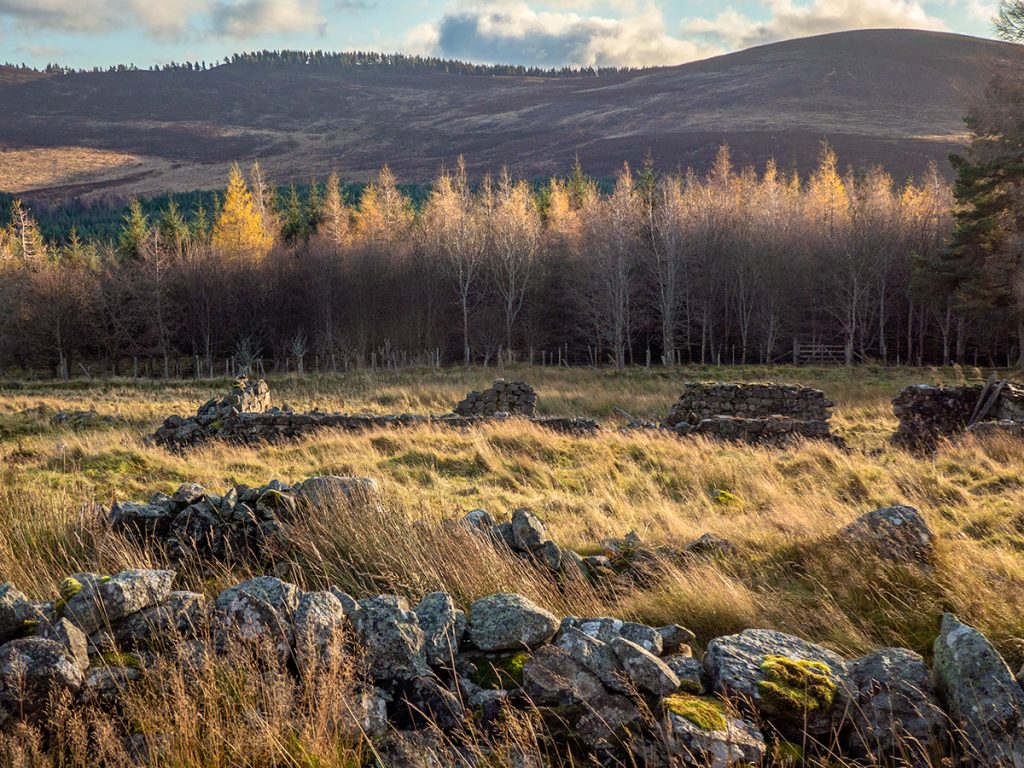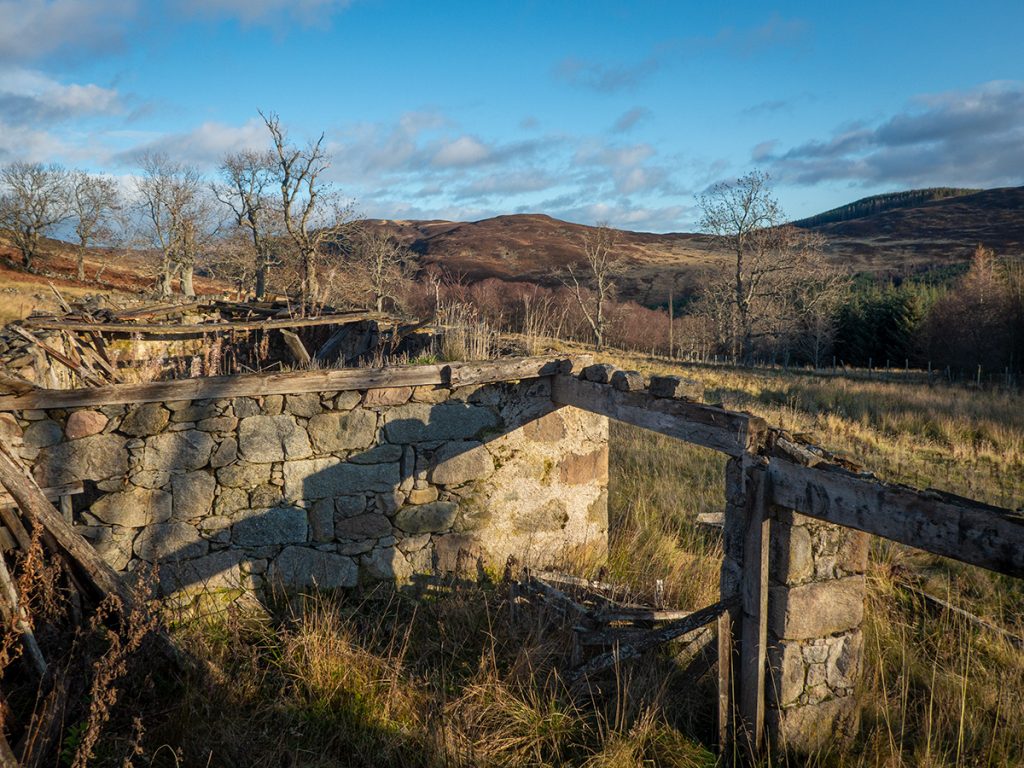 After a brief creak through the house, it's time to to leave the ghosts and cross the River Girnock, to ascend the other side of the glen. There's a small bridge on the map and on aerial photography, though the 'track' heading down to it was long overgrown.
That should have been a clue: the 'bridge' ("Kier's bridge?") had been obliterated, no doubt by some ferocious flood in recent years (around 2015). The remaining girders were still anchored firmly, and the distance between the bows may have facilitated edging across feet-to-hands but just that bit distant that one wouldn't know whether geometry and core strength would succeed until committed. In summer I'd have chanced it, today was too cold for a dunk so I headed upstream looking for an easy ford, and not finding one climbed back up to the farm track where I'd make quicker progress and have a better overview of opportunities.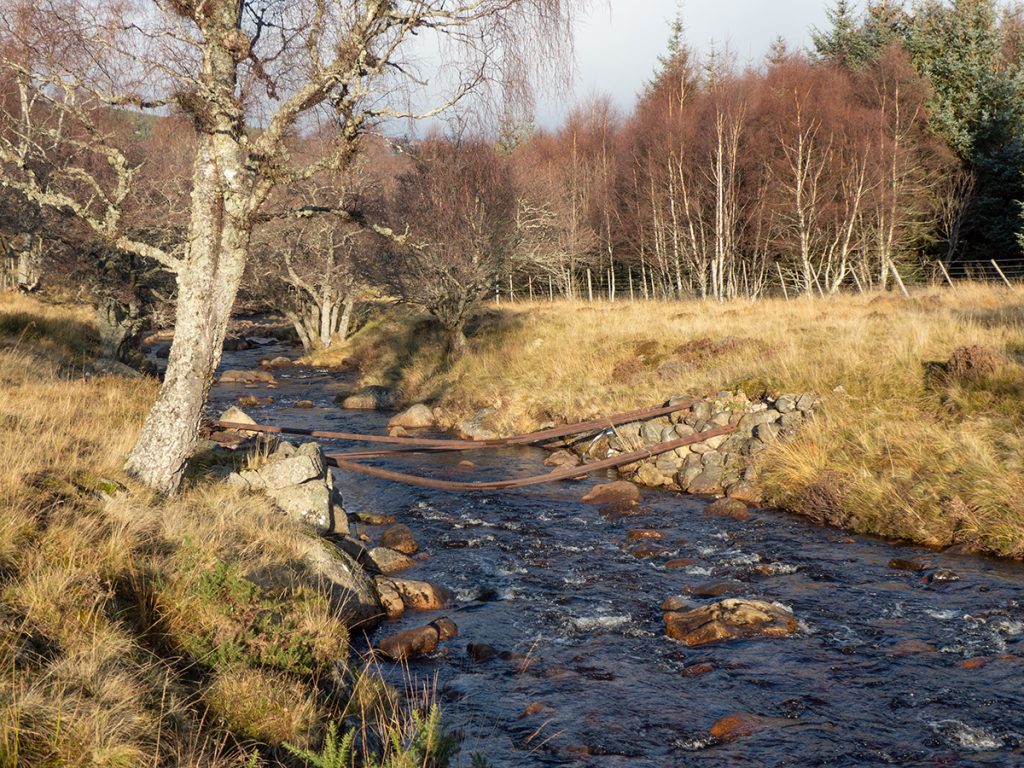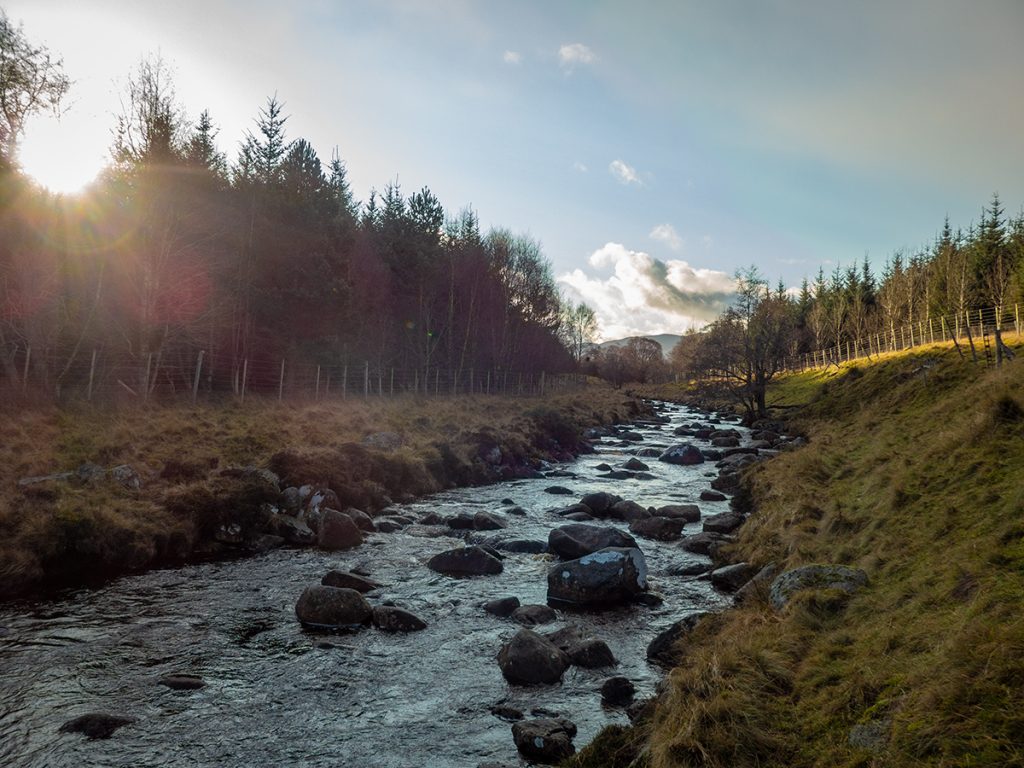 Pondering this change of route, an icey squall swept through unexpectedly , and persisted. From here on I'd be getting higher and more exposed, I wasn't sure I fancied this hammering my face so decided on an excursion into a plantation where the density made for a cocoon of shelter.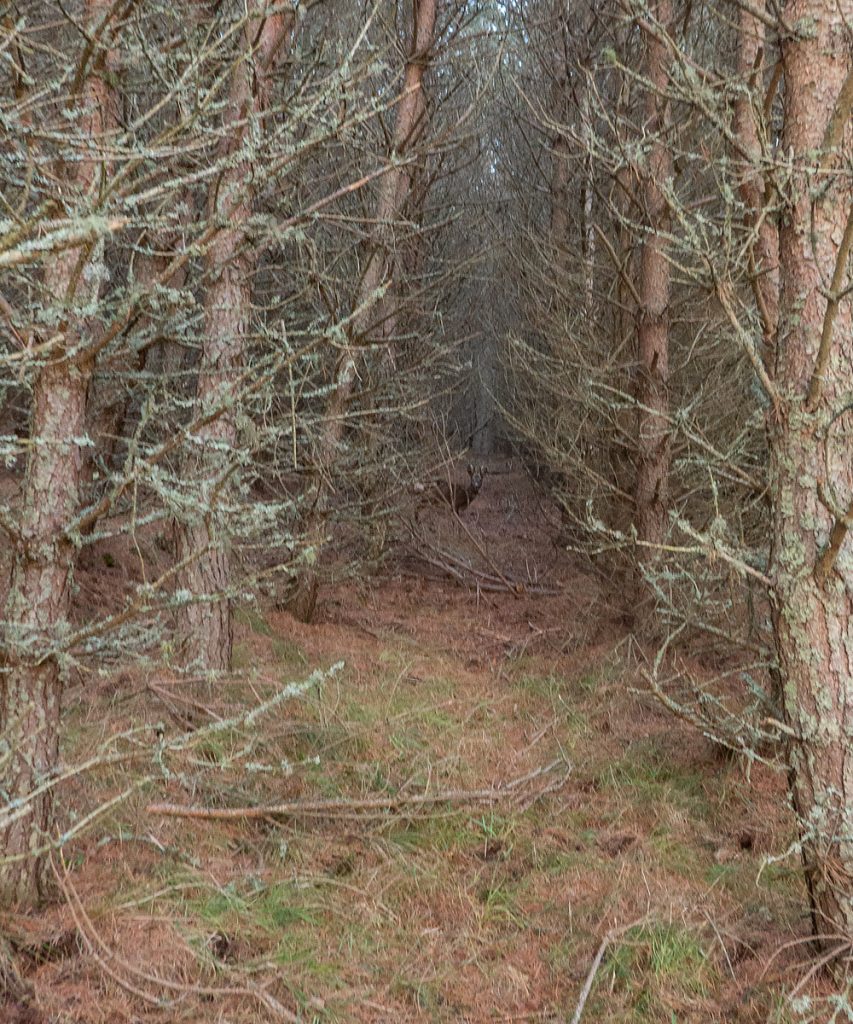 At the top of the plantation the map showed another ruined cottage called Camlet. I headed up to explore it and finding it also open, to have a bite to eat and plan a new route.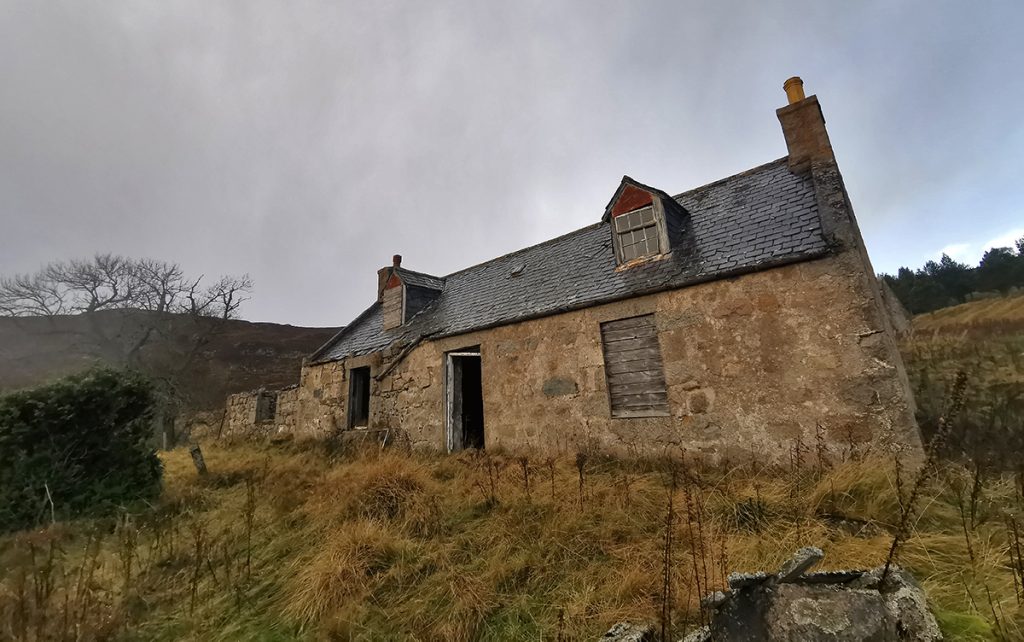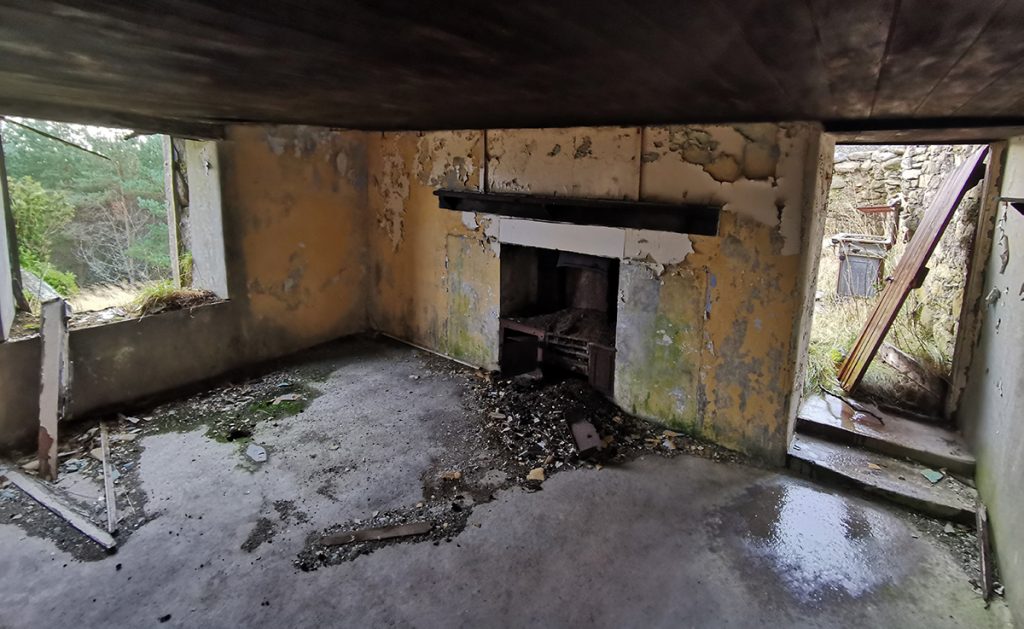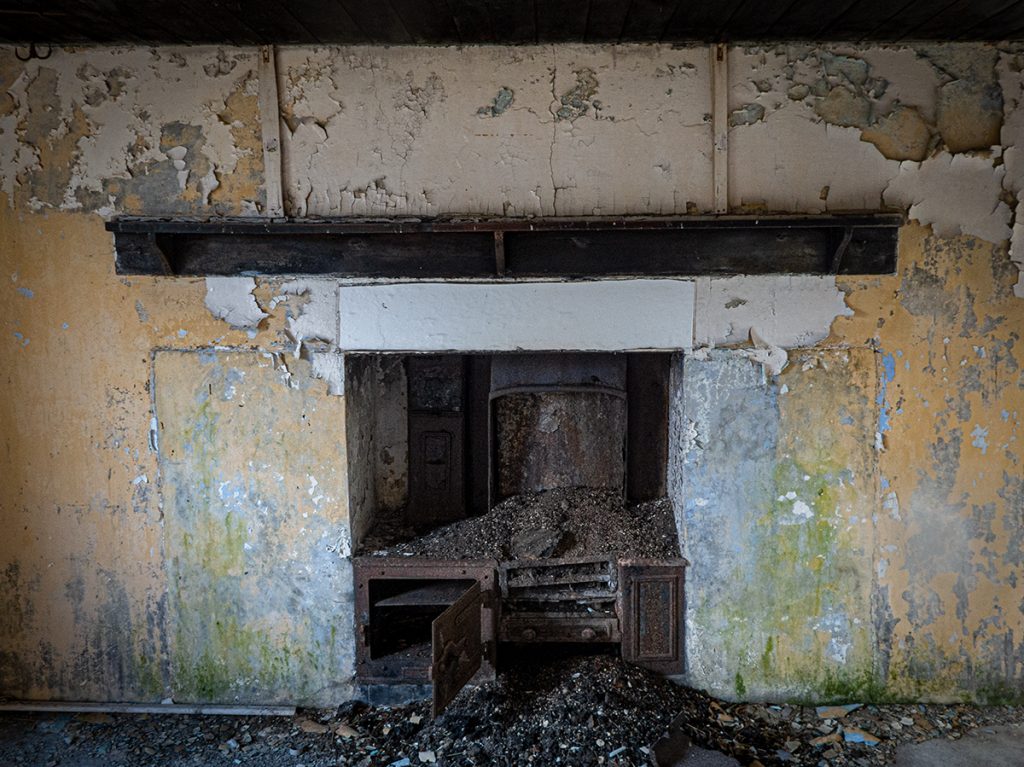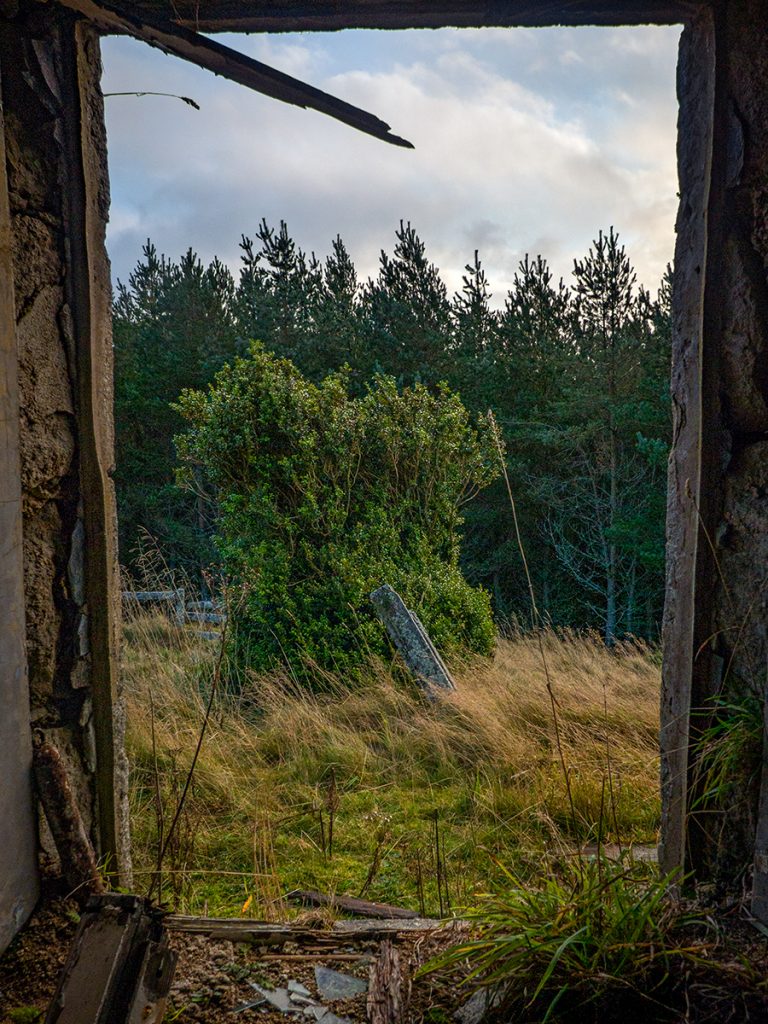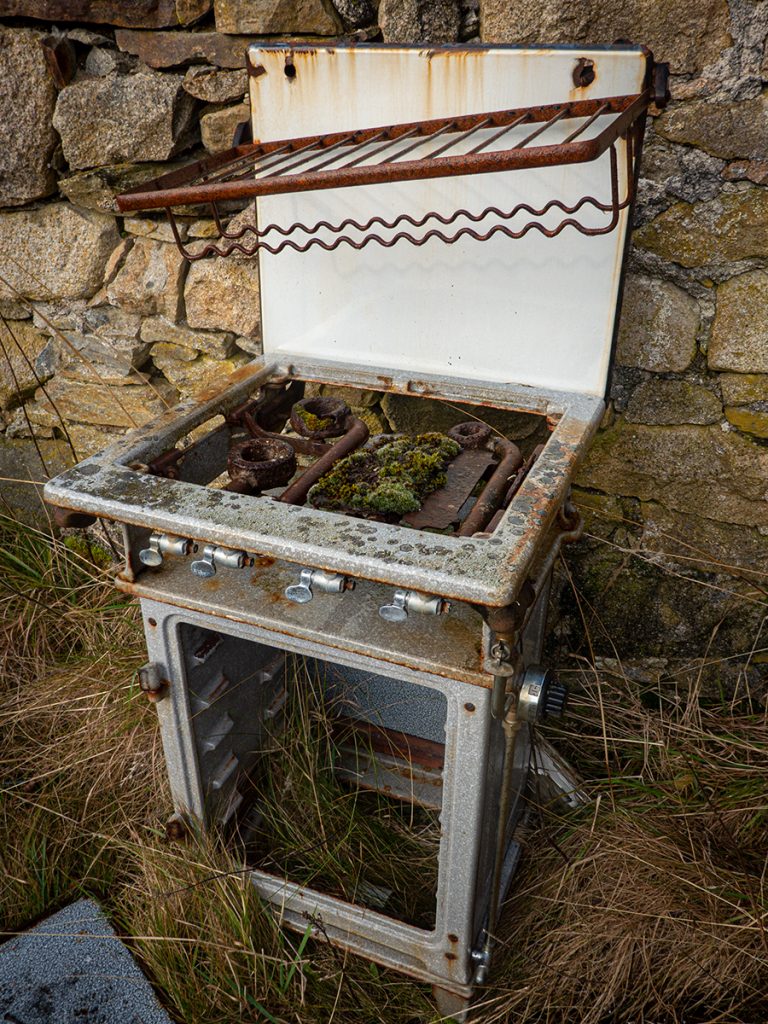 I decided I'd stay this side of the river and keep to the low hills, through some more woods then head back in a loop. All new stuff to explore, though uncertain how the off-track terrain would be. The sun was back out so time to crack on.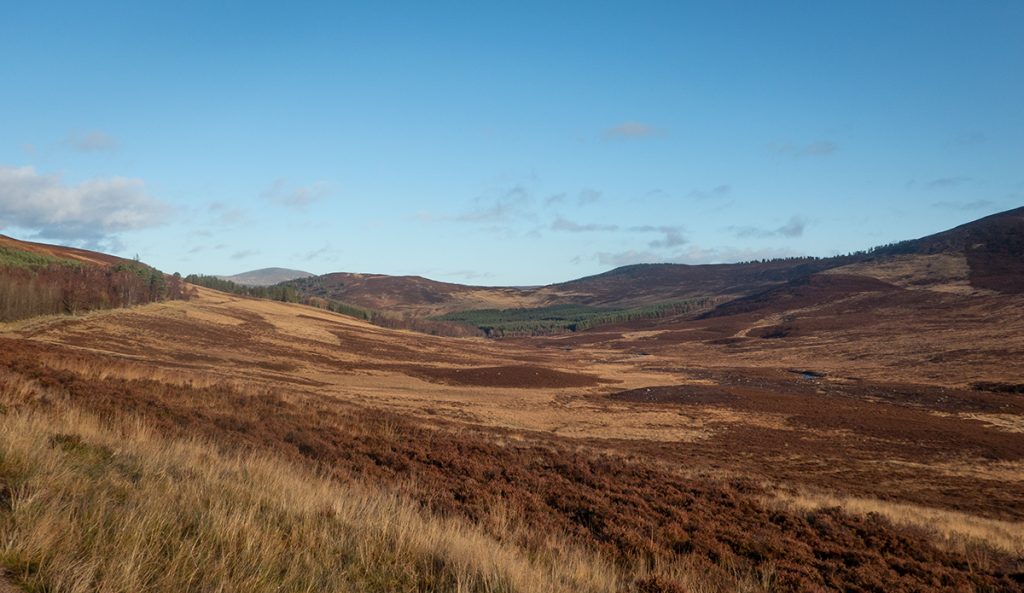 I could see that another bridge on the OS 1:25K didn't exist. Later discussion would reveal that this was referred to as 'Hampshire's bridge' (Royal Hampshire regiment troops constructed a bridge for royal use; it became unsafe and was removed before it collapsed and damaged fish traps downstream, around 2005) and the bends just downstream are 'Hamish's Corner' in respect of his scientific efforts there many years ago.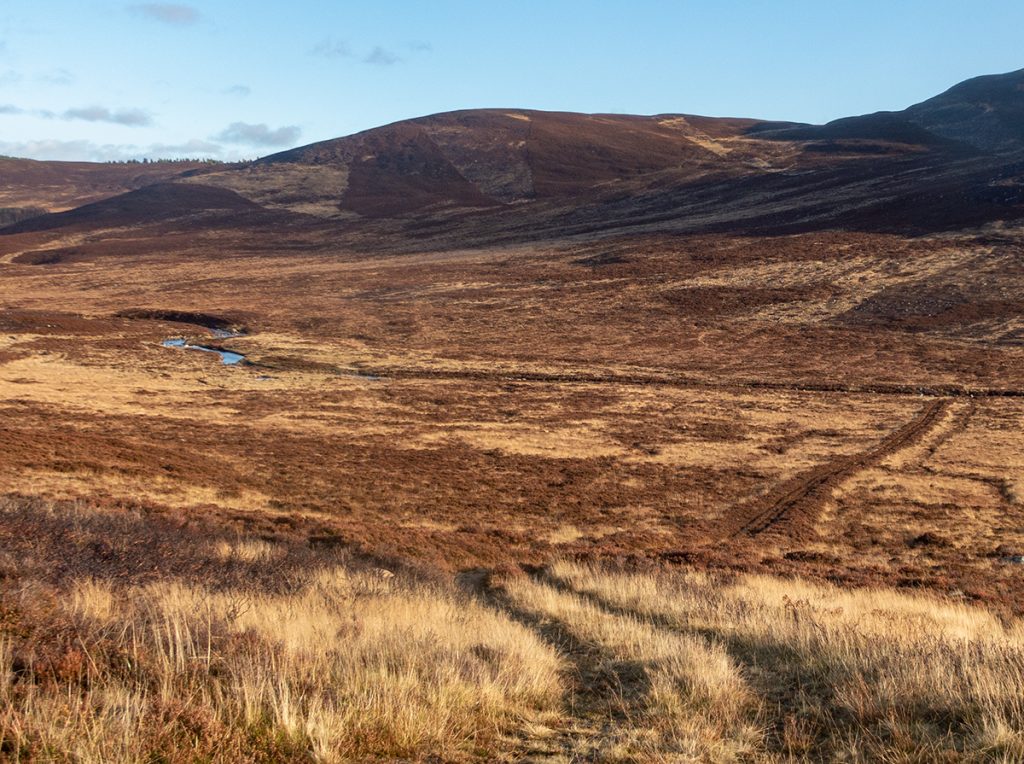 Rounding the corner to head west the view of Lochnagar opened up with a dusting of snow, it'd be a brutally chilly one today up there. The farmstead of Bovaglie was ahead – yet another abandoned farmstead and possibly the highest 'ferm toun' in Scotland at one point.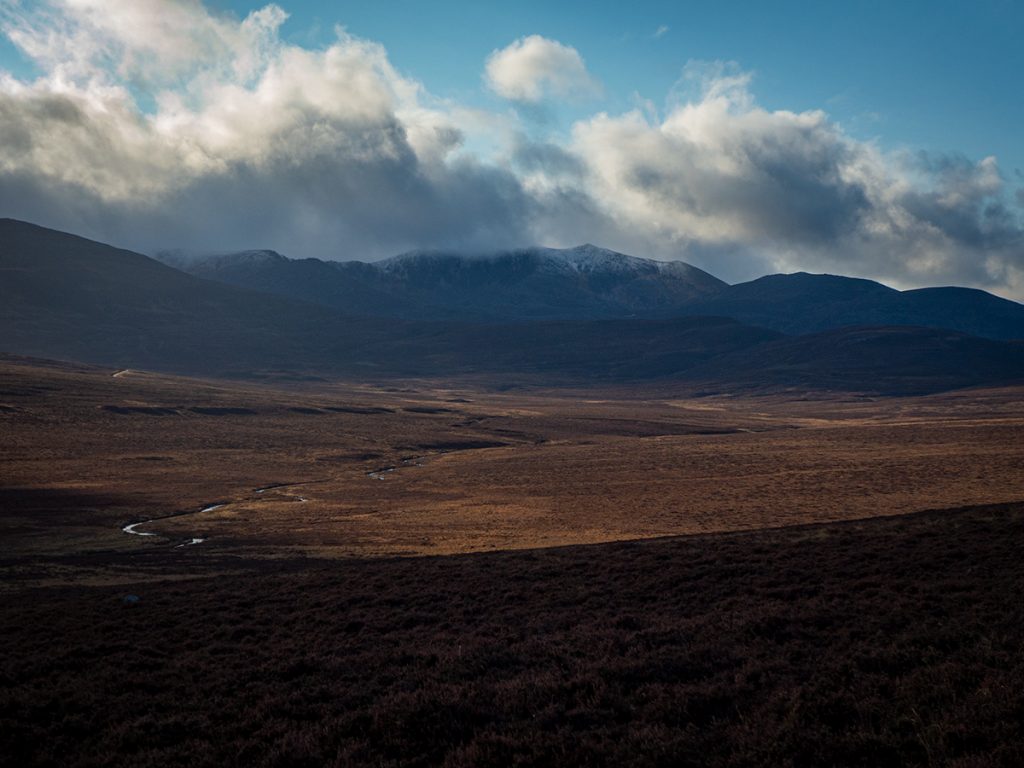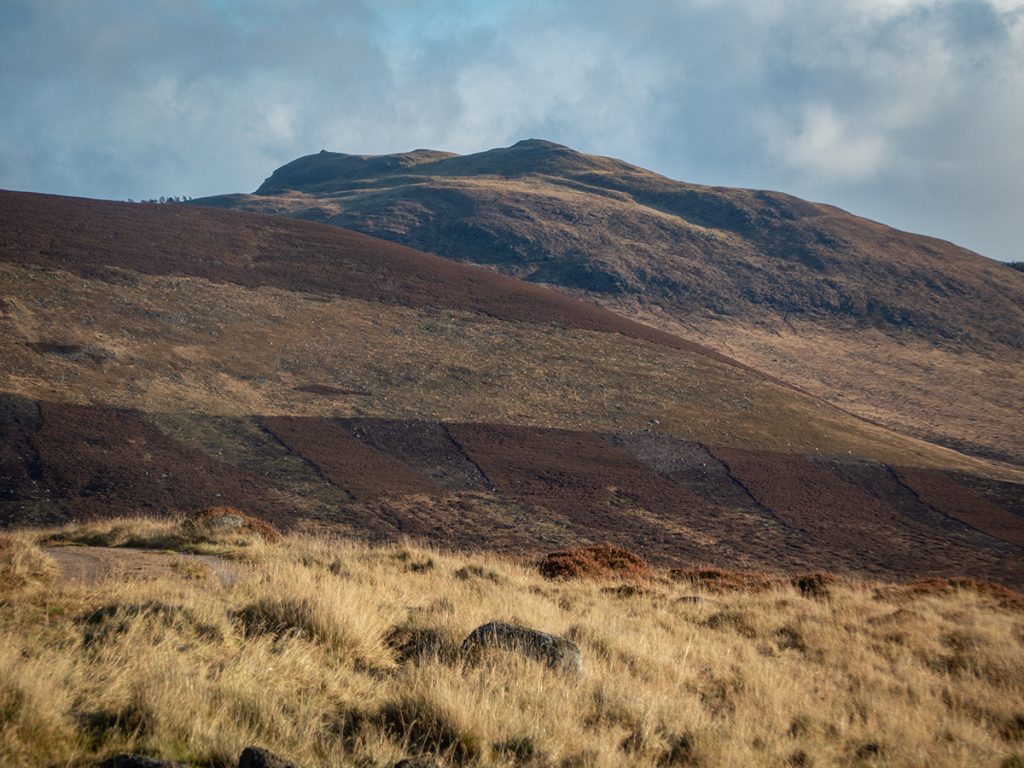 Bovaglie has a stunning setting surrounded by trees and facing Lochnagar. No doubt it endured many a harsh winter cut-off by snow, but on a bright day like this one wonders how whoever owns it has allowed it (and the others) to decay to the threshold of uninhabitability. They've probably now passed beyond the reach of restoration by any likely inhabitant. I guess such is the focus on shooting in many estates of Deeside, that people, places, property, no longer matter. Just the bloody count of bodies, deer and grouse 'bagged'. One could perhaps think that an abandoned glen could be a haven for wildlife, but perhaps not when surrounded by endless barren grouse-deserts and their relentless purging of biodiversity.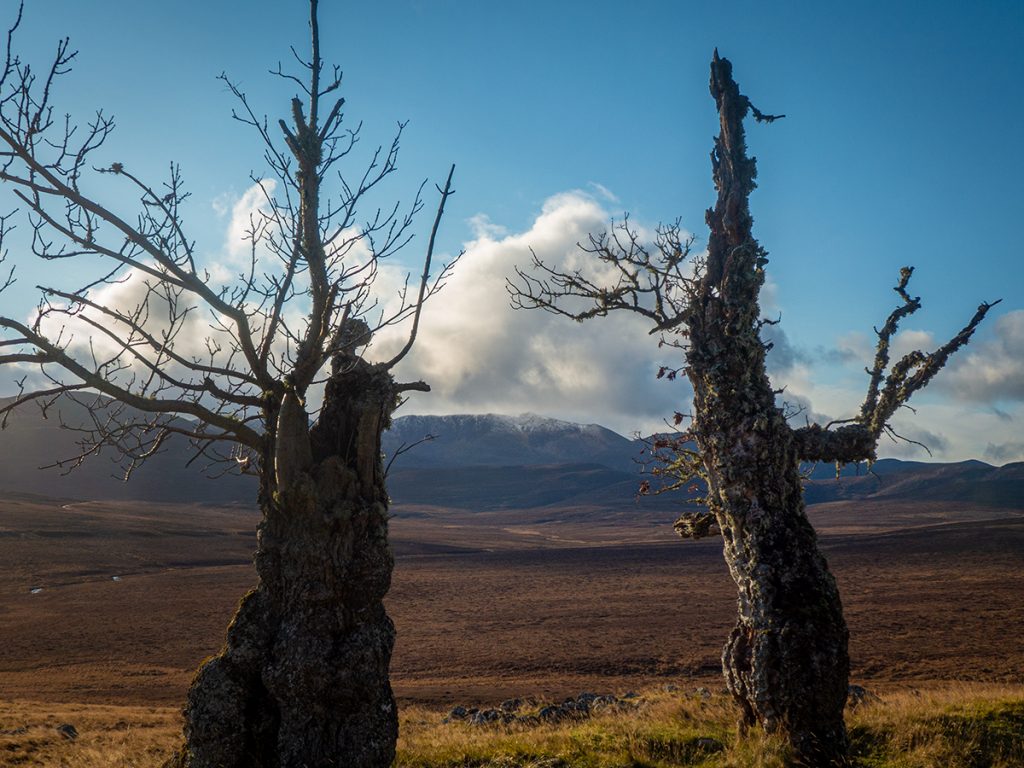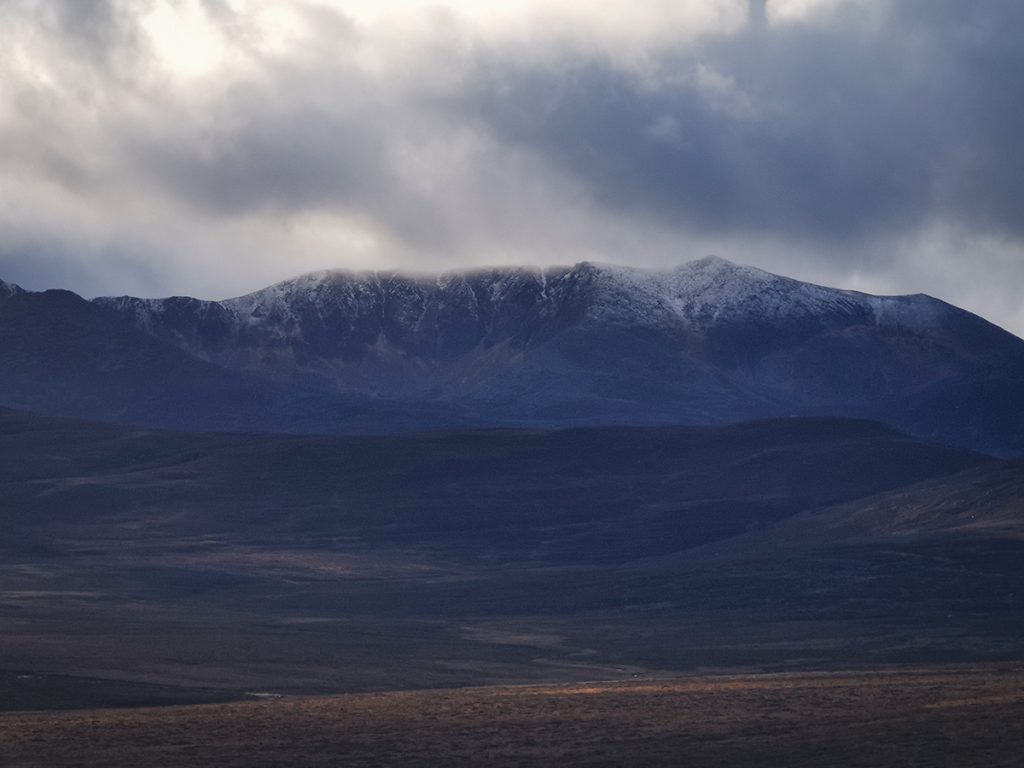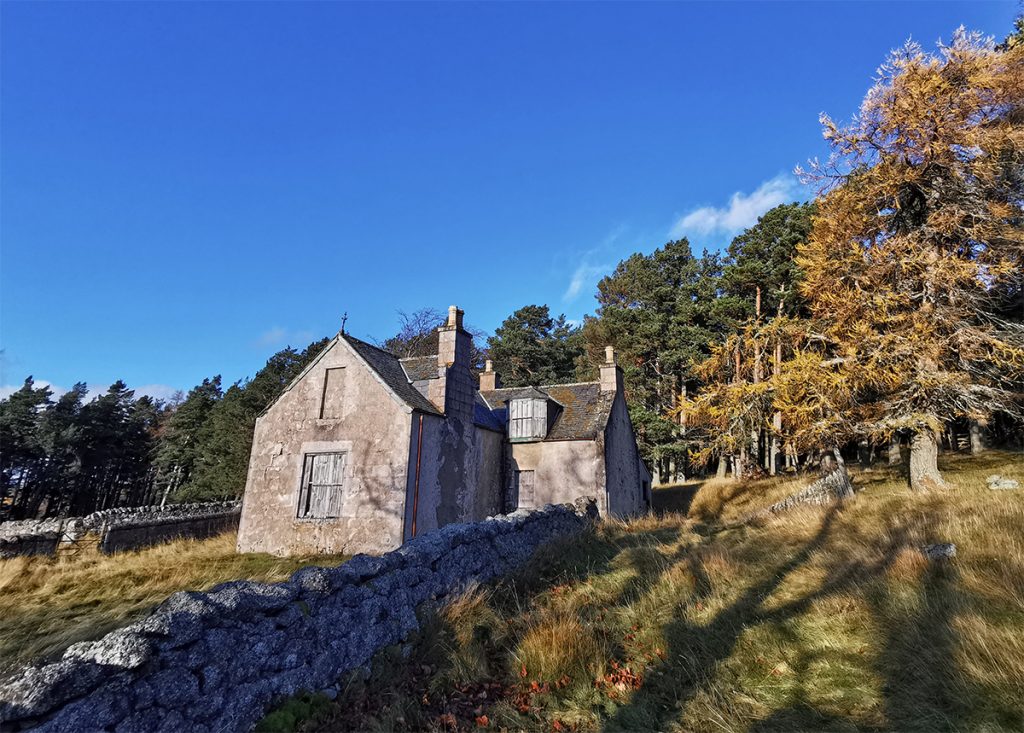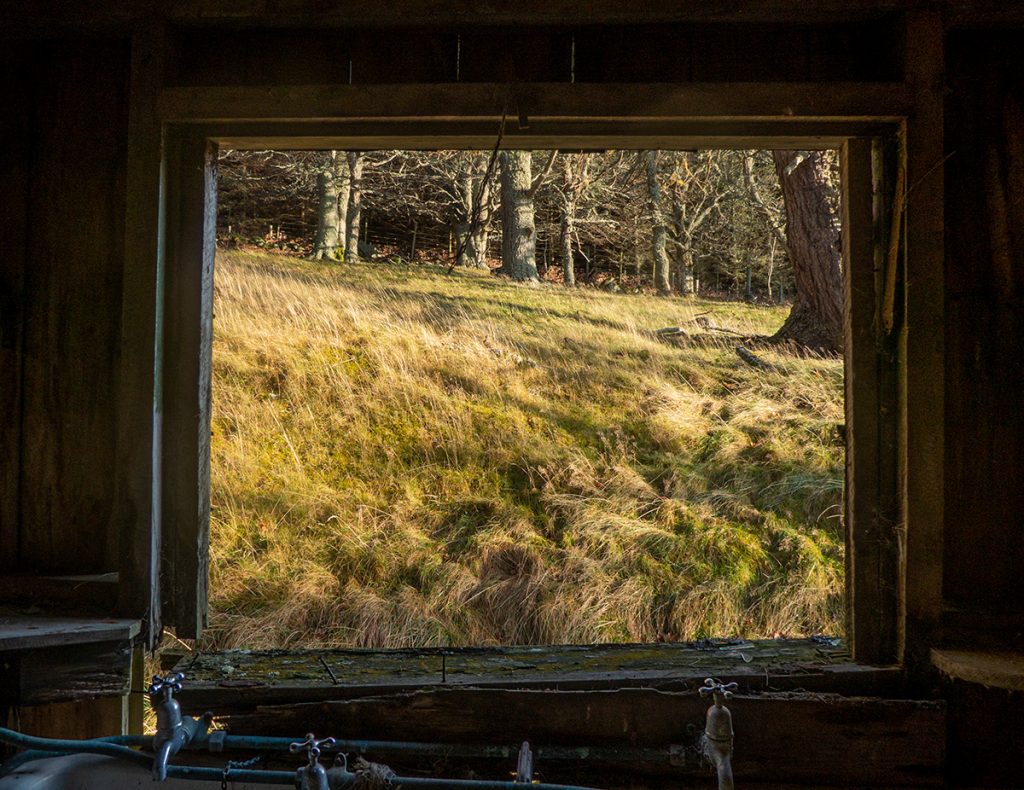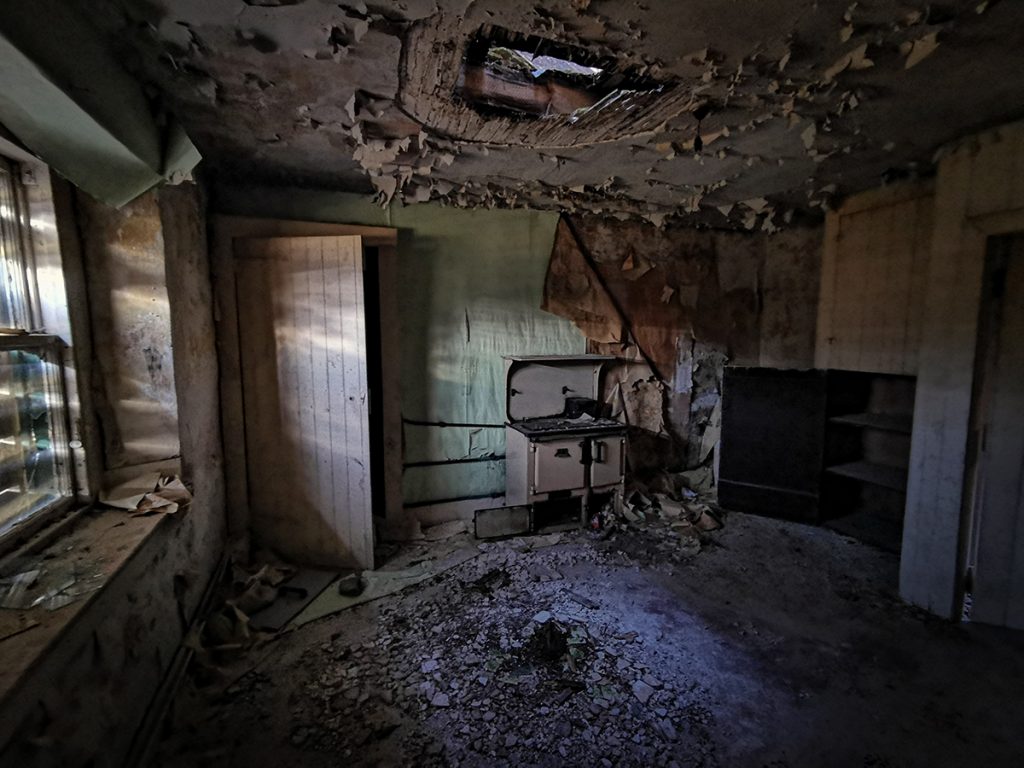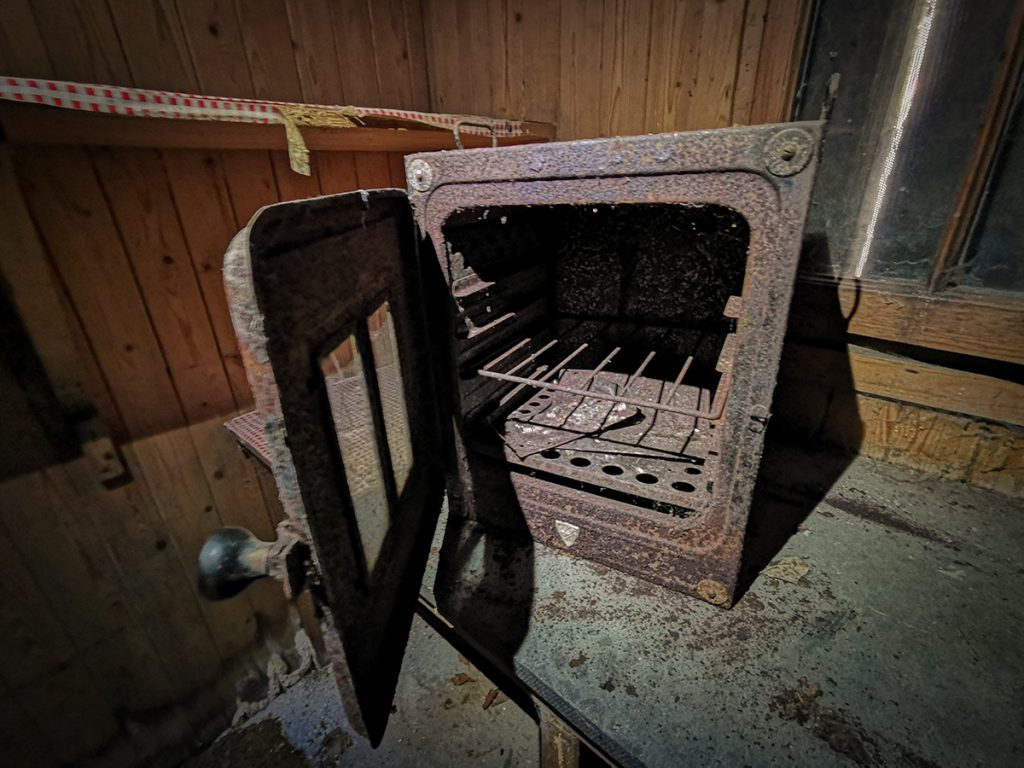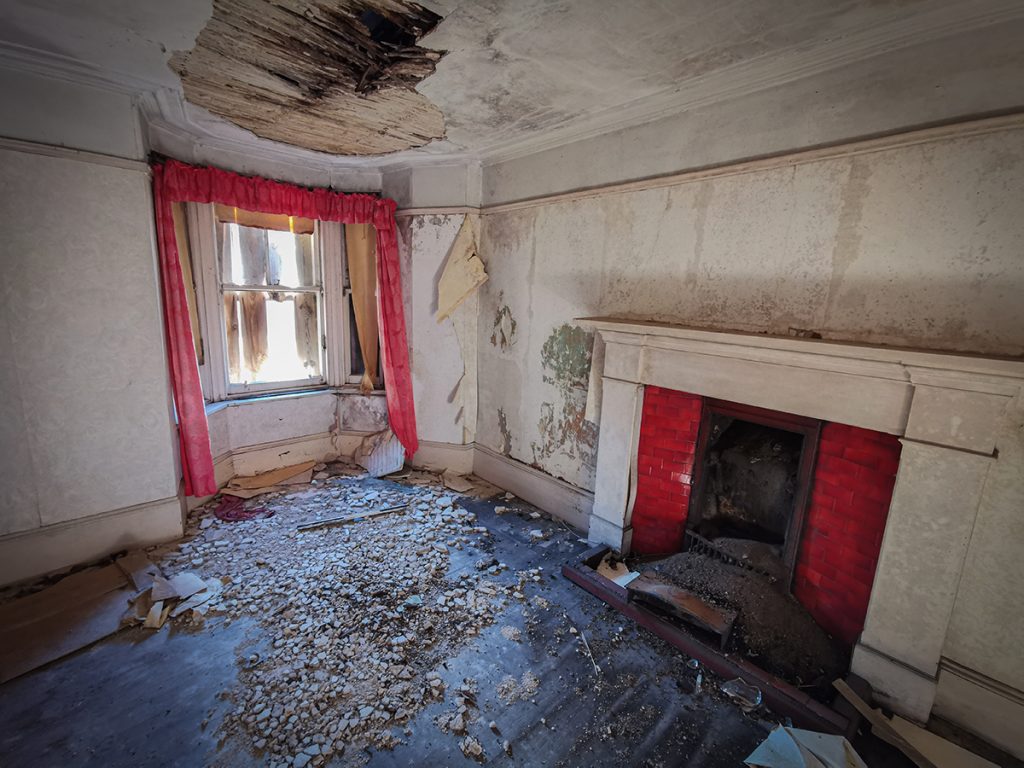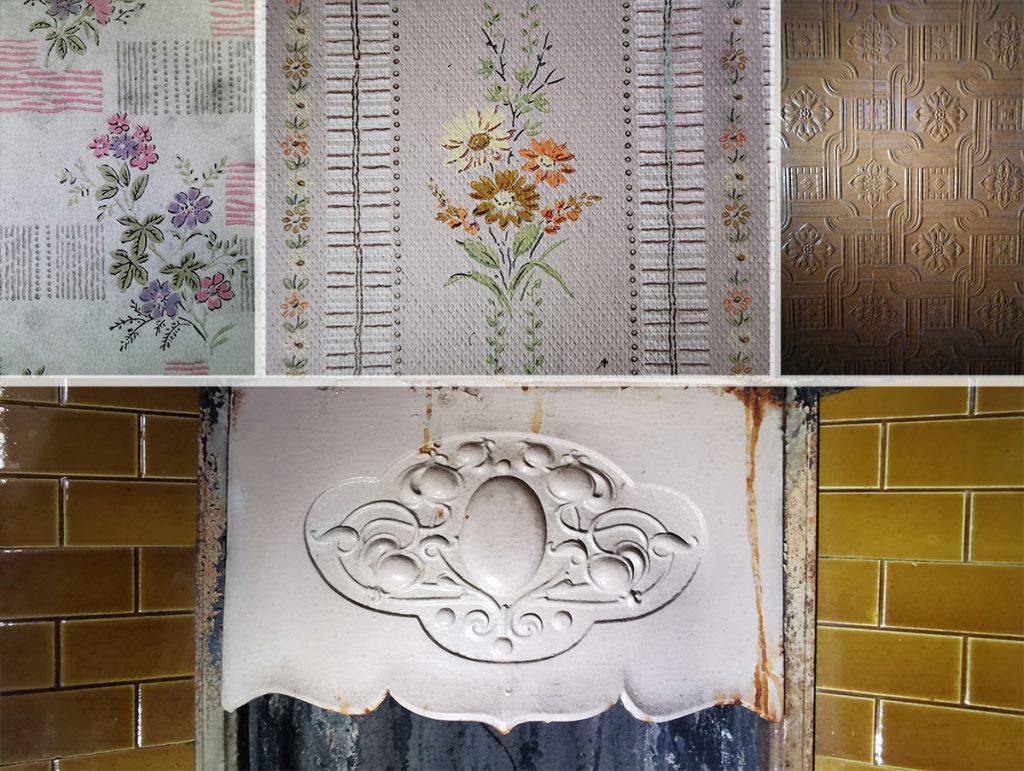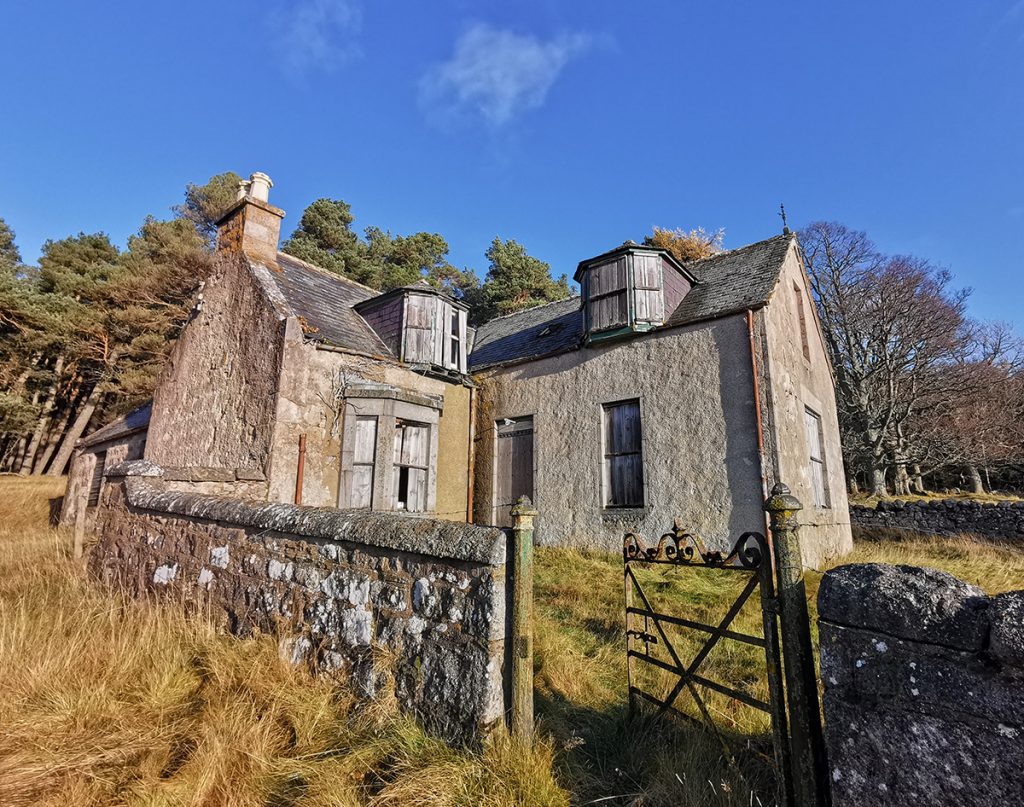 While some outhouses are decaying, some look like they are still in use so I leave them be. There's an overgrown pond at the back, barely dammed but still holding; one day it might be a catastrophe for the frogs of the area.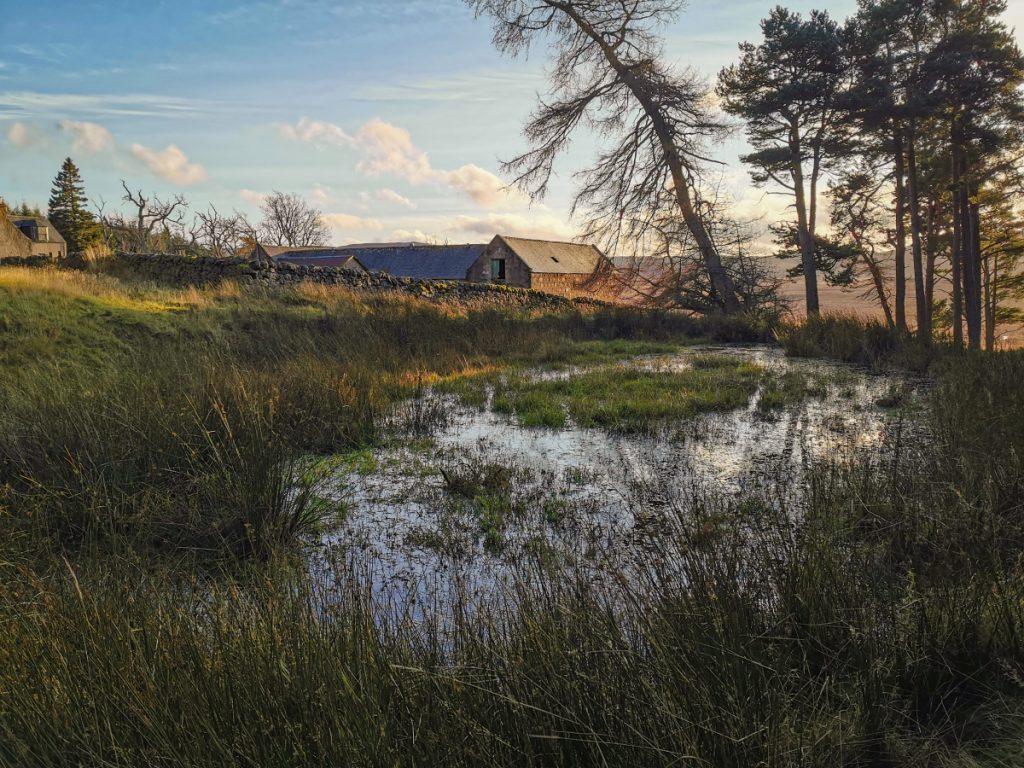 Onwards across the track leading to Balmoral, this appears to be well maintained to ferry shooting and royal traffic. A great view ahead, but as far west as I go today, a ribbon of singletrack leading me to another forest, The Genechal.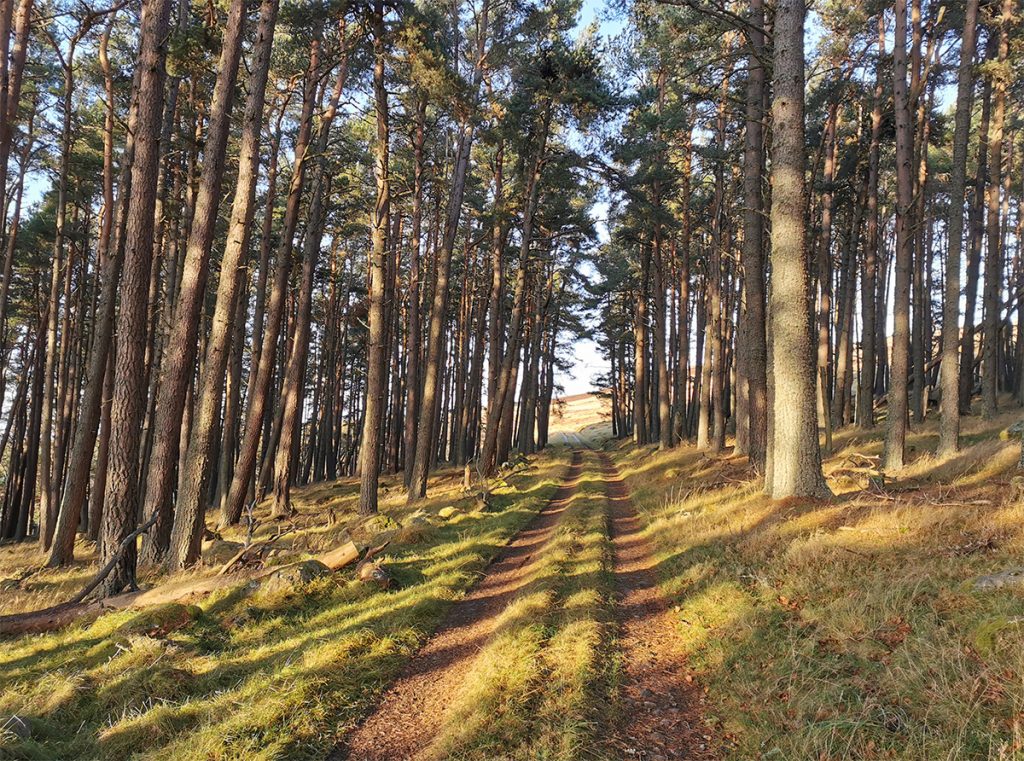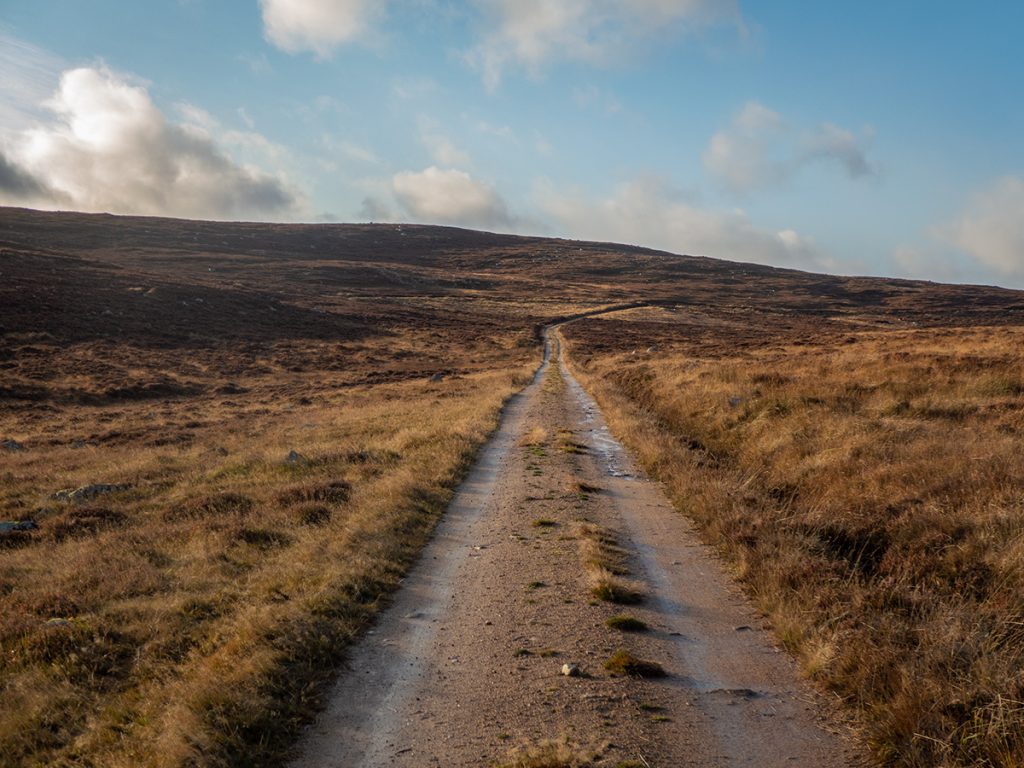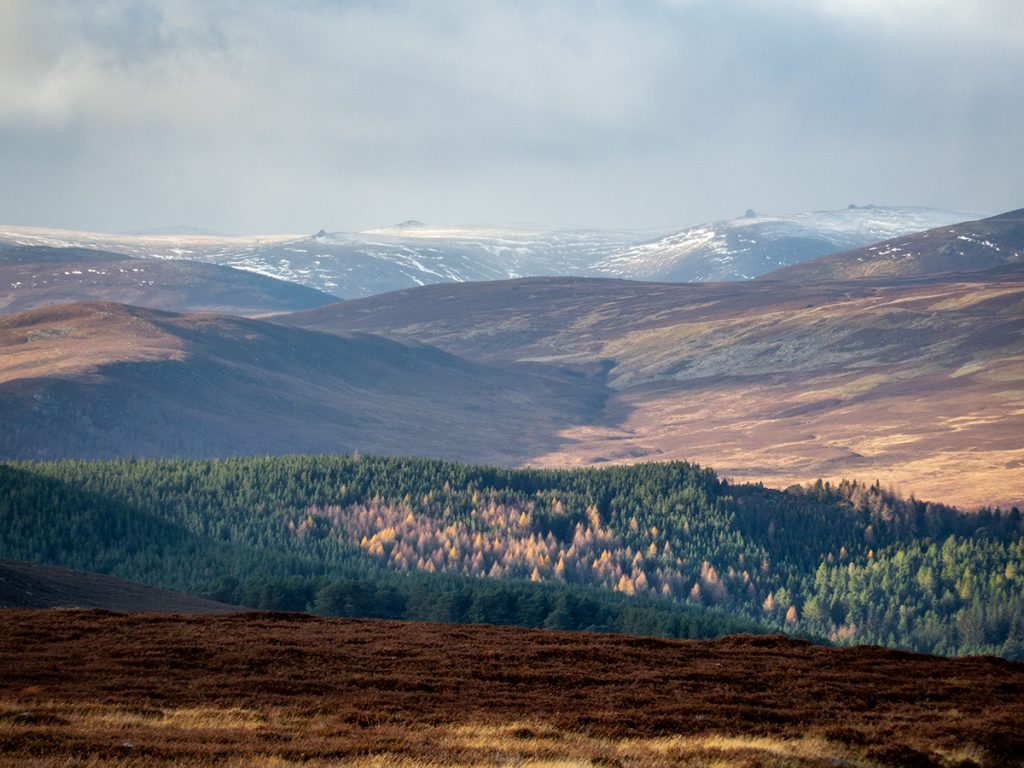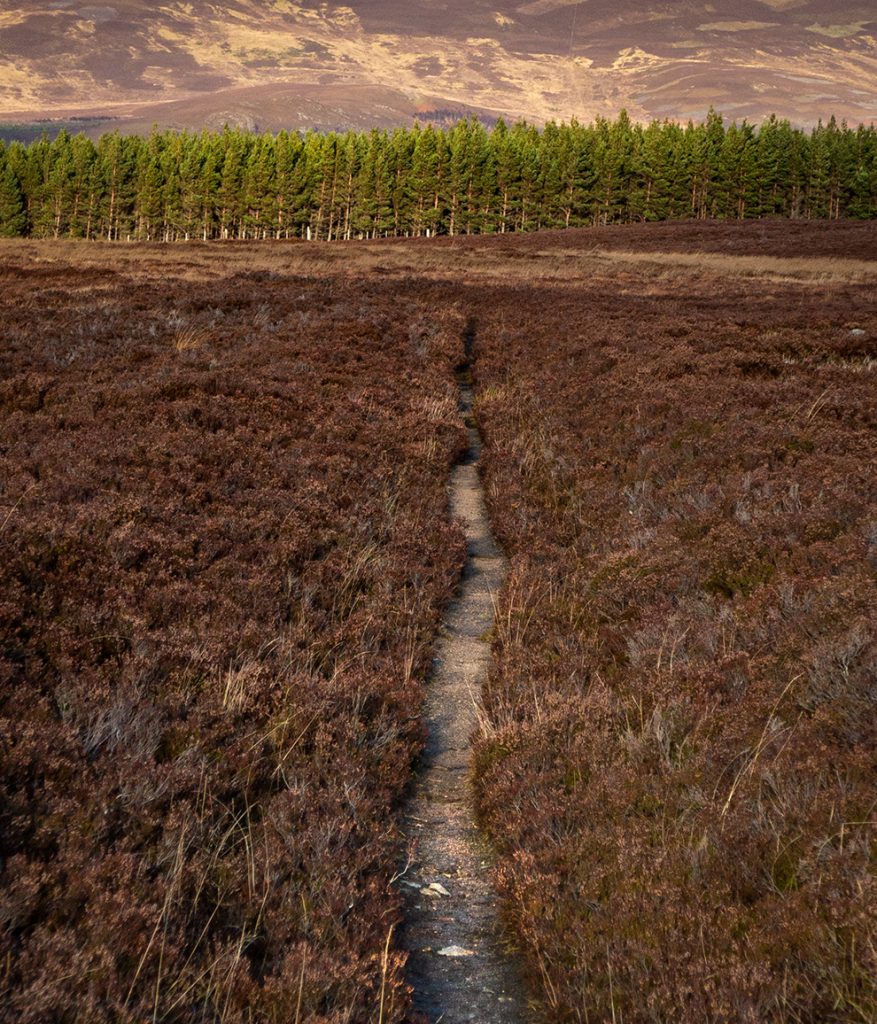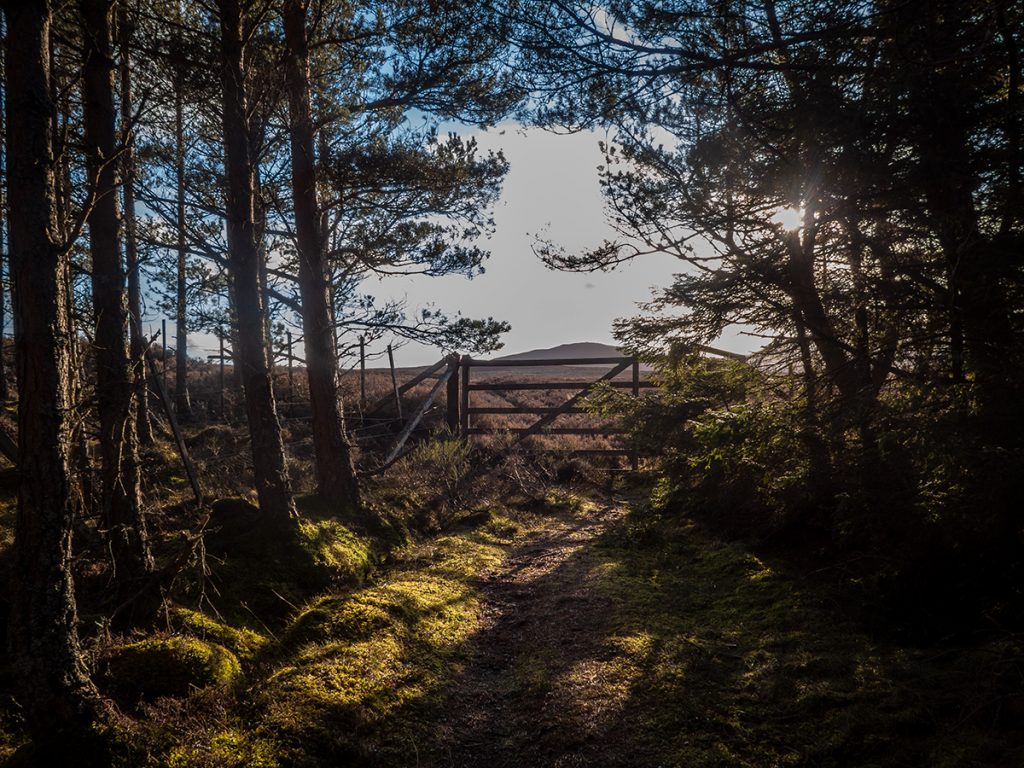 Entering the forest's dank grasp, a gloomy chill hangs in the beshadowed runnels, through which I seek out another older ruin. This odd croft used to be a hideaway for Queen Victoria and had 2 doors: one for her the other for a family who kept the place.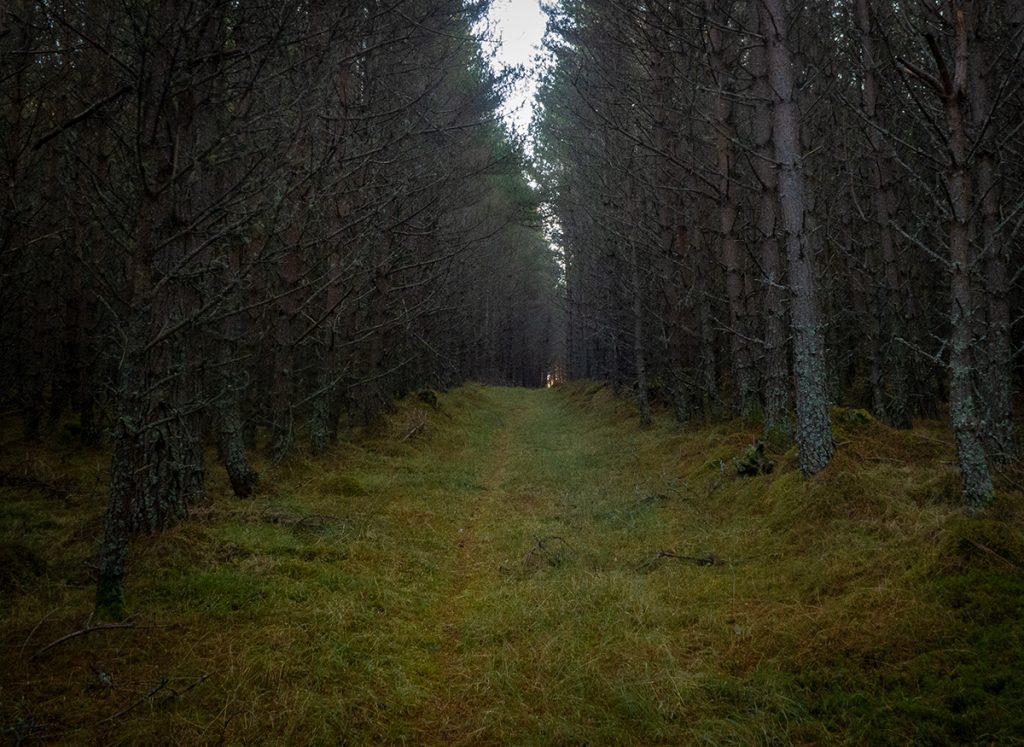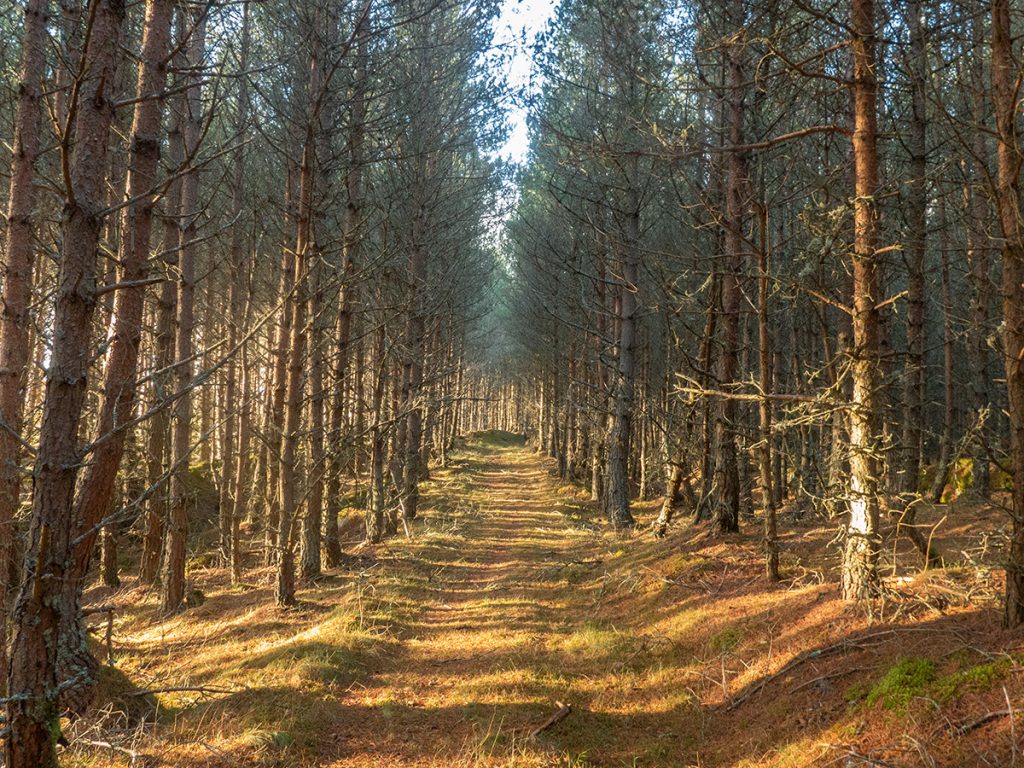 Despite the royal connection and vicinity to Balmoral a couple miles away, it's now a mess of rubble and decayed wood, with a scratch of covid graffiti and some litter indicating it does still get a modern visit.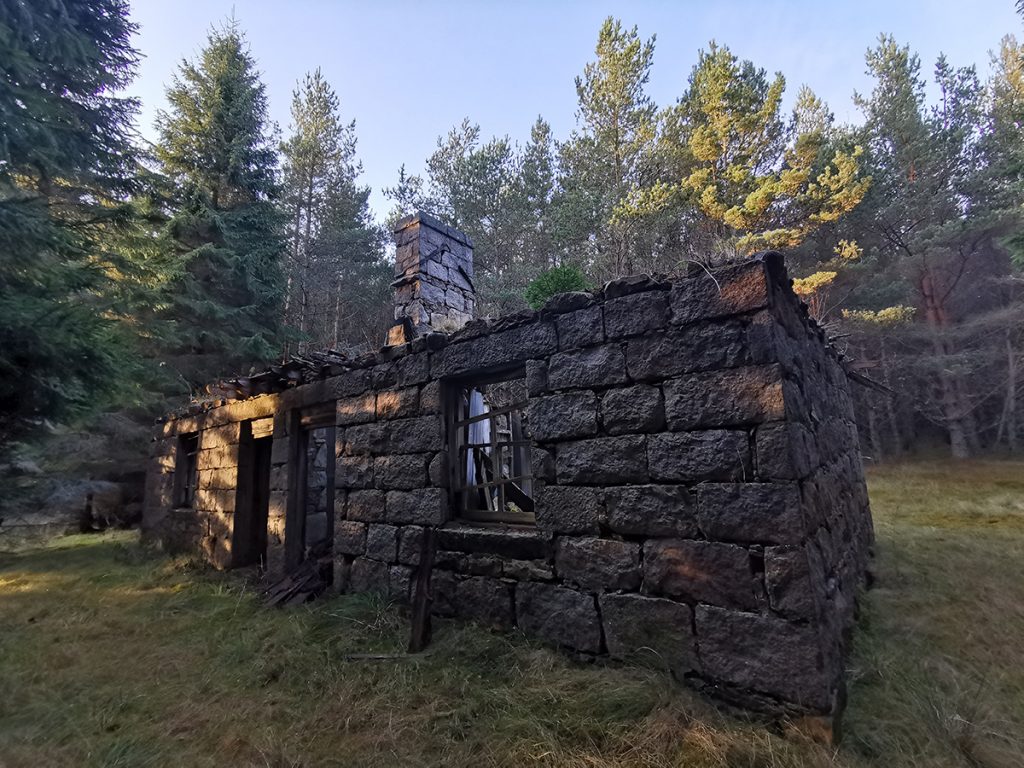 I pondered heading through to Crathie and finishing; but I'd not done a 'hill' today and the sun was still afoot beyond the treetops so I decided to head east and make my way back to Ballater. I followed a fence through dense wood, bog and thicket, splunging and scrishing doggedly upwards towards Sgor an h-lolaire, regretting the lack of waterproof socks.
Getting above the trees proved worthwhile: stunning views all around, but now getting the full force of the brisk wind, I ploughed onwards through the heather up and down hillocks and past wee cairns to Creag nam Ban.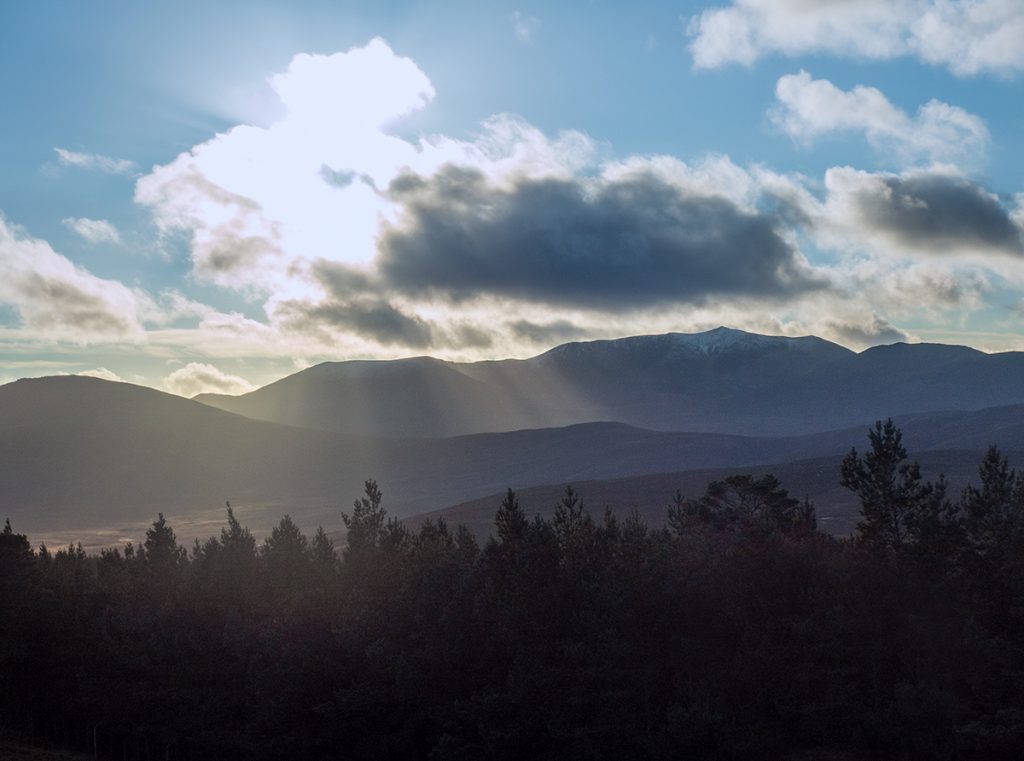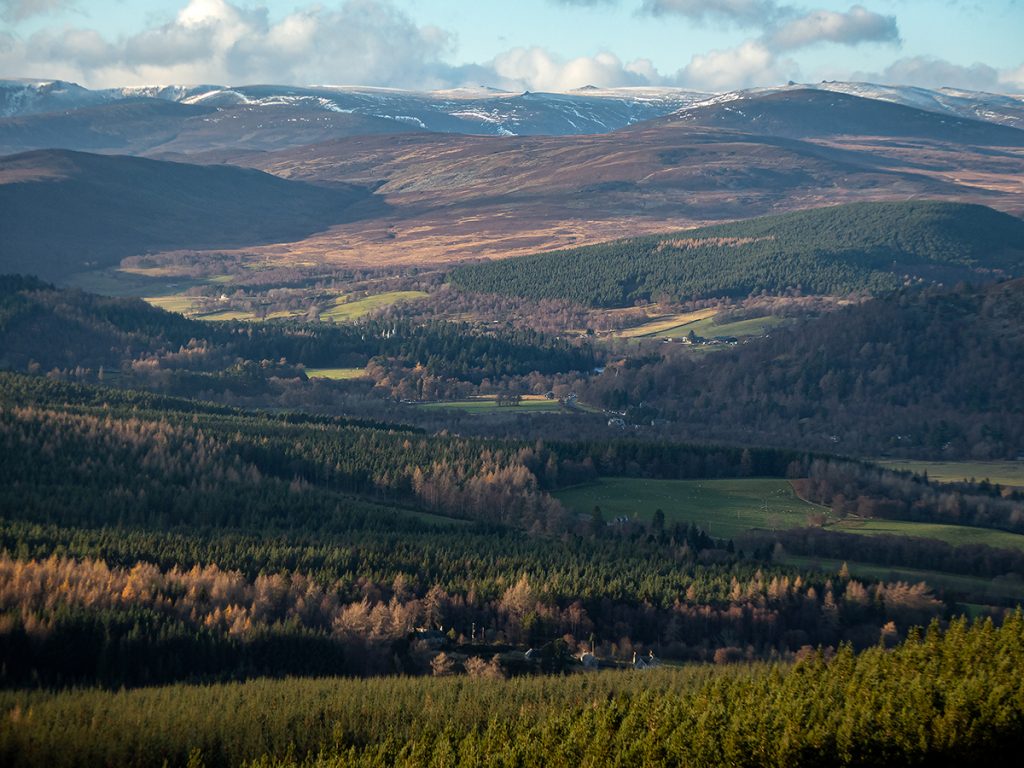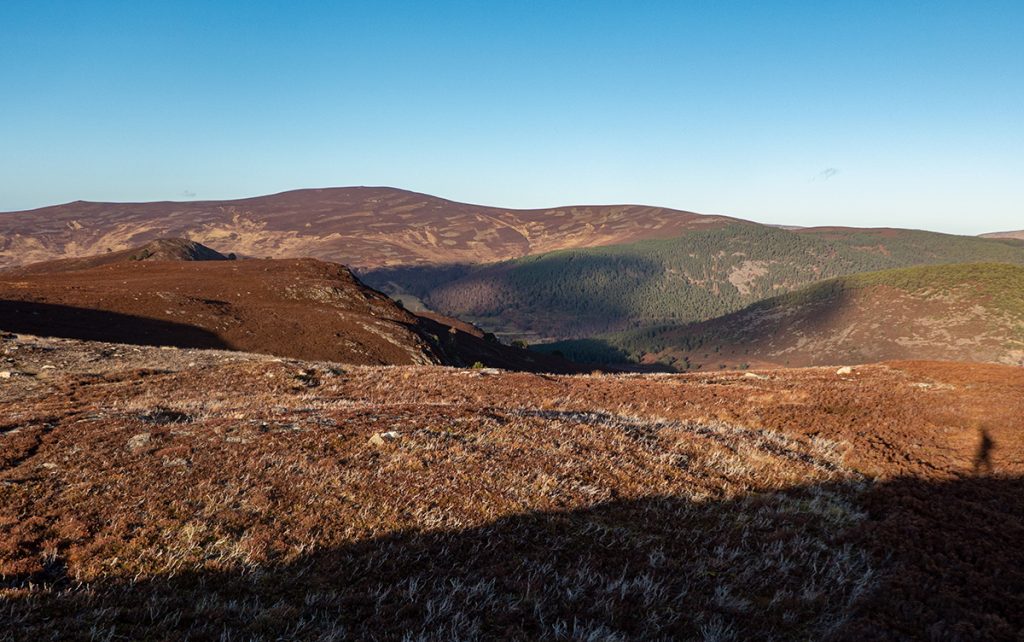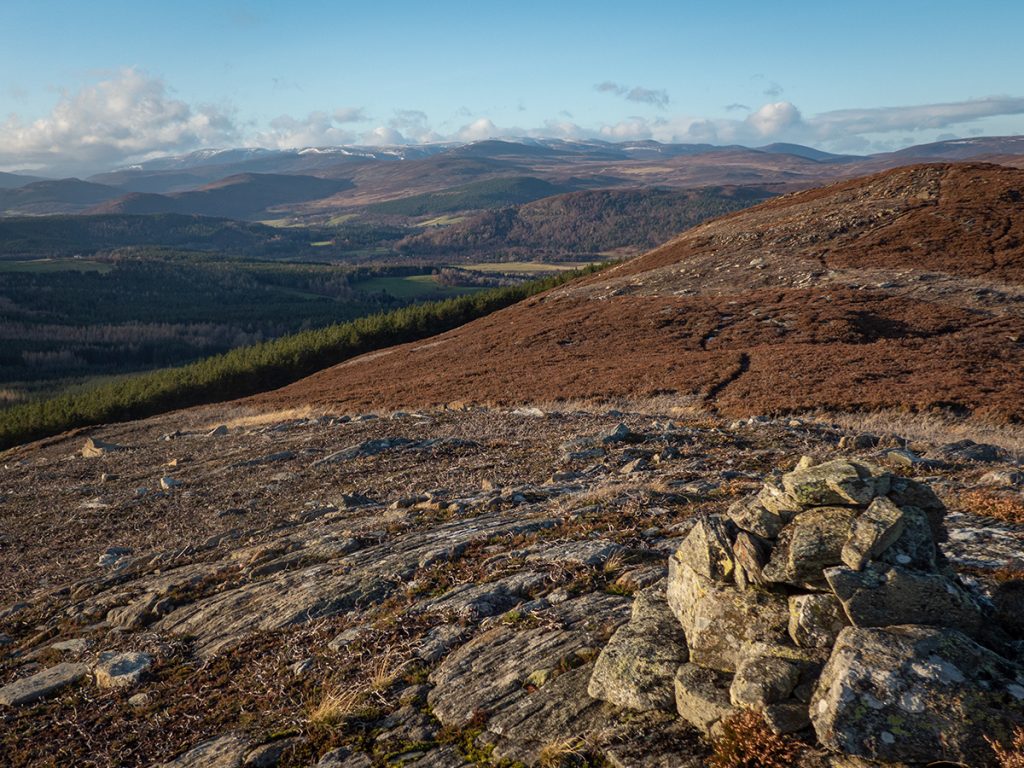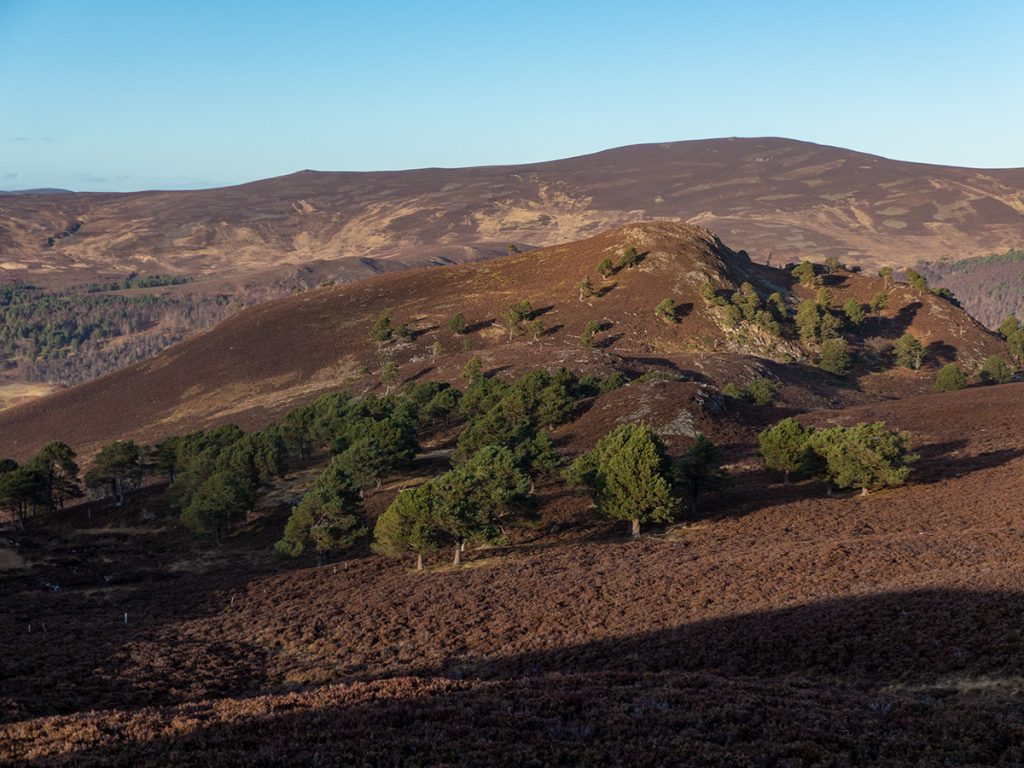 Jane of said firs, was a local lady who had collected fir seeds for the laird, a common casual labouring earner back in the day. She was told she'd be paid less than the agreed amount, and instead took the seeds and scattered them on the hill. Go Jane! Her legacy is a lovely copse aloft this pokey hill which offers a really nice view to the north west.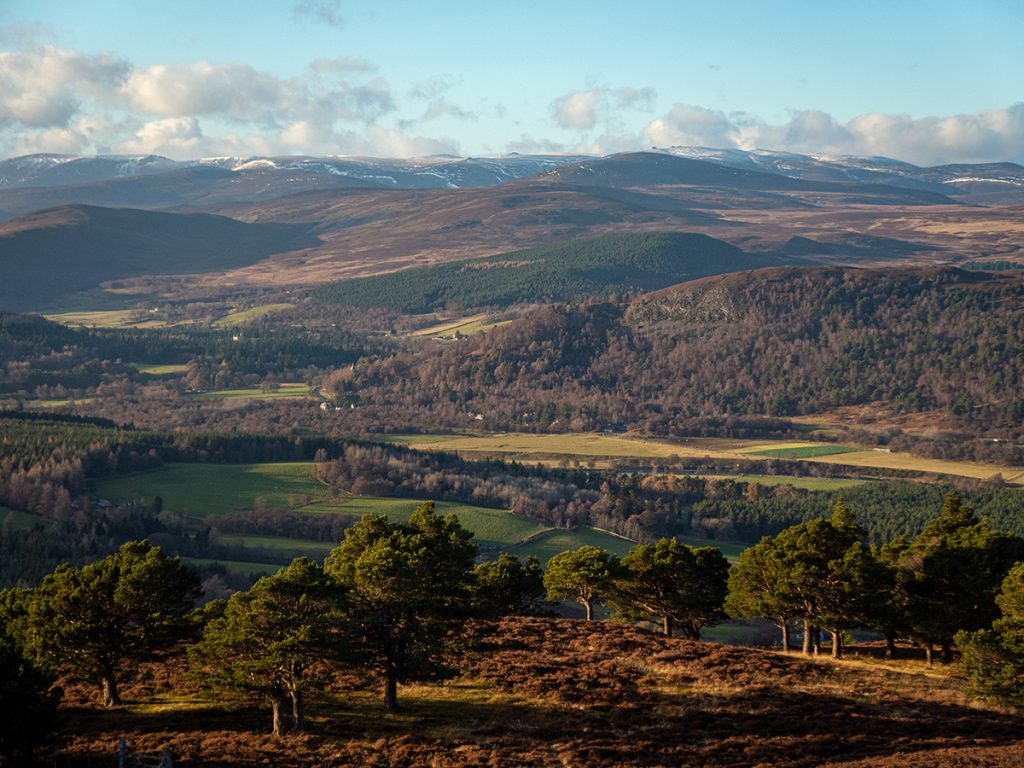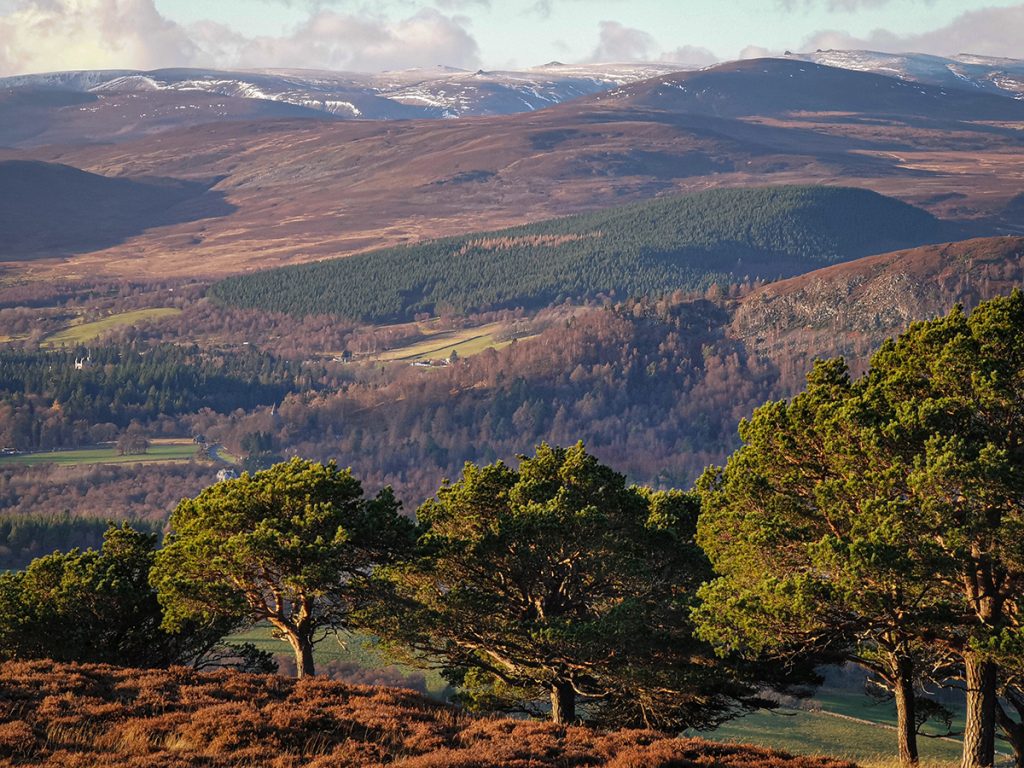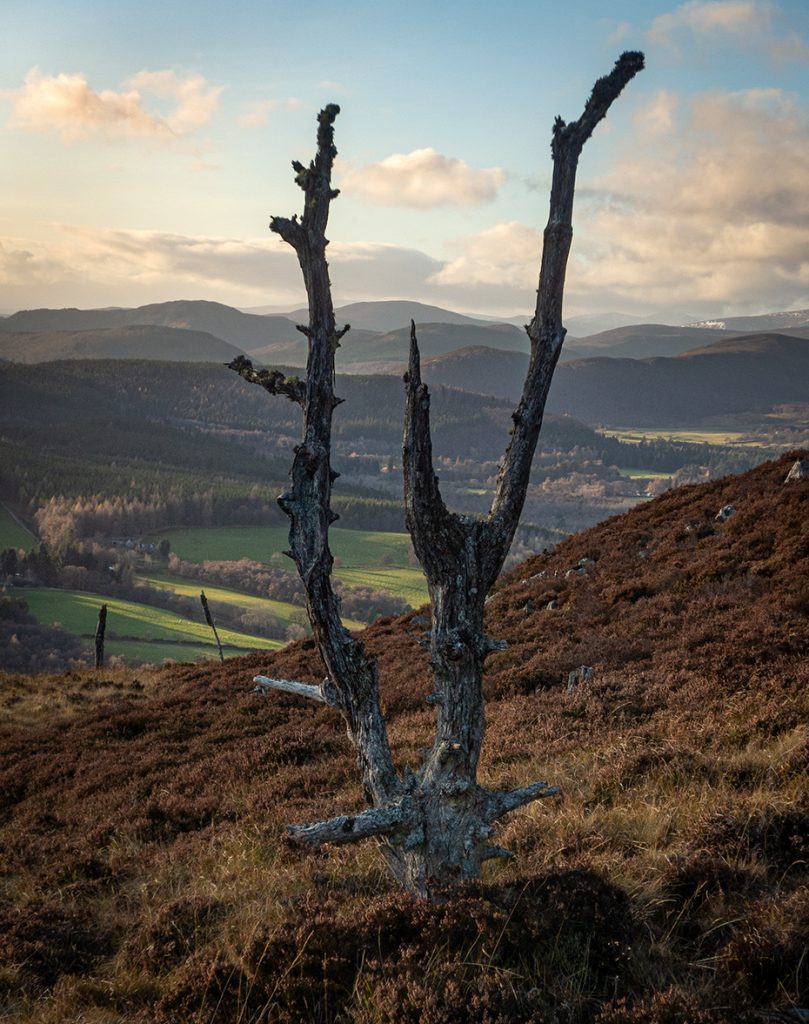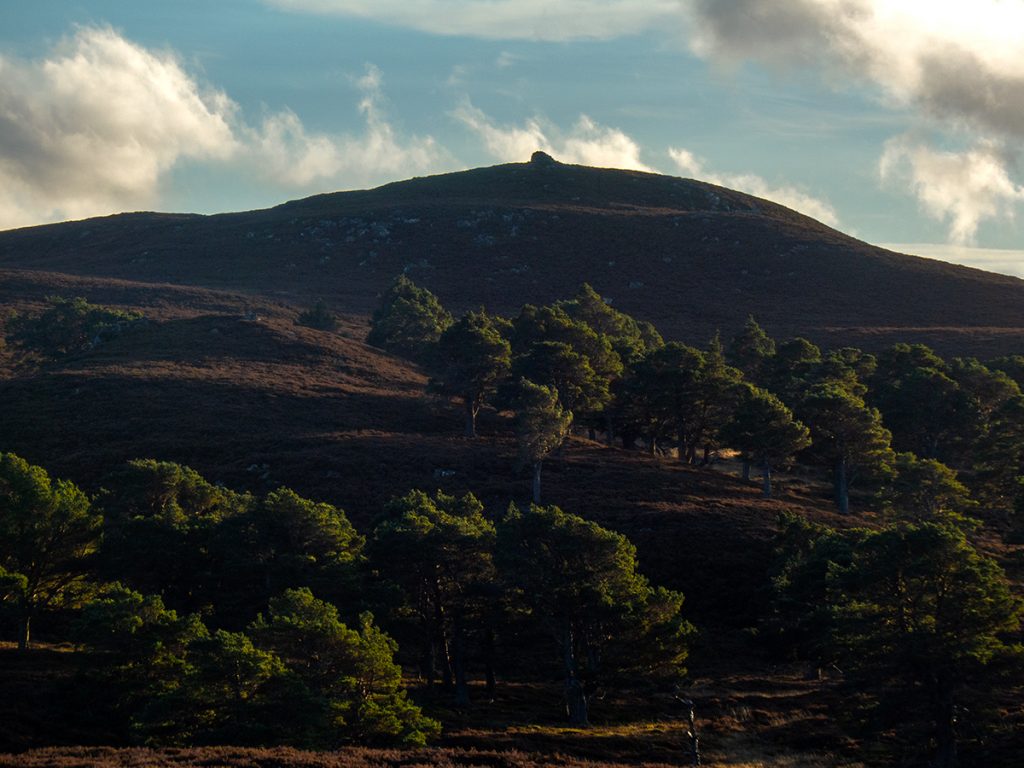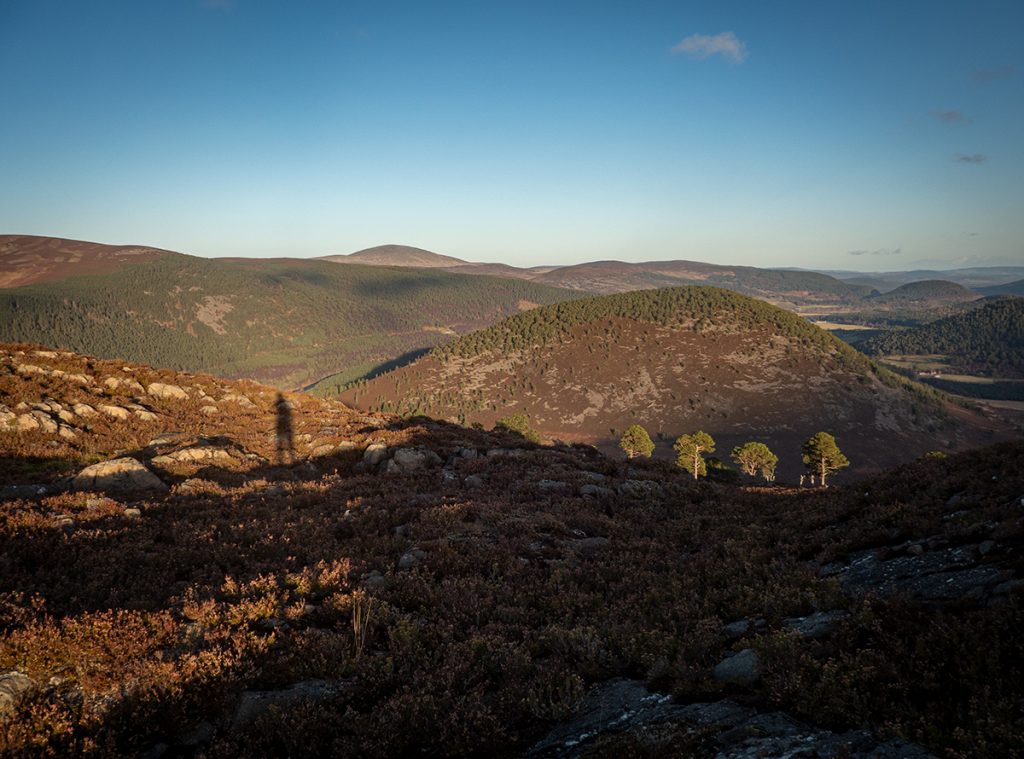 Creag na Ban – "Rock of the Women" offers a view also over Abergeldie Castle, where a French woman was imprisoned as a witch then burnt at the stake here; her ghost is said to have appeared at the castle.
It was nearly washed away in 2015, 60 feet of land scoured by the flood leaving it teetering on the edge. The road opposite was lost. If the castle had collapsed, the baron who owned it might have pondered how the landed gentry's obsession with denuded uplands for grouse during the last century has made for a fast-draining catchment more likely to violently flood.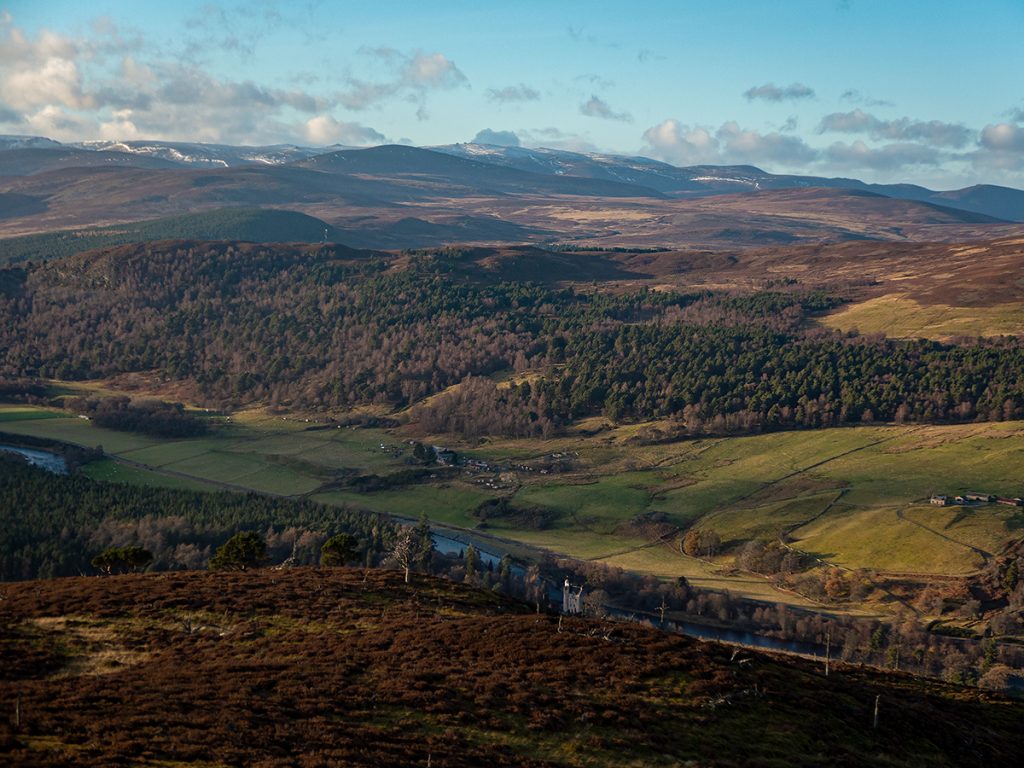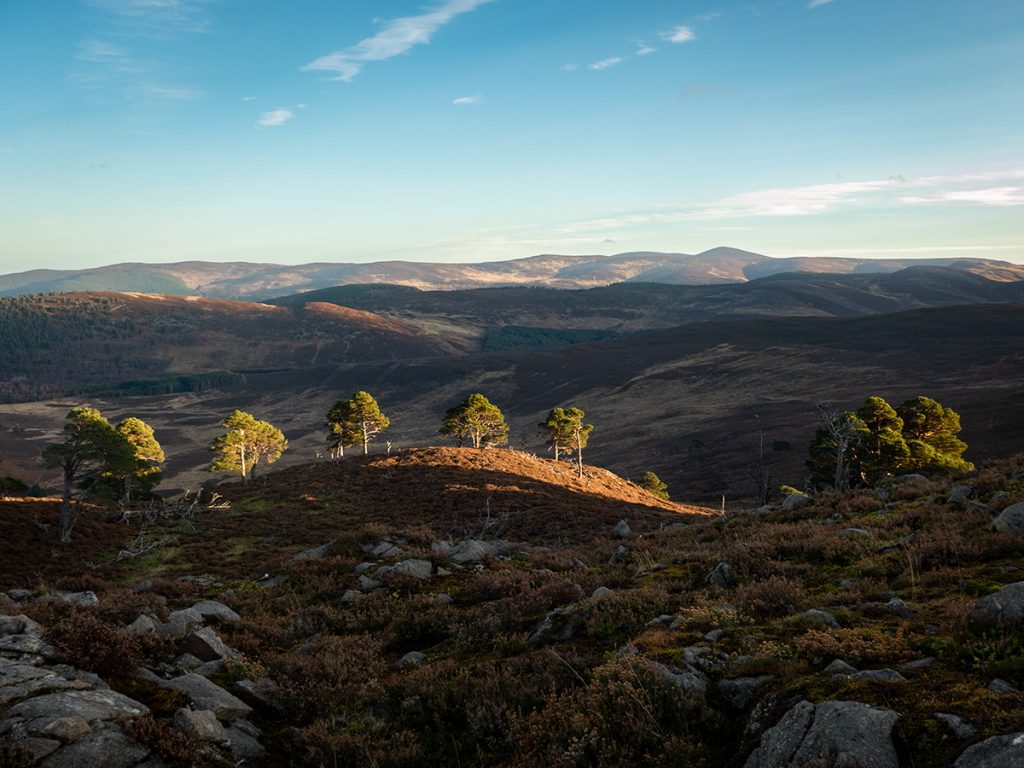 The descent east was a real hack and stagger, steep and bouldery heather thickets, followed by a 'shortcut' across a fractured maze of bog (OS maps are a bit rubbish at revealing that – a reminder that I need to cross-check routes on openstreetmaps/harveys, which often have better bog representation)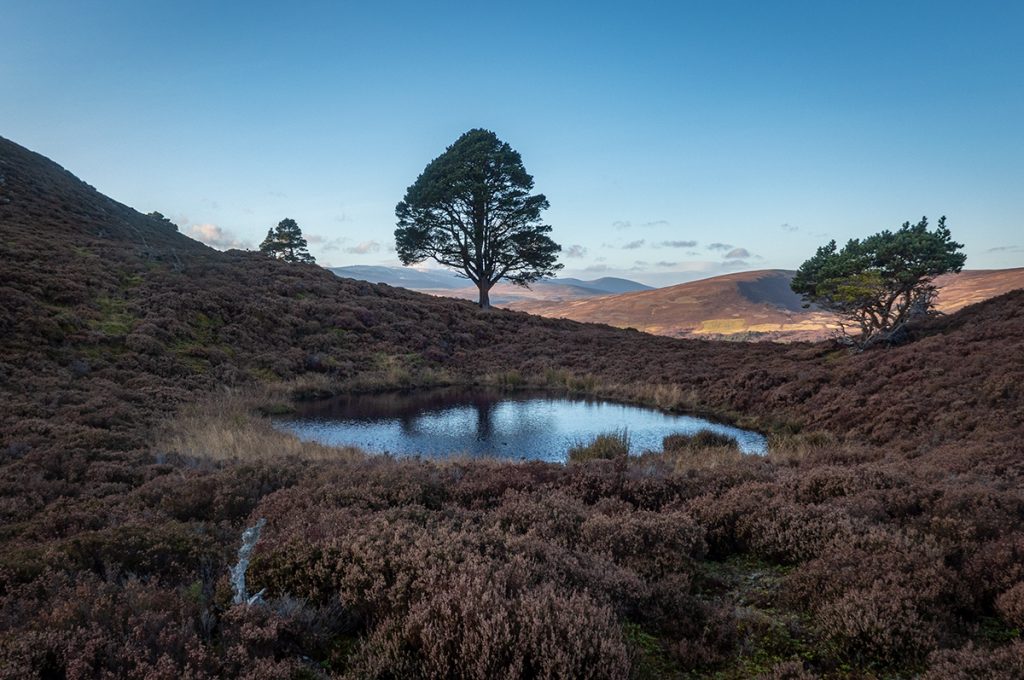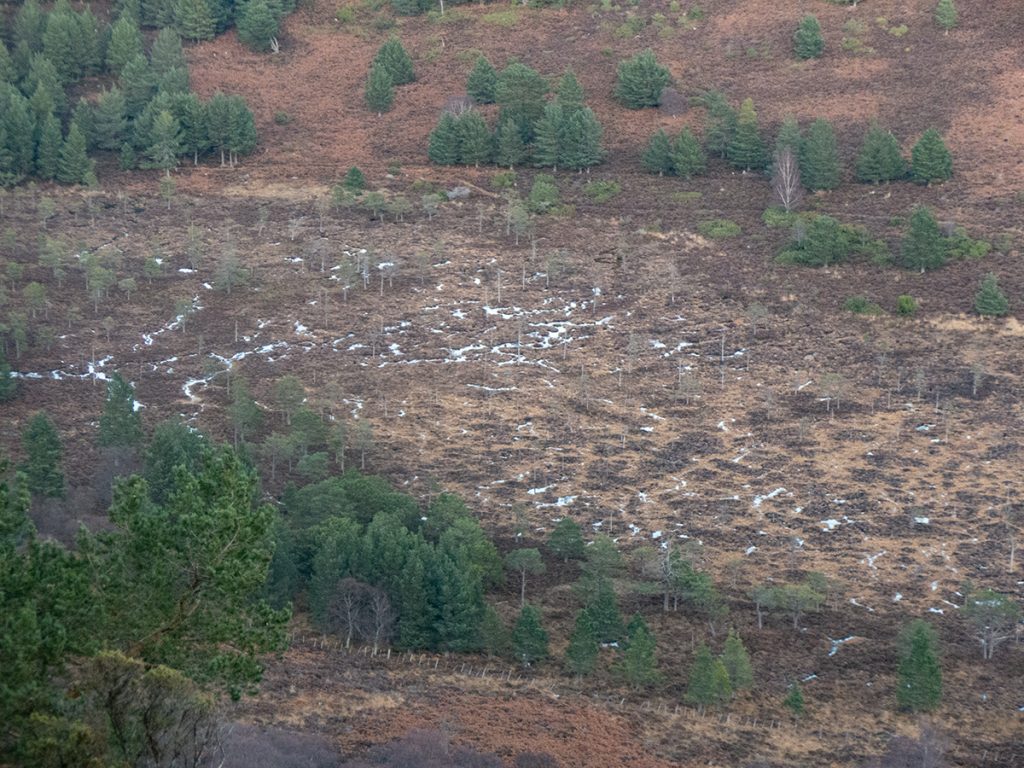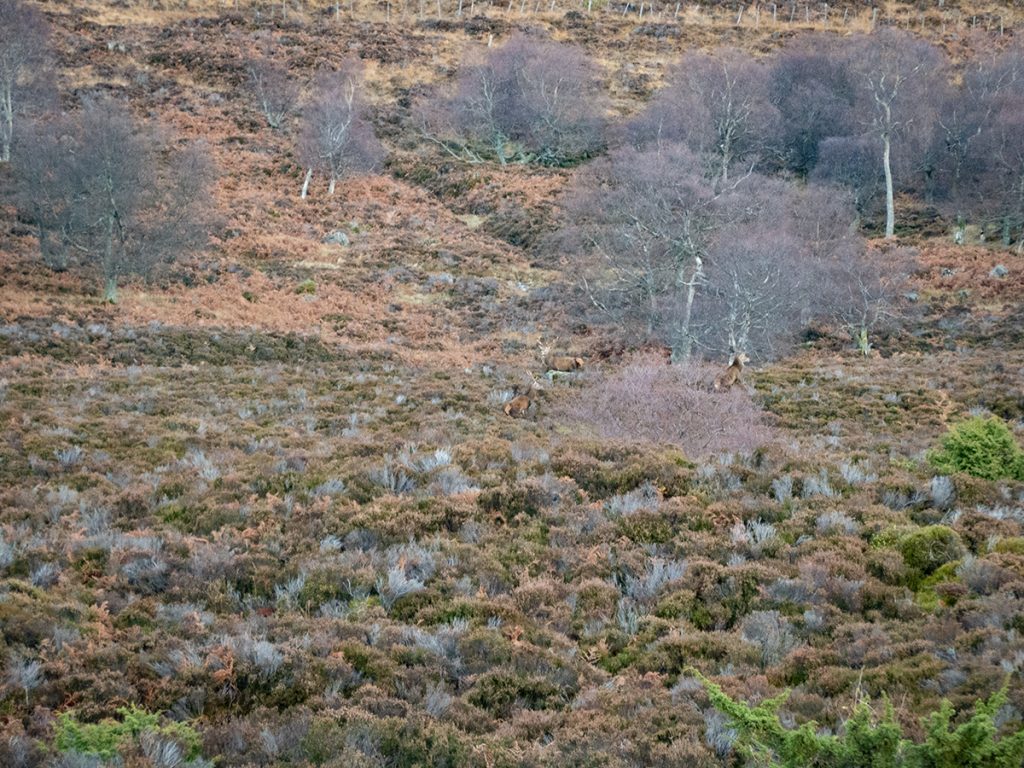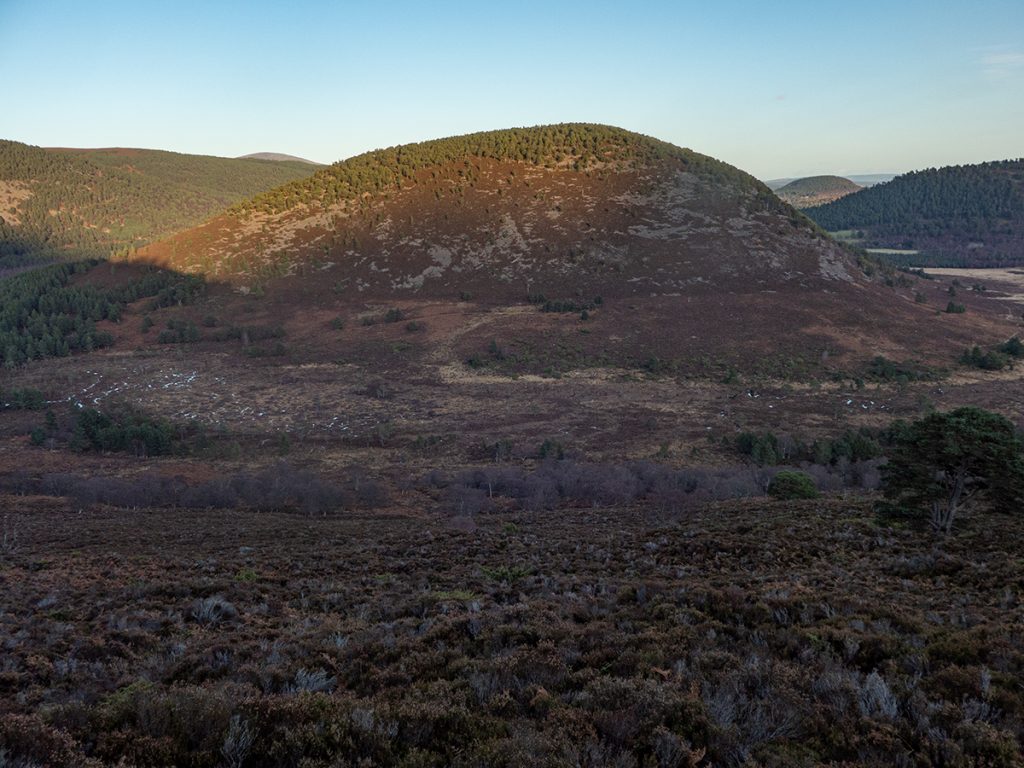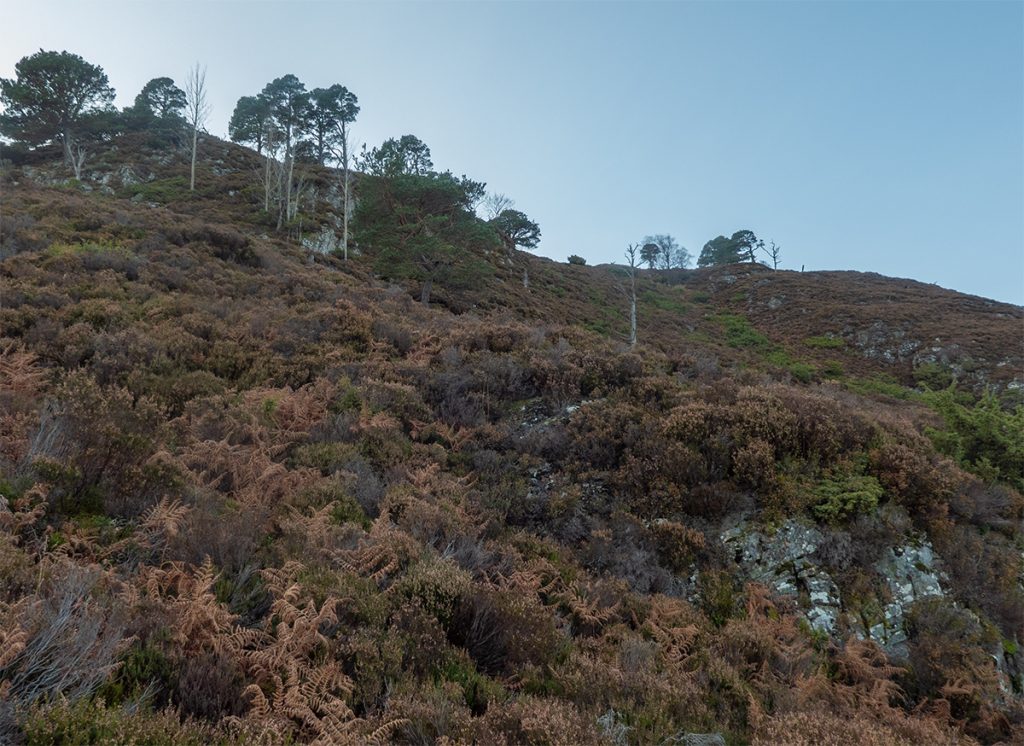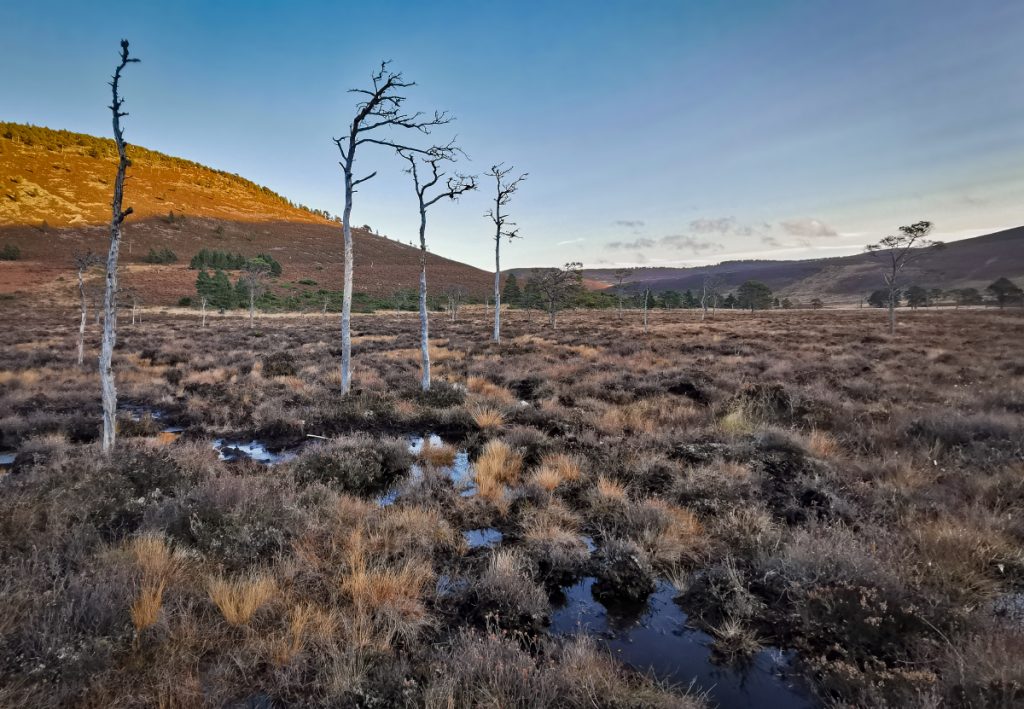 Emerging from the bog on to terra firma, from here on home it'd be trails and tracks all the way. I thought I'd squeeze in one last target, a castle, on the way back to Ballater.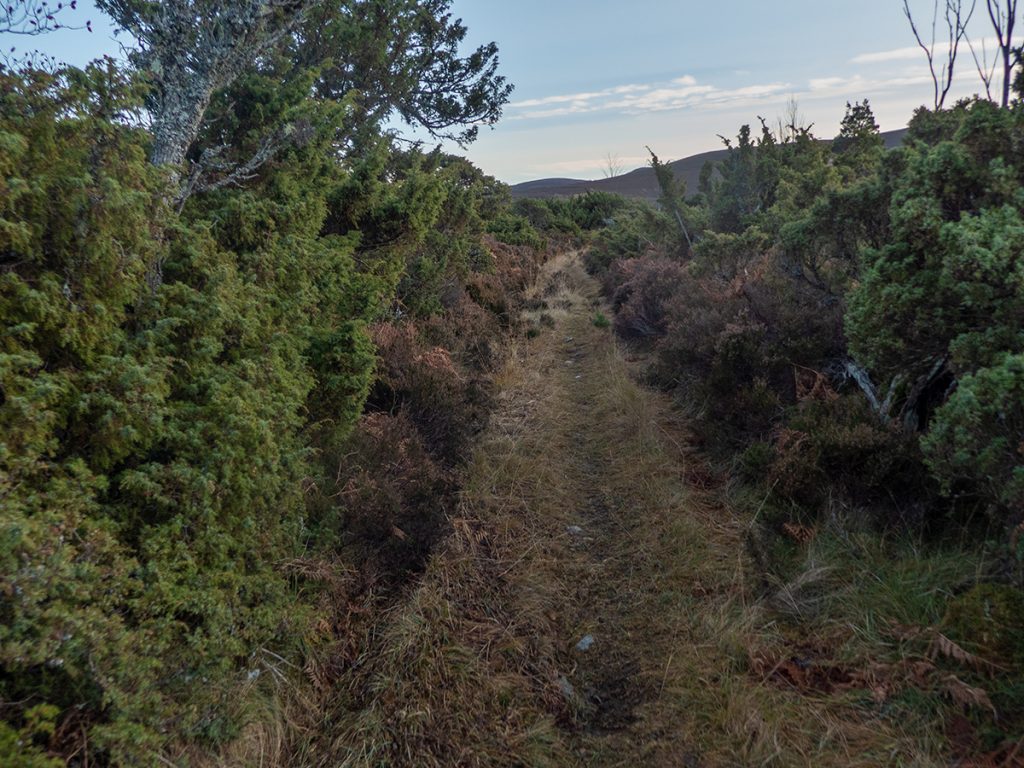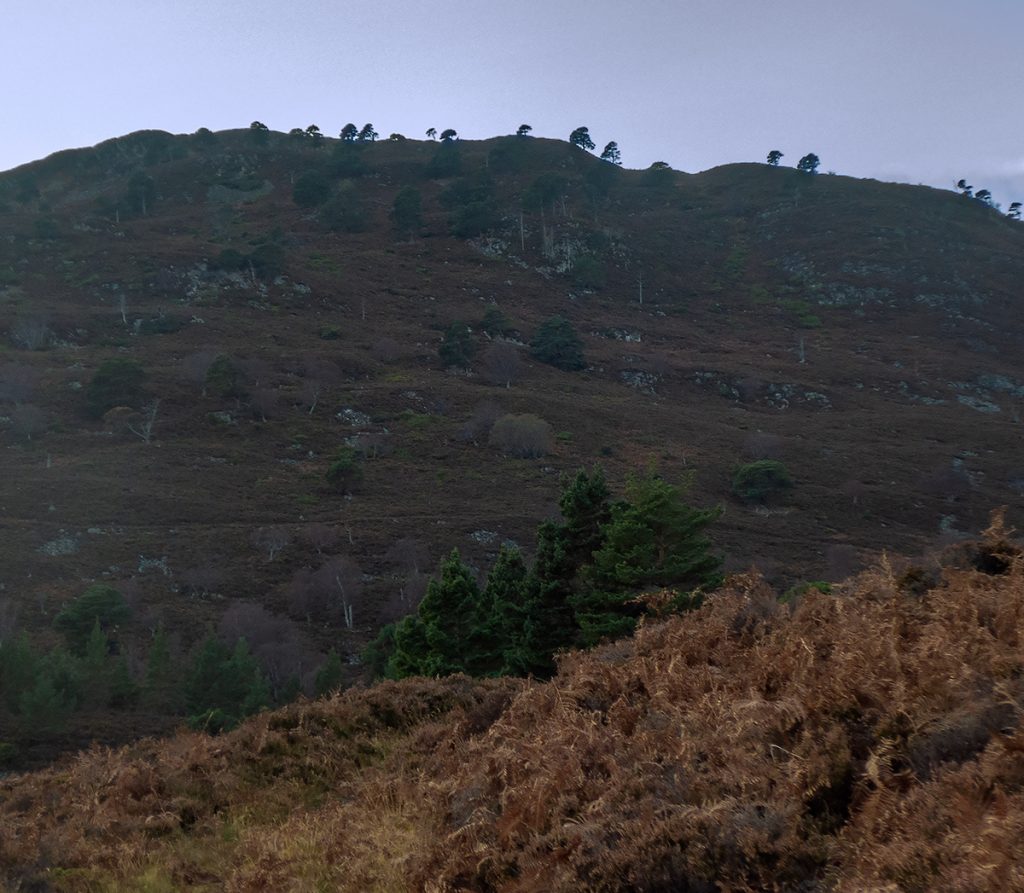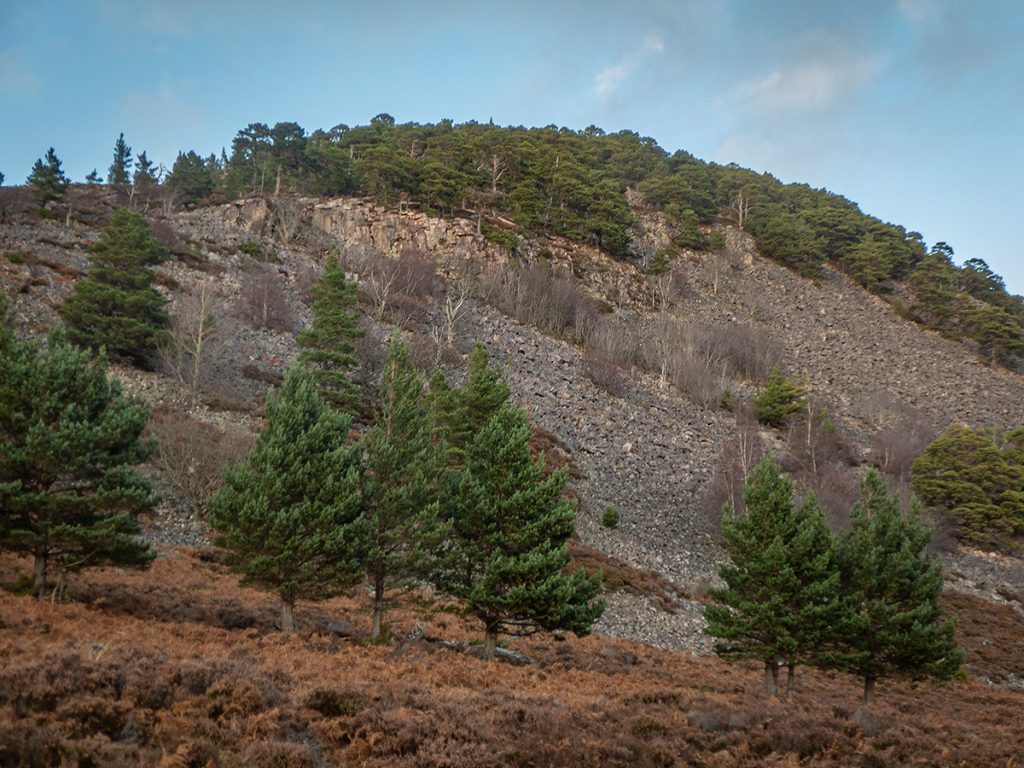 Dalhefour woods would not be denied: pounding some tarmac trying to beat sunset to the castle, I was drawn in to the web of russet pine-trails squirrelling through the trees, unmapped and hopefully they'd not lead me too far astray; a deer fence plunked me back on the road briefly, but an overgrown track rounded fields and climbed to a view of the castle.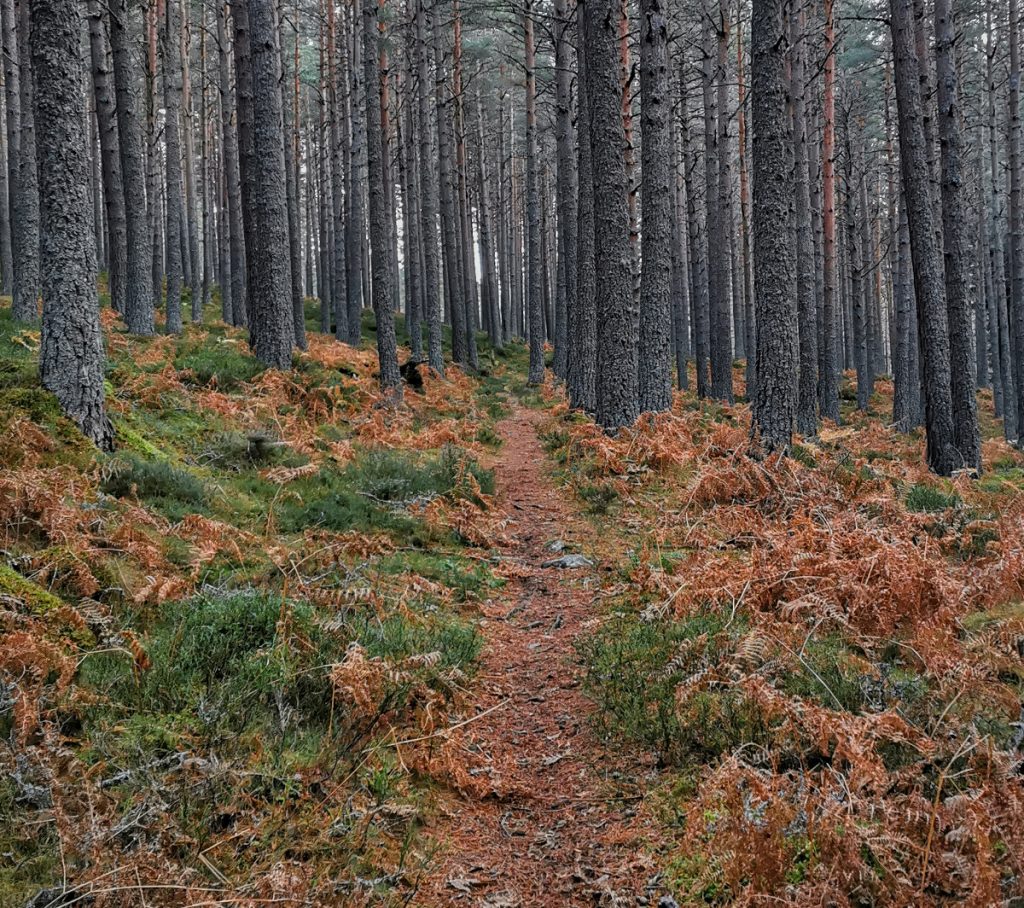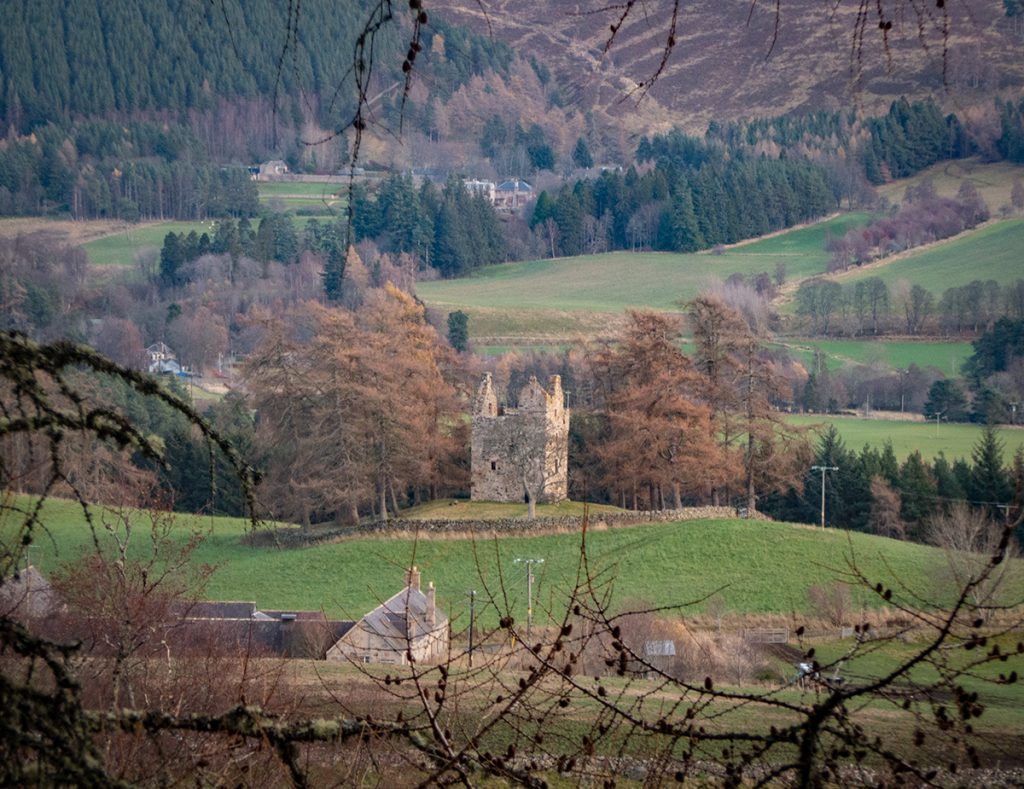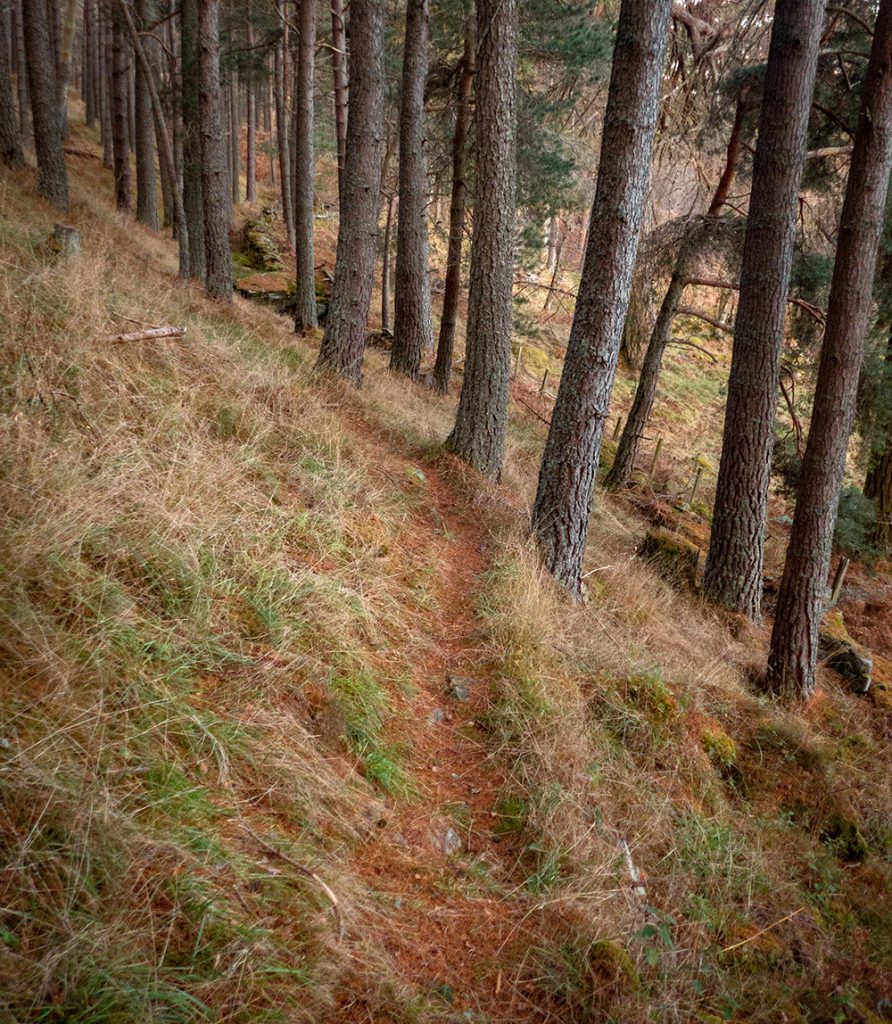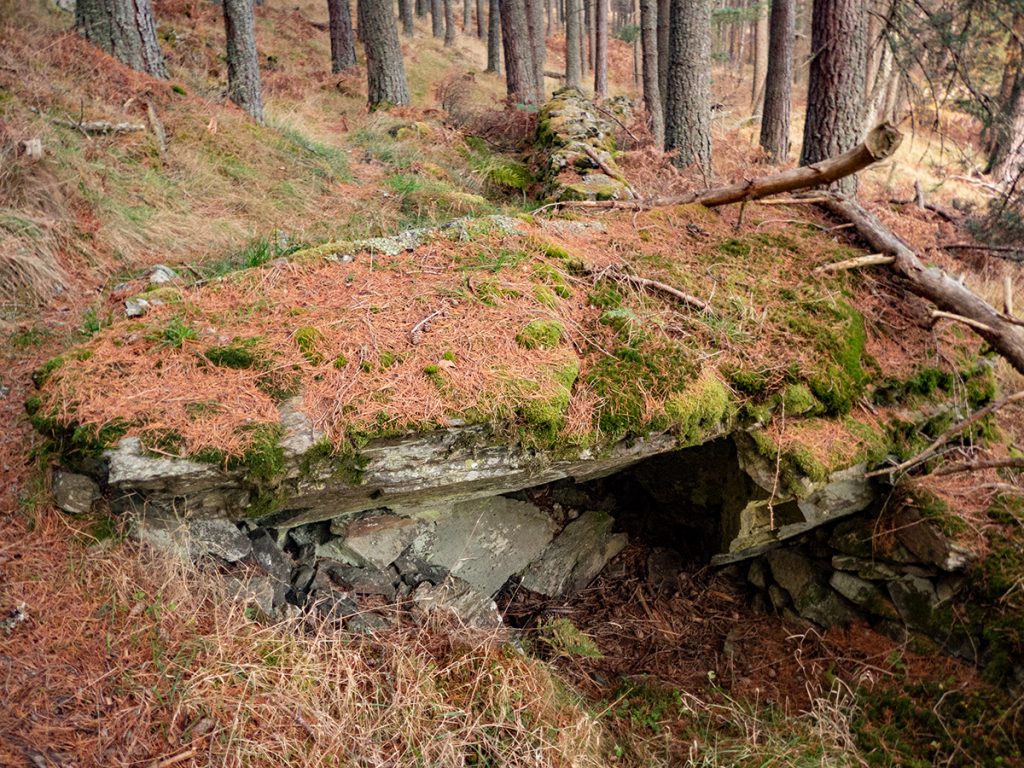 I romped down the hillside, squdged through marsh, and the field o highland coos guarding the rear of the keep were fortunately disinclined to challenge my passing. The sun had set, but enough gloaming remained to inspect the fine ruin.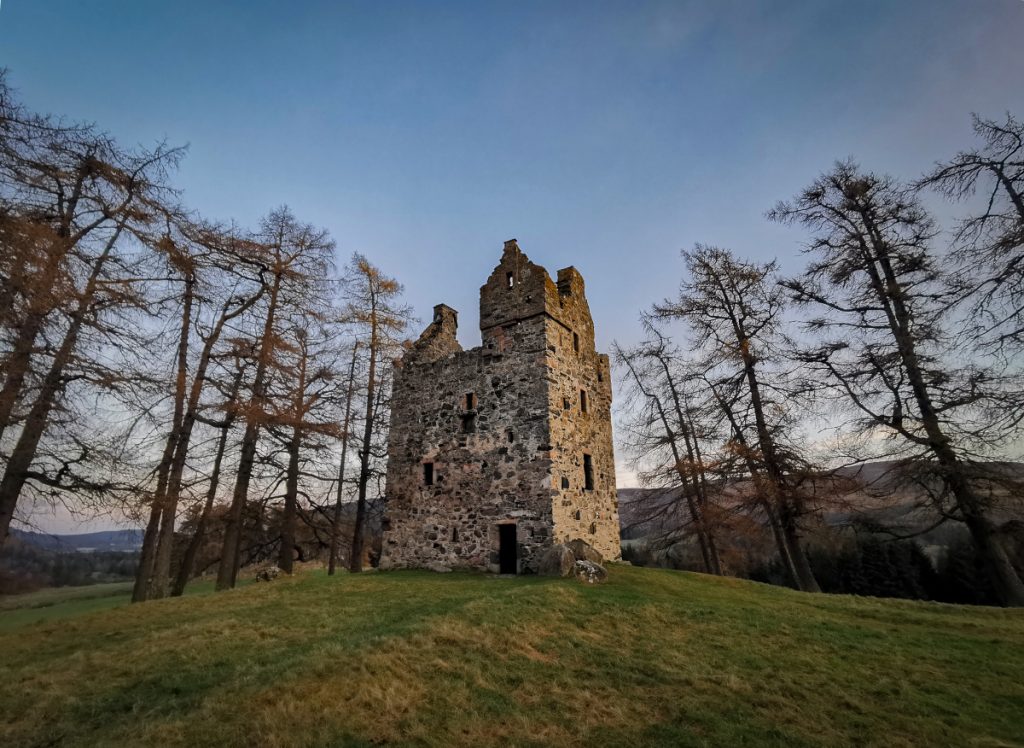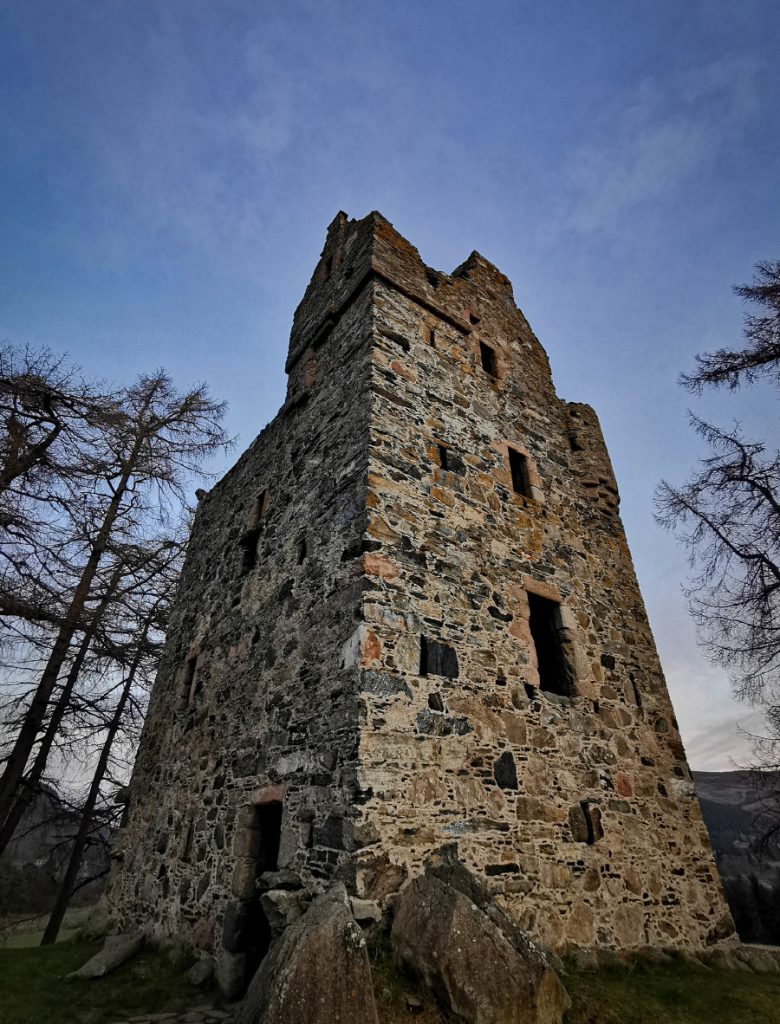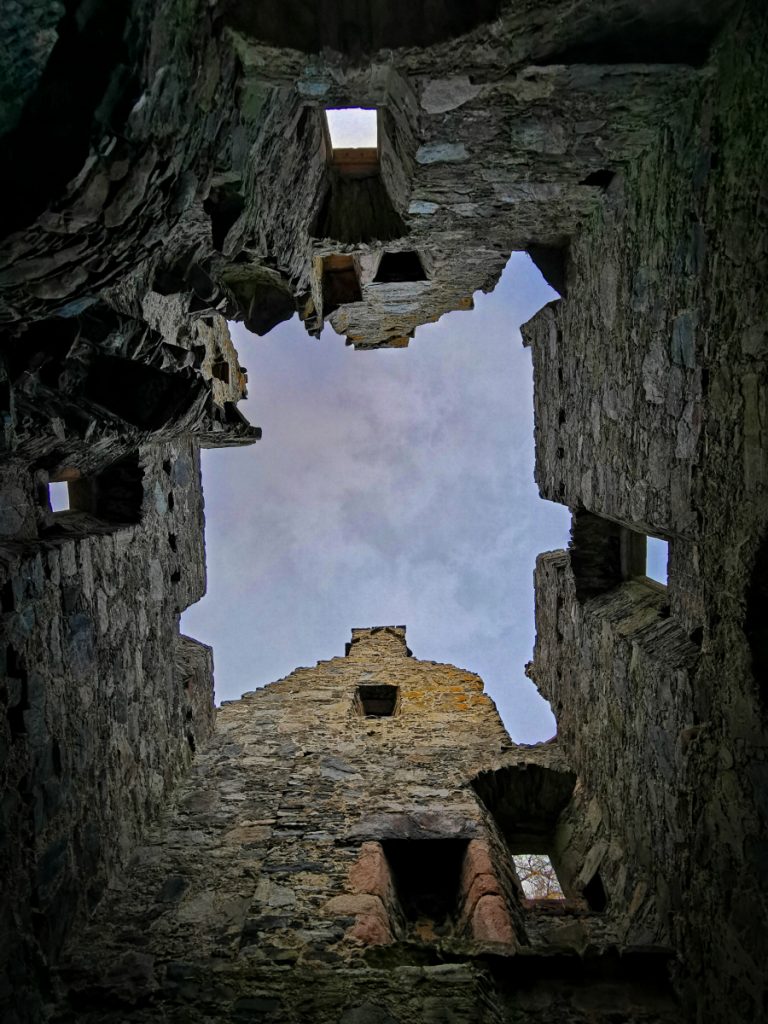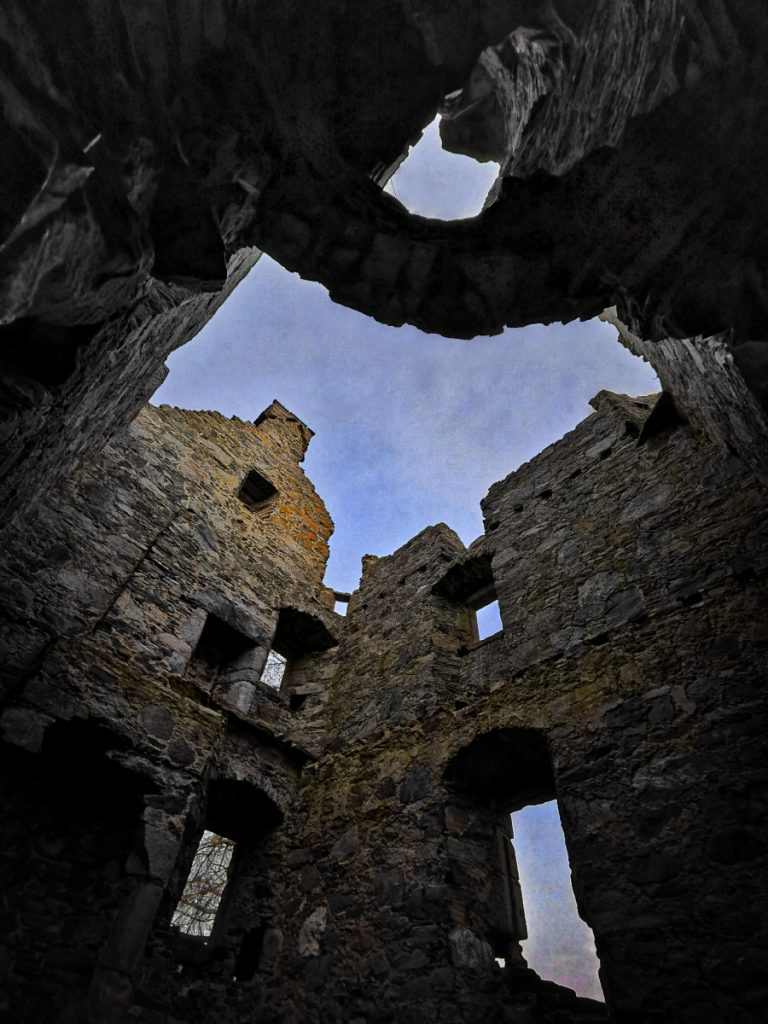 A fine relic to end the day. Despite the early ripped-up 'plan' and the resulting random meandering, a fine exploratory tour was achieved. Ballater square was reached perfectly as the homeward bus arrived.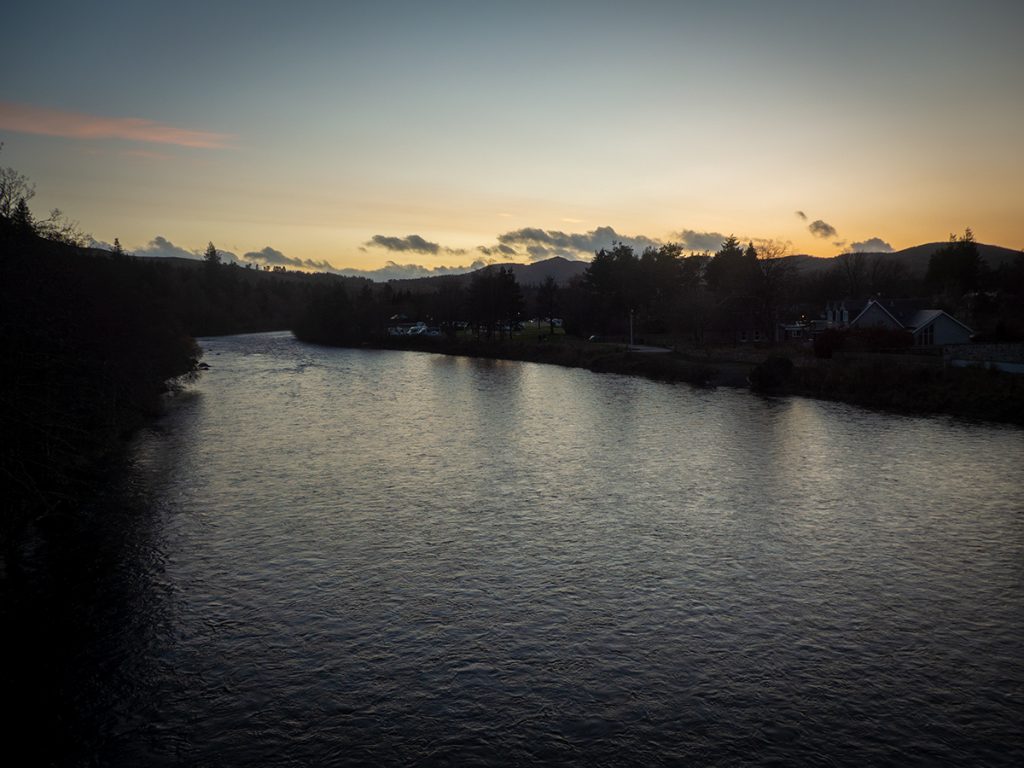 Afterwards
I was intrigued afterwards by how such a lovely glen, with a remote but idyllic setting for these quaint farm houses, had ended up abandoned and it would have likely remained a mystery, but for the knowledge collated by Peter J Gordon, his website is a treasure trove of information on the history of the area. In particular, this article covers the abandoned glen in detail.