The Deeside trail is a long distance mountain bike route around Aberdeenshire, starting in Banchory and heading west along the south side of the Dee valley before returning along the north side. 140 miles long, it was originally created as a 'time trial' for speedy folk to do with minimal stops and carry on through the night, but we assembled a crew to do it in more leisurely fashion over 4 days of about 60km each. I'd had a crack at it during a heatwave in June 2018, but had failed to complete so this was unfinished business for me, and despite October not being the optimal time of year we assembled at the traditional start point for the off.
The previous time I'd done it on a full-sus and knew there'd be some rough parts where this would be the preferred weapon; but couldn't quite get as much wheel clearance as I'd have liked on the seat bag and needed the extra space in the frame so a tweaked hard tail set up would have to do (changed handlebars, added set rail). One of the crew hadn't got the message (or read the available info) that this was primarily a mountain bike route, and rocked up on a gravel setup. We hoped this would be workable (tldr: not really)
We got under way through Scolty woods climbing the woodland tracks and skittering down some muddy singletrack: the first of many detours for the gravel rider took place, too bumpy and steep for skinny tyres.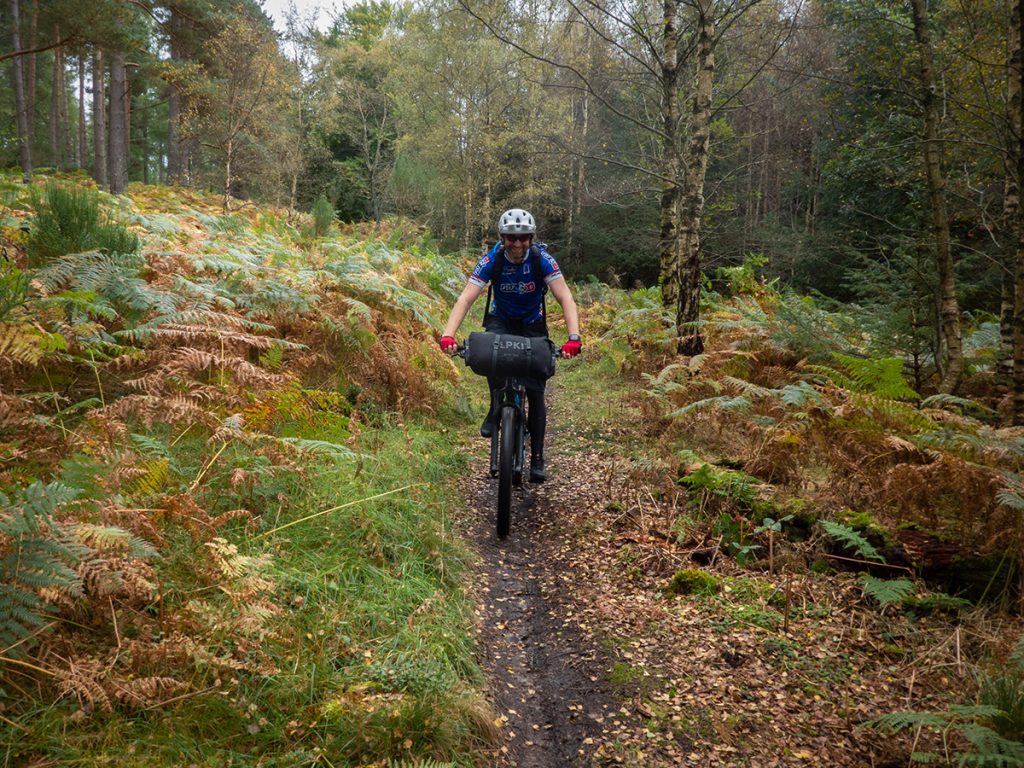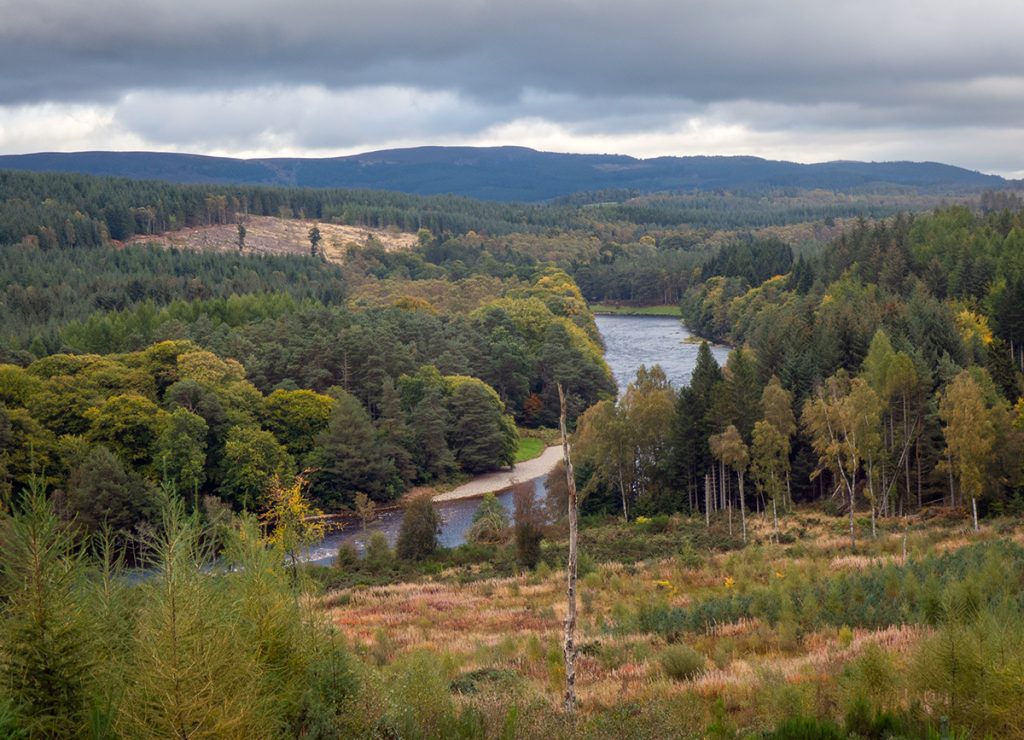 After joining The Deeside Way to Potarch we found some mushroom bounty along the trail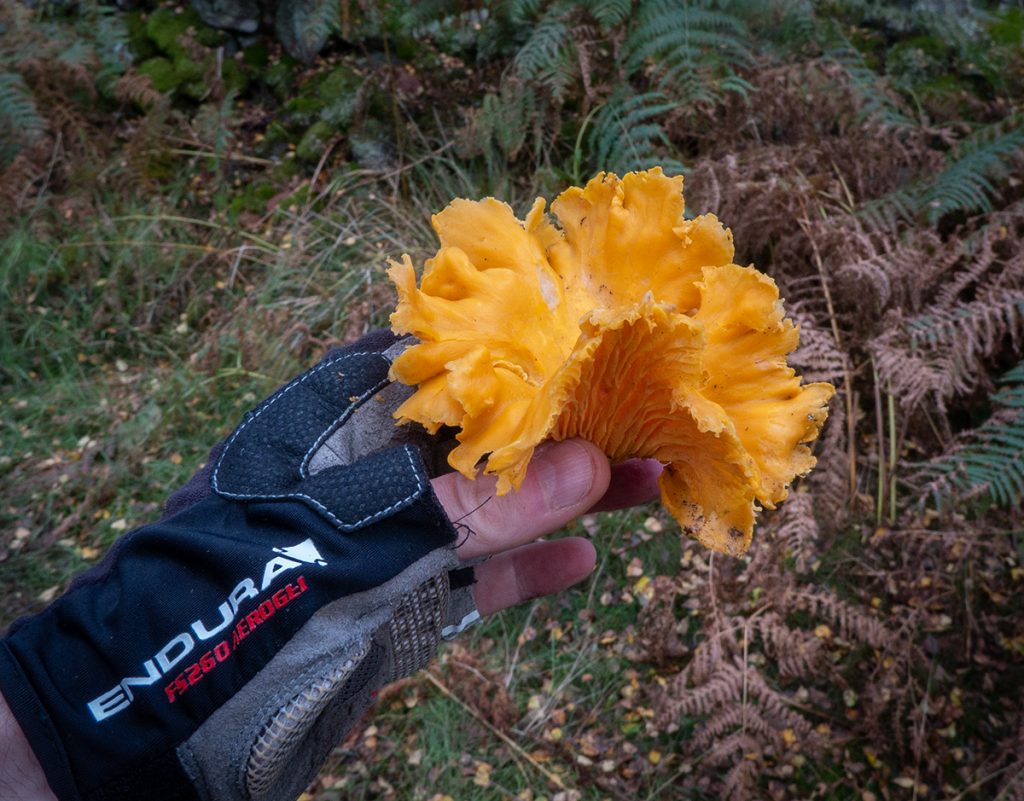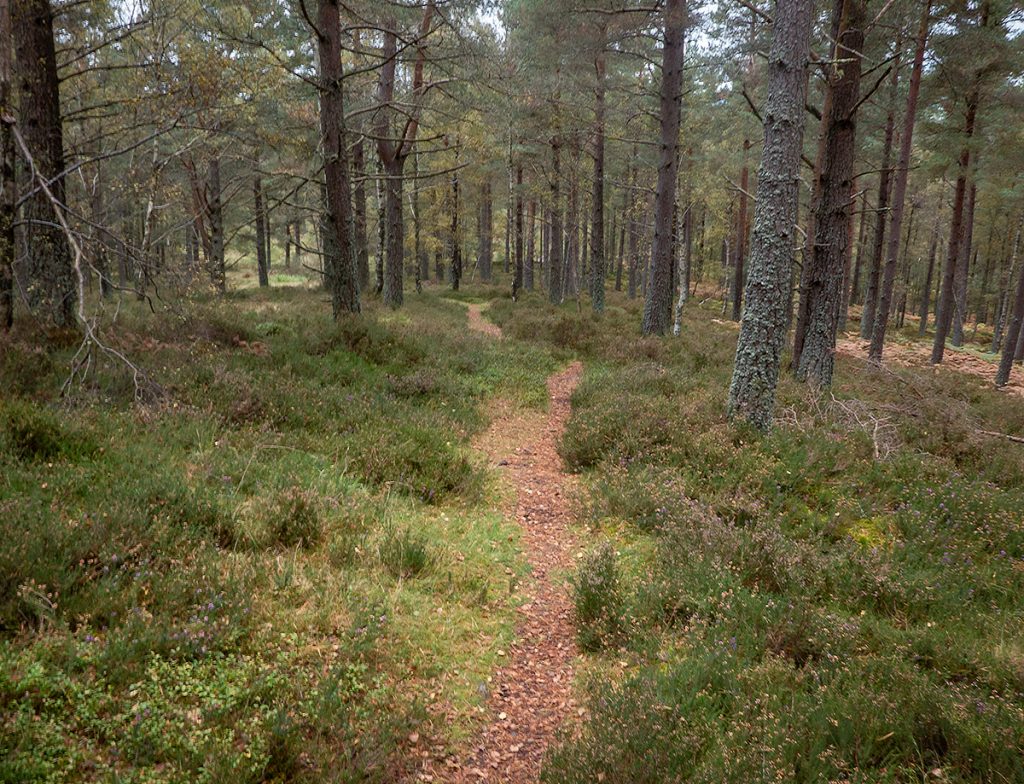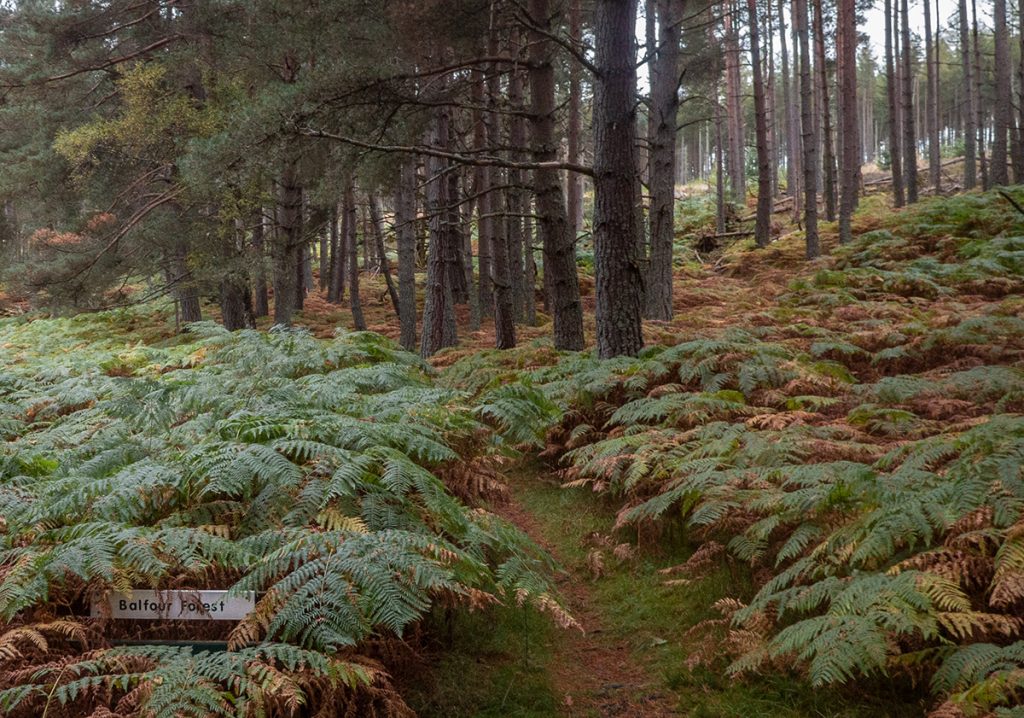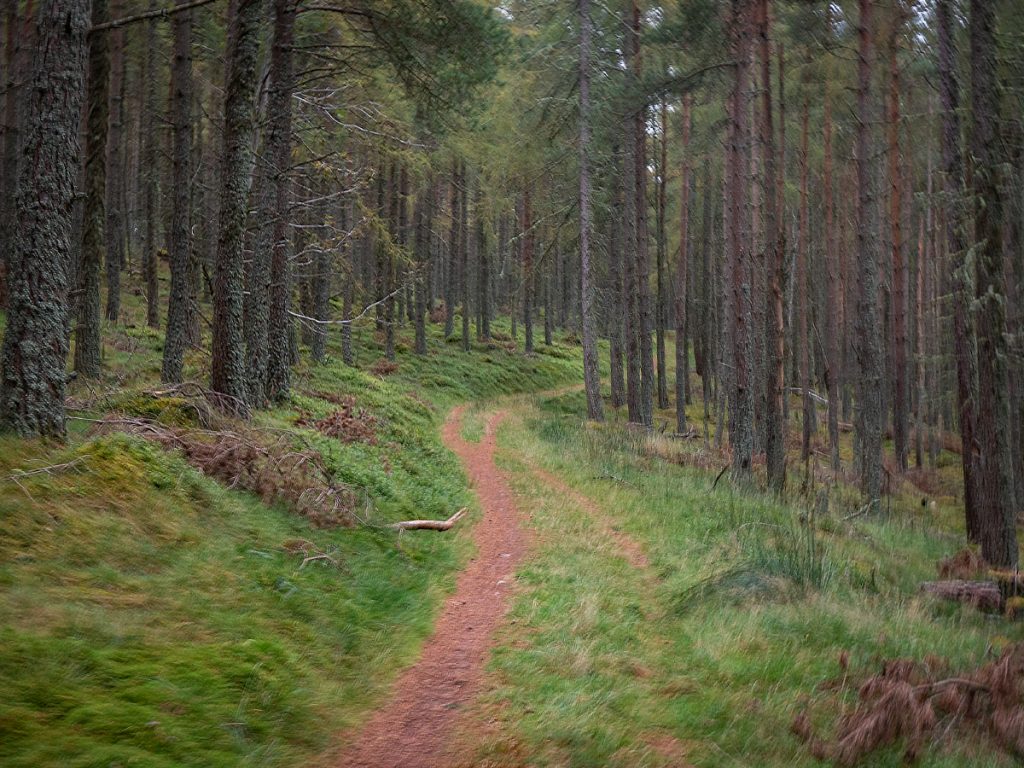 Although dreich we'd been sheltered in woodland up to this point, at Carnferg we were out in the open and hacking through the track which was quite overgrown with bracken. The general consensus is that spring is probably the best time to do this route – not overgrown and pre-midge, and clear of snow by then.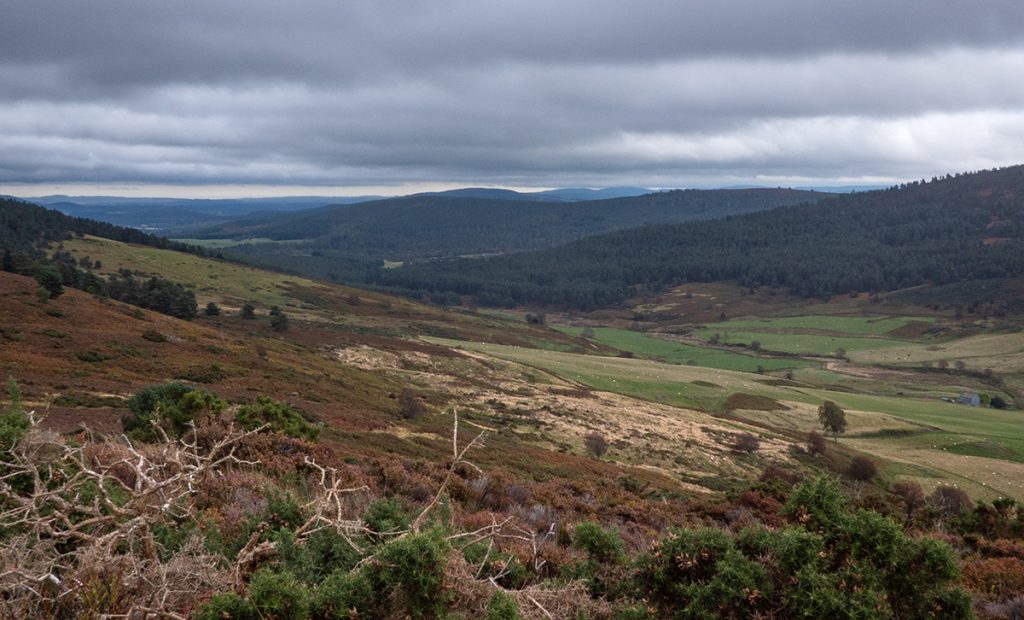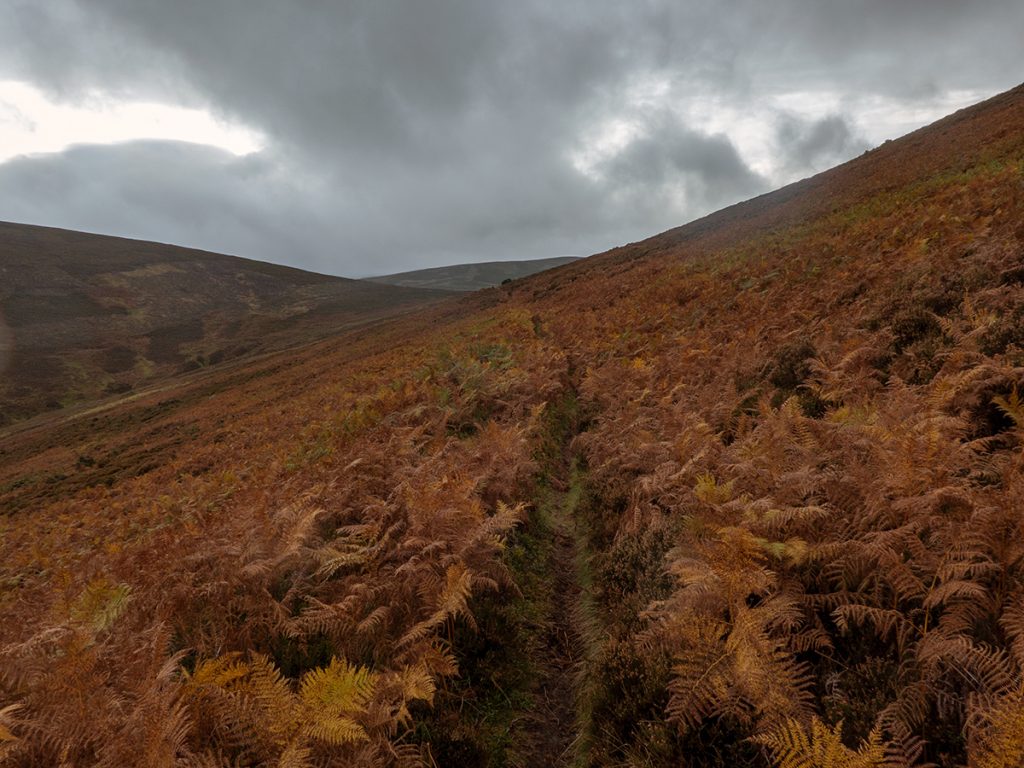 Back on to trail, this bird fluttered along in front of me, waiting then going ahead, not choosing to fly off but to lead me on – I wonder if it's behaviour that is used to protect bird nests from predators albeit beyond nesting season. I spotted a few of these doing similar on this trip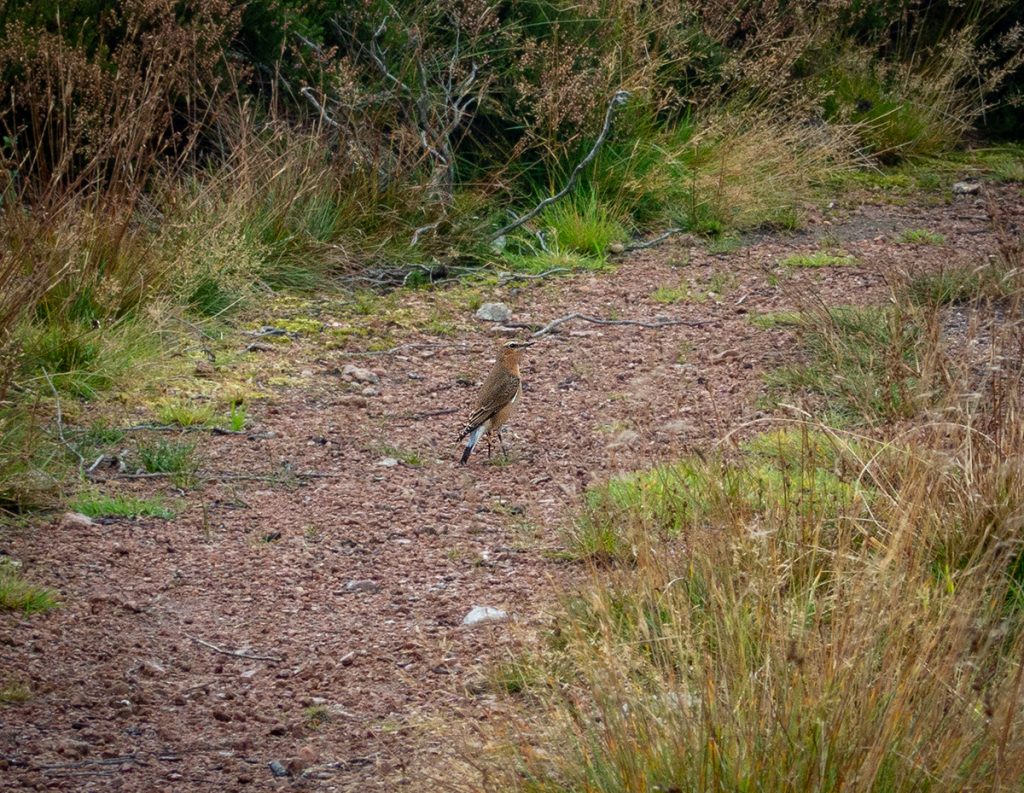 At the entry to the fungle singletrack descent our gravel rider again detoured while I bumped my heavily laden bike down the damp and rooty channel.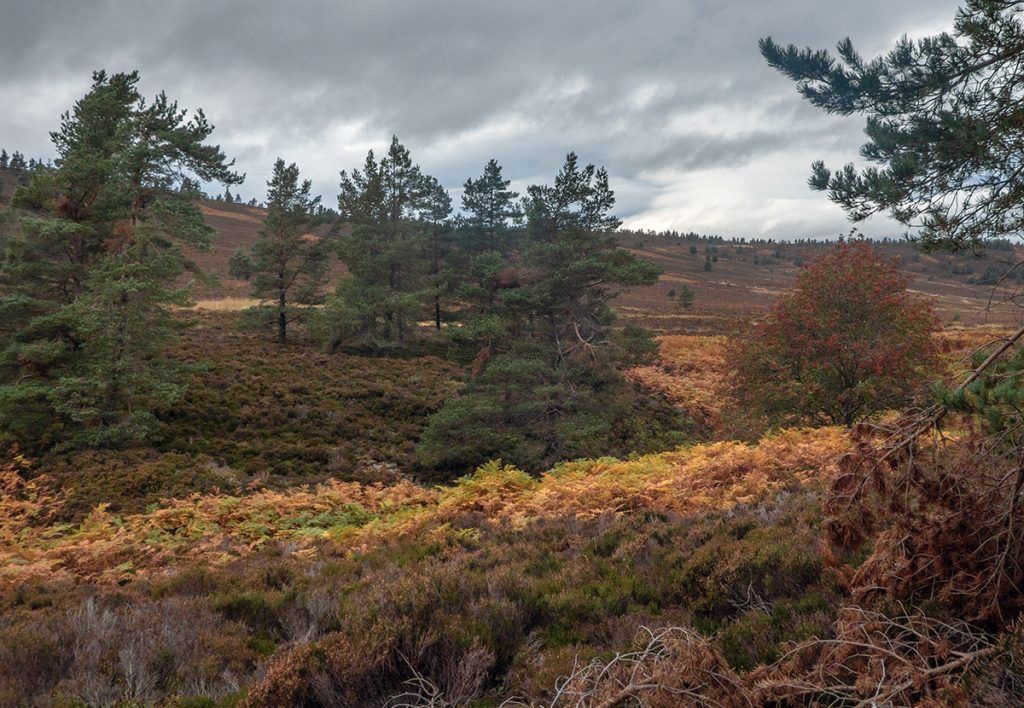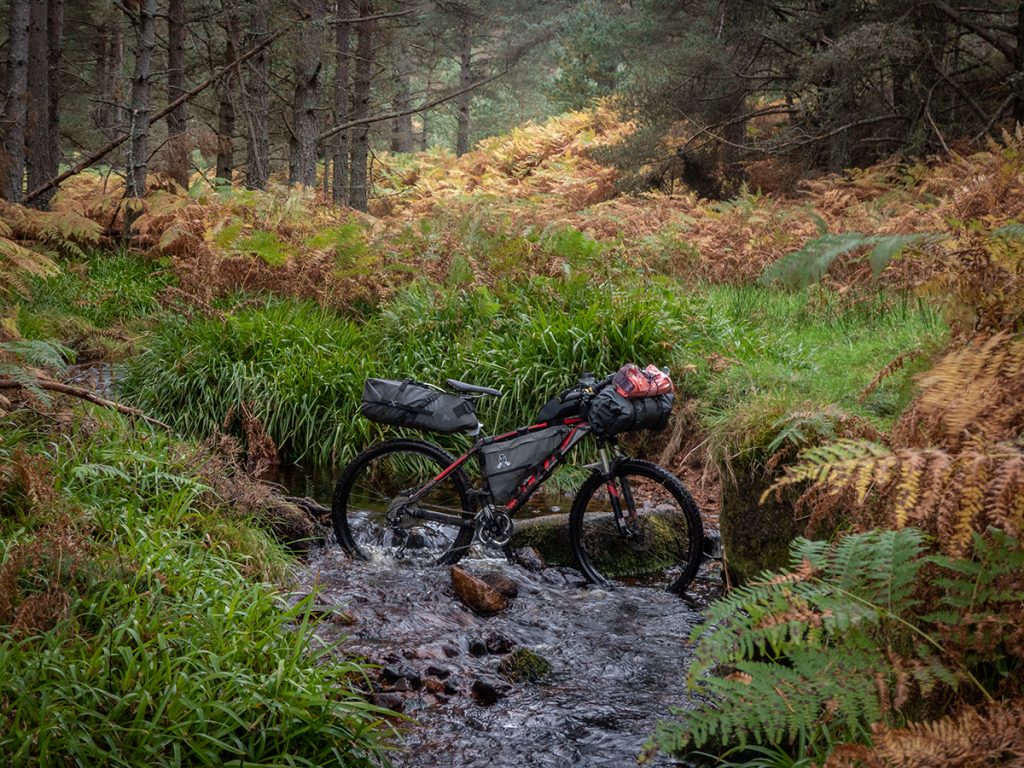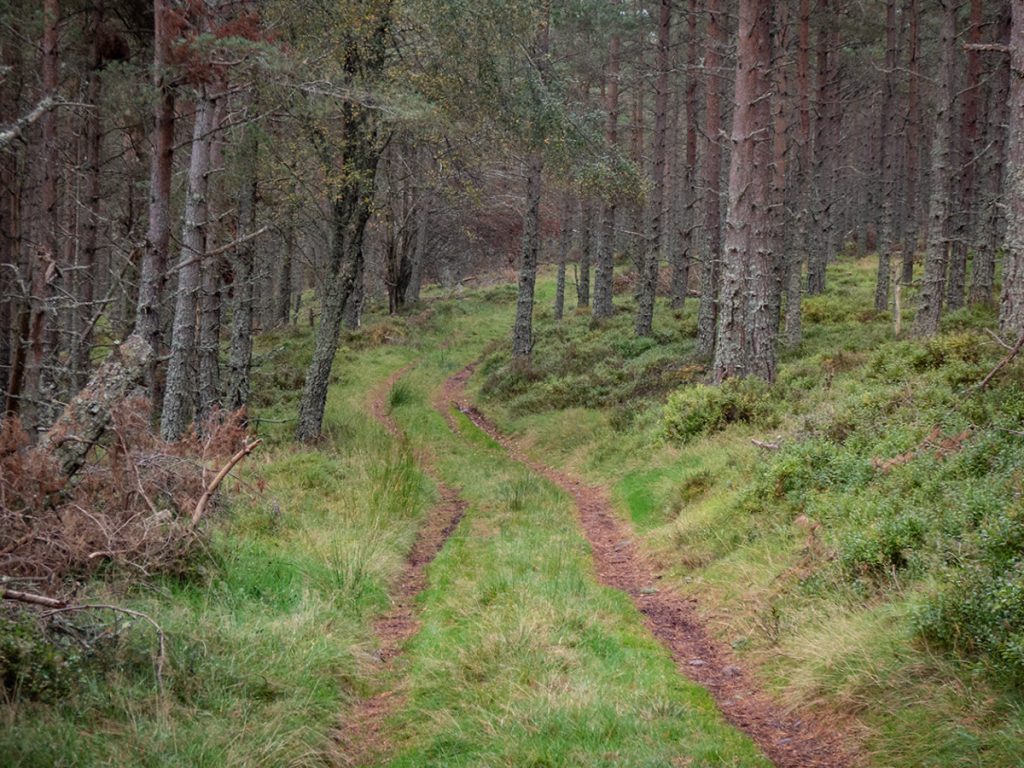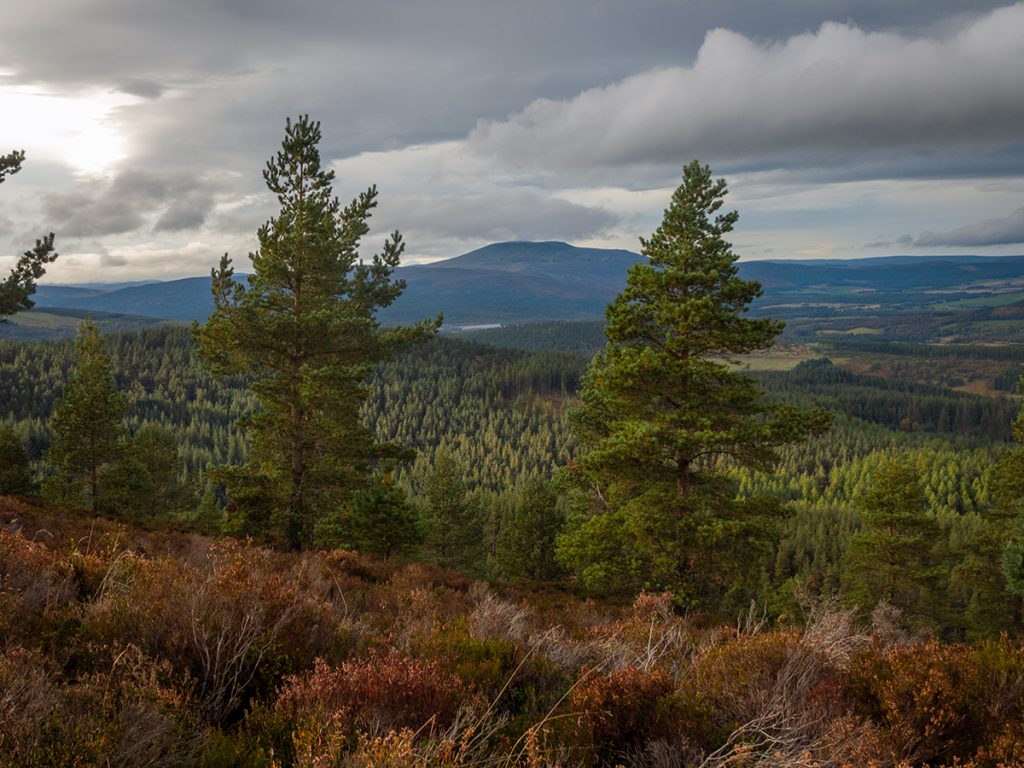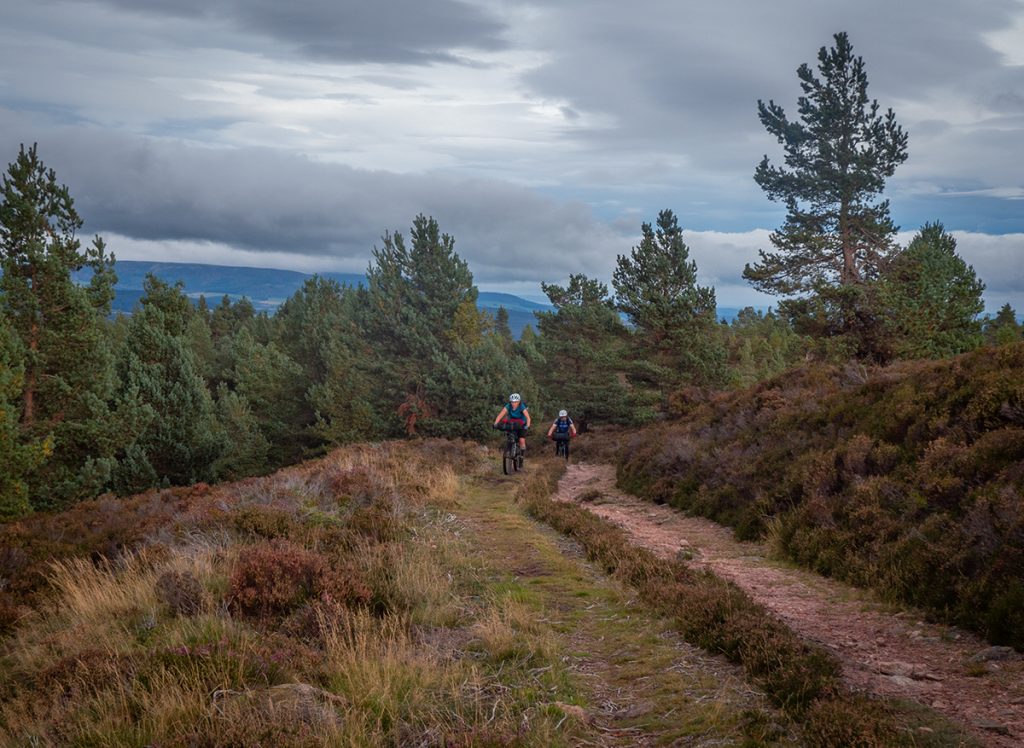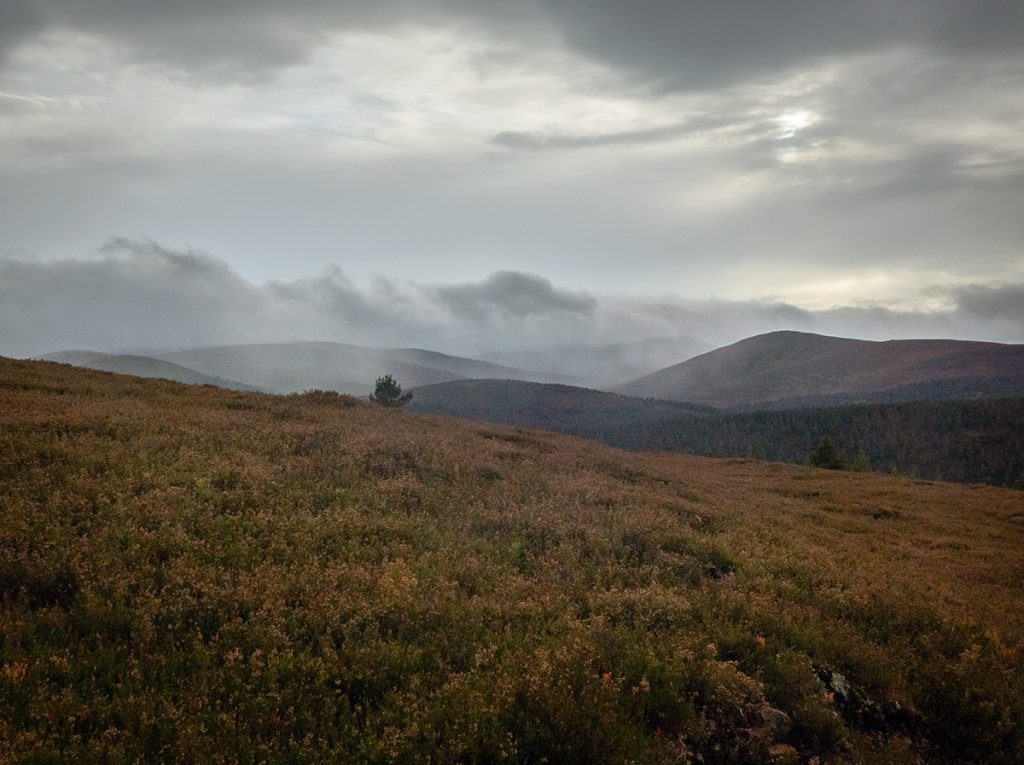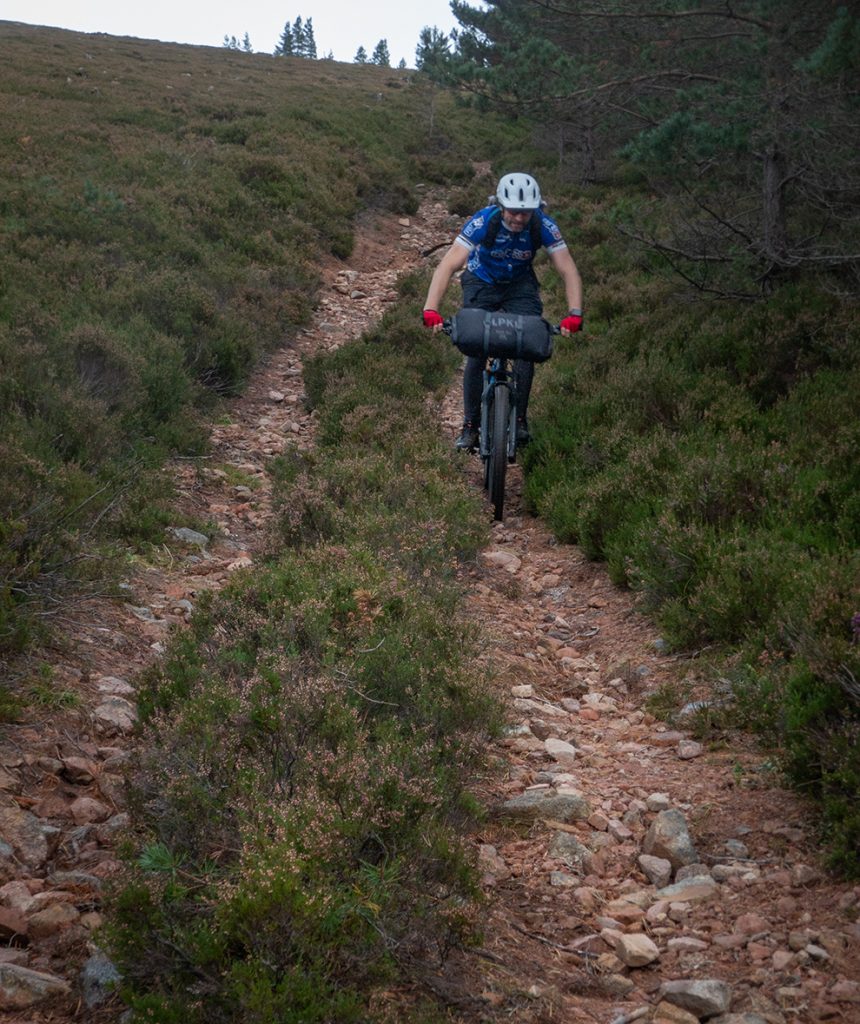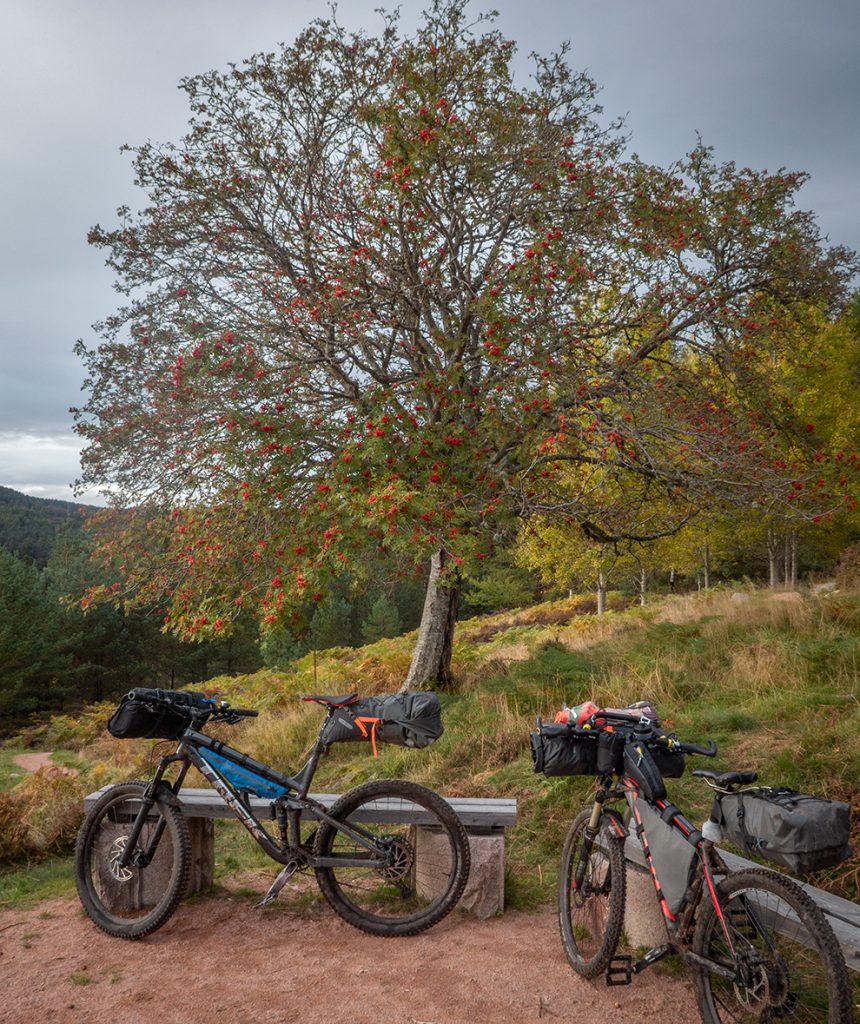 A brief wildlife interlude: a slow-worm on the track was very lively and not all that slow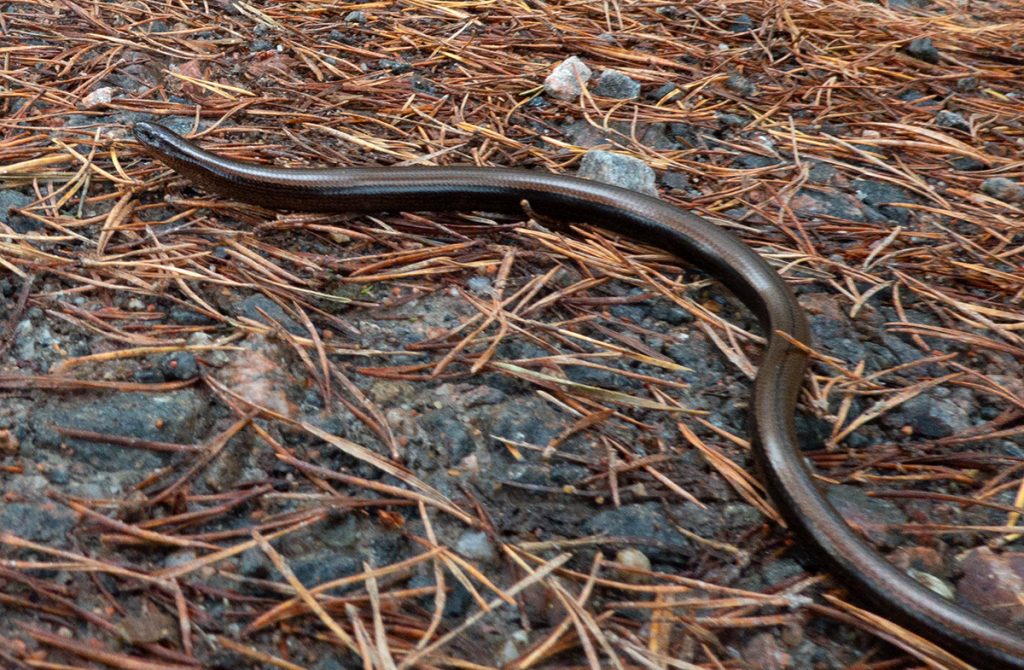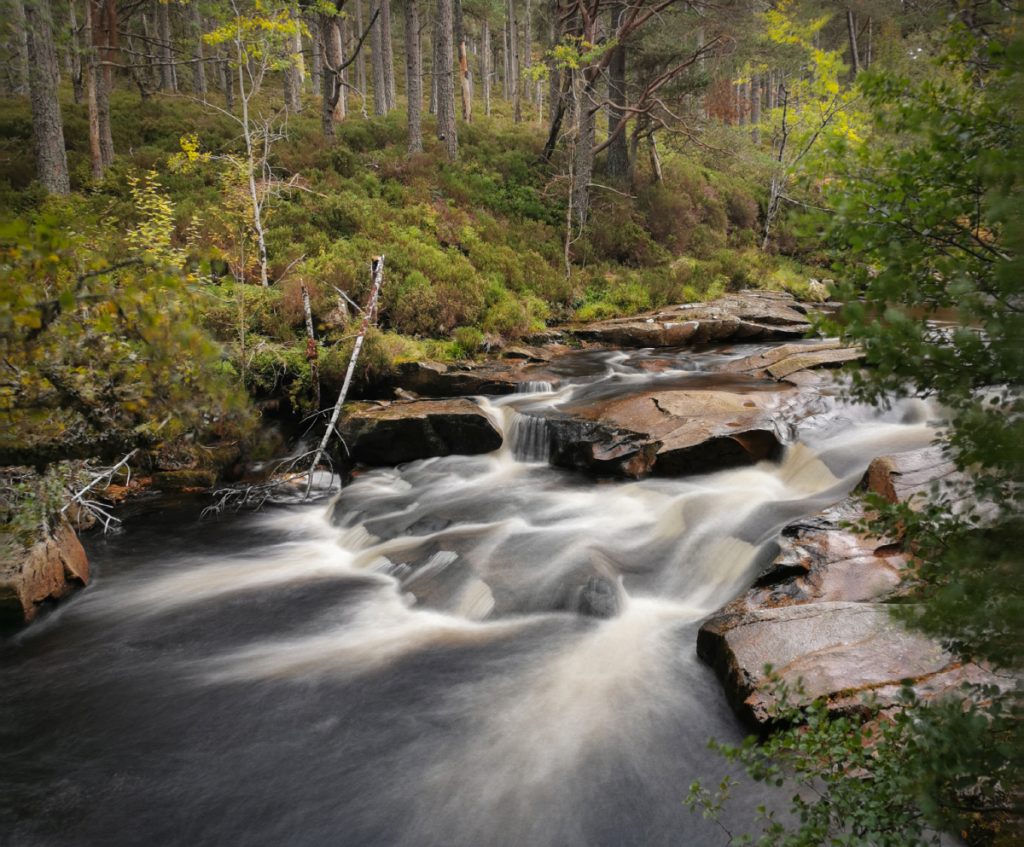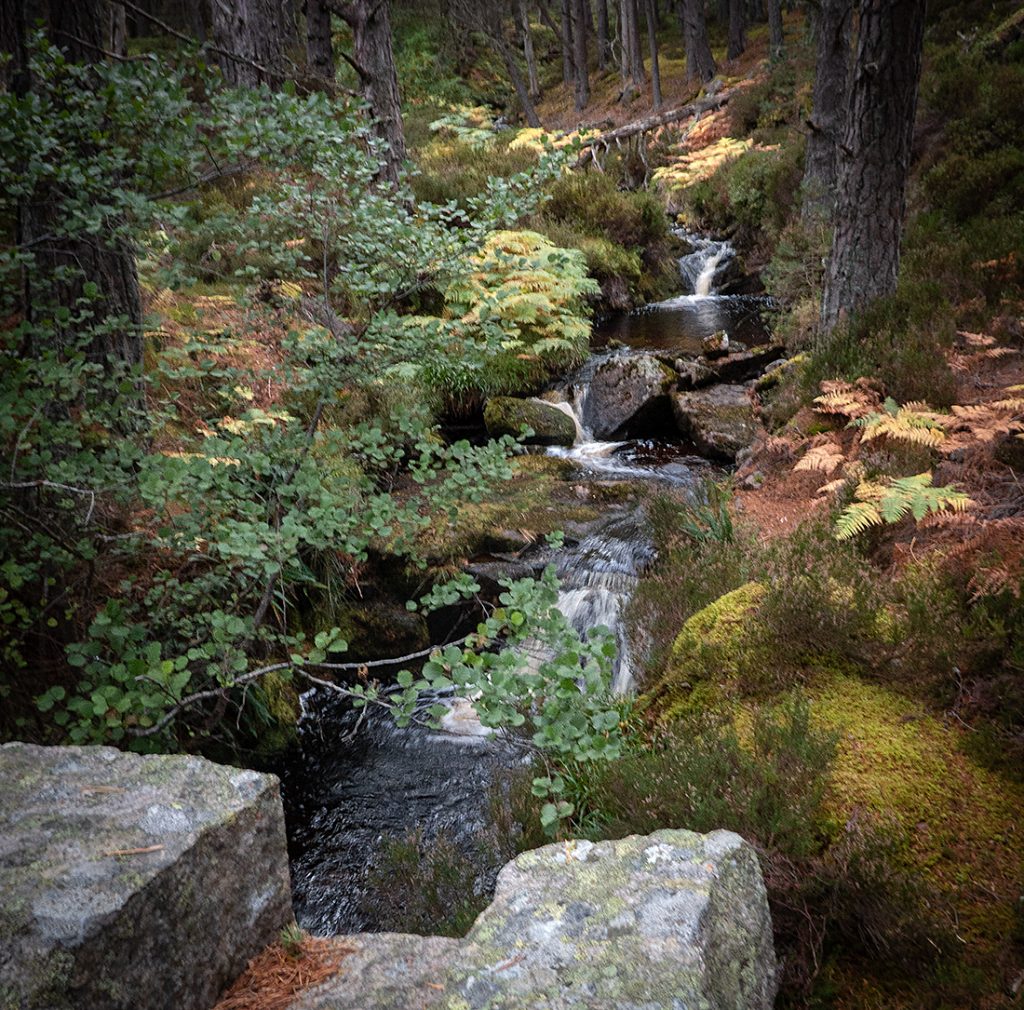 We'd not made the best progress so I reckoned with light running out, rather than commit to the big climb over Black Moss and then an uncertain look for a camp spot maybe once dark, it best to head along the river a bit further to a spot where I knew was good to camp.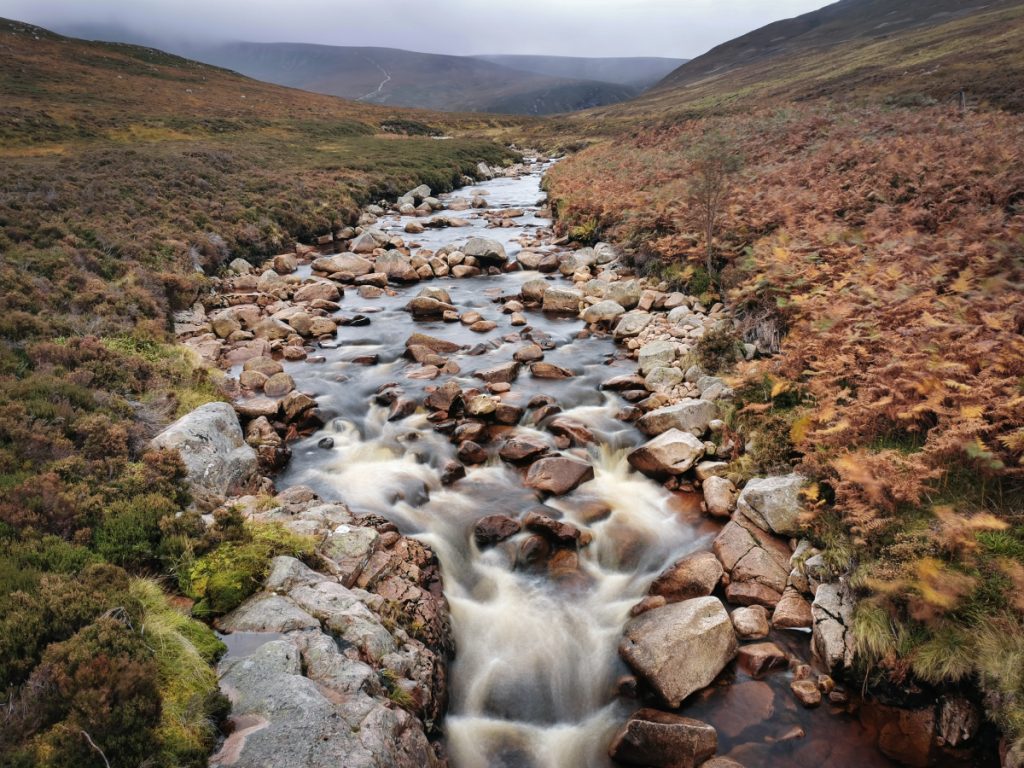 Despite a stiff breeze the tent (salewa litetrek pro 2) was soon pitched. I'd decided on a bit more space for the 4 days over my 1 man wild country helm compact I'd used in my last camping trip. The weight is similar. I'd also decided against the lanshan pro, with uncertain weather and pitch sites. Would have been ok here though.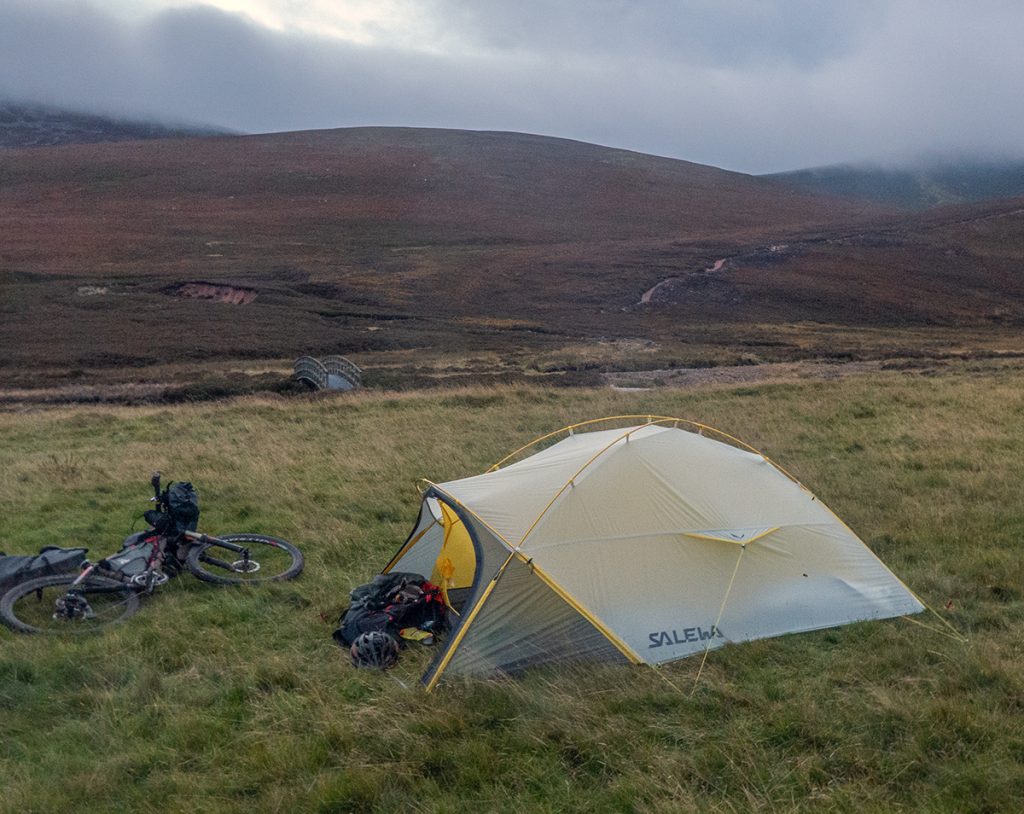 The evening was noisy: we were surrounded in the dark by many red deer bellowing for the rut, initially distant but with the odd disturbingly close roar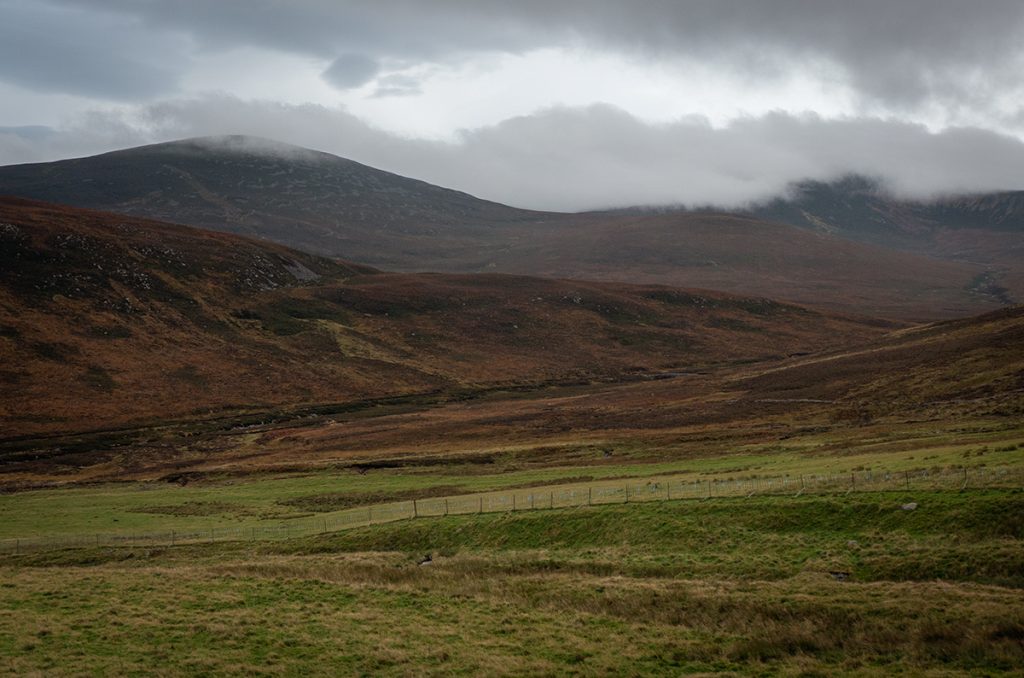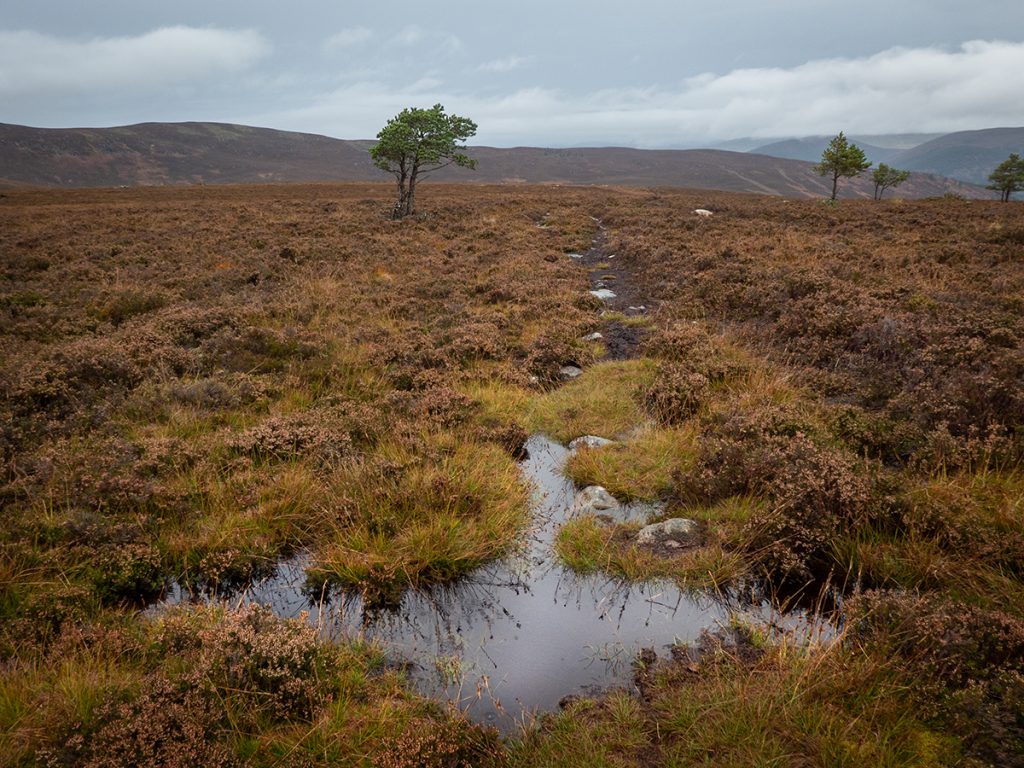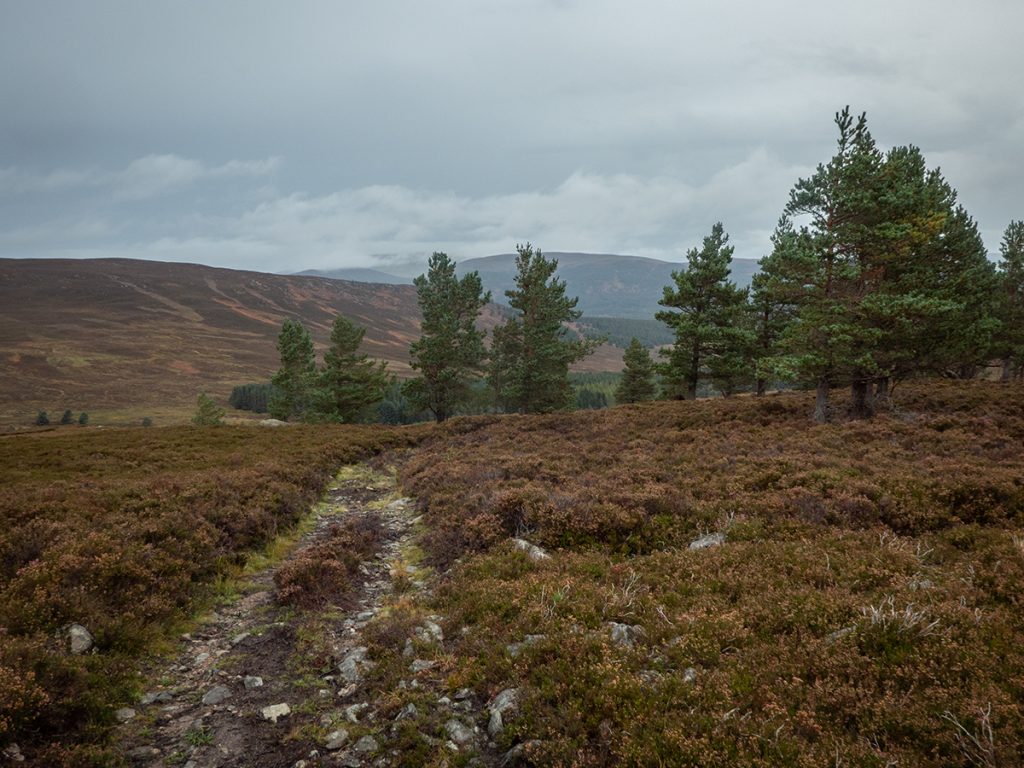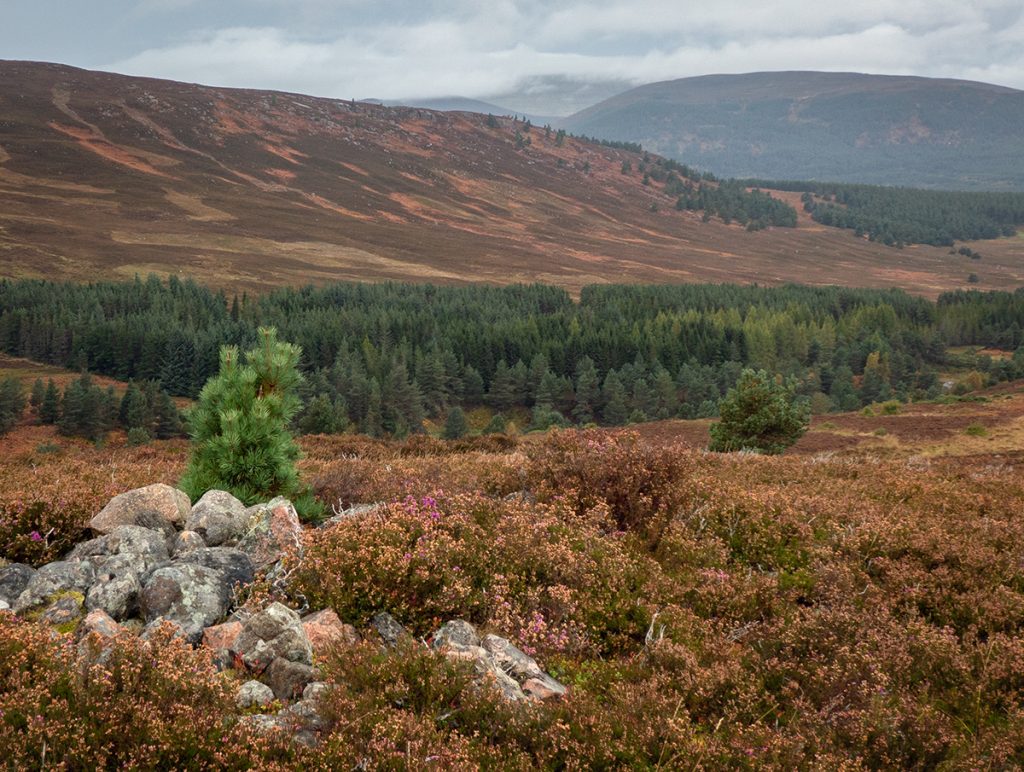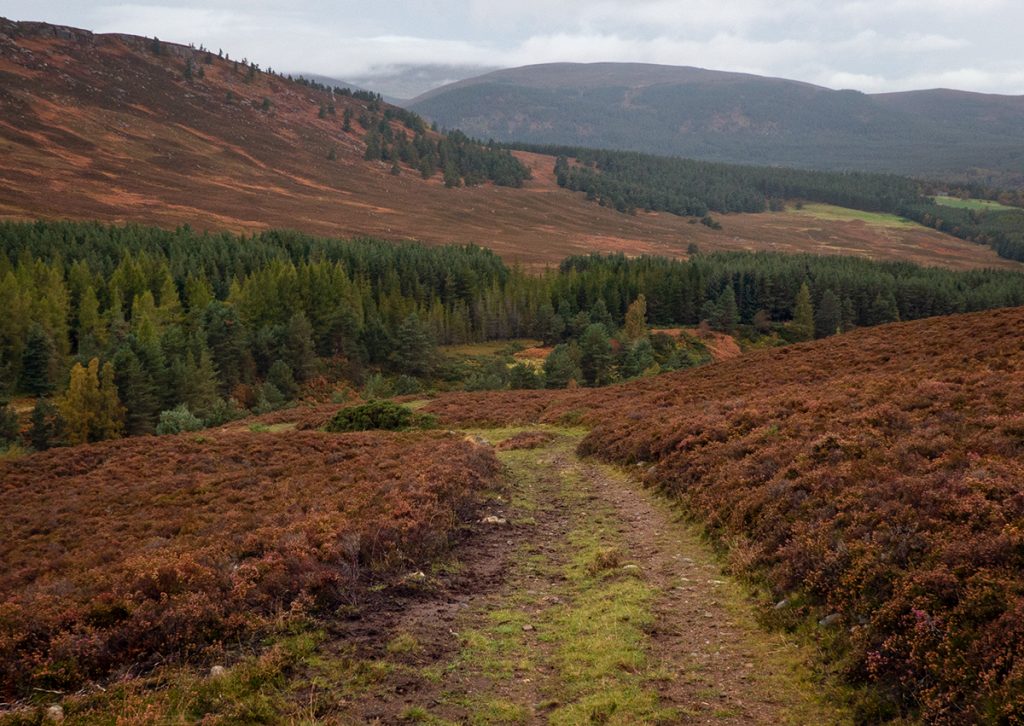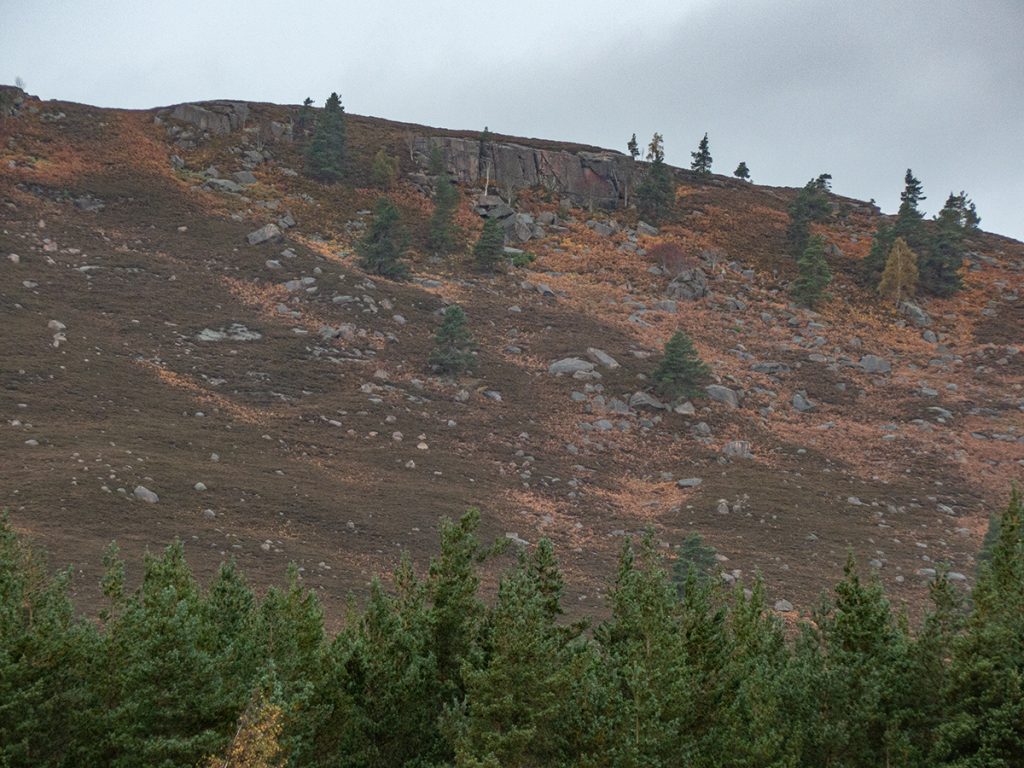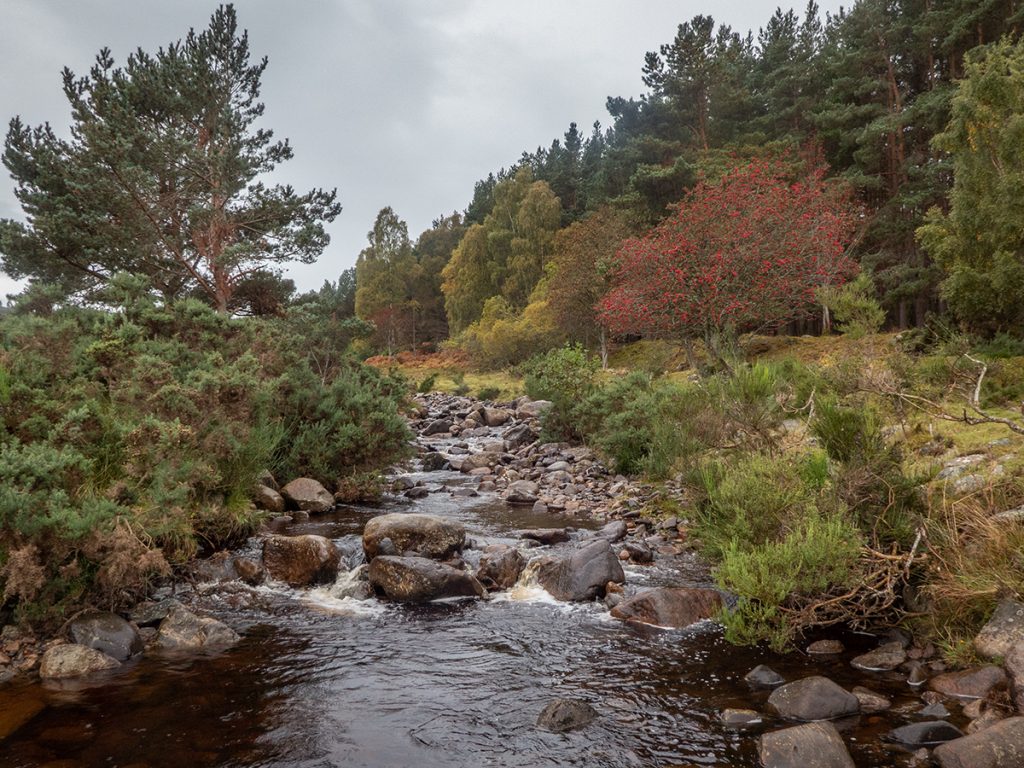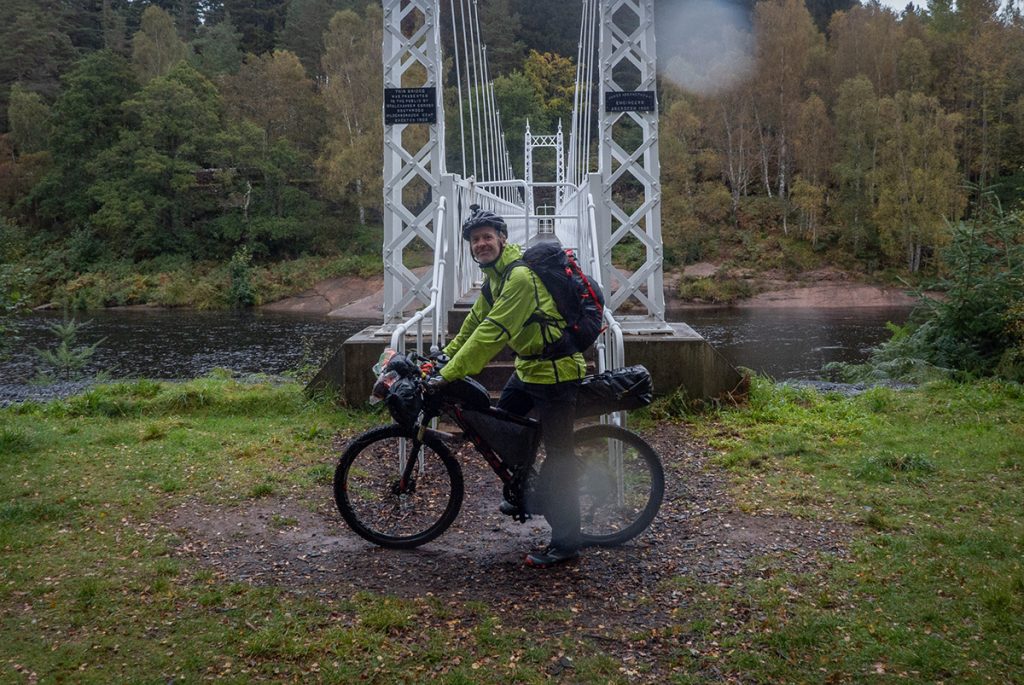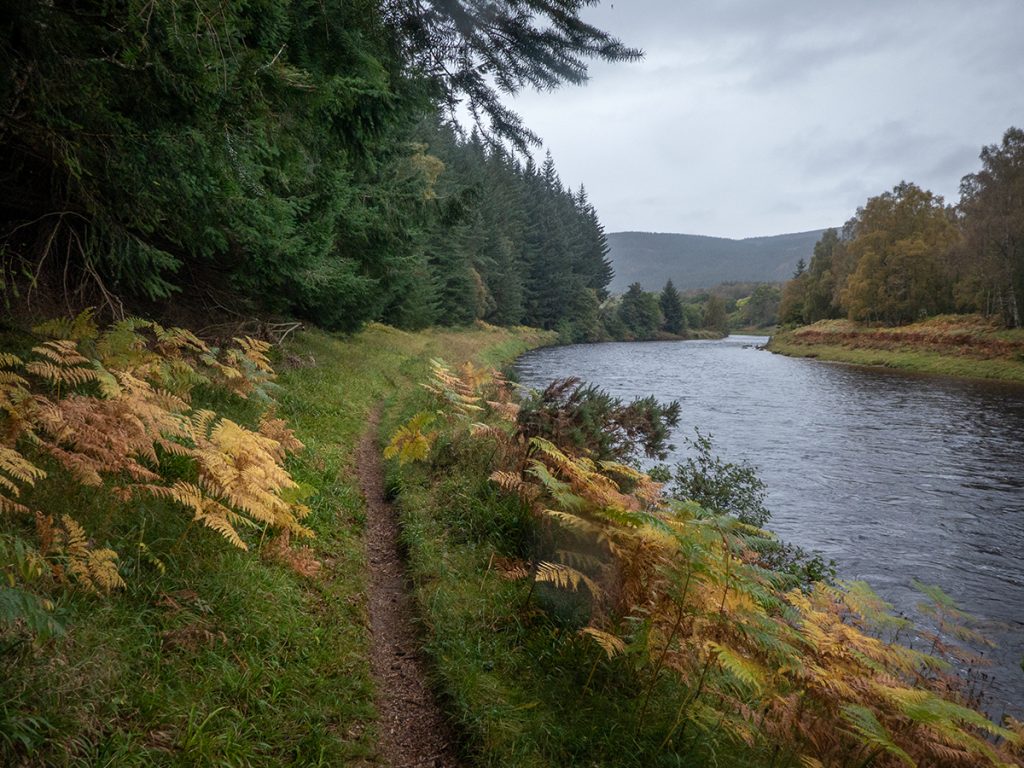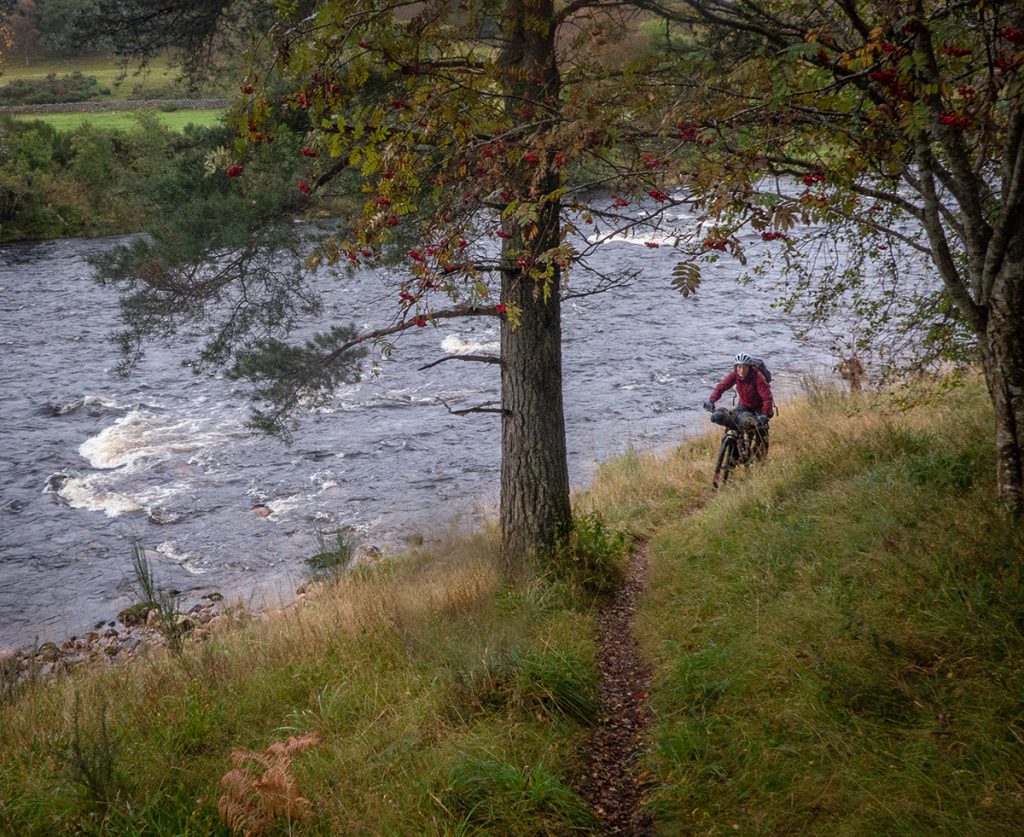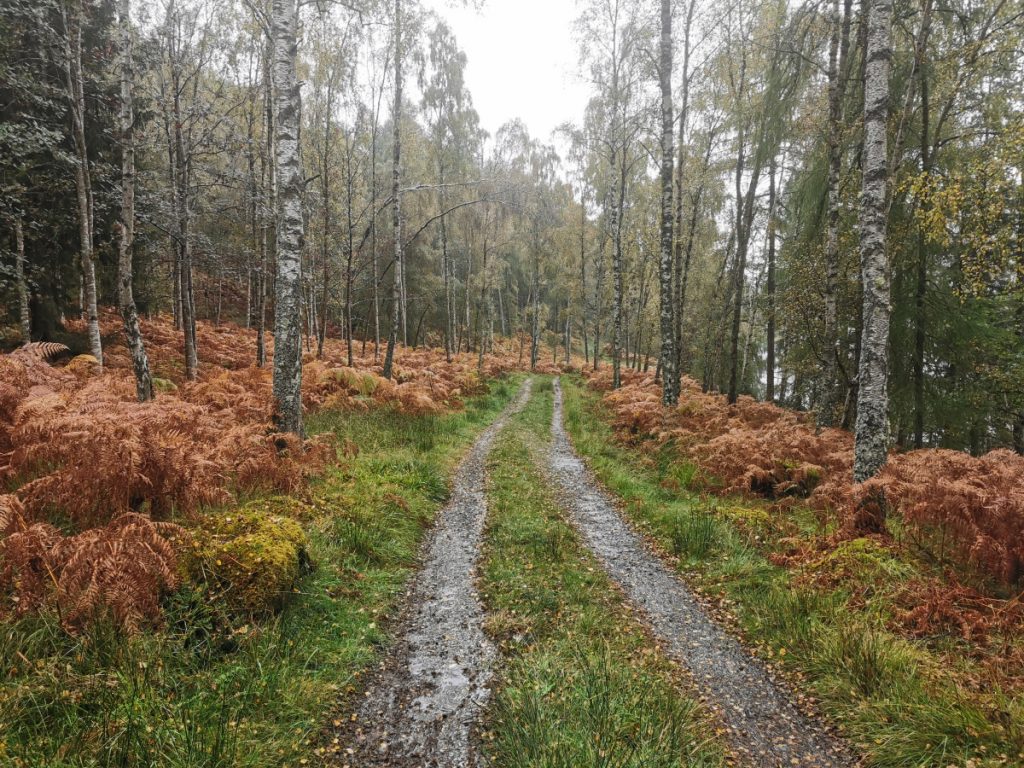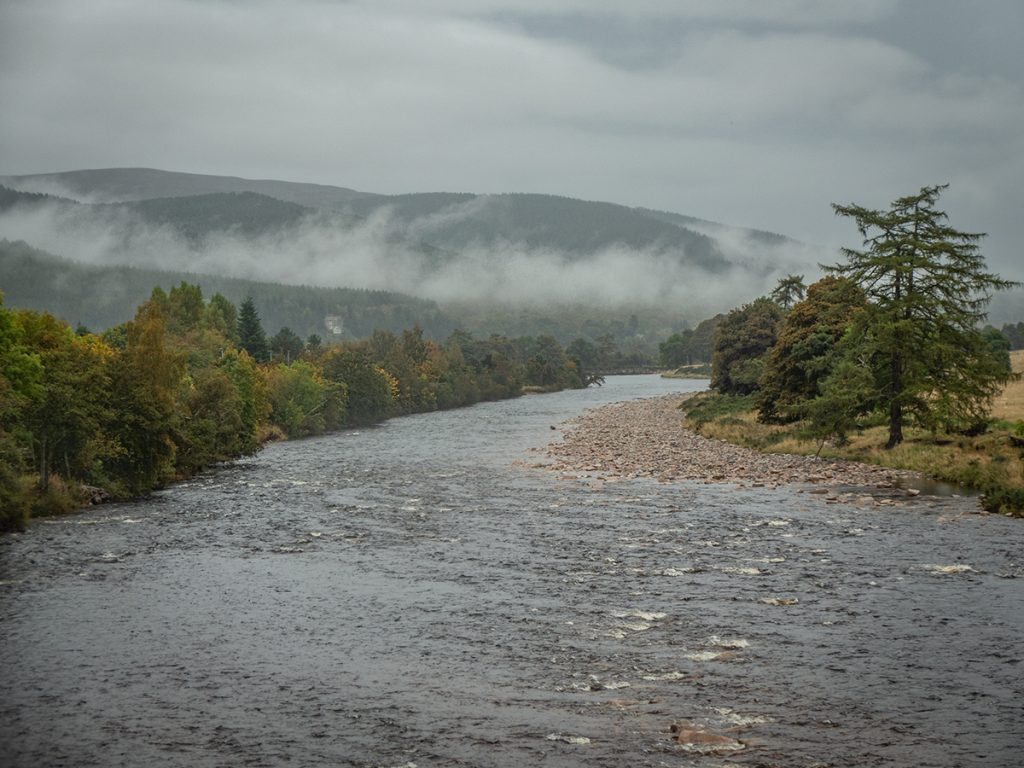 Having squished through drizzle for a while we decide on a tactical cafe stop at Ballater to get some hot food and drink to revive us. The route is like a figure of eight; popping past towns at various points before heading out to the hills.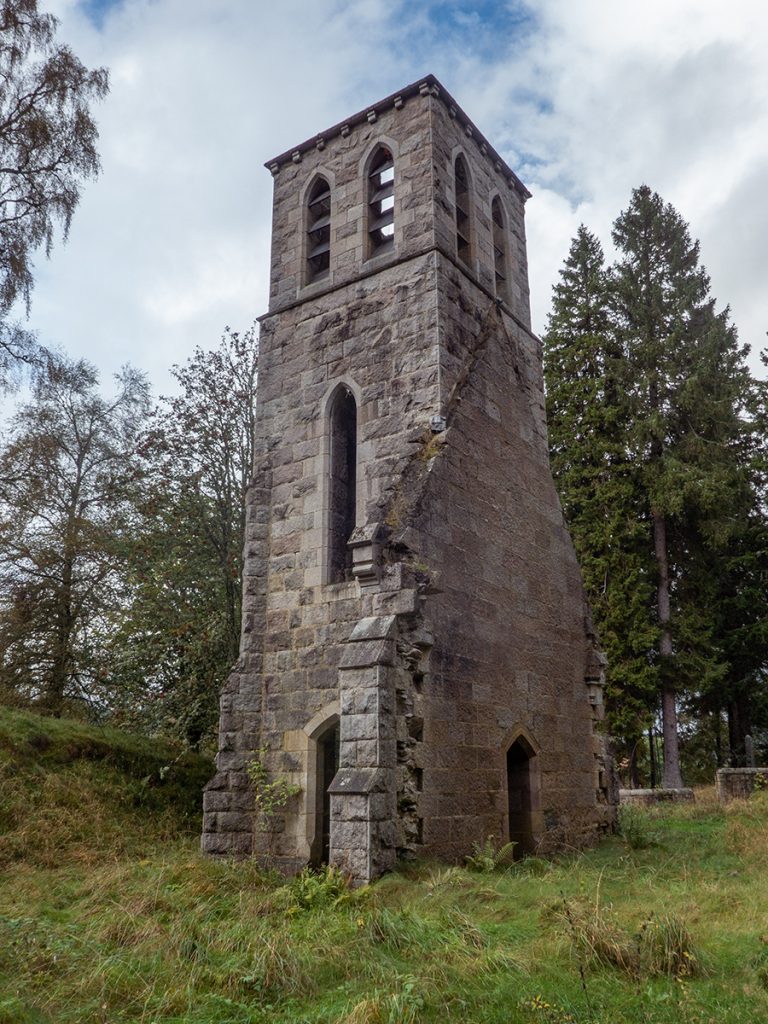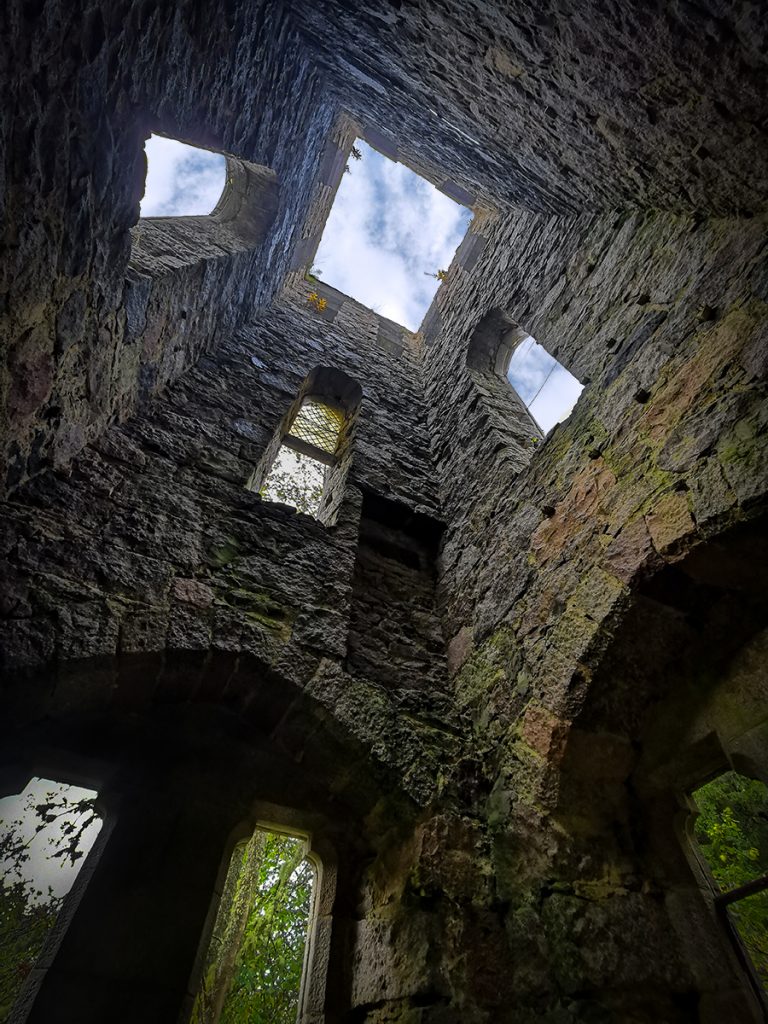 Heading along the woodland track to Glen Muick, we stop at an unexpected cluster of vehicles – a deer stalking party is loading a carcass on to a trailer.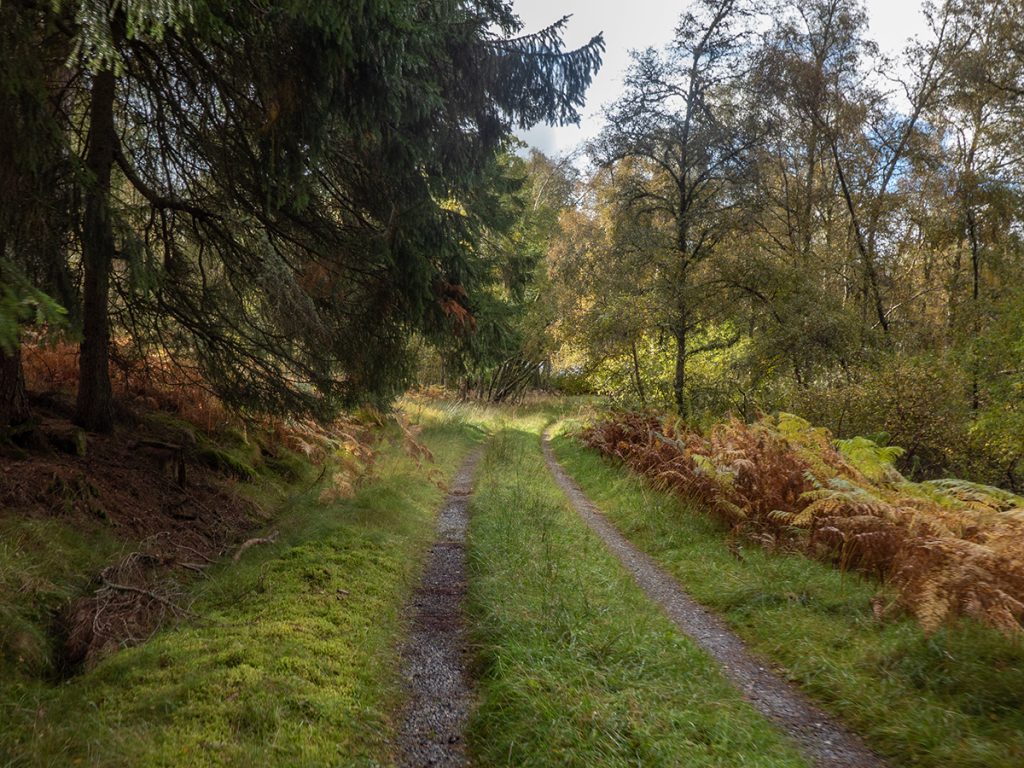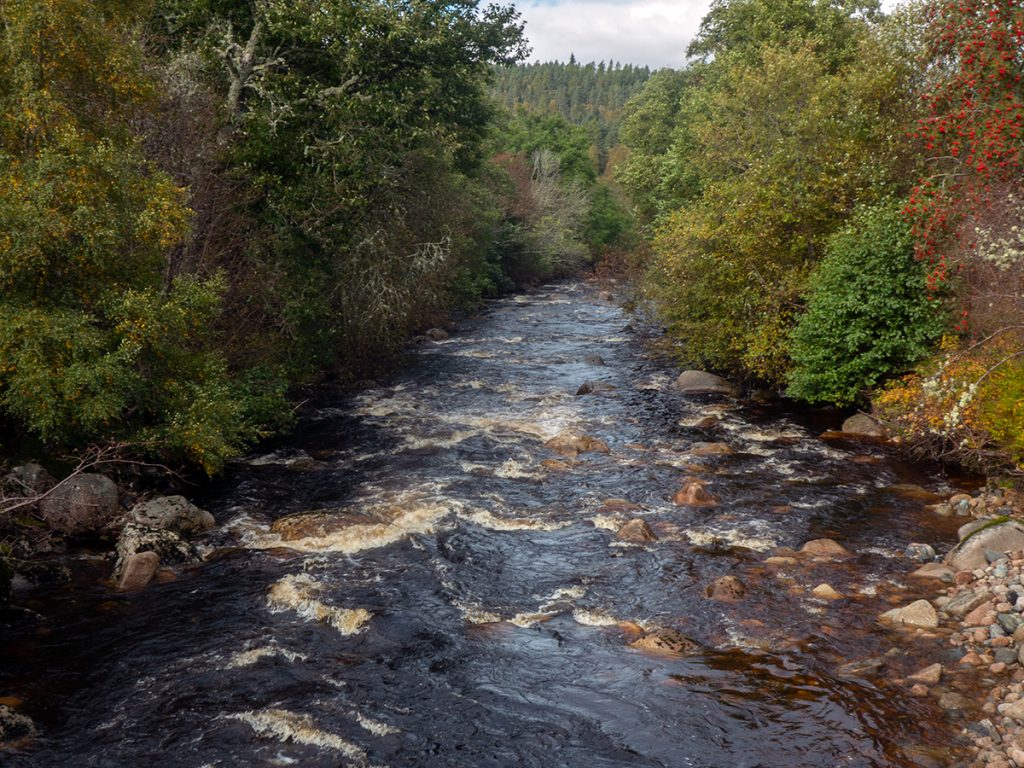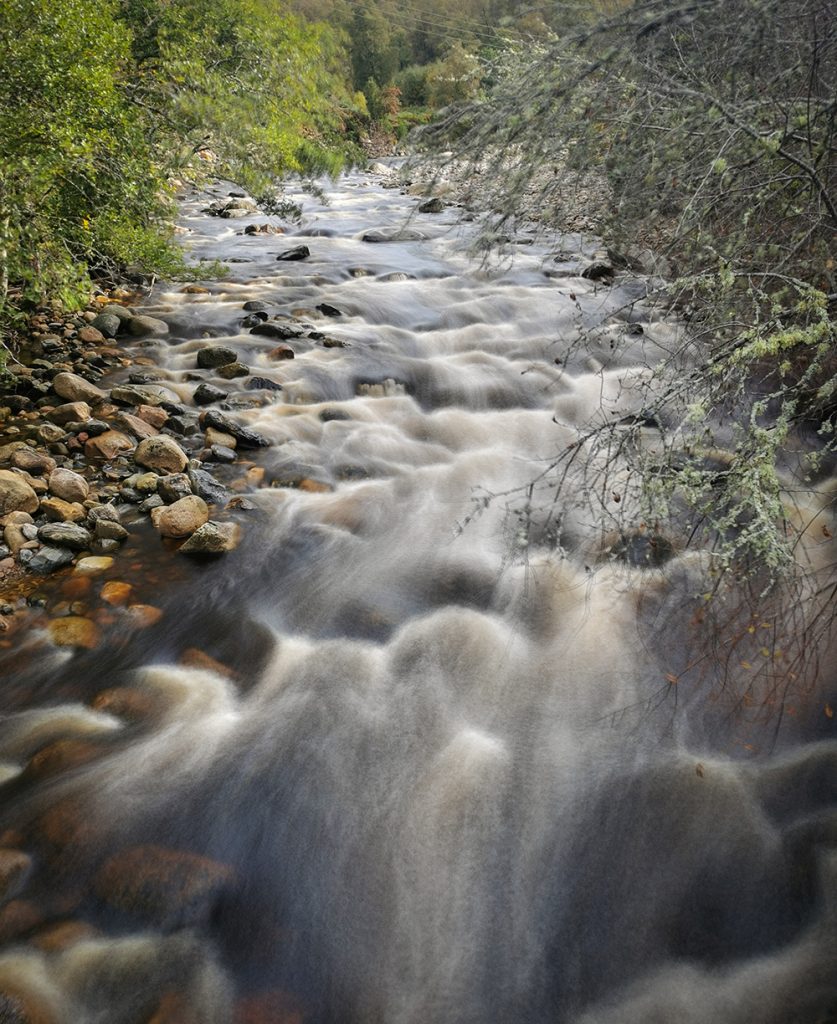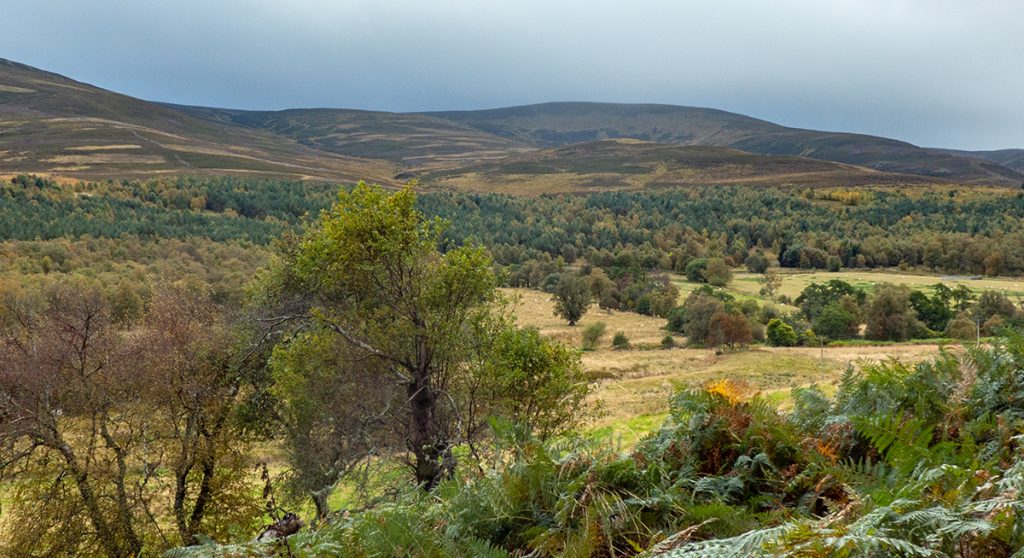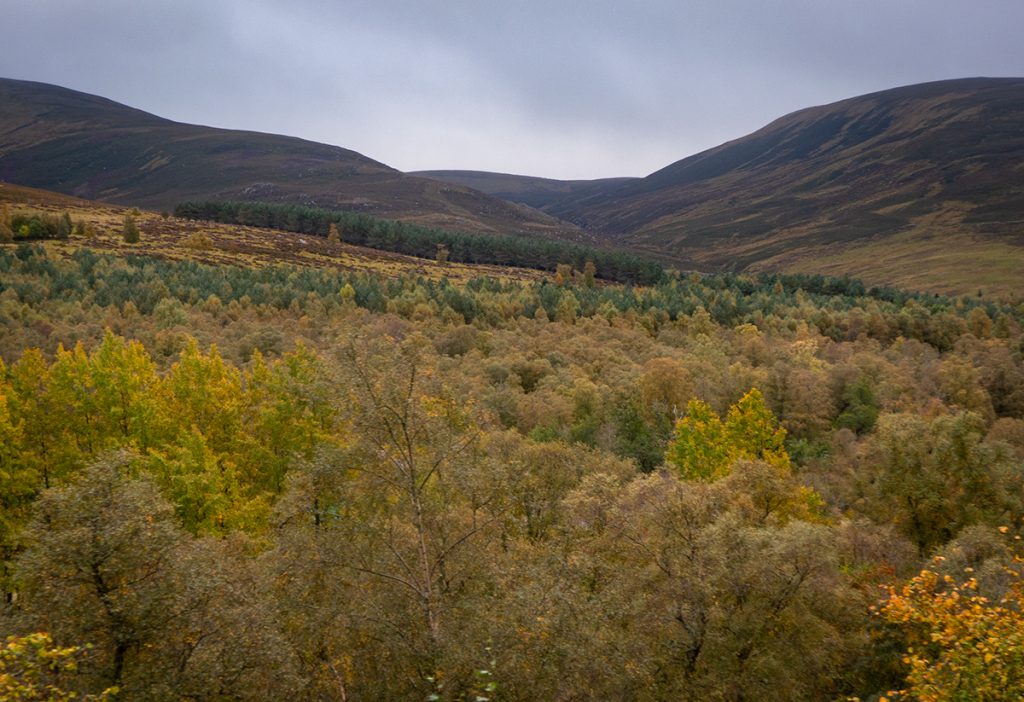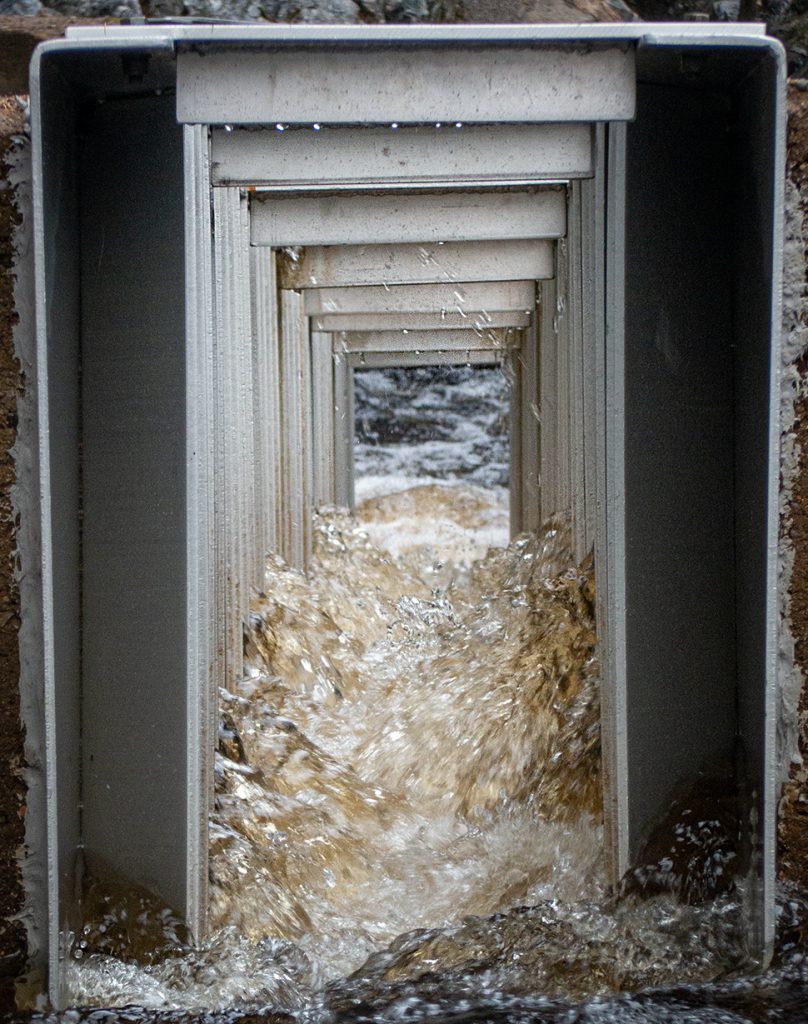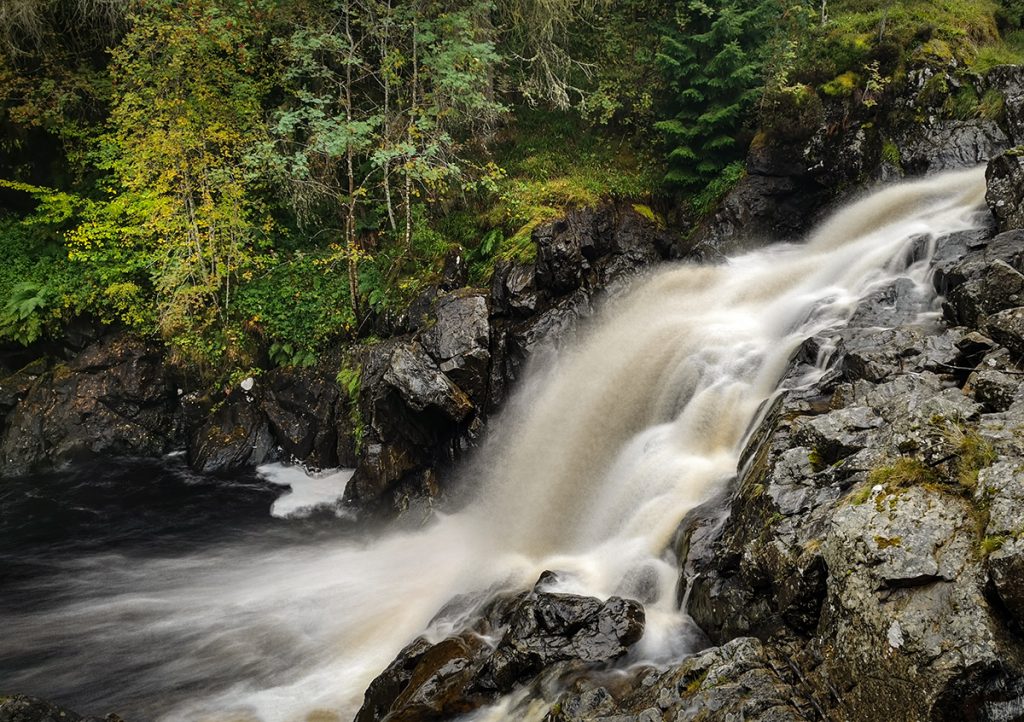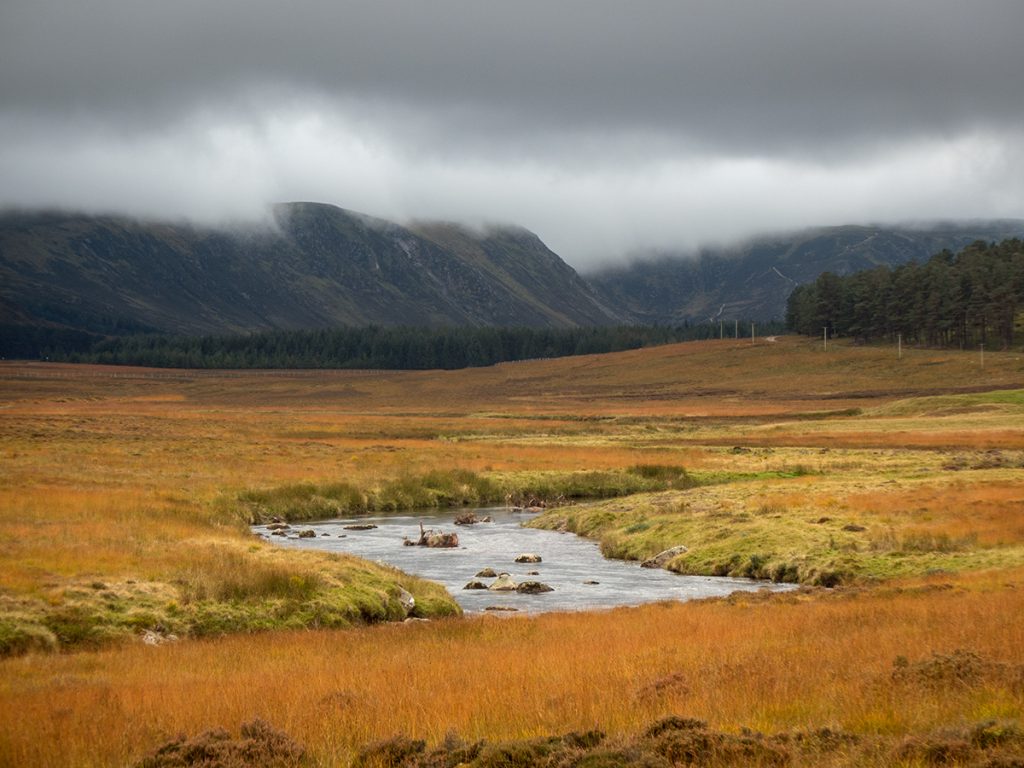 The climb out of the glen up towards Lochnagar is mostly pushing up the bouldery track.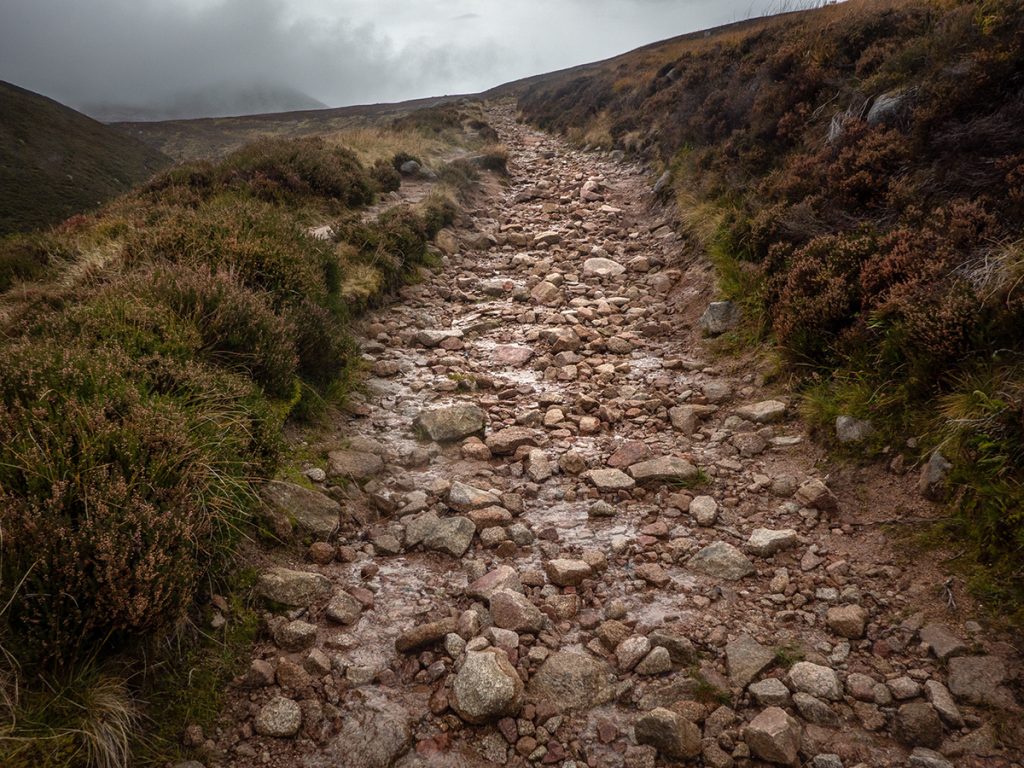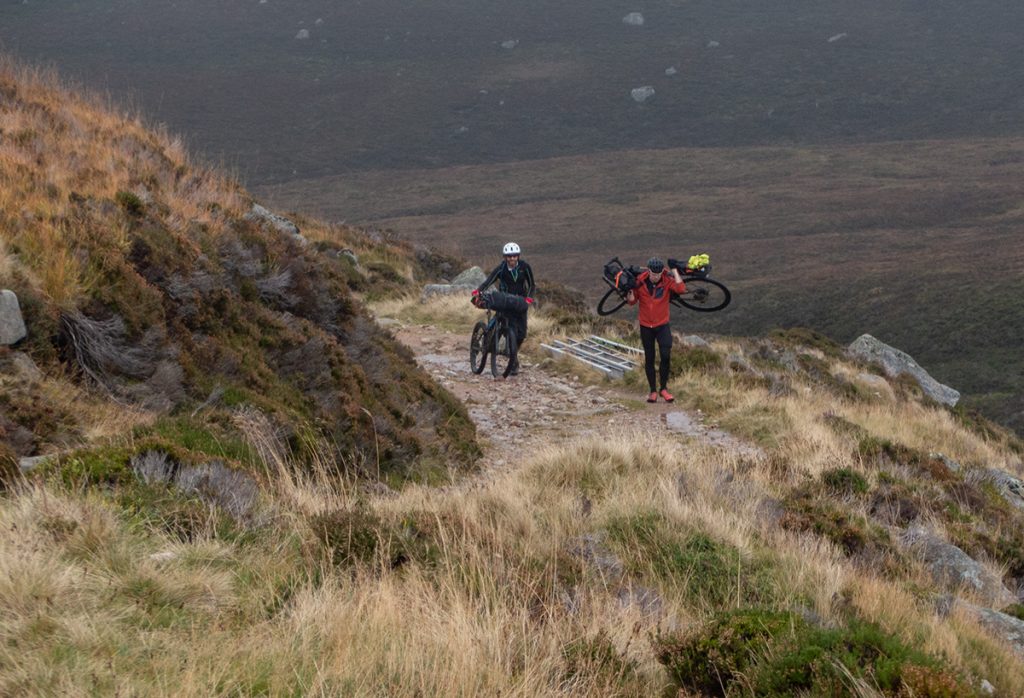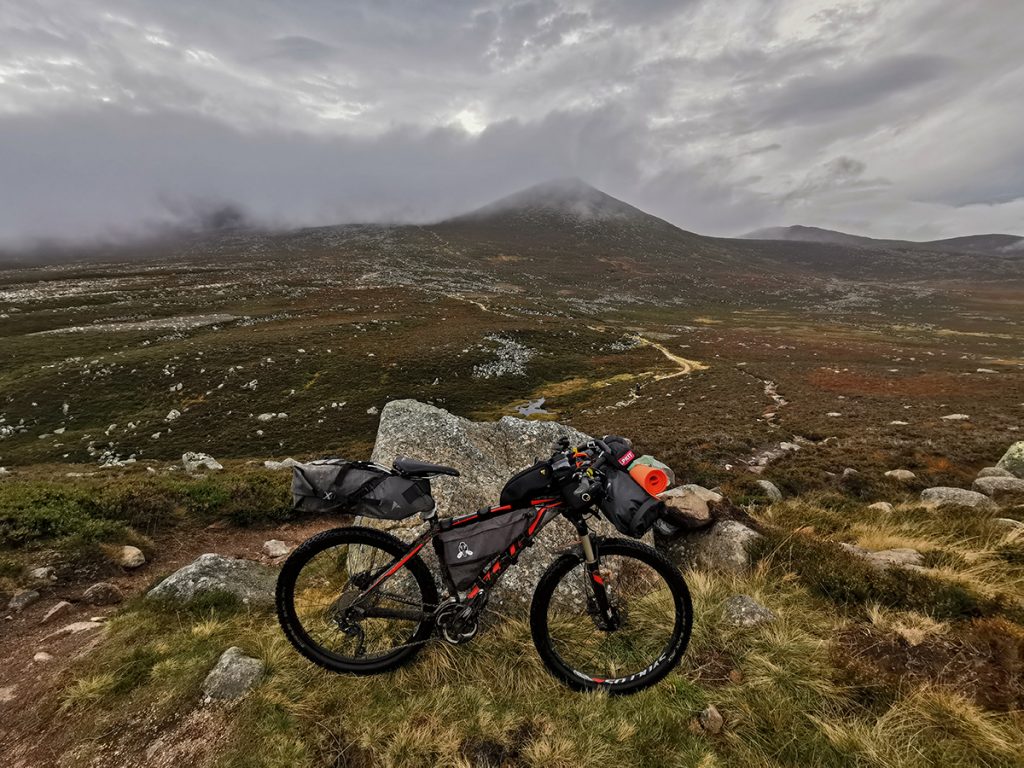 As we swept downhill on the track, which has a far better surface heading to Ballochbuie, an obliging buzzard sweeps overhead allowing for a few snaps and this composite shot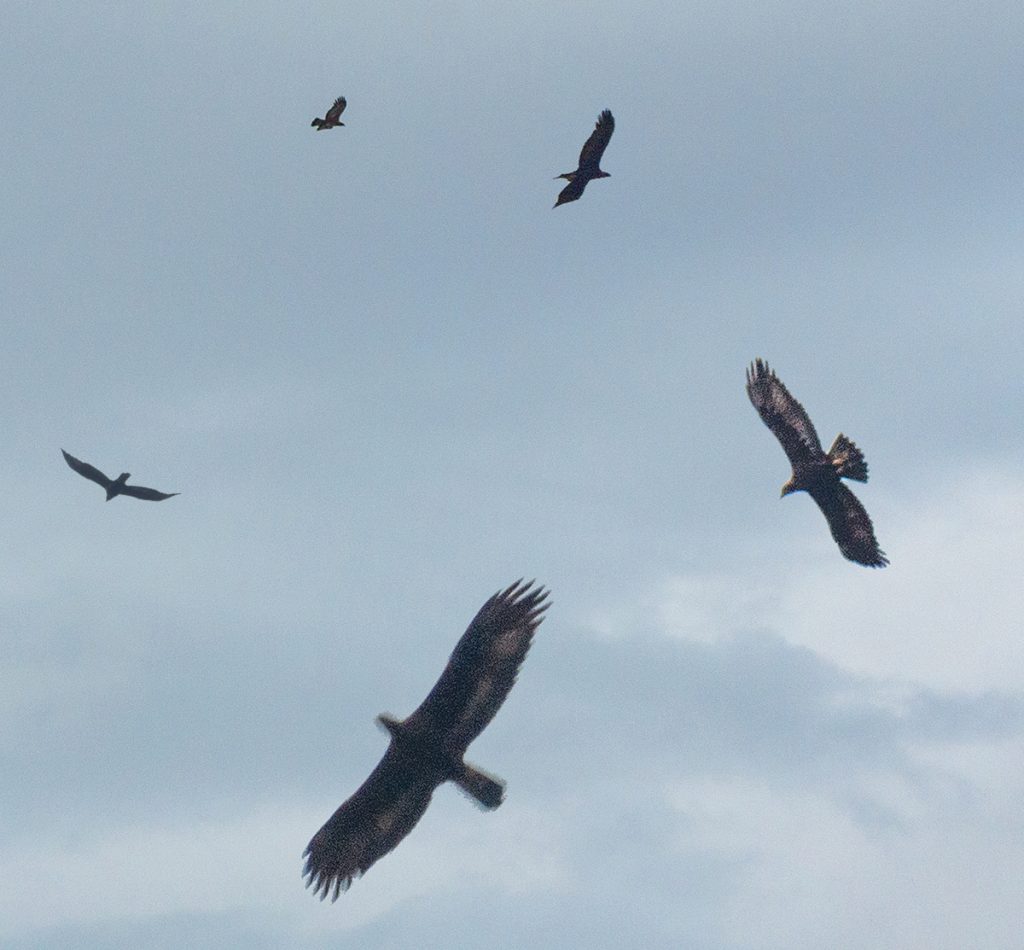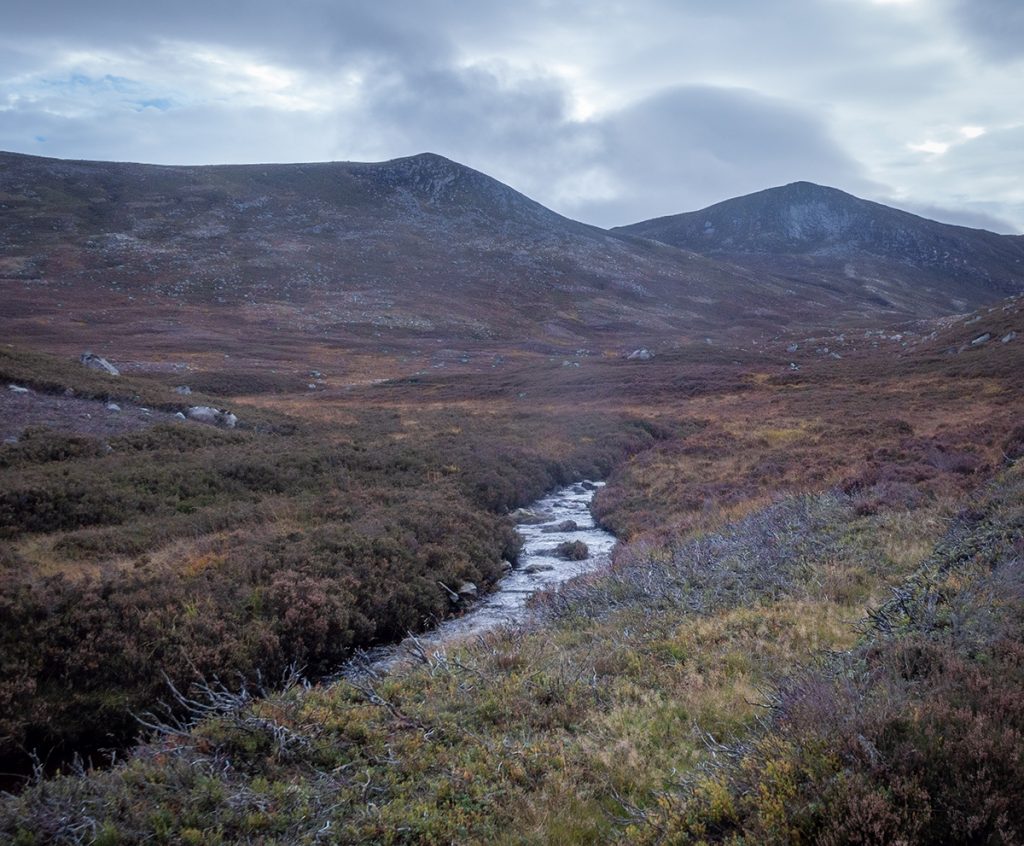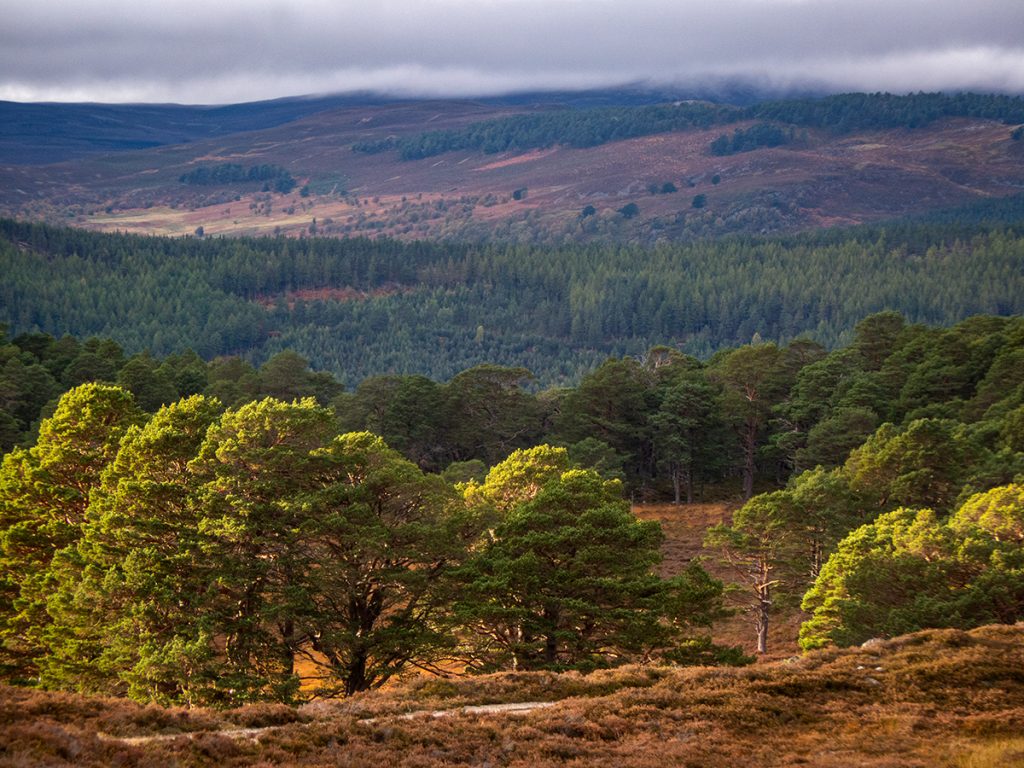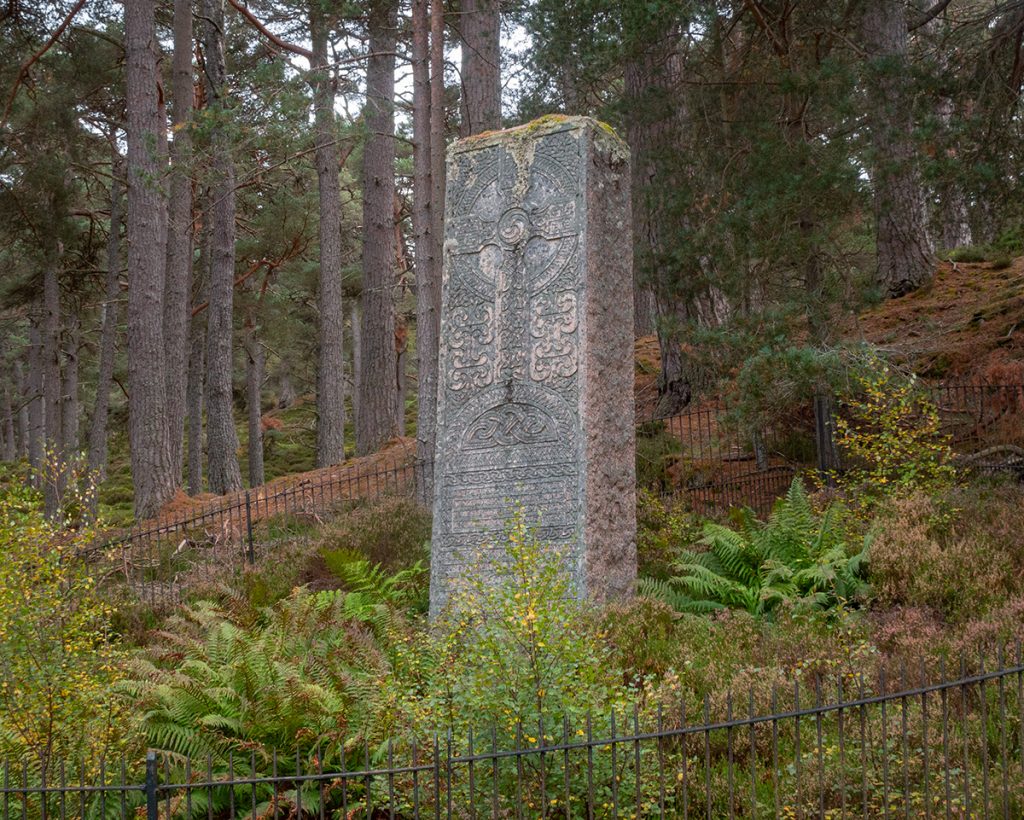 All easy going on the tracks of Balmoral estate, autumn colours in effect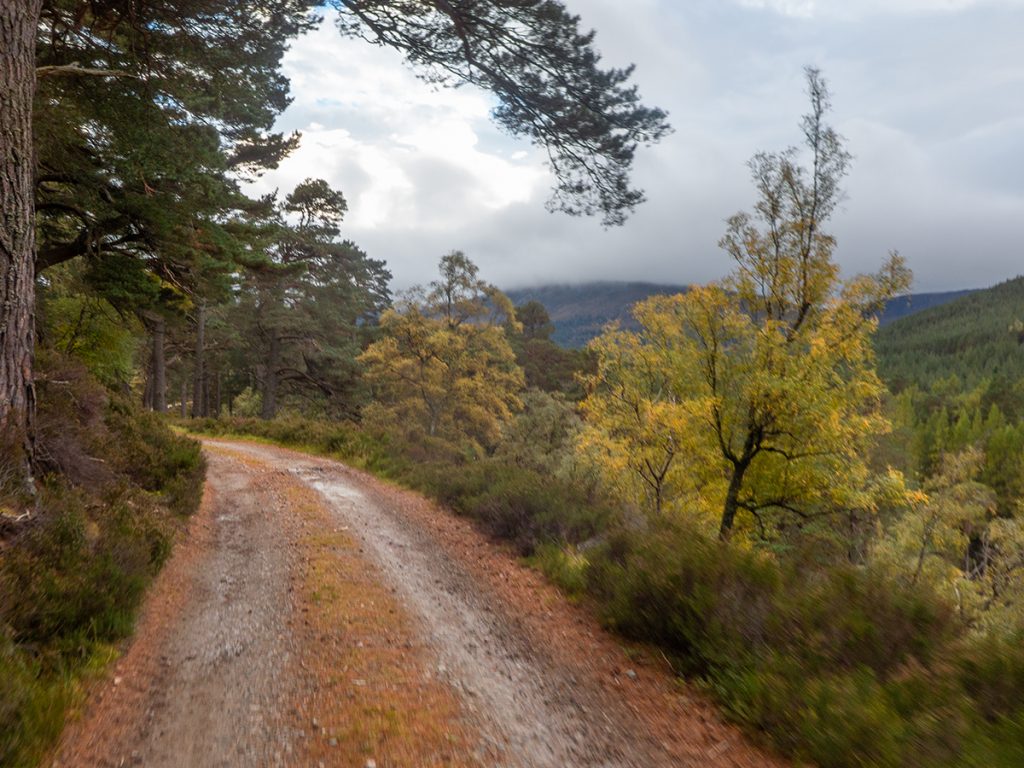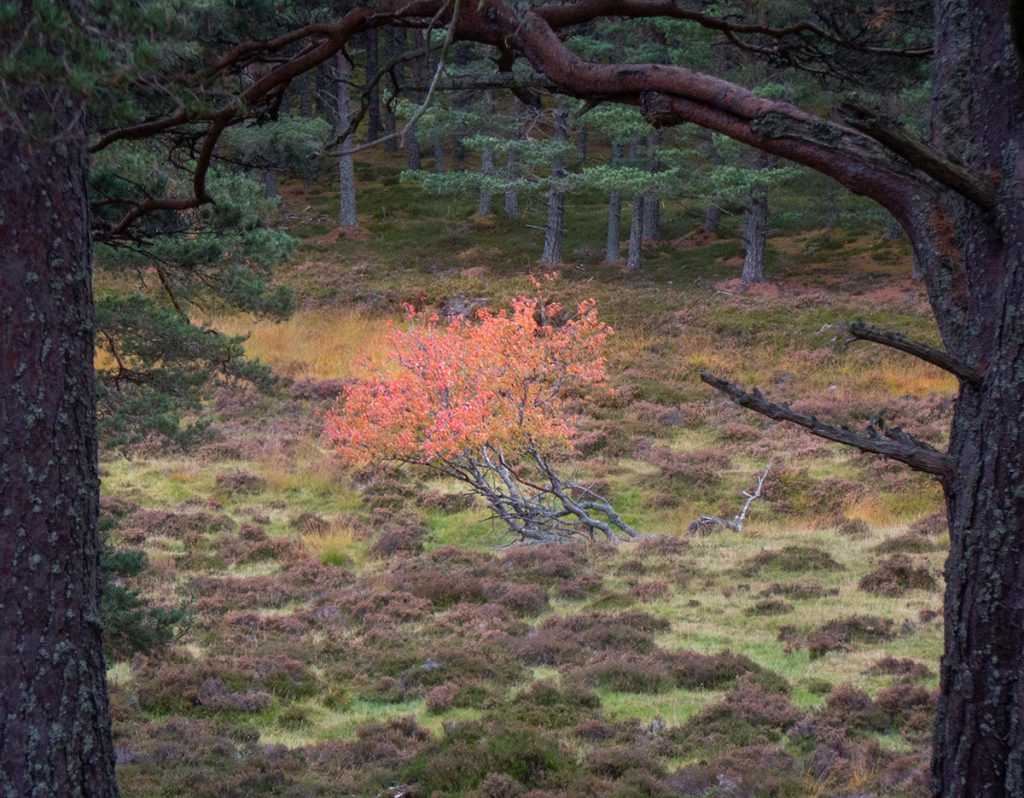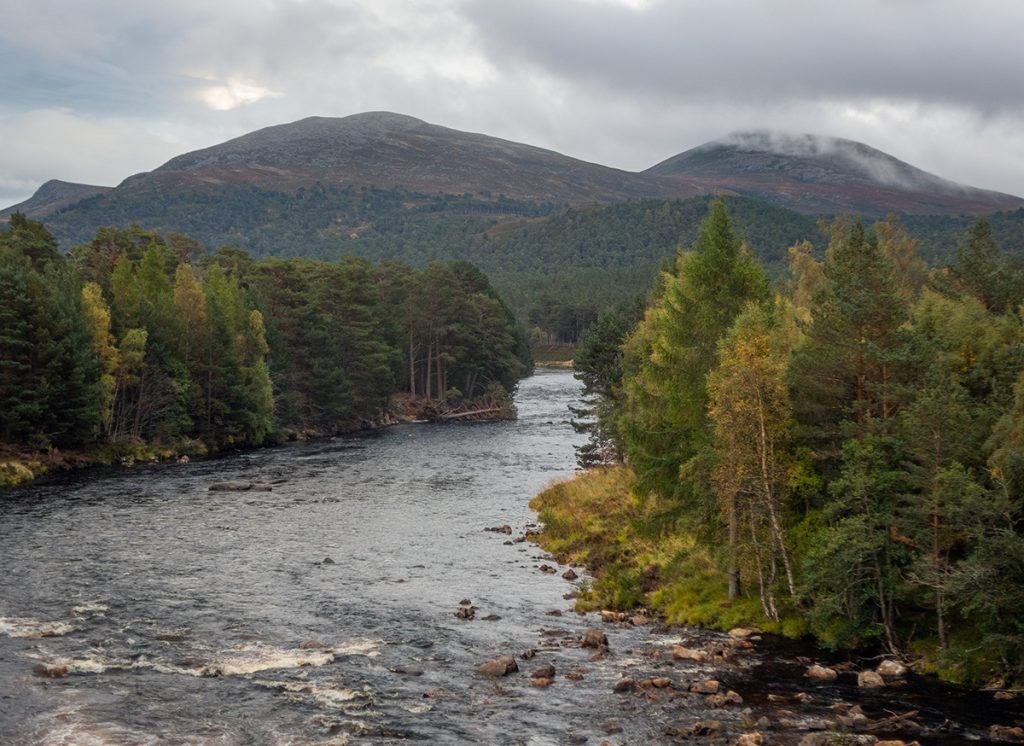 After a short section of road we reach Braemar as the light is fading. There's an art installation lit up at Braemar Castle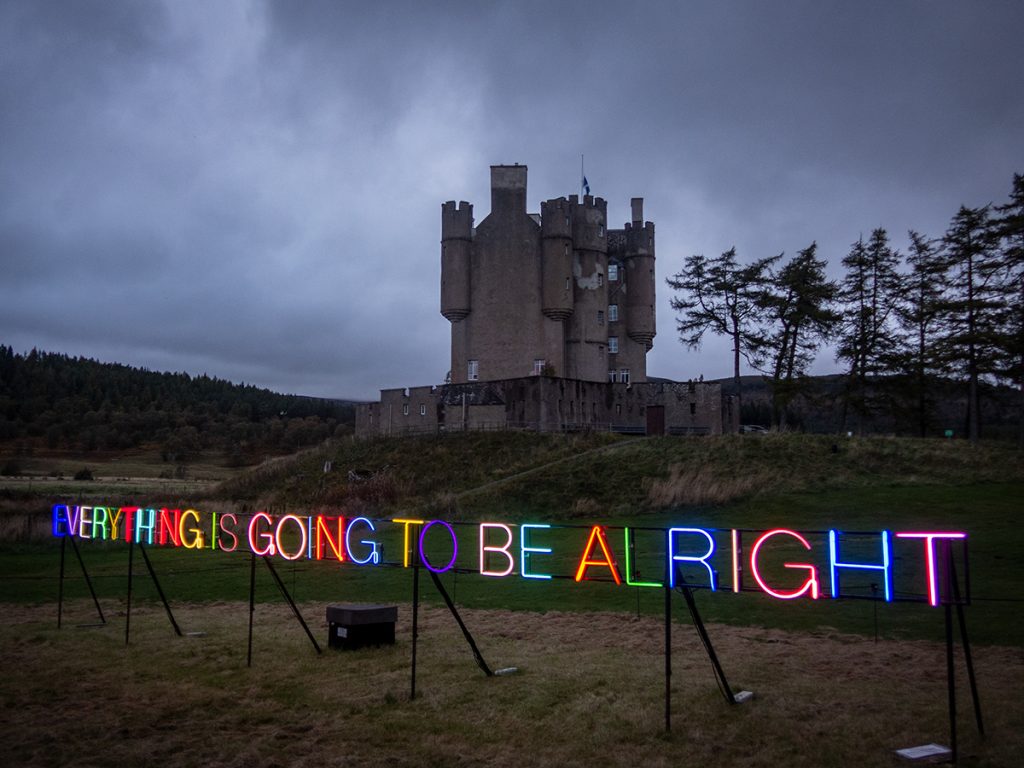 We're keen to get a seat in a pub, but Braemar has become inaccessible during covid; everywhere is either booked out, no room at the inn, or doesn't serve food or maybe just doesn't like the look of some scruffy bikepackers. We end up sat outside the fish and chip shop.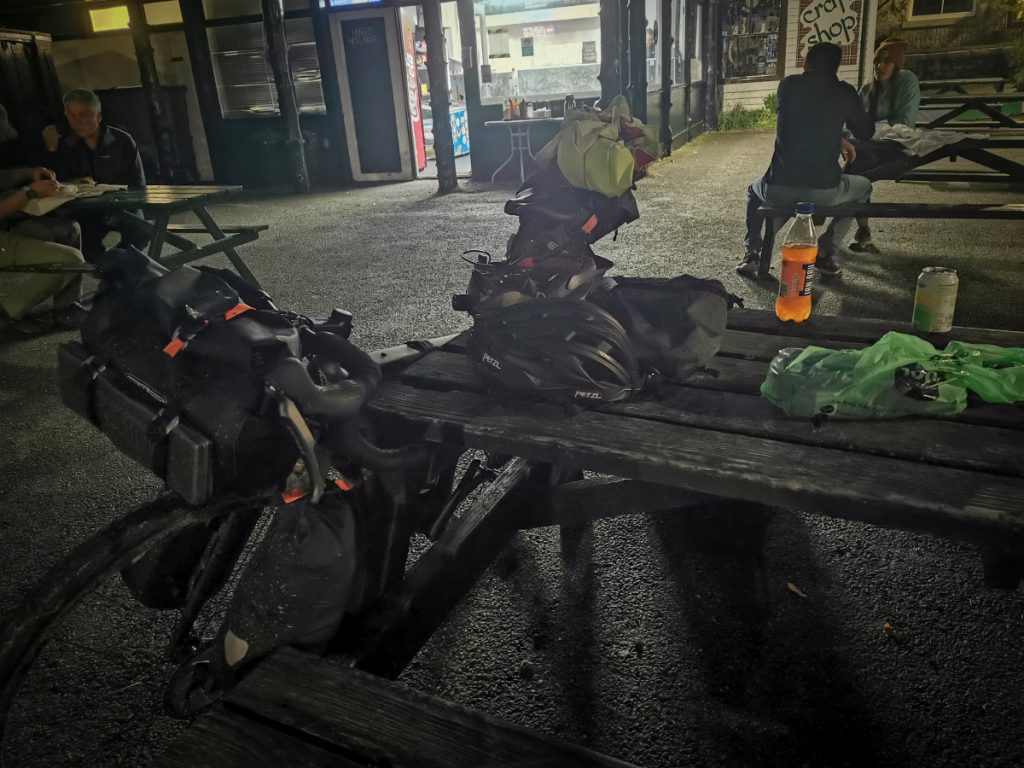 We decide on missing a section of the route now that darkness has fallen: there's a series of paths below Morrone, through Morrone birkwood and some woods, but in the interests of expediting finding a camp site we head along the road to Linn O'Dee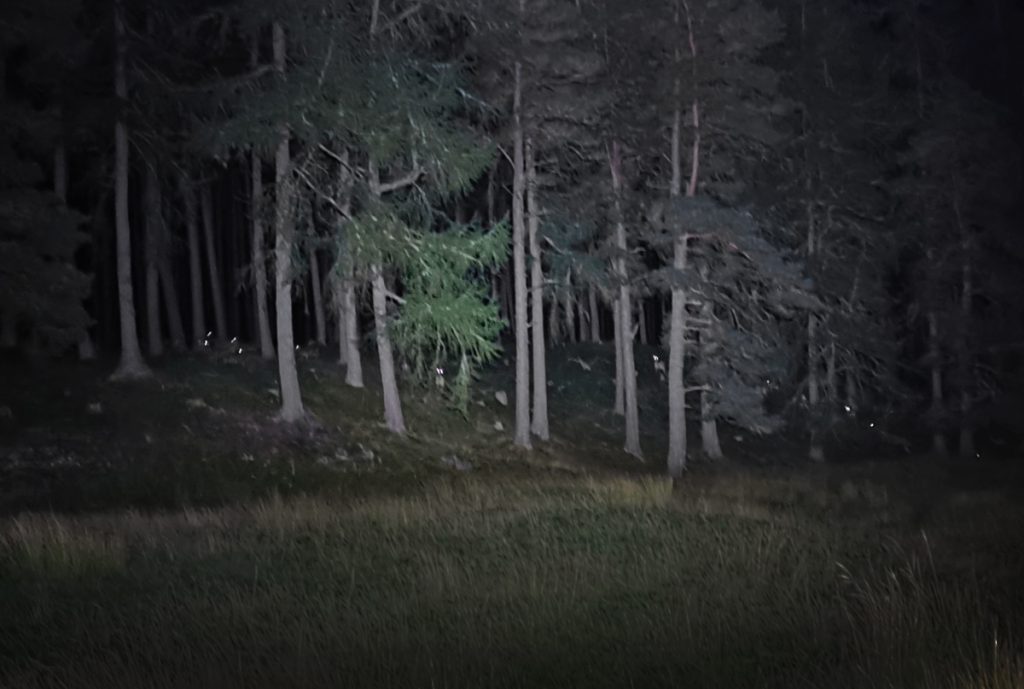 There's plenty flat ground before Linn O'Dee to camp. We can hear deer bellowing again but more distant.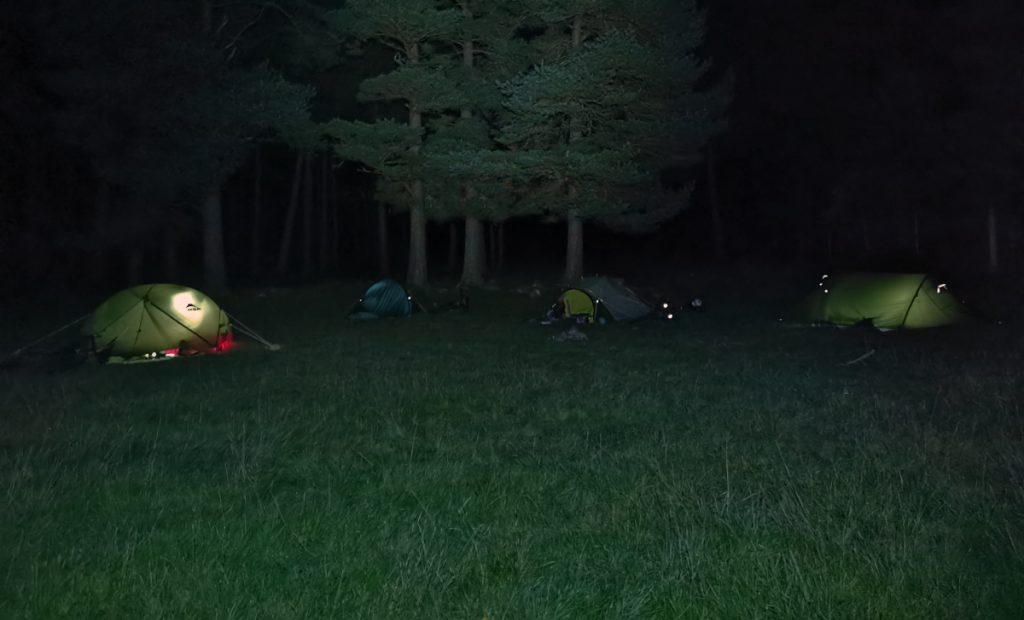 Next morning starts rainy and waterproofs are on, it's going to be a tough day. At Linn O'Dee deer stalkers are zeroing rifles blasting away at distant targets; their silencers only work when directly behind: as soon as slightly out to the side the full bang is heard; they aren't a barely audible click like in the movies. The water is hammering through the Linn, a foaming torrent, we've a river or two to cross later and this could be a problem.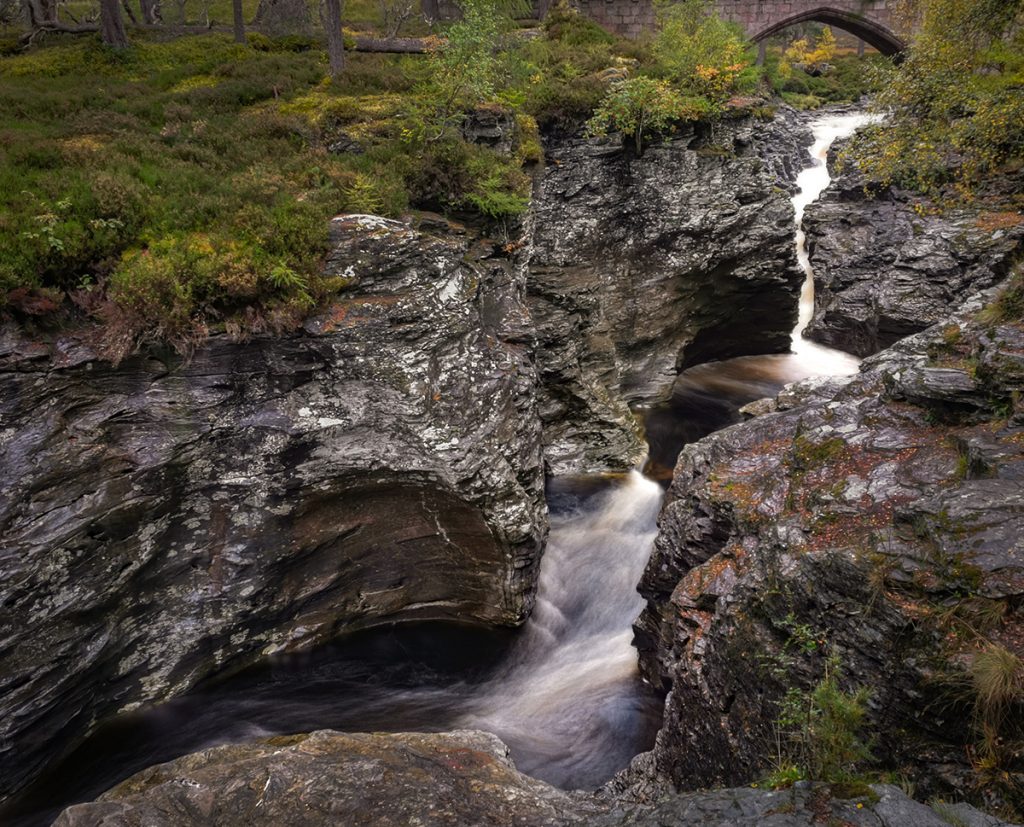 I take everyone along a slight detour on a bit of path along the Lui past the salmon ladder, it's a cracking scenic bit of track that is almost entirely ignored by cyclists. Our gravelist decides against the route through Clais Fhearnaig, a rough path, taking the longer but easier track up from Linn of Quoich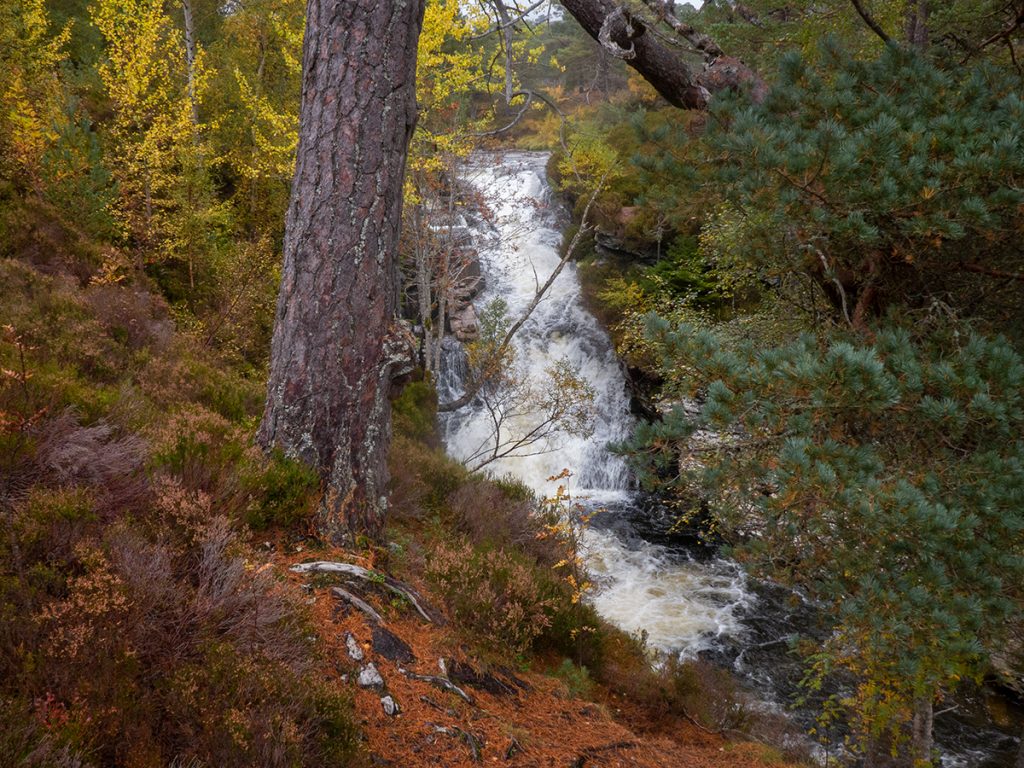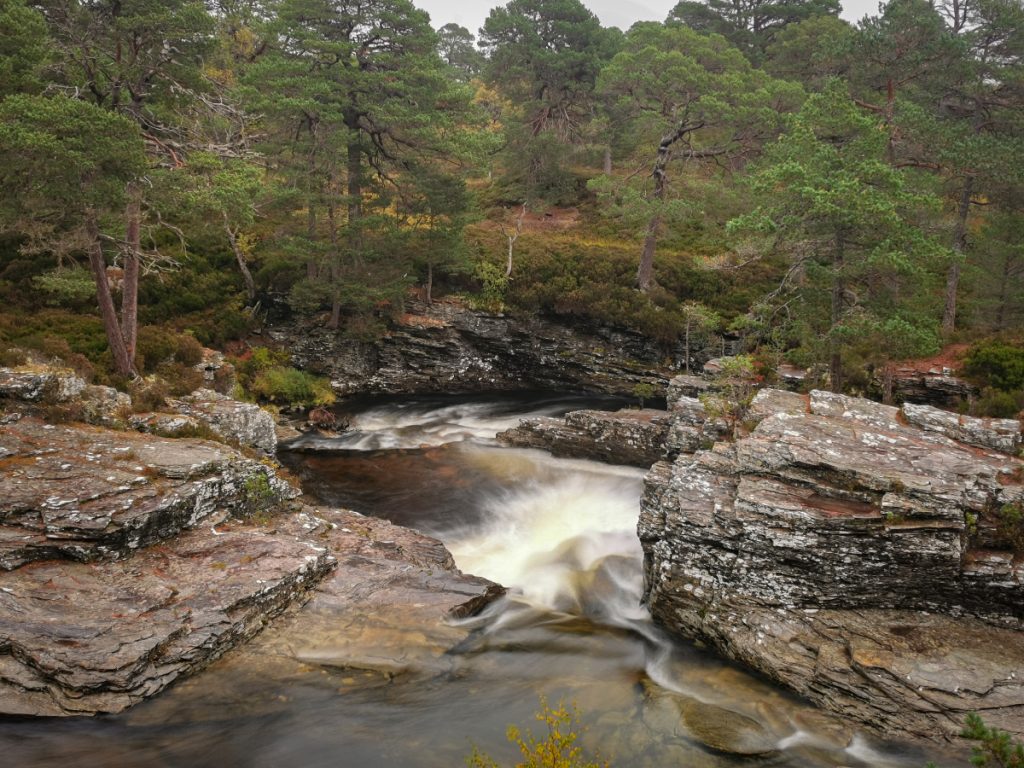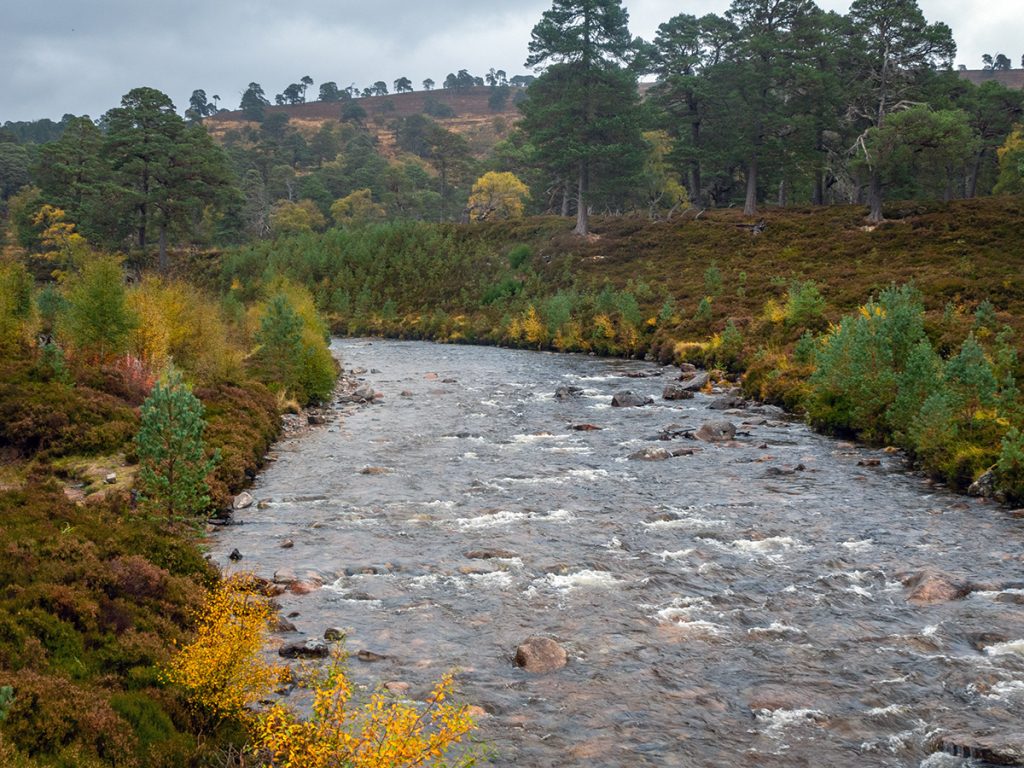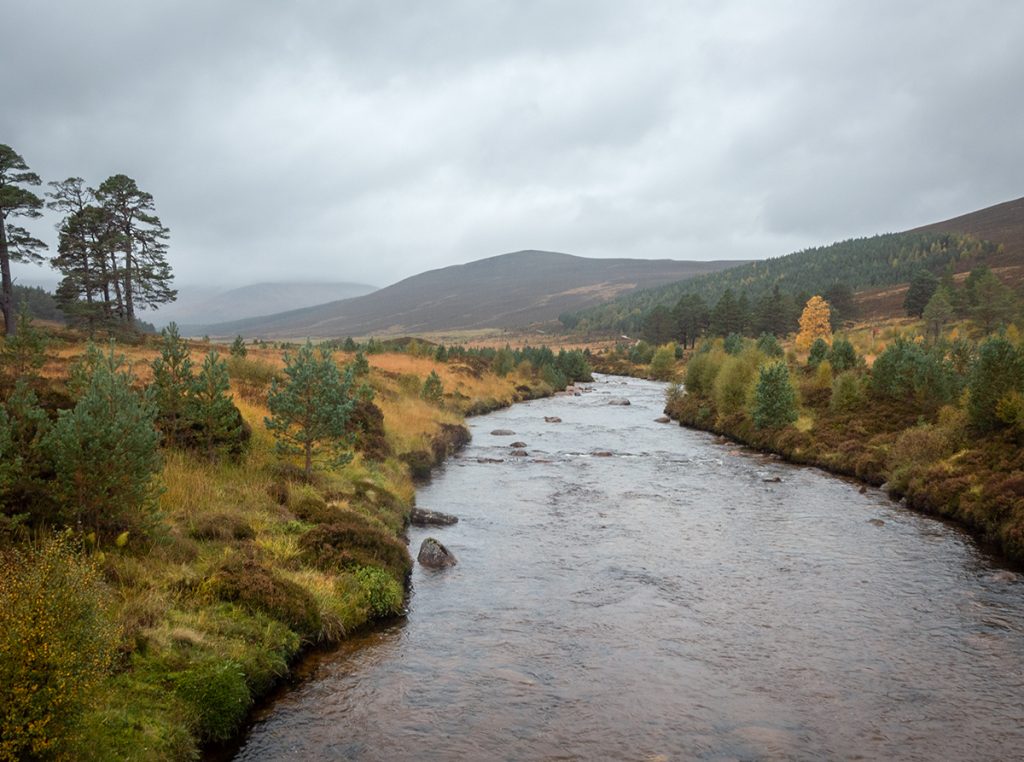 Heading up to Clais Fhearnaig is mostly pushing: I get a bit cocky and riding along the edge of the steep path, stall and tumble down the side, 'lucky' to have done so at a point just short of a major drop. Ouch. It's fairly bumpy and rough, stop-start all the way along past the lochans.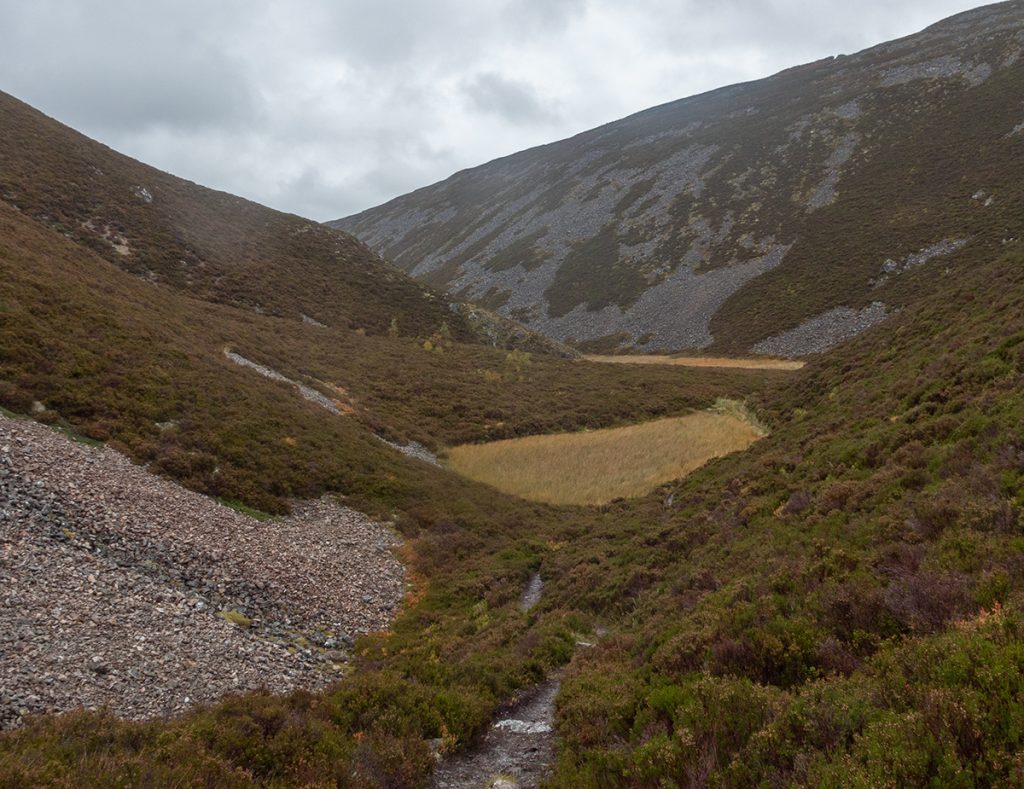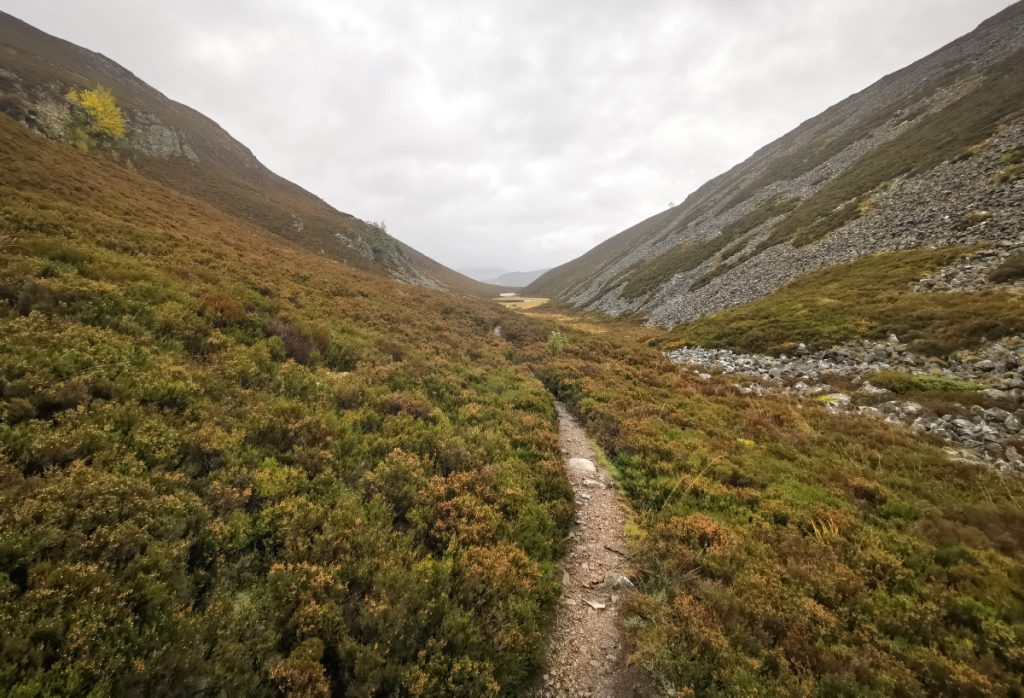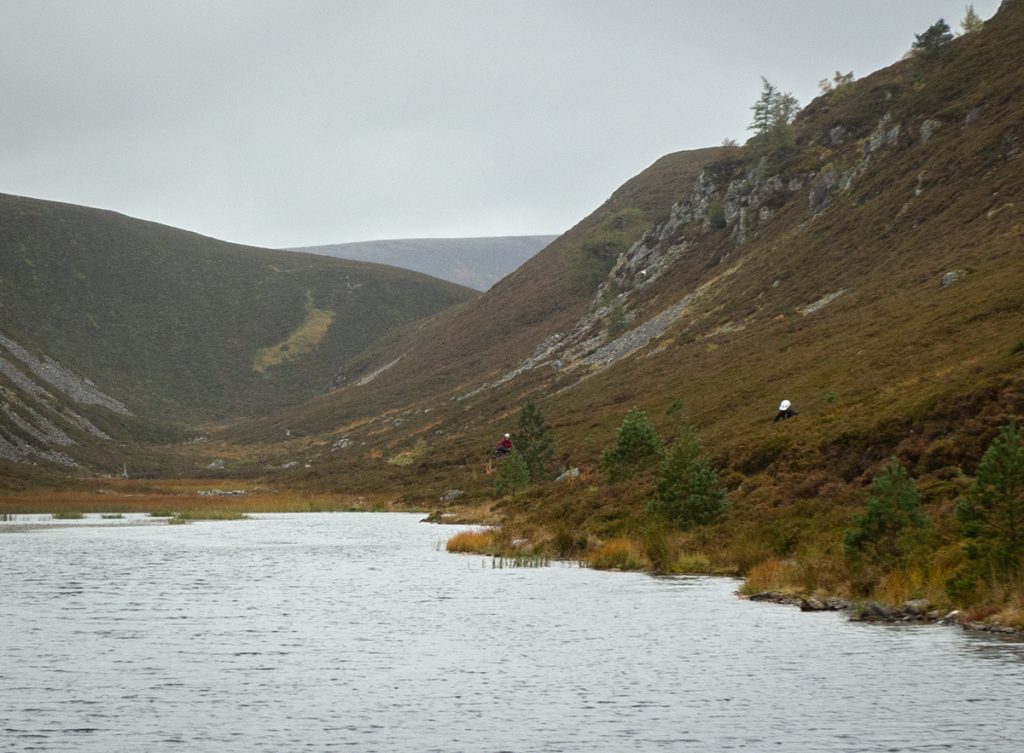 The descent out is quite "step and drain bar" jolty; glad of suspension and made it down without coming a cropper on the wet rocks. Back on to good track we meet our gravelist who's only just arrived: the new track along the Quoich although wide is loose and steep in parts. He's made a sensible choice though as the last bit would have probably smashed his bike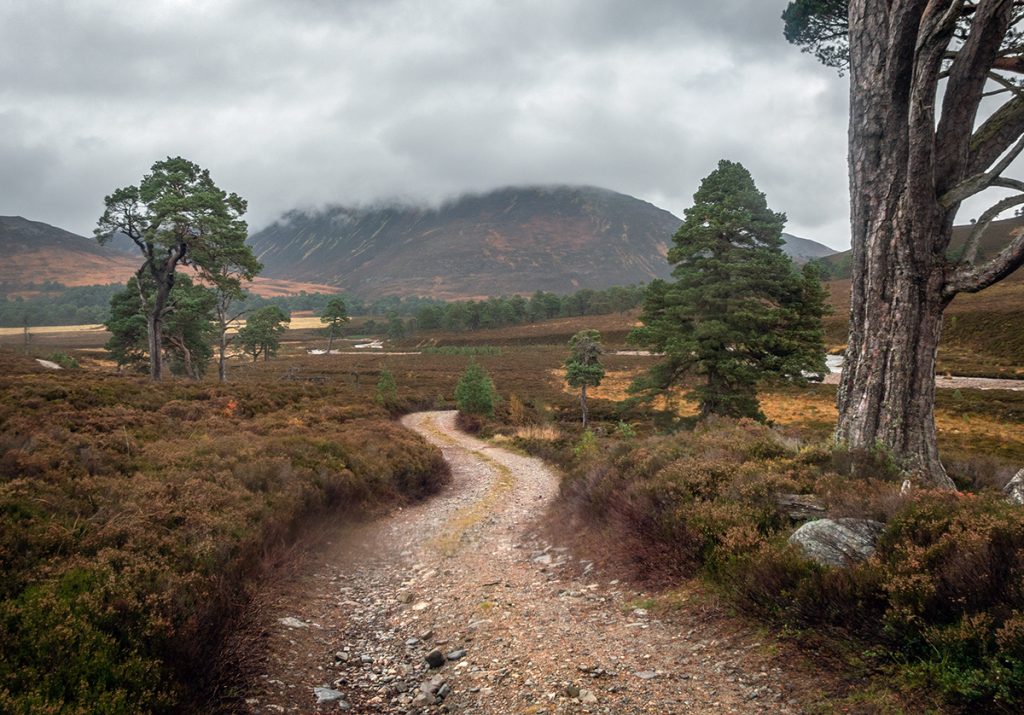 I've taken river shoes for these parts: I rode through here last time on a bike but a bit higher today, fortunately not a raging torrent like the Linn earlier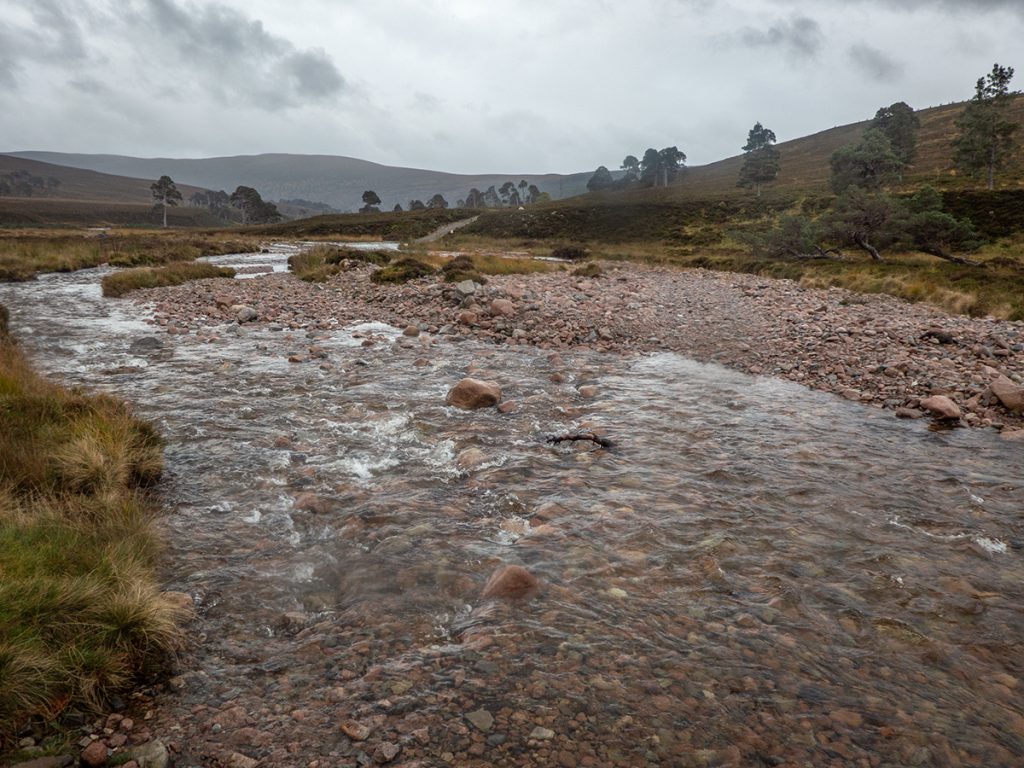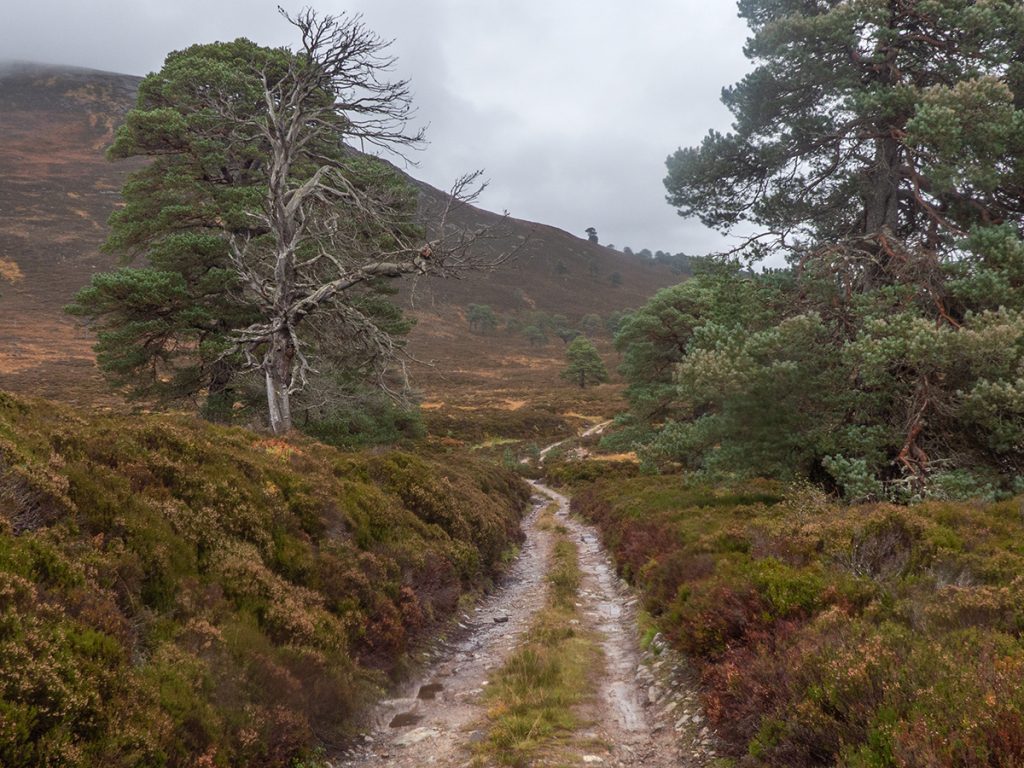 Some of the smaller crossings I just thrash across: once committed, hammer down and hope to not stall on a big rock or get out of depth.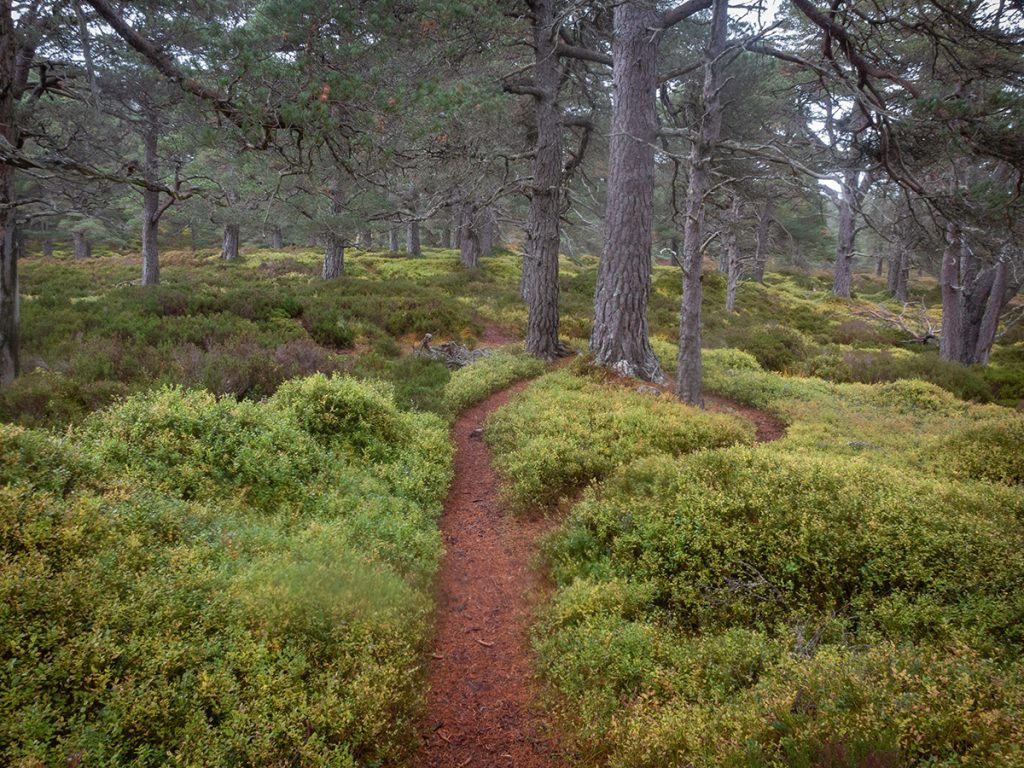 I'm lucky to not have a technical failure ruin my trip here: my seatpost bracket collapses. I'm using an alpkit bracket that stops seat sway which it does successfully but it's a clunky design: the bolt is too short and not being fully threaded it's pulled out. Fortunately I don't lose any bits into the lush undergrowth, and after rejigging without a washer managed to get enough thread to put it back together again: note to self: seat clamp failure is *game over* so add a spare bolt to the repair kit.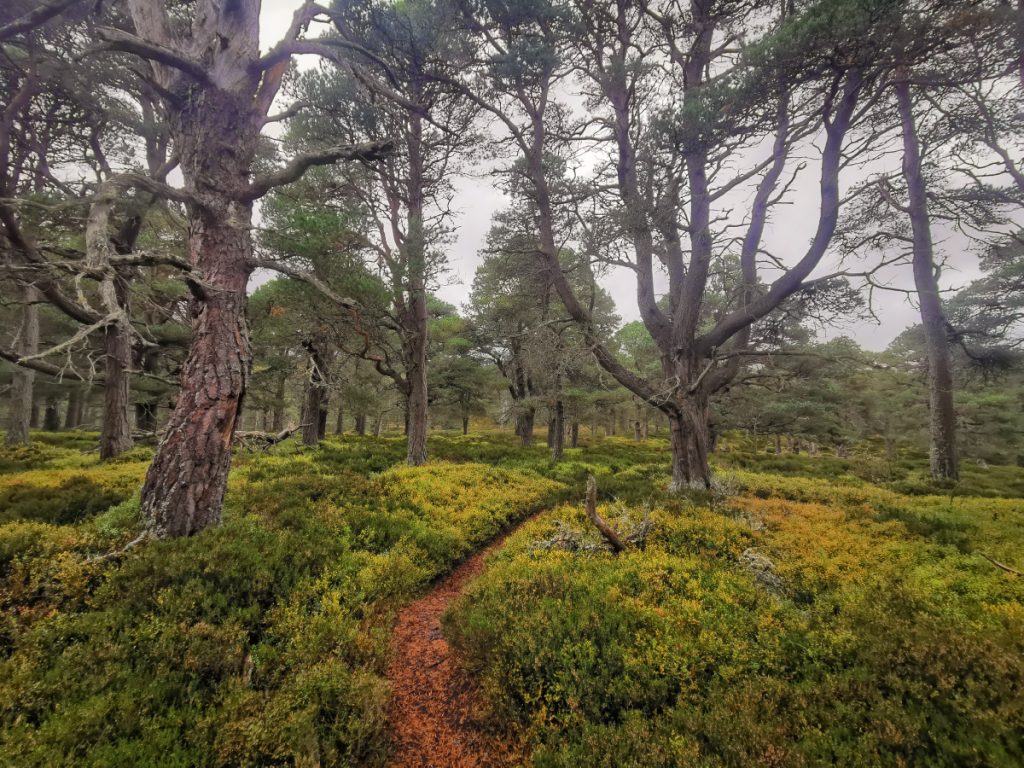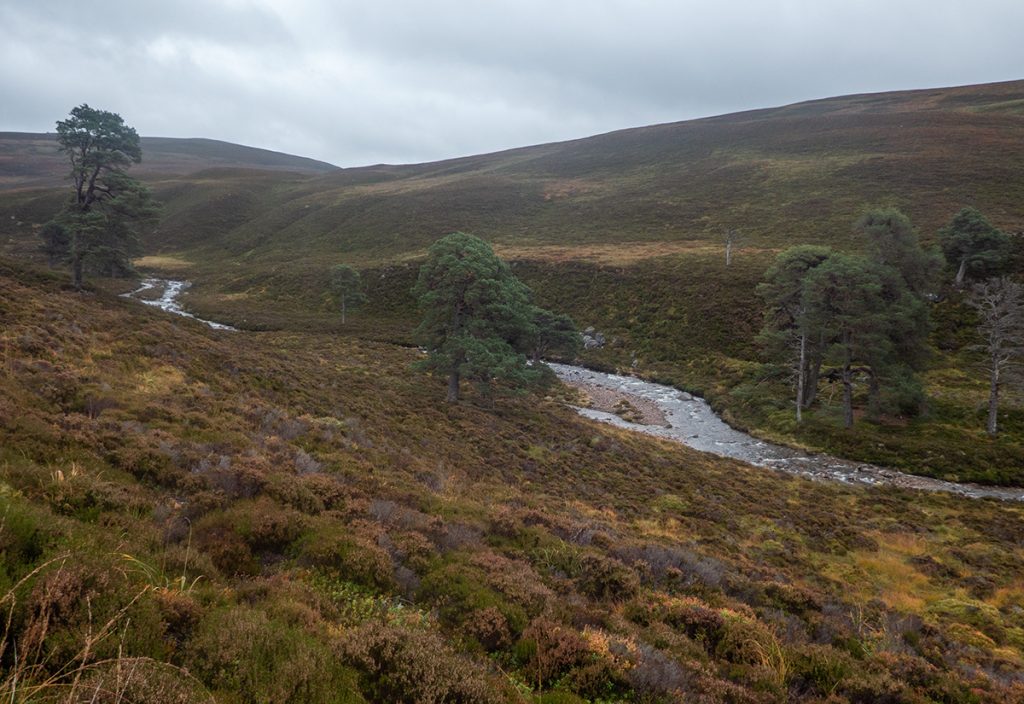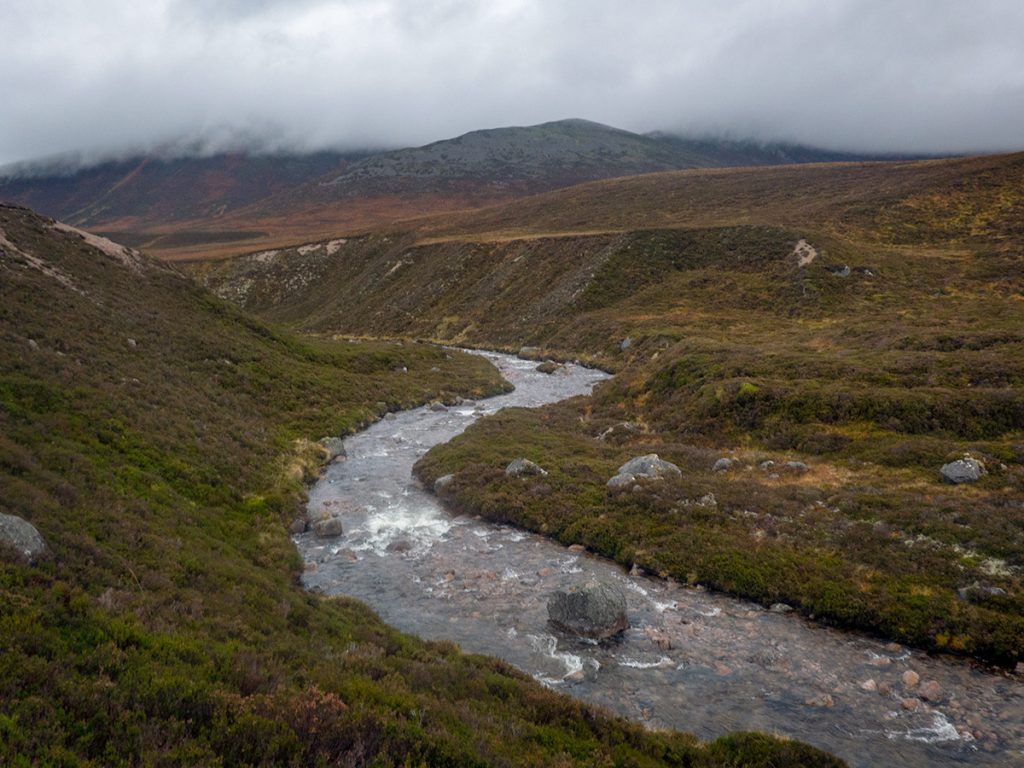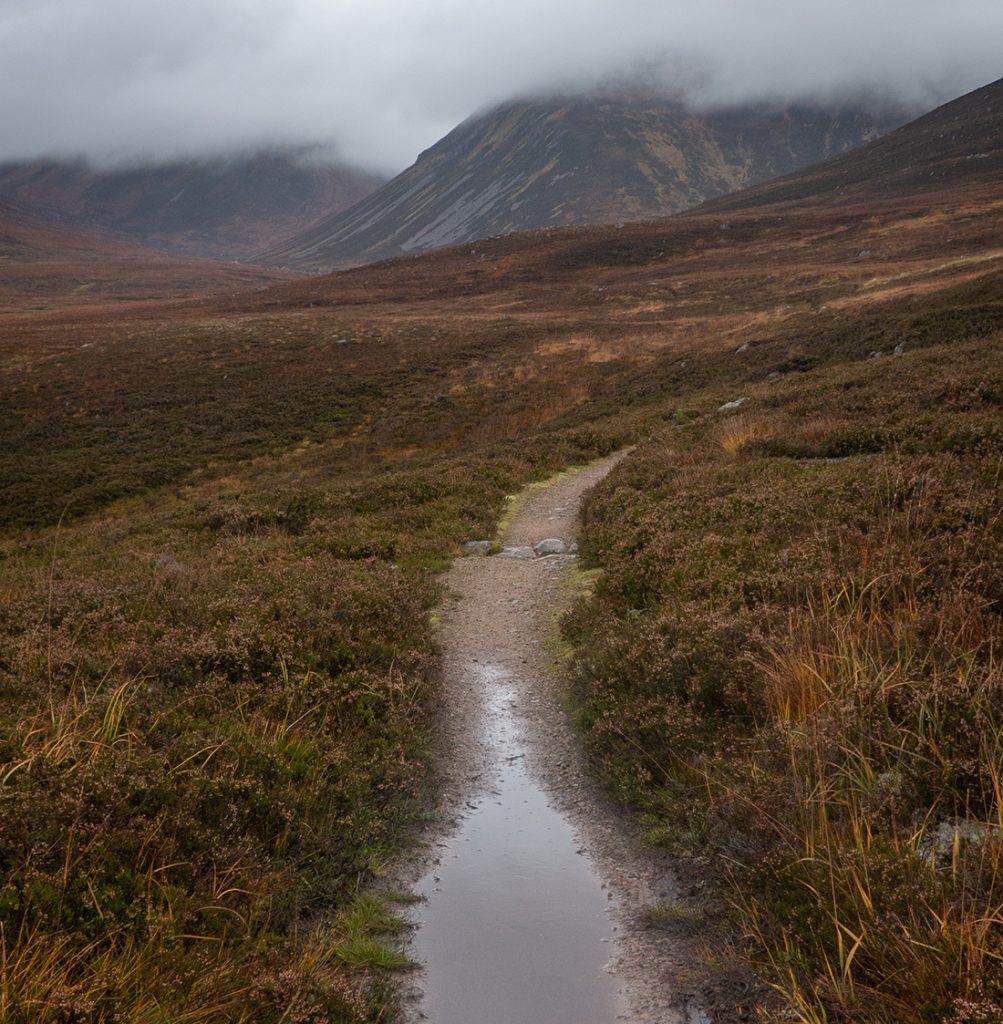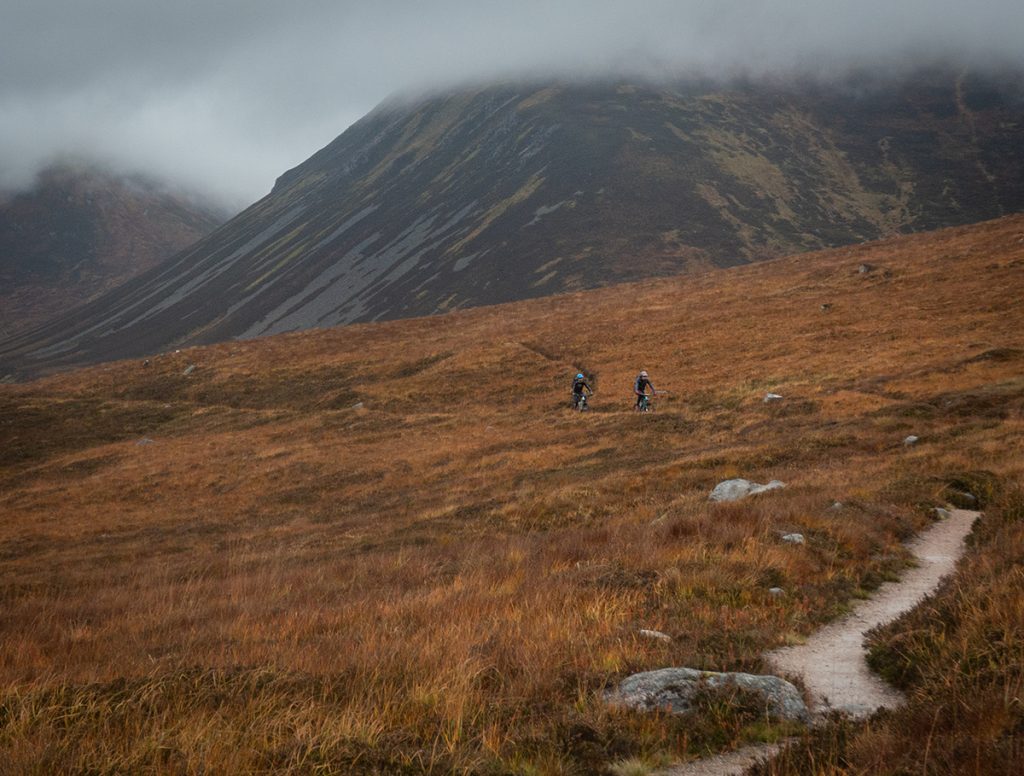 The next bit of trail through to Glen Gairn below Carn Eag Dhubh is new to me; it's pretty rough but once pushed up a bit, mostly rideable as it swoops along the side of the hill, moving into pretty remote territory.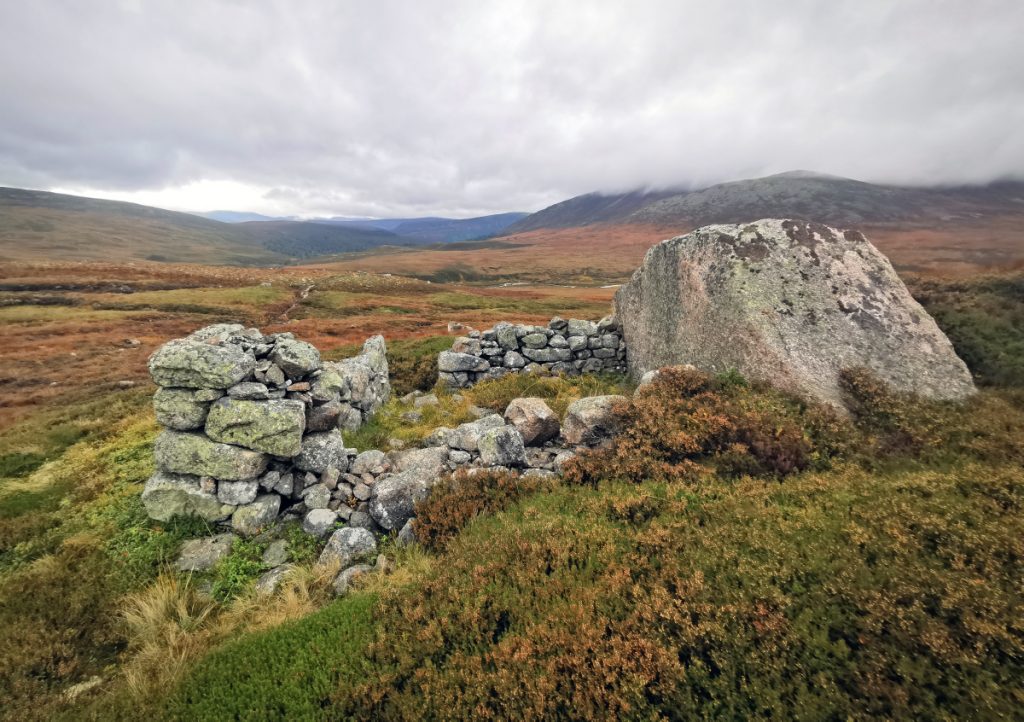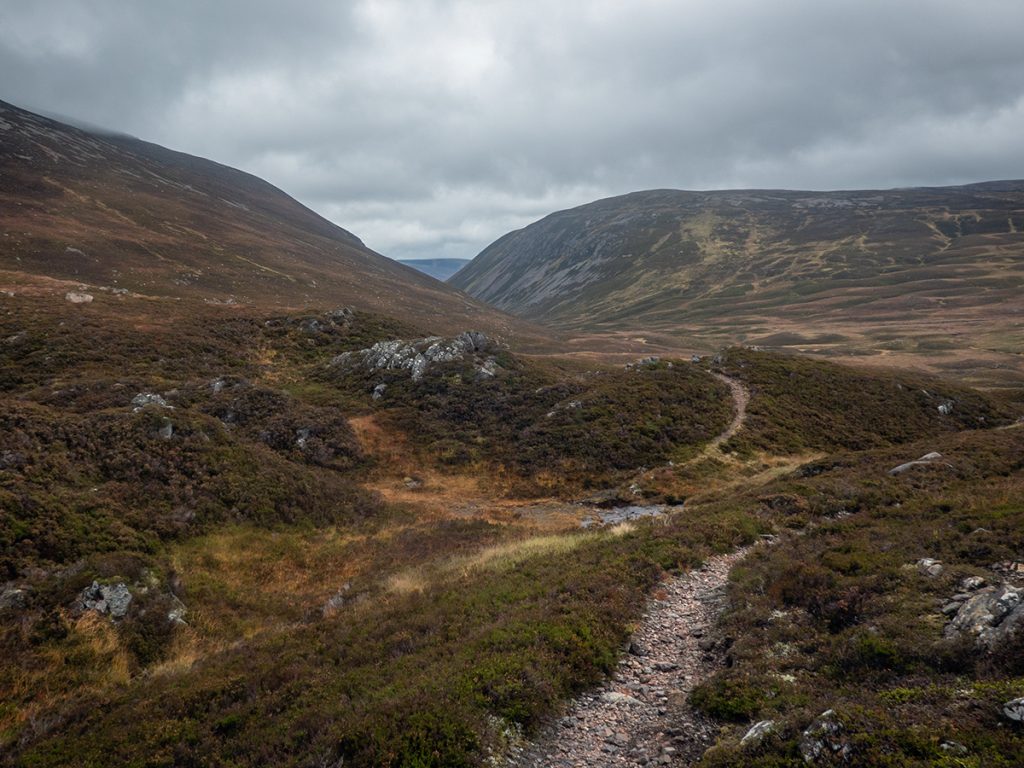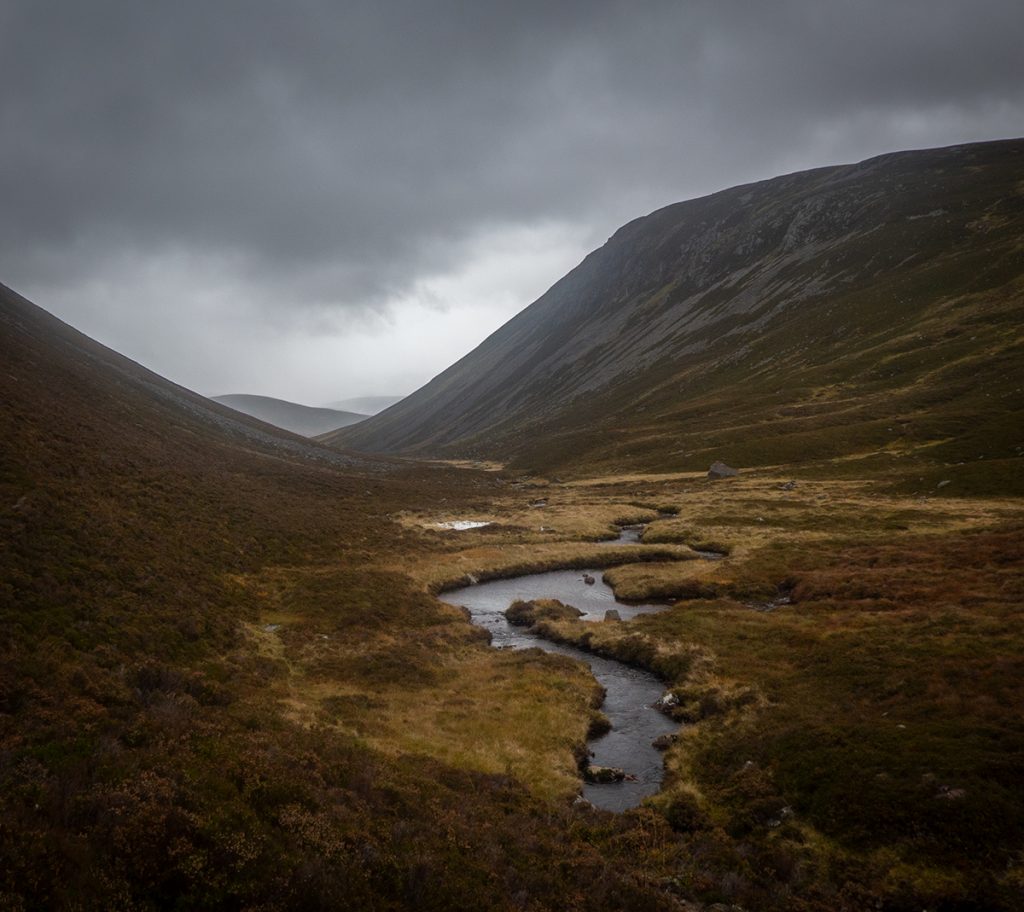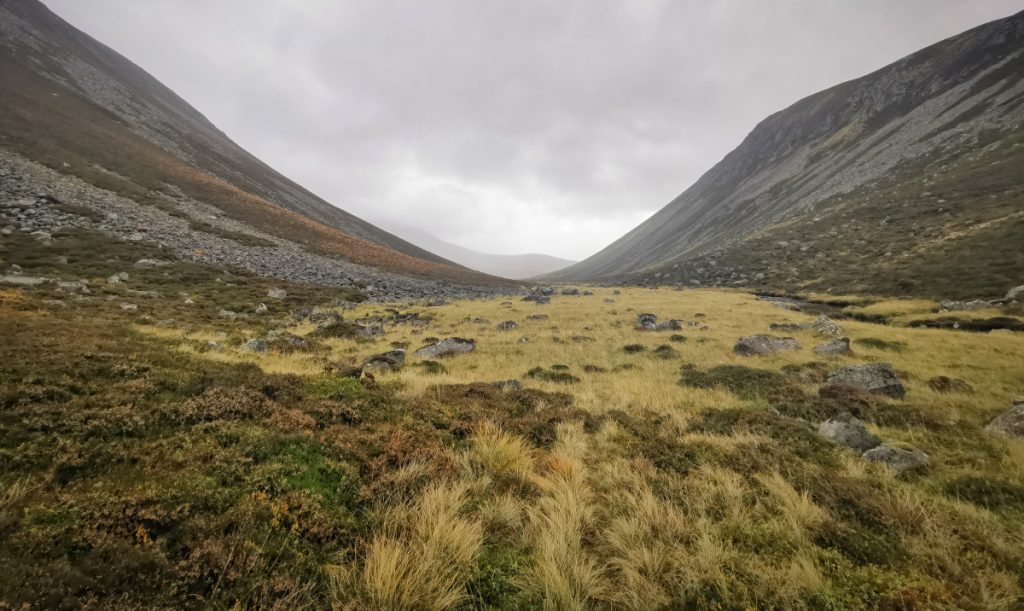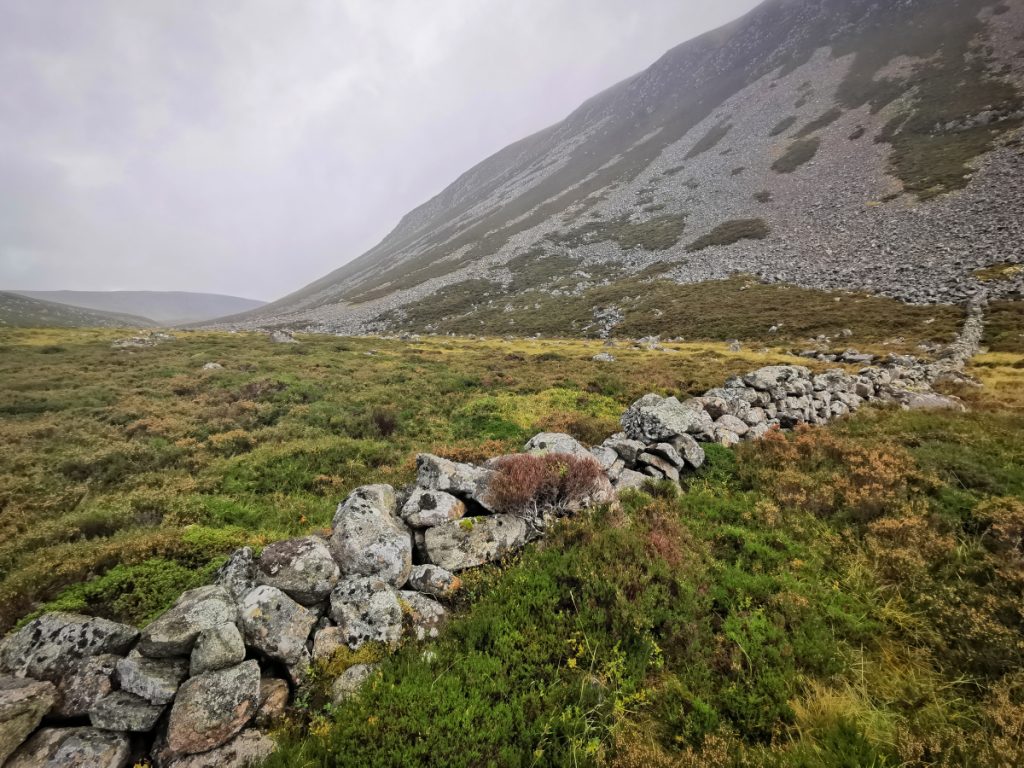 The valley floor here is flat and grassy and would be a reasonable place to camp. There are a number of small river crossings. Today, it's all quite wet but for sure a lot easier in summer.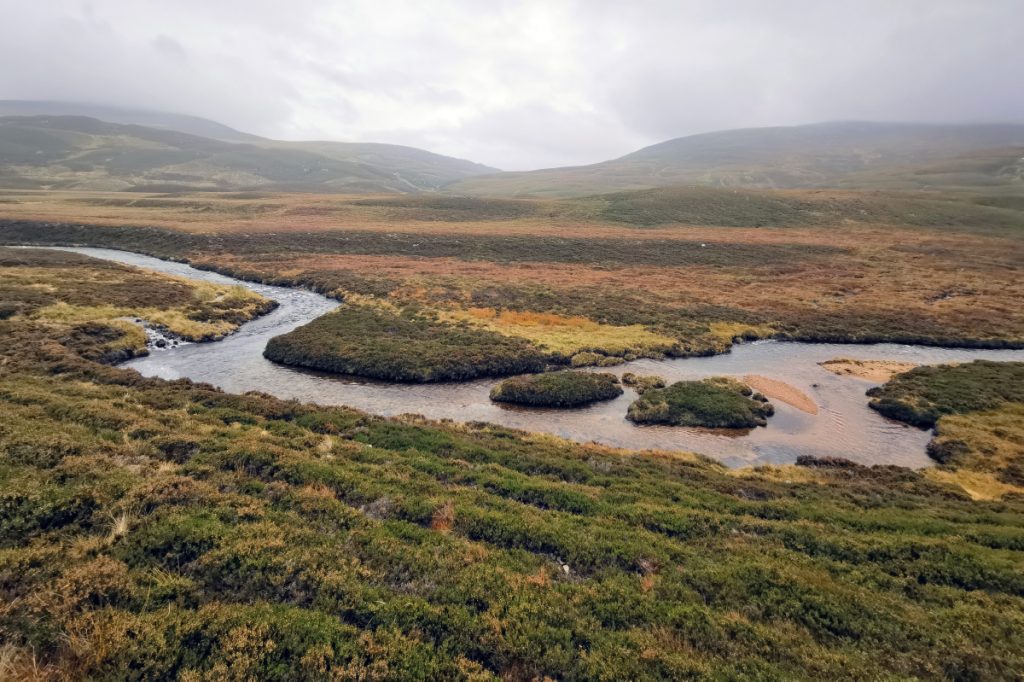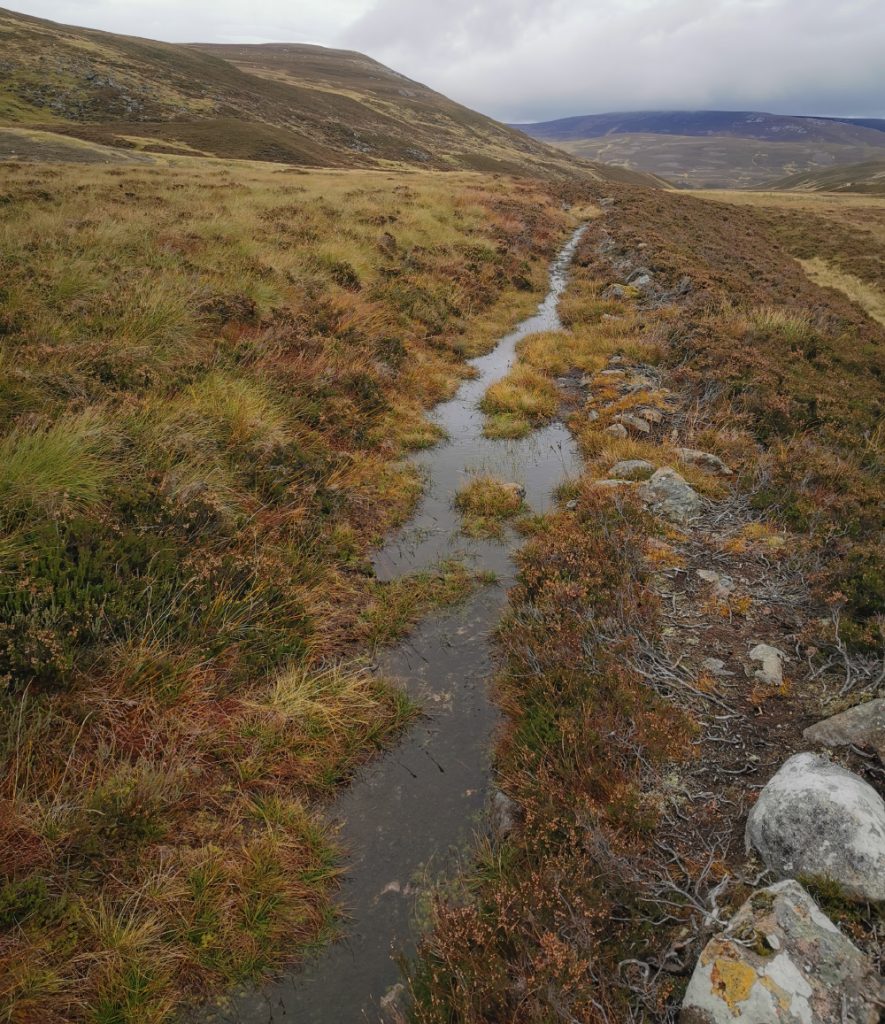 Near Culardoch, OS map has a bridge but this hasn't been here in many years. There's a wide ford nearby which everybody walks through except Rob who's on a roll and amazingly makes it without faceplanting. On the other side is a posh hunting lodge.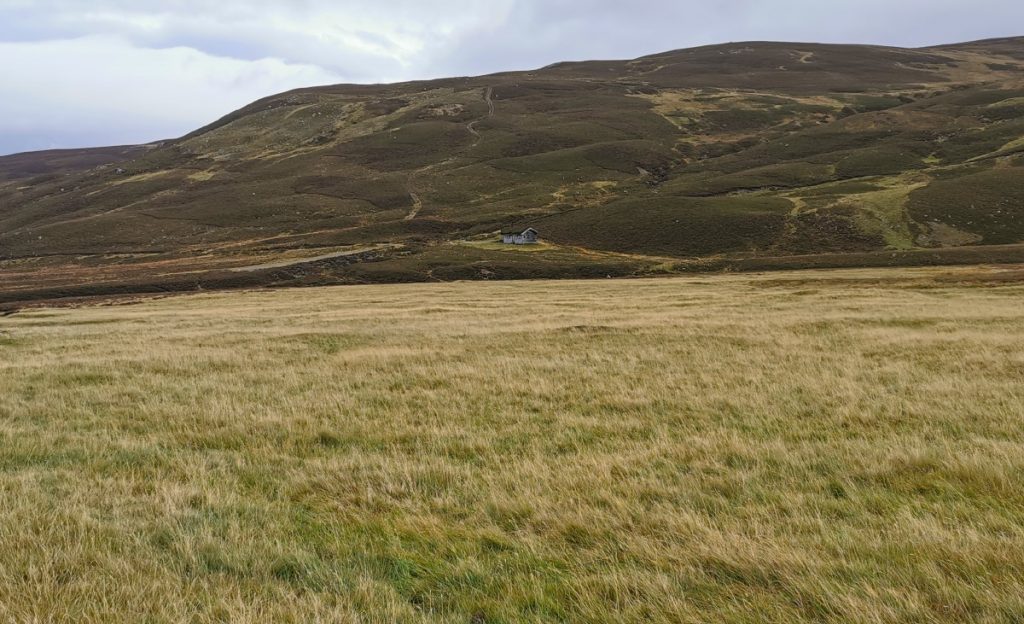 Once across, it's good landy track for miles and a gentle downhill zips us along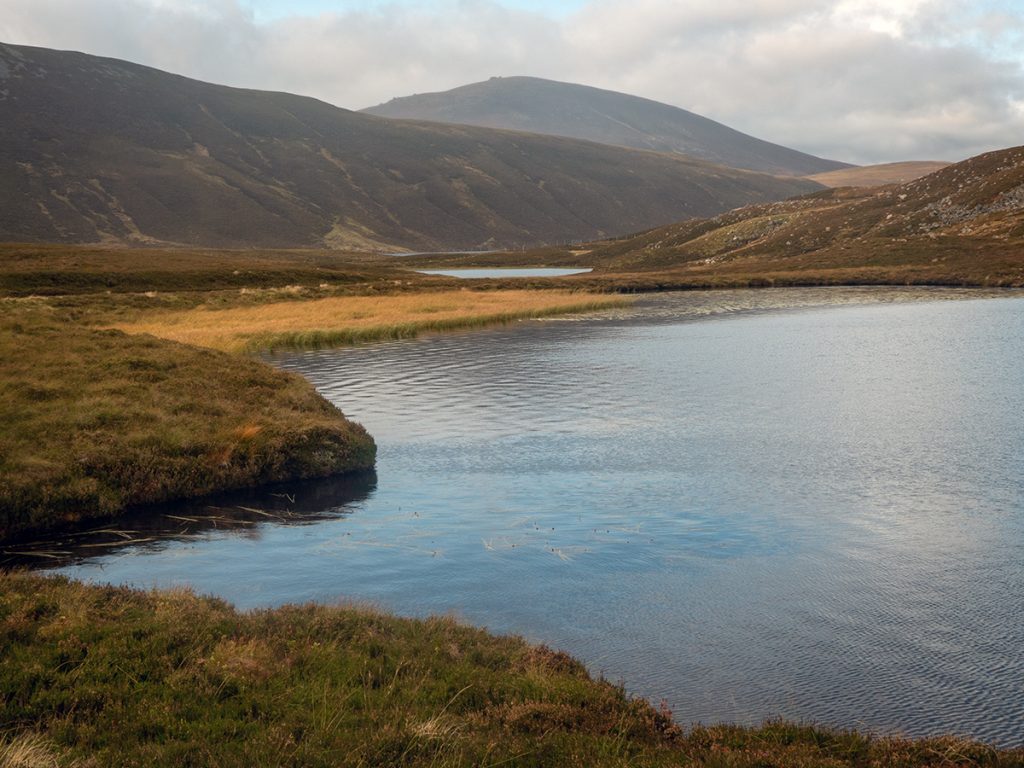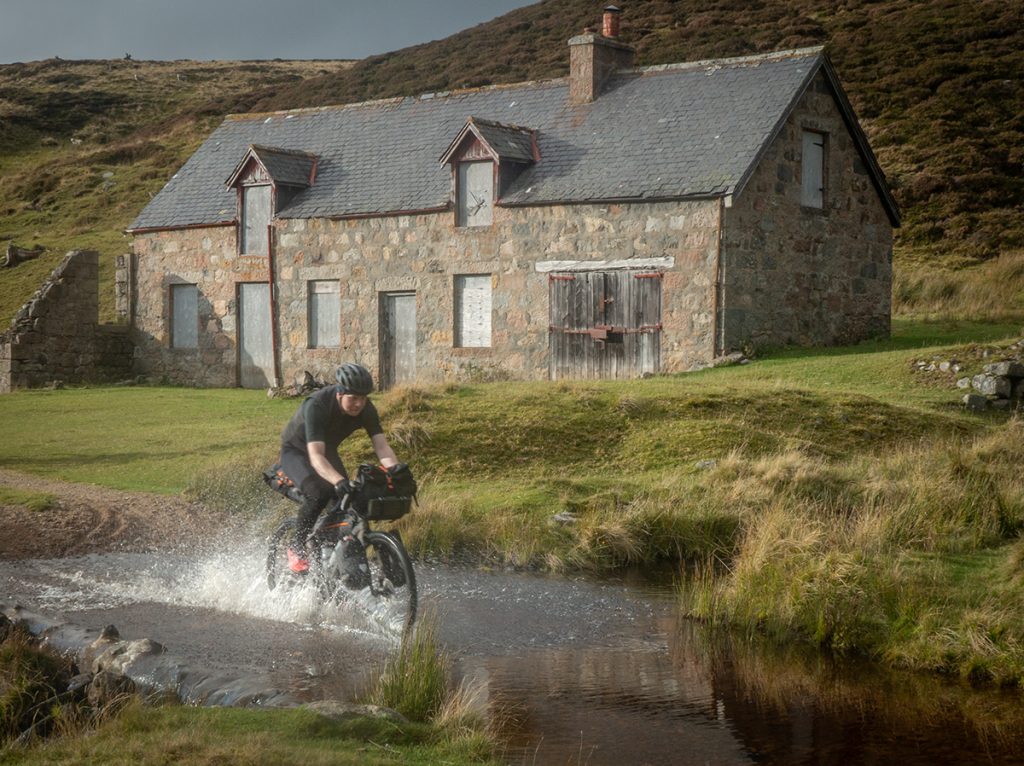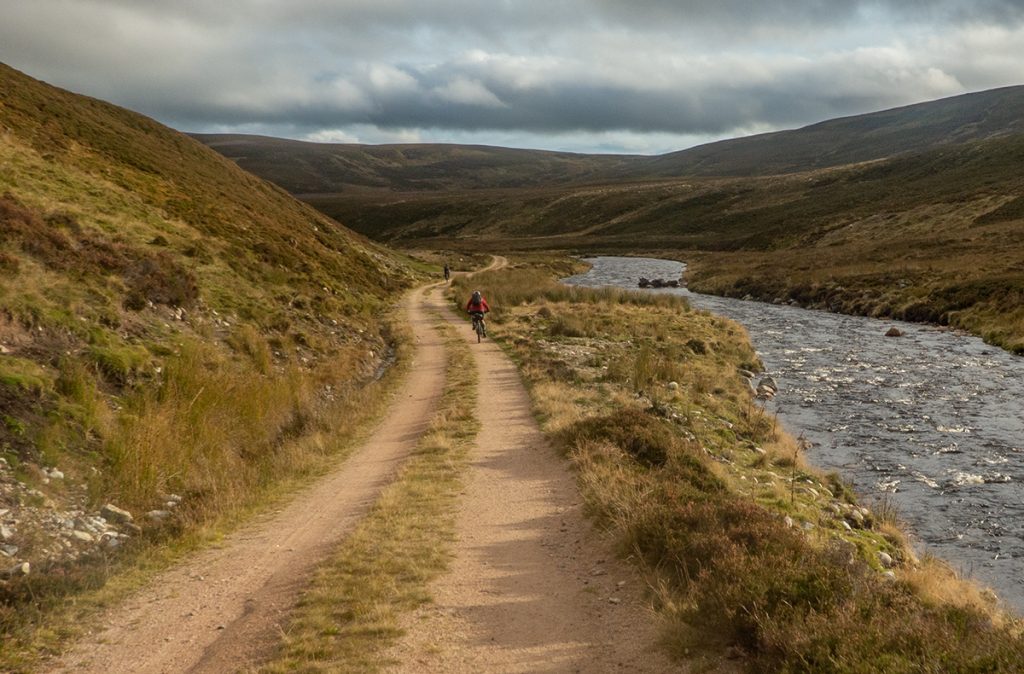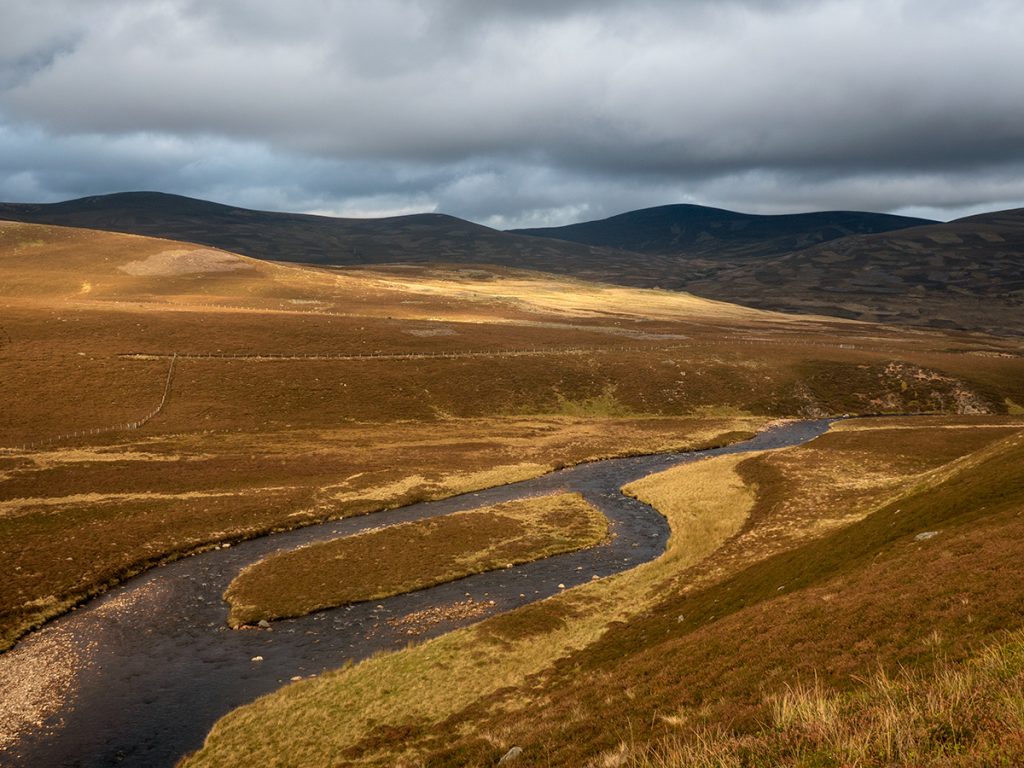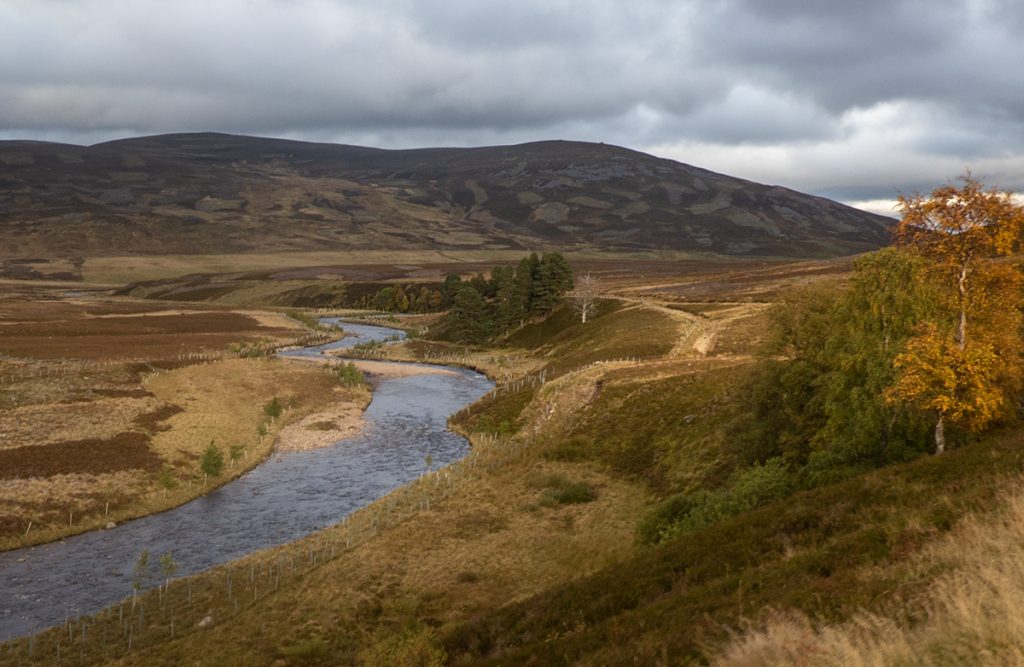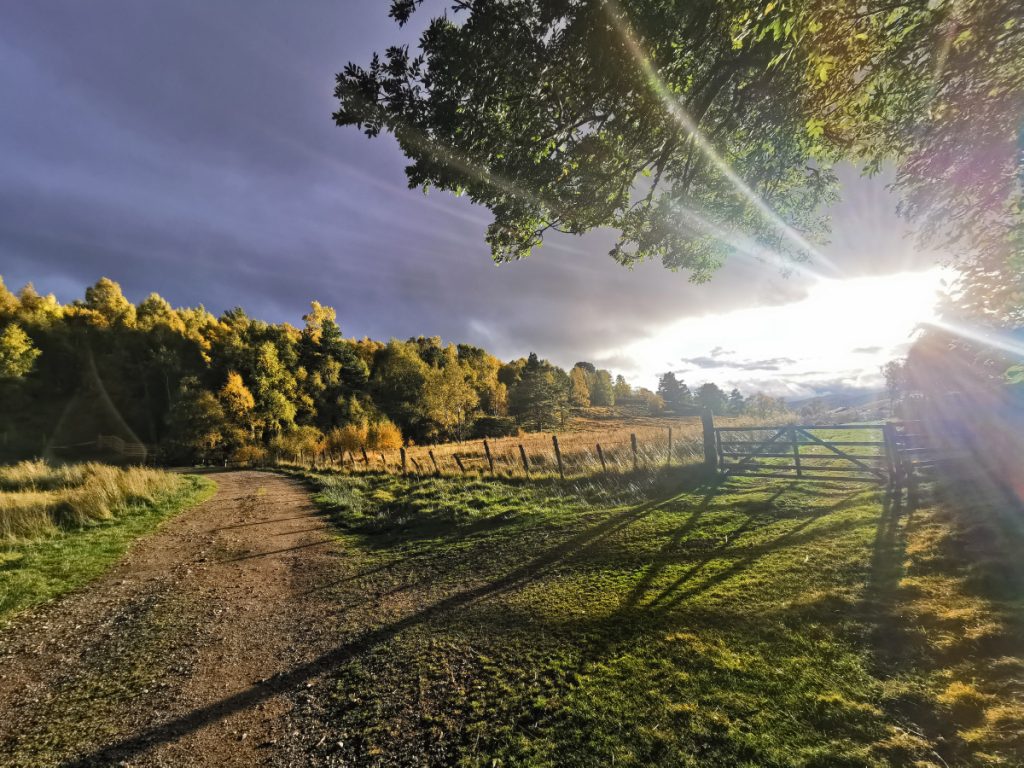 A road section is interrupted by me detouring a few 100m to take a close look at the picturesque old humpback bridge at Gairnshiel from 1751. A new bridge is planned nearby to reduce damage and strain on the old structure; as I take the photo a massive 10-foot-wide twat-campervan rumbles over, more of these now cause problems as the narrow road has become part of yet another one ("snow roads") of these slob-road-wanker routes that sprung up after the "success" (littering, speeding, vandalism) of the NC500.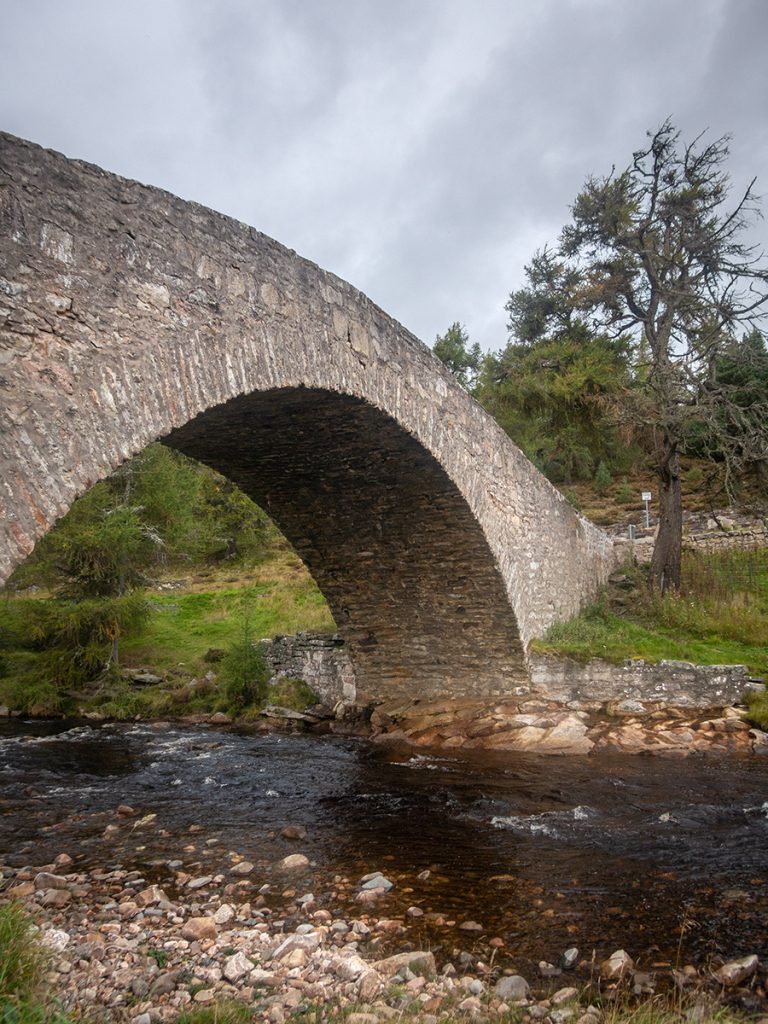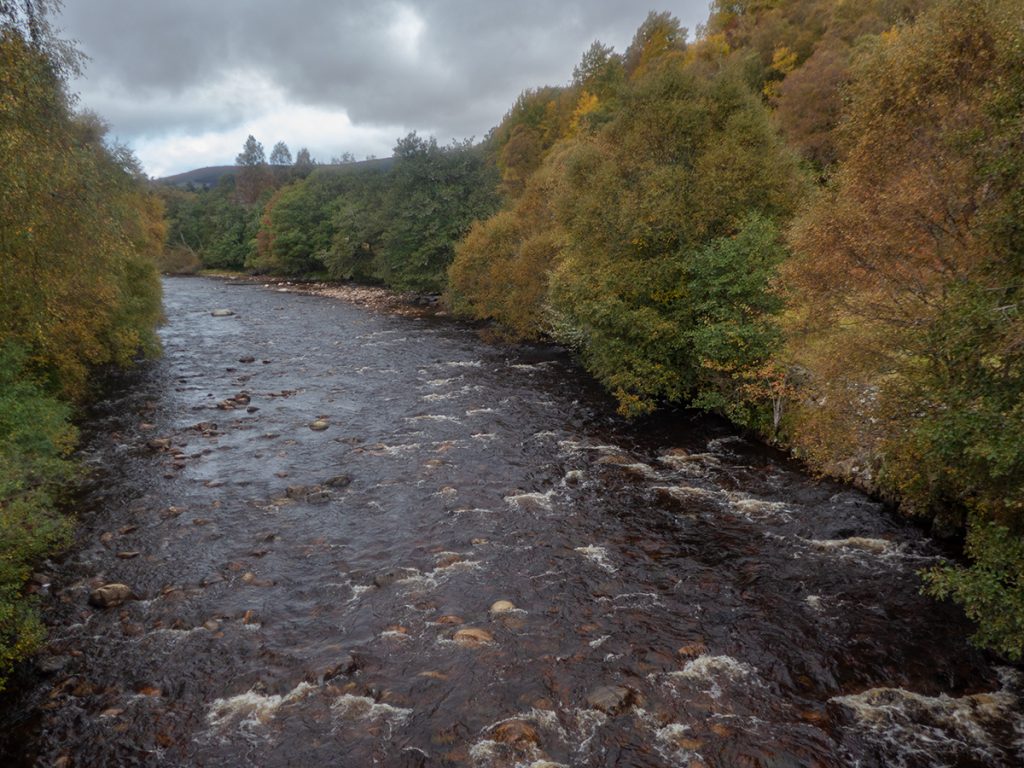 Back offroad some farm tracks take us through to Lary and on to a back road down to Ballater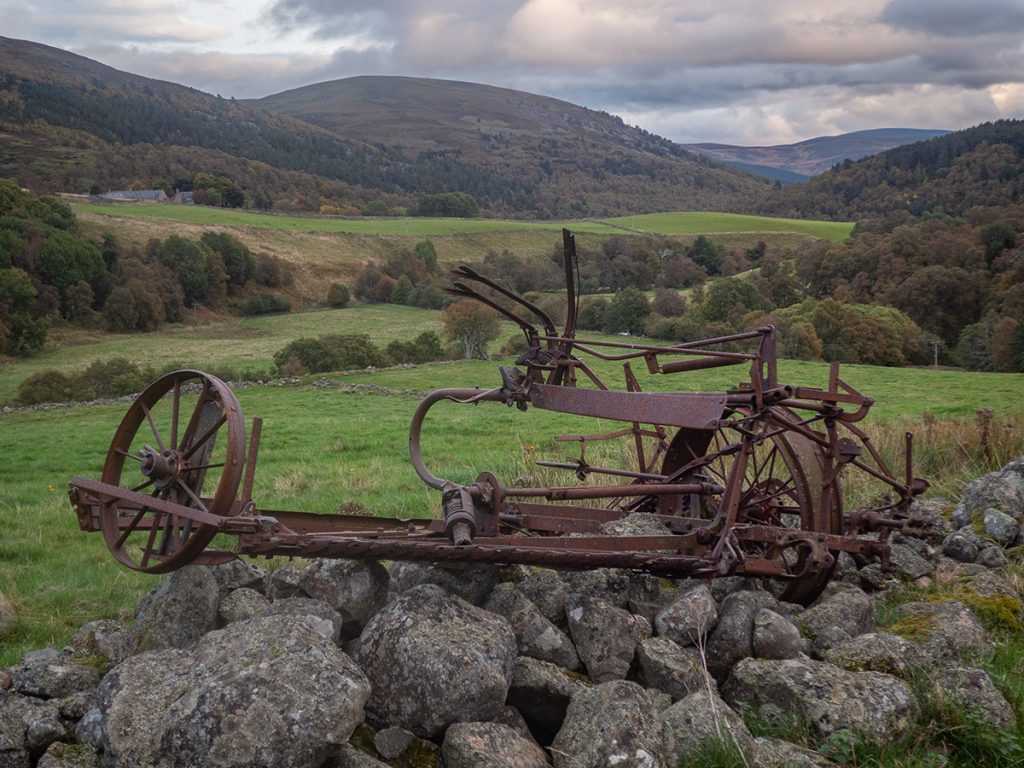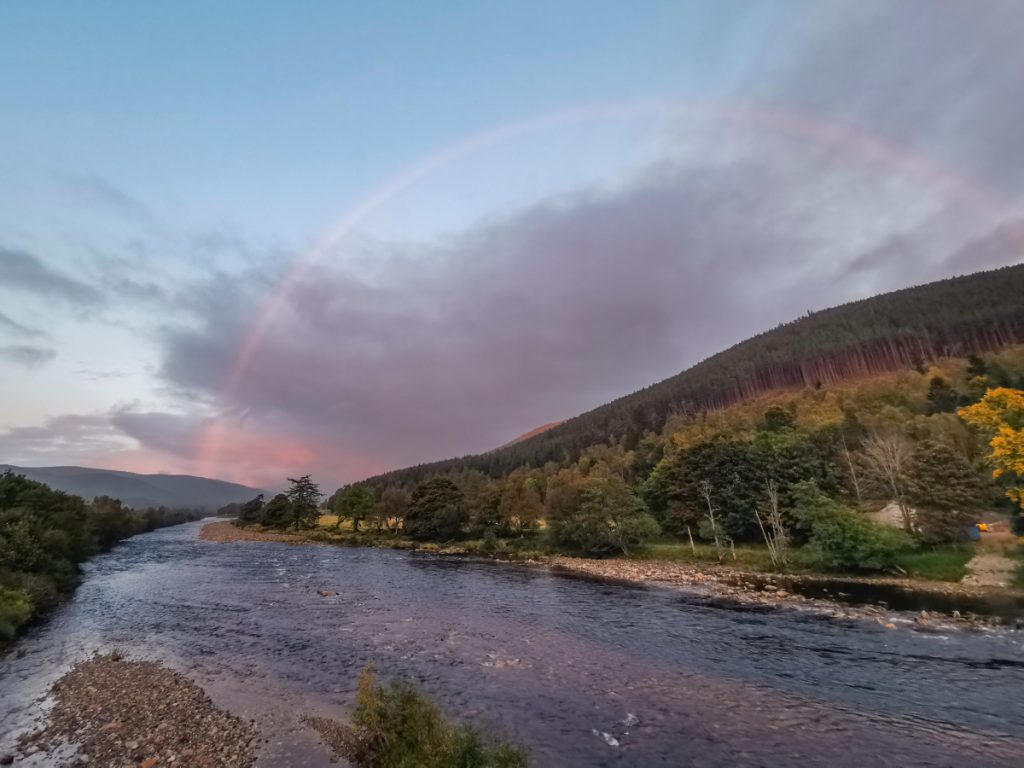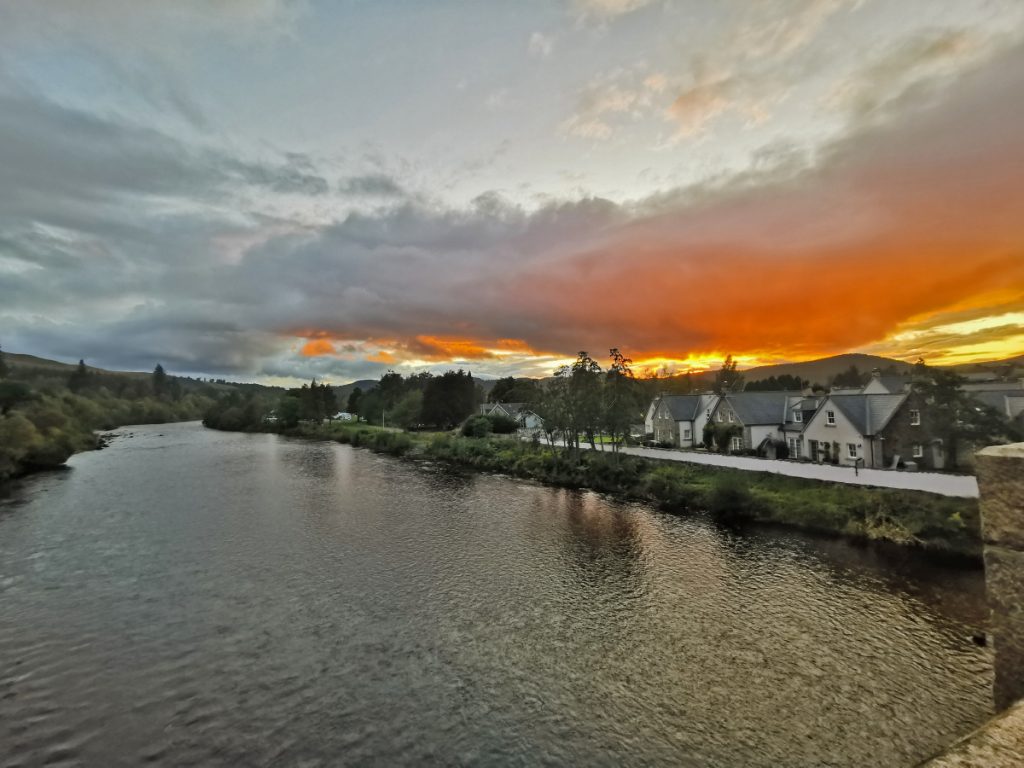 On reaching Ballater, our gravelist decides to quit, a few of us are worn out but the going has been tougher for him. Ballater like Braemar proves impossible to get a meal in a pub: fortunately a chinese sat in the green (cash only in a pandemic – aye right – tax dodging fuckers) lifts spirits and we move off into the dark down the Deeside way to find a camp spot for the night. We cut out the section of offroad trail up through Cambus O'May and around Cnoc Dubh (pity as I enjoyed it last time, some nice trails) and head for Loch Kinnord where I think there's a good spot.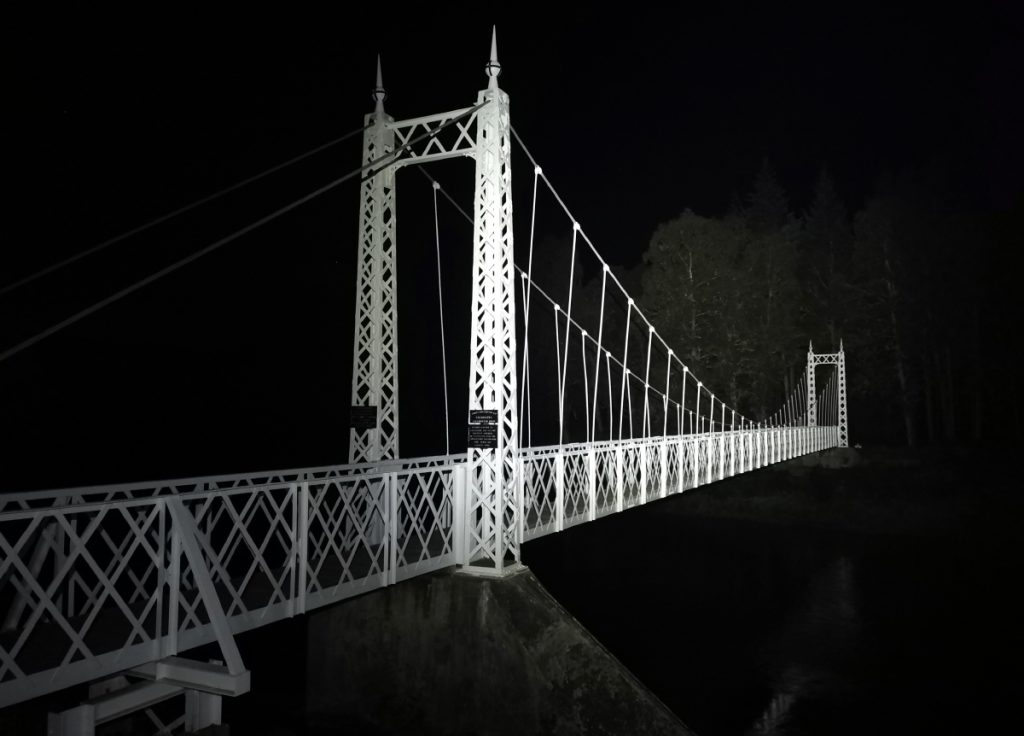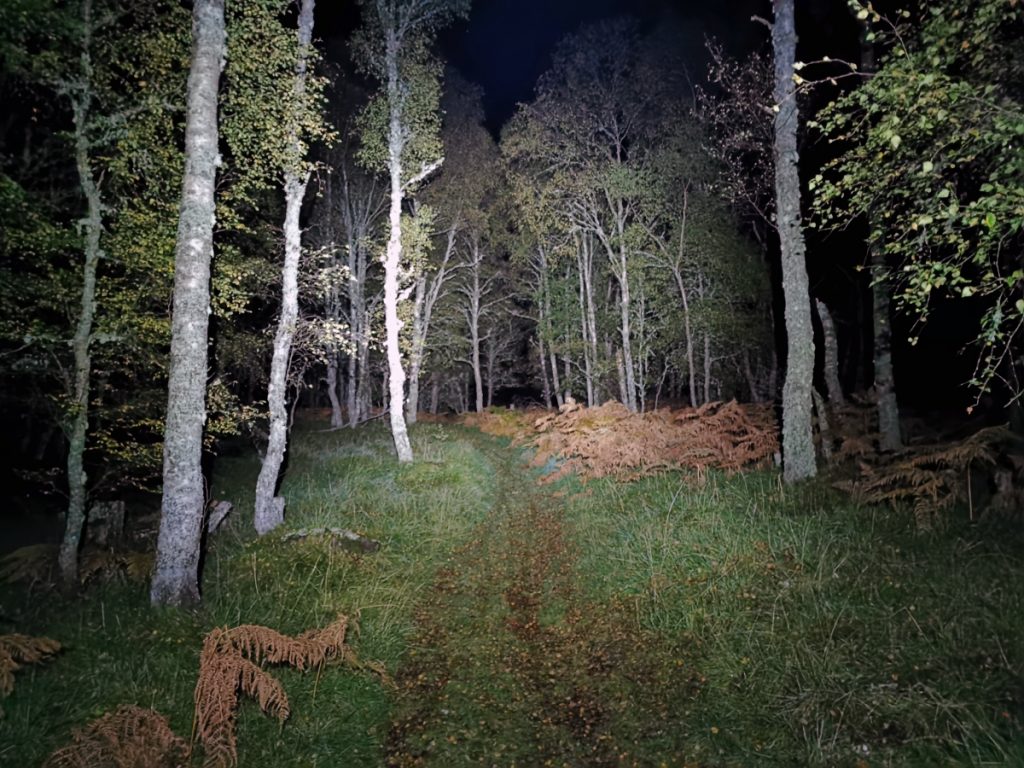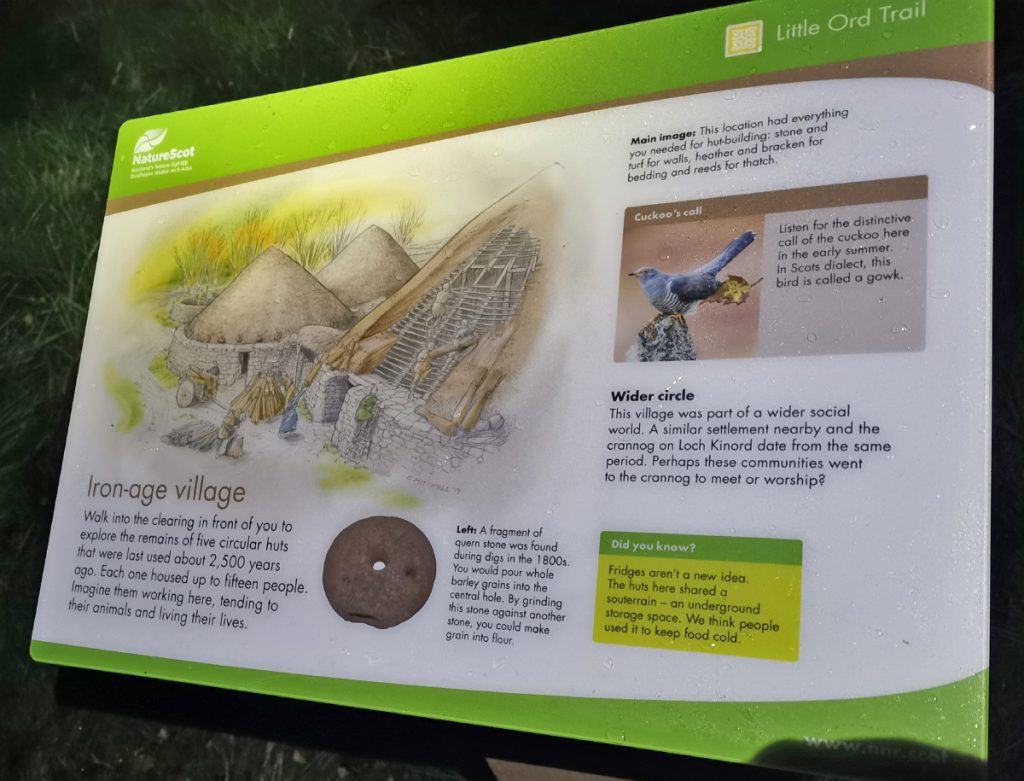 Tonight is very still, clear and a lot colder. We get a great view of the milky way and have a few beers purchased back in Ballater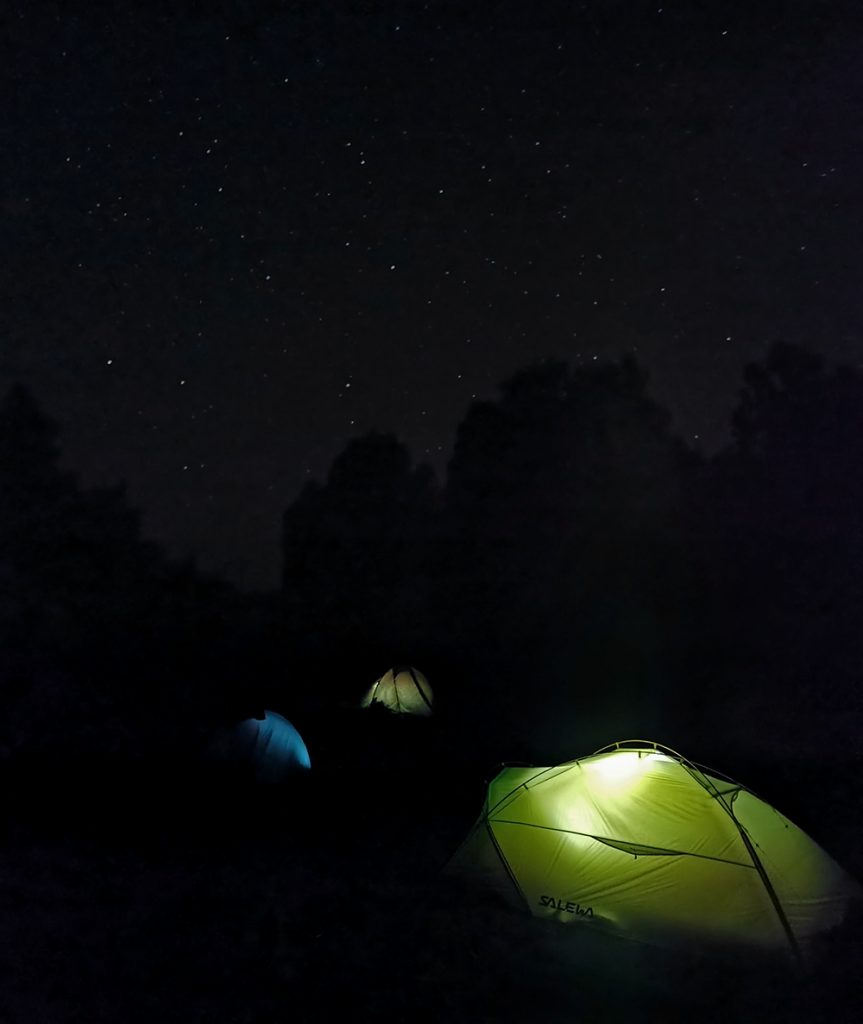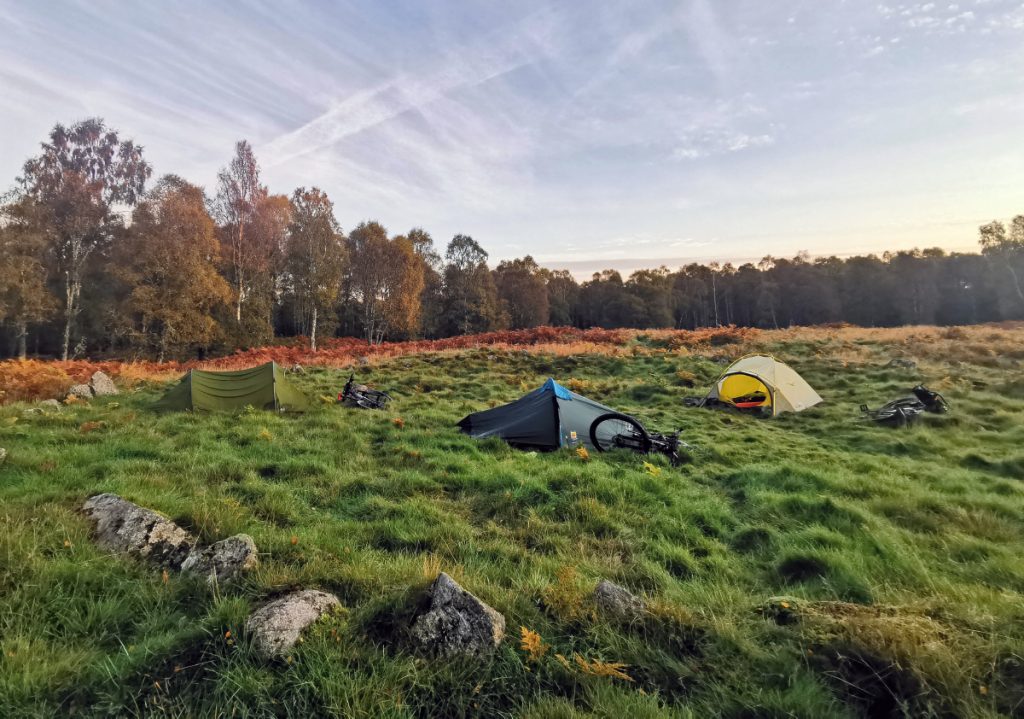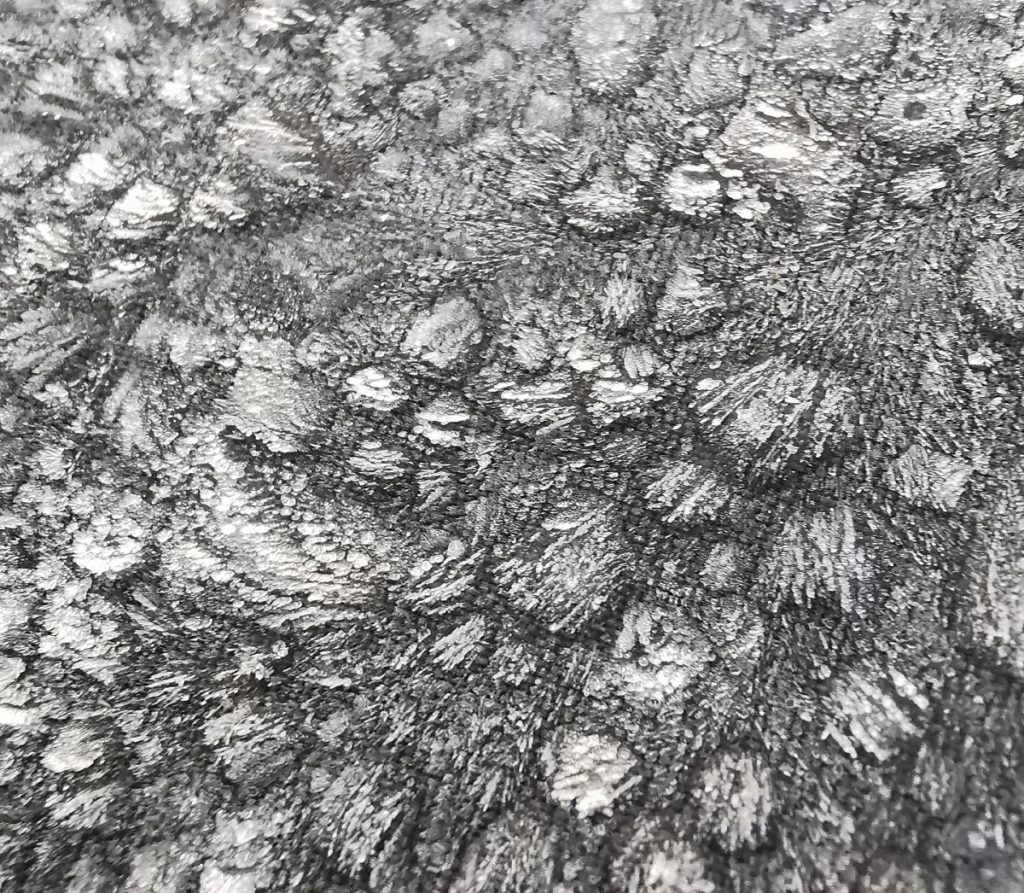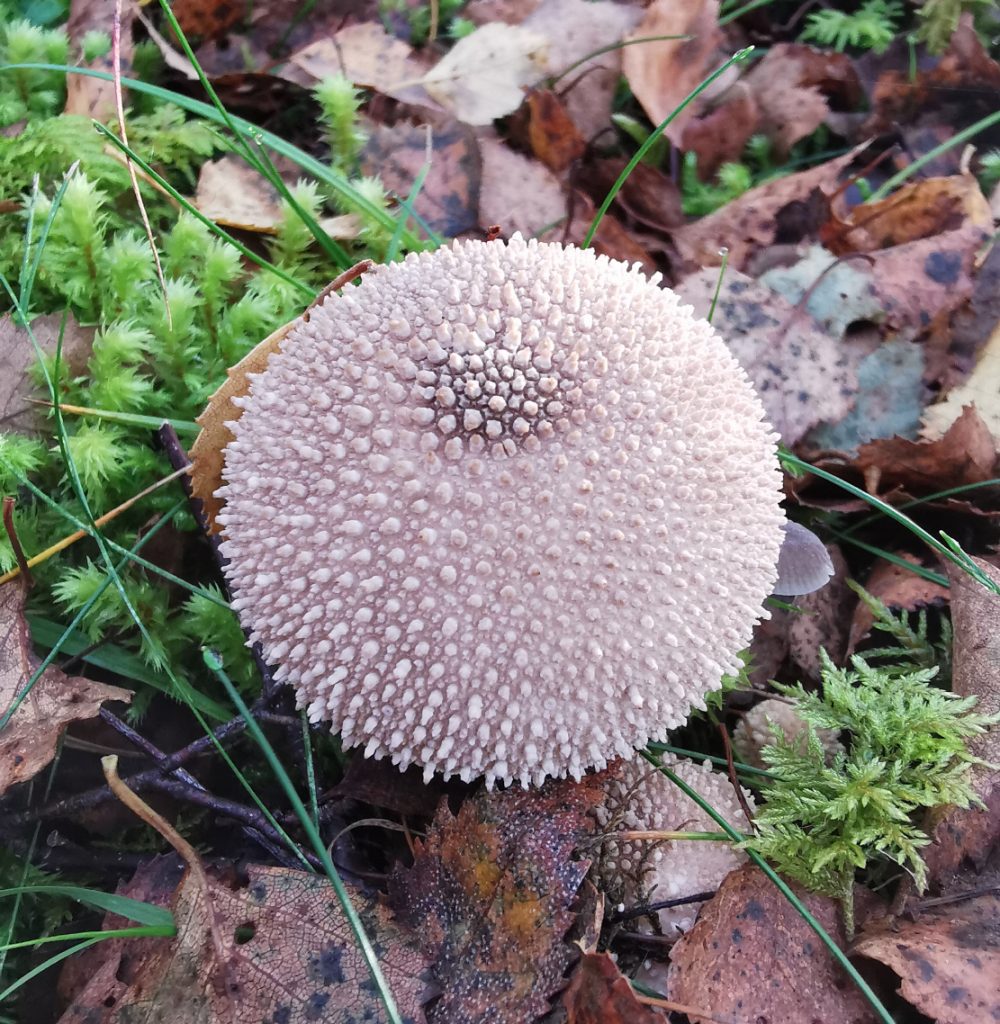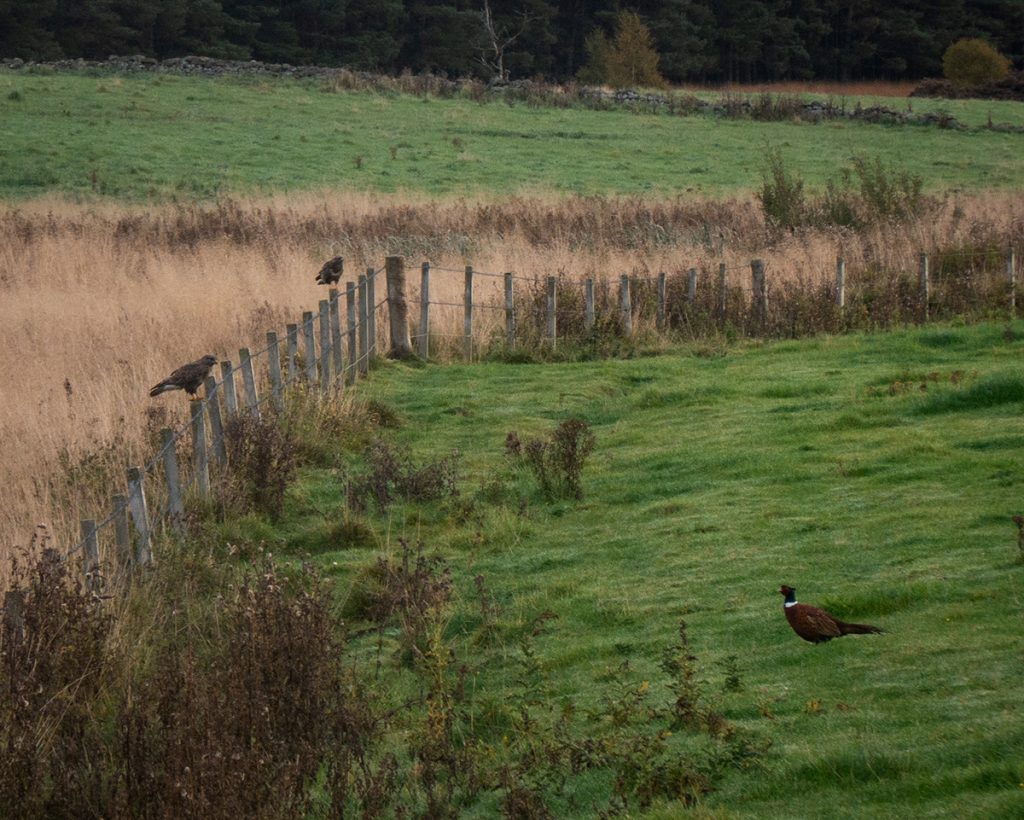 After some road and farm tracks, we make to Tarland where there's a wee bike park, and a cracking cafe in the village square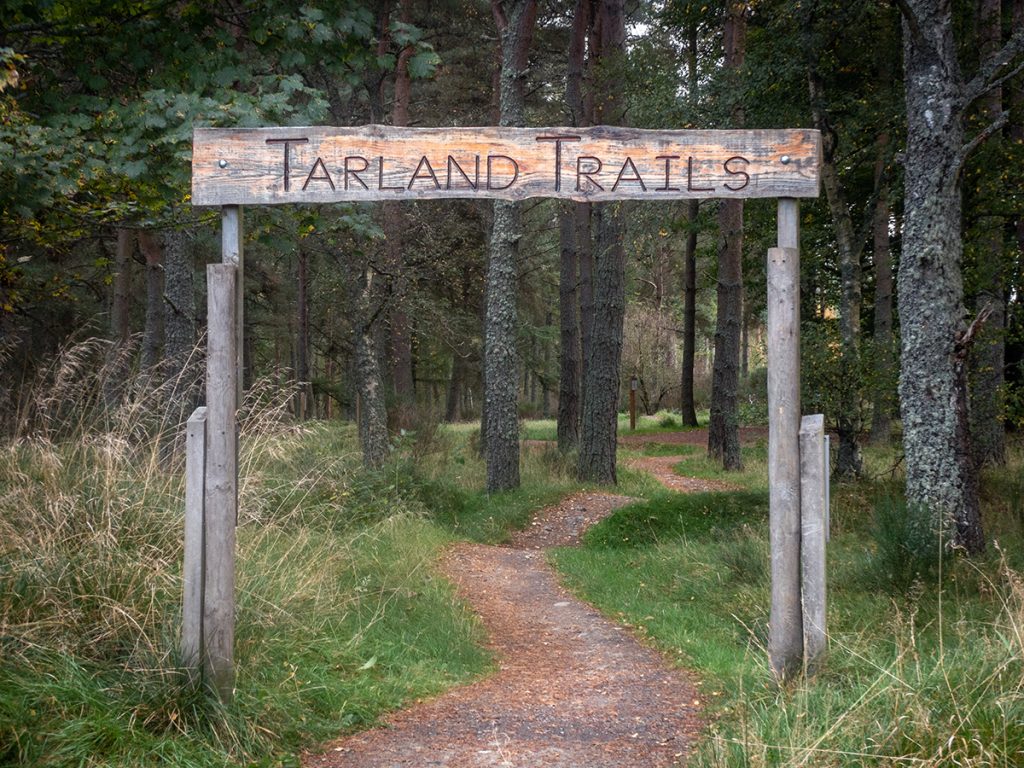 We've got to crack on though: after a push up the steep n grassy trail of Davoch plantation we emerge to the barren moors of Broom Hill.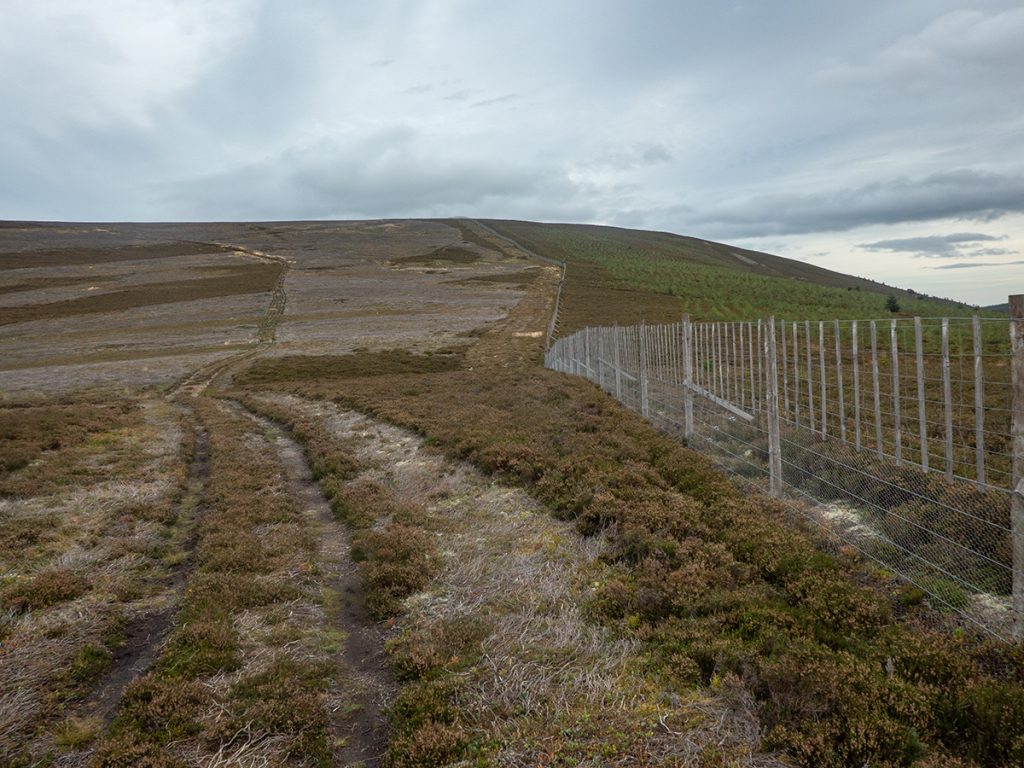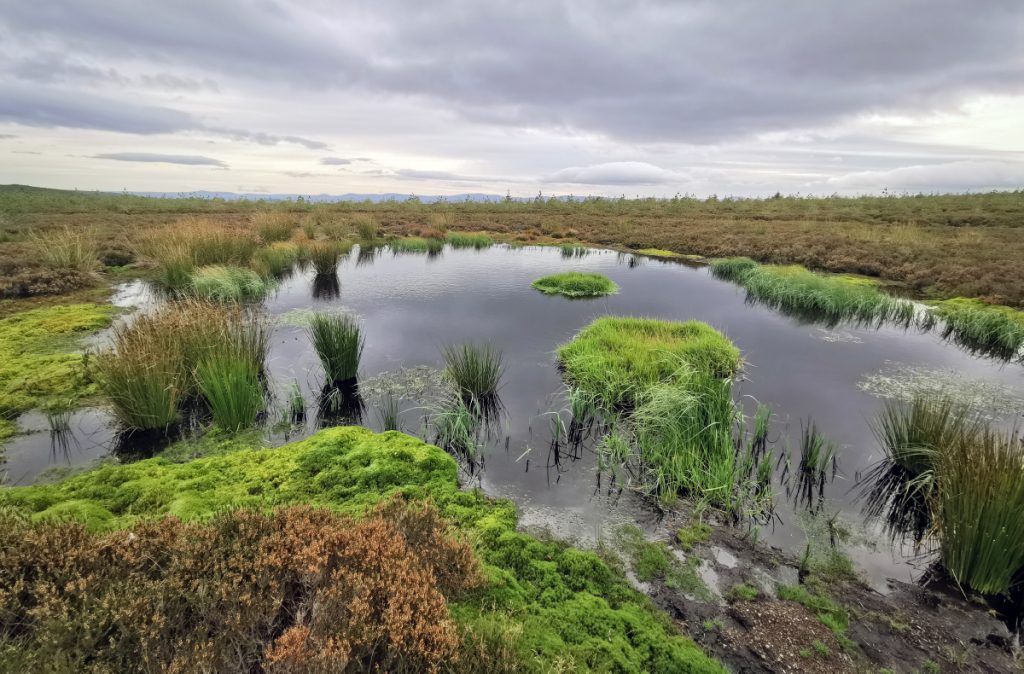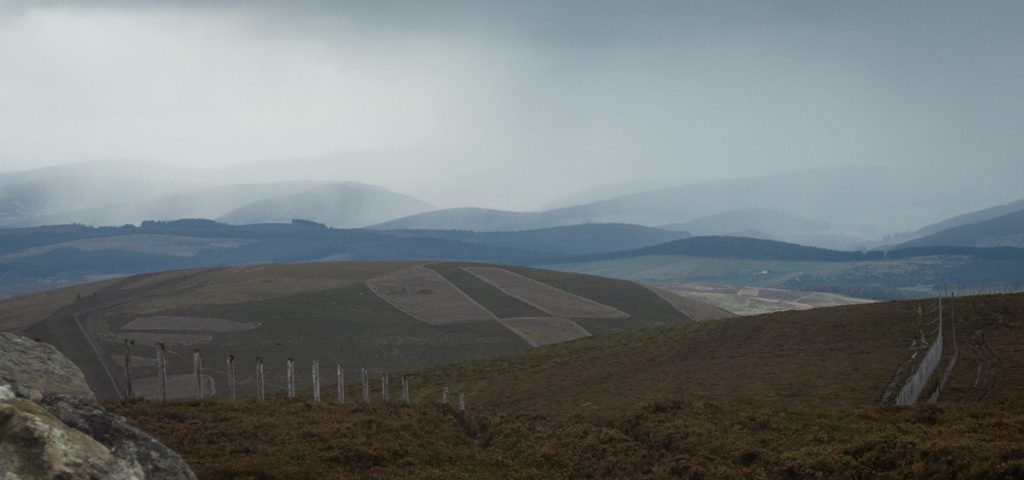 At the top of Pressendye we have a chat with some other MTBers out on a day spin, and they nicely offload some snacks on to us.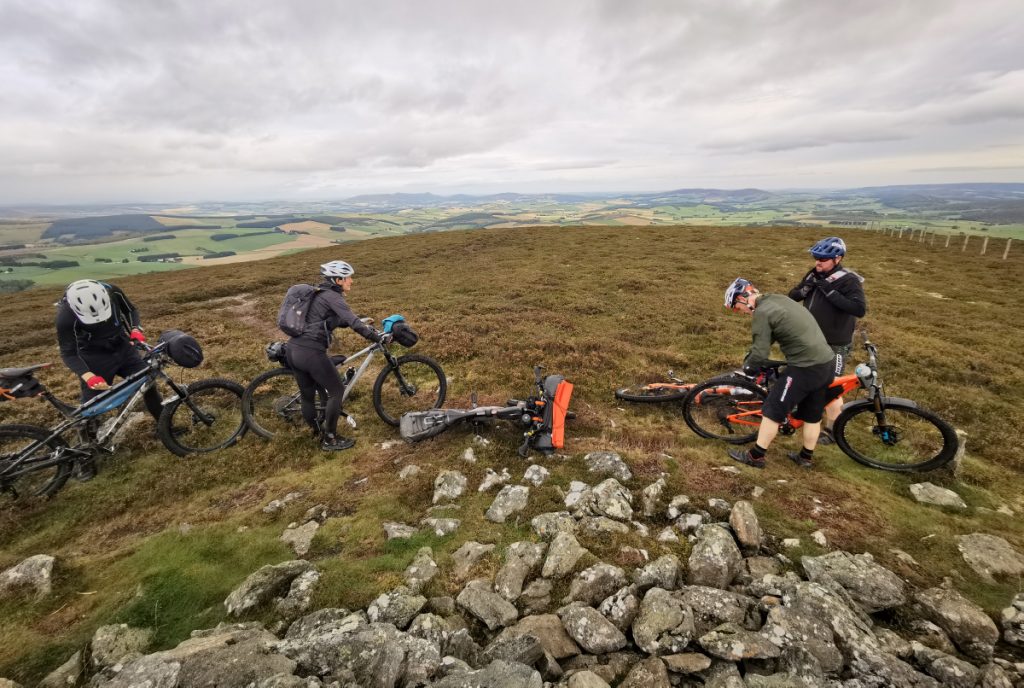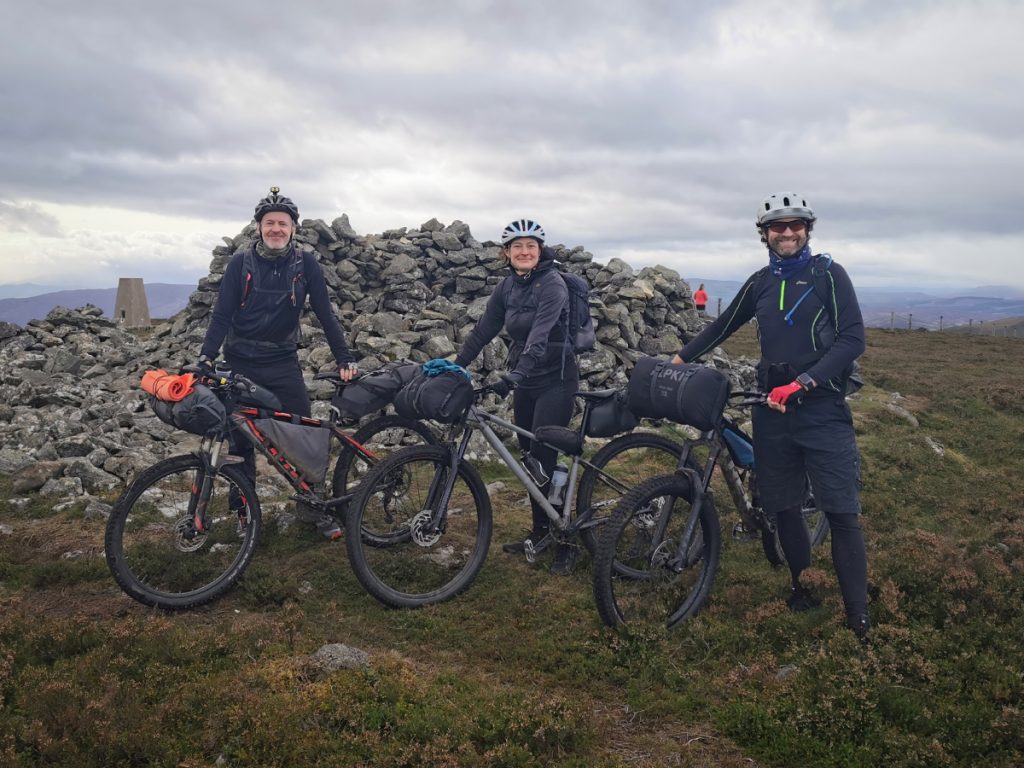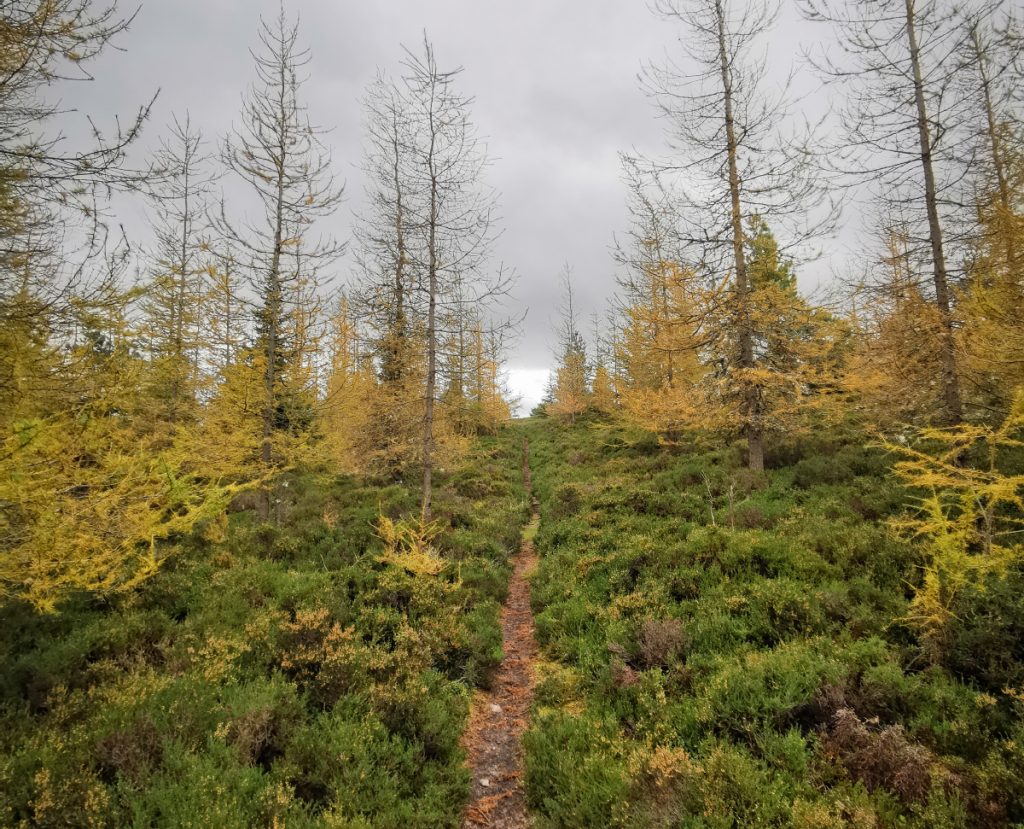 The descent from Pittenderrich is steep and muddy and my heavy bike struggled with traction, but helped by plowing through heather at the side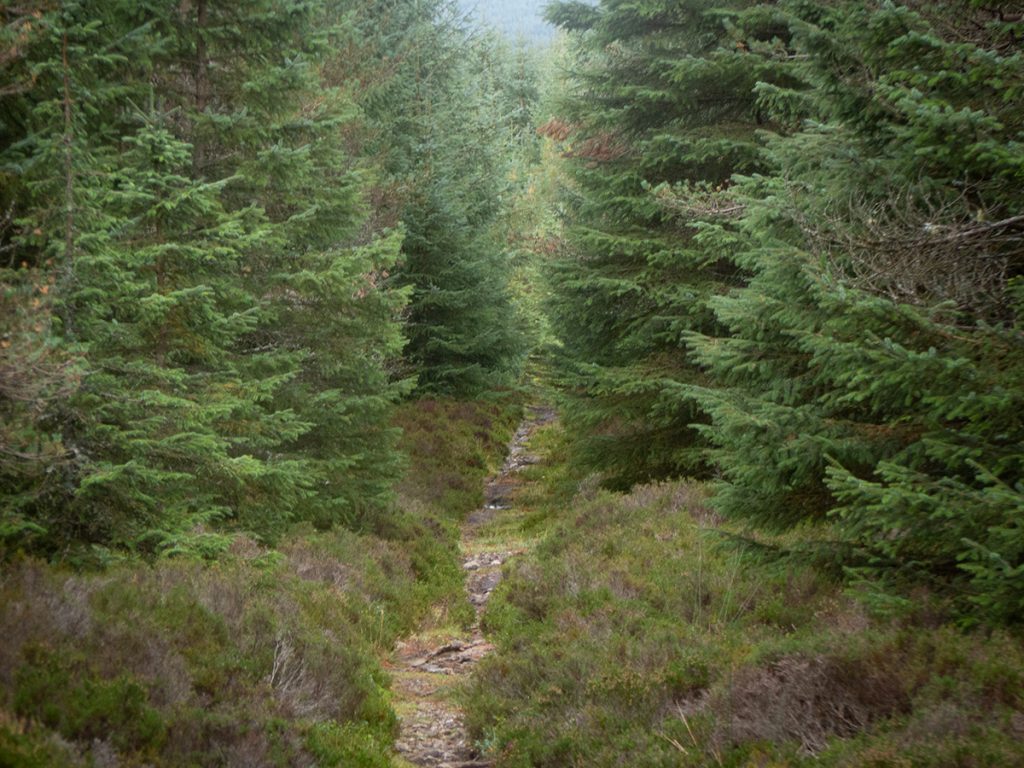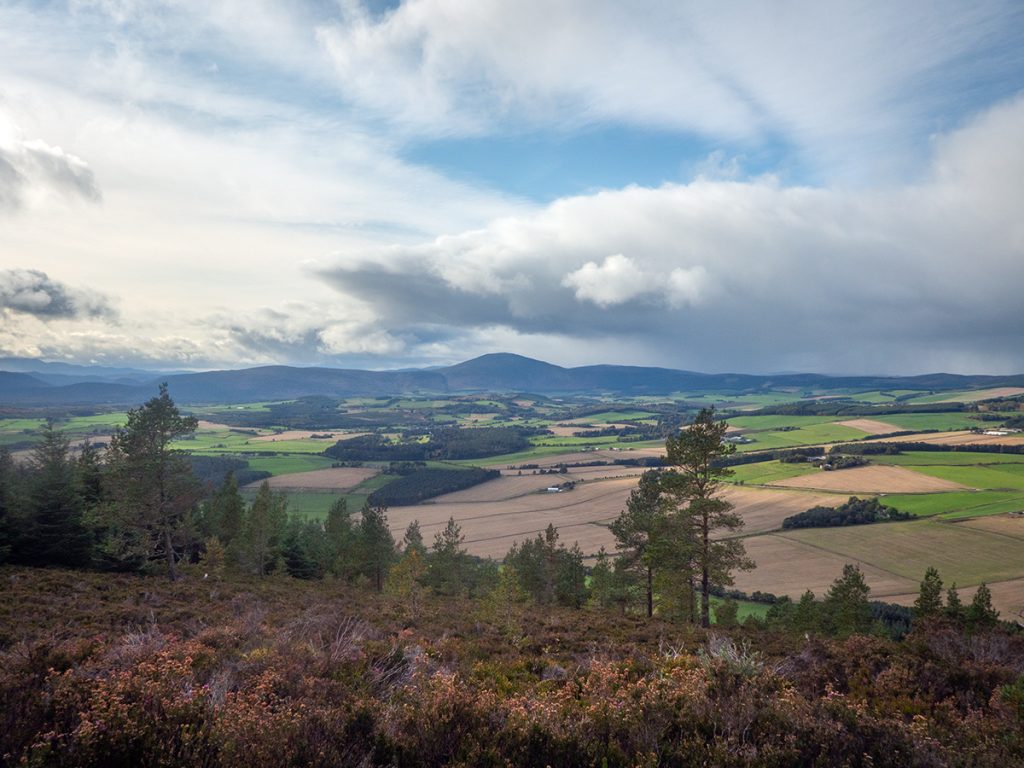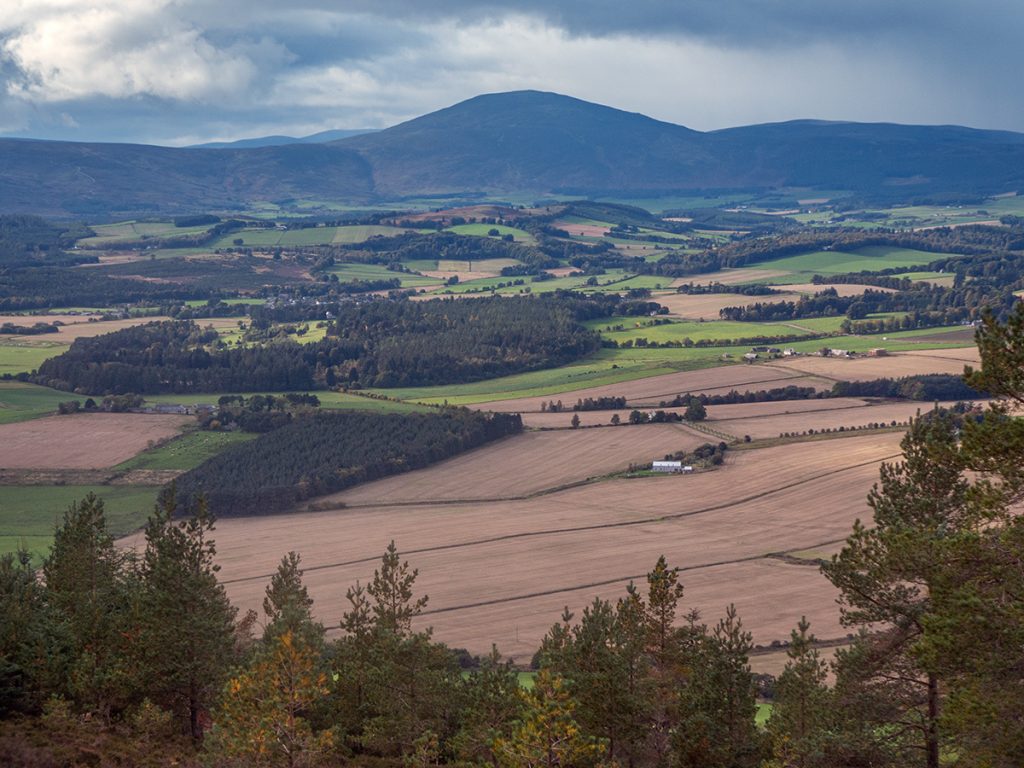 I powered on ahead getting my climb on. Waiting at the top for the others it looked like rain was imminent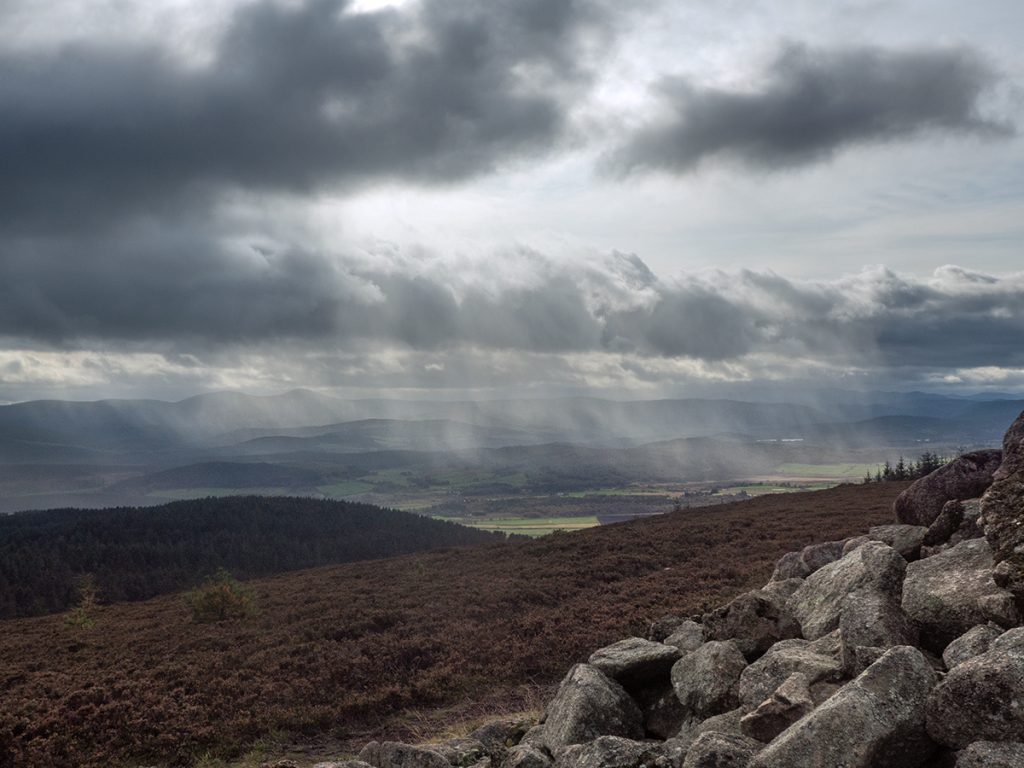 The Old Military 'Road' trail north of Lumphanan is a lush ribbon of autumn colours today, swishing downhill into the evening sun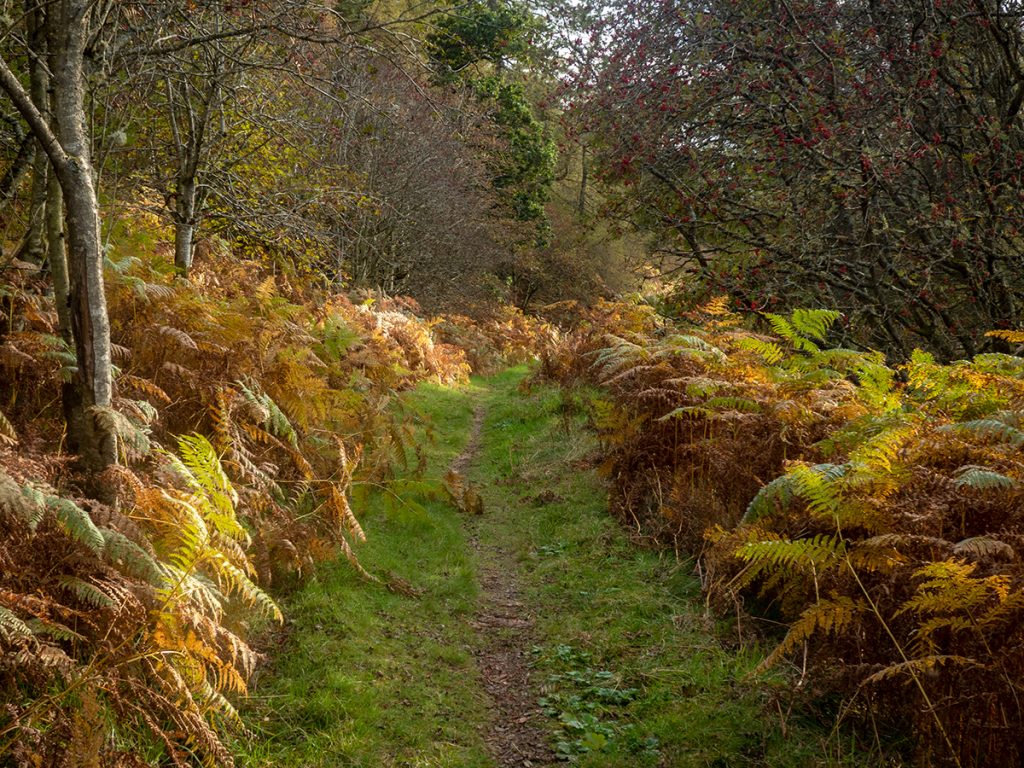 There's a quaint cafe and we can't resist to stop for tea and cake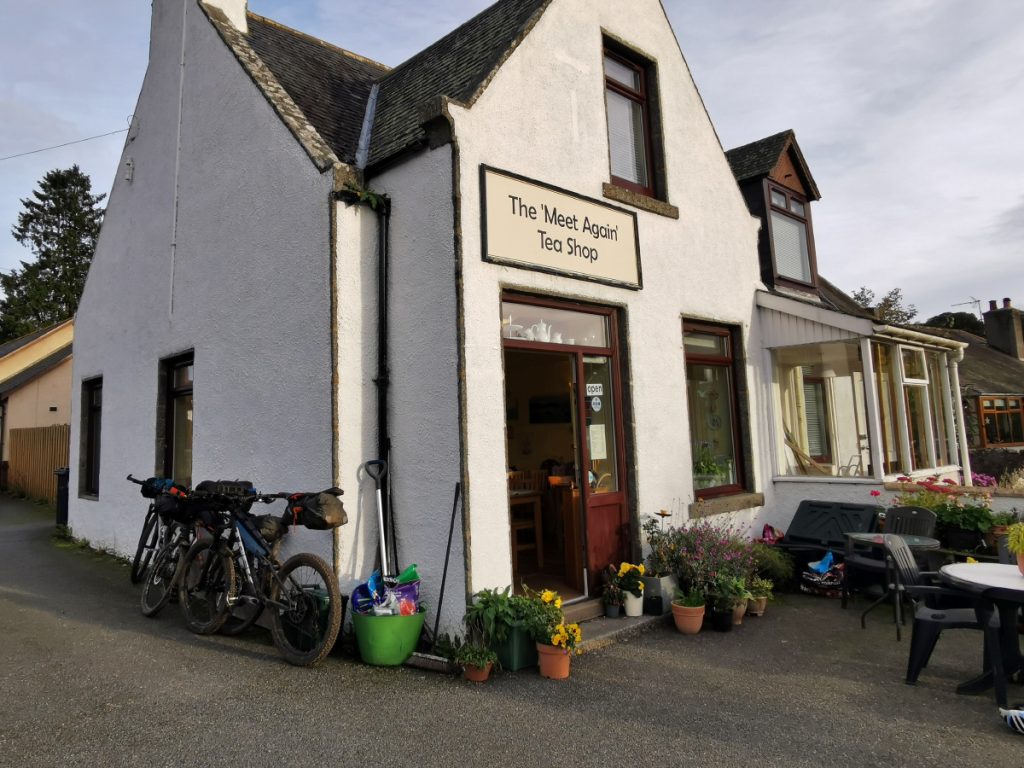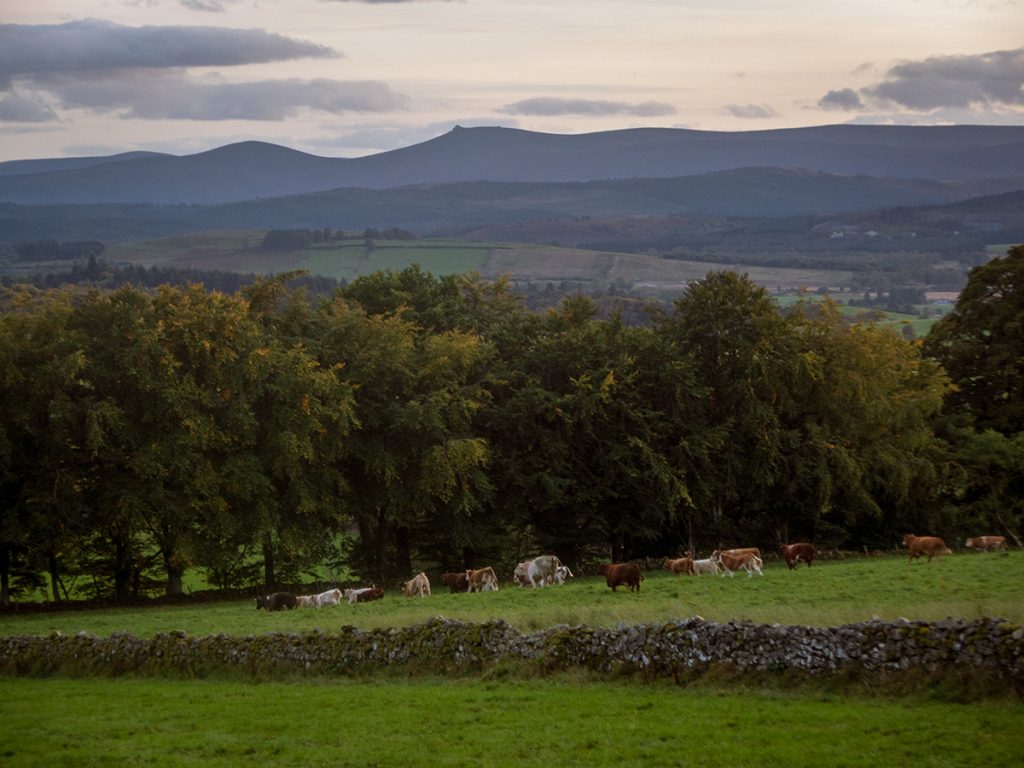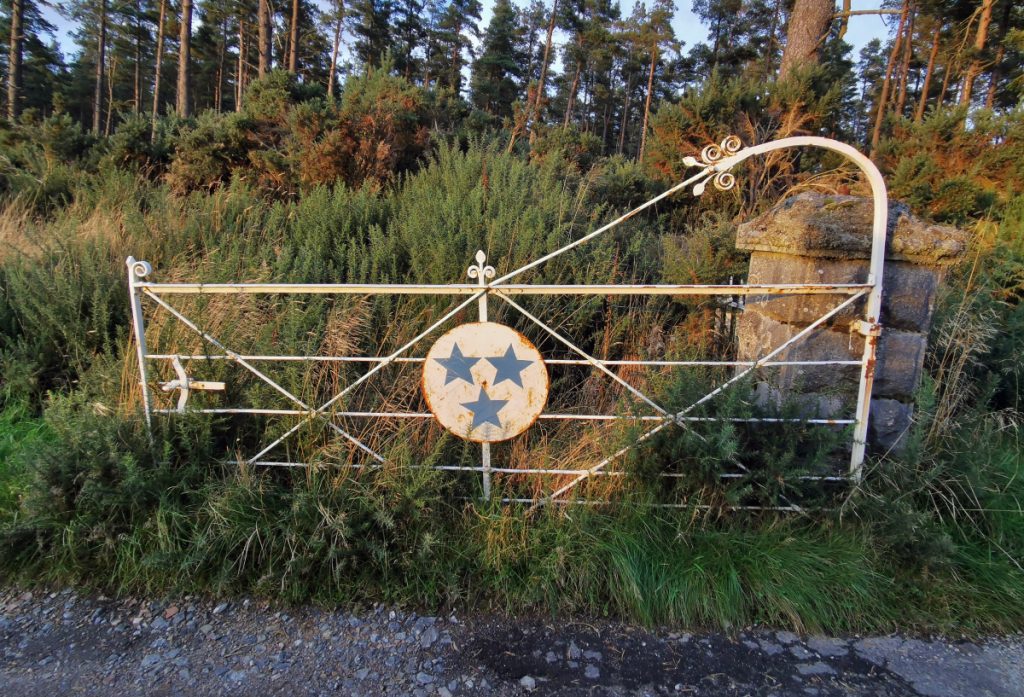 We're nearing the end of the journey now as the sun begins to get near the horizon. One more stiff climb to go.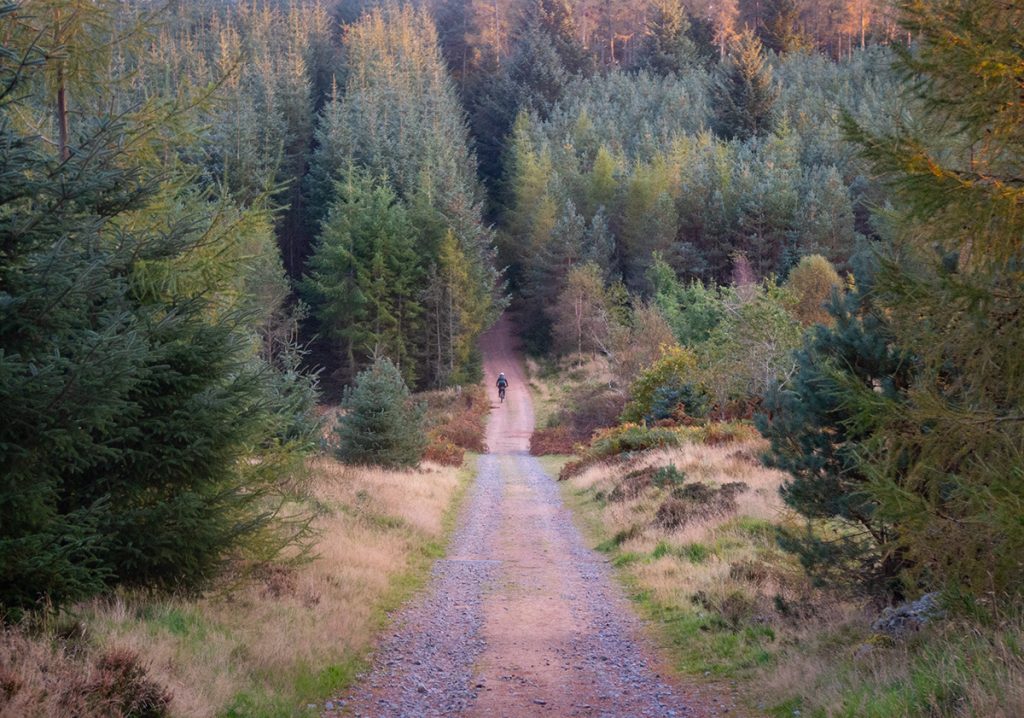 The path up the west side of Hill of Fare is a mare. Steep, deep mud, badly eroded into a swamp. Eventually we extricate on to some solid ground, but we're behind shcedule and the final descent will need to be torch-lit.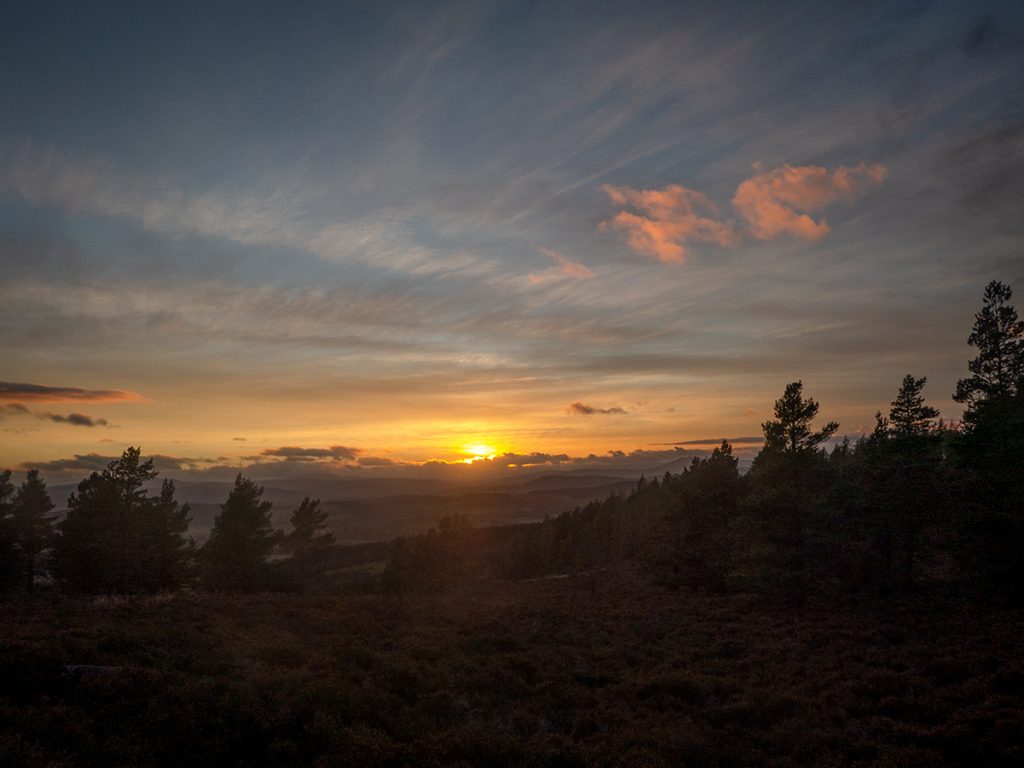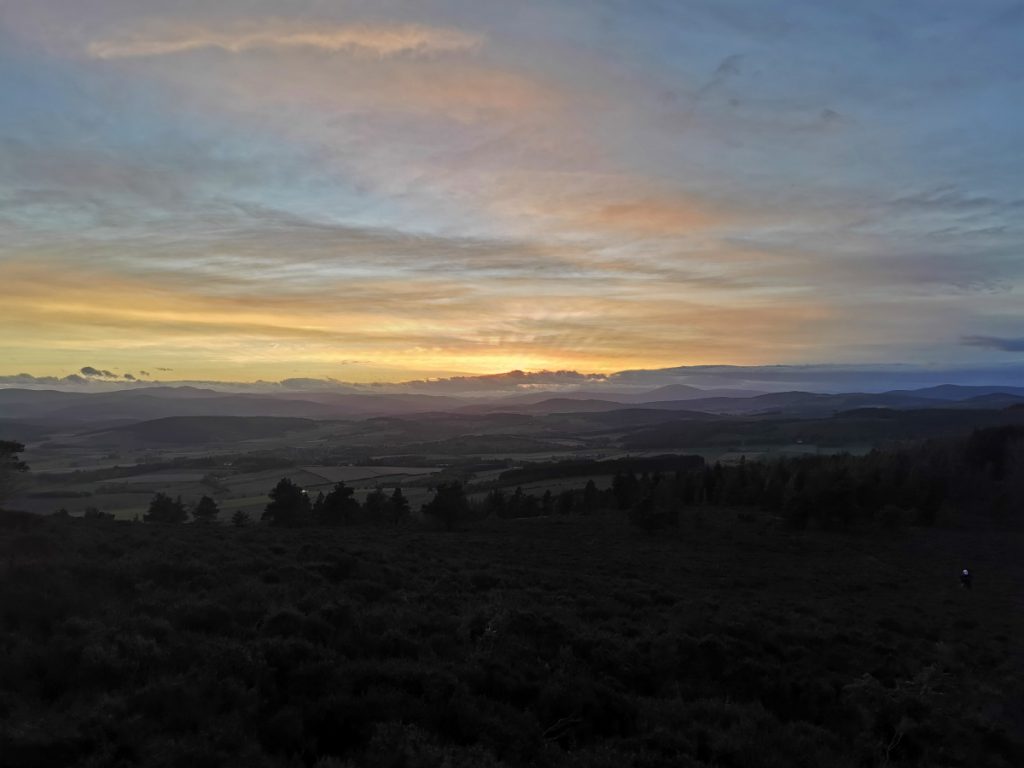 I have a questionable low amount of power left in my lights, so head into the gloaming until I can barely see by the last glows of the evening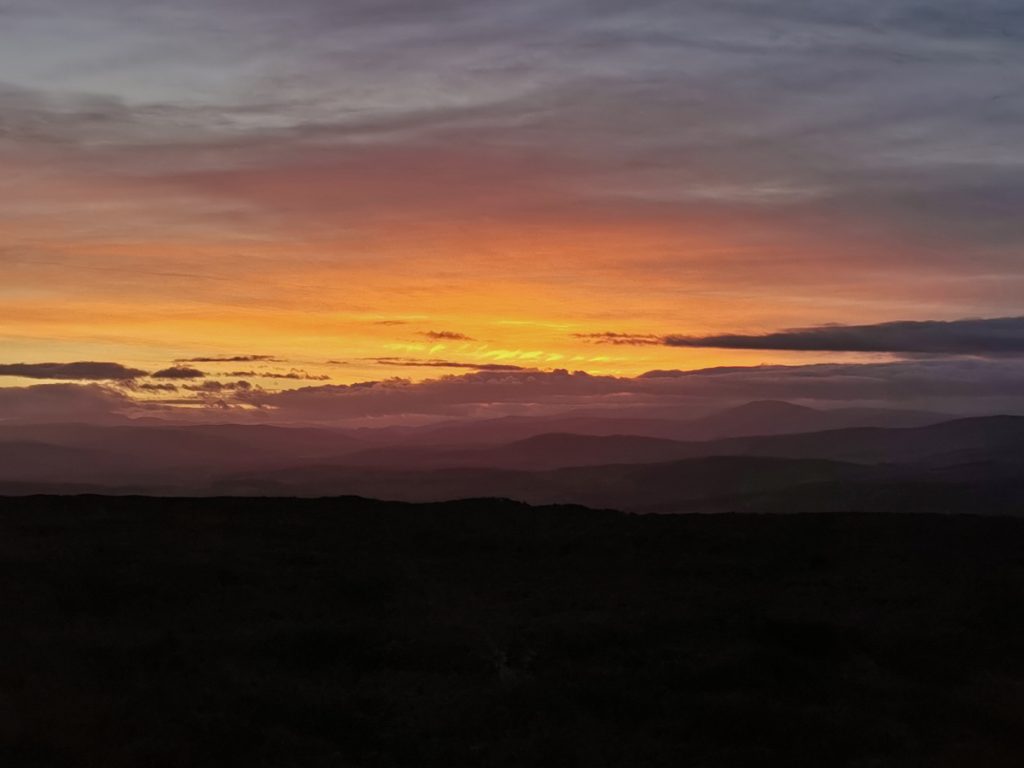 There's some heathery singletrack then back on to landy track. It gets reasonably steep but I can't crank up the lumens in case I run out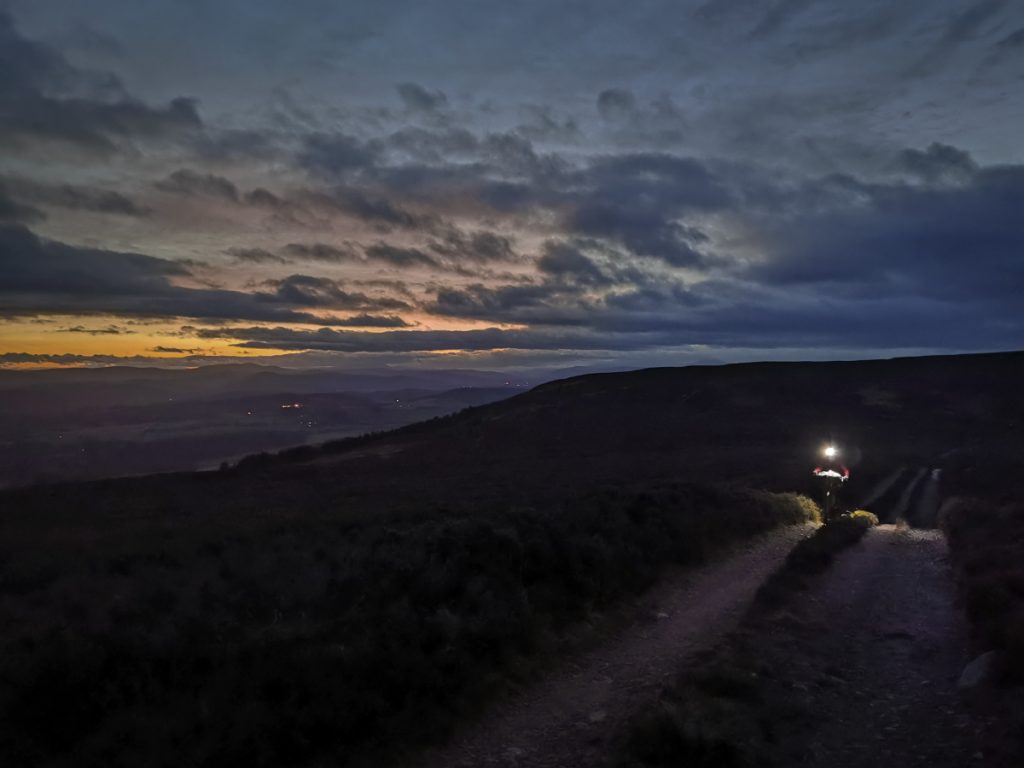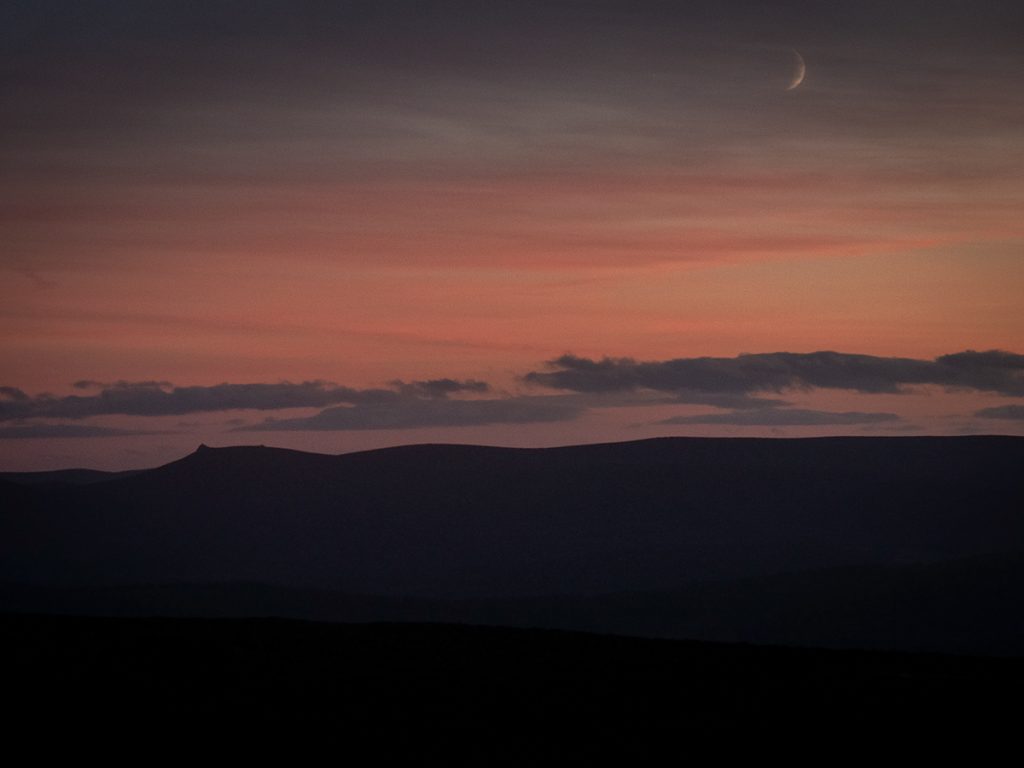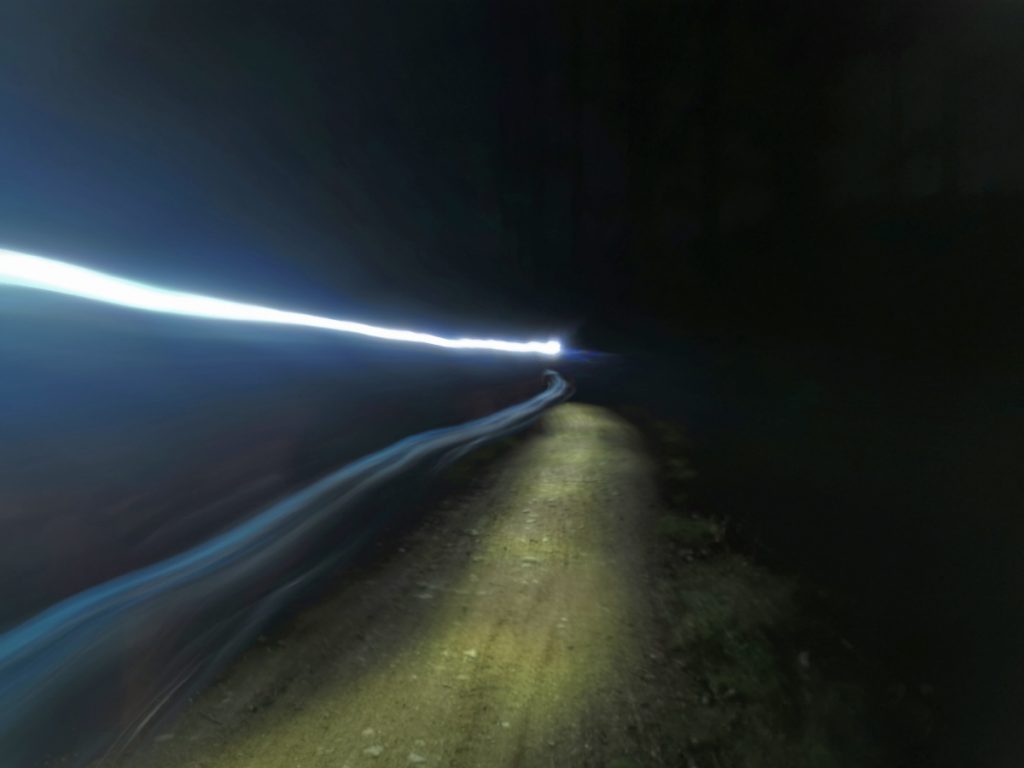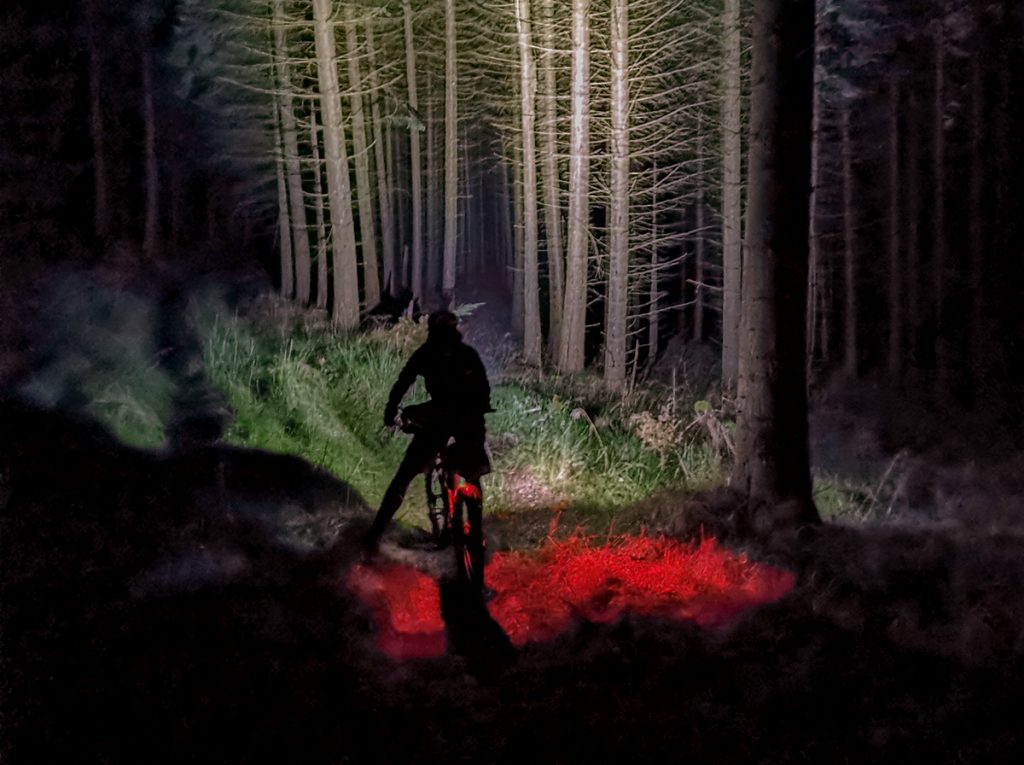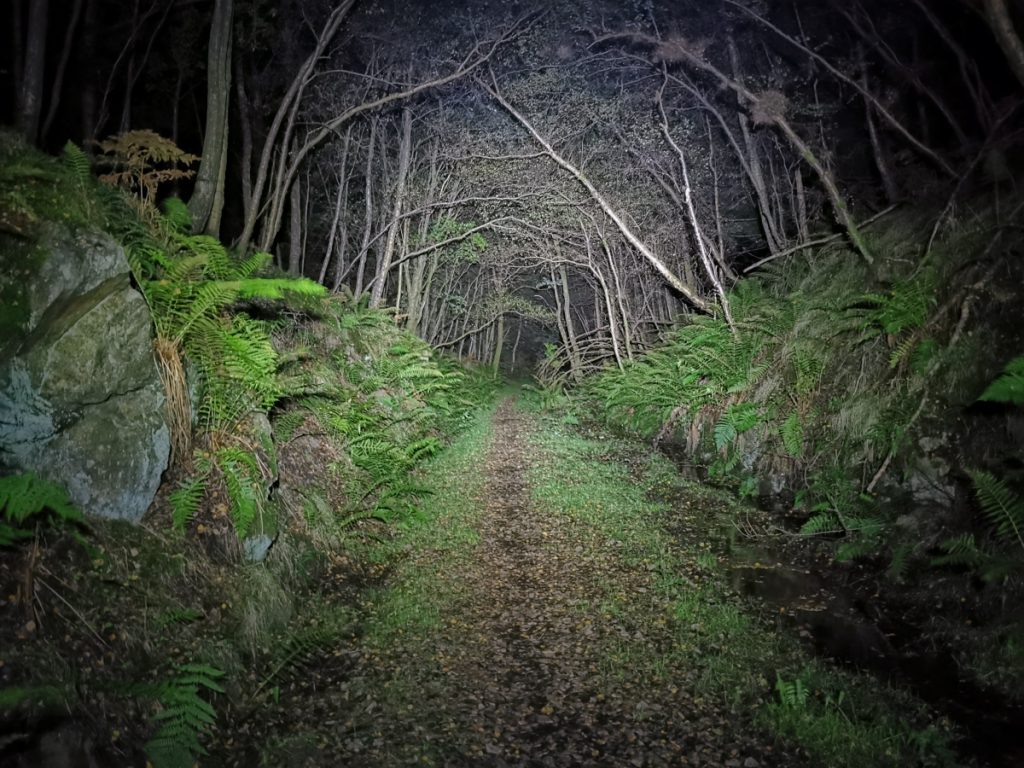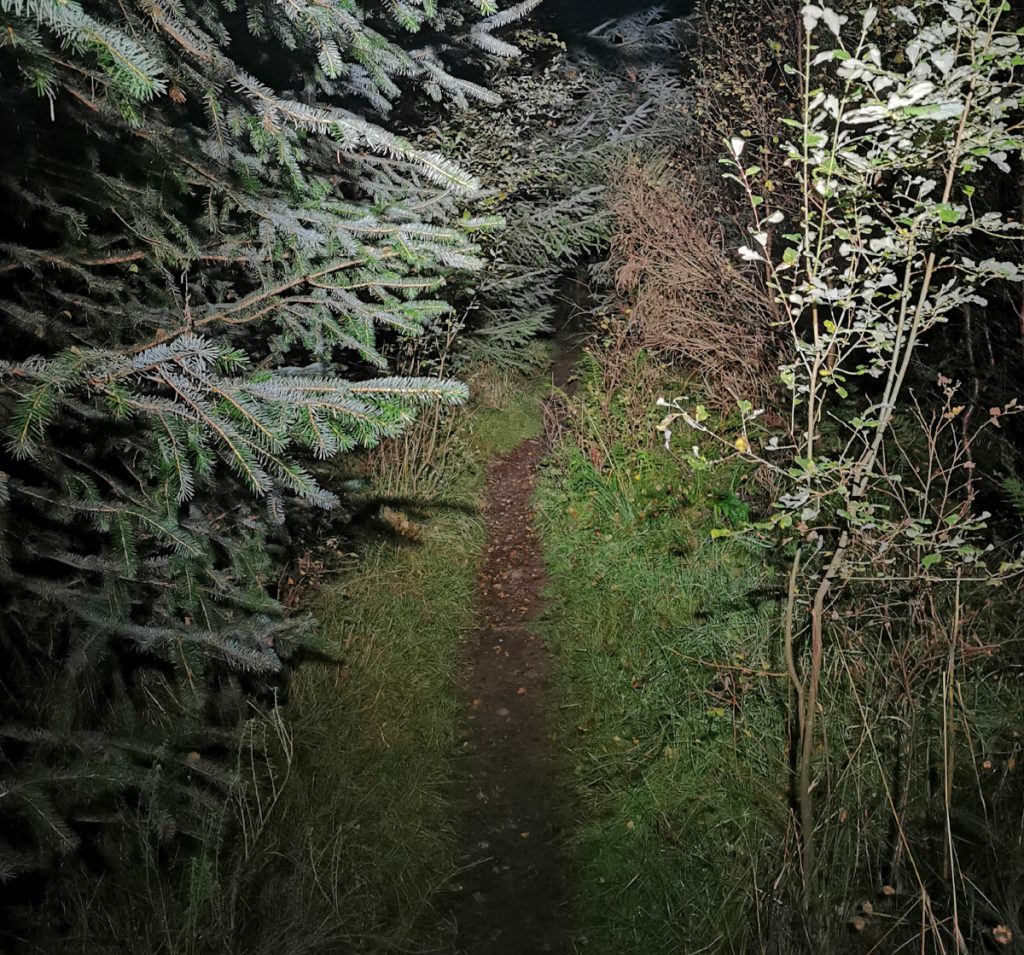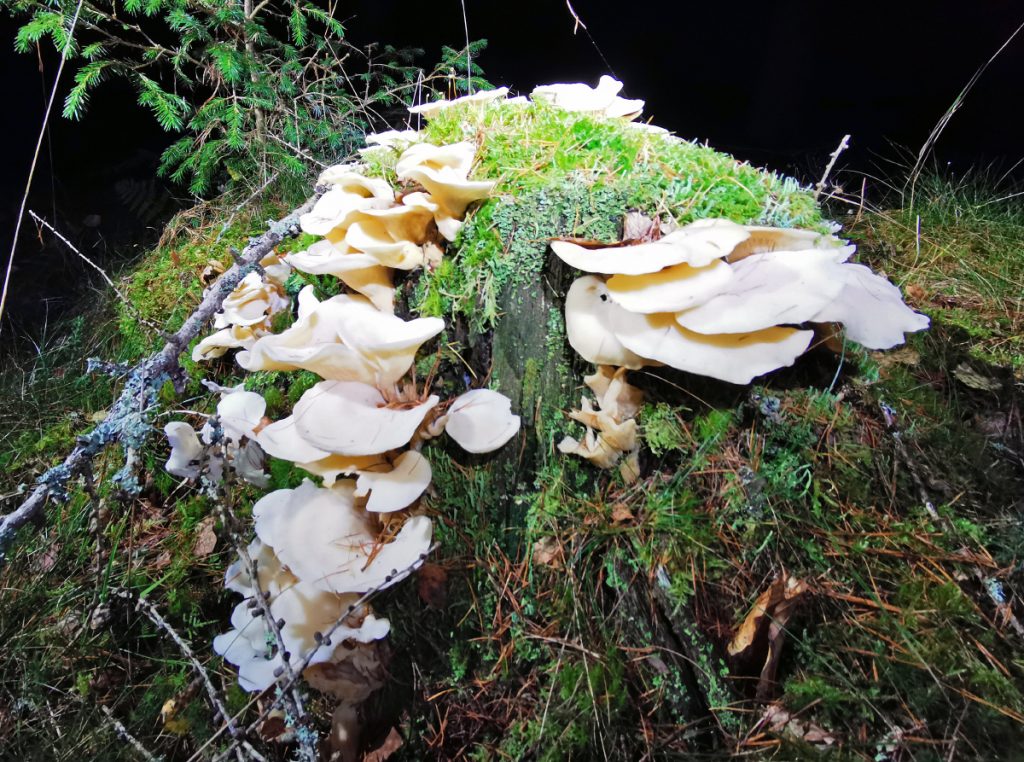 We make it back along the Dee, where we surprise a badger out foraging, a last treat before reaching the start. About 240km and over 4000m of ascent over 4 days, a great route with some epic trails and scenery.