A weather window had me digging out the tent to make the planned hike an overnighter; I jumped on the 201 bus to Braemar on a Saturday afternoon for a fast and light overnighter.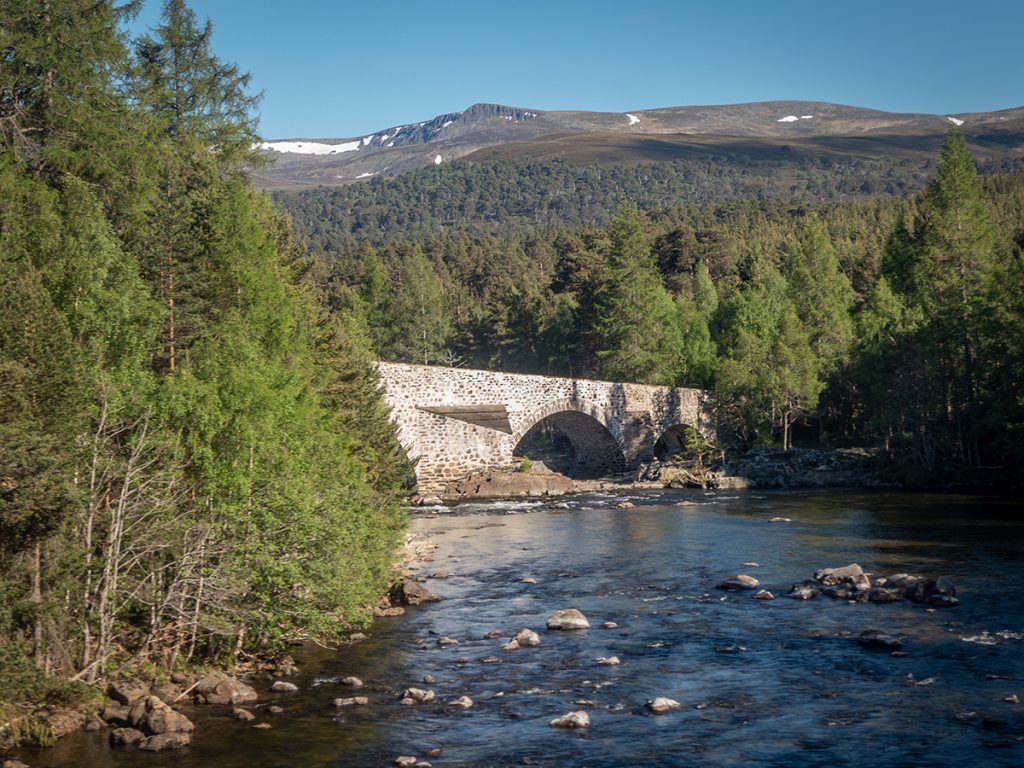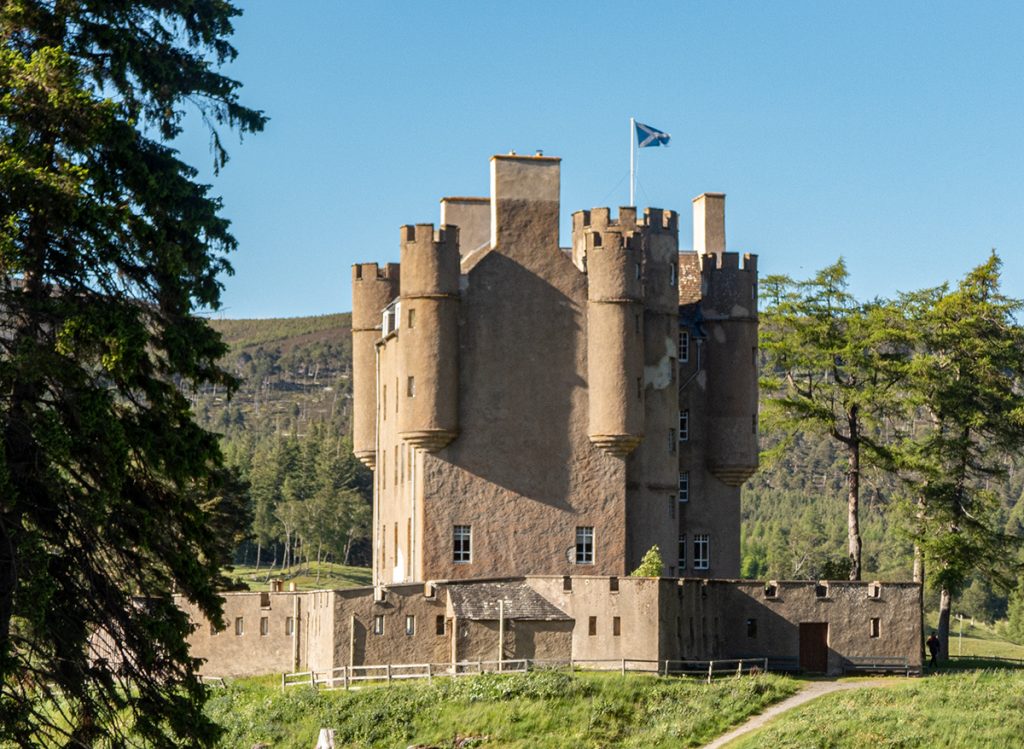 Straight off the bus and into some climbing with the small hill of Creag Choinnich as a warm up, although small it has a great view over the town and further up the Dee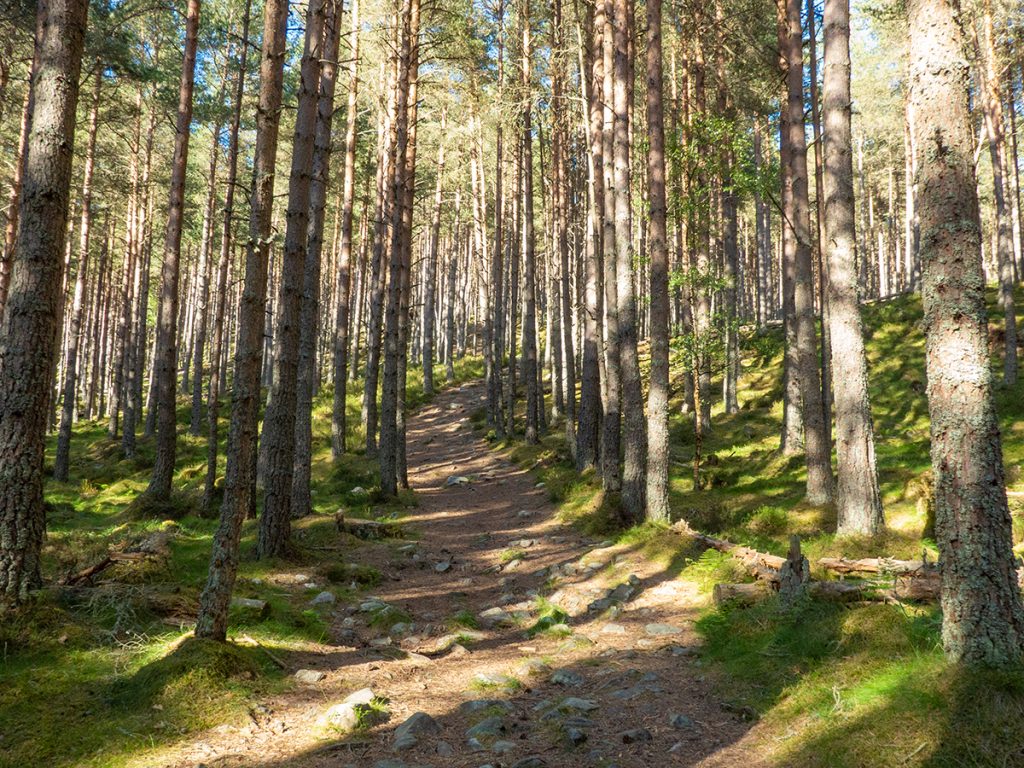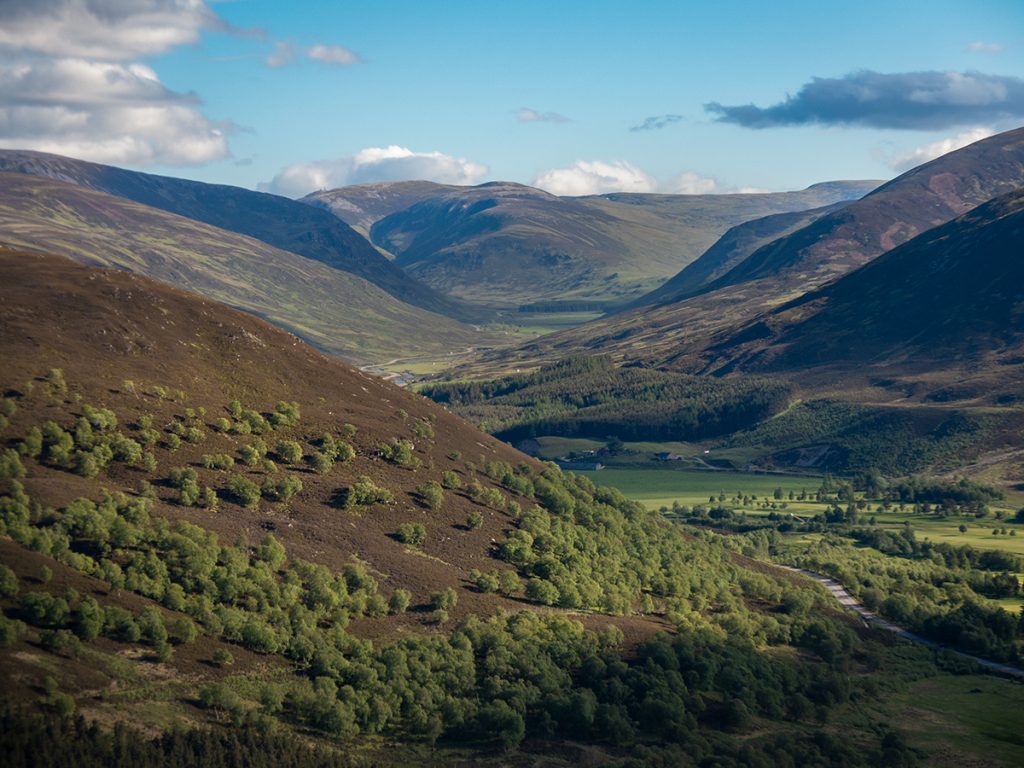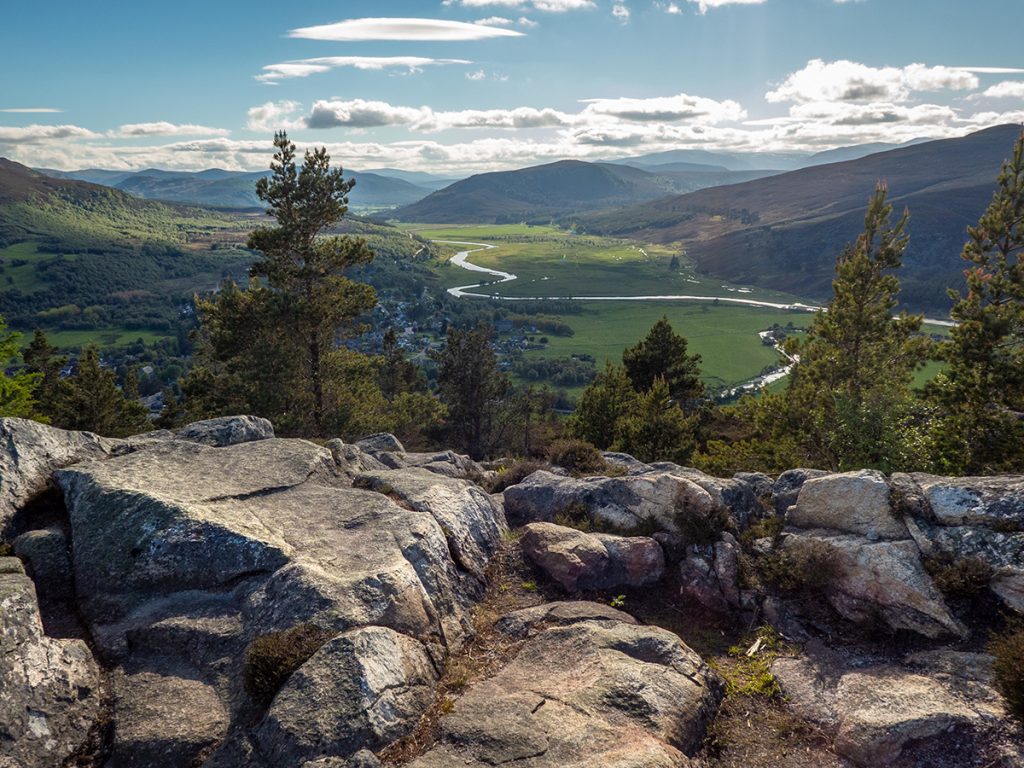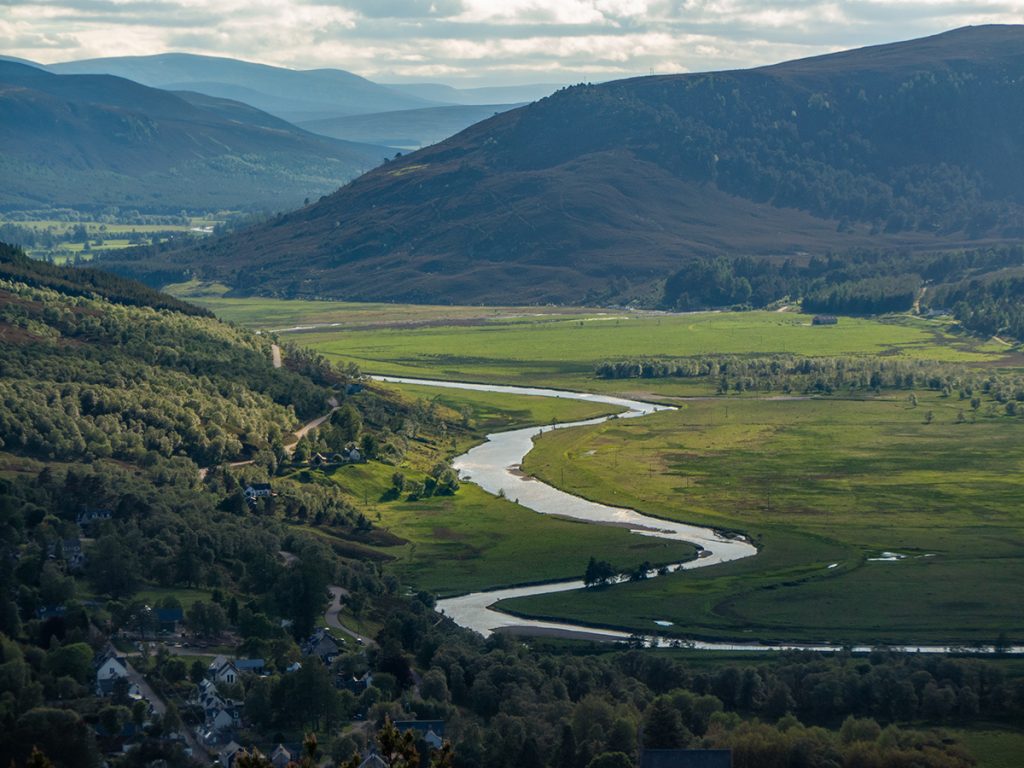 The rear of it has a steep and lumpy/grassy path, fortunately well baked today for grip. I headed around to the Lion's Face before heading off-path through thick heather towards Charter's Chest where I hoped to pick up a trail marked on OS to take me around to Ballochbuie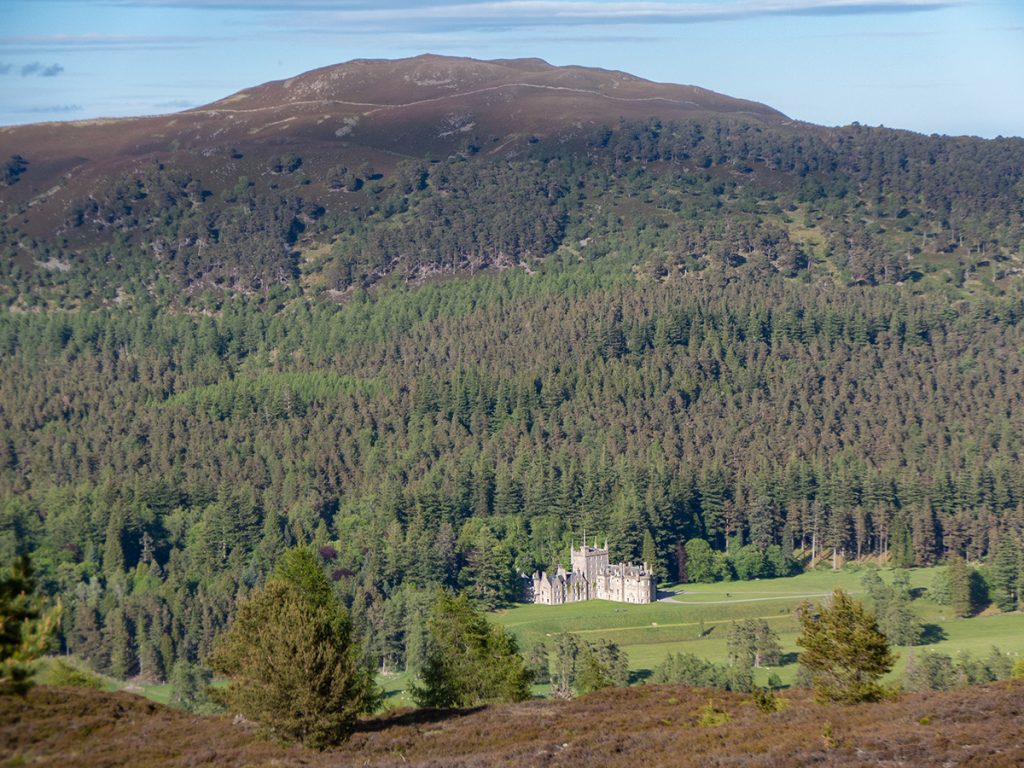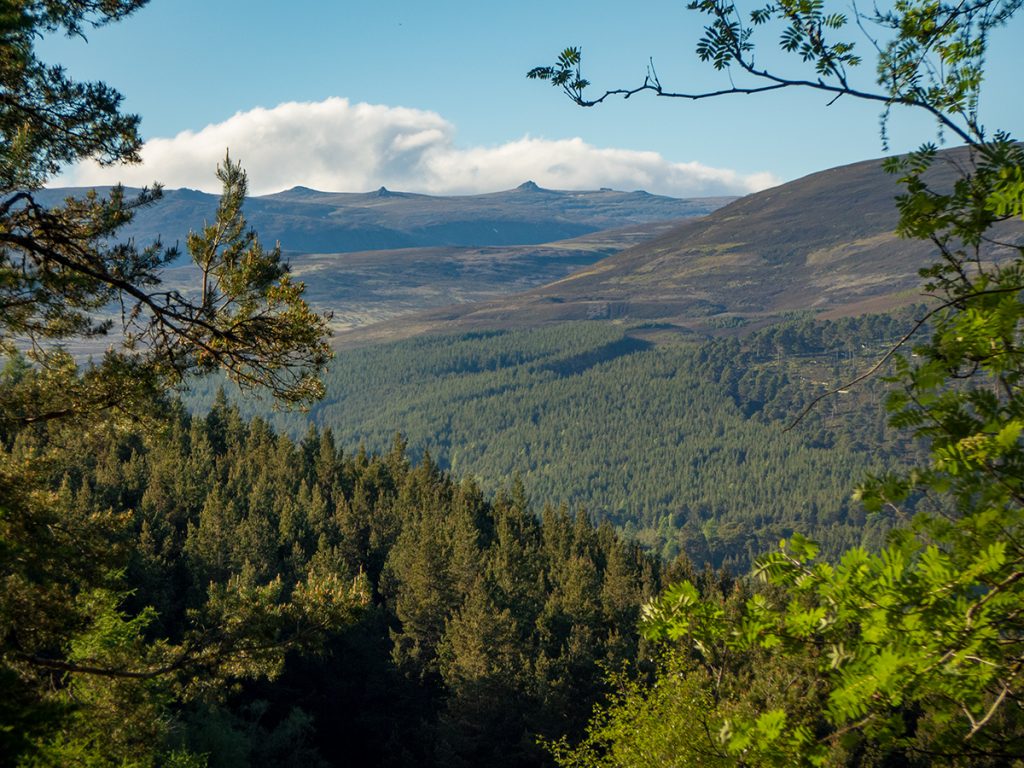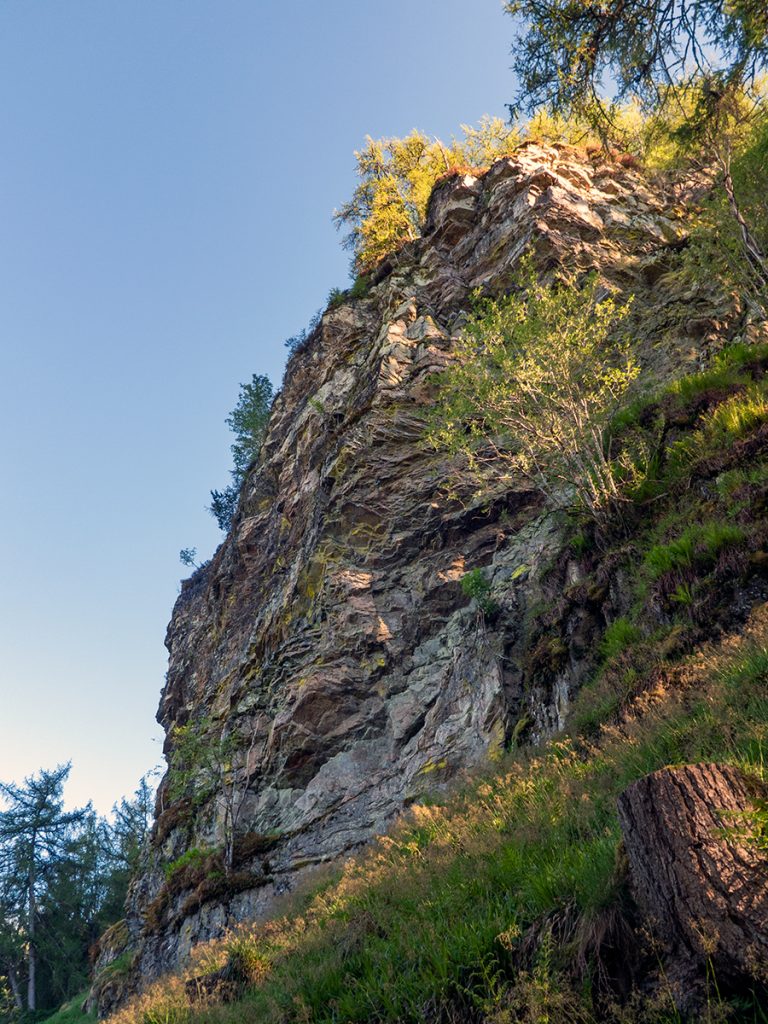 The going was slow, steep and tussocked, but I heaved out of the trees on to the top, and pondered venturing further over Creag Clunie before descending, but the cliffs downwards looked impenetrable so retreated and made my way along below the crags. There's a few sections here where it looks like there may have been a path cut in at one point long ago.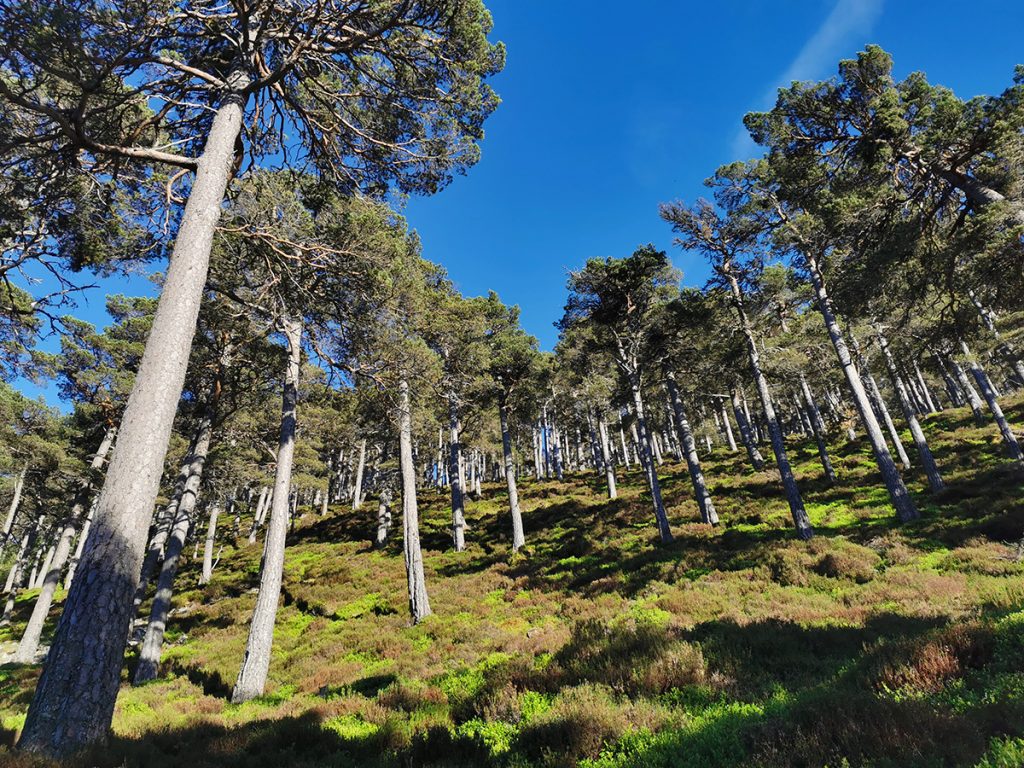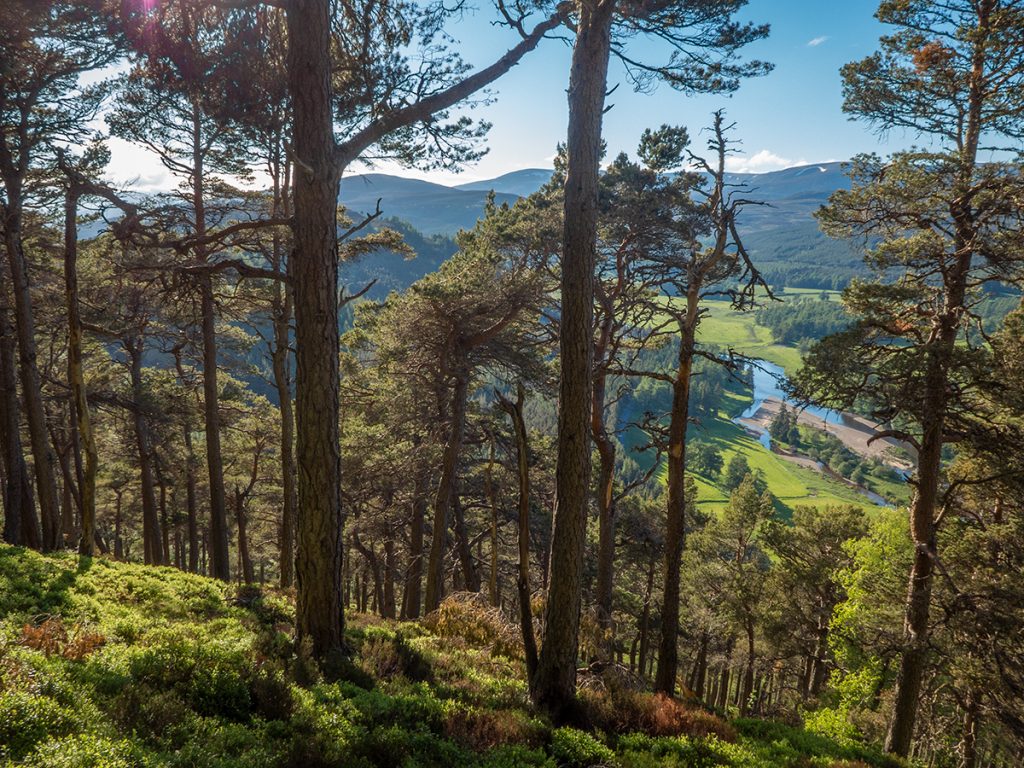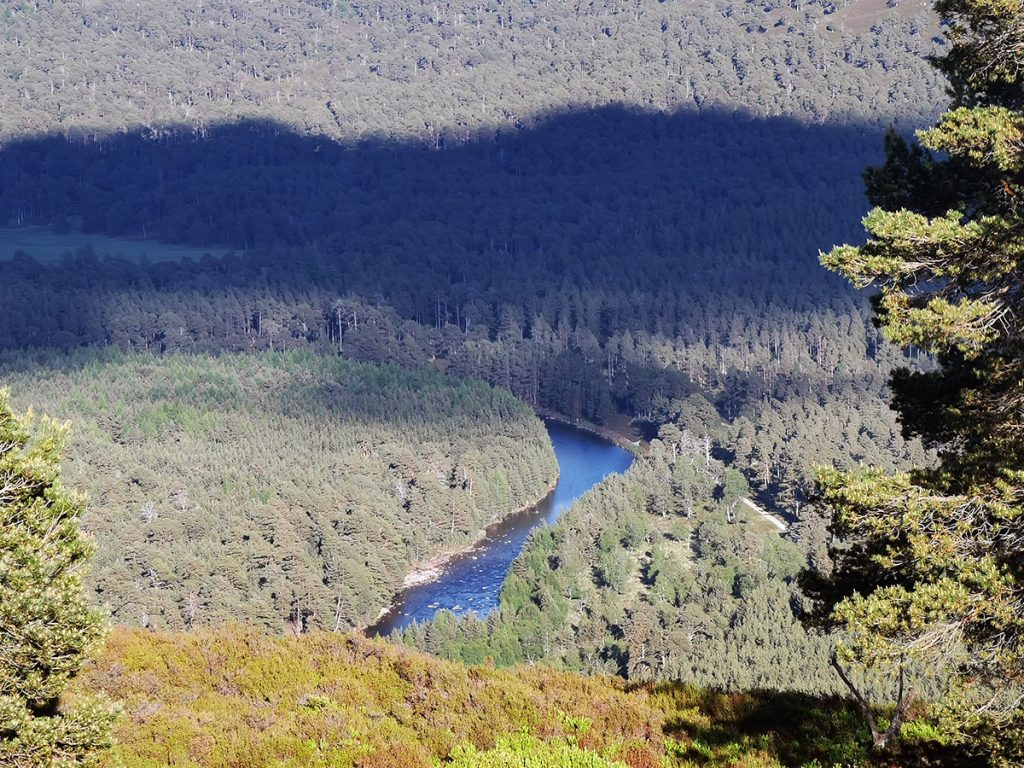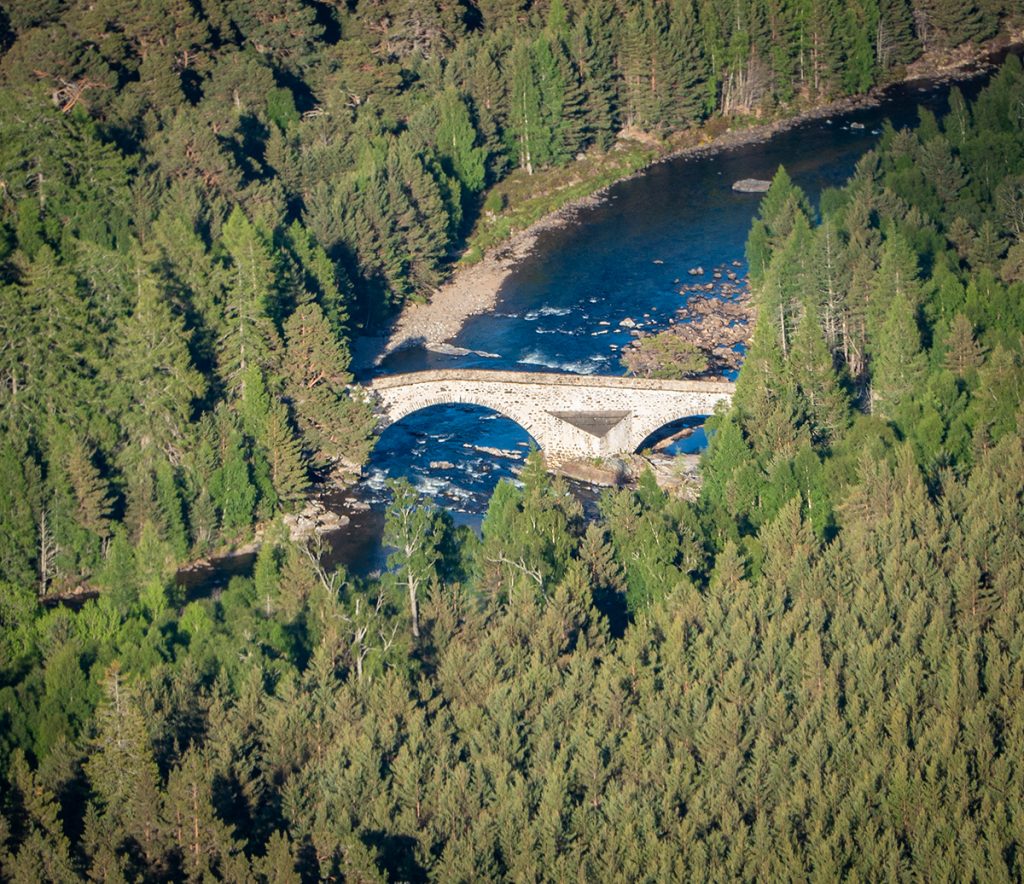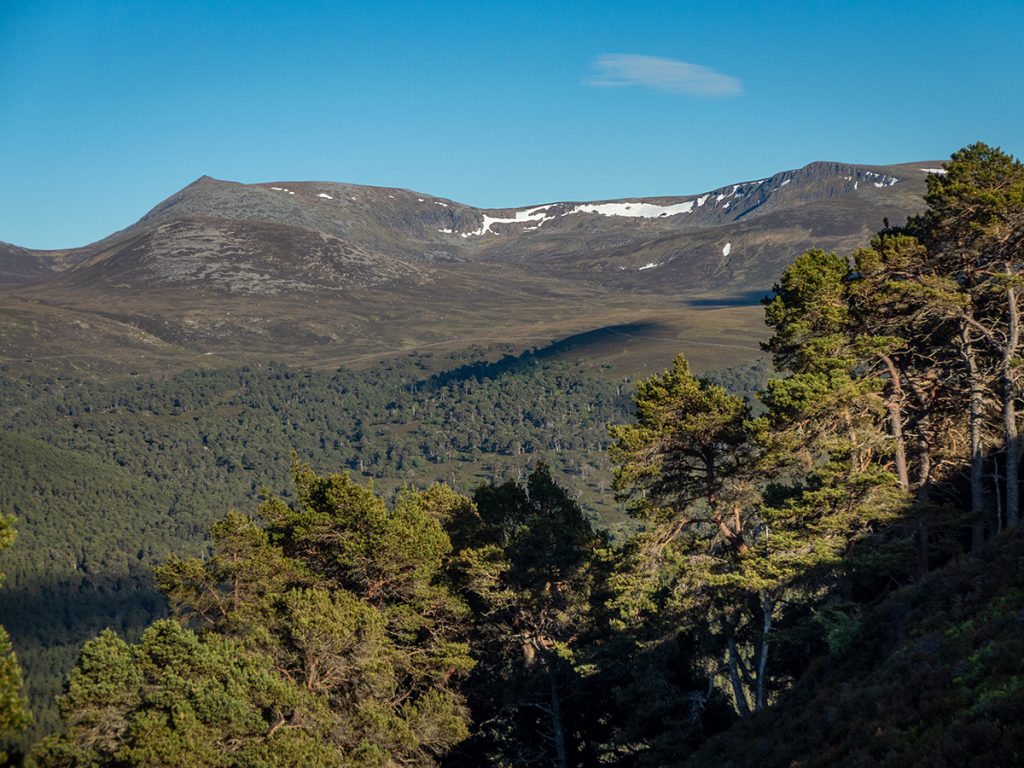 Picking my way past overgrown boulders, I was alerted to a screech and turned to see a falcon heading straight for me, then thinking better of a direct swoop, alighting in a tree to watch me. I guess there may have been a nest nearby and it was defending territory. I moved on, past a cleft in the clifss that may have provided a way down, then looking and not finding any sign of the mapped path.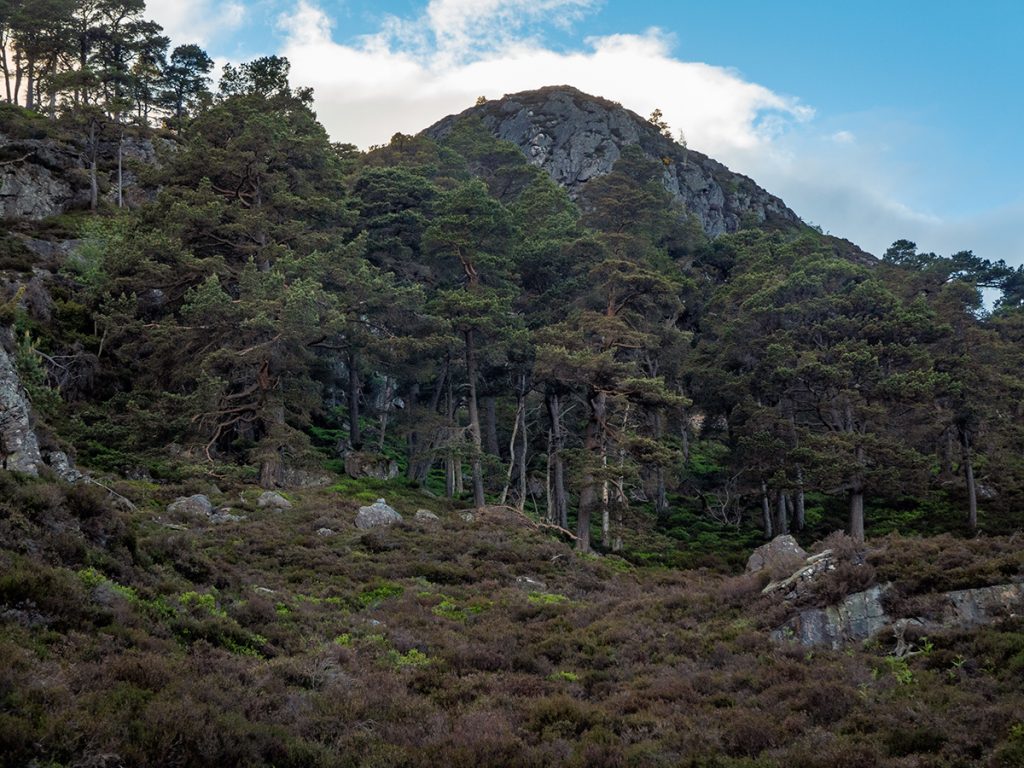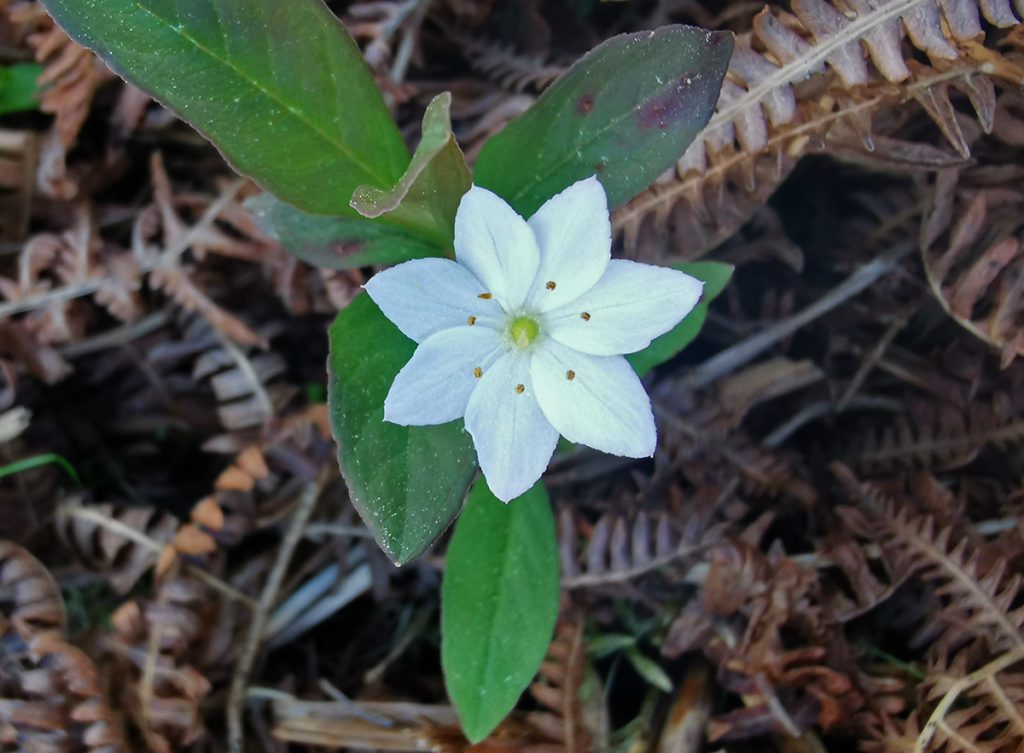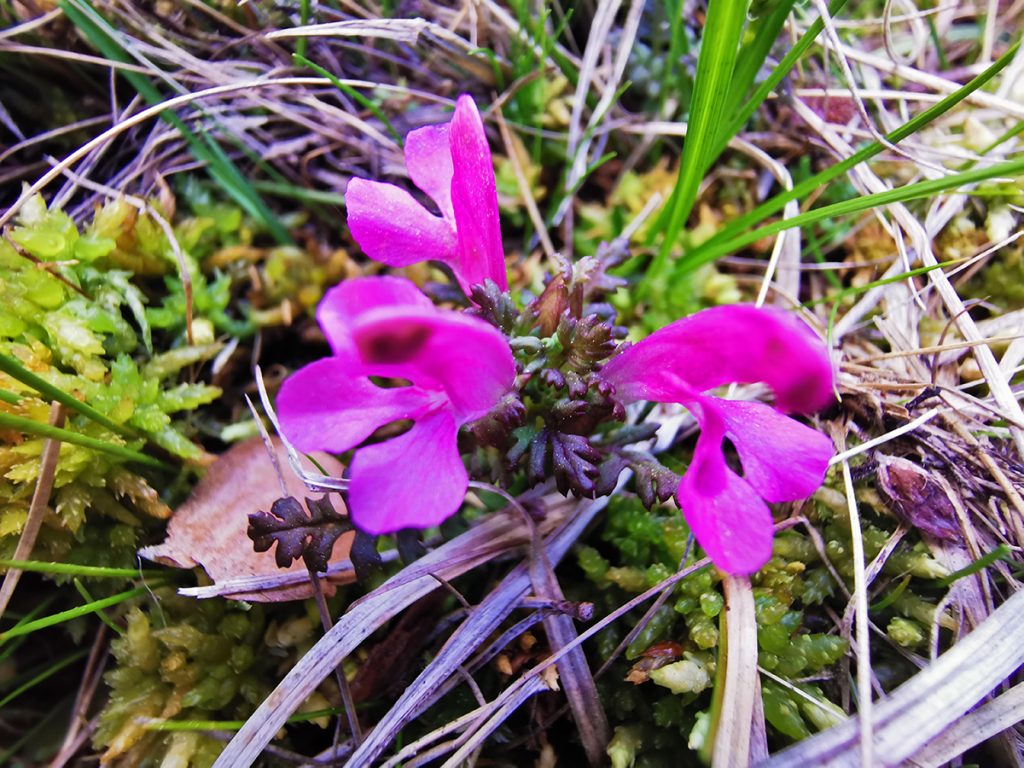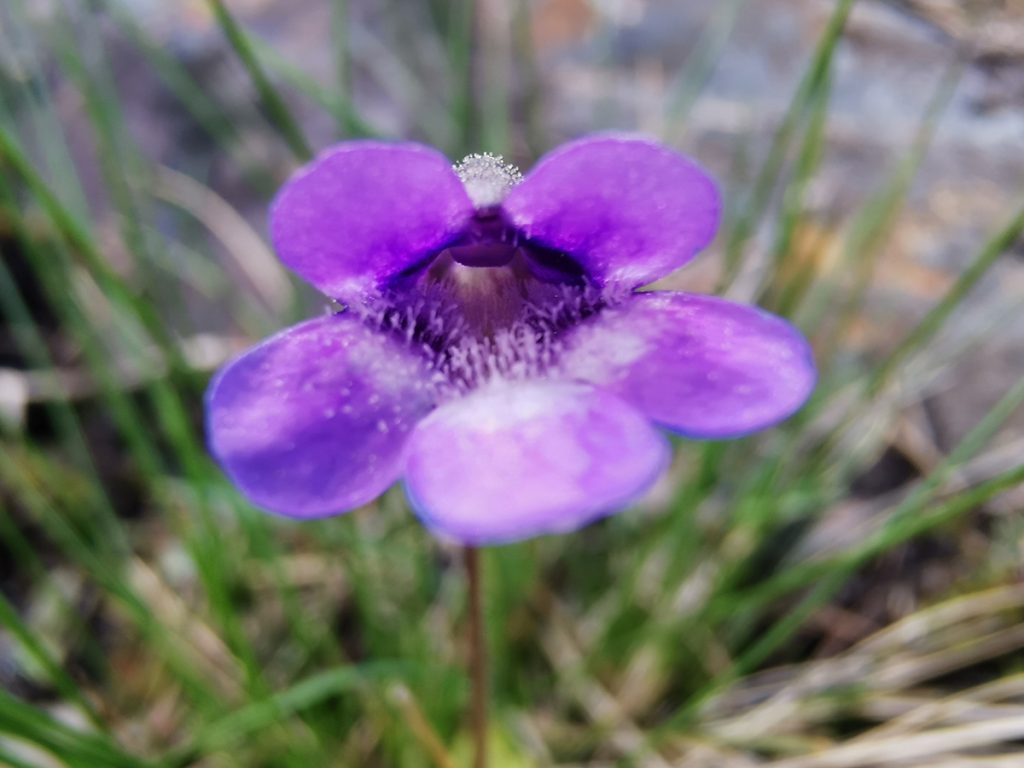 Descending towards a clear-felled patch I eventually found it and then got back on route across a tall deer fence and burn gully.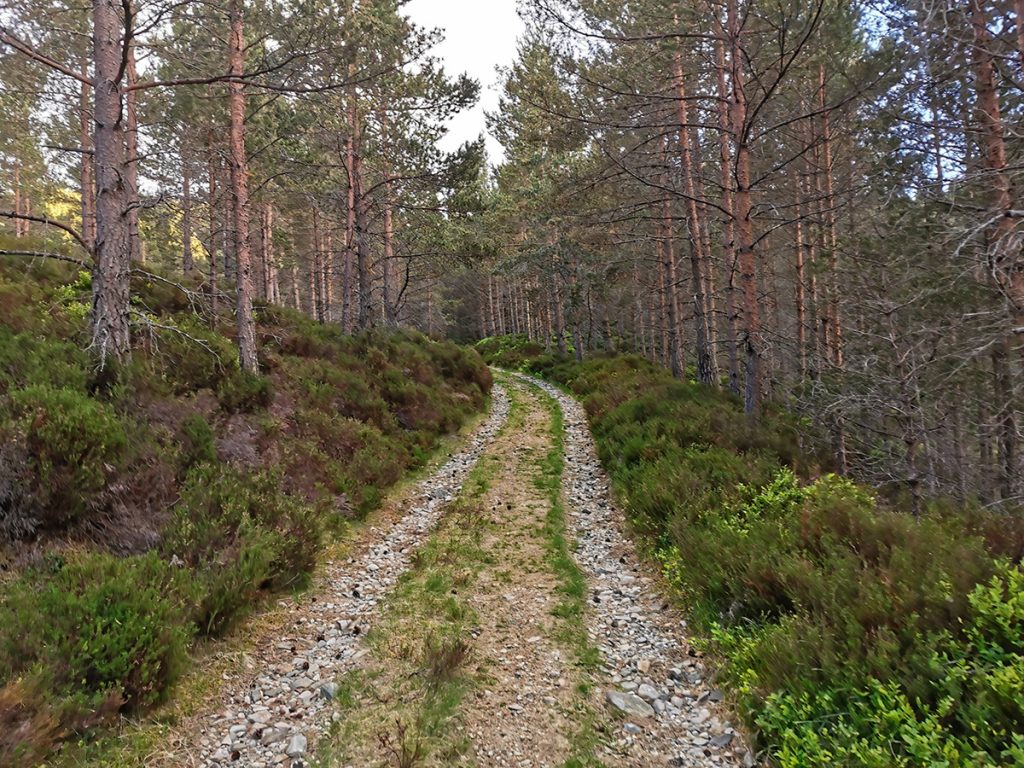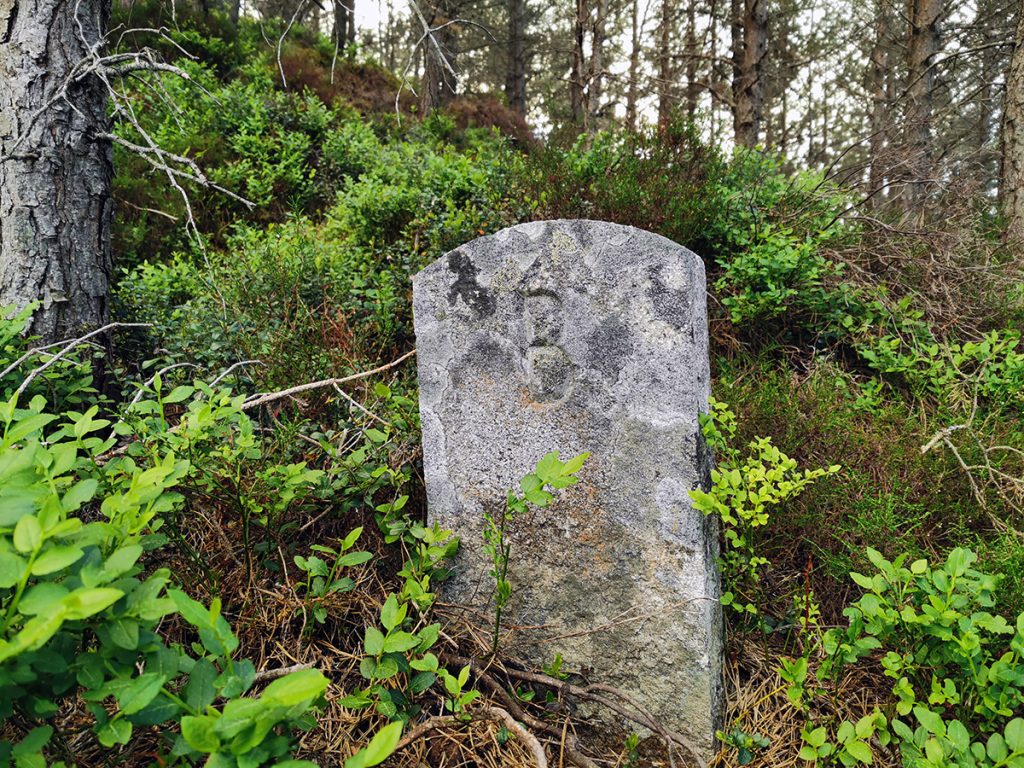 Now making better progress, I headed for the honka cabin and then looped around to the Garbh Allt, foregoing the waterfall to explore the upstream crossing where I'd never been before.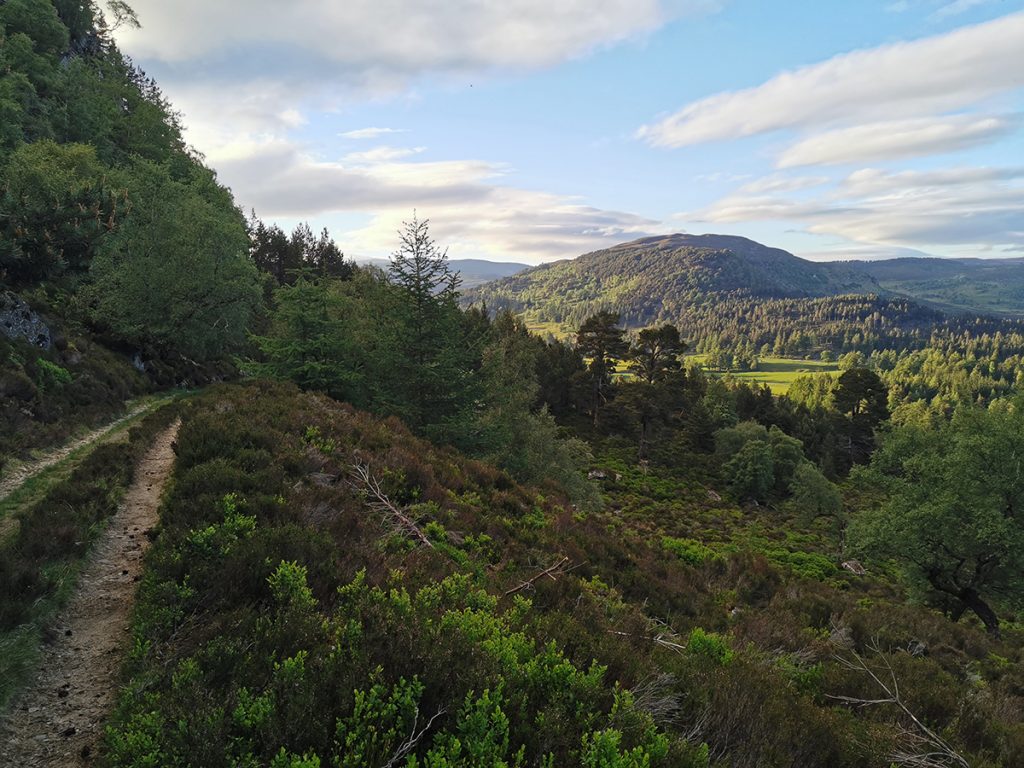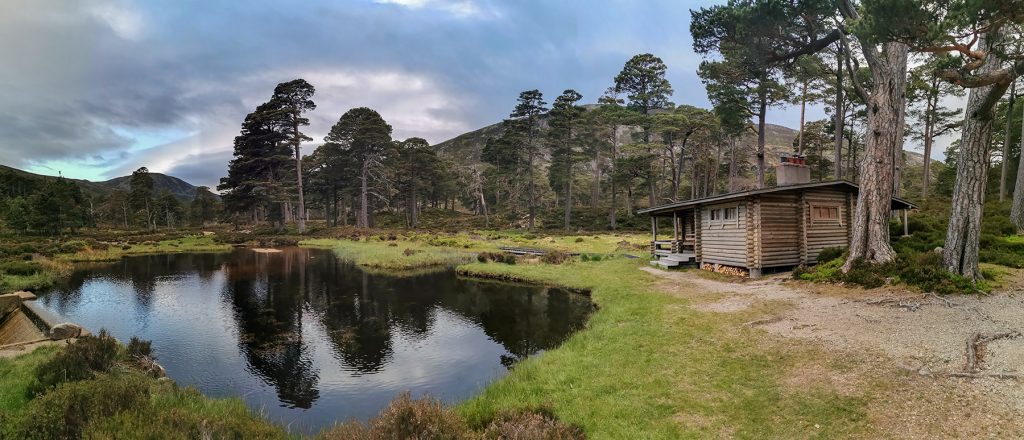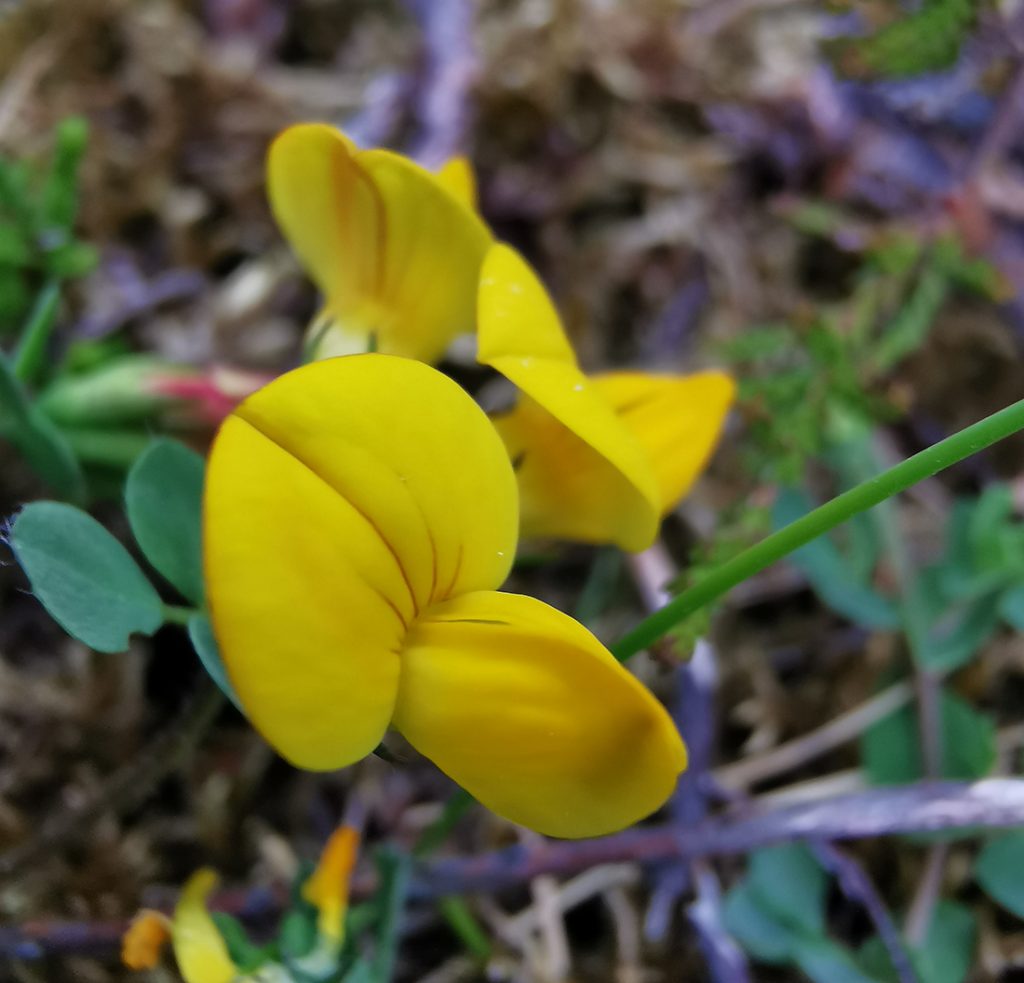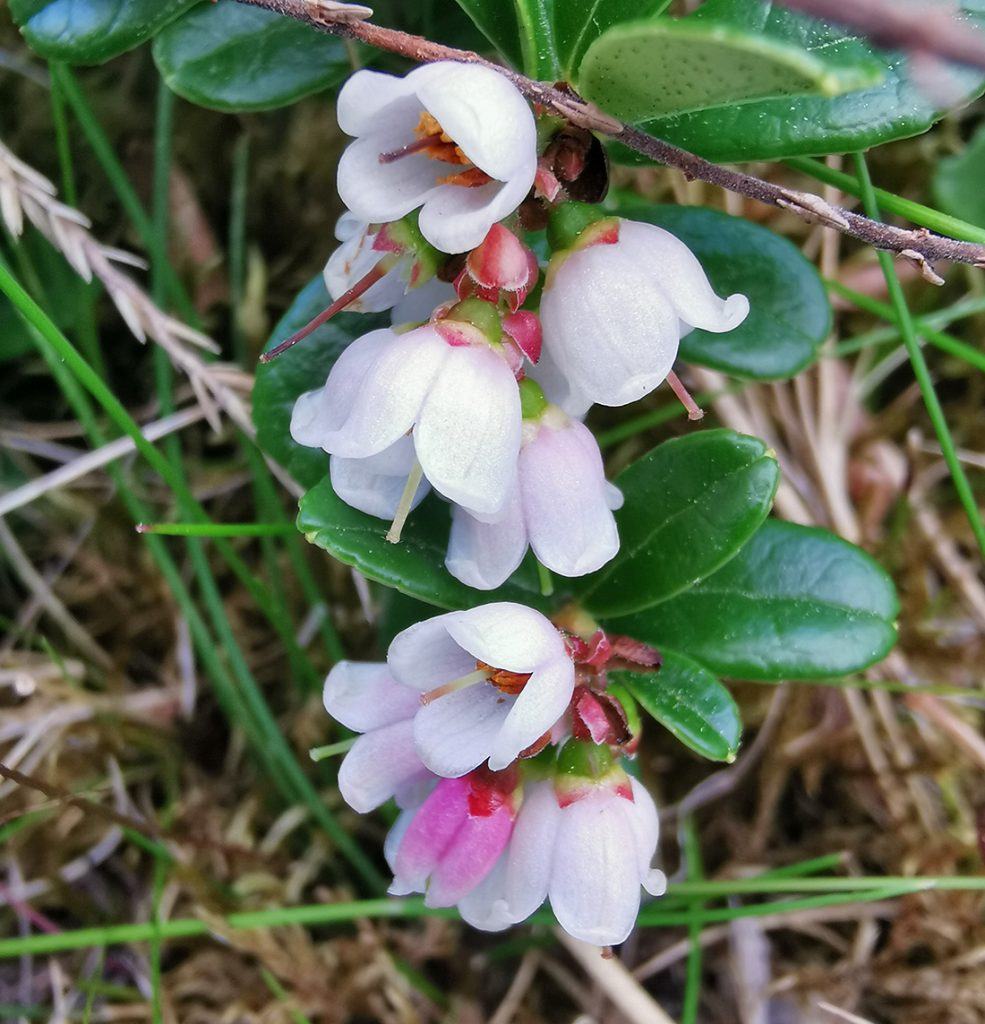 The first burn crossing had a bridge, but the second only has remnants of stepping stones, the wide rubble field suggested epic floods.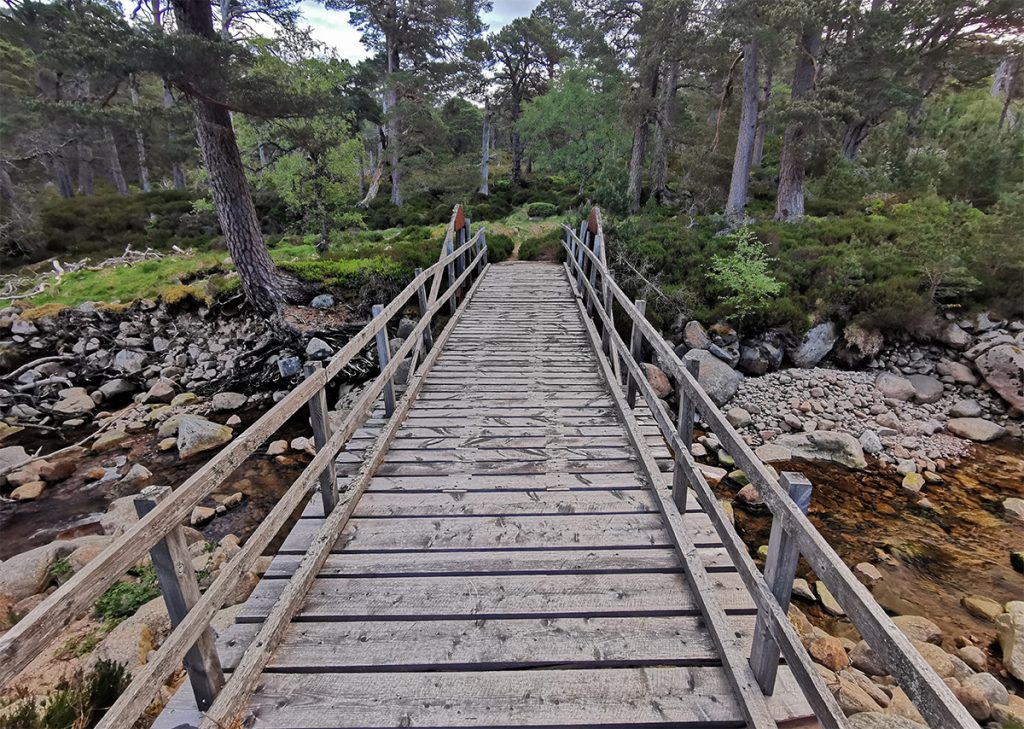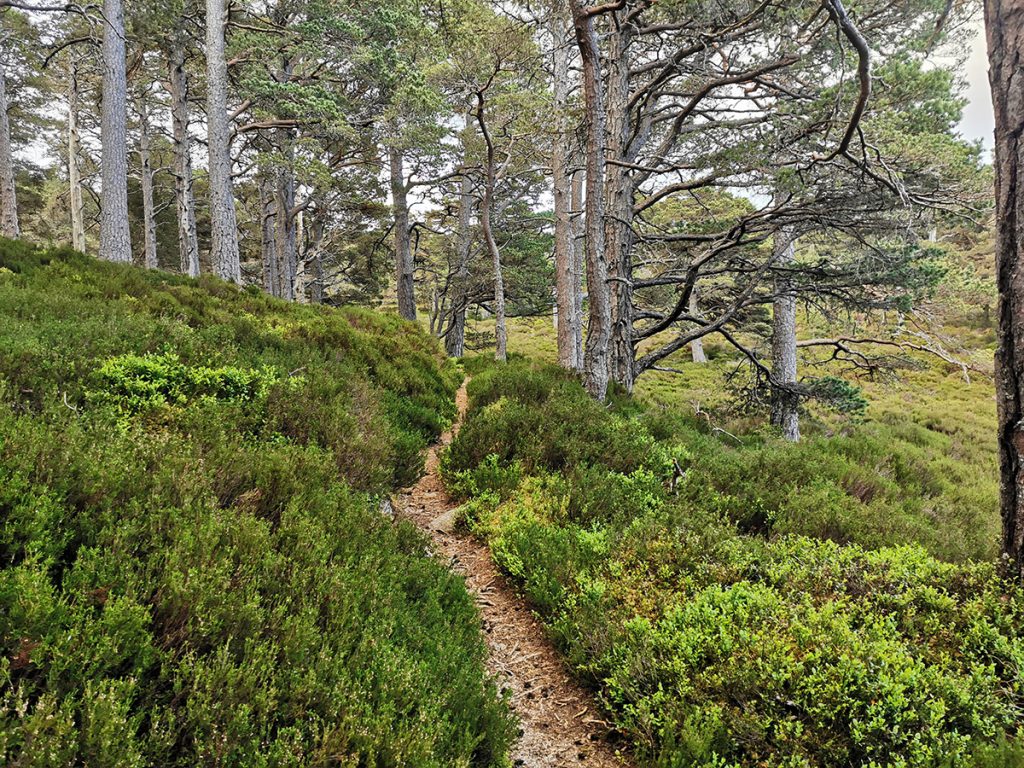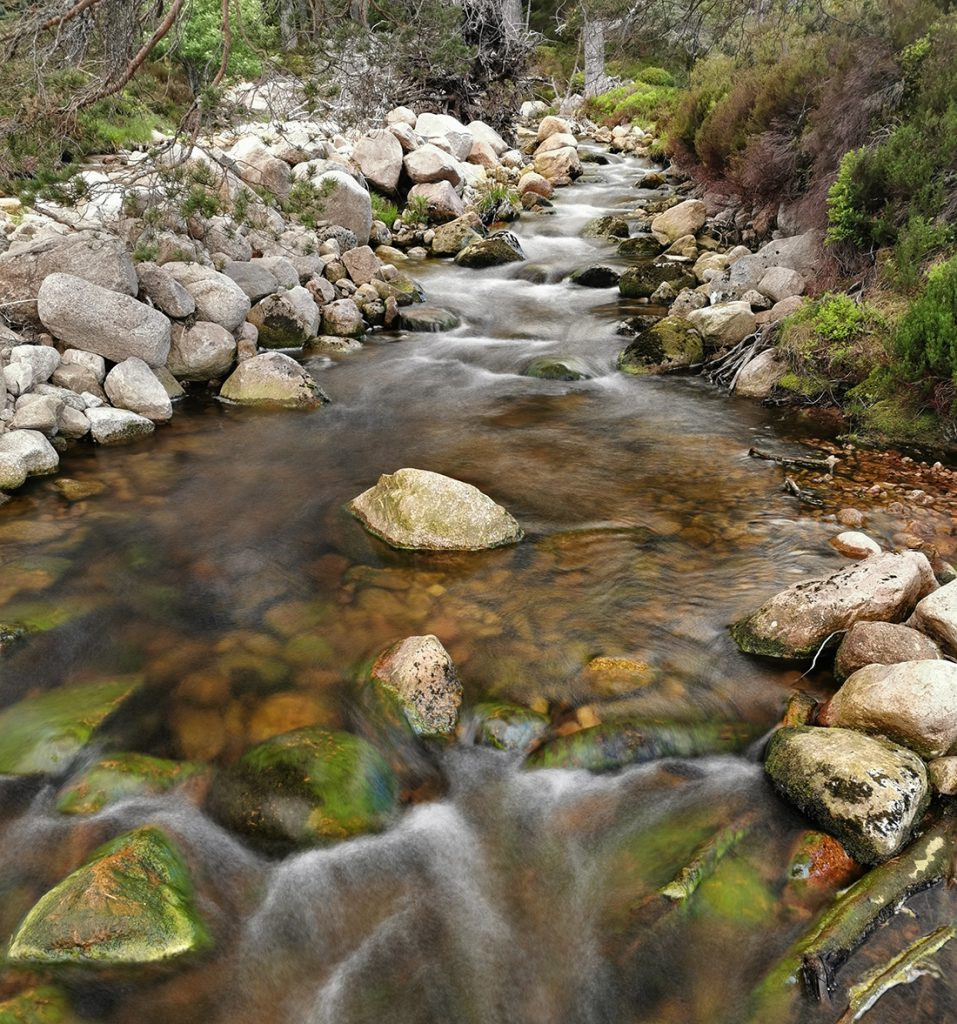 I took the higher fork which contours around the base of Cnapan Nathraichean, a foothill of Lochanagar with an imposing north face, rarely visited though, as it isn't in a prescribed category for dull list-tickers. I'd hoped to have climbed it before sundown: but looking up at the boulder-strewn slopes figured it better to have plenty good light to do so, and started thinking about somewhere to pitch tent as I headed onward.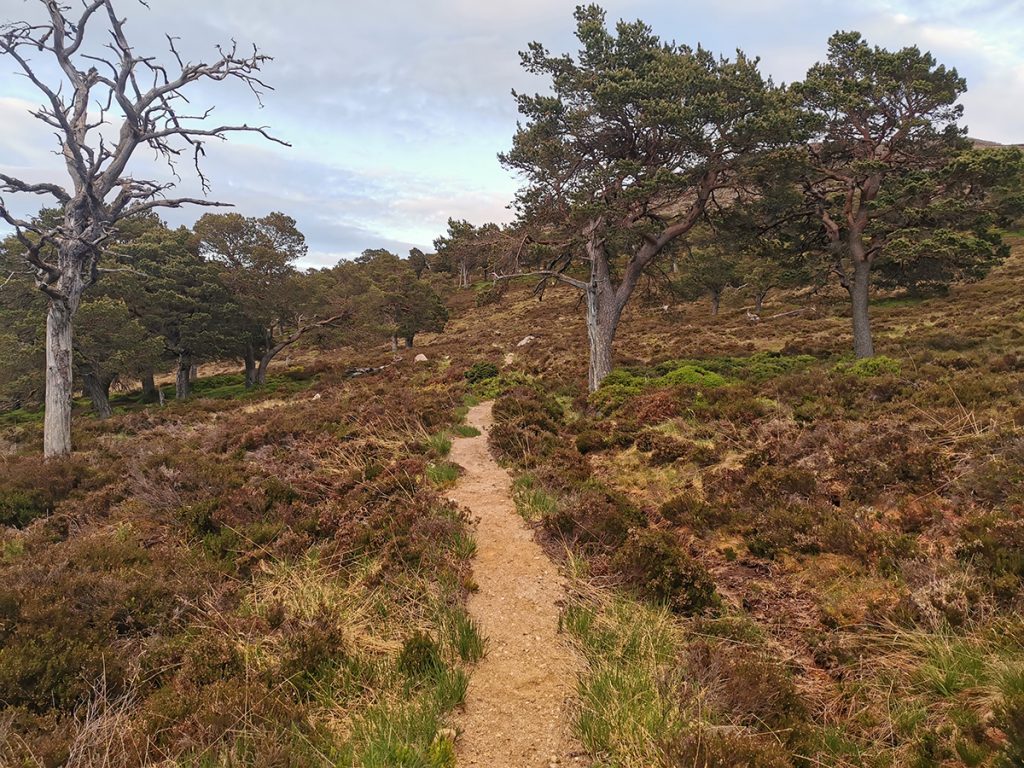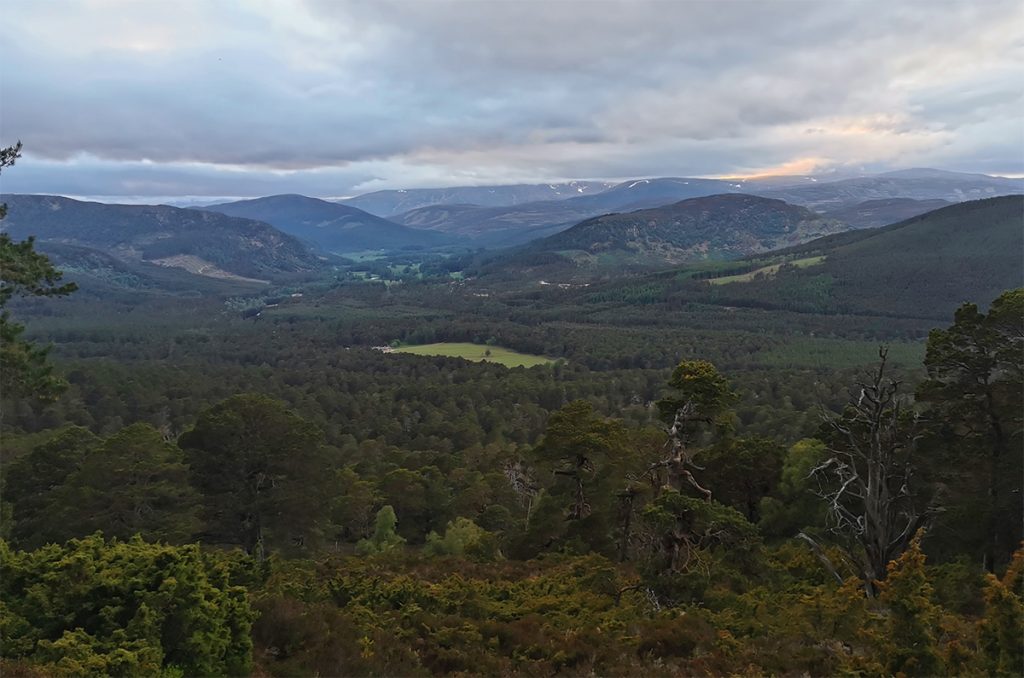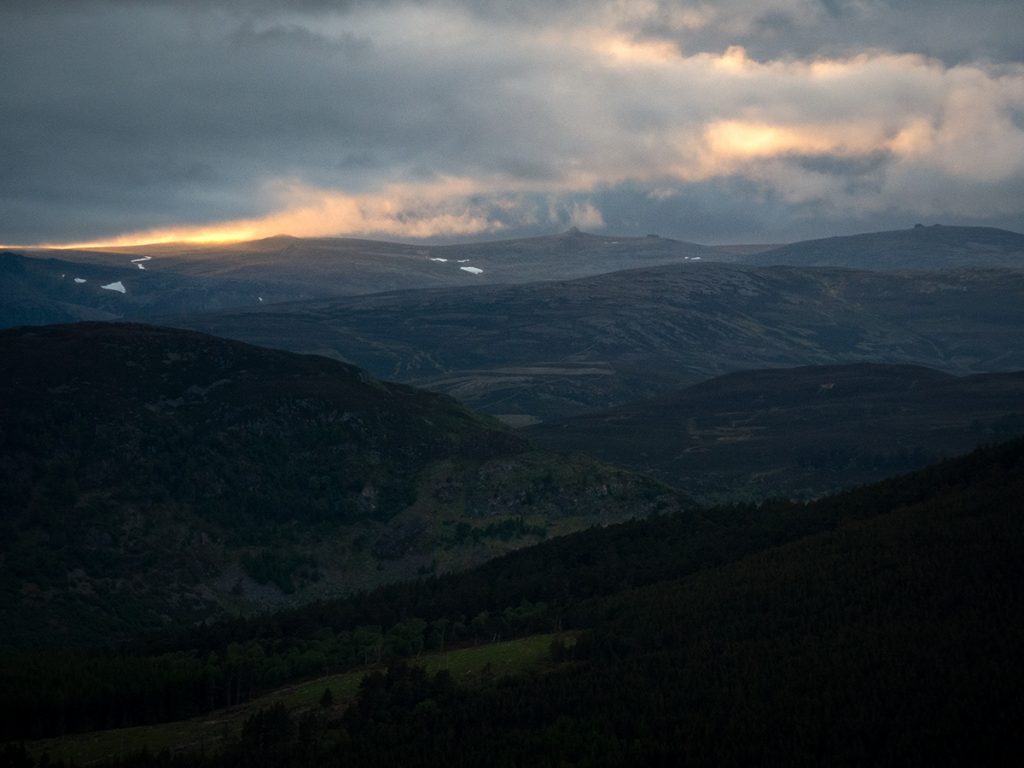 An earlier look on aerial photography and OS contours had suggested a possible site in the upper reaches of the Ballochbuie Burn; but at the edge of the woods amongst a copse of pines there were some great flat spots with short vegetation. To be thorough, I continued onwards a bit, leaving the trees I scattered some deer and made for a rocky hummock to view the surroundings.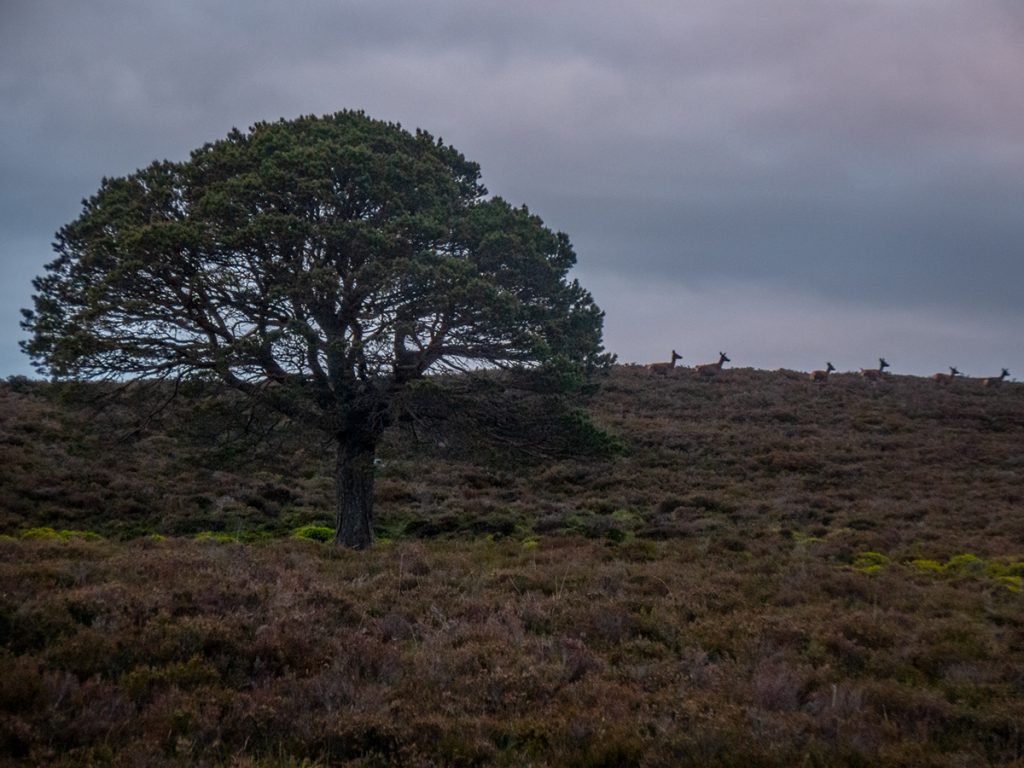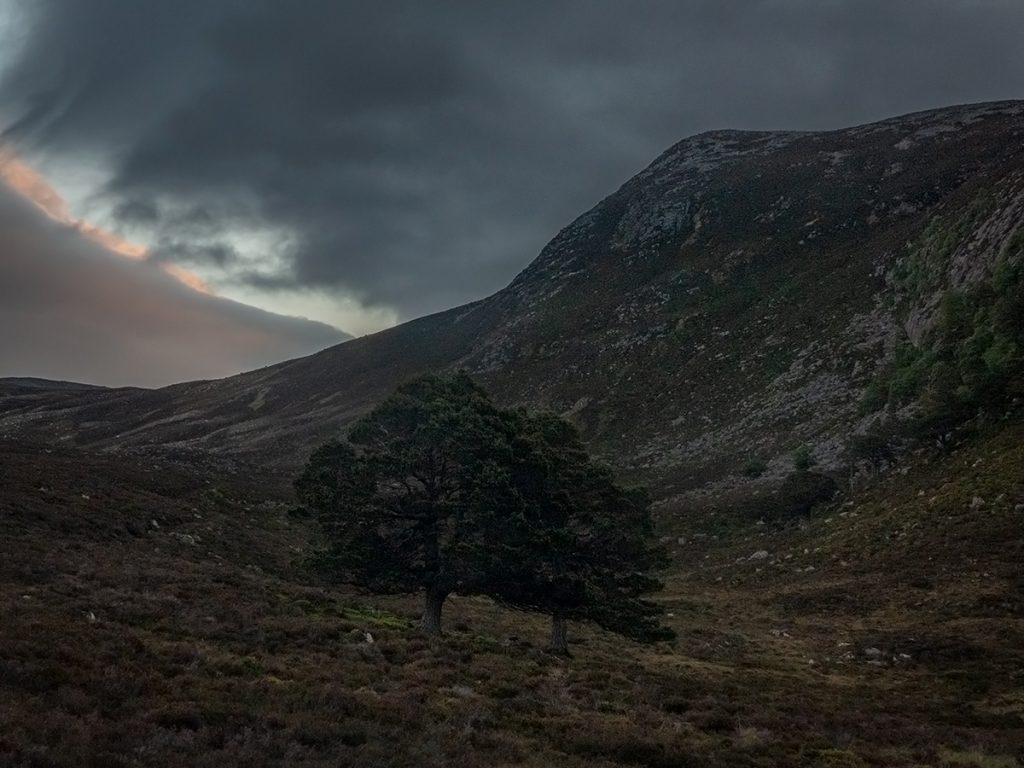 A pale whisp caught my eye amongst the boulders, on closer inspection not litter but of an organic nature. A shed snake skin; and further poking about showed up another 2 – clearly a popular spot with the local snakes.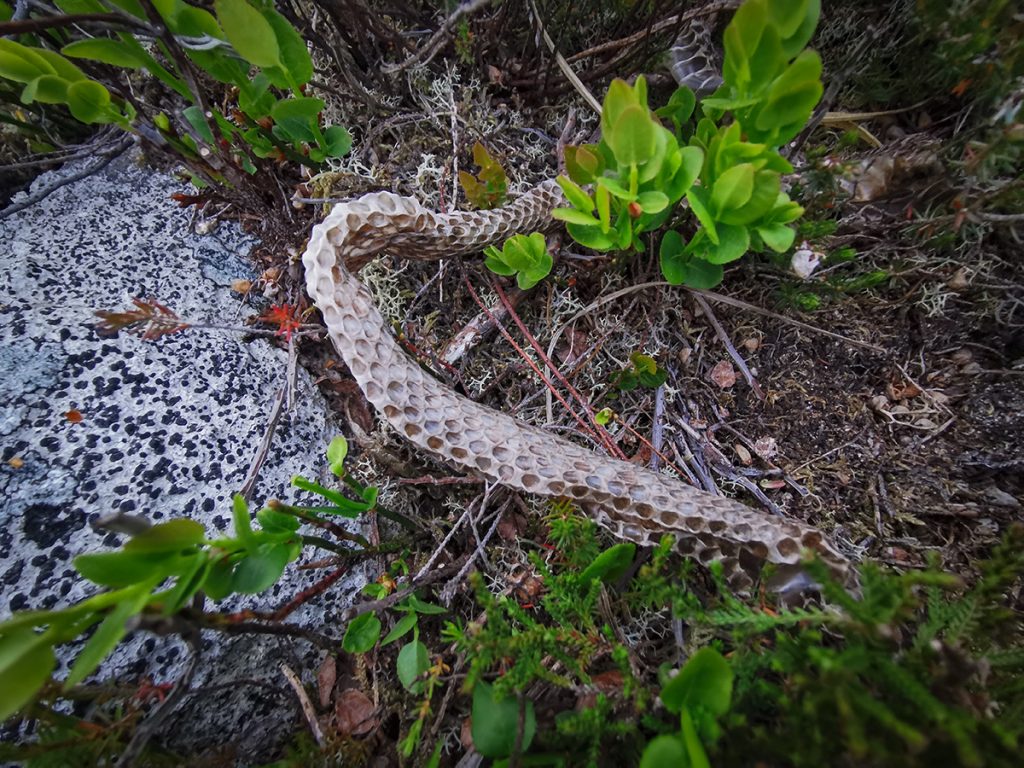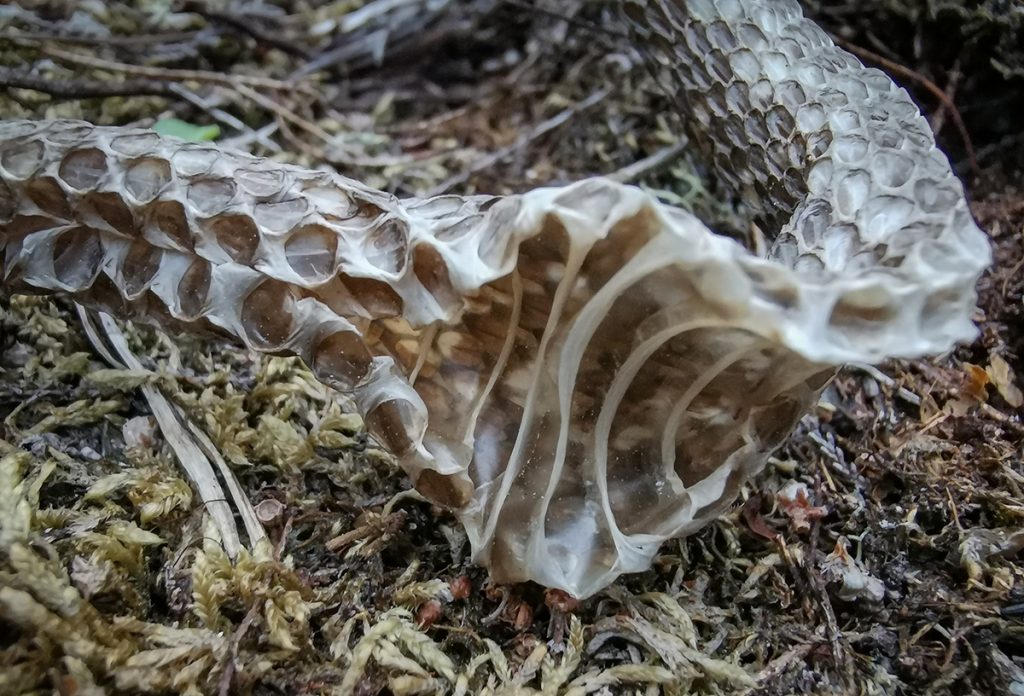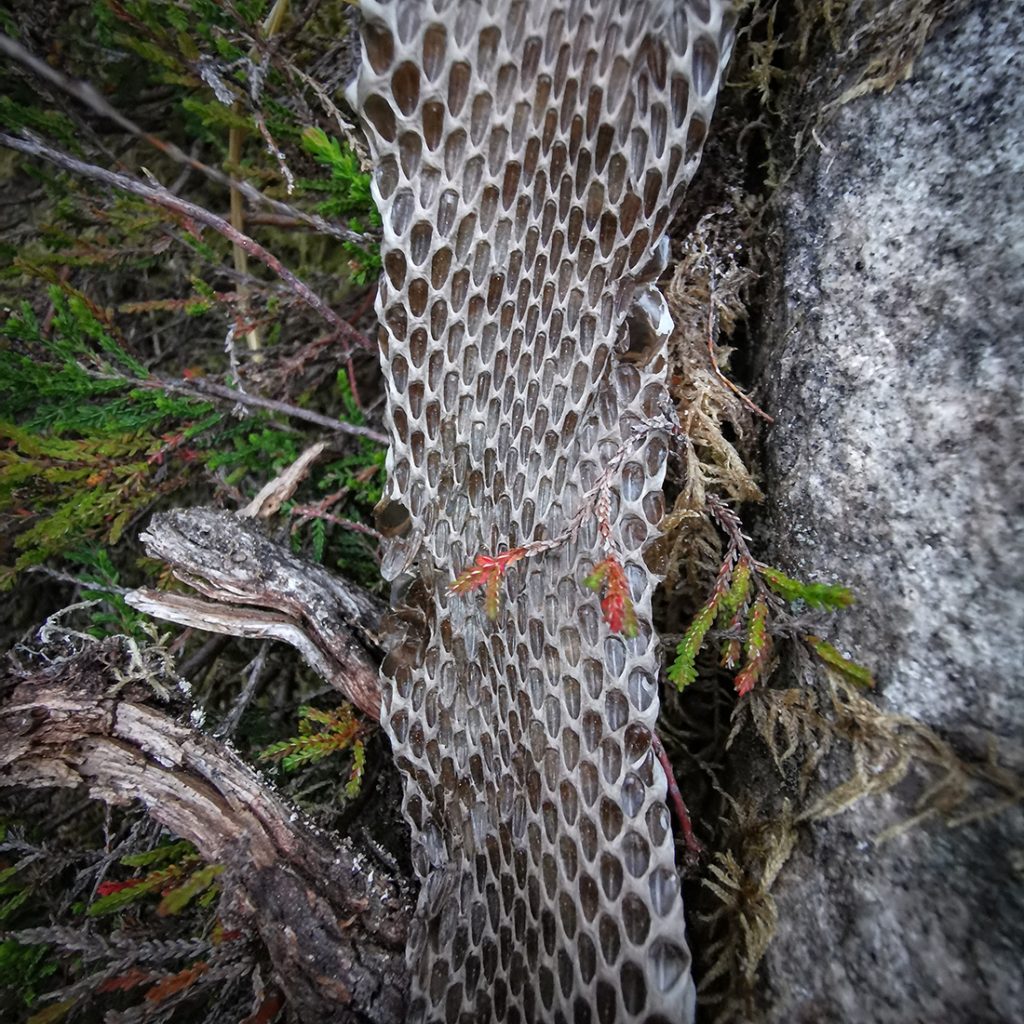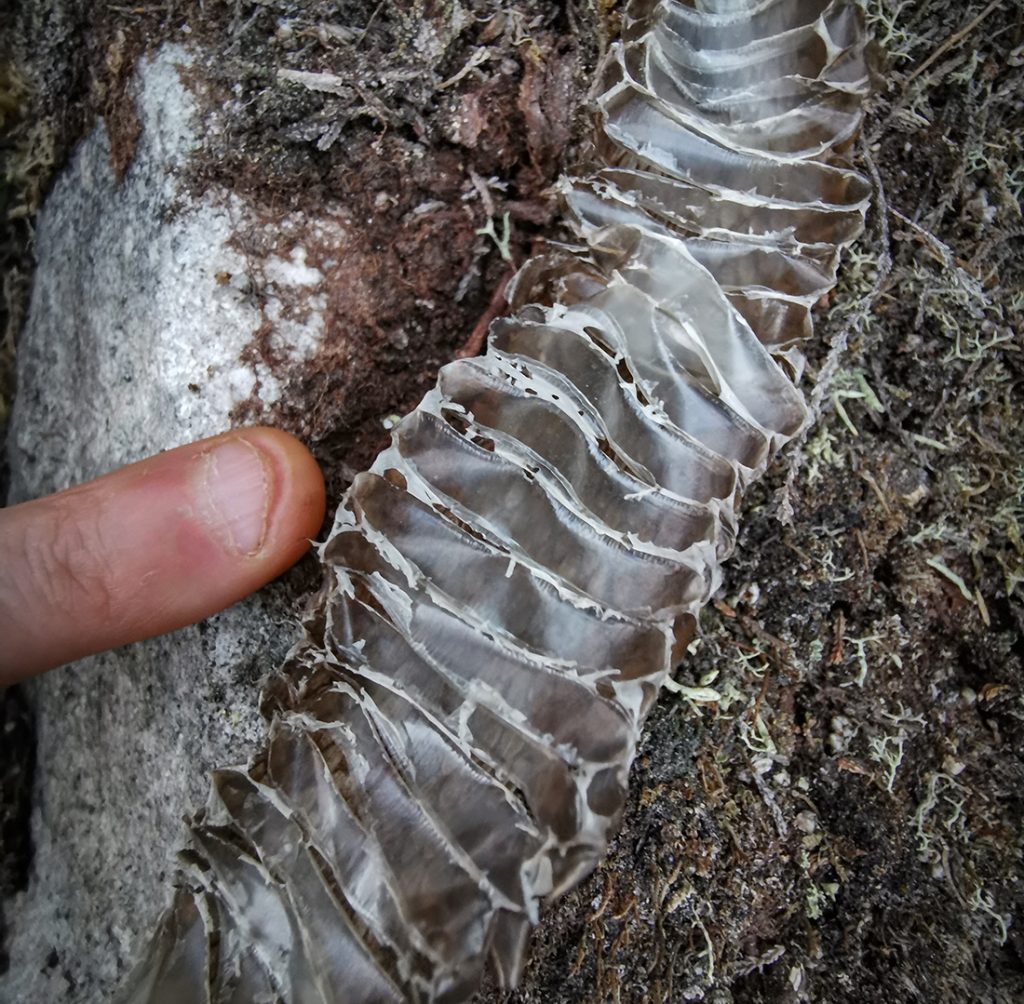 With the light fading, I returned to the trees and pitched tent: moving once to distance myself from a creaking tree, and mindful now of what lurked in the undergrowth.
Thankfully midges weren't out in force, but it was easy enough to pitch in benign conditions, though an evening breeze soon had me inside.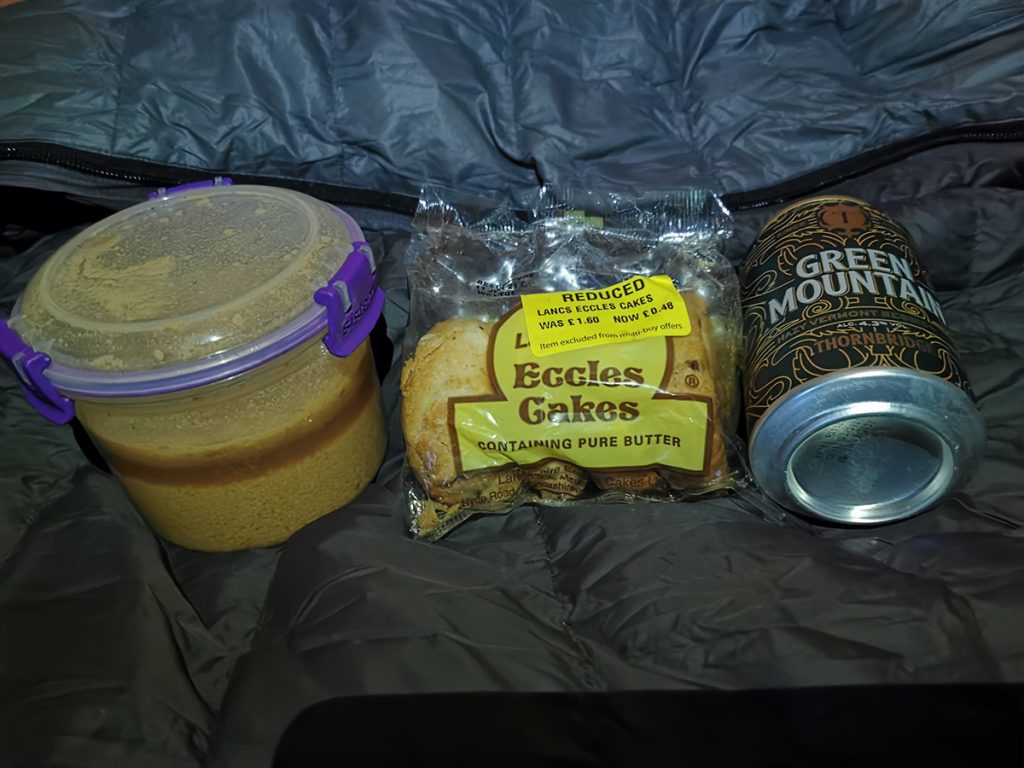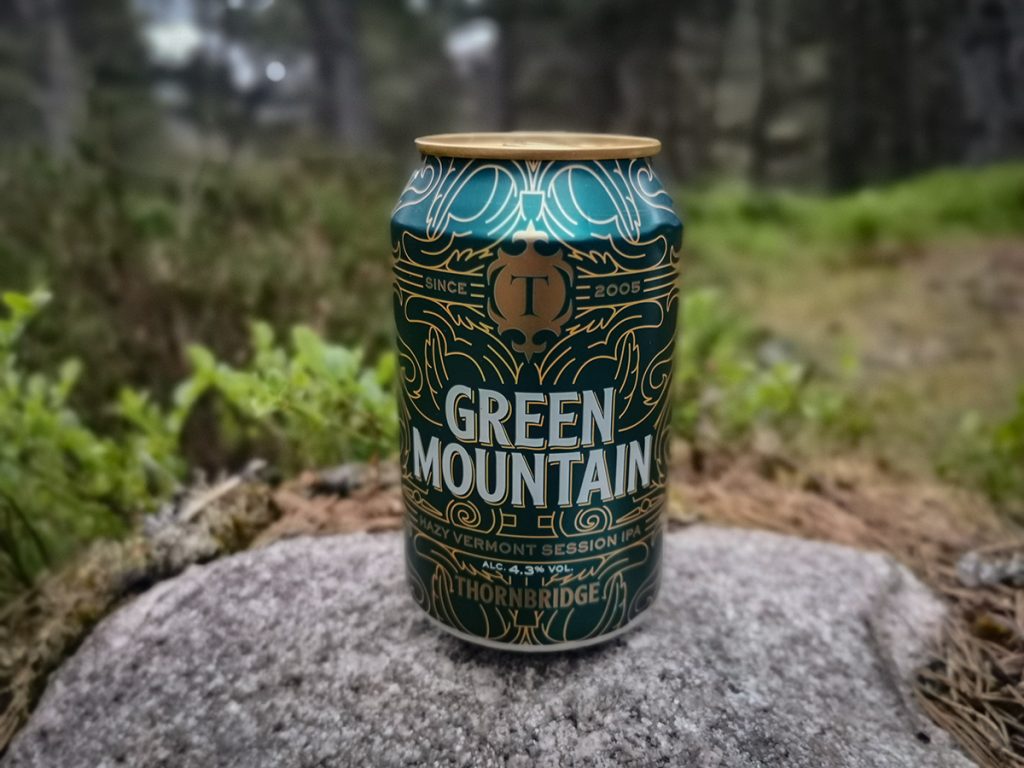 In the interest of ultra-light travel, I'd forgone cooking equipment and had a cold-soaked meal: couscous (I'd left it hydrating before pitching tent) with a bag of muesli/milk powder in reserve for breakfast.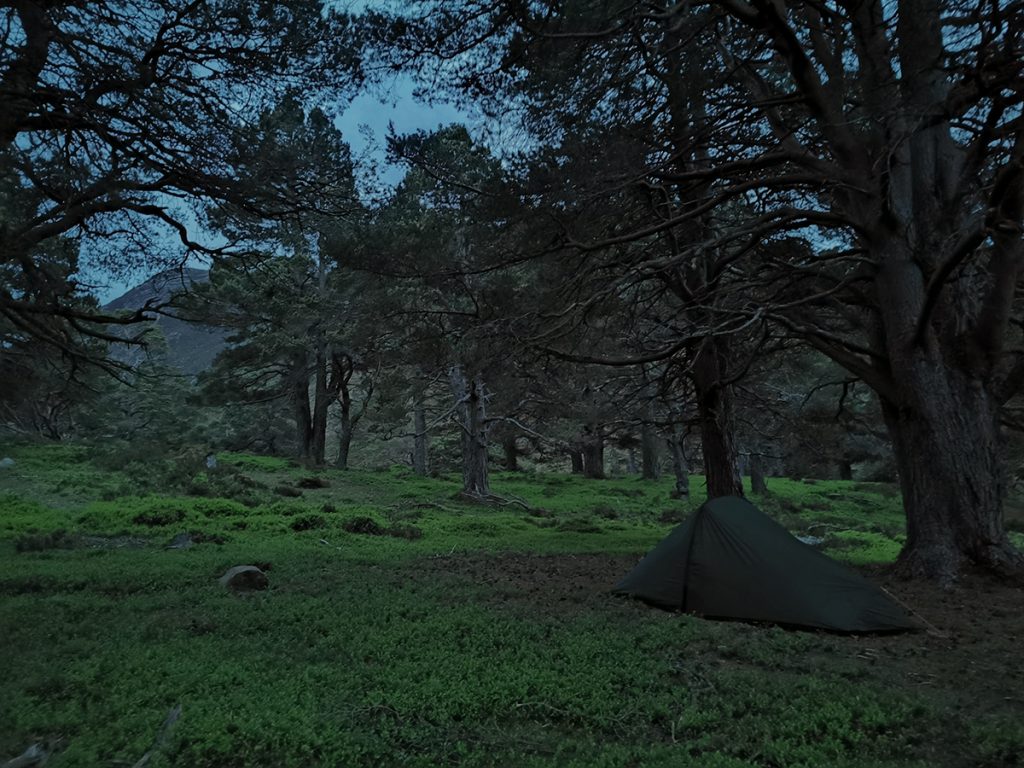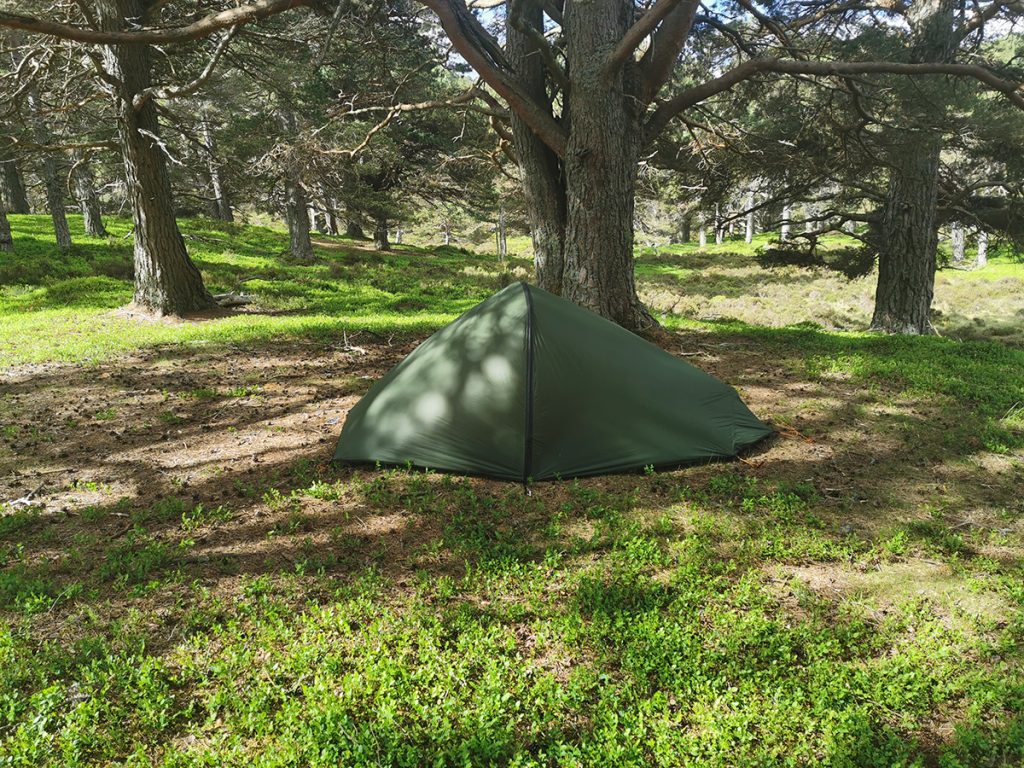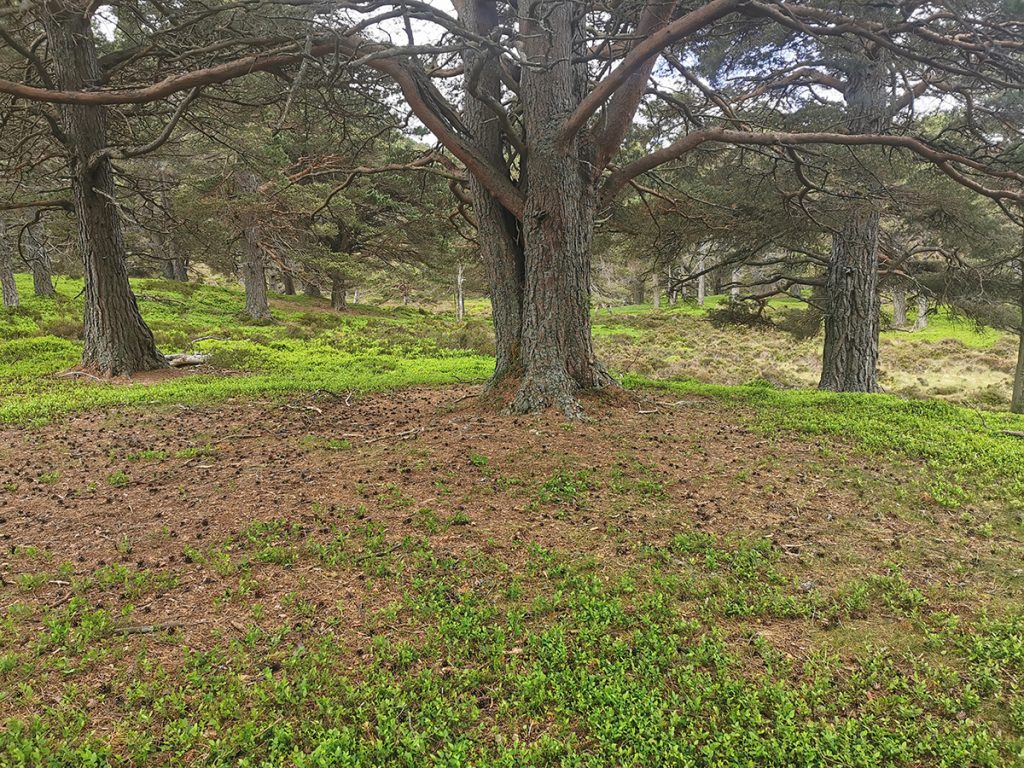 After packing up, I returned back along the trail to find a way on to the north west edge of the hill, and began hacking up the side first through clumpy deep heather, then over a boulder field further up (being watchful of any live snake interaction).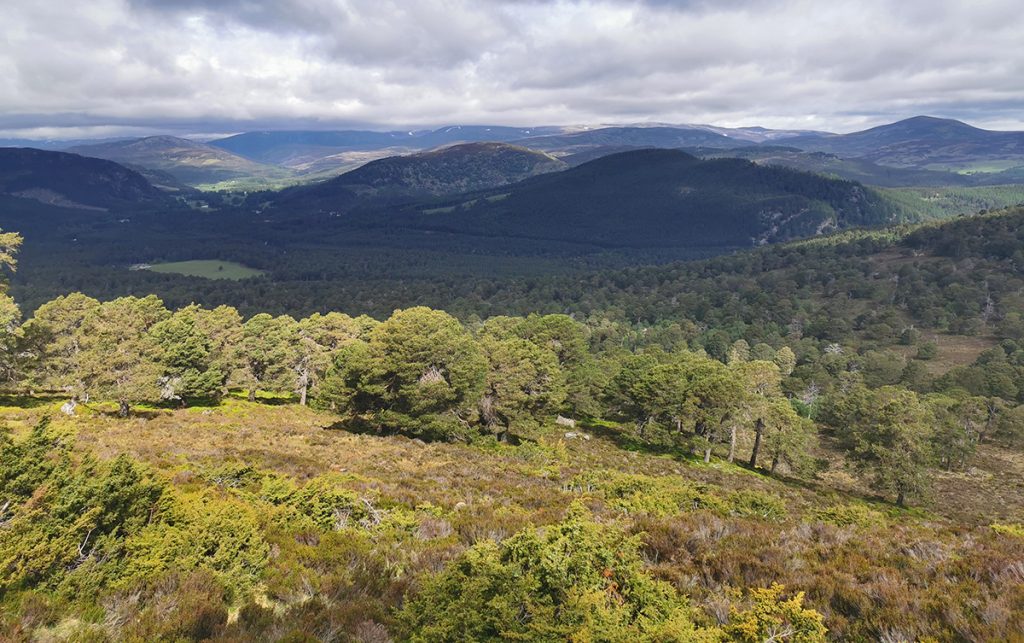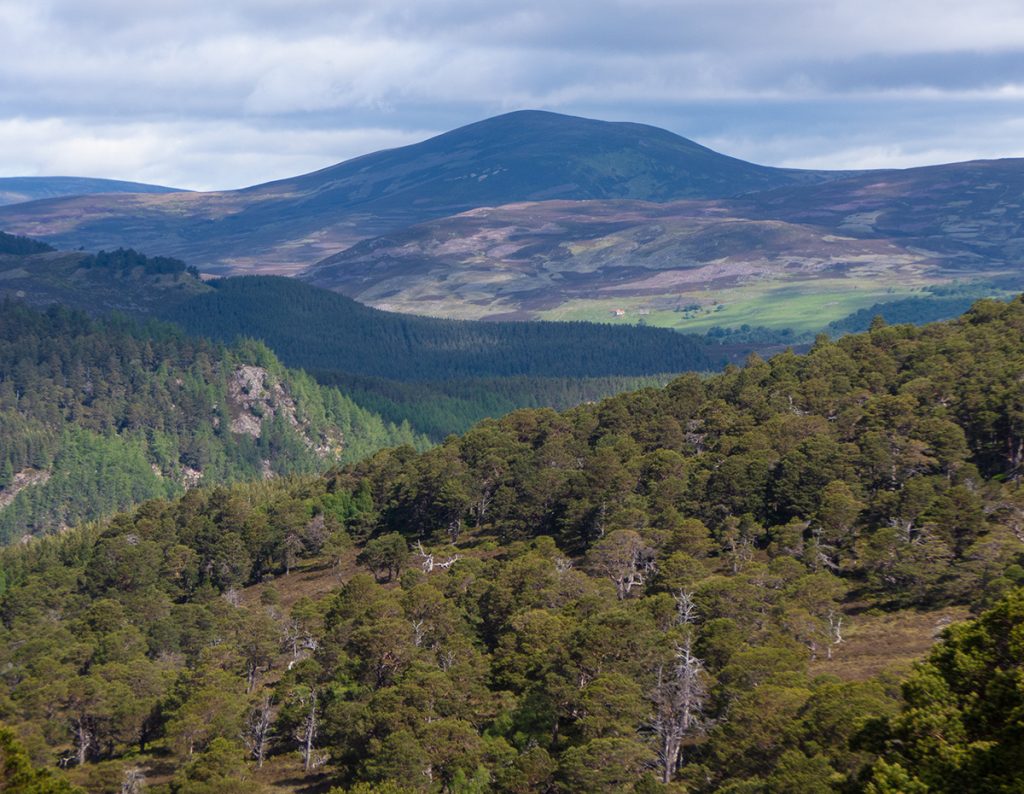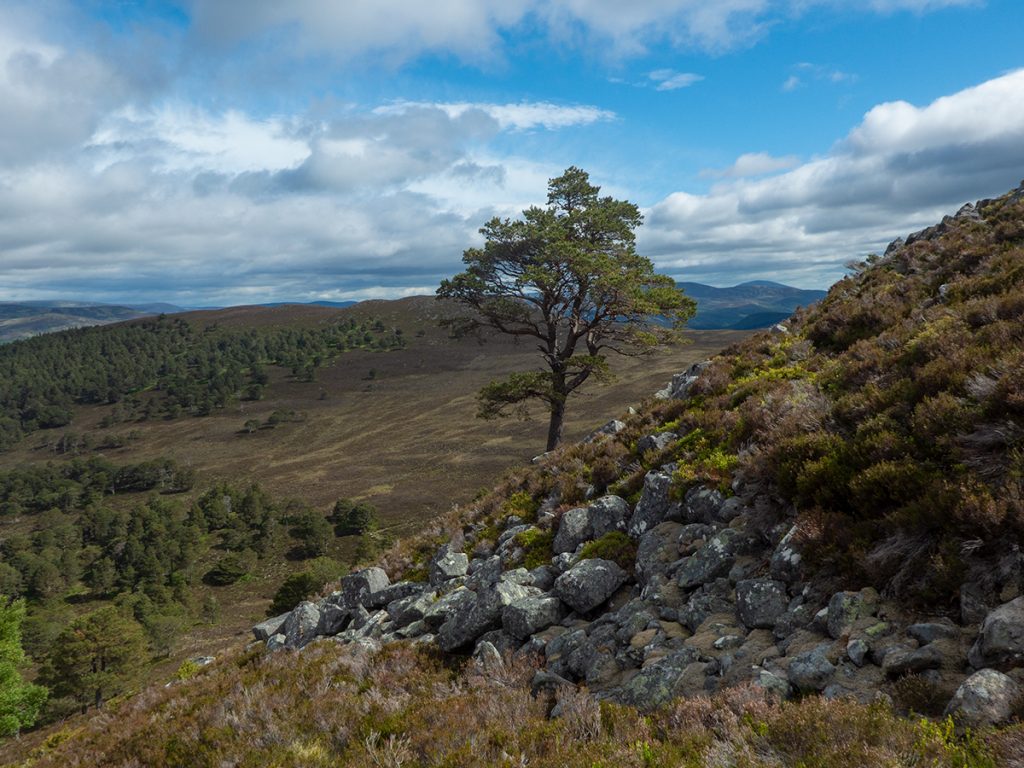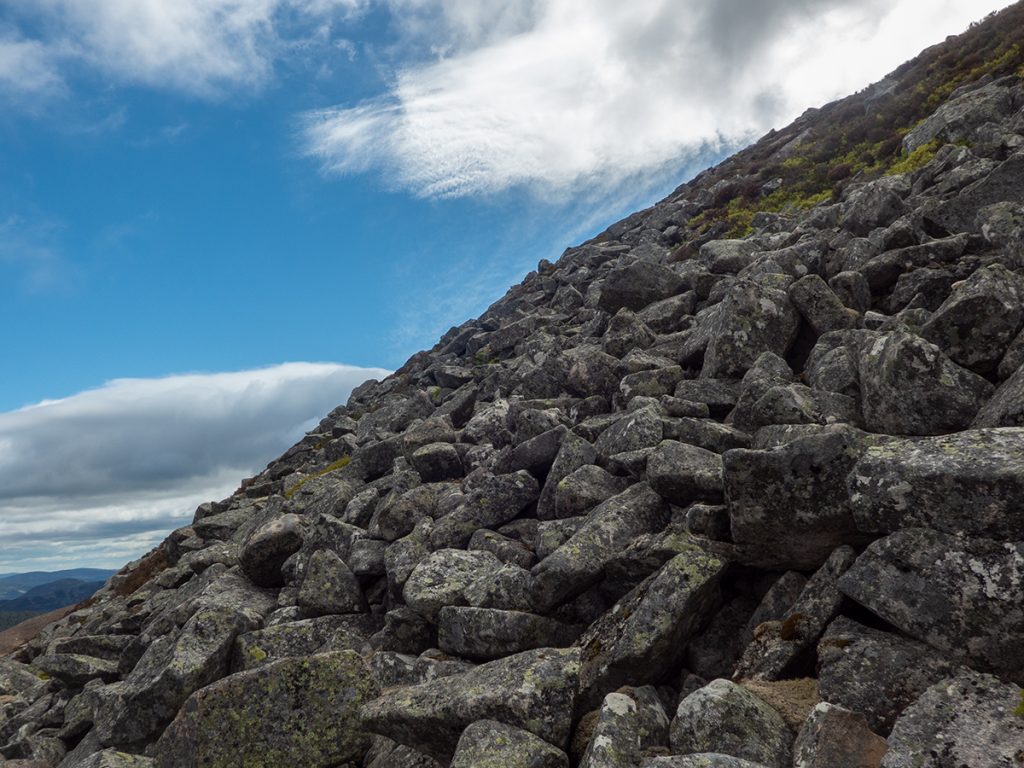 The top at 824m has a few small cairns and a fine view ahead to Lochnagar and the Stuic, I had a glimpse of an eagle? soaring in the distance, and then headed over to the gully that would be the primary route up.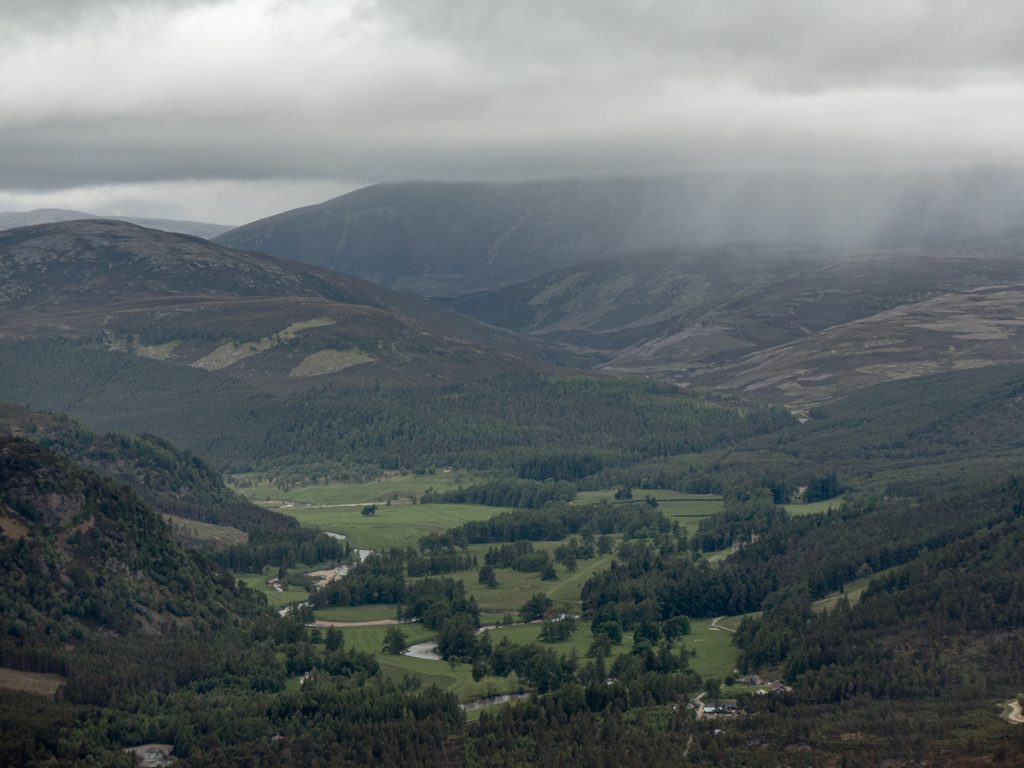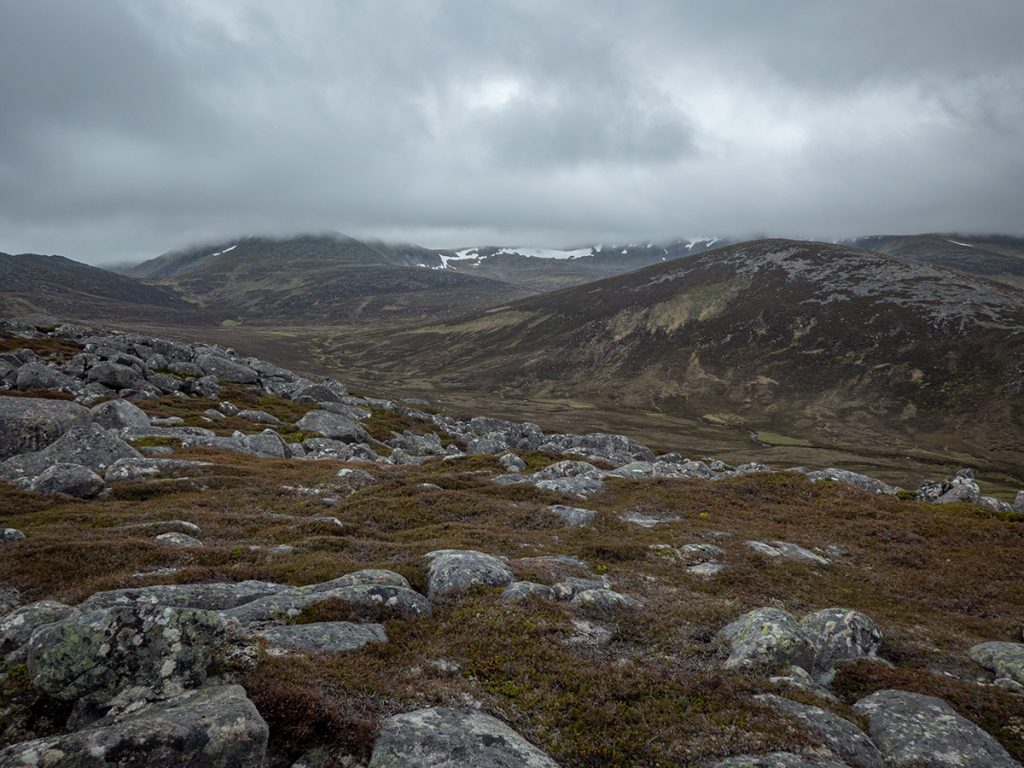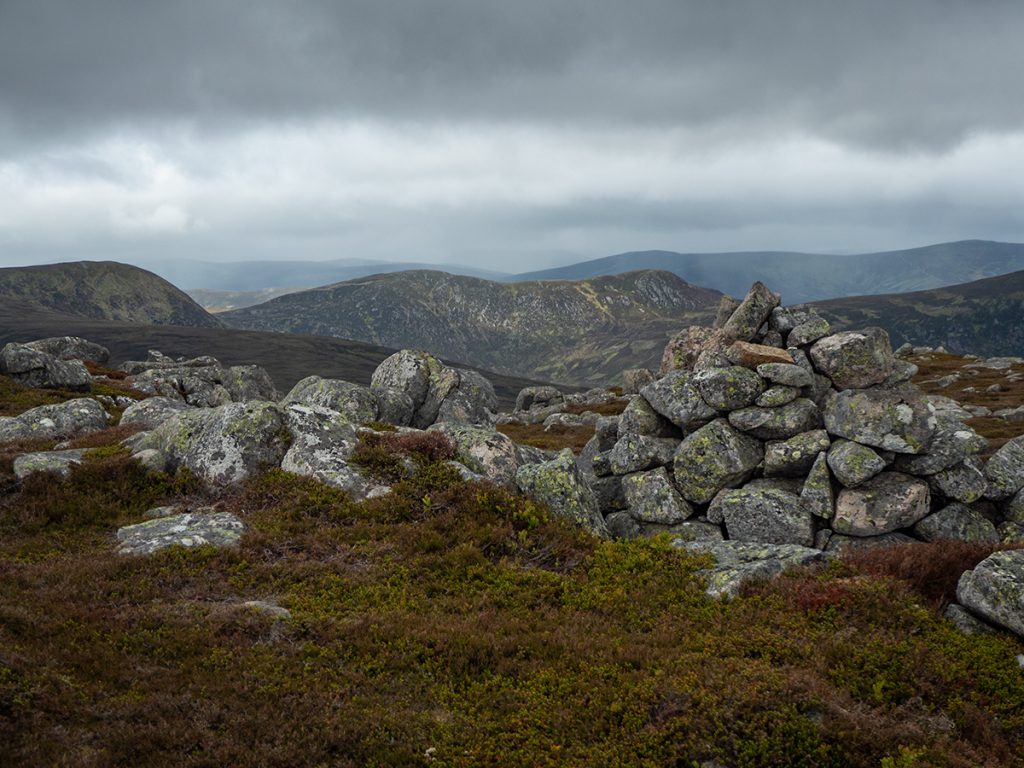 Within it's grassy slopes were many frogs, and burbling underneath the ground I could hear the beginnings of a burn, occasional deep potholes sunk down to it needing careful footfall to avoid.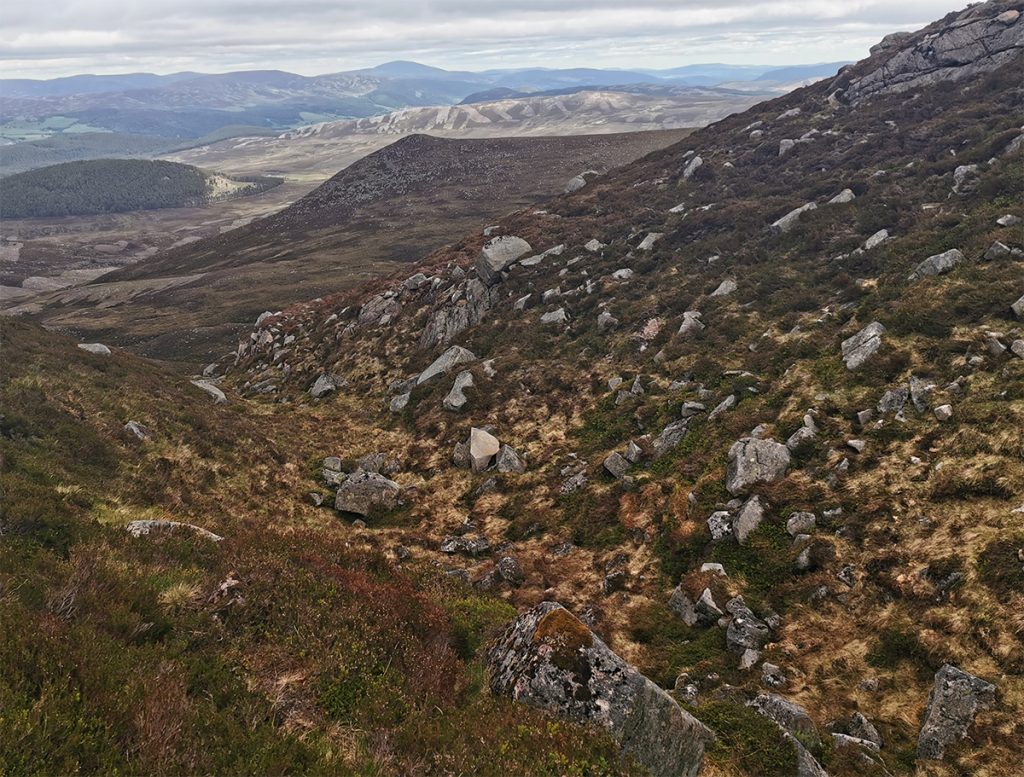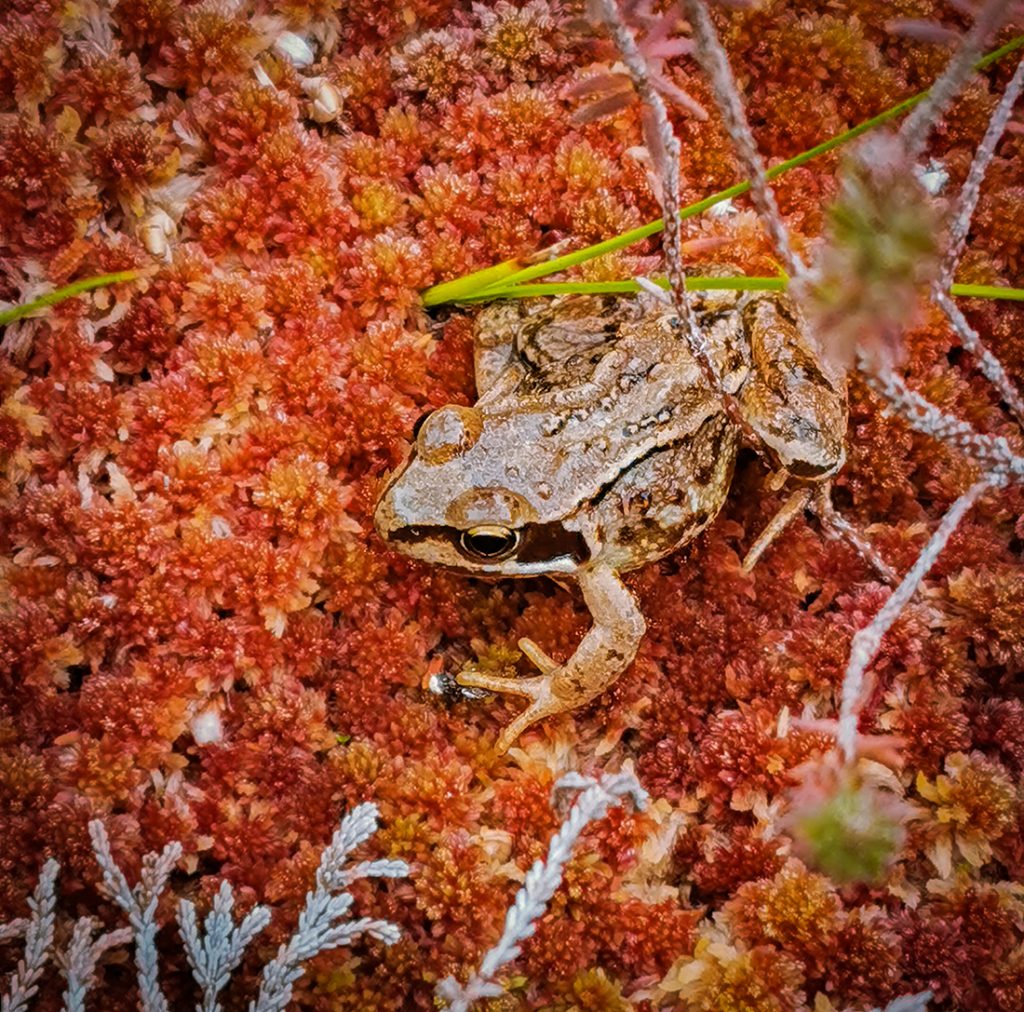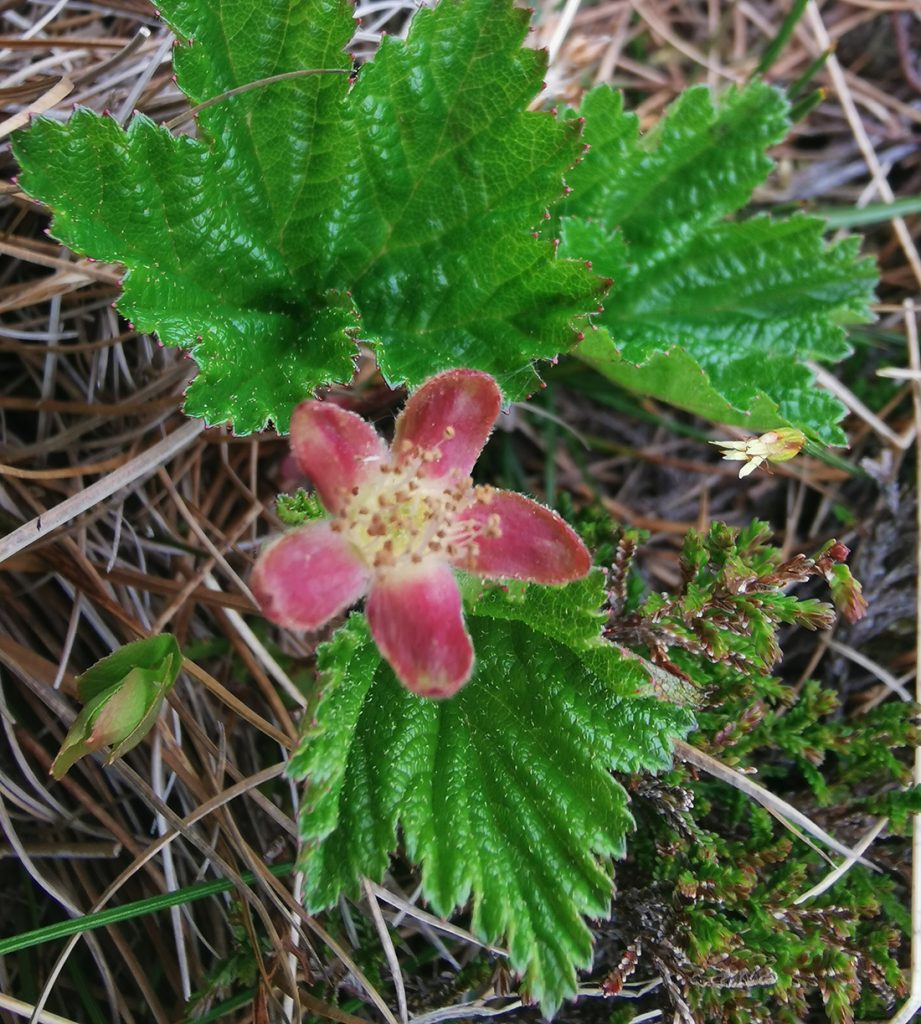 Crossing a fork in the now more substantial water course led to the Prince's stone, an eroded monument to some regal visitation long ago.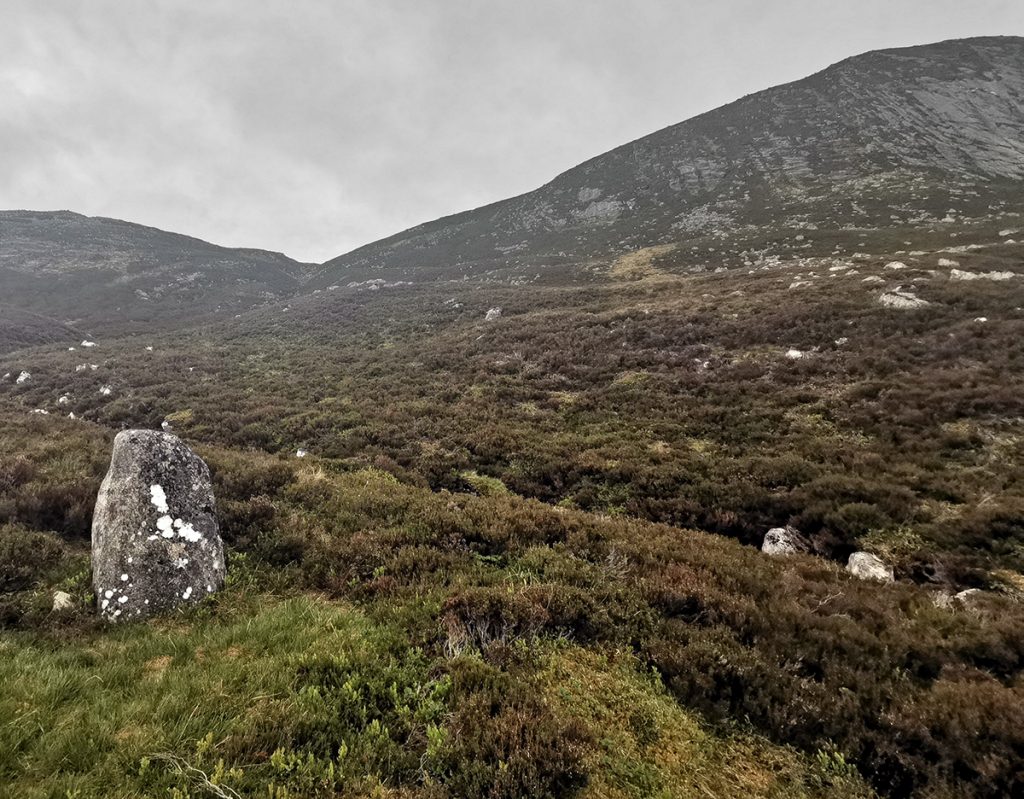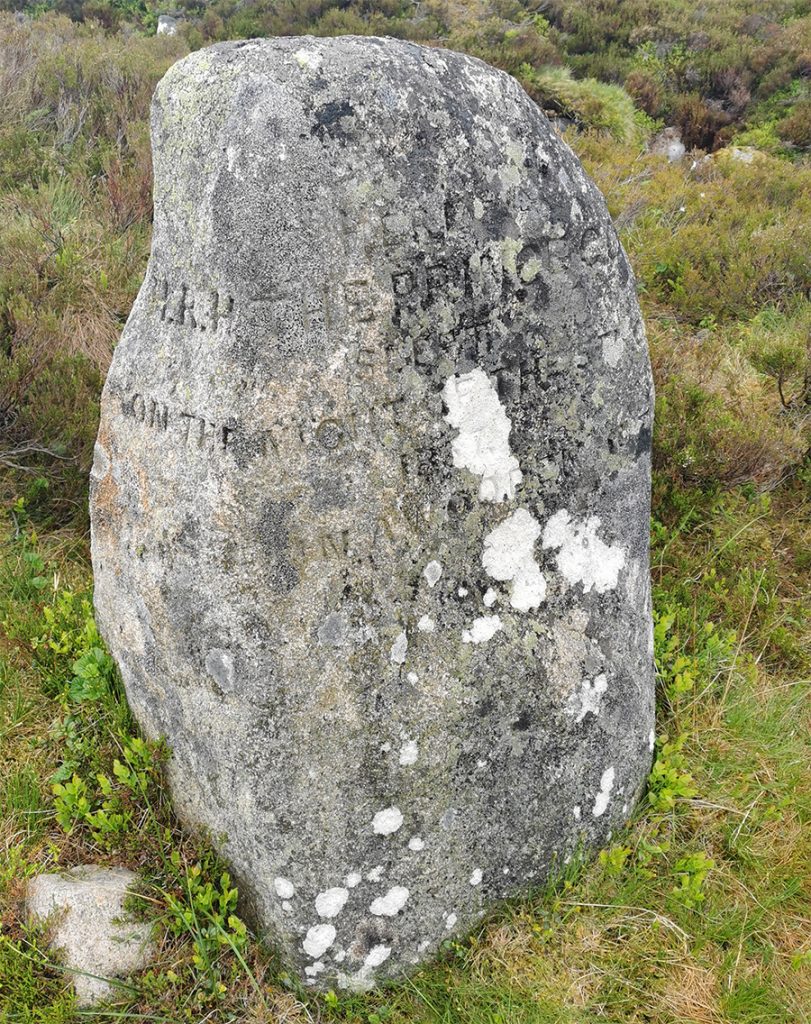 The stream gathers strength and splashes down many waterfalls, I think this would be better as an ascent (though where then would one descend if not an out and back)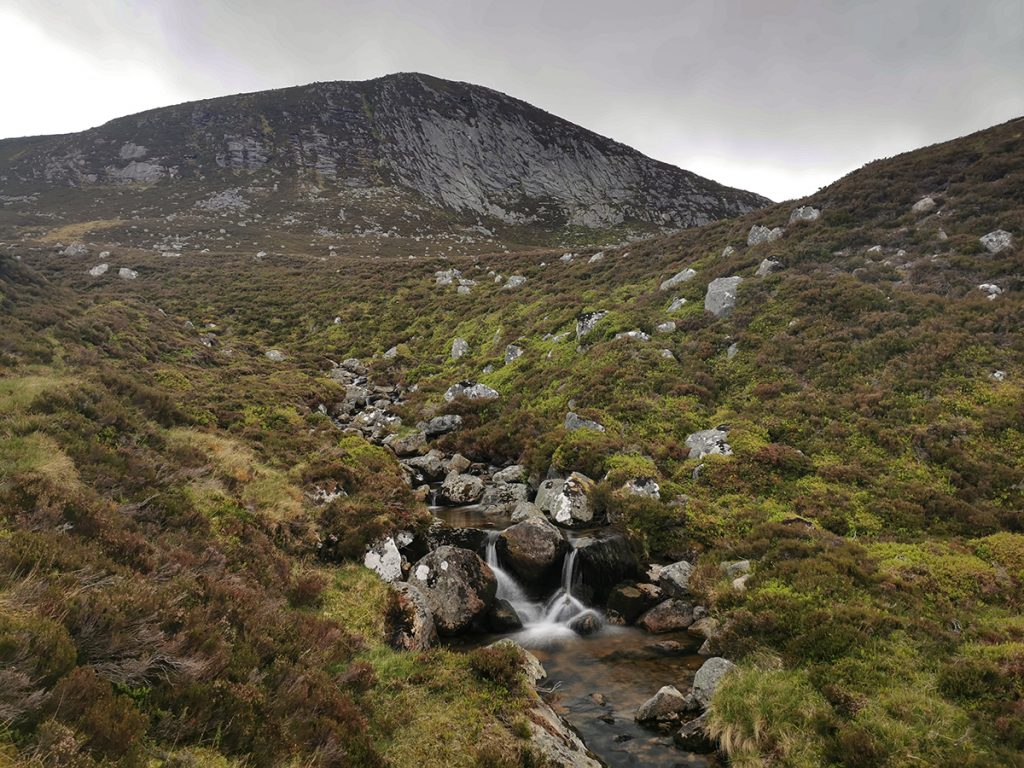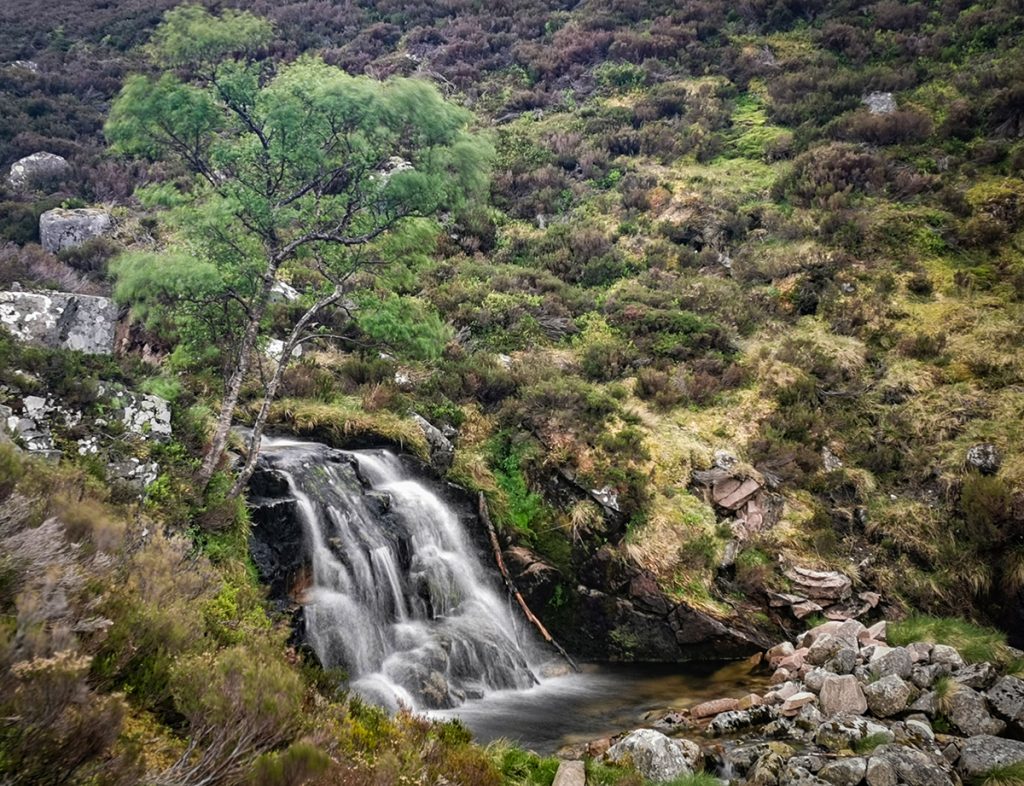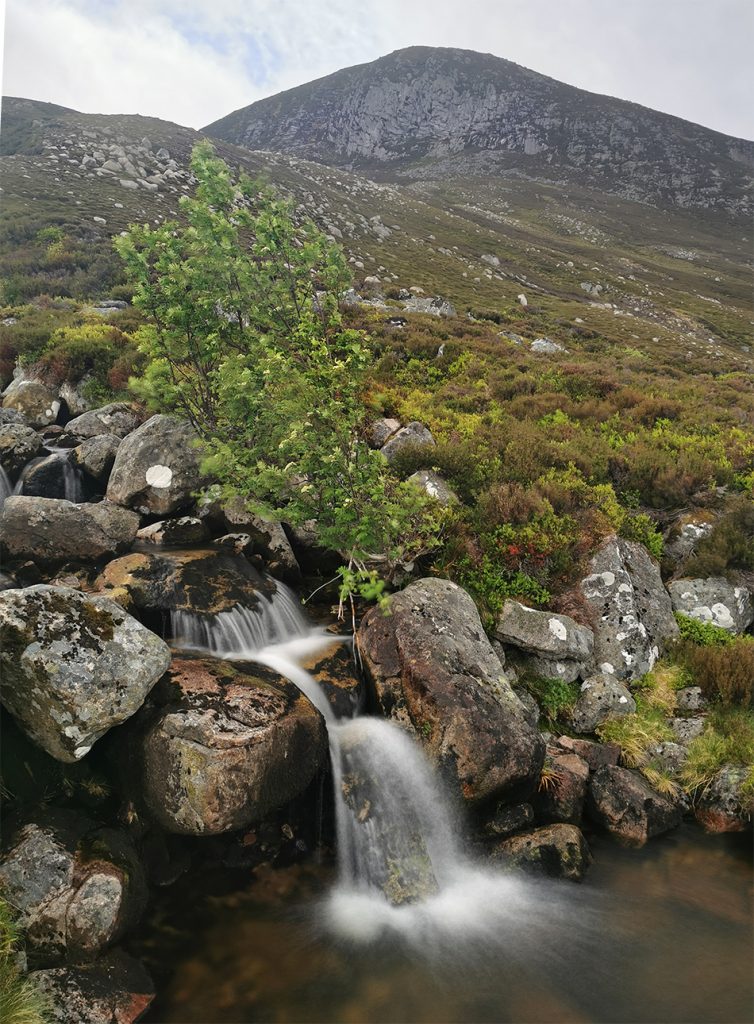 A small cairn marks where the path from Ballochbuie is left to ascend, and I headed on and joined a larger track with a small hut at the junction.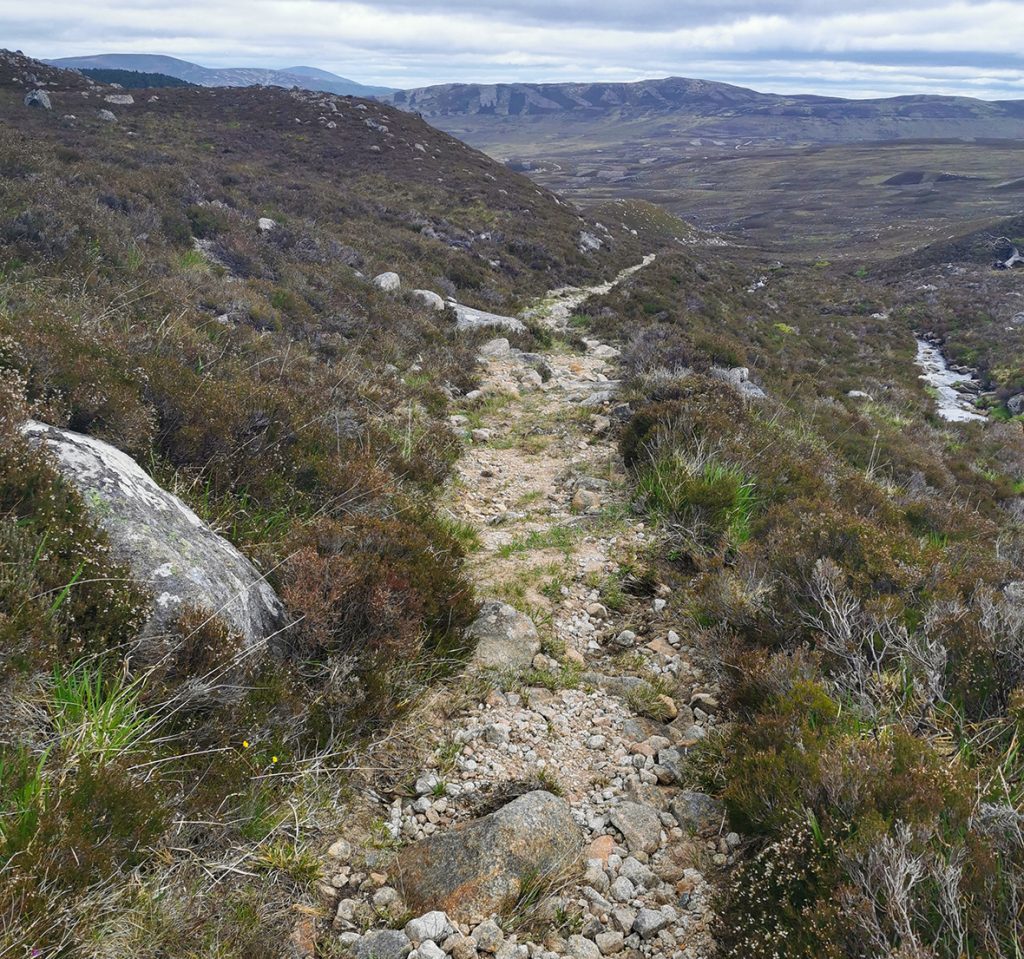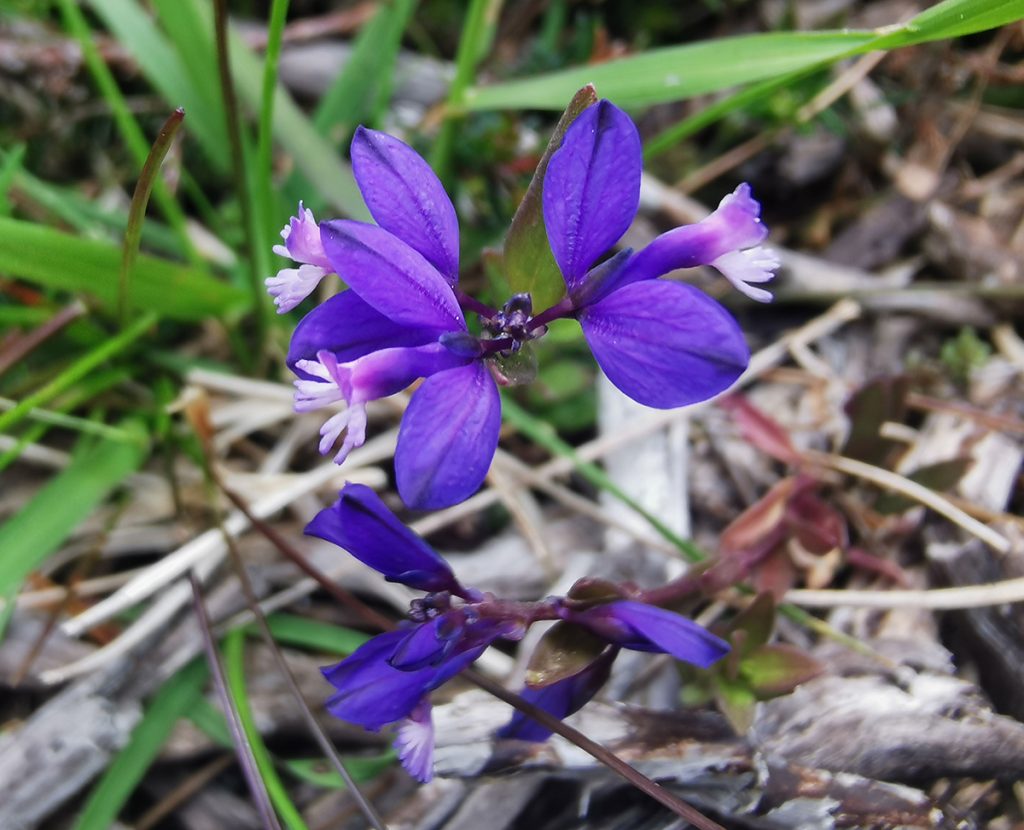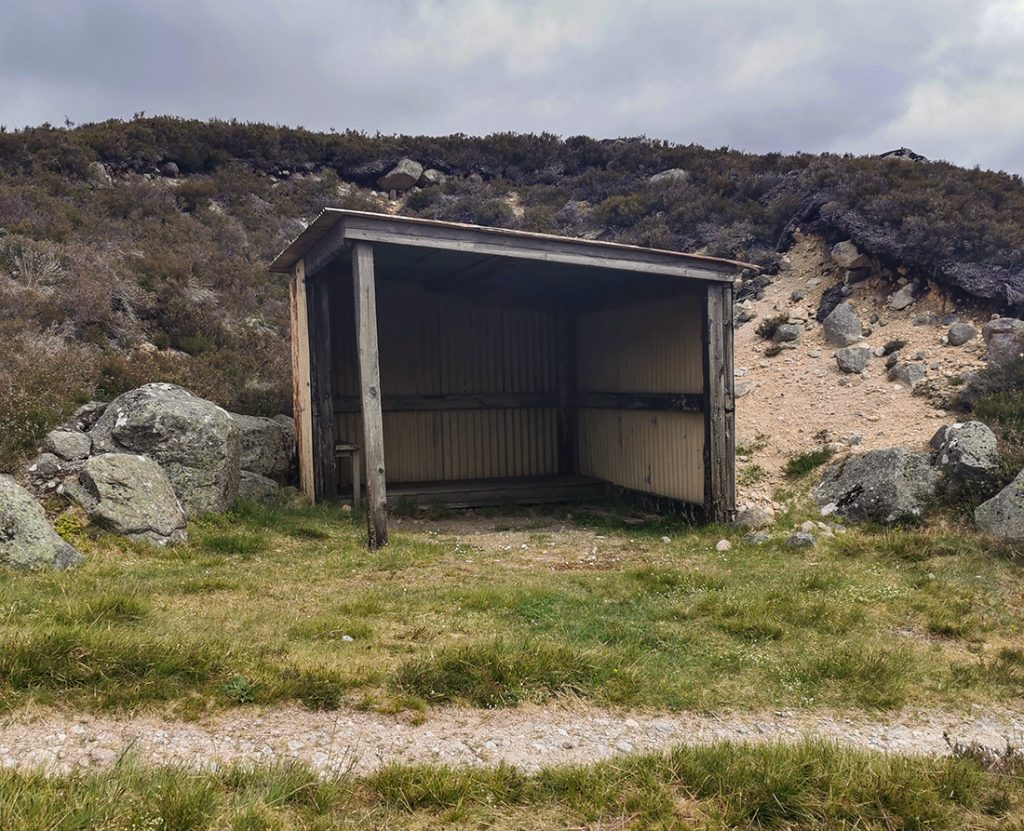 A long trek on landrover track ensued; remembering an announcement regarding Sunday buses being limited, I thought it best to make for Ballater rather than Crathie to be sure of carriage home. I was glad of the light camping load and walking poles as I chopped through the miles.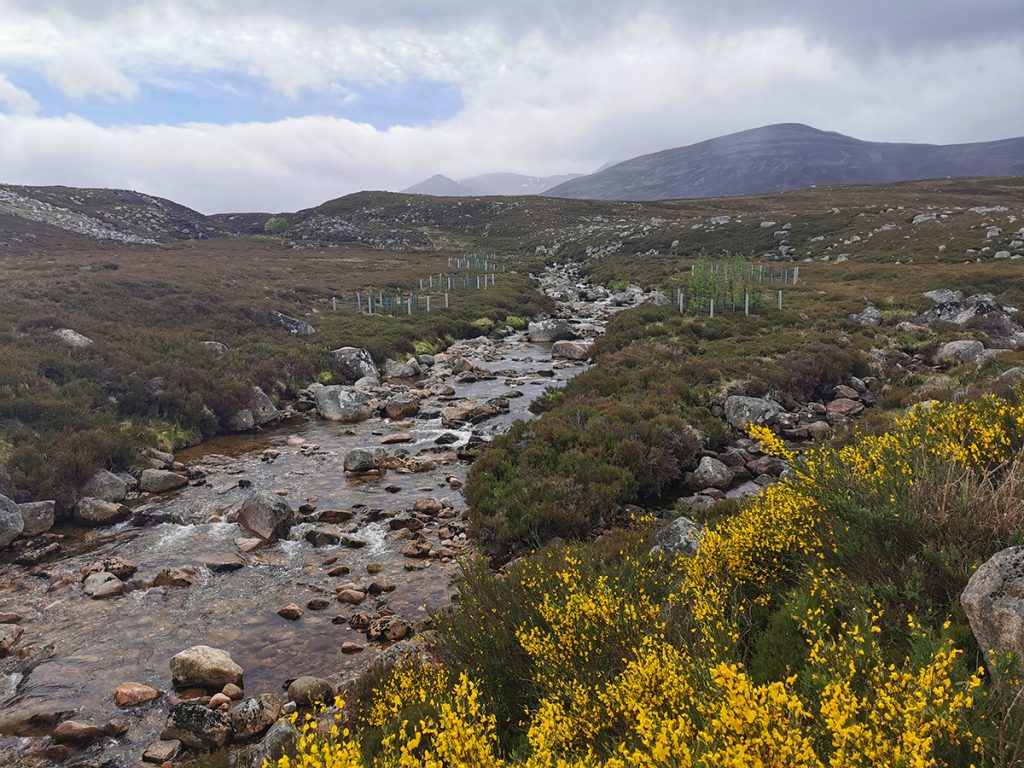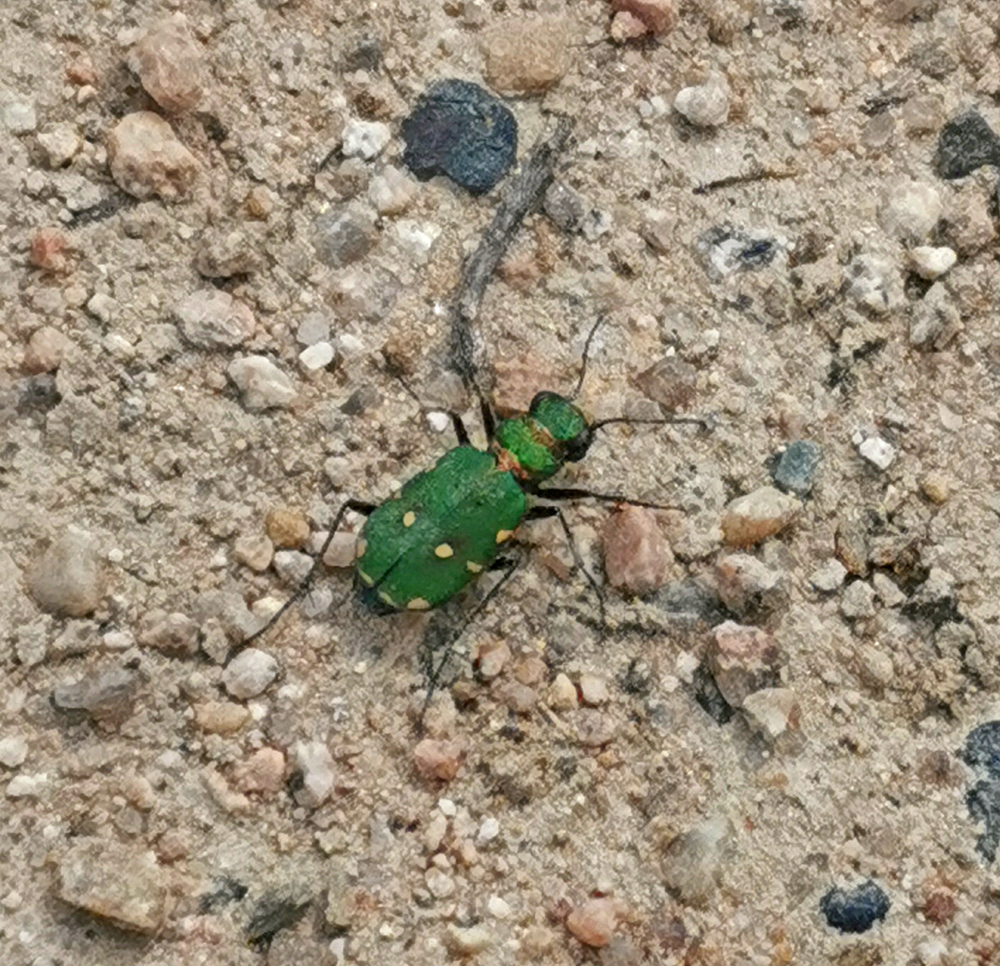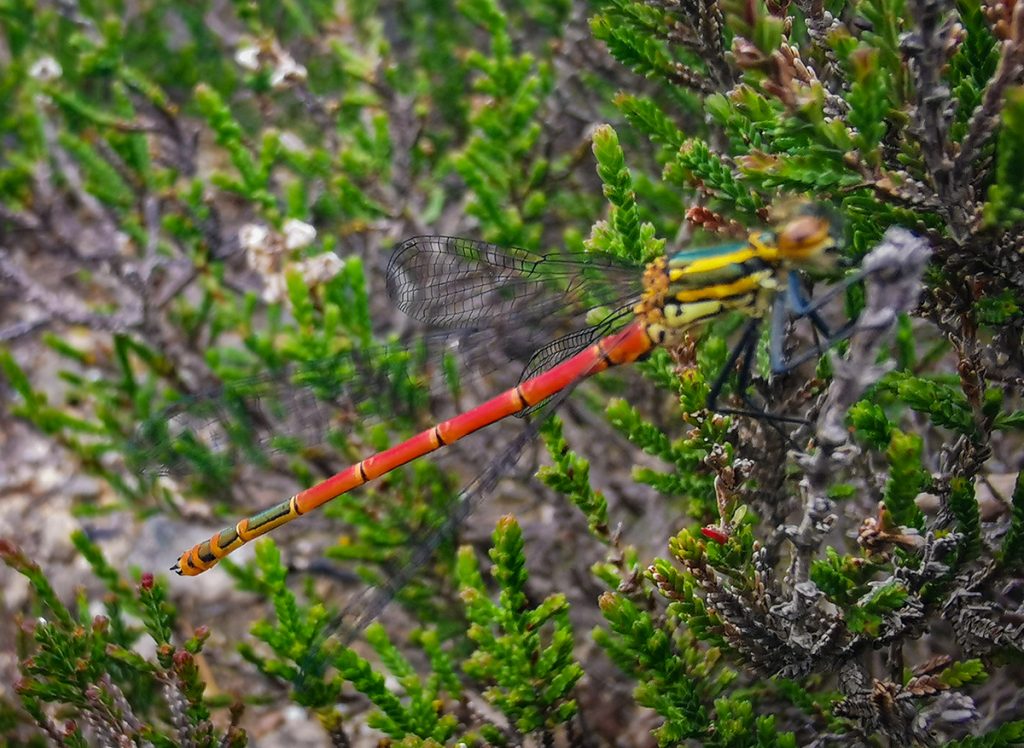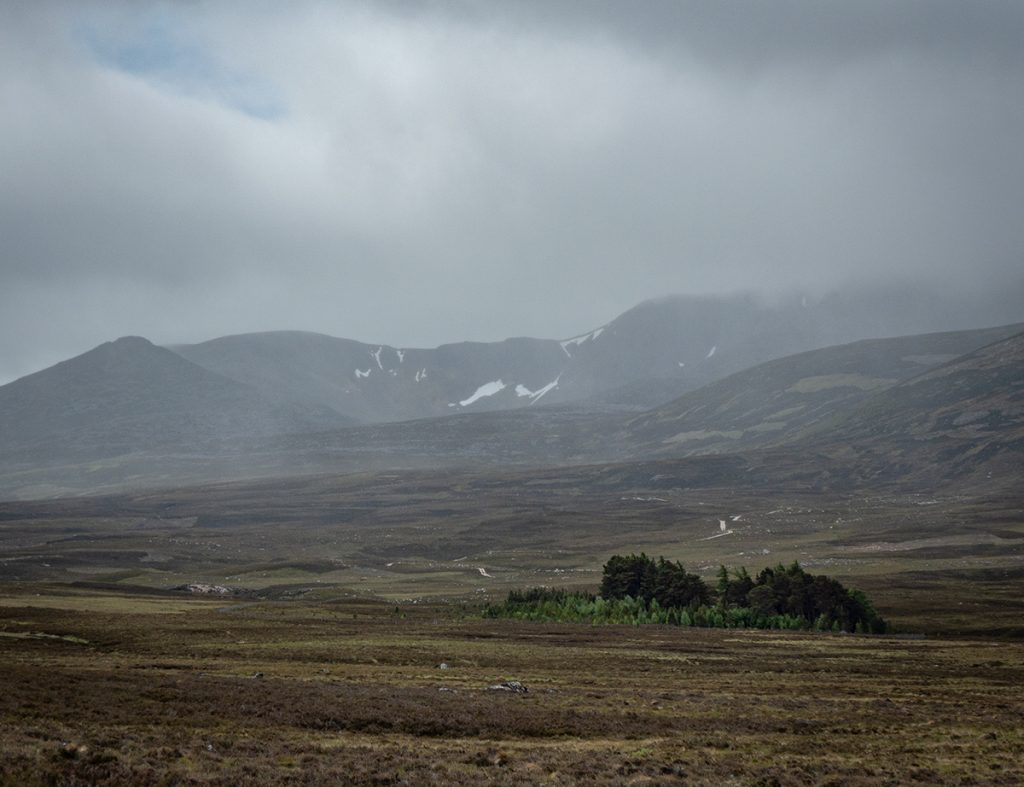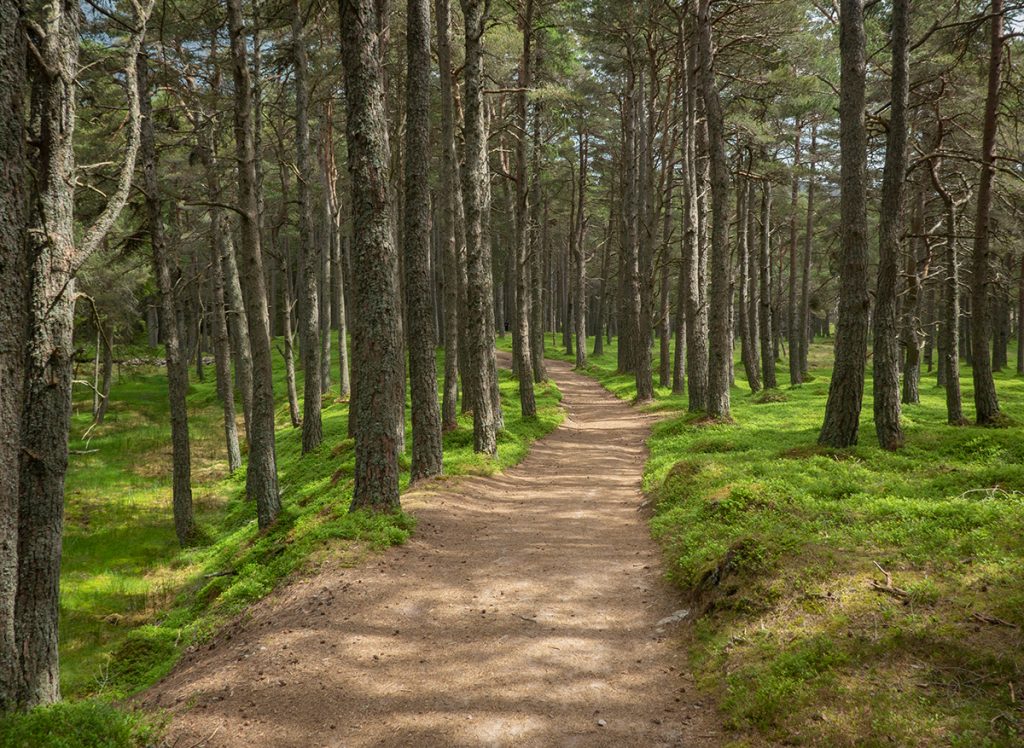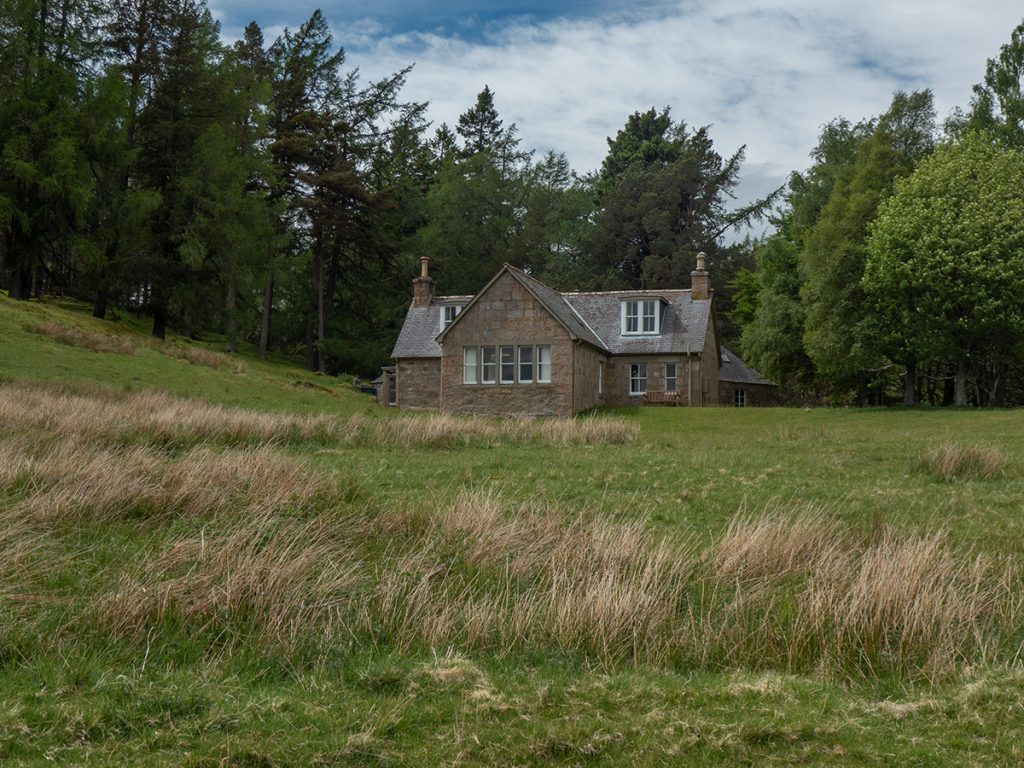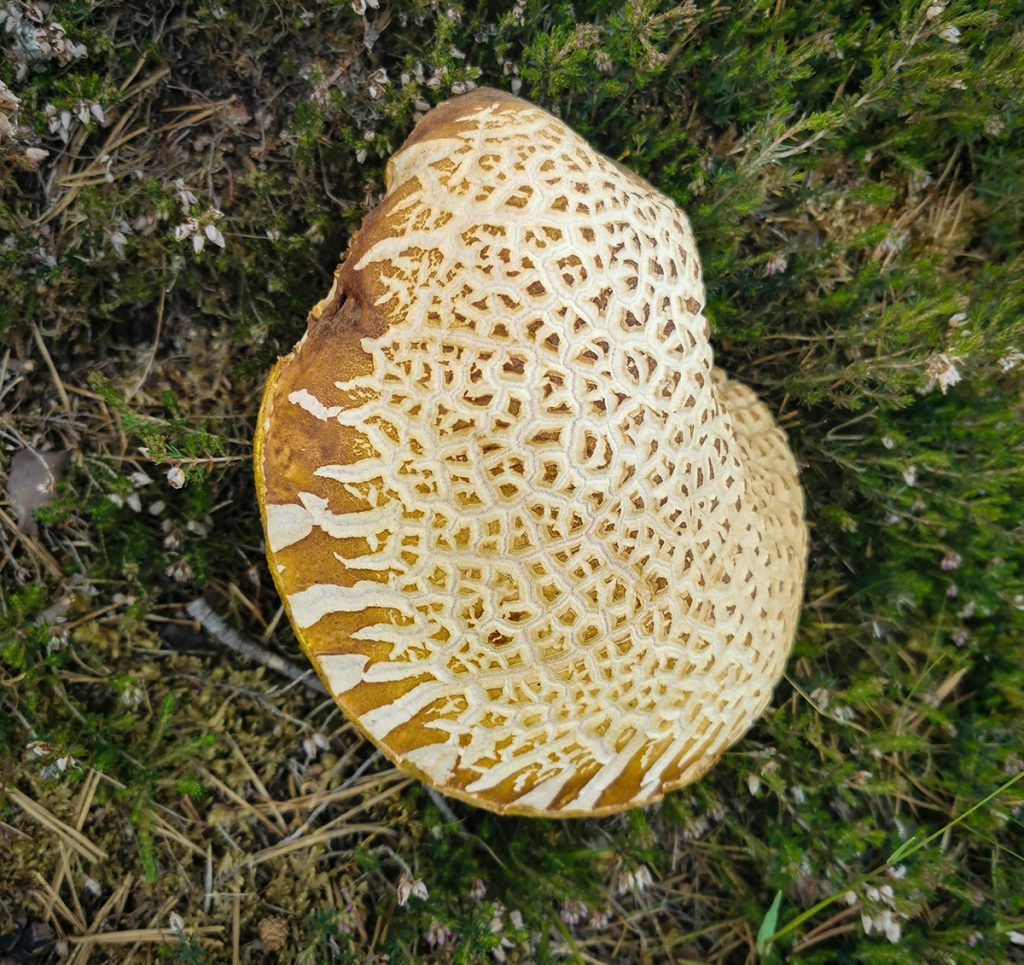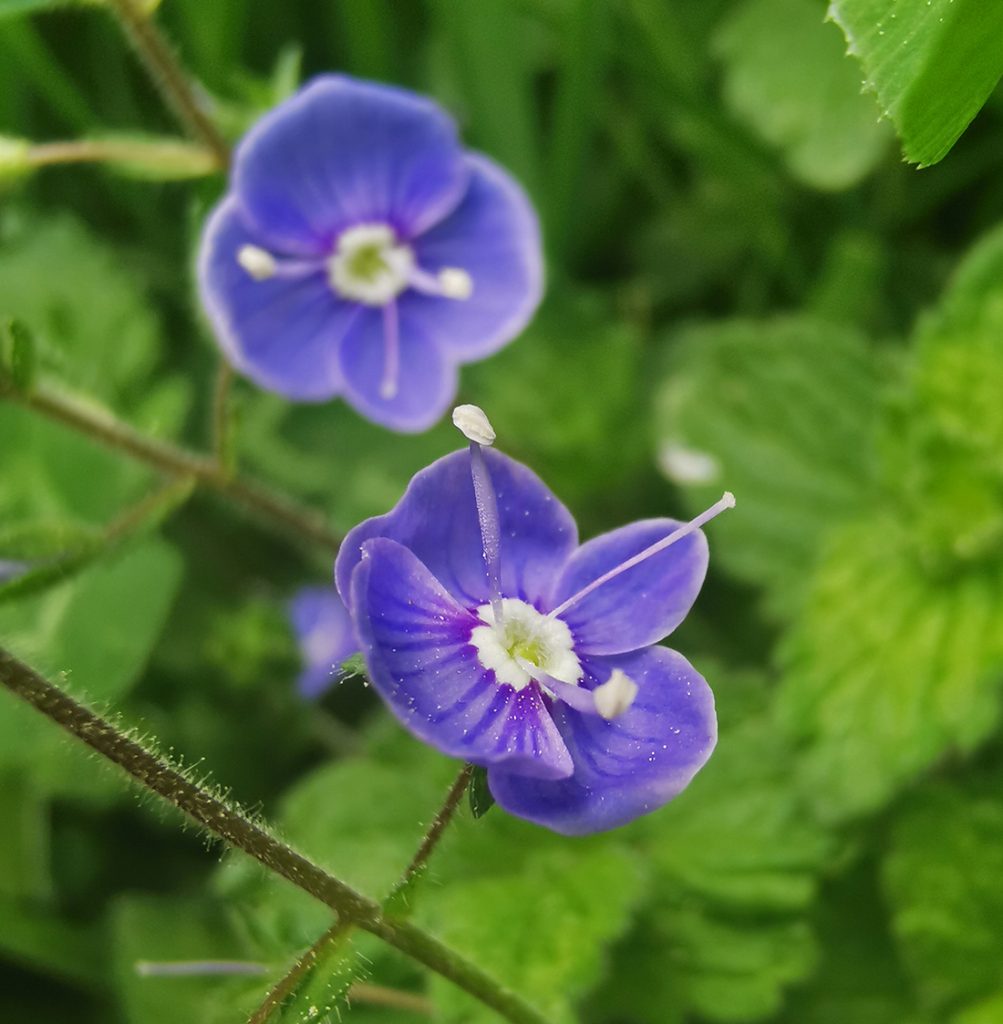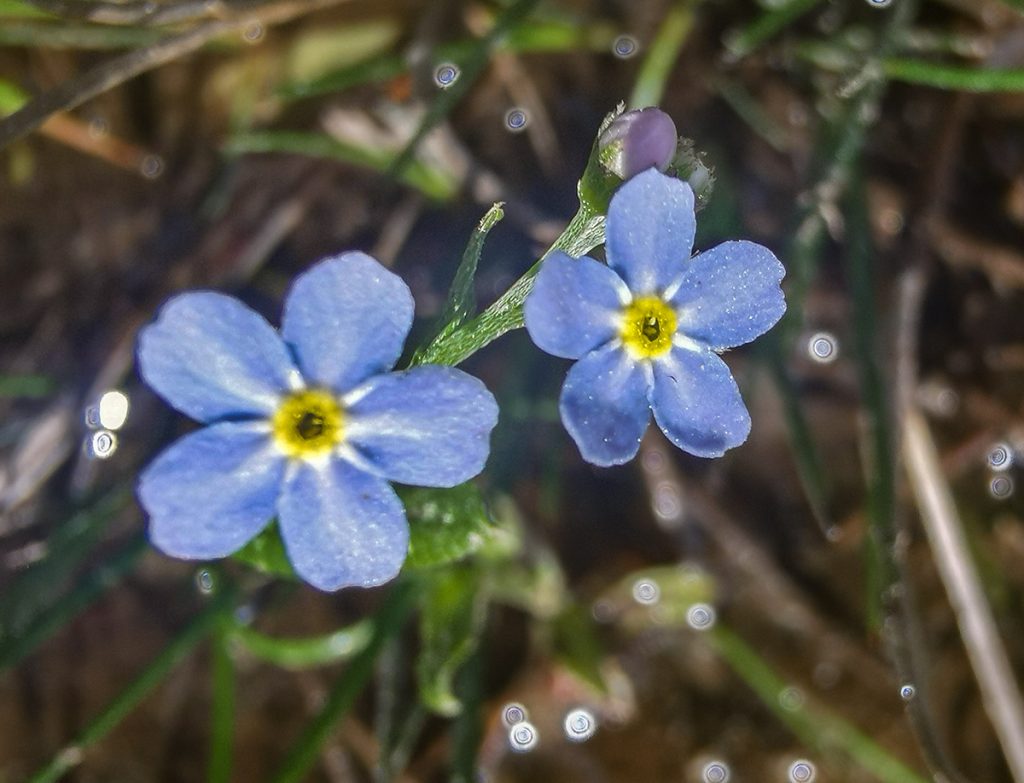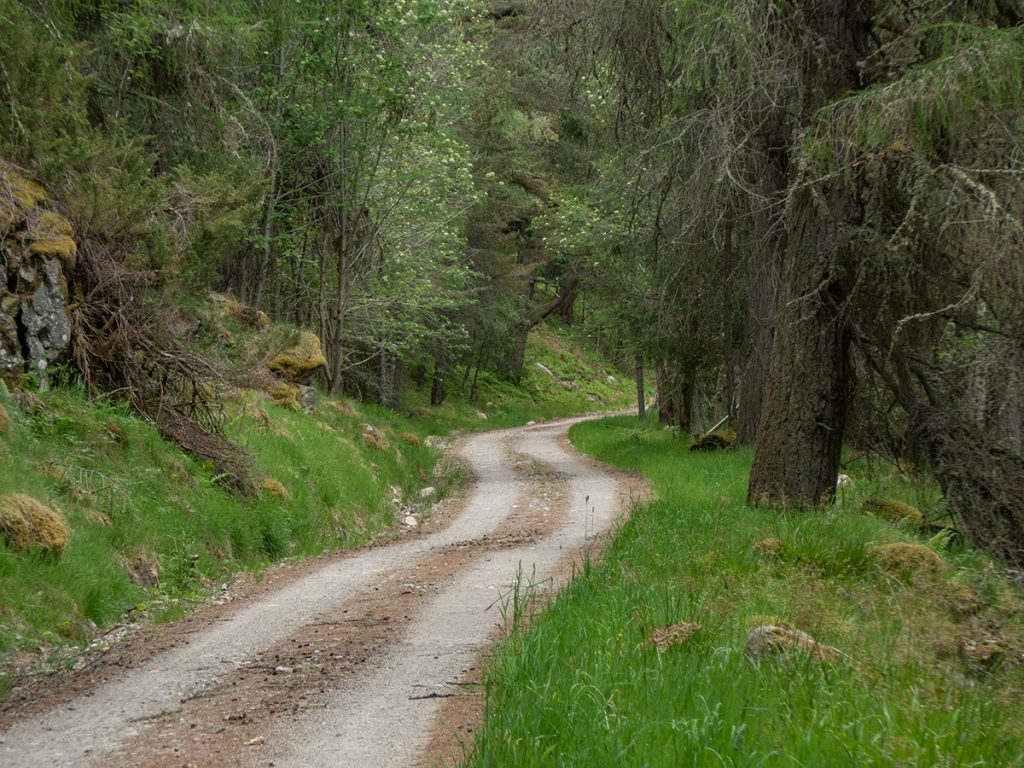 An interlude at the Linn of Muick was taken to inspect the repaired salmon ladder, where less water will flow through as a hydro pipeline now bypasses some of the flow .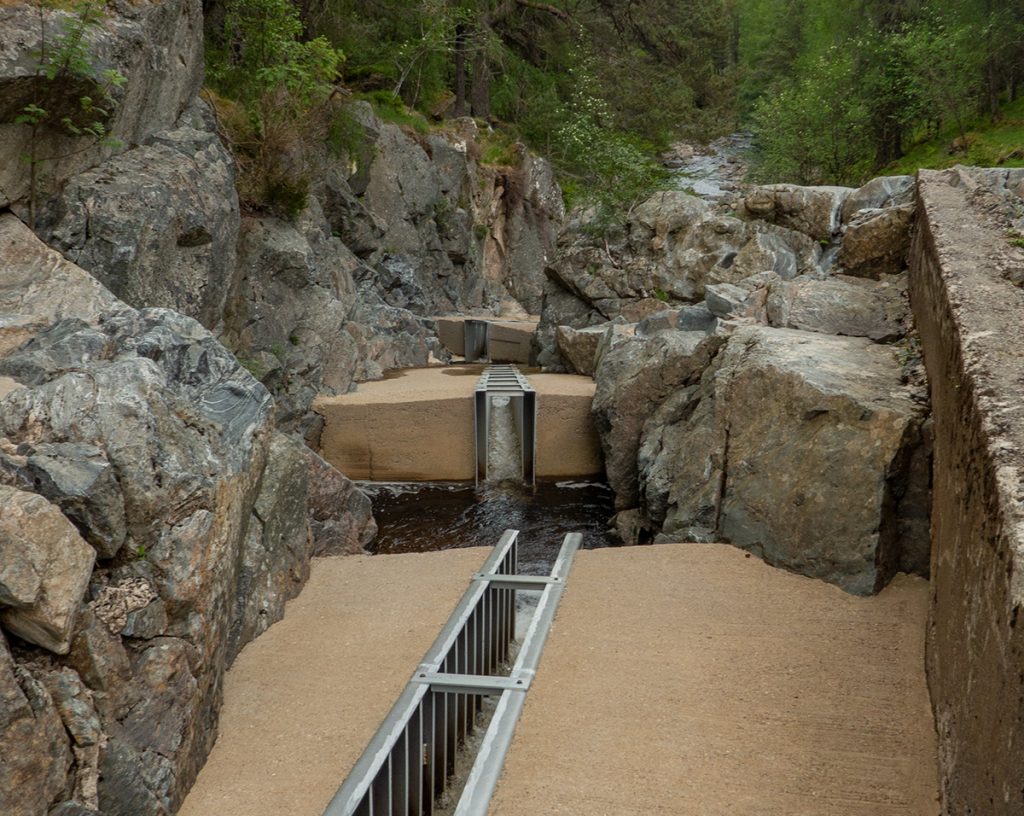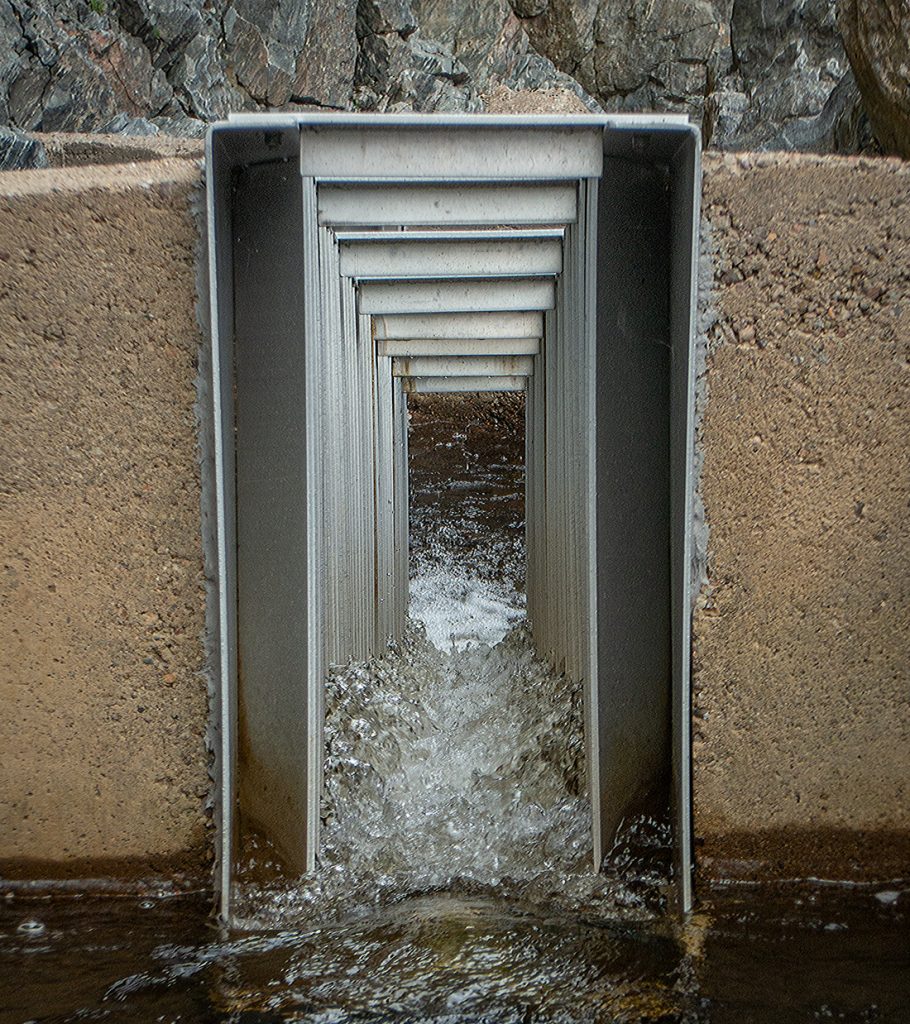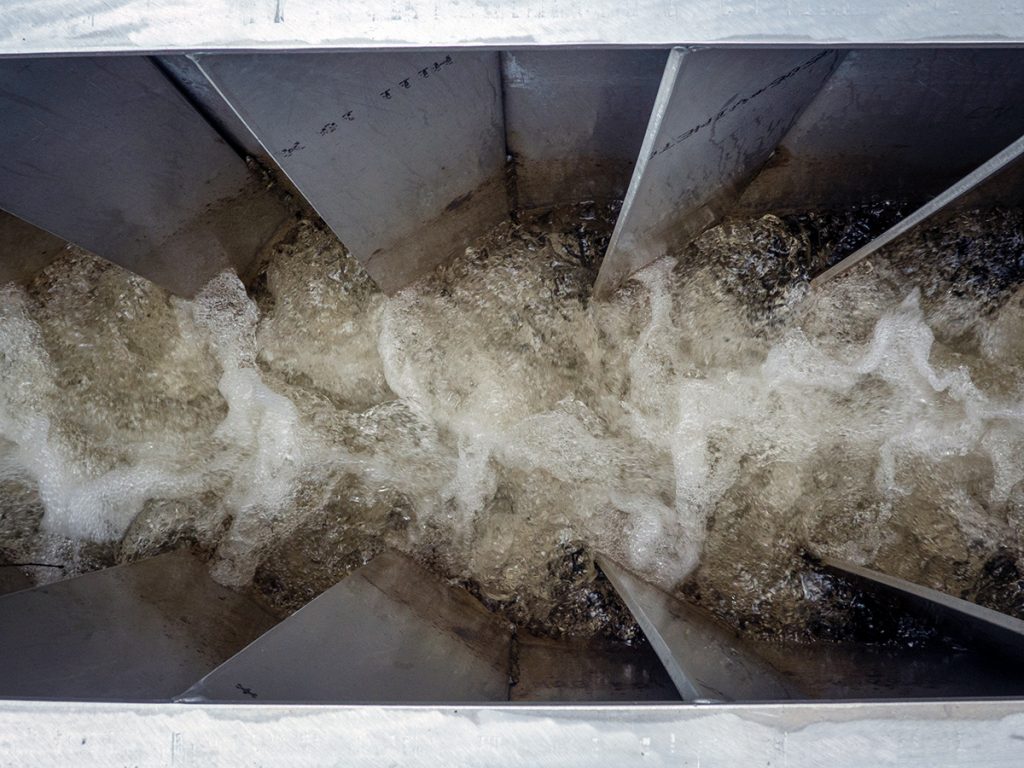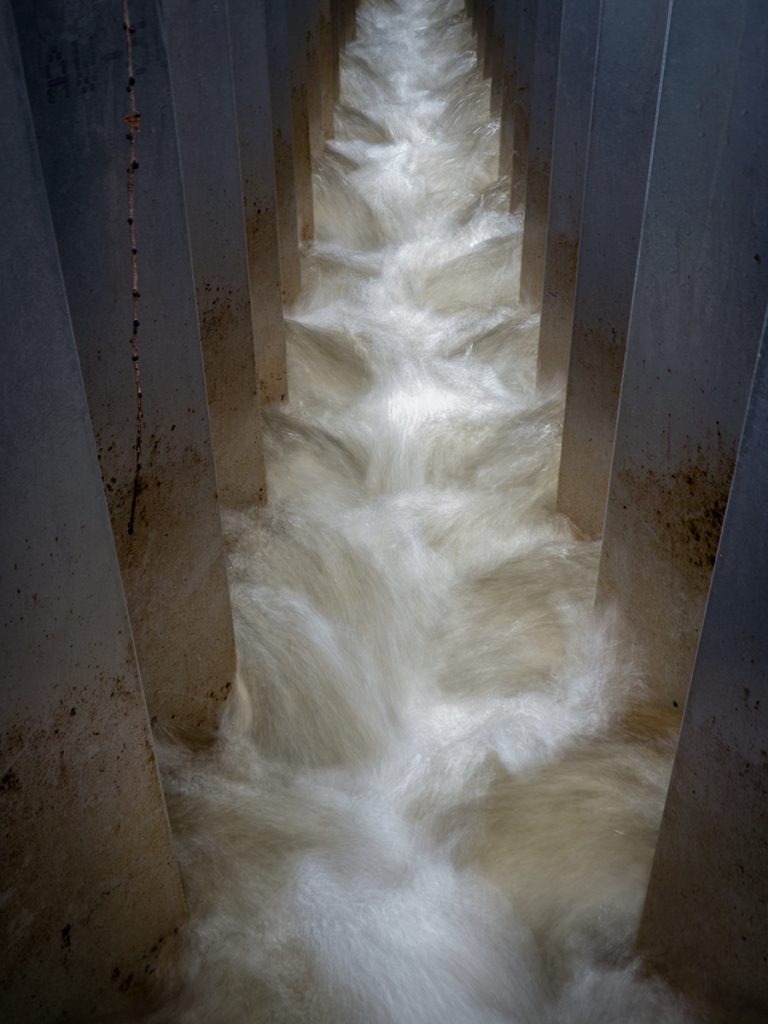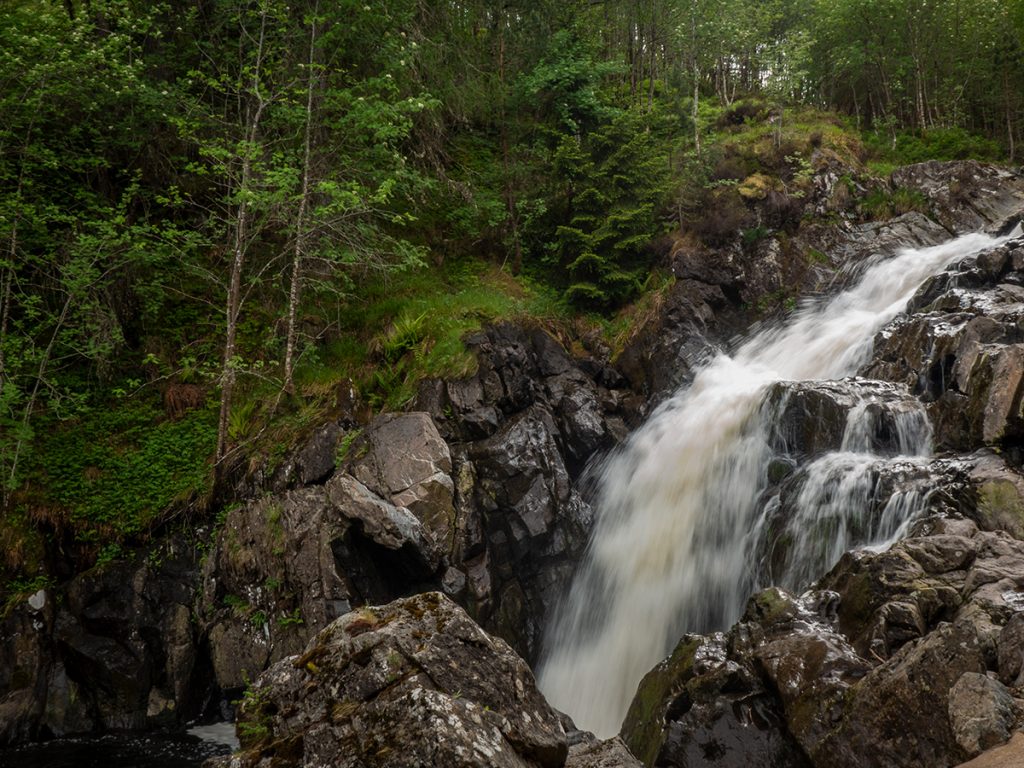 Into the forest and it's mess of forestry tracks, which led to an unfortunate bushwhack through dense fly-swarmed plantation when OS proved incorrect; a clearing allowed a breeze to penetrate and disperse the growing buzzing cloud.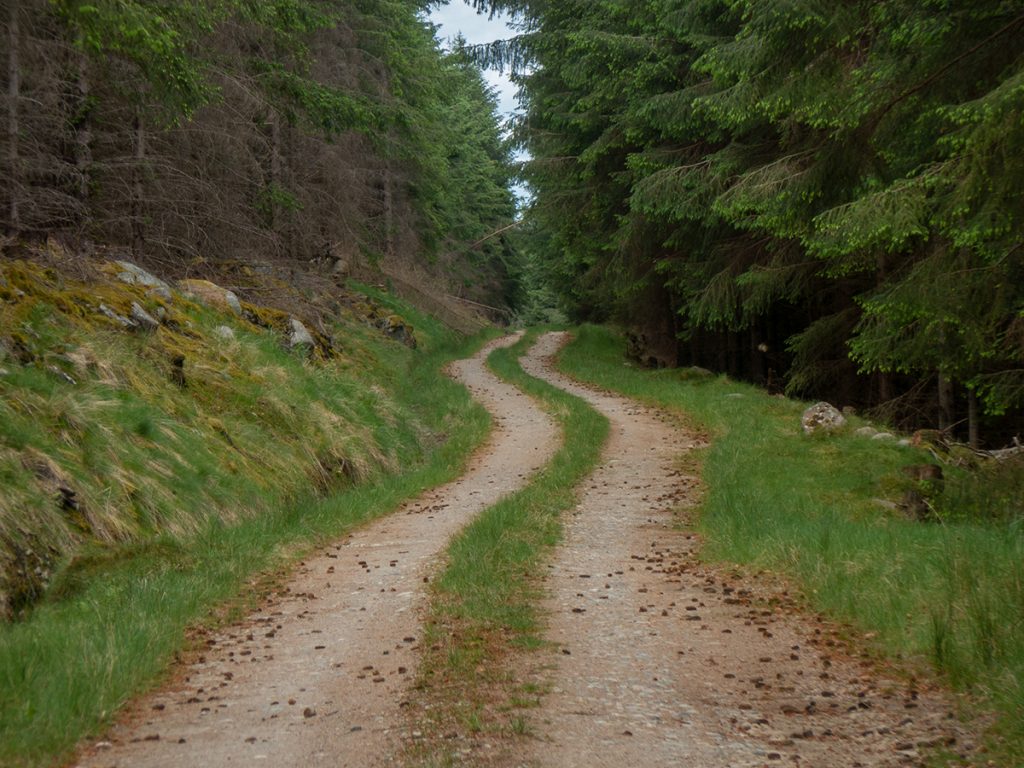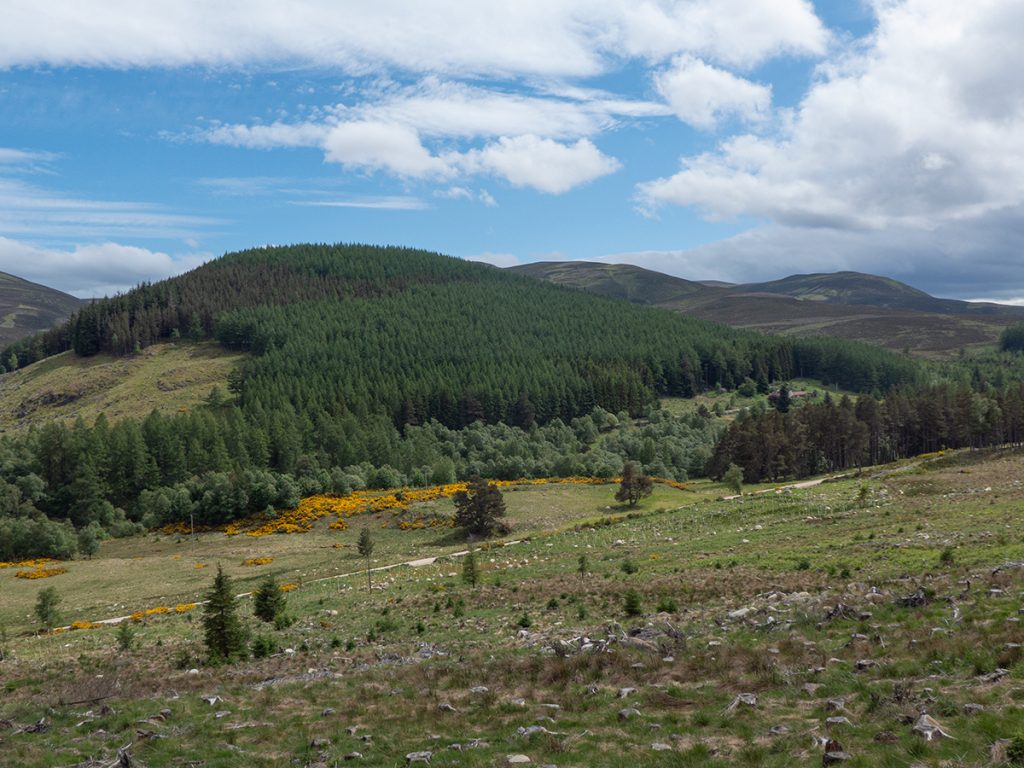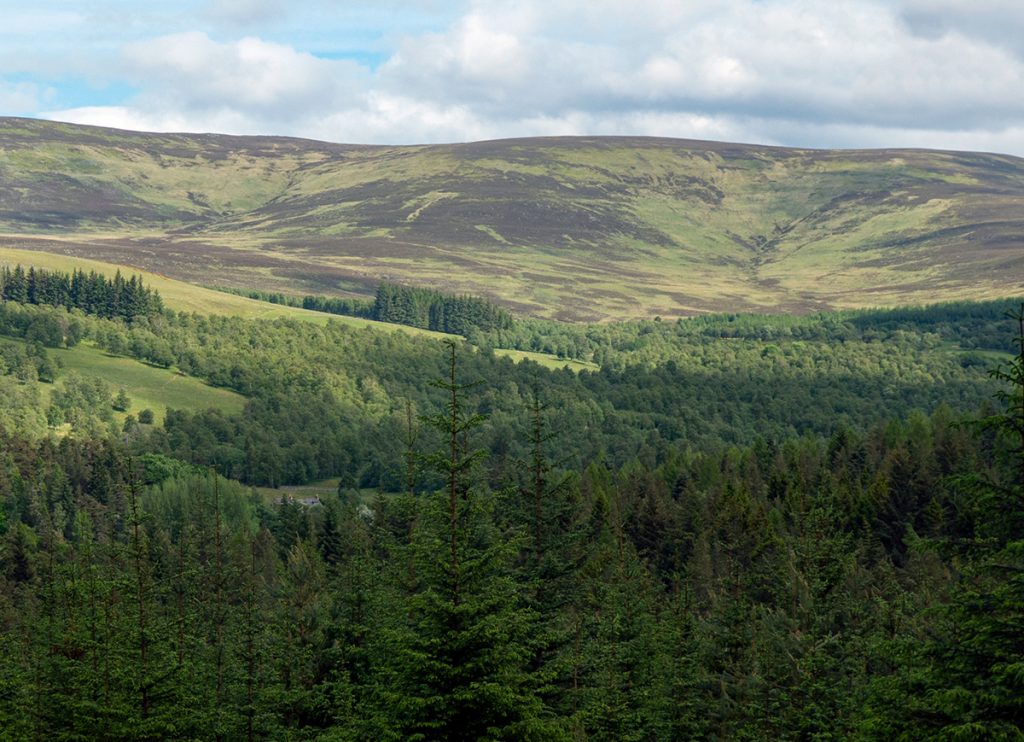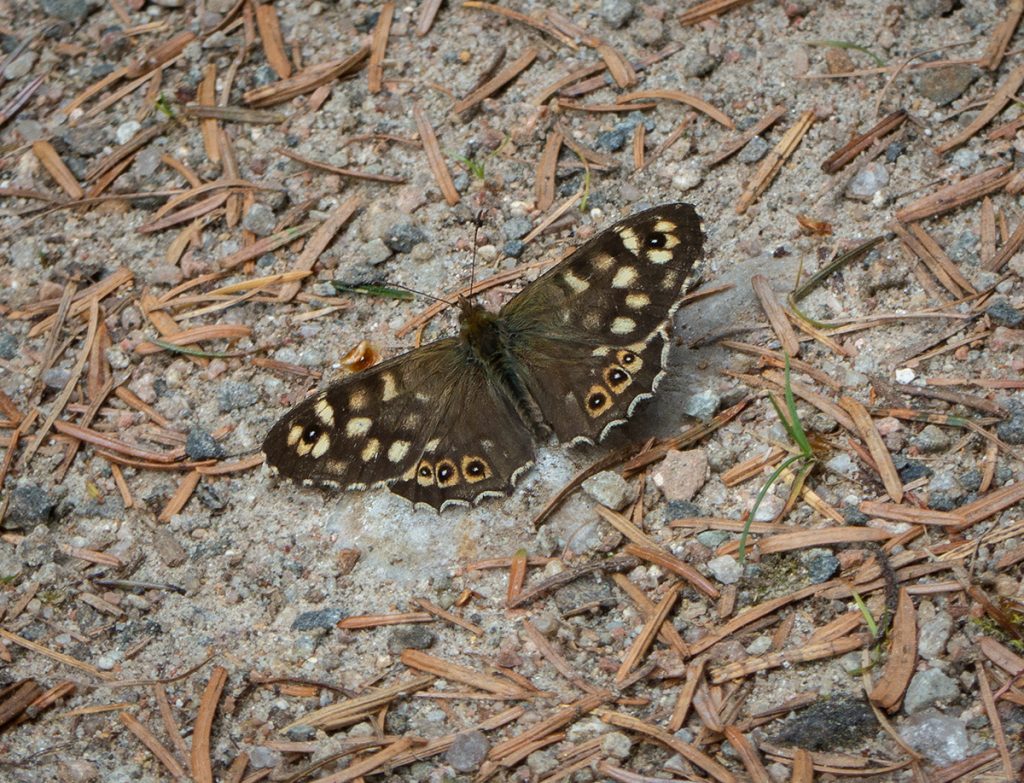 A clamber over a deer fence, then another over a locked gate had me aside Loch Ullachie. Some 'diving heads' popping up and down offshore had me puzzled; watching for a while at this troop of unknown creatures had me baffled until the same appeared closer – it was actually lillies being lifted by a gust and creating a row of dark 'heads'.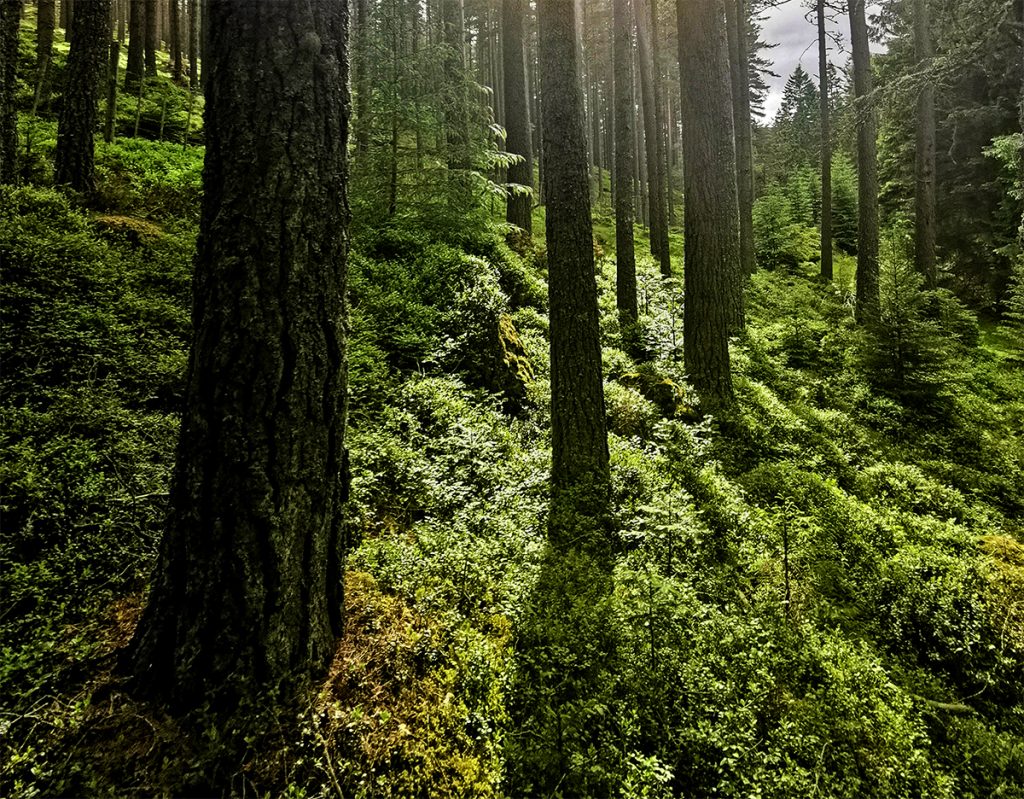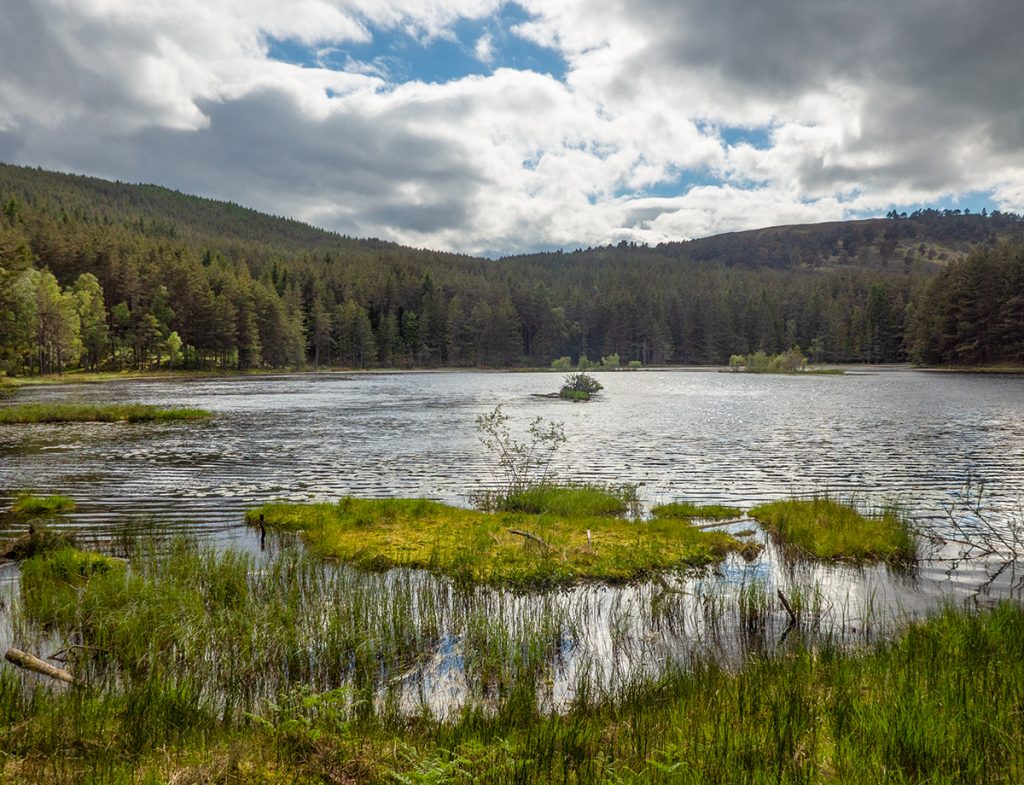 My final stint passed through the woods around The Knock, then along 'the avenue' to the Dee. The flowery riverside meadows were nice, the nesting gulls of the island swooping and shrieking, not so much. A quick shop in the coop for snacks was all I had time for before a bus turned up, I could have murdered a pint after close to 50km of walking.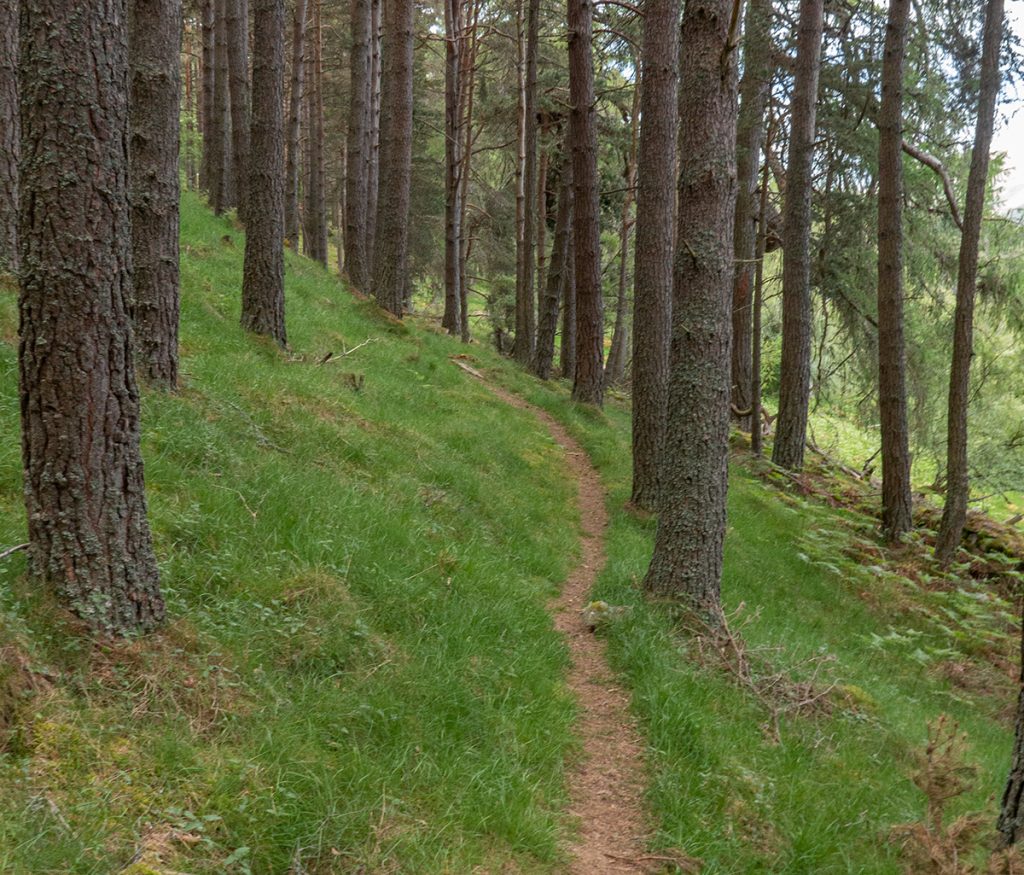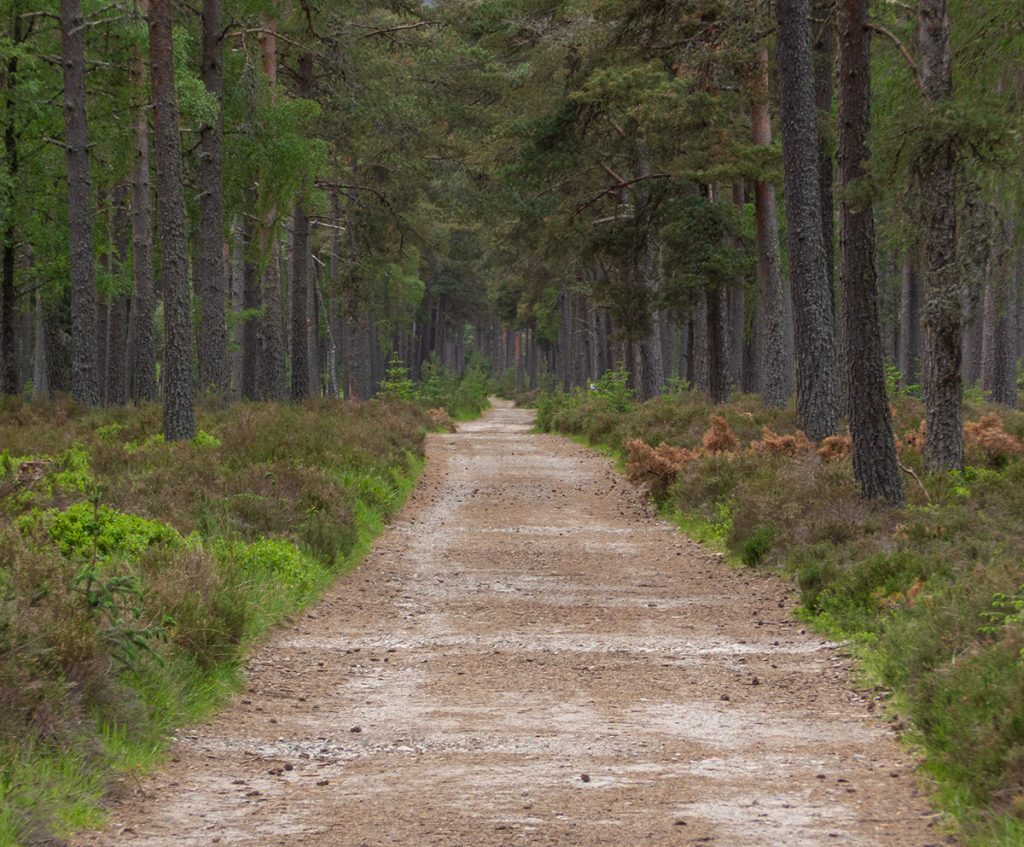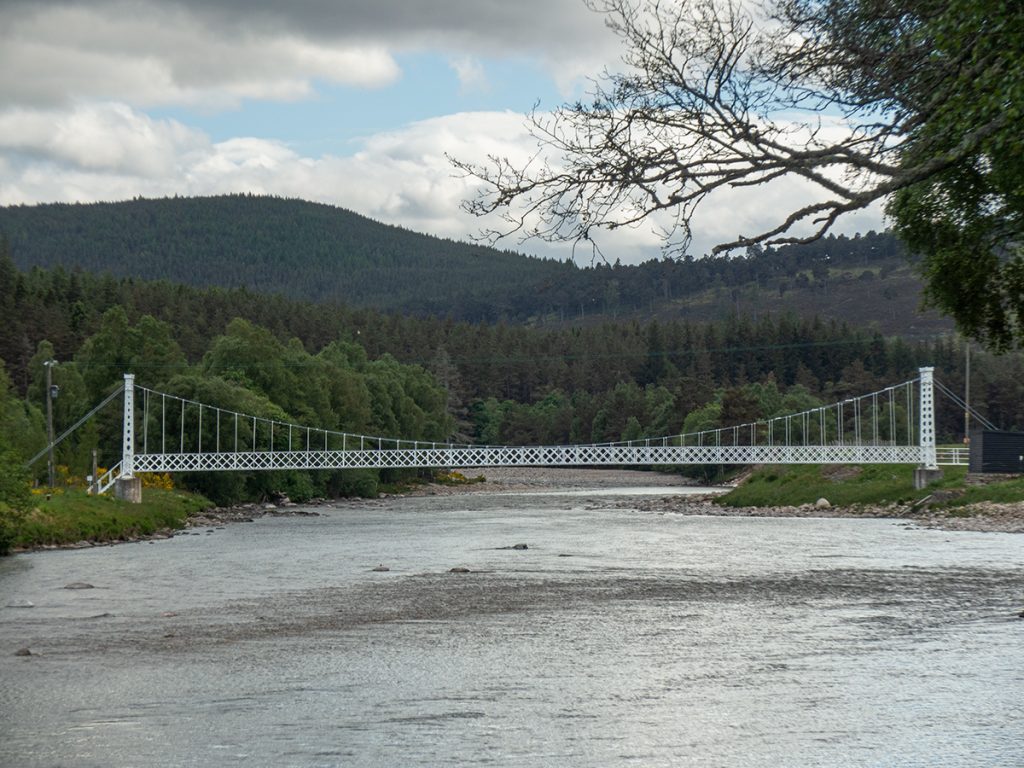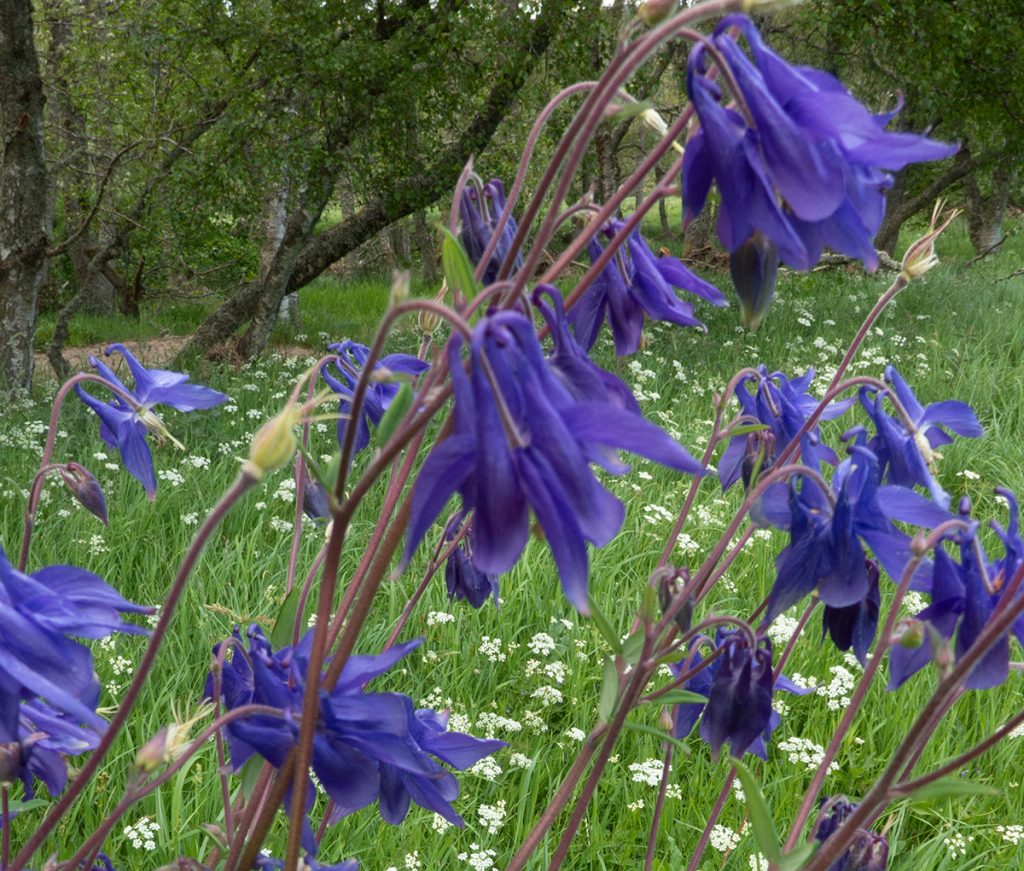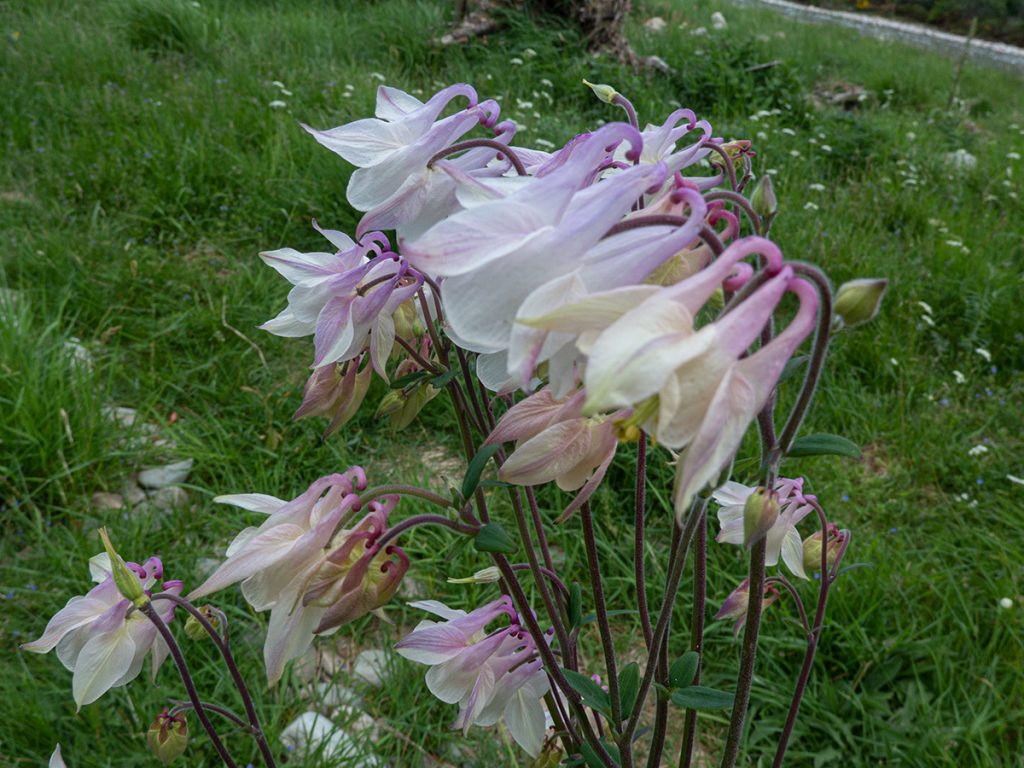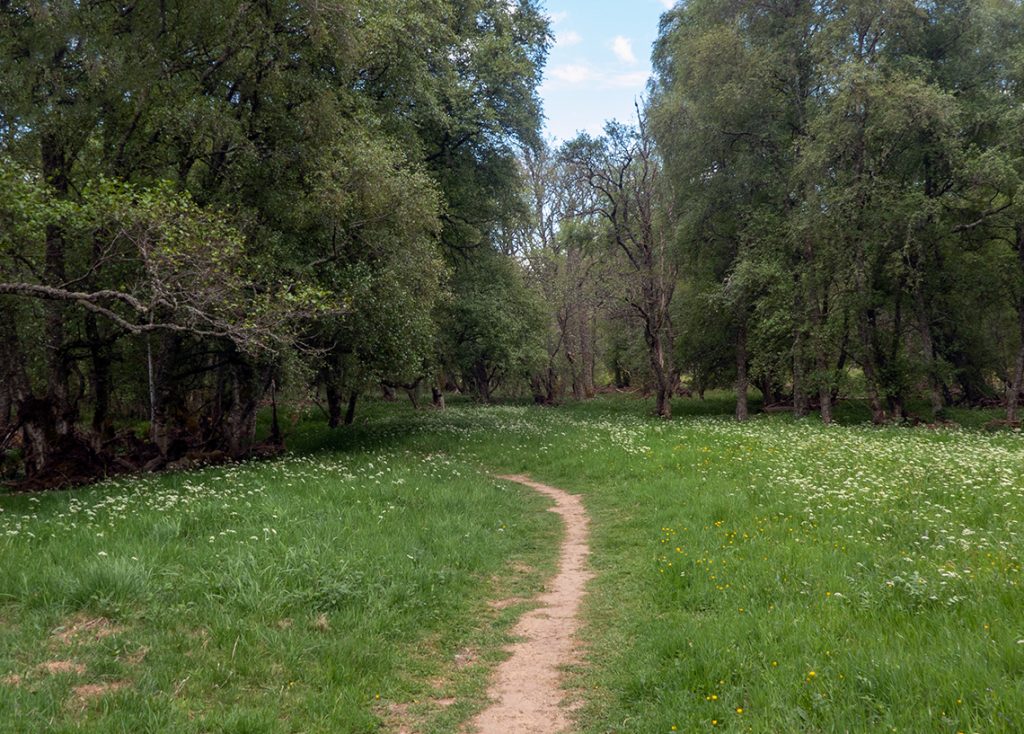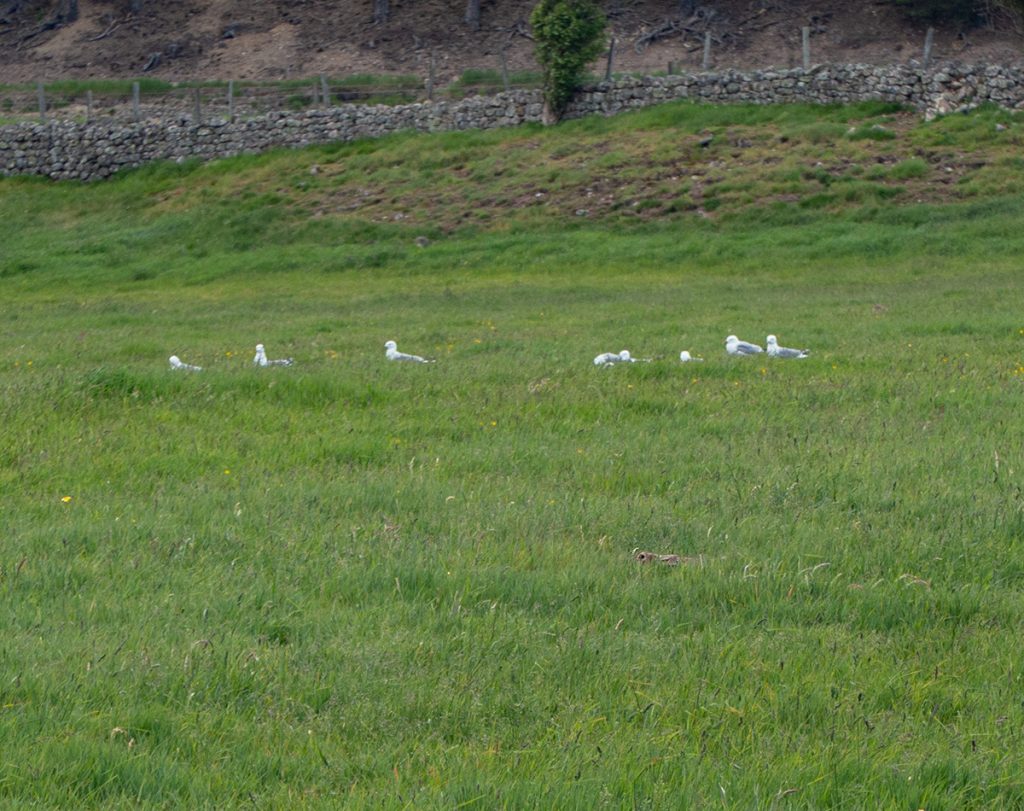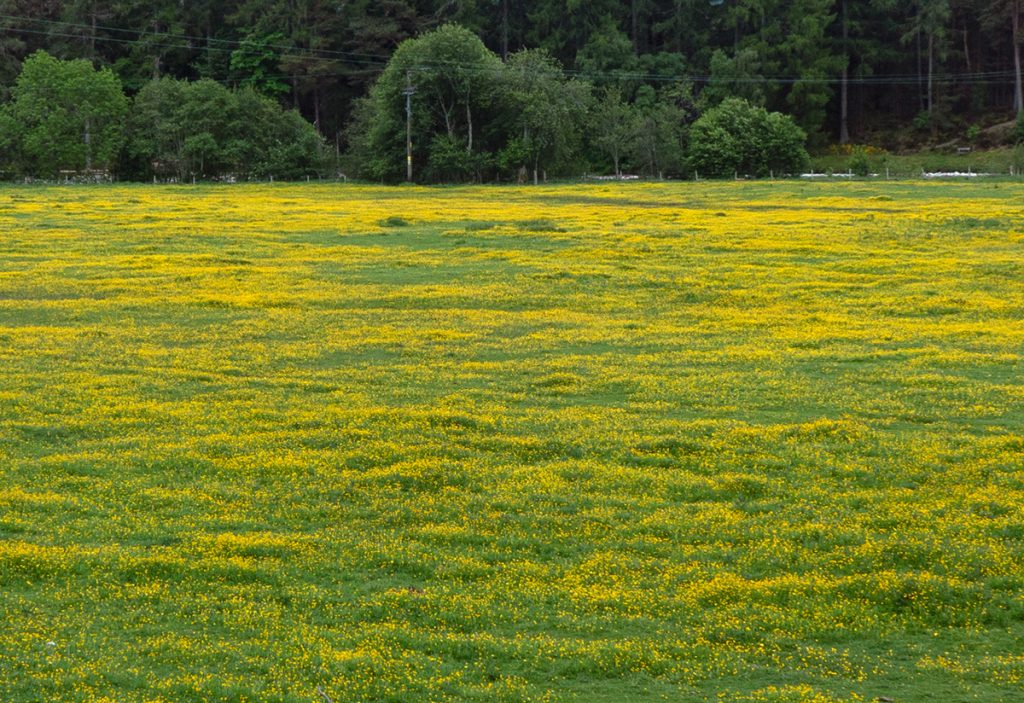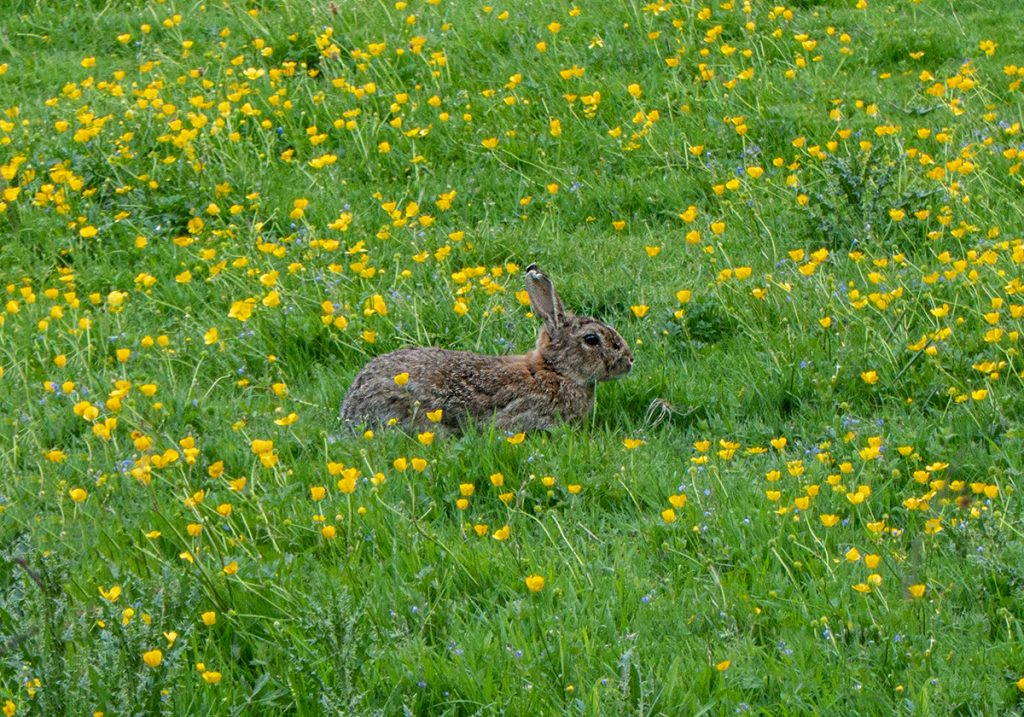 Subsequent reading afterwards showed that Cnapan Nathraichean translates to "the knoll of the adders" so it's good to see that they are still there and thriving.