One outdoor activity I've never tried over the years is skiing: I've friends who are keen skiers, but didn't want to be blundering about on the nursery slopes while they swish it down from the tops, so never got involved. I'd started reading up a bit on it a few years ago with a mind to start some lessons and maybe buy some kit, but snow season is short and summer is upon you before you know it and the idea shelved for another year.
I'd bought some unusual snow shoes back in 2021, and they'd had a couple sorties. I gathered cross-country skiing was pretty much 'sliding snow shoeing' at a basic level and looked to buy some kit to maybe mess around some, but 2022 was looking like it'd fizzle out with very little snow lying.
A pub night with a friend who is a keen skier coincided with Storm Eunice dumping a huge overnight fall of snow, and as the beer flowed we conspired to get up early and head out to Huntly which has a nordic ski centre and where the nearby forests have trails specifically for cross-country (most of NE Scotland only cares for downhill skiing). She assured me that I'd be able to do something useful on the skis within 10 minutes and wouldn't spoil her day out. I was sceptical but nonetheless jumped at the chance.
Arriving at Huntly a bit later than planned (pub nights have that effect) I was lucky to pick up one of the last sets of hire skis, a perfect blue sky day combined with fresh powder had both seasoned skiers and other newbies like me giving them a roaring trade. £17 for skis/boots/poles was quite reasonable.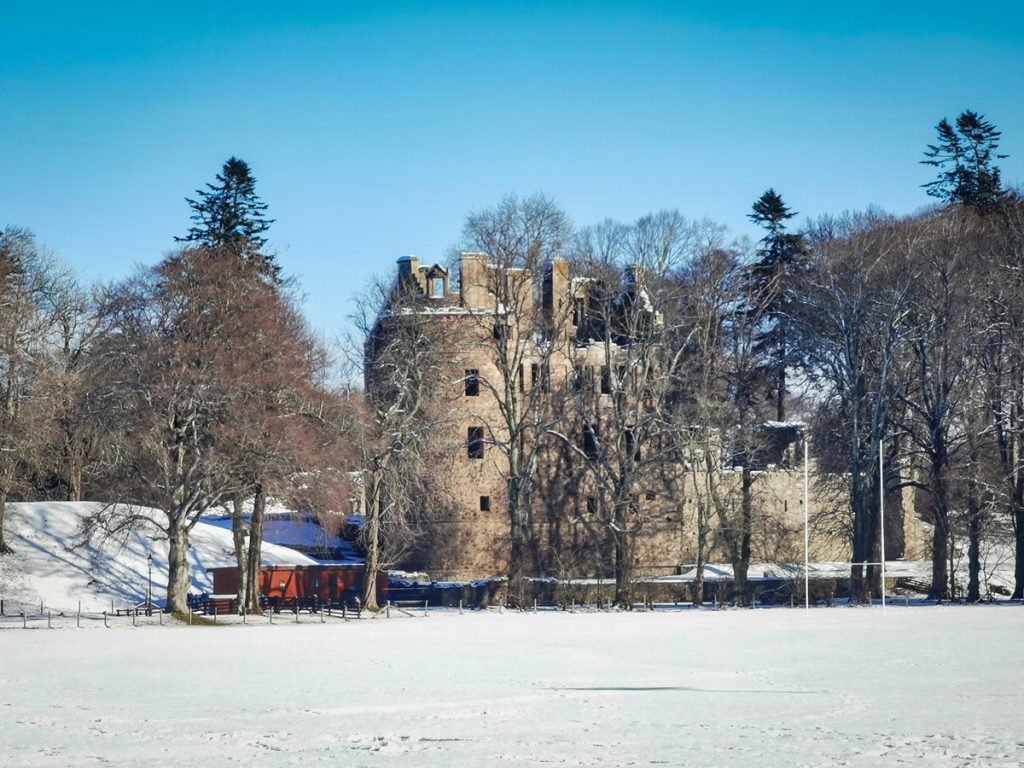 Rather than stay nearby, we headed for Gartly Moor woods between Huntly and Insch, a forestry plantation that is popular with cross-country skiers.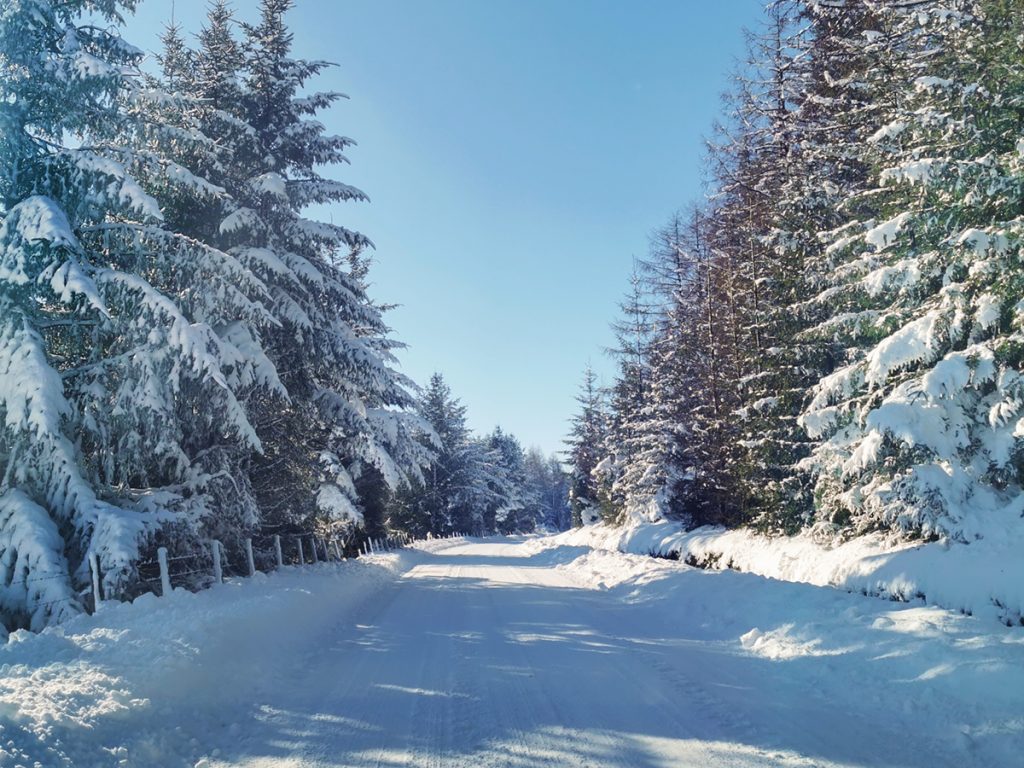 After some faffing with the boot clip and the ski binding (it had a flip handle thing that needed opening..duh) we were under way. Other folk had skied already leaving 2 tracks that I'd slide along, making for less resistance but 'locking' the ski in. Initially striding along just 'walking' then getting some more momentum going and managing to slide a bit, the idea being to 'kick and glide'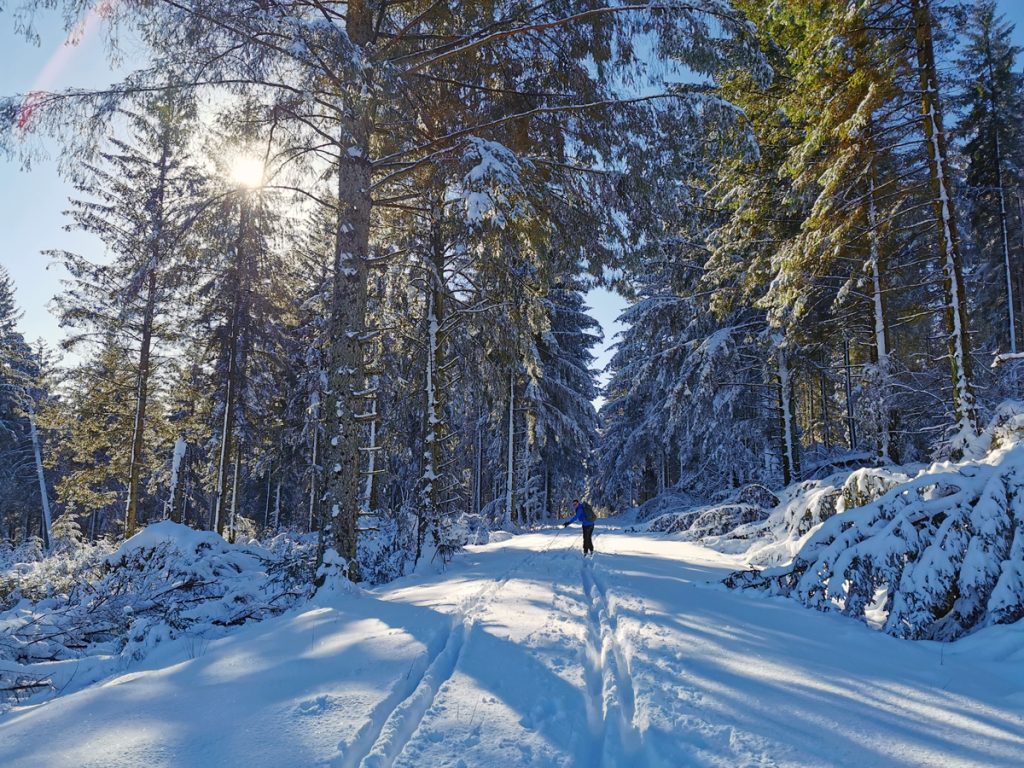 I felt quite unwieldy (the skis are very long and narrow) but could get a bit of rhythm going, and rather than holding up proceedings for the other two made good speed and even whizzed ahead a bit (more courtesy of good fitness than technique).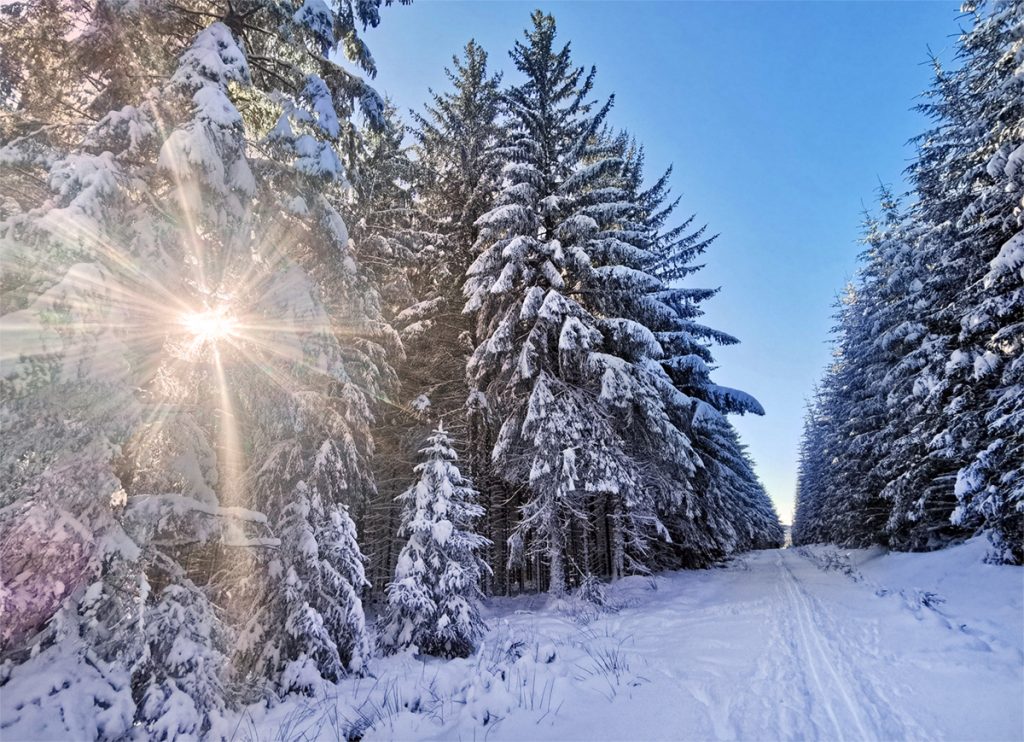 The day was stunning: perfect blue skies and although the forecast was a couple degrees, felt way warmer. I'd been advised waterproof trousers to guard against falling over and getting lots of snow on me repeatedly, but so far was working up a sweat in the sun (and not falling) so glad I hadn't bothered. I'd chosen keela roadrunner trousers, these are primarily bike trousers – reasonably slim, velcro ankle to stop flapping, and zip thigh vents and they worked really well for the task in hand. I was too hot with an outdoor research polartec alpha jacket on, so swapped it for a thin softshell (rab boreas). Unsure of the activity, I'd fortunately packed my montane dragon 20 backpack with a variety of bits n bobs and clothing options.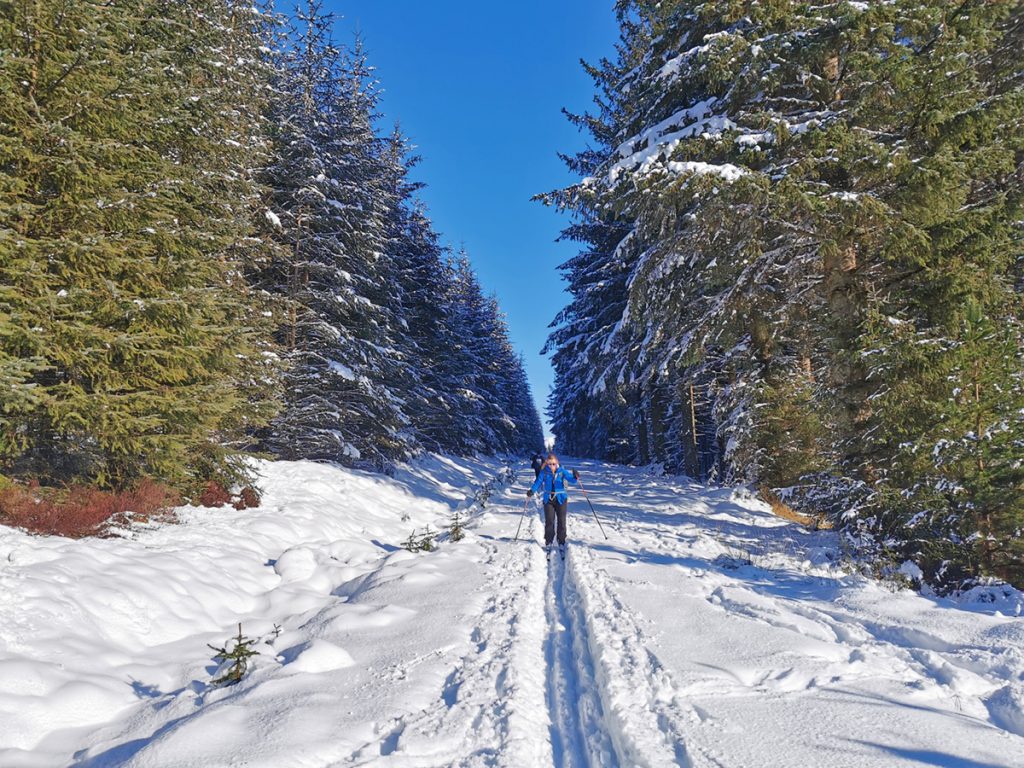 Heading downhill I had a few tumbles, the long skis are skittish and hard to point/tilt with a pretty soft/flexible boot, and often found it embarrassingly hard to right myself with long skis tangled underneath, but glad of sturdy poles to lever myself up. *note not good practice shoulda watched this video Unlike when walking fast when I can put a fair bit of heft through poles, I hadn't quite got the hang of really giving it welly through the poles on skis to accelerate glide.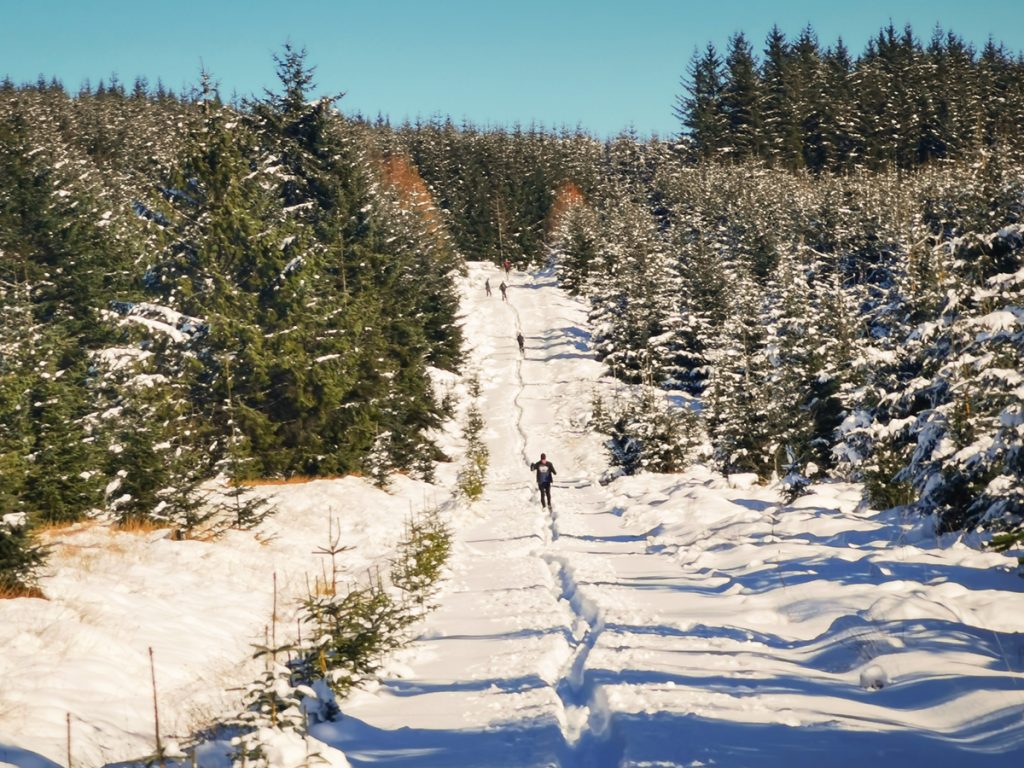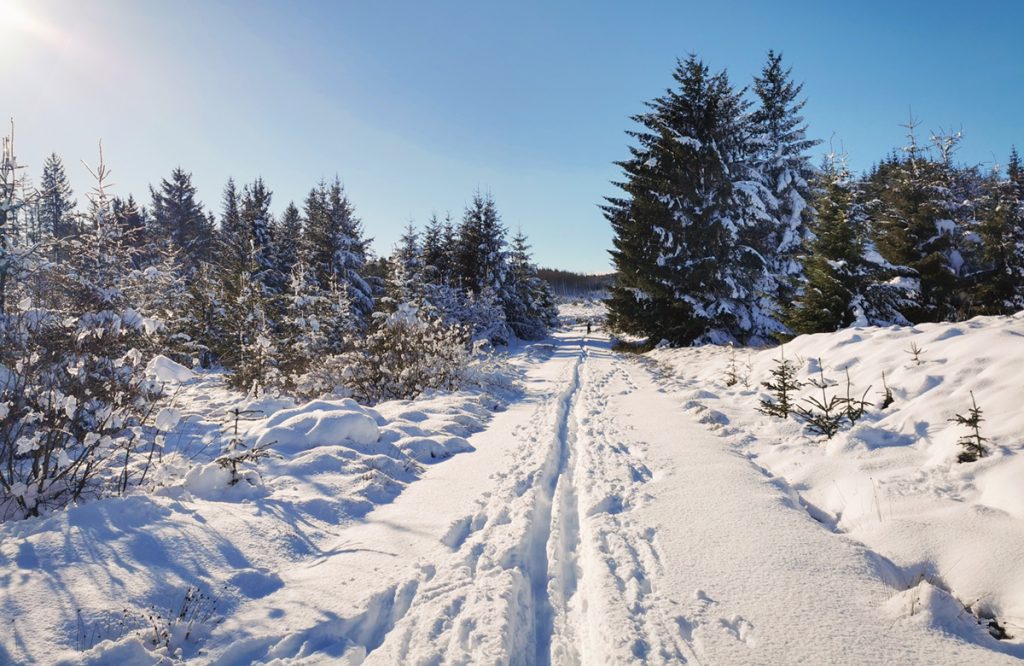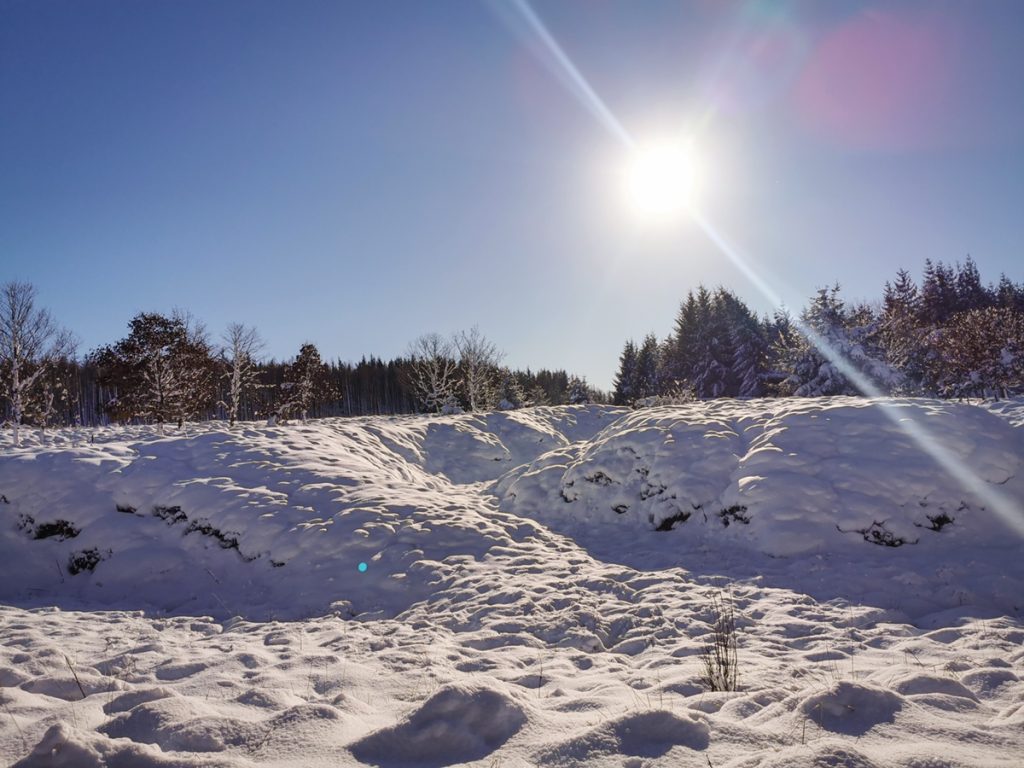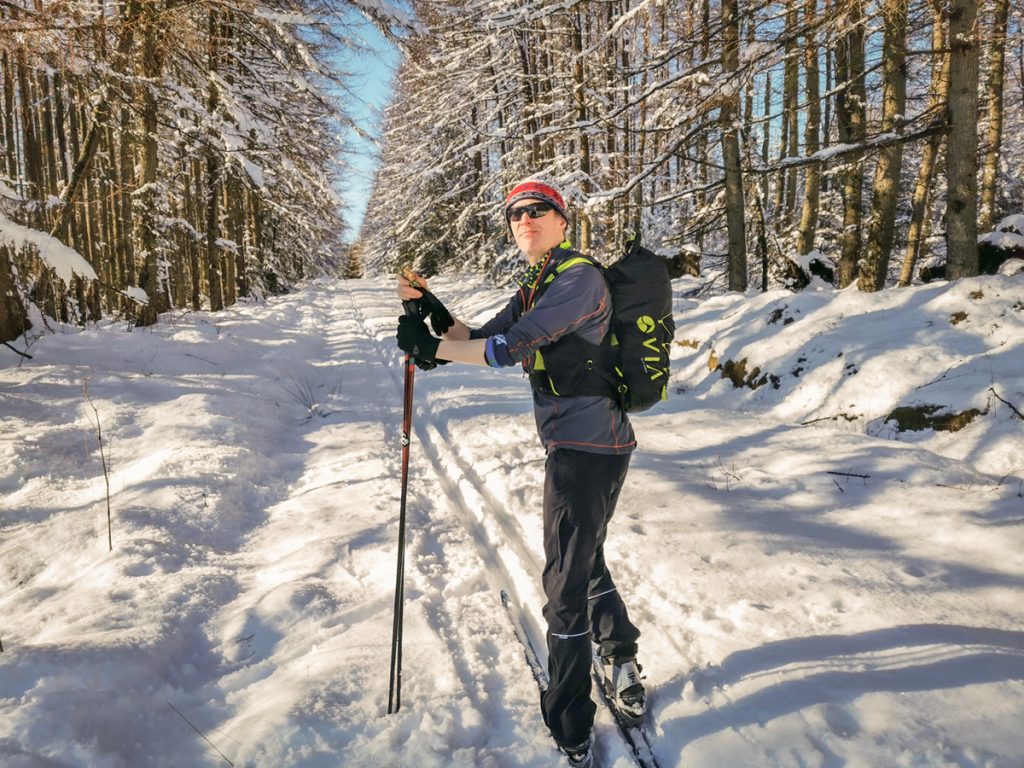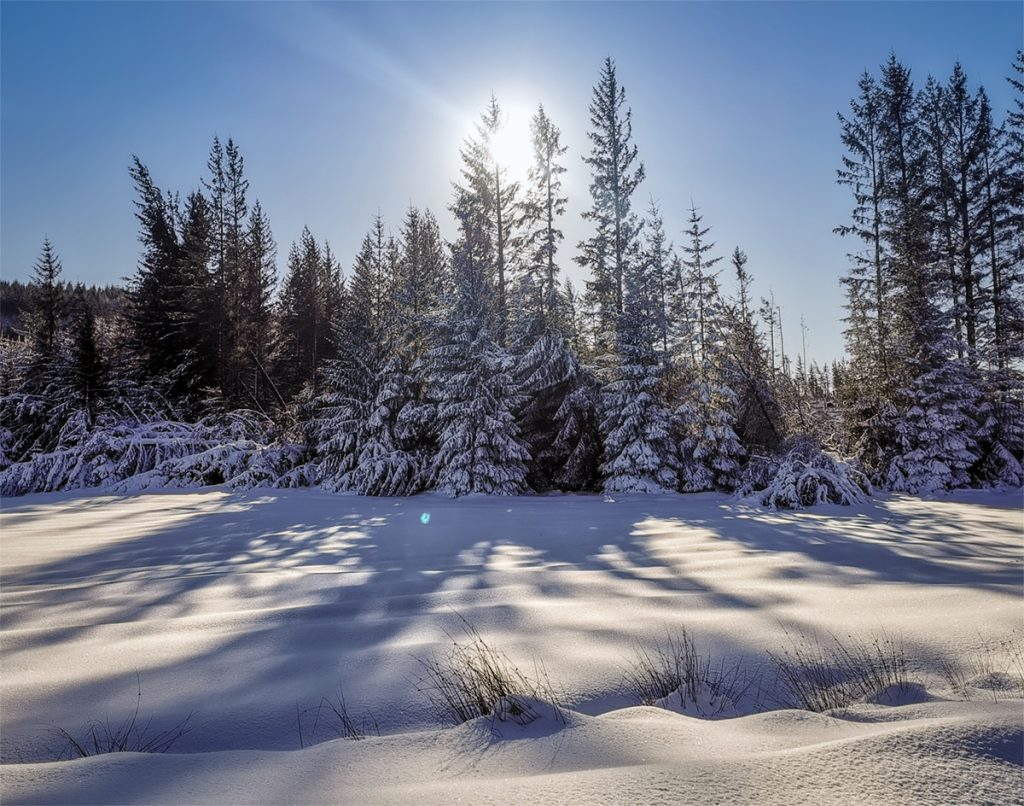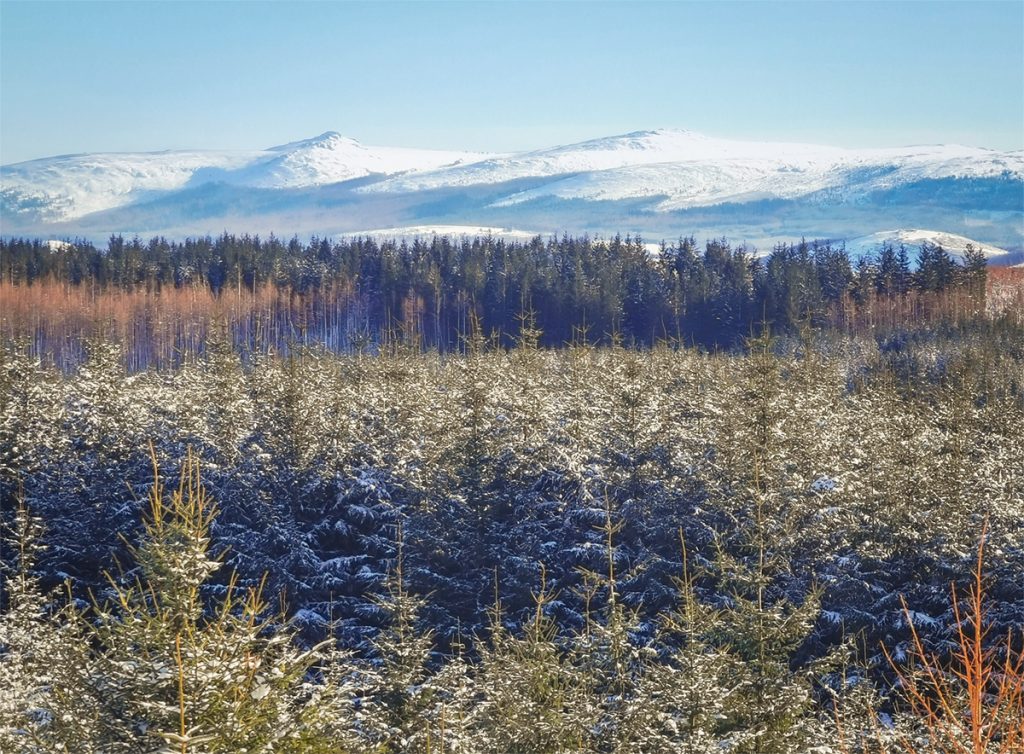 As I wasn't at all familiar with the area, I didn't question navigation – we headed off the main trail on to a small path that was untrodden. This should have been a sign I should have queried "Why's everybody else going past this.."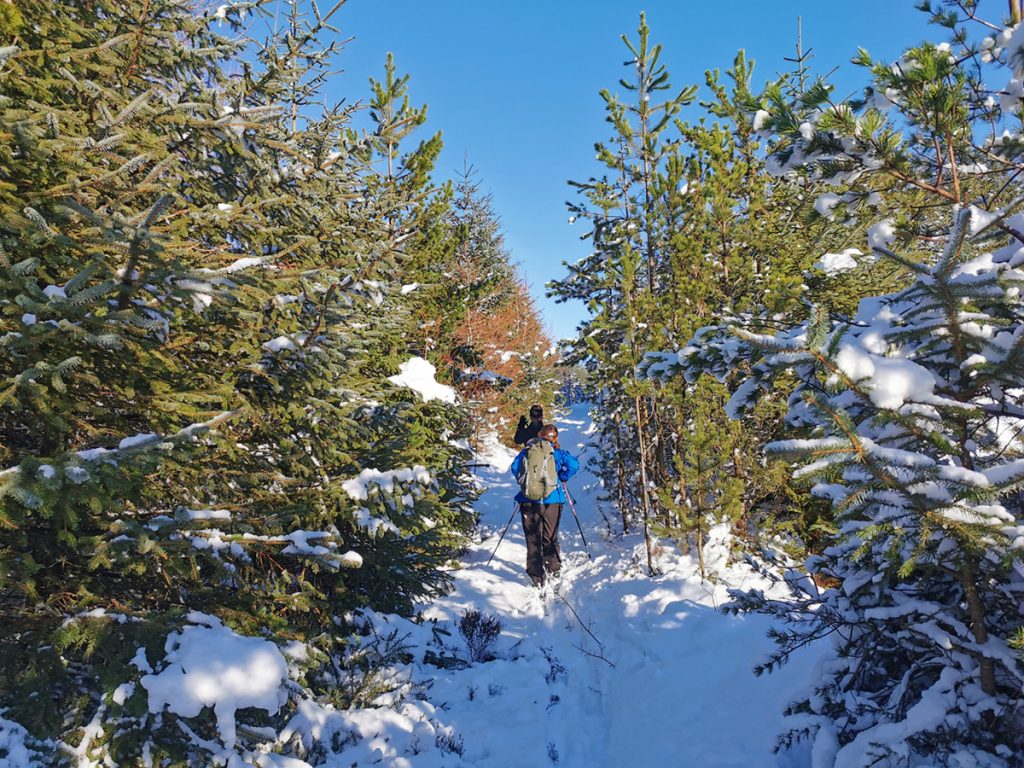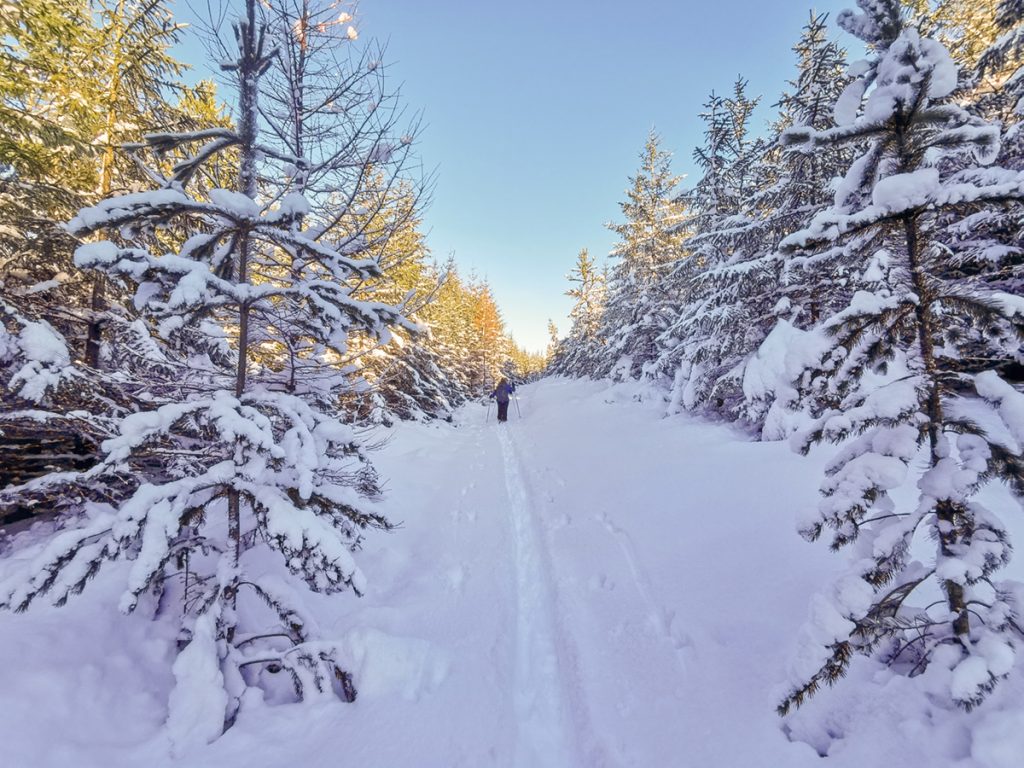 We slowed as we plowed through deep powder: although long, the skis weren't wide enough for much floatation, I snagged a few times on branches hidden beneath the surface. It was very pretty amongst the trees, but we headed into the open as we neared the top of Wishach Hill.
It was hard to see the path as we crossed a replanted area with only baby trees peeping through, but I took a turn breaking trail at the front (more tiring due to not having a compressed track to follow)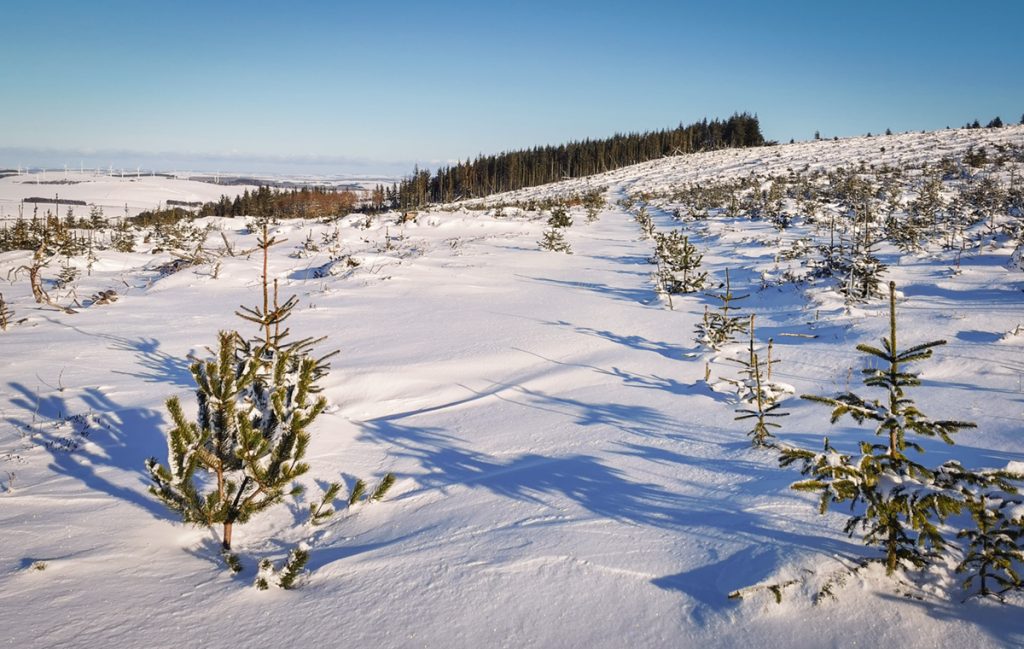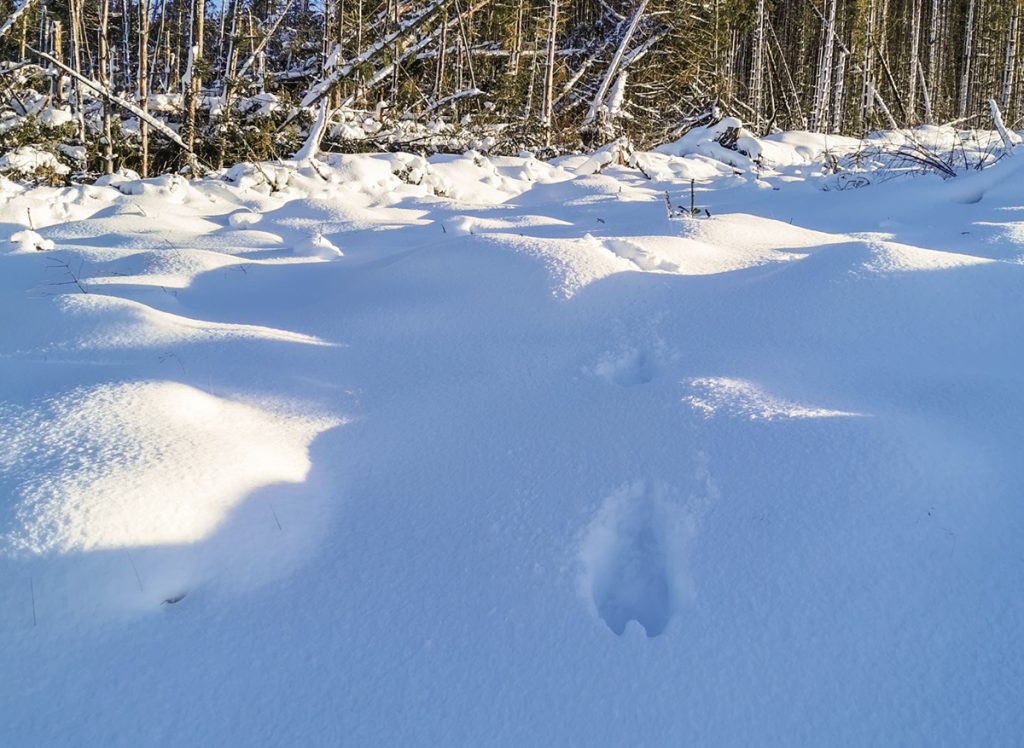 We re-entered woodland, but here we could see why nobody else had ventured this way: first there was a fairly lumpy trail scattered with mounds of branches, then clear for a while, but we could see a lot of fallen trees and we had doubts how long it'd be before we were blocked. We were within a few miles of closing the loop back to the start so pressed on.
We soon reached a barrier of huge trees felled in recent storms, and spent some time trying to find a way past. Even with skis ejected and clambering about on foot, there were no easy ways through: devastation for hundred of metres as far as could be seen, and deep holes full of snow and hidden tangled branches, surrounded by half fallen logs of uncertain stability..it didn't feel safe to continue so the only option was to turn around and head all the way back round.. uh oh: sun setting in half an hour.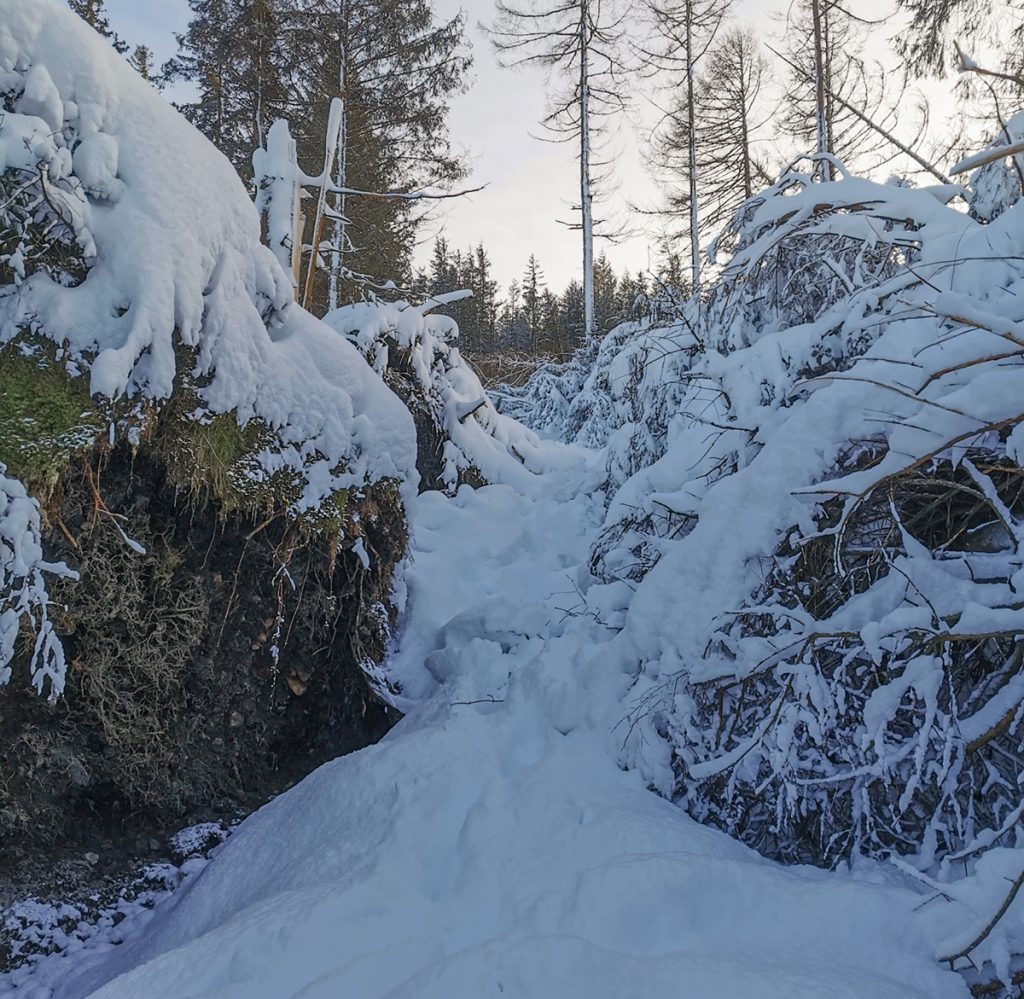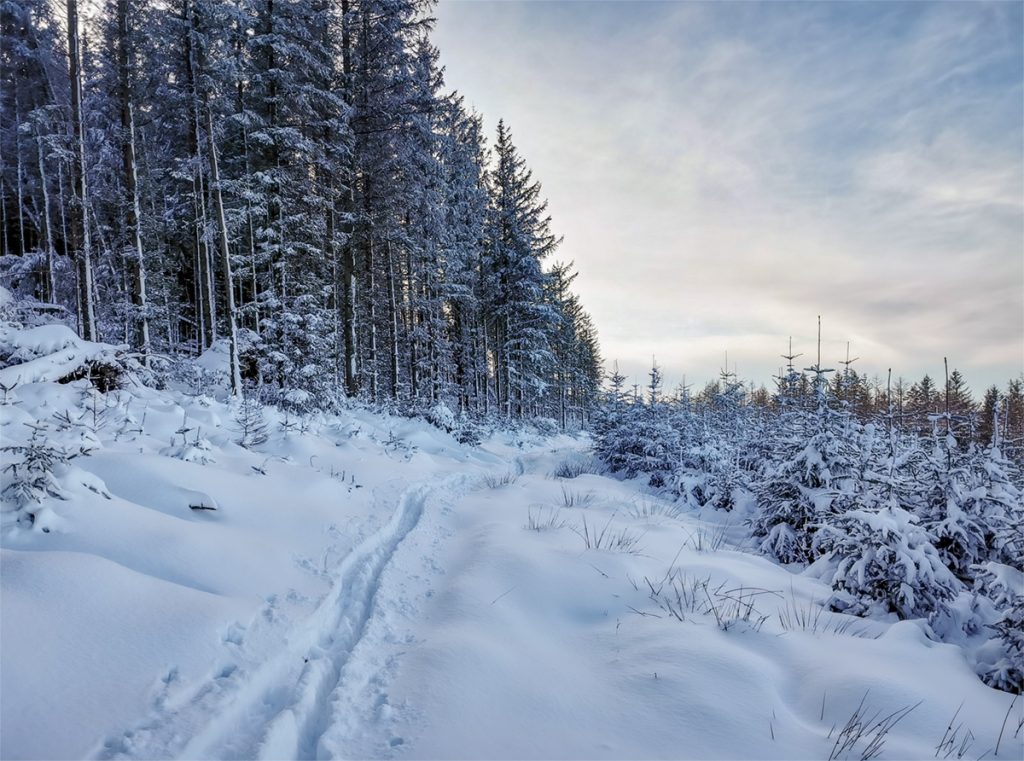 With the skies darkening the temperature fell rapidly so the jacket went back on and I changed gloves to a new purchase: alpkit frazil. They're a mid-weight leather/soft shell glove with a pile fleece lining, but not waterproof: I'd bought them for cold highly-active days where they'd be sufficiently warm but being pile not "sticky-lining" when damp hands, or too sweaty, and they indeed were spot-on for this task of hands on cold poles.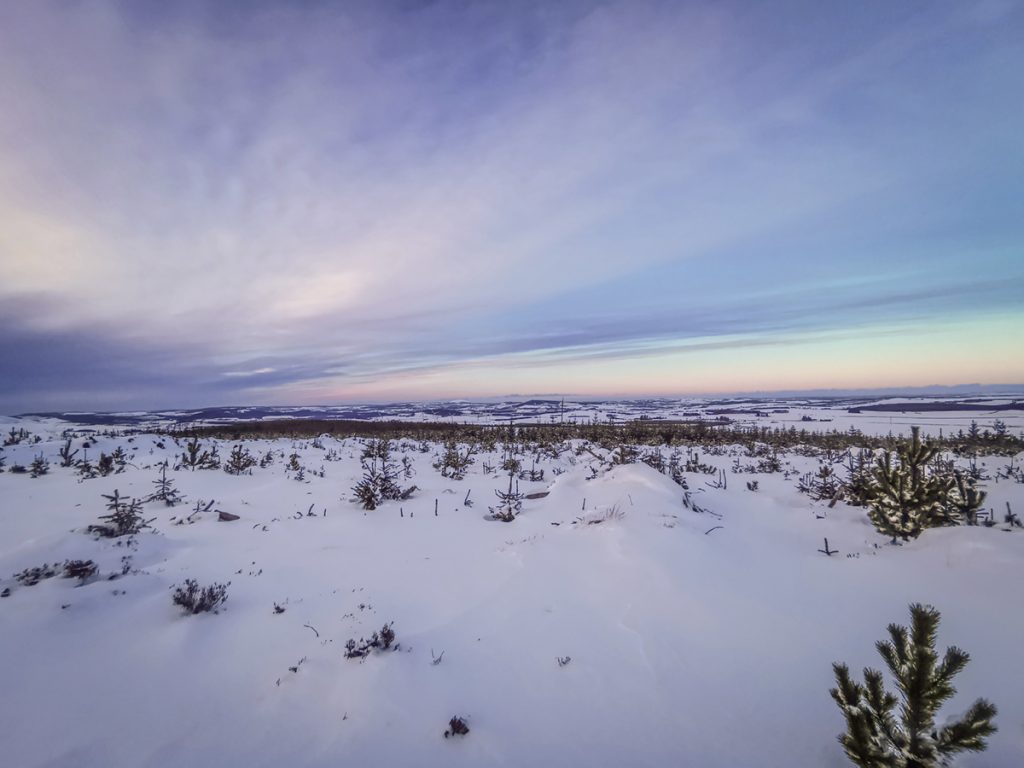 We took a slightly different route back: the path contouring the south side of the hill was popular with walkers so the glide track had been bludgeoned underfoot: not much glide was possible, also the skis had got a bit 'sticky' although they were theoretically 'waxless'. I think ideally you'd apply some though it seems a complicated art. If you're out walking where skiers have a track? Please don't trample all over it particularly when there's loads of room not to.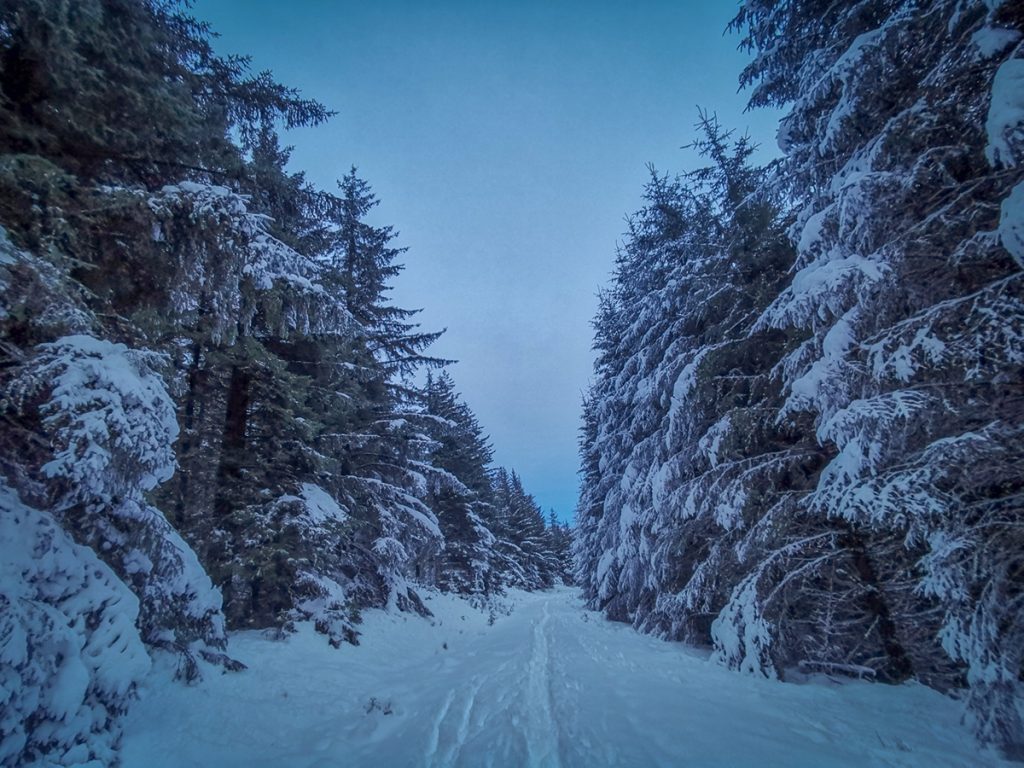 Back at the car park to end my first ski day and 13km on the clock, a thoroughly enjoyable day. I hope to do more if the snow gods bless us with more magical scenes.