My first winter trip of the season with the Cairngorm Club is up to Brown Cow Hill and a few others beside Corgarff Castle. I'm not familiar with it, and it has a reputation as a not hugely exciting corbett, but it is a chance to have a closer look at the castle of a thousand winter photos that I've passed many times en route deeper into the mountains, and test out some winter gear. The weather forecast was clear, and snow had been falling in the last few weeks, so hopefully a winter wonderland awaited.
It's not often on a day out that you're 'Lost' straight away, but the bus having stopped for a toilet break at Strathdon, I quickly nipped 20m down the street to the war memorial, where thanks to the sign, you are no longer lost but have found Lost.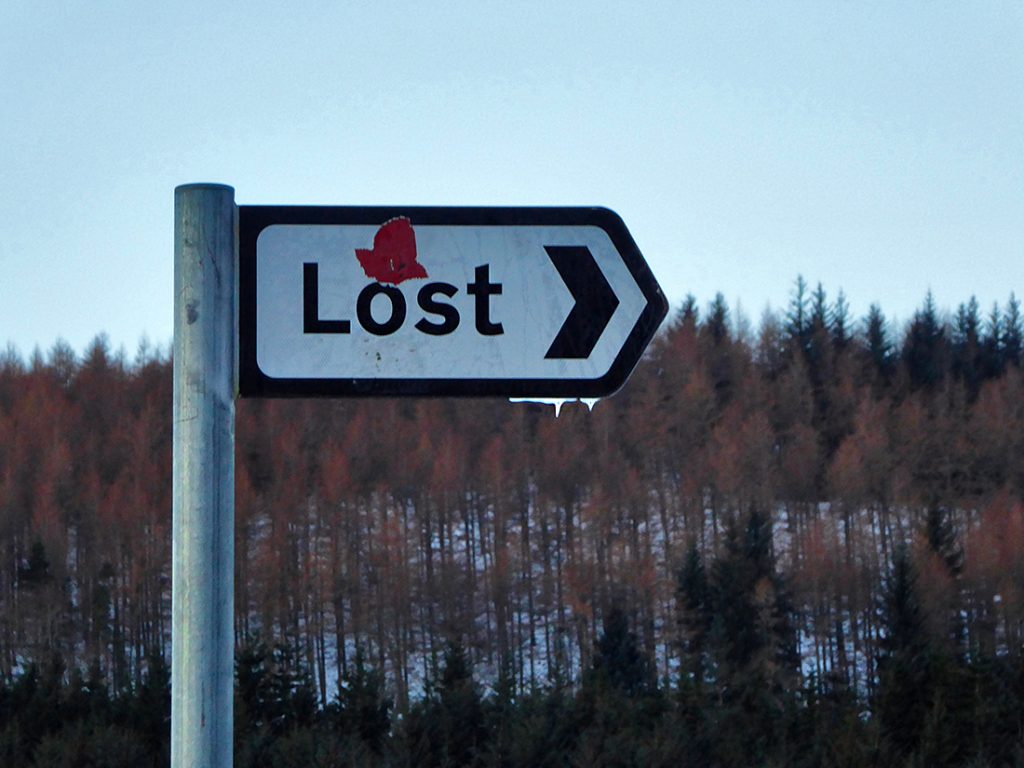 We park up near the Castle, just before Cock bridge; the start of the road to Tomintoul commonly closed by snow.
Clear blue skies but very chilly as we get underway of our anti-clockwise loop of the hills, following a track along the upper Don, forecast is -8ºc.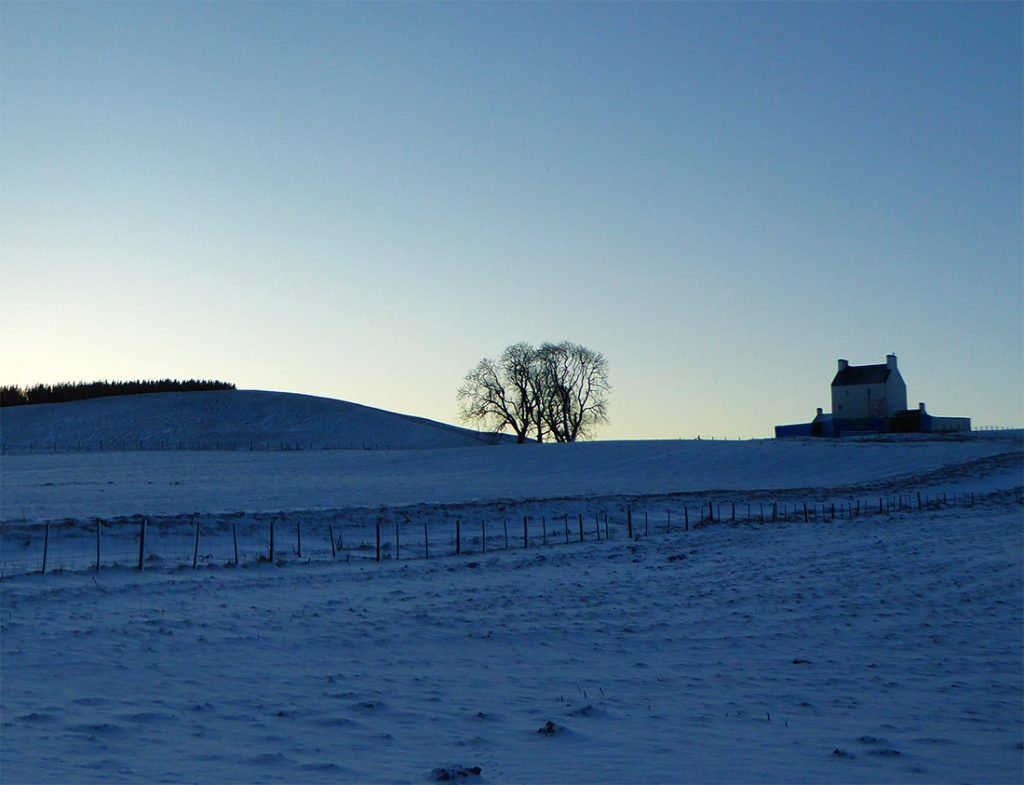 As we meander along following the river, conversation turns to a debate on ice axes and length; the club is keen that everyone takes one which is fair enough from a liability perspective, but there are no steep gradients or drop-offs anywhere on today's route so would probably have not bothered left to my own devices. Nonetheless of the two available I select a 60cm-ish one rather than a short climbing orientated one; I generally agree with the 'held by side touch ankle' judgement of length, to be able to use it as an uphill -and- downhill balance aid. It's a robust boat anchor of a thing; I'll need to look into getting an ultra lightweight one.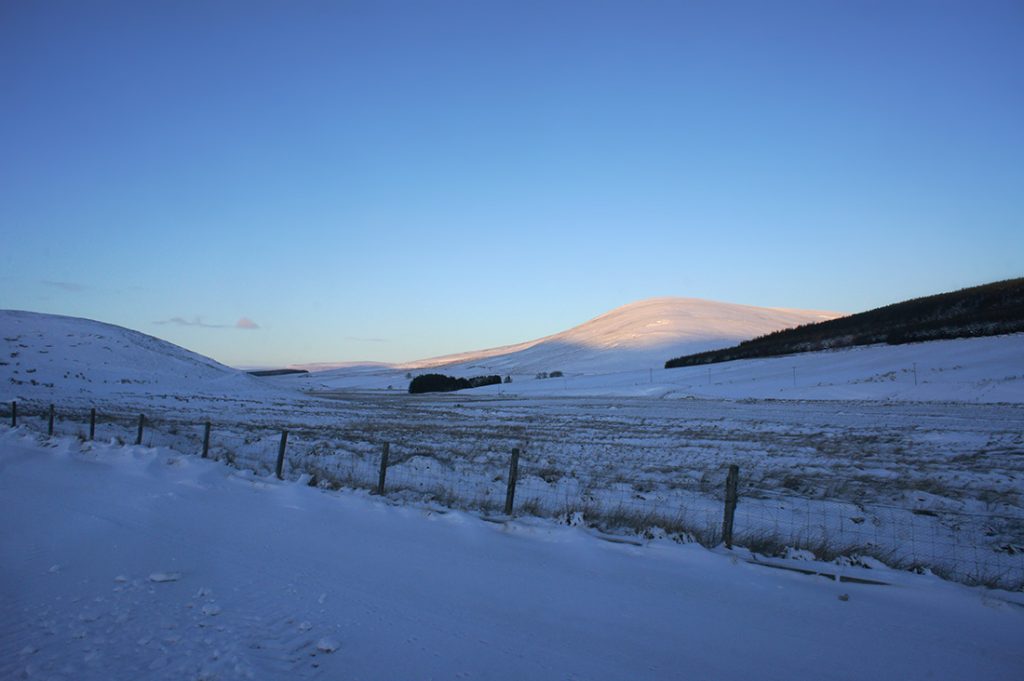 There's quite a few cottages and scattered along the valley.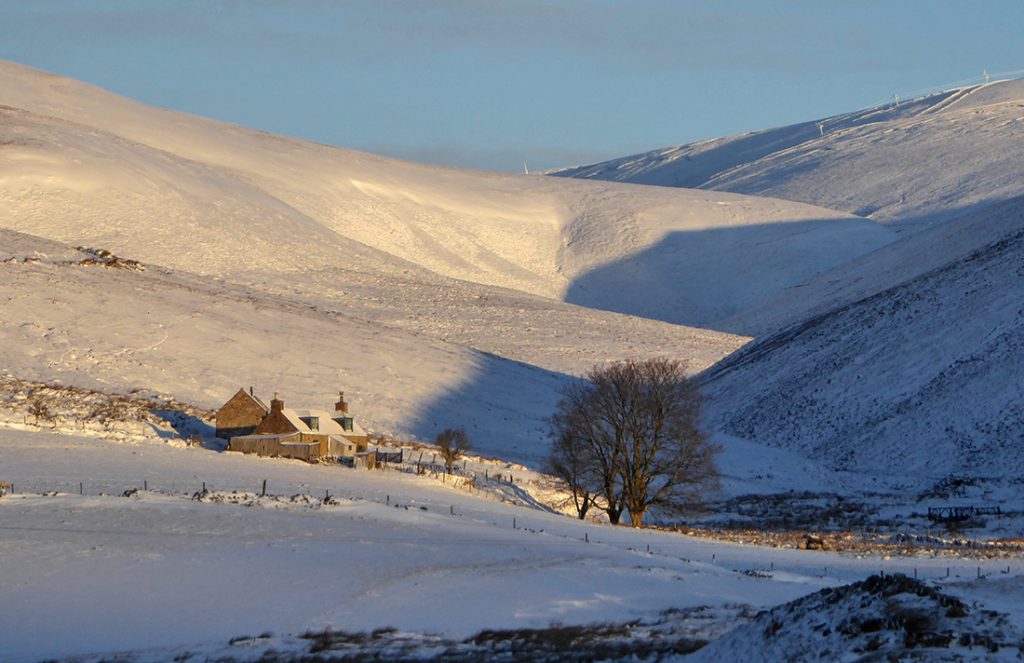 We reach Inchmore dam and reservoir. There's also an old bothy here, though not open to public, I think primarily used by shooting parties.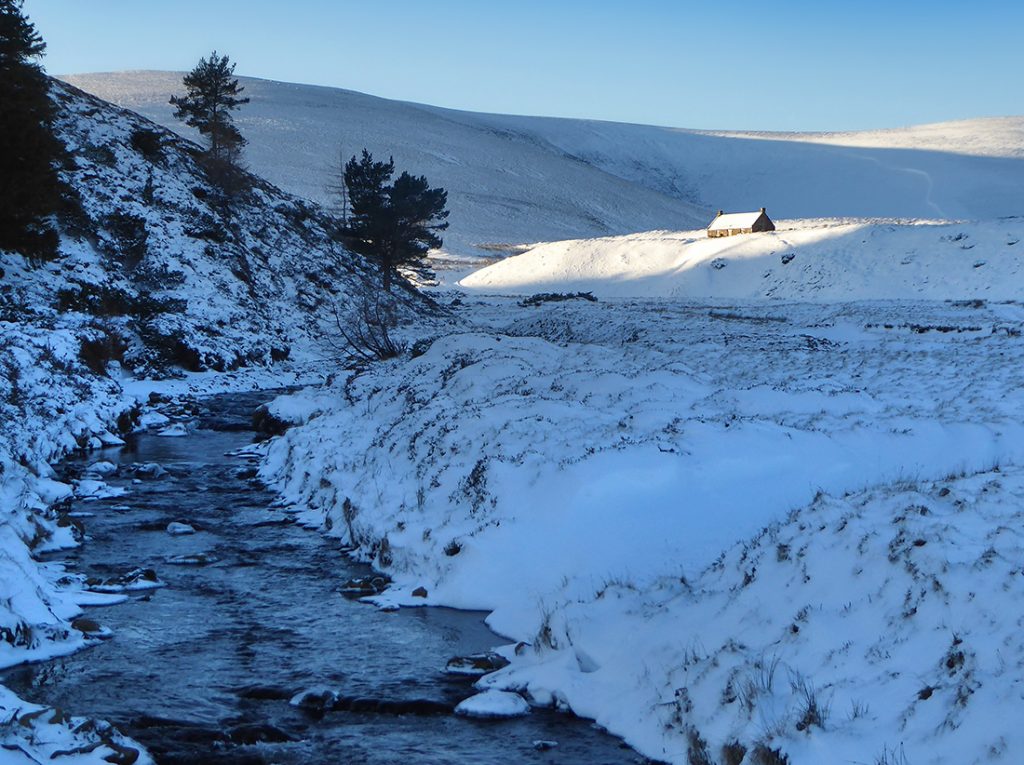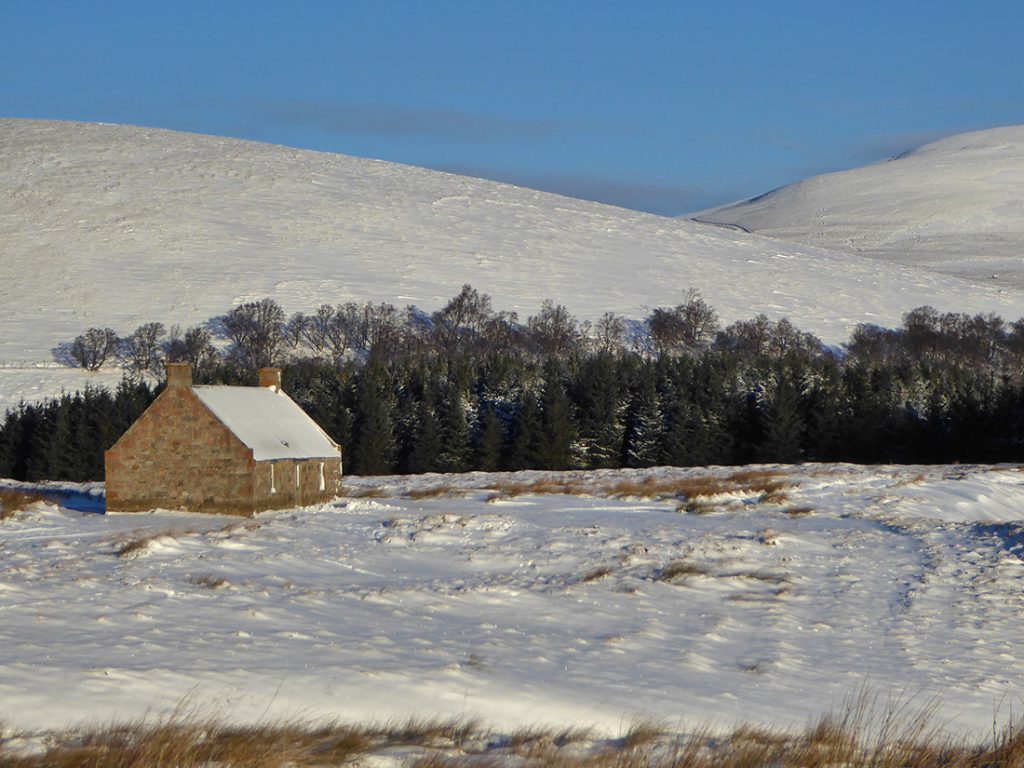 Up the burn there is a dam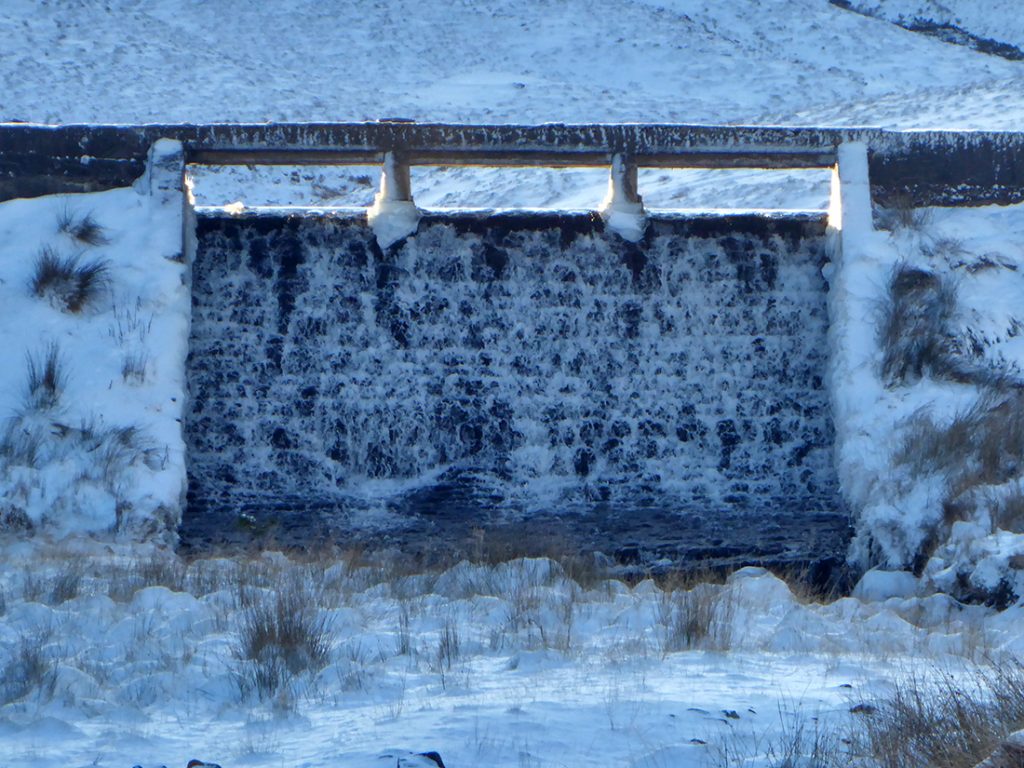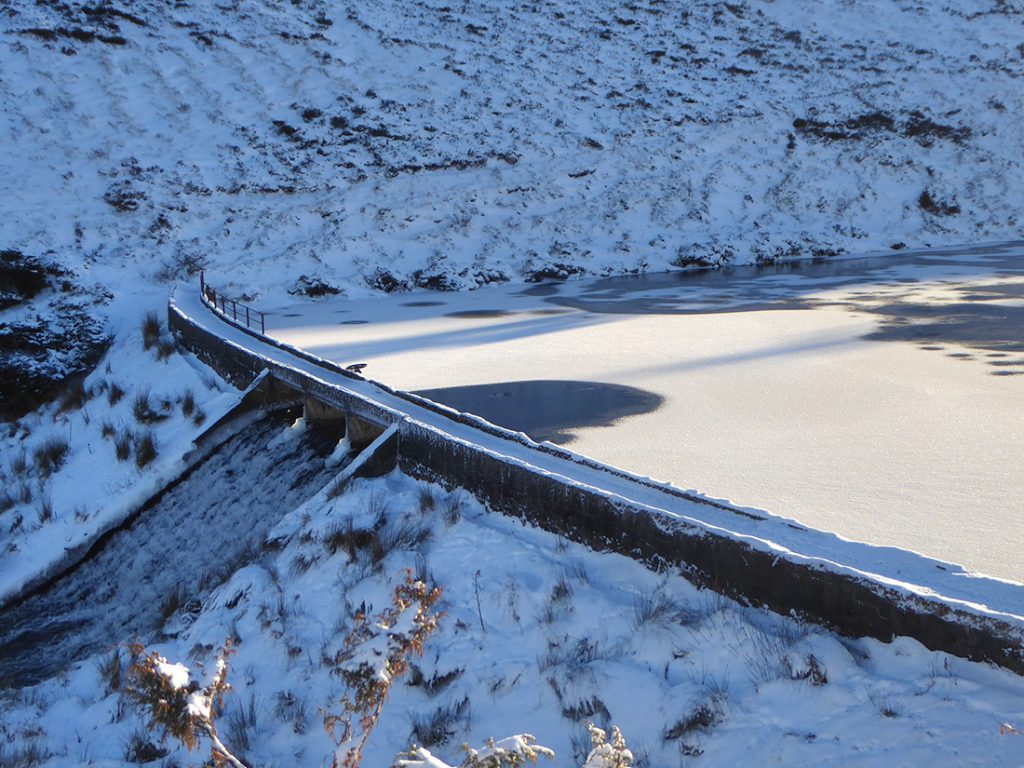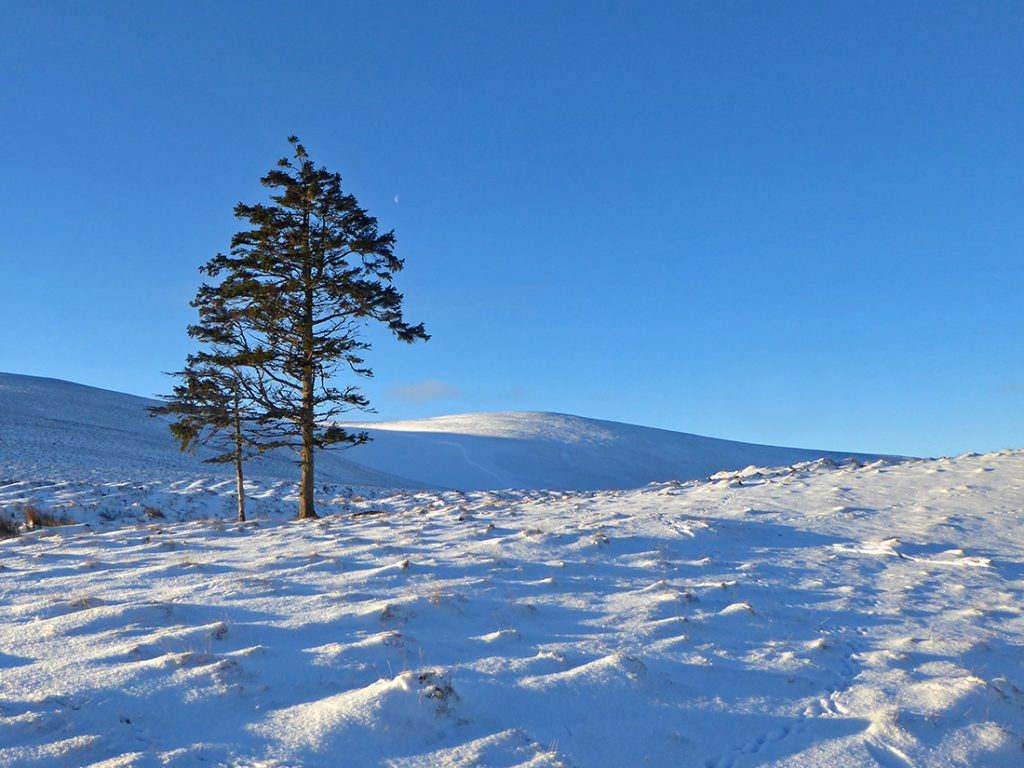 Heading South the snow deepens; the track is dappled with animal tracks.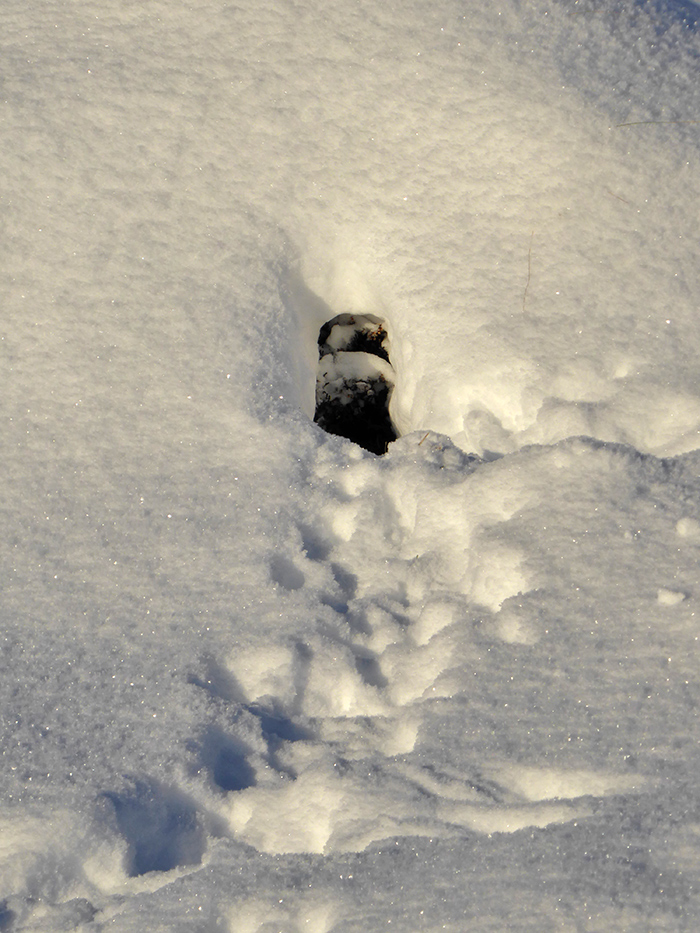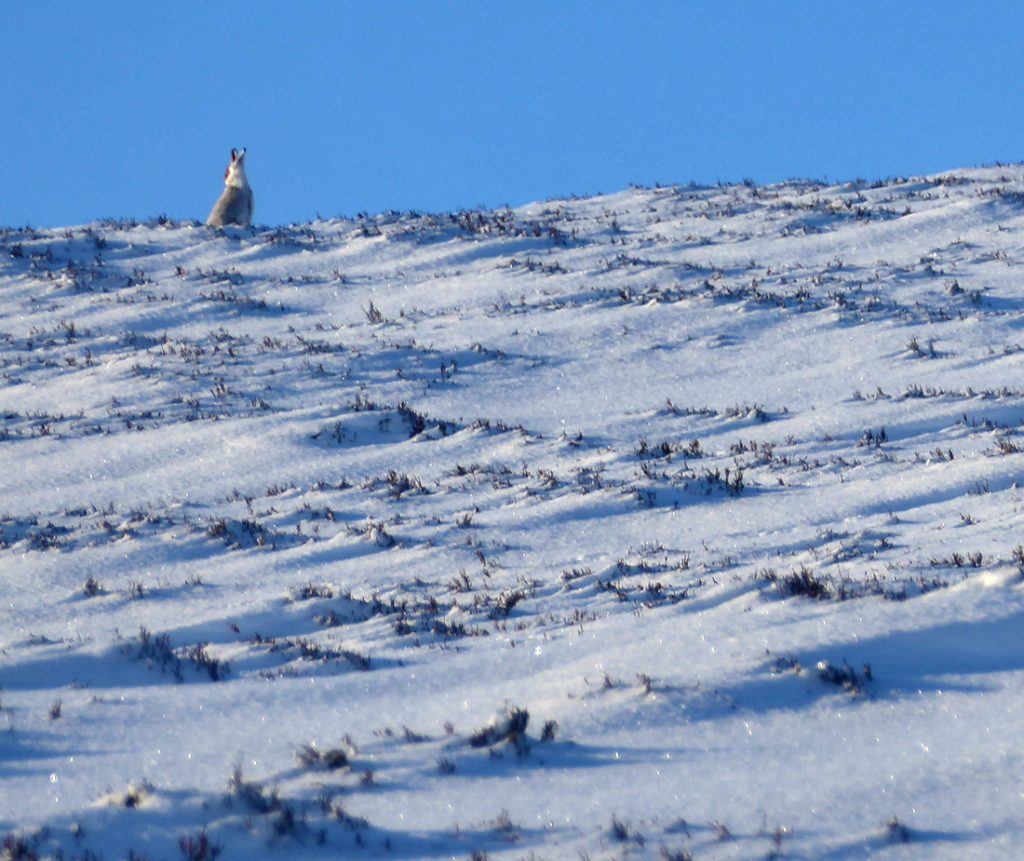 The lee slopes have bulbous mounds of snow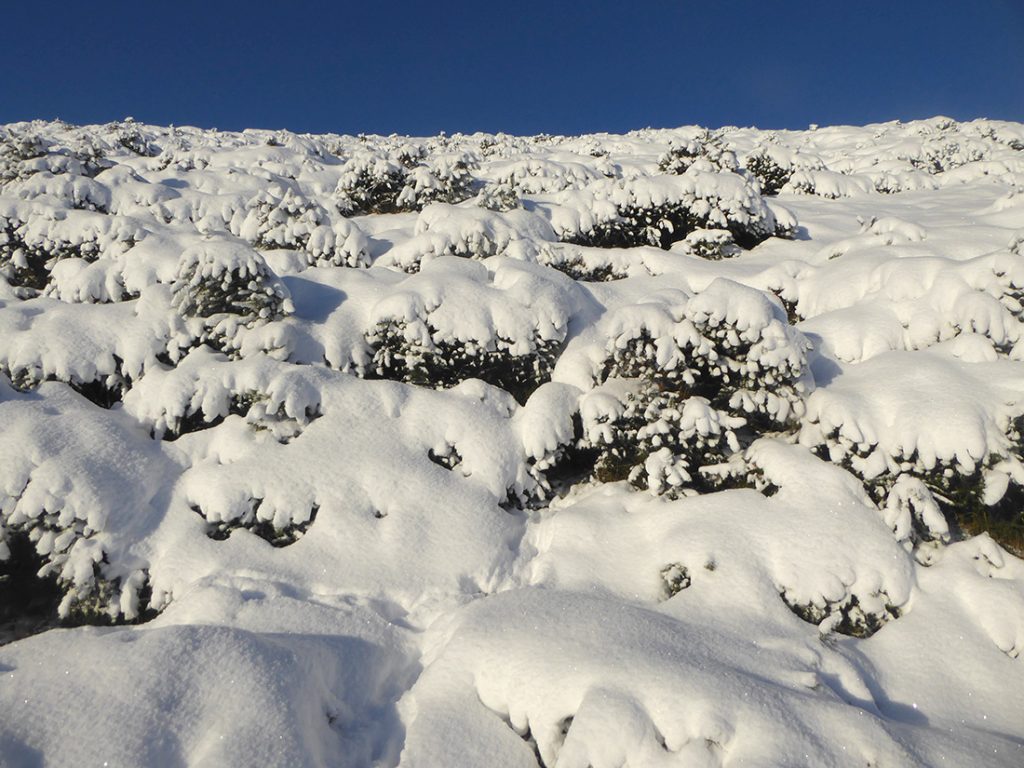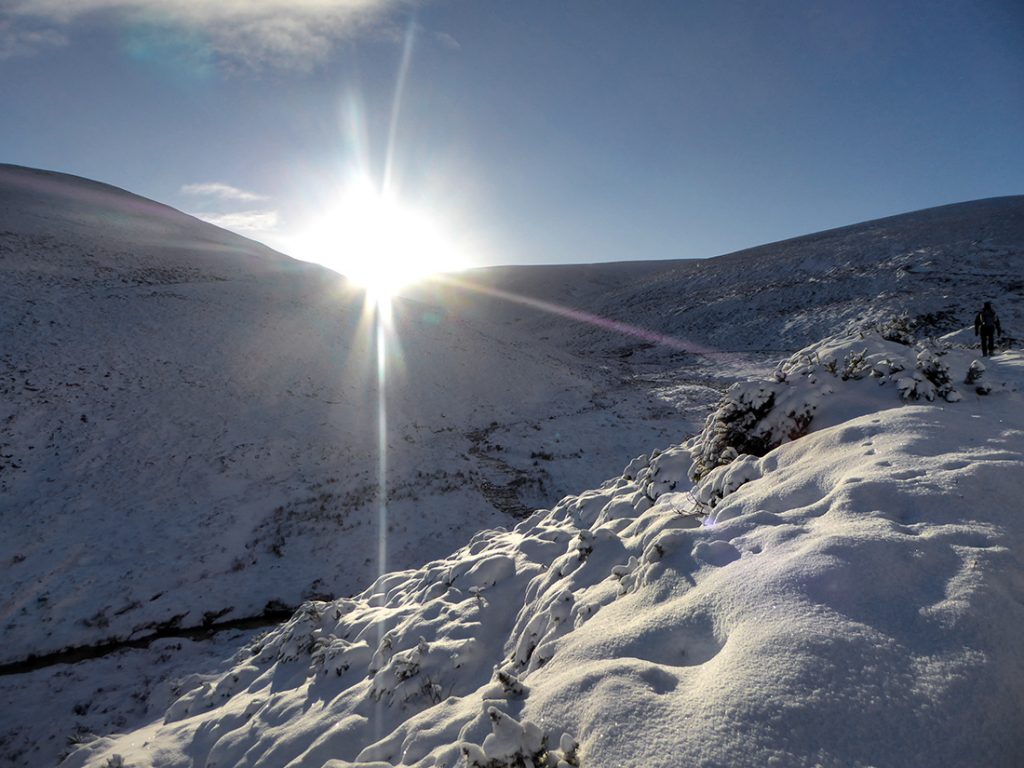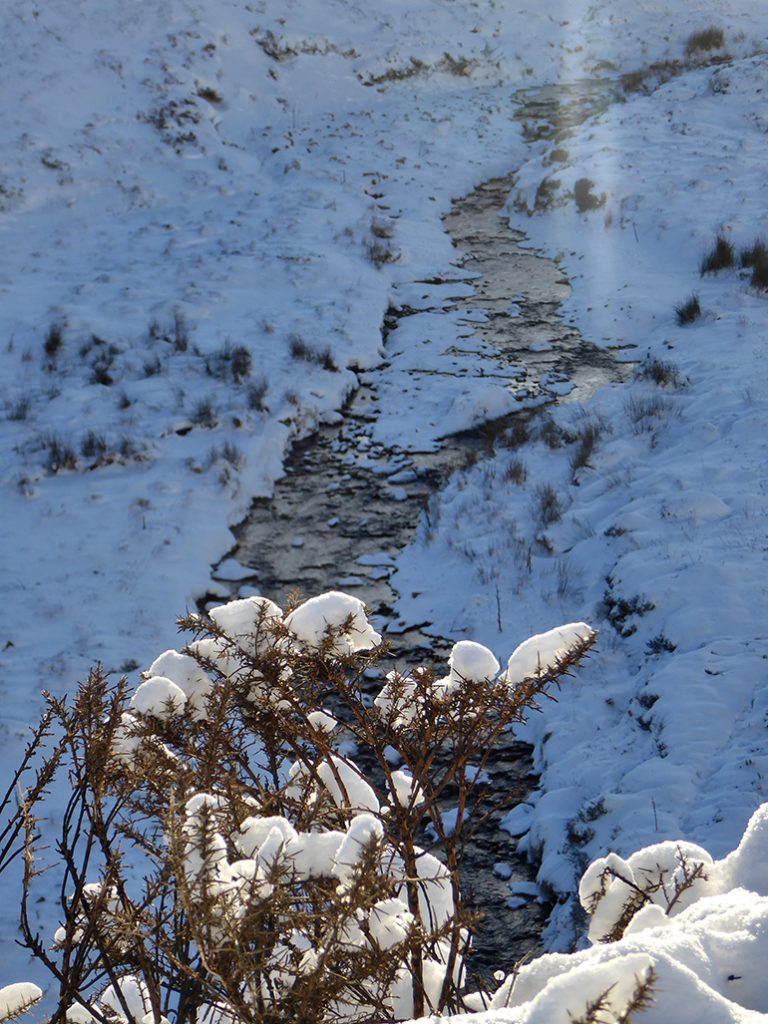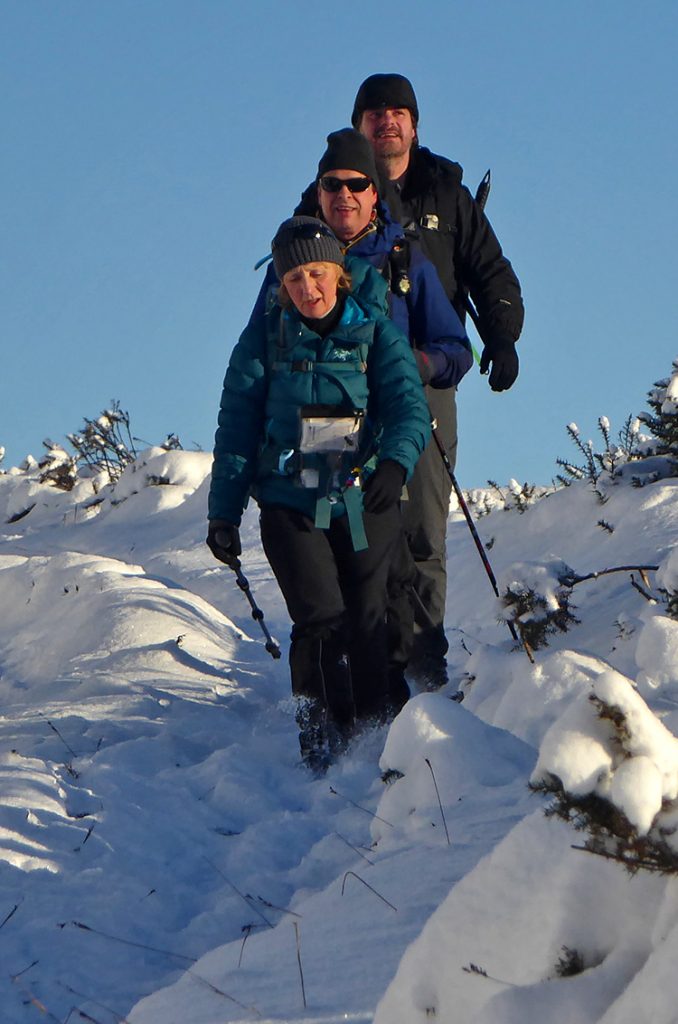 Approaching the ford, the sun breaks out from behind the hill so we stop for a cuppa; some of our party take the ford to start a shorter loop;  we take the ootbridge over Meoir Veannaich and begin our ascent of Sron Bhuic up to 710. We run out of track and plod over the heather, the snow's not too deep and very little wind so not too bad going.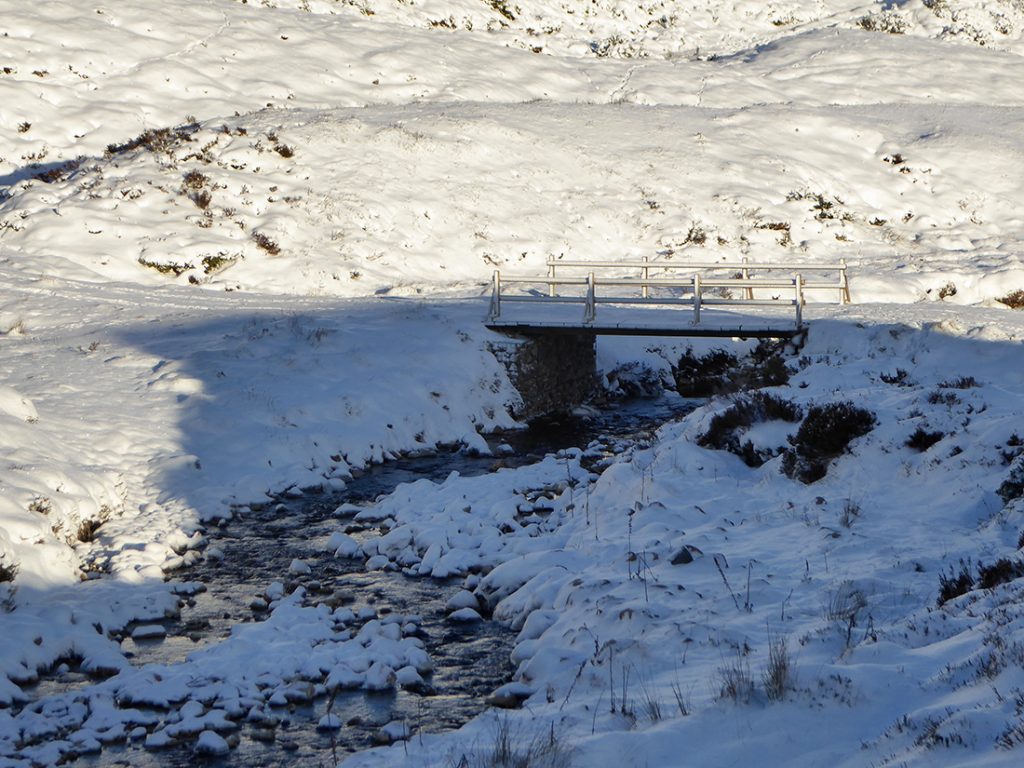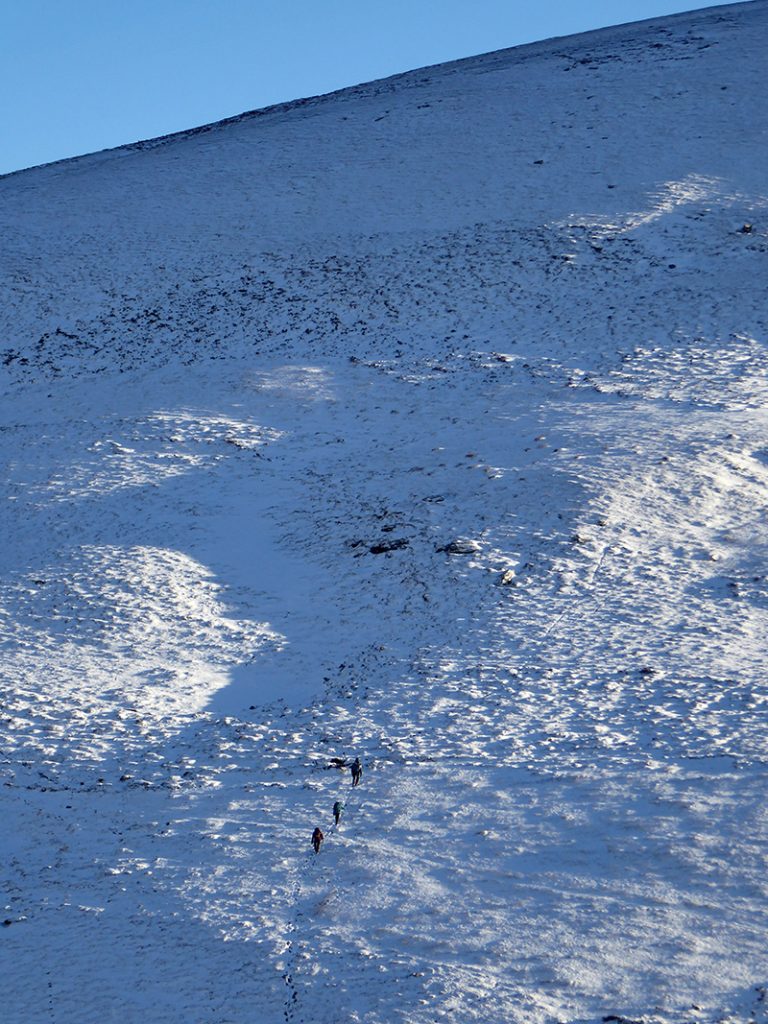 Nonetheless, a sufficient work out to work up a sweat – I have a Lowe Alpine Frozen Sun polartec alpha jacket on as my top layer, which I've also been using for near-zero ºc bike commuting. It's got great breathability relative to other insulation, but sufficient wind resistance due to the pertex outer. I do overheat a bit when really putting the hammer down towards the top, but don't end up a sweaty mess. It's a versatile and well finished bit of kit for activities in cold weather with bursts of strenuous exercise where you don't want to faff around too much layering up and down; good pockets, hood, fittings – only very minor critique would be quite long sleeves and the pertex is perhaps slightly more 'rustly' than e.g the montane dyno stretch softshell I mentioned recently (though a matt finish rather than the more common plasticy pertex). The inner structured fleecey material doesn't agree with velcro either.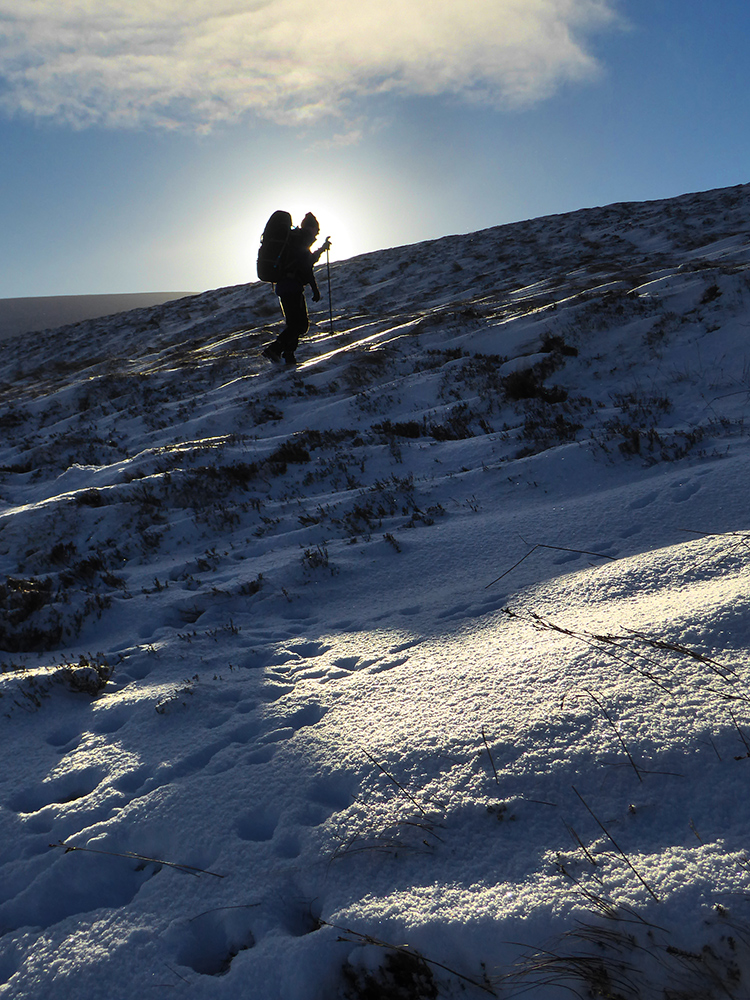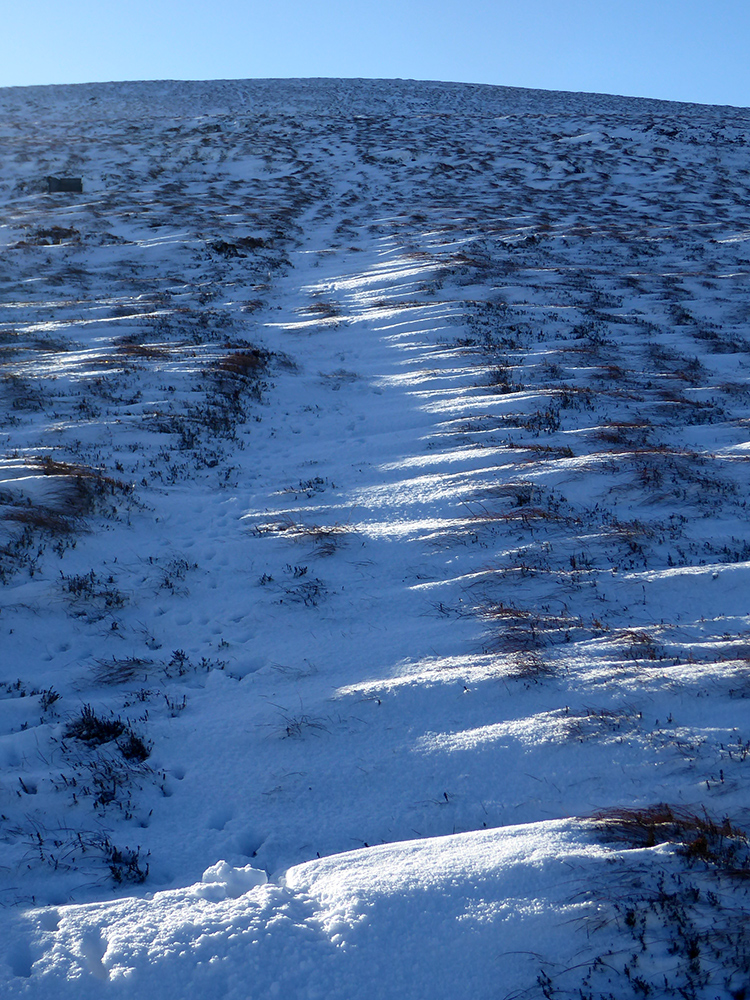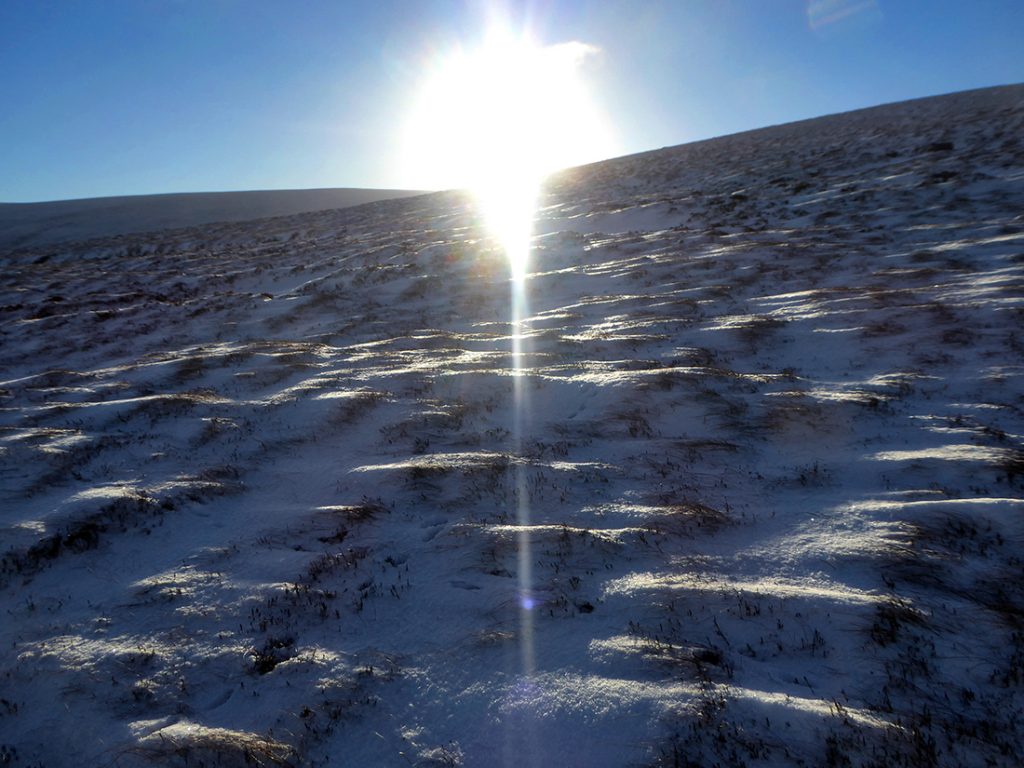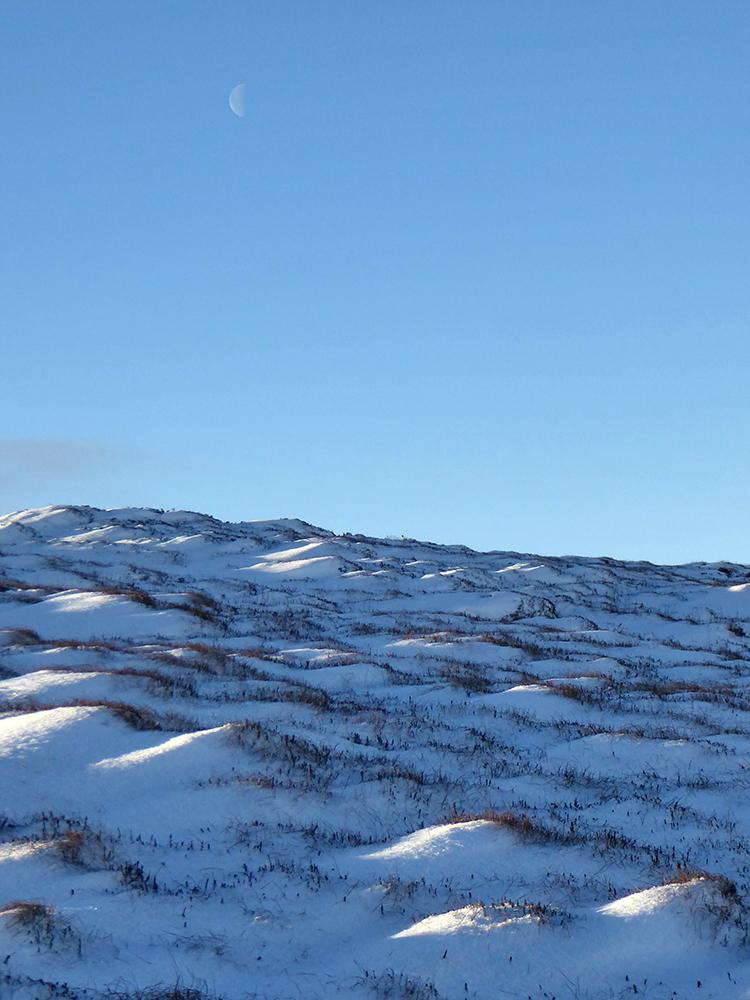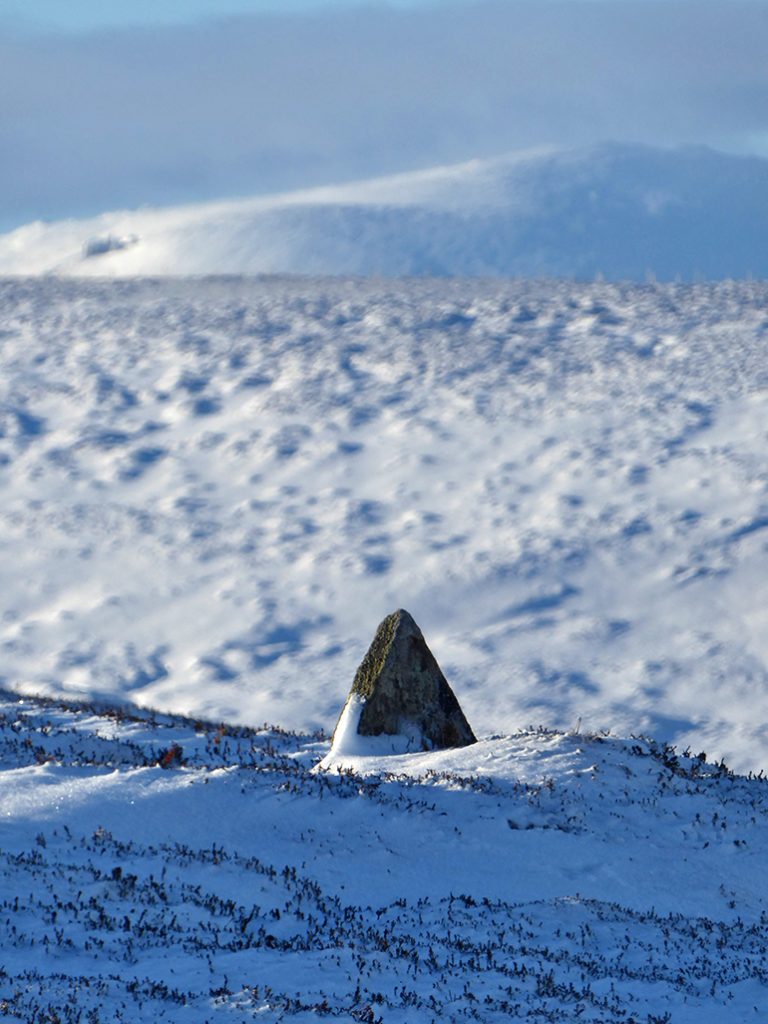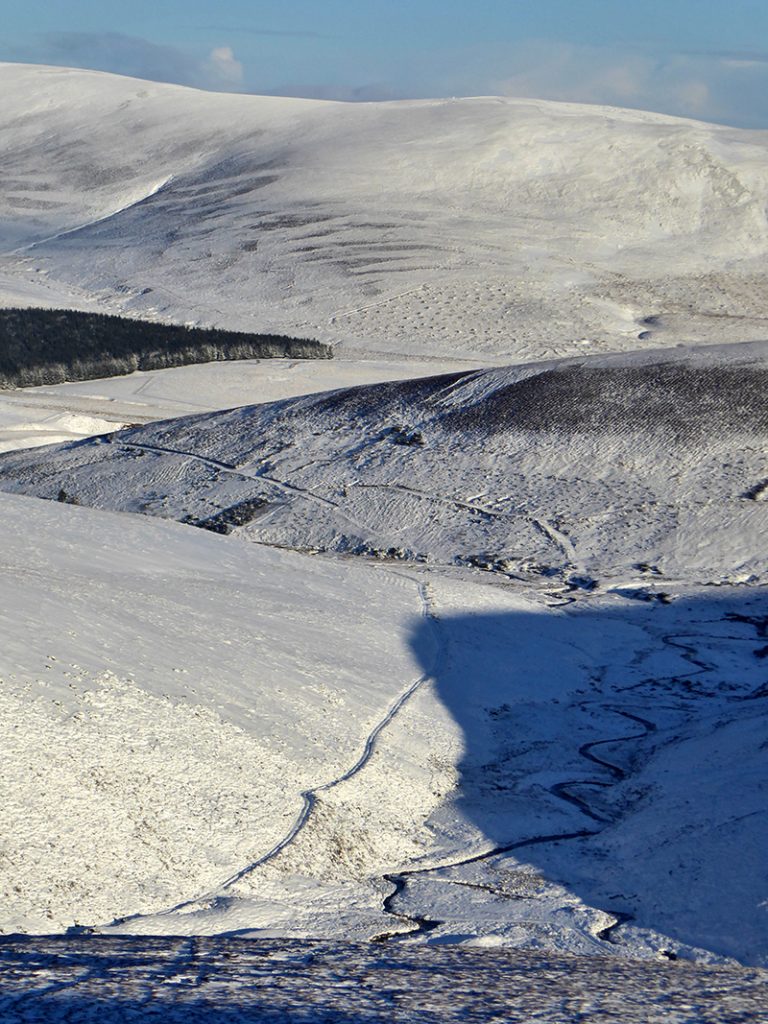 There's a few wary deer in the distance. I manage a quick snap before they head over the ridge. Hand wear today is thin silk liners with Sealskinz 'lobster' mitts. These are primaloft insulated split mittens primarily designed for very cold weather cycling, the split allowing gear changes. One of the benefits of them is they can be whipped off and on very quickly without bunching or sticking of the internal liners that you'd get with full finger gloves; the silk liners I've put on enhance this further. If taking photos and twiddling the dials and pushing buttons, this is handy – hands back inside warmth within seconds; as we approach the top ridge I can feel the cold (-13ºc with windchill and altitude) bite on my fingers within a minute; 5 and they'd be numb.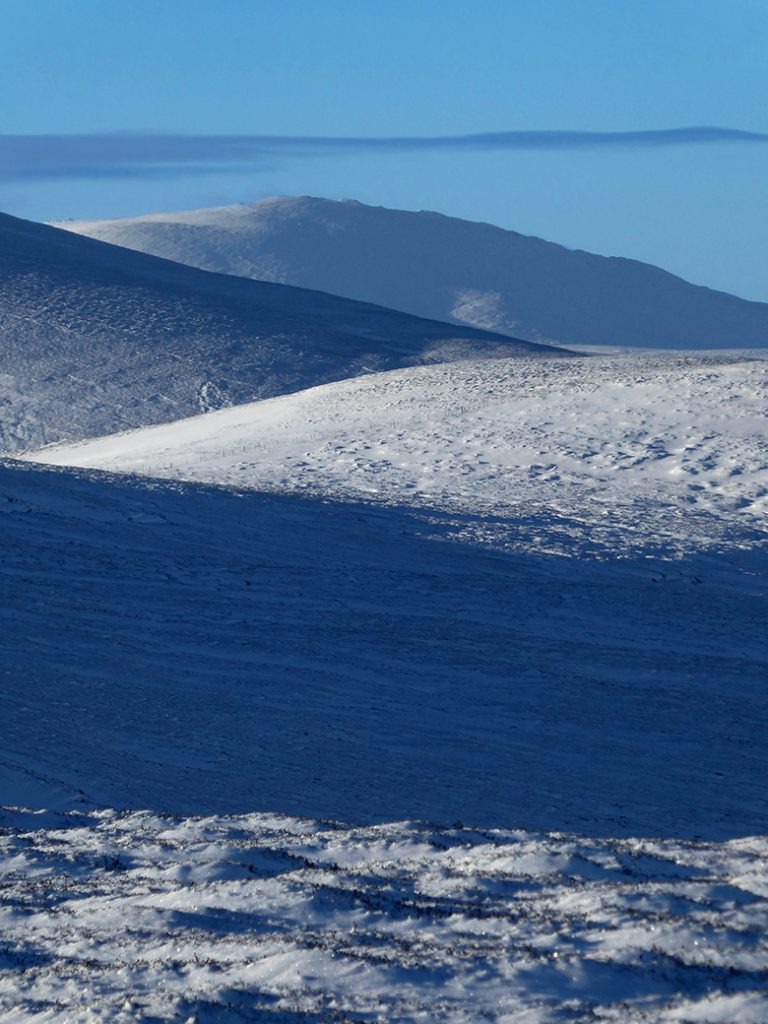 The low sun makes for great shadow contrast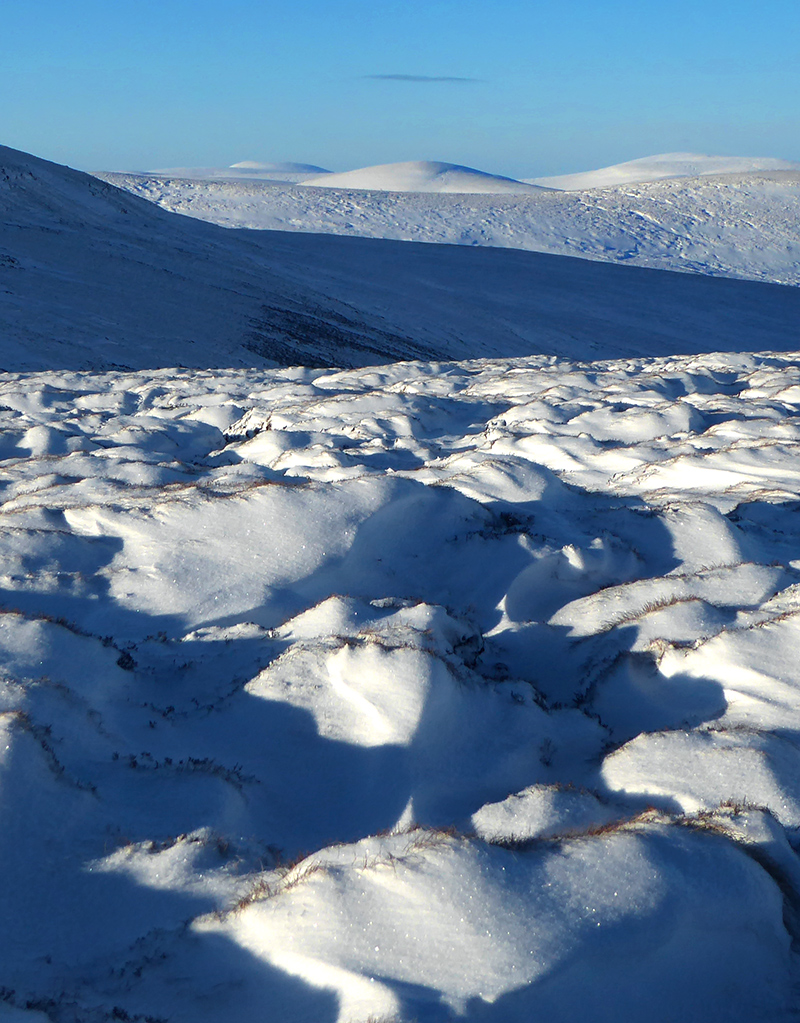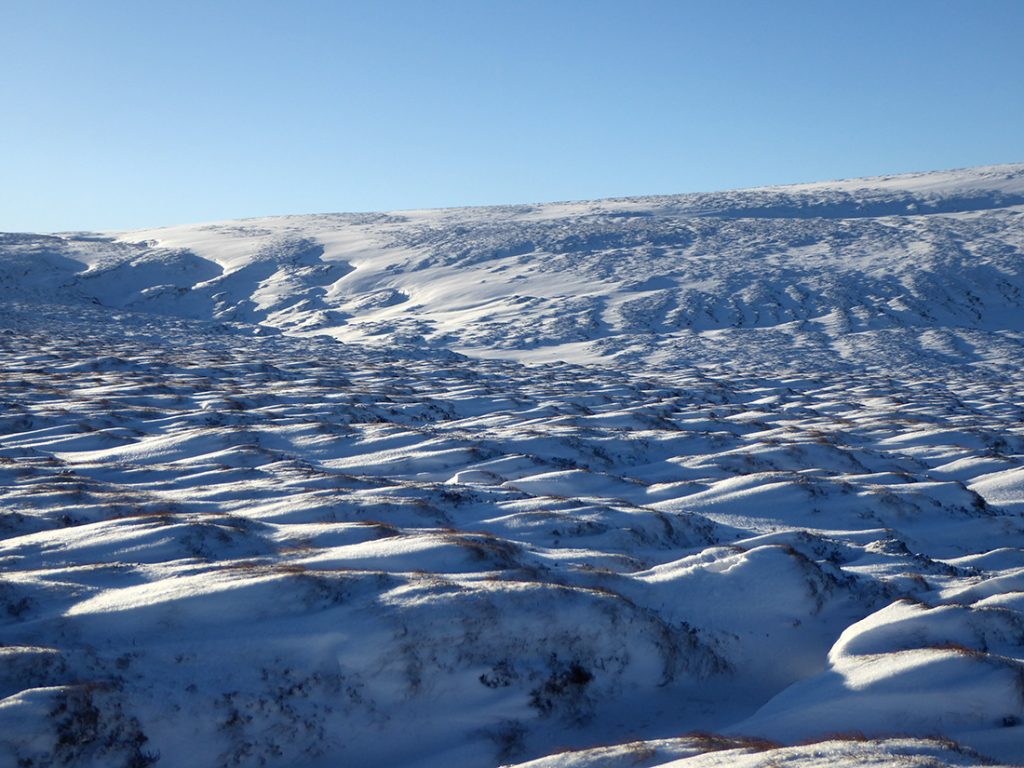 A bit closer before they decide to head out of sight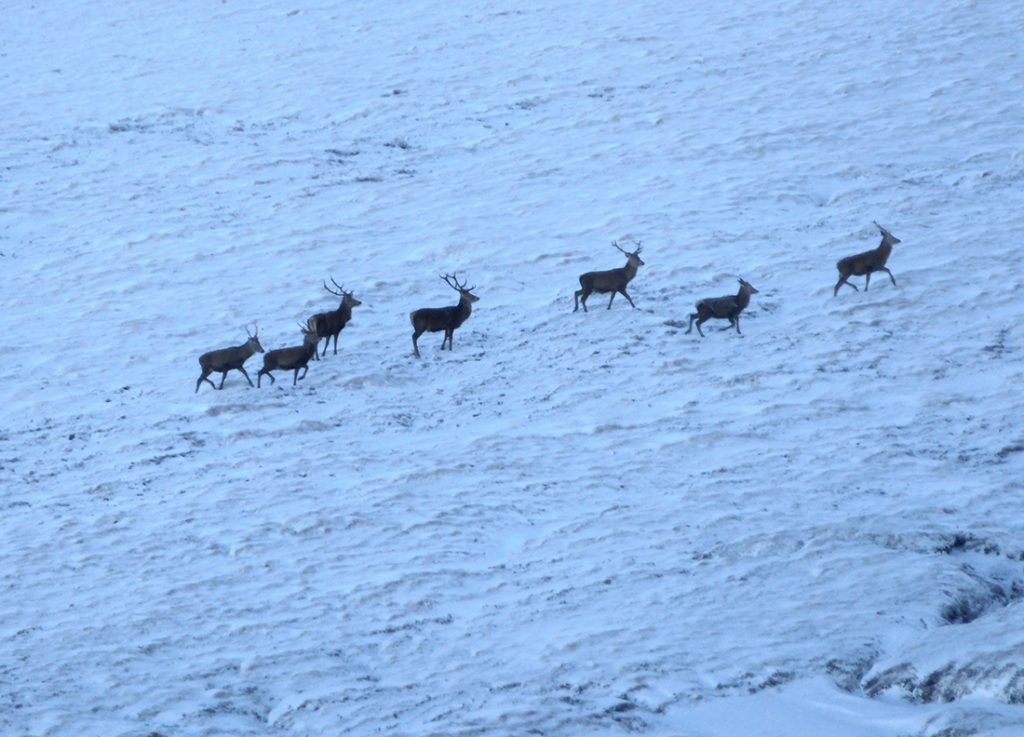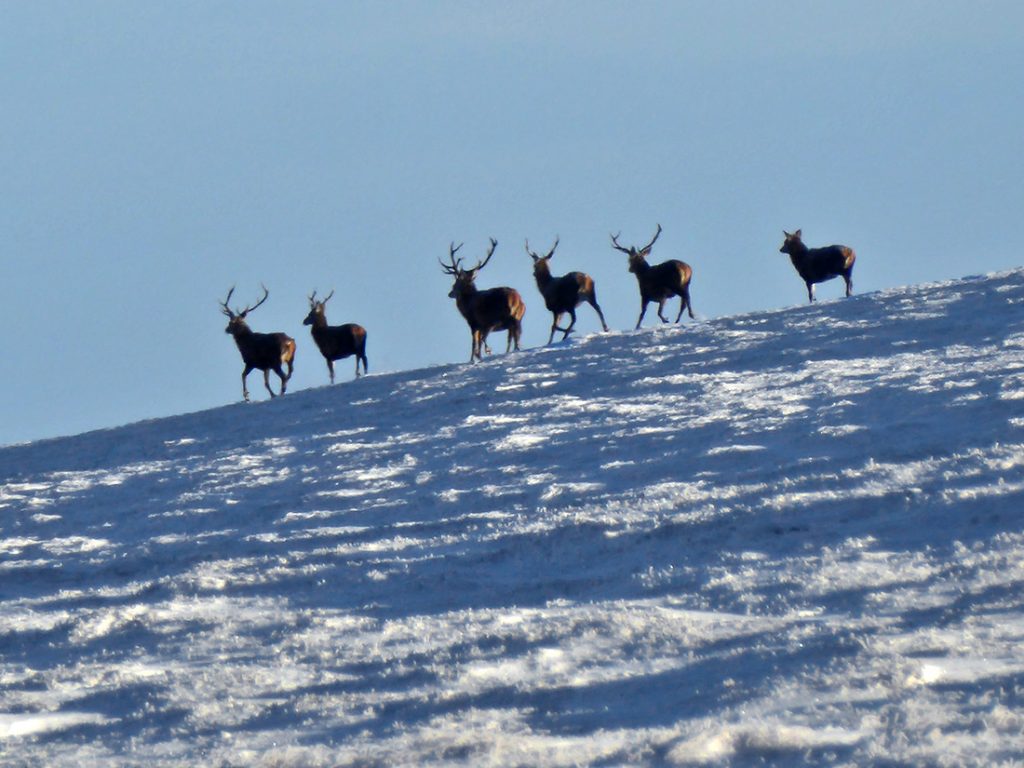 The peat hags look like wind-swept tundra today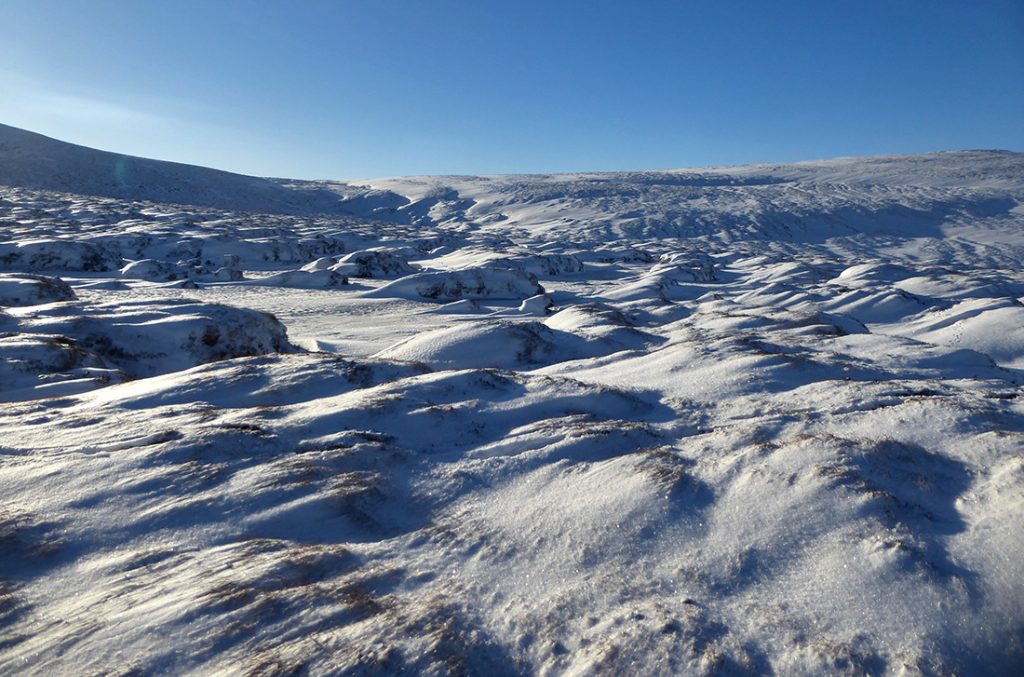 I'm guessing this tor in the distance to the west is one of Ben Avon's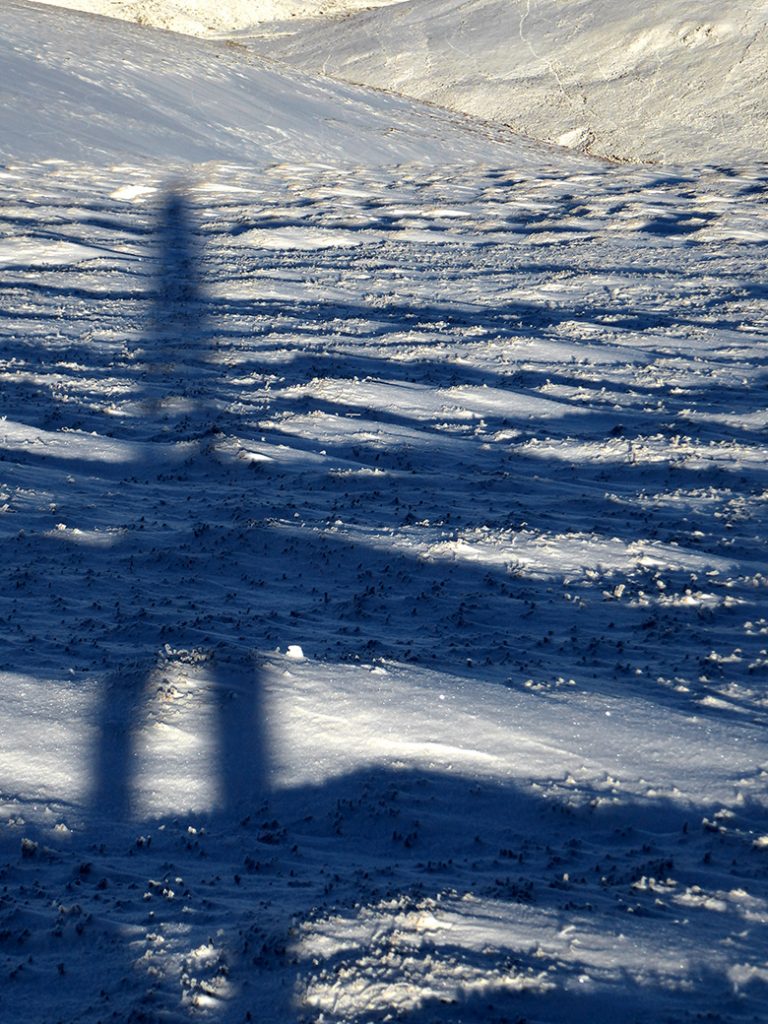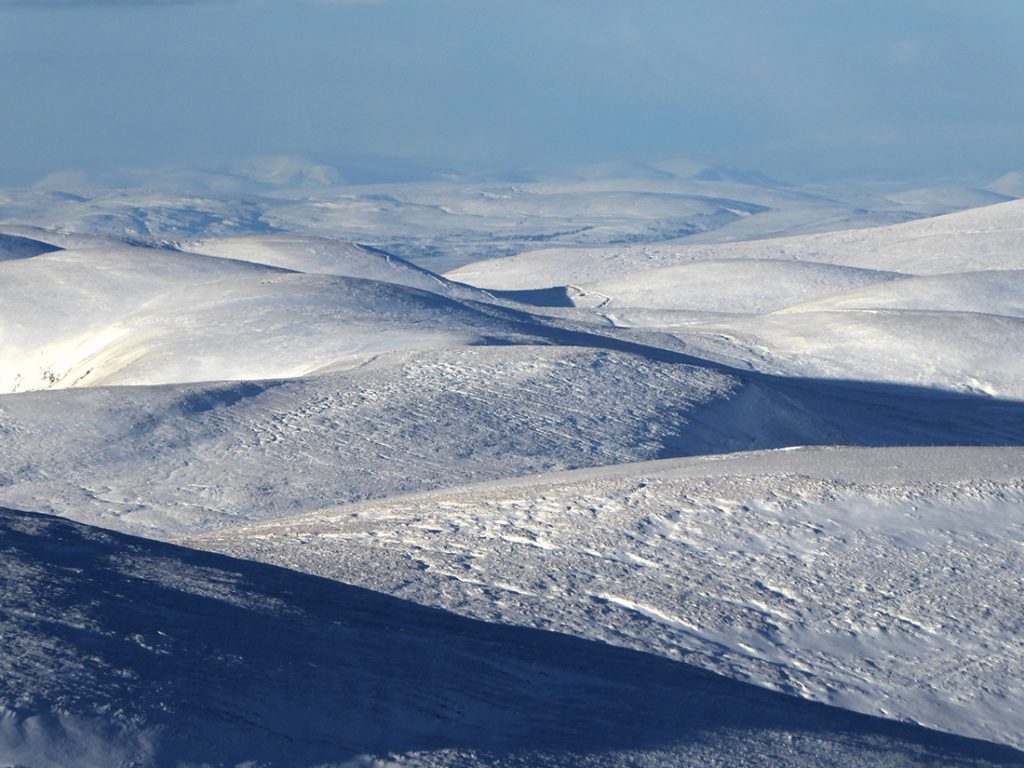 A landy track leading into a wider view of the tors to the west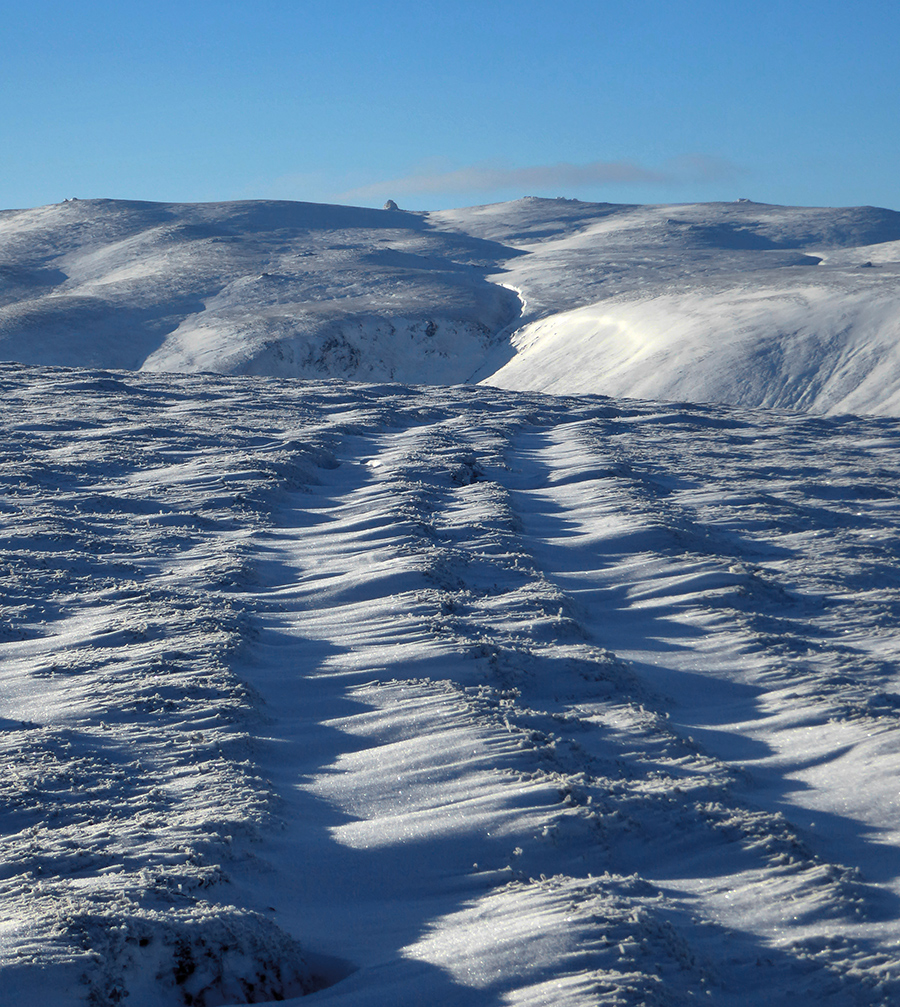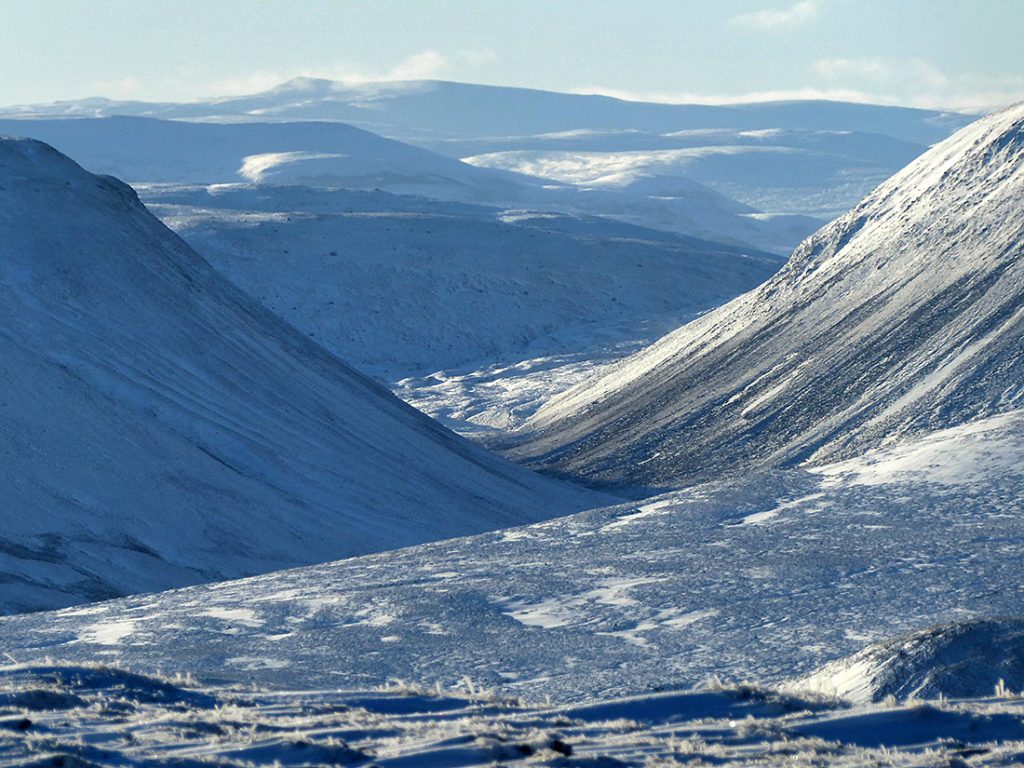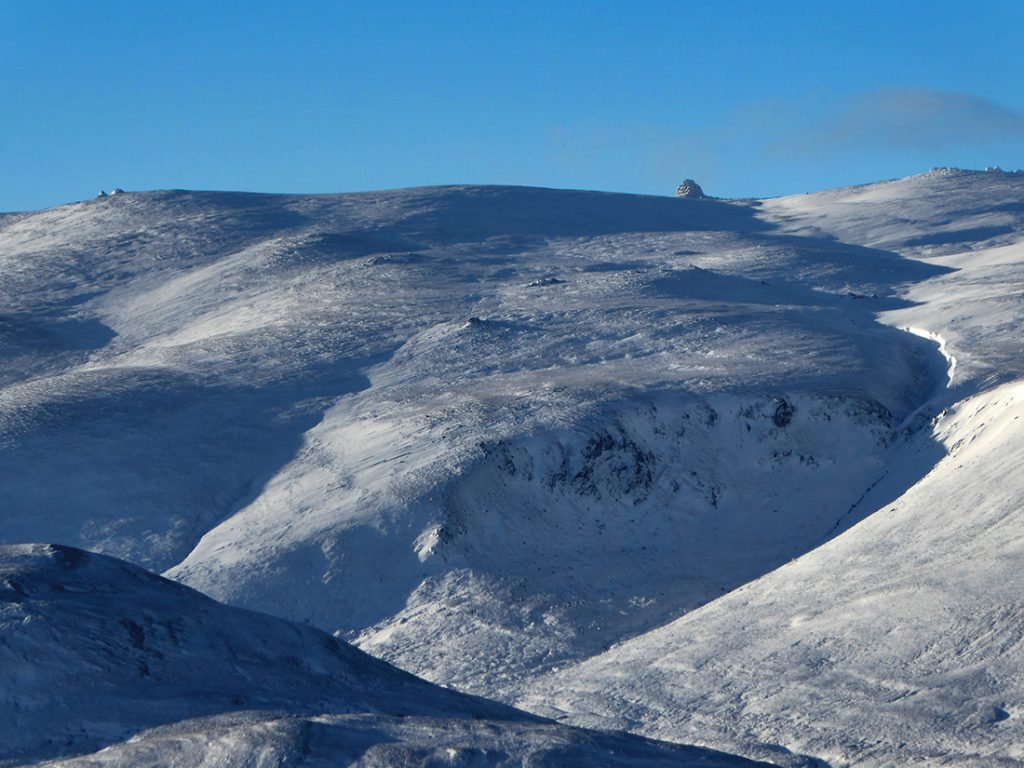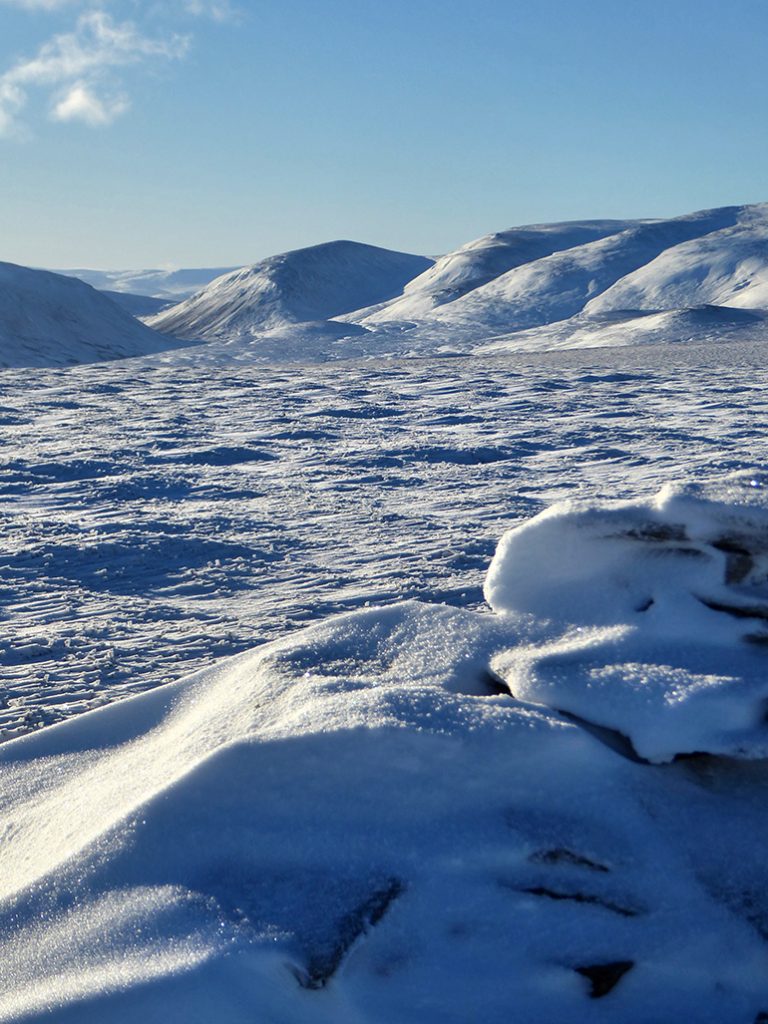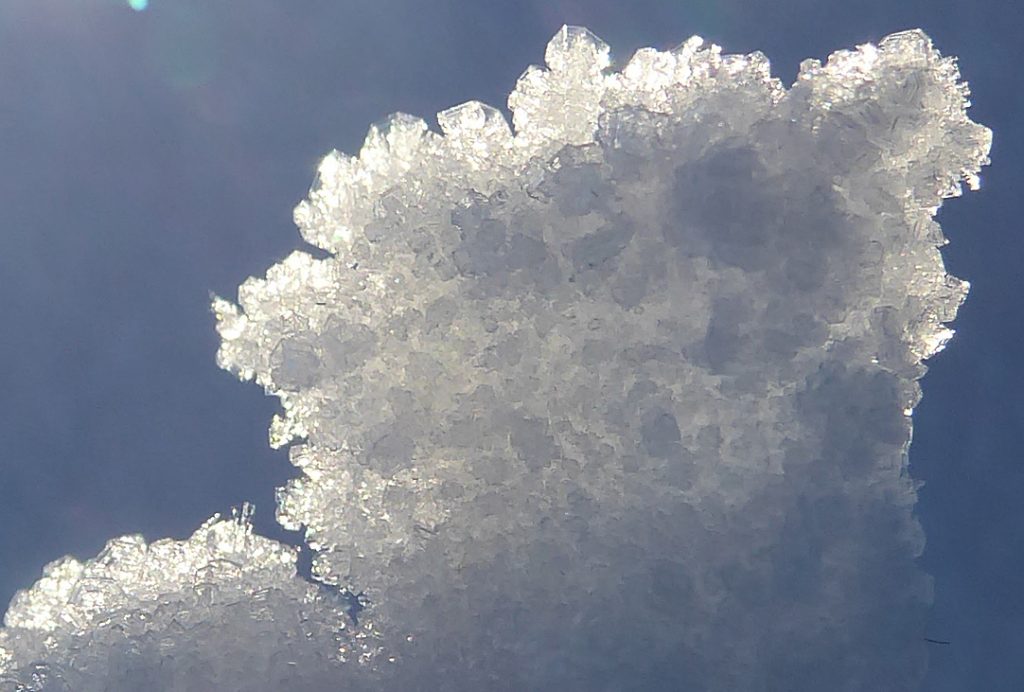 Some of our chilly snowflake buddies up close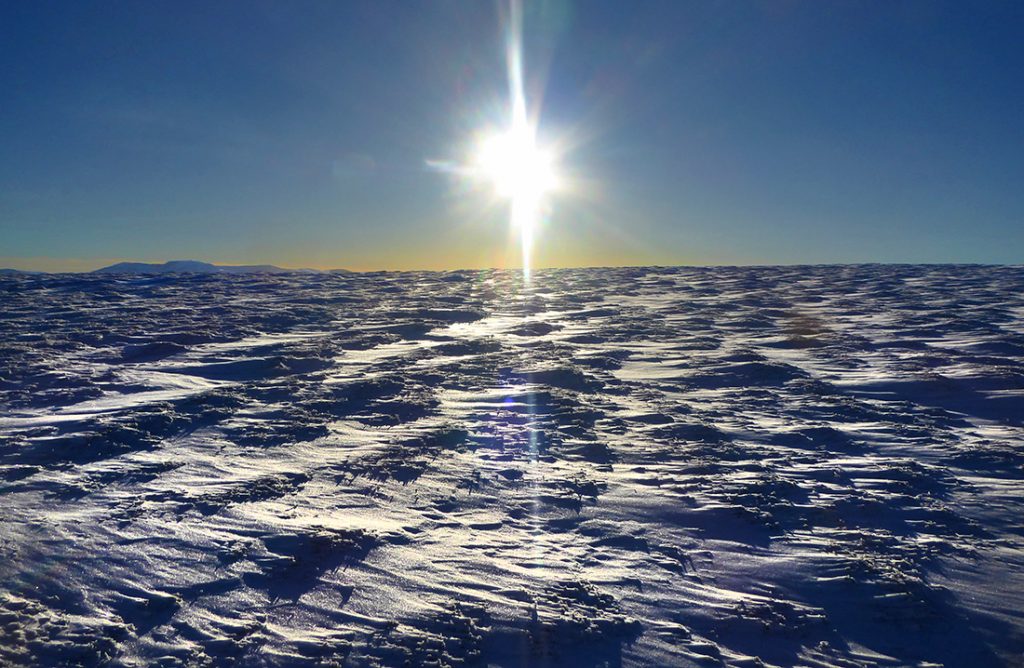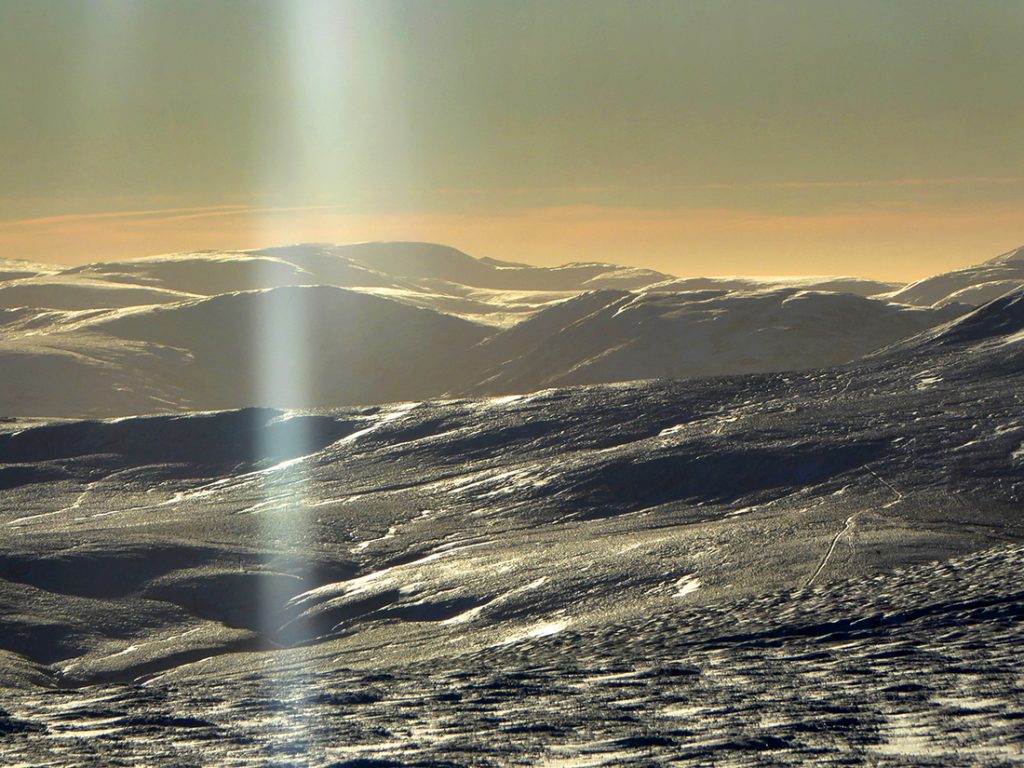 We pass Cairn Sawvie (cairn of the fox's den), though no cairn is seen
We stop for lunch lunch at a small cairn at 829, our highest point of the day. I take out my Berghaus Extrem 7000 belay jacket and get snug. I have it in a size small and it fits great, still a bit of room underneath (when put on over a base, mid weight fleece and a Lowe Alpine polartec alpha jacket, yes it's chilly!) I'm normally medium at 5'10 / 65kg, but a medium in this must be cavernous, and I can't abide flappy air-drafty stuff when on a winter mountain. I love it's useful dual chest pockets, my only major critique is the hood is over insulated and unwieldy, and has a funny shape when tightened: my heid's like a big reid Ben Avon tor. I'm still of a mind to get a 450g-ish high loft down jacket for days like this where there's no chance of moisture; the Berghaus being a synthetic fill (200g body, 170g arms and hood, for a total of ~850g) is heavier and less compactable but then is more thrashable, non-drownable and easily washable which suits 90% of Scottish hill scenarios.
A happy but v cold face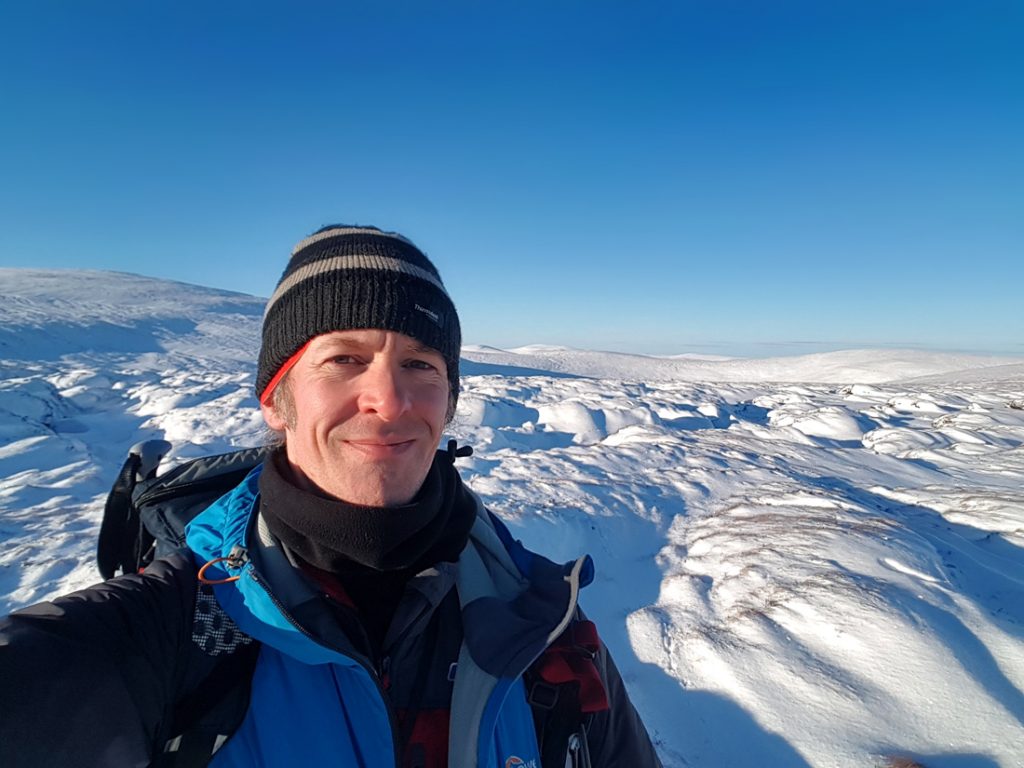 A proper arctic panorama, no sign of civilisation

Breaking out my food thermos which has a pasta concoction is a bit disappointing – lukewarm – didn't prime it with boiling water, or maybe just the extreme cold and a wide necked flask. Fortunately Garry has taken a flask of piping hot mulled wine which is relished by the group.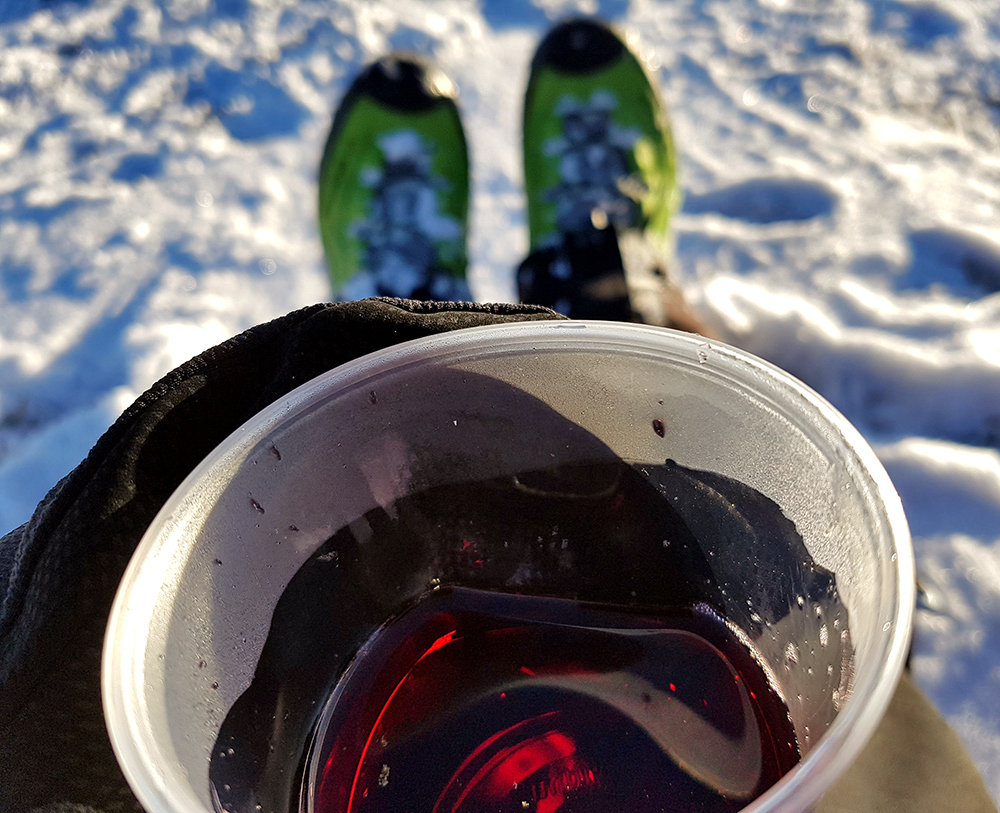 Courtesy of Garry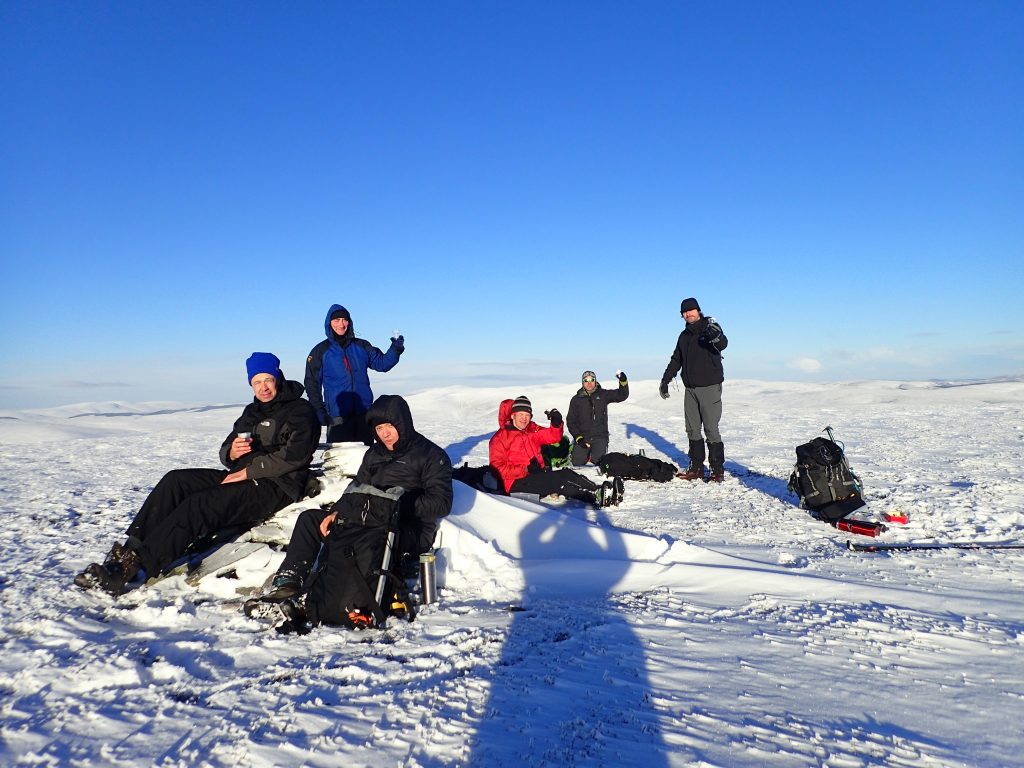 We make our way over Brown cow hill 823. No sign of cows, brown or otherwise. perhaps those deer know where they are.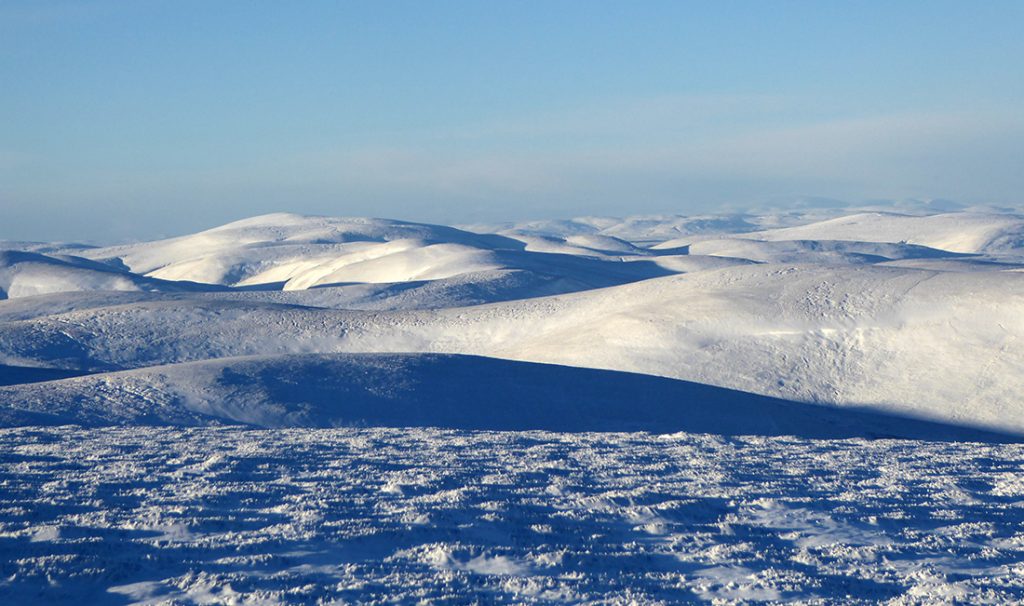 The long legged winter walker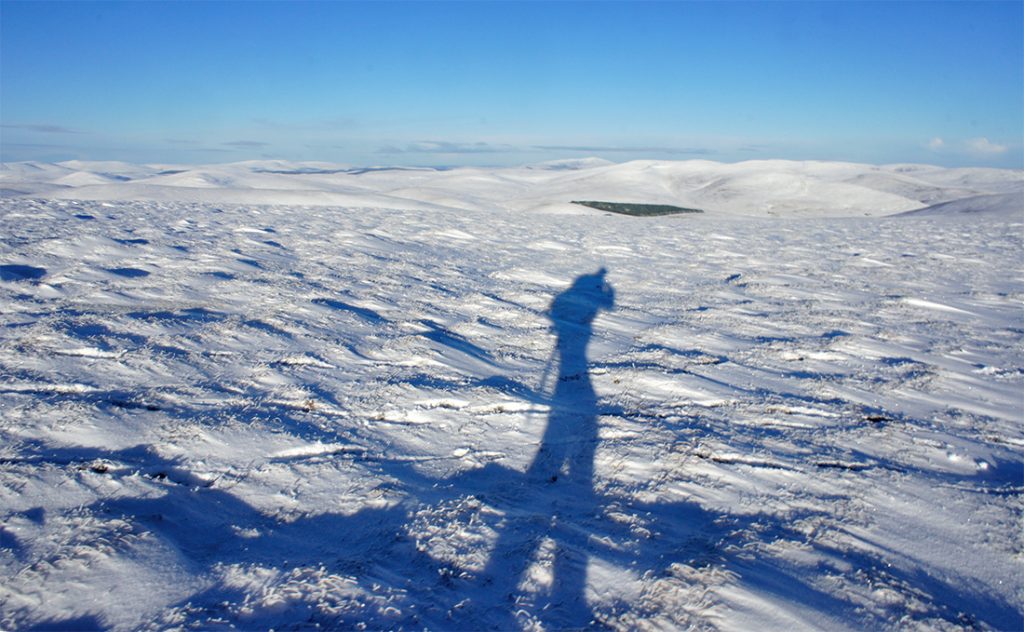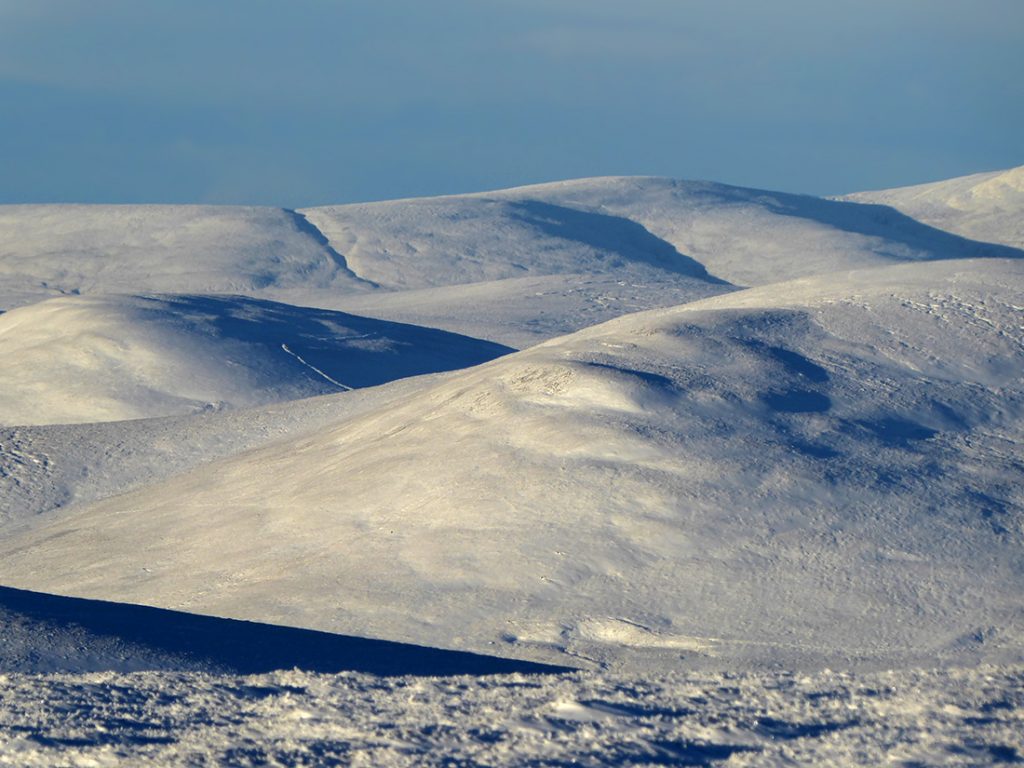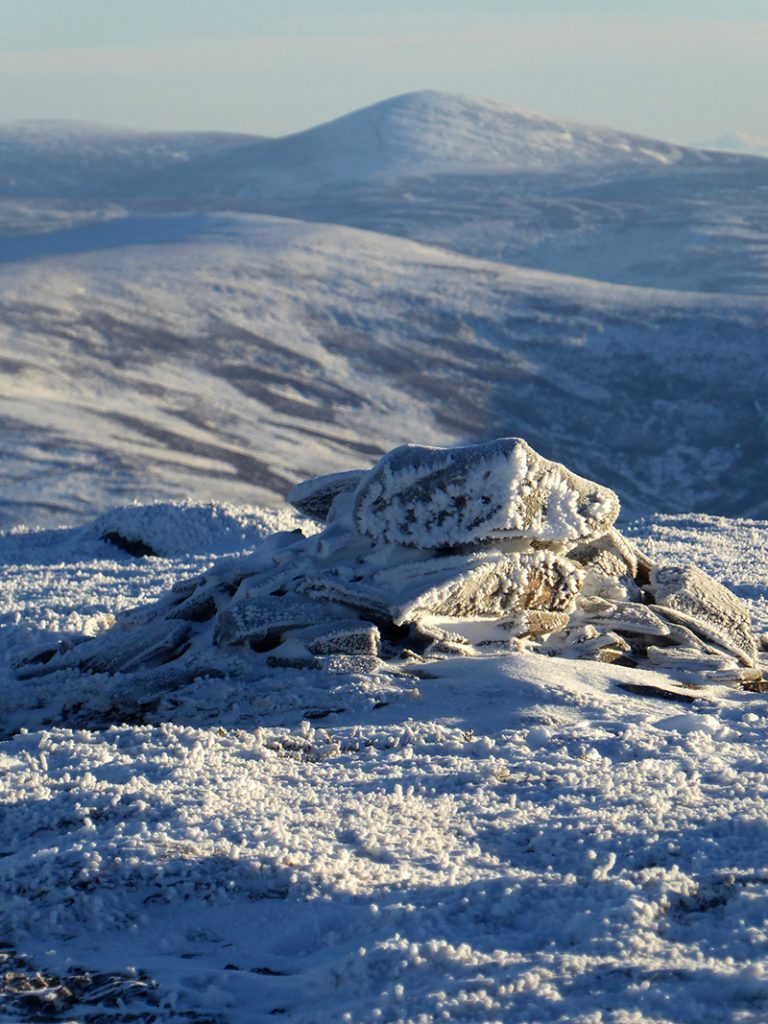 We have a quick huddle to discuss the route down near point 748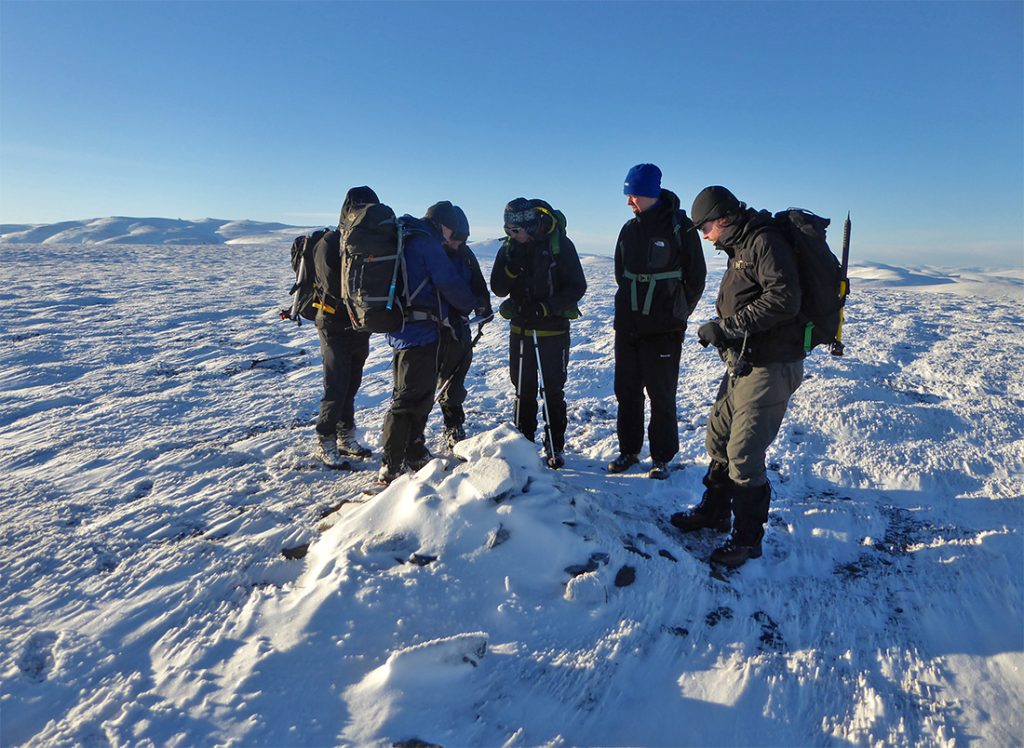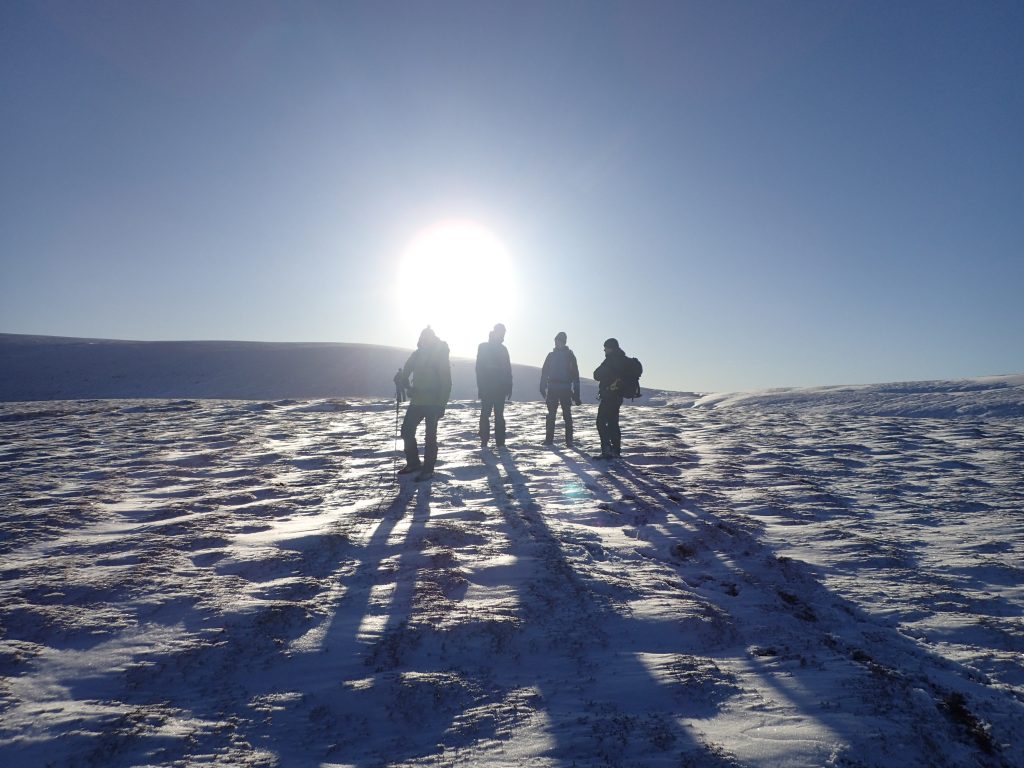 From here we decide to descend. An unusual track draws attention; I conclude this is a grouse 'take off' the feet prints lead in then the trailing edge of the wing cuts the slats getting shallower as it rises up.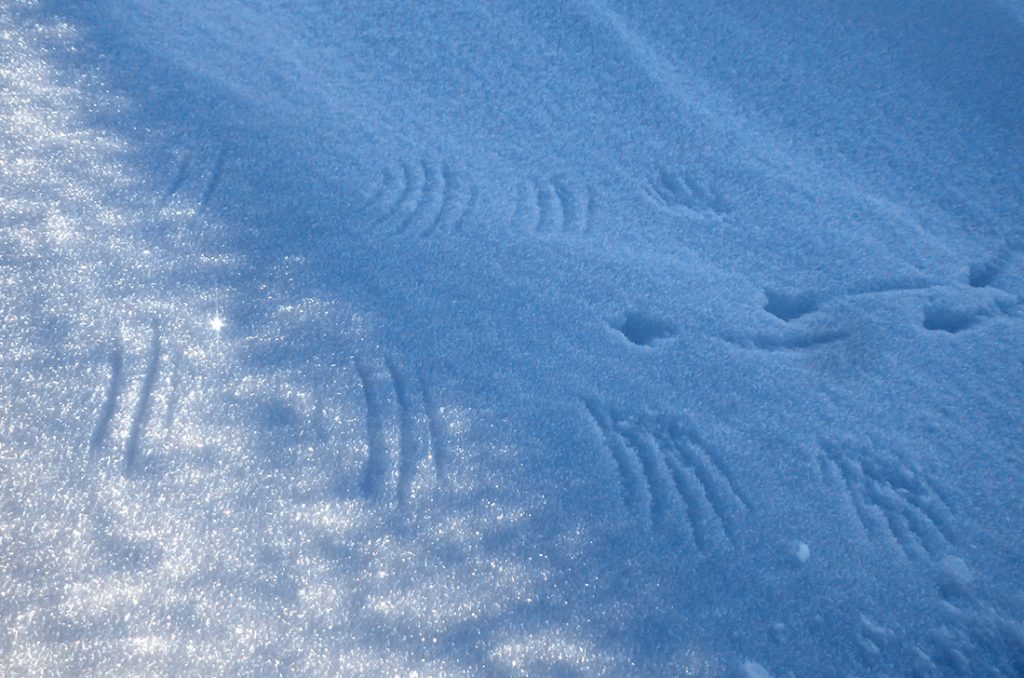 Heading down we begin to wade and teeter over snow filled peat hags; one minute crunchy ice, then *floomph* deep into a drift. We make slow progress but eventually reach Carn Oighreag, with sunlight fading we decide to not summit but hasten along the landrover track down off the hill.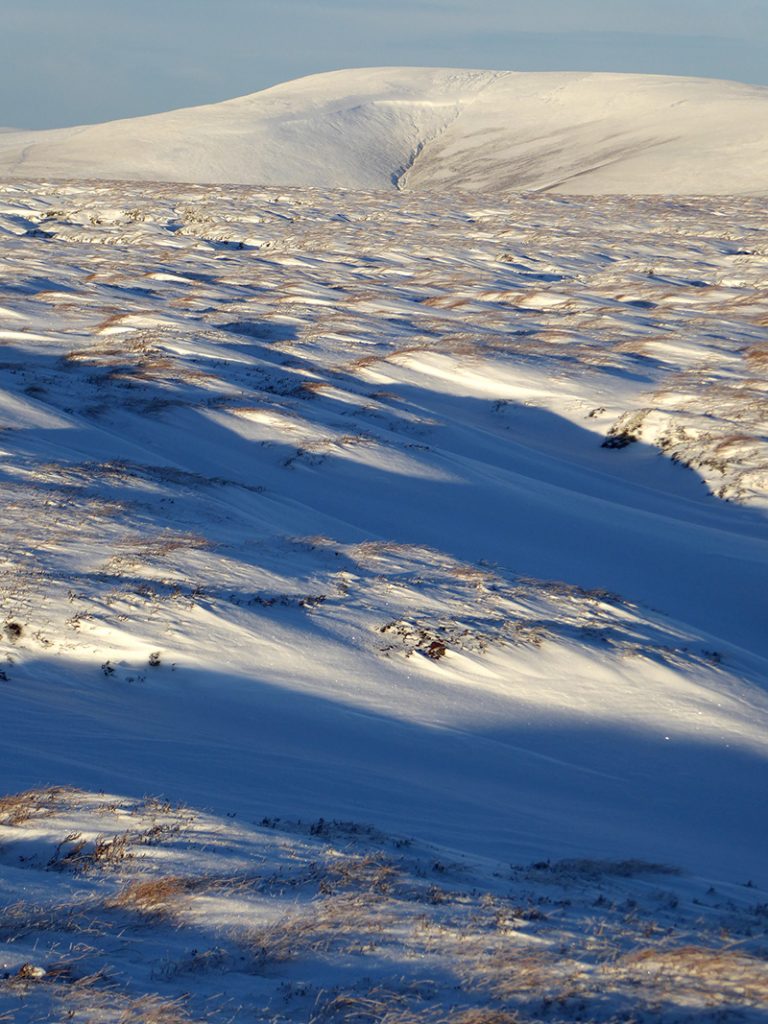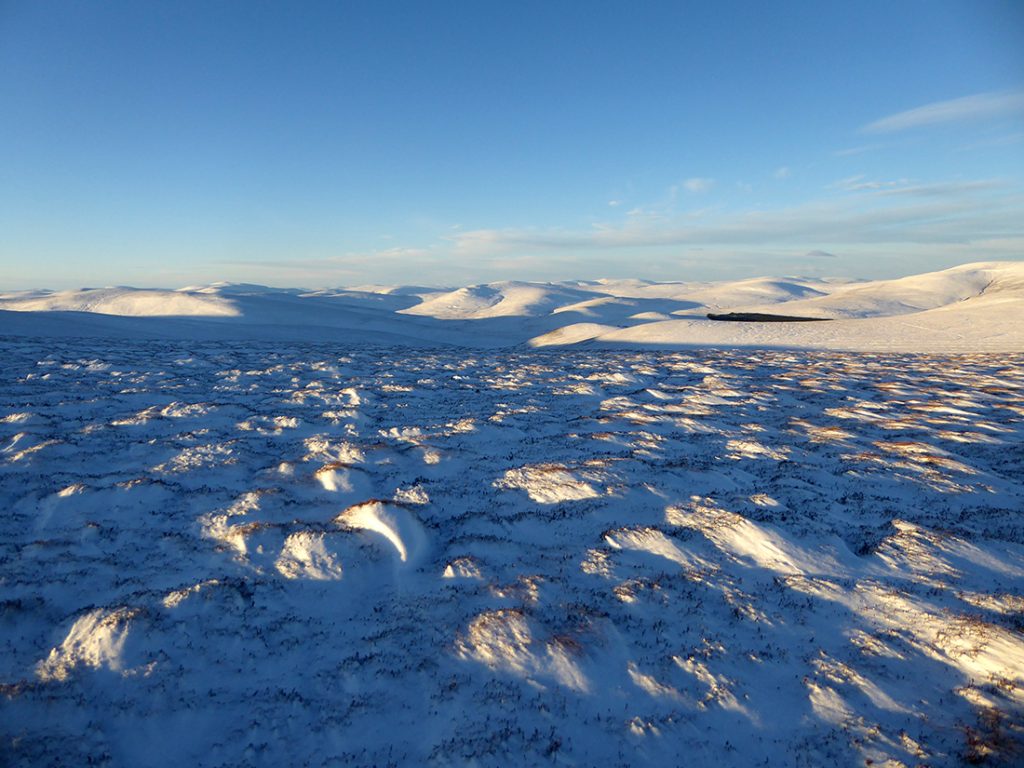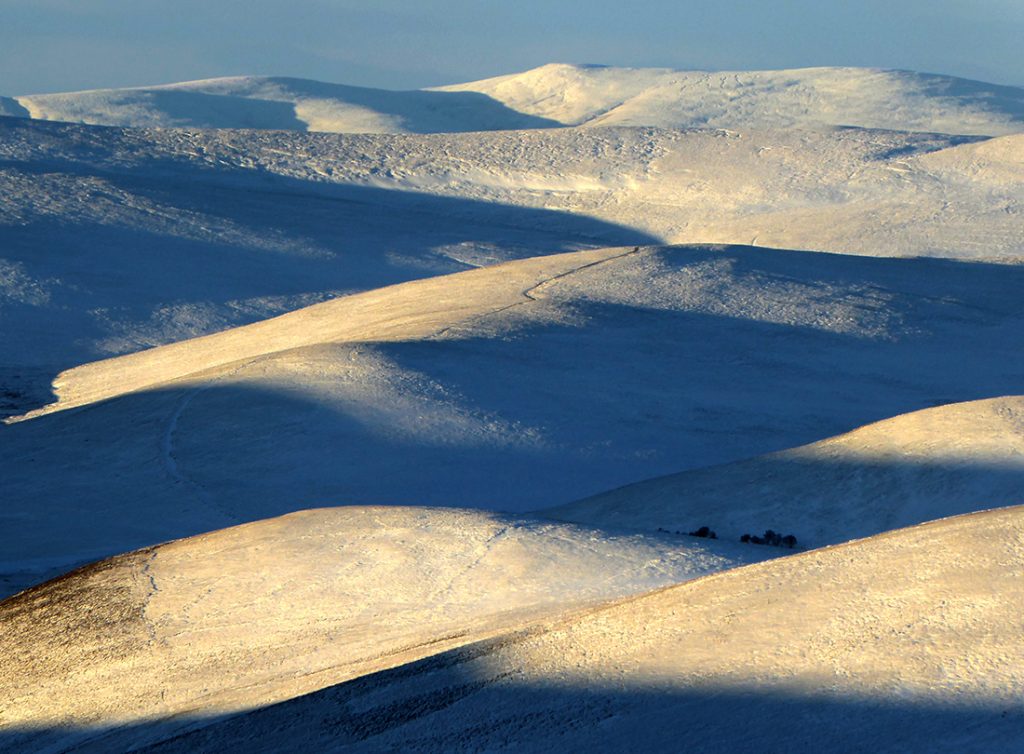 There's a load of raised animal tracks – first the snow is compressed by their paw, the denser print then resists being wind swept while the more loosely packed surrounds erode.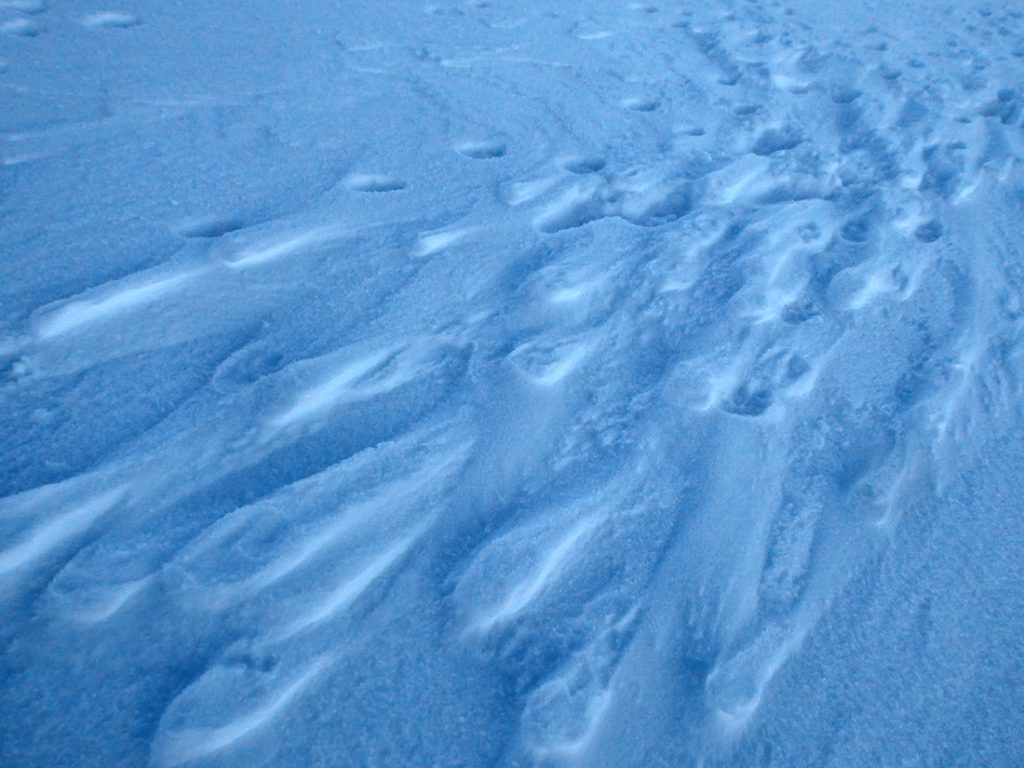 We follow the Cock Burn down through the woods; only a small part remains versus the out of date mapped area.
Corgarff Castle now appears in the distance. Thankfully this side is untouched by work.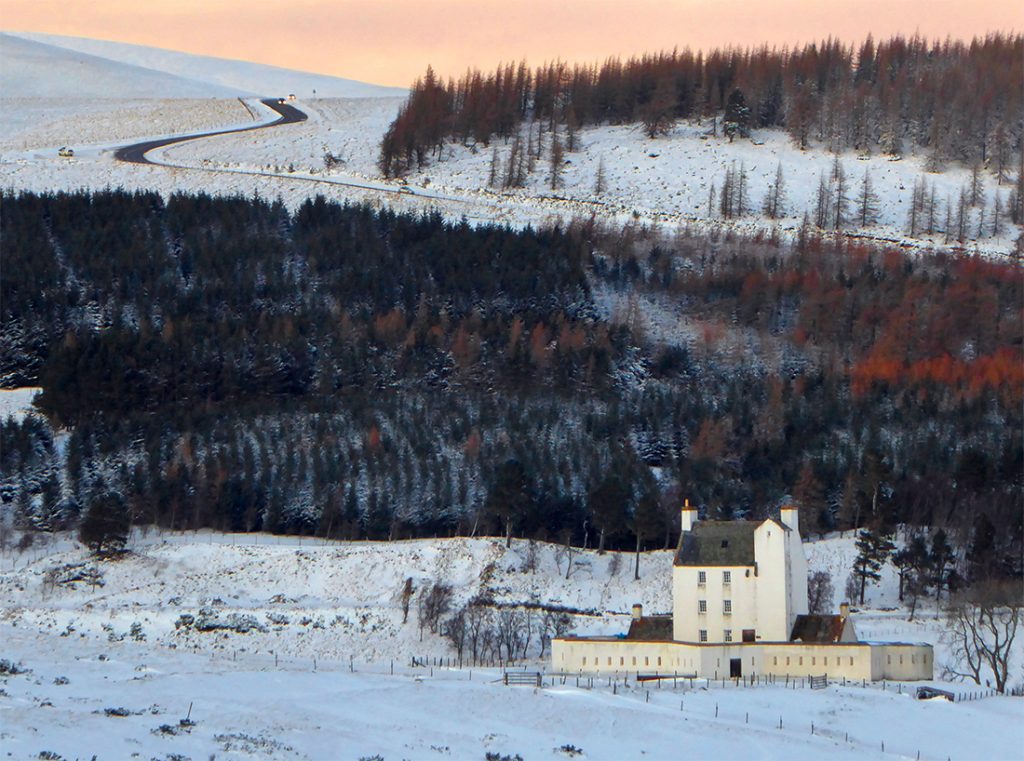 And provides a presentable face, as the sky darkens into sunset hues.
I poke the camera through a few gaps in the walls where fearful Englishmen poked their muskets to defend the garrison. The castle was originally an abode from the 16th century but became a government garrison against the Jacobites in the 18th, I imagine the outer wall dates from then.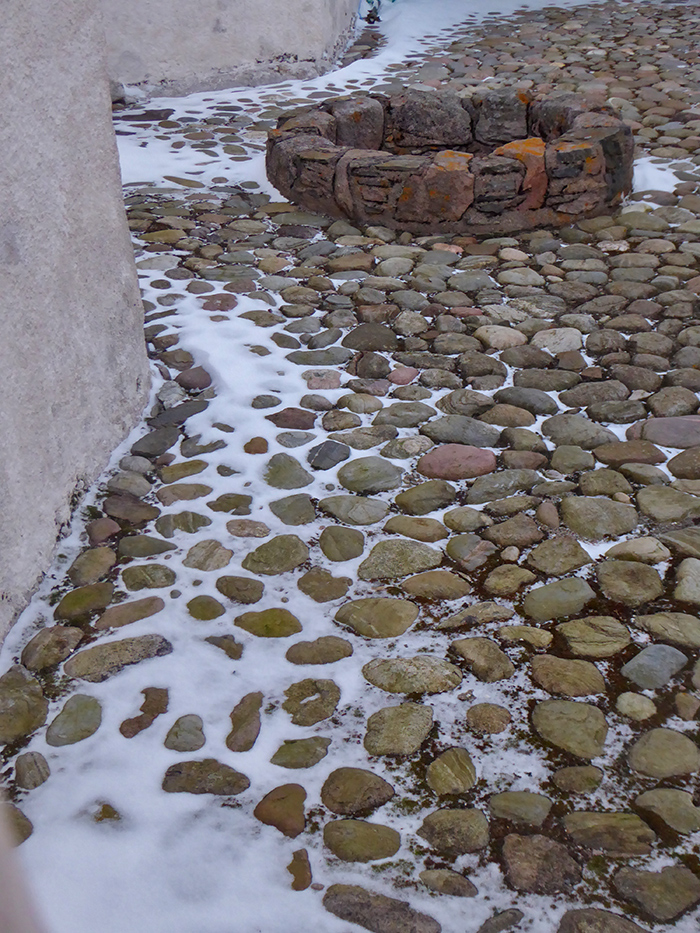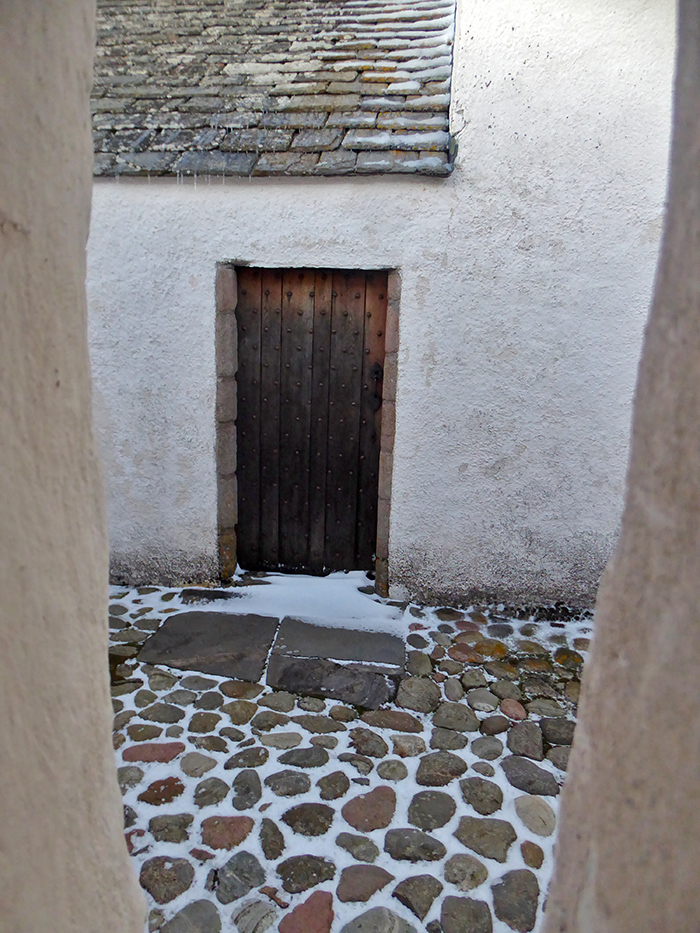 A delicious winter sky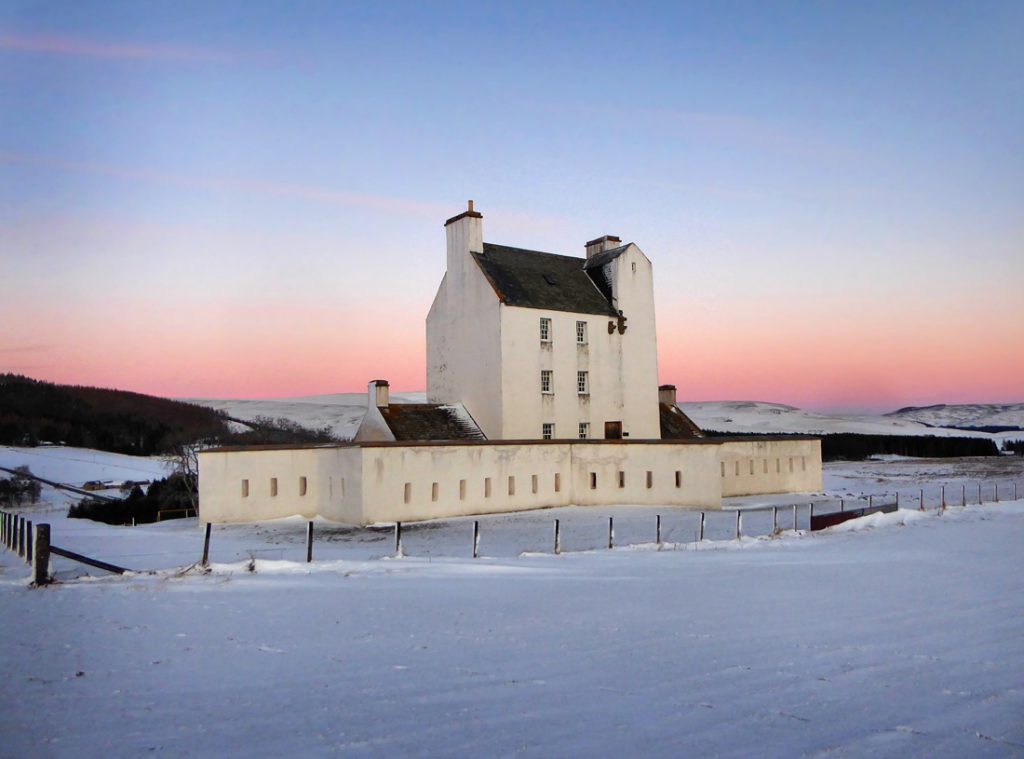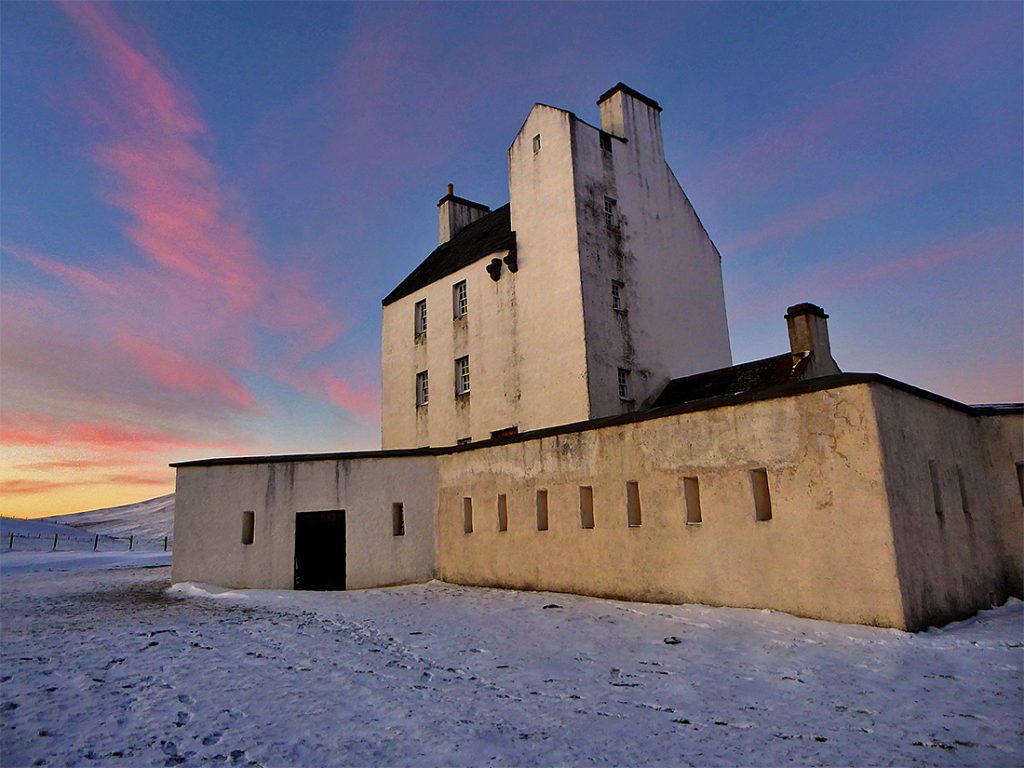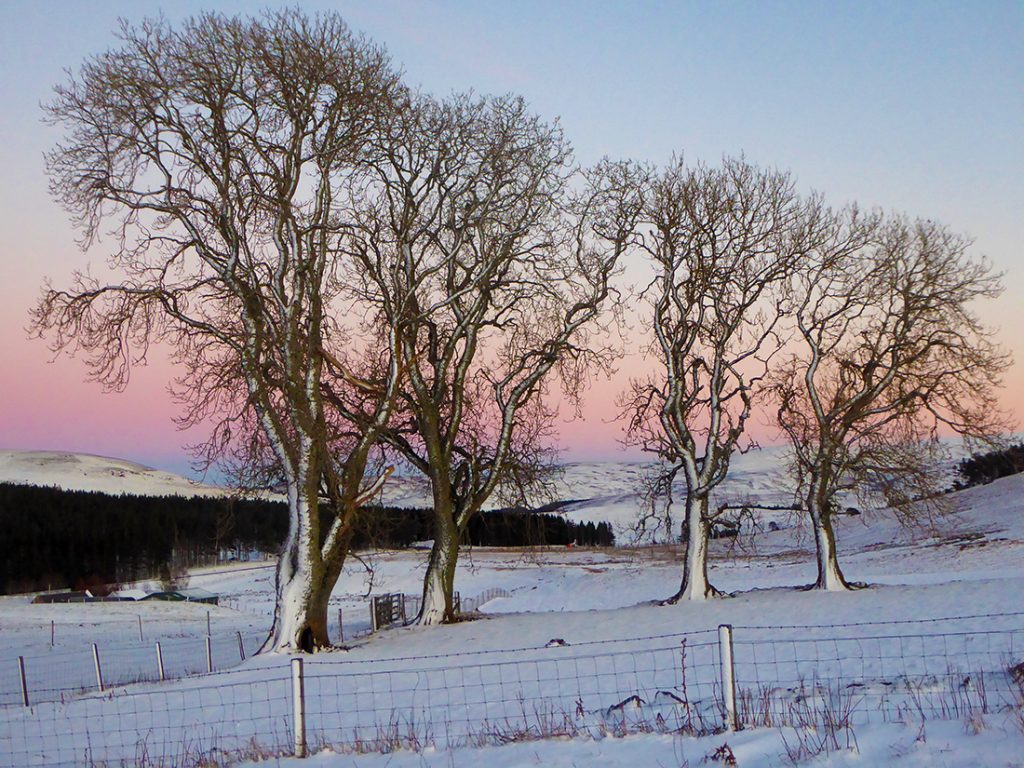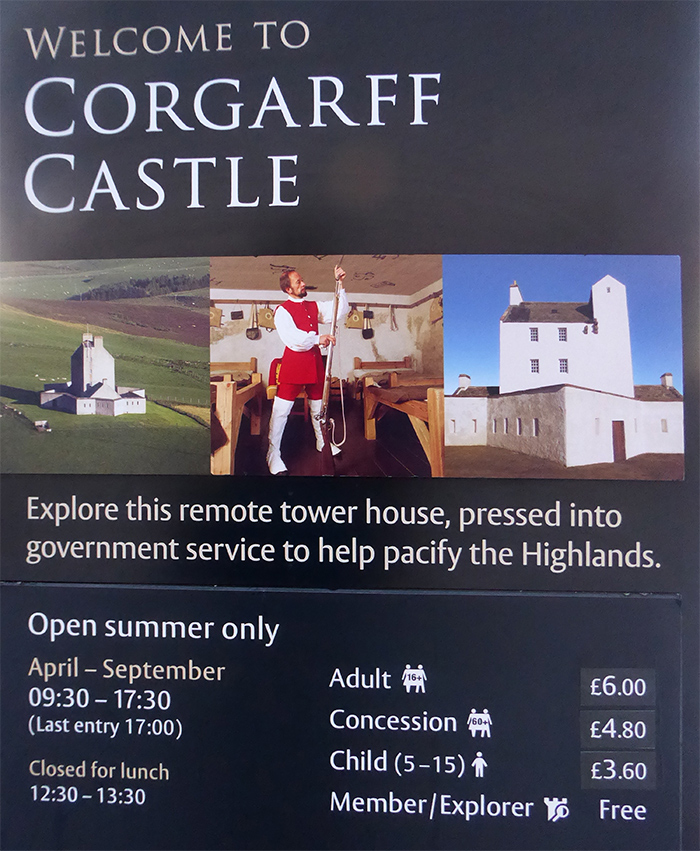 A bracing day out deserves a pint and we surprise the locals in the snug at Colquhonnie House Hotel,  Forbestown. I opt for a pint of the appropriate local brew that is excellent.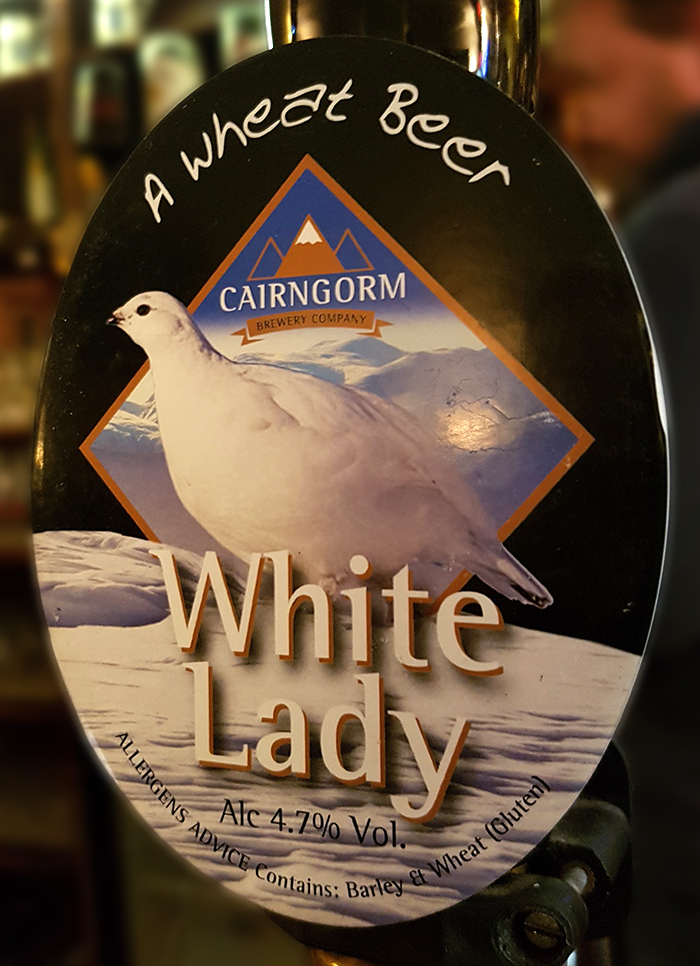 Footnote:
My first outing for my new La Sportiva Trango S Evolution GTX boots. These are stiffer than I'd normally use, but are crampon compatible. Quite lightweight as a winter boot goes, but no issues with warmth with a single thick pair of merino socks on. No blisters, but a few aches, 17k for first use is a fair bit though. I do notice some damp when changing so perhaps not as breathable as they might be, subsequent use will tell more. Forewarned for a winter overnighter though (when they'd cool down potentially below zero – I'd stuff something into the toes and keep them in the sleeping bag foot perhaps for a bit of warmth.)  (update.. another 17k later.. hardly any foot aches at all now.. no sign of dampness, on a very cold day)