July saw a Cairngorm Club summer camping trip, with 6 of us heading out from Linn o'Dee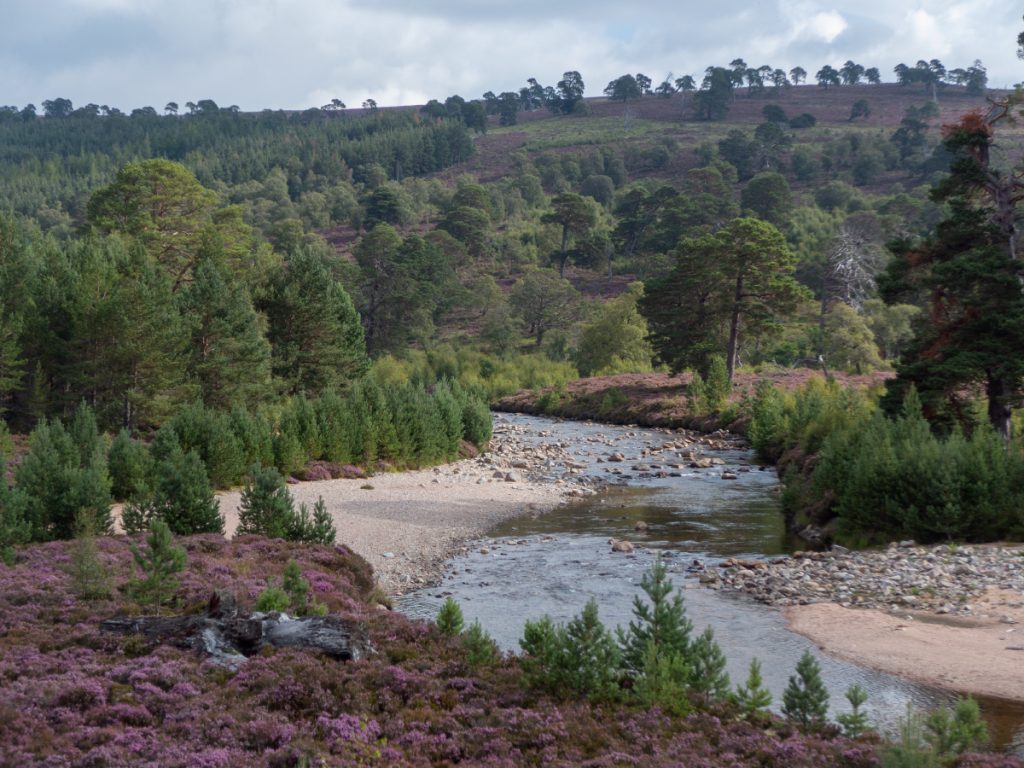 Swathes of purple heather greeted us as we headed off-track along the west bank of the Lui, with the intension of ascending Sgor Dubh by an uncommon way.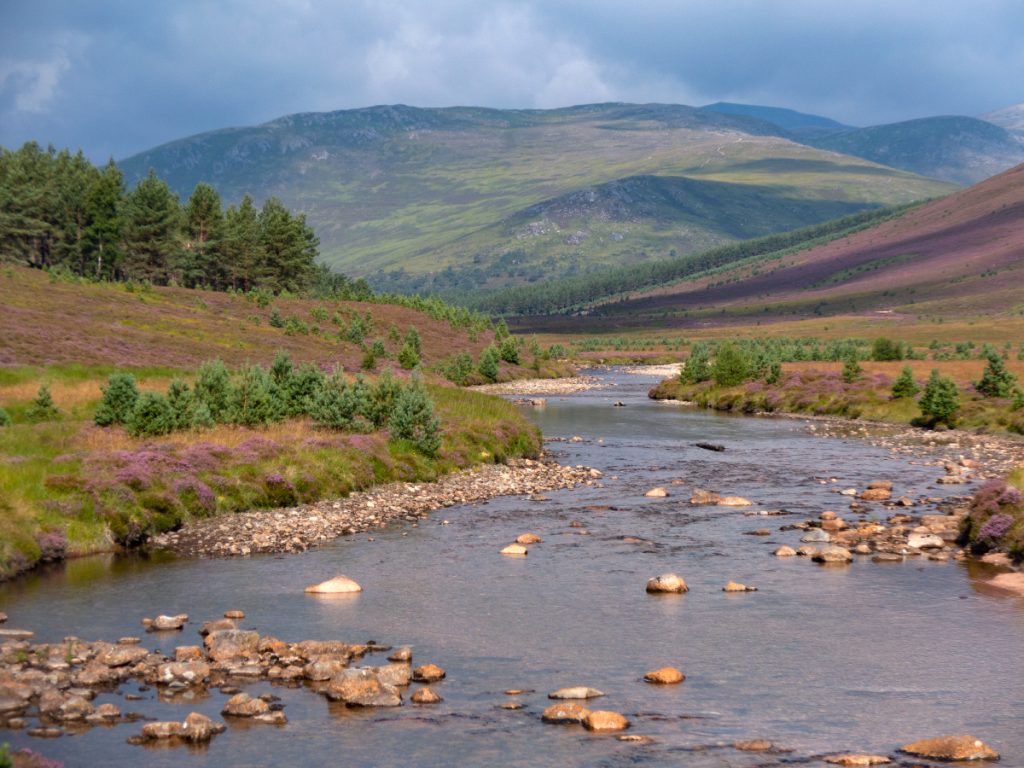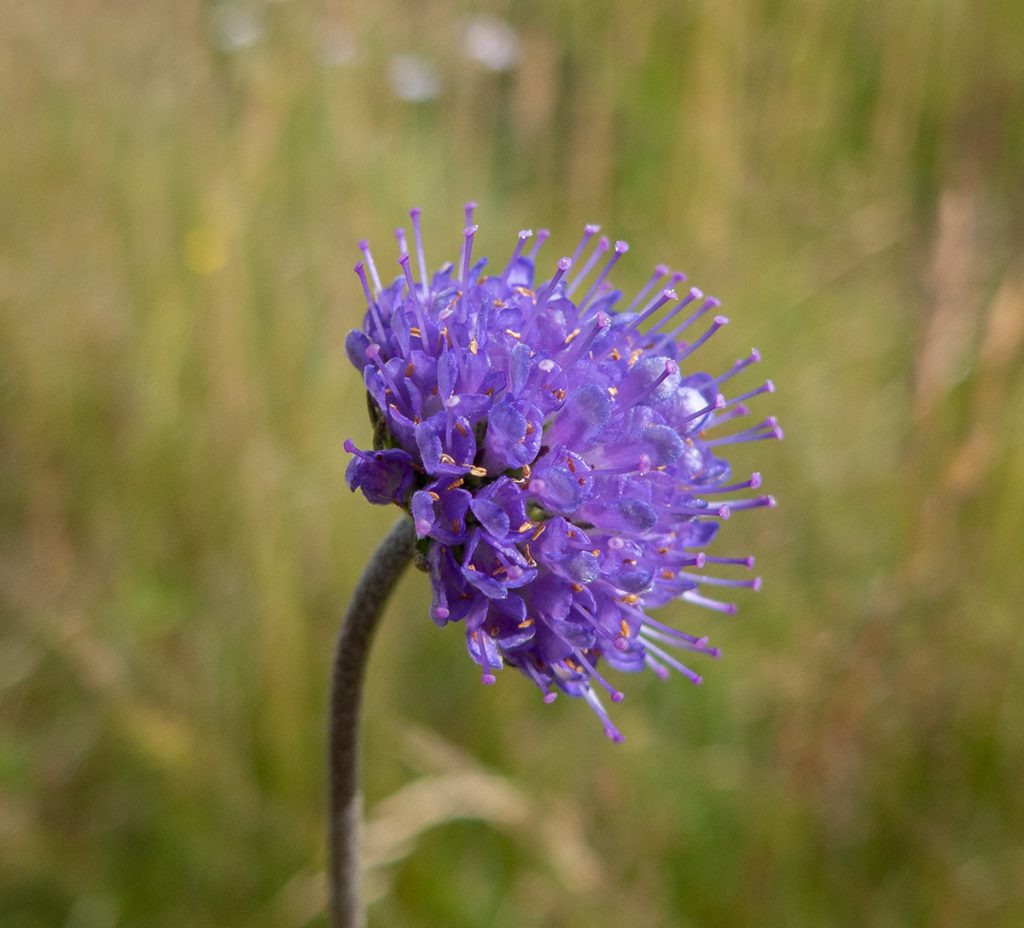 After a pleasantly cool interlude through the woods, we emerged and rounded a nook below a small crag before it opened up above to great views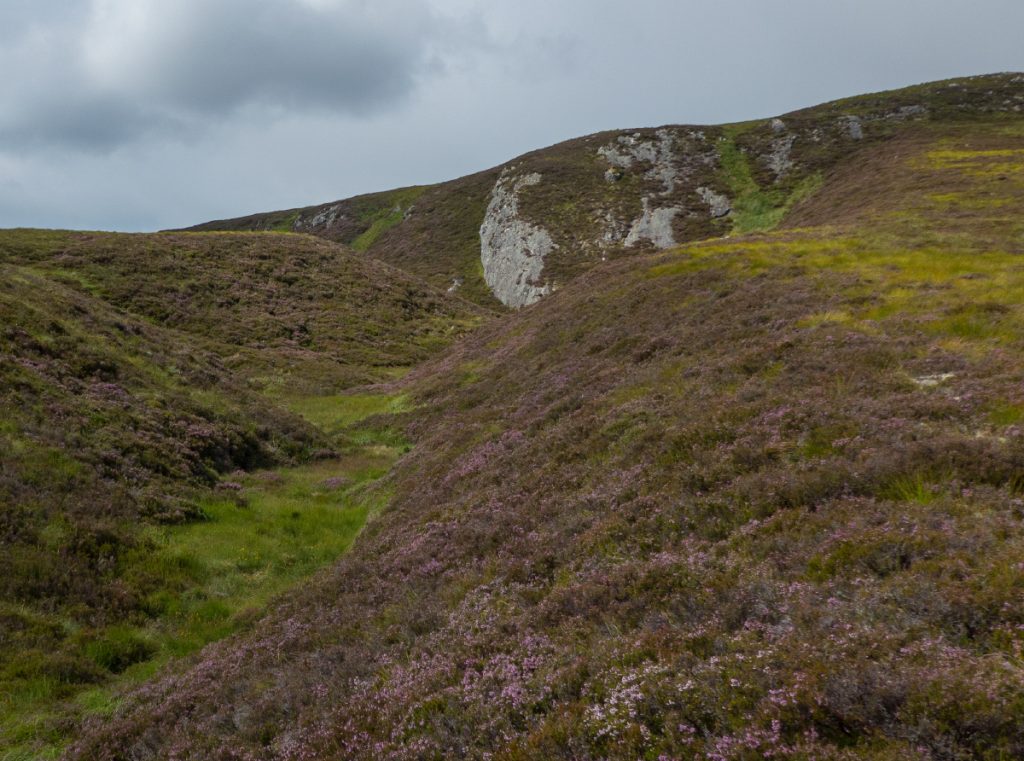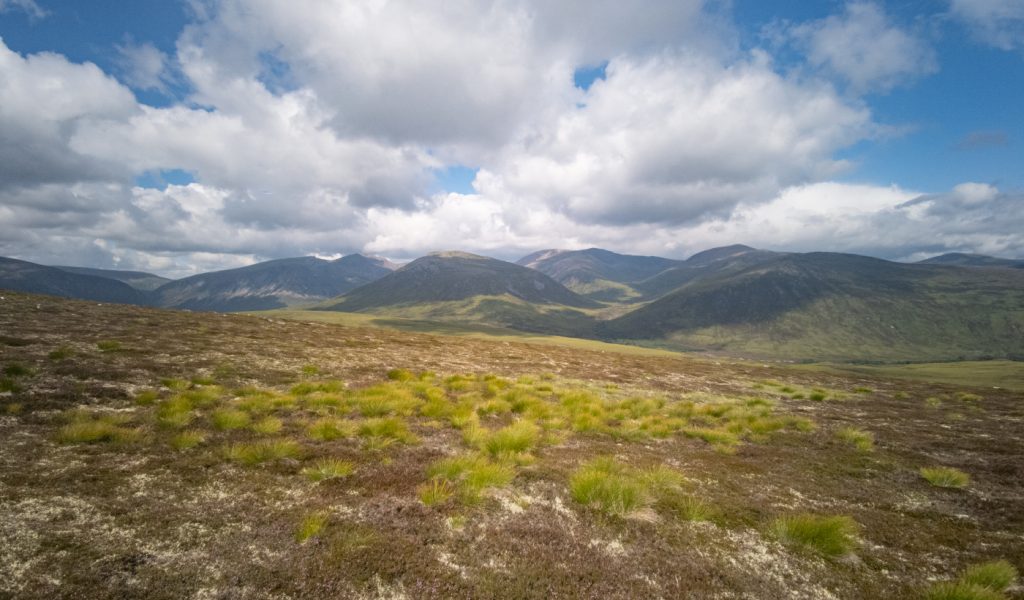 There was a stiff breeze so next we headed for another rocky outcrop for a bit of lunch shelter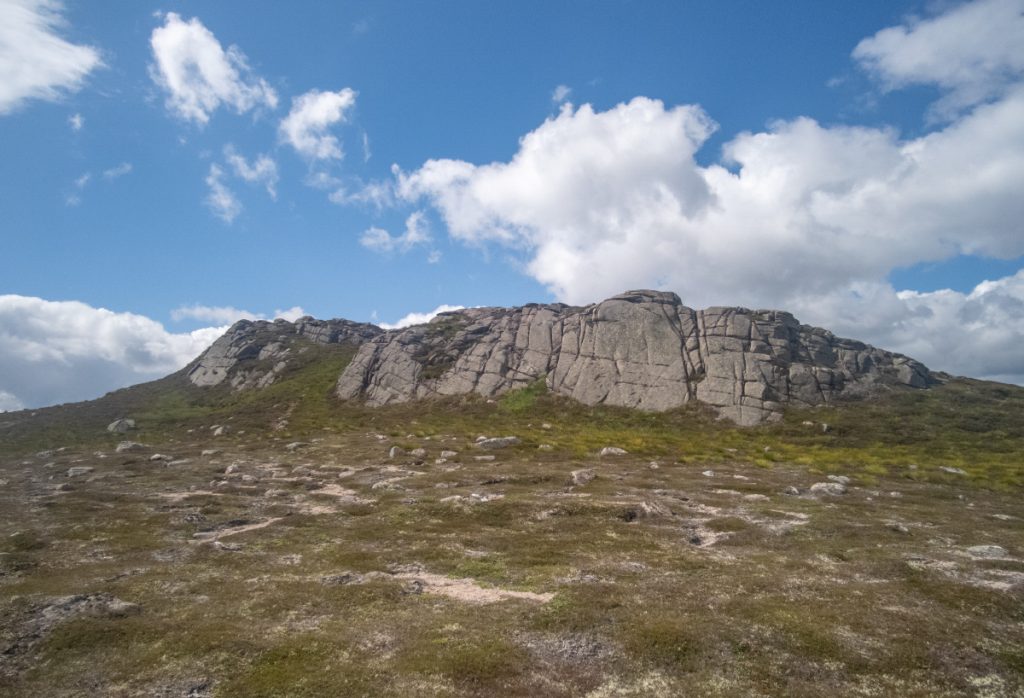 As we headed up Sgor Mor, the weather caught up with us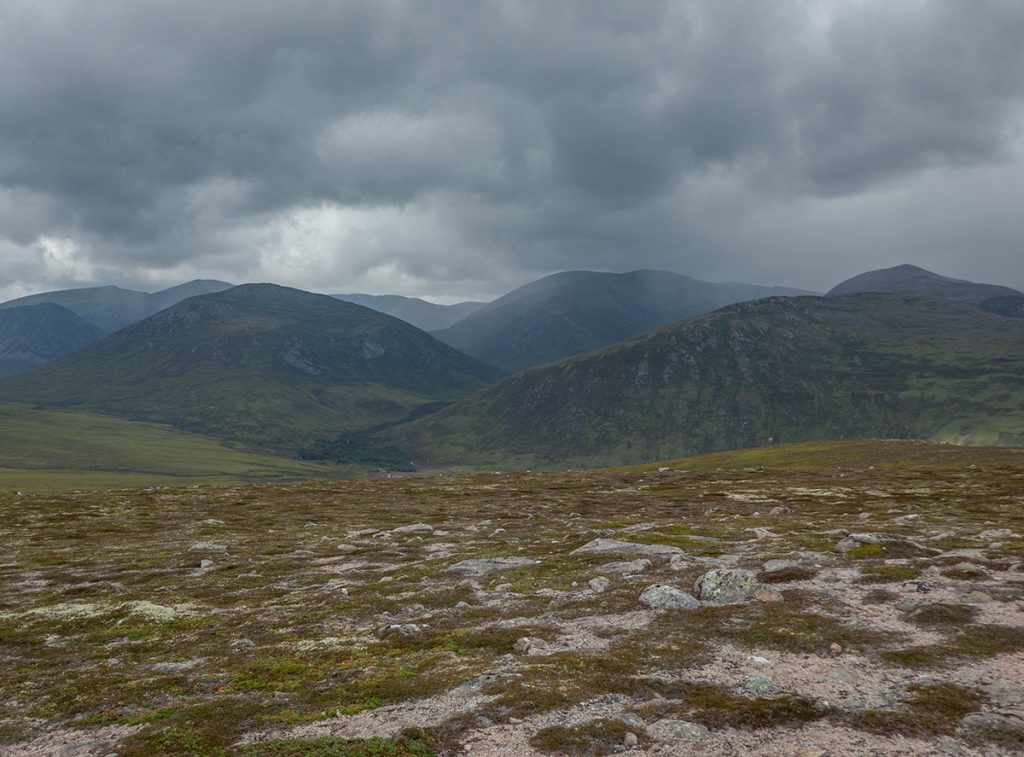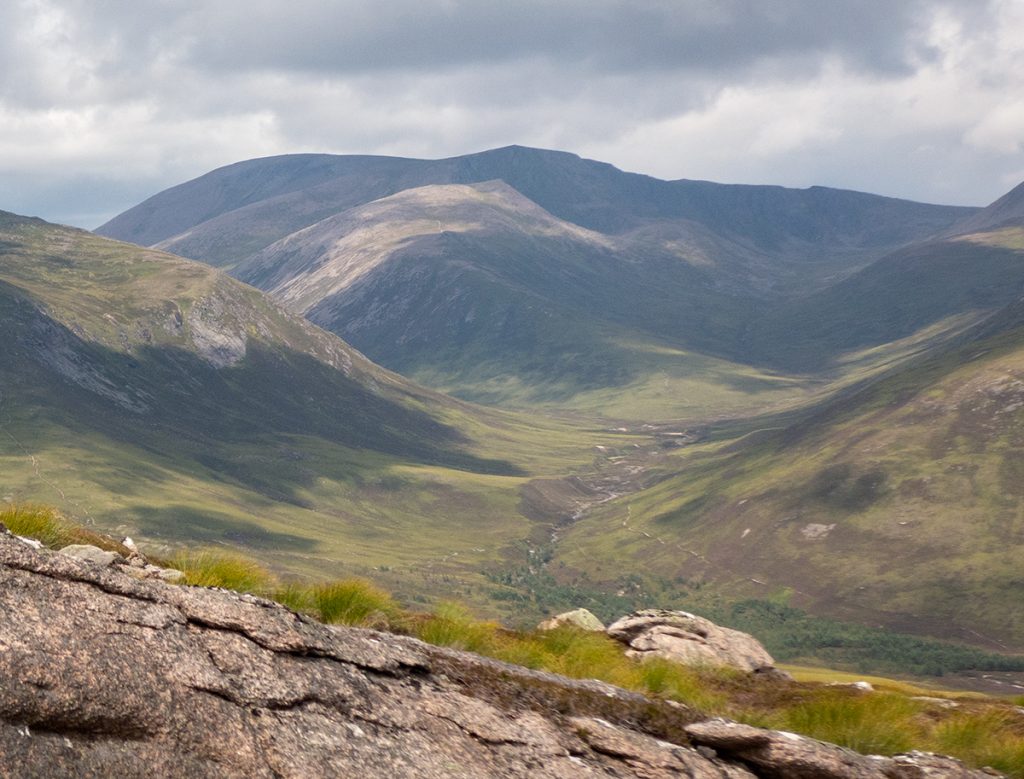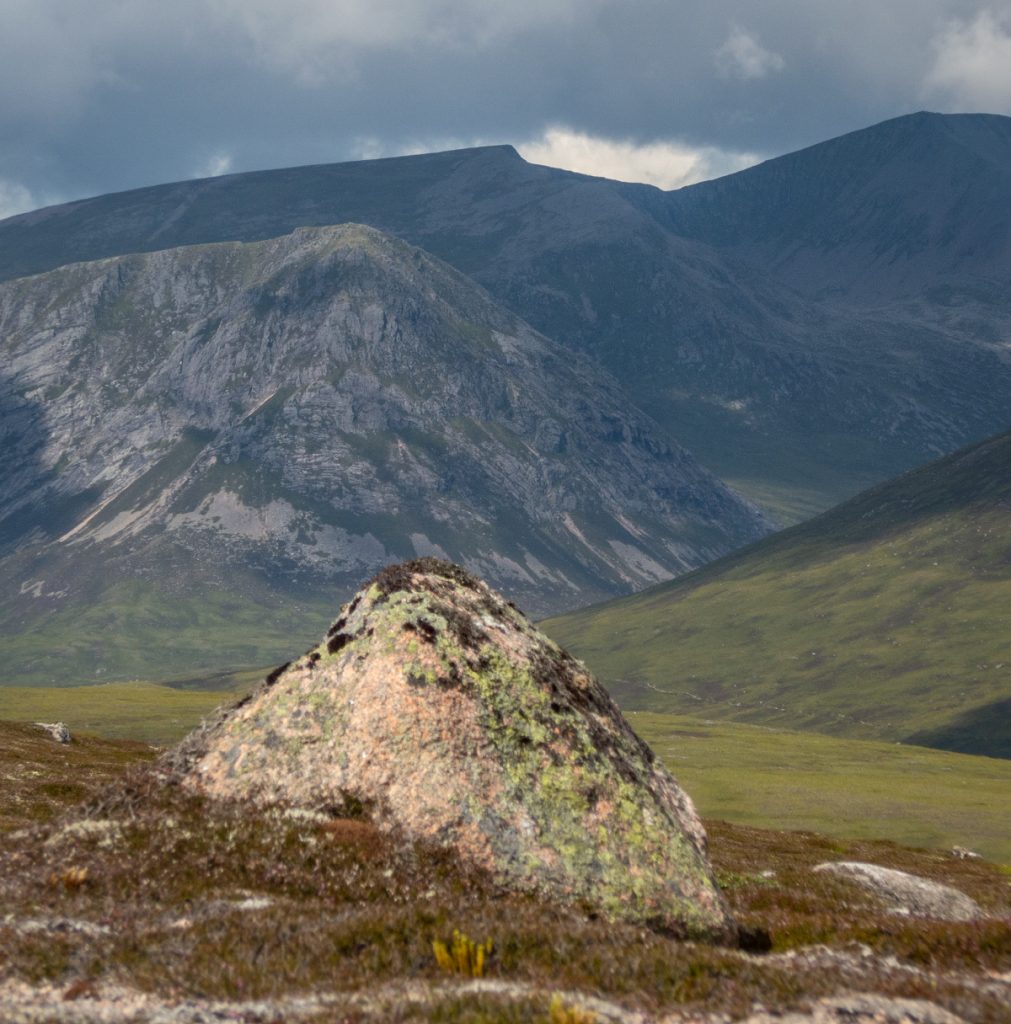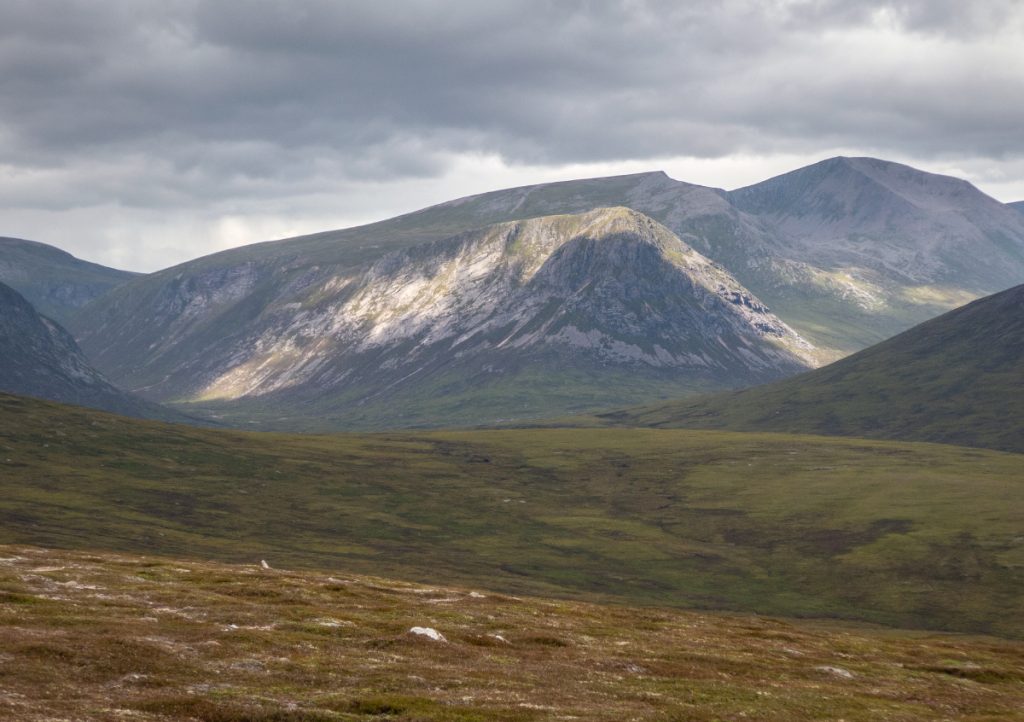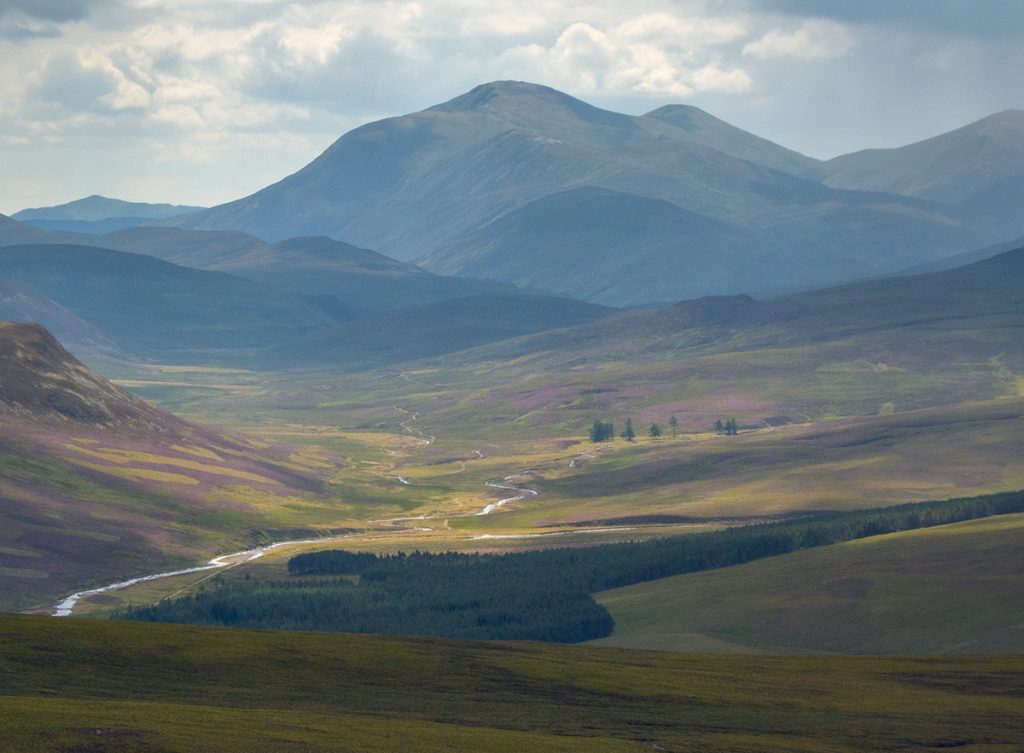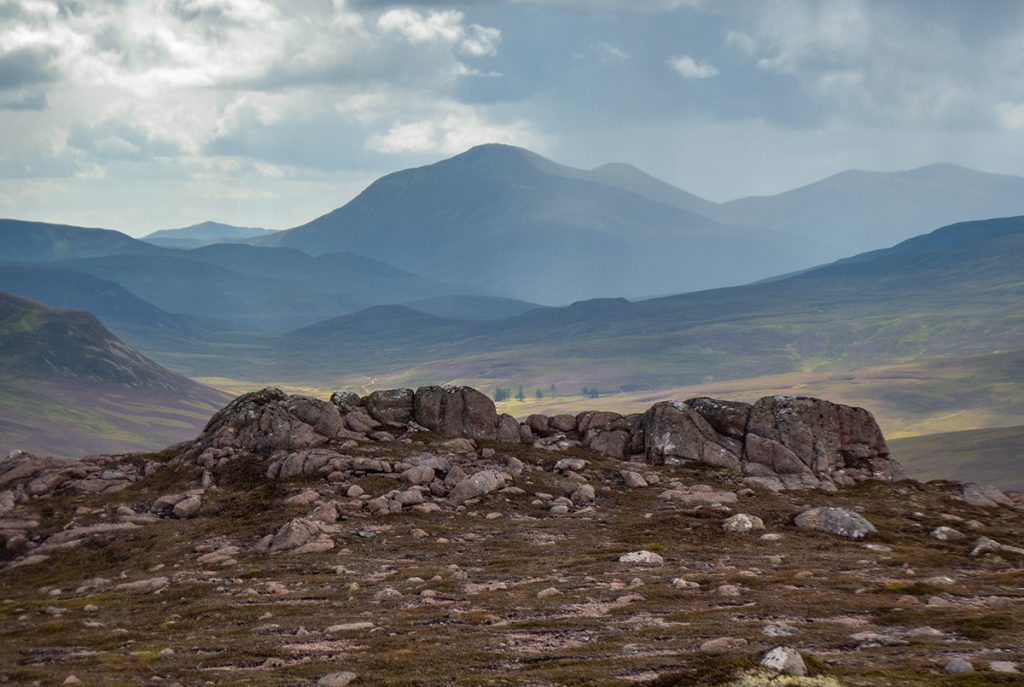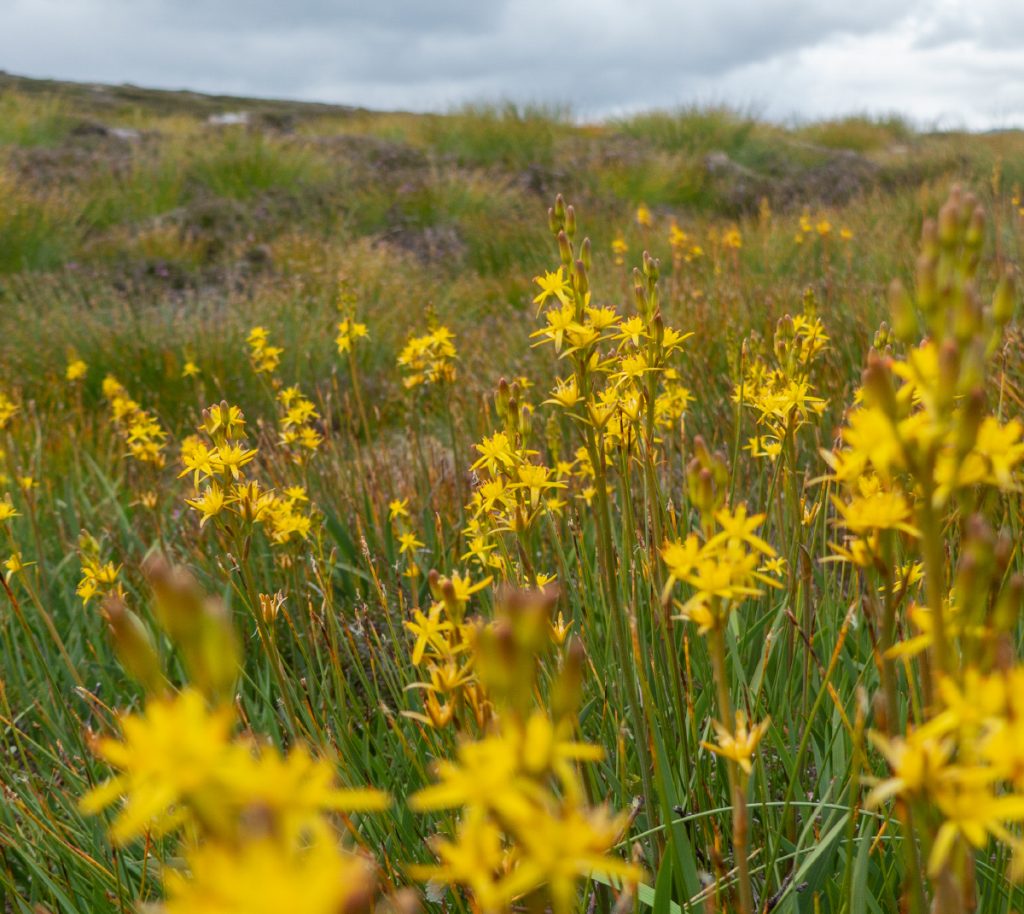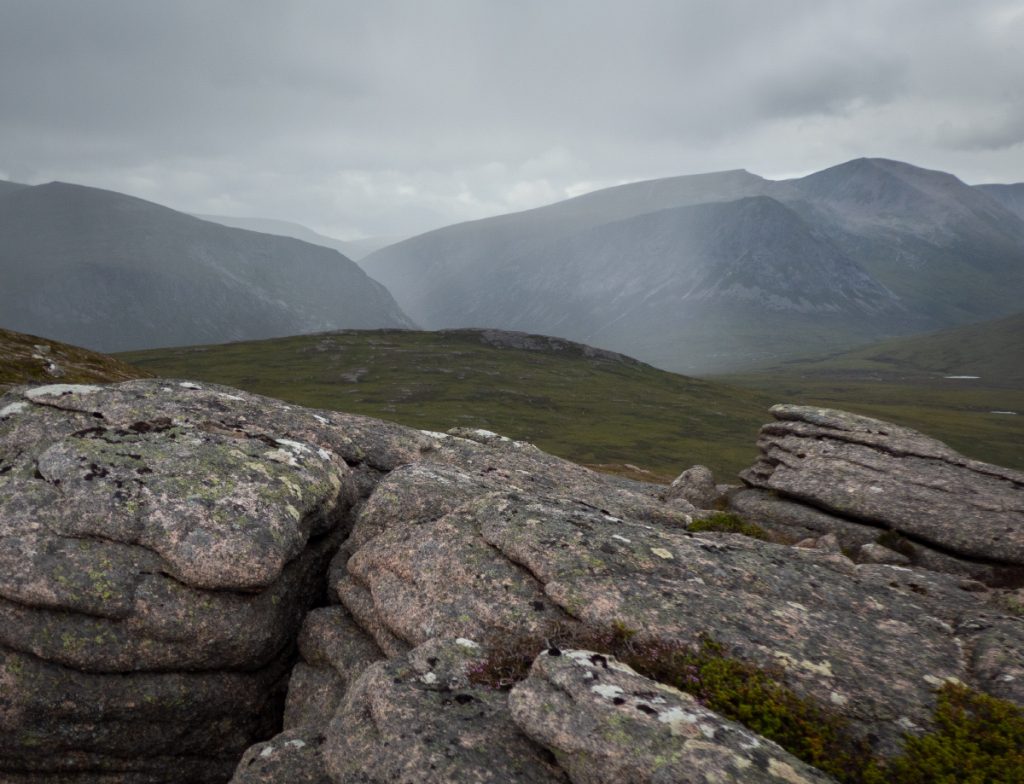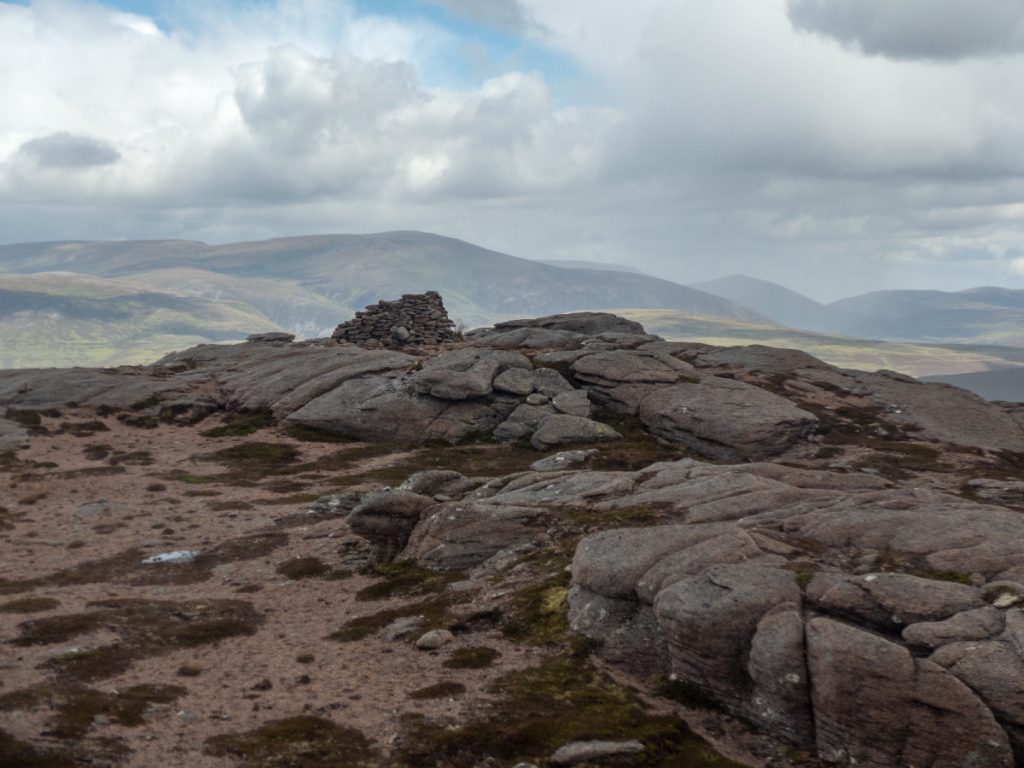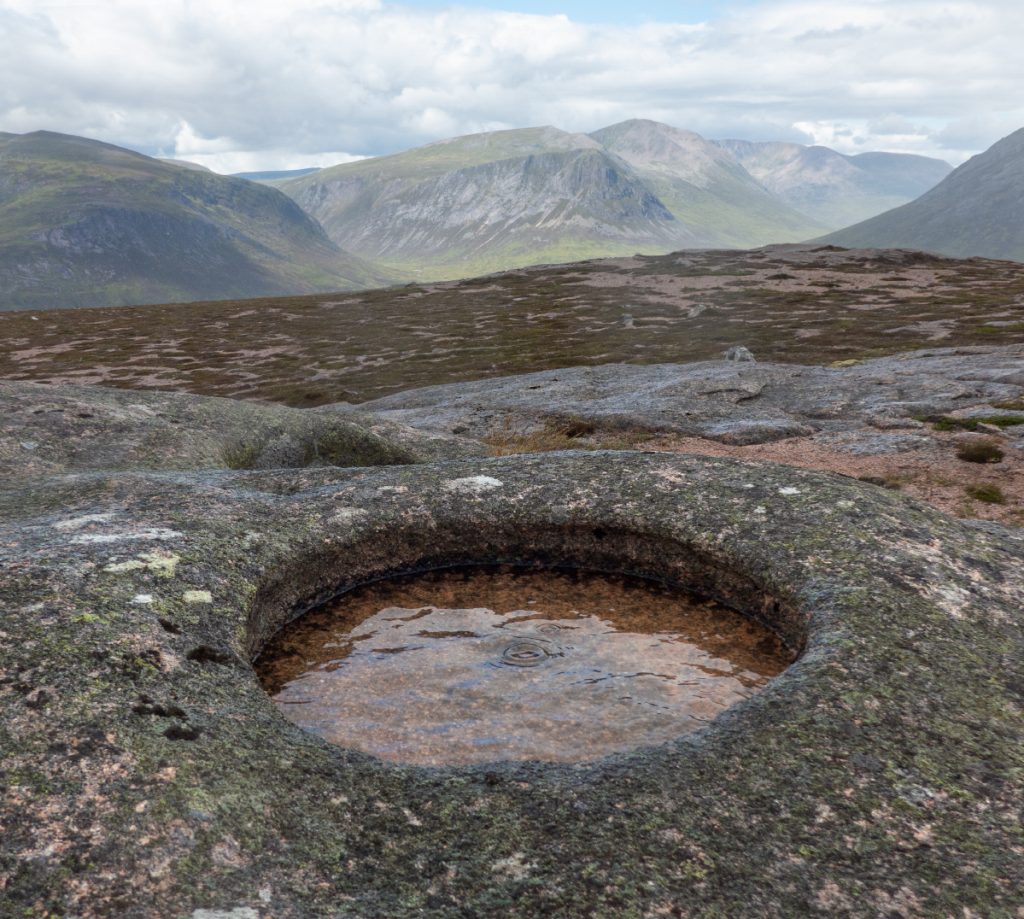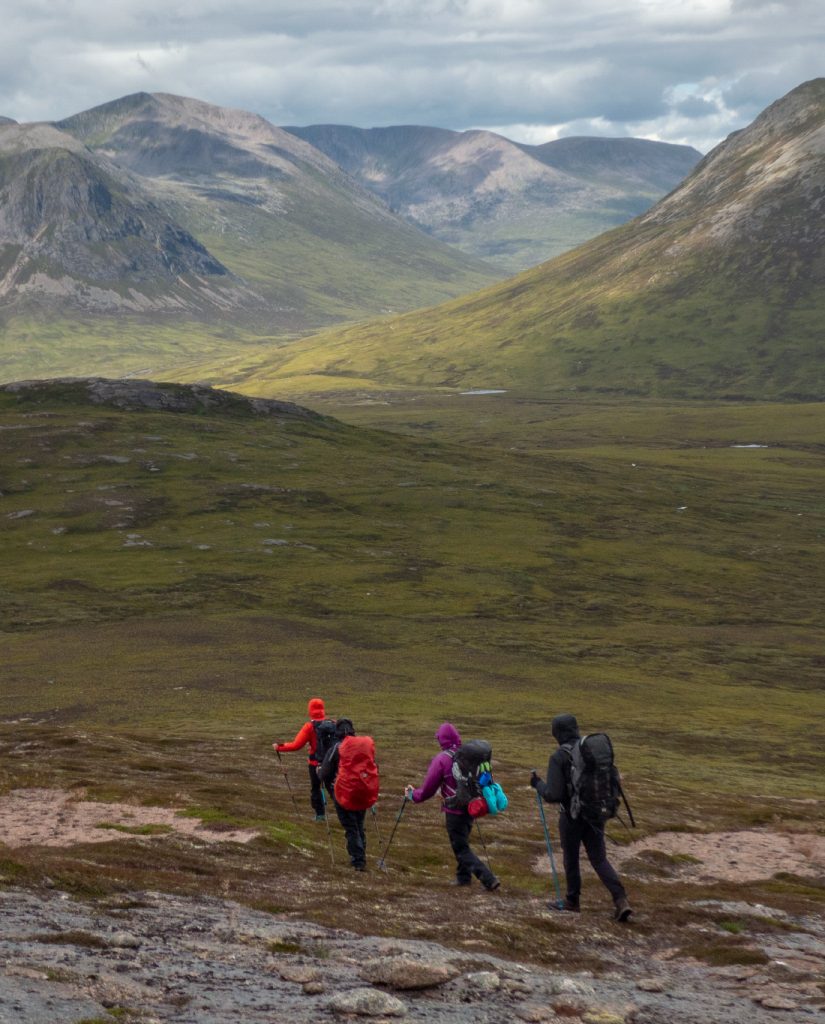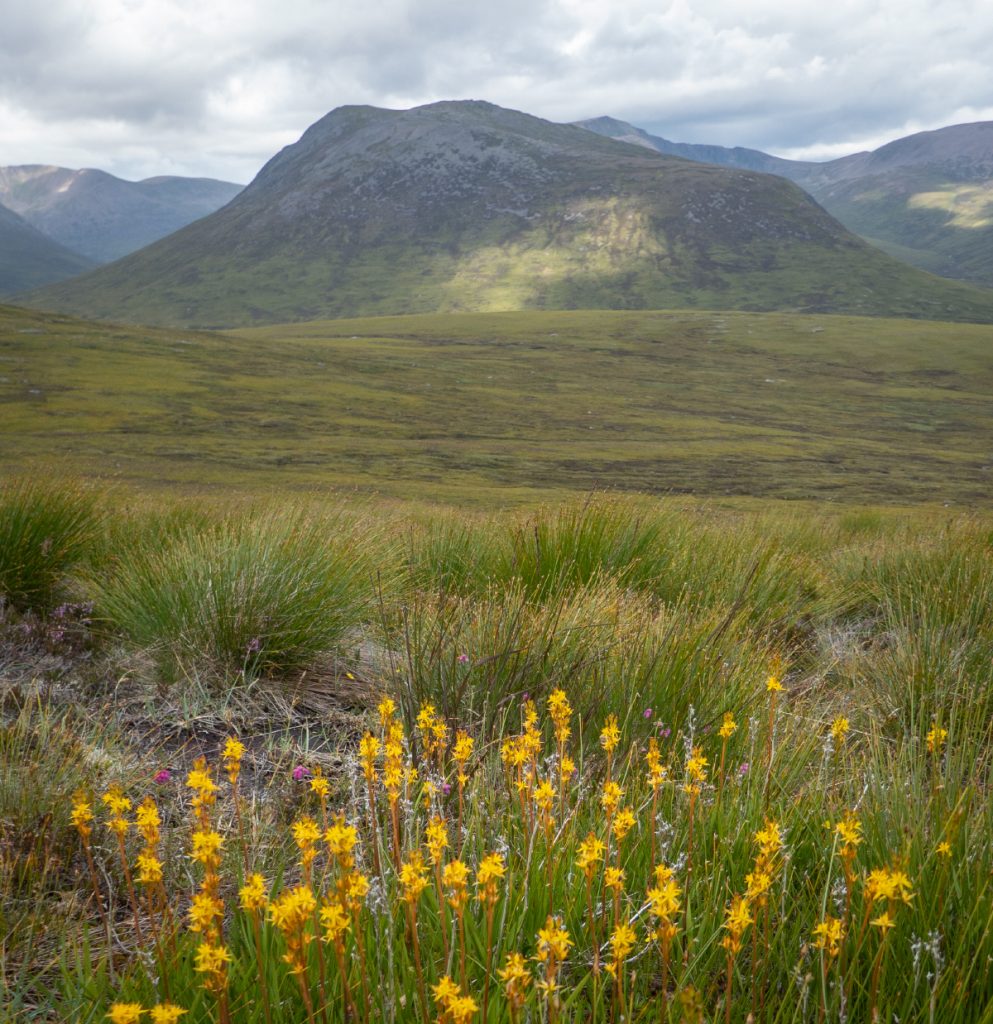 One of our party was an ecological scientist, and her knowledge illuminated some of the plant finds: I'd never considered that there were different species of sundew, once pointed out there were clear differences e.g. round ones and elongated ones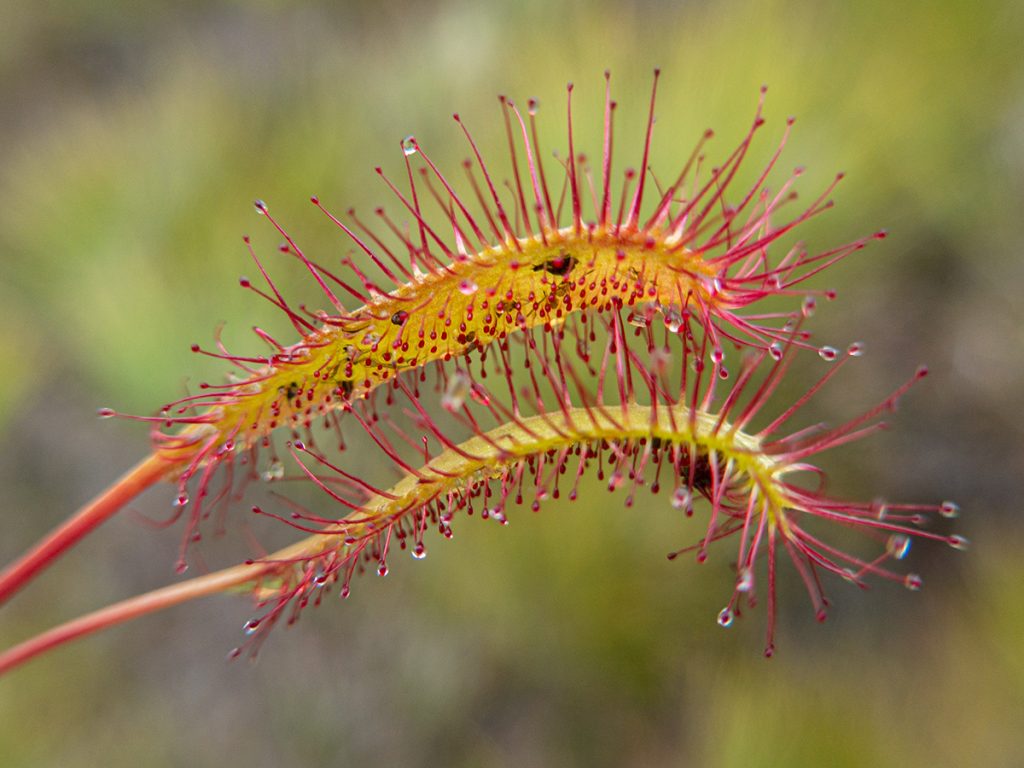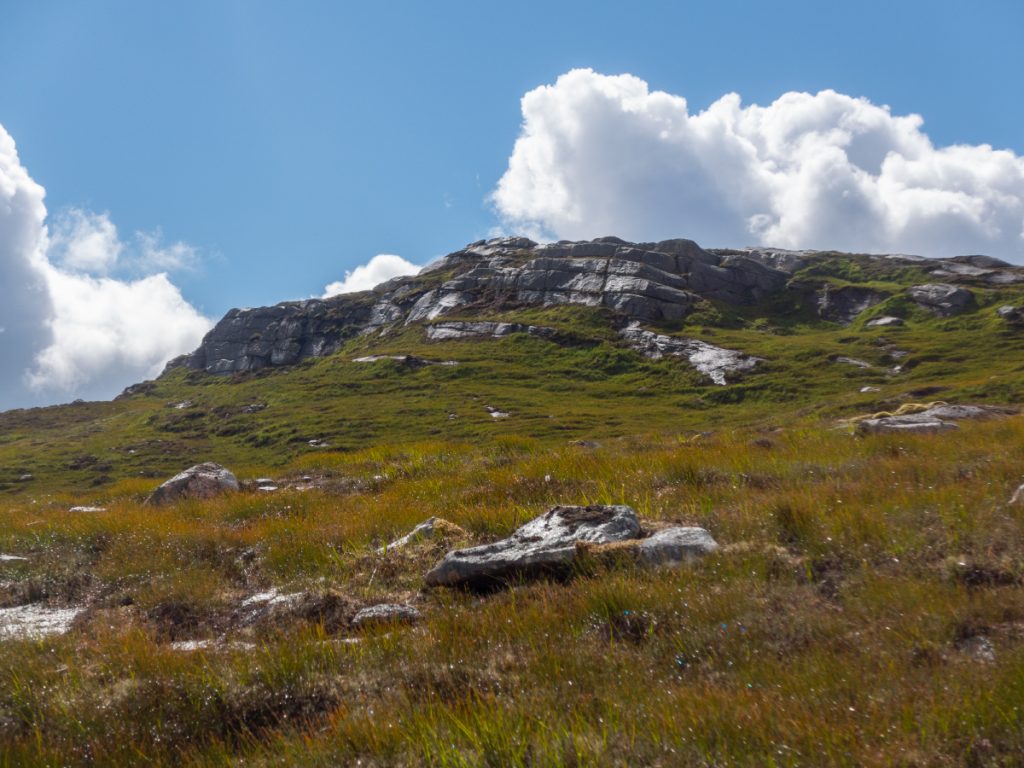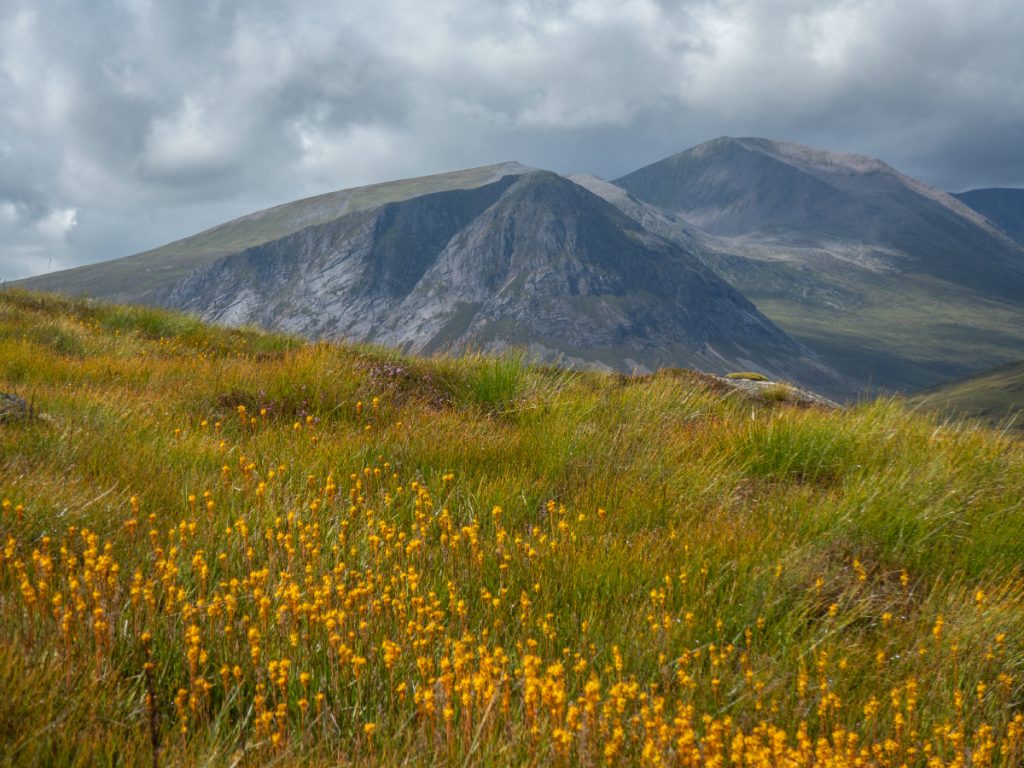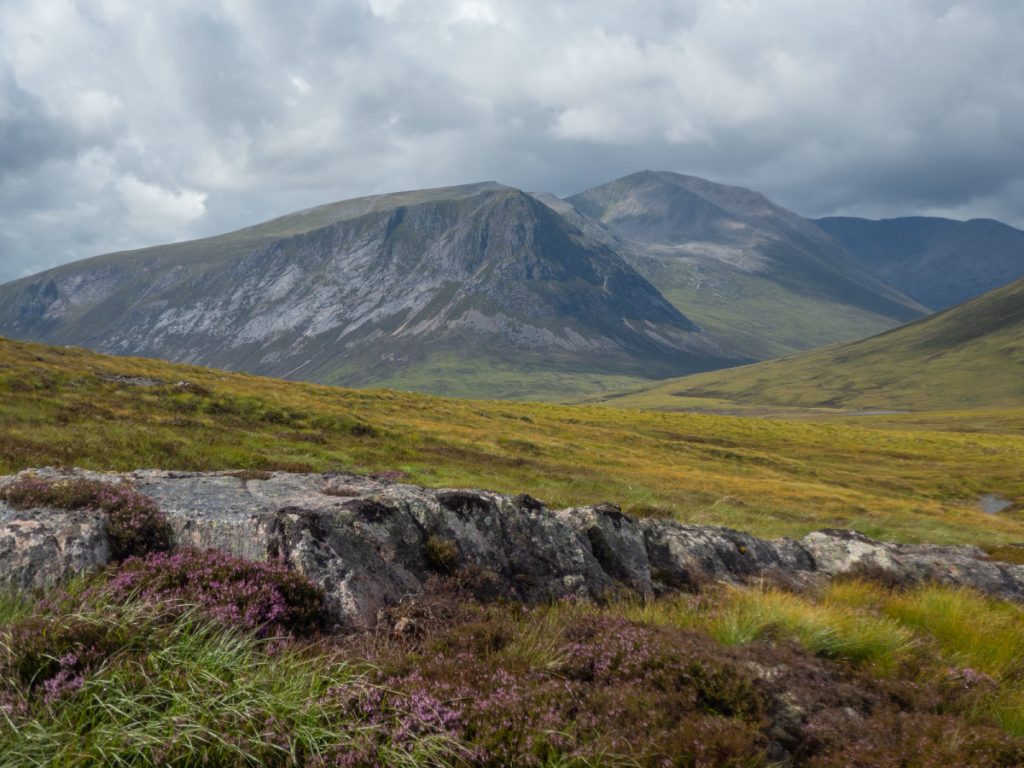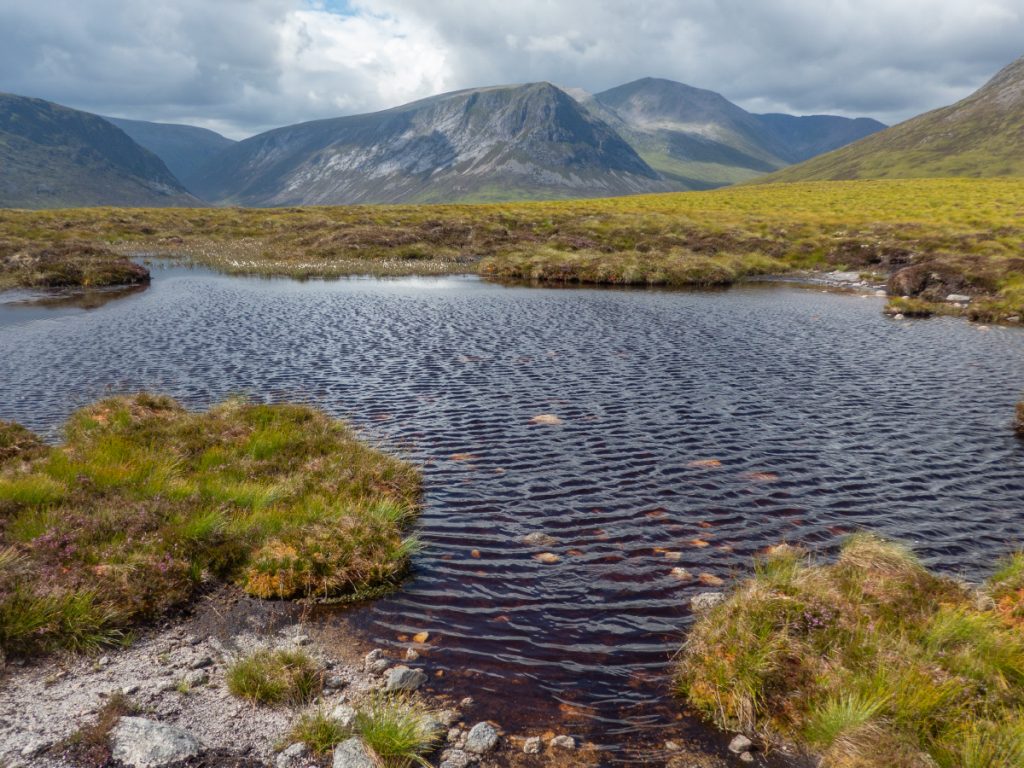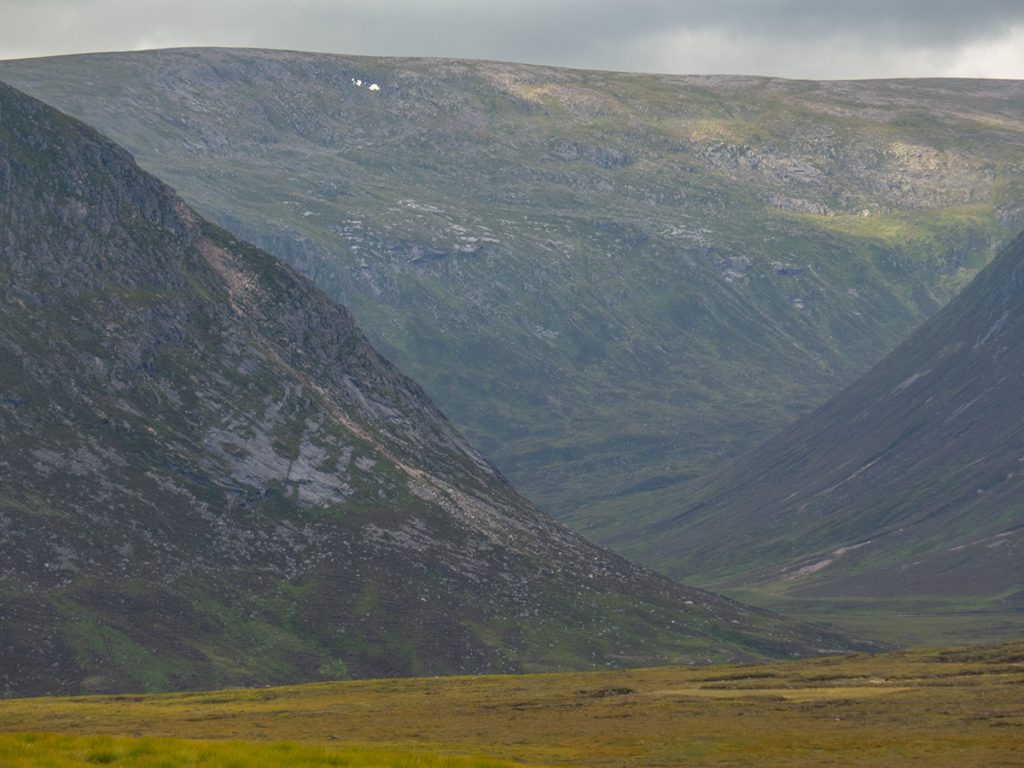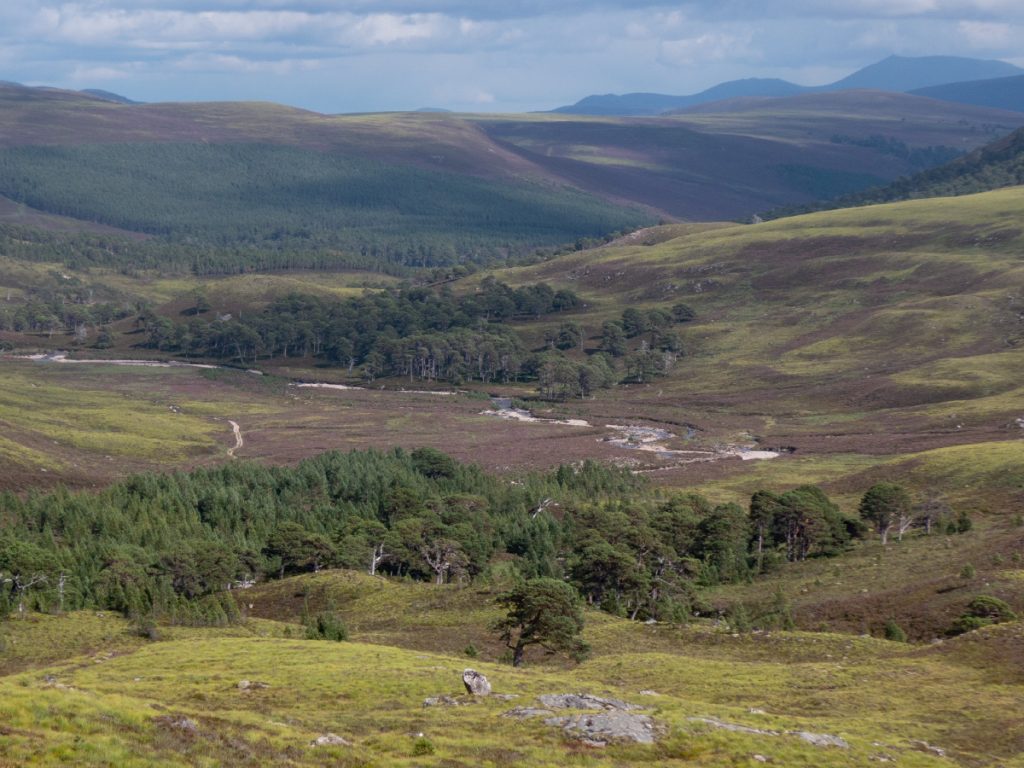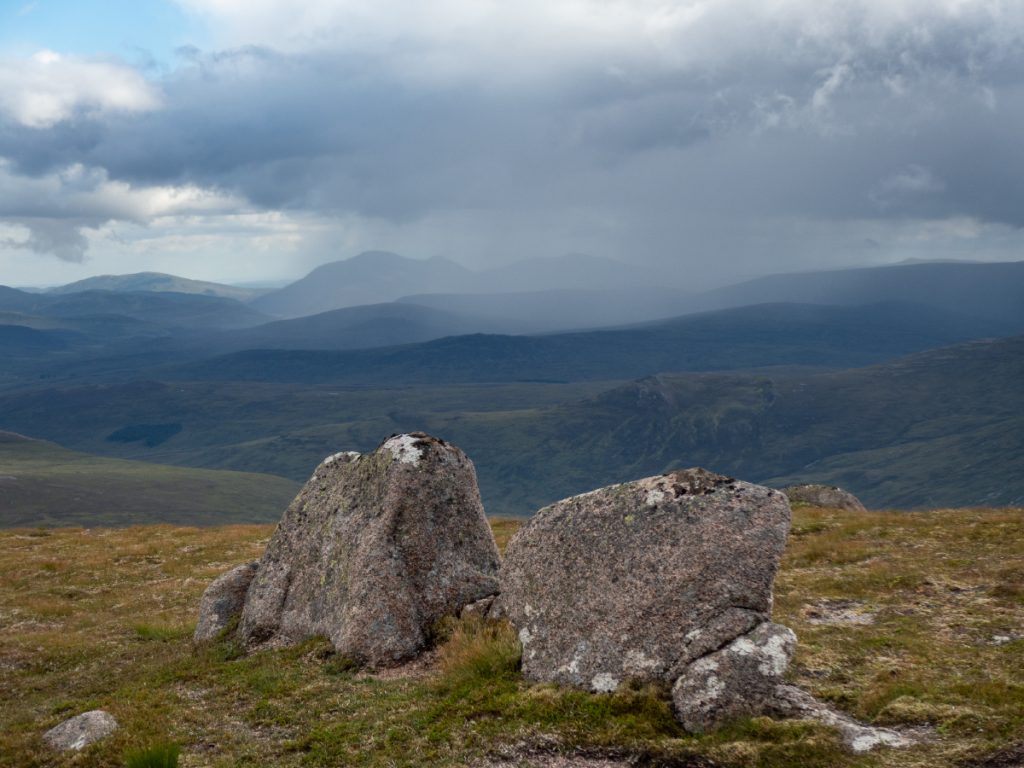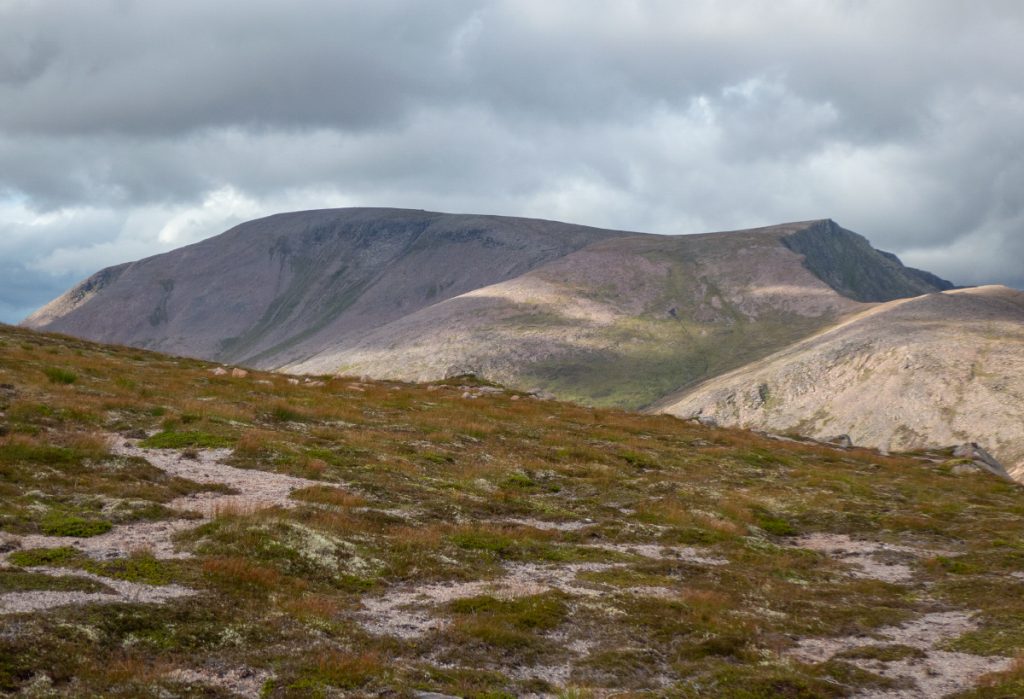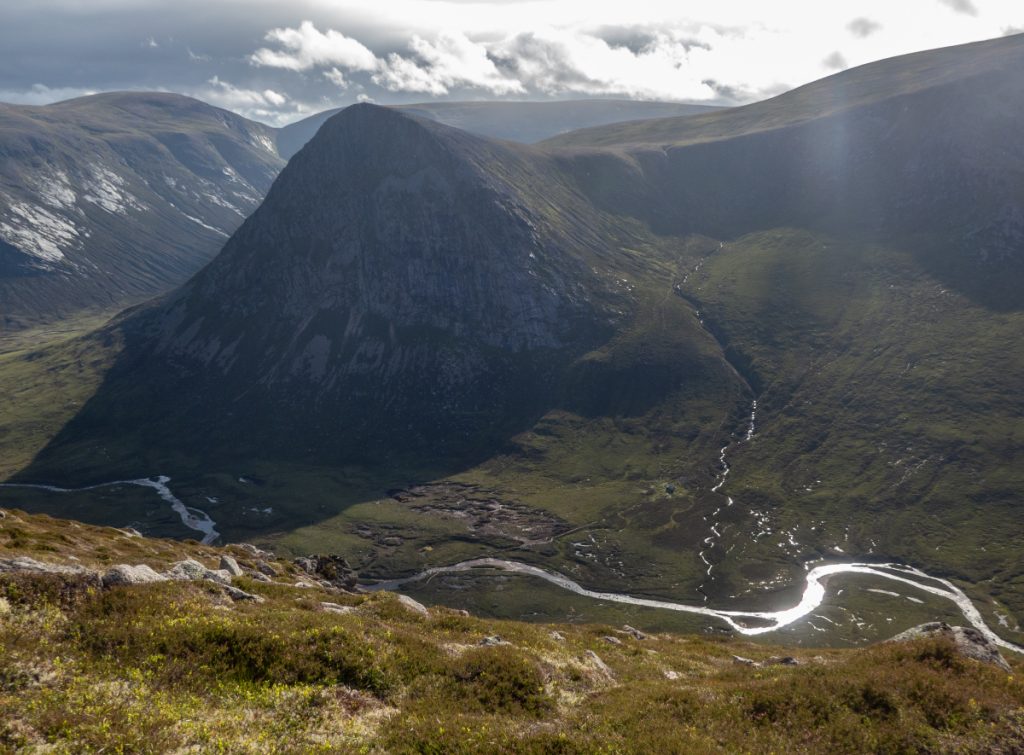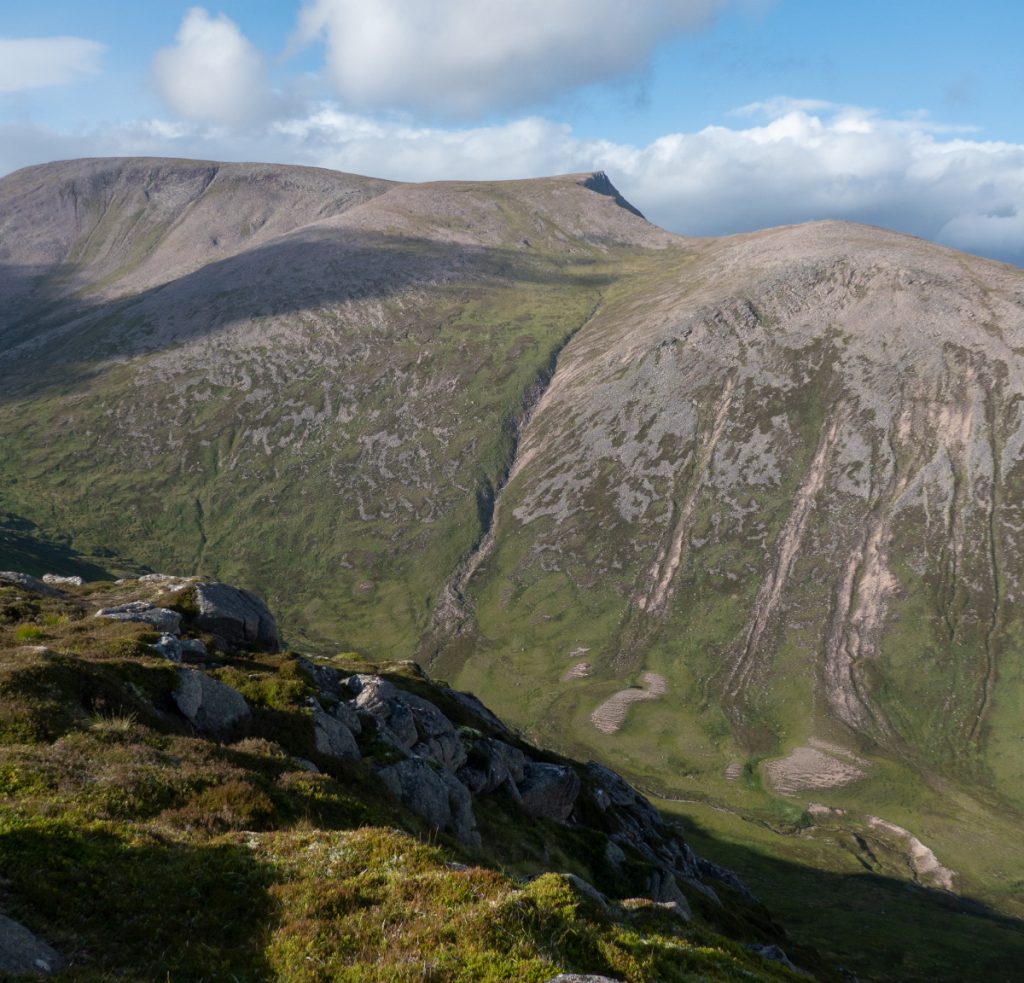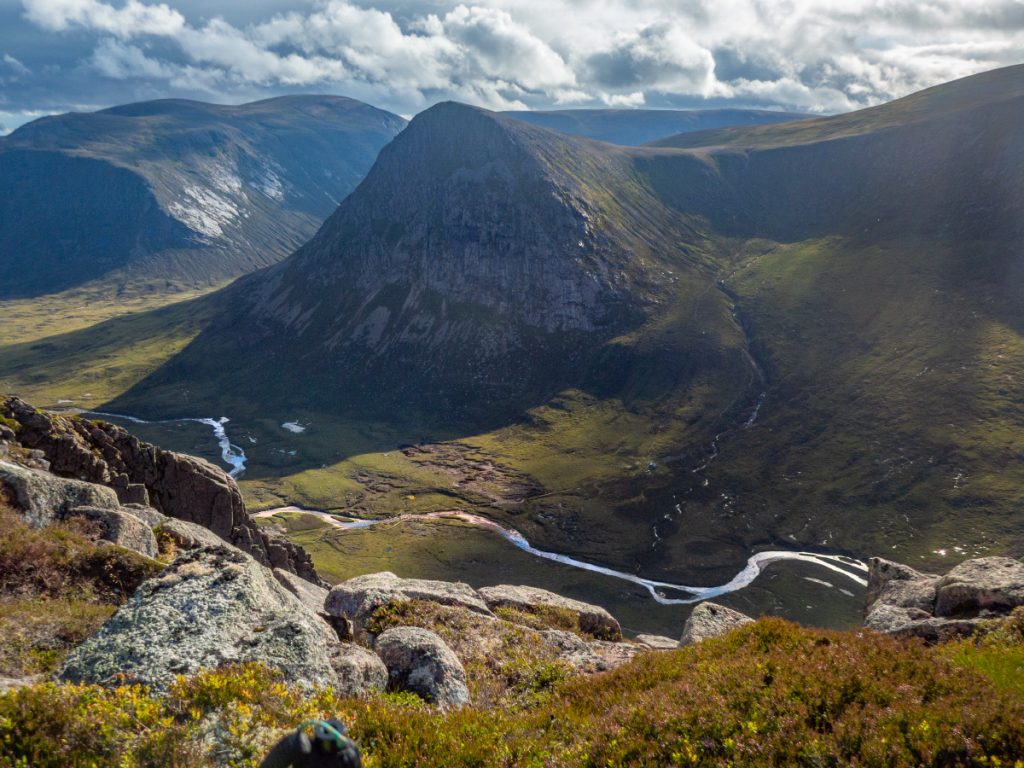 I'd recalled there was some flat grassy terrain at the end of the ridge where it flattens out and there's some small pools. This would need to be our camp spot: the wind was very strong, and if we committed to going on to the next part of the route (up over the boulder field to Ben Macui) we'd be running out of light without a certain spot to pitch.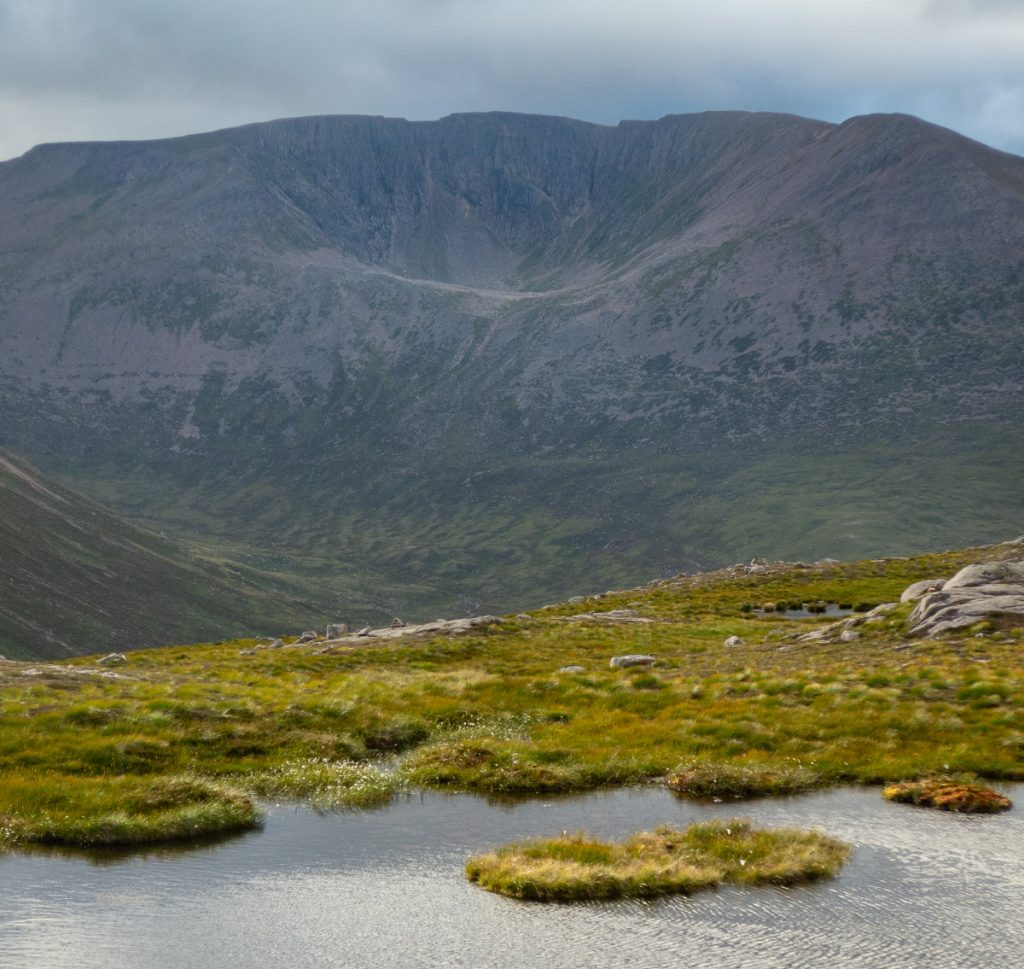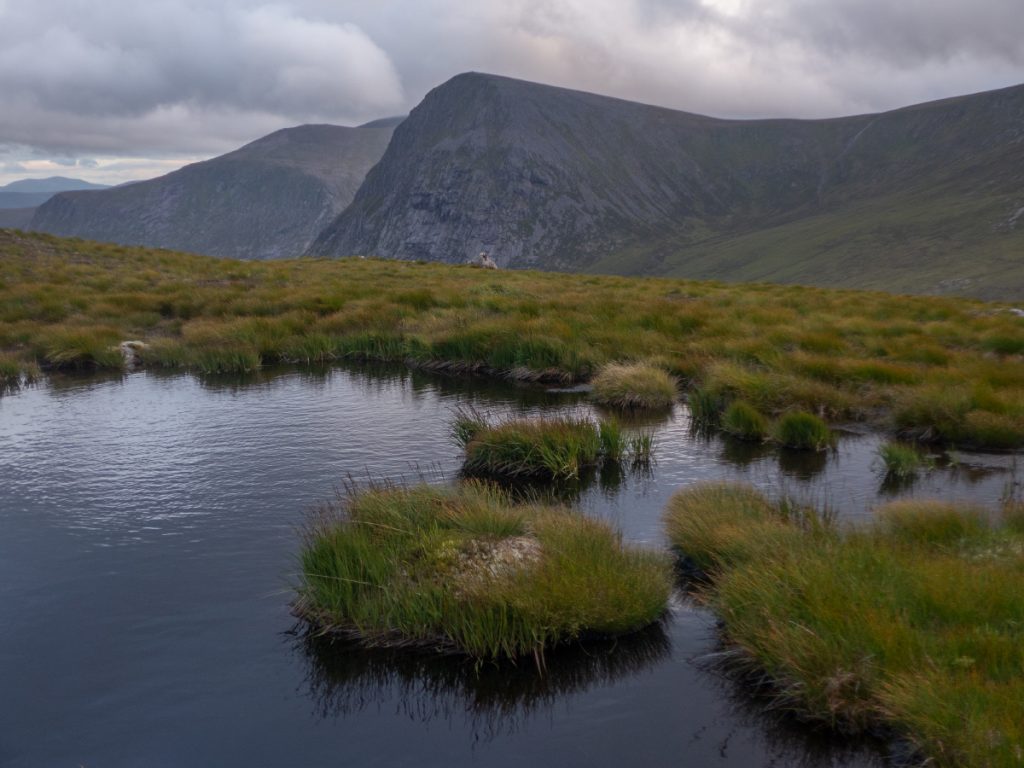 We moved slightly away from the pools, flatter and less tussocked/boggy but the soil was thin and difficult to get a deep peg; we collected some boulders to put on top to save them pulling out.
I'd done a test pitch the night before of a tent I'd selected but not used in a while: an MSR nook, a bit lighter and airier than some of my other options, and I'd rejected the Lanshan as too light for the forecast. I should have piad attention to some warning signs: I'd seen some seam sealing tape had perished and thought "it'd be alright"
After pitching and a few waves of rain had rippled past, I noticed some dripping, and then a few internal connection points which were glued to the outer ripped off, leaving my tent a bit of a sorry sight, and the inner sagging. I dug out my waterproof to lay over my sleeping bag.. it could be a tough night ahead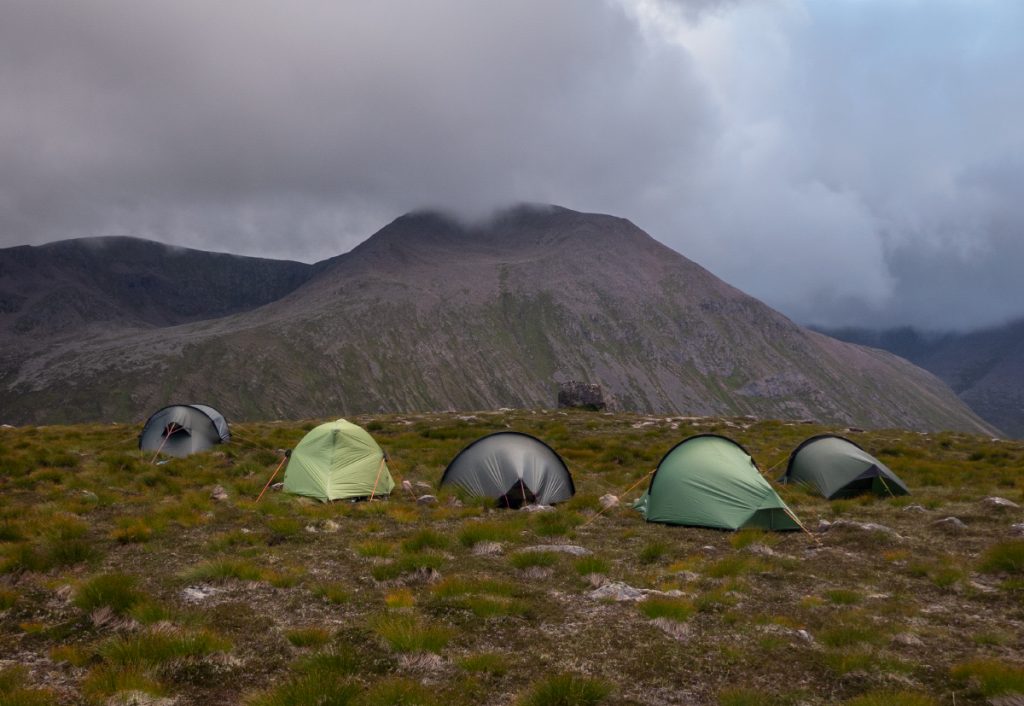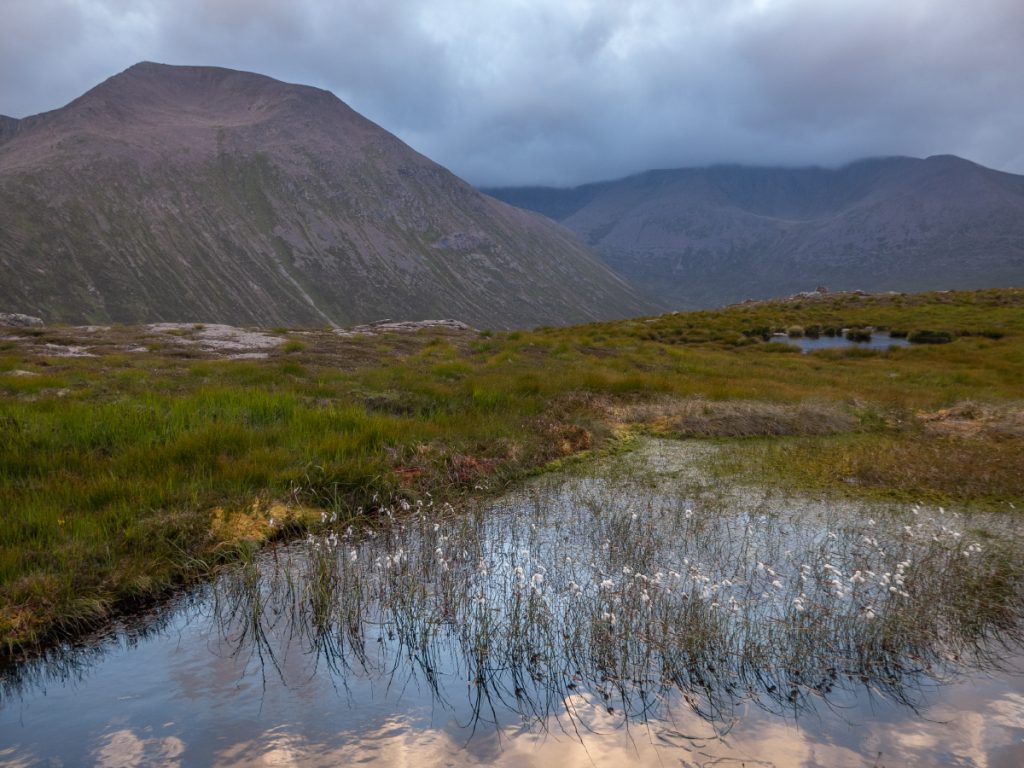 Fortunately it didn't rain too hard and the night passed with minor water ingress, the sleeping bag has some damp spots, and the tent hadn't disassembled further. Dawn was dreich, drizzly and now the tops were buried in cloud. One of the party's waterproof jacket hadn't fared well and had soaked through. We discussed the plan and decided to abandon heading up to ben Macdui and go back low to regroup and consider finding somewhere sheltered for the next night.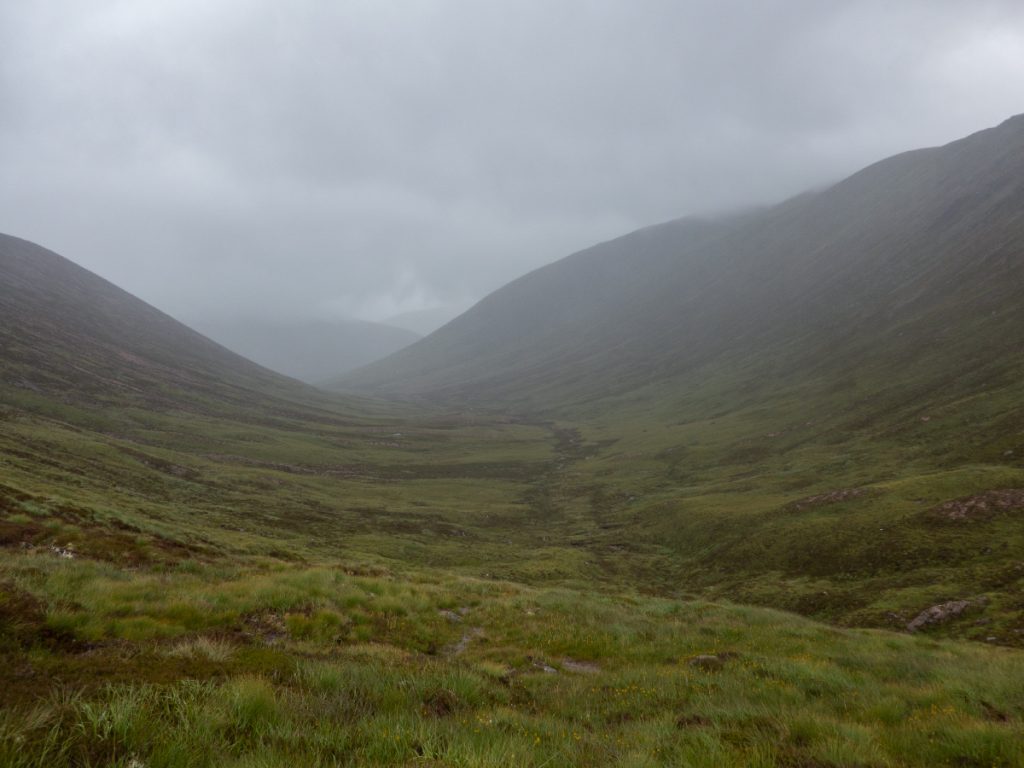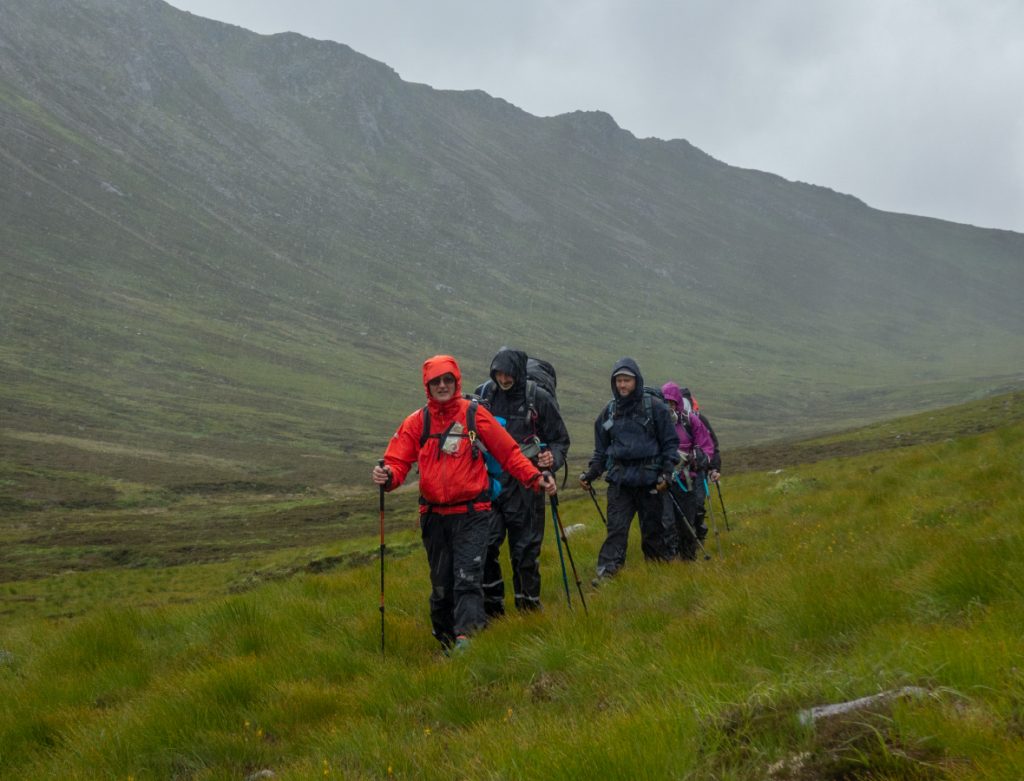 Further down we found a scrape of a path then joined the Luibeg burn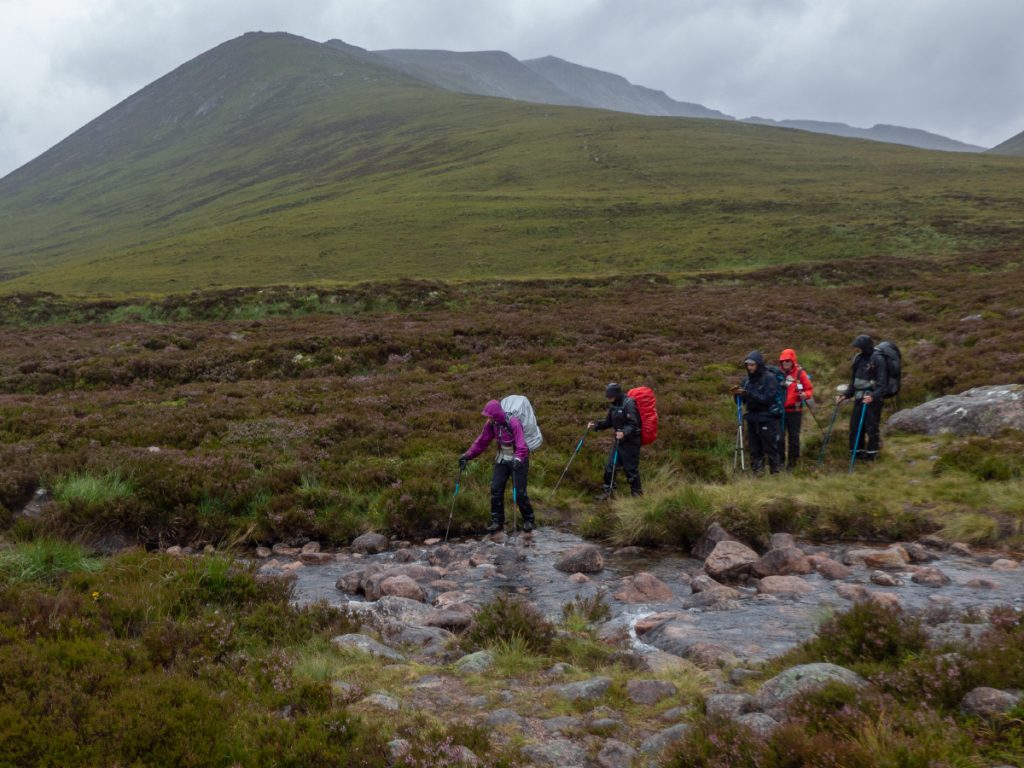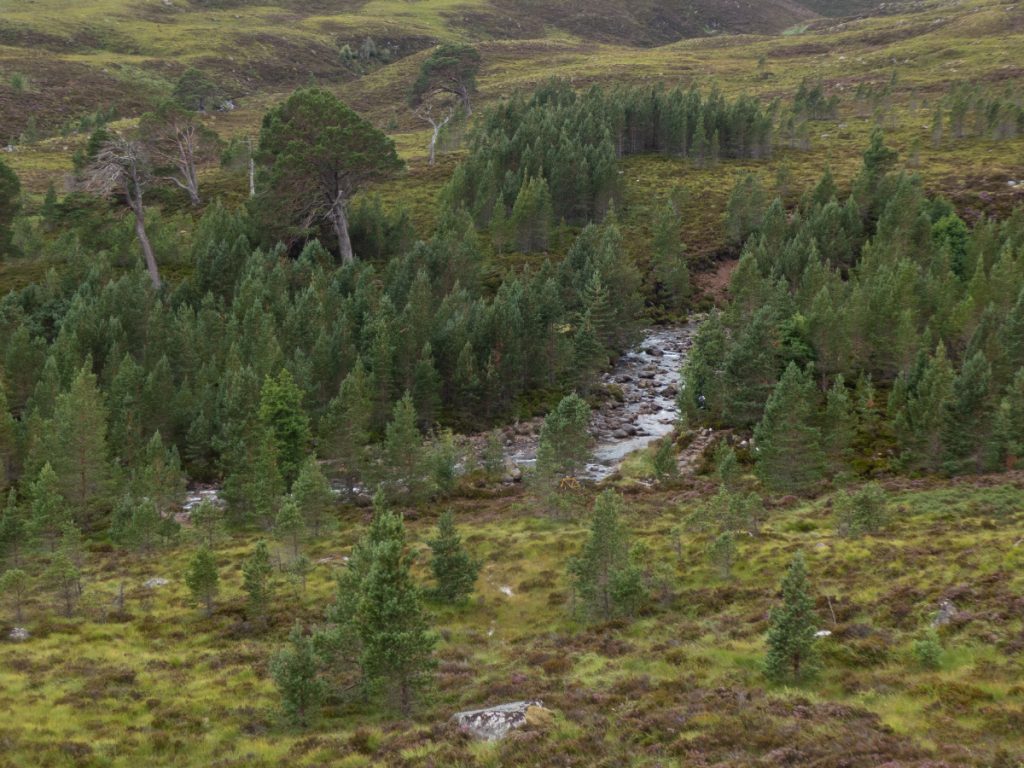 We headed to Bob Scott's bothy and considered where next. We decided to head over to Glen Slugain where there's a sheltered nook. First we headed through Clais Fhearnaig with it's thin lochan, and found some wild strawberries and saw a bird of prey swooping along the rocky sides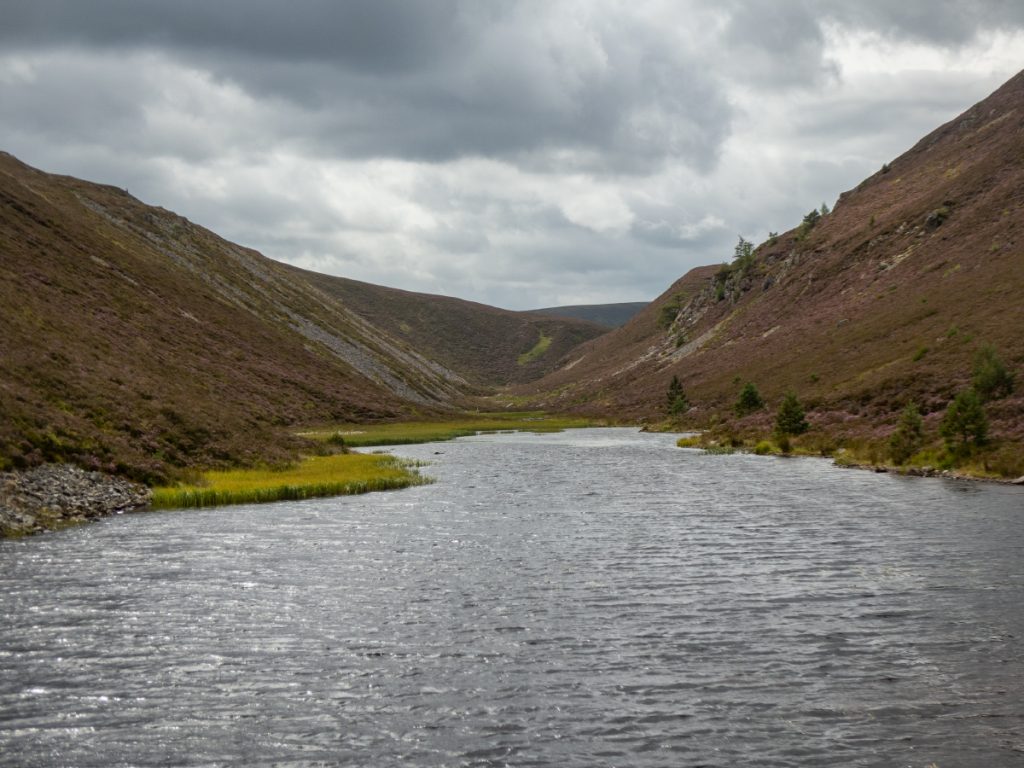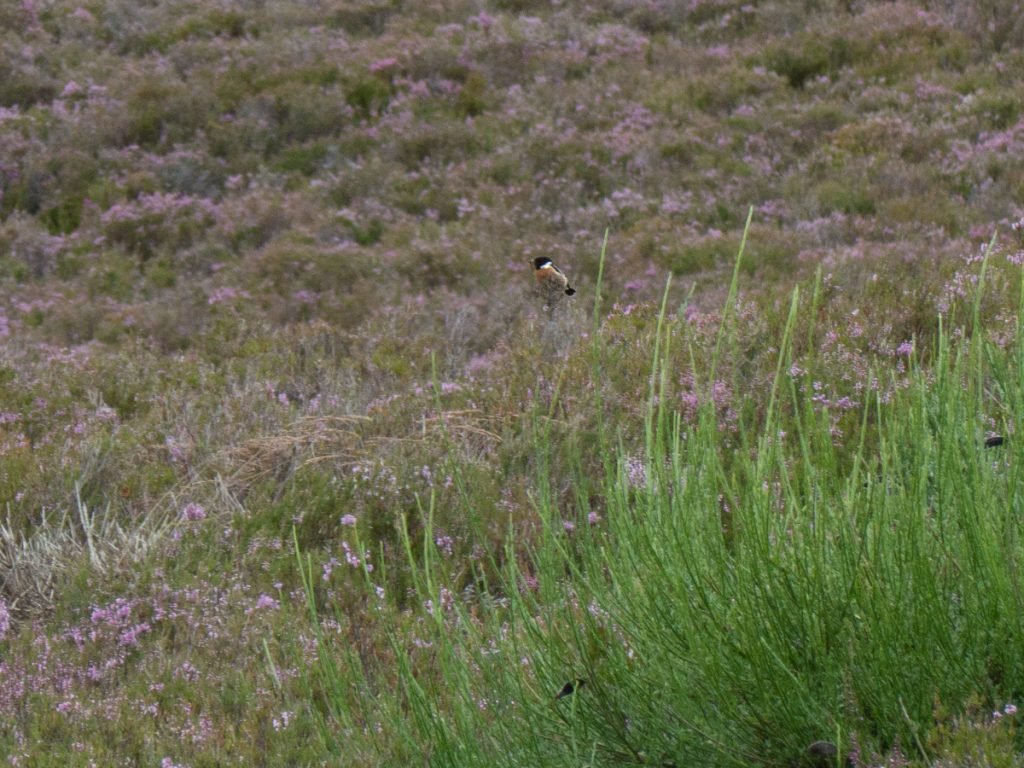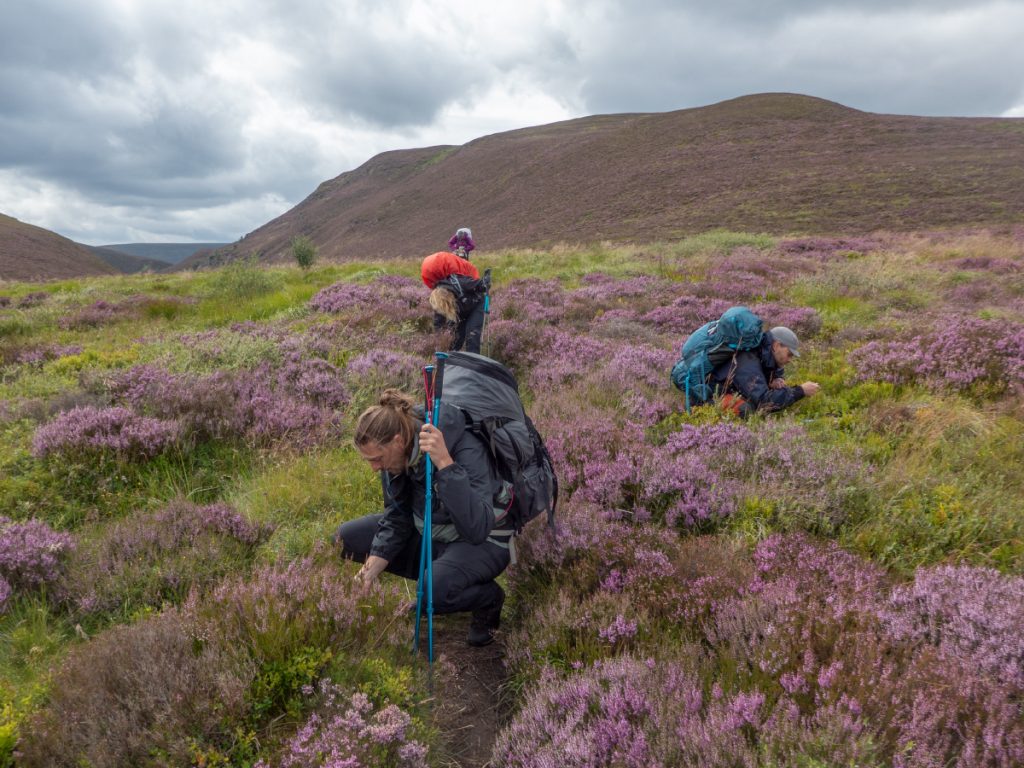 Despite last night's rain, the Quoich was sufficiently low to cross with dry feet; the prolonged dry spell meant it just soaked into the ground without raising the rivers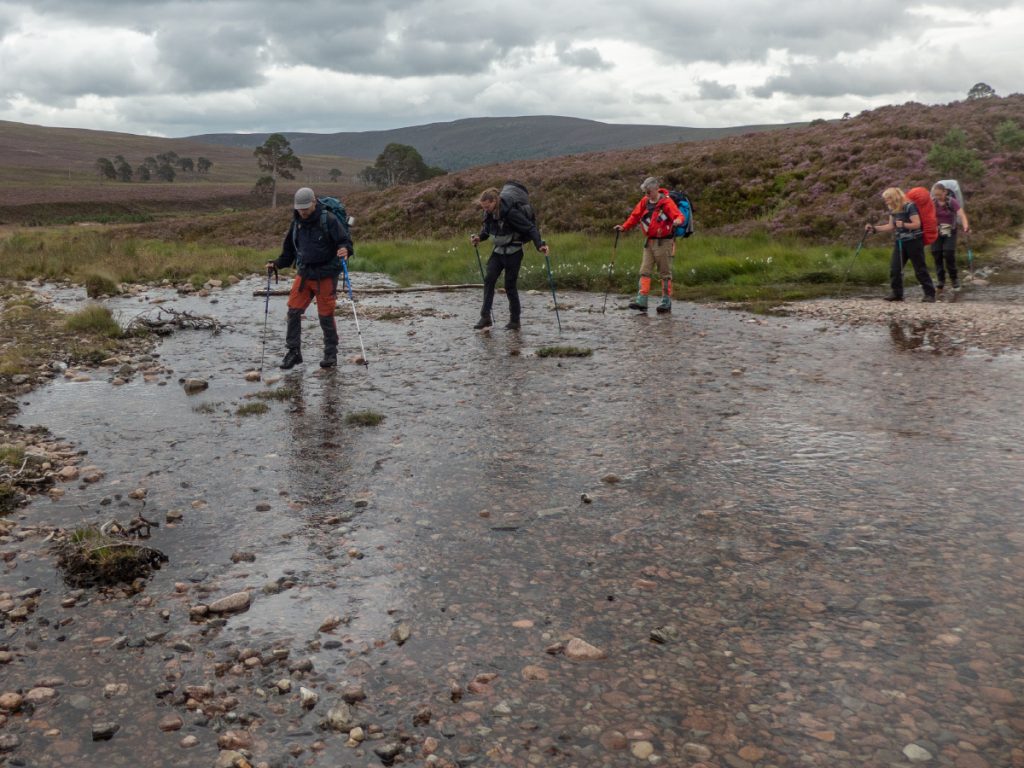 The first time I saw the blue tags on the pines of upper Glen Quoich a few years back they'd been on the tips but growth had now burst through; I wonder if they'd be best removed now.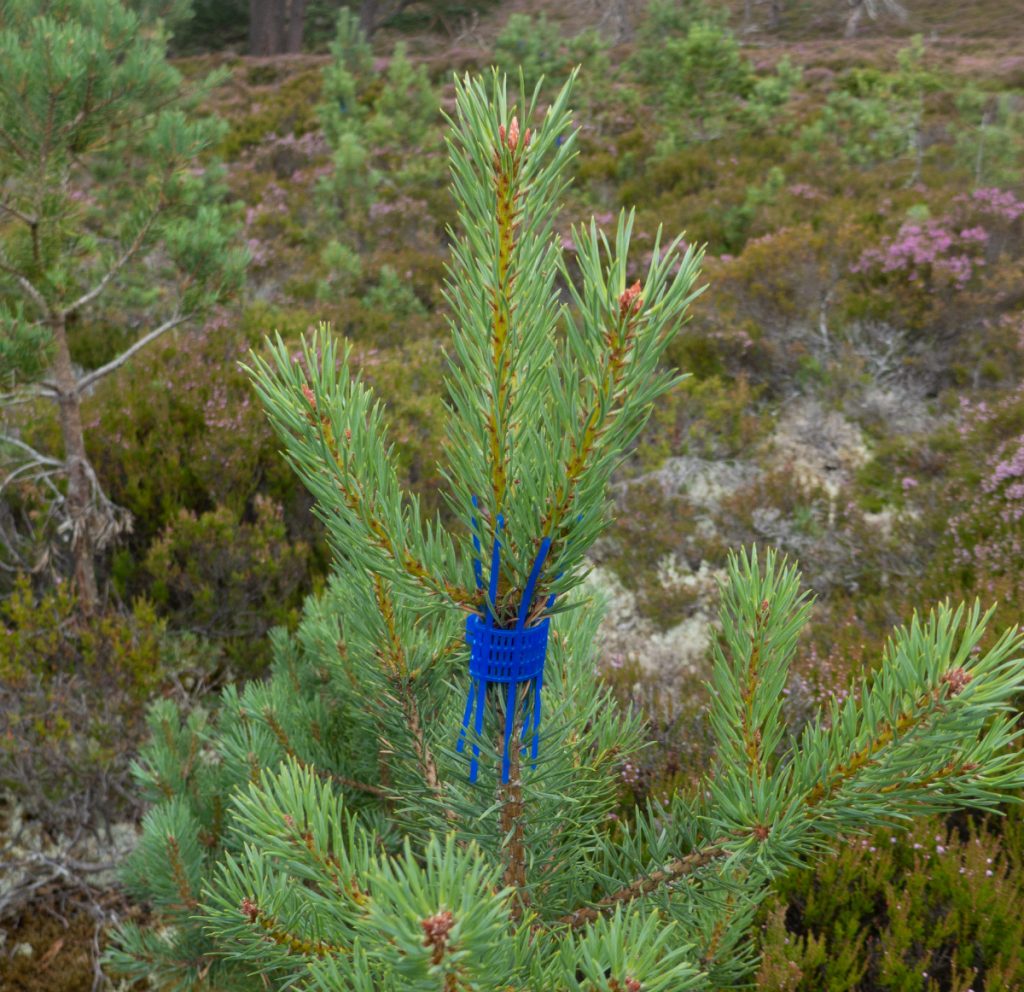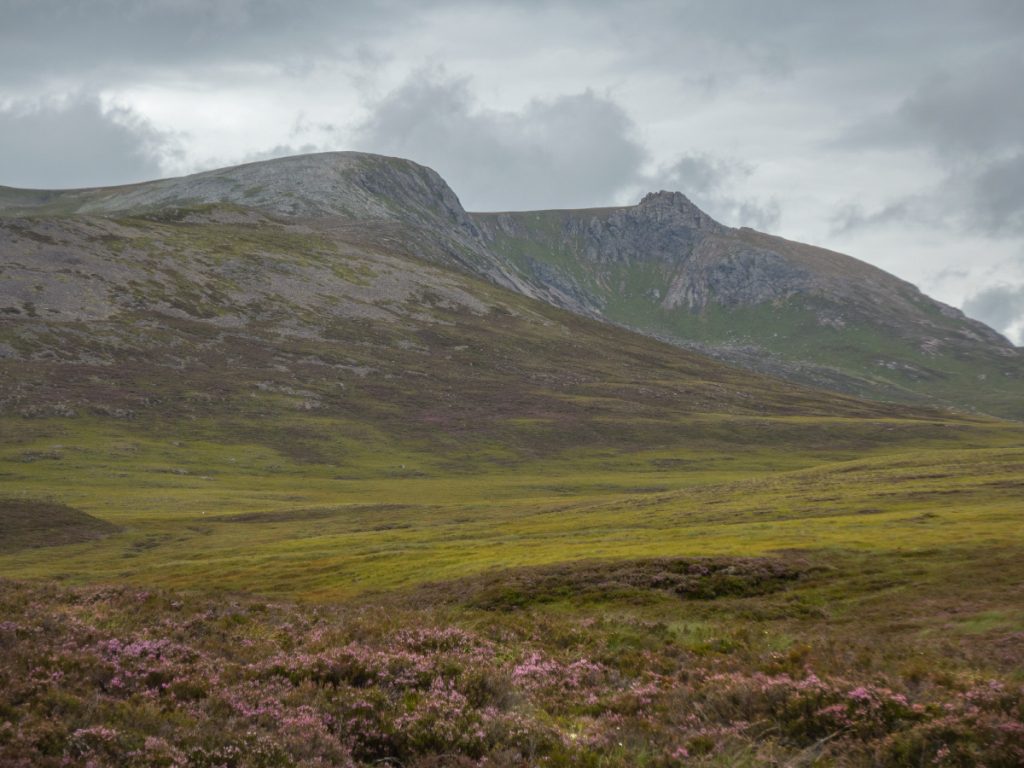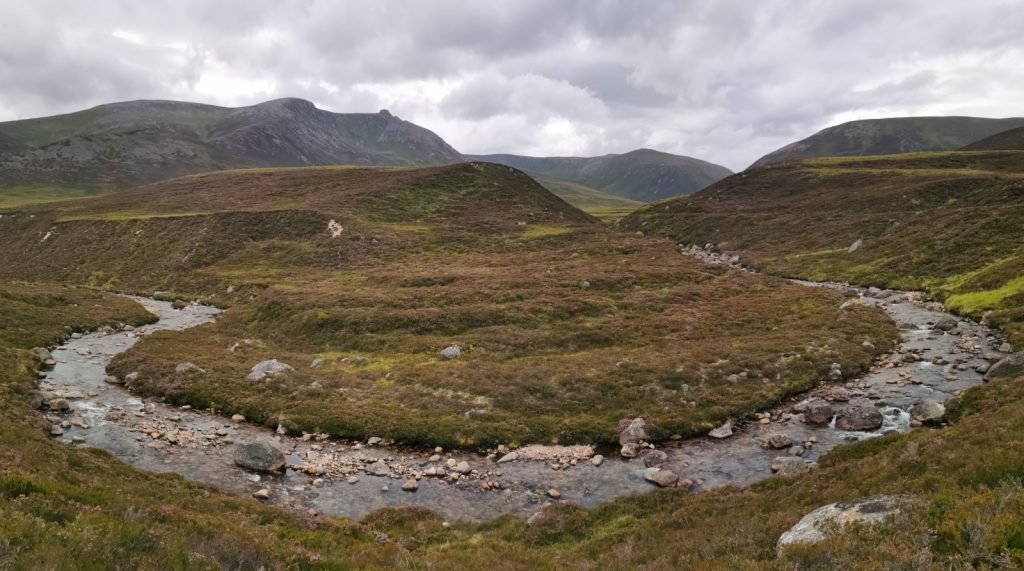 Rather than heading directly to Slugain we hacked about exploring some side glens, I was interested to see if there were any good pitches but also see the ruin of a what had been a nice h owff that was destroyed by the estate.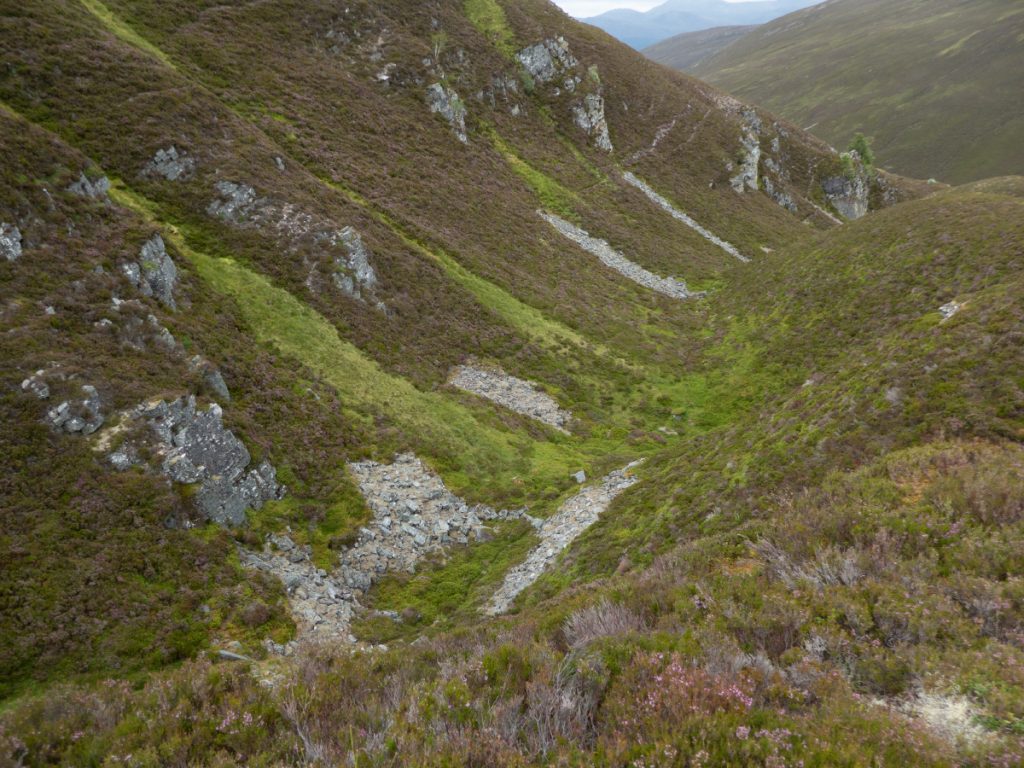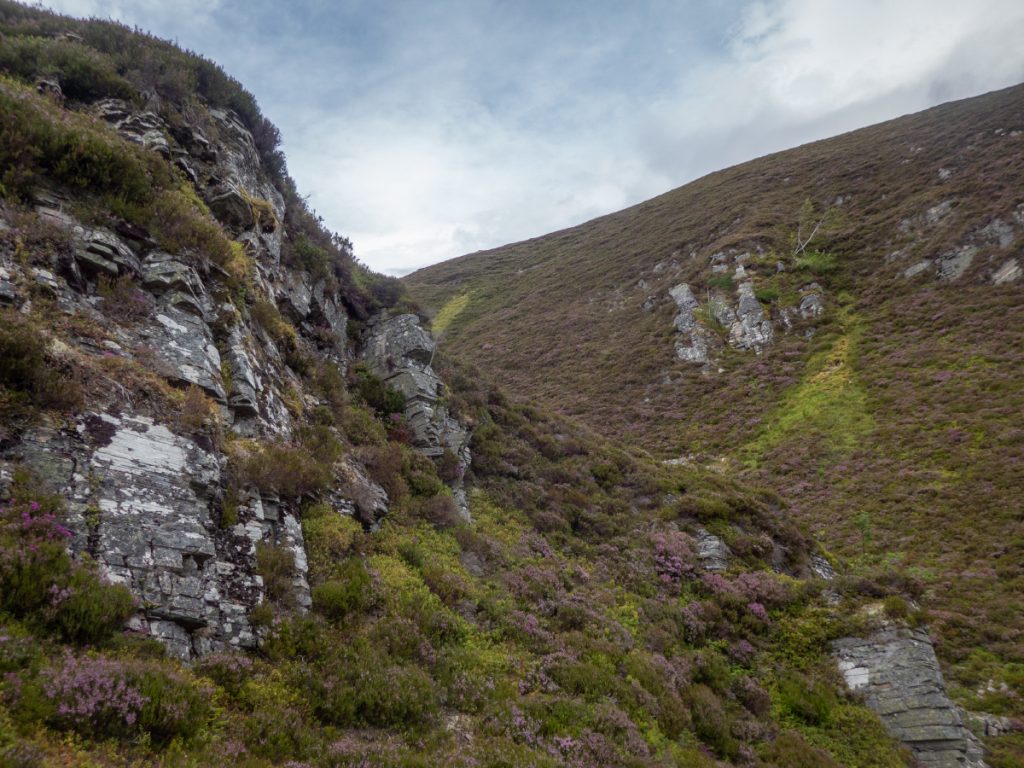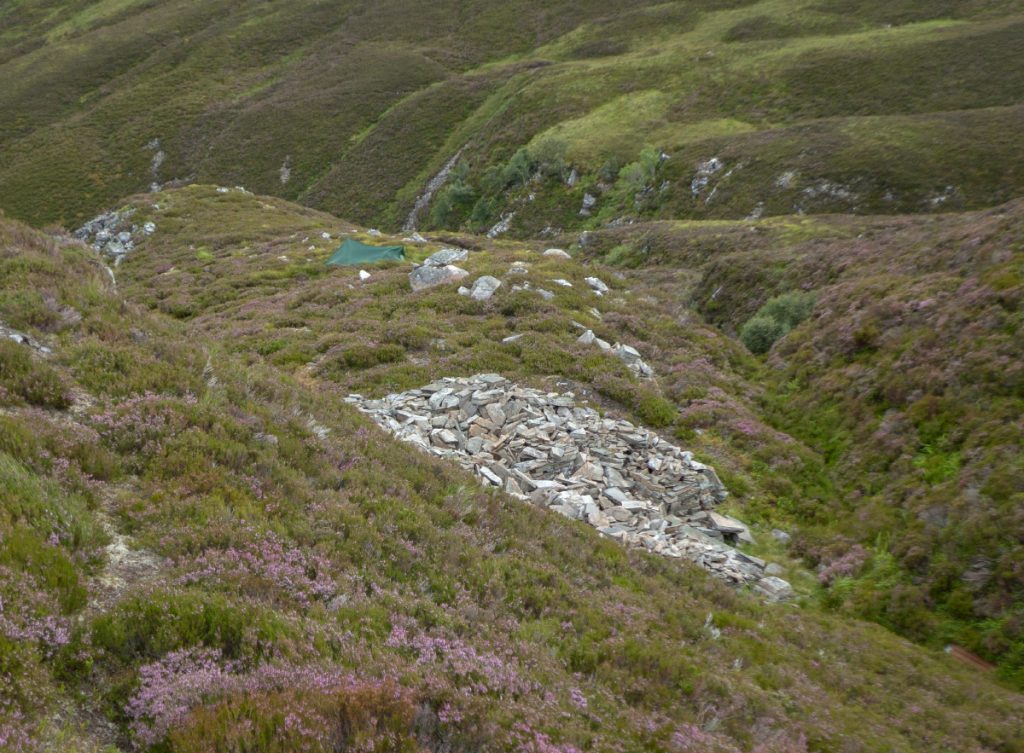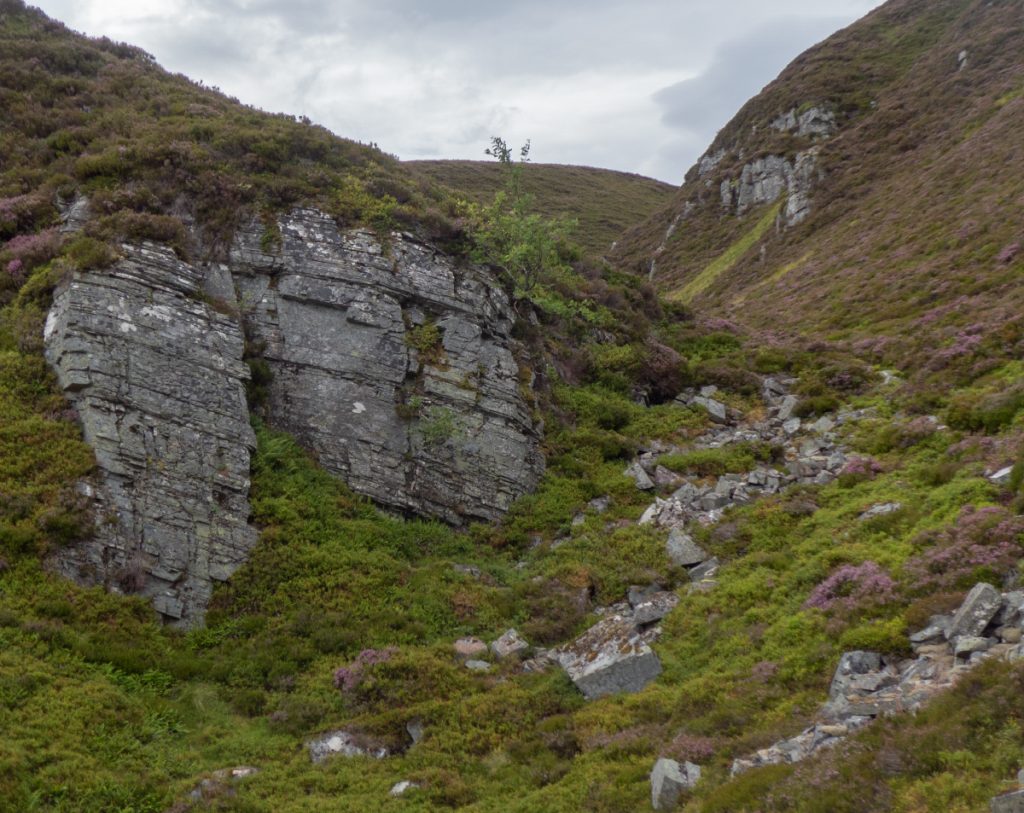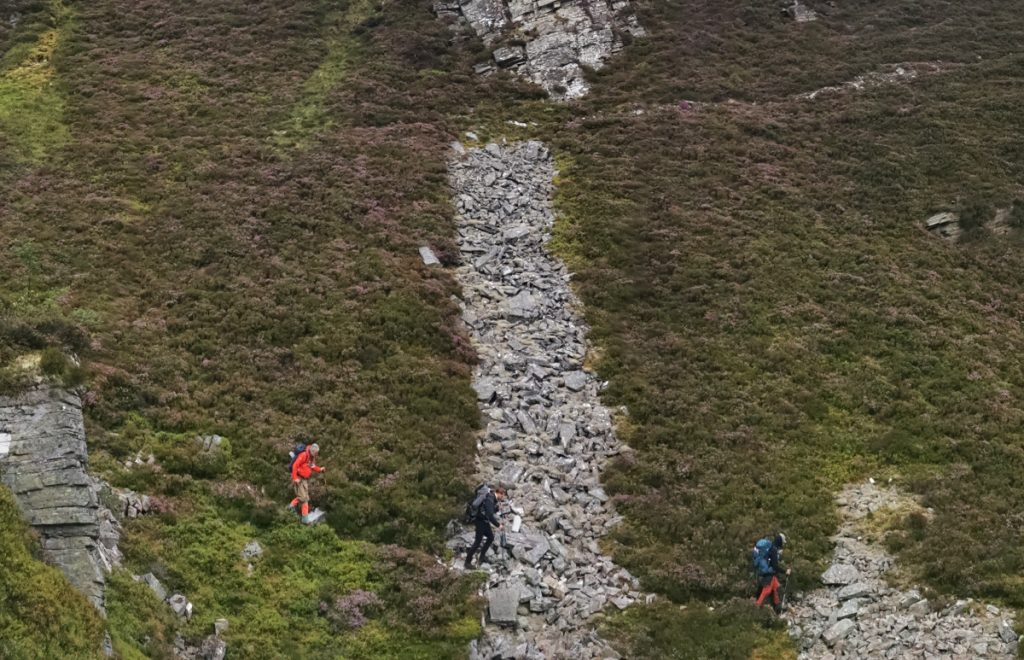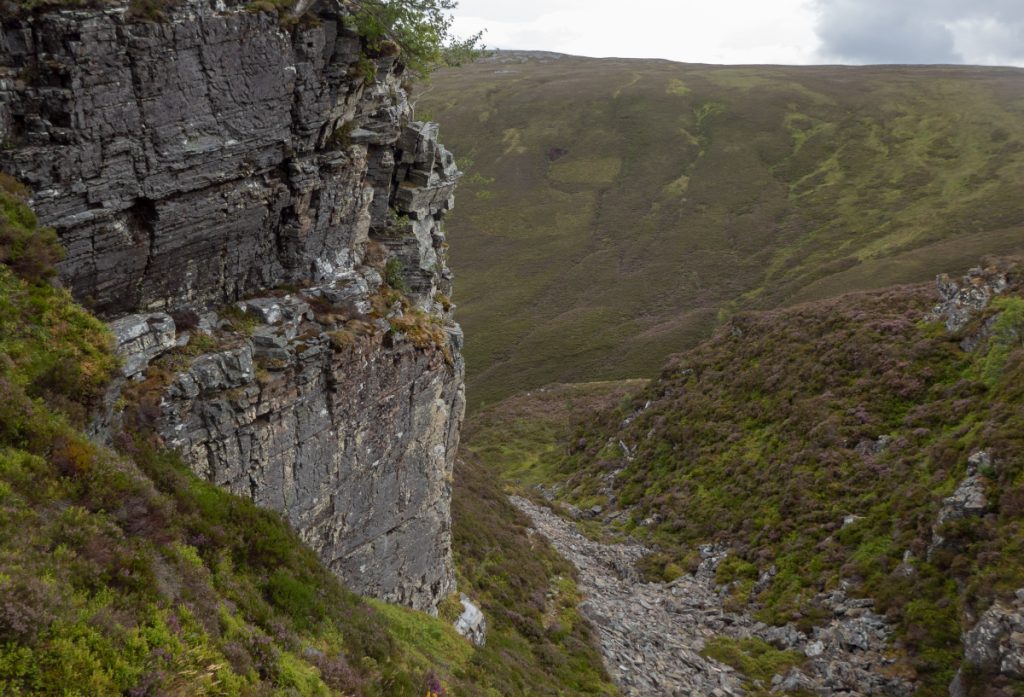 We popped past the not-very-secre t place and was disappointed to find stuff strewn about all over: unwashed pans, messy poorly-pitched cheap tents outside. These campers must have been still out and about; I hope they tidied up afterwards. I'd hoped to stay there the night but oh well.
At Slugain lodge ruin, a further cache of wild strawberries was found; tiny but sweet.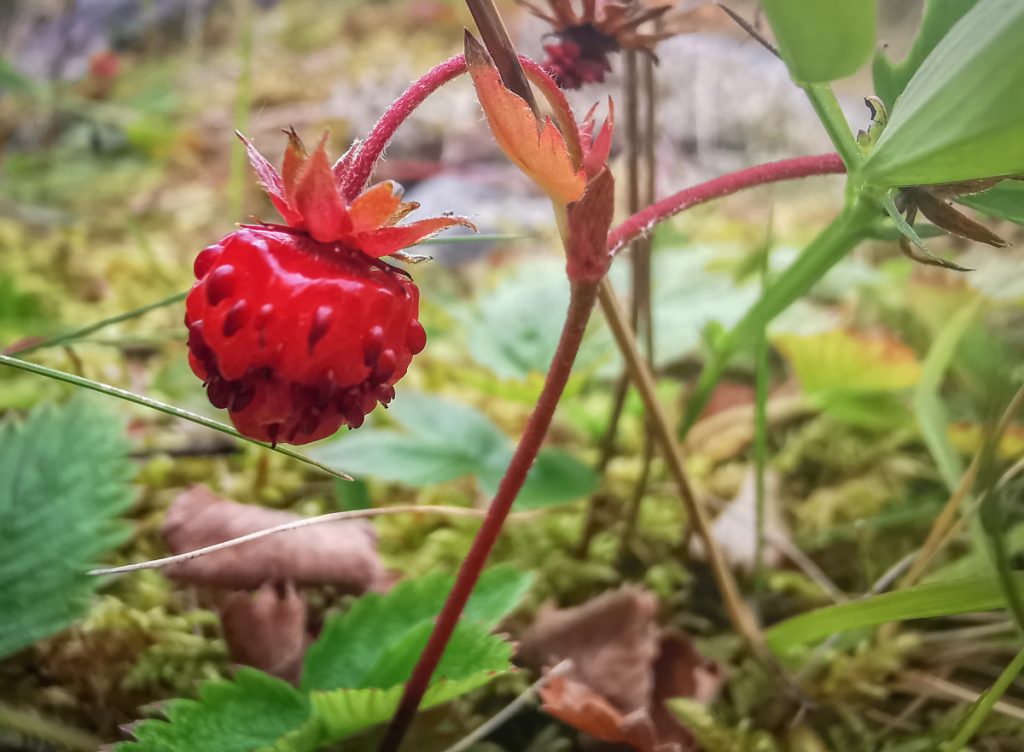 Down in the fairy glen there was a nice spot out of the main strength of a strong wind but still blustery enough to keep the midges at bay.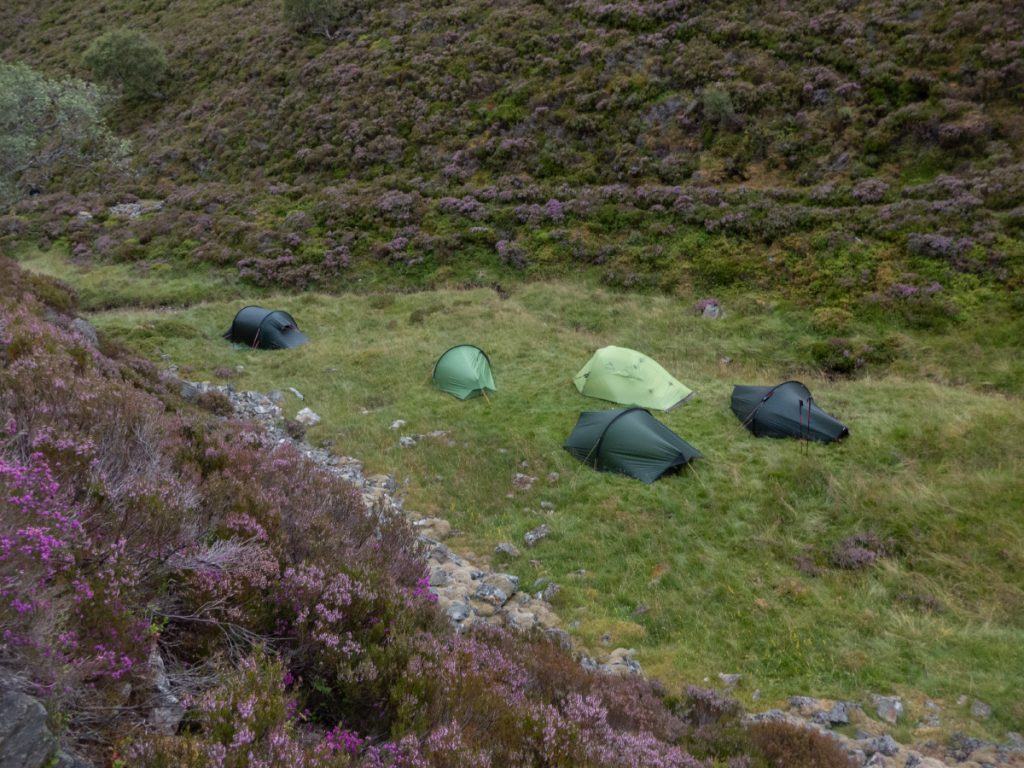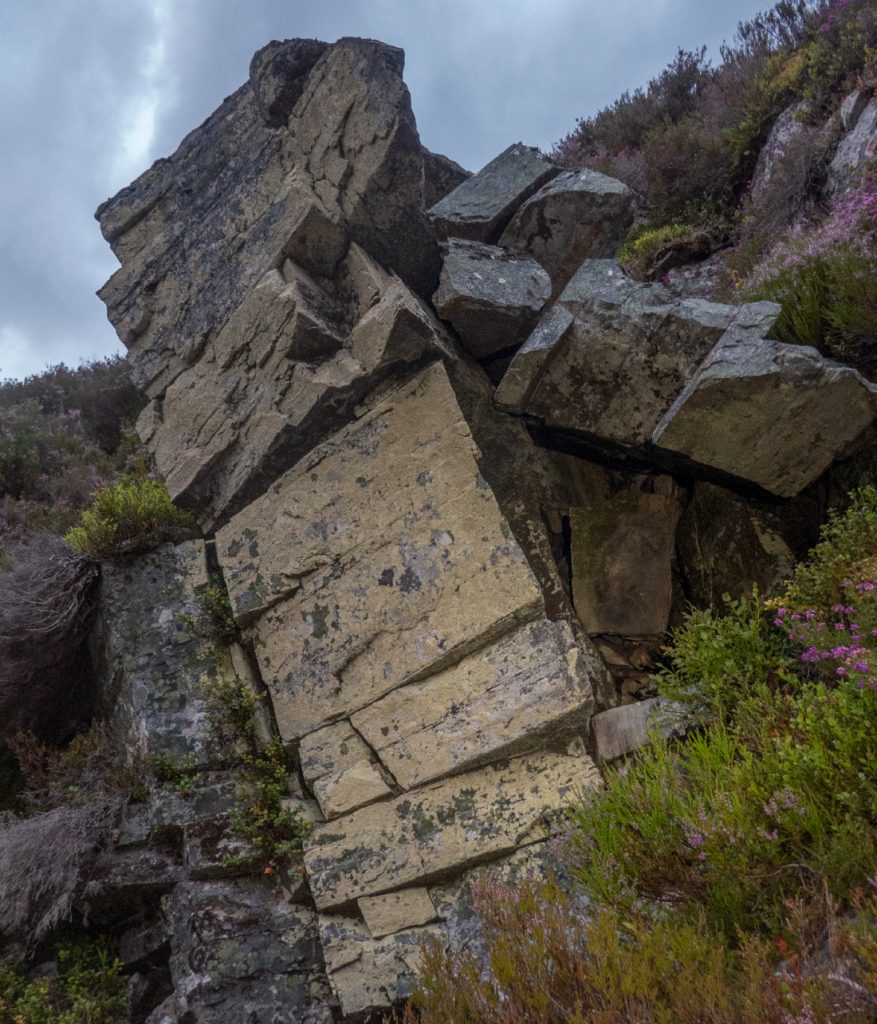 Before going to bed I had a poke about the glen's gnarled trees and rocky nooks, there's a small waterfall hidden away, the stream directly after disappears underground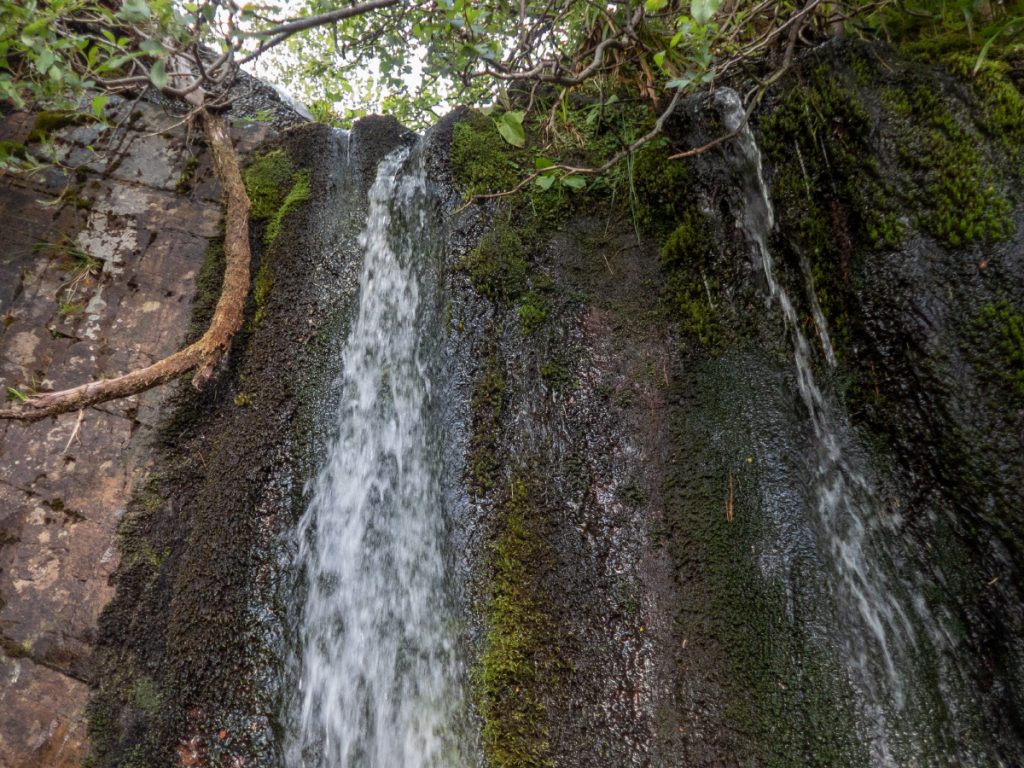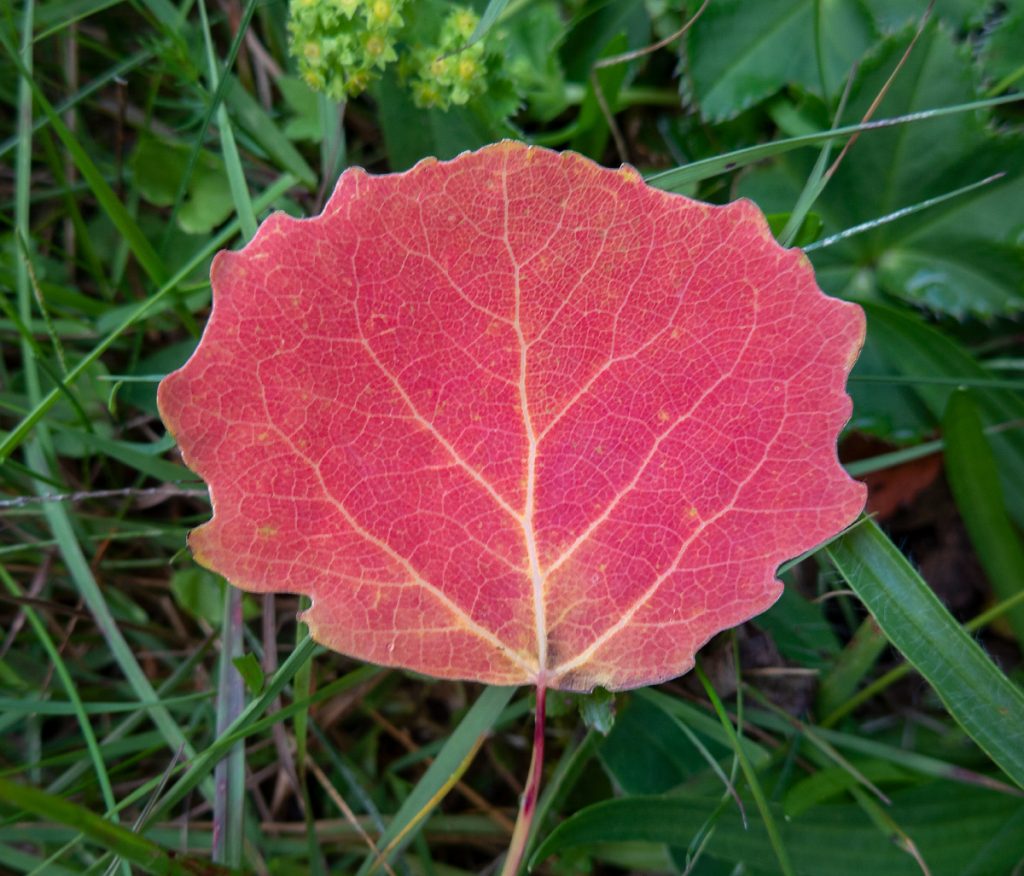 Morning saw an upturn in the weather. 2 of our party were relatively new to camping/hiking long distances and had suffered a bit with heavy packs – also with the forecast for another day of wind, we thought we'd leave our tents pitched and do a lightweight loop around Ben Avon.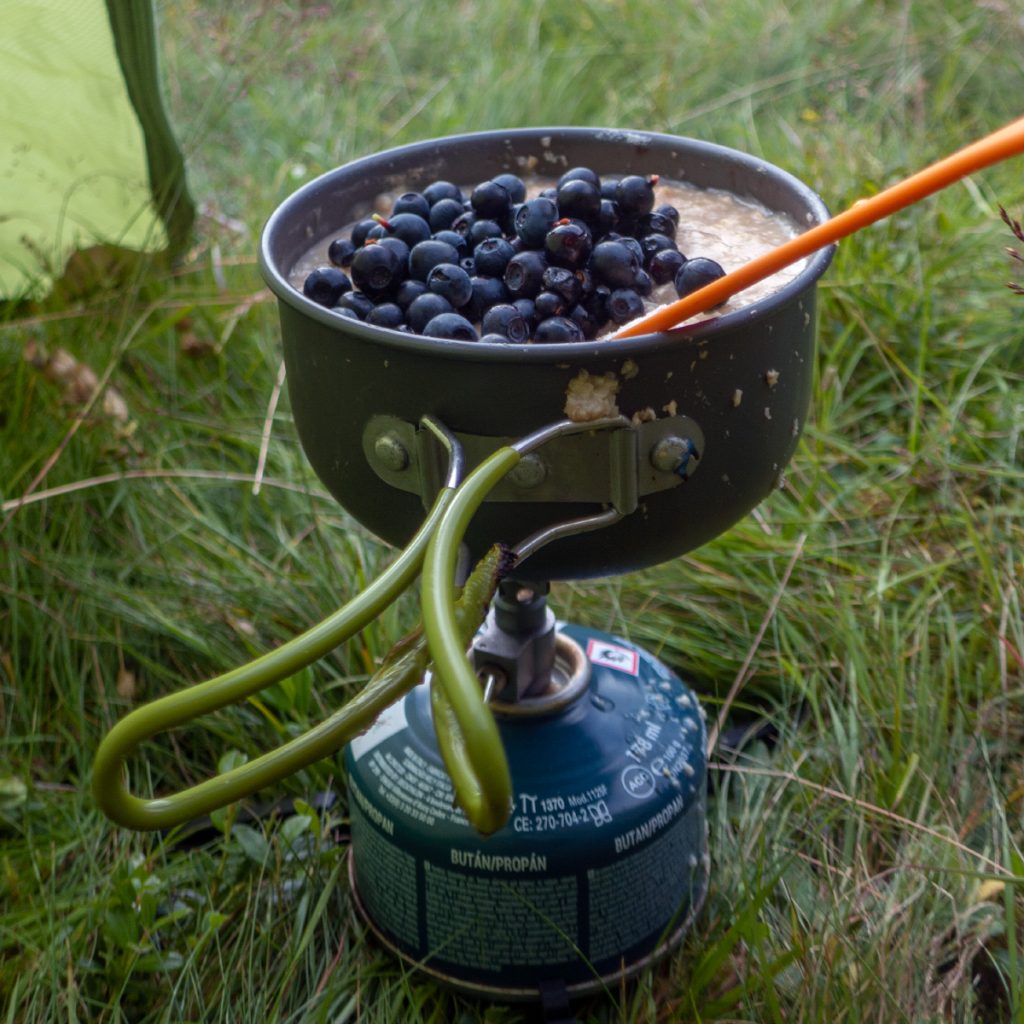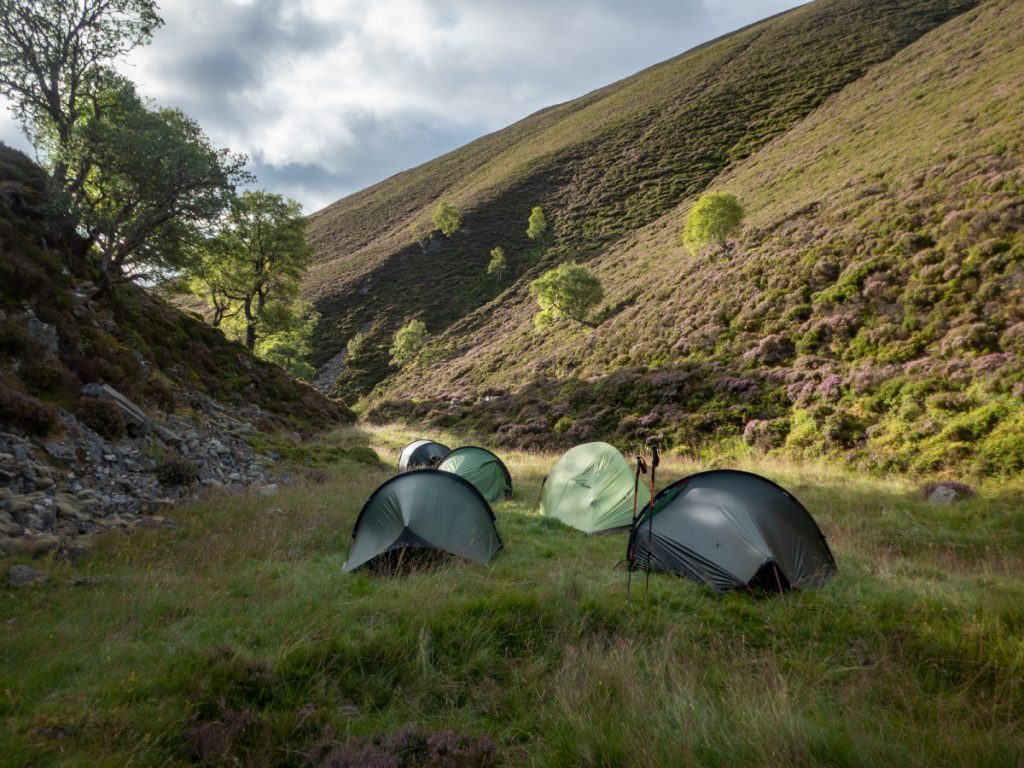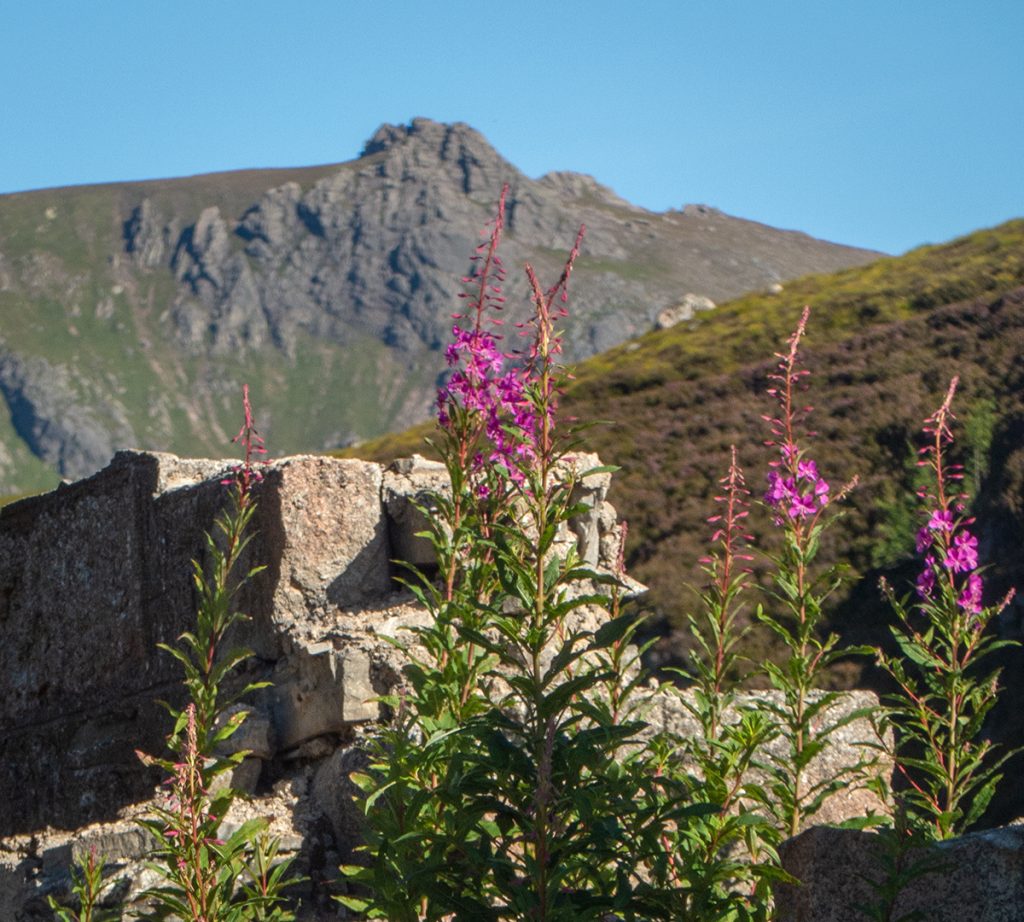 We took a long break at the Clach a Cleirich ford, enjoying the sun and sparking water of the falls.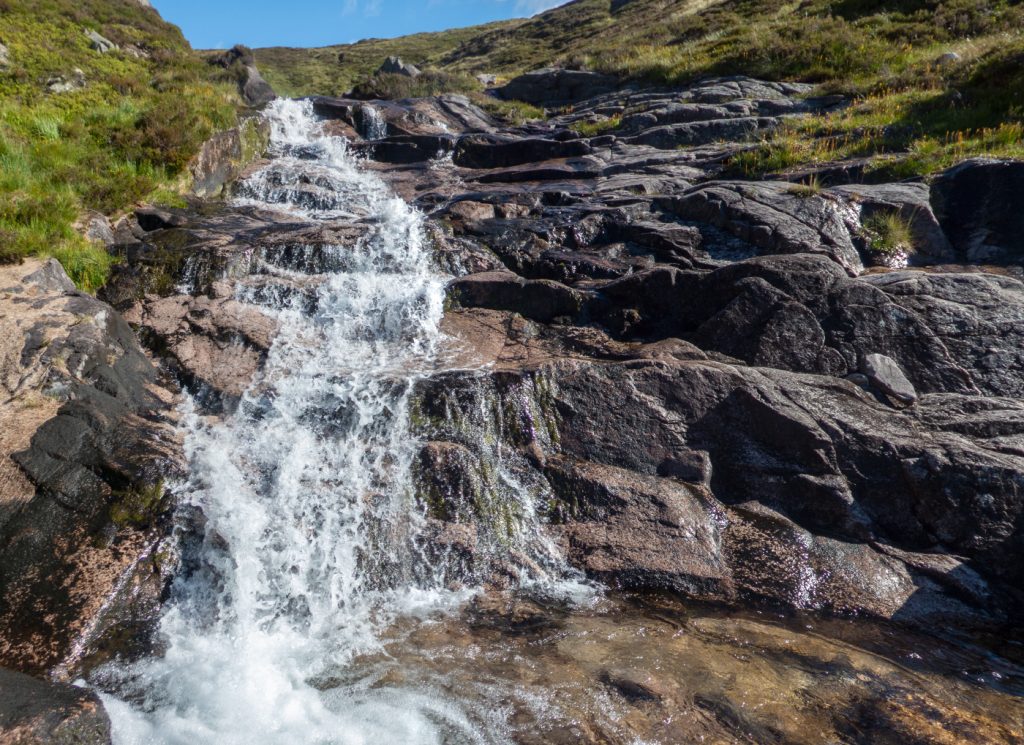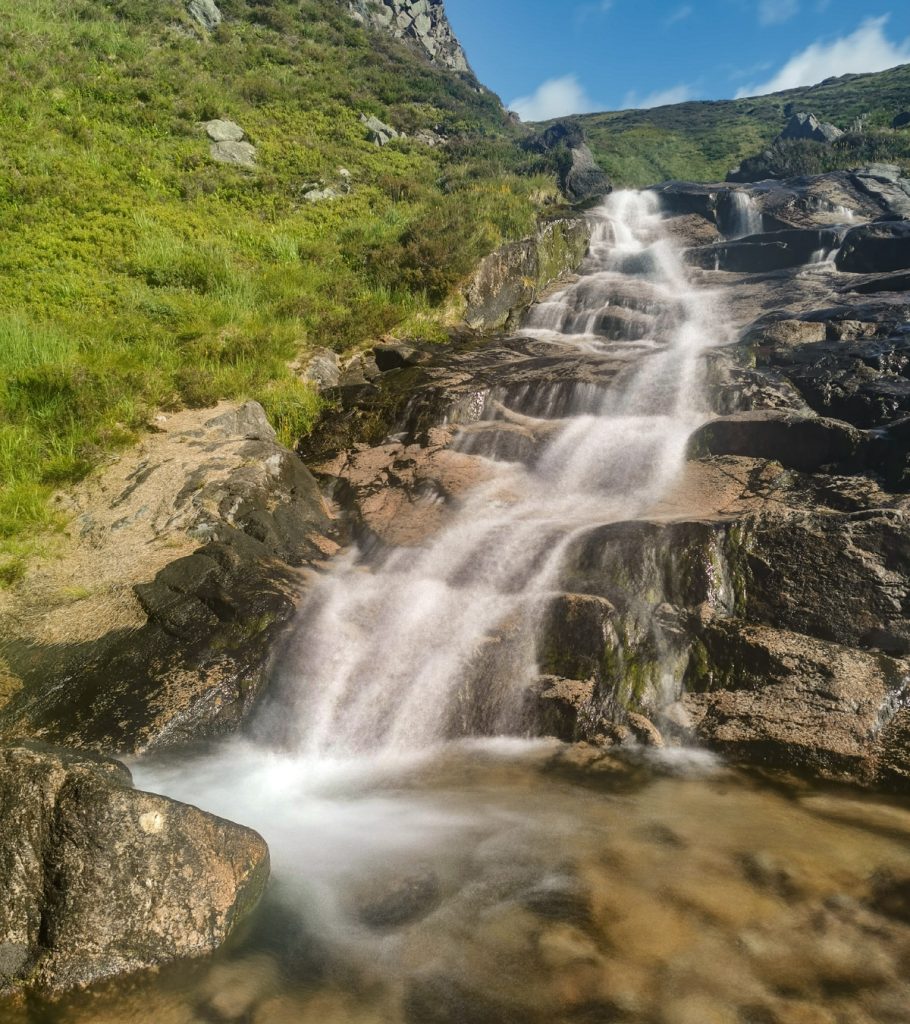 We got overtaken by a father and young son, who despite his young age was tearing ahead to his impressive 100th+ munro.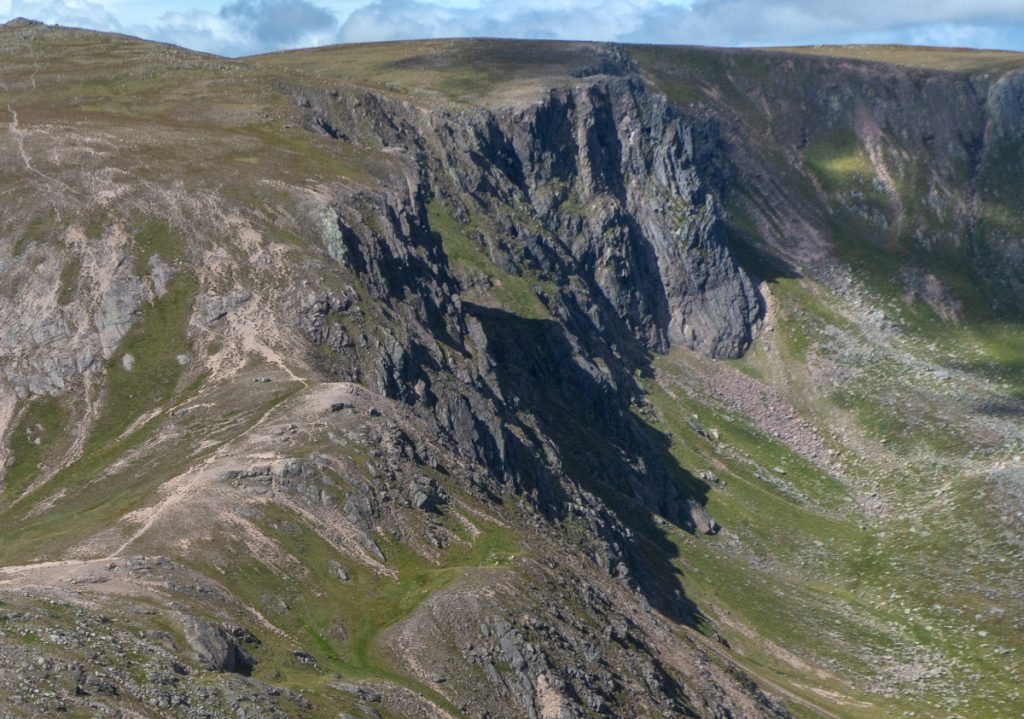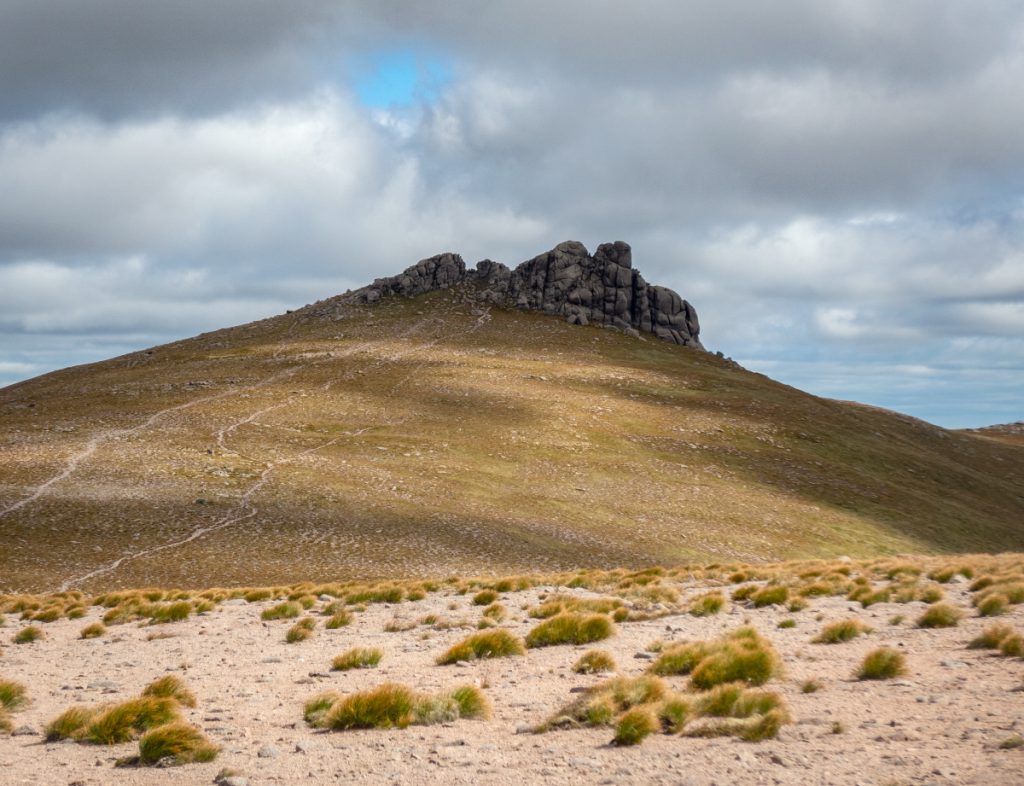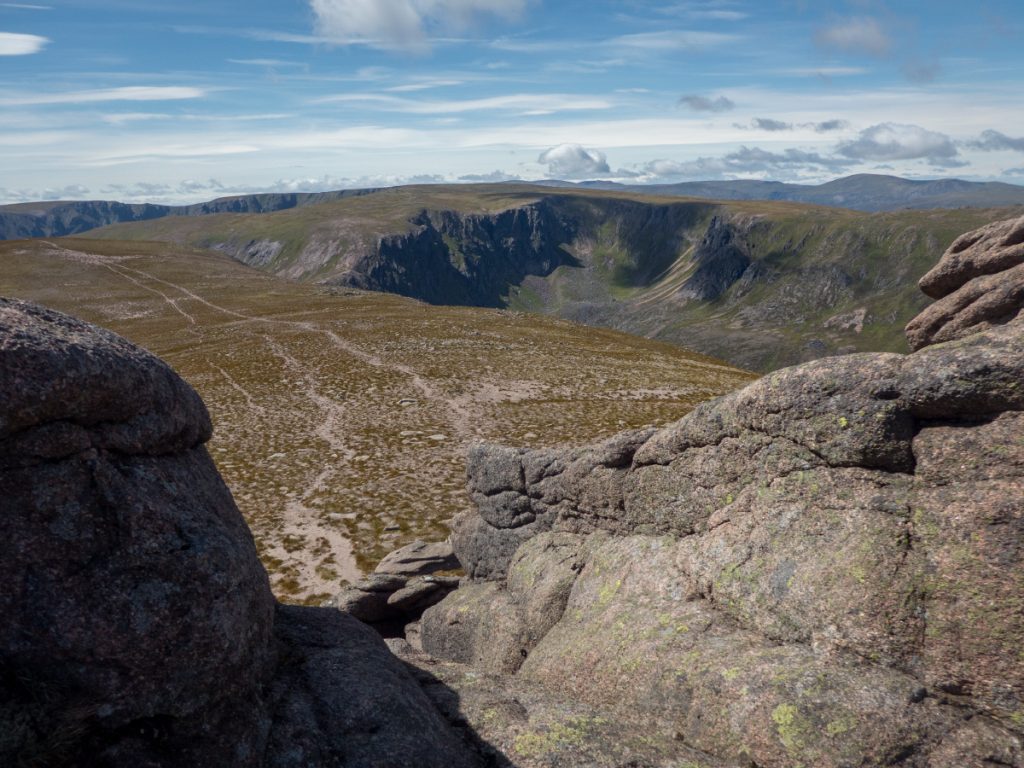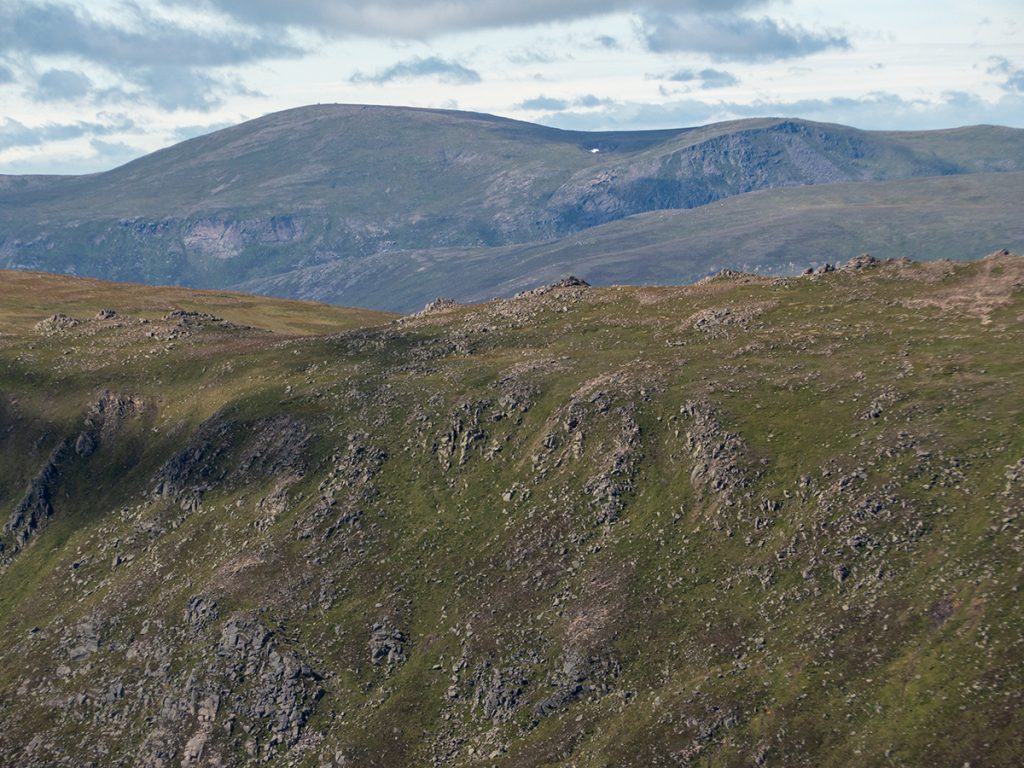 After some lunch and tor clambering we headed off down, towards Allt an Eas Mhoir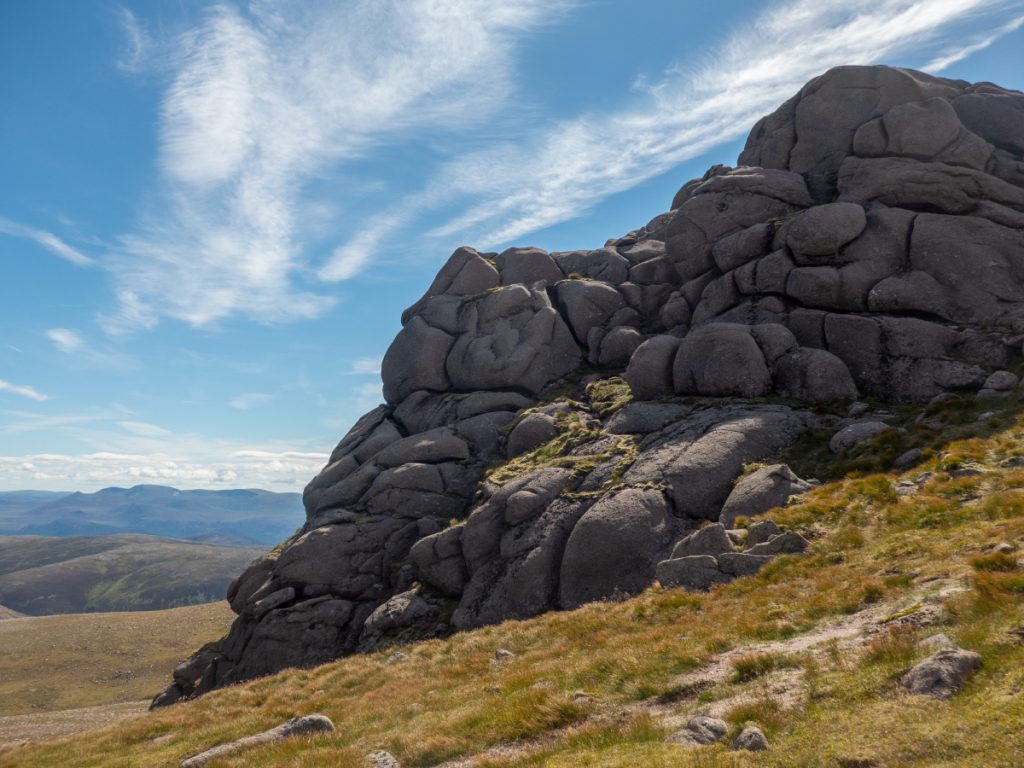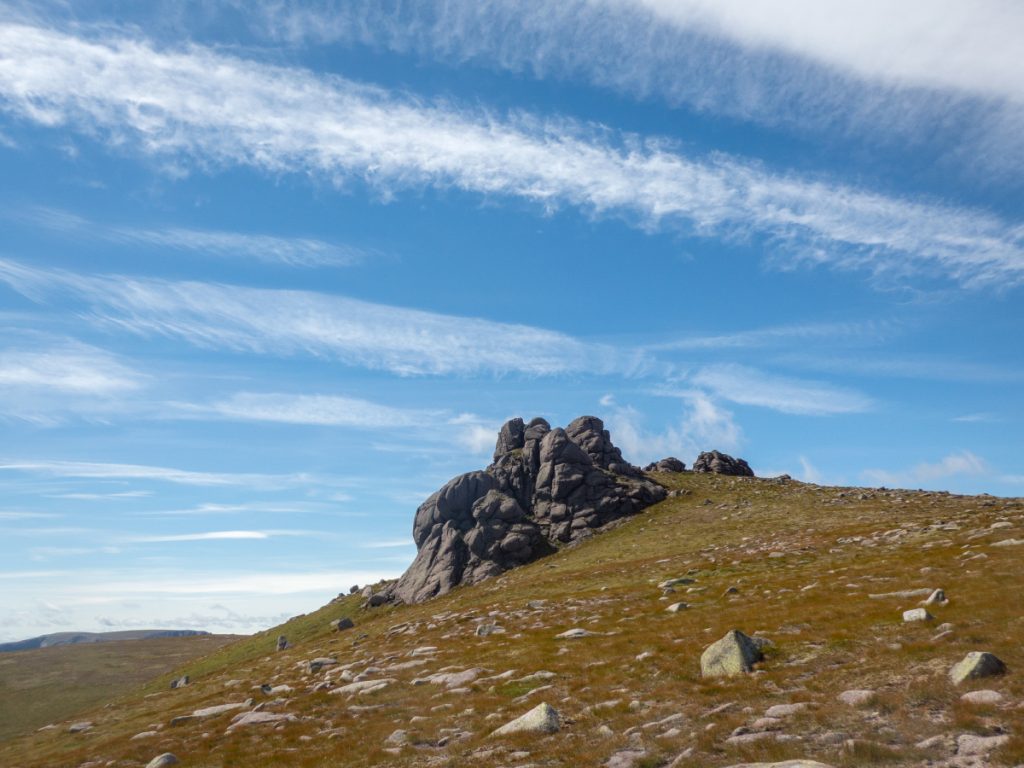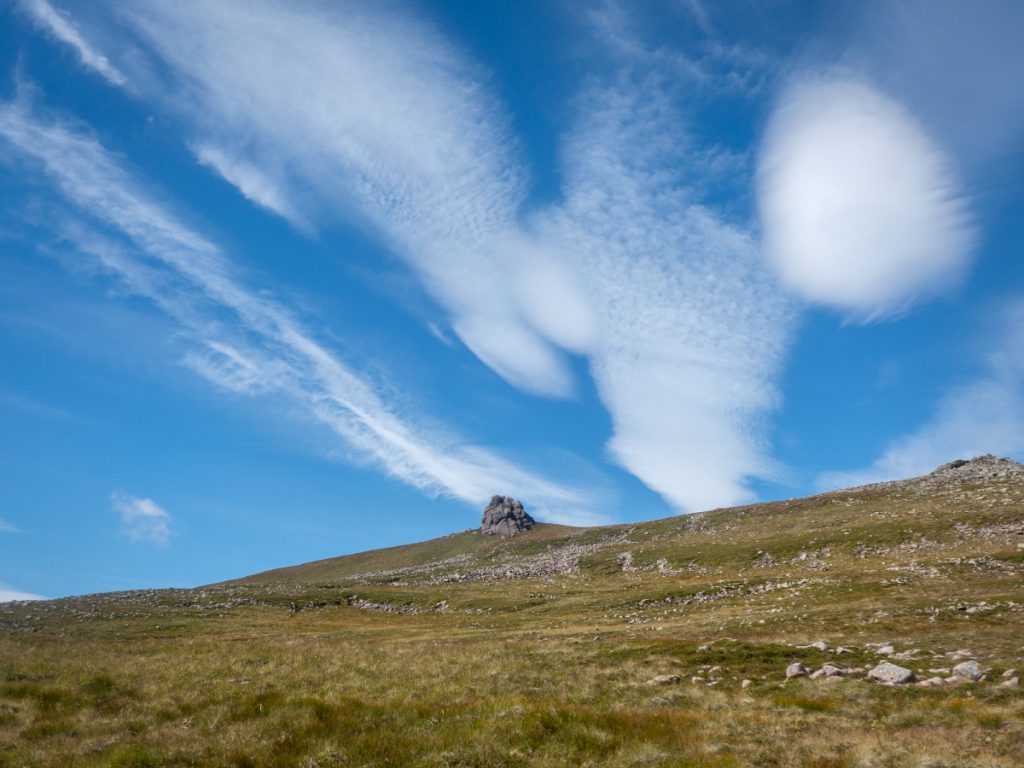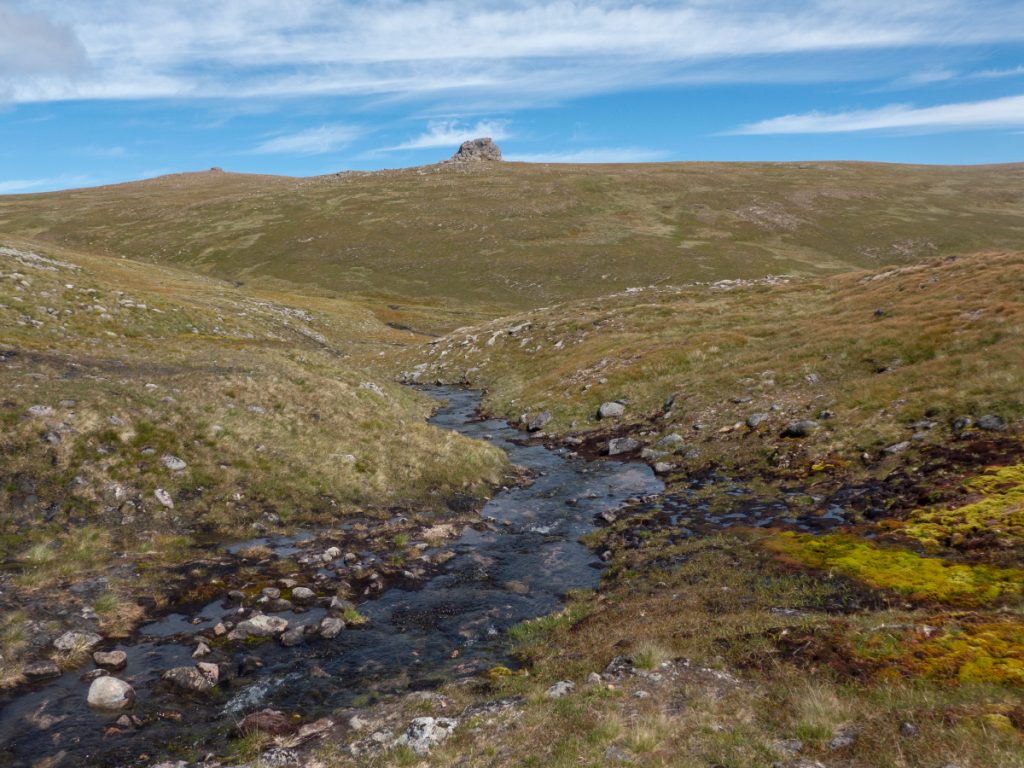 Colourful spots of bog fluorescing with rich carpets of mosses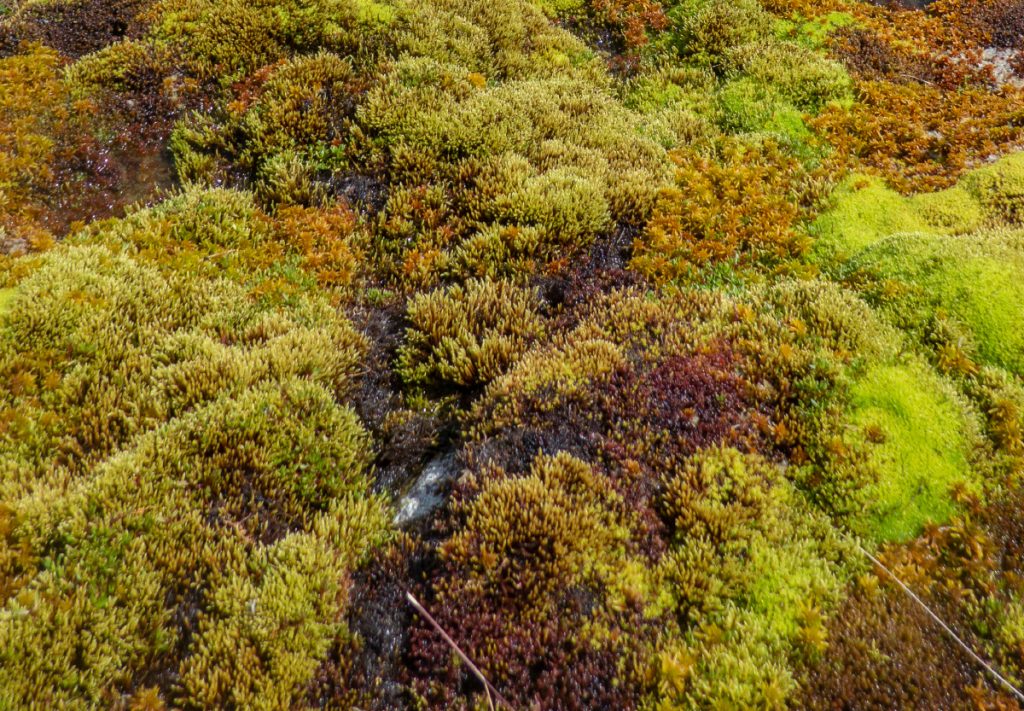 The heat was building out of the wind, and the burn's falls and pools became tempting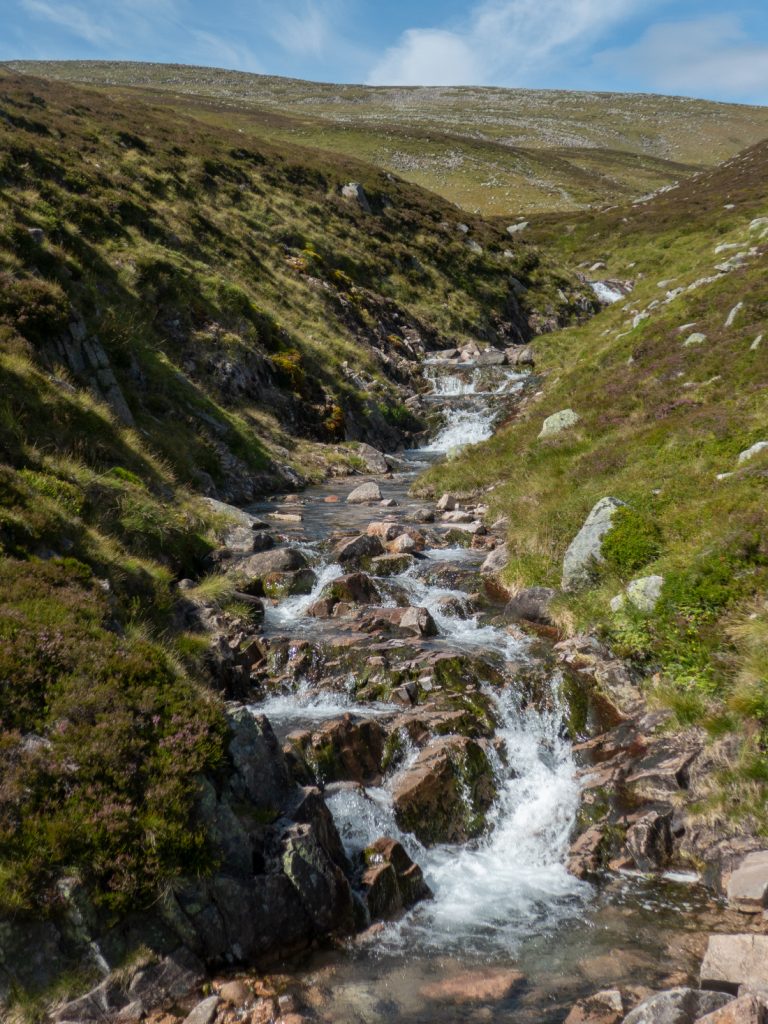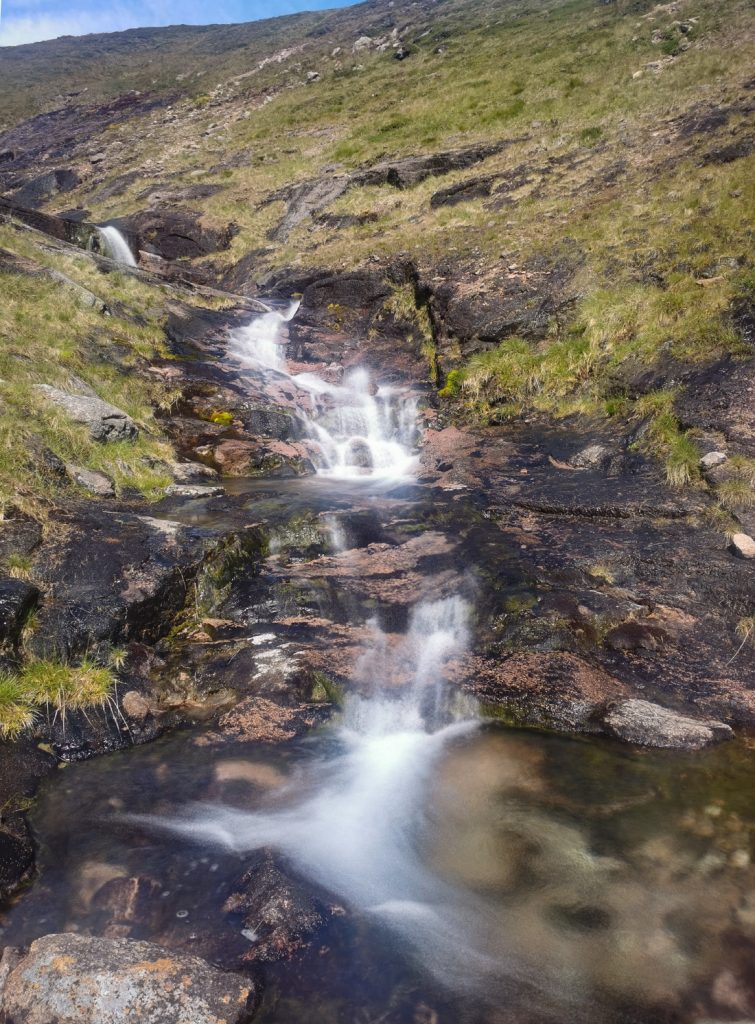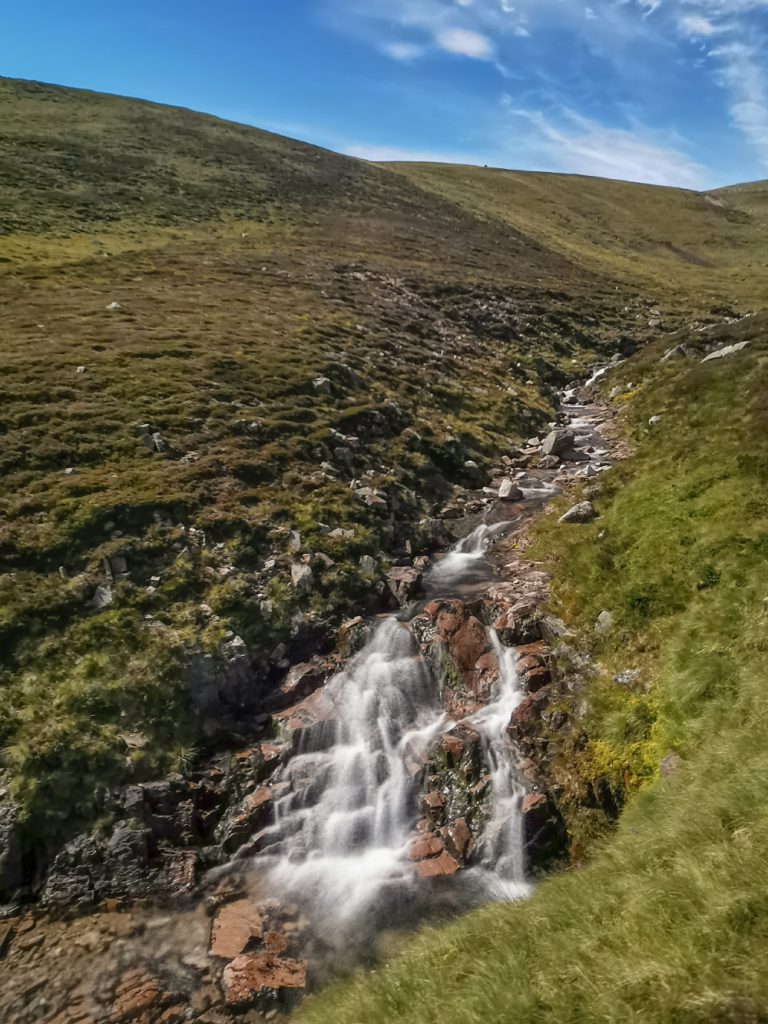 I'd have definitely have repeated my Glas Tulachean naked swim but for company. Coffee break was had at an old shieling on the glen floor as we exited from the path down the burn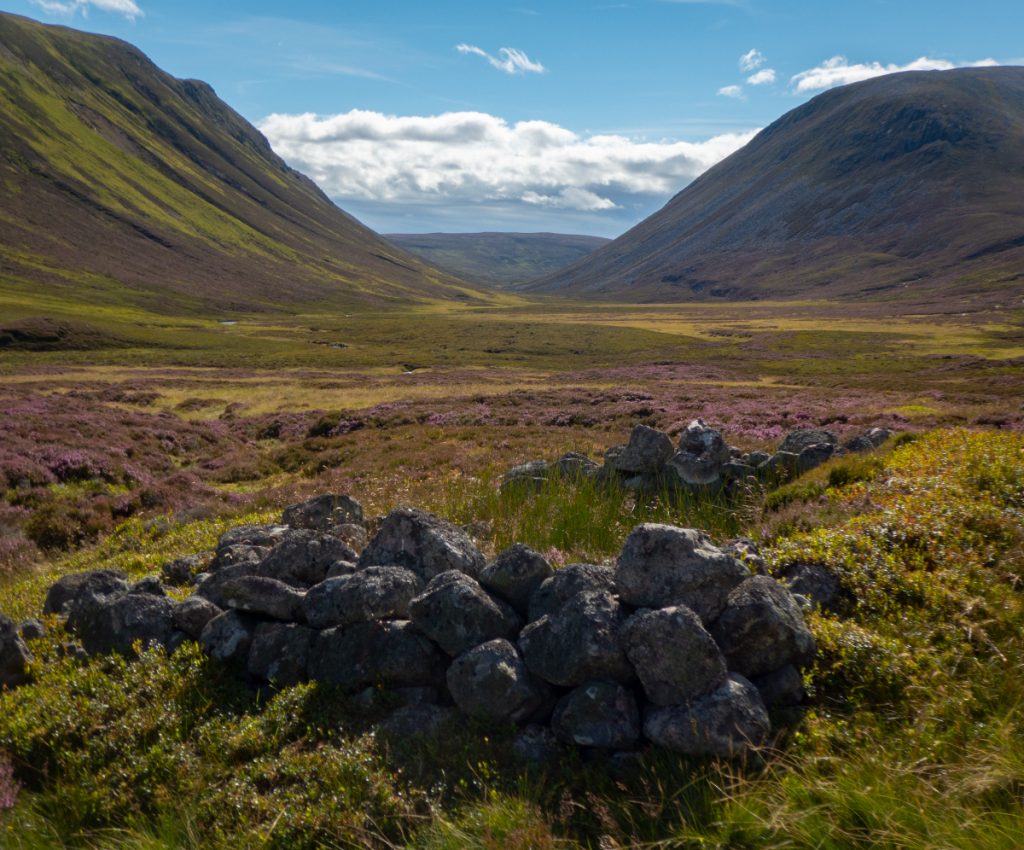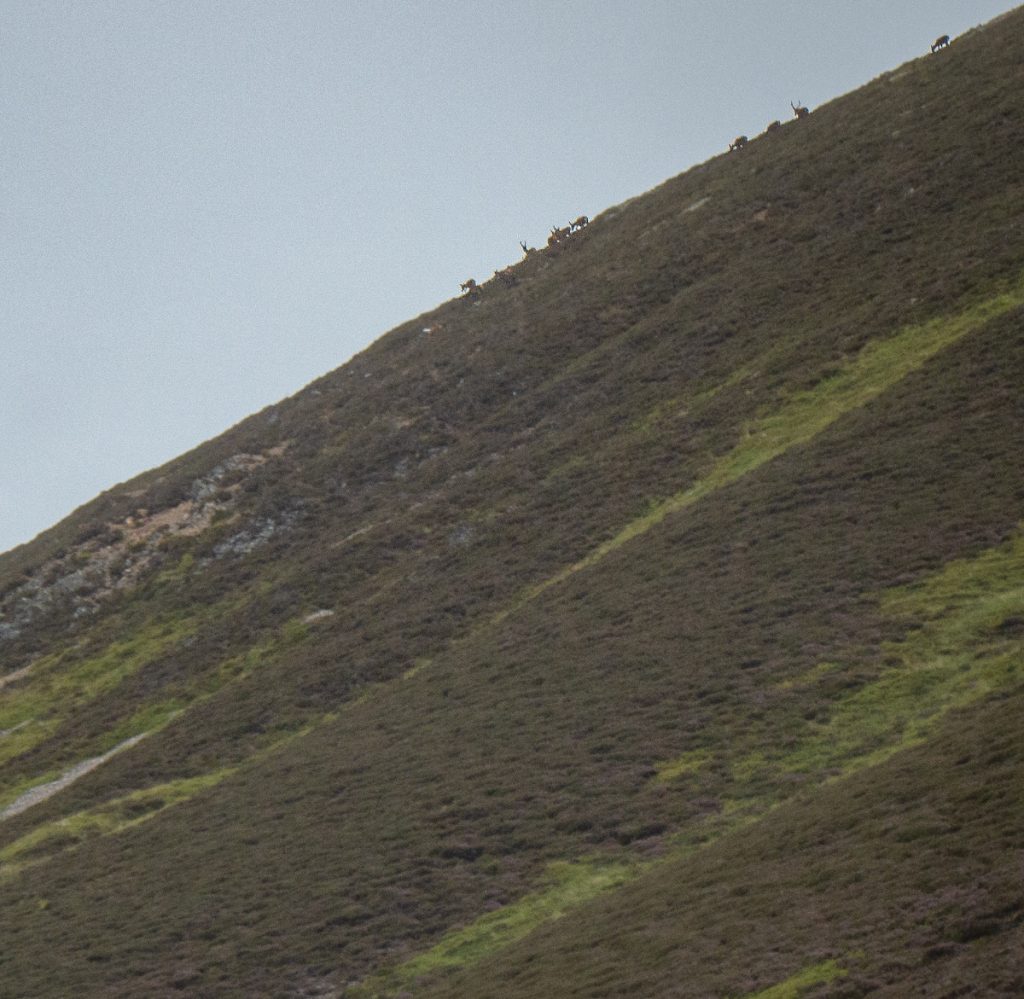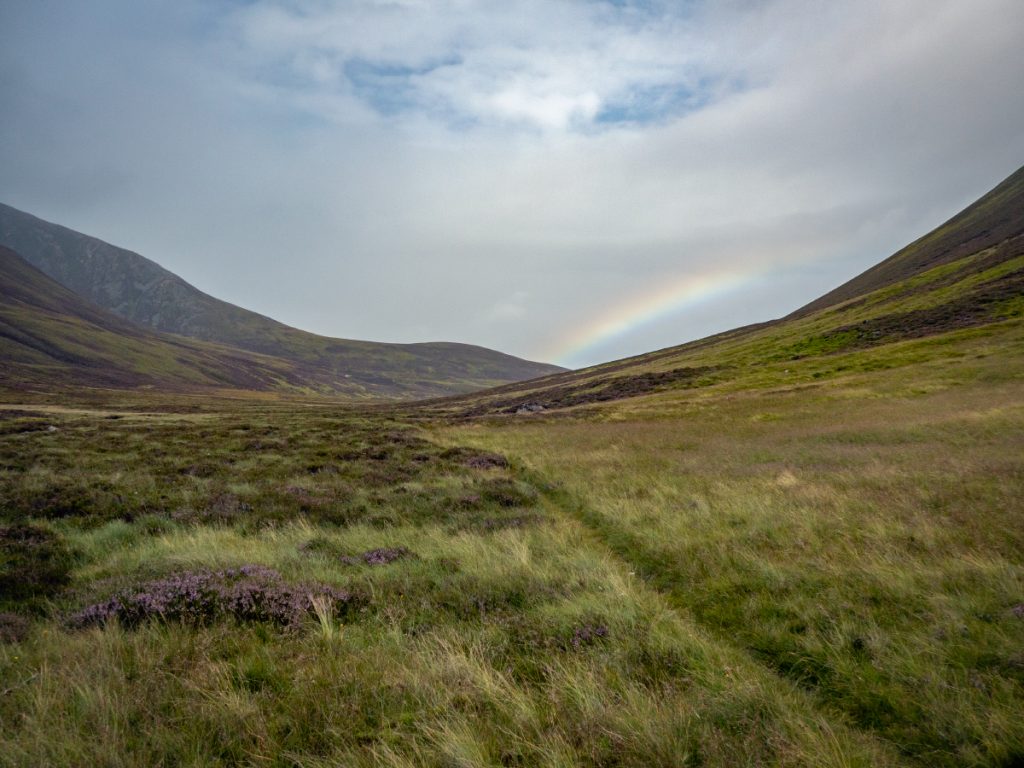 We stopped to listen to repeated overhead screeching: what sounded like maybe raptor chicks being fed, but many pairs of eyes, mine augmented by a monocular, could see nothing, a well-hidden mystery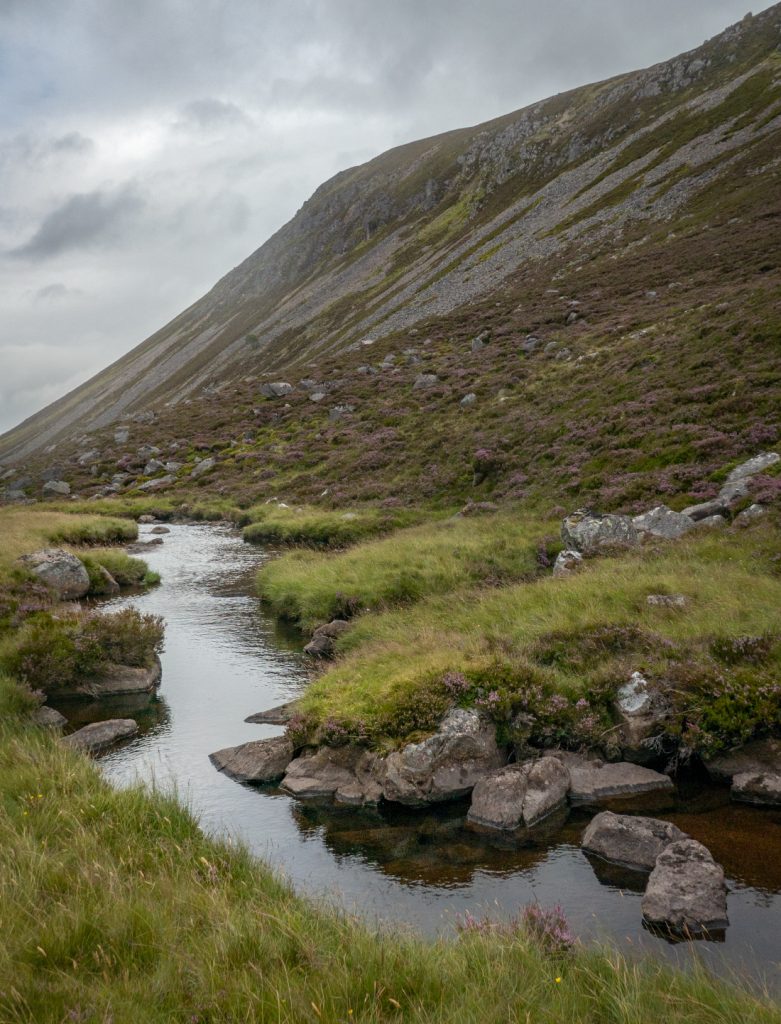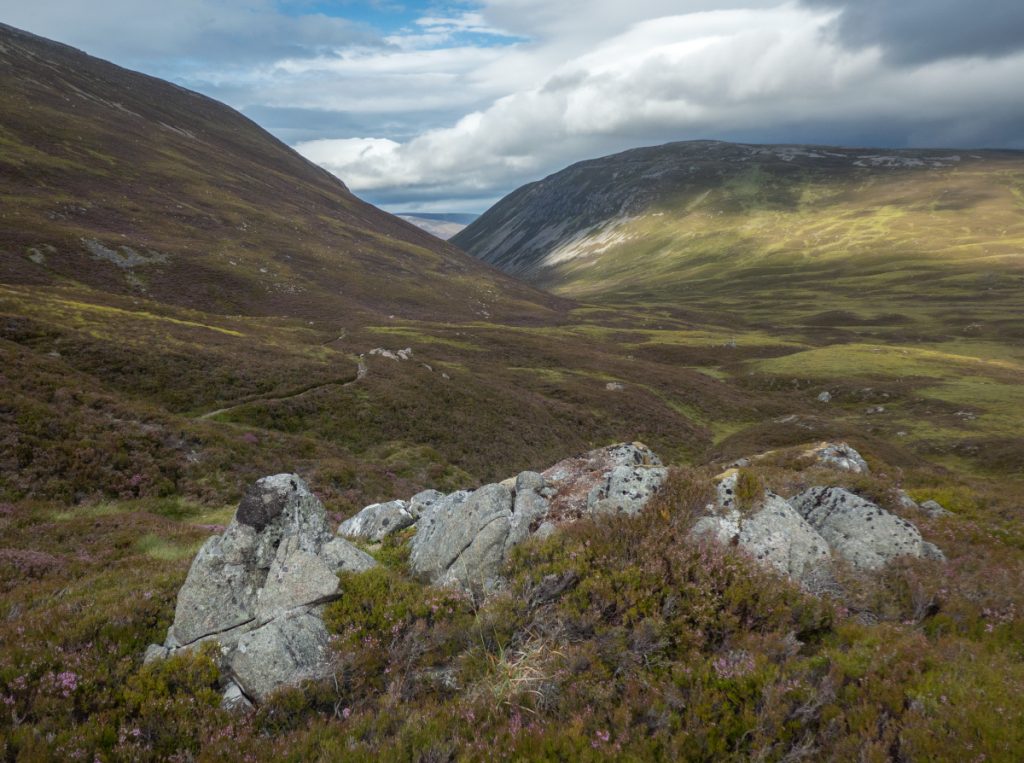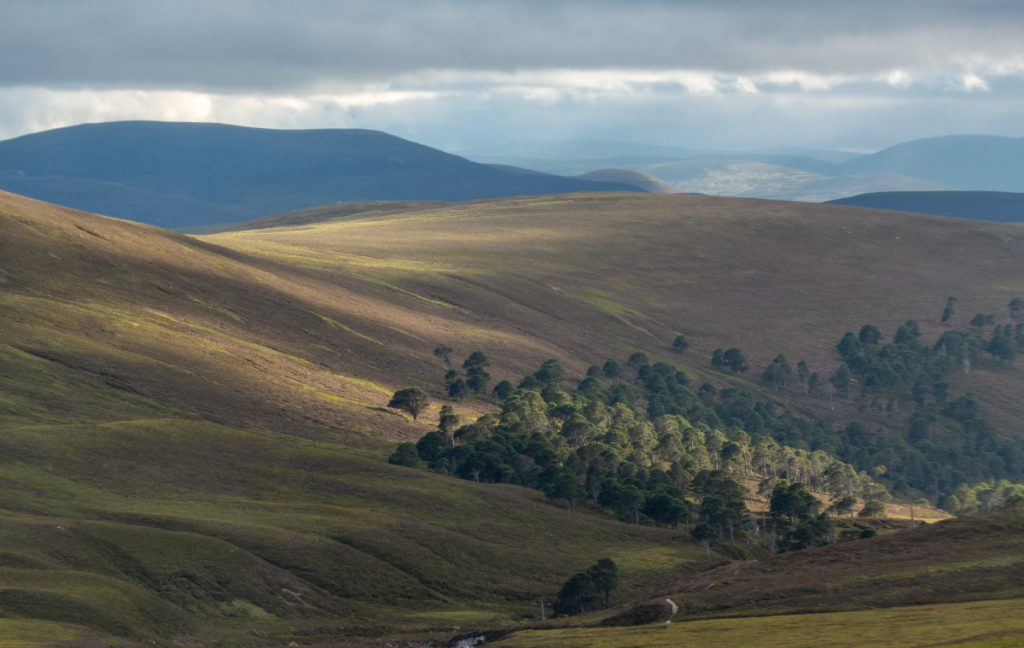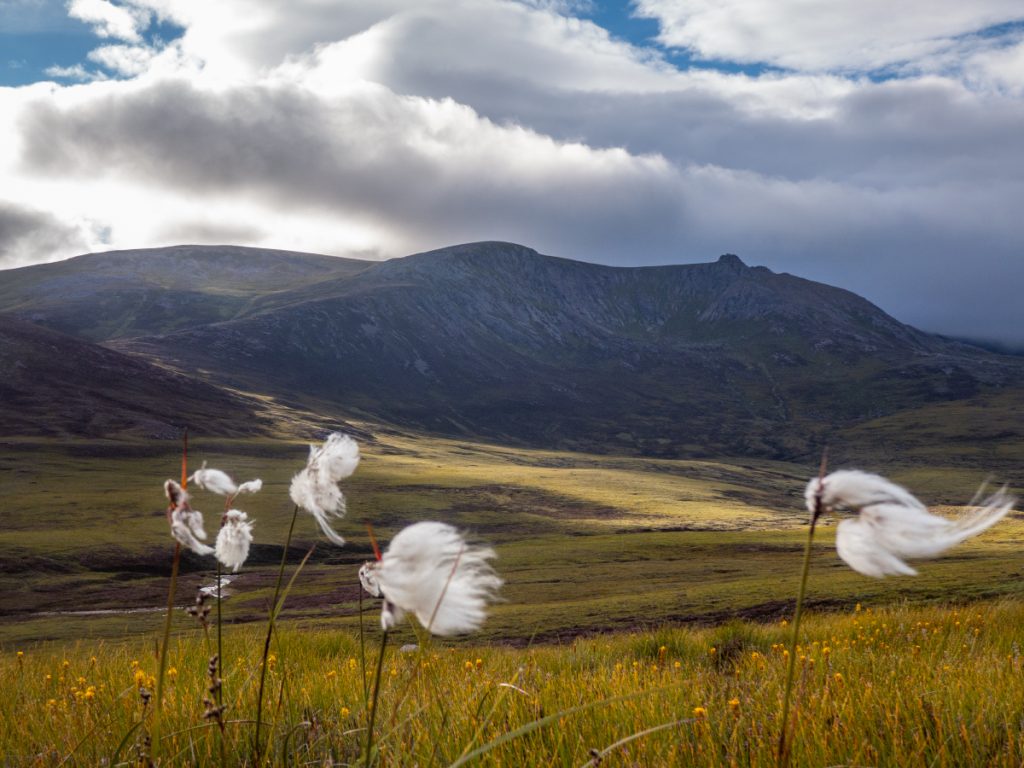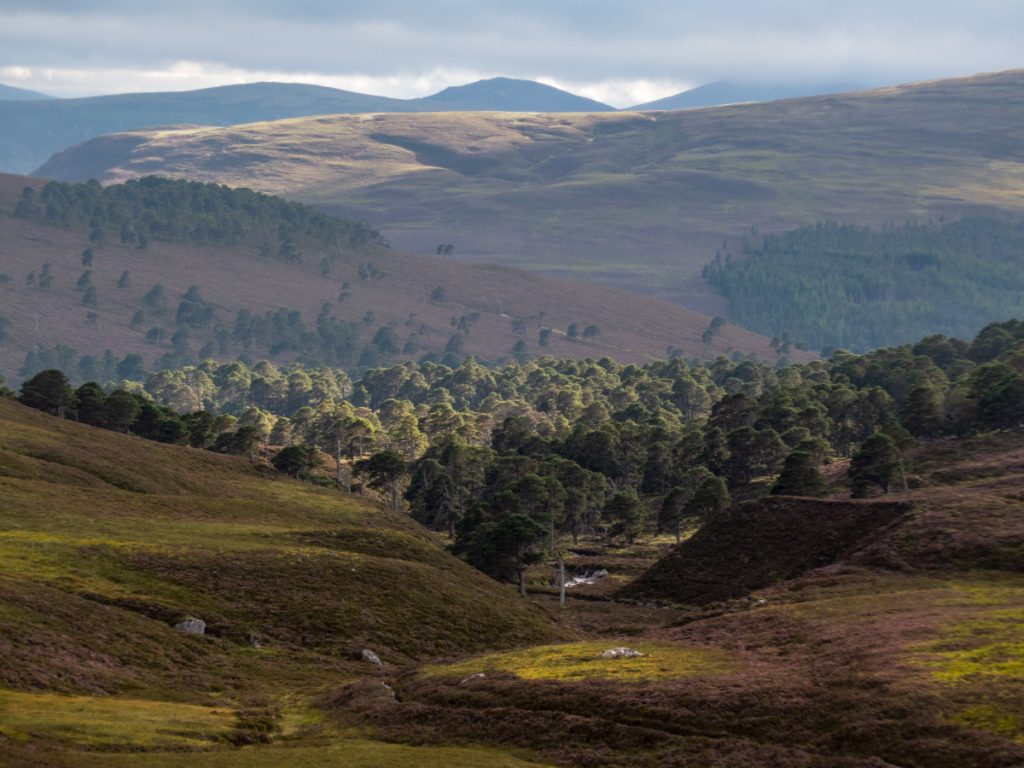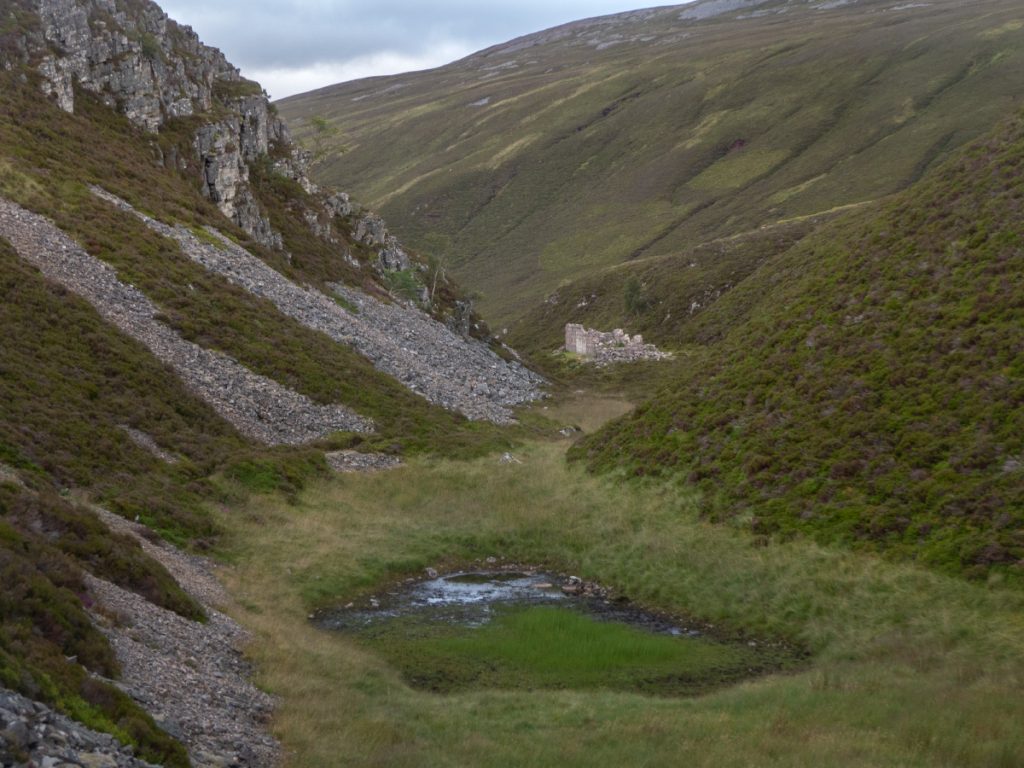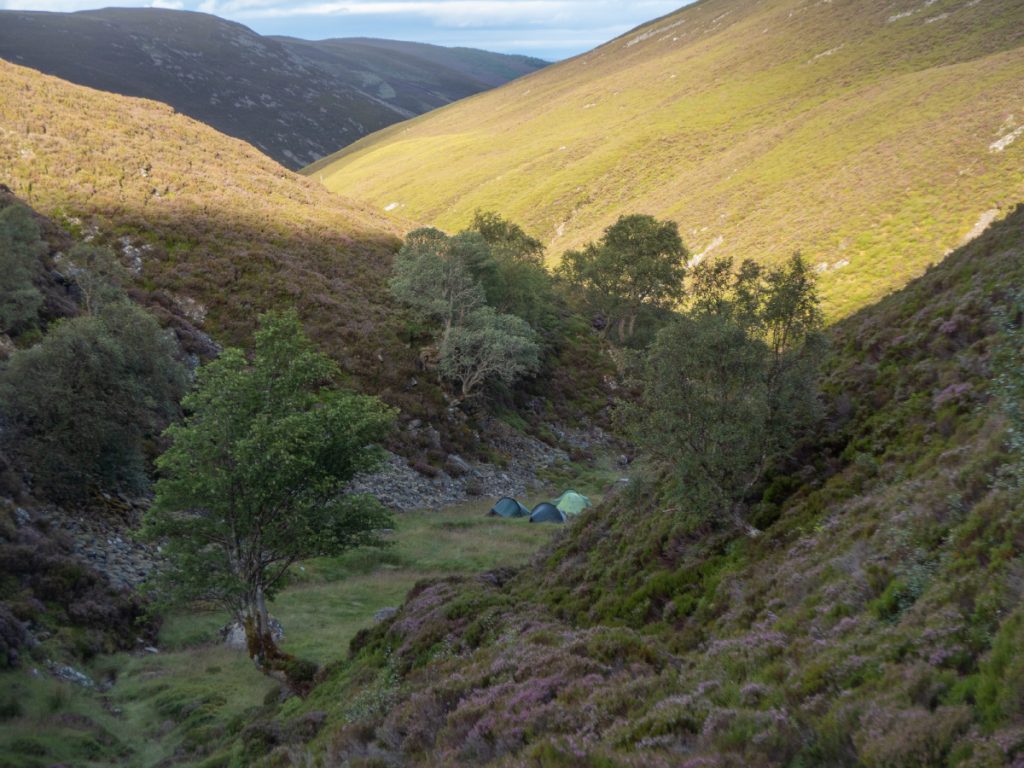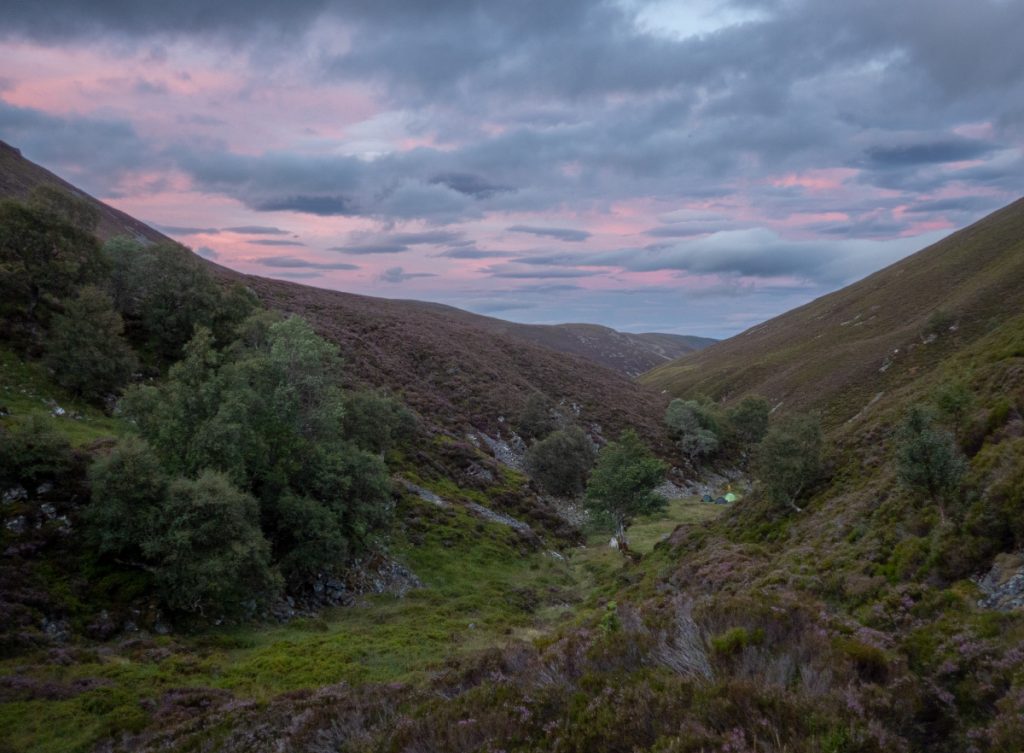 The next morning, the wind had dropped and the fairy glen let loose with it's most ferocious midge swarm, which had us in frenzy to pack up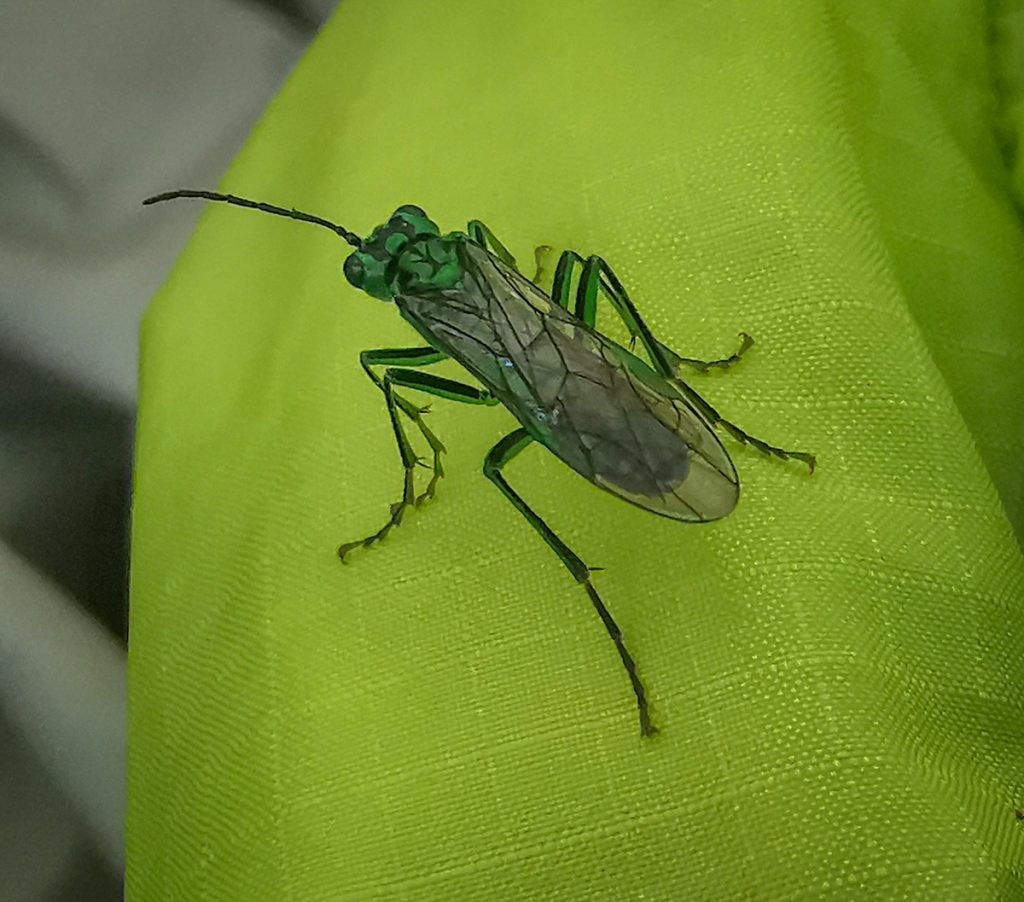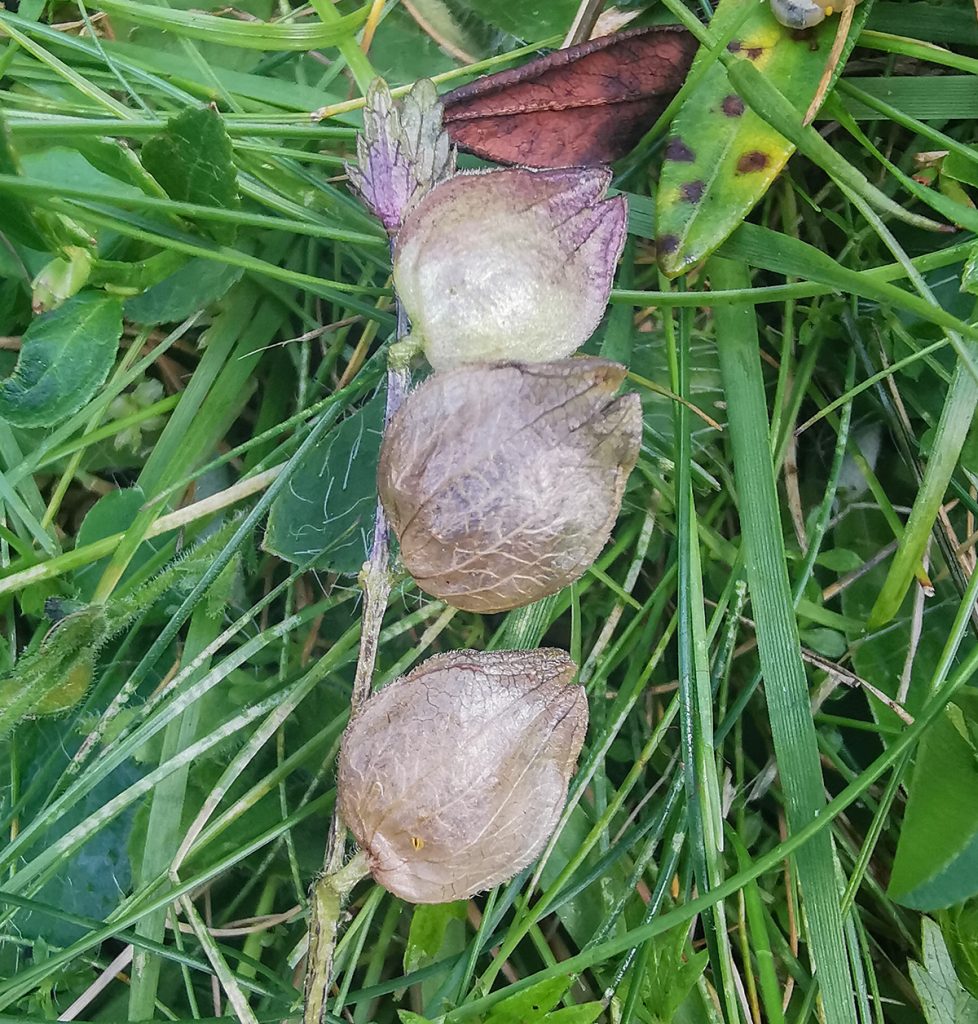 Having escaped the swarm we headed quickly upwards to catch breeze, on to the side of Carn na Criche, where we recalled finding plentiful cloudberries on a previous August trip. We quartered the side, finding a reasonable haul amongst the grassier strips and shallow dips here.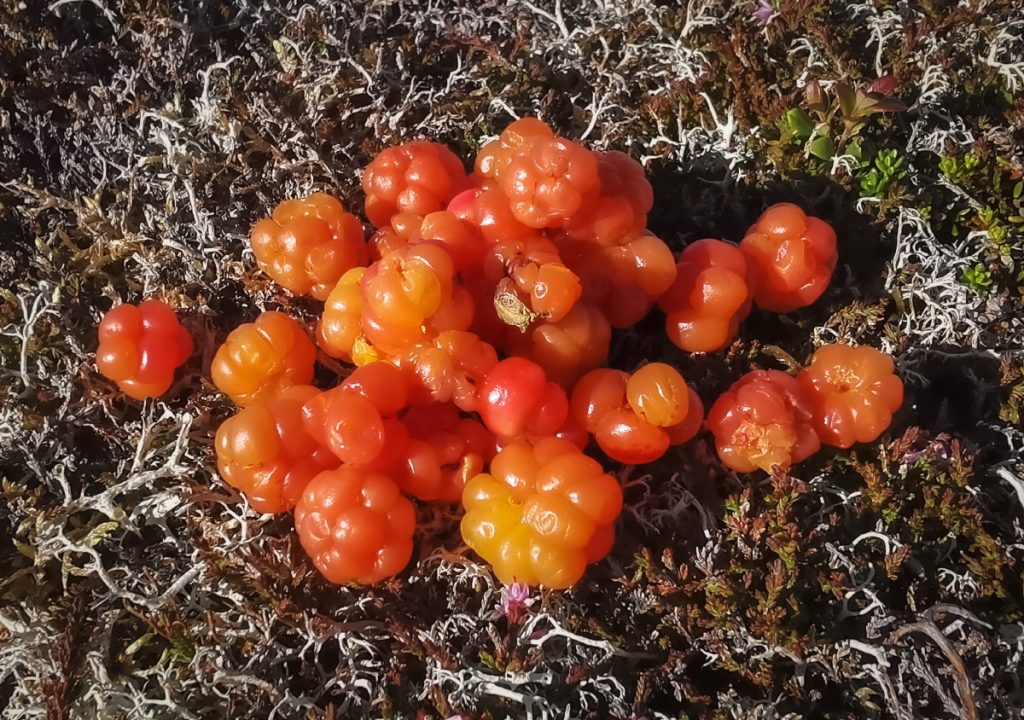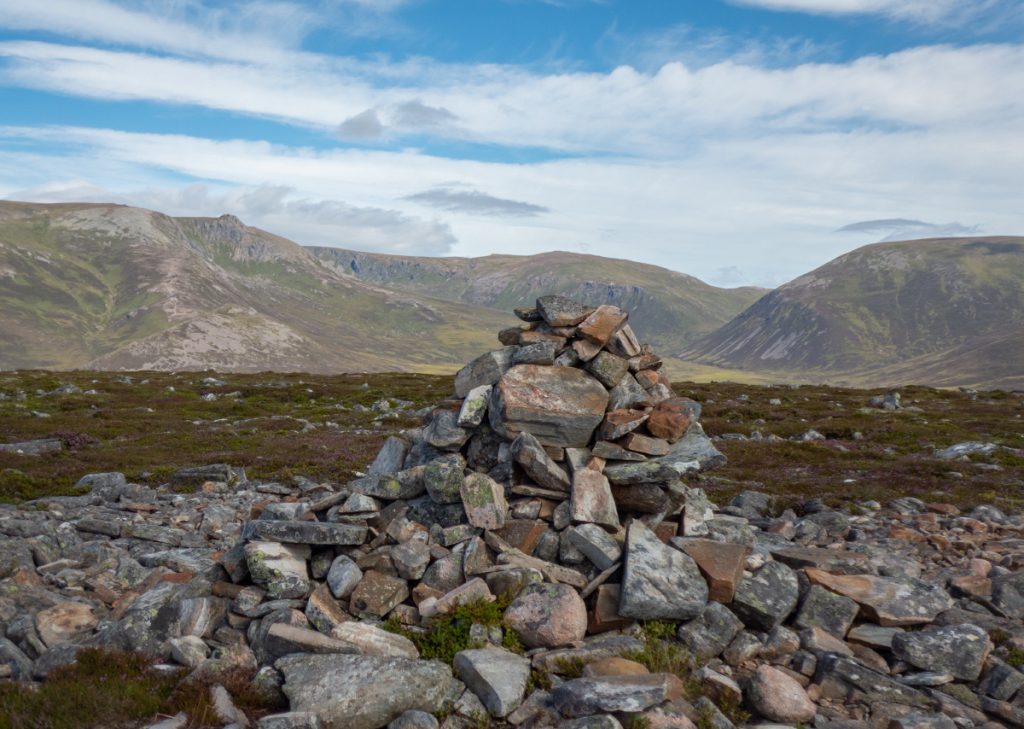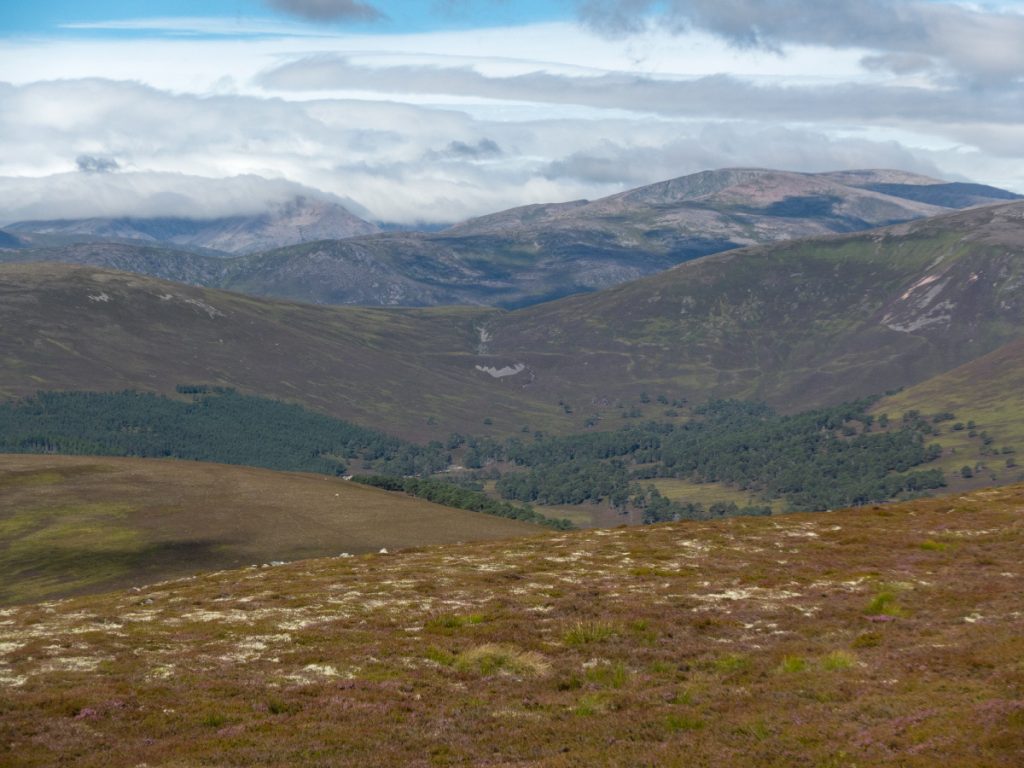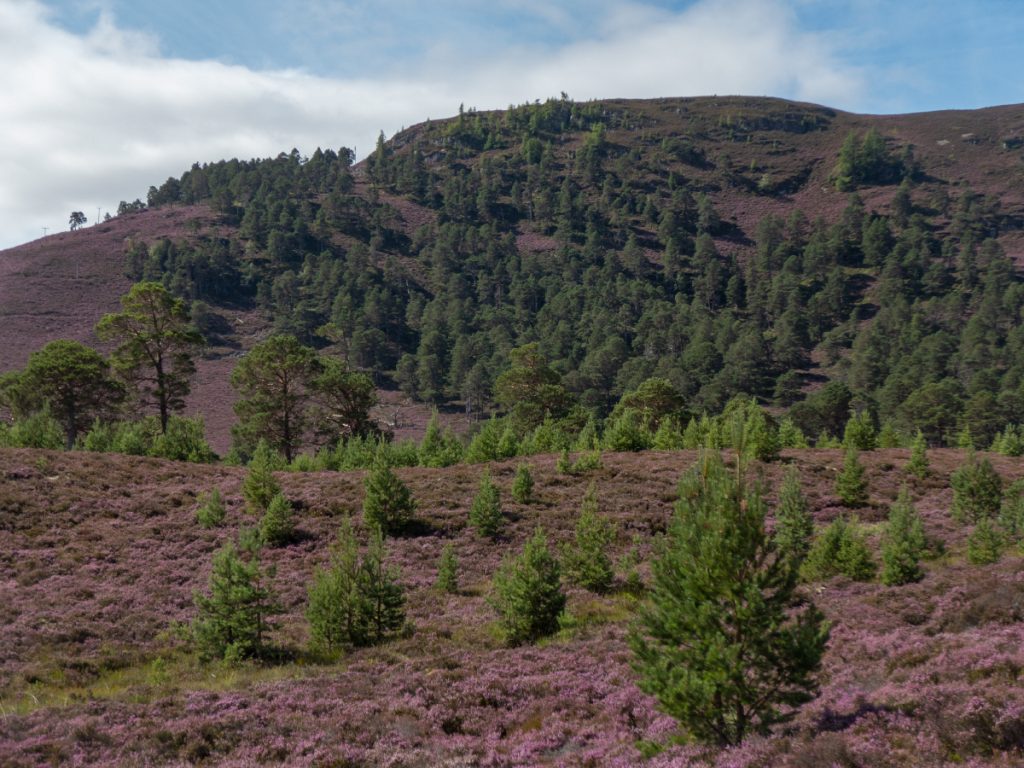 We stopped at Linn of Quoich for a luxuriant break lounging on the warm flat rocks, the water sparkling and sun poking rays through the trees into the aquamarine depths. I had an extremely refreshing paddle and wash but the water was too chilling to stay in long.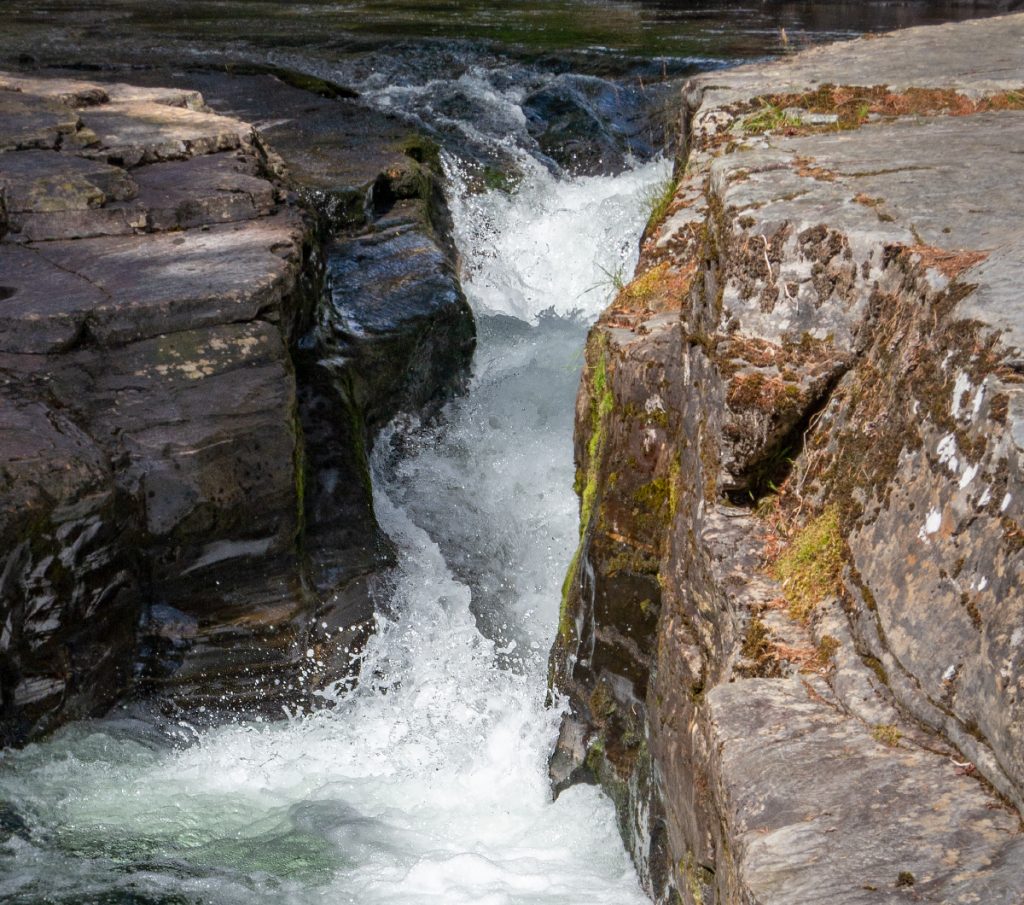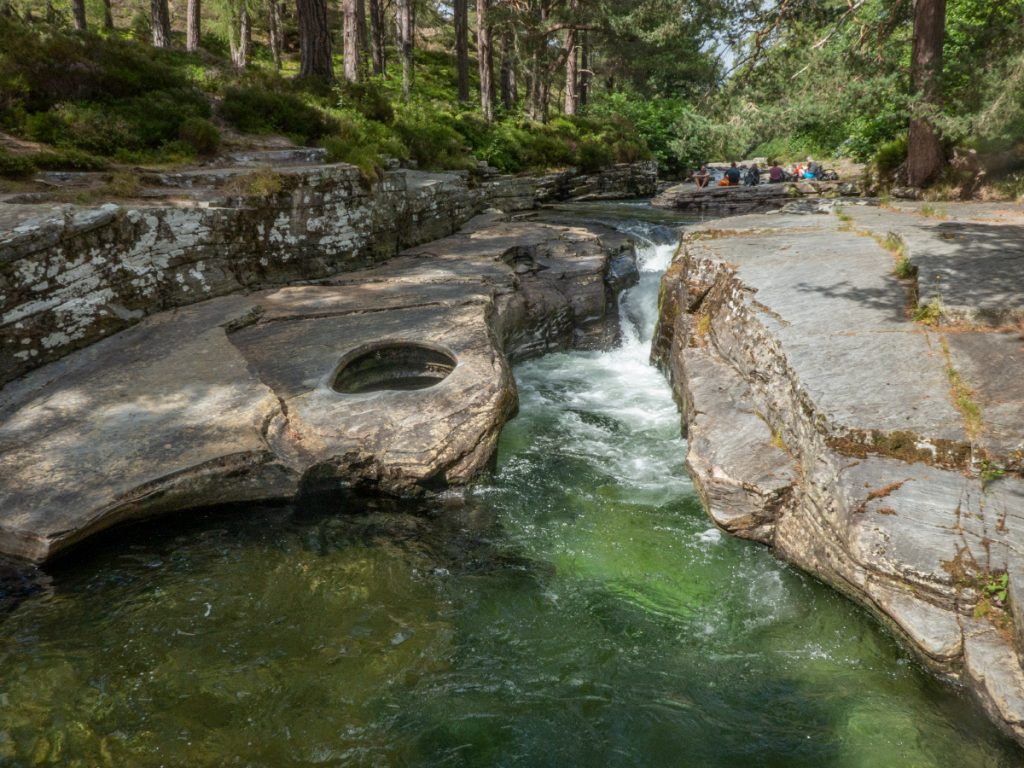 Pondering how to get a group photo from the correct height, rather than leaving the camera on the ground or recruiting a tourist, I stumbled on a new idea: taking my 2 walking poles + 1 other to make a tripod, I placed the top ends gathered together into an upside-down boot, which held them and provided a flat surface to leave the camera and use a timer.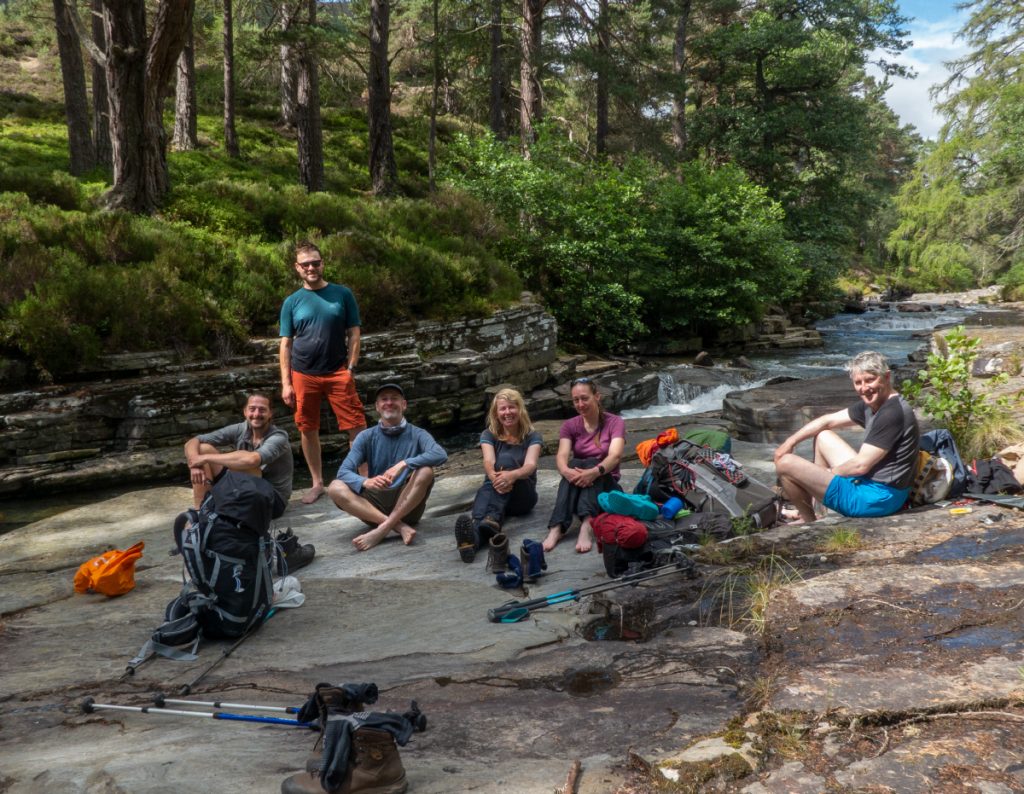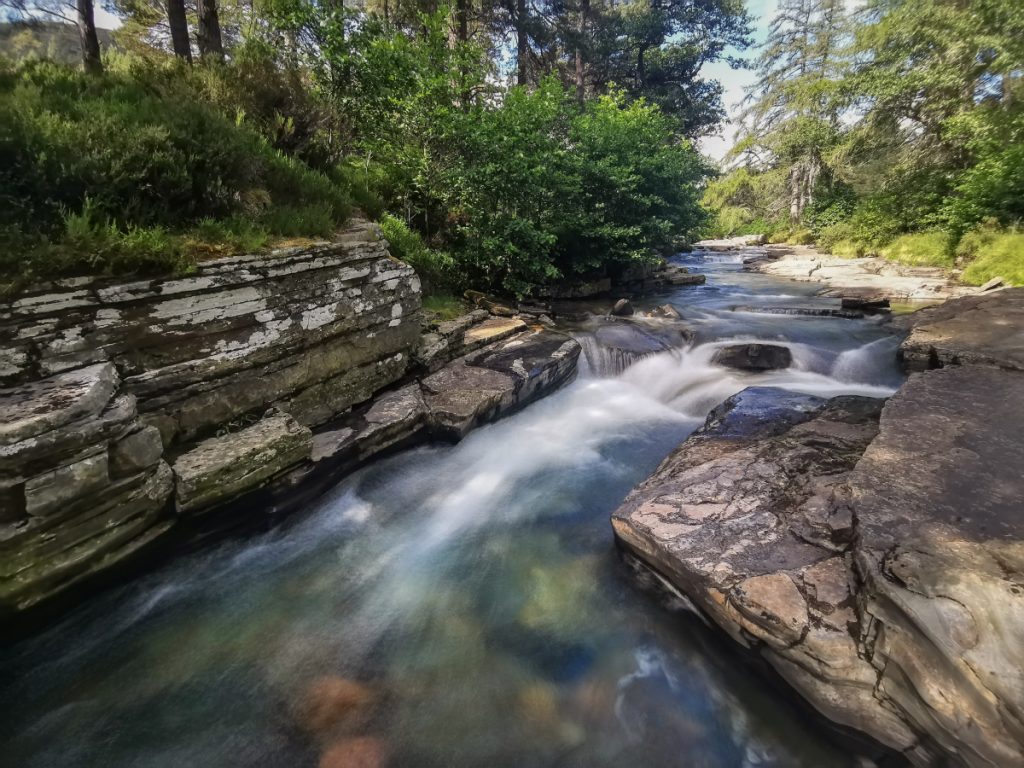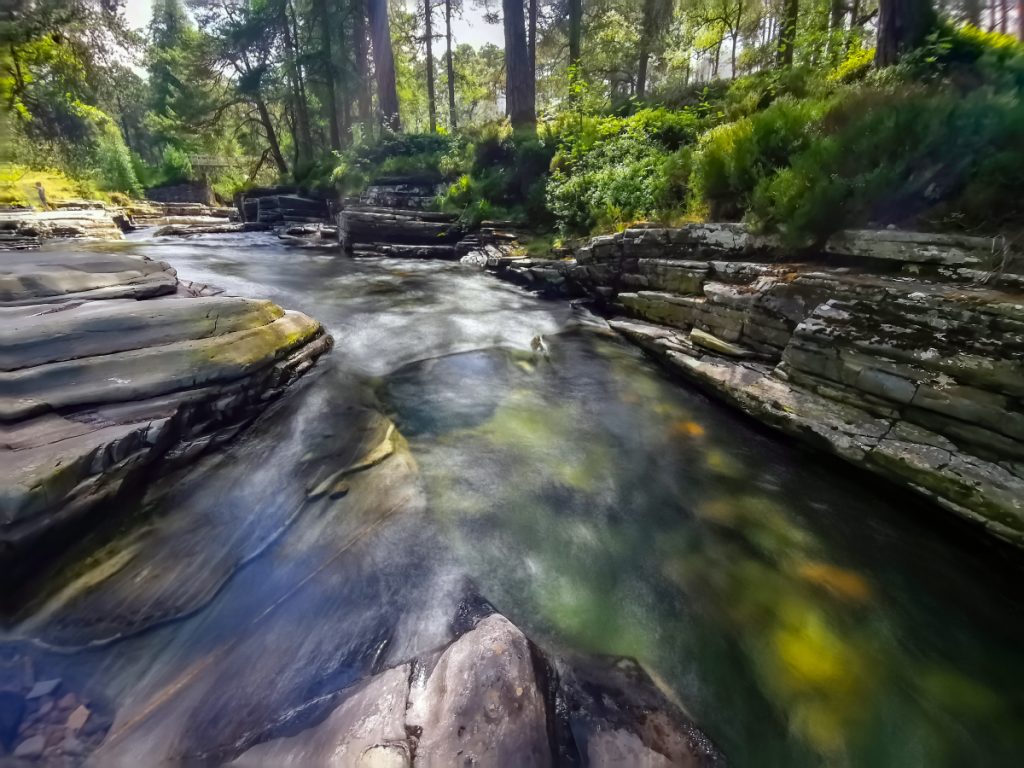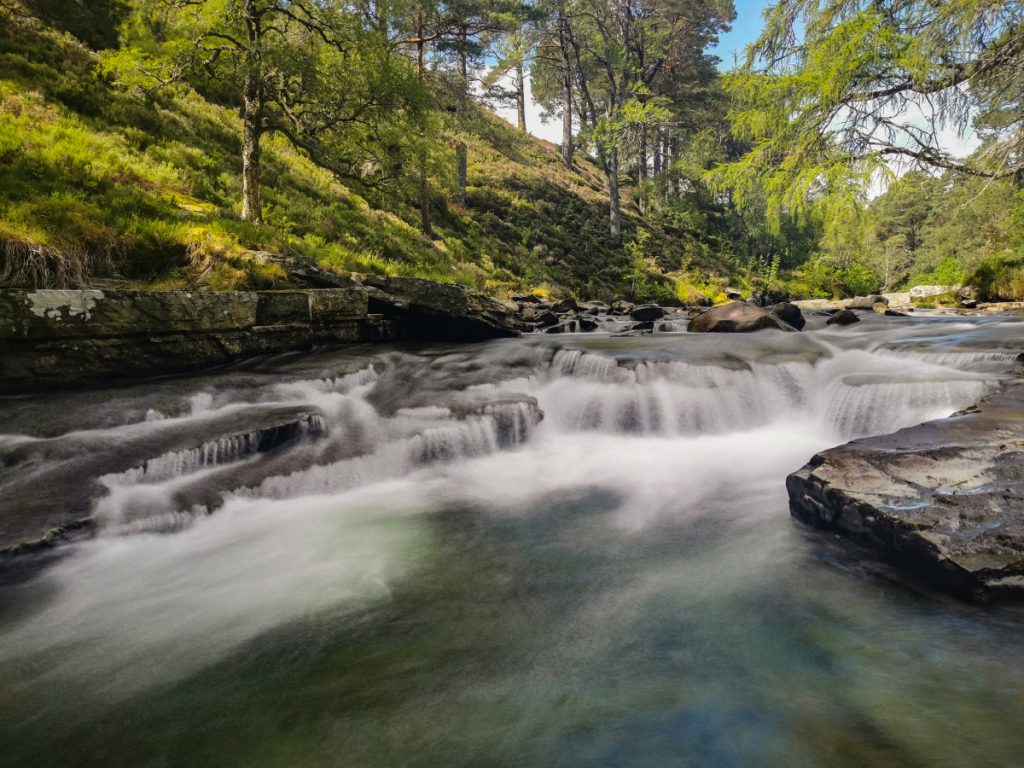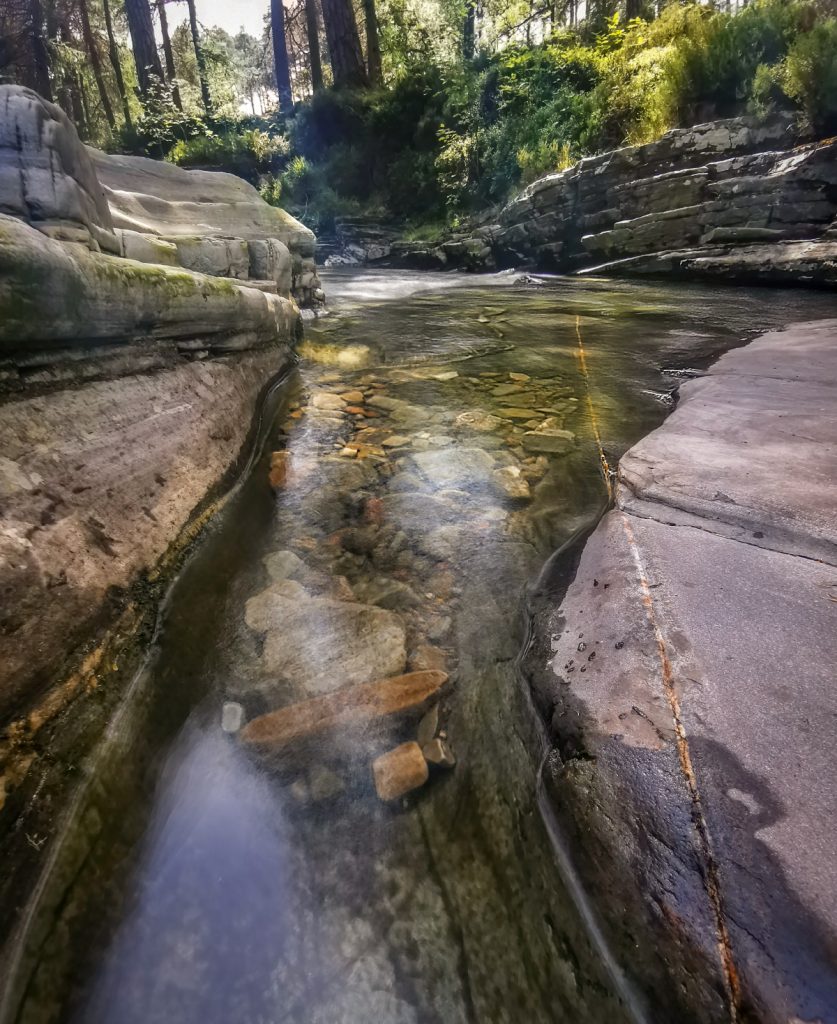 We still had to make it back to the Linn o'Dee so eventually we roused ourselves from luxuriating by the Quoich, for the final push. On the map what looked like an old track/fence up the east spur of Creag Bhalg quickly turned to deep heather and steep terrain, ducking through rocky outcrops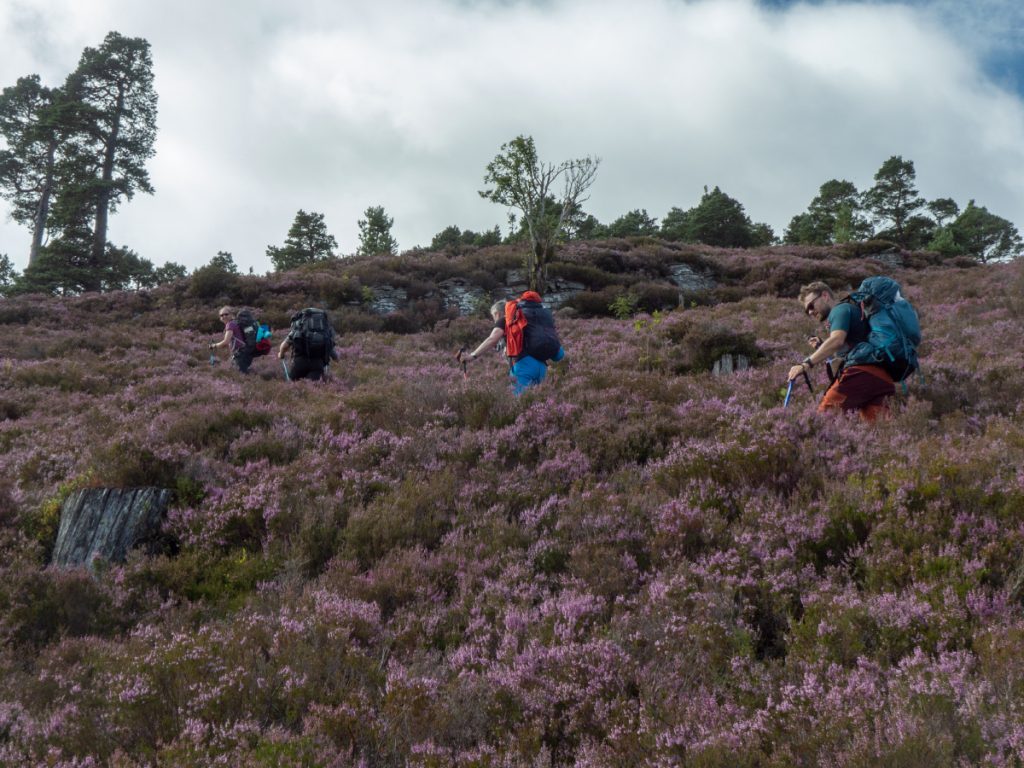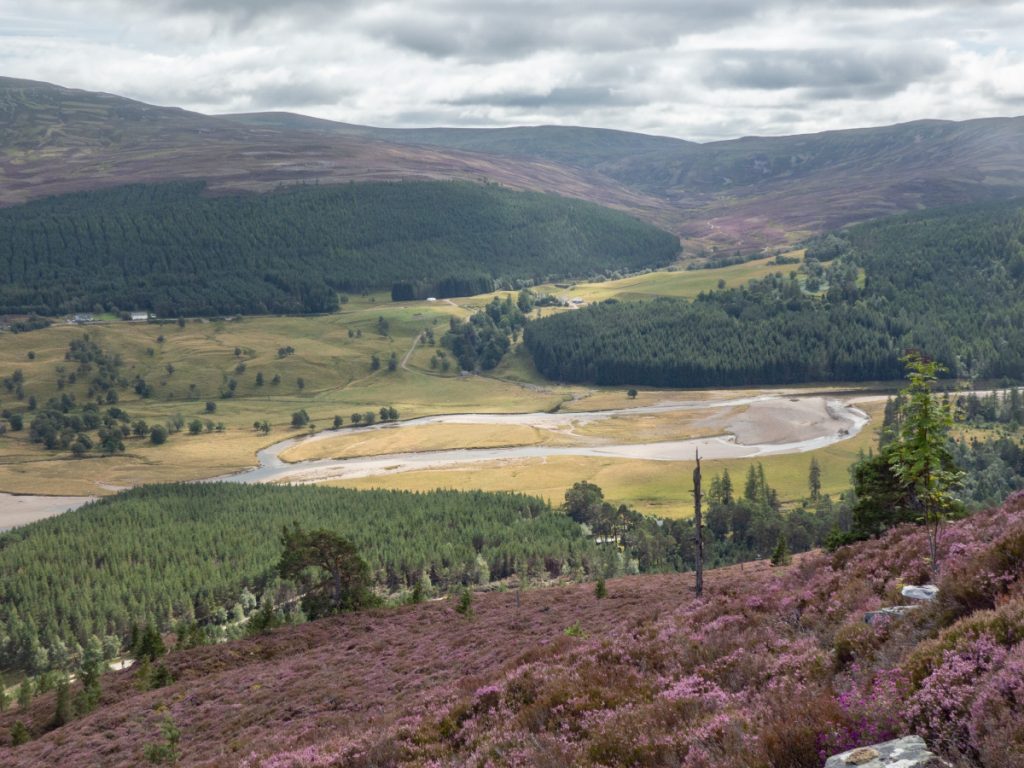 Entering the tree line old pines clung to craglets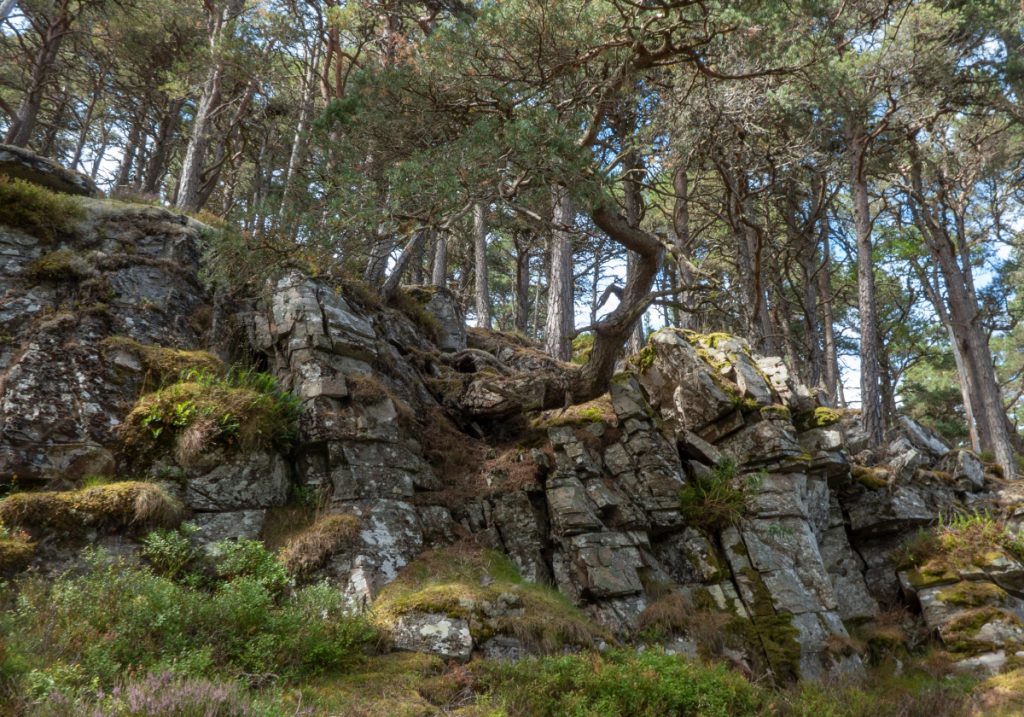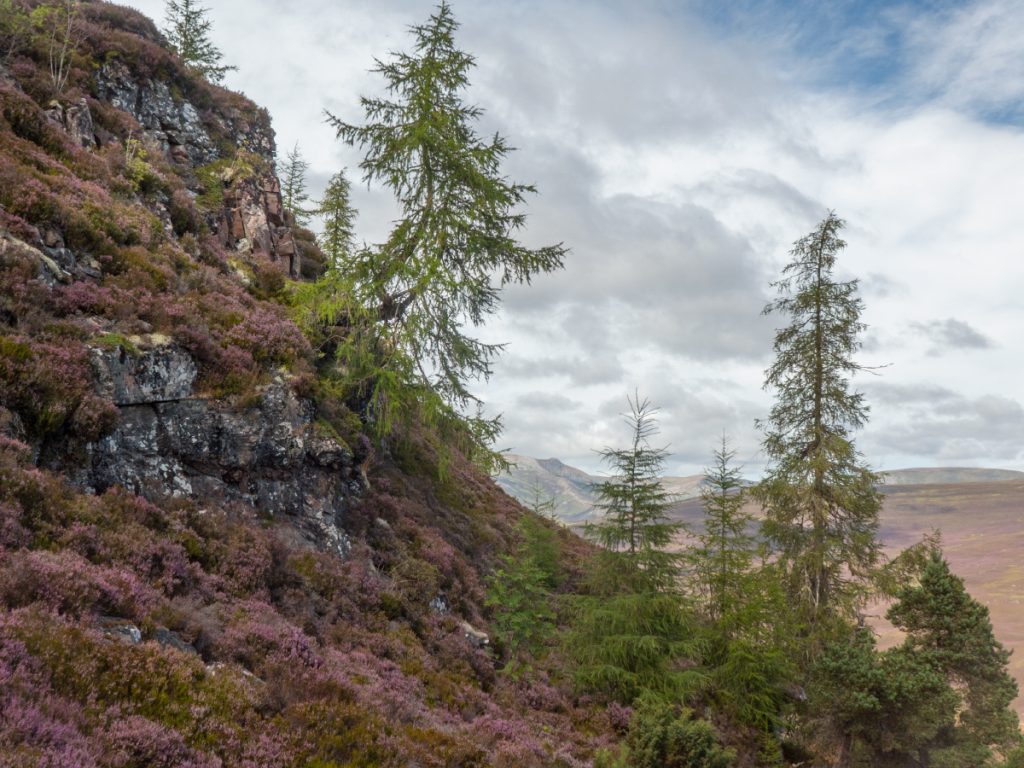 There are some masts and sheds at the prominence here, and beyond it's service track provide far easier passage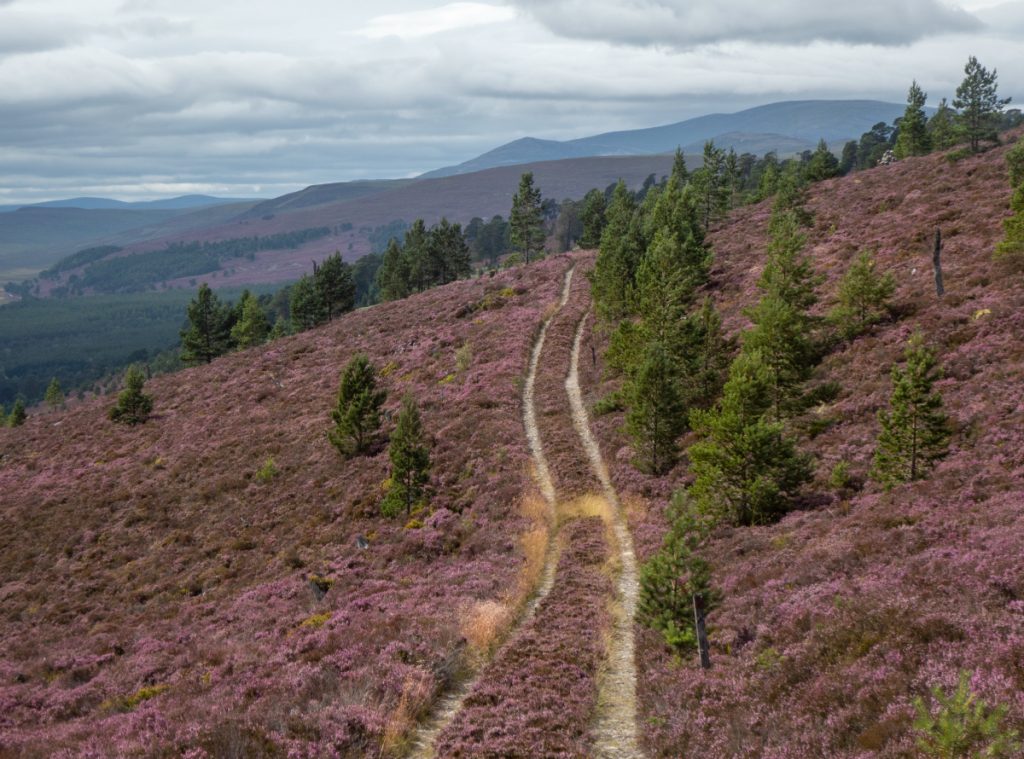 Down an overgrown path we were once more on tarmac, the trip near an end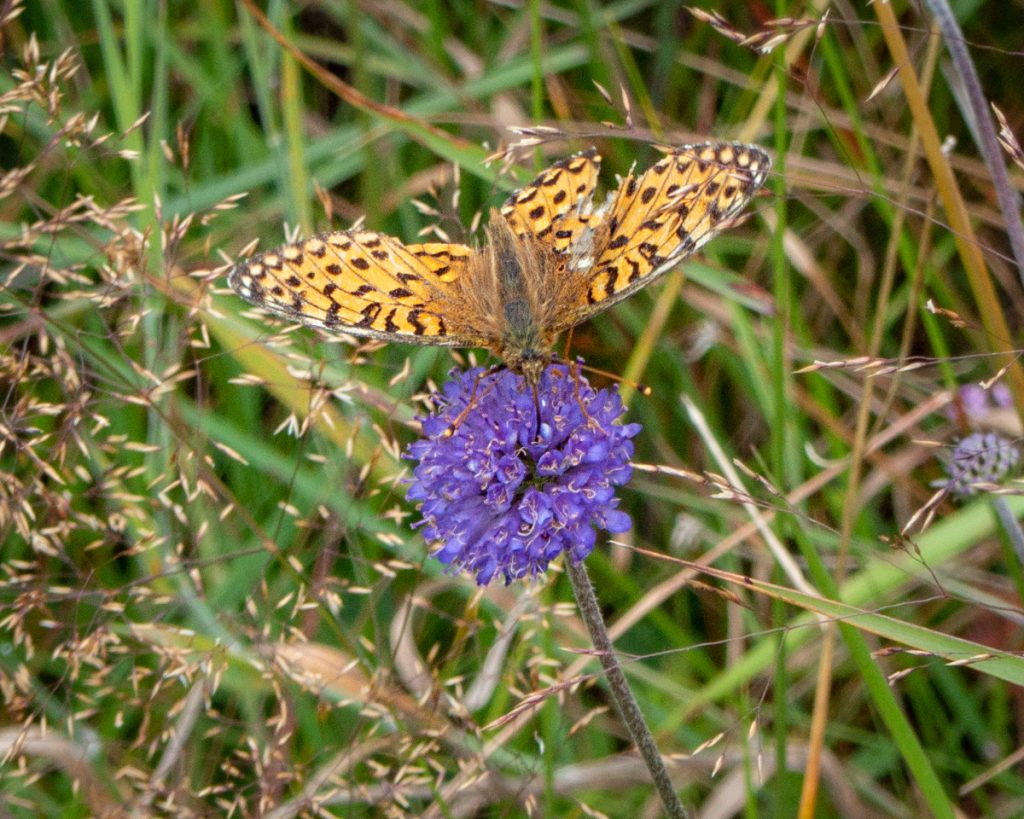 All that remained was a cafe stop at the bothy in Braemar to get some snack and drinks, and say our farewells to the Dutch contingent who had joined our adventure.