Another combined bike > hike >bike, wheels eating up the easy but long miles of the route. Loch Muick is lovely but it can be a slog along the track, no such worries today.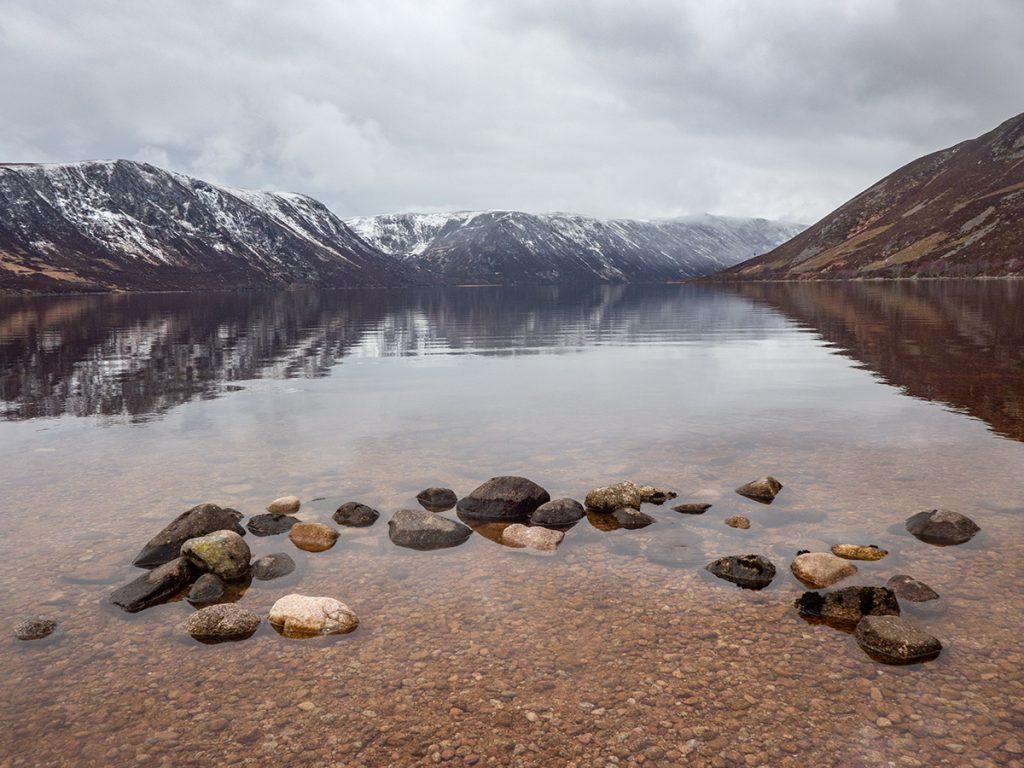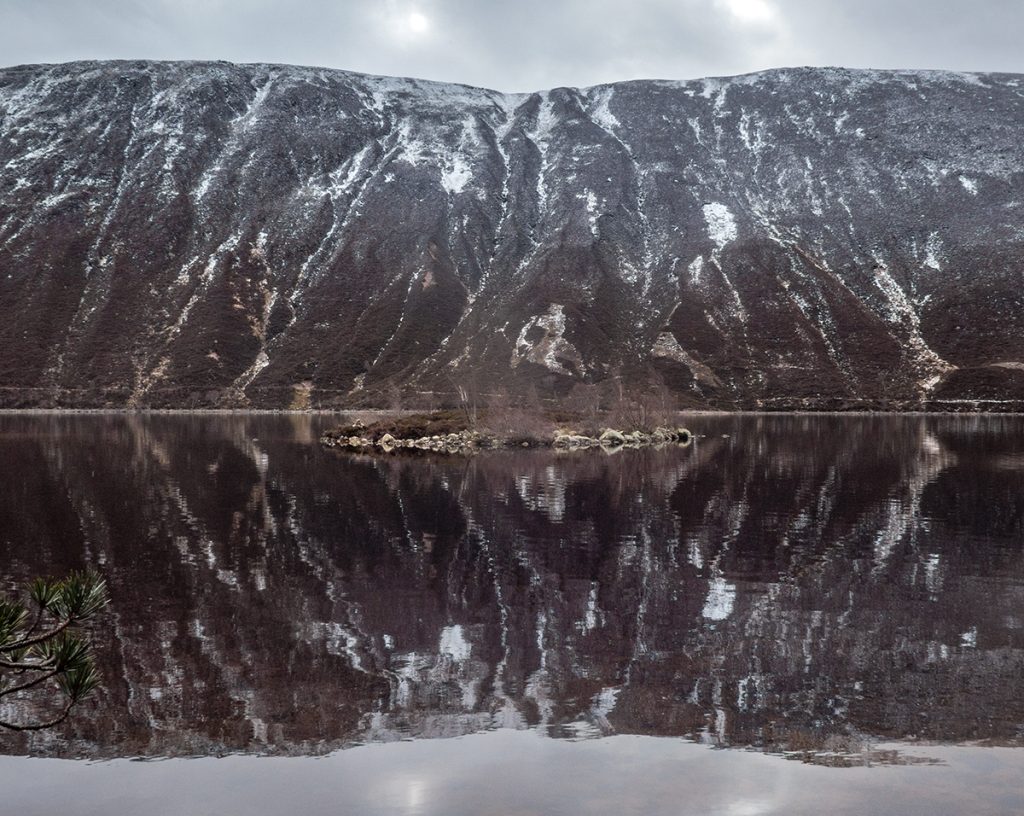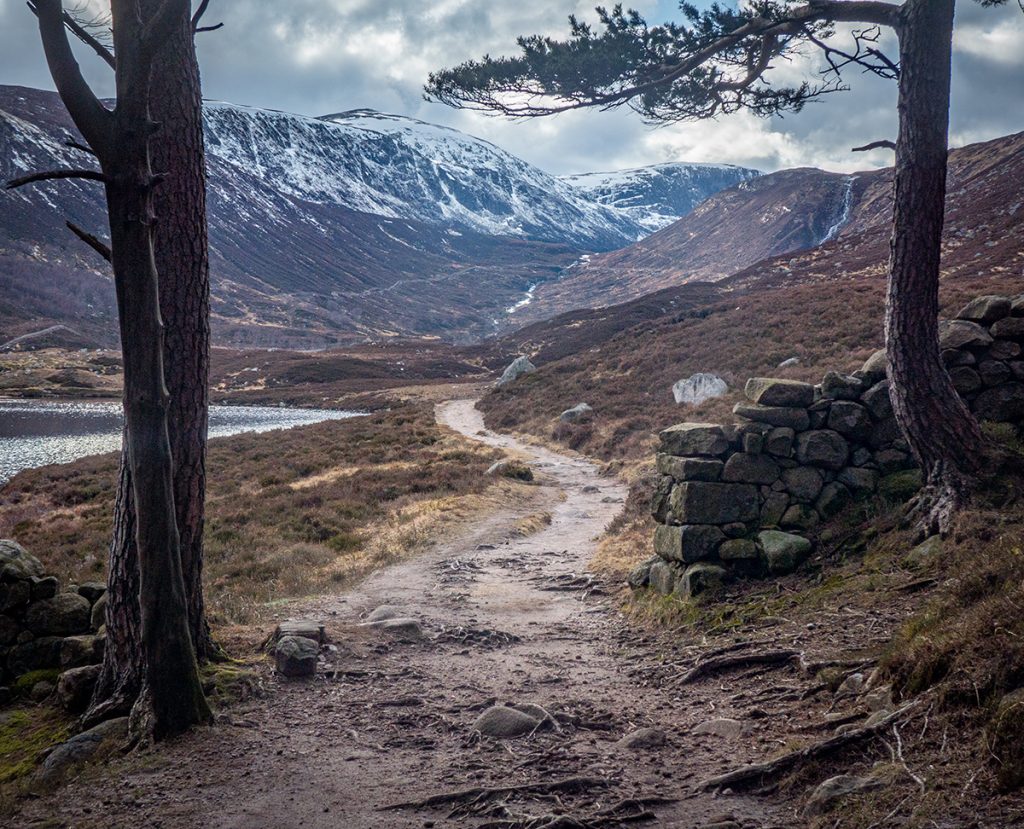 Rather than a regular approach (most folk do Cairn Bannoch on the other side of the loch and take in Broad Cairn, or as part of the white mounth circuit) today's plan was to head up to Dubh Loch and then head on foot for the rest of the way. The big question though was how 'rideable' the path up to Dubh Loch would be.. I should have paid more attention in previous trips, I had an inkling it was mostly ok.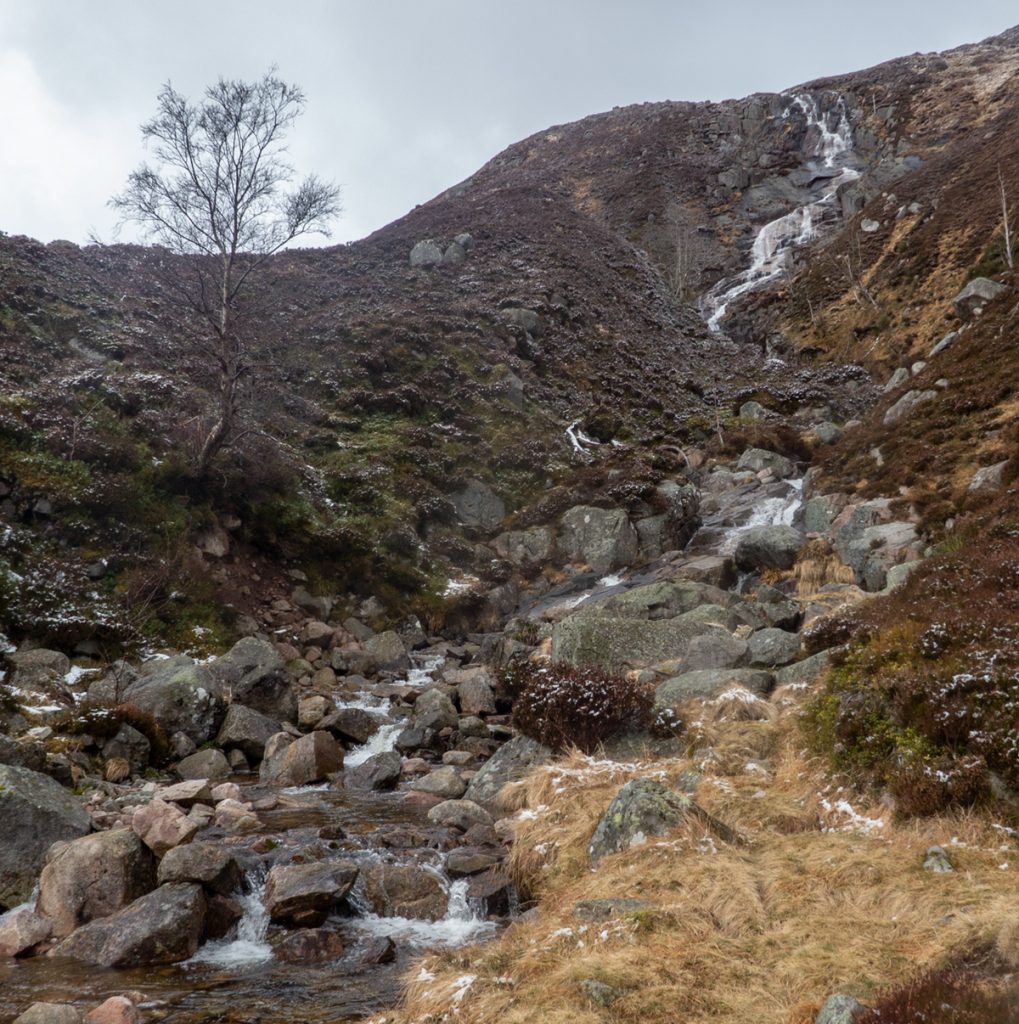 Arriving at The Stulan waterfall, it had been mostly ok, occasional short lumpy sections. A minute beyond the other side however it got sufficiently bouldery that we decided to dump the bikes.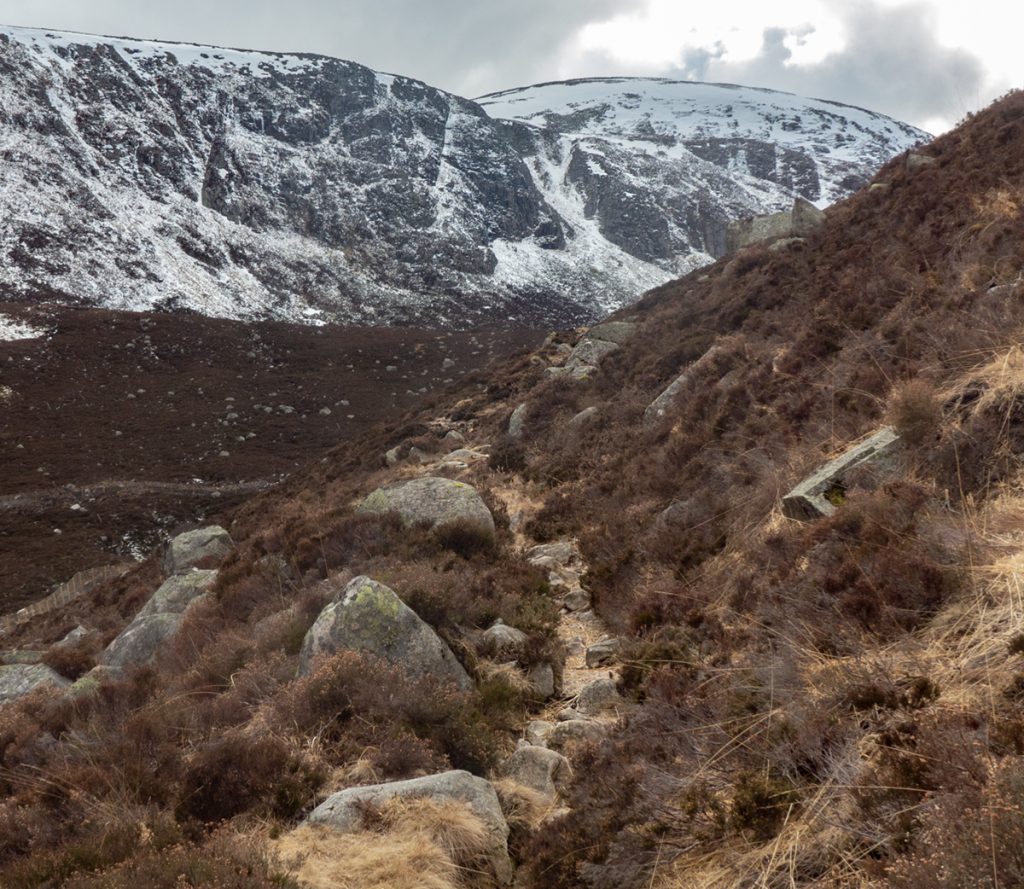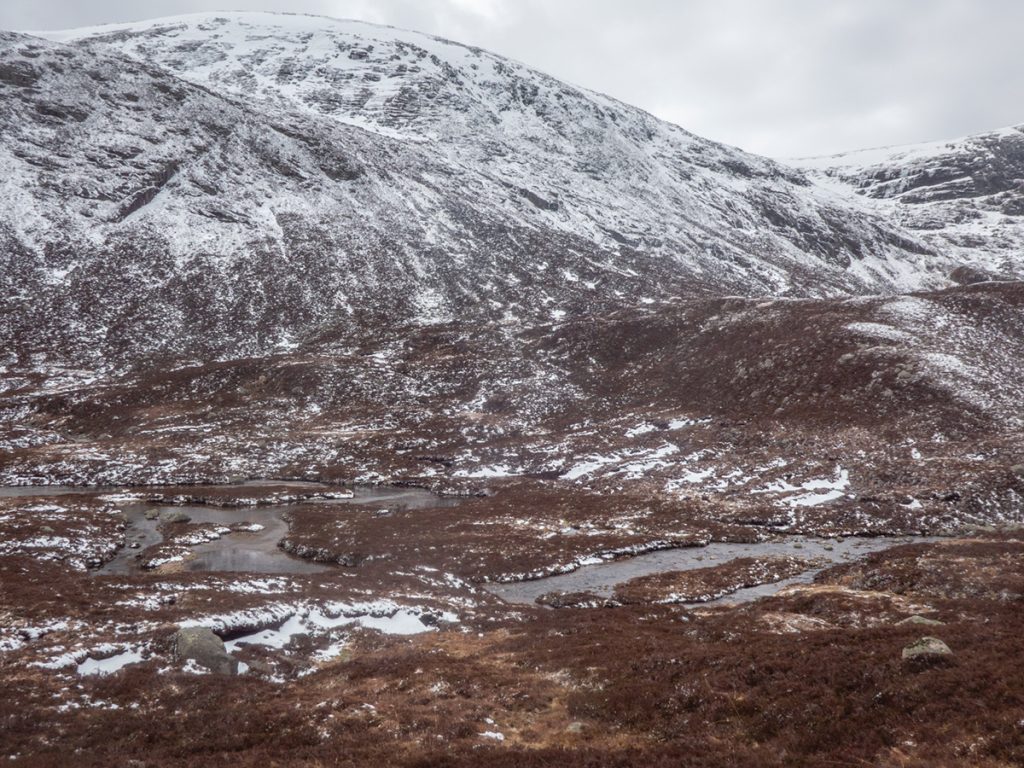 Dumping the bikes had been premature as it turned out, there had been a stretch of bouldery terrain but beyond the track was decently rollable right up to the loch.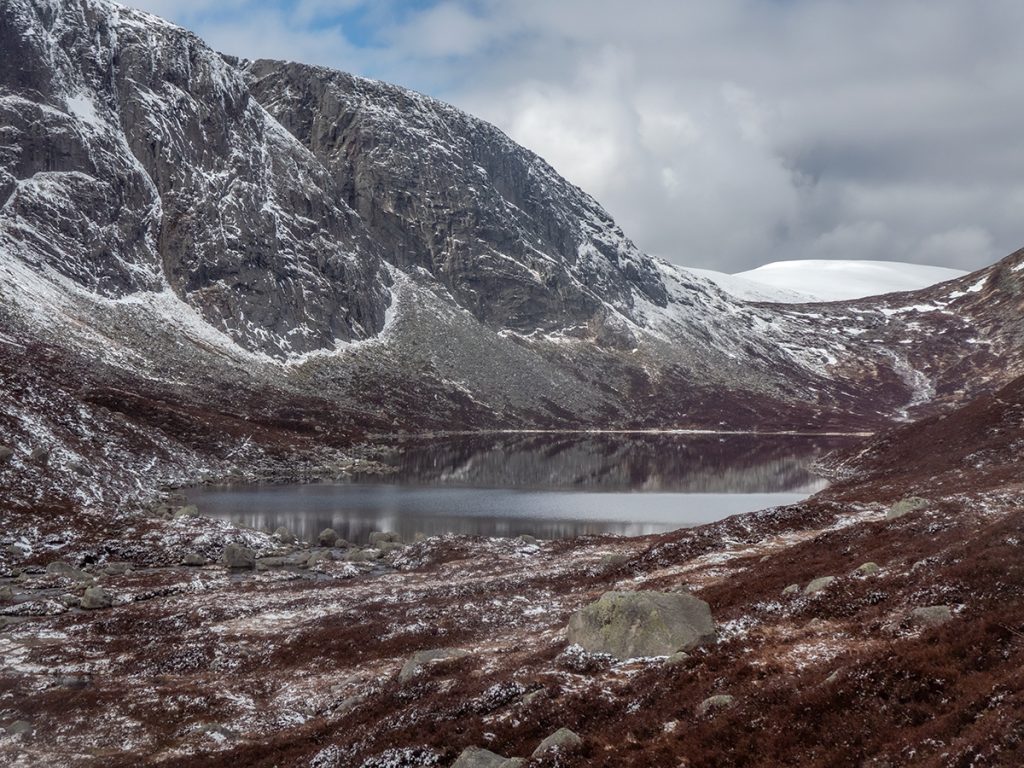 Beyond the loch, Carn an t-Sagairt Mor looked to have a good covering of snow, and being of a similar height Cairn Bannoch out of sight would too.
As we'd been heading up, I'd occasionally had a look across at some of the shallower gullies/ridges on the south side, I'd had an idea to descend down there later, but inspected more closely via monocular, there was a lot of ice and rocky facets that looked tricky. It'd be an out-and-back unless a final option further on looked ok.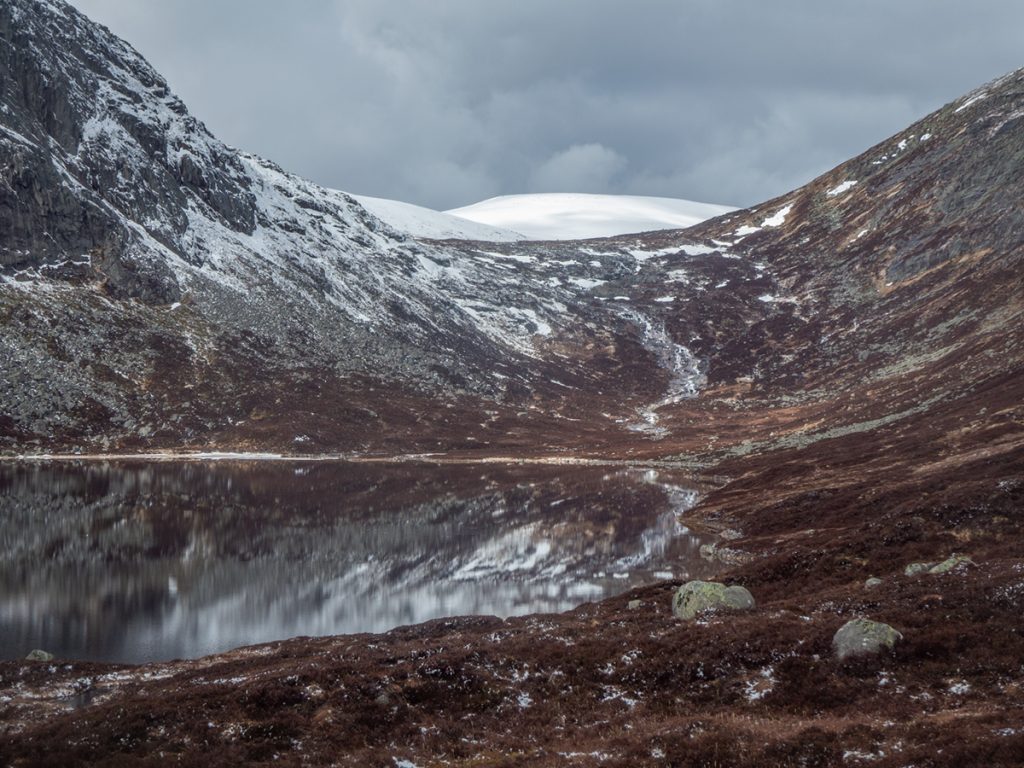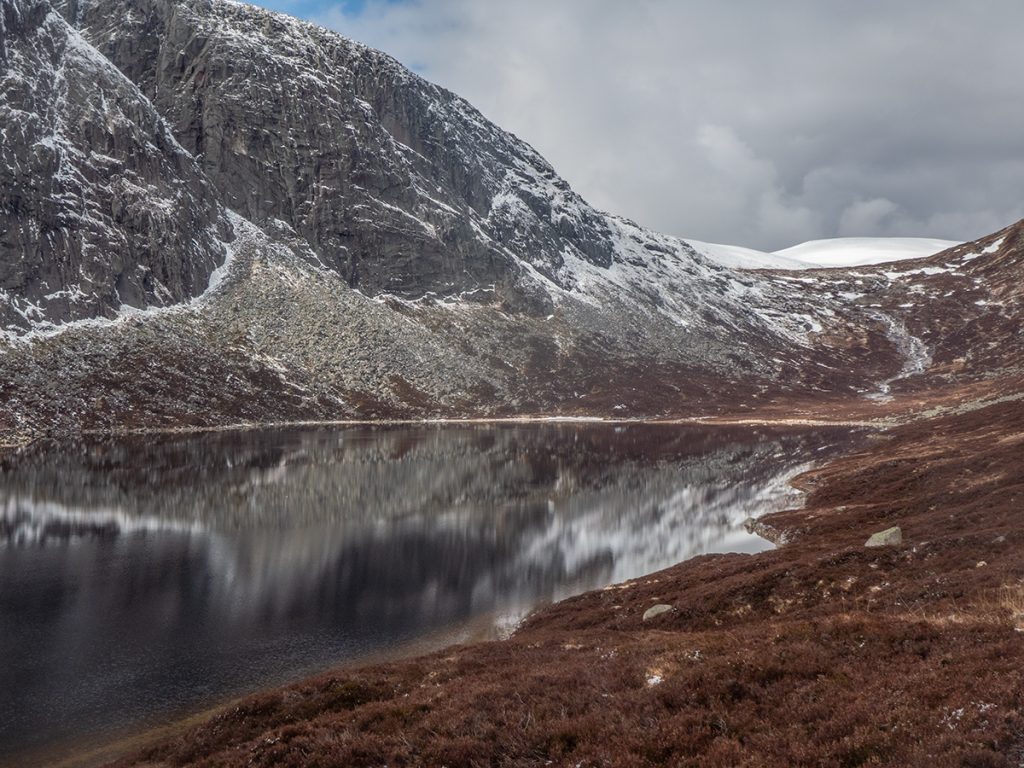 At the boulder field, I made my way down to the side of the loch for a closer look – there's a beach and a patch of flat grassy terrain at the head of the loch that'd probably be a nice camp spot. In amongst the boulders and reflections there's a great photo composition waiting, not enough time to fully explore today.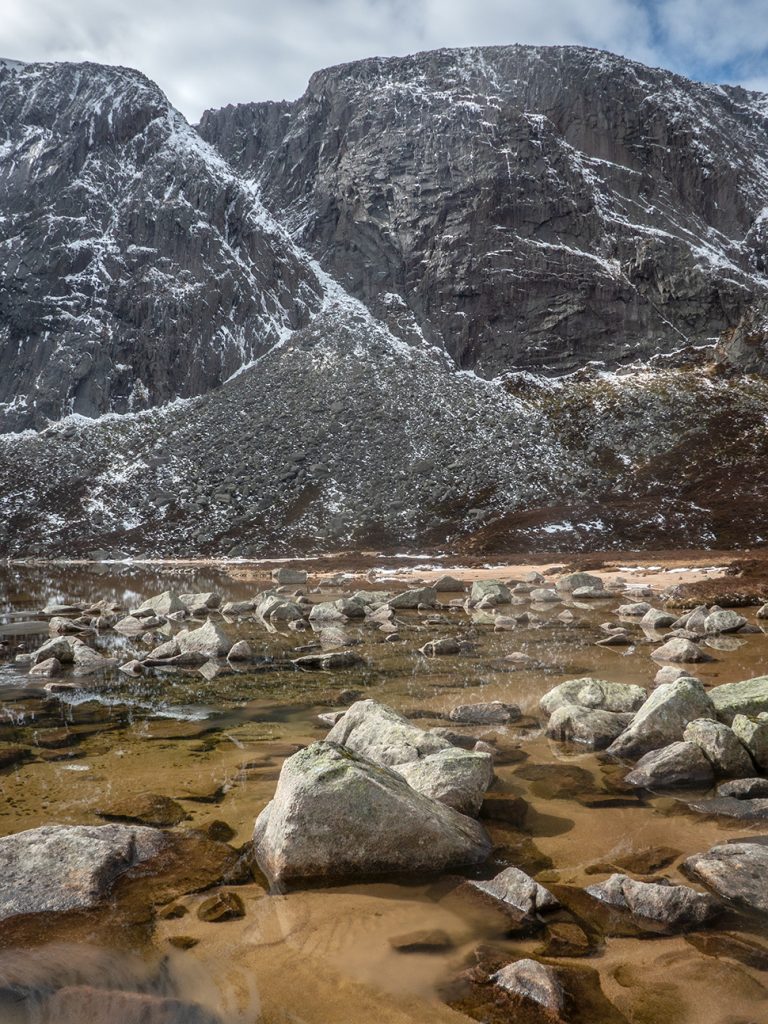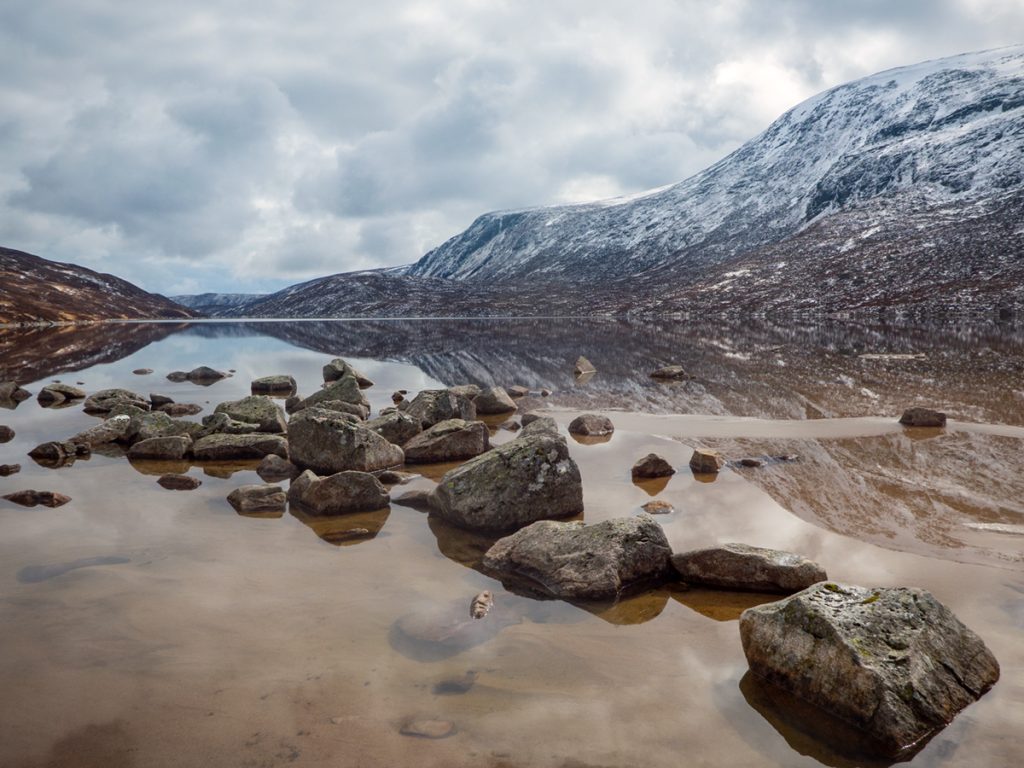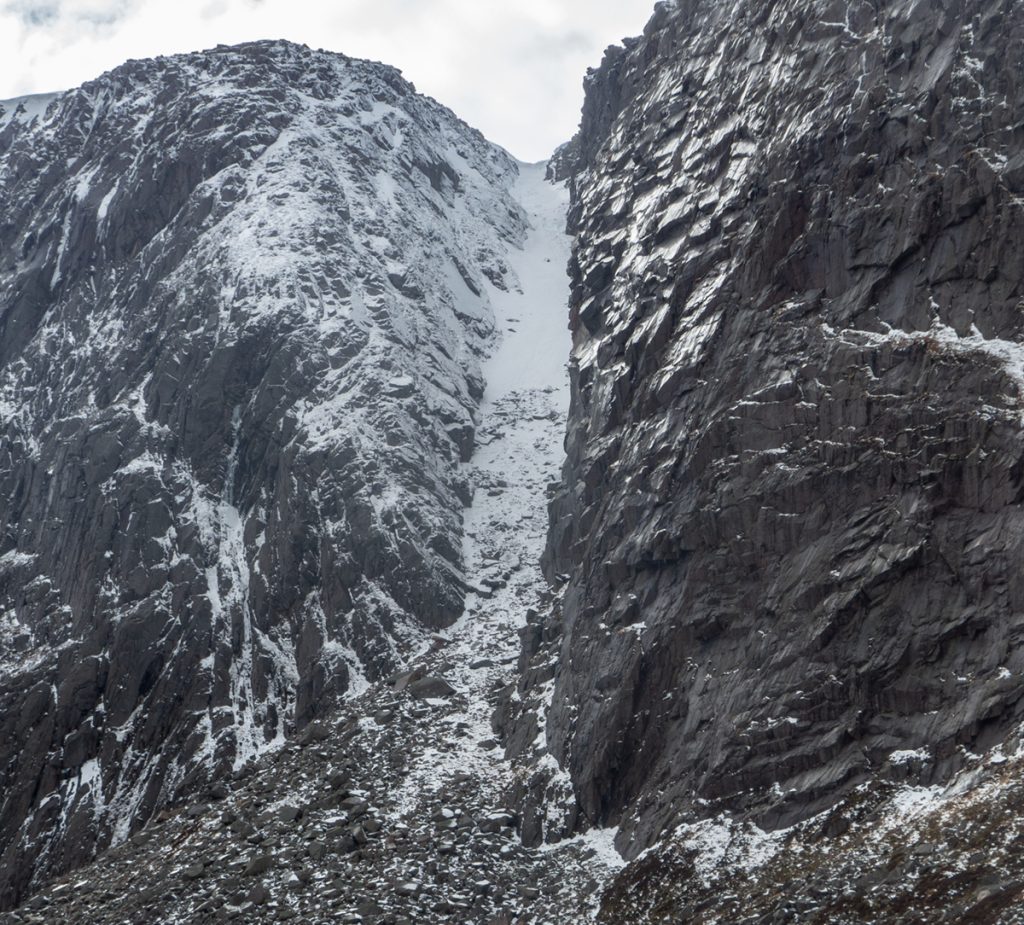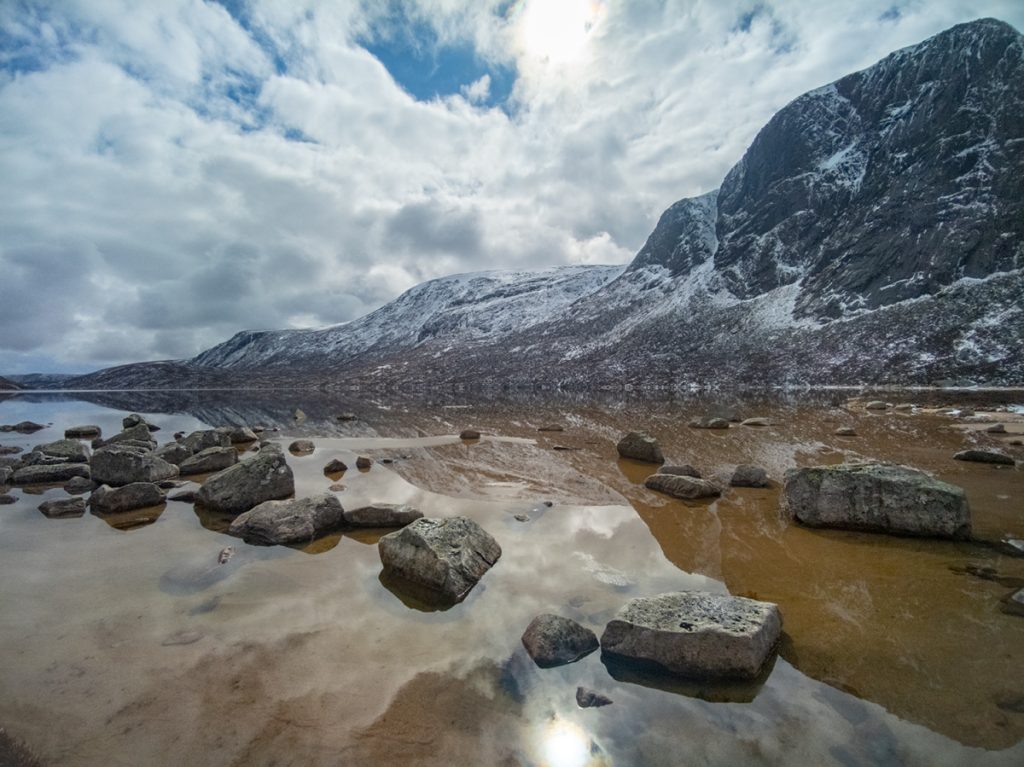 At the head of the loch, there's a long series of rocky slabs the burn cascades over, previous times I'd forged a path further away but there is a scrape of a trail right beside the burn, and well worth pursuing closely as it occasionally disappears while winding around rocky nooks as the views are great: today it's a symphony of rock, snow and water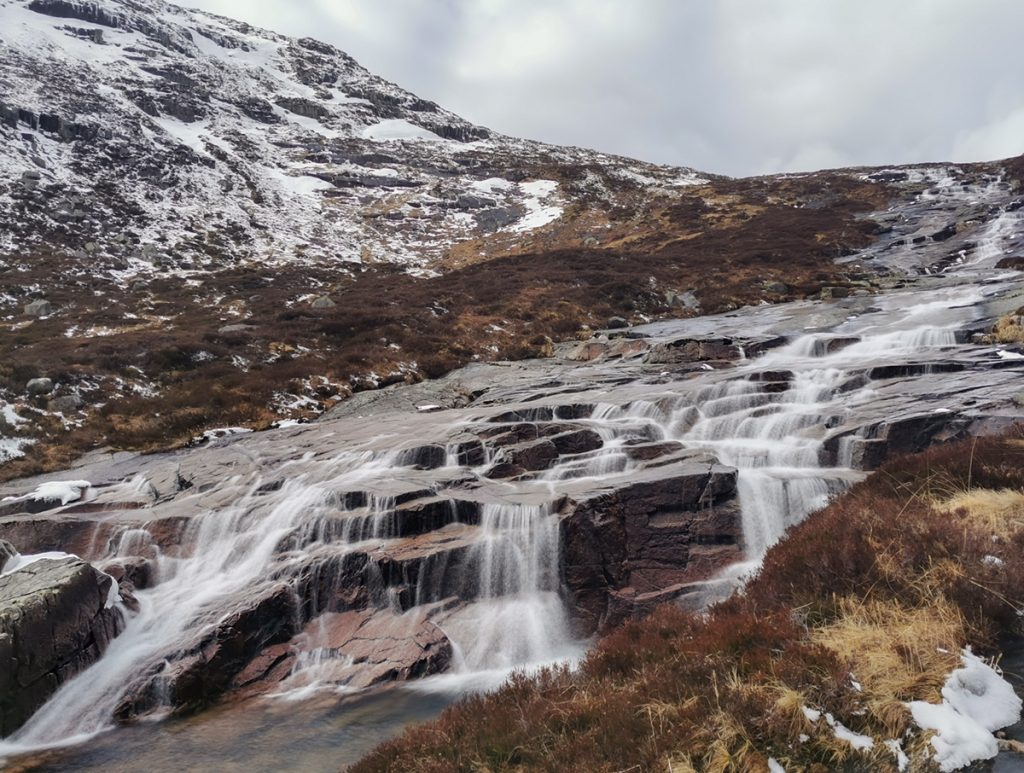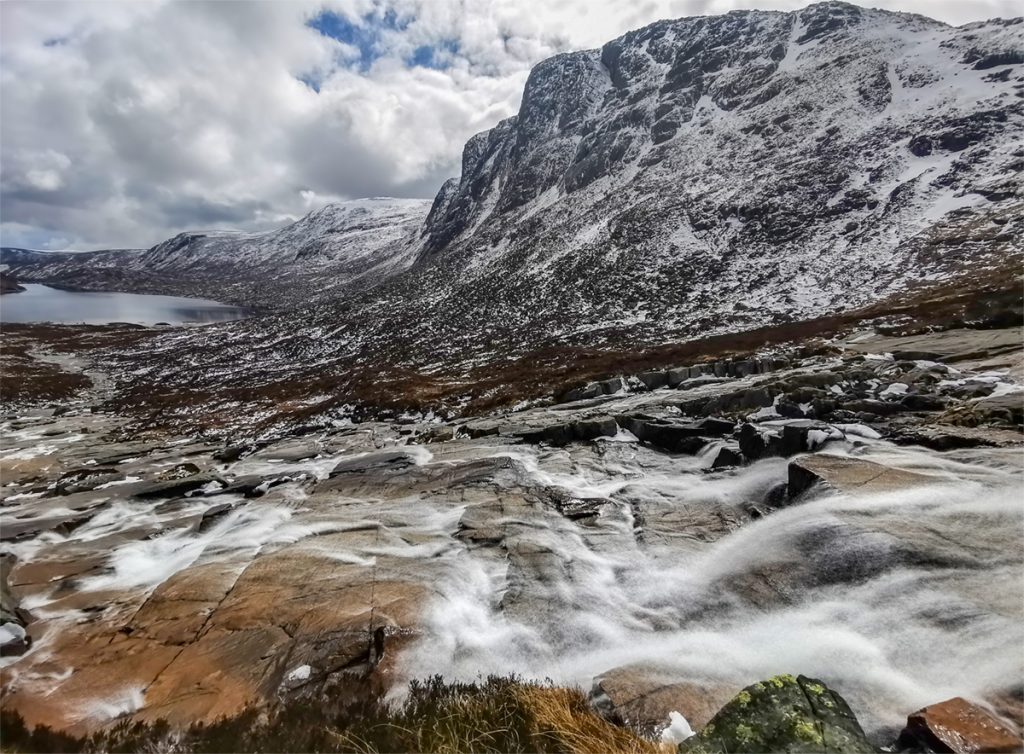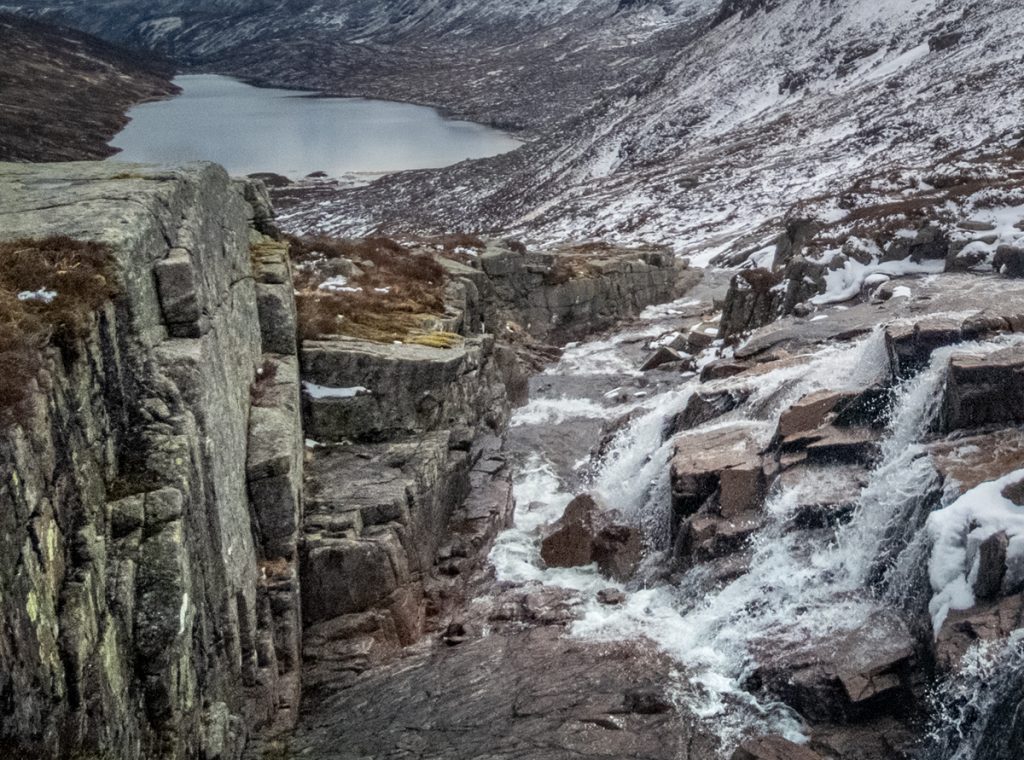 Reaching the top the water is now placid; a slow snake through pools and bog. There is however a line of attack hidden, an old fence remnant that has chunks of brickwork here and there allowing easy stepping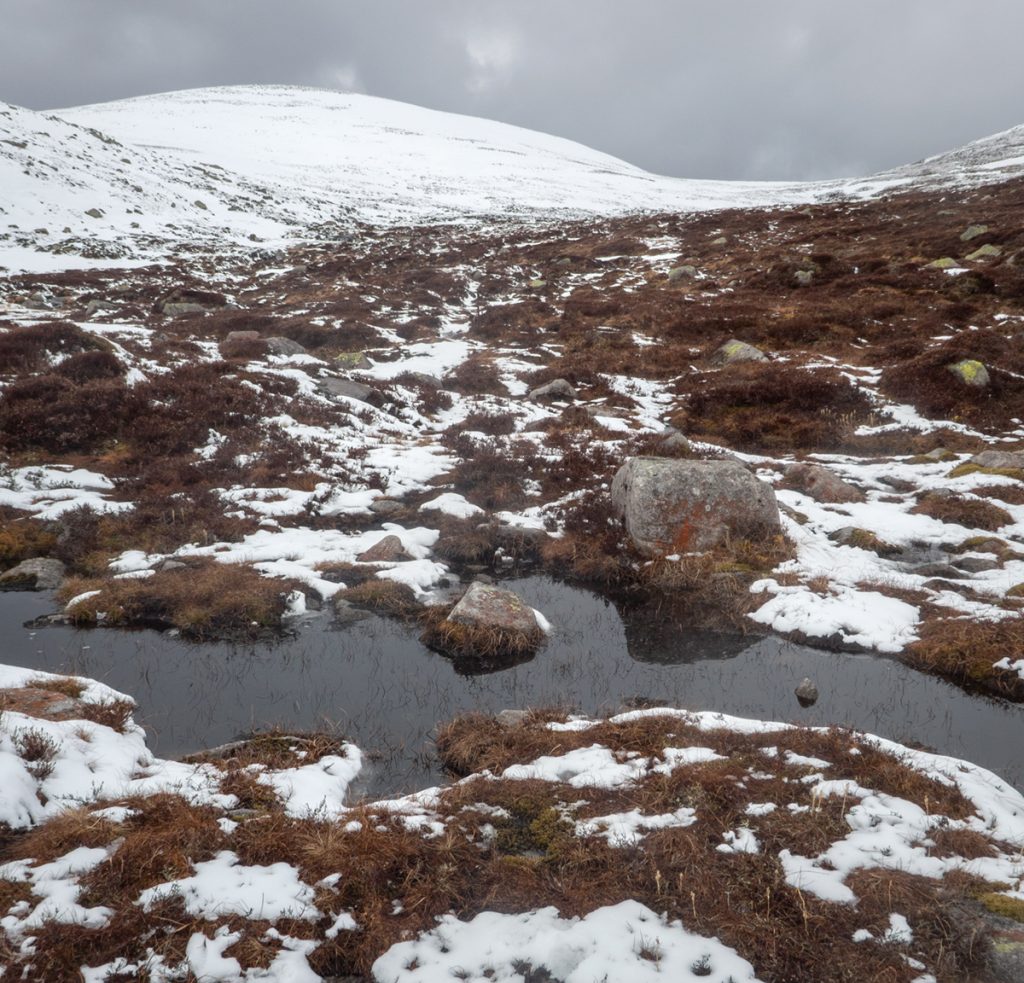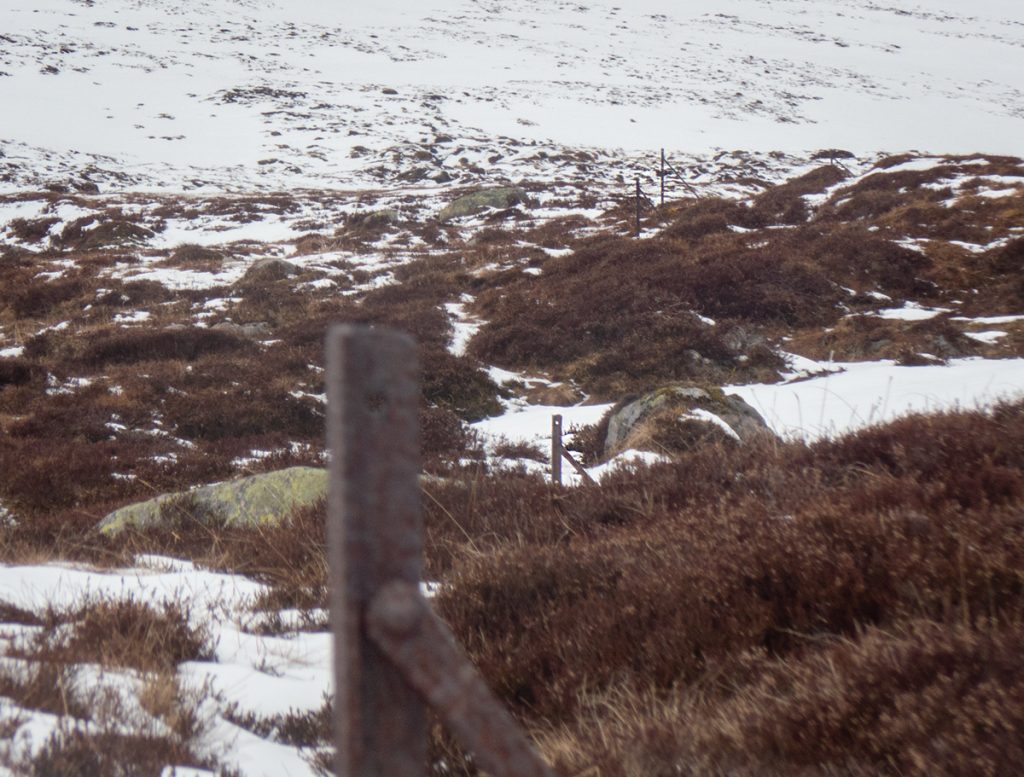 Looking back behind Creag an Dubh loch, there's a gully, Coire Uilleam Mhoire ("Muckle Willy"), that looks to be a good descent from Cairn Bannoch for later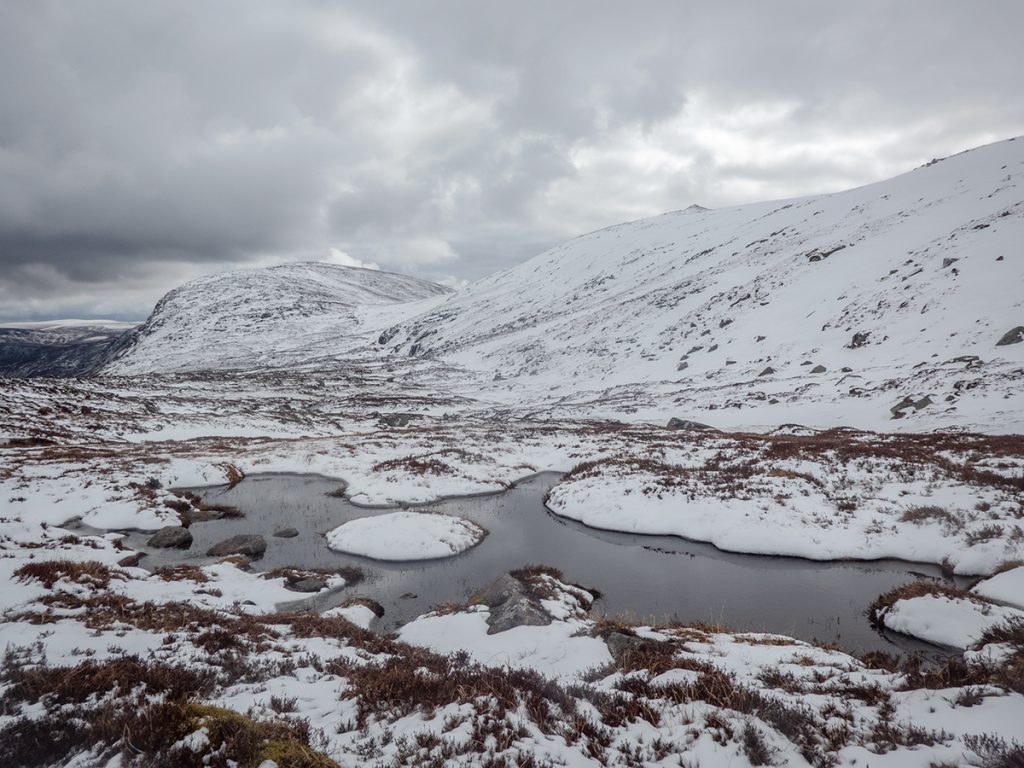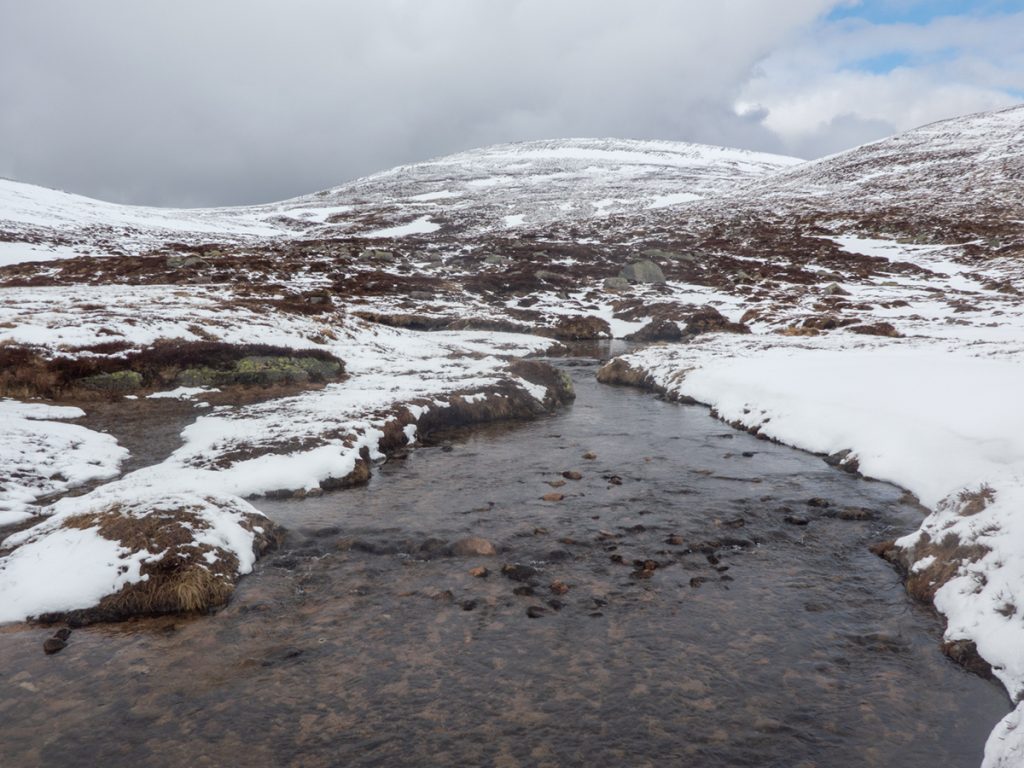 On the map the north-east side of Cairn Bannoch is a jumble of rocky layers, and closer inspection shows what we'd weave through, so head around further to where the slope lessens.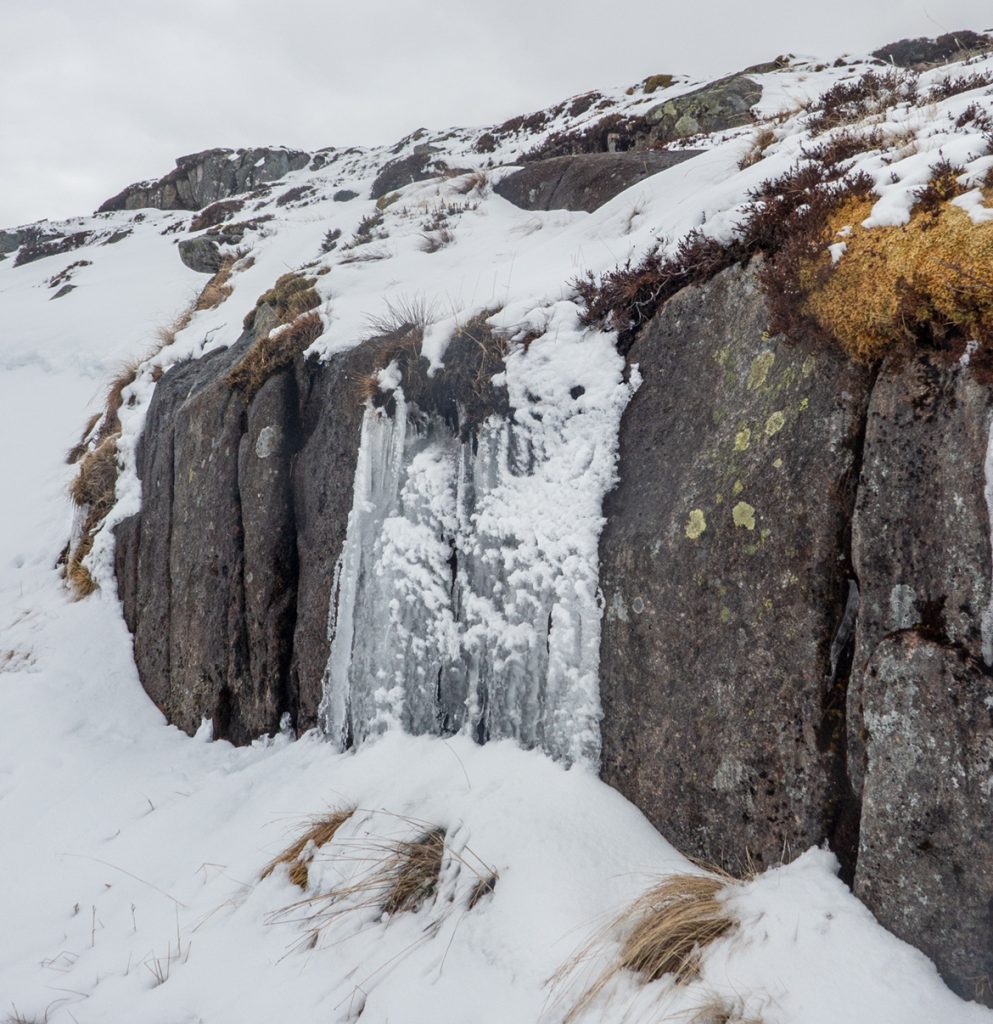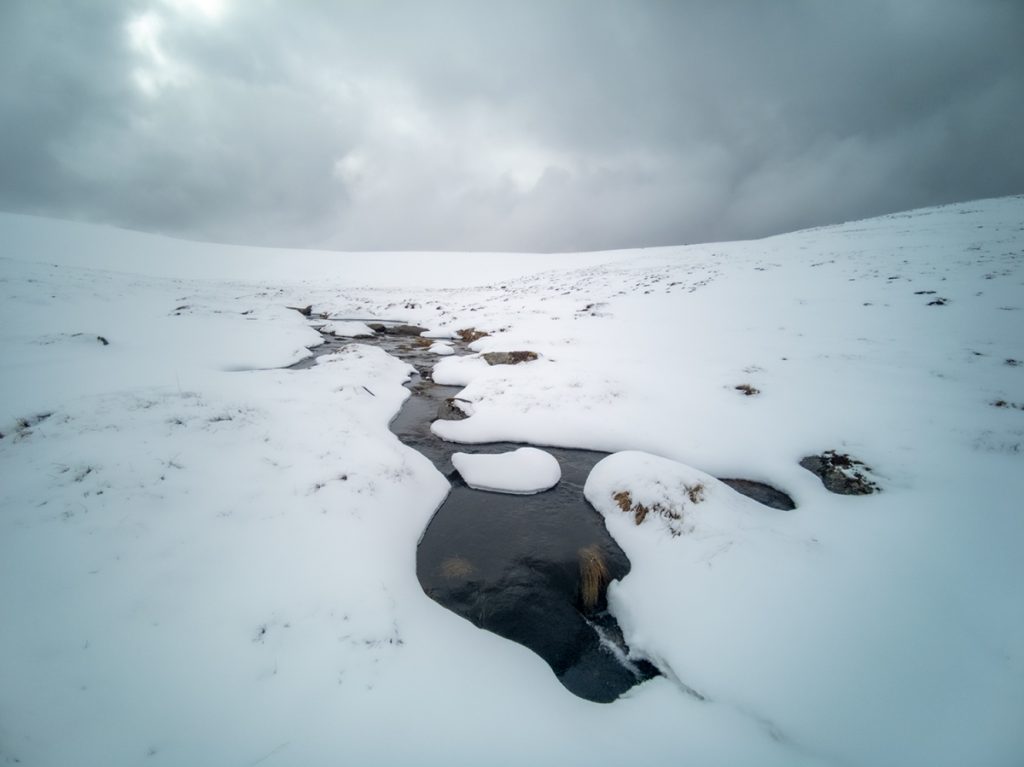 Underfoot, I now felt the clunk of some old snow: rock hard, and the half-a-foot of recent snowfall slides off it easily, wouldn't particularly want to be on steeper ground with that condition, but easy slopes from here to the top.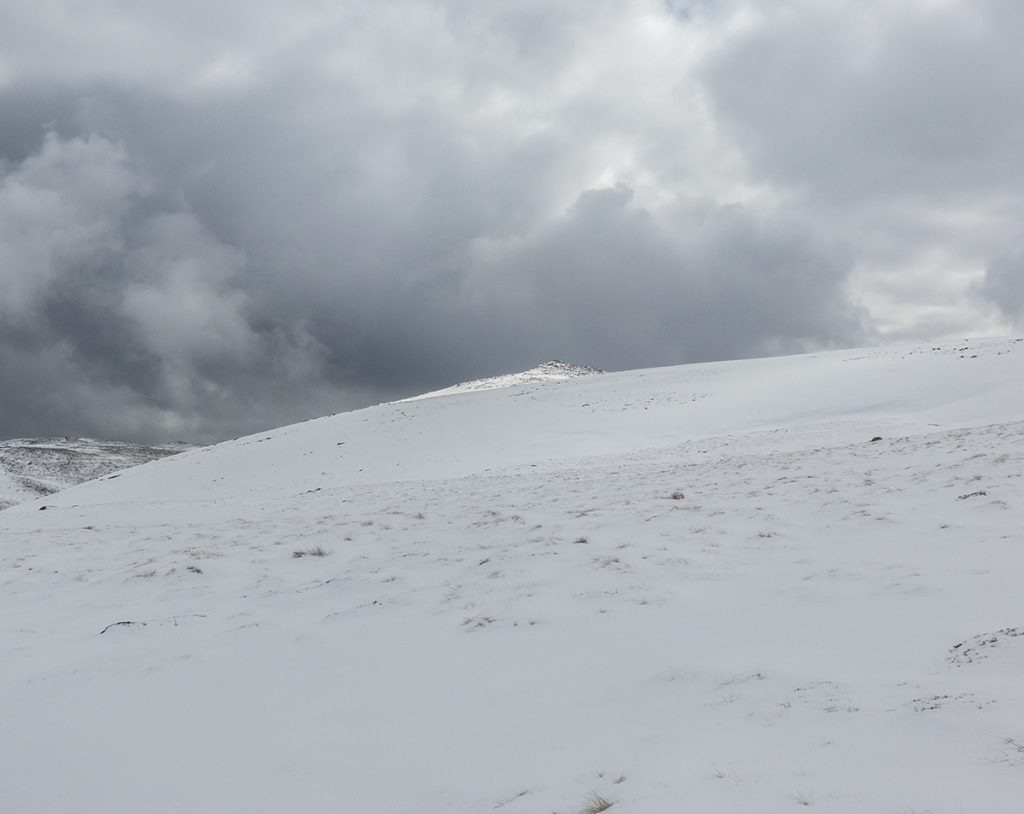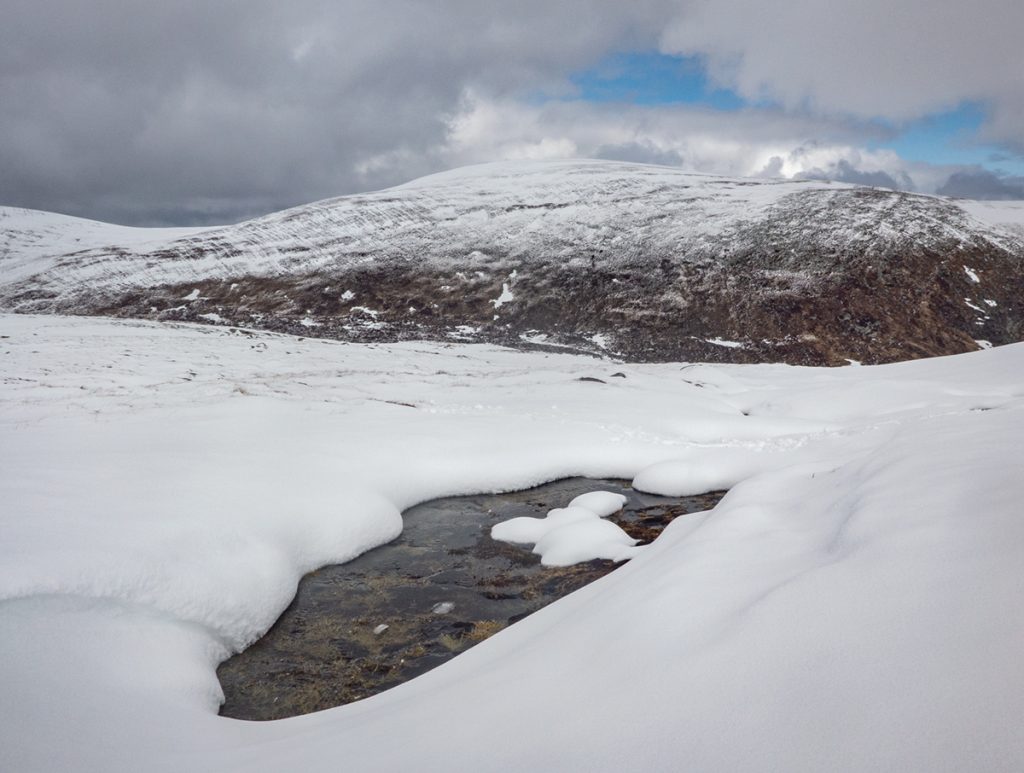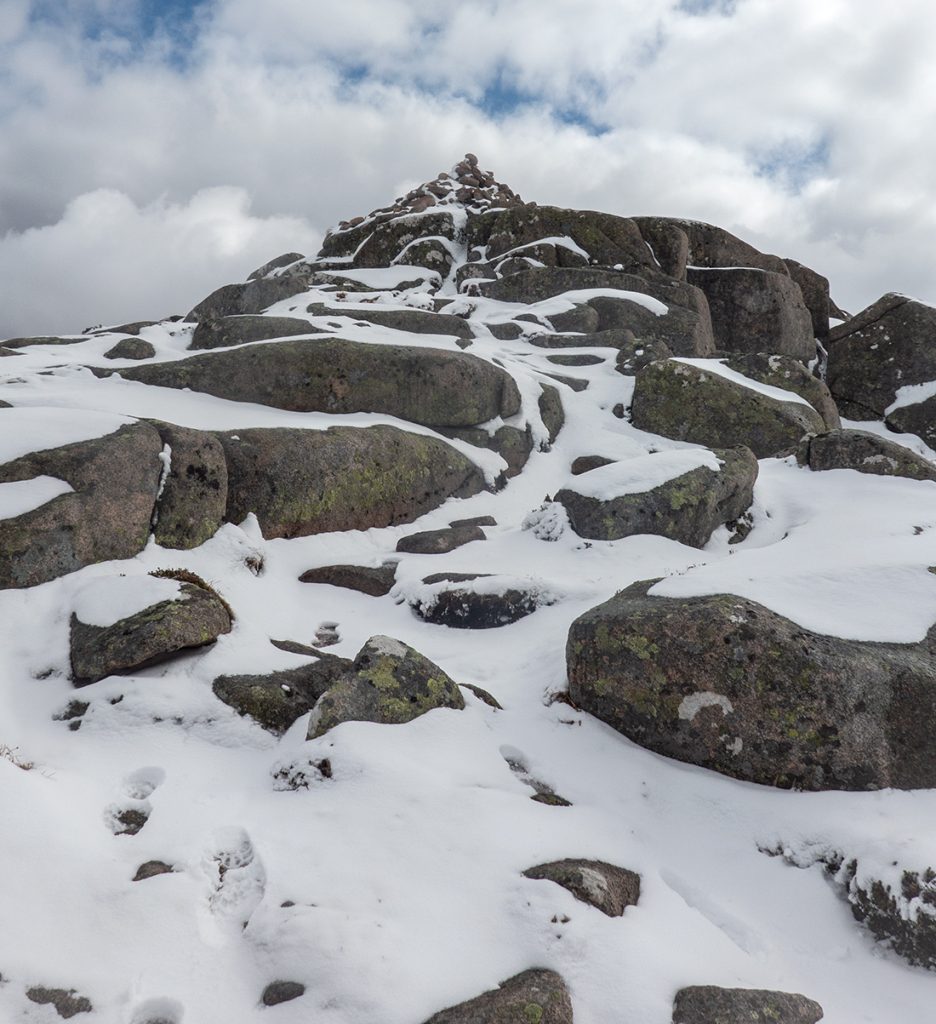 It's extremely still today and although below zero, feels almost warm without any windchill. Lunch is taken while taking in the views.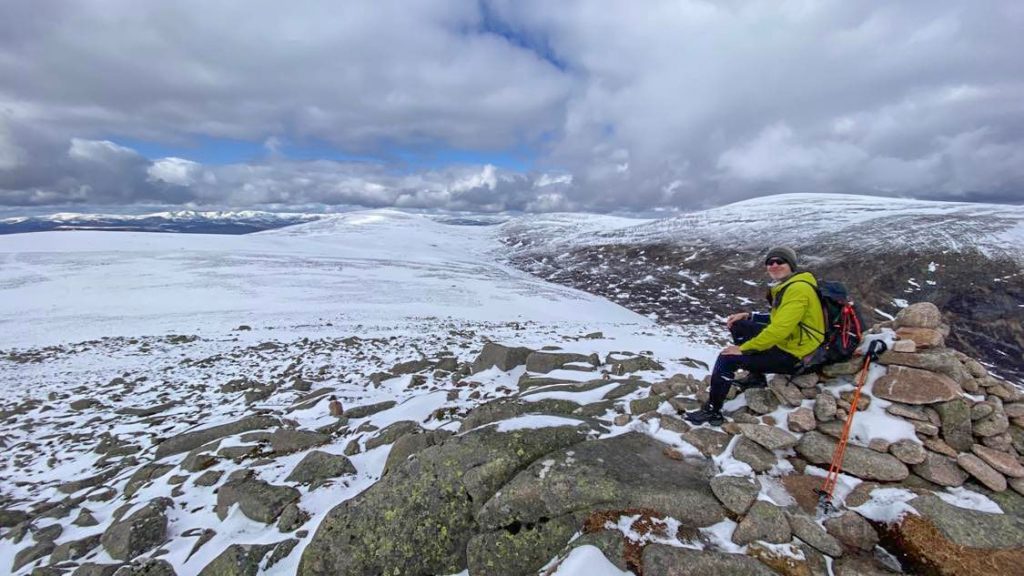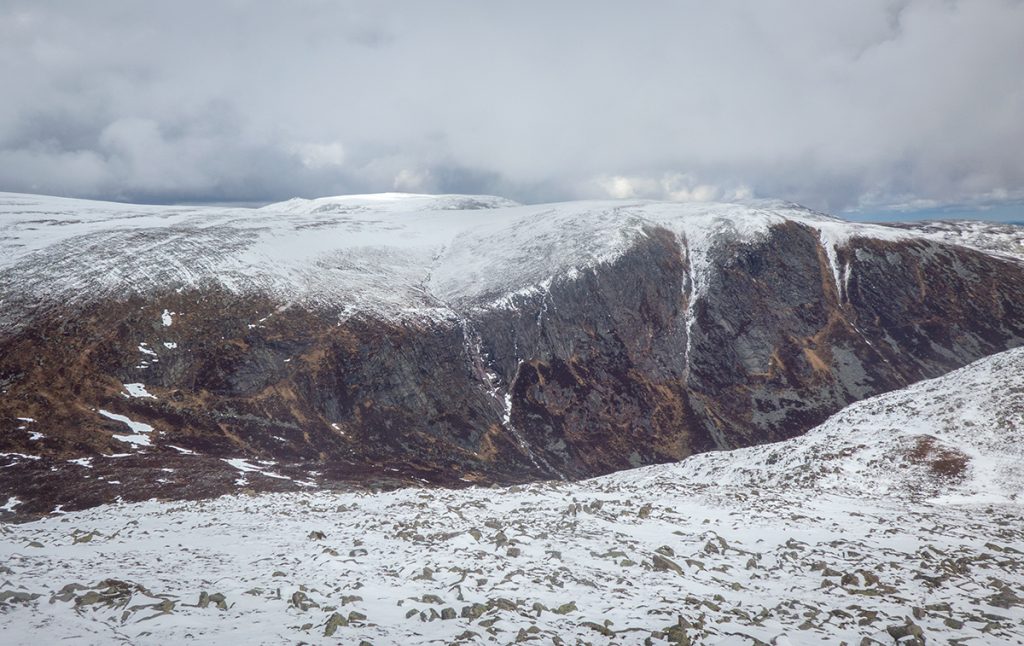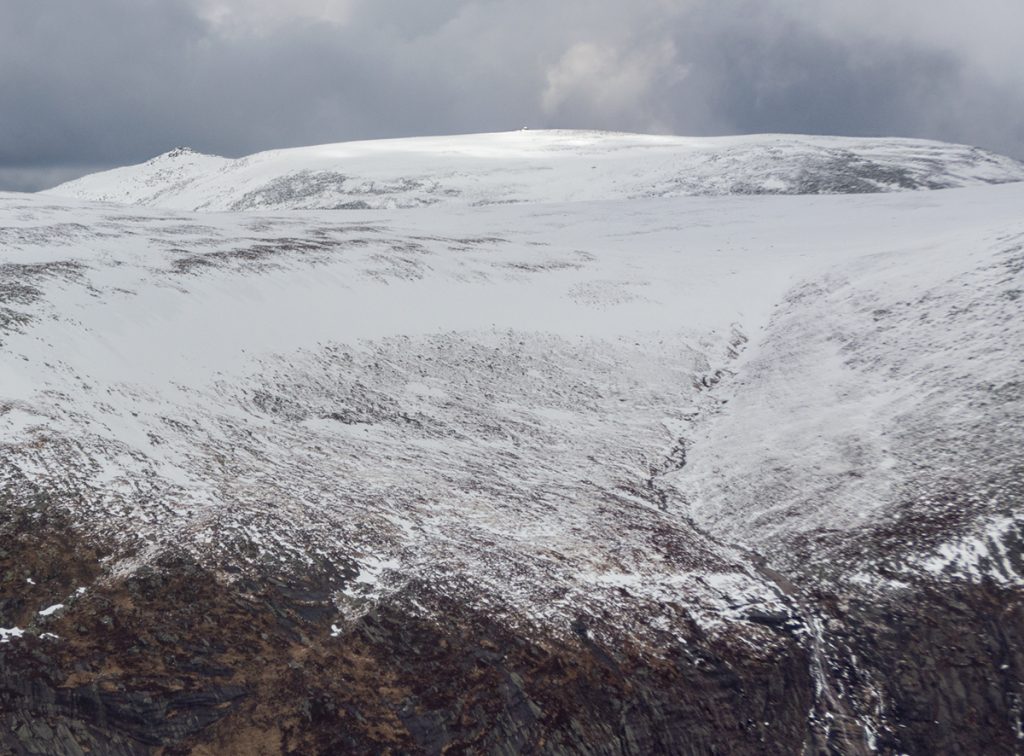 I'd though about continuing to Broad Cairn, but there's been some patches of deeper snow which have slowed progress a bit and happy to look for a route down.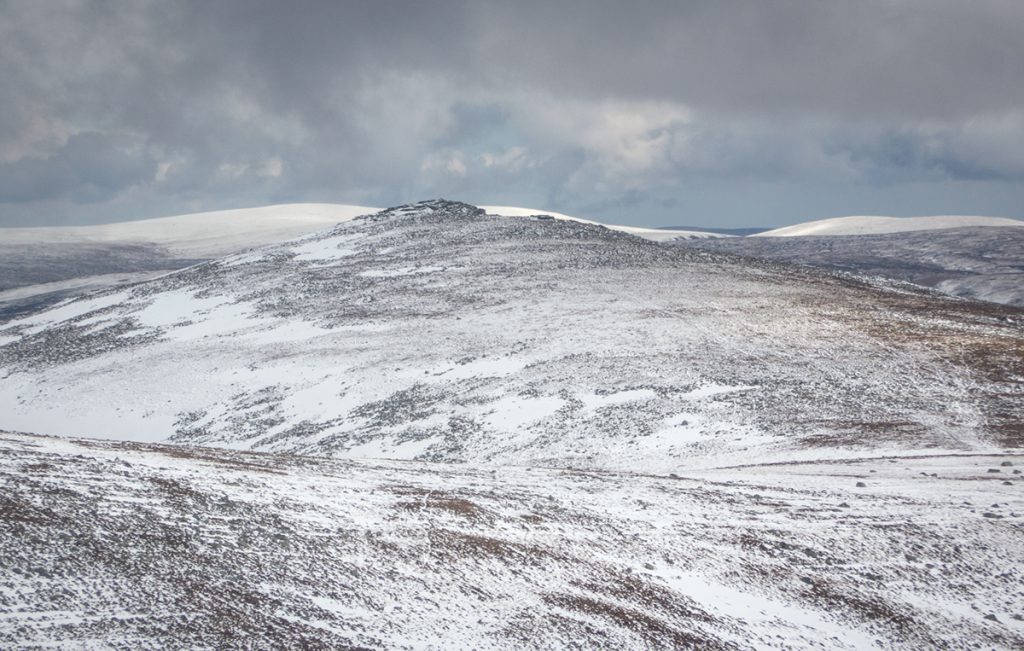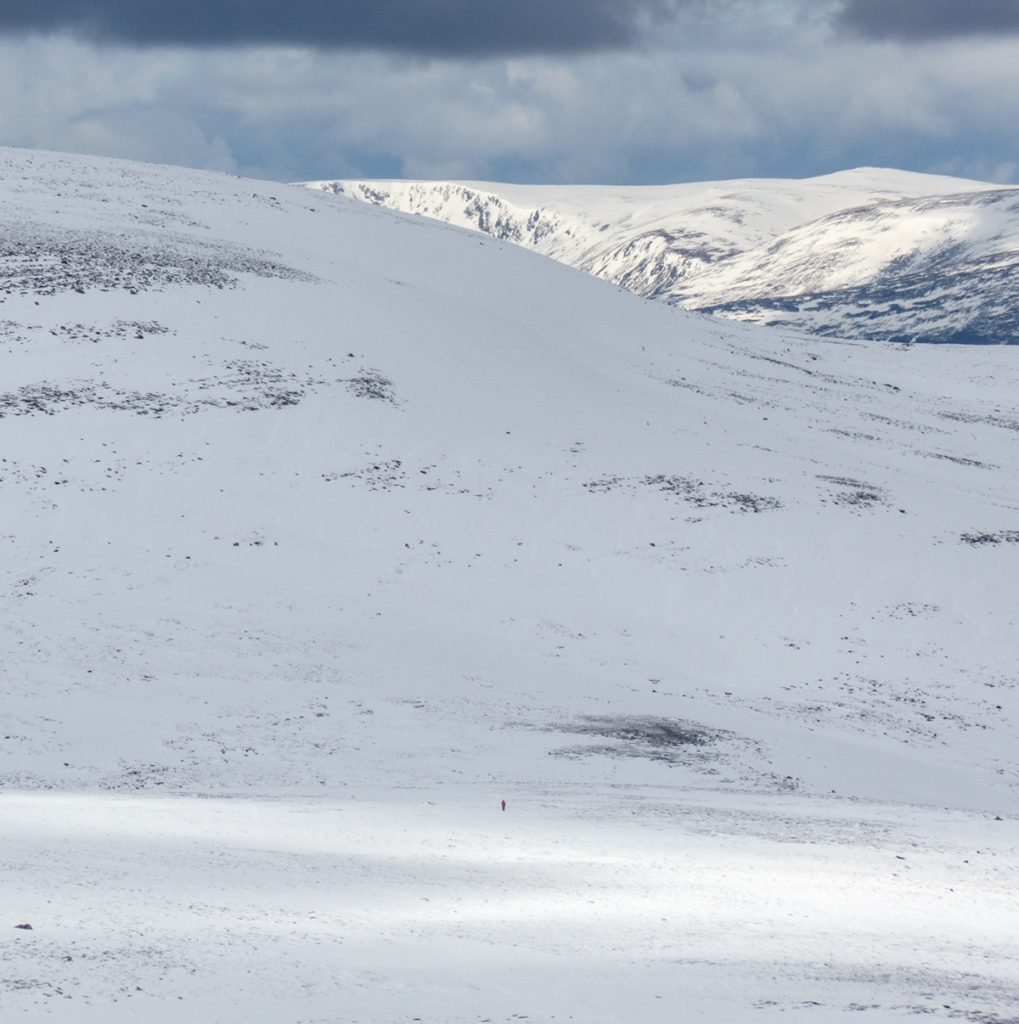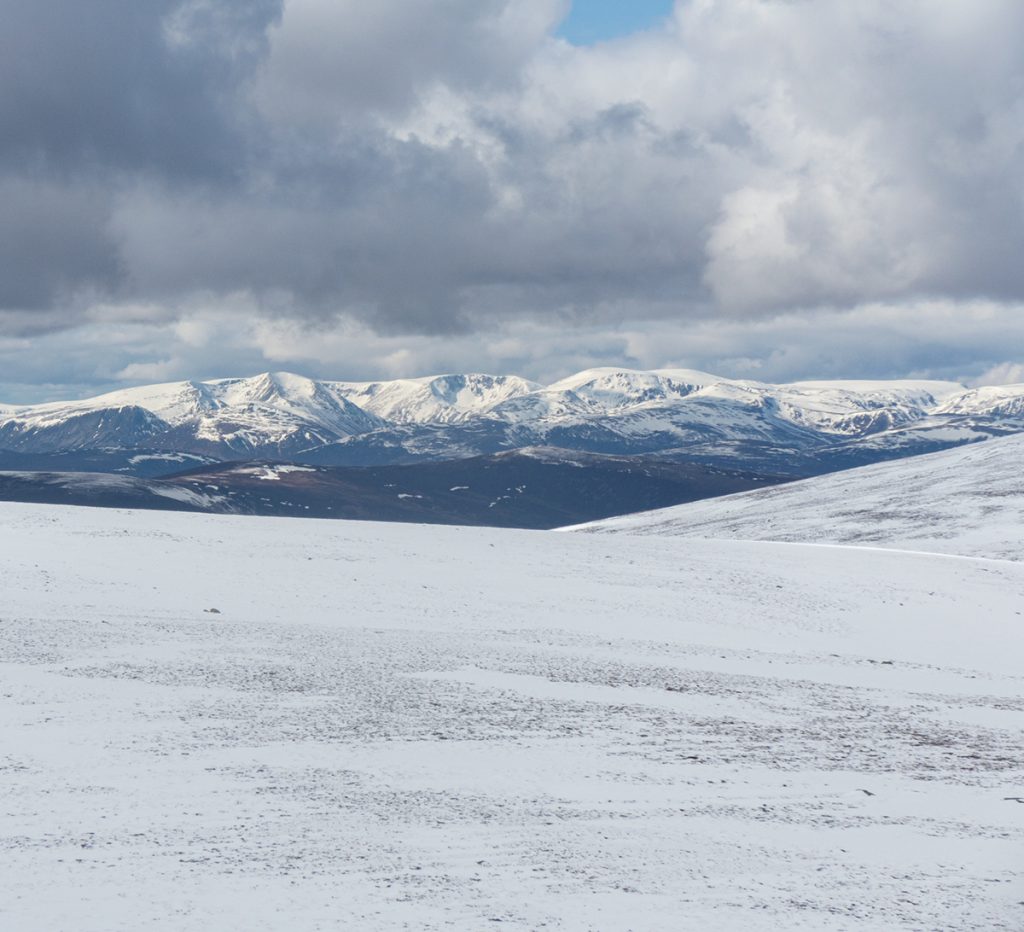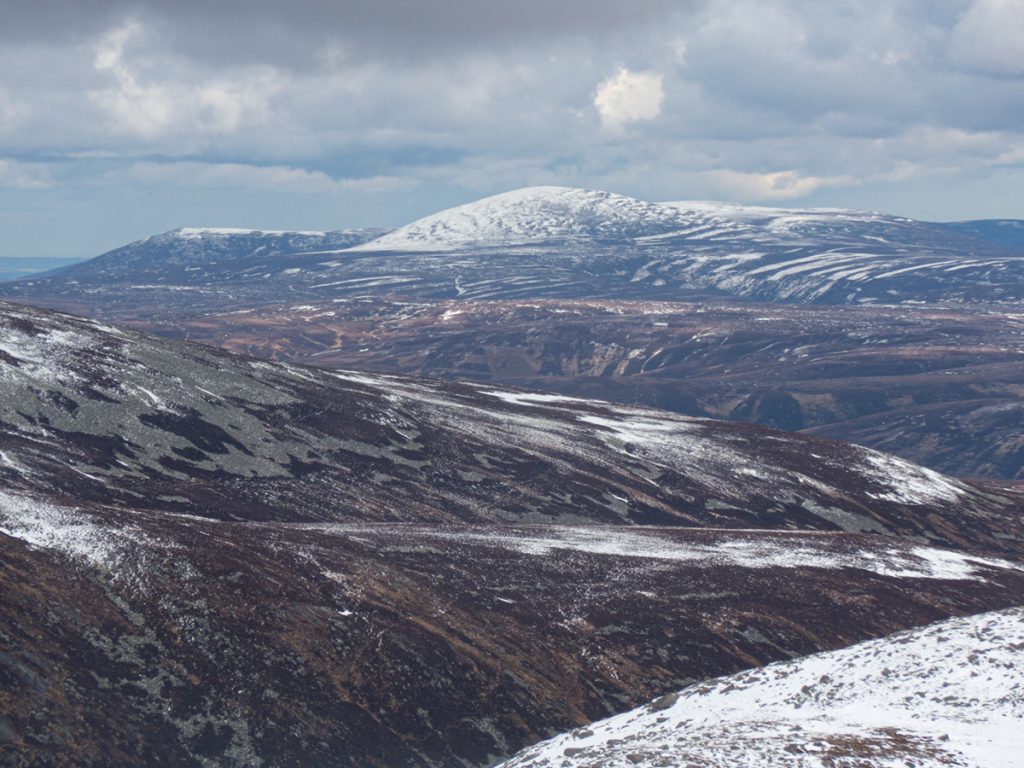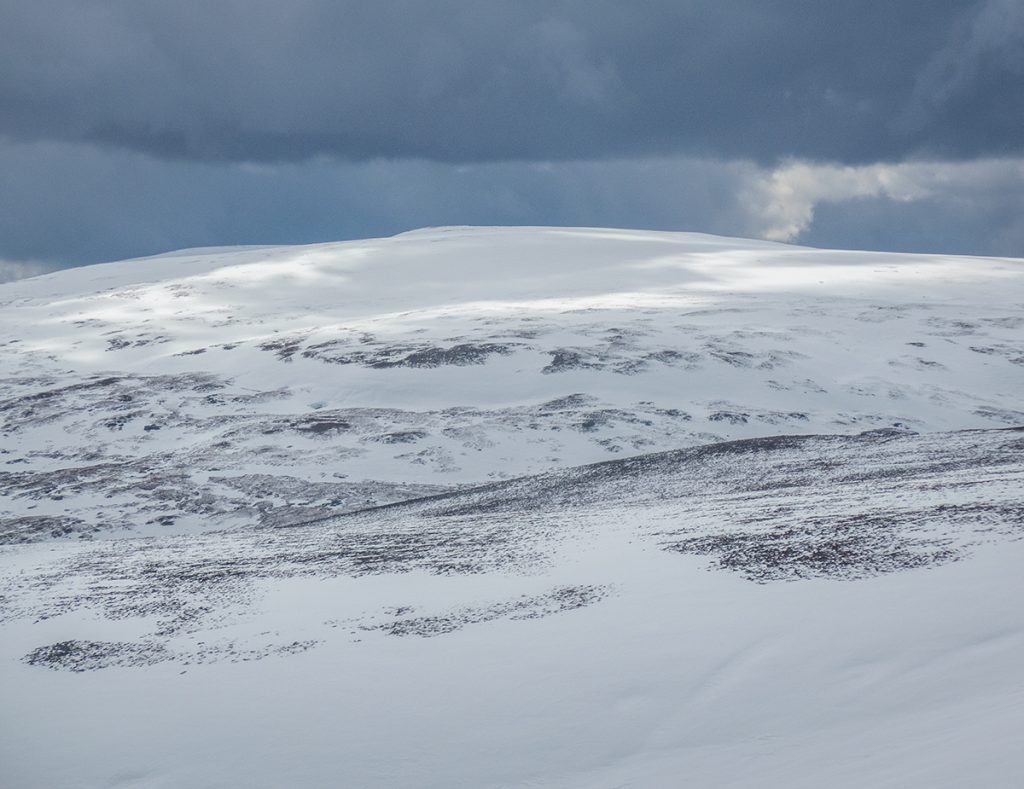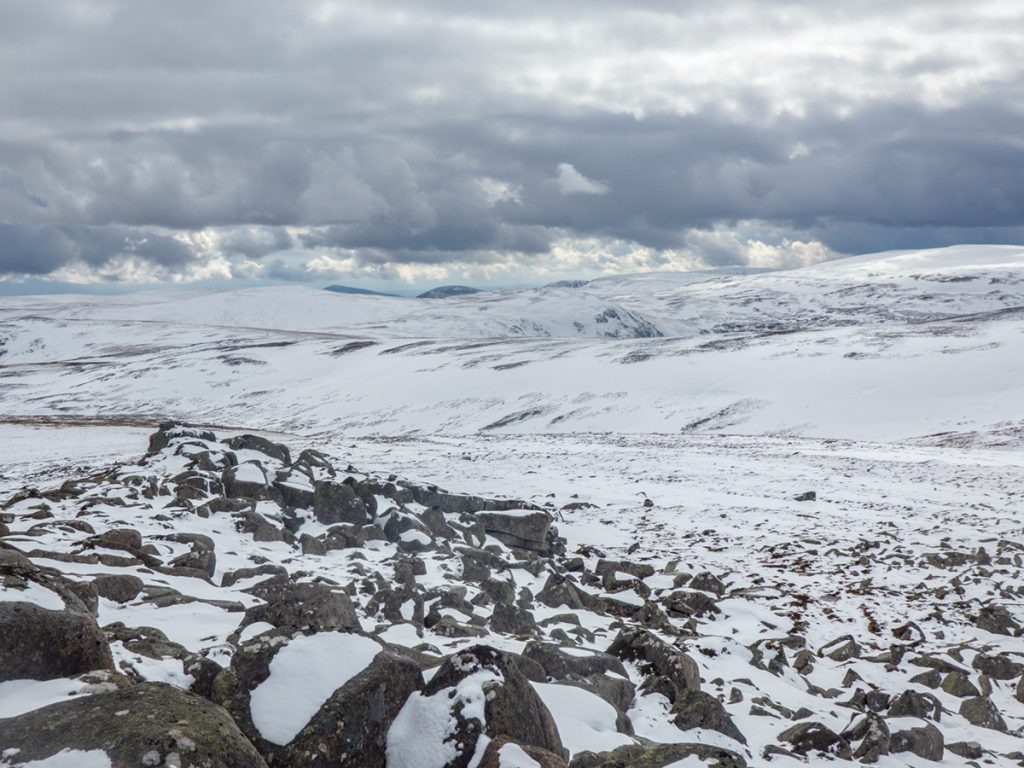 With the snow conditions earlier, decide against the shortest route down to Coire Uilleam, as it gets steep enough to be on the cusp of avalanchy. A hare pops up close and hammers it down, no concerns for those wee fellas.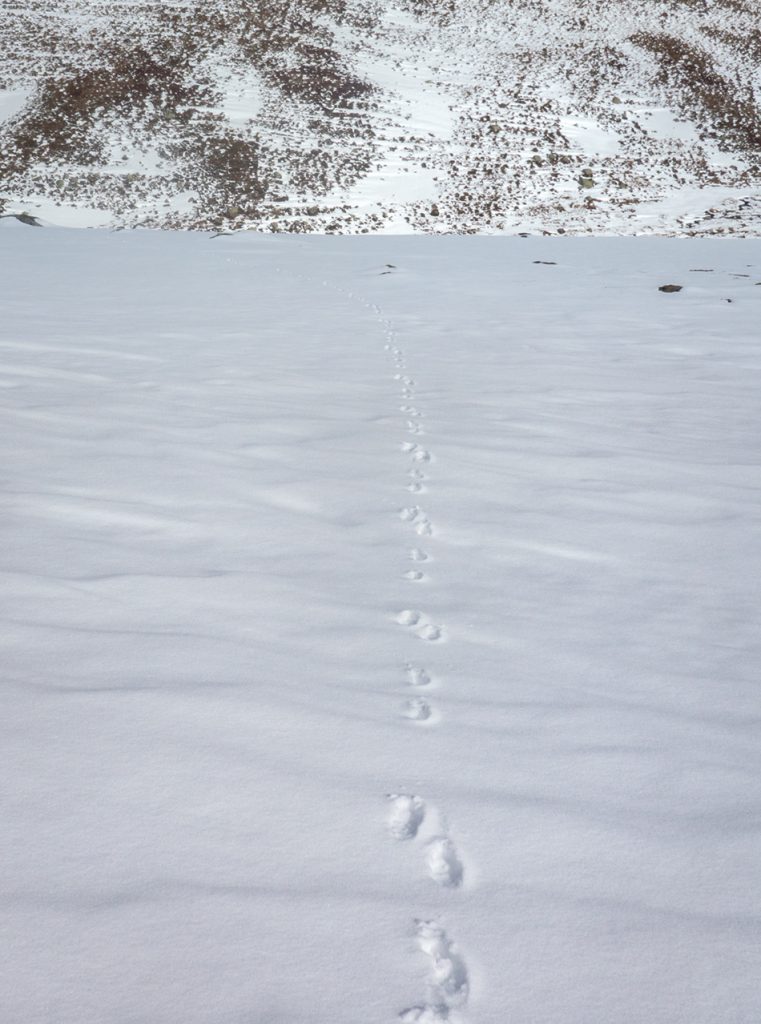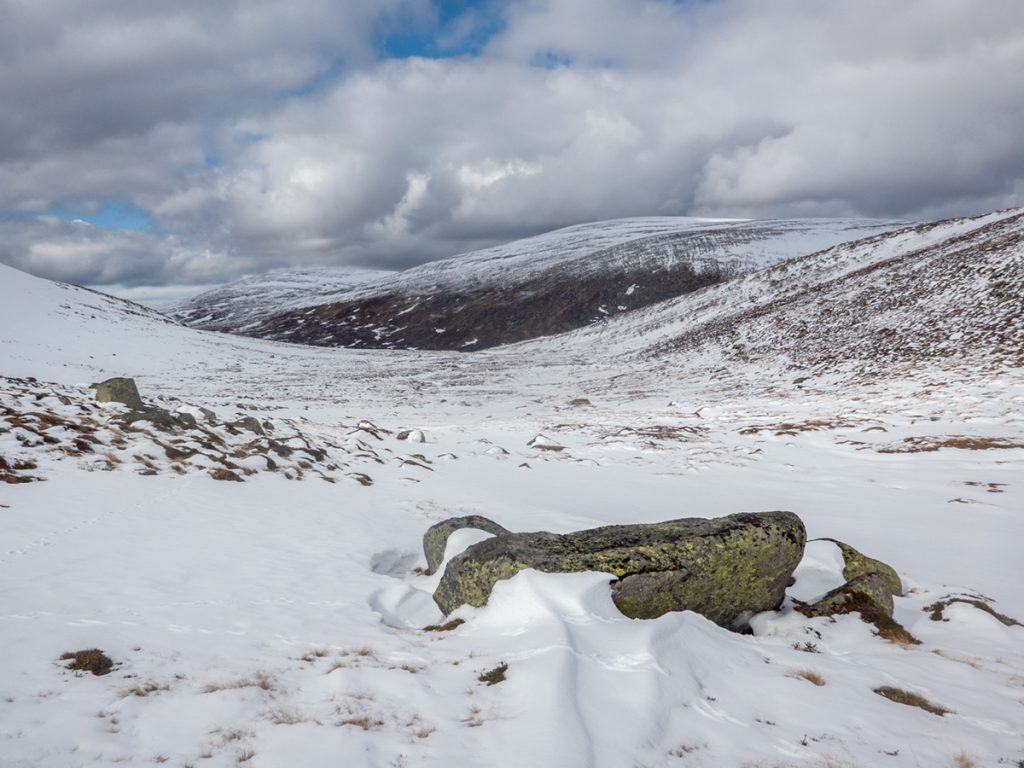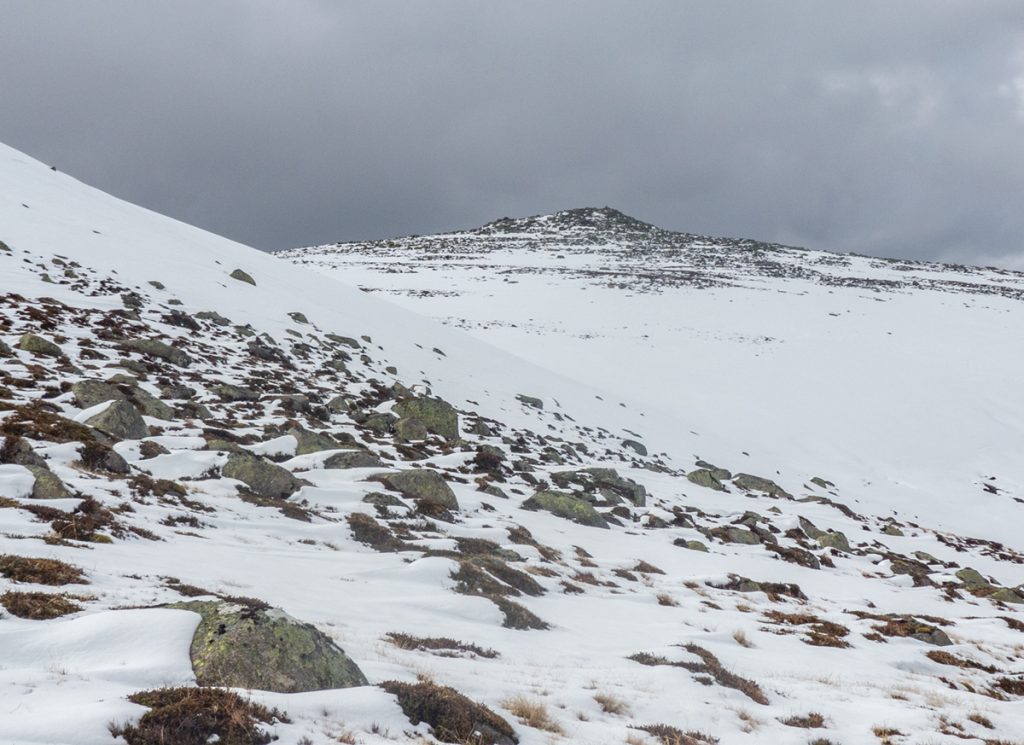 In places the burn dives in and out of snow cover, sculpting swooshes and edges. One wonders who 'Muckle Willy was and what brought him to this coire.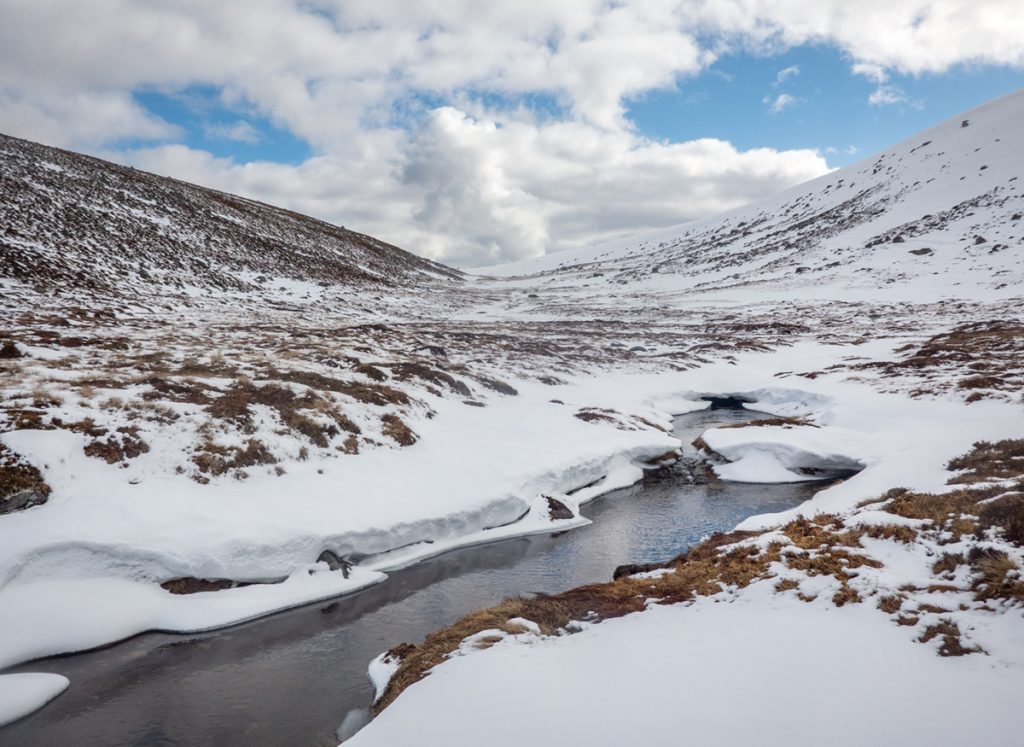 Once a bit further down, looking back reveals some hazardous terrain that we were best to skirt around: large cornices and rocky drops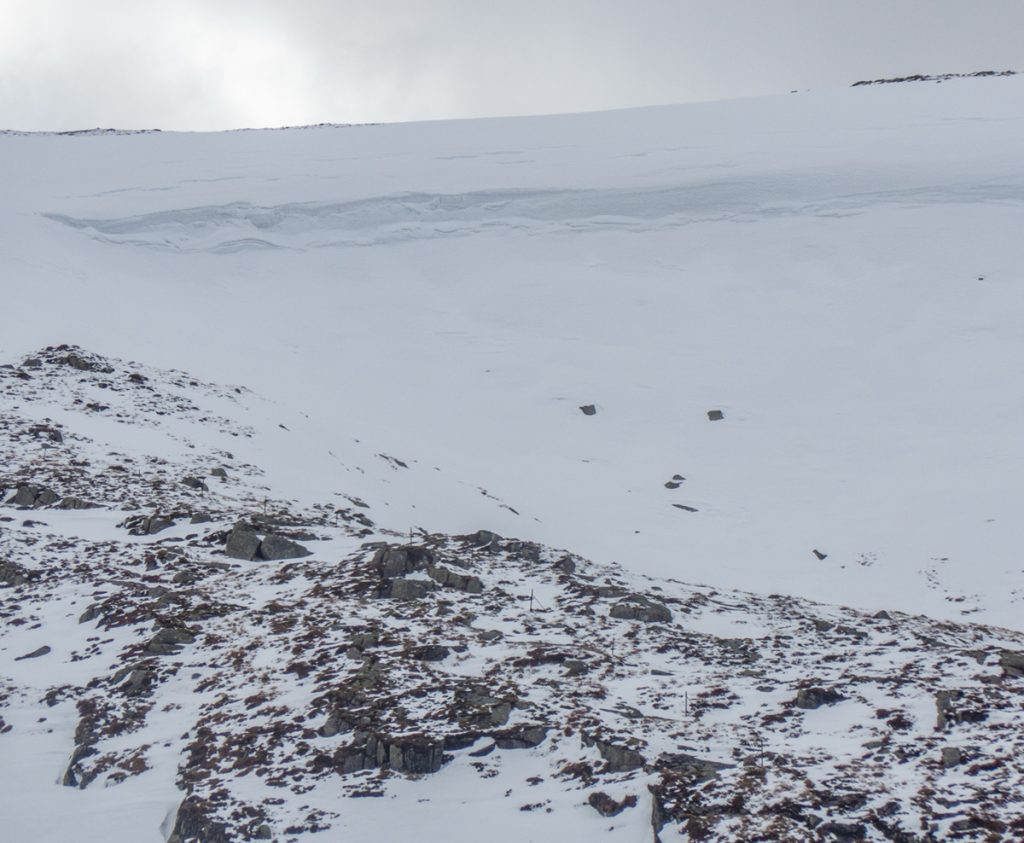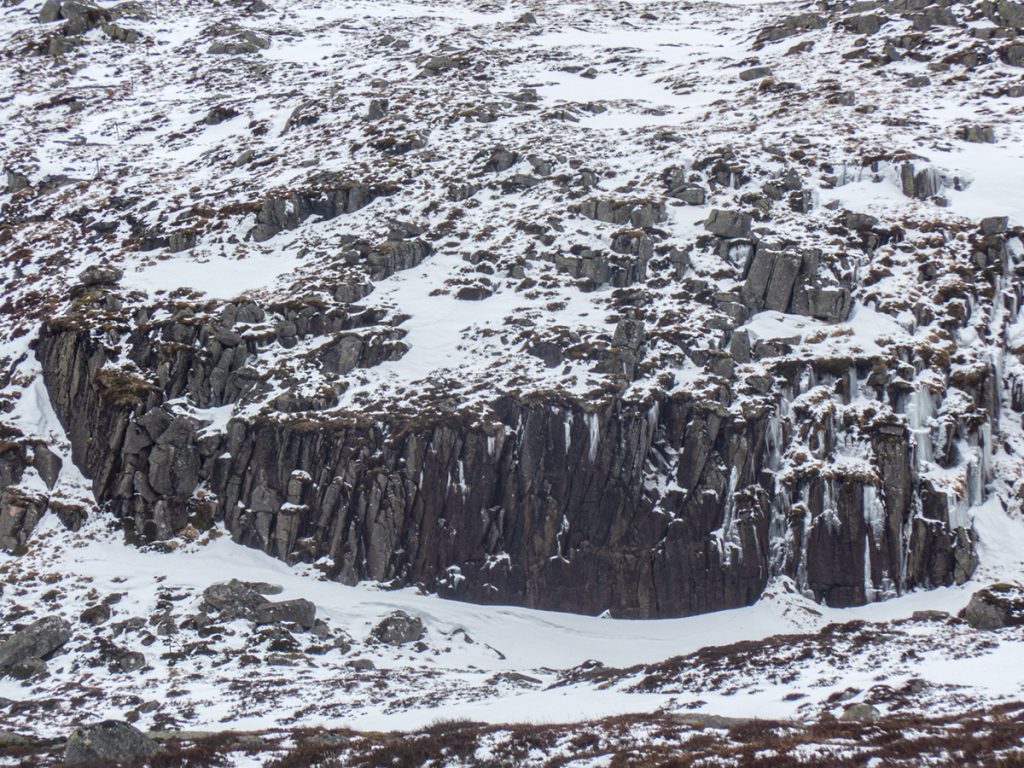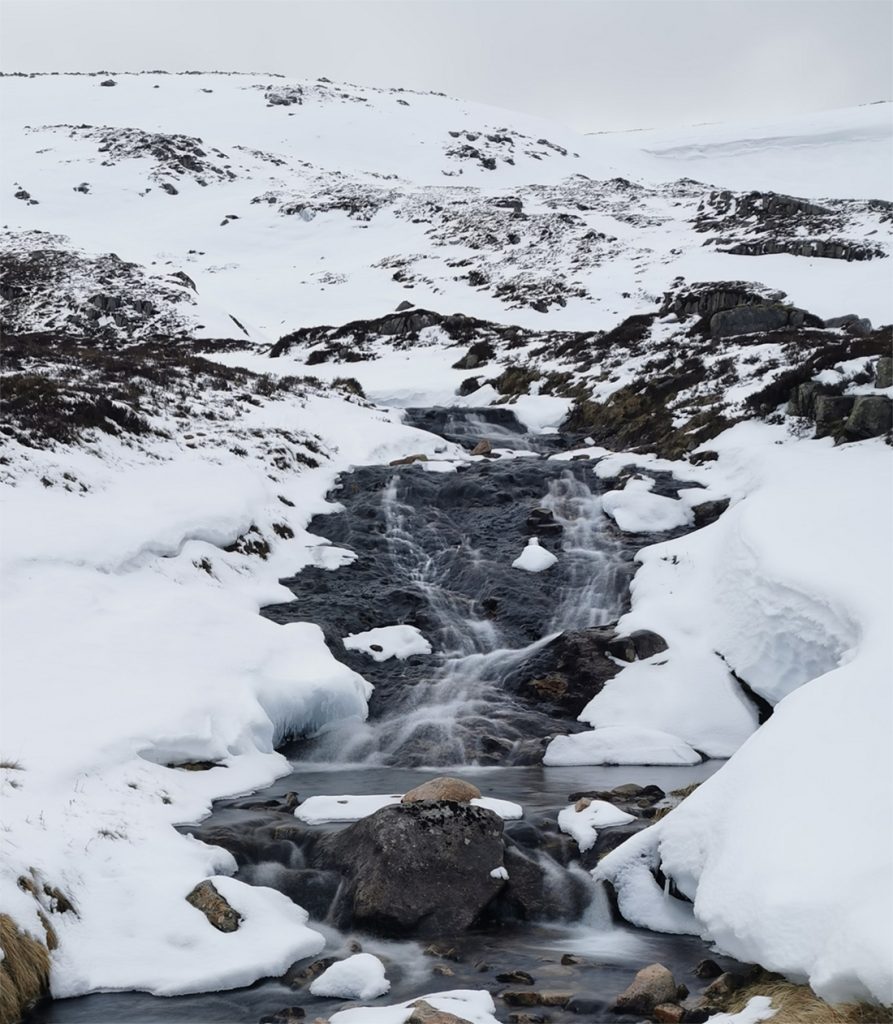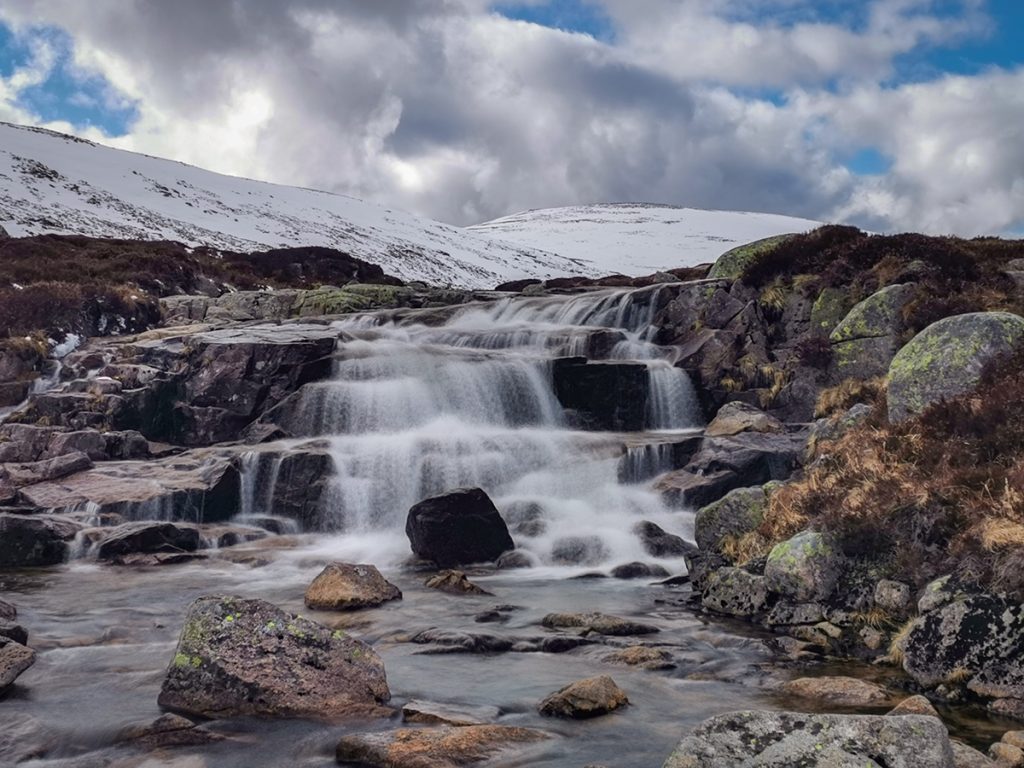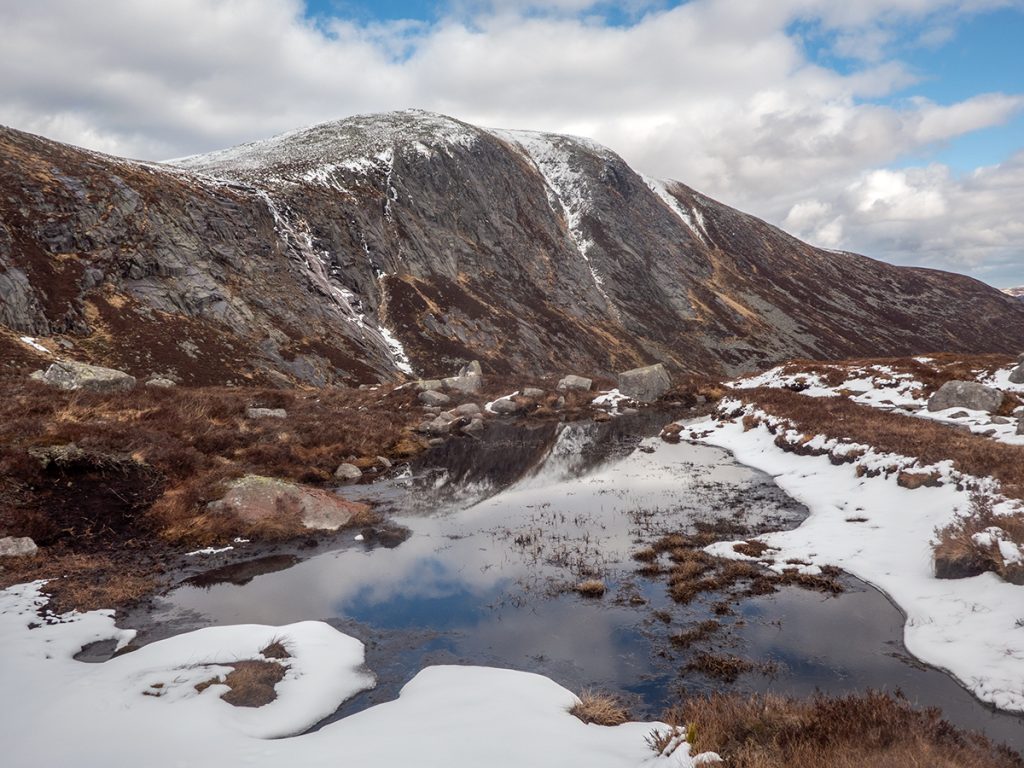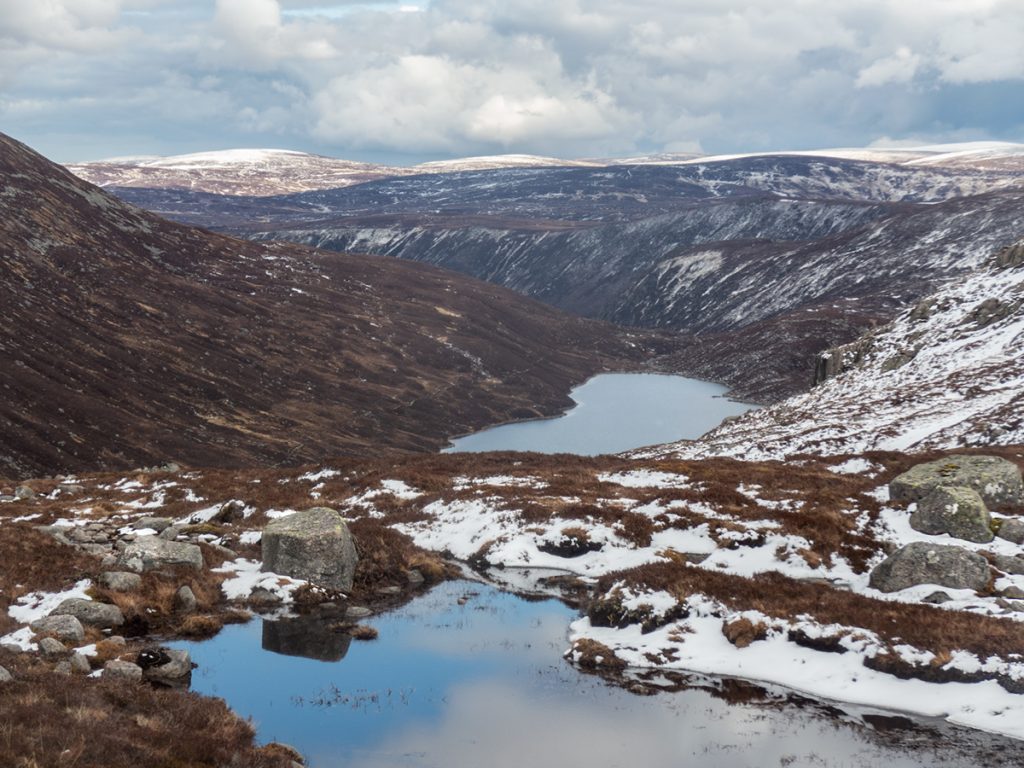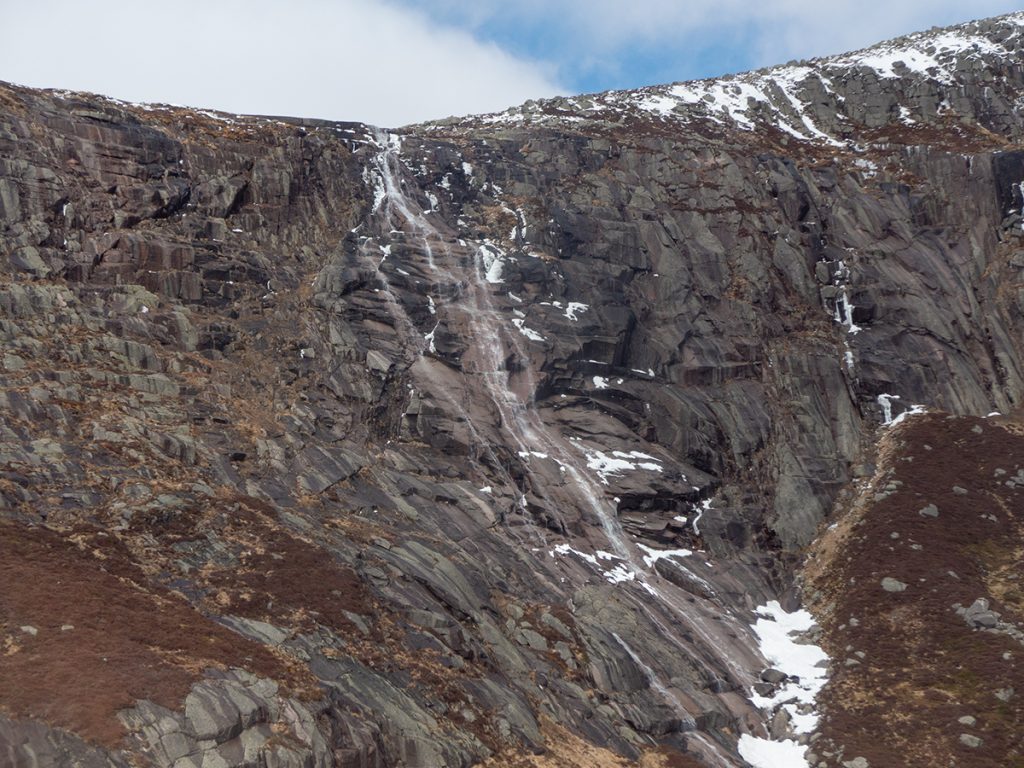 Having pleasantly ambled along the burn down, we crossed the main flow and headed back down the way we came. I'm dithering looking for the best angle for a photo. I think I could easily spend a day above the head of the loch poking around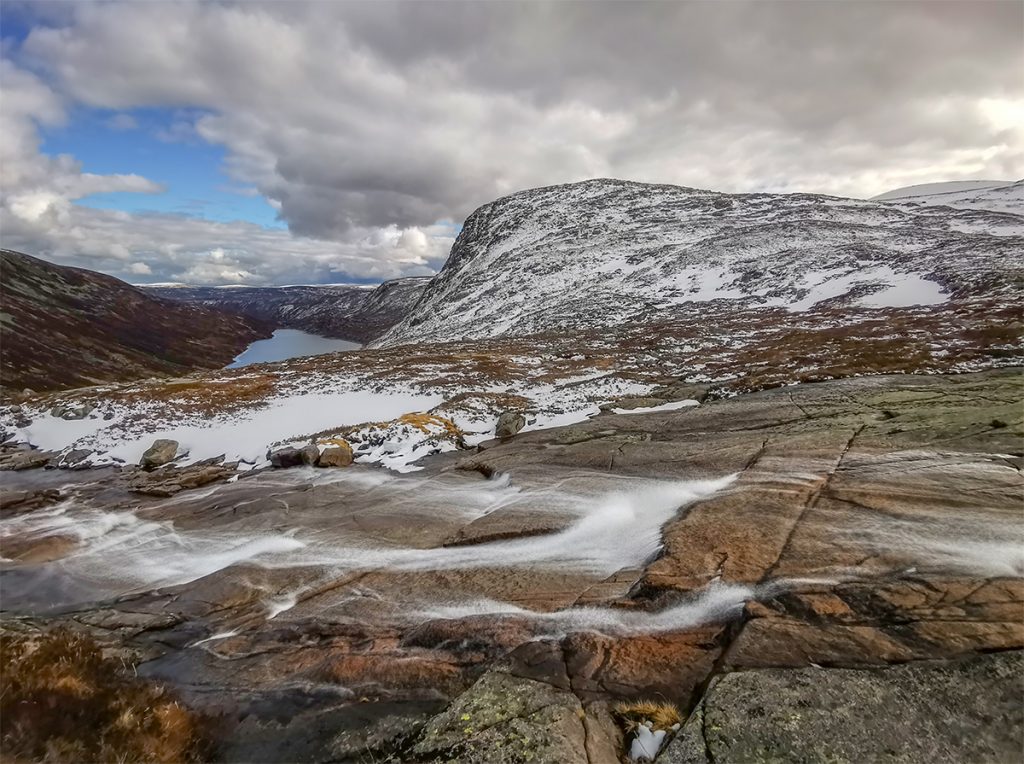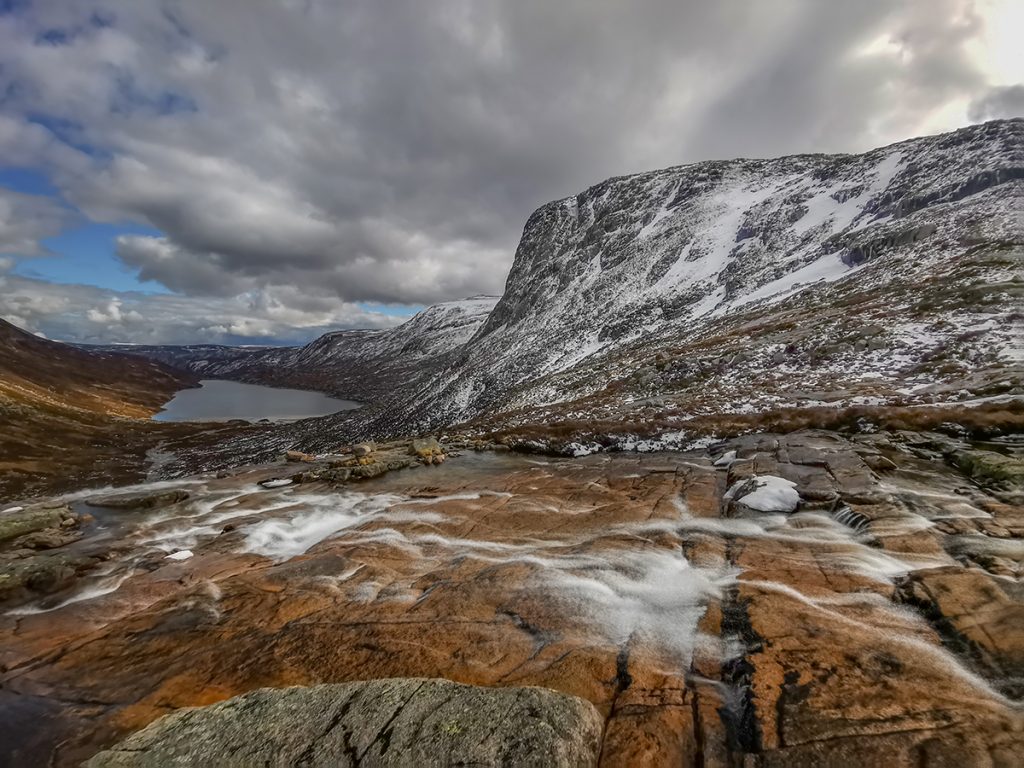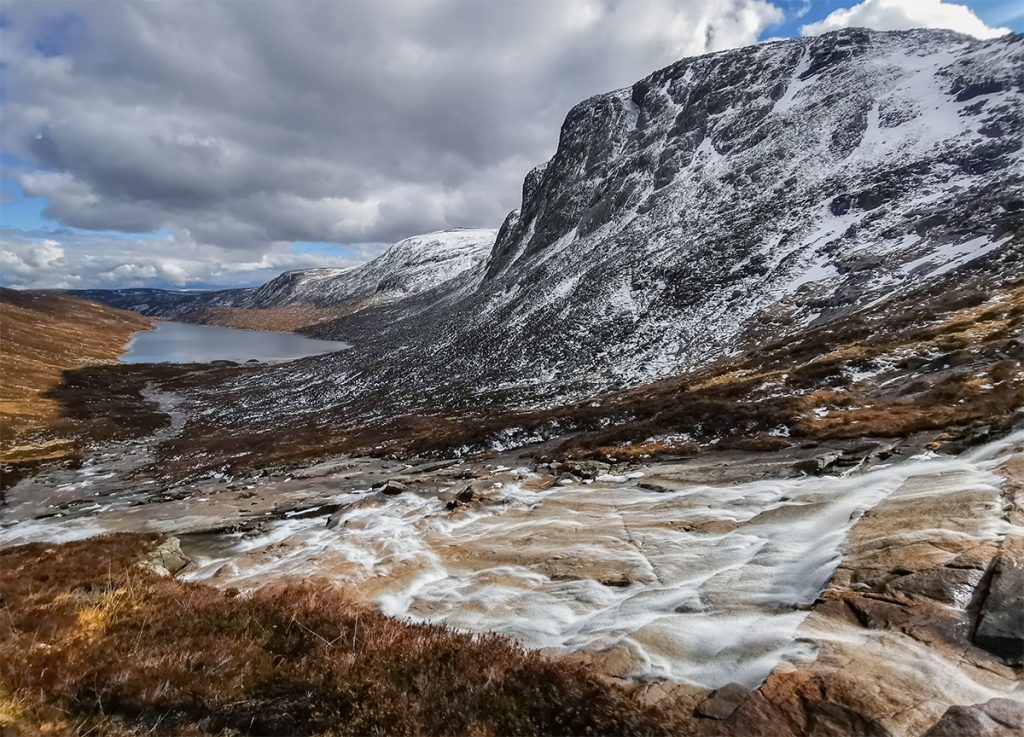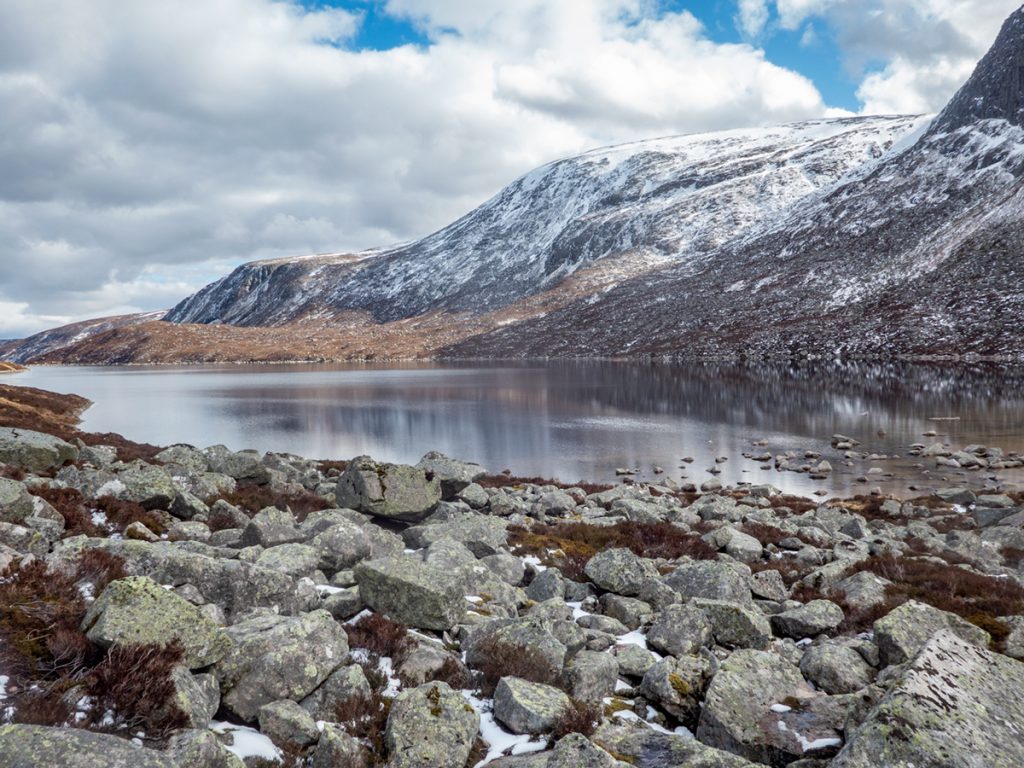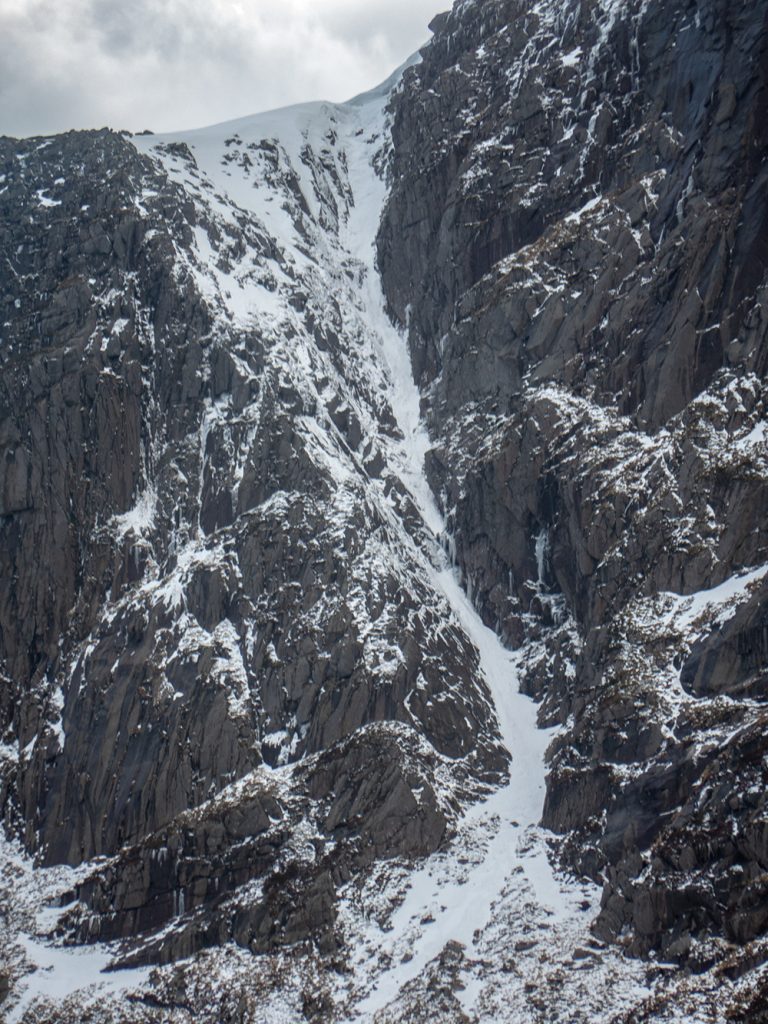 We pick up the bikes again, before heading off I notice below there's new fencing along the stream – trying to regenerate trees, probably part of efforts to improve riparian habitats for salmon and many decades too late, but unlike at Feshie unwilling to tackle the root cause of the problem (too many deer)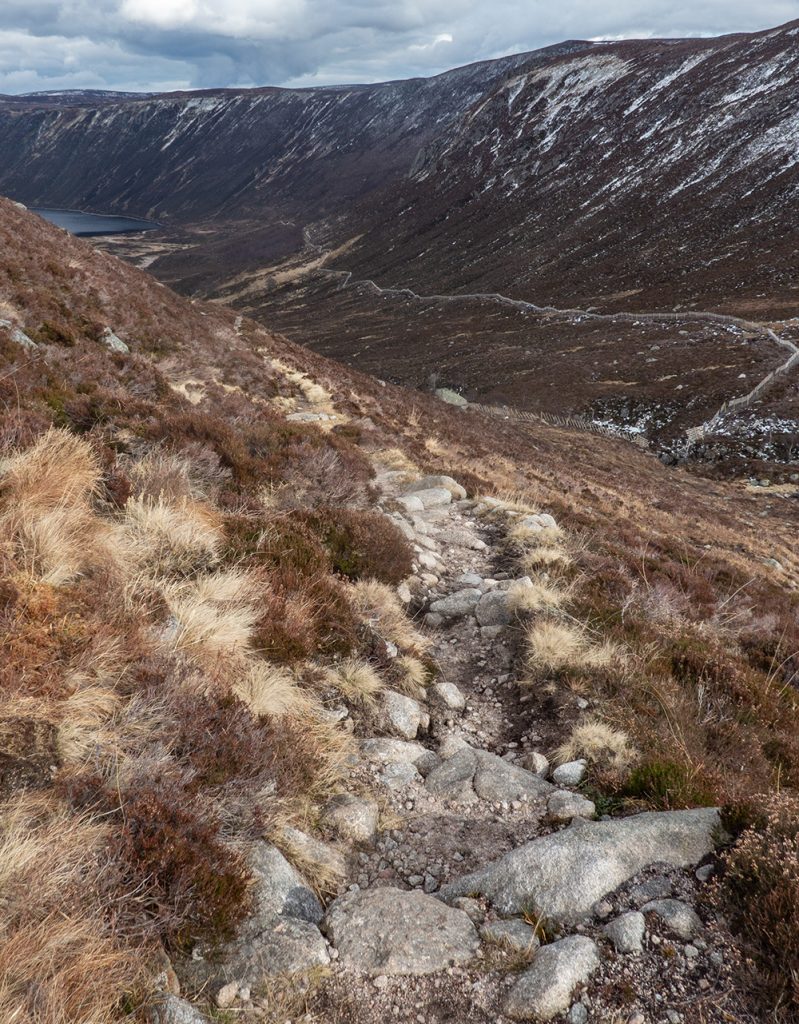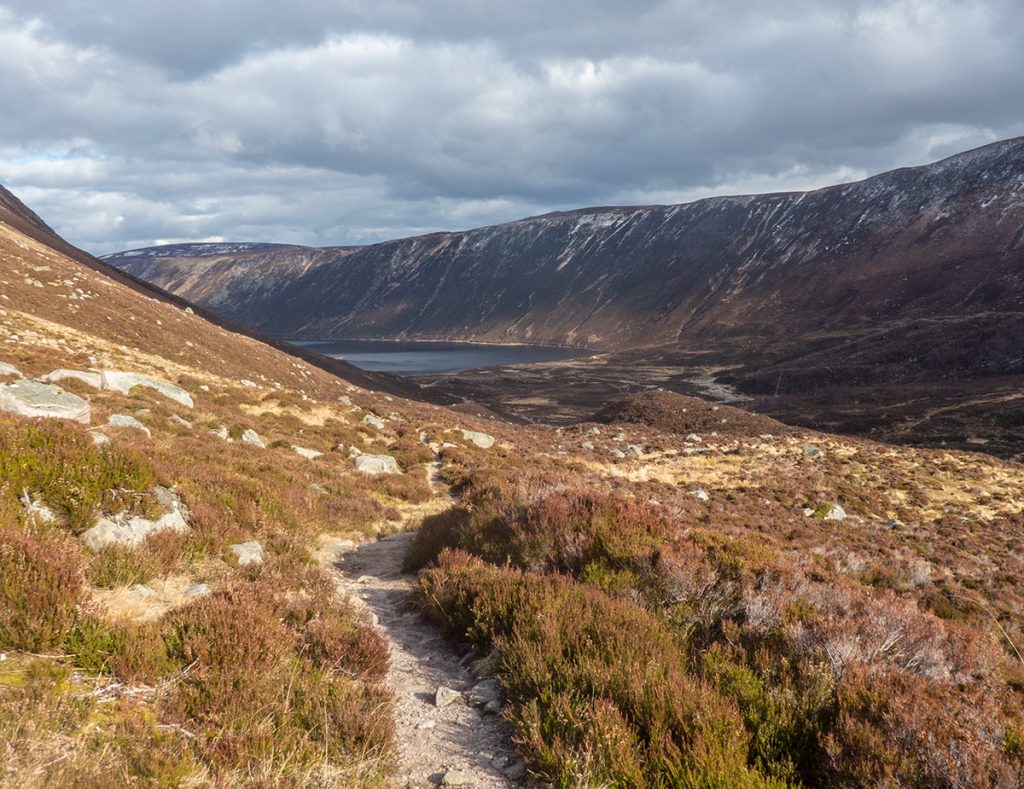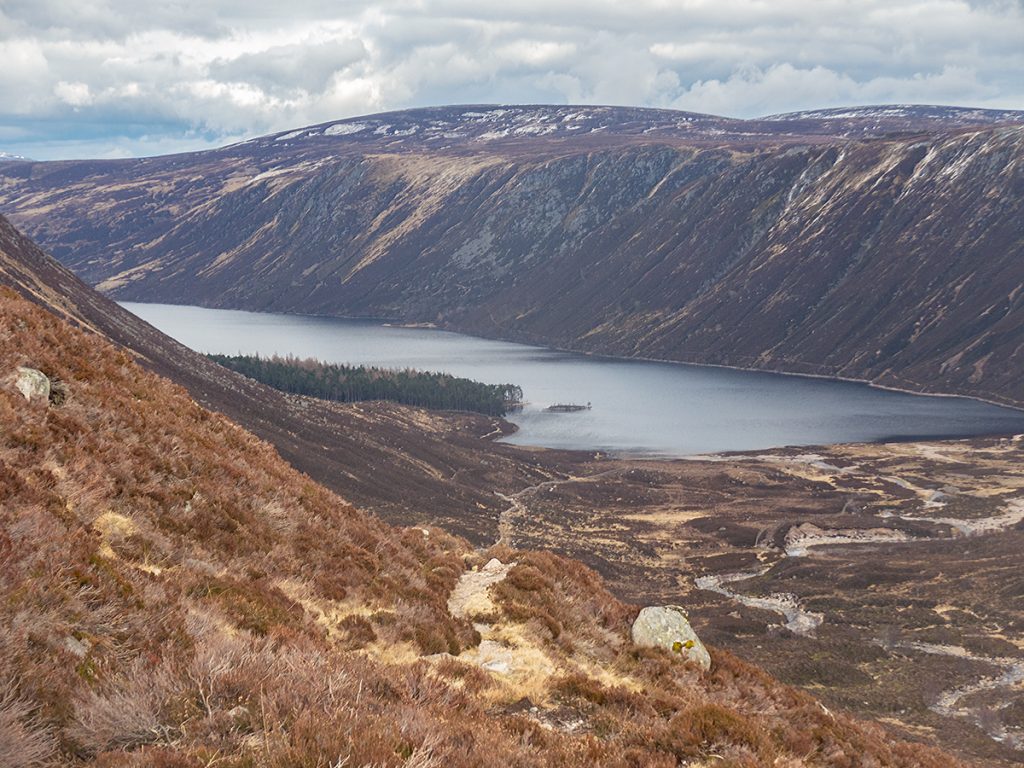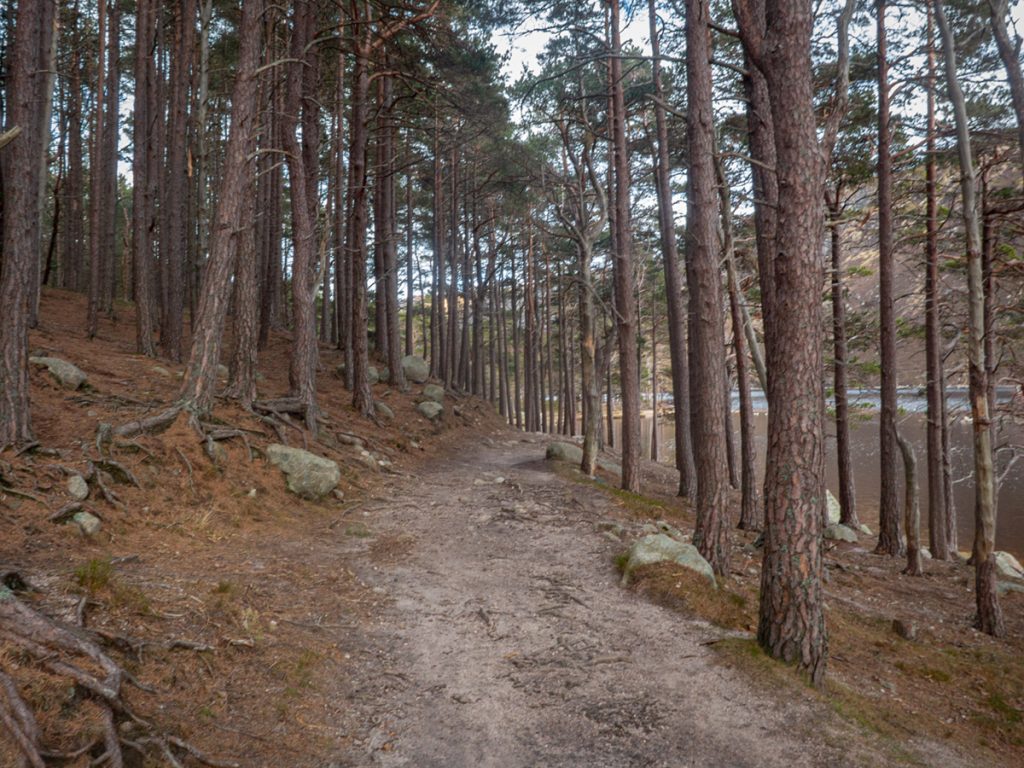 The return along Loch Muick is far better done on bike, weary feet no problem today, just whizzing along. 29km in total and a nice scenic blend of of loch, rivers, and mountains