2 weeks after the recce trip it was the weekend of the club snowhole trip, but unfortunately those efforts were in vain as there was insufficient interest from members. I'd pondered heading out myself, but it's a tough gig digging one yourself and there's safety to consider too, both from temperature (a week of daytime temps well above zero makes for a weaker snowpack) and general safety. Coire Boidheach would have to wait until next year.
A plan for a daytrip was hastily assembled to make the most of the blue sky spring conditions, and a combo bike/hike up Ben Avon was chosen.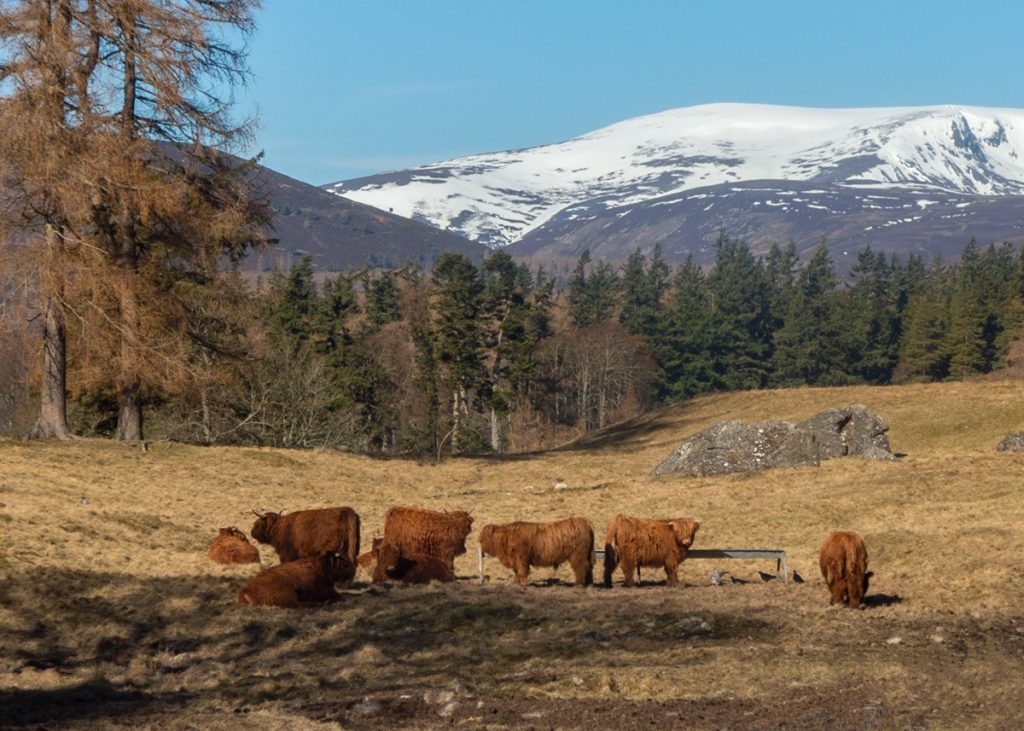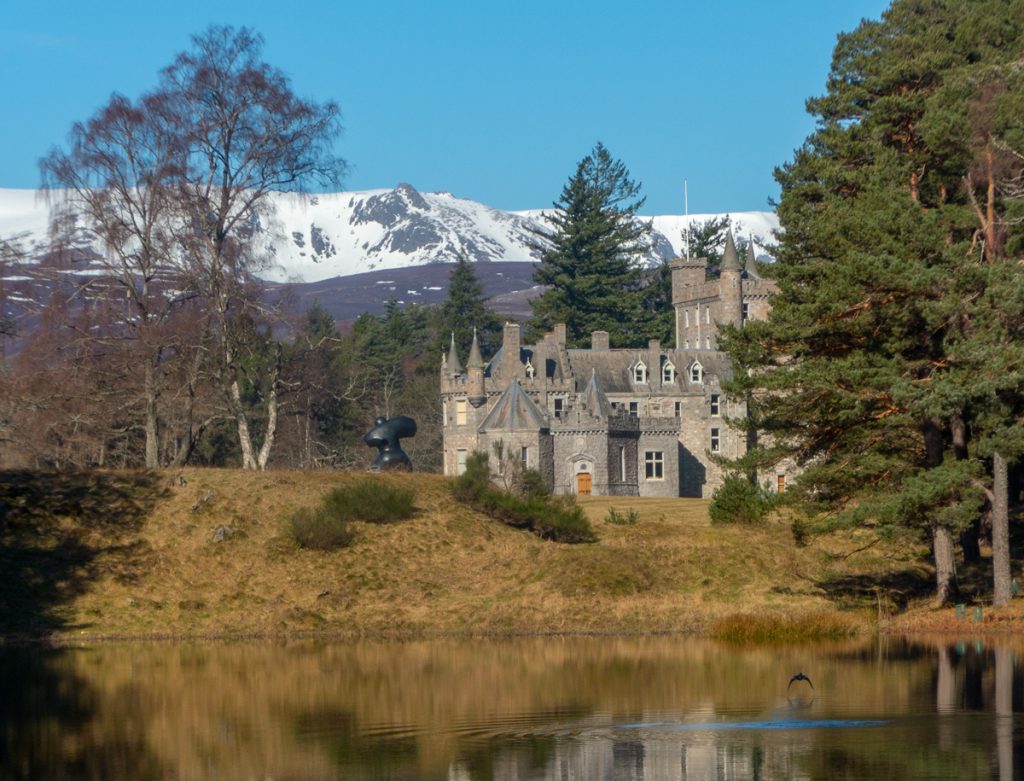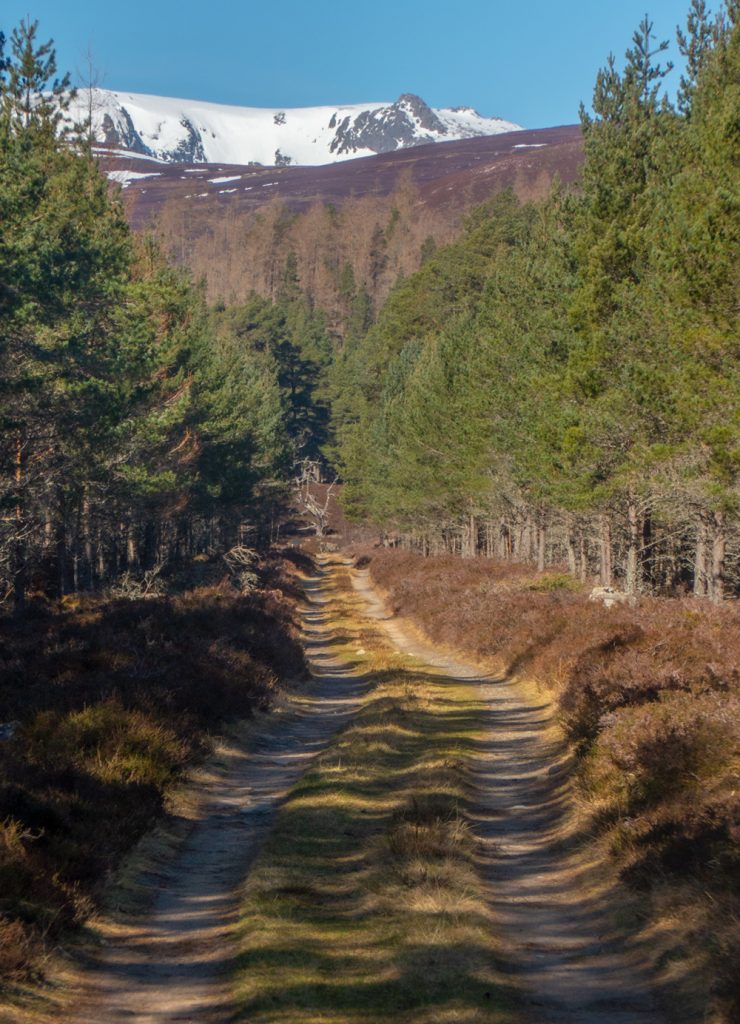 Entering Glen Slugain I stopped to layer down and open vents on my trousers (the most excellent Keela Roadrunner which although designed for bike use make for great hiking trousers too) – it's a long slow gradient, getting rougher towards the top, and we were sheltered from forecast strong southernly winds within the glen's shelter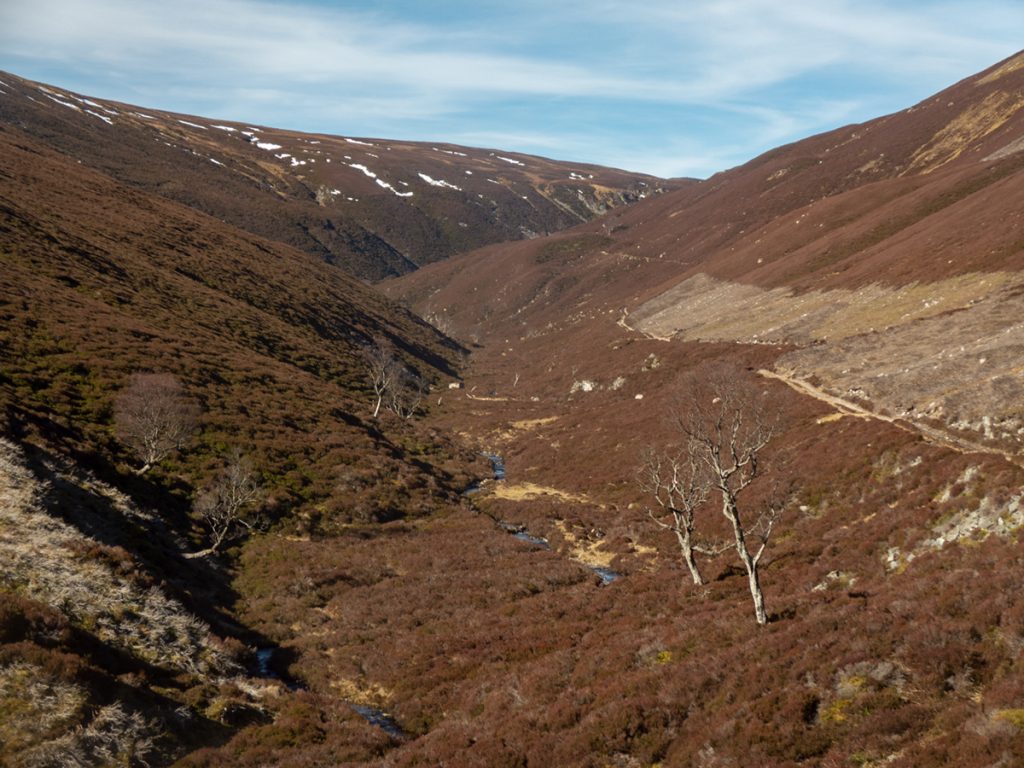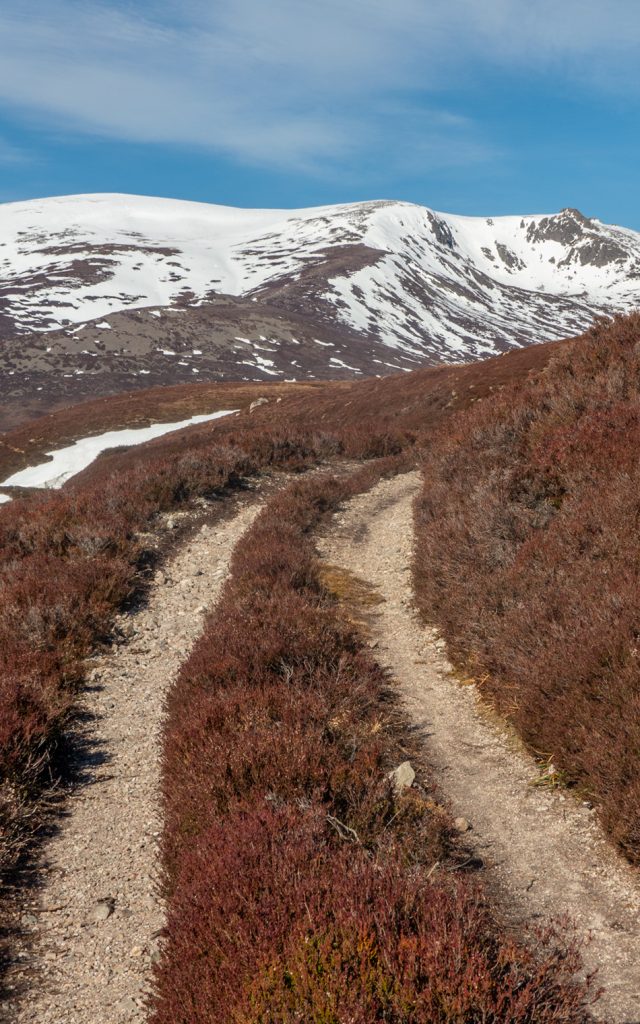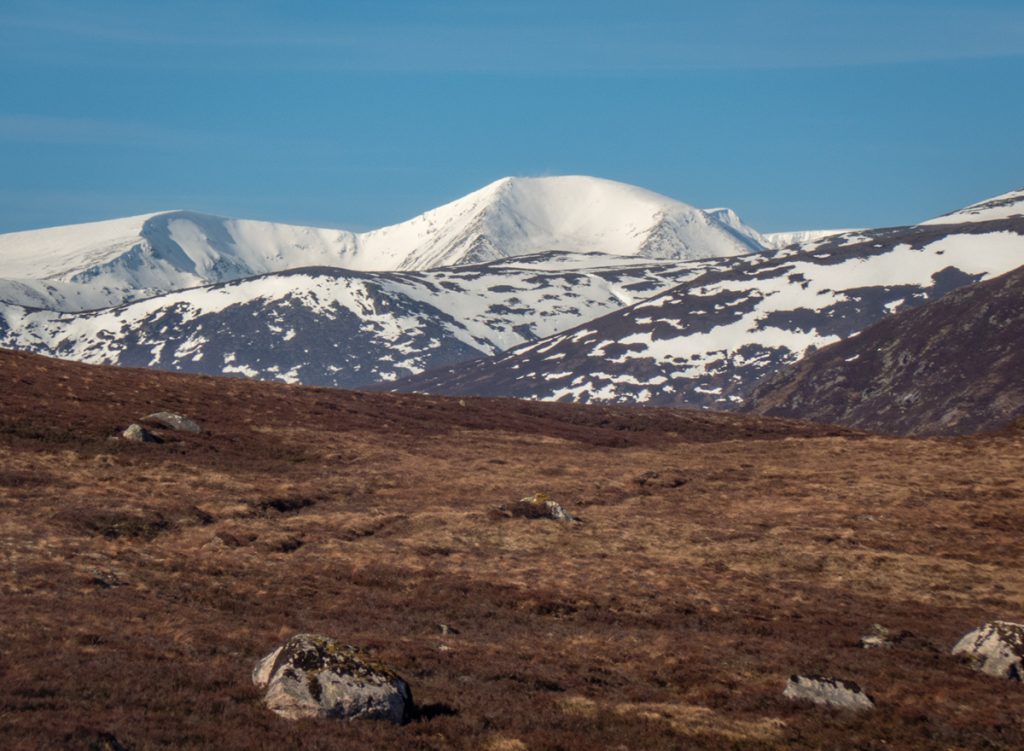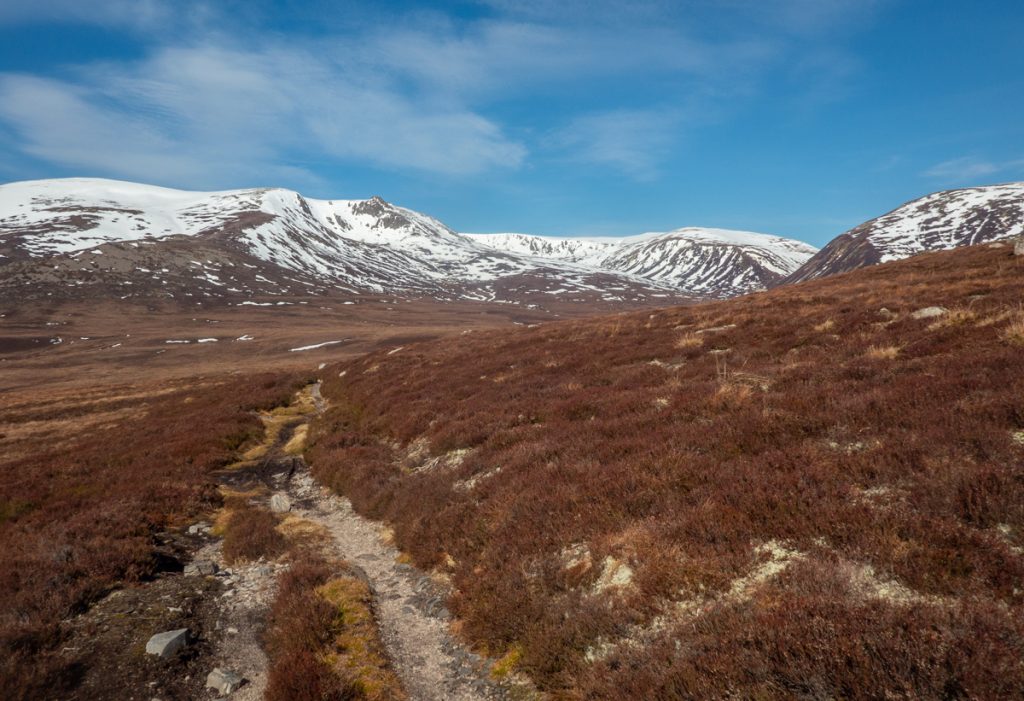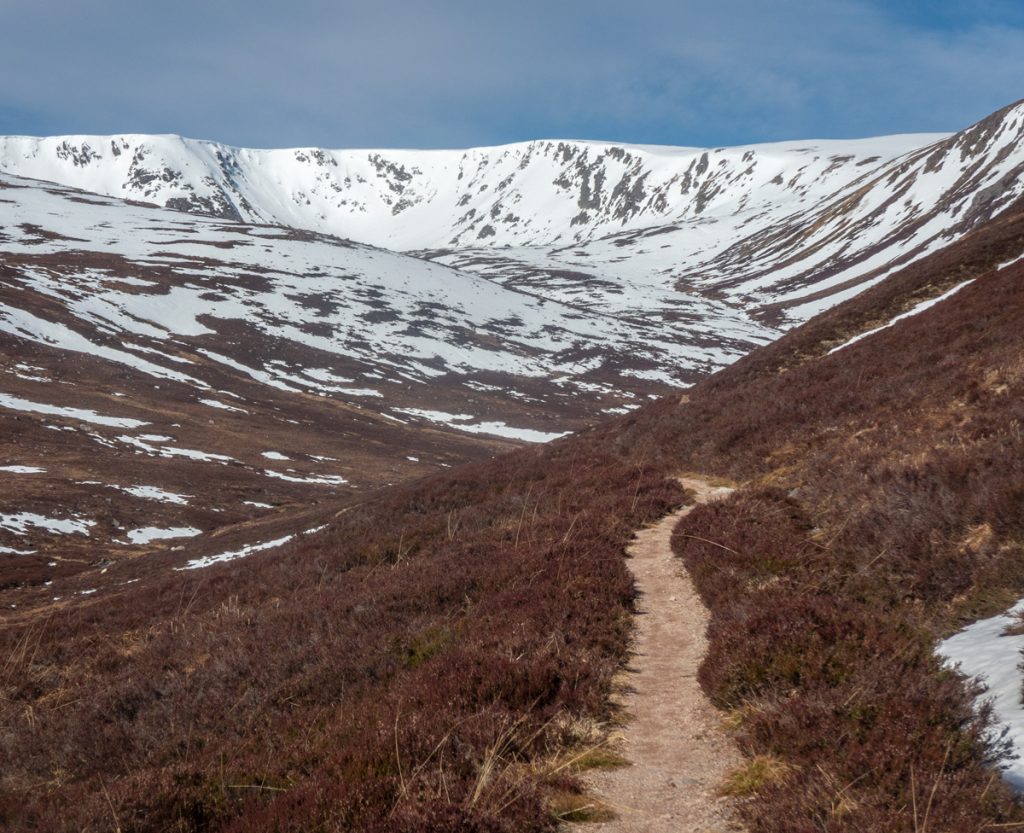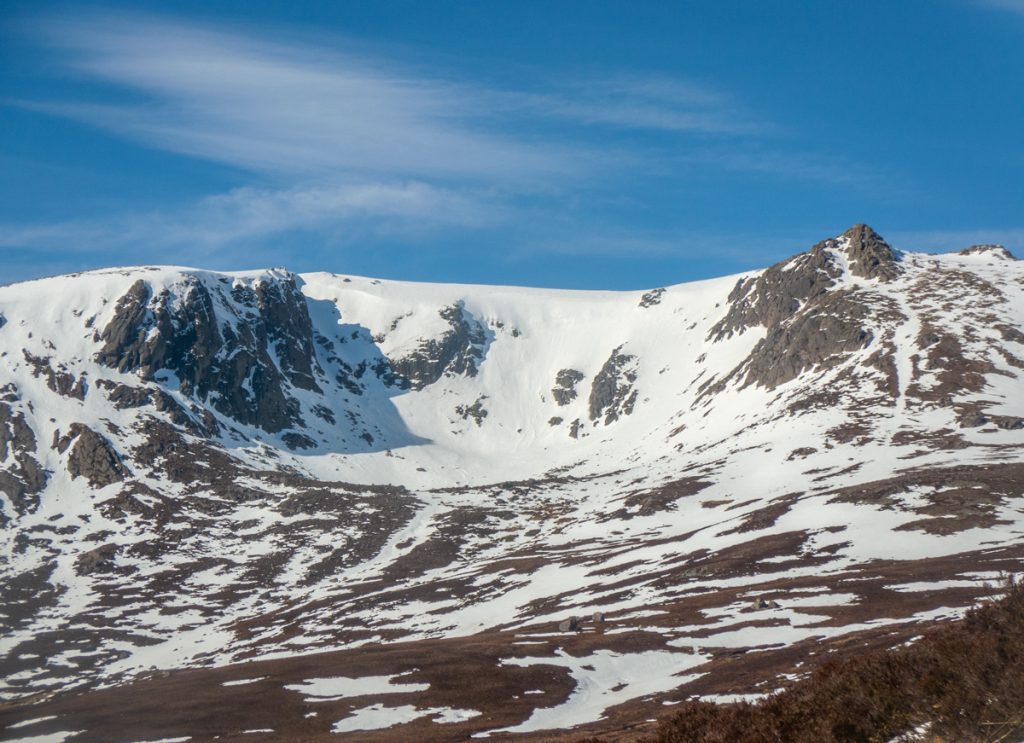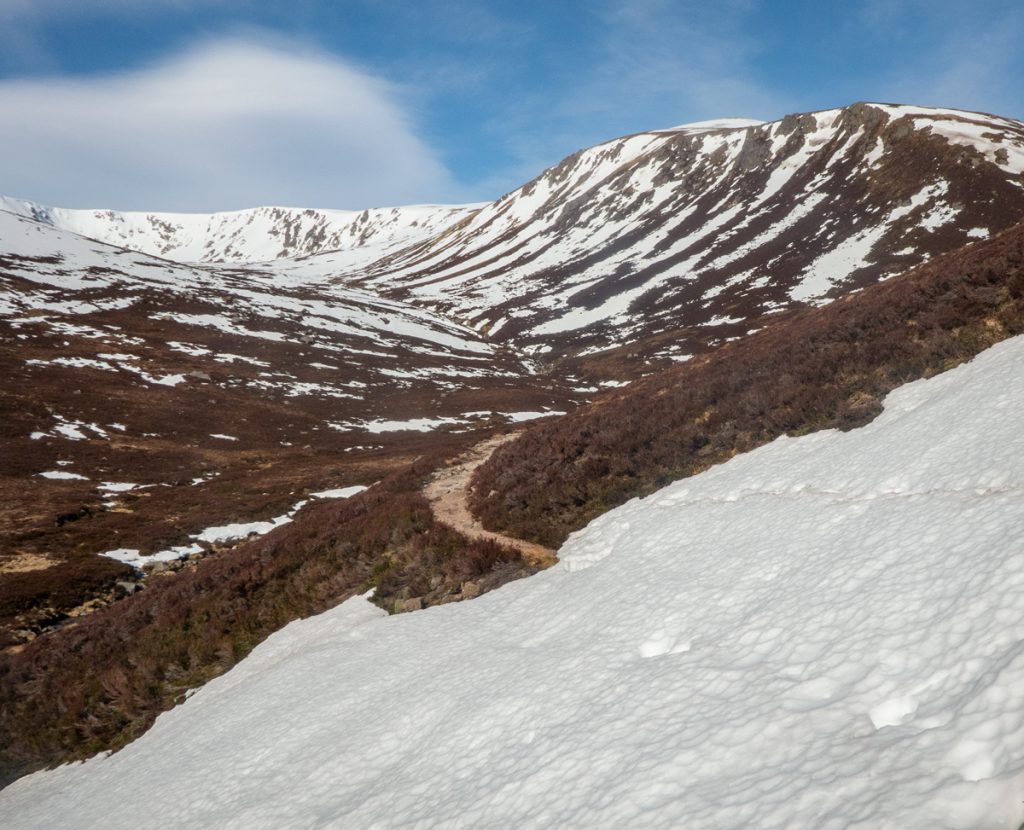 At the usual bike dumping spot at the ford at Clach a Cleirich, a large snow bank had covered the burn entirely. Assembled my lightweight mountain king poles and we were on the march up towards the sneck.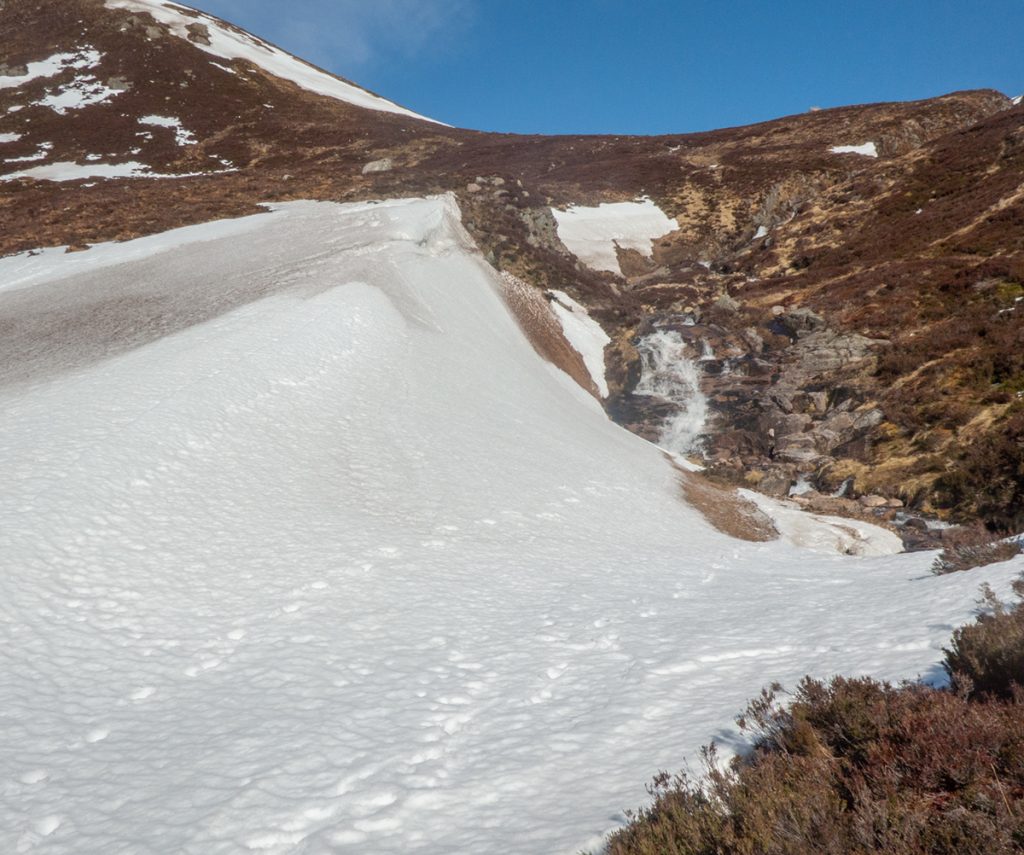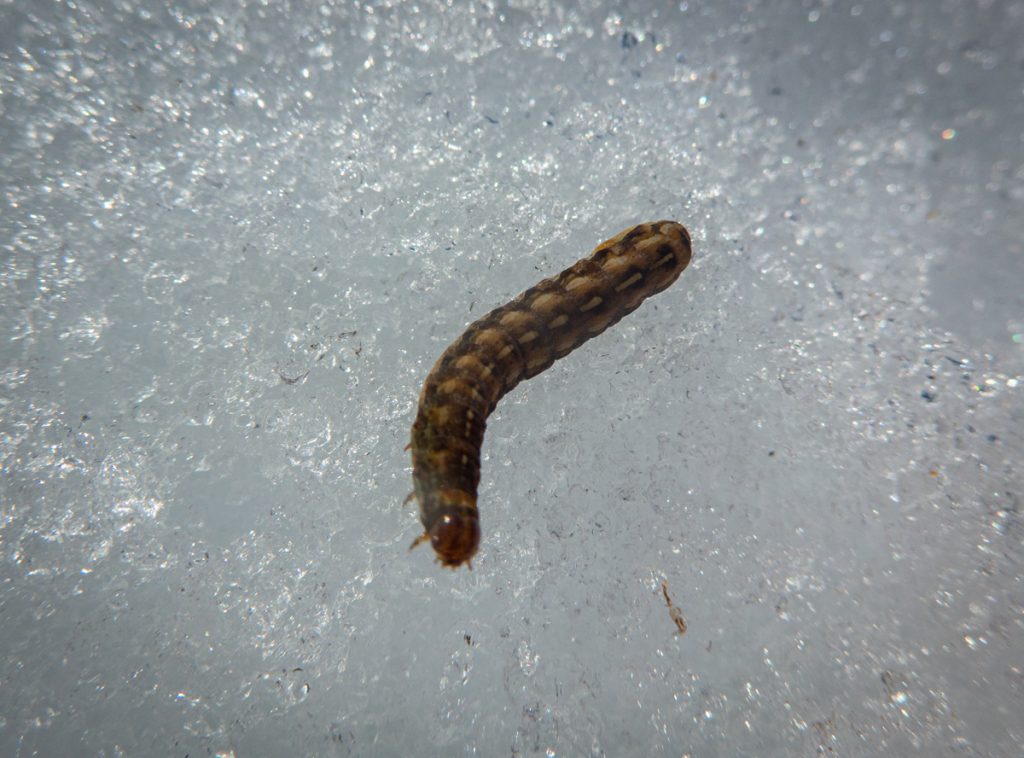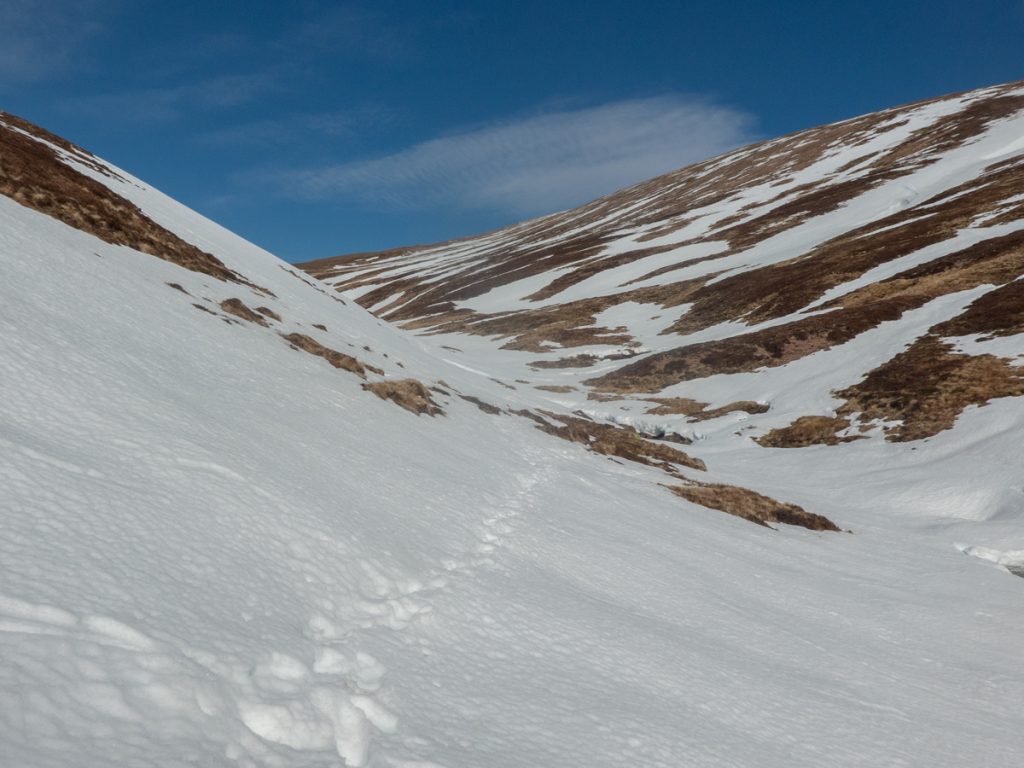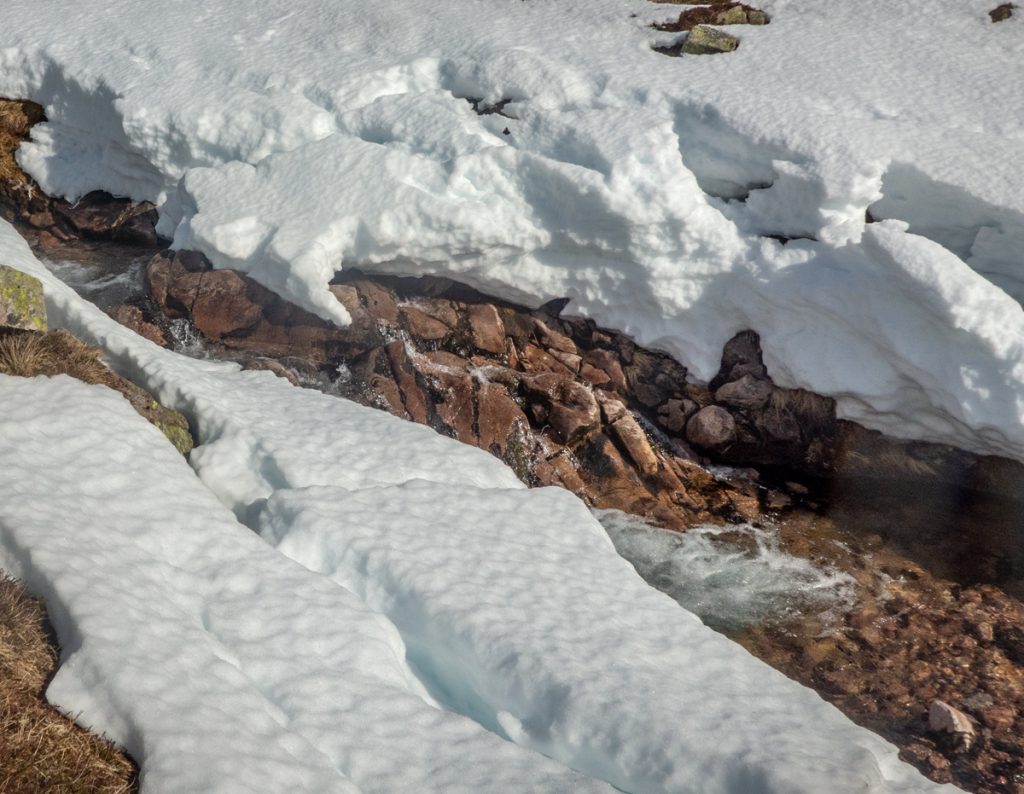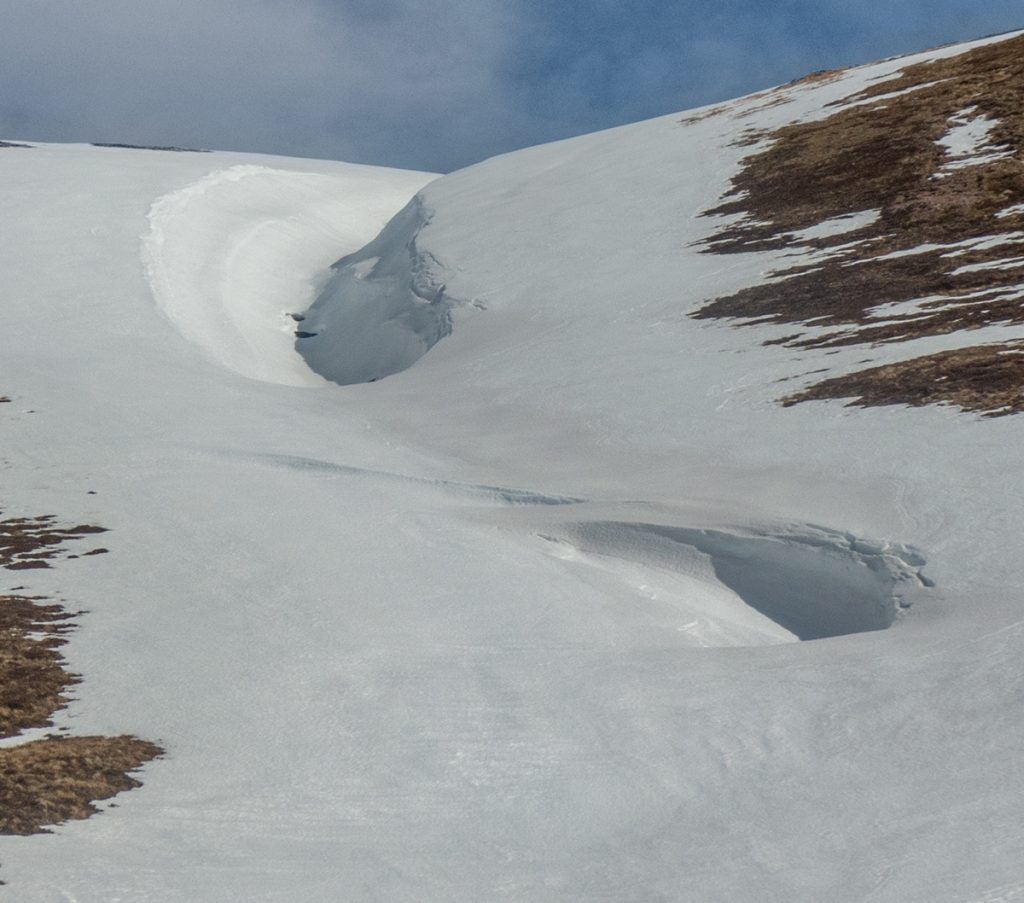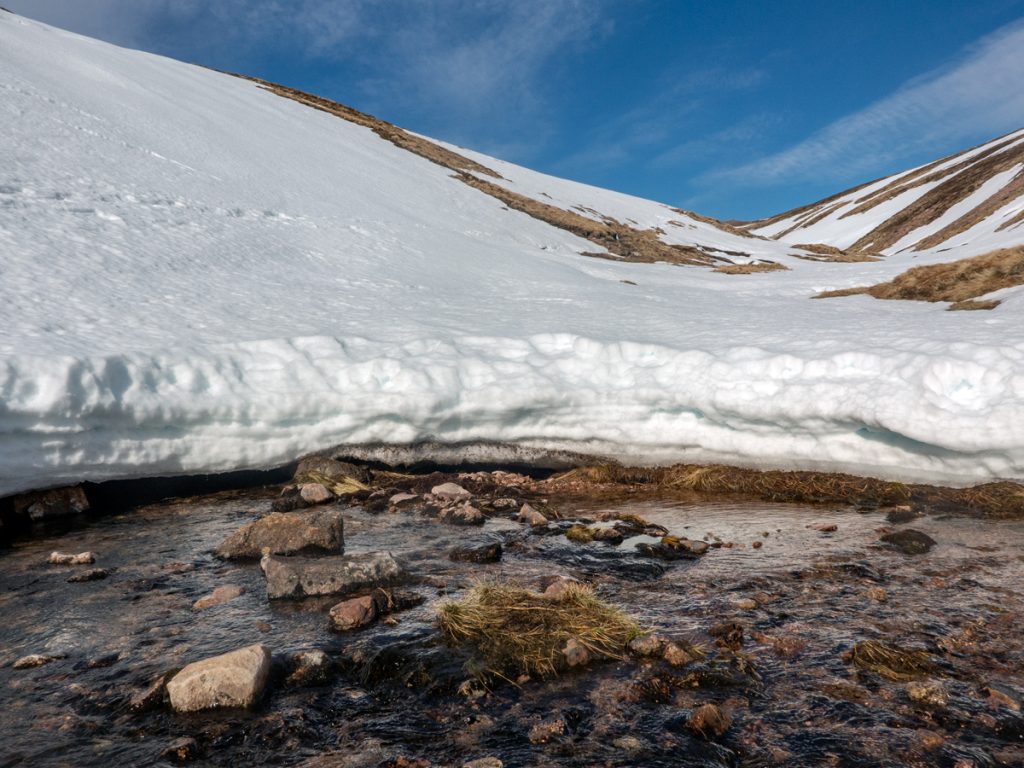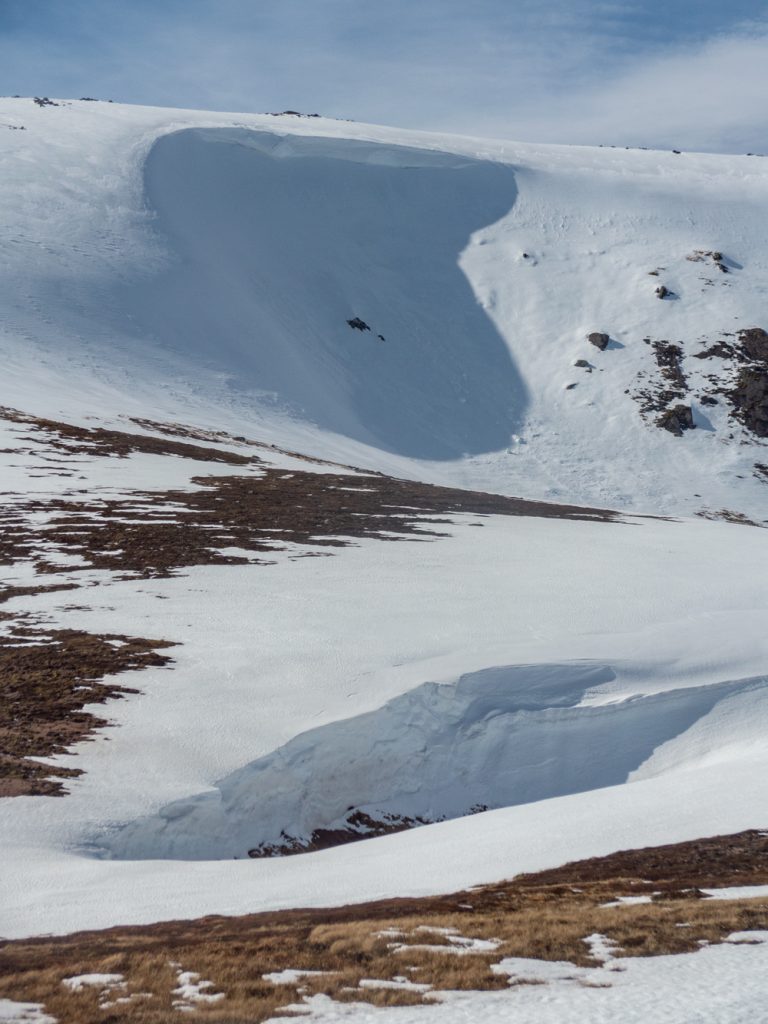 Arriving at the sneck, the wind was now howling: I stuck my Mountain Hardwear Atherm top back on, as the breeze was getting chillier. I really love this top – it's a polartec alpha direct one with a fluffy interior that works well to keep warm but also dissipate sweat. It's quite breathable though so was reaching it's limit in the strong wind now.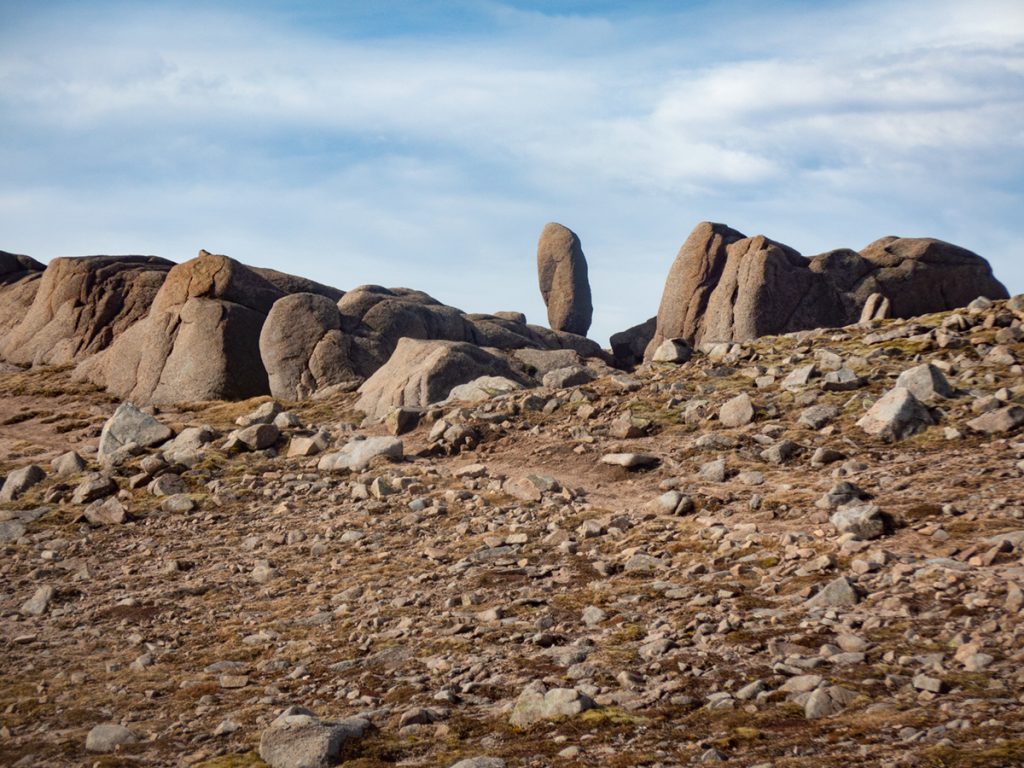 With the wind whistling past I put the hammer down up the zig-zags and across the plateau which still had full snow cover. The main tor became visible and we hurried over keen to get some shelter behind it. We were joined by a group who'd been staying at Faindouran bothy.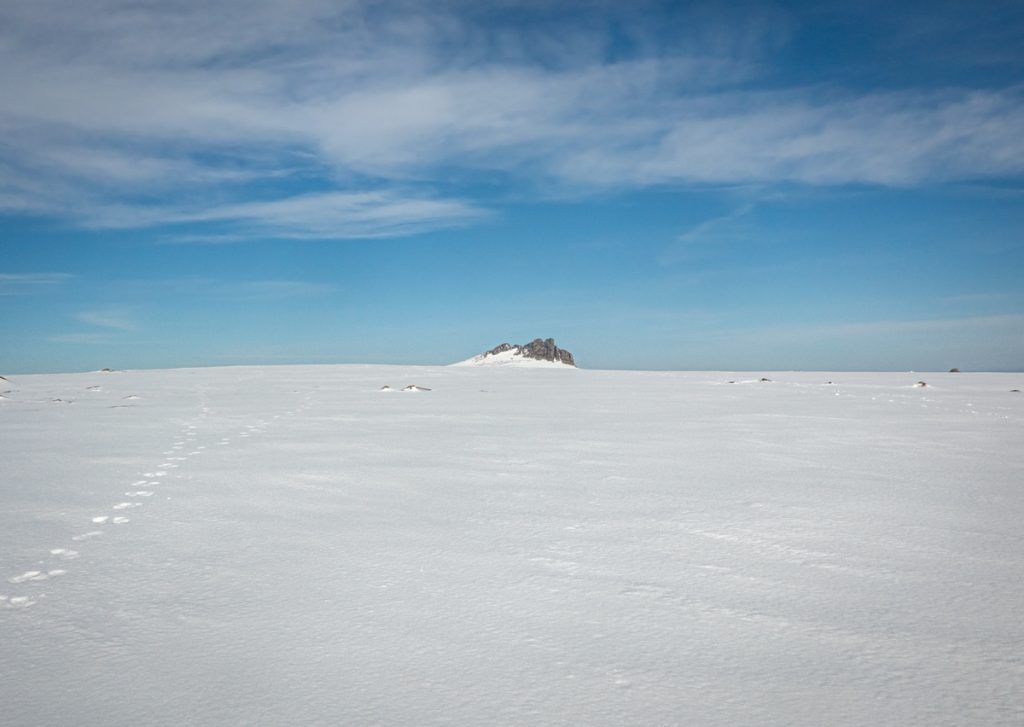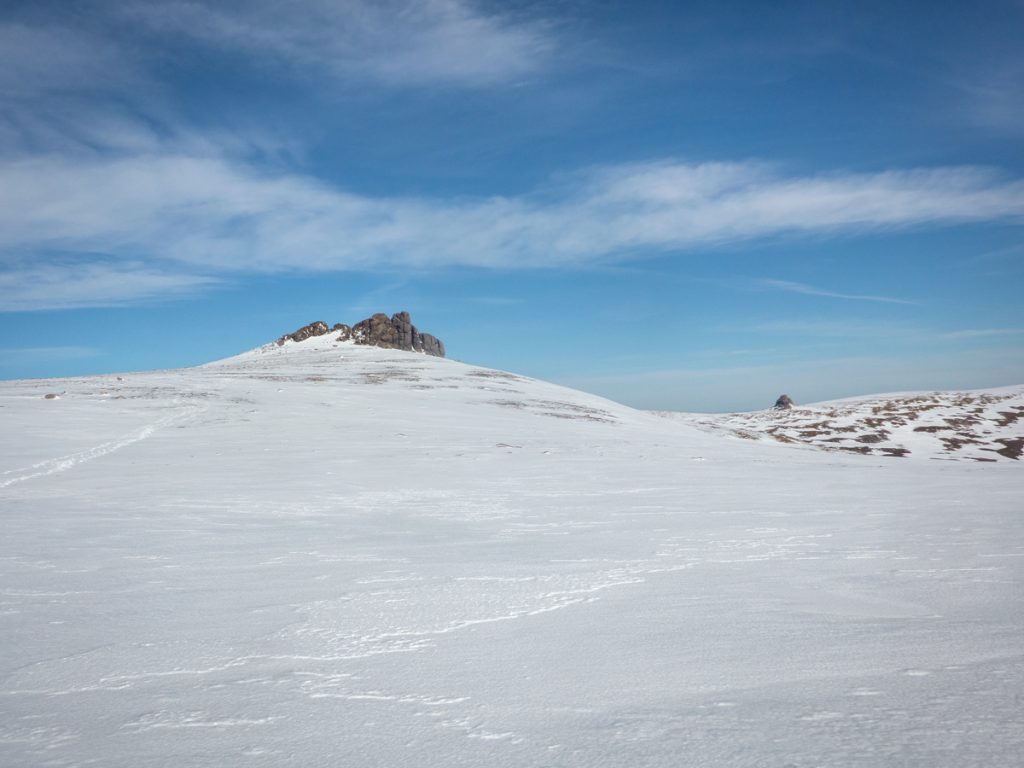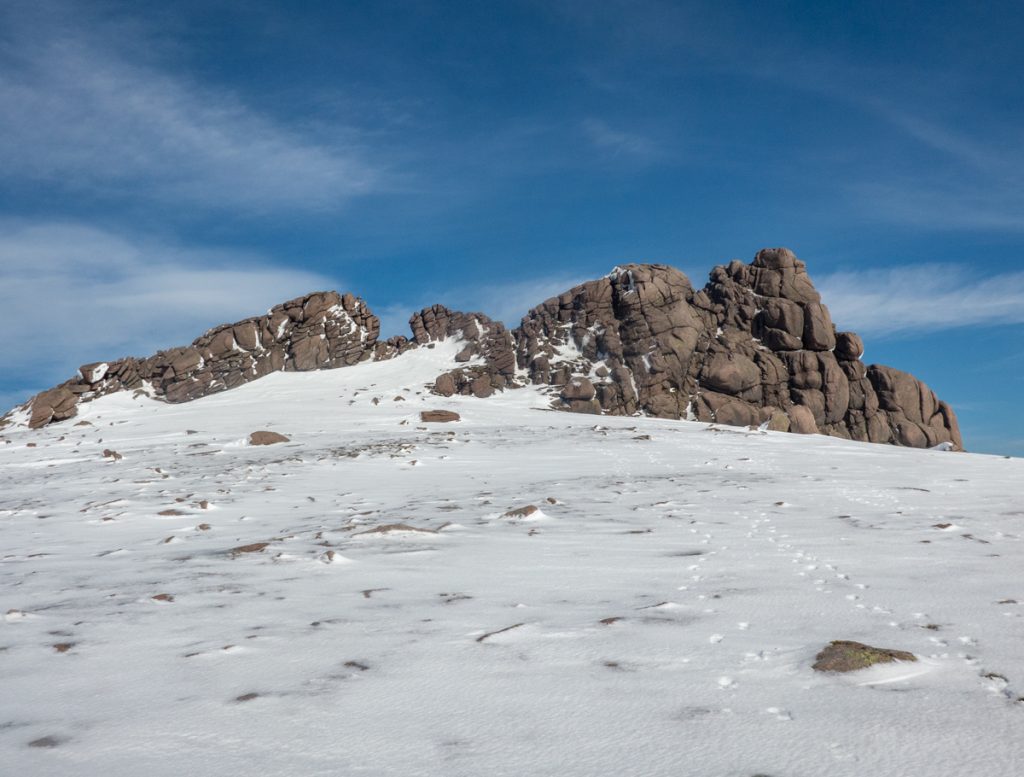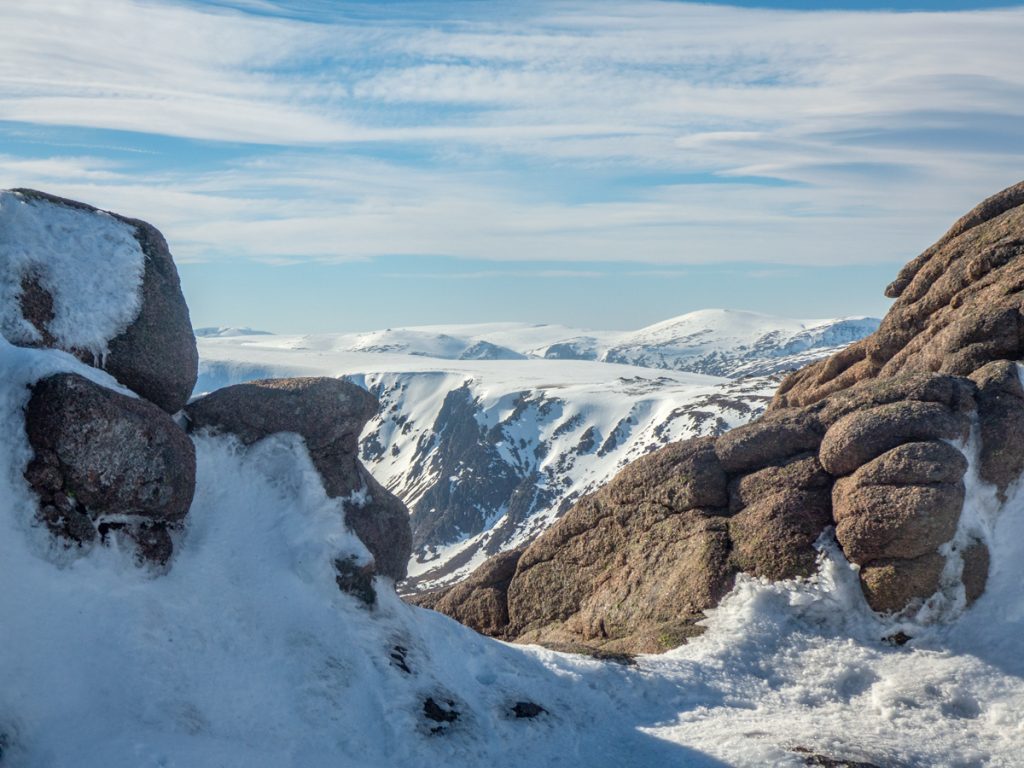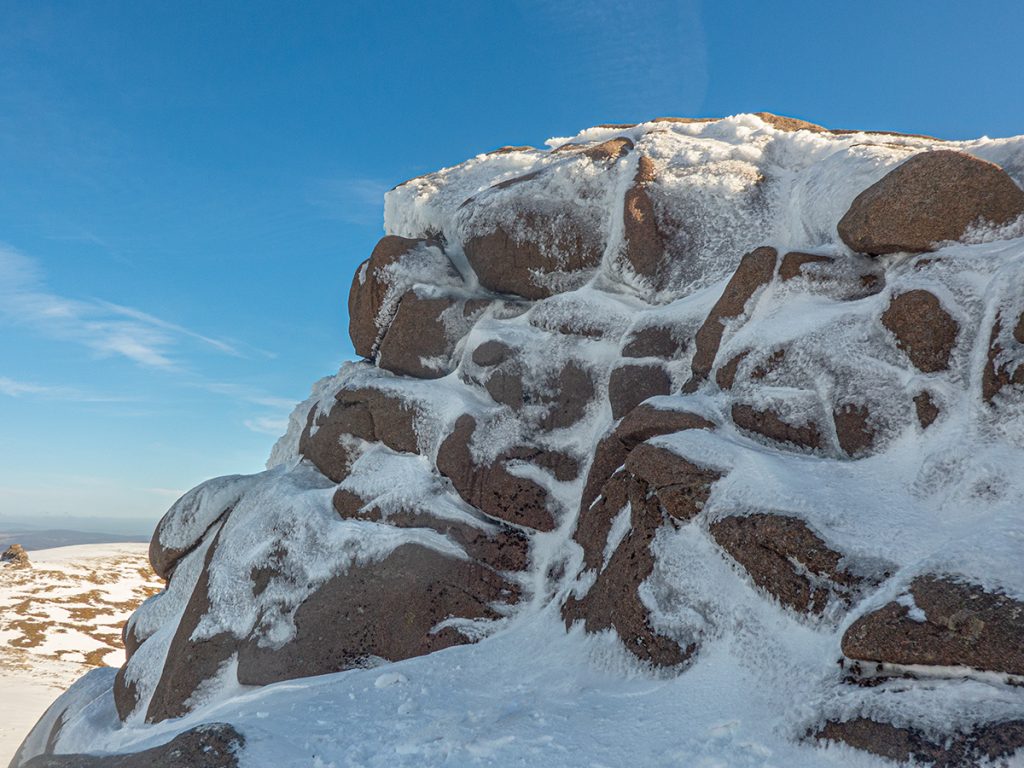 A lunch of cold snacks and a flask of hot chocolate, then time to head back into the wind and sun.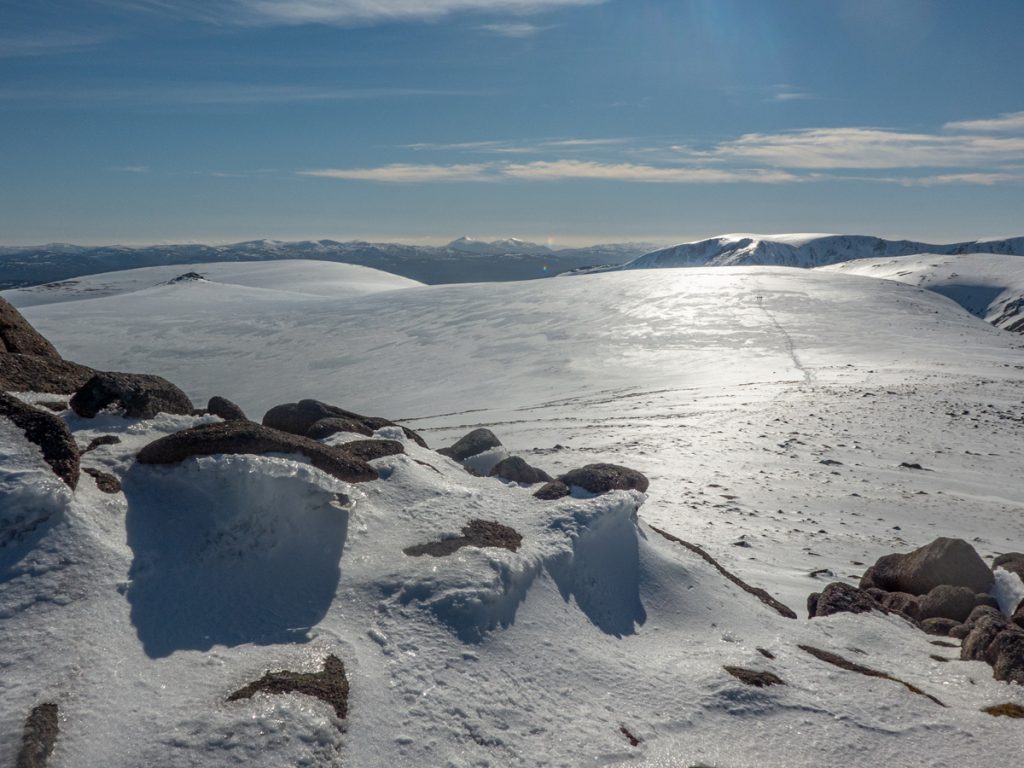 "..Up, up the long, delirious burning blue
I've topped the wind-swept heights with easy grace.."
From High Flight
by John Gillespie Magee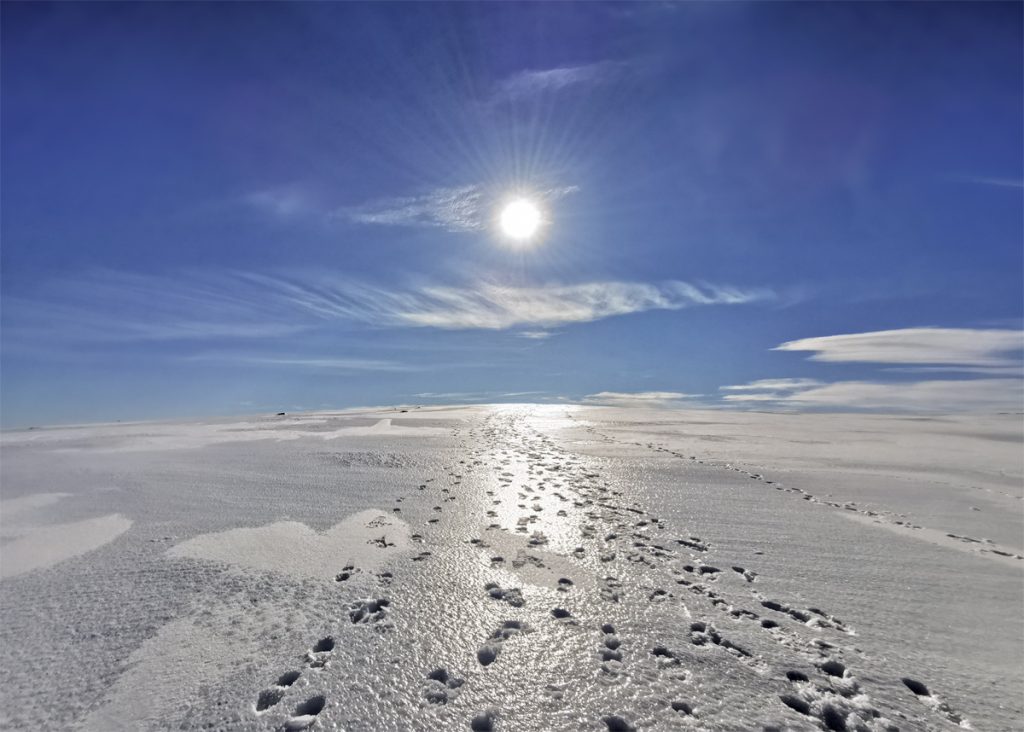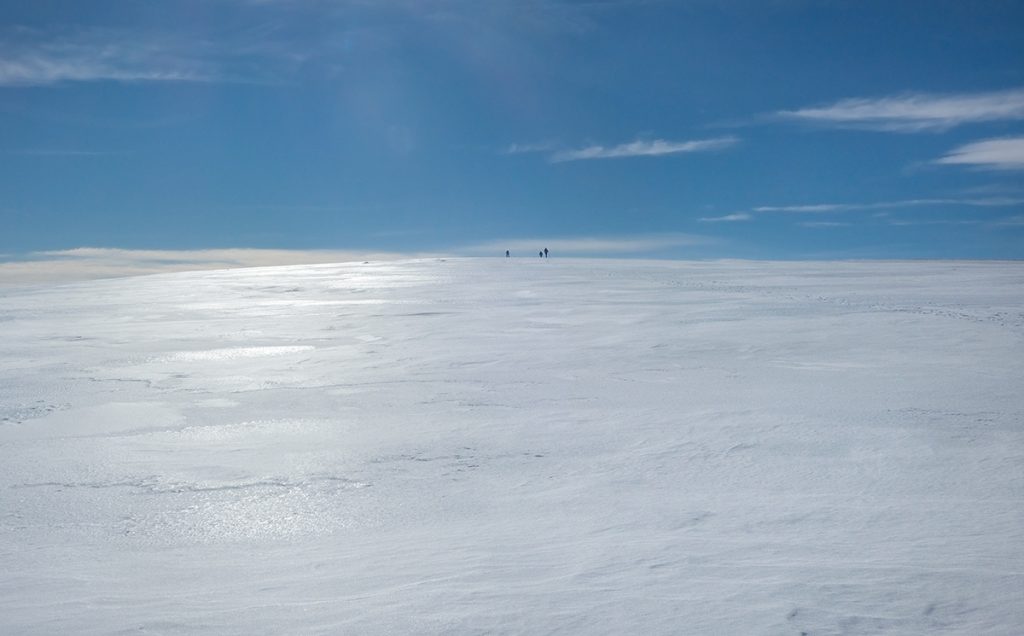 The snow had a thin glistening crust on it: at 4c (although a windchill of -10) there'd be melting/overnight freezing occurring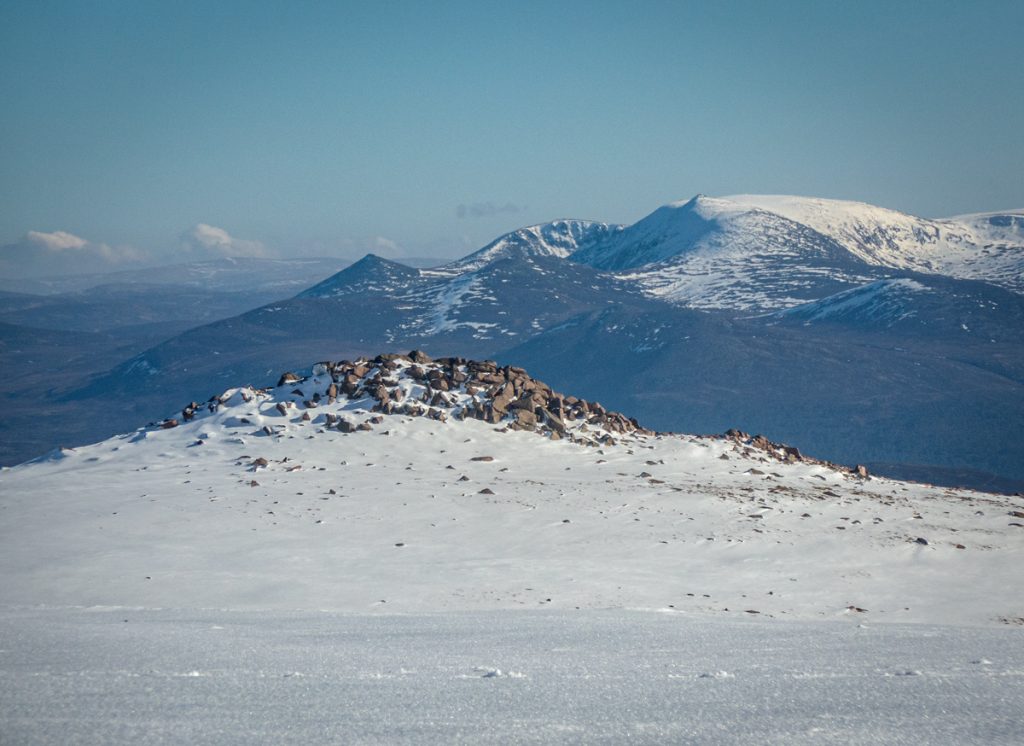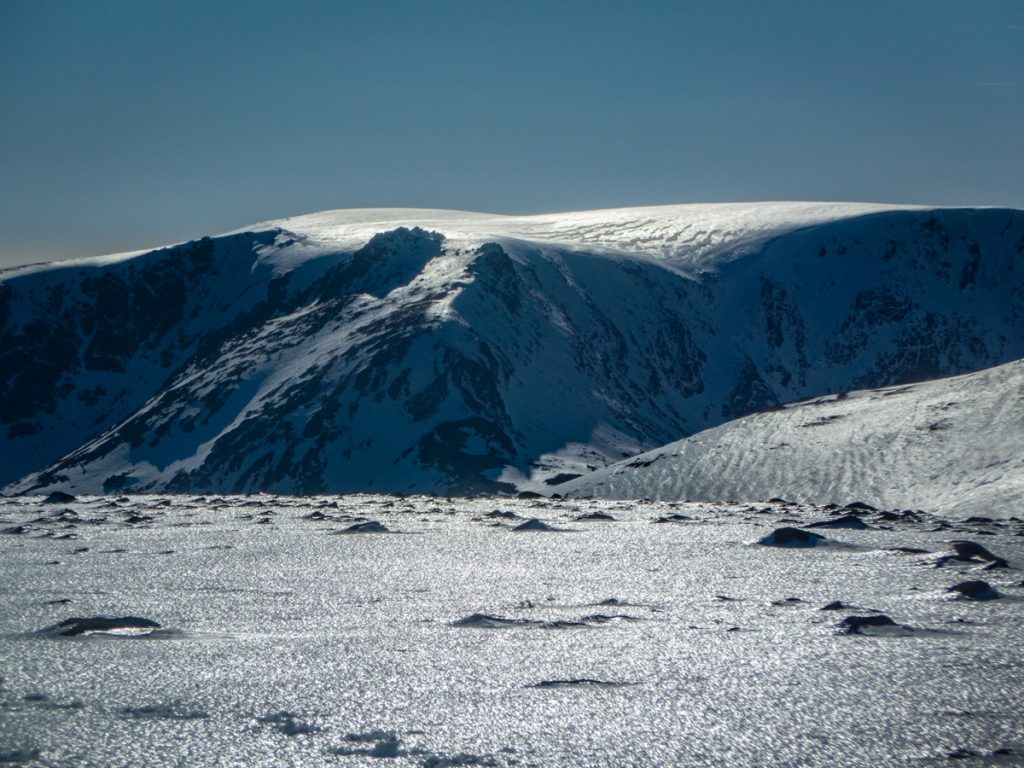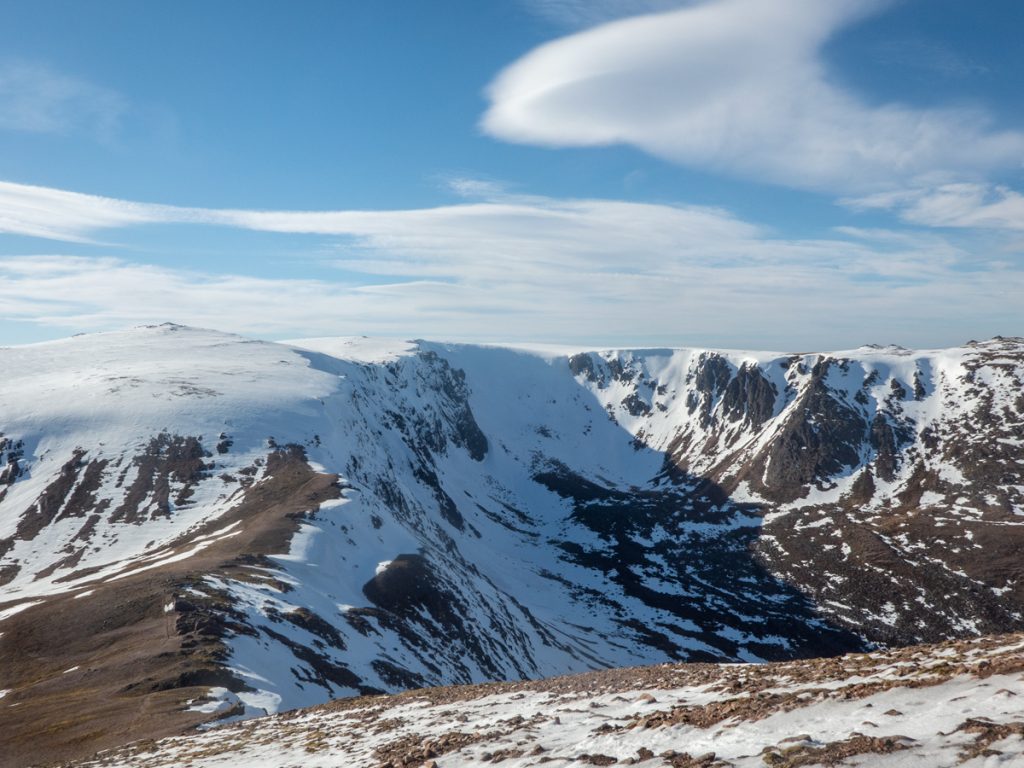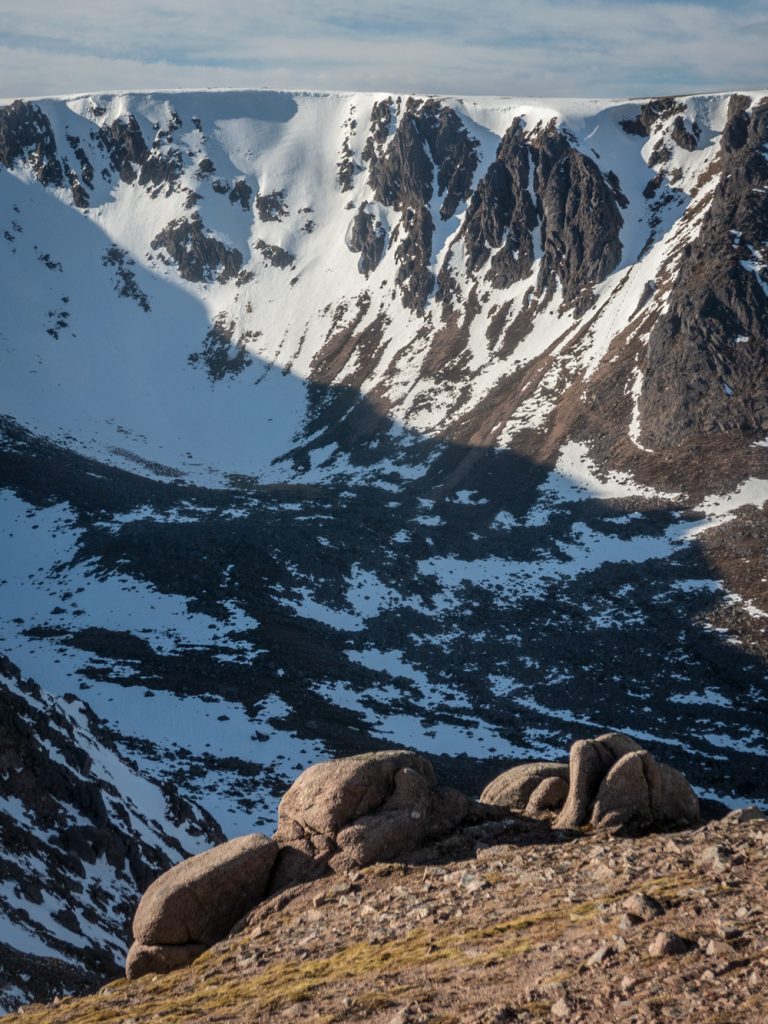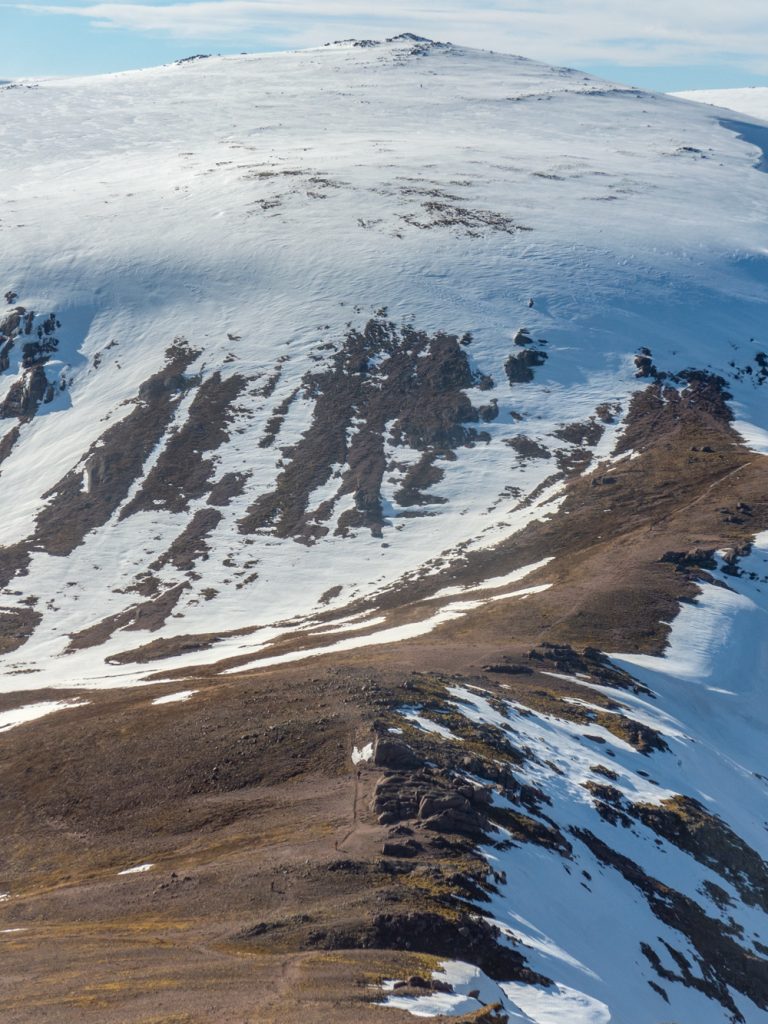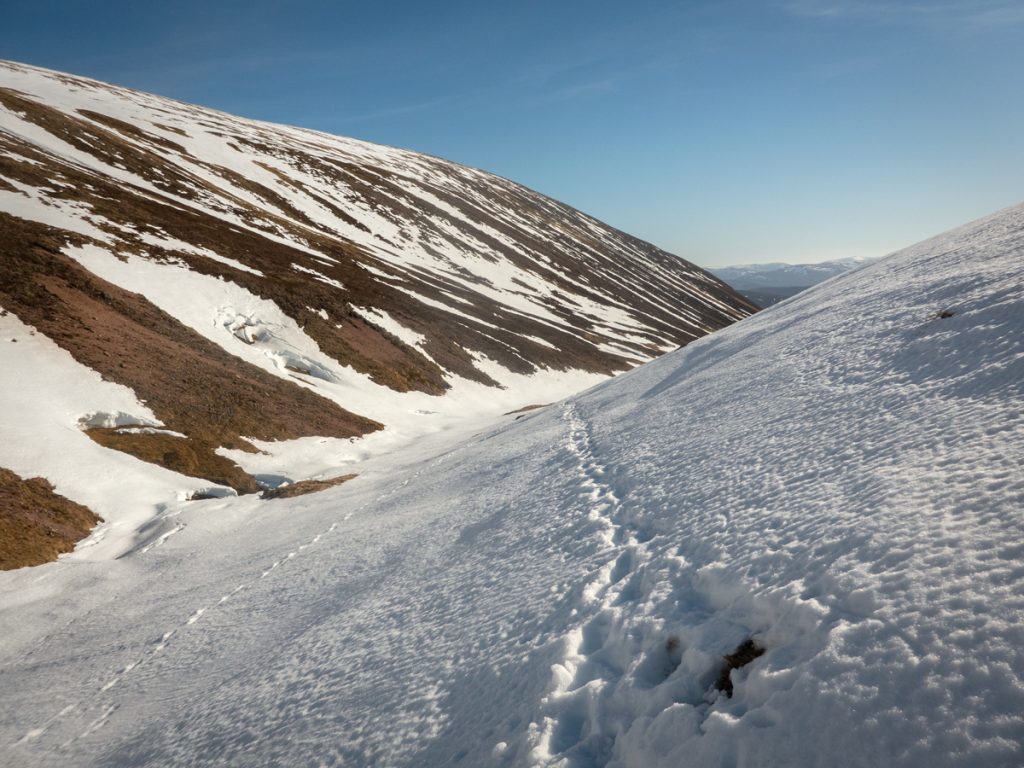 The path was awash and acting as a stream with snowmelt. It could do with a few drainage channels cut here and there to stop the water cutting ruts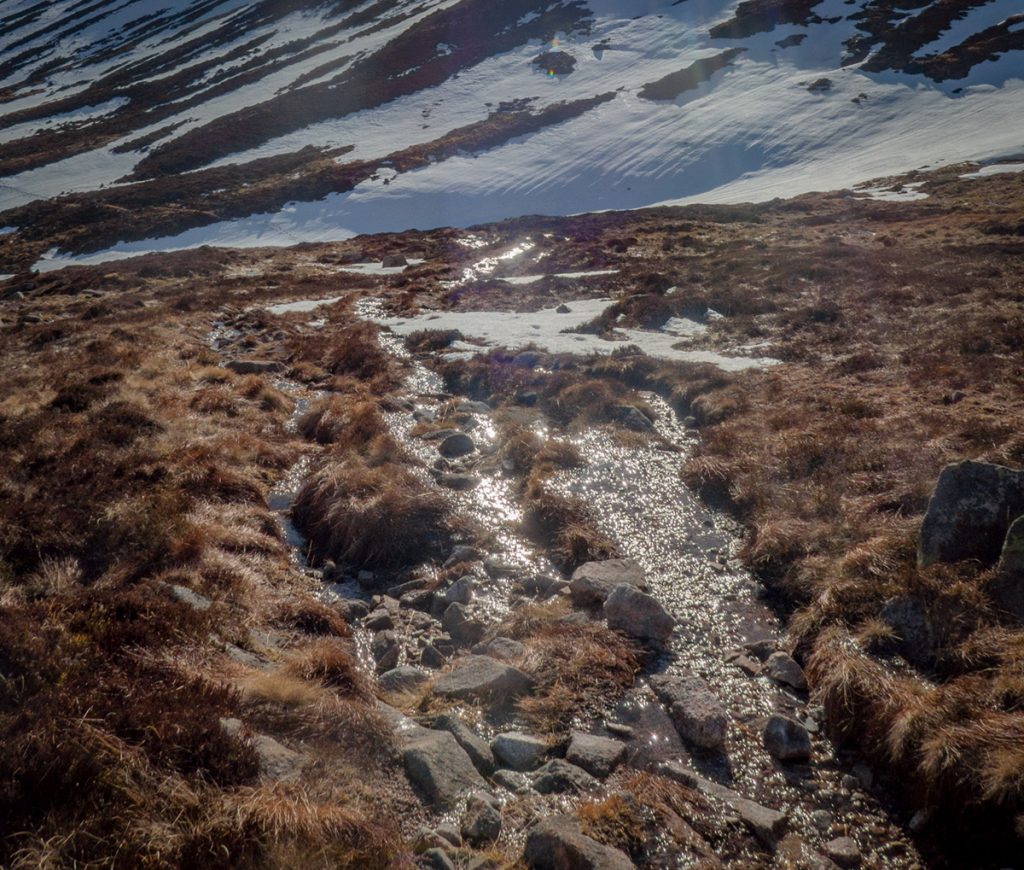 We stopped for water refill at a waterfall and chatted to a chap who'd been out for a scramble in Garbh Choire, it was a long walk back to Keiloch for him without a bike.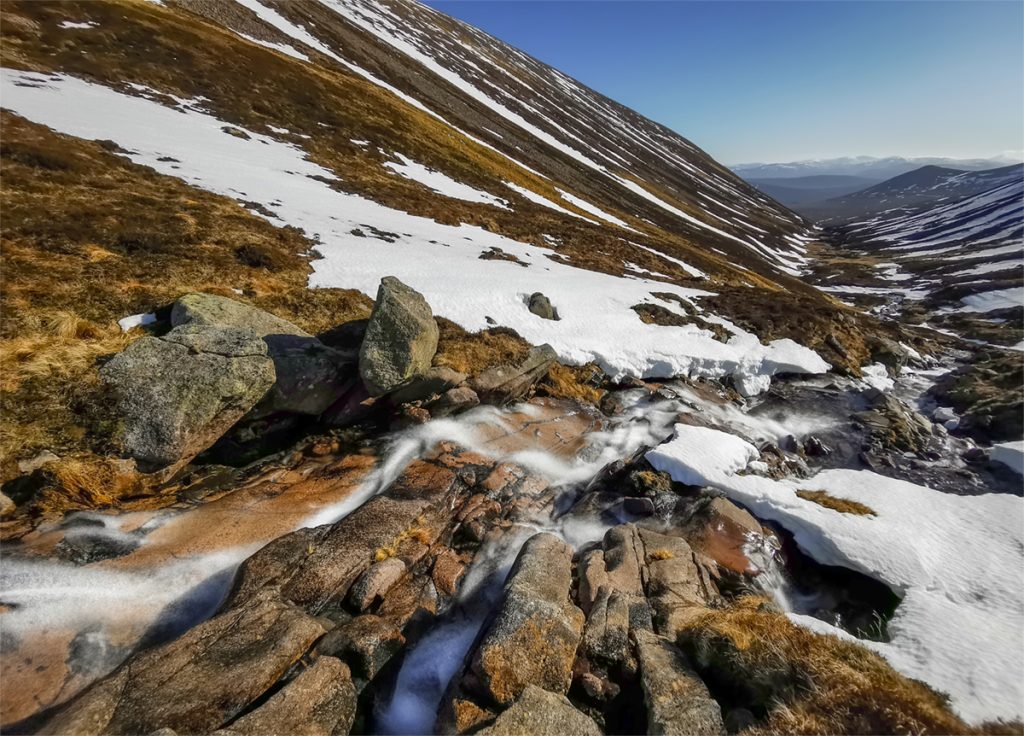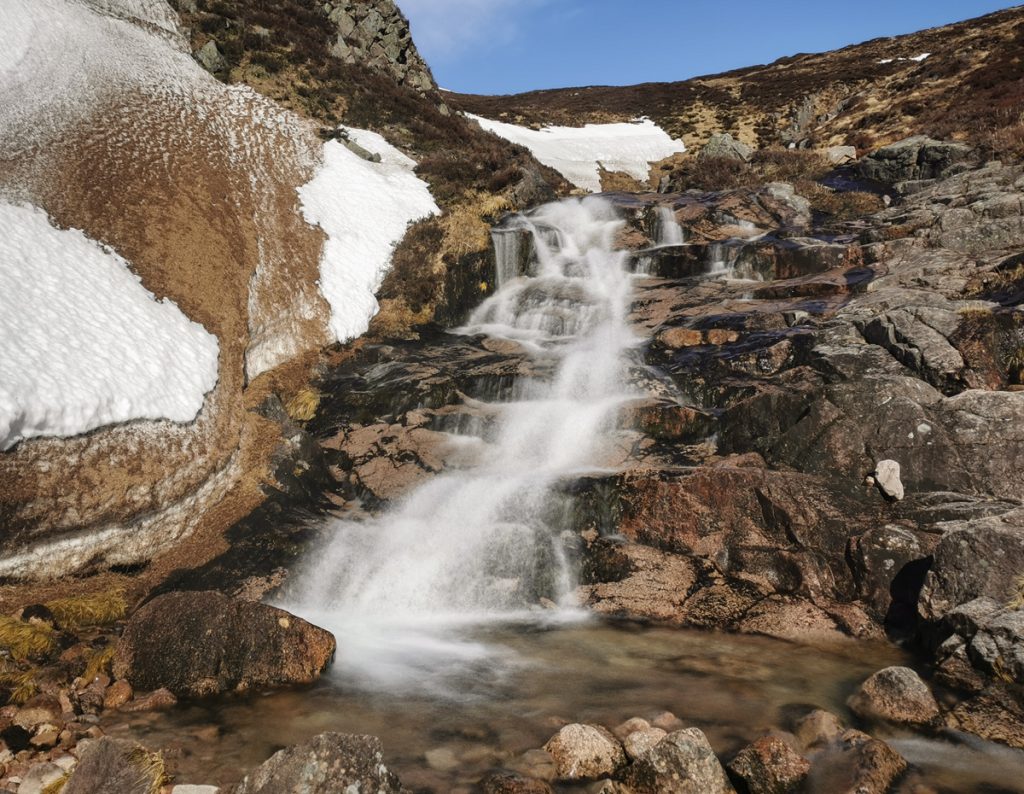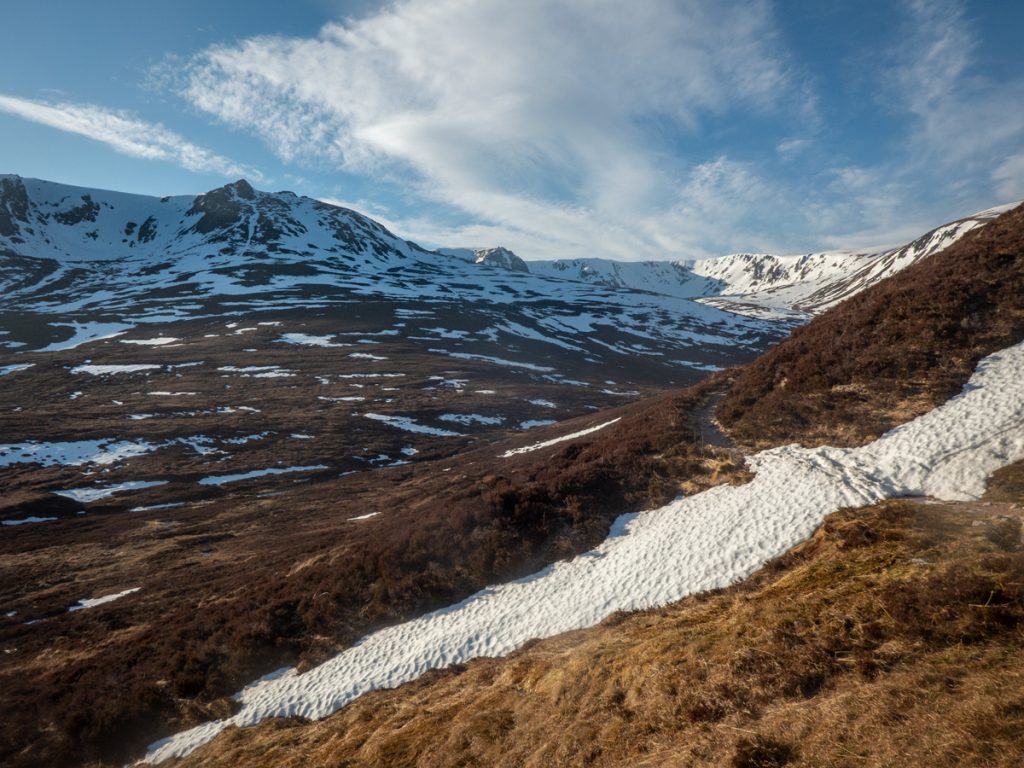 It's a long descent, and now sheltered again from the wind, great fun. The left track high above the fairy glen although neither as steep or technical as the path into the bottom of the glen, twists and turns pleasingly and has moments of rocky spice.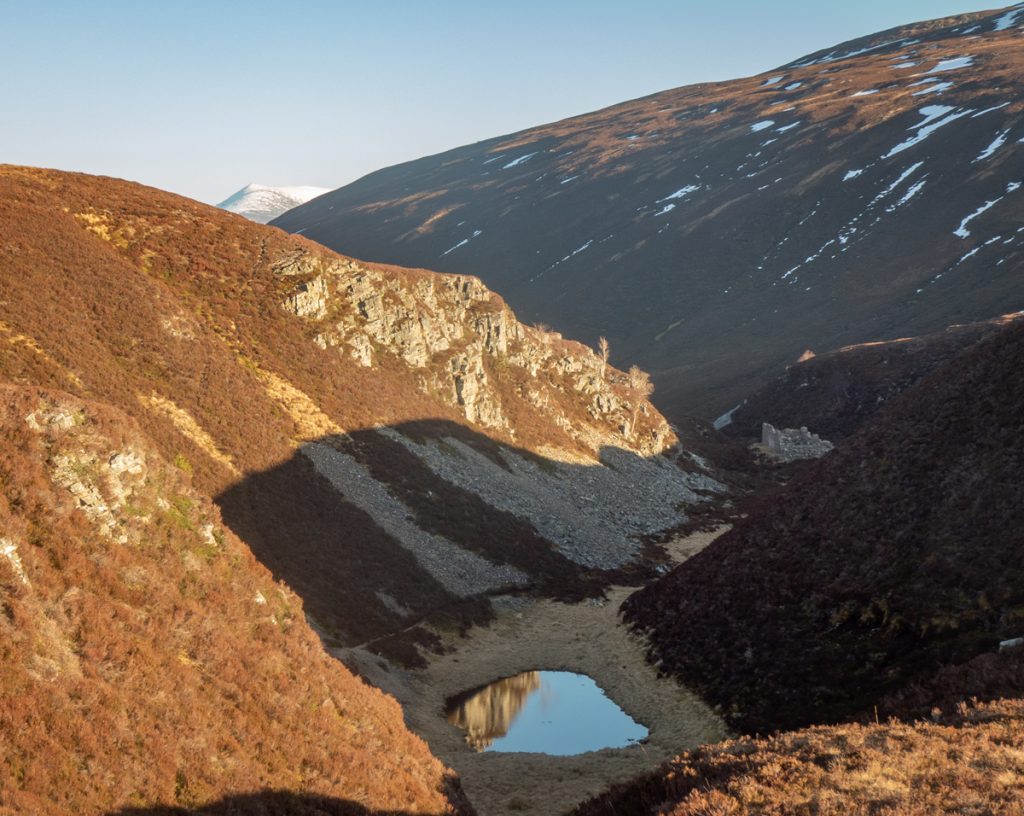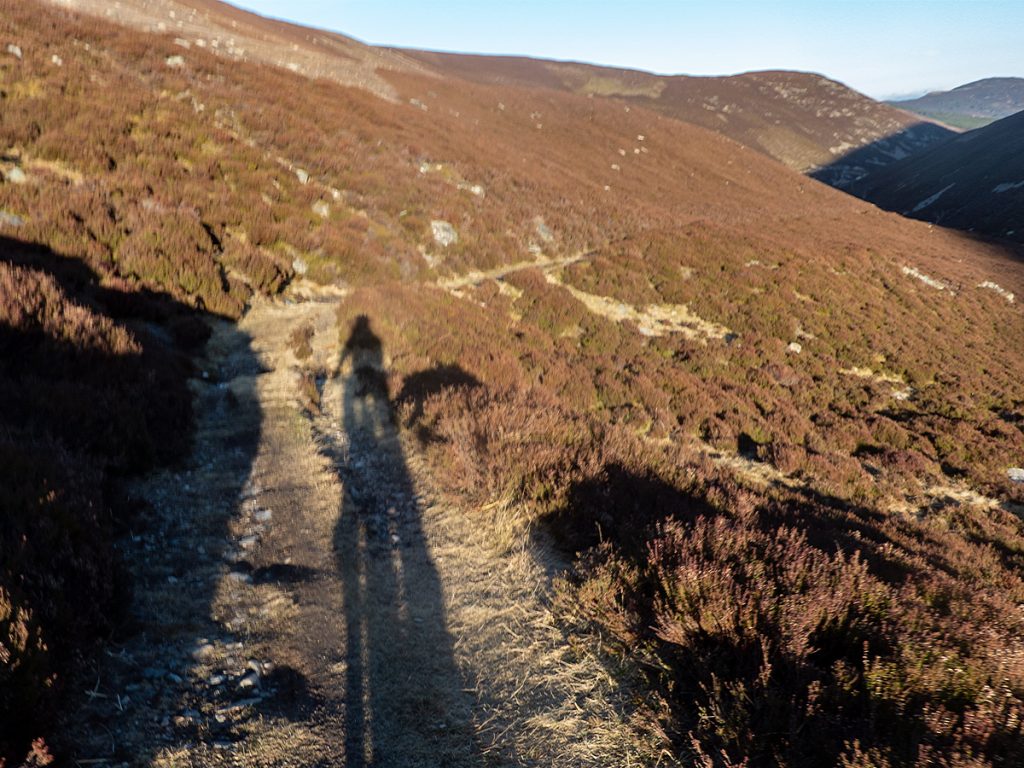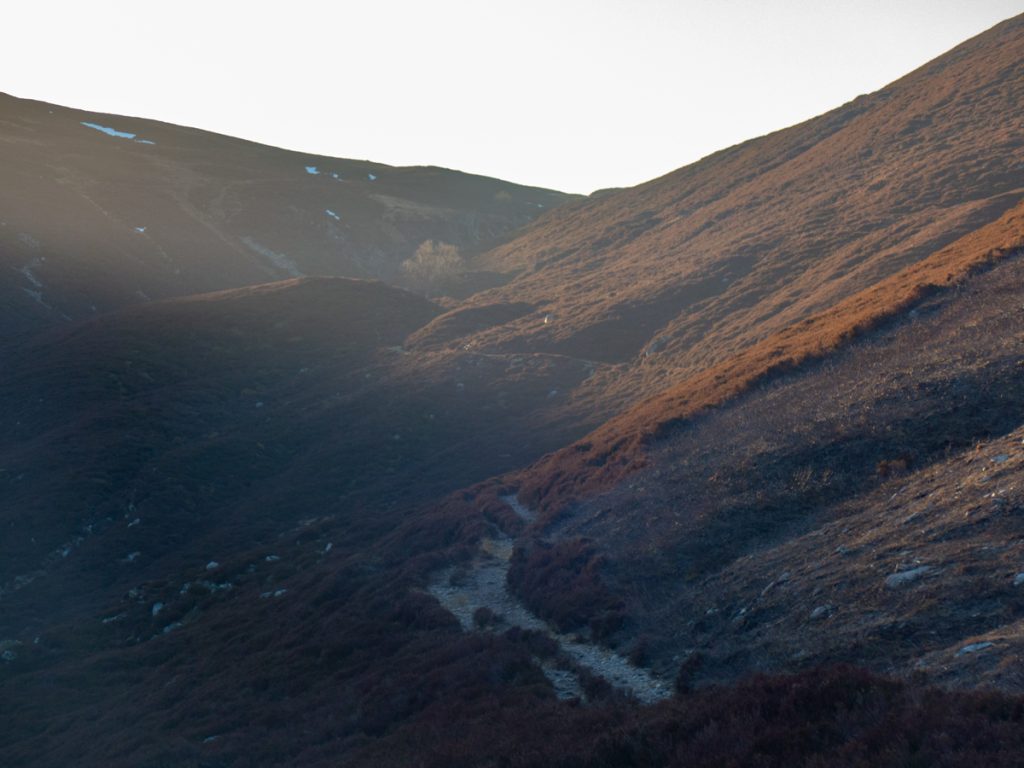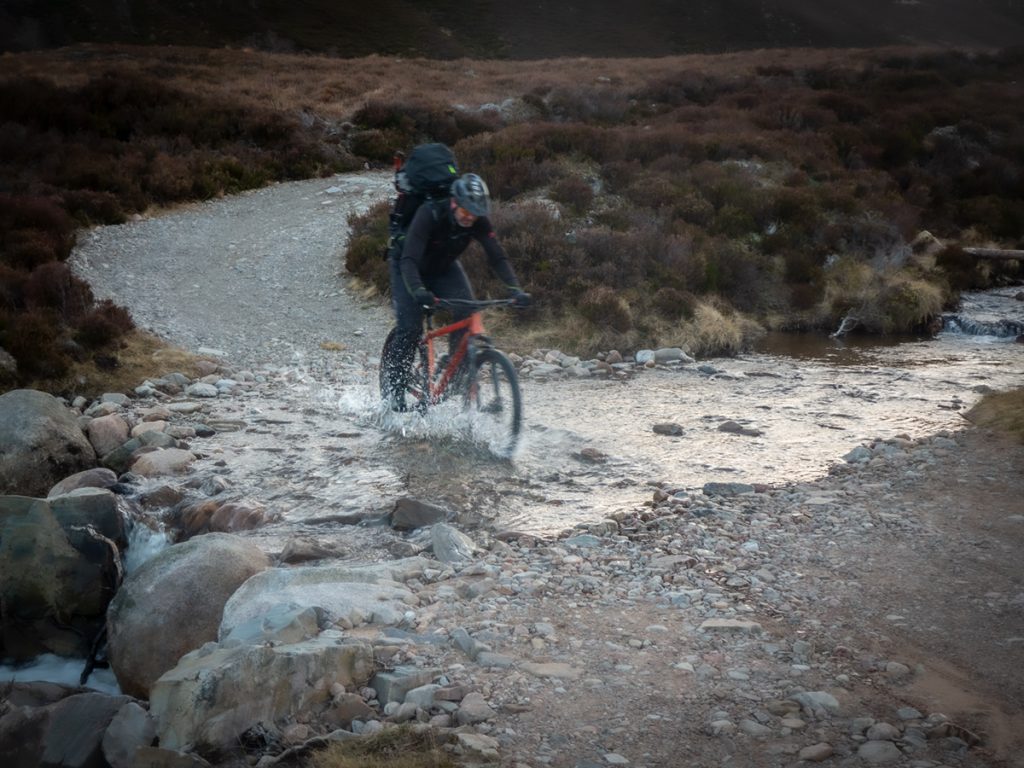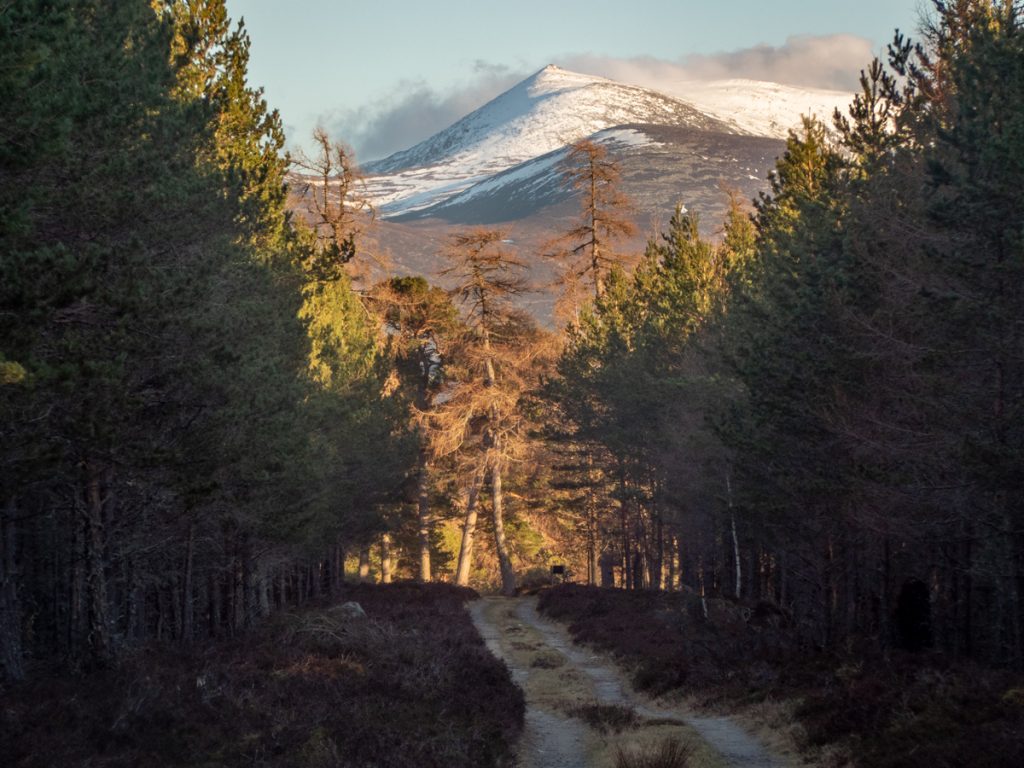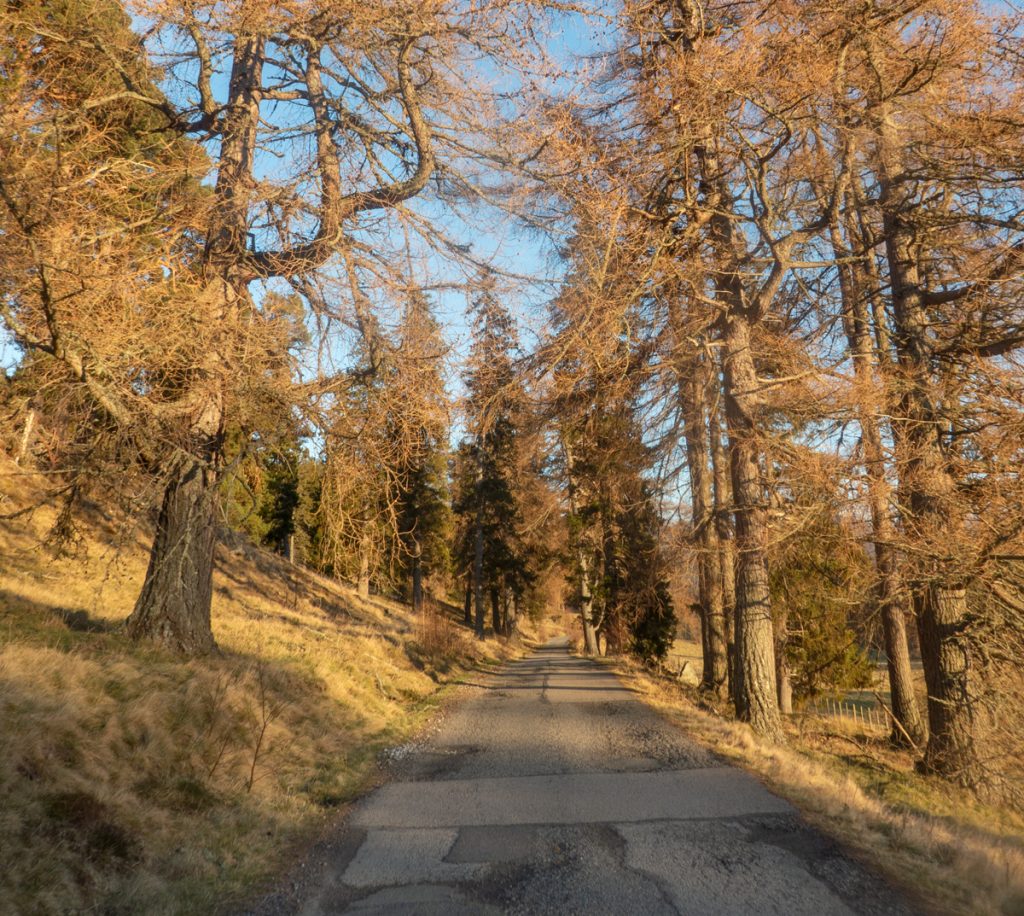 We didn't detour up around Craig Leek this time, with 36km in the bag it was plenty to make it back to Keiloch just in time for sunset. The snow is beginning to melt now and with temperatures rising, fair to say that spring is now in full swing. I imagine the next visit to the mountains will see trails mostly clear of snow.