After spying an email at work inviting folk on hillwalking trips with a club called 'The Cairngorm Club', I thought I'd investigate further to widen the opportunities to visit new places.
The event invite mentioned info from a previous club report for Ben Rinnes, dated 1891, which I initially presumed was a typo for 1981 – but it was the correct date, this is a club with a history!
With autumn light being precious, the start was 7am, earliest I've been up on a Saturday for a while. The weather report was good, and arriving at the car park I decided to pack my new Berghaus VapourLight smock for a first outing (it's an ultralight waterproof primarily for trail running and the like) rather than a more robust and heavier goretex.
The climb up Ben Rinnes is a fairly short affair of about 3km, and up 500m to the peak at 841m. It's similar in scope to Clachnaben, and they also share similar crowning granite tors, though Ben Rinnes has *3* to explore.
After a quick stop in Tomintoul to fuel up on tea 'n' rolls, we headed out in 2 parties, one taking the minibus elsewhere but enabling our route to start East and finish West.
The forecast was pretty clear, a low risk of a spot of rain later in the day, but blue skies right now so slapped on some sun cream and got cracking. A crisp and clear day made for good progress up the path
Nice light, with clouds drifting past at a low altitude
All easy going on the path, the odd rocky bit and a few steps higher up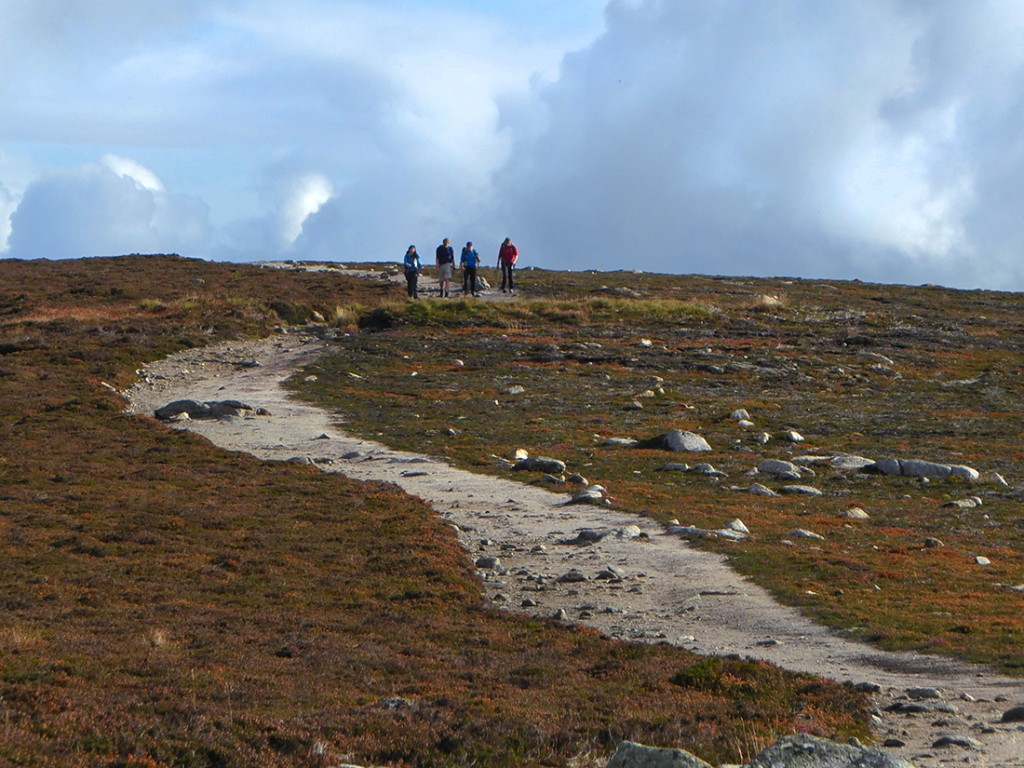 Brief refuel then onwards. I'd pulled ahead of the group, keen to get some exploration time on the tor having scoped a few interesting photos before heading out
Here's the first tor, officially known as the Scurran of Lochterlandoch
Interesting angles and erosion scrapes on the rock faces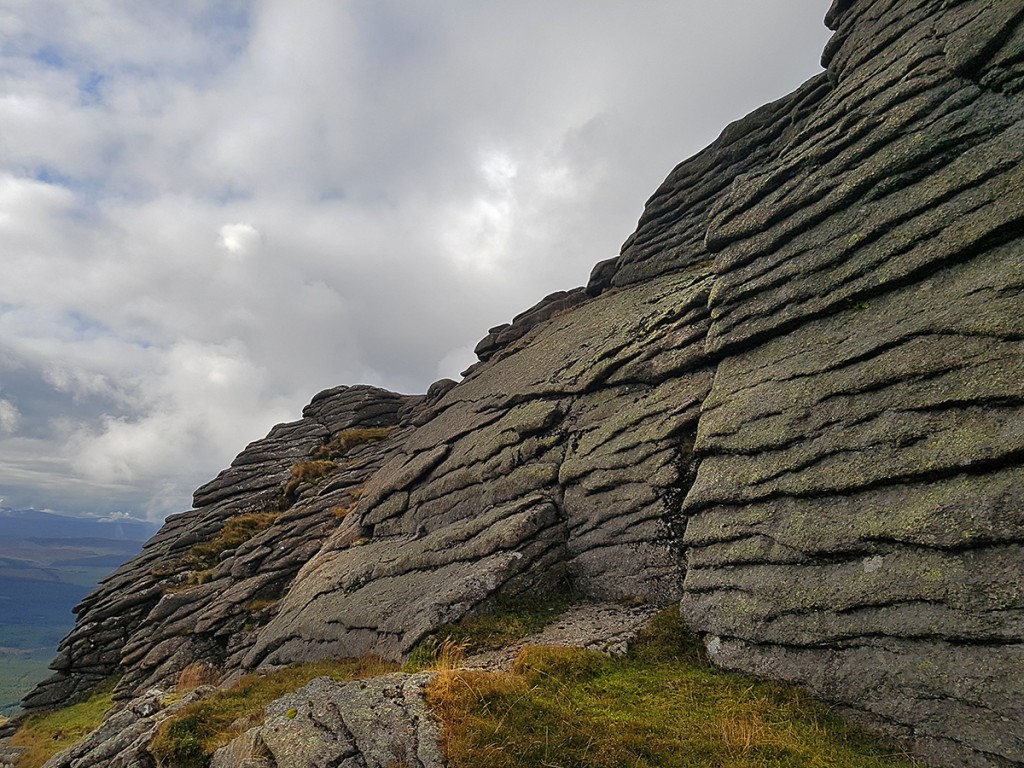 Looking from the East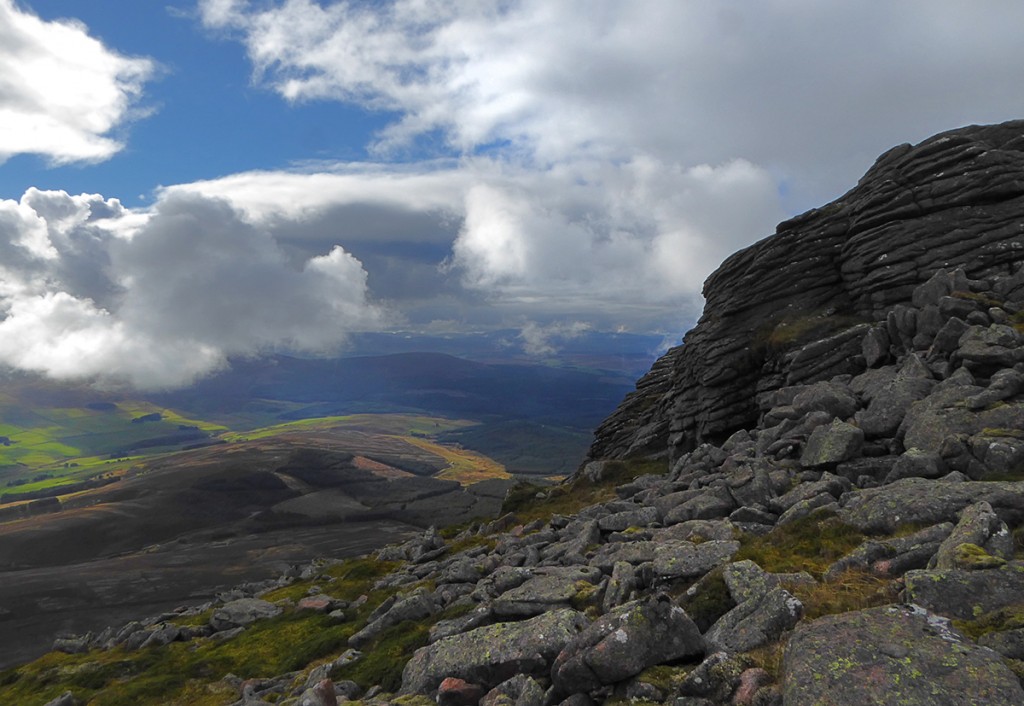 The West side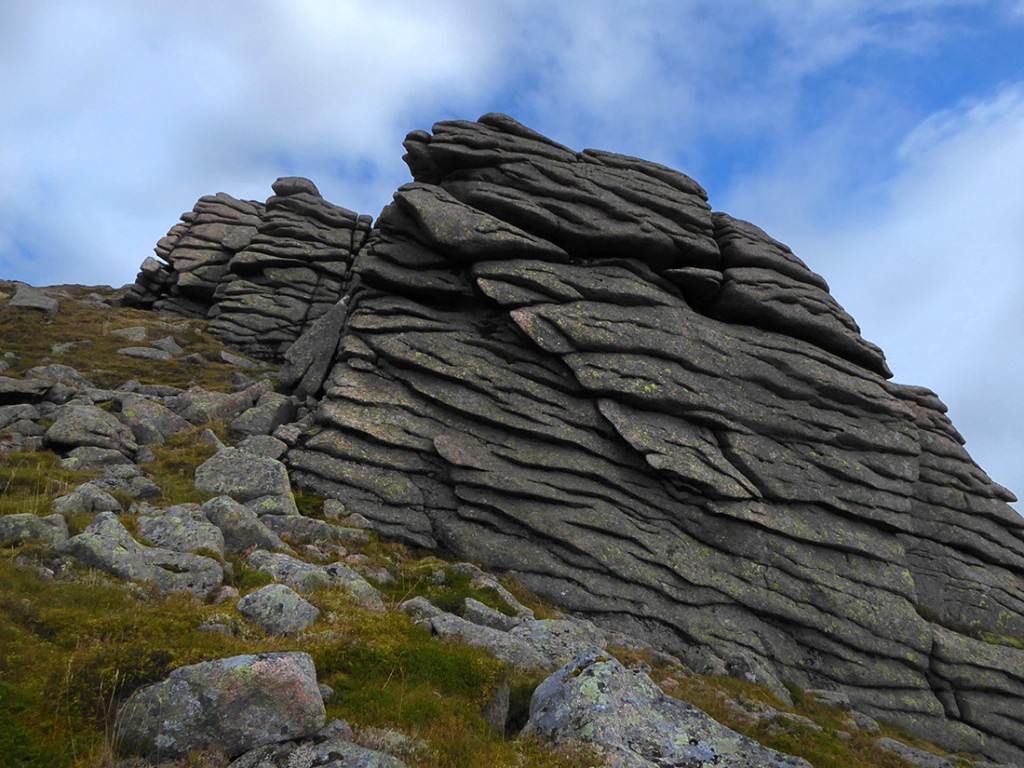 Like a stone turret guarding the peak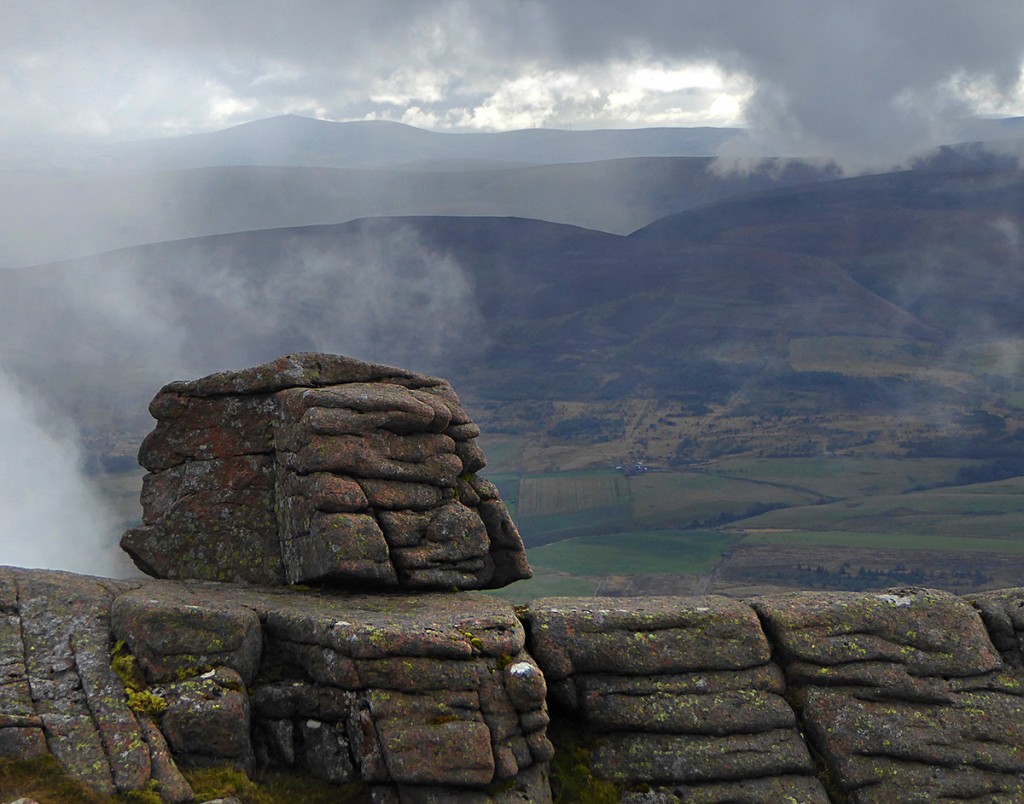 Didn't notice when I took this photo of how seemingly precarious this rock is balanced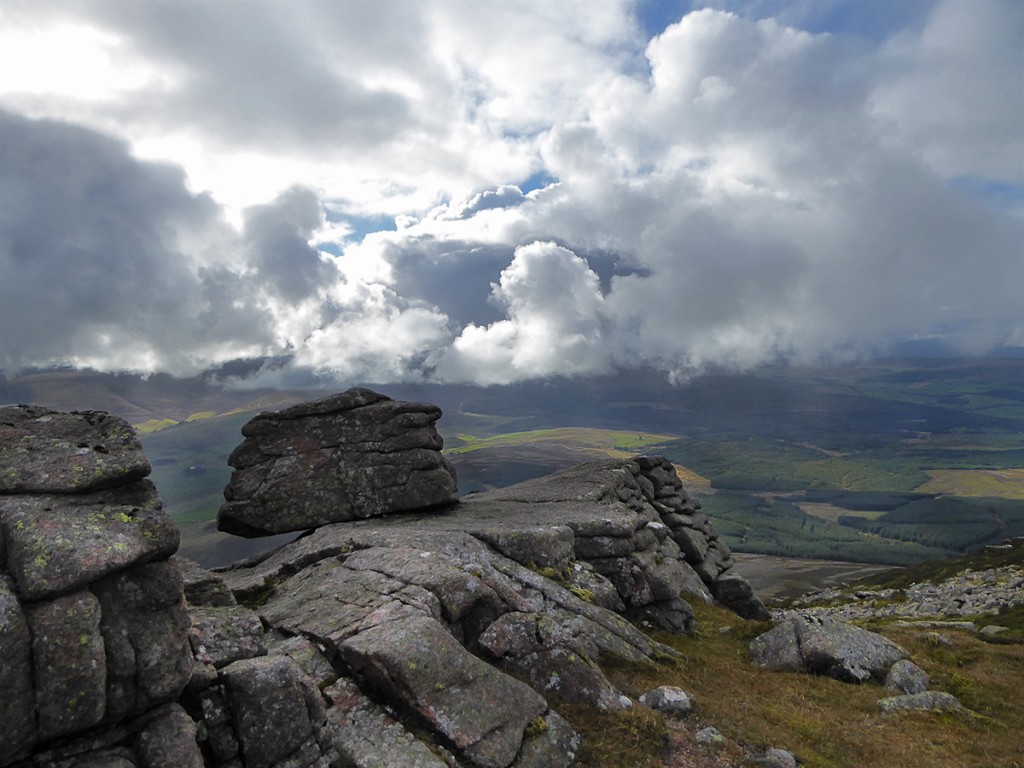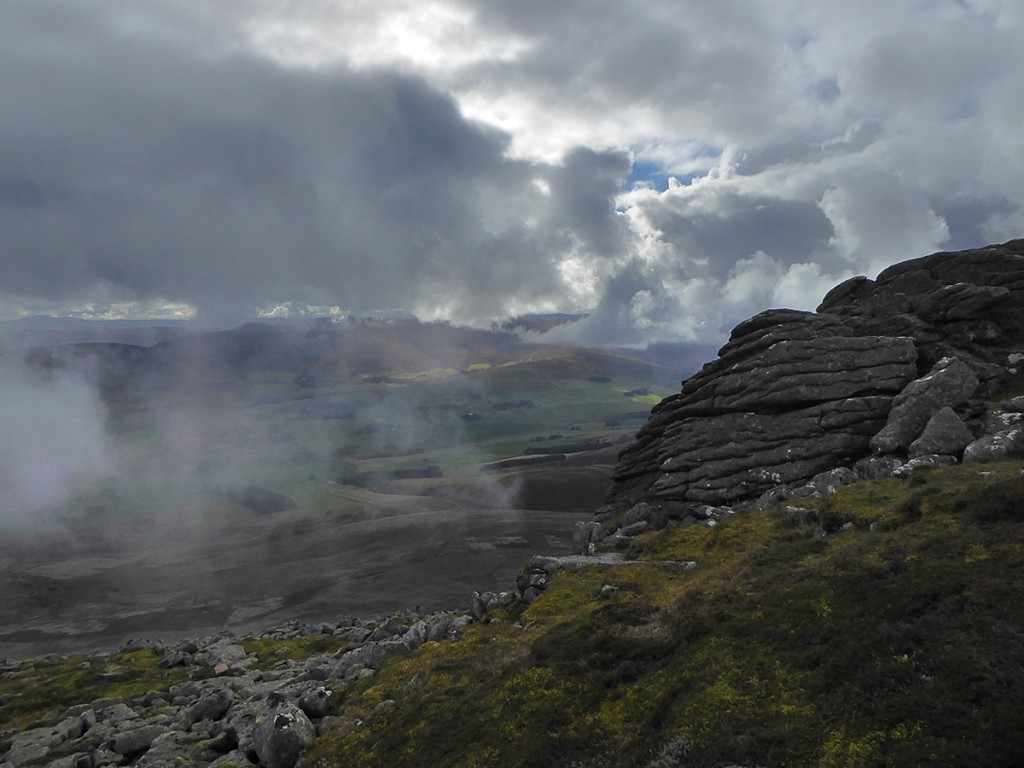 The peak indicator lies another few metres higher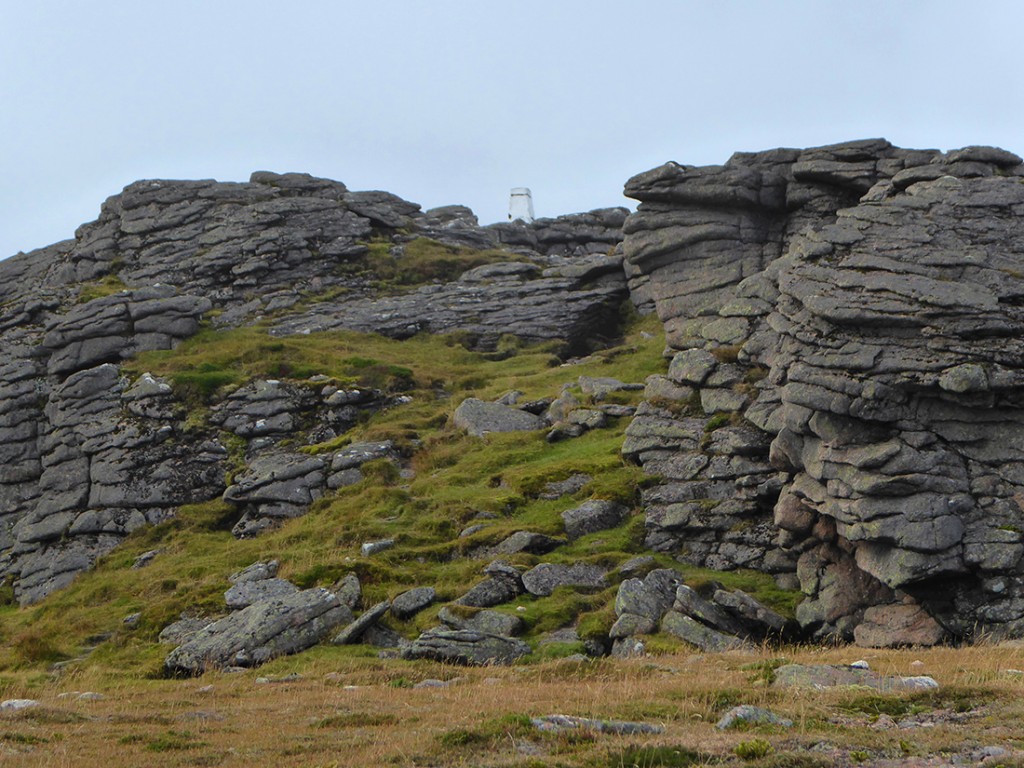 Clouds drifting across, difficult dynamics for photography, wish I'd taken my Sony NEX with me, but the Panasonic and samsung s7 managed some clips that after a bit of post production were reasonable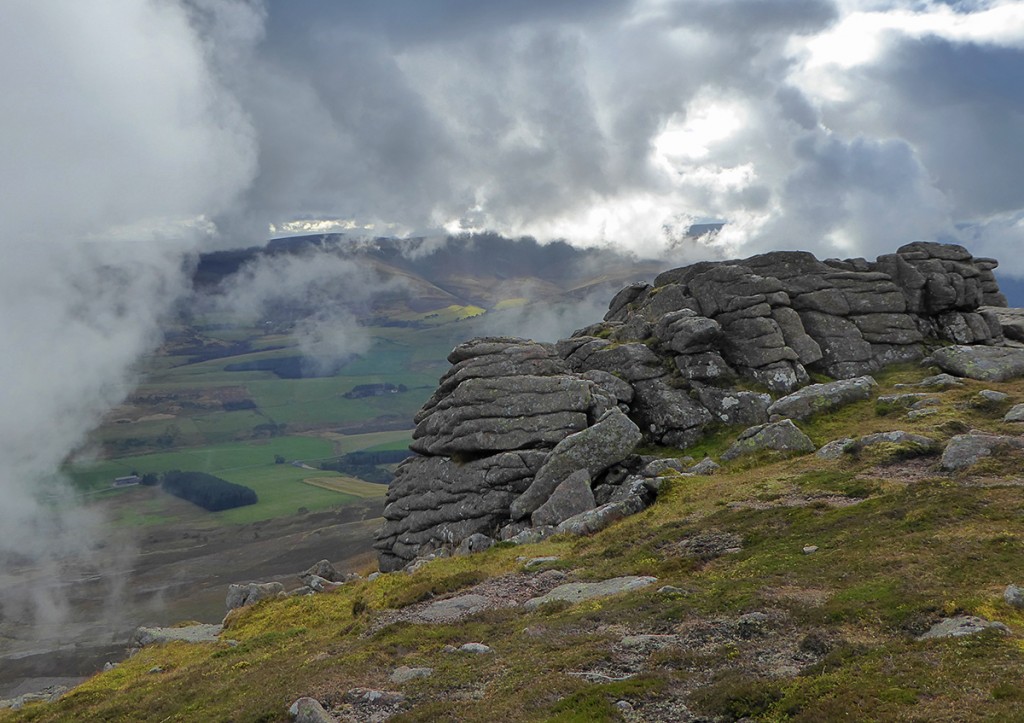 Almost engulfed by clouds now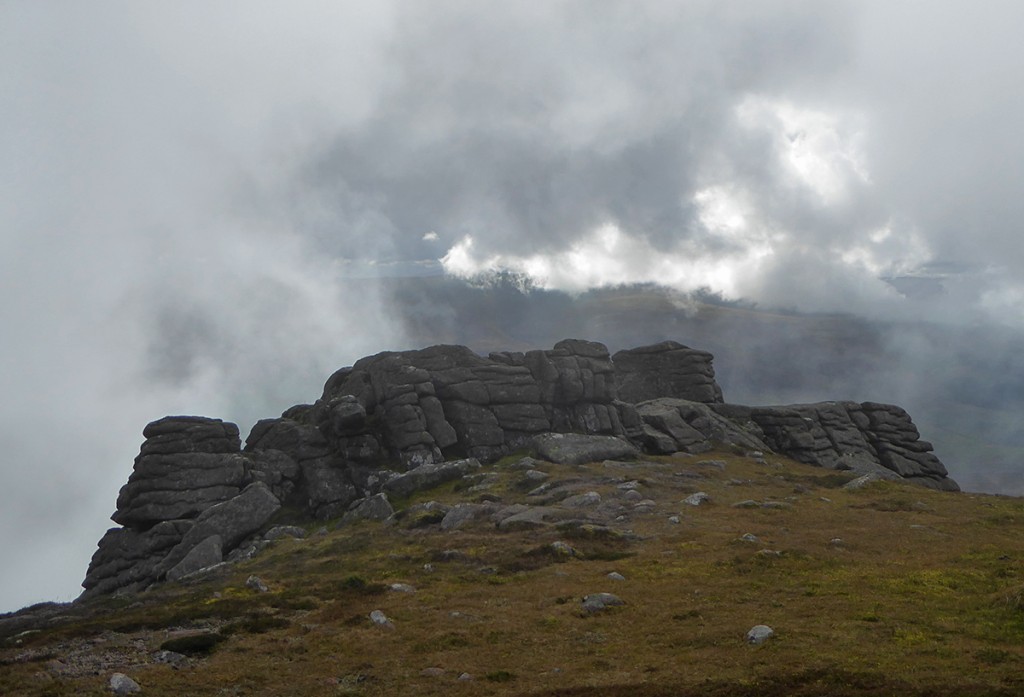 Up in the clouds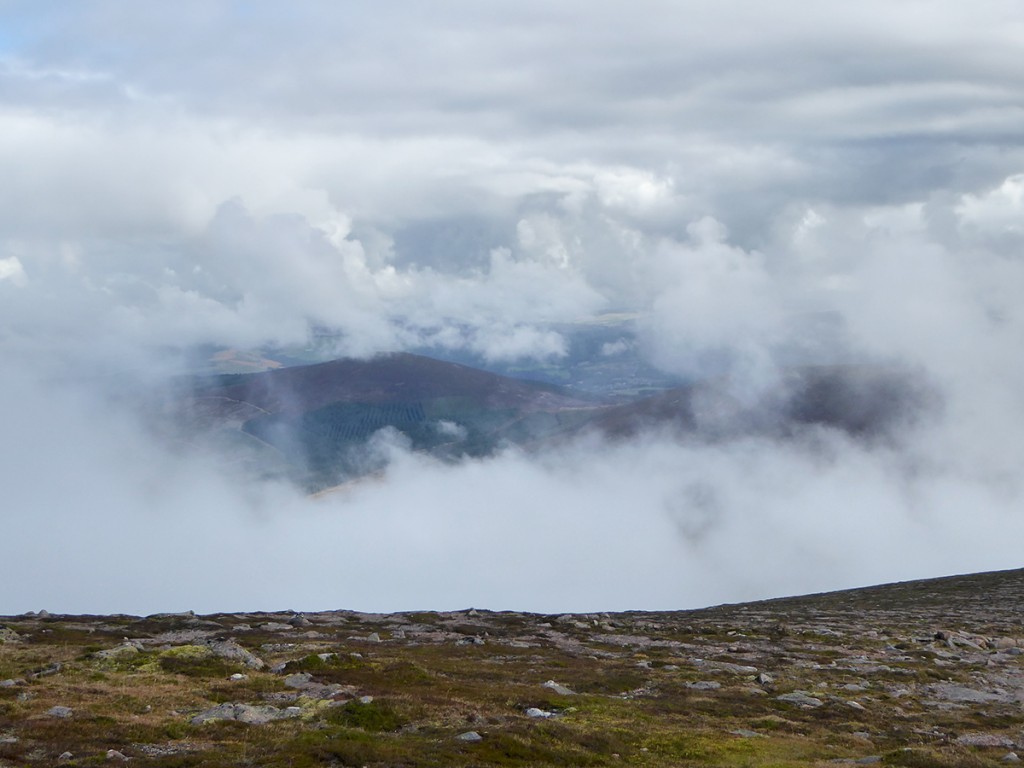 Looking back South from the indicator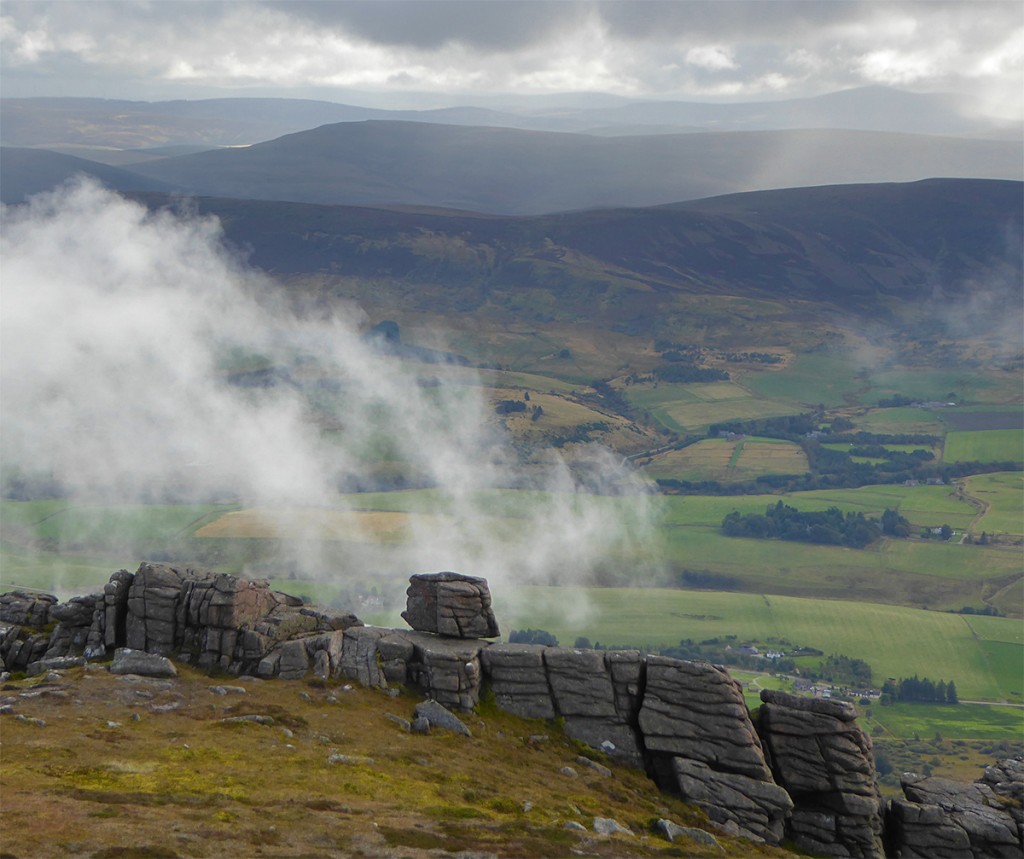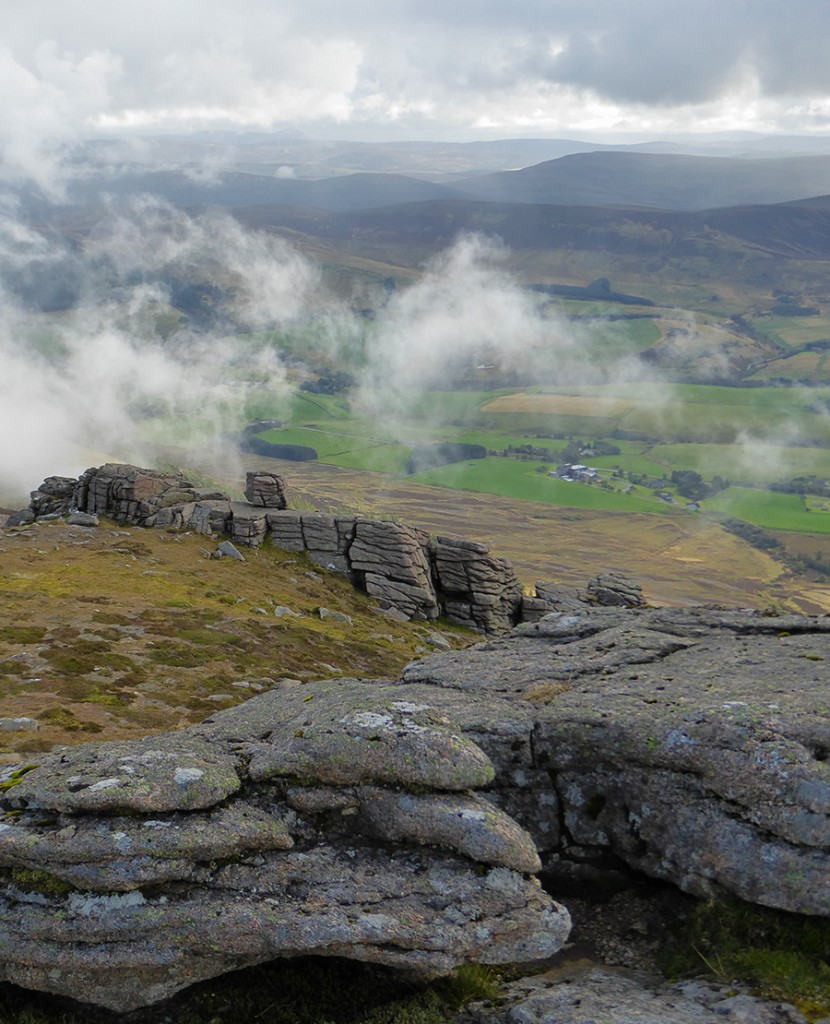 Spot the distilleries on the shiny view indicator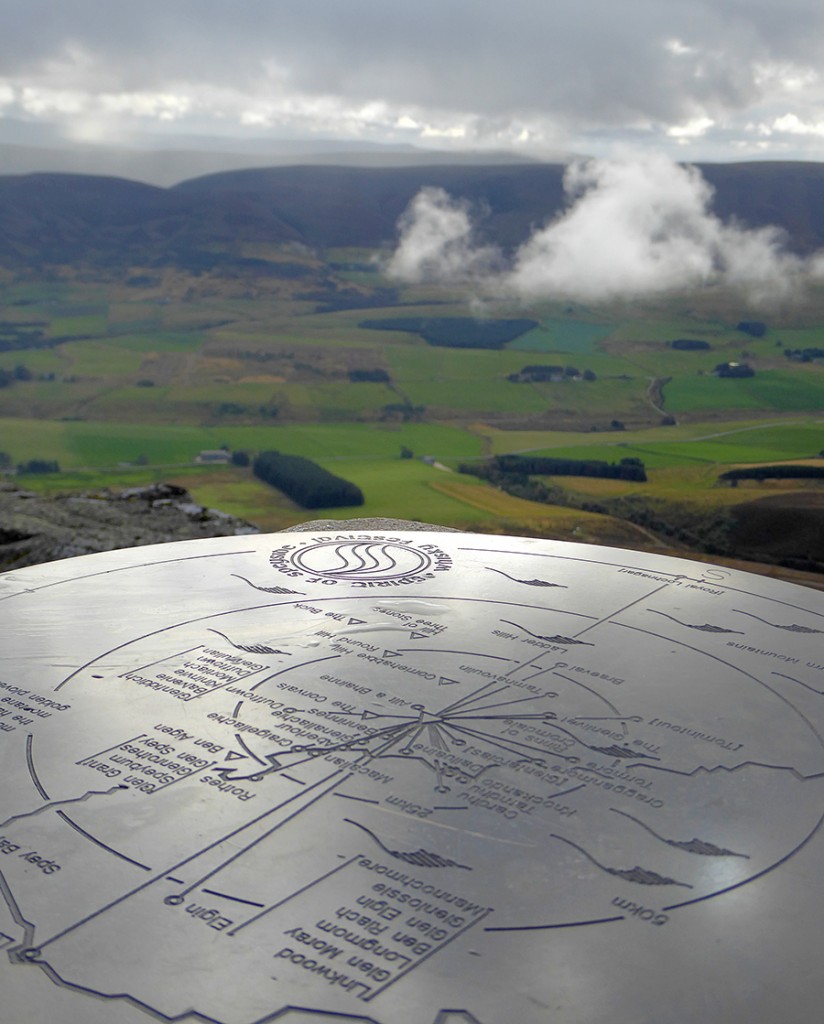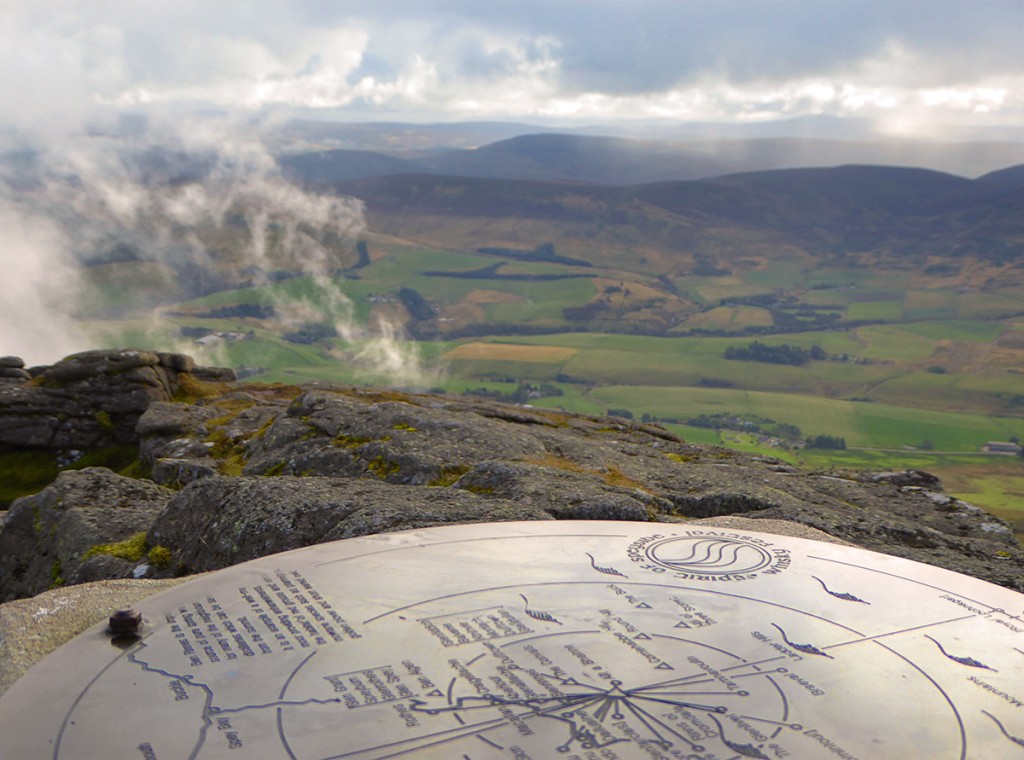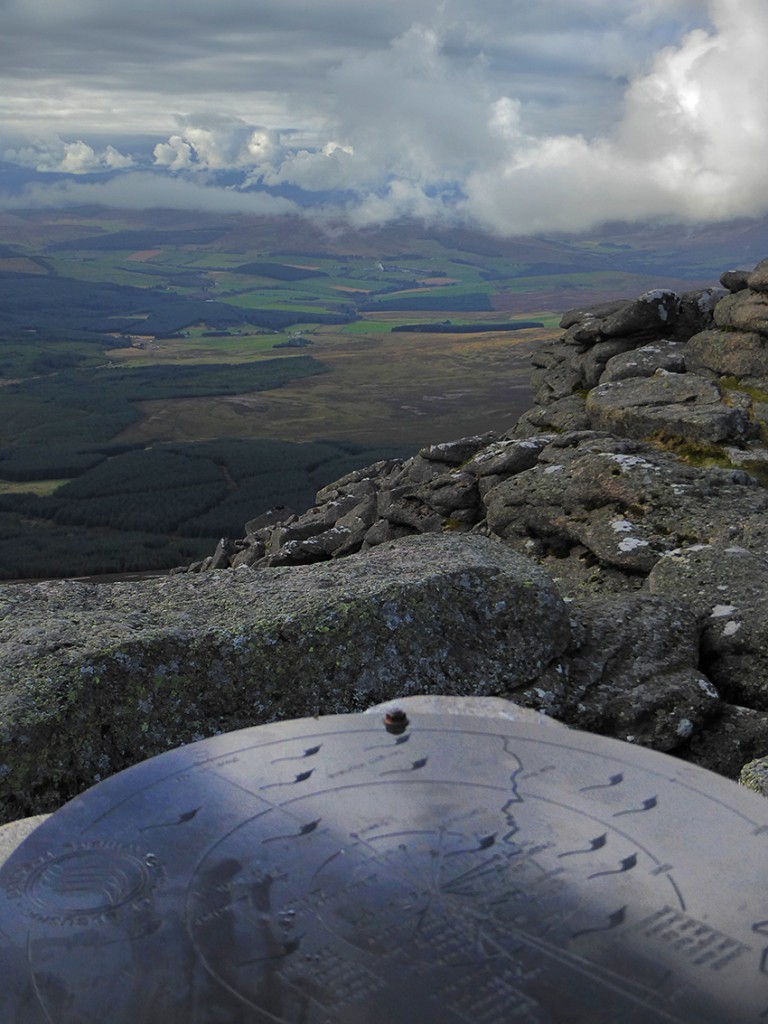 Quick spot of lunch then onwards North to the next location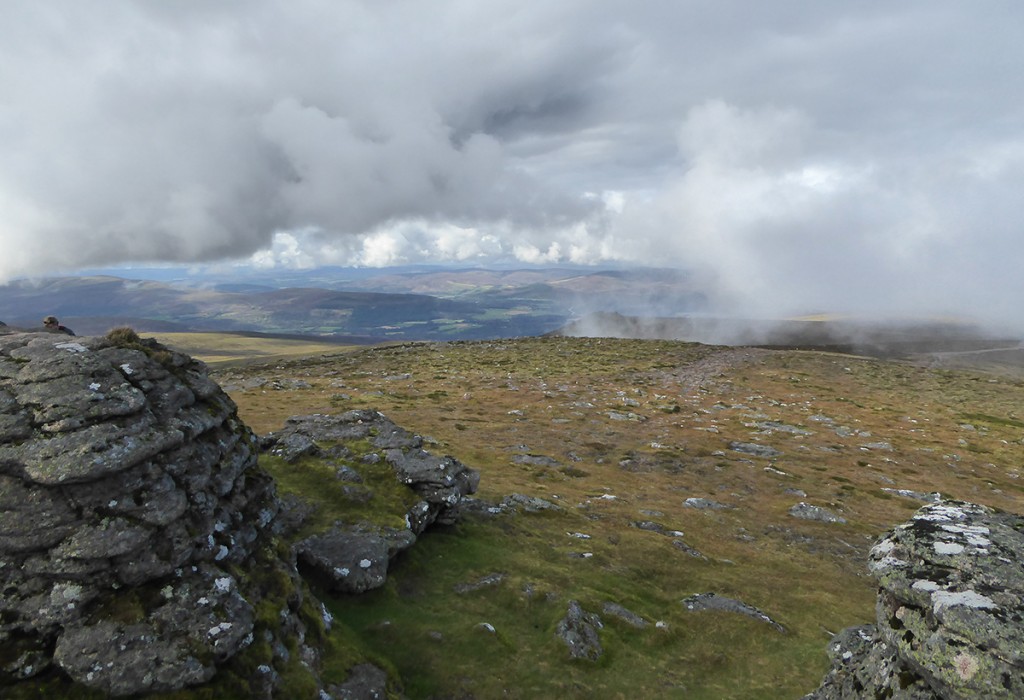 Looking West through a gap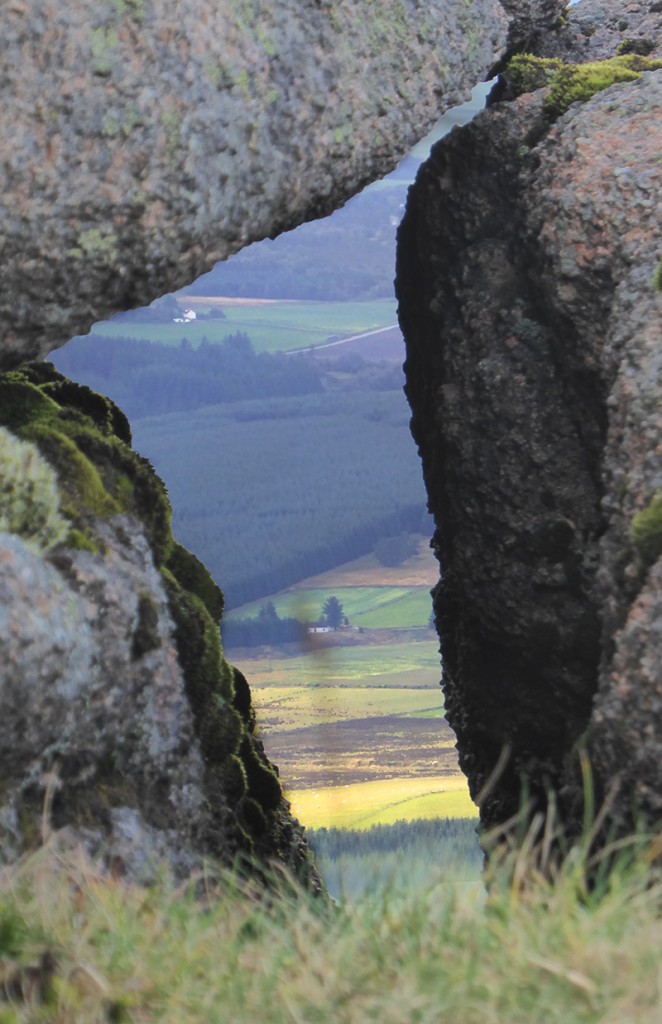 Zooming way in past the Scurran of Morinsh (which will be passed later), to The Spey and the old rail bridge at Cragganmore that conveys the Speyside Way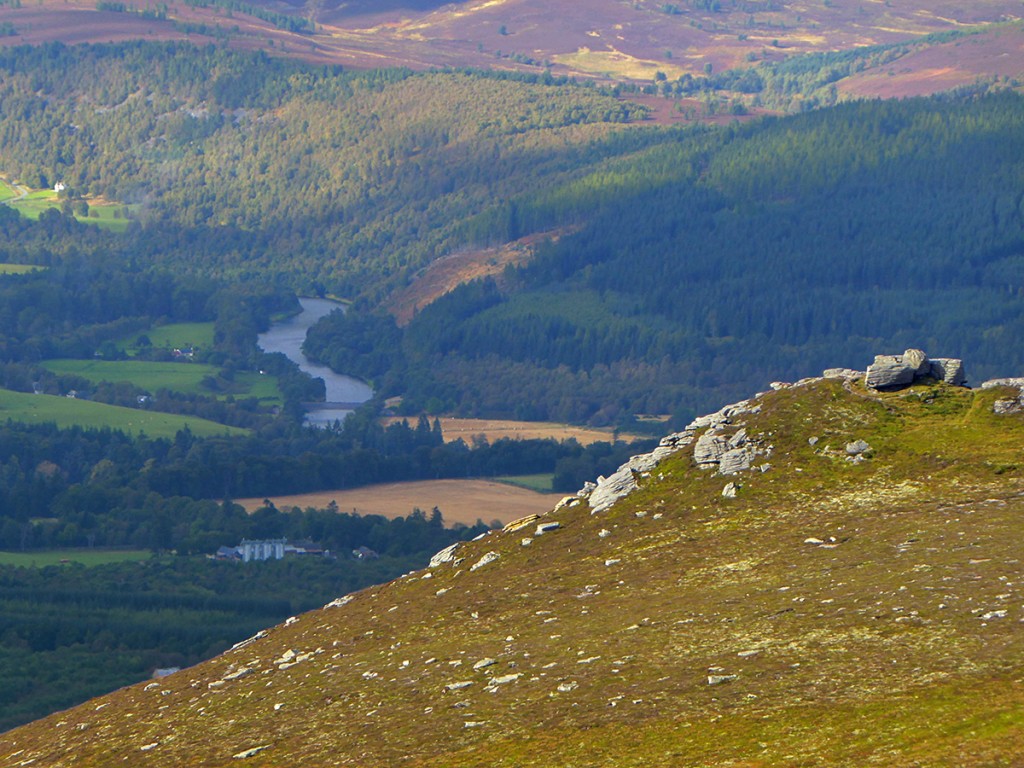 While making our way, we did a bit of navigation practice counting paces per 100m and taking bearings to a point of interest marked on the OS map called Hangman's Craig. I should really practice more on map and navigation skills, so was a handy little session. Scurran of Morinsh up ahead, but we are heading North West first to have a look at something marked on the map.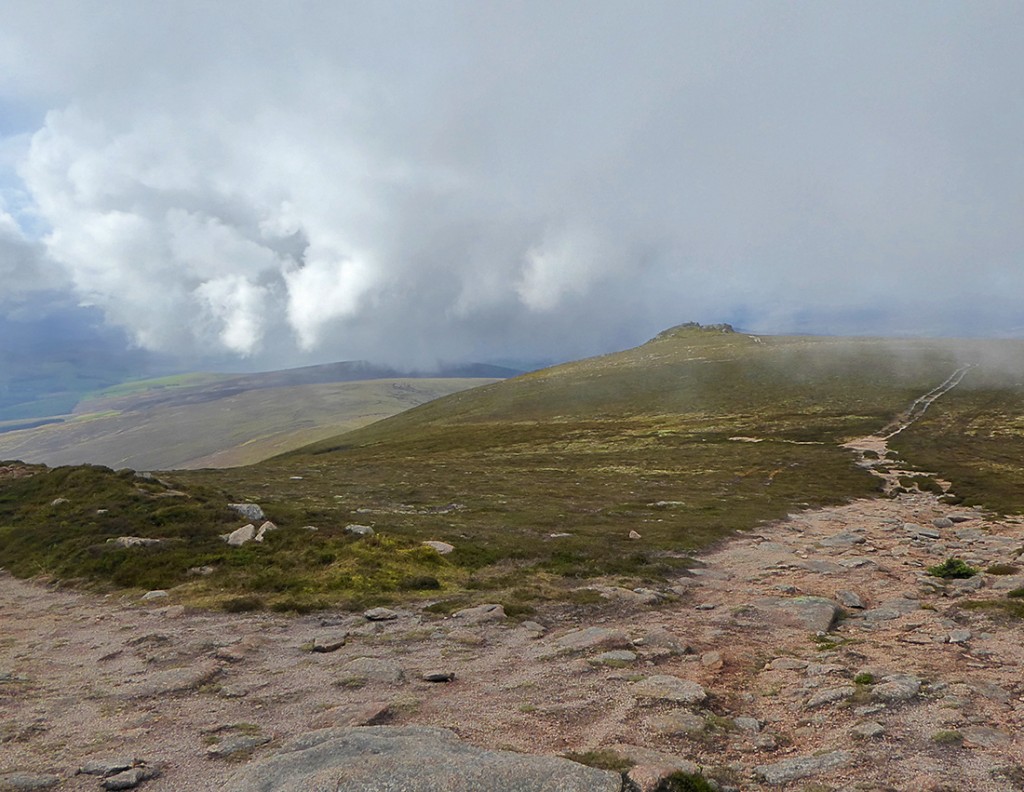 A rainbow appears behind the Scurran of Well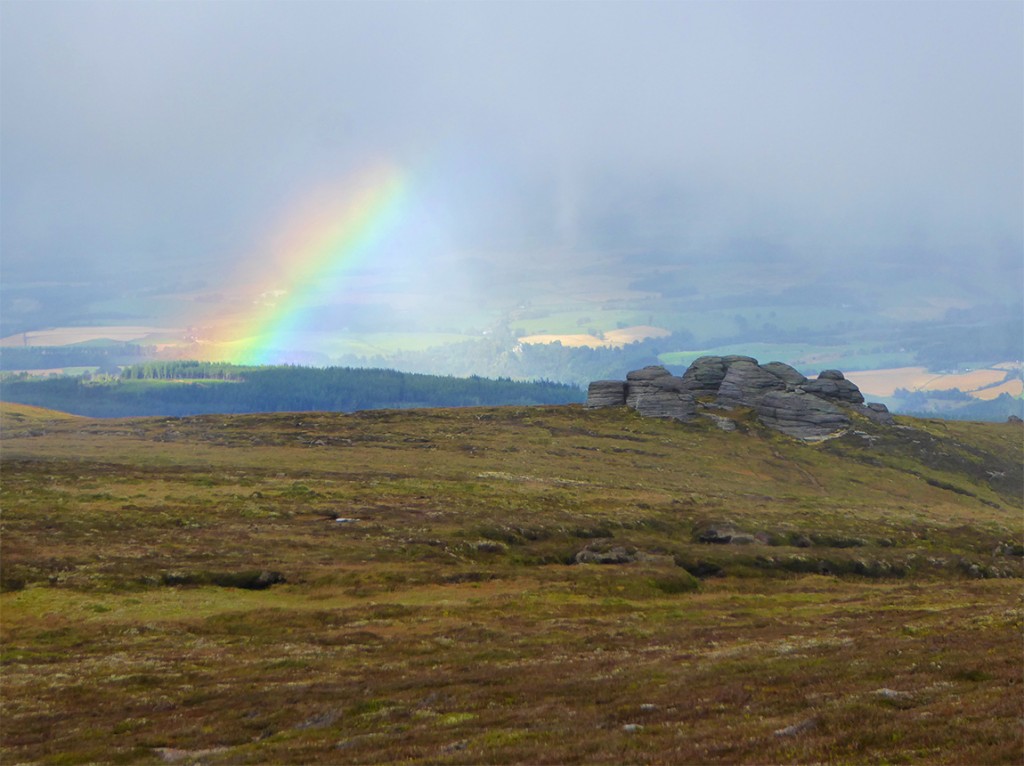 Making our way off piste I notice these crazy paths below
We are looking for 'Hangman's craig' an interesting sounding feature on the map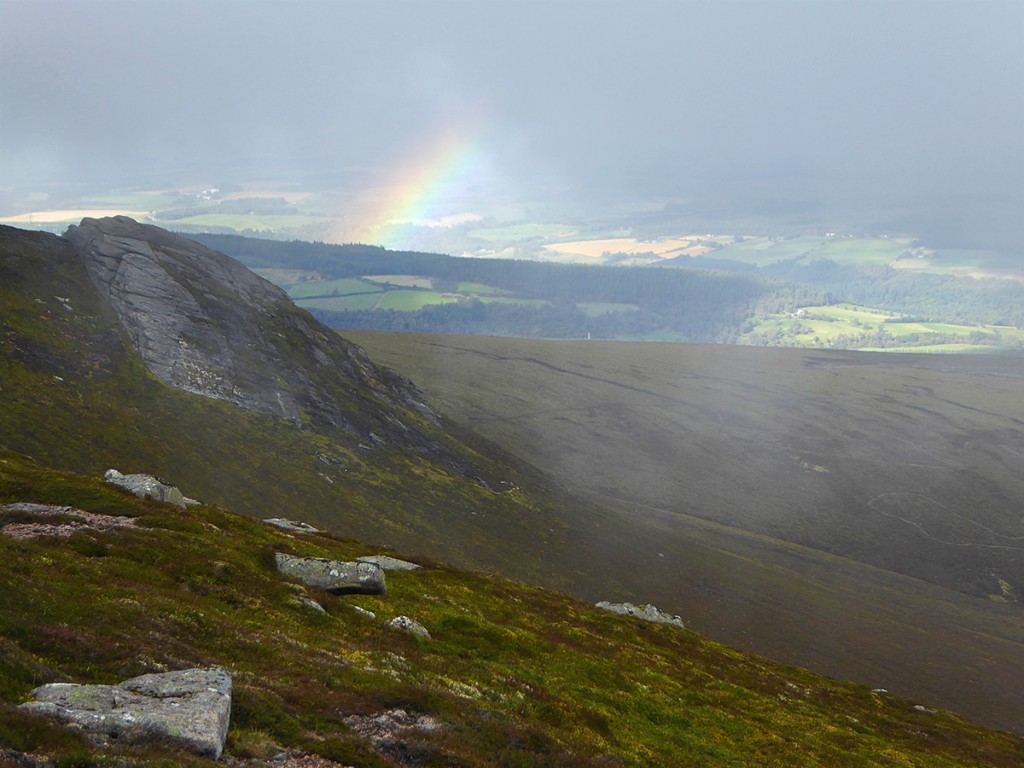 We arrive at the spot and confirm with gps, but nothing to see, no craig, crag or hollow. An intriguing name but it's one who's meaning has been lost in time, google doesn't show anything of note. We do find edible treasure however, there being loads of cow berries, a few blaes and the odd crow berry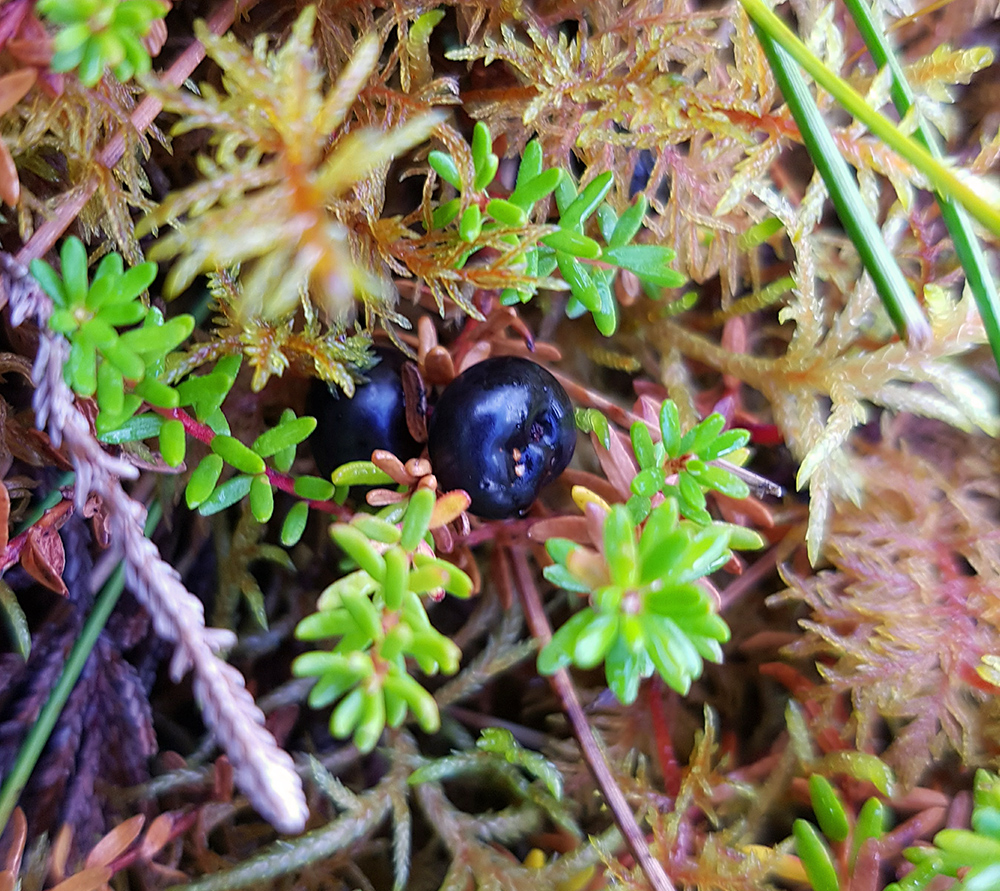 Poking about in the undergrowth it's a colourful wee world. Reindeer would love it up here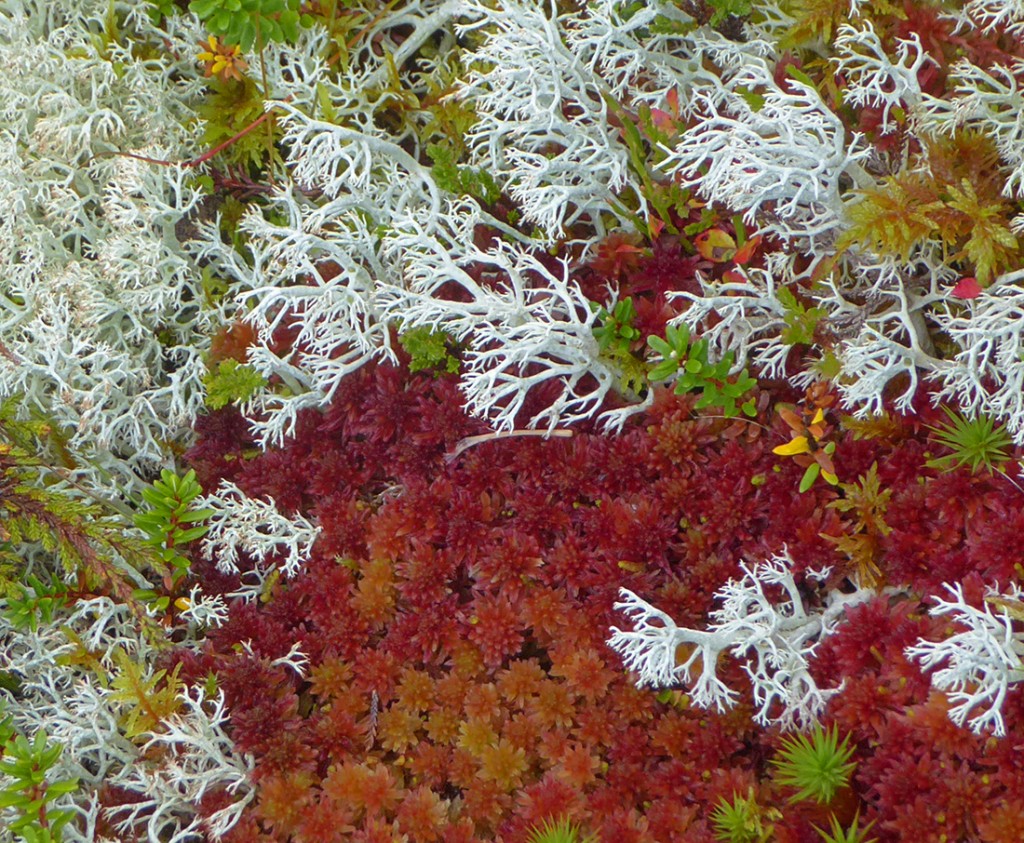 The 'small percentage chance of rain showers' in the morning's forecast is looking like a bigger percentage now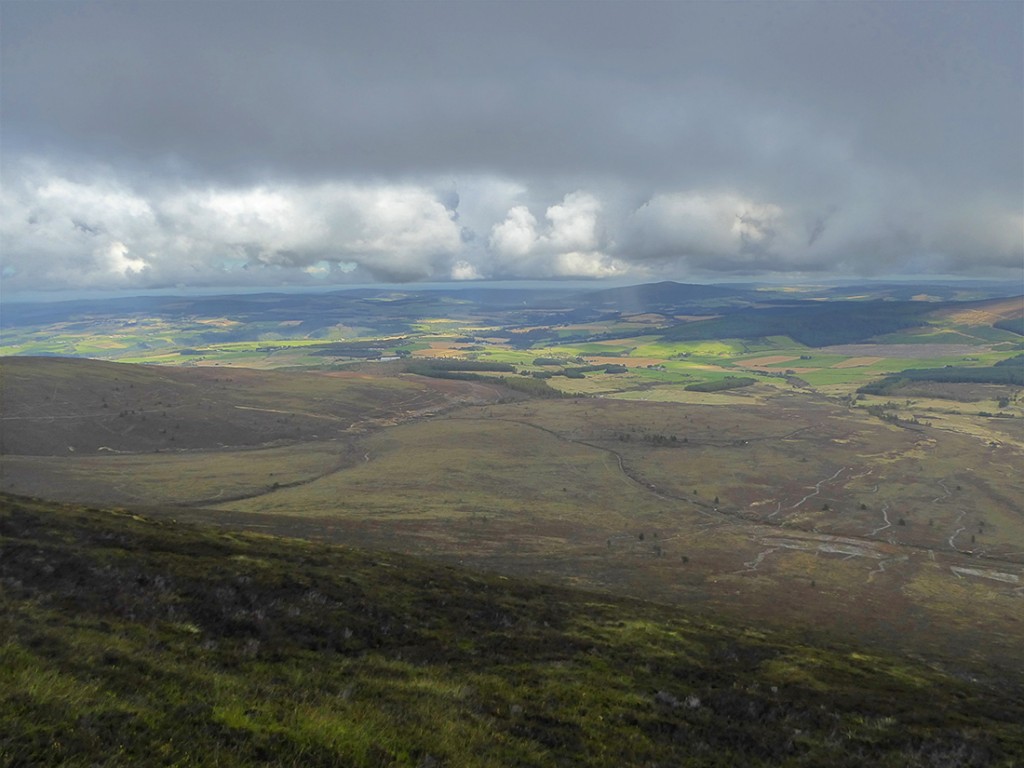 Looking South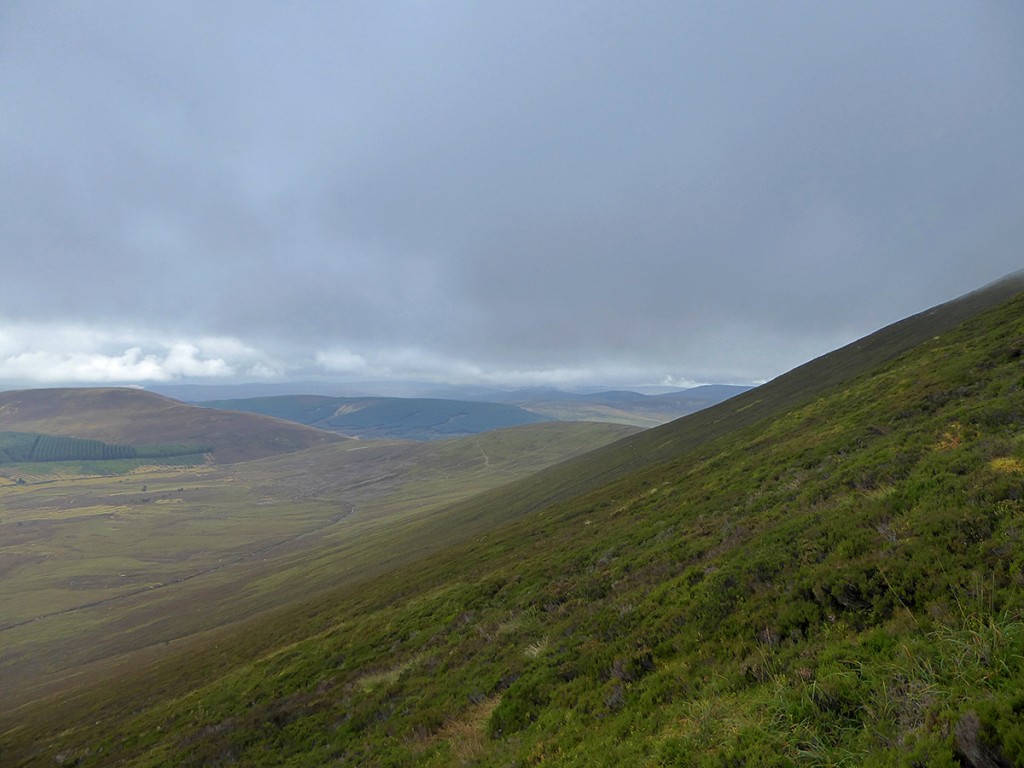 We begin cutting along the slope towards the next tor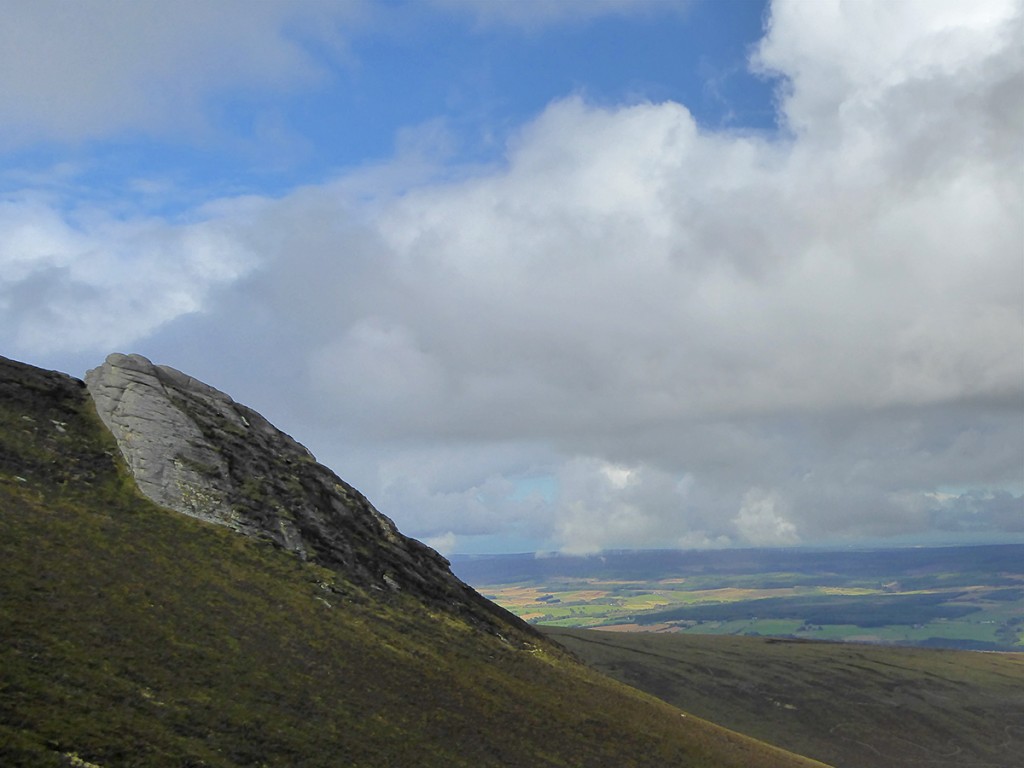 Chased by showers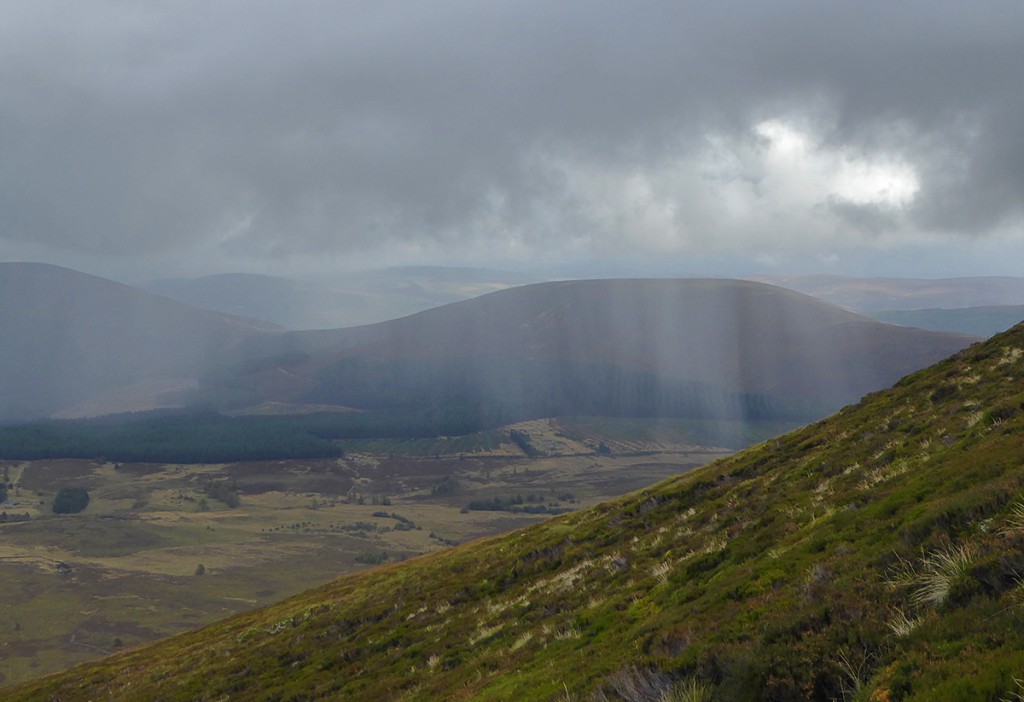 Perhaps they'll pass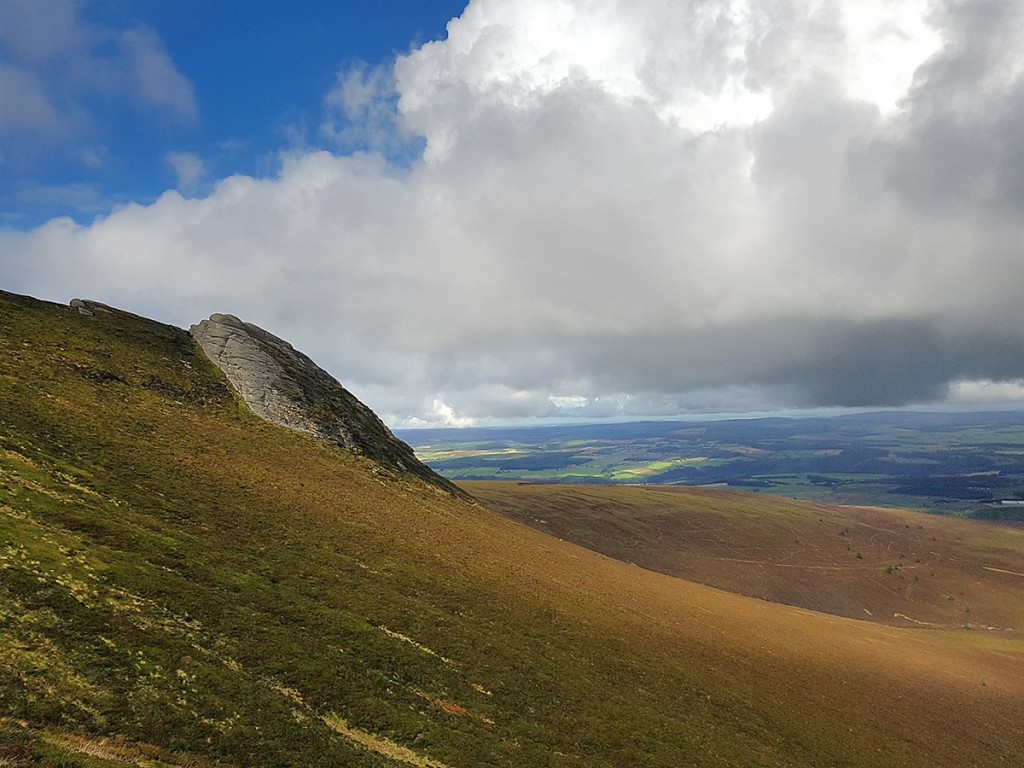 Perhaps not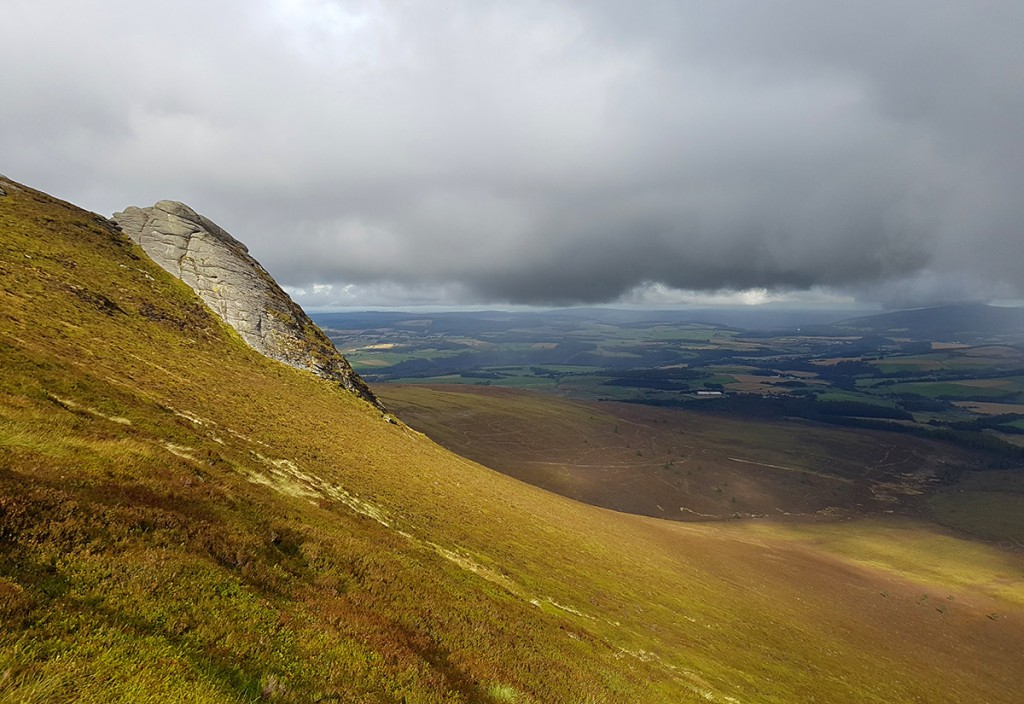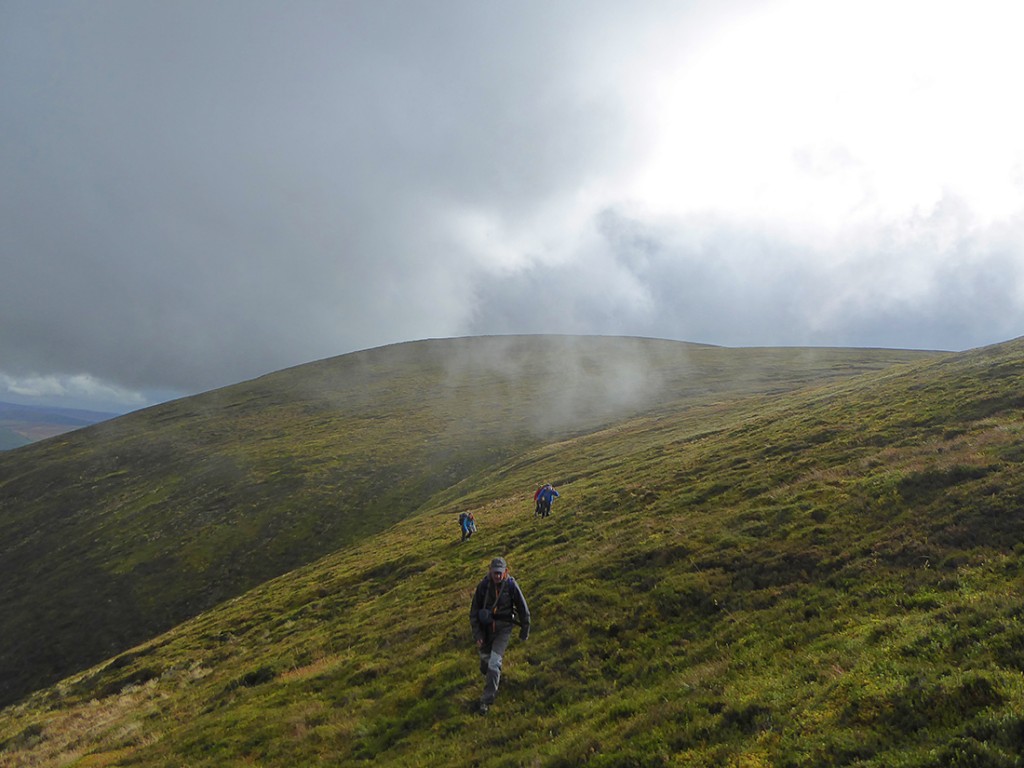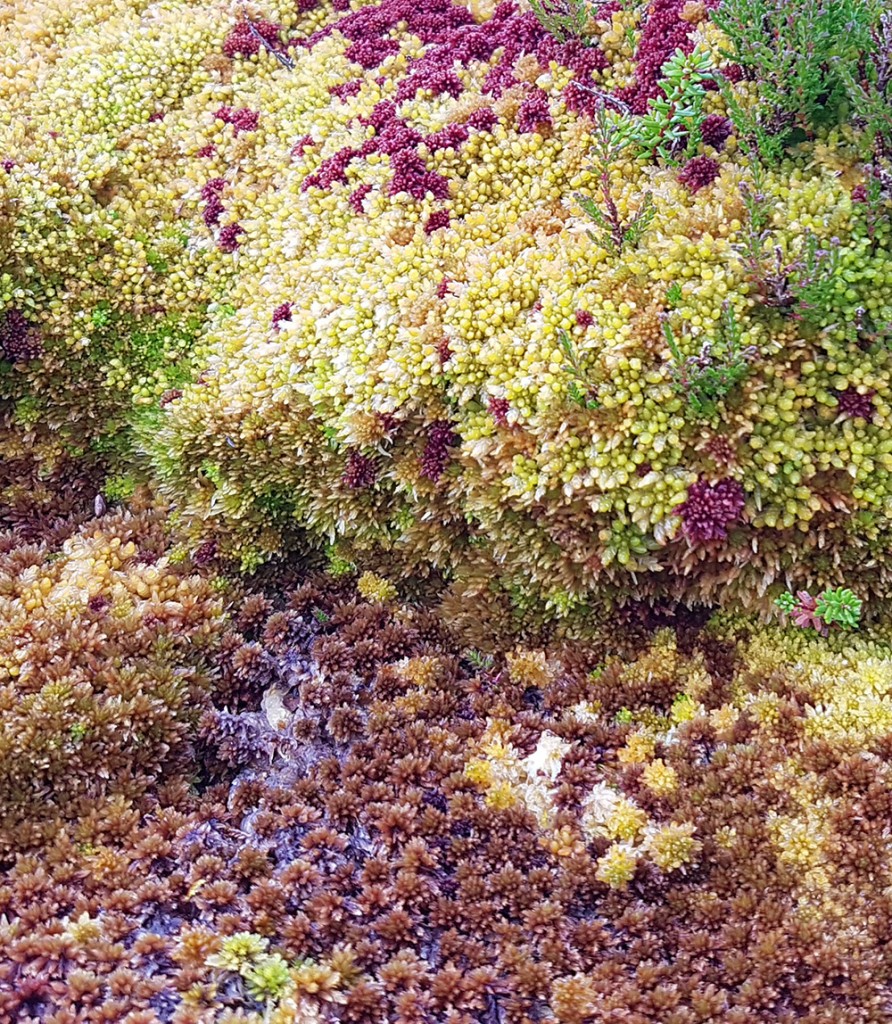 Here we are, another nice chunk of rock – Scurran of Well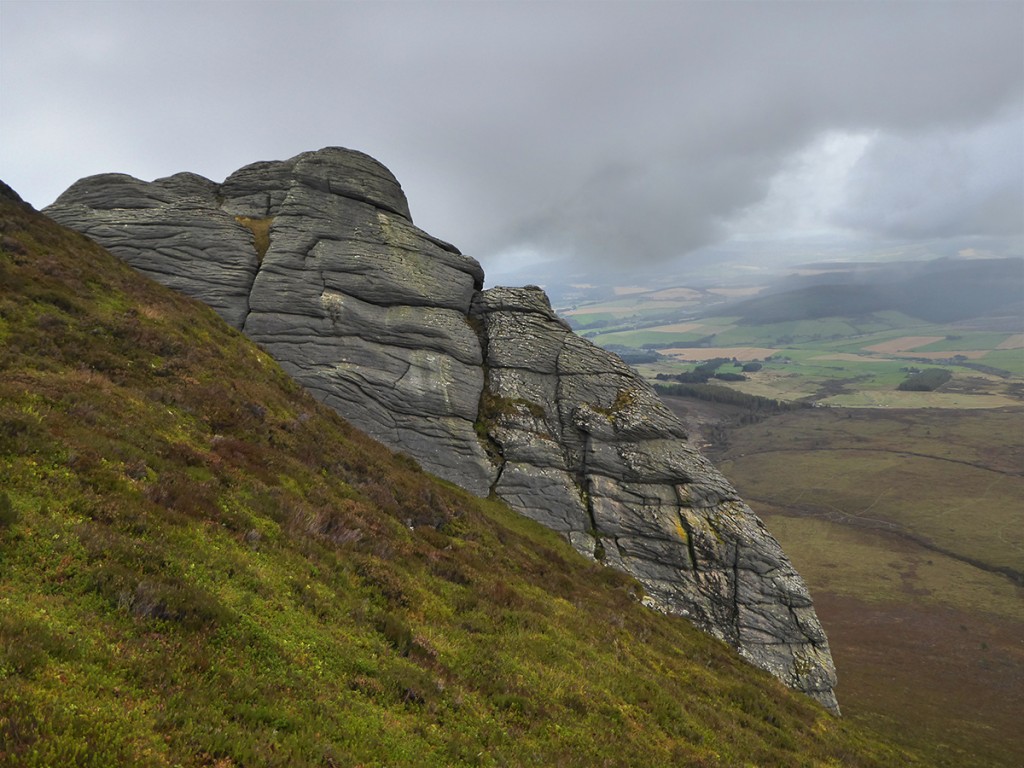 If I was a geocacher this'd be a good hidey hole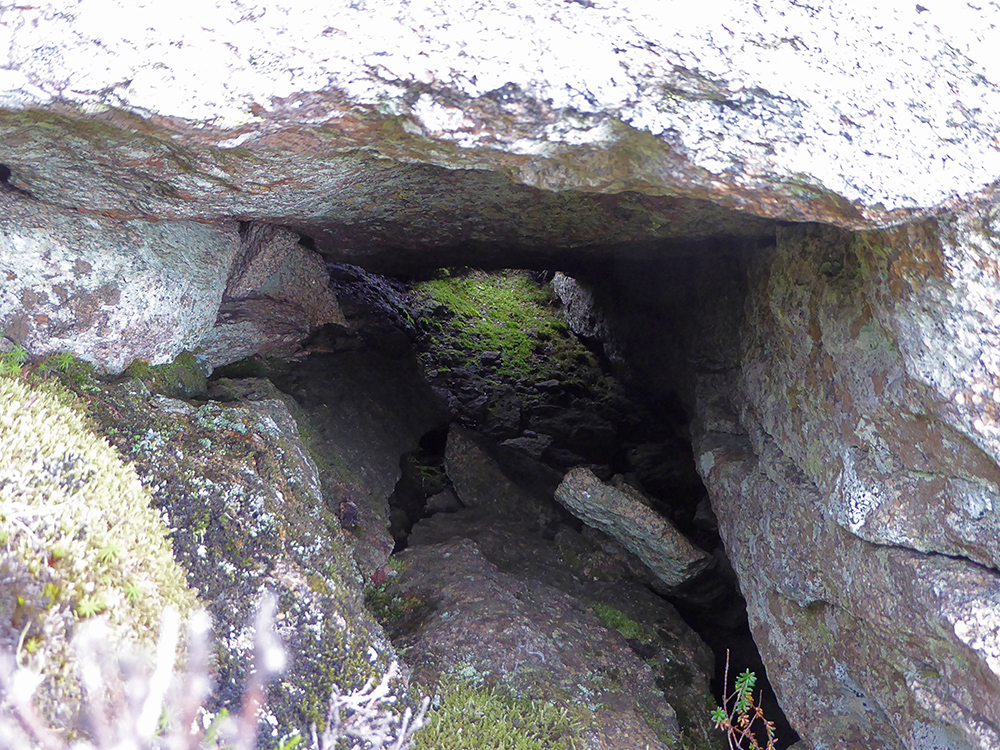 The 'well' is at the top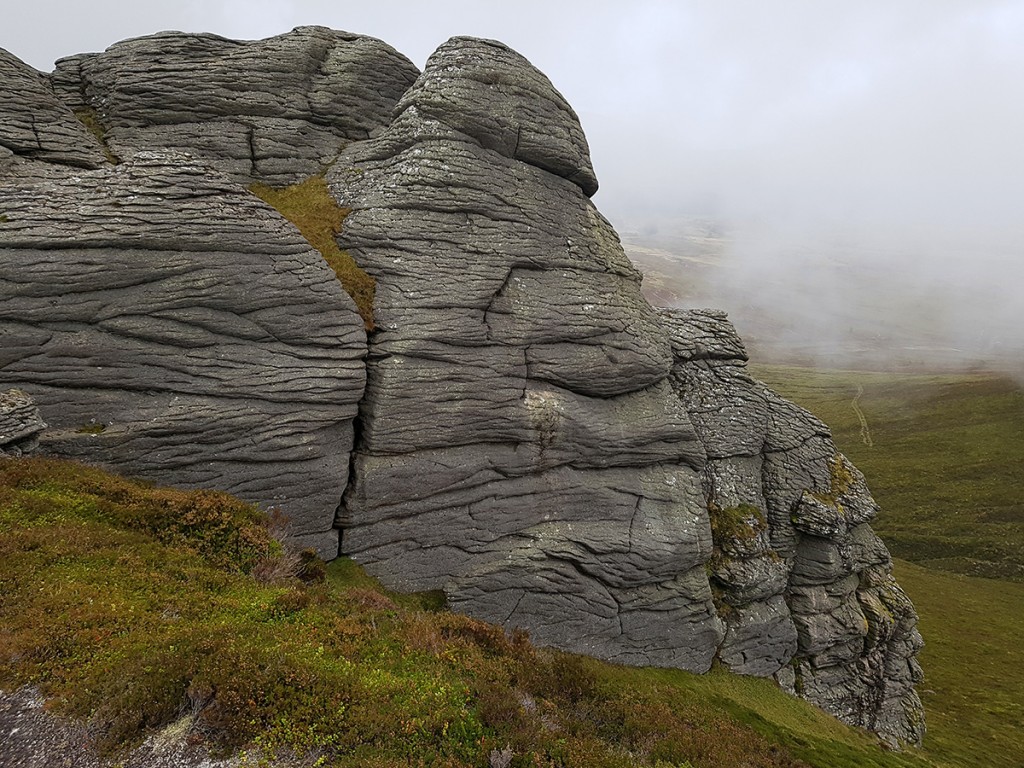 North side of the tor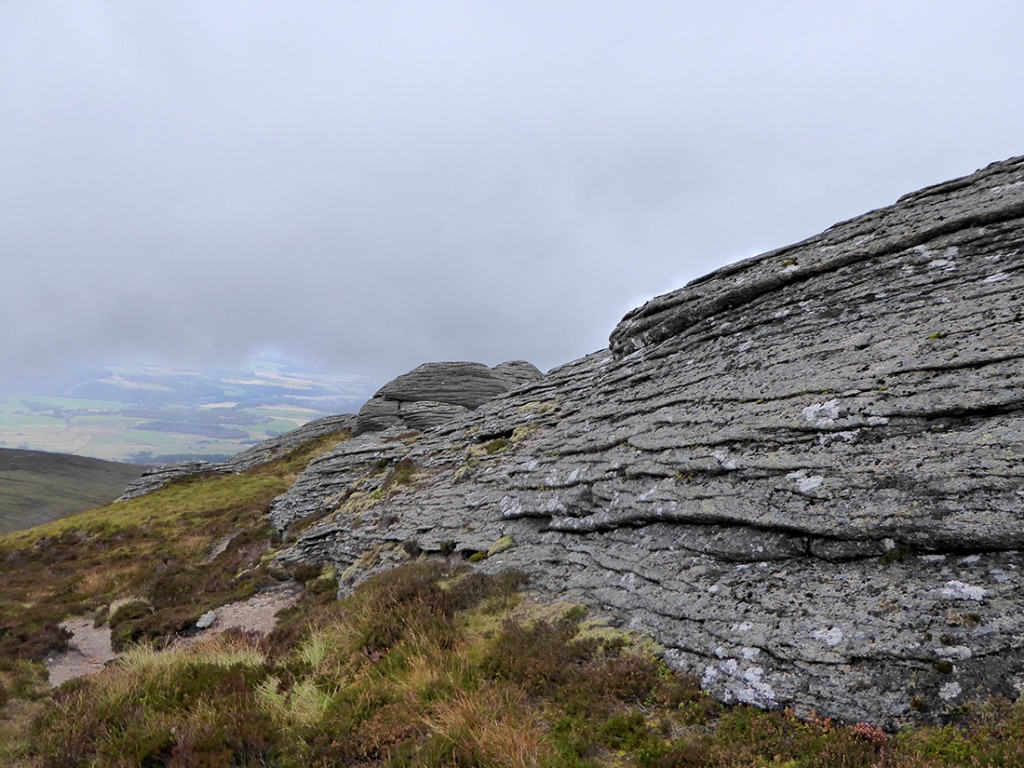 The party explores the tor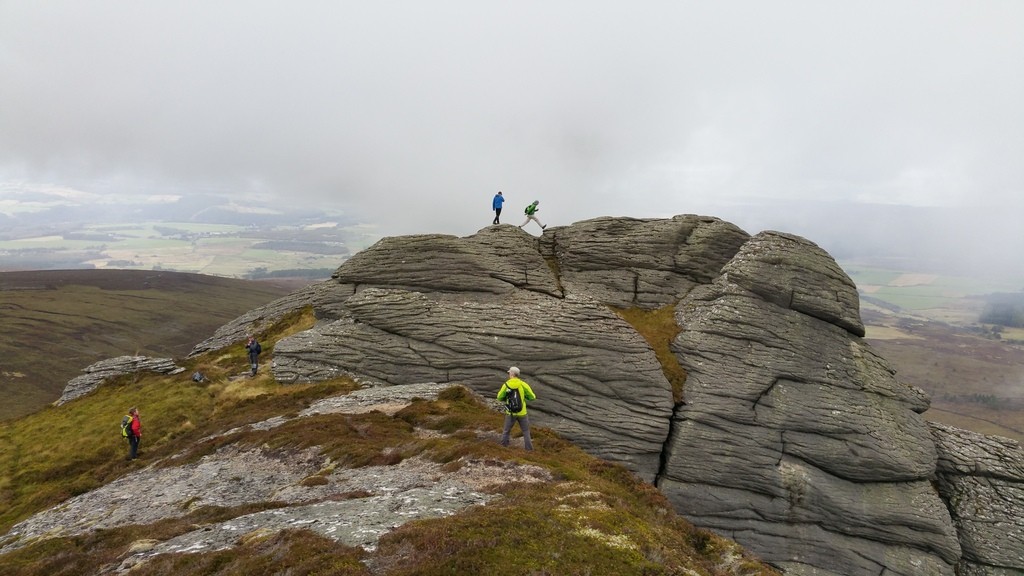 Tor toppers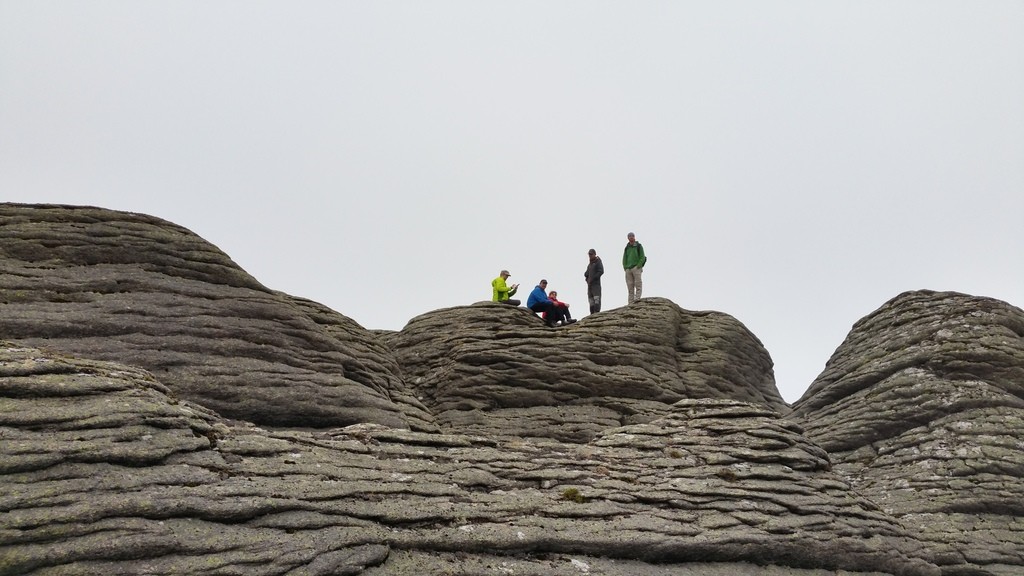 There's a gully cuts across the rock pointing South, climb up and right to see the 'pin well', careful on the other side a sheer drop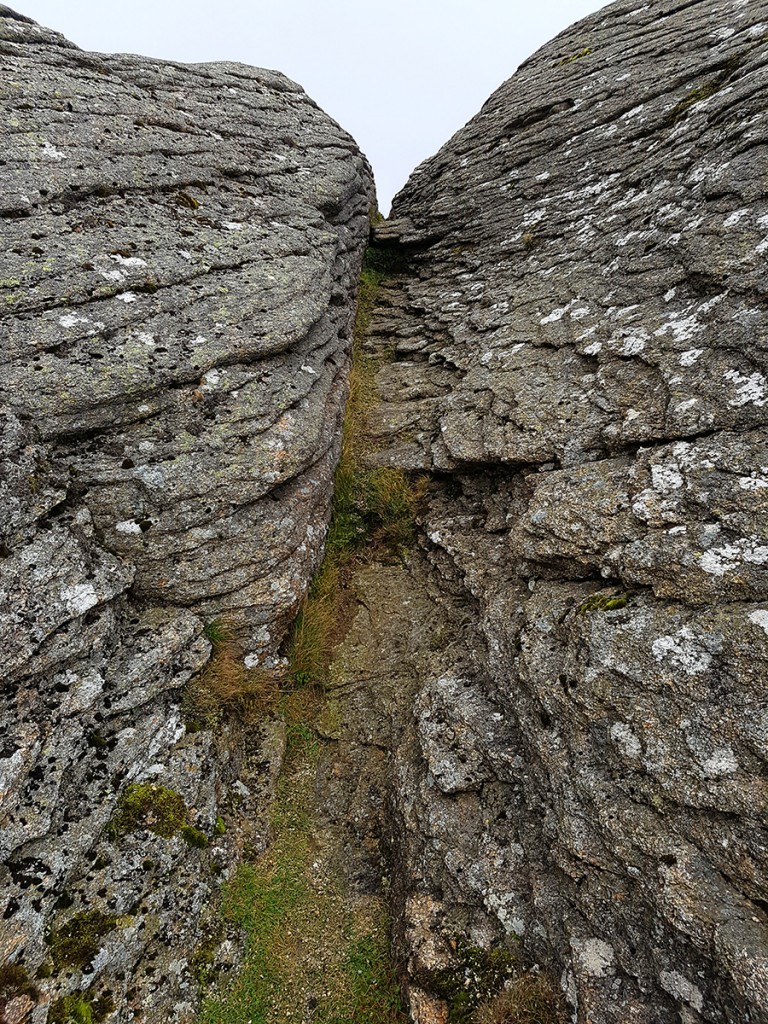 It's apparently tradition to leave an offering in the pool. We offer up a few small coins and a safety pin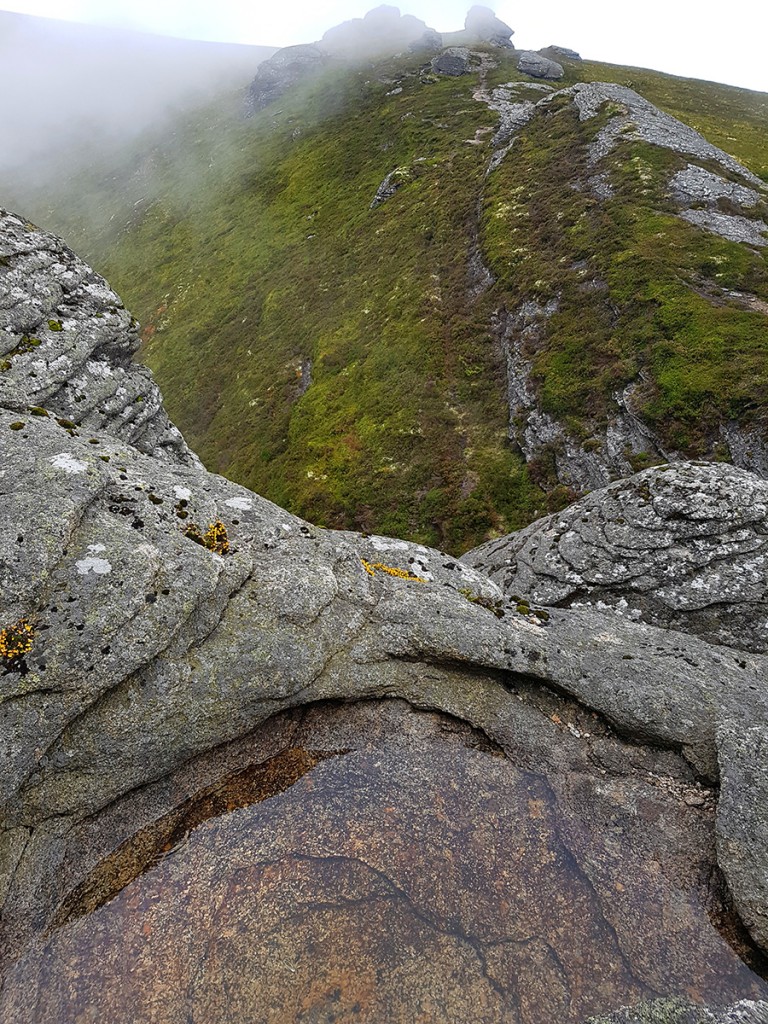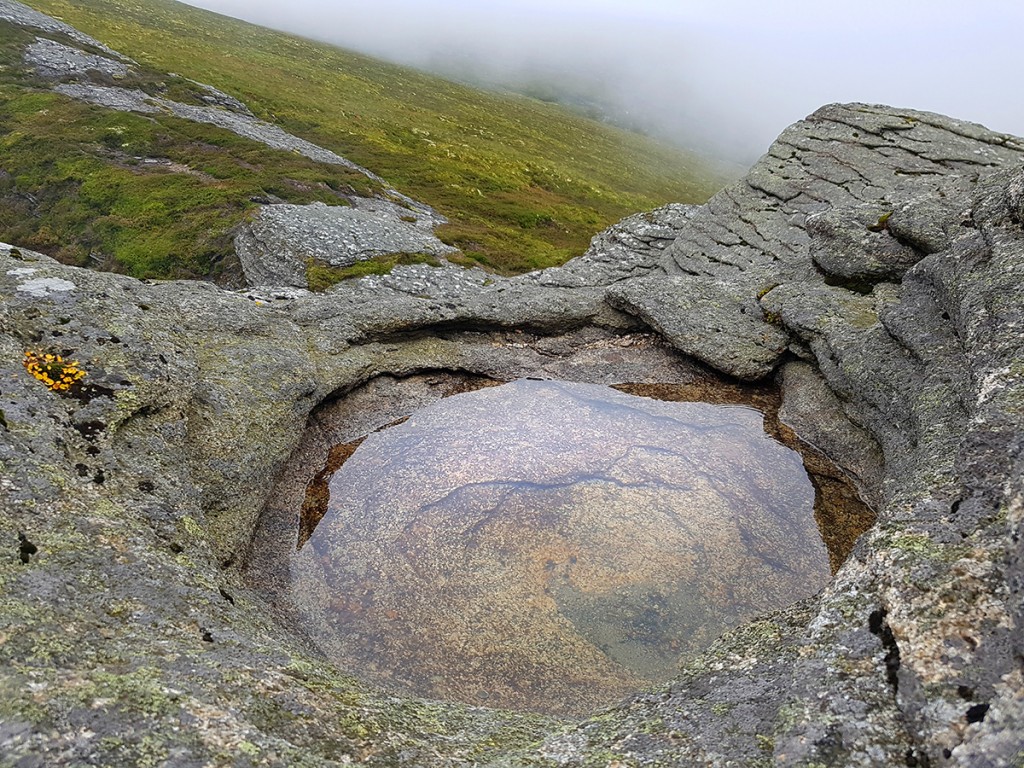 Clearly we have angered the gods of Ben Rinnes with our paltry fare, as it starts belting it down. Time to don the waterproofs. My new Berghaus VapourLight smock gets it's first airing, unfurling it from it's impossibly small pack sack (about the size of a tennis ball). The smock is a faff to get on over my outdoor research halogen (hybrid light weight primaloft top). I have a size medium, and being a slim 70kg 5'10 reckon this should be kept for over a base or thin fleece. Even over a base layer it'd be a faff, because it's so translucently thin, tugging it on roughly seems like a bad idea. It does however have a pocket which the full zip version doesn't. Lesson one – should have went an extra tenner and a few grams heavier to get the full zip version.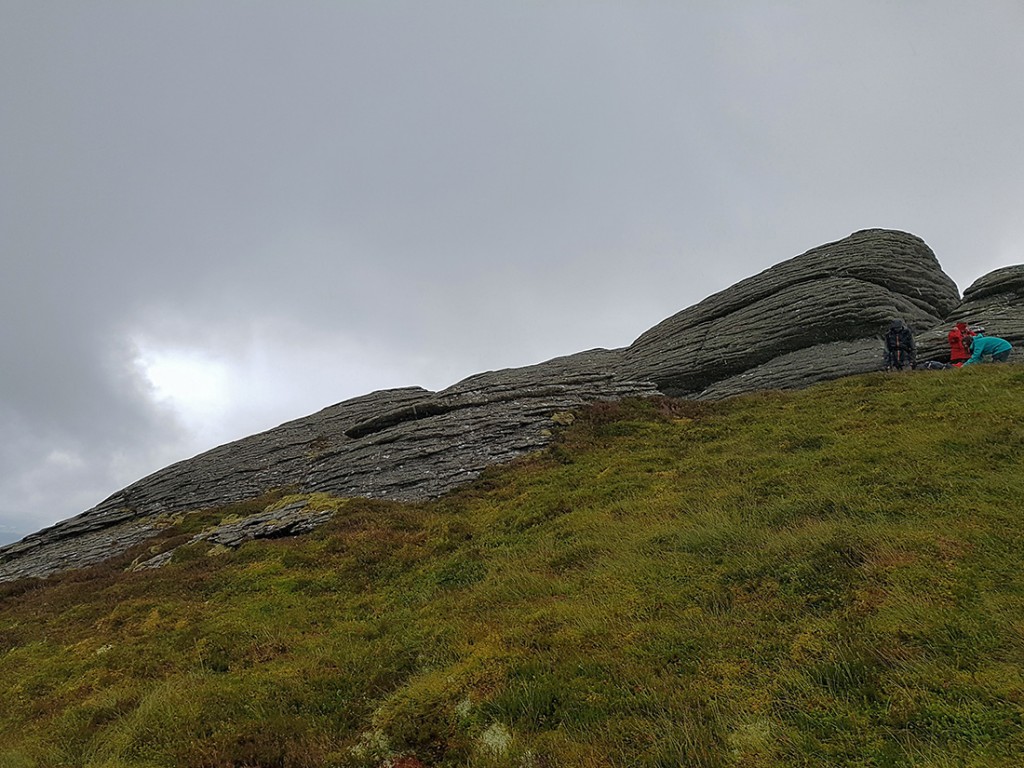 Heading SSW to 'Lady's Chair' another rounded behemoth looms out of the mist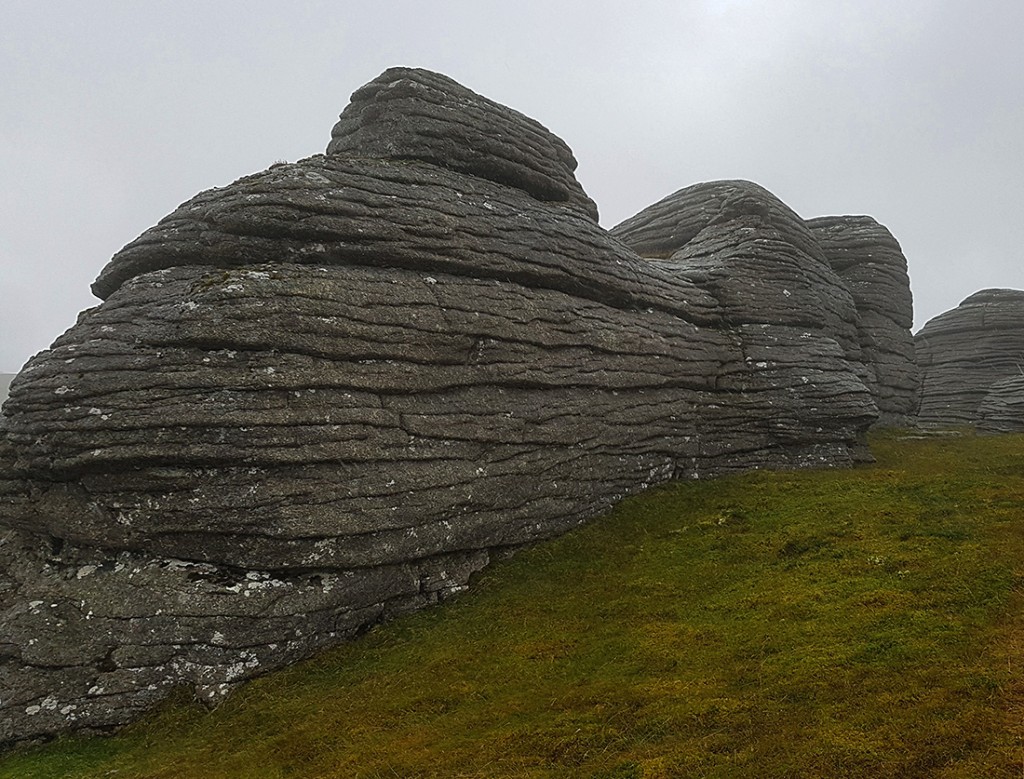 I'm surprised passing through these other-worldy shapes by a chap out with his dog, he's found a wee ledge to shelter under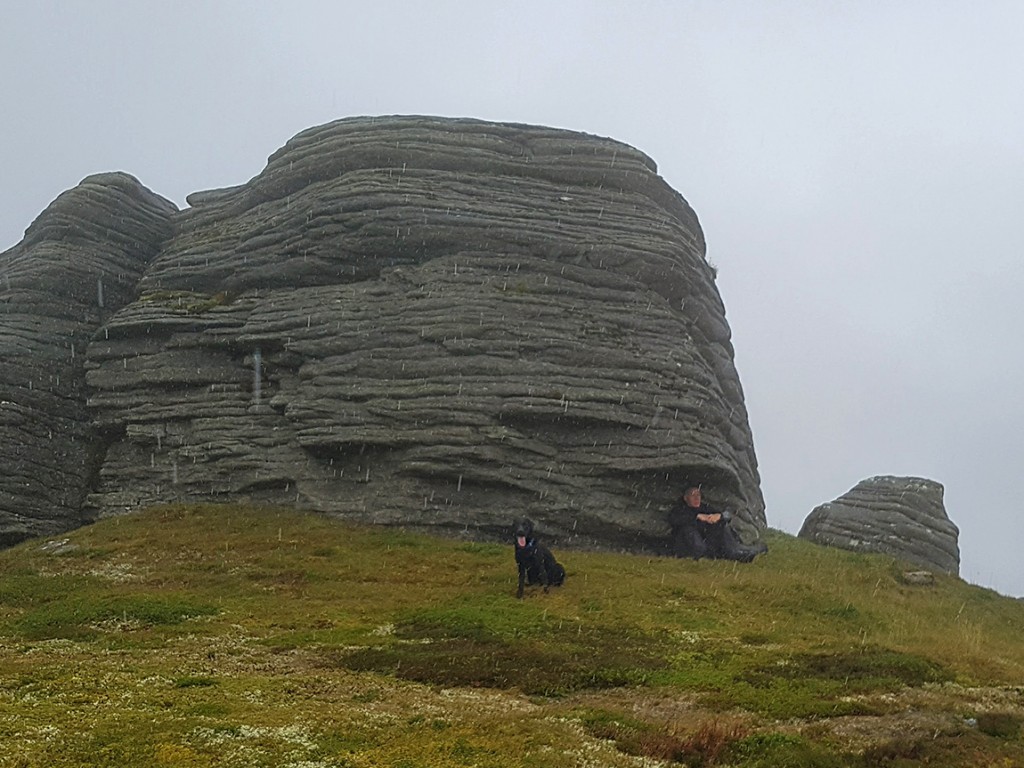 On a better day I'd have spent a bit of time having a clamber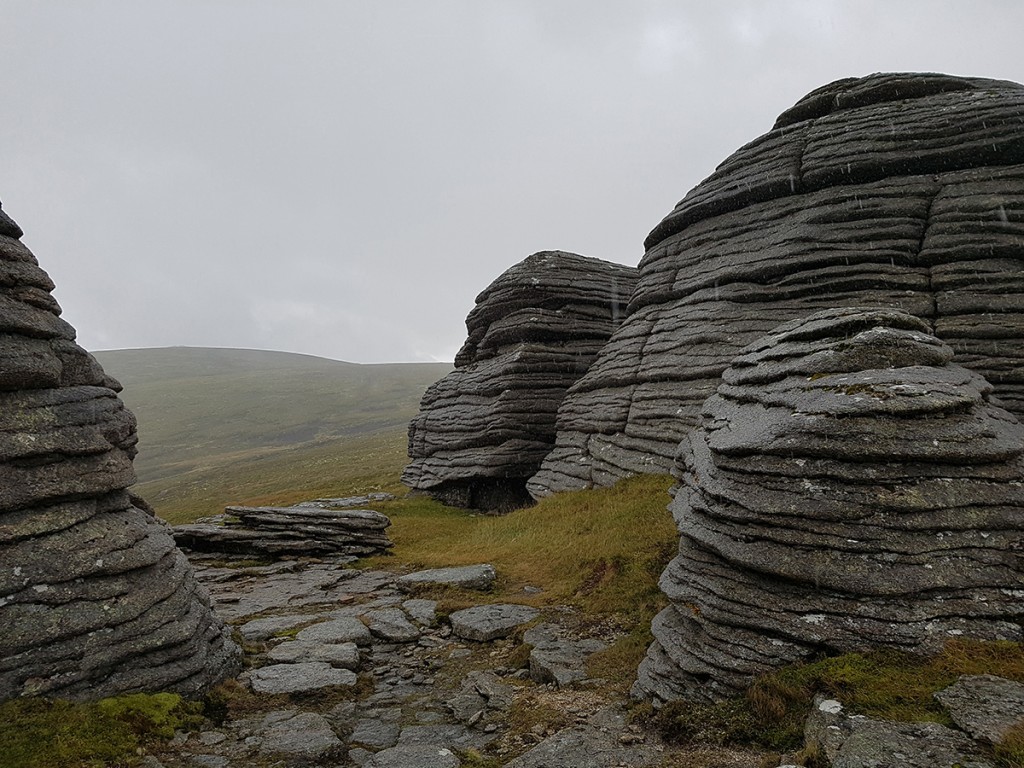 Mind the gap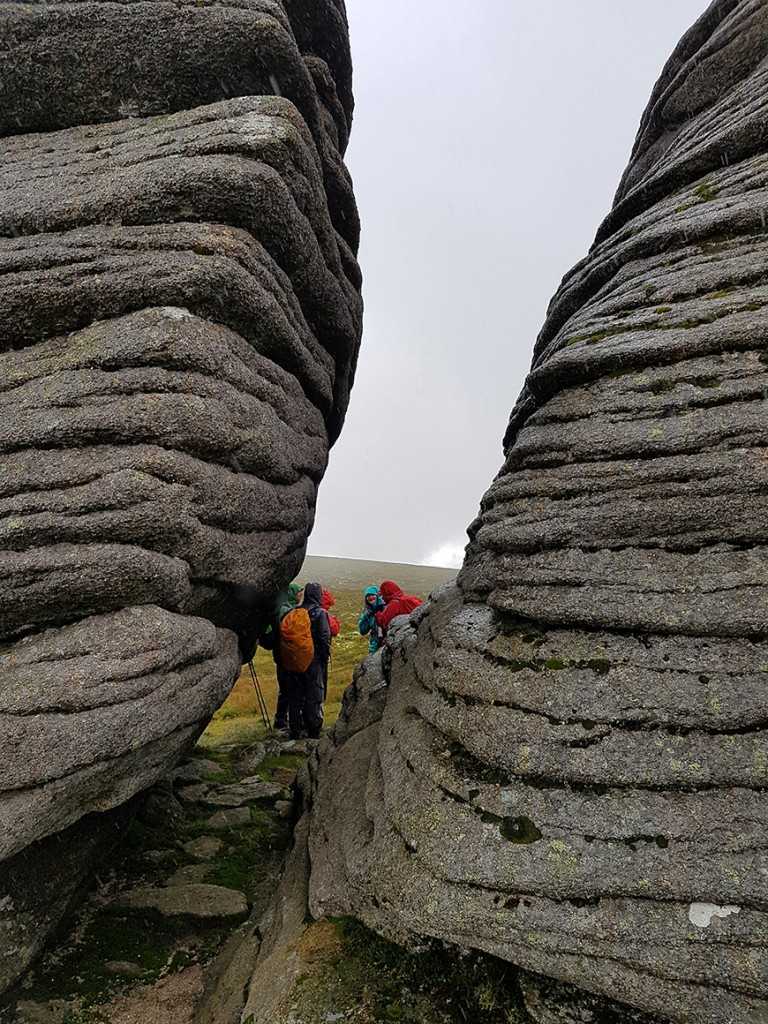 Negotiating the peat hags we head towards the last scurran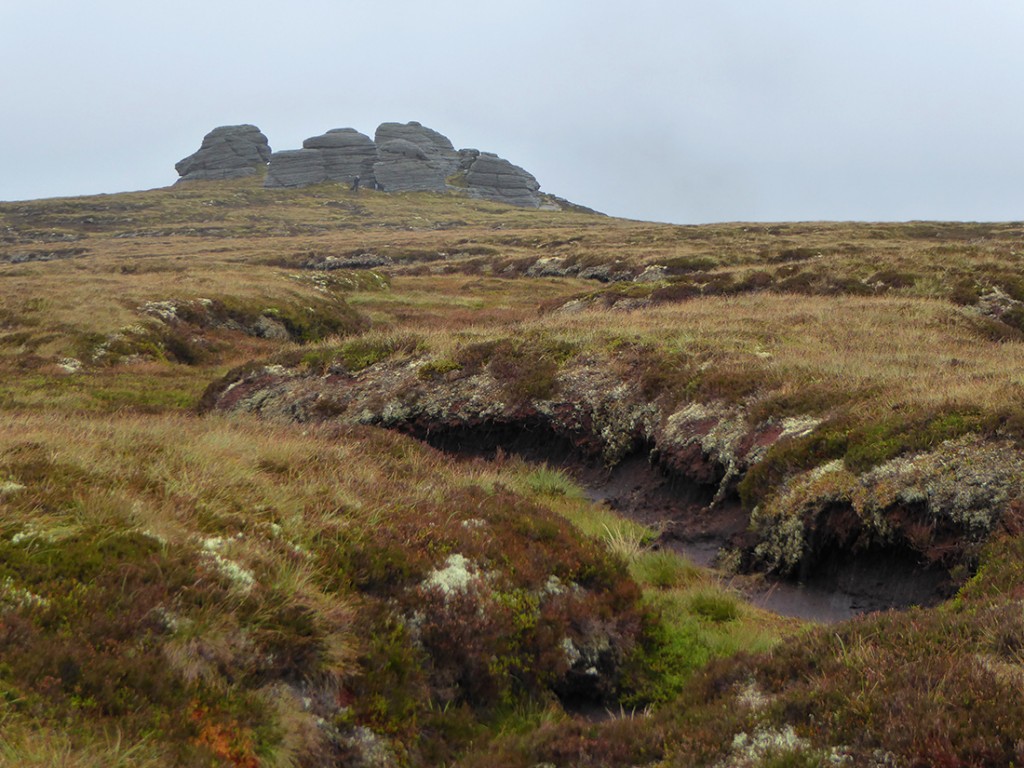 Scurran of Morinsh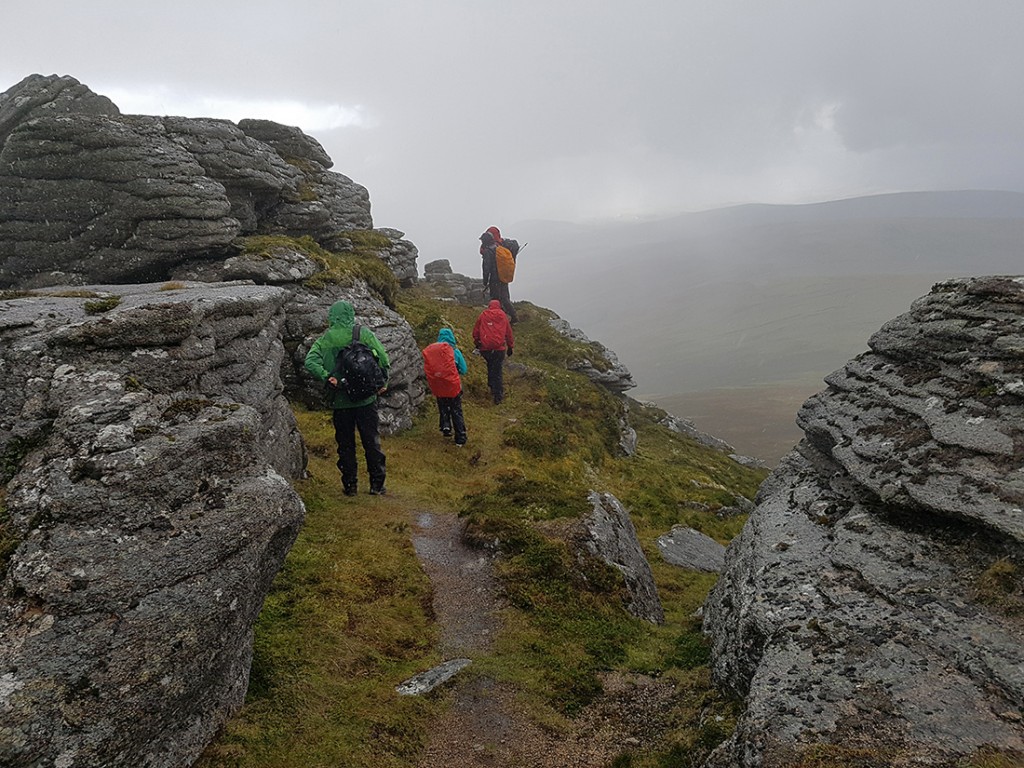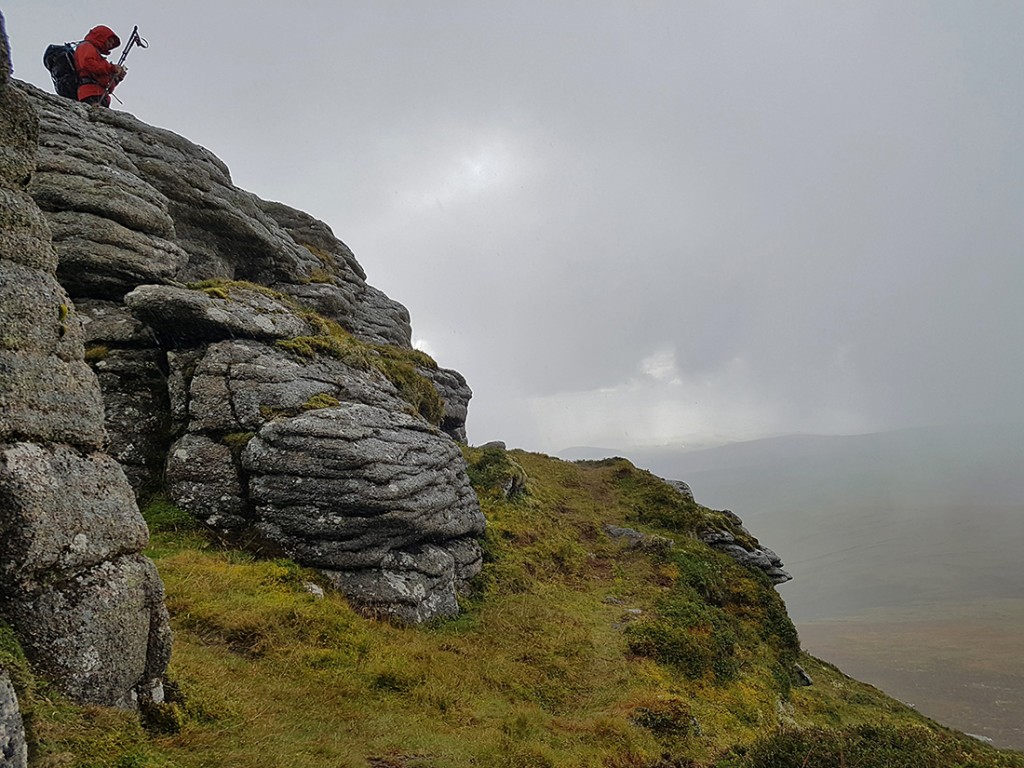 The rain now turned to hail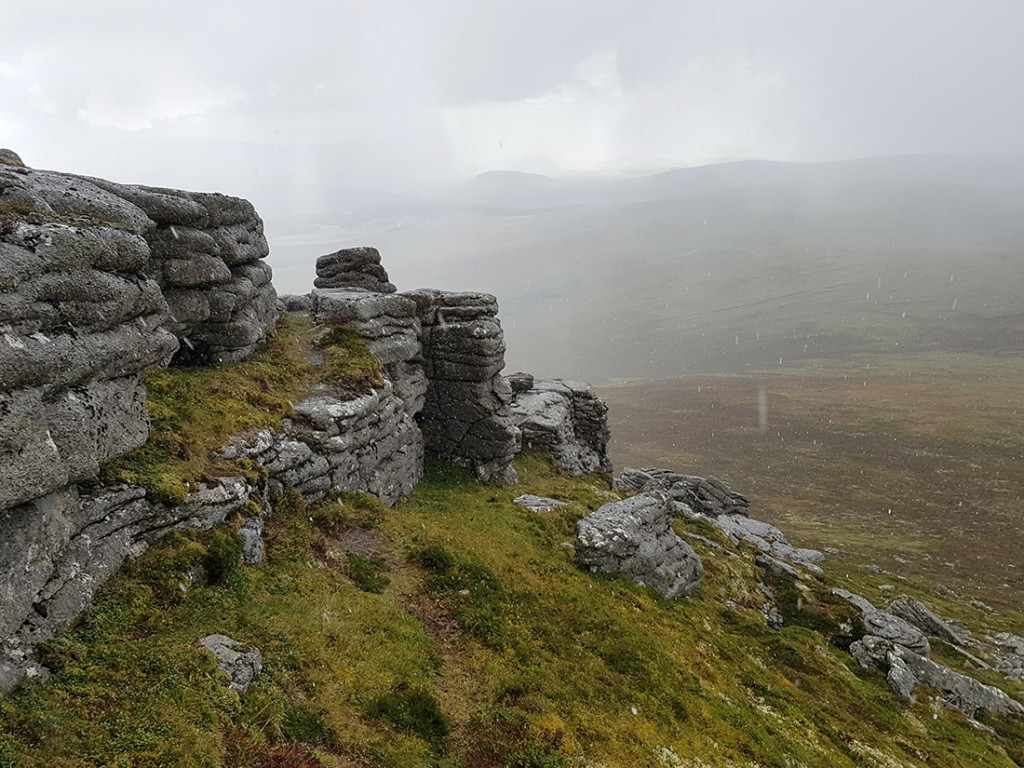 A soggy crew but still smiling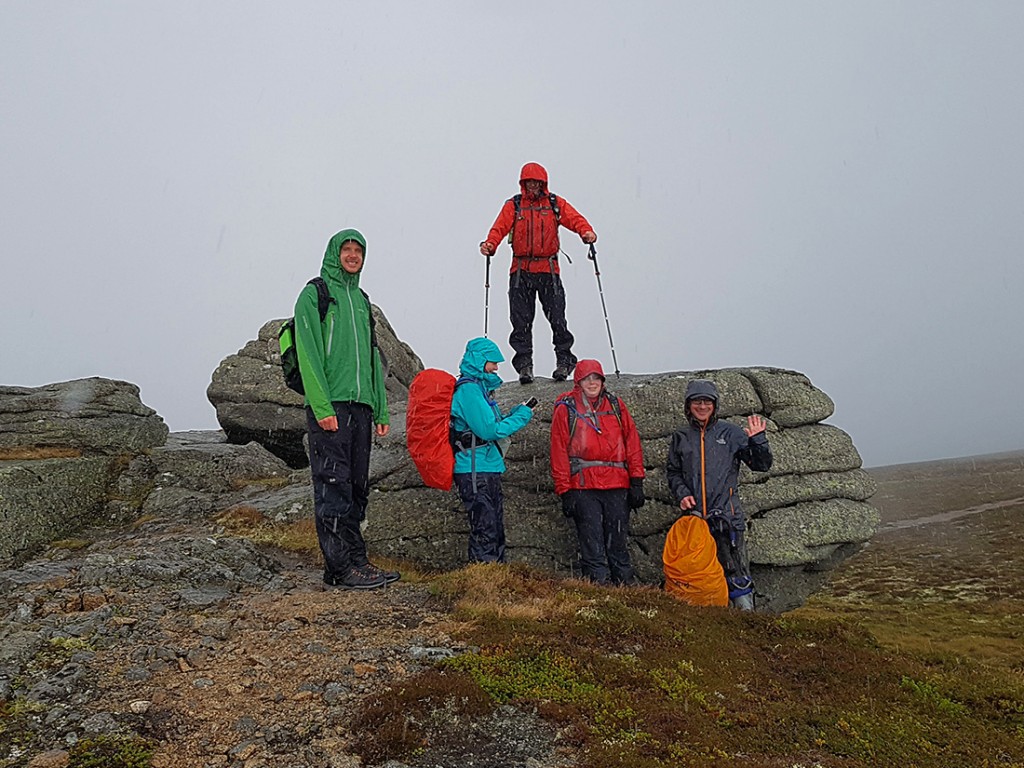 There's a small 'cave' under the overhang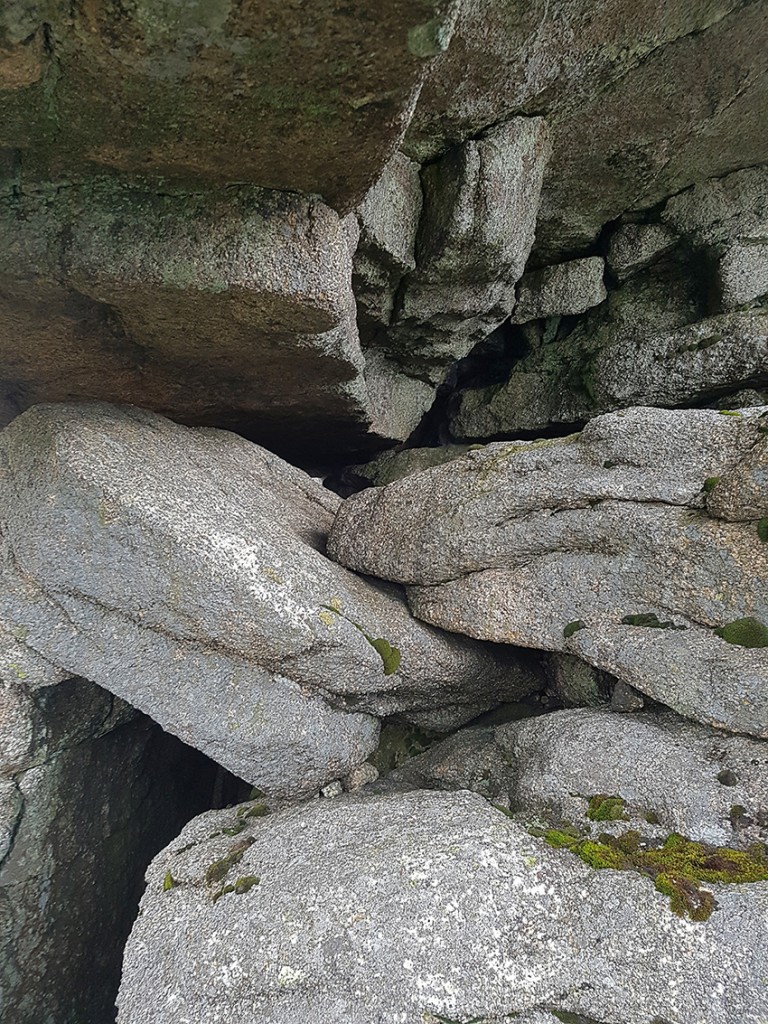 Heading downwards off the hill and across these cracks in the peat bog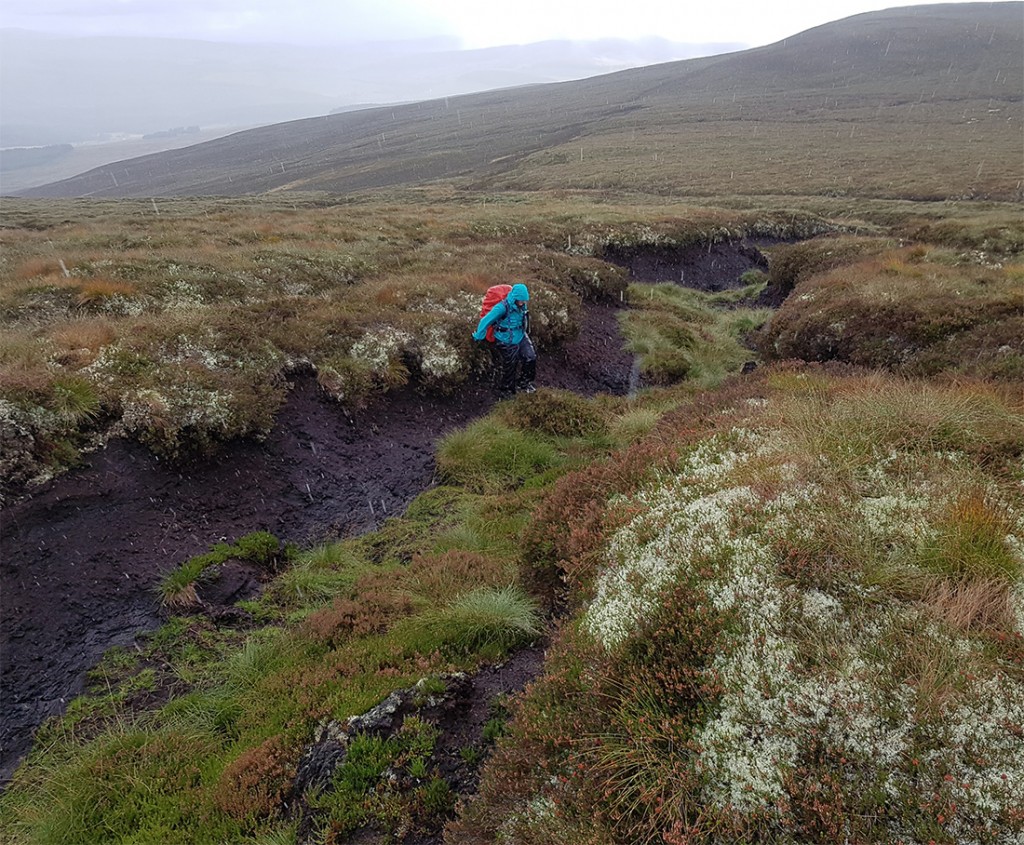 The scurran disappearing back into the clag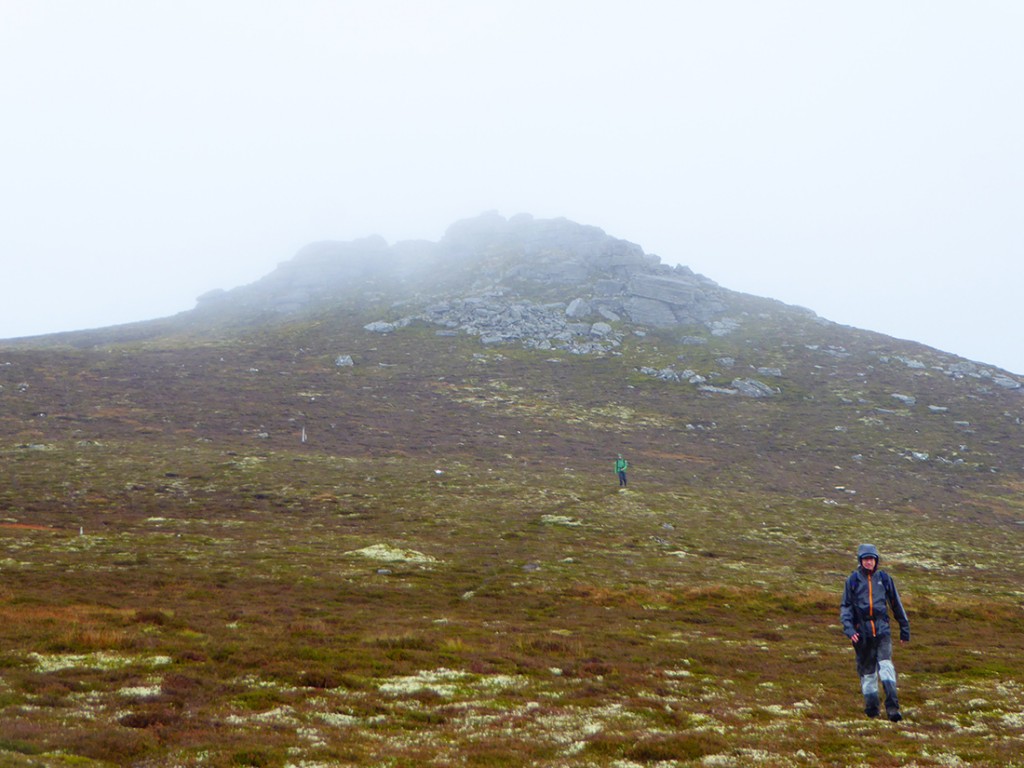 I think this might be Cairn Mulgainich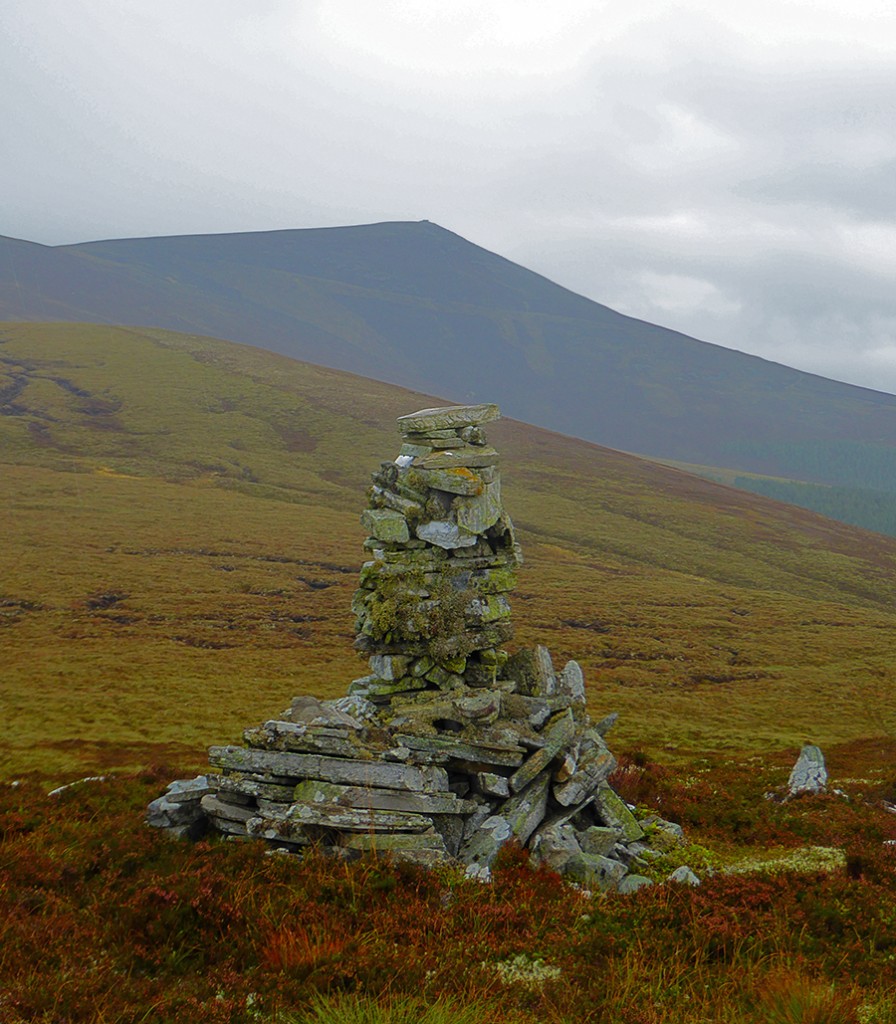 2 scurrans and the peat hags we clambered through earlier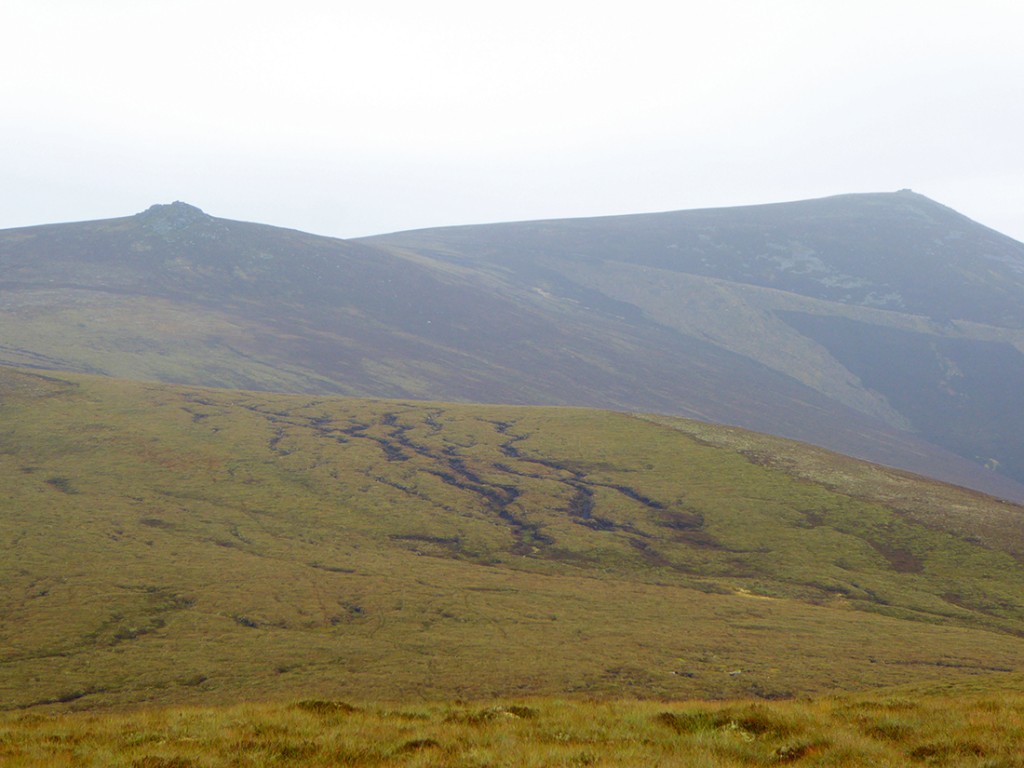 The clag began to lift a bit. We're heading towards that sparse 'wood'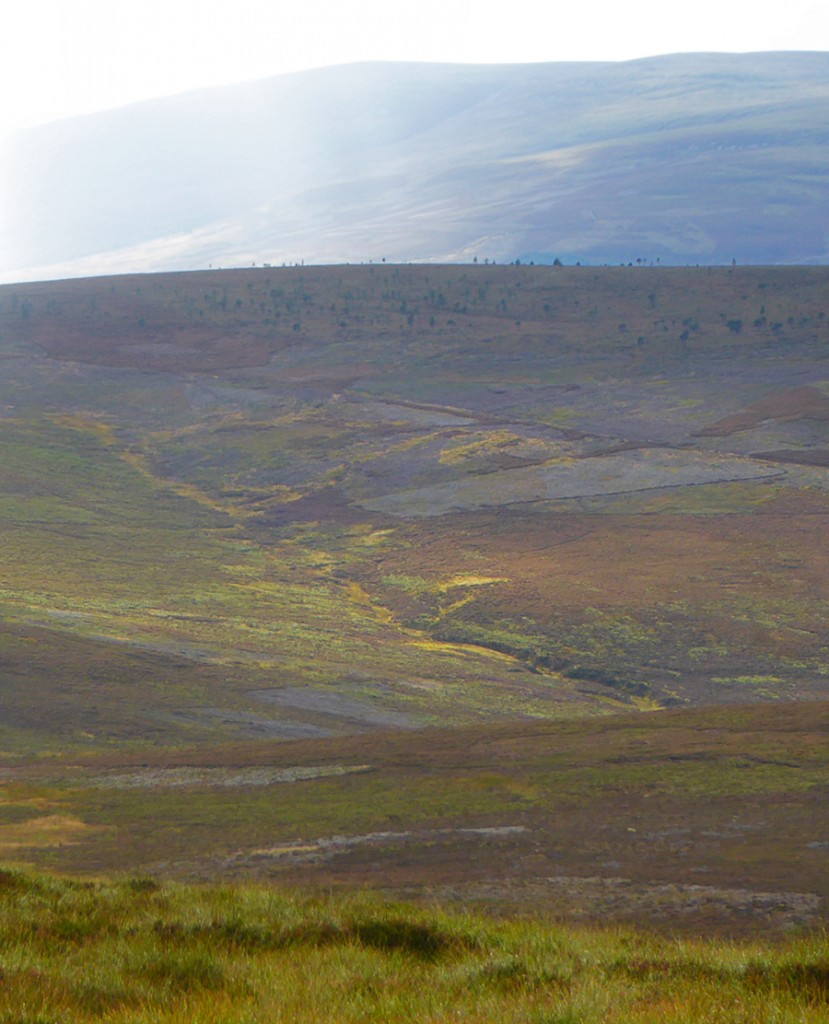 Sun beams breaking through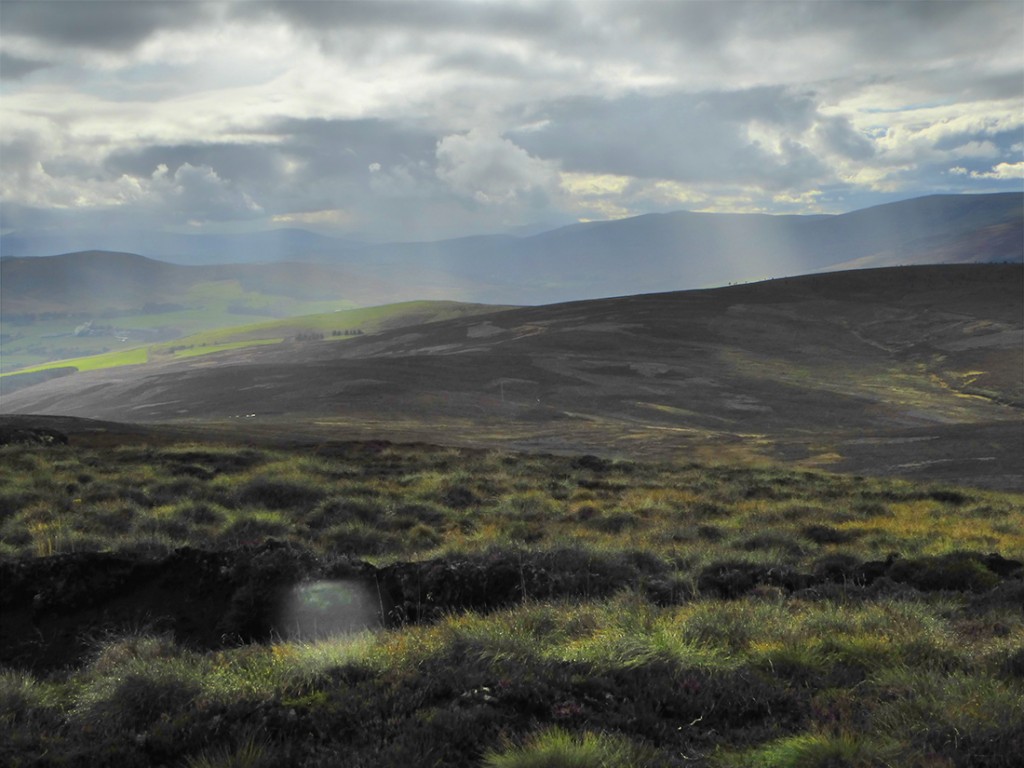 In the distance we think that may be part of the Speyside Way we'll join for a bit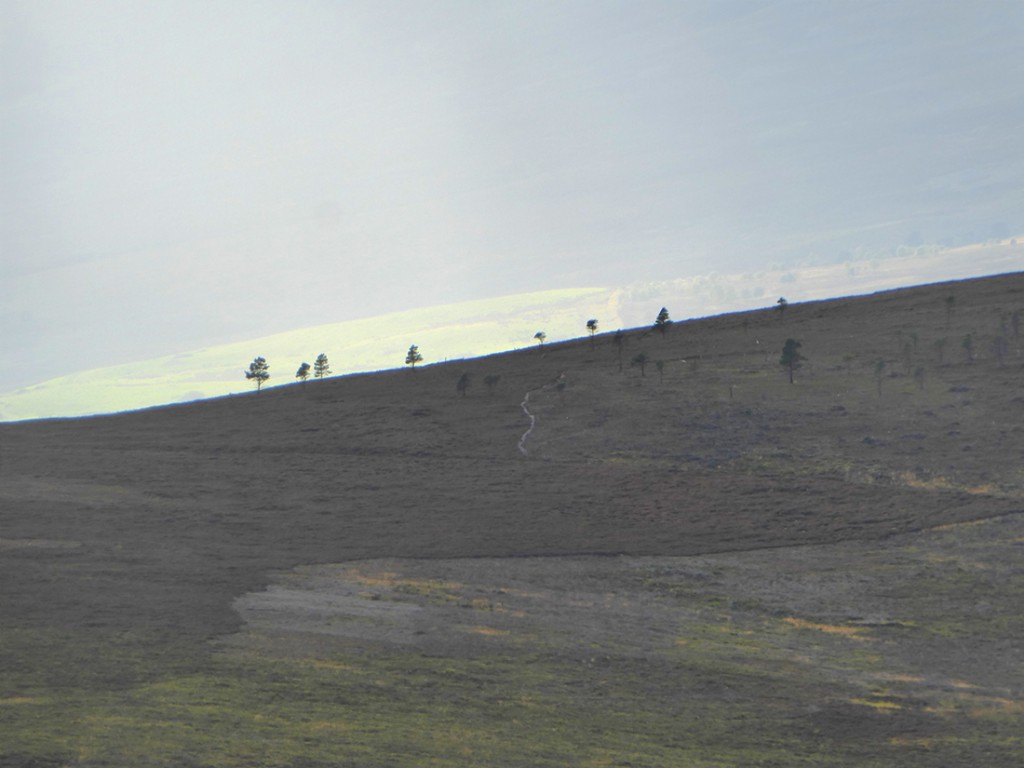 Somebody reckoned these stumps could be 1000s of years old, preserved in the peat and only recently exposed. Certainly there's been no trees around here in a long time.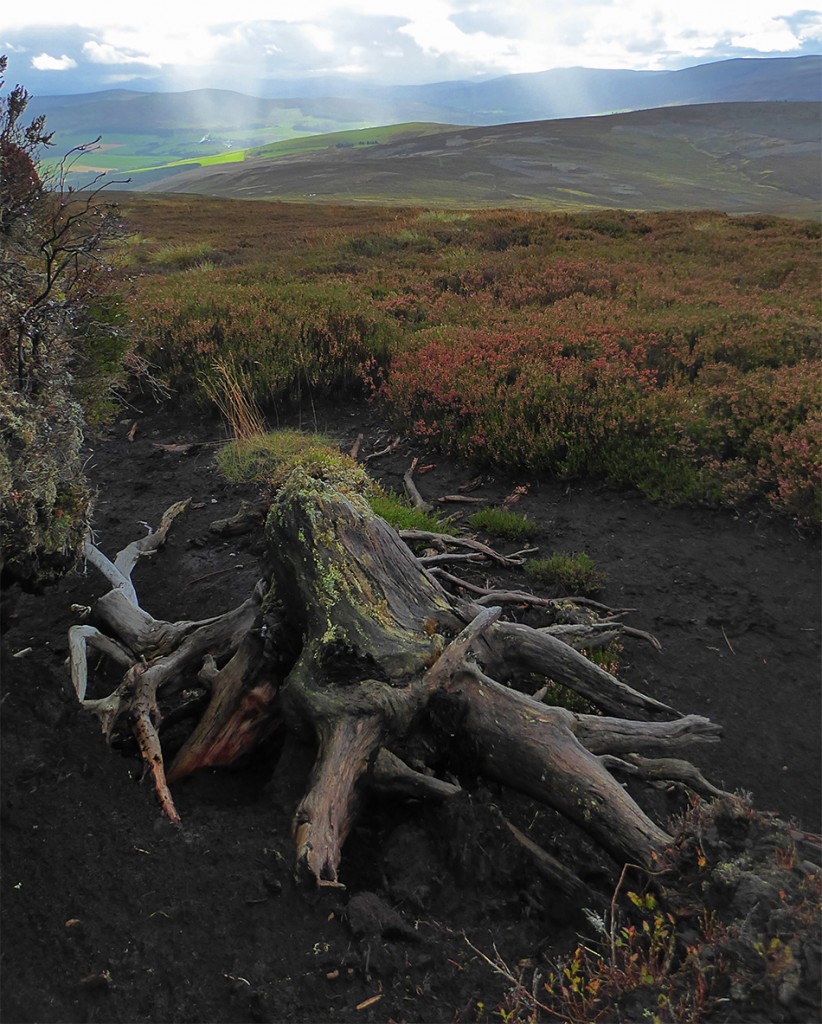 Time to strip off the waterproofs, warming up again and looks to be continuing dry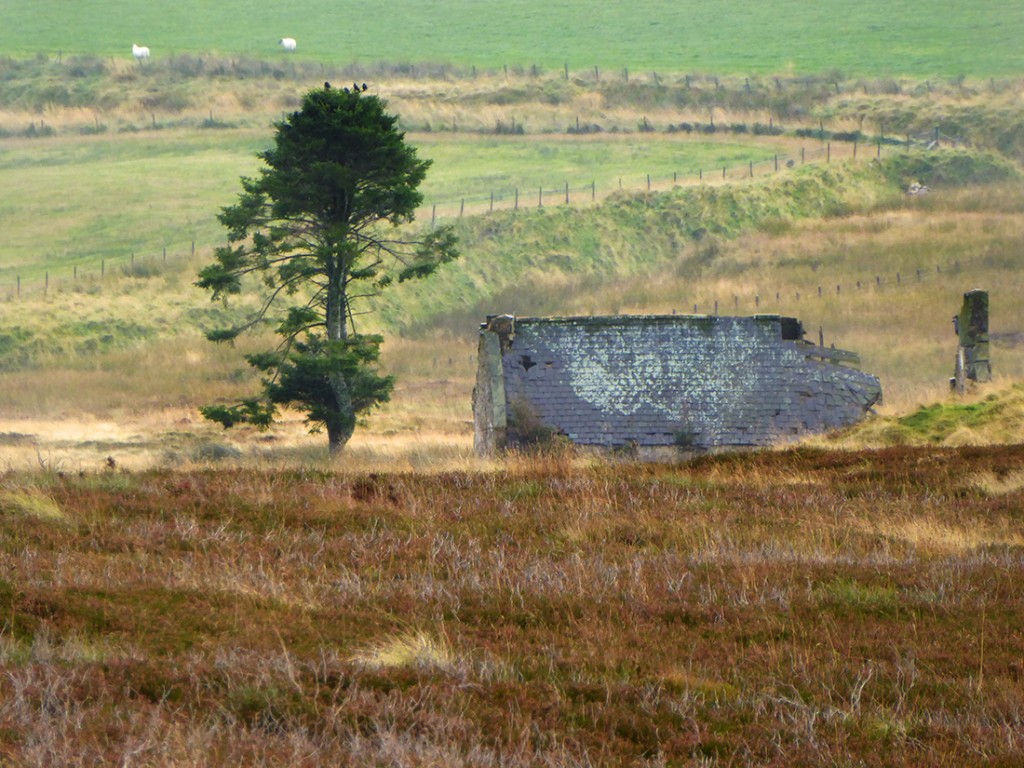 Joined up with the Speyside Way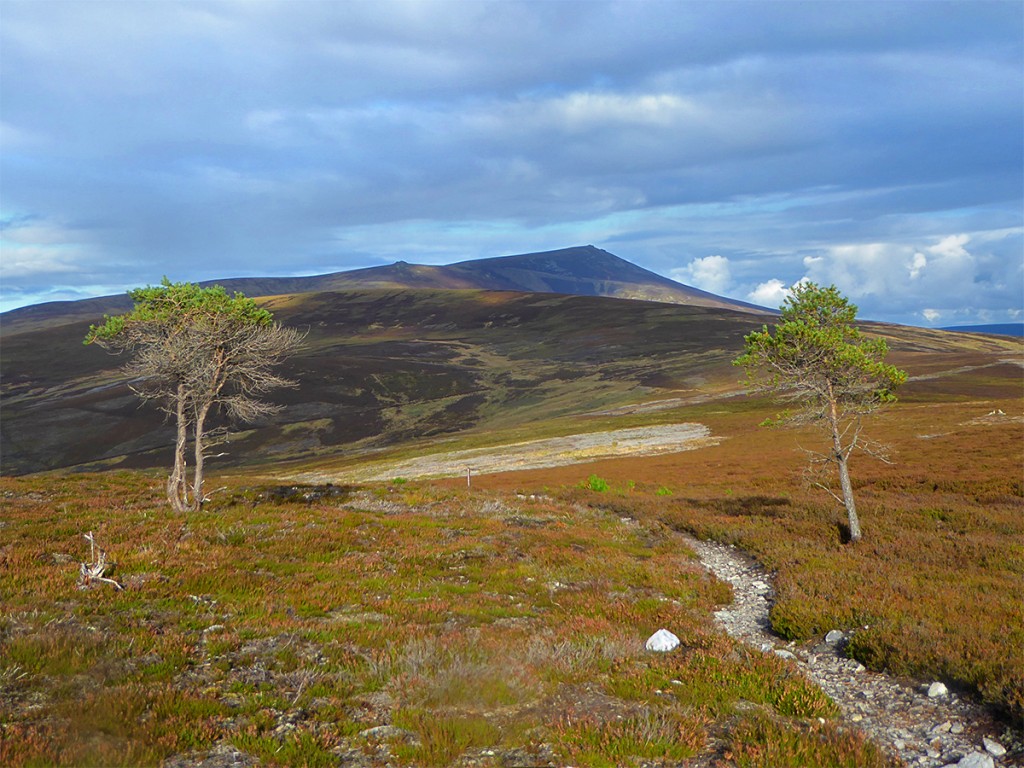 The straggle of young forest we spotted earlier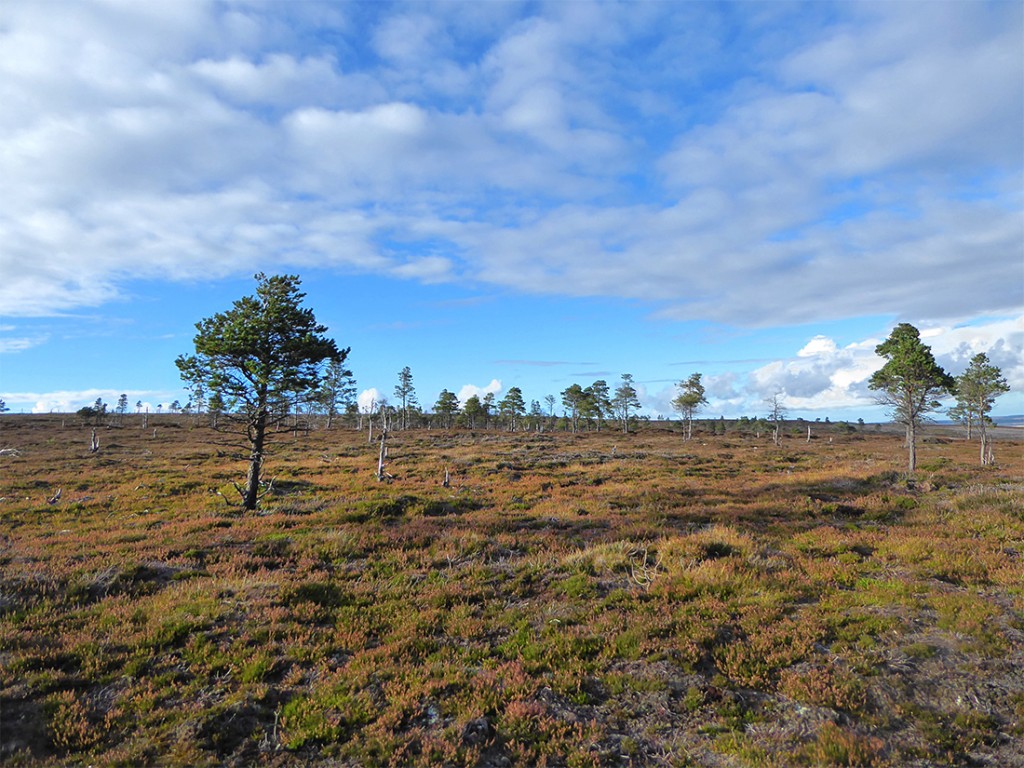 A fine pine in line with the hill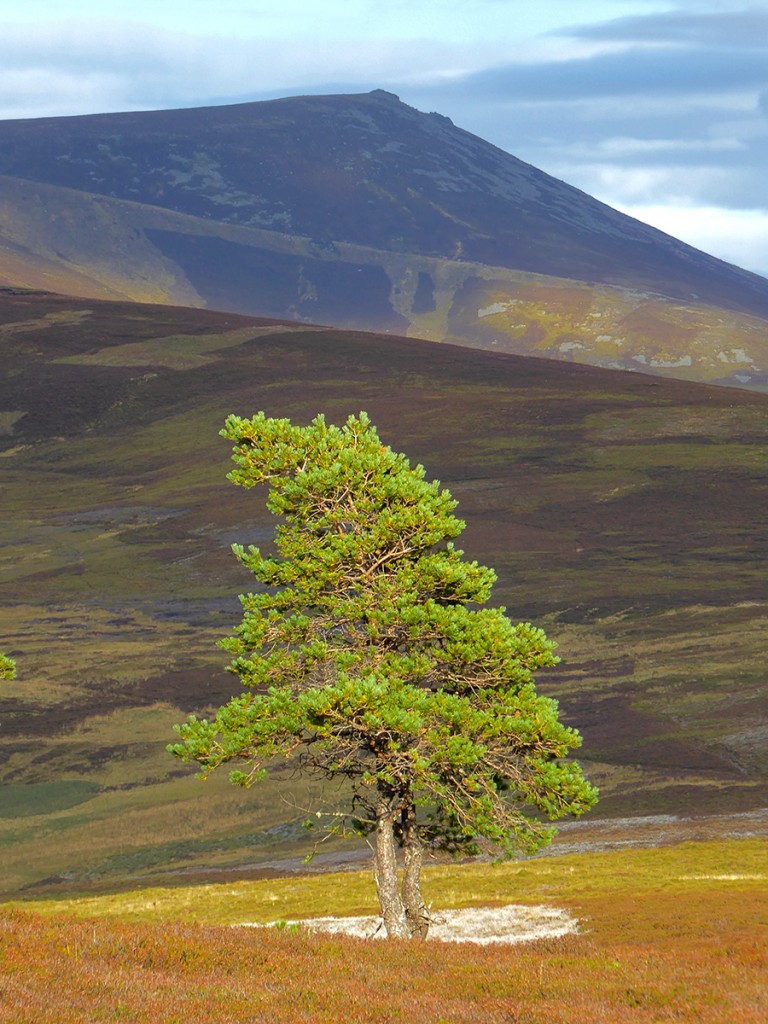 The path is pretty overgrown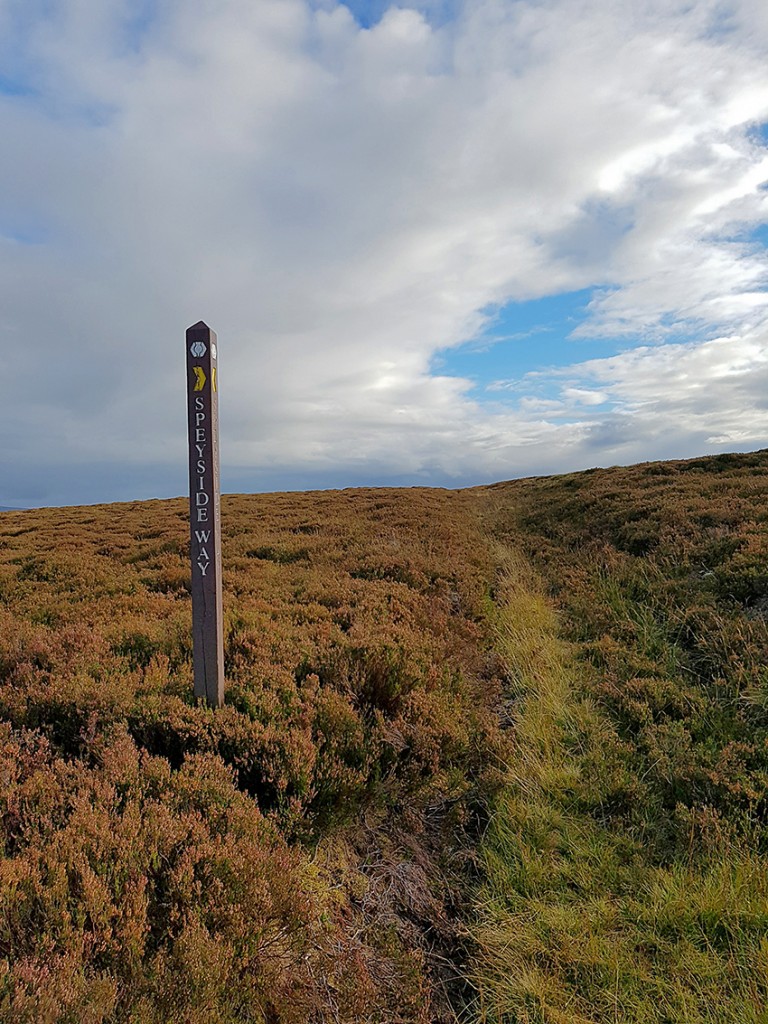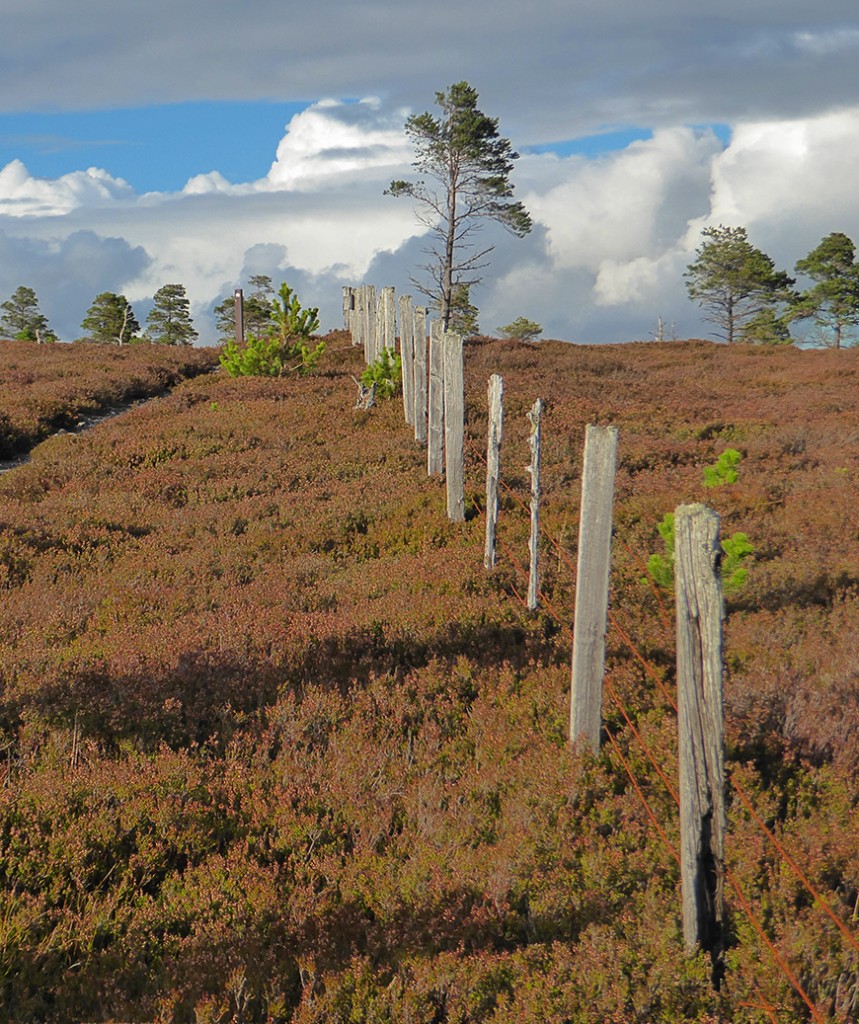 Heading down into the valley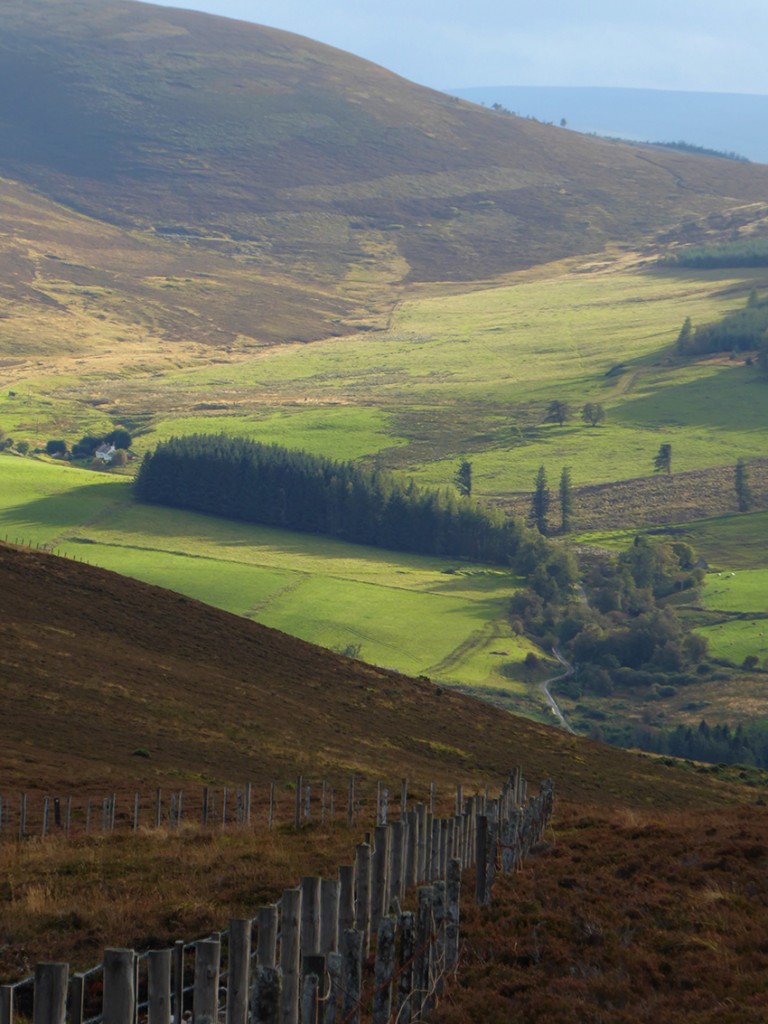 Over the Hill of Deskie looking down into Glenlivet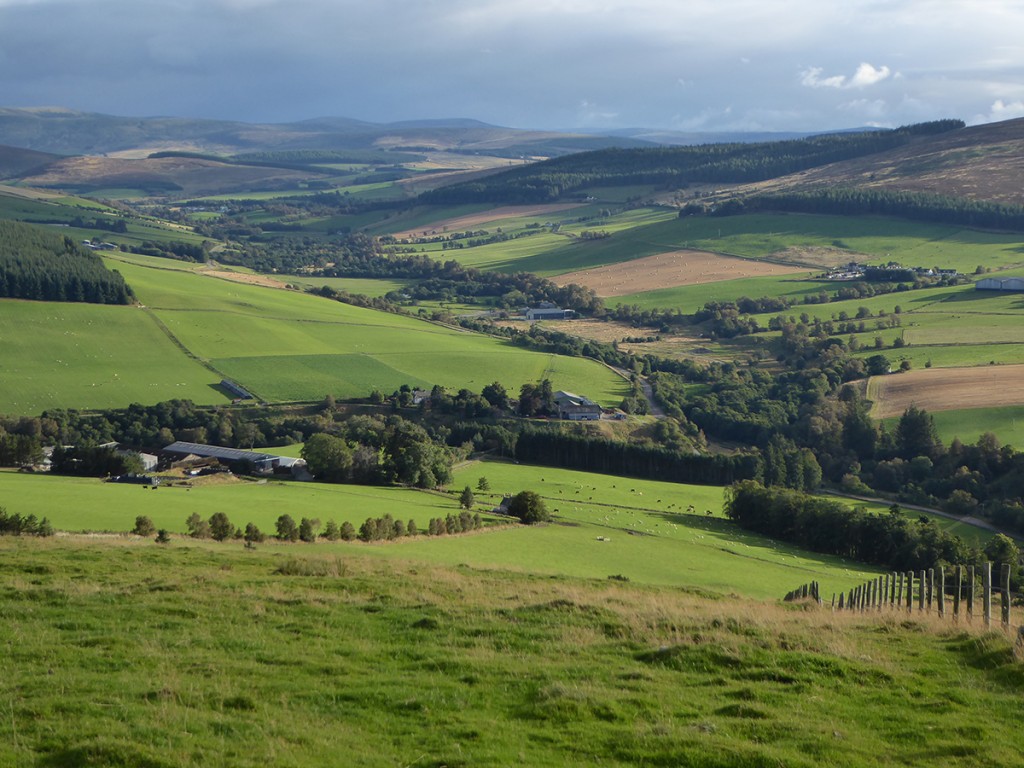 Late afternoon sun casting shadows on the hay bales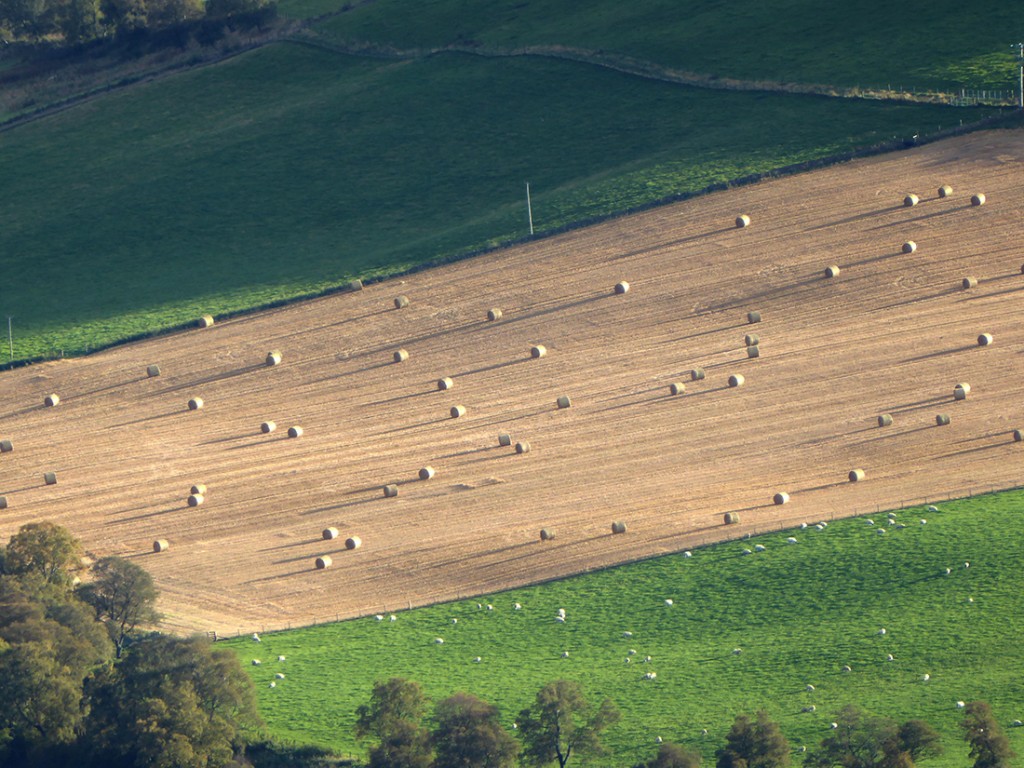 A tree stump alone in the pasture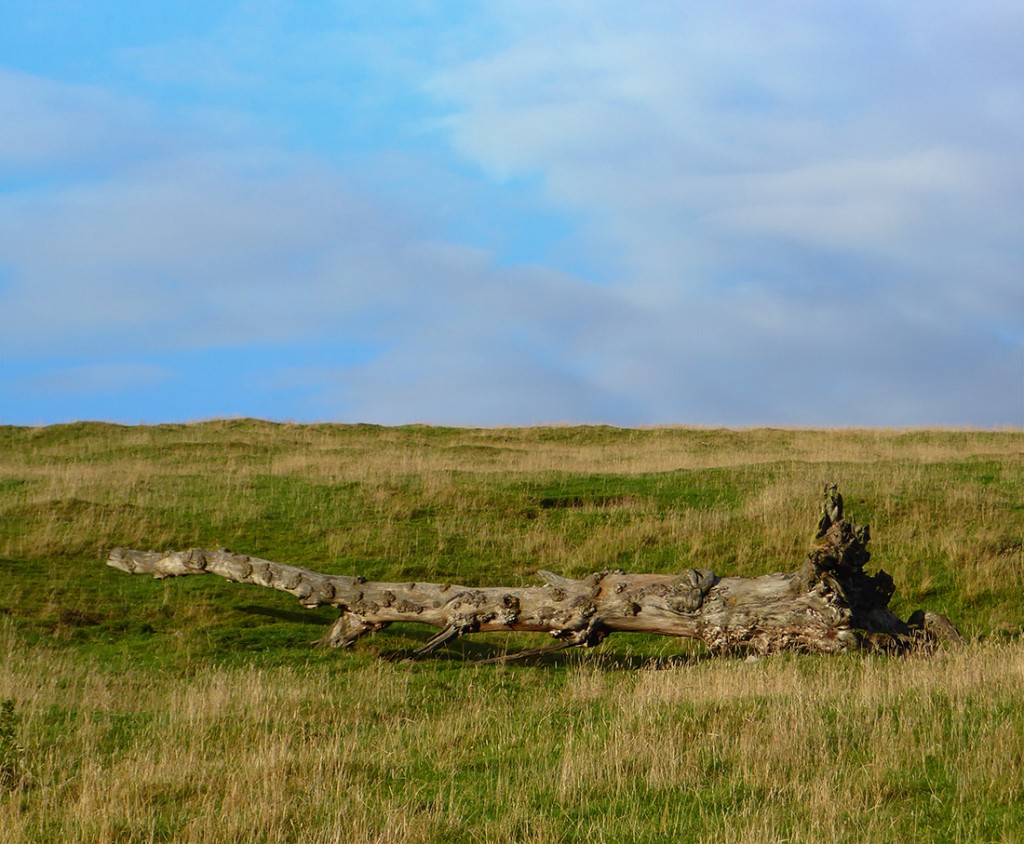 A final stretch downhill takes us to the destination for pick up, the village hall at Bridge of Tombreckachie. If you're ever there check out the little herb garden outside beside the car park, a great little variety of plants, love the smells.
Here's a sign about the Glen Livet estates there
And the bridge heading back home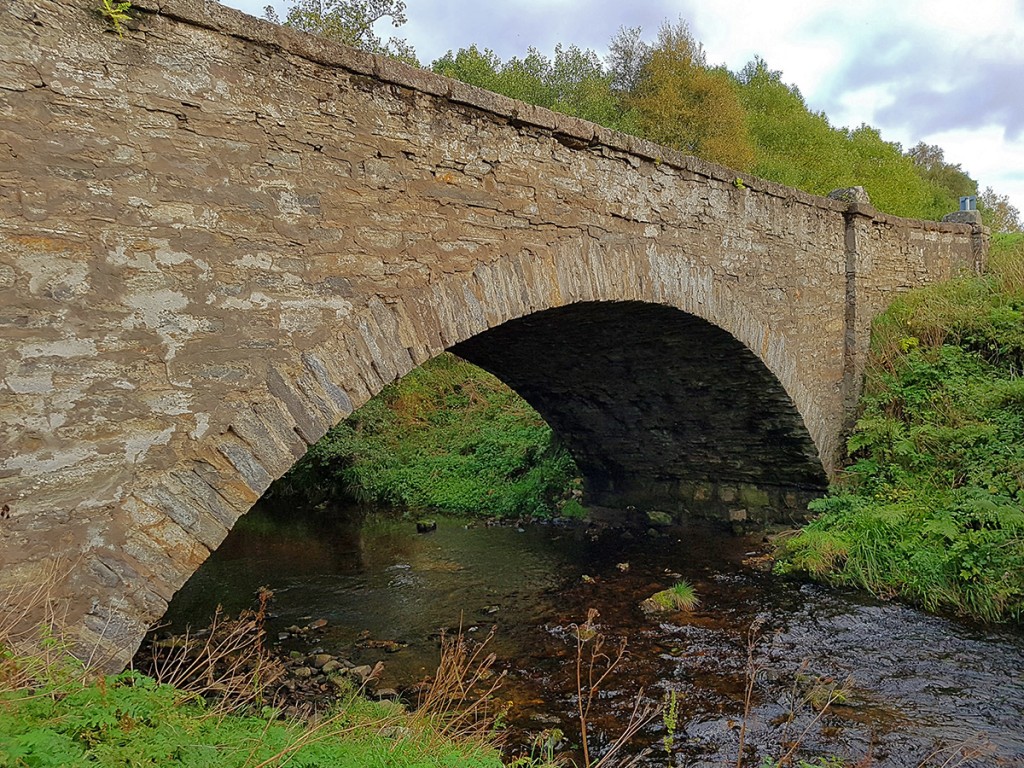 3d fly through of route: