A free weekend with no hillwalking group heading out, yet fresh snowfall and blues skies forecast, had me pondering a solo effort by bus to not waste this opportunity. On meetup, somebody heading out to snowboard offered a lift; I volunteered to join him and would go for a walk wherever we ended up.
With roads closed to both Glenshee and The Lecht, we headed towards the more distant Cairngorm ski centre. Google maps on dashboard navigation made some odd routing suggestions which had us heading down back roads not full cleared. A few slides and we did a pit stop to change tyres, and the slow going on slippery roads, meant we'd be late on the hill.
A plus side to google's erratic routing was that we got a view of the Ben Rinnes tors highlighted by a layer of spindrift.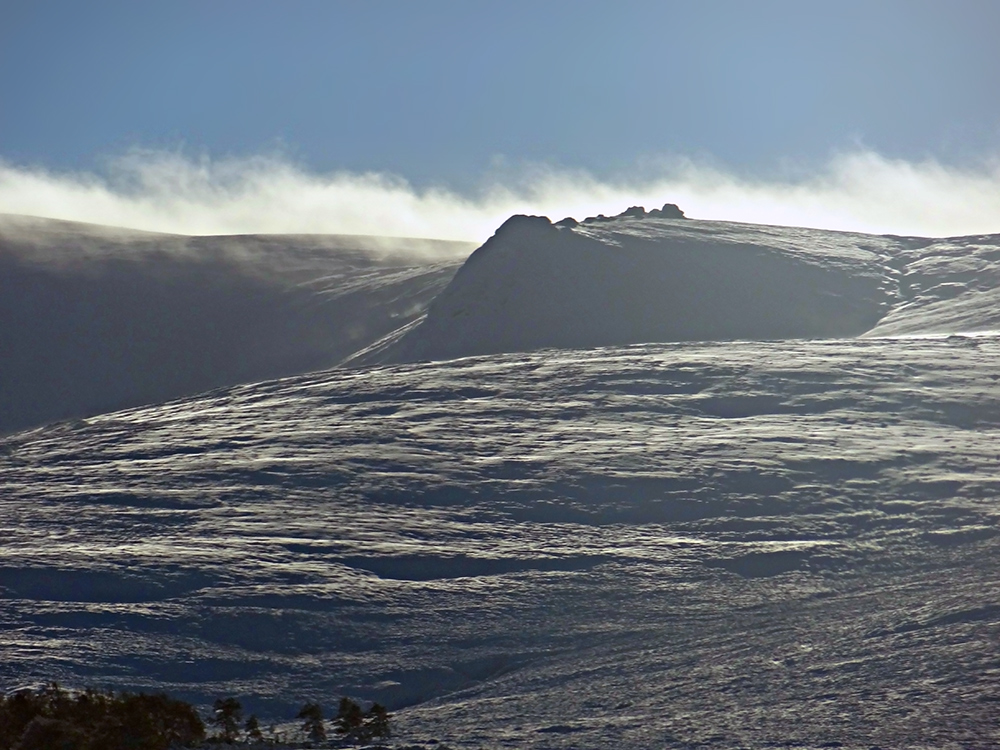 Finally at the centre around 2pm, I showed my colleague my straightforward route that would be hopefully be doable within the few hours of daylight remaining, and arranged to meet back at the centre at 5.
The lower piste was doing a roaring trade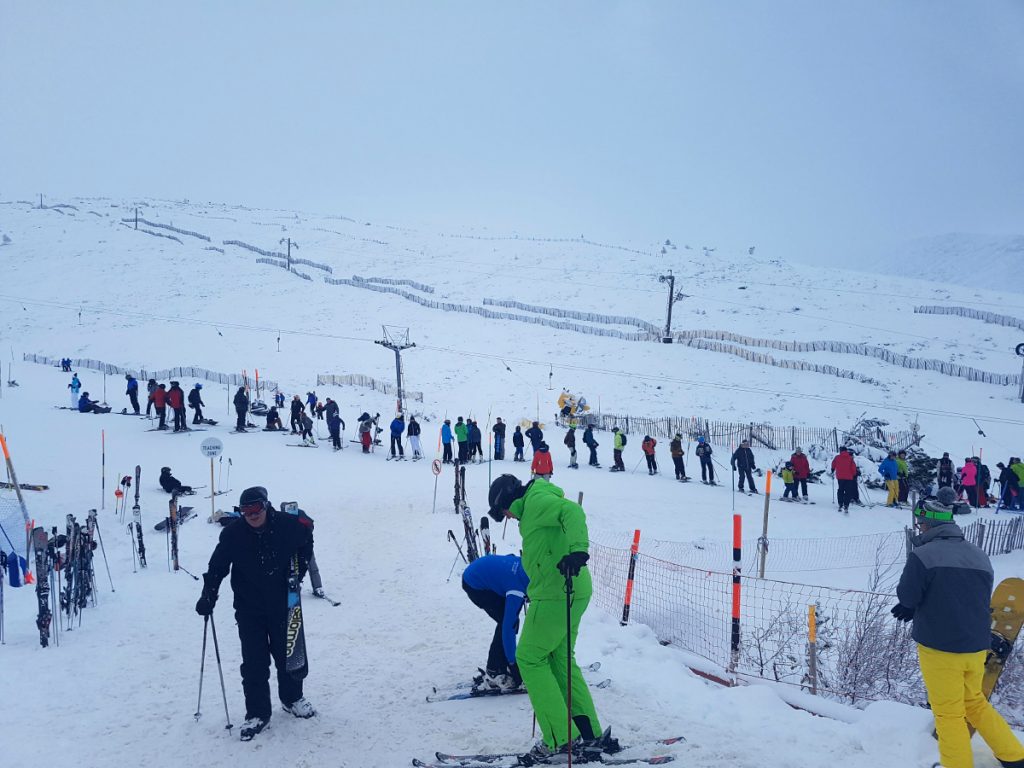 Straight away the going was slow, slogging through fresh powder. Once leaving the track to the top of the piste and following the footpath up, the snow deepened to a couple feet and only a very high work level would make good enough time.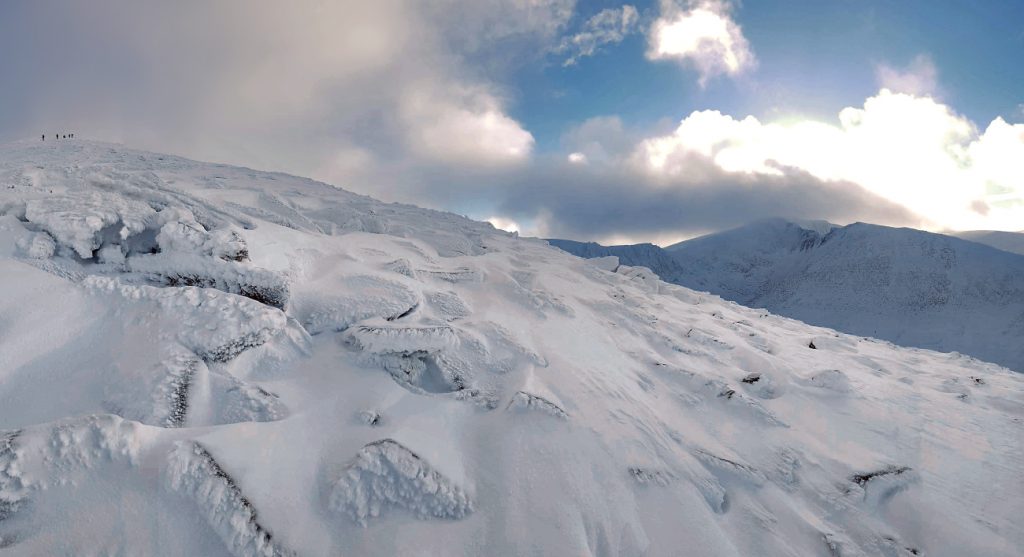 Above and to the side I could see many groups like ants on the hillside, a very busy day. There was haze above and it was doubtful I'd get a view.
It's quite steep heading up and had to kick steps occasionally. Heading higher I topped out of the haze to perfectly clear blue skies.
Reaching the 1141, I stopped to put on my softshell over my fleece as the wind was picking up. A few groups were huddled beside the cairn before their descent, and I took a photo for some of them and they obliged for me too.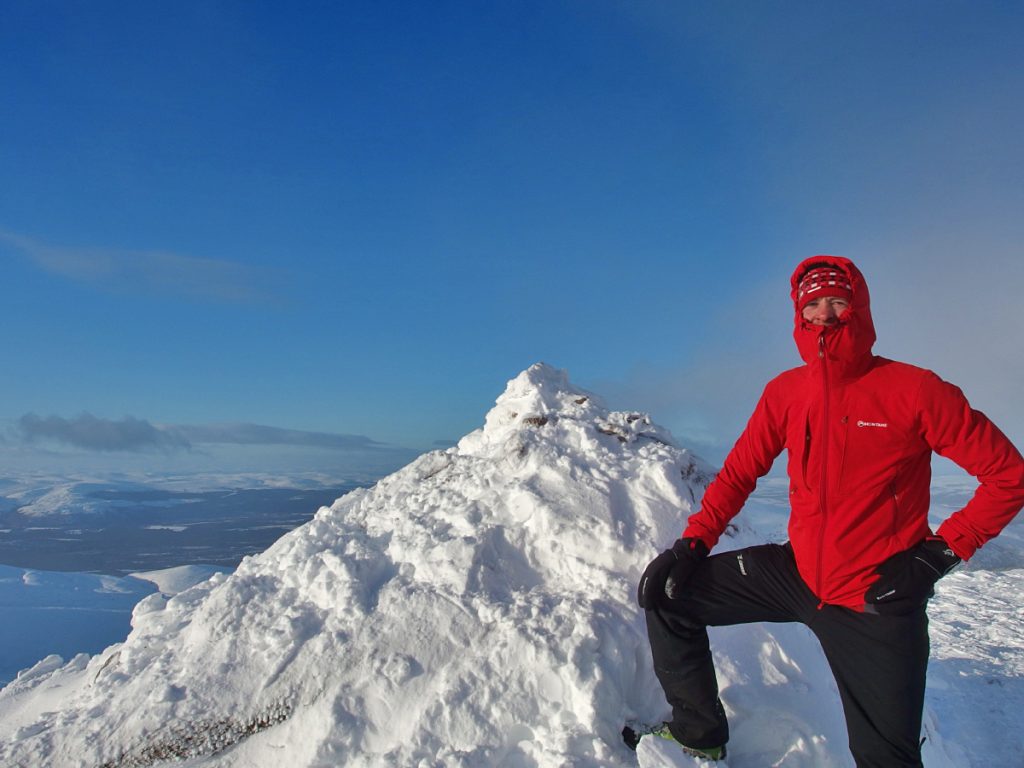 From the viewpoint here there were loads of groups far and near; guides and tourists, mountain rescue out training, other groups doing winter skills courses. I don't think I've ever seen that many folk out on a snow covered peak. I think I saw a few queried looks in my direction; lone walker heading up at this late hour and not much daylight when they should be making to head down? Hey ho, I bet I'll be up and down quicker than many of the strugglers there.
I'd made good time to that point, so onwards past the corrie to Sneachda. A steady chill wind stung the face and blew a magic carpet of spin-drift across the intricately carved snow, incanting ephemeral snow-genies very chilly but extremely beautiful. Banging out pictures on the camera, the wind-chill quickly numbed my digits back into my mitts.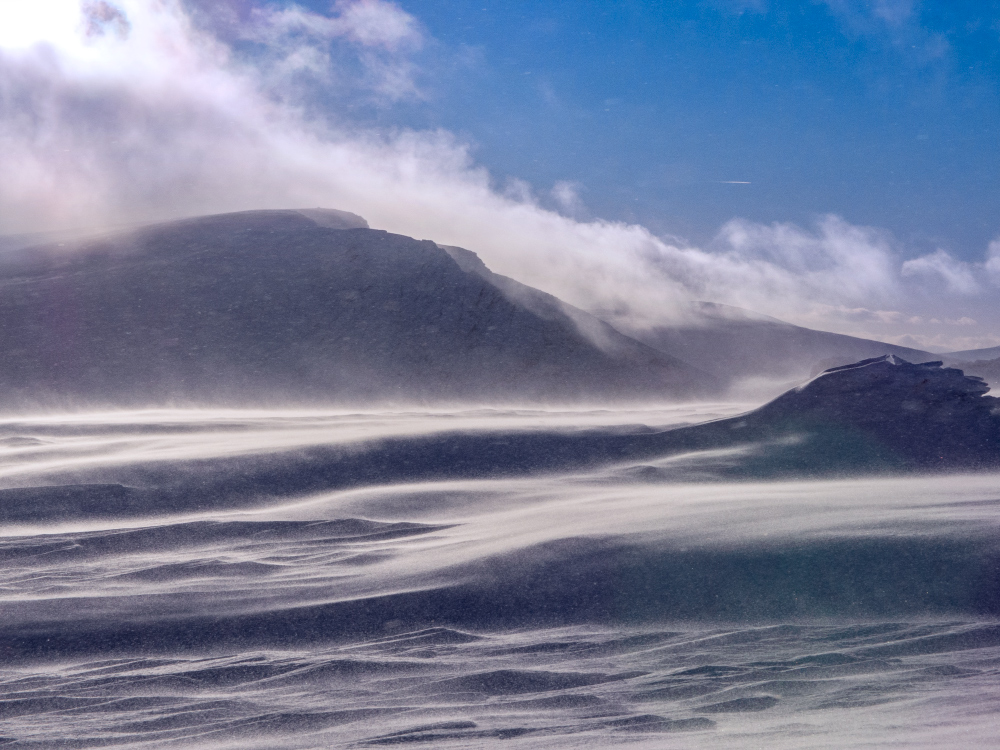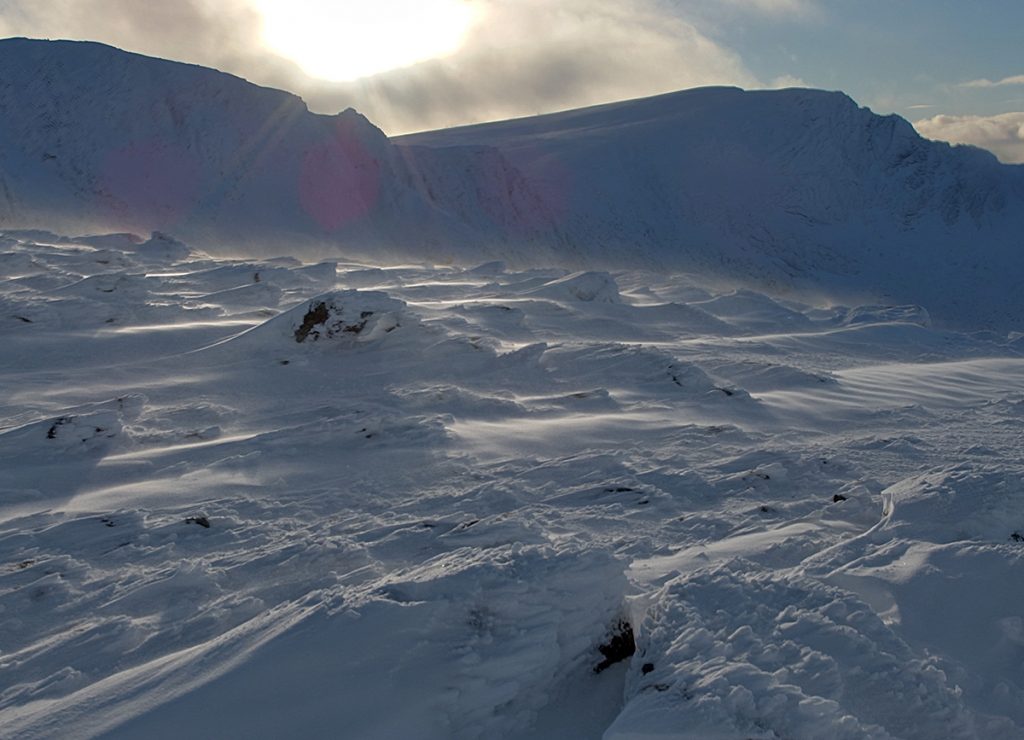 I had a new camera with me today, an olympus xz2 off of ebay. It's a chunky compact with a slightly larger sensor and fast lens that I thought might get some extra quality on low-light days, the down side is a bit of bulk and a limited zoom range. A couple of things I noticed quickly is that it flares badly shooting towards the sun; and the HDR multi shot combination mode is quite slow: anything other than very steady hands combines offset images.
Today I was also testing a brynje base layer; these are like old school string vests, the theory is that the combination of air gaps and synthetic material make for the ultimate wicking/ dry-feel base. After steaming up the hill to this point and expecting to feel damp as the effort decreased heading downwards, initial impressions were very favourable.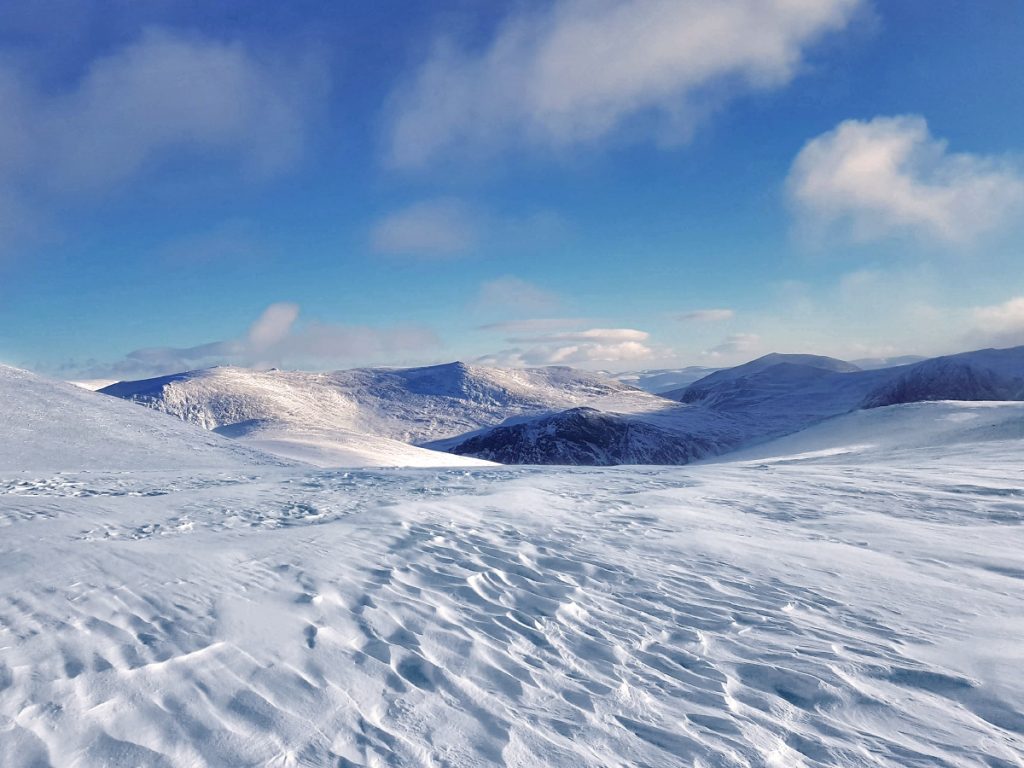 I could see tiny specks aloft Sneachda, and some across on Fiachail ridge. Not far to go now skirting up and around the corrie.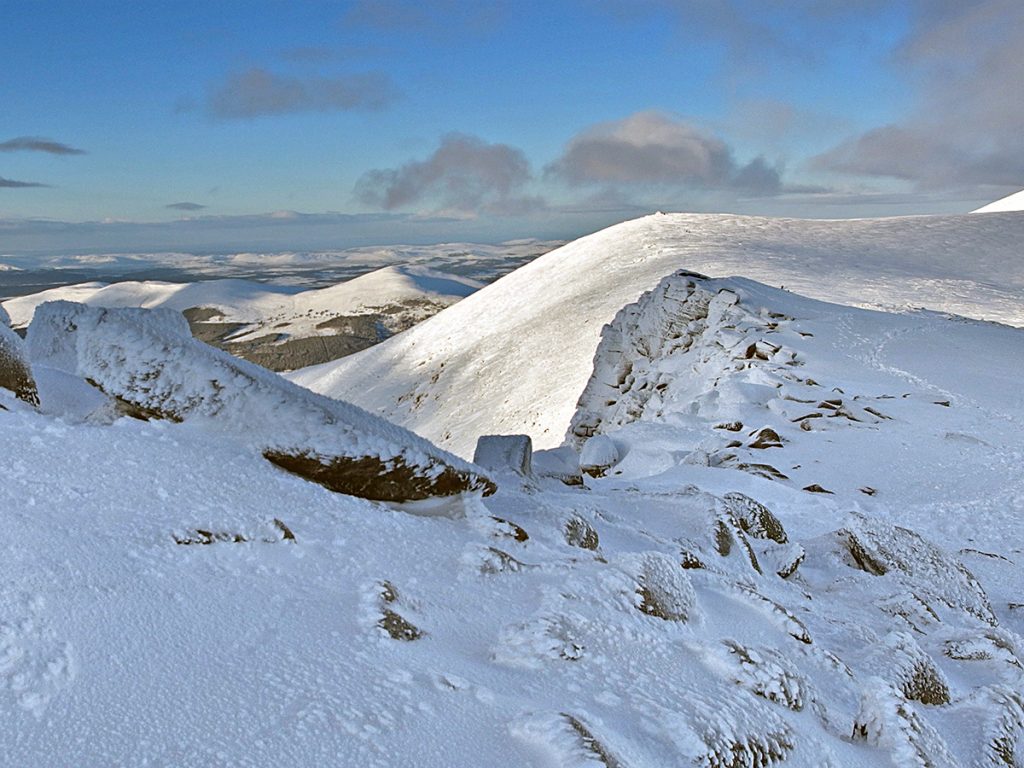 At the top, the wind strangely fell to a whisper, and the panorama towards Loch Avon was delicious. I could hear very distant walkers and climbers. I'd pondered hammering on further to Cairn Lochan or to overlook Loch Avon for a view, but having stolen a quick winter hill I was happy to take a seat and savour a rare pristine mountain-top break, and blether to a few passers-by. A flask of tea never tasted better, here at the peak of the corrie of the snow.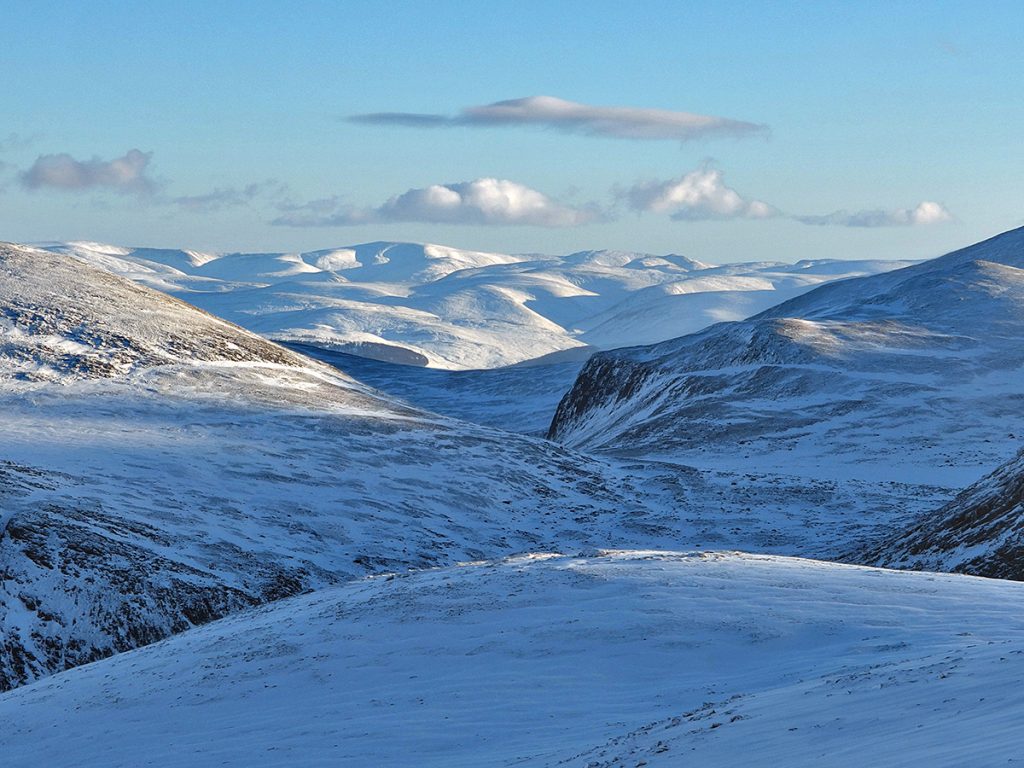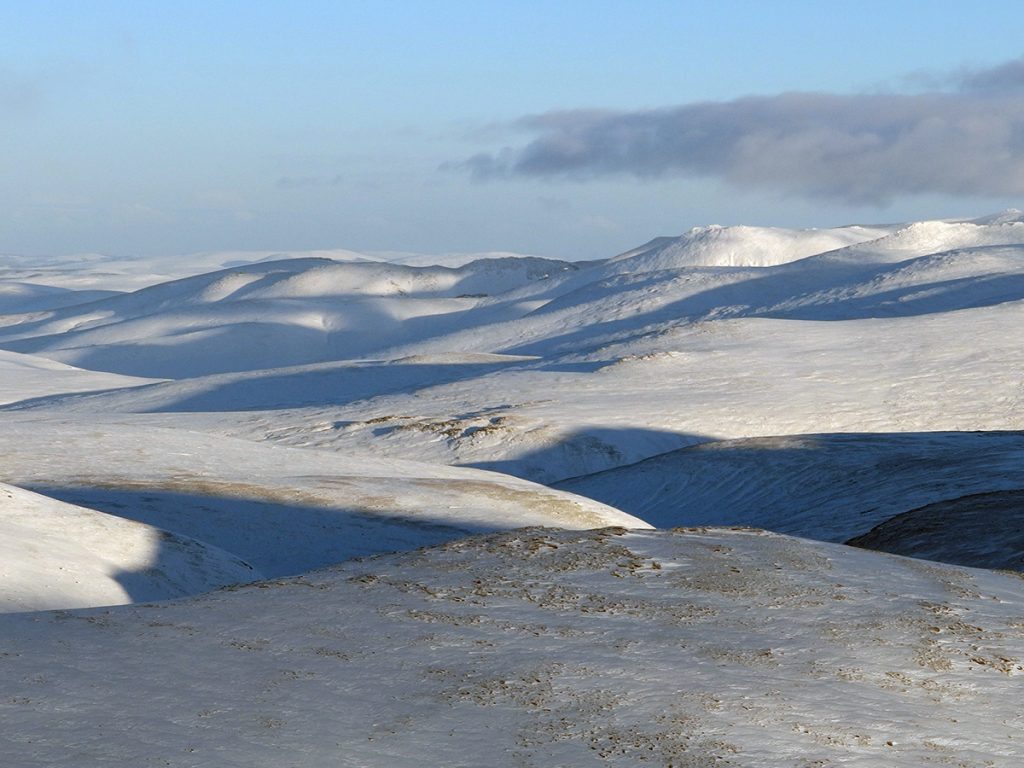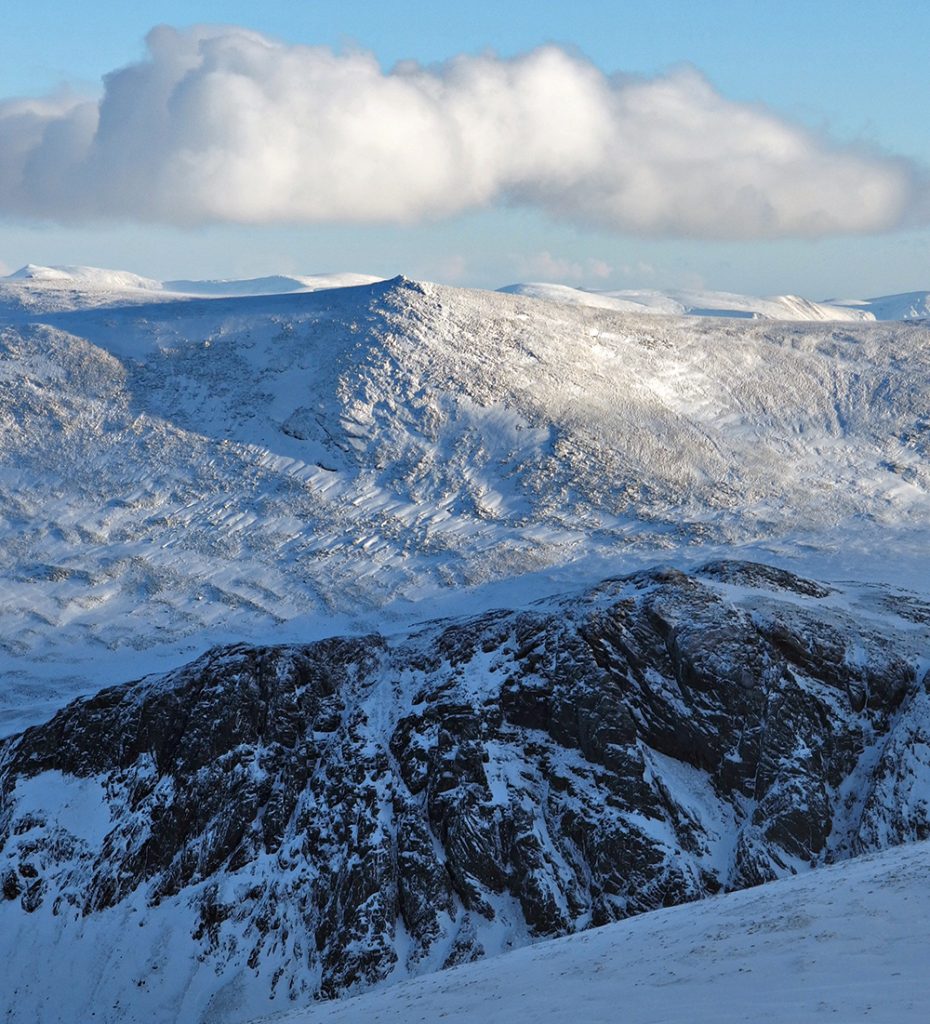 A few triumphant timer-selfies, then crampons on to thrash back down the hill. I must remember to trim the annoyingly long cord.
Sunset colours were enriching the view, the rush back to 1141 punctuated by fumbly-freezing-fingered photo stops.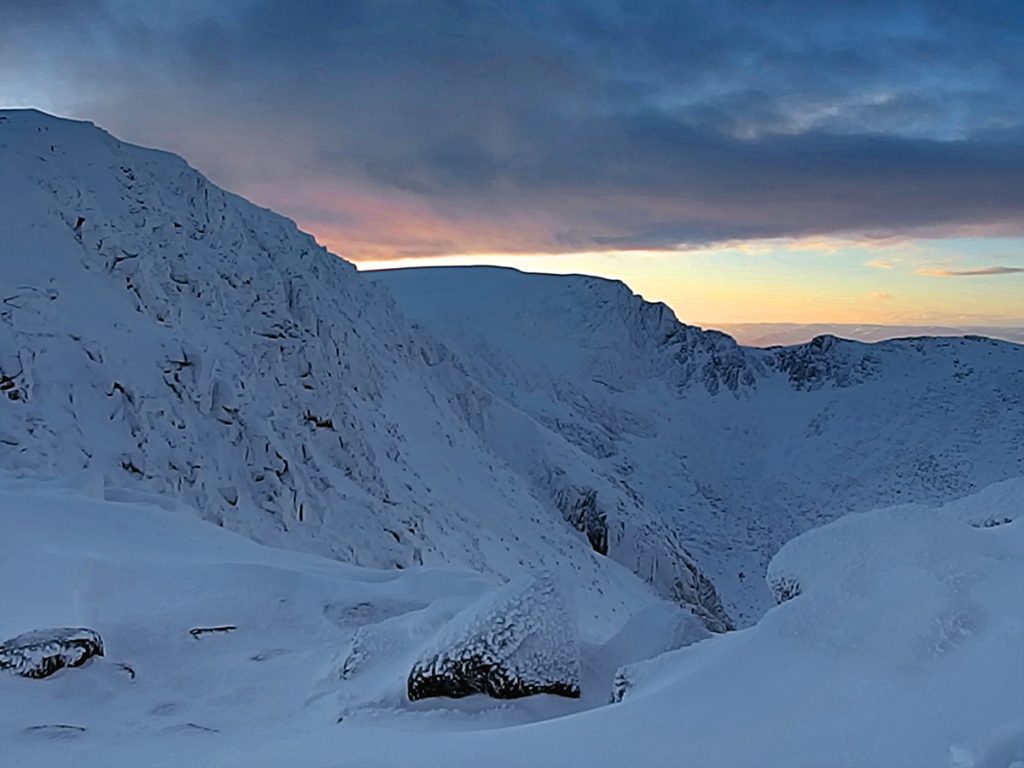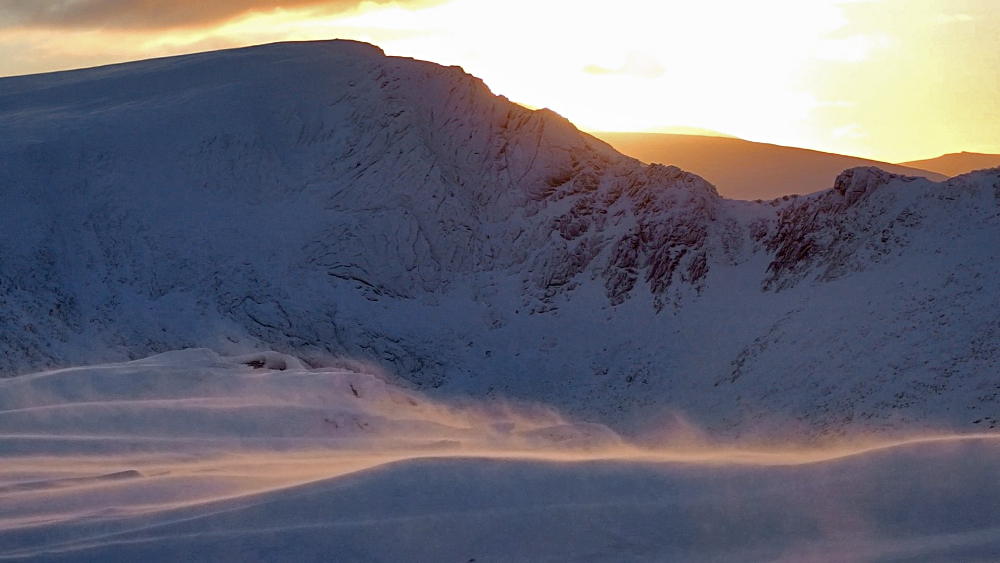 I got my jog on from the peak down; sweeping the powder aside and click clacking rocks, I should have taken a sledge.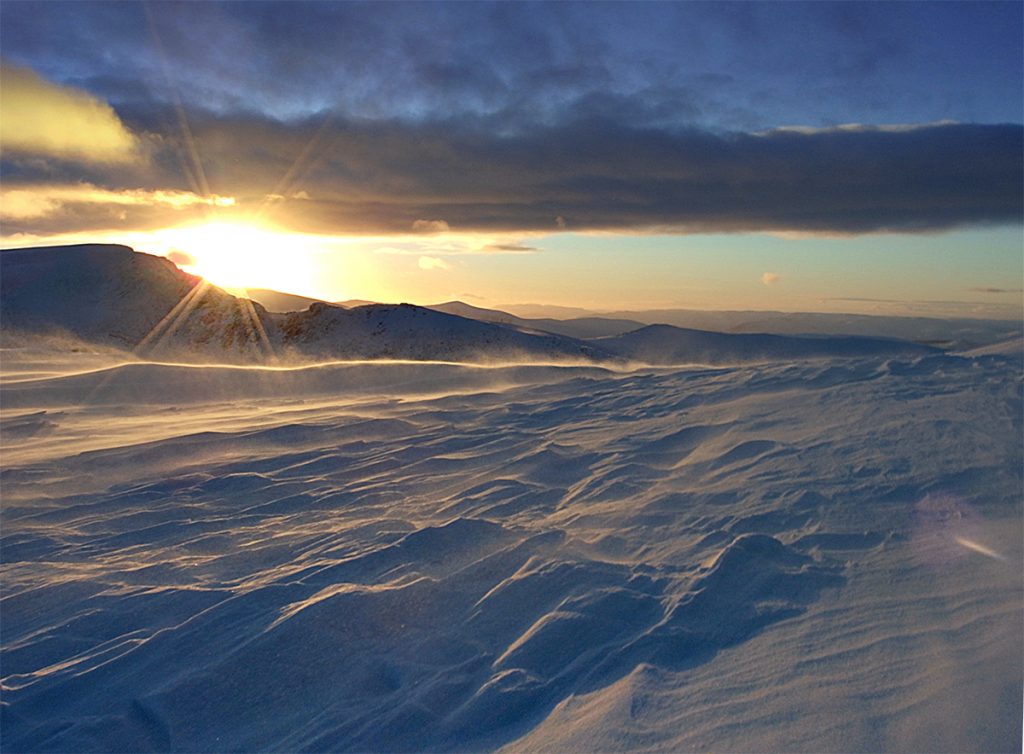 Back in perfect time, 8 tough km and 670m of ascent in 2h30 in the bag, as the sunset glow was fading.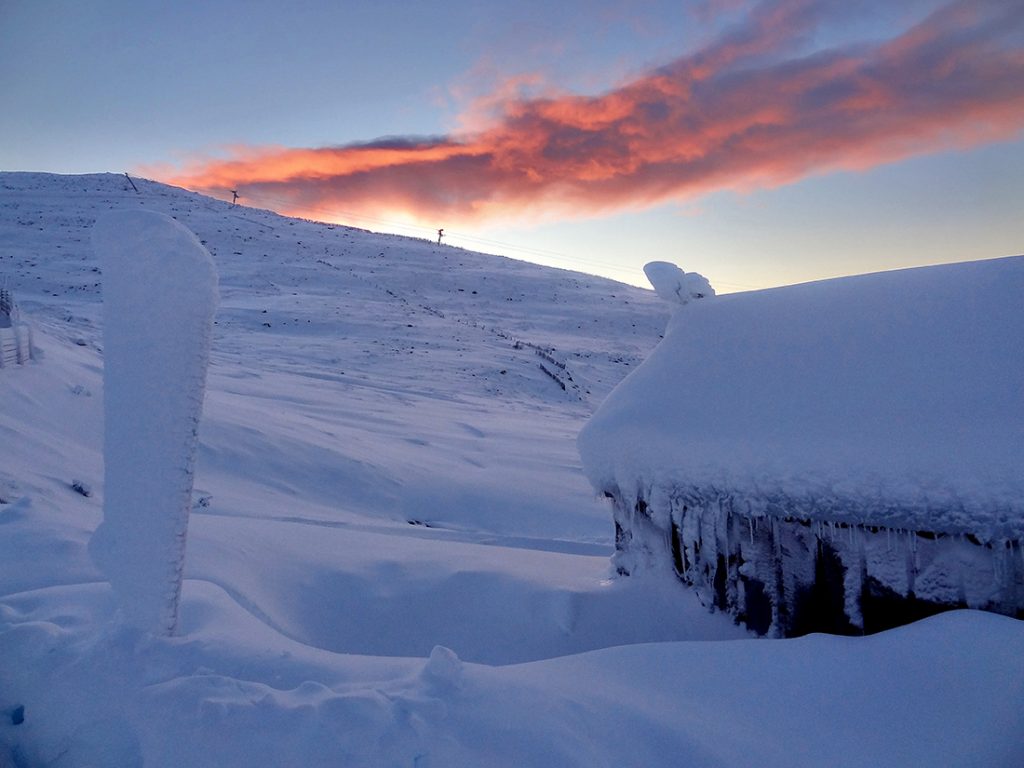 I'm always surprised/not surprised that before 5pm the cafe/toilets are closed; probably their busiest day of the year, tourist from all over the globe, and they'd probably like to chill for a bit before heading off. But no, all closed, fuck off home is what the resort says. Whoever is in charge of this place needs a massive hoof in the bawz, shit hospitality. Even half an hour extra. Particularly when the gondola is closed. They only opened one piste too; peak ski and they can't be arsed, wankers. A tiny grumble in a great day out.
Anyway near Aviemore we found an Italian, La Taverna. Big and popular, I wolfed down a lasagne and a pot of local brew: a richly flavoured stout from the Cairngorm brewery called Black Gold. Awesome. Fortified for a long drive home.