The Cairngorm Club Burns supper at Muir Cottage provided an opportunity for a social weekend, but with Friday having a great forecast I headed out early to catch a blue sky day; the forecast for after was dire. After scaring a herd of deer browsing outside the cottage, I headed down the track towards White Bridge on bike, before being tempted up a gully in search of interesting waterfalls and rocks.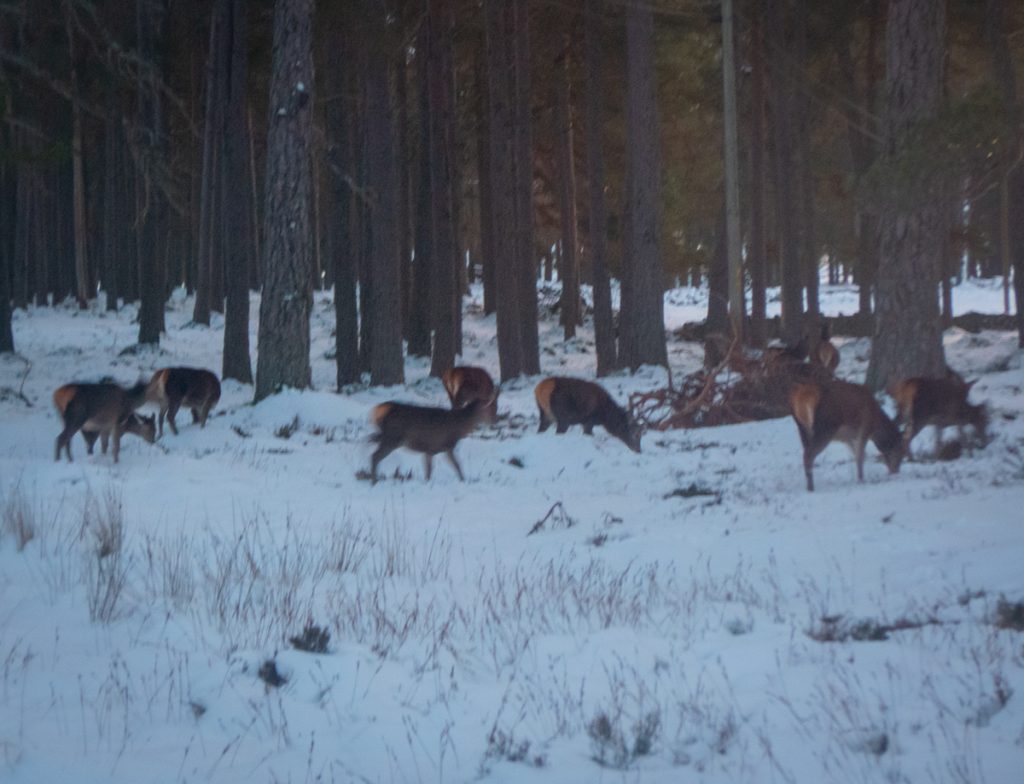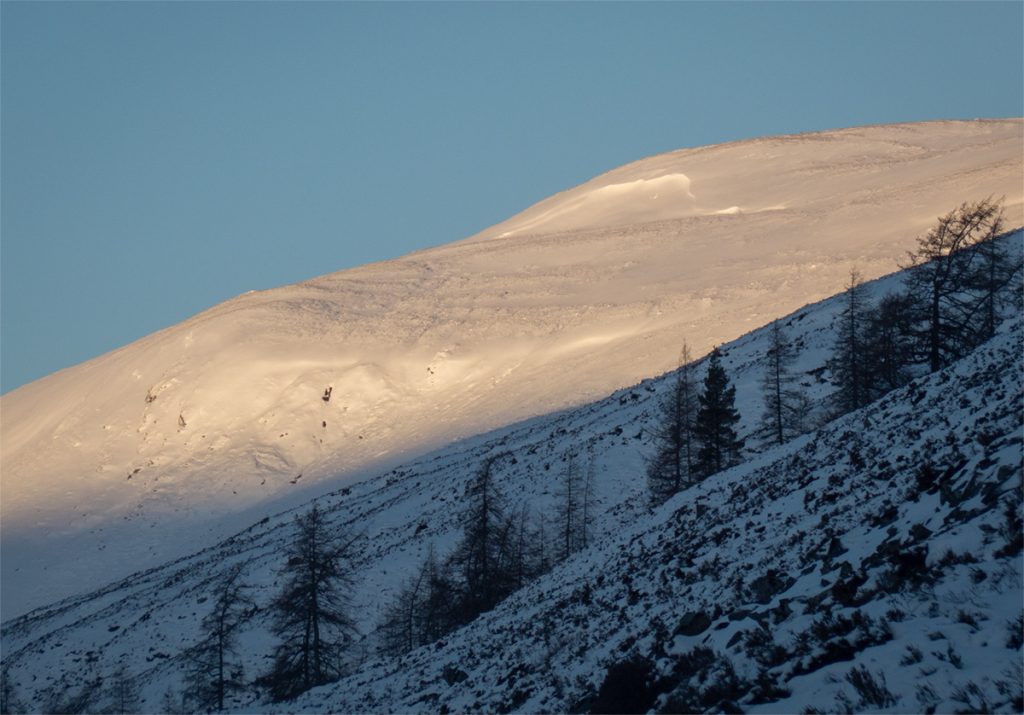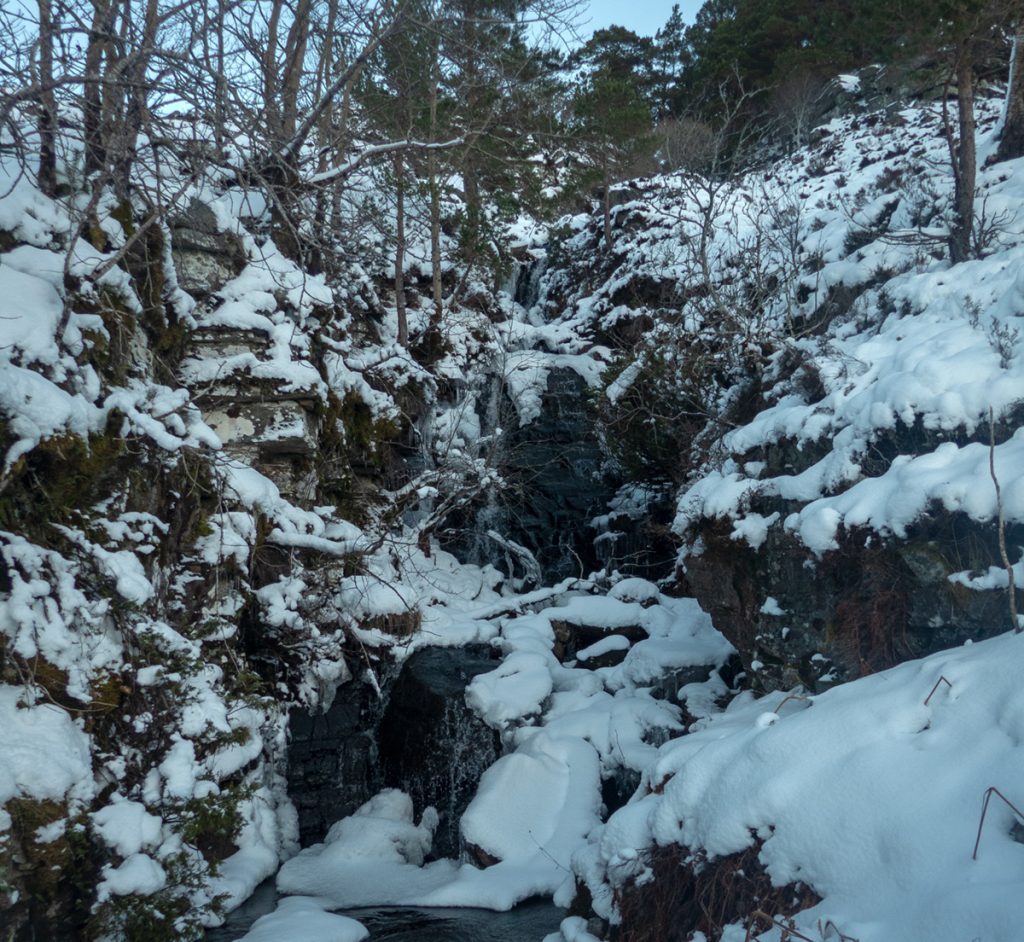 Once out into the open beyond the treeline, it was time to get the snowshoes on. I'd taken my MSR ascent today rather than my inflatables.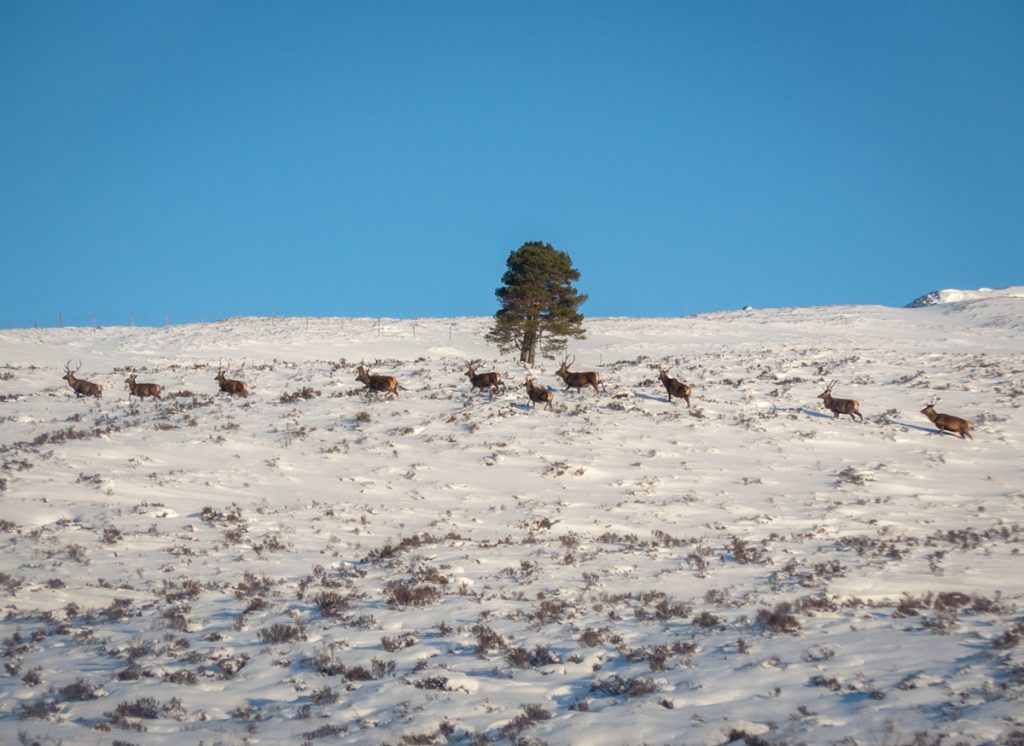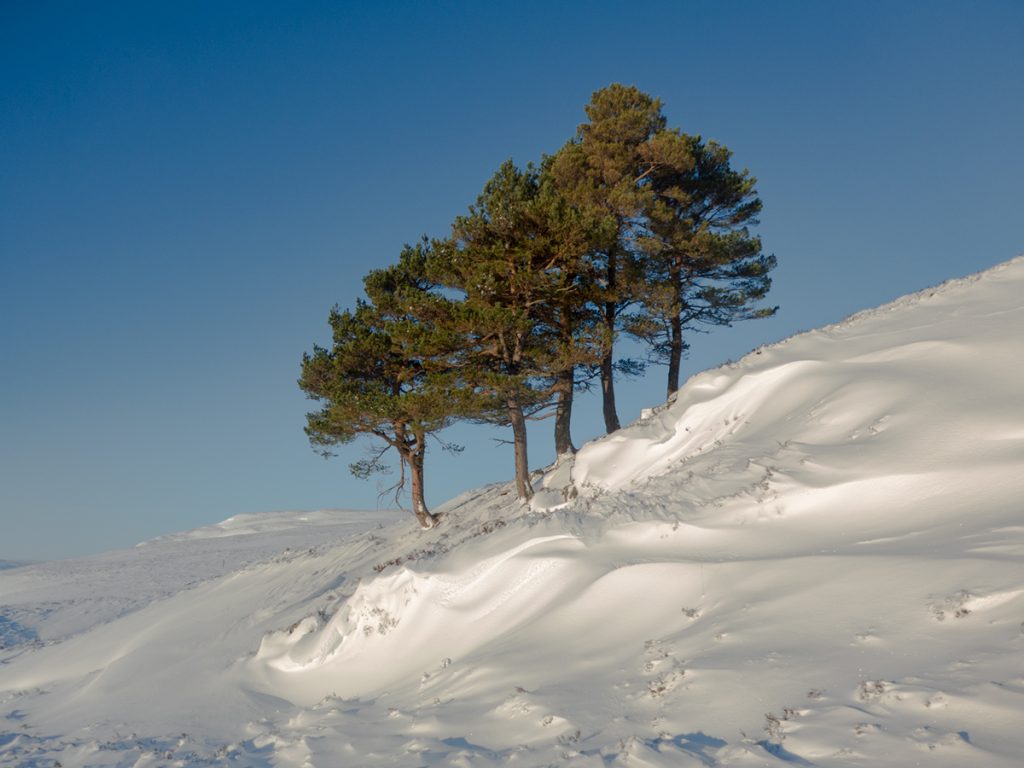 With the frosty air clarity I could see for miles, but with slow going underfoot I'd have to temper ambitions on how far I could walk. I soon stripped down to base layer only despite the cold; it's hard work shuffling through deep snow.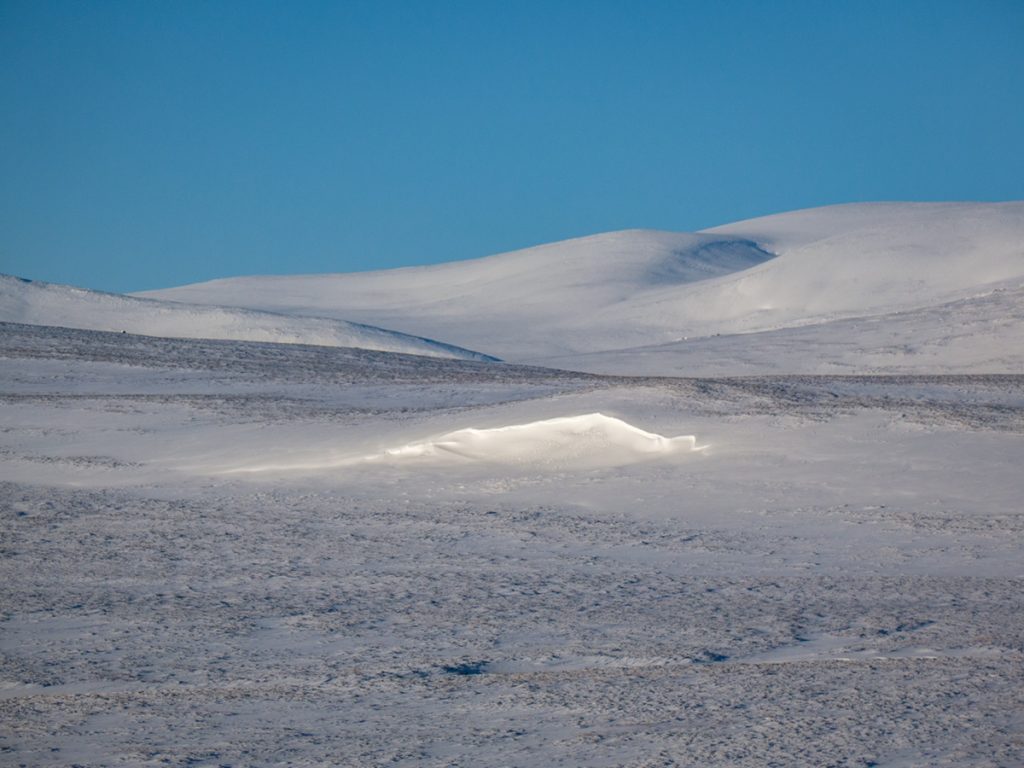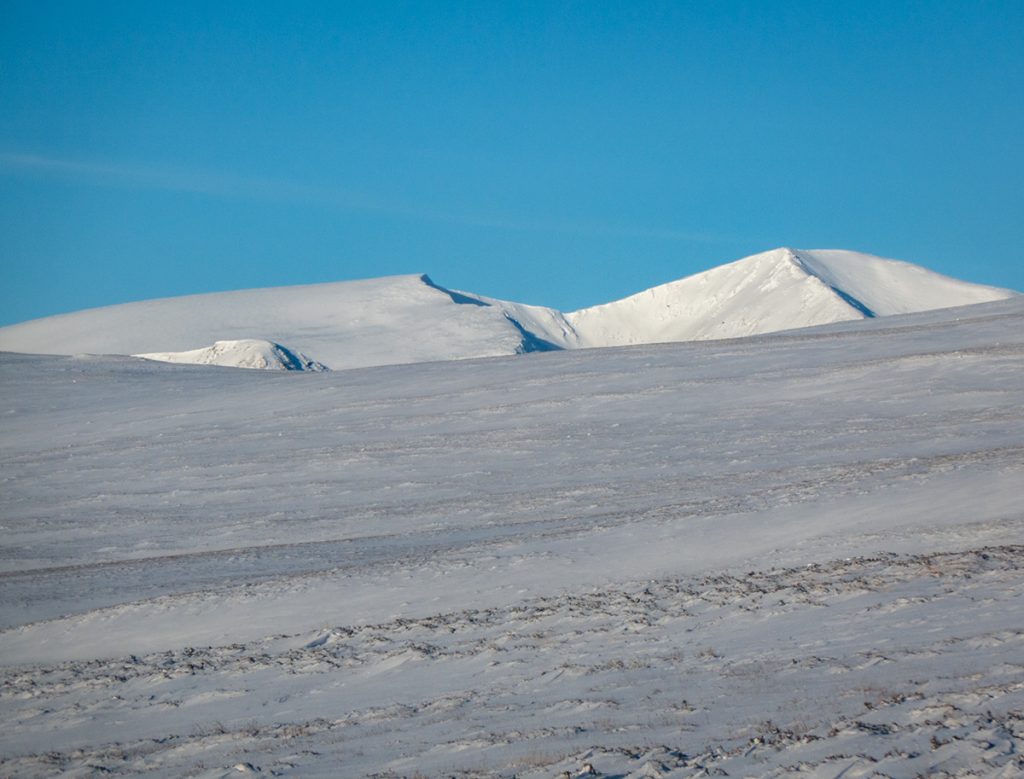 I might have been better on skis; but as a beginner cross-country skier I'm wary of control on icy snow, and sure enough I crossed pathces where wind had blasted the powder off leaving crunchy sastrugi.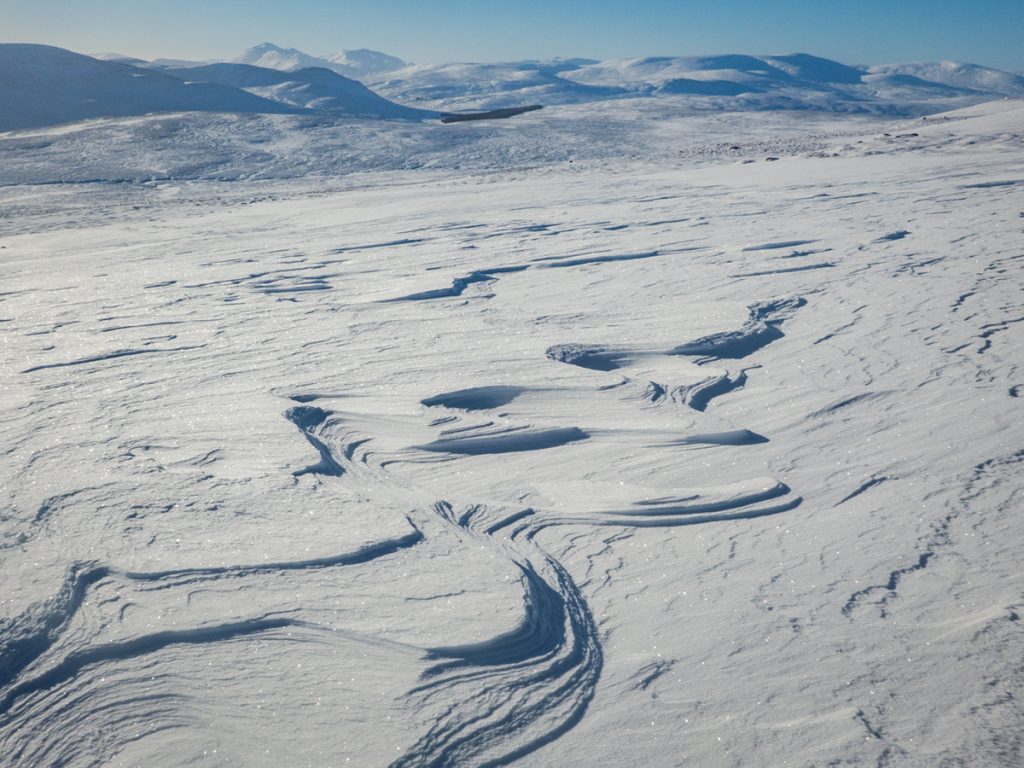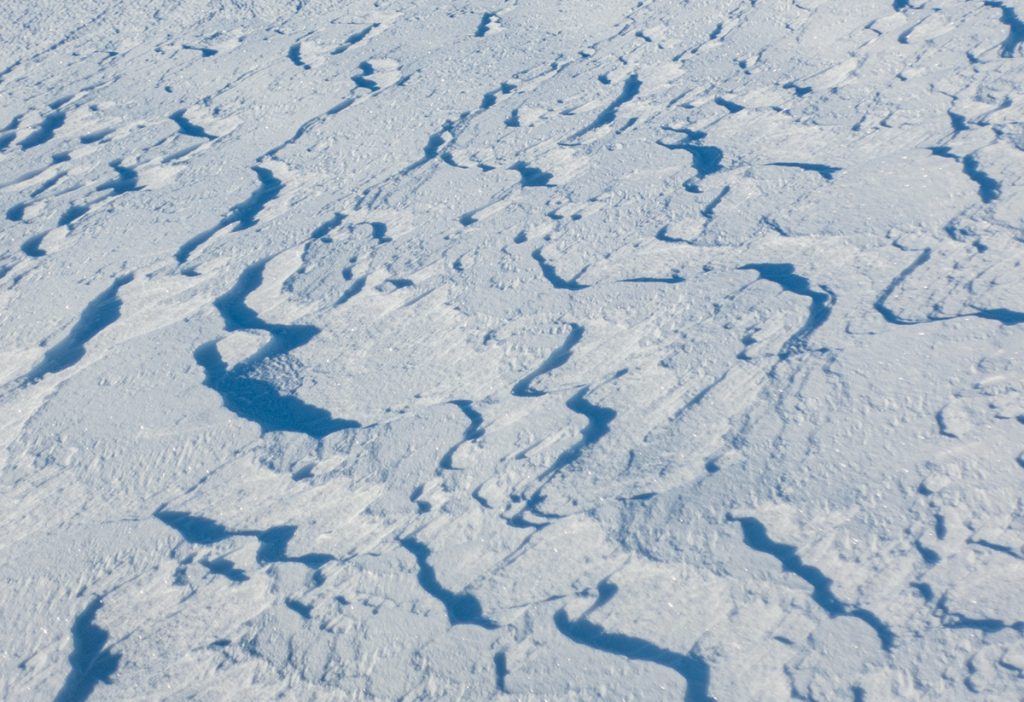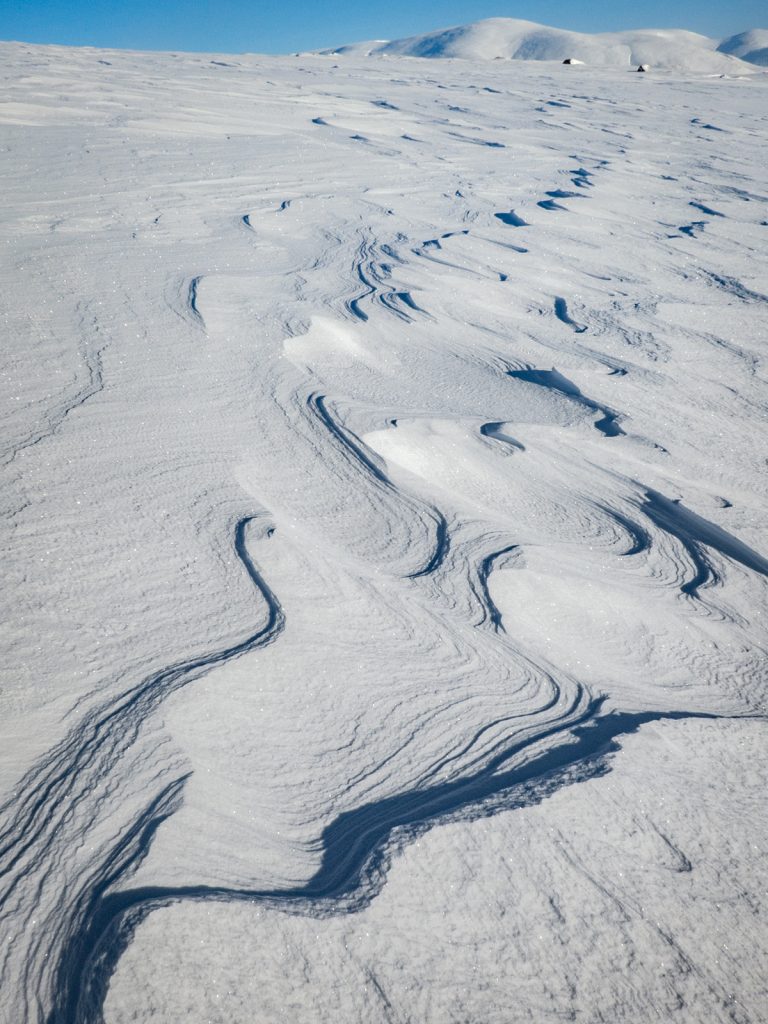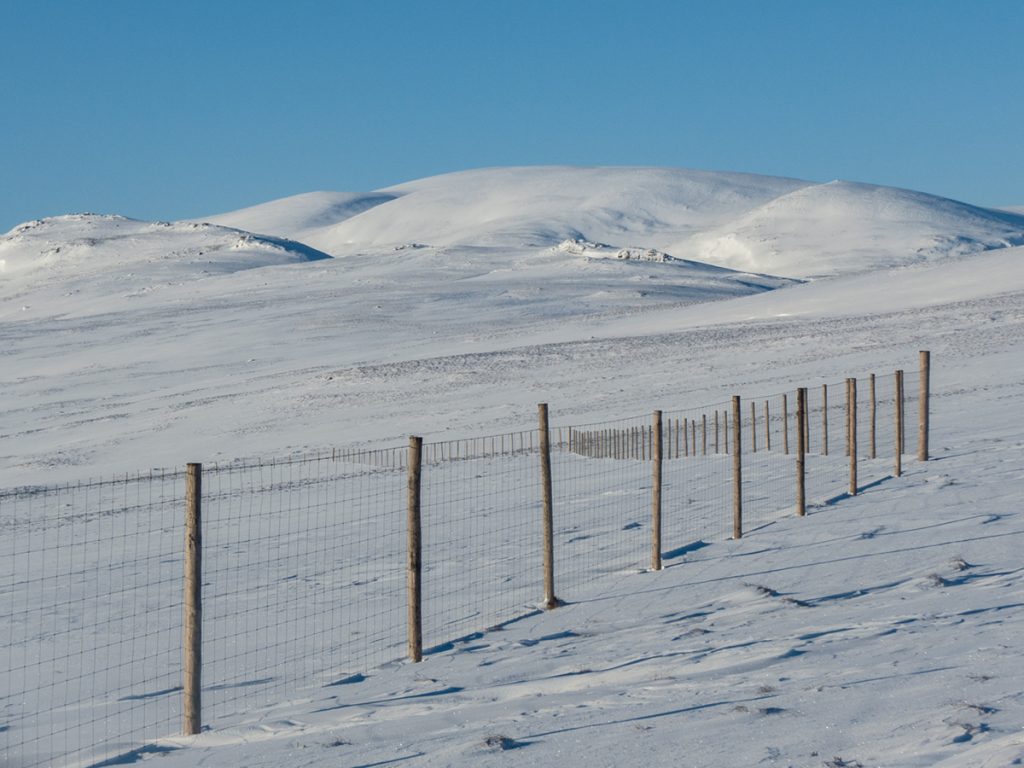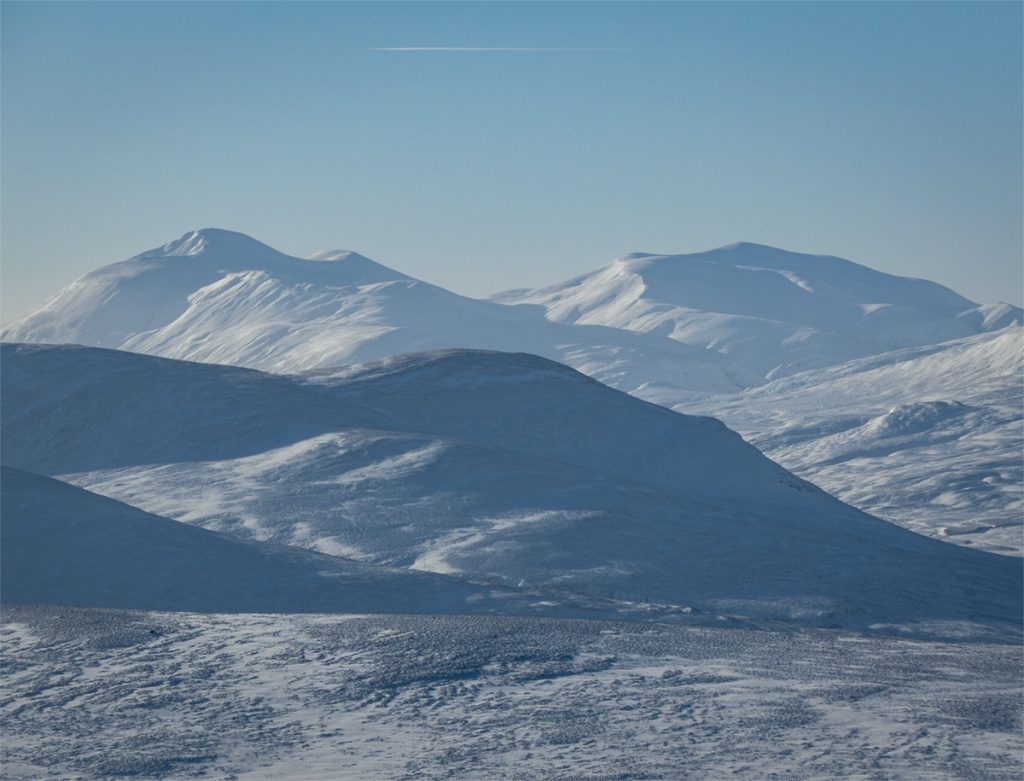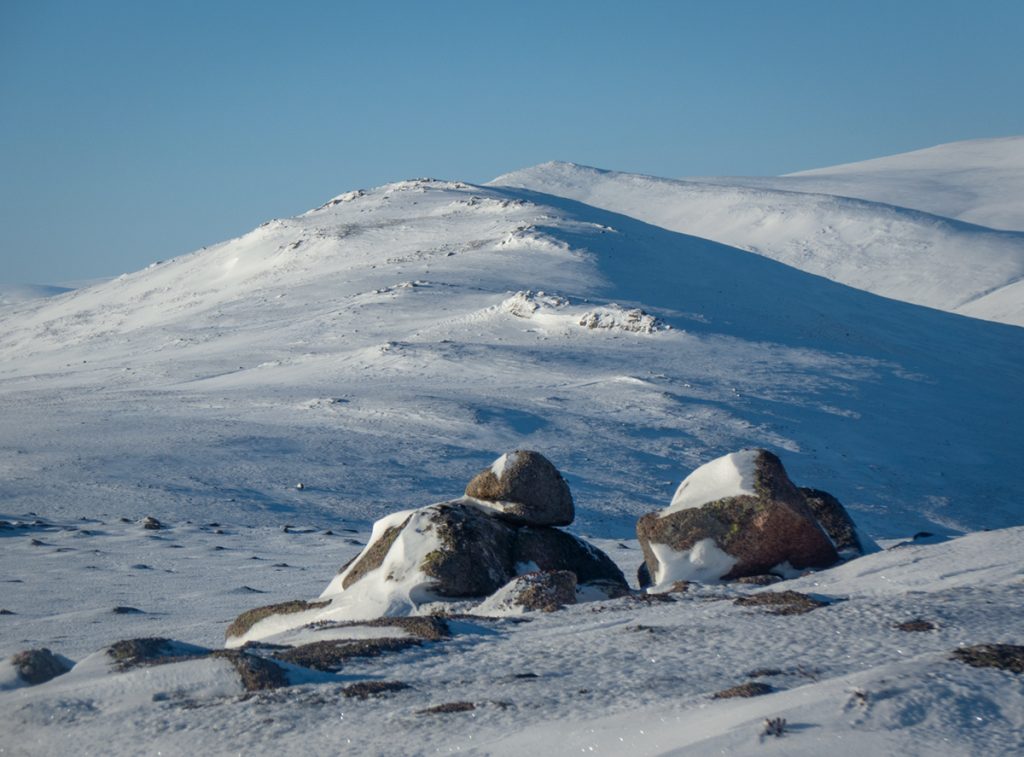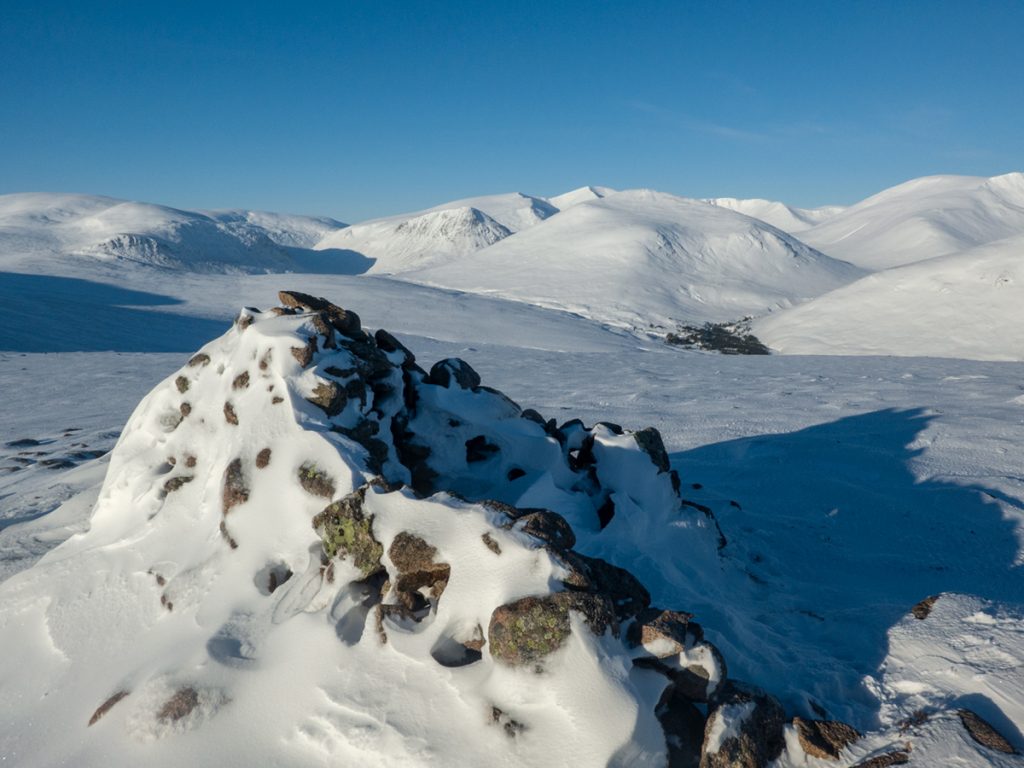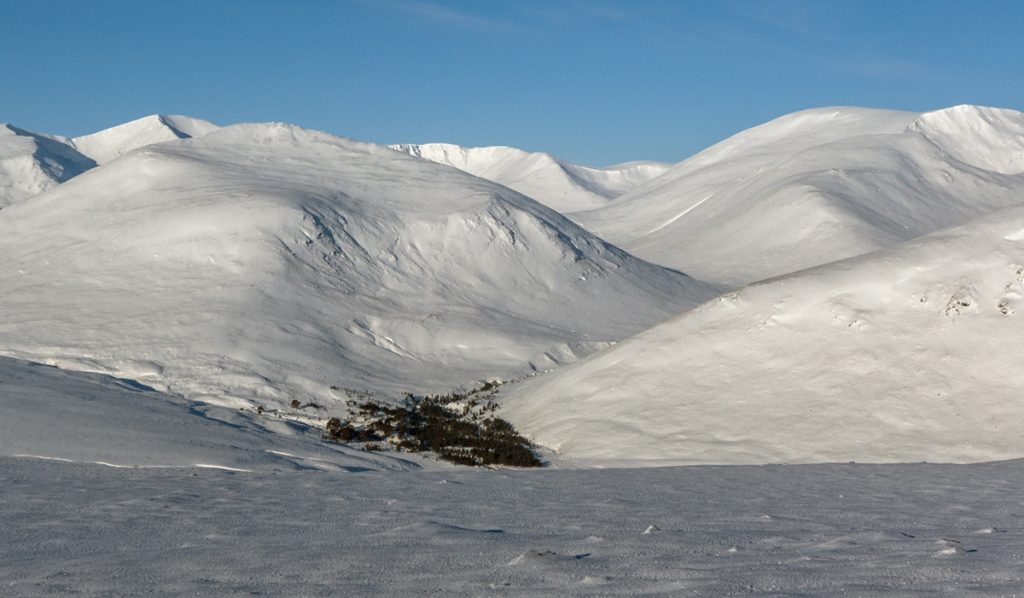 At the top of Sgor Dubh I met an English couple who had suffered bad weather the last few days but now were enjoying a pristine day out before returning down to the bothy. A ski tourer was also passing and I had a great blether. This had eaten into time though so I decided against heading onwards to Sgor Mor and to make my way to Glen Derry instead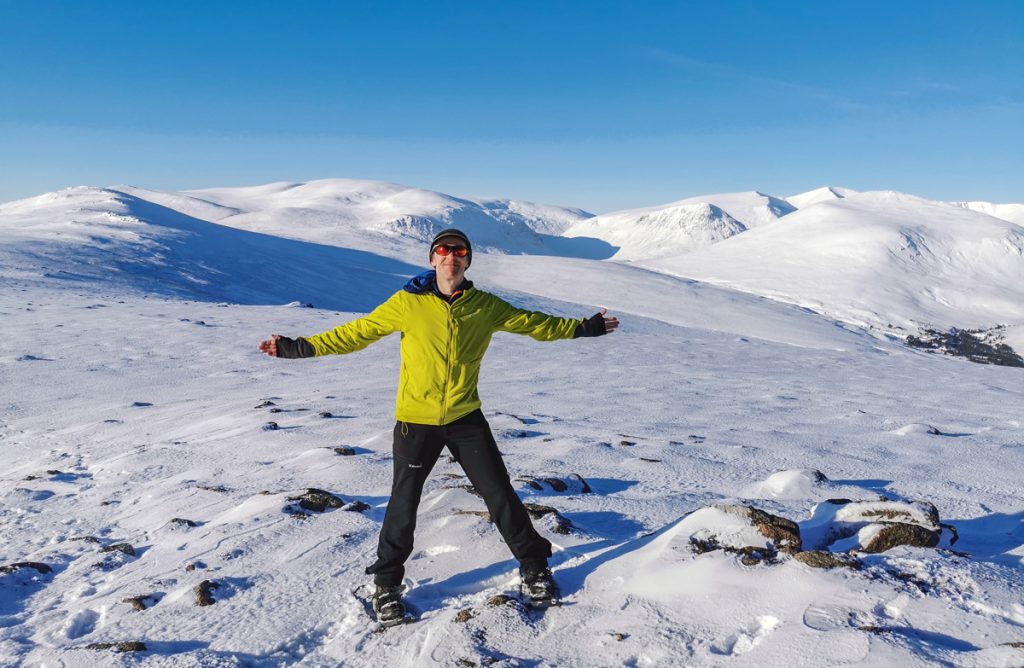 I do like Sgor Dubh as an easily reached viewpoint in winter, not much ascent and not steep enough in most facets to present any avalanche danger.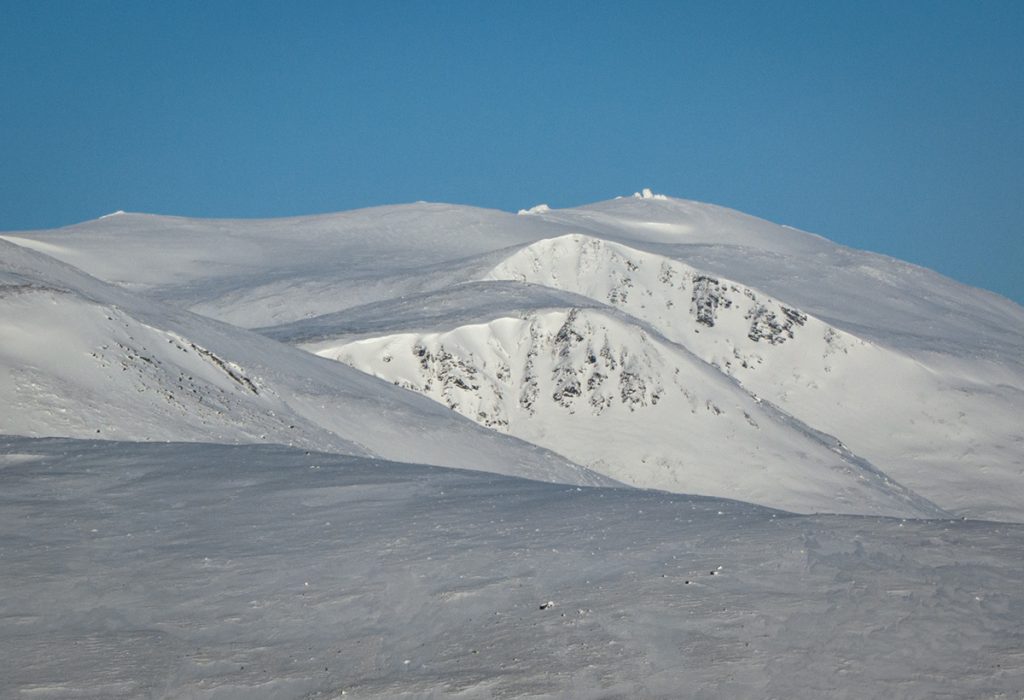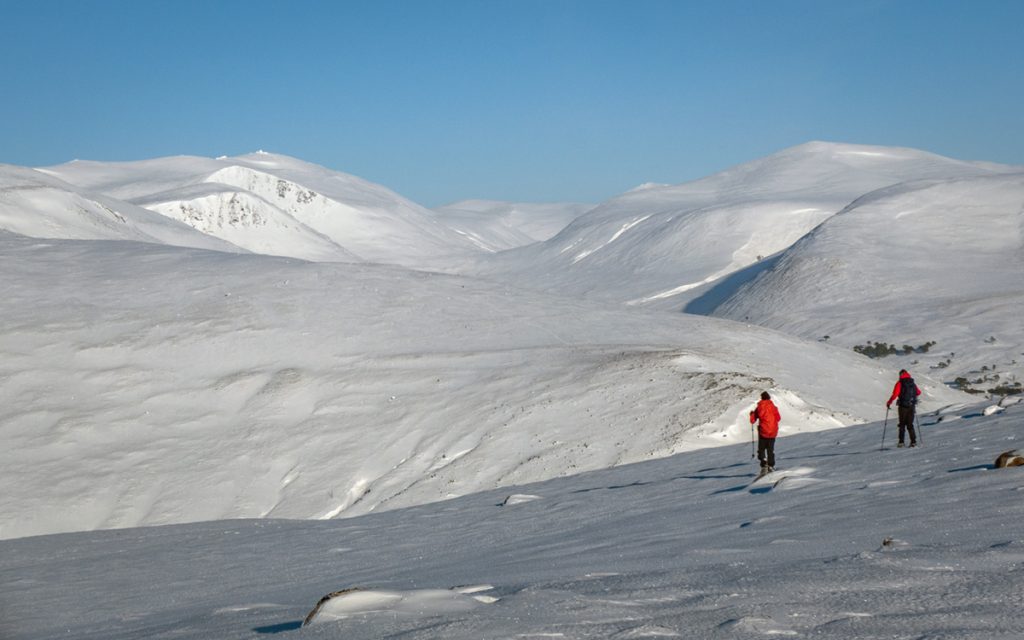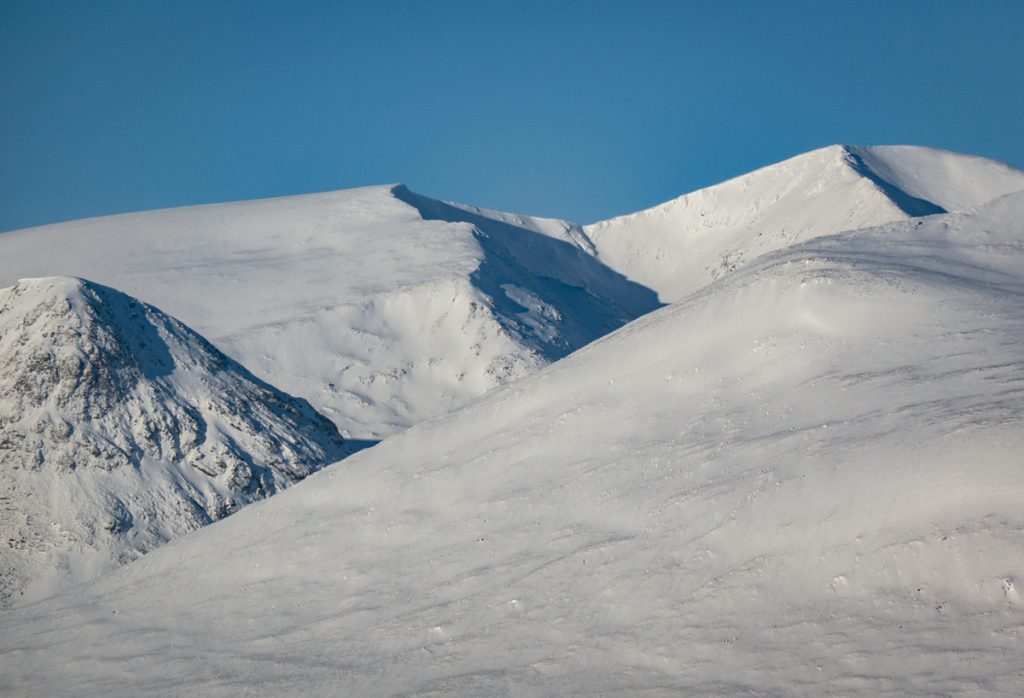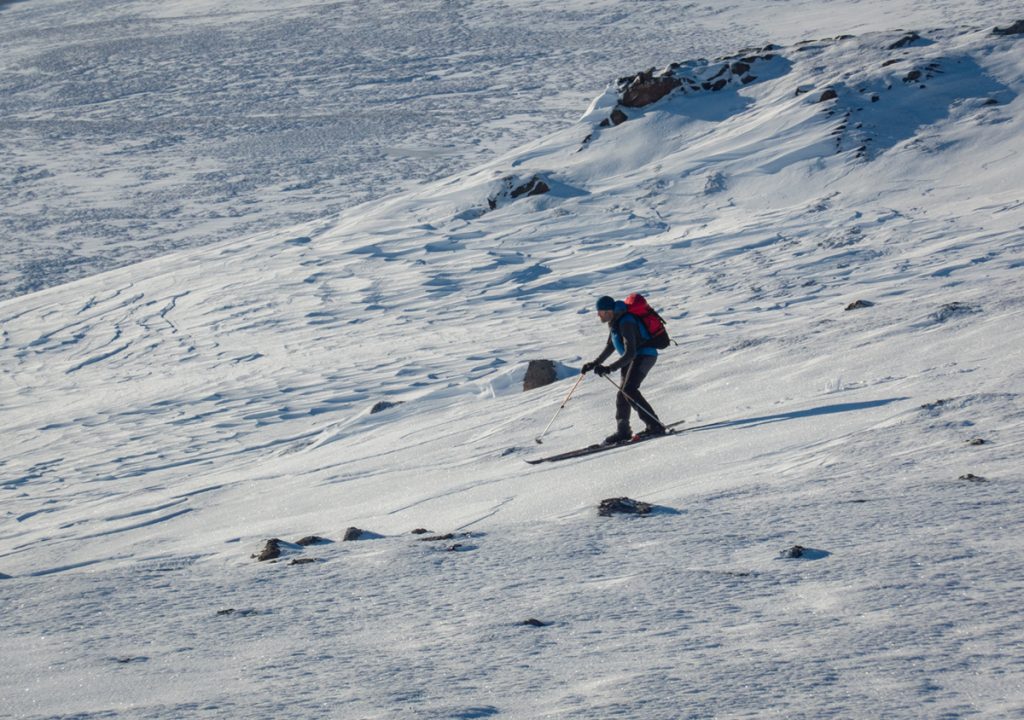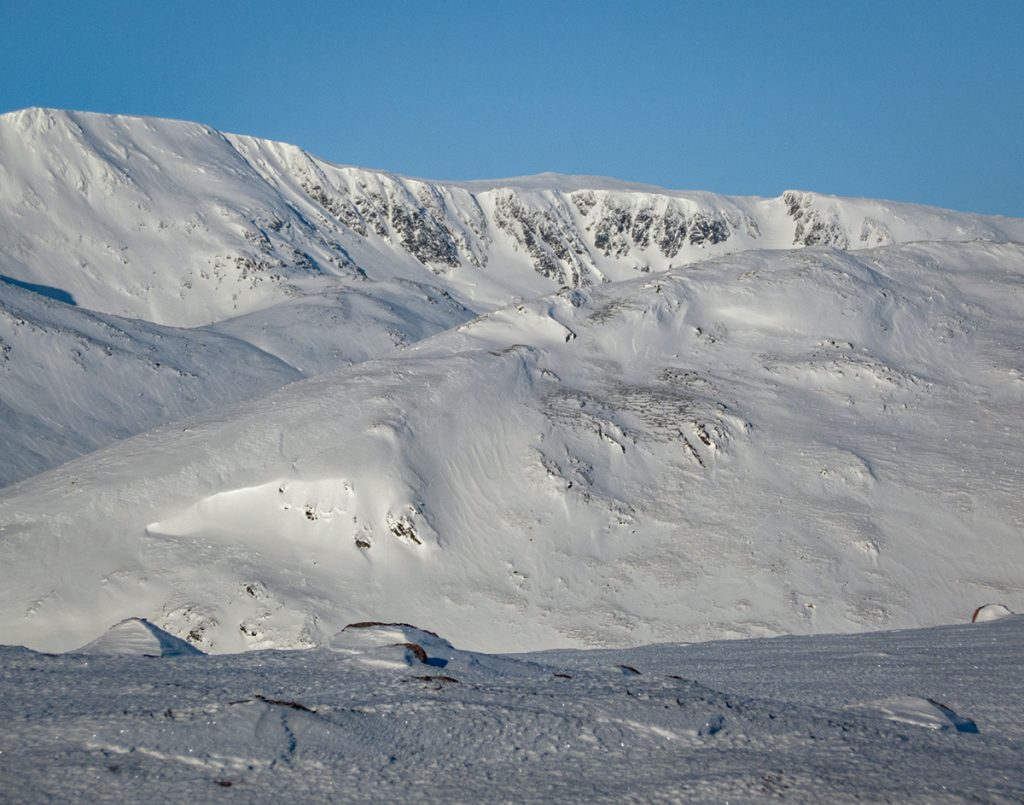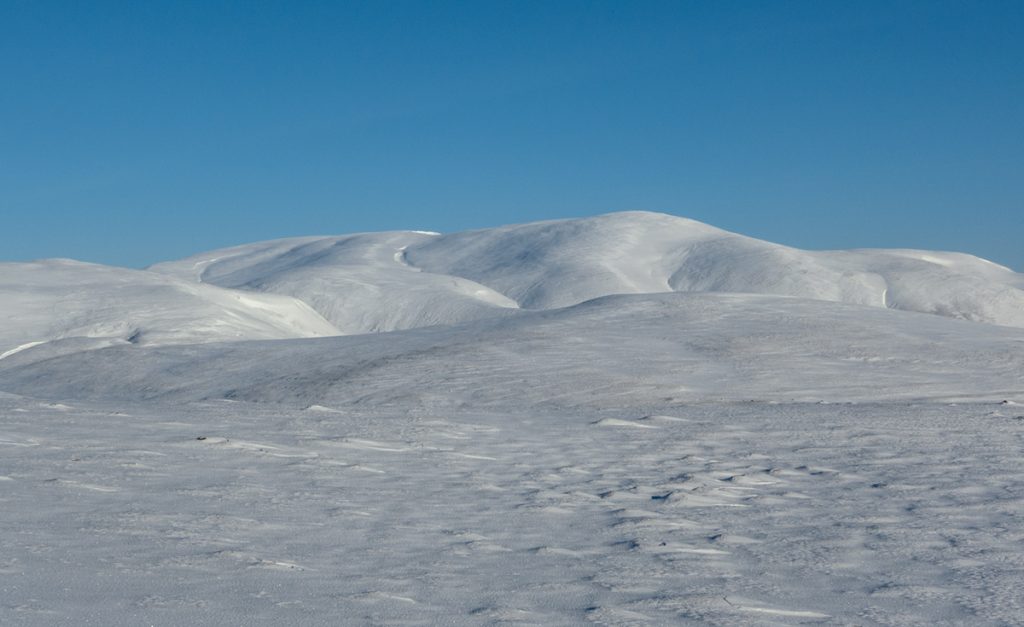 Making my way back, I passed the top of Caochan Bheithe where a large drift had formed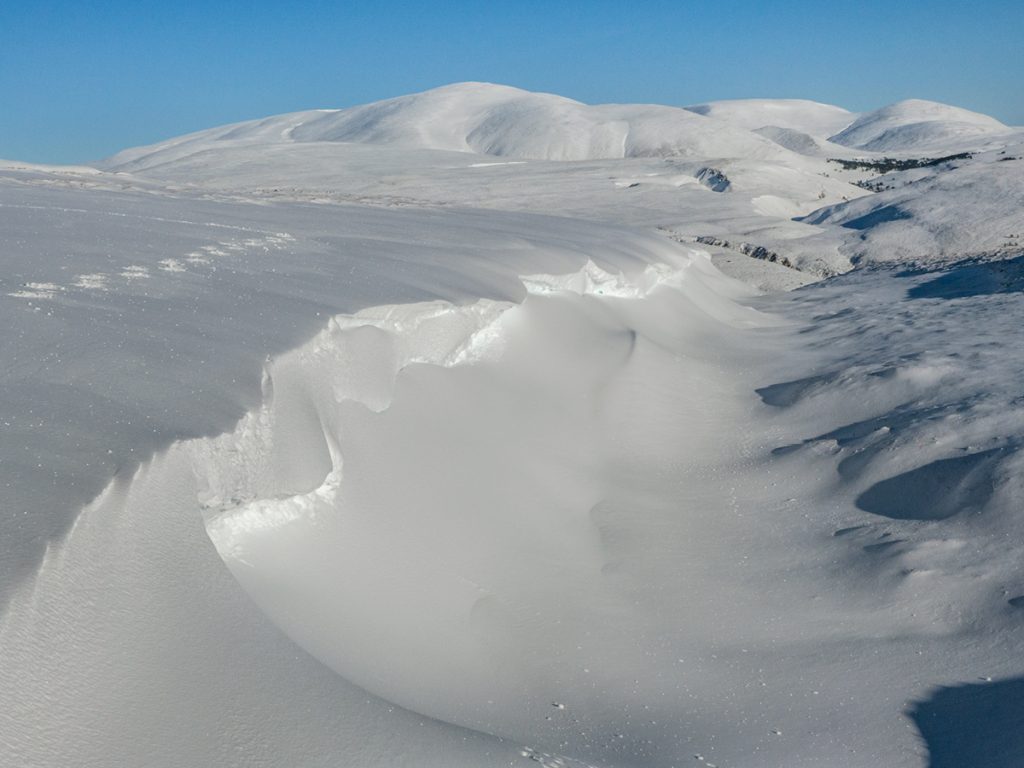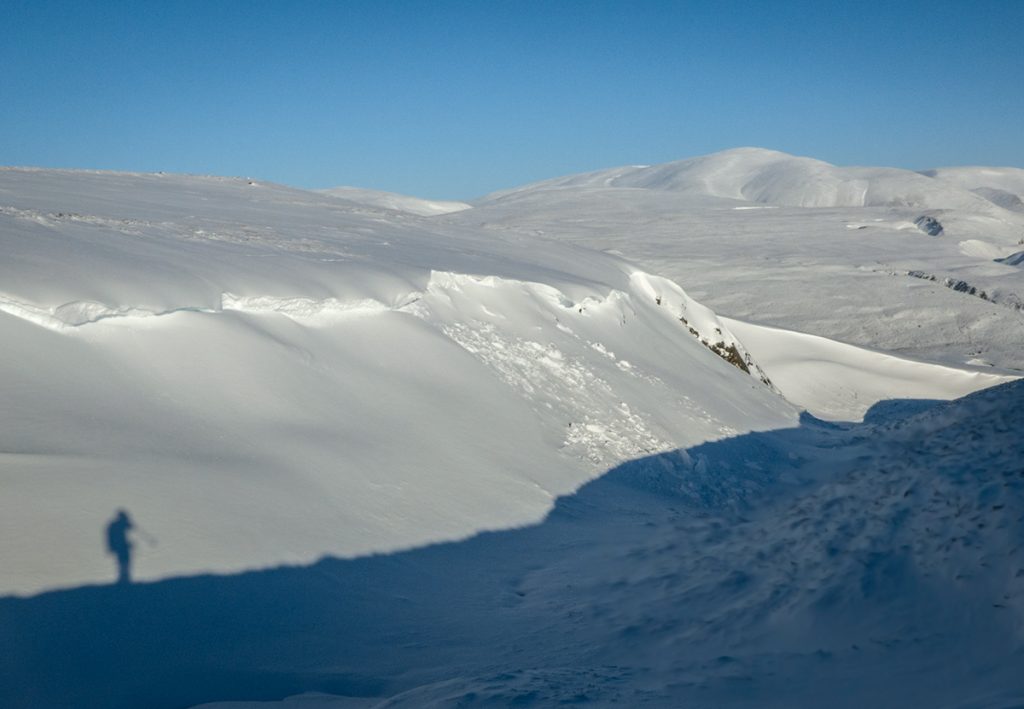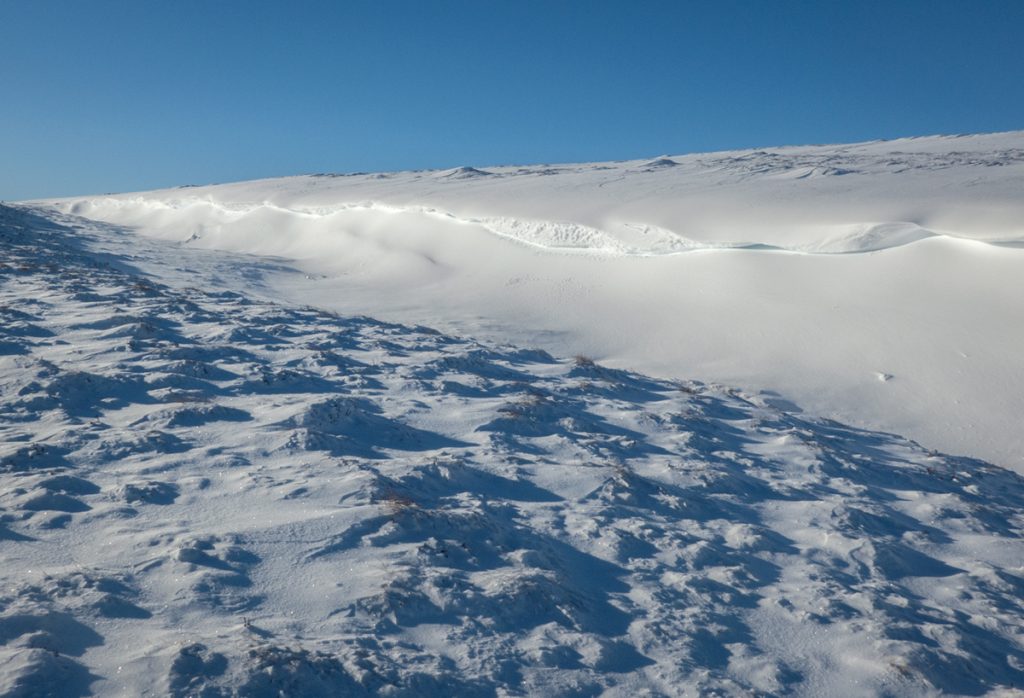 Back at the deer-fence I followed it south, then headed down near Creag Phadruig where it's quite lumpy, with the odd small crag to avoid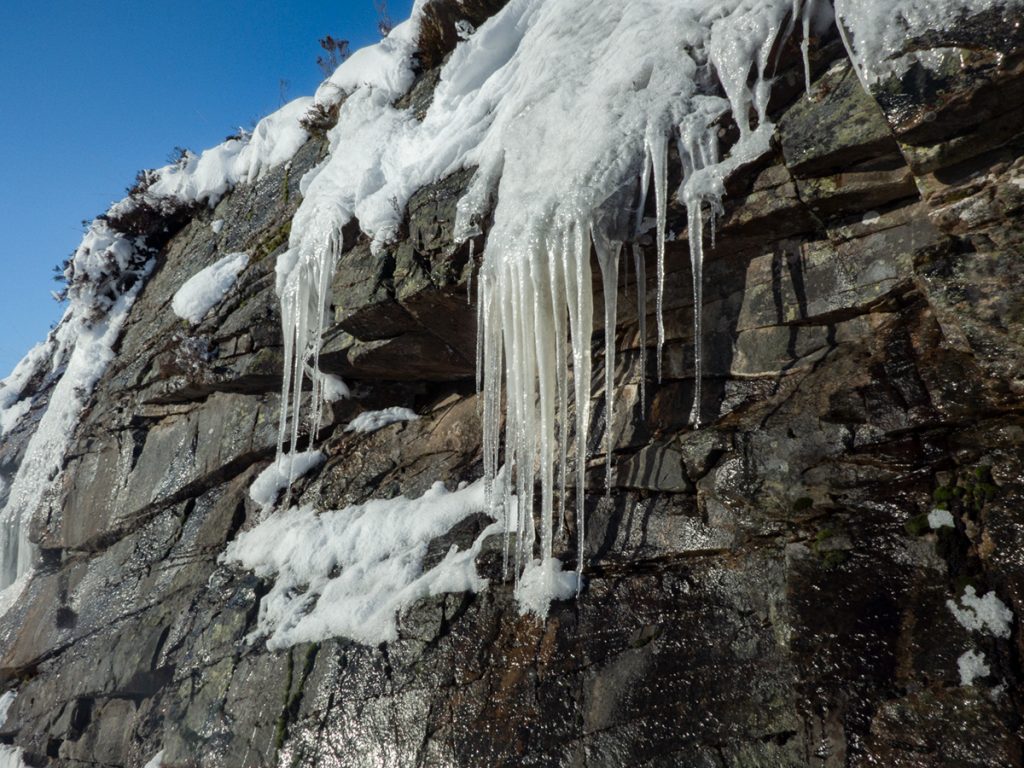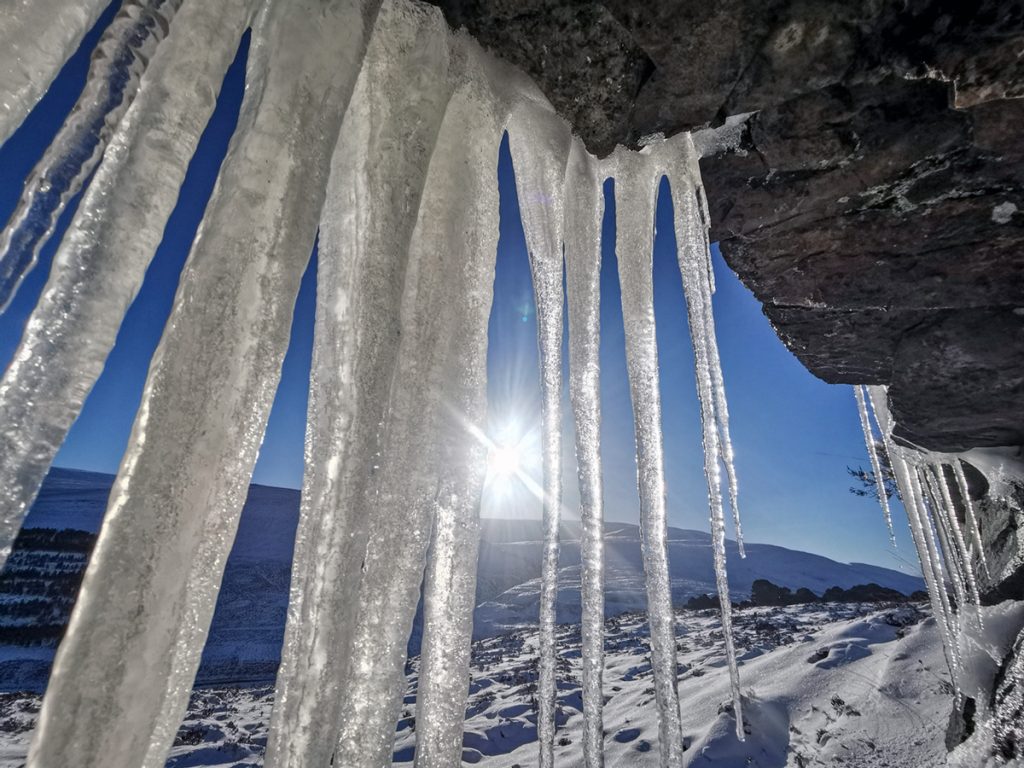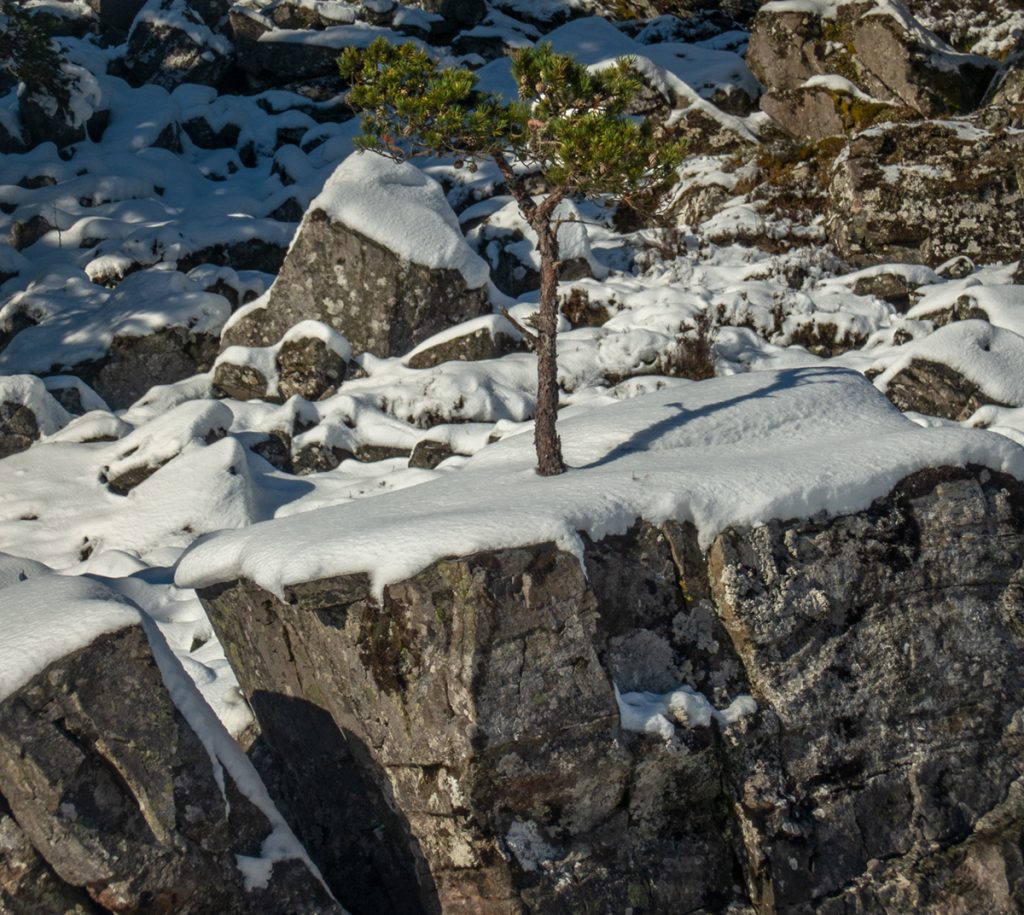 I picked up my bike and headed over to Glen Derry, now I was definitely wishing for skis as the bike struggled, it was only possible due to an estate vehicle having 'flattened' the track some.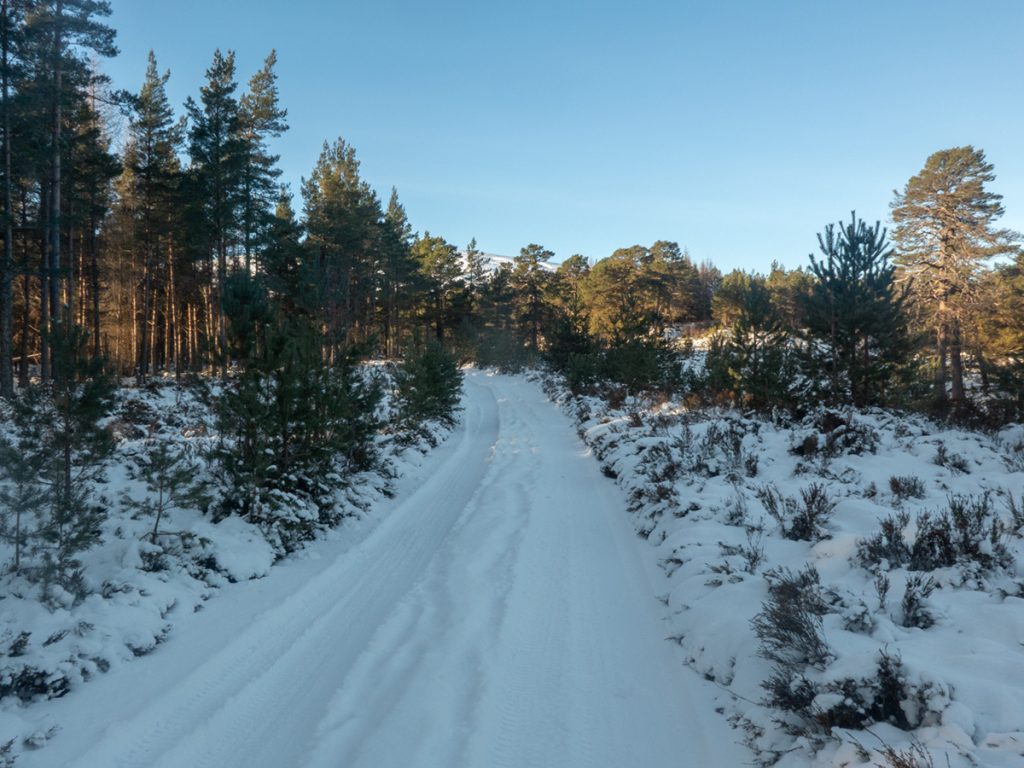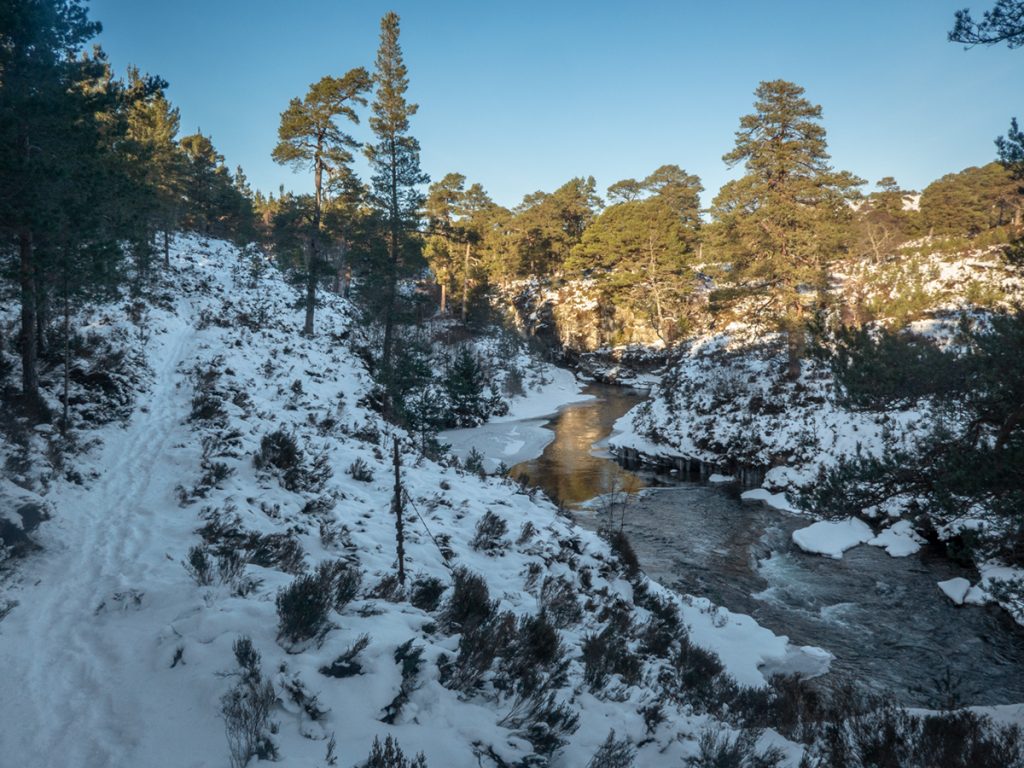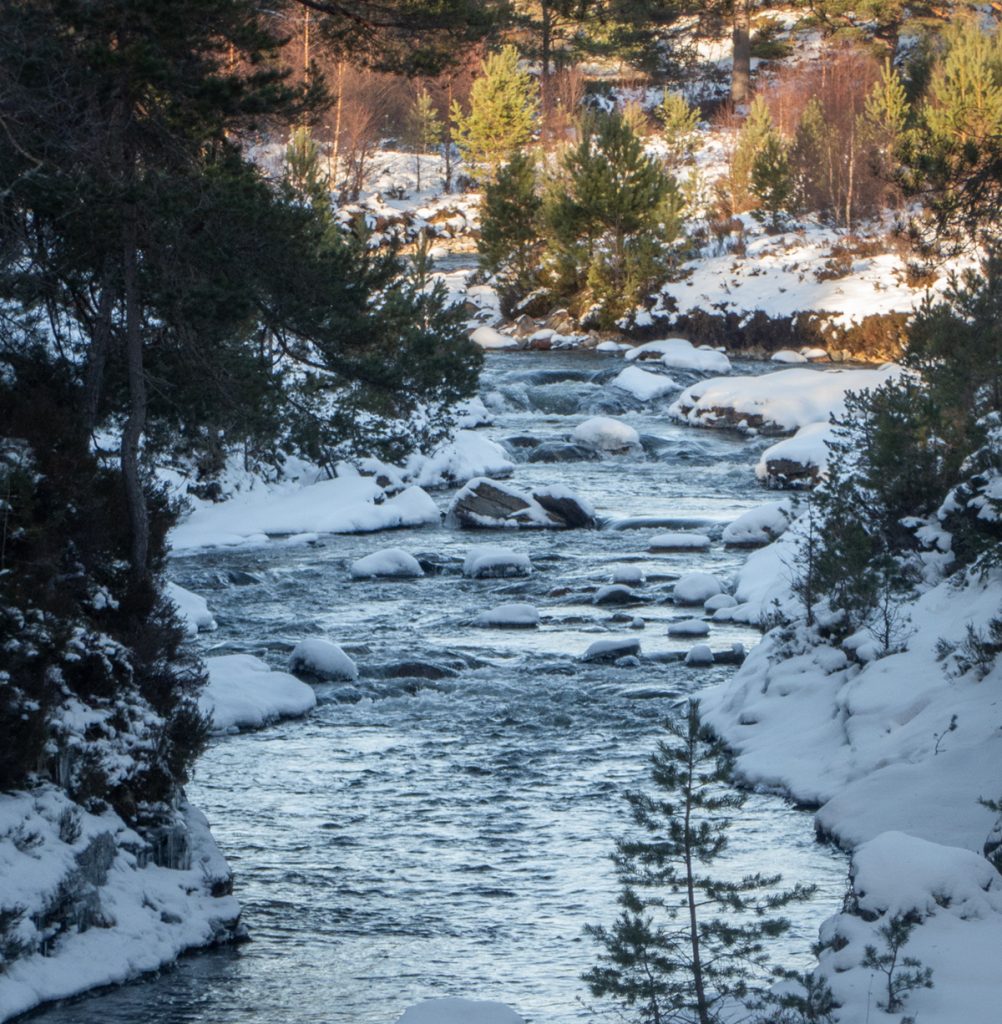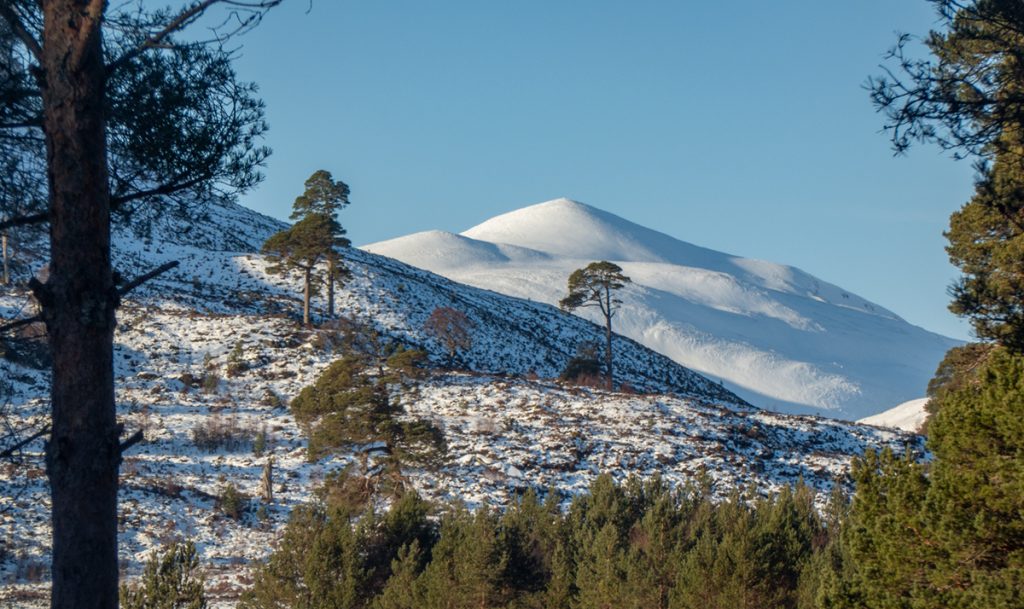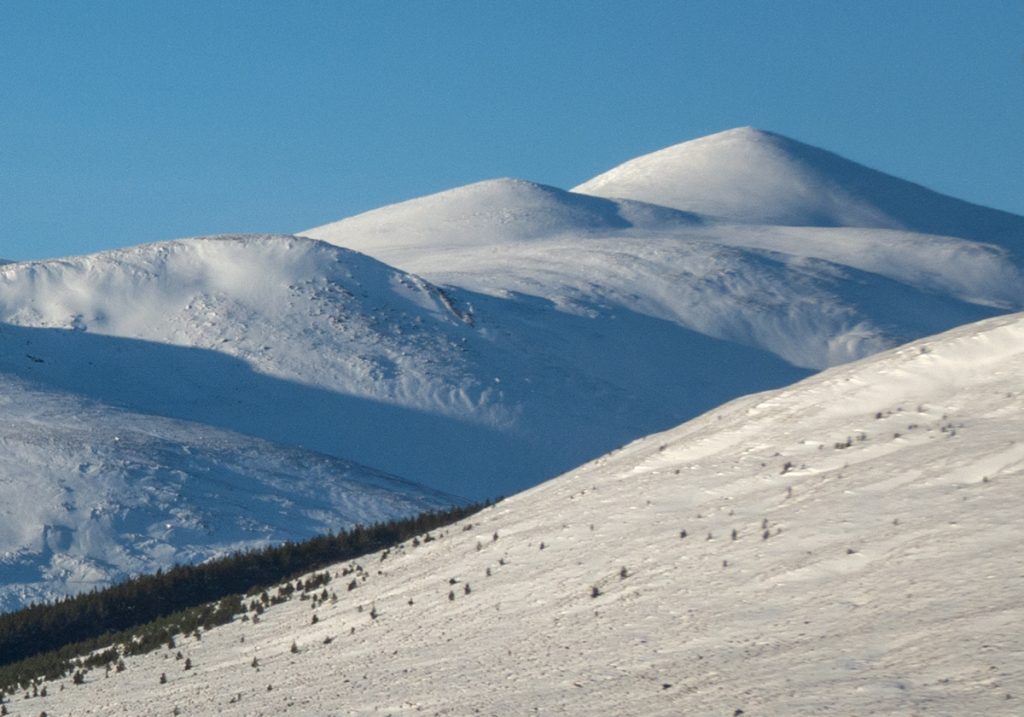 I only made it as far as Black Bridge where I chatted to another skier and a few walkers who'd made slow progress in the snow. I headed back to Muir Cottage to meet up with the Burns supper arrivals.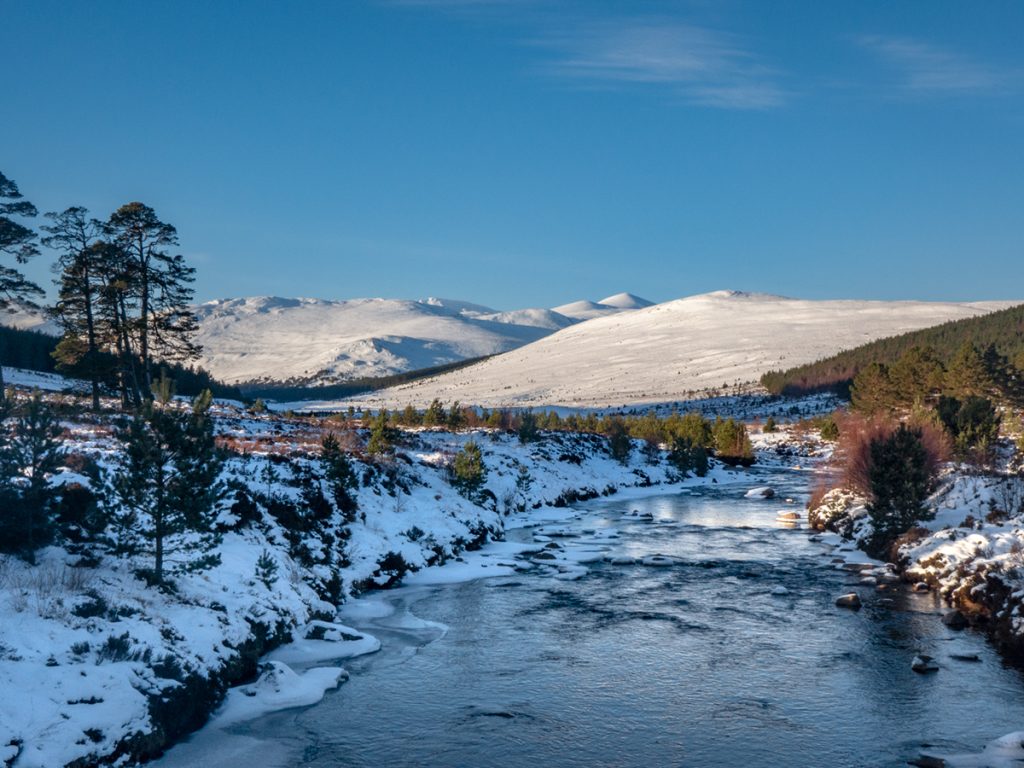 Back at Muir, I had a quick bite to eat and headed out for a quick ski before the evening meal. A bimble up through the woods, then back along the riverbank.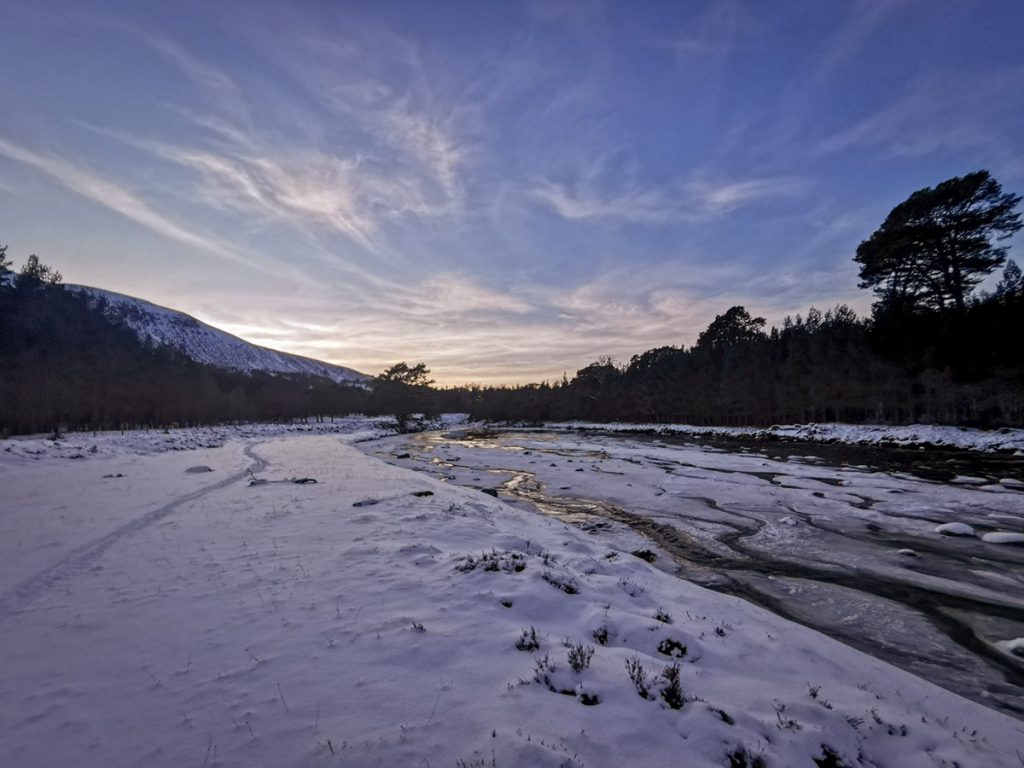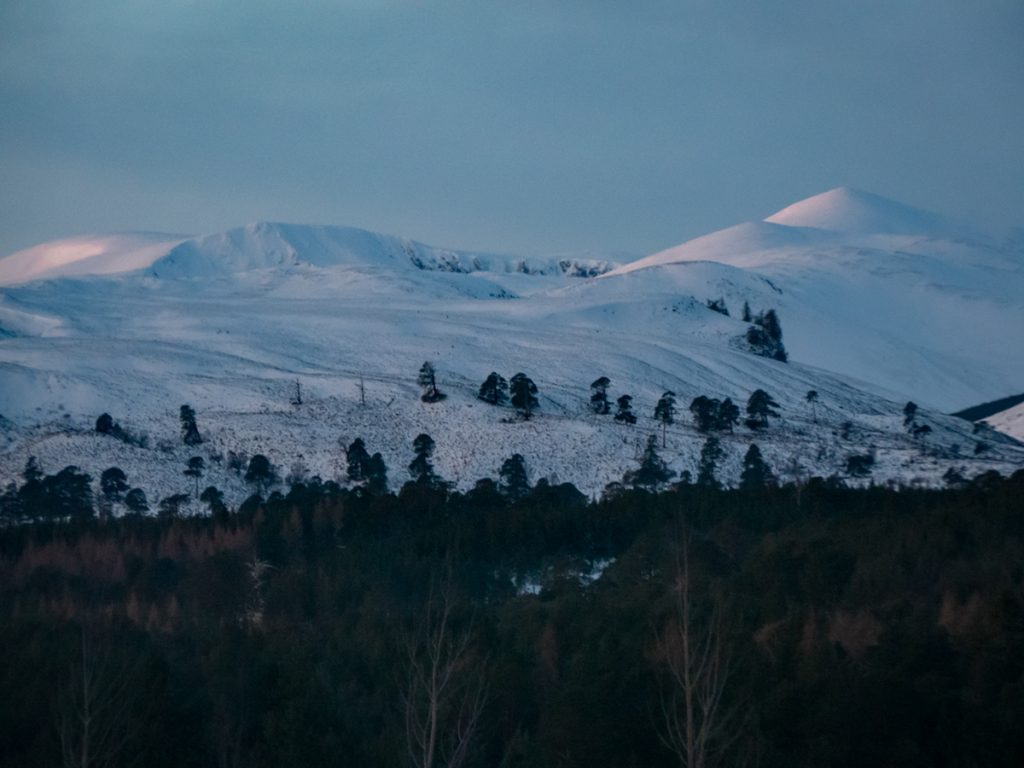 The forecast for the next day was grim, but a young member of the club was keen to do Carn Bhac having failed in another recent winter attempt in deep snow. I wasn't sure that we'd have much more luck with high wind, but would try a more direct approach rather than a long circle around Carn Liath.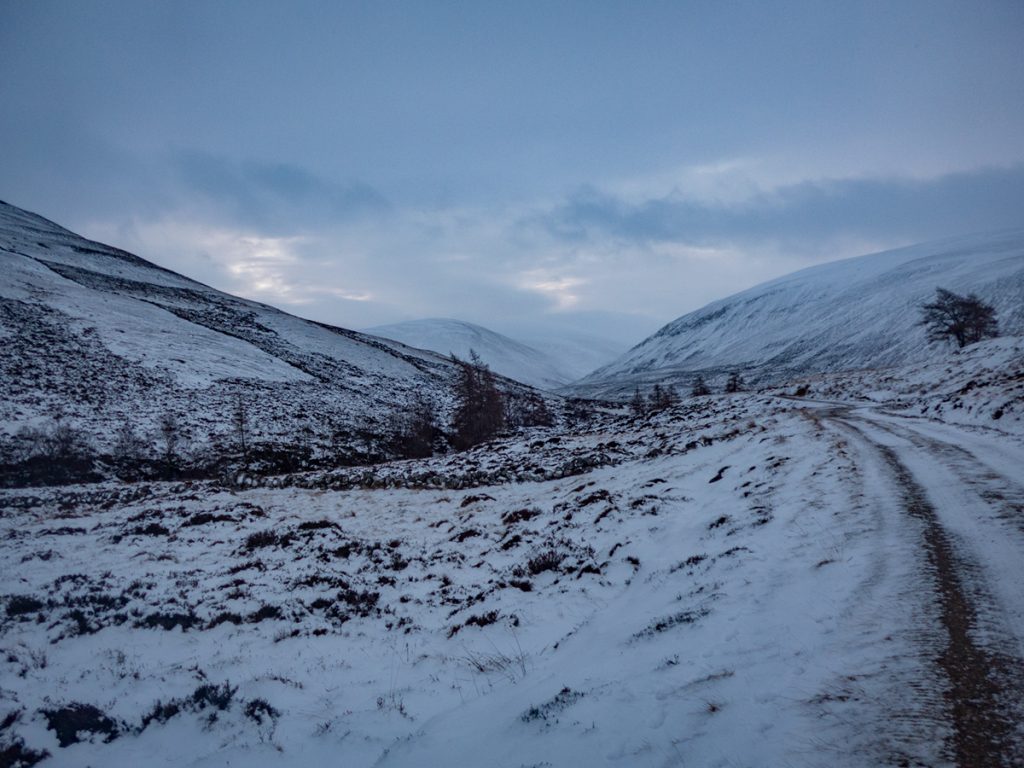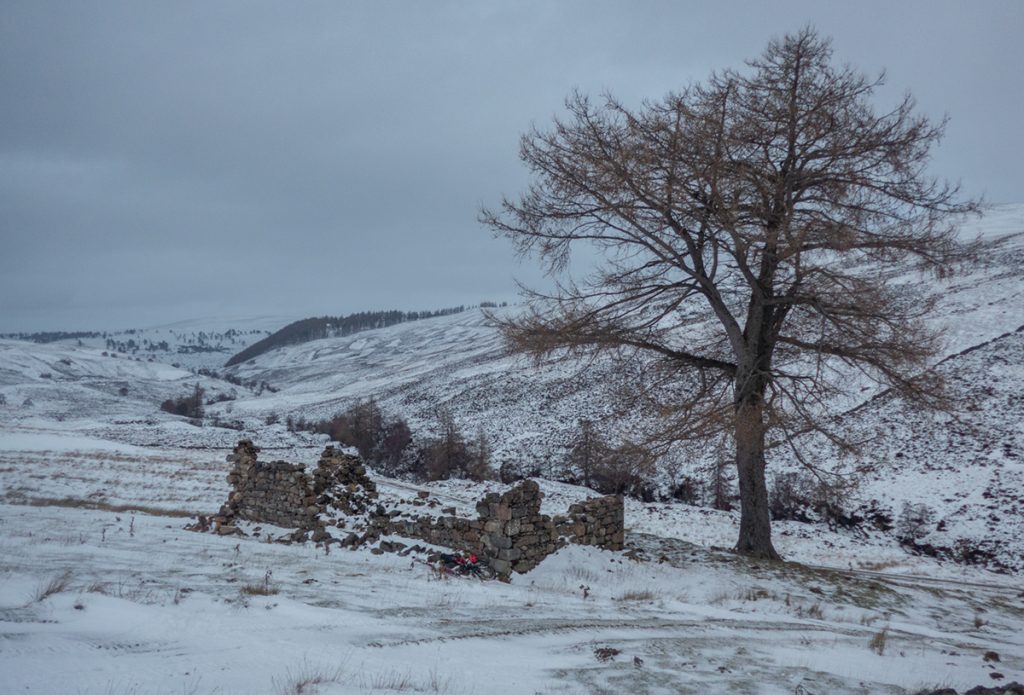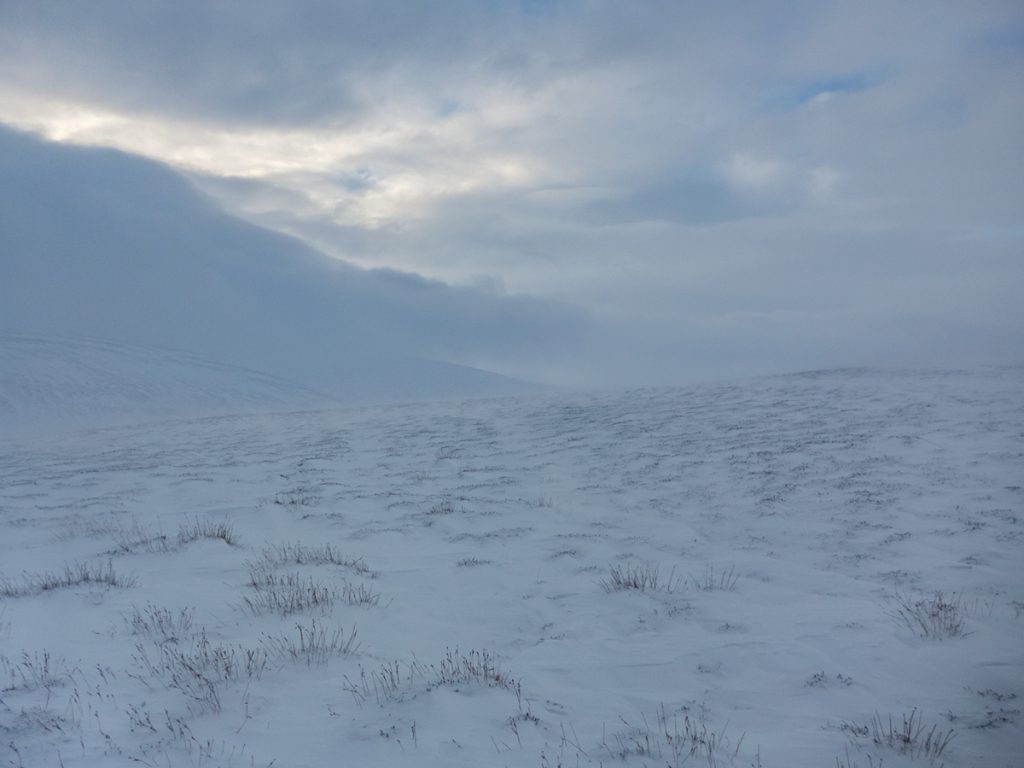 I'd been up here back in September and had a reasonable handle on the lie of the land, so wasn't unduly disturbed by the whiteout and the lack of obvious visual clues in navigation. There certainly wasn't going to be any views today. There was a bit of 'steeper than expected' ascent over slabby snow getting closer to the top, and after a bit of oreintation amongst some small cairns, found the true top. We spoke to 2 others there who had planned on an anti-clockwise loop but deciding that conditions were challenging would head back down the same way as us.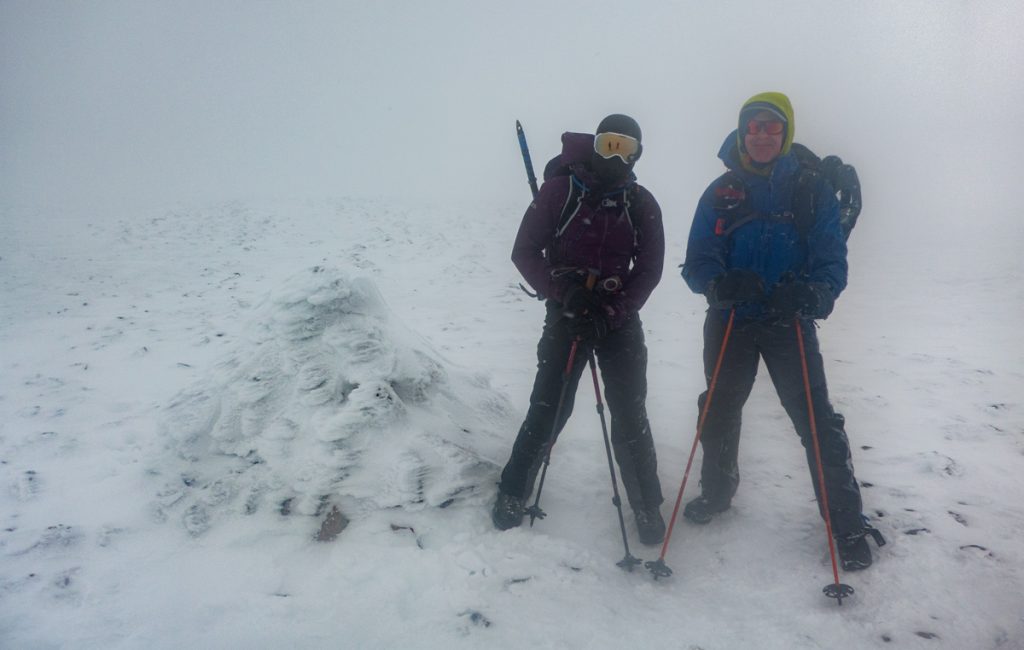 On the way back down we practiced some "whiteout navigation" techniques, though also double-checked on GPS occasionally, as it wasn't a day for making mistakes.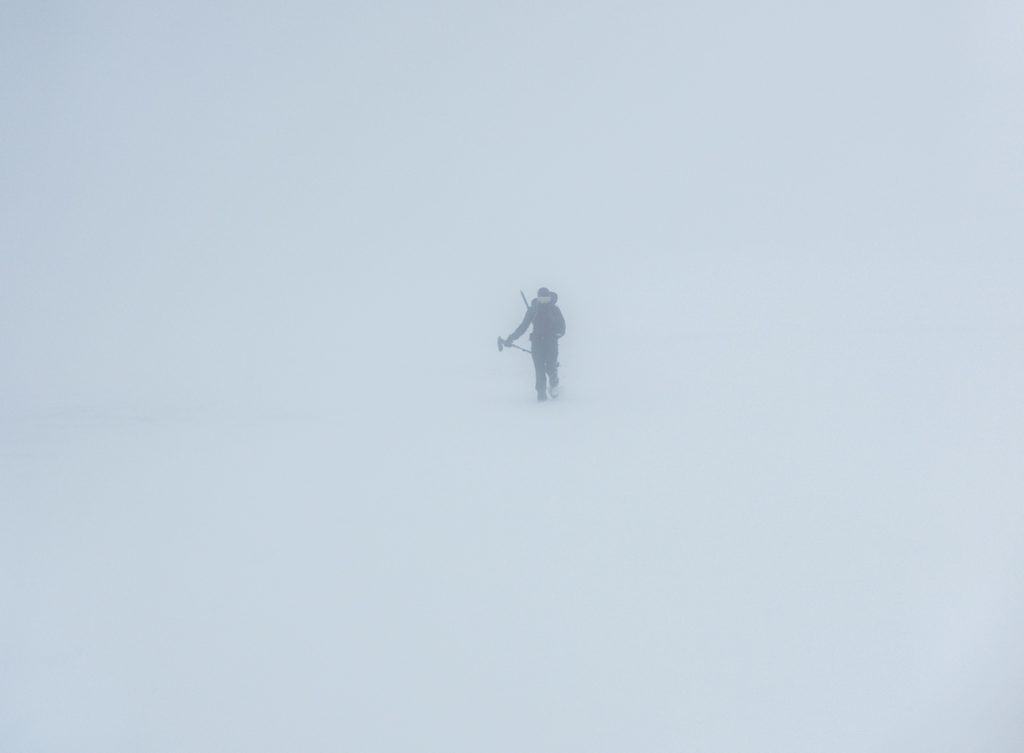 Back on the track at Carn nan Seilach we got some visibility again and it was good to just follow a track (albeit in the heather at the side as the track itself held deeper snow)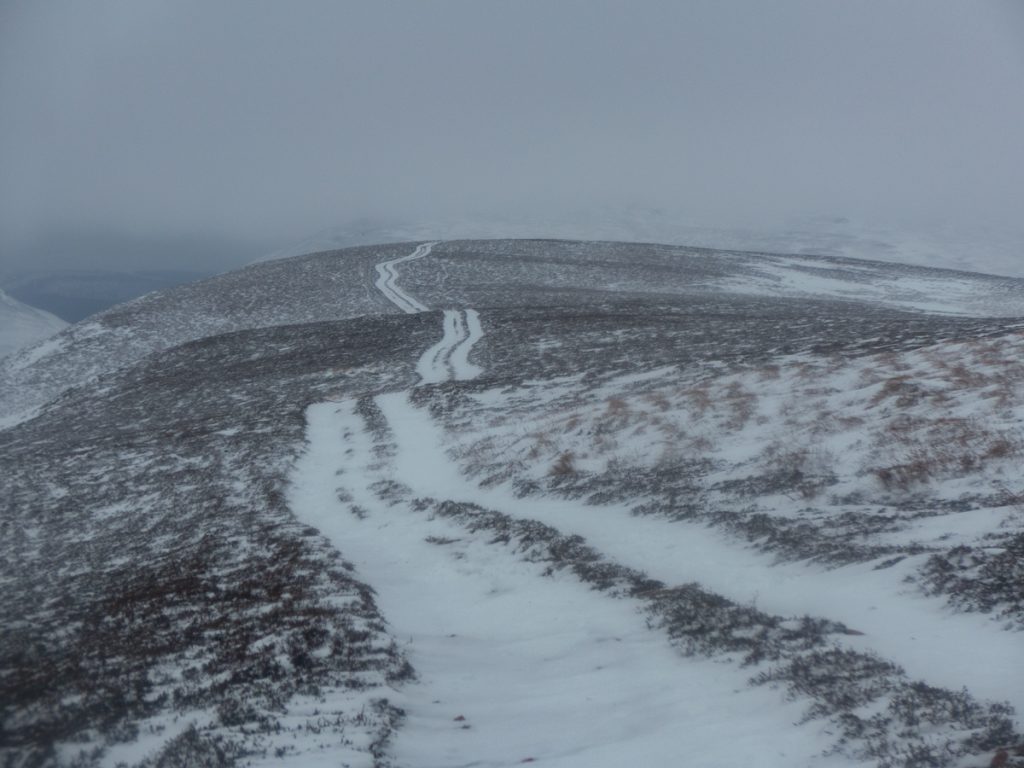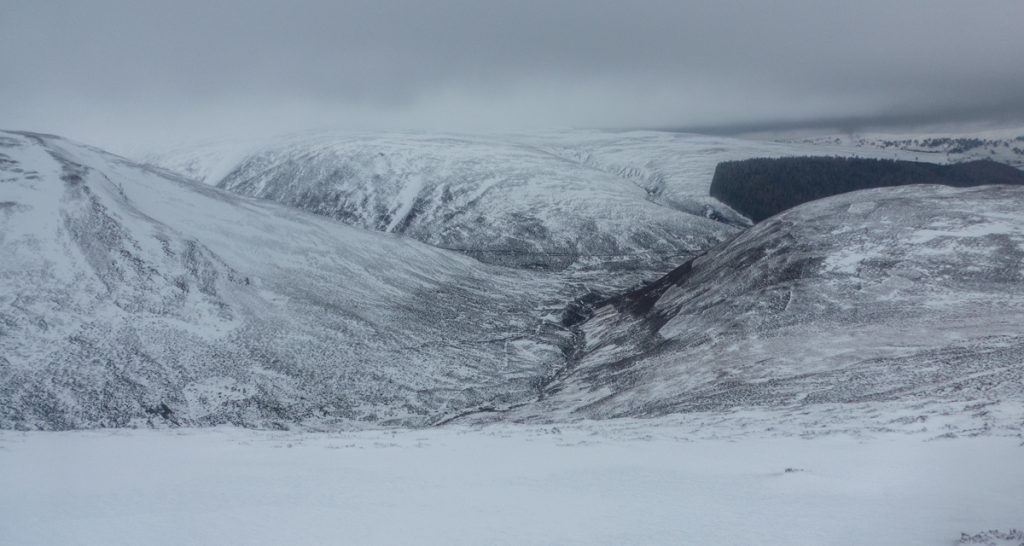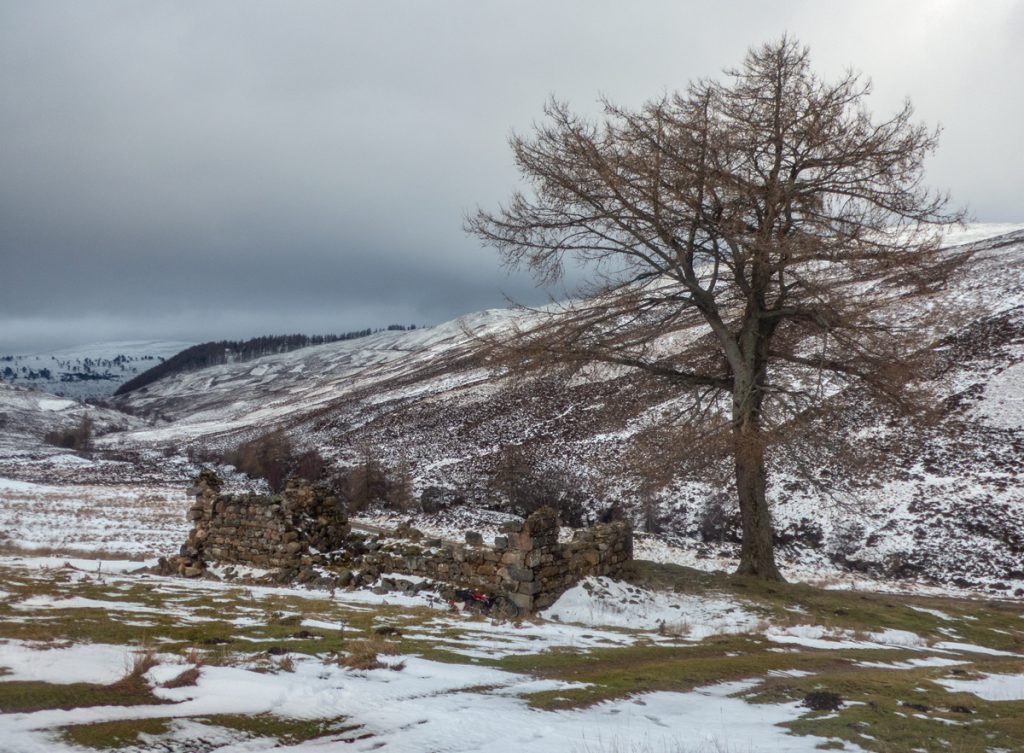 Two very different sides of winter on these outings.
We were glad to get back to Muir where the stove was roaring and the whisky and craic began to flow as the Burn Night got underway.