The Cairngorm Club has booked Rothiemuchus lodge for a winter skills training weekend, it's a large lodge in a great location right near the foot of Cairn Gorm perfect for this purpose. It was initially a military facility, and while still used in this capacity, it's also now open to clubs and organisations. With plenty capacity, a lot of others from the club not on the skills course were heading up, and I thought I'd join them for a social and see what what else could be done in the northern Cairngorms.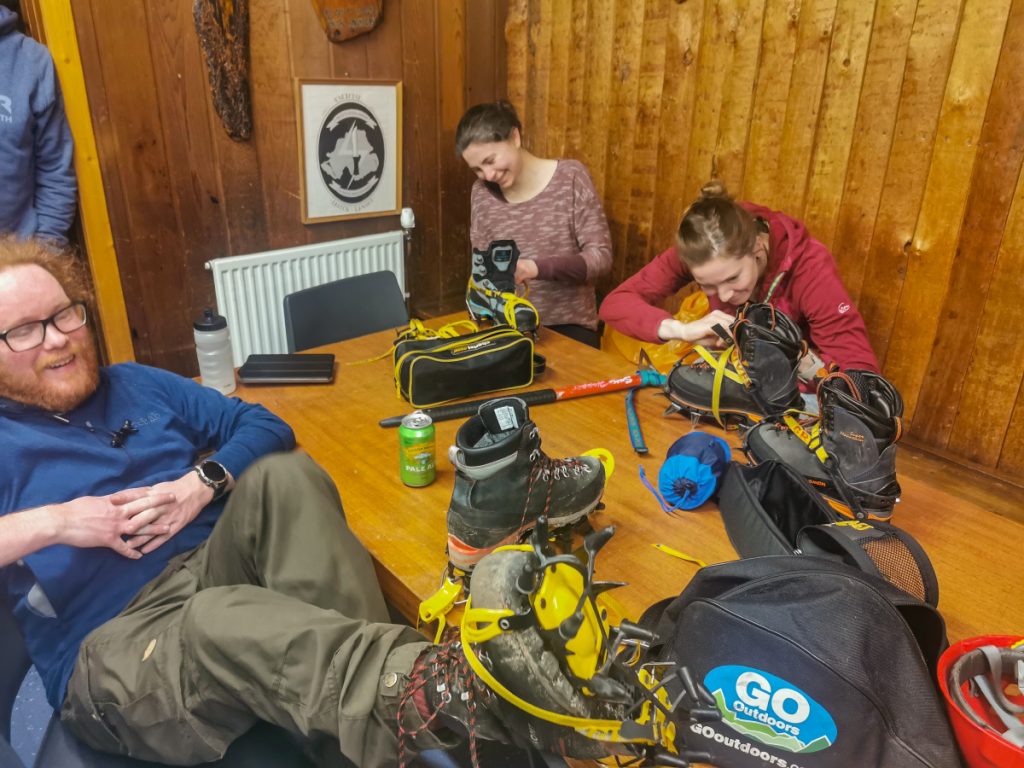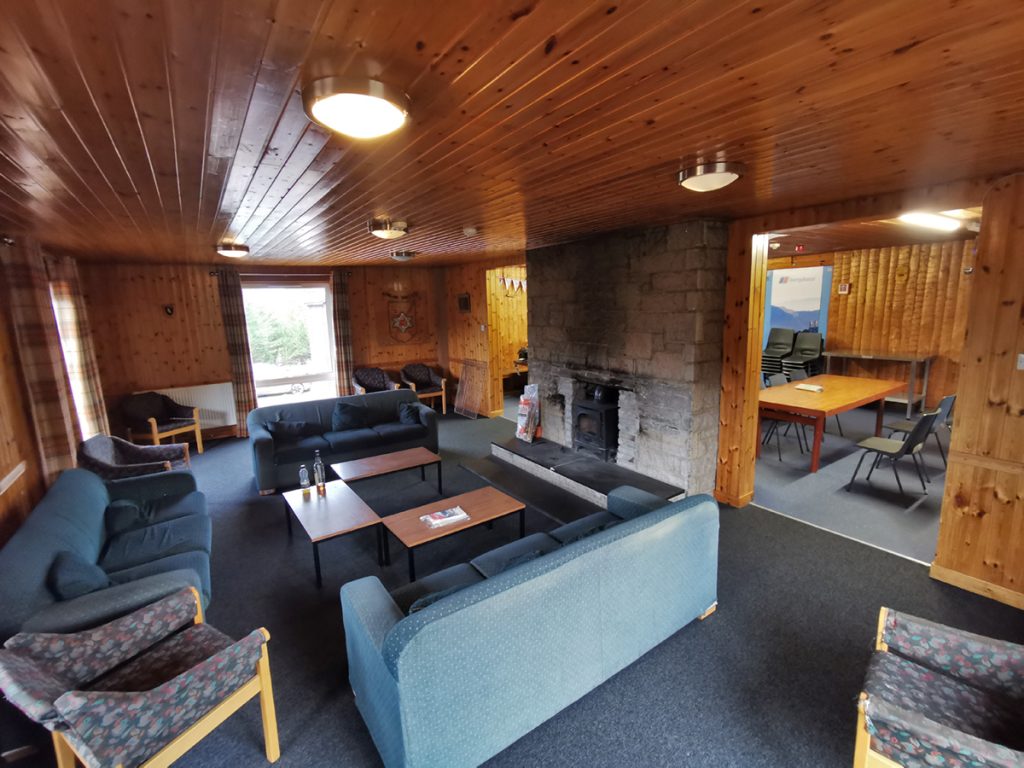 We had a communal meal, then the winter skills participants got their kit prepared while the rest of us sketched out some ideas of hikes to do. The weather was looking pretty brutal with high winds and snow forecast. I suggested a short trip up to Cairn Gorm via Coire na Ciste which would mean we'd remain sheltered for most of the ascent.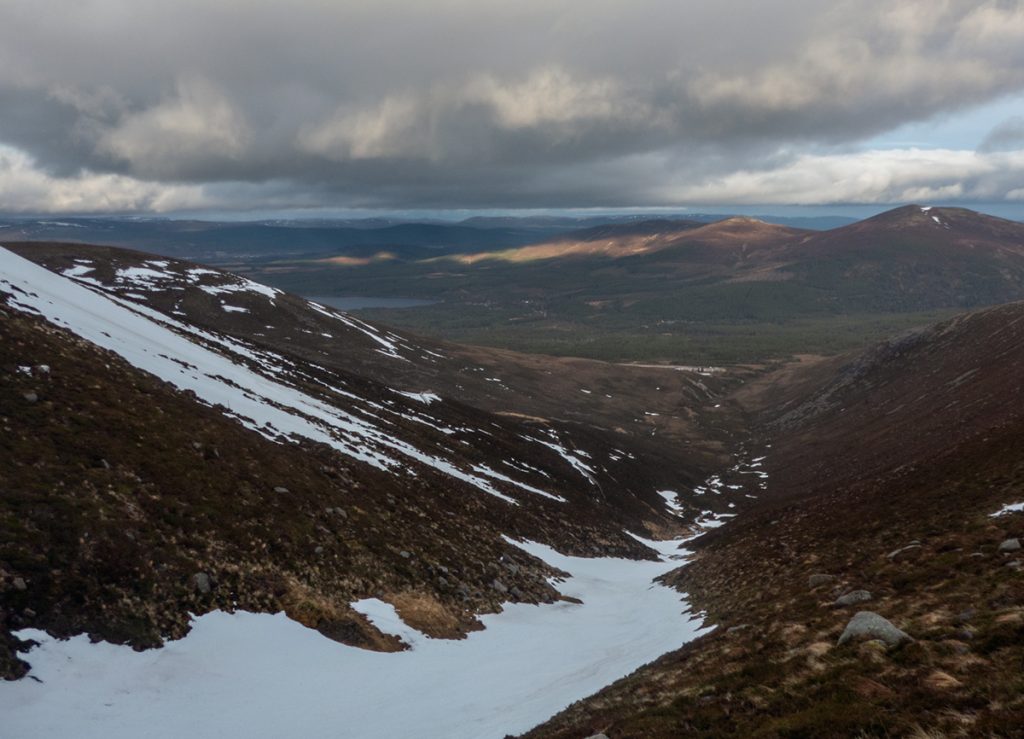 We avoided the snow-filled gully with the stream being underneath an uncertain amount of depth, and the possibility of skiers coming down.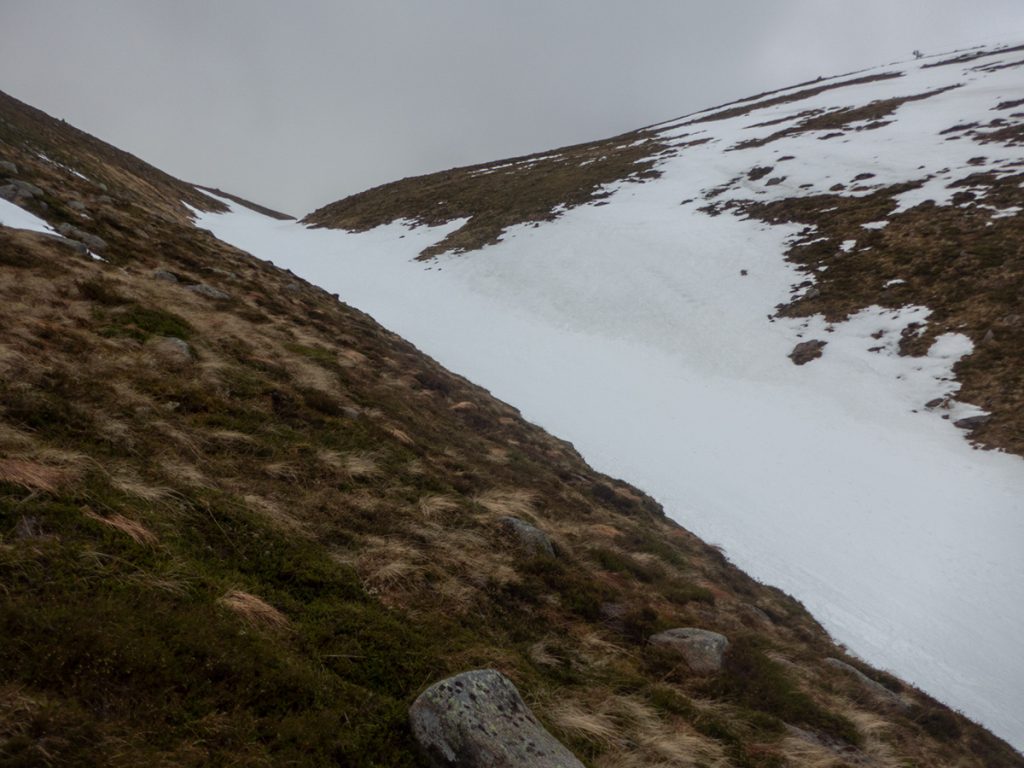 Emerging from the gully, we followed the ski lift further up, the ski centre doing a roaring trade today despite the weather. The ski tow led us to the eastern side of the mountain, where Ciste Mhearad lies – a hollow of deep snow that I thought would likely have snoholes dug, that we could use for a nicely sheltered lunch break.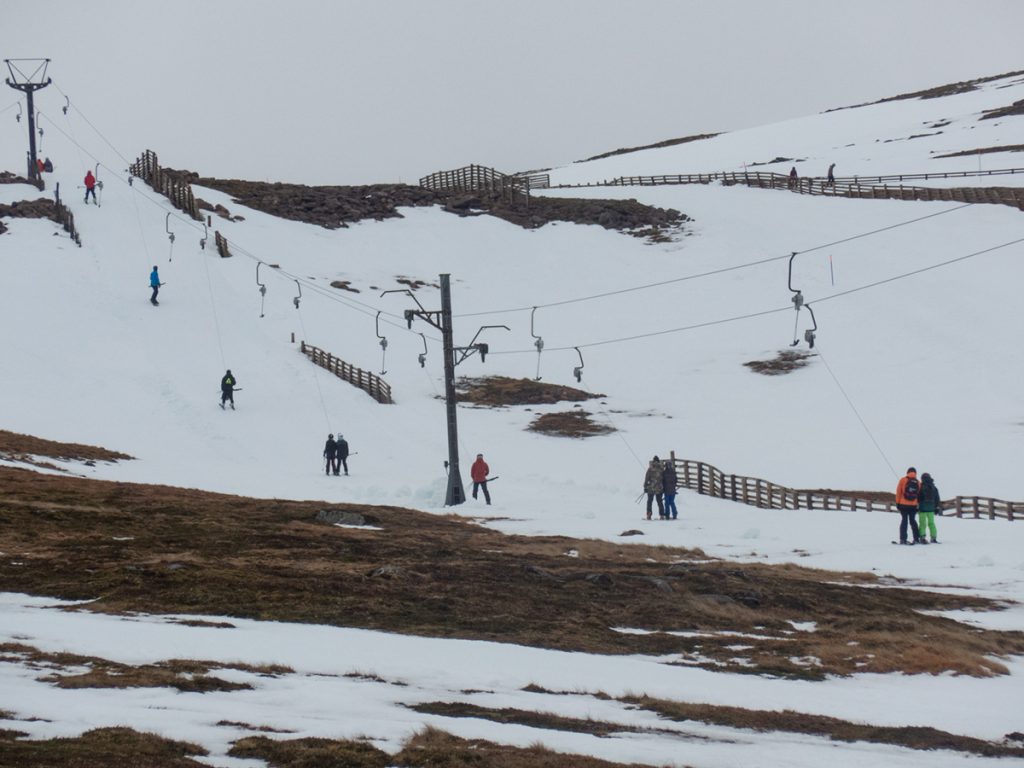 Crampons on, we descended into the small corrie, and seeing relatively low levels of snow here for winter, thought we may be out of luck, but closer inspection of the snow wall revealed some small entrances leading into reasonably large excavated snowholes.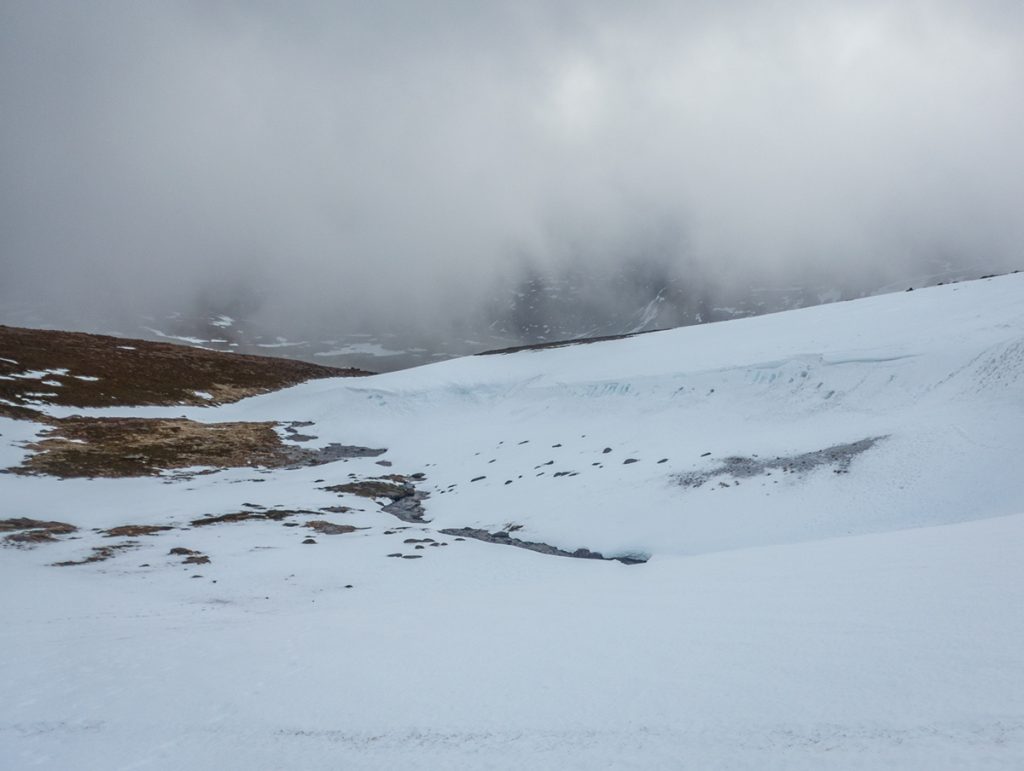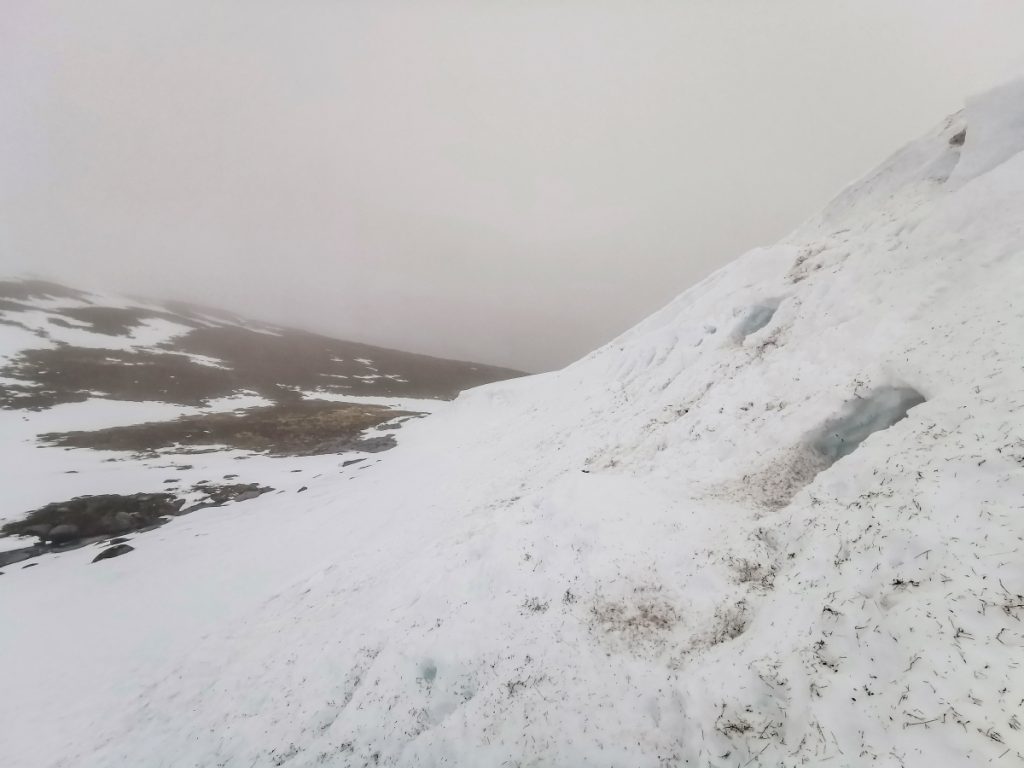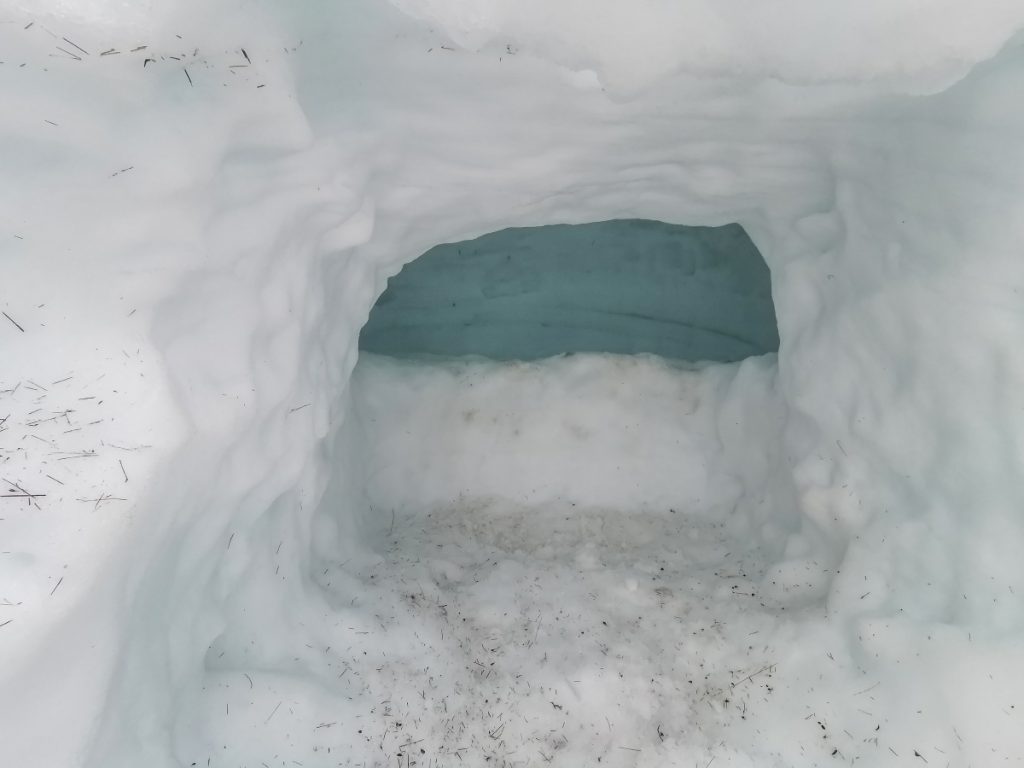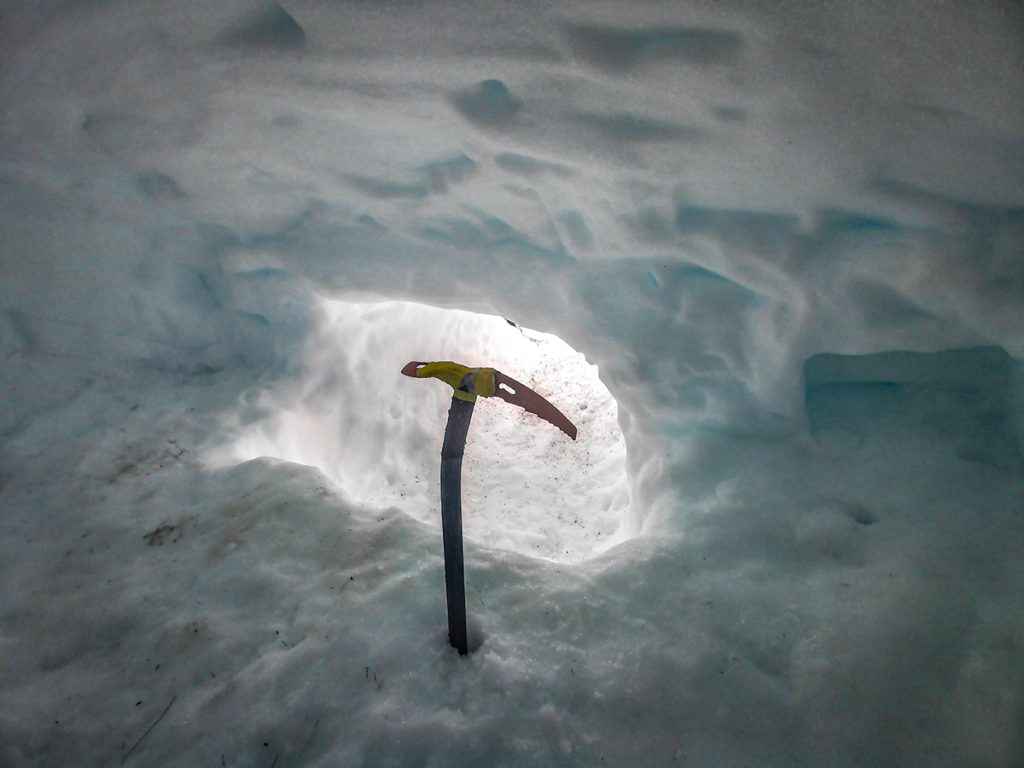 We broke out our lunch, and fortified with a couple tots of whisky, determined to make the top, which wasn't far. We'd pondered heading down to Loch Avon, then back up Coire Raibert, but it was a foul day and Coire Raibert could be tough going. The top would do, then head back down: Scotland were playing England at rugby later and we didn't want to miss that.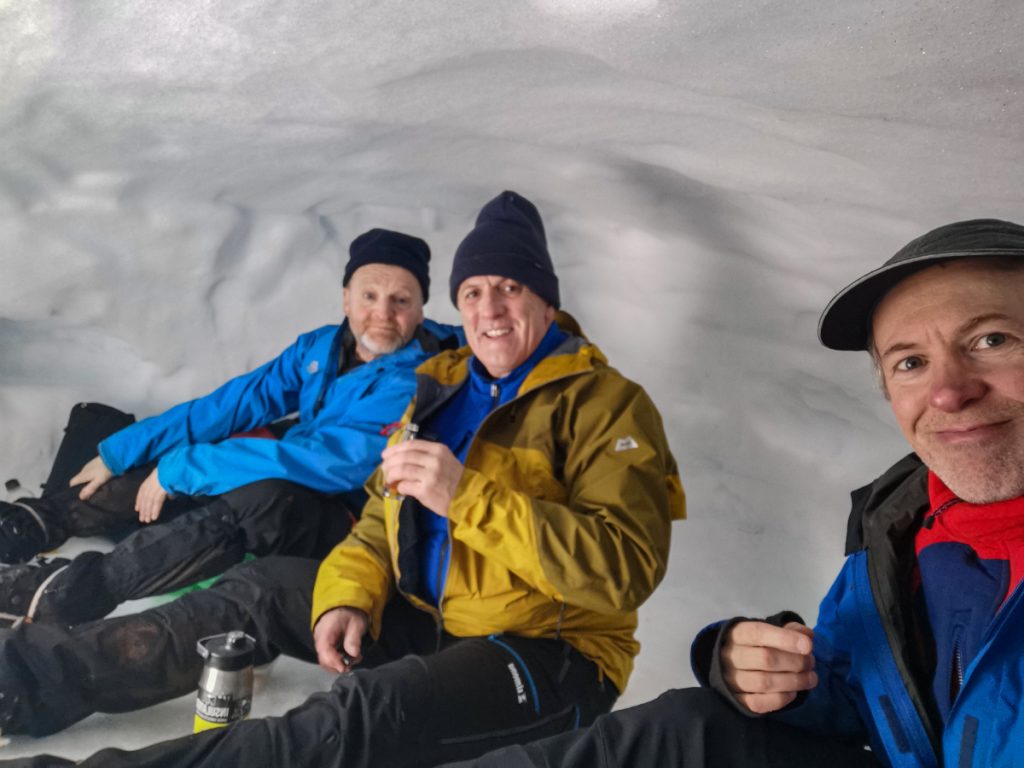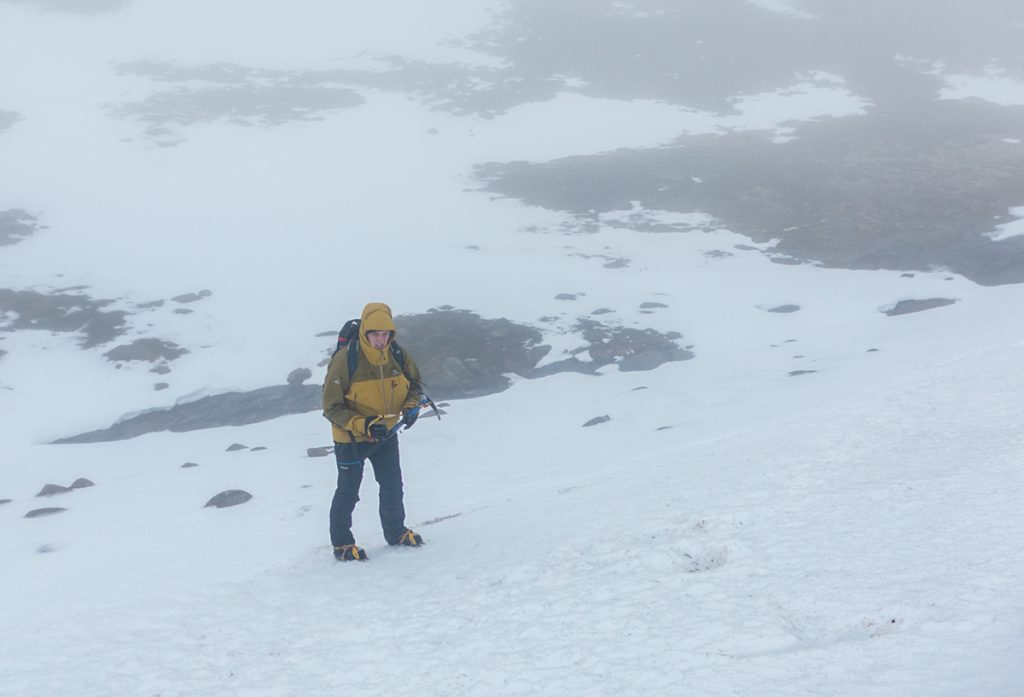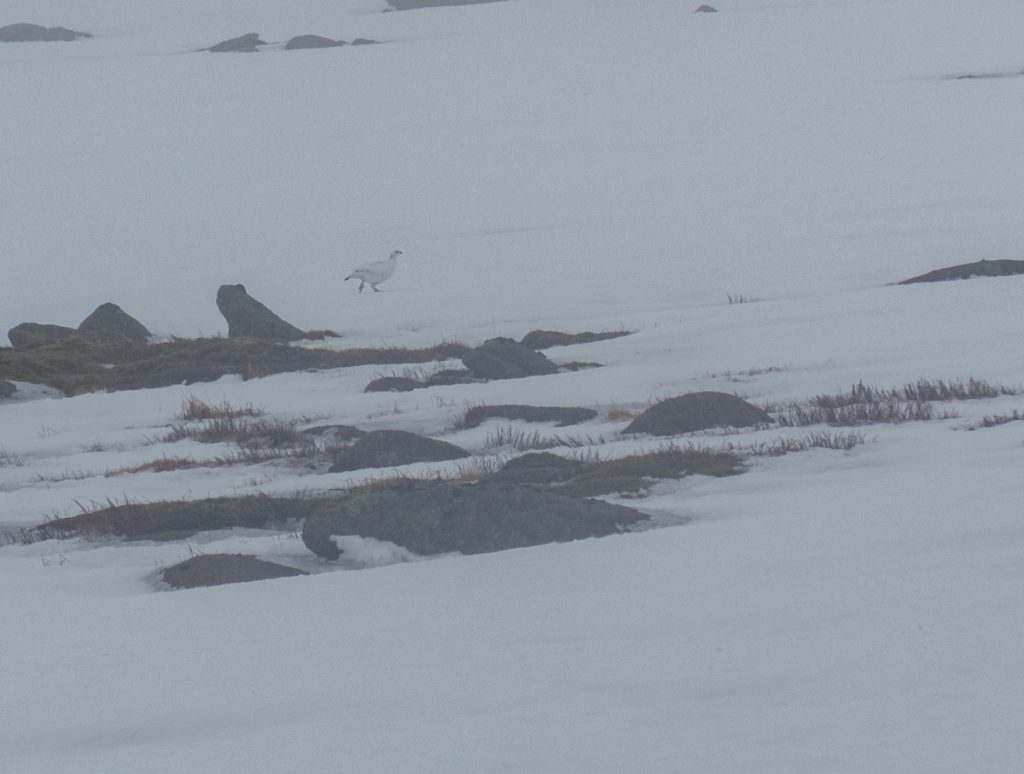 We didn't expect to see many others out, but a group of ski tourers appeared out of the gloom, huddled and then faffed for ages with equipment (some blowing away down the hill and needing retrieval) before slipping away into the haze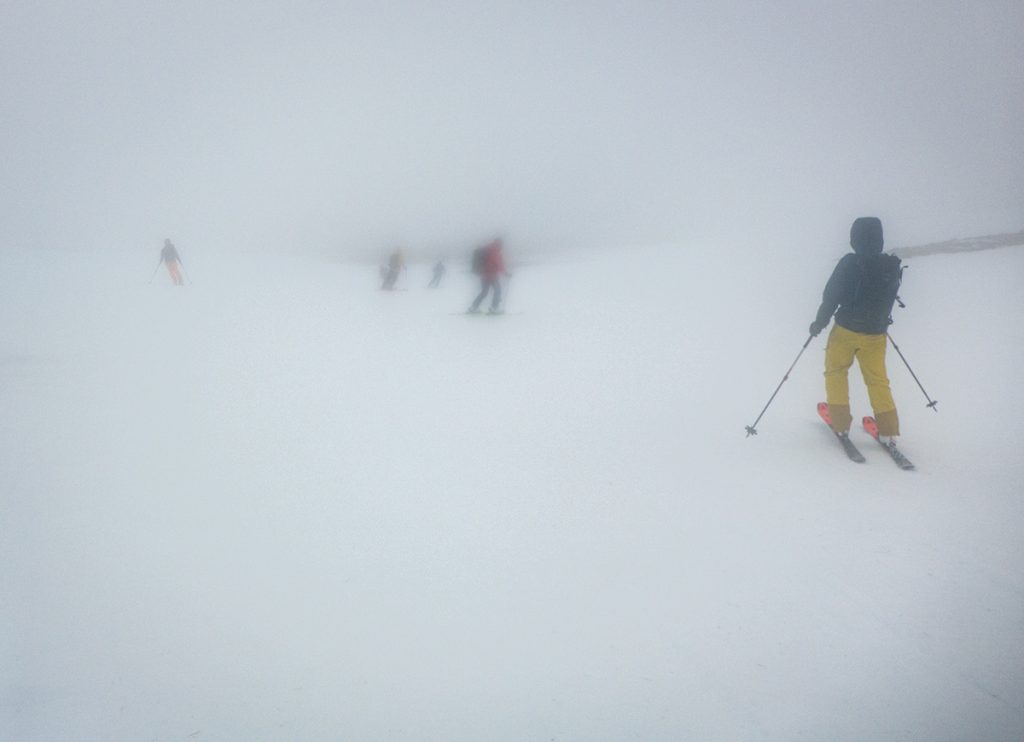 Once we'd reached the top, we were exposed to the full blast of wind, and on the windward side there was very little snow. We didn't hang about as only brief glimpses of views through the cloud.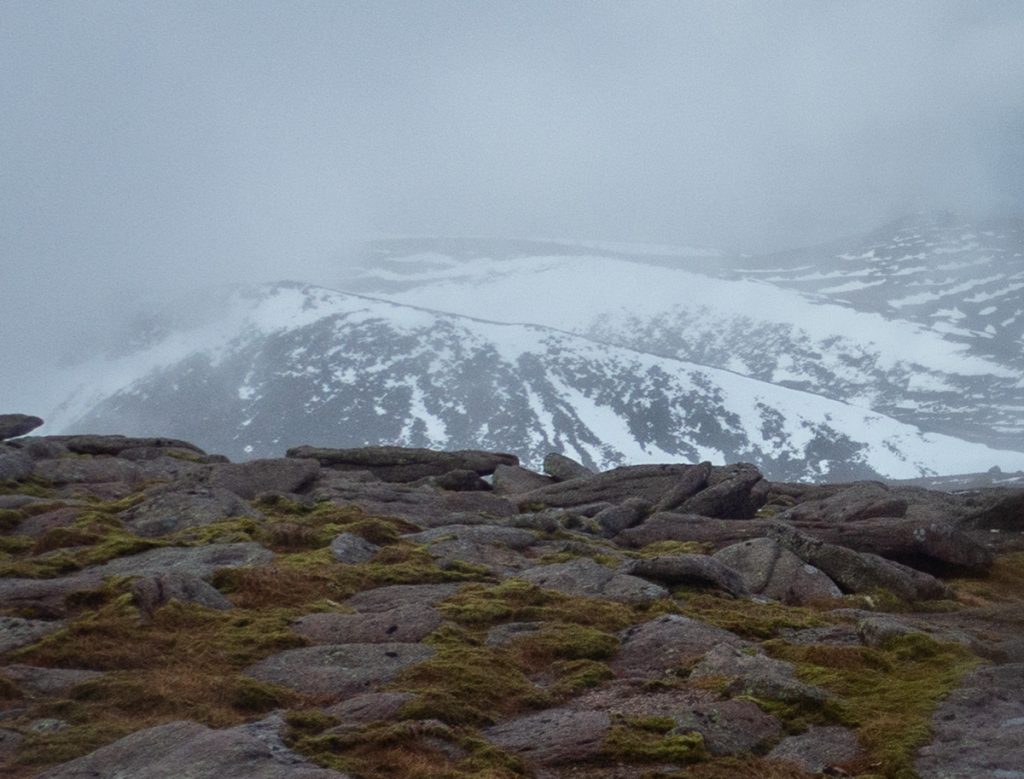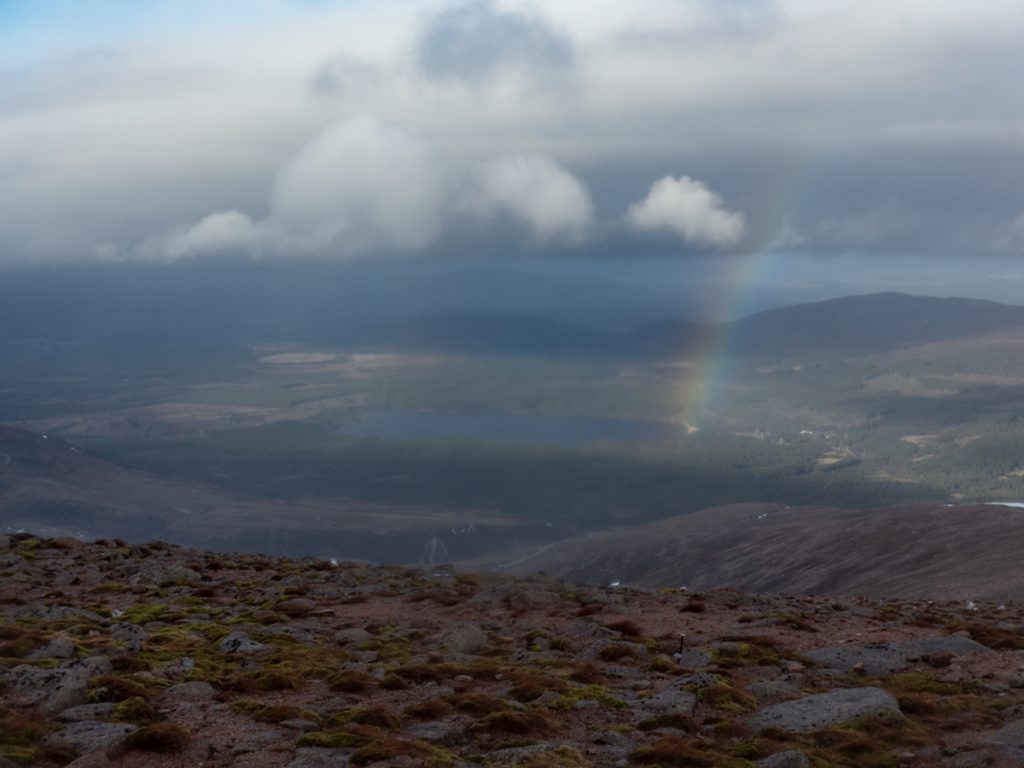 We followed the tourist path off the top down to The Ptarmigan station, and were tempted inside into the bustle of the cafe. It's always incongruous to enter there, clad like for the arctic, and after minutes before being alone in the mountain storm, to suddenly enter a world of electricity and the idle chit-chat of tourists (having come up on the now open-again monorail) clad in short sleeves and brogues.
Having refortified with coffee and cake, we headed back out and down towards Coire na Ciste. We could see below us various groups on skills courses, and wondered if any were ours. We crept down for a closer look, over some steep snow patches – carefully done, a tumble in full view of the trainees would be embarrassing. I shouted over to one likely group "Is that the Cairngorm Club", they were indeed "ours" and I took a few snaps of them – probably instilling a bit more pressure as they practiced ice-axe arrests.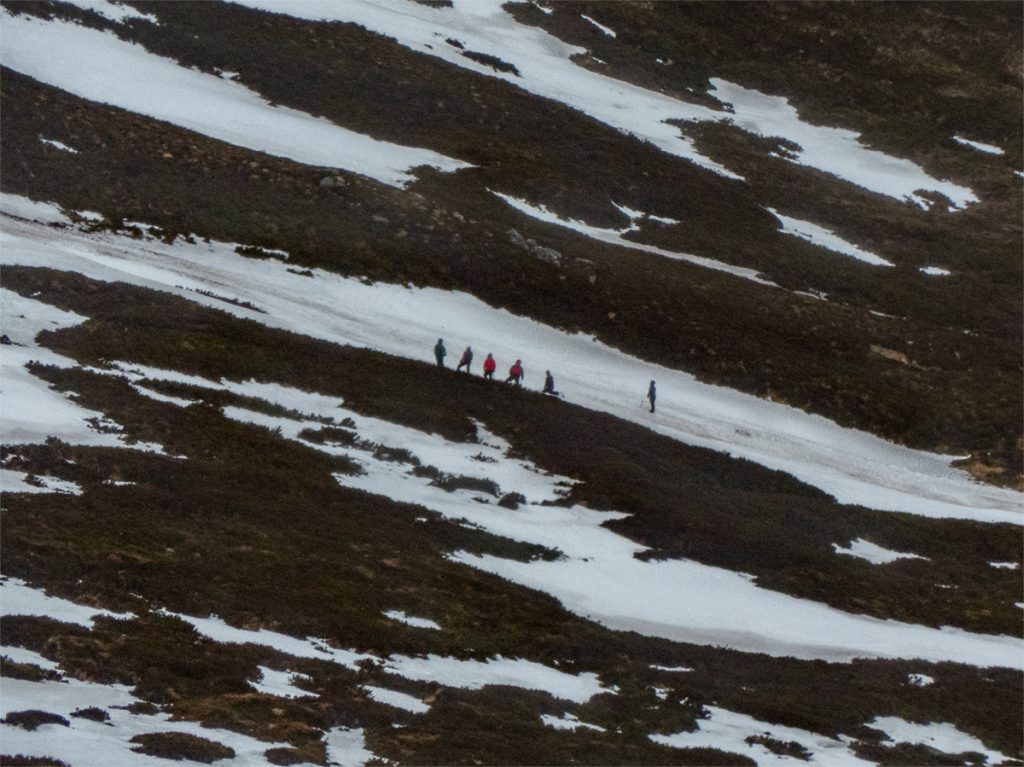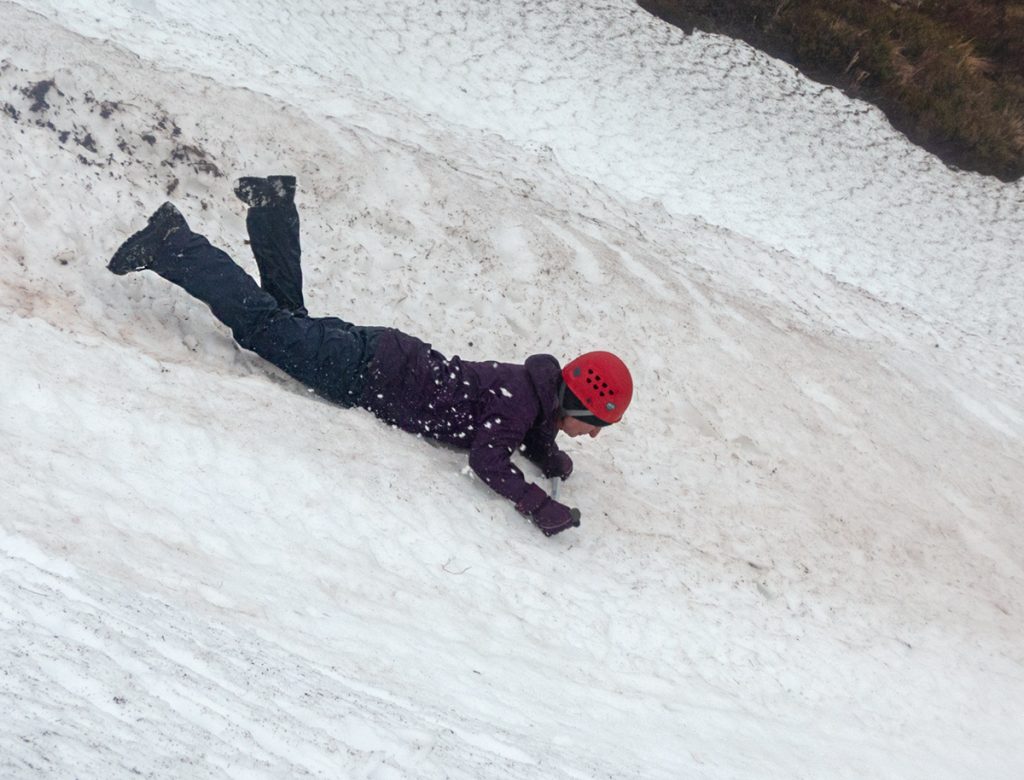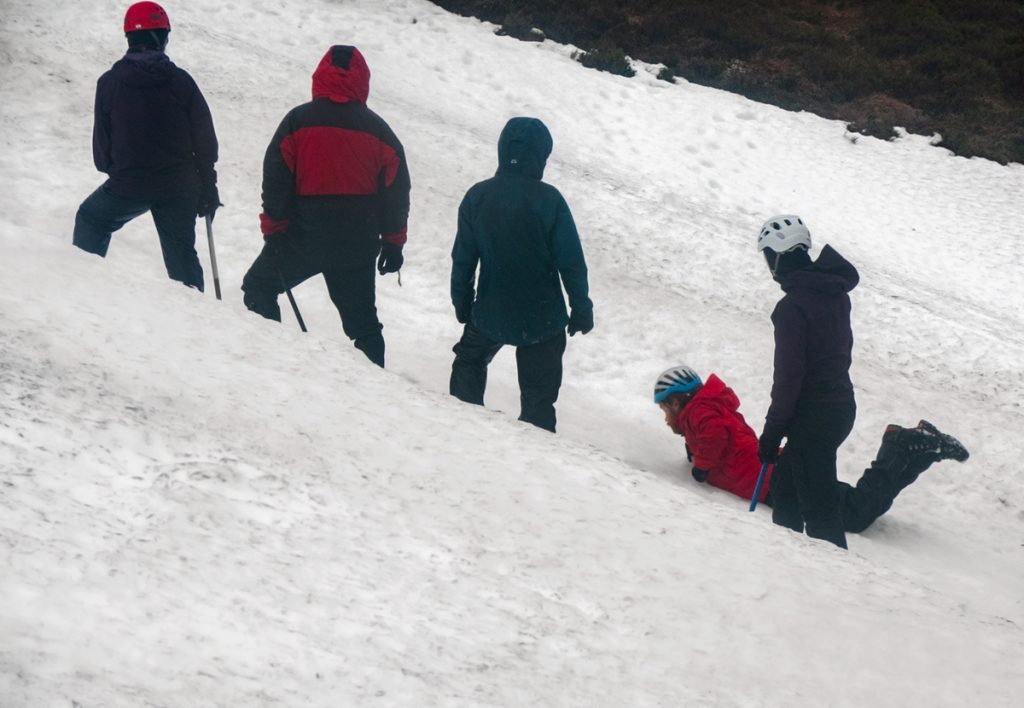 We headed on down, a drizzle was now falling and we were getting soggy. Over a few burns with snow-bridges, and some very boggy terrain, we were back to the car park and headed off to dry out at the lodge.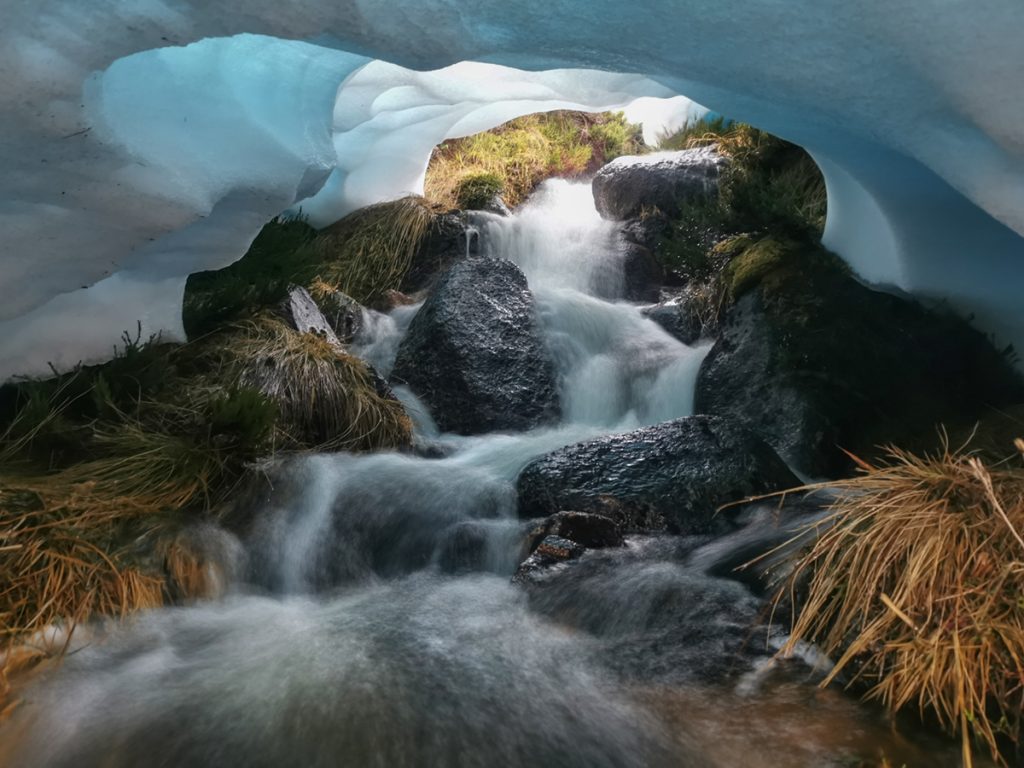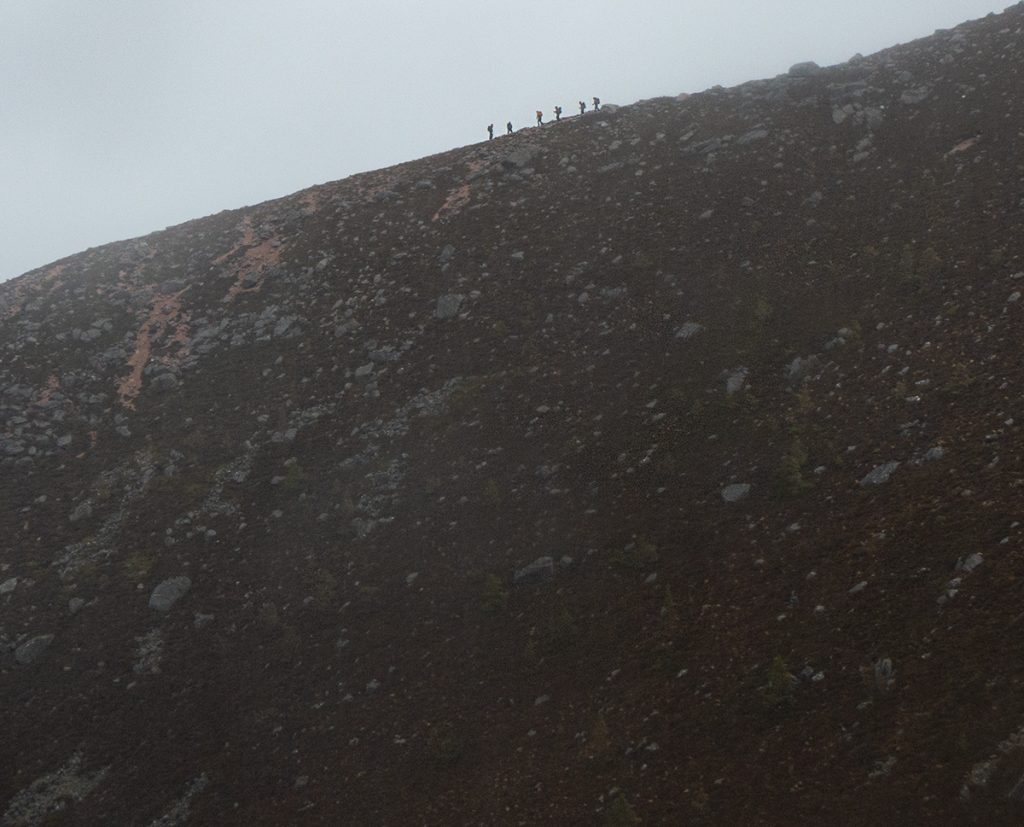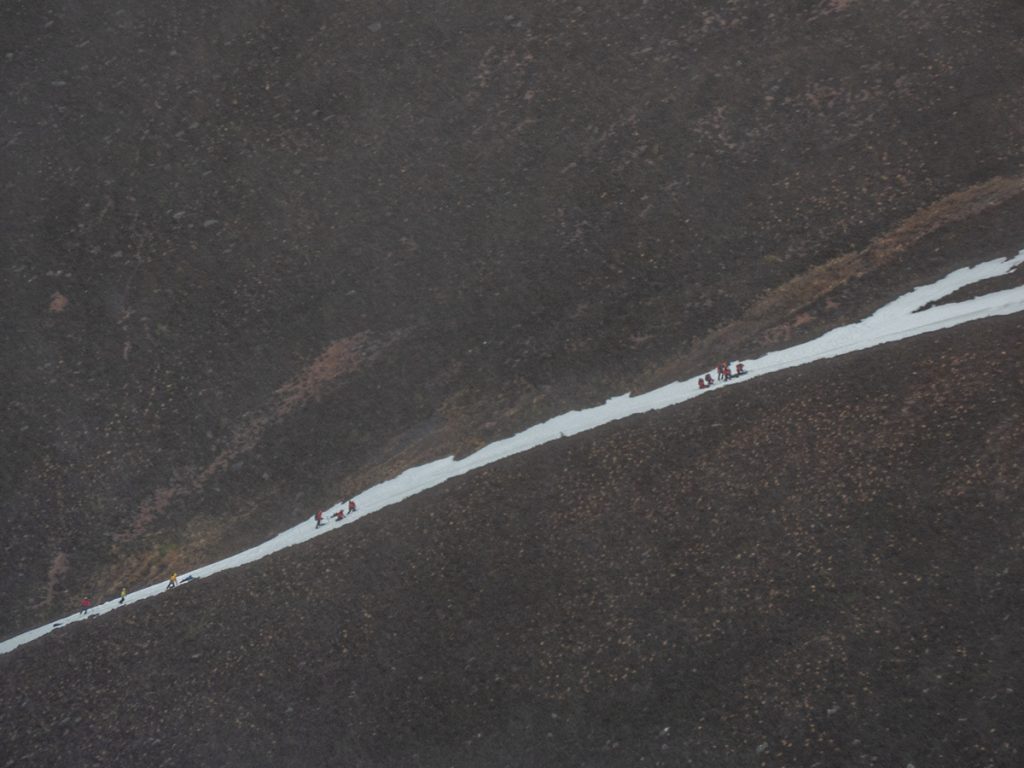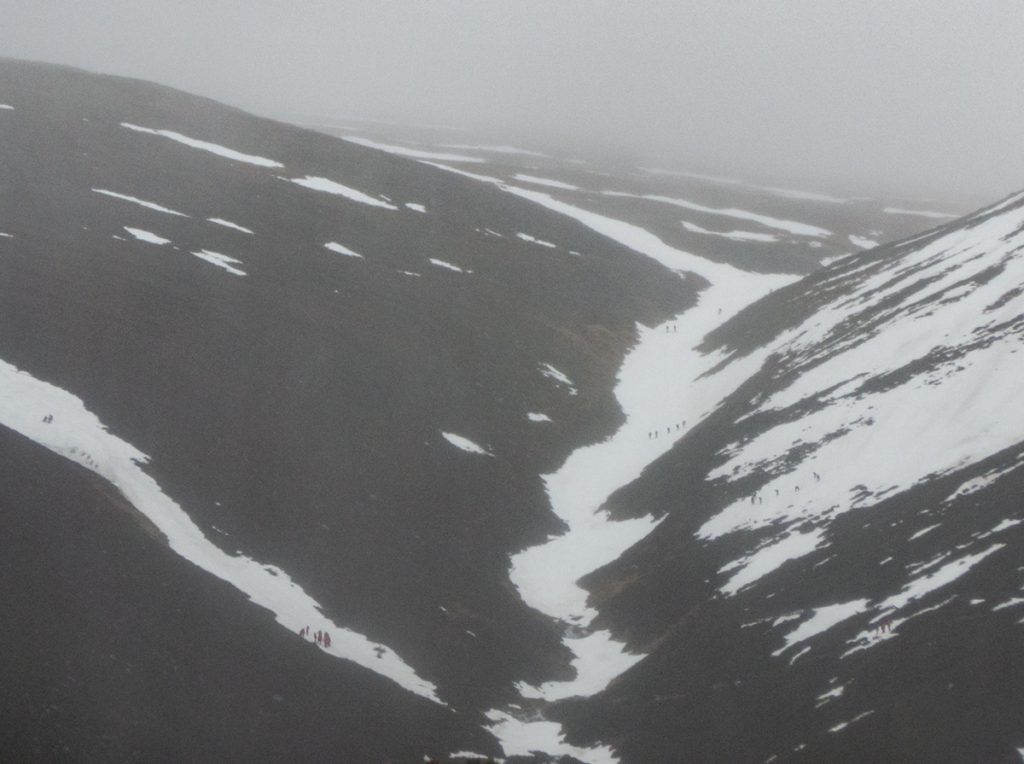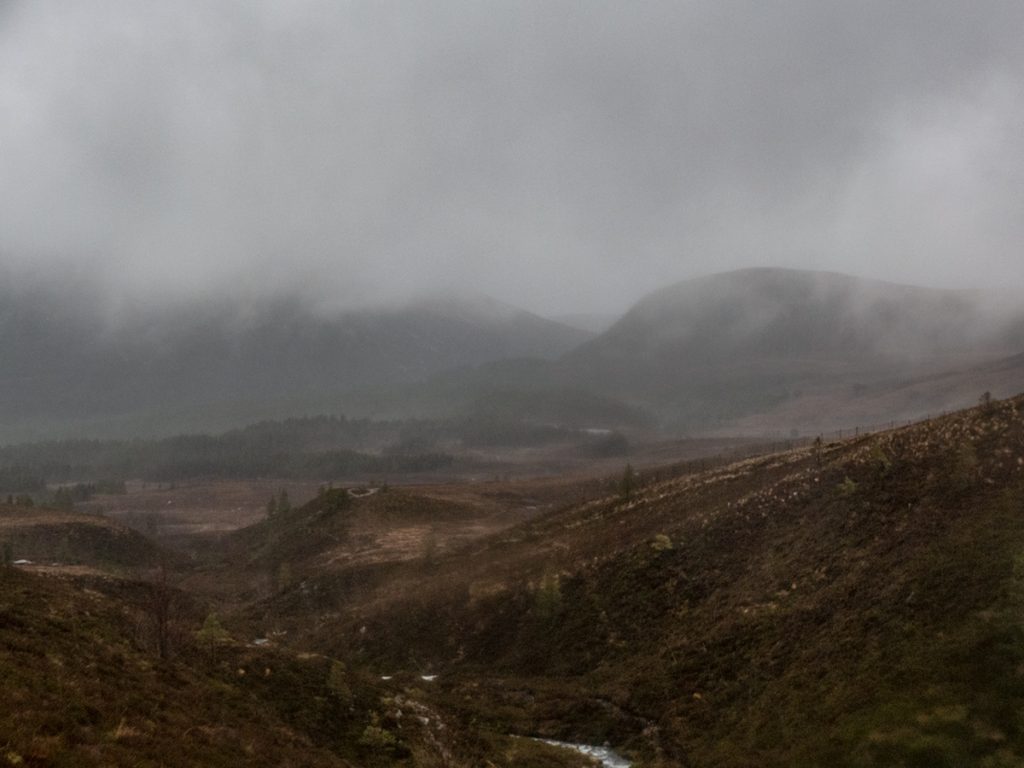 We got back in time for the match, and a great evening both from a cracking nail-biting win over the auld enemy, but also a good craic over the communal meal and a few beers afterwards. Our soaked gear was assisted thanks to the loan of equipment from some of the ladies.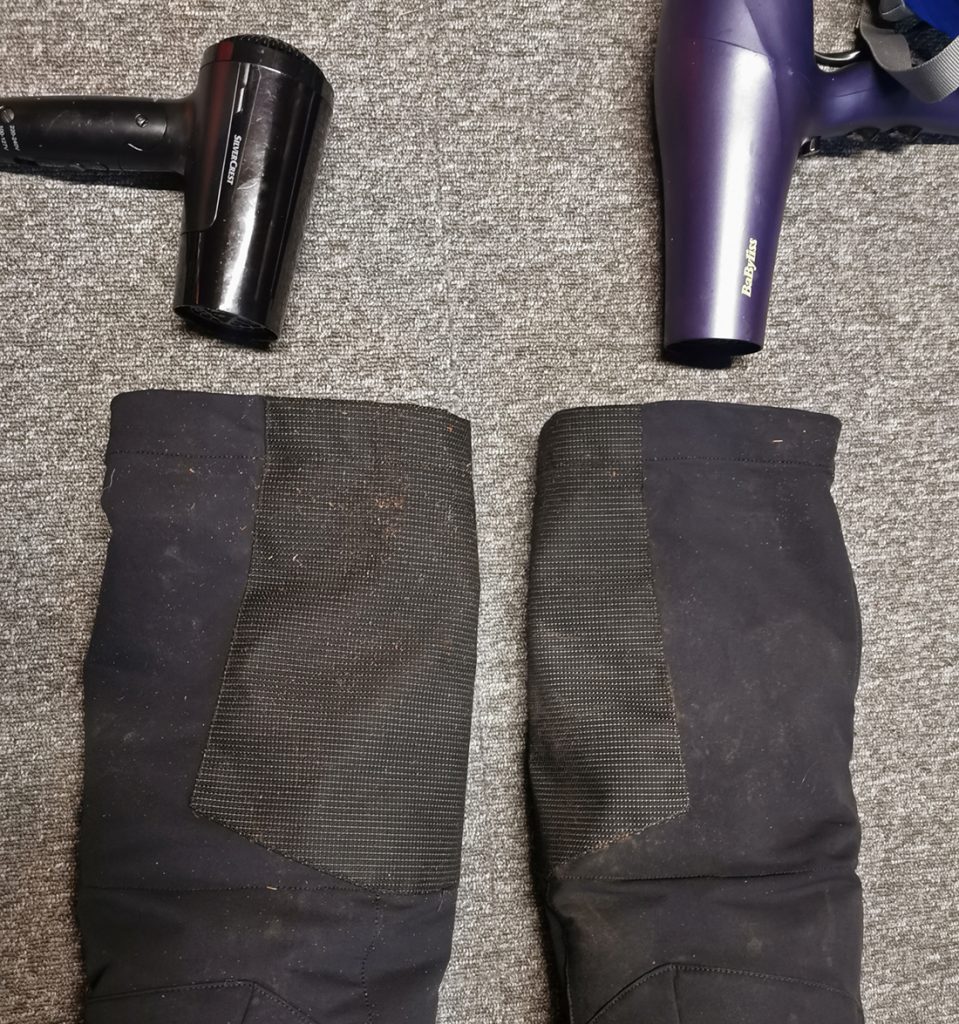 The next day, the weather had improved, but I didn't fancy an early start for some of the munro epics planned by others, so decided on a bimble around terrain near to the lodge. We started by heading along a path from the lodge towards the Lairig Ghru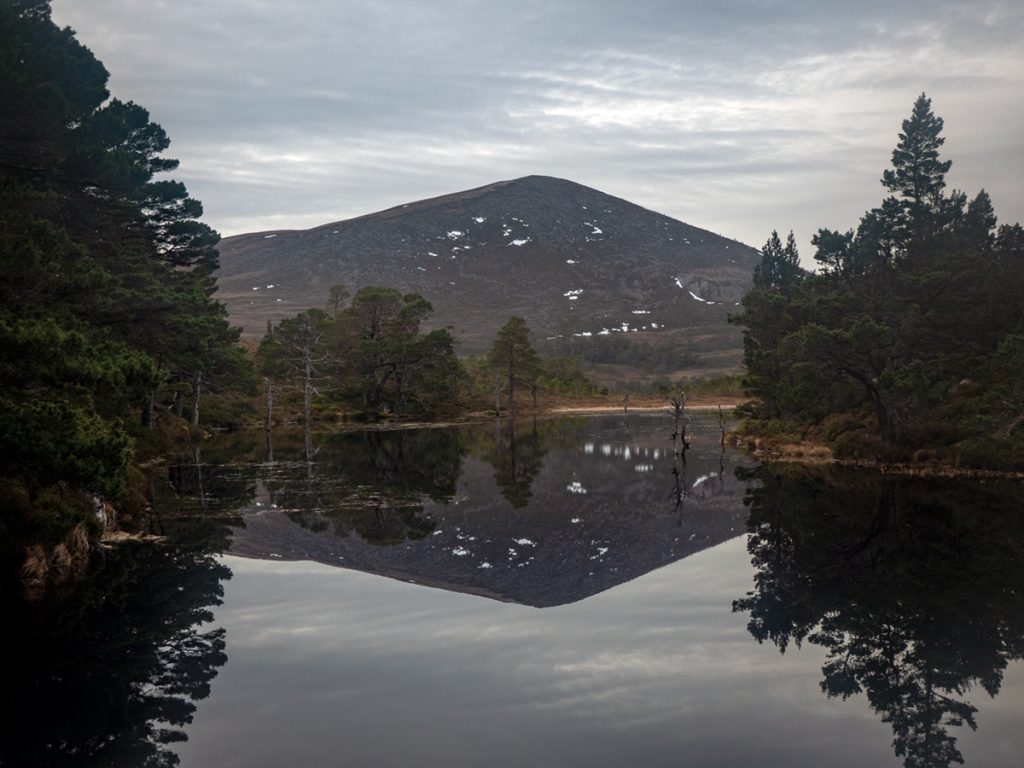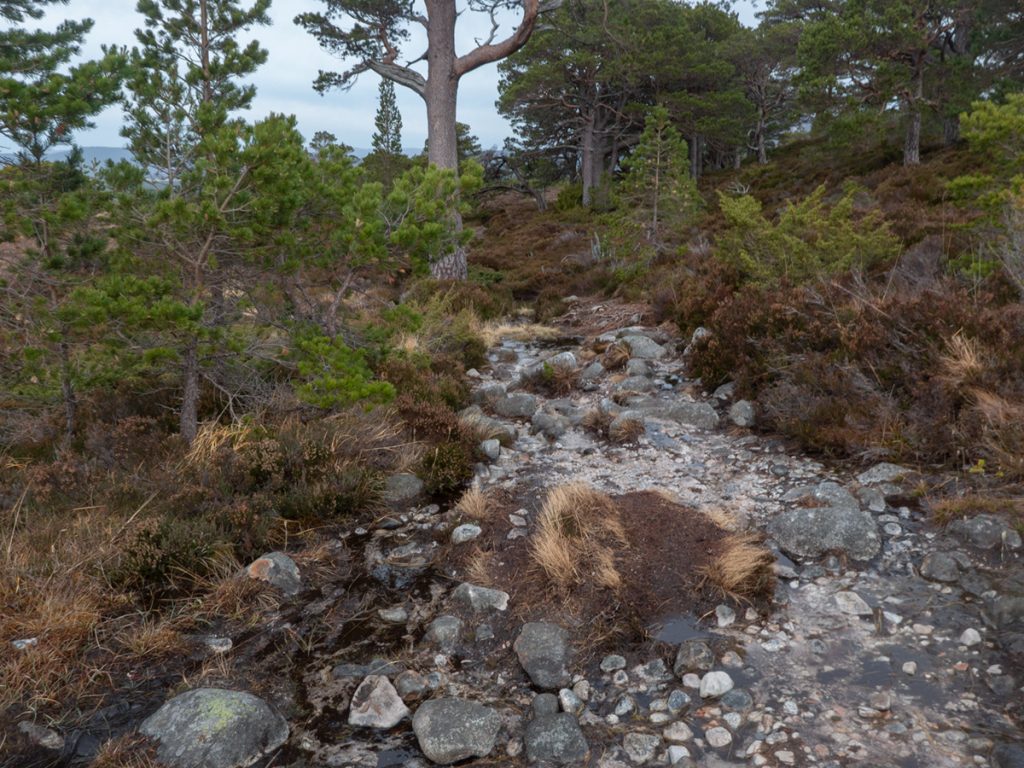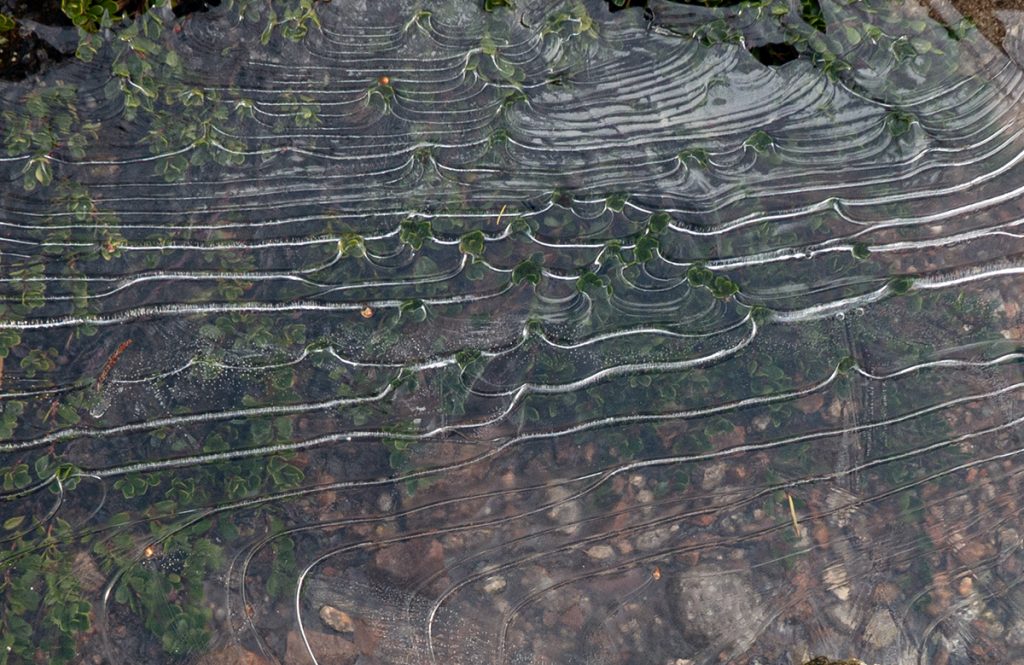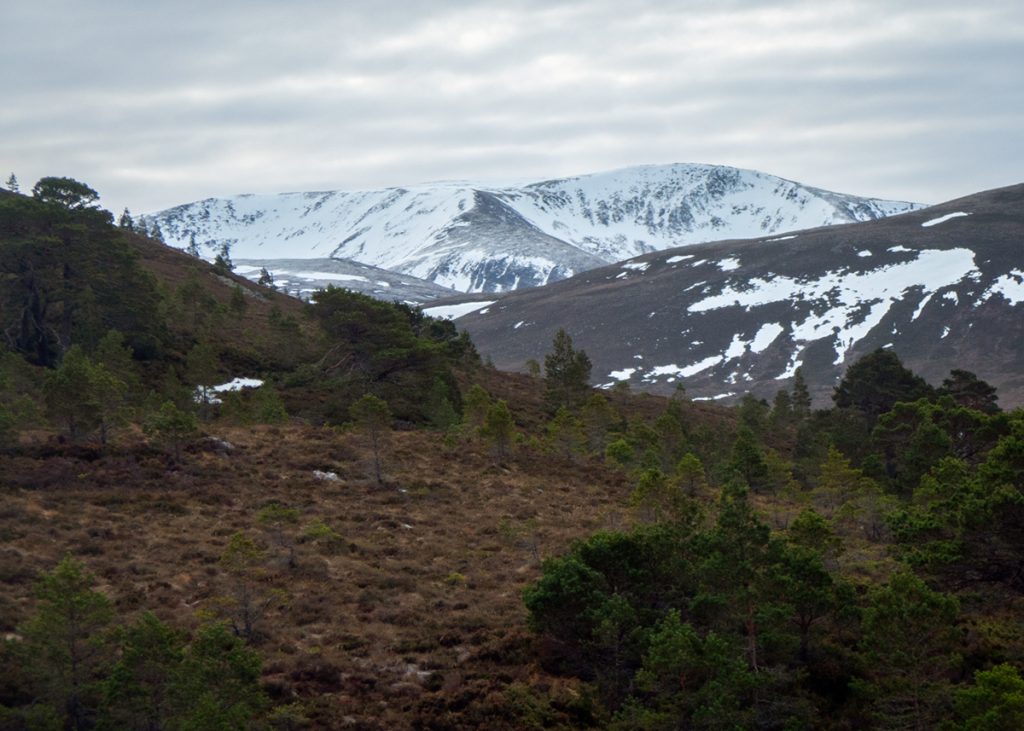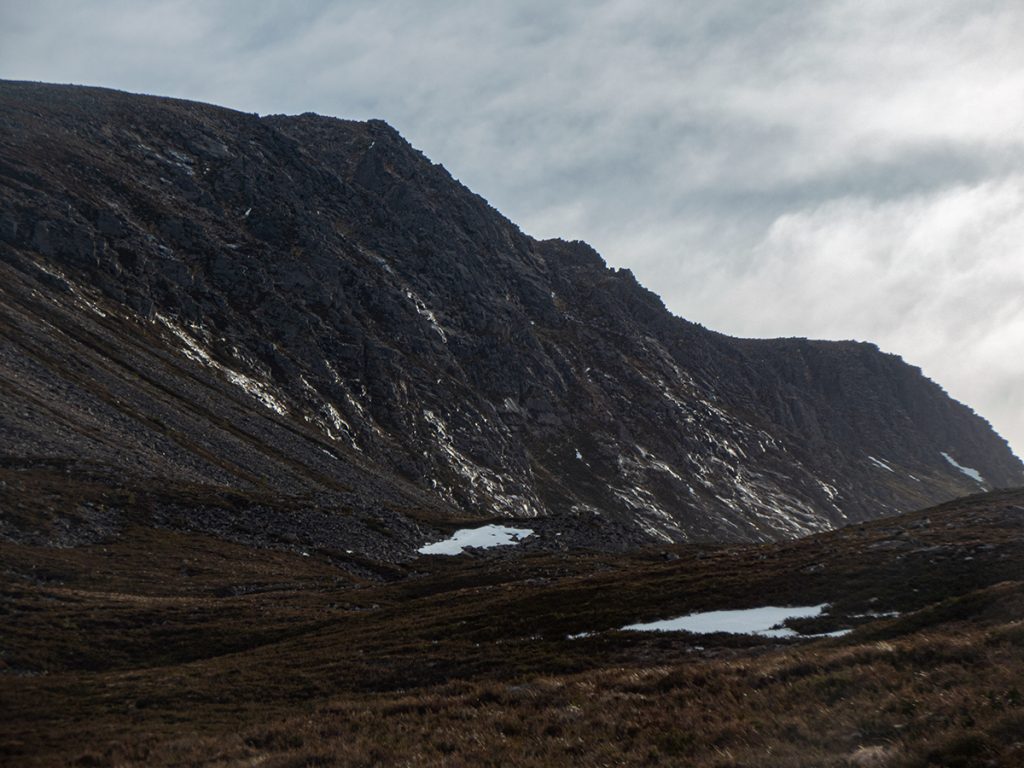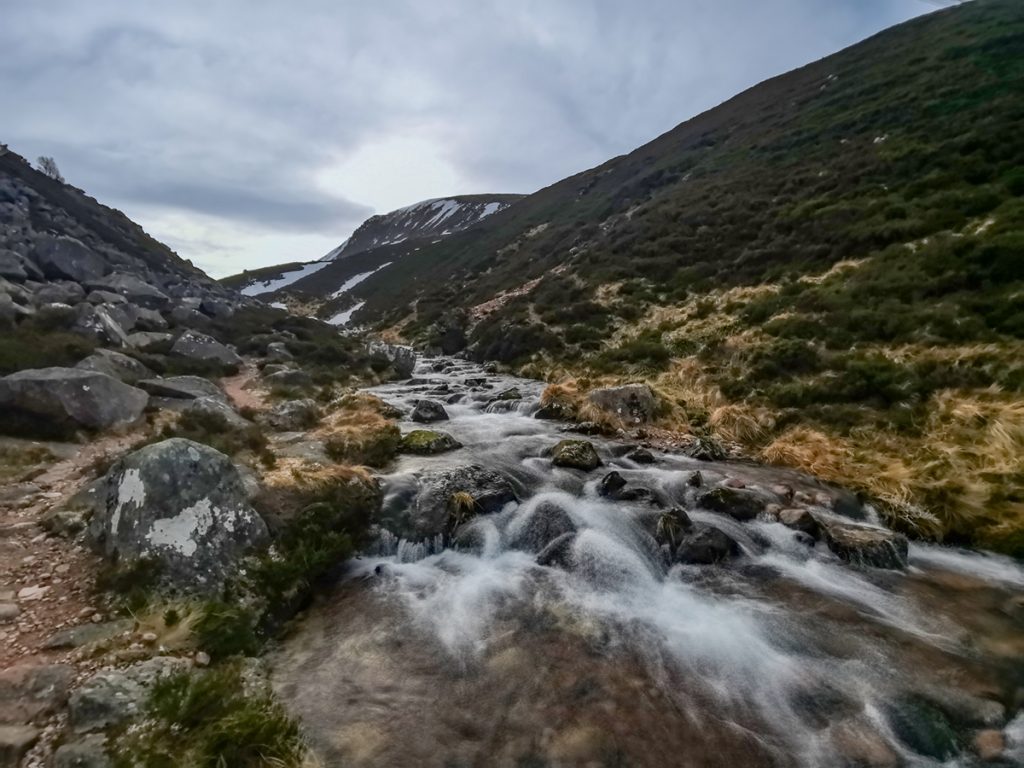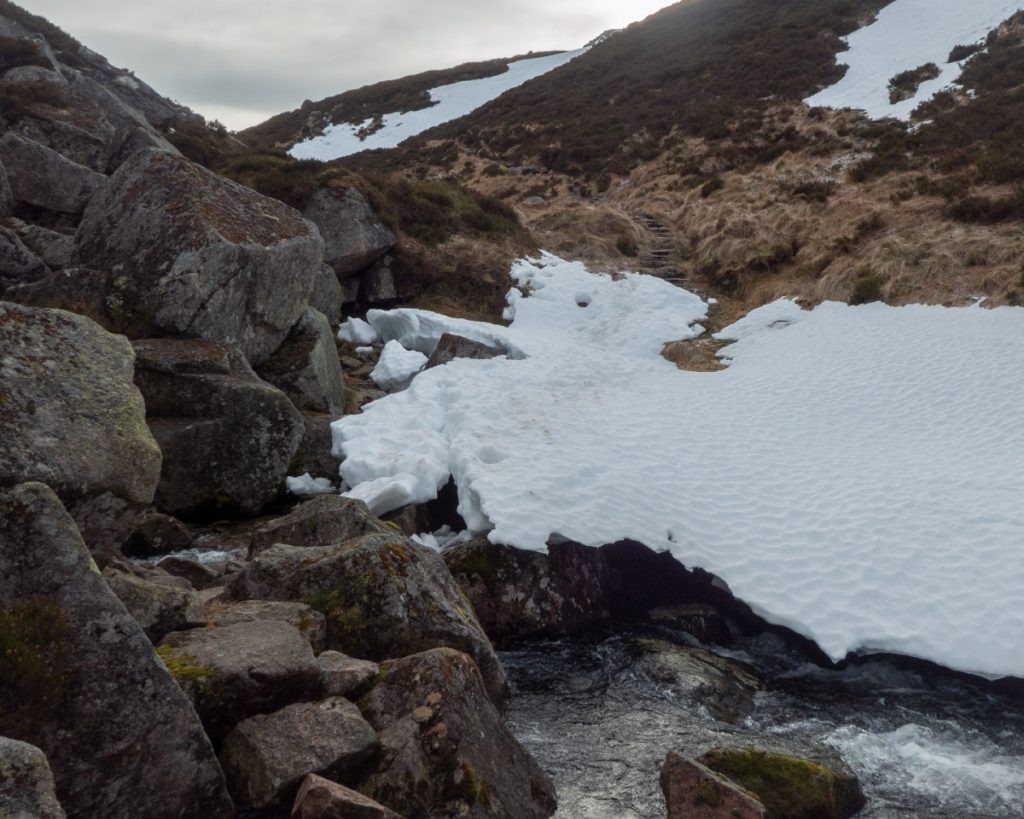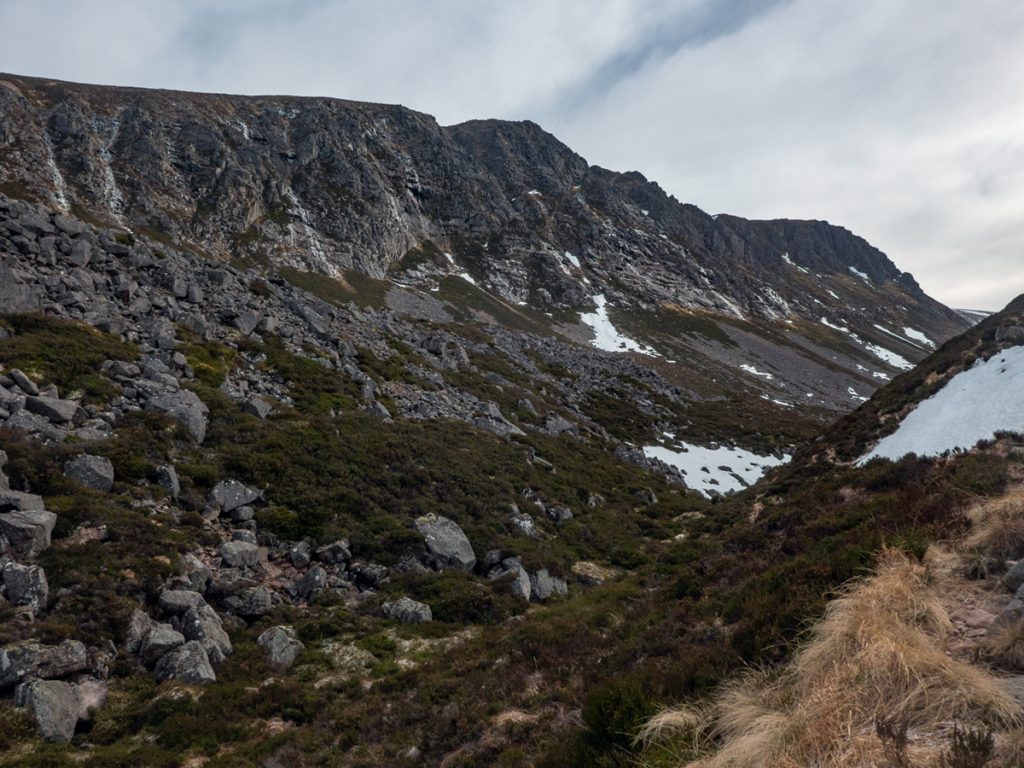 We headed as far as Lurcher's Crag, then back and up rocky steps to the Chalamain Gap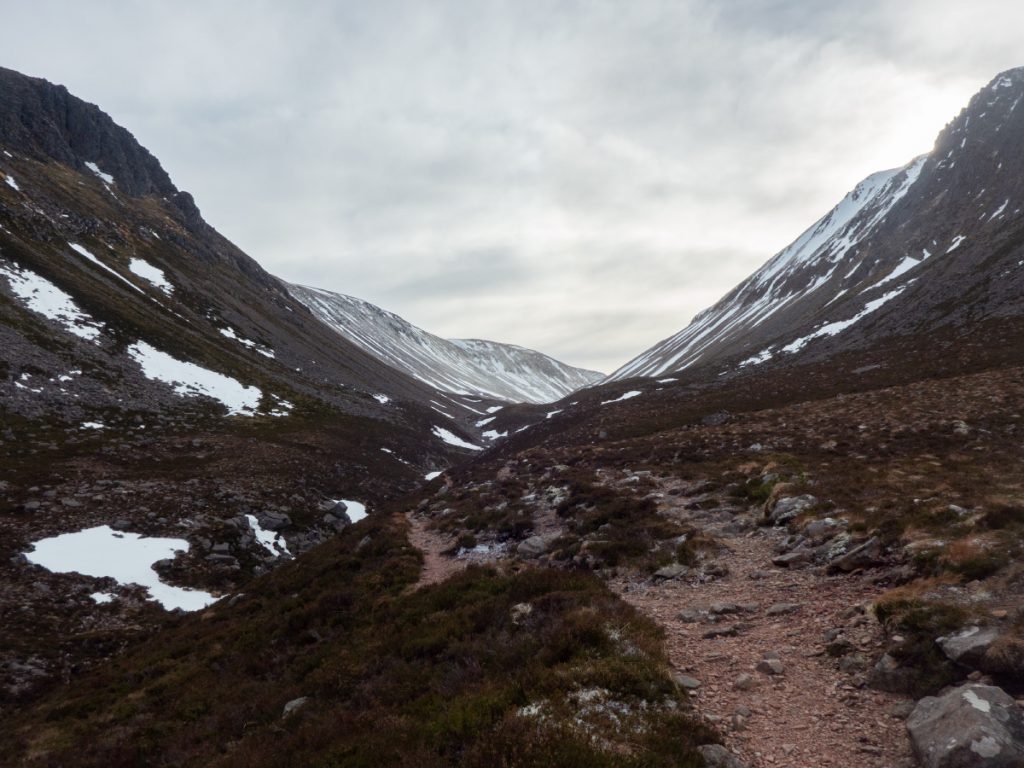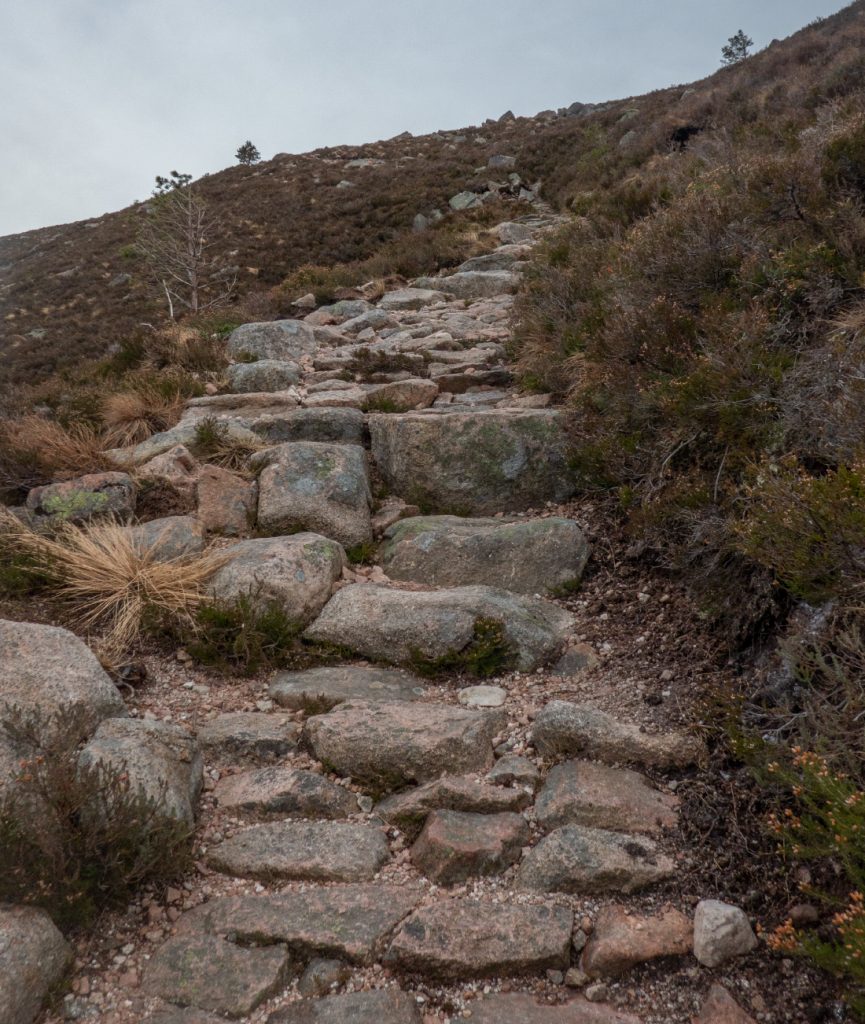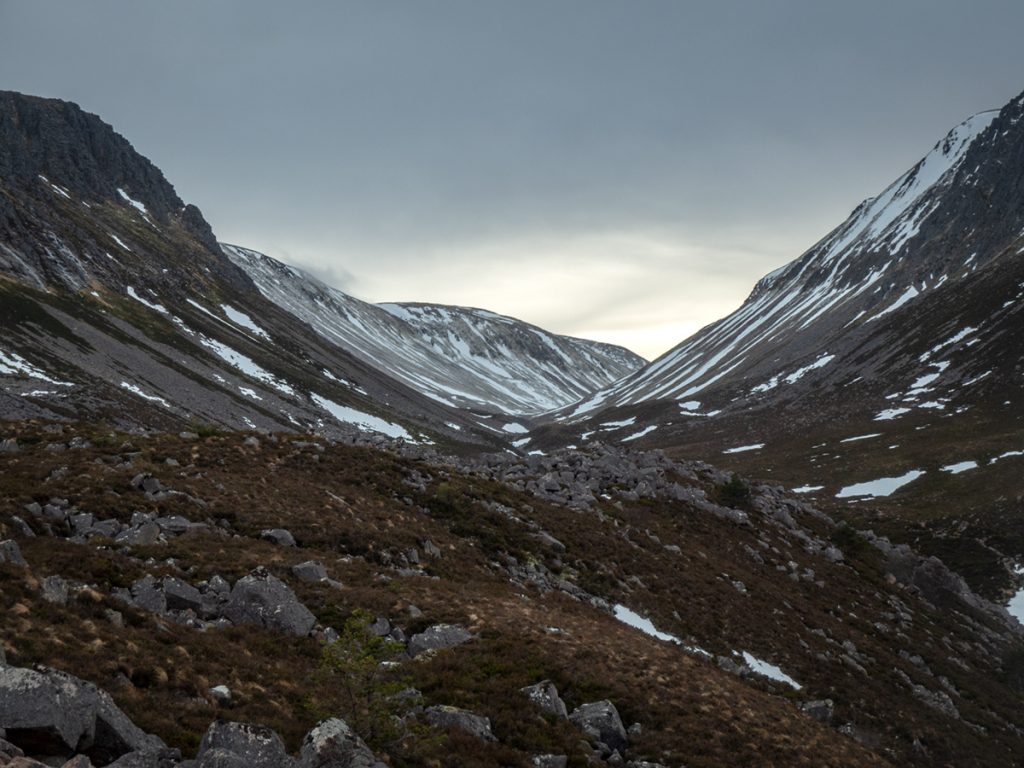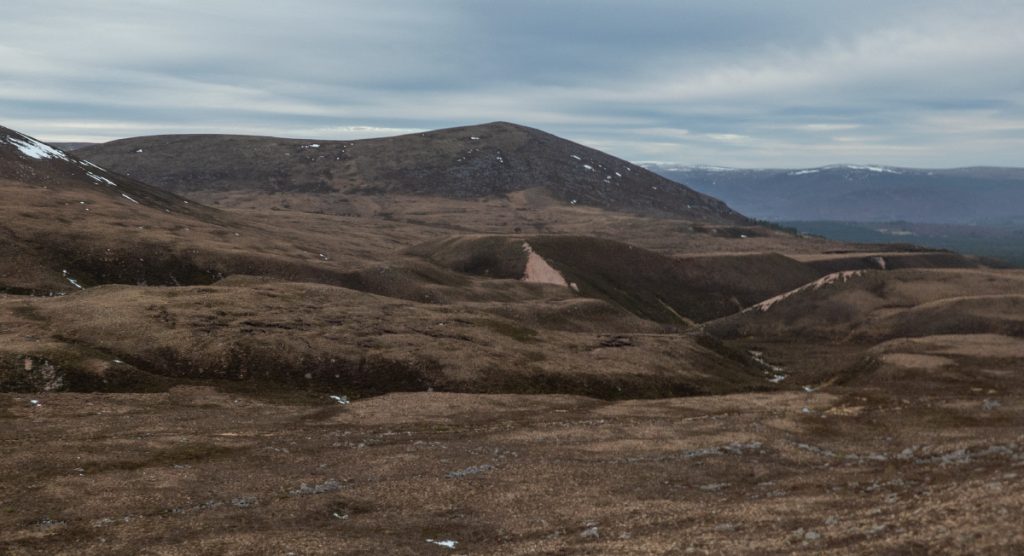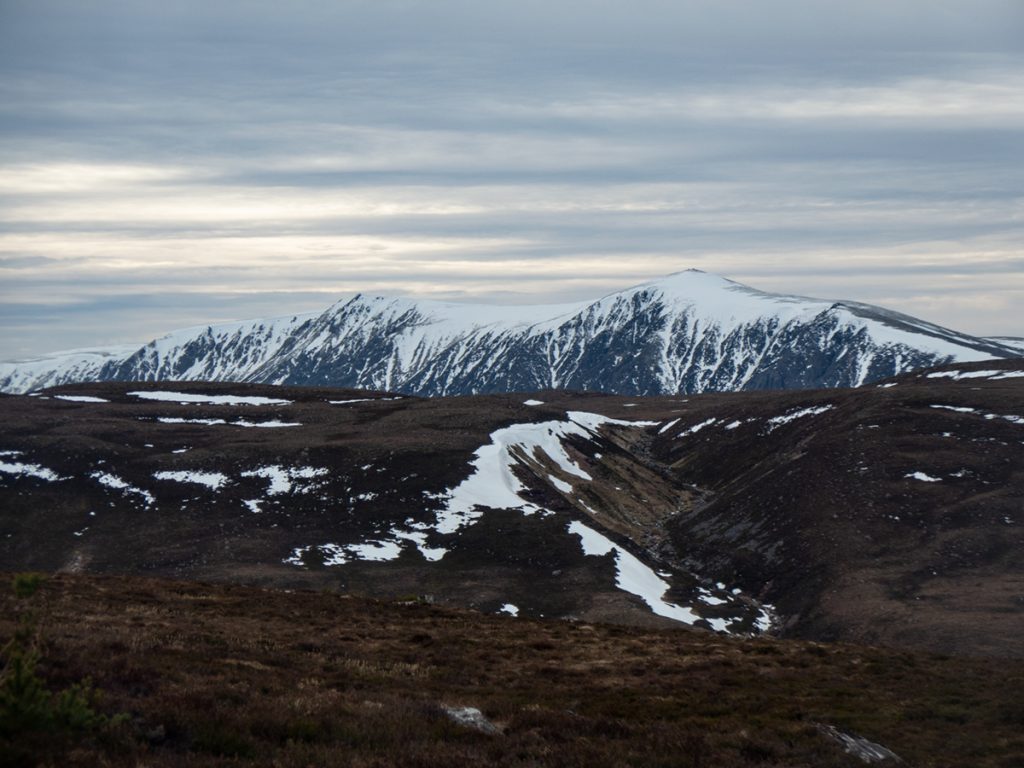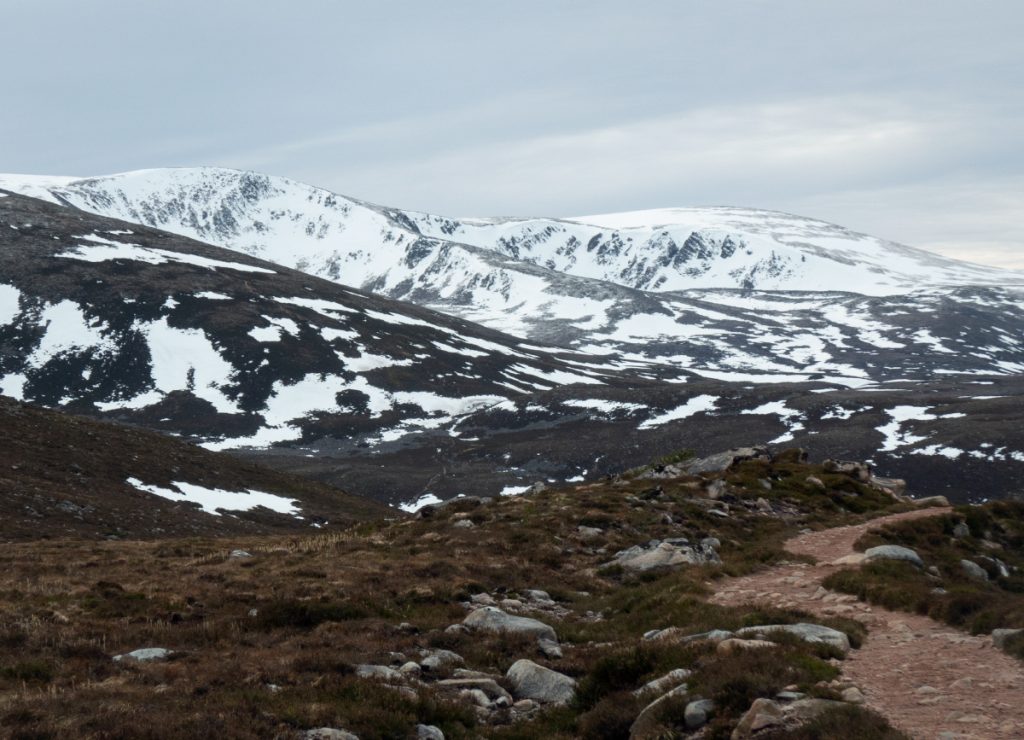 The Chalamain Gap is a rocky channel below Creag a Chalamain. As we enterd it, we chatted about the avalanche hazard within the gap (mostly because of the 'terrain trap' aspect). Afterwards I went looking for more info – found this detailed report on the incident where a few people died. TLDR: Careless party ascended the loaded side causing a deep avalanche which caught another party lower on the unloaded 'safer' side)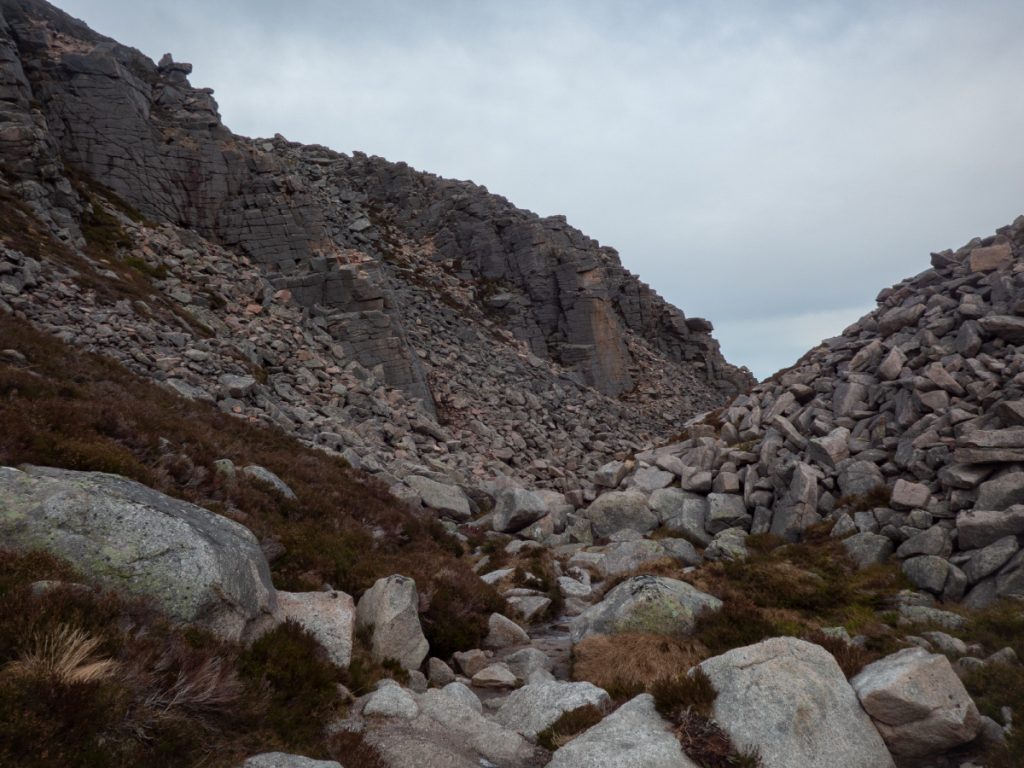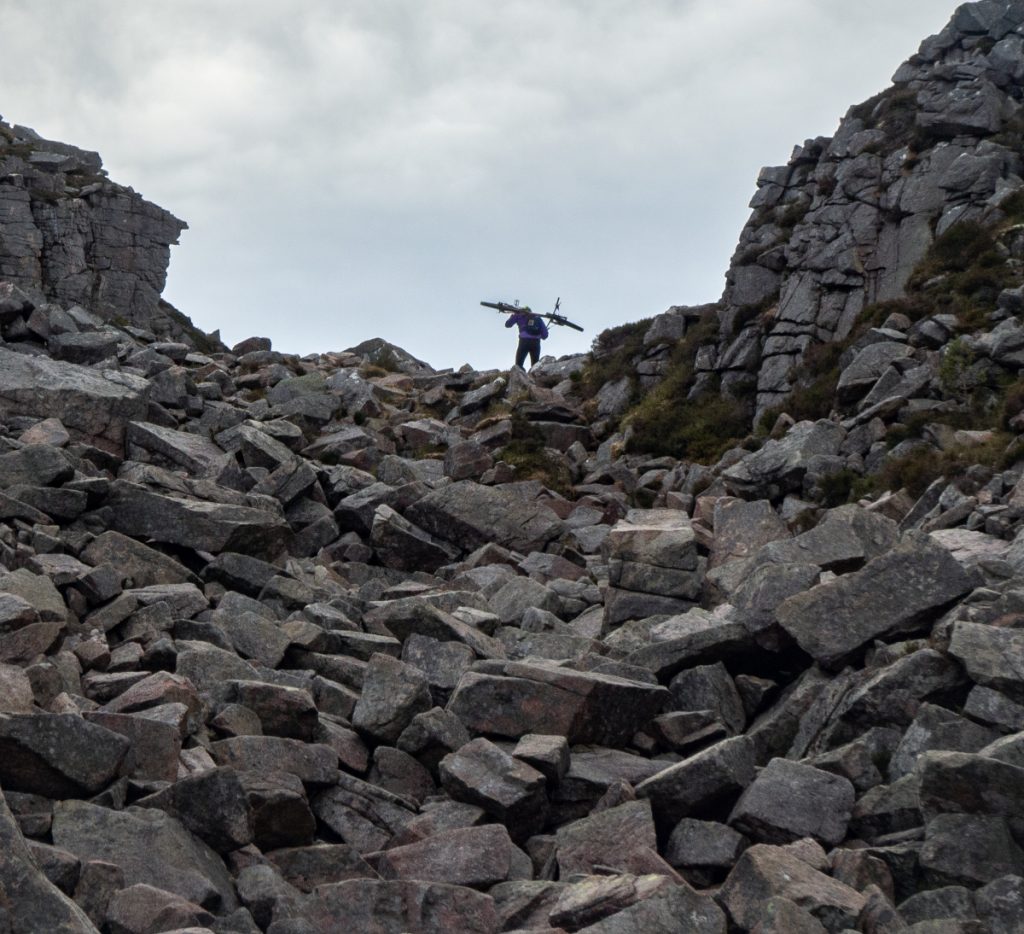 Emerging from the gap we got a view of the Cairn Gorm corries, we needed to get back to the lodge so headed towards Eag a Chait, another rocky cleft,
along a faint and overgrown path.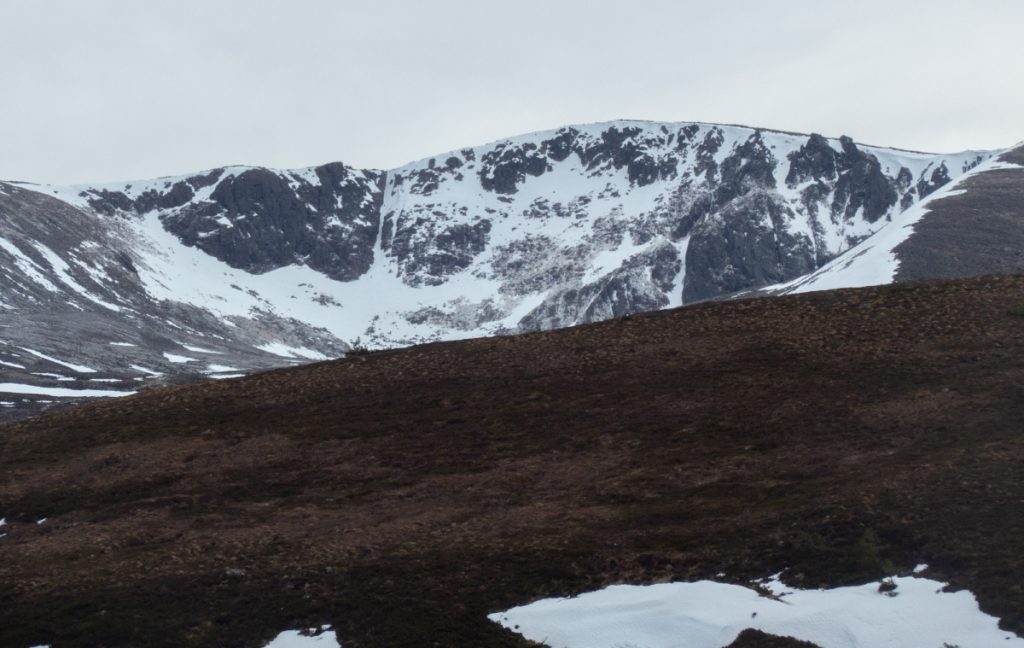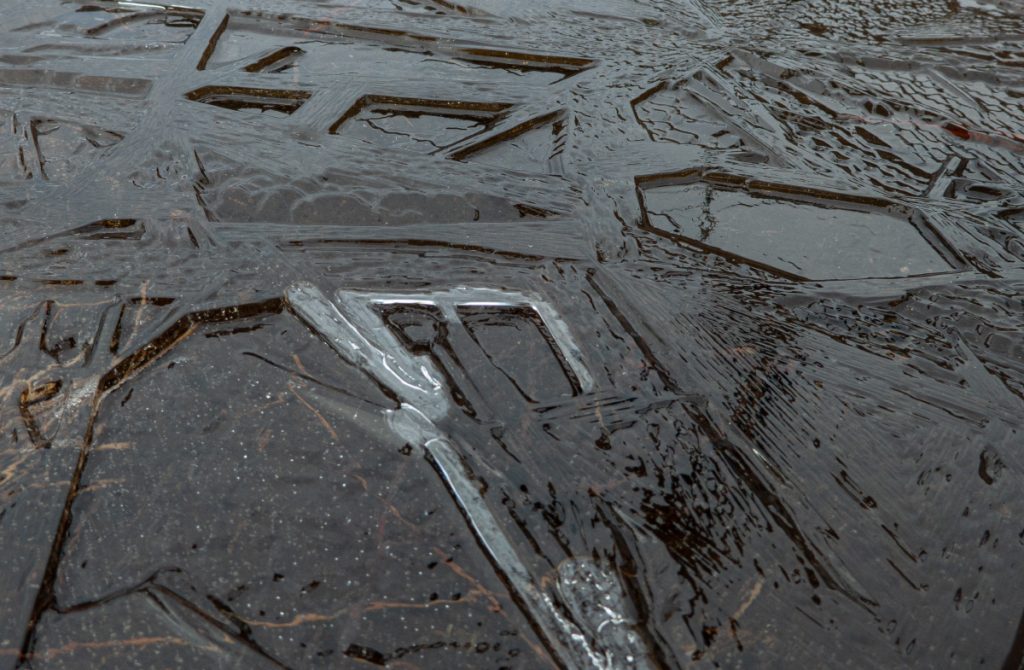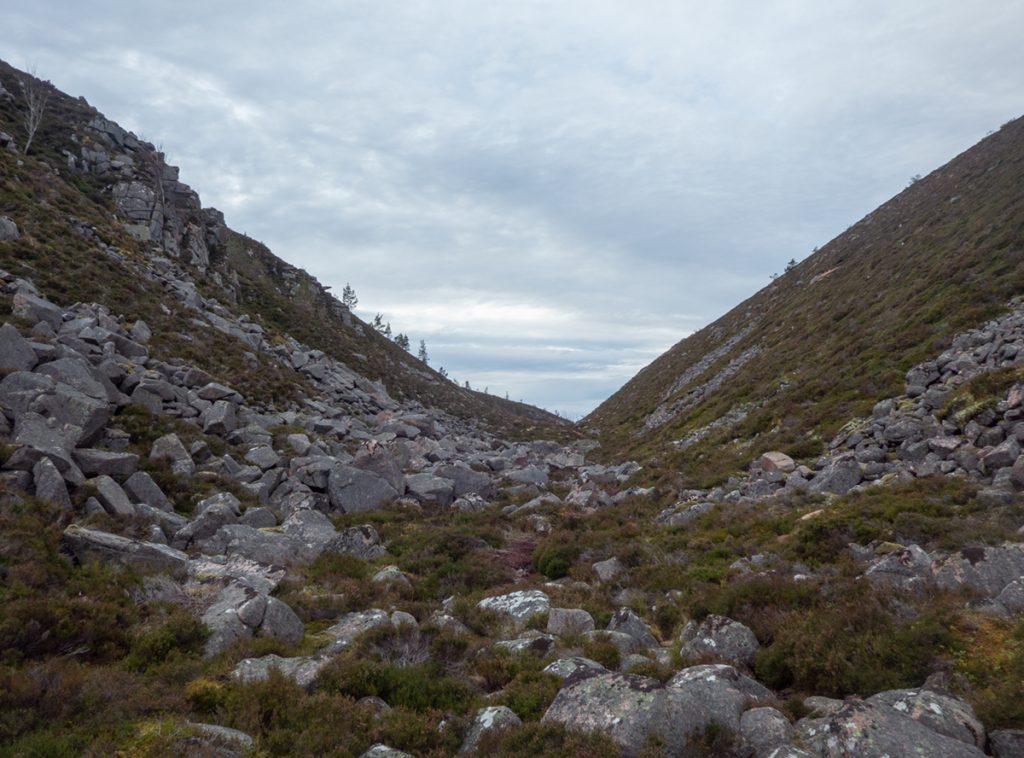 Out of Eag a Chait, we could see the lodge down below (I'd kinda expected it to be a lot nearer in height – need to pay more attention to the map). A lady who had come up from the lodge direction warned us with regards to the path and it being very muddy – she wasn't wrong, a steep and slippery rut punctuated by rivulets and deep mud that required thrashing through deep heather at times.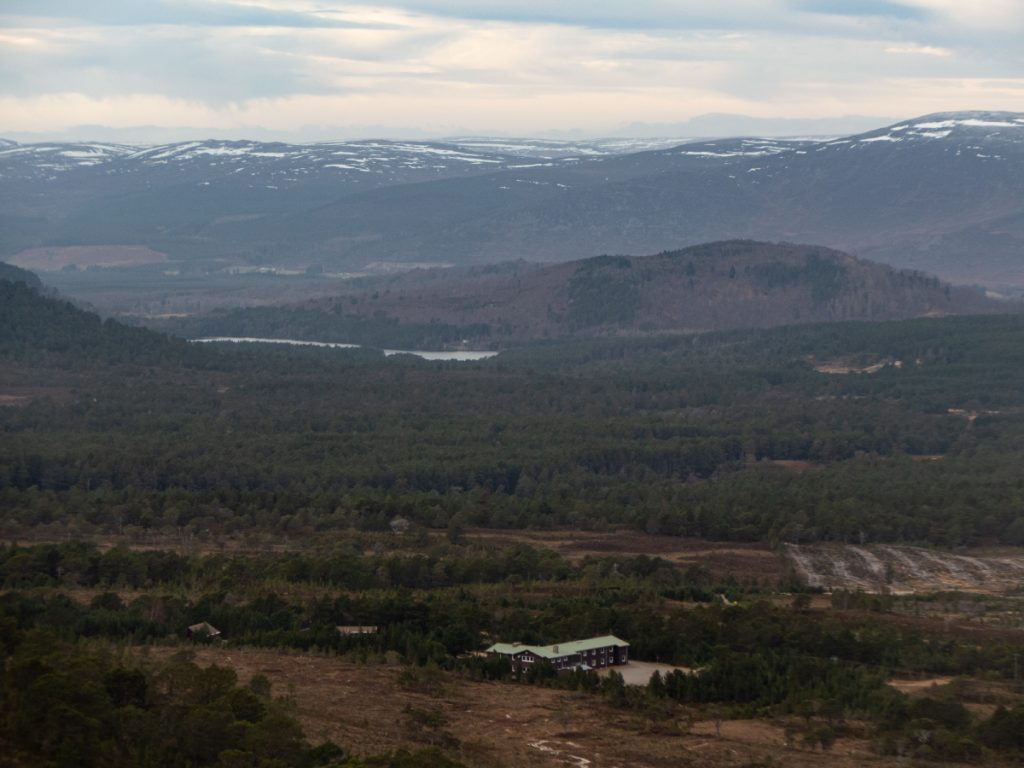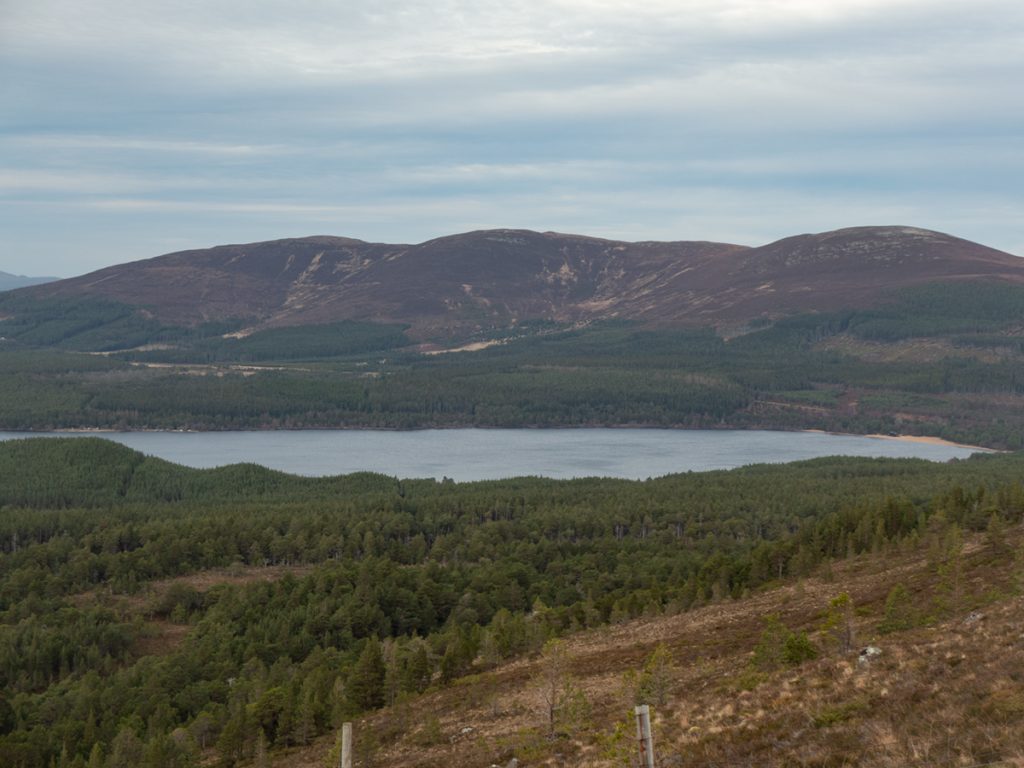 We packed up our gear and headed homewards, with a couple stops as a great sunset developed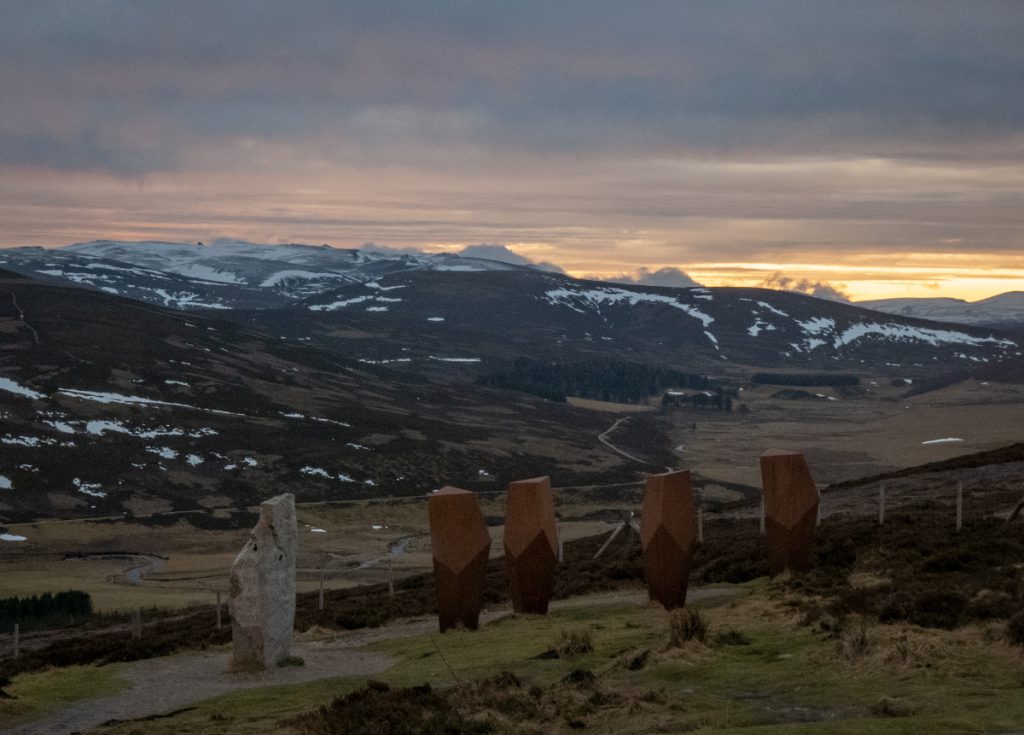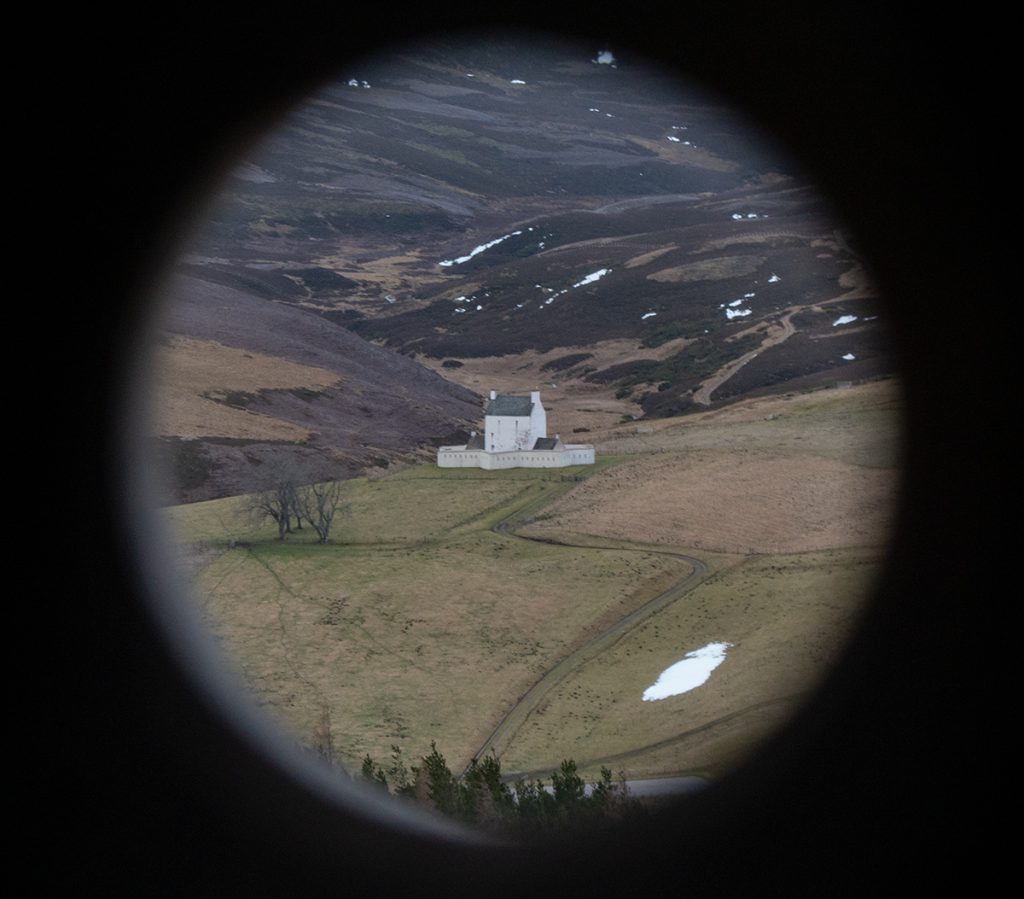 As we passed the Queen's View near Tarland, cars were pulling in and people jumping out to watch and photograph a spectacular sunset, and we joined them briefly: great views of both Morven and Lochnagar below a fiery sky.