A midweek satellite pass indicated some snow cover, and with a decent weather window ahead for Saturday, Friday night saw me on the bus to Braemar for an adventure. I headed out along the road to Auchallater then on track to Loch Callater.
A sporadic drizzle accompanied me, when off the sky revealed the milky way above, the odd glance back north not revealing any aurora though. I arrived at Callater bothy expecting dark and cold (not having a stove it's not popular with overnighters) but there were a couple chaps there from Manchester.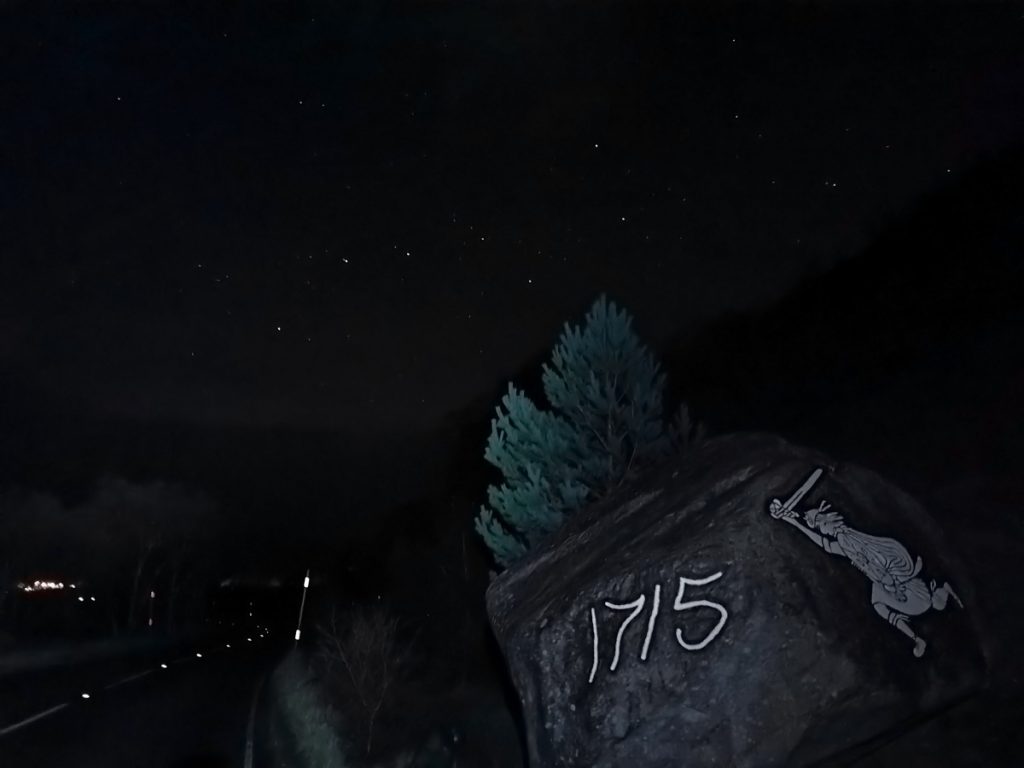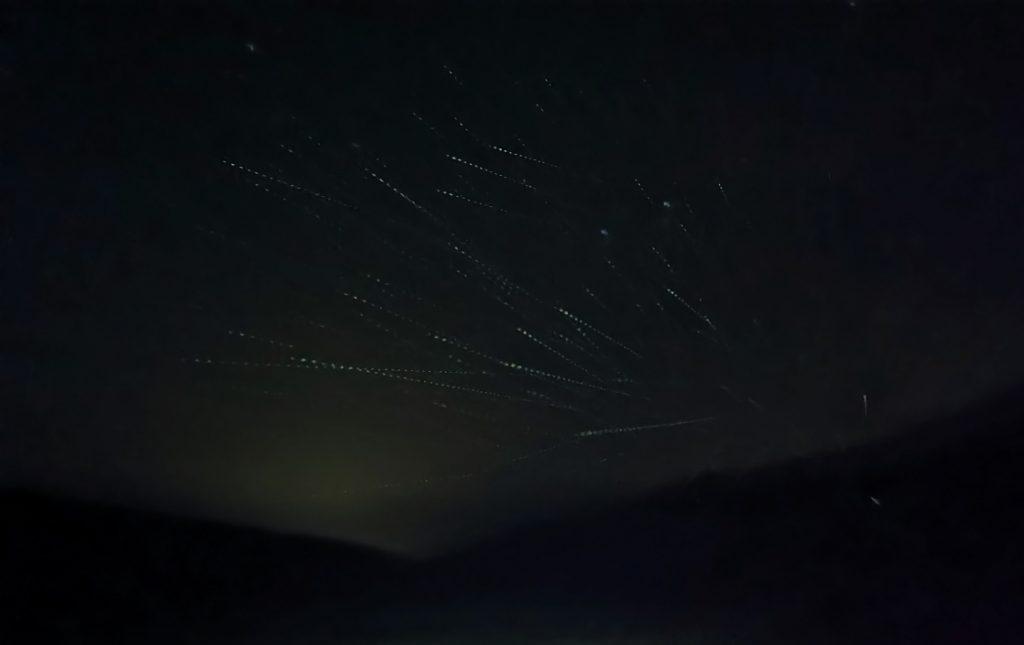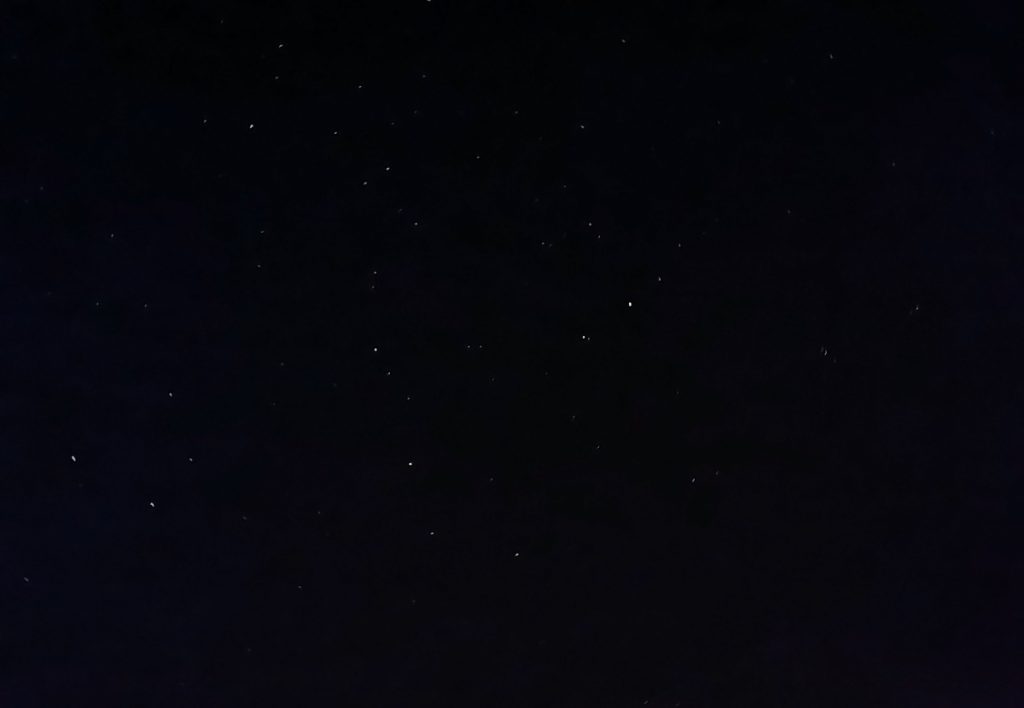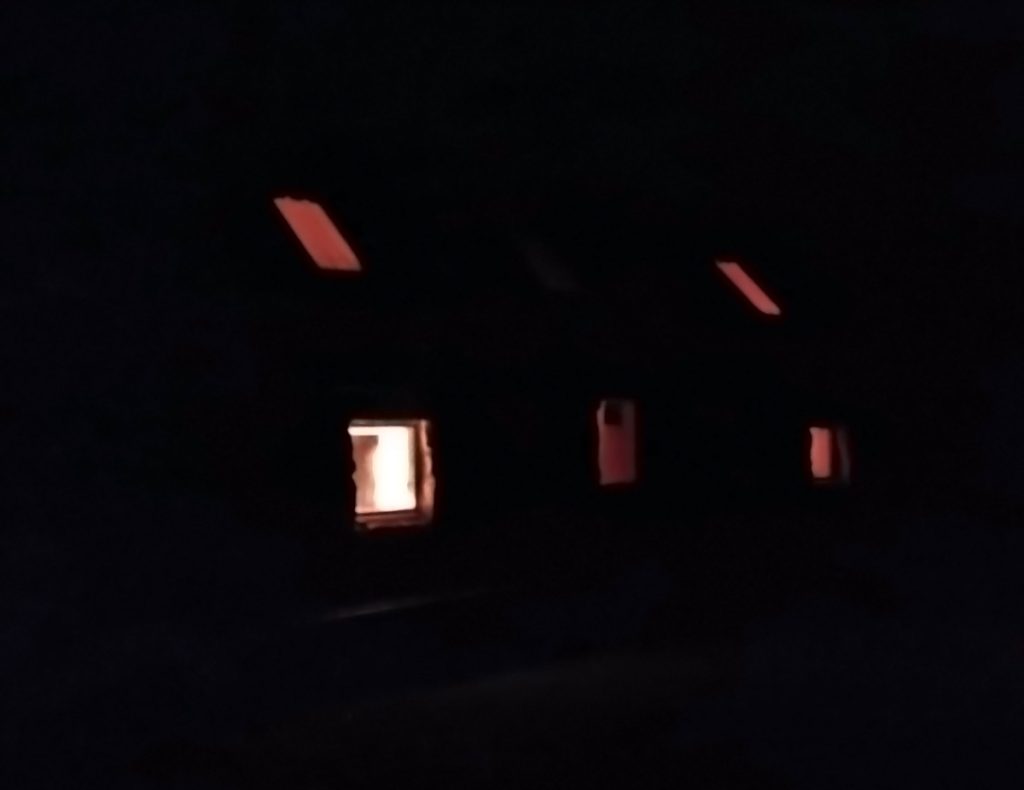 Blethering in the morning delayed the planned sunrise start but with the sun up a bit further I headed up above the loch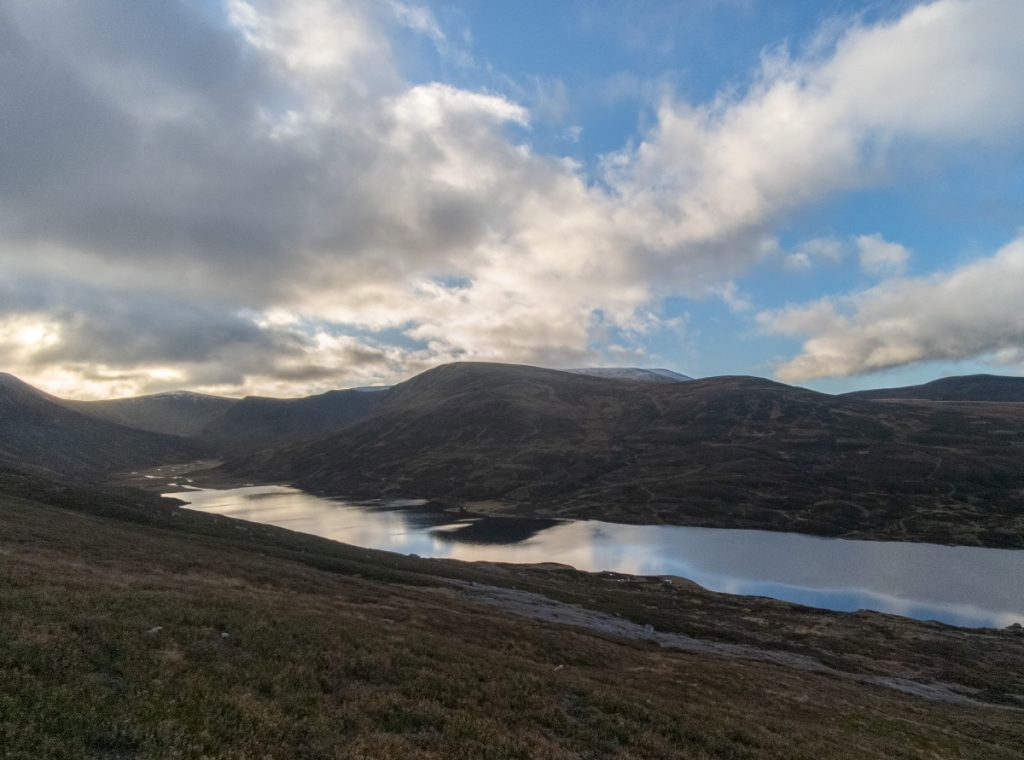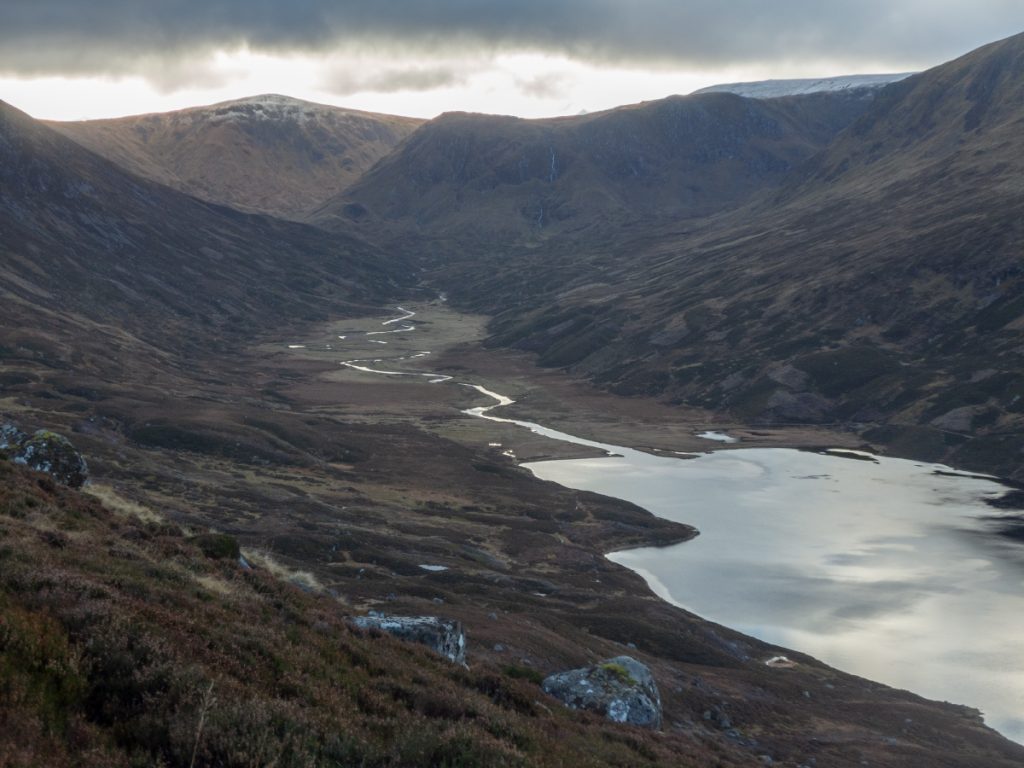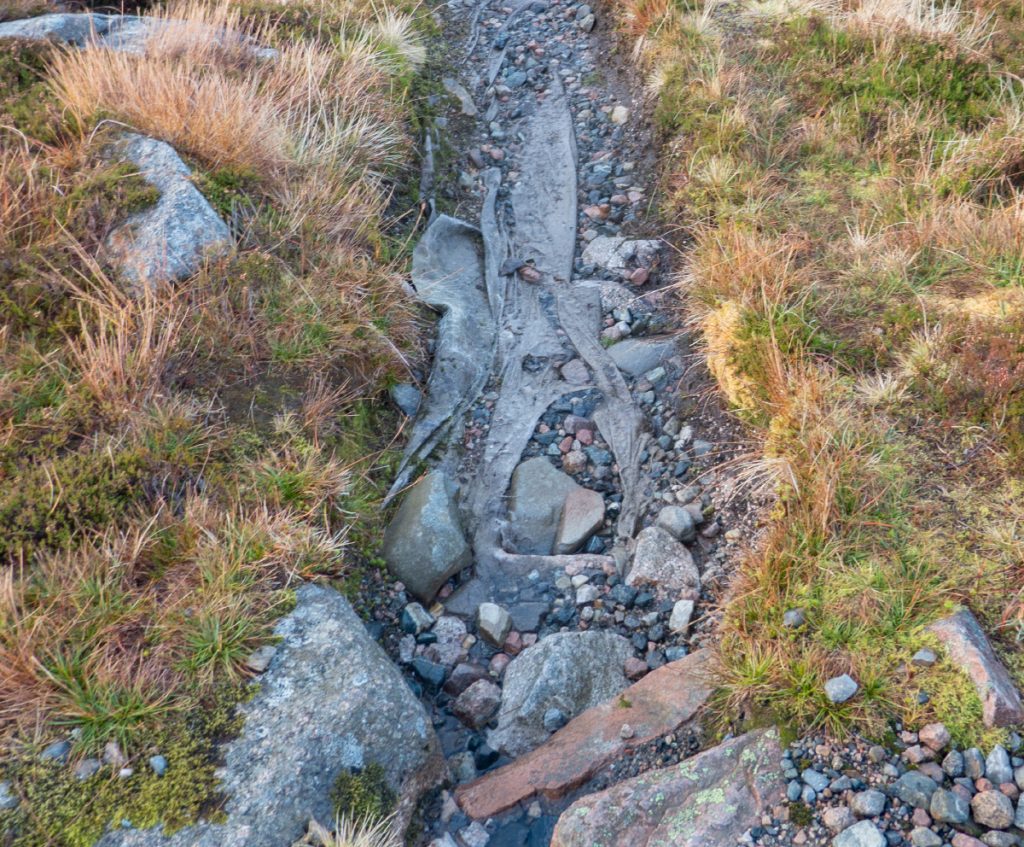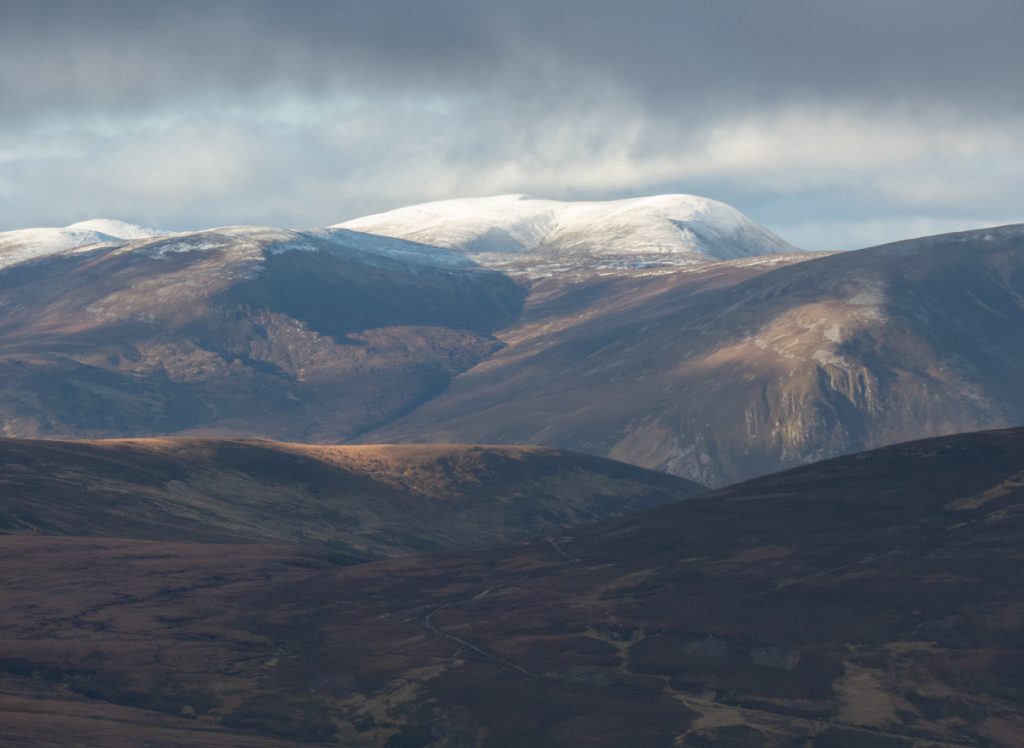 I entered the snowline at 800m or so up the first munro of the day, Carn an t-Sagairt Mor. The occasional movement amongst the rocks was noted – ptarmigan and hares in their winter colours.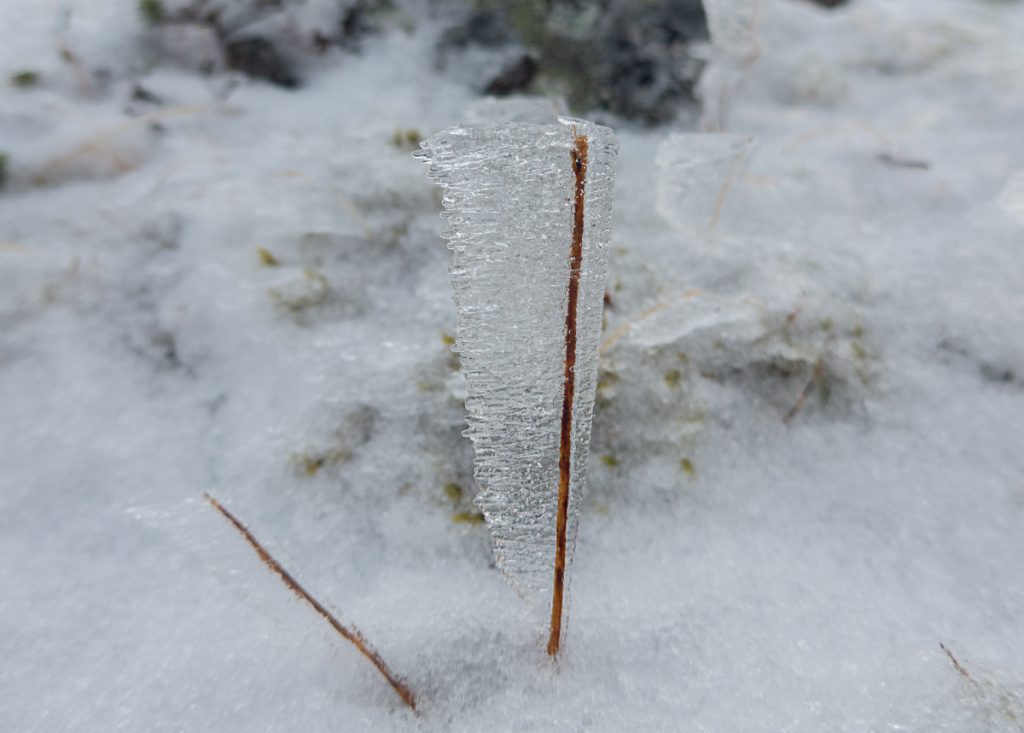 I left the trail which circles around the base and followed the old fence posts into cloud, making for easy navigation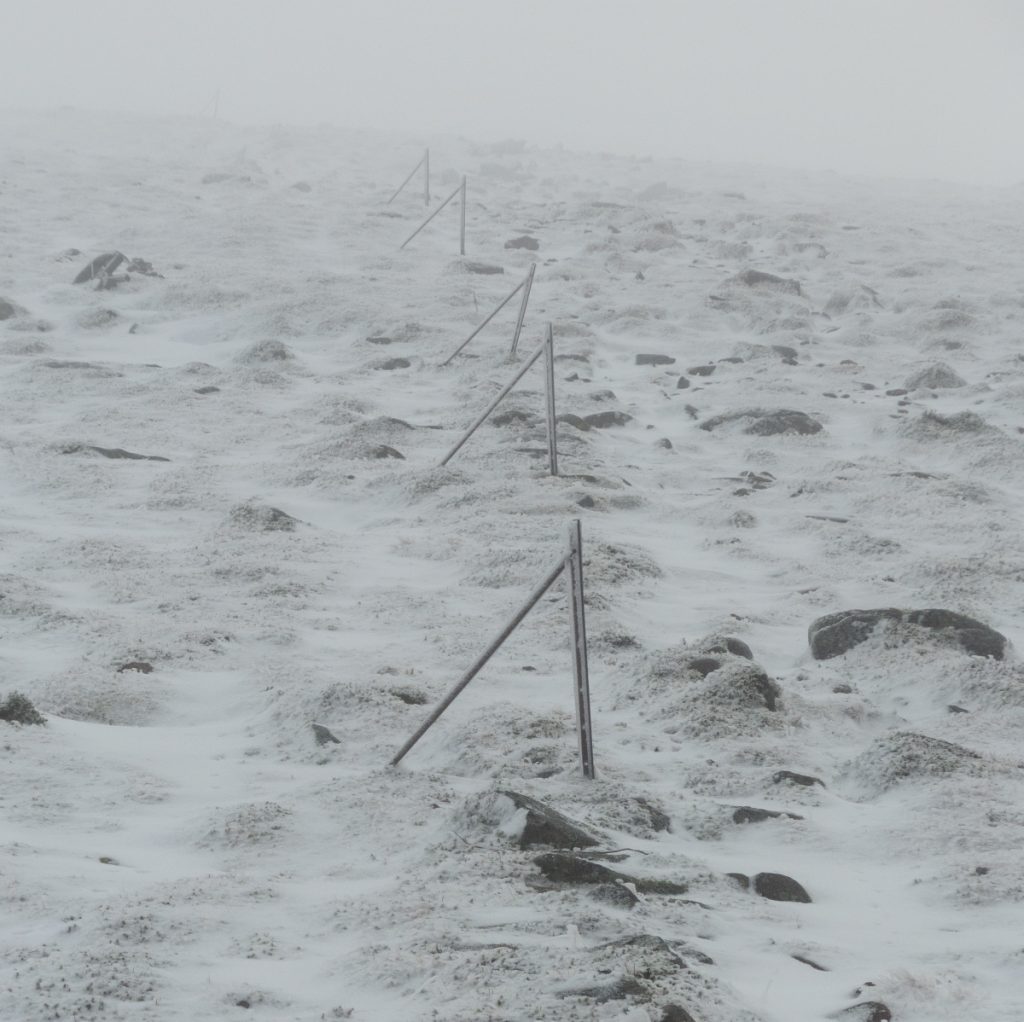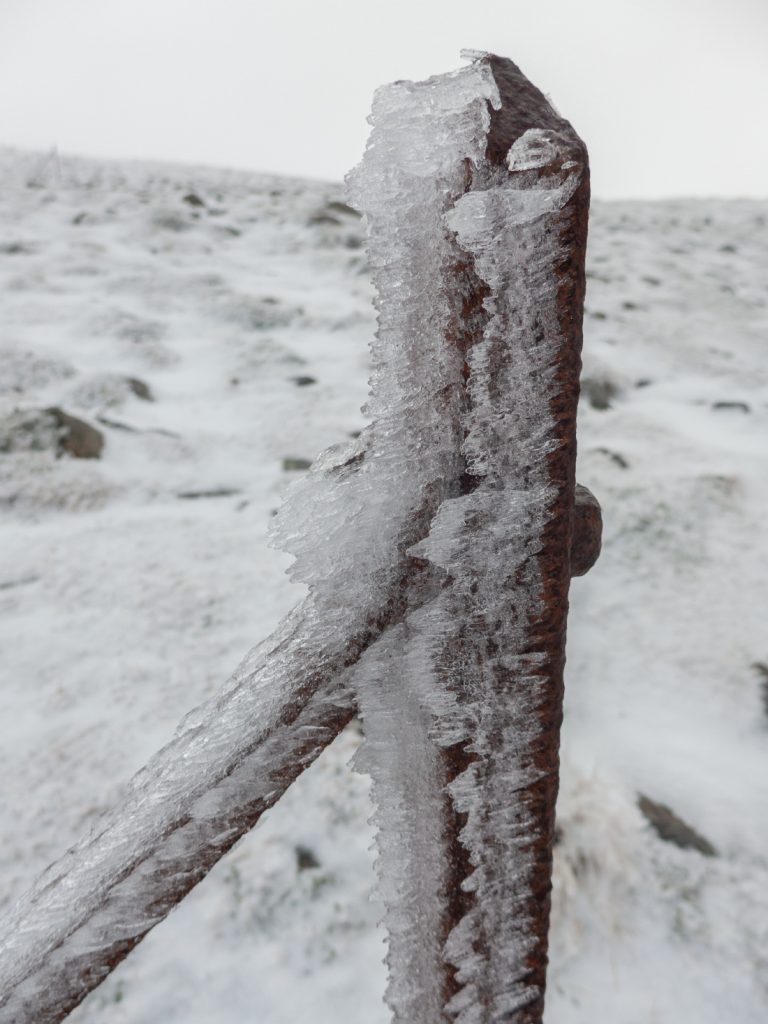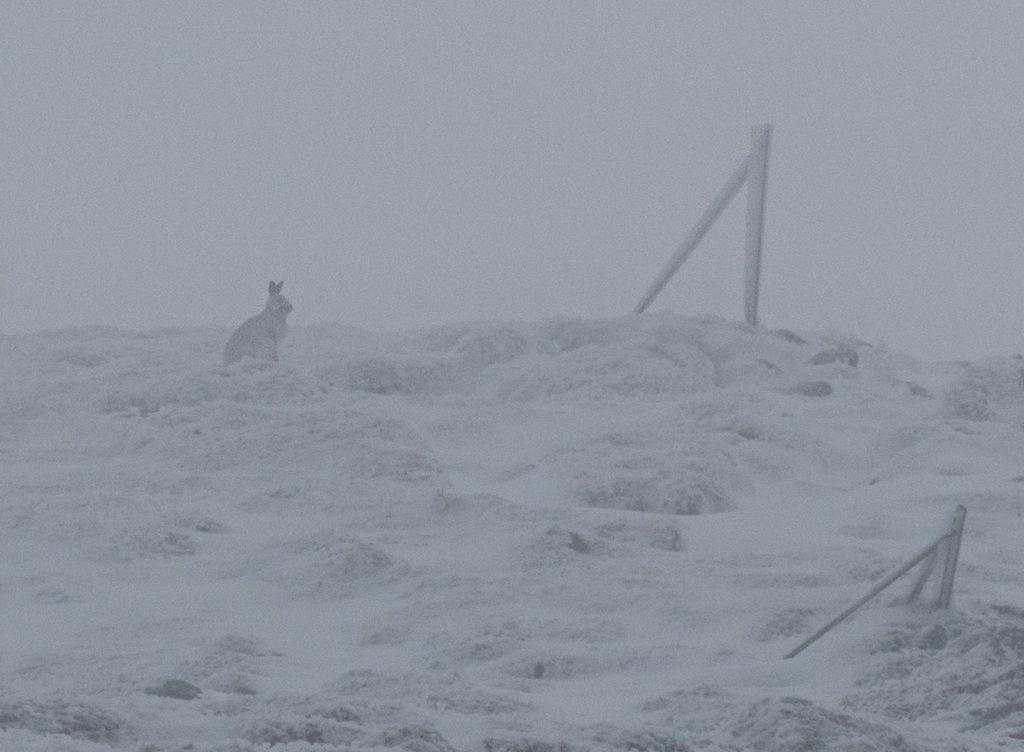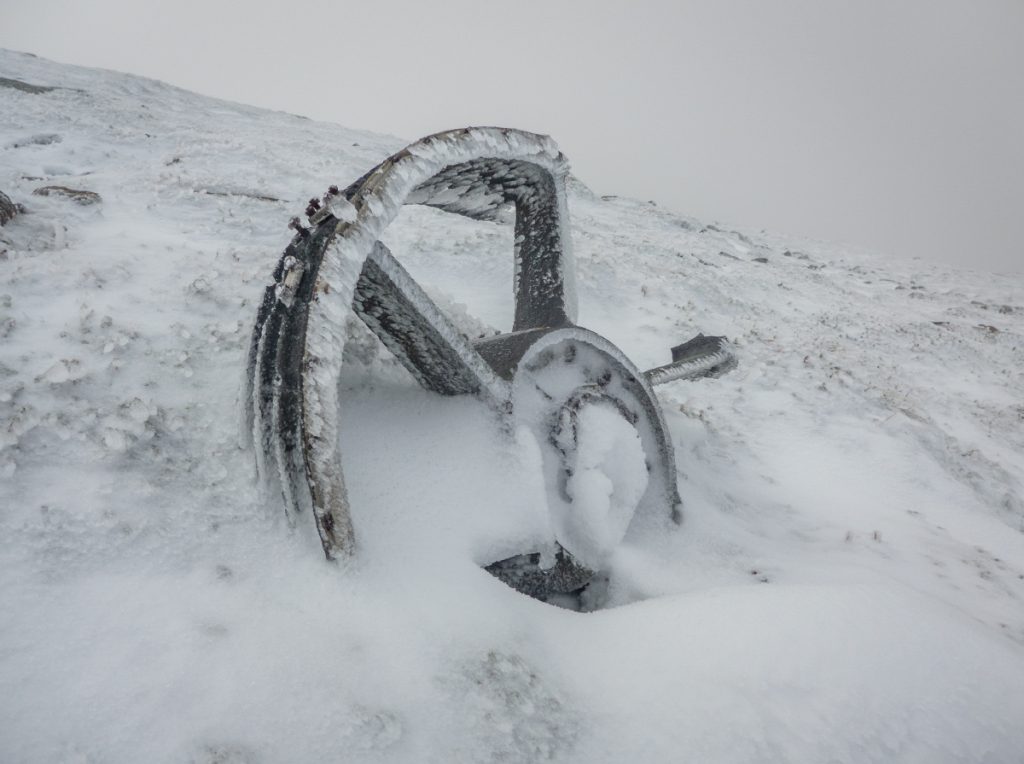 I soon reached the top and orientated towards the "big wing"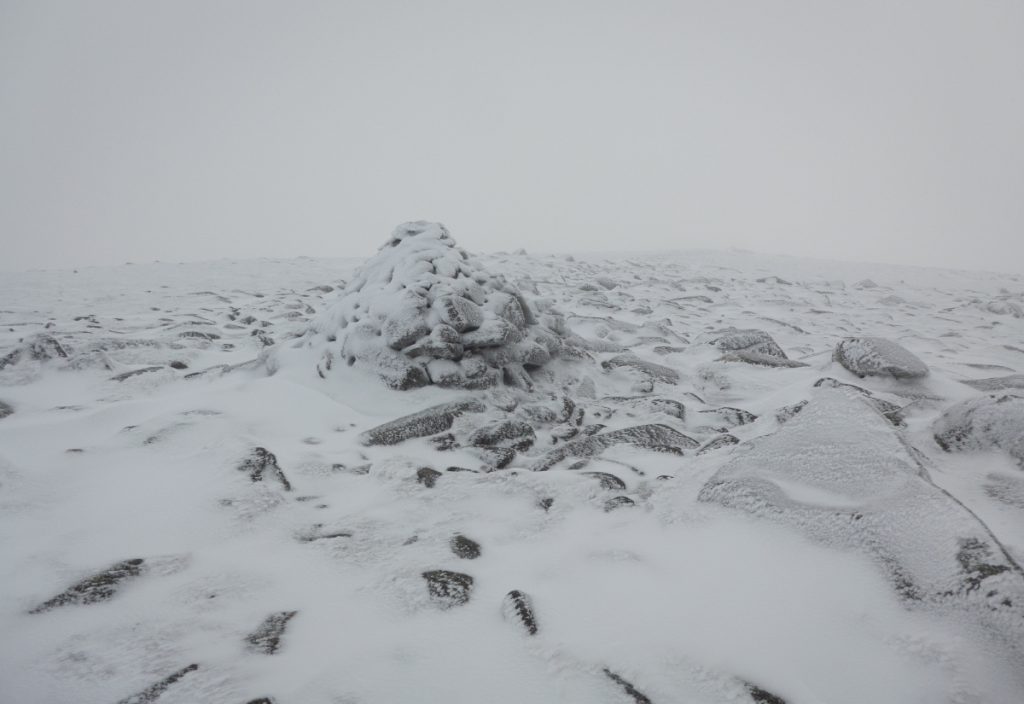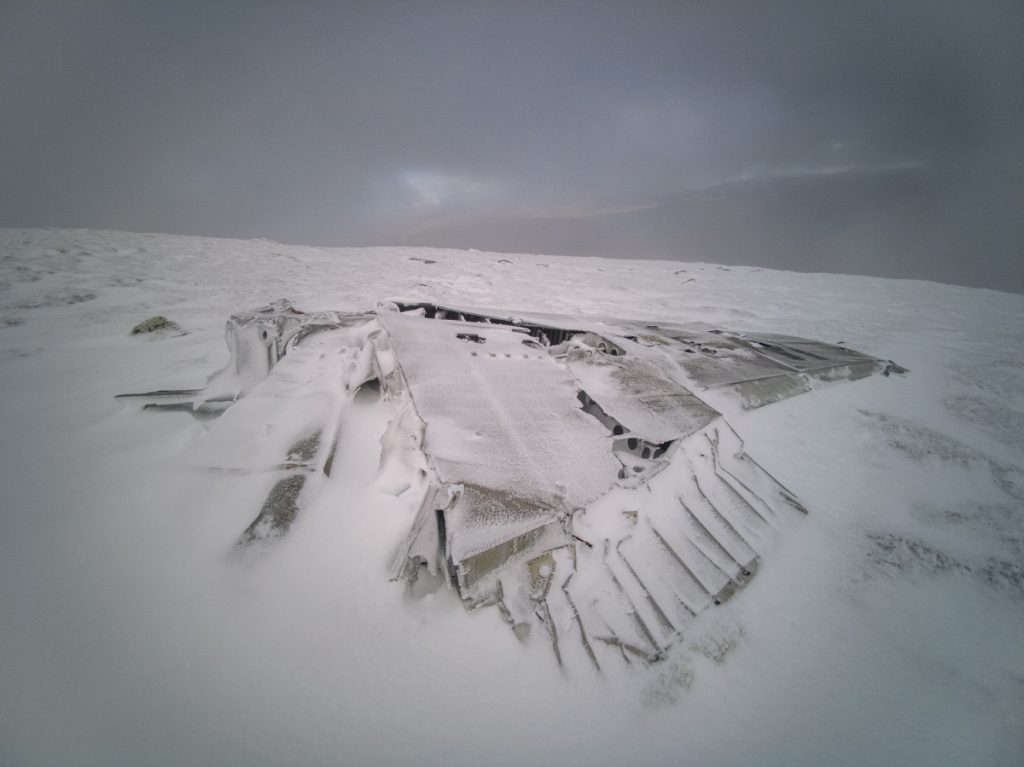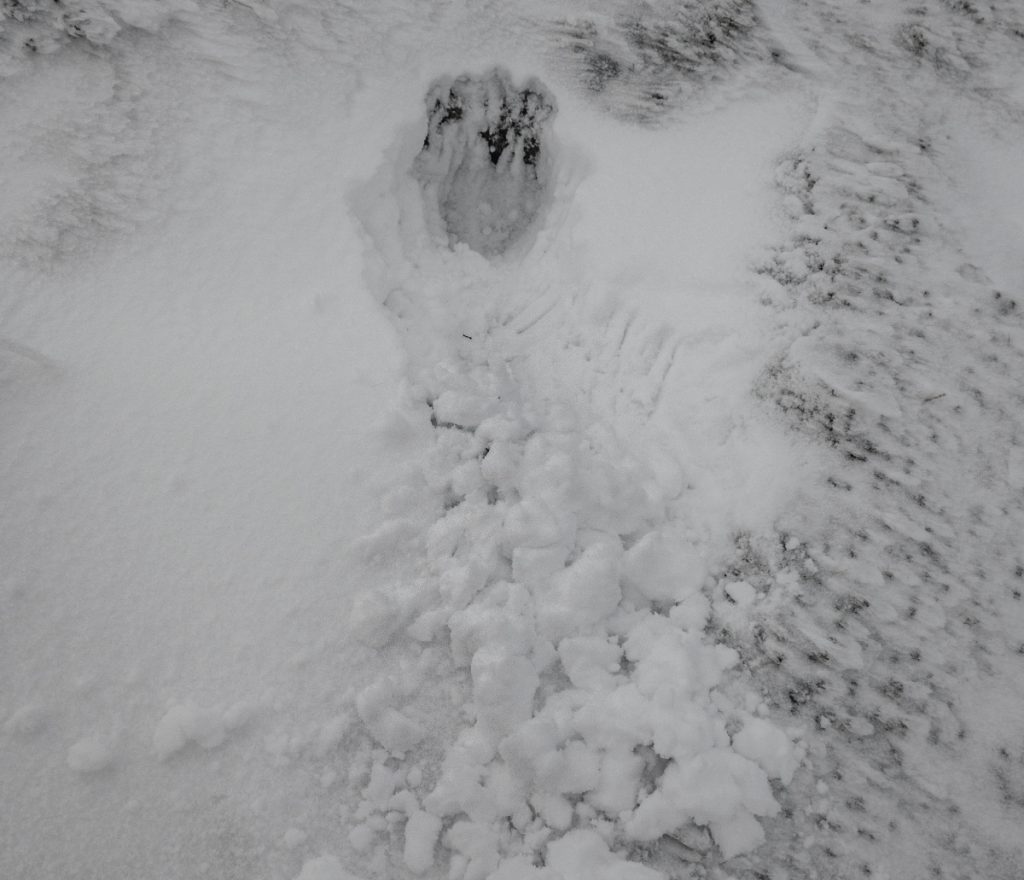 I contoured around to the "little wing" then began to descend rather than heading further around to the normal descent path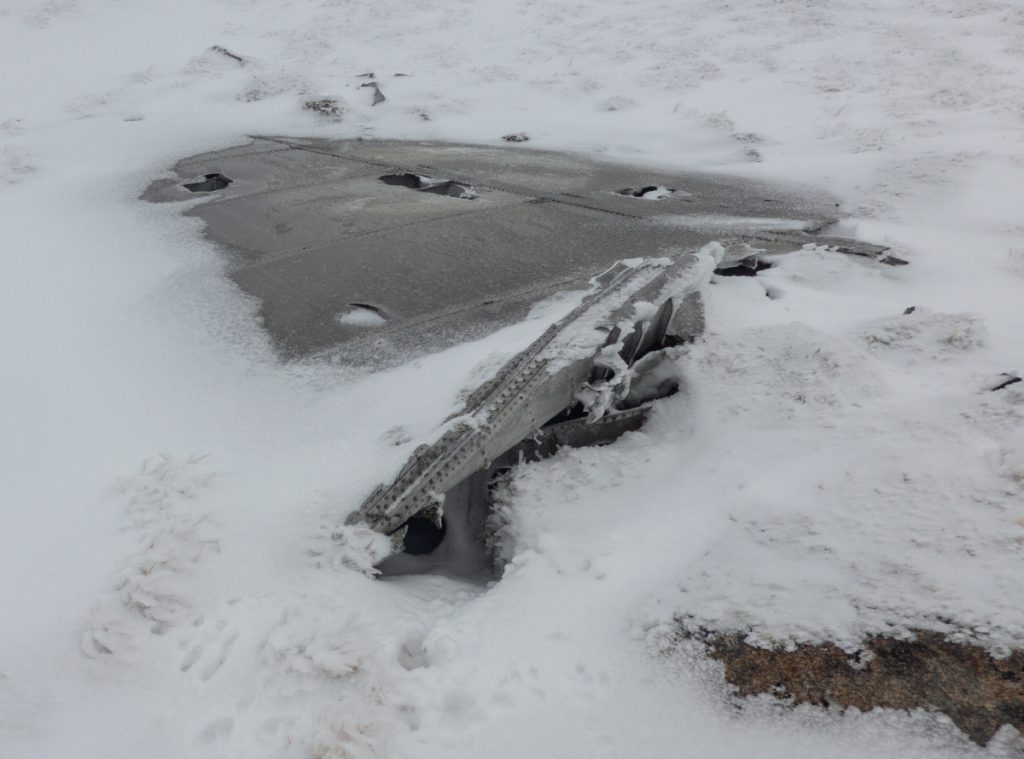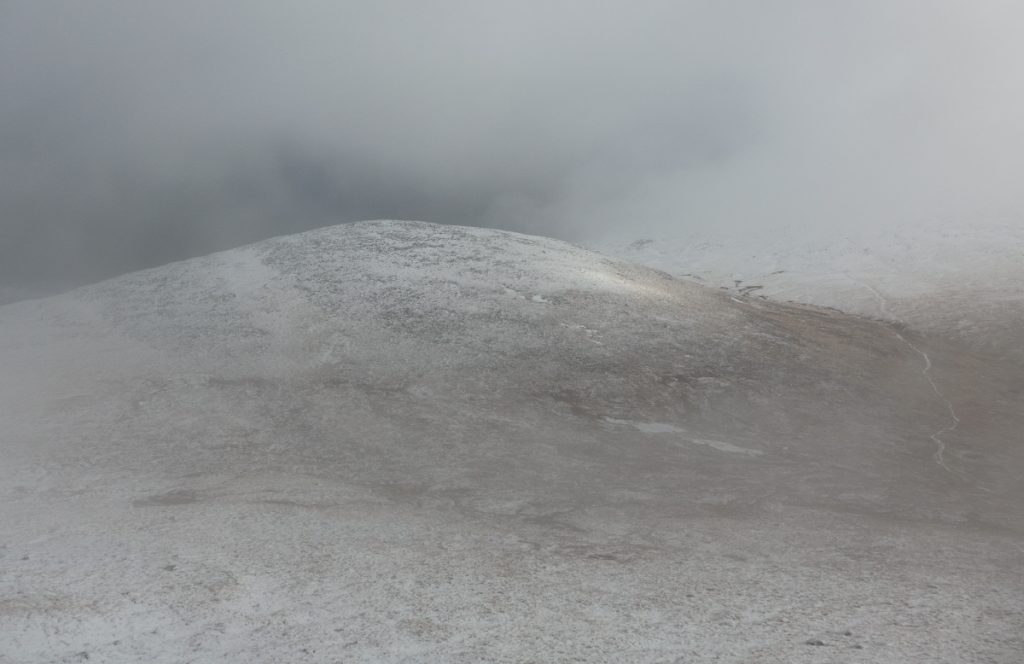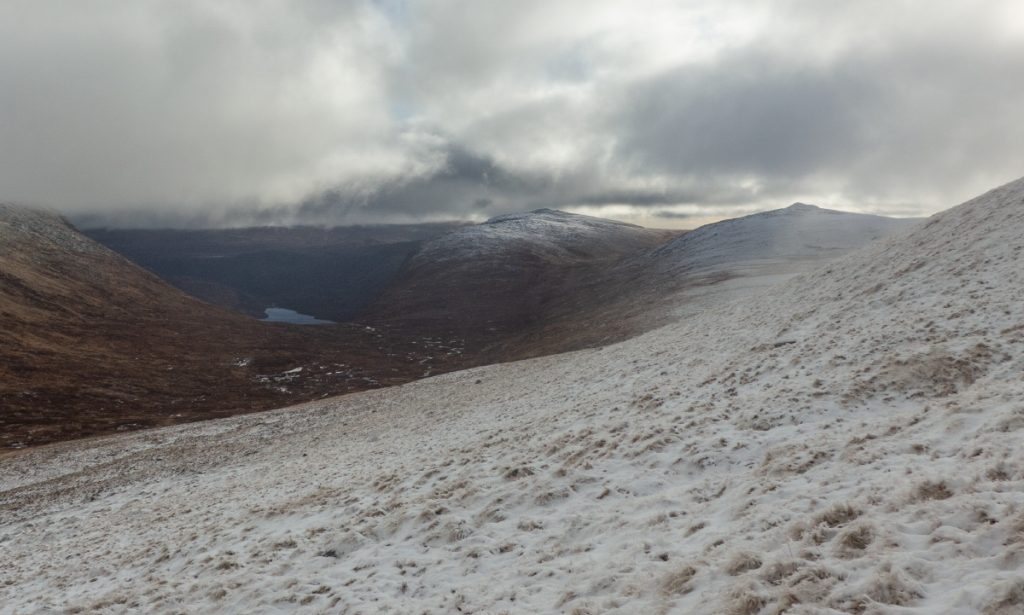 I stopped at the "burn of the 2 birch trees" for a snack and some hot chocolate. Although reasonably early these winter-conditions days burn through energy both from the cold and tramping snow, so best to keep well fuelled. Some faffing with gloves ensued when moving on with cold fingers: the alpkit frazzles were just a wee bit cold, and decathlon waterproof mitts to add some windproofing were too tight to easily go over. I will need to think further on a 'minimal kit' glove loadout. I had taken my 40L Ultimate direction fastpack, but it doesn't quite have enough room when carrying a winter sleeping bag/mat for extra bits n bobs.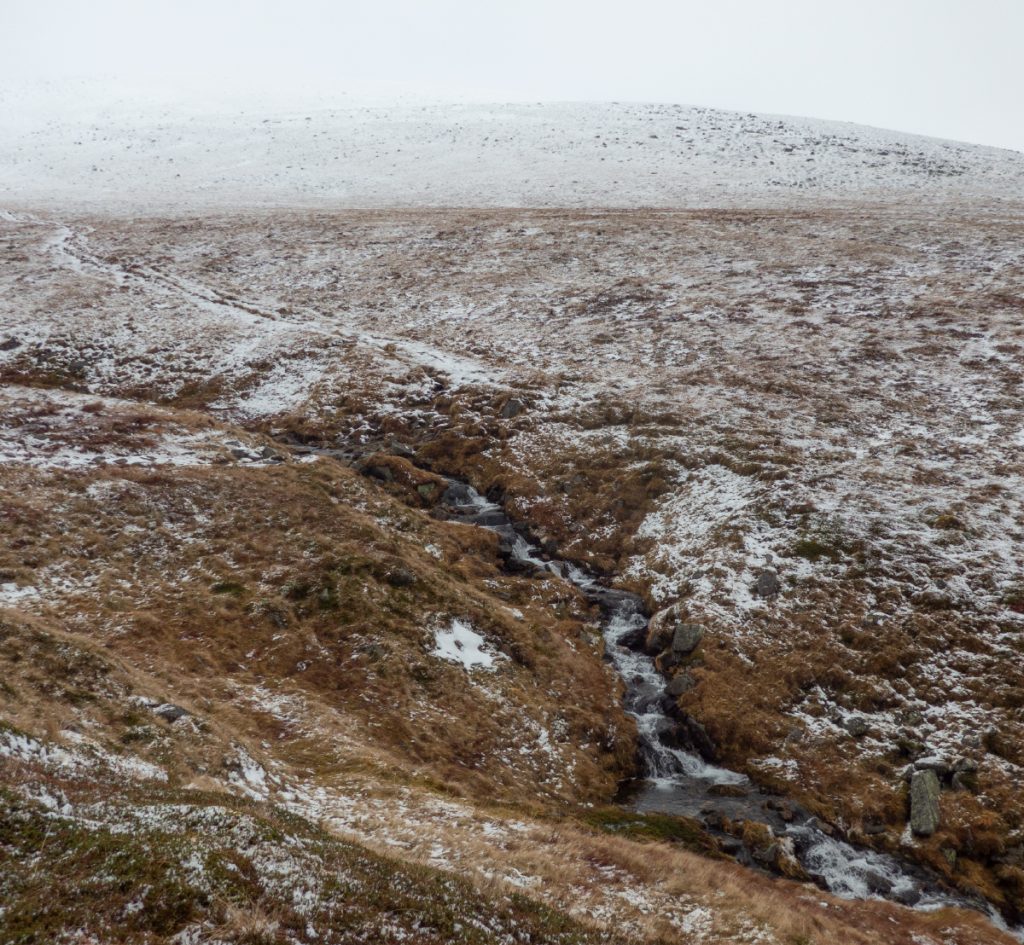 Heading directly to the top of Carn a Choire Bhoidheach, a great burst of sun flooded the scene, whew, this is why I love a crisp winter day.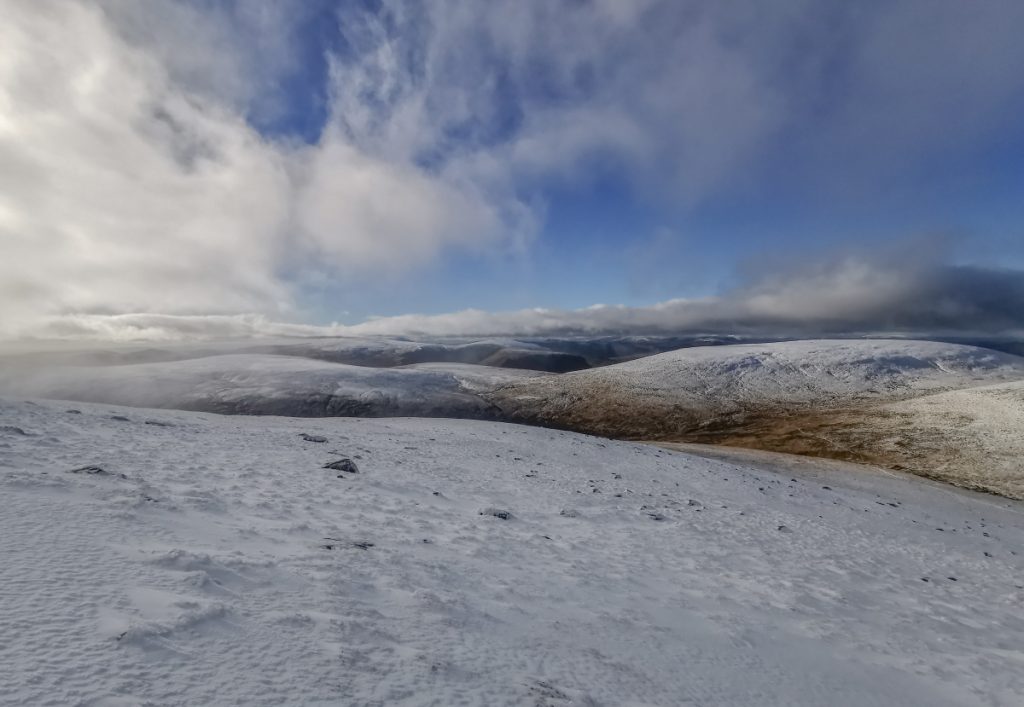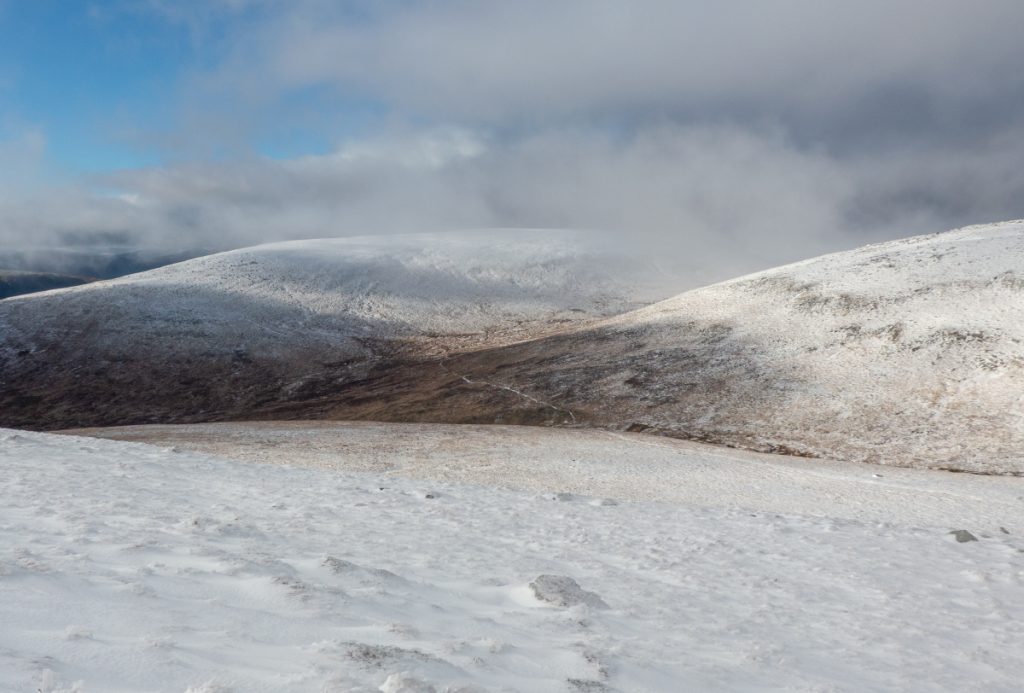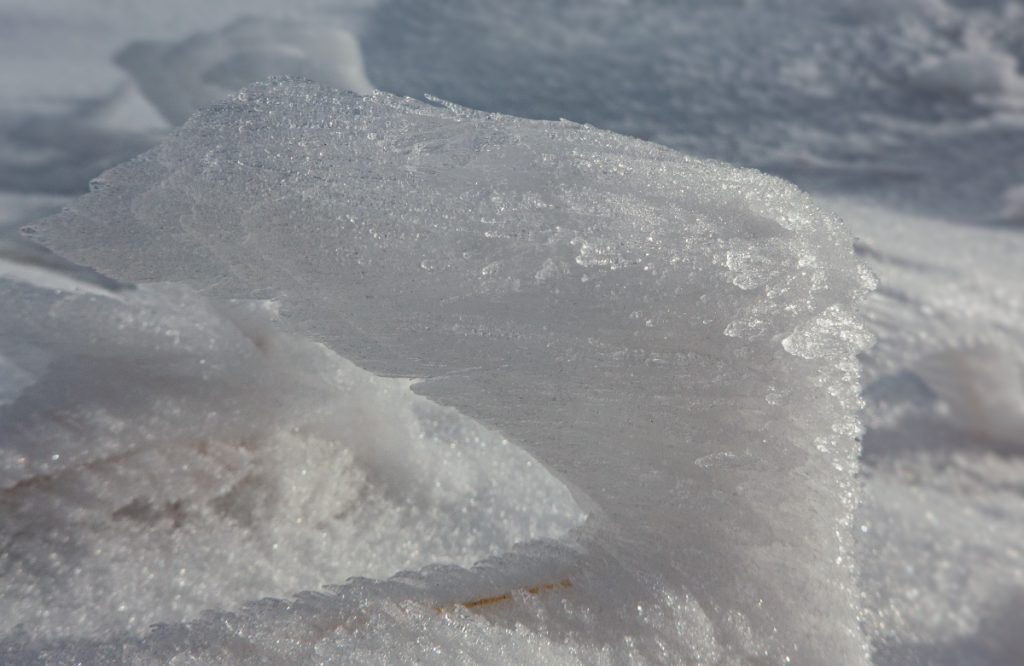 The pointy jumble of rocks near the top had me finding the less impressive cairn. I decided to go look at the 'beautiful corrie' where we snowholed earlier in the year, probably too early for any snow sculptures but worth further familiarisation on the subtle curves of the area.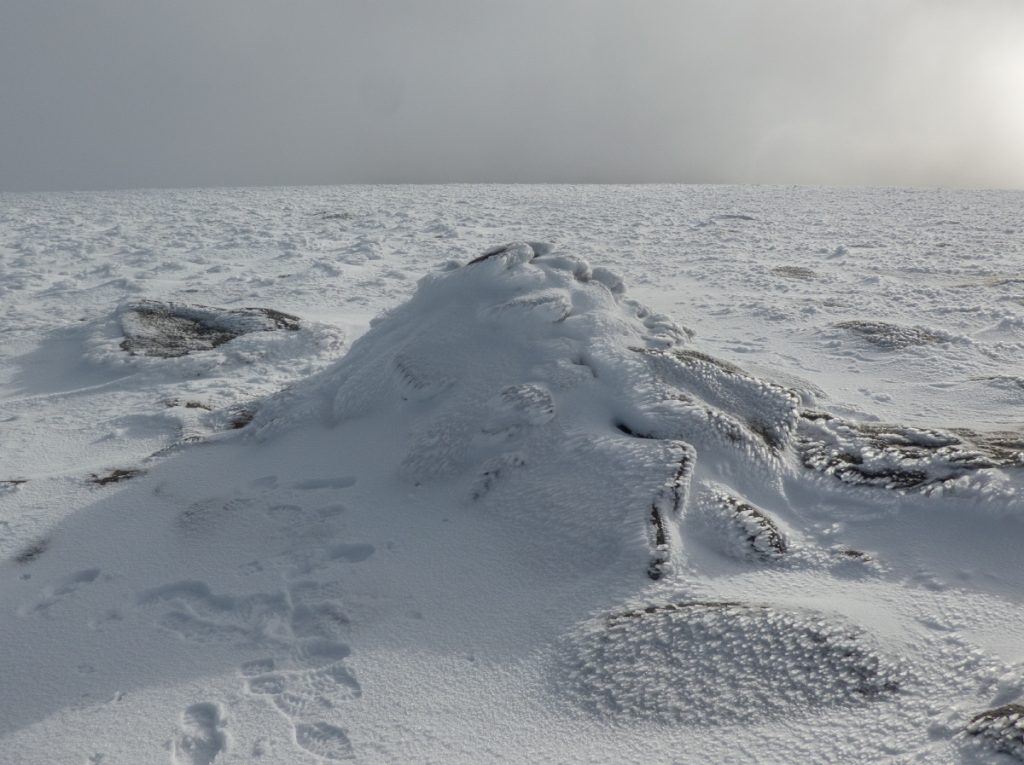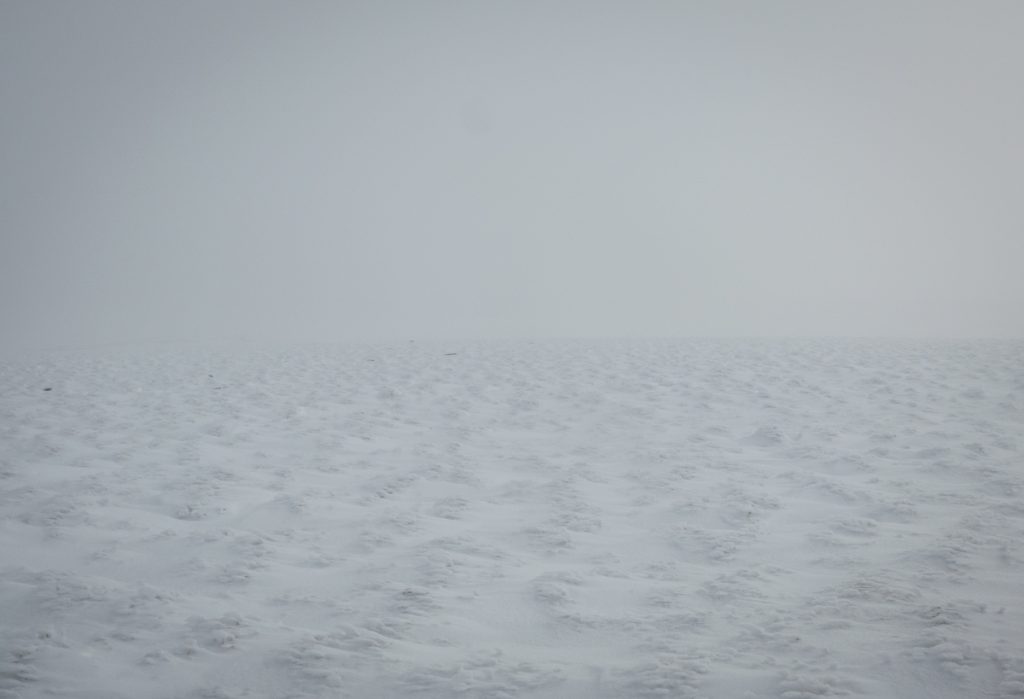 This would have been good conditions to test 'sun polarisation compass' navigation if I'd remembered. By using a polarised set of sunglasses, and a piece of cellophane, one can concoct an indication of where the sun lies behind cloud (or even once set for a while). Apparently vikings used polarisation in ancient times with a specific clear crystal they called a 'sunstone'.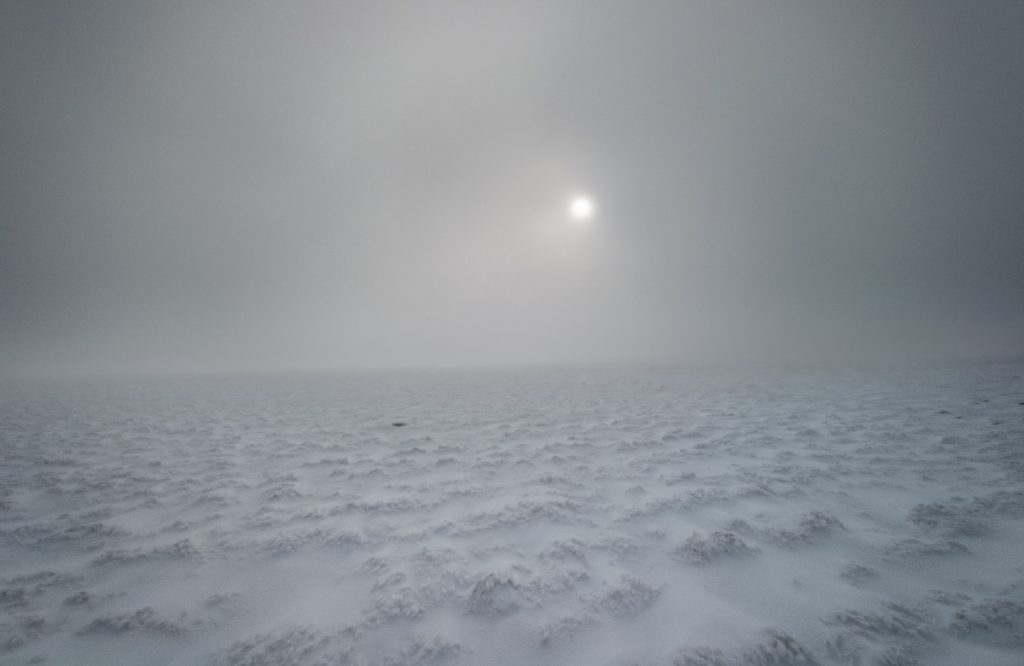 I'd not quite tracked accurately to the compass bearing but the murk cleared enough to see the burn and I followed it downstream.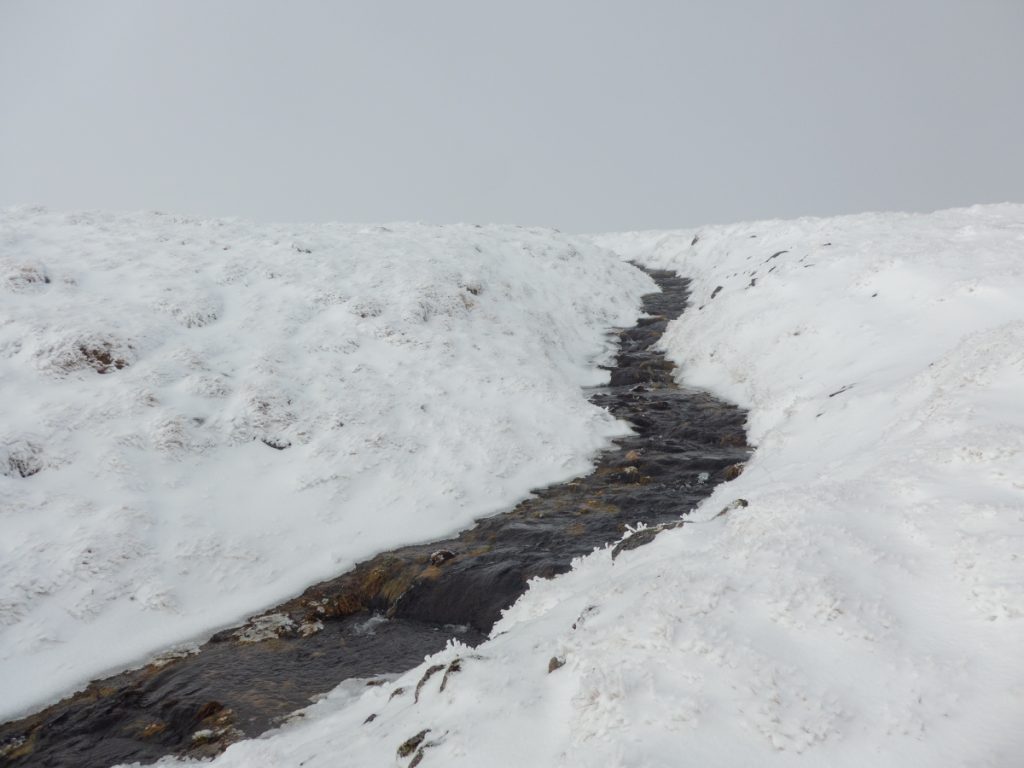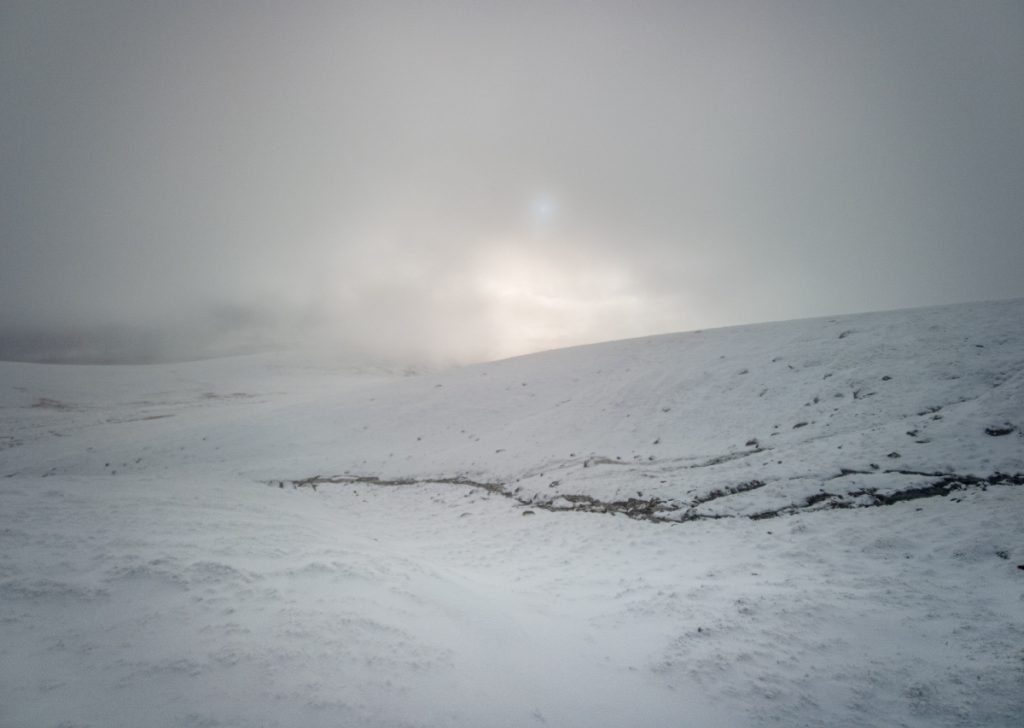 I headed back towards the mounth track, and once on it passed quite a few folk surprisingly, though I guess many weekends of storms and rain had folk eager to make use of some better weather. Some were not looking well equipped for a winter-conditions outing; a friend recently accidentally overnighted somewhere in this area after becoming lost and then losing phone and headtorch battery, but critically had a survival bag and plenty warm clothing so it turned out ok. A reminder of how things can quickly descend into the unexpected, and it's not typically one mistake but a few compounding that lead to emergencies.
With enough daylight left at Cac Carn Mor I continued to the main top which was very still, lying in a wind shadow. I scoofed the remainder of the hot chocolate and chatted with another chap who'd turned up.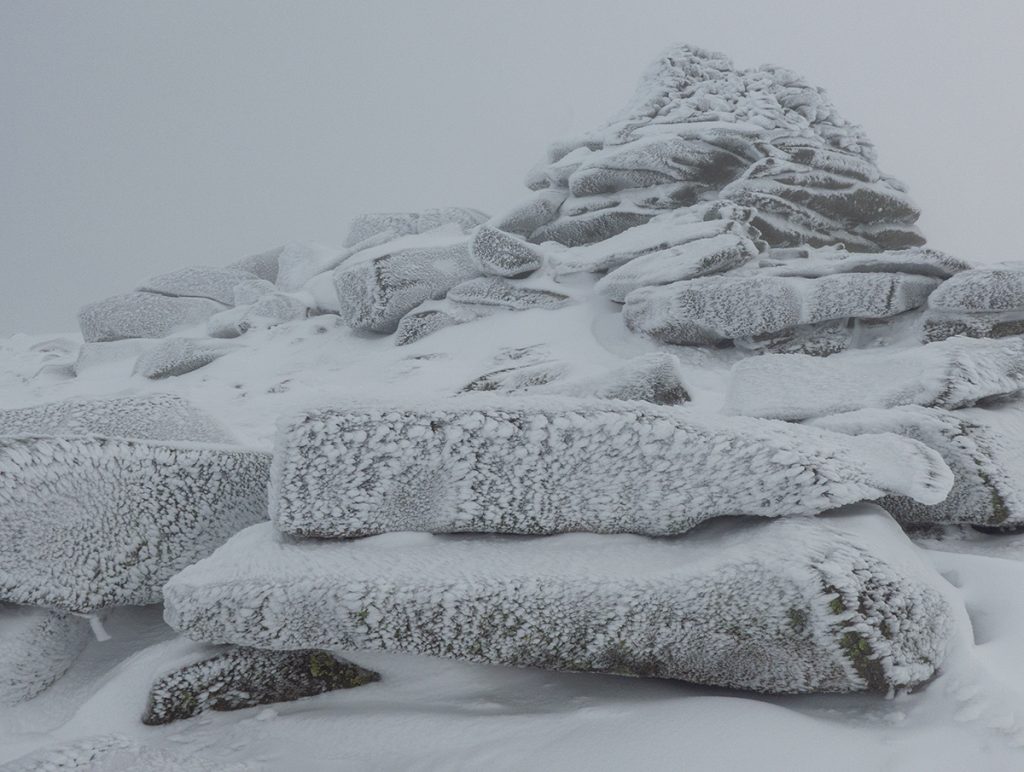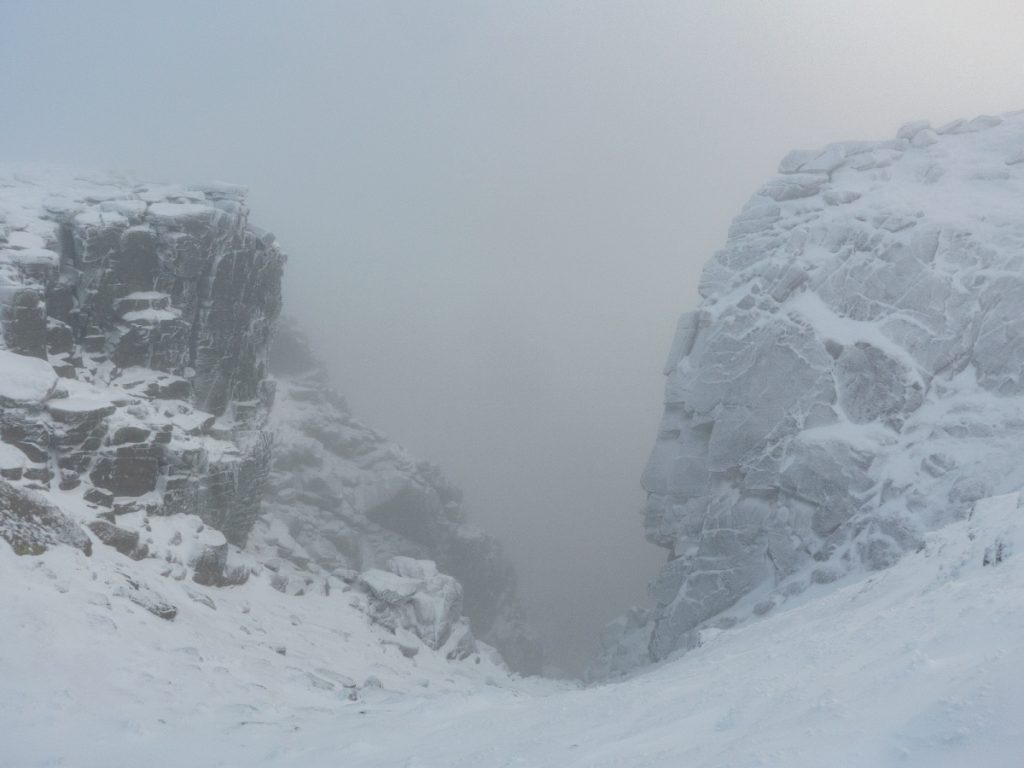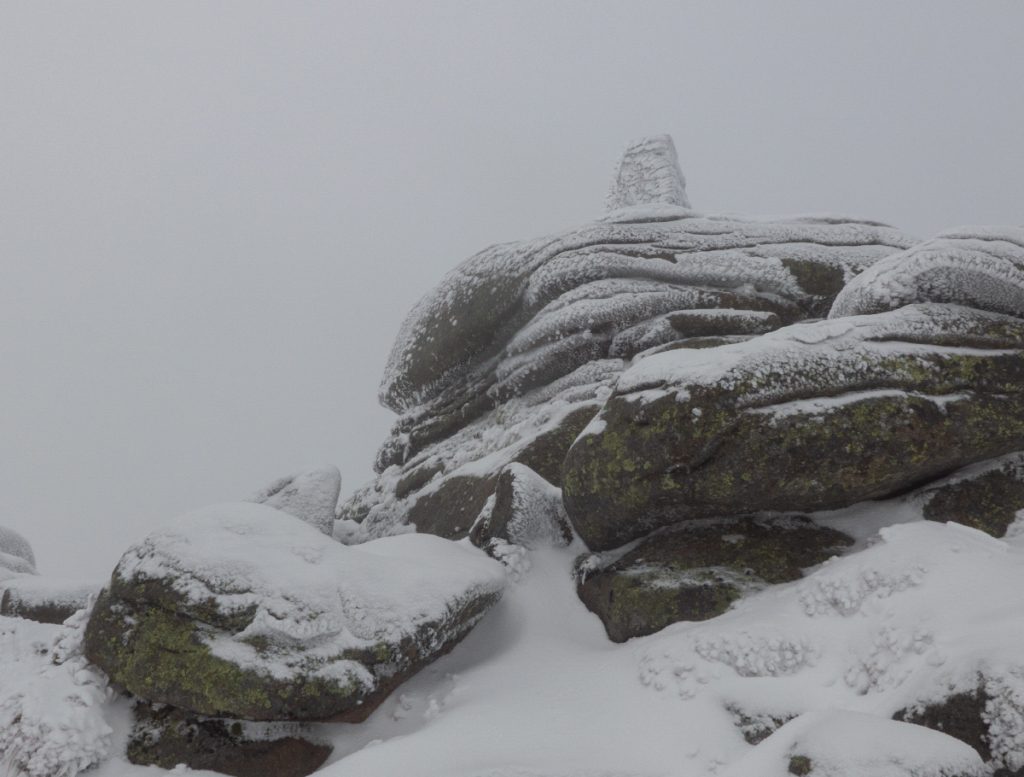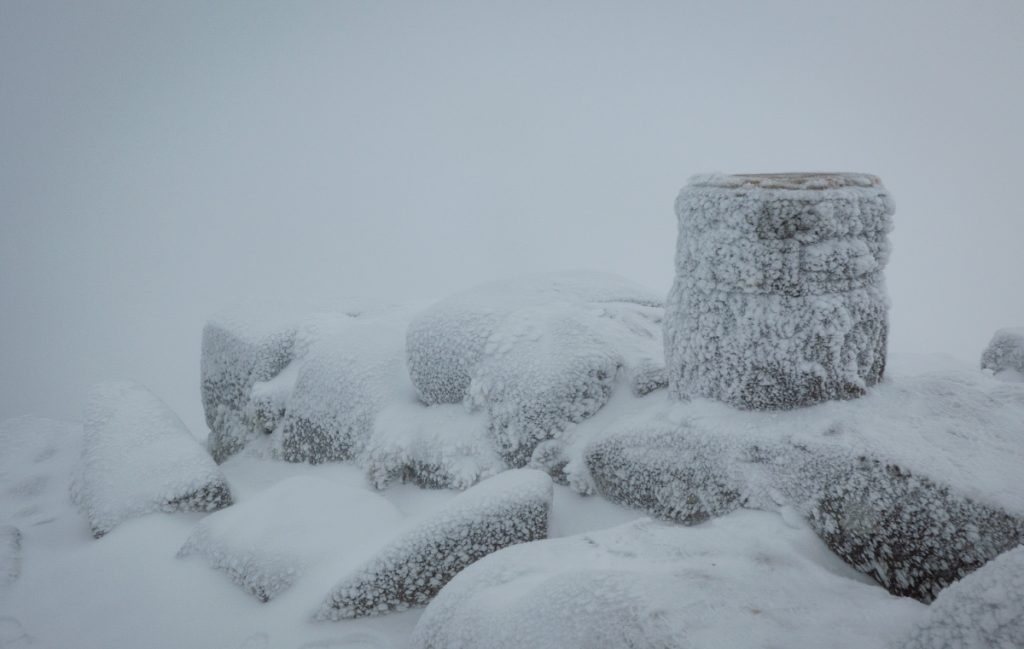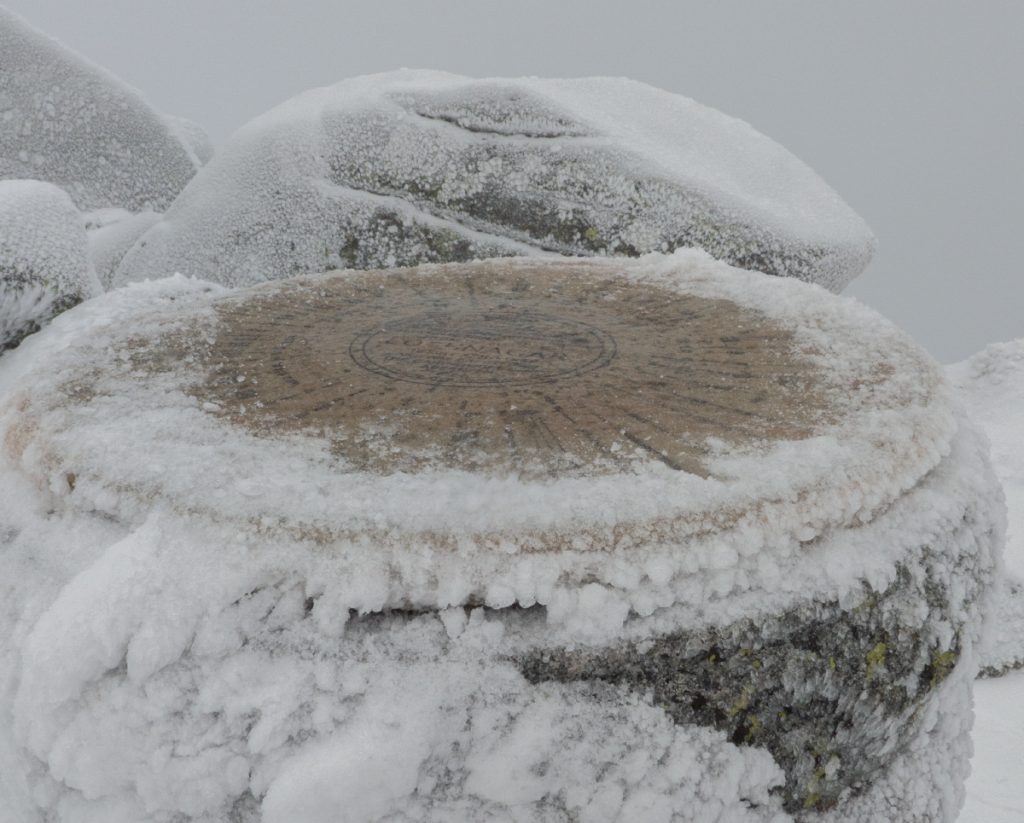 I headed off and followed around the corrie. Picking my way down through the boulder field near Central Buttress, a flicker of motion caught my eye. Popping, slinking, skittering across /around /through the rocks at a frantic pace – a wee beastie. It headed right for me then orbited, every so often watching me for a second. I clumsily pulled off gloves trying to access a camera – but unlike most close-range wildlife encounters over in seconds, this cheeky wee chap didn't scarper in the blink of an eye but was content to put on a show for a good ten minutes as I stood mesmerised by it's antics. The shorter tail and lack of black tip, plus the flatter gait (rather than bounding) indicated a weasel rather than a stoat.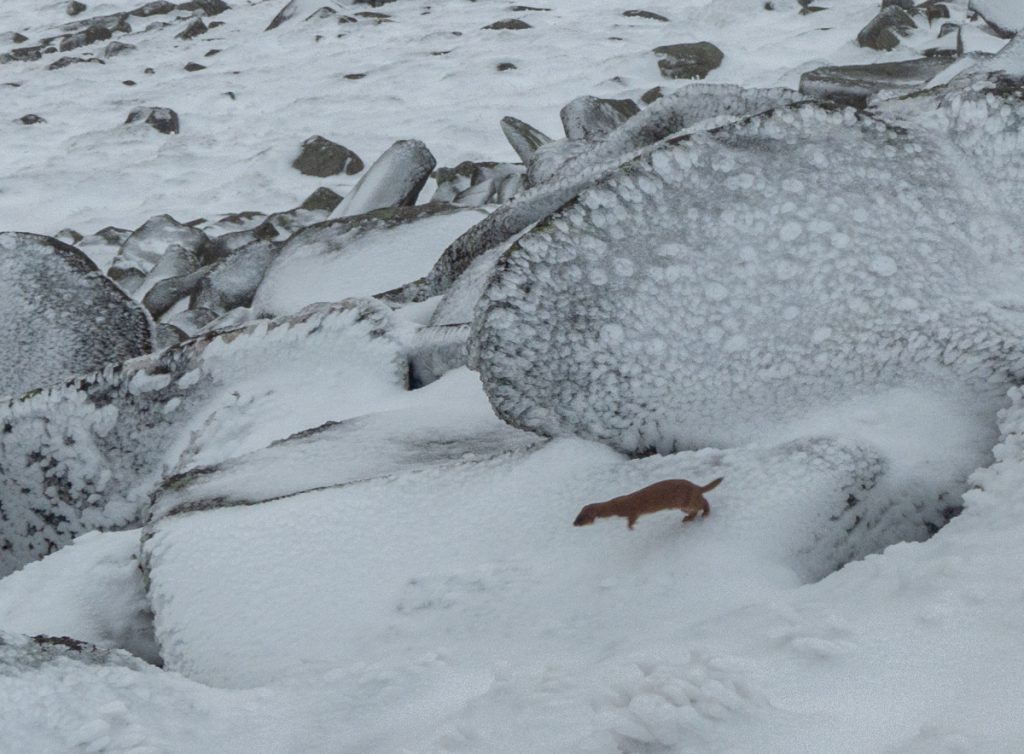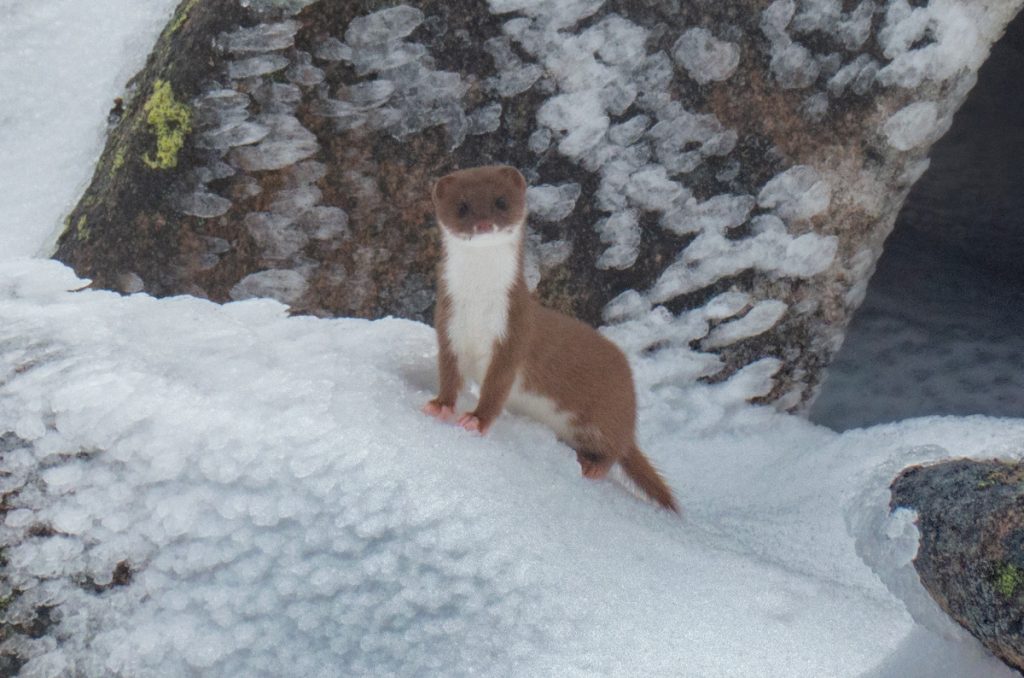 A tough environment for sure for such a small creature, though they are renowned as a very capable predator able to take much larger prey than themselves, for sure the ptarmigan and hares I'd seen around were a good bit bigger. I'm not sure if voles exist high up in such conditions, this year has had a population explosion. After enjoying the spectacle and taking some footage, I decided to head on and leave it to it's hunting, with an hour or two of daylight left to get down from the hills and unclad hands beginning to get numb.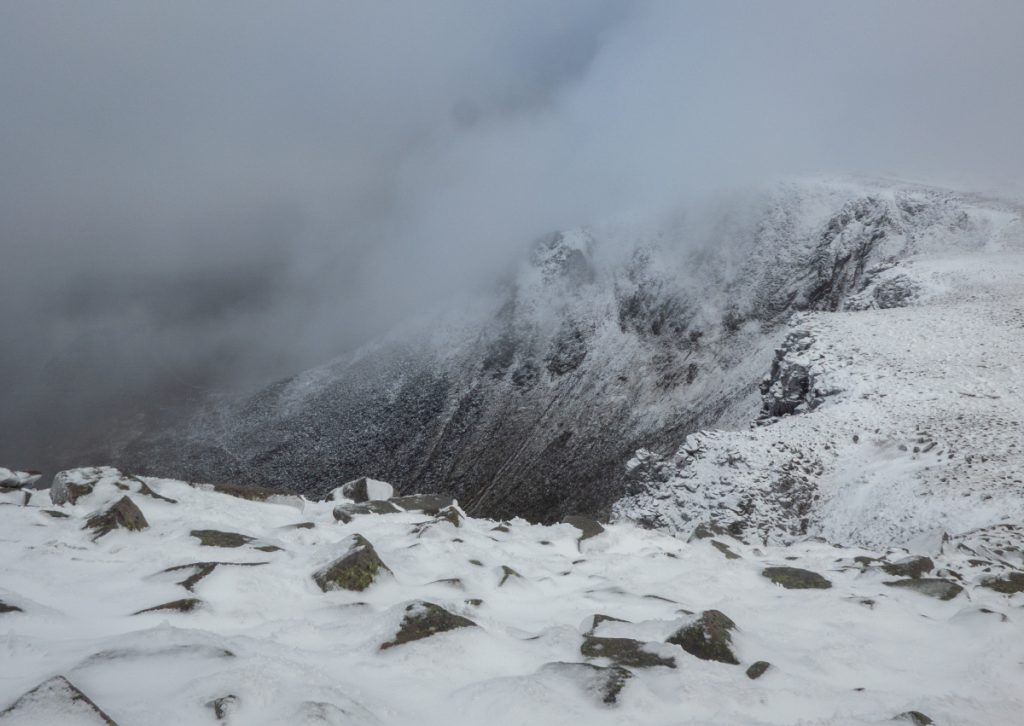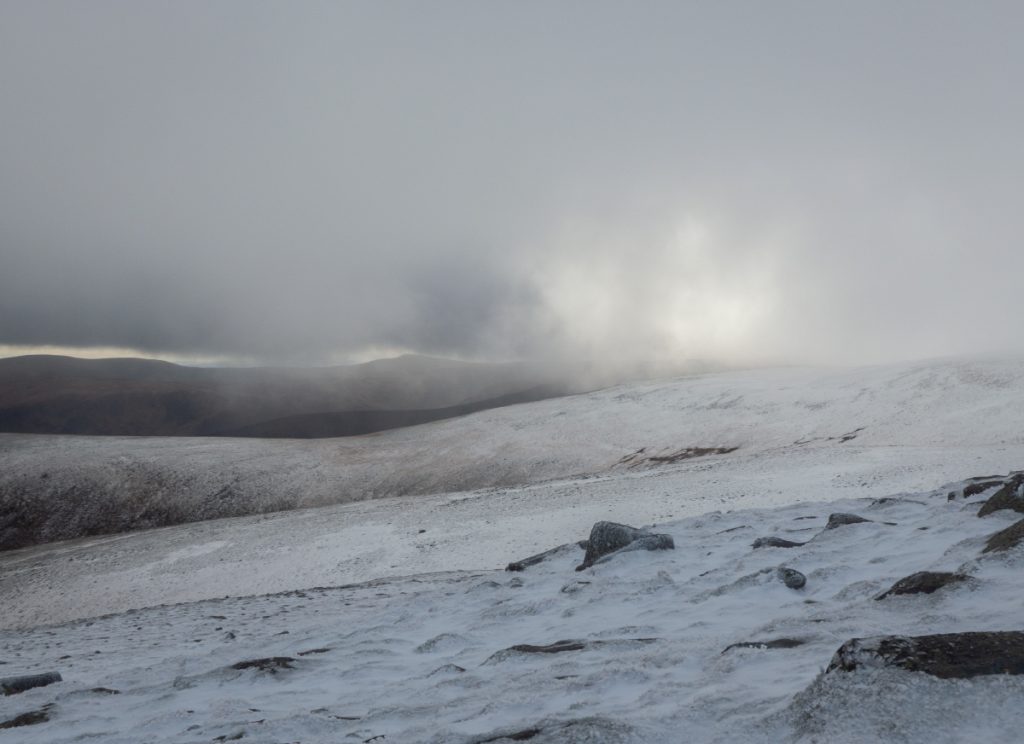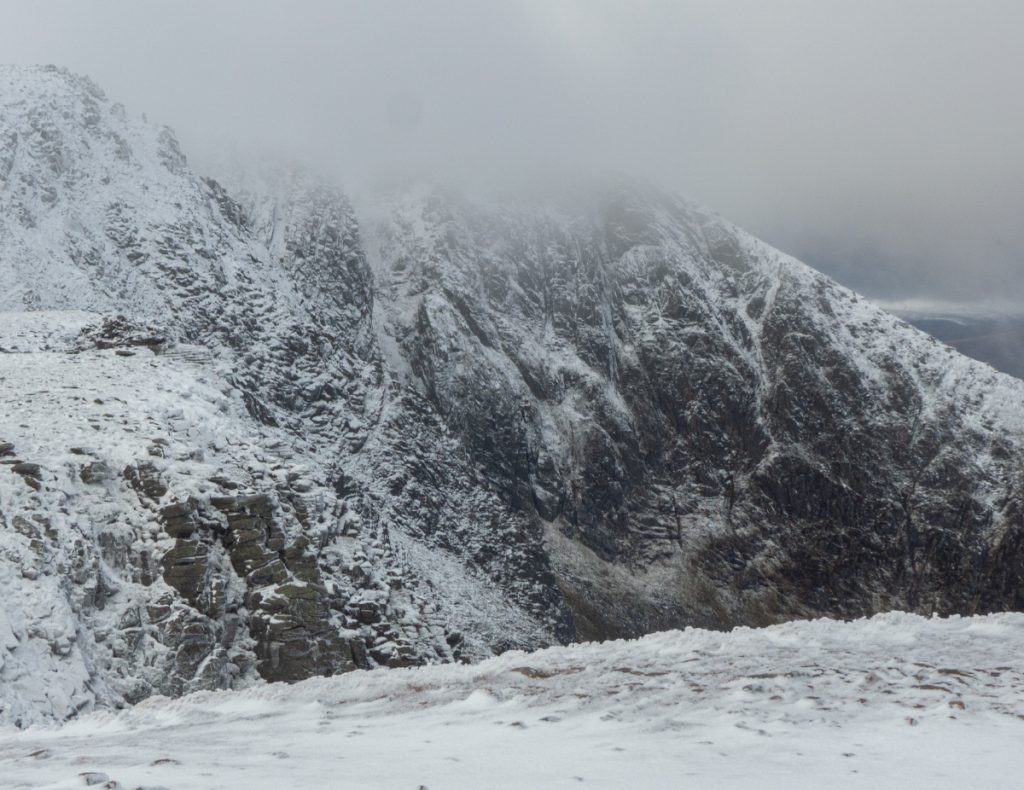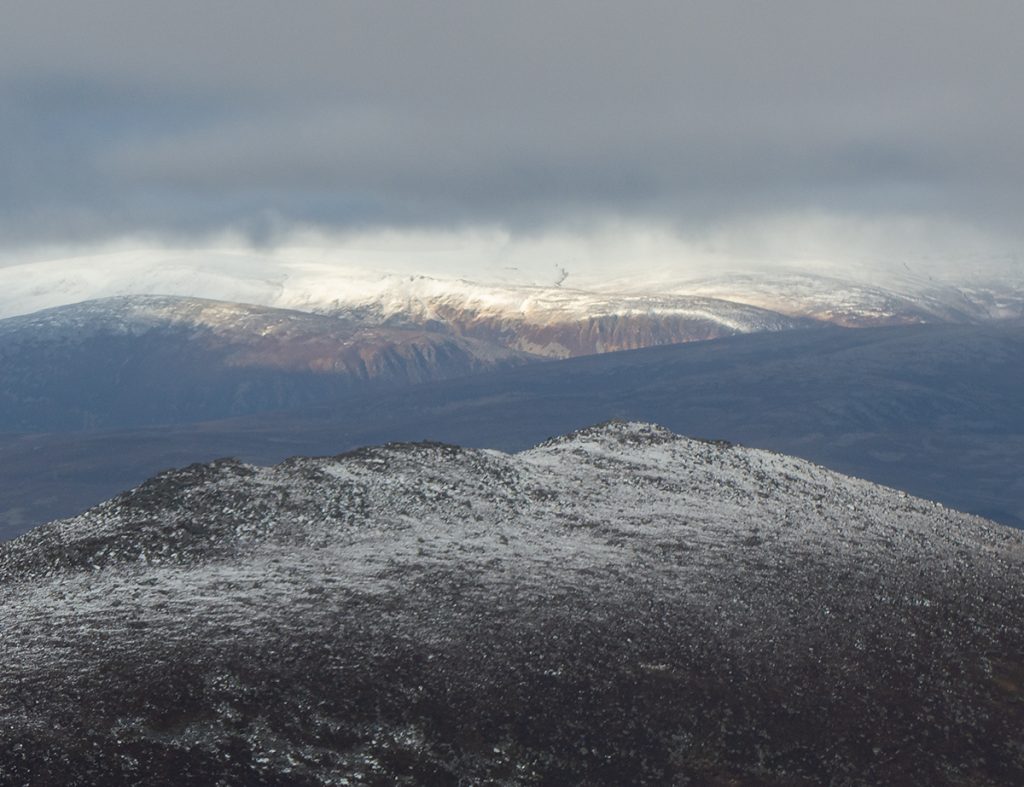 At the ladder down to Meikle Pap folk were still ascending late in the day, the compacted snow here a bit slippy, and soon would be ice and require traction aids.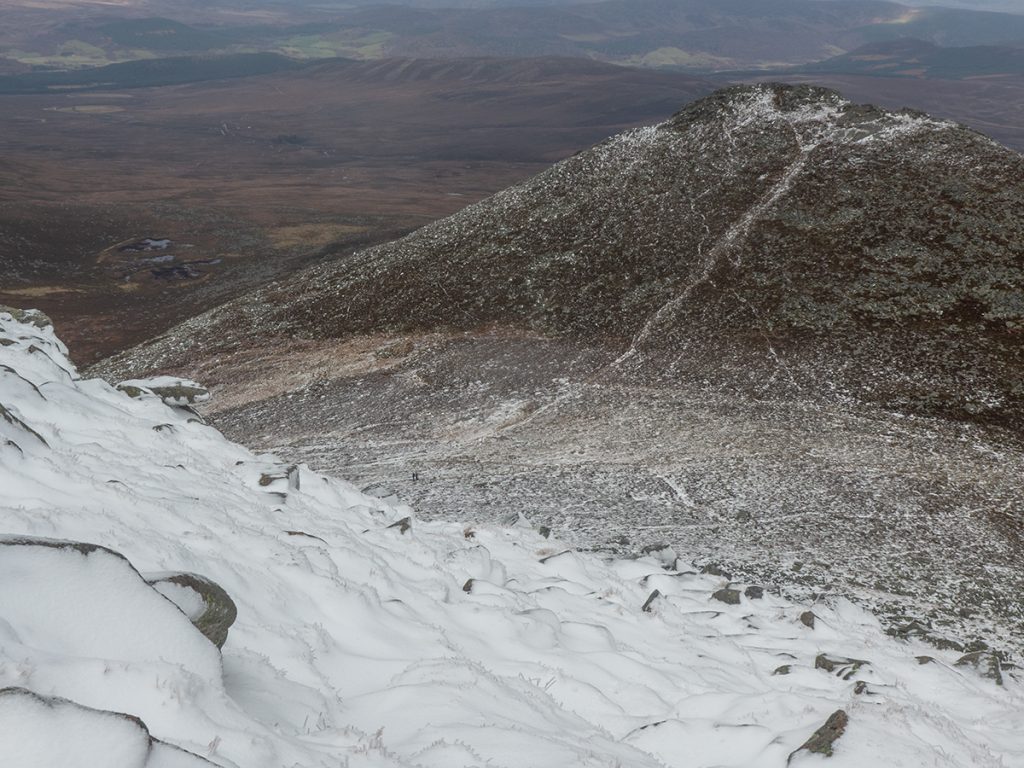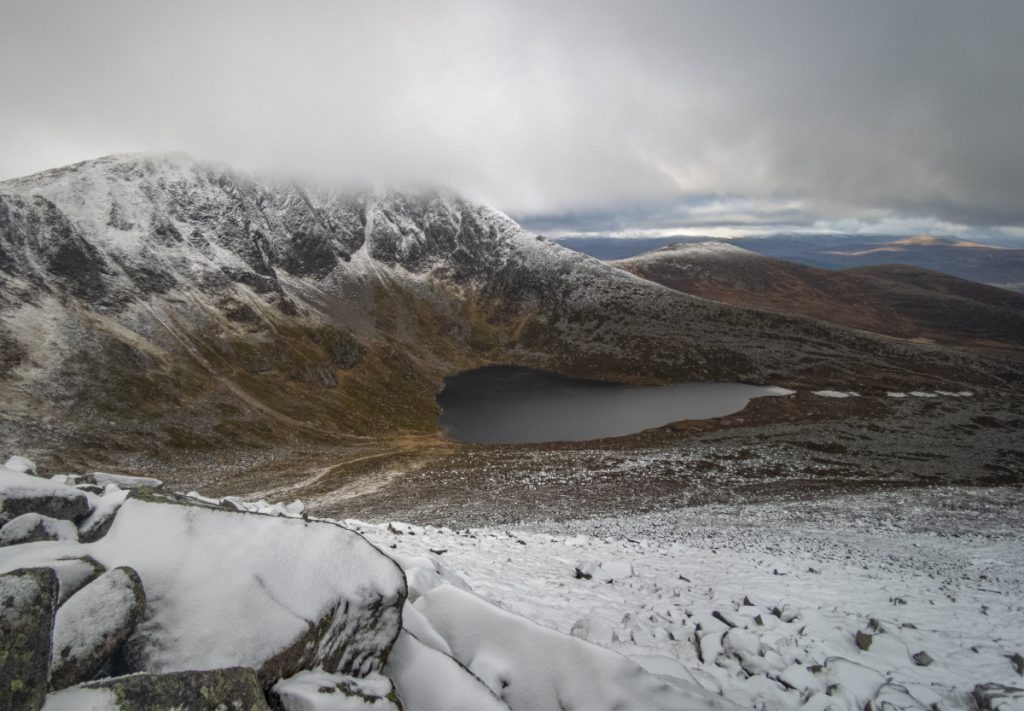 Making it down to the track, my multiple chatting and the weasel encounter had now put me a fair bit behind bus schedule, and I was gladly not wearing my la sportiva winter boots which are too heavy and stiff to really put the hammer down. Last winter I wore my second-heaviest boots (anatom braeriach) a lot purely because they are more comfortable on long walk-in-outs but can still kick a step, and these were the footwear today, so I managed some high-speed marching and ran short spells putting me in the window of 'not waiting another 2 hours' opprtunity.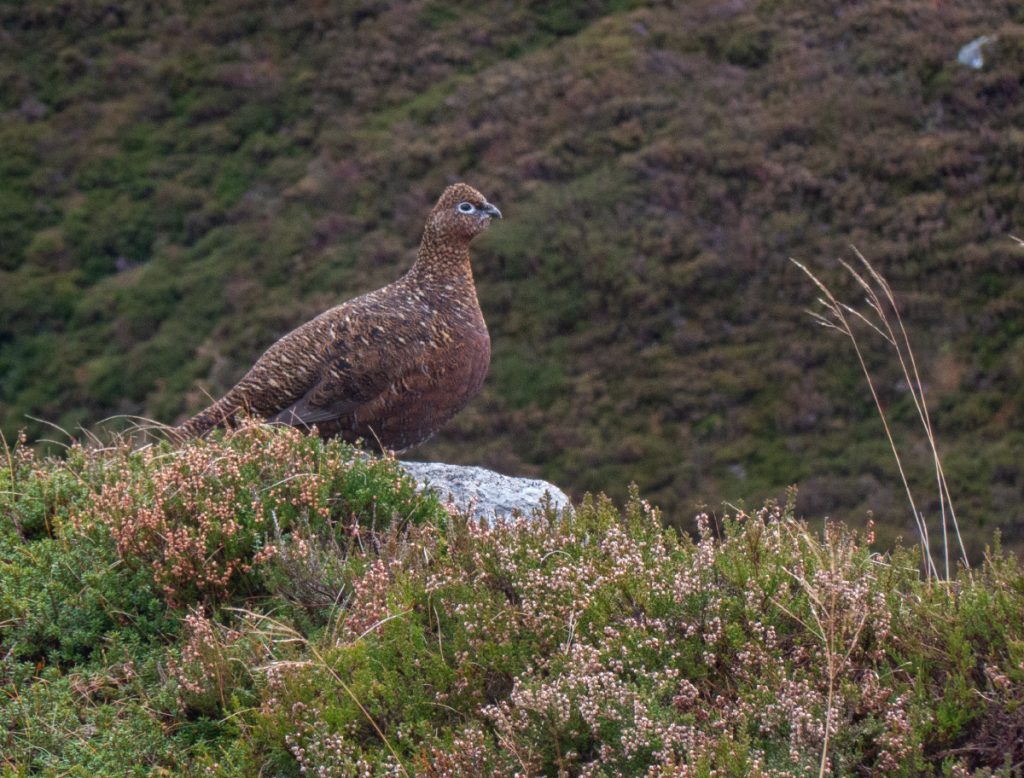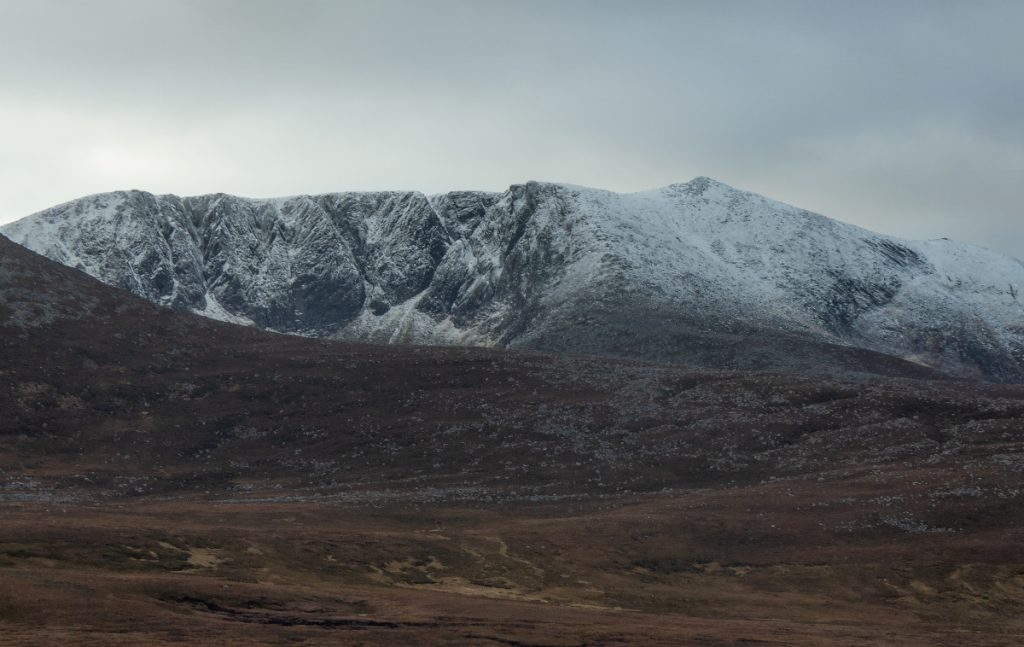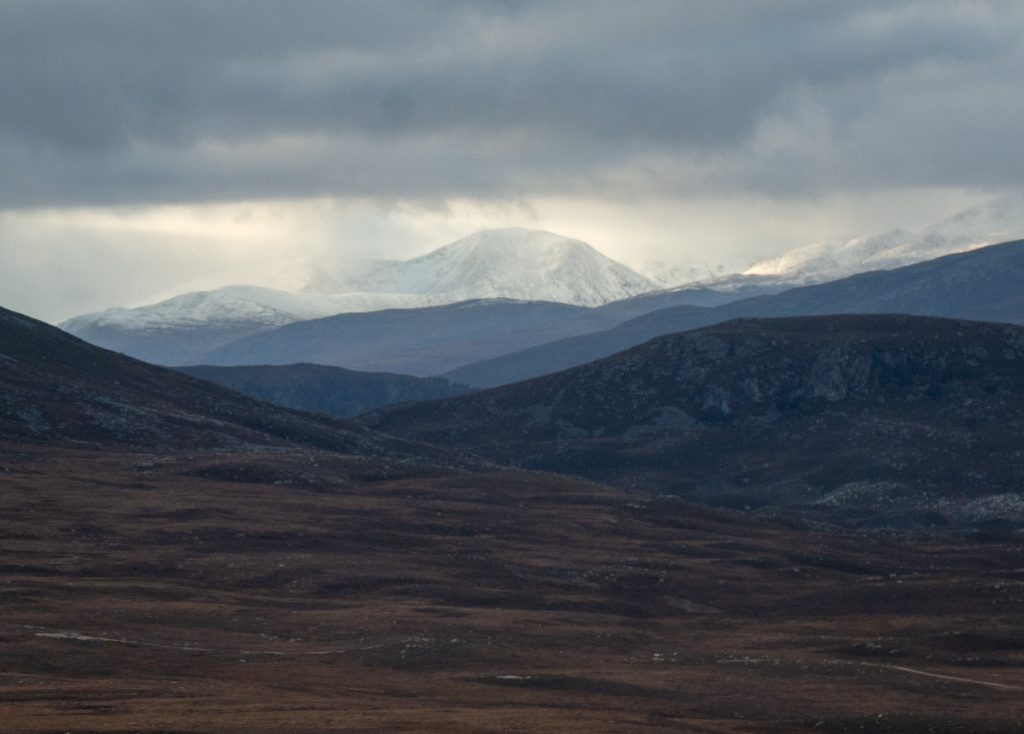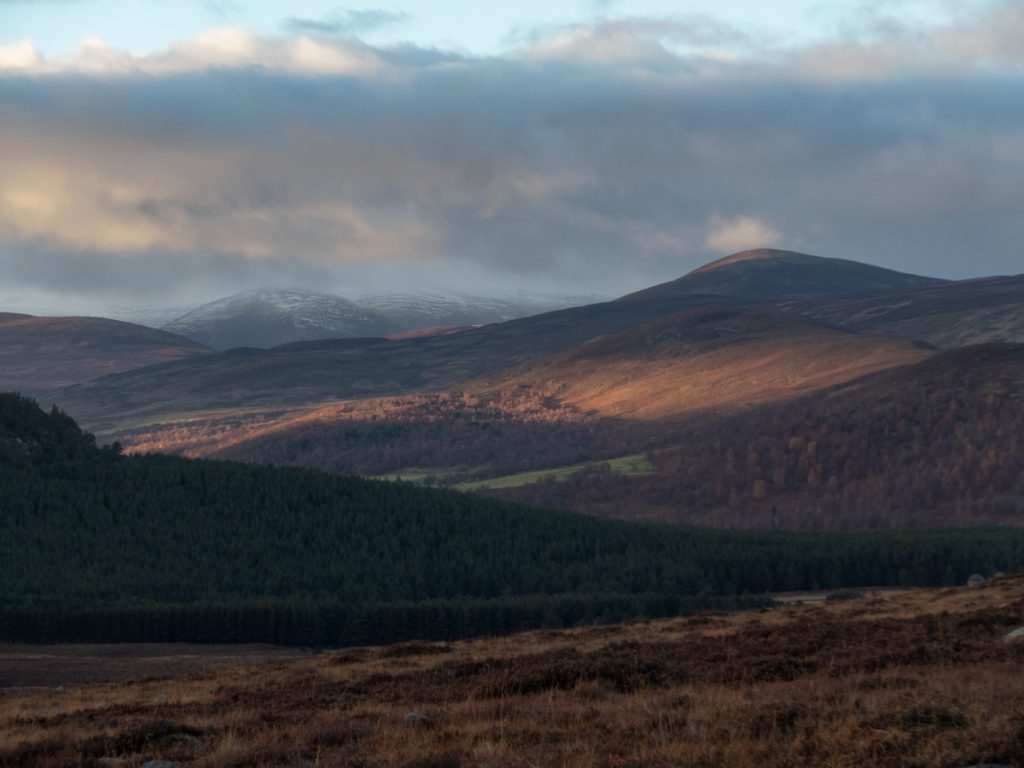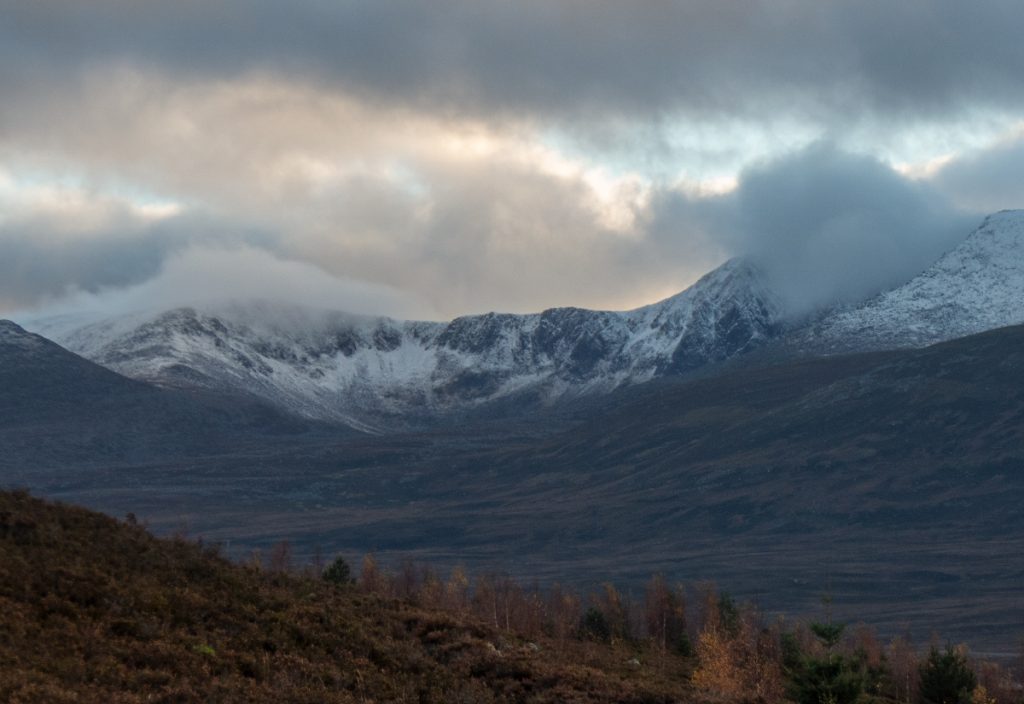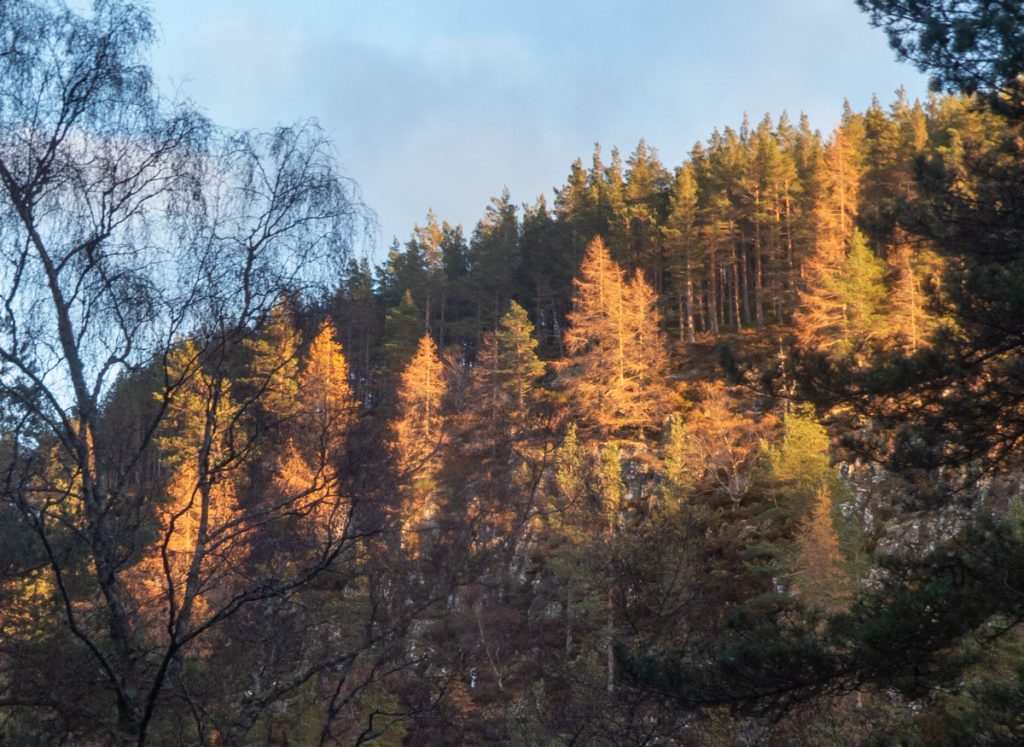 It looked like the suspension footbridge was closed (storm damage?) so I headed across the road bridge and joined the tourist throng at the stop making it with a few minutes to spare. A cracking day out, and a first taste of winter action.