An early start saw 10 of the Cairngorm Club heading down south to the Ben Lawers range. We disembarked and got underway, every one opting to head west from the Car park, with the option of doing the Tramchan ridge being rejected. We all headed off together past the niche of art items and diplay boards.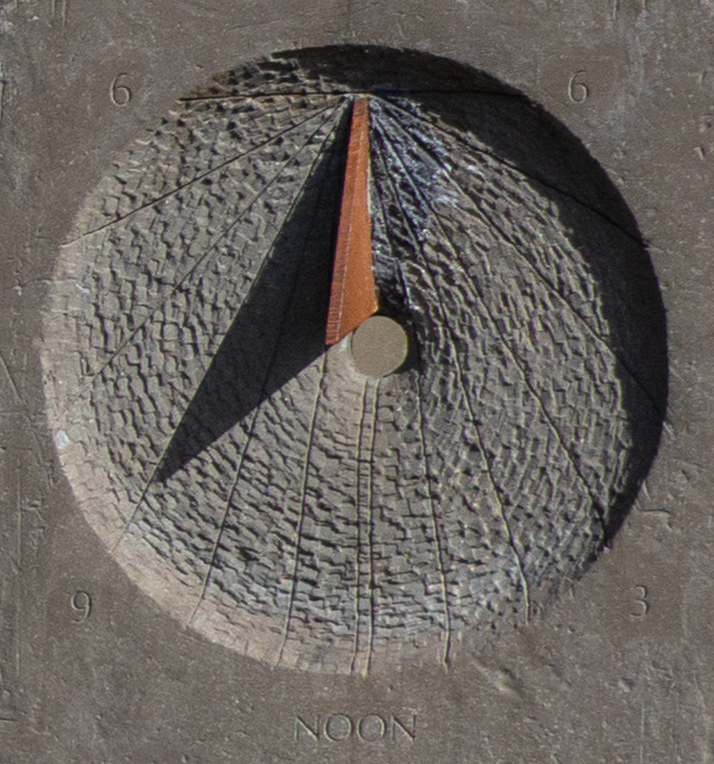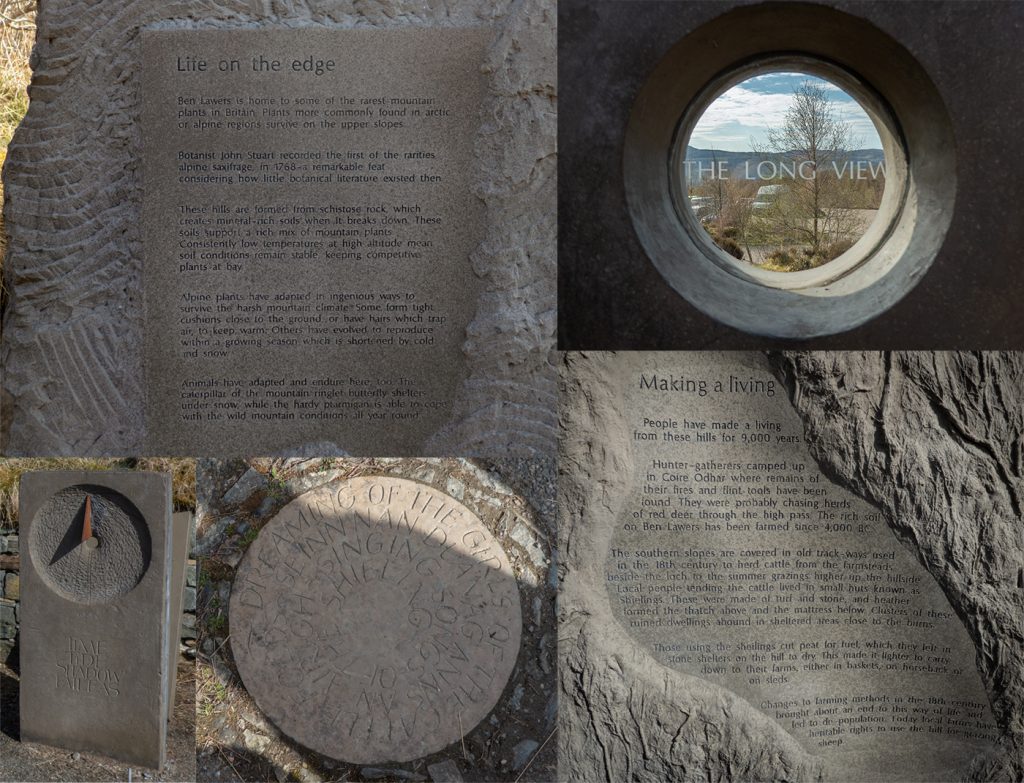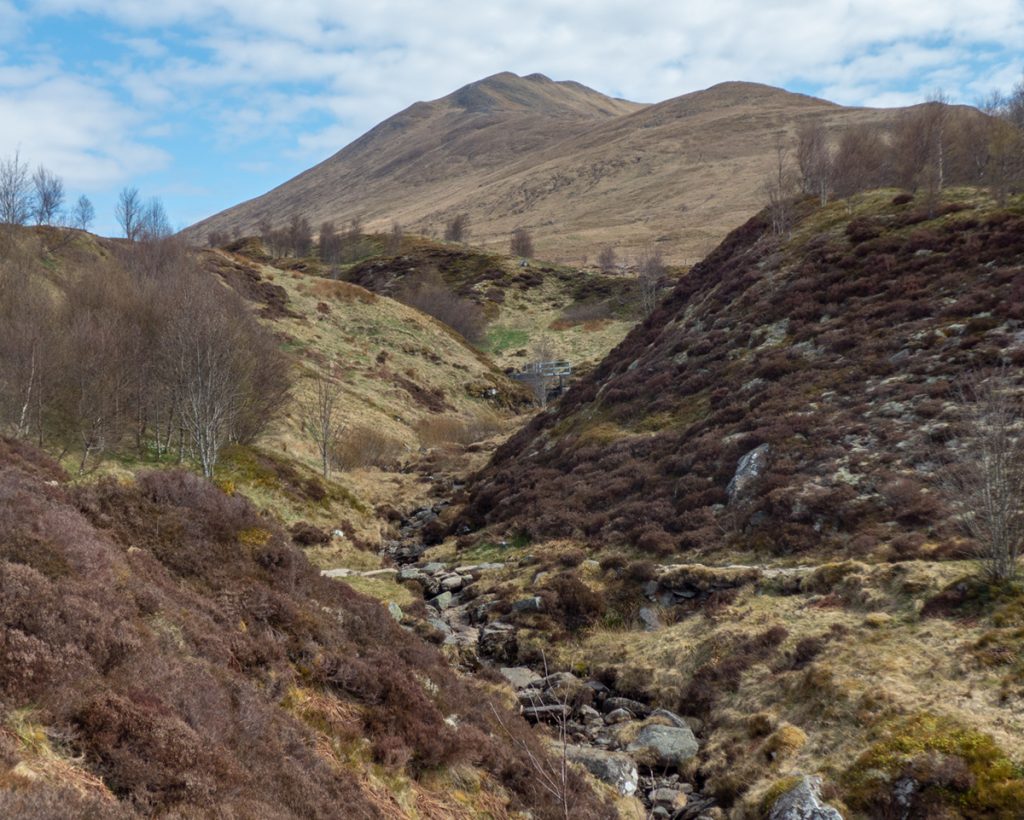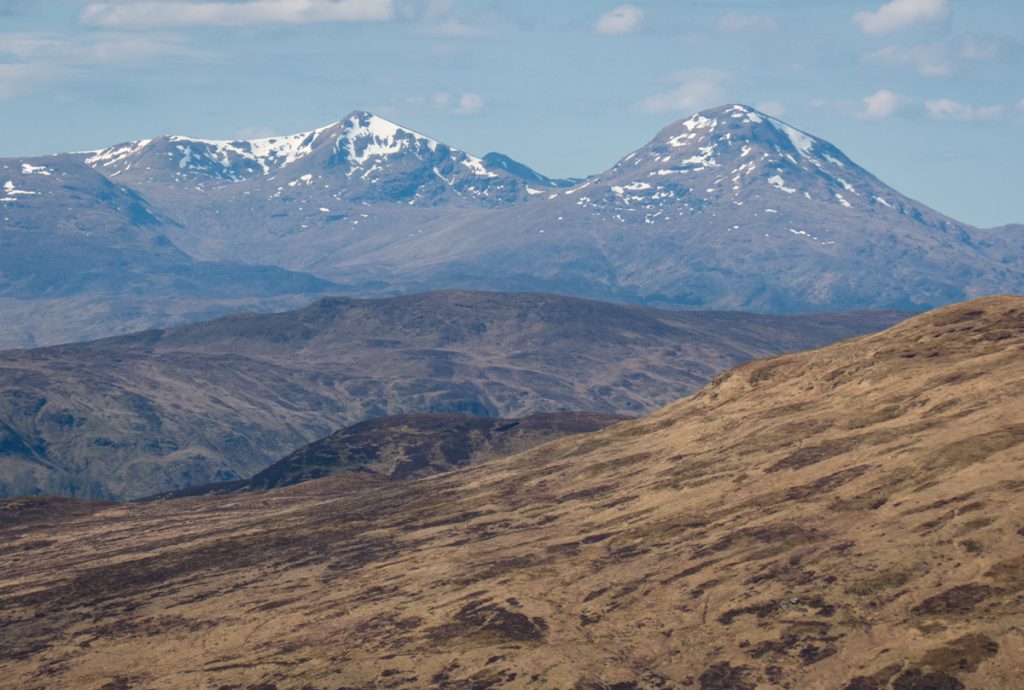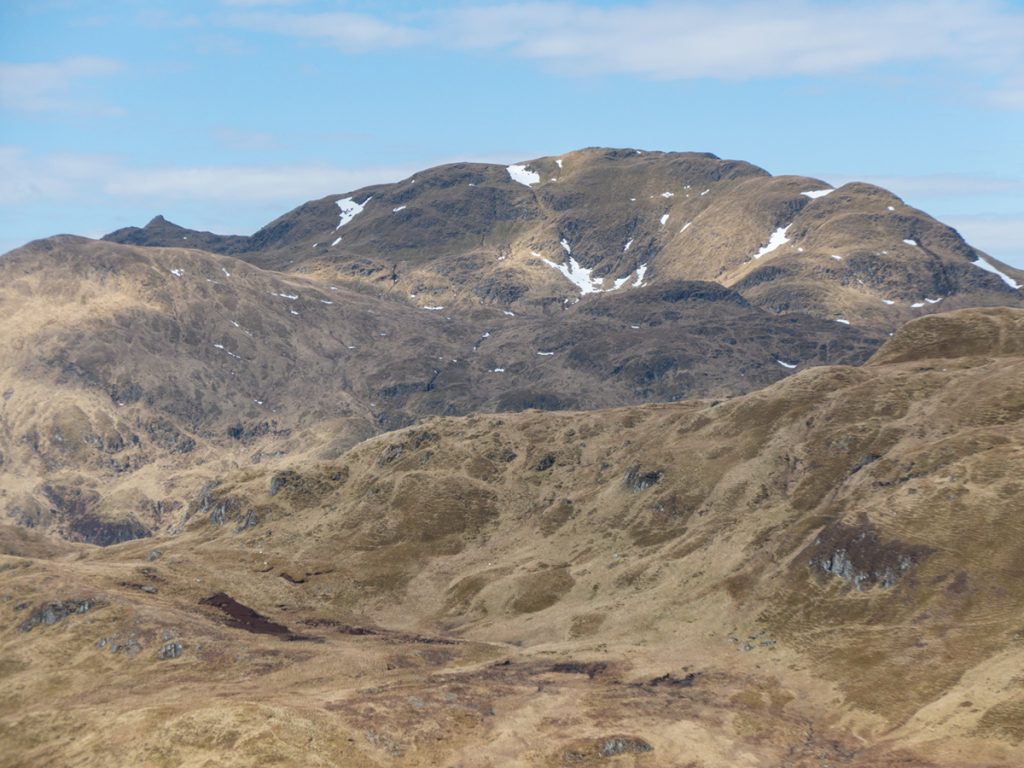 It became apparent on the first climb of the day that half the group were the 'quick' ones, the other half were slower so we decided to part ways: Quick would press on to bag multiple peaks, while the other half would limit their time up high and take a more sedate path to meeting us down at the hotel.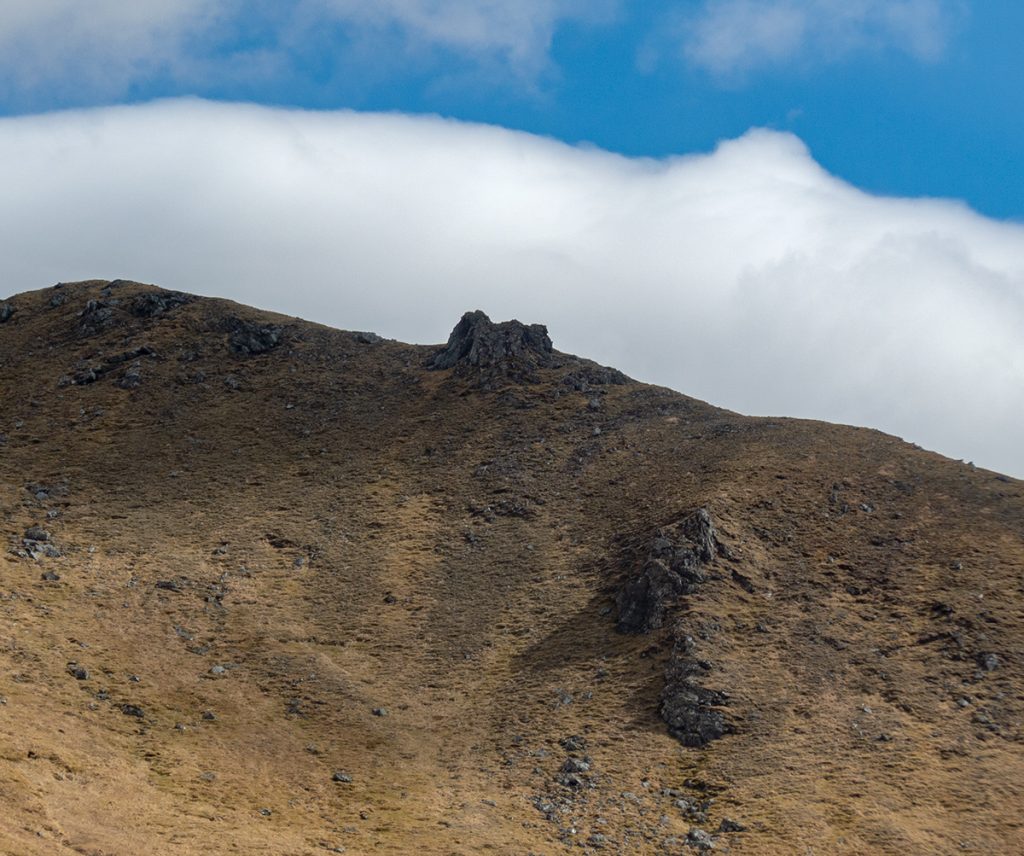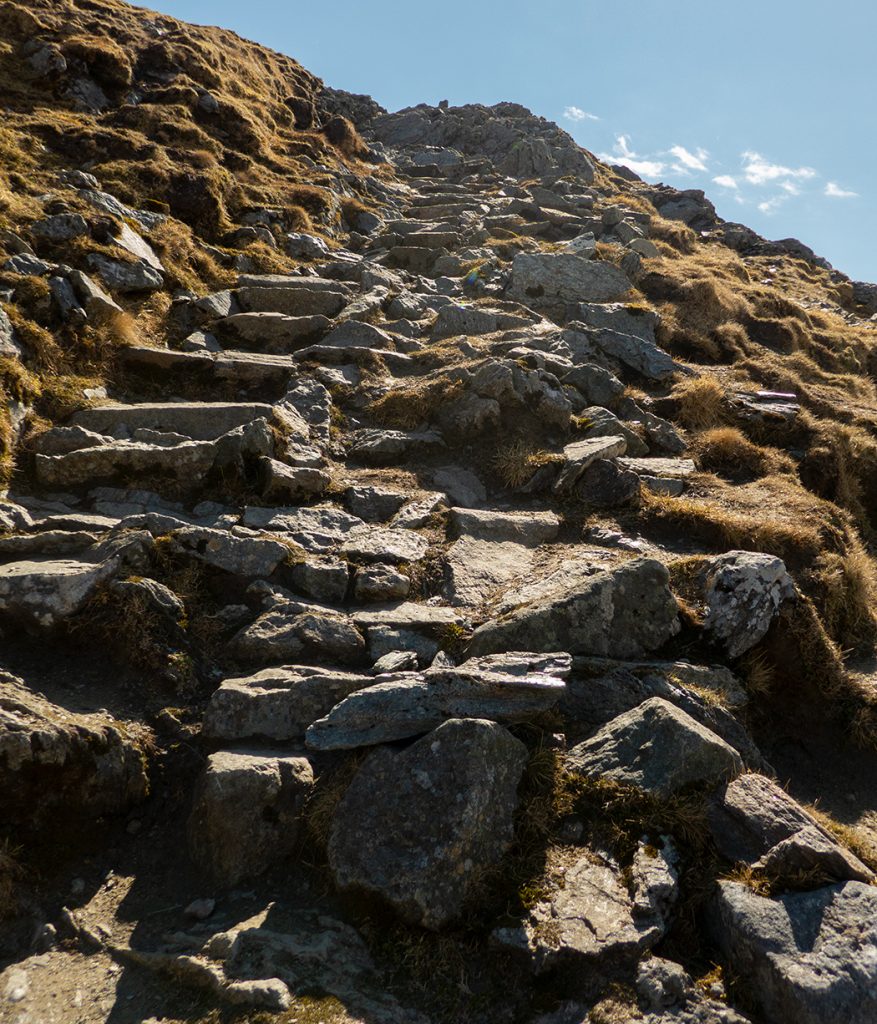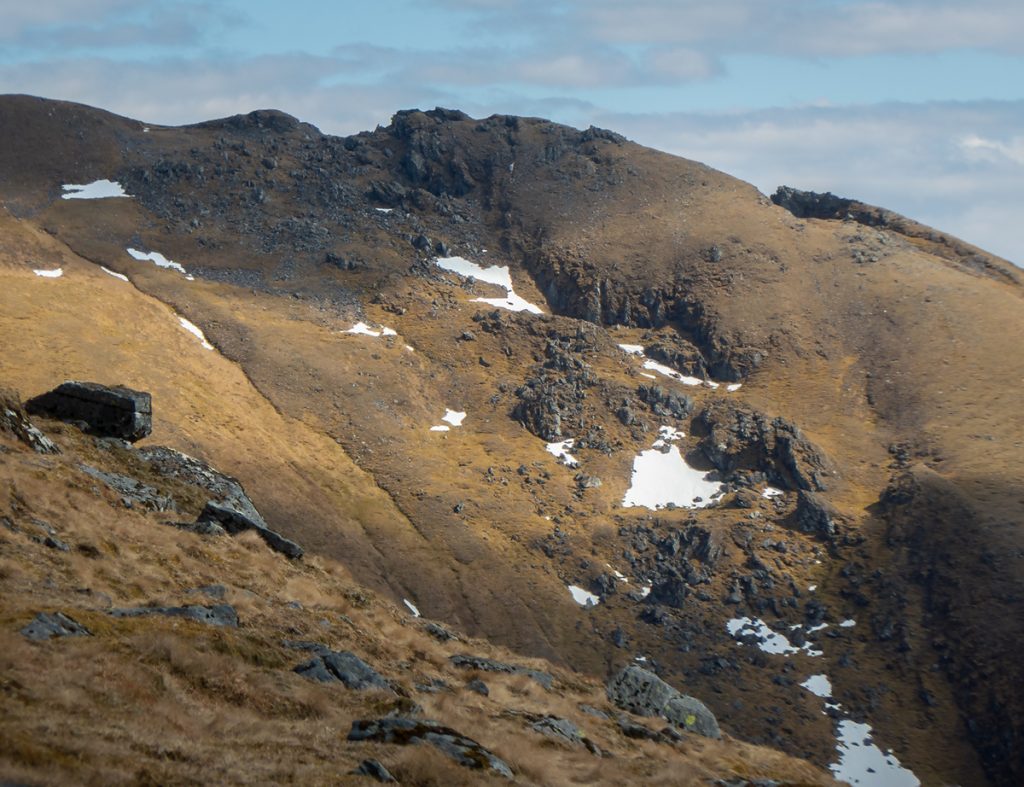 Wandering the cairngorms, one forgets how busy mountains closer to large population areas can get, for the first and subsequent top pictures it was often difficult to get a snap without many folk in view.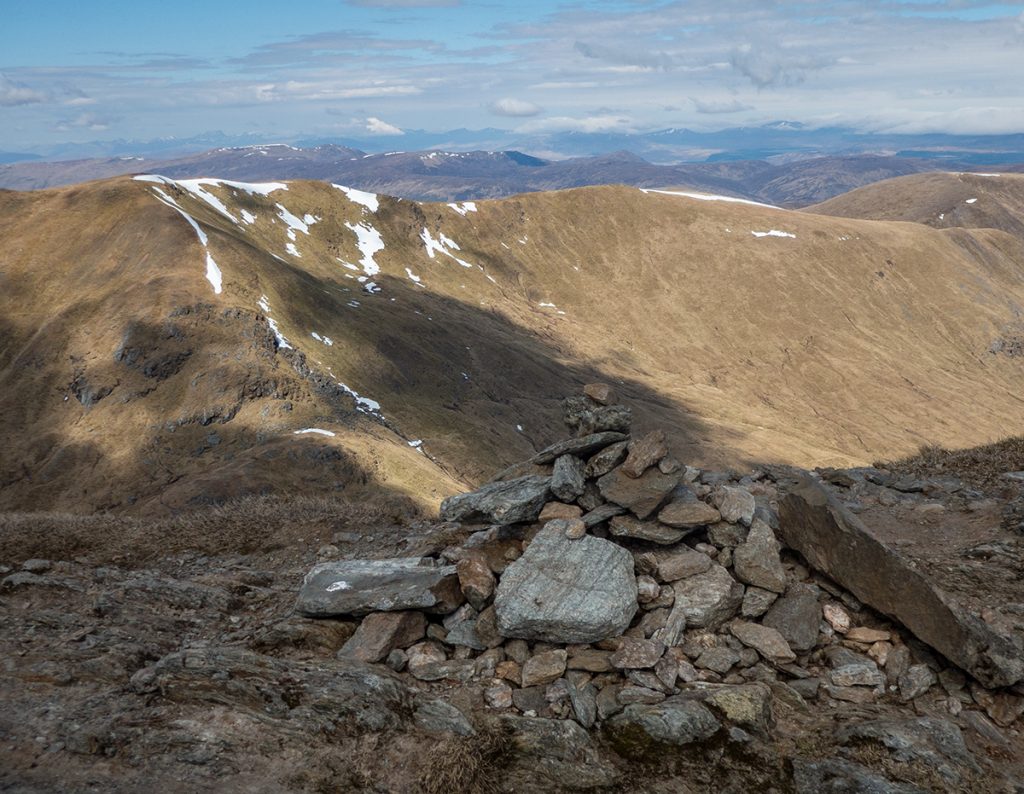 We didn't stop long at the first munro of the day, now that we'd cast ourselves as the "quick" half we thought we better live up to it, nonetheless one of our party on route to Meall Corranaich (which can be included within a round of 7 munros here, but not part of the wider itinerary today) did indeed join us briefly.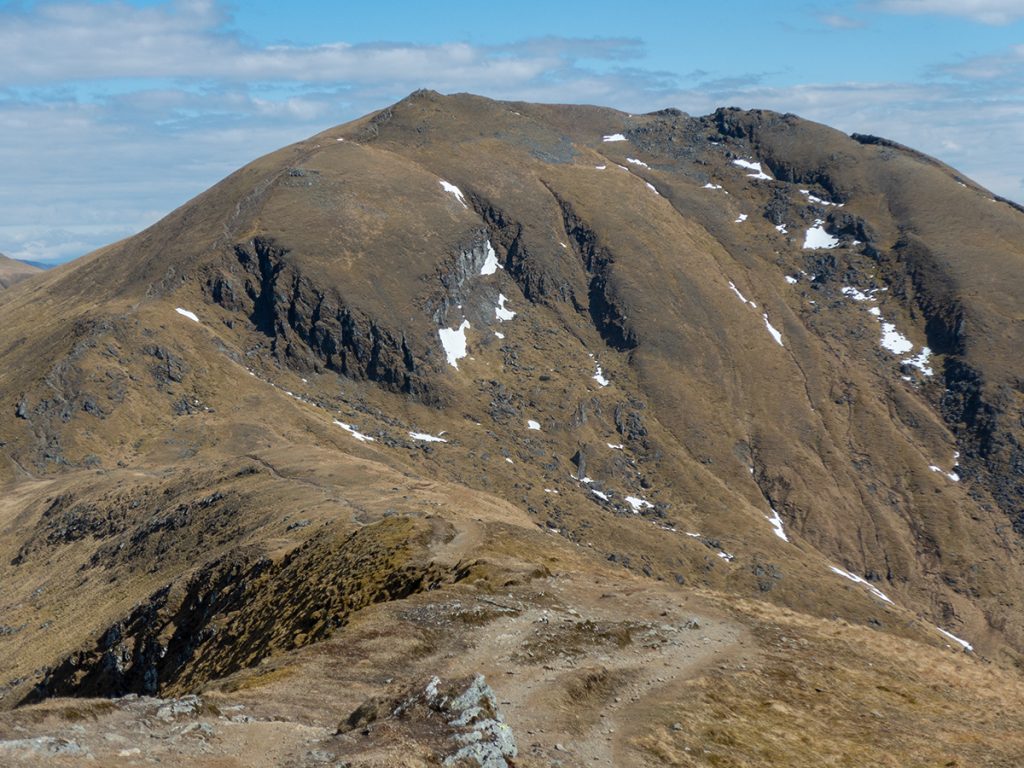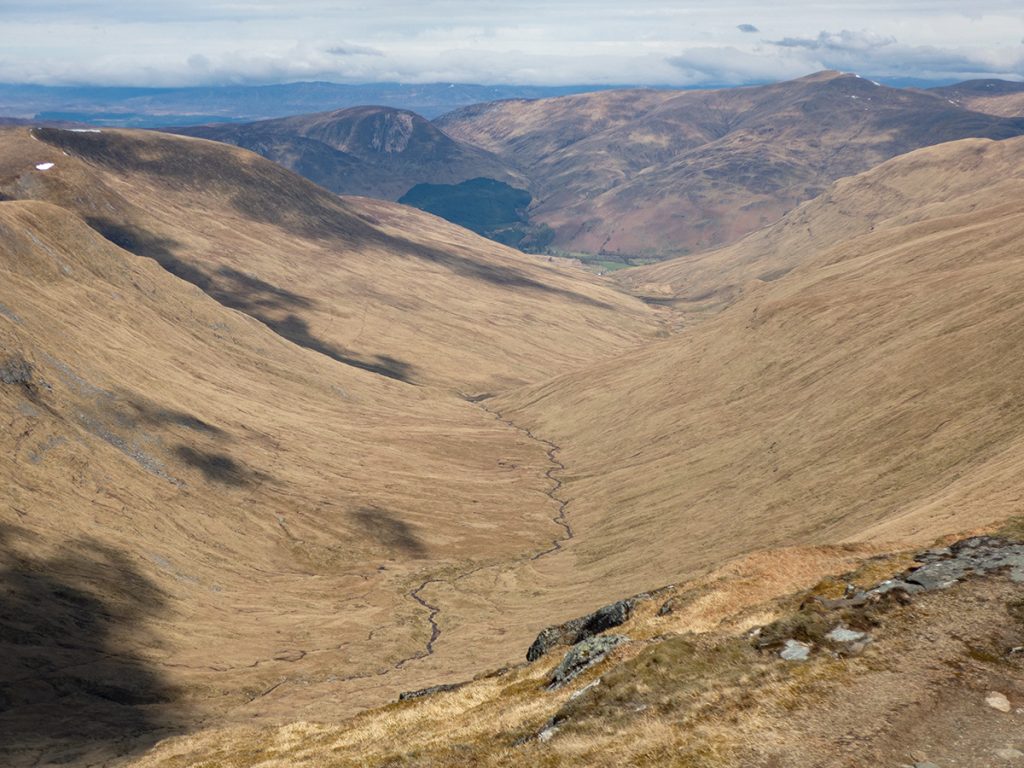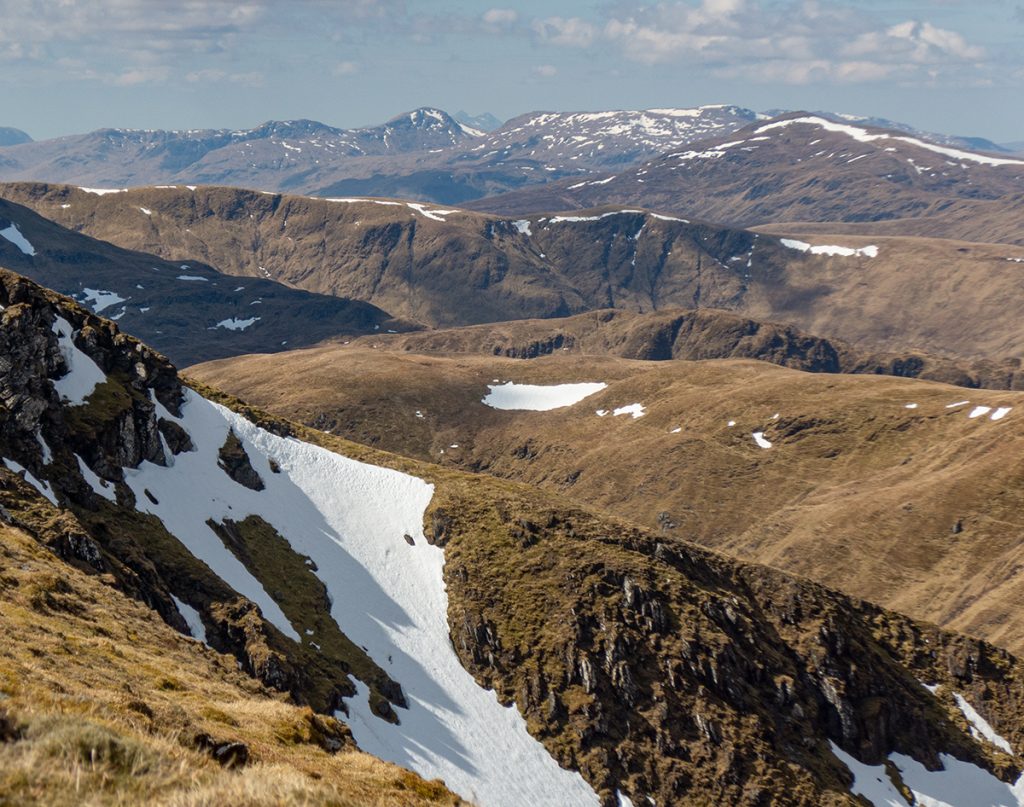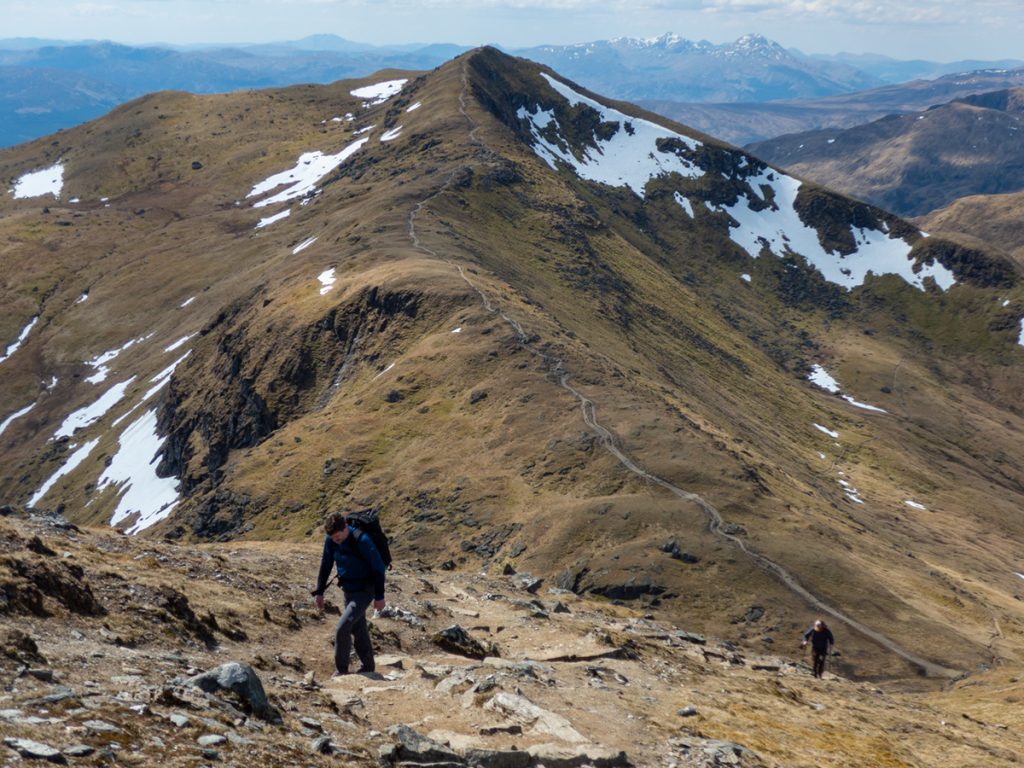 The top of Lawers was busy with folk scattered around lunching, the forecast -7 with windchill didn't seem anywhere near likely albeit chilly in spells when the sun disappeared behind thicker clouds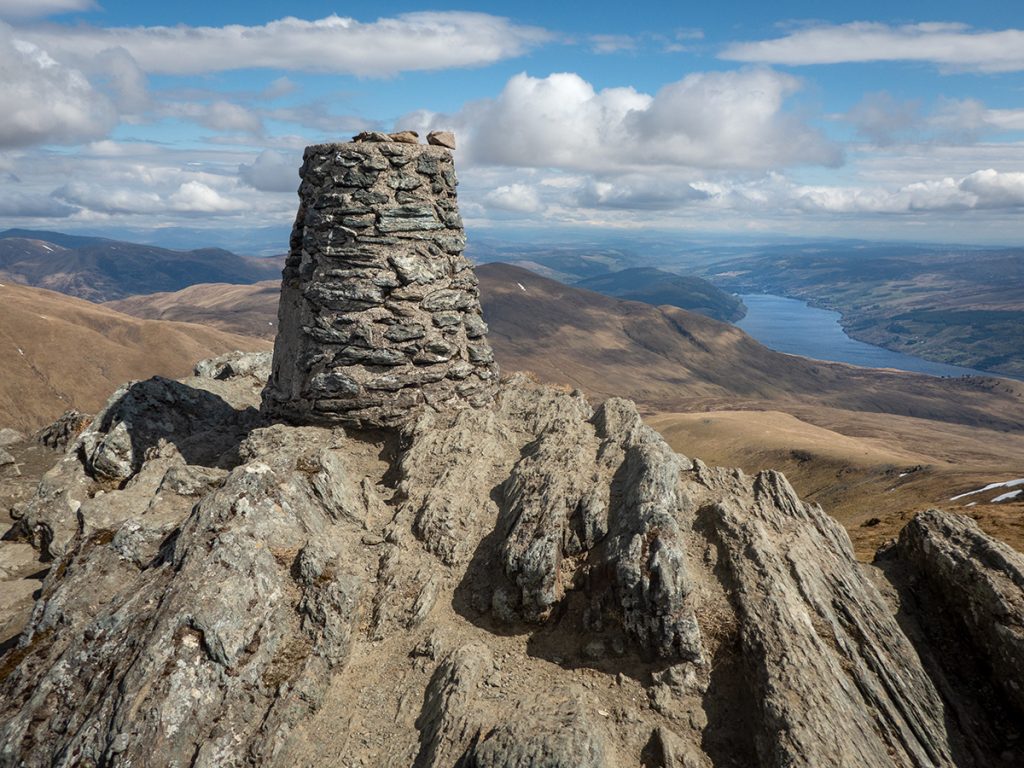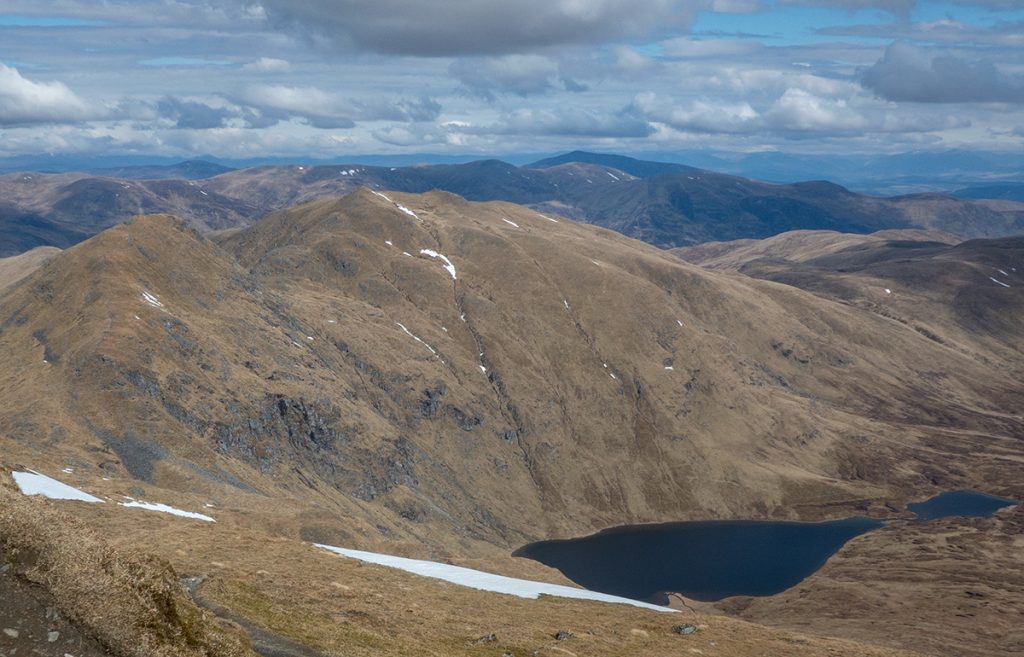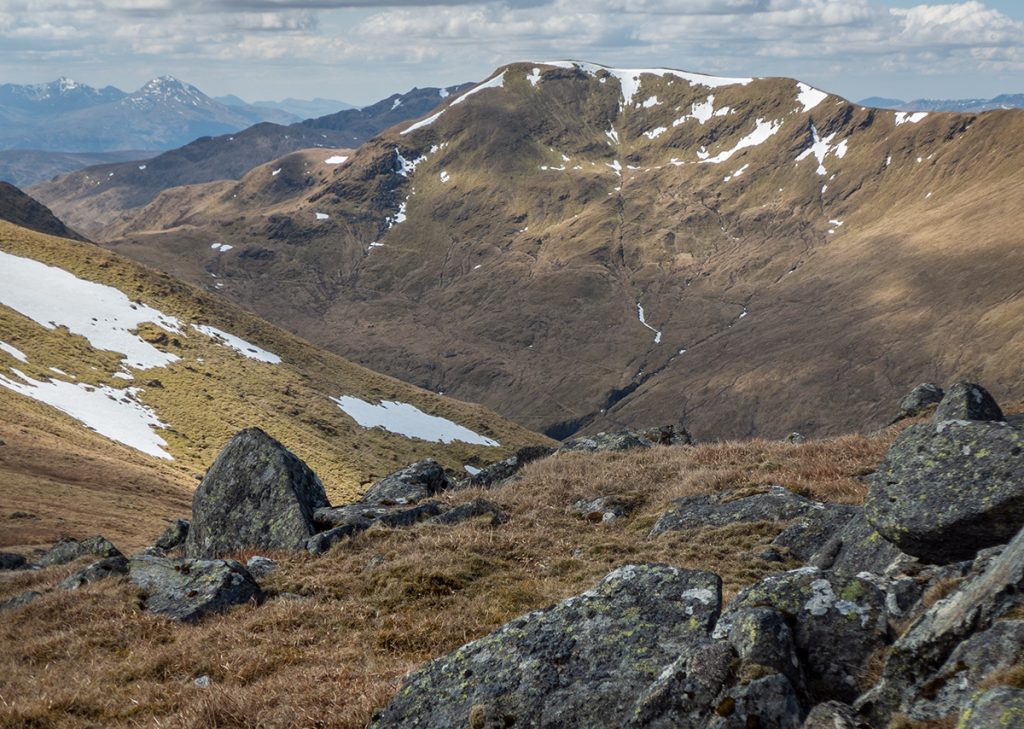 Following the path without due attention looking at the more distant ascent to come, it suddenly drops off the crag of Creag an Fhithich, where as the path proper jinks to the north side. I wonder if anybody in low visibility has ever fallen, or missed the turn and ended up scrambling down.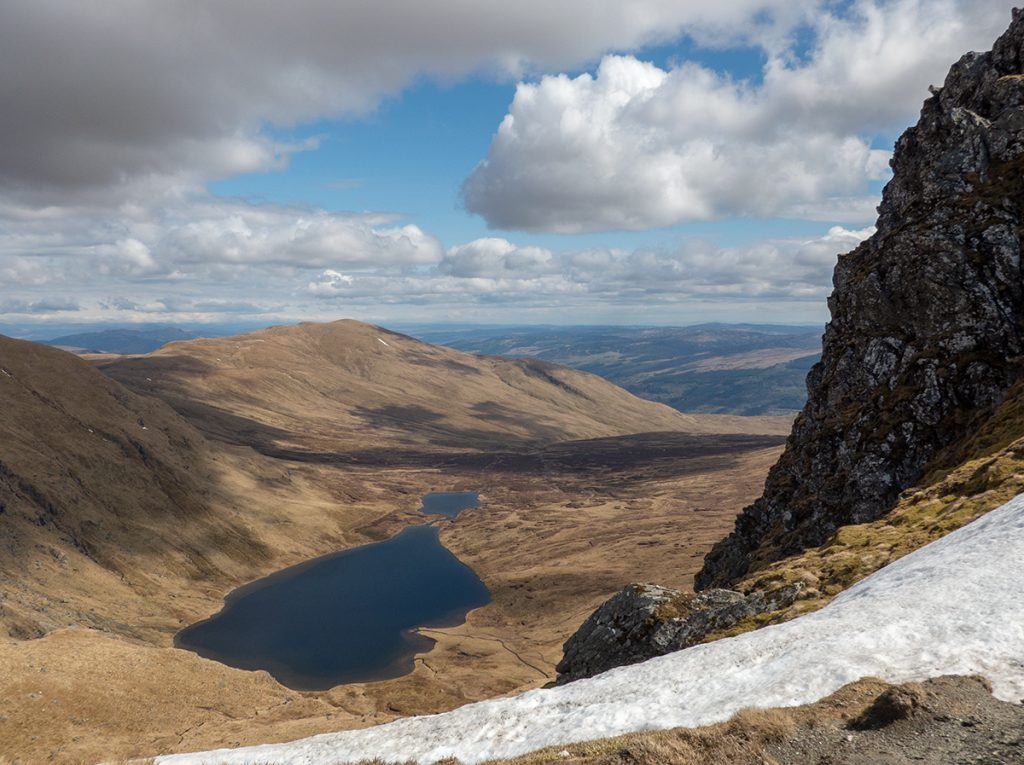 We'd spied quite a few bees buzzing around high up, and pondered what they were seeking: a patch of purple saxifrage was noted.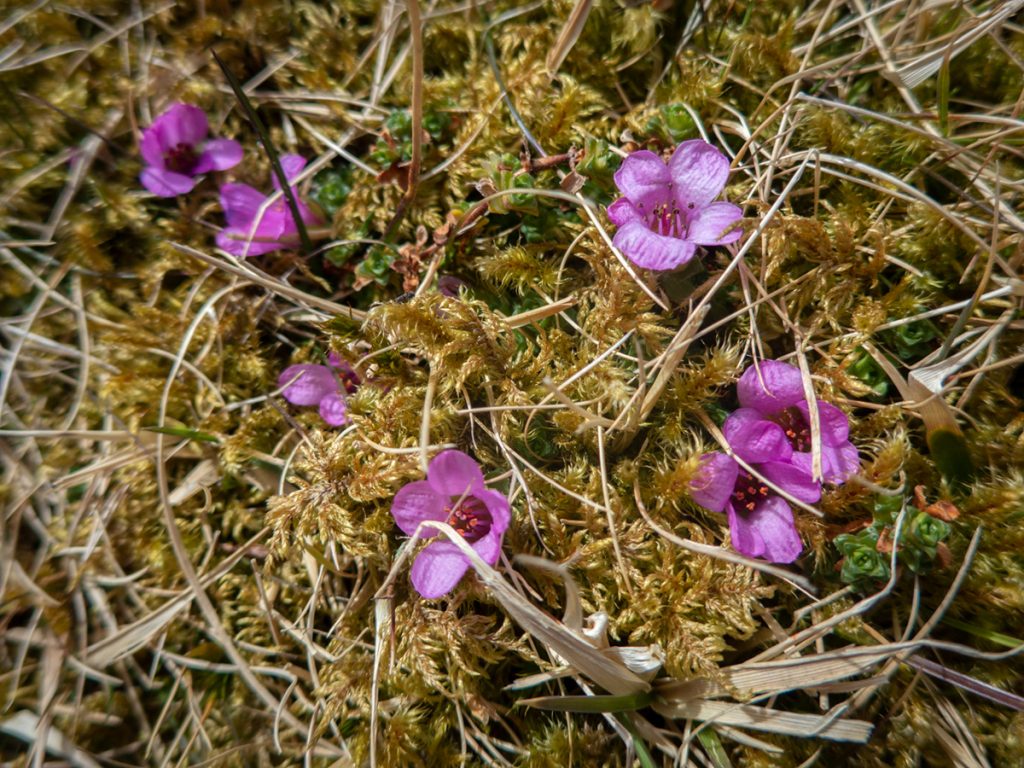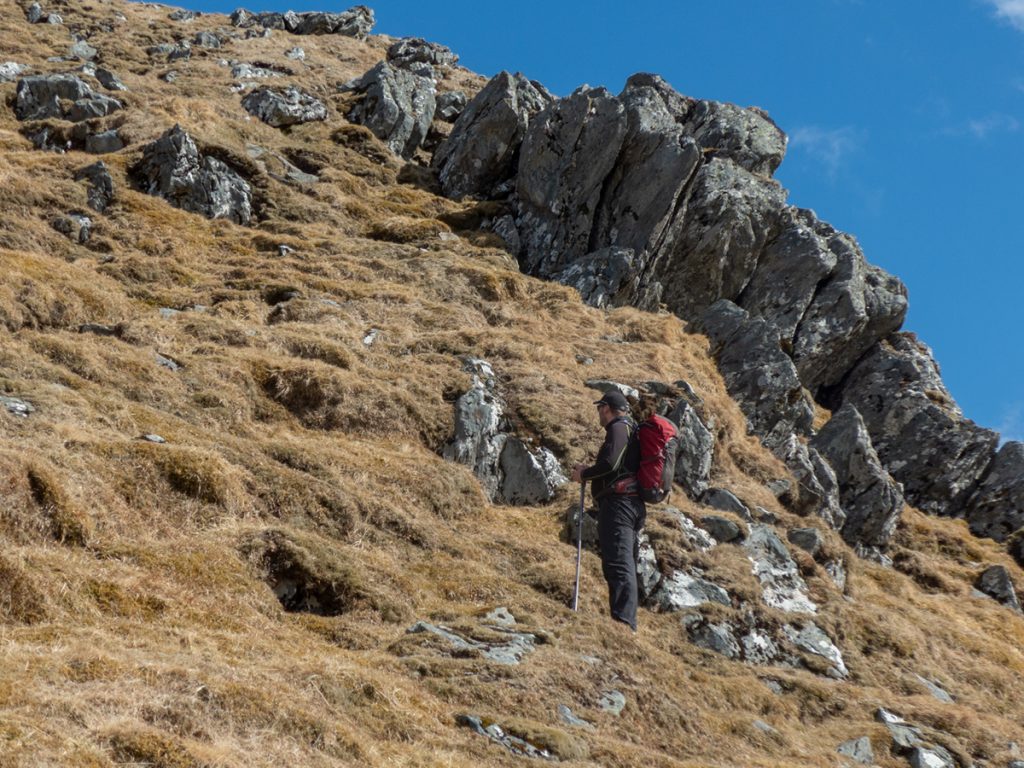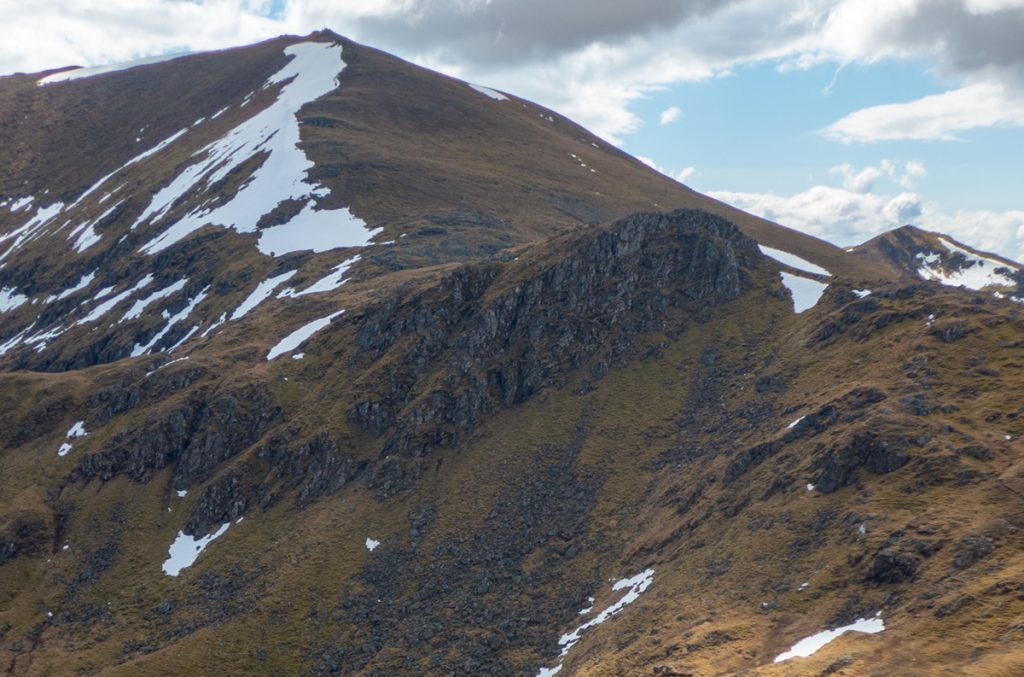 We made the top of An Stuc, and had a bite to eat in the shelter of some rocks. I'd read up on An Stuc and had seen differing reports of the east side: generally a scramble, steep and exacerbated by loose ground. A look on strava heatmap showed a ribbon of activity to the left (north) heading down into the corrie. From the top that looked pretty steep too, with a large cornice visible.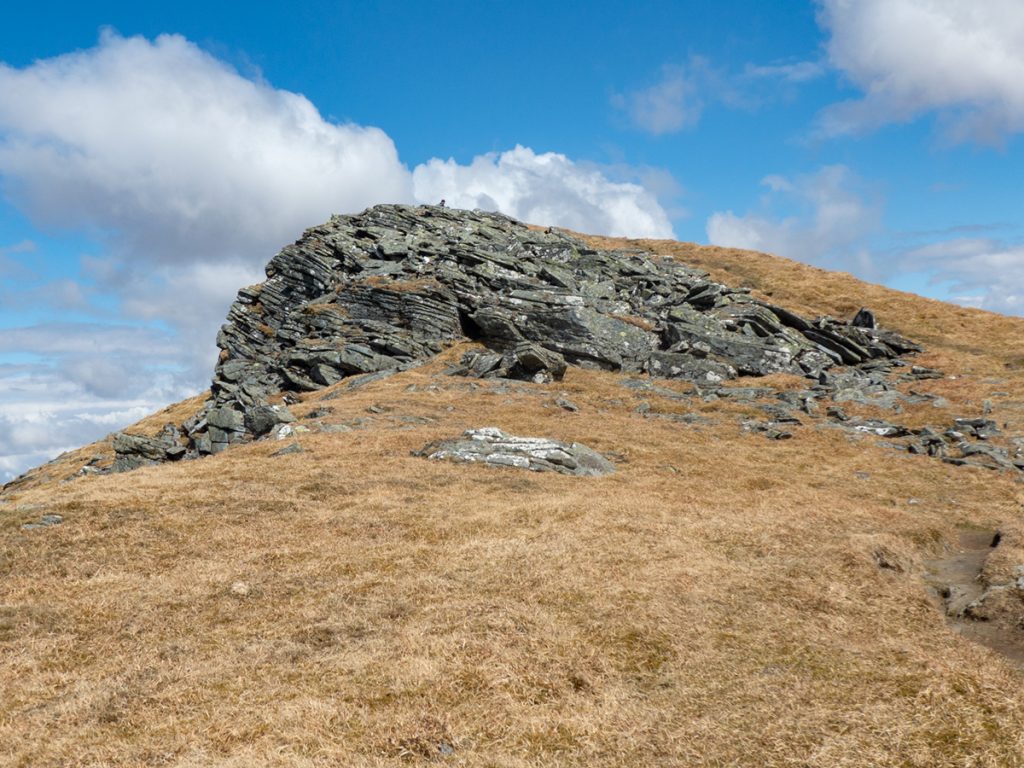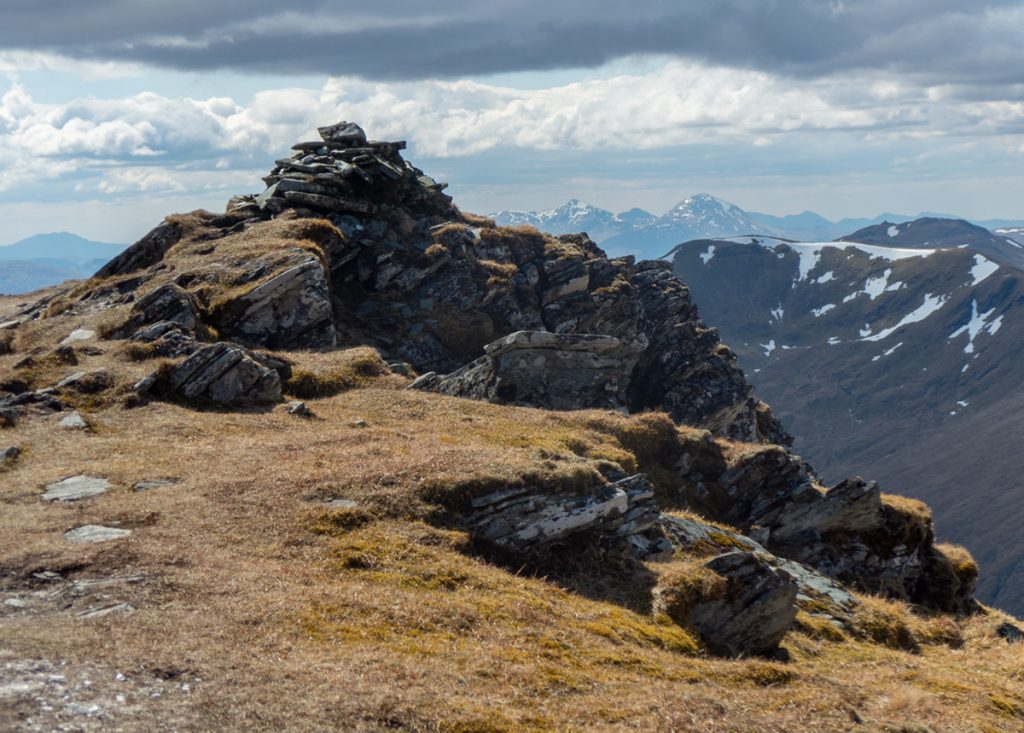 We went over to look, the path falls away quickly zig-zagging above a large drop. Yikes. I packed my poles away, hands were going to be needed here: first swapping to some bum sliding, then turning inwards and grabbing tussocks and rocks, as it became a definite "climb". Gravel skittered down below, and at least once a larger rock had to be ungripped as I felt it move. I'd not fancy this in the wet.. Another party were ascending, and this aligned me without much choice into a rocky chute which once exited, I felt enough stability having overcome the difficult section to take a snap. No idea if this was the correct route down, there looked to be a few options, but best to crack on quickly as it was busy and didn't fancy any loosed debris bouncing off my head.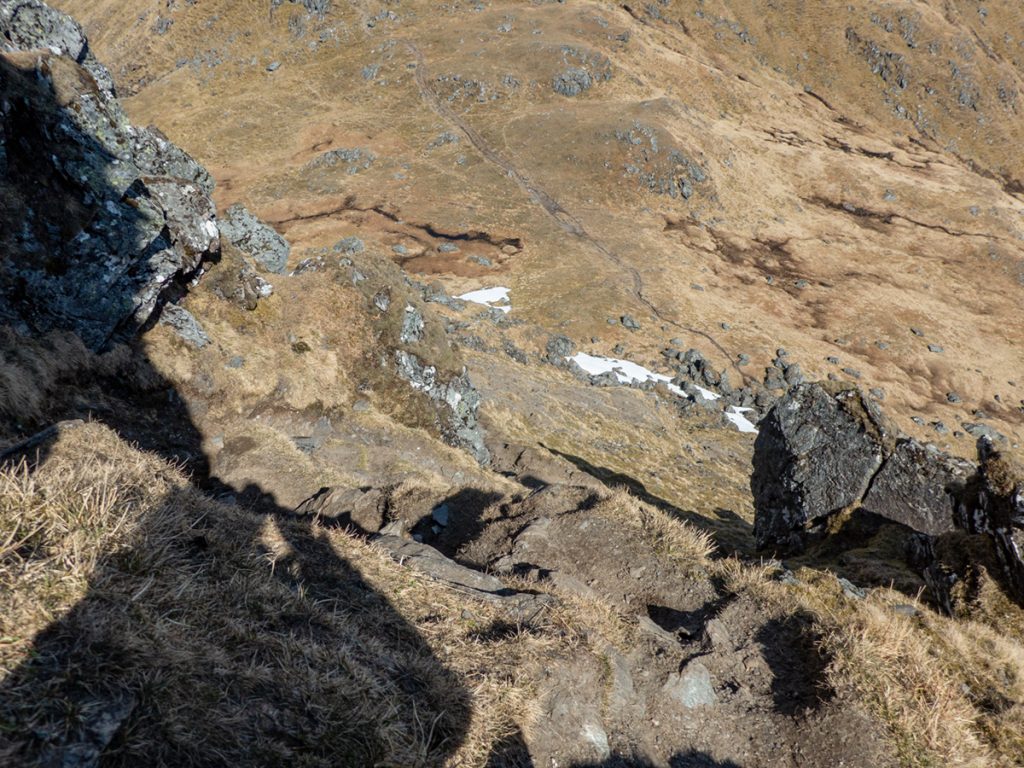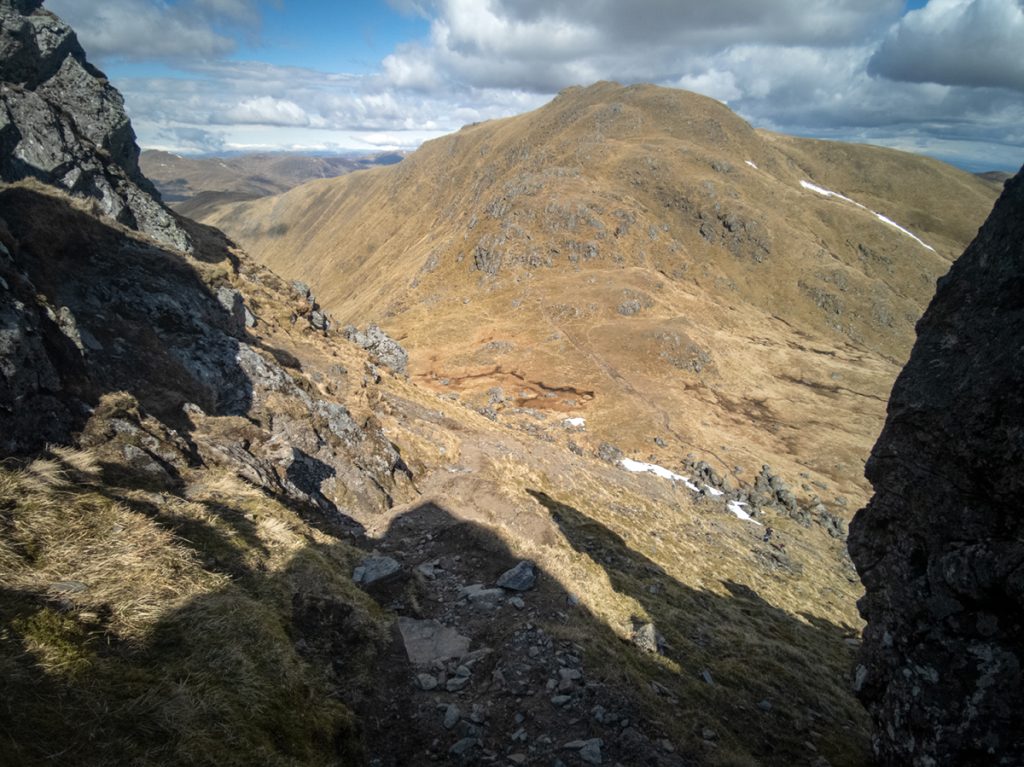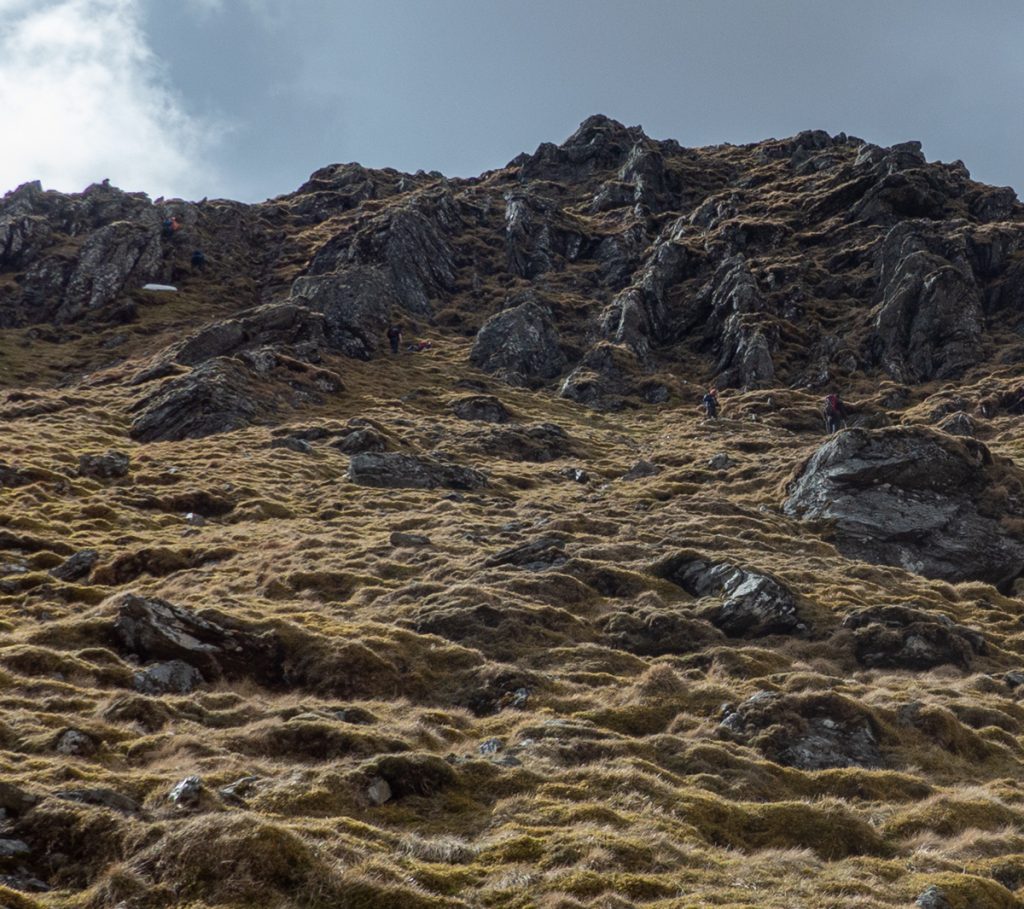 Once down at the saddle of 991 I had a look at the 'bypass' through the corrie. Might be a goer once the snow melts, but replacing climbing with steep grassy bits.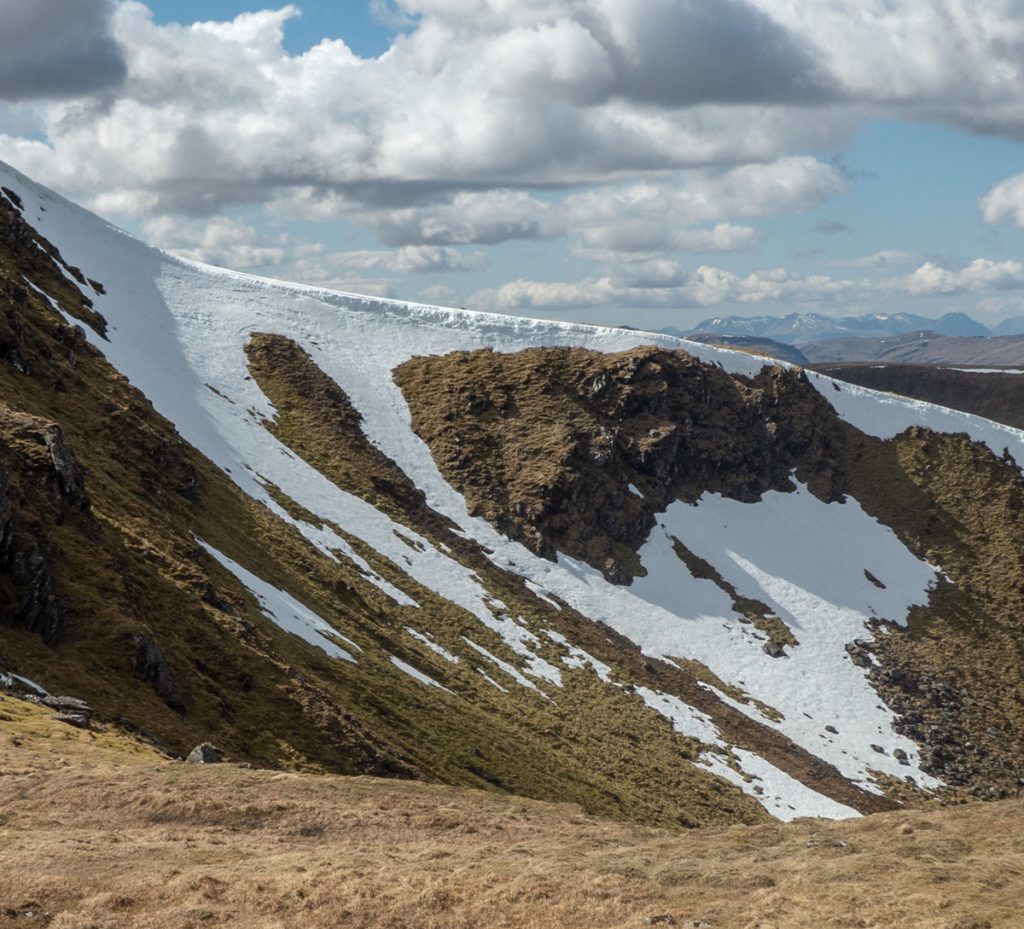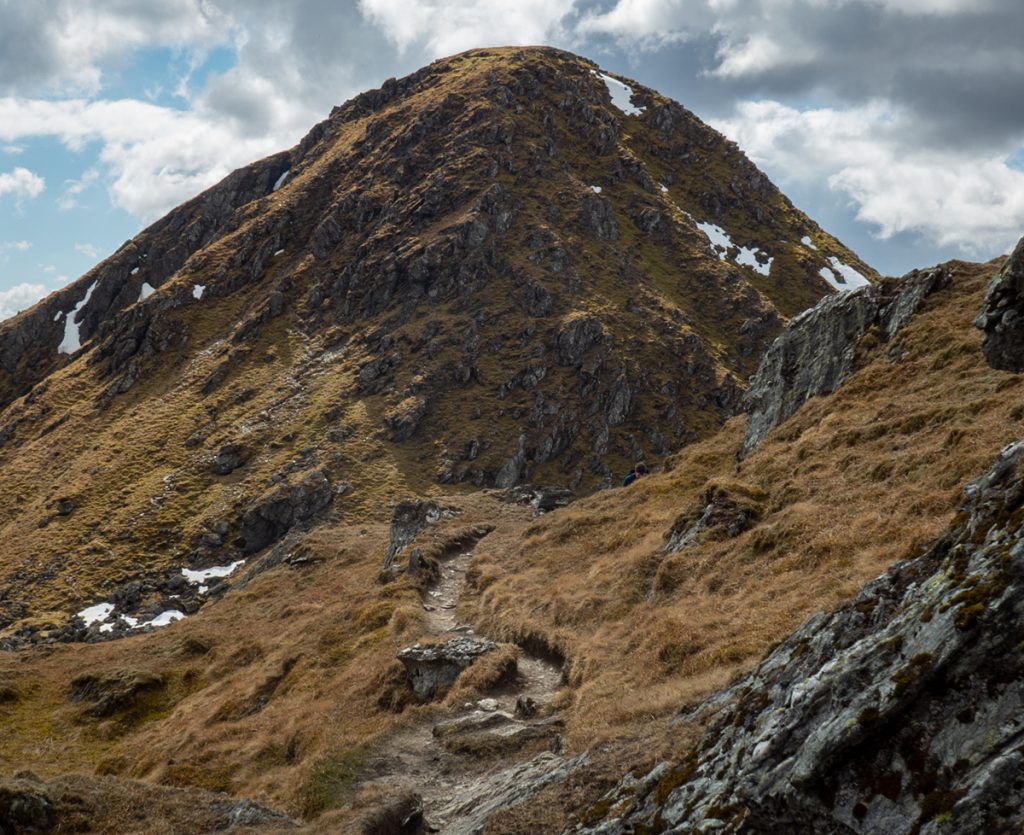 With the difficult part of the day past, we decided we'd do the remaining 2 munros. First Meall Garbh close to hand had 130m to rescend.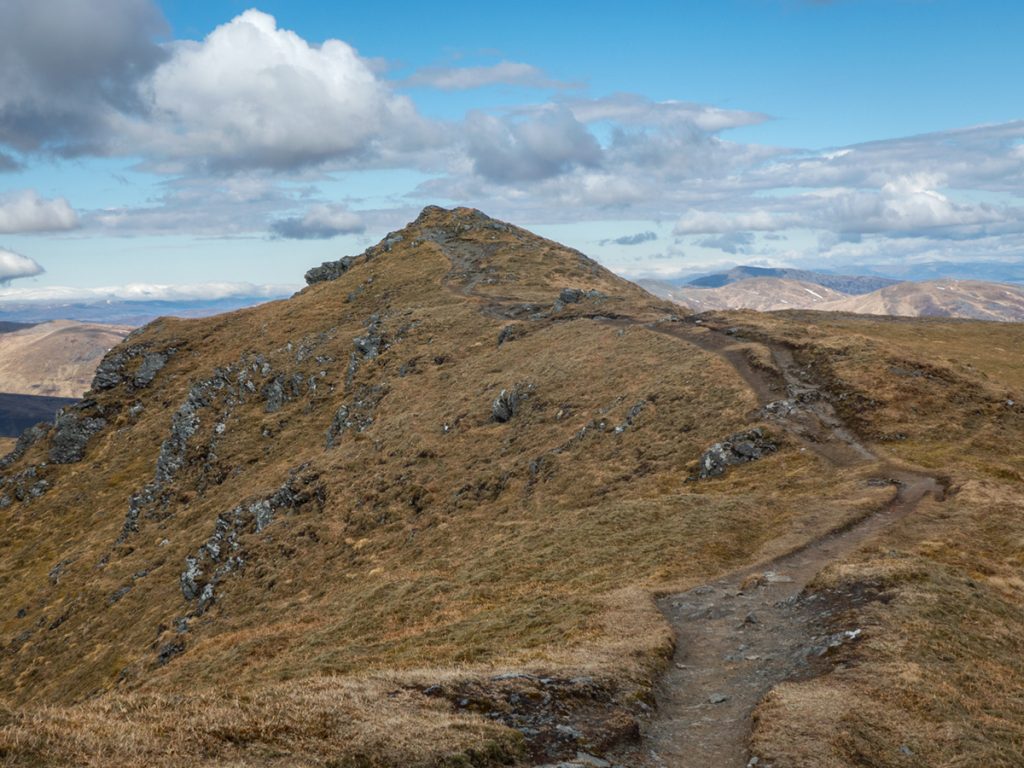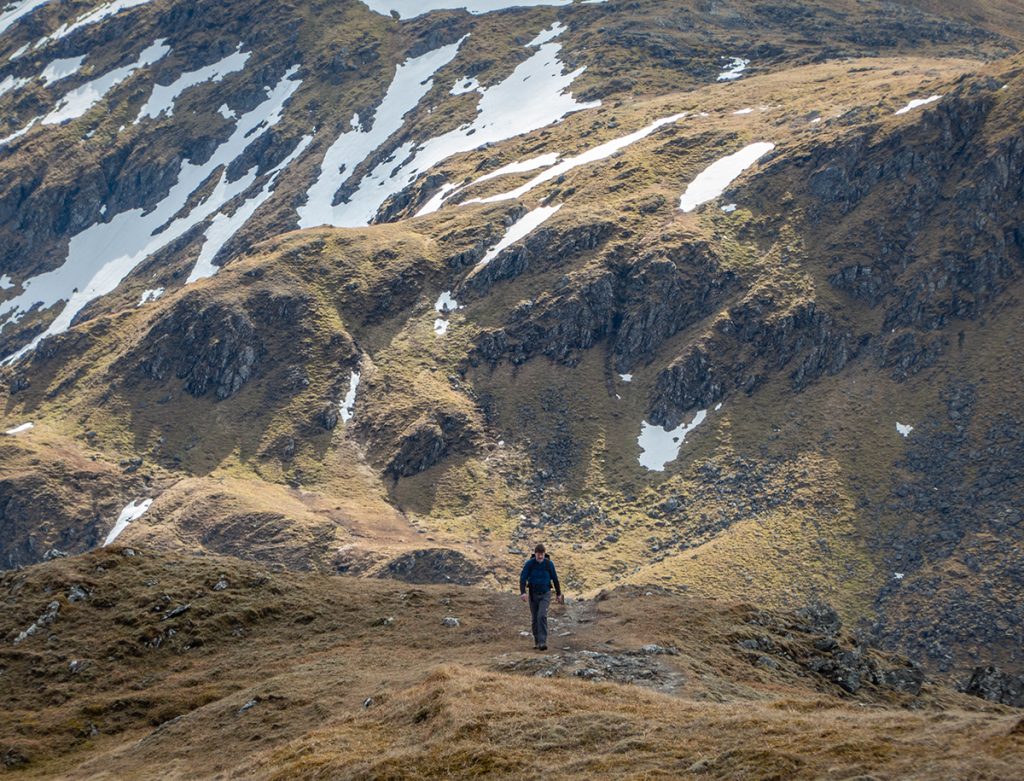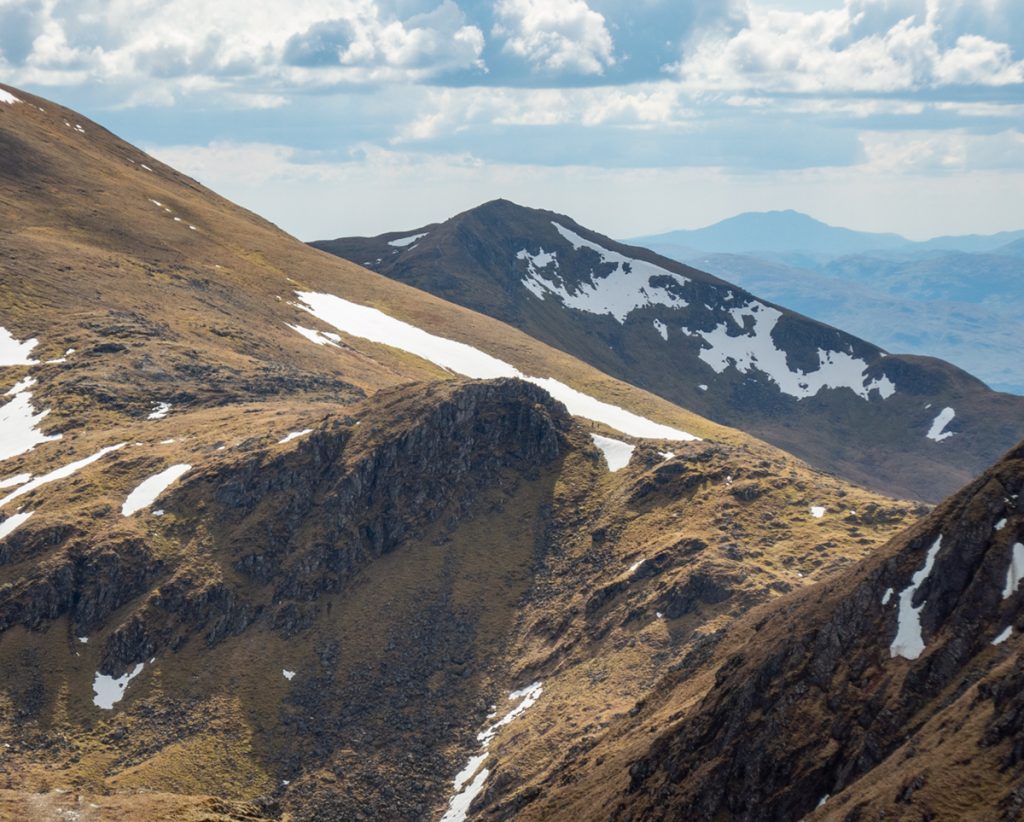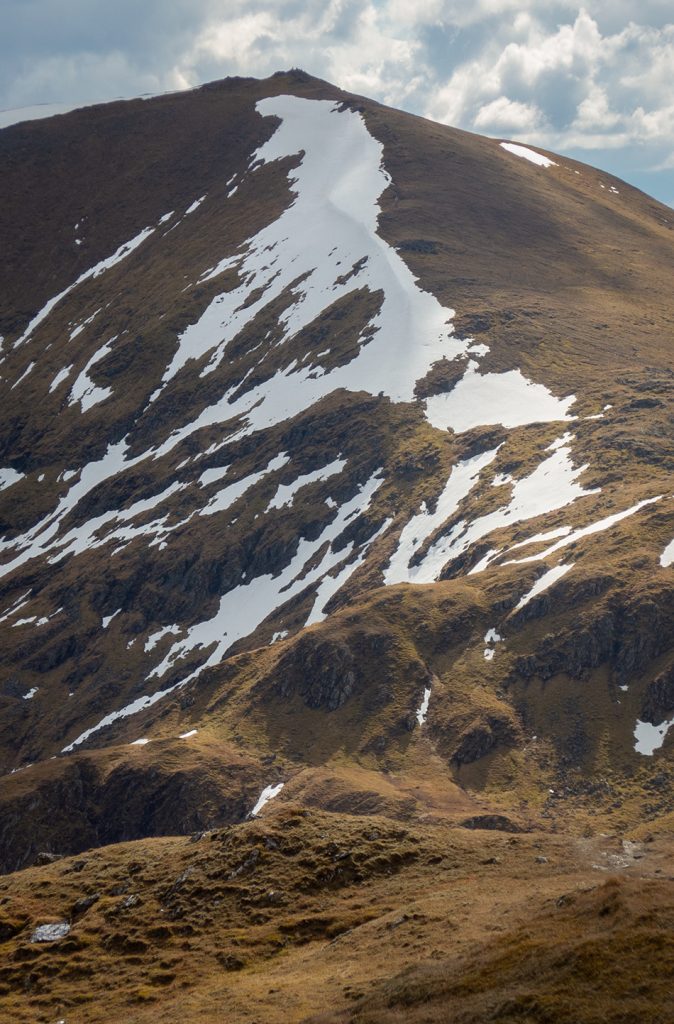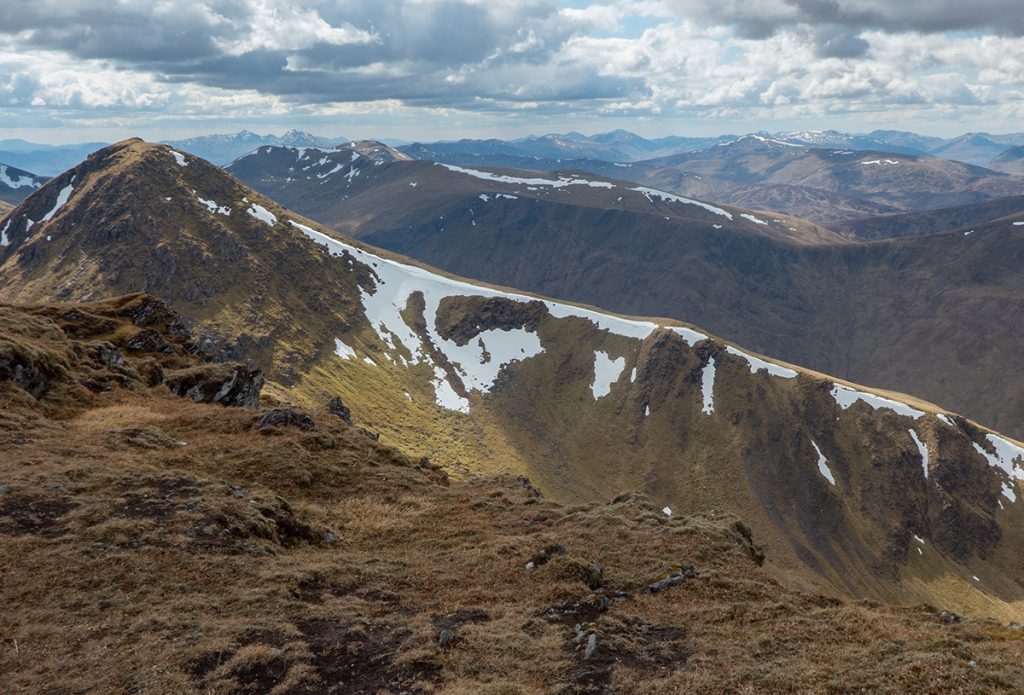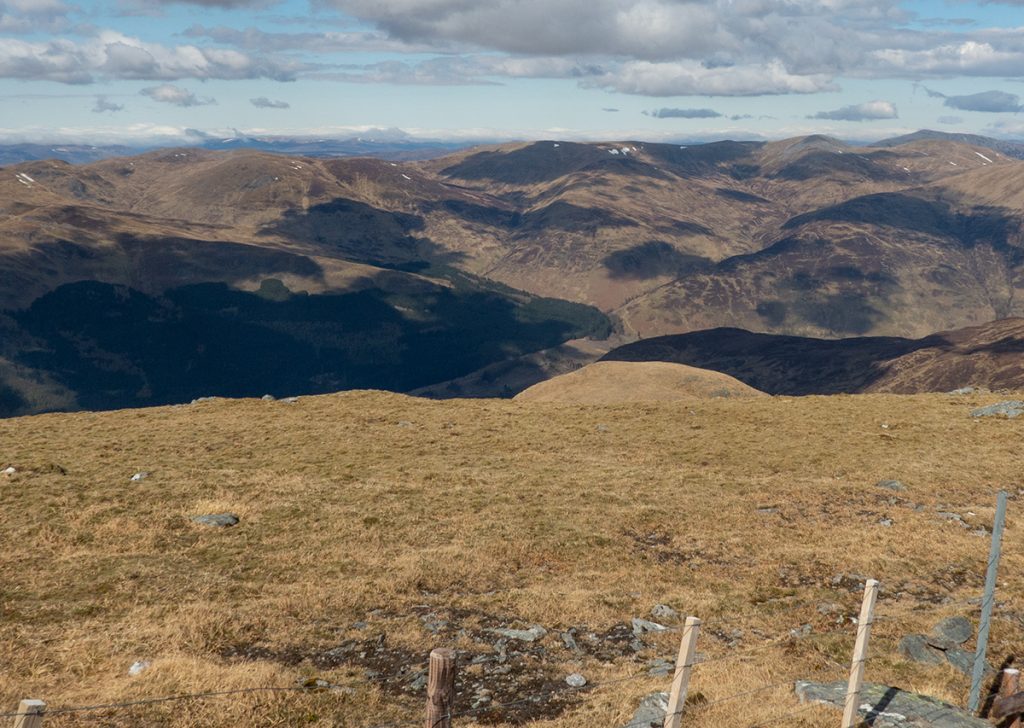 Coming down from Meall Garbh it's all rolling grassy (and sometimes boggy) terrain following a fence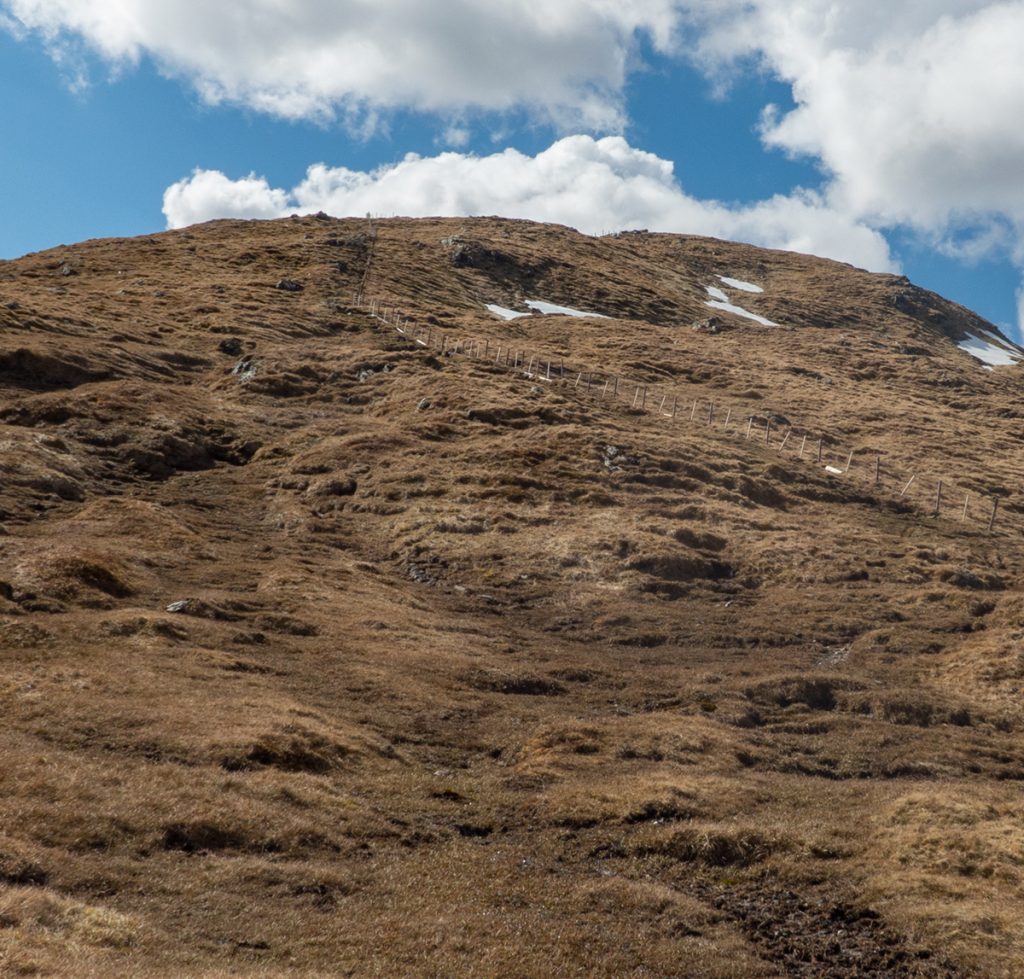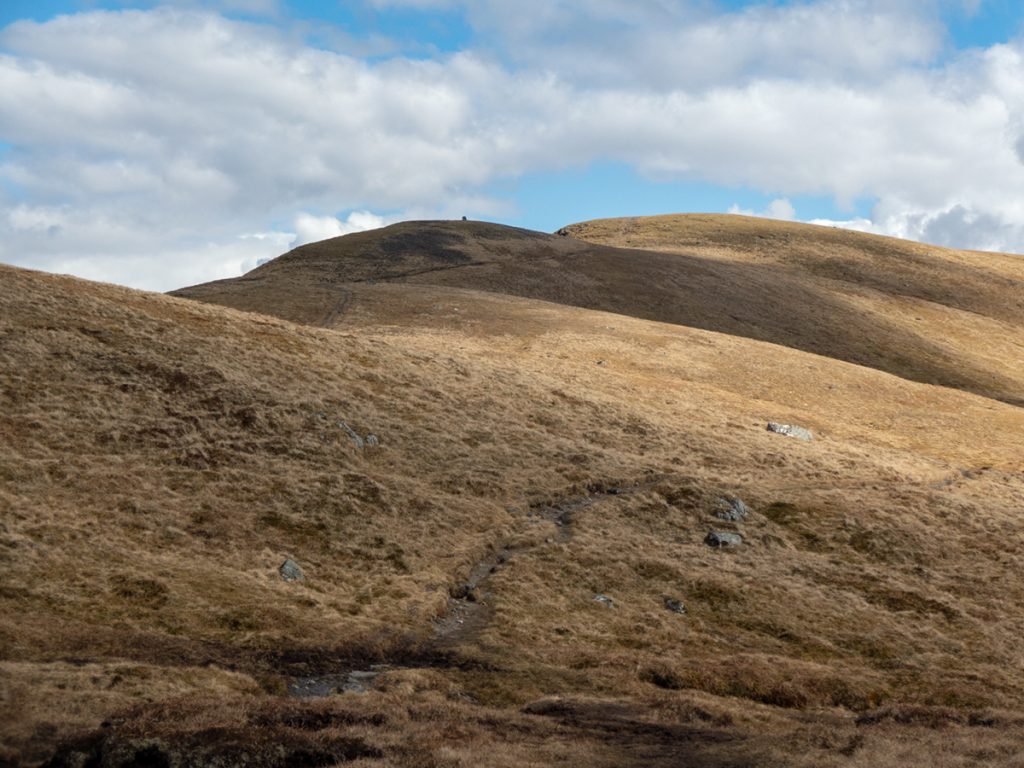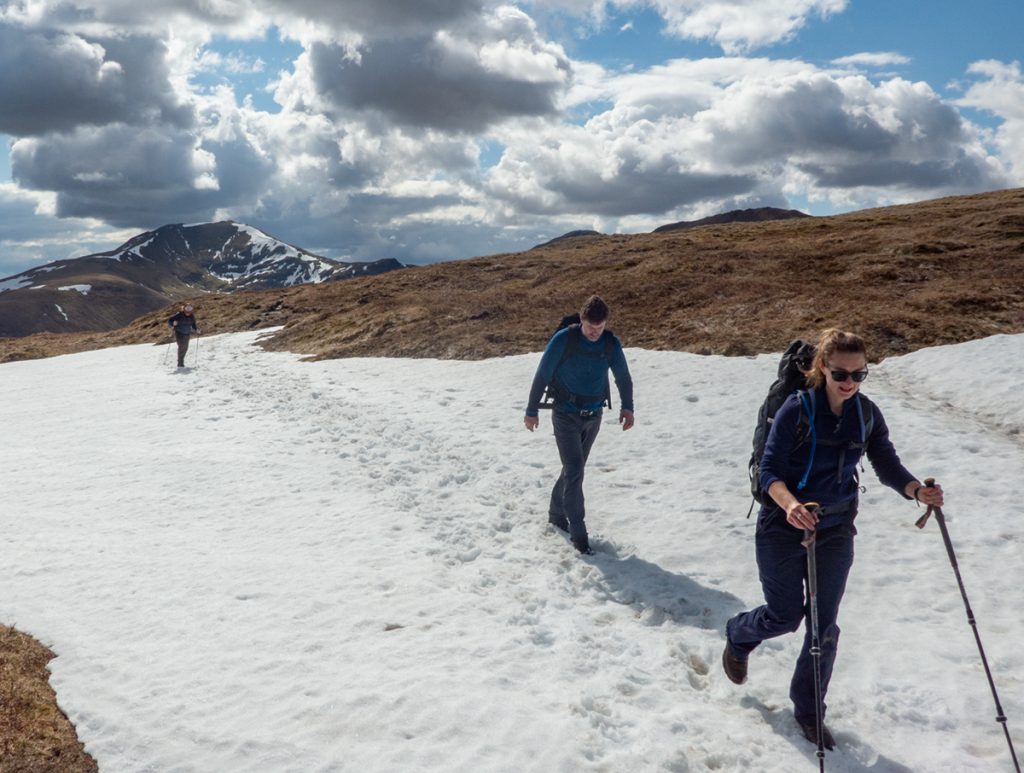 As we round the corner heading to the last hill and climb gently again, the day's work of the Lawers ridge comes into view with only Beinn Ghlas out of sight behind Lawers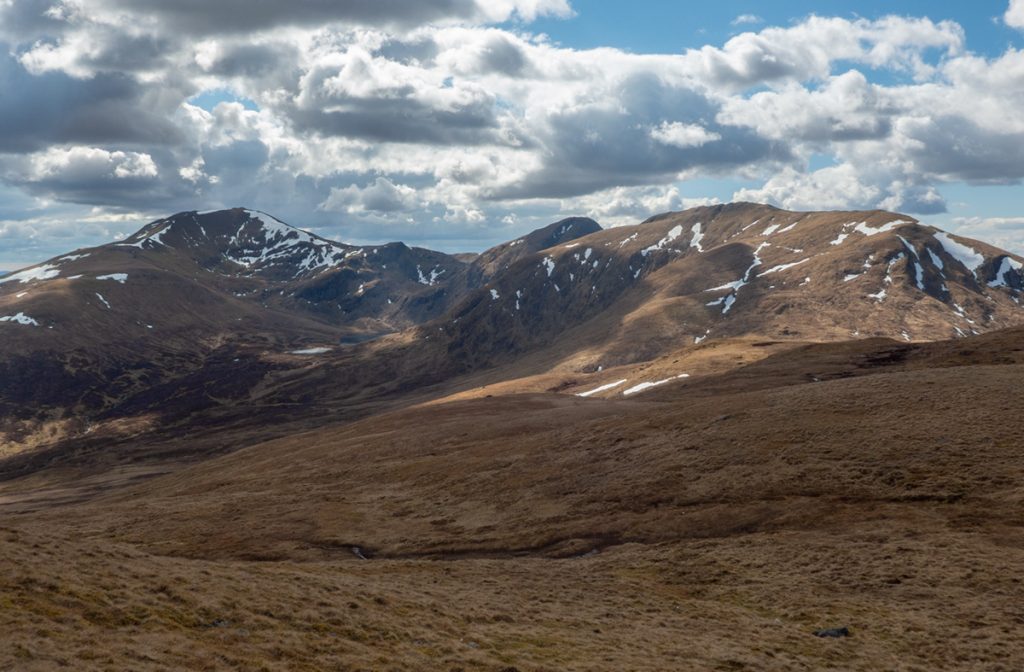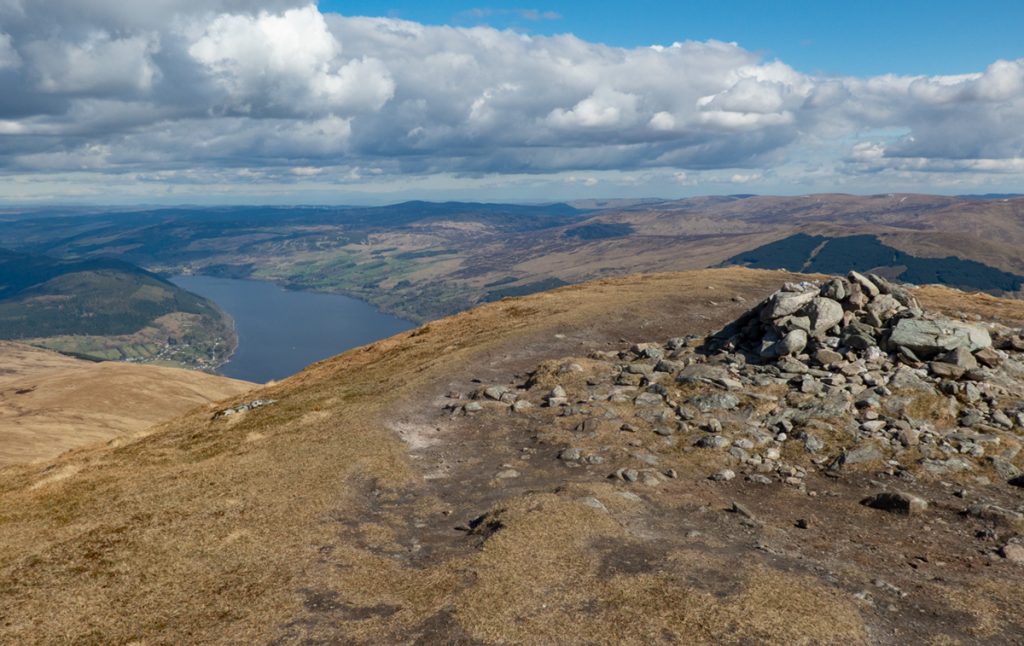 It's a long grassy descent to the loch, quite steep in places and I imagine a few folk get a muddy arse on wet days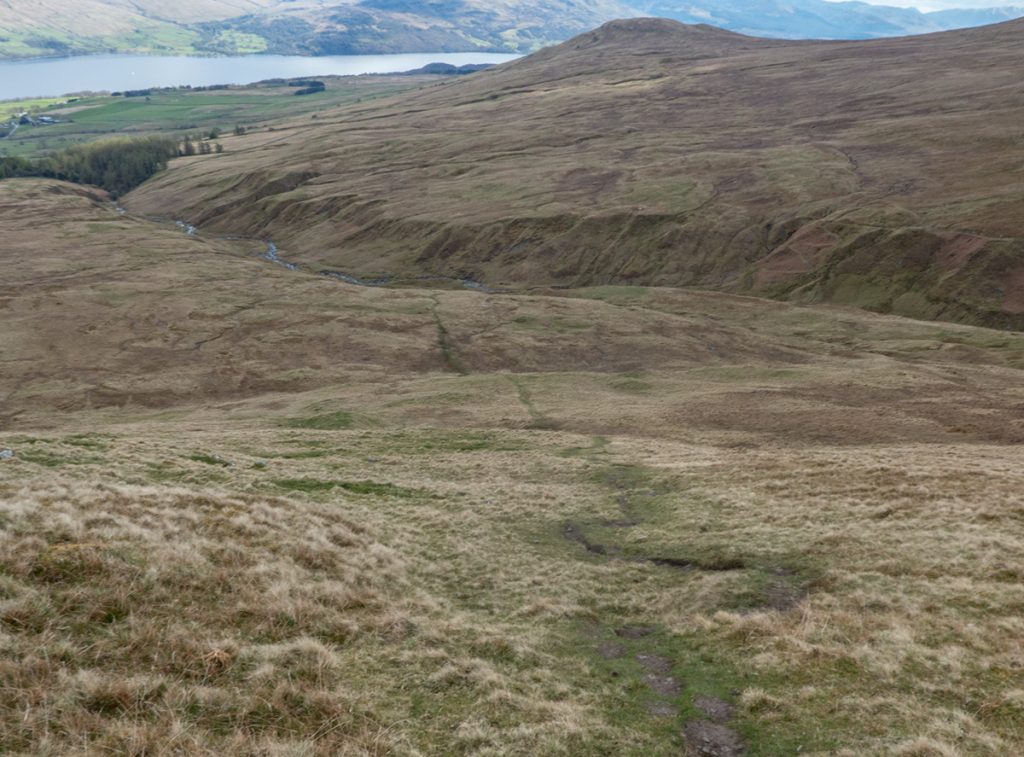 As we make it down to the Lawers burn we spotted some others from the group who had taken a low route. The final section down heads through some woods which were in spring bloom. We could feel the heat in this sheltered glade and were ready for a cold beer.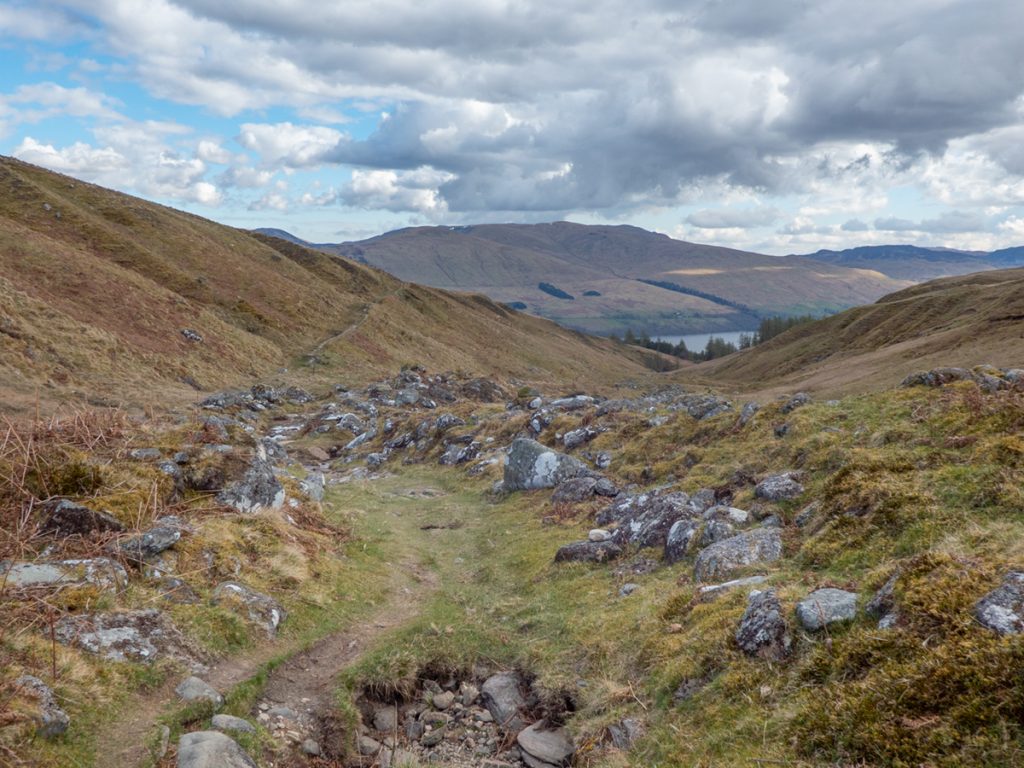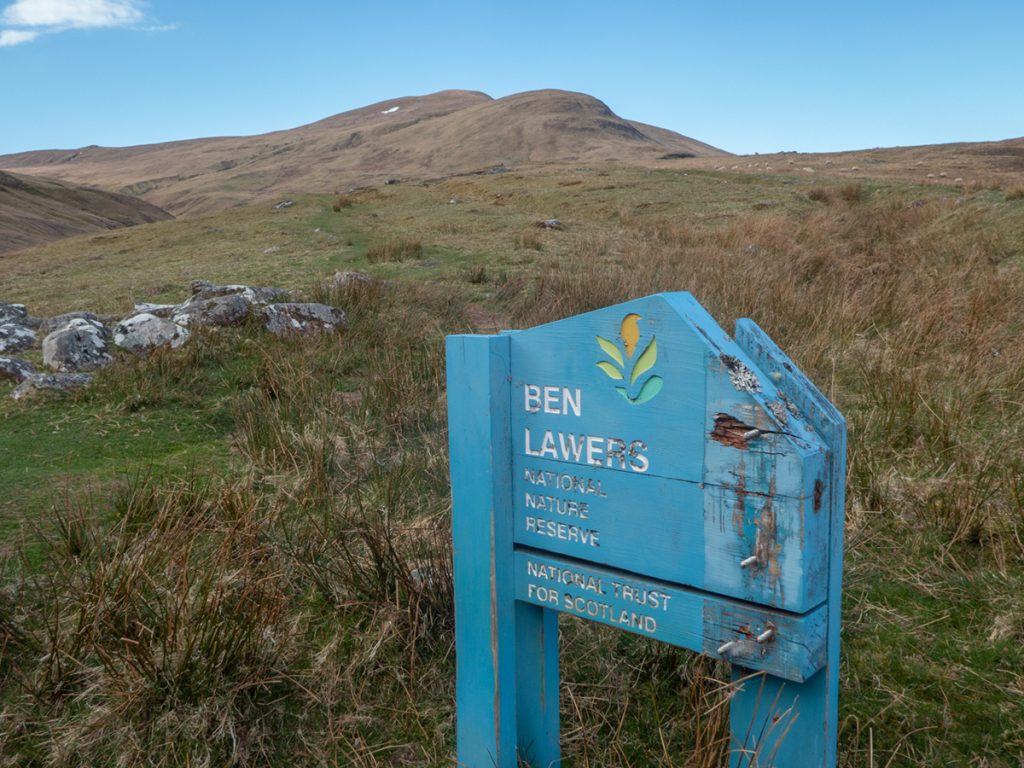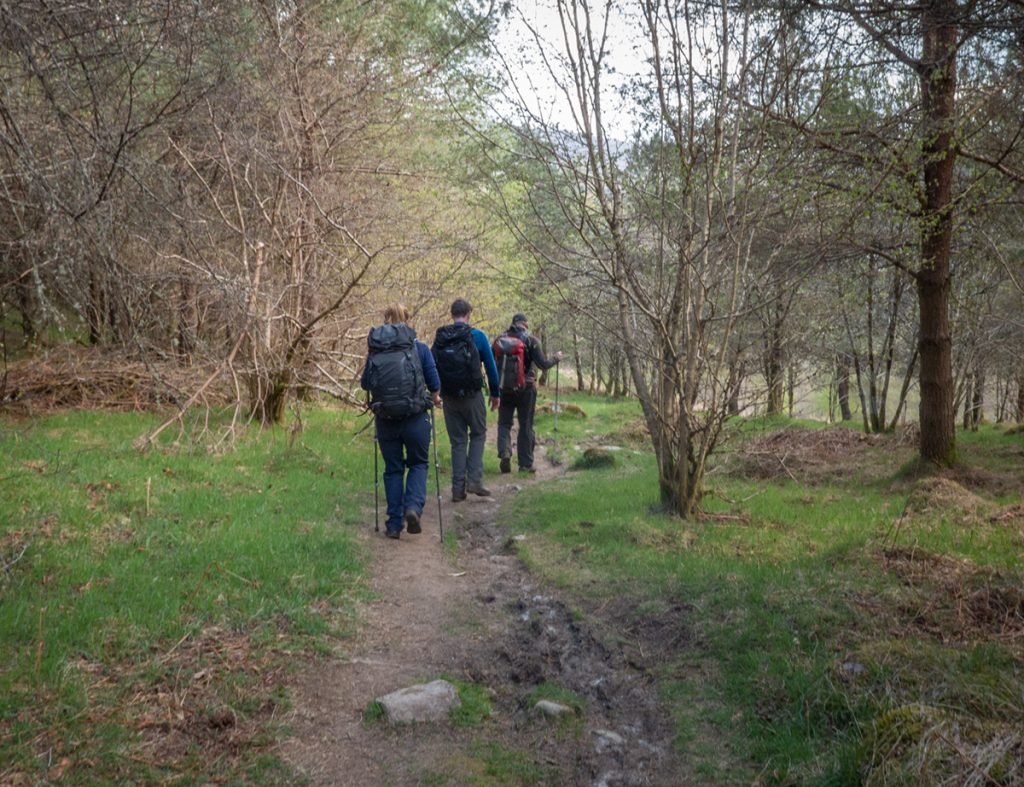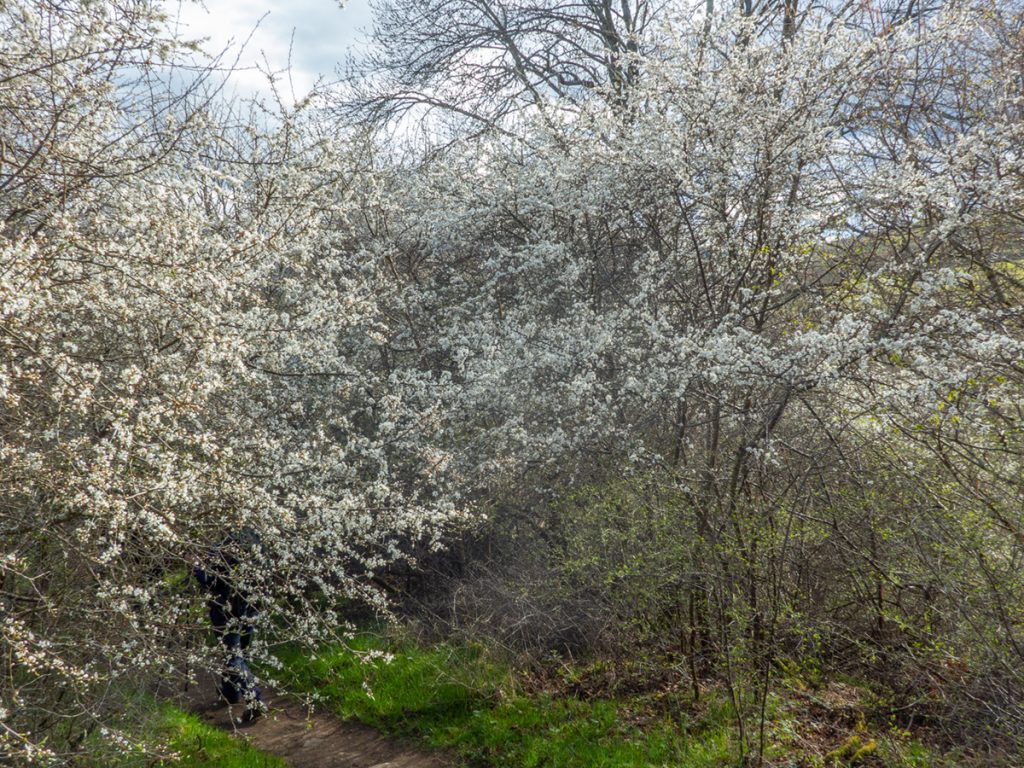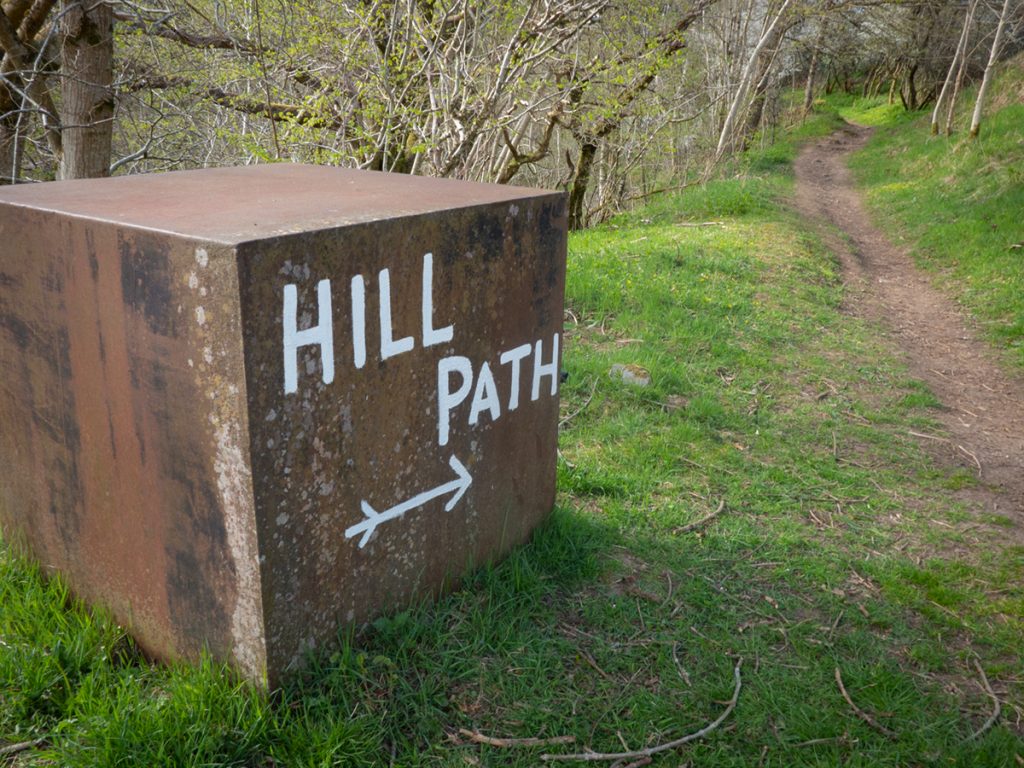 A fairly demanding hike: only 19km but 7 hours+, down to the 1400m of ascent. Quite a busy route and lucky with conditions today to really enjoy the views.
We hacked along the tarmac to the Lawers hotel where our minibus awaited. It's an odd place: we'd been assured it was open at 5pm, and you'd think at 5.30, on a good weather day they'd be up for making some money (particularly post-pandemic). Then we're informed "We're closed".. Just as we were away to head off in the minibus, some others appeared from within who'd been served.. We tried again almost had to plead to get served and were eyed suspiciously, beers arrived reluctantly in plastic glasses: visits to the toilet carefully controlled. Perhaps it's for "locals only".