A social event down in Glasgow on the Saturday night meant my only option in the weekend of races at Balmoral was limited to the 10k. I was keen to do something, as for each of the next few years Balmoral are having medals with a range of iconic Deeside scenes. I did the duathlon a few years back, and it'd be my preferred event, the 10k was very popular and competitive, and I'd not be in with any chance of a good placing.
I'd heard the route goes up a hill; unlike the 5k sections in the duathlon it's primarily fireroad rather than any steep single track. With this in mind, the reasonably dry days in the run up, and the start and end tarmac sections, I decided to go with a pair of adidas supernova road shoes rather than trail ones.
The weather on arrival was changeable; there'd been a few rain showers and it looked a bit threatening overhead. The bag drop queue moved incredibly slowly with a useless fumbling gadgy at the front of our queue, and with a minute or two warning on the tannoy had to run round to the start, a warm up of sorts.
With a recent 40min road 10k, today's expectations were for around 42 minutes, depending on how steep the hill was, a top 10% finish maybe stretching to top 5%.
I'd been warned the first few km are constricted on a narrow path, and arriving at the start with moments to spare entered the throng around the 40 minutes flag, however forward of here were perhaps a couple hundred folk; I doubted they'd all really be competing for that time, but before I had time to ponder this and move to a better position further forward, we were off.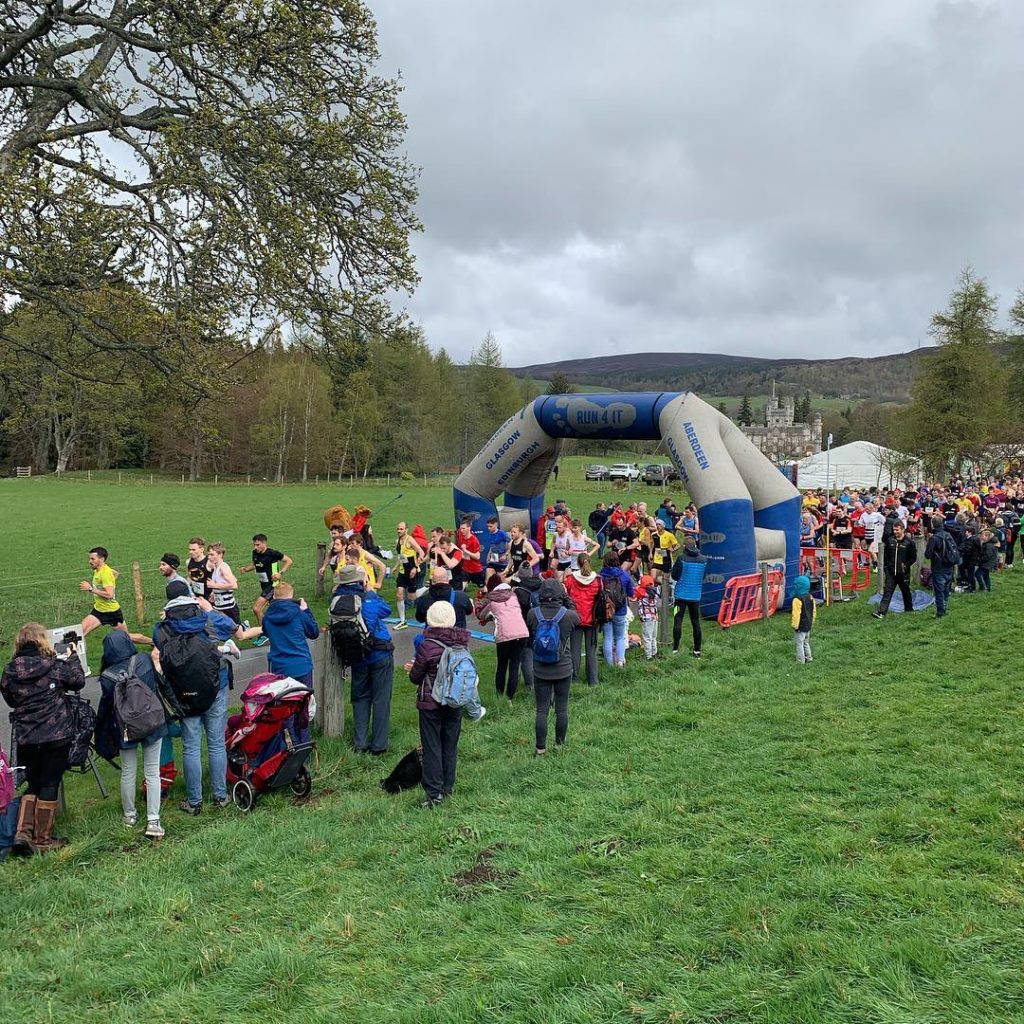 The first km was crowded and slowish; clearly far too many folk that had no chance of a 40m time (why TF do they do that?) and I was conscious that I was losing time, so did the occasional dart on to the slippery grassy verges to pass clumps of slower moving traffic.
By the 3rd km, the climb had started, and I was chipping away passing folk and getting a bit more space. This wasn't too bad, a fairly gentle climb. Hill? Ha! I might be closer to 40 minutes.
At 3.5km the route suddenly turns left, and here clearly was the hill 'proper'. Ah. The gradient now going from 2 to 10%, time to get the breathing maxed and arms pumping, hauling me uphill. Quite a few folk were now broken, bursts of walking, or extended walking going on, probably folk that just train flat. Although my pace had fallen back from 4m/k to 4'45m/k, I'd reeled in loads of folk and thought I'd possibly be up in to the first 100.
There's a big rock that marks the top, and a bagpiper to spur us all on, nice touch. The field had thinned out a lot and on the straighter sections I could see people dotted sparsely to the distance.
Beginning to descend, I tried to focus on keeping good form: it's easy to let gravity do the work and slacken off on effort, but also to over-stride and dissipate momentum in 'skiddy' steps subconsciously braking as the pace goes up and teeters towards 'out of control'. Keeping weight forward and landing strikes nice and central rather than out front, keeping cadence high, was the name of the game.
With a gradient of 5-10% and watery rubble and some muddy bits underfoot, concentration was needed, but managed to bang a 3'28 km in the steeper part of the descent. This was working out quite well; the field now was really sparse, and what I saw of it didn't have much older runners, reckoned I'd clawed it back to maybe top 50. I kept an eye out for any grey or bald heads, determined to hunt down any other vet category runners.
The slope levelled off and was back on tarmac as I headed into the 8th and 9th kms, and the track had spectators along the side, various high fives were dispensed to the kids. The effort was beginning to hurt but not long to go now.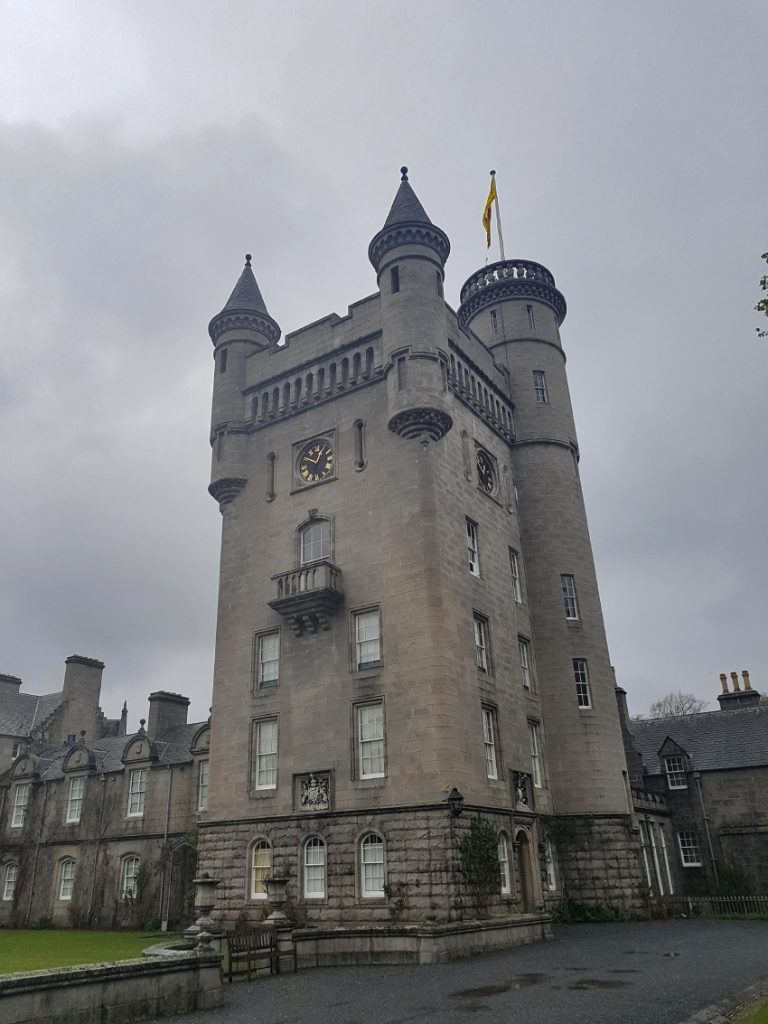 A glance at the watch showed still well below 40mins heading into the last km, so with the chance of a good time I gave it laldy as it loops back past Balmoral castle, briefly heading back across grass before the finishing straight. I hammered a sprint down the last 200, catching and passing some chap who'd been showboating the last 50 right on the line, we had a chuckle about that as we recovered. Last km of 3'35 was decently fast.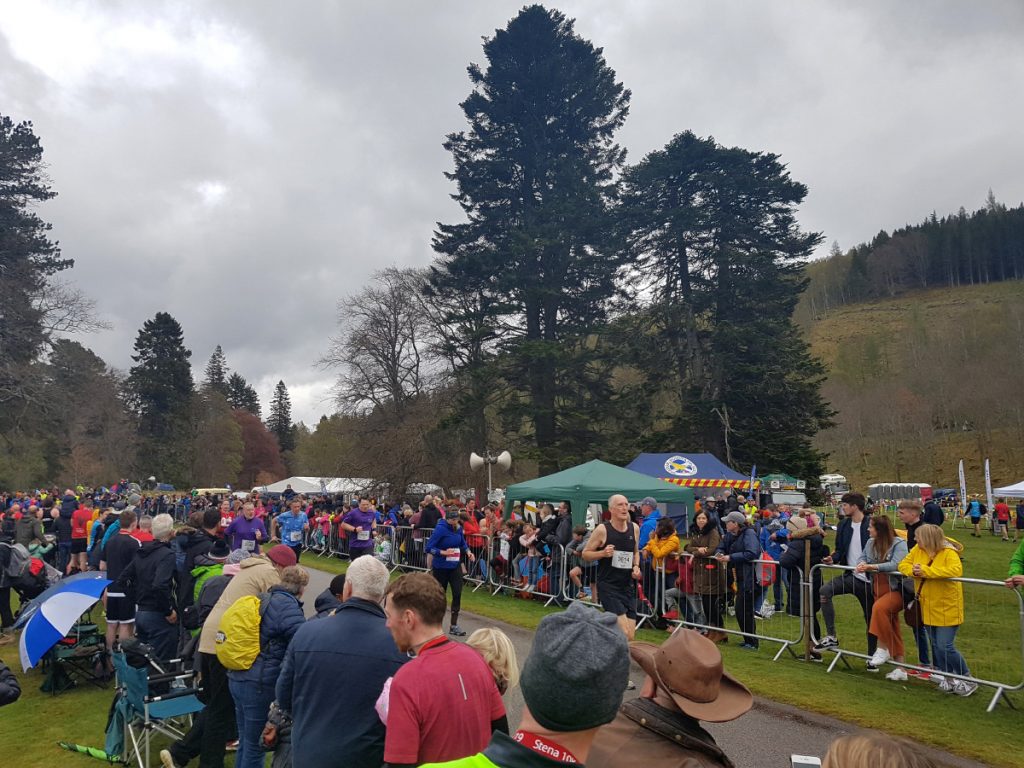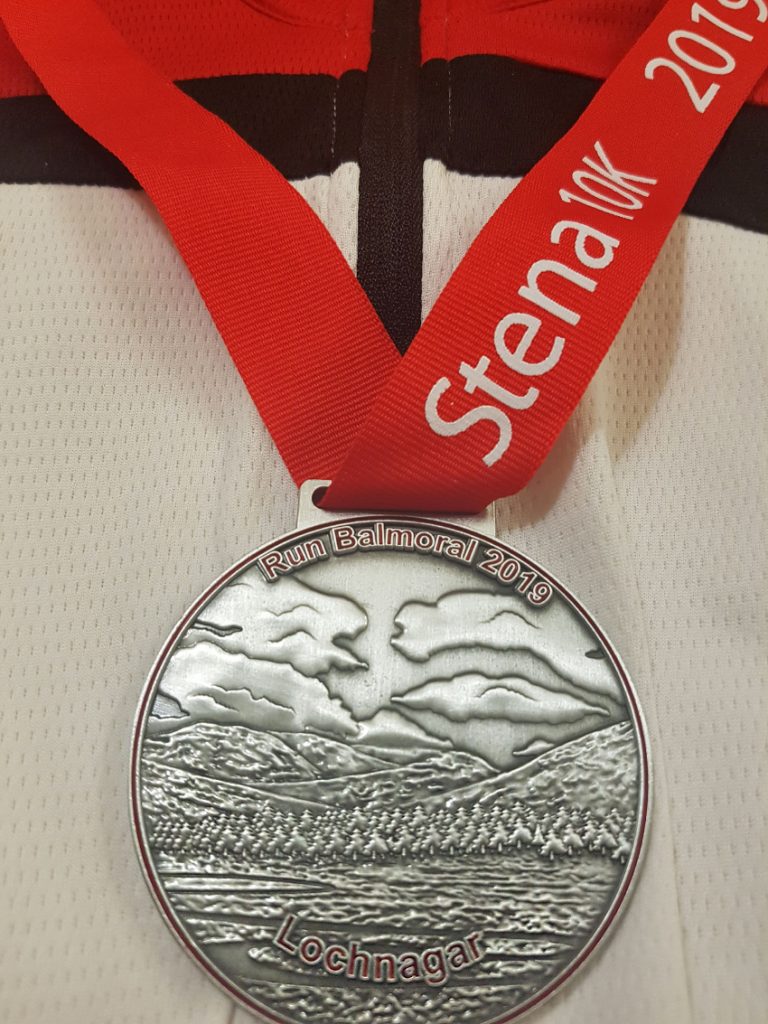 After collecting my lovely Lochnager embossed medal, and quite a decent t-shirt, I went off to find out my results…
Surprisingly good! 40'15 (way better than I expected for a hilly trail 10k), which equated to 34th overall and 9th vet out of about 1800.
Met up with some mates who had also ran, for one his first ever race (quite a tough 10k for a first attempt) before making it back to the car just in time as the rain starting banging down, onwards down to Glasgow for party action and some well earned beers.