I noticed on social media that Mark of Galloway Wild Foods in conjunction with Scotland's Natural Larder were doing a wild food foraging walk in Aberdeen. These kind of opportunities to learn about foraging are very few and far between locally (only the second I've seen in the last year or two) so despite it being on a Tuesday afternoon, I decided I'd book an afternoon off work and head down to check it out. There were about 10 other folk waiting at the rendezvous point in Seaton Park.
After some introductions, and a quick sip or two of some pre-prepared drinks, we set off on a wander through the park. Within 20m of the starting point, we were already having edibles pointed out.
Young Rowan leaves and buds – the buds have a nutty taste. Had a few beech leaves too.
I preferred the Lime leaves which have a better texture, and are easily recognised, but one possible identifier from a distance is the twiglets that form lower down the trunk. On to some sour buds, missed the name.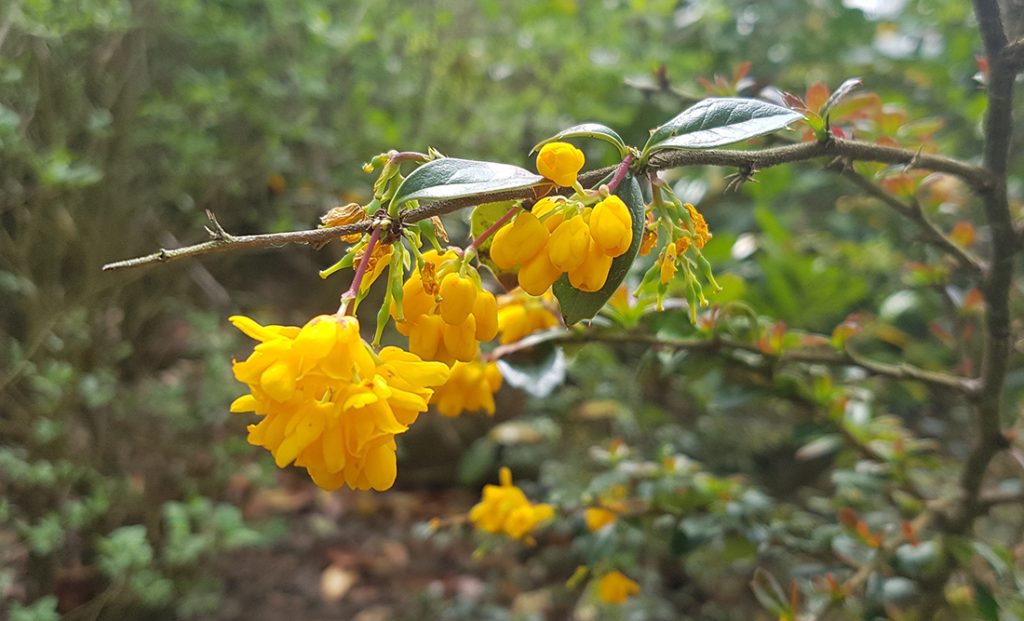 Red flowering currant flower buds are pretty fruity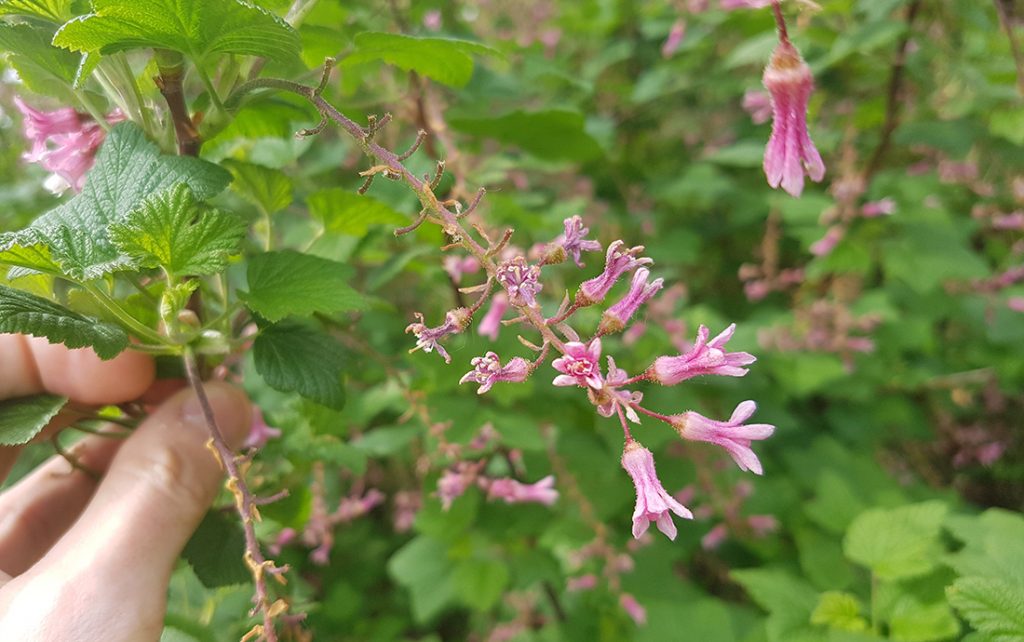 Mark explaining something to the troops, he's an easy going chap and the conversation and knowledge flowed easily, along with many a tasty sample.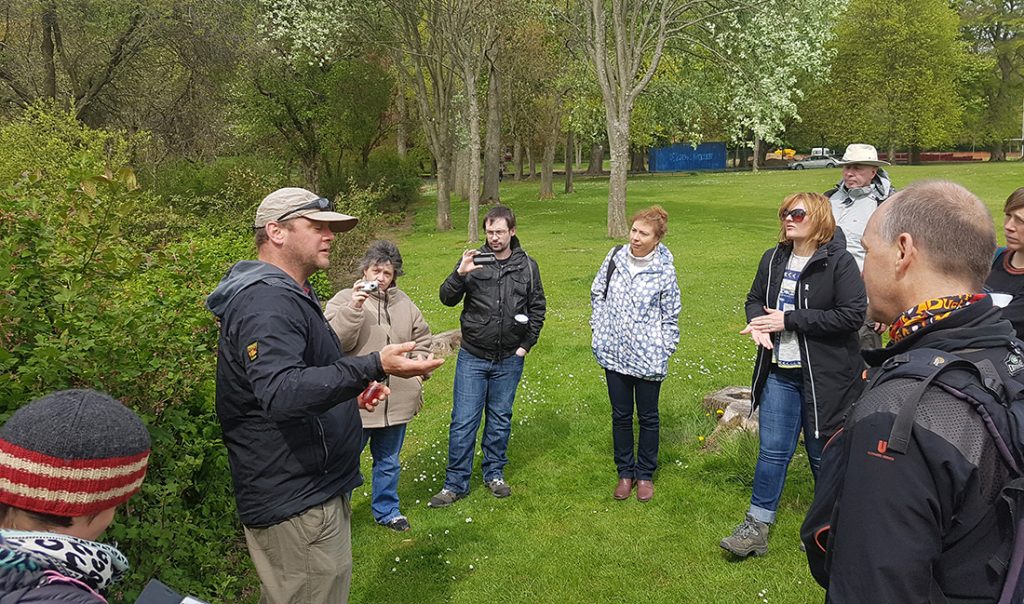 Ornamental rose leaves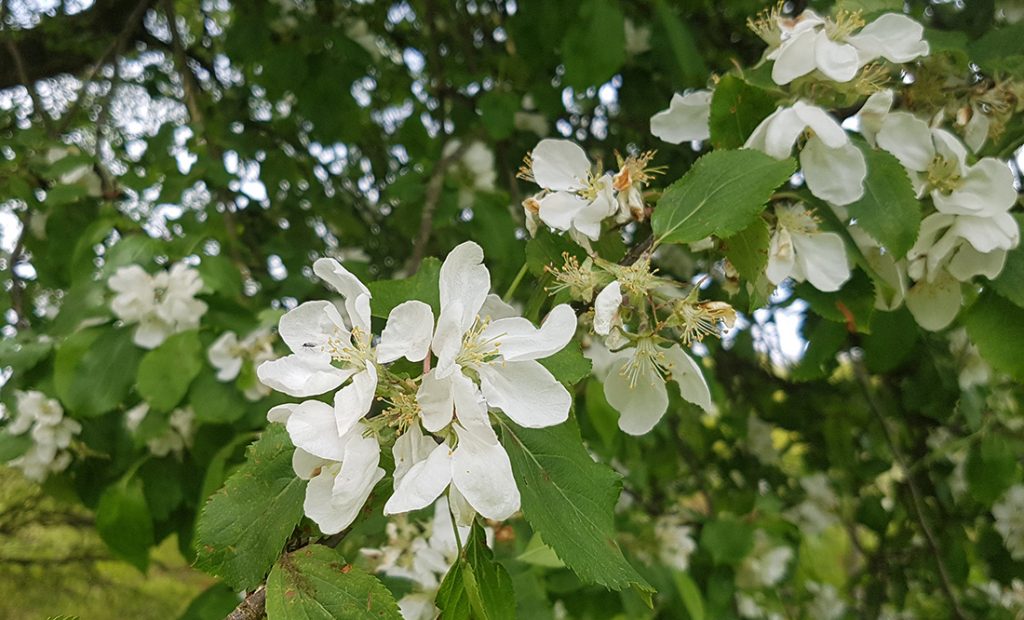 I've never really indulged much in the carrot family of plants as there are poisonous members, but Sweet Cicely is a pretty straightforward spot
These light patches on the leaves being a good sign. It smells of aniseed and has a hairy/ hollow stem. The seeds are edible too.
We also looked at Cow parsley – this would be one I generally leave as it's similar to the poisonous hemlock – but he pointed out some primary differences,  hemlock having a smooth stem with purple blotches, where as cow parsley has a 'felty' stem. As ever though best left alone unless 100% sure – "Don't munch on a hunch"
We stopped for a quick break, out came some samples including a Pesto made with wild garlic on an oatmeal cracker, delicious.
Ground elder, stalks and leaves edible
These elm blossoms have a nice flavour. A bit of further investigation shows them to be quite nutrient rich too: "34.4% protein, 28.2% fat, 17% carbohydrate, 5% ash" according to this
When they're green they can be eaten as is, later on once they dry the outer disk can be discarded. Surprisingly sweet taste.
Here Mark is showing some Japanese knotweed, which is an invasive and legislated plant such is it's destructive and persistant nature.
You can eat these young shoots – however in any easily accessible area such as this riverbank, there's every chance it's been sprayed with weedkiller so best left alone. If you do take any, it's important to ensure any leftover parts are entirely obliterated so they can't regrow and spread.
Two of the hogweeds side by side, the extremely noxious giant on the left and the edible and widespread common on the right. The giant of course grows much bigger, this is a baby. He's using his knife to touch it here – you'd never want to touch giant hogweed with your bare skin.
A young and tasty common hogweed shoot. Apparently as good, if not better, than nettles nutritionally. This is a very common plant too.
We gathered some Sorrel to add to the ingredients we would cook later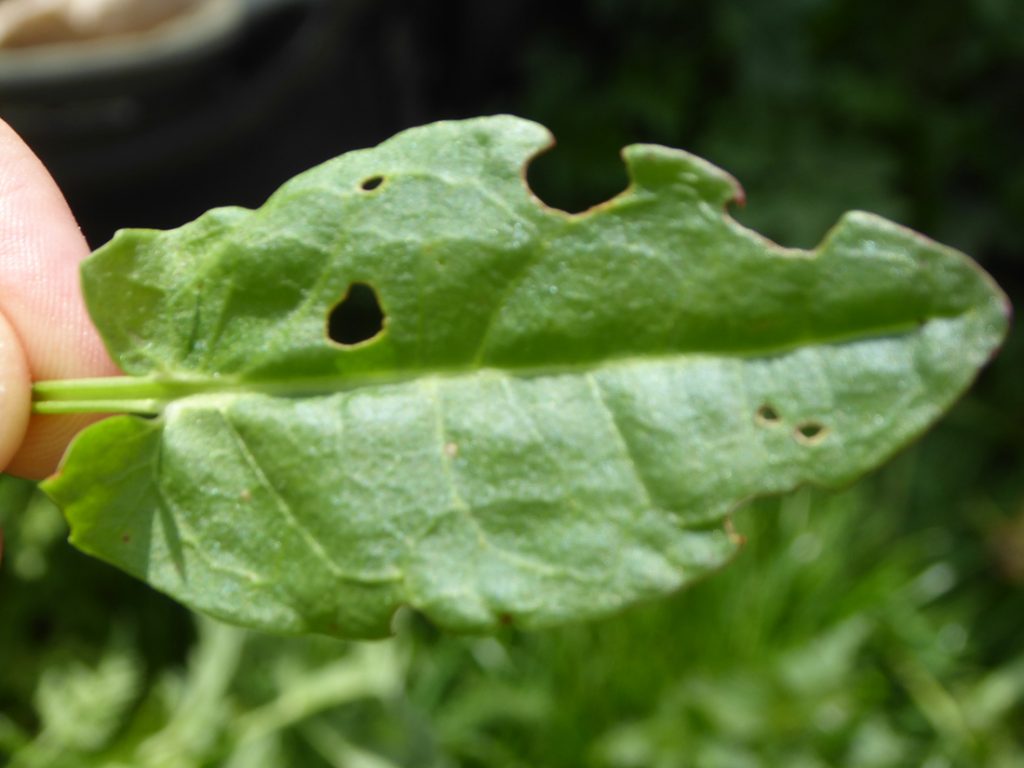 In response to talk of nettle stings, Mark mentioned ribwort plantain was a better antidote than dock leaves (useful too for insect strings and scrapes), also the seed heads are edible and have a mild mushroomy taste.
It's mentioned in Romeo and Juliet back in the 1500s:
BENVOLIO
Tut, man, one fire burns out another's burning,
One pain is lessen'd by another's anguish;
Turn giddy, and be holp by backward turning;
One desperate grief cures with another's languish:
Take thou some new infection to thy eye,
And the rank poison of the old will die.
ROMEO
Your plantain-leaf is excellent for that.
For what, I pray thee?
ROMEO
For your broken shin.
Not sure it'd stretch to broken shins, but certainly seems to be some science behind it's potential medicinal uses.
Strolling back to the start point a few more plants were uncovered.
Back at the car park, time to get down to some cooking
A nice stroll around the park for a few hours certanly works up an appetite, I could have scoffed another few portions of this tasty medley
That concluded the day nicely. I thoroughly enjoyed the day, I'd highly recommend attending one of these if you get the chance and have an interest in wild food. I learned a fair bit – books can only communicate so much, it's a lot easier when you can touch, feel and smell, and ask questions on the spot. Having the tasting samples and the cooking session is great inspiration to show what can be done with foraged ingredients.
Time to head home so I unlocked the clunker* bike I'd travelled down on.
* A clunker / sacrificial/ worthless wreck is actually a handy bike to have for higher risk areas. Seaton happens to be a hotbed of bike theft activity, so it's a brave man that'd leave a decent steed here unguarded for a few hours no matter how well locked. You're not going to immerse yourself in what you're doing if you worry about your bike. I use it when i go trail running and need to leave for hours in quiet places. As it happens, as we sat cooking, I noticed that the beady eye of a passing junkie had locked on to it but the deliberately uncleaned rust and scratchy frame had him soon dismiss this as his next crime.
I went and picked some wild garlic from near St Machar Cathedral then meandered back through Old Aberdeen. Wrights' and Coopers' Place off of the High Street was looking nice with the cherry blossom.
It leads on to MacRobert memorial garden, with a nice wee pool and globe/sun dial sculpture
A wall mosaic depicts the coat of arms is for The MacRobert Trust. The lions commemorate the three sons of Baron Alexander MacRobert, who each died in flying accidents or were lost in action. The banner translates as "Not for self, but country".
Cherry blossoms in effect all over town currently.