I had a training session run by MTB Skilz at Kirkhill forest on a Saturday afternoon, so I thought I'd take the opportunity while cycling out there and back to explore some new routes and places. A quick look on OS Maps showed some quiet tracks out the back of Northfield most of the way to Tyrebagger, where I thought I'd check out the sculpture trail, before meeting up for the training session. An overnight frost, and then thaw in the bright sun made for a slow slog along the back lanes. crunching and splashing through ice and mud, eventually emerging onto a road near Newhills kirk
  There's many similar scenes of construction abound around Aberdeen currently, as the ring road nears completion.
I missed a turn off on the planned route, ending up down hill almost to the dual carriageway. This track beside Chapel Farm looked inviting.
It petered out on the periphery of West Woods
A quick look on the map doesn't seem to show any direct connection between West Woods and Elrick Hill, but heading uphill to the North West there's a way through and a small bridge across the stream.
The path forks and heads around Elrick Hill clockwise or anti-clockwise. I took the left.
The initial path is well surfaced, but starts getting rockier
The path heads into a copse of trees, with some unusual wind sculpted pines
In amongst them there's a picnic table, and peeking out between roots is one of the 20 sculptures that make up Tyrebagger sculpture trail.
I took the fork out of the woods to continue around the outside of the hill (you can also go over the top). Great view to the West.
After bouncing over more rocks n roots, I came to another sculpture – Modern Nature,
by Matthew Dalziel and Louise Scullion (2000). This apparently had originally had hidden speakers that occasionally emitted bird call sounds.
After some moor like terrain with pedal-strikes galore on the rocky path, it begins to head down back through trees towards Tyrebagger. It's a decent wee spin, not nearly as big as Kirkhill but more scenic.
Another sculpture on the way down – Sky Lines (2001) by Vong Phaophanit who was shortlisted for the Turner prize for another work. If I hadn't been in a hurry at this point I'd have inspected them closer (they have holes drilled through at points to provide views and wind noise)
With a few minutes left until the training session kicked off, I hustled down the rest of the way without looking for further sculptures.
MTB Skilz training session
There were around 8 people present for the session, ranging in skill levels and experience. After a bike check and a quick round of introductions we made our way over Kirkhill. We covered a range of basics where we worked on and compared techniques, and got instant feedback on each attempt. As somebody who has previously just went out there and muddled through, it was great to hear some logical explanation on why you might use a technique, common mistakes, and better ways to perform skills, from an experienced coach. Looking forward to the next session.
After the session, time to make it back home. I went the other side of Tyrebagger, where recent storms had created a few obstacles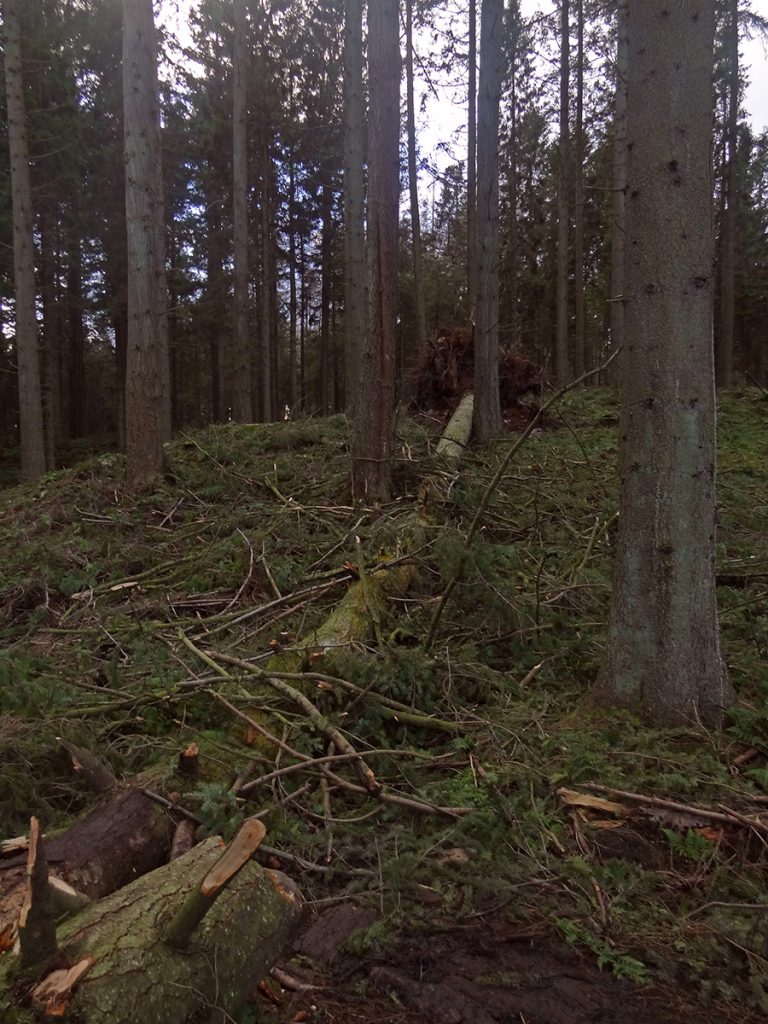 A sparkle caught my eye high up to the right of the path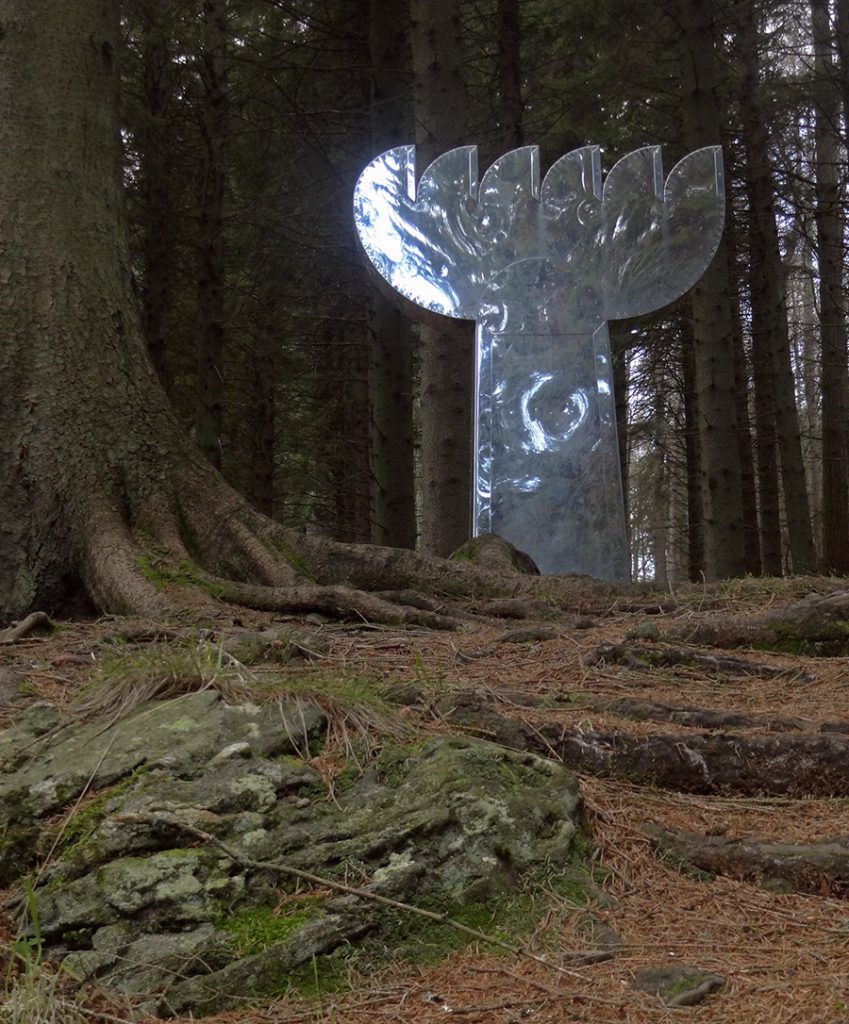 The reflective riveted structure is 'Beacon', Allan Watson, 1994. Next time I'm back this way I'll definitely need to spend more time tracking down as many of the other sculptures as I can find. There's very little information online about them, though wayback machine has shed a bit more light – it has a copy of the sculpture trail web site that went offline years ago stored, albeit missing many images.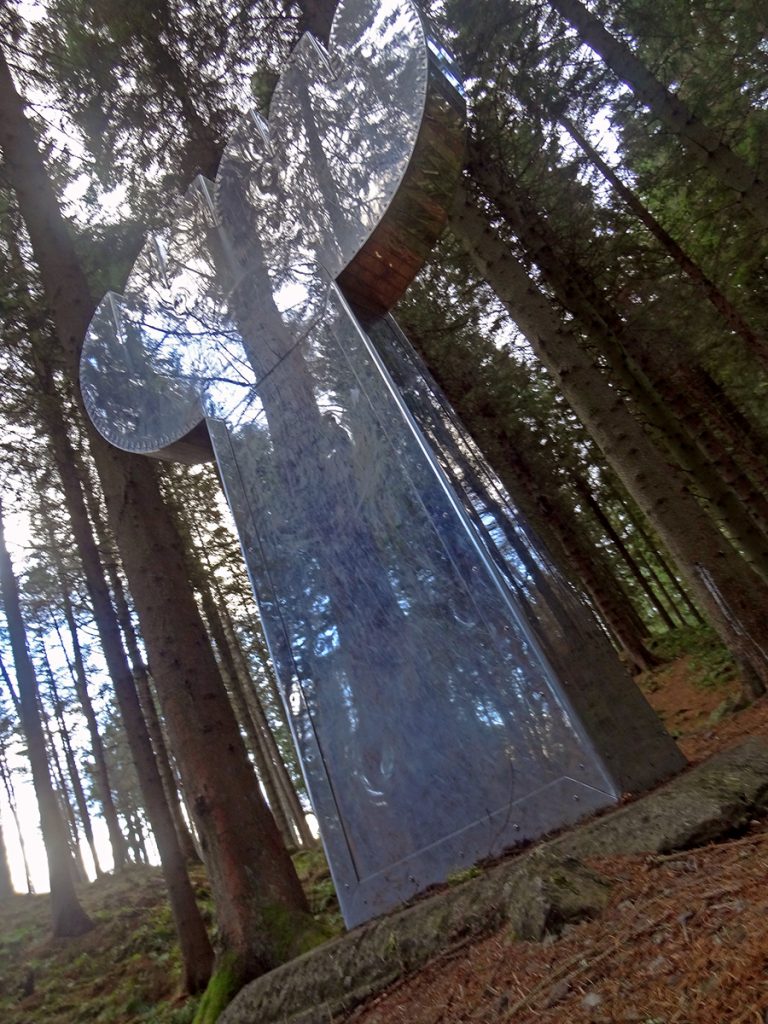 On wards towards West Woods, this road hasn't seen many vehicles recently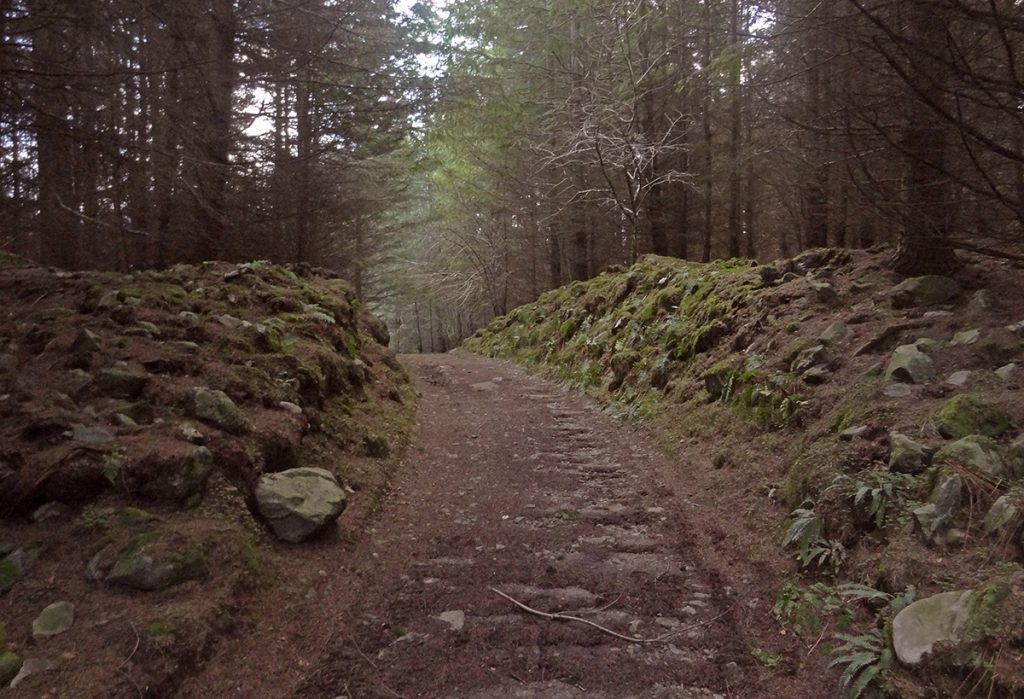 An old ruined cottage decaying beside a clearing in the trees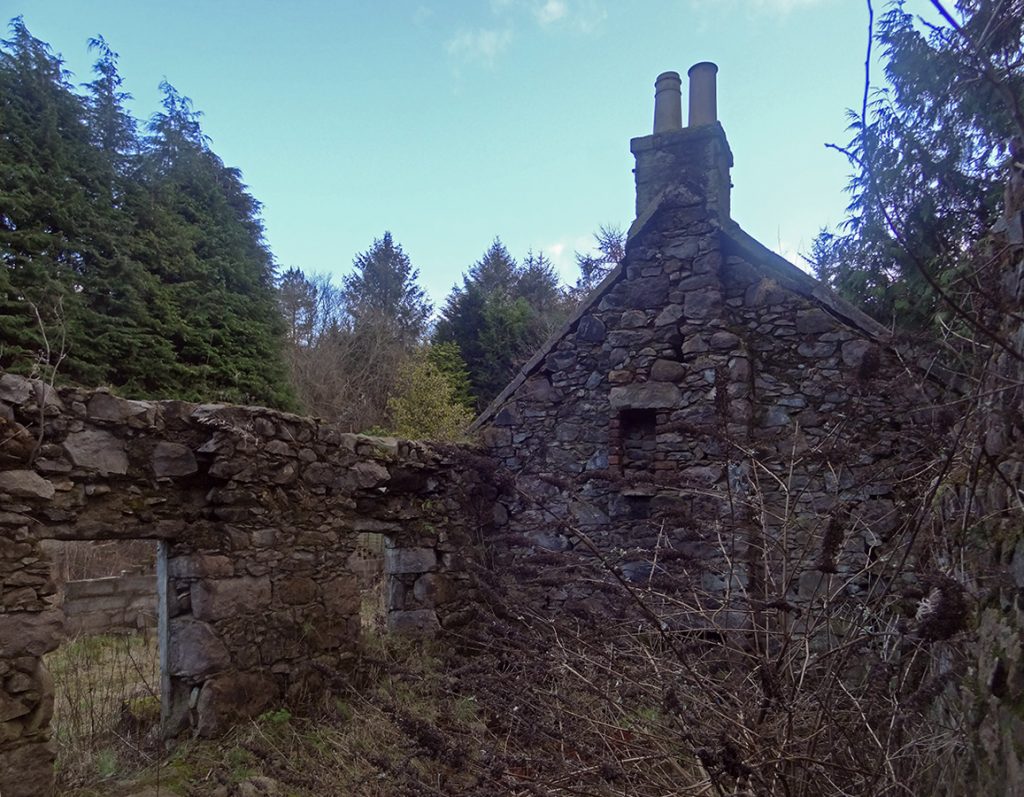 Climbing back up to where I crossed the stream earlier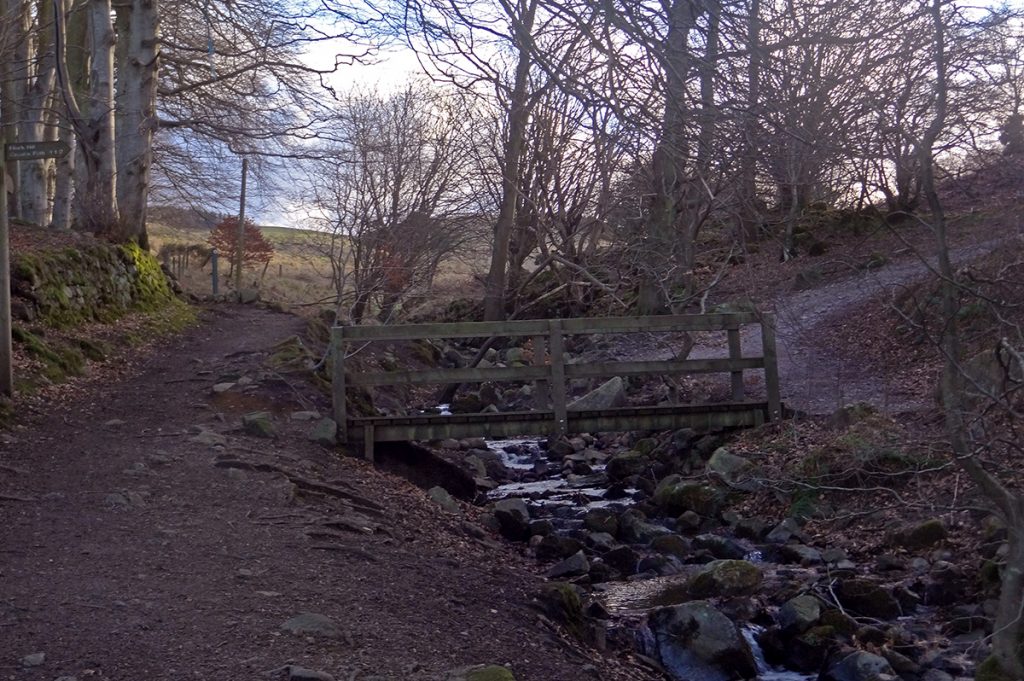 Helpfully carved from a felled tree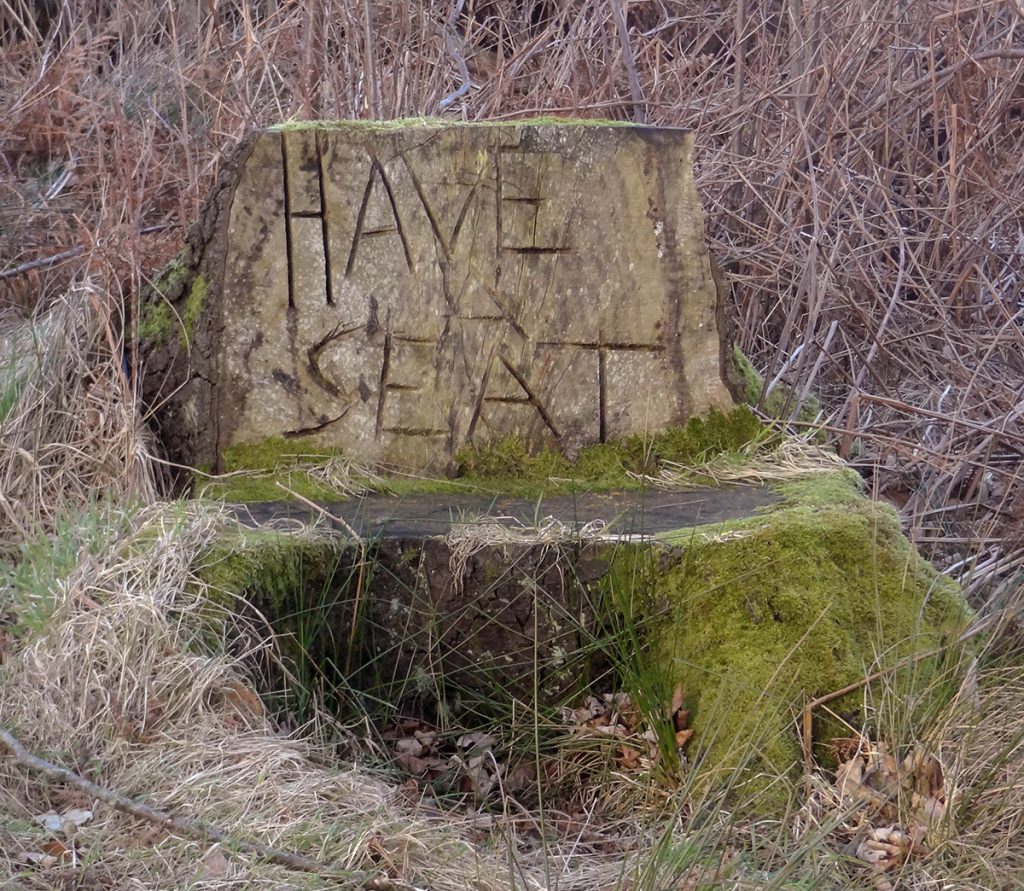 After negotiating more ring road works, I spied a nice trail heading downwards following the Gough Burn, which finished at this sign.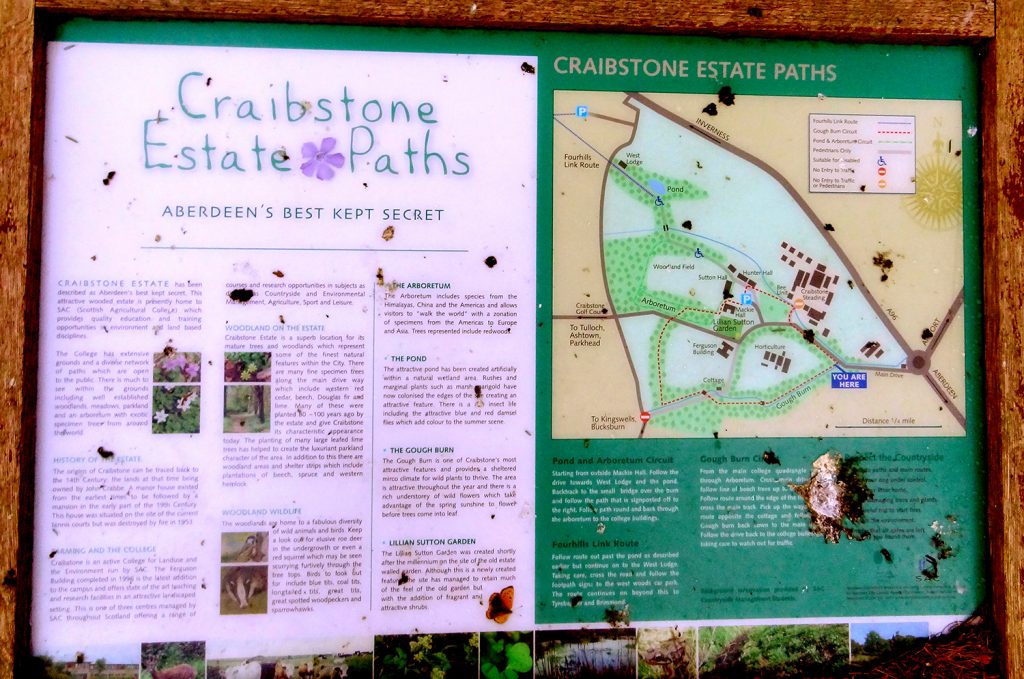 A closer look at the map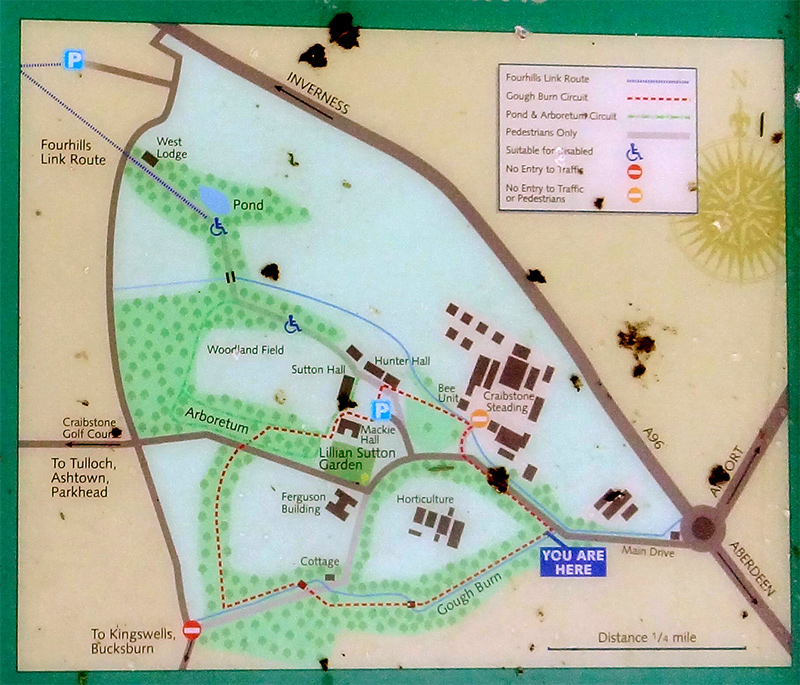 I'll need to check out the 'four hills' route sometime, plus have a nosey in the arboretum if it's not been obliterated by 'progress'. There's a useful underpass here that goes under the dualer behind Craibstone Steading, although a few discouraging signs mean probably few use it.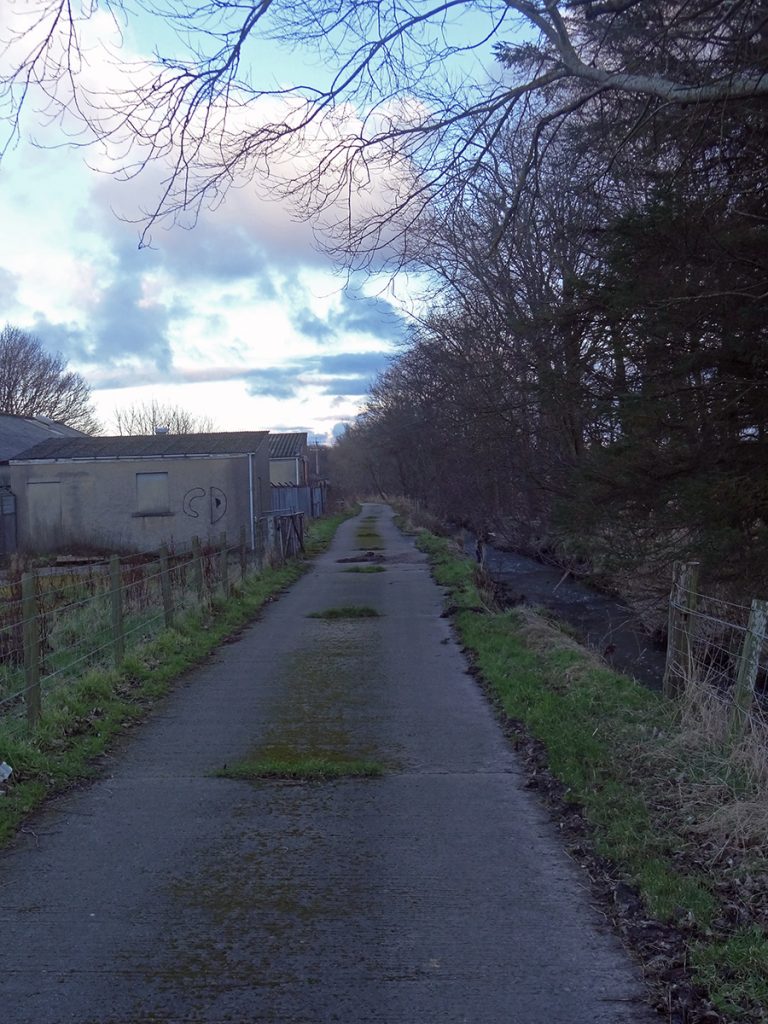 Abandoned back road abandoned farm buildings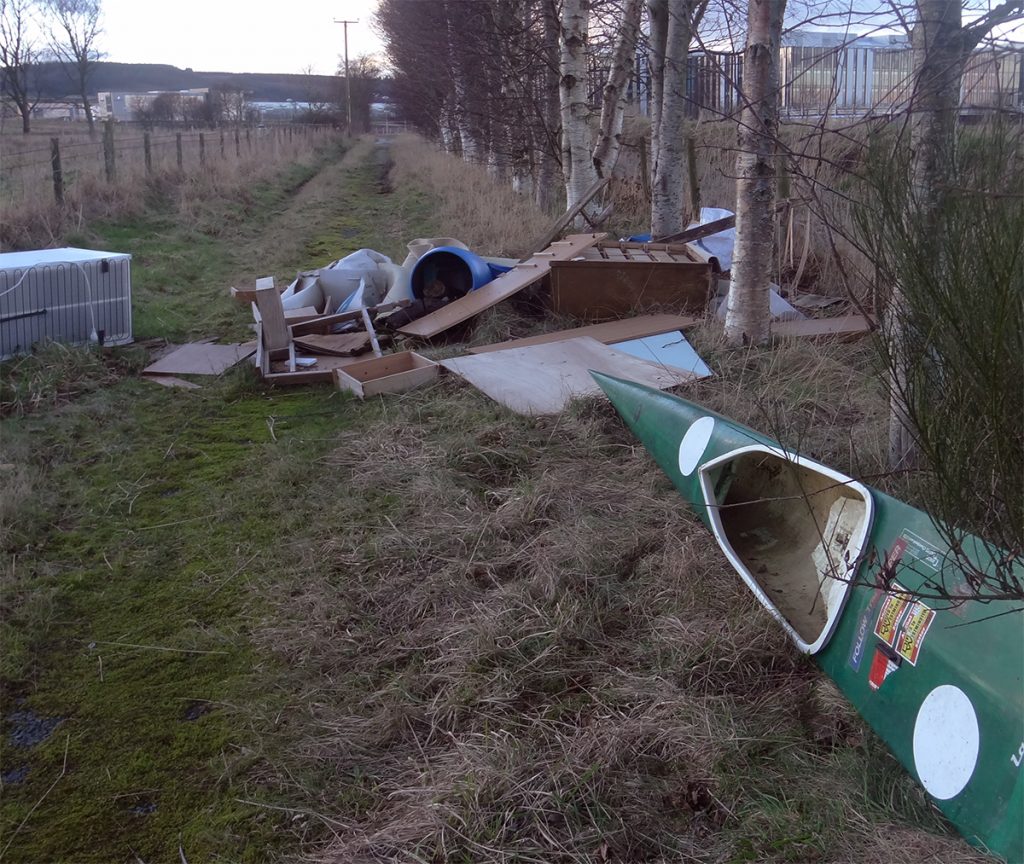 This canoe is a long way from water now in this fly tip. Followed this path marked on OS map until it was cut off by a 30 foot cutting with a new road at the bottom, climbed up the other side over a fence and continued, next time I'll need to scope the route out a bit better. Explored a bit along the Don down an unused old path
Proceeded on foot for a bit for a recce and scrambled down to take a look at this rickety contraption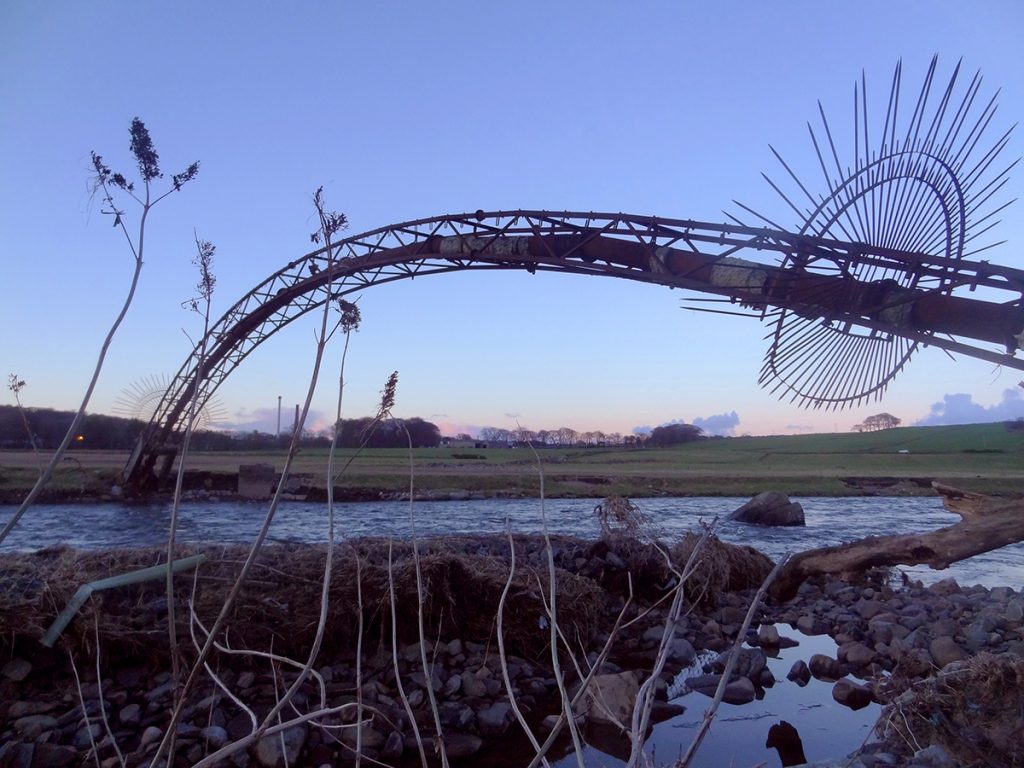 With it getting dark, one last snap, then time to road it back into the city centre, and grab some well earned fish 'n' chips.