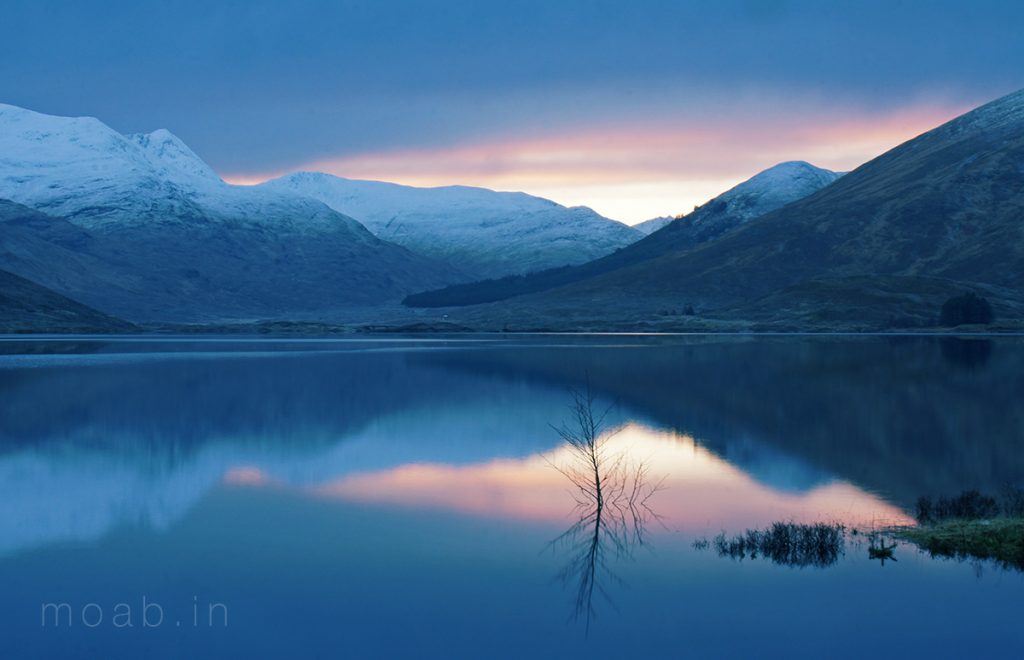 I ventured over to Skye and Glencoe at the beginning of January for a week's camping and photo-touring. In the first of a few posts regarding this trip, I'm going to post some thoughts on some kit that I took with me. The weather over there at this time of the year can be pretty brutal, so I bought a few new bits of outdoor gear to cope with the conditions, where I thought my existing lightweight and primarily fair-weather kit would be under-gunned.
Berghaus Expeditor AQ Ridge walking boots
Normally I wear Salomon XA Pro trail running shoes, which are pretty robust and warm as trainers go, but with terrain being boggy, possibly inches of snow and a lot of rocky terrain, boots were required, and an old pair of boots I had were past their best. I was worried whether these would be sufficiently warm – with one thick pair of merino hiking socks, and an extra thermal insole underfoot, these were only noticeably cold one time in minus 5 after a good hour of standing around, and never when on the move. They squelched through boggy heather and splashed through creeks all week without any sign of leakage, clattered across the pebble beaches at Elgol and clambered nimbly over the frosty scree of Storr without any undue discomfort, slippage or damage. It remains to be seen how breathable the AQ2 membrane is in warmer weather.
Vango Mirage 200 tent
My regular lightweight tent (Force Ten Helium 100) is fine usually, if a bit flappy when windy, but with likely high winds and adverse conditions for days on end, I thought a bit more space and a free-standing geodesic structure would be more prudent. The tent would also be used for some bike packing trips afterwards, so it was bought with this in mind.  The contenders included Snugpak Scorpion 2 (apparently quite short) North Face Tadpole, Terra Nova Voyager (inner first..), Force Ten Ion2, Wild Country Trisar 2. Availability and economy won the day for the Mirage. Although heavy (and quite bulky packed) I'd have had to spend 3 times as much to get something similar under 2kg, which I'd have considered if I hadn't had to buy other kit at the same time.
On an overnight camp at the top of The Quiraing where boggy ground forced a less than ideal pitch , it effortlessly shook off repeated hail and rain blastings and a strong blustering wind that would have had my Force Ten whipping and contorting in half, even though, being short of a peg or two, it wasn't fully guyed out. It's not quite as big inside as I'd hoped for the extra weight and pack size, in particular the height and rear slope. There was a lot of frost at times on the inside of the fly sheet, though I'd closed the ventilation slits so can't conclusively criticise it's breathability. You can get the flysheet gap quite close down to the ground which is handy in strong horizontal driving rain. The poles were sometimes a bit of a strain too get into their grommets, though again this was a lot down to conditions with them being slippery with frost. Packing was easy as it has an oversize stuff sack. It survived with zero drama in quite testing conditions, job done.
Vaude Norrsken sleeping mat
This is a full length, non self-inflating primaloft filled mat (rated down to -19ºC apparently). The two outermost of the lengthwise ridges are slightly fatter to discourage rolling off. I never once felt any cold seeping up from the frozen ground through this, my only critique would be it's a bit slippery on the bottom so can creep downhill on a sloping pitch, and the valve was sometimes a bit reluctant to open and needed more force than I'd generally care to apply close to where it joins to thin material. Reasonably light, and good value.
British Army surplus softie thermal trousers
These insulated over trousers have a outer and a polyester insulated filling (at a very rough estimate around a gsm thickness). They have full length zips at the sides, and elasticated ankle cuffs and waist. I bought a size small (the label describes this as ) and despite being 5'10 and a 32′ waist, reckon that this size would be good for up to as they are extremely baggy. The larger sizes must be hideously 'MC Hammer'. Worked well in the early morning when standing around photographing the sunrise in sub zero temperatures, and similarly later on hanging around camp, and as an extra layer in the sleeping bag (which had proven to be too cold). They compress well, though with a lot of superfluous material I'm tempted to get them altered to slim them down and lose unnecessary bagginess and weight.
Berghaus paclite gore-tex waterproof over-trousers
A last minute upgrade from Go-Outdoors in Edinburgh over the army surplus 'goretex' trousers I normally use. A useful 300g weight saving, and a small pack size too. 3/4 zips with side studs meant they could be left on in the extremely changeable conditions on Skye, with the studs allowing a reasonable amount of venting with out too much wind flap. No problems with leakage. It remains to be seen if they are too loose on the lower leg for cycling.
Look At What We Found ready meals
My primary meals for the trip, these taste great, and are cheap and easily heated. You can even eat them cold if pressed as they are sterilised and vacuum sealed. They don't need to be chilled unlike most ready meals of this nature. The only real down side is weight (they're not dehydrated) and the additional step taken to bulk them up with some carbs (rice or noodles) which they don't include.
In the next part of I'll look at a few thoughts on the trip, places visited and lessons learned, and get some more photos up of the amazing scenery that the area offers.