This Sunday was supposed to have been spent up in the hills, but arriving a few minutes late for the bus, discovered they'd not waited :-/ All geared up and no place to go, and up early, I returned home dumped the winter hill kit and grabbed the bike to head out and make the most of the day.
Passing through town just in time to avoid the seasonal shopping hubbub, nonetheless there was some festive accoutrements in Duthie park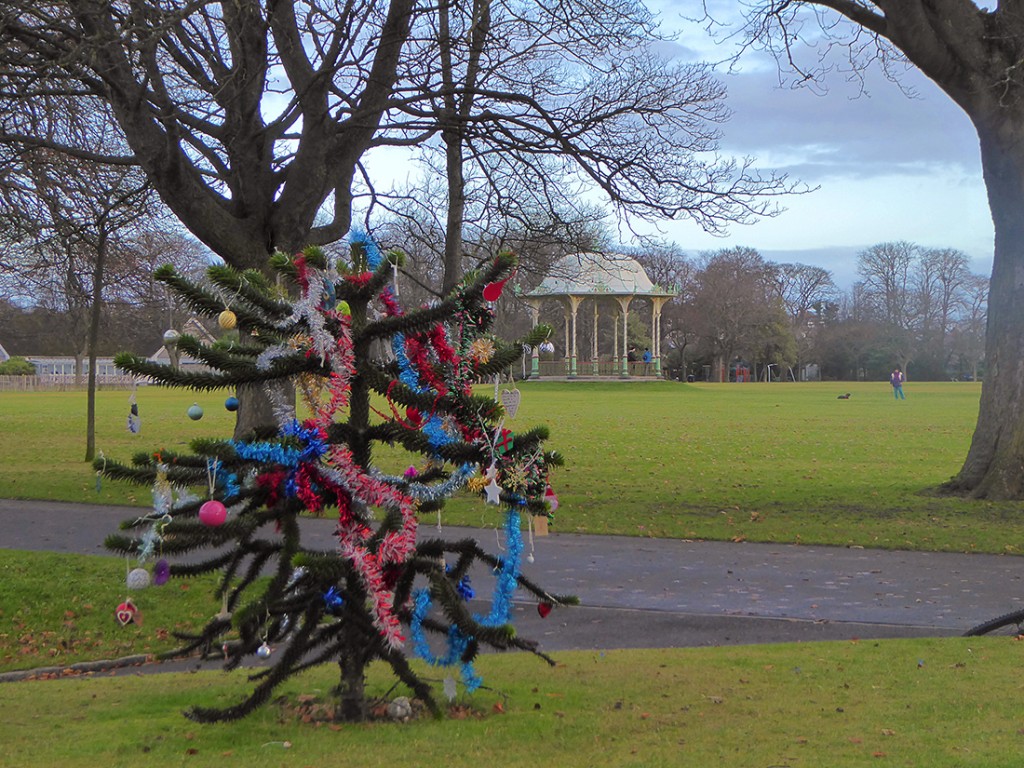 Dark to bright right angles of wrought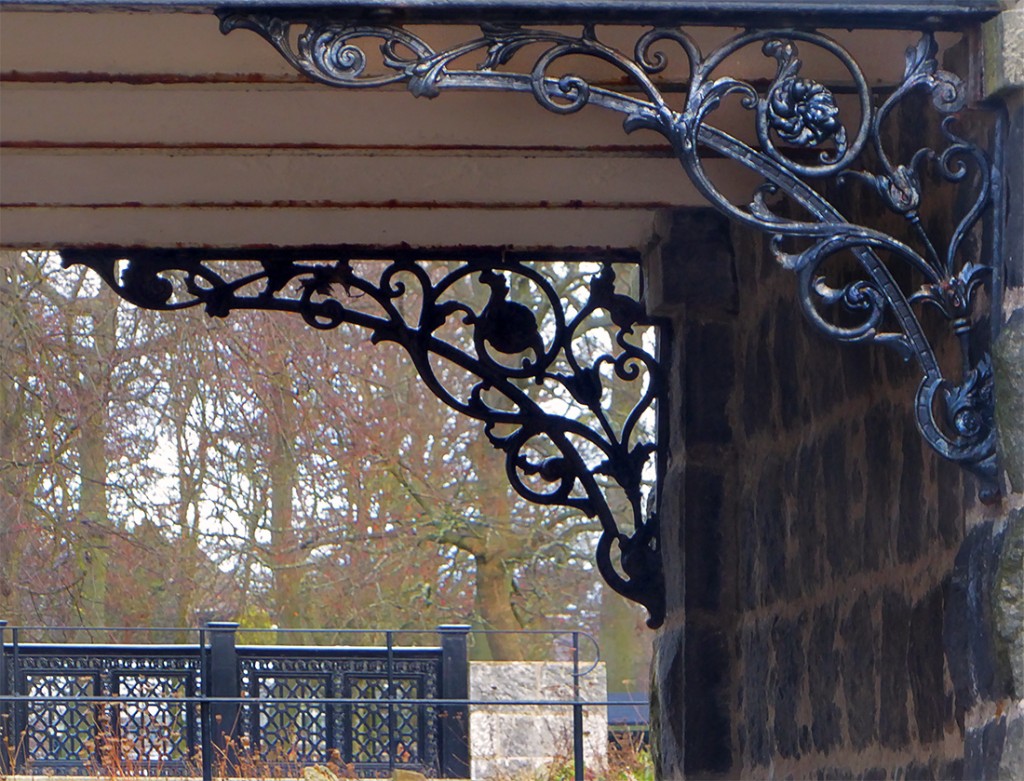 A lot of rowing boats out today, this one's taking a breather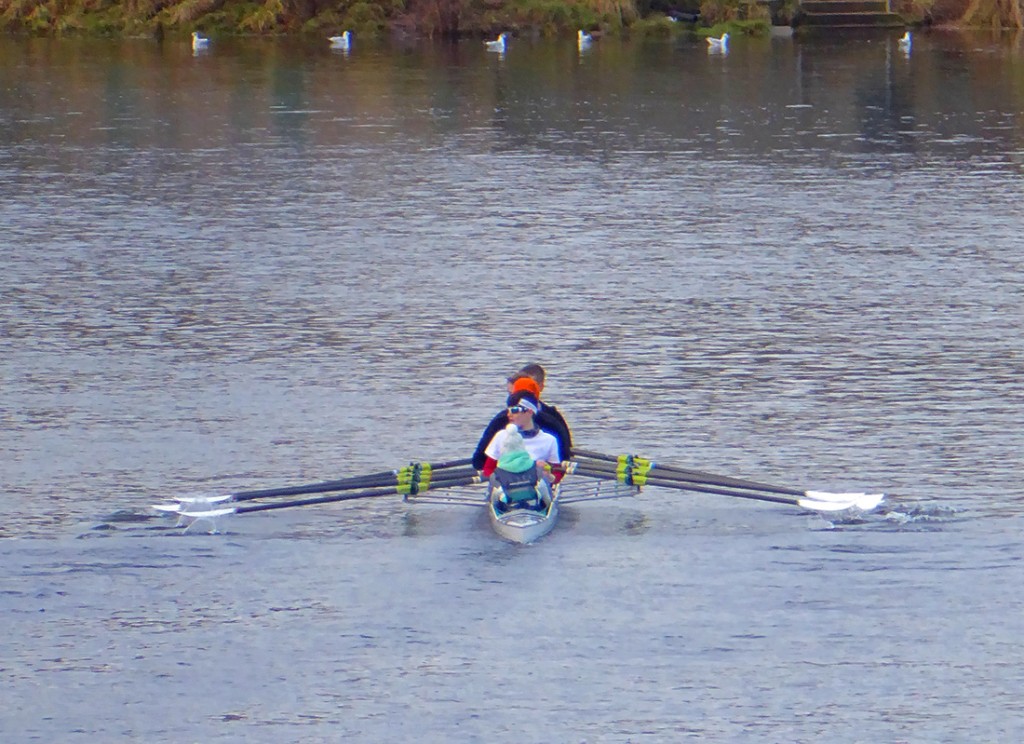 After a wee bit of trail, behind the gym warehouse there's activity afoot, whether they are repairing flood damage or sneakily cordoning off a piece of land remains to be seen. There's only a tiny barely navigable sliver of land next to the river outside the fence. I wonder if the fresh laid turf tiles will root before any spring floods.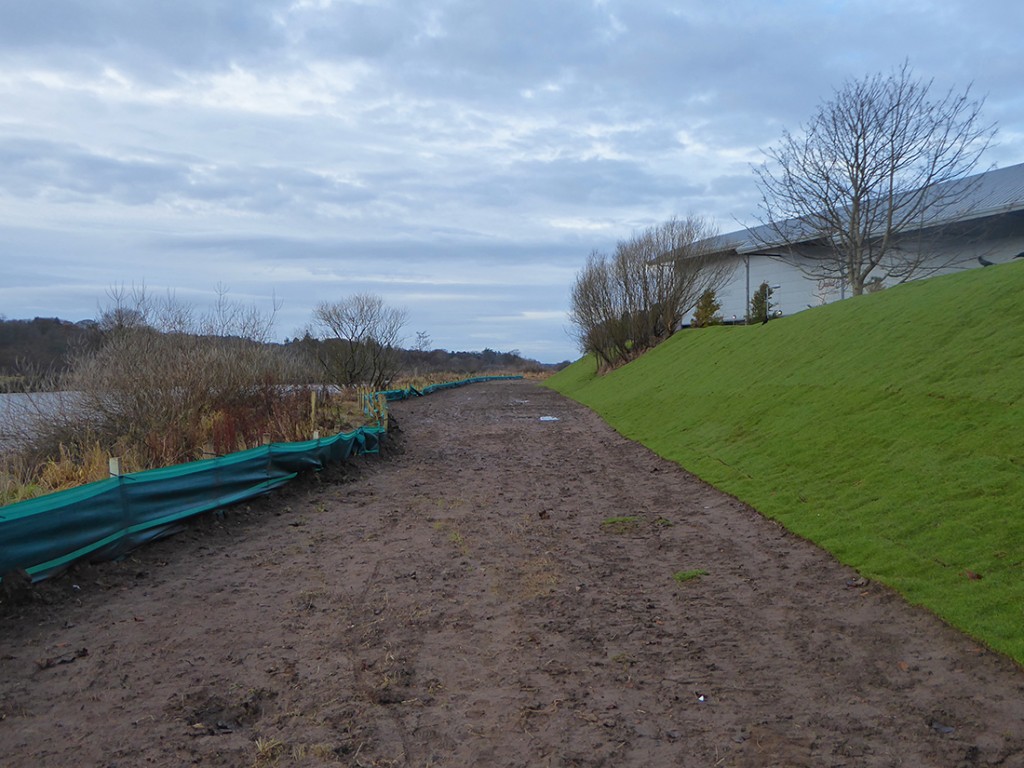 The woods before Inchgarth are now dull and bare, but fungus is at work munching through dead wood
Further on, the trail is surrounded by an unexpected speckled sea of white berries (snowberries?)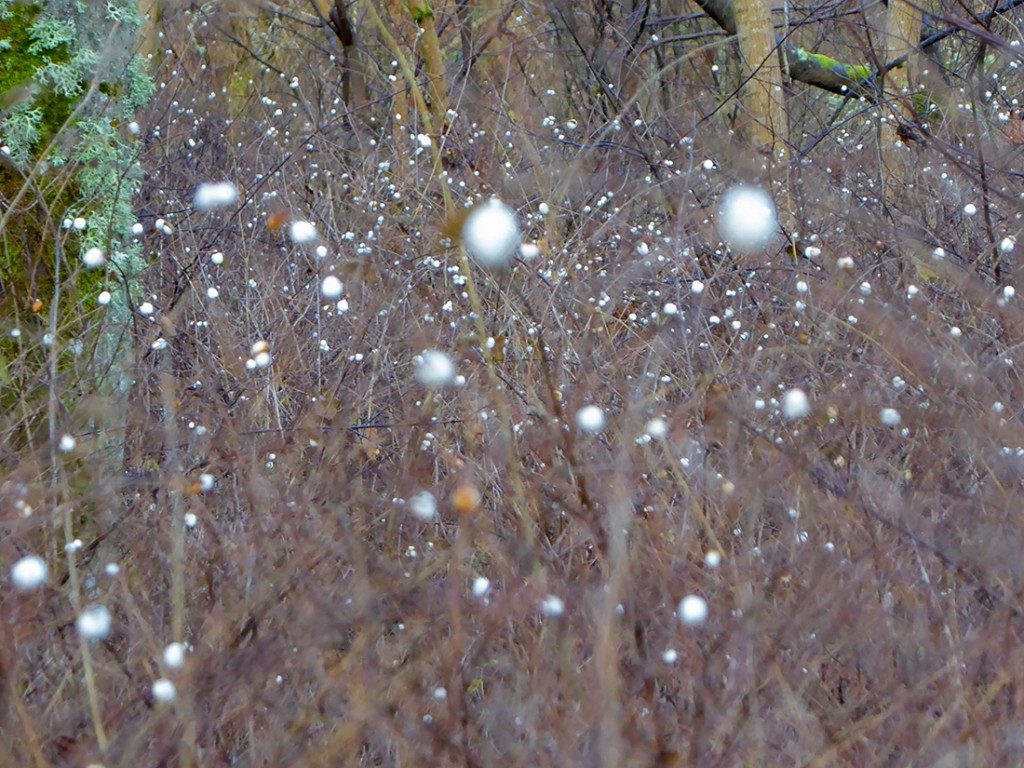 It's like being in a blizzard frozen in time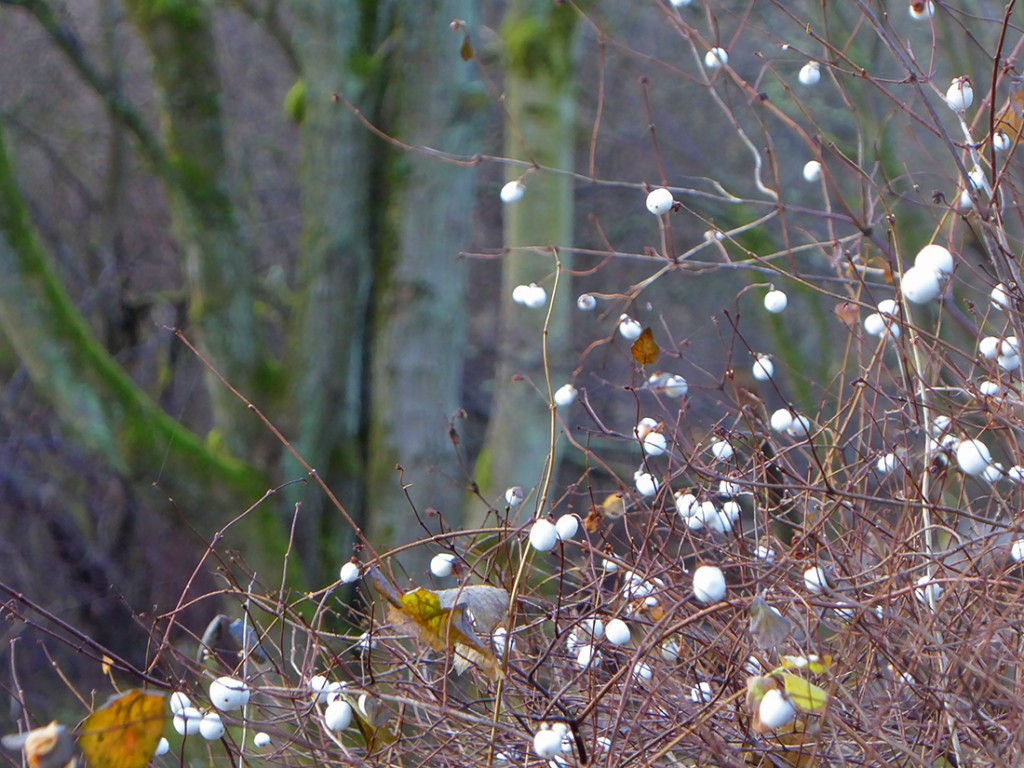 Along the river, a heron flaps off, but the crows are not so easily deterred. A dead salmon drifted down from spawning must be a valuable bounty for them. Hard to tell, but actually looks quite 'silver' where as spawned ones usually look red/dark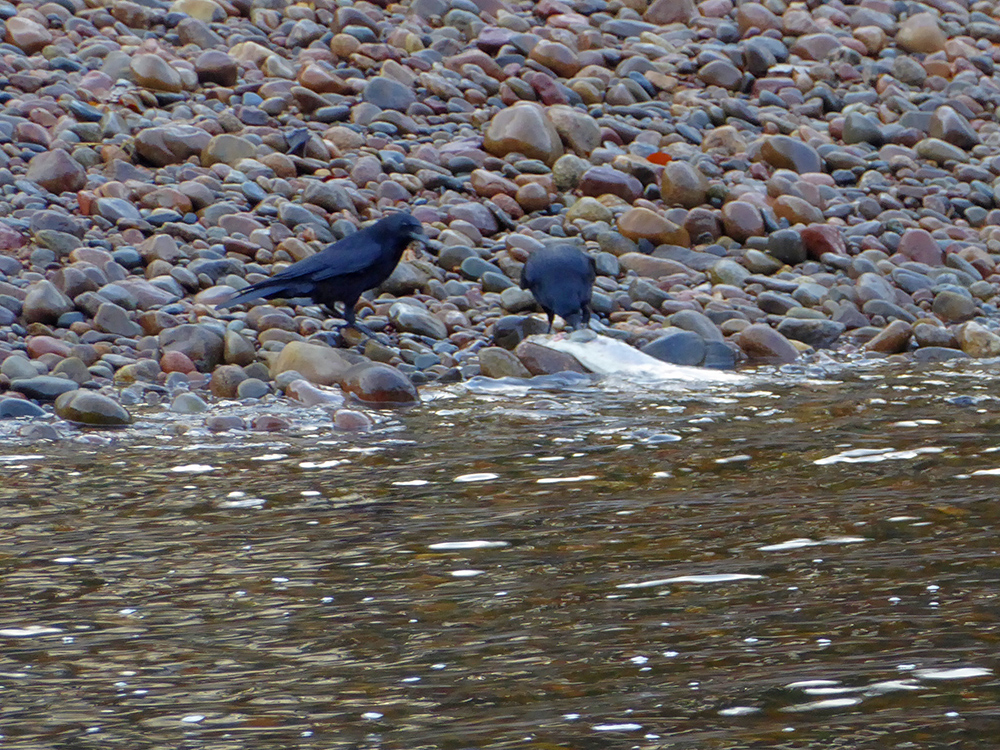 Brushing past a log, an unusual purple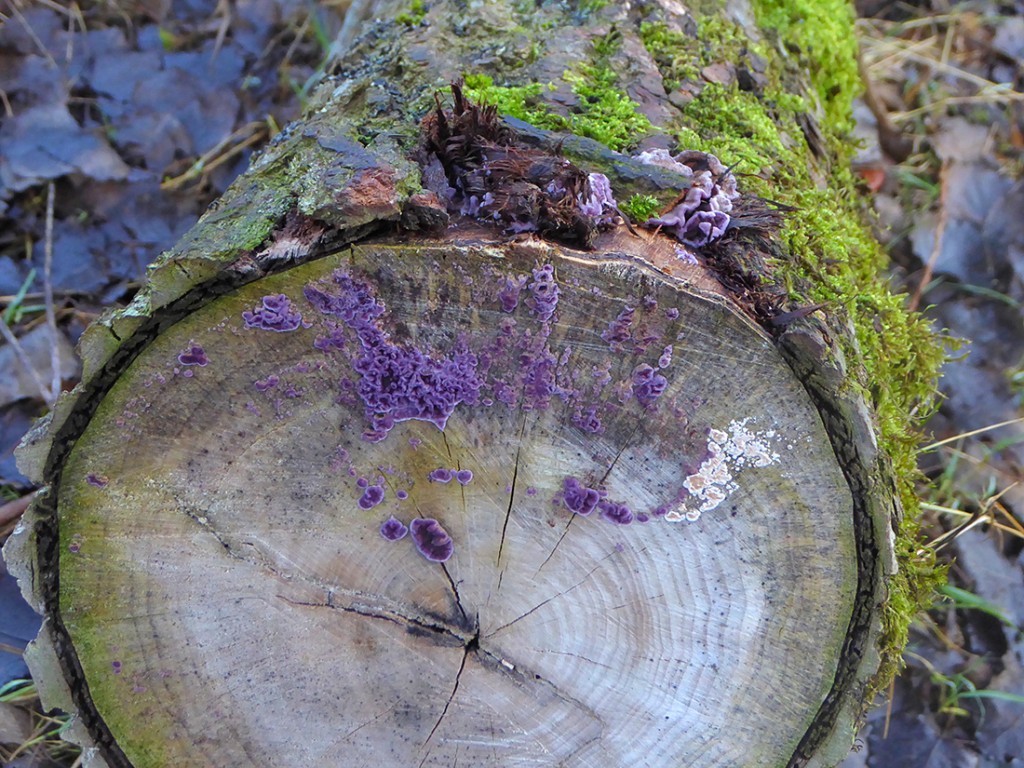 I should get a decent macro lens to explore these micro environments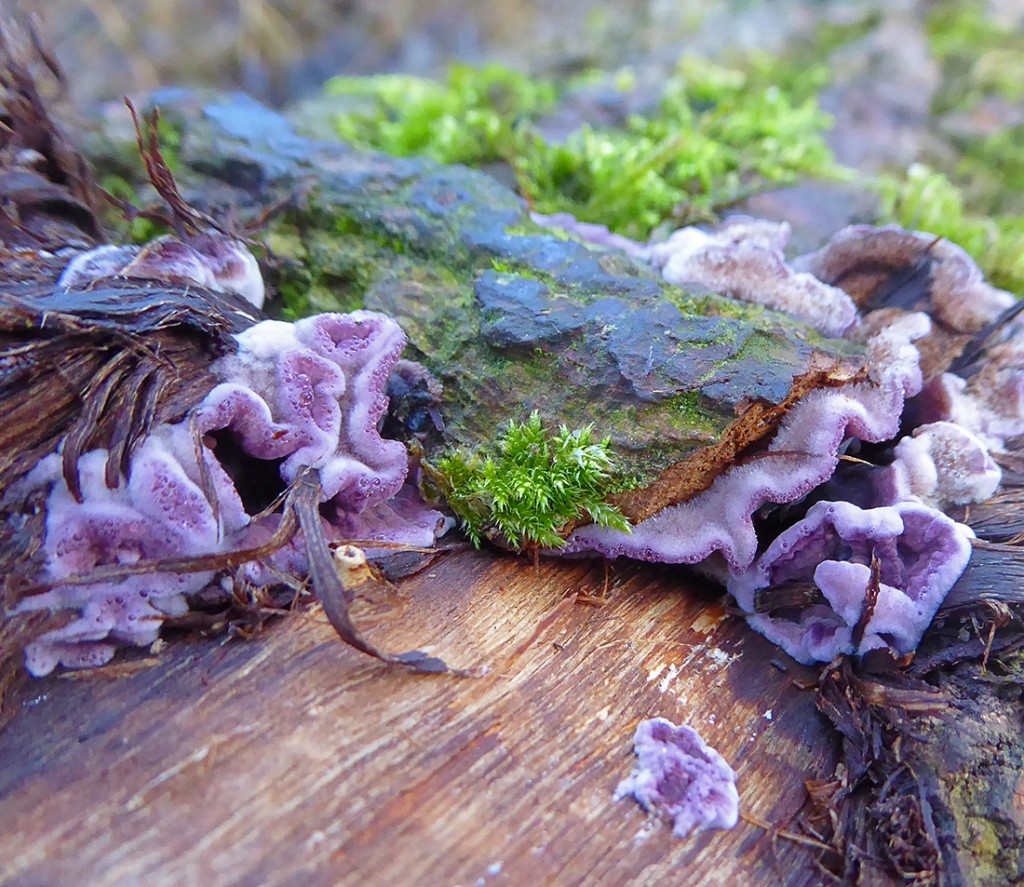 I go inland along the Deeside way after Inchgarth rather than fighting tufty grass behind the golf course. A quick stramash through the frenzied traffic of the AWPR detour and then over The Dee and past the massive AWPR obliteration scar through the woods. Heading up a back lane at Kingcausie towards Cleanhill Woods, I surprise a buzzard sitting in low branches of a tree's blind side. By far the closest I've ever been to one, maybe 2 or 3 m away. Face to face it hesitates to fly off but I keep going, stopping to 20m uphill and then try to take a photo, that movement now sending it skyward, see if you can spot it's rear below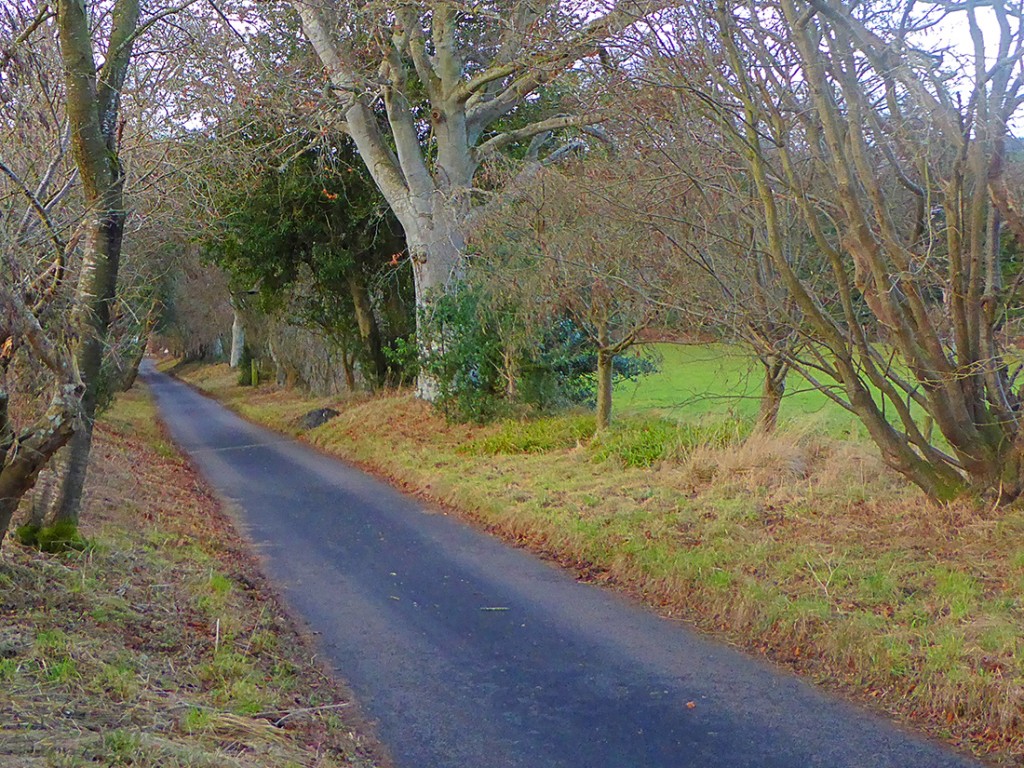 There's some quaint old barns and farm outbuildings along the lane. This 'mini-barn' caught my eye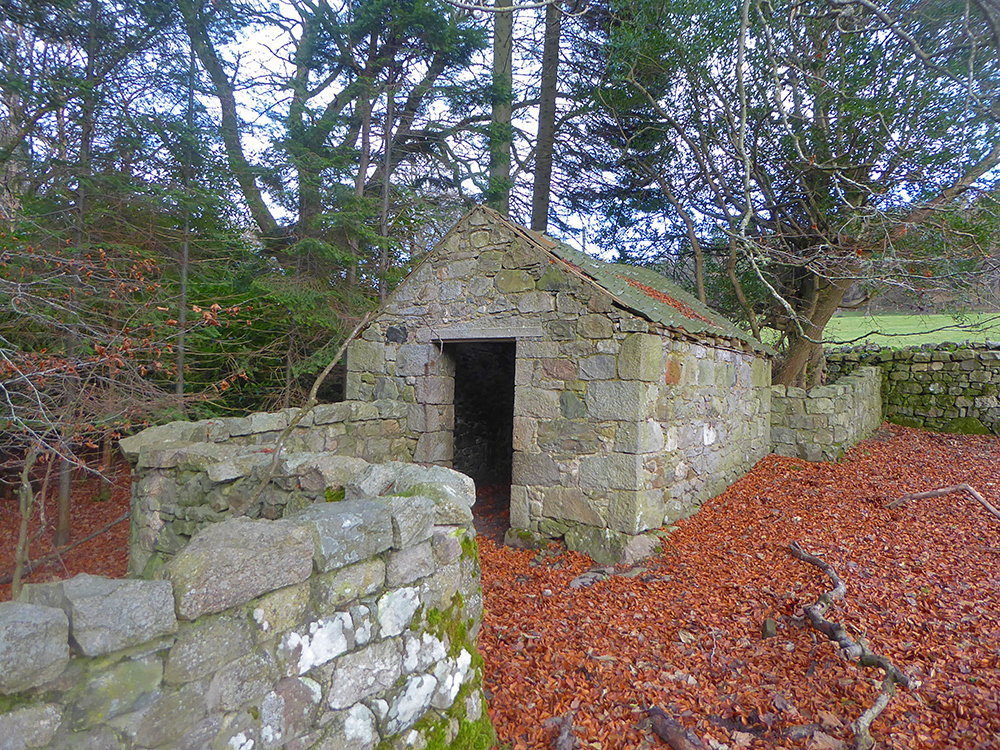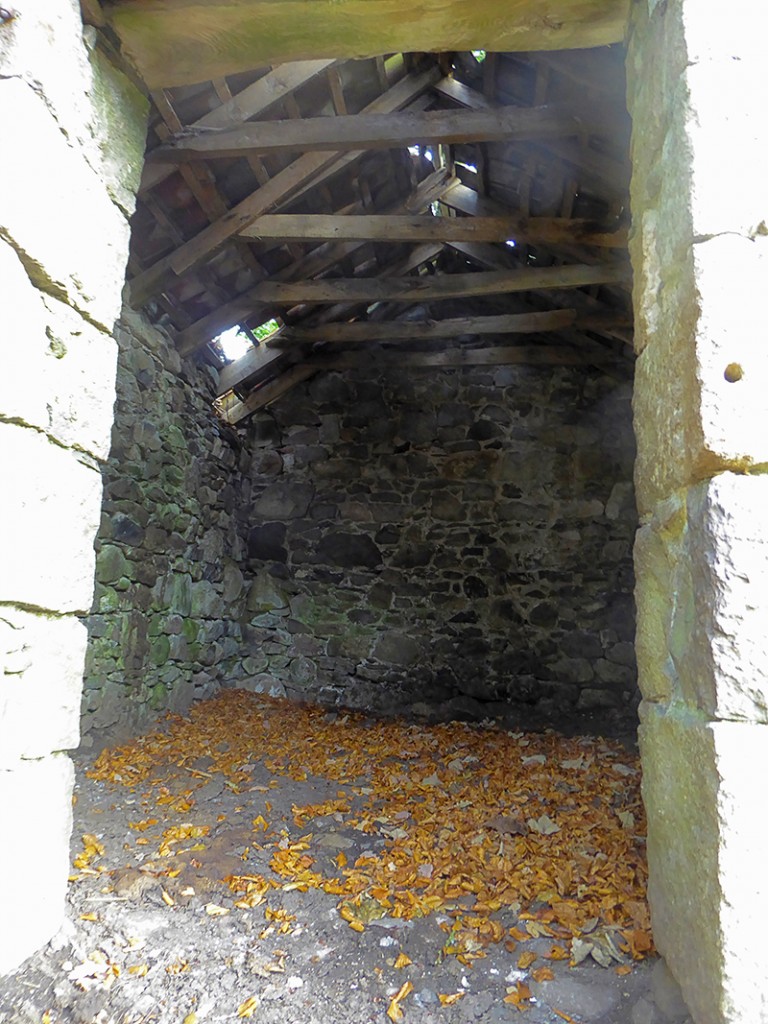 The lane continues onwards through the woods South but that's one for another day heading West towards Durris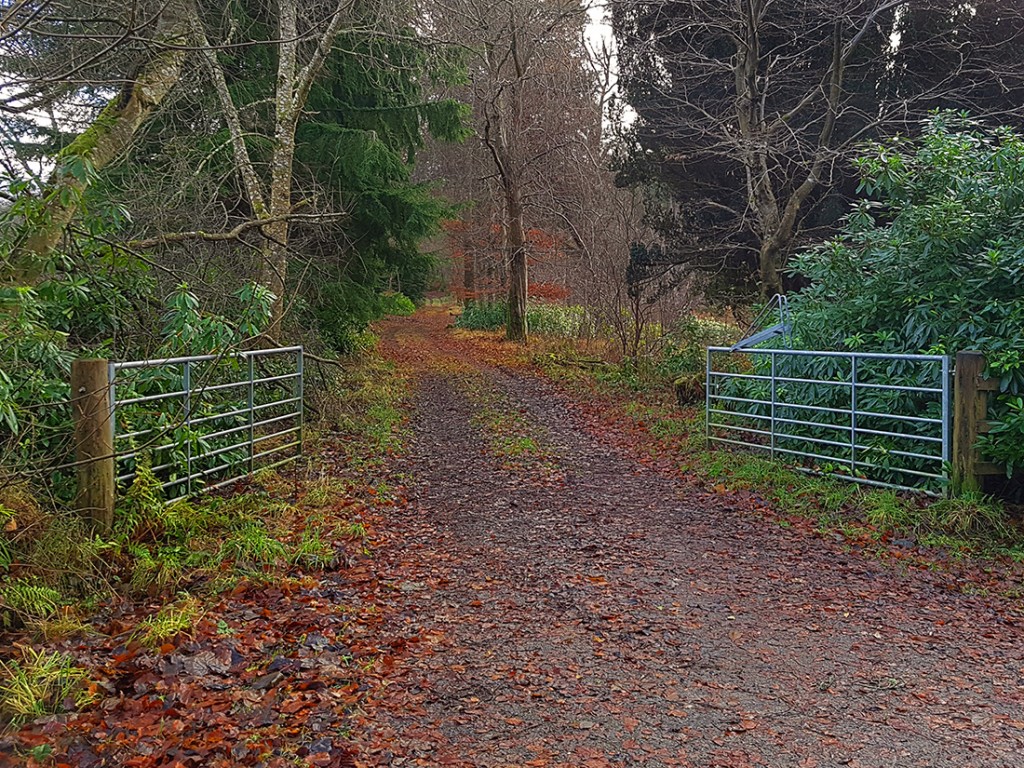 A nice view from Eastland bridge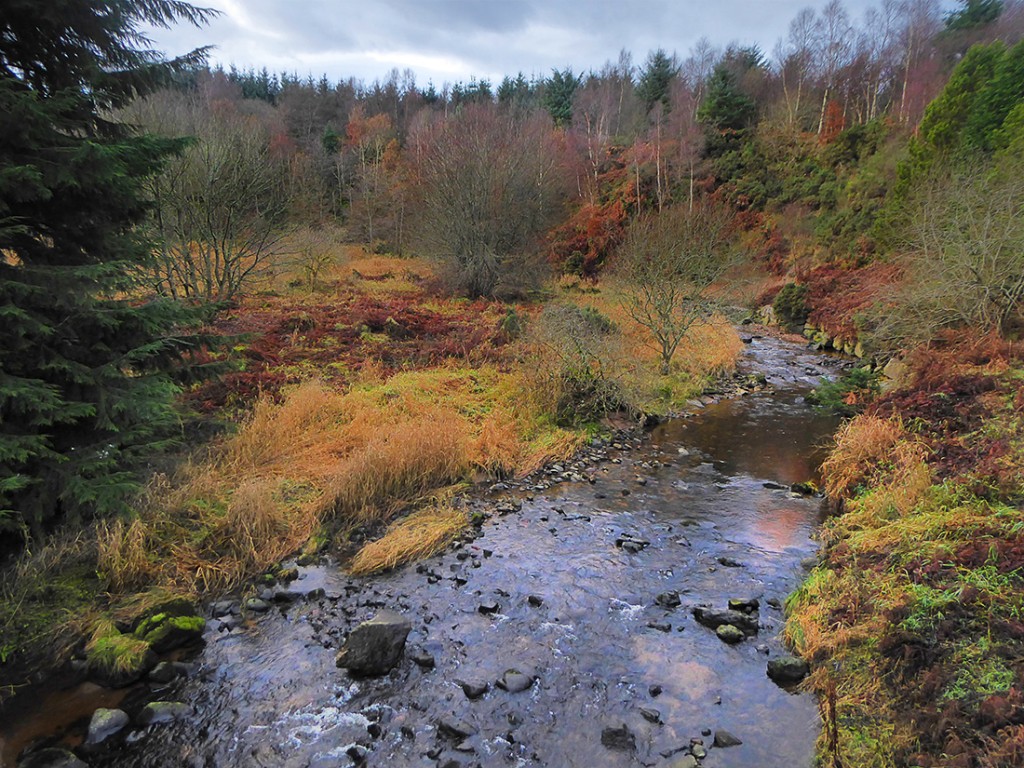 On the other side is Storybook Glen. Near the burn lies some old characters now forgotten. The glen featured in a popular online article in recent times that slated it as nightmare fuel and it did the rounds on social media. A tad harsh but hey ho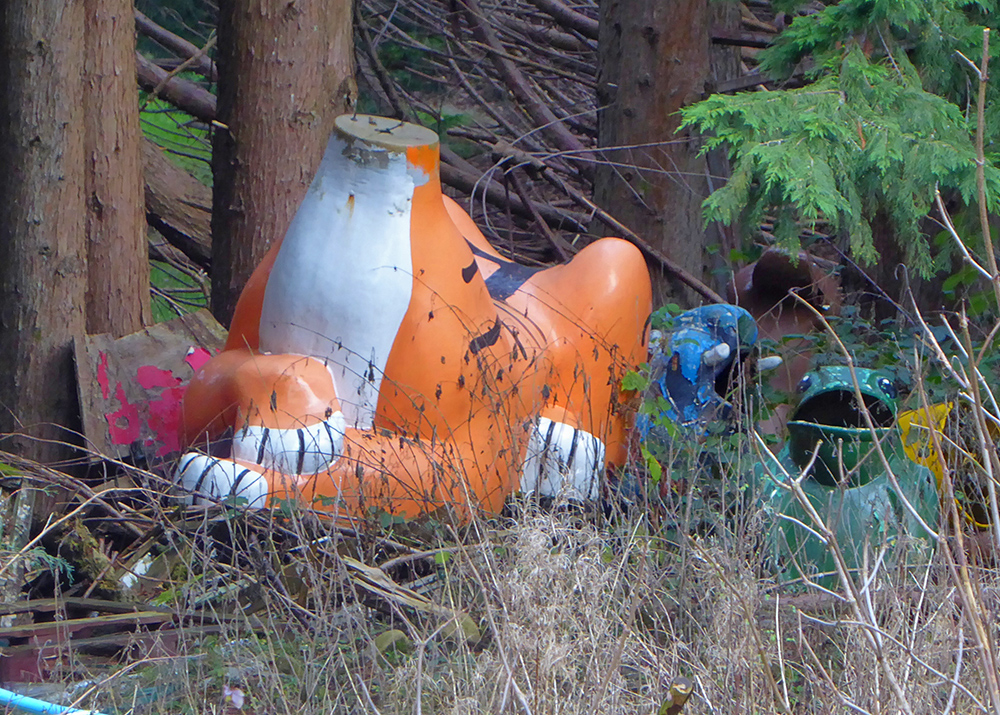 This one's still bright n shiny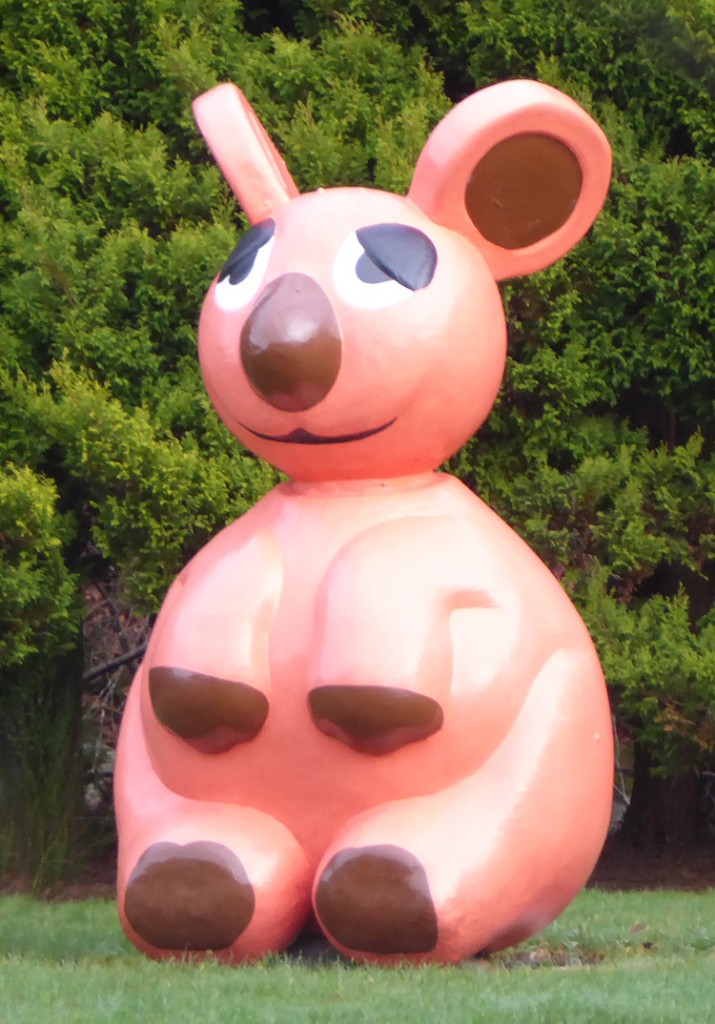 A few yards away is target one of the day, Oldman Wood, which is confusingly also called Durris Forest on OS maps (although the much larger Durris Forest proper is further West). Since I was here last, somebody has posted a handy map. The map talks of Maryculter Woodland trust, so Maryculter woods is today's name. The intended quick passage through is now out of the question as the demarcated things must be investigated, I'm pretty sure I ain't seen any of these before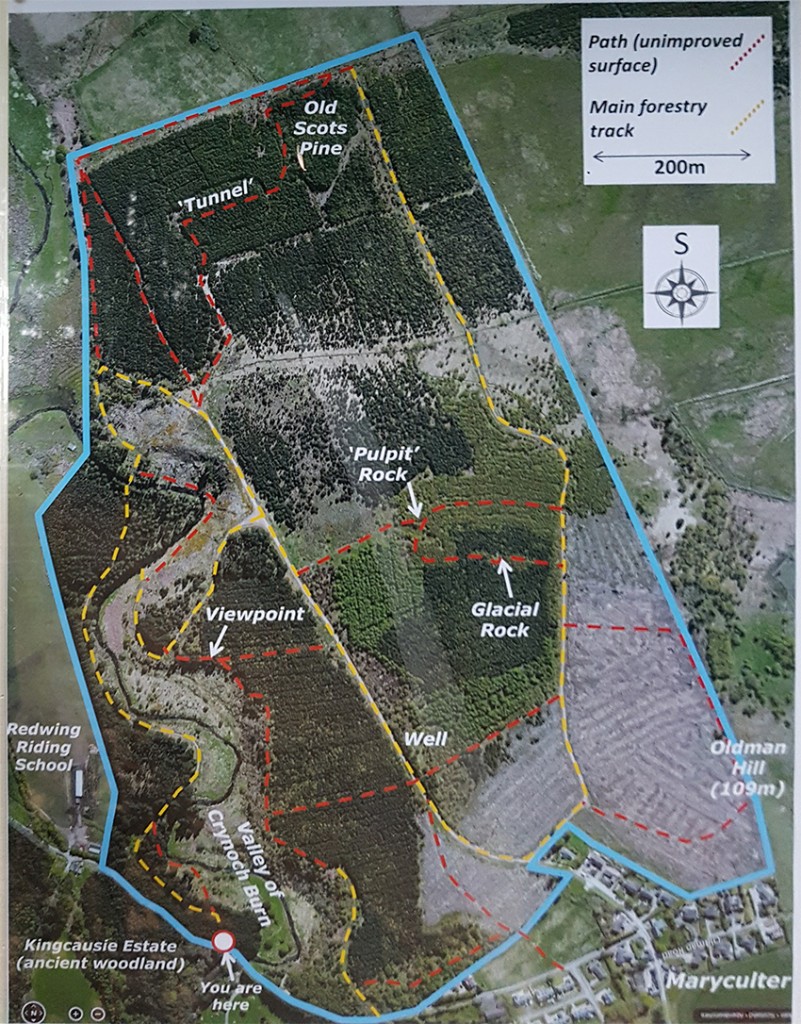 Through the valley of Crynoch Burn.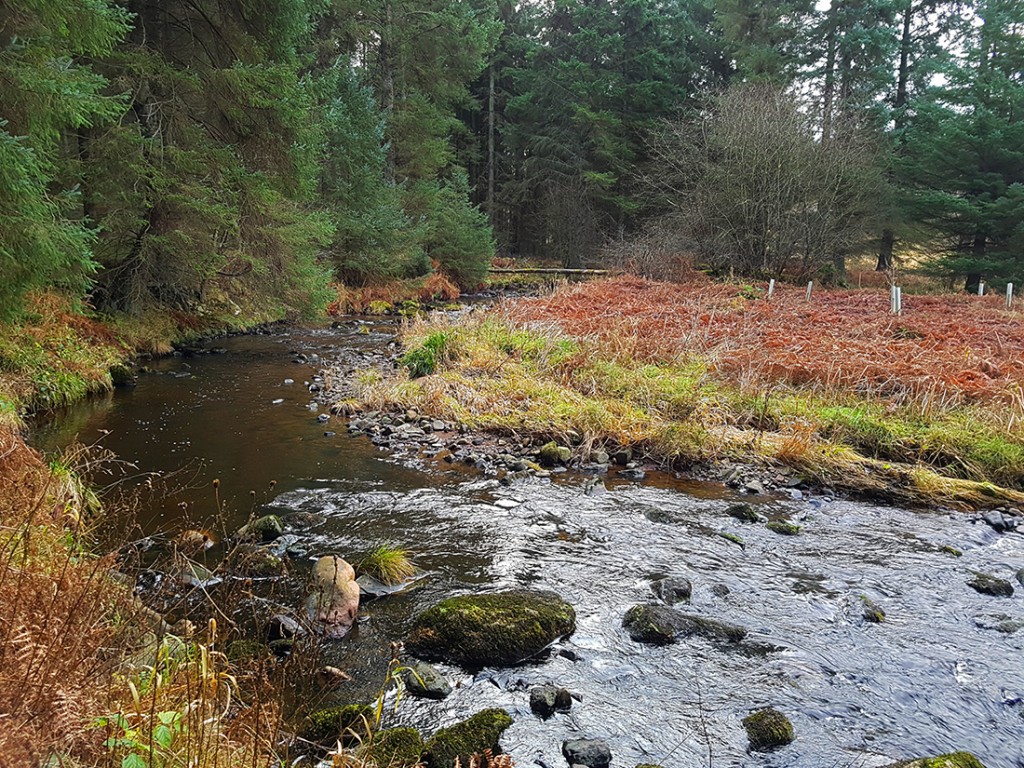 Over the footbridge and doubling back, then takes a couple of attempts to locate the red path to the 'viewpoint' but worth it, a decent spot with a few seat rocks and a nice spot for a bit of lunch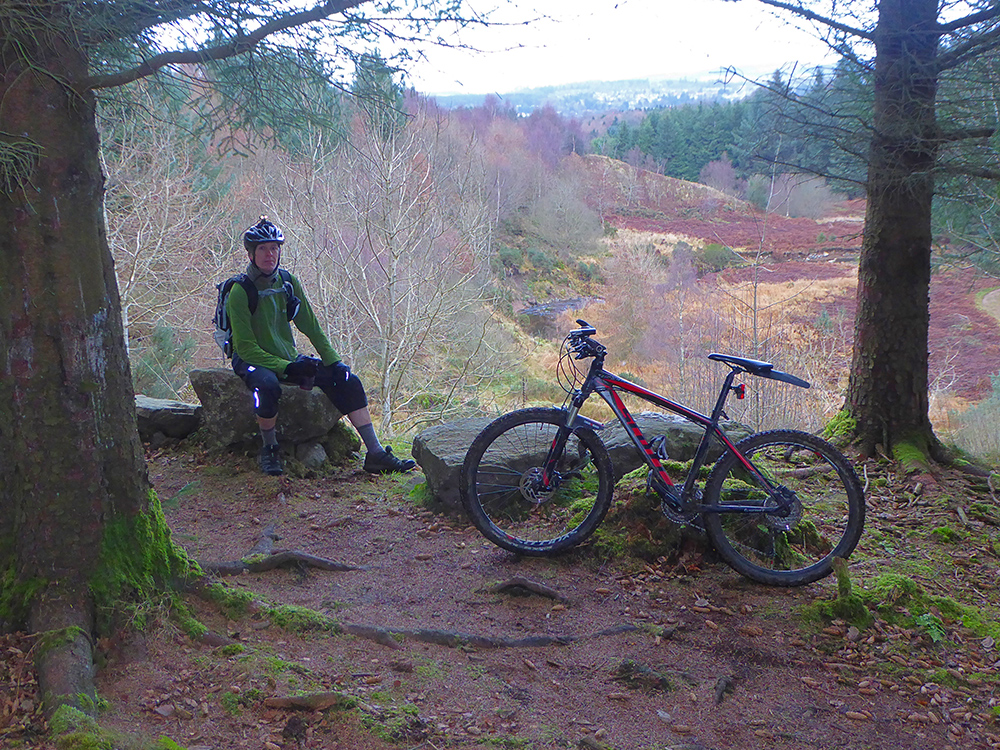 Looking closely, a judicious chop of a tree has opened up the view. This wood was purchased by the community when it went on sale a few years back and was under threat of development, and there are a few signs like these of improvement, well done to all involved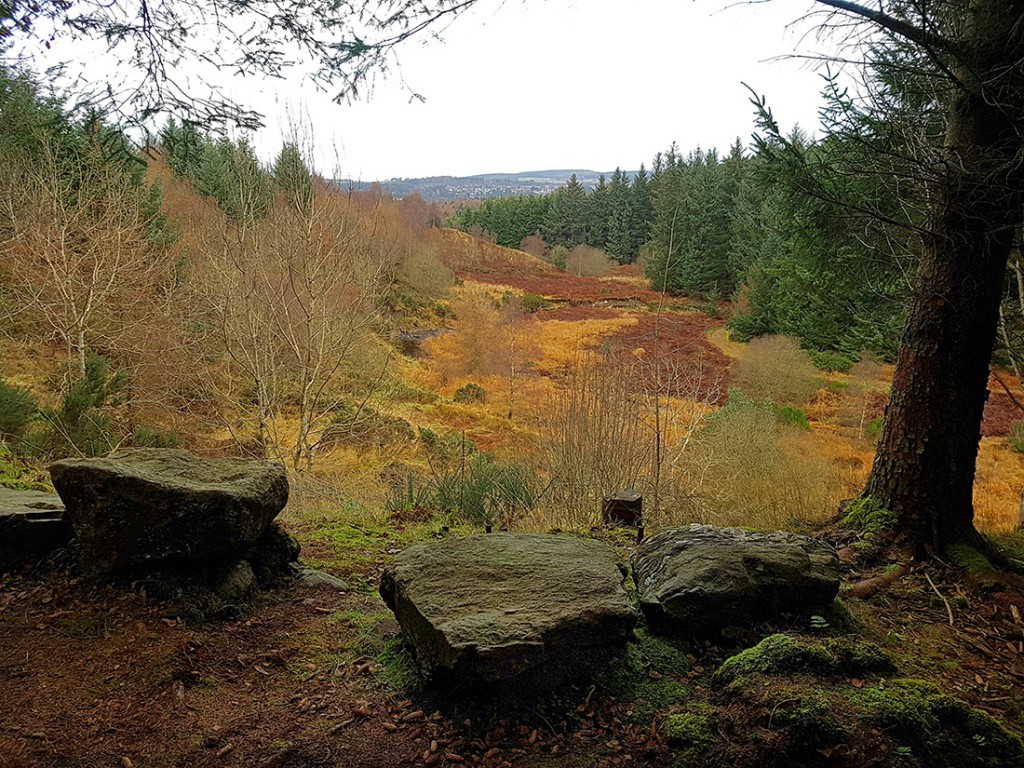 Further on, the path follows the valley ridge. Quite tricky on the bike with little burns and rooty and lumpy bits to cross, I can see another tyre track though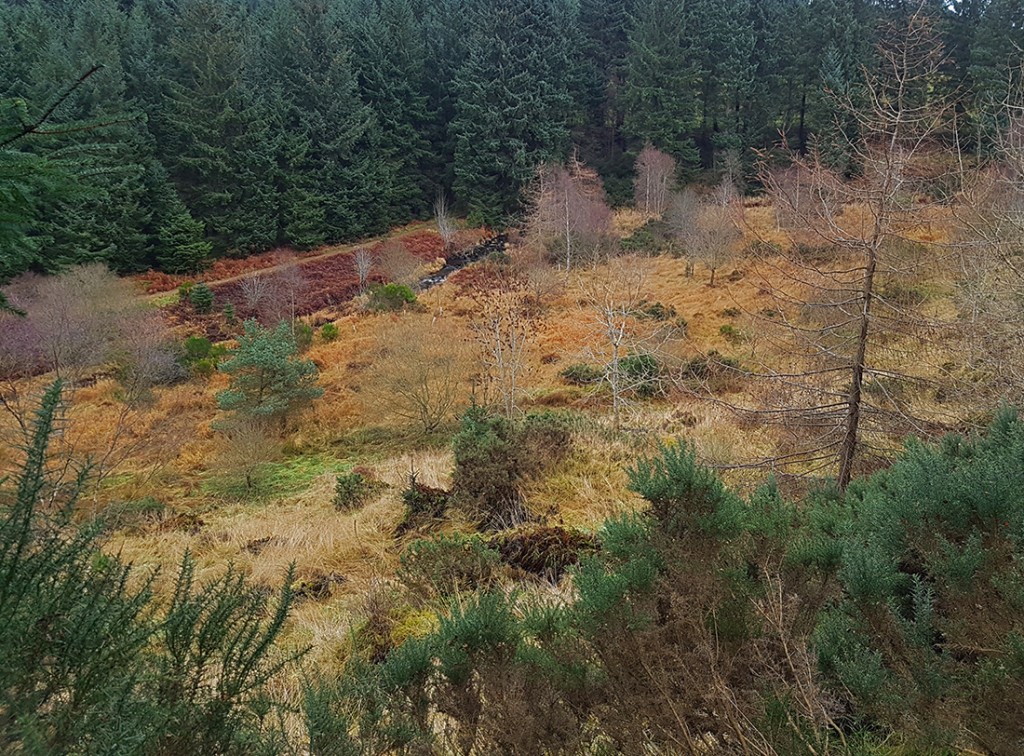 Looking down on Crynoch Burn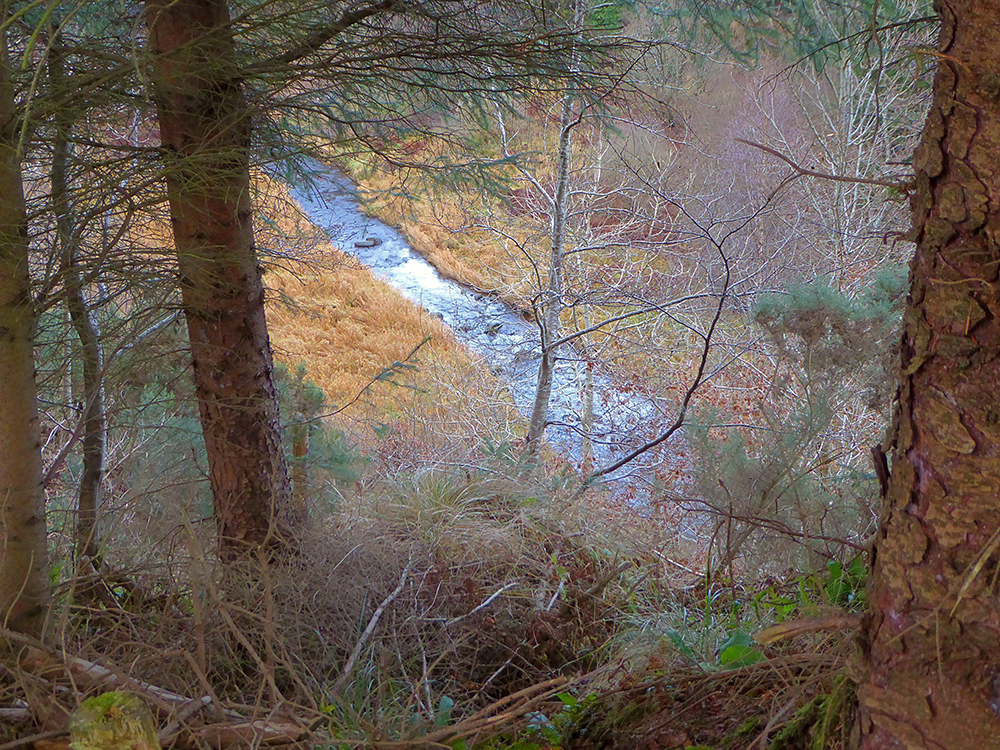 The birds haven't found these late berries yet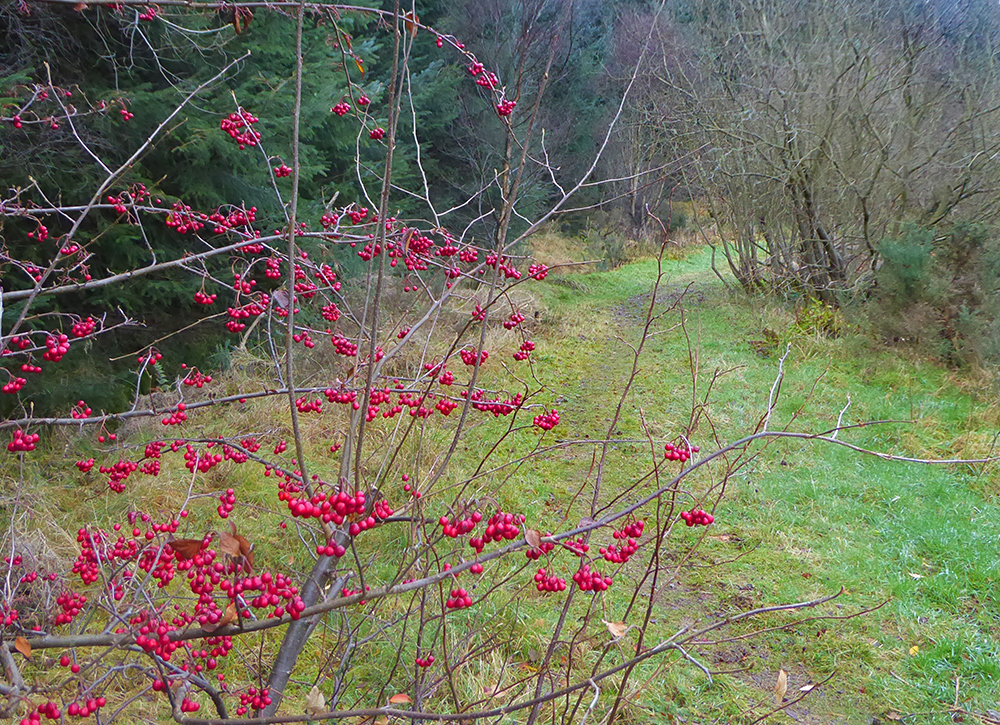 Amongst the detritus, a pale imitation of it's former plant carrying glory, I guess it's pot luck to find these things before they kick the bucket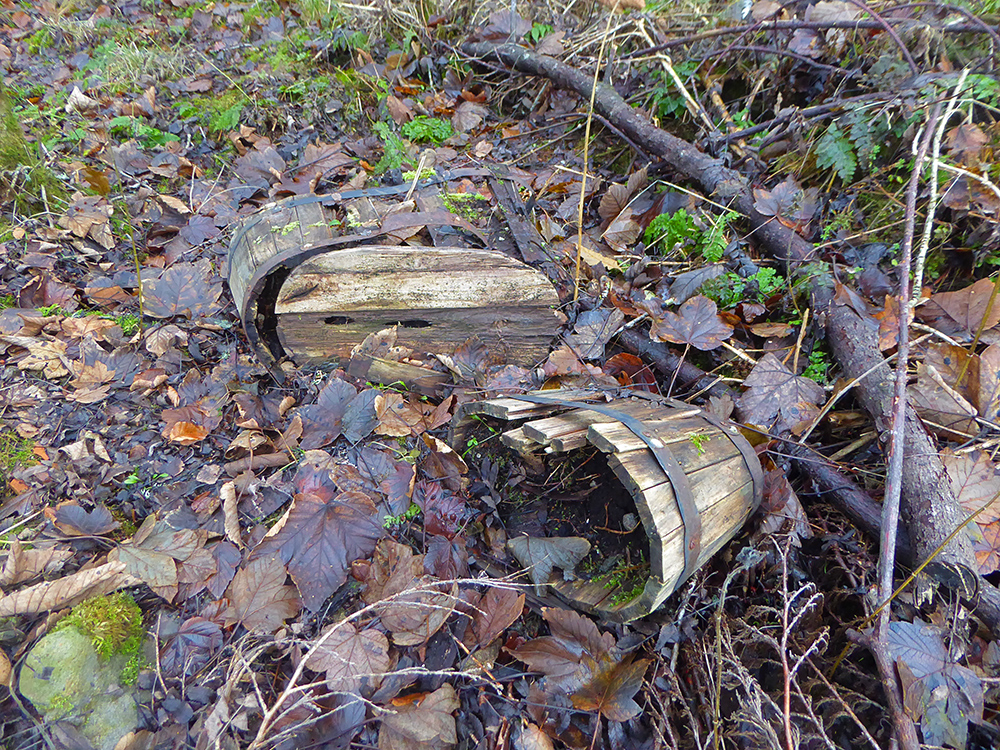 I can't find the 'well' marked on the map, but a bit of trudging around the area uncovers this golden frond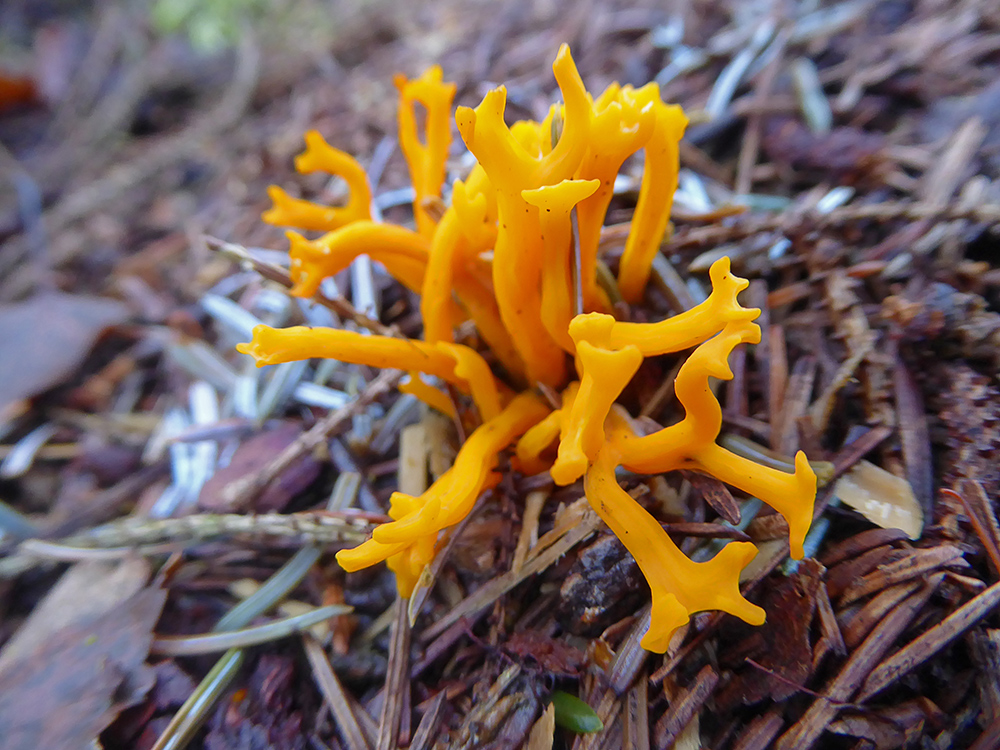 The path towards the Pulpit Rock also takes a bit of discovery, the red marked ones are lightly used and pretty overgrown, easy to miss. The pulpit rock is a mound a few metres high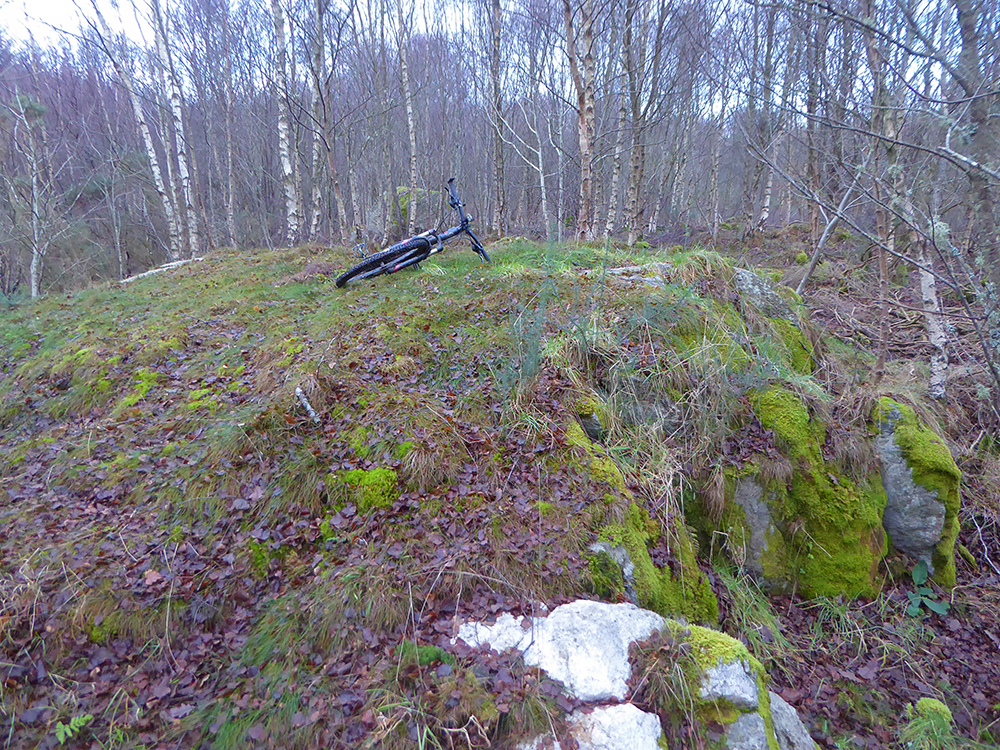 There's another big boulder, with twigs arranged on top, others do come here. Didn't look closely at the composition, but I wonder if this boulder is a glacial erratic.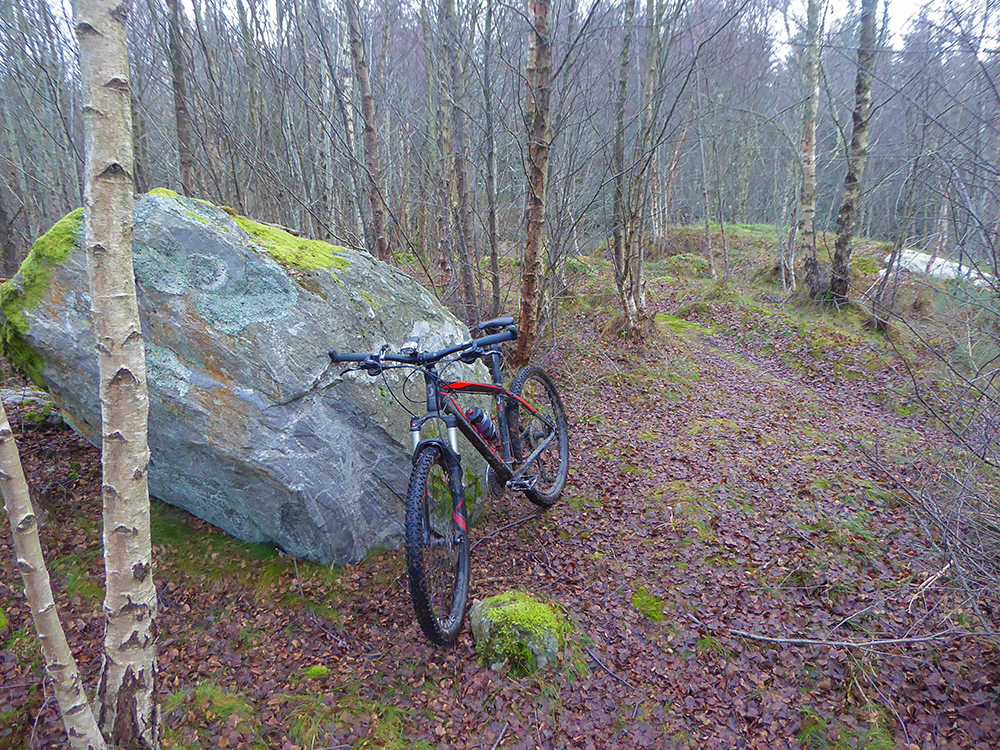 The vegetation underfoot is squishy, old and lush. There's loads of funghi, lichens and mosses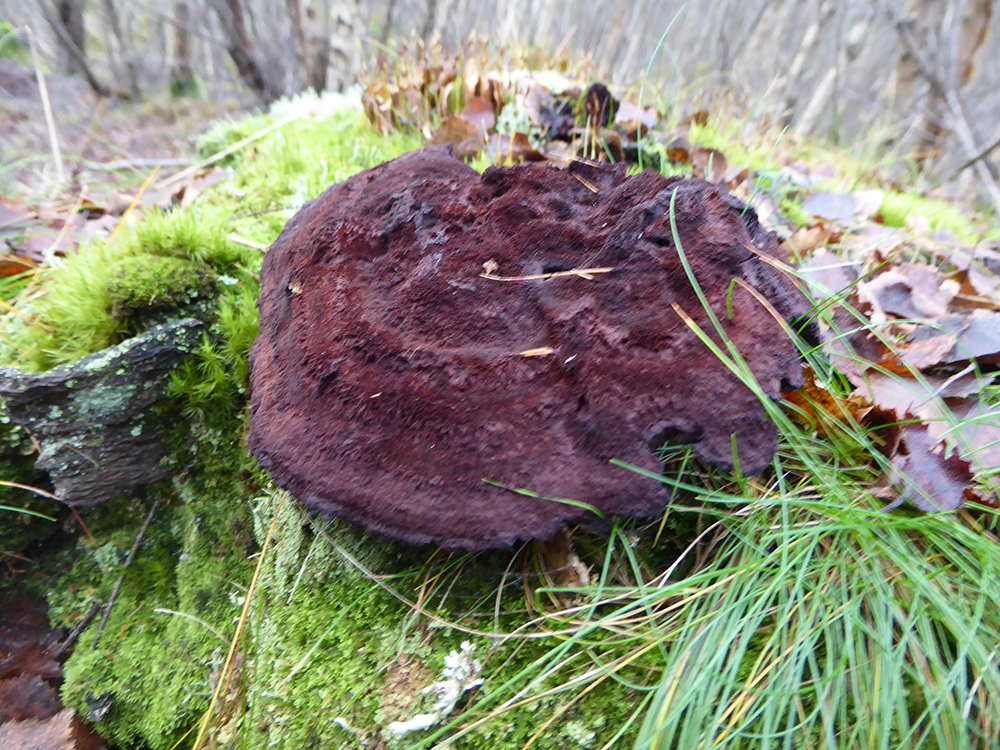 Heading towards the 'glacial rocks' the path peters out and hard to see what's what. I do see a rumble of boulders but think I was short of the location. Retread back to the pulpit and head onwards, I can just about make out a route through the mossy lumps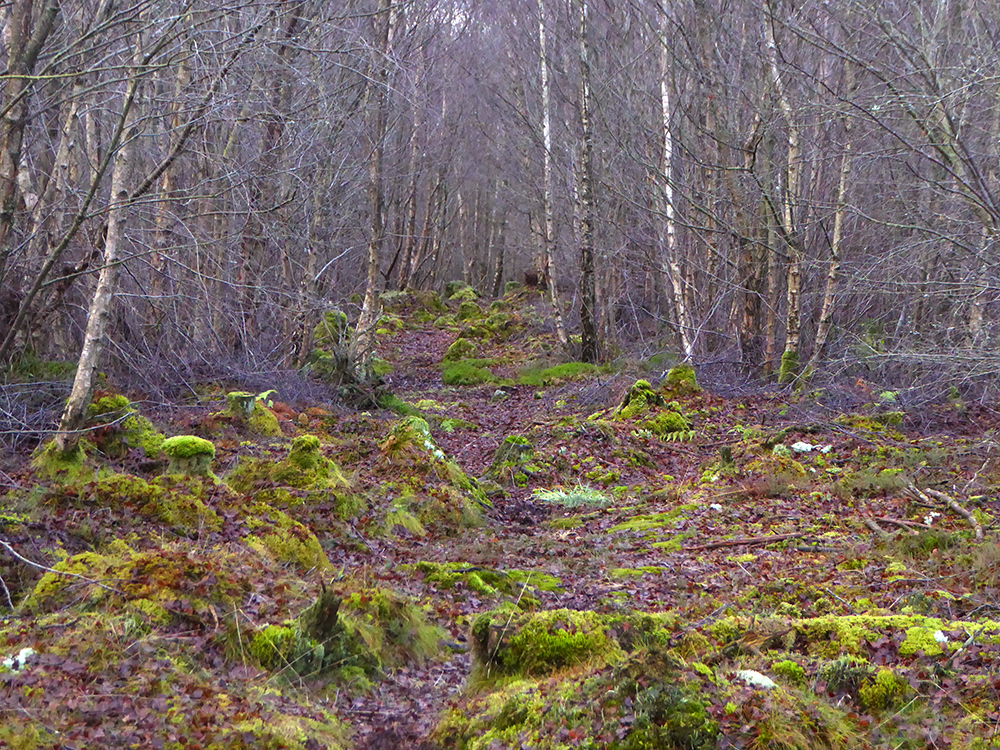 Back out onto one of the forestry trails that disect the woods beside another orphaned boulder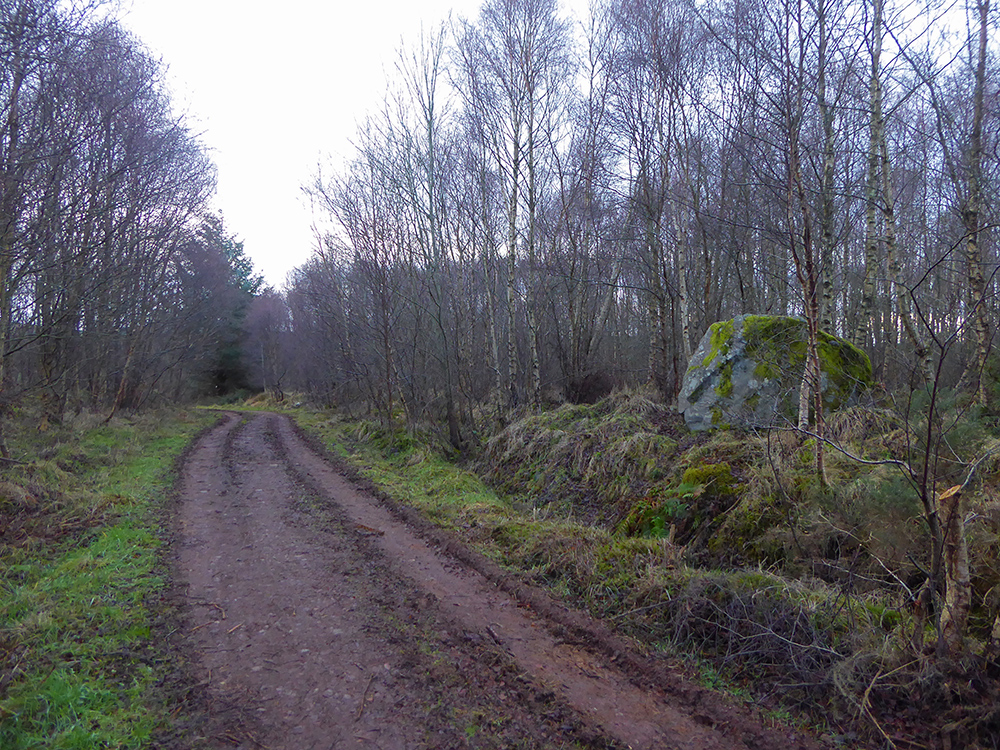 The path to 'old pines' and 'tunnel' is also unclear, through the dense and dark pines, these aren't old, but is this the tunnel?
Nope, this is most definitely tunnel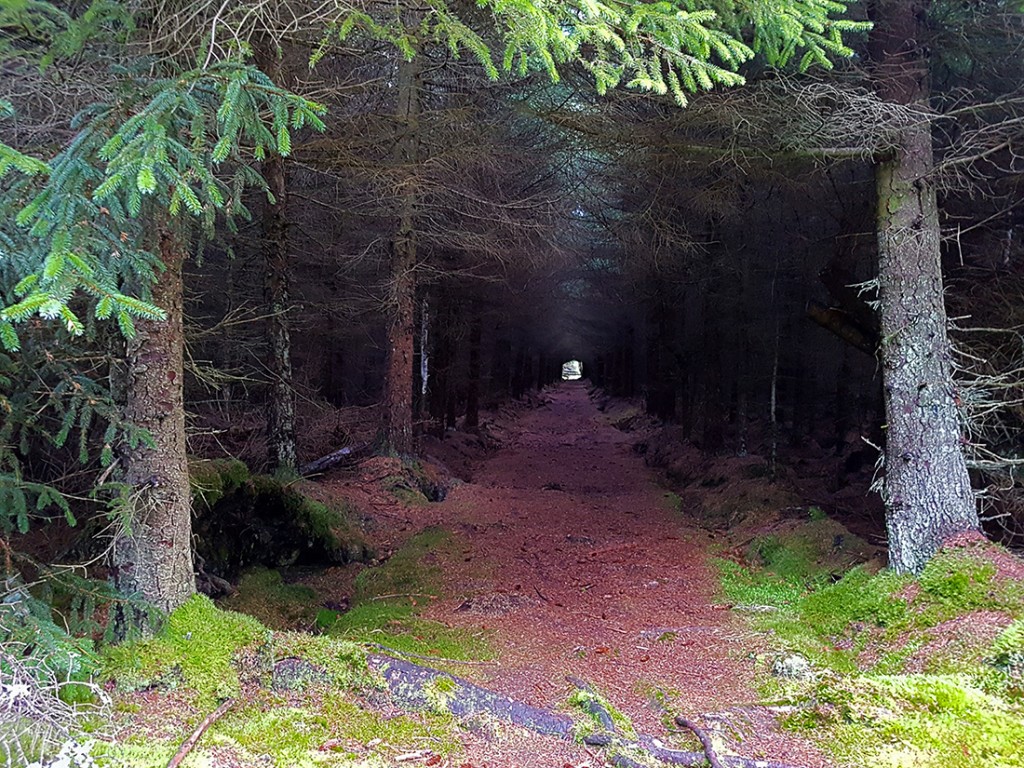 "The woods are lovely, dark and deep,
But I have promises to keep,
And miles to go before I sleep"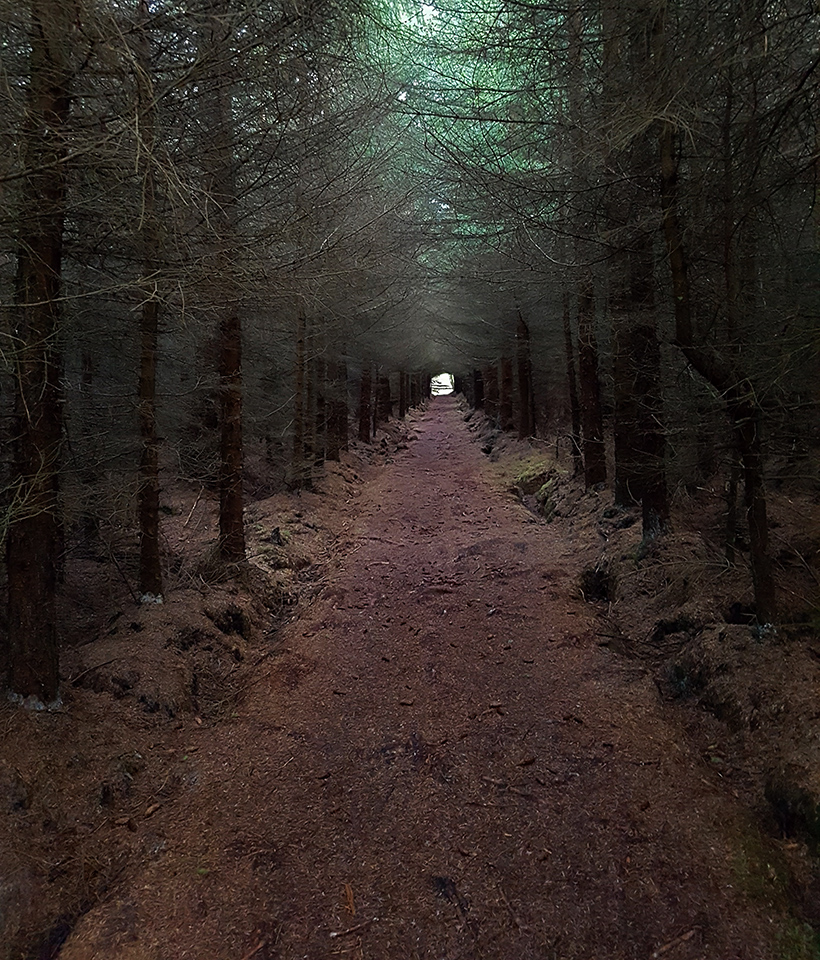 Back out into some light. I've been hearing a distance voice shouting out occasionally. I stop and speak to a horserider, she's heading away from the chap, who has apparently lost his dog, and the shouting is annoying her steed. I wait a few minutes to let her go on back into the woods. The chap may be shouting for some time, they're not massive woods, but quite dense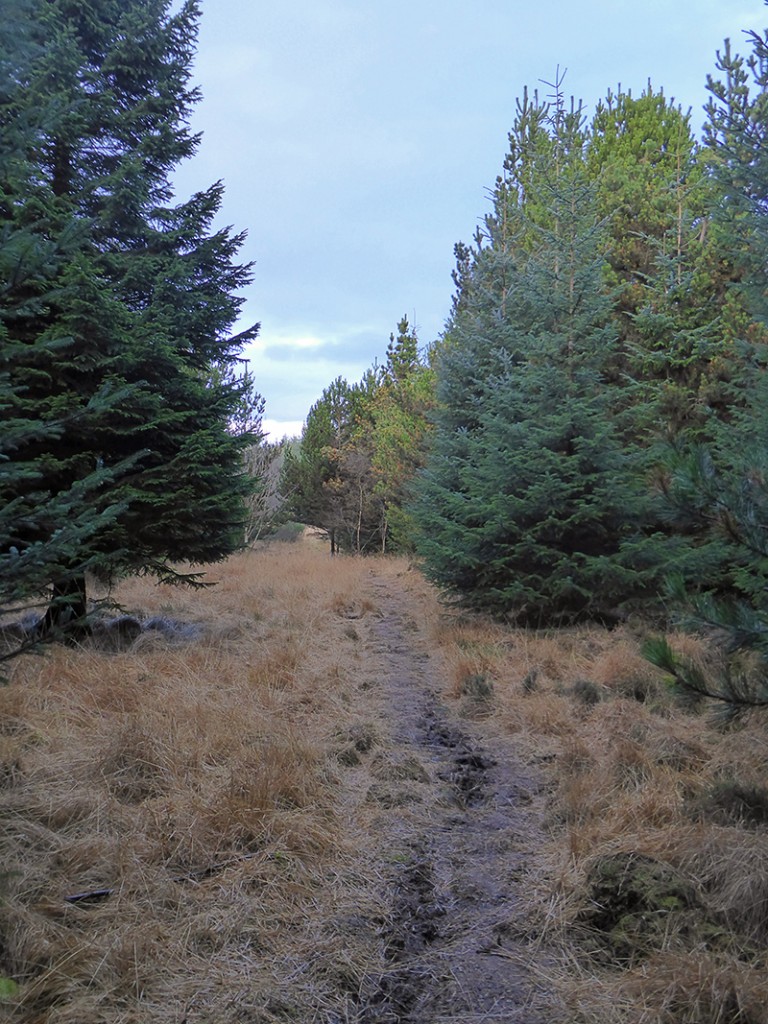 And that's this woods for the day, back out on to back roads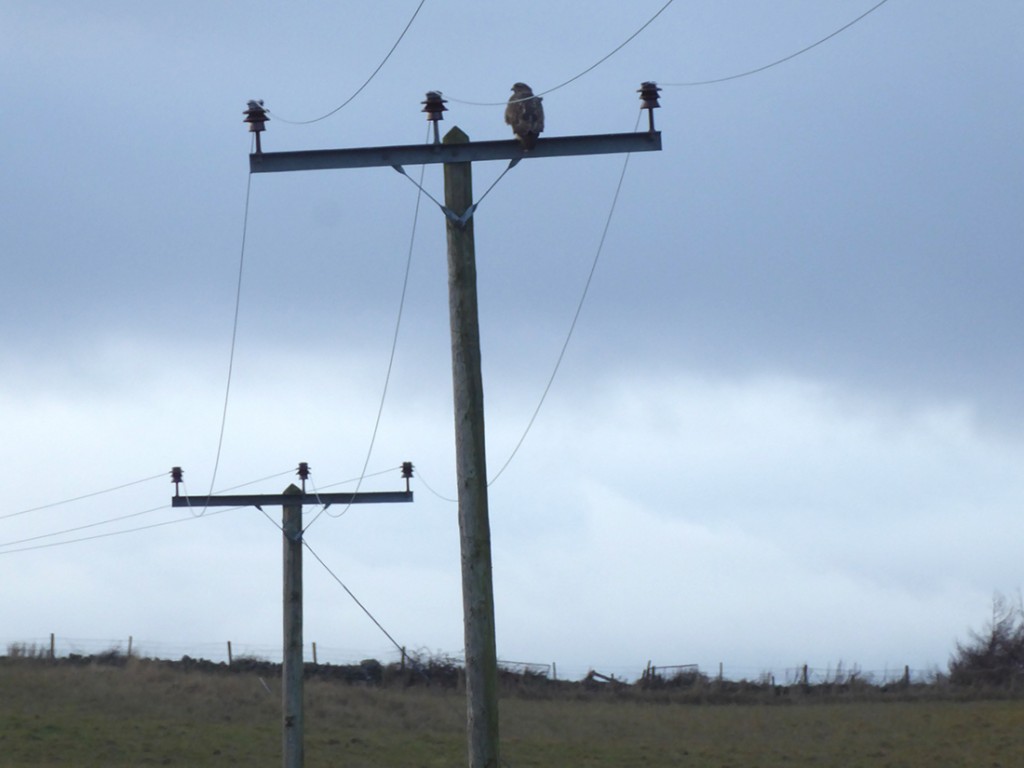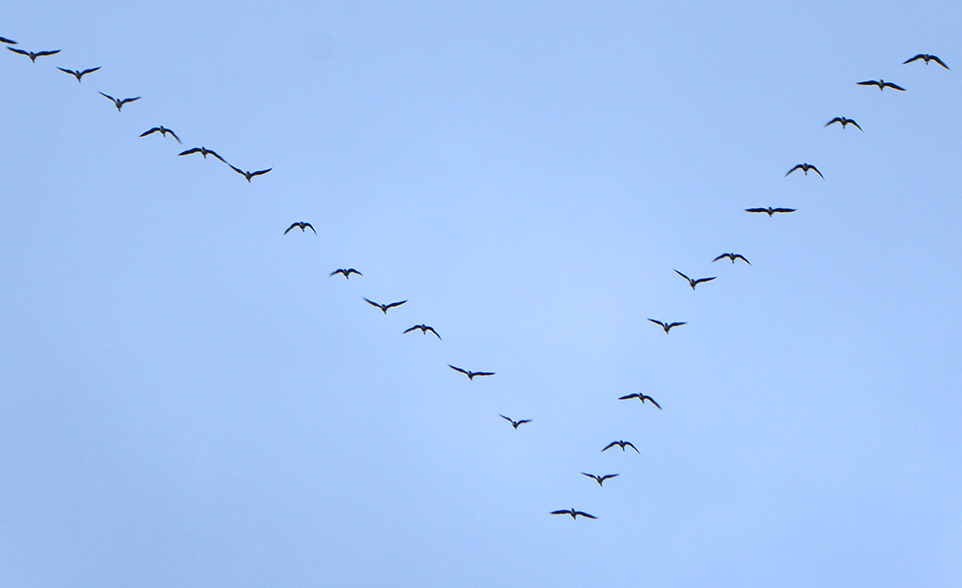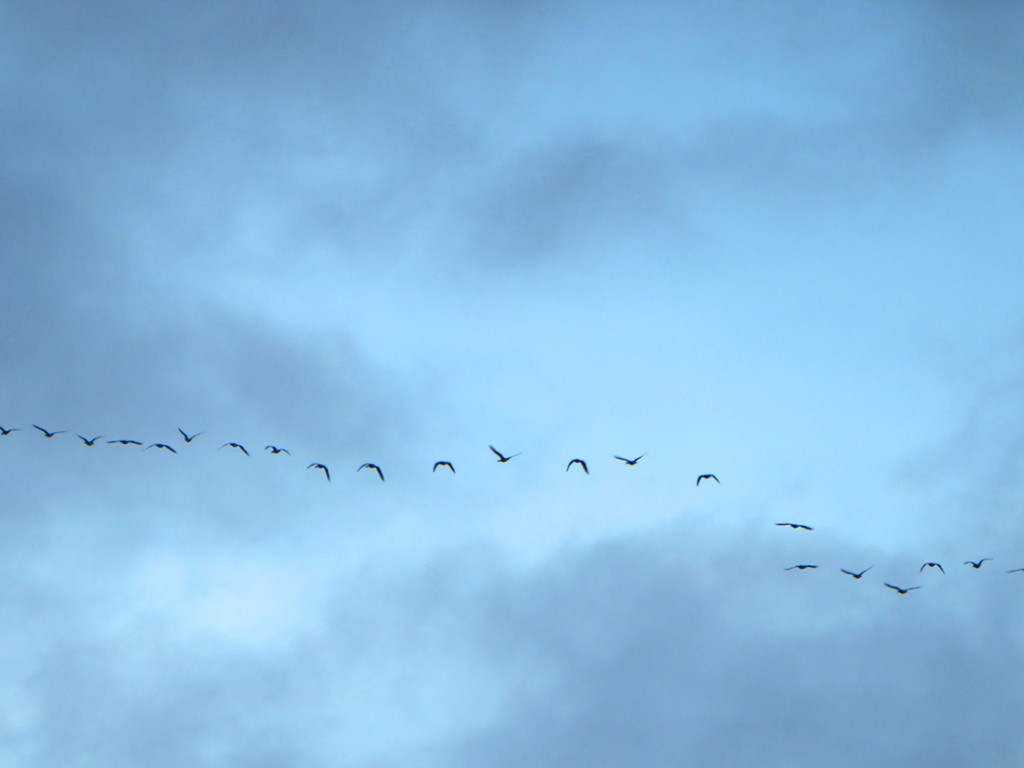 I run out of back road, fizzling first to farm track, and then plain old field, hacking a half k over a stubble field a few fences and the odd burn to regain tarmac rather than looping back. Appearing at the heights of ashentilly is however a nice view West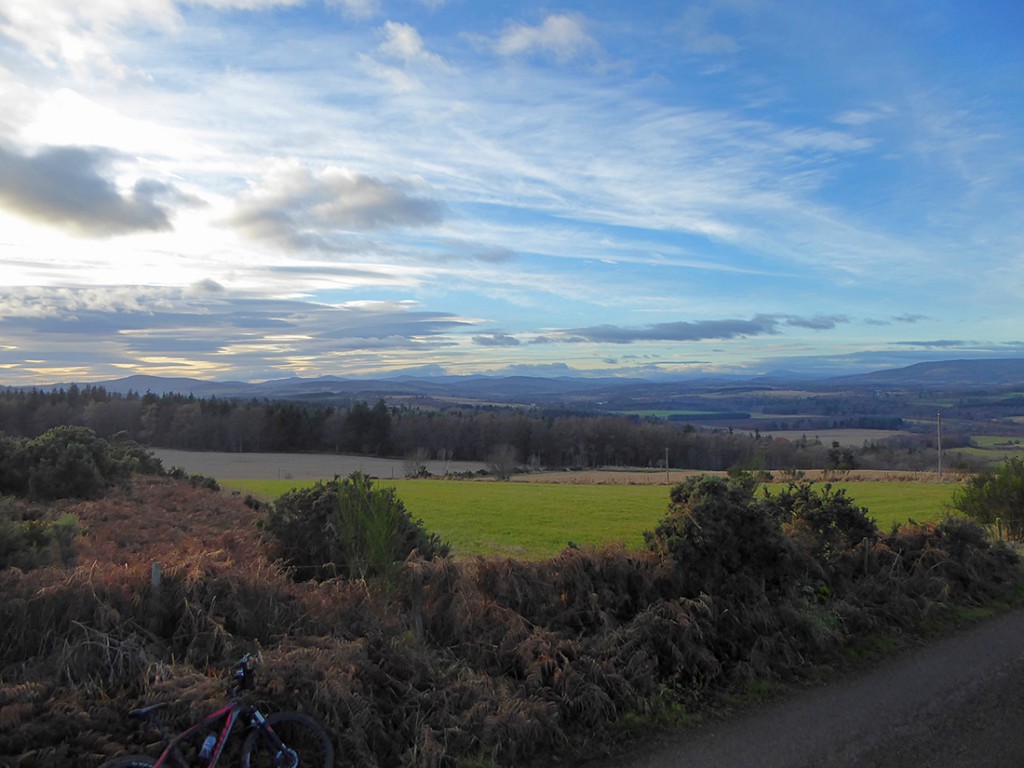 Zooming in to the unmistakeable Clachnaben to the SW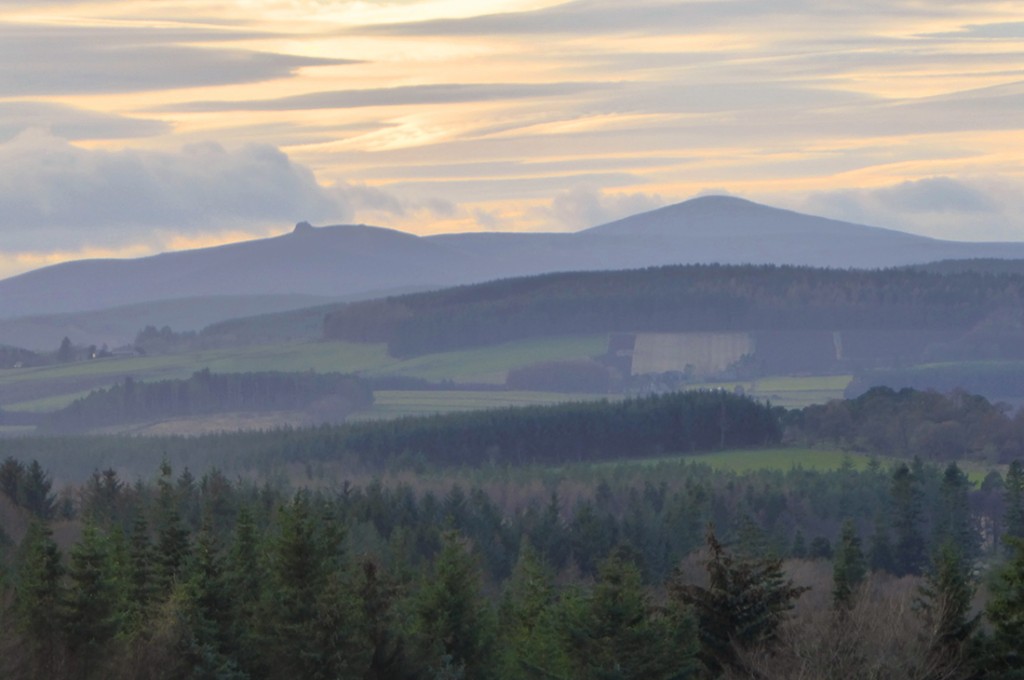 And more lush shire to the North West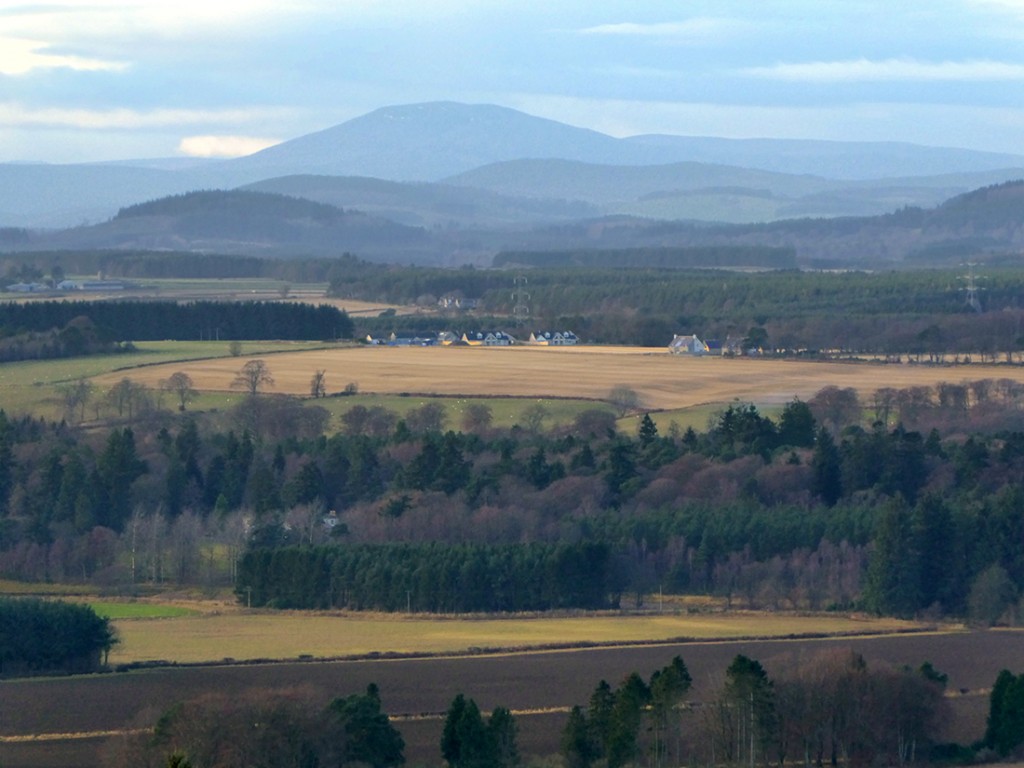 What's this little hidy hole. Too dark to see inside, but what will the bike light reveal..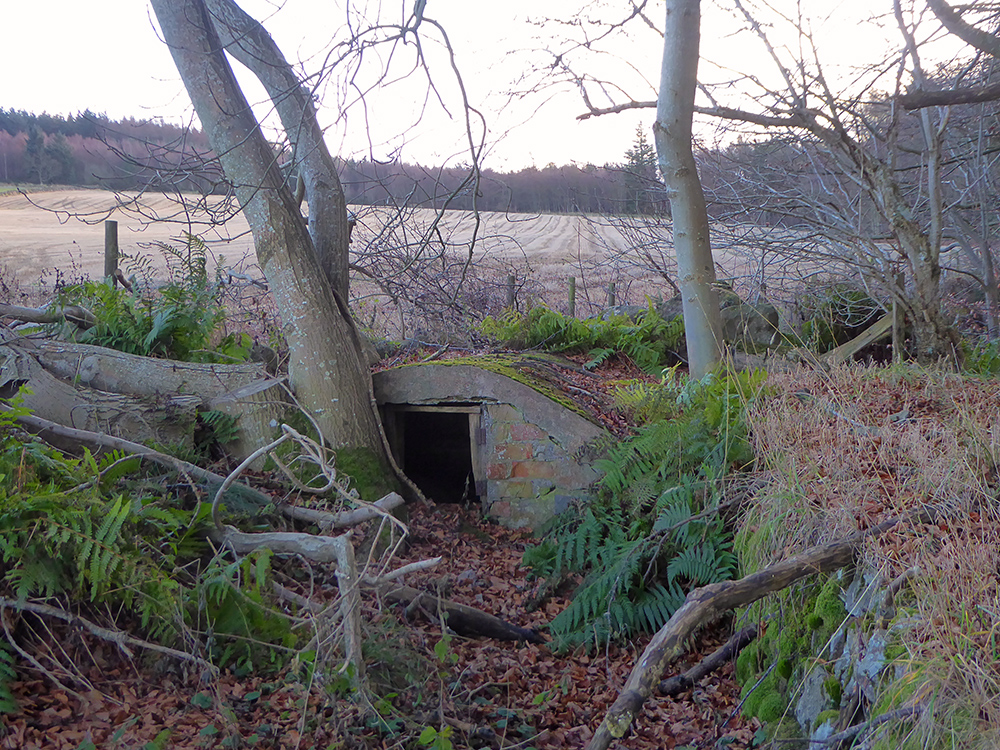 Full of crystal clear water and quite deep too by the looks of it. Wasn't expecting that.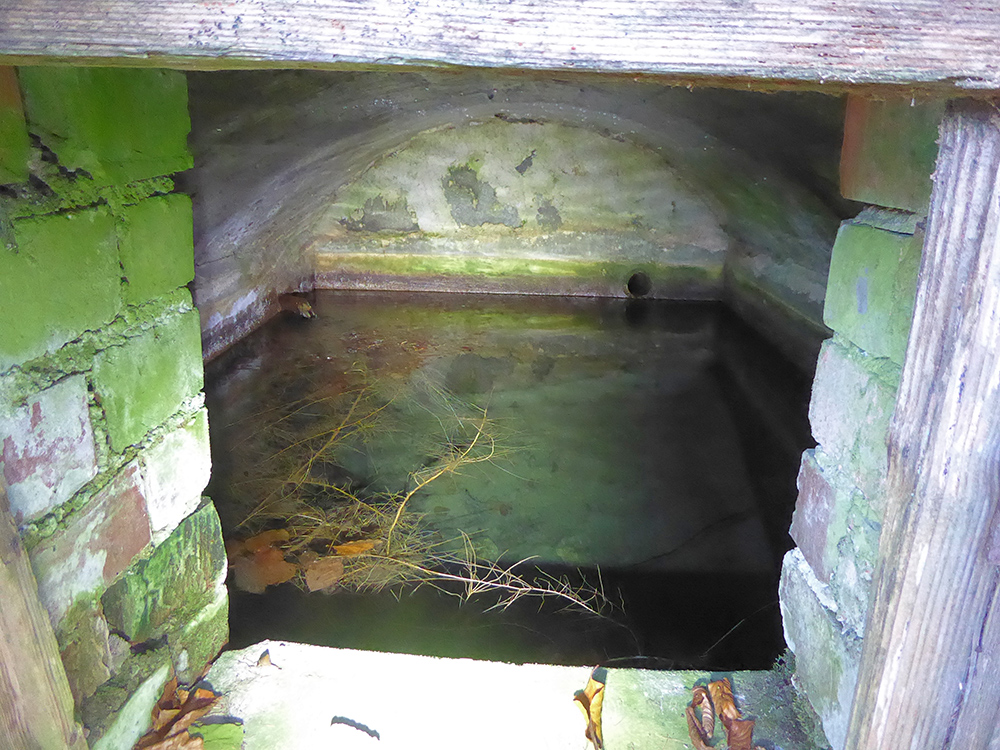 Whizzing down off the hill and it's along to Durris Forest. It's a good climb up the fire road trails here to the top, I can smell a good strava segment so I get my climbing face on and start grinding it up. 20 minutes later, 200m higher and 2k further, I'm up on the newish (and unmapped) gravel track that intrudes onto Mundernal, the secondary peak in Durris.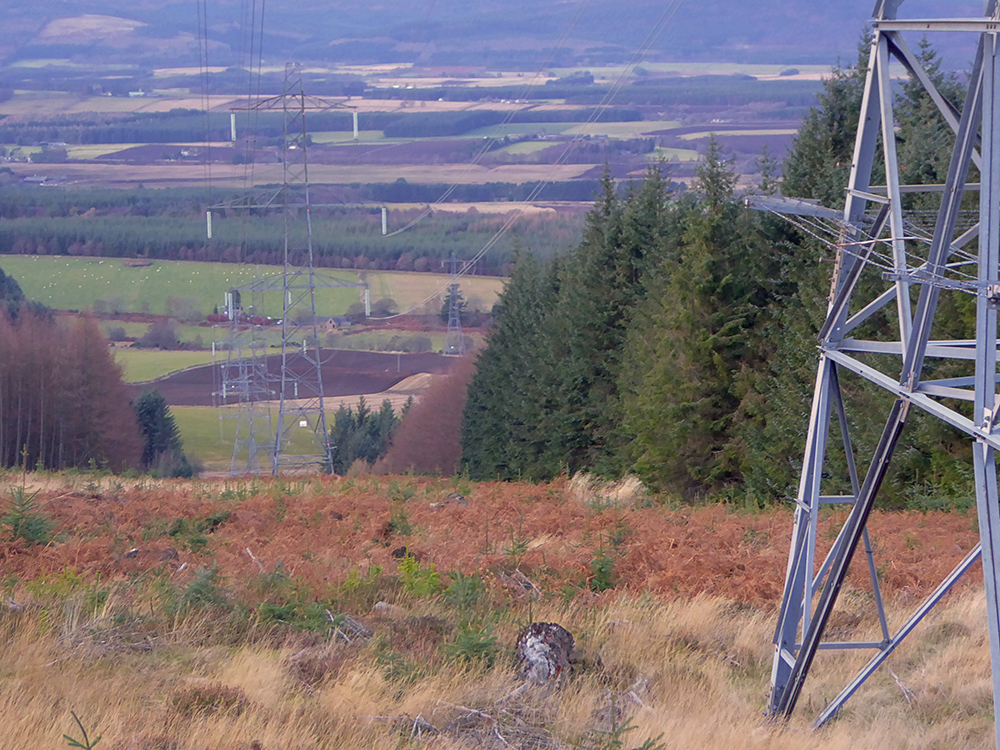 The track finishes abruptly, on one side there's another 20 odd m of steep trees without any obvious path up. On the other a wee rock arrangement I guess to stop forestry drivers disappearing over the edge. Makes a handy seat for a tired rider.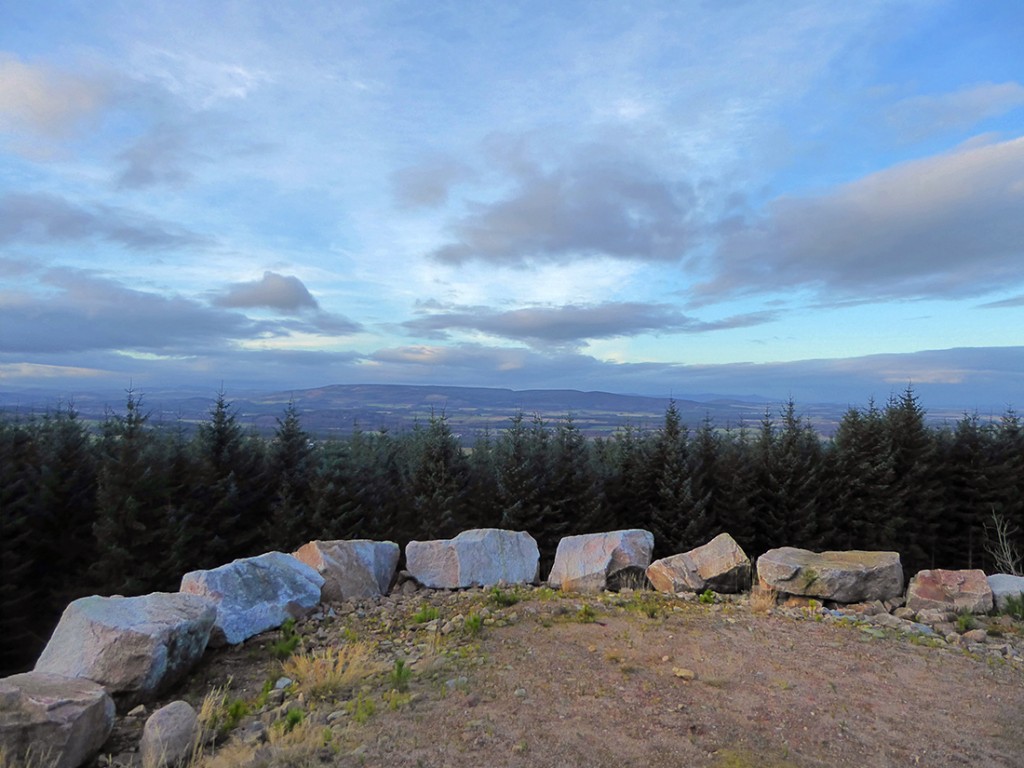 There's 2 stones sitting on the rock. I can't resist adding a few more layers
Although not being a trick 'balancer' I resort to a few judiciously placed wedges to storm-proof it a bit
Sun beginning to set time to get a move on. The moon is up as I pass back under a gate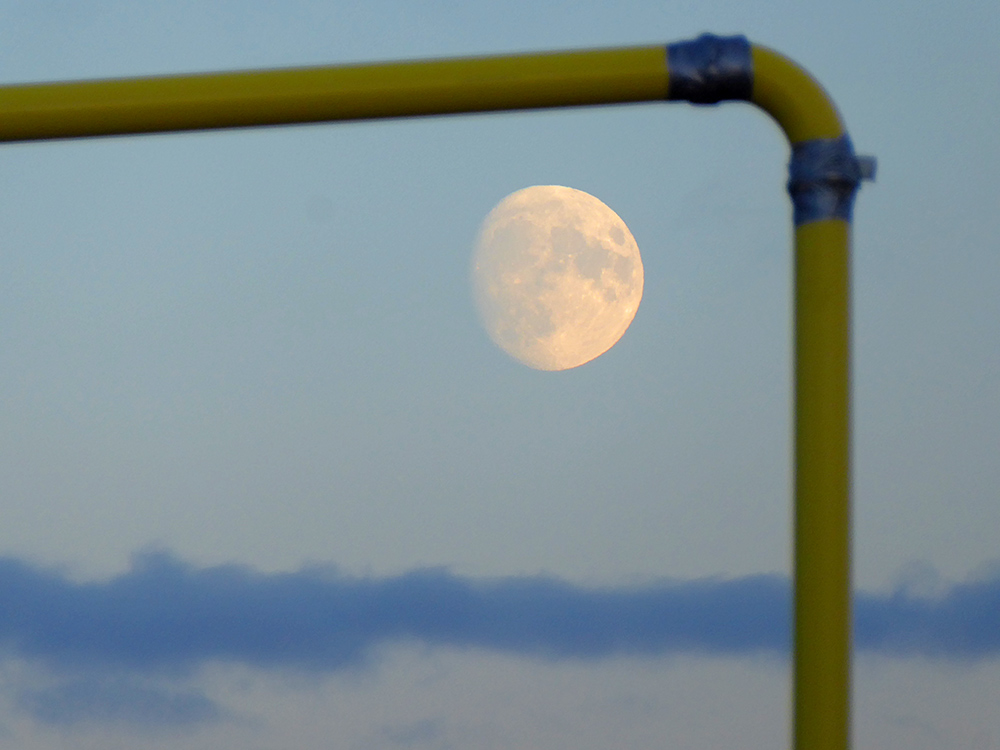 Held aloft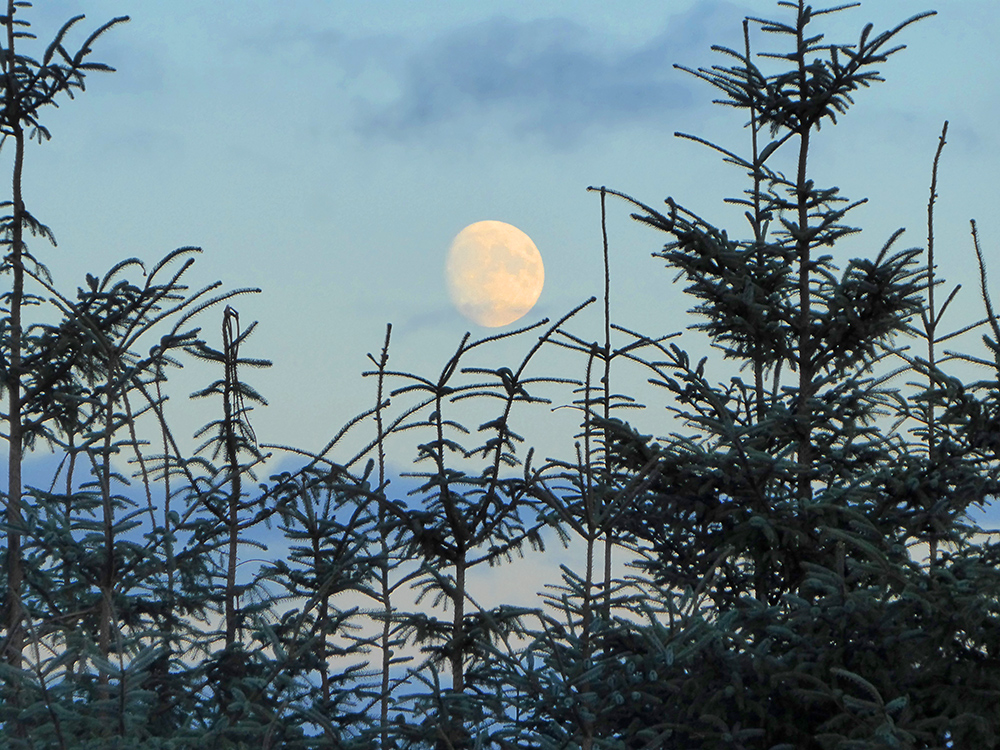 With the light fading, Cairn Mon Earn (the main peak in the forest) will have to wait to another day. Whizzing down the hill towards sunset, on the track between Mundernal and Cairn Mon Earn, I notice the tell tale signs of a few mountain bike trails heading down out of the trees, will need to check them out when I have more time, as Frost might have put it "Somewhere ages and ages hence:
Two roads diverged in a wood, and I 
I took the one less traveled by,
And that has made all the difference"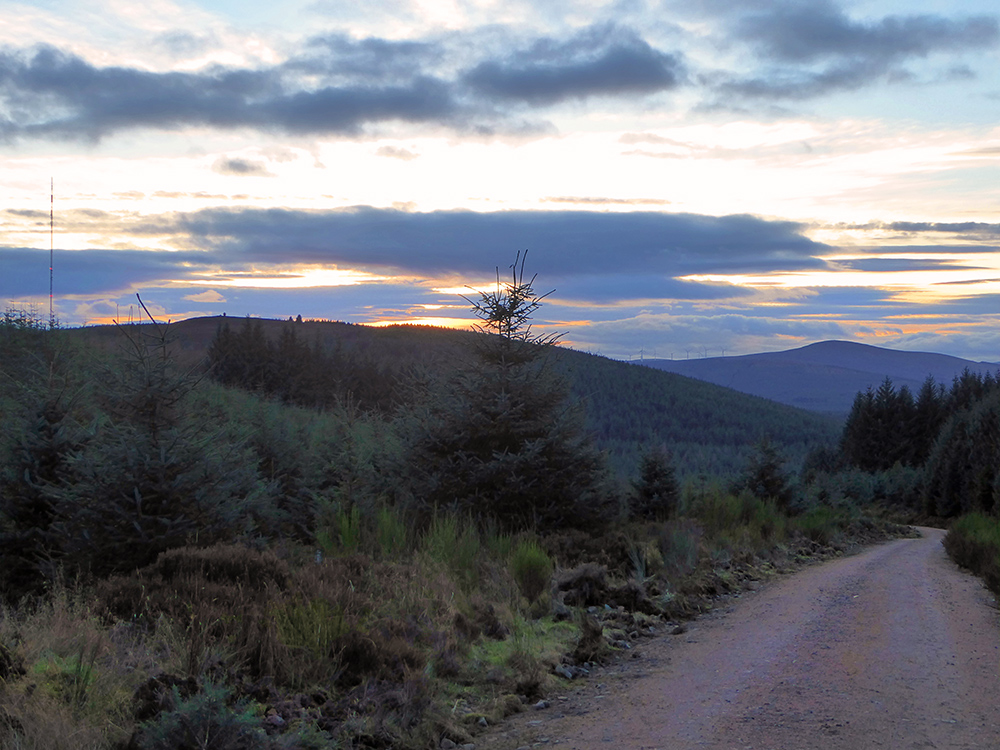 Looking towards Craigbeg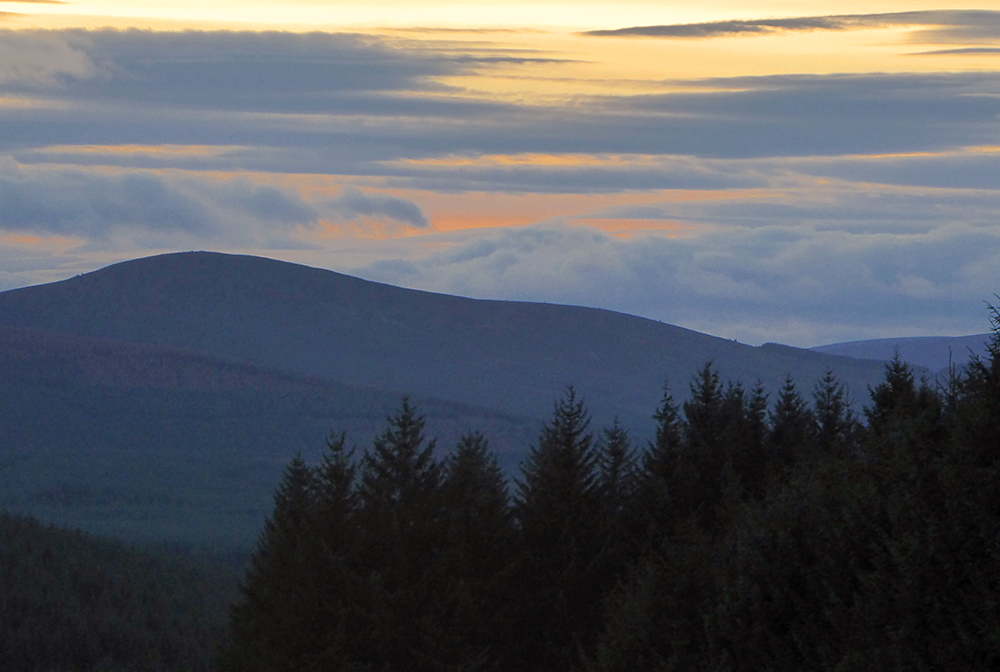 A quick sprint along the Slug Road and I'm back across the Dee onto the Deeside Way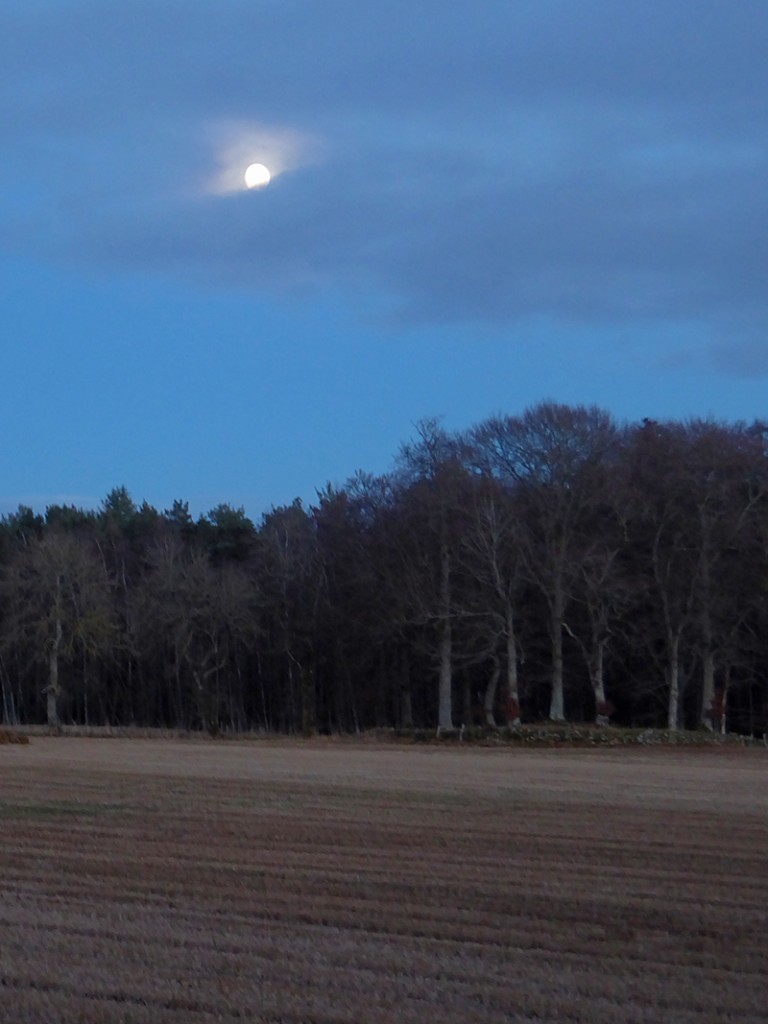 Looking back the Durris Mast, looking I guess lightly festive while pumping 100 channels of futile box-zombie goggle-plop. I yawn when I hear folk say they're too busy to do this, too busy to try that – but glued to the armchair half their lives sucking in dumbed-down pish instead of doing, going, interacting.
Past Drumoak, on a dark back road I get a wee shock as I suddenly see 2 bright reflecting eyes peering back at me. My headlight is on low to conserve power, so quickly flicked it to full to see what it is.. phew not the Beast of Drumoak, nor yird swine, but just a dog and walker, clad in car-magnet darks. Passing the spooky Belskavie tower, a fitting lair for creatures of the night, I'm sure though I hear a distant growl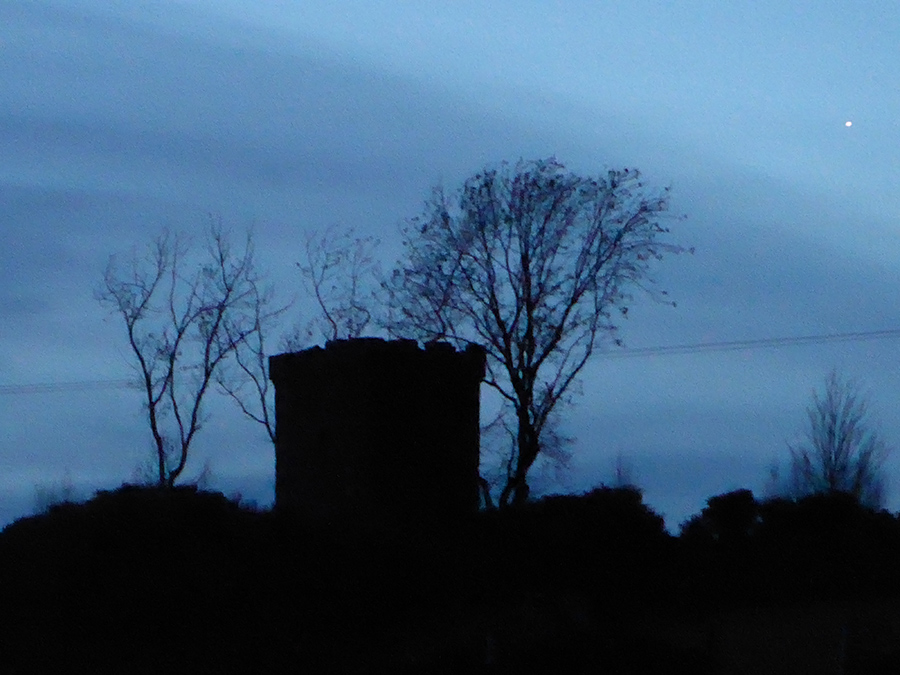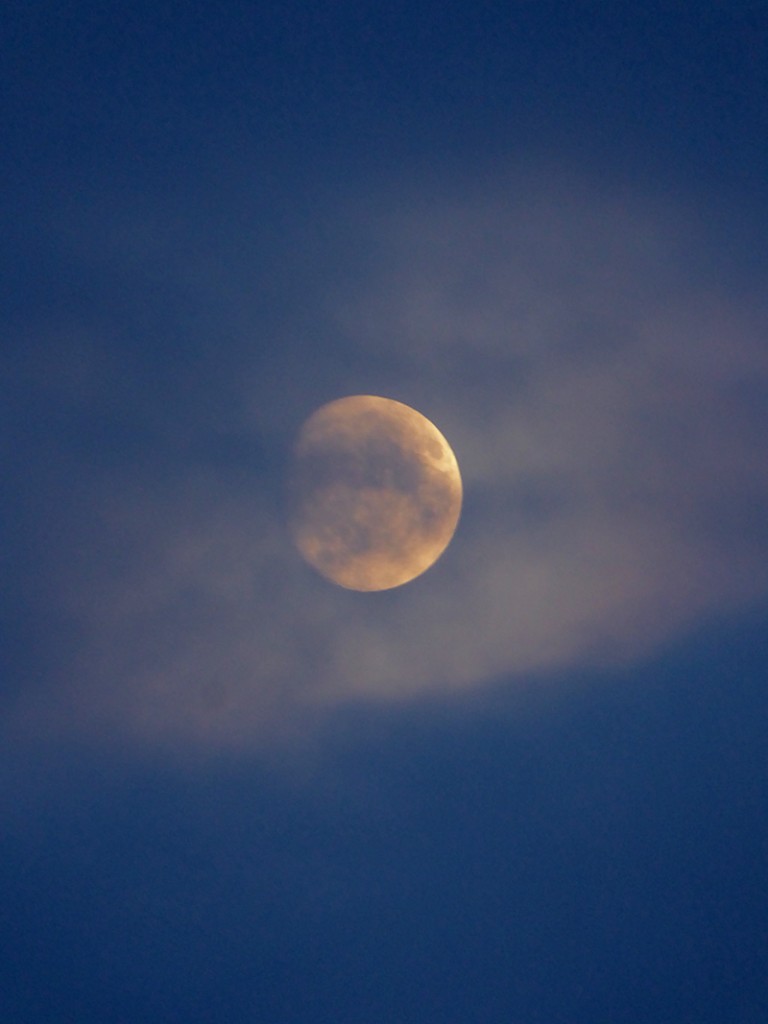 Last few miles heading back into town, so crank the headlight up to watch for the many dark clad pedestrians and dog walkers. Through the upmarket Western suburbs, many a house is garishly festooned with Christmas LED shows