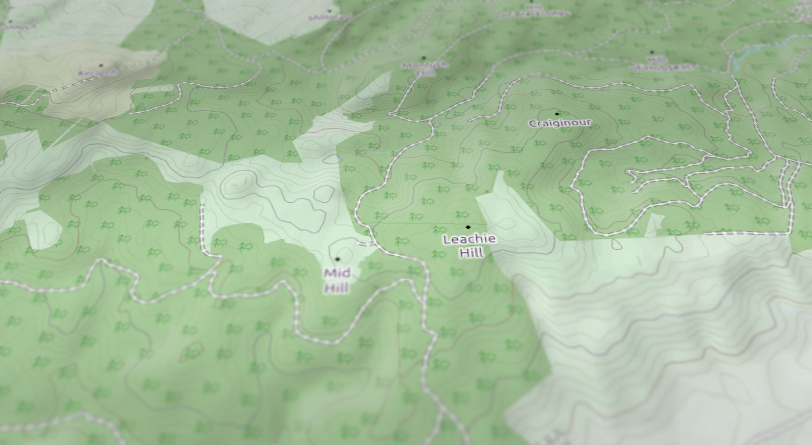 Nowadays there's a vast range of apps available for the outdoor enthusiast. There's a huge variety of base maps, free and paid, then you have navigational and route making features, pricing, on and offline capabilities (once you get out into the sticks connectivity can be slow or non-existant) and platform availability. Usability, user interface and reliability are other factors. Serious navigators are likely to want to buy Ordnance Survey or other commercial maps to use within an app, which means it's worth trying out a few before committing to a large area – if you decide to switch app you'll probably need to buy the same content again.
Here's a few I've been using and thoughts on each (work in progress):
Viewranger
iOS / android / web map editor
For most mountain bikers and trail runners, this is likely all you need. Select OpenCycleMap as a source, and you have maps with foot/cycle paths and topology (that's slopes n hills to those of you who aren't map nerds). Openstreetmap has less detail for outdoor activities and is more akin to Google Maps.
You can buy Ordnance Survey tiles, and download areas for offline caching. There's an online route editor / 'social network' where you can share / find / purchase other local user-created routes. The route creation feature isn't very flexible and only does a single point-to-point route, meaning if you like to have a few options preprepared (alternate routes for running out of time / weather closing in etc.) then this won't facilitate this.
Start up is irritatingly slow, you have to navigate through a clumsy map selection.
Google maps (Free)
iOS / android / web map editor
Most people's default map app – while it's good for car navigation and finding local facilities such as pubs, it's not much cop for outdoor activities, as most trails aren't there and having no geographical features most countryside is just a featureless swathe of plain colour.
OsmAnd+
iOS (no routing)/ android
Review to come..
OS Maps (Android / iOS / web)
Ordnance Survey are The Daddy when it comes to hard copy maps, but their relatively recent foray into the digital world shows – features are pretty minimal and the app can be glitchy. If you have a £20 subscription to their web maps, you can use that here, and download an area to use offline. These are then accessed as individual maps, so it's not possible to seamlessly pan between multiple saved areas. I found the downloaded maps functionality on iOS unworkable due to crashes, but reasonable on Android. As you can purchase OS maps and tiles to use in other more sophisticated apps such as viewranger and OMN, this app is probably of primary use if you want cheap access via the yearly sub, or have a lot of paper maps with the digital code to allow use here, and are not too fussed about bulletproof offline use.
OMN (Anquet) (Android / iOS / PC)
This app is primarily for those that want to access Ordnance Survey maps (or other commercial map vendors such as Harvey) and have them offline. They have a desktop app available (either free or a paid upgraded version) that can be used to purchase custom tiles and create routes, which then sync to your device via 'the cloud'. It can have maps which have multiple routes so you can prepare a map for a trip where you might want to cut it short, or extend further. It's a simple thing, but one so many apps don't include.
Backcountry Explorer (20 day trial / £9.49 )
Review to come..
AlpineQuest (Free – lite version / £6.49 full version – Android)
Primarily focussed on offline maps, there's plenty functionality for caching and downloading areas. The rendering engine in this seems slow: pinching out to zoom there's noticeable lag. However, one feature it does have is the ability to display and fade different layers over one another – you can have a vector map and then fade in some satellite footage. It also has bing as one of the available sources – which often has better satellite photography than google. If you want to cache satellite imagery offline, this is the tool. There's a tweak here that unlocks satellite caching from google maps (disabled by default at the request of google).
PDF Maps (free – Android / iOS)
Only of interest for those who create their own maps as Geo-referenced PDF's, or are looking for unusual commercial (seems to be a focus on US maps) or historic maps, which is a shame as it has a perfect 'add pin with description and a photo' function that'd be great for annotating journeys. Bizarrely, it doesn't seem to include any free map sources such as OpenStreetMap, so 'out of the box' it's pretty much useless, you have to rake around a fair bit to find some free downloads to get started.
---
To be continued as I try more apps.. please suggest any I've missed..