My second race of the year and my first bash at a half marathon, and an offroad one at that, would be the Illuminator Run at Aboyne. The drive from Aberdeen in the afternoon was a treat of autumn colours.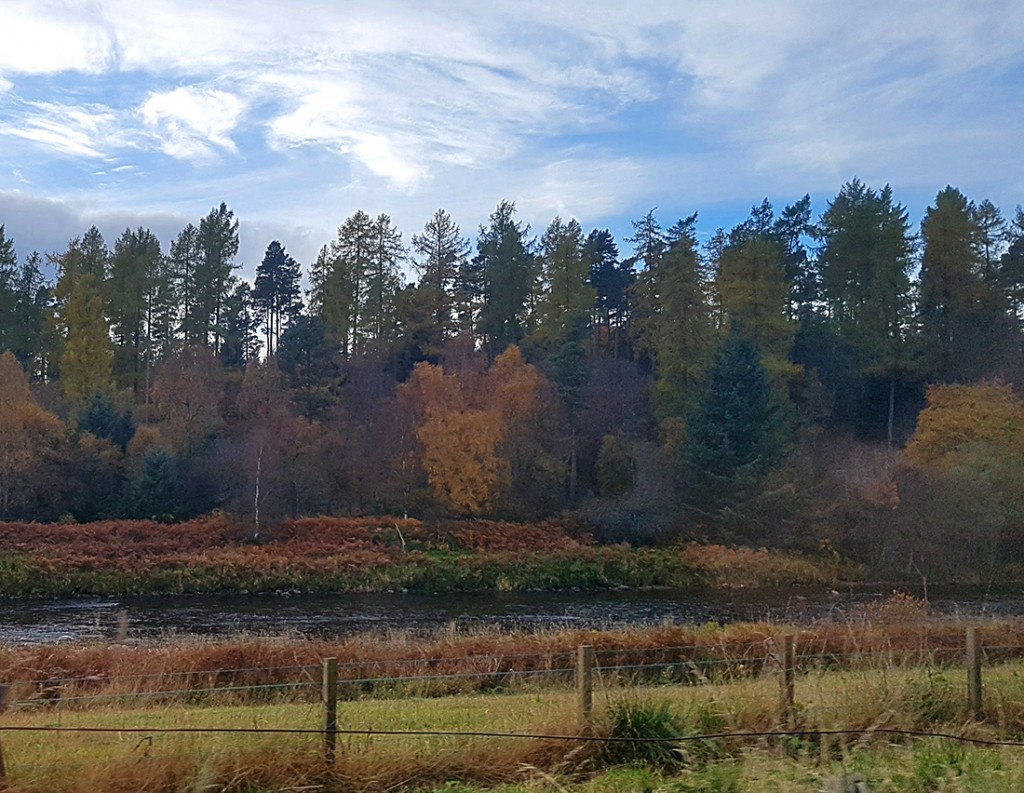 There are allocated times to register, to save everybody rushing at once, I was early but there being no queues went ahead and filled out my form and got my electronic tracker and fitted it to my speed laces after a fashion.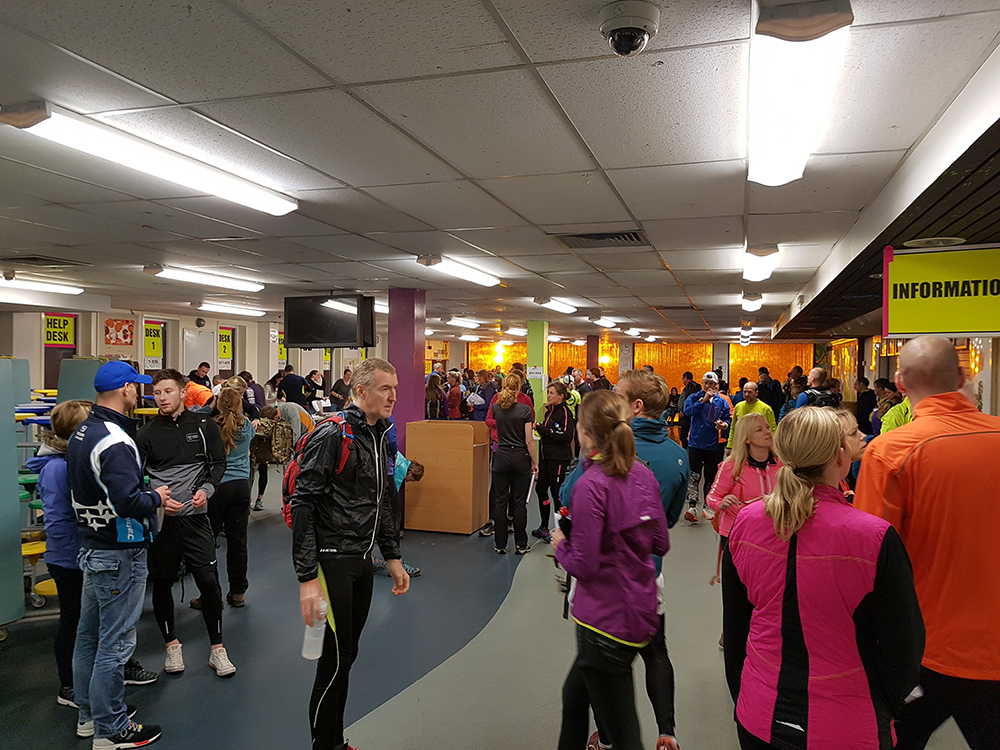 Tip 1 – if you want to go to the toilet before the off, do it at least half an hour before, there was a massive queue at about t minus 20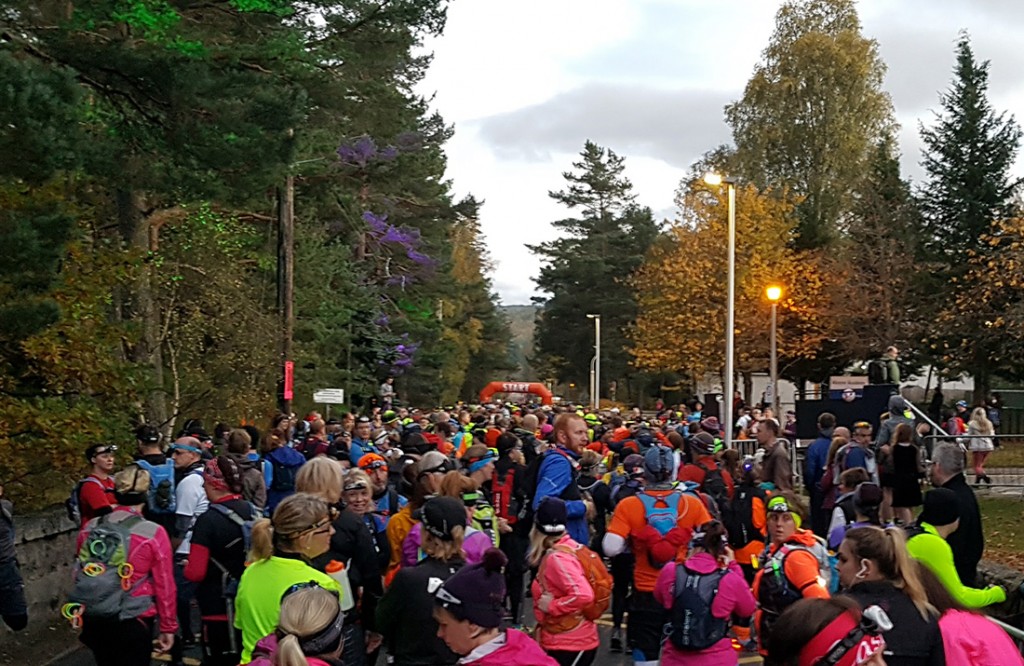 Looks like a good turnout. Being new to this kind of event I scoped around at other folk's kit. Some people had mudclaw type footwear, others road shoes. I'd opted for a fairly neutral choice of Salomon XR missions, that have a mild trail grip that does well on tarmac and hard pack, a Gore magnitude AS running jacket (lightweight windproof, mesh back good for backpack), and a Salomon Jaws 10 on the back with the mandatory kit. Quite a few folk had various illuminating bits n bobs which made for a colourful parade. My only nod towards that was a few random scooshes of Volvo Life Spray Paint over the clothes.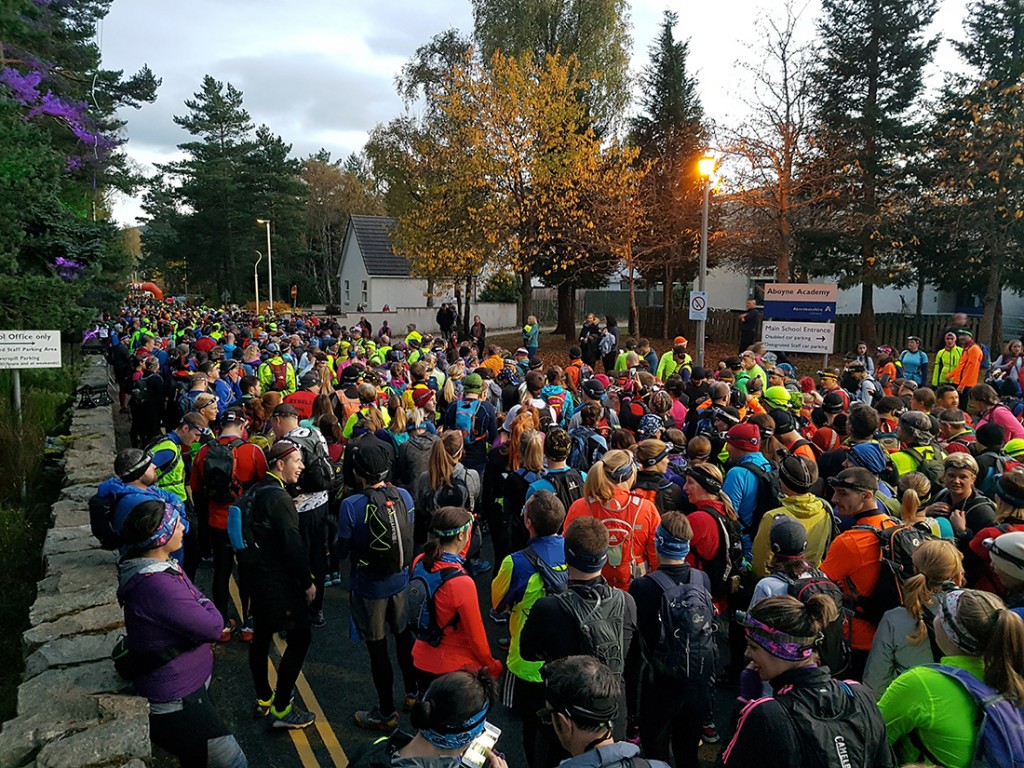 After quite a lengthy briefing, we were off. I hadn't been able to find some other folk I knew who were participating, so myself and Michael who I run with on Jog Scotland nights set off.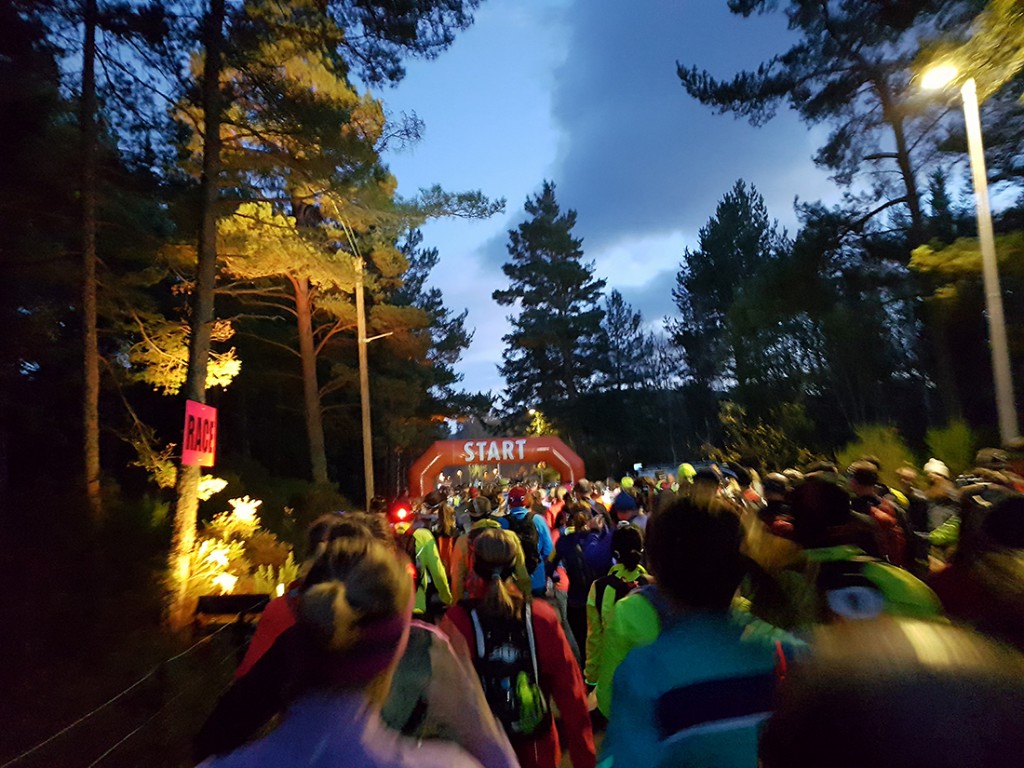 The start was quite stoppy-starty, a lot of folk to get through the gate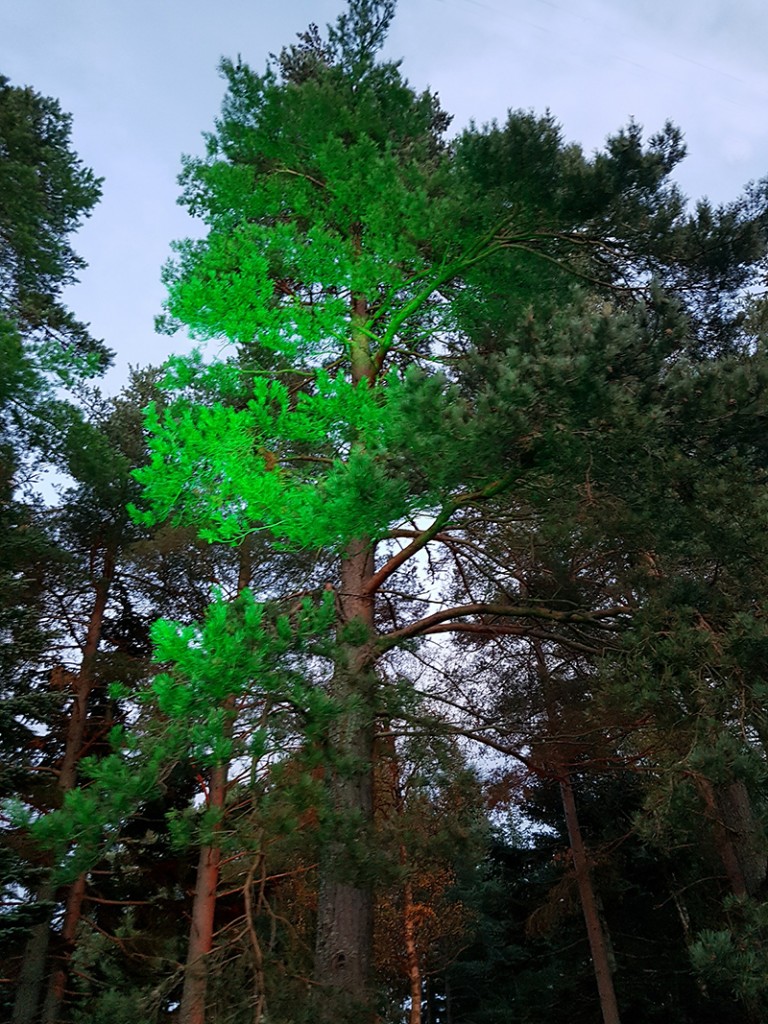 Heading out of Aboyne, after a k or two the route heads off road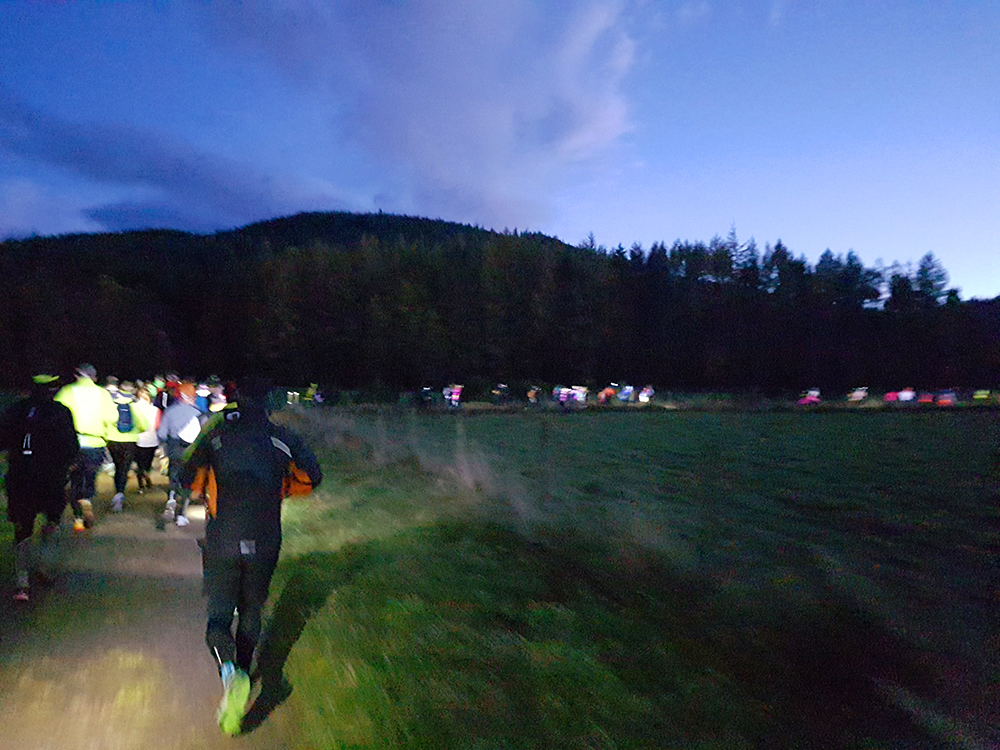 We'd been warned about this at the briefing – road block as we start to head up the hill on to a single track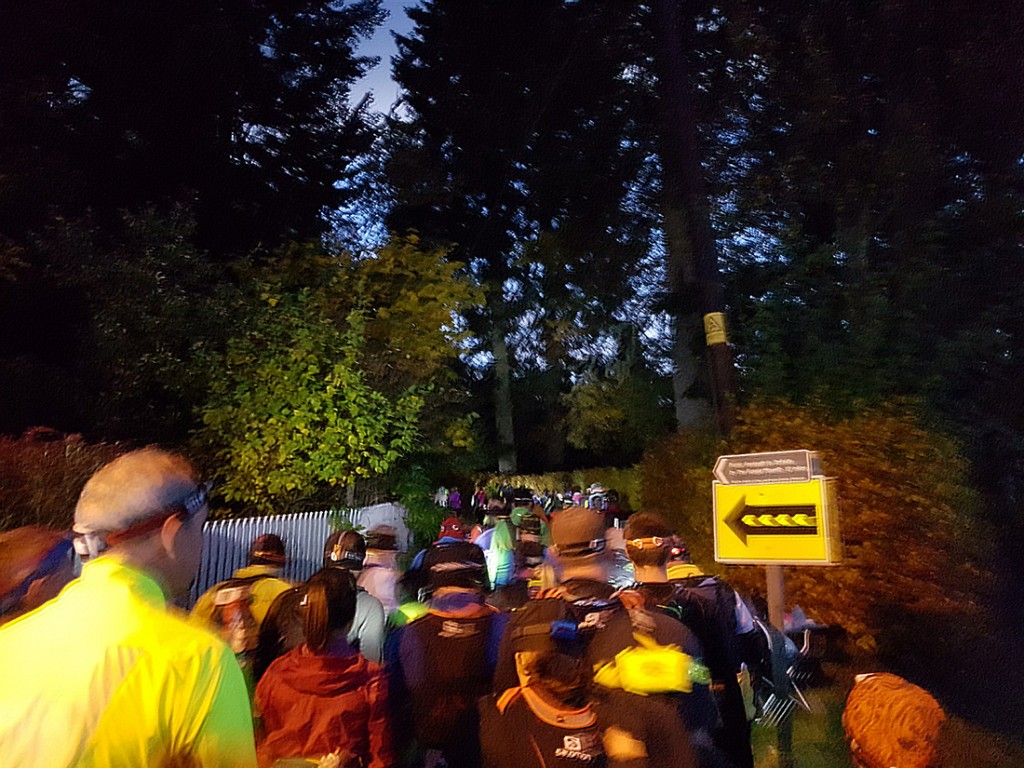 The next couple k are similar in that run for a bit/ stop for a bit while the congestion clears. It'd be quite hard to pass folk here too. Happy enough at this point to go with the flow.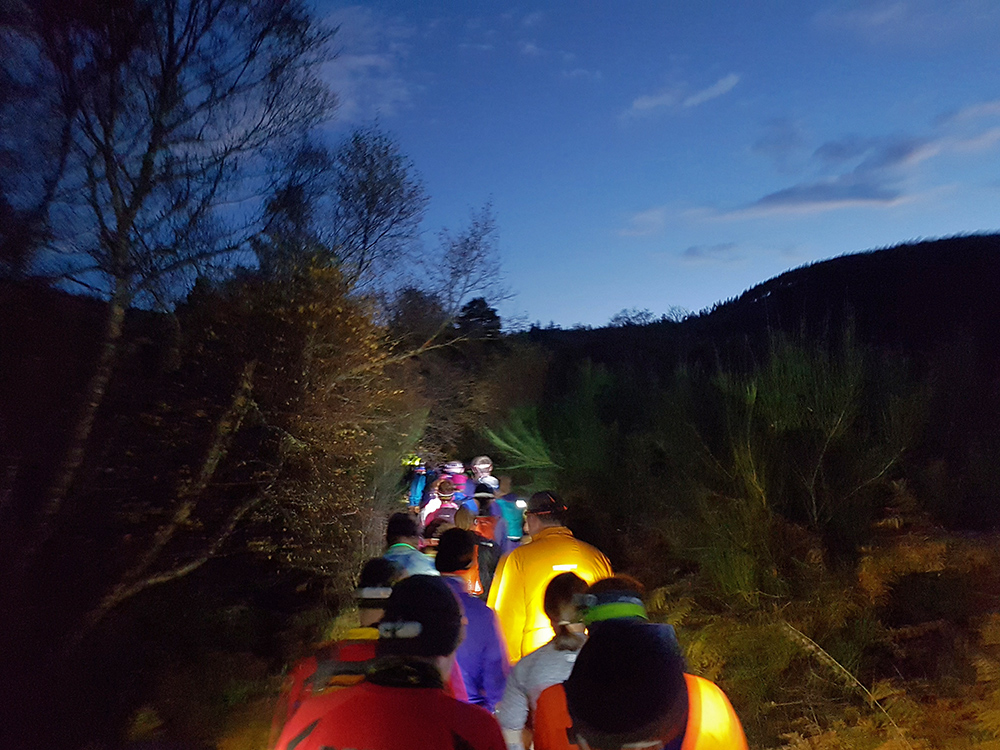 There's still a bit of light in the sky, and sufficient head torch density that I don't switch mine on yet to save battery for later. I'm using a mountain bike head torch capable of over 1000 lumens, with a 2-cell battery pack in a jacket pocket. Could have also put it in the backpack, but storing it closer to the body = warmer = greater duration.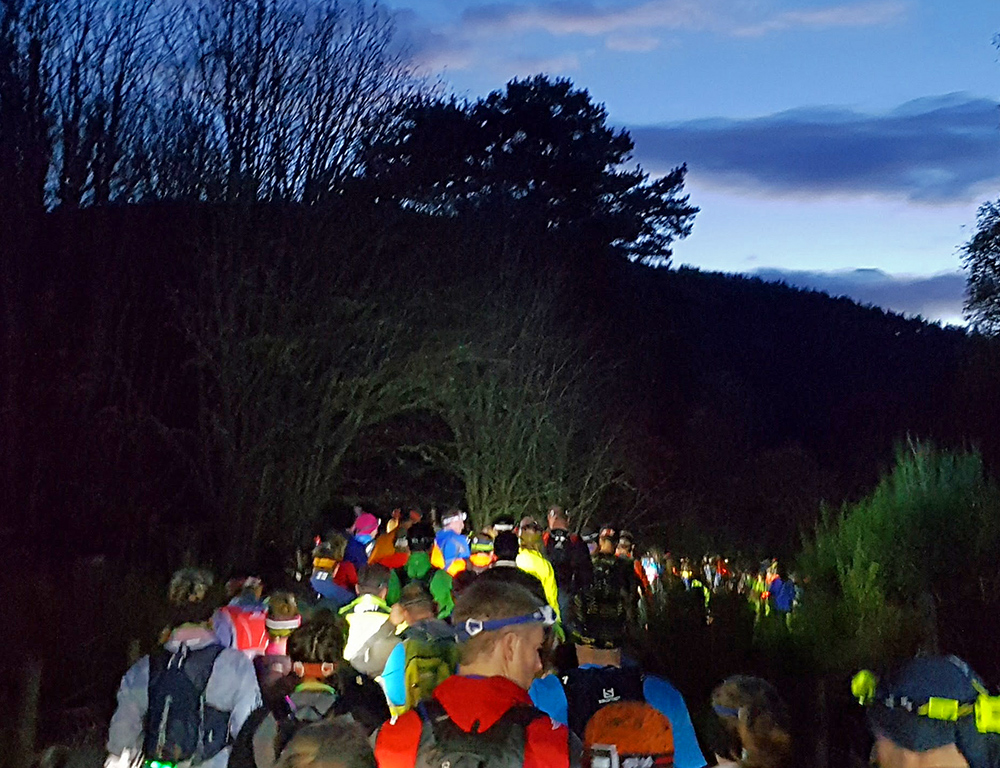 Gradually climbing upwards we skirt around the foot of Craigendinnie. Thinning slightly but still have to choose moments to pass. Quite rubbly underfoot but good traction as it's been reasonably dry recently. The trees provide good wind cover so feeling quite hot and unzip the jacket.
Get the headtorch on, on a mid setting giving about 600 lumens. Most running head torches are 100 or less which is pretty feeble. I have a minor weight penalty, but happy to have greater visibility both in terms of power and beam shape. The wee spot of my alpkit headtorch would be annoying trying to keep it pointed, where as the flood beam I have on means both good near and peripheral light. Shouldn't have worn a cap though, there's an annoying cutoff shadow underfoot.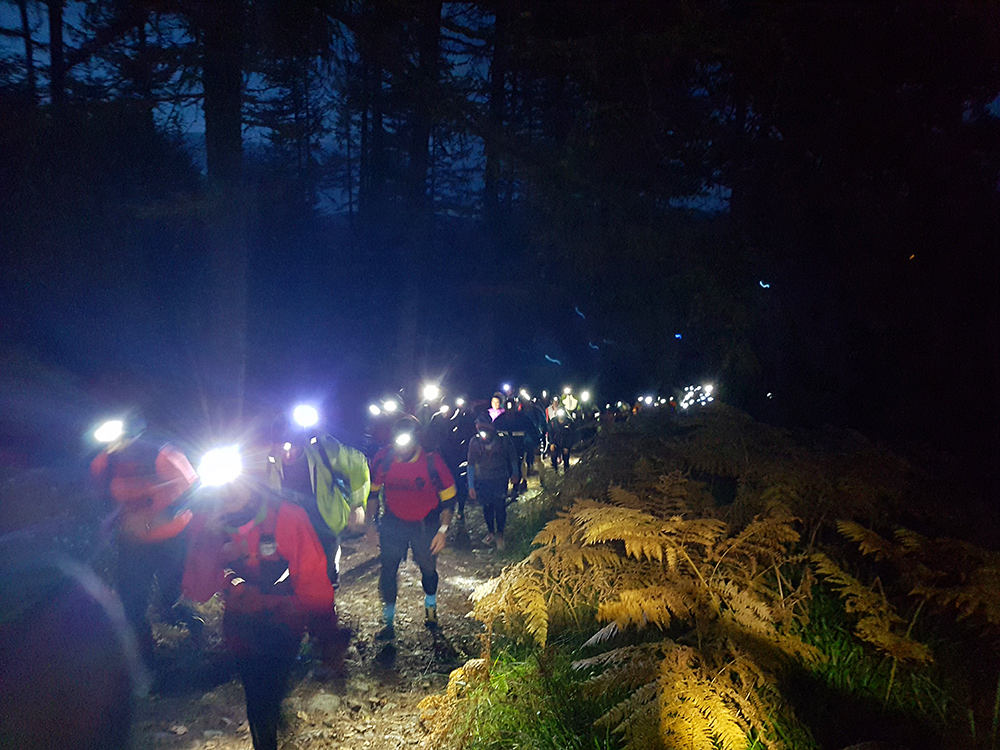 I begin to move ahead of my running buddy who I'd been running along with, he's having an off day and struggling on the inclines. I feel good so far so keep up the pace, but don't want to give it max throttle just yet as I'm new to this distance.
A few folk I passed commented on my shiny reflectivity as I passed courtesy of the Volvo paint, shame I couldn't see it myself.
At 4k which is about half way up the elevation of the first hill, in a clearing there's a piper playing. Would love to stop and listen but gotta press on.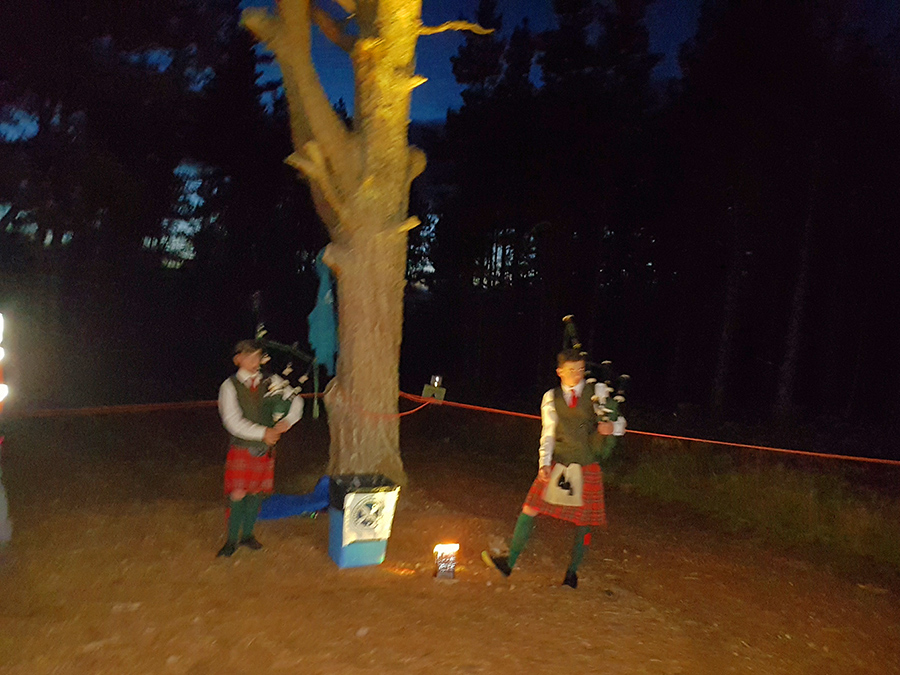 At about 5k, the route breaks out of tree cover onto moorland, the wind picks up and the temperature dips sharply.  Ahead the sight is quite magical, a bobbing stream of lights snaking across the hills into the distance, the last deep blue ebbs of sunset on the horizon. This photo doesn't do it justice in the slightest, truly magical but it'd take a really good low light camera and tripod to capture well.
At 7k the course peaks out at about 450m. It's pretty chilly up here, the zip is back up and gloves on. We've been lucky with the weather, it's reasonably still and not too cold. It could easily be pissing it down, and a gale. There are quite a few folk who have been running in waterproof tops which I find a bit odd, they'll be a mess of sweat climbing through the forest and now they'll chill rapidly.  The web site for the race mentions an average time of 3h 30. I'm taking it cautiously, aware that the knee / hip pain I get occasionally once I'm into my second hour could be a factor. I snatch a quick look at my watch, doing slightly better than I thought. Target time of 3h should be good.
In the long descent off the top I make sure I stay focused, there's plenty heathery ruts and big rubble to trip the unwary, and sure enough I spot a couple casualties, whether trips, pulls or equipment fails. This is why the compulsory kit includes an insulated top – it'd be a long cold hobble back off the hill from here.
At 13 k a coloured glow up ahead indicates the 'light zone' where there are refreshments and they've lit up all the trees, looks great. Wish I had a big camera with me, though I know the weight would've hurt later on.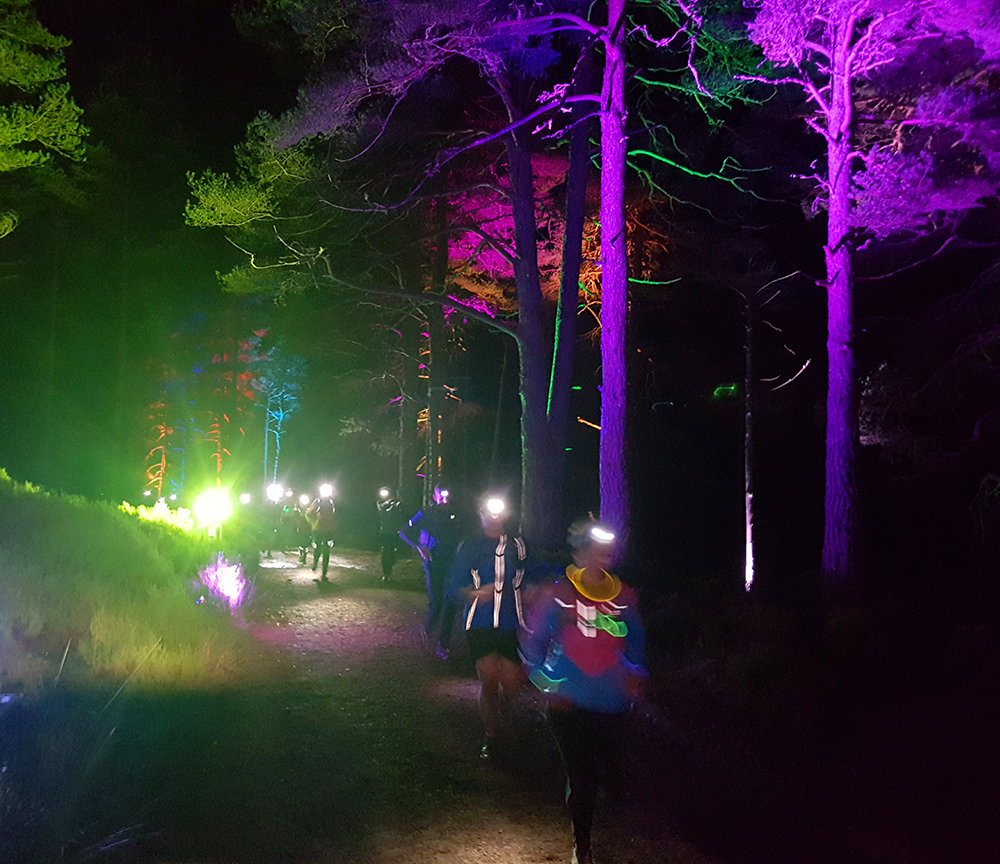 Load of folk milling around, some people blast through but I'm going to take a minute, refuel and have a quick stretch. I didn't realise there was food too – if I'd known that I'd have packed less snacks. Don't see anybody I know, but do a few stretches, soak up a bit of the party atmosphere  and then grab a glass of warm juice and a flapjack.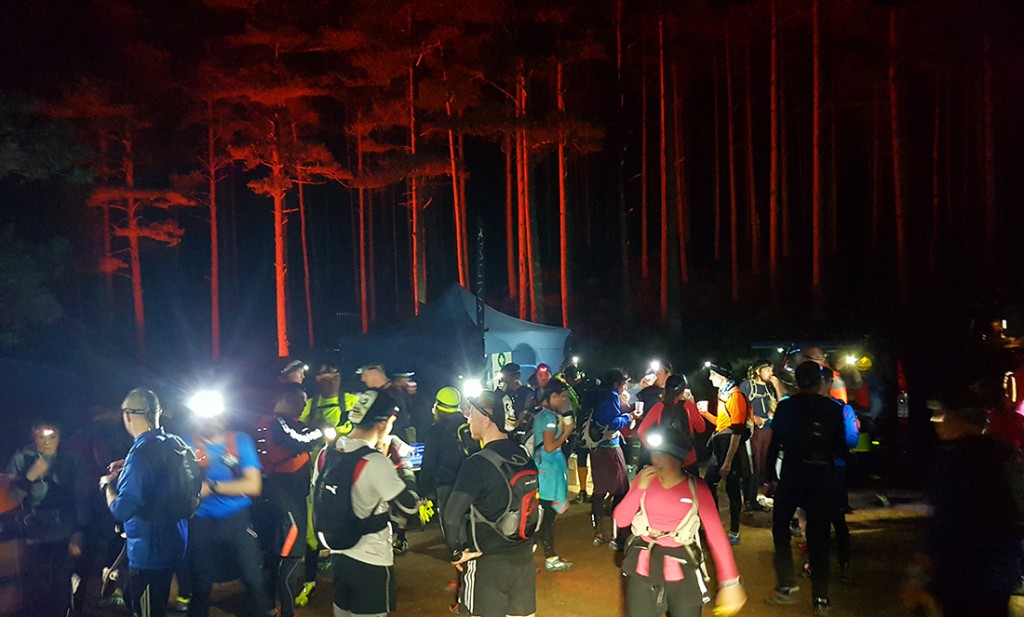 Nice wee bridge on the exit, it's not lit but the head torch soon sorts that.
Time to reenter the dark and press on. With the trails now a lot less crowded, I settle into a nice groove of cadence and breathing out in the dark.
There's a water splash over a burn, a few folk hammer through it, but I lose a couple seconds creeping over the stepping stones a few yards upstream rather than have sloshing trainers for the remainder, and potentially risk blisters. There are cameras snapping the splashers though – if you want an action shot, this is the place.
For the last few K it's been a gradual descent, but around the 20k mark I hit the final climb as we return to the other flank of Craigendinnie, and it's pretty tough going. Although only 1k, it has 150m of ascent, with the grade reaching 25% in places. Most folk are walking it, I run it for 90% but barely going much faster than walking. I chat to a few folk I pass but quite a few are suffering, red faces n glazed eyes, you can tell the road runners who never see much gradients here.
Down the other side there's 2k of similar gradient, it's pretty slippery and grassy/muddy versus the rocky stuff coming up, and I could have definitely done with deep treads on the soles here, though I manage to hold my own unlike at Balmoral where I lost loads of places on the final descent. Glad of the extra power my head torch has here, would be tricky here if you ran out of batteries.
At the bottom, I find myself entirely on my own for a minute and wonder if I've taken a wrong turn, but spot a steward and then the glow of streetlights as the route goes back on road for the last stretch, almost there!
I snatch a quick glance at the watch, and am well ahead of schedule. There are still a few folk out cheering the visitors on despite it being quite chilly. With a few hundred metres remaining I spot a group ahead and decide to give it full throttle, empty the tank and nick a few places, which I do right on the line, they must have thought I was crazy belting past like a medal was in it :p
Made my way to the finishers enclosure, and met up with a friend who was already in, and got a snack and a drink while we waited for others to come in.
Overall, reasonably pleased with a time of 2'42:30, 266th out of about 1000 runners, 107th 'vet'. All in all, a great race to experience, an amazing course and a magical night out on the hill, and very lucky with conditions, crisp and dry. As a first attempt at this length, it was always going to be a learning experience, but think a 2h 20 would be my target next year – give it a bit more welly, and starting further forward to avoid some of the early queuing would have done that pretty much
Here's me and my mate Greig with our finisher's mugs.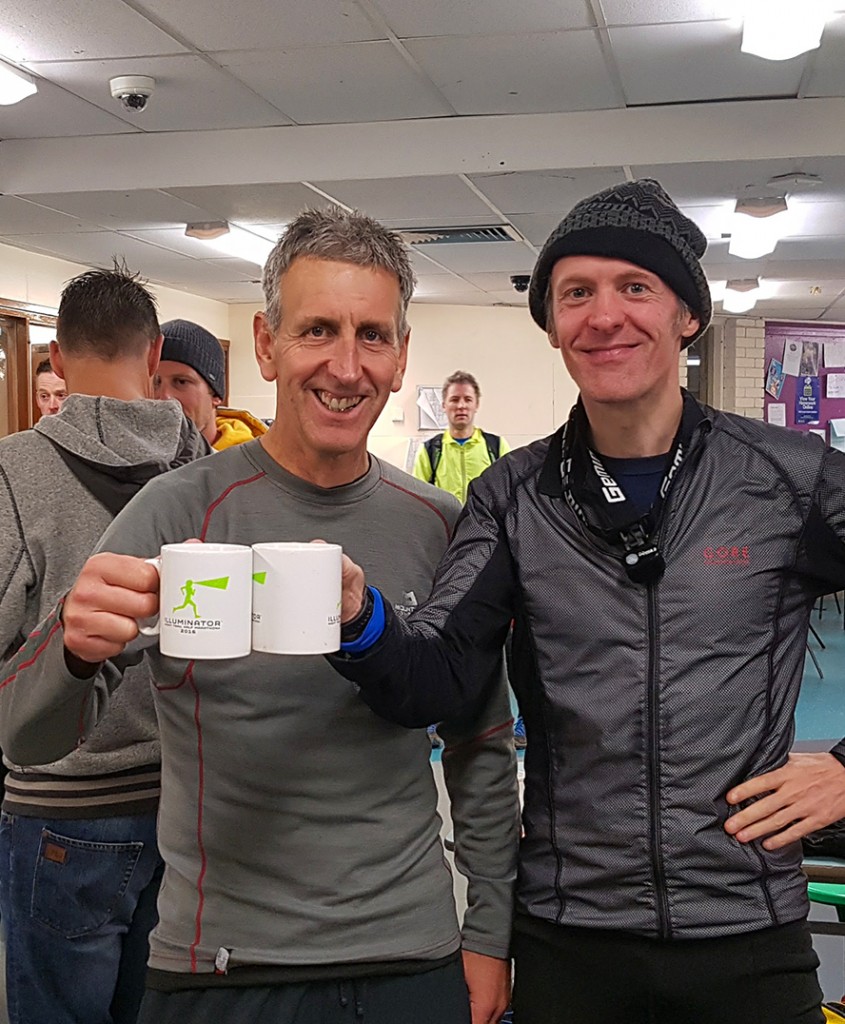 Here's a 3d 'fly through' of the course:
Things to note for next year:
Start far further forward to avoid the crush at the start of the singletrack choke points.
Give it some more throttle early doors, the second climb is the tough one.
Spend less time at the light zone. Strava flypast shows a lot of folk passing me here.
Deeper tread next time I think, particularly if wetter.
The mesh back of the gore works great with the backpack, not drenched.