Today's trip is a stroll around Green Hill just South of Tillyfourie. Back in the olden days, they were clearly not feeling inspired when they were naming the hills around here as there's another Green Hill just North, and Black Hill, White Hill and Red Hill too. This particular Green Hill is at NJ 63557 09882.
We started off through Ladymoss Wood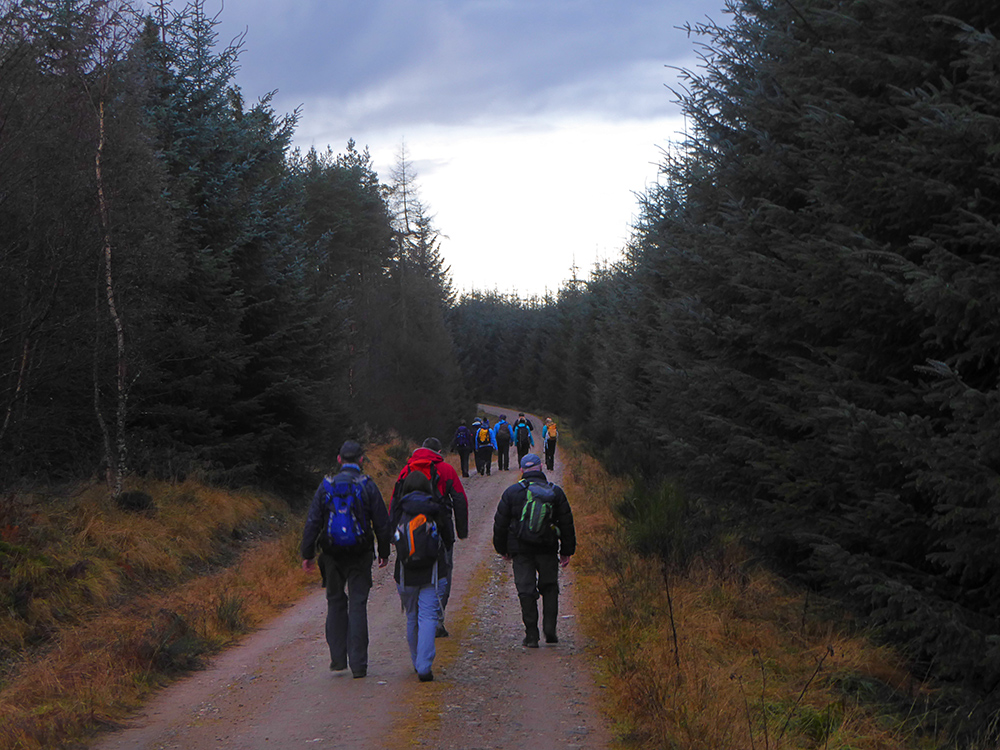 Crossing farm land heading towards the foot of White Hill near Greenfolds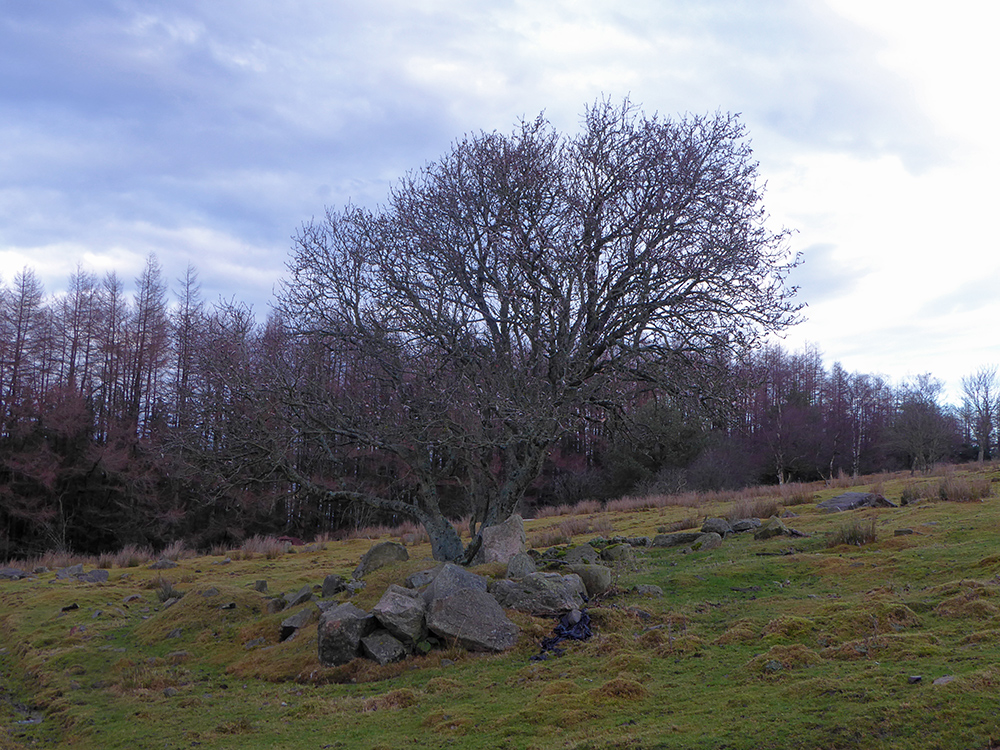 A winter sun peeps through behind White Hill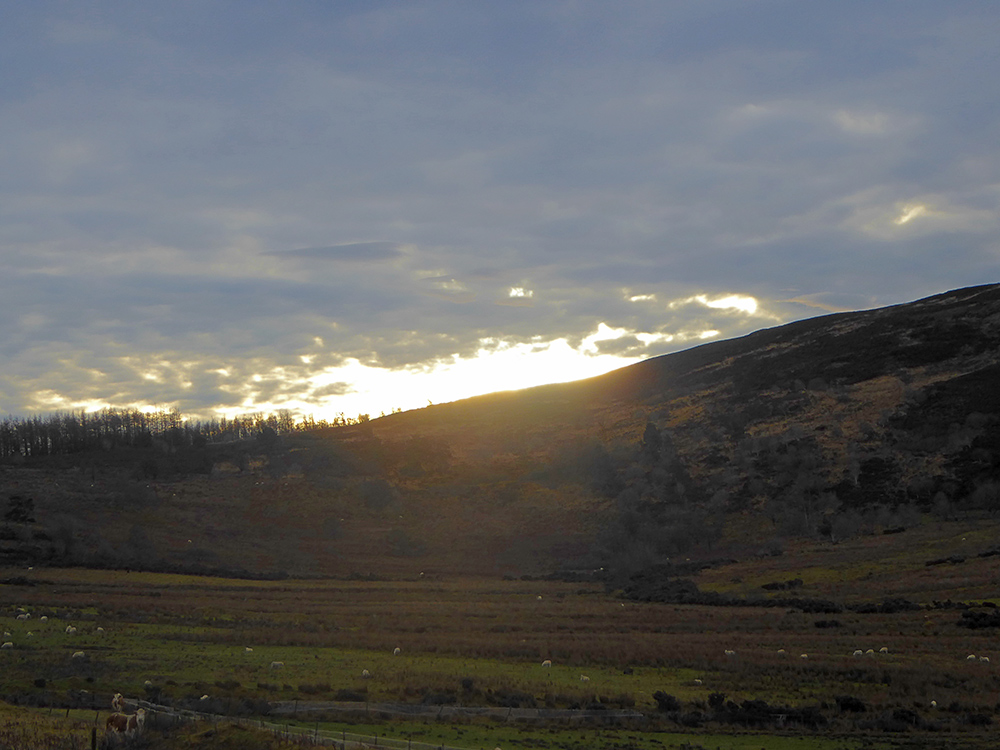 Through some sparse woods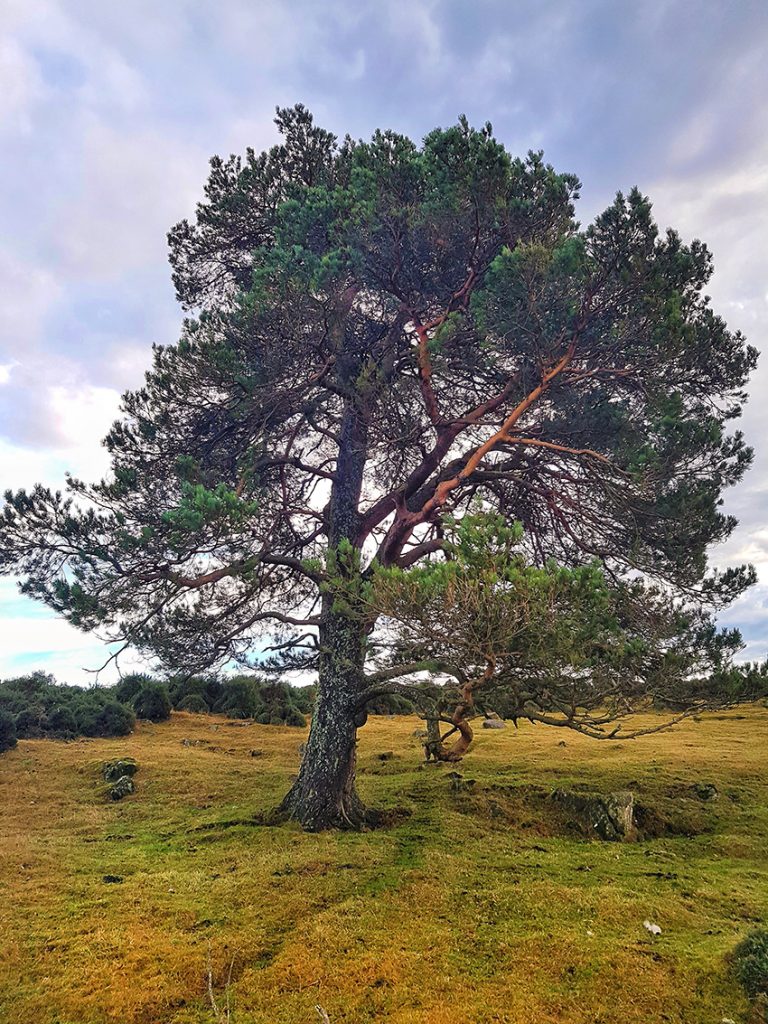 Negotiating our way through the gorse on the lower slopes of White Hill. It thins out to grass and the odd tree. Who knows why this tree is this shape, it just 'is'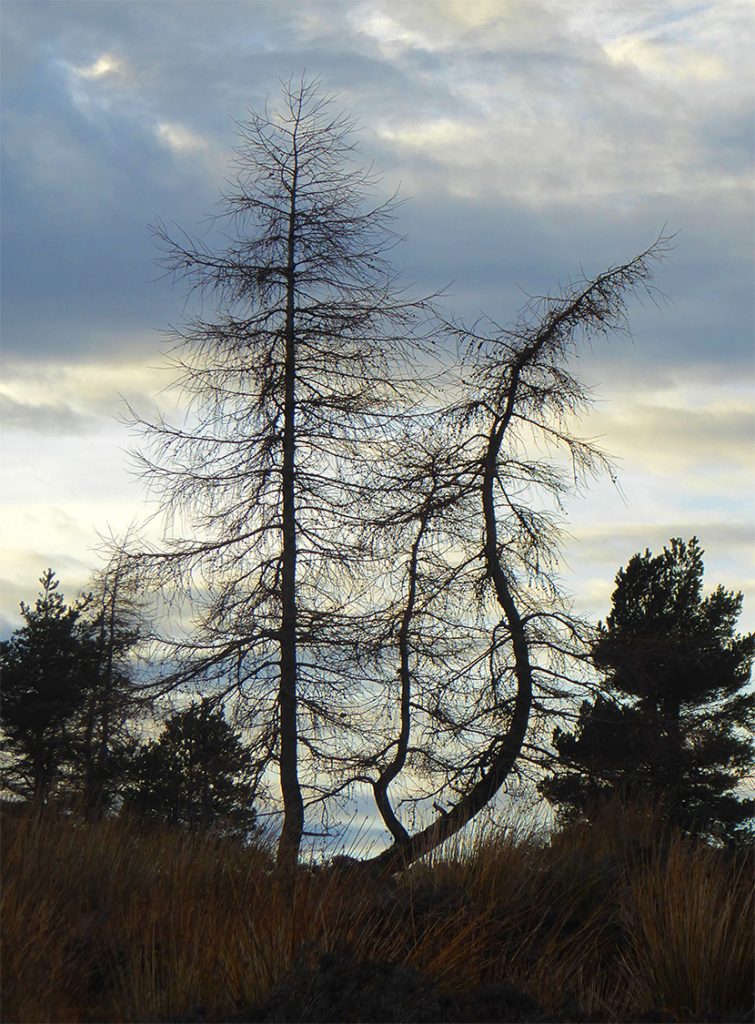 Gaining a bit of height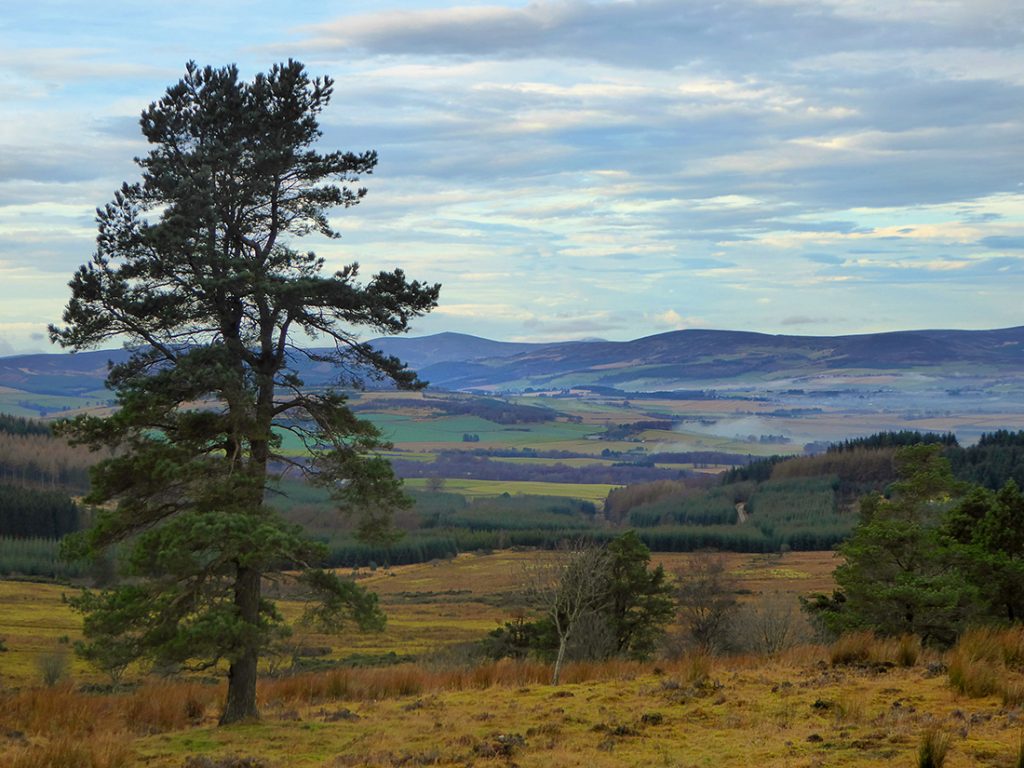 The troops following the fence along to the top, the trig point is over the other side of the fence amongst trees.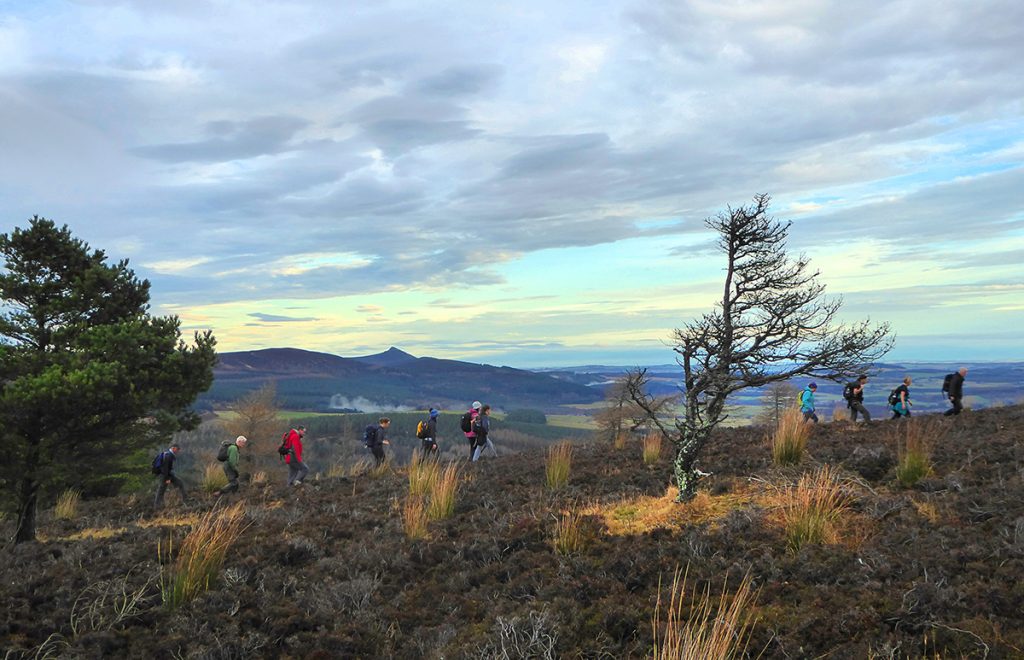 Zooming in to Mither Tap about 12k to the North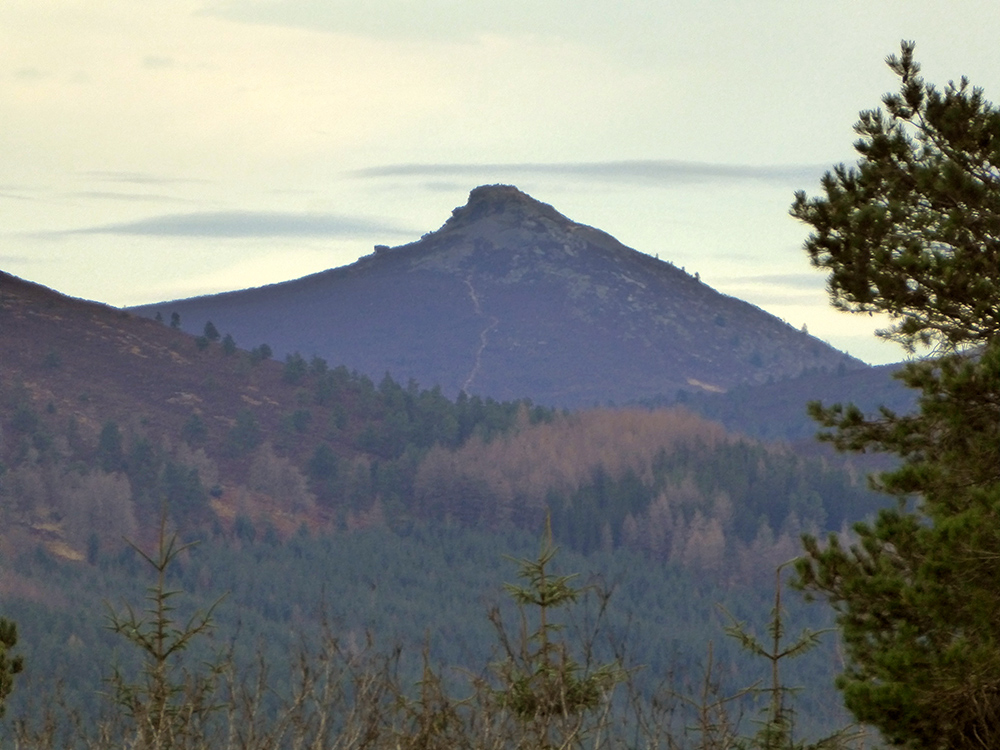 A decent panorama of Bennachie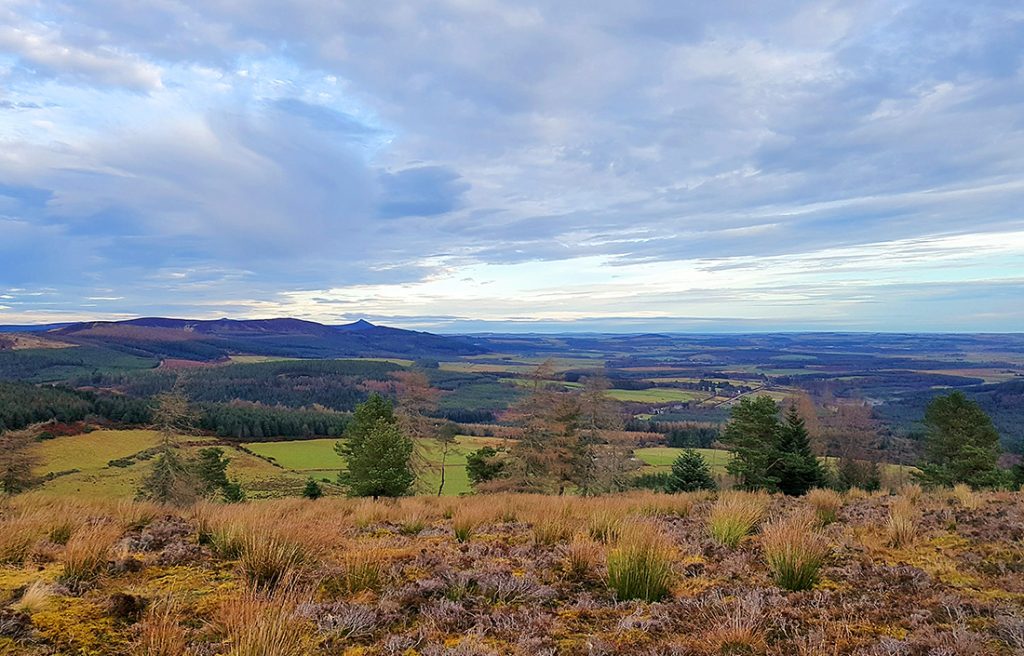 Pointing out peaks and places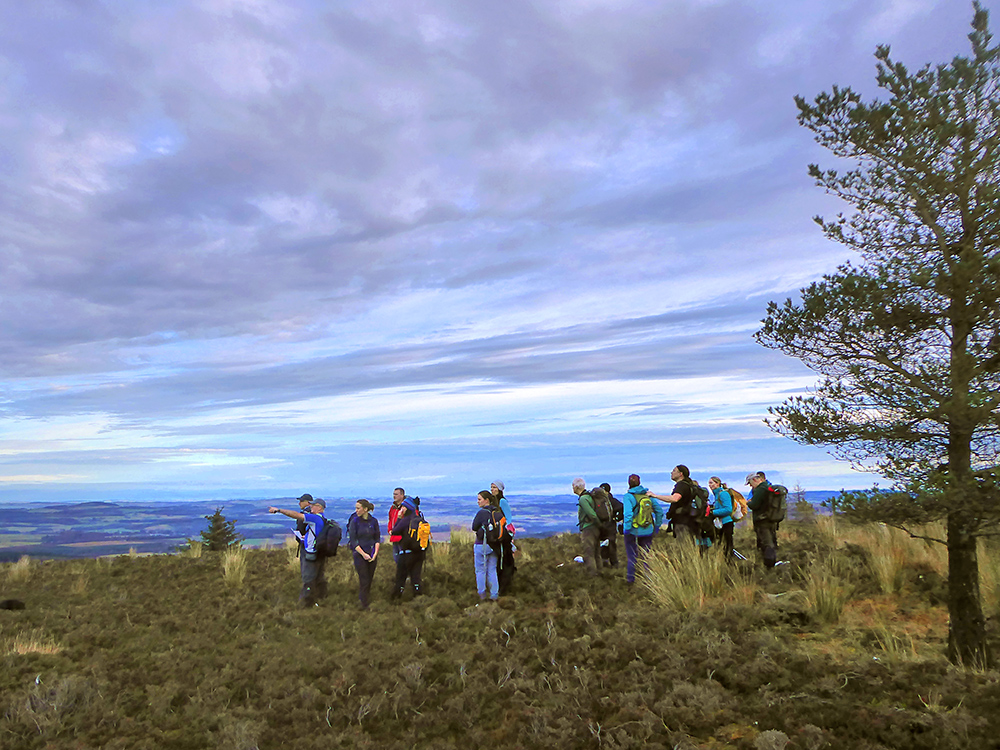 One last look then onwards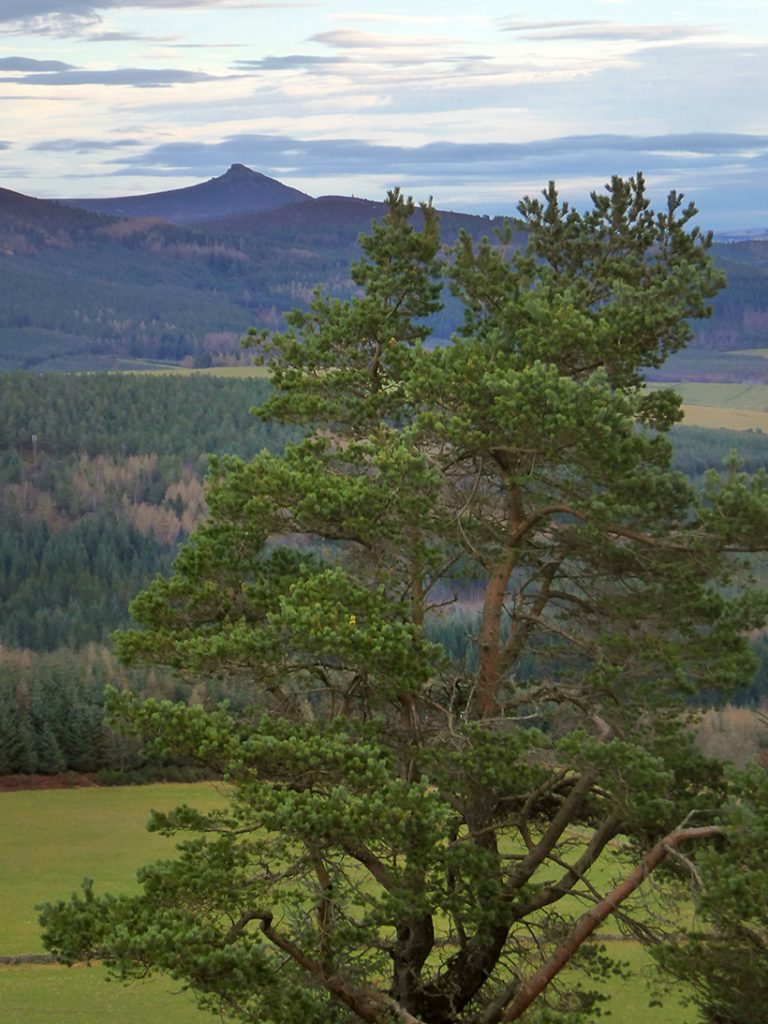 Coming down off the hill through Leybrae Wood to rejoin the trail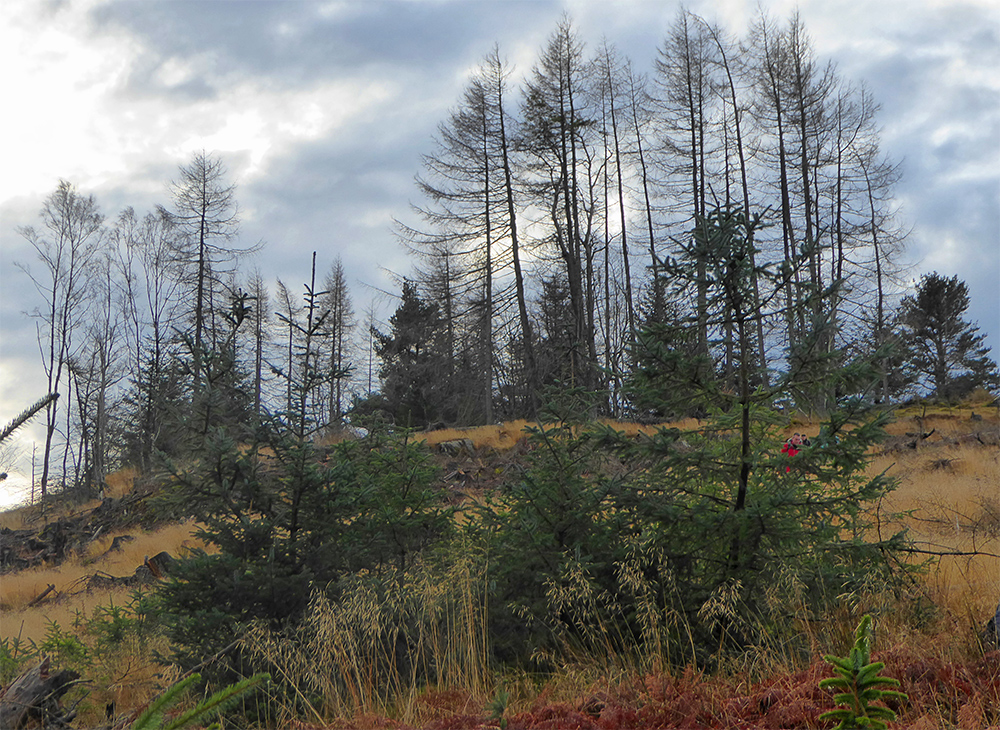 Down we go further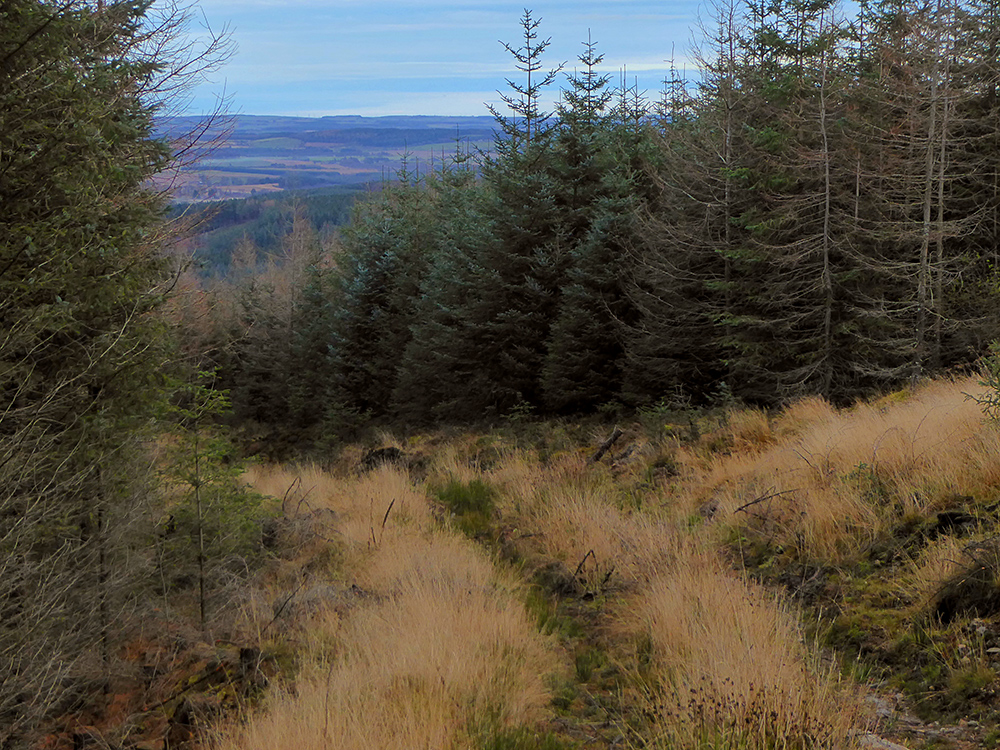 Back on to solid ground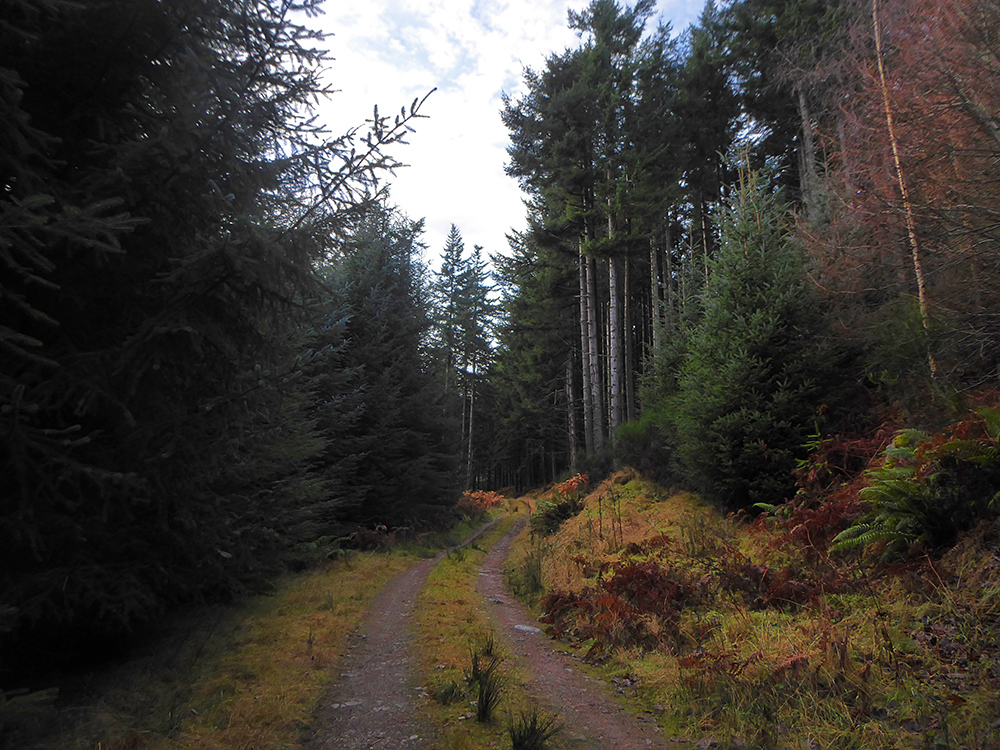 Stopped for a bit to eat by Quinach Burn. One of the group starts up over Green Hill along the edge of the wood, there's no defined trail. The rest of continue South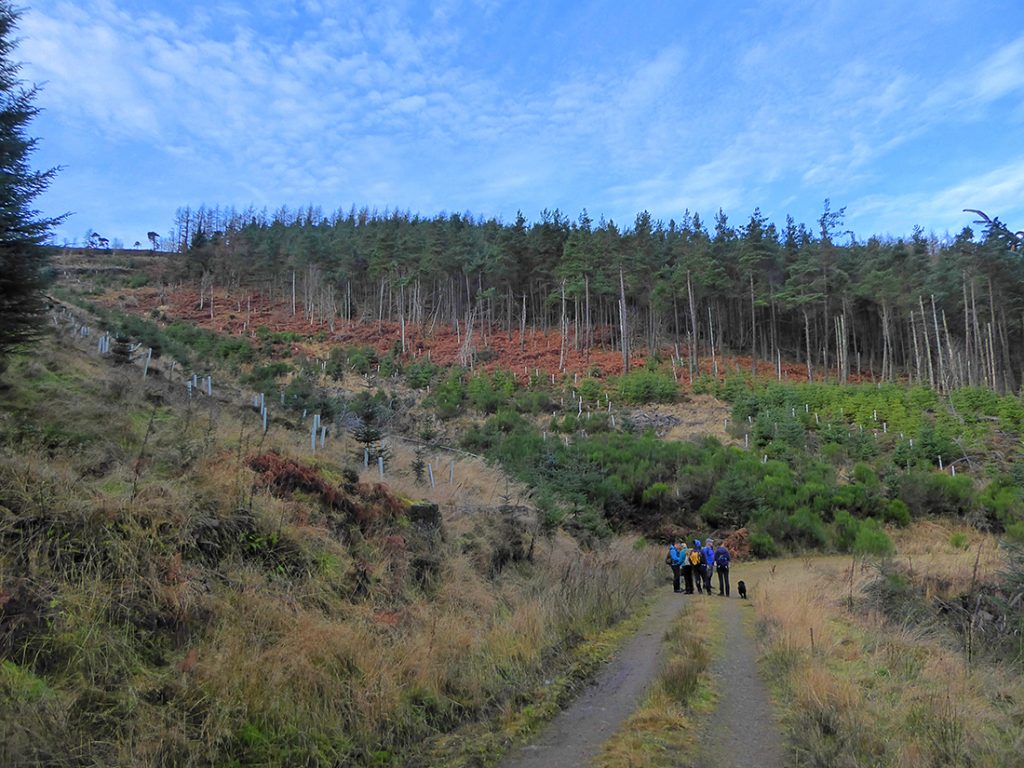 I was pining for a peek of a peak through the pines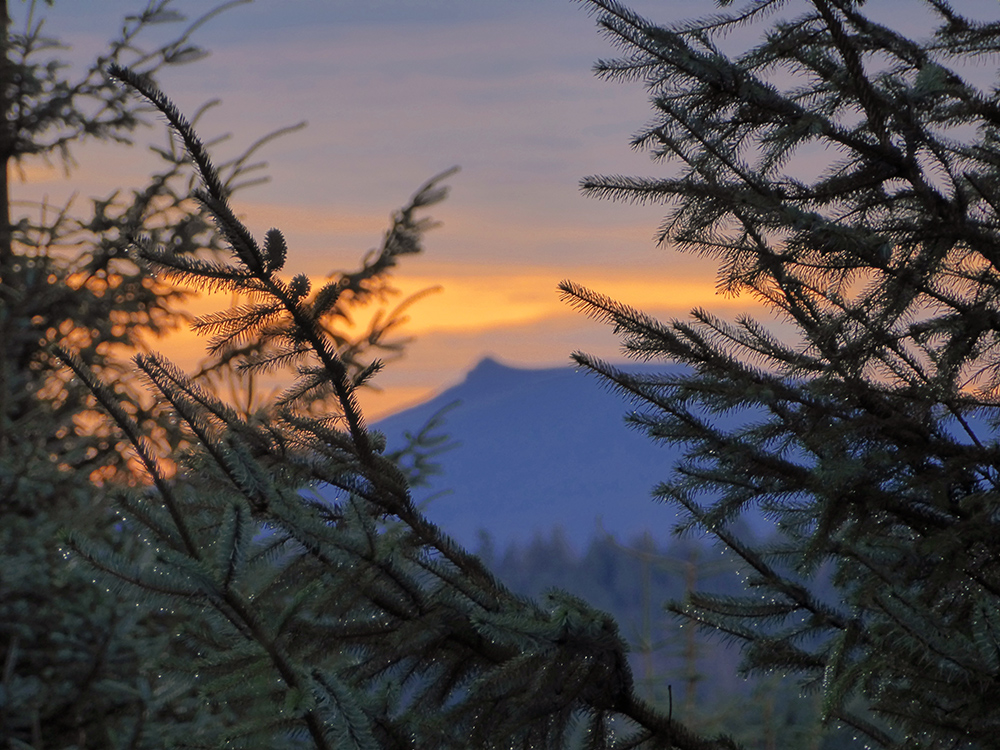 Entering the fine trees of Corrennie wood
Detour West along a wee path before Correnie Croft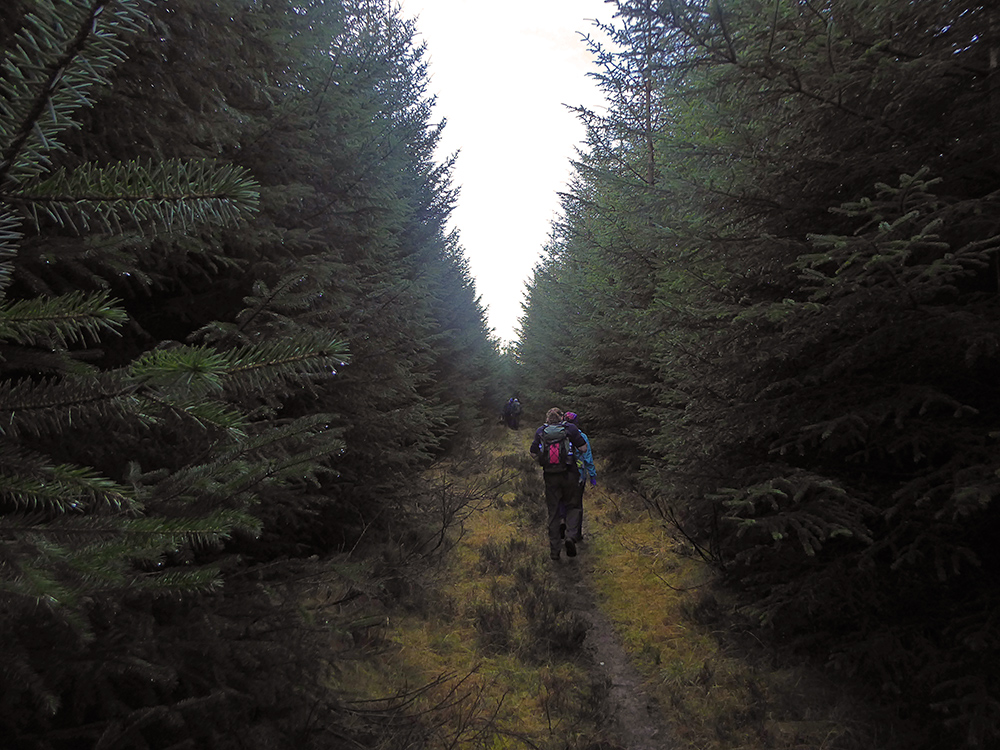 That's a very fine post box, neigh doubt about it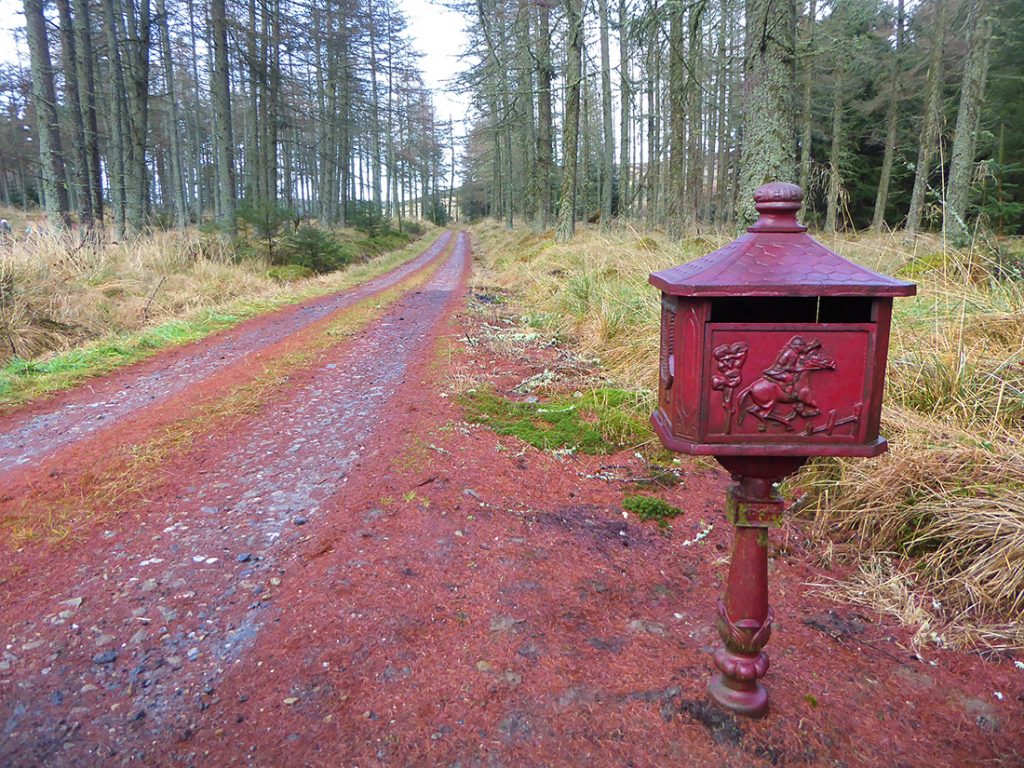 Past Black Kill towards Denwell Farm, crops of scrap iron in fine ferric fettle, sprout against old walls like rusty weeds.  Each random strip stoically awaiting the day when it will come in handy for some ingenious agricultural task.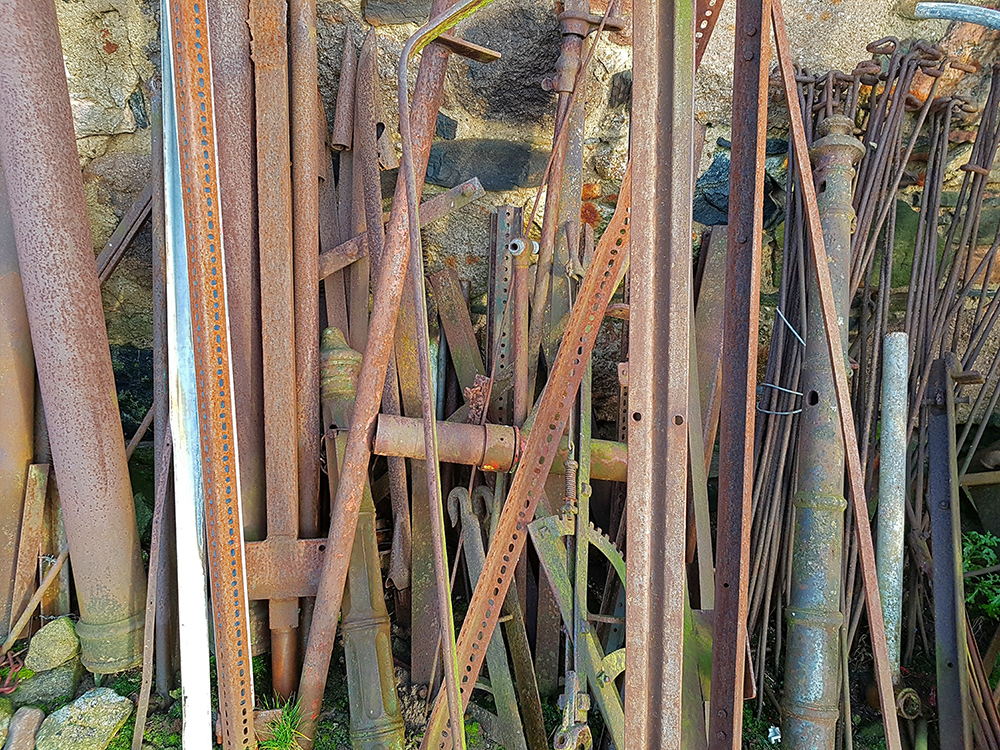 I see a neep flunger, a plough crimbler and some hoof proof roof rods in there, alongside quite possibly the original wheel.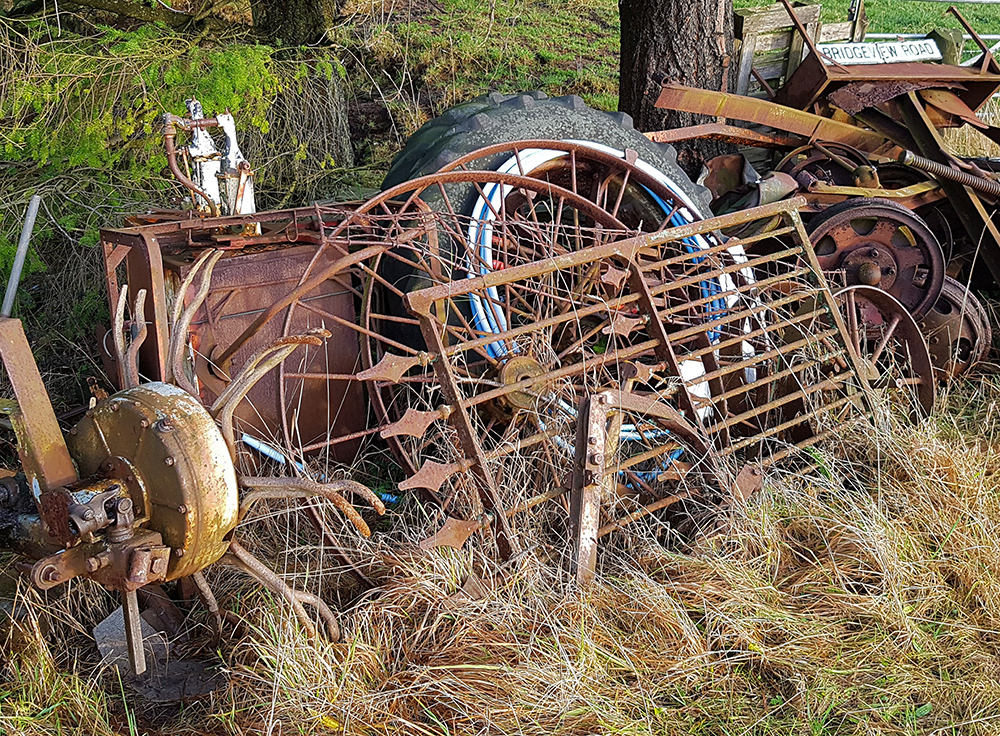 Two fairmers were poking about at a bashed up old digger, must have been quite a surprise to suddenly look up and see a dozen townies passing through, though I guess they get the odd visitor to the stone circle. We informed them of our planned route, and they imparted their thoughts in rich unspoiled doric one only hears deep in the countryside.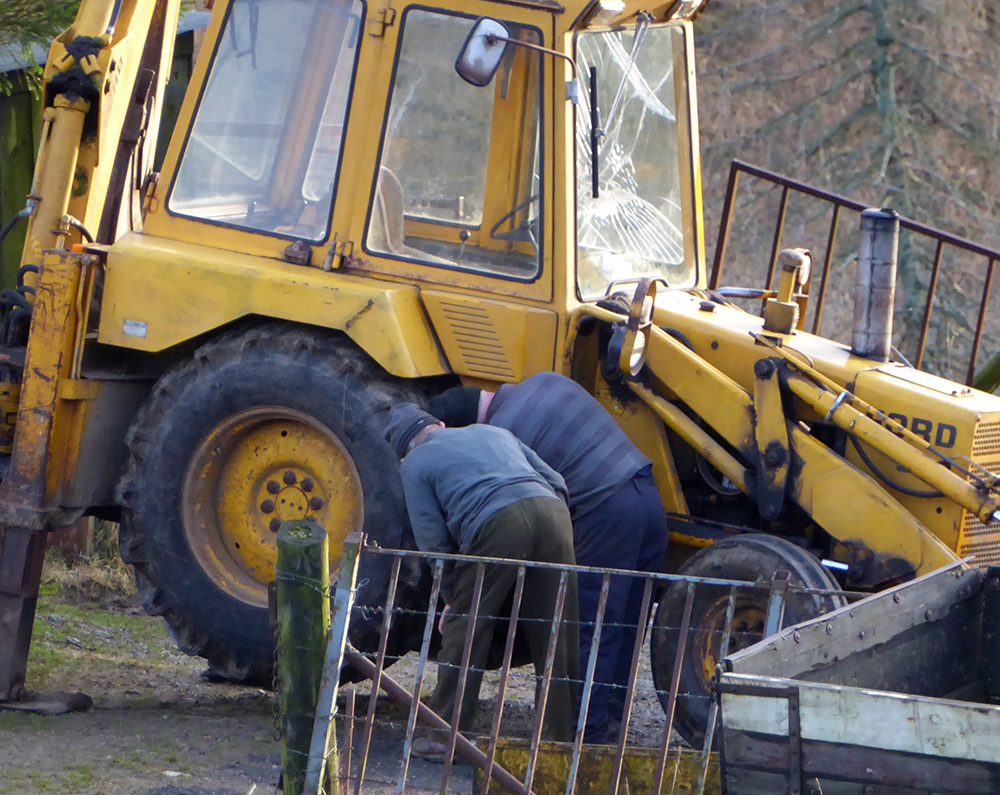 We head up towards the old kirk of tough stone circle, but a nice view back North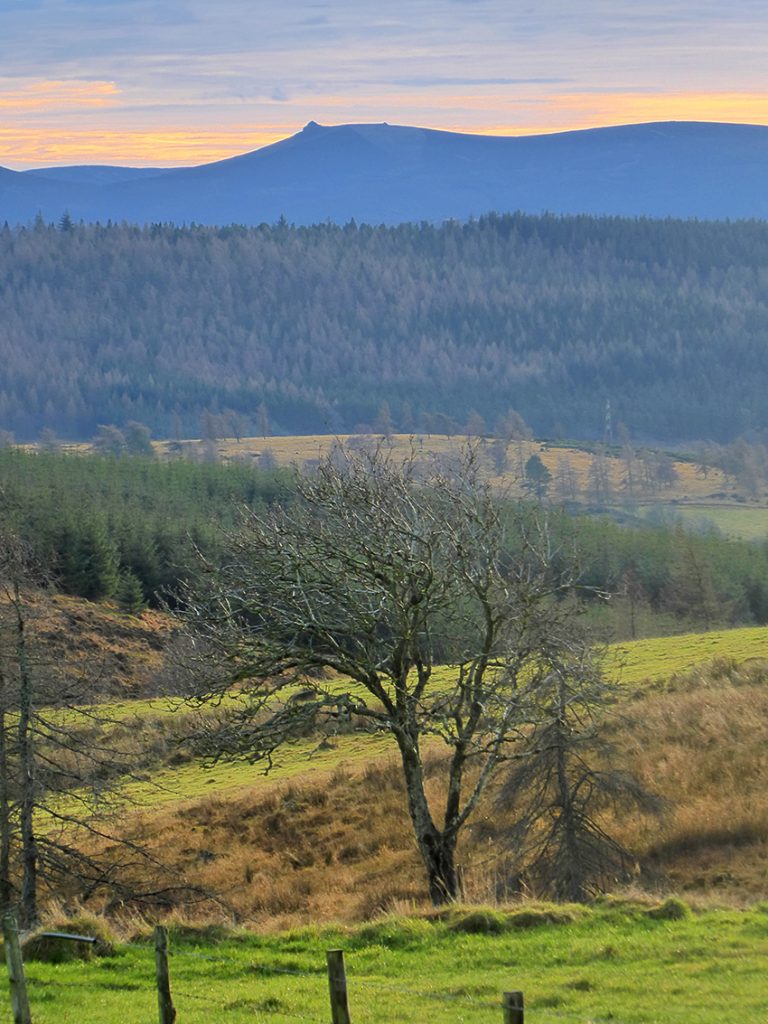 Not so much a stone circle, a few big chunks remain beside a fence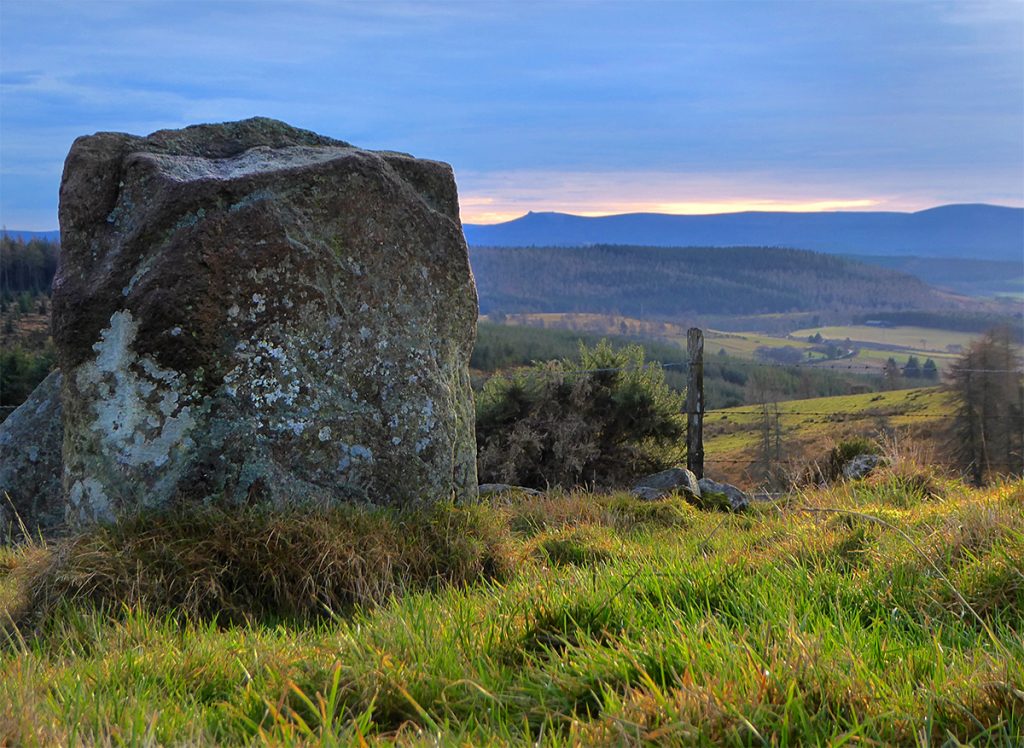 The 'circle' is really only a single remaining upright stone,  there's a scattering of rocks half absorbed into a nearby dyke. There's a couple better photos and some more info here.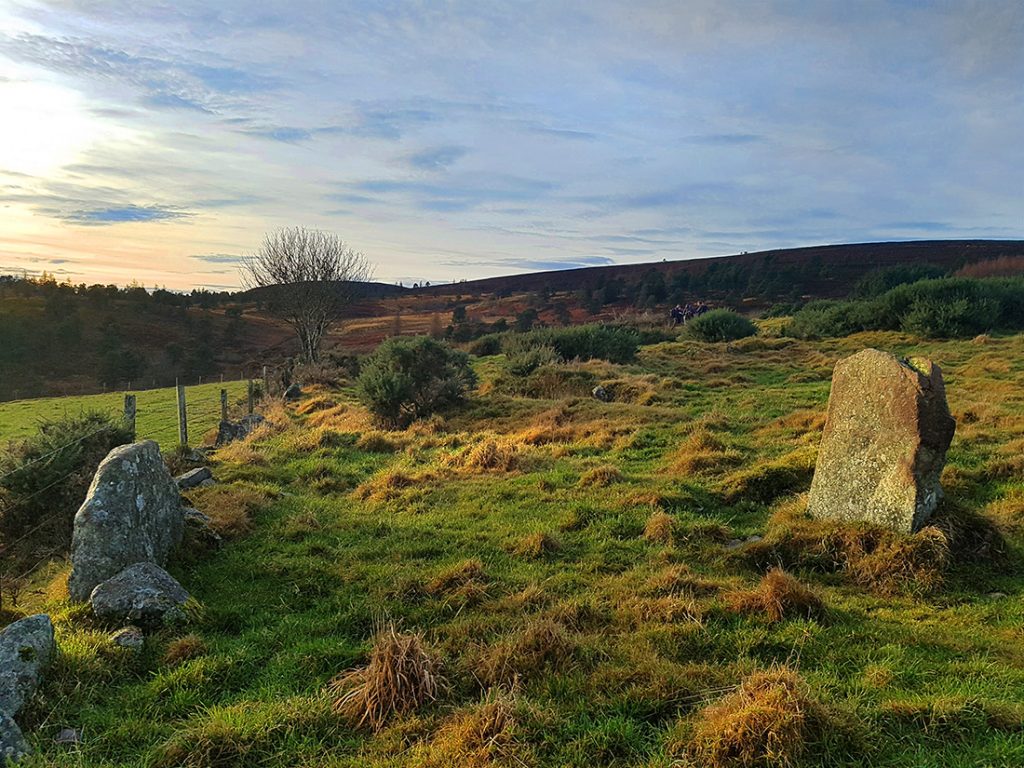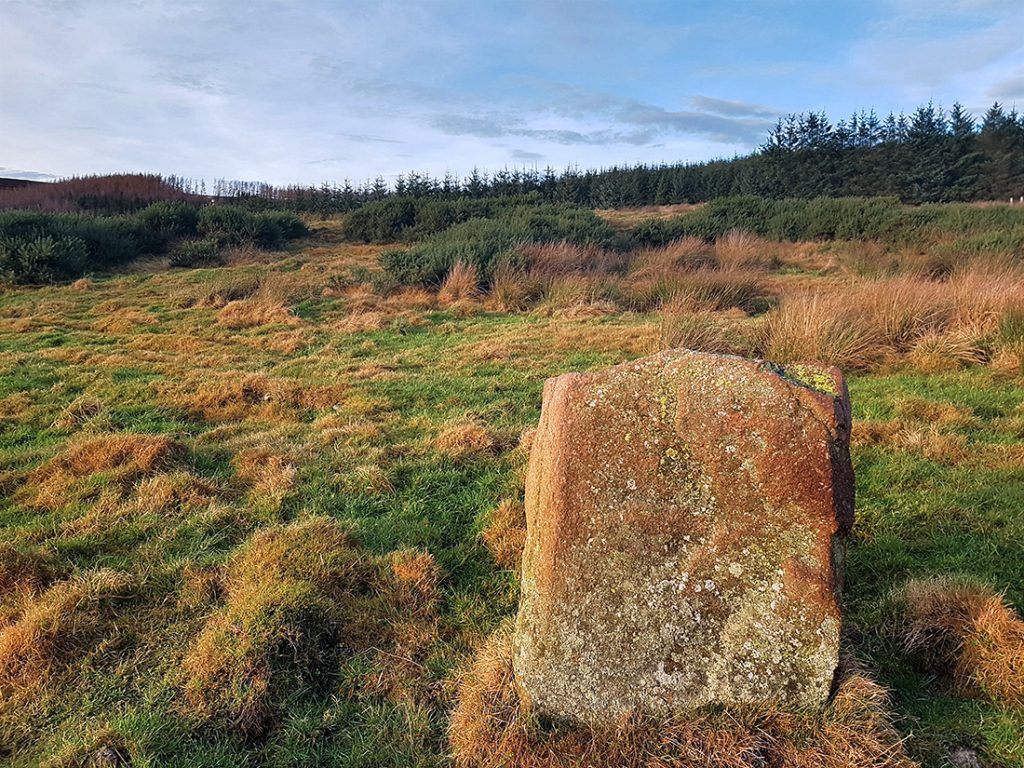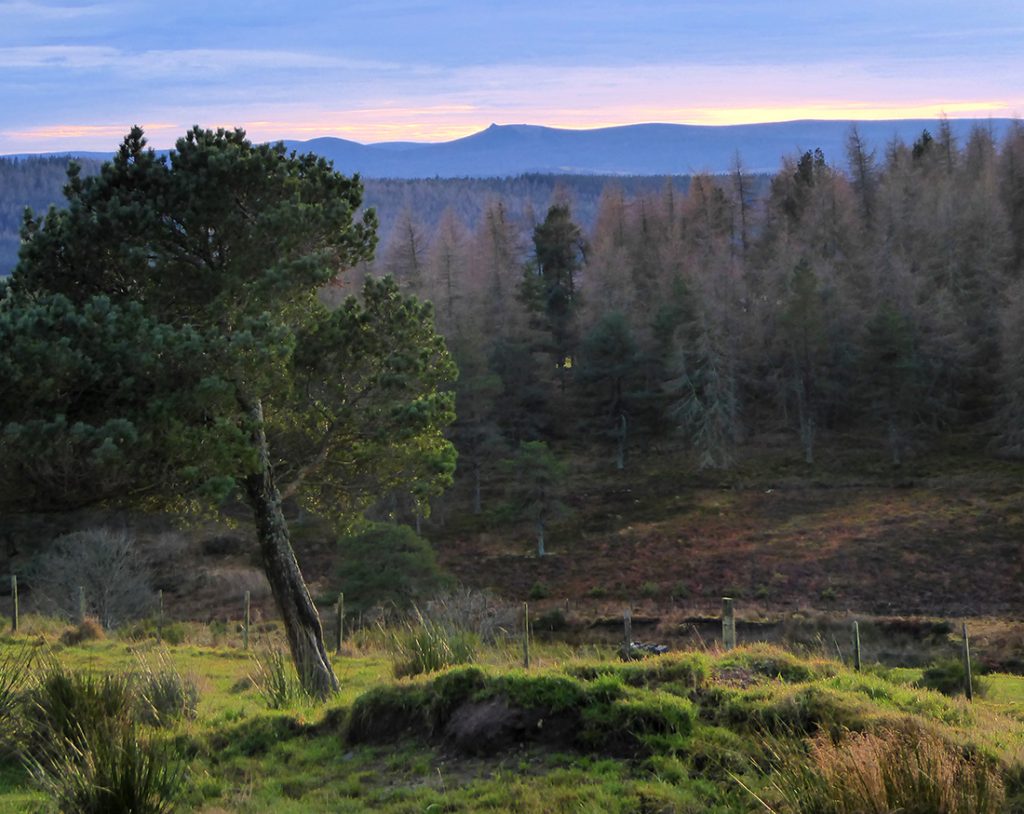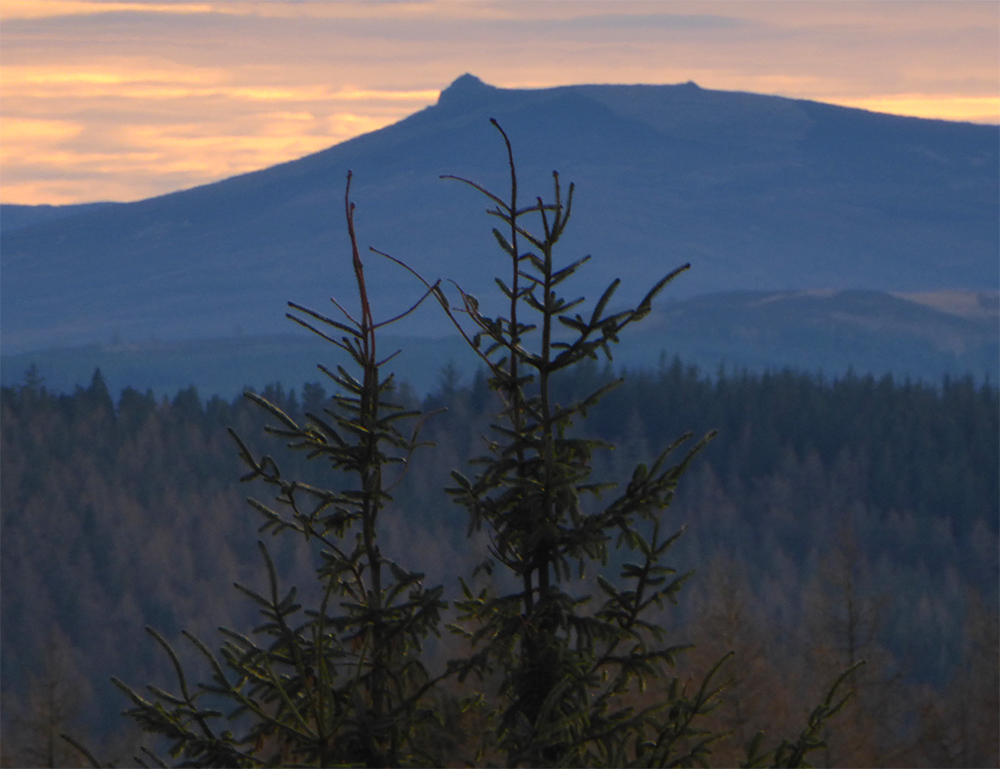 Continuing upwards, the trail marked heading North on the map through Forkins Wood is now completely hidden by an extremely dense and impassable plantation of spruce, we skirt around the fringe of this following a burn upstream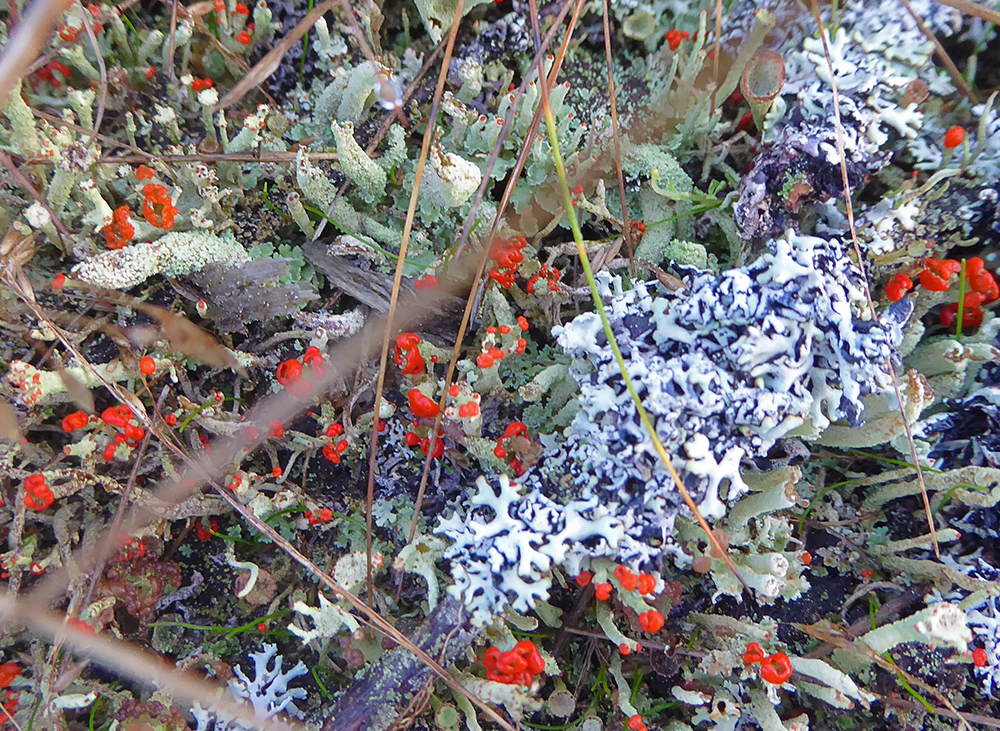 A drystane dyke disects the lower reaches of Green Hill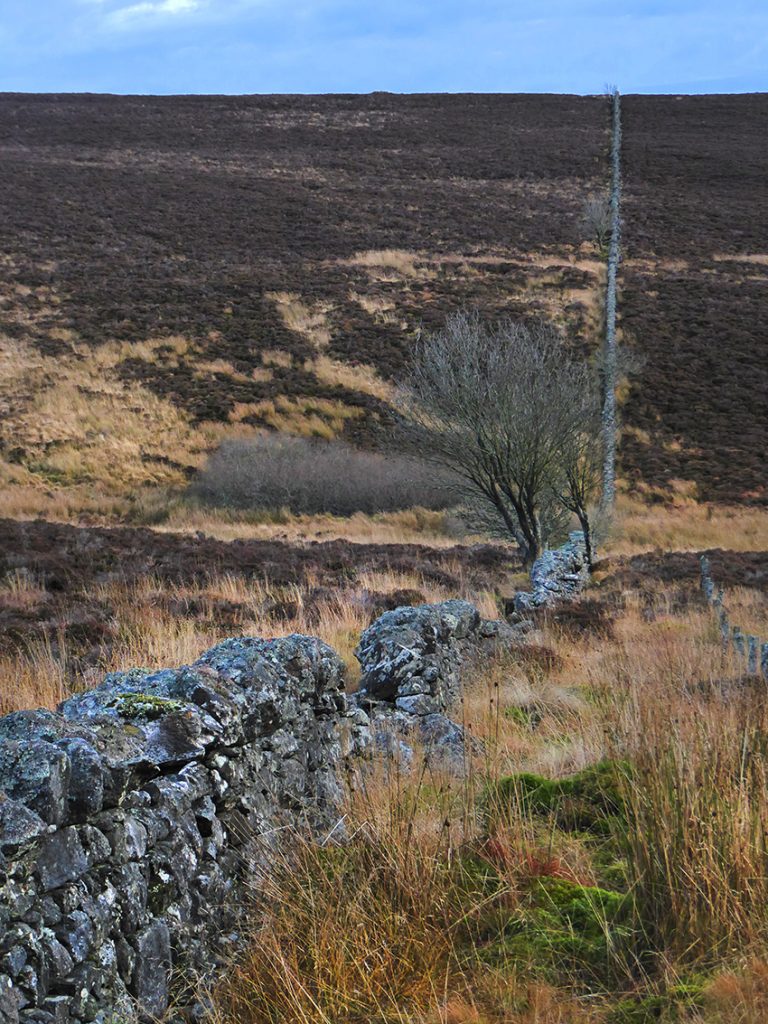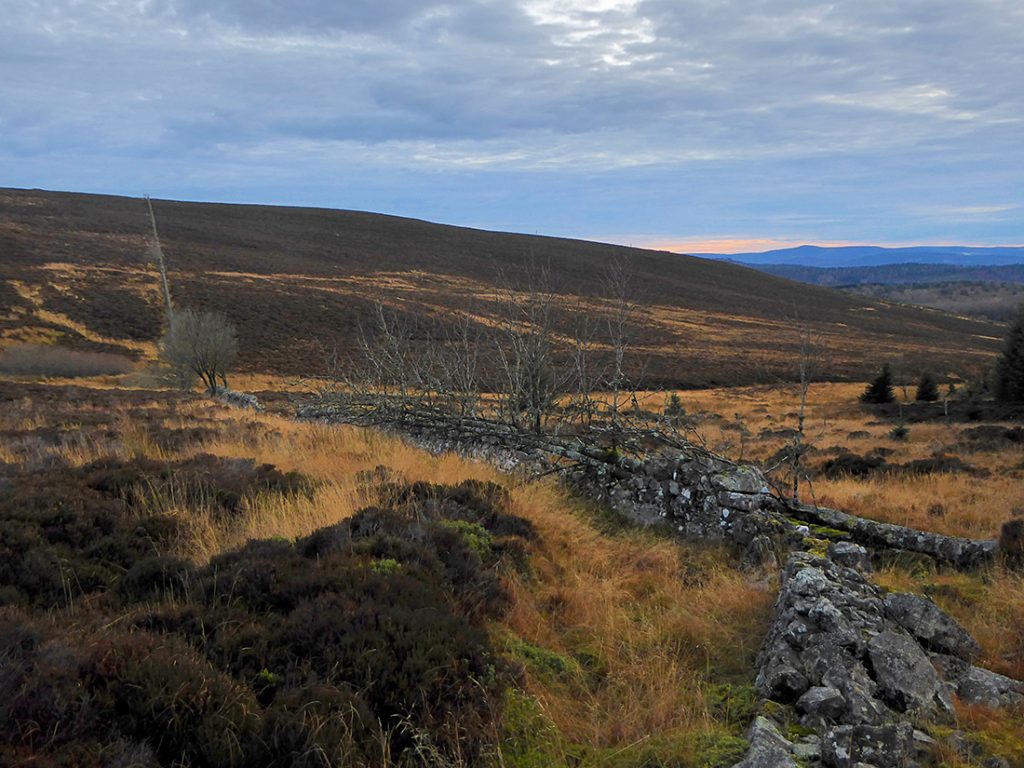 To the right, the heather moor looks undisturbed. The old dyke burbles away; yes, burbles – the stream lies deep under it, possibly at some point the dense vegetation on either side has meant the passage of least resistance lies within the rocks. If one was thirsty up here, it'd take a fair bit of shifting rocks to get to it.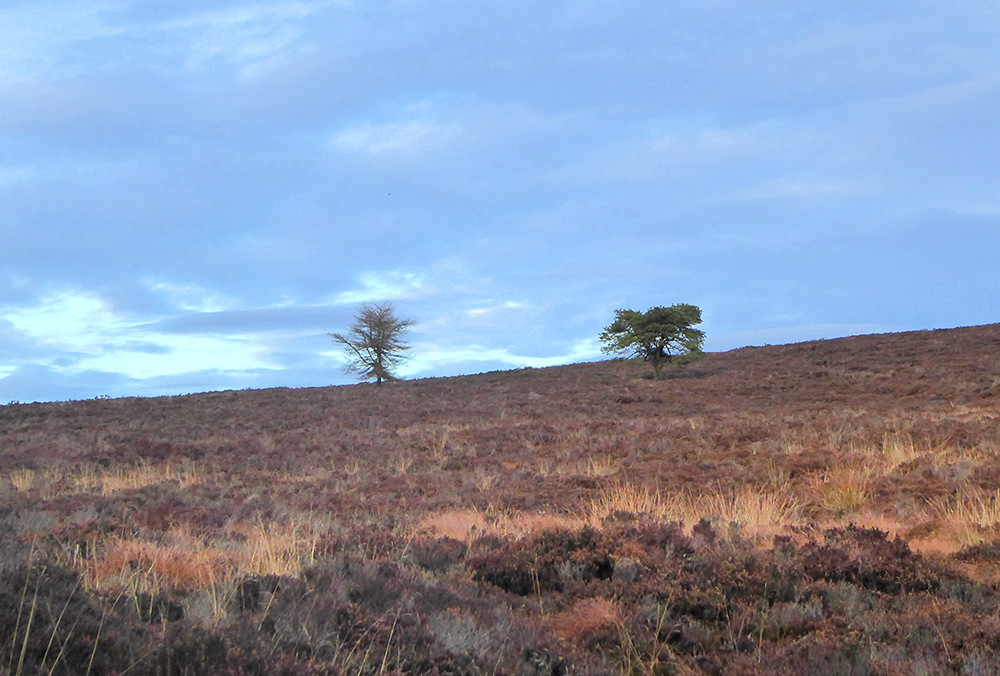 We follow along the edge of Forkins wood until a break allows us in to the trail inside
Mist lying in the valley as we head towards the cairn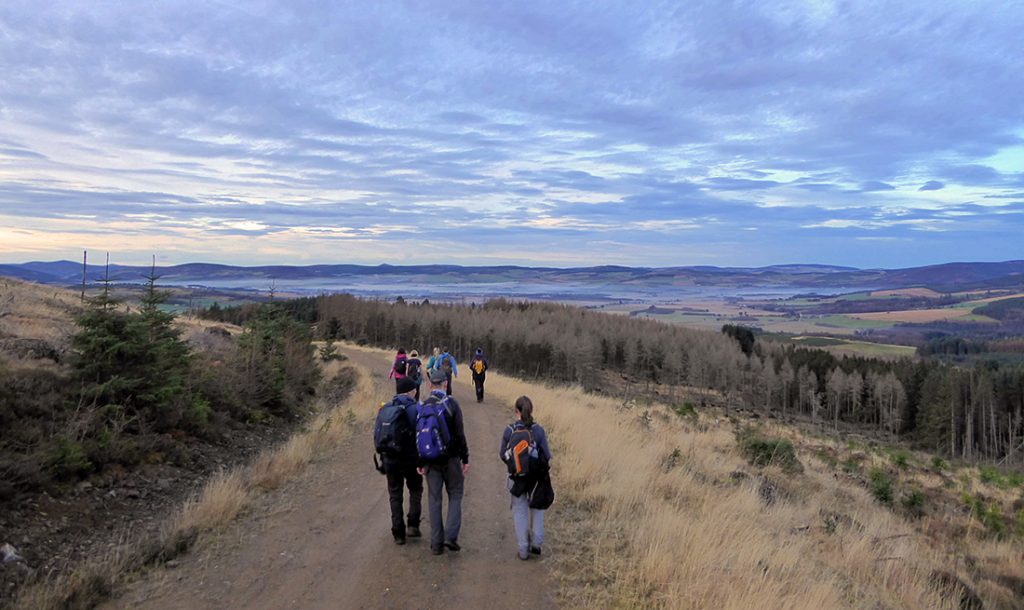 A witch in the woods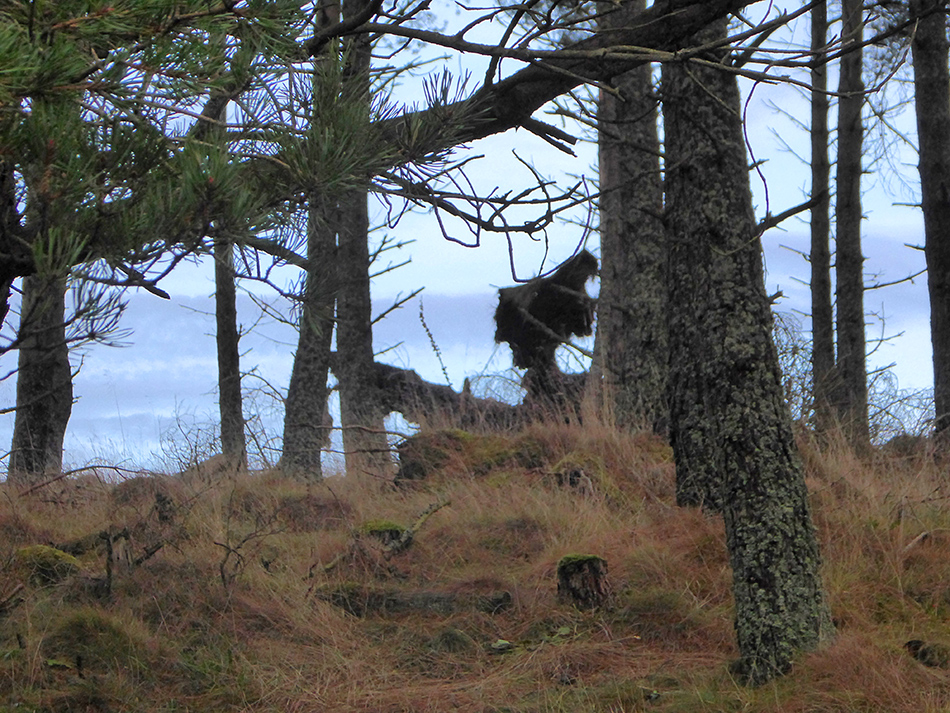 The final stop of the day was Dunecht to visit Jaff's Bar and Restaurant for our post walk Christmas meal and a pint or two, delicious.
When parking up, I noticed this fine gargoyled gate looming out of the mist, turns out it heads into Dunecht Estate