A free weekend with no plans, and keen to get some camping in before winter ended, I began planning an overnight trip into the hills on the bike. I saw a meetup request by somebody keen to camp and practice navigation out in the Cairngorms, and with the weather looking fairly benign, I decided to join forces rather than head off on my own.
We'd make our way from the car park at Glenmuick near Lochanagar, and head south and then east, across rough ground with no tracks, hopefully making it as far as Mount Keen.
We started off heading upstream alongside the Allt Darrarie.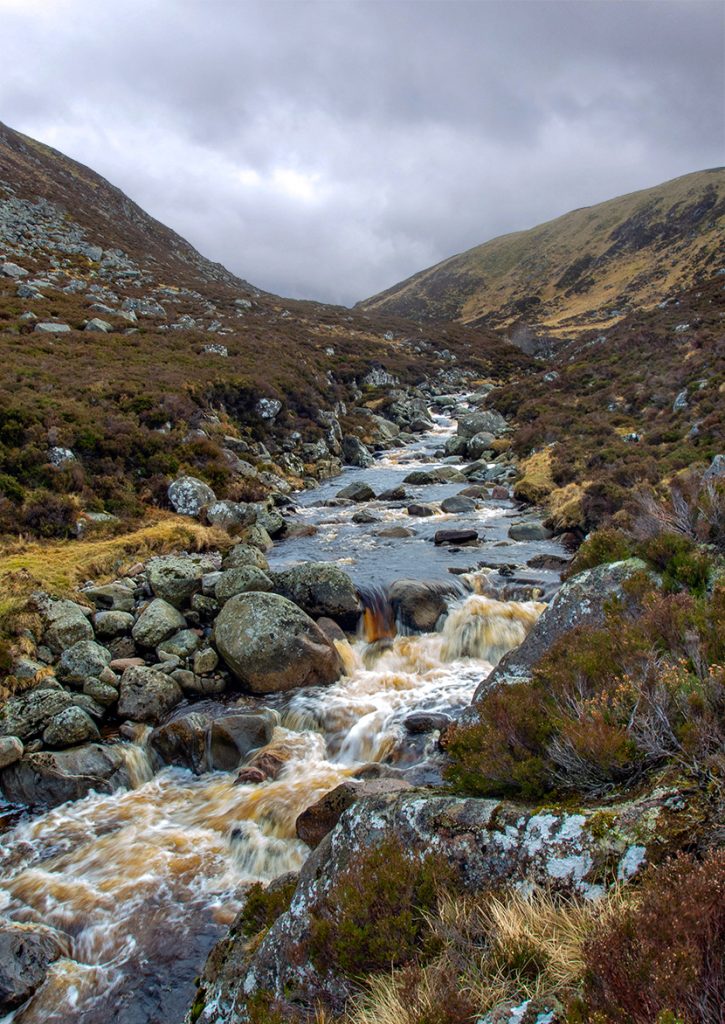 A quick look back to a nice view in the glen below
The burn forks at a waterfall, the burn of mohamed on the left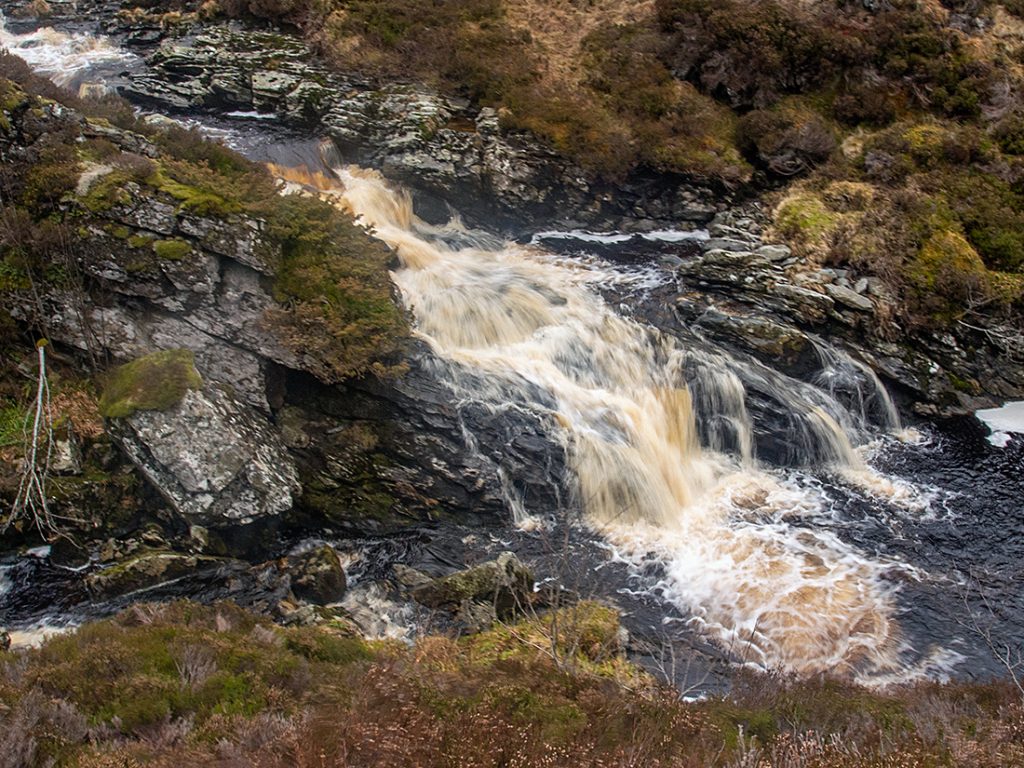 We took the left fork and continued until the path fizzles out, down to a lightly trod mark in the grass which heads off south east towards Shielin of Mark bothy
As we're heading east, we head off the path and begin to tramp up through the heather
A look back to Lochnagar just clear of cloud clover, before we continue the tramping
Reaching a gradually sloping plateau we see our first wildlife of the day, a large herd of maybe 50 deer 200m away. You barely notice them until they move or break the skyline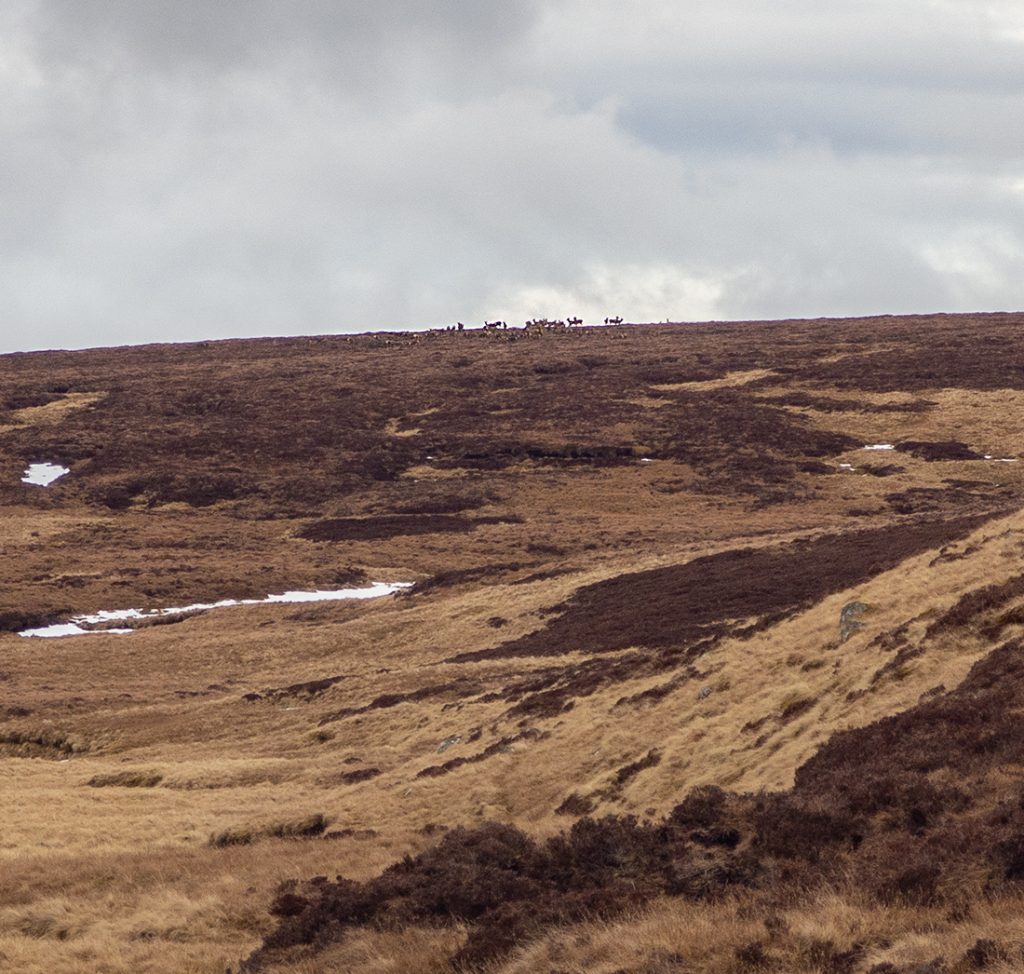 It's tricky going, up and down, round about, as we picked a way through the peat hags, pools and channels. We flushed out the occasional mountain hare at close range, splendidly highlighted in their winter cloak, but with only a short zoom camera to hand no snaps acquired.
Our first navigational misjudgement had been slowly unfolding without us noticing: we'd picked a few barely prominent hilltops as the only features we could triangulate from in what is mostly flat or slightly curved land; one of these points which we thought was a mile or two away, was far more distant (and higher) – the hill we'd thought it was was in fact barely prominent, overlooked and had been travelled past; as more of the distant hill cleared the horizon and after travelling a few miles appeared barely closer, my hunch strengthened: this was in fact our distant target of Mount Keen and not an interim hill. We'd certainly entered some wild and featureless moor that was tricky to spot. Fortunately we'd still been heading in the right direction but it became apparent that we'd not made quick enough progress over the rough terrain and with our large overnight load, to make it up and down before nightfall.
A lunch break was taken and a plan B hatched: we'd continue forging east until we met the Water of Mark, then head down into it's valley and head back towards the Shielin of Mark bothy, where we could retire if conditions deteriorated.
As we headed down the Burn of Fasheilach to the Mark, another large herd (same as last?) was seen.
Looking downstream to Craig Michael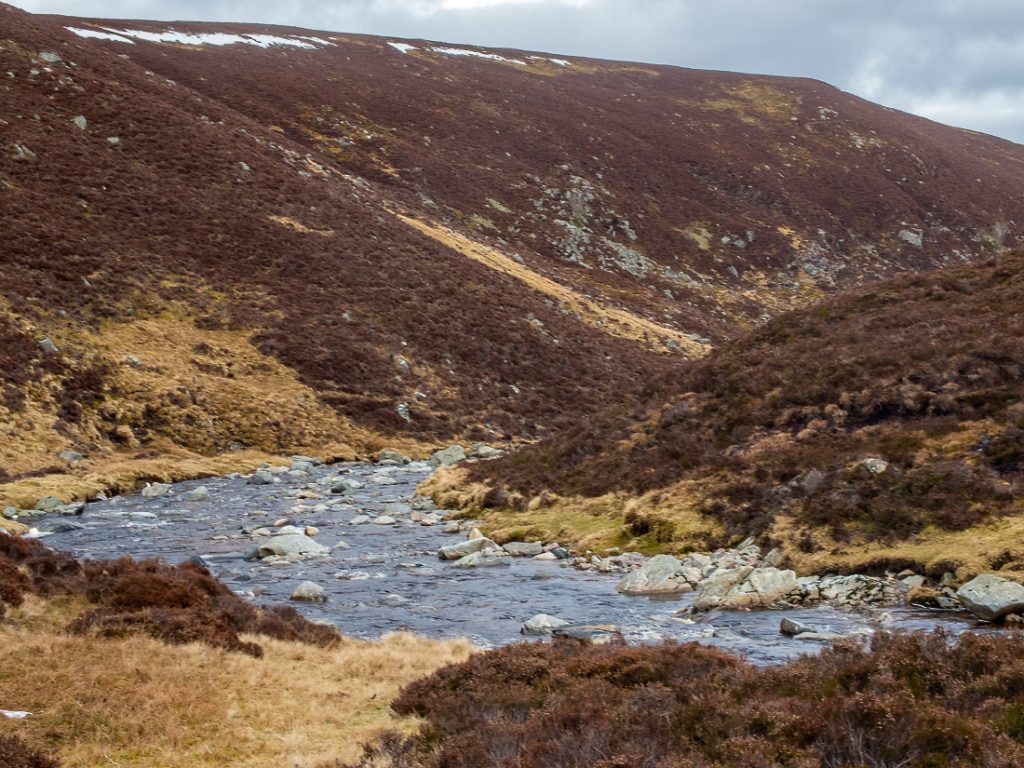 We followed the river upstream. It's mostly easy going with a good grassy verge and deer paths at the riverside. In places, the banks steepen into the water and a diversion is necessary up the steep sides grabbing on to the heather, a shame as this would hinder this route to 2 wheeled exploration
Eventually the valley flattens out, the river meanders, and there's quite a lot of grassy flats to camp; albeit quite tussocky, and after the thaw of recent snow, today very damp n squishy.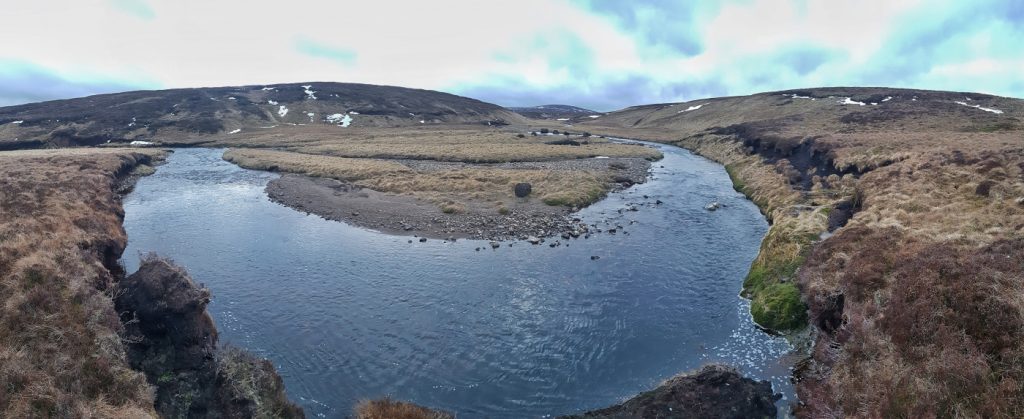 Another herd of deer were displaced, this time a bit closer, as we ambled along.
With light fading fast, it was time to pitch tent. The wind had strengthened and I'd made the beginner error of forgetting extra guy ropes. The tussocky ground's deep grassy layer resisted a solid penetration from my MSR Nook's pegs, but fortunately I had a few cheapo 'shepherd's crooks' that did better. Nonetheless, I wasn't confident of the pitch as it rippled in the blustery wind. I went to bed and while reasonably warm, (vango venom 600 bag on a nordisk inflatable/primaloft mat) was surrounded by a roaring stramash of fabric that even my trusty wax earplugs couldn't silence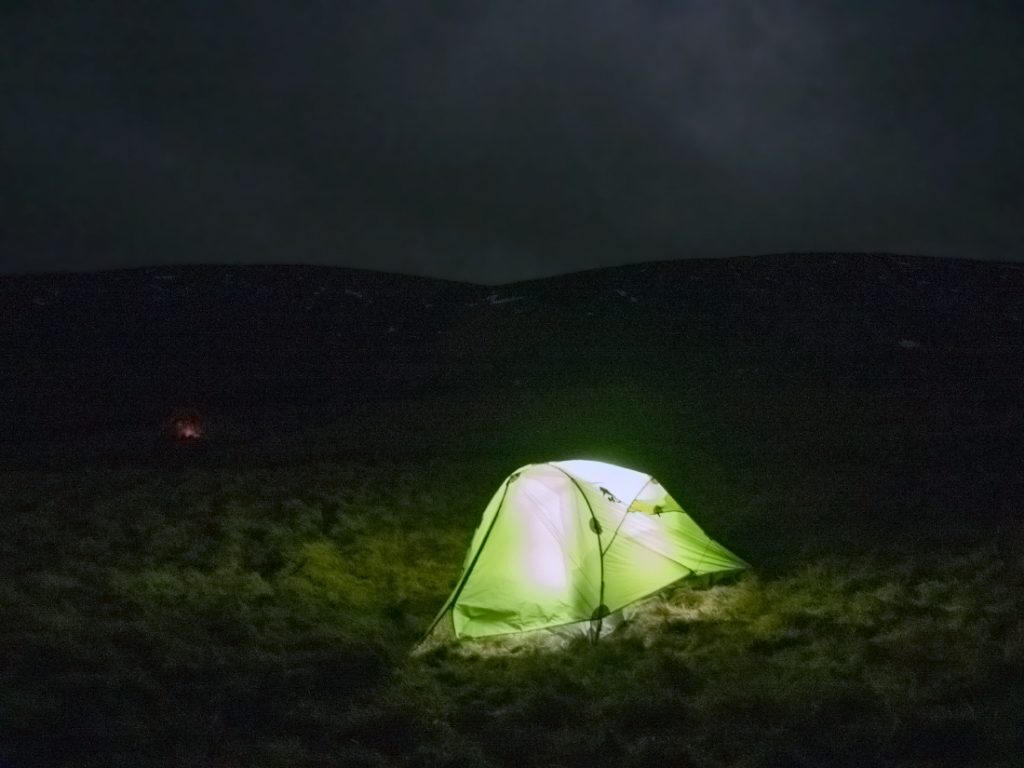 Sure enough after a couple hours of stoically being buffeted around by the thrashing tent, it eventually collapsed and I was buried in nylon; I decided against an attempted salvage of the pitch and abandoned ship to find my colleague had already upped sticks. She had an ultra light tarp tent setup that I imagine must have been like being inside a crisp bag in a tumble dryer in these conditions. Kit was crammed into the rucksack and humphed into the bothy which had been fortunately empty.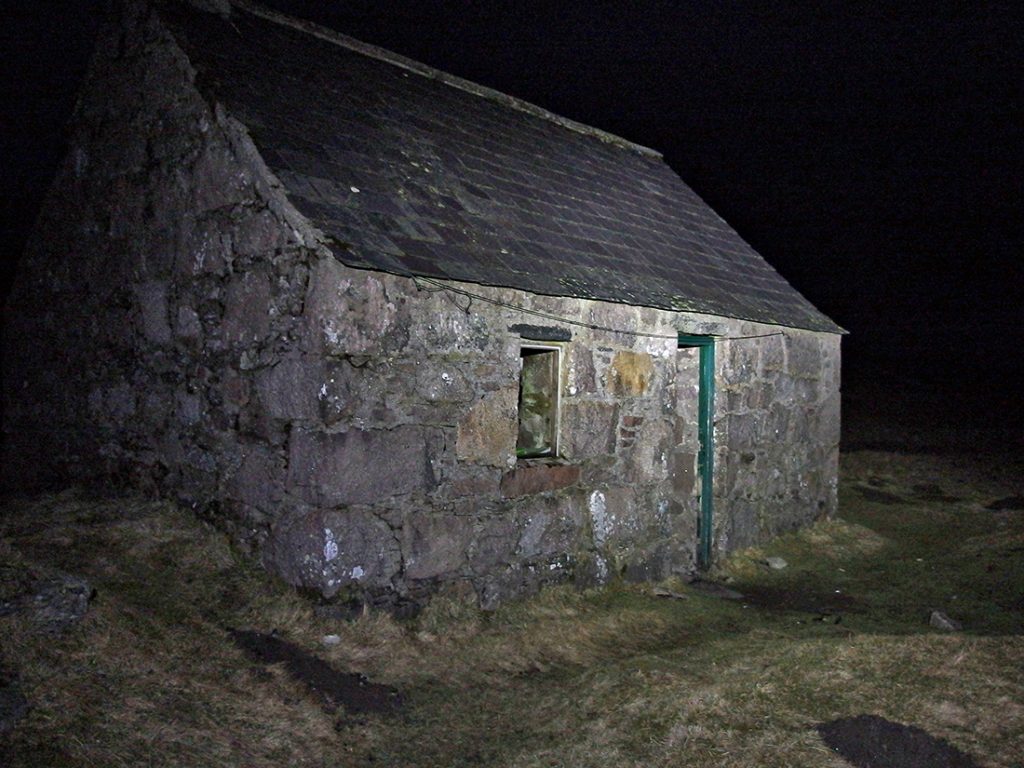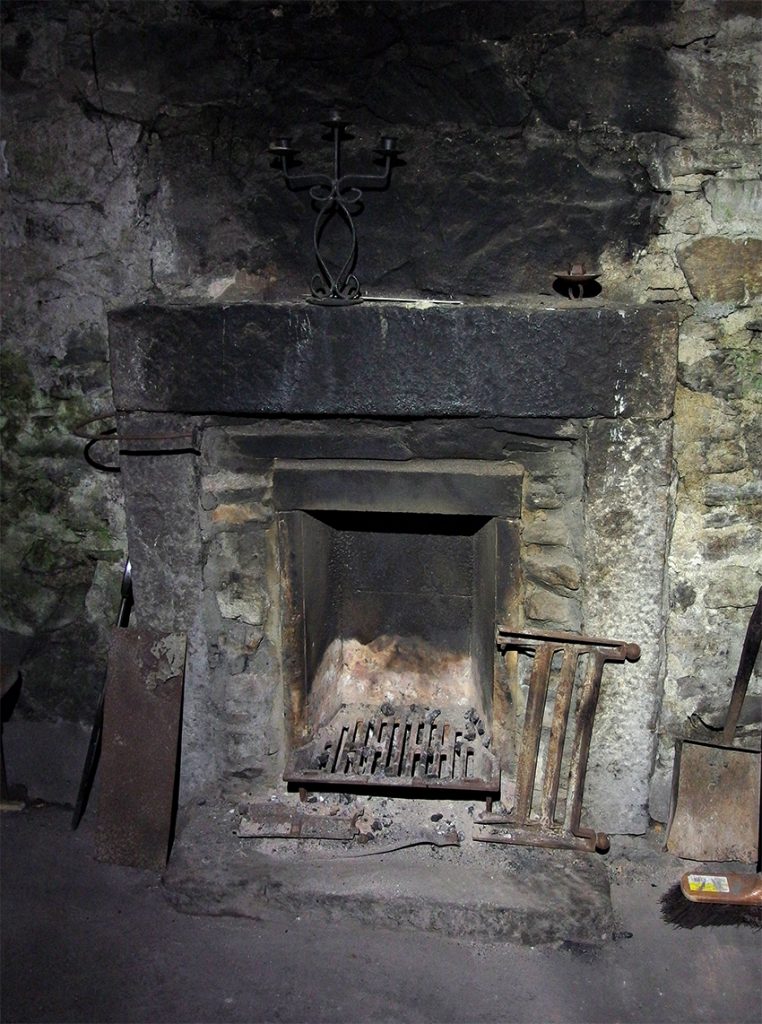 The next day I pondered the lessons: make sure of a range of pegs and don't forget ropes, give myself more daylight to scope a decent pitch, the nook's flysheet rides high off the ground, leaving a big gap that strong wind gusts under: not the best choice for those conditions.
After repacking last night's chaotically stuffed rucksack, it was off back down to Glen Muick.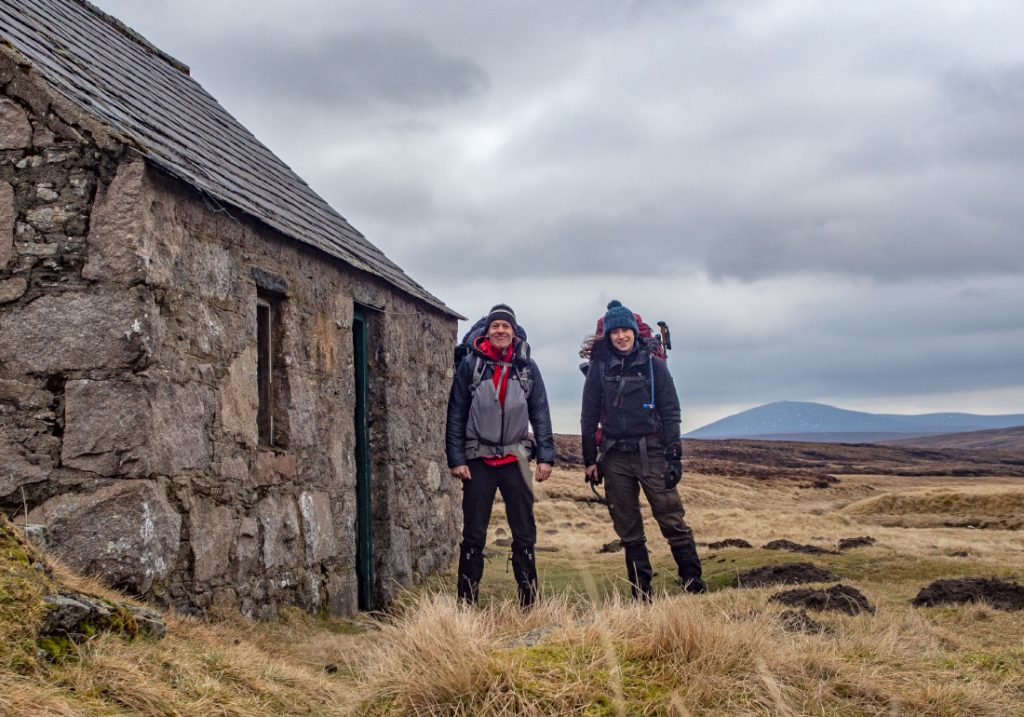 A last look back at the humble abode for the evening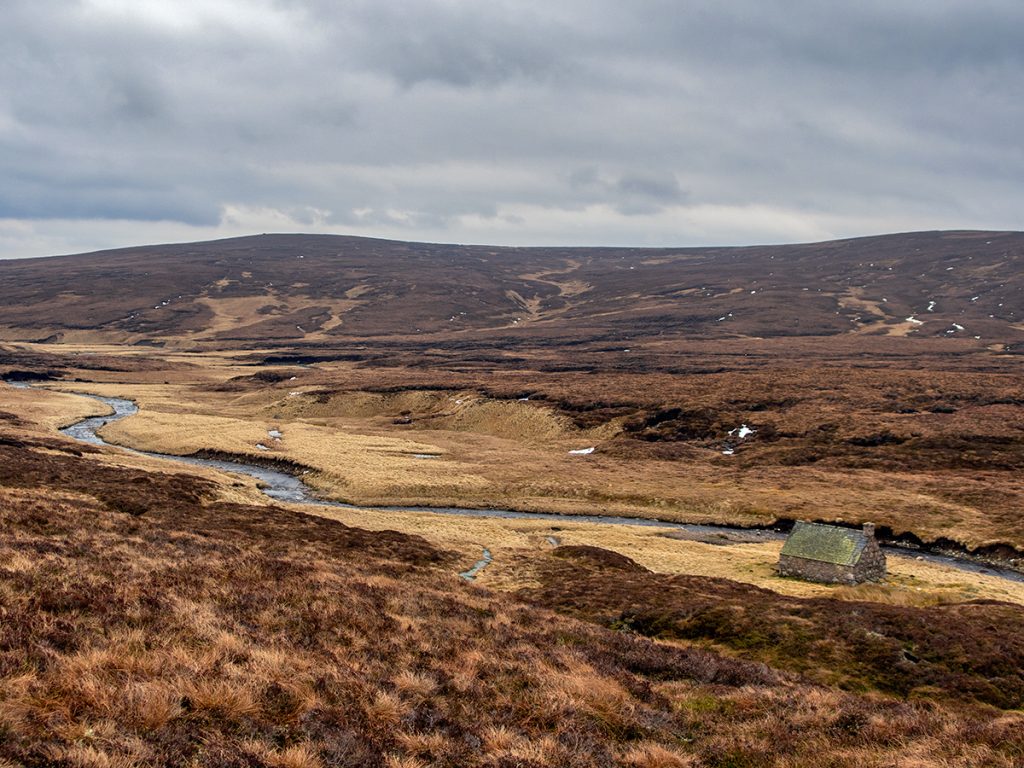 Back up over moorland wiggling past pools, muddy nooks and troughs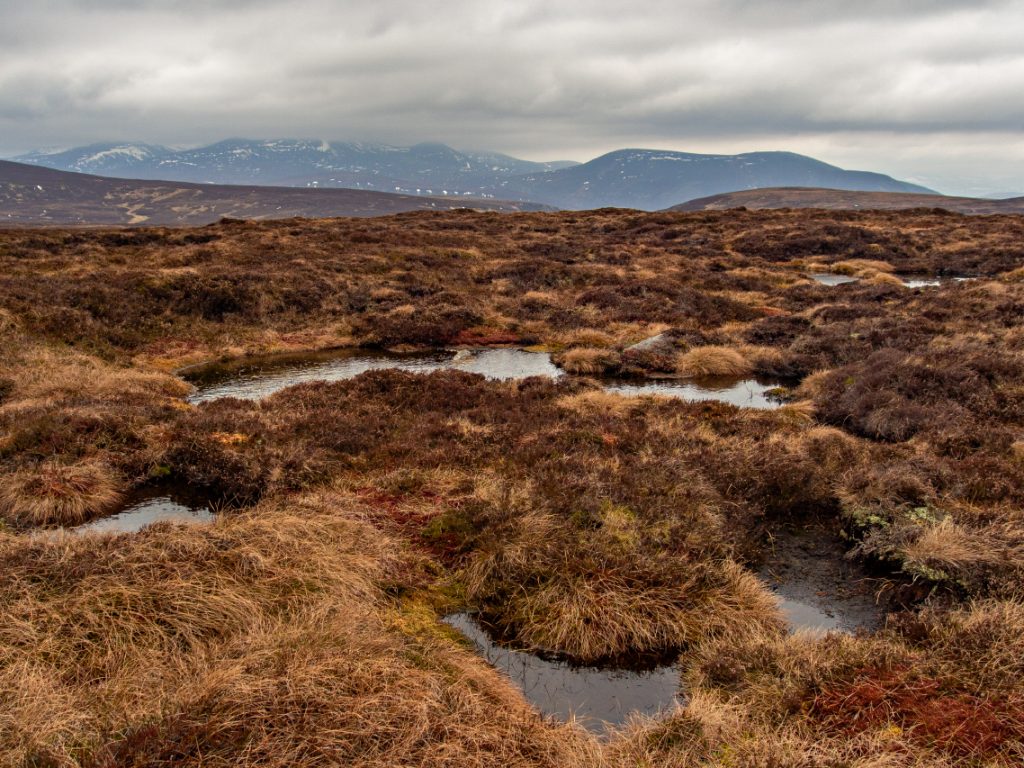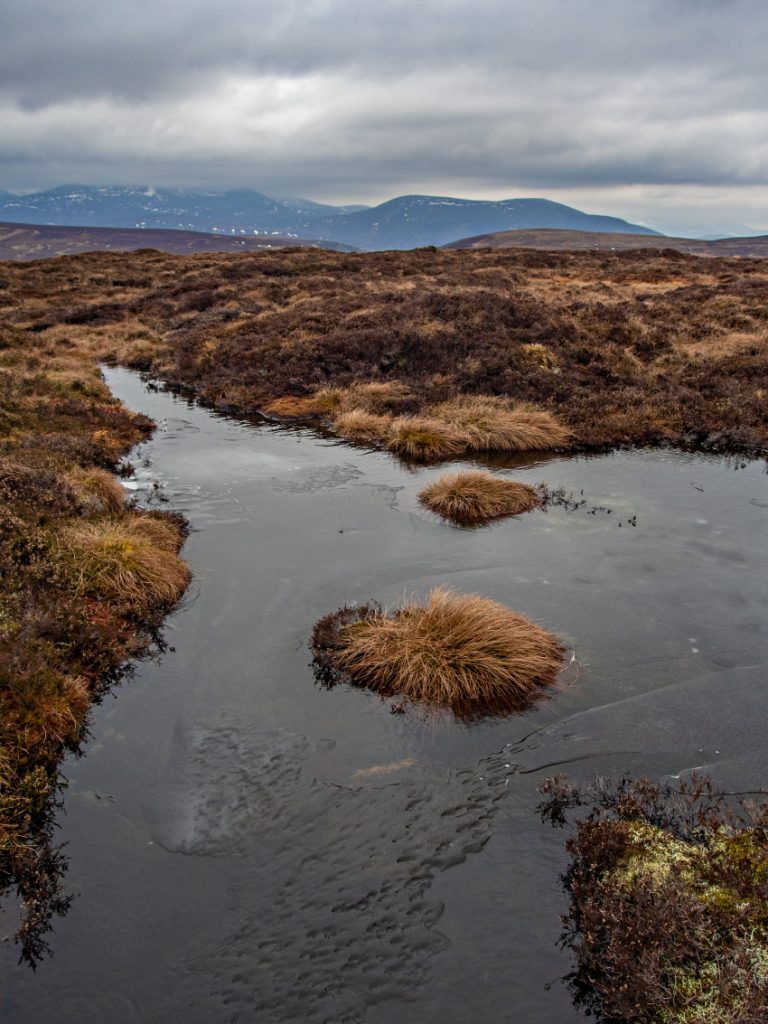 An old tree freed by flood from mud, from dark rest to sun blessed. In years to come, may succumb to the firm hand of a walker en route, to become soot in the stove of the bothy below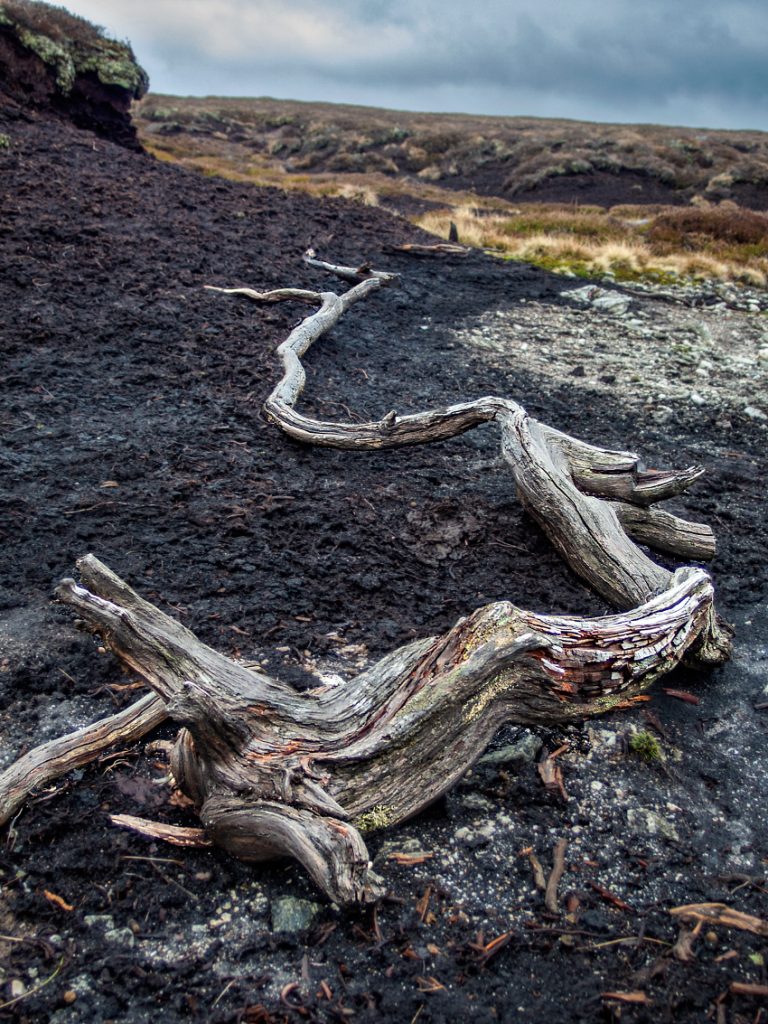 We picked up the faint path and followed it back down into the gully where we the blustery wind gave way to the roar of the waterfall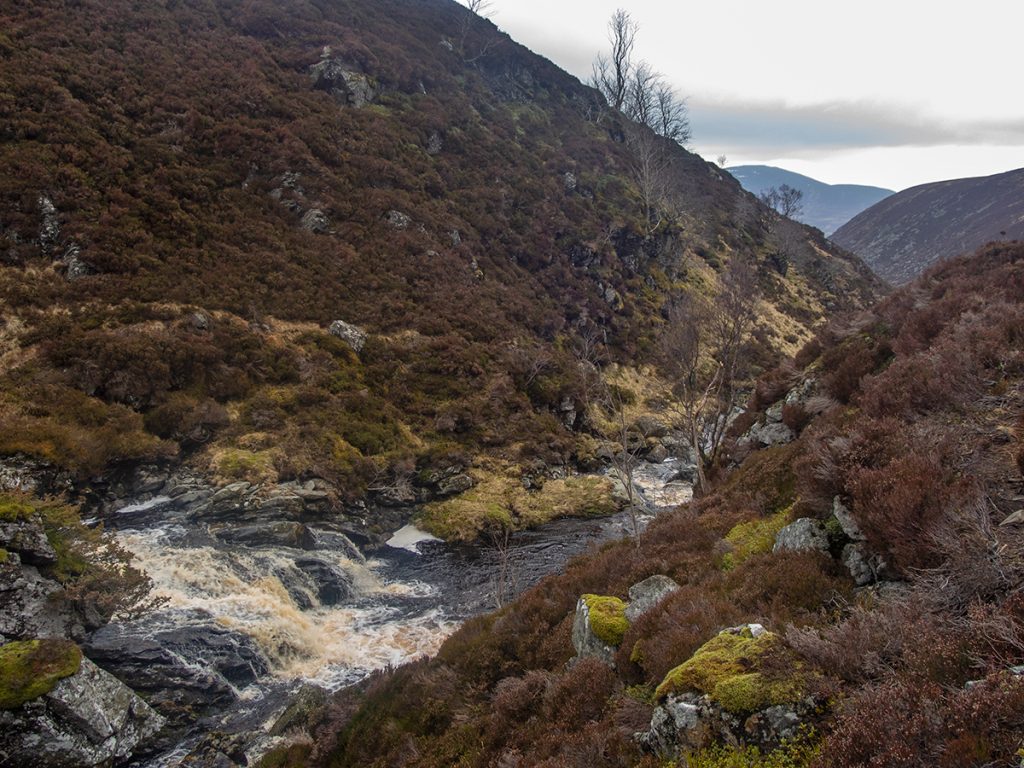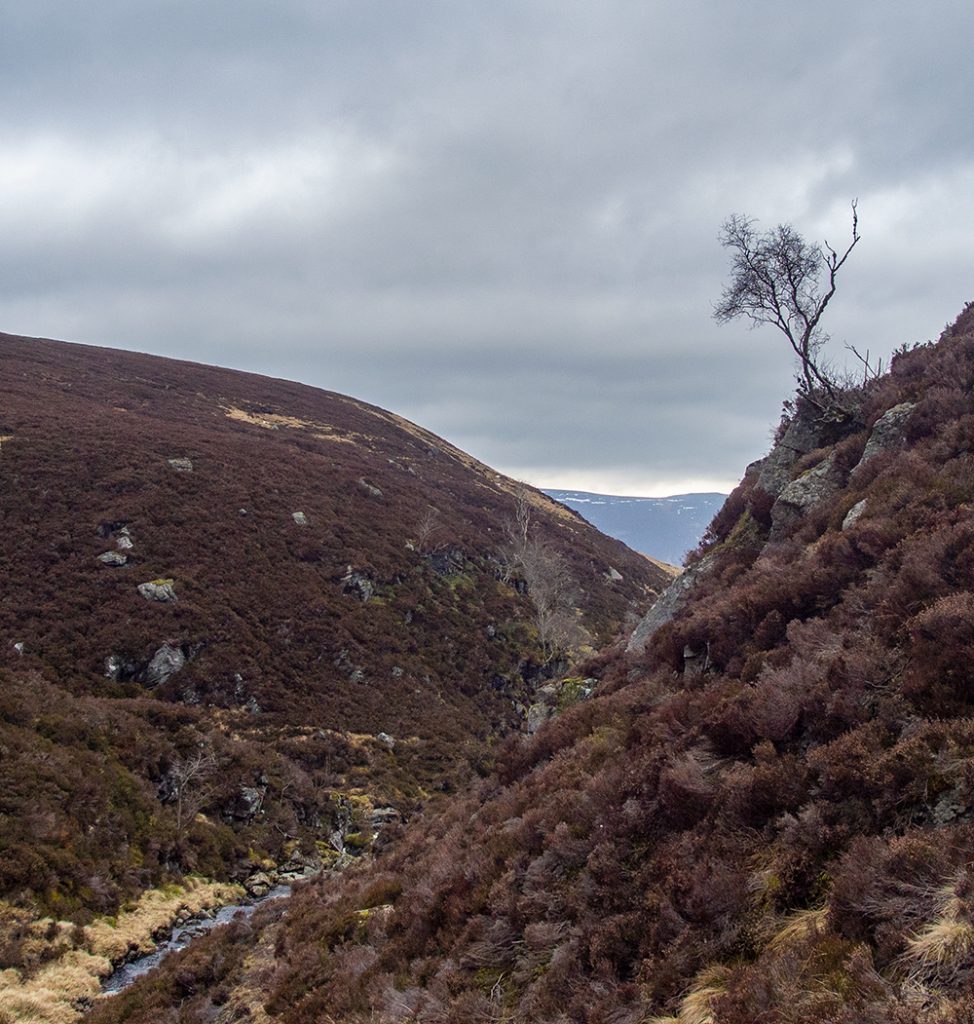 When it's windy and one has a huge rucksack acting like a sail, need to keep a steady footing crossing wee bridges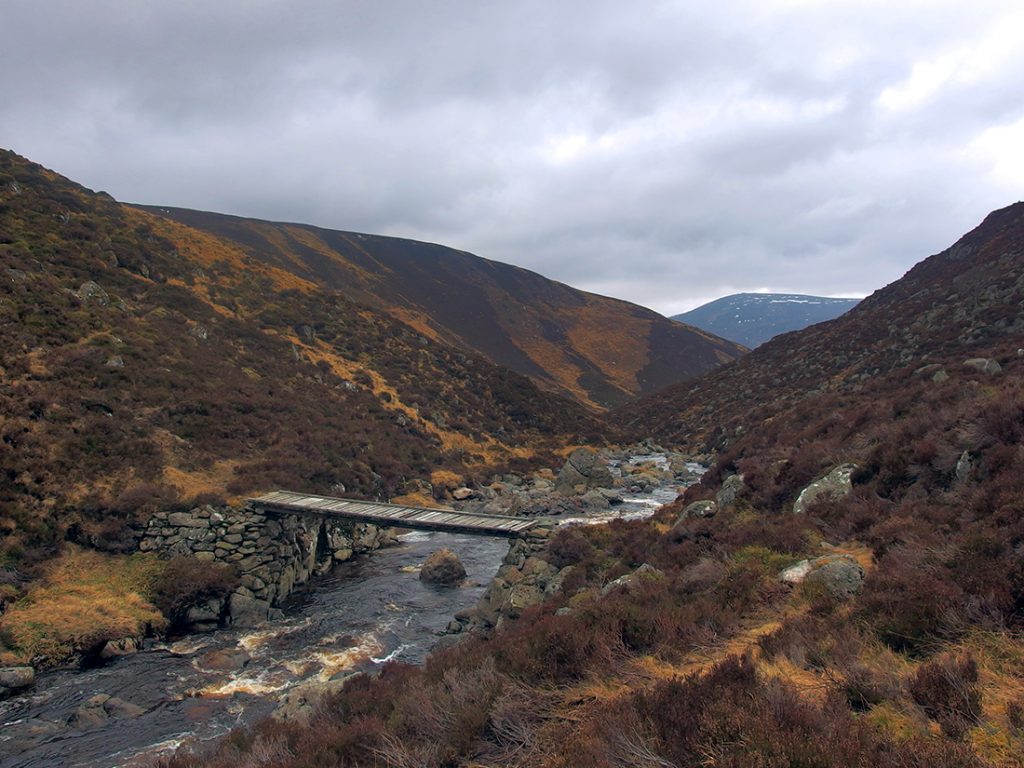 Glen Muick came back into view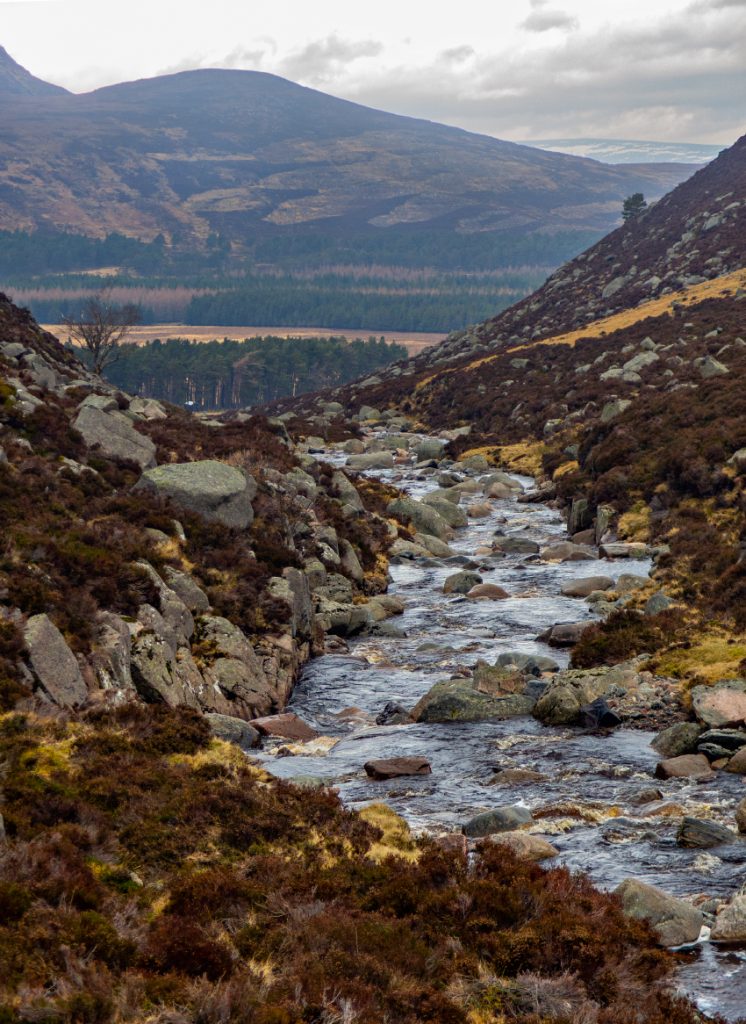 Almost back down out of the Allt Darrarie glen.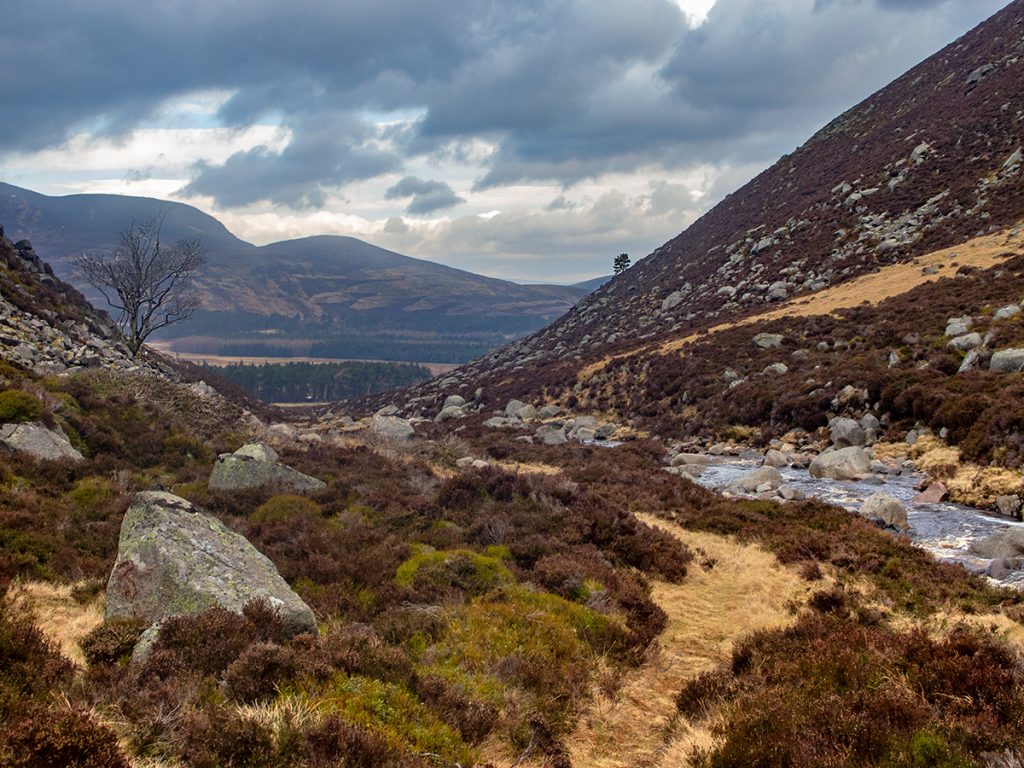 There's some stones with painted numbers near the foot of it, not far from the ranger hut. wonder what they're for?
Winter camp complete, a few useful lessons learned, and some new territory explored. Next time out in the tent will be into spring