I hadn't been up North in a while, so time to return to the Formartine and Buchan Way, but this time rather than sticking to the trail I'd scout the nearby points of interest that I've been gradually adding to a map. The plan was to head about 20 miles out and a few miles either side of the trail. The primary target was the Prop of Ythsie, a tower / monument near Tarves.
For these kind of journeys, where there's a fair bit of road, a large amount of hardpack and very little rough trail, I thought my Planet X carbon hybrid would be a faster steed than the hardtail MTB. I fitted it with a pair of fatter Schwalbe Smart Sam 35c tyres that are a good compromise between comfort. grip and speed across multiple terrain types.
Setting off, as I passed through Aberdeen on route to Dyce I noticed this by the road side. A good recreation of a pictish style stone, outside Mile End school.
Arriving at the start of the FBW.
Closer look at the notice board
Not far in there's this curious and colourful sign post. It's one of a 1000 cast-iron posts across the UK that marked the creation of the National Cycle Network at the Millenium. This particular one (there are 4 varieties) is a "Fossil Tree" by Jon Mills and 'depicts "the passage of time from early primitive creatures to the ultimate demise of fossil fuel driven technology".
Some unusual critters in there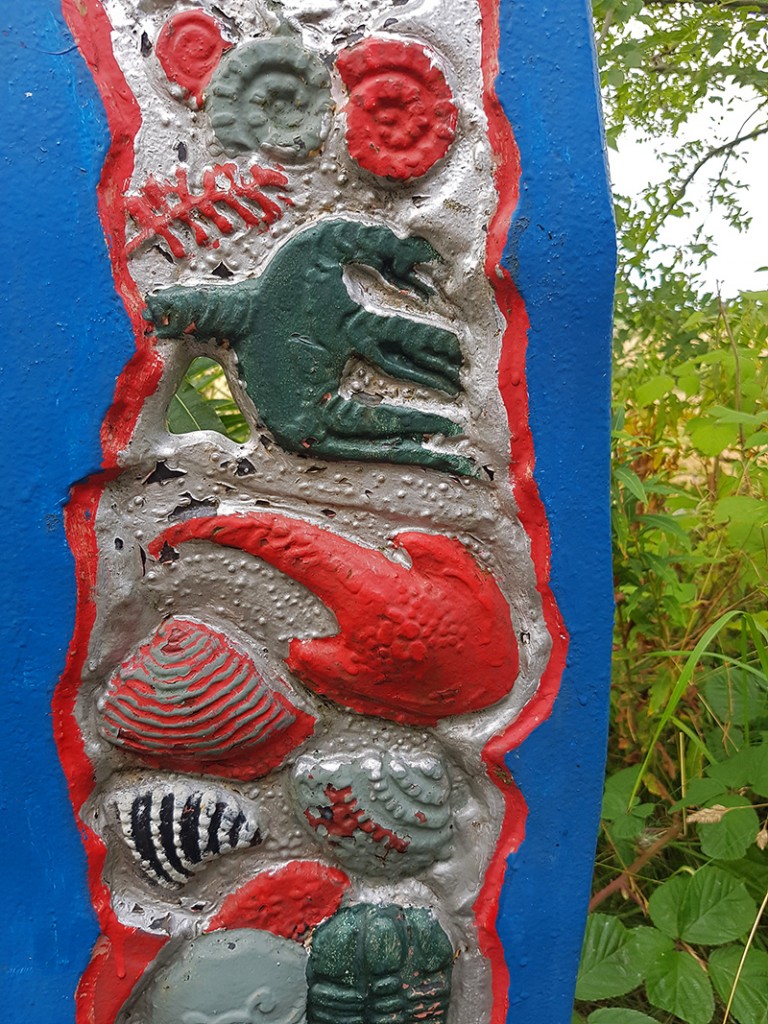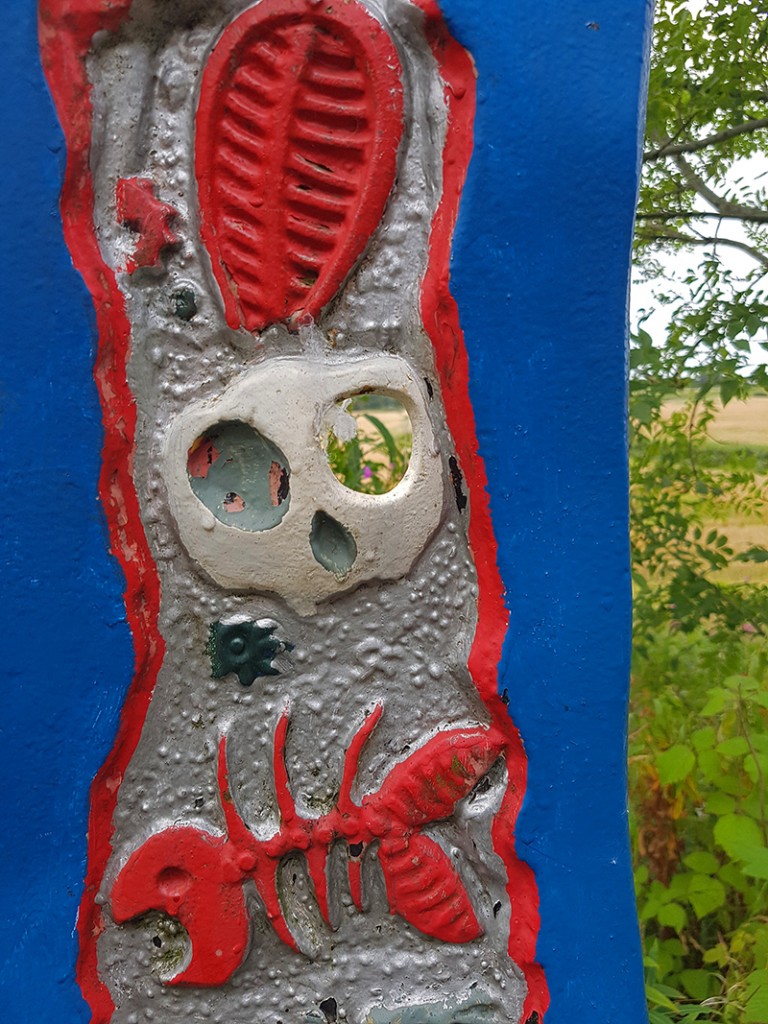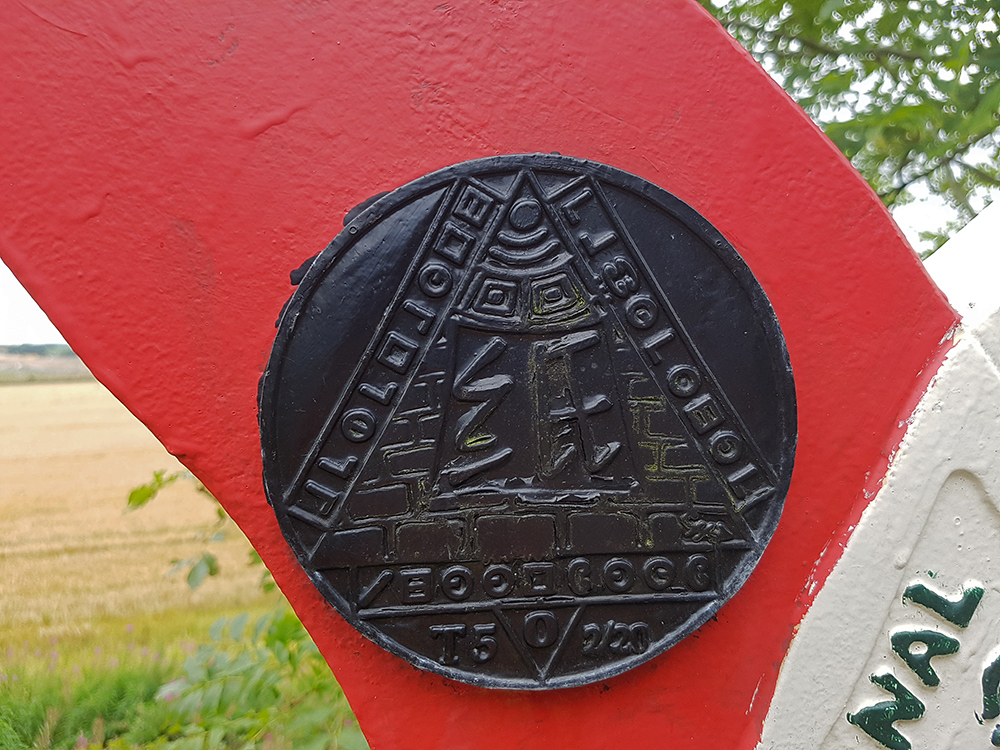 I'd been worried that the AWPR ring road construction might have blocked the route, but there's a cage that slaloms through the works.
Along the banks of the path, wild flowers are out in force
Nearing Newmachar, I was looking for the wire sculpture to take a couple more snaps and get a GPS coordinate for a friend who was interested to know more. Unfortunately, since my last visit, it had been pushed over and was gradually being overgrown.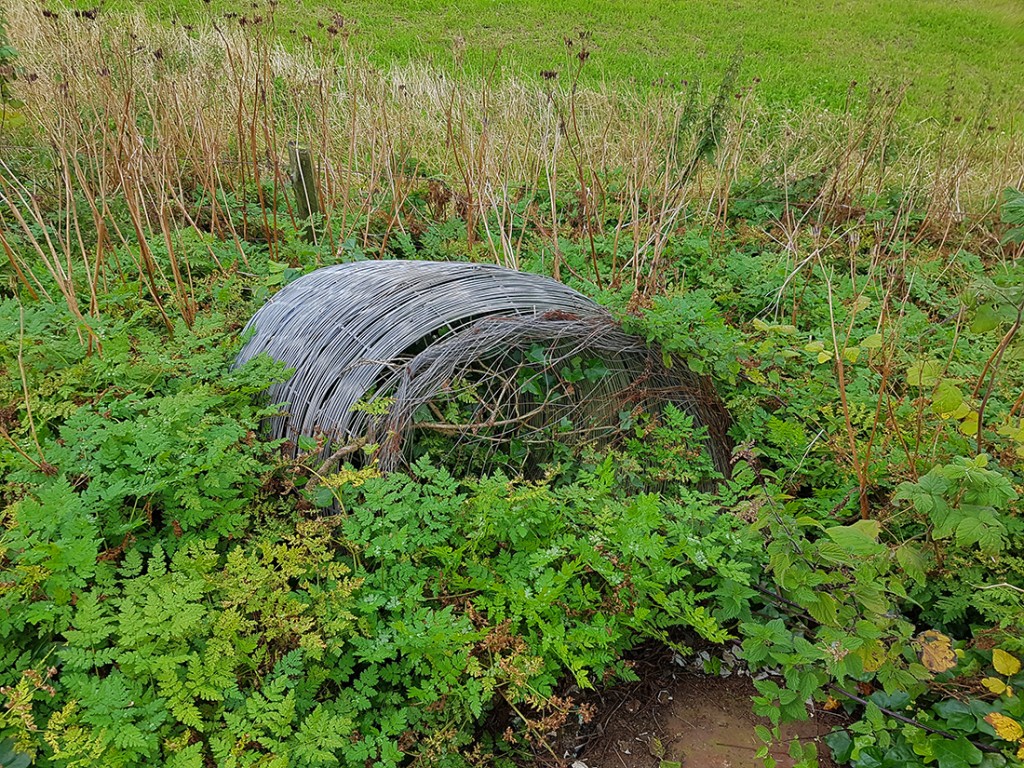 On quick inspection, it'd probably take a strimmer, and a few able bodies to right this heavy object. I pondered who I knew that I could lure off their TV couch to wander into the countryside to lift a filthy chunk of forgotten artistry back into place. Na, I had to MTFU and give it some sweat in the here and now. 10 minutes of grunting and swearing later and it's back upright. The base is a bit decayed, chances are it'll go over again in the future without intervention.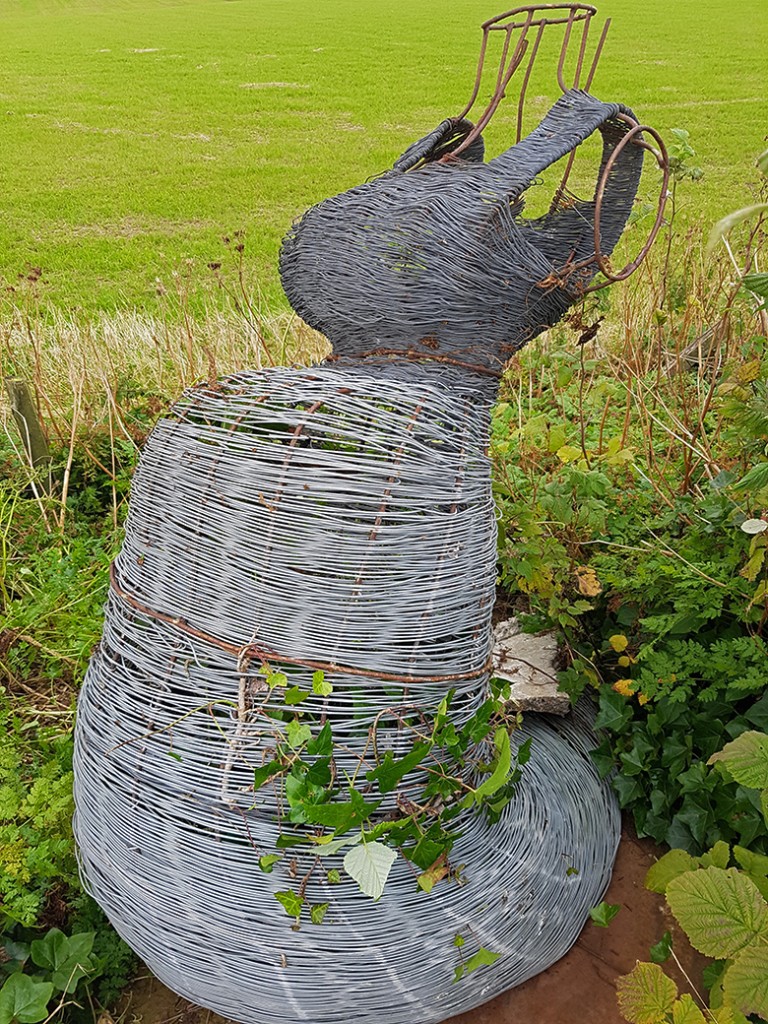 A closer look at the backbone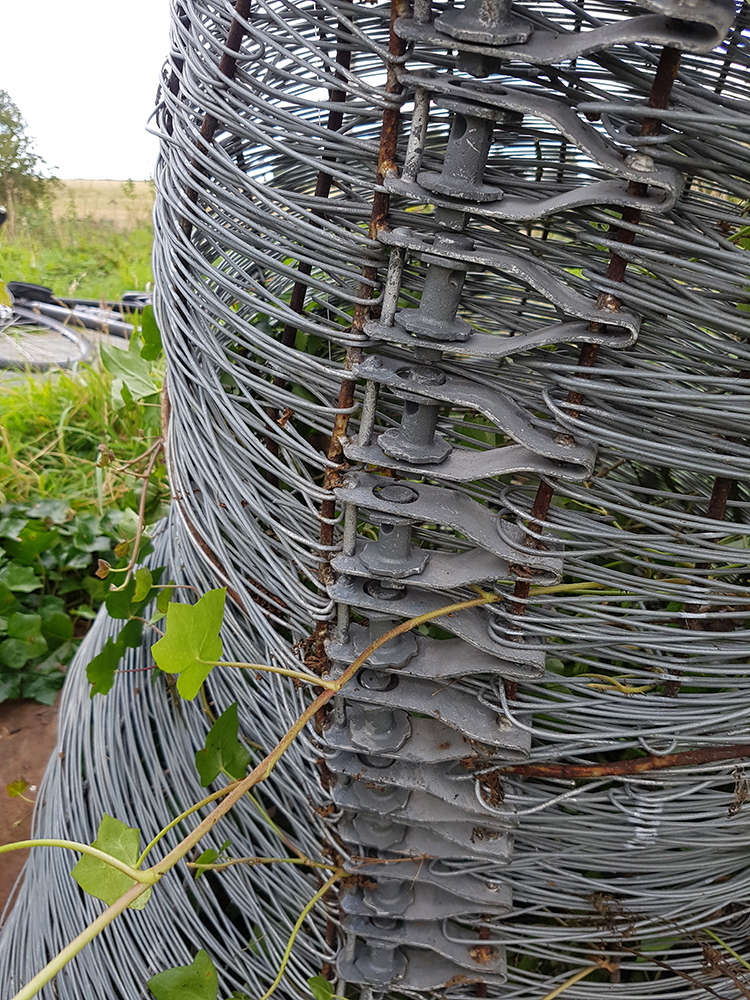 Hold up, what's this swinging free inside the cage. Perhaps a clue to the origin?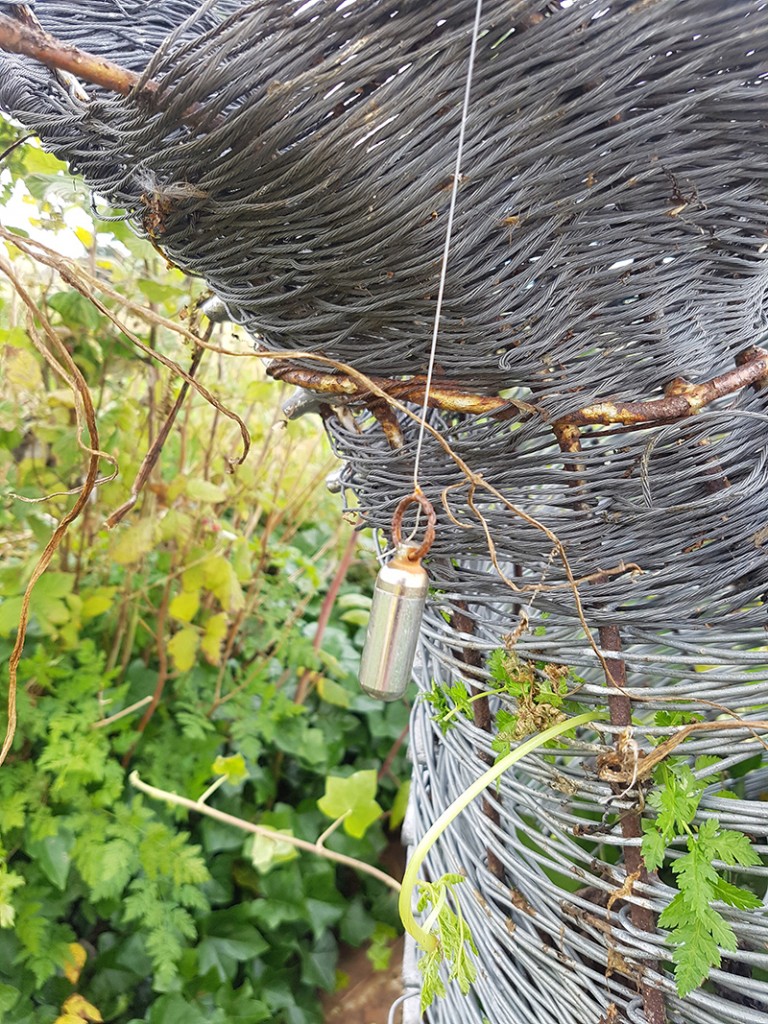 A wee paper roll inside.
I guess this is some sort of log for geocaching. Well hidden geocaching folk. I pop it back in place for future discovery.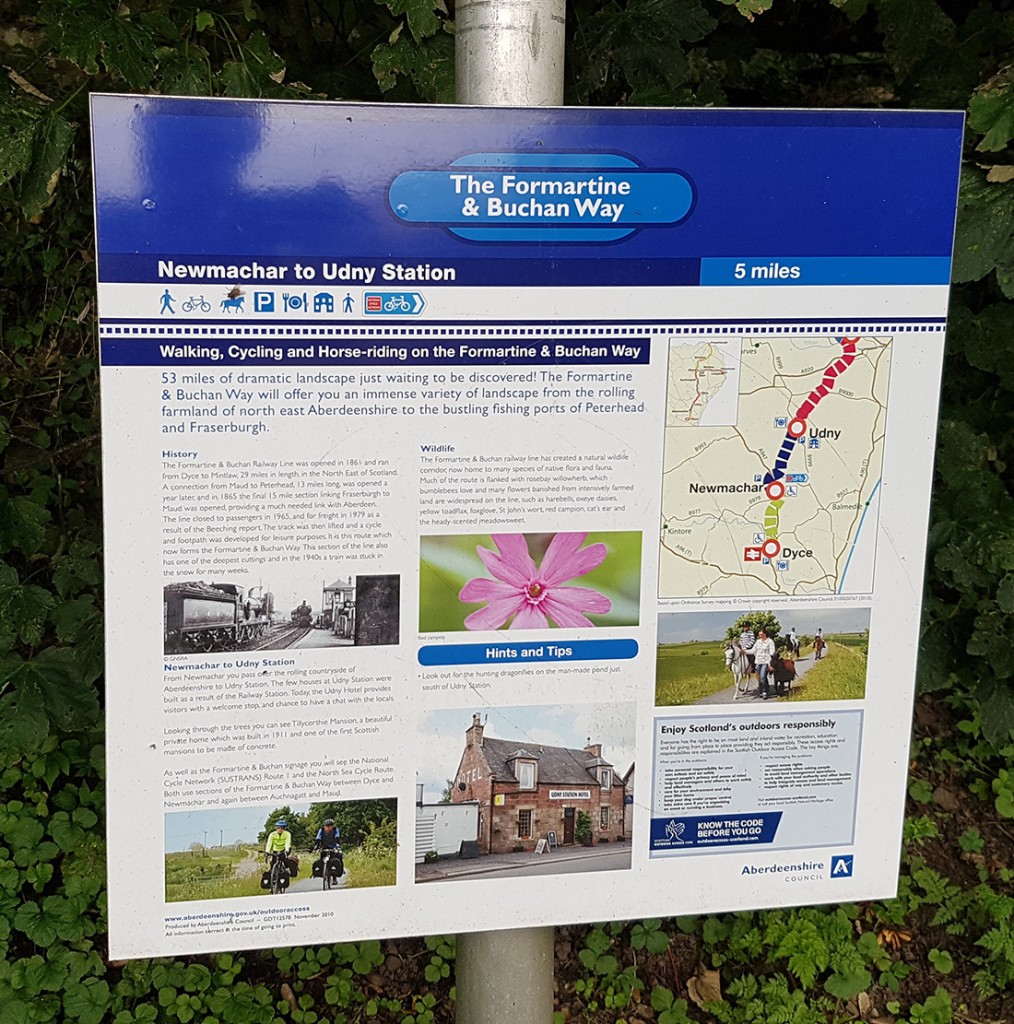 These wee sheds were used by rail workers who would walk the line checking the rails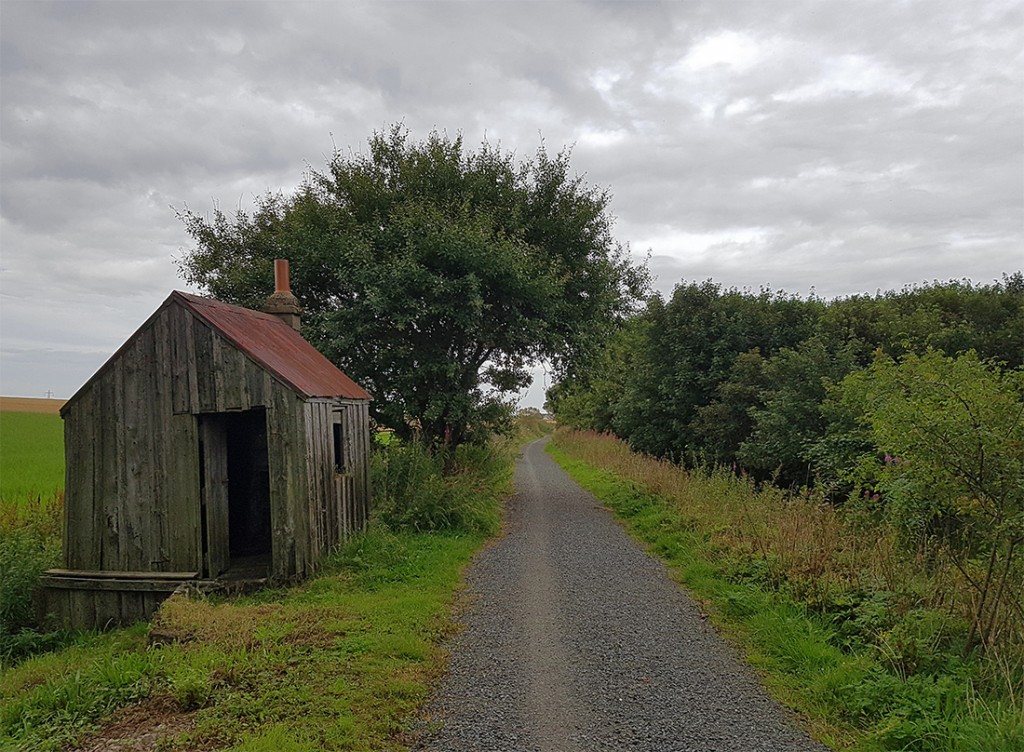 No doubt many a cup o tea and a cosy fire enjoyed on a dreich day in here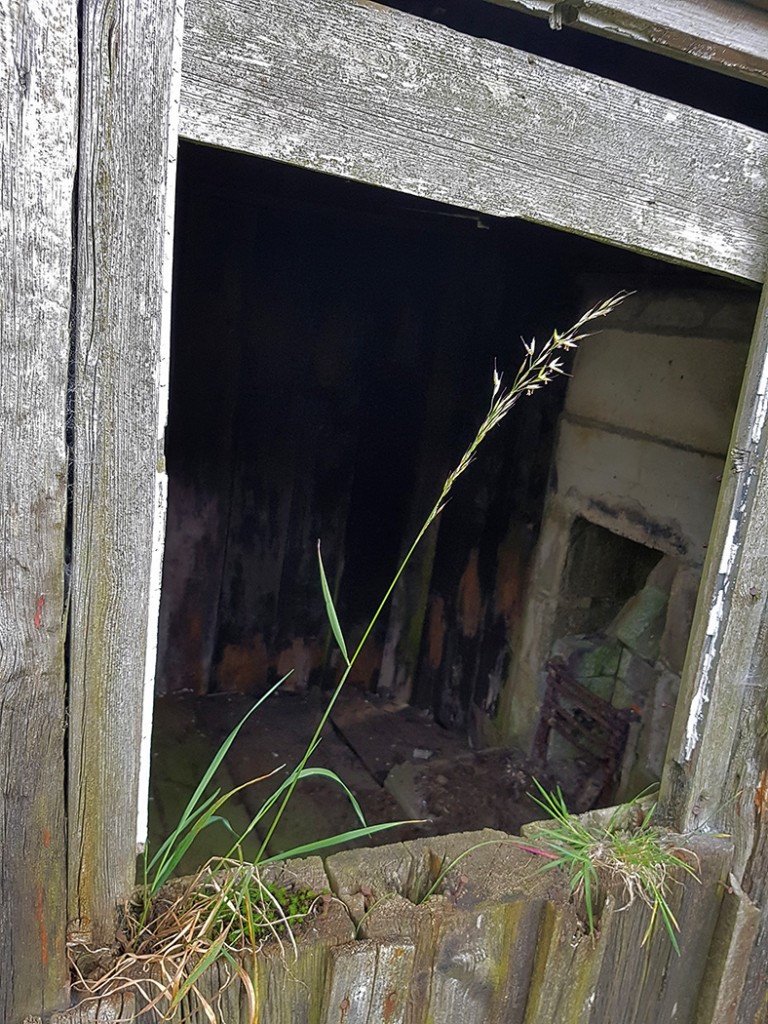 At the first point today where I diverge from the Way, the path is covered in rubble, from the bridge parapet above.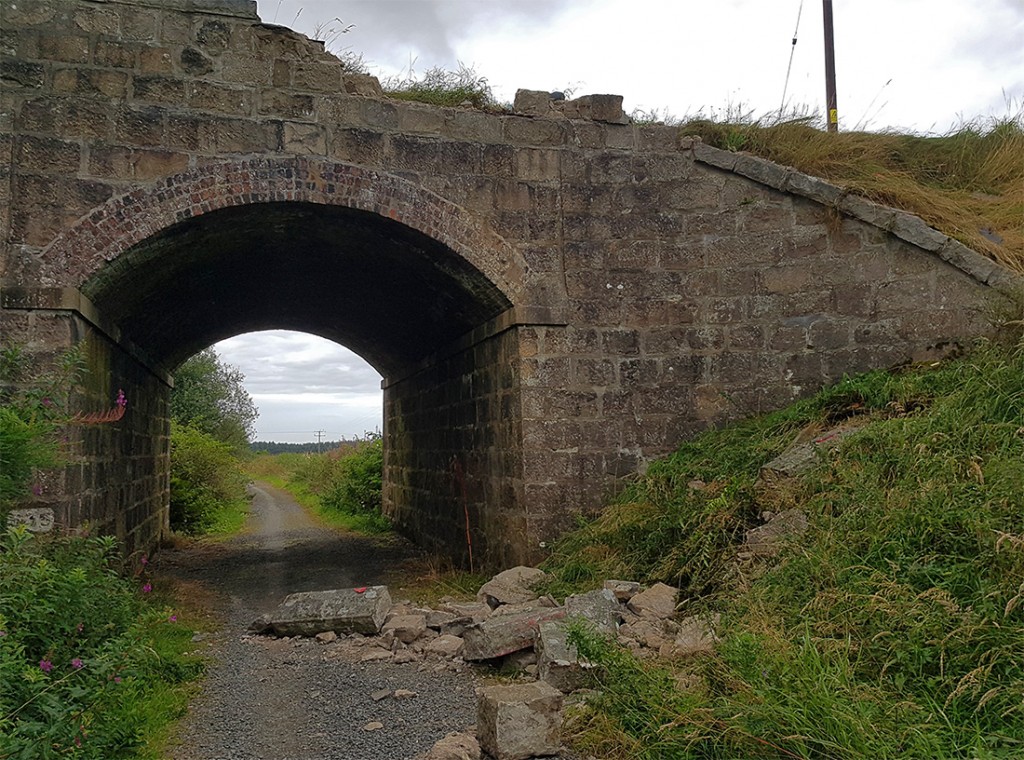 There's a couple tight bends above on the road, some arsehole driving too fast has got their just reward, their shiny pride n joy splattered into crunchy bits, their puffed up top-gear chest deflated. I climb carefully up the embankment over the debris.
Taking a wee detour past Tillycorthie Mansion and pond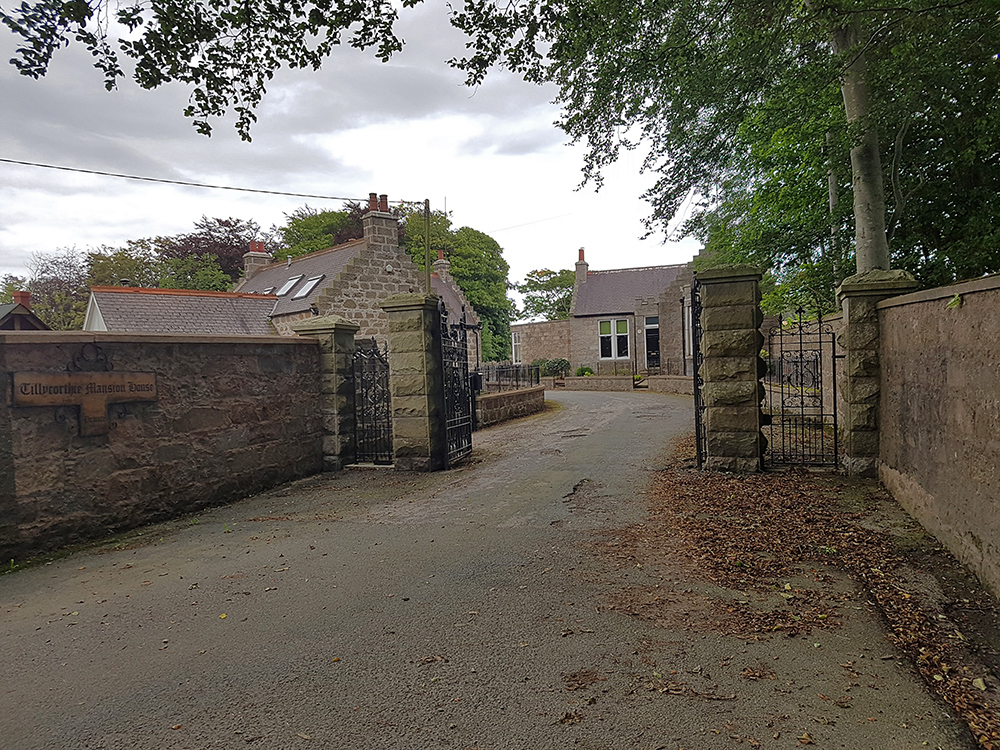 Lots of ducks down on the pond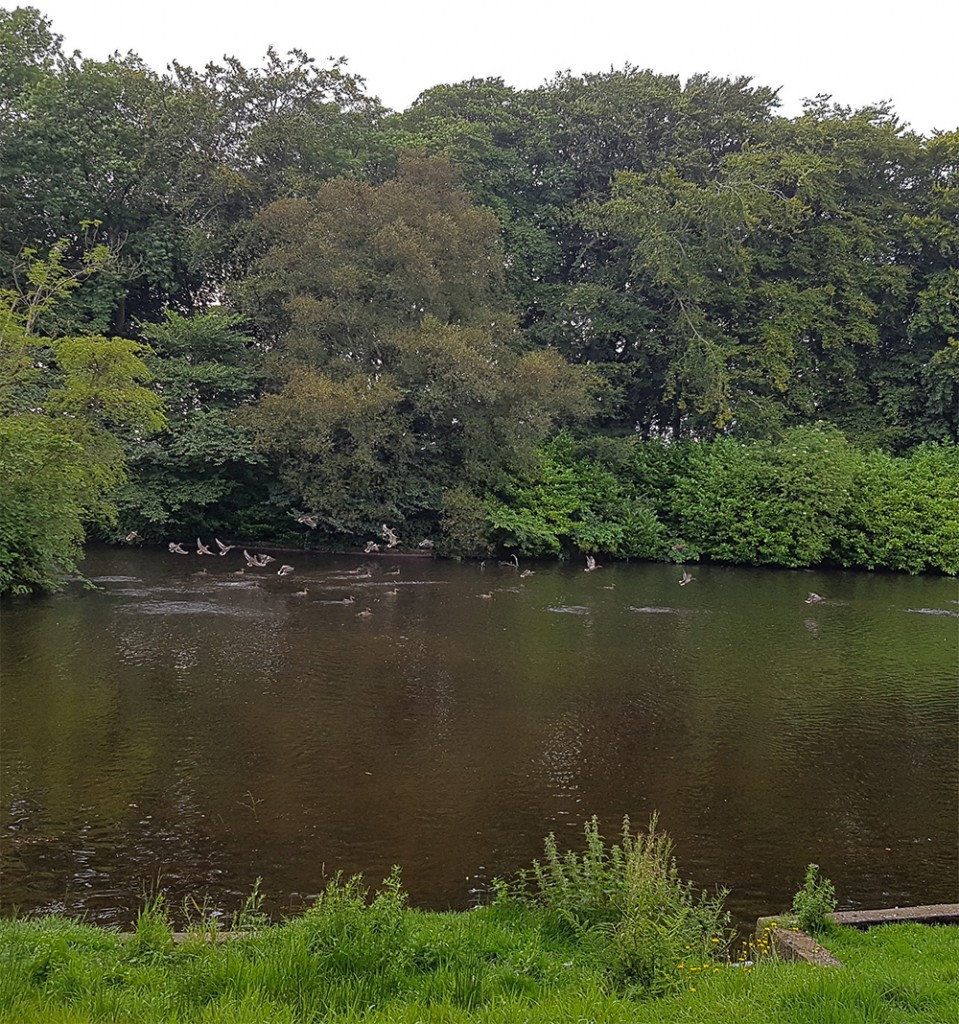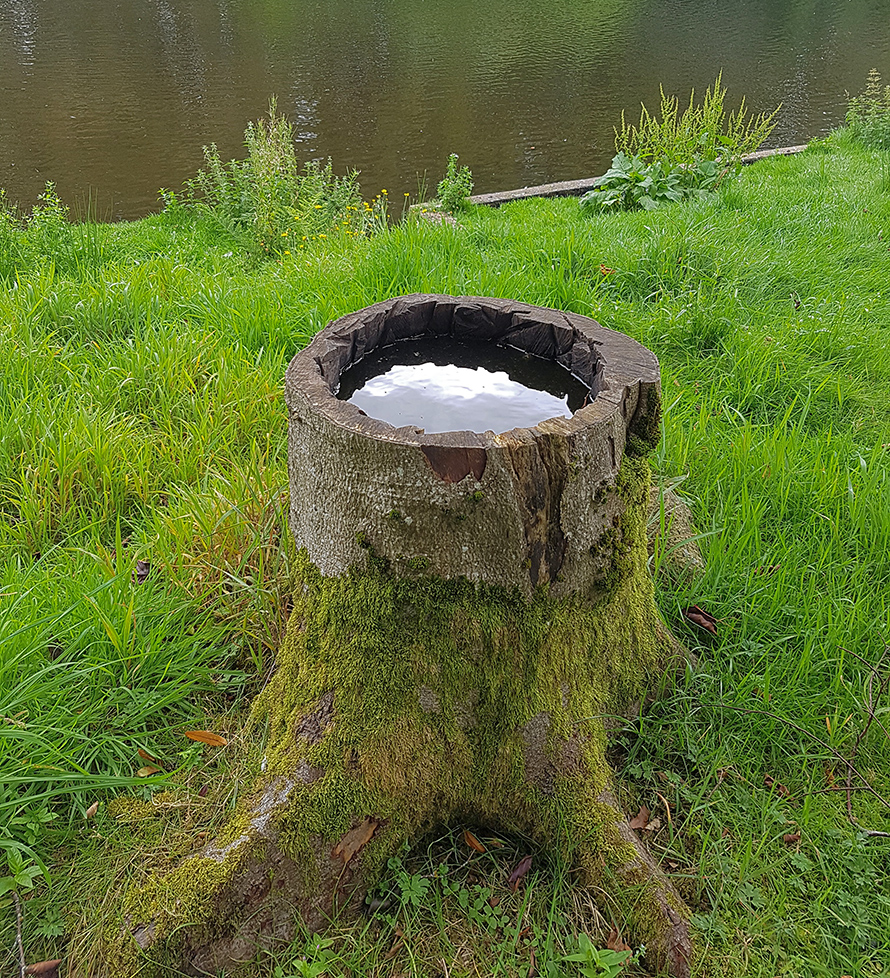 The mansion is one of the first made of concrete in Scotland in 1911 apparently. It's quite grand, a "bewildering amalgam of the high-tech and the sub-baronial", but the snap I took has disappeared, hey ho. I found a nice sketch of it here.
Onwards to the green immersion of the 'bush tunnel path' that links it to the 'bomb pond'. One of my favourite stretches of path around.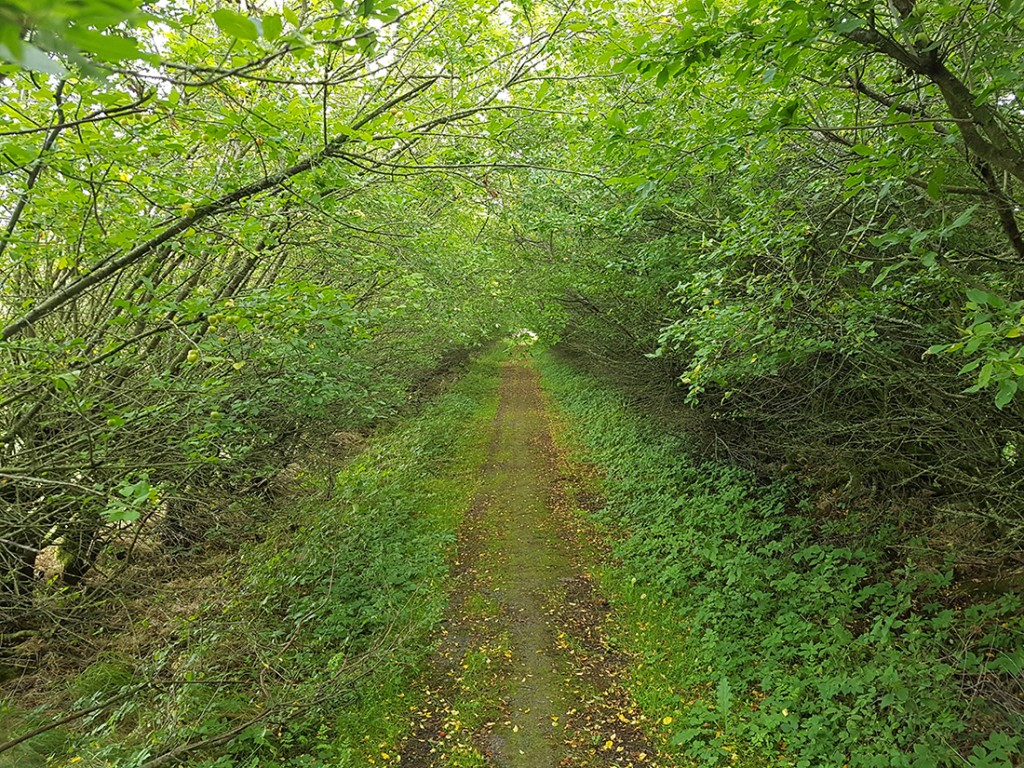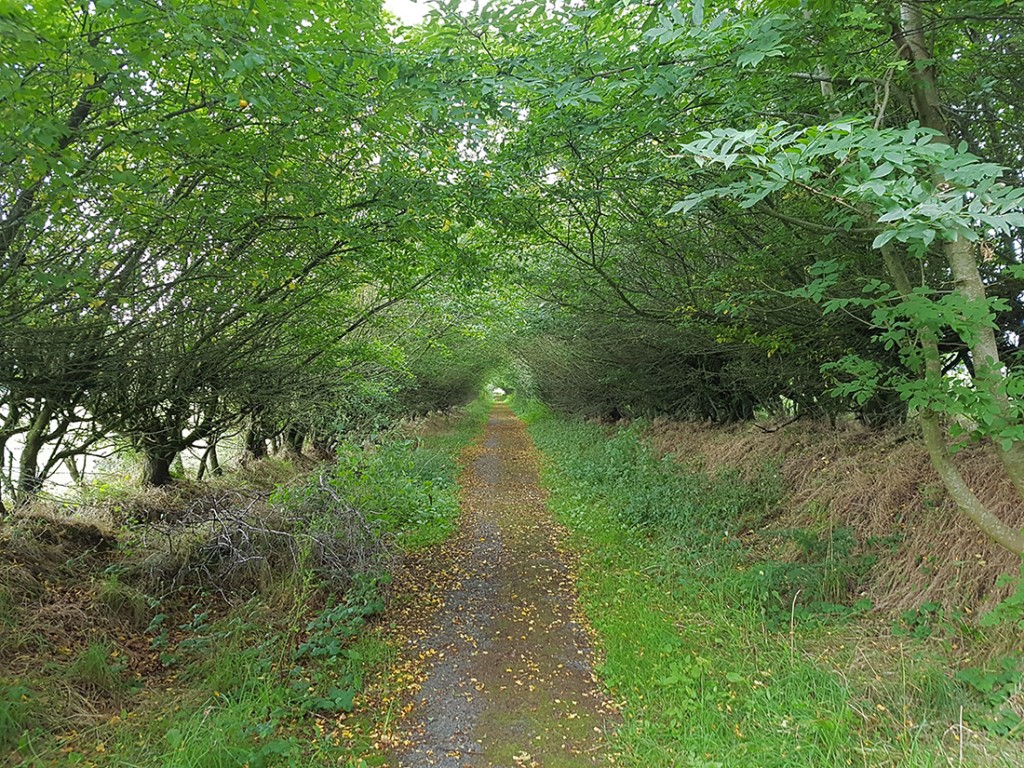 Sun breaks through the canopy in parts where the path forks right towards Thistlyhill farm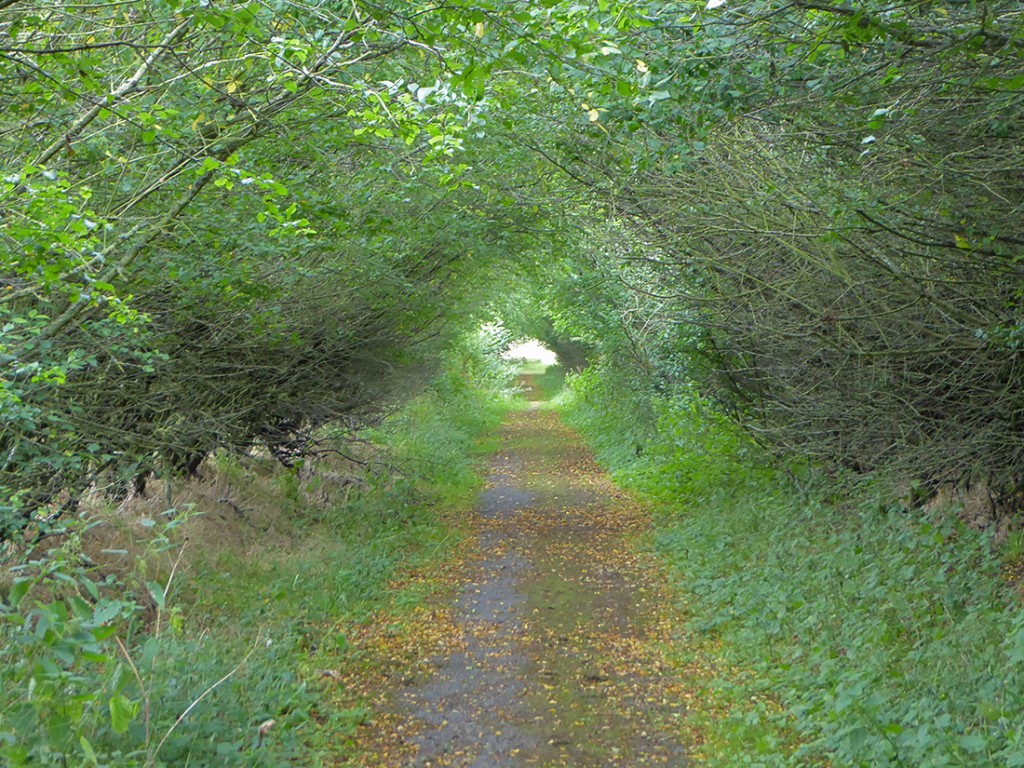 One day I'll go follow it to conclusion, but as ever the lure of the pond is strong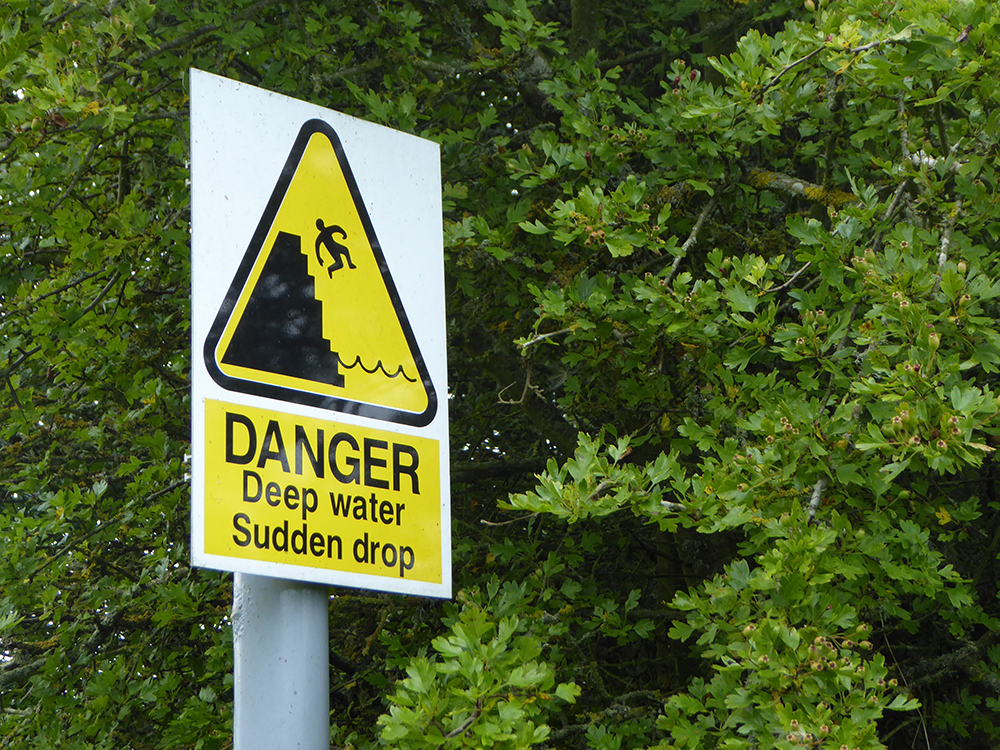 To the East a common of rough ground was a-flutter with seed heads
The pond is larger than it looks, the central island blocking a full view of it's extent. I'm sceptical that a WW2 bomb could create a sufficiently large crater (the pond is over 100m long and about 30m wide) but there is further reference to bombs dropping in the area on the Udny station wikipedia page.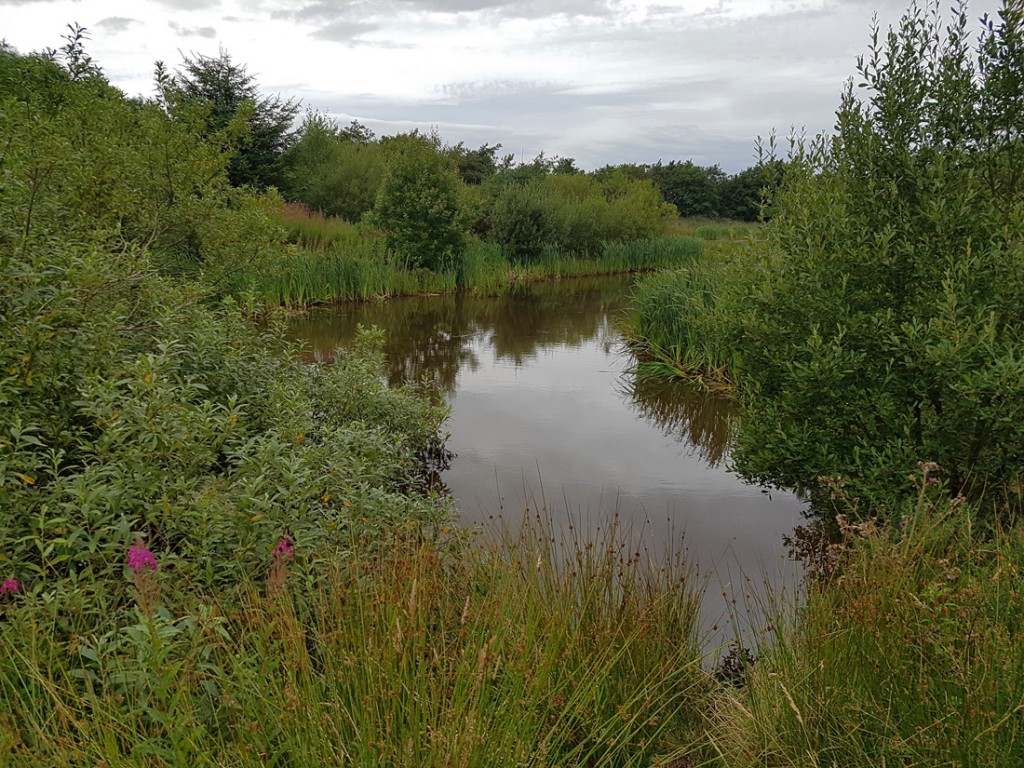 At this time of year it's quite reedy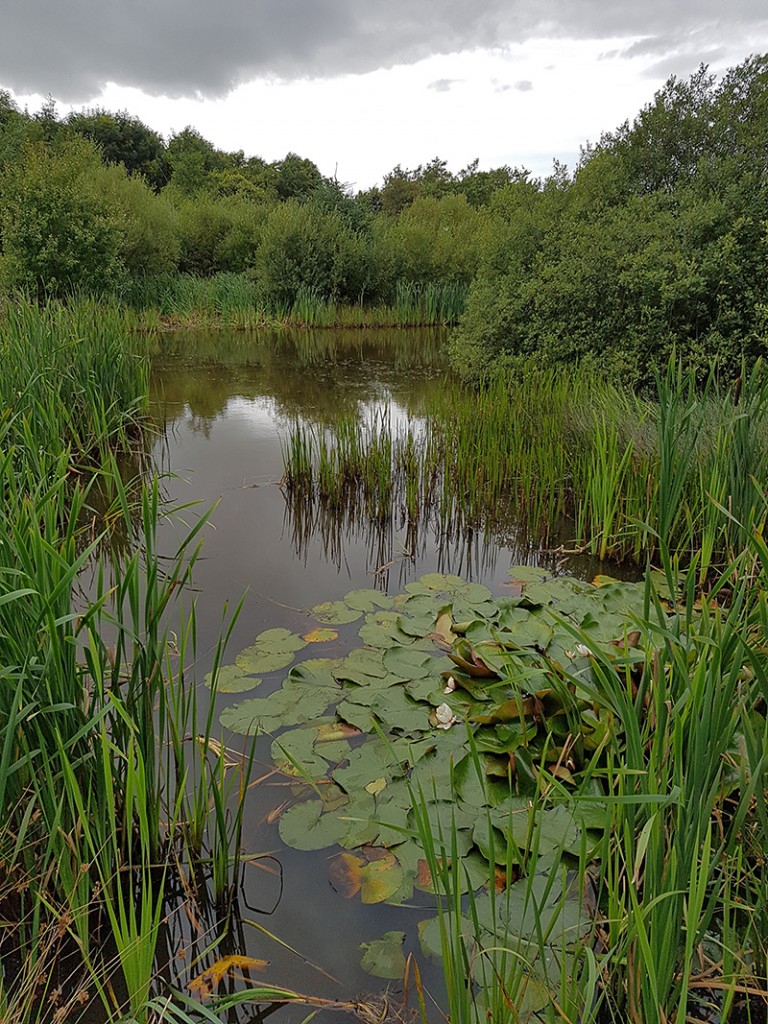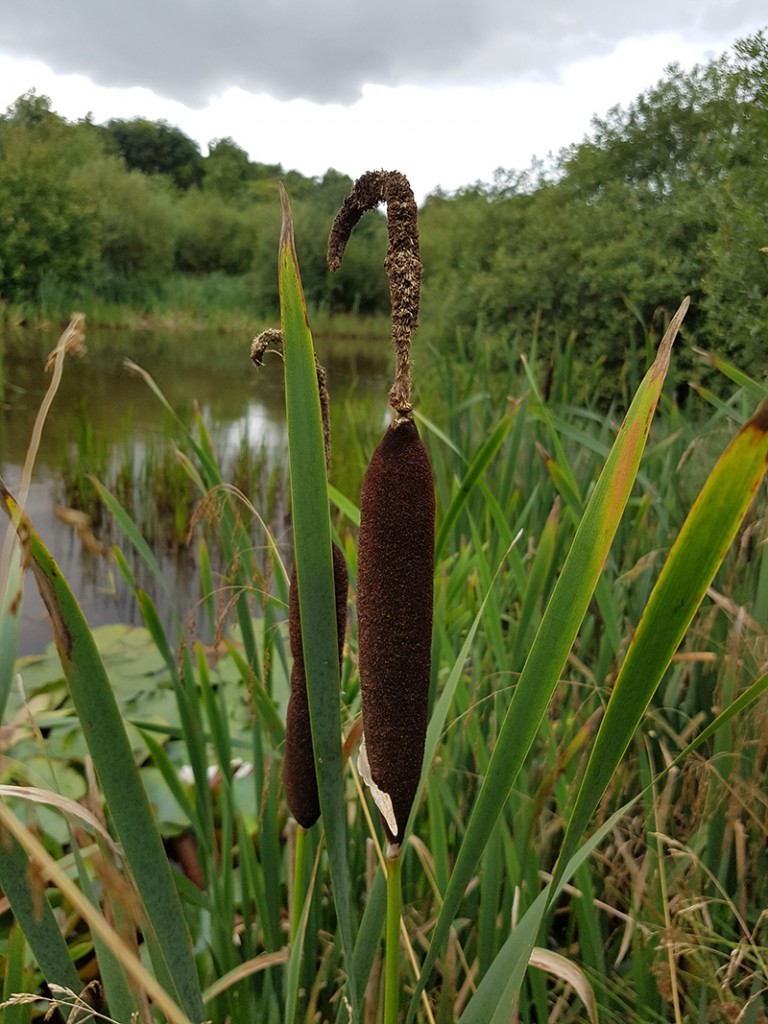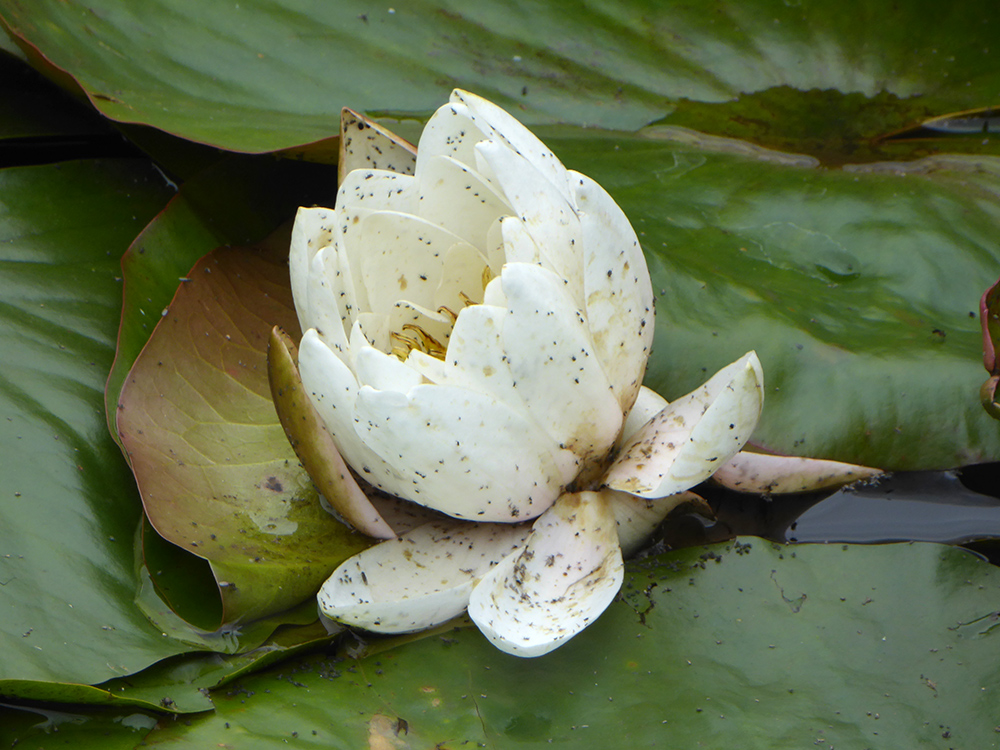 On closer inspection, the perfect tranquility does not extend to a macro level. Pond skaters are at war, whizzing about guarding their territories, and sending frantic ripples at 25 , 10 and 3 Hz.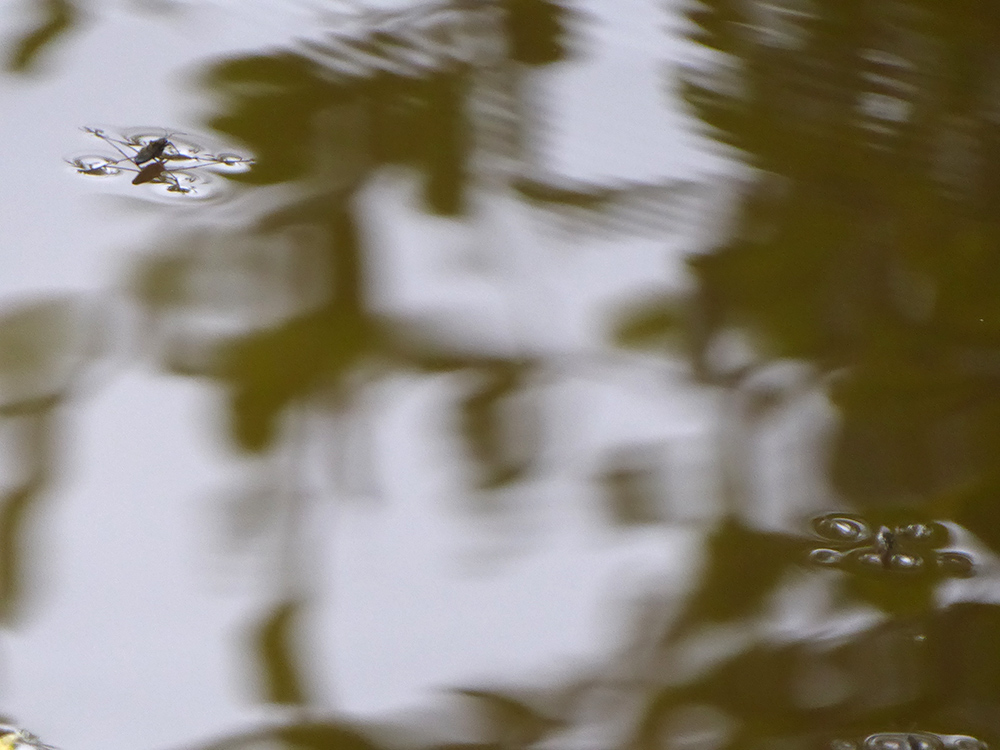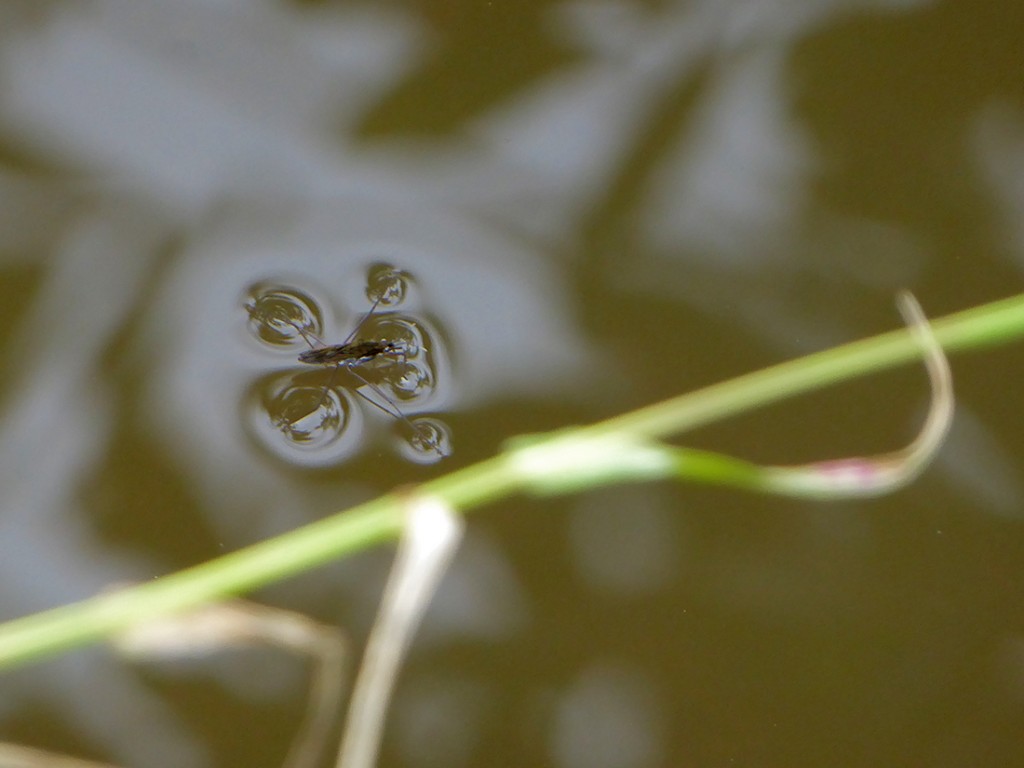 This bird paddles out, spots me, paddles back into the reeds. I've never seen much wildlife here, which is surprising. I always creep expectently up to the pond expecting some revelation of wildlife, but alas no. There are some deer prints beside the water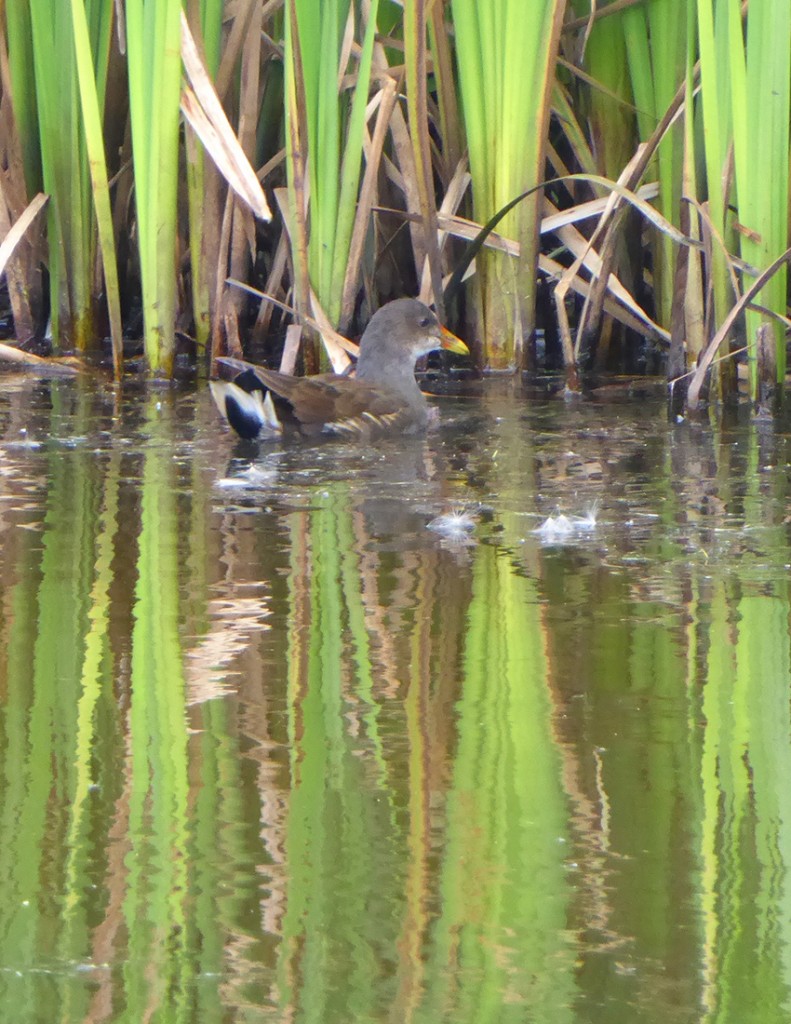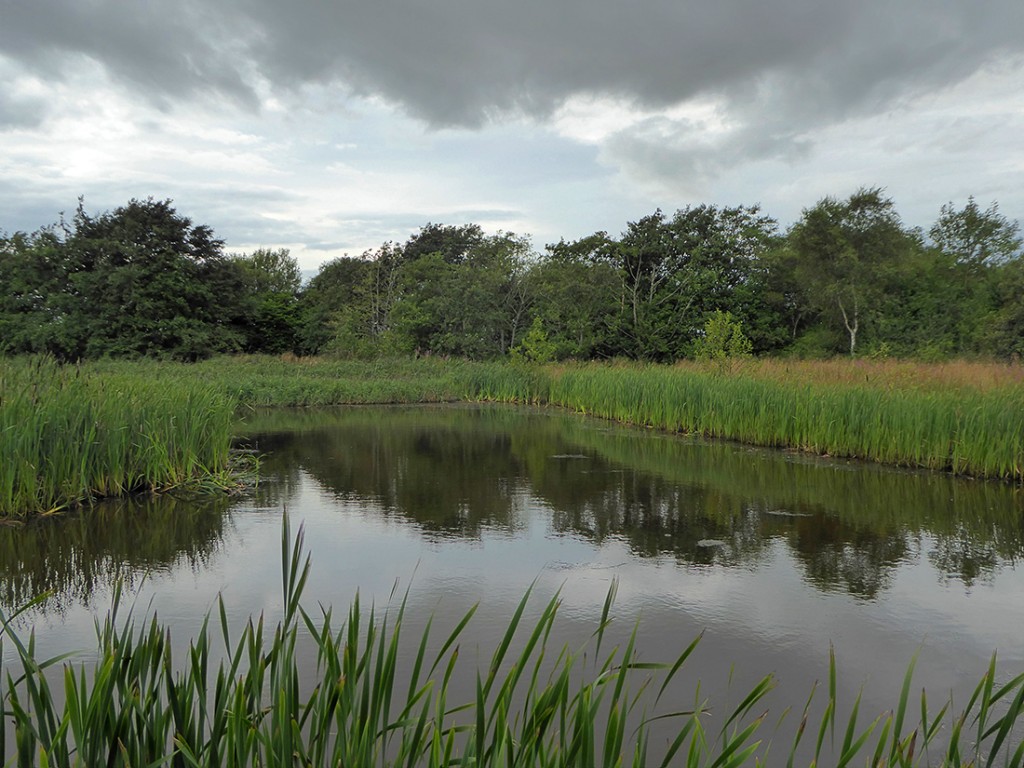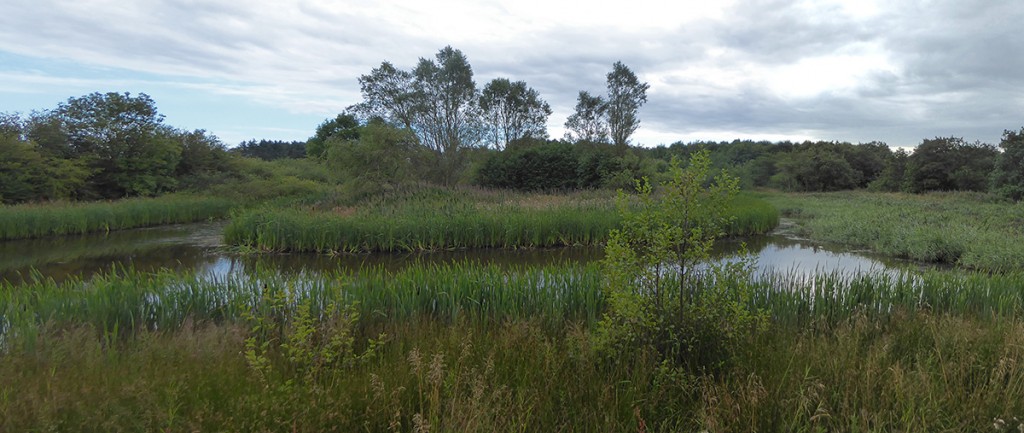 The floral display at Udny Station always makes me smile.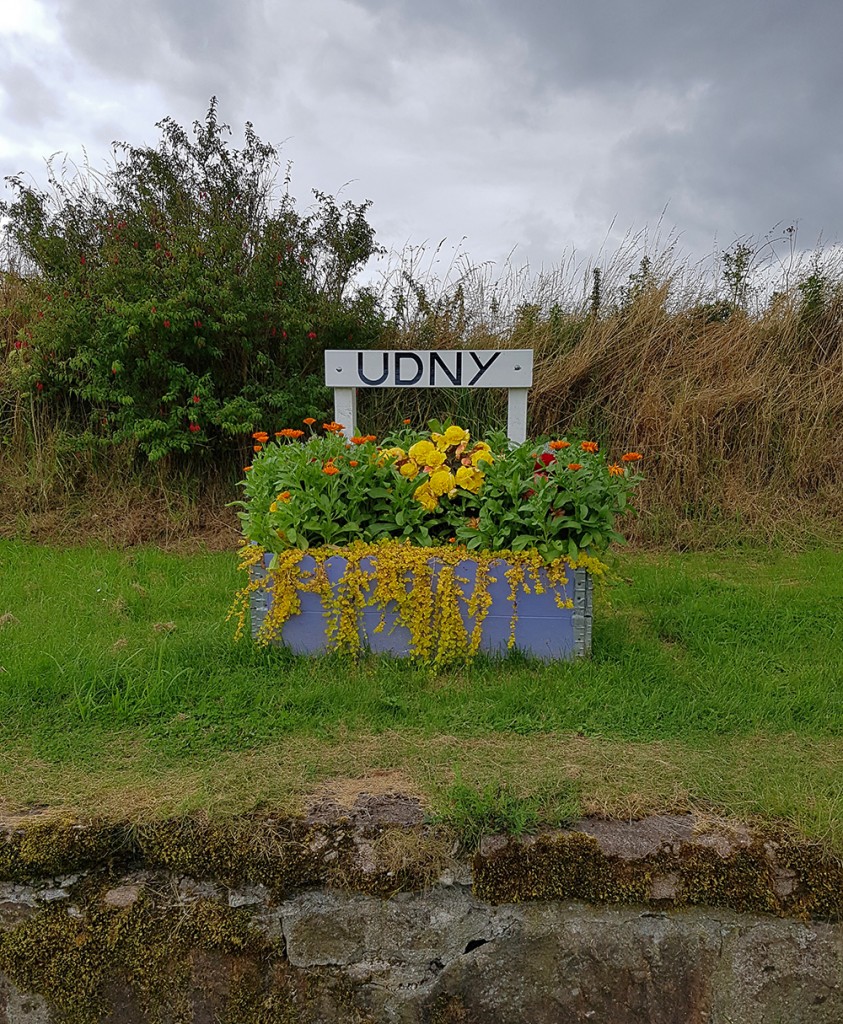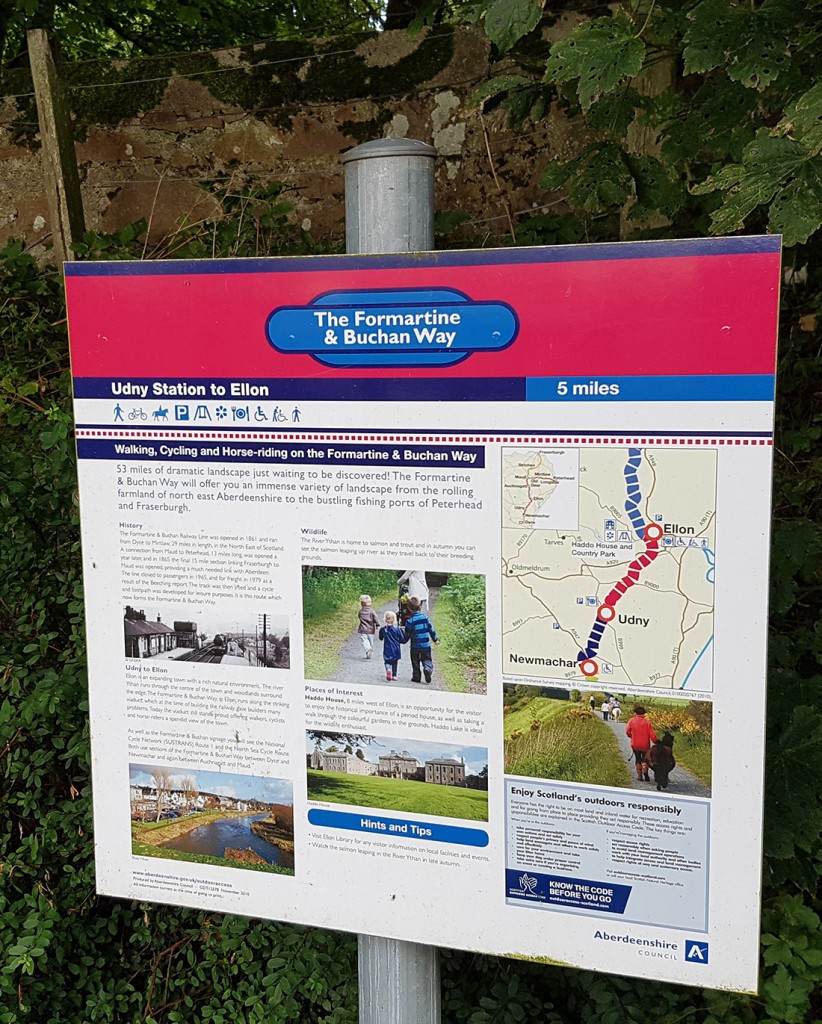 Wonder if this the Udny community wind turbine. The windswept tree would seem to indicate it's a good place for it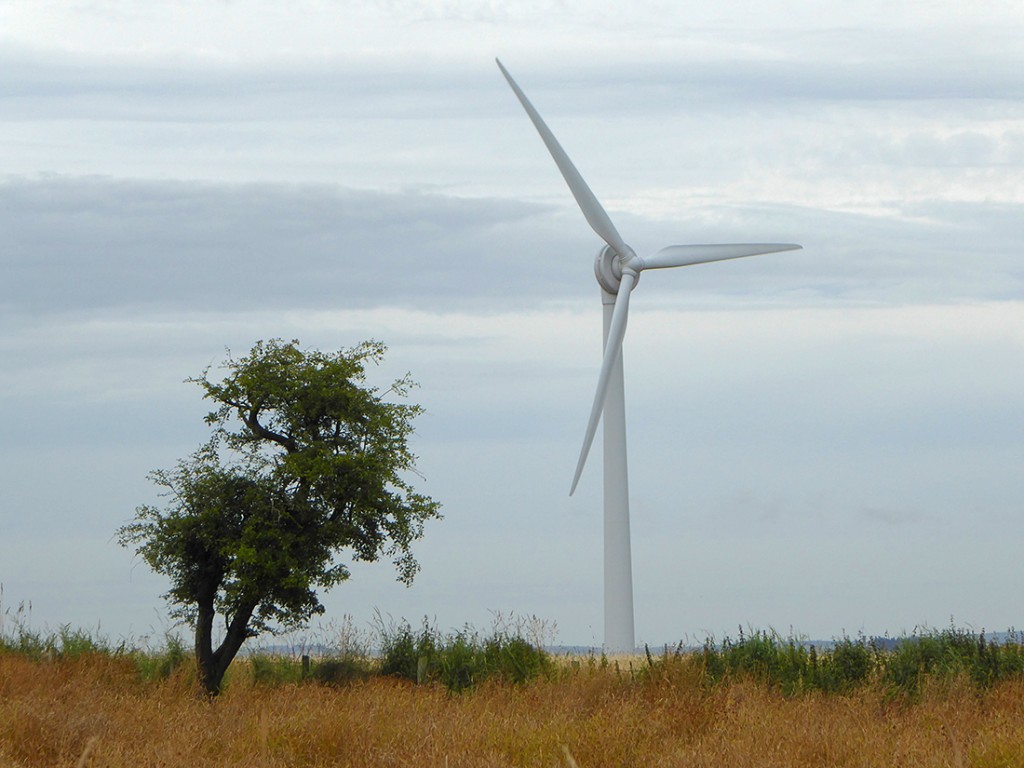 Heading off the Way again and heading cross country to the other Udny, Udny Green. It's a pretty wee village.
The gates to Udny Castle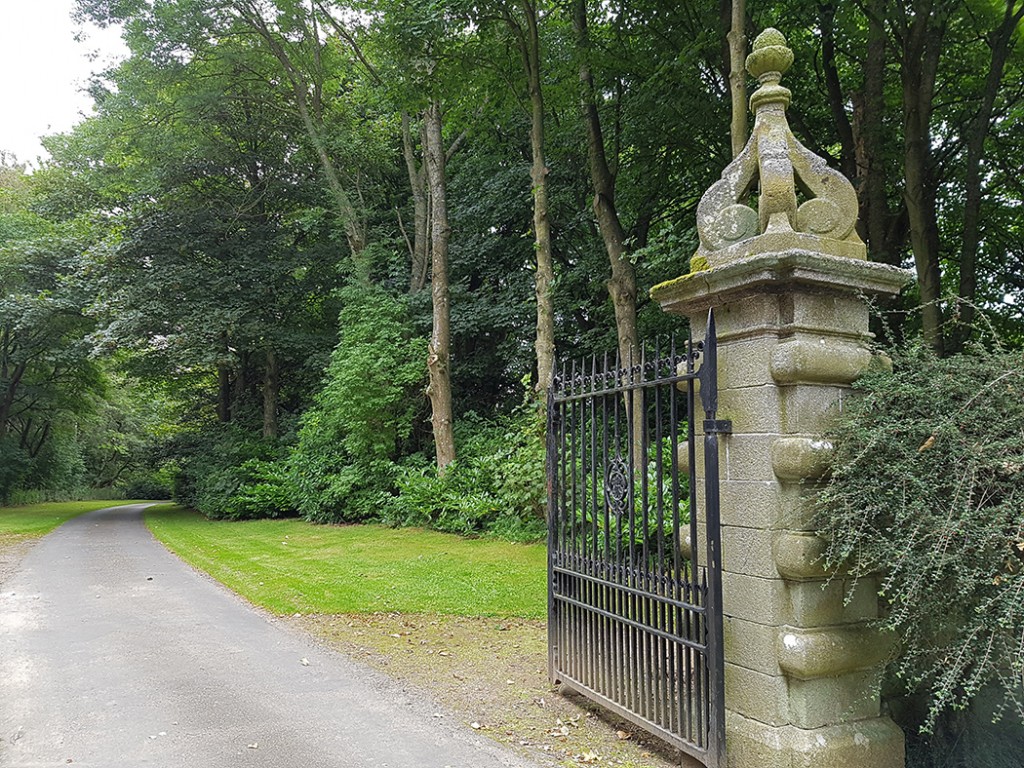 Along the driveway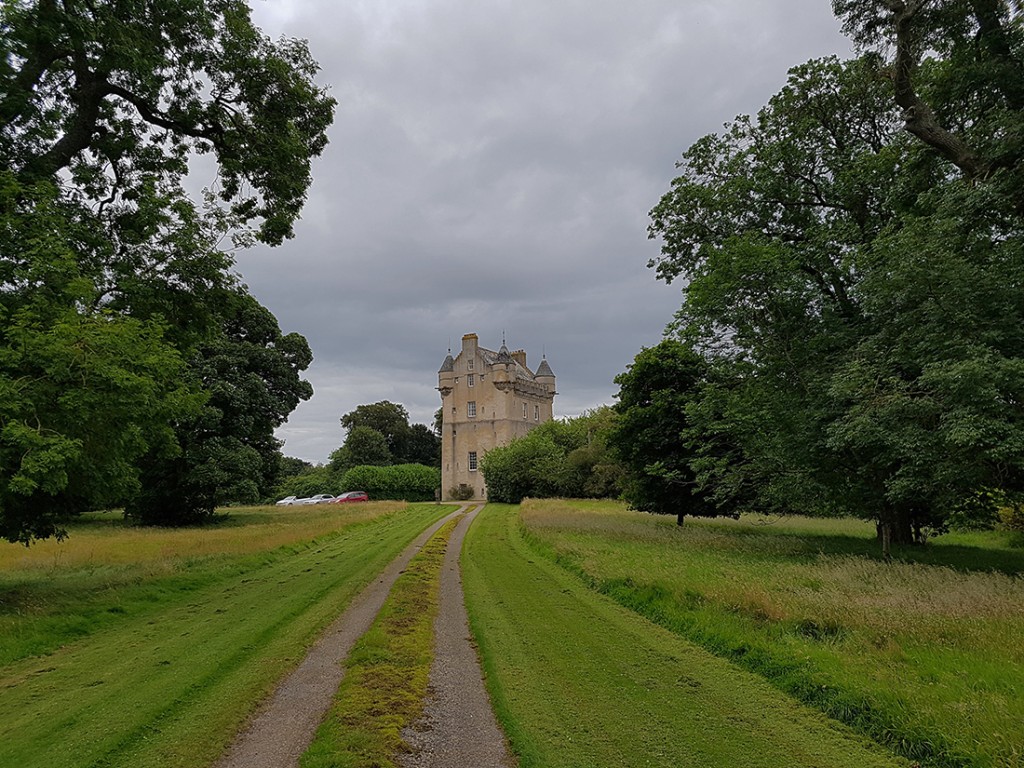 I've read elsewhere that the statue is of Jamie Fleeman, renowned as the Laird of Udny's 'feil' ('jester'),  but am not convinced, the statue doesn't look like his historic description and is more militaristic than that.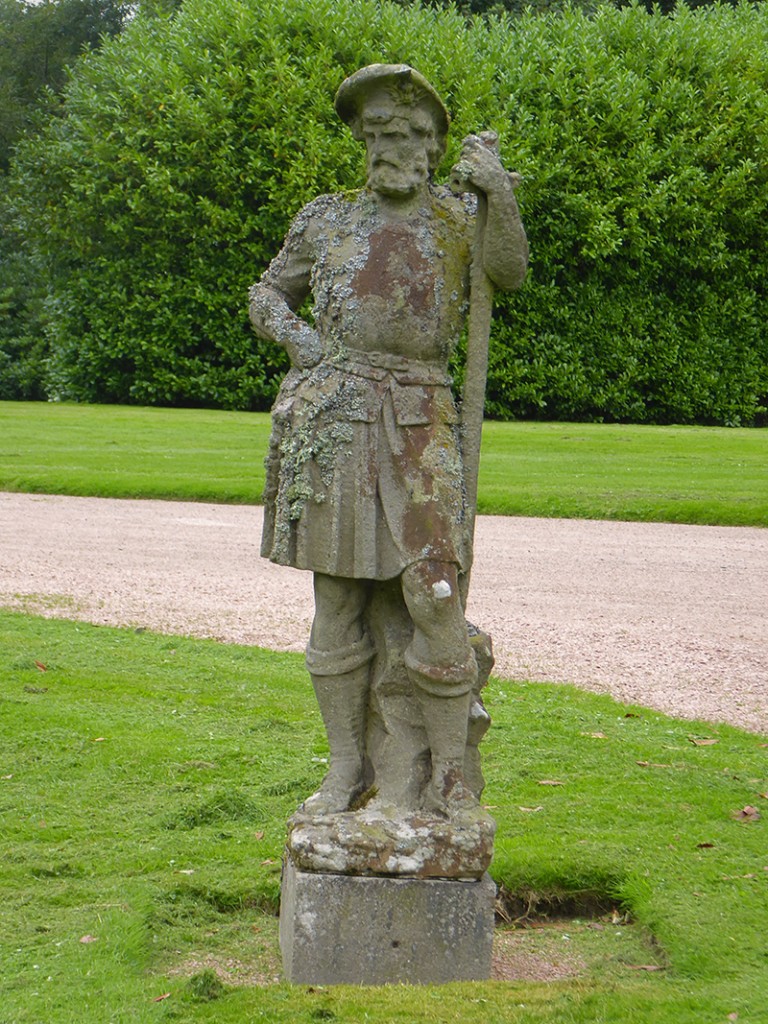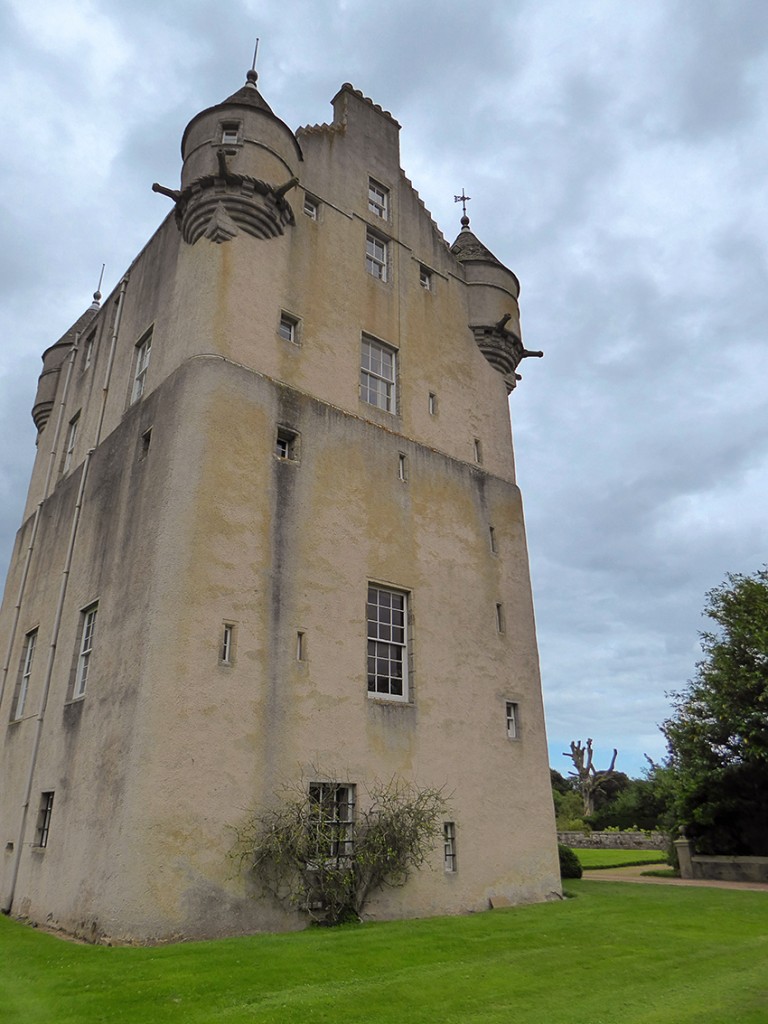 Paths head out the other side of the estate towards Pitmedden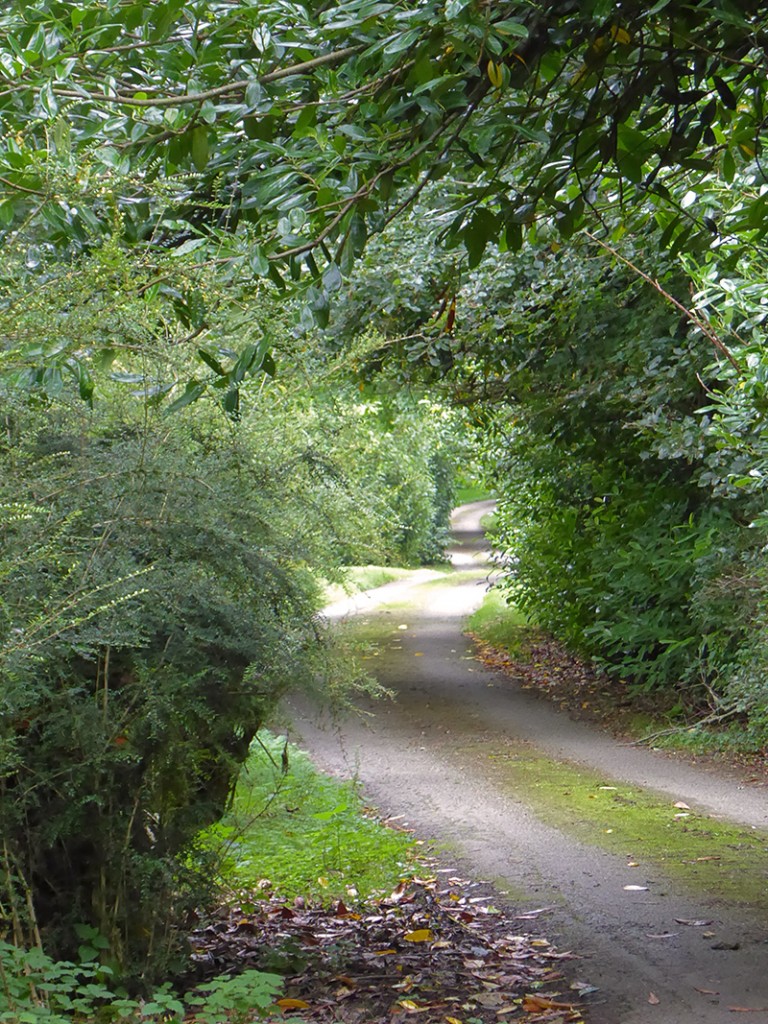 As I'm snapping these sunflowers, a car pulls up and an old chap with a plummy accent politely invites me to leave, possibly the castle owner. I refrain from quoting about the Scottish right to roam, and conclude my passage through amiably.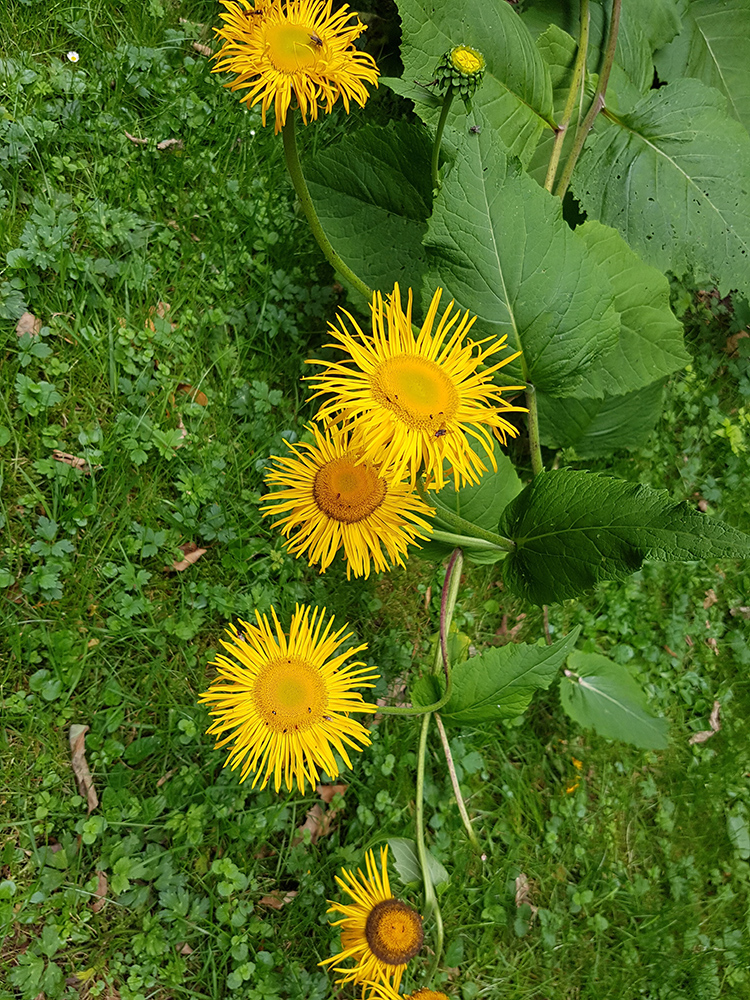 Half a mile further North lies Pitmedden House and gardens.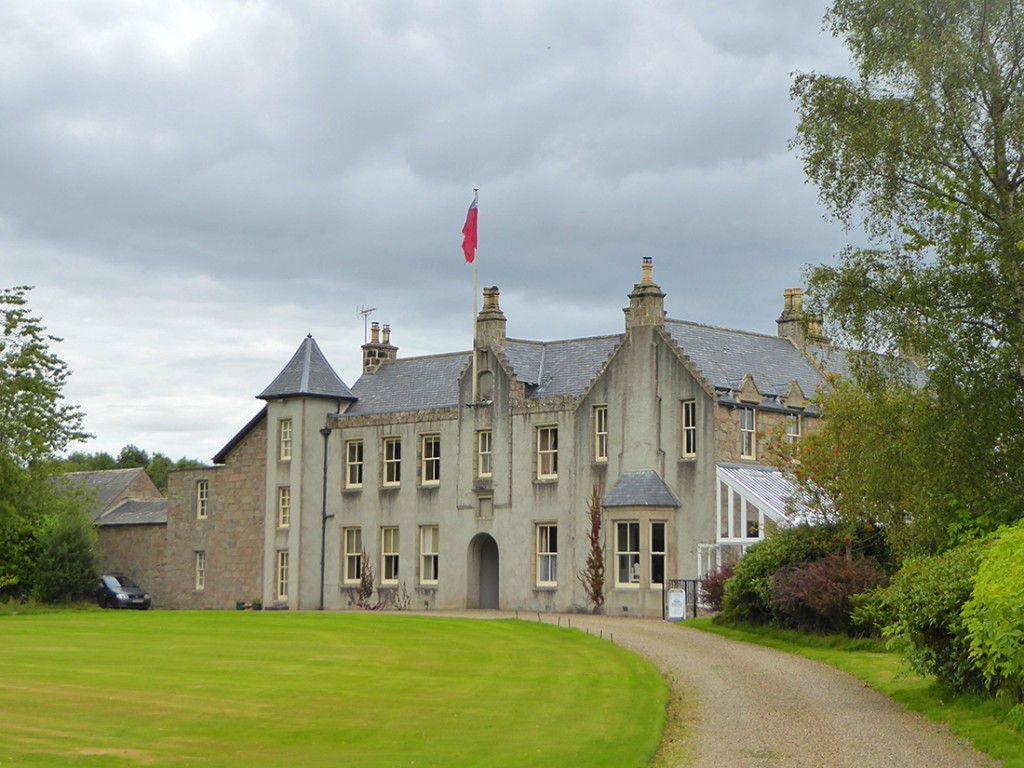 They're near closing time, I don't have a bike lock and it's chargeable entry so I don't venture into the gardens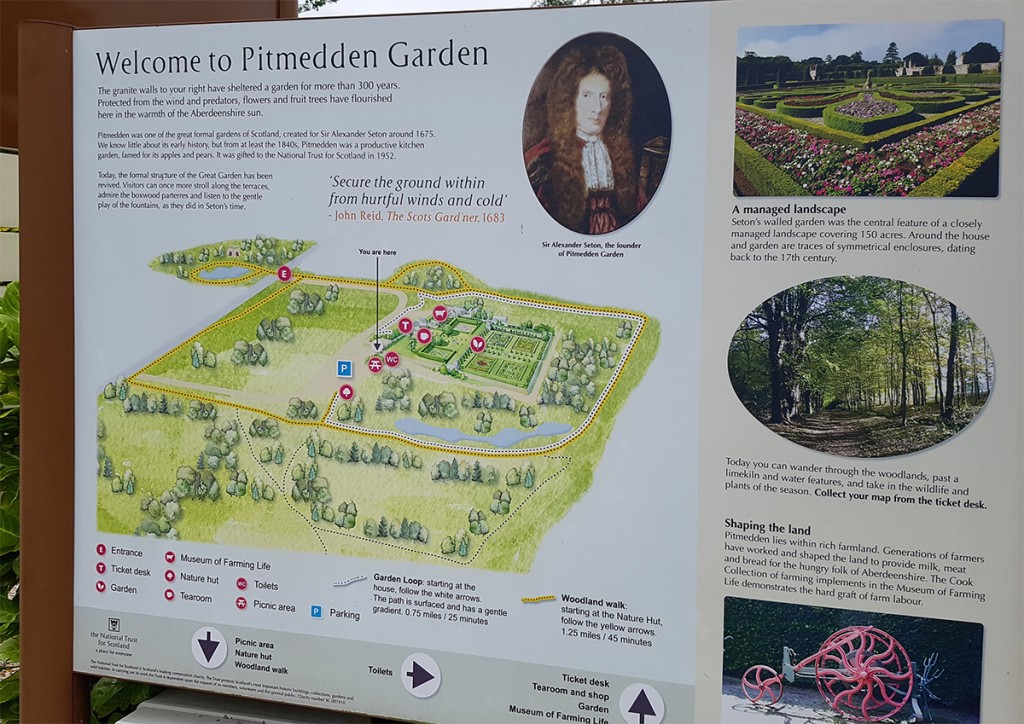 I go for a quick scout around the perimeter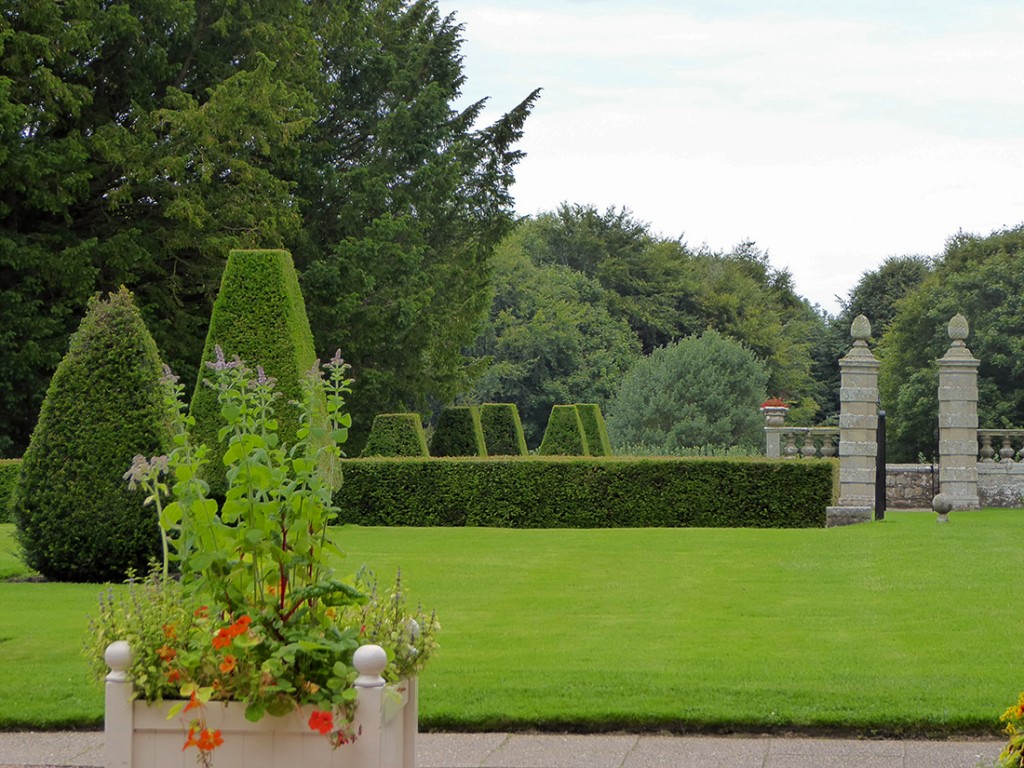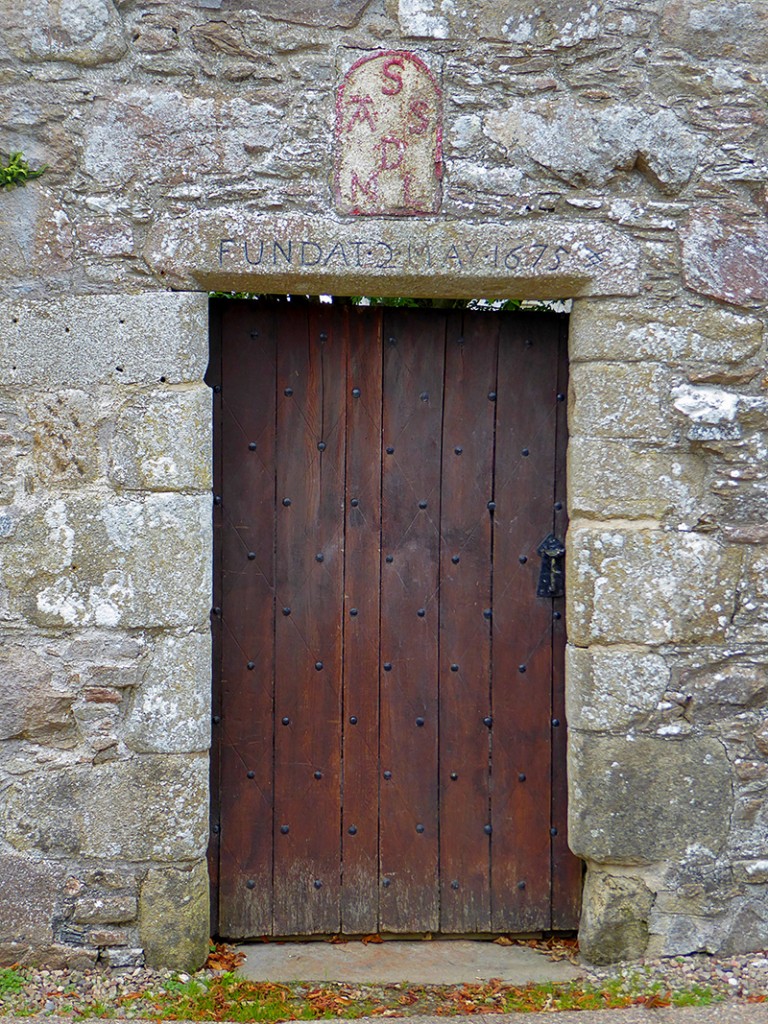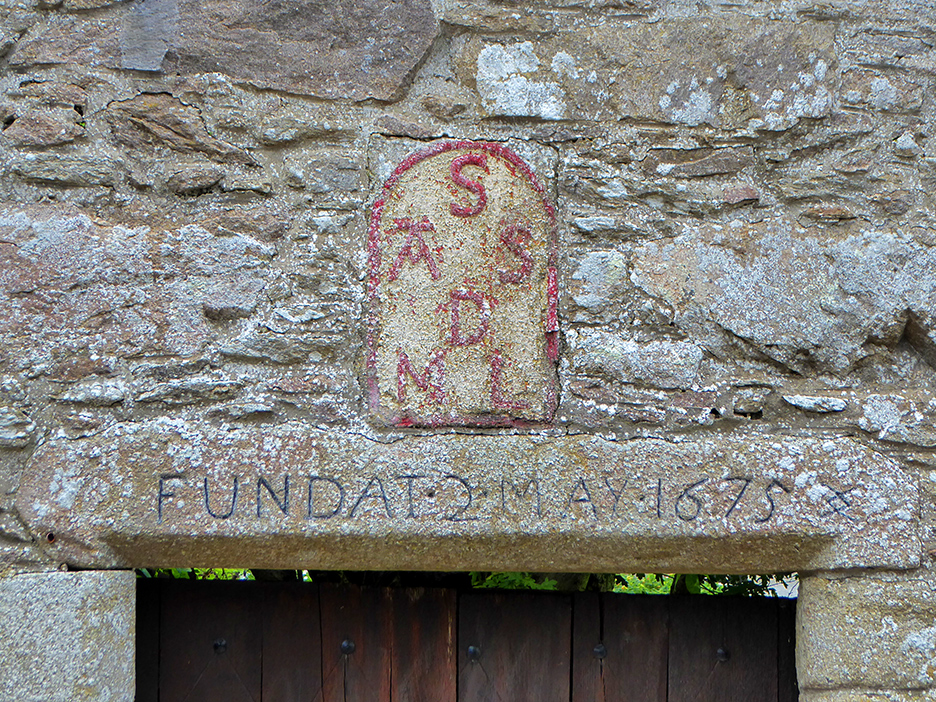 A quick spin through the wood past a pond n sluice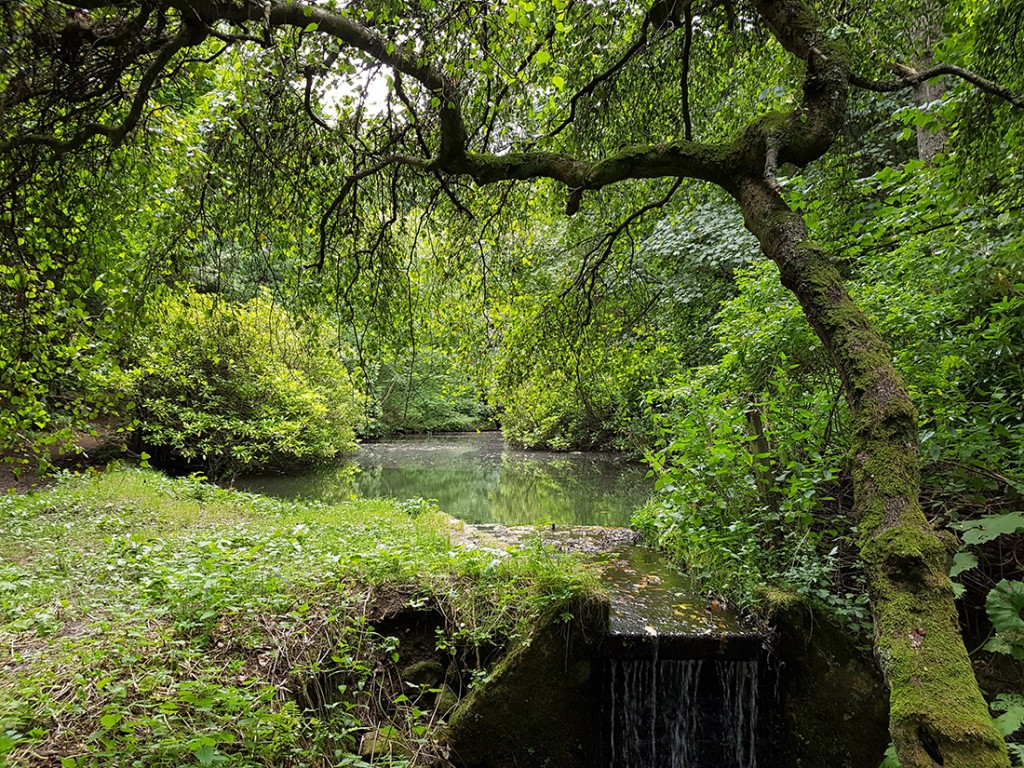 Not a huge amount to see outside of the gardens. Heading West though this old hulk catches my eye.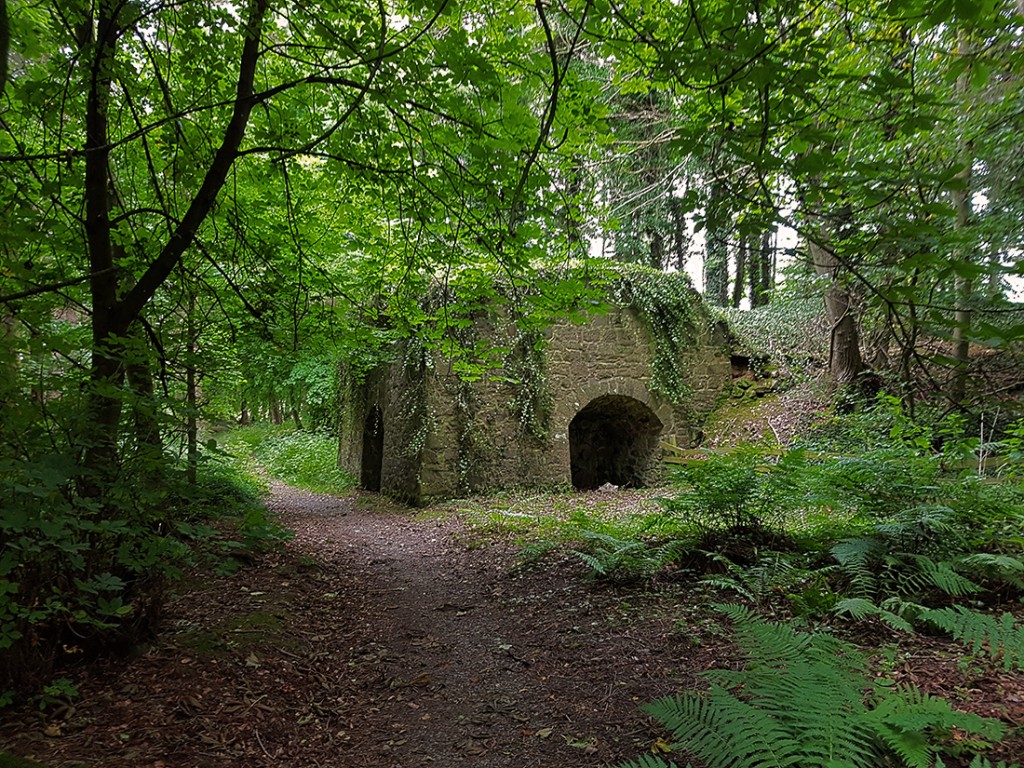 It's an old lime kiln where they produced quicklime for fertiliser and building
A closer look inside the arch reveals a swarm of huge mosquitos, retreat!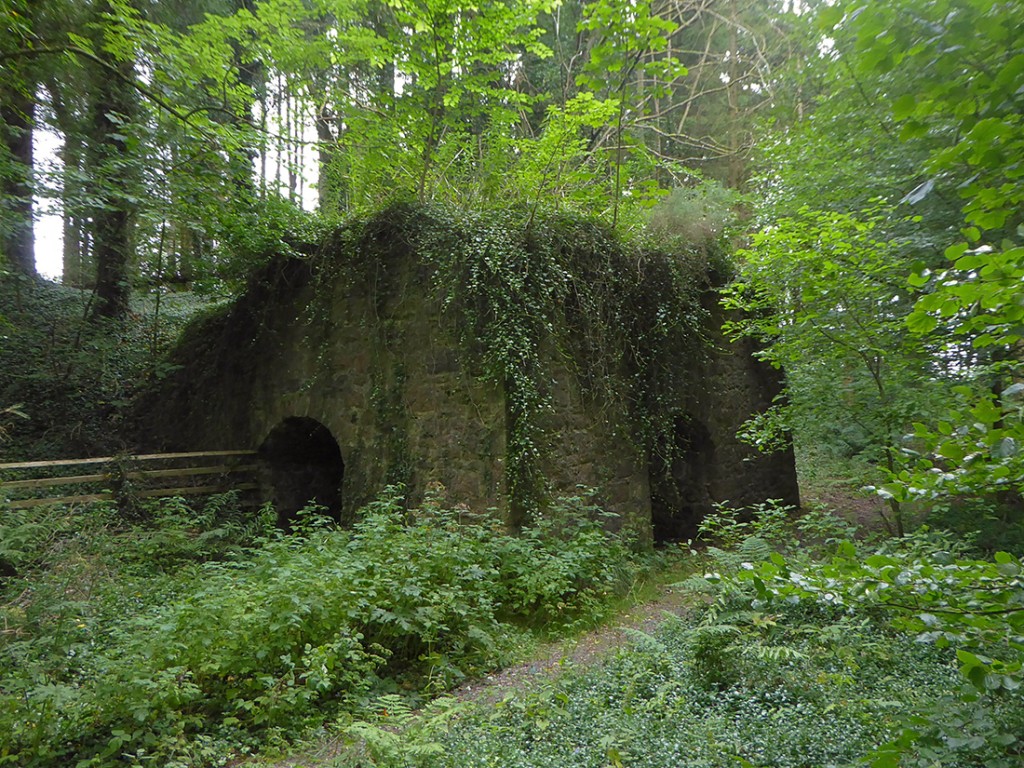 Directly opposite of it is a murky pool that used to be a quarry, now flooded.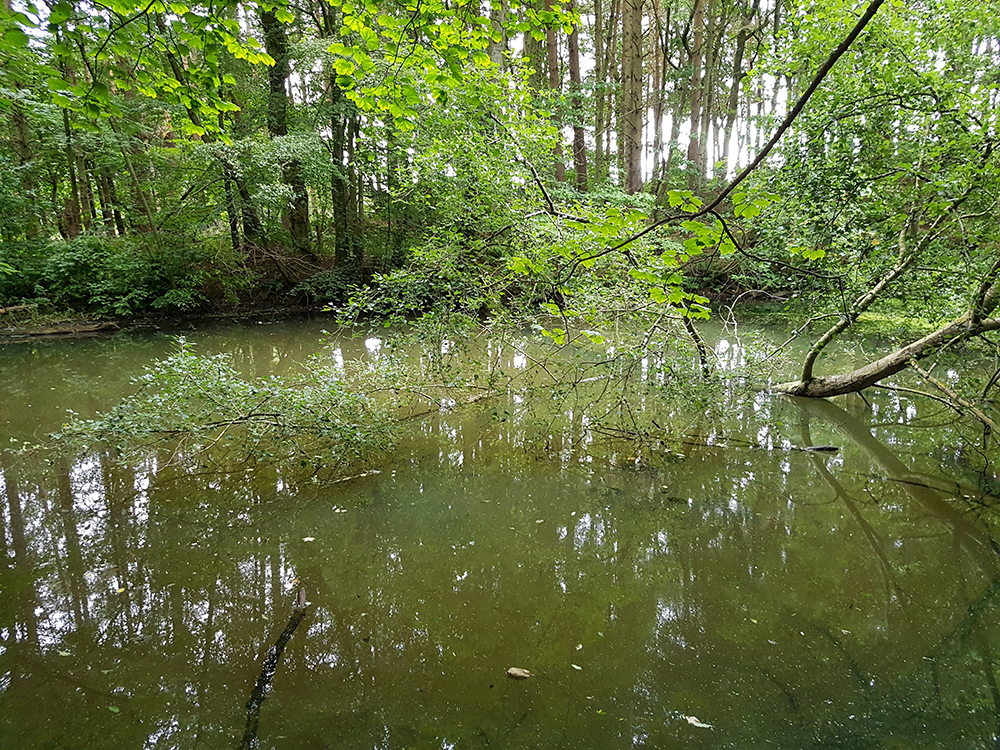 There's a hole in the top overgrown so can't see any detail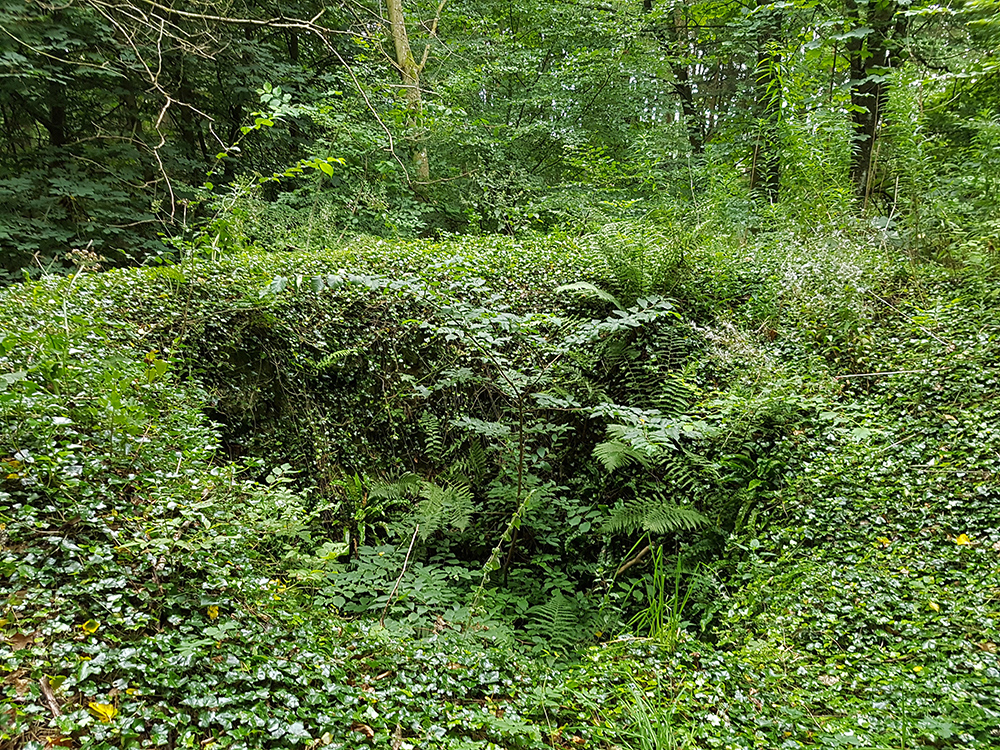 Heading West is a grassy trail that appears to get occasional maintenance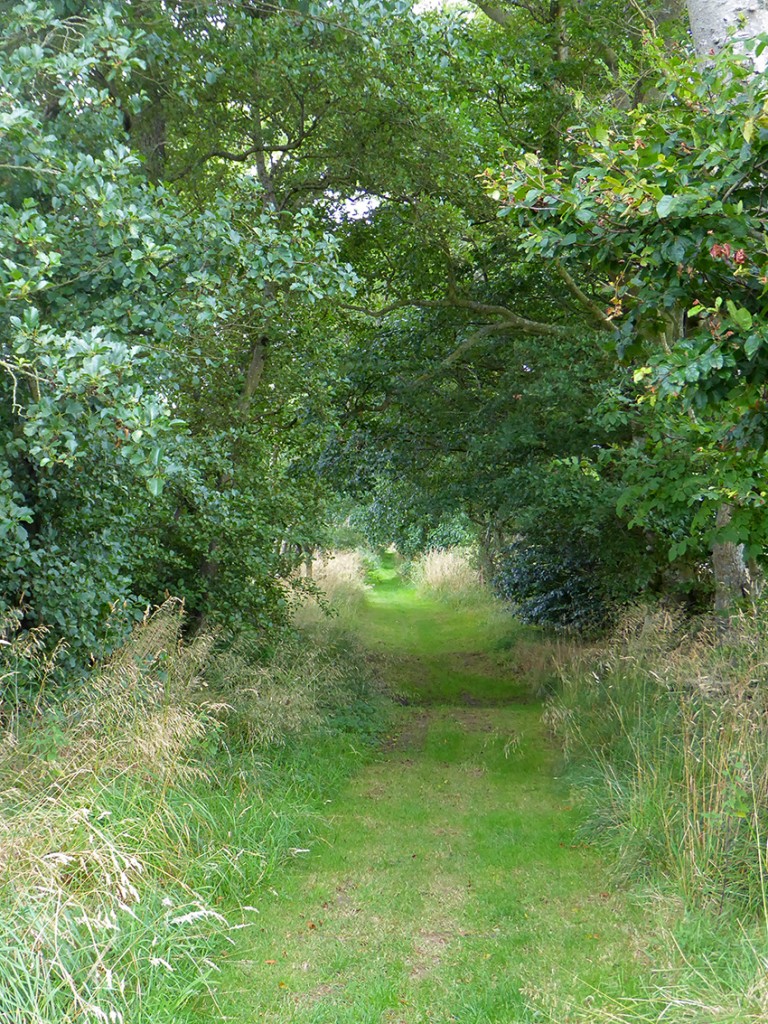 This sign has seen better days
Turning North the trail heads 3k all the way to Tarves but a barely visible spur heads East towards the next castle
The path comes out in a car park, with a handy info board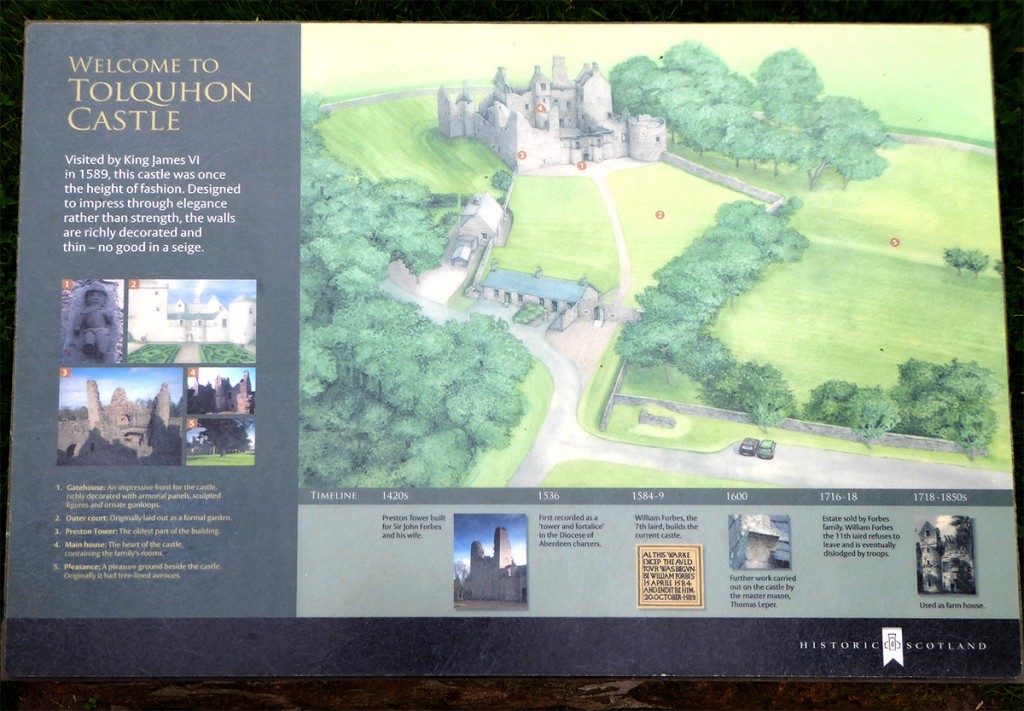 Tolquhon Castle is a Historic Scotland property, also closing for 5ish, so can't investigate the inner workings but have a quick wander round the grounds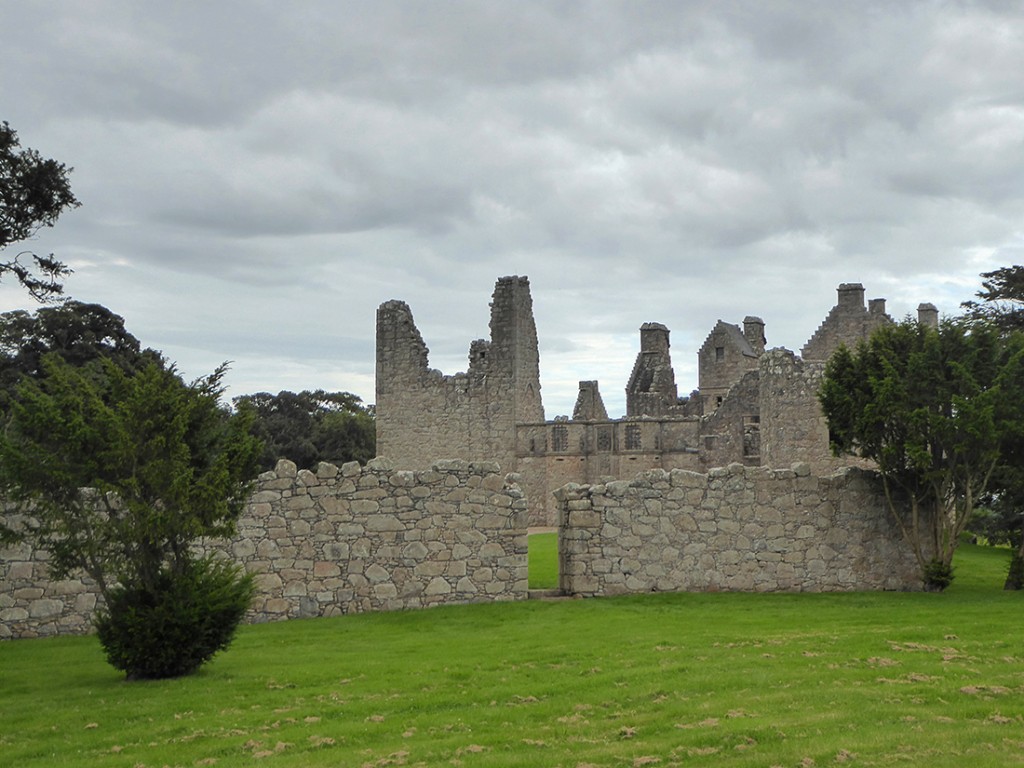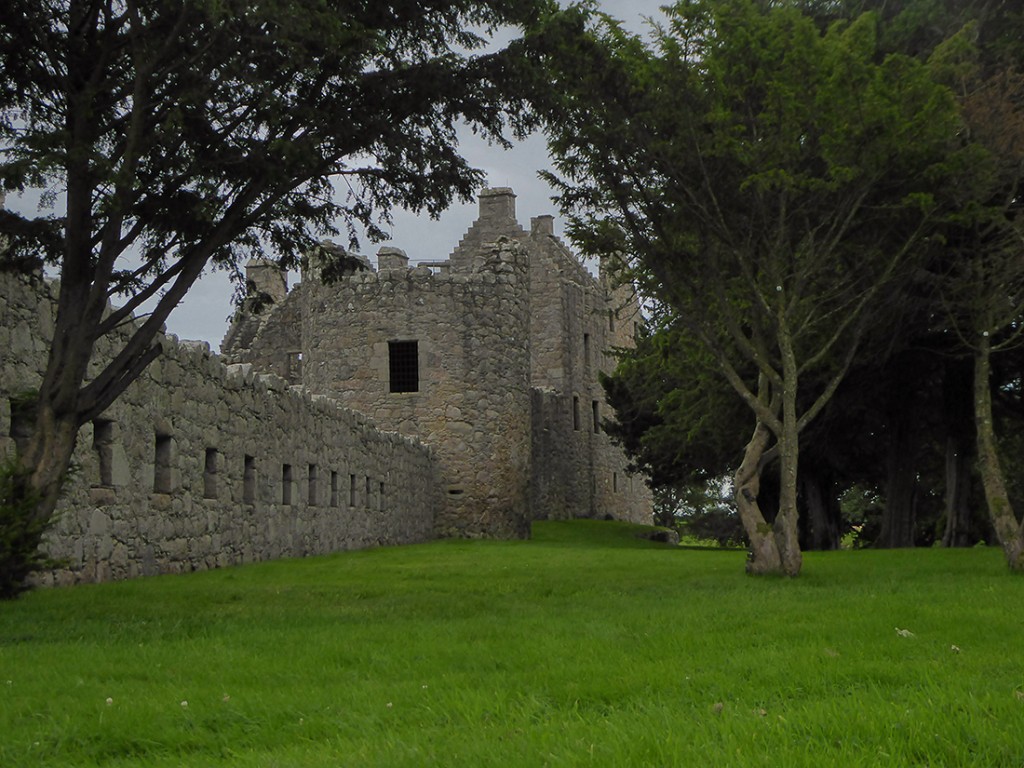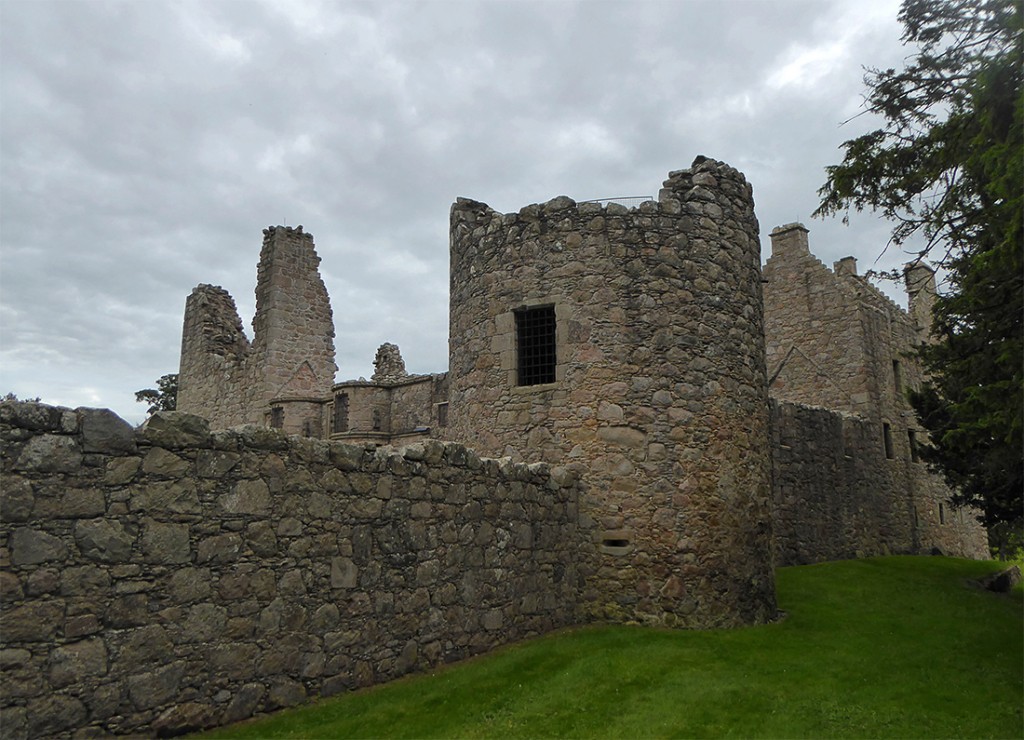 Back in ancient times these bars kept the barbarians at bay, now it keeps the unpaid tourist in place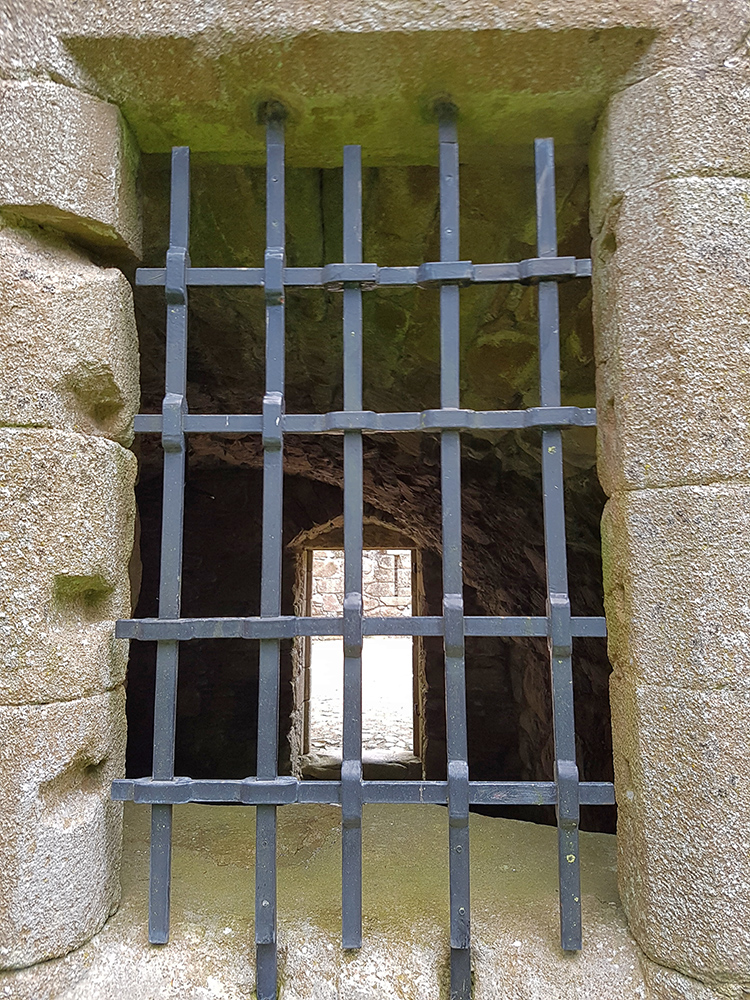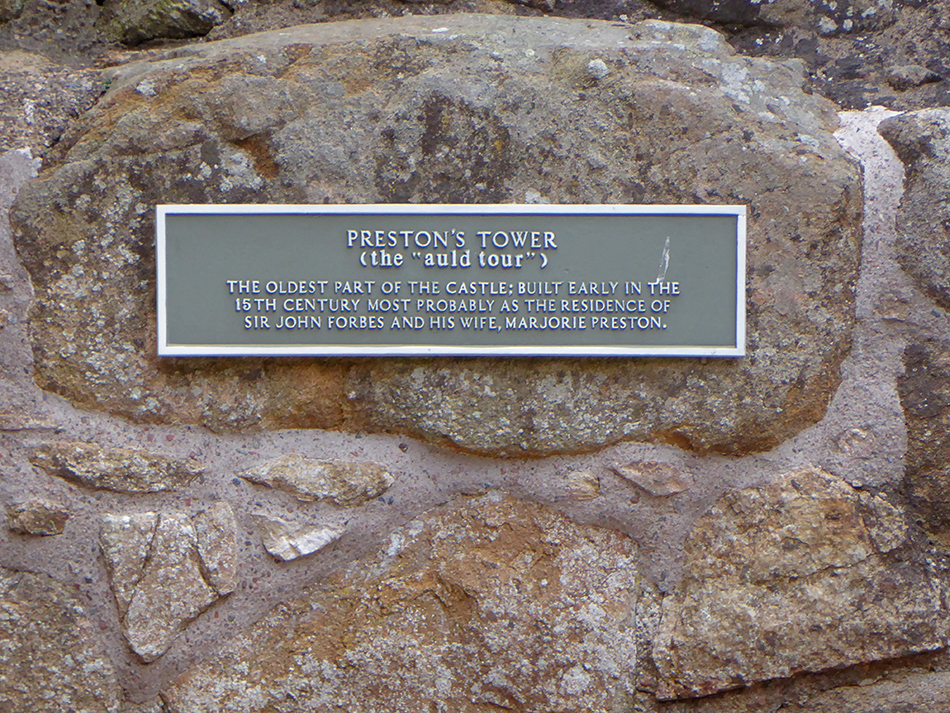 Looking from the East side
I have a seat at the bench at the back and break out the packed lunch, a look what we found curry n rice. Shame they are going to stop selling directly online, they're my 'go to' camp food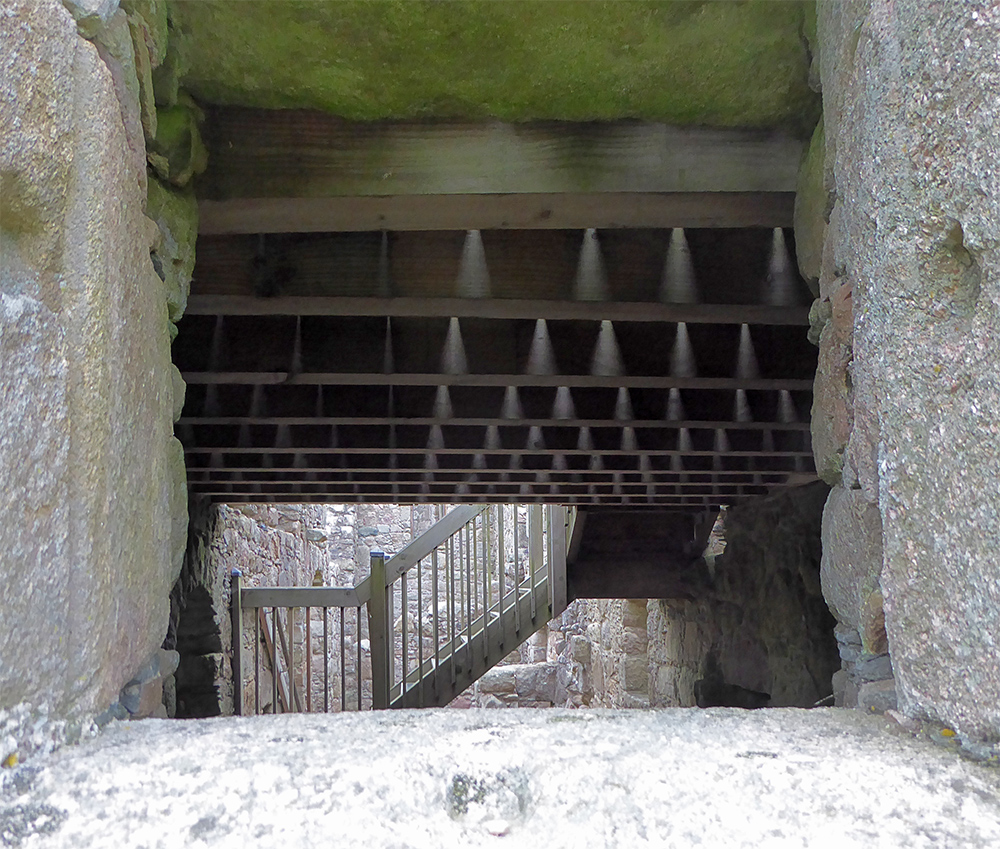 A look at the front gate. The castle was supposedly built with an eye on ornate design rather than defensive capability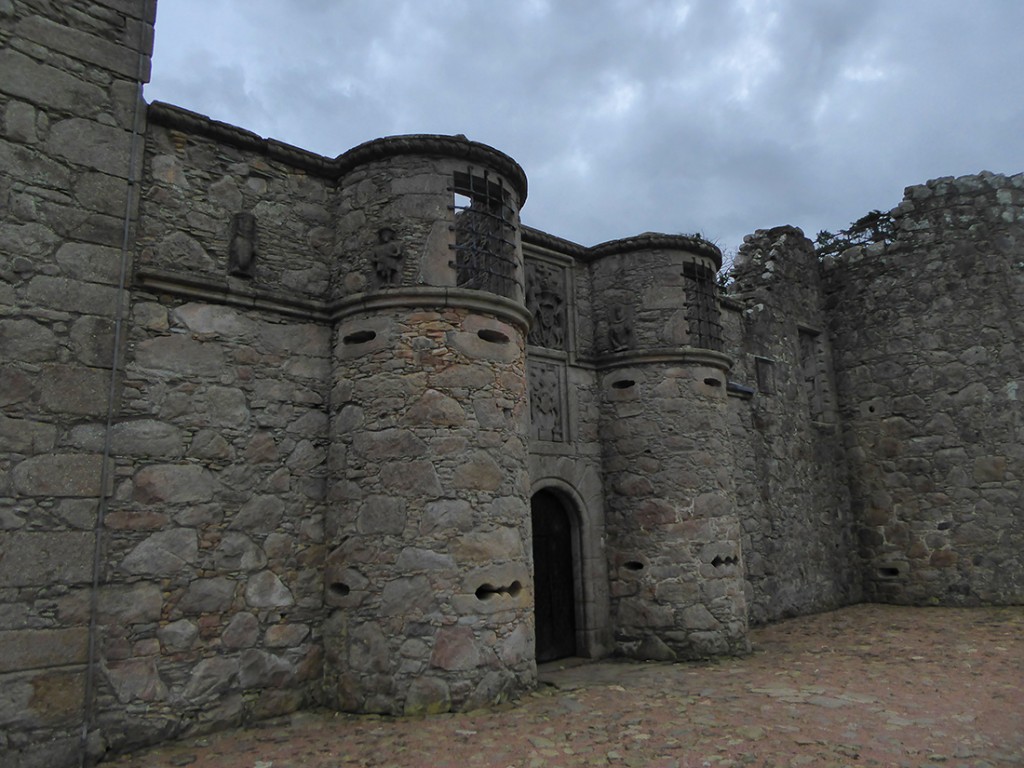 Wee peep through the door
Stone gadgy. There's a few of them. Maybe they're the olden days equivalent of a 'selfie'
This says "AL THIS WARKE EXCEP THE AULD TOWR WAS BEGUN BE WILLIAM FORBES 15 APRIL 1584 AND ENDIT BE HIM 20 OCTOBER 1589″
Some coats of arms nicely carved
Next up, the furthest point on the tour, The Prop of Ythsie. I spy it on the hill.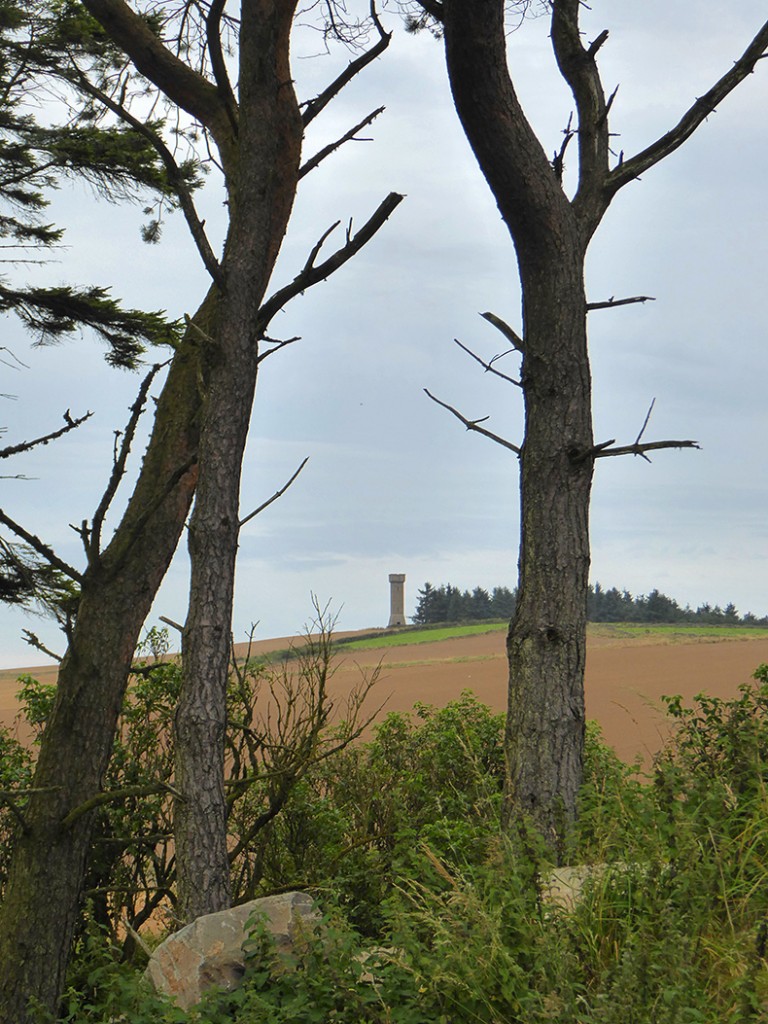 Coming round the bend on the farm track however I spot this sign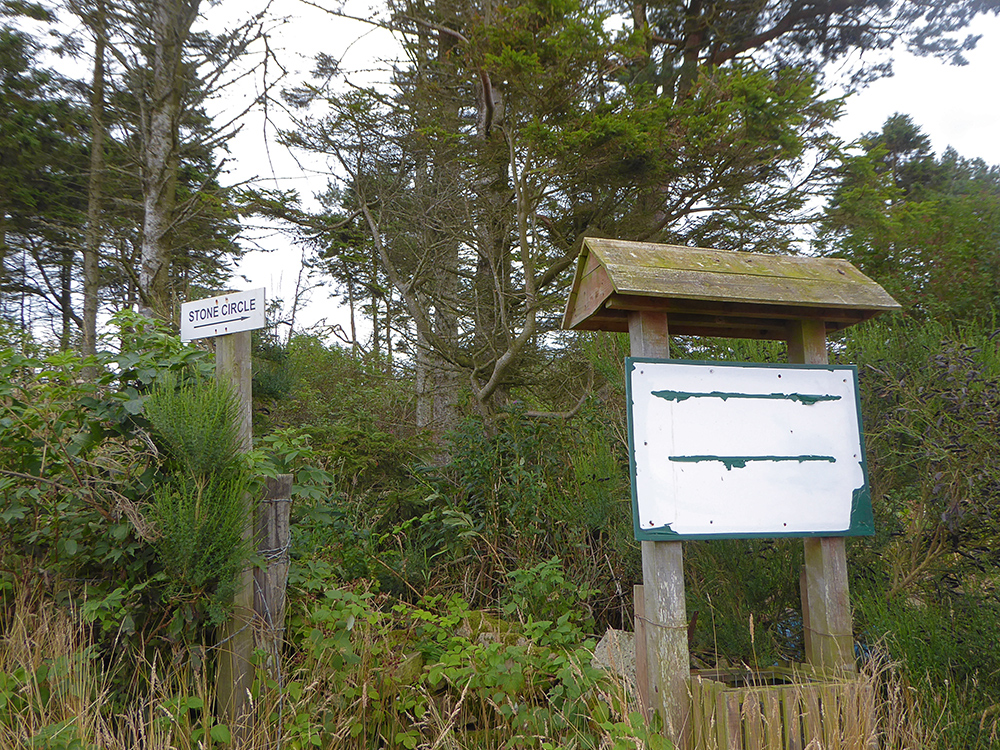 An unplanned stop, but might as well have a look. The path forks to it and it's easy to get to at the edge of a field with no fence to cross.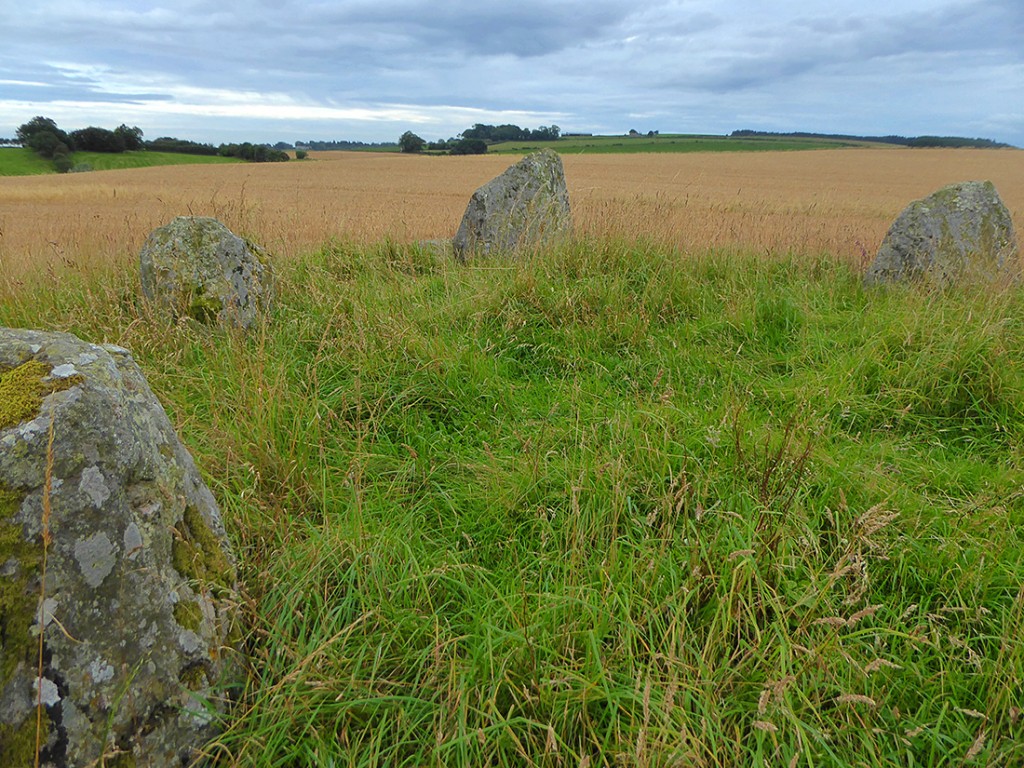 Stepping back a bit along a track in the field allows for some zoom compression to bring the tower closer to the stones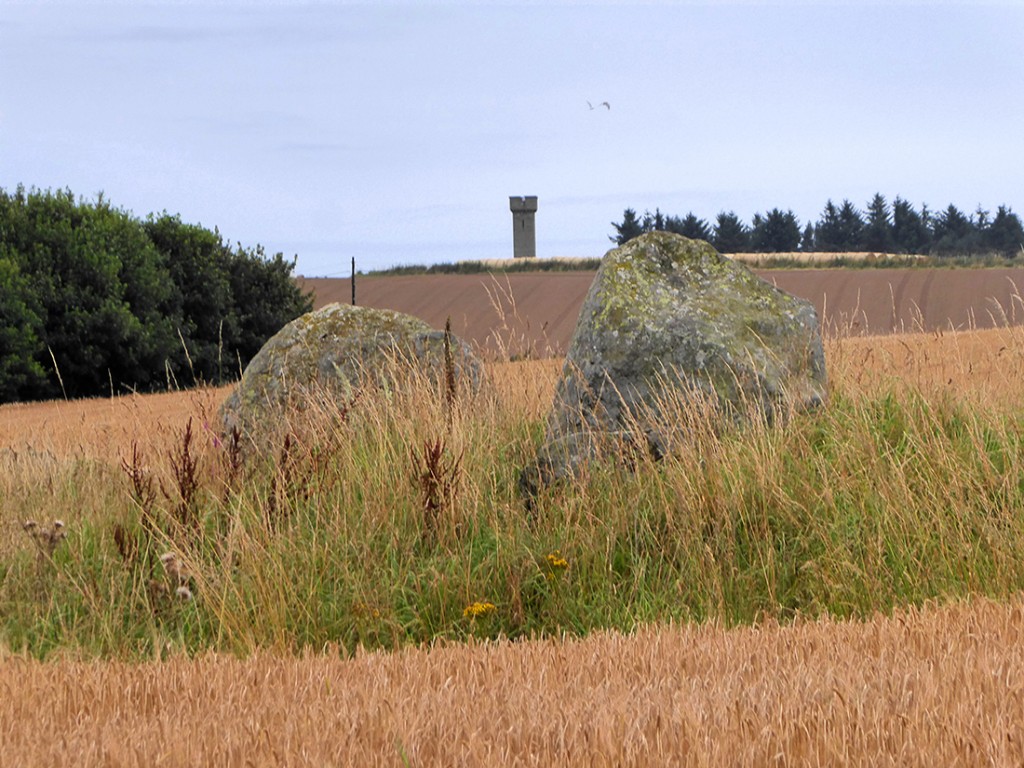 Some of the stones are frost cracked. *update* I found an informative video on youtube about it 'South Ythsie Stone Circle, Tarves, Aberdeenshire, Scotland'. This chap really knows his stone circles.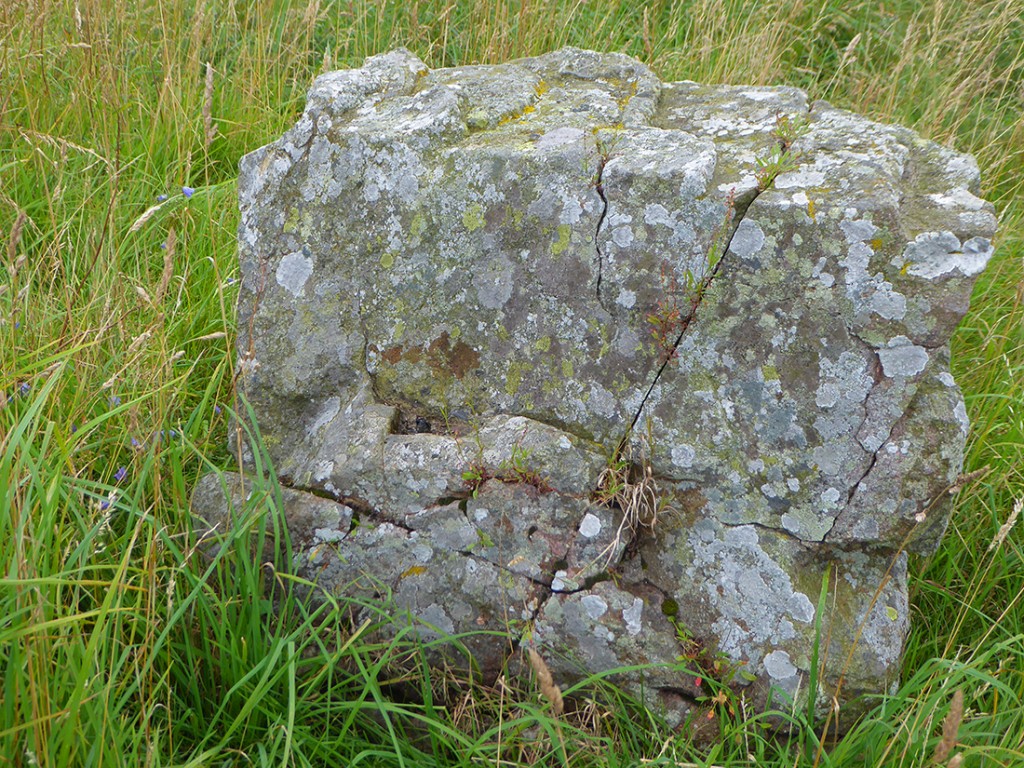 I continue onwards up the hill to the prop from the South. A rough trail heads up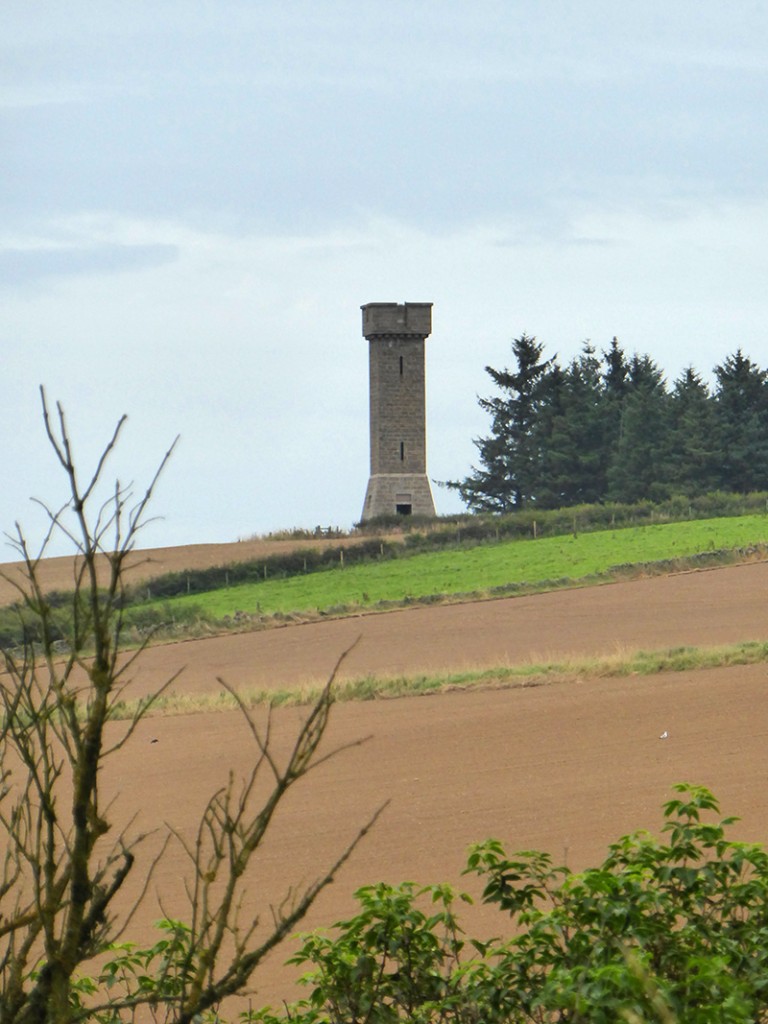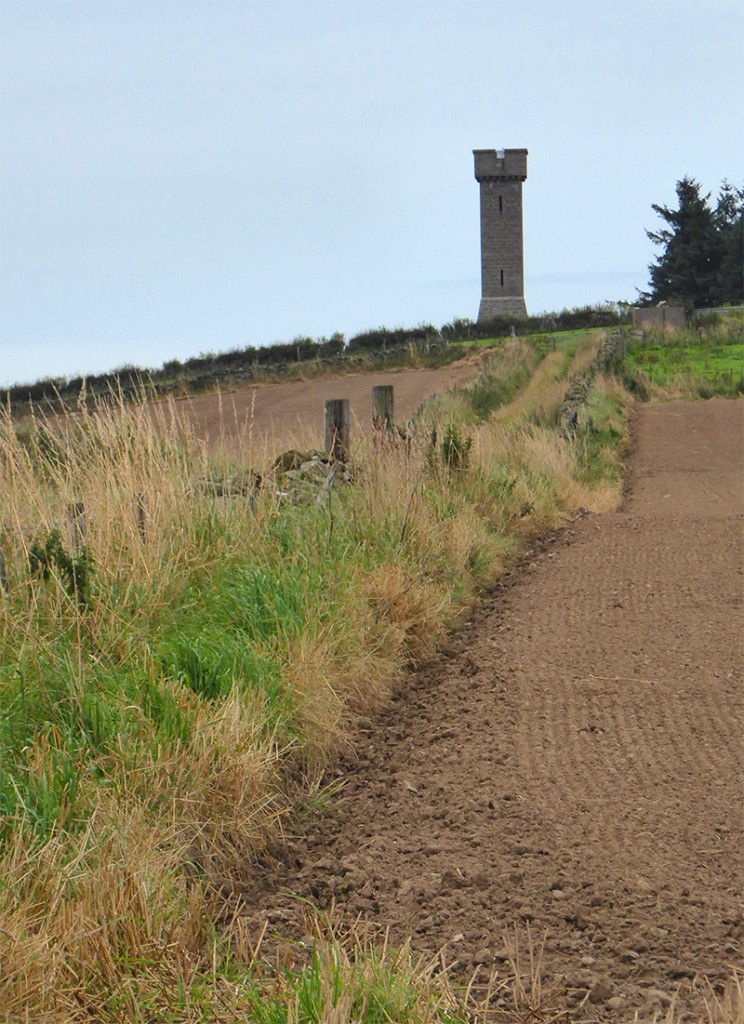 It's a bit overgrown at this time of year. There's about 20m of cattle pasture to cross. A path approaches the top from the West which looks like it might avoid crossing the field and a few fence jumps.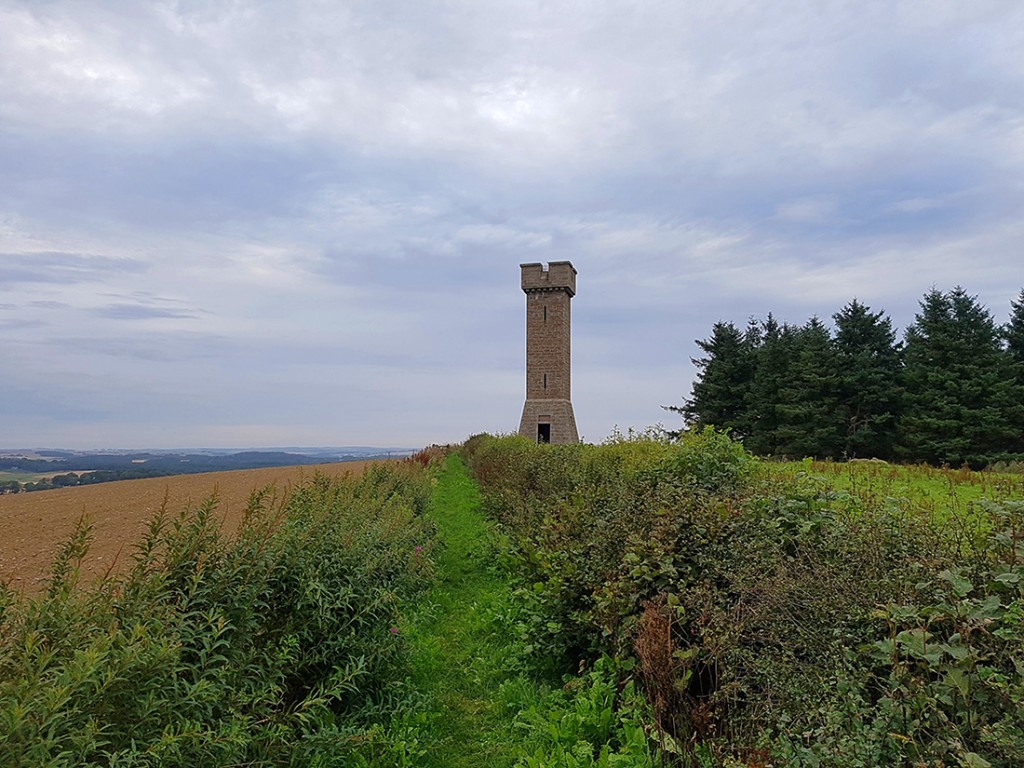 It looks like an oversized chess piece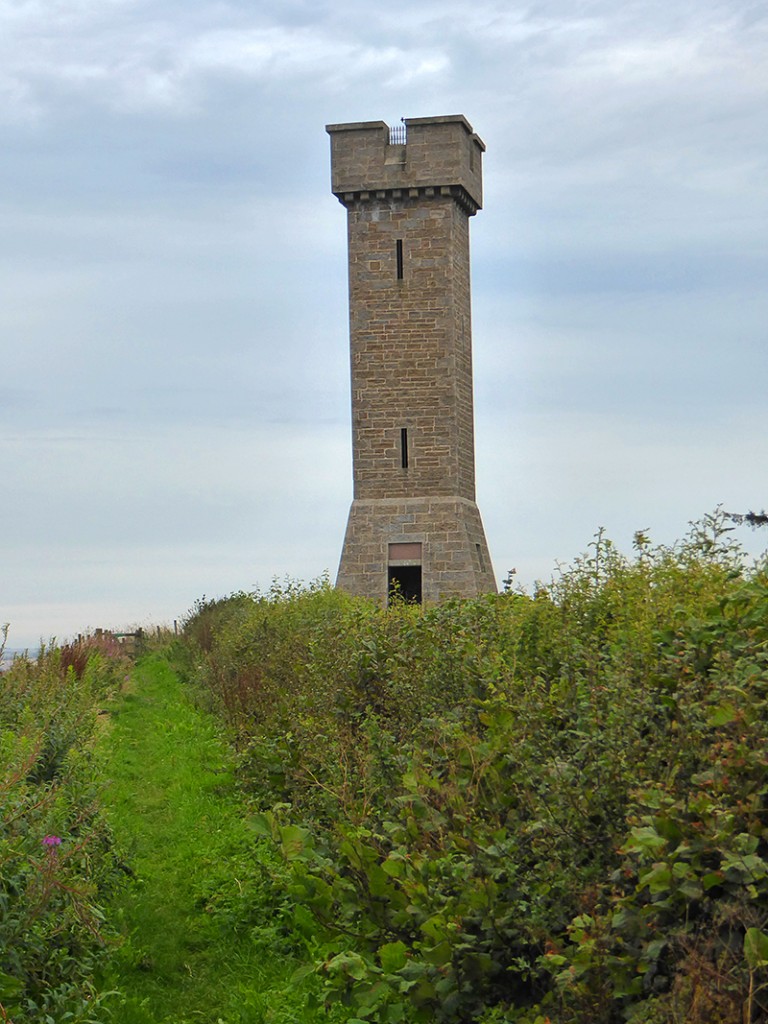 The prop of Ythsie (pronounced Icey) was built in 1861 as a memorial to the 4th Earl of Aberdeen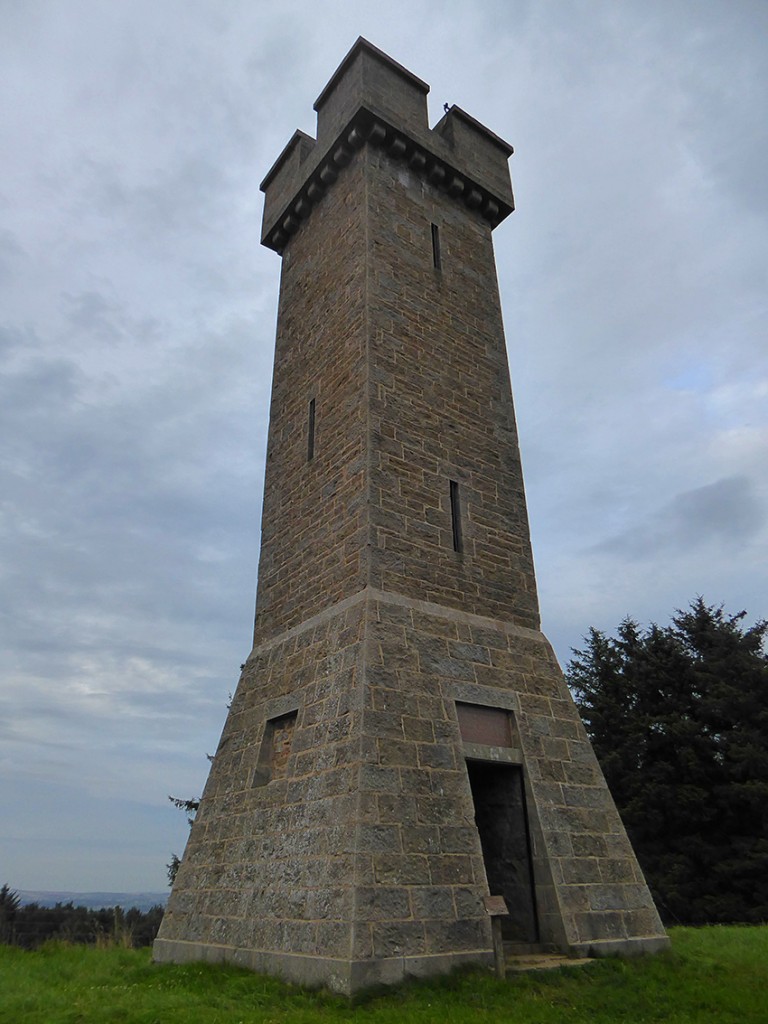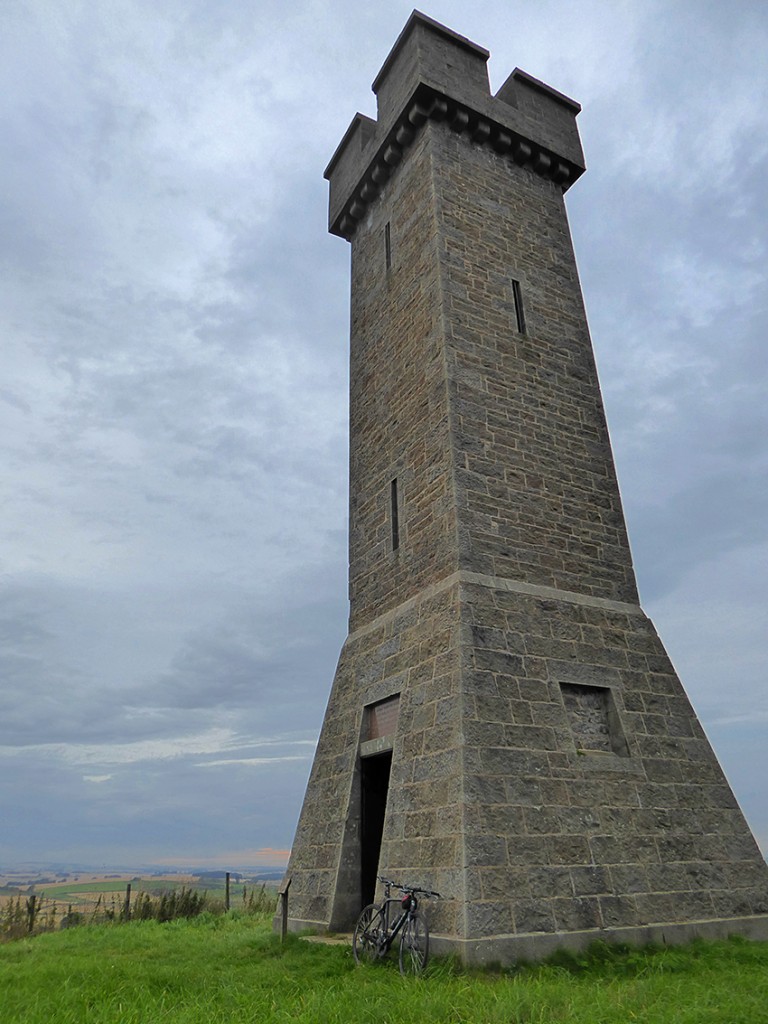 There's a plaque above the door reading "To George Hamilton Gordon, Fourth Earl of Aberdeen, By his attached and Grateful Tenantry. He was born at Edinburgh 28 Jan 1784 and died at London 14 Dec 1860."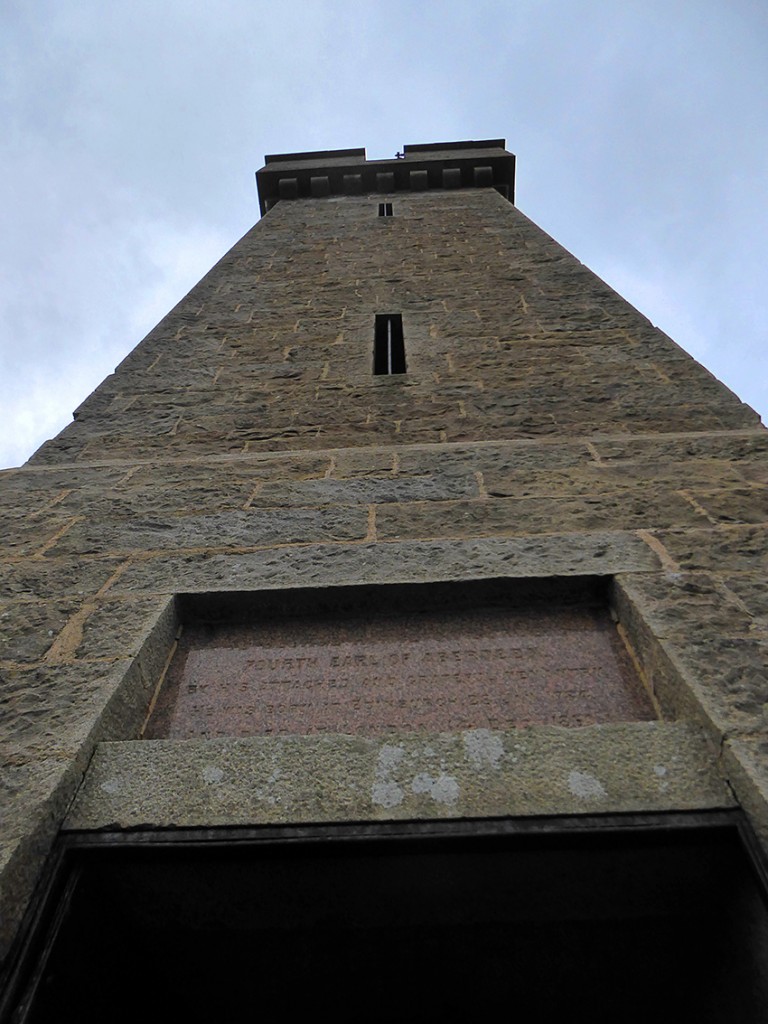 Time for a look inside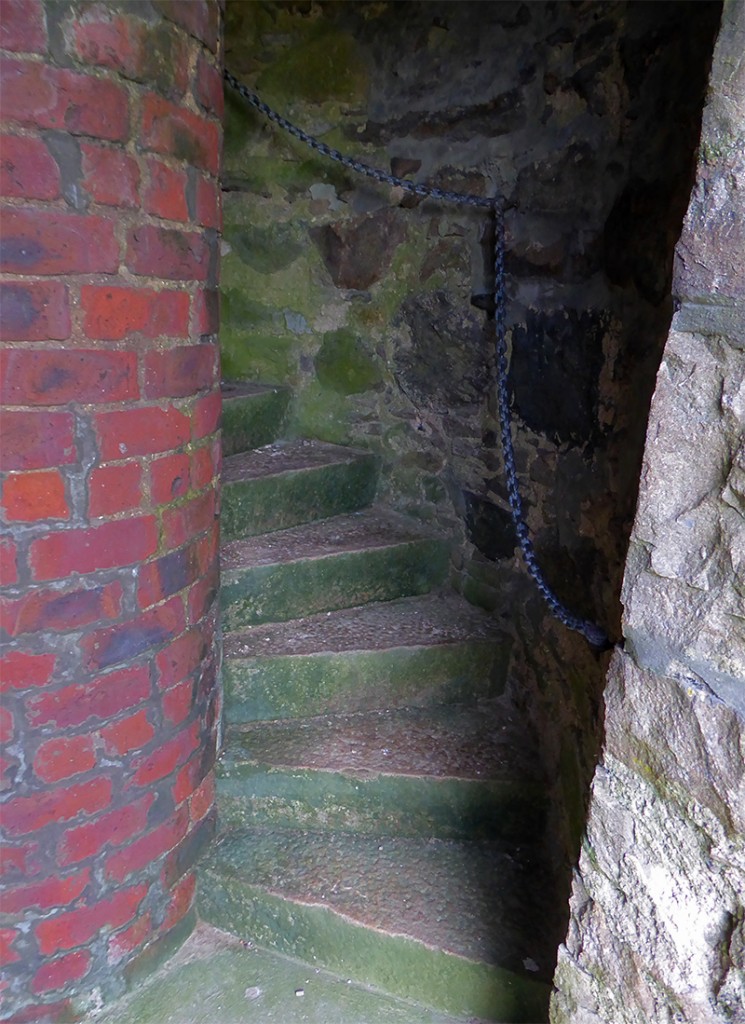 I grab the light off the bike and head up. there's a chain hand rail to help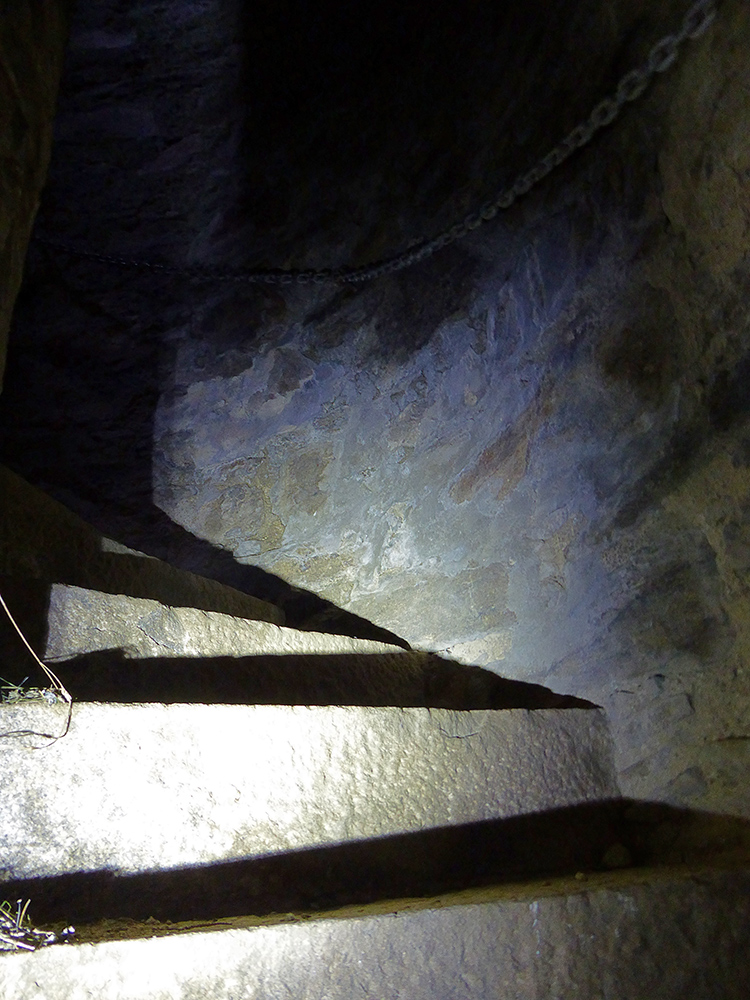 Through the oblong window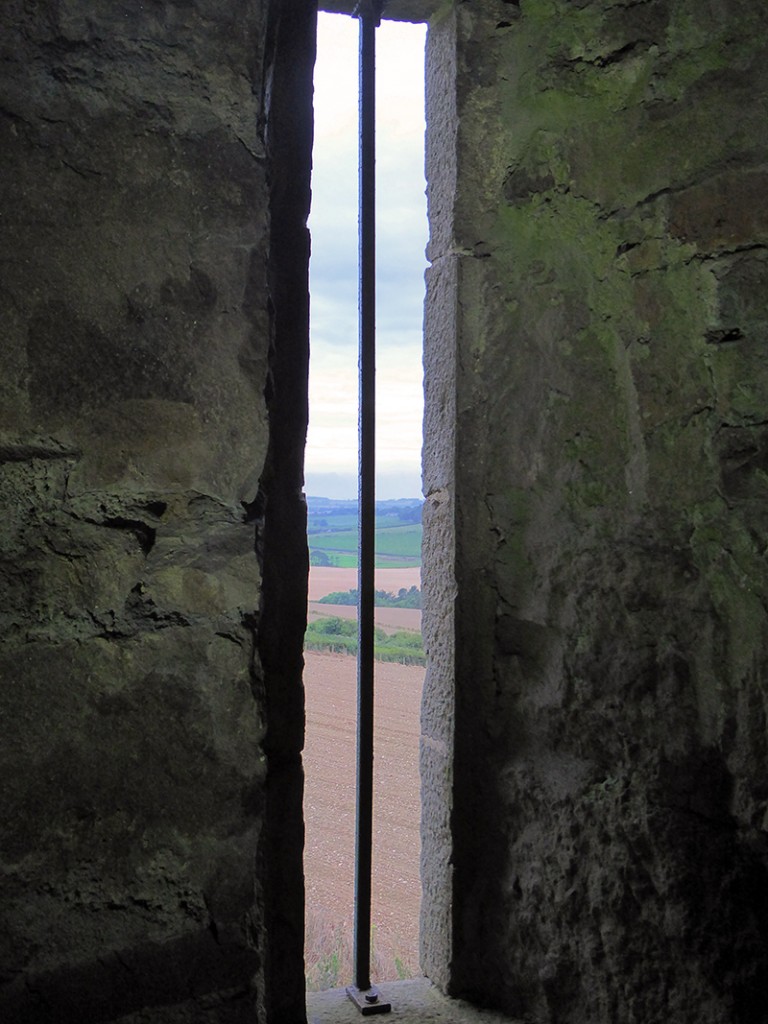 90 odd steps later, out to the top
A nice view across rolling farmland in each direction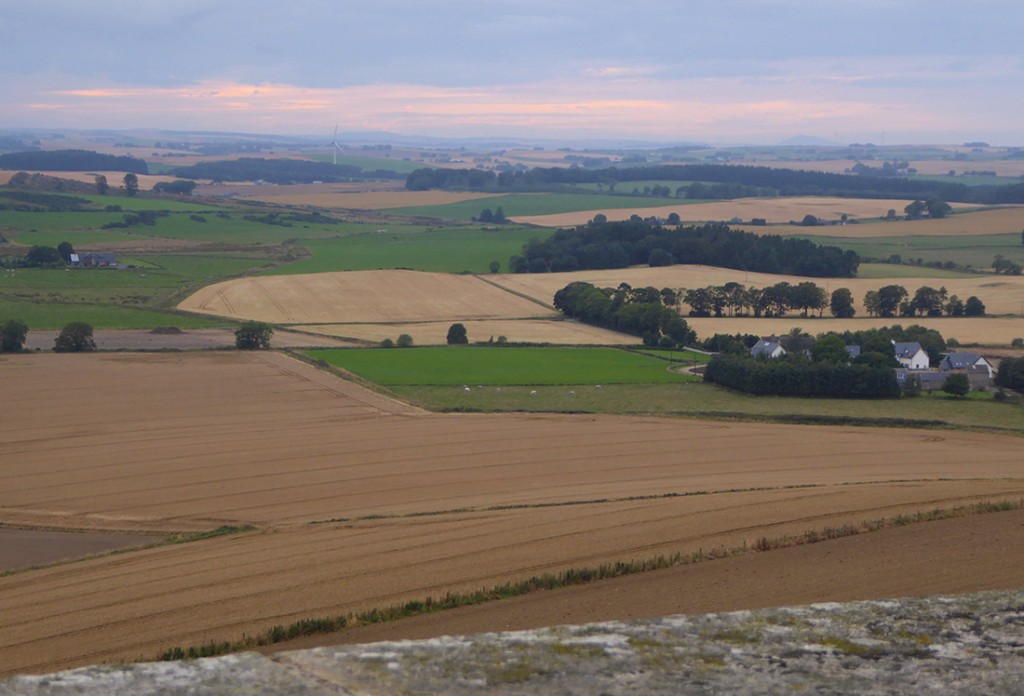 Safe enough with rails and a solid parapet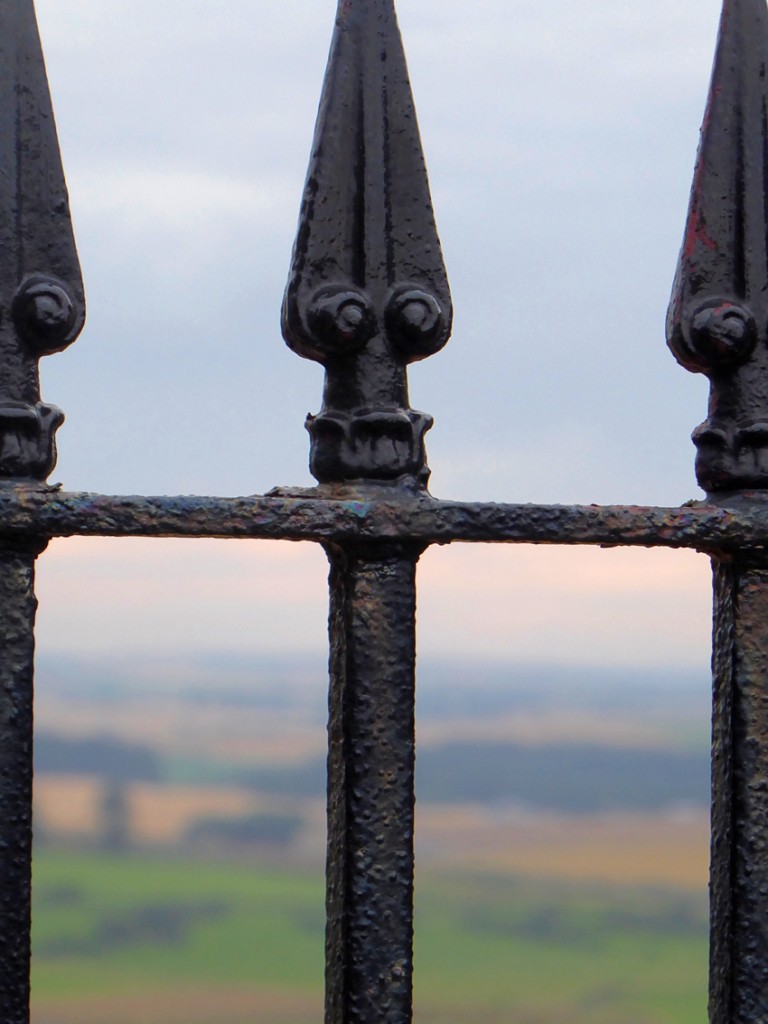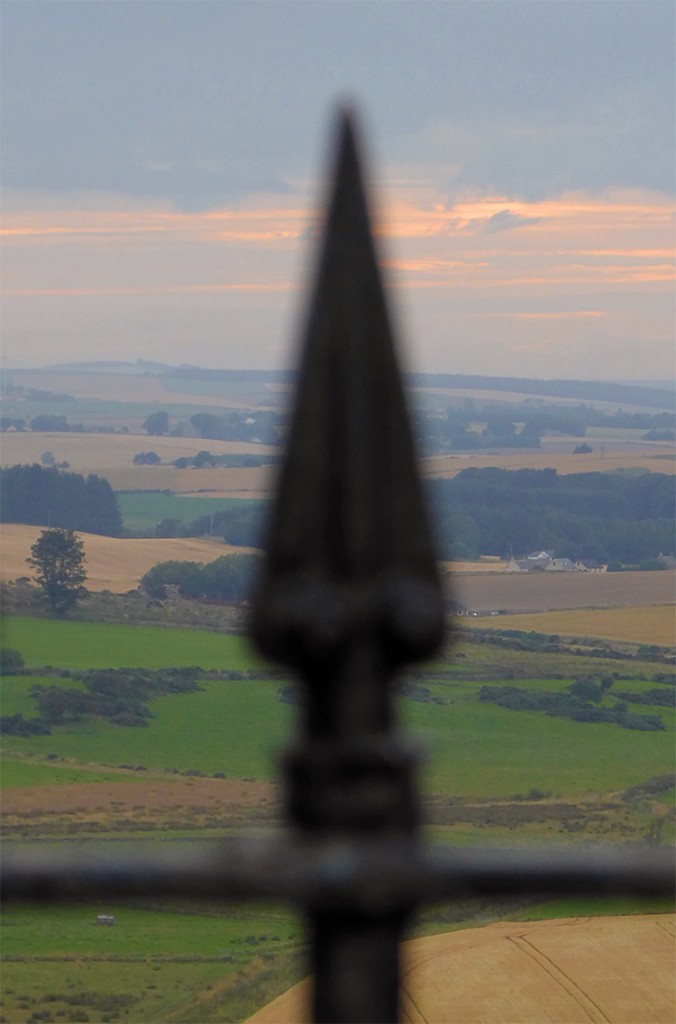 The 30x zoom of the panasonic compact reveal a distant row of Wind turbines away to the East
Back down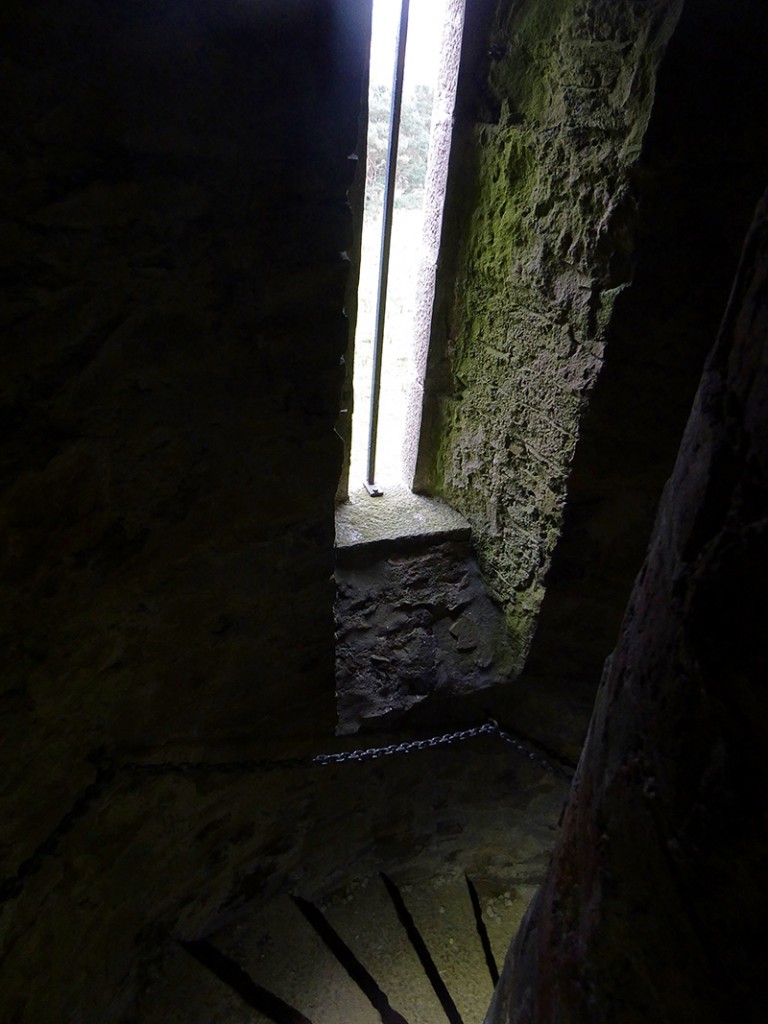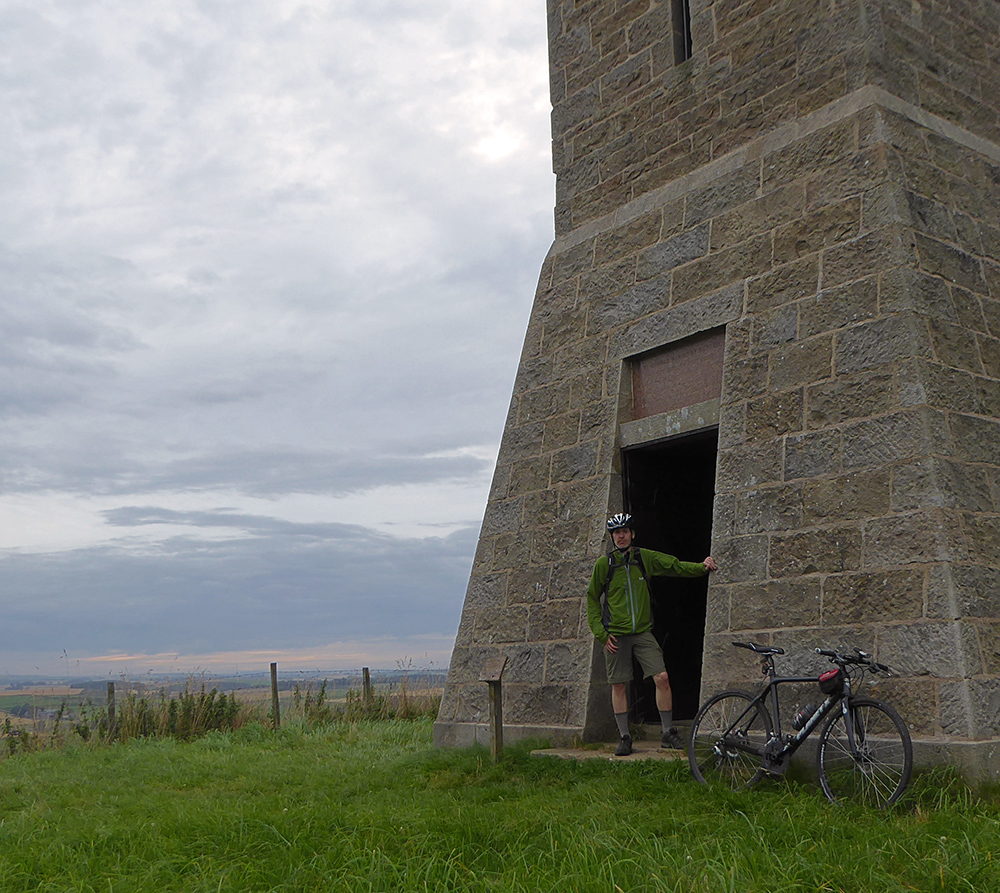 Zooming in to Bennachie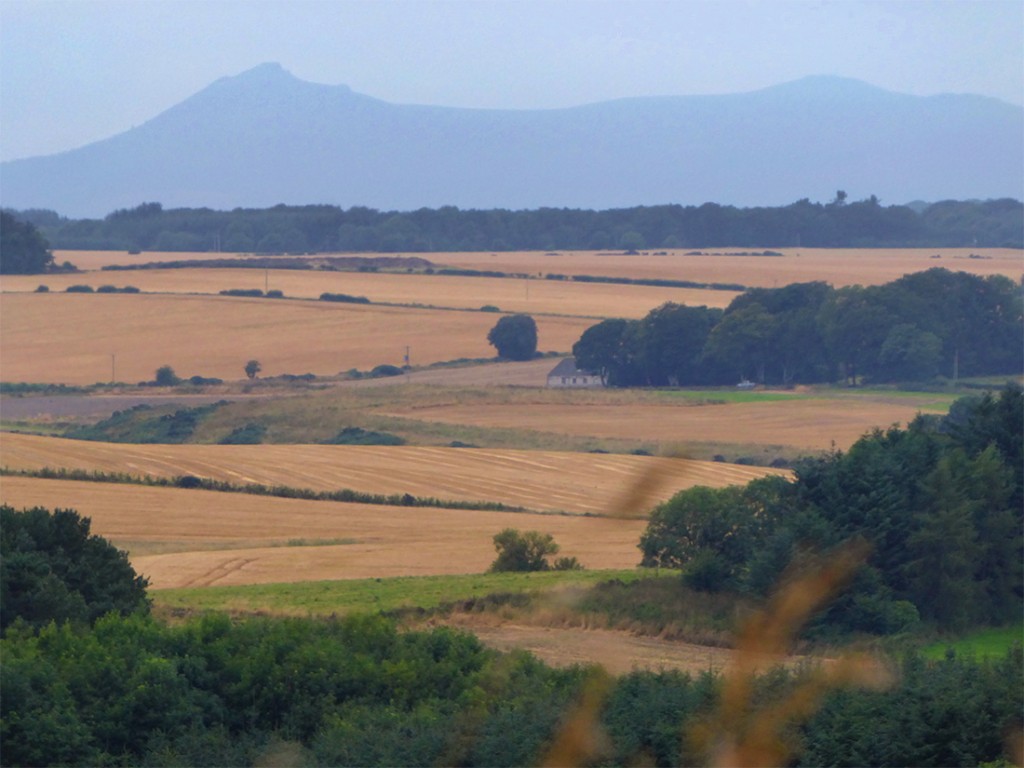 Time to think about heading inland to rejoin the Way. A couple more things to have a look at en route.
A quick stop at Ardlethen Bridge for a refill of water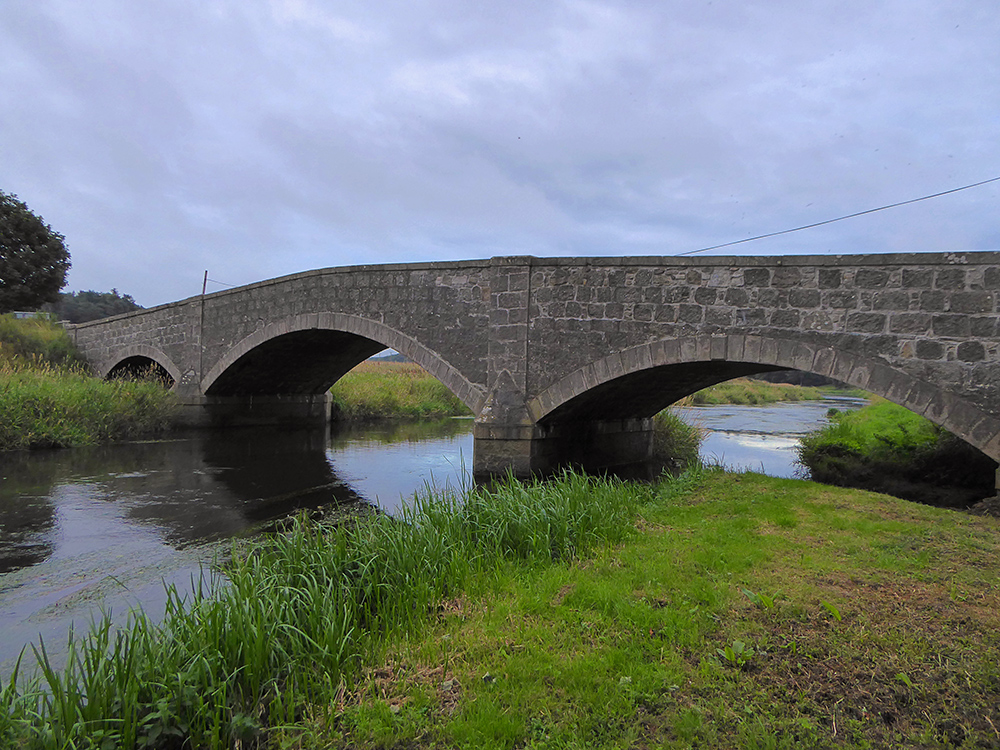 Heading through Esslemont house estate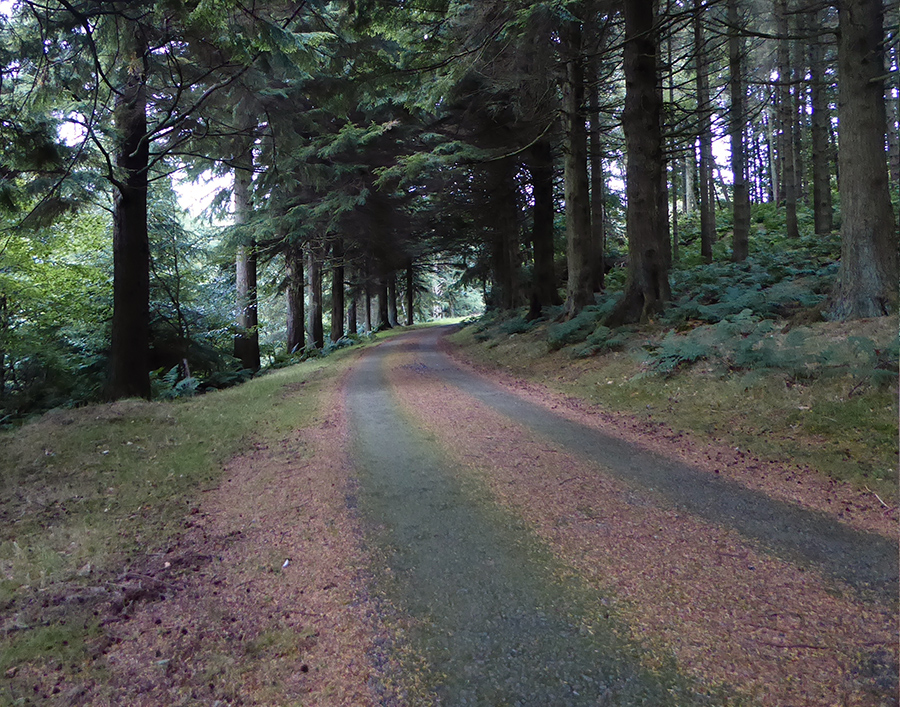 Loads of pheasants hopping through the undergrowth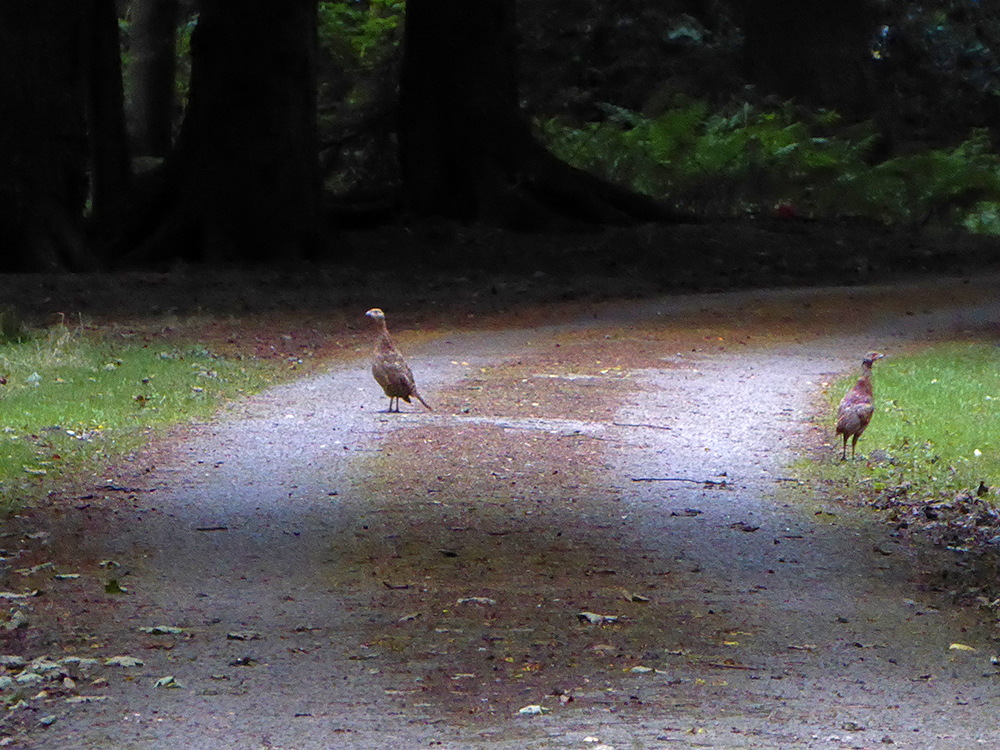 Some sort of cage, however it's open but has an electric perimeter zapping away. Perhaps they raise them confined then just open it up and let them wander out to the surrounding shooting fields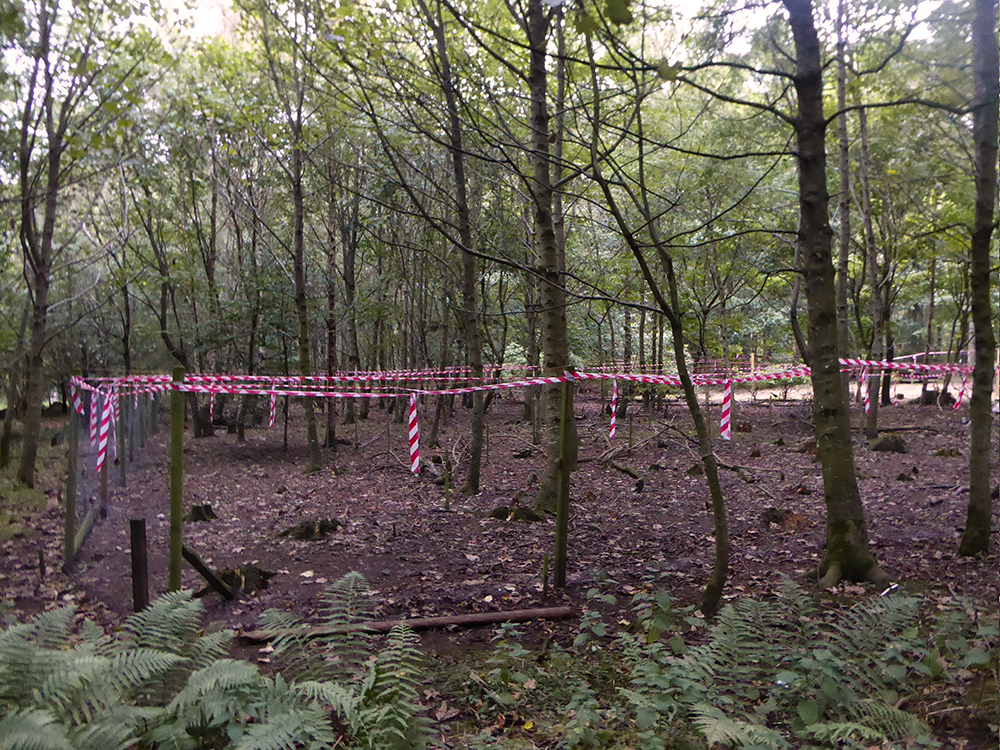 No idea what's with the multiple hanging shinys. Perhaps it's an anti crow/ other predator detterent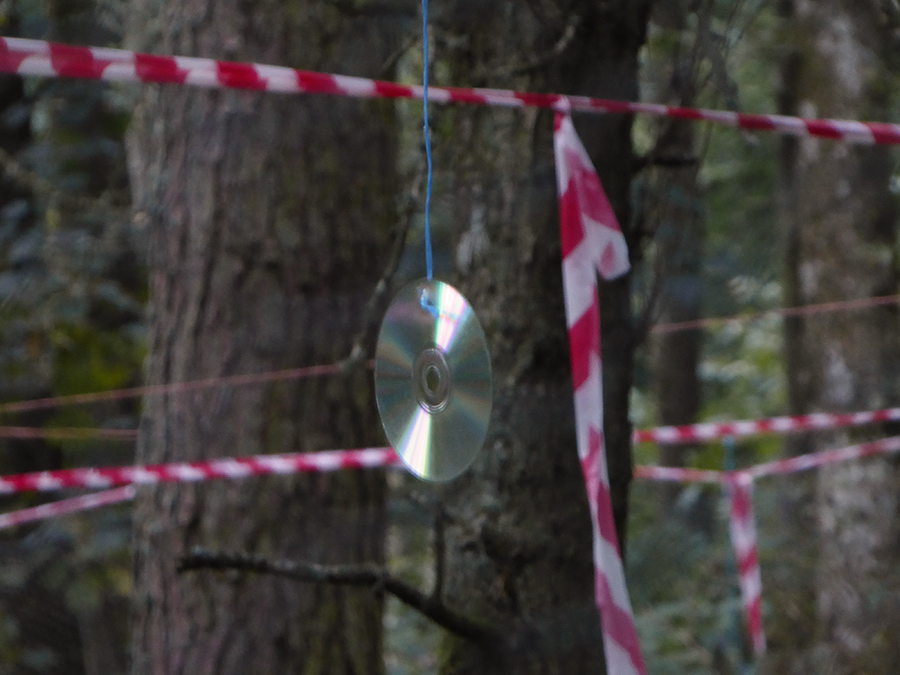 This old tree stands out amongst the  regimented ranks.
Out the other side to the ancient ruins of Esslemont castle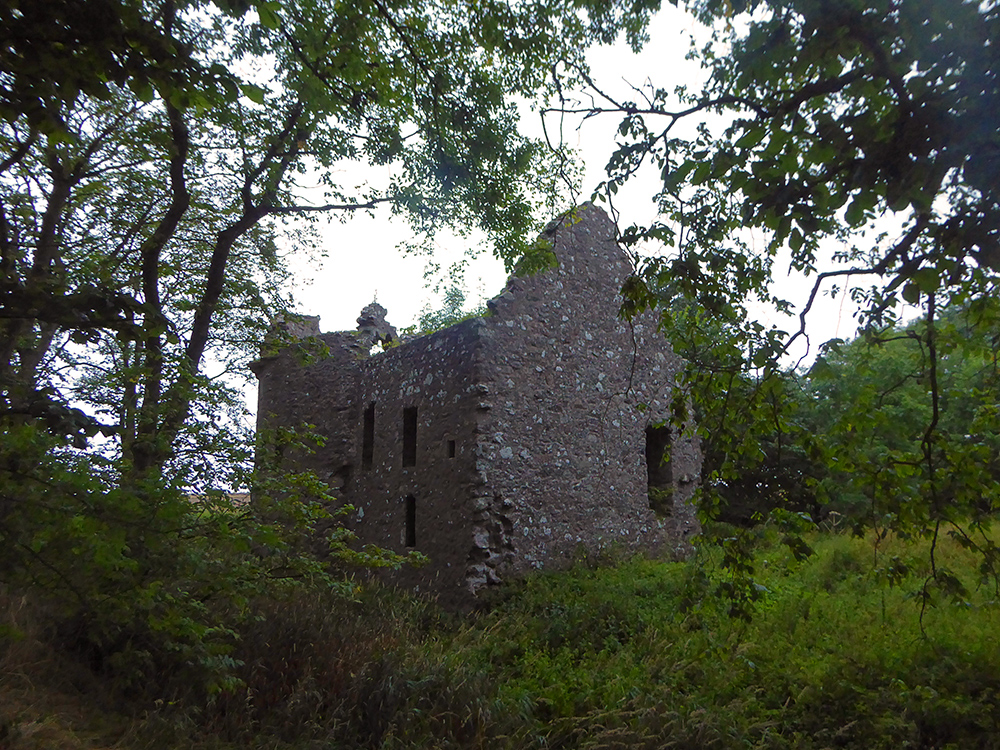 With the light fading I tread warily through the thicket of nettles surrounding. This is definitely one to visit earlier in the year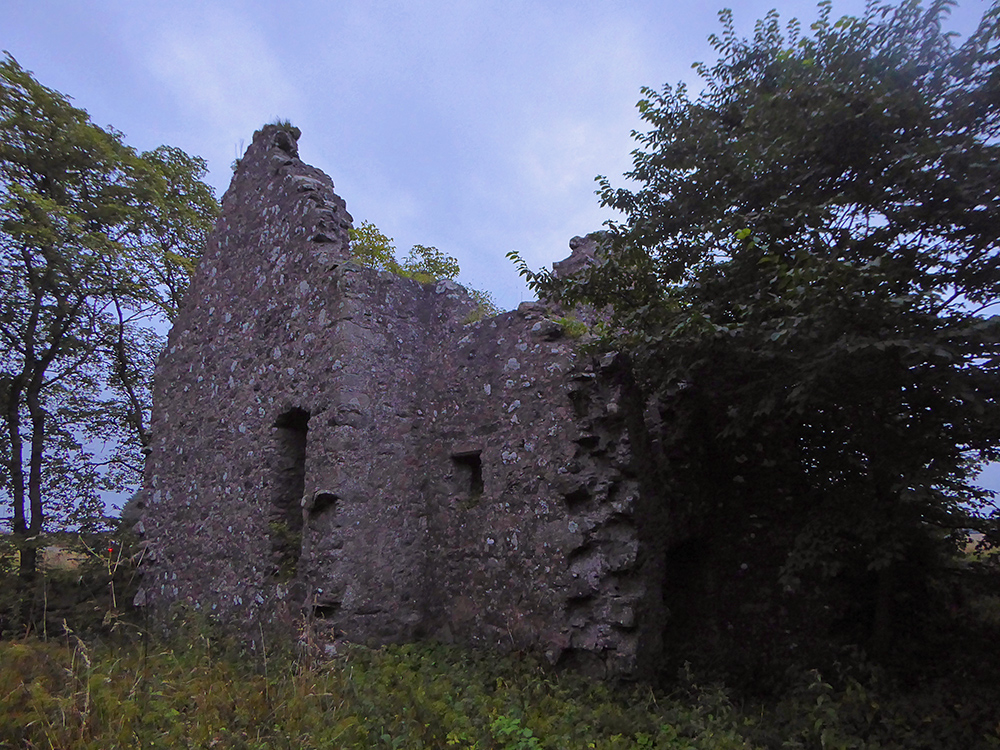 Inside the woods are encroaching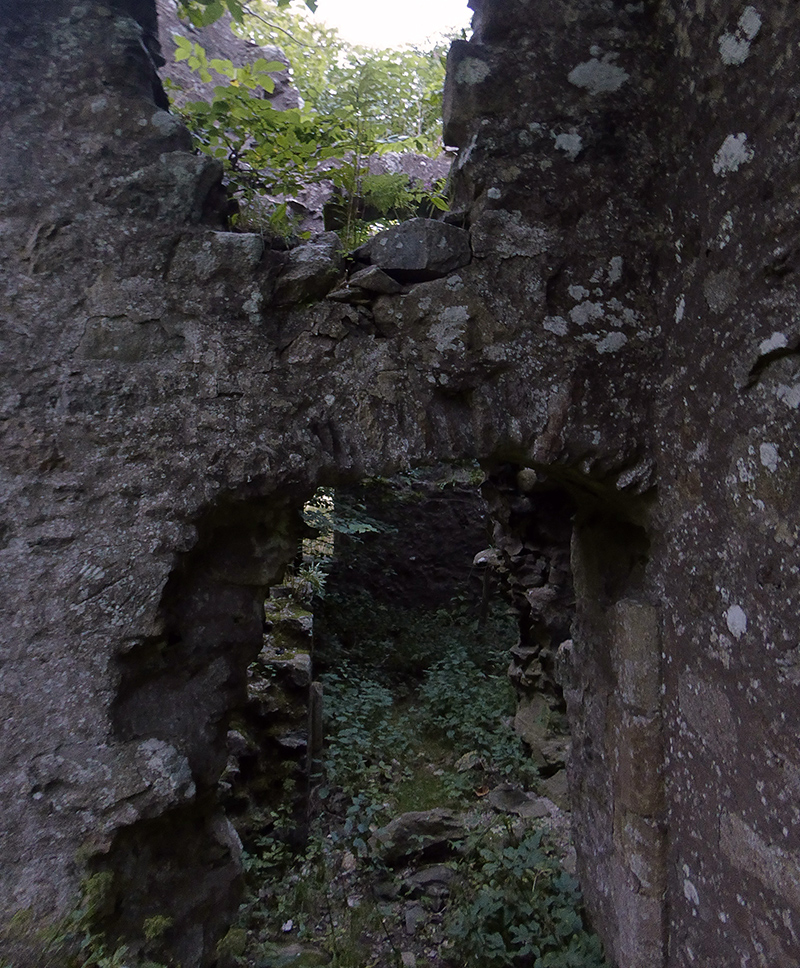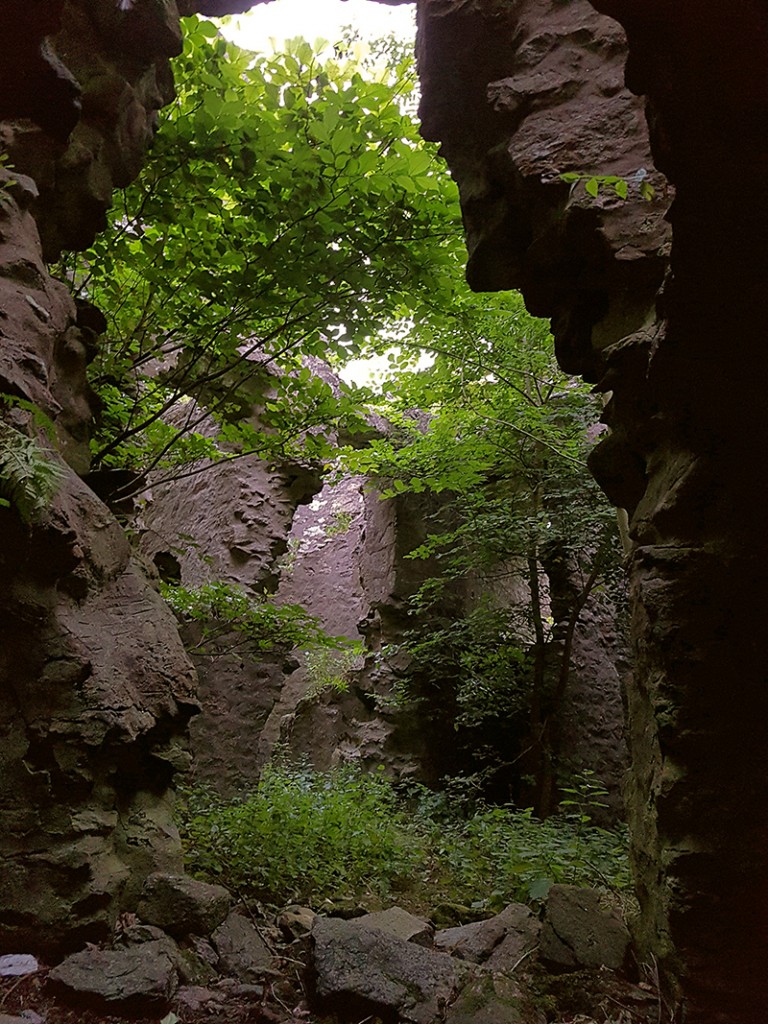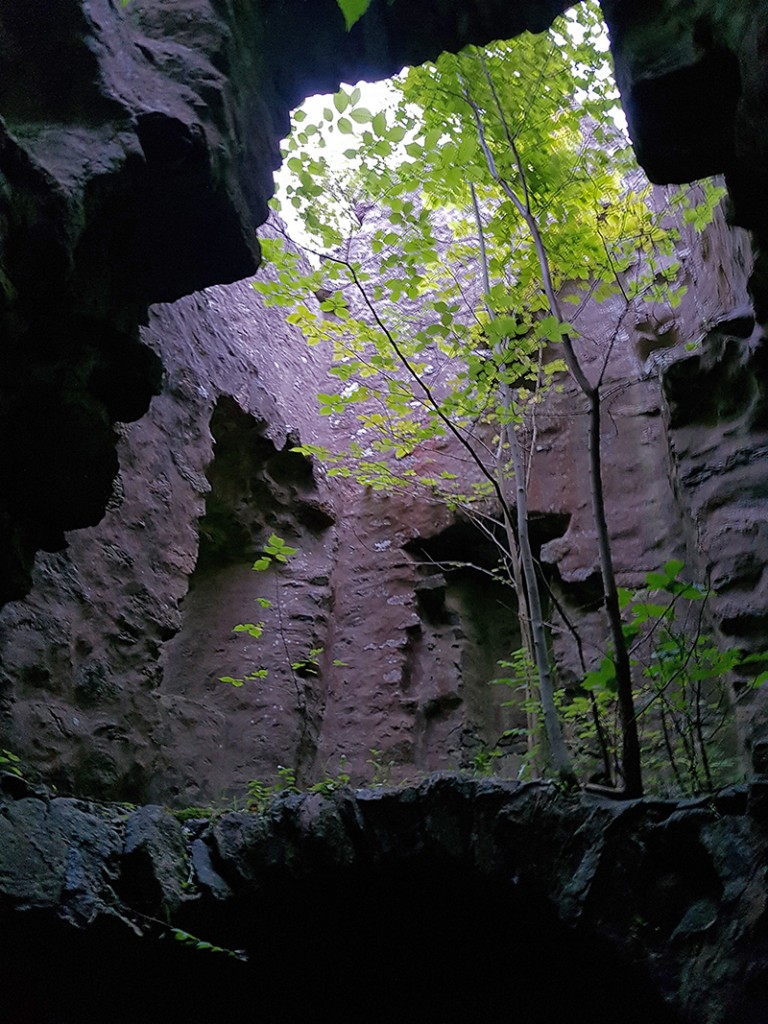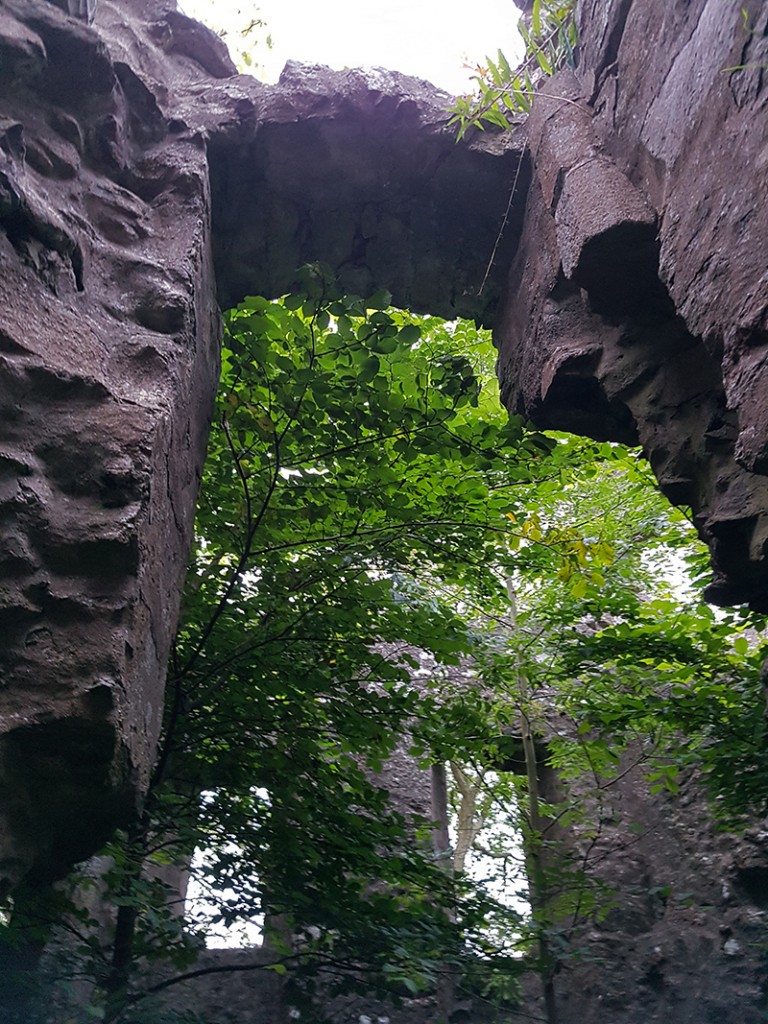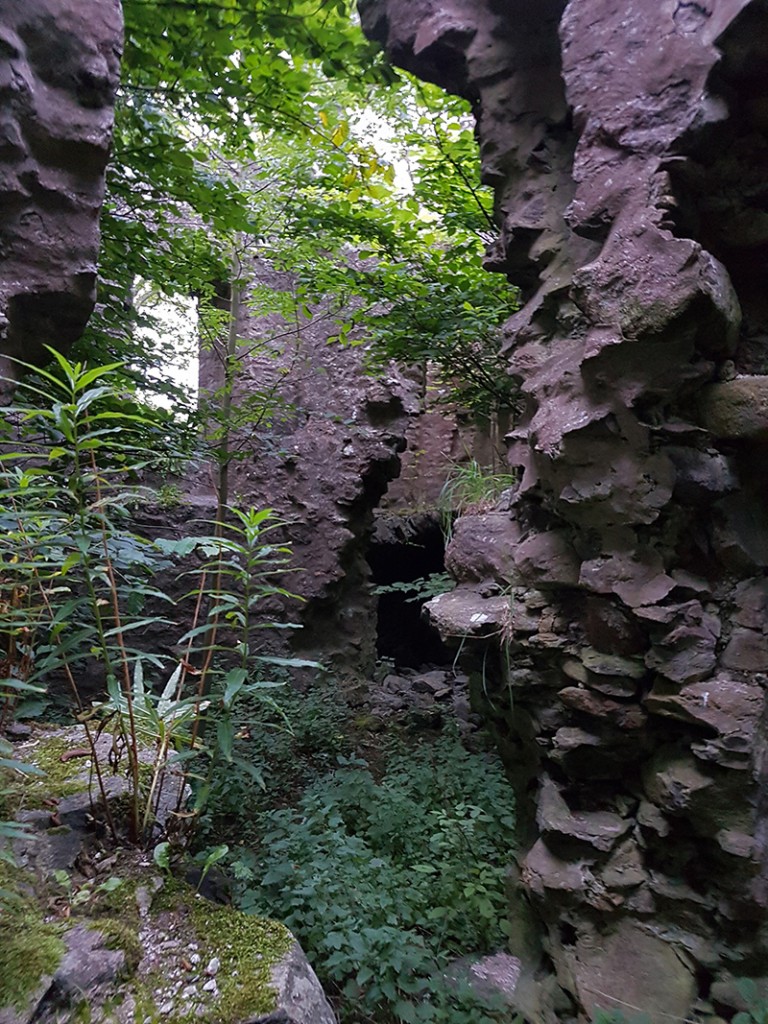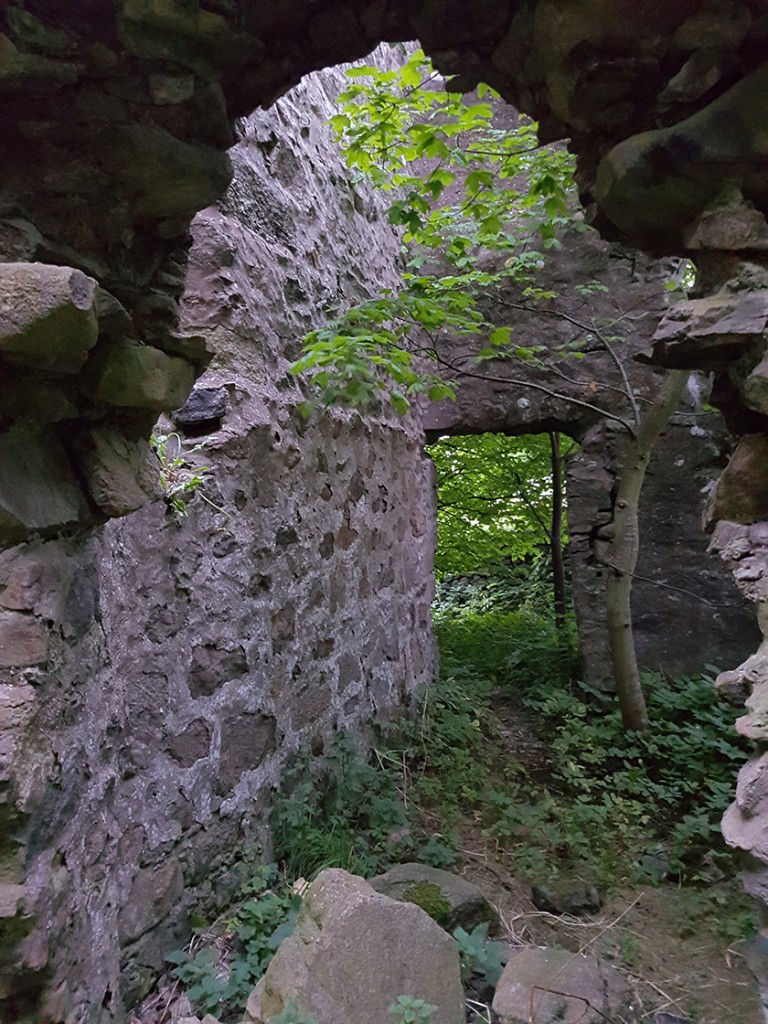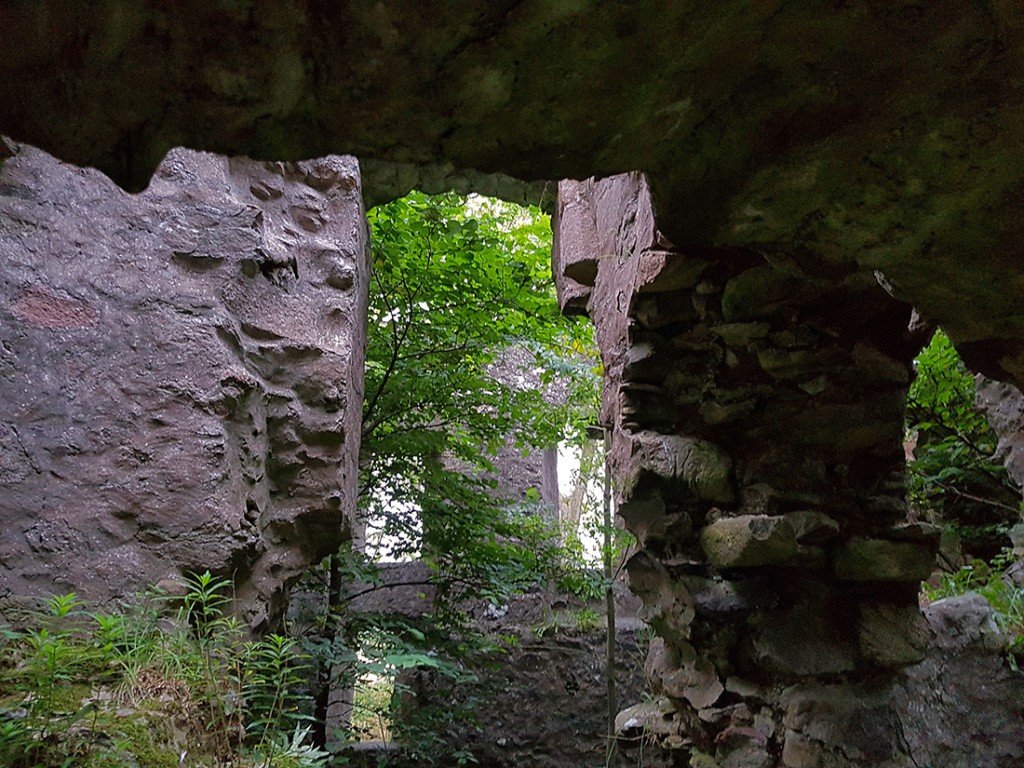 With it almost dark time to don the head torch and rejoin the Way back to Aberdeen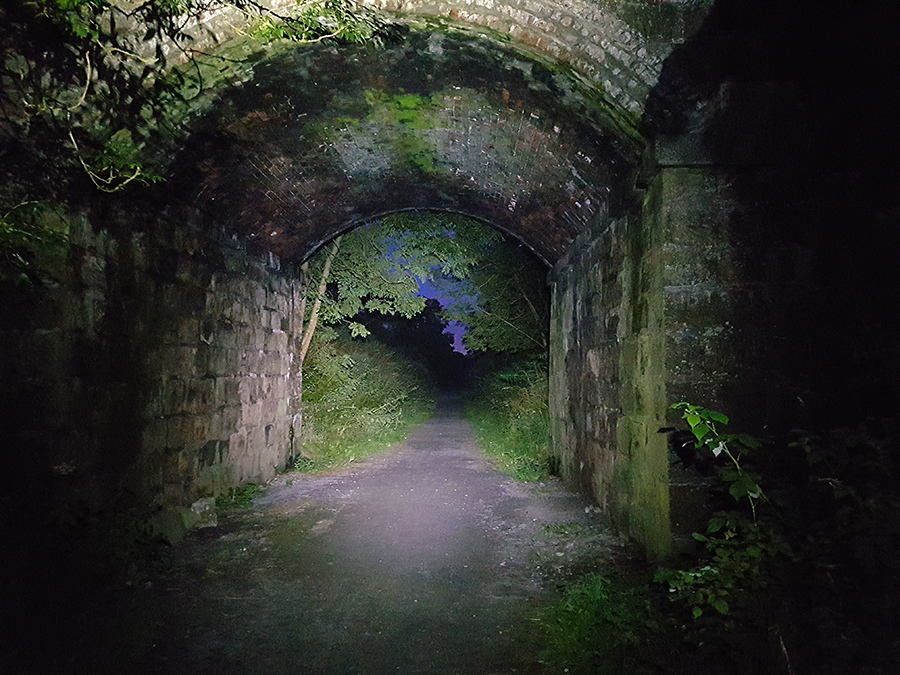 A quick stop to pick wild rasps beside a bridge
Back in the outskirts of town, a well lit underpass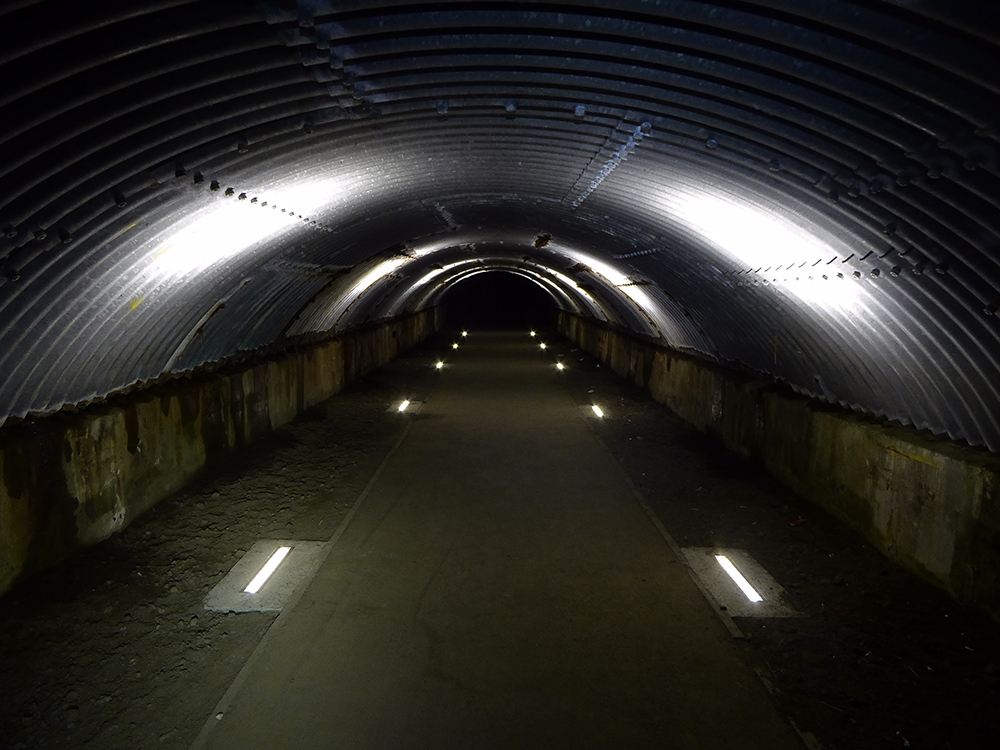 And through some woods some pretty solar powered lamps guide the way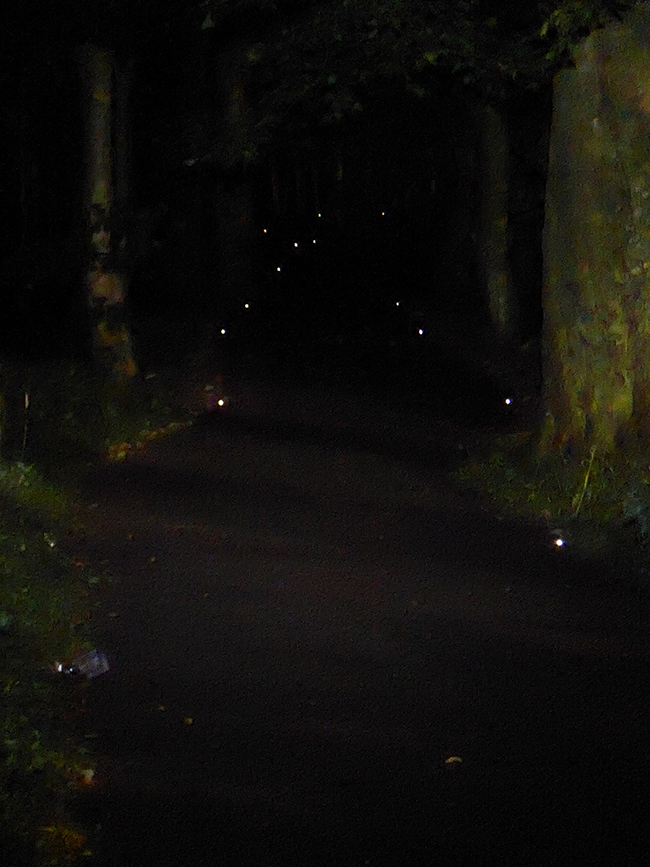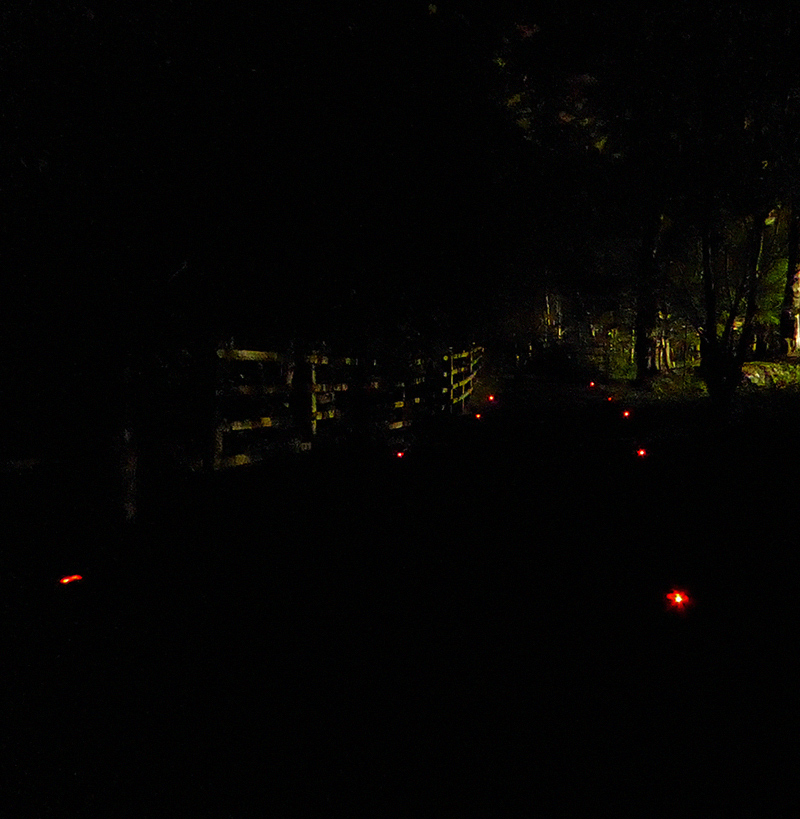 Looking with lights off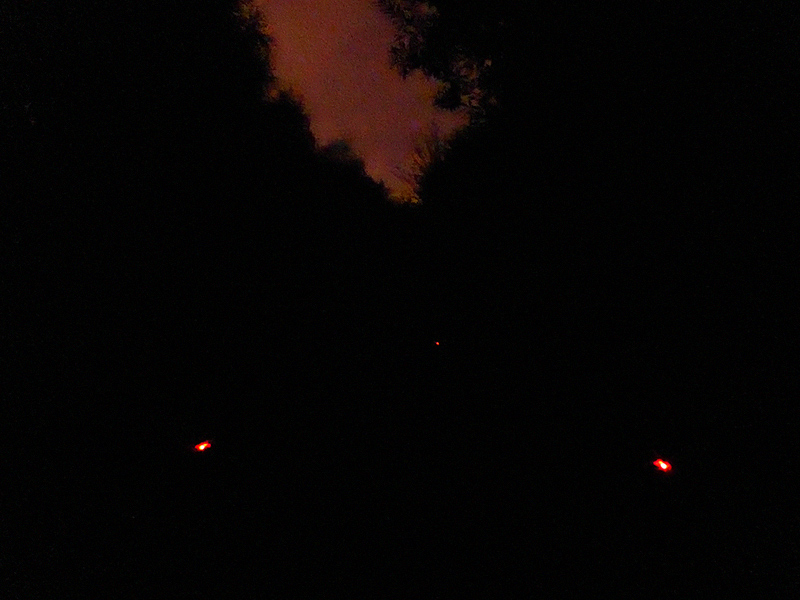 And that's a wrap, 8 hours and 80km on the bike in the bag, tired legs and a good sleep well deserved