With the weather today being 'iffy' a planned expedition to Beinn A'Ghlo was rejected fro something closer to hand in case a bail out was necessary. A wee jaunt up Clachnaben and back via Glen Dye would do. All the way to Banchory it drizzled, a dreich day. The car park at Greystane Wood was full of puddles.
A couple of minutes through the wood and the first choice of path. We headed South as per the car park map. You can head North West (the path on the right here) which is longer and loops round the back of Greystane hill.
The path South has a junction heading West through Miller's Bog towards the woods on Black Hillocks
There's a few streams to cross, which can be splashed through or can hop on the attending wooden foot bridges
Entering into the woods the path starts off winding through pretty easily
The  path comes out to a gully and open ground left, the wooded hill right
Soon enough there's lumpy bits that need some hike-a-bike
The path is quite popular with walkers, you'd need to take care if whizzing along heading the other way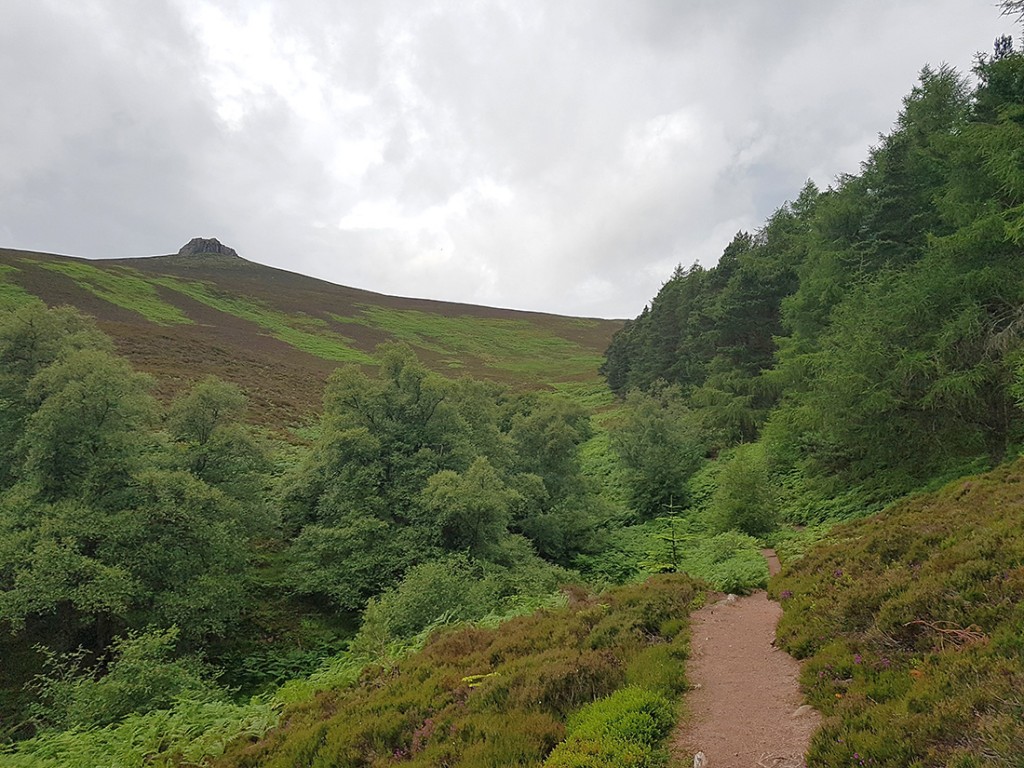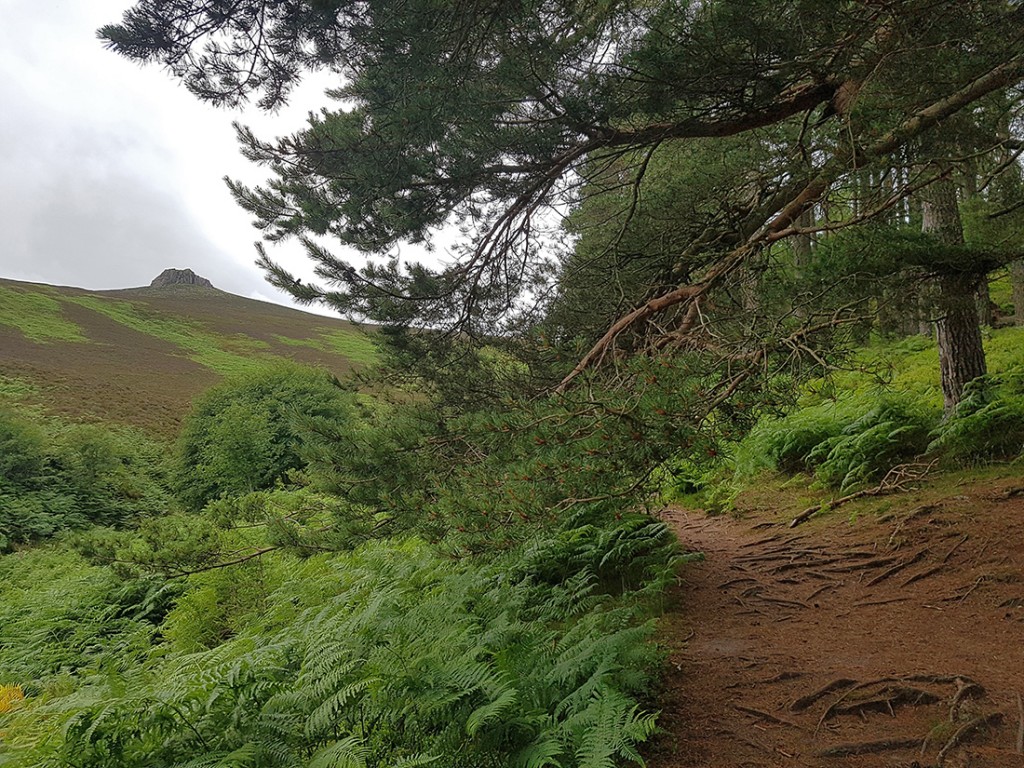 Climbing up, it gets quite bouldery and there are big steps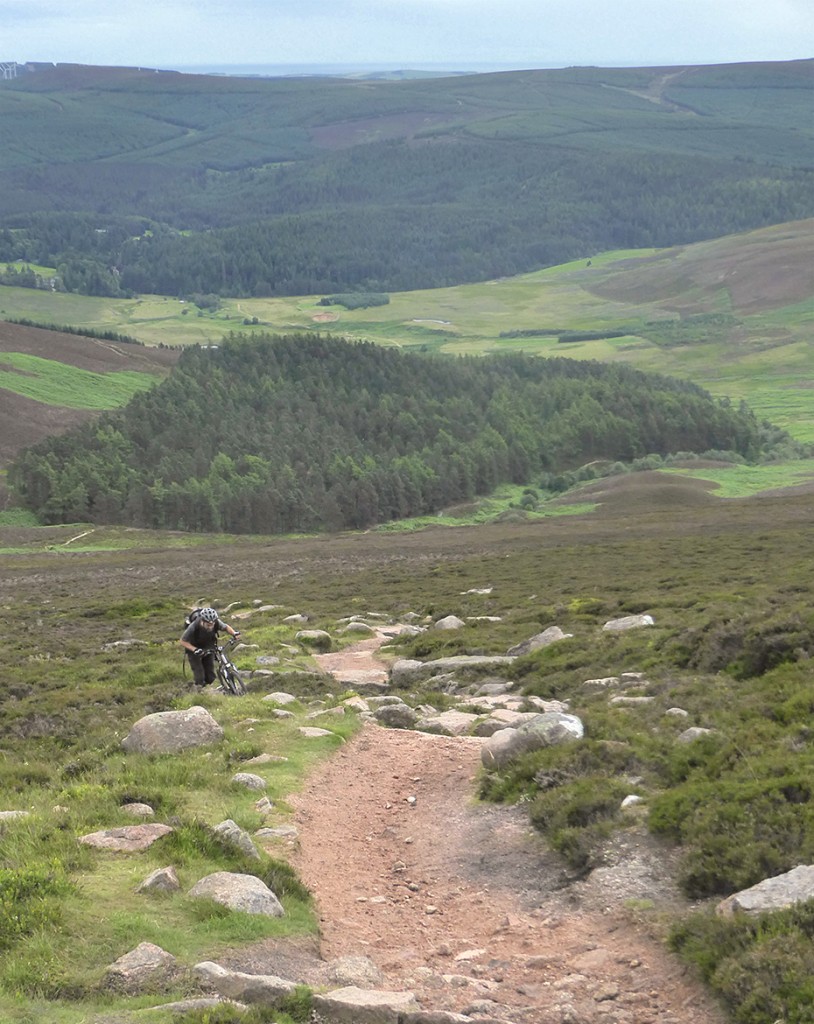 Getting there.. there's about 400m of ascent from the start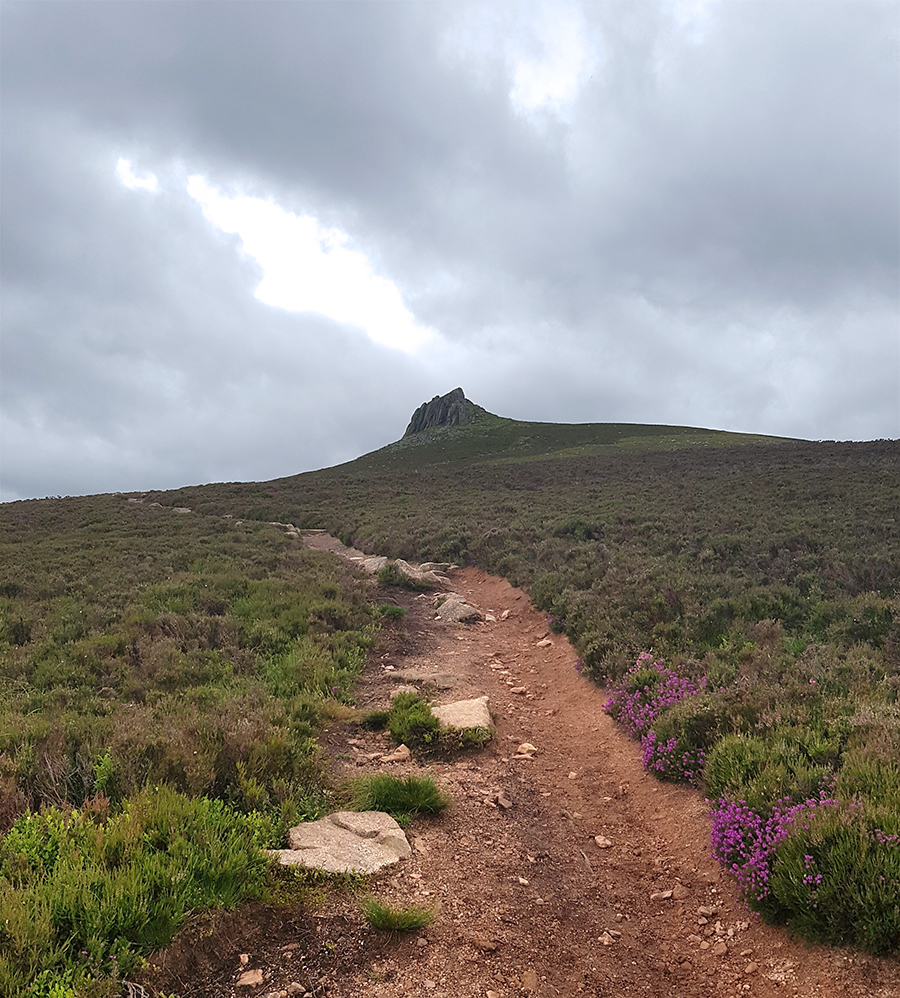 Further up there's a section of steps, we stopped to let a group of walkers pass on the narrow track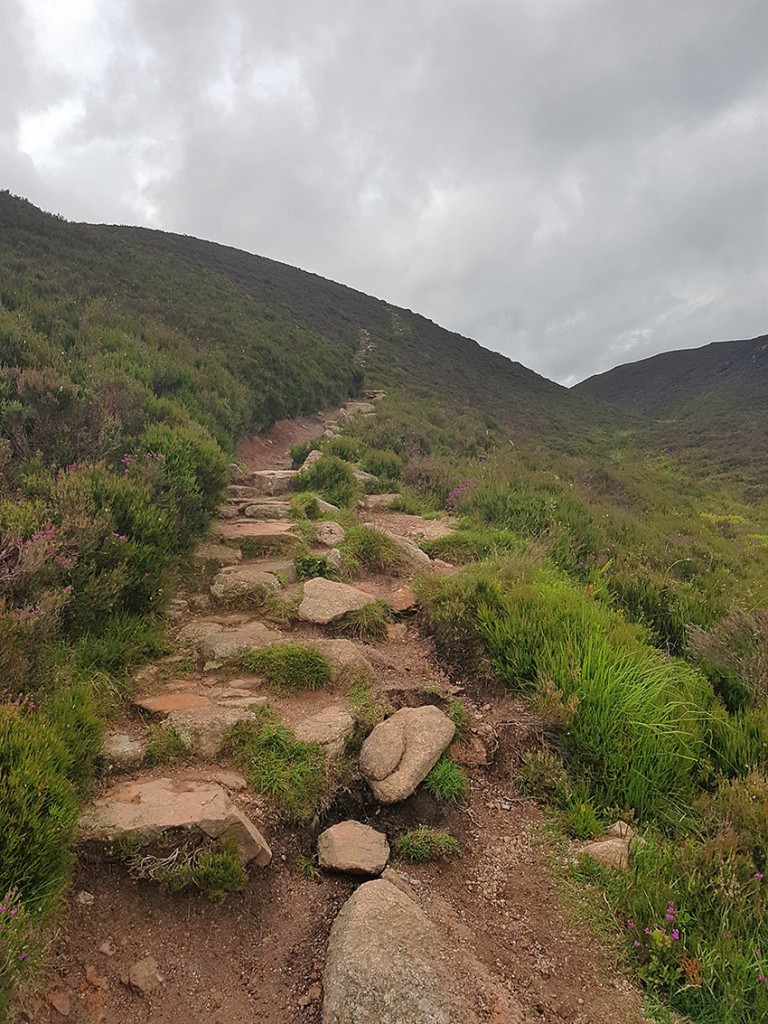 Blaeberries are plundered while waiting for them to all pass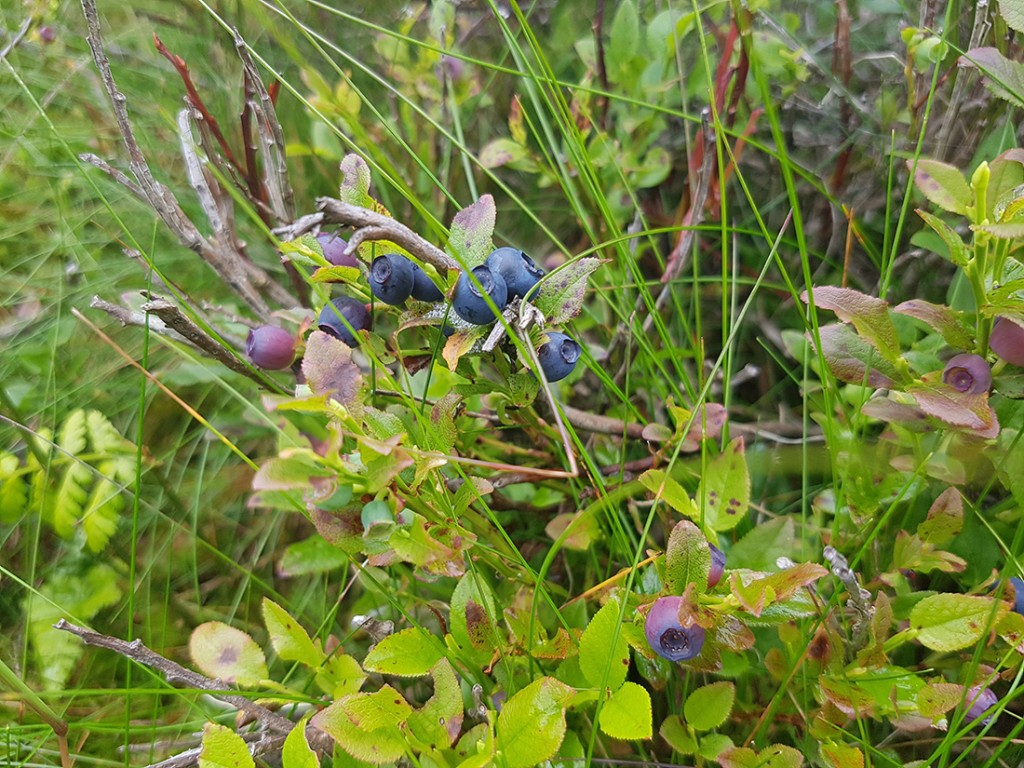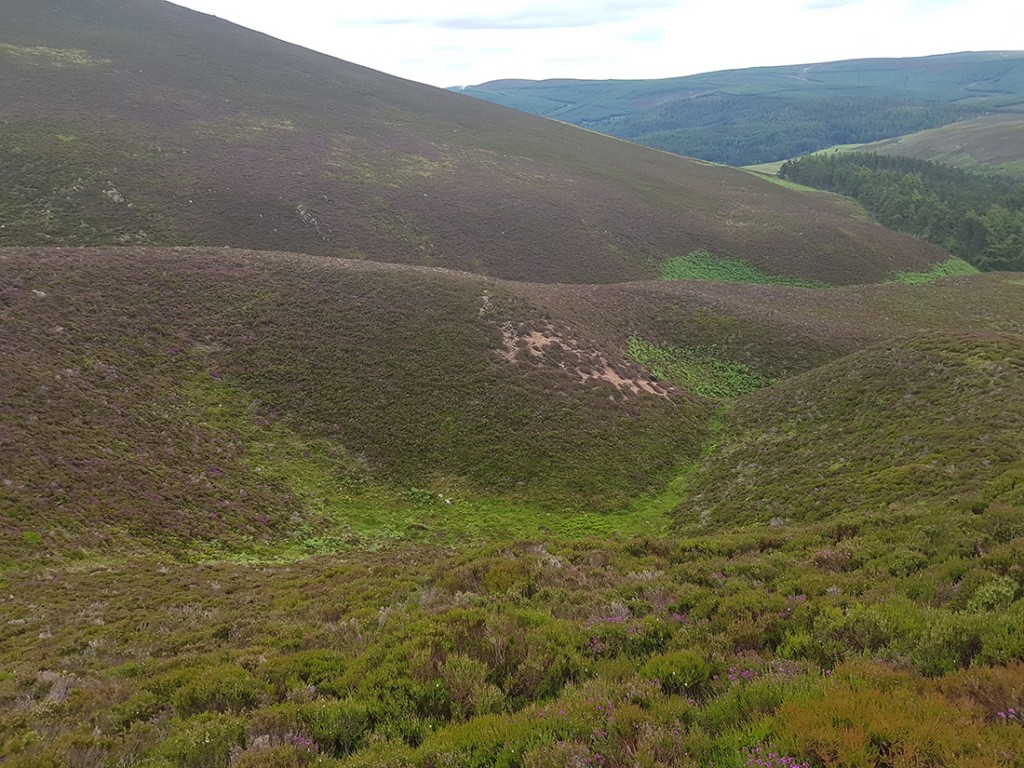 This gully has a path marked on the OS map, which might be a more bikeable choice to avoid the steps. Looked pretty overgrown currently, perhaps useful earlier in the year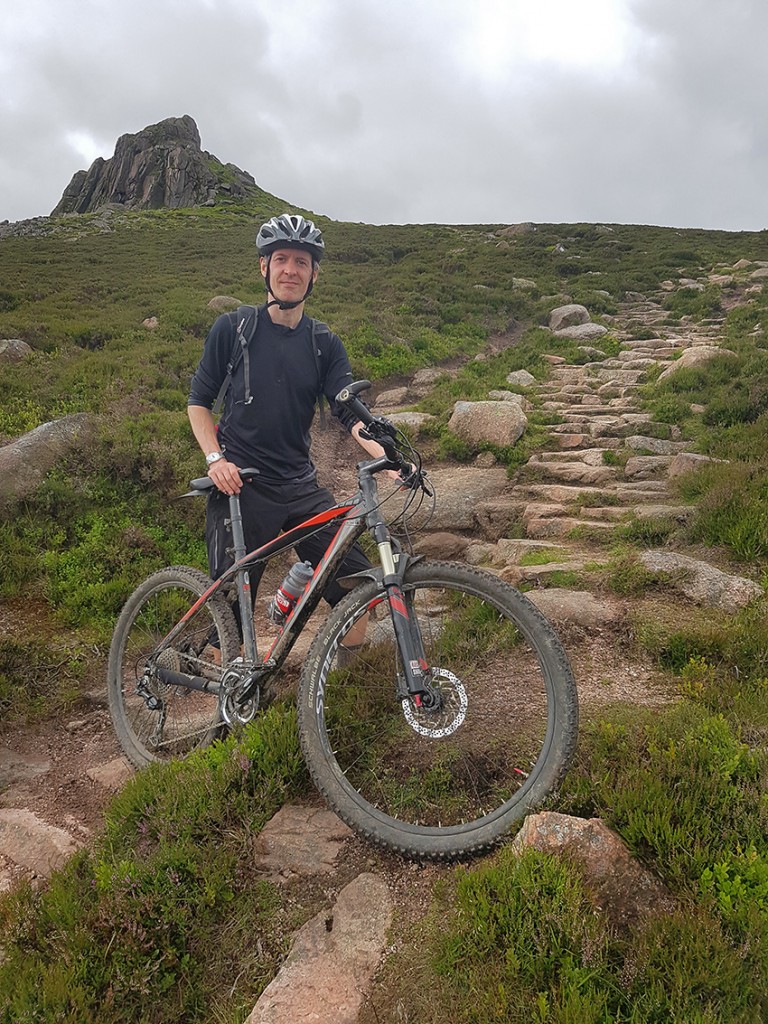 Jacket off, hot humid day and dragging this up the hill is good exercise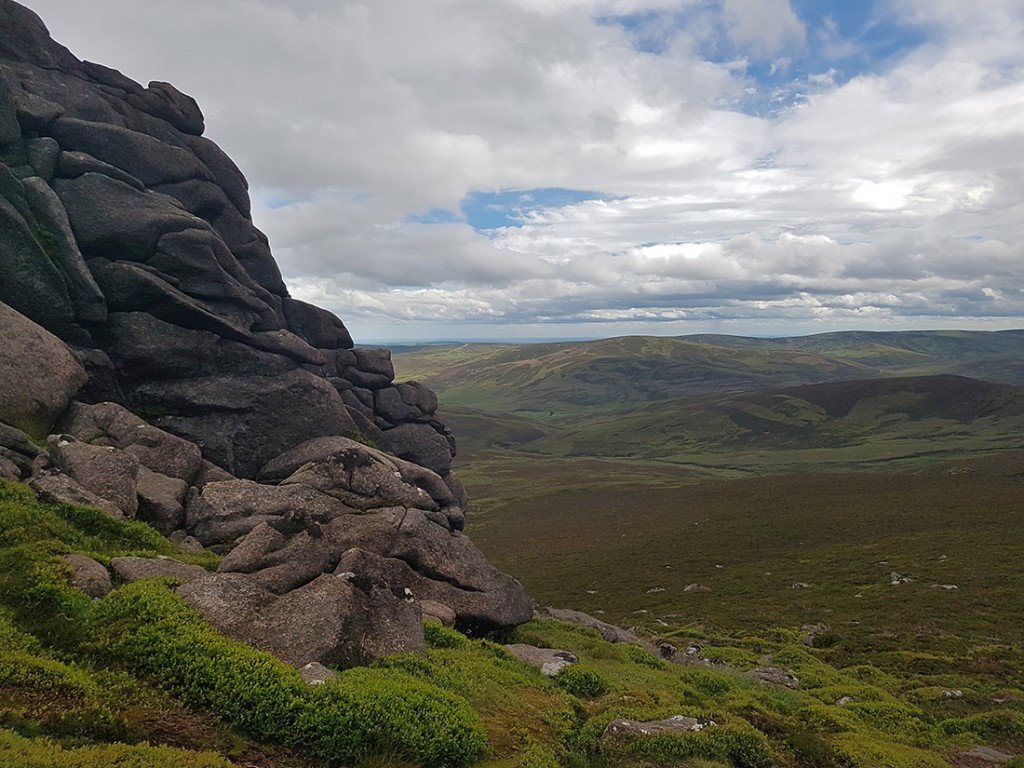 Arrived at the back of the rock pile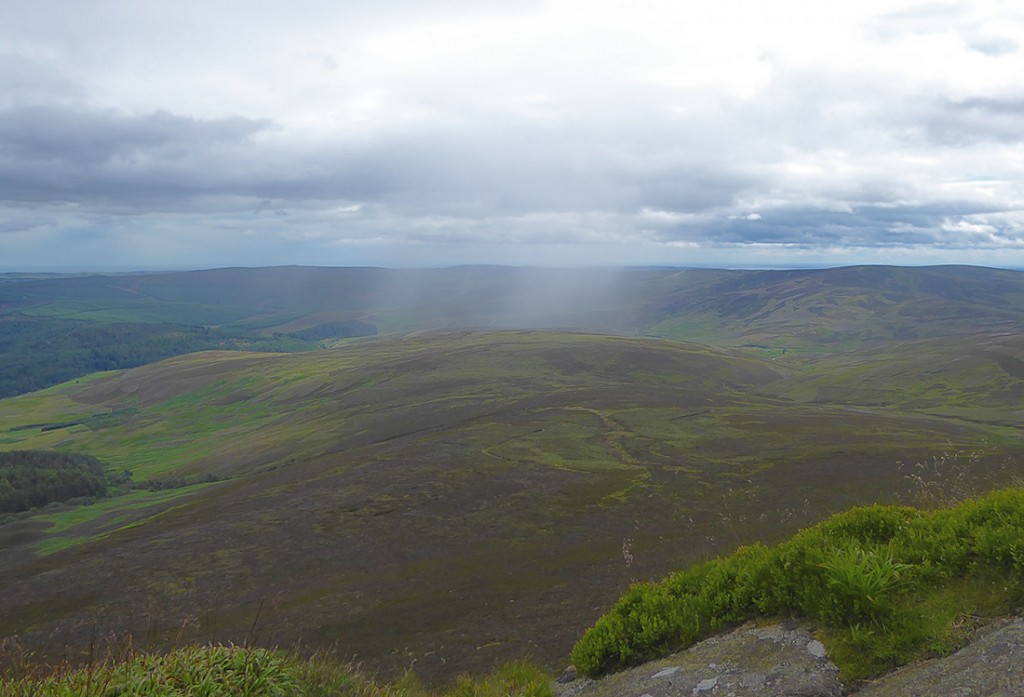 Perched on the 'front' ledge for lunch, can see a few showers passing, and look back down to where we were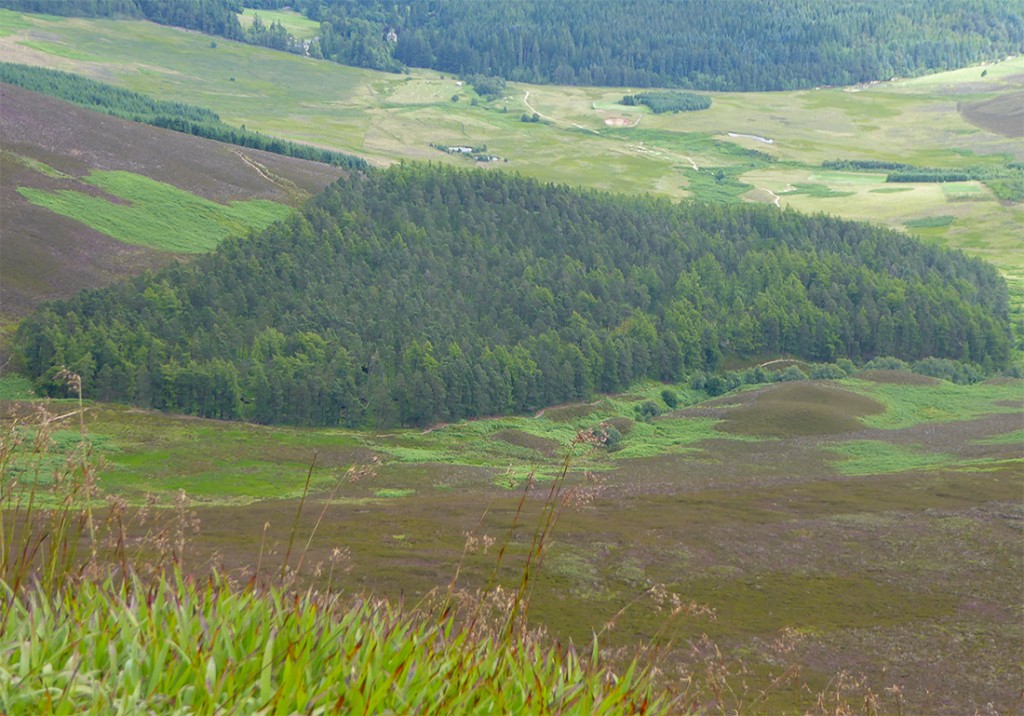 Looking South down into Glen Dye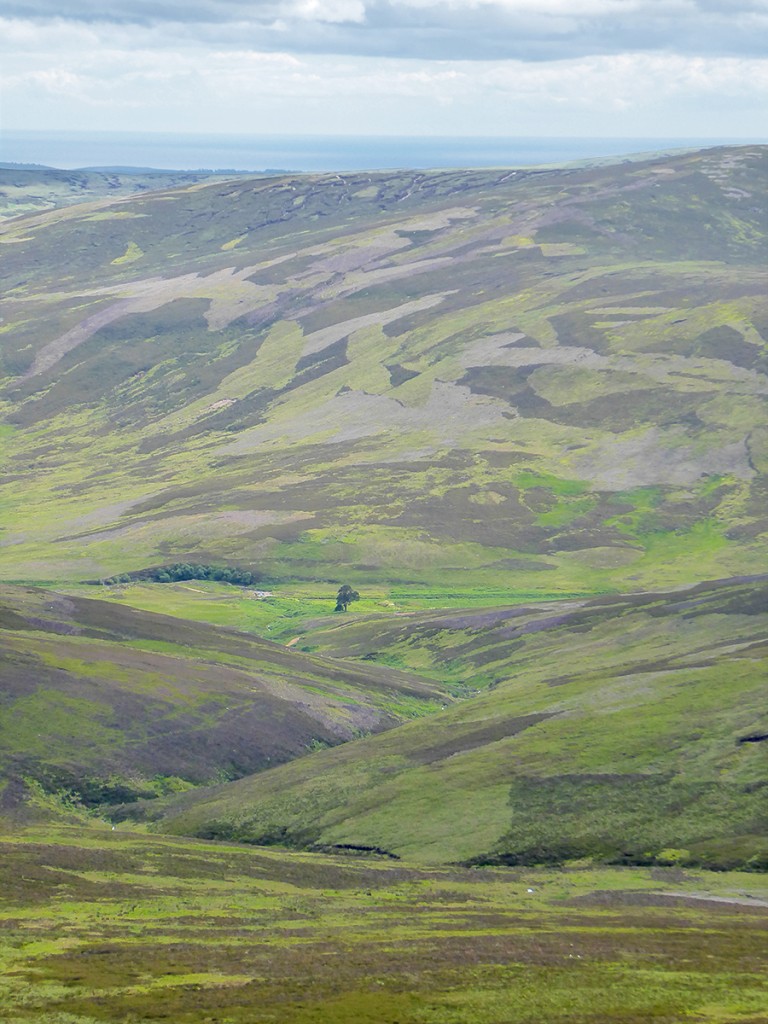 Looks to be a good track there, no bouldering on the way back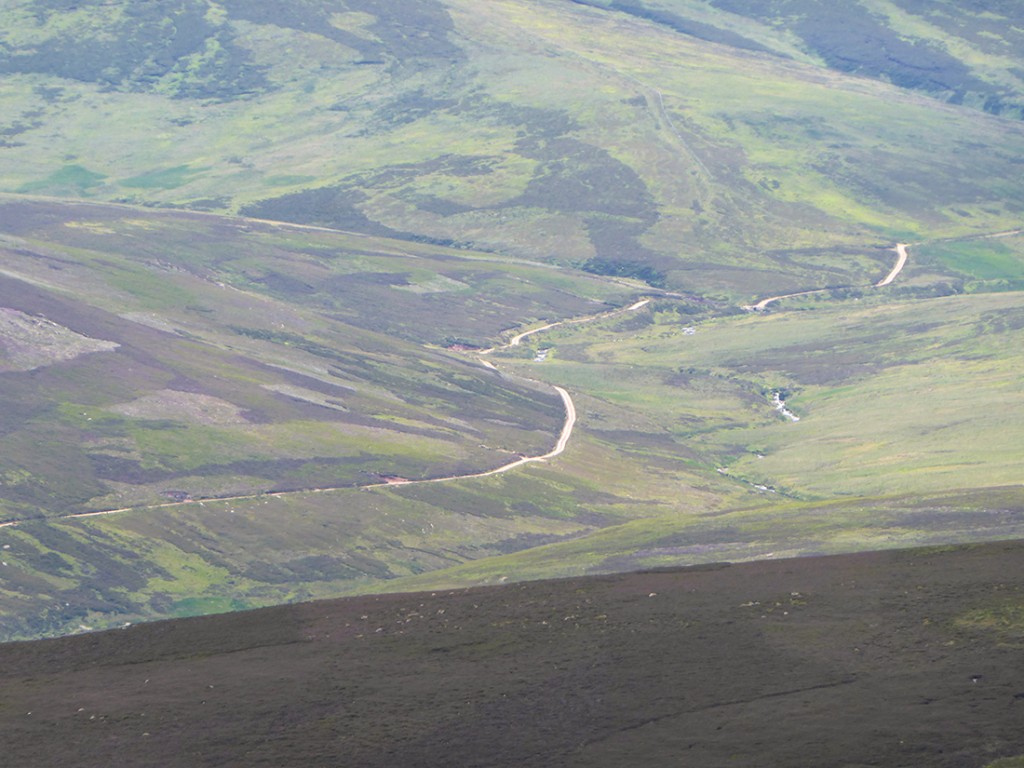 Crevassed peat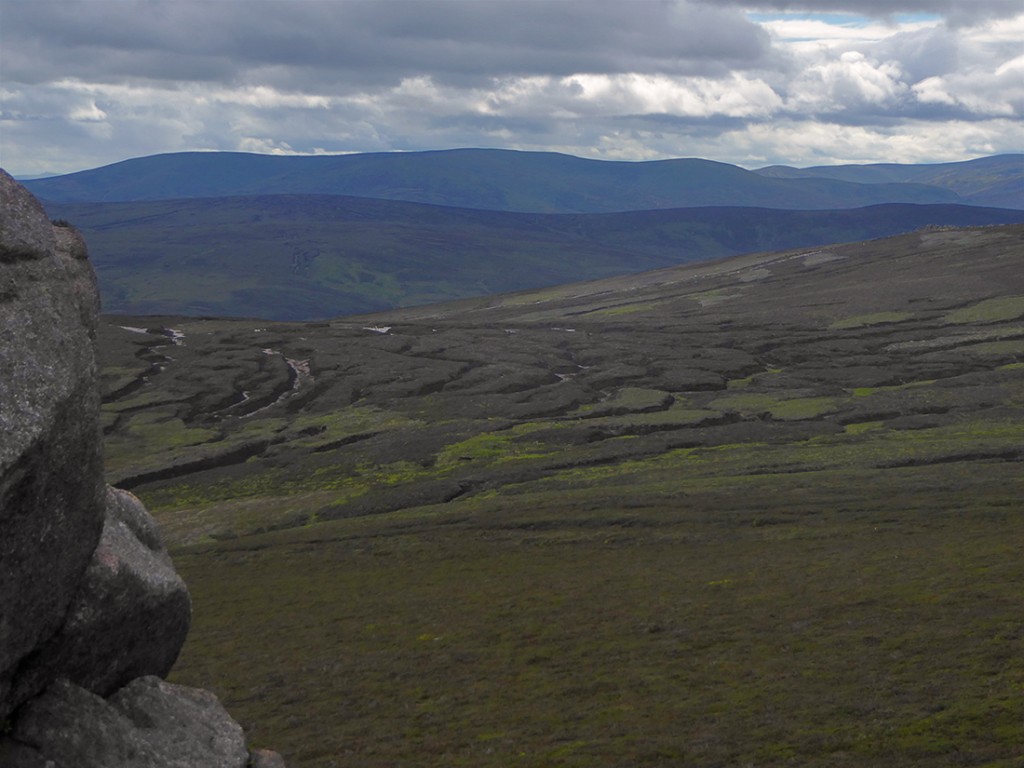 Peak buddy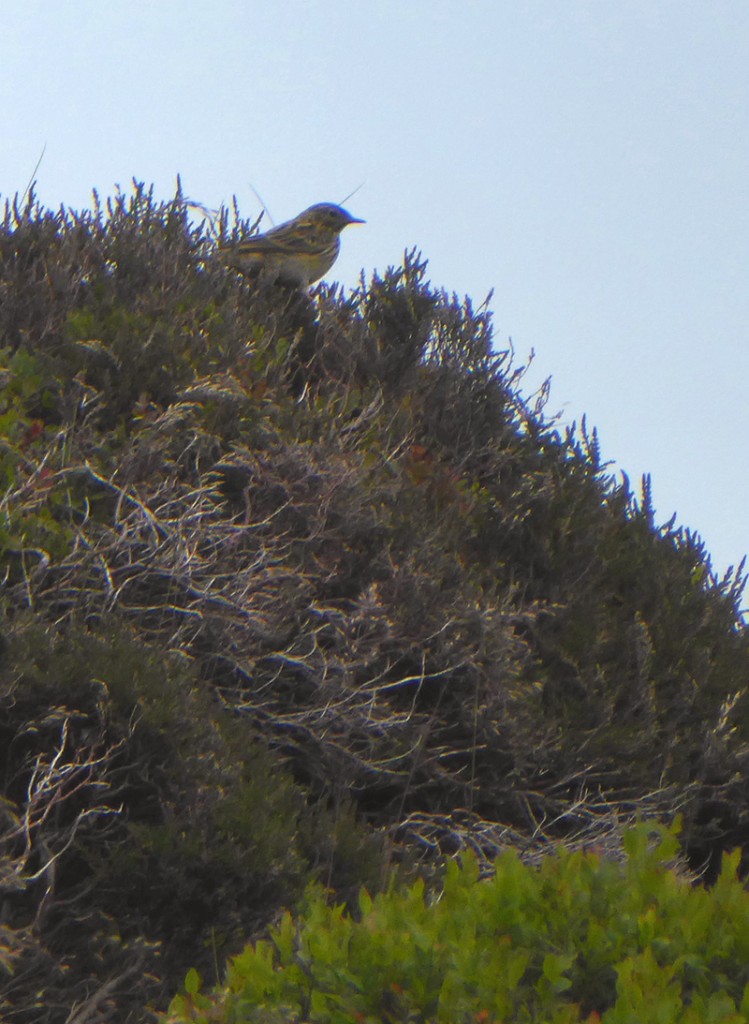 Looking North the second of the two peaks seen from the sea, Clachnaben and Bennachie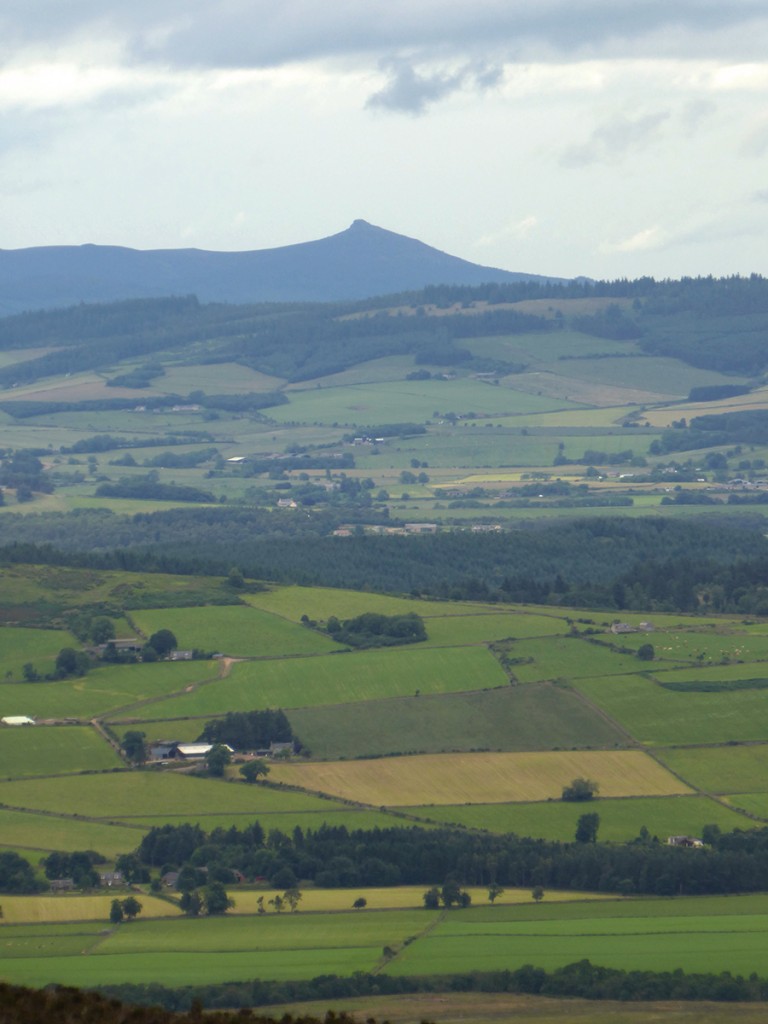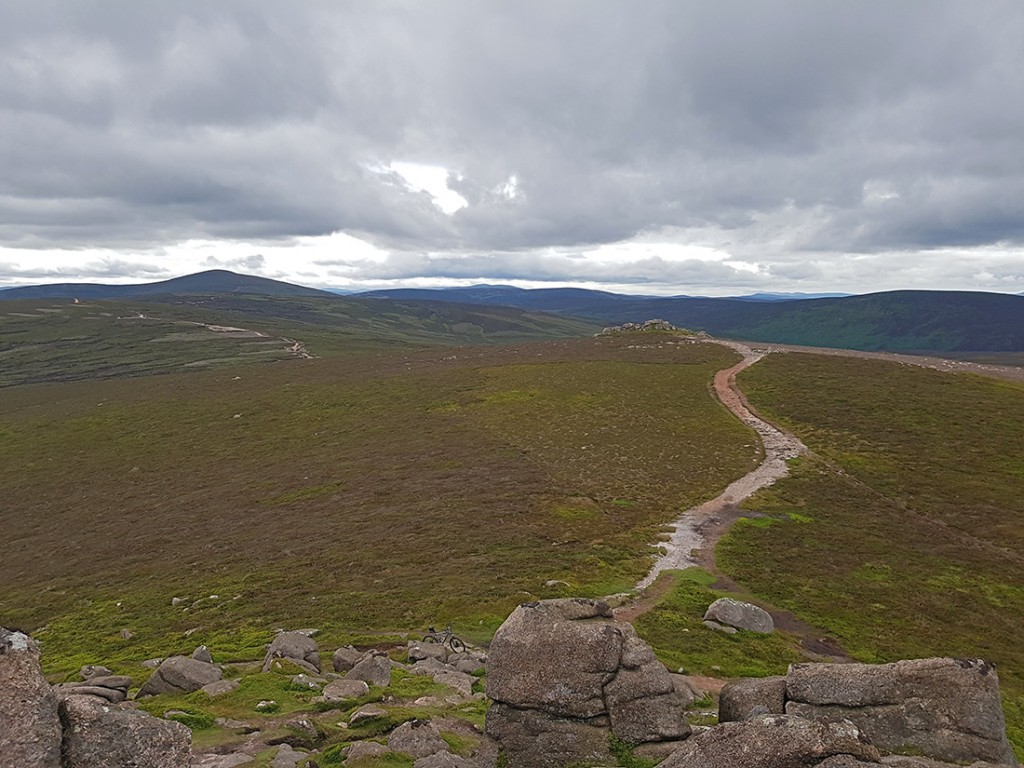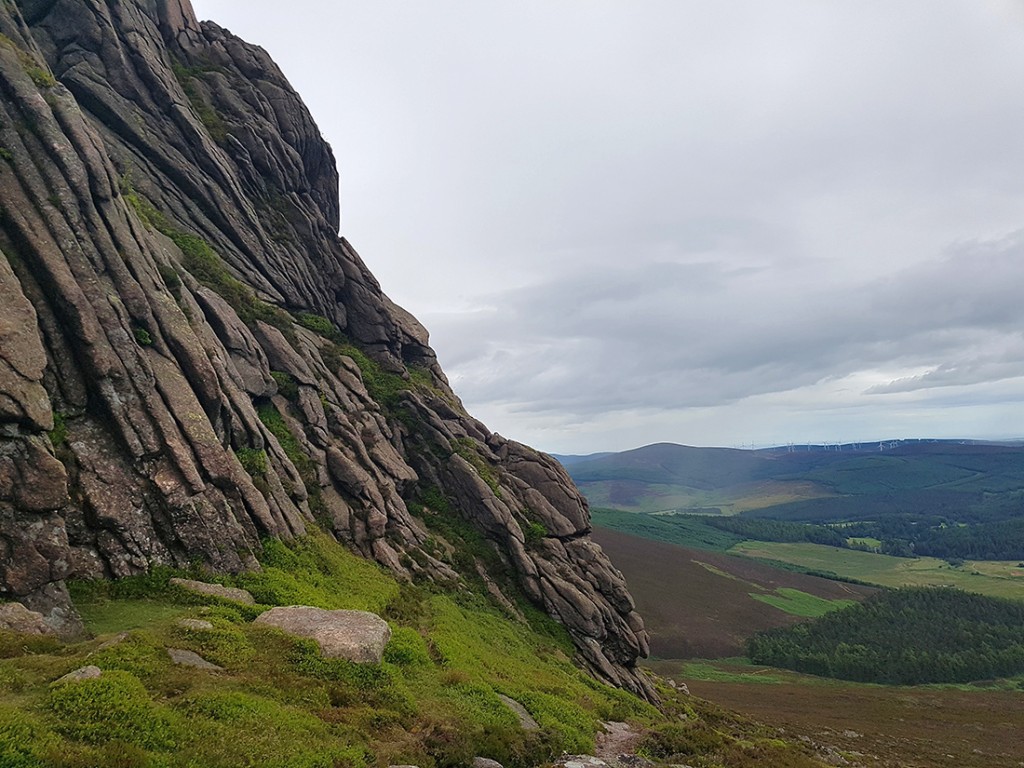 A quick explore around the foot of the ben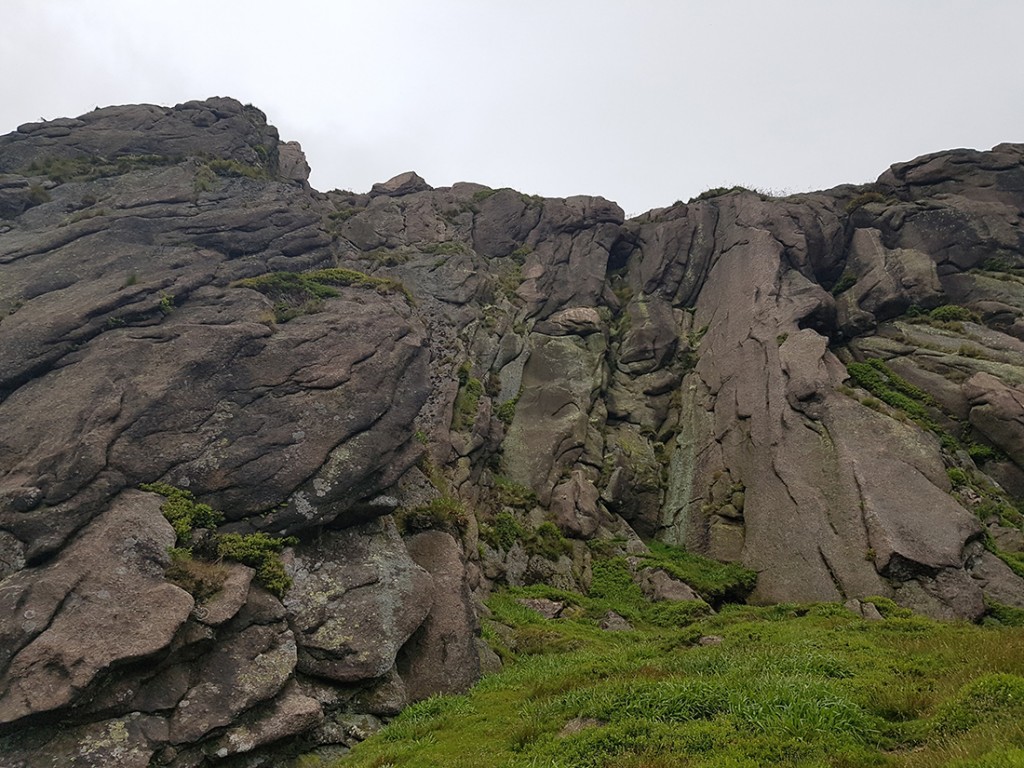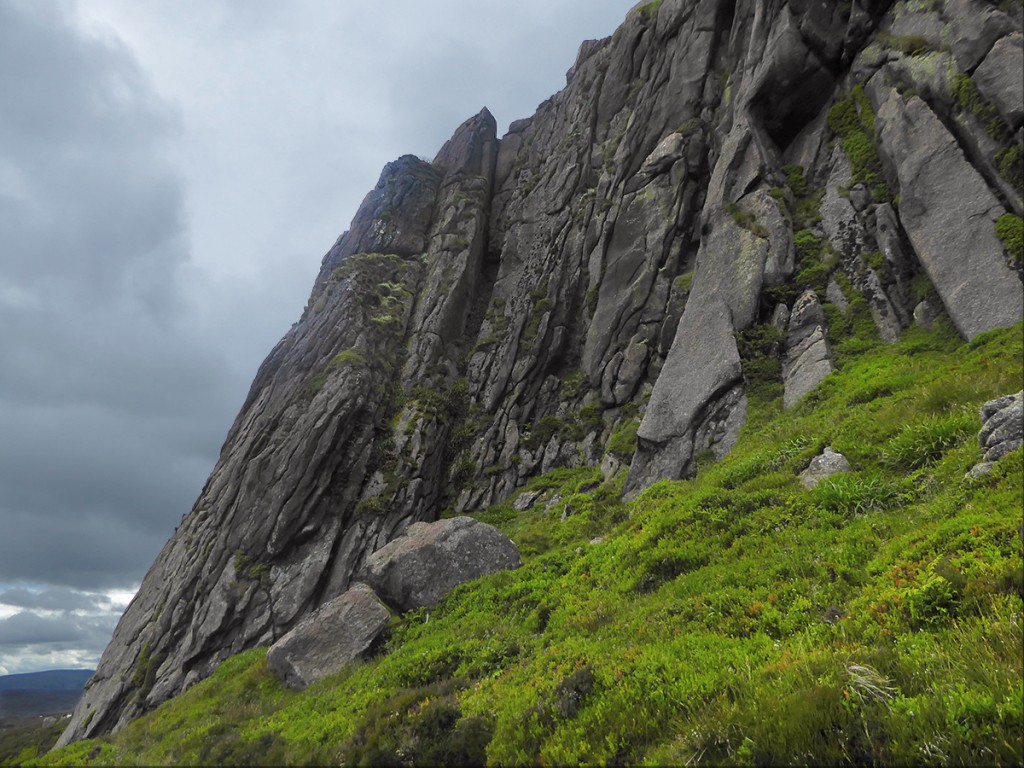 Onwards West. A few folk up here running today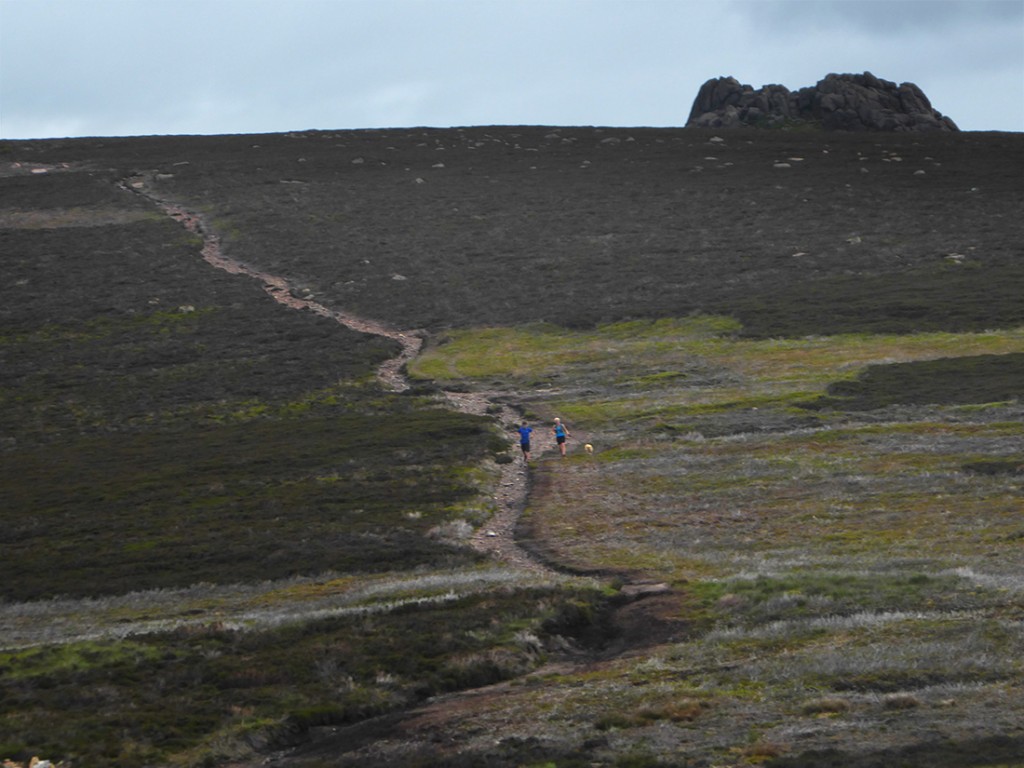 Behind Clachnaben, the ridge West has the Hill of Edendocher, Sandy Hill, and Hill of Badymichs which have only 30m difference between them over about 4k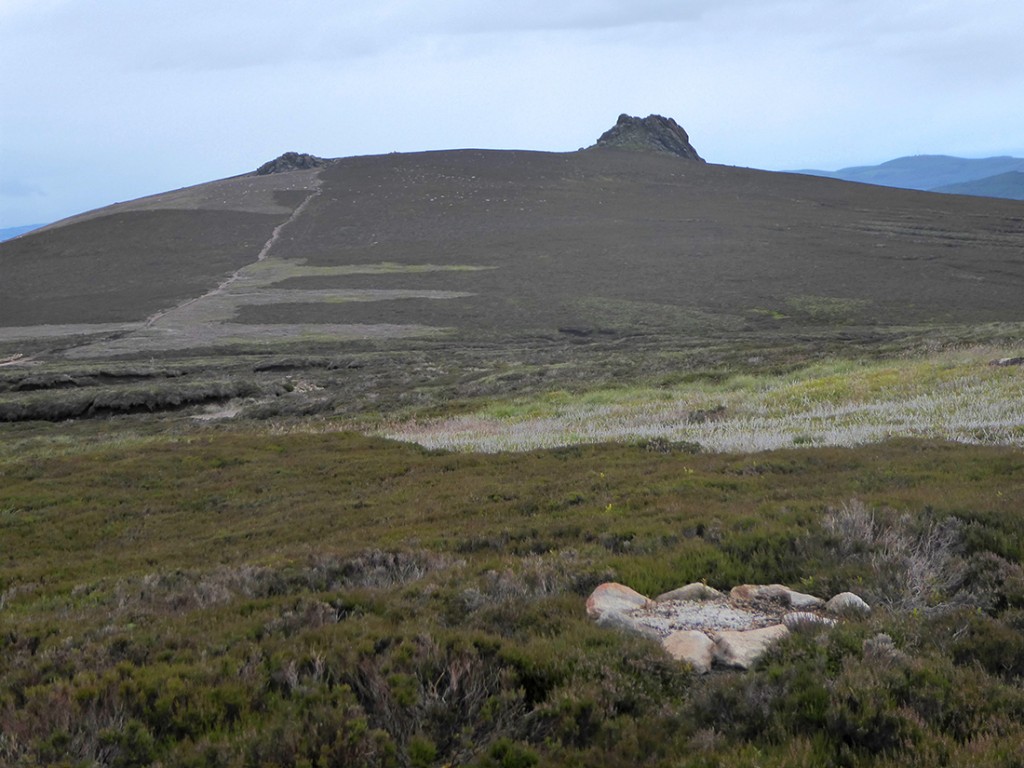 It's a fairly bleak moor up here on the ridge of hills. A track has been bulldozed and surfaced so good progress can be made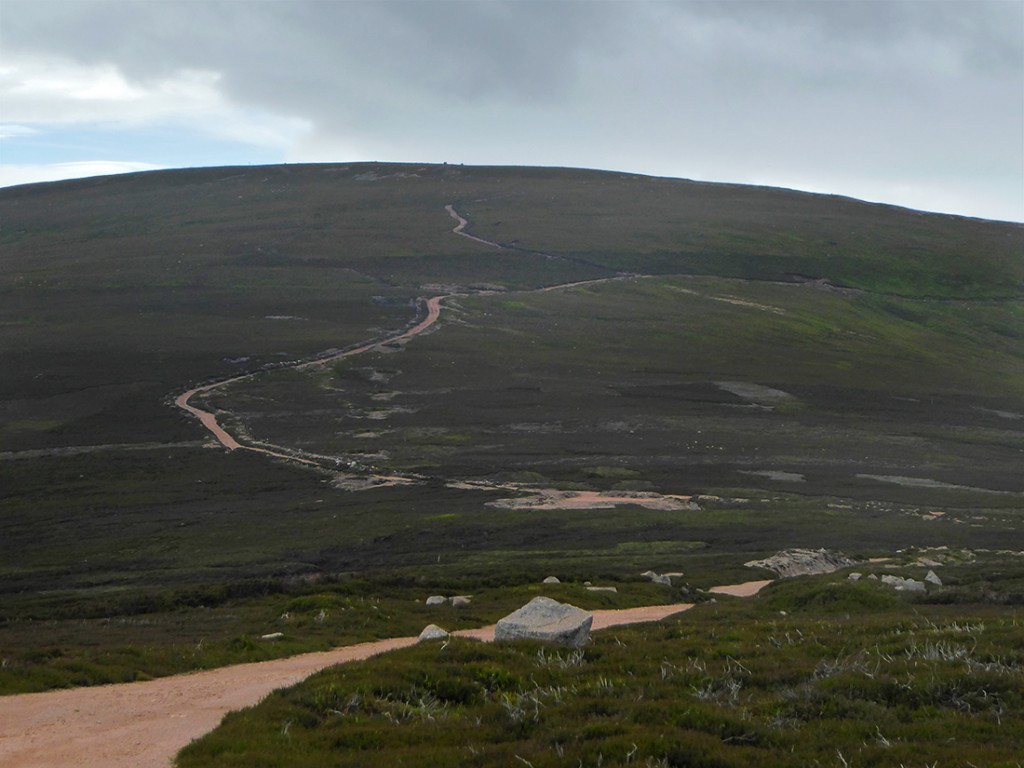 There's lots of evidence of grouse 'management' which seems to consist of burning everything, digging trenches and assembling ramshackle shooting stands. It's not a place of traditional countryside beauty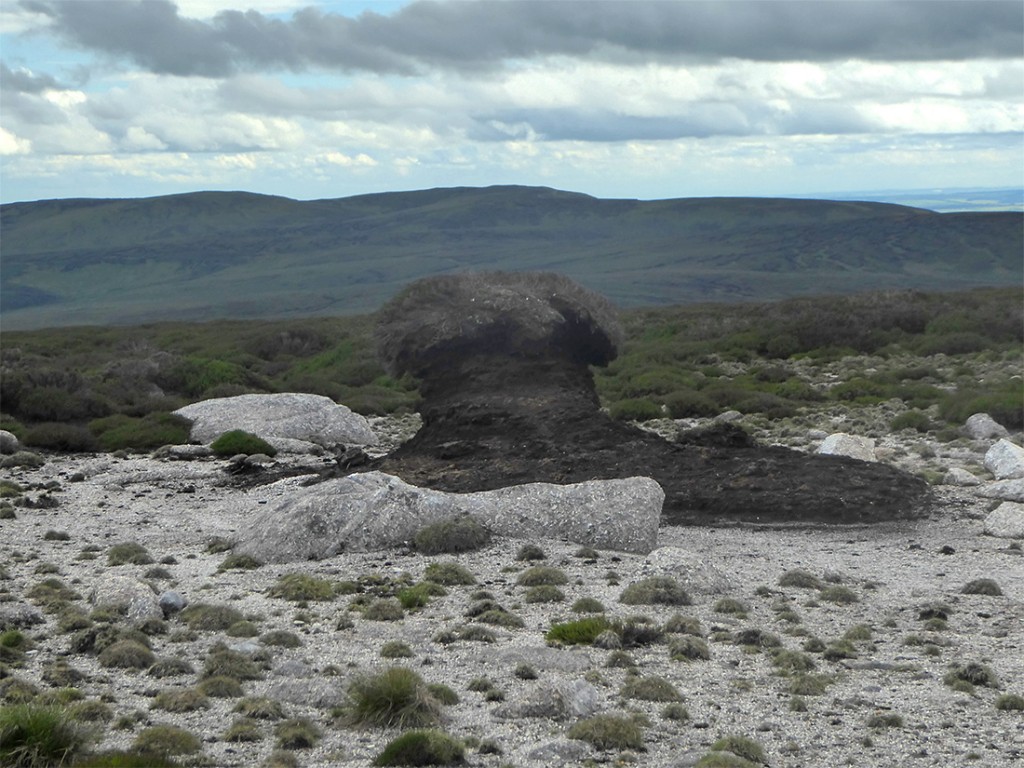 Spy a flash of colour.. Kinda looks like something between a raspberry and a strawberry. Later investigation shows this to be a cloudberry, and it's edible. Hadn't heard of that before, wish I'd picked a few now, although this bright red isn't their final ripe state – which is more orange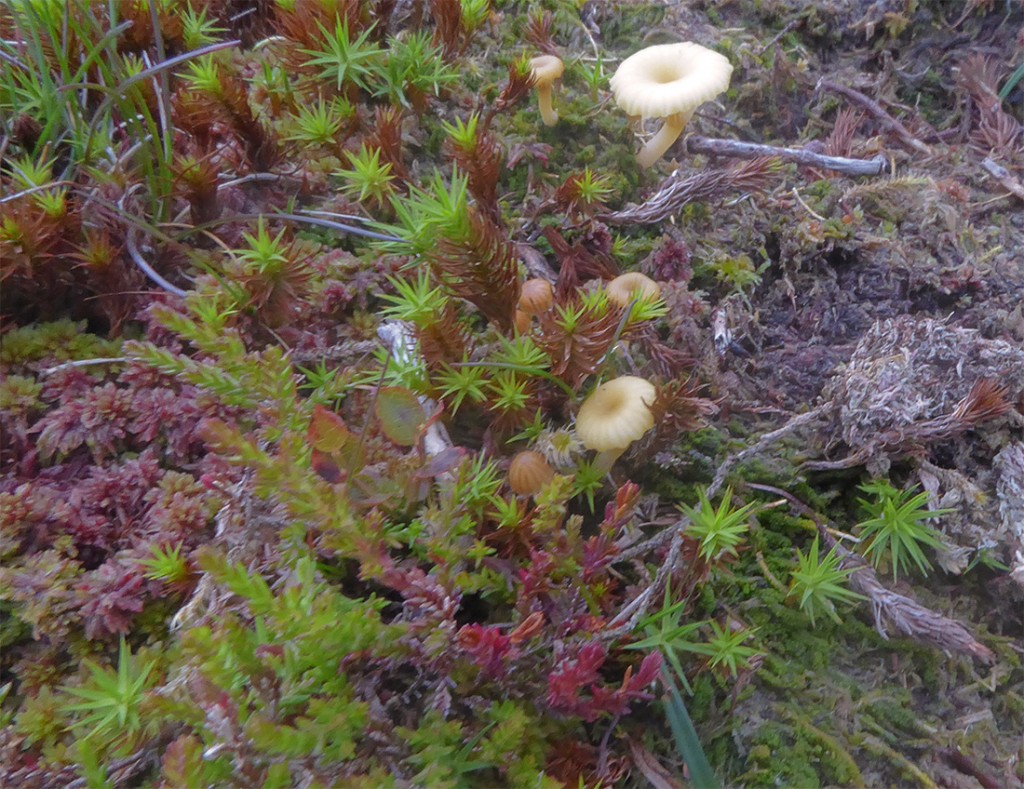 The track begins to climb more and loops right, away to the North West, skirting the base, while a small track splits off left up the East face of Mount Battock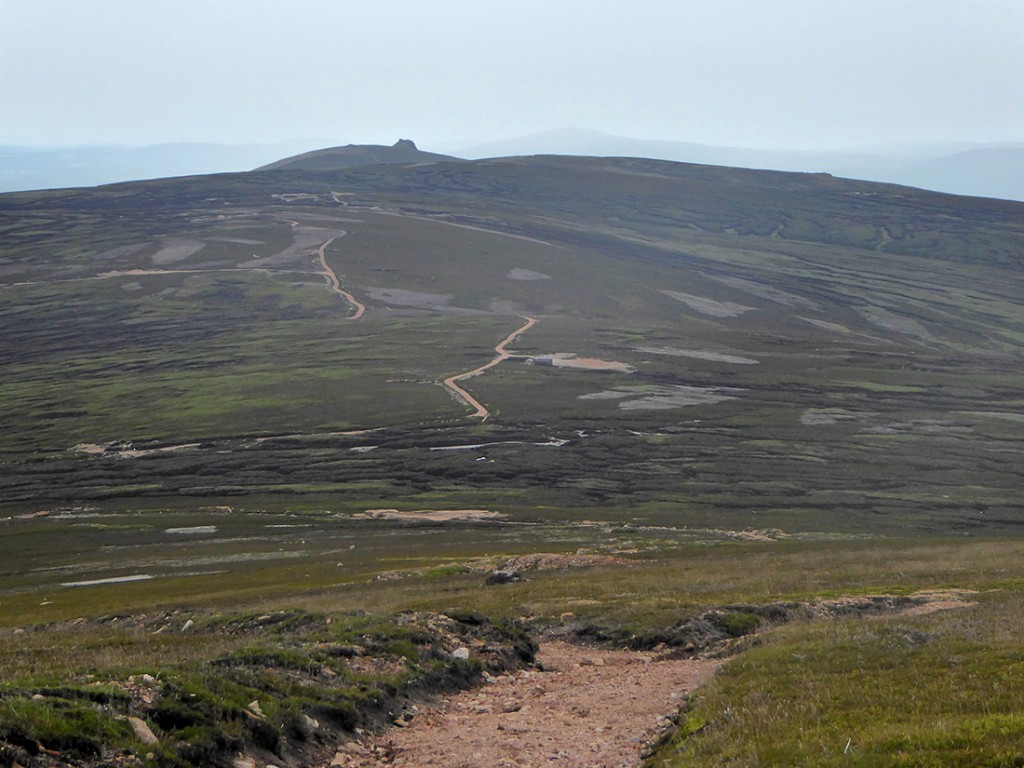 Clachnaben recedes in the distance as we inch up Mount Battock. I thought this was still one of the minor hills, but realised once I started working up a real sweat climbing up it that it is indeed another 200m higher. The trail is pretty lumpy and the gradient pretty steep in places needing a bit of pushing.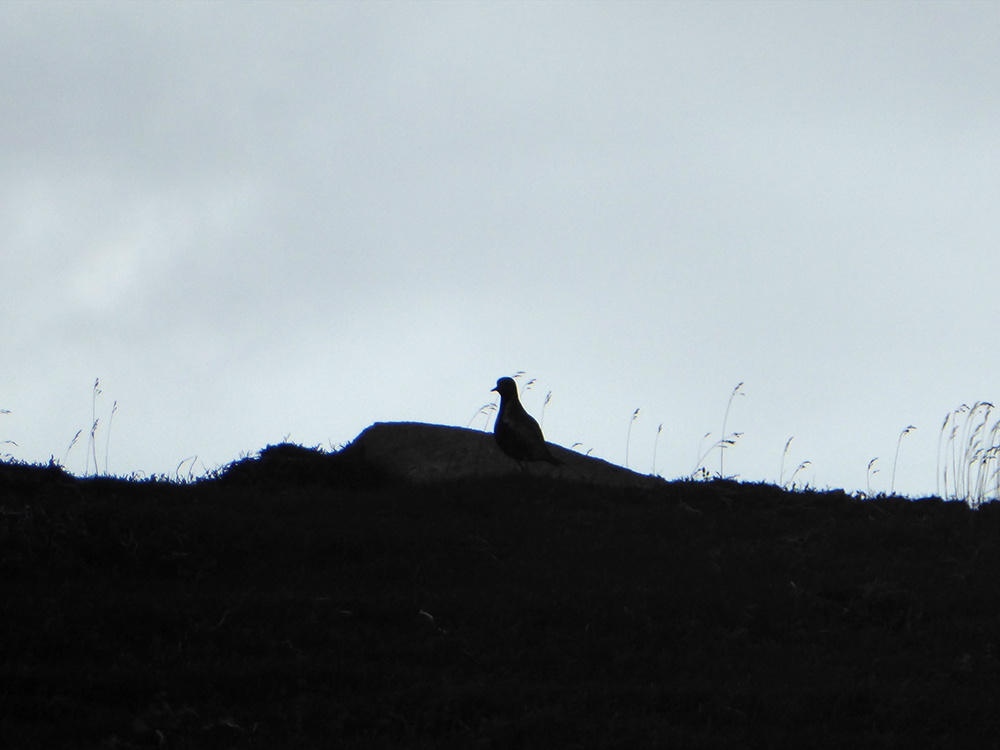 Something scampering through the heather on one of the false peaks you come to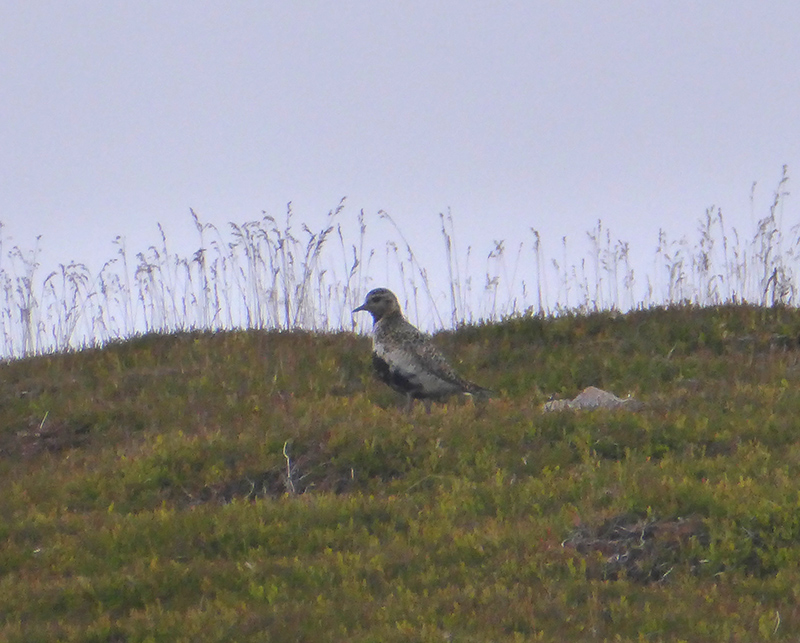 Golden plover. It seemed quite happy to bimble along on the ground rather than fly off as we approached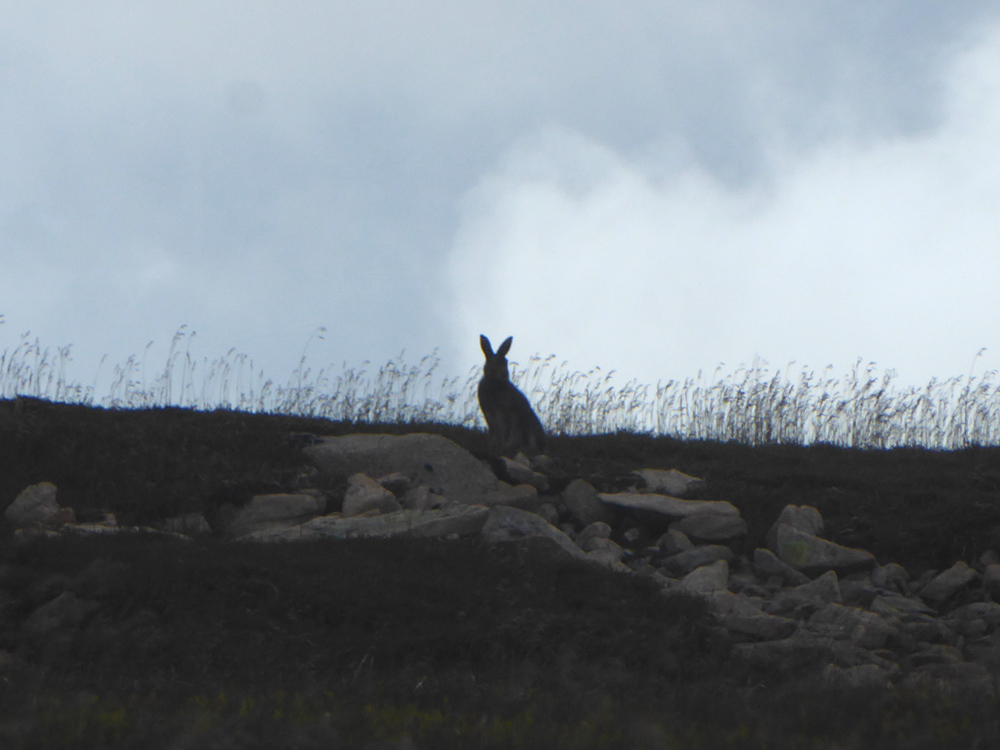 A lot of mountain hares up here. Probably a bit near to a town, and visitor's eyes, for the landowners to massacre them wholesale in the manner that unfortunately happens on other grouse moors
Up at the top, 778m. There's a rough shelter of sorts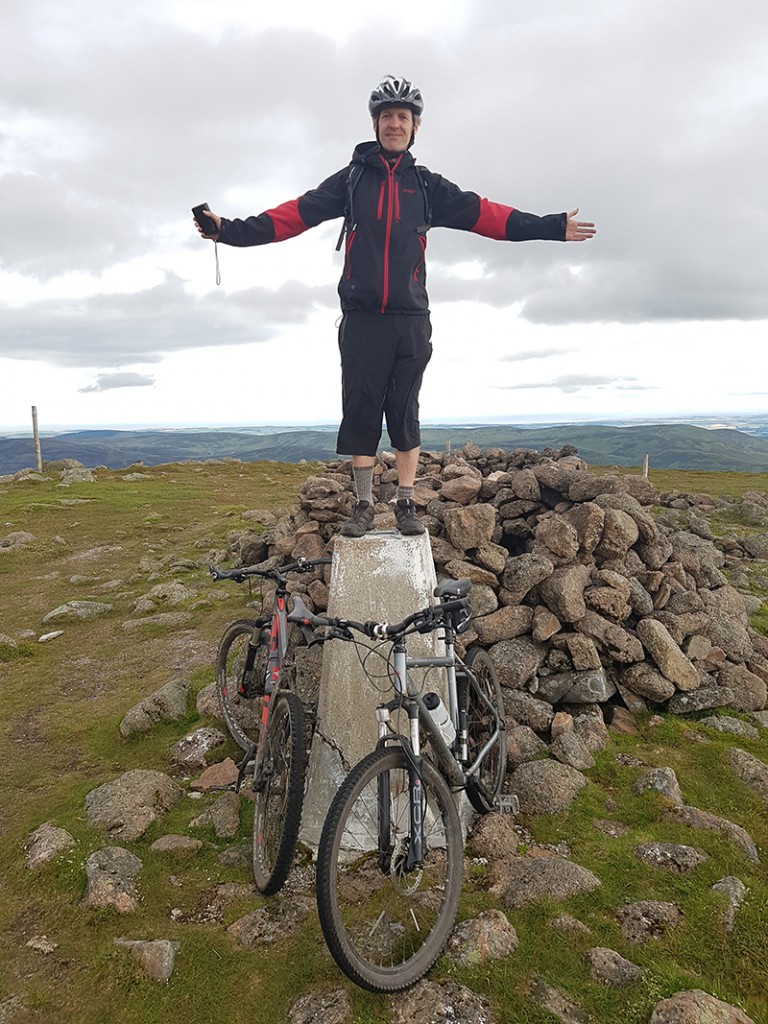 Make that 779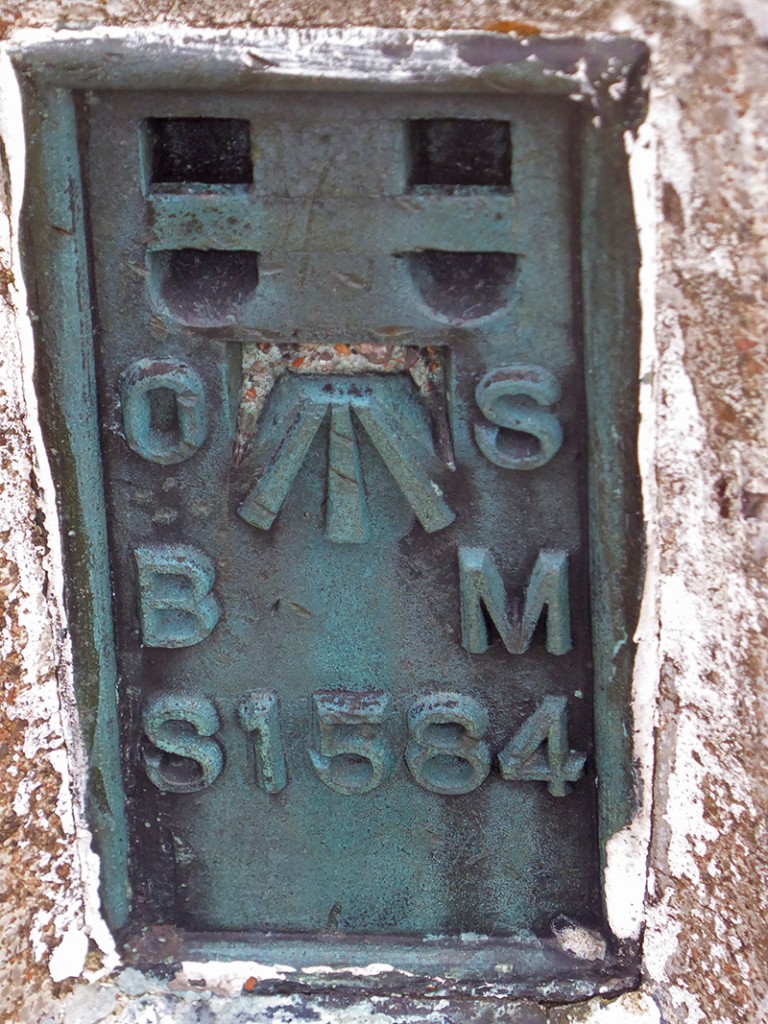 Looking further West about 15k to Loch Lee. Can also see Mount Keen in the distance. Would be great to descend down towards it but today going to head back and down into Glen Dye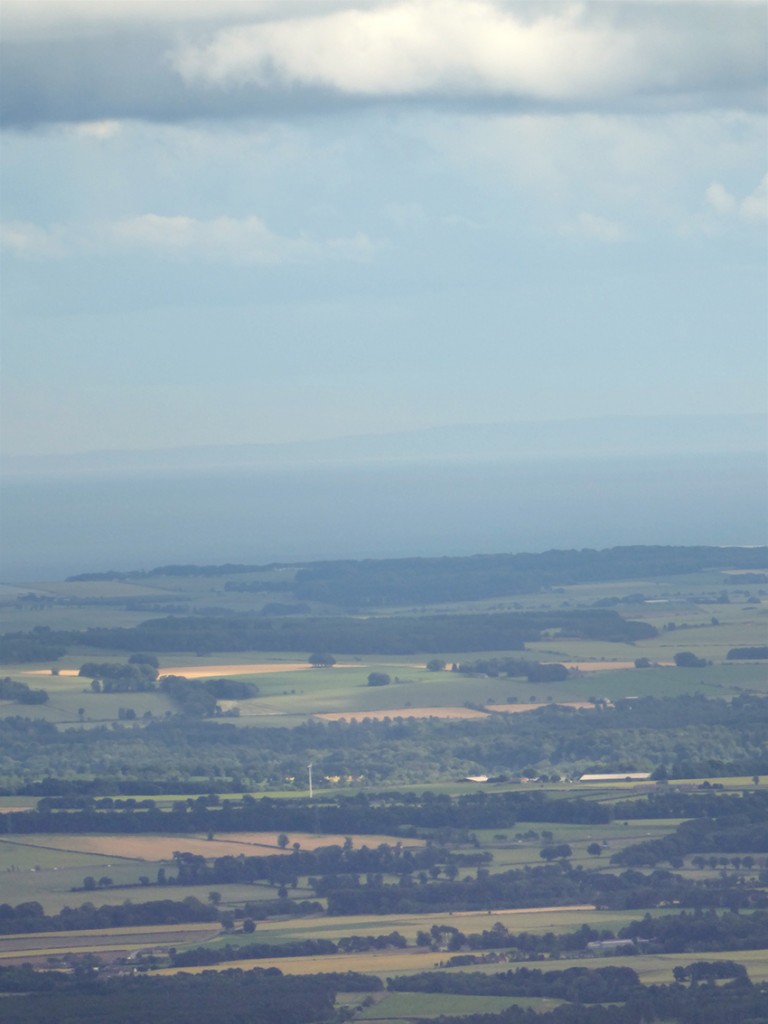 Looking South East can see the sea about 35k away
Heading back down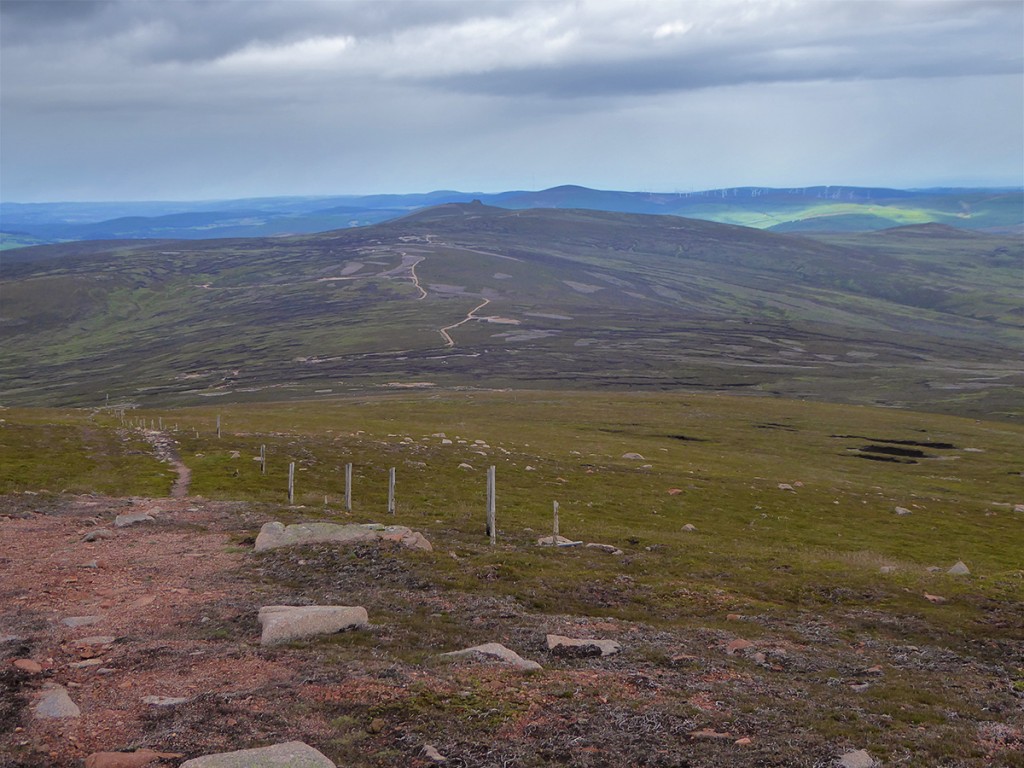 Not seen much sun today but it's out there in patches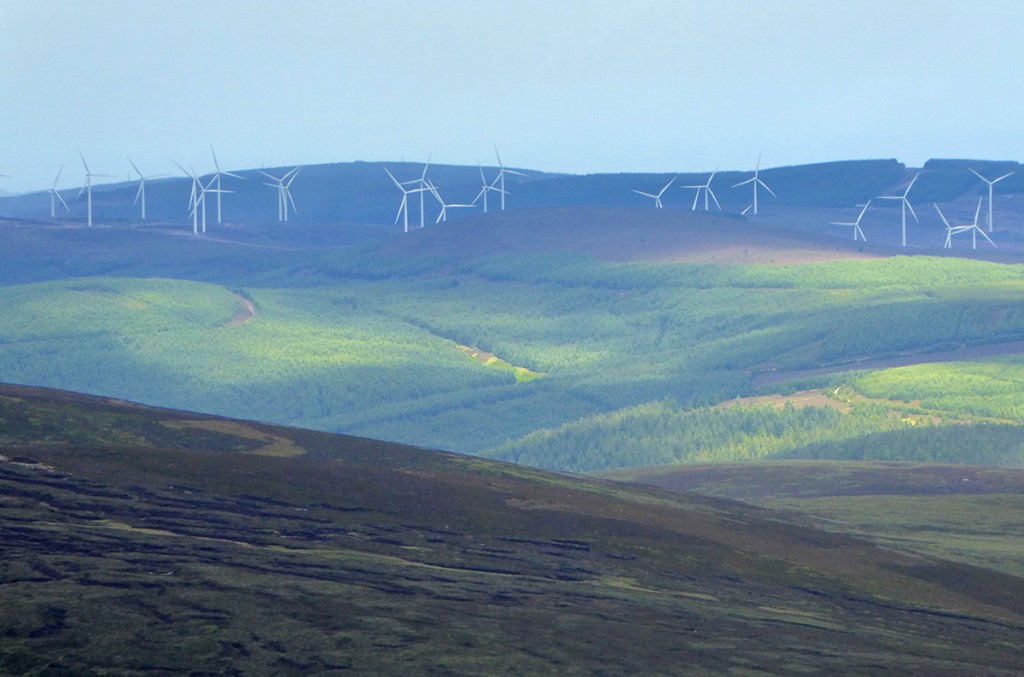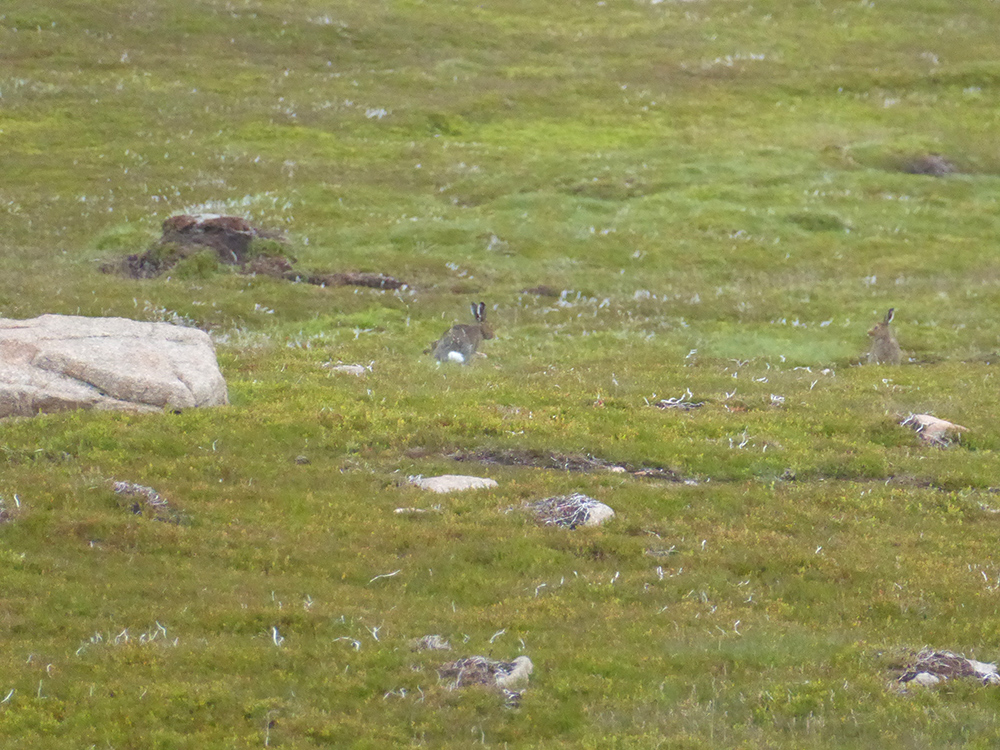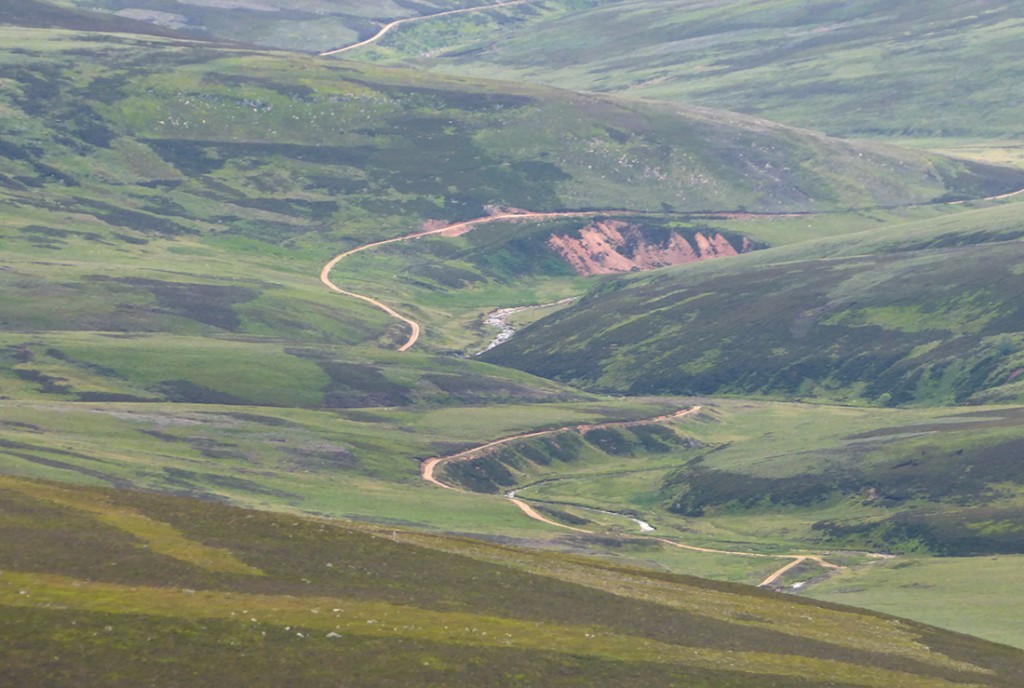 Back at the base of Mount Battock, a track winds South down to Glen Dye following the Burn of Badymicks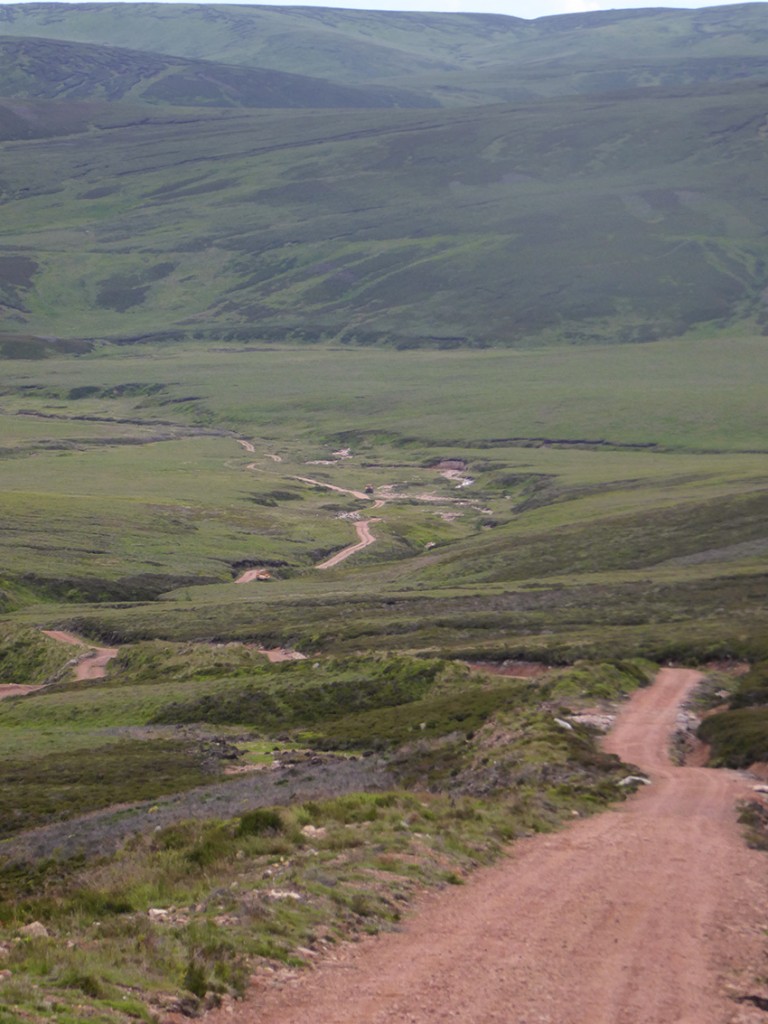 Break neck speeds are on tap, just watch out for wandering sheep. My friend's disks are smelling of burning. Glad I checked mine before today's outing, however I managed to lose a disk mount bolt, could have been nasty if the caliper had twisted inwards into the spokes. Should have done a more thorough bike check, particularly as it's a routine reinforced on some of the MTBSkilz training days I've been on recently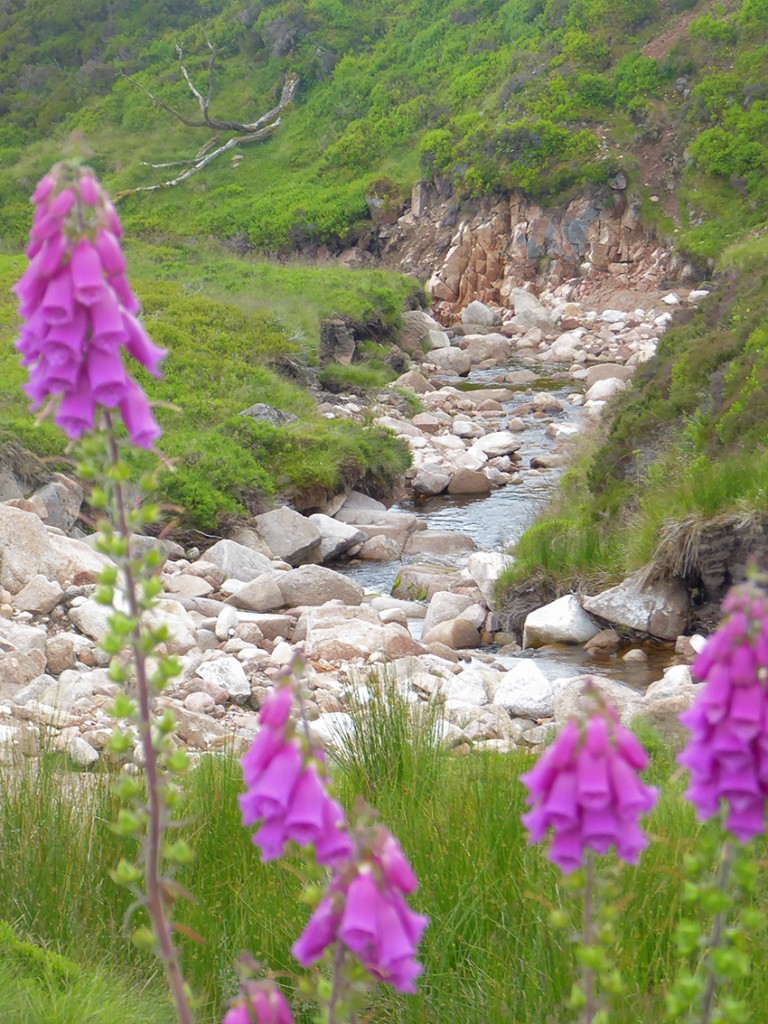 Quick refill from the stream using a sawyer filter. It's easy to think water up high in the hills is pure, and there's unlikely to be any pollution, but there's sheep and deer here which could mean bacteria. The sawyer filter saves carting the weight of extra water up the hill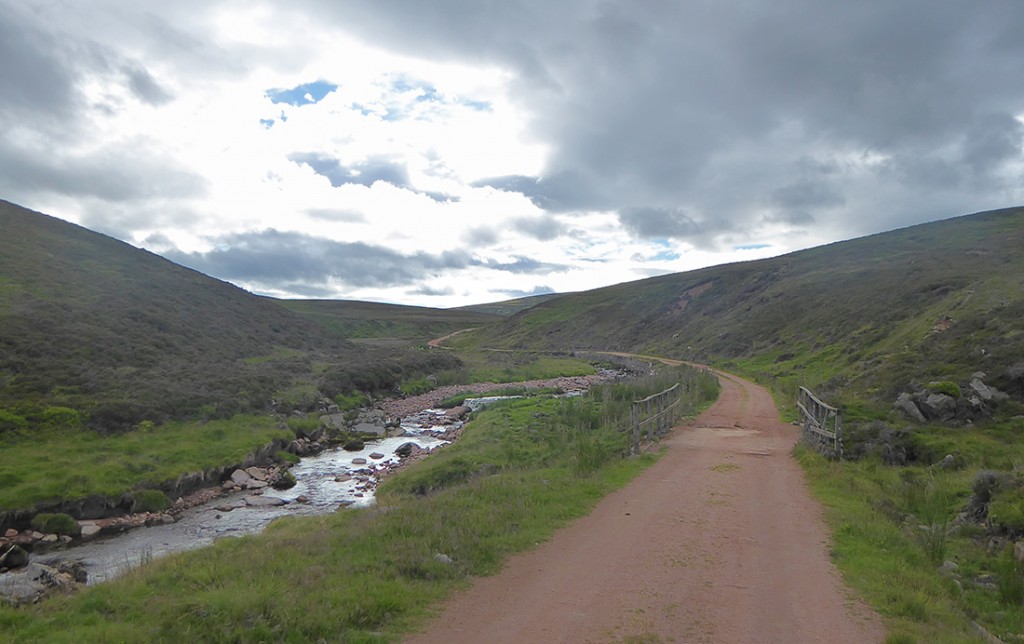 Down in the Glen, the track swoops along beside the stream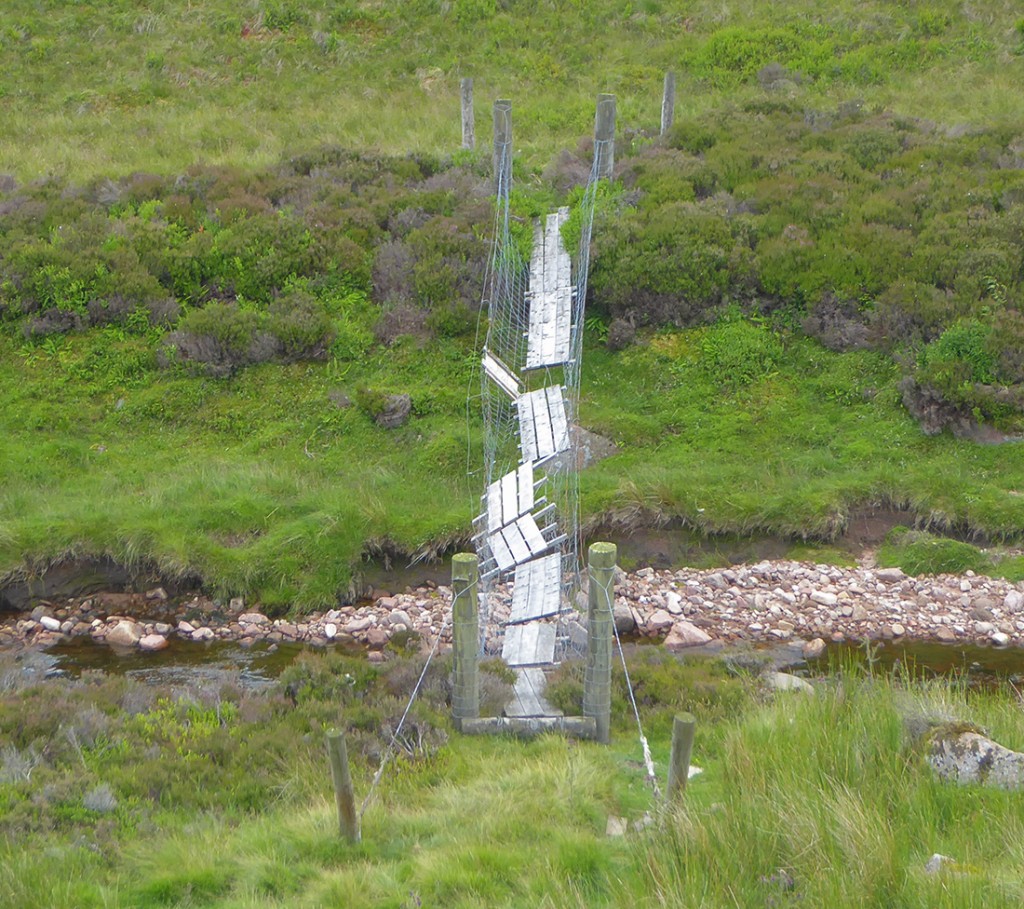 Fortunately don't need to cross this. Pass a bothy, and stop for a nosey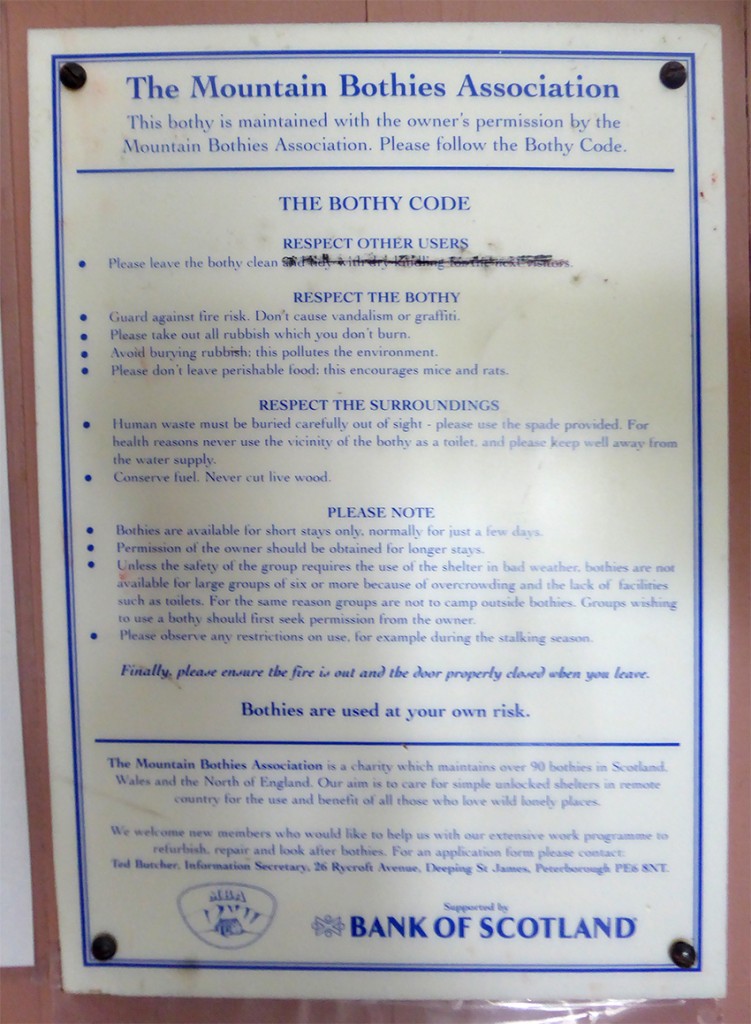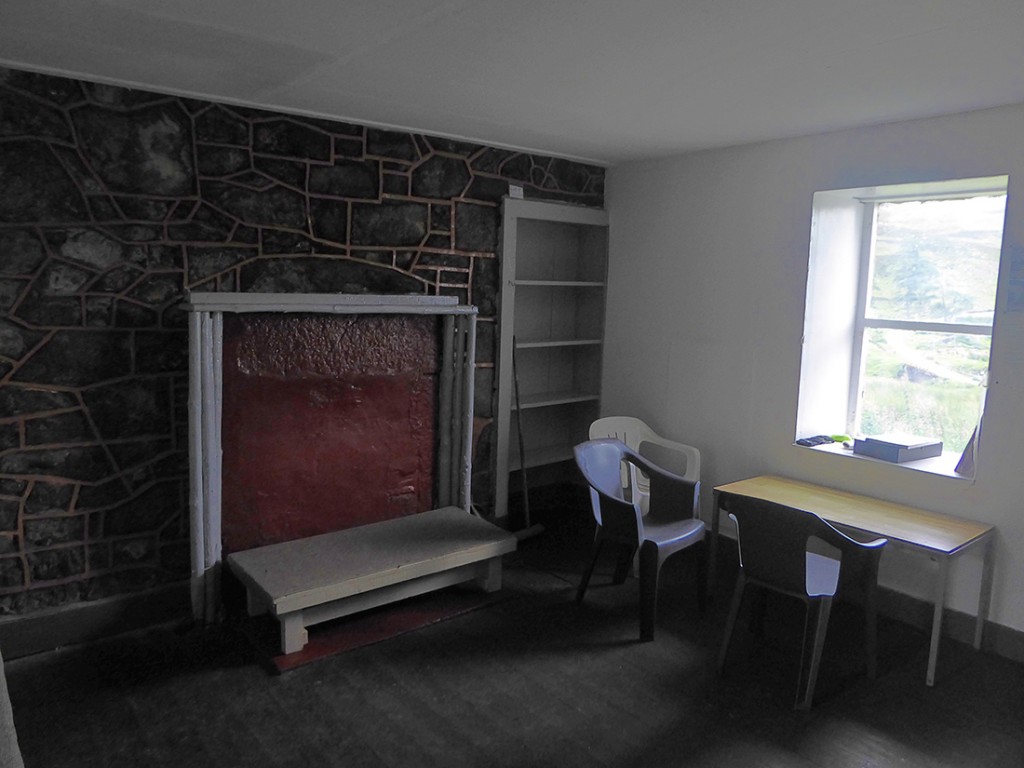 Interesting brickwork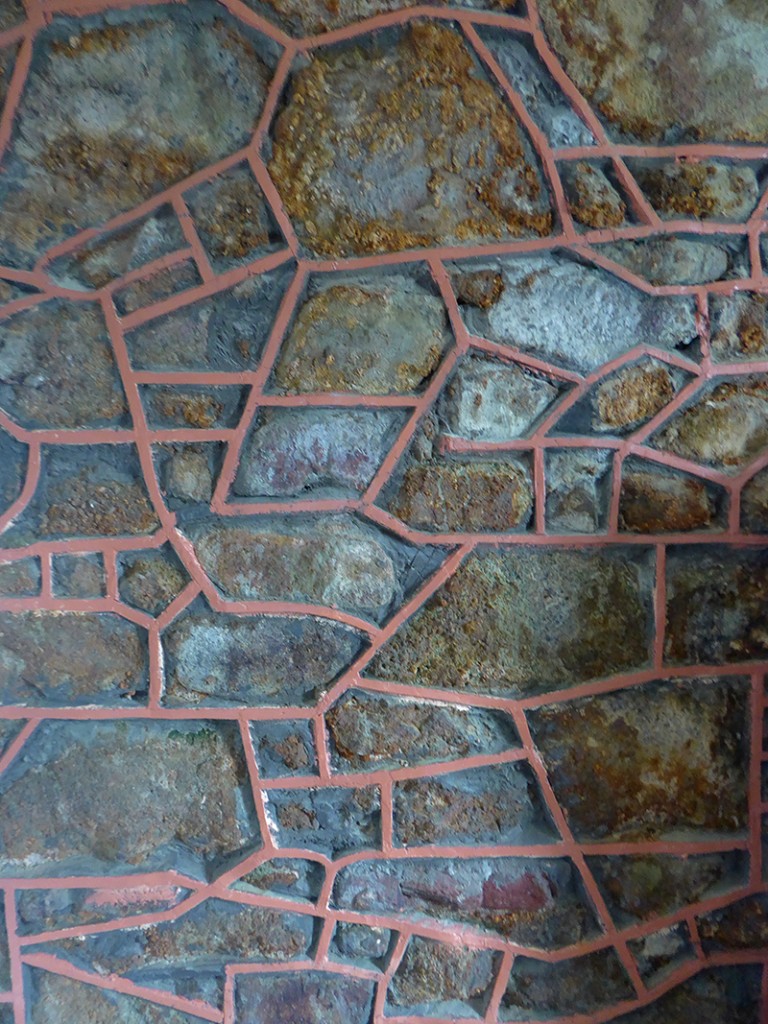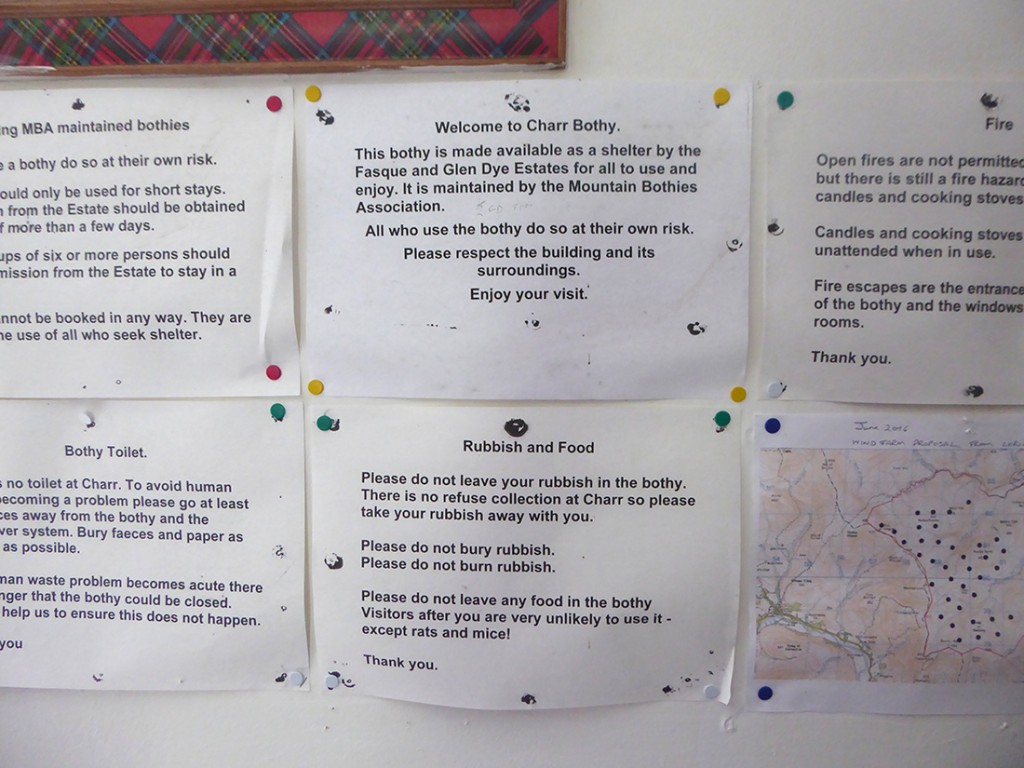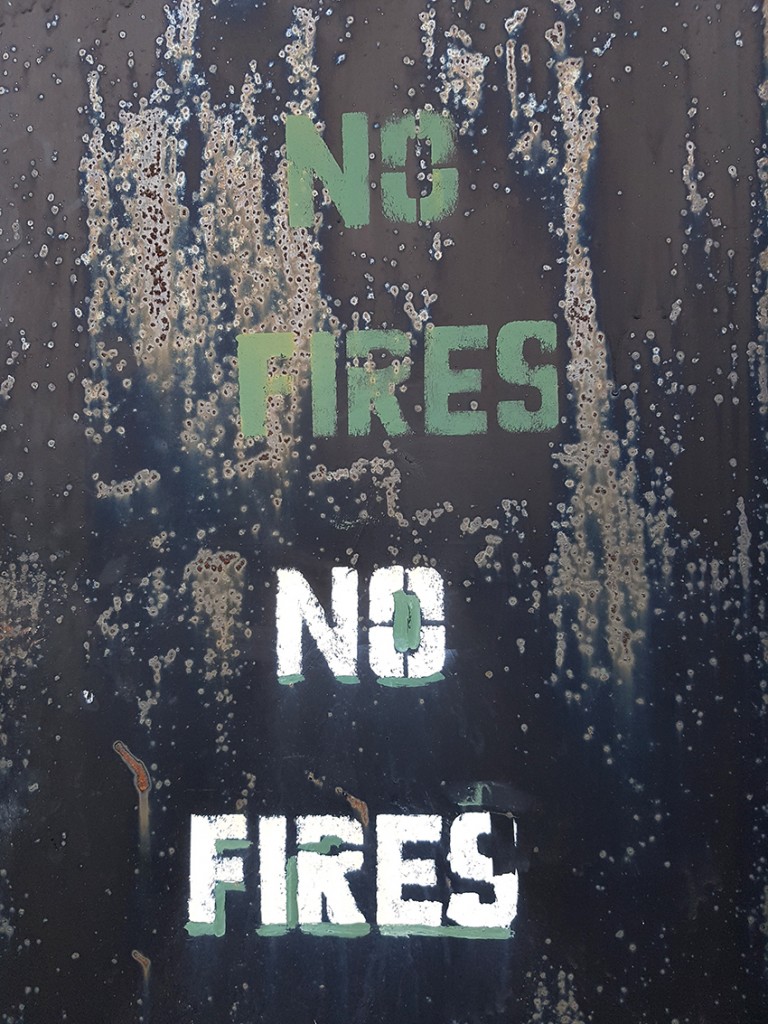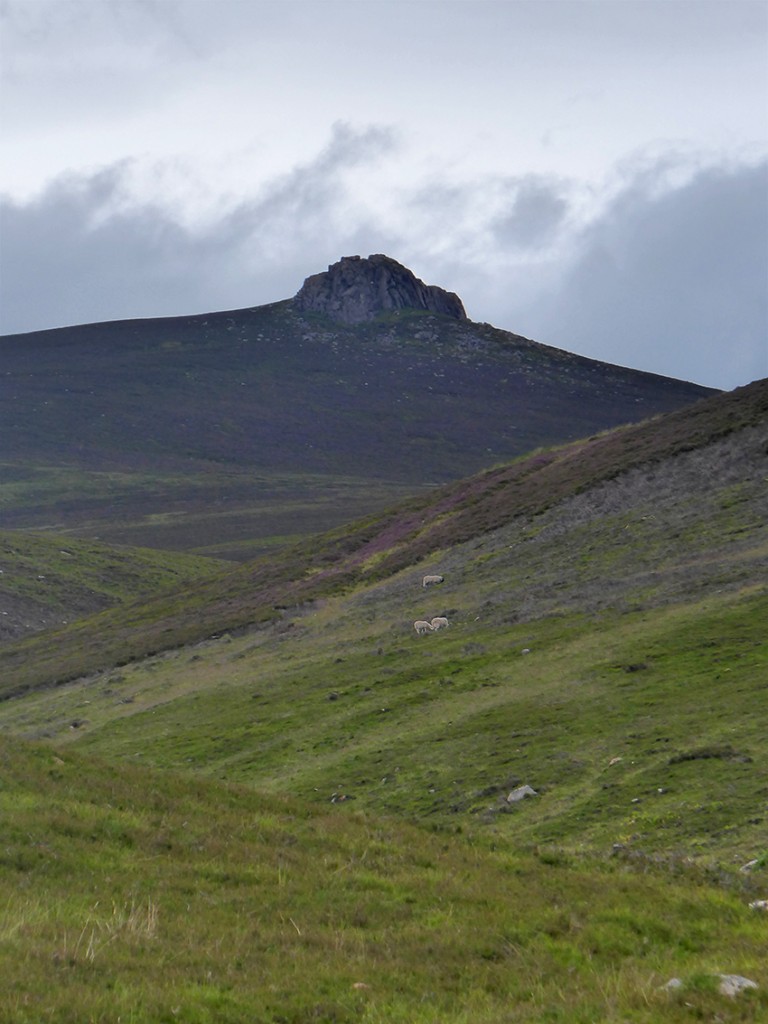 Passed a small pond not on the map, then realise rather than climbing back around the foot of Clachnaben, past Gauns Hill, we can continue to follow the burn. Turned back and down past this nice tree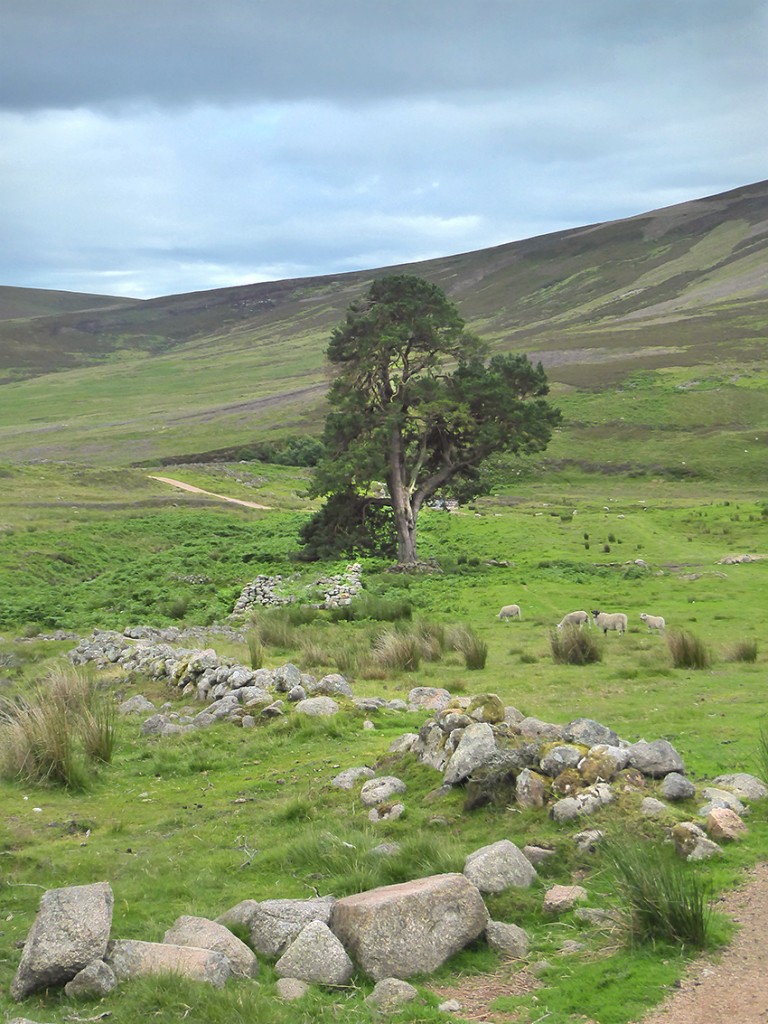 There's probably a decent photo to be had looking back past this tree towards Clachnaben . Next time..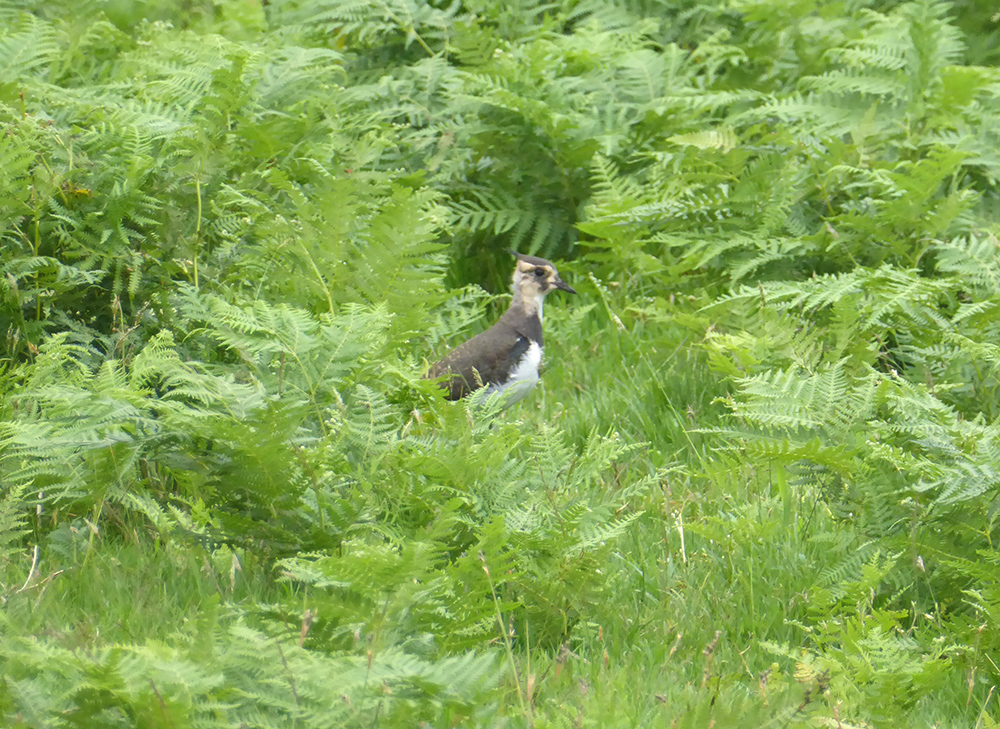 Lapwing in rough admiring the tree too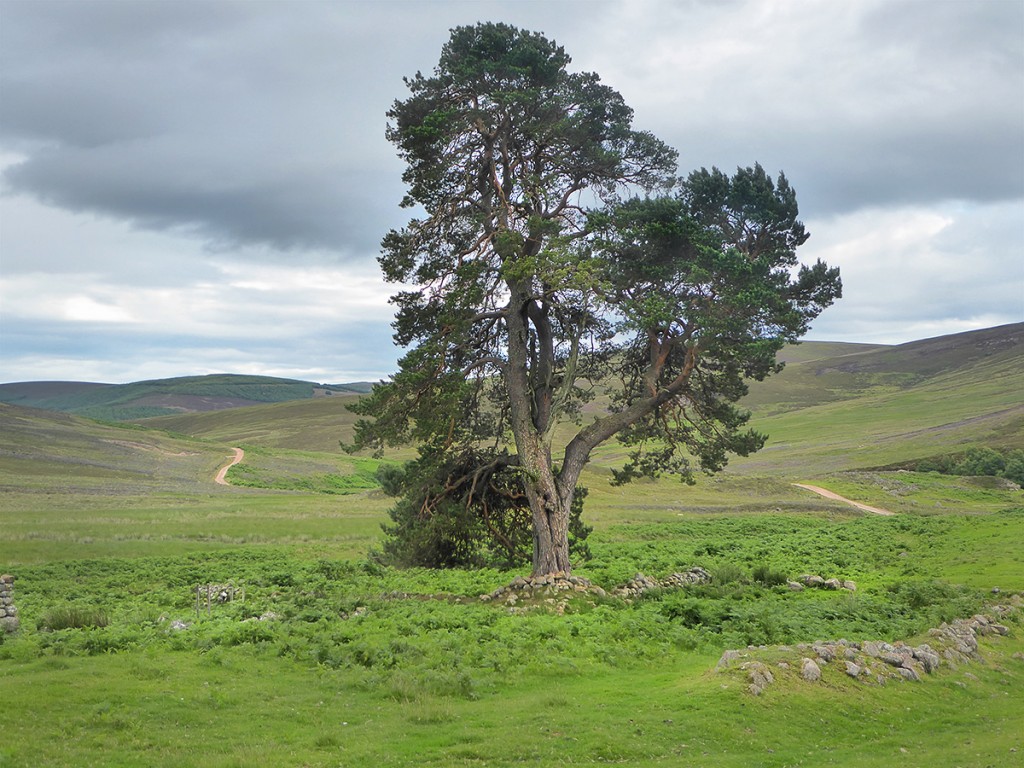 Glad we took this way, nice view. There's a bridge that heads road wards that makes a good vantage point for a photo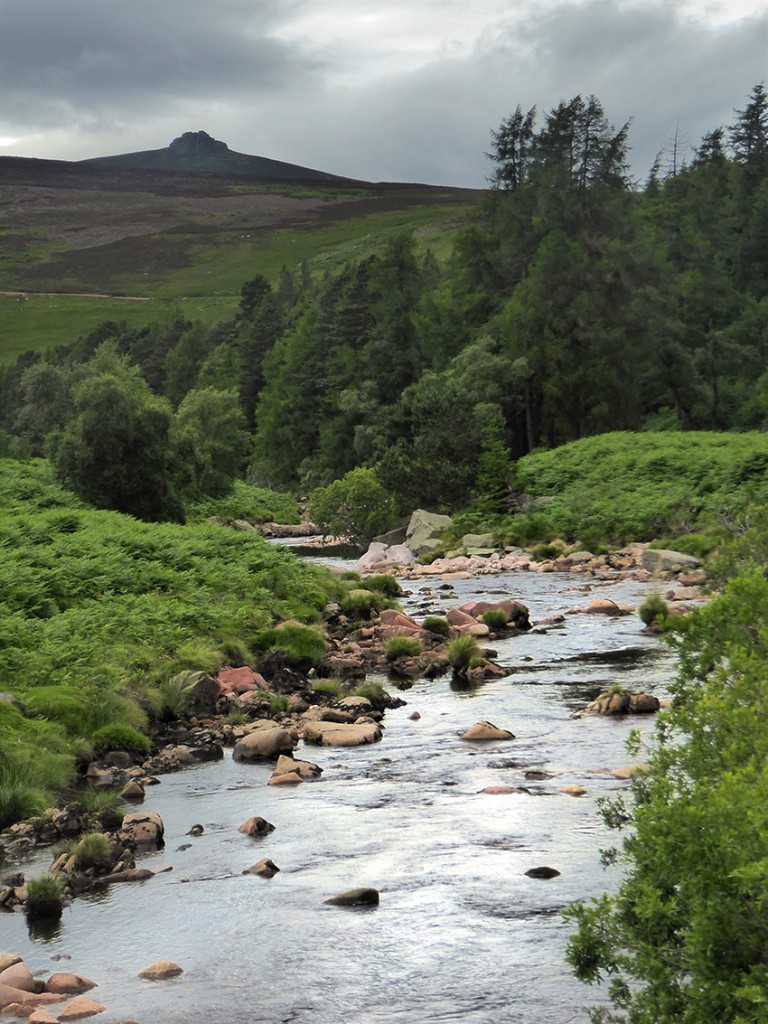 Looking upstream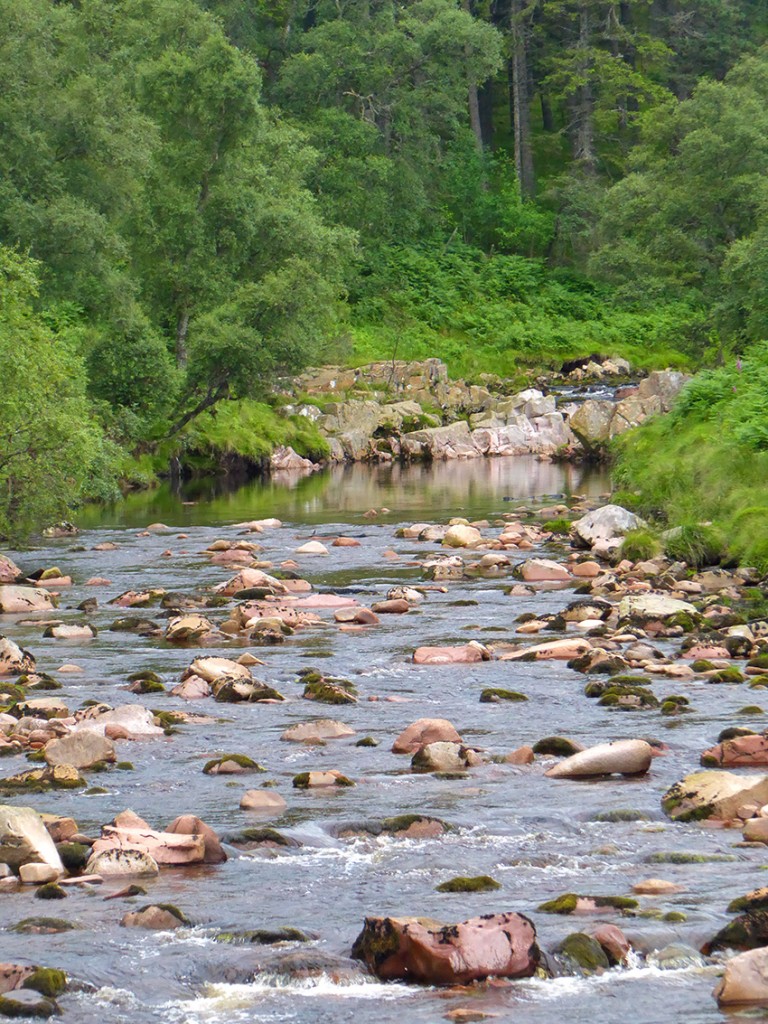 I hear a splash.. Make sure your filters are properly attached before hanging a camera off a bridge.. Fortunately quite shallow here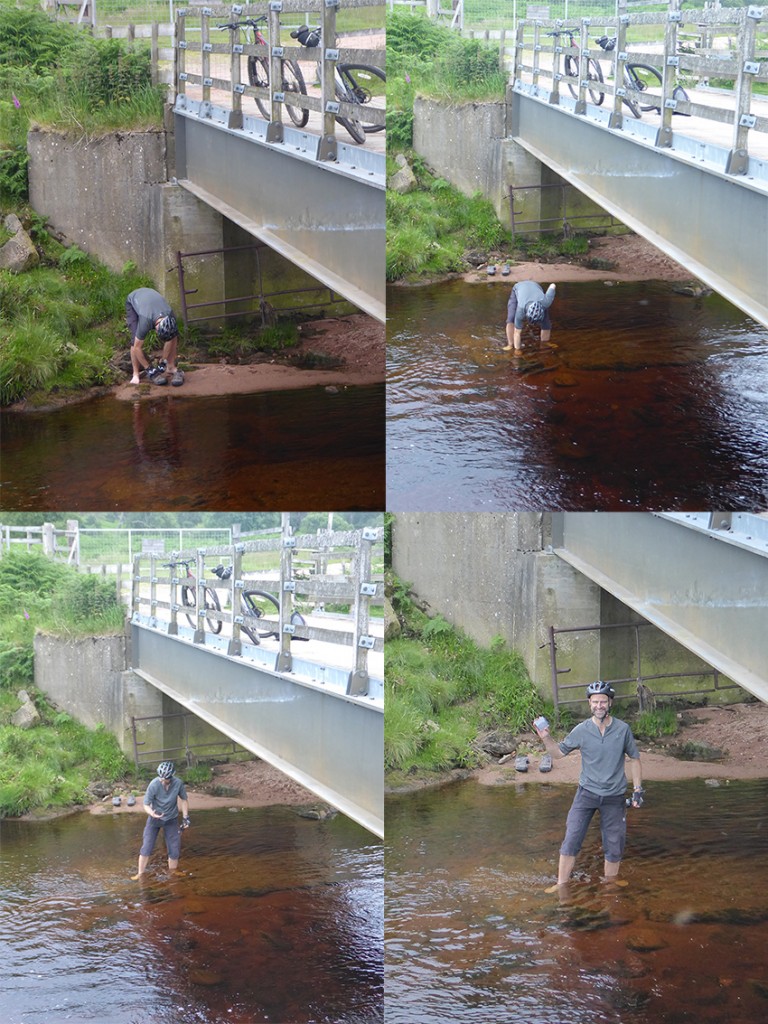 There's a wee ruin near the bridge – Spittal cottage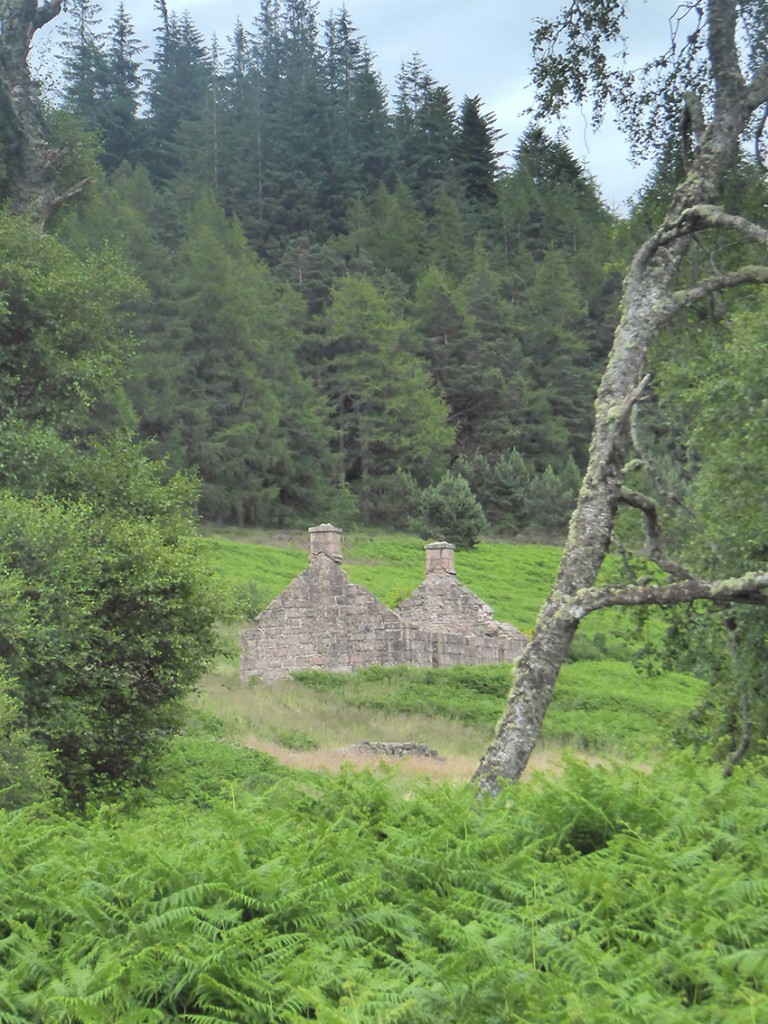 One fence left to climb then it's almost a wrap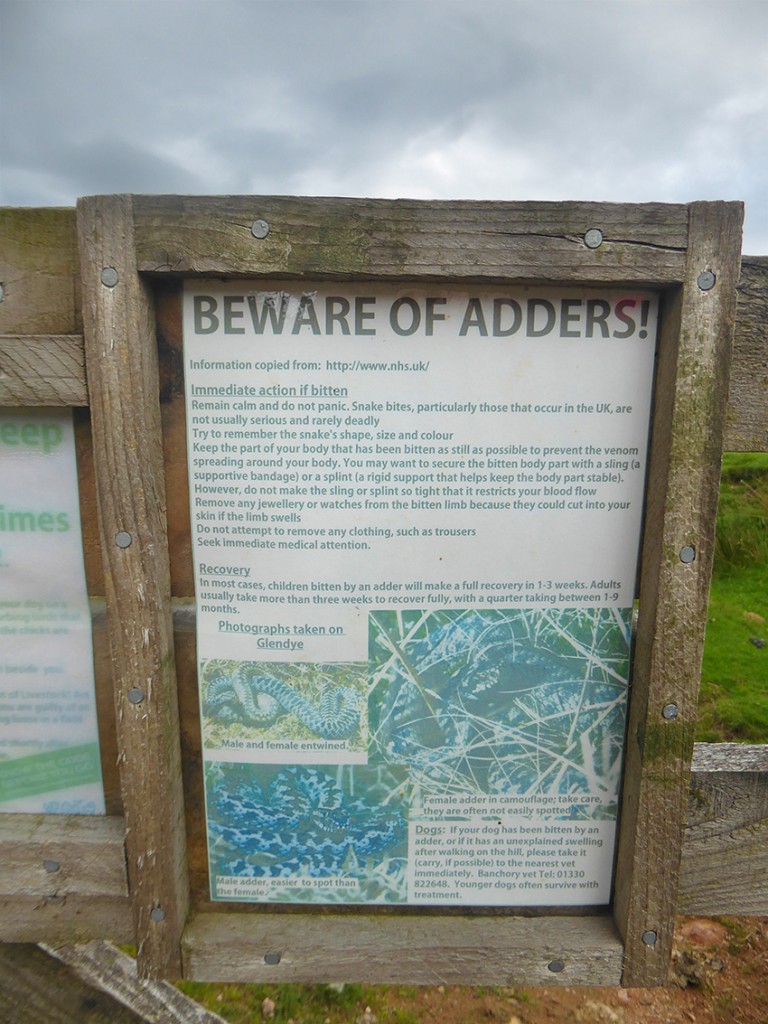 Total distance about 30k with 850m of climbing.
Note for future visits: check out the Spittal cottage for a couple shots looking West, and the old bridge near to the car park