Another day off, and another scorcher. A quick burn around Kirkhill was in order, but thought I'd extend the route by climbing Brimmond Hill to the South, and having a look at a stone circle near Kirkhill that will be cut off by the ring road in the near future.
First took a path from Matrick via Sheddocksley towards Fernhill. There's a couple of small woods here, and signposts to the various paths that crisscross the Bucksburn valley. This handy board let me know I was on the right route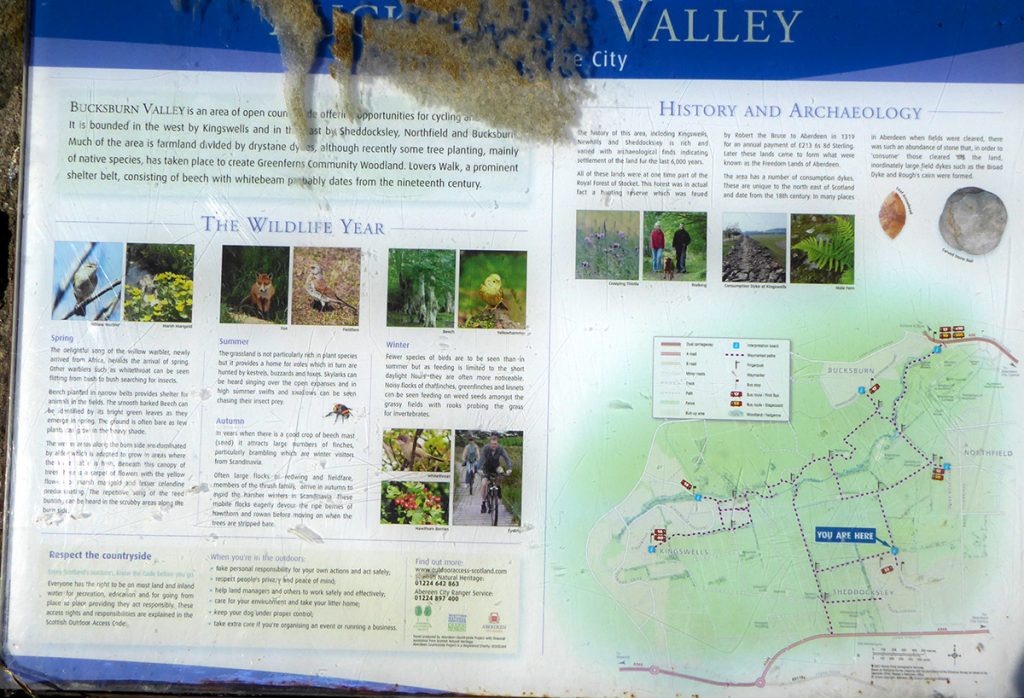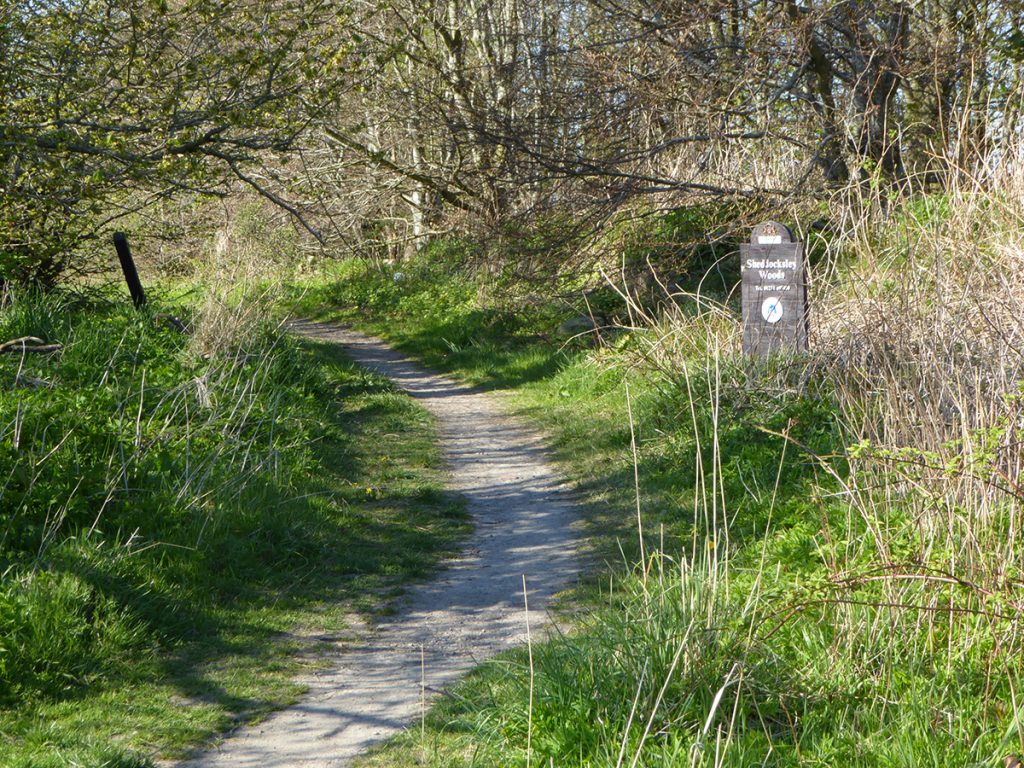 At Fernhill, a bumpy track follows the fields all the way to the stream at the bottom of the valley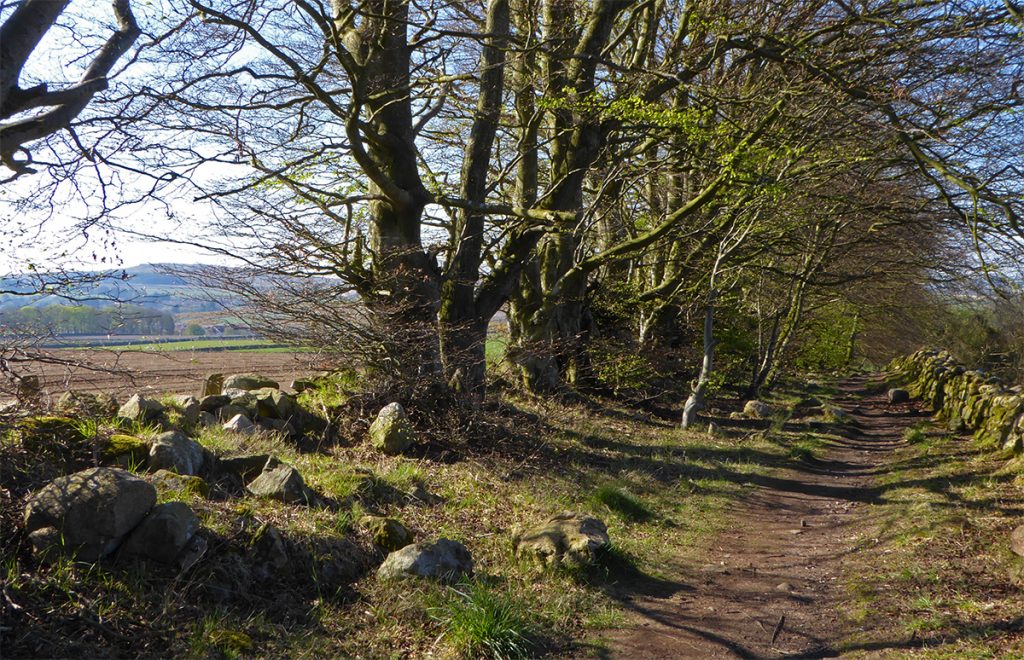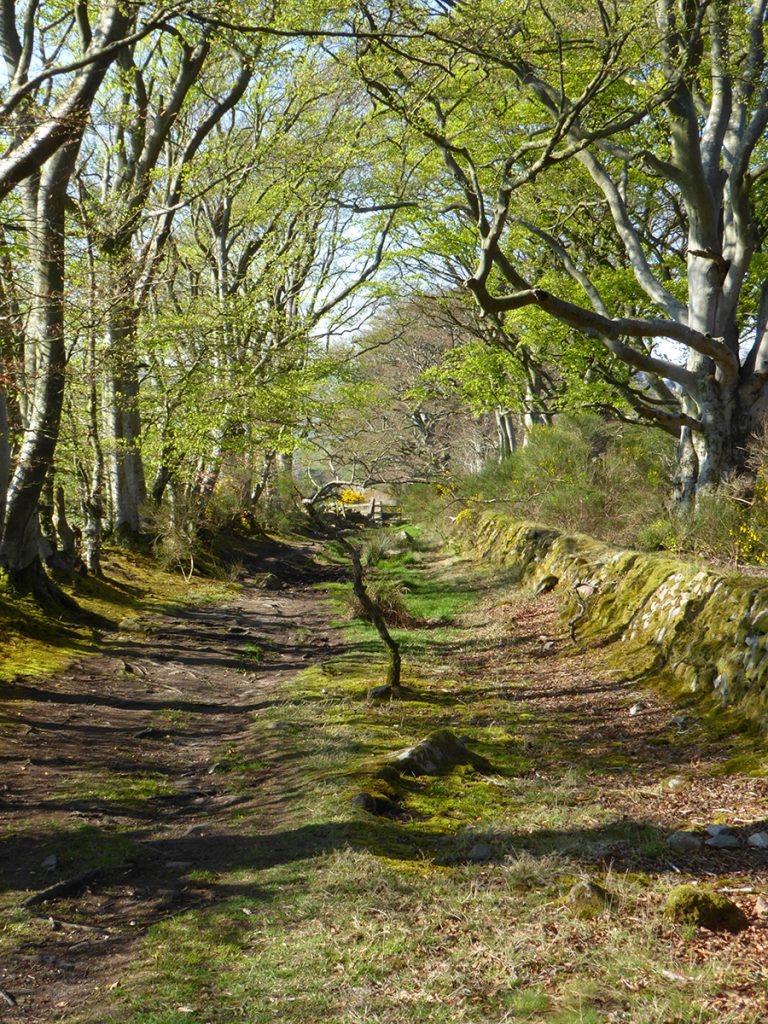 Looking across to destination 1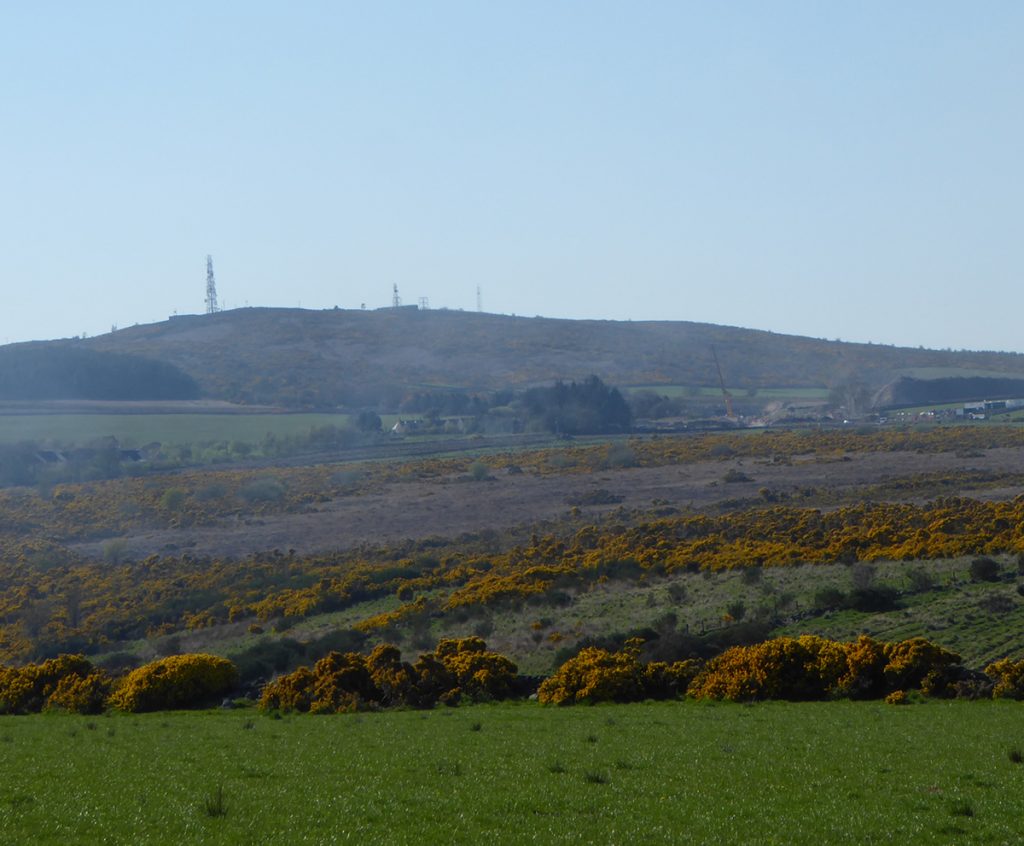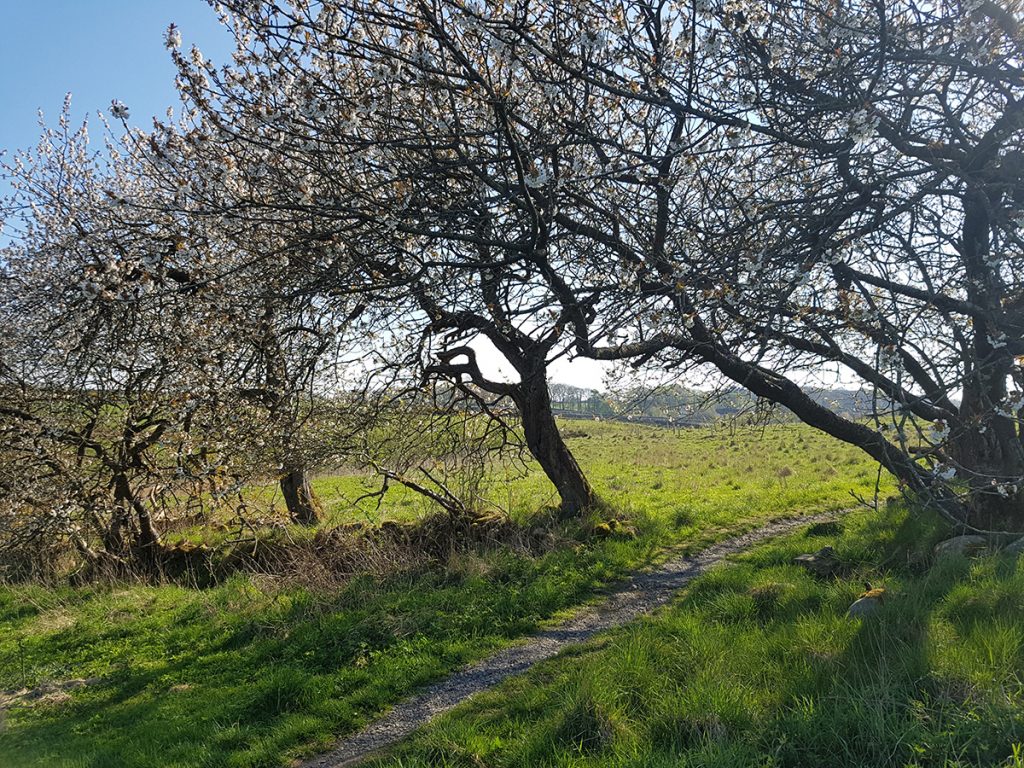 Burnbrae was living up to it's name, with there being a number of small gorse fires drifting smoke. A chap out walking asked if i knew where I was, which i thought a bit odd, until he explained that he had called the firebrigade but couldn't give a location other than 'East of Kingswells'. I gave him an OS reference number.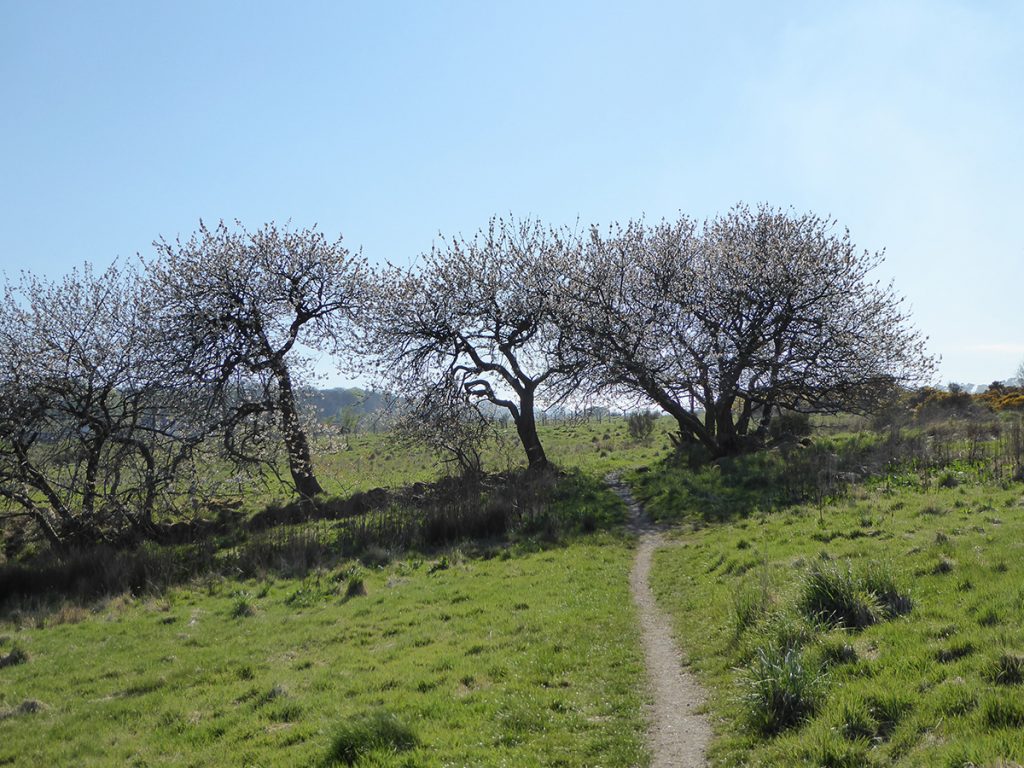 I followed the path to the soulless commuter town of Kingswells. It took me 10 minutes to cross the main road it was so bumper to bumper with high speed Audis. A wee farm track climbed up away from the chaos until chopped off by a massive cutting for the ring road.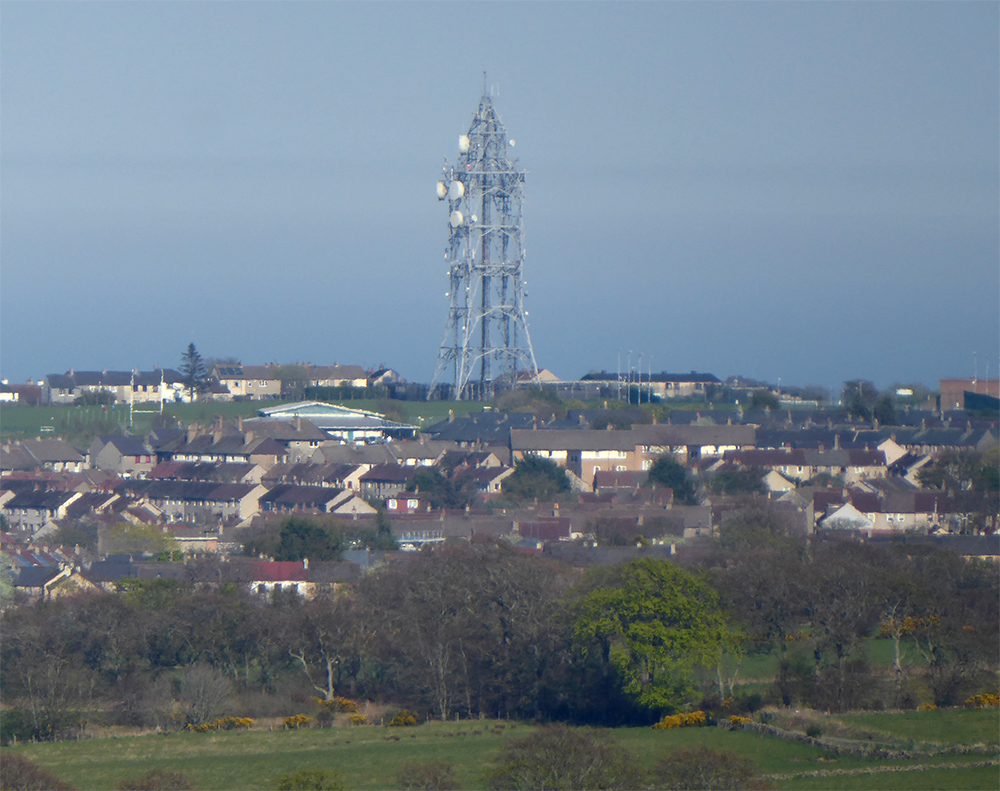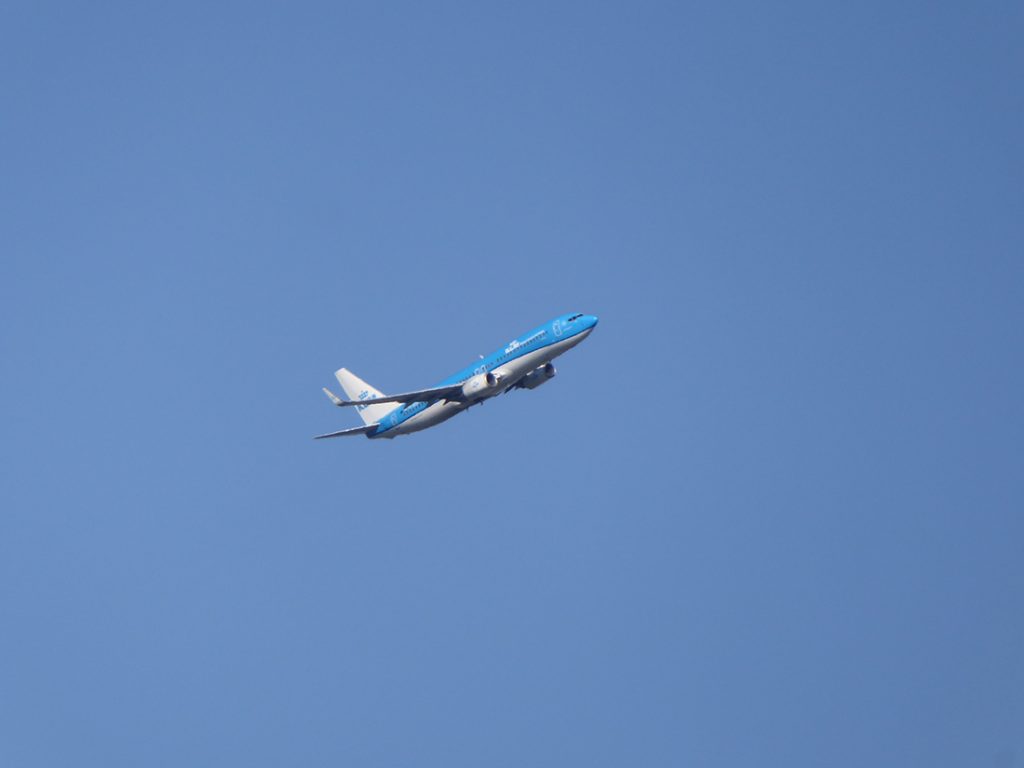 I cut through some woods to reach a path shown on OS maps that would ascend Brimmond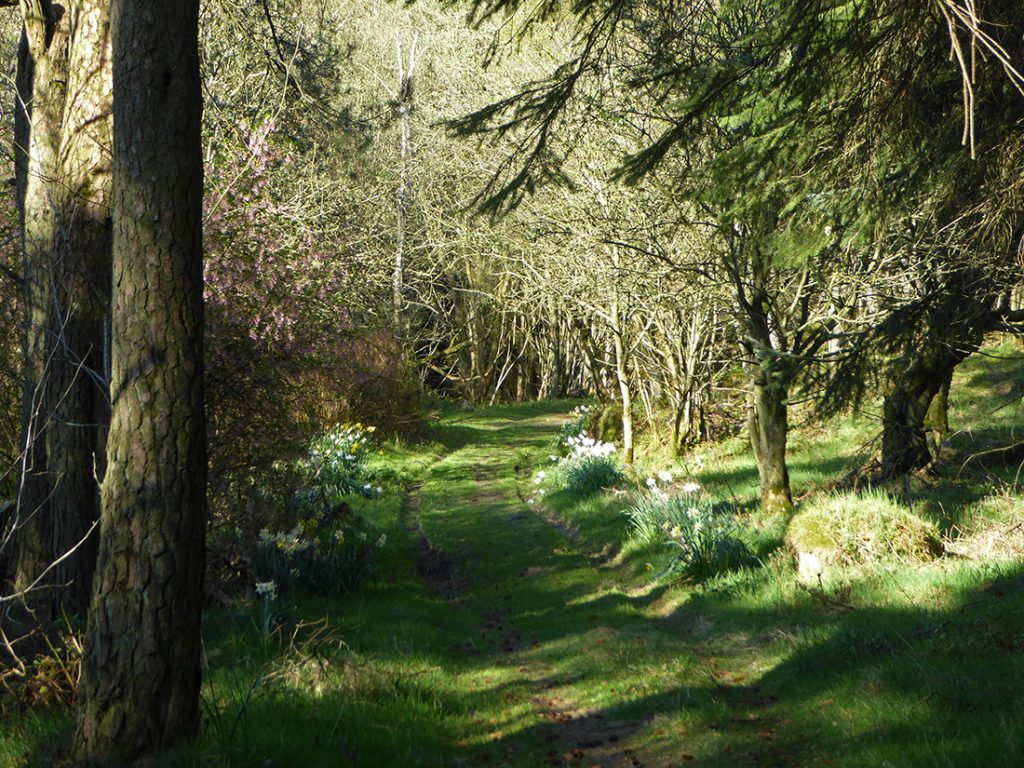 It's a tough old climb this way, gorsey as hell and rocky, half hike half granny ring sweat fest. Turns out though that it makes a great descent – probably as good as anything on Kirkhill, though without an easy 'return to top' route
Bumped into a fellow cyclist on the top with a nice titanium on-one cyclocross. He looked at me as if I was mad as I grunted up over the last few boulders in the gorse. Nice view from the top, though despite being the highest vantage point overlooking Aberdeen at 266m, not quite as nice as either Tullos Hill, Kincorth Hill or Tollohill. Grabbed a snack and a quick drink.. except my bottle had bumped out of cage at some point.. fortunately I had my Sawyer mini filter, a decent lightweight solution to getting drinking water, and I knew there was a stream below.
There's various transmitters up here, some apparently provide line-of-sight comms to offshore platforms, but they do interrupt the panorama.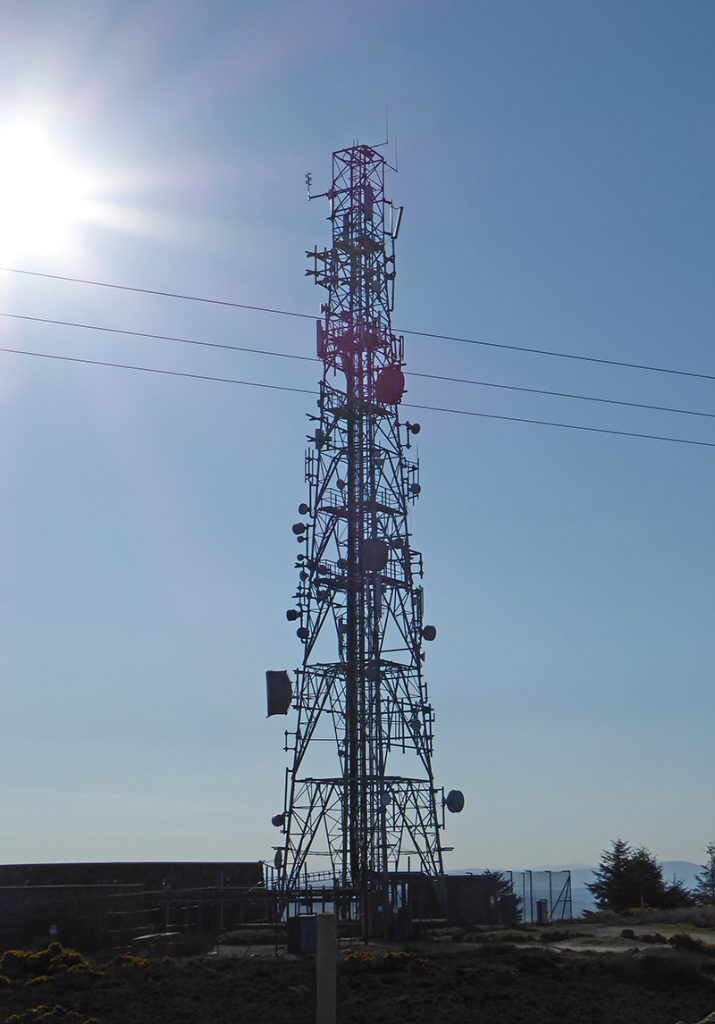 There's a handy cairn and flag for a quick selfie.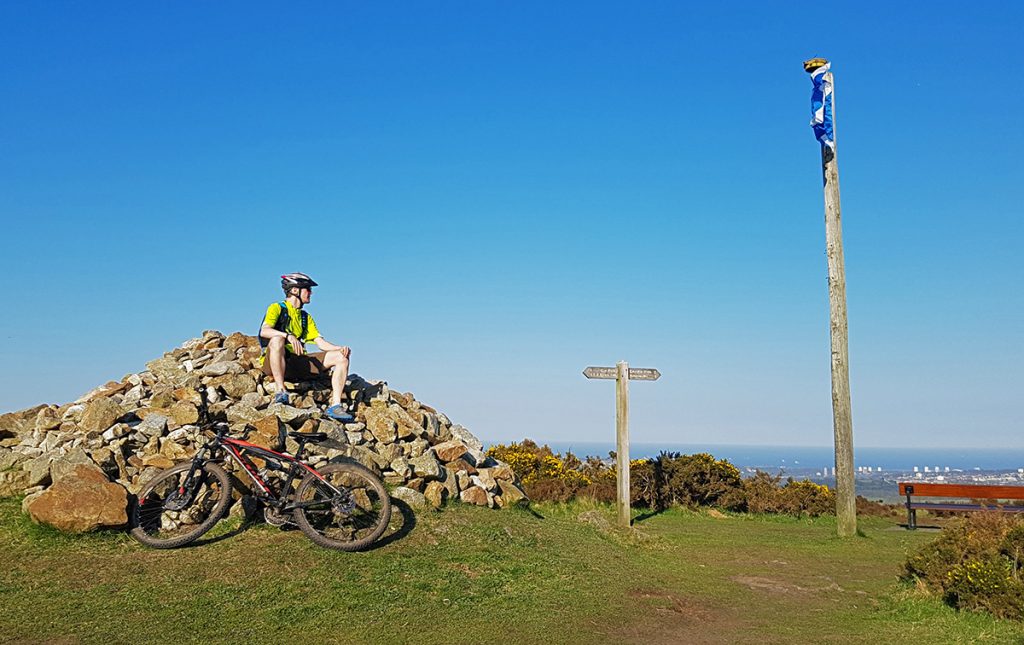 Looking South West into the haze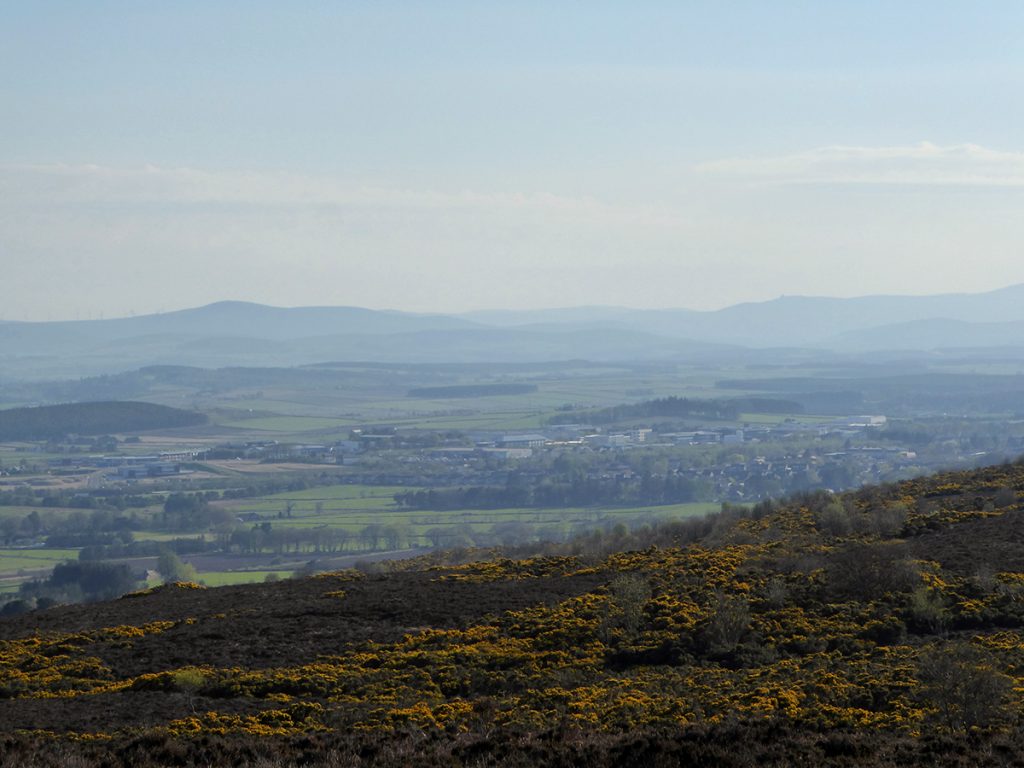 Zooming into the haze, the unmistakable pimple of Clachnaben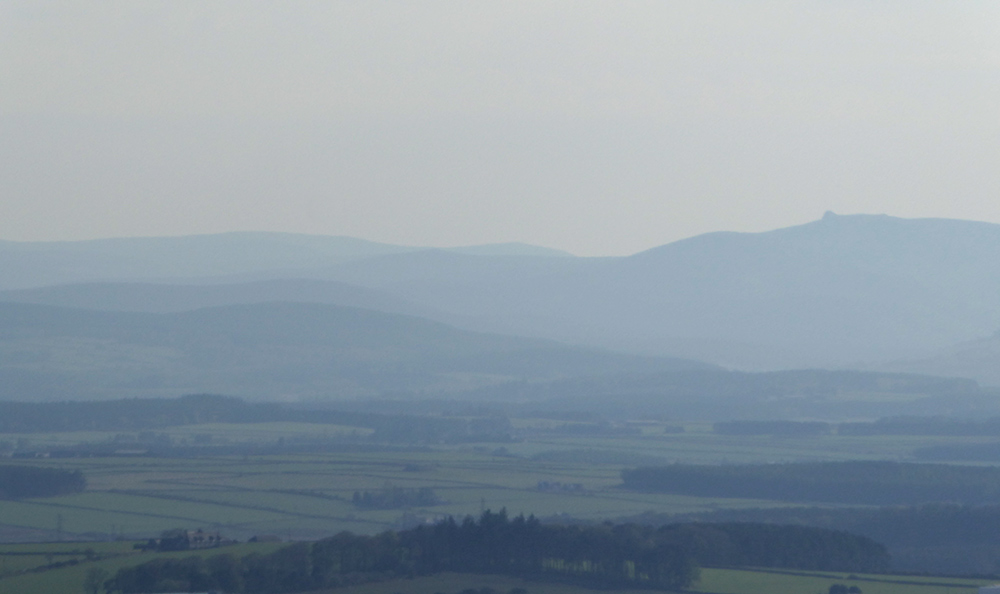 Time to think about heading down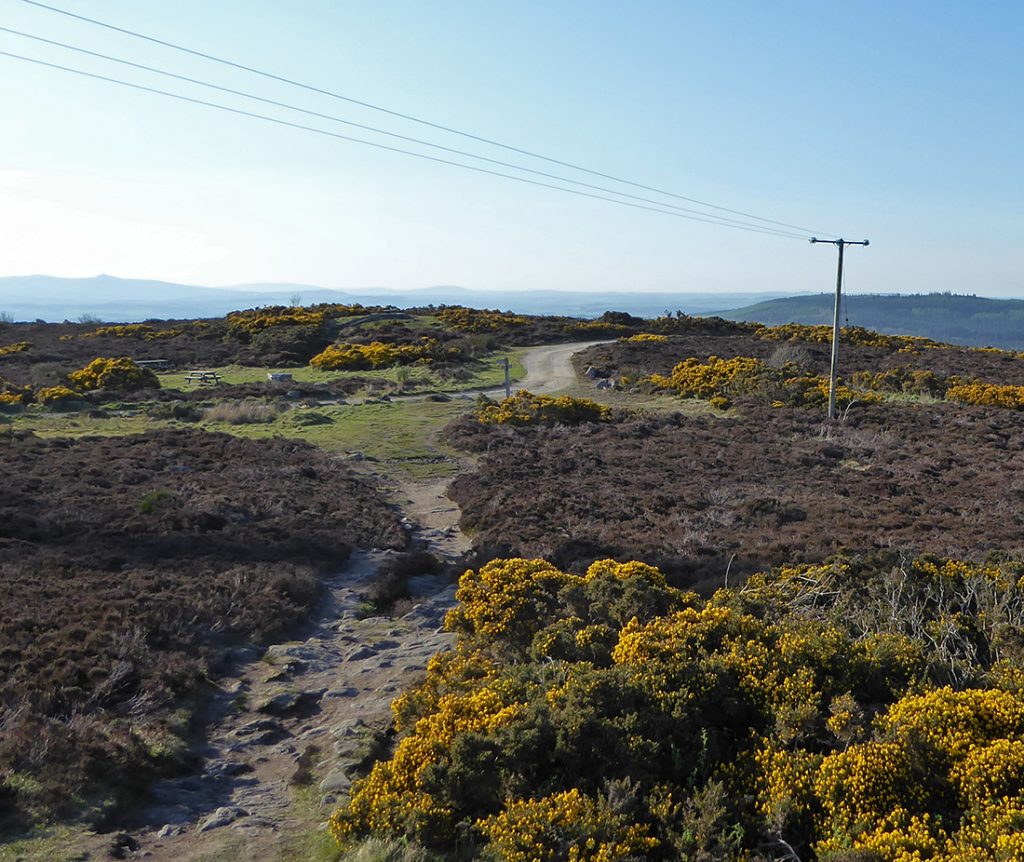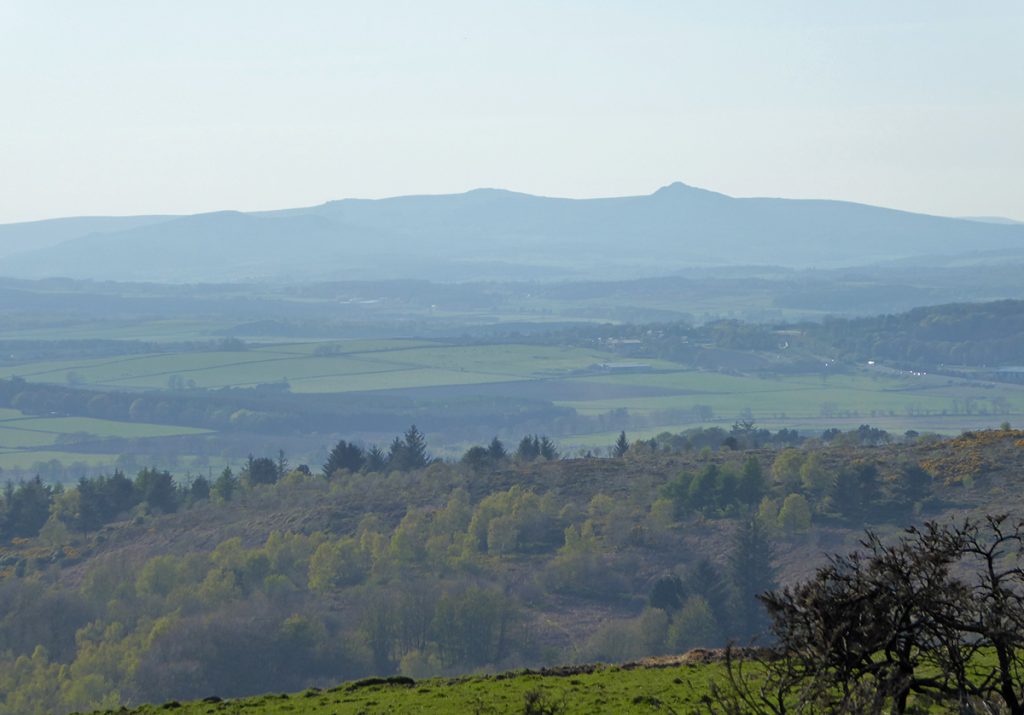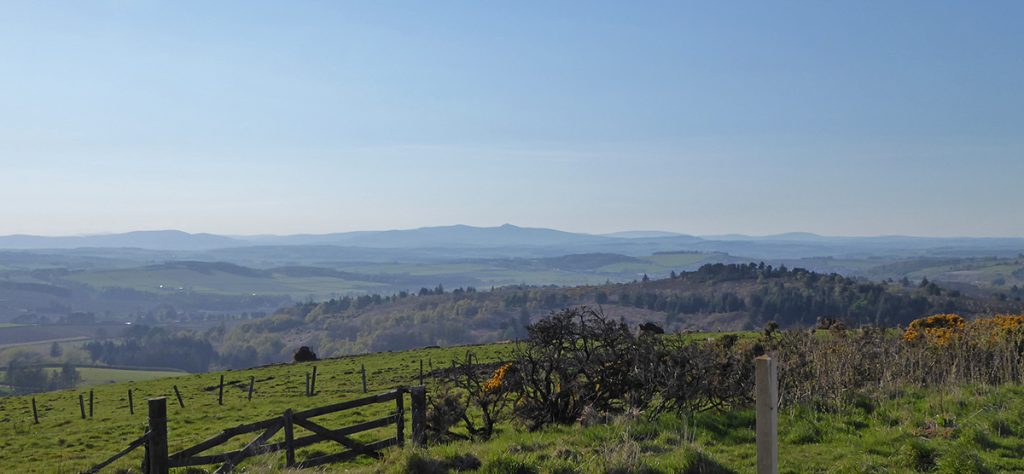 At Elrick hill I filled up my filter bag and glugged down some water. Note the bit of string, my mod to avoid the bag floating off in fast flowing streams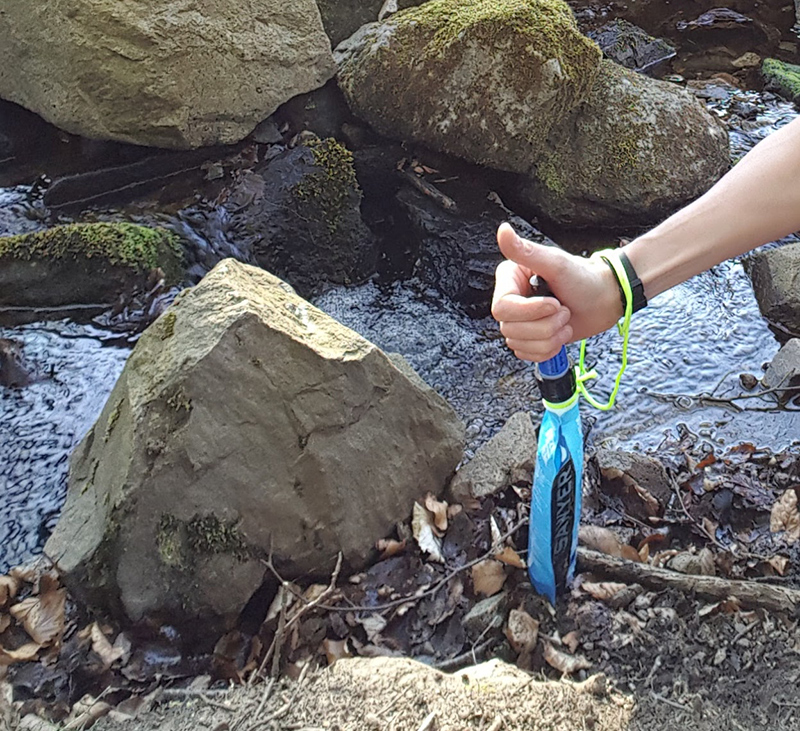 Shadows cast in Tyrebagger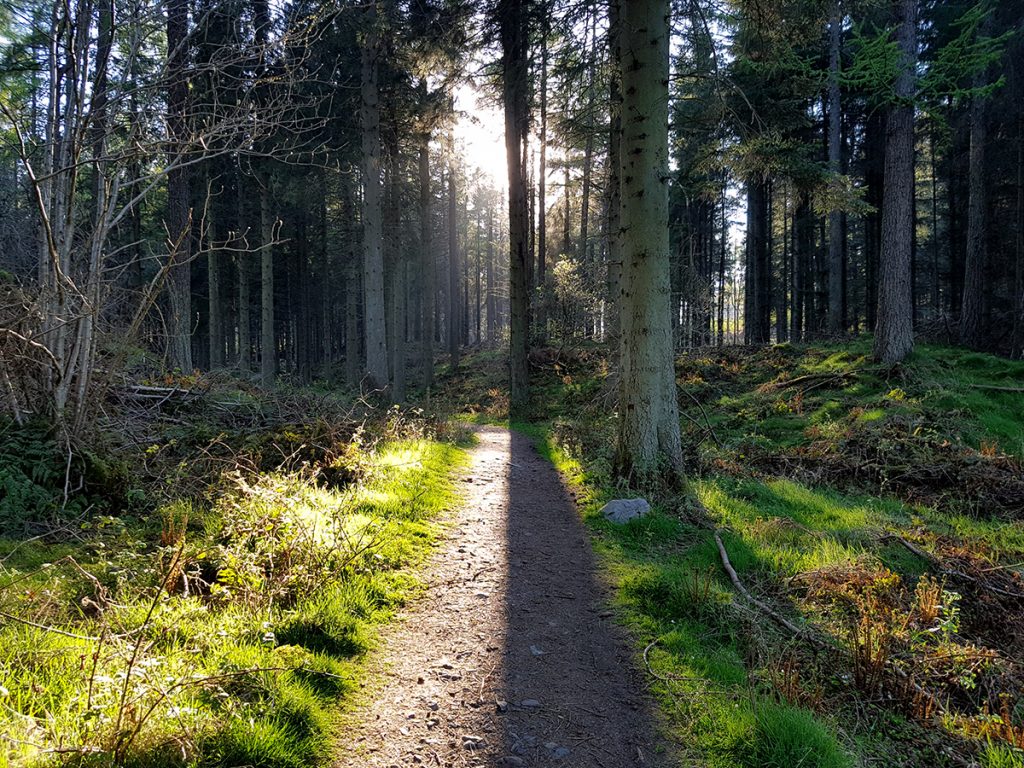 I had a nice climb up to Tappie tower. A few folk at the top in full fluoro armour downhill went blasting off down the rock path at the back. Following them, I inadvisably gave it a bit too much stick trying to keep up behind them.. smashed over the handlebars. Quite fortunate to jump back on with seat bent askew. Despite 10 second crash break, jumped back on and still beat my segment record handily. One for the full-sussers really though.
This path is really a shallow stream, even after a dry week. Bruised and now splattered.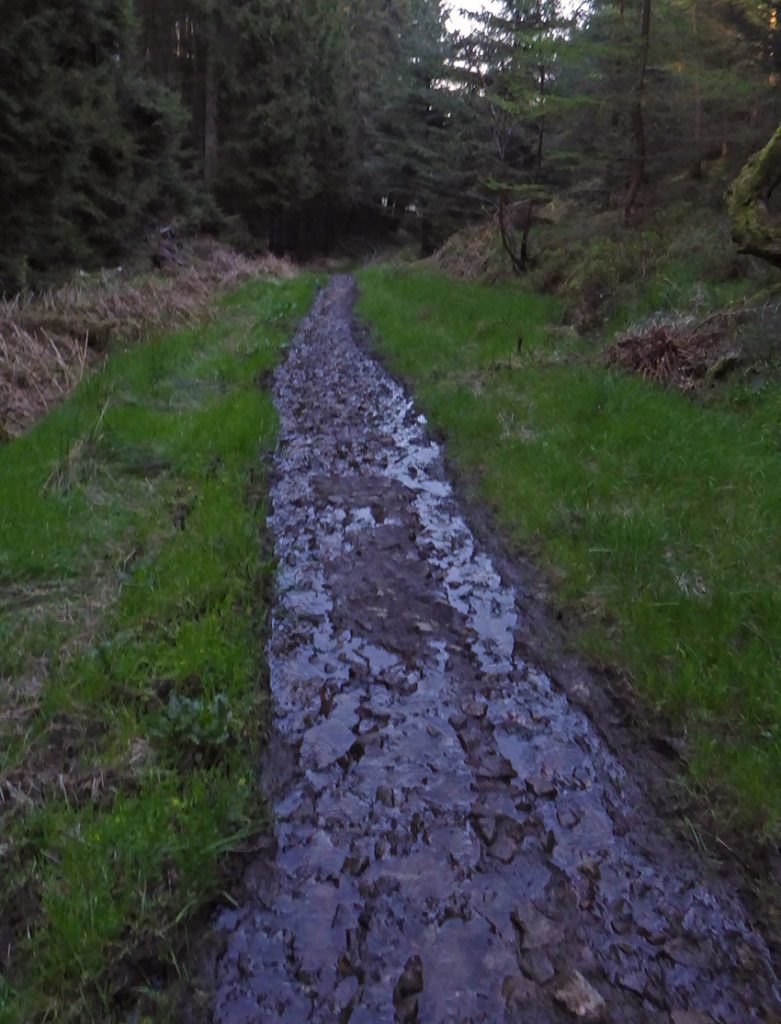 Surprised I hadn't noticed the stone circle before, It's on the brow of a hill, now cut off by the ring road workings. Fortunately the works were at rest so I snuck across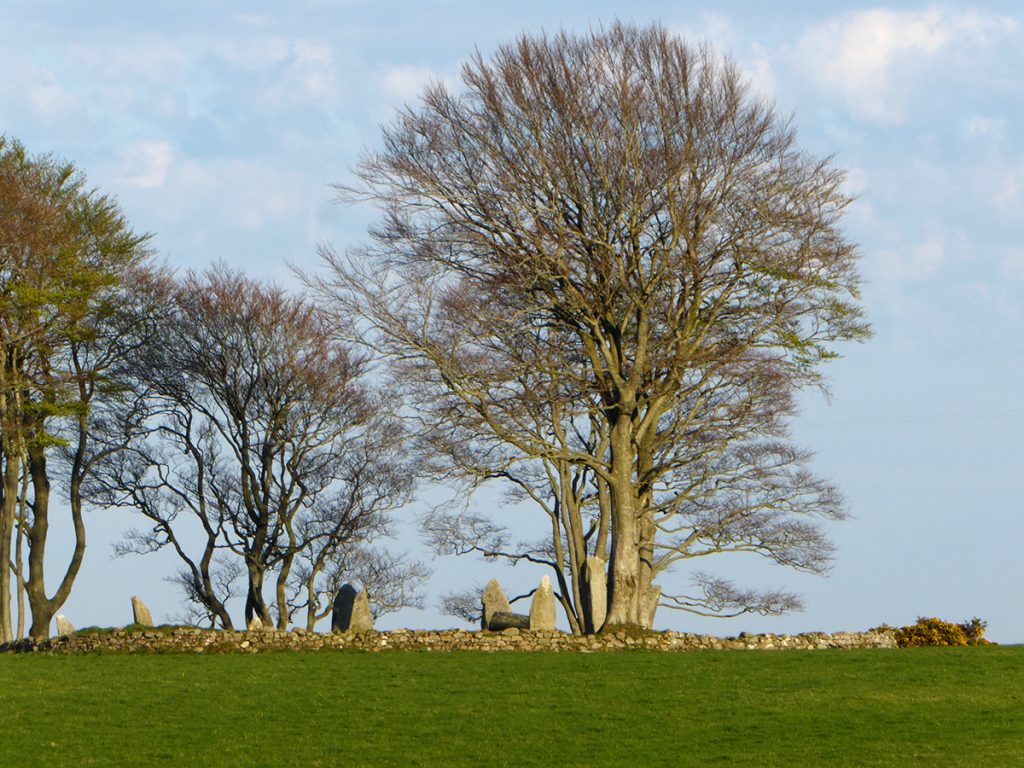 More info on Tyrebagger stone circle at Other Aberdeen and canmore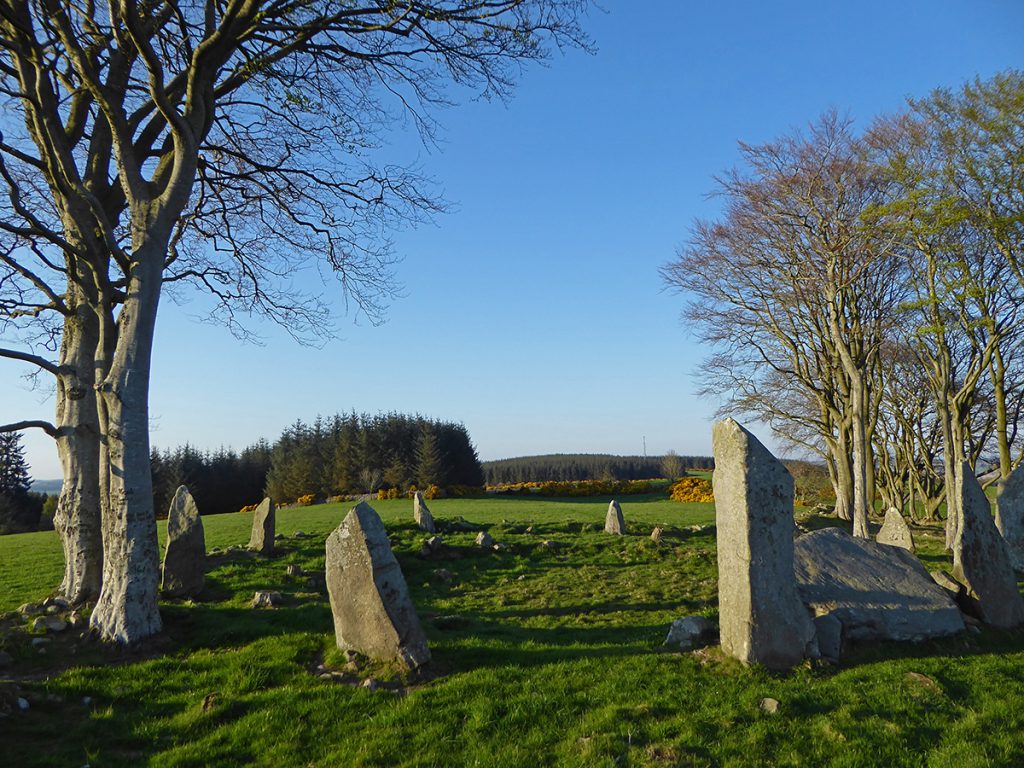 Somebody had left a ouija board at the foot of a stone, thousands of years separating their provenance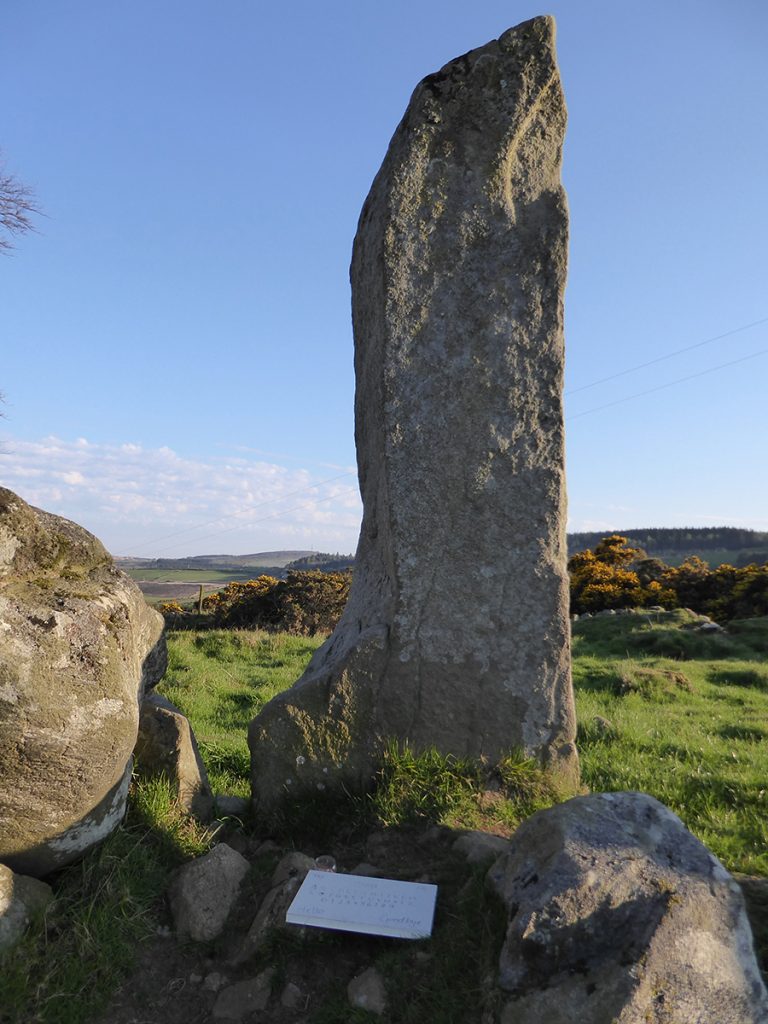 Looking back towards Brimmond hill, a bit of zoom compression allows modern and ancient obelisks to coexist across aeons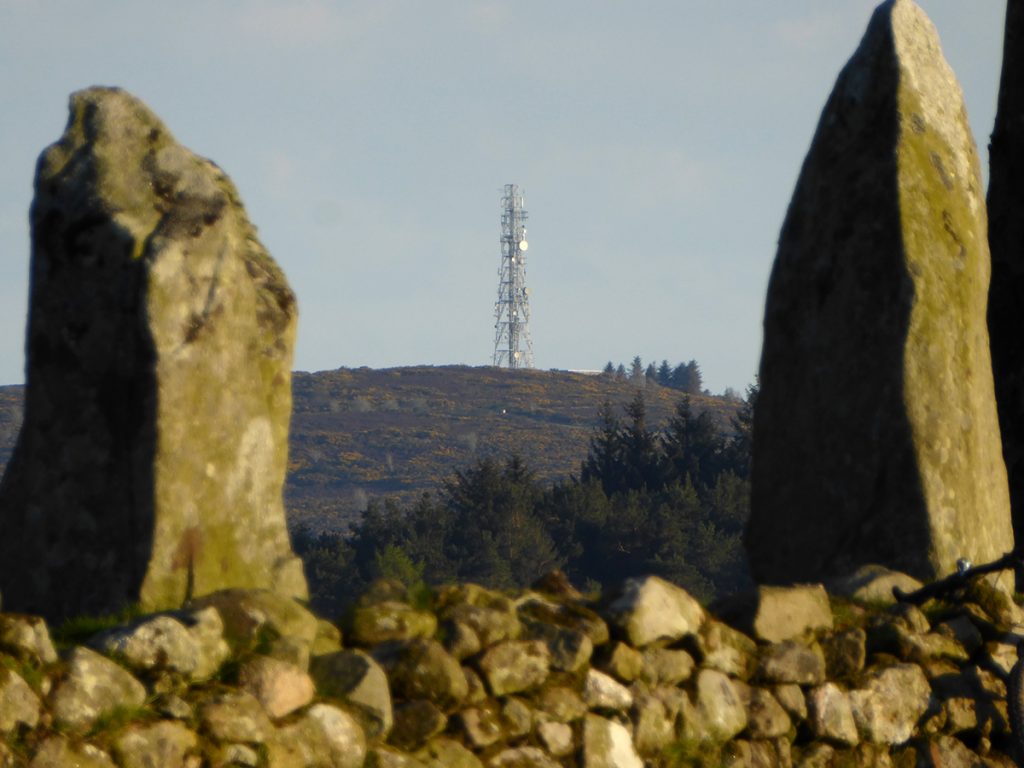 Looking South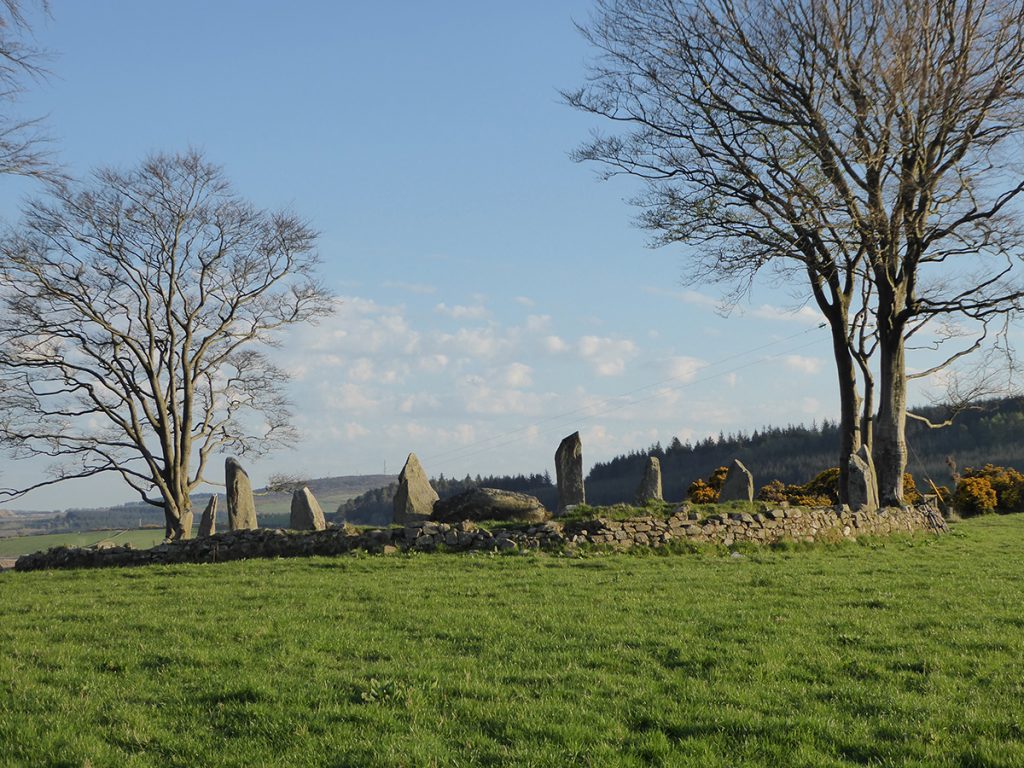 The airport to the East breaks the spell a bit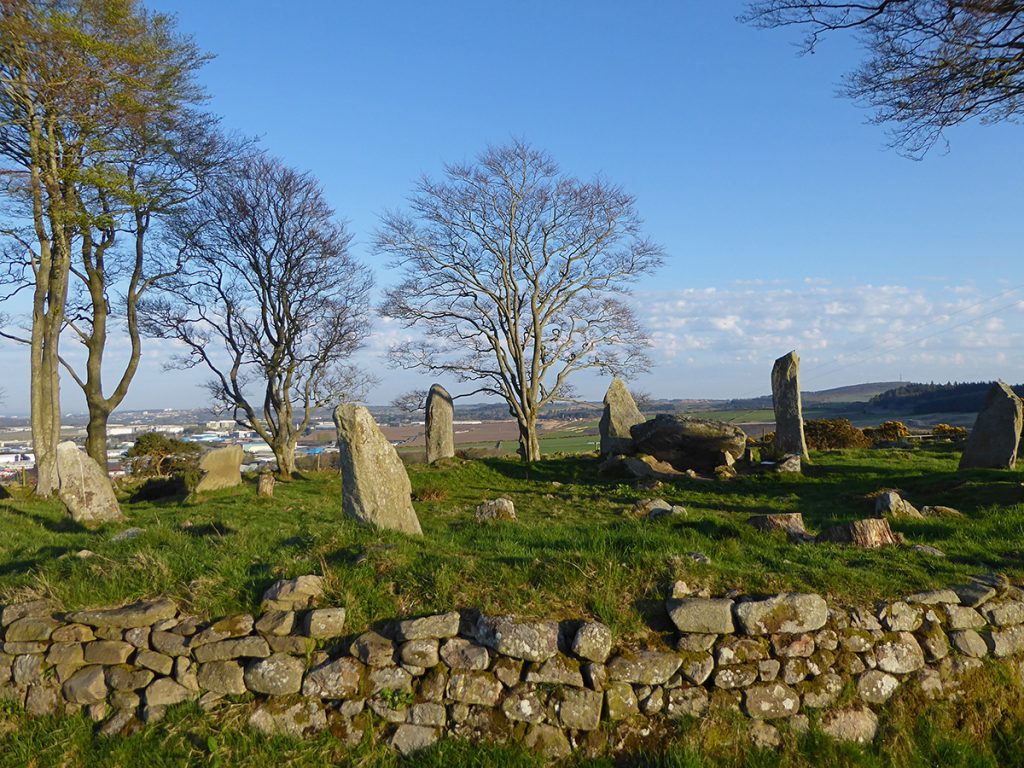 Best take an obligatory bike shot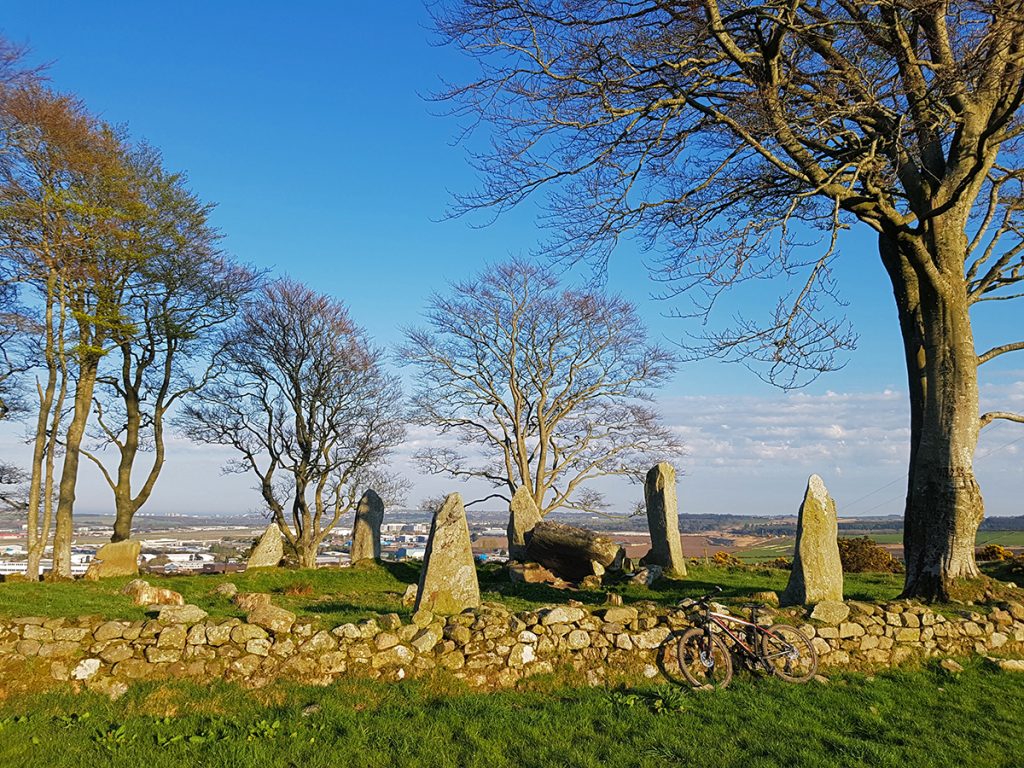 Looking North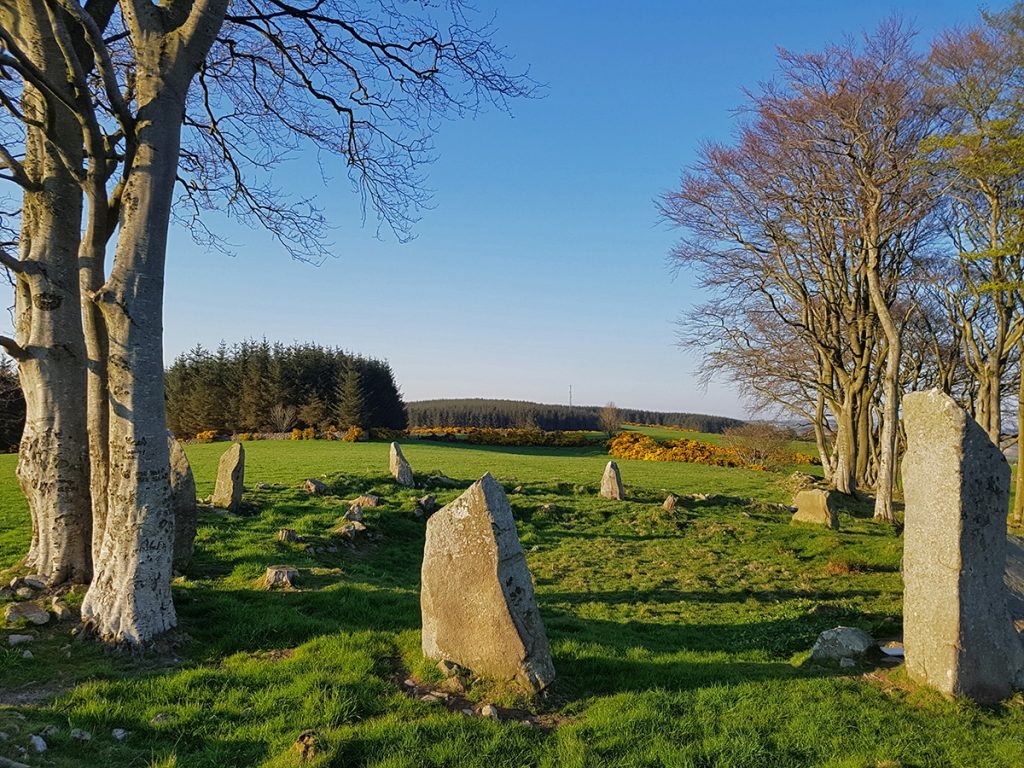 Time to head back. Some nice clouds catching the evening sun back on Elrick hill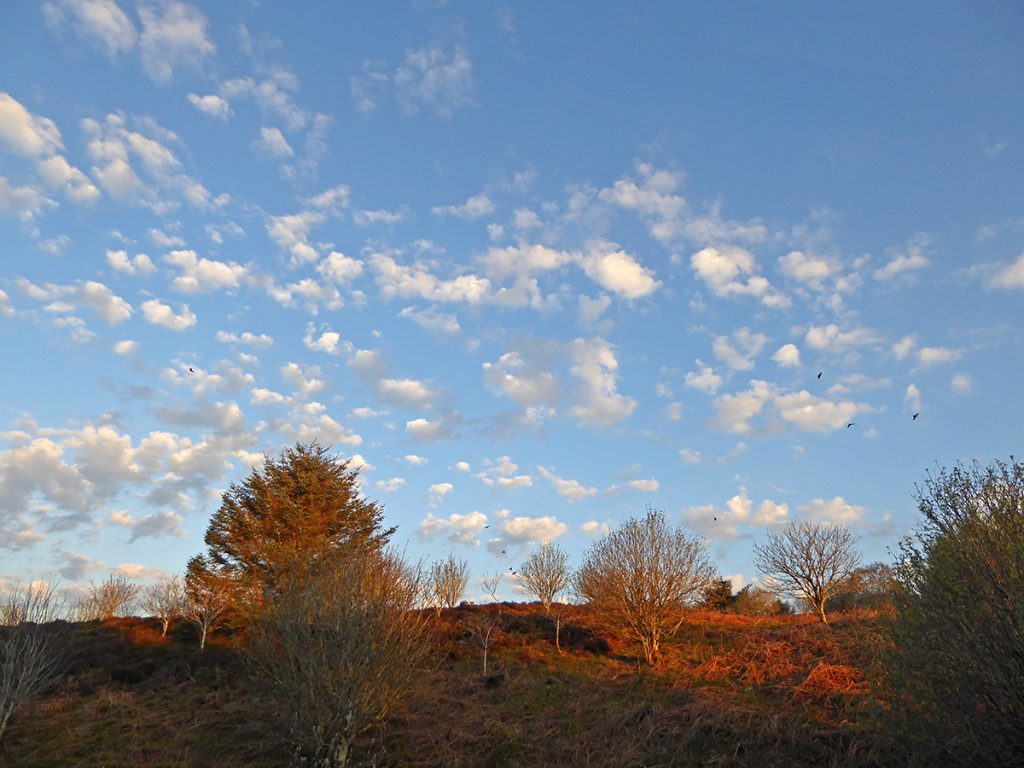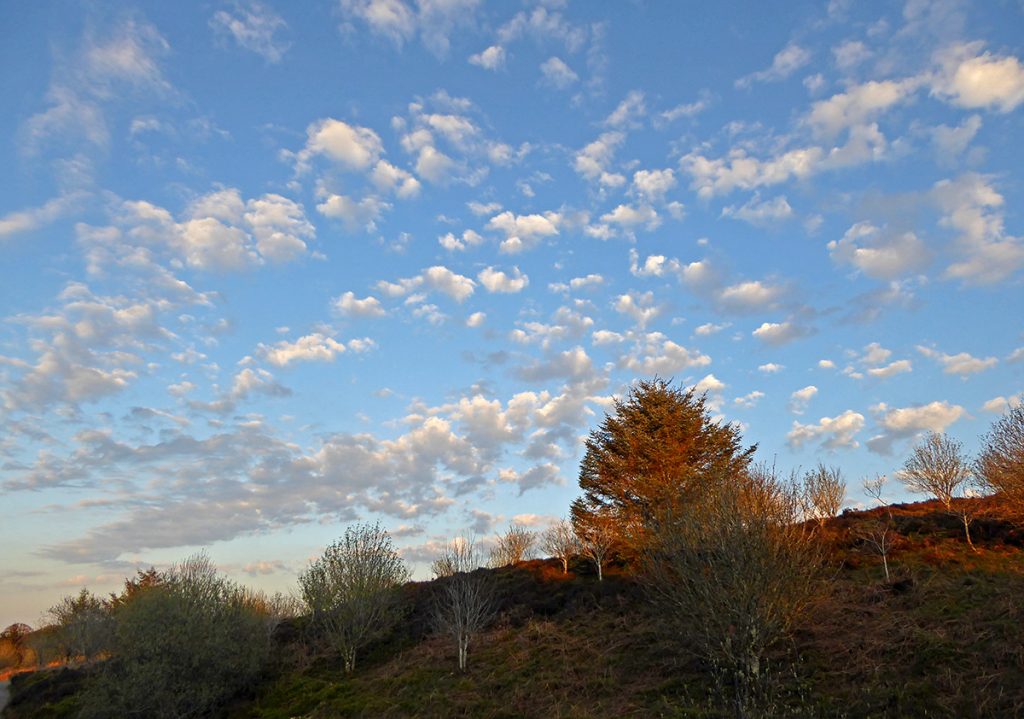 Deer coming out to graze back at Sheddocksley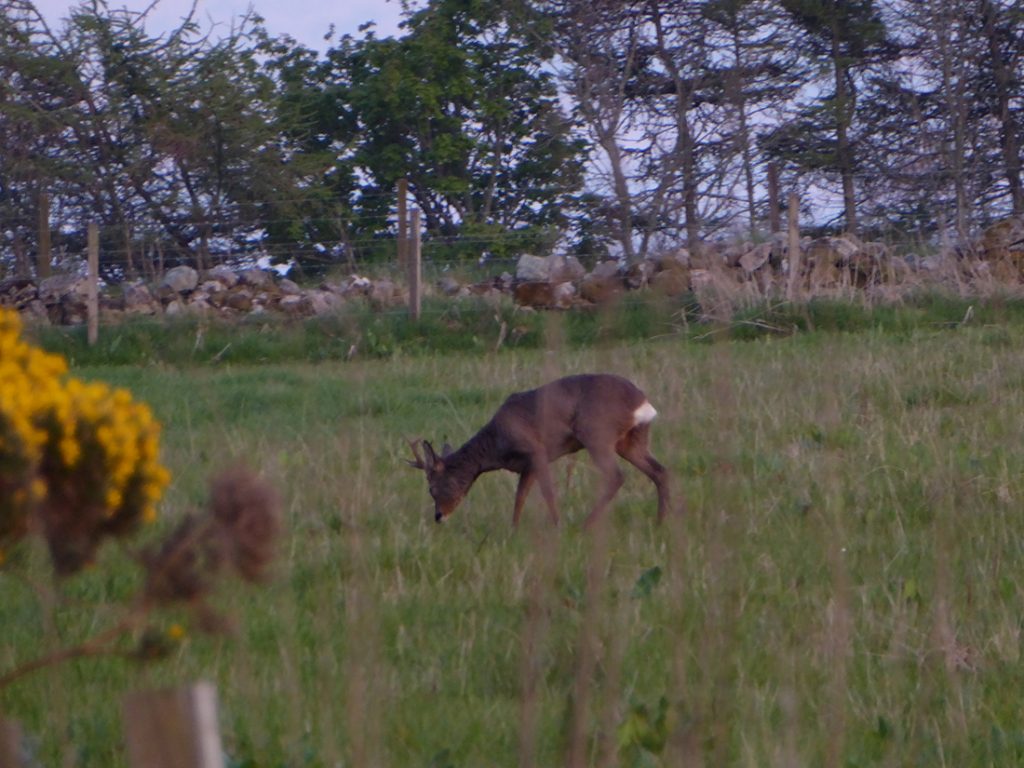 Goin.. going.. gone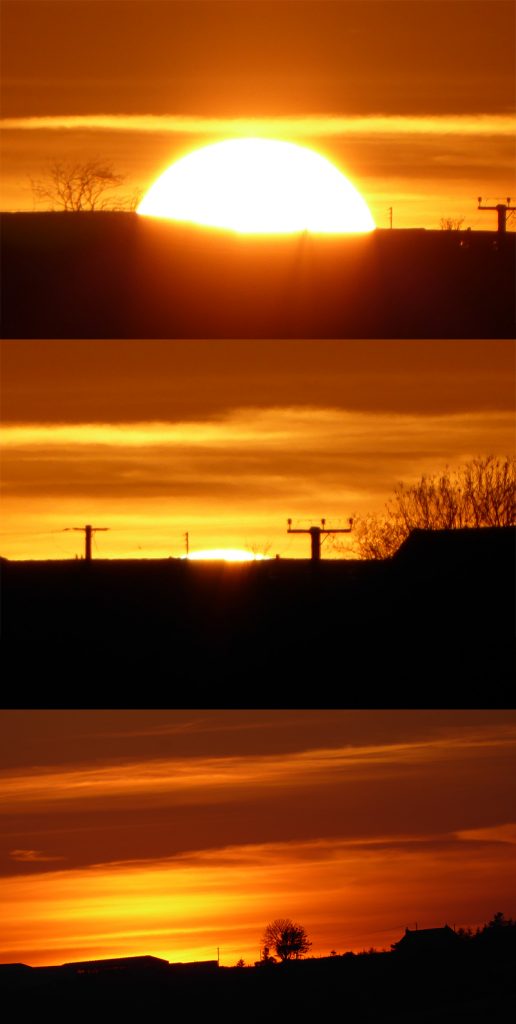 Silhouettes near Newhills Kirk